No Pain No Glory Quotes & Sayings
Enjoy reading and share 52 famous quotes about No Pain No Glory with everyone.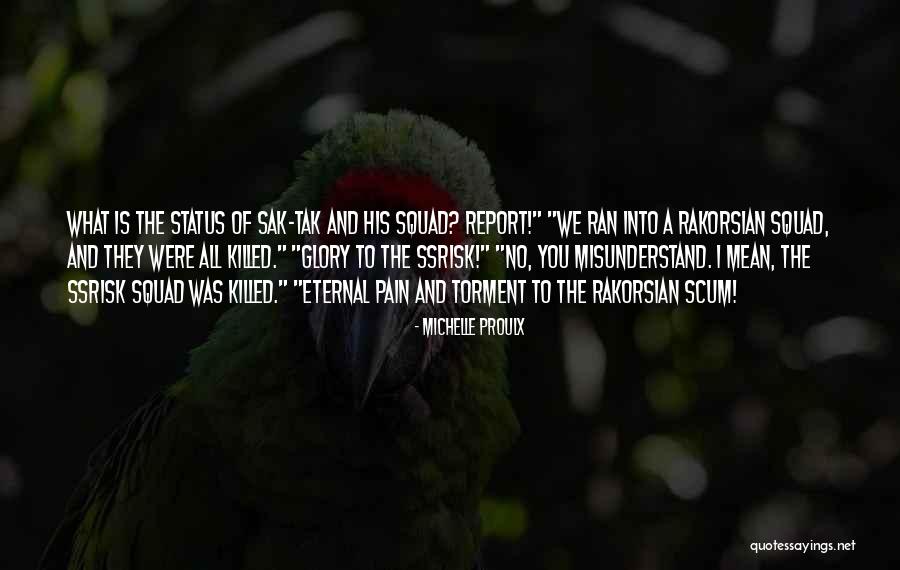 What is the status of Sak-tak and his squad? Report!" "We ran into a Rakorsian squad, and they were all killed." "Glory to the Ssrisk!" "No, you misunderstand. I mean, the Ssrisk squad was killed." "Eternal pain and torment to the Rakorsian scum! — Michelle Proulx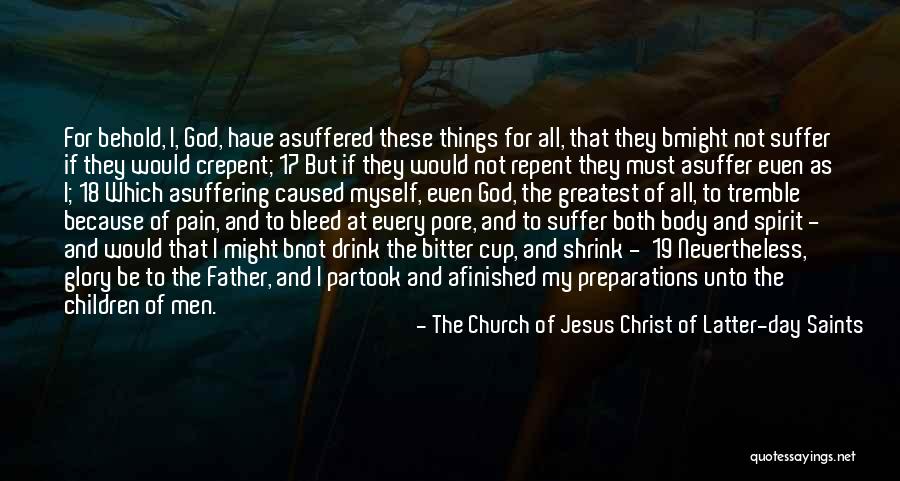 For behold, I, God, have asuffered these things for all, that they bmight not suffer if they would crepent; 17 But if they would not repent they must asuffer even as I; 18 Which asuffering caused myself, even God, the greatest of all, to tremble because of pain, and to bleed at every pore, and to suffer both body and spirit - and would that I might bnot drink the bitter cup, and shrink - 19 Nevertheless, glory be to the Father, and I partook and afinished my preparations unto the children of men. — The Church Of Jesus Christ Of Latter-day Saints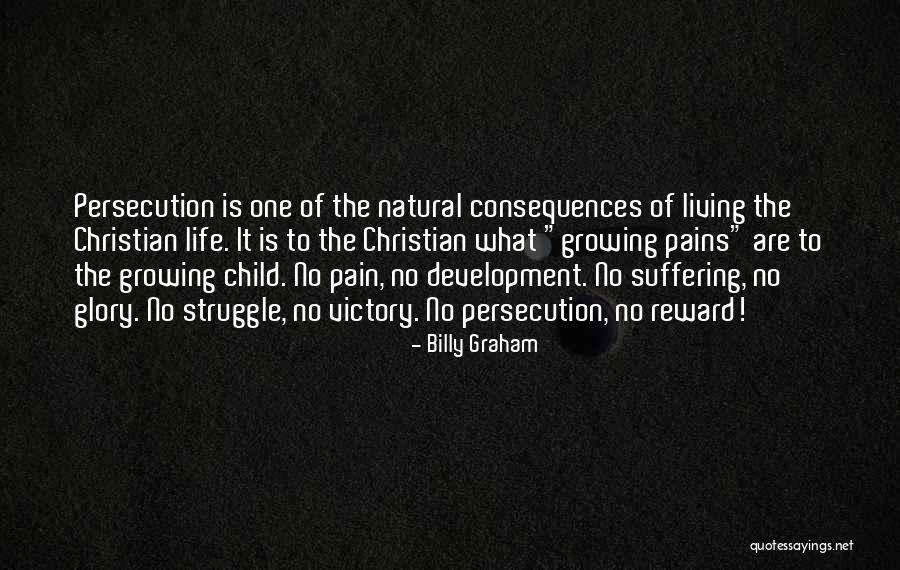 Persecution is one of the natural consequences of living the Christian life. It is to the Christian what "growing pains" are to the growing child. No pain, no development. No suffering, no glory. No struggle, no victory. No persecution, no reward! — Billy Graham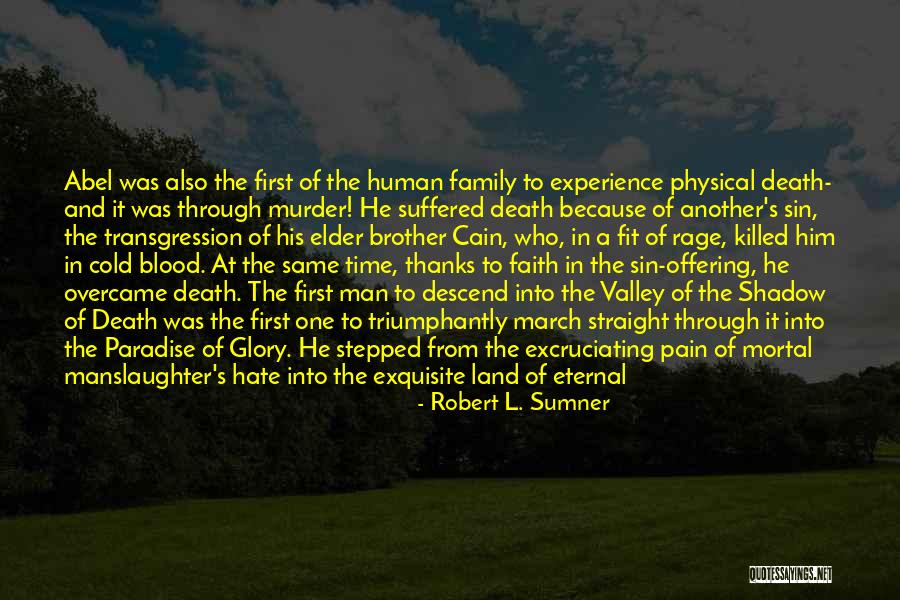 Abel was also the first of the human family to experience physical death- and it was through murder! He suffered death because of another's sin, the transgression of his elder brother Cain, who, in a fit of rage, killed him in cold blood. At the same time, thanks to faith in the sin-offering, he overcame death. The first man to descend into the Valley of the Shadow of Death was the first one to triumphantly march straight through it into the Paradise of Glory. He stepped from the excruciating pain of mortal manslaughter's hate into the exquisite land of eternal delights prepared by the Father's love! He led the way, like a pioneer, for all subsequent generations of men and women of faith throughout human history. — Robert L. Sumner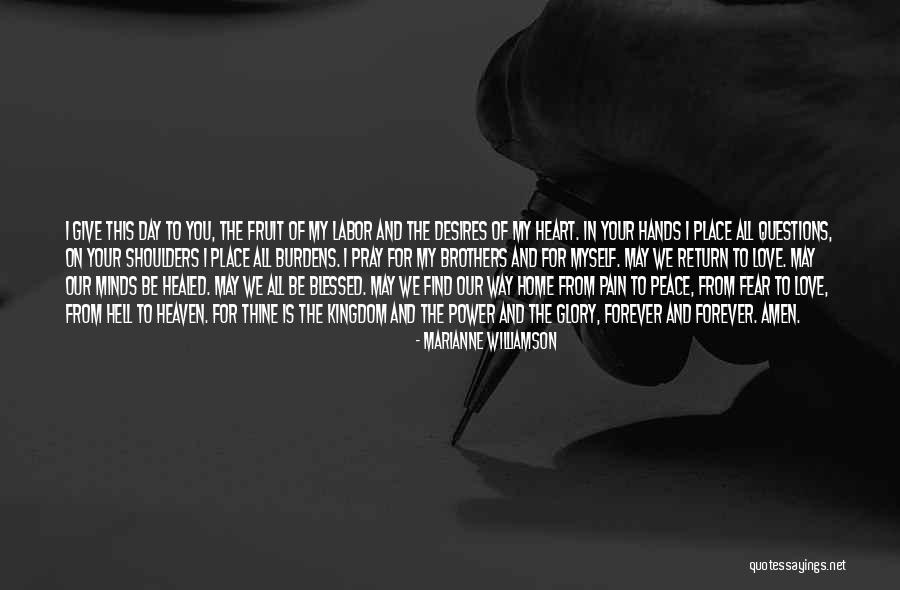 I give this day to you, the fruit of my labor and the desires of my heart. In your hands I place all questions, on your shoulders I place all burdens. I pray for my brothers and for myself. May we return to love. May our minds be healed. May we all be blessed. May we find our way home from pain to peace, from fear to love, from hell to heaven. For thine is the kingdom and the power and the glory, forever and forever. Amen. — Marianne Williamson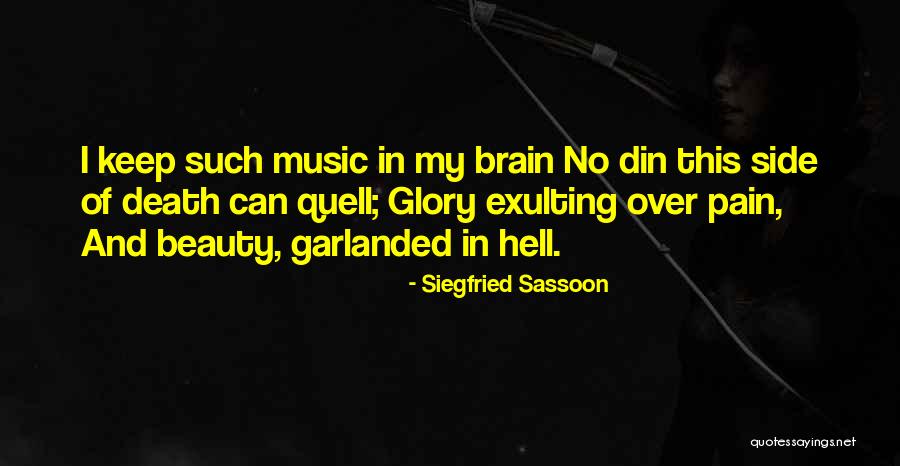 I keep such music in my brain
No din this side of death can quell;
Glory exulting over pain,
And beauty, garlanded in hell. — Siegfried Sassoon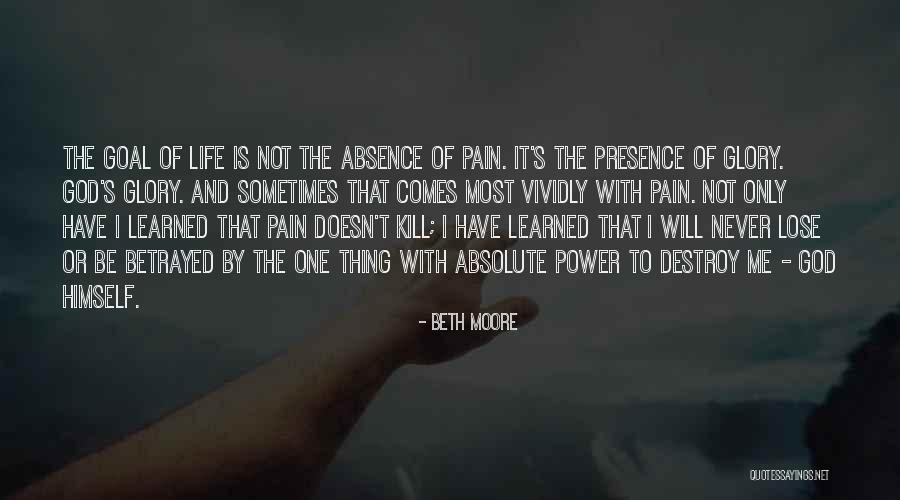 The goal of life is not the absence of pain. It's the presence of glory. God's glory. And sometimes that comes most vividly with pain. Not only have I learned that pain doesn't kill; I have learned that I will never lose or be betrayed by the one thing with absolute power to destroy me - God Himself. — Beth Moore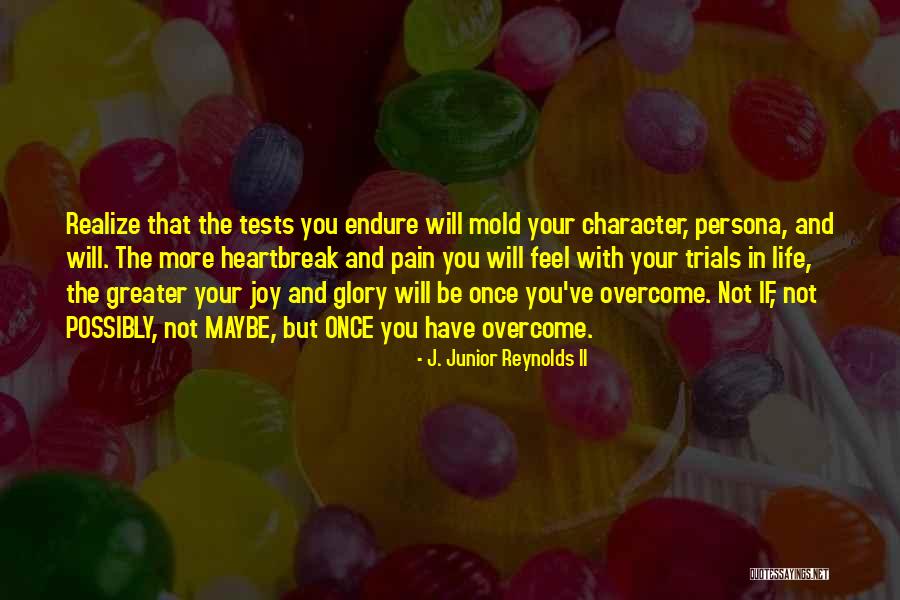 Realize that the tests you endure will mold your character, persona, and will. The more heartbreak and pain you will feel with your trials in life, the greater your joy and glory will be once you've overcome. Not IF, not POSSIBLY, not MAYBE, but ONCE you have overcome. — J. Junior Reynolds II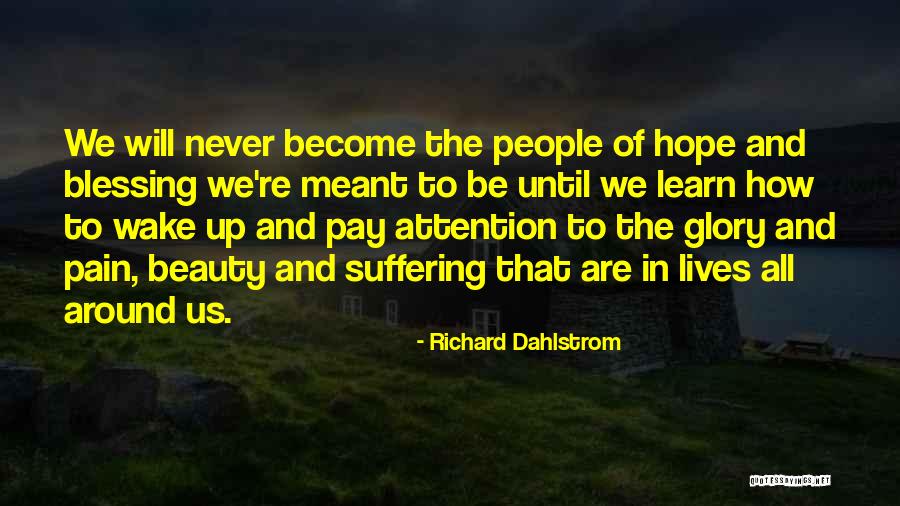 We will never become the people of hope and blessing we're meant to be until we learn how to wake up and pay attention to the glory and pain, beauty and suffering that are in lives all around us. — Richard Dahlstrom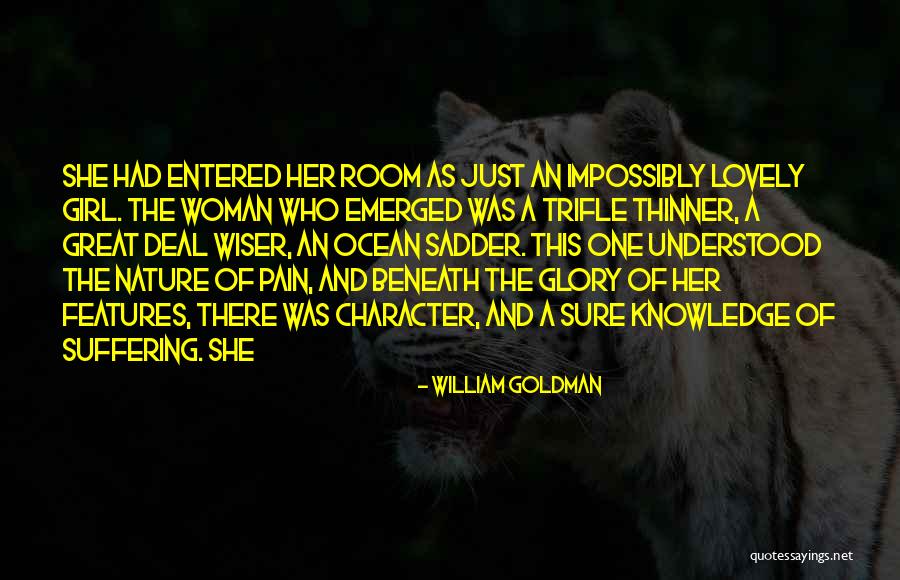 She had entered her room as just an impossibly lovely girl. The woman who emerged was a trifle thinner, a great deal wiser, an ocean sadder. This one understood the nature of pain, and beneath the glory of her features, there was character, and a sure knowledge of suffering. She — William Goldman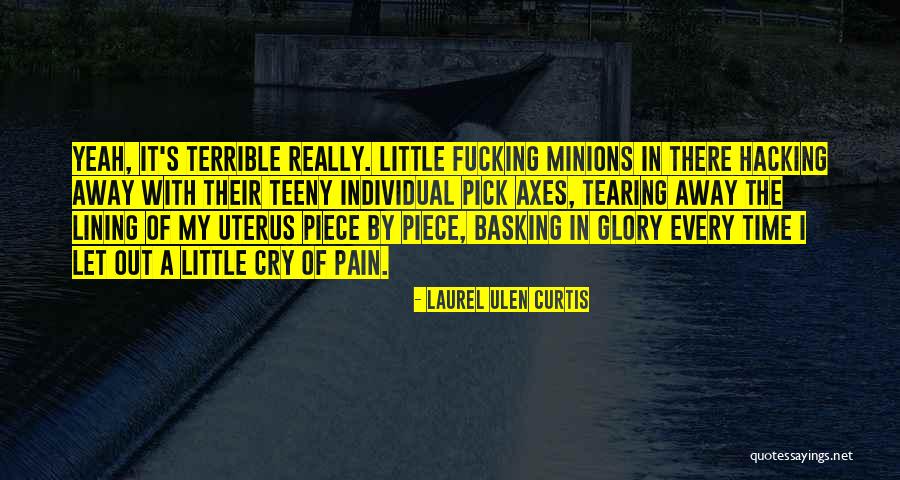 Yeah, it's terrible really. Little fucking minions in there hacking away with their teeny individual pick axes, tearing away the lining of my uterus piece by piece, basking in glory every time I let out a little cry of pain. — Laurel Ulen Curtis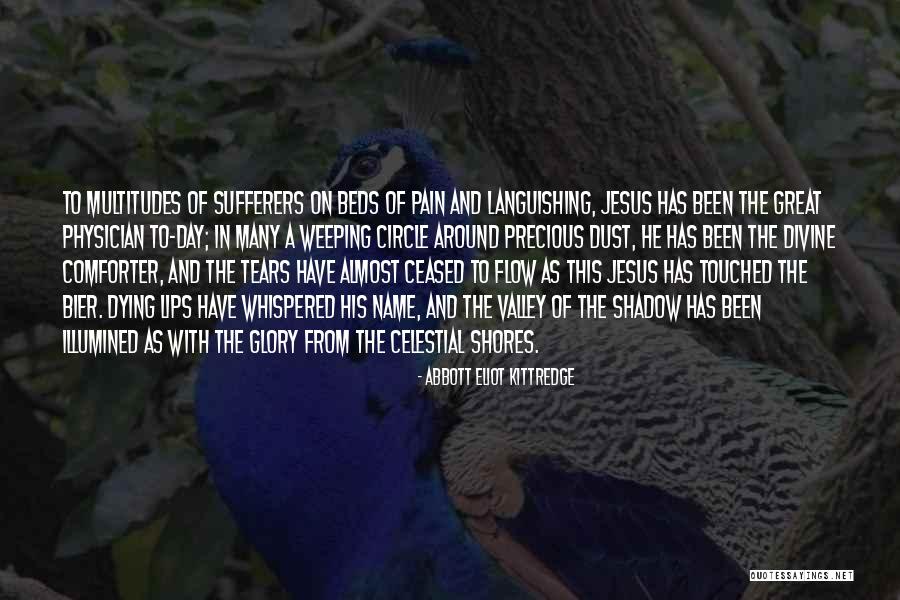 To multitudes of sufferers on beds of pain and languishing, Jesus has been the great physician to-day; in many a weeping circle around precious dust, He has been the Divine comforter, and the tears have almost ceased to flow as this Jesus has touched the bier. Dying lips have whispered His name, and the valley of the shadow has been illumined as with the glory from the celestial shores. — Abbott Eliot Kittredge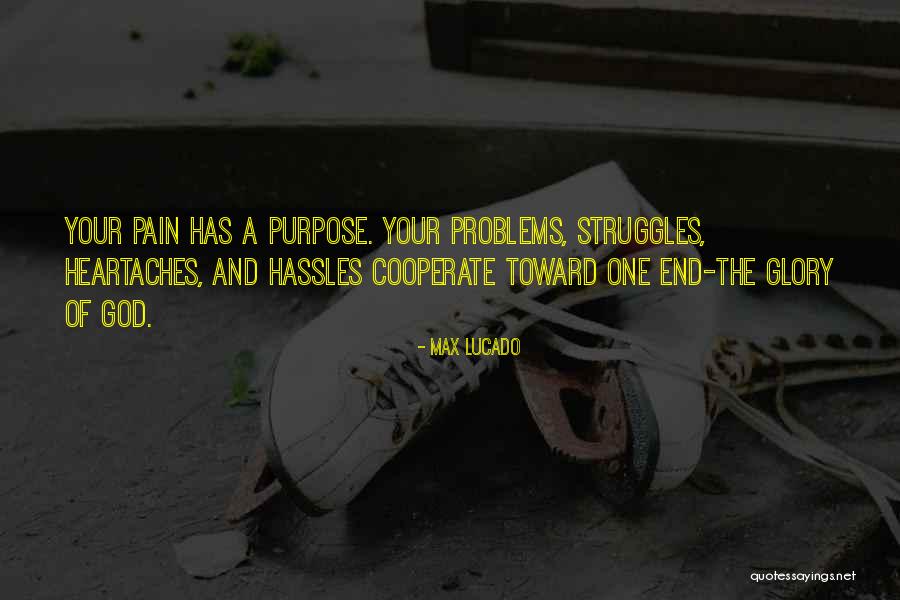 Your pain has a purpose. Your problems, struggles, heartaches, and hassles cooperate toward one end-the glory of God. — Max Lucado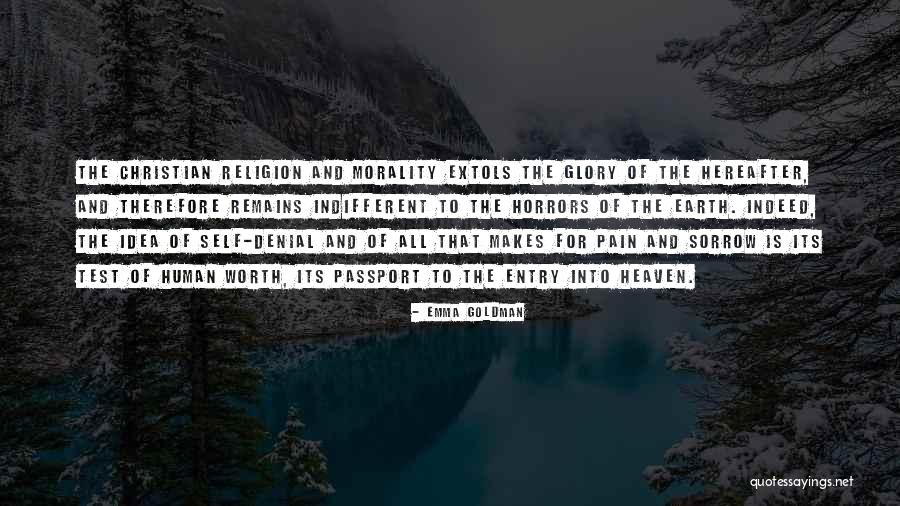 The Christian religion and morality extols the glory of the Hereafter, and therefore remains indifferent to the horrors of the earth. Indeed, the idea of self-denial and of all that makes for pain and sorrow is its test of human worth, its passport to the entry into heaven. — Emma Goldman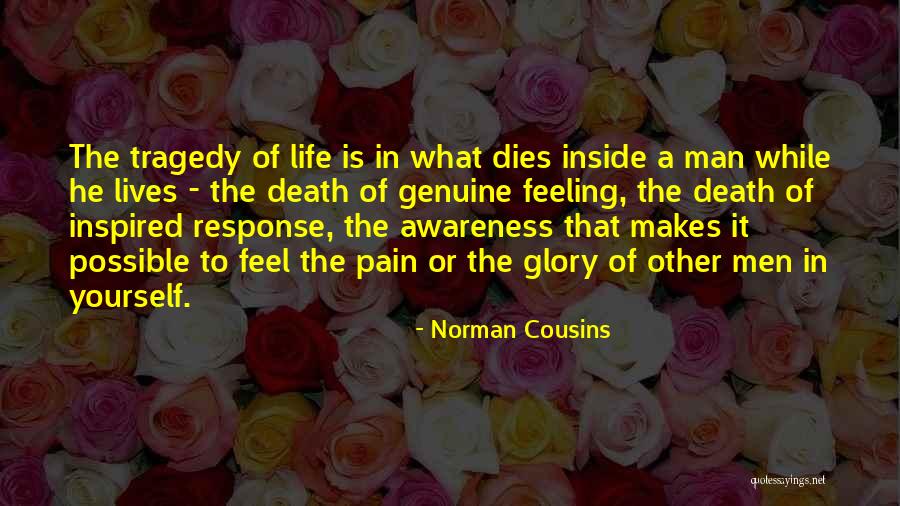 The tragedy of life is in what dies inside a man while he lives - the death of genuine feeling, the death of inspired response, the awareness that makes it possible to feel the pain or the glory of other men in yourself. — Norman Cousins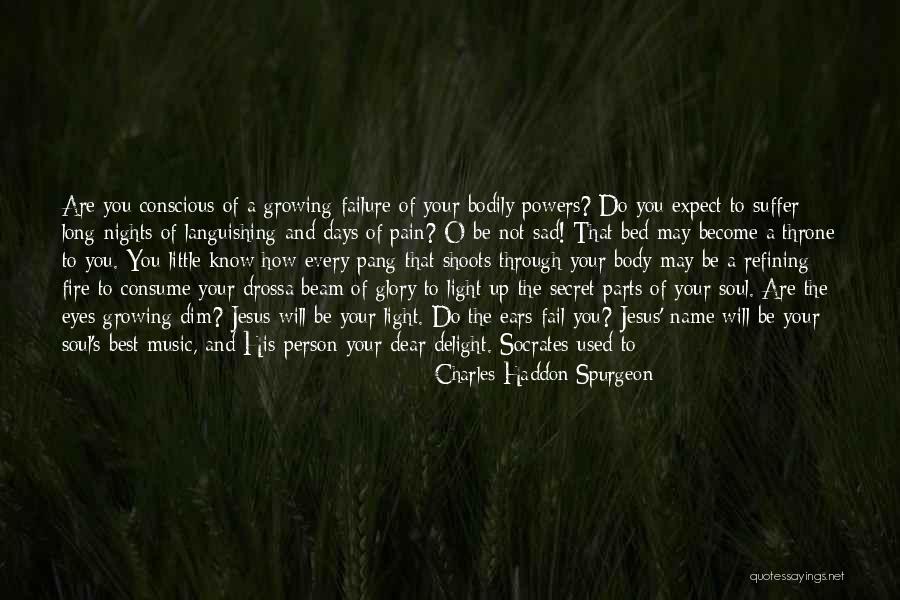 Are you conscious of a growing failure of your bodily powers? Do you expect to suffer long nights of languishing and days of pain? O be not sad! That bed may become a throne to you. You little know how every pang that shoots through your body may be a refining fire to consume your dross
a beam of glory to light up the secret parts of your soul. Are the eyes growing dim? Jesus will be your light. Do the ears fail you? Jesus' name will be your soul's best music, and His person your dear delight. Socrates used to say, "Philosophers can be happy without music;" and Christians can be happier than philosophers when all outward causes of rejoicing are withdrawn. In Thee, my God, my heart shall triumph, come what may of ills without! By thy power, O blessed Spirit, my heart shall be exceeding glad, though all things should fail me here below. — Charles Haddon Spurgeon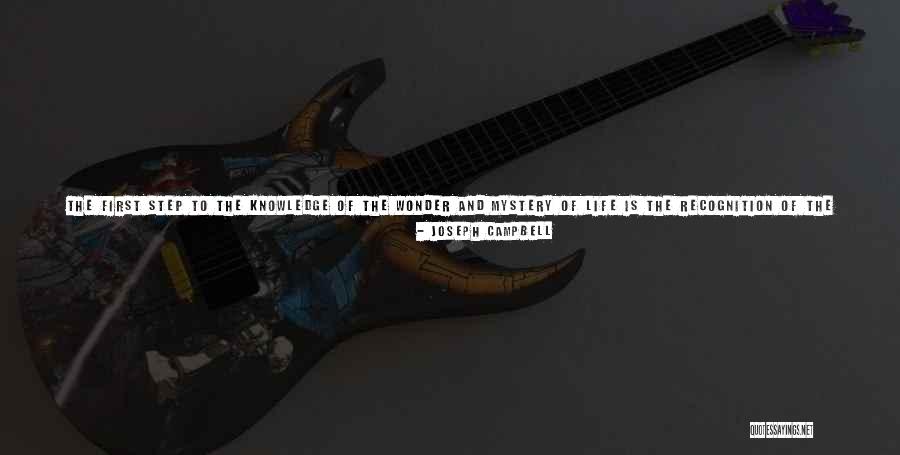 The first step to the knowledge of the wonder and mystery of life is the recognition of the monstrous nature of the earthly human realm as well as its glory, the realization that this is just how it is and that it cannot and will not be changed. Those who think they know how the universe could have been had they created it, without pain, without sorrow, without time, without death, are unfit for illumination. — Joseph Campbell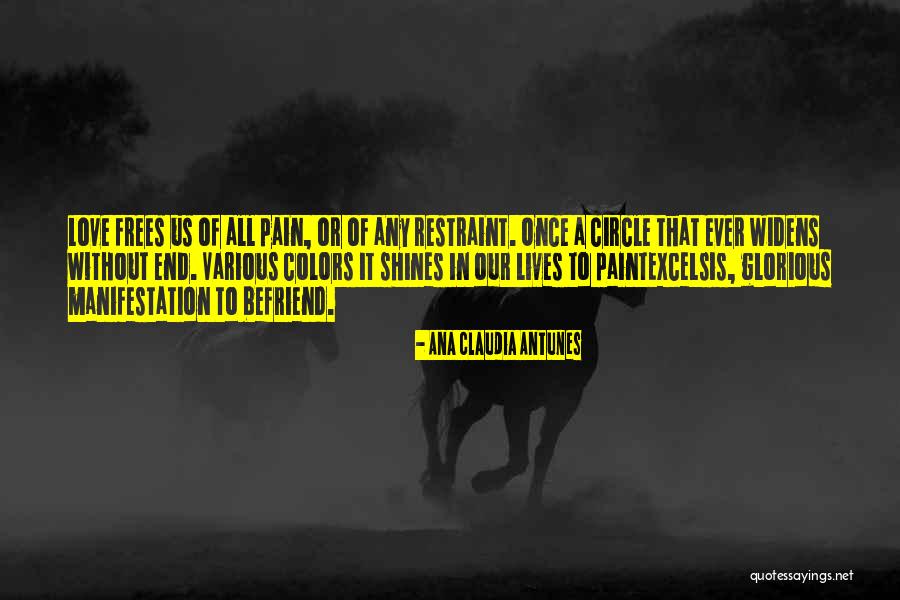 Love frees us of all pain, or of any restraint.
Once a circle that ever widens without end.
Various colors it shines in our lives to paint
Excelsis, glorious manifestation to befriend. — Ana Claudia Antunes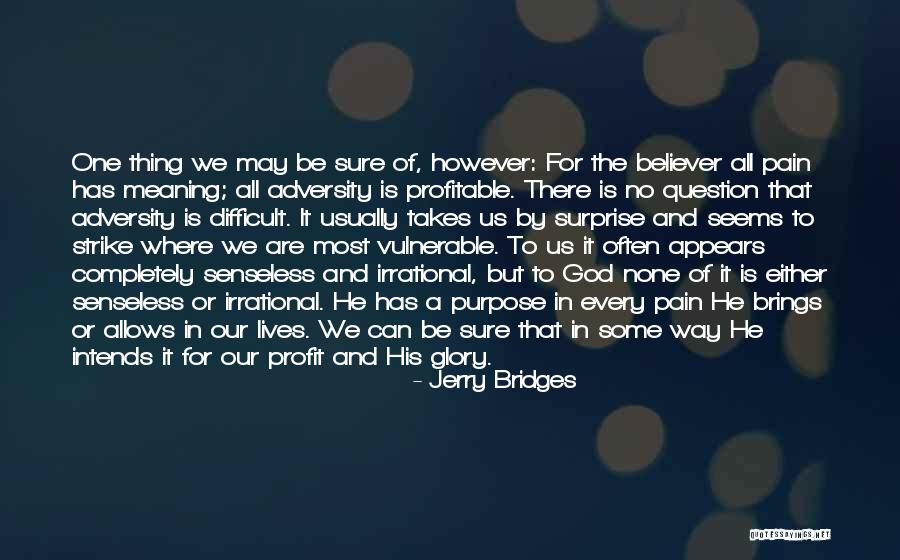 One thing we may be sure of, however: For the believer all pain has meaning; all adversity is profitable. There is no question that adversity is difficult. It usually takes us by surprise and seems to strike where we are most vulnerable. To us it often appears completely senseless and irrational, but to God none of it is either senseless or irrational. He has a purpose in every pain He brings or allows in our lives. We can be sure that in some way He intends it for our profit and His glory. — Jerry Bridges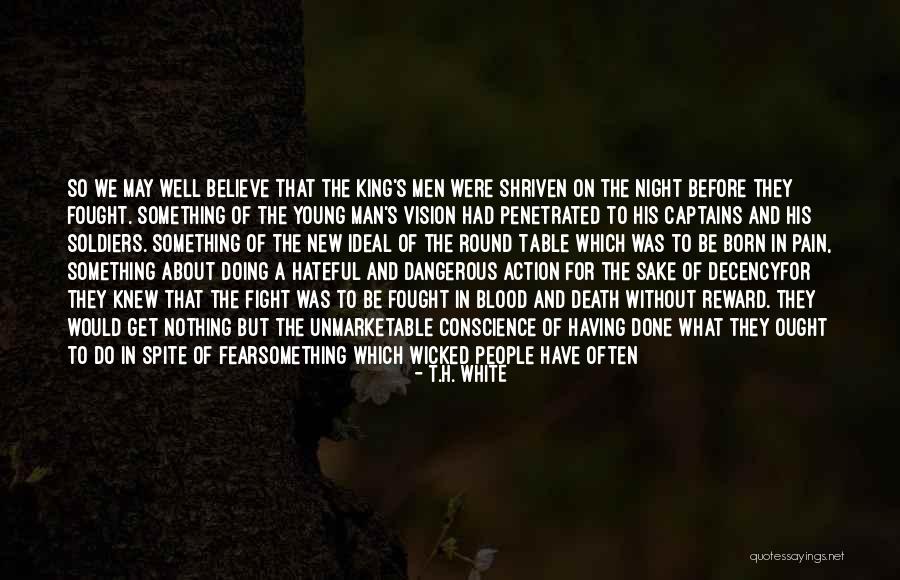 So we may well believe that the King's men were shriven on the night before they fought. Something of the young man's vision had penetrated to his captains and his soldiers. Something of the new ideal of the Round Table which was to be born in pain, something about doing a hateful and dangerous action for the sake of decency
for they knew that the fight was to be fought in blood and death without reward. They would get nothing but the unmarketable conscience of having done what they ought to do in spite of fear
something which wicked people have often debased by calling it glory with too much sentiment, but which is glory all the same. This idea was in the hearts of the young men who knelt before the God-distributing bishops
knowing that the odds were three to one, and that their own warm bodies might be cold at sunset. — T.H. White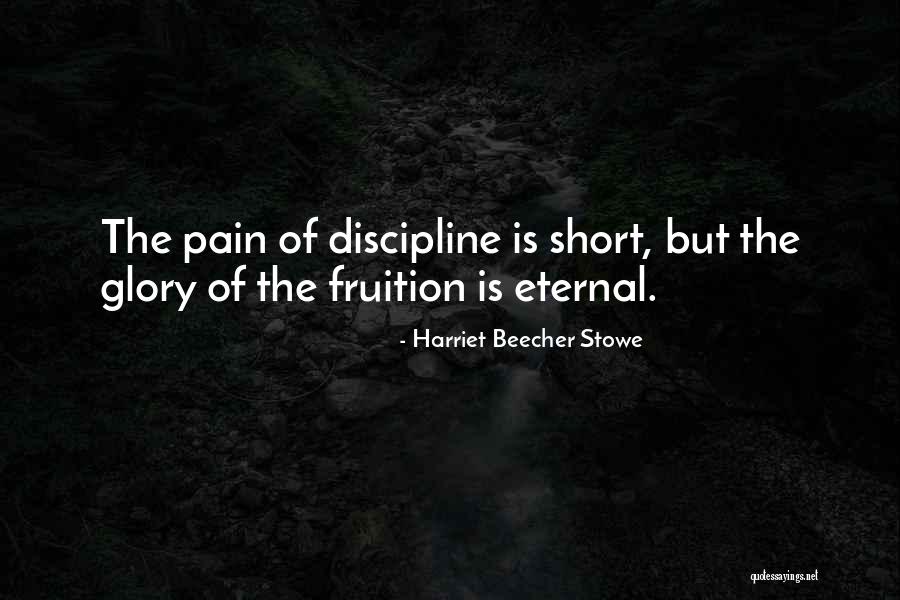 The pain of discipline is short, but the glory of the fruition is eternal. — Harriet Beecher Stowe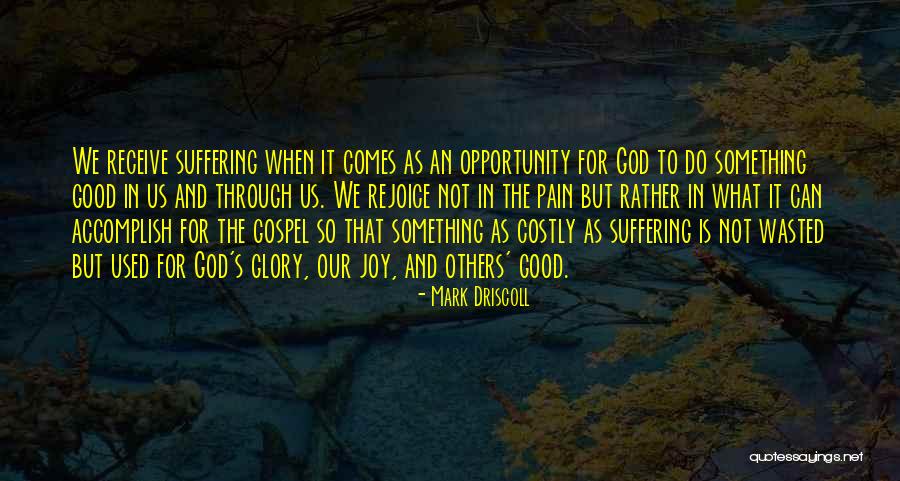 We receive suffering when it comes as an opportunity for God to do something good in us and through us. We rejoice not in the pain but rather in what it can accomplish for the gospel so that something as costly as suffering is not wasted but used for God's glory, our joy, and others' good. — Mark Driscoll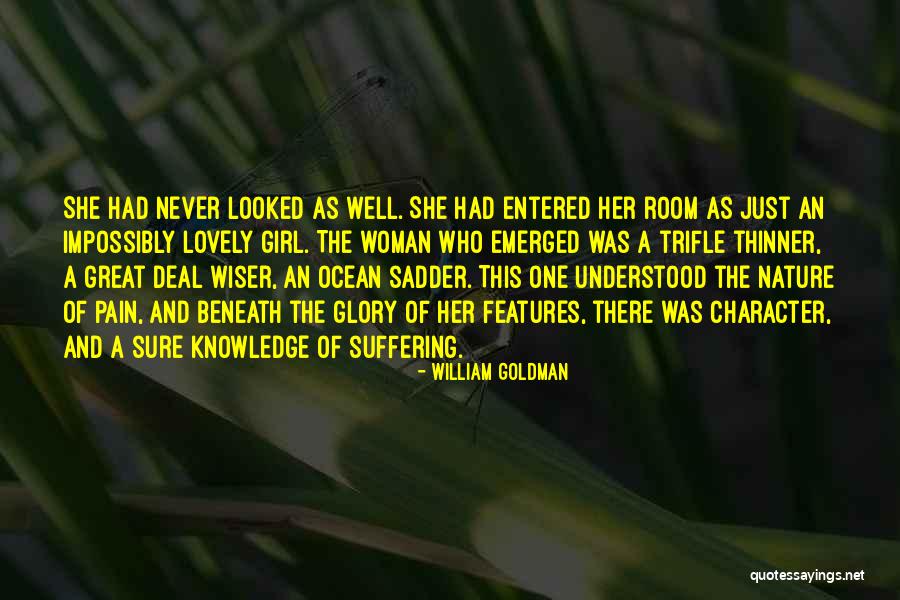 She had never looked as well. She had entered her room as just an impossibly lovely girl. The woman who emerged was a trifle thinner, a great deal wiser, an ocean sadder. This one understood the nature of pain, and beneath the glory of her features, there was character, and a sure knowledge of suffering. — William Goldman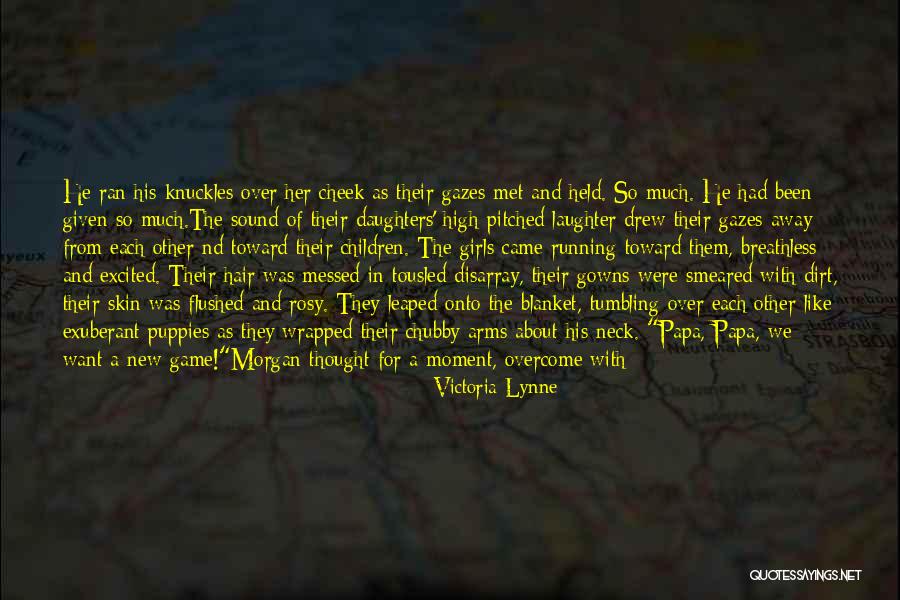 He ran his knuckles over her cheek as their gazes met and held. So much. He had been given so much.
The sound of their daughters' high-pitched laughter drew their gazes away from each other nd toward their children. The girls came running toward them, breathless and excited. Their hair was messed in tousled disarray, their gowns were smeared with dirt, their skin was flushed and rosy. They leaped onto the blanket, tumbling over each other like exuberant puppies as they wrapped their chubby arms about his neck. "Papa, Papa, we want a new game!"
Morgan thought for a moment, overcome with a profound sense of gratitude.
Of all he had been given, perhaps the most significant gift was a deep reverence for life, with all its pain and all its glory. Every loss had meaning. And every day was a new
reason for celebration. — Victoria Lynne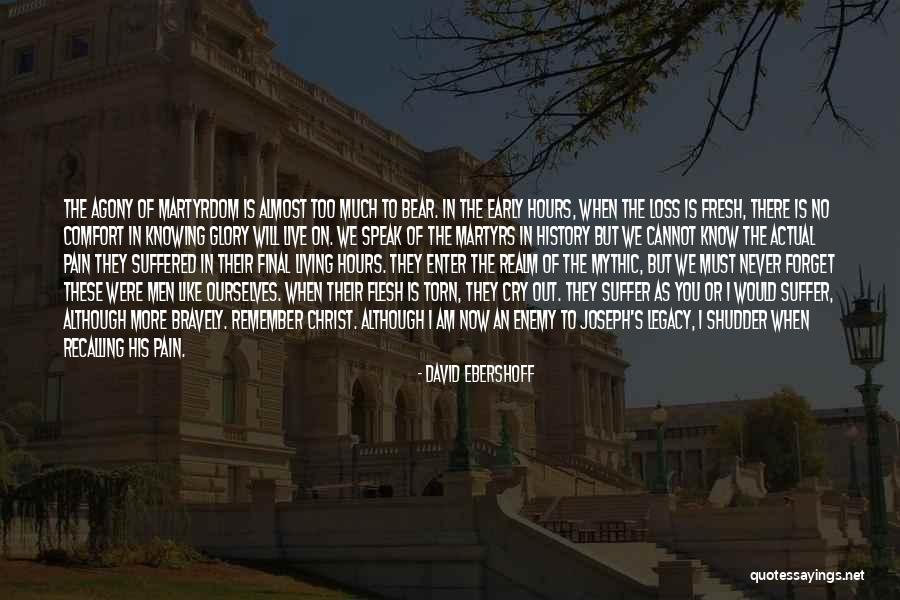 The agony of martyrdom is almost too much to bear. In the early hours, when the loss is fresh, there is no comfort in knowing Glory will live on. We speak of the martyrs in History but we cannot know the actual pain they suffered in their final living hours. They enter the realm of the mythic, but we must never forget these were men like ourselves. When their flesh is torn, they cry out. They suffer as you or I would suffer, although more bravely. Remember Christ. Although I am now an enemy to Joseph's legacy, I shudder when recalling his pain. — David Ebershoff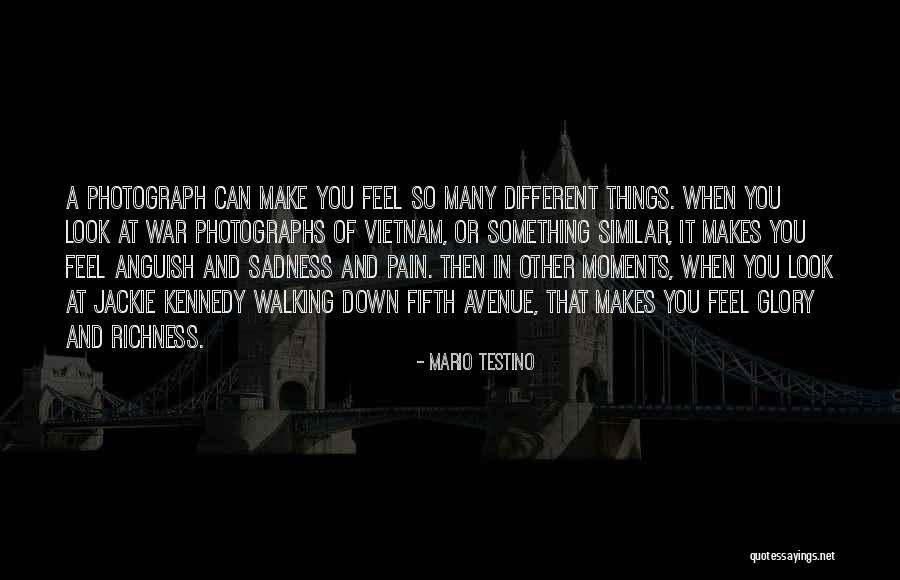 A photograph can make you feel so many different things. When you look at war photographs of Vietnam, or something similar, it makes you feel anguish and sadness and pain. Then in other moments, when you look at Jackie Kennedy walking down Fifth Avenue, that makes you feel glory and richness. — Mario Testino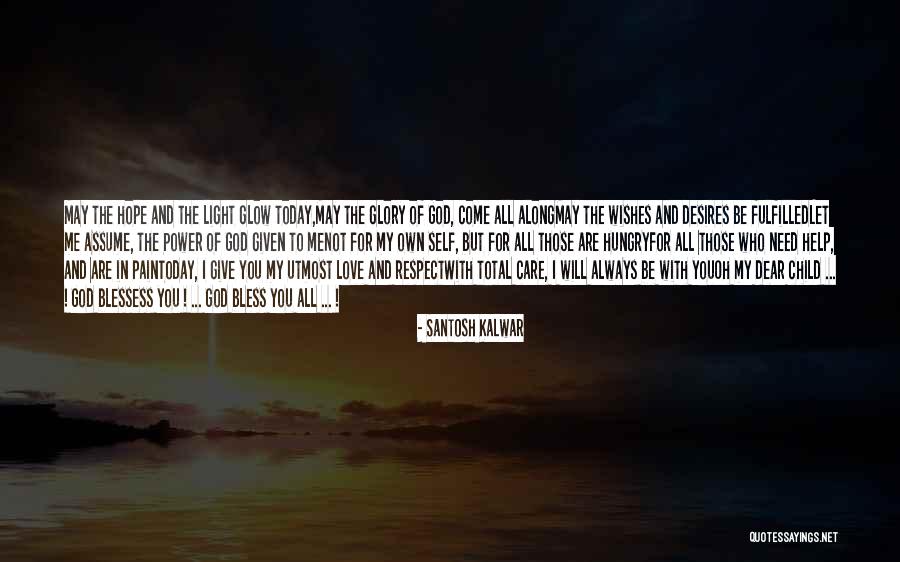 May the hope and the light glow today,
May the glory of God, come all along
May the wishes and desires be fulfilled
Let me assume, the Power of God given to me
Not for my own self, but for all those are hungry
For all those who need help, and are in pain
Today, I give you my utmost love and respect
With total care, I will always be with you
Oh my dear child ... ! God blessess you ! ...
God bless you all ... ! — Santosh Kalwar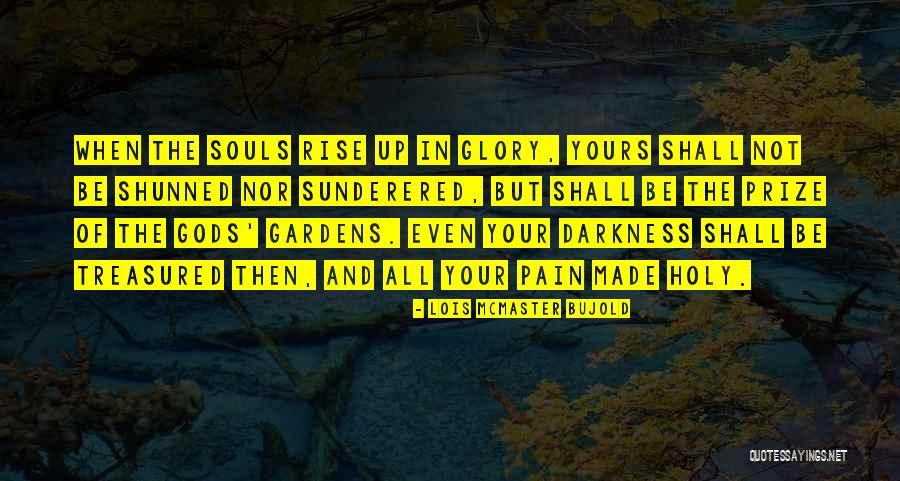 When the souls rise up in glory, yours shall not be shunned nor sunderered, but shall be the prize of the gods' gardens. Even your darkness shall be treasured then, and all your pain made holy. — Lois McMaster Bujold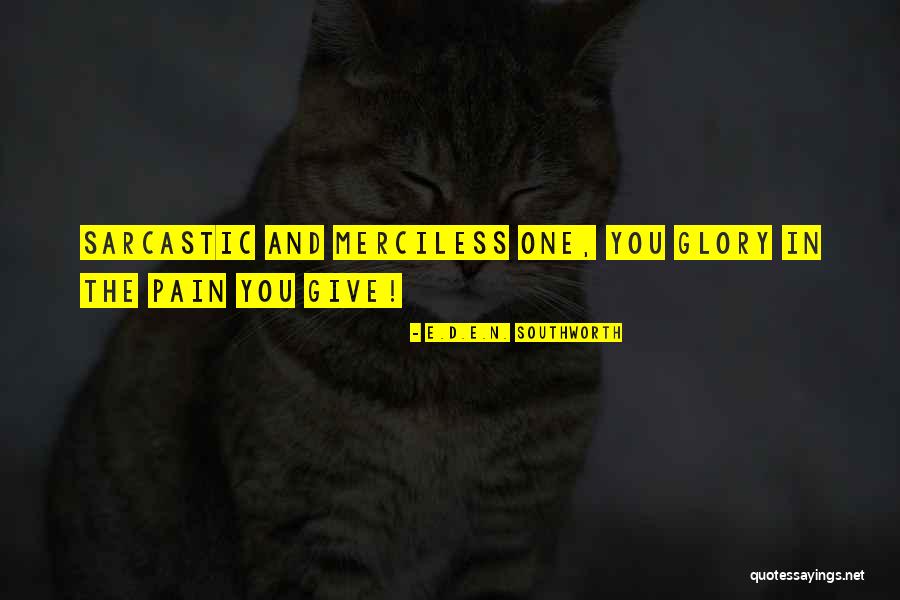 Sarcastic and merciless one, you glory in the pain you give! — E.D.E.N. Southworth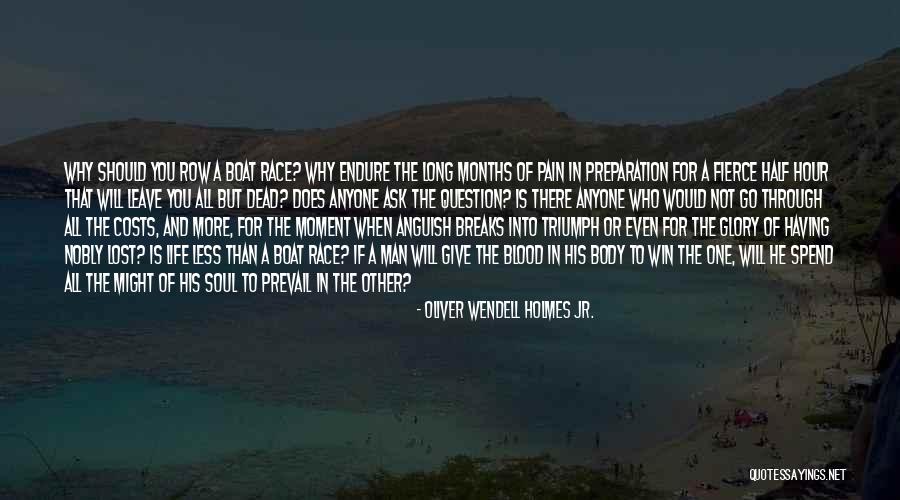 Why should you row a boat race? Why endure the long months of pain in preparation for a fierce half hour that will leave you all but dead? Does anyone ask the question? Is there anyone who would not go through all the costs, and more, for the moment when anguish breaks into triumph or even for the glory of having nobly lost? Is life less than a boat race? If a man will give the blood in his body to win the one, will he spend all the might of his soul to prevail in the other? — Oliver Wendell Holmes Jr.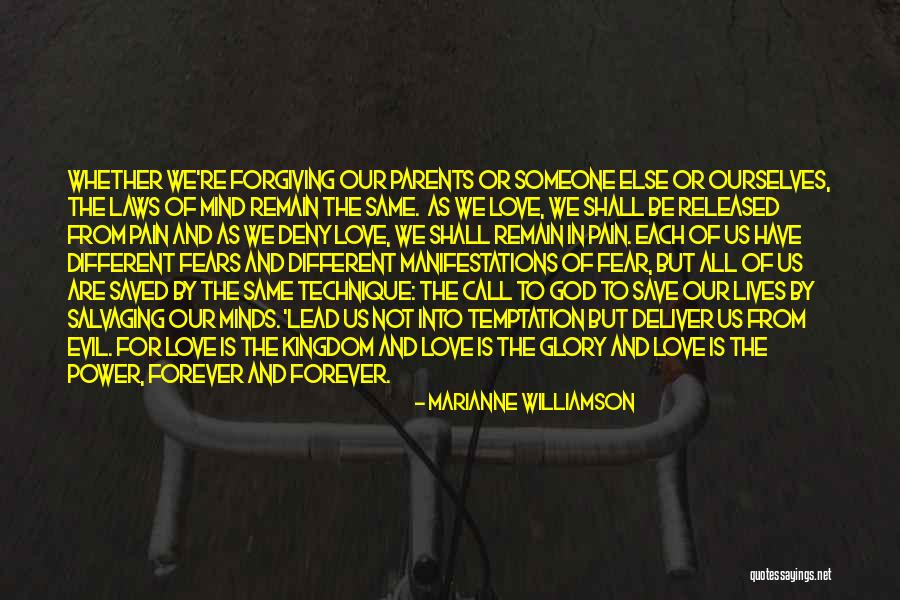 Whether we're forgiving our parents or someone else or ourselves, the laws of mind remain the same. As we love, we shall be released from pain and as we deny love, we shall remain in pain. Each of us have different fears and different manifestations of fear, but all of us are saved by the same technique: The call to God to save our lives by salvaging our minds. 'Lead us not into temptation but deliver us from evil. For love is the kingdom and love is the glory and love is the power, forever and forever. — Marianne Williamson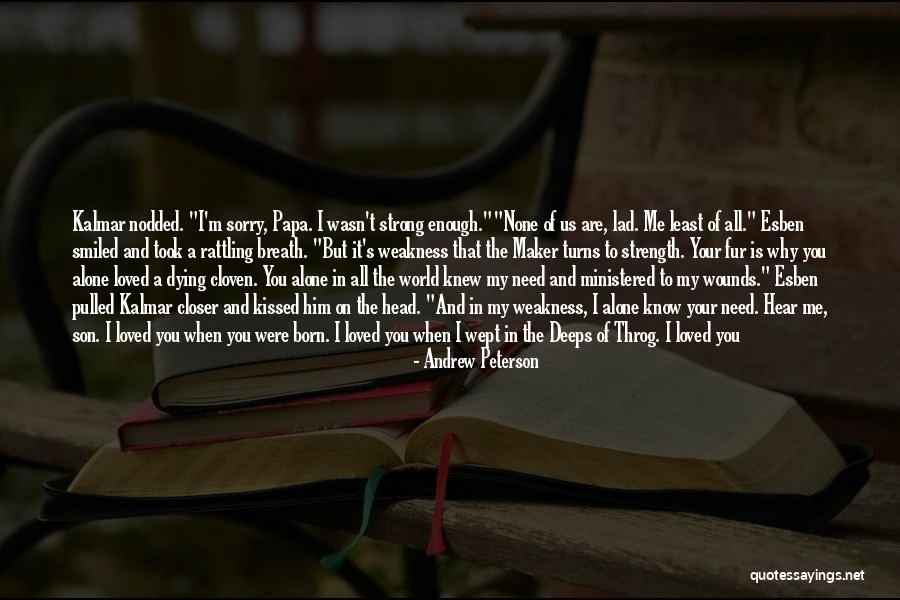 Kalmar nodded. "I'm sorry, Papa. I wasn't strong enough."
"None of us are, lad. Me least of all." Esben smiled and took a rattling breath. "But it's weakness that the Maker turns to strength. Your fur is why you alone loved a dying cloven. You alone in all the world knew my need and ministered to my wounds." Esben pulled Kalmar closer and kissed him on the head. "And in my weakness, I alone know your need. Hear me, son. I loved you when you were born. I loved you when I wept in the Deeps of Throg. I loved you even as you sang the song that broke you. And I love you now in the glory of your humility. You're more fit to be the king than I ever was. Do you understand?"
Kalmar shook his head.
Esben smiled and shuddered with pain. "A good answer, my boy. Then do you believe that I love you?"
"Yes, sir. I believe you." Kalmar buried his face in his father's fur.
"Remember that in the days to come. Nia, Janner, Leeli - help him to remember. — Andrew Peterson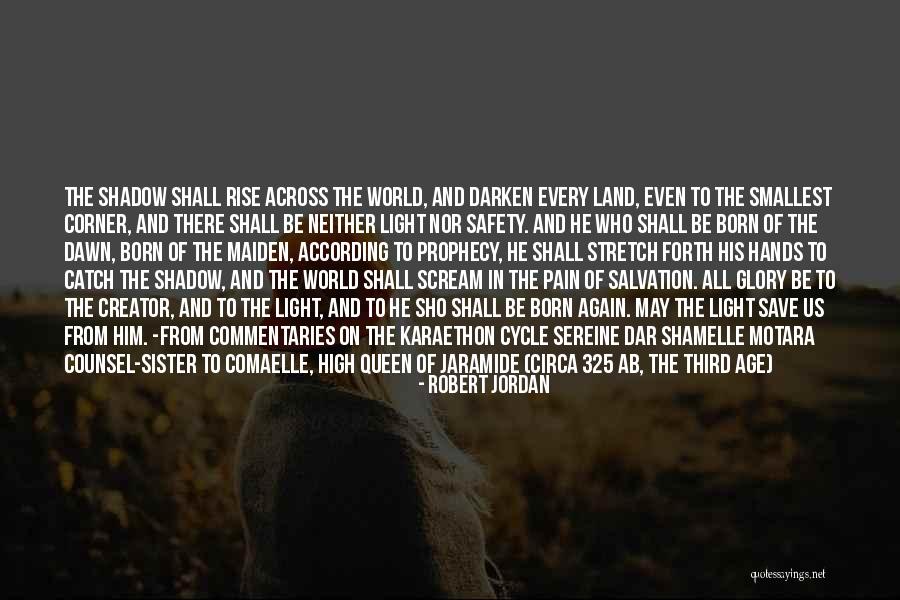 The Shadow shall rise across the world, and darken every land, even to the smallest corner, and there shall be neither Light nor safety. And he who shall be born of the Dawn, born of the Maiden, according to Prophecy, he shall stretch forth his hands to catch the Shadow, and the world shall scream in the pain of salvation. All Glory be to the Creator, and to the Light, and to he sho shall be born again. May the Light save us from him.
-from Commentaries on the Karaethon Cycle Sereine dar Shamelle Motara Counsel-Sister to Comaelle, High Queen of Jaramide (circa 325 AB, the Third Age) — Robert Jordan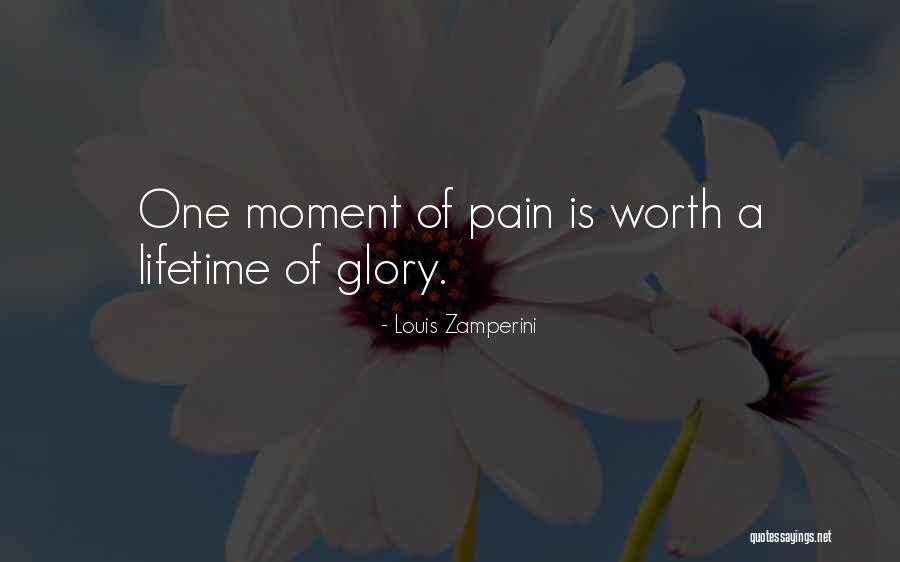 One moment of pain is worth a lifetime of glory. — Louis Zamperini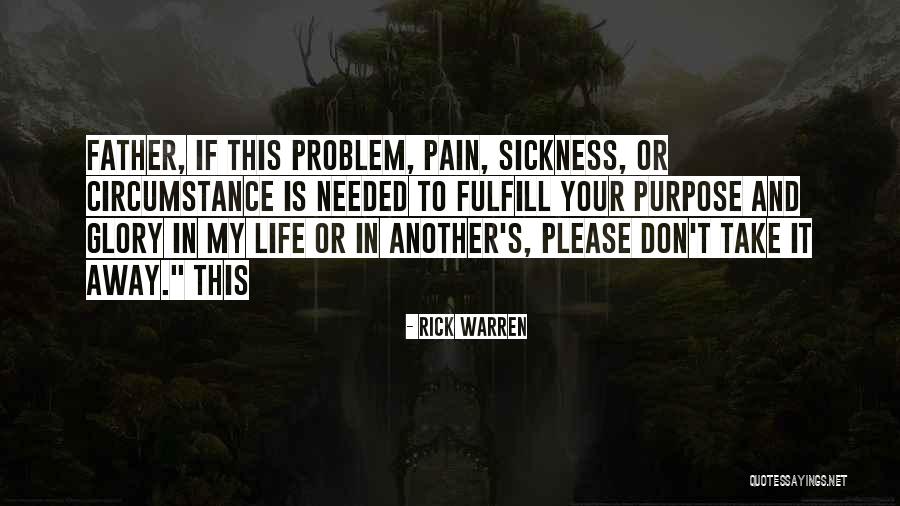 Father, if this problem, pain, sickness, or circumstance is needed to fulfill your purpose and glory in my life or in another's, please don't take it away." This — Rick Warren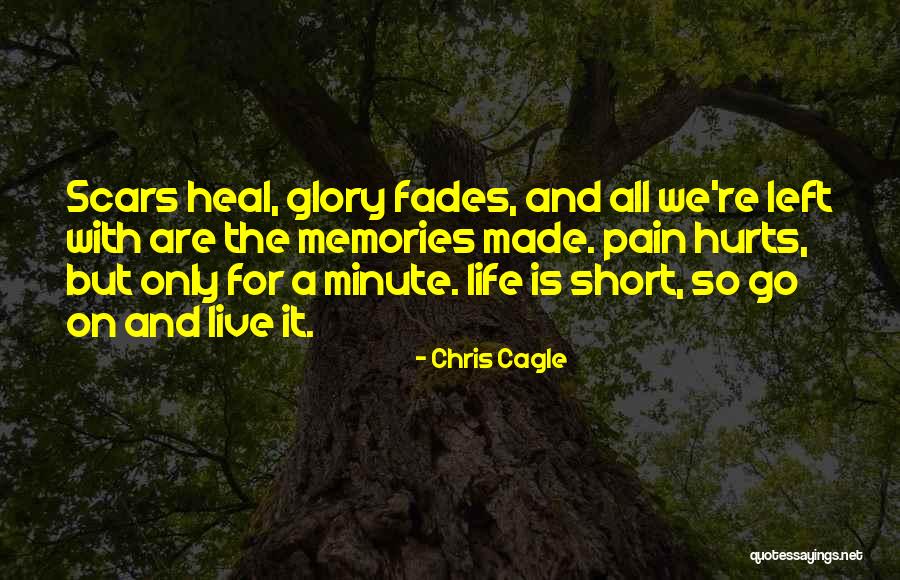 Scars heal, glory fades, and all we're left with are the memories made. pain hurts, but only for a minute. life is short, so go on and live it. — Chris Cagle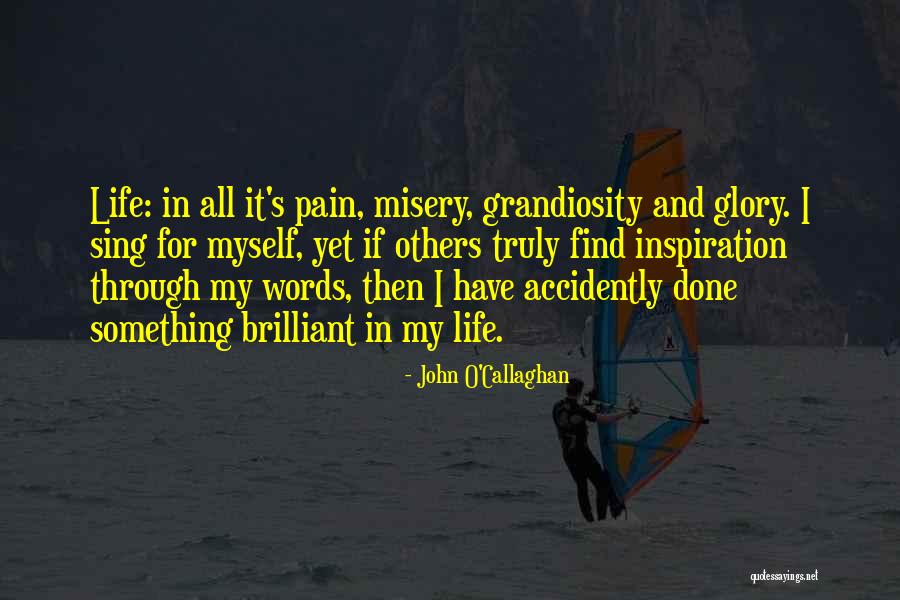 Life: in all it's pain, misery, grandiosity and glory. I sing for myself, yet if others truly find inspiration through my words, then I have accidently done something brilliant in my life. — John O'Callaghan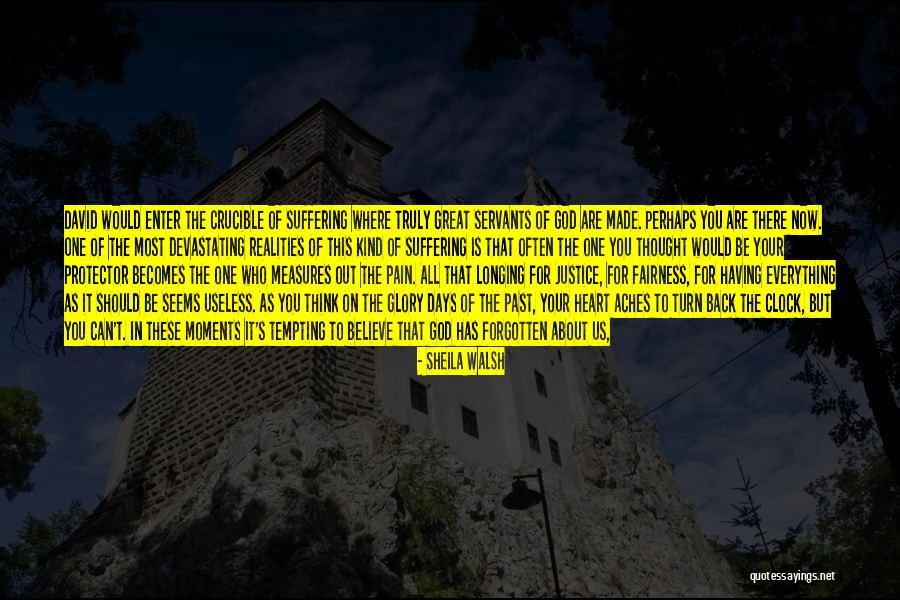 David would enter the crucible of suffering where truly great servants of God are made. Perhaps you are there now. One of the most devastating realities of this kind of suffering is that often the one you thought would be your protector becomes the one who measures out the pain. All that longing for justice, for fairness, for having everything as it should be seems useless. As you think on the glory days of the past, your heart aches to turn back the clock, but you can't. In these moments it's tempting to believe that God has forgotten about us, or even worse, that He simply doesn't care - His favor has moved on. If you are there right now, my heart aches for you. No one signs up for this school of suffering, and yet the deep work that God does in this painful, lonely place is rarely produced anywhere else. — Sheila Walsh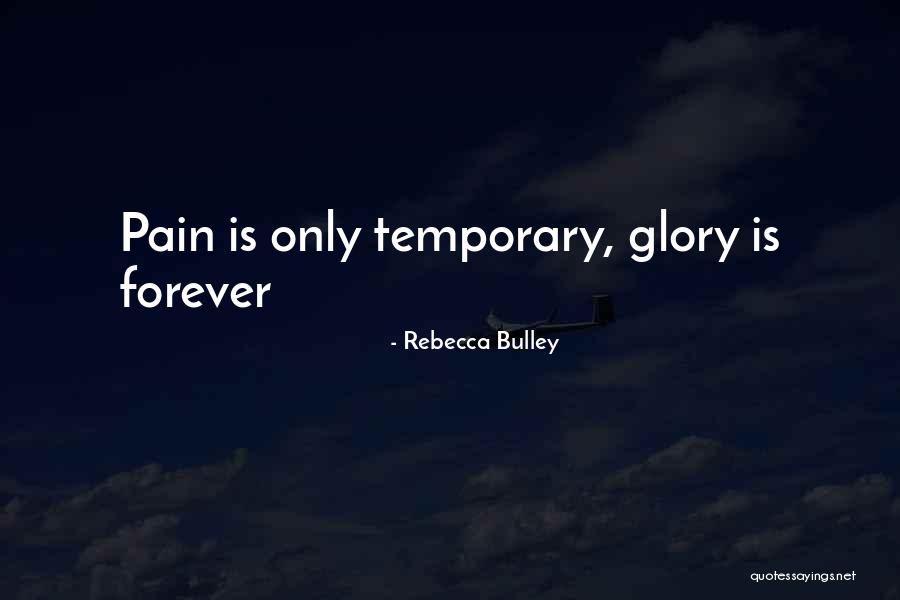 Pain is only temporary, glory is forever — Rebecca Bulley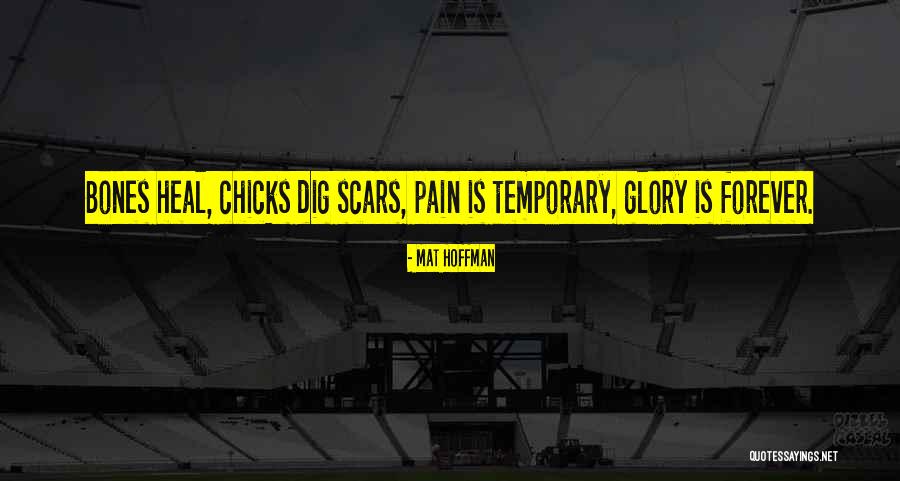 Bones heal, chicks dig scars, pain is temporary, glory is forever. — Mat Hoffman
As I had to do whenever I glimpsed this river, I thought of Phineas. Not of the tree and pain, but of one of his favorite tricks, Phineas in exaltation, balancing on one foot on the prow of a canoe like a river god, his raised arms invoking the air to support him, face transfigured, body a complex set of balances and compensations, each muscle aligned in perfection with all the others to maintain this supreme fantasy of achievement, his skin glowing from immersions, his whole body hanging between river and sky as though he had transcended gravity and might by gently pushing upward with his foot glide a little way higher and remain suspended in space, encompassing all the glory of the summer and offering it to the sky. — John Knowles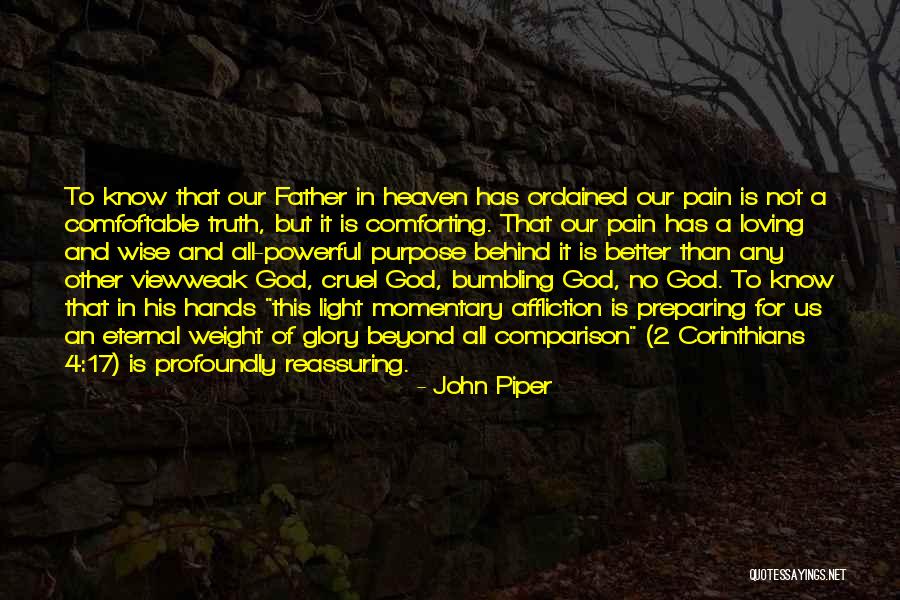 To know that our Father in heaven has ordained our pain is not a comfoftable truth, but it is comforting. That our pain has a loving and wise and all-powerful purpose behind it is better than any other view
weak God, cruel God, bumbling God, no God. To know that in his hands "this light momentary affliction is preparing for us an eternal weight of glory beyond all comparison" (2 Corinthians 4:17) is profoundly reassuring. — John Piper
Endurance: It is the spirit which can bear things, not simply with resignation, but with blazing hope. It is the quality which keeps a man on his feet with his face to the wind. It is the virtue which can transmute the hardest trial into glory because beyond the pain it sees the goal. — Anonymous
The great lesson of my life is perseverance. Never give up. It's like my brother said, "Isn't one minute of pain worth a lifetime of glory? — Louis Zamperini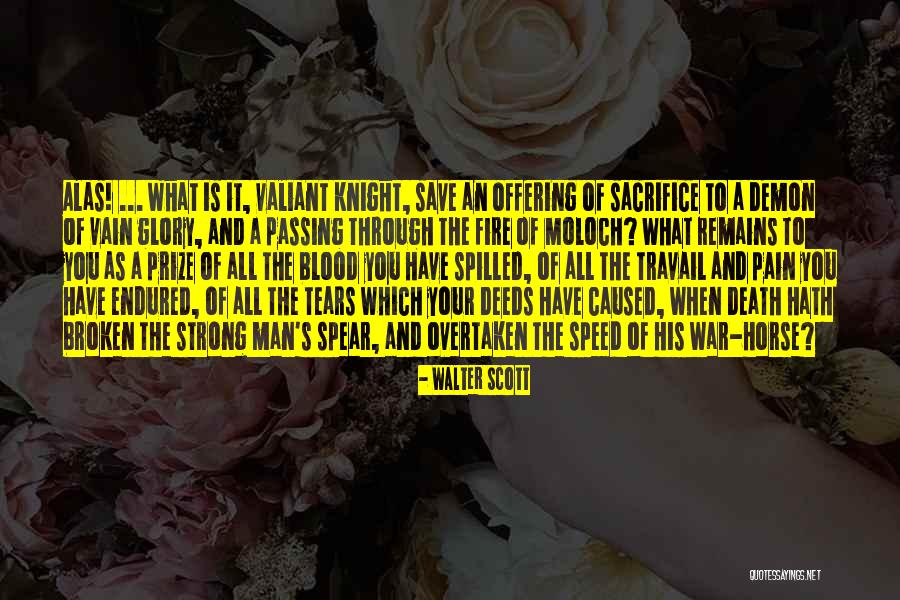 Alas! ... what is it, valiant knight, save an offering of sacrifice to a demon of vain glory, and a passing through the fire of Moloch? What remains to you as a prize of all the blood you have spilled, of all the travail and pain you have endured, of all the tears which your deeds have caused, when death hath broken the strong man's spear, and overtaken the speed of his war-horse? — Walter Scott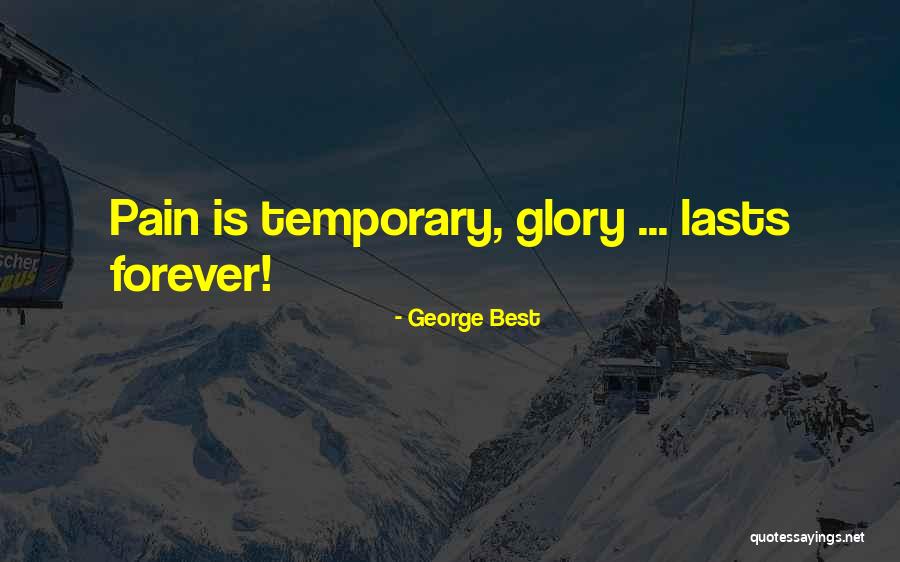 Pain is temporary, glory ... lasts forever! — George Best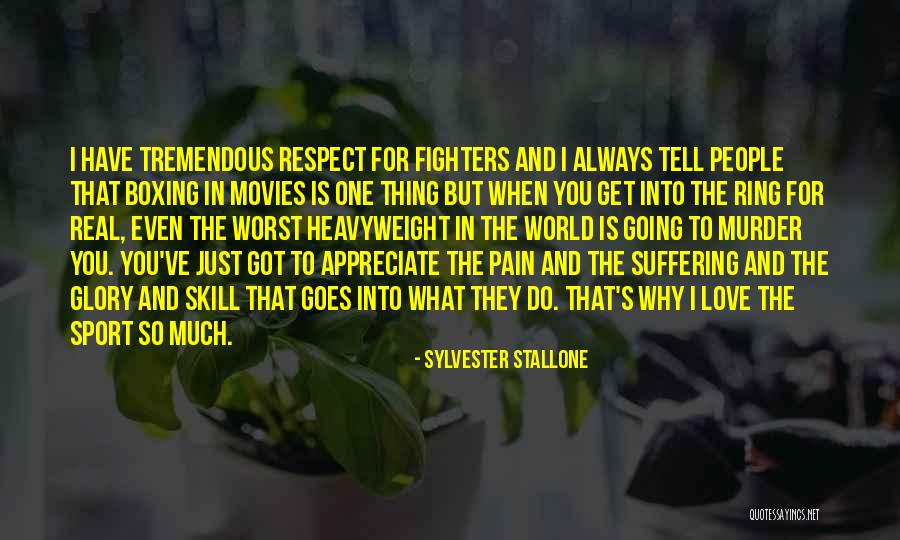 I have tremendous respect for fighters and I always tell people that boxing in movies is one thing but when you get into the ring for real, even the worst heavyweight in the world is going to murder you. You've just got to appreciate the pain and the suffering and the glory and skill that goes into what they do. That's why I love the sport so much. — Sylvester Stallone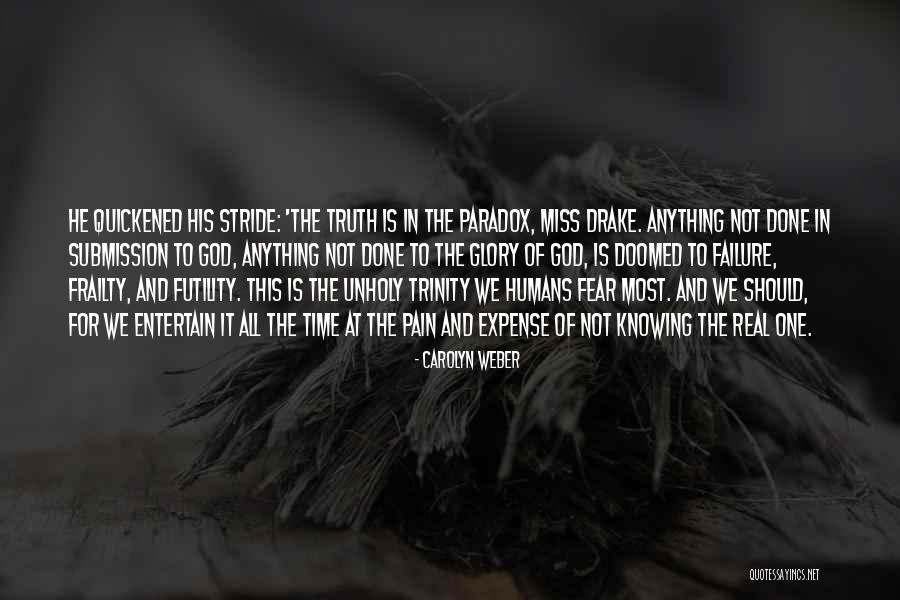 He quickened his stride: 'The truth is in the paradox, Miss Drake. Anything not done in submission to God, anything not done to the glory of God, is doomed to failure, frailty, and futility. This is the unholy trinity we humans fear most. And we should, for we entertain it all the time at the pain and expense of not knowing the real one. — Carolyn Weber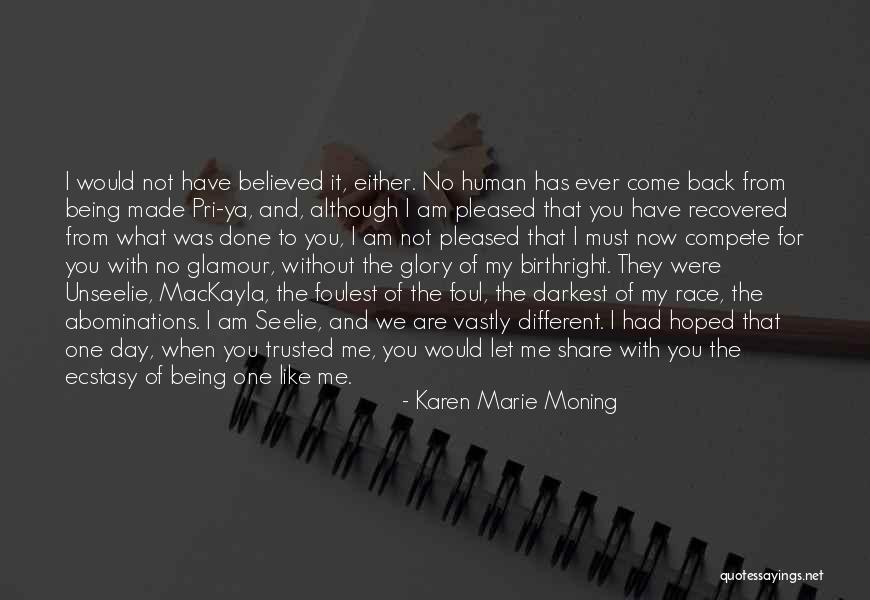 I would not have believed it, either. No human has ever come back from being made Pri-ya, and, although I am pleased that you have recovered from what was done to you, I am not pleased that I must now compete for you with no glamour, without the glory of my birthright. They were Unseelie, MacKayla, the foulest of the foul, the darkest of my race, the abominations. I am Seelie, and we are vastly different. I had hoped that one day, when you trusted me, you would let me share with you the ecstasy of being one like me. With no pain, MacKayla, and no price. Now that can never be. You have no idea how exquisite the experience might have been and now never will. — Karen Marie Moning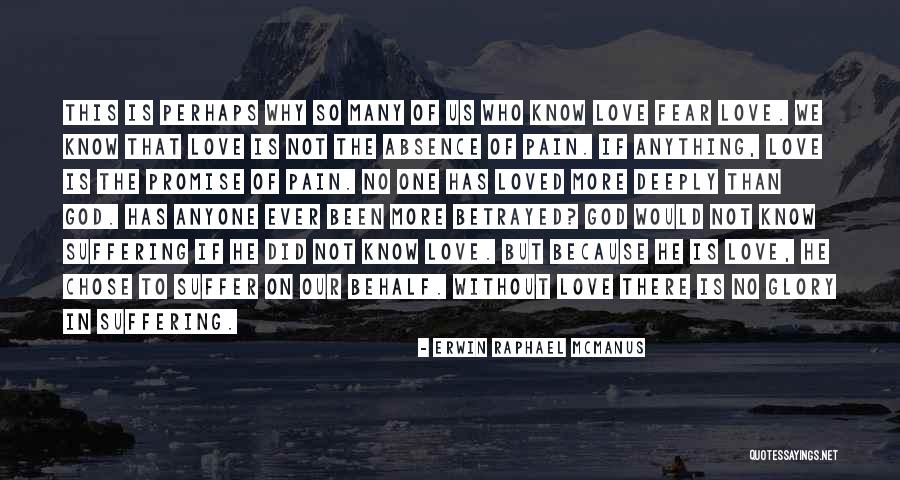 This is perhaps why so many of us who know love fear love. We know that love is not the absence of pain. If anything, love is the promise of pain. No one has loved more deeply than God. Has anyone ever been more betrayed? God would not know suffering if He did not know love. But because He is Love, He chose to suffer on our behalf. Without love there is no glory in suffering. — Erwin Raphael McManus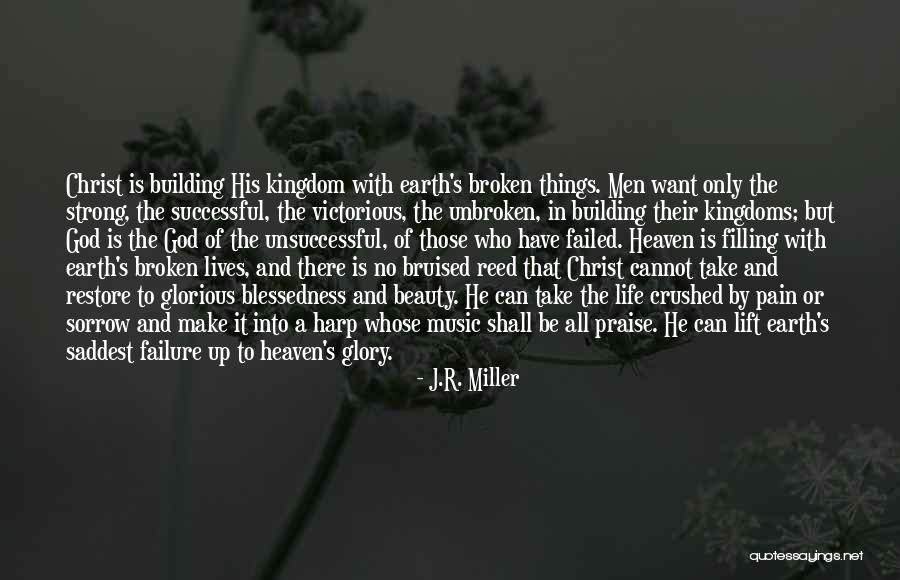 Christ is building His kingdom with earth's broken things. Men want only the strong, the successful, the victorious, the unbroken, in building their kingdoms; but God is the God of the unsuccessful, of those who have failed. Heaven is filling with earth's broken lives, and there is no bruised reed that Christ cannot take and restore to glorious blessedness and beauty. He can take the life crushed by pain or sorrow and make it into a harp whose music shall be all praise. He can lift earth's saddest failure up to heaven's glory. — J.R. Miller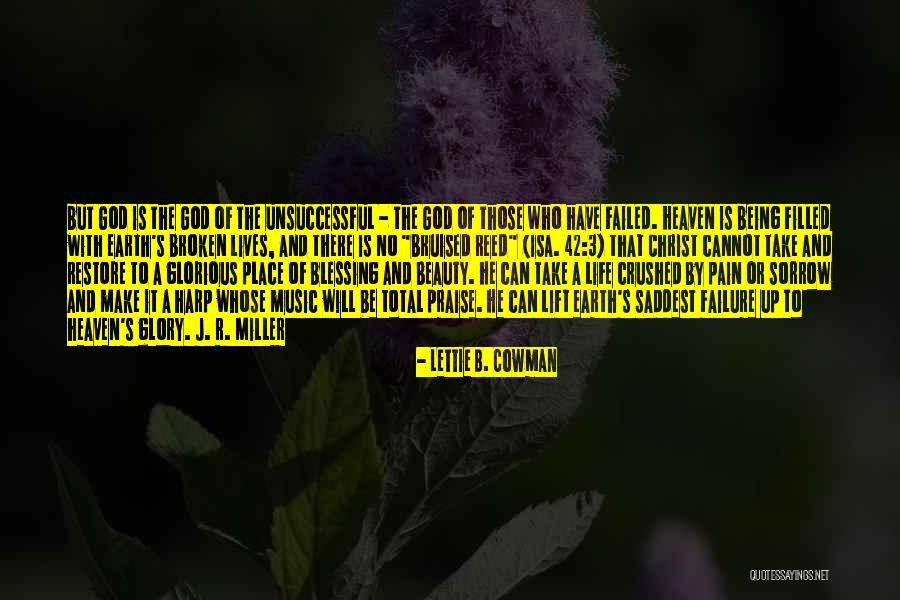 but God is the God of the unsuccessful - the God of those who have failed. Heaven is being filled with earth's broken lives, and there is no "bruised reed" (Isa. 42:3) that Christ cannot take and restore to a glorious place of blessing and beauty. He can take a life crushed by pain or sorrow and make it a harp whose music will be total praise. He can lift earth's saddest failure up to heaven's glory. J. R. Miller — Lettie B. Cowman