No Effort Love Quotes & Sayings
Enjoy reading and share 65 famous quotes about No Effort Love with everyone.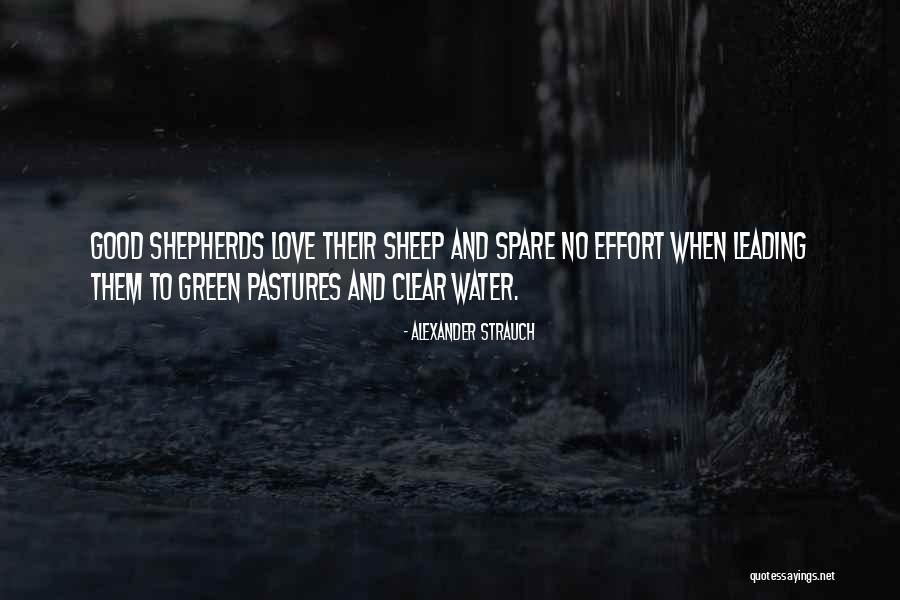 Good shepherds love their sheep and spare no effort when leading them to green pastures and clear water. — Alexander Strauch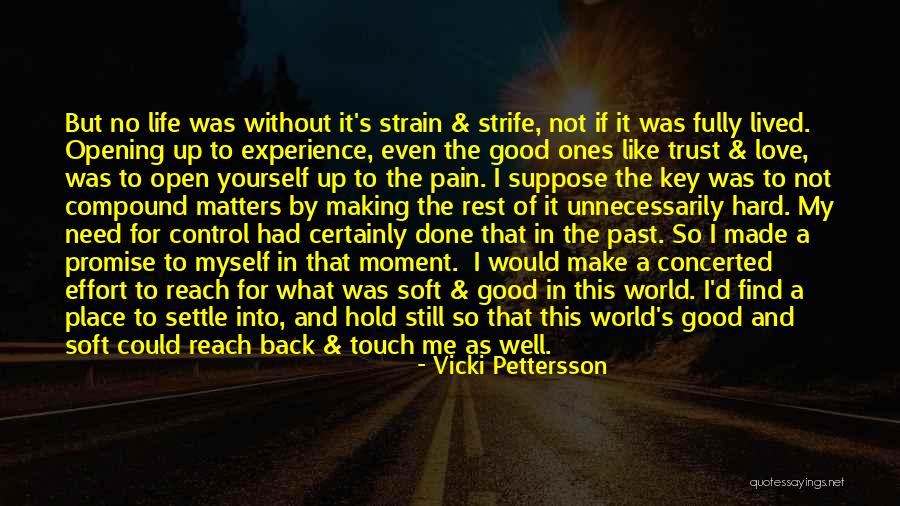 But no life was without it's strain & strife, not if it was fully lived. Opening up to experience, even the good ones like trust & love, was to open yourself up to the pain. I suppose the key was to not compound matters by making the rest of it unnecessarily hard. My need for control had certainly done that in the past. So I made a promise to myself in that moment.
I would make a concerted effort to reach for what was soft & good in this world. I'd find a place to settle into, and hold still so that this world's good and soft could reach back & touch me as well. — Vicki Pettersson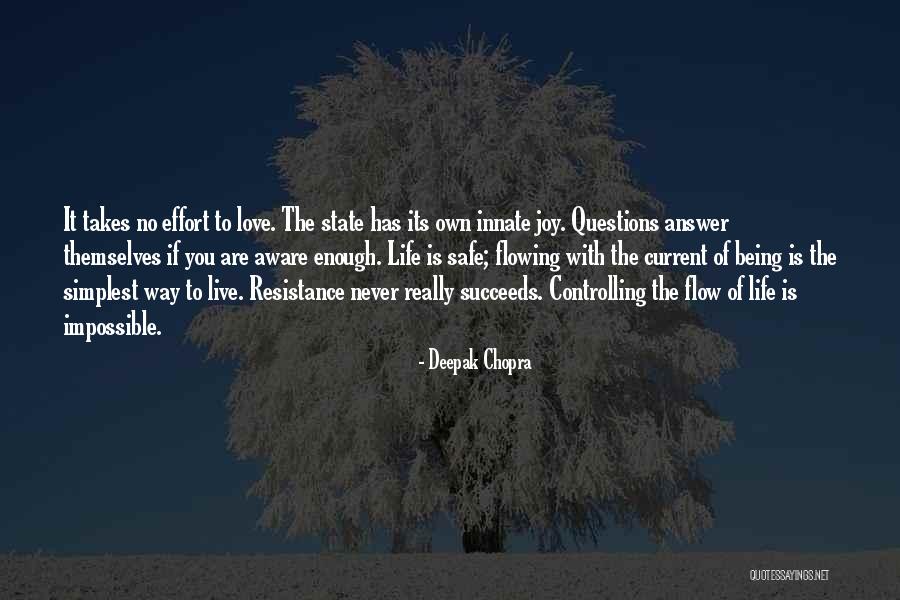 It takes no effort to love. The state has its own innate joy. Questions answer themselves if you are aware enough. Life is safe; flowing with the current of being is the simplest way to live. Resistance never really succeeds. Controlling the flow of life is impossible. — Deepak Chopra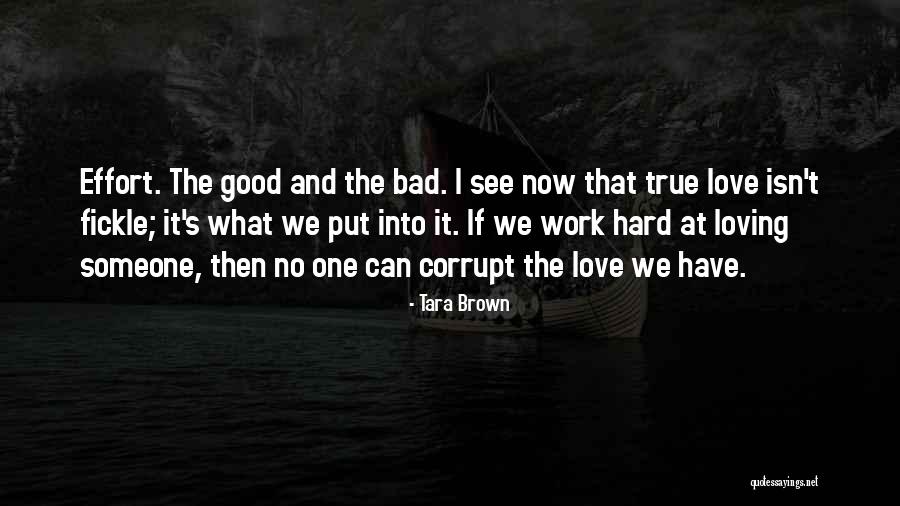 Effort. The good and the bad. I see now that true love isn't fickle; it's what we put into it. If we work hard at loving someone, then no one can corrupt the love we have. — Tara Brown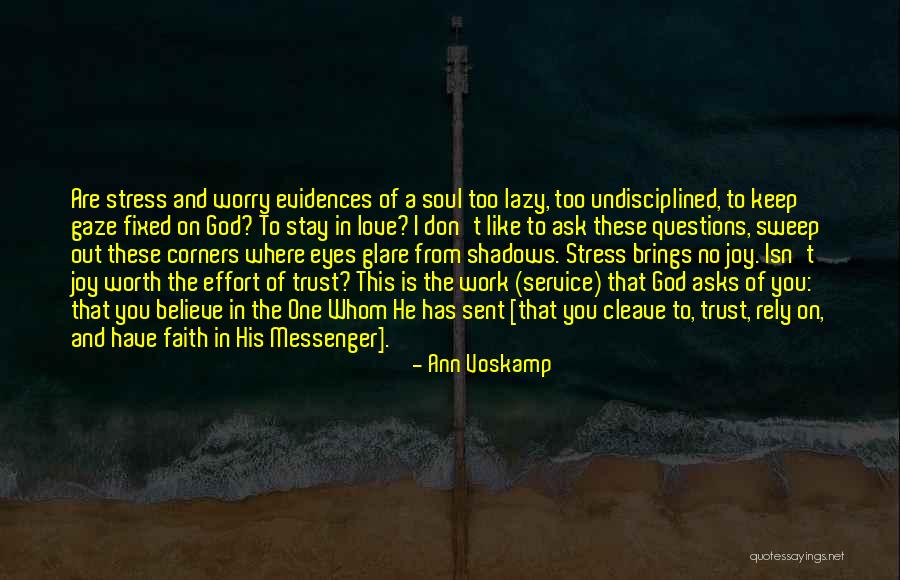 Are stress and worry evidences of a soul too lazy, too undisciplined, to keep gaze fixed on God? To stay in love? I don't like to ask these questions, sweep out these corners where eyes glare from shadows. Stress brings no joy. Isn't joy worth the effort of trust? This is the work (service) that God asks of you: that you believe in the One Whom He has sent [that you cleave to, trust, rely on, and have faith in His Messenger]. — Ann Voskamp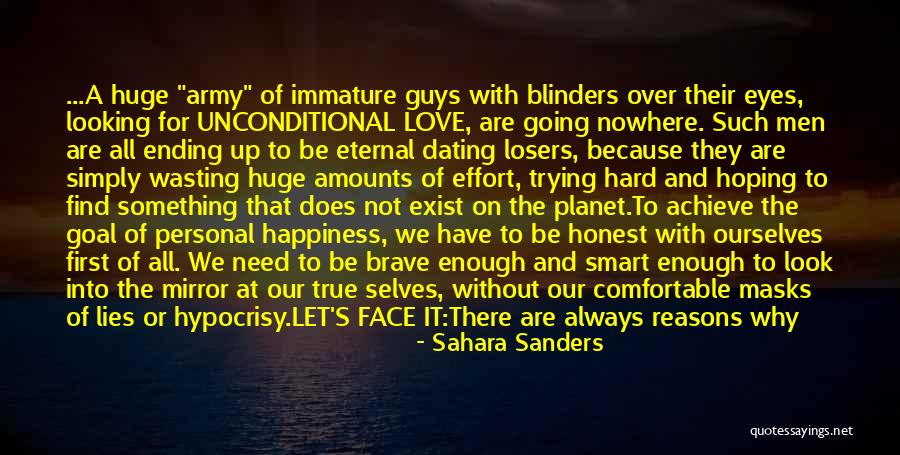 ...A huge "army" of immature guys with blinders over their eyes, looking for UNCONDITIONAL LOVE, are going nowhere. Such men are all ending up to be eternal dating losers, because they are simply wasting huge amounts of effort, trying hard and hoping to find something that does not exist on the planet.
To achieve the goal of personal happiness, we have to be honest with ourselves first of all. We need to be brave enough and smart enough to look into the mirror at our true selves, without our comfortable masks of lies or hypocrisy.

LET'S FACE IT:
There are always reasons why we feel love for another person; we don't love someone for no reason at all. We love them for the qualities they possess, which we admire; for those amazing, bright emotions they evoke from within ourselves; for the love and care that we so acceptingly receive from them; and for what good feelings we experience being around them, etc.

Be HONEST with yourself! — Sahara Sanders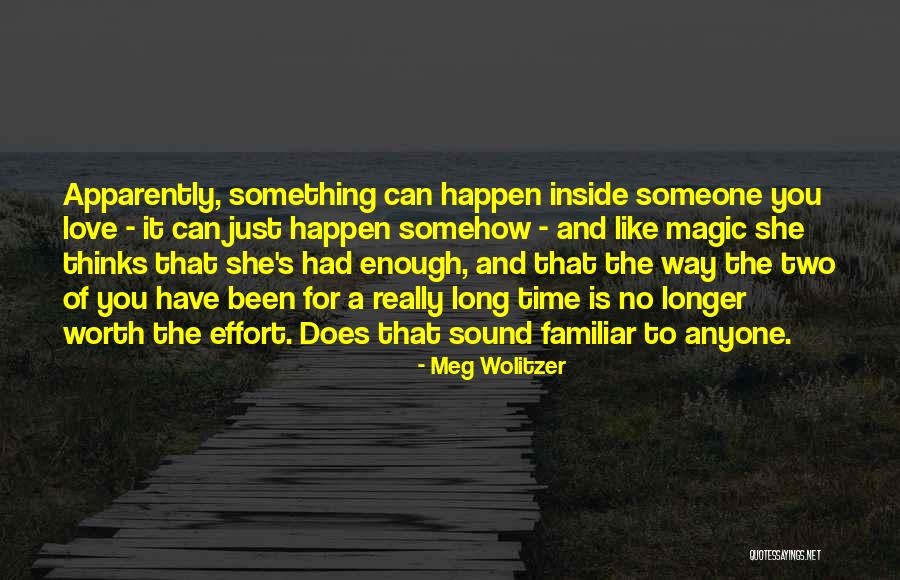 Apparently, something can happen inside someone you love - it can just happen somehow - and like magic she thinks that she's had enough, and that the way the two of you have been for a really long time is no longer worth the effort. Does that sound familiar to anyone. — Meg Wolitzer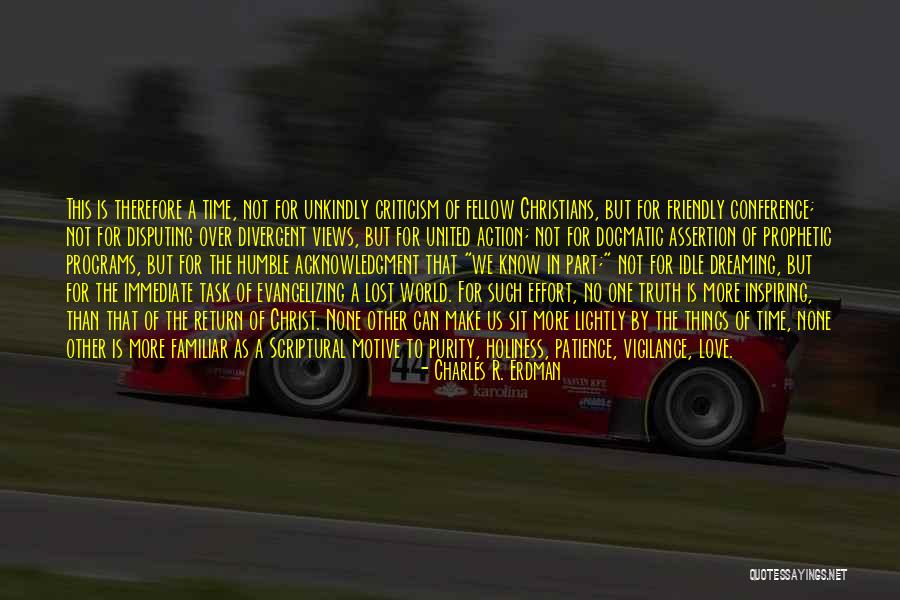 This is therefore a time, not for unkindly criticism of fellow Christians, but for friendly conference; not for disputing over divergent views, but for united action; not for dogmatic assertion of prophetic programs, but for the humble acknowledgment that "we know in part;" not for idle dreaming, but for the immediate task of evangelizing a lost world. For such effort, no one truth is more inspiring, than that of the return of Christ. None other can make us sit more lightly by the things of time, none other is more familiar as a Scriptural motive to purity, holiness, patience, vigilance, love. — Charles R. Erdman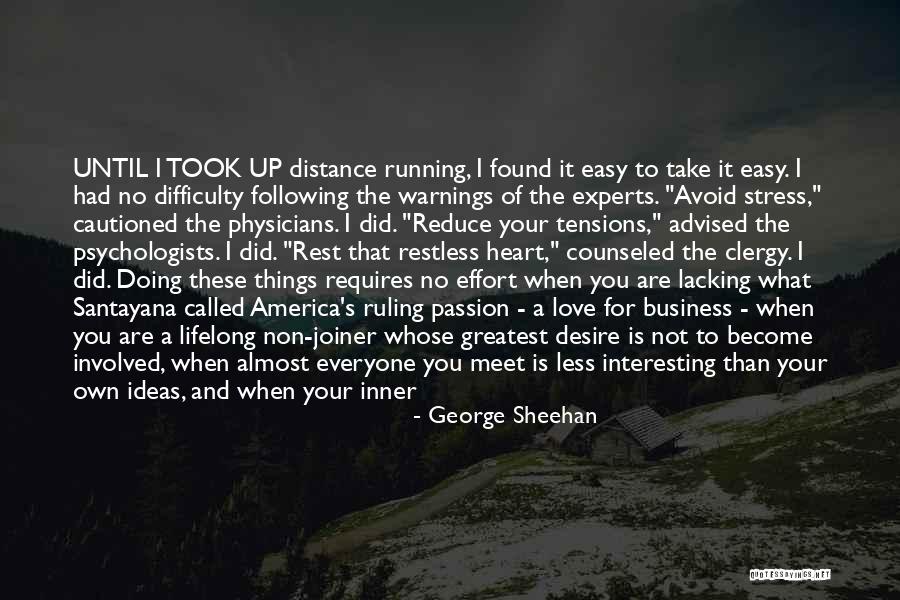 UNTIL I TOOK UP distance running, I found it easy to take it easy. I had no difficulty following the warnings of the experts. "Avoid stress," cautioned the physicians. I did. "Reduce your tensions," advised the psychologists. I did. "Rest that restless heart," counseled the clergy. I did. Doing these things requires no effort when you are lacking what Santayana called America's ruling passion - a love for business - when you are a lifelong non-joiner whose greatest desire is not to become involved, when almost everyone you meet is less interesting than your own ideas, and when your inner life has more reality than your outer one. — George Sheehan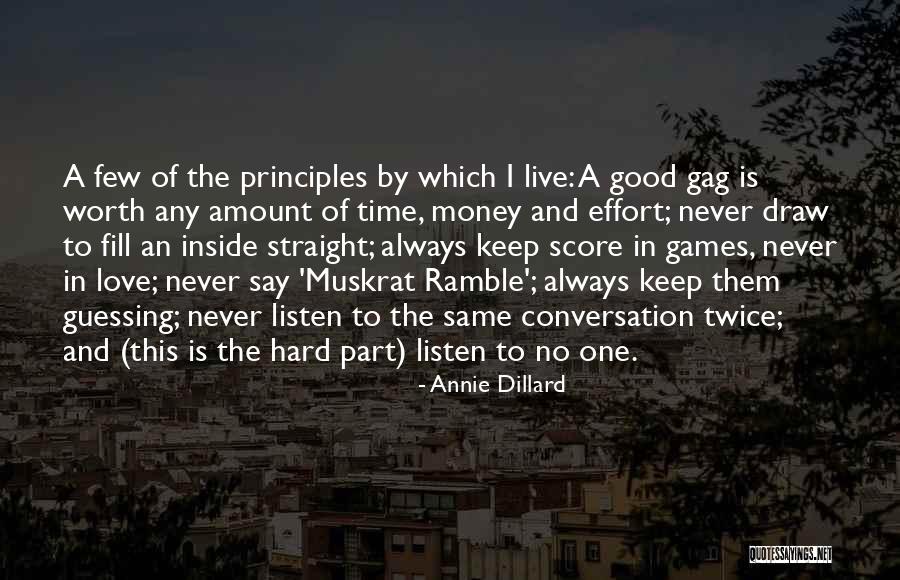 A few of the principles by which I live: A good gag is worth any amount of time, money and effort; never draw to fill an inside straight; always keep score in games, never in love; never say 'Muskrat Ramble'; always keep them guessing; never listen to the same conversation twice; and (this is the hard part) listen to no one. — Annie Dillard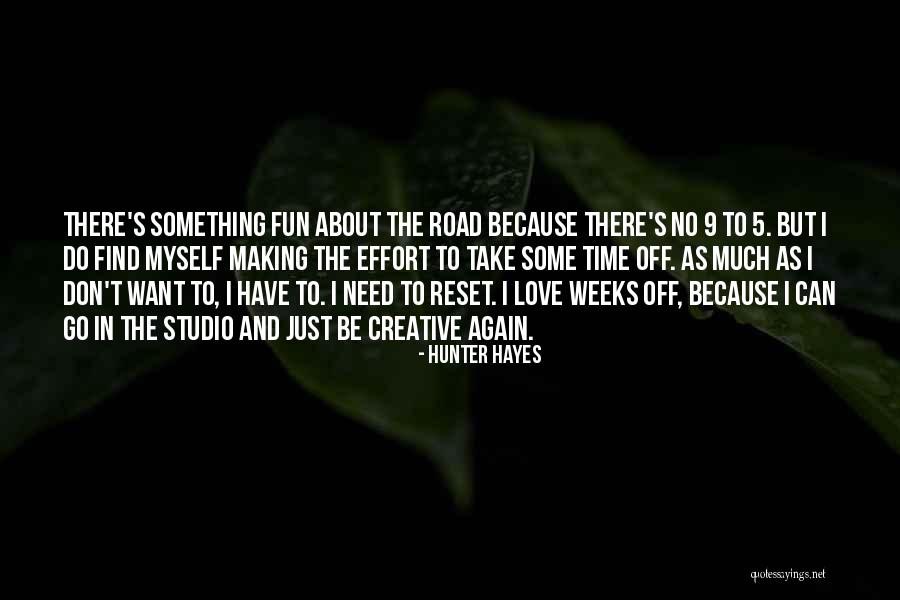 There's something fun about the road because there's no 9 to 5. But I do find myself making the effort to take some time off. As much as I don't want to, I have to. I need to reset. I love weeks off, because I can go in the studio and just be creative again. — Hunter Hayes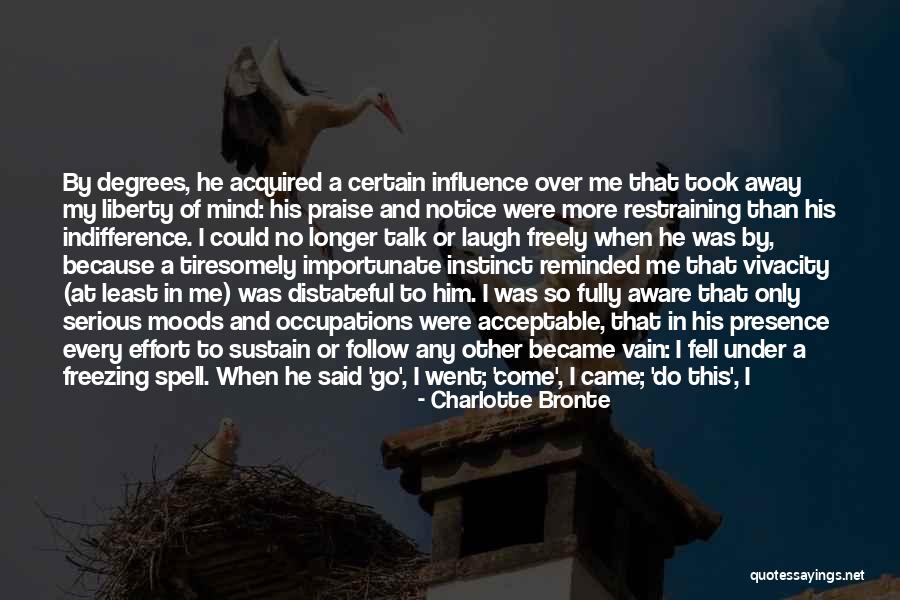 By degrees, he acquired a certain influence over me that took away my liberty of mind: his praise and notice were more restraining than his indifference. I could no longer talk or laugh freely when he was by, because a tiresomely importunate instinct reminded me that vivacity (at least in me) was distateful to him. I was so fully aware that only serious moods and occupations were acceptable, that in his presence every effort to sustain or follow any other became vain: I fell under a freezing spell. When he said 'go', I went; 'come', I came; 'do this', I dit it. But I did not love my servitude [ ... ]. — Charlotte Bronte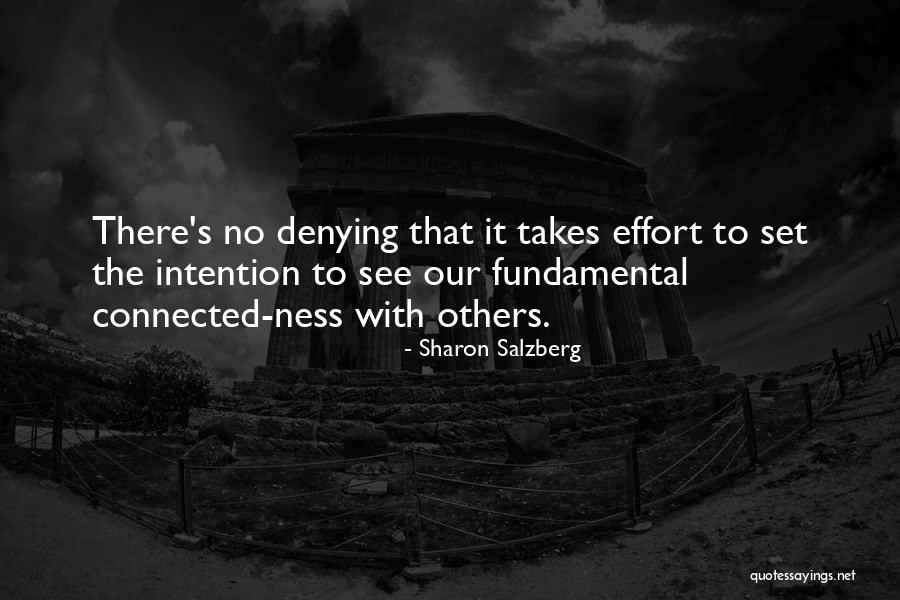 There's no denying that it takes effort to set the intention to see our fundamental connected-ness with others. — Sharon Salzberg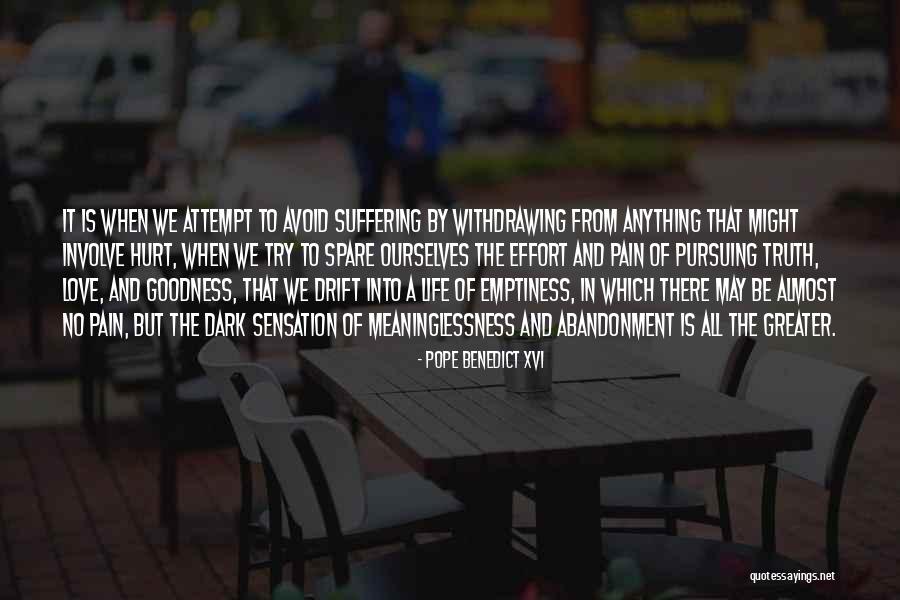 It is when we attempt to avoid suffering by withdrawing from anything that might involve hurt, when we try to spare ourselves the effort and pain of pursuing truth, love, and goodness, that we drift into a life of emptiness, in which there may be almost no pain, but the dark sensation of meaninglessness and abandonment is all the greater. — Pope Benedict XVI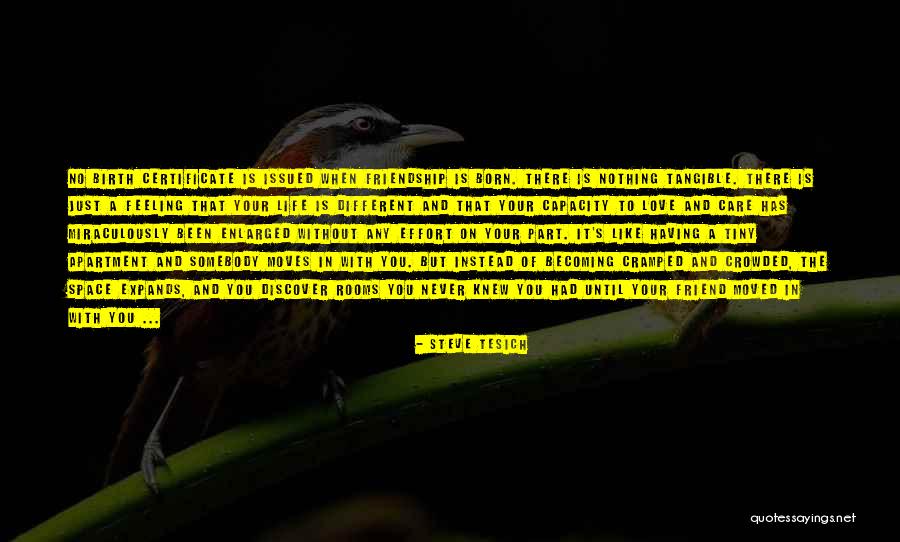 No birth certificate is issued when friendship is born. There is nothing tangible. There is just a feeling that your life is different and that your capacity to love and care has miraculously been enlarged without any effort on your part. It's like having a tiny apartment and somebody moves in with you. But instead of becoming cramped and crowded, the space expands, and you discover rooms you never knew you had until your friend moved in with you ... — Steve Tesich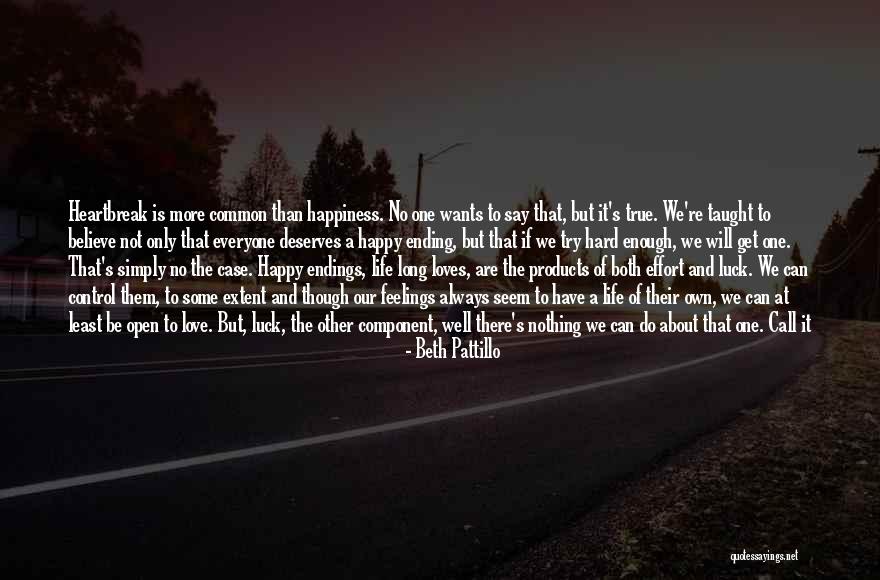 Heartbreak is more common than happiness. No one wants to say that, but it's true. We're taught to believe not only that everyone deserves a happy ending, but that if we try hard enough, we will get one. That's simply no the case. Happy endings, life long loves, are the products of both effort and luck. We can control them, to some extent and though our feelings always seem to have a life of their own, we can at least be open to love. But, luck, the other component, well there's nothing we can do about that one. Call it God's plan or predestination or divine intervention, but we're all at its mercy. And sometimes God isn't very merciful. Jane taught me that. — Beth Pattillo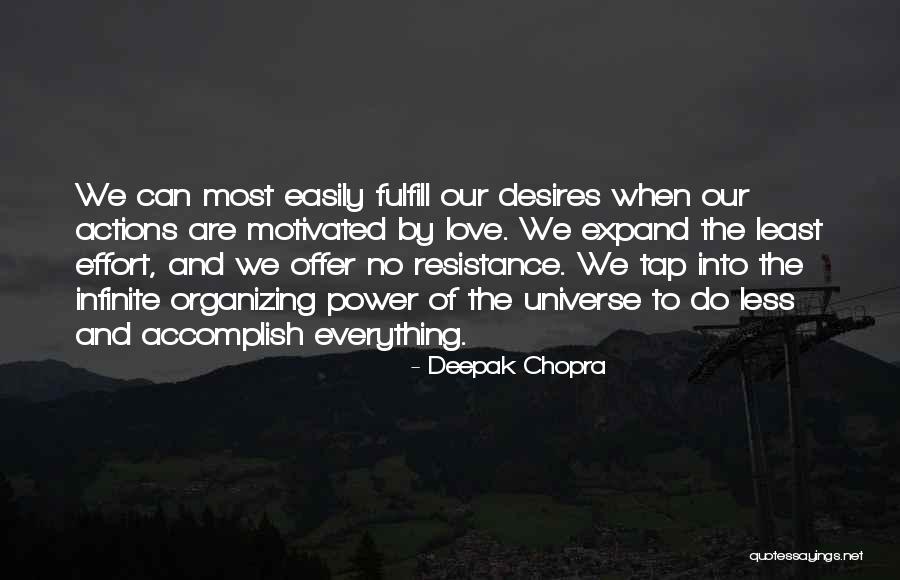 We can most easily fulfill our desires when our actions are motivated by love. We expand the least effort, and we offer no resistance. We tap into the infinite organizing power of the universe to do less and accomplish everything. — Deepak Chopra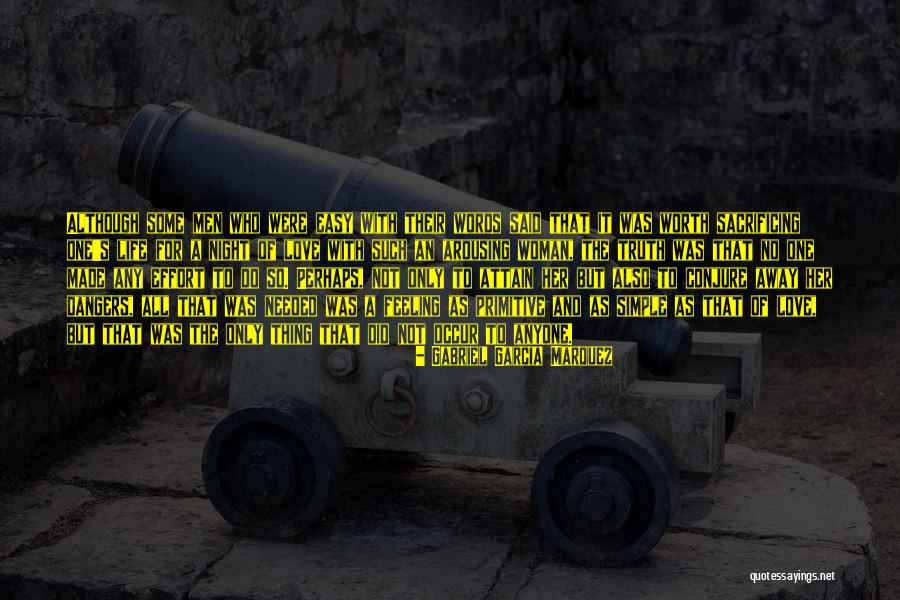 Although some men who were easy with their words said that it was worth sacrificing one's life for a night of love with such an arousing woman, the truth was that no one made any effort to do so. Perhaps, not only to attain her but also to conjure away her dangers, all that was needed was a feeling as primitive and as simple as that of love, but that was the only thing that did not occur to anyone. — Gabriel Garcia Marquez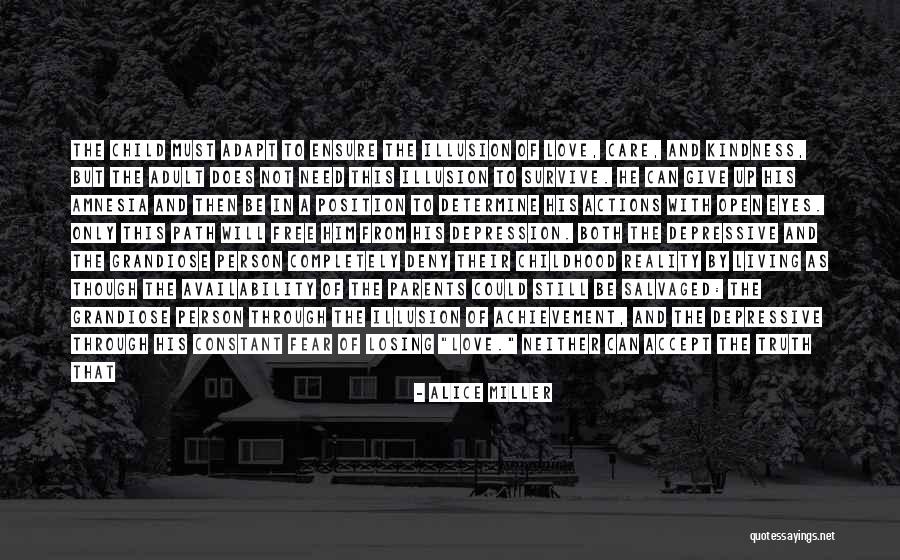 The child must adapt to ensure the illusion of love, care, and kindness, but the adult does not need this illusion to survive. He can give up his amnesia and then be in a position to determine his actions with open eyes. Only this path will free him from his depression. Both the depressive and the grandiose person completely deny their childhood reality by living as though the availability of the parents could still be salvaged: the grandiose person through the illusion of achievement, and the depressive through his constant fear of losing "love." Neither can accept the truth that this loss or absence of love has already happened in the past, and that no effort whatsoever can change this fact. — Alice Miller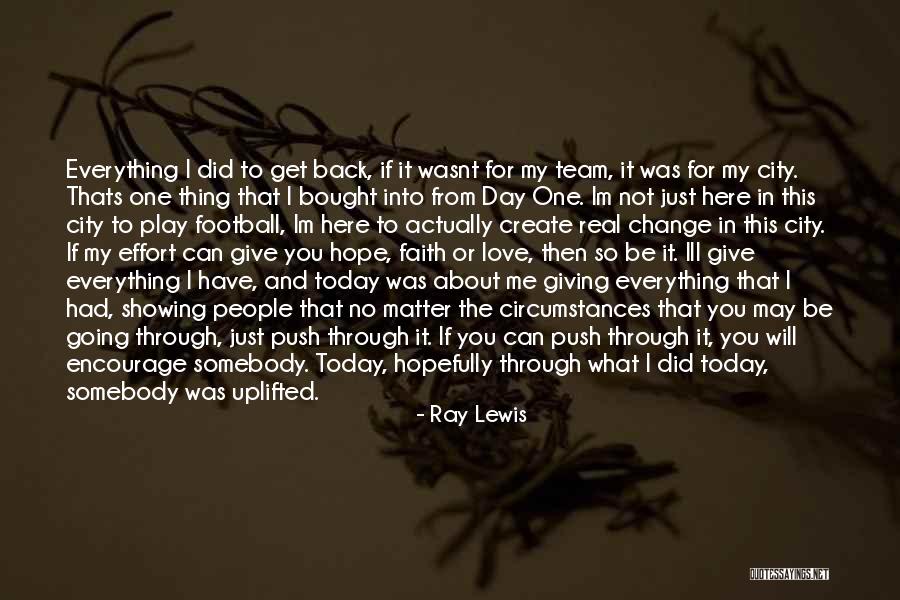 Everything I did to get back, if it wasnt for my team, it was for my city. Thats one thing that I bought into from Day One. Im not just here in this city to play football, Im here to actually create real change in this city. If my effort can give you hope, faith or love, then so be it. Ill give everything I have, and today was about me giving everything that I had, showing people that no matter the circumstances that you may be going through, just push through it. If you can push through it, you will encourage somebody. Today, hopefully through what I did today, somebody was uplifted. — Ray Lewis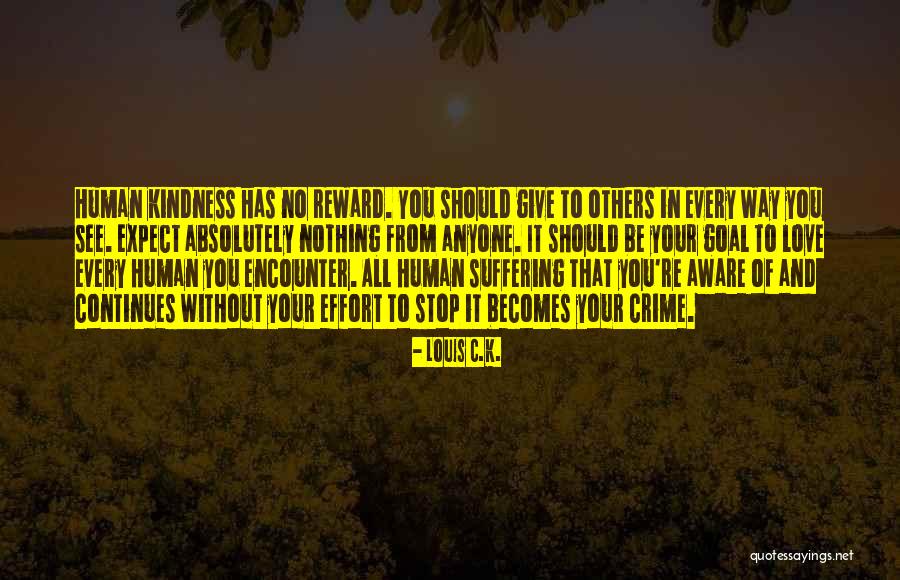 Human kindness has no reward. You should give to others in every way you see. expect absolutely nothing from anyone. It should be your goal to love every human you encounter. All human suffering that you're aware of and continues without your effort to stop it becomes your crime. — Louis C.K.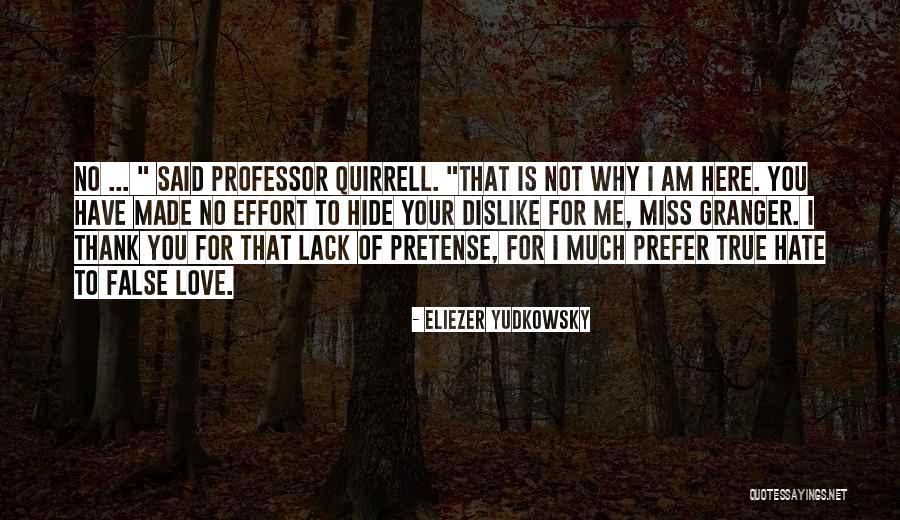 No ... " said Professor Quirrell. "That is not why I am here. You have made no effort to hide your dislike for me, Miss Granger. I thank you for that lack of pretense, for I much prefer true hate to false love. — Eliezer Yudkowsky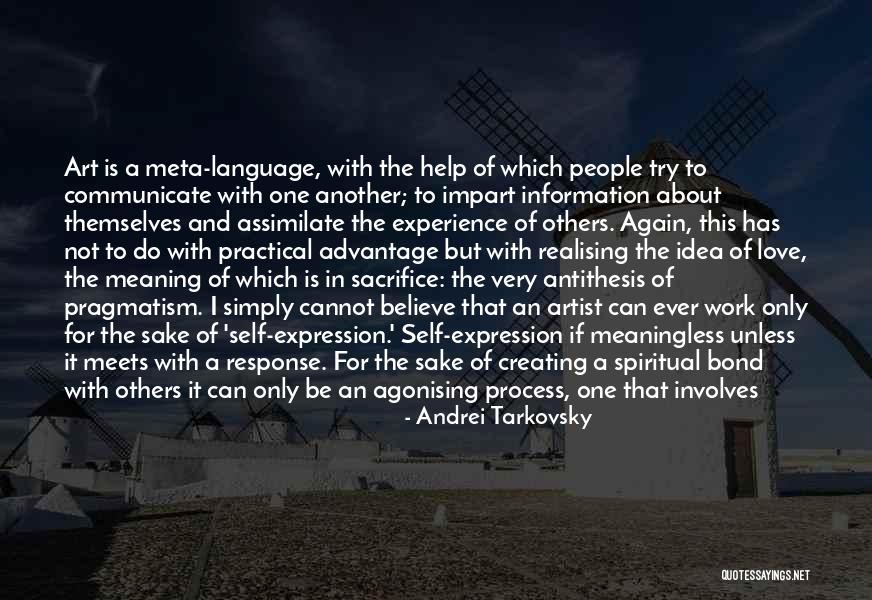 Art is a meta-language, with the help of which people try to communicate with one another; to impart information about themselves and assimilate the experience of others. Again, this has not to do with practical advantage but with realising the idea of love, the meaning of which is in sacrifice: the very antithesis of pragmatism. I simply cannot believe that an artist can ever work only for the sake of 'self-expression.' Self-expression if meaningless unless it meets with a response. For the sake of creating a spiritual bond with others it can only be an agonising process, one that involves no practical gain: ultimately it is an act of sacrifice. But surely it cannot be worth the effort merely for the sake of hearing one's own echo? — Andrei Tarkovsky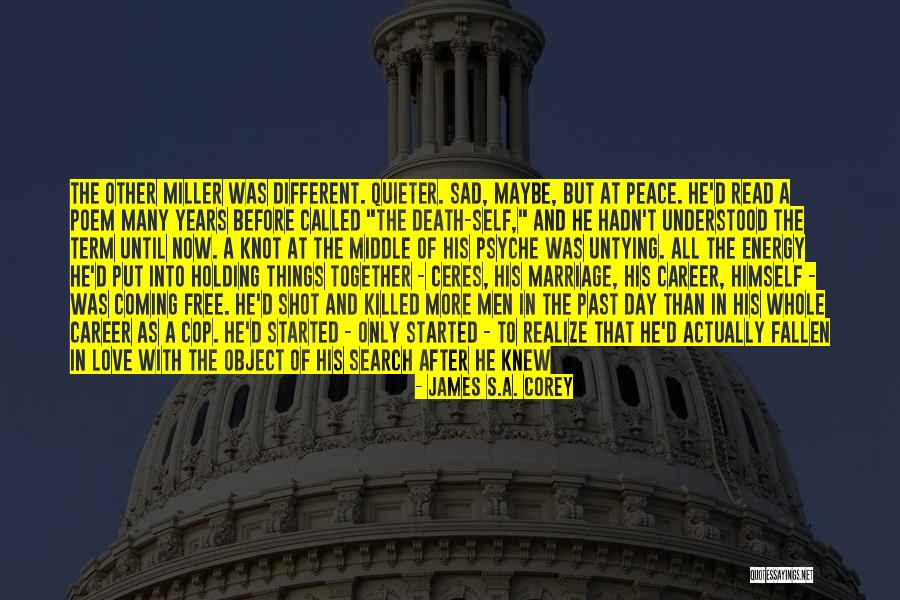 The other Miller was different. Quieter. Sad, maybe, but at peace. He'd read a poem many years before called "The Death-Self," and he hadn't understood the term until now. A knot at the middle of his psyche was untying. All the energy he'd put into holding things together - Ceres, his marriage, his career, himself - was coming free. He'd shot and killed more men in the past day than in his whole career as a cop. He'd started - only started - to realize that he'd actually fallen in love with the object of his search after he knew for certain that he'd lost her. He'd seen unequivocally that the chaos he'd dedicated his life to holding at bay was stronger and wider and more powerful than he would ever be. No compromise he could make would be enough. His death-self was unfolding in him, and the dark blooming took no effort. It was a relief, a relaxation, a long, slow exhale after decades of holding it in. — James S.A. Corey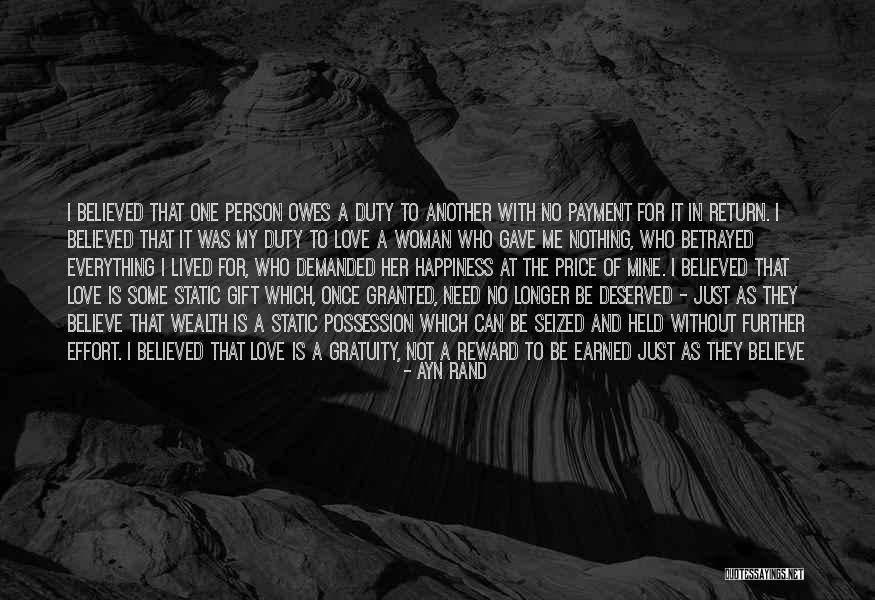 I believed that one person owes a duty to another with no payment for it in return. I believed that it was my duty to love a woman who gave me nothing, who betrayed everything I lived for, who demanded her happiness at the price of mine. I believed that love is some static gift which, once granted, need no longer be deserved - just as they believe that wealth is a static possession which can be seized and held without further effort. I believed that love is a gratuity, not a reward to be earned just as they believe it is their right to demand an unearned wealth. And just as they believe that their need is a claim on my energy, so I believed that her unhappiness was a claim on my life. For the sake of pity, not justice, I — Ayn Rand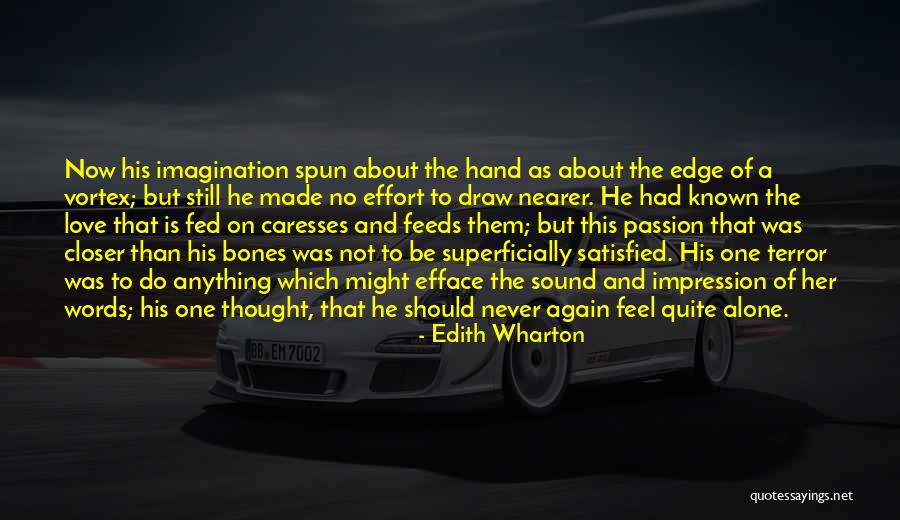 Now his imagination spun about the hand as about the edge of a vortex; but still he made no effort to draw nearer. He had known the love that is fed on caresses and feeds them; but this passion that was closer than his bones was not to be superficially satisfied. His one terror was to do anything which might efface the sound and impression of her words; his one thought, that he should never again feel quite alone. — Edith Wharton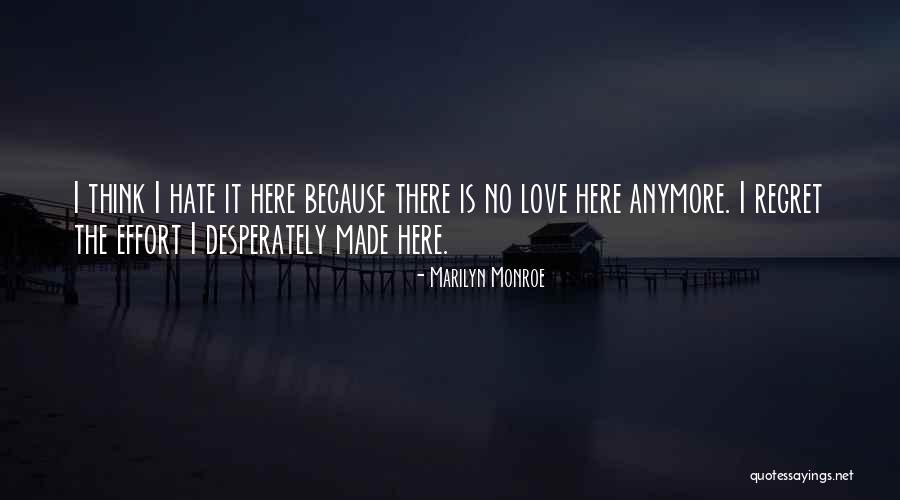 I think I hate it here because there is no love here anymore. I regret the effort I desperately made here. — Marilyn Monroe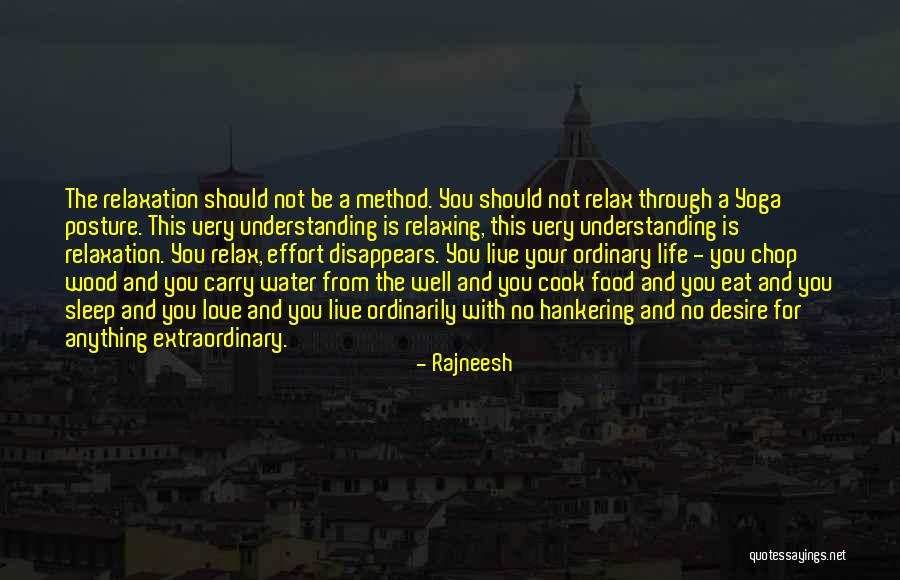 The relaxation should not be a method. You should not relax through a Yoga posture. This very understanding is relaxing, this very understanding is relaxation. You relax, effort disappears. You live your ordinary life - you chop wood and you carry water from the well and you cook food and you eat and you sleep and you love and you live ordinarily with no hankering and no desire for anything extraordinary. — Rajneesh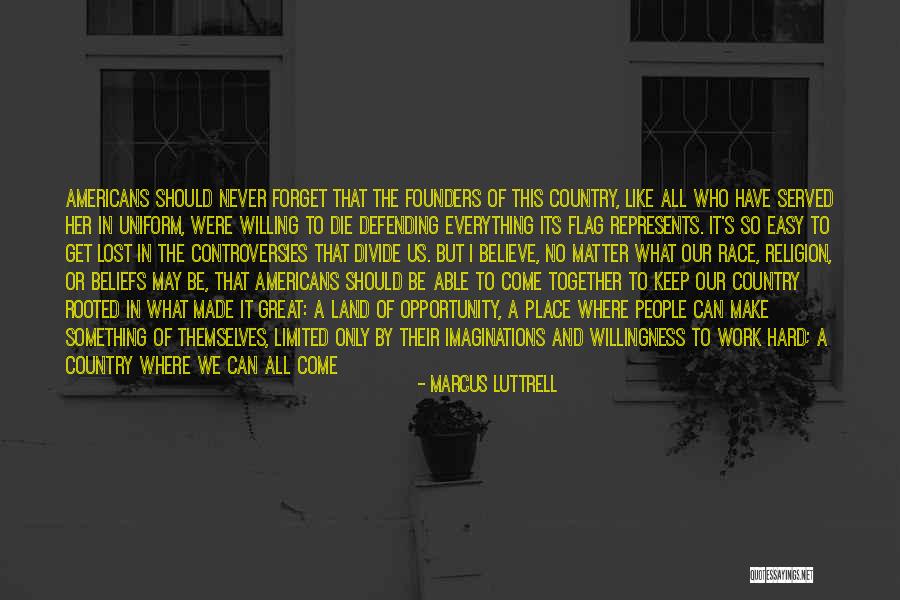 Americans should never forget that the founders of this country, like all who have served her in uniform, were willing to die defending everything its flag represents. It's so easy to get lost in the controversies that divide us. But I believe, no matter what our race, religion, or beliefs may be, that Americans should be able to come together to keep our country rooted in what made it great: a land of opportunity, a place where people can make something of themselves, limited only by their imaginations and willingness to work hard; a country where we can all come together, whatever our differences, for the greater good; a country of hands up, not handouts, where we try to live by the meaning of the words "Love thy neighbor," and put as much effort into helping others as we do helping ourselves. By doing those things, we can continue to live up to the idea of "One nation, under God, indivisible, with liberty and justice for all. — Marcus Luttrell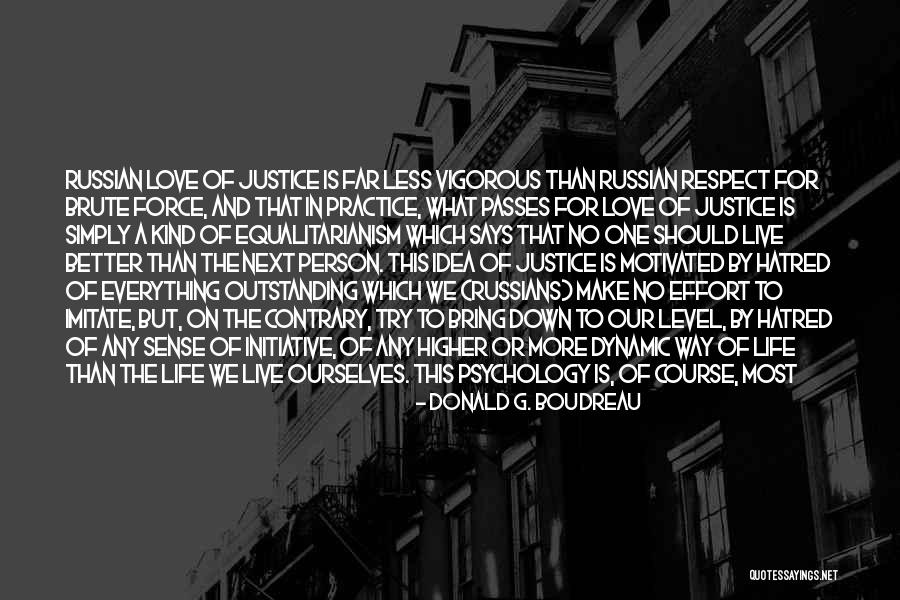 Russian love of justice is far less vigorous than Russian respect for brute force, and that in practice, what passes for love of justice is simply a kind of equalitarianism which says that no one should live better than the next person. This idea of justice is motivated by hatred of everything outstanding which we (Russians) make no effort to imitate, but, on the contrary, try to bring down to our level, by hatred of any sense of initiative, of any higher or more dynamic way of life than the life we live ourselves. This psychology is, of course, most typical of the peasantry and least typical of the "middle class." However, peasants and those of peasant origin constitute the overwhelming majority of our country. — Donald G. Boudreau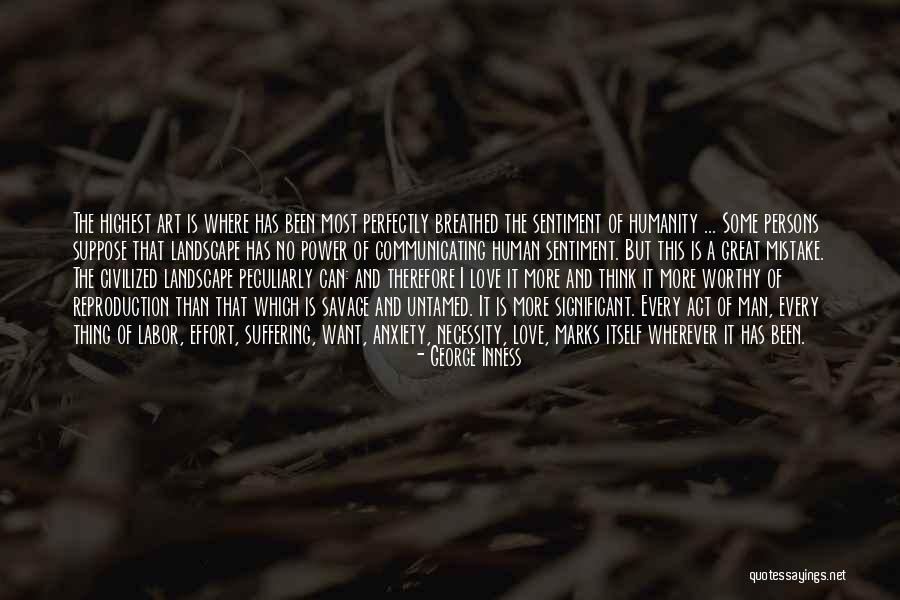 The highest art is where has been most perfectly breathed the sentiment of humanity ... Some persons suppose that landscape has no power of communicating human sentiment. But this is a great mistake. The civilized landscape peculiarly can: and therefore I love it more and think it more worthy of reproduction than that which is savage and untamed. It is more significant. Every act of man, every thing of labor, effort, suffering, want, anxiety, necessity, love, marks itself wherever it has been. — George Inness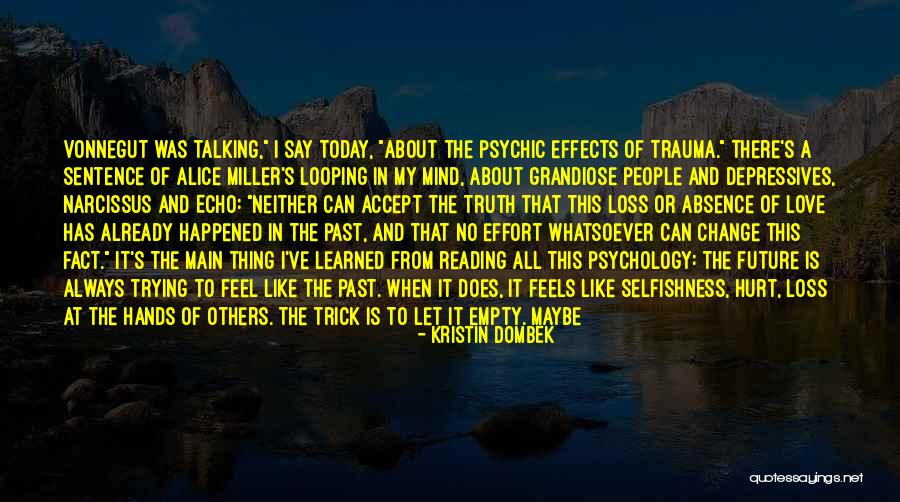 Vonnegut was talking," I say today, "about the psychic effects of trauma." There's a sentence of Alice Miller's looping in my mind, about grandiose people and depressives, Narcissus and Echo: "Neither can accept the truth that this loss or absence of love has already happened in the past, and that no effort whatsoever can change this fact." It's the main thing I've learned from reading all this psychology: the future is always trying to feel like the past. When it does, it feels like selfishness, hurt, loss at the hands of others. The trick is to let it empty. Maybe this is another way to come unstuck in time. — Kristin Dombek
I ask for nothing. / In return I give All. / There is no earning my Love. / No work needed, no effort / Save to listen to what is already heard, / To see what is already seen. / To know what is already known. / Do I seem to ask too little? / Would you give although I ask not? / Then this you can give me and I will accept. / I will take your heart. / You will find it waiting for you / When you return. — Ki Longfellow
It used to be that each time you fell in love, the effort of loving released in you the energy to hold everything together a little longer. Then, after several months or years, when things began to crack apart again, you would fall in love with someone else. New energy would be released, and for a time you and your world would be safe once more.

By now, however, you have exhausted that. There seems to be no energy left - if you had discovered alcohol earlier it might have saved a few broken hearts. For you, alcohol is not the problem - it's the solution: dissolving all the separate parts into one. A universal solvent. An ocean. — Ron Butlin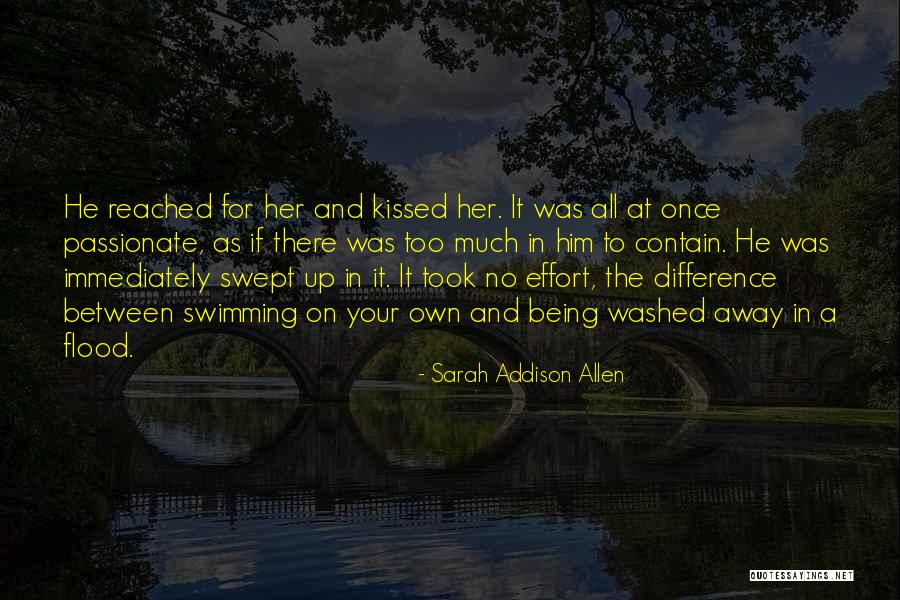 He reached for her and kissed her. It was all at once passionate, as if there was too much in him to contain. He was immediately swept up in it. It took no effort, the difference between swimming on your own and being washed away in a flood. — Sarah Addison Allen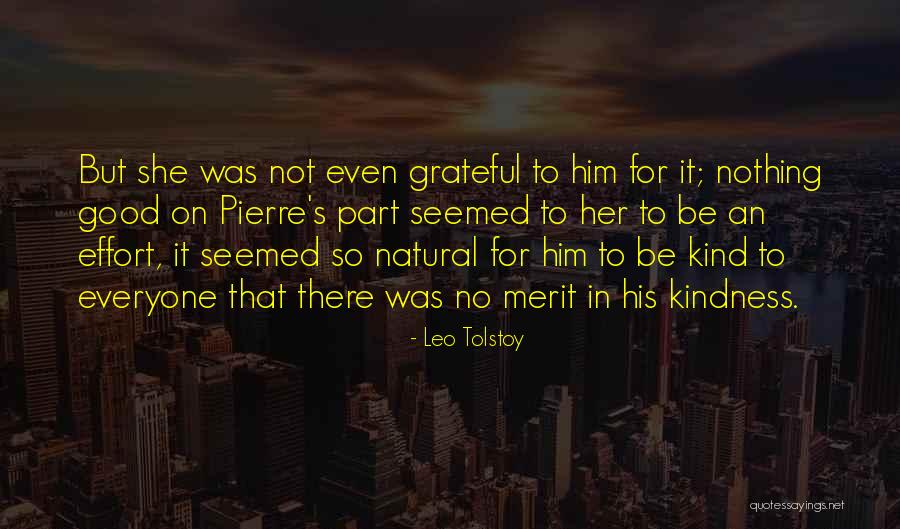 But she was not even grateful to him for it; nothing good on Pierre's part seemed to her to be an effort, it seemed so natural for him to be kind to everyone that there was no merit in his kindness. — Leo Tolstoy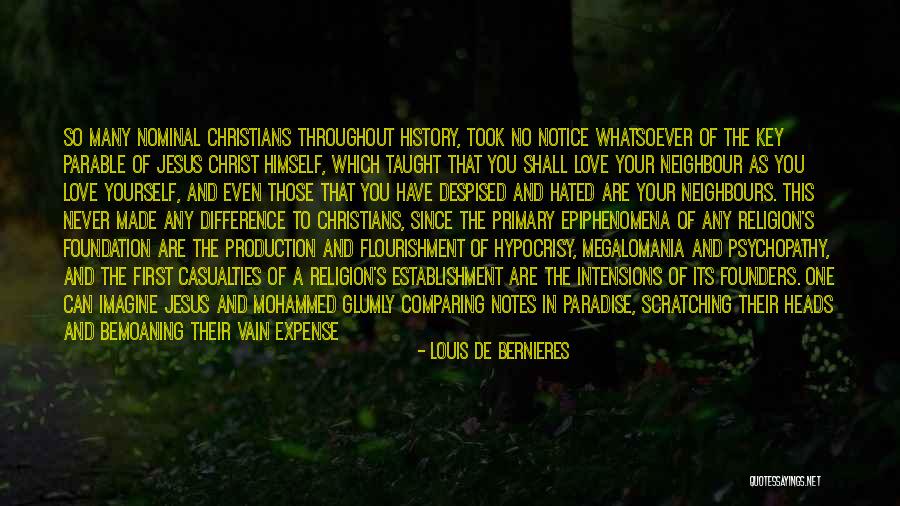 So many nominal Christians throughout history, took no notice whatsoever of the key parable of Jesus Christ himself, which taught that you shall love your neighbour as you love yourself, and even those that you have despised and hated are your neighbours. This never made any difference to Christians, since the primary epiphenomena of any religion's foundation are the production and flourishment of hypocrisy, megalomania and psychopathy, and the first casualties of a religion's establishment are the intensions of its founders. One can imagine Jesus and Mohammed glumly comparing notes in paradise, scratching their heads and bemoaning their vain expense of effort and suffering, which resulted only in the construction of two monumental whited sepulchres ... — Louis De Bernieres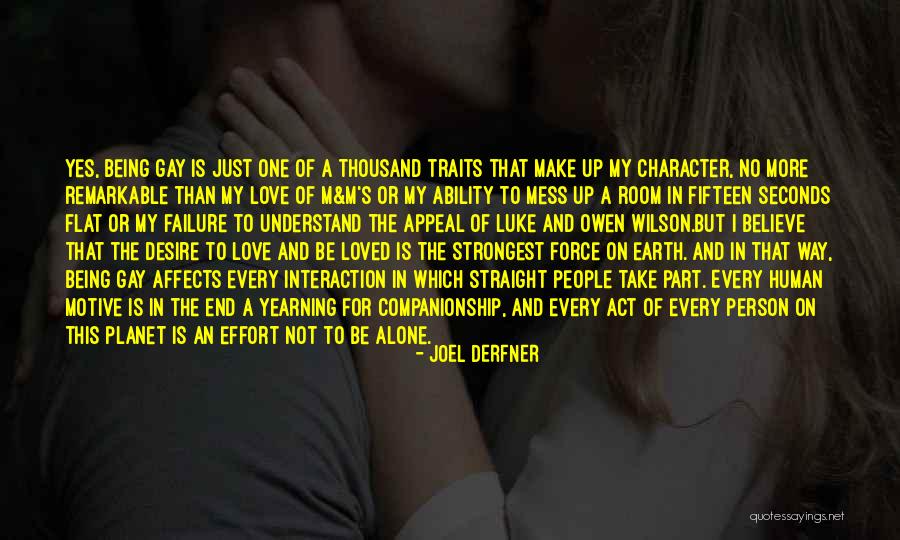 Yes, being gay is just one of a thousand traits that make up my character, no more remarkable than my love of M&M's or my ability to mess up a room in fifteen seconds flat or my failure to understand the appeal of Luke and Owen Wilson.
But I believe that the desire to love and be loved is the strongest force on earth. And in that way, being gay affects every interaction in which straight people take part. Every human motive is in the end a yearning for companionship, and every act of every person on this planet is an effort not to be alone. — Joel Derfner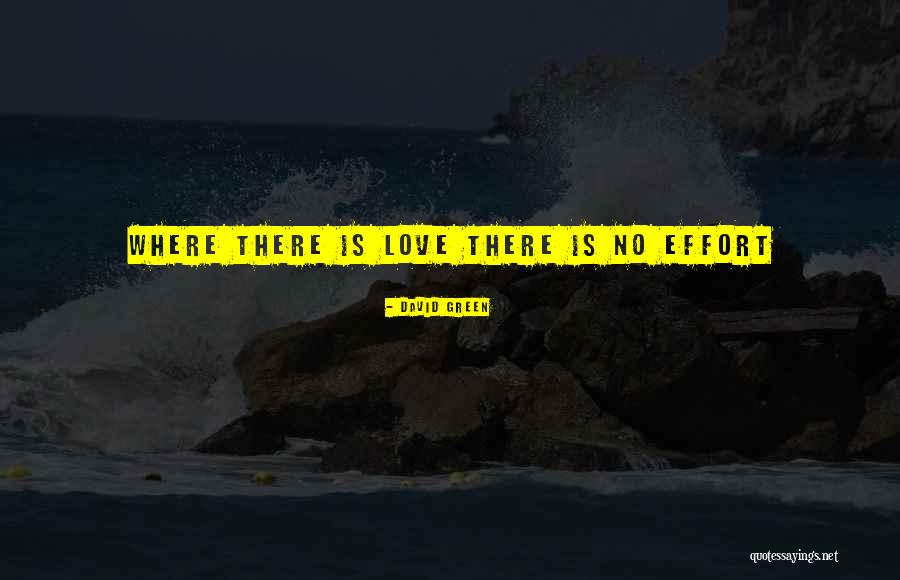 WHERE THERE IS LOVE THERE IS NO EFFORT — David Green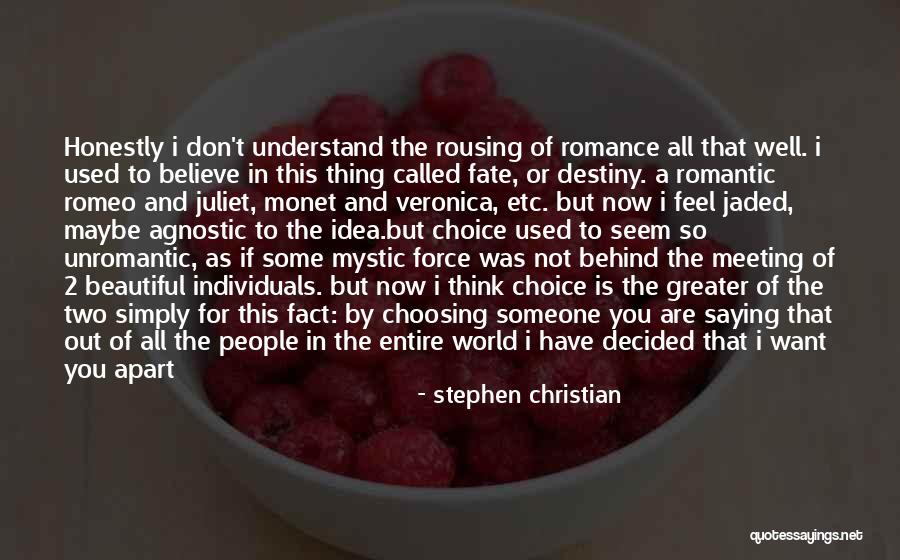 Honestly i don't understand the rousing of romance all that well. i used to believe in this thing called fate, or destiny. a romantic romeo and juliet, monet and veronica, etc. but now i feel jaded, maybe agnostic to the idea.
but choice used to seem so unromantic, as if some mystic force was not behind the meeting of 2 beautiful individuals. but now i think choice is the greater of the two simply for this fact: by choosing someone you are saying that out of all the people in the entire world i have decided that i want you apart of my life in perpetuum, for the rest of my life, and no one else.
no haphazard circumstance, no chance meetings where distant planets align. it's simply two rational individuals who make a choice and an effort to remain together. — Stephen Christian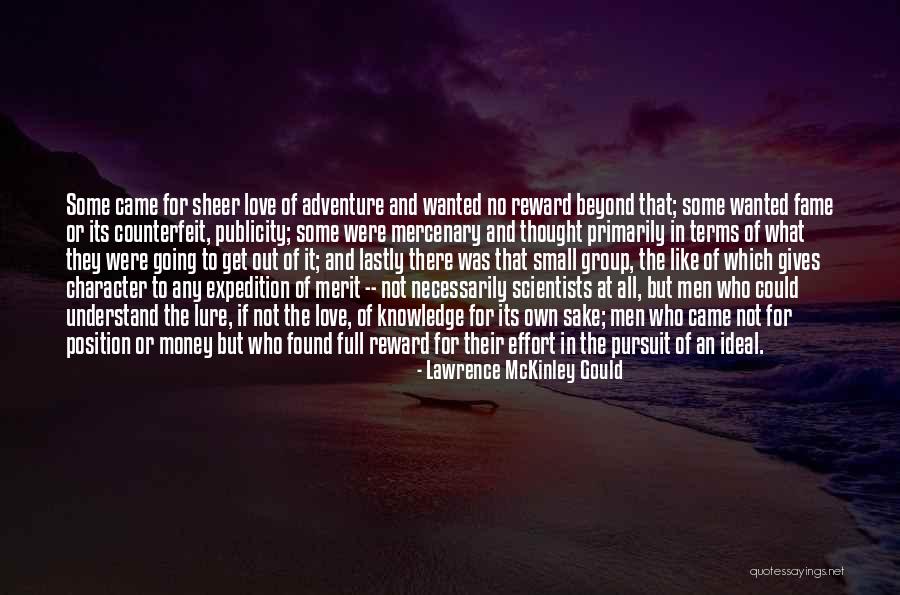 Some came for sheer love of adventure and wanted no reward beyond that; some wanted fame or its counterfeit, publicity; some were mercenary and thought primarily in terms of what they were going to get out of it; and lastly there was that small group, the like of which gives character to any expedition of merit -- not necessarily scientists at all, but men who could understand the lure, if not the love, of knowledge for its own sake; men who came not for position or money but who found full reward for their effort in the pursuit of an ideal. — Lawrence McKinley Gould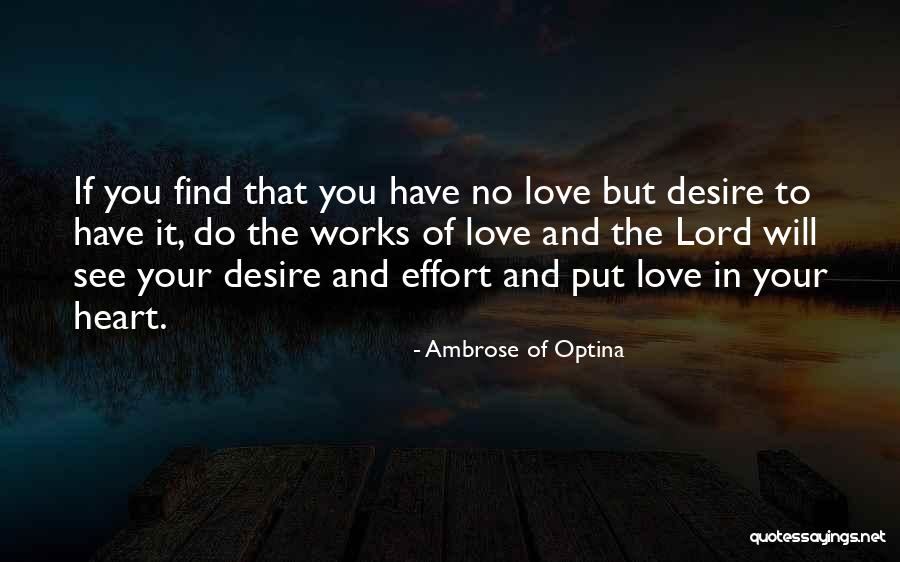 If you find that you have no love but desire to have it, do the works of love and the Lord will see your desire and effort and put love in your heart. — Ambrose Of Optina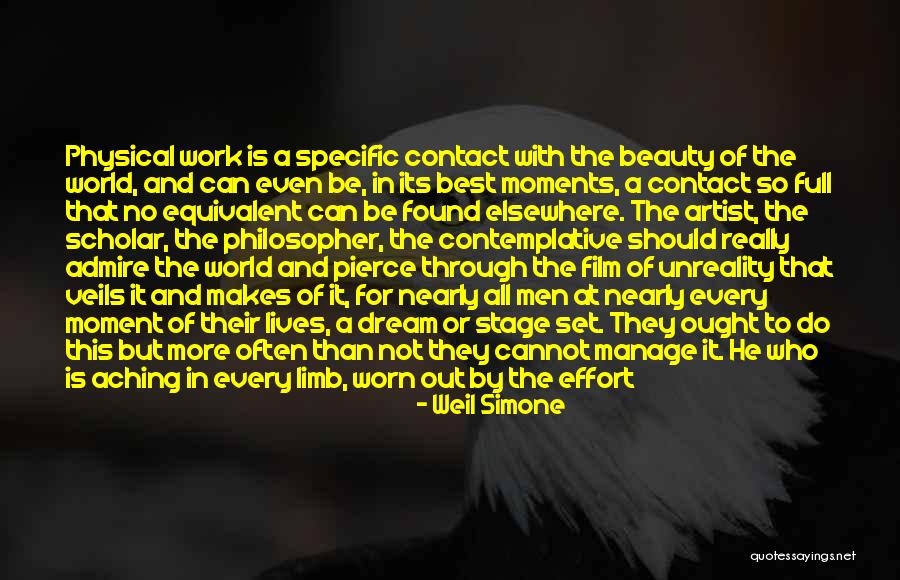 Physical work is a specific contact with the beauty of the world, and can even be, in its best moments, a contact so full that no equivalent can be found elsewhere. The artist, the scholar, the philosopher, the contemplative should really admire the world and pierce through the film of unreality that veils it and makes of it, for nearly all men at nearly every moment of their lives, a dream or stage set. They ought to do this but more often than not they cannot manage it. He who is aching in every limb, worn out by the effort of a day of work, that is to say a day when he has been subject to matter, bears the reality of the universe in his flesh like a thorn. The difficulty for him is to look and to love. If he succeeds, he loves the Real — Weil Simone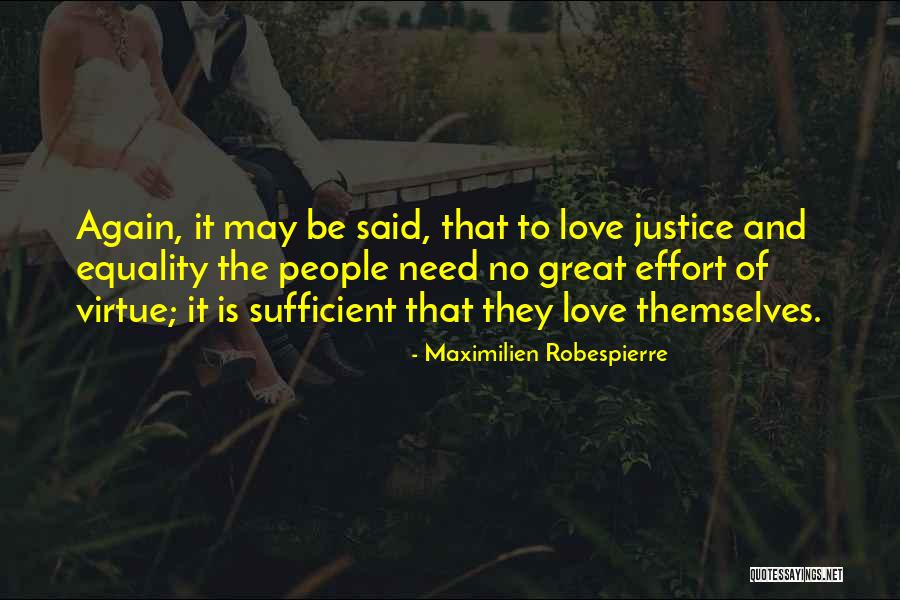 Again, it may be said, that to love justice and equality the people need no great effort of virtue; it is sufficient that they love themselves. — Maximilien Robespierre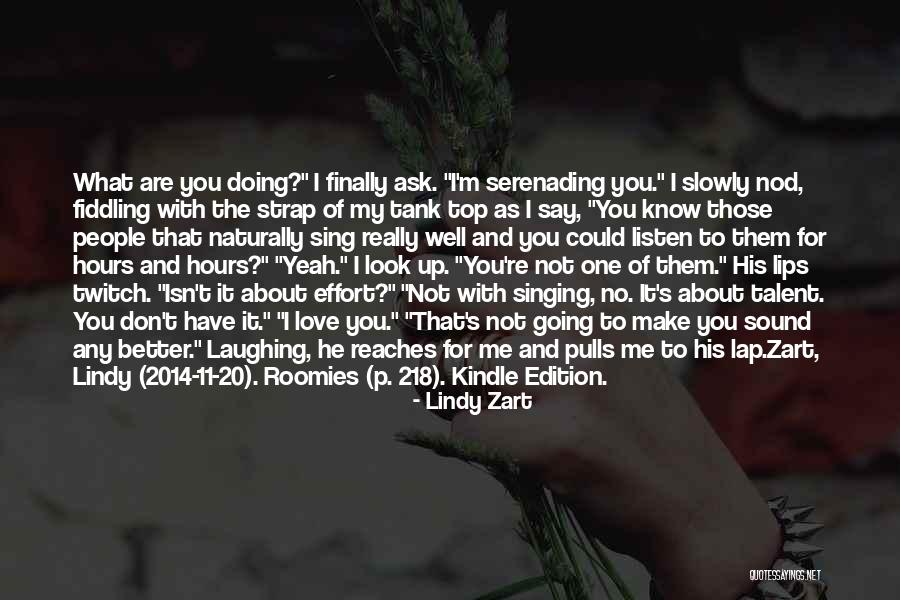 What are you doing?" I finally ask.
"I'm serenading you."
I slowly nod, fiddling with the strap of my tank top as I say,
"You know those people that naturally sing really well and you could listen to them for hours and hours?"
"Yeah." I look up.
"You're not one of them."
His lips twitch. "Isn't it about effort?"
"Not with singing, no. It's about talent. You don't have it."
"I love you."
"That's not going to make you sound any better."
Laughing, he reaches for me and pulls me to his lap.
Zart, Lindy (2014-11-20). Roomies (p. 218). Kindle Edition. — Lindy Zart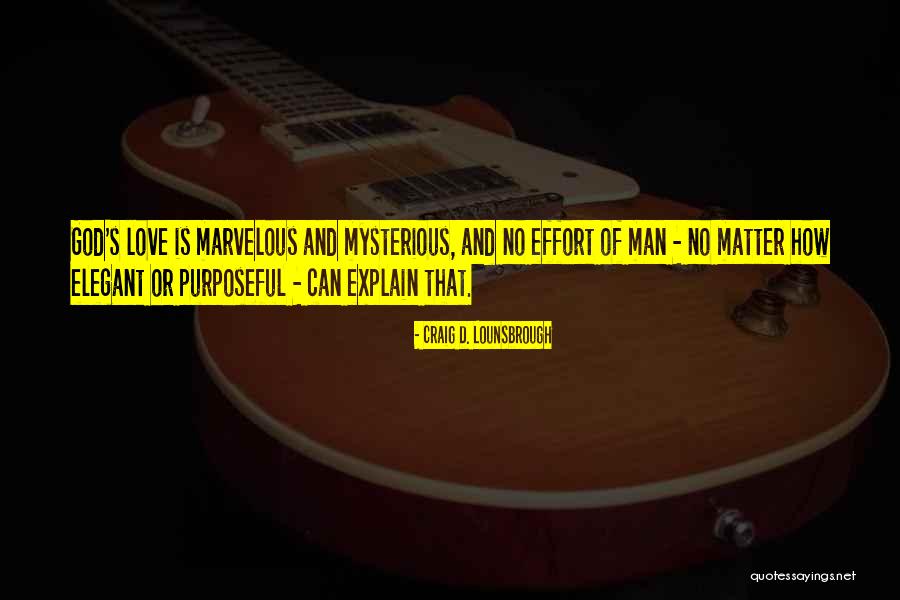 God's love is marvelous and mysterious, and no effort of man - no matter how elegant or purposeful - can explain that. — Craig D. Lounsbrough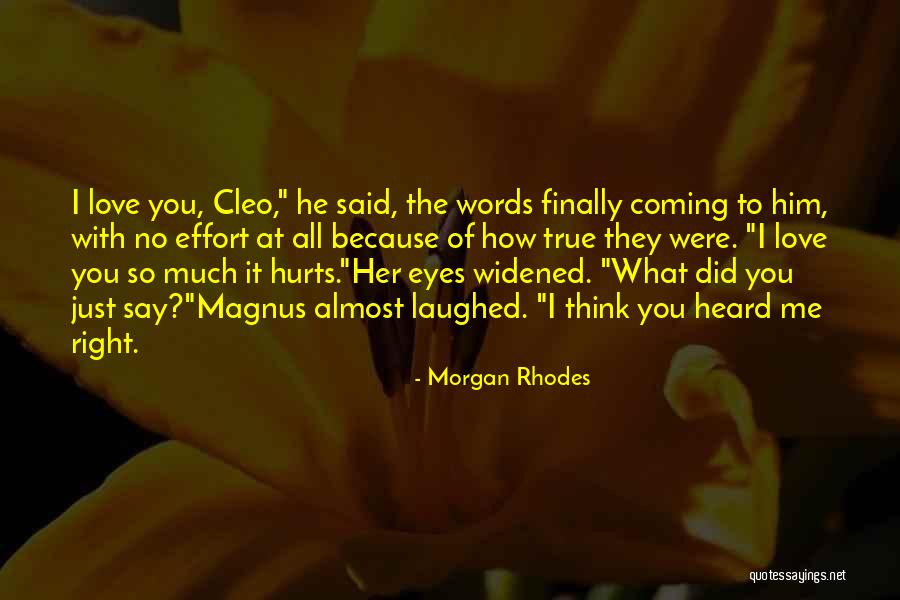 I love you, Cleo," he said, the words finally coming to him, with no effort at all because of how true they were. "I love you so much it hurts."
Her eyes widened. "What did you just say?"
Magnus almost laughed. "I think you heard me right. — Morgan Rhodes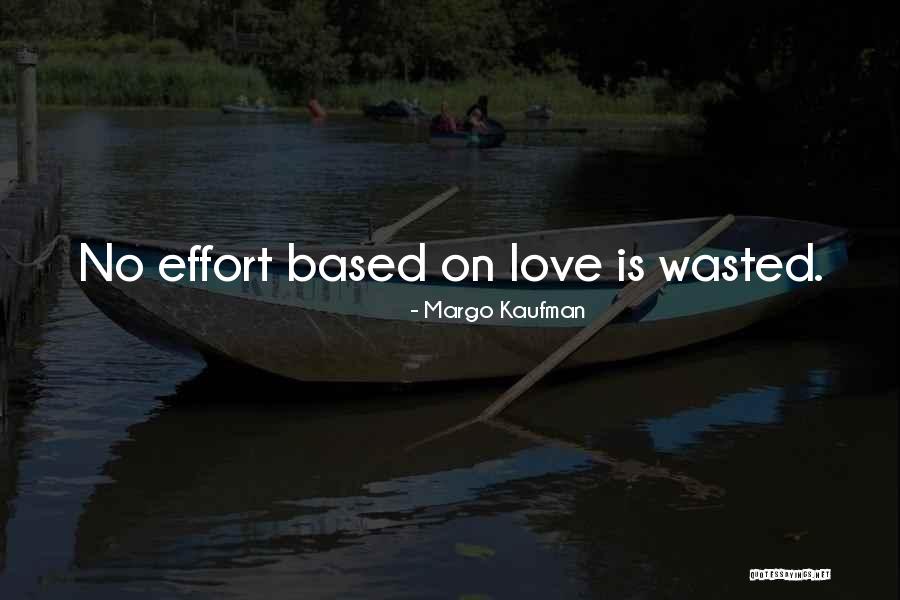 No effort based on love is wasted. — Margo Kaufman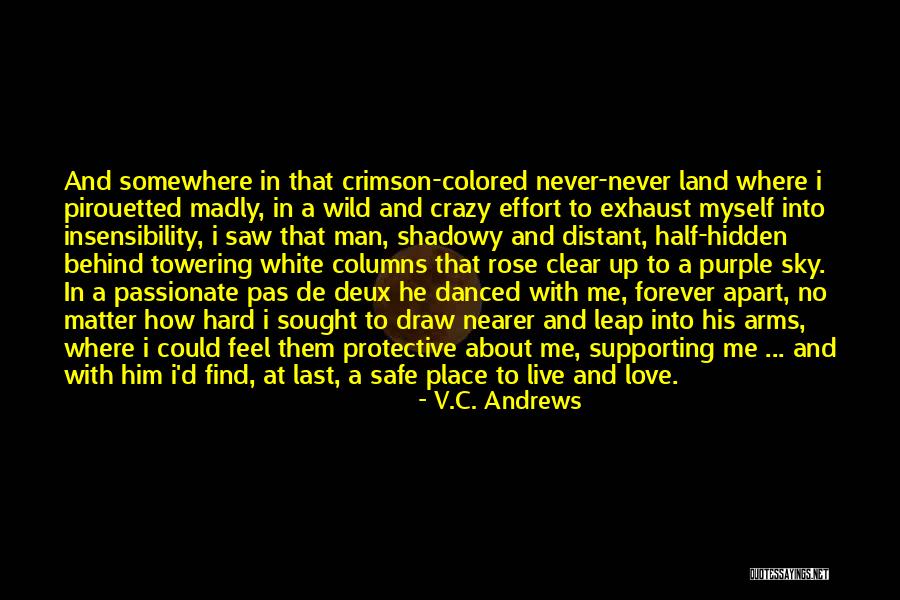 And somewhere in that crimson-colored never-never land where i pirouetted madly, in a wild and crazy effort to exhaust myself into insensibility, i saw that man, shadowy and distant, half-hidden behind towering white columns that rose clear up to a purple sky. In a passionate pas de deux he danced with me, forever apart, no matter how hard i sought to draw nearer and leap into his arms, where i could feel them protective about me, supporting me ... and with him i'd find, at last, a safe place to live and love. — V.C. Andrews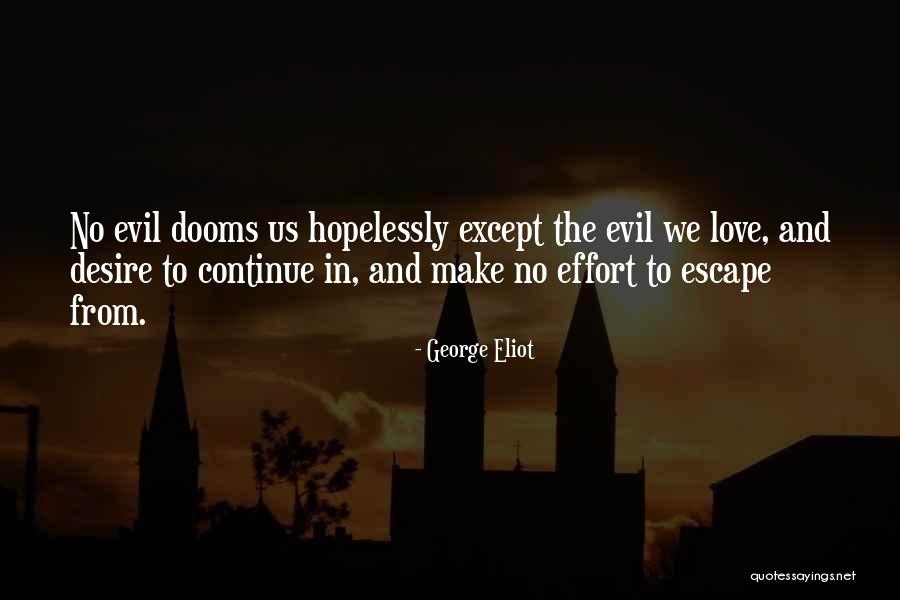 No evil dooms us hopelessly except the evil we love, and desire to continue in, and make no effort to escape from. — George Eliot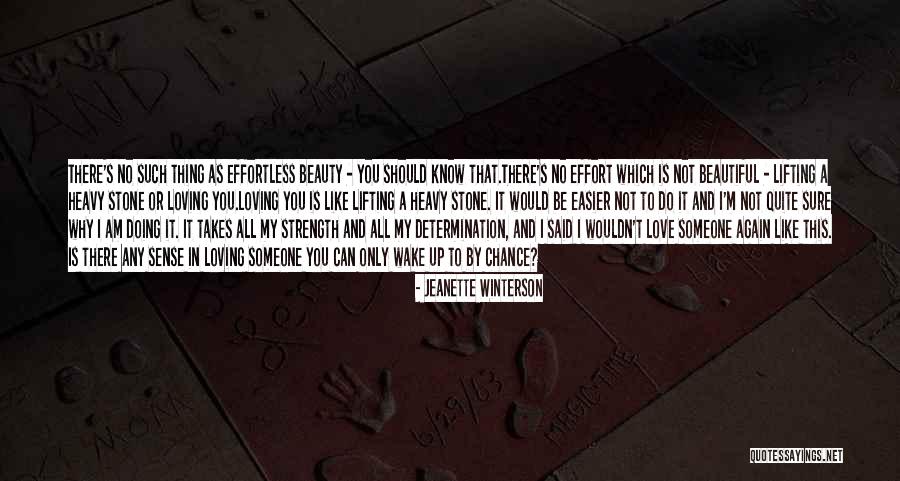 There's no such thing as effortless beauty - you should know that.
There's no effort which is not beautiful - lifting a heavy stone or loving you.
Loving you is like lifting a heavy stone. It would be easier not to do it and I'm not quite sure why I am doing it. It takes all my strength and all my determination, and I said I wouldn't love someone again like this. Is there any sense in loving someone you can only wake up to by chance? — Jeanette Winterson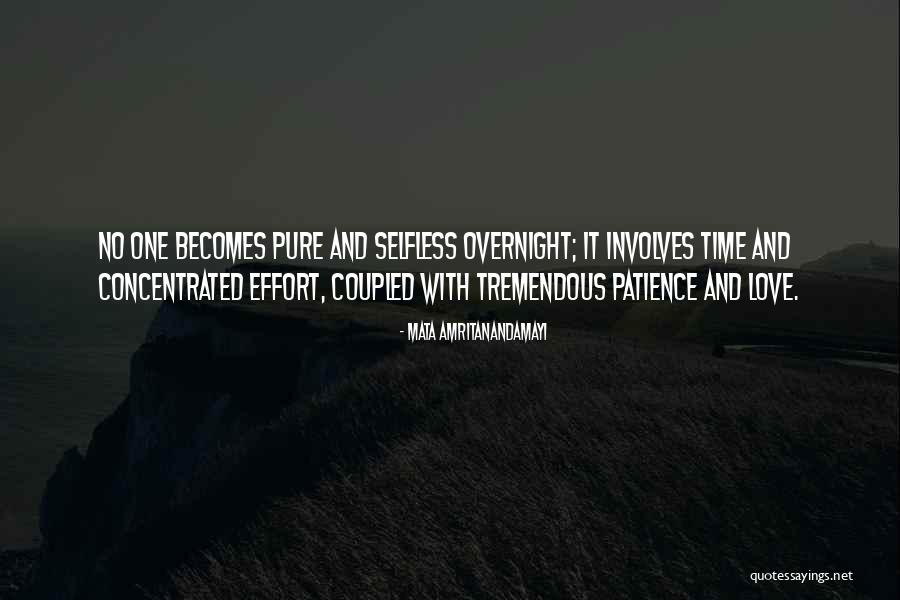 No one becomes pure and selfless overnight; it involves time and concentrated effort, coupled with tremendous patience and love. — Mata Amritanandamayi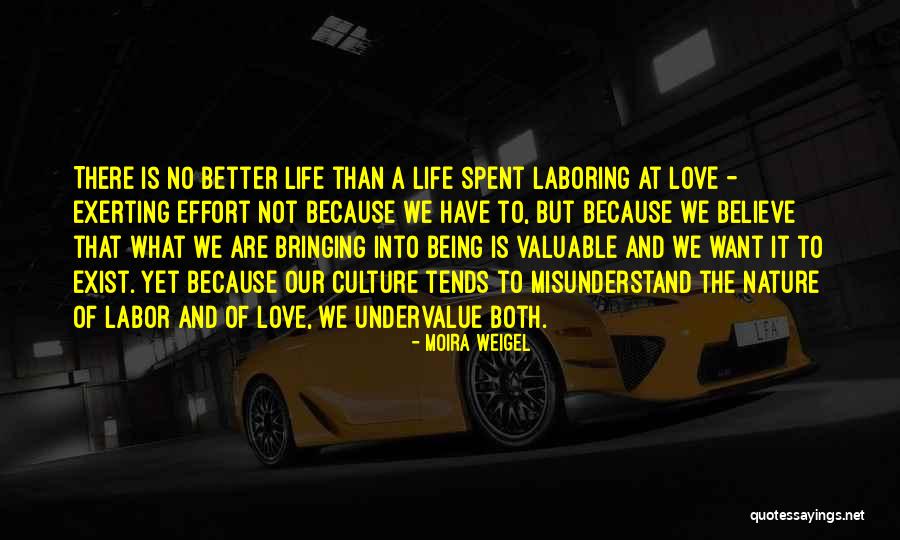 There is no better life than a life spent laboring at love - exerting effort not because we have to, but because we believe that what we are bringing into being is valuable and we want it to exist. Yet because our culture tends to misunderstand the nature of labor and of love, we undervalue both. — Moira Weigel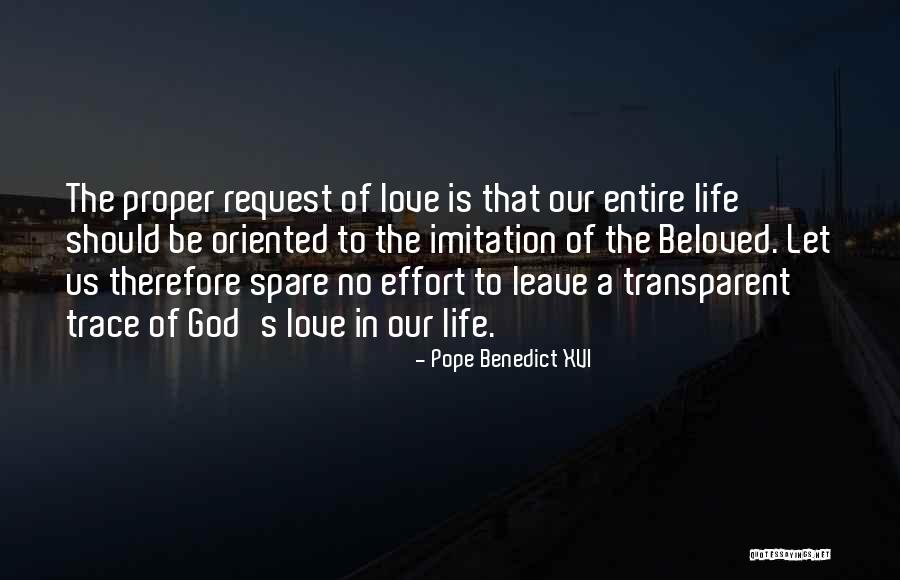 The proper request of love is that our entire life should be oriented to the imitation of the Beloved. Let us therefore spare no effort to leave a transparent trace of God's love in our life. — Pope Benedict XVI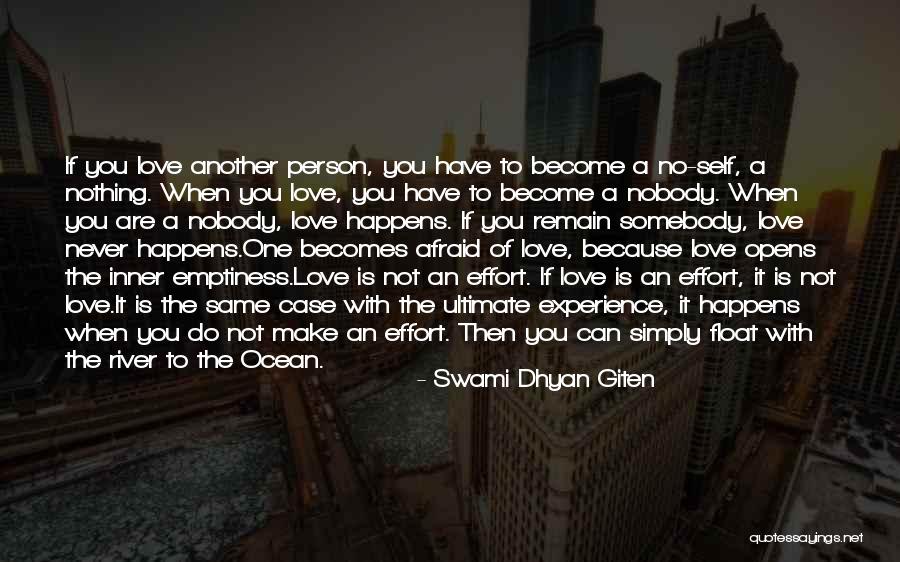 If you love another person, you have to become a no-self, a nothing. When you love, you have to become a nobody. When you are a nobody, love happens. If you remain somebody, love never happens.
One becomes afraid of love, because love opens the inner emptiness.
Love is not an effort. If love is an effort, it is not love.
It is the same case with the ultimate experience, it happens when you do not make an effort. Then you can simply float with the river to the Ocean. — Swami Dhyan Giten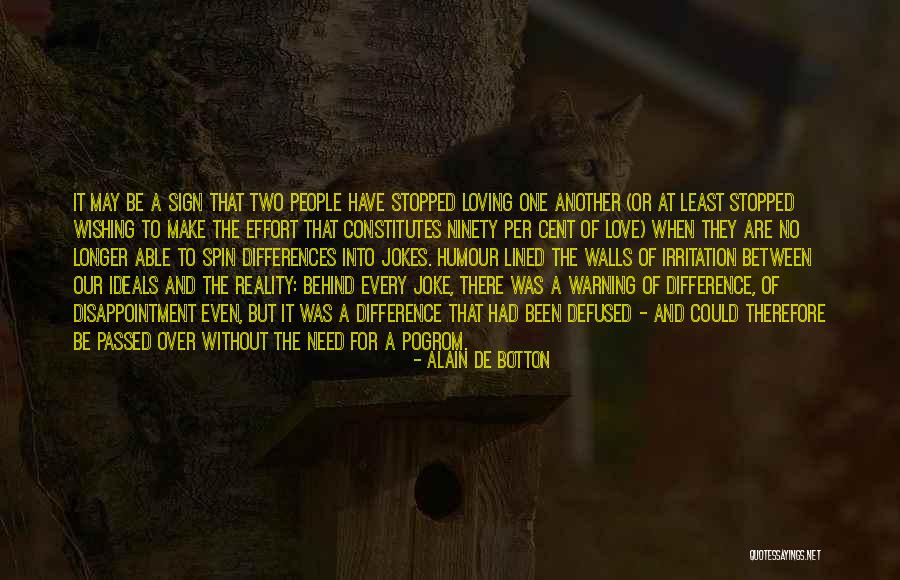 It may be a sign that two people have stopped loving one another (or at least stopped wishing to make the effort that constitutes ninety per cent of love) when they are no longer able to spin differences into jokes. Humour lined the walls of irritation between our ideals and the reality: behind every joke, there was a warning of difference, of disappointment even, but it was a difference that had been defused - and could therefore be passed over without the need for a pogrom. — Alain De Botton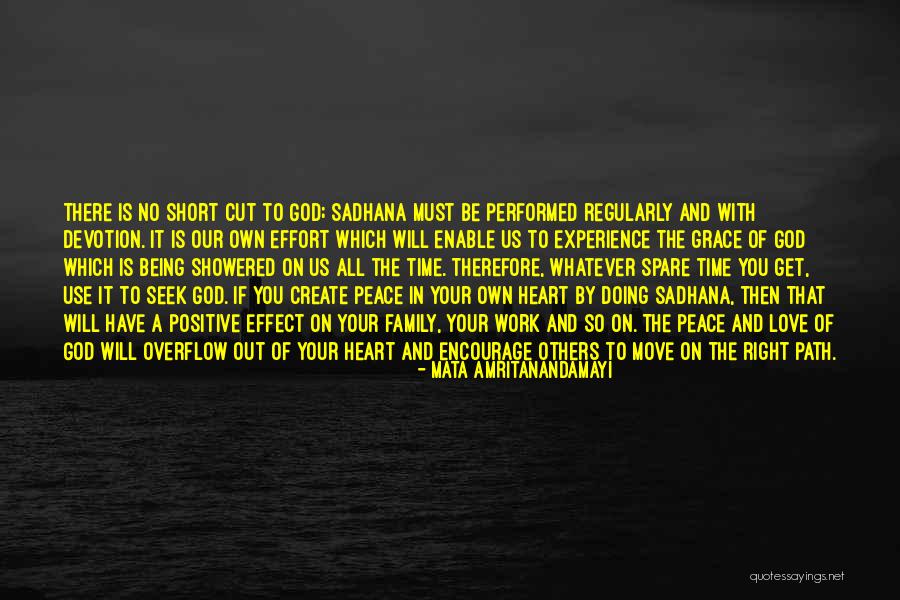 There is no short cut to God; sadhana must be performed regularly and with devotion. It is our own effort which will enable us to experience the grace of God which is being showered on us all the time. Therefore, whatever spare time you get, use it to seek God. If you create peace in your own heart by doing sadhana, then that will have a positive effect on your family, your work and so on. The peace and love of God will overflow out of your heart and encourage others to move on the right path. — Mata Amritanandamayi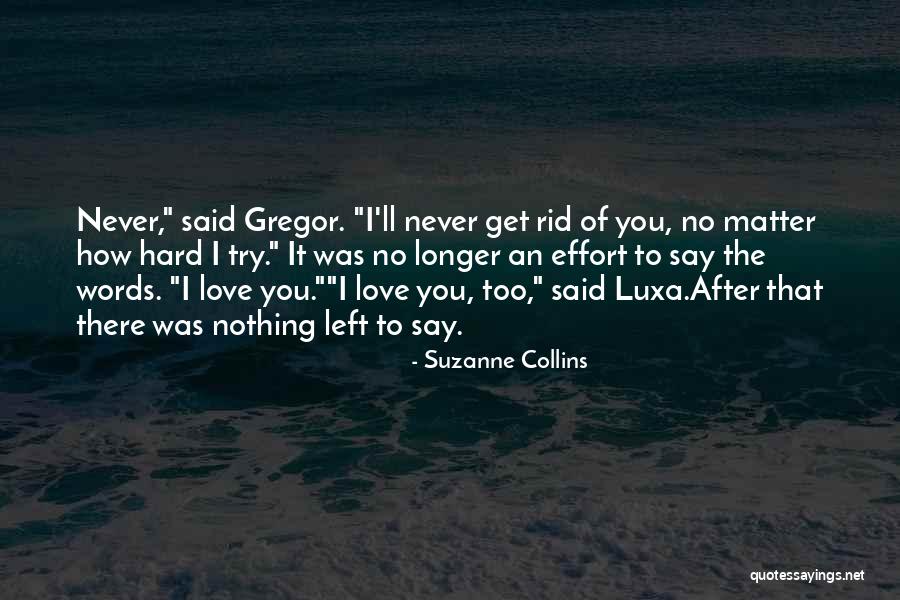 Never," said Gregor. "I'll never get rid of you, no matter how hard I try." It was no longer an effort to say the words. "I love you."
"I love you, too," said Luxa.
After that there was nothing left to say. — Suzanne Collins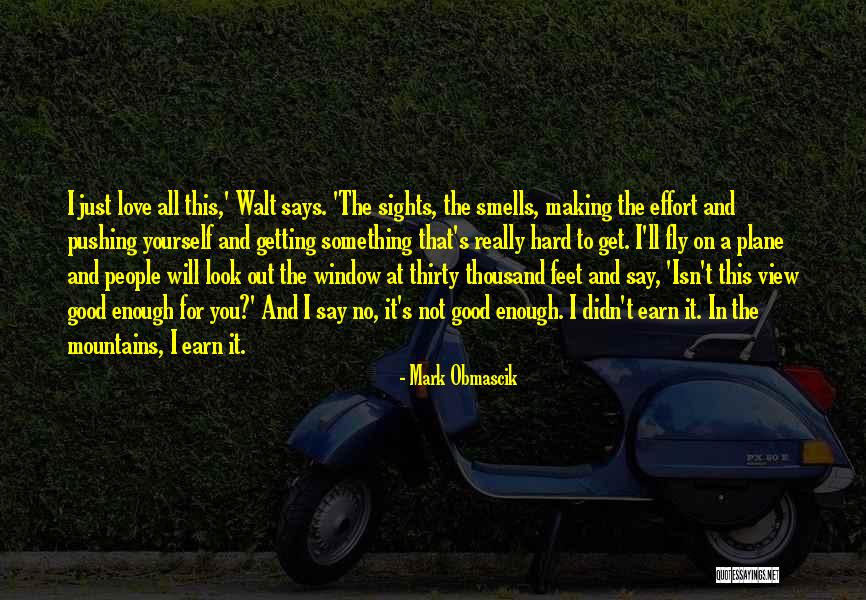 I just love all this,' Walt says. 'The sights, the smells, making the effort and pushing yourself and getting something that's really hard to get. I'll fly on a plane and people will look out the window at thirty thousand feet and say, 'Isn't this view good enough for you?' And I say no, it's not good enough. I didn't earn it. In the mountains, I earn it. — Mark Obmascik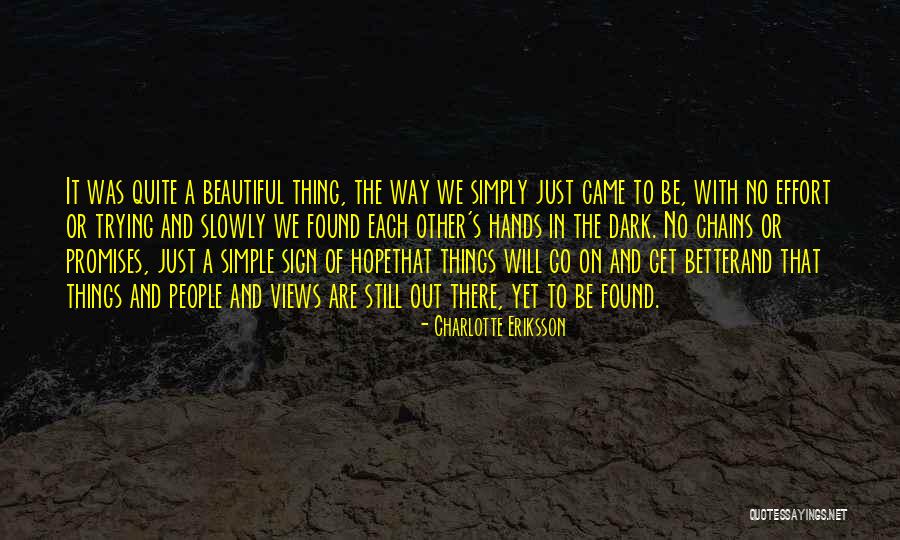 It was quite a beautiful thing, the way we simply just came to be, with no effort or trying and slowly we found each other's hands in the dark. No chains or promises, just a simple sign of hope
that things will go on and get better
and that things and people and views are still out there, yet to be found. — Charlotte Eriksson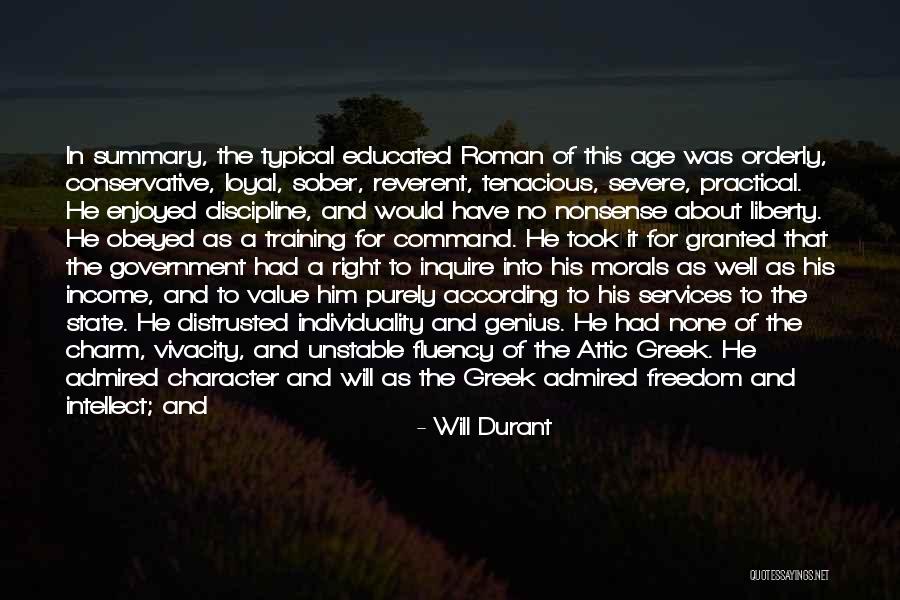 In summary, the typical educated Roman of this age was orderly, conservative, loyal, sober, reverent, tenacious, severe, practical. He enjoyed discipline, and would have no nonsense about liberty. He obeyed as a training for command. He took it for granted that the government had a right to inquire into his morals as well as his income, and to value him purely according to his services to the state. He distrusted individuality and genius. He had none of the charm, vivacity, and unstable fluency of the Attic Greek. He admired character and will as the Greek admired freedom and intellect; and organization was his forte. He lacked imagination, even to make a mythology of his own. He could with some effort love beauty, but he could seldom create it. He had no use for pure science, and was suspicious of philosophy as a devilish dissolvent of ancient beliefs and ways. He could not, for the life of him, understand Plato, or Archimedes, or Christ. He could only rule the world. — Will Durant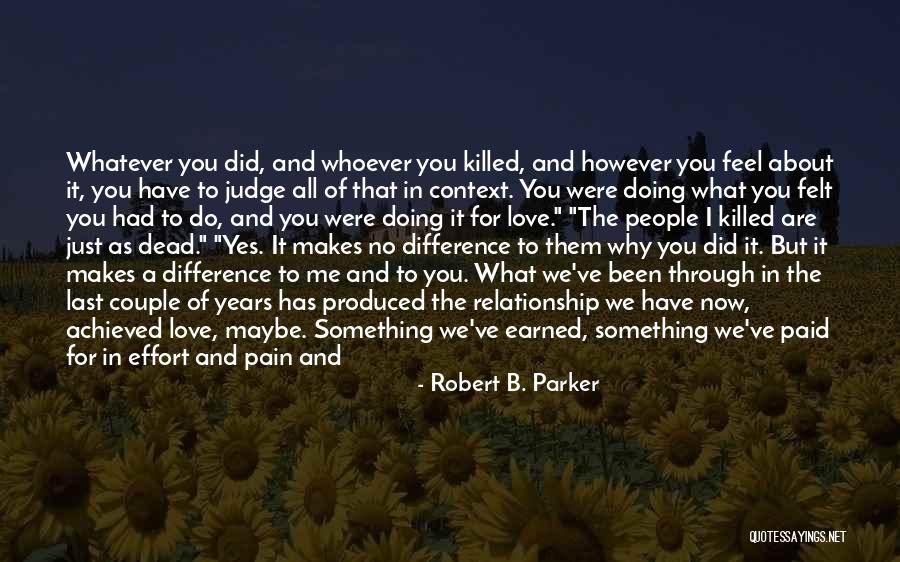 Whatever you did, and whoever you killed, and however you feel about it, you have to judge all of that in context. You were doing what you felt you had to do, and you were doing it for love."
"The people I killed are just as dead."
"Yes. It makes no difference to them why you did it. But it makes a difference to me and to you. What we've been through in the last couple of years has produced the relationship we have now, achieved love, maybe. Something we've earned, something we've paid for in effort and pain and maybe mistakes as well. I live with some."
"I know," I said.
"We aren't who we were," she said. — Robert B. Parker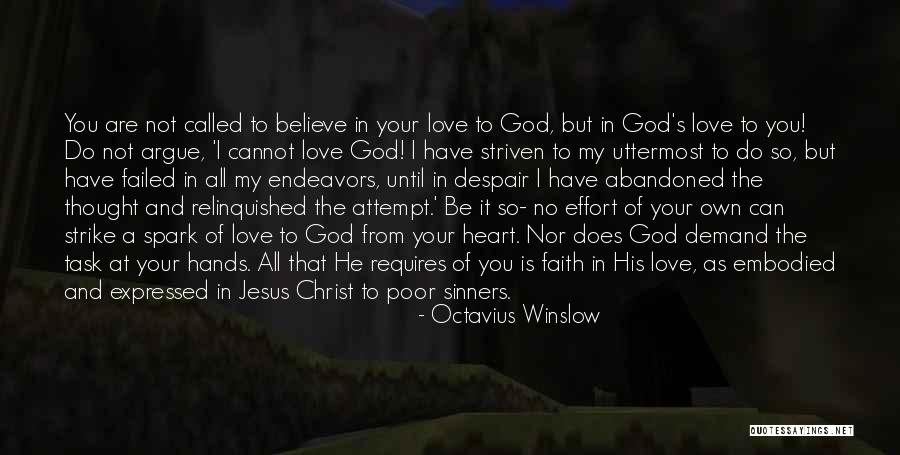 You are not called to believe in your love to God, but in God's love to you! Do not argue, 'I cannot love God! I have striven to my uttermost to do so, but have failed in all my endeavors, until in despair I have abandoned the thought and relinquished the attempt.' Be it so- no effort of your own can strike a spark of love to God from your heart. Nor does God demand the task at your hands. All that He requires of you is faith in His love, as embodied and expressed in Jesus Christ to poor sinners. — Octavius Winslow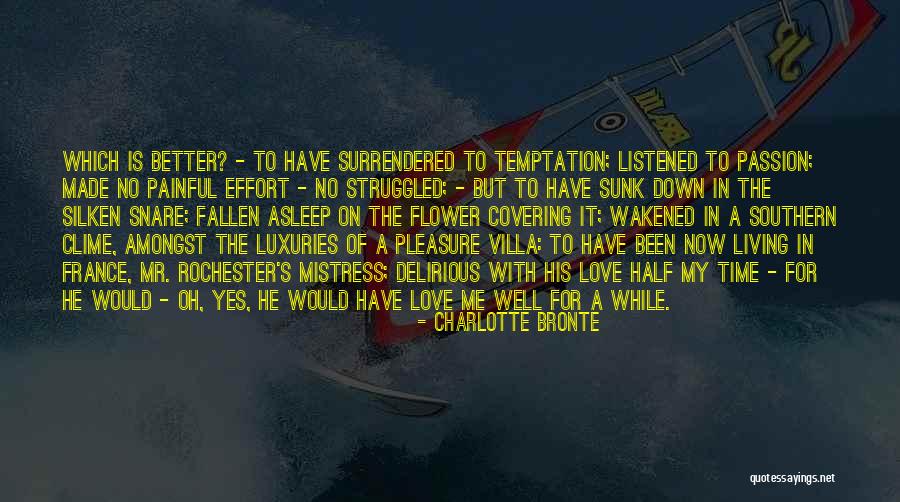 Which is better? - To have surrendered to temptation; listened to passion; made no painful effort - no struggled; - but to have sunk down in the silken snare; fallen asleep on the flower covering it; wakened in a southern clime, amongst the luxuries of a pleasure villa: to have been now living in France, Mr. Rochester's mistress; delirious with his love half my time - for he would - oh, yes, he would have love me well for a while. — Charlotte Bronte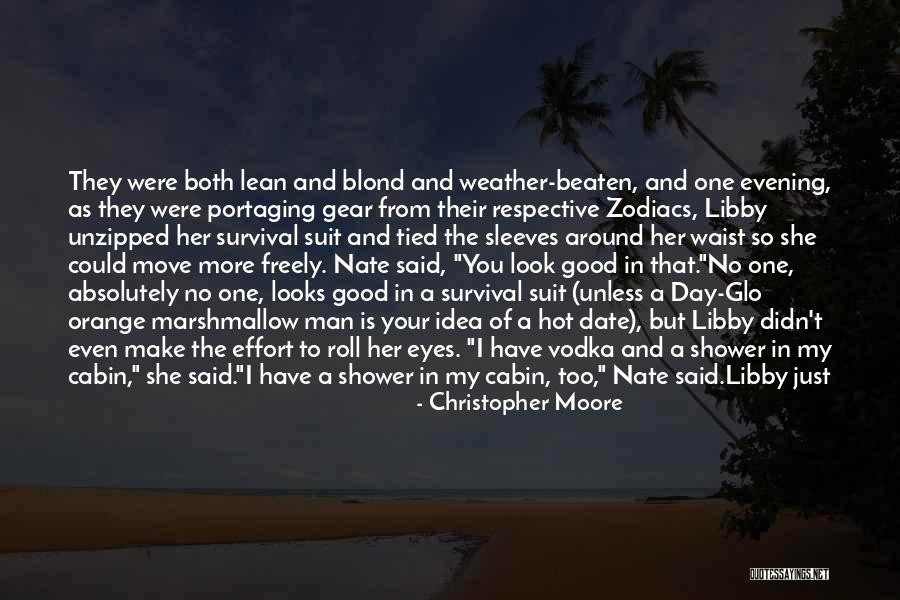 They were both lean and blond and weather-beaten, and one evening, as they were portaging gear from their respective Zodiacs, Libby unzipped her survival suit and tied the sleeves around her waist so she could move more freely. Nate said, "You look good in that."
No one, absolutely no one, looks good in a survival suit (unless a Day-Glo orange marshmallow man is your idea of a hot date), but Libby didn't even make the effort to roll her eyes. "I have vodka and a shower in my cabin," she said.
"I have a shower in my cabin, too," Nate said.
Libby just shook her head and trudged up the path to the lodge. Over her shoulder she called, "In five minutes, there's going to be a naked woman in my shower. You got one of those?"
"Oh," said Nate. — Christopher Moore