Quotes & Sayings About Losers In Game
Enjoy reading and share 27 famous quotes about Losers In Game with everyone.
Top Losers In Game Quotes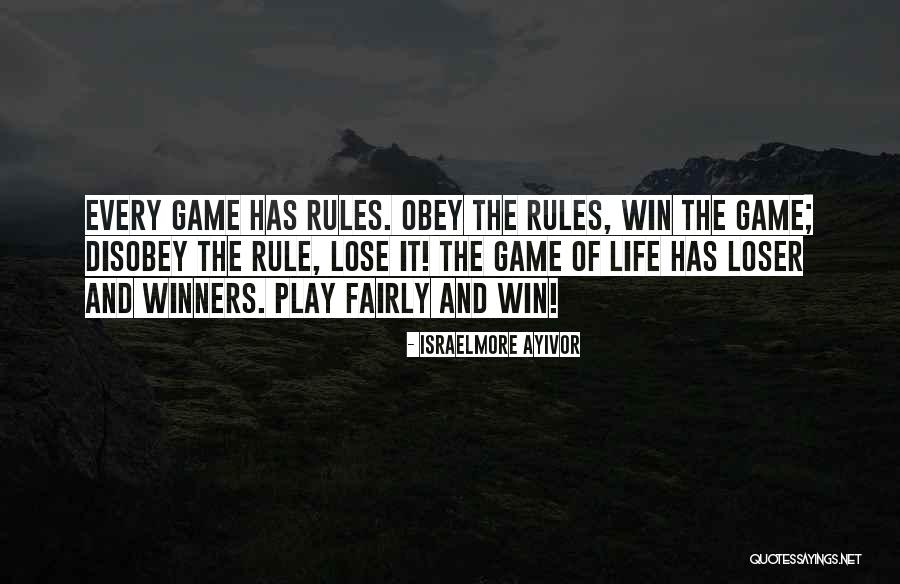 Every game has rules. Obey the rules, win the game; disobey the rule, lose it! The game of life has loser and winners. Play fairly and win! — Israelmore Ayivor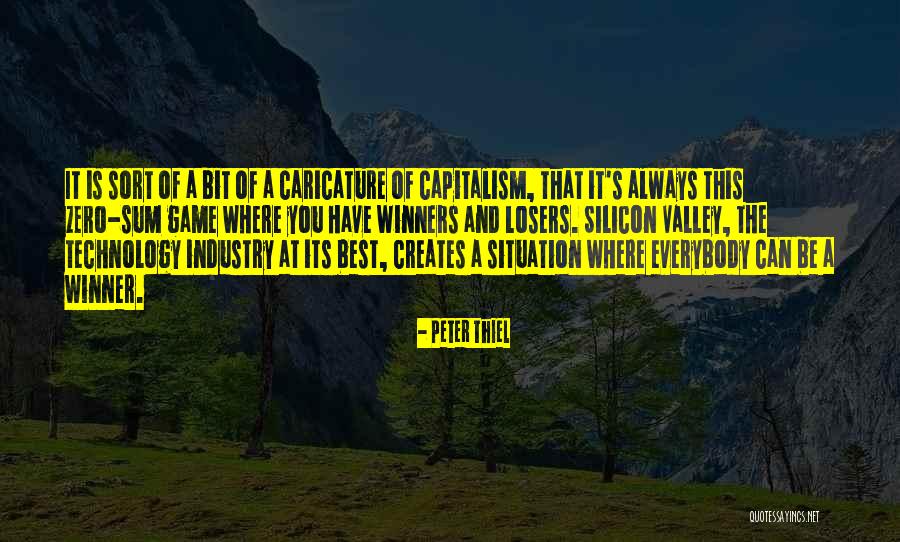 It is sort of a bit of a caricature of capitalism, that it's always this zero-sum game where you have winners and losers. Silicon Valley, the technology industry at its best, creates a situation where everybody can be a winner. — Peter Thiel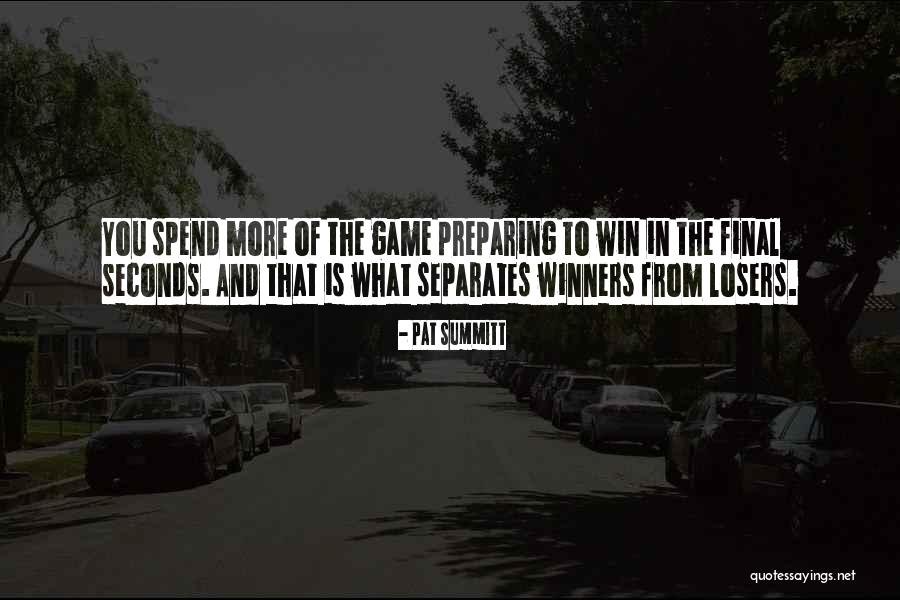 You spend more of the game preparing to win in the final seconds. And that is what separates winners from losers. — Pat Summitt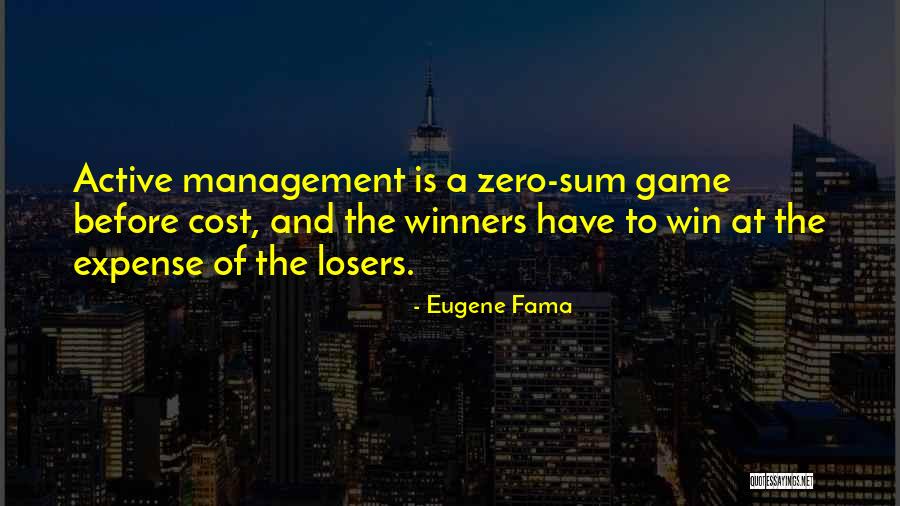 Active management is a zero-sum game before cost, and the winners have to win at the expense of the losers. — Eugene Fama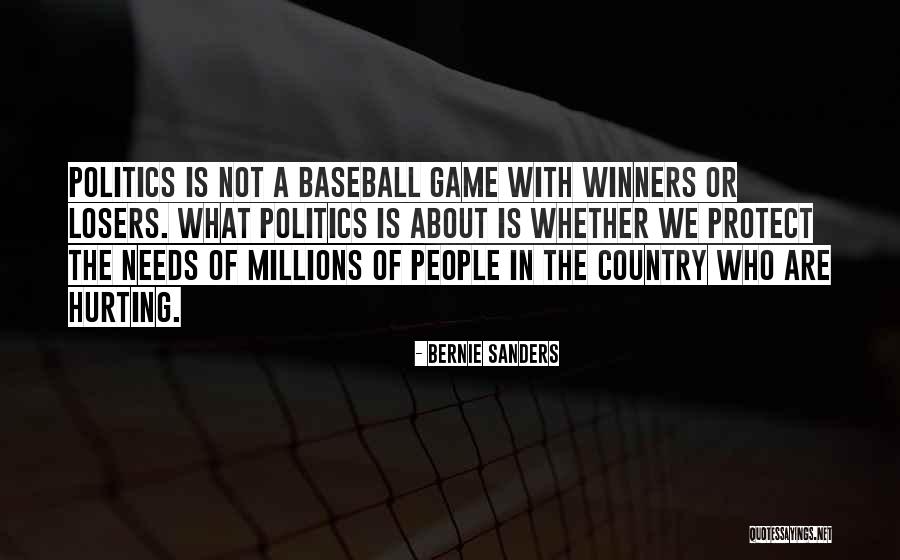 Politics is not a baseball game with winners or losers. What politics is about is whether we protect the needs of millions of people in the country who are hurting. — Bernie Sanders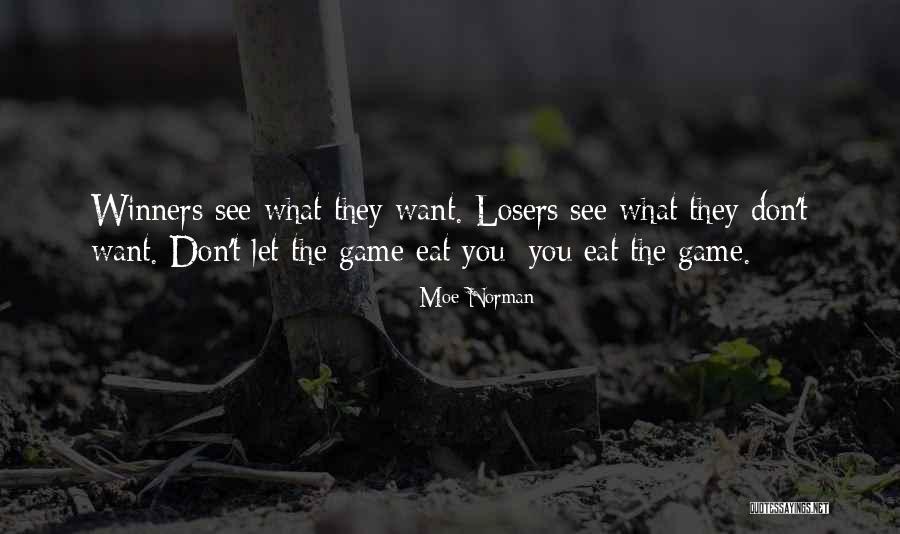 Winners see what they want. Losers see what they don't want. Don't let the game eat you; you eat the game. — Moe Norman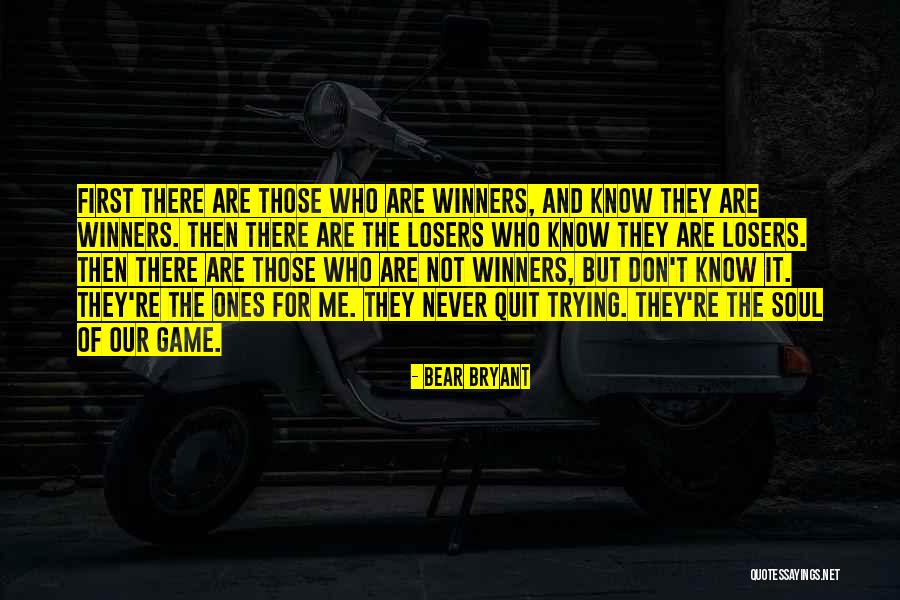 First there are those who are winners, and know they are winners. Then there are the losers who know they are losers. Then there are those who are not winners, but don't know it. They're the ones for me. They never quit trying. They're the soul of our game. — Bear Bryant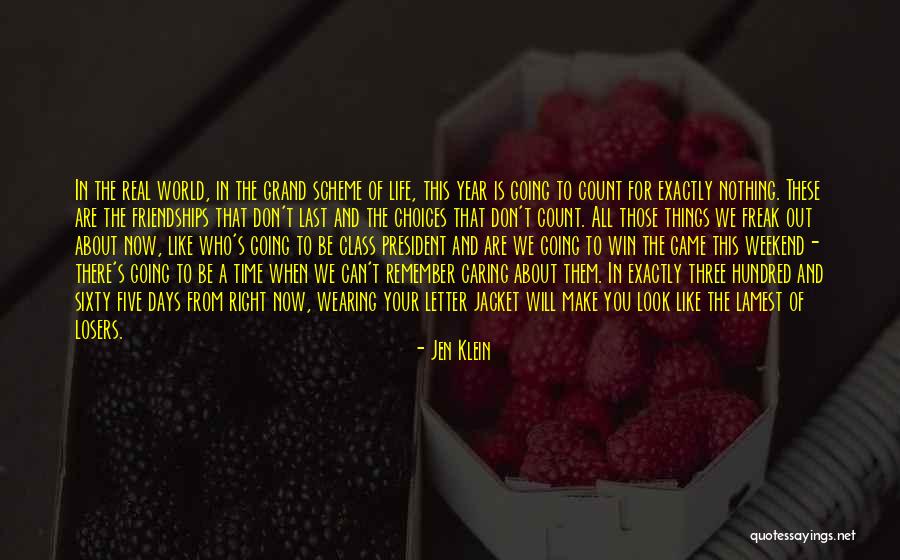 In the real world, in the grand scheme of life, this year is going to count for exactly nothing. These are the friendships that don't last and the choices that don't count. All those things we freak out about now, like who's going to be class president and are we going to win the game this weekend- there's going to be a time when we can't remember caring about them. In exactly three hundred and sixty five days from right now, wearing your letter jacket will make you look like the lamest of losers. — Jen Klein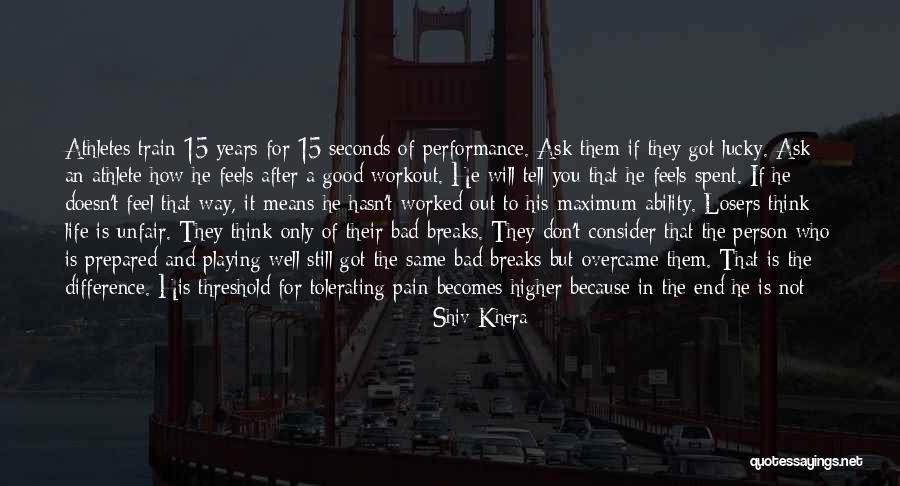 Athletes train 15 years for 15 seconds of performance. Ask them if they got lucky. Ask an athlete how he feels after a good workout. He will tell you that he feels spent. If he doesn't feel that way, it means he hasn't worked out to his maximum ability.
Losers think life is unfair. They think only of their bad breaks. They don't consider that the person who is prepared and playing well still got the same bad breaks but overcame them. That is the difference. His threshold for tolerating pain becomes higher because in the end he is not training so much for the game but for his character. Alexander Graham Bell was desperately trying to invent a hearing aid for his partially deaf wife. He failed at inventing a hearing aid but in the process discovered the principles of the telephone. You wouldn't call someone like that lucky, would you?Good luck is when opportunity meets preparation. Without effort and preparation, lucky coincidences don't happen. — Shiv Khera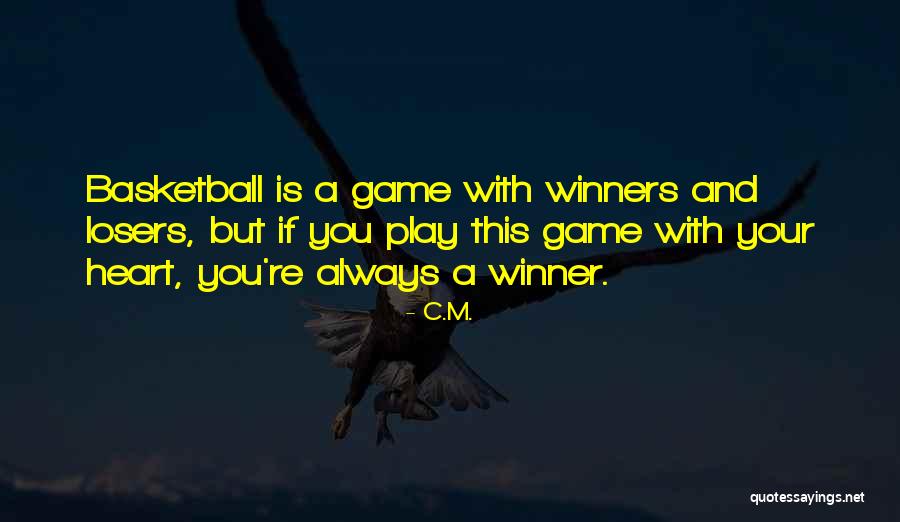 Basketball is a game with winners and losers, but if you play this game with your heart, you're always a winner. — C.M.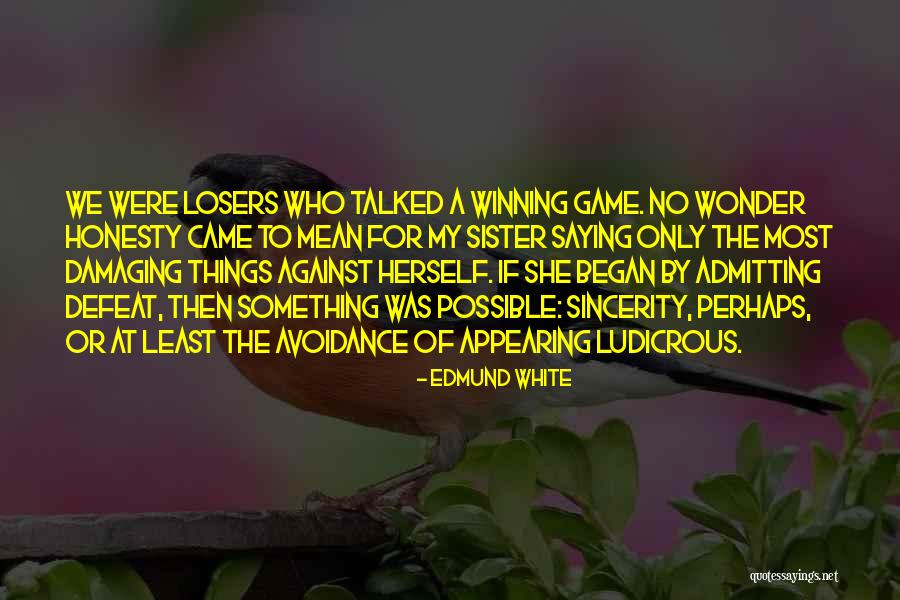 We were losers who talked a winning game. No wonder honesty came to mean for my sister saying only the most damaging things against herself. If she began by admitting defeat, then something was possible: sincerity, perhaps, or at least the avoidance of appearing ludicrous. — Edmund White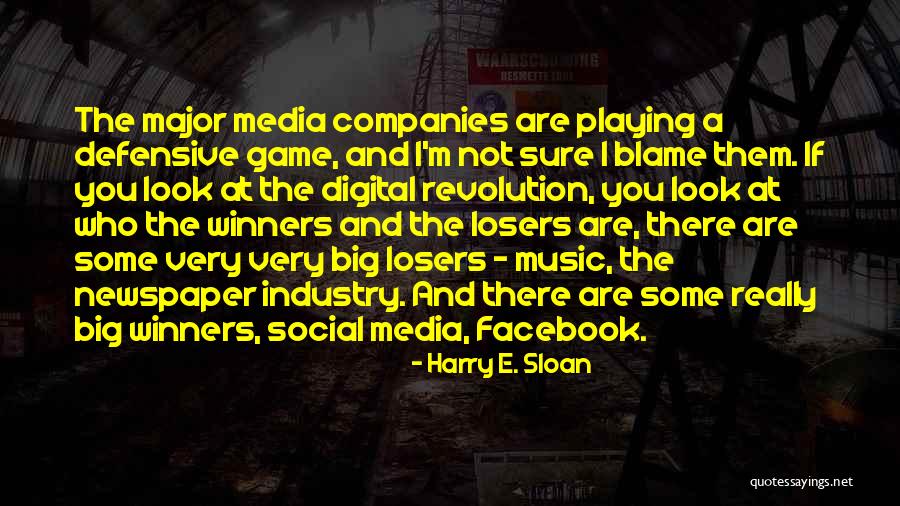 The major media companies are playing a defensive game, and I'm not sure I blame them. If you look at the digital revolution, you look at who the winners and the losers are, there are some very very big losers - music, the newspaper industry. And there are some really big winners, social media, Facebook. — Harry E. Sloan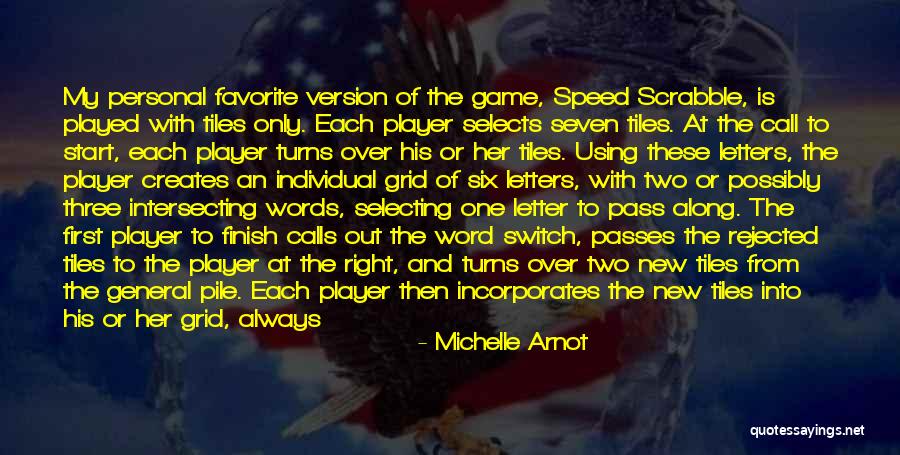 My personal favorite version of the game, Speed Scrabble, is played with tiles only. Each player selects seven tiles. At the call to start, each player turns over his or her tiles. Using these letters, the player creates an individual grid of six letters, with two or possibly three intersecting words, selecting one letter to pass along. The first player to finish calls out the word switch, passes the rejected tiles to the player at the right, and turns over two new tiles from the general pile. Each player then incorporates the new tiles into his or her grid, always rejecting one to pass along at the word switch. Obvious rejects are Q and Z, which usually get passed around. The game is played until the tiles are depleted and one person calls out the word finished. If no one has any questions about the winner's grid, the points on the tiles are added up. Losers deduct the number of points of the unused letters. Each round takes about fifteen or twenty minutes max... — Michelle Arnot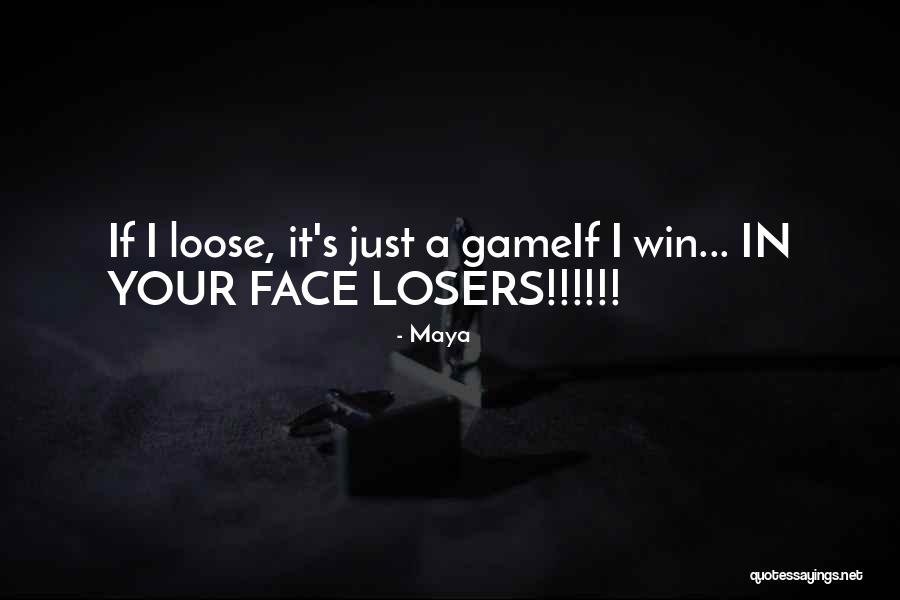 If I loose, it's just a game
If I win... IN YOUR FACE LOSERS!!!!!! — Maya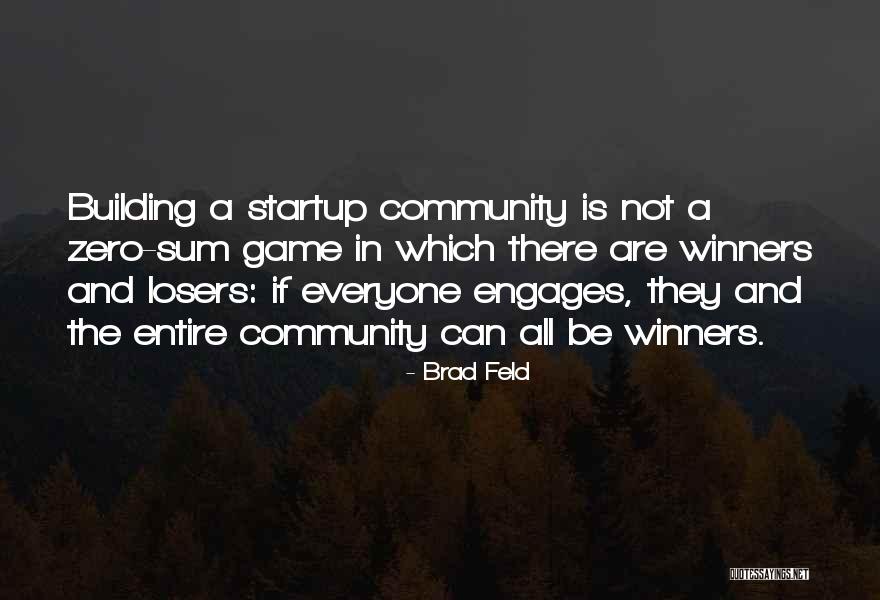 Building a startup community is not a zero-sum game in which there are winners and losers: if everyone engages, they and the entire community can all be winners. — Brad Feld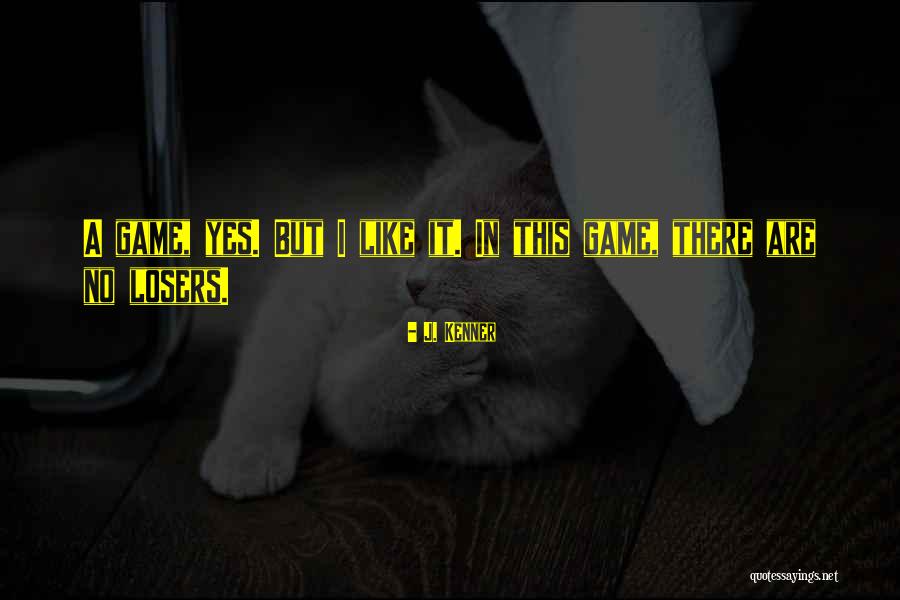 A game, yes. But I like it. In this game, there are no losers. — J. Kenner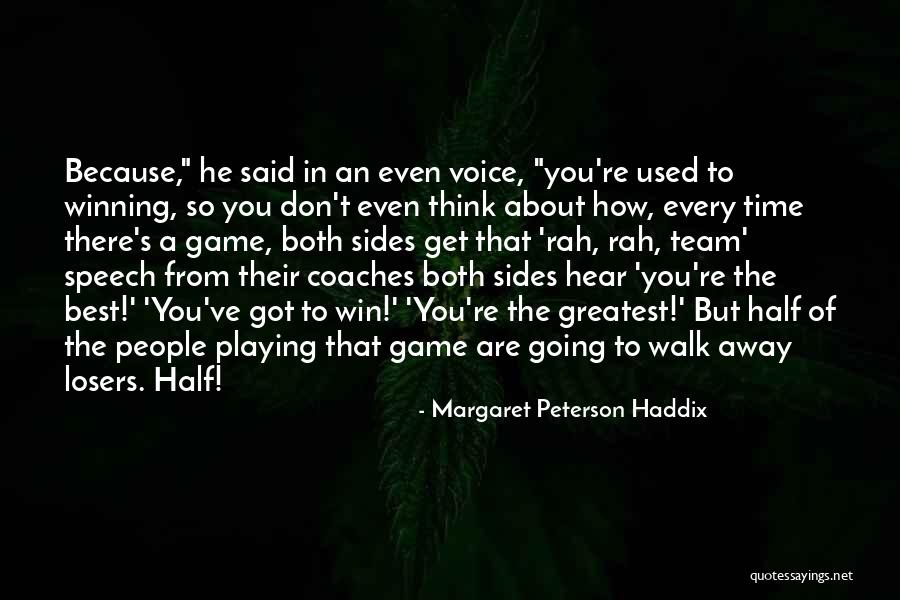 Because," he said in an even voice, "you're used to winning, so you don't even think about how, every time there's a game, both sides get that 'rah, rah, team' speech from their coaches both sides hear 'you're the best!' 'You've got to win!' 'You're the greatest!' But half of the people playing that game are going to walk away losers. Half! — Margaret Peterson Haddix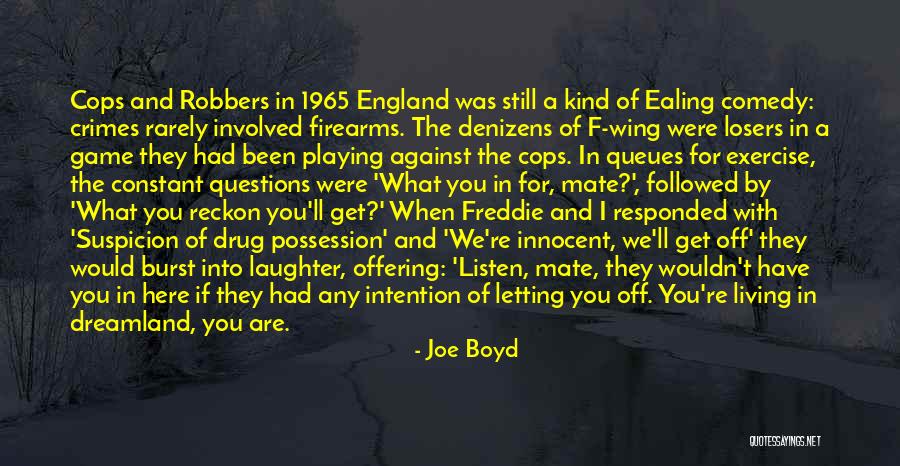 Cops and Robbers in 1965 England was still a kind of Ealing comedy: crimes rarely involved firearms. The denizens of F-wing were losers in a game they had been playing against the cops. In queues for exercise, the constant questions were 'What you in for, mate?', followed by 'What you reckon you'll get?' When Freddie and I responded with 'Suspicion of drug possession' and 'We're innocent, we'll get off' they would burst into laughter, offering: 'Listen, mate, they wouldn't have you in here if they had any intention of letting you off. You're living in dreamland, you are. — Joe Boyd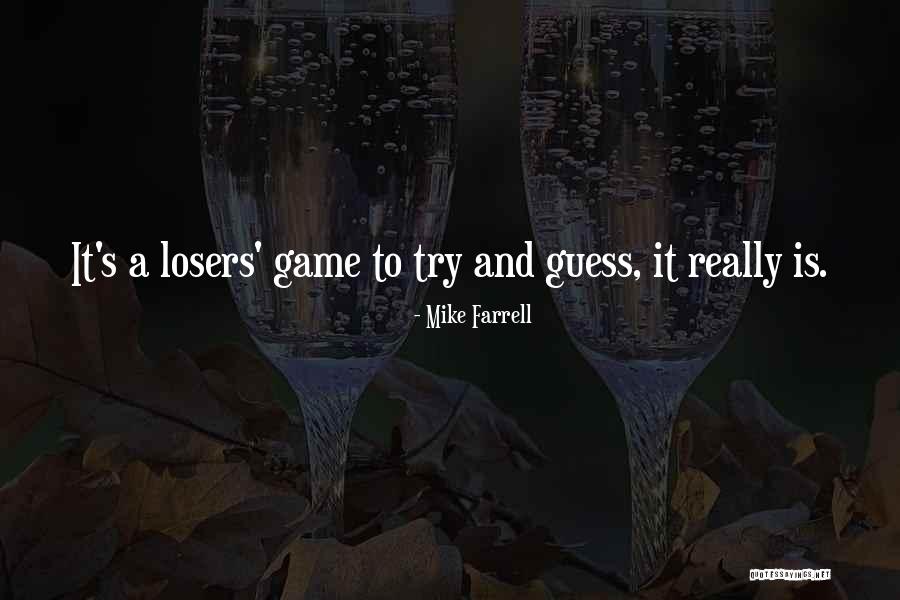 It's a losers' game to try and guess, it really is. — Mike Farrell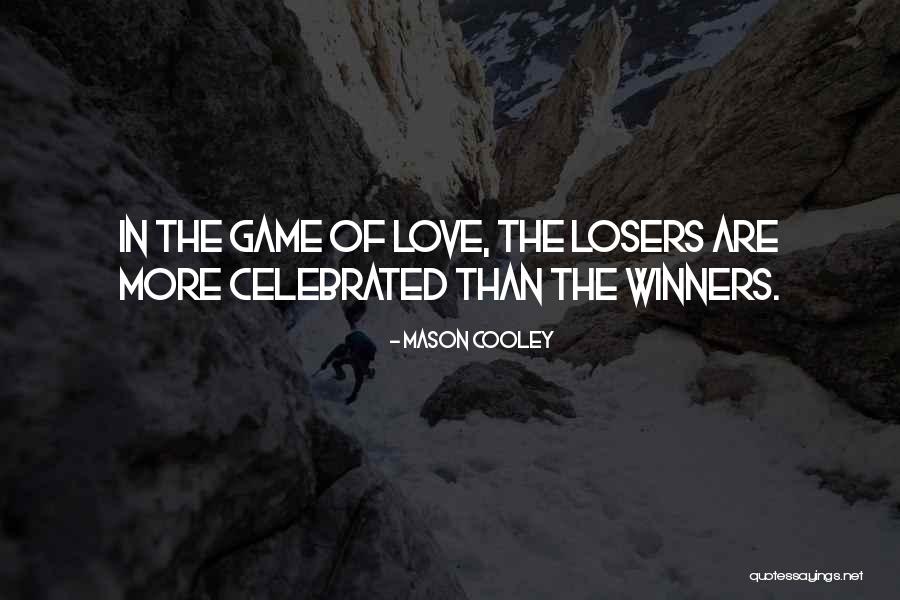 In the game of love, the losers are more celebrated than the winners. — Mason Cooley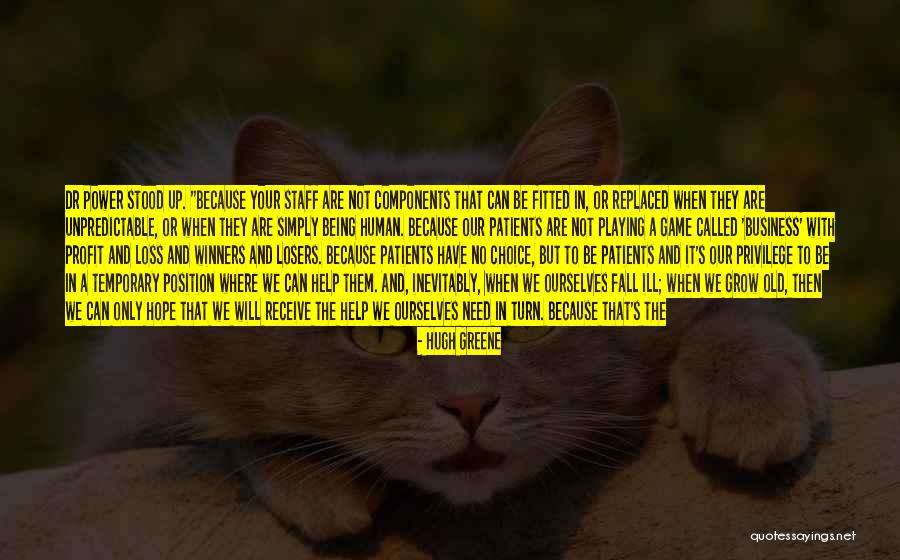 Dr Power stood up. "Because your staff are not components that can be fitted in, or replaced when they are unpredictable, or when they are simply being human. Because our patients are not playing a game called 'business' with profit and loss and winners and losers. Because patients have no choice, but to be patients and it's our privilege to be in a temporary position where we can help them. And, inevitably, when we ourselves fall ill; when we grow old, then we can only hope that we will receive the help we ourselves need in turn. Because that's the reality of life. And not some self-aggrandising game". - Dr Power, speaking in The Good Shepherd — Hugh Greene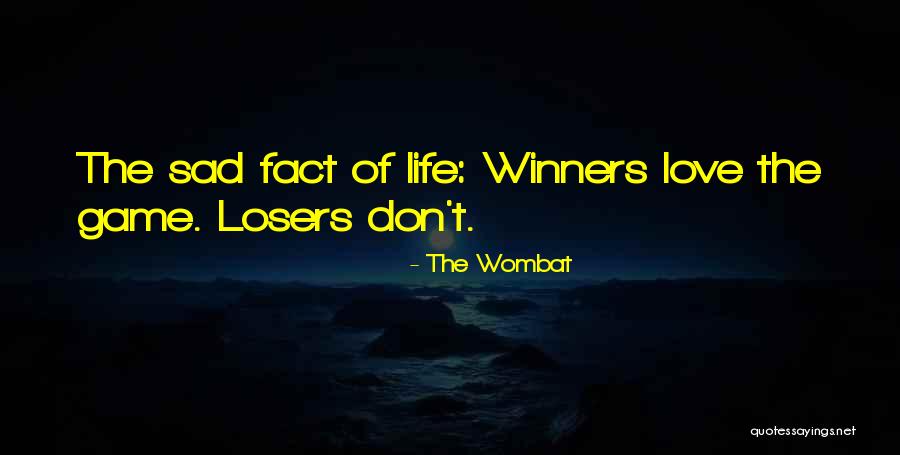 The sad fact of life: Winners love the game. Losers don't. — The Wombat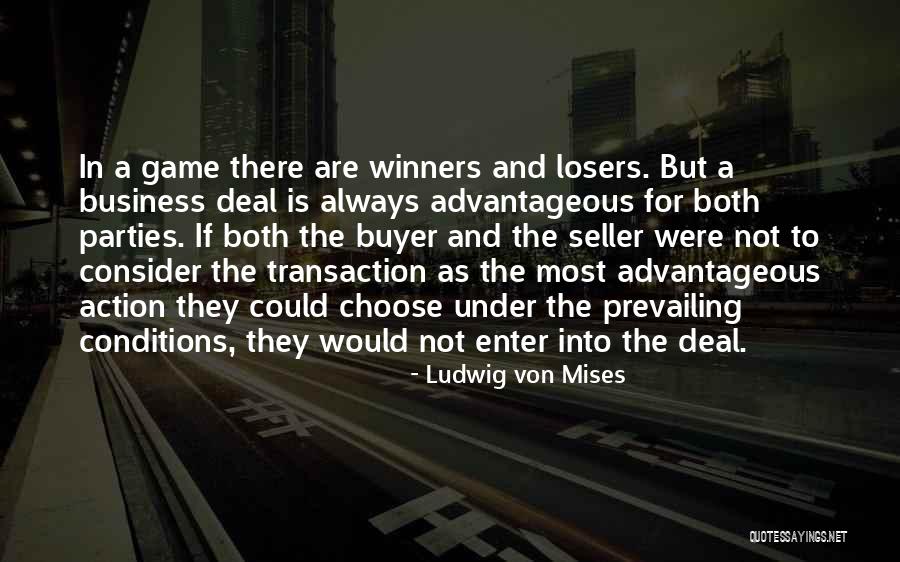 In a game there are winners and losers. But a business deal is always advantageous for both parties. If both the buyer and the seller were not to consider the transaction as the most advantageous action they could choose under the prevailing conditions, they would not enter into the deal. — Ludwig Von Mises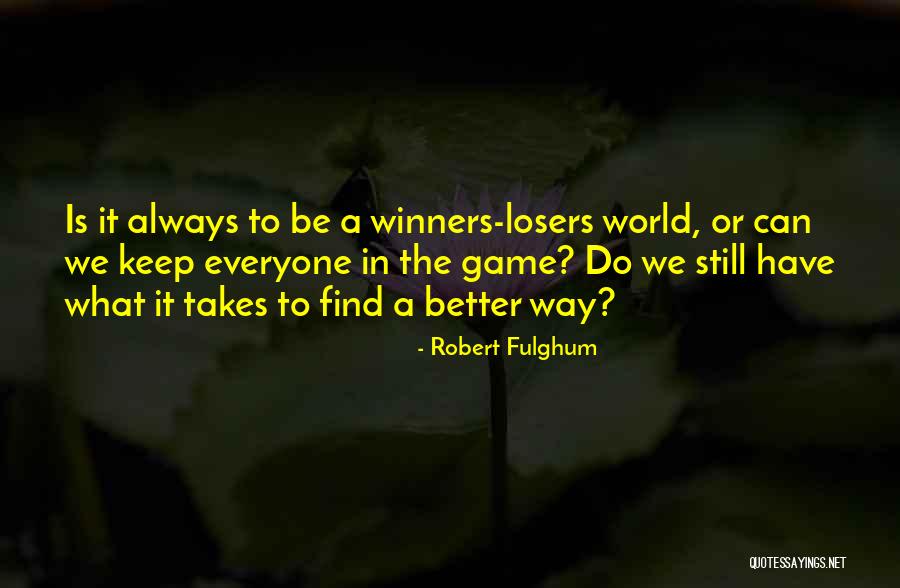 Is it always to be a winners-losers world, or can we keep everyone in the game? Do we still have what it takes to find a better way? — Robert Fulghum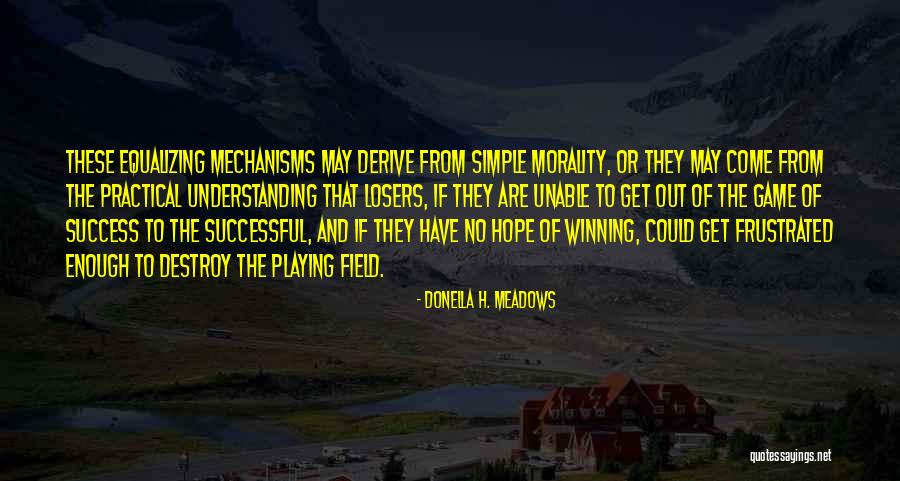 These equalizing mechanisms may derive from simple morality, or they may come from the practical understanding that losers, if they are unable to get out of the game of success to the successful, and if they have no hope of winning, could get frustrated enough to destroy the playing field. — Donella H. Meadows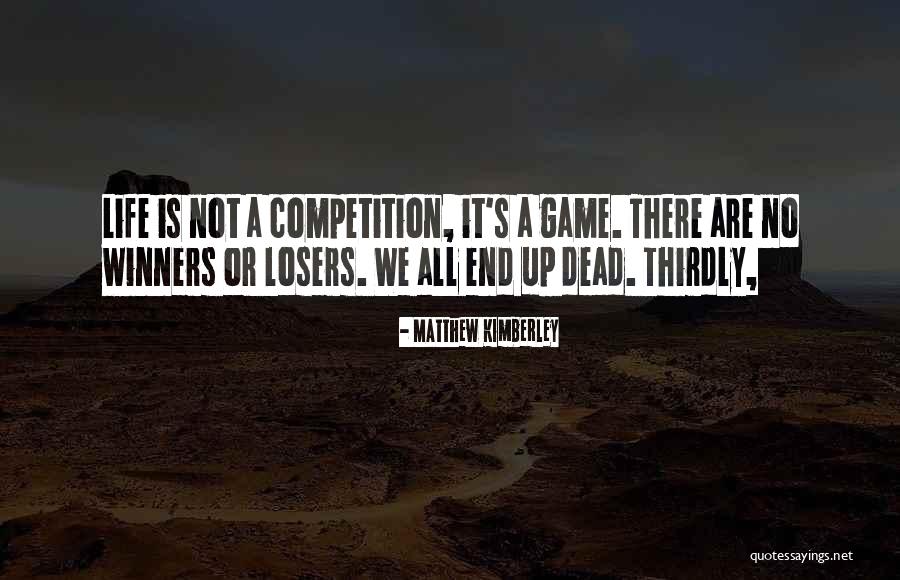 Life is not a competition, it's a game. There are no winners or losers. We all end up dead. Thirdly, — Matthew Kimberley
I have finished second twice in my time at Green Bay, and I don't ever want to finish second again. There is a second place bowl game, but it is a game for losers played by losers. It is and always has been an American zeal to be first in anything we do, and to win, and to win, and to win. — Vince Lombardi