Quotes & Sayings About Striving For Greatness
Enjoy reading and share 14 famous quotes about Striving For Greatness with everyone.
Top Striving For Greatness Quotes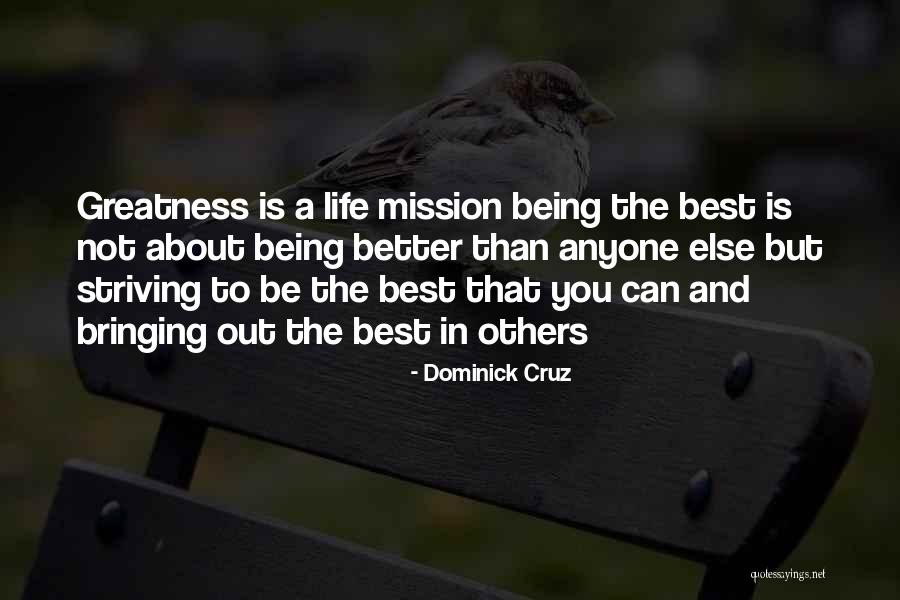 Greatness is a life mission being the best is not about being better than anyone else but striving to be the best that you can and bringing out the best in others — Dominick Cruz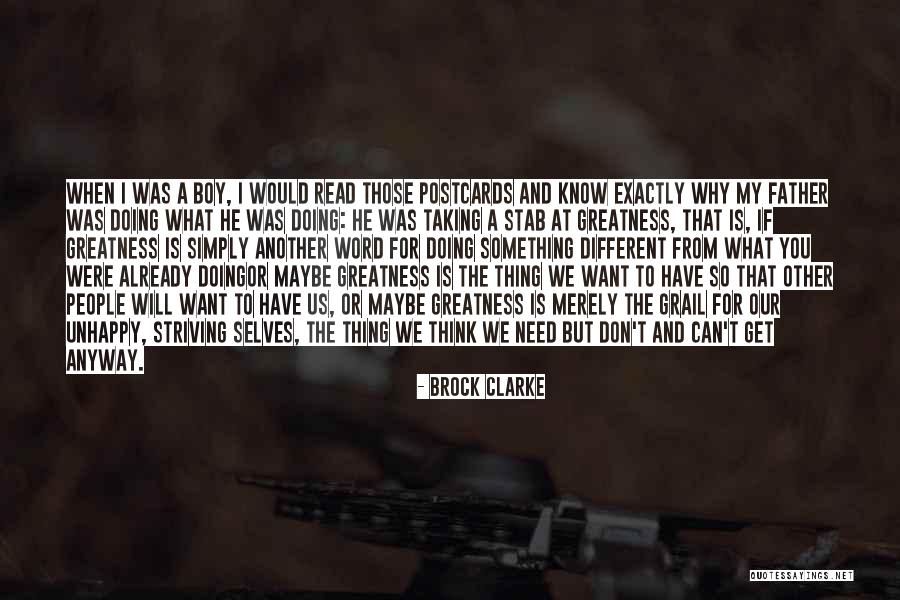 When I was a boy, I would read those postcards and know exactly why my father was doing what he was doing: he was taking a stab at greatness, that is, if greatness is simply another word for doing something different from what you were already doing
or maybe greatness is the thing we want to have so that other people will want to have us, or maybe greatness is merely the grail for our unhappy, striving selves, the thing we think we need but don't and can't get anyway. — Brock Clarke
A prince, as I have said before, sooner becomes hated by being rapacious and by interfering with the property and with the women of his subjects, than in any other way. From these, therefore, he should abstain. For so long as neither their property nor their honour is touched, the mass of mankind live contentedly, and the prince has only to cope with the ambition of a few, which can in many ways and easily be kept within bounds.

A prince is despised when he is seen to be fickle, frivolous, effeminate, pusillanimous, or irresolute, against which defects he ought therefore most carefully to guard, striving so to bear himself that greatness, courage, wisdom, and strength may appear in all his actions. In his private dealings with his subjects his decisions should be irrevocable, and his reputation such that no one would dream of overreaching or cajoling him. — Niccolo Machiavelli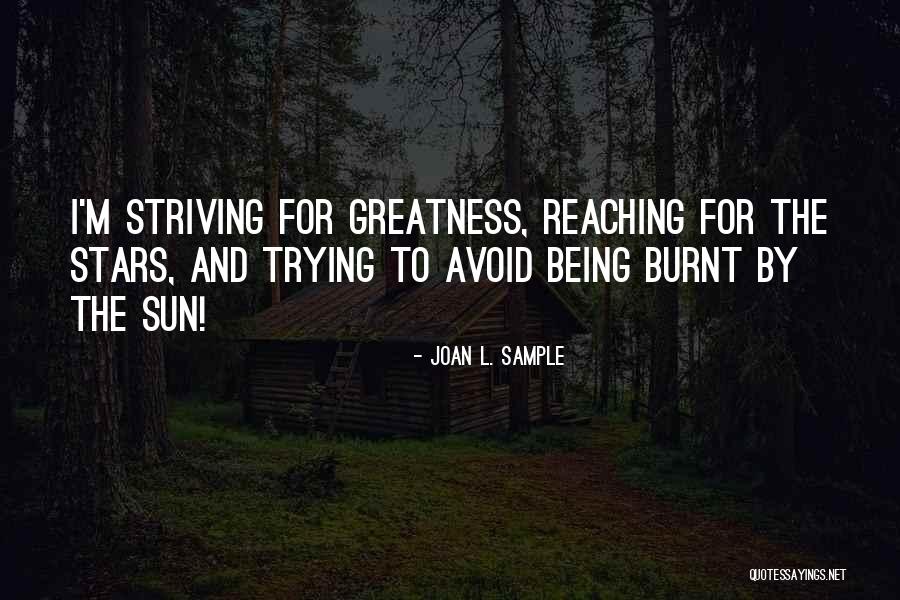 I'm striving for greatness, reaching for the stars, and trying to avoid being burnt by the sun! — Joan L. Sample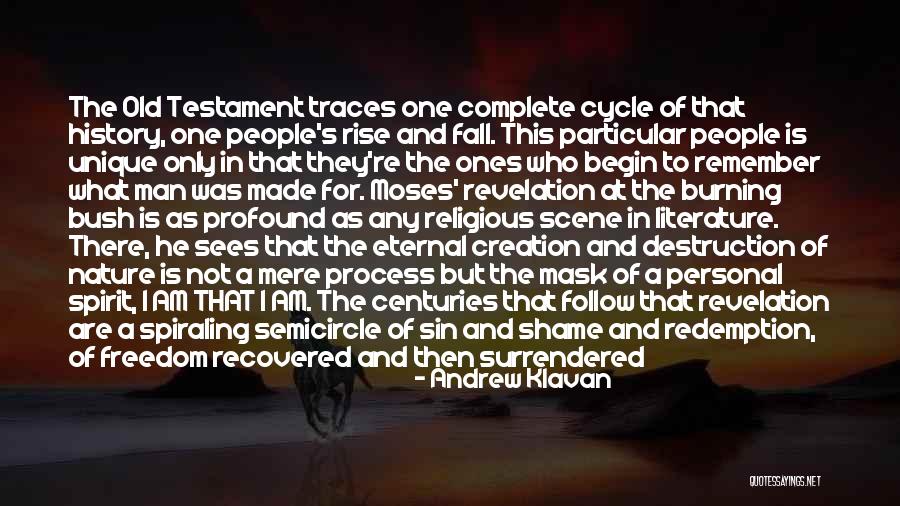 The Old Testament traces one complete cycle of that history, one people's rise and fall. This particular people is unique only in that they're the ones who begin to remember what man was made for. Moses' revelation at the burning bush is as profound as any religious scene in literature. There, he sees that the eternal creation and destruction of nature is not a mere process but the mask of a personal spirit, I AM THAT I AM. The centuries that follow that revelation are a spiraling semicircle of sin and shame and redemption, of freedom recovered and then surrendered in return for imperial greatness, of a striving toward righteousness through law that reveals only the impossibility of righteousness, of power and pride and fall. It's every people's history, in other words, but seen anew in the light of the fire of I AM. It — Andrew Klavan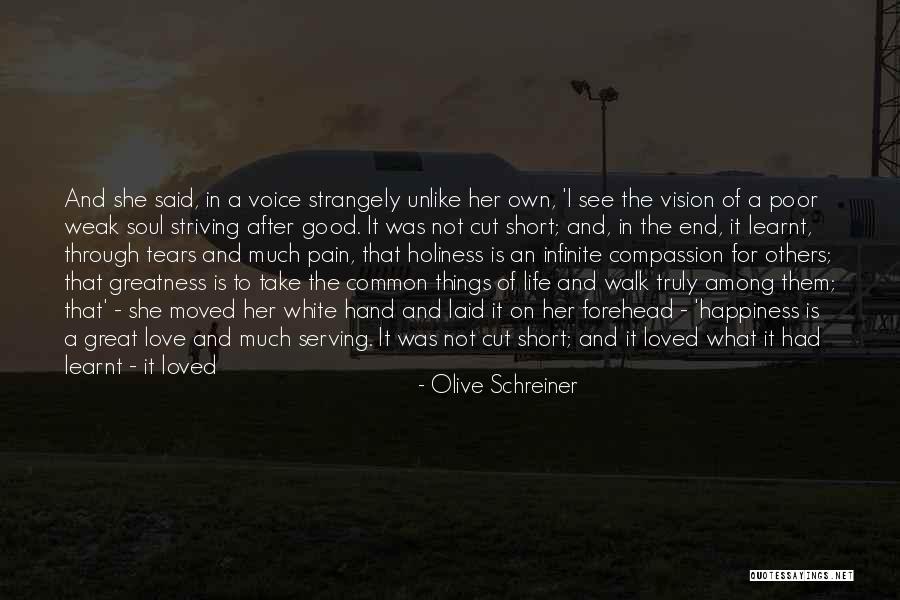 And she said, in a voice strangely unlike her own, 'I see the vision of a poor weak soul striving after good. It was not cut short; and, in the end, it learnt, through tears and much pain, that holiness is an infinite compassion for others; that greatness is to take the common things of life and walk truly among them; that' - she moved her white hand and laid it on her forehead - 'happiness is a great love and much serving. It was not cut short; and it loved what it had learnt - it loved — Olive Schreiner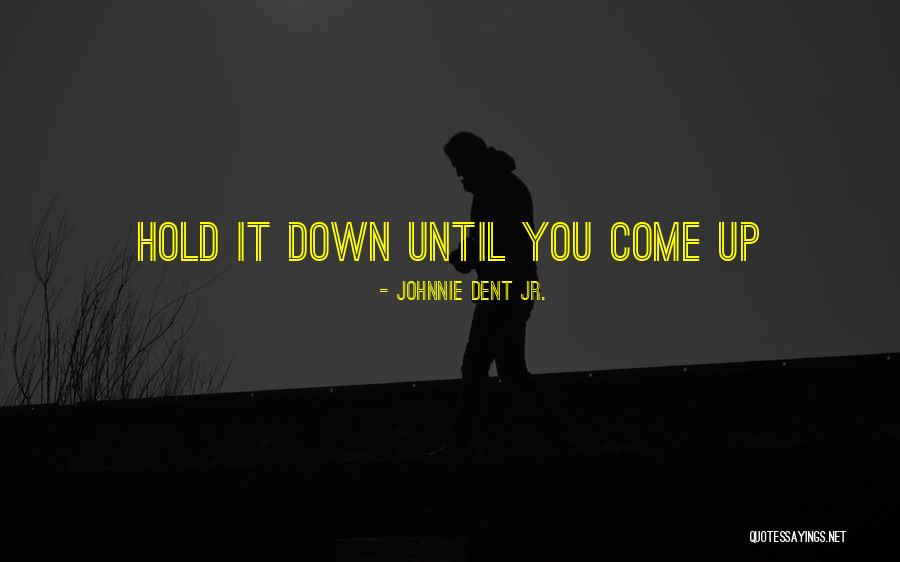 Hold it down until you come up — Johnnie Dent Jr.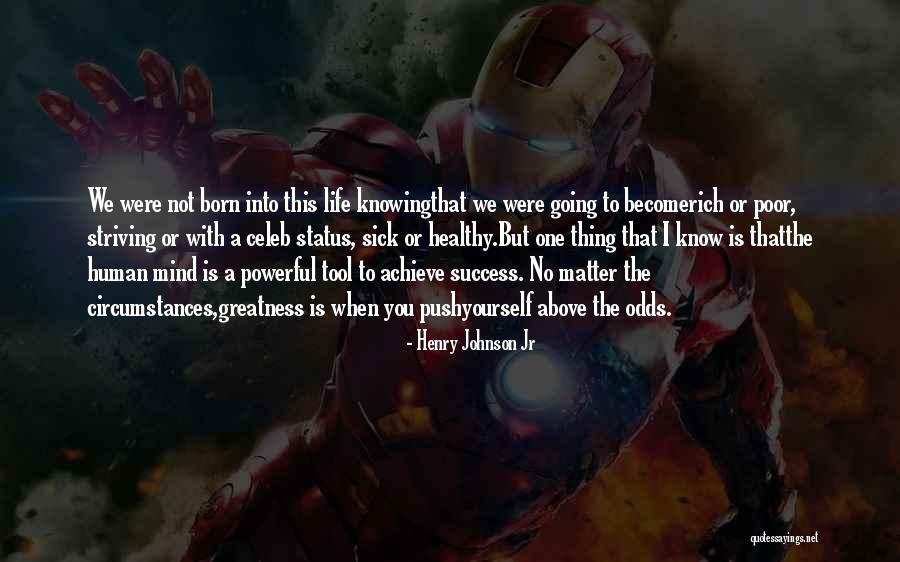 We were not born into this life knowing
that we were going to become
rich or poor, striving or with a celeb status, sick or healthy.
But one thing that I know is that
the human mind is a powerful tool to achieve success. No matter the circumstances,
greatness is when you push
yourself above the odds. — Henry Johnson Jr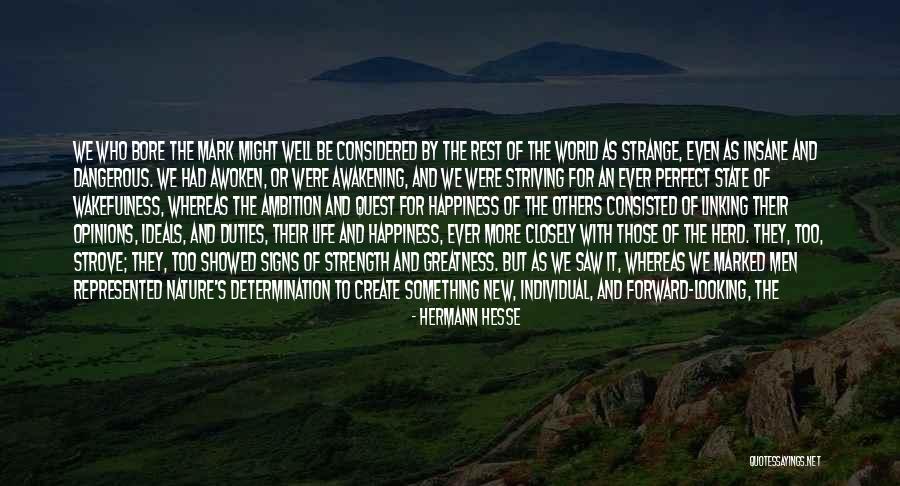 We who bore the mark might well be considered by the rest of the world as strange, even as insane and dangerous. We had awoken, or were awakening, and we were striving for an ever perfect state of wakefulness, whereas the ambition and quest for happiness of the others consisted of linking their opinions, ideals, and duties, their life and happiness, ever more closely with those of the herd. They, too, strove; they, too showed signs of strength and greatness. But as we saw it, whereas we marked men represented Nature's determination to create something new, individual, and forward-looking, the others lived in the determination to stay the same. For them mankind
which they loved as much as we did
was a fully formed entity that had to be preserved and protected. For us mankind was a distant future toward which we were all journeying, whose aspect no one knew, whose laws weren't written down anywhere. — Hermann Hesse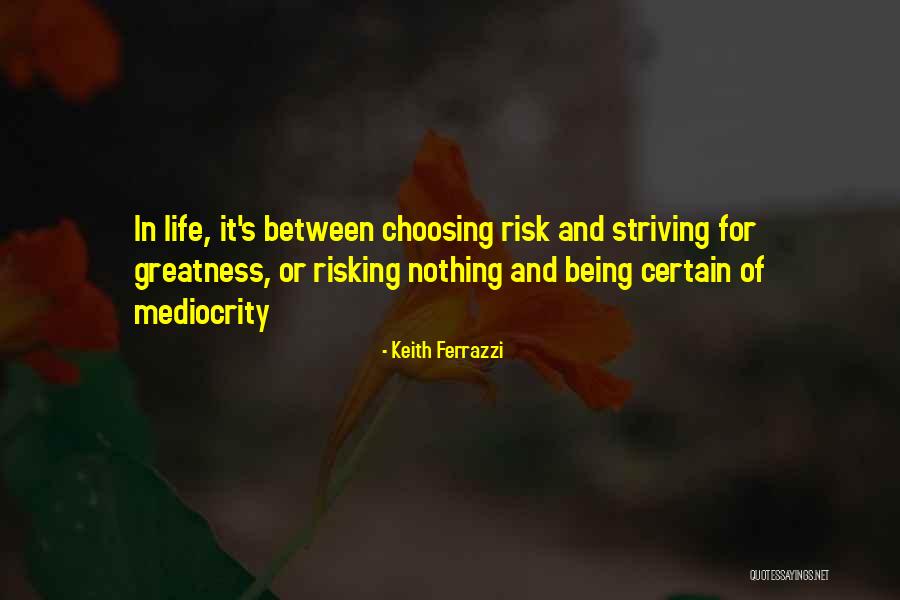 In life, it's between choosing risk and striving for greatness, or risking nothing and being certain of mediocrity — Keith Ferrazzi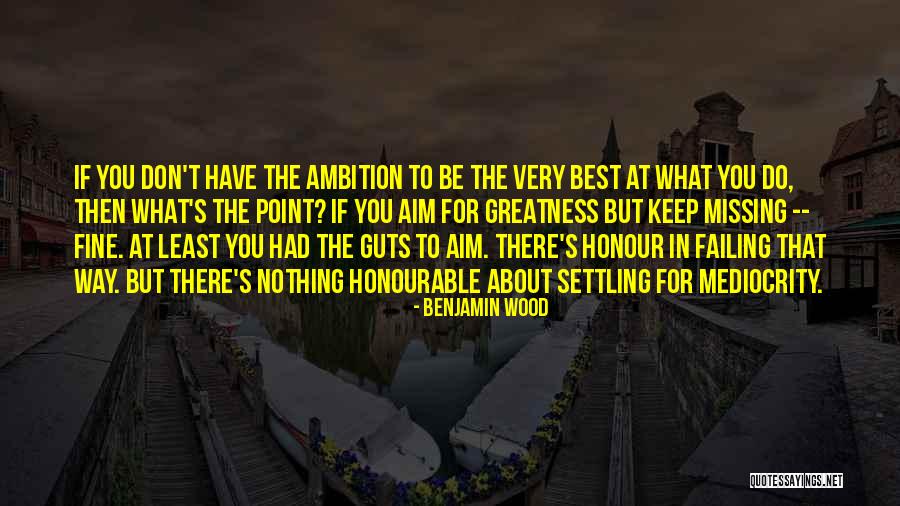 If you don't have the ambition to be the very best at what you do, then what's the point? If you aim for greatness but keep missing -- fine. At least you had the guts to aim. There's honour in failing that way. But there's nothing honourable about settling for mediocrity. — Benjamin Wood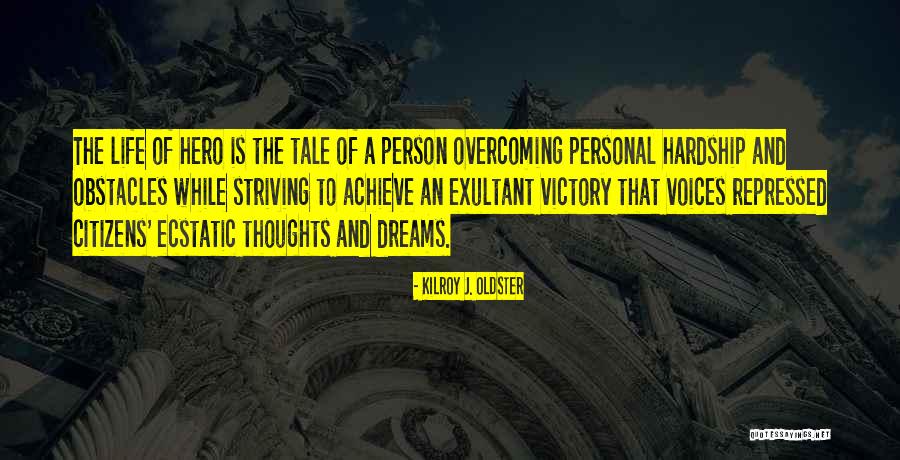 The life of hero is the tale of a person overcoming personal hardship and obstacles while striving to achieve an exultant victory that voices repressed citizens' ecstatic thoughts and dreams. — Kilroy J. Oldster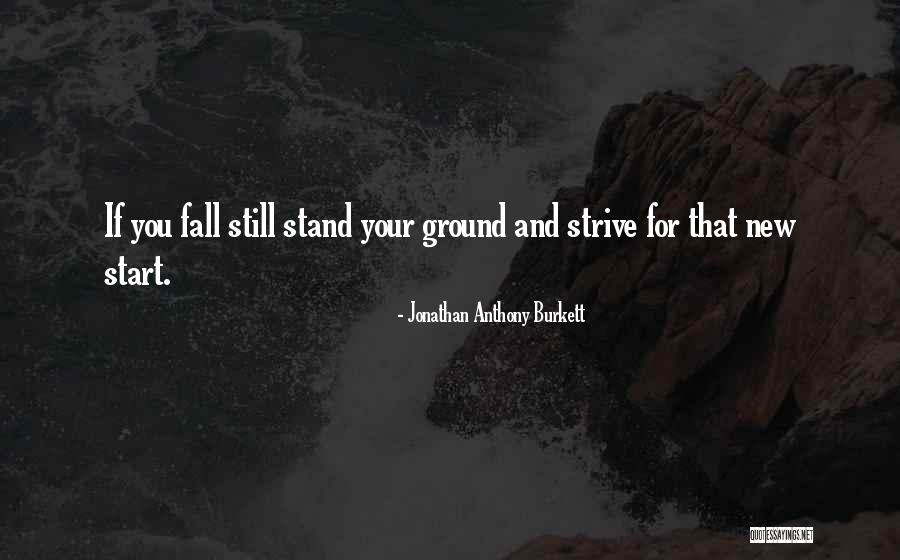 If you fall still stand your ground and strive for that new start. — Jonathan Anthony Burkett
There is always a struggle, a striving for something bigger than yourself in all forms of art. And even if you don't achieve greatness, even if you fail, which we all must, everything you do in your work is somehow connected with your attitude toward life ... — Rex Harrison