Look In The Mirror You're Beautiful Quotes & Sayings
Enjoy reading and share 31 famous quotes about Look In The Mirror You're Beautiful with everyone.
Top Look In The Mirror You're Beautiful Quotes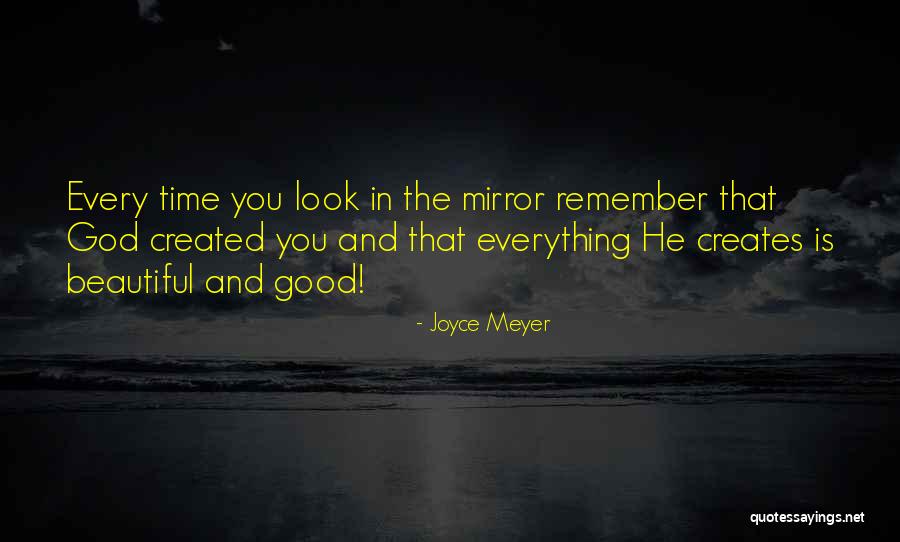 Every time you look in the mirror remember that God created you and that everything He creates is beautiful and good! — Joyce Meyer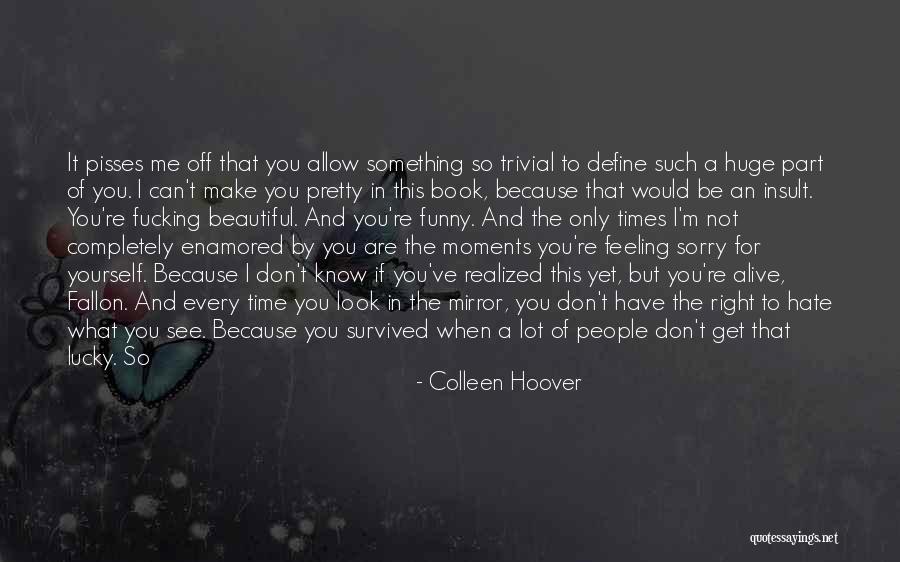 It pisses me off that you allow something so trivial to define such a huge part of you. I can't make you pretty in this book, because that would be an insult. You're fucking beautiful. And you're funny. And the only times I'm not completely enamored by you are the moments you're feeling sorry for yourself. Because I don't know if you've realized this yet, but you're alive, Fallon. And every time you look in the mirror, you don't have the right to hate what you see. Because you survived when a lot of people don't get that lucky. So from now on when you think about your scars, you aren't allowed to resent them. You're going to embrace them, because you're lucky to be on this earth to see them. And any guy you allow to touch your scars better thank you for that privilege." My — Colleen Hoover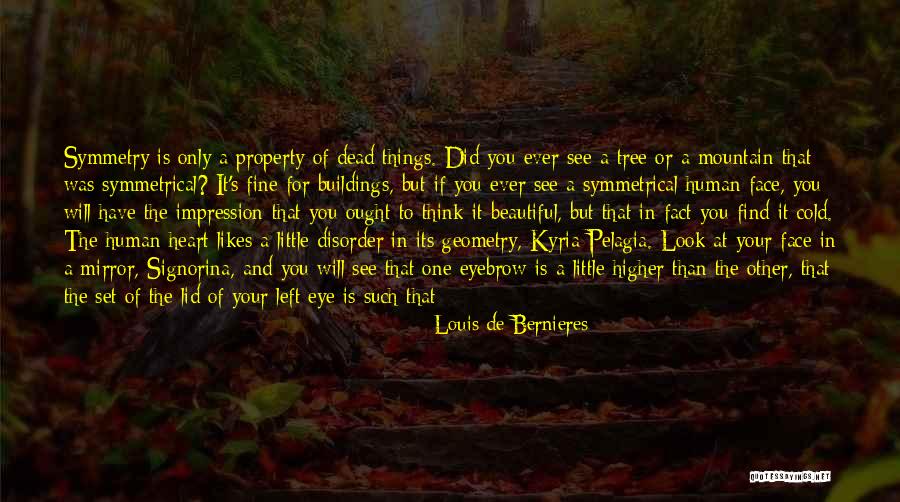 Symmetry is only a property of dead things. Did you ever see a tree or a mountain that was symmetrical? It's fine for buildings, but if you ever see a symmetrical human face, you will have the impression that you ought to think it beautiful, but that in fact you find it cold. The human heart likes a little disorder in its geometry, Kyria Pelagia. Look at your face in a mirror, Signorina, and you will see that one eyebrow is a little higher than the other, that the set of the lid of your left eye is such that the eye is a fraction more open that the other. It is these things that make you both attractive and beautiful, whereas ... otherwise you would be a statue. Symmetry is for God, not for us. — Louis De Bernieres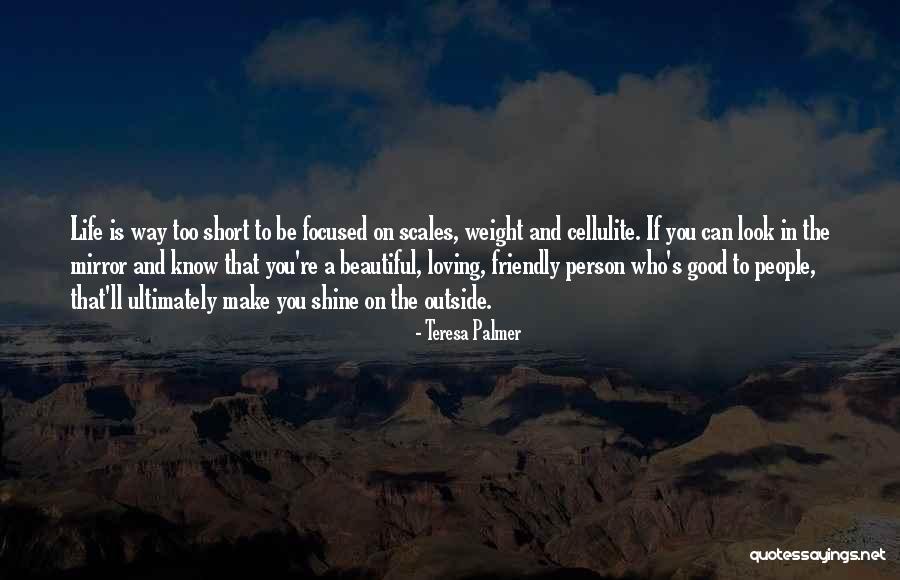 Life is way too short to be focused on scales, weight and cellulite. If you can look in the mirror and know that you're a beautiful, loving, friendly person who's good to people, that'll ultimately make you shine on the outside. — Teresa Palmer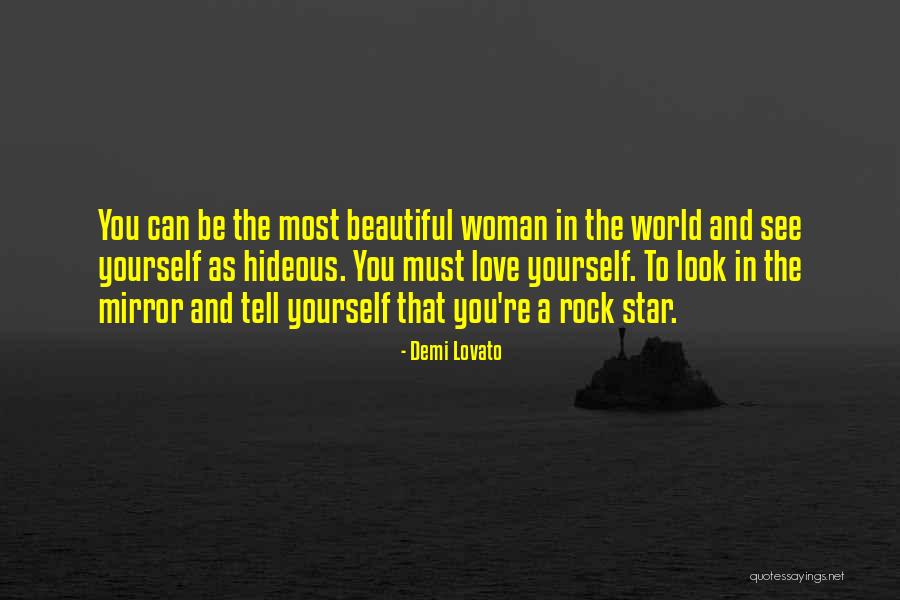 You can be the most beautiful woman in the world and see yourself as hideous. You must love yourself. To look in the mirror and tell yourself that you're a rock star. — Demi Lovato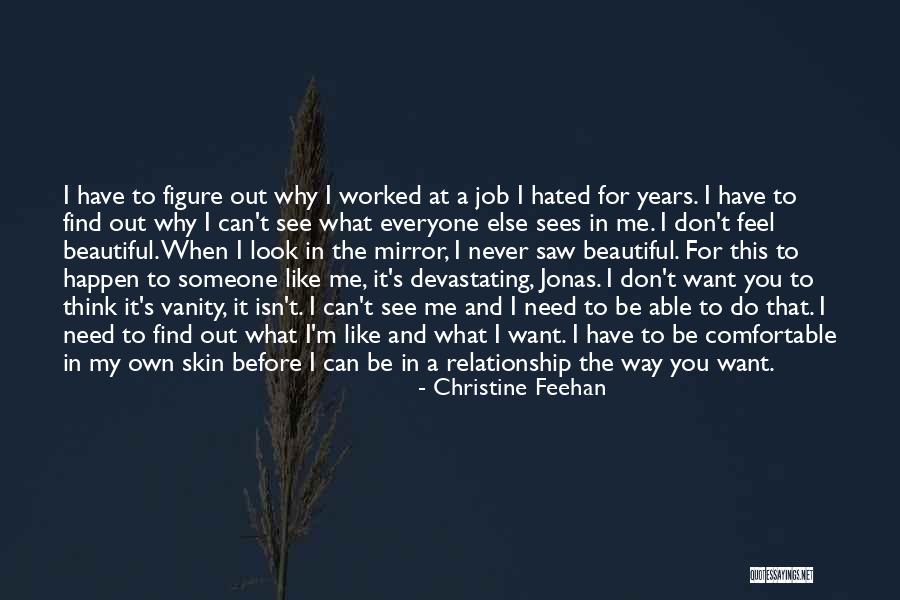 I have to figure out why I worked at a job I hated for years. I have to find out why I can't see what everyone else sees in me. I don't feel beautiful. When I look in the mirror, I never saw beautiful. For this to happen to someone like me, it's devastating, Jonas. I don't want you to think it's vanity, it isn't. I can't see me and I need to be able to do that. I need to find out what I'm like and what I want. I have to be comfortable in my own skin before I can be in a relationship the way you want. — Christine Feehan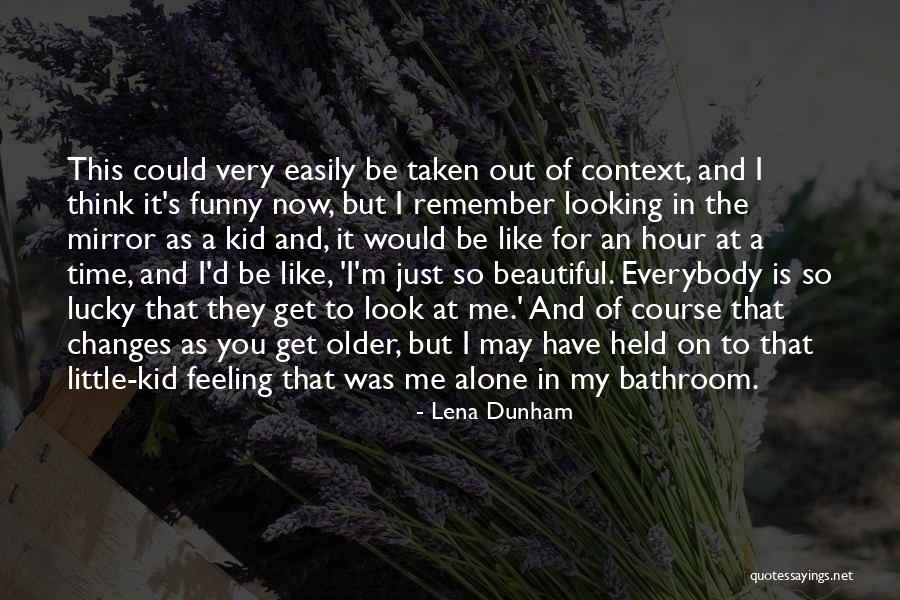 This could very easily be taken out of context, and I think it's funny now, but I remember looking in the mirror as a kid and, it would be like for an hour at a time, and I'd be like, 'I'm just so beautiful. Everybody is so lucky that they get to look at me.' And of course that changes as you get older, but I may have held on to that little-kid feeling that was me alone in my bathroom. — Lena Dunham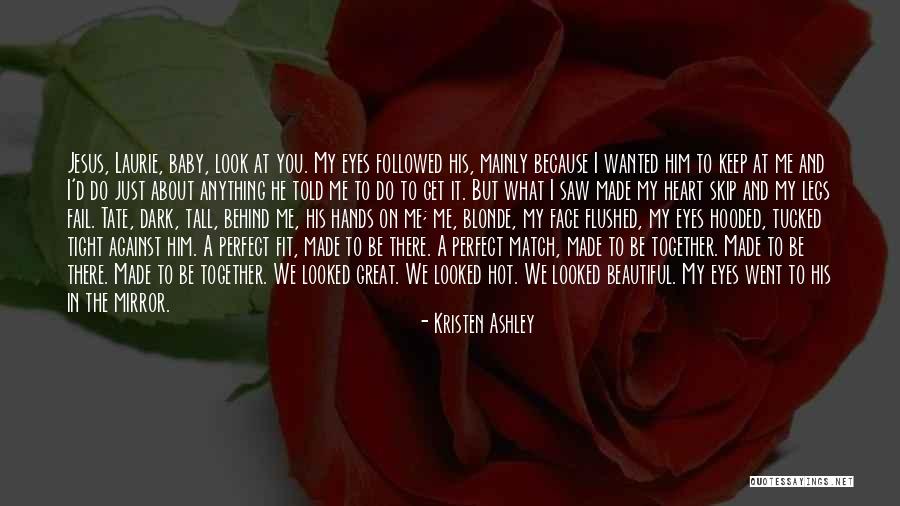 Jesus, Laurie, baby, look at you.
My eyes followed his, mainly because I wanted him to keep at me and I'd do just about anything he told me to do to get it.
But what I saw made my heart skip and my legs fail.
Tate, dark, tall, behind me, his hands on me; me, blonde, my face flushed, my eyes hooded, tucked tight against him. A perfect fit, made to be there. A perfect match, made to be together.
Made to be there.
Made to be together.
We looked great.
We looked hot.
We looked beautiful.
My eyes went to his in the mirror. — Kristen Ashley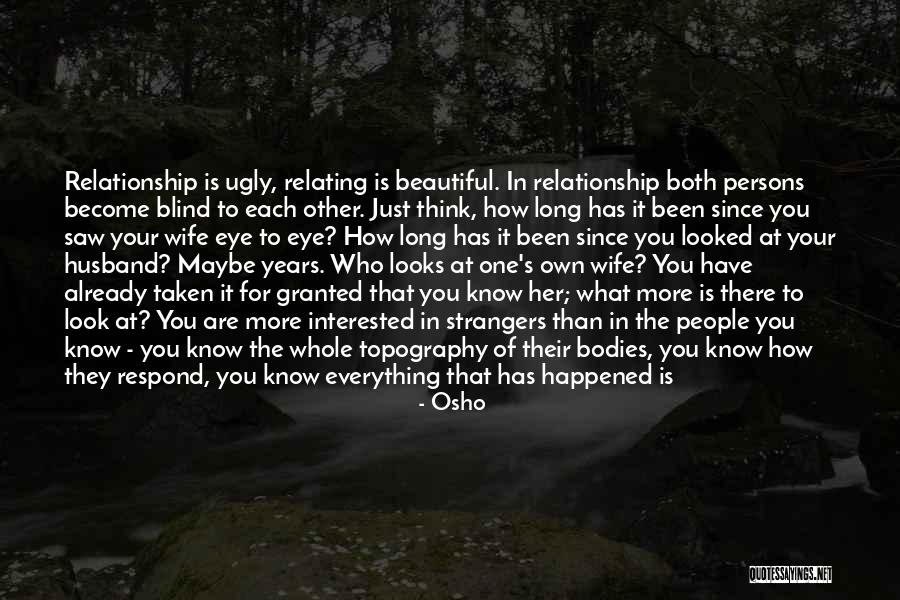 Relationship is ugly, relating is beautiful. In relationship both persons become blind to each other. Just think, how long has it been since you saw your wife eye to eye? How long has it been since you looked at your husband? Maybe years. Who looks at one's own wife? You have already taken it for granted that you know her; what more is there to look at? You are more interested in strangers than in the people you know - you know the whole topography of their bodies, you know how they respond, you know everything that has happened is going to happen again and again. It is a repetitive circle. It is not so, it is not really so. Nothing ever repeats; everything is new every day. Just your eyes become old, your assumptions become old, your mirror gathers dust and you become incapable of reflecting the other. Hence — Osho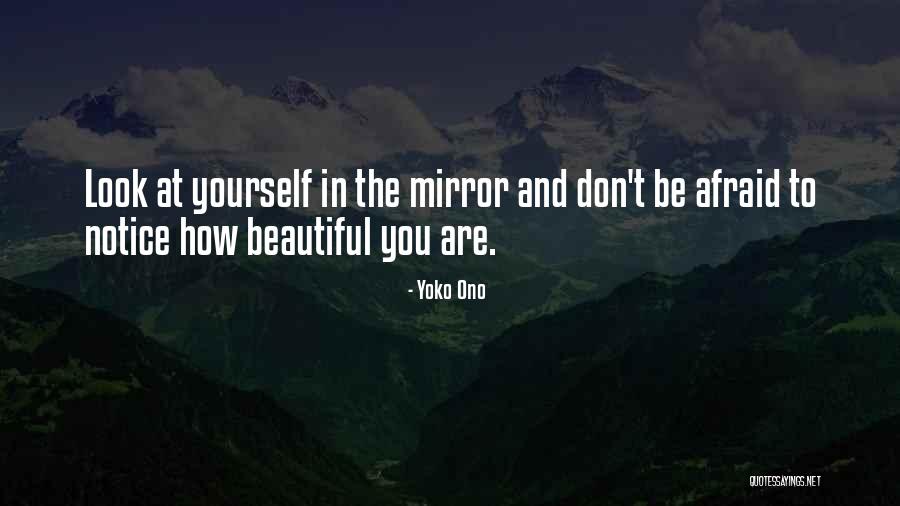 Look at yourself in the mirror and don't be afraid to notice how beautiful you are. — Yoko Ono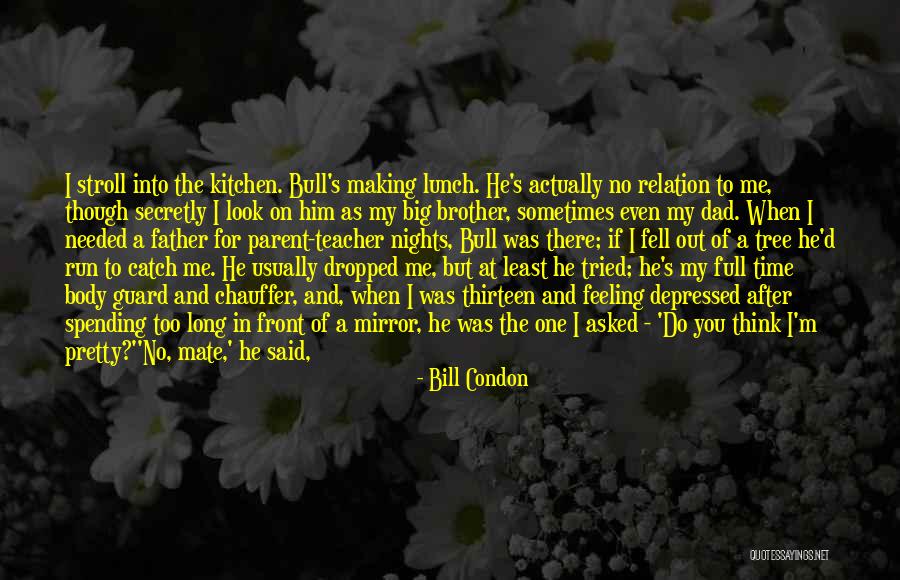 I stroll into the kitchen. Bull's making lunch. He's actually no relation to me, though secretly I look on him as my big brother, sometimes even my dad. When I needed a father for parent-teacher nights, Bull was there; if I fell out of a tree he'd run to catch me. He usually dropped me, but at least he tried; he's my full time body guard and chauffer, and, when I was thirteen and feeling depressed after spending too long in front of a mirror, he was the one I asked - 'Do you think I'm pretty?'
'No, mate,' he said, 'I wouldn't call you pretty at all. No way. You're beautiful.'
It's still near the top of one of my all-time favourite lies. — Bill Condon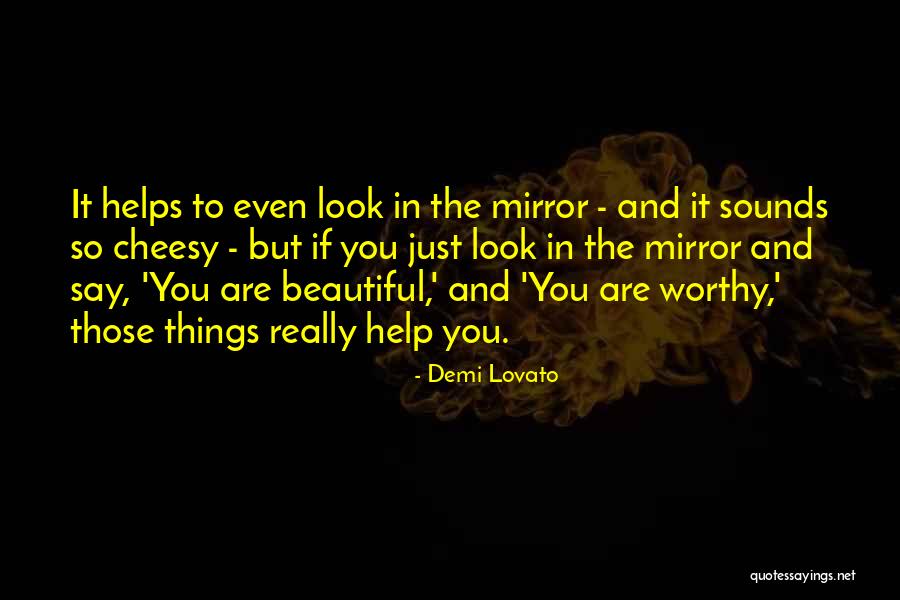 It helps to even look in the mirror - and it sounds so cheesy - but if you just look in the mirror and say, 'You are beautiful,' and 'You are worthy,' those things really help you. — Demi Lovato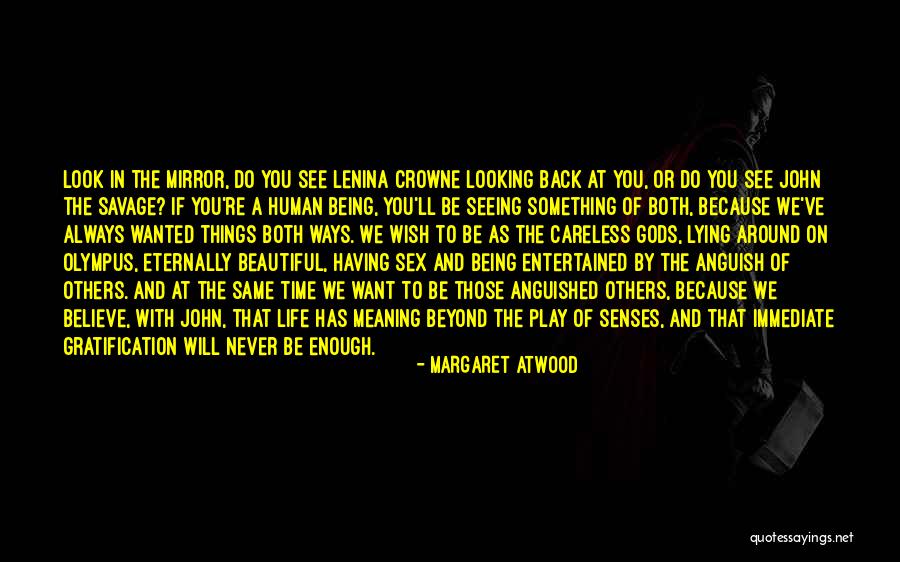 Look in the mirror, do you see Lenina Crowne looking back at you, or do you see John the Savage? If you're a human being, you'll be seeing something of both, because we've always wanted things both ways. We wish to be as the careless gods, lying around on Olympus, eternally beautiful, having sex and being entertained by the anguish of others. And at the same time we want to be those anguished others, because we believe, with John, that life has meaning beyond the play of senses, and that immediate gratification will never be enough. — Margaret Atwood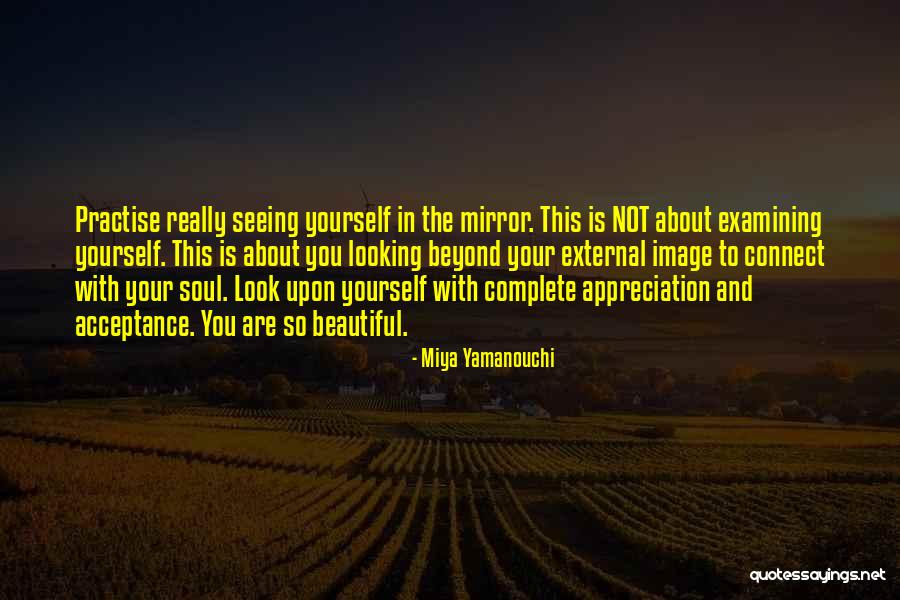 Practise really seeing yourself in the mirror. This is NOT about examining yourself. This is about you looking beyond your external image to connect with your soul. Look upon yourself with complete appreciation and acceptance. You are so beautiful. — Miya Yamanouchi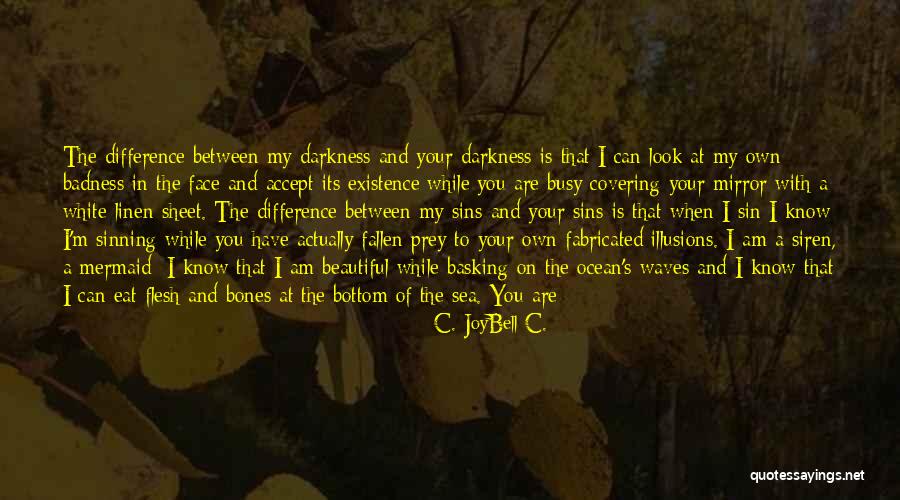 The difference between my darkness and your darkness is that I can look at my own badness in the face and accept its existence while you are busy covering your mirror with a white linen sheet. The difference between my sins and your sins is that when I sin I know I'm sinning while you have actually fallen prey to your own fabricated illusions. I am a siren, a mermaid; I know that I am beautiful while basking on the ocean's waves and I know that I can eat flesh and bones at the bottom of the sea. You are a white witch, a wizard; your spells are manipulations and your cauldron from hell yet you wrap yourself in white and wear a silver wig. — C. JoyBell C.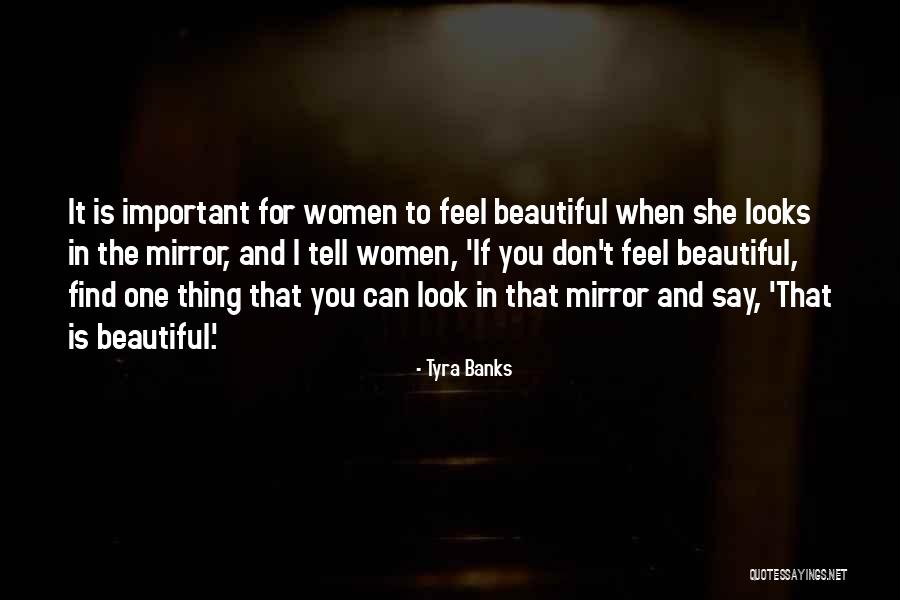 It is important for women to feel beautiful when she looks in the mirror, and I tell women, 'If you don't feel beautiful, find one thing that you can look in that mirror and say, 'That is beautiful.' — Tyra Banks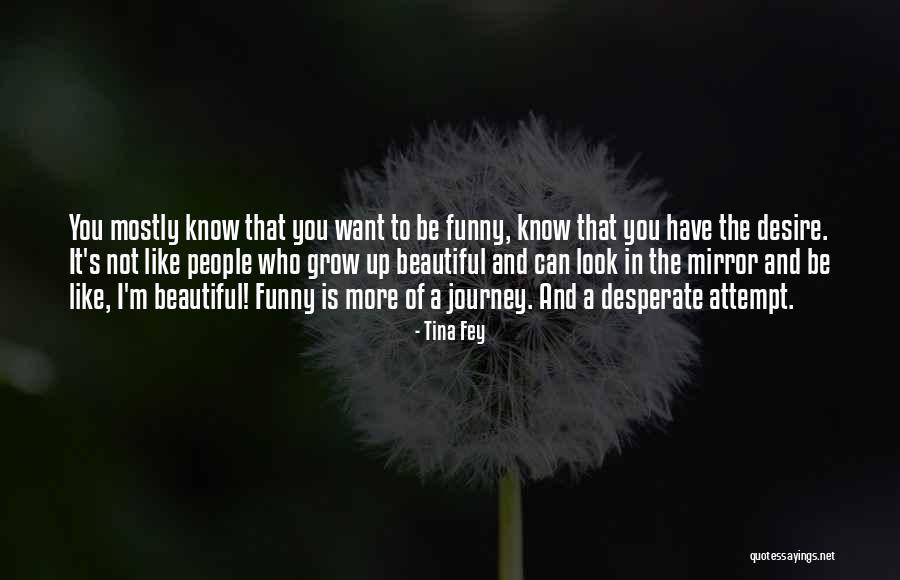 You mostly know that you want to be funny, know that you have the desire. It's not like people who grow up beautiful and can look in the mirror and be like, I'm beautiful! Funny is more of a journey. And a desperate attempt. — Tina Fey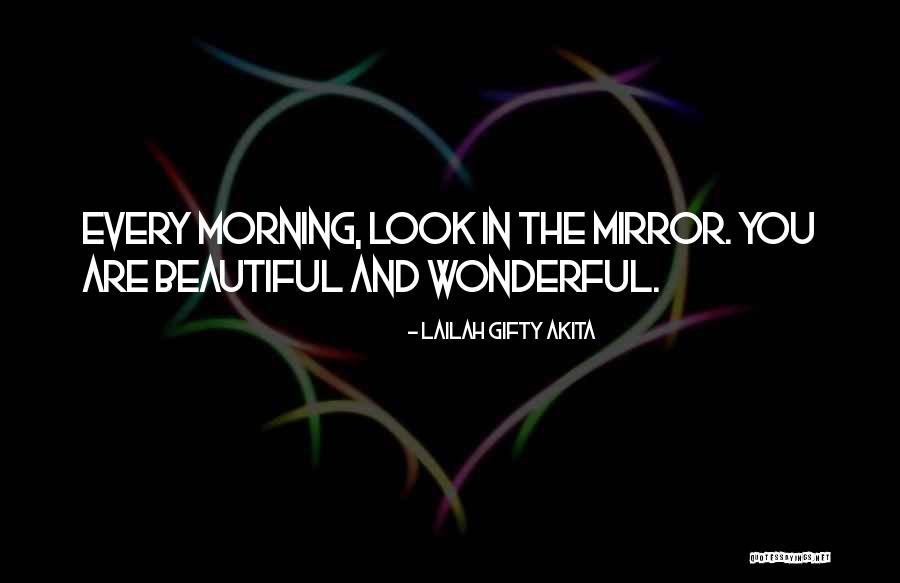 Every morning, look in the mirror.
You are beautiful and wonderful. — Lailah Gifty Akita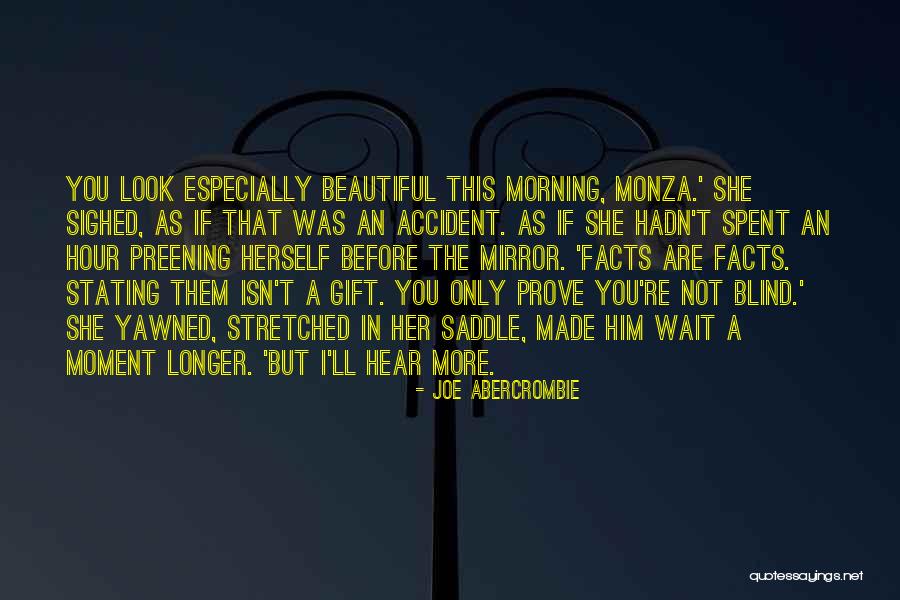 You look especially beautiful this morning, Monza.' She sighed, as if that was an accident. As if she hadn't spent an hour preening herself before the mirror. 'Facts are facts. Stating them isn't a gift. You only prove you're not blind.' She yawned, stretched in her saddle, made him wait a moment longer. 'But I'll hear more. — Joe Abercrombie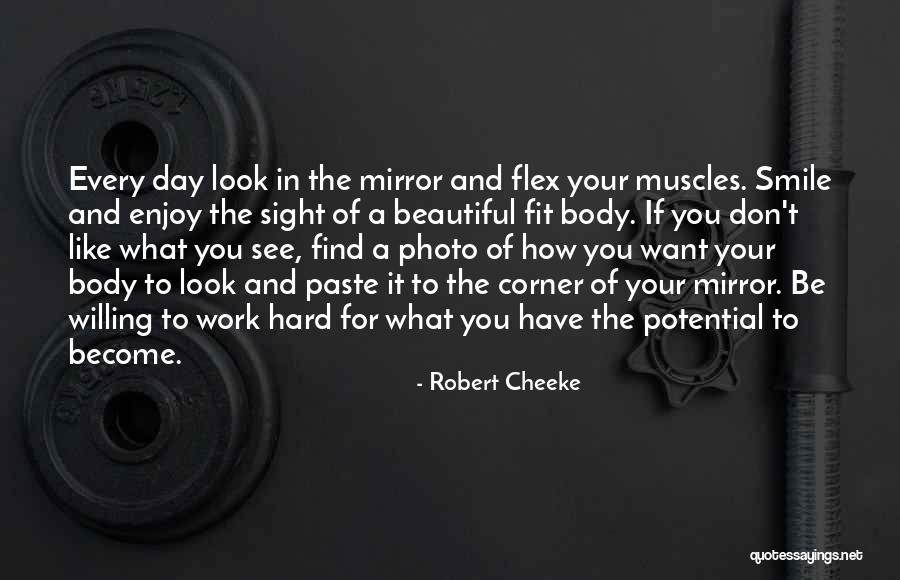 Every day look in the mirror and flex your muscles. Smile and enjoy the sight of a beautiful fit body. If you don't like what you see, find a photo of how you want your body to look and paste it to the corner of your mirror. Be willing to work hard for what you have the potential to become. — Robert Cheeke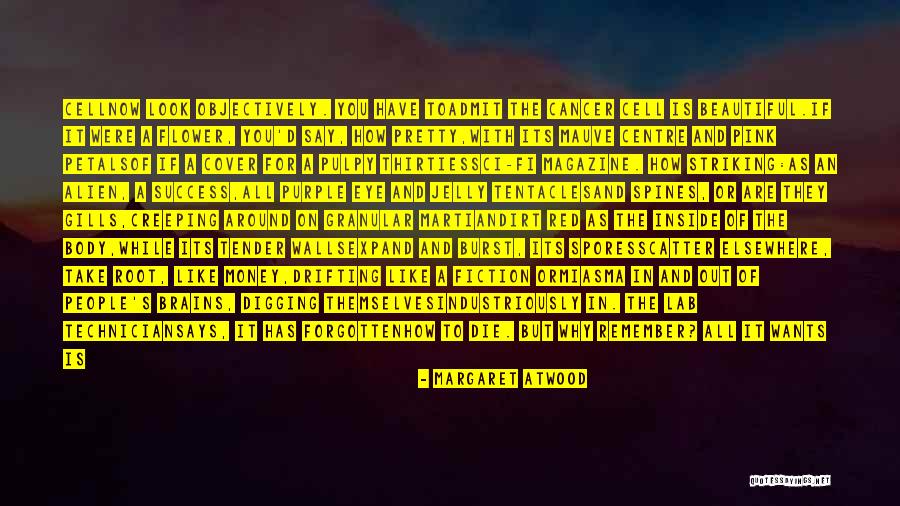 CELL

Now look objectively. You have to
admit the cancer cell is beautiful.
If it were a flower, you'd say, How pretty,
with its mauve centre and pink petals

of if a cover for a pulpy thirties
sci-fi magazine. How striking:
as an alien, a success,
all purple eye and jelly tentacles
and spines, or are they gills,
creeping around on granular Martian
dirt red as the inside of the body,

while its tender walls
expand and burst, its spores
scatter elsewhere, take root, like money,
drifting like a fiction or
miasma in and out of people's
brains, digging themselves
industriously in. The lab technician

says, It has forgotten
how to die. But why remember? All it wants is more
amnesia. More life, and more abundantly. to take
more. to eat more. To replicate itself. To keep on
doing those things forever. Such desires
are not unknown. Look in the mirror. — Margaret Atwood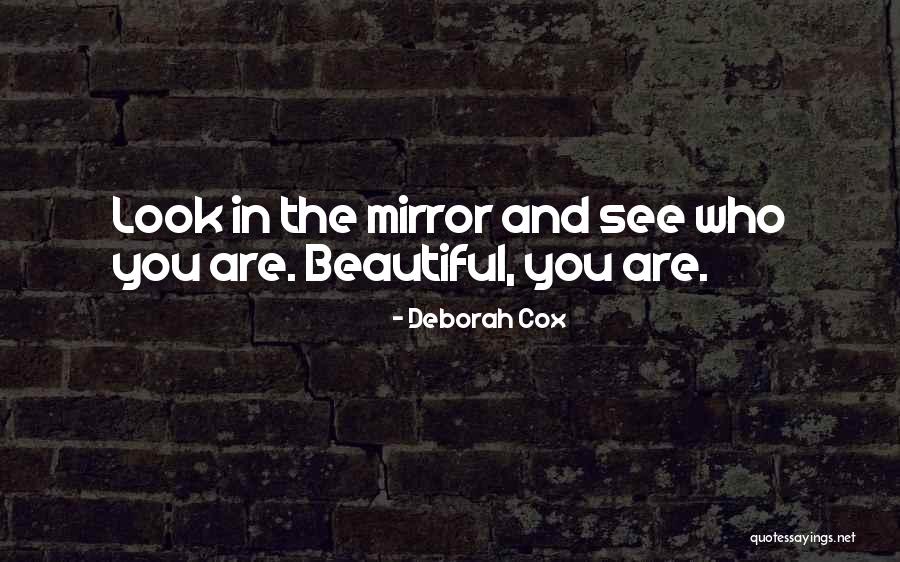 Look in the mirror and see who you are. Beautiful, you are. — Deborah Cox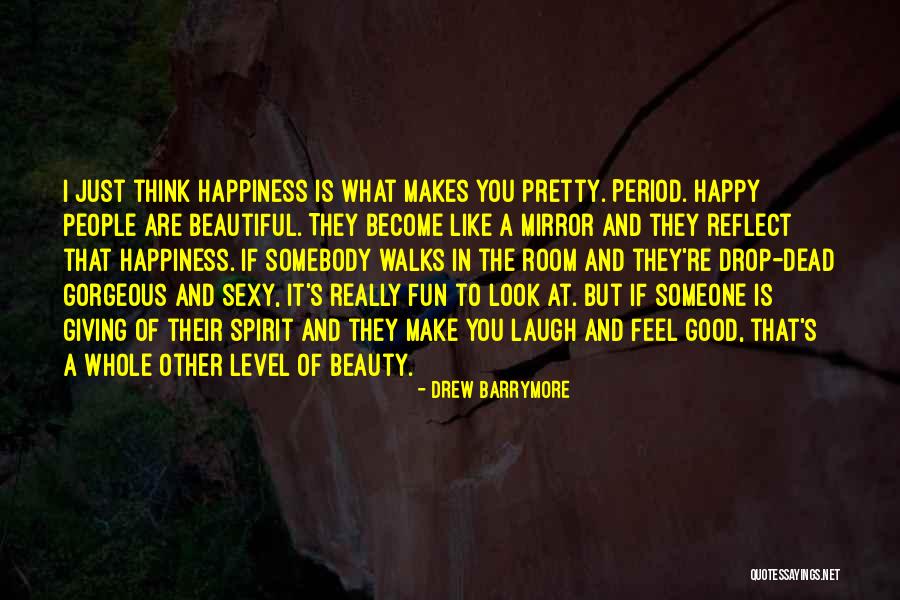 I just think happiness is what makes you pretty. Period. Happy people are beautiful. They become like a mirror and they reflect that happiness. If somebody walks in the room and they're drop-dead gorgeous and sexy, it's really fun to look at. But if someone is giving of their spirit and they make you laugh and feel good, that's a whole other level of beauty. — Drew Barrymore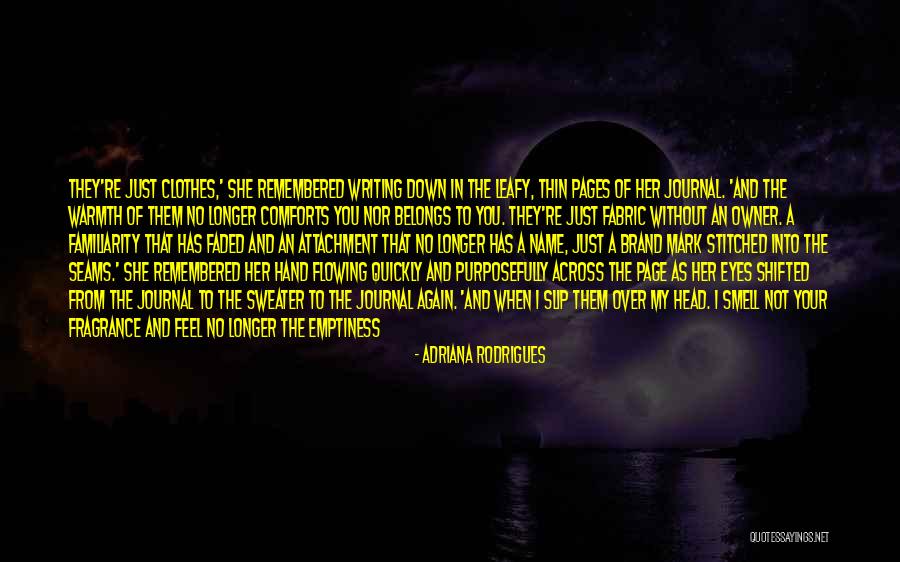 They're just clothes,' she remembered writing down in the leafy, thin pages of her journal. 'And the warmth of them no longer comforts you nor belongs to you. They're just fabric without an owner. A familiarity that has faded and an attachment that no longer has a name, just a brand mark stitched into the seams.' She remembered her hand flowing quickly and purposefully across the page as her eyes shifted from the journal to the sweater to the journal again.
'And when I slip them over my head. I smell not your fragrance and feel no longer the emptiness you left behind. I see me in a mirror, with a sweater on. And I look as radiant and beautiful, and broken, and whole, and relentlessly happy as you left me. — Adriana Rodrigues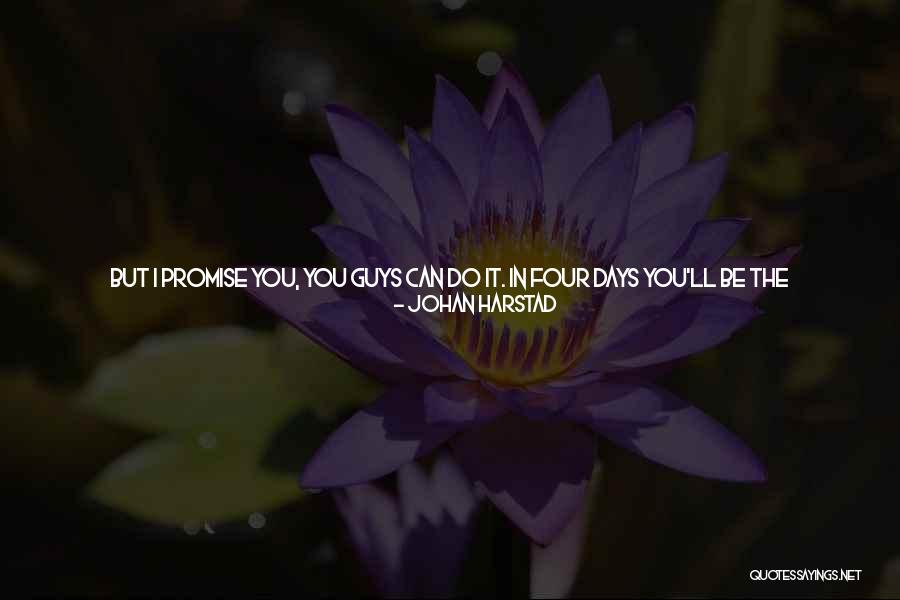 But I promise you, you guys can do it. In four days you'll be the happiest person Earth has ever seen. You'll stand by the ocean and feel the salty sea spray tingling in your nose. You'll be with people you know and love, and you'all appreciate how beautiful everything is. You'll se cars behind you in your rear view mirror, and maybe you'll laugh at the driver's faces. Because they'll look annoyed, bored, angry. And you'll realize what they're missing. You'll live a long and happy life, Mia. Because when you get home, you'll realize that anything is possible. You mustn't ever forget that. — Johan Harstad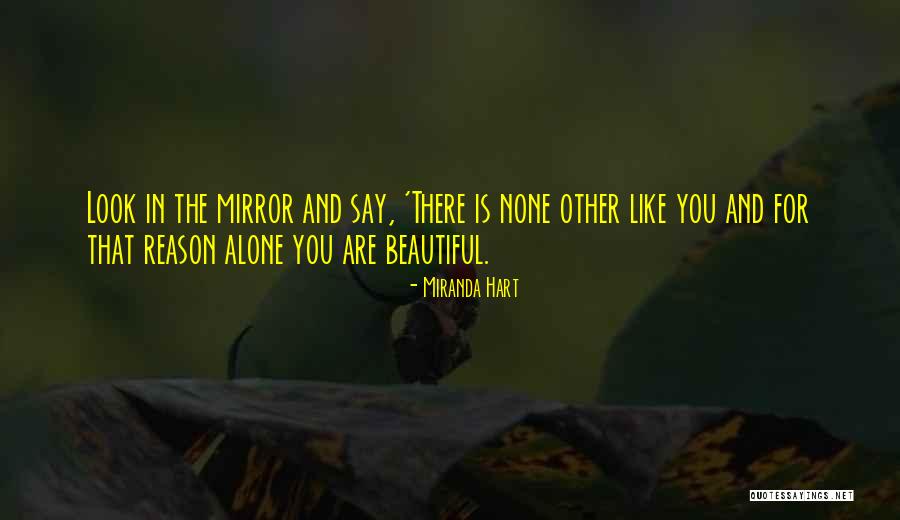 Look in the mirror and say, 'There is none other like you and for that reason alone you are beautiful. — Miranda Hart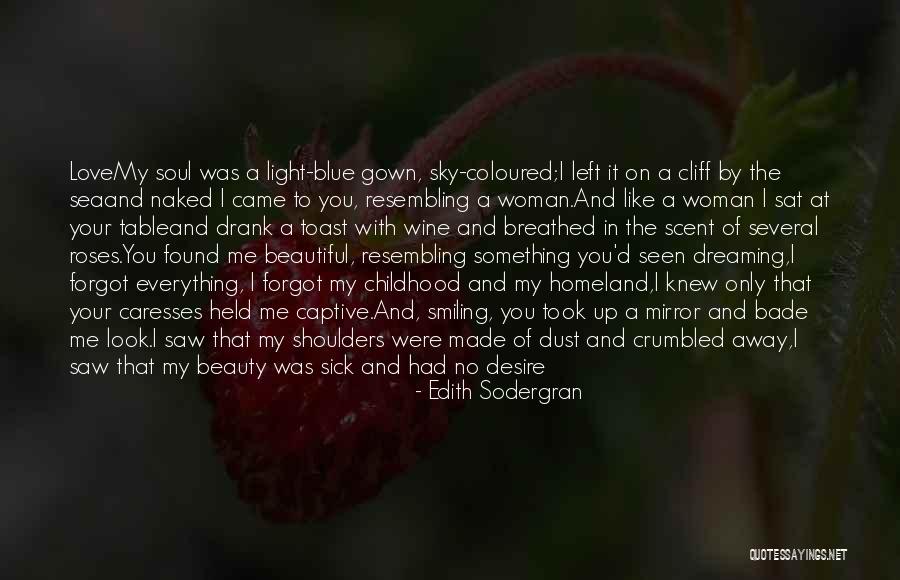 Love
My soul was a light-blue gown, sky-coloured;
I left it on a cliff by the sea
and naked I came to you, resembling a woman.
And like a woman I sat at your table
and drank a toast with wine and breathed in the scent of several roses.
You found me beautiful, resembling something you'd seen dreaming,
I forgot everything, I forgot my childhood and my homeland,
I knew only that your caresses held me captive.
And, smiling, you took up a mirror and bade me look.
I saw that my shoulders were made of dust and crumbled away,
I saw that my beauty was sick and had no desire other than to - disappear.
Oh, hold me close in your arms, so tightly that I need nothing. — Edith Sodergran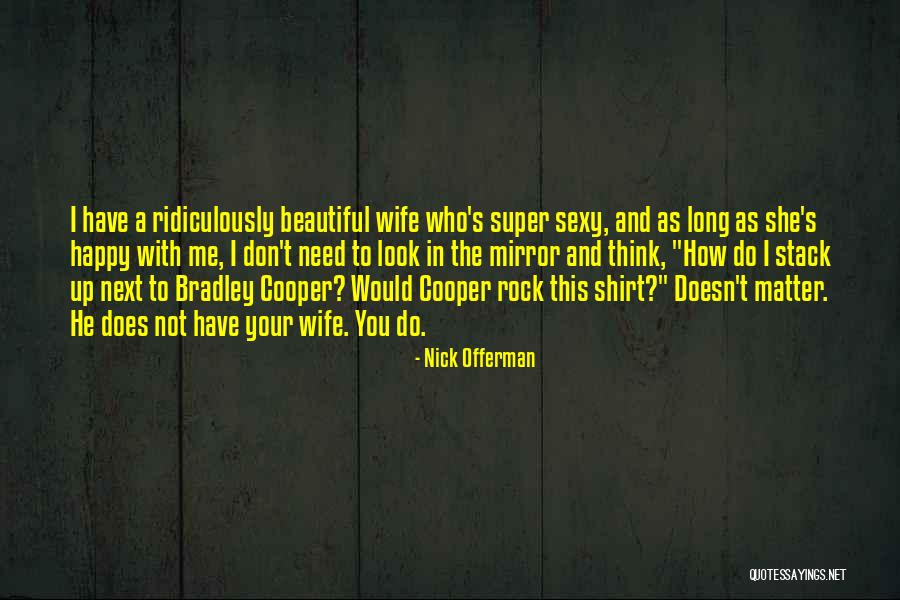 I have a ridiculously beautiful wife who's super sexy, and as long as she's happy with me, I don't need to look in the mirror and think, "How do I stack up next to Bradley Cooper? Would Cooper rock this shirt?" Doesn't matter. He does not have your wife. You do. — Nick Offerman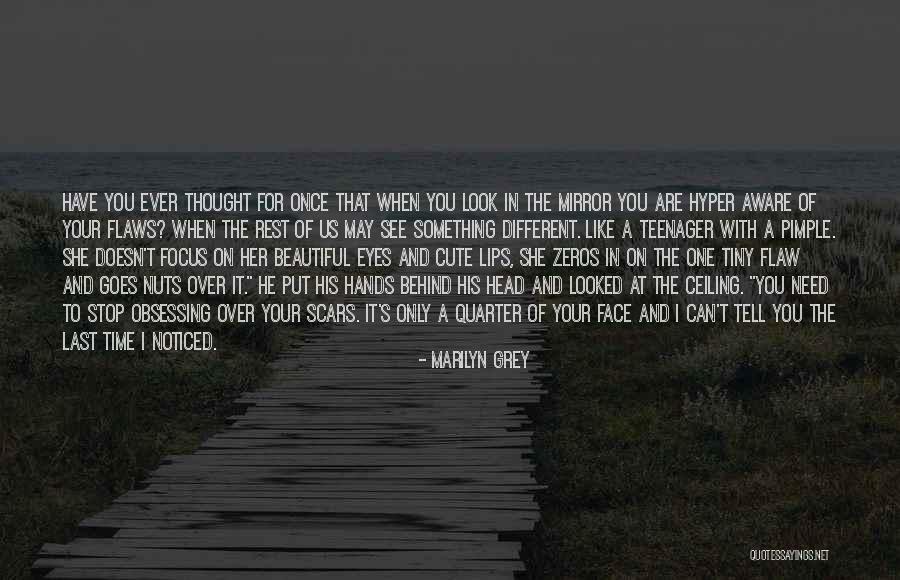 Have you ever thought for once that when you look in the mirror you are hyper aware of your flaws? When the rest of us may see something different. Like a teenager with a pimple. She doesn't focus on her beautiful eyes and cute lips, she zeros in on the one tiny flaw and goes nuts over it." He put his hands behind his head and looked at the ceiling. "You need to stop obsessing over your scars. It's only a quarter of your face and I can't tell you the last time I noticed. — Marilyn Grey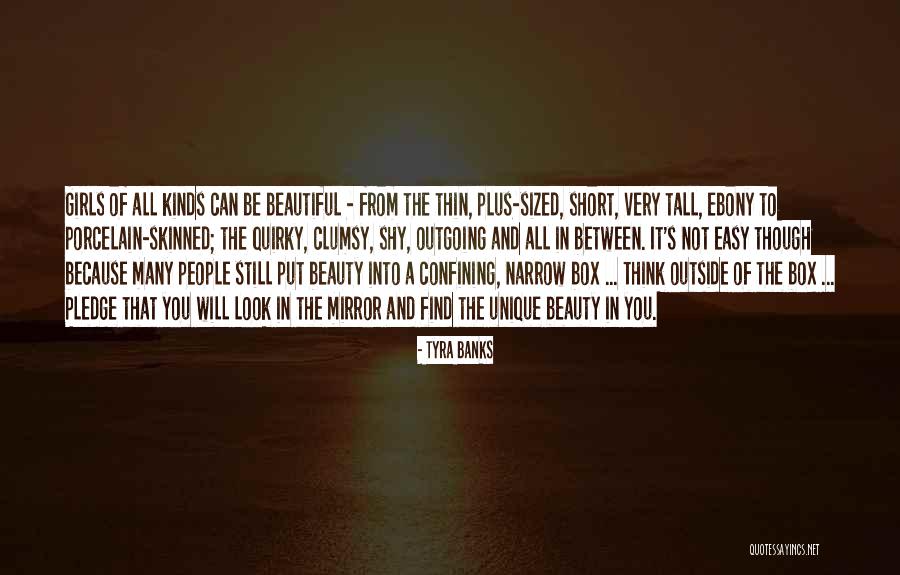 Girls of all kinds can be beautiful - from the thin, plus-sized, short, very tall, ebony to porcelain-skinned; the quirky, clumsy, shy, outgoing and all in between. It's not easy though because many people still put beauty into a confining, narrow box ... Think outside of the box ... Pledge that you will look in the mirror and find the unique beauty in you. — Tyra Banks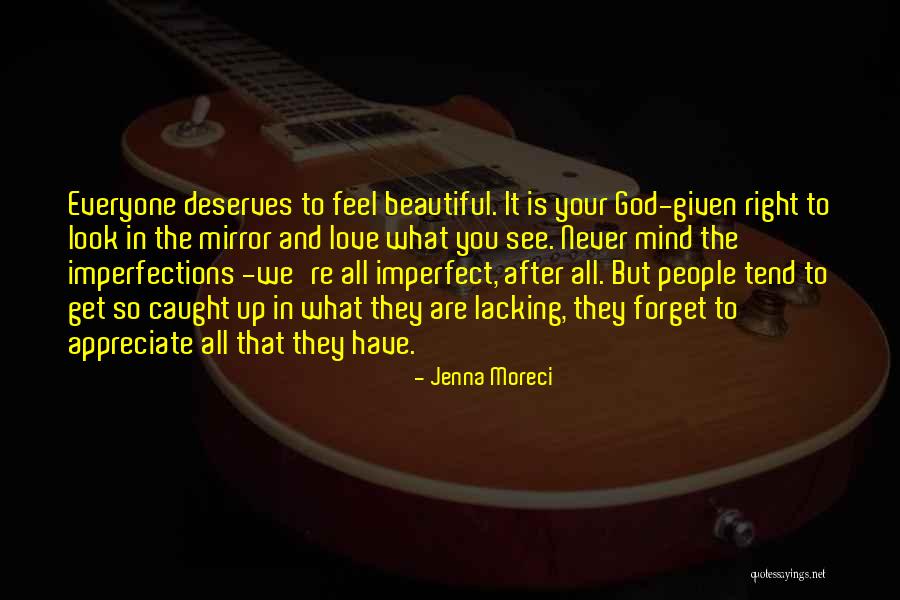 Everyone deserves to feel beautiful. It is your God-given right to look in the mirror and love what you see. Never mind the imperfections -we're all imperfect, after all. But people tend to get so caught up in what they are lacking, they forget to appreciate all that they have. — Jenna Moreci