Inside Every Girl Quotes & Sayings
Enjoy reading and share 33 famous quotes about Inside Every Girl with everyone.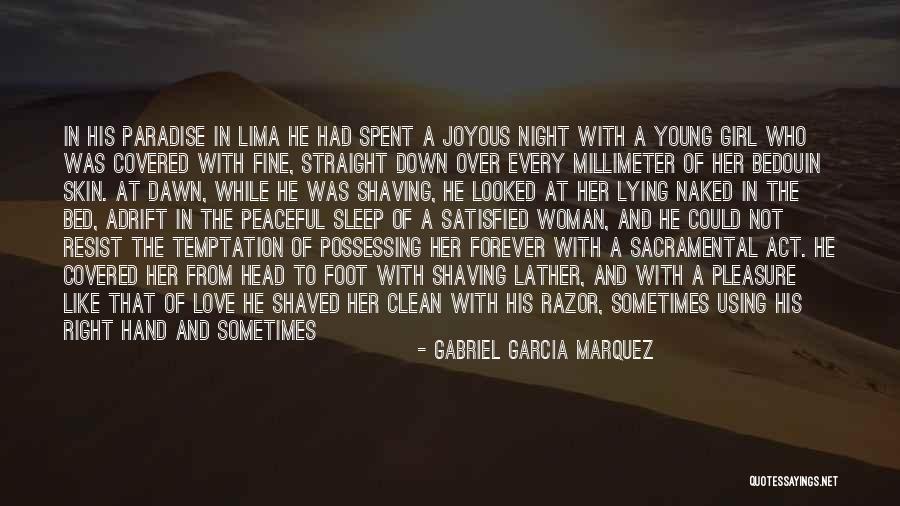 In his paradise in Lima he had spent a joyous night with a young girl who was covered with fine, straight down over every millimeter of her Bedouin skin. At dawn, while he was shaving, he looked at her lying naked in the bed, adrift in the peaceful sleep of a satisfied woman, and he could not resist the temptation of possessing her forever with a sacramental act. He covered her from head to foot with shaving lather, and with a pleasure like that of love he shaved her clean with his razor, sometimes using his right hand and sometimes his left as he shaved every part of her body, even the eyebrows that grew together, and left her doubly naked inside her magnificent newborn's body. She asked, her soul in shreds, if he really loved her, and he answered with the same ritual phrase he had strewn without pity in so many hearts throughout his life: More than anyone else in this world. — Gabriel Garcia Marquez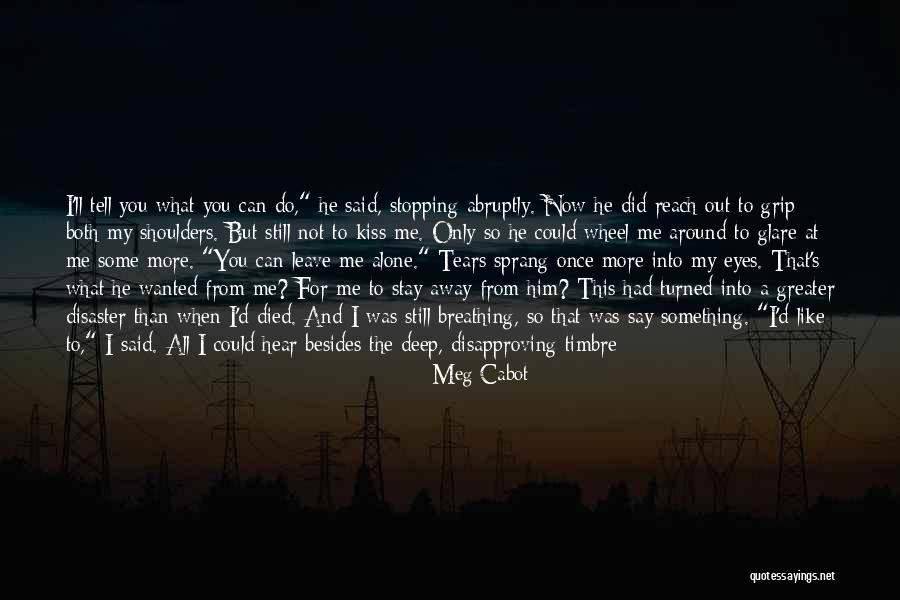 I'll tell you what you can do," he said, stopping abruptly. Now he did reach out to grip both my shoulders. But still not to kiss me. Only so he could wheel me around to glare at me some more. "You can leave me alone."
Tears sprang once more into my eyes. That's what he wanted from me? For me to stay away from him?
This had turned into a greater disaster than when I'd died. And I was still breathing, so that was say something.
"I'd like to," I said. All I could hear besides the deep, disapproving timbre of his voice was the drum of my heartbeat in my ears. Stupid girl. Stupid girl. Stupid girl, my heart seemed to be saying. "Except every time I try, you show back up, and act such a ... such a ... "
"Such a what?" he demanded. He seemed to be practically daring me to say.
Don't, the voice of my mother warned inside my head. Don't say it.
"Jerk. — Meg Cabot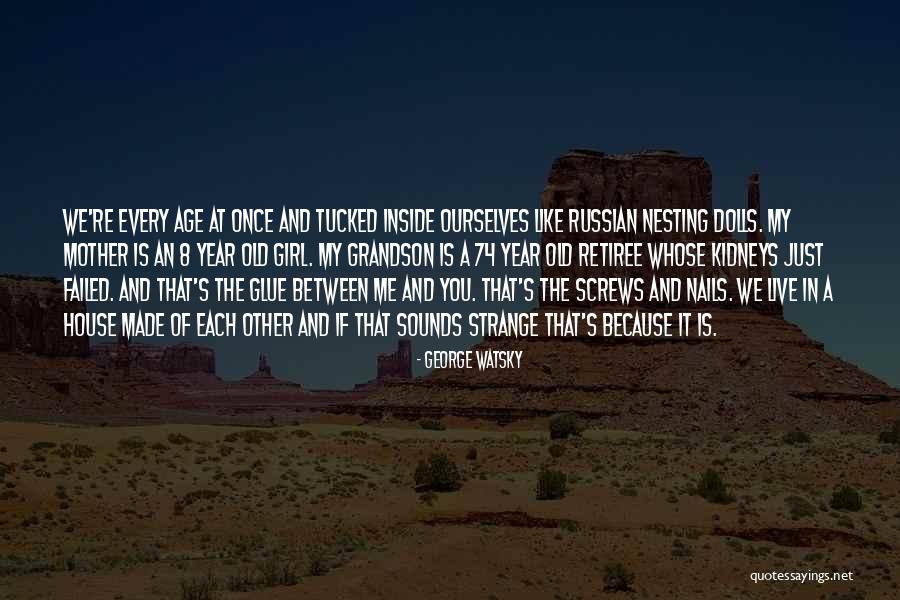 We're every age at once and tucked inside ourselves like Russian nesting dolls. My mother is an 8 year old girl. My grandson is a 74 year old retiree whose kidneys just failed. And that's the glue between me and you. That's the screws and nails. We live in a house made of each other and if that sounds strange that's because it is. — George Watsky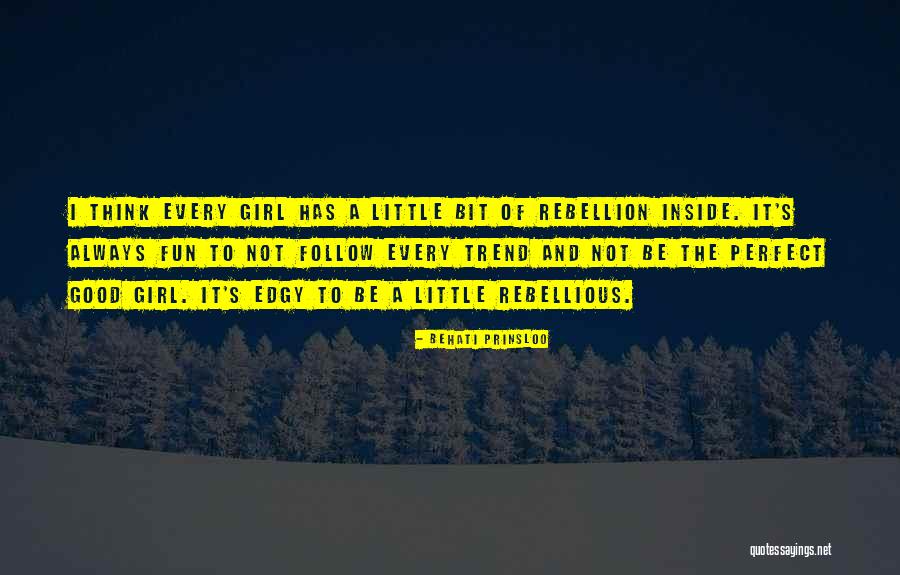 I think every girl has a little bit of rebellion inside. It's always fun to not follow every trend and not be the perfect good girl. It's edgy to be a little rebellious. — Behati Prinsloo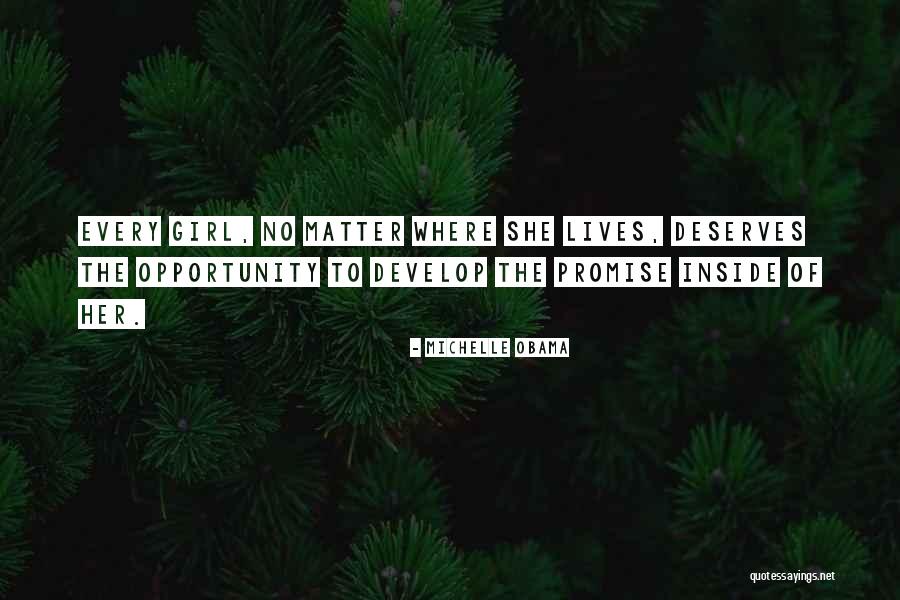 Every girl, no matter where she lives, deserves the opportunity to develop the promise inside of her. — Michelle Obama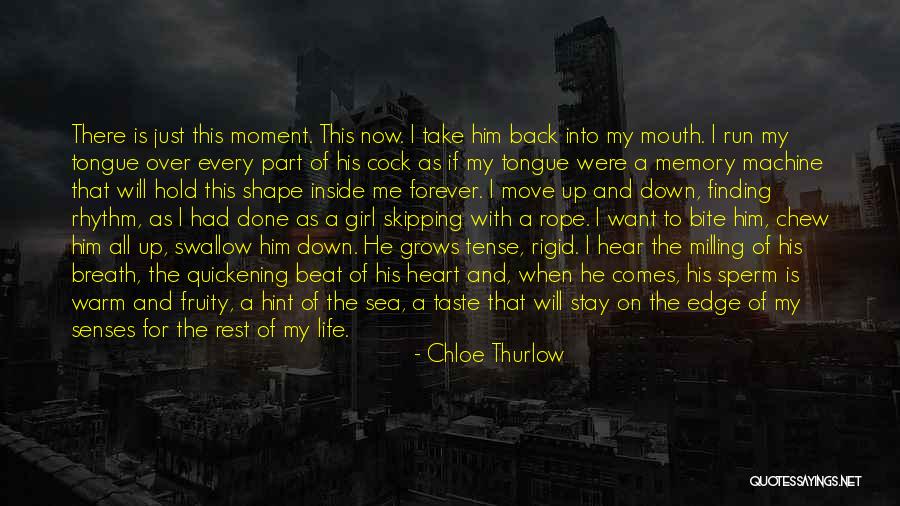 There is just this moment. This now. I take him back into my mouth. I run my tongue over every part of his cock as if my tongue were a memory machine that will hold this shape inside me forever. I move up and down, finding rhythm, as I had done as a girl skipping with a rope. I want to bite him, chew him all up, swallow him down. He grows tense, rigid. I hear the milling of his breath, the quickening beat of his heart and, when he comes, his sperm is warm and fruity, a hint of the sea, a taste that will stay on the edge of my senses for the rest of my life. — Chloe Thurlow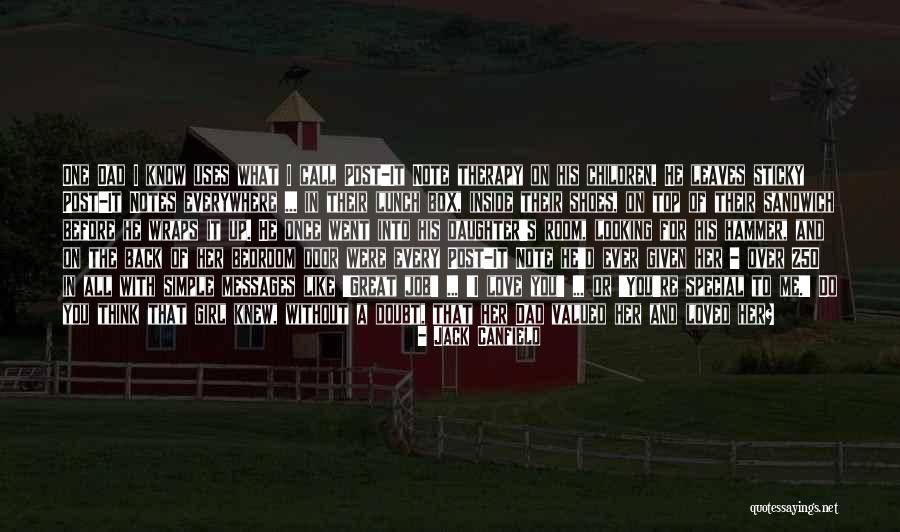 One Dad I know uses what I call Post-It Note therapy on his children. He leaves sticky Post-It Notes everywhere ... in their lunch box, inside their shoes, on top of their sandwich before he wraps it up. He once went into his daughter's room, looking for his hammer, and on the back of her bedroom door were every Post-It Note he'd ever given her - over 250 in all with simple messages like 'Great job' ... 'I love you' ... or 'You're special to me.' Do you think that girl knew, without a doubt, that her Dad valued her and loved her? — Jack Canfield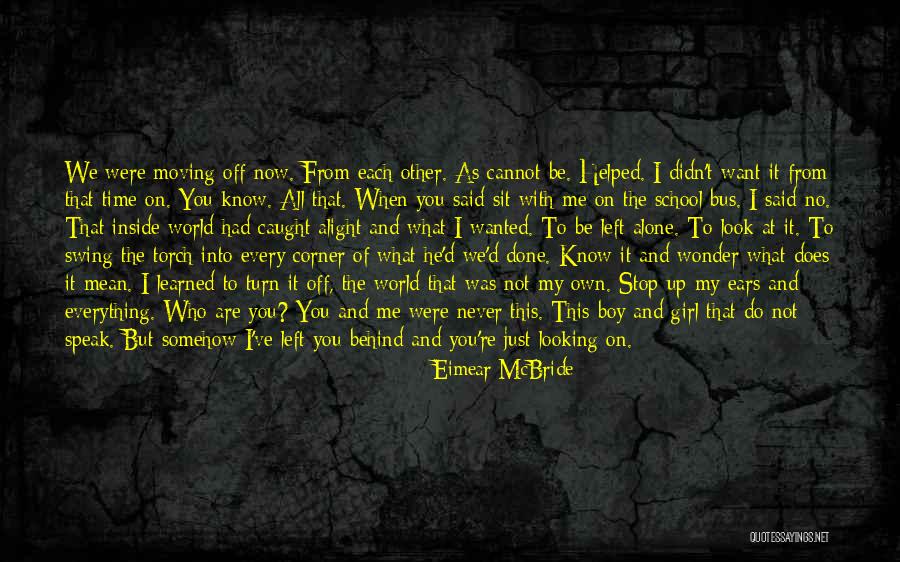 We were moving off now. From each other. As cannot be. Helped. I didn't want it from that time on. You know. All that. When you said sit with me on the school bus. I said no. That inside world had caught alight and what I wanted. To be left alone. To look at it. To swing the torch into every corner of what he'd we'd done. Know it and wonder what does it mean. I learned to turn it off, the world that was not my own. Stop up my ears and everything. Who are you? You and me were never this. This boy and girl that do not speak. But somehow I've left you behind and you're just looking on. — Eimear McBride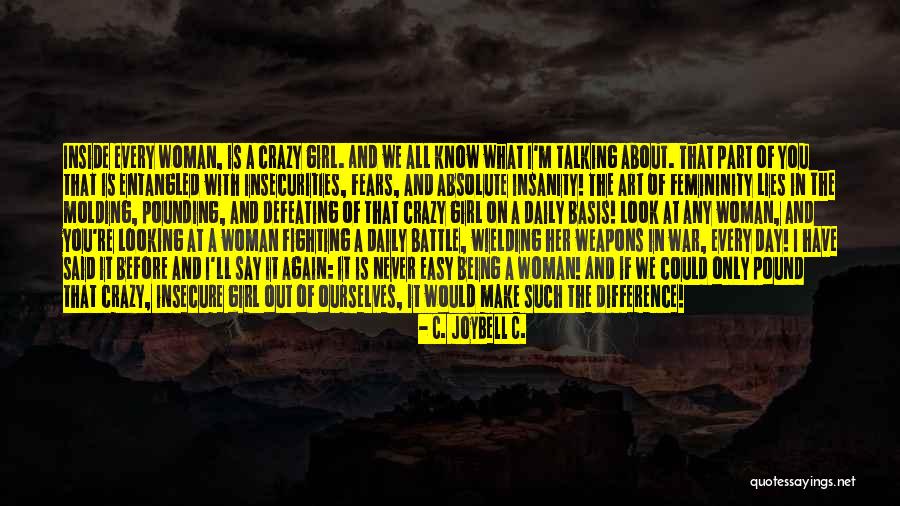 Inside every woman, is a crazy girl. And we all know what I'm talking about. That part of you that is entangled with insecurities, fears, and absolute insanity! The art of femininity lies in the molding, pounding, and defeating of that crazy girl on a daily basis! Look at any woman, and you're looking at a woman fighting a daily battle, wielding her weapons in war, every day! I have said it before and I'll say it again: it is never easy being a woman! And if we could only pound that crazy, insecure girl out of ourselves, it would make such the difference! — C. JoyBell C.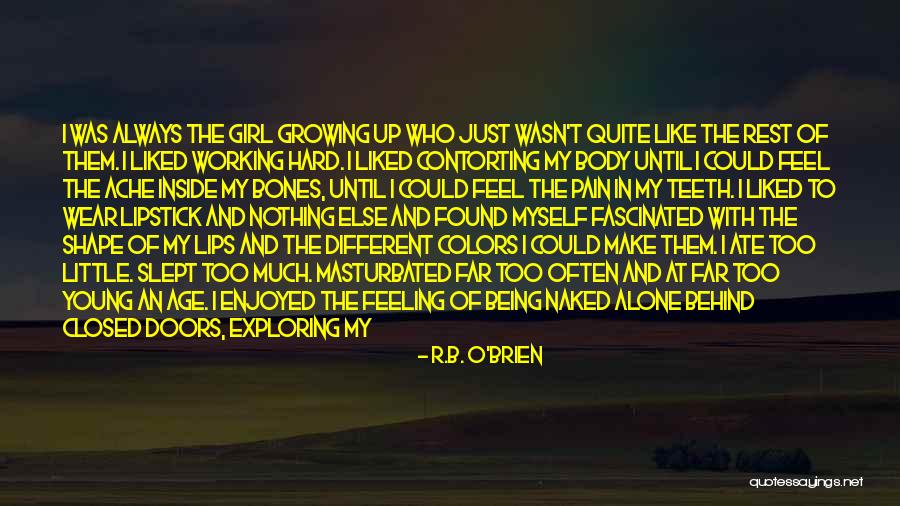 I was always the girl growing up who just wasn't quite like the rest of them. I liked working hard. I liked contorting my body until I could feel the ache inside my bones, until I could feel the pain in my teeth. I liked to wear lipstick and nothing else and found myself fascinated with the shape of my lips and the different colors I could make them. I ate too little. Slept too much. Masturbated far too often and at far too young an age. I enjoyed the feeling of being naked alone behind closed doors, exploring my deepest secrets within my imagination, as I put my hand over the rapid pace of my heart to feel how nervous it made me. I blushed at the faintest mention of my name and almost perished when complimented. I loved to find the answers behind someone's eyes. There's nothing quite like the feeling of when someone REALLY looks at you. And I read. Every chance I got. — R.B. O'Brien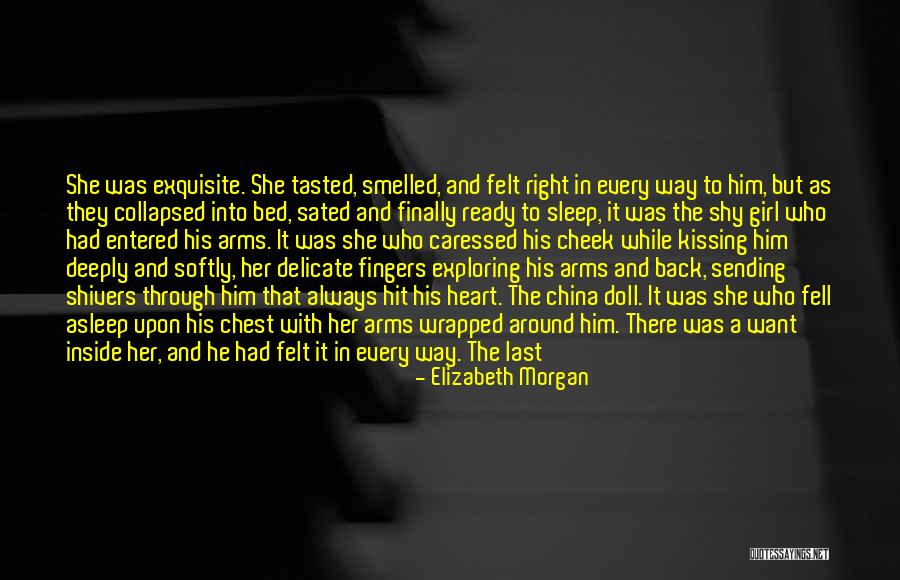 She was exquisite. She tasted, smelled, and felt right in every way to him, but as they collapsed into bed, sated and finally ready to sleep, it was the shy girl who had entered his arms. It was she who caressed his cheek while kissing him deeply and softly, her delicate fingers exploring his arms and back, sending shivers through him that always hit his heart. The china doll. It was she who fell asleep upon his chest with her arms wrapped around him. There was a want inside her, and he had felt it in every way. The last thought of his night was simply that he wanted to be the one to know her. To free her. — Elizabeth Morgan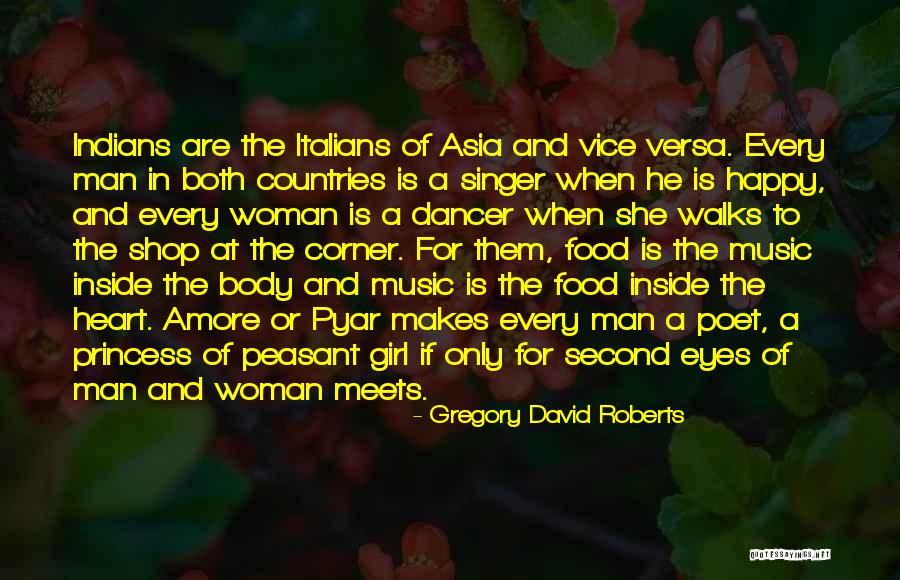 Indians are the Italians of Asia and vice versa. Every man in both countries is a singer when he is happy, and every woman is a dancer when she walks to the shop at the corner. For them, food is the music inside the body and music is the food inside the heart. Amore or Pyar makes every man a poet, a princess of peasant girl if only for second eyes of man and woman meets. — Gregory David Roberts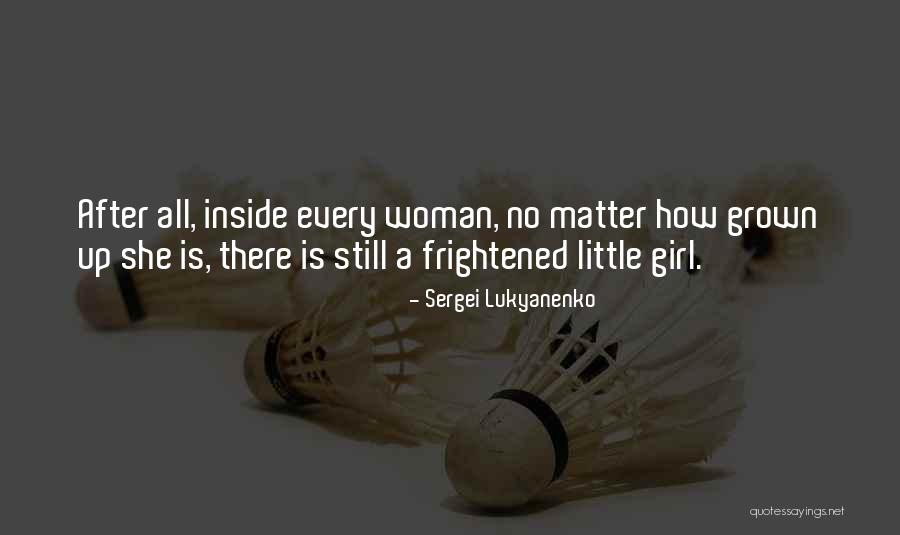 After all, inside every woman, no matter how grown up she is, there is still a frightened little girl. — Sergei Lukyanenko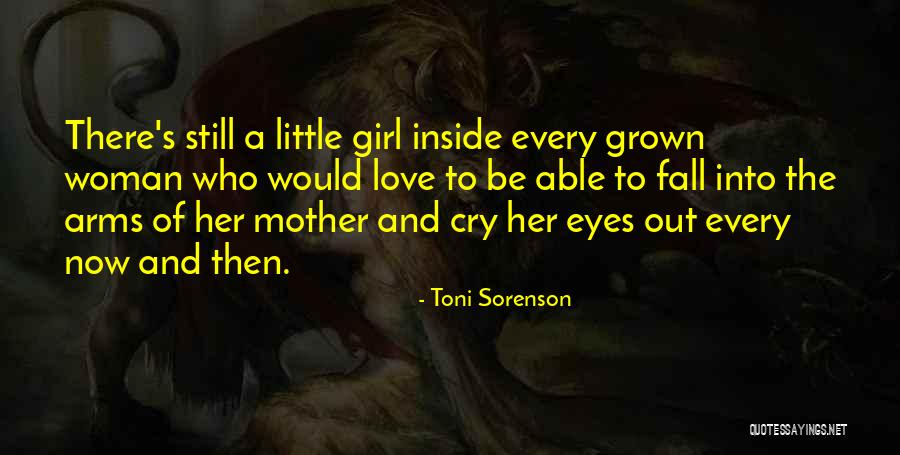 There's still a little girl inside every grown woman who would love to be able to fall into the arms of her mother and cry her eyes out every now and then. — Toni Sorenson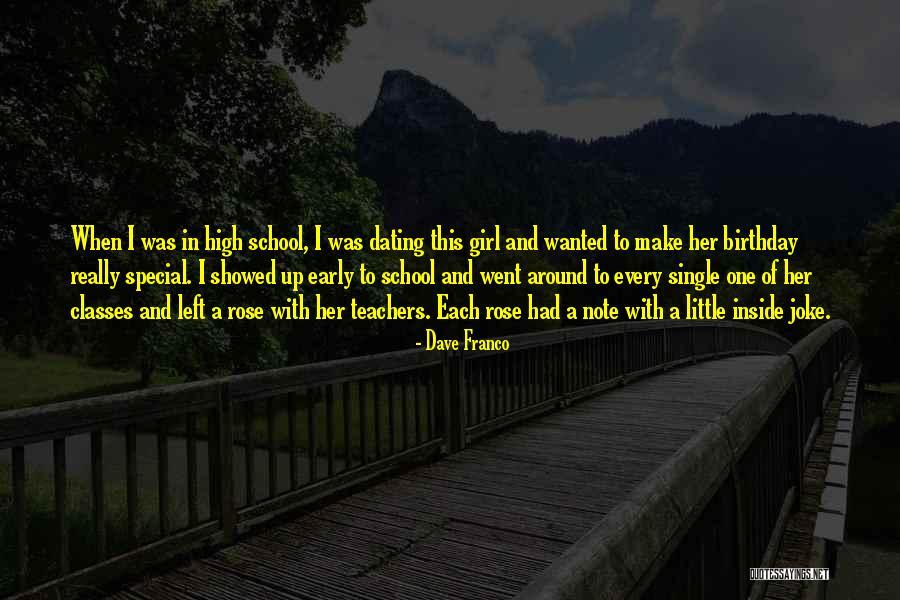 When I was in high school, I was dating this girl and wanted to make her birthday really special. I showed up early to school and went around to every single one of her classes and left a rose with her teachers. Each rose had a note with a little inside joke. — Dave Franco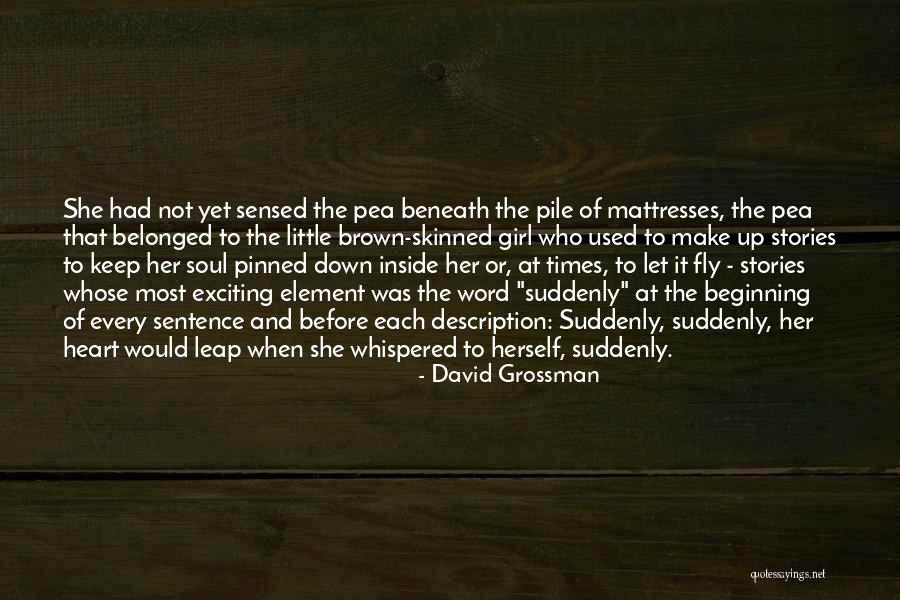 She had not yet sensed the pea beneath the pile of mattresses, the pea that belonged to the little brown-skinned girl who used to make up stories to keep her soul pinned down inside her or, at times, to let it fly - stories whose most exciting element was the word "suddenly" at the beginning of every sentence and before each description: Suddenly, suddenly, her heart would leap when she whispered to herself, suddenly. — David Grossman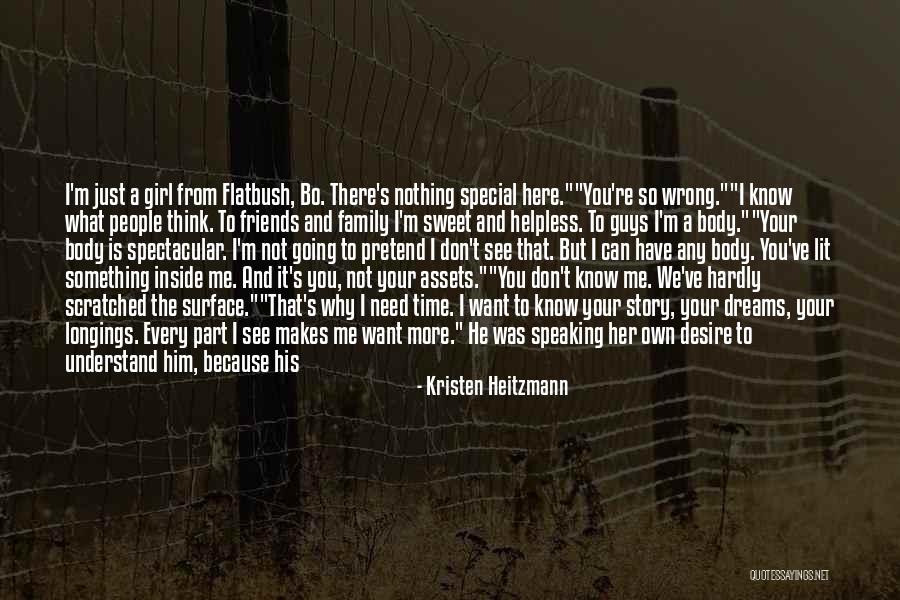 I'm just a girl from Flatbush, Bo. There's nothing special here.""You're so wrong.""I know what people think. To friends and family I'm sweet and helpless. To guys I'm a body.""Your body is spectacular. I'm not going to pretend I don't see that. But I can have any body. You've lit something inside me. And it's you, not your assets.""You don't know me. We've hardly scratched the surface.""That's why I need time. I want to know your story, your dreams, your longings. Every part I see makes me want more." He was speaking her own desire to understand him, because his real self called to her more strongly than anyone she'd known , even people she'd known for years. — Kristen Heitzmann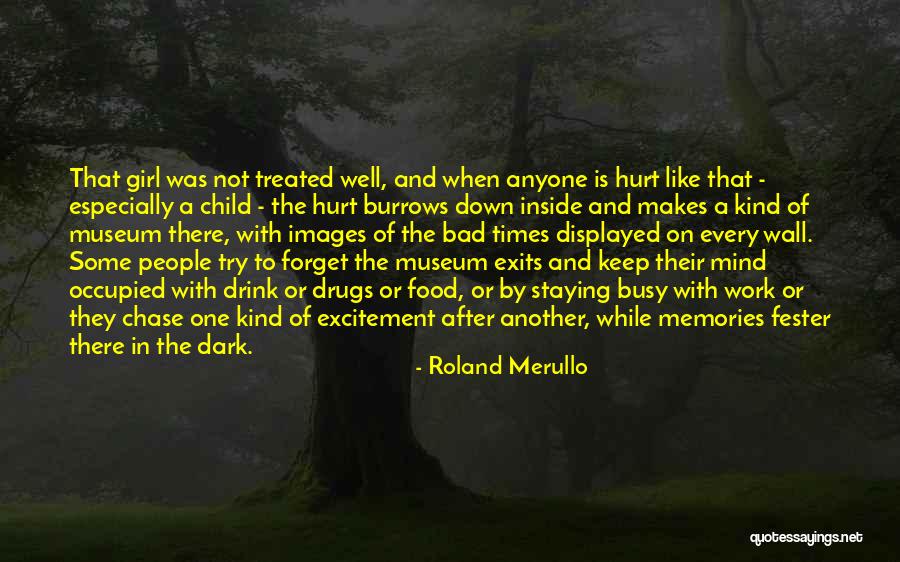 That girl was not treated well, and when anyone is hurt like that - especially a child - the hurt burrows down inside and makes a kind of museum there, with images of the bad times displayed on every wall. Some people try to forget the museum exits and keep their mind occupied with drink or drugs or food, or by staying busy with work or they chase one kind of excitement after another, while memories fester there in the dark. — Roland Merullo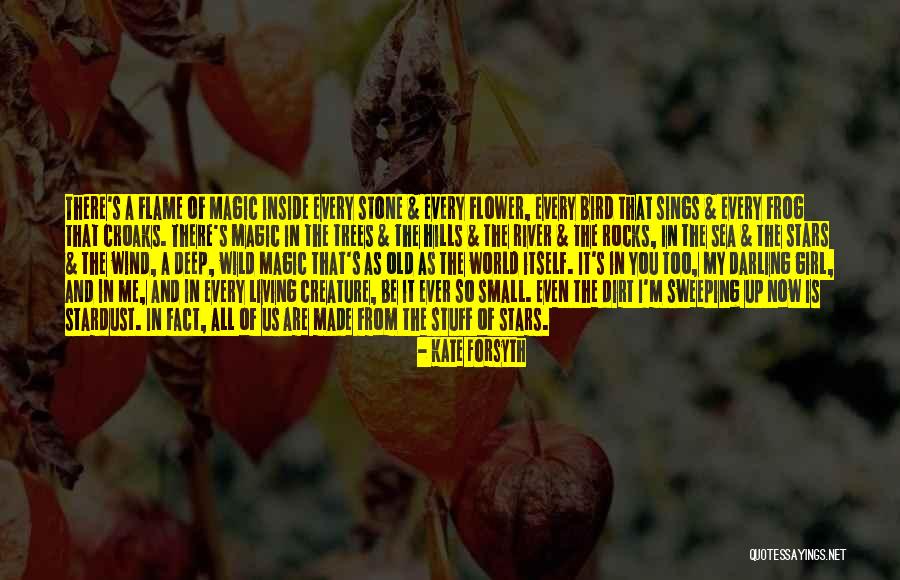 There's a flame of magic inside every stone & every flower, every bird that sings & every frog that croaks. There's magic in the trees & the hills & the river & the rocks, in the sea & the stars & the wind, a deep, wild magic that's as old as the world itself. It's in you too, my darling girl, and in me, and in every living creature, be it ever so small. Even the dirt I'm sweeping up now is stardust. In fact, all of us are made from the stuff of stars. — Kate Forsyth
Girls find it rather fun to tease my about my height and the joy I find in the games boys play. Please. I could find a lot of things to say about their stupid makeup and perfect hair! But don't get me wrong. Every girl is a true girl on the inside, so I don't mind the frilly clothes and the constant nagging of combes in my hair all the time. I just think that if boys can wear slacks and do so many things, why can't girls? — Halina
There, all gone, Luce." And the little girl continued to open and squint shut her eyes. "All gone," she said eventually. Then, "More 'tato!" and the hunt began again. Inside, Isabel swept the floor in every room, gathering the sandy dust into piles in the corner, ready to gather up. Returning from a quick inspection of the bread in the oven, she found a trail leading all through the cottage, thanks to Lucy's attempts with the dustpan. — M.L. Stedman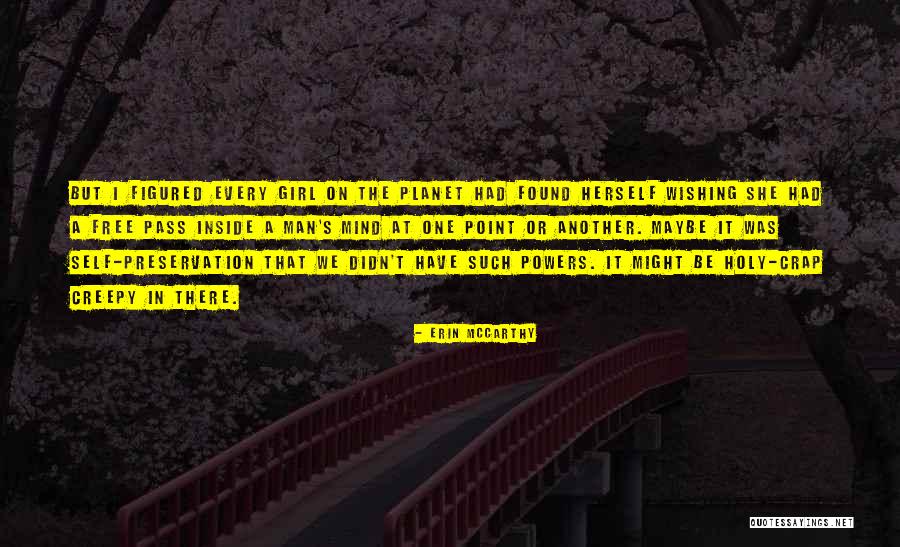 But I figured every girl on the planet had found herself wishing she had a free pass inside a man's mind at one point or another. Maybe it was self-preservation that we didn't have such powers. It might be holy-crap creepy in there. — Erin McCarthy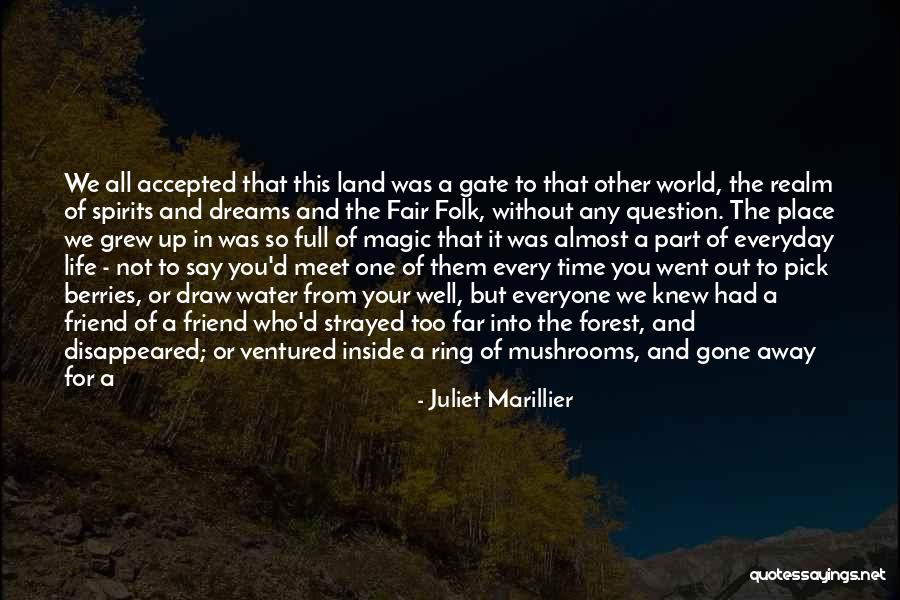 We all accepted that this land was a gate to that other world, the realm of spirits and dreams and the Fair Folk, without any question. The place we grew up in was so full of magic that it was almost a part of everyday life - not to say you'd meet one of them every time you went out to pick berries, or draw water from your well, but everyone we knew had a friend of a friend who'd strayed too far into the forest, and disappeared; or ventured inside a ring of mushrooms, and gone away for a while, and come back subtly changed. Strange things could happen in those places. Gone for maybe fifty years you could be, and come back still a young girl; or away for no more than an instant by moral reckoning, and return wrinkled and bent with age. These tales fascinated us, but failed to make us careful. If it was going to happen to you, it would happen, whether you liked it or not. — Juliet Marillier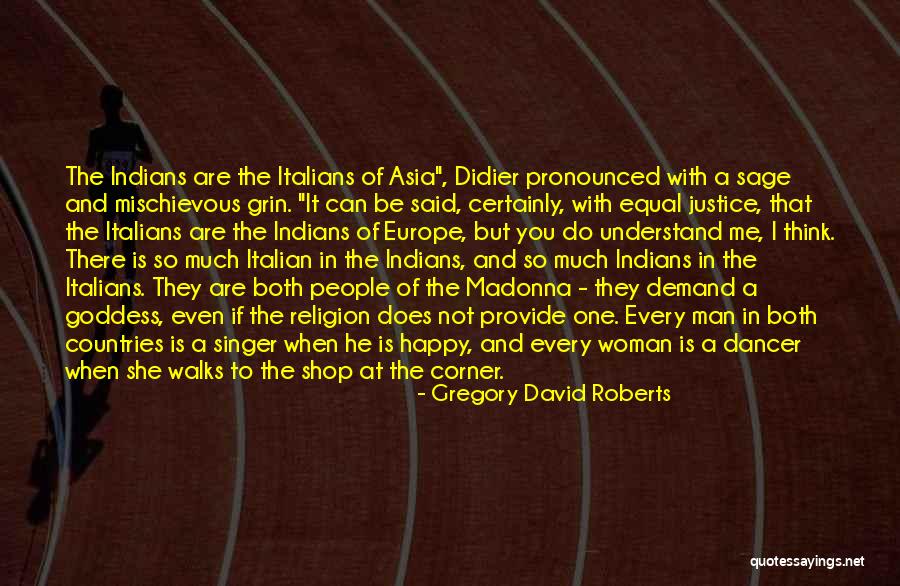 The Indians are the Italians of Asia", Didier pronounced with a sage and mischievous grin. "It can be said, certainly, with equal justice, that the Italians are the Indians of Europe, but you do understand me, I think. There is so much Italian in the Indians, and so much Indians in the Italians. They are both people of the Madonna - they demand a goddess, even if the religion does not provide one. Every man in both countries is a singer when he is happy, and every woman is a dancer when she walks to the shop at the corner. For them, food is music inside the body, and music is food inside the heart. The Language of India and the language of Italy, they make every man a poet, and make something beautiful from every banalite. They are nations where love - amore, pyaar - makes a cavalier of a Borsalino on a street corner, and makes a princess of a peasant girl, if only for the second that her eyes meet yours. — Gregory David Roberts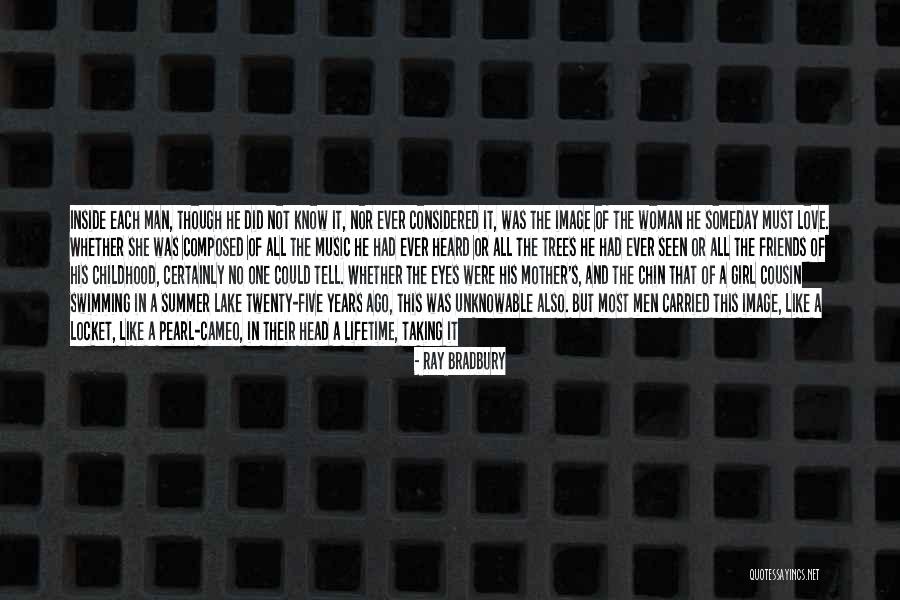 Inside each man, though he did not know it, nor ever considered it, was the image of the woman he someday must love. Whether she was composed of all the music he had ever heard or all the trees he had ever seen or all the friends of his childhood, certainly no one could tell. Whether the eyes were his mother's, and the chin that of a girl cousin swimming in a summer lake twenty-five years ago, this was unknowable also. But most men carried this image, like a locket, like a pearl-cameo, in their head a lifetime, taking it out only rarely, taking it never, after marriage, afraid then to compare it to the reality. And most men never saw the woman they would love anywhere, in the dark theatre, in a book, or passing on the street. They saw her only after midnight when the city was asleep and the pillow was cool under their heads. And she was a composite of all dreams and all women and every moonlit night since the calendar began. — Ray Bradbury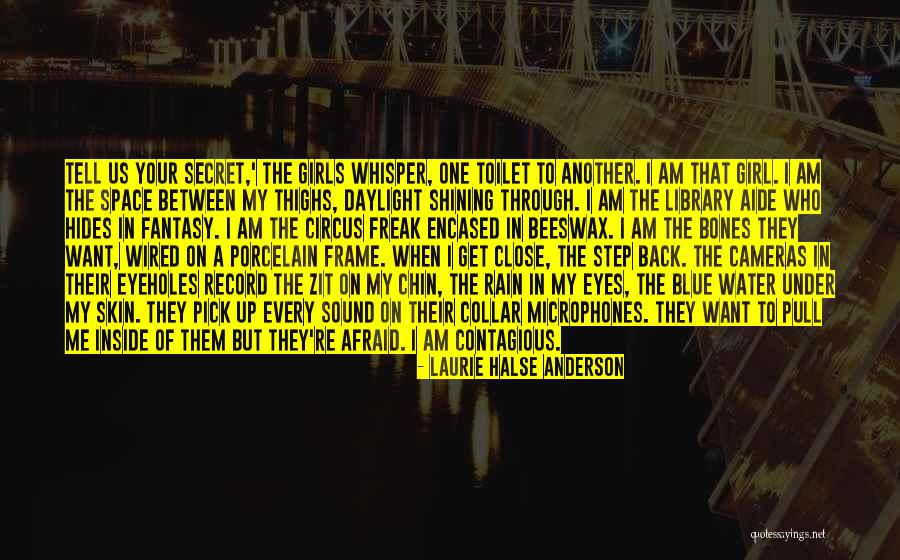 Tell us your secret,' the girls whisper, one toilet to another. I am that girl. I am the space between my thighs, daylight shining through. I am the library aide who hides in Fantasy. I am the circus freak encased in beeswax. I am the bones they want, wired on a porcelain frame. When I get close, the step back. The cameras in their eyeholes record the zit on my chin, the rain in my eyes, the blue water under my skin. They pick up every sound on their collar microphones. They want to pull me inside of them but they're afraid. I am contagious. — Laurie Halse Anderson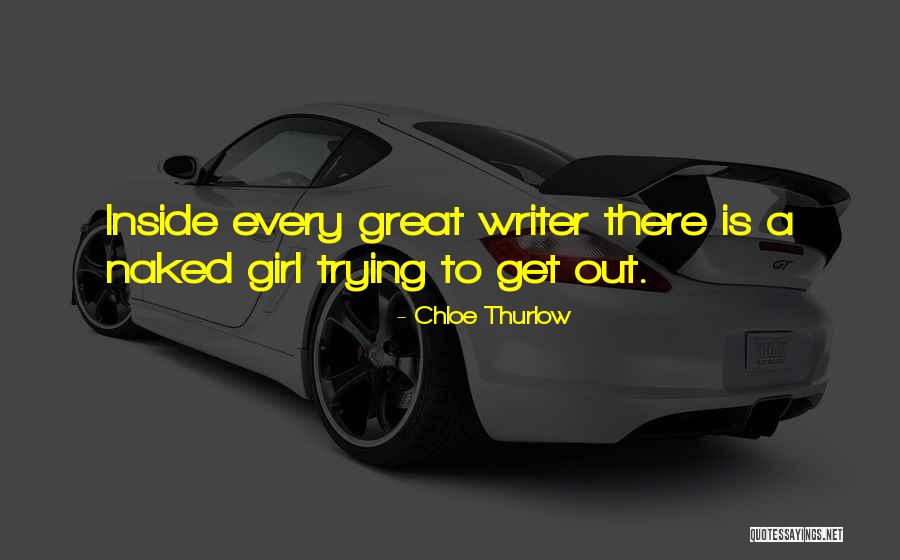 Inside every great writer there is a naked girl trying to get out. — Chloe Thurlow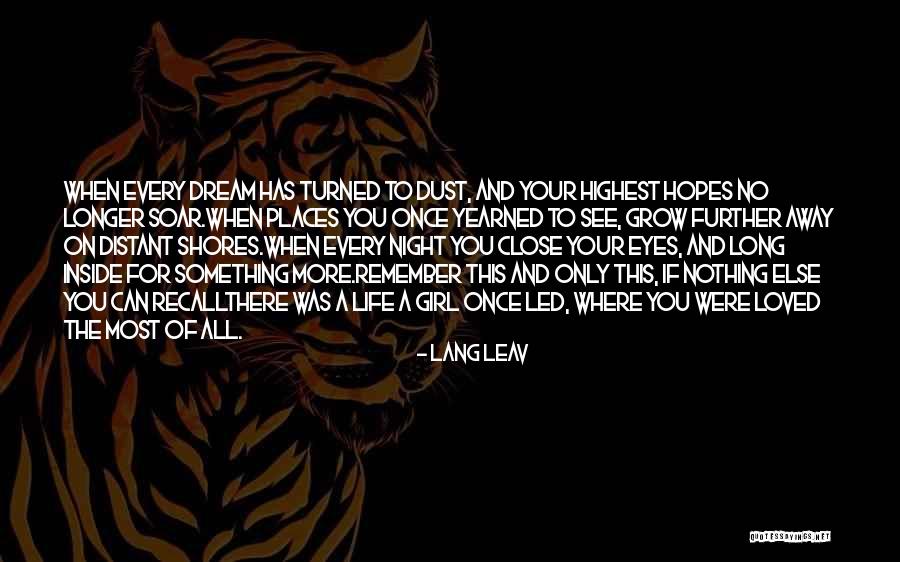 When every dream
has turned to dust,
and your highest hopes
no longer soar.
When places you
once yearned to see,
grow further away
on distant shores.
When every night
you close your eyes,
and long inside
for something more.
Remember this
and only this,
if nothing else
you can recall
There was a life
a girl once led,
where you were loved
the most of all. — Lang Leav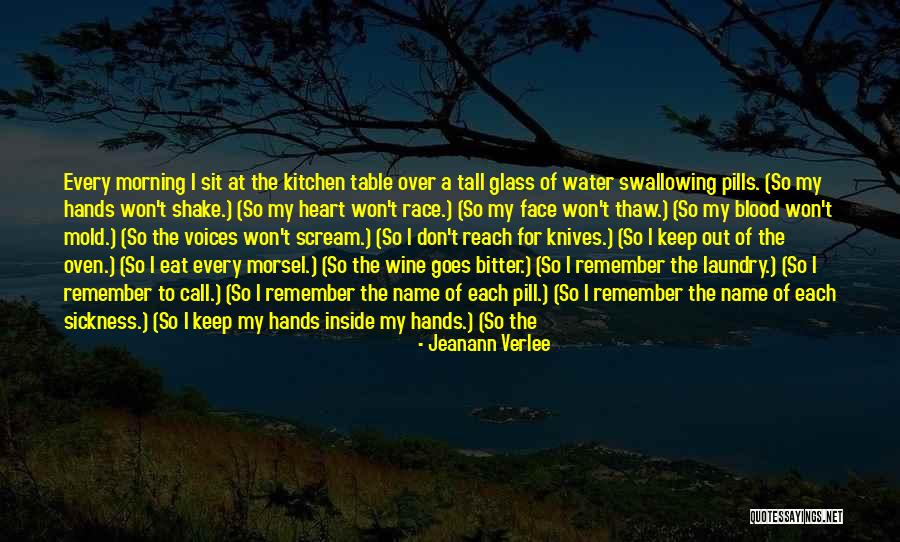 Every morning I sit at the kitchen table over a tall glass of water swallowing pills. (So my hands won't shake.) (So my heart won't race.) (So my face won't thaw.) (So my blood won't mold.) (So the voices won't scream.) (So I don't reach for knives.) (So I keep out of the oven.) (So I eat every morsel.) (So the wine goes bitter.) (So I remember the laundry.) (So I remember to call.) (So I remember the name of each pill.) (So I remember the name of each sickness.) (So I keep my hands inside my hands.) (So the city won't rattle.) (So I don't weep on the bus.) (So I don't wander the guardrail.) (So the flashbacks go quiet.) (So the insomnia sleeps.) (So I don't jump at car horns.) (So I don't jump at cat-calls.) (So I don't jump a bridge.) (So I don't twitch.) (So I don't riot.) (So I don't slit a strange man's throat.) — Jeanann Verlee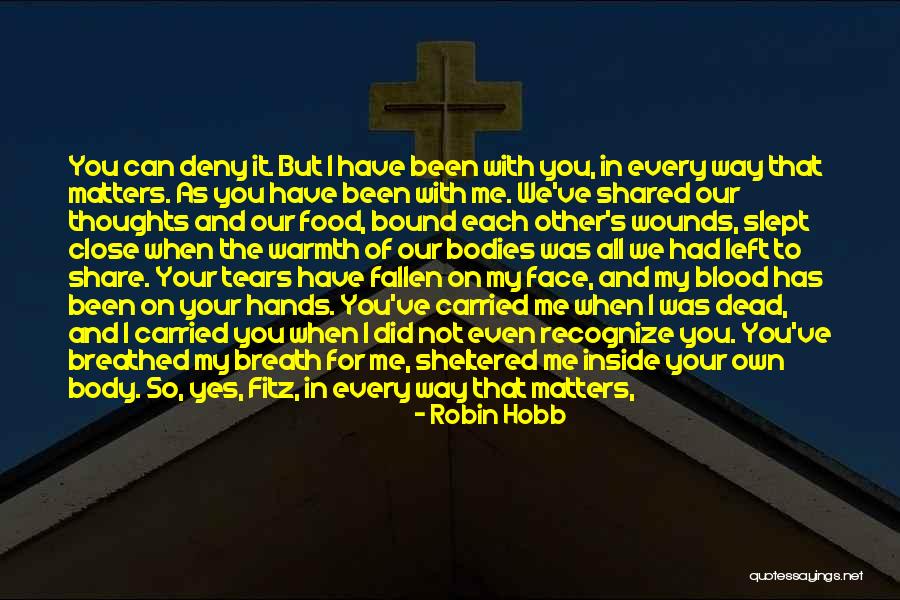 You can deny it. But I have been with you, in every way that matters. As you have been with me. We've shared our thoughts and our food, bound each other's wounds, slept close when the warmth of our bodies was all we had left to share. Your tears have fallen on my face, and my blood has been on your hands. You've carried me when I was dead, and I carried you when I did not even recognize you. You've breathed my breath for me, sheltered me inside your own body. So, yes, Fitz, in every way that matters, I've been with you. We've shared the stuff of our beings. Just as a captain does with her liveship. Just as a dragon does with his Elderling. We've been together in so many ways that we have mingled. So close have we been that when you made love to your Molly, she begat our child. Yours. Mine. Molly's. A little Buck girl with a wild streak of White in her. Oh, gods. Such — Robin Hobb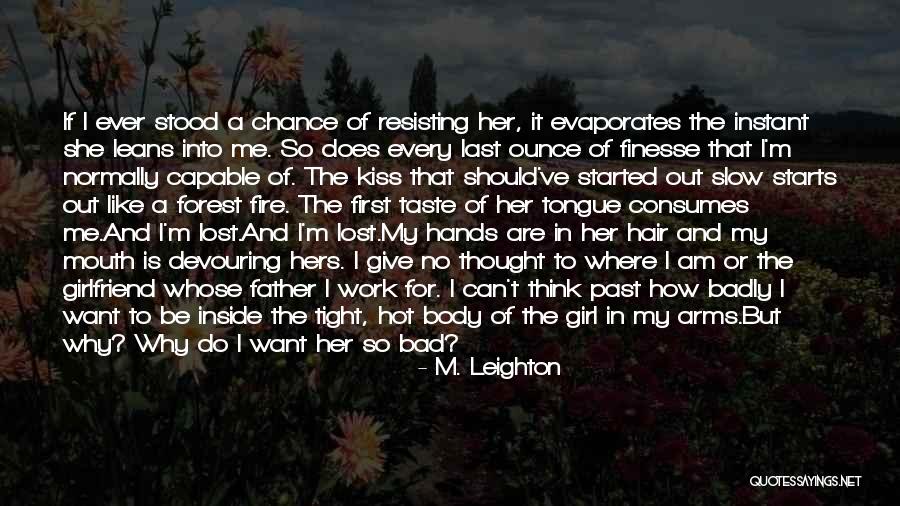 If I ever stood a chance of resisting her, it evaporates the instant she leans into me. So does every last ounce of finesse that I'm normally capable of. The kiss that should've started out slow starts out like a forest fire. The first taste of her tongue consumes me.
And I'm lost.
And I'm lost.
My hands are in her hair and my mouth is devouring hers. I give no thought to where I am or the girlfriend whose father I work for. I can't think past how badly I want to be inside the tight, hot body of the girl in my arms.
But why? Why do I want her so bad? — M. Leighton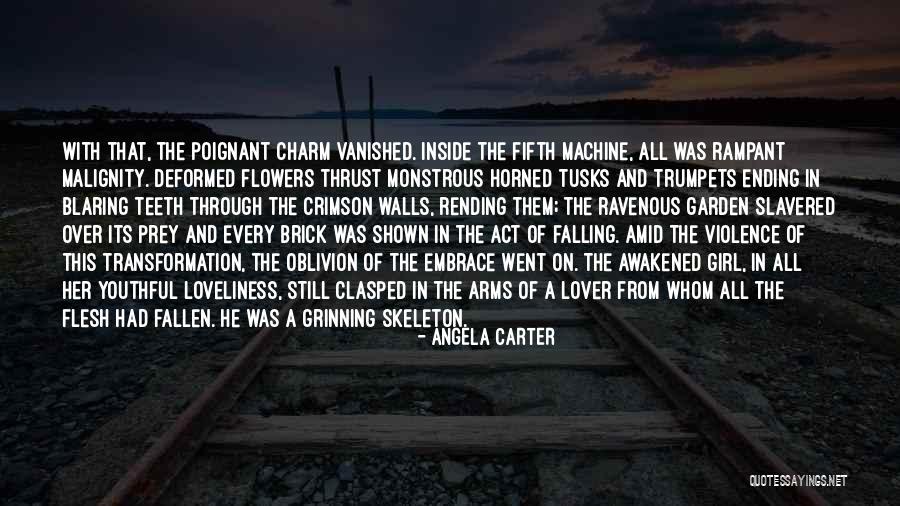 With that, the poignant charm vanished. Inside the fifth machine, all was rampant malignity. Deformed flowers thrust monstrous horned tusks and trumpets ending in blaring teeth through the crimson walls, rending them; the ravenous garden slavered over its prey and every brick was shown in the act of falling. Amid the violence of this transformation, the oblivion of the embrace went on. The awakened girl, in all her youthful loveliness, still clasped in the arms of a lover from whom all the flesh had fallen. He was a grinning skeleton. — Angela Carter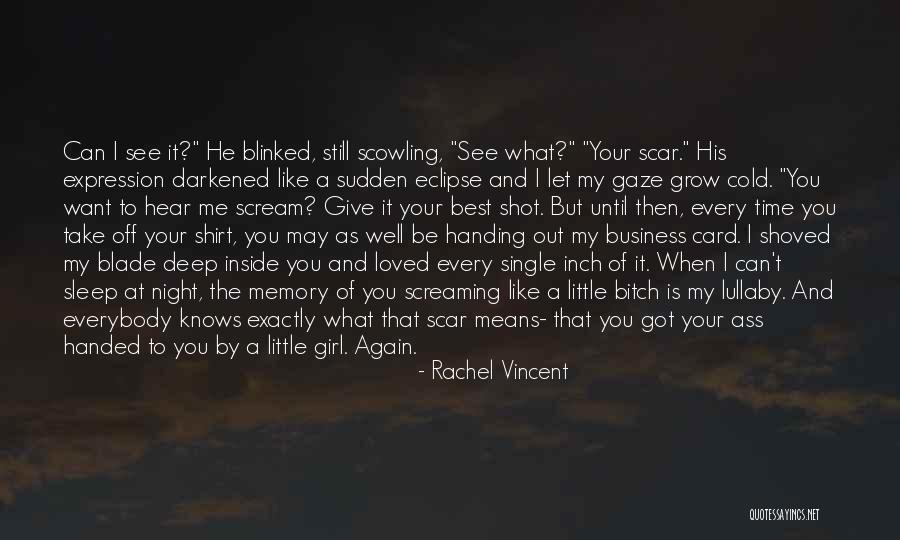 Can I see it?"
He blinked, still scowling, "See what?"
"Your scar." His expression darkened like a sudden eclipse and I let my gaze grow cold. "You want to hear me scream? Give it your best shot. But until then, every time you take off your shirt, you may as well be handing out my business card. I shoved my blade deep inside you and loved every single inch of it. When I can't sleep at night, the memory of you screaming like a little bitch is my lullaby. And everybody knows exactly what that scar means- that you got your ass handed to you by a little girl. Again. — Rachel Vincent