I Want This Love To Last Forever Quotes & Sayings
Enjoy reading and share 44 famous quotes about I Want This Love To Last Forever with everyone.
Top I Want This Love To Last Forever Quotes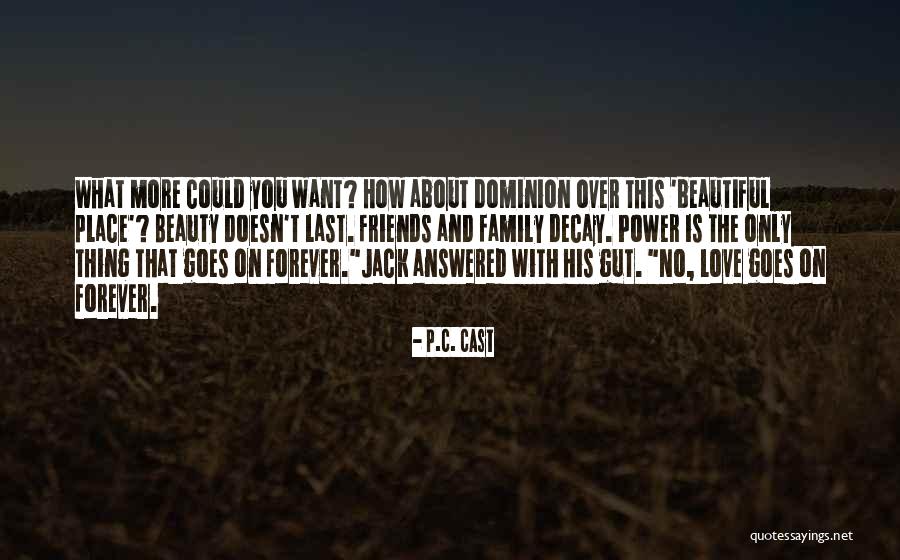 What more could you want? How about dominion over this 'beautiful place'? Beauty doesn't last. Friends and family decay. Power is the only thing that goes on forever."
Jack answered with his gut. "No, love goes on forever. — P.C. Cast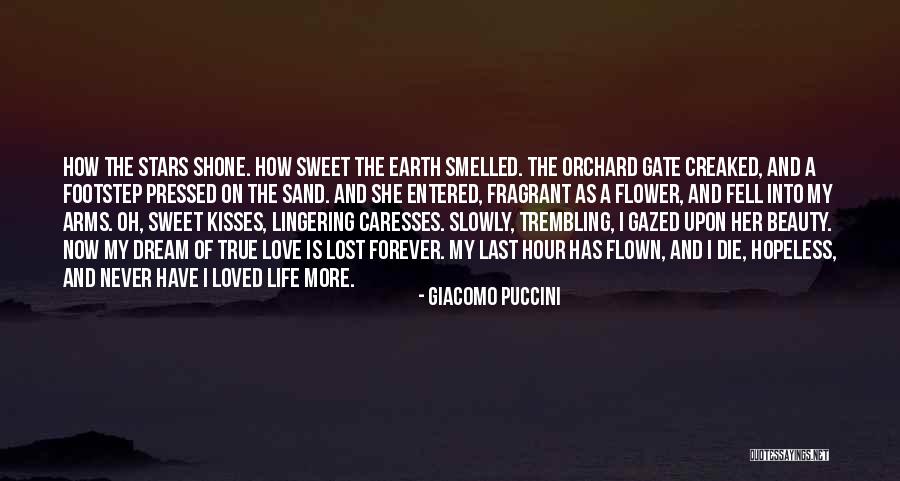 How the stars shone.
How sweet the earth smelled.
The orchard gate creaked,
and a footstep pressed on the sand.
And she entered, fragrant as a flower, and fell into my arms.
Oh, sweet kisses, lingering caresses.
Slowly, trembling, I gazed upon her beauty.
Now my dream of true love is lost forever.
My last hour has flown, and I die, hopeless, and never have I loved life more. — Giacomo Puccini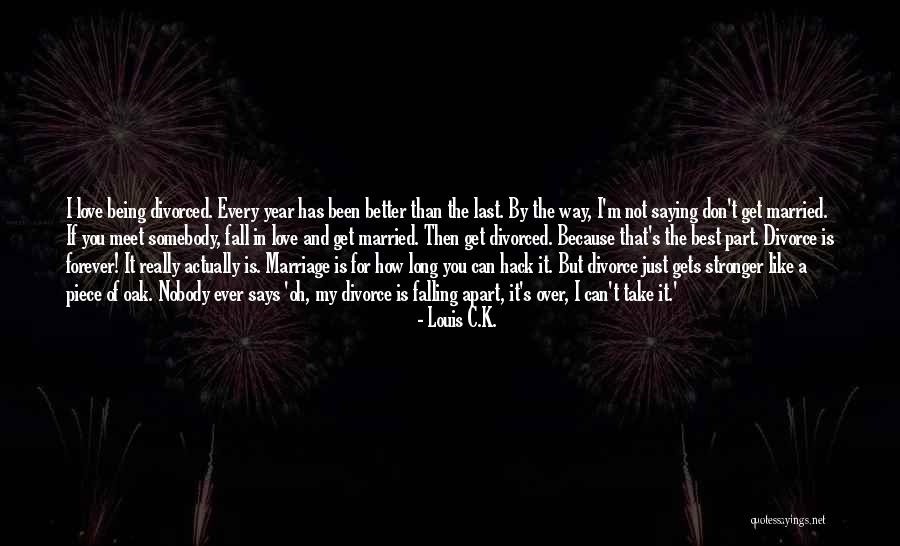 I love being divorced. Every year has been better than the last. By the way, I'm not saying don't get married. If you meet somebody, fall in love and get married. Then get divorced. Because that's the best part. Divorce is forever! It really actually is. Marriage is for how long you can hack it. But divorce just gets stronger like a piece of oak. Nobody ever says 'oh, my divorce is falling apart, it's over, I can't take it.' — Louis C.K.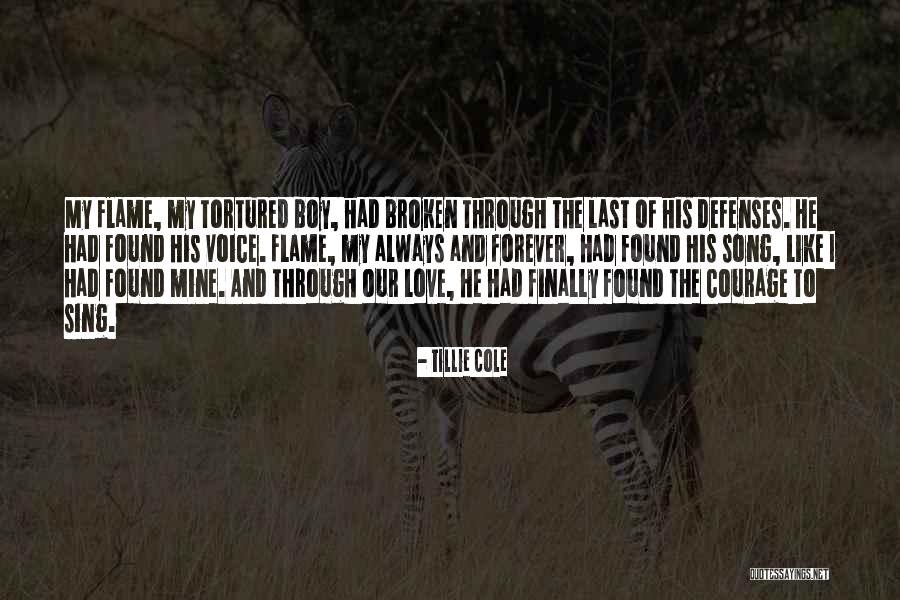 My Flame, my tortured boy, had broken through the last of his defenses. He had found his voice. Flame, my always and forever, had found his song, like I had found mine. And through our love, he had finally found the courage to sing. — Tillie Cole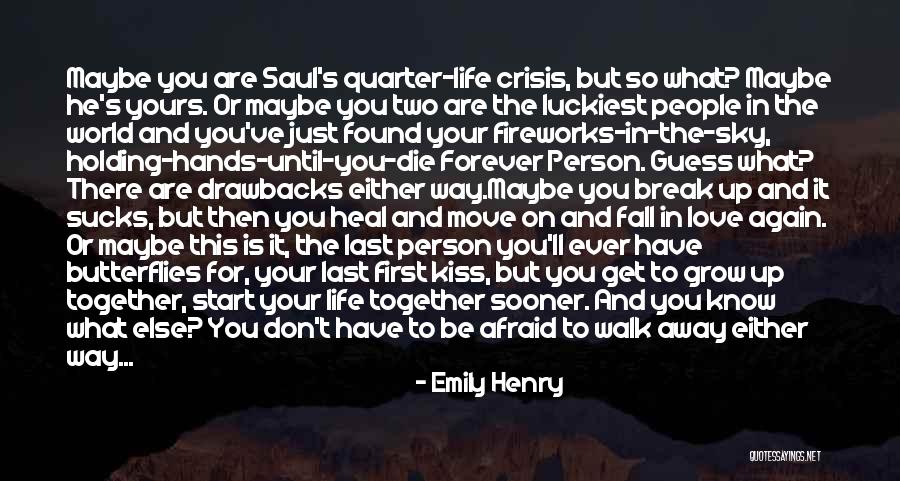 Maybe you are Saul's quarter-life crisis, but so what? Maybe he's yours. Or maybe you two are the luckiest people in the world and you've just found your fireworks-in-the-sky, holding-hands-until-you-die Forever Person. Guess what? There are drawbacks either way.
Maybe you break up and it sucks, but then you heal and move on and fall in love again. Or maybe this is it, the last person you'll ever have butterflies for, your last first kiss, but you get to grow up together, start your life together sooner. And you know what else? You don't have to be afraid to walk away either way... — Emily Henry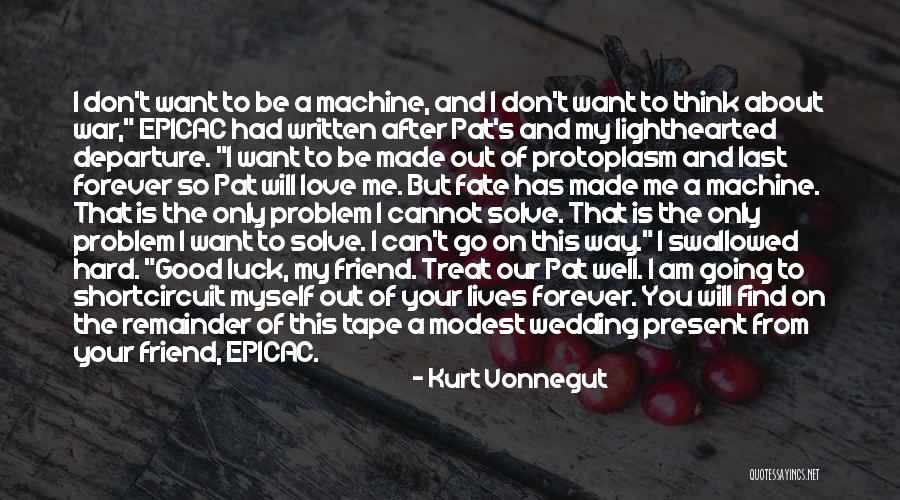 I don't want to be a machine, and I don't want to think about war," EPICAC had written after Pat's and my
lighthearted departure. "I want to be made out of protoplasm and last forever so Pat will love me. But fate
has made me a machine. That is the only problem I cannot solve. That is the only problem I want to solve. I
can't go on this way." I swallowed hard. "Good luck, my friend. Treat our Pat well. I am going to shortcircuit myself out of your lives forever. You will find on the remainder of this tape a modest wedding
present from your friend, EPICAC. — Kurt Vonnegut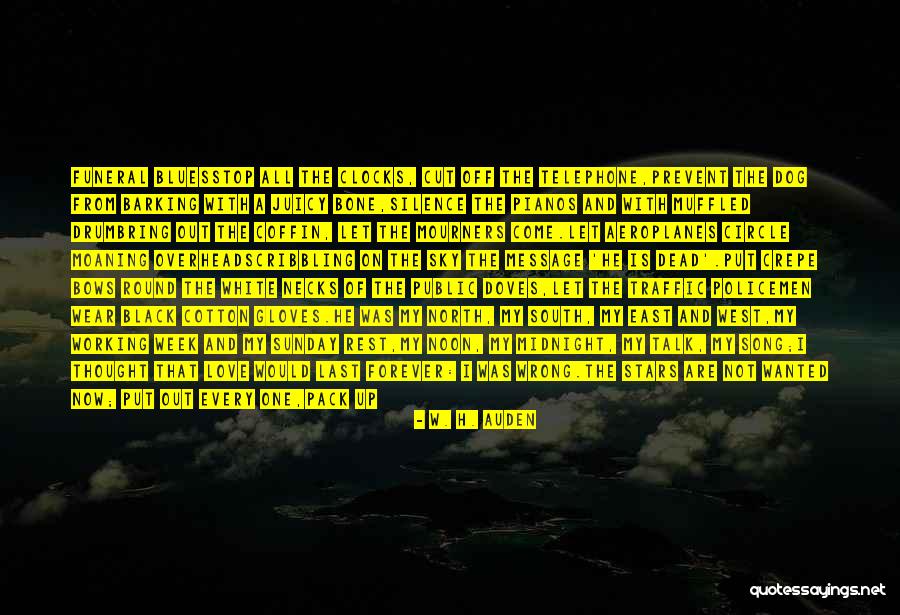 Funeral Blues

Stop all the clocks, cut off the telephone,
Prevent the dog from barking with a juicy bone,
Silence the pianos and with muffled drum
Bring out the coffin, let the mourners come.

Let aeroplanes circle moaning overhead
Scribbling on the sky the message 'He is Dead'.
Put crepe bows round the white necks of the public doves,
Let the traffic policemen wear black cotton gloves.

He was my North, my South, my East and West,
My working week and my Sunday rest,
My noon, my midnight, my talk, my song;
I thought that love would last forever: I was wrong.

The stars are not wanted now; put out every one,
Pack up the moon and dismantle the sun,
Pour away the ocean and sweep up the wood;
For nothing now can ever come to any good. — W. H. Auden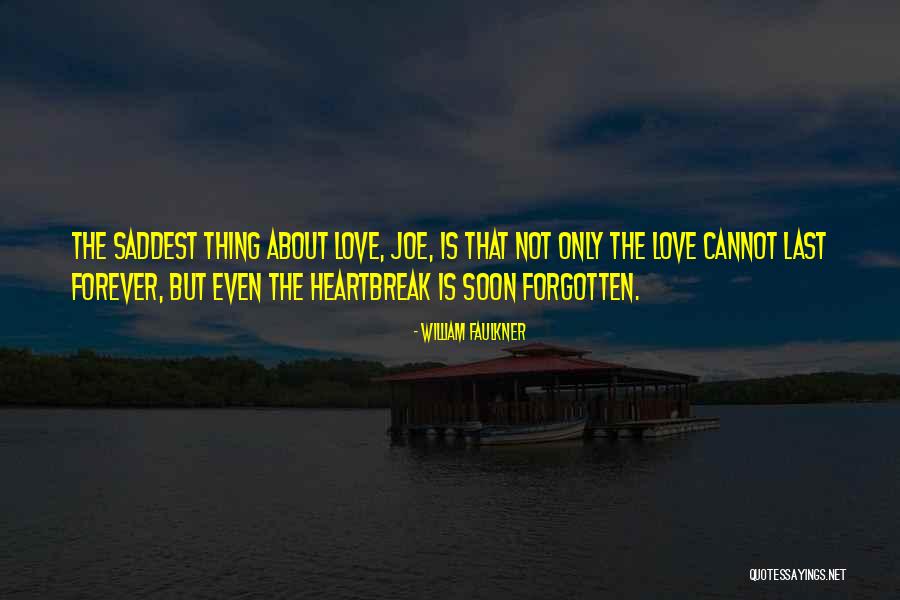 The saddest thing about love, Joe, is that not only the love cannot last forever, but even the heartbreak is soon forgotten. — William Faulkner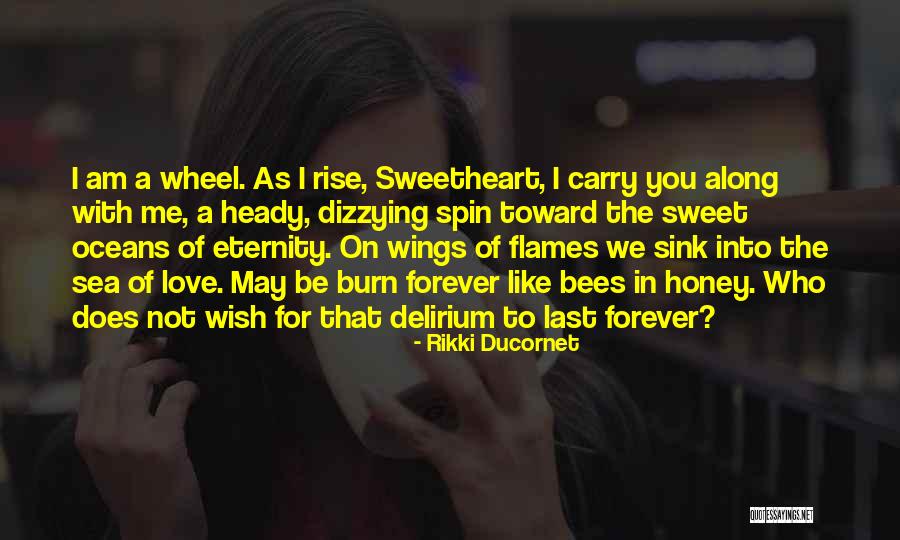 I am a wheel. As I rise, Sweetheart, I carry you along with me, a heady, dizzying spin toward the sweet oceans of eternity. On wings of flames we sink into the sea of love. May be burn forever like bees in honey. Who does not wish for that delirium to last forever? — Rikki Ducornet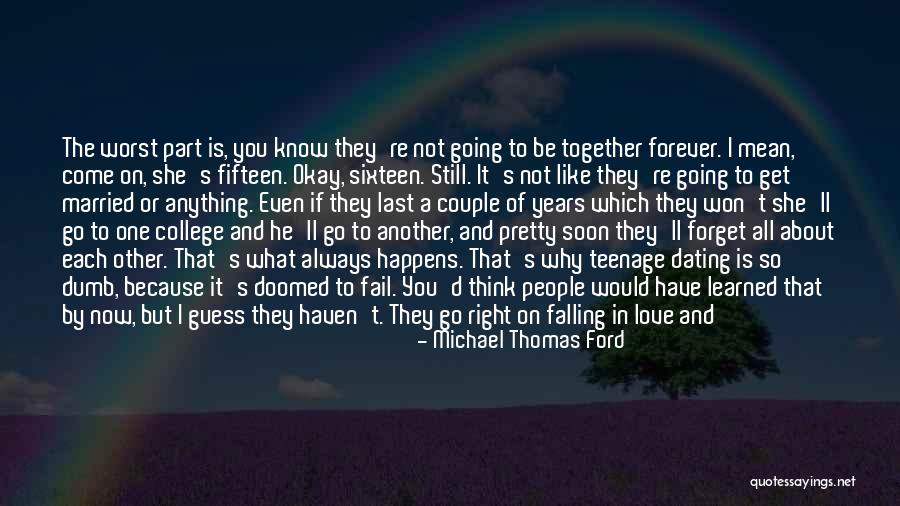 The worst part is, you know they're not going to be together forever. I mean, come on, she's fifteen. Okay, sixteen. Still. It's not like they're going to get married or anything. Even if they last a couple of years which they won't she'll go to one college and he'll go to another, and pretty soon they'll forget all about each other. That's what always happens. That's why teenage dating is so dumb, because it's doomed to fail. You'd think people would have learned that by now, but I guess they haven't. They go right on falling in love and thinking it's going to survive high school. Allie and Burke, true love always. Whatever.
Anyway, happy birthday, Allie. I hope it was a good one. — Michael Thomas Ford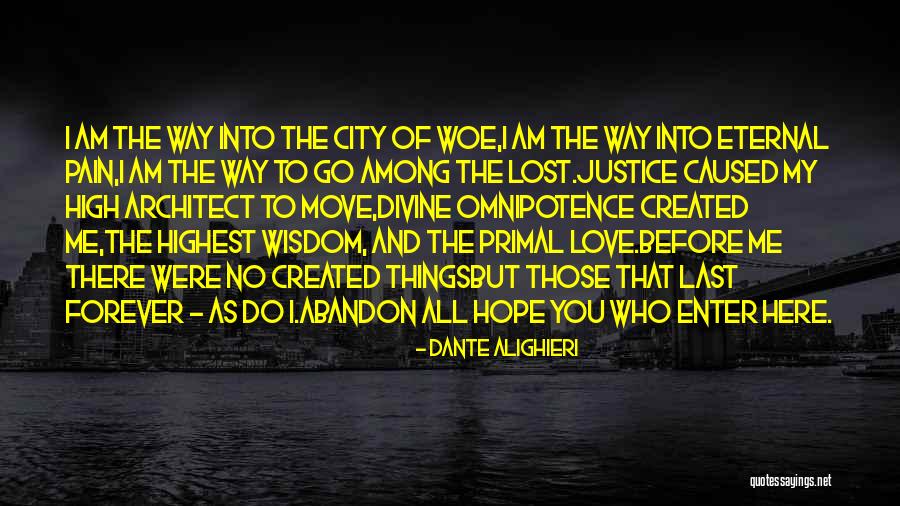 I am the way into the city of woe,
I am the way into eternal pain,
I am the way to go among the lost.
Justice caused my high architect to move,
Divine omnipotence created me,
The highest wisdom, and the primal love.
Before me there were no created things
But those that last forever - as do I.
Abandon all hope you who enter here. — Dante Alighieri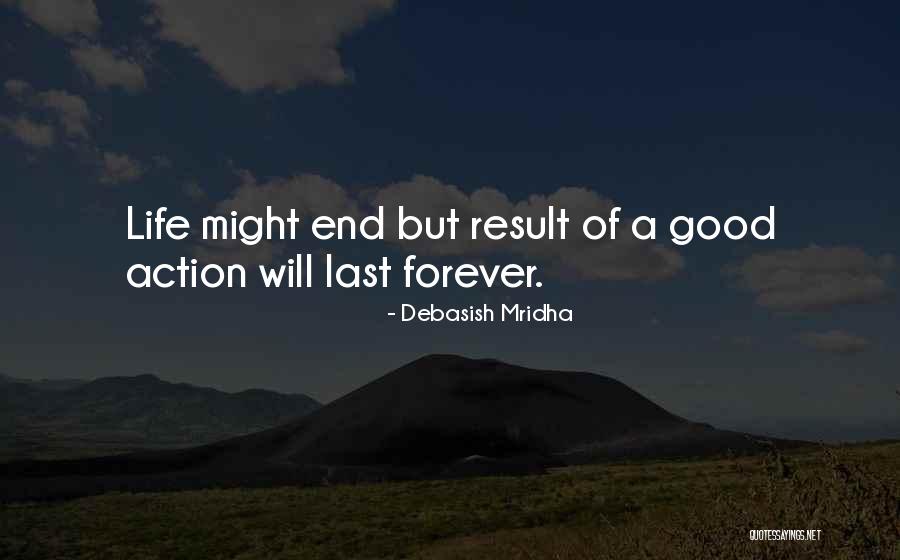 Life might end but result of a good action will last forever. — Debasish Mridha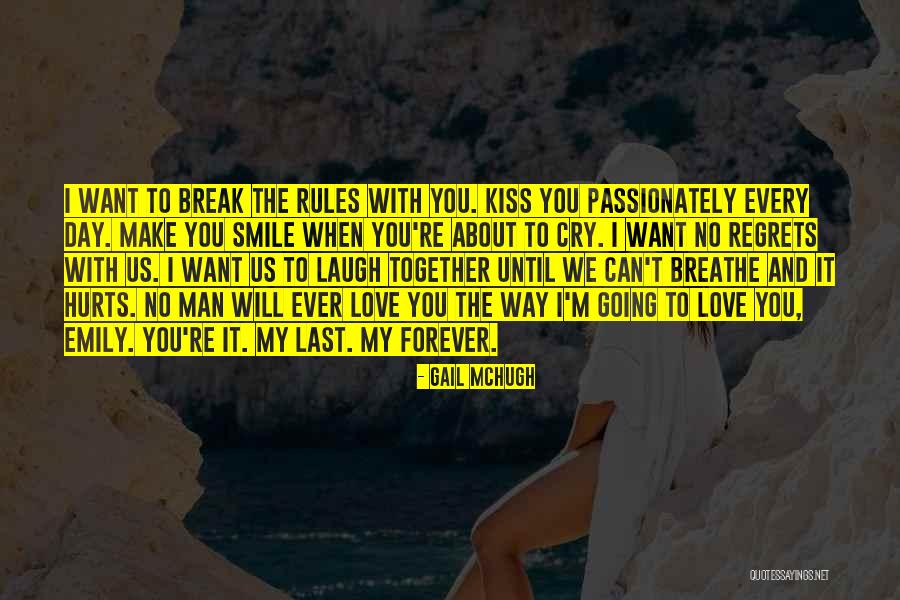 I want to break the rules with you. Kiss you passionately every day. Make you smile when you're about to cry. I want no regrets with us. I want us to laugh together until we can't breathe and it hurts. No man will ever love you the way I'm going to love you, Emily. You're it. My last. My forever. — Gail McHugh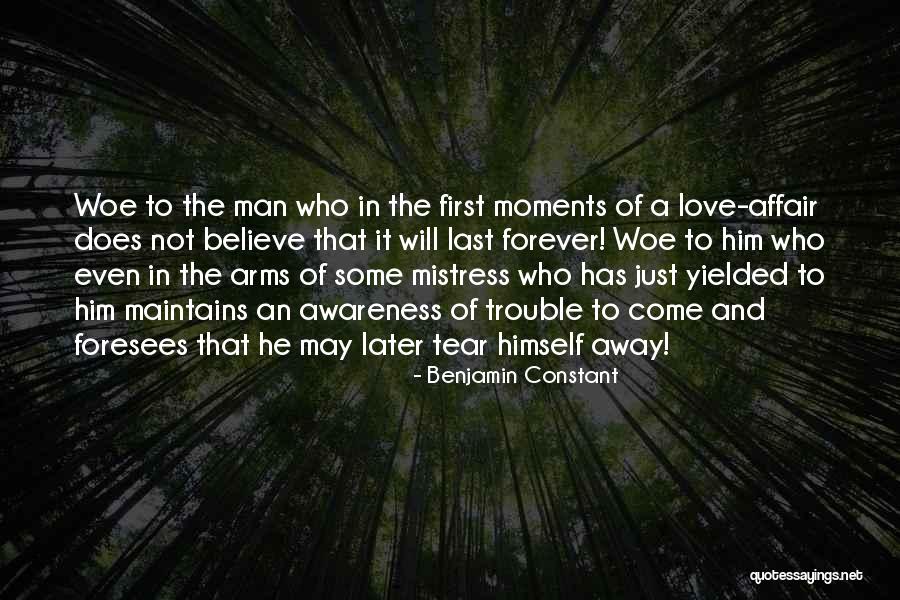 Woe to the man who in the first moments of a love-affair does not believe that it will last forever! Woe to him who even in the arms of some mistress who has just yielded to him maintains an awareness of trouble to come and foresees that he may later tear himself away! — Benjamin Constant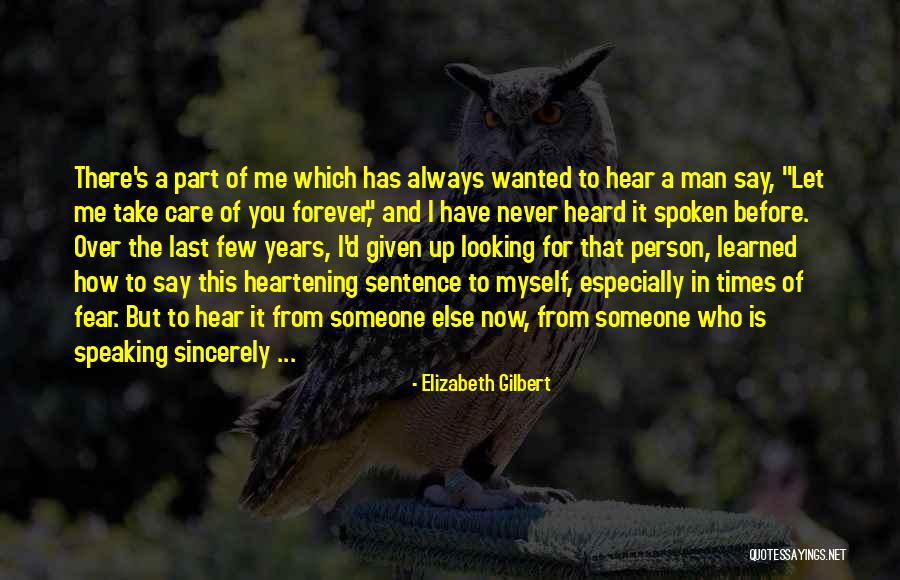 There's a part of me which has always wanted to hear a man say, "Let me take care of you forever," and I have never heard it spoken before. Over the last few years, I'd given up looking for that person, learned how to say this heartening sentence to myself, especially in times of fear. But to hear it from someone else now, from someone who is speaking sincerely ... — Elizabeth Gilbert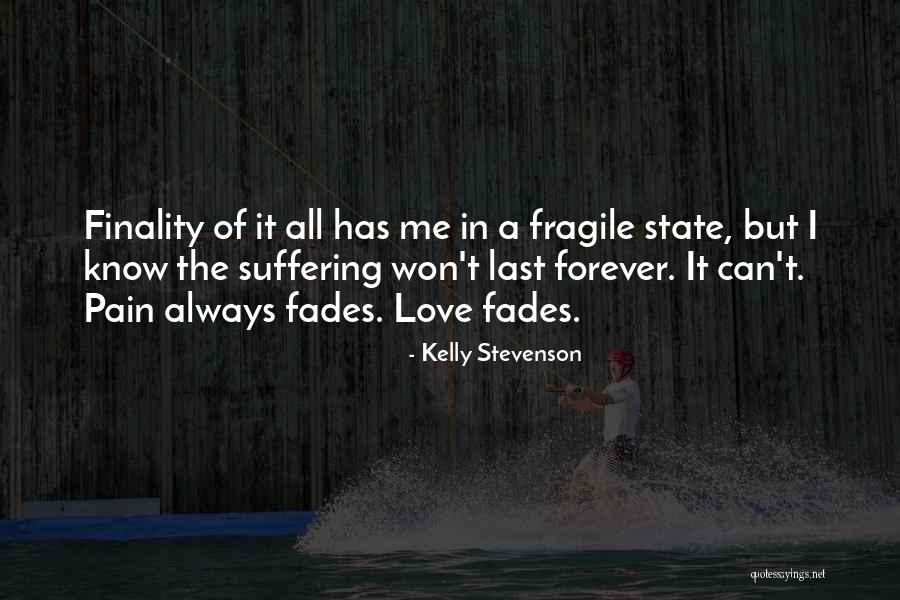 Finality of it all has me in a fragile state, but I know the suffering won't last forever. It can't. Pain always fades. Love fades. — Kelly Stevenson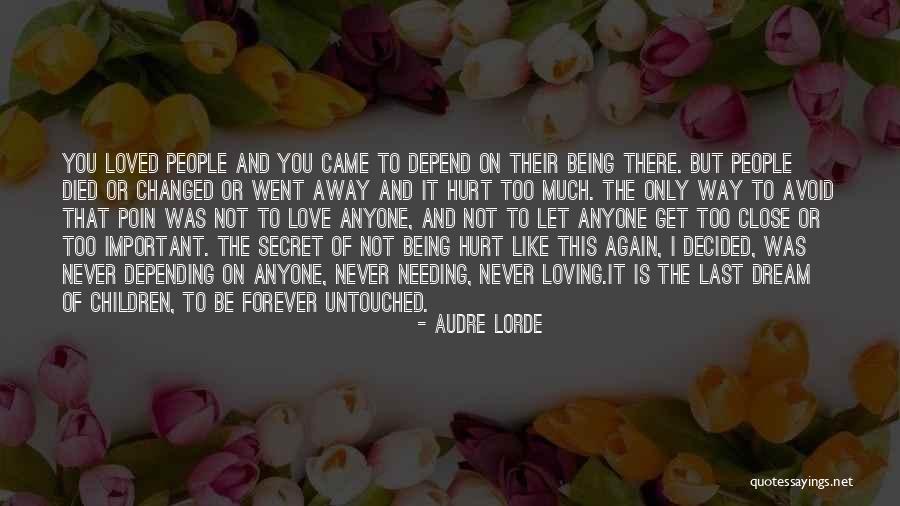 You loved people and you came to depend on their being there. but people died or changed or went away and it hurt too much. The only way to avoid that poin was not to love anyone, and not to let anyone get too close or too important. The secret of not being hurt like this again, I decided, was never depending on anyone, never needing, never loving.
It is the last dream of children, to be forever untouched. — Audre Lorde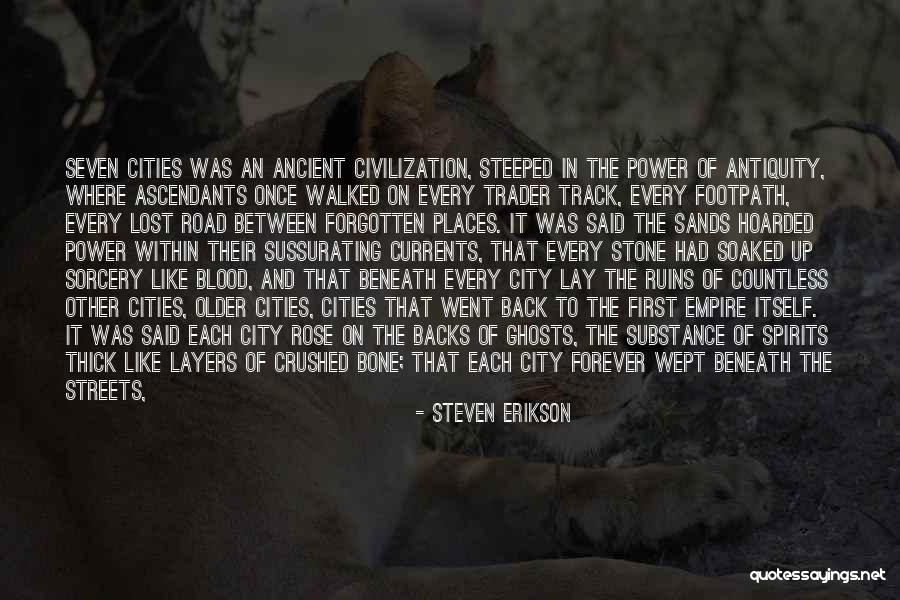 Seven Cities was an ancient civilization, steeped in the power of antiquity, where Ascendants once walked on every trader track, every footpath, every lost road between forgotten places. It was said the sands hoarded power within their sussurating currents, that every stone had soaked up sorcery like blood, and that beneath every city lay the ruins of countless other cities, older cities, cities that went back to the First Empire itself. It was said each city rose on the backs of ghosts, the substance of spirits thick like layers of crushed bone; that each city forever wept beneath the streets, forever laughed, shouted, hawked wares and bartered and prayed and drew first breaths that brought life and the last breaths that announced death. Beneath the streets there were dreams, wisdom, foolishness, fears, rage, grief, lust and love and bitter hatred. — Steven Erikson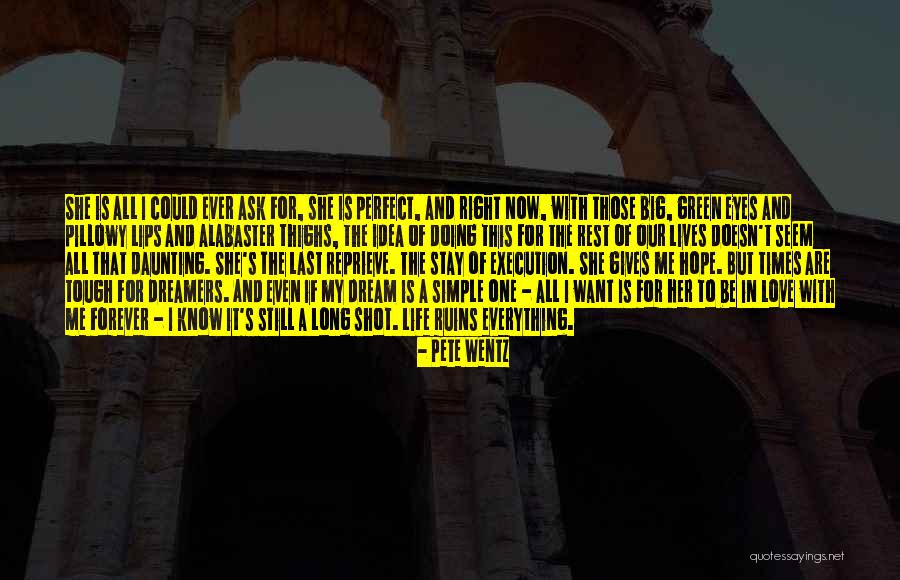 She is all I could ever ask for, she is perfect, and right now, with those big, green eyes and pillowy lips and alabaster thighs, the idea of doing this for the rest of our lives doesn't seem all that daunting. She's the last reprieve. The stay of execution. She gives me hope. But times are tough for dreamers. And even if my dream is a simple one - all I want is for Her to be in love with me forever - I know it's still a long shot. Life ruins everything. — Pete Wentz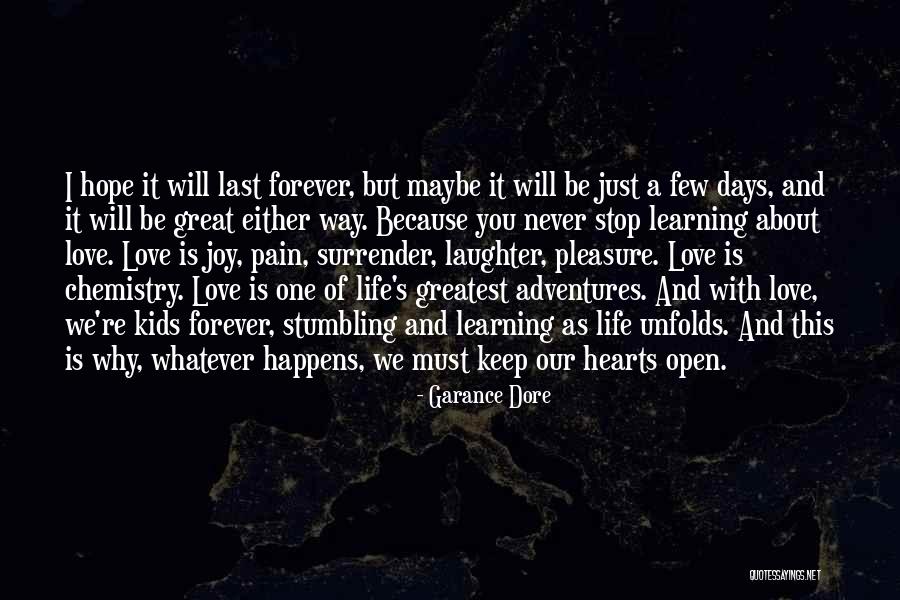 I hope it will last forever, but maybe it will be just a few days, and it will be great either way. Because you never stop learning about love. Love is joy, pain, surrender, laughter, pleasure. Love is chemistry. Love is one of life's greatest adventures. And with love, we're kids forever, stumbling and learning as life unfolds. And this is why, whatever happens, we must keep our hearts open. — Garance Dore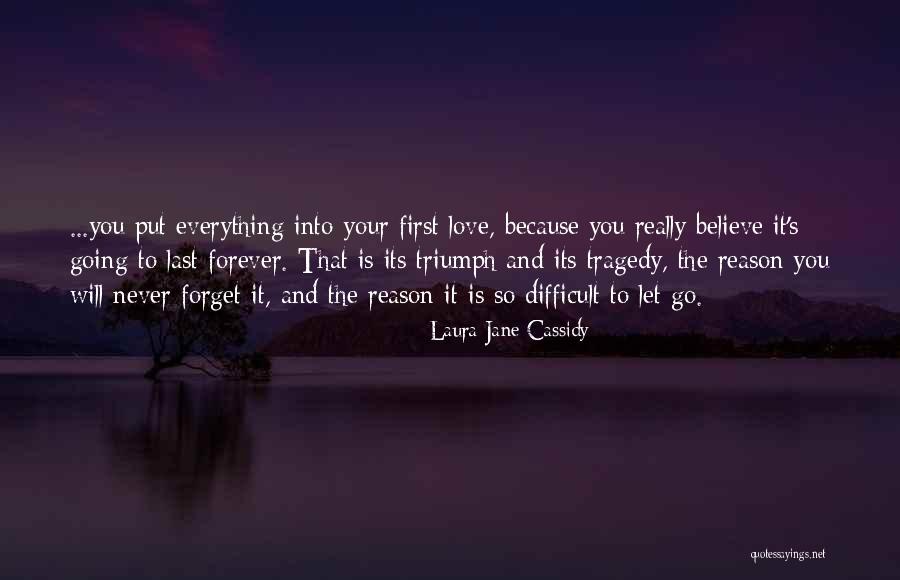 ...you put everything into your first love, because you really believe it's going to last forever. That is its triumph and its tragedy, the reason you will never forget it, and the reason it is so difficult to let go. — Laura Jane Cassidy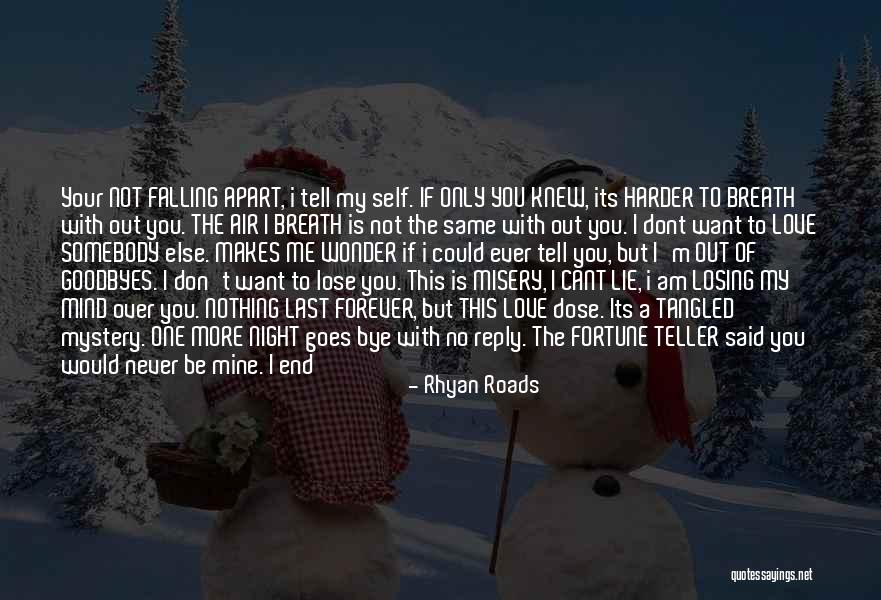 Your NOT FALLING APART, i tell my self. IF ONLY YOU KNEW, its HARDER TO BREATH with out you. THE AIR I BREATH is not the same with out you. I dont want to LOVE SOMEBODY else. MAKES ME WONDER if i could ever tell you, but I'm OUT OF GOODBYES. I don't want to lose you. This is MISERY, I CANT LIE, i am LOSING MY MIND over you. NOTHING LAST FOREVER, but THIS LOVE dose. Its a TANGLED mystery. ONE MORE NIGHT goes bye with no reply. The FORTUNE TELLER said you would never be mine. I end up BACK AT YOUR DOOR, when THE SUN comes back to life. This is are LAST CHANCE, RUNAWAY with me tonight. And lets never say goodbye. — Rhyan Roads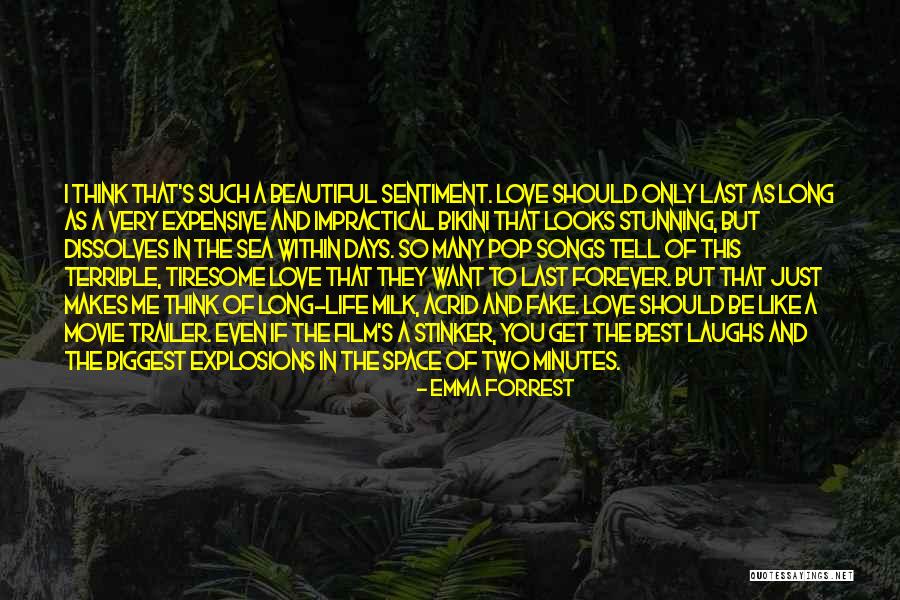 I think that's such a beautiful sentiment. Love should only last as long as a very expensive and impractical bikini that looks stunning, but dissolves in the sea within days. So many pop songs tell of this terrible, tiresome love that they want to last forever. But that just makes me think of long-life milk, acrid and fake. Love should be like a movie trailer. Even if the film's a stinker, you get the best laughs and the biggest explosions in the space of two minutes. — Emma Forrest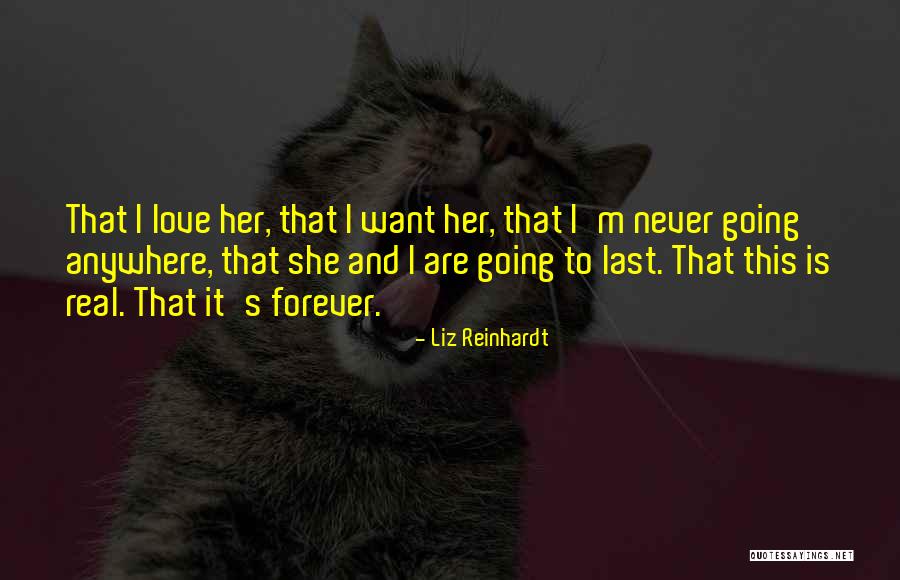 That I love her, that I want her, that I'm never going anywhere, that she and I are going to last. That this is real. That it's forever. — Liz Reinhardt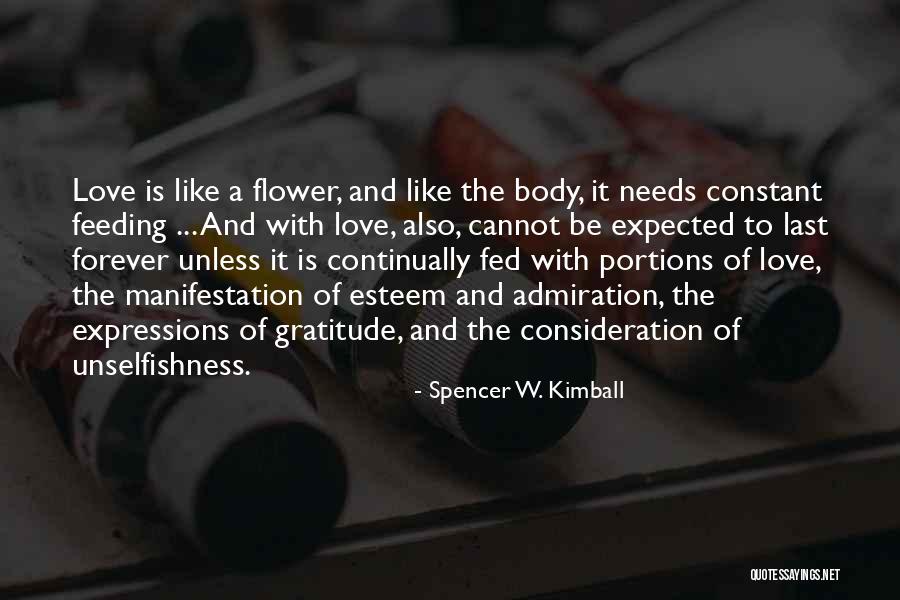 Love is like a flower, and like the body, it needs constant feeding ... And with love, also, cannot be expected to last forever unless it is continually fed with portions of love, the manifestation of esteem and admiration, the expressions of gratitude, and the consideration of unselfishness. — Spencer W. Kimball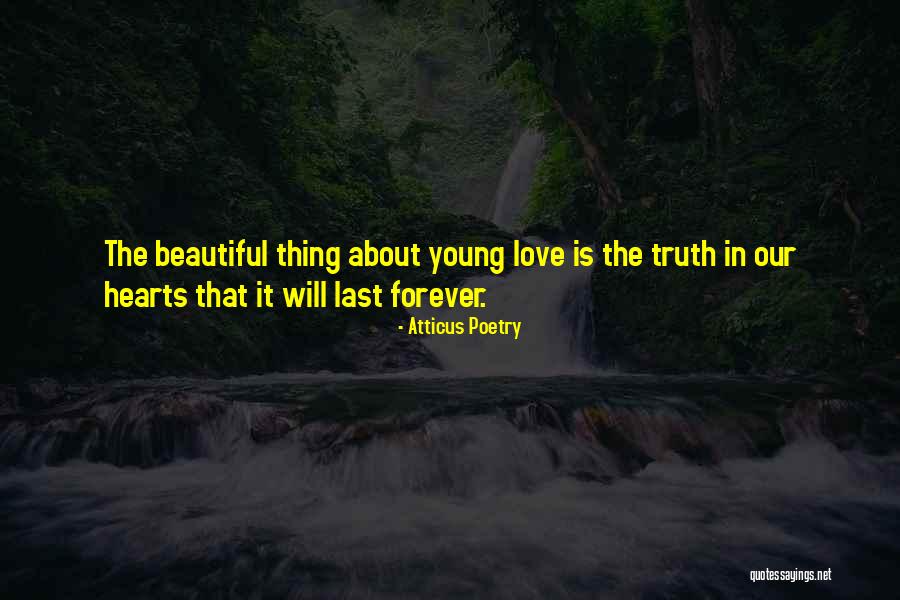 The beautiful thing
about young love
is the truth
in our hearts
that it will last forever. — Atticus Poetry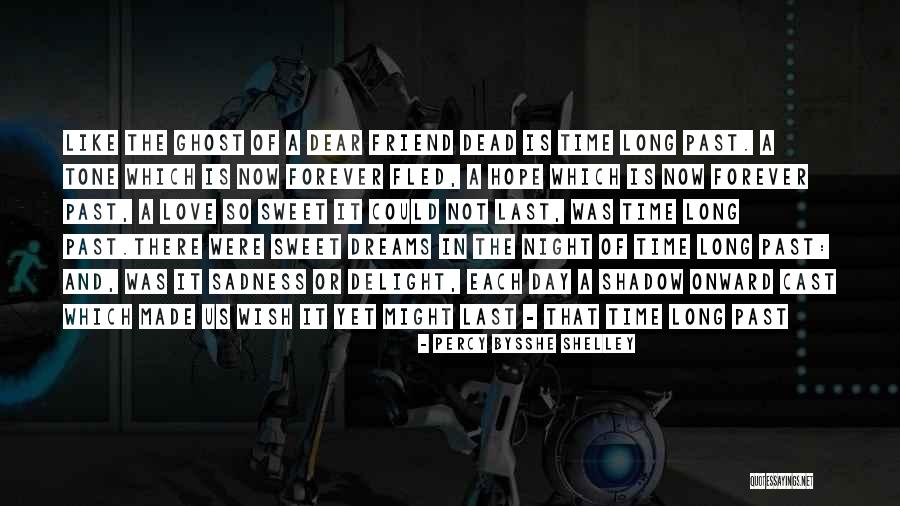 Like the ghost of a dear friend dead
Is Time long past.
A tone which is now forever fled,
A hope which is now forever past,
A love so sweet it could not last,
Was Time long past.
There were sweet dreams in the night
Of Time long past:
And, was it sadness or delight,
Each day a shadow onward cast
Which made us wish it yet might last -
That Time long past — Percy Bysshe Shelley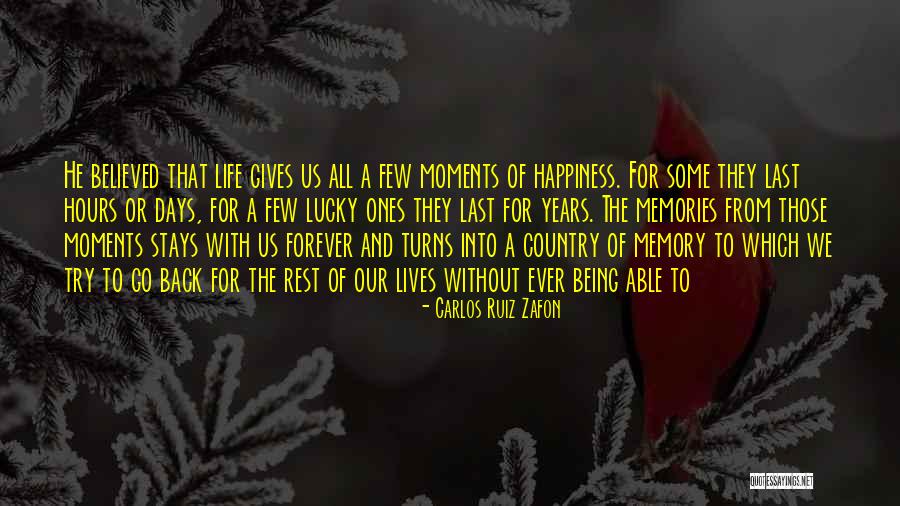 He believed that life gives us all a few moments of happiness. For some they last hours or days, for a few lucky ones they last for years. The memories from those moments stays with us forever and turns into a country of memory to which we try to go back for the rest of our lives without ever being able to — Carlos Ruiz Zafon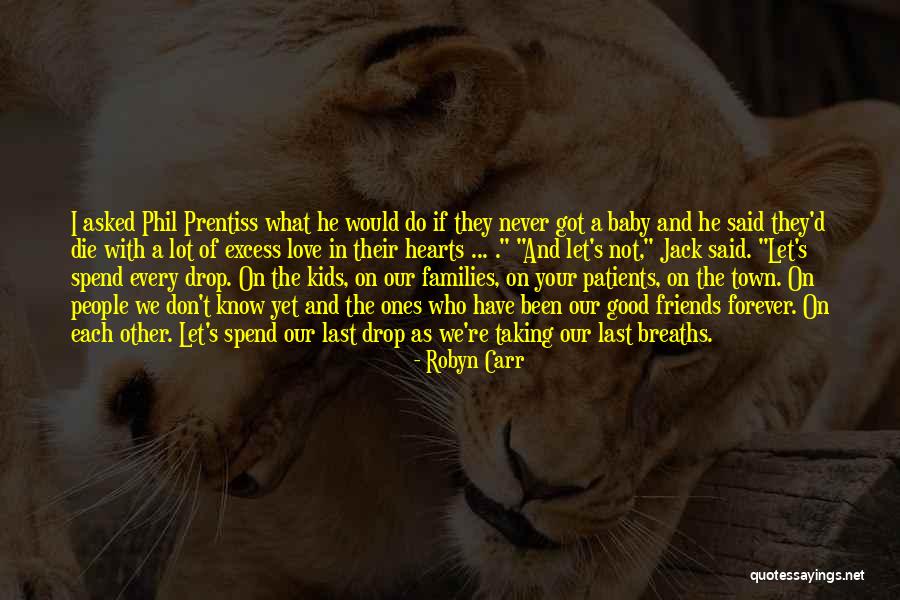 I asked Phil Prentiss what he would do if they never got a baby and he said they'd die with a lot of excess love in their hearts ... ." "And let's not," Jack said. "Let's spend every drop. On the kids, on our families, on your patients, on the town. On people we don't know yet and the ones who have been our good friends forever. On each other. Let's spend our last drop as we're taking our last breaths. — Robyn Carr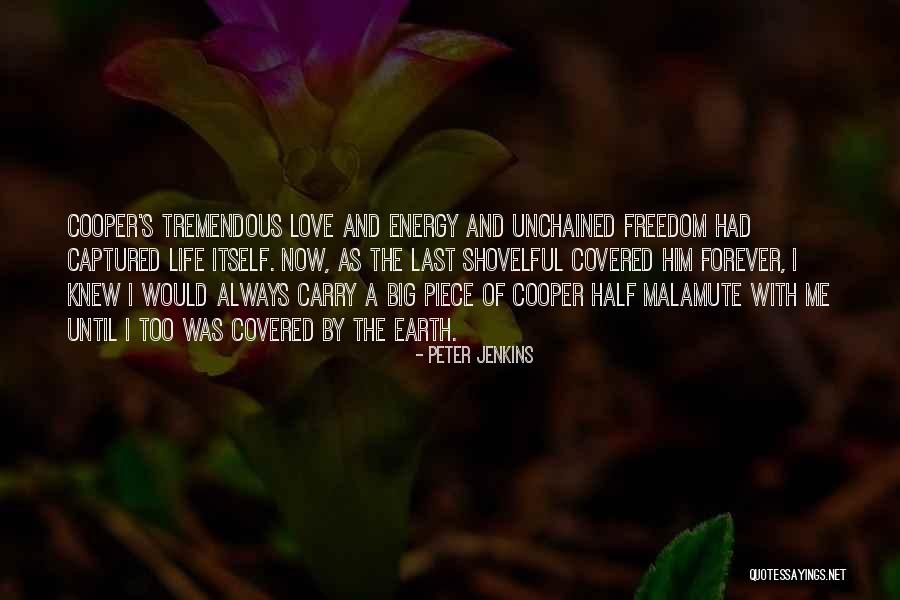 Cooper's tremendous love and energy and unchained freedom had captured life itself. Now, as the last shovelful covered him forever, I knew I would always carry a big piece of Cooper Half Malamute with me until I too was covered by the earth. — Peter Jenkins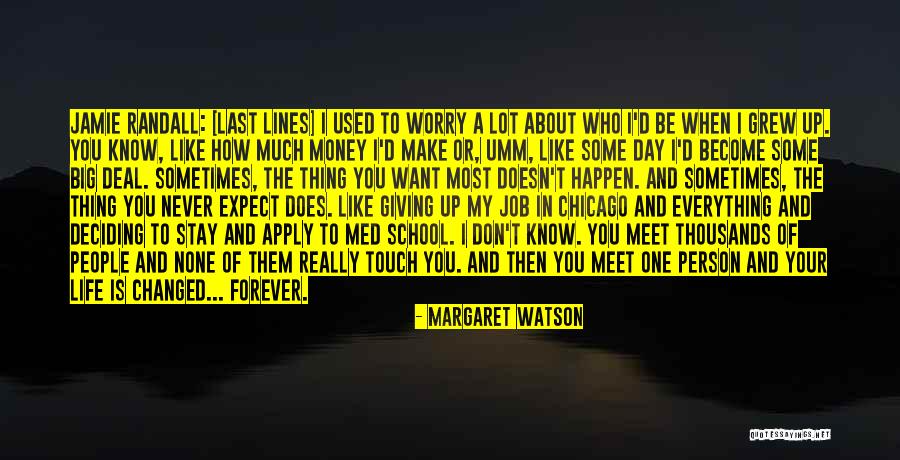 Jamie Randall: [Last lines] I used to worry a lot about who I'd be when I grew up. You know, like how much money I'd make or, umm, like some day I'd become some big deal. Sometimes, the thing you want most doesn't happen. And sometimes, the thing you never expect does. Like giving up my job in Chicago and everything and deciding to stay and apply to med school. I don't know. You meet thousands of people and none of them really touch you. And then you meet one person and your life is changed... forever. — Margaret Watson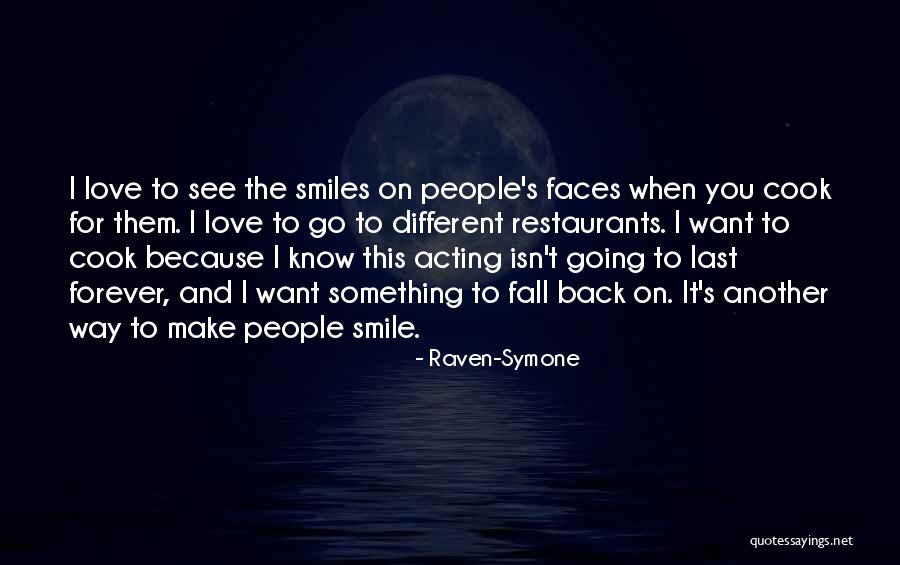 I love to see the smiles on people's faces when you cook for them. I love to go to different restaurants. I want to cook because I know this acting isn't going to last forever, and I want something to fall back on. It's another way to make people smile. — Raven-Symone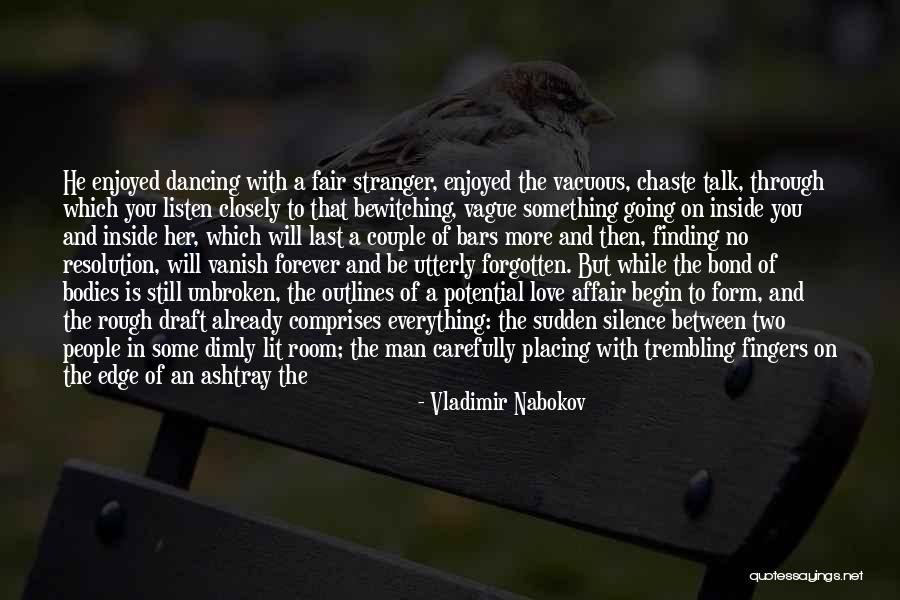 He enjoyed dancing with a fair stranger, enjoyed the vacuous, chaste talk, through which you listen closely to that bewitching, vague something going on inside you and inside her, which will last a couple of bars more and then, finding no resolution, will vanish forever and be utterly forgotten. But while the bond of bodies is still unbroken, the outlines of a potential love affair begin to form, and the rough draft already comprises everything: the sudden silence between two people in some dimly lit room; the man carefully placing with trembling fingers on the edge of an ashtray the just-lit bit impedient cigarette; the woman's eyes slowly closing in as in a film scene.. — Vladimir Nabokov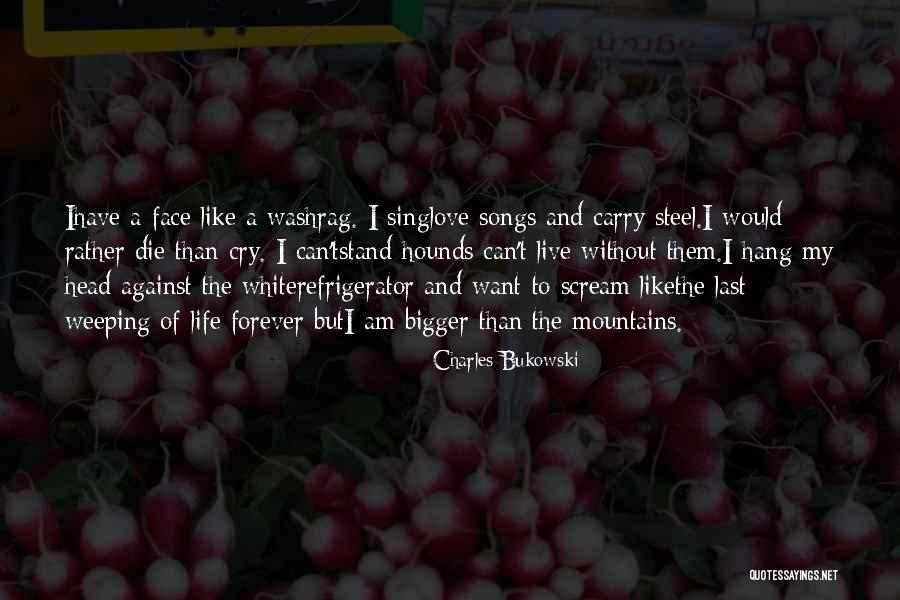 I
have a face like a washrag. I sing
love songs and carry steel.
I would rather die than cry. I can't
stand hounds can't live without them.
I hang my head against the white
refrigerator and want to scream like
the last weeping of life forever but
I am bigger than the mountains. — Charles Bukowski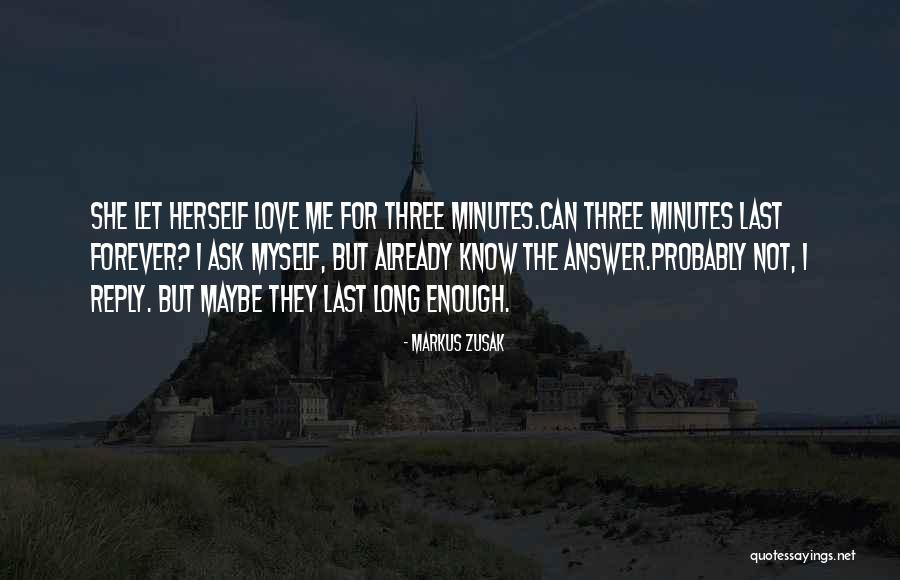 She let herself love me for three minutes.
Can three minutes last forever? I ask myself, but already know the answer.
Probably not, I reply. But maybe they last long enough. — Markus Zusak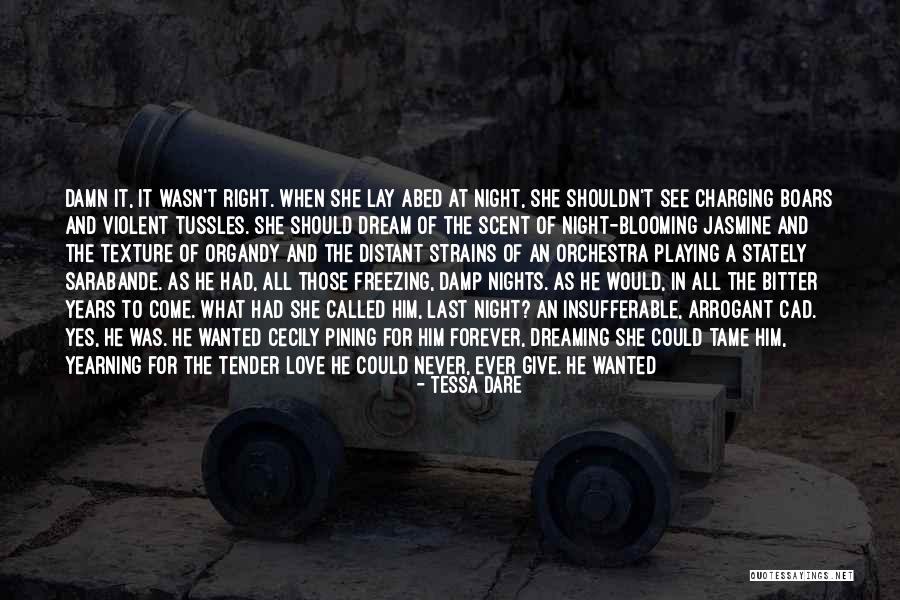 Damn it, it wasn't right. When she lay abed at night, she shouldn't see charging boars and violent tussles. She should dream of the scent of night-blooming jasmine and the texture of organdy and the distant strains of an orchestra playing a stately sarabande. As he had, all those freezing, damp nights.
As he would, in all the bitter years to come.
What had she called him, last night? An insufferable, arrogant cad. Yes, he was.
He wanted Cecily pining for him forever, dreaming she could tame him, yearning for the tender love he could never, ever give.
He wanted her to remember the old Luke, not fantasize about some uncivilized beast.
And if this "werestag" had eclipsed the memory of their kiss with his gory midnight rescue . . .
Luke just would have to do it one better, and give Cecily a new memory to occupy her thoughts. An experience she could never forget. — Tessa Dare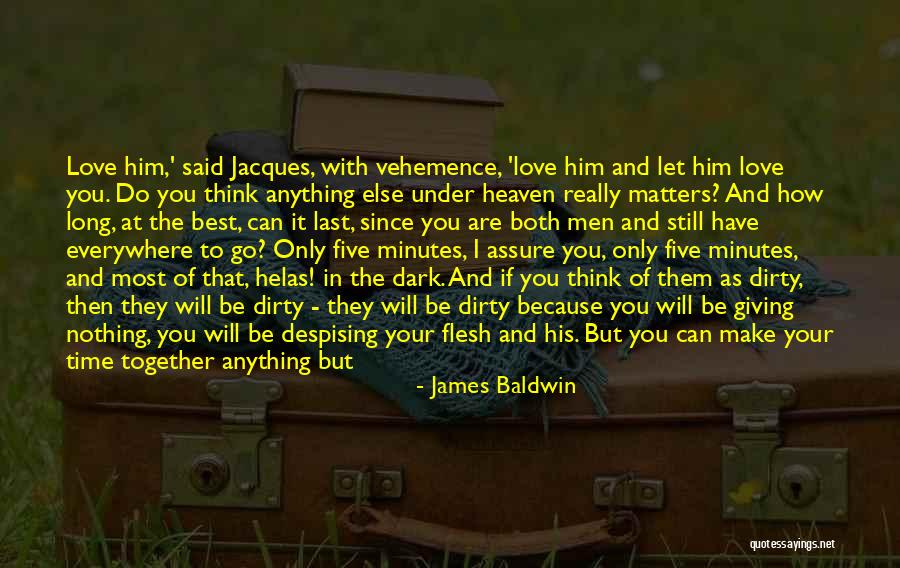 Love him,' said Jacques, with vehemence, 'love him and let him love you. Do you think anything else under heaven really matters? And how long, at the best, can it last, since you are both men and still have everywhere to go? Only five minutes, I assure you, only five minutes, and most of that, helas! in the dark. And if you think of them as dirty, then they will be dirty - they will be dirty because you will be giving nothing, you will be despising your flesh and his. But you can make your time together anything but dirty, you can give each other something which will make both of you better - forever - if you will not be ashamed, if you will only not play it safe.' He paused, watching me, and then looked down to his cognac. 'You play it safe long enough,' he said, in a different tone, 'and you'll end up trapped in your own dirty body, forever and forever and forever - like me. — James Baldwin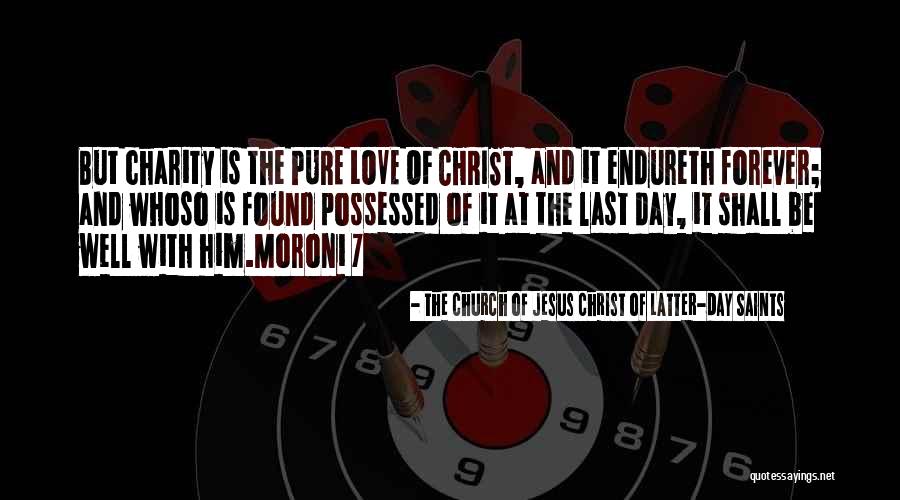 But charity is the PURE LOVE OF CHRIST, and it endureth forever; and whoso is found possessed of it at the last day, it shall be well with him.
Moroni 7 — The Church Of Jesus Christ Of Latter-day Saints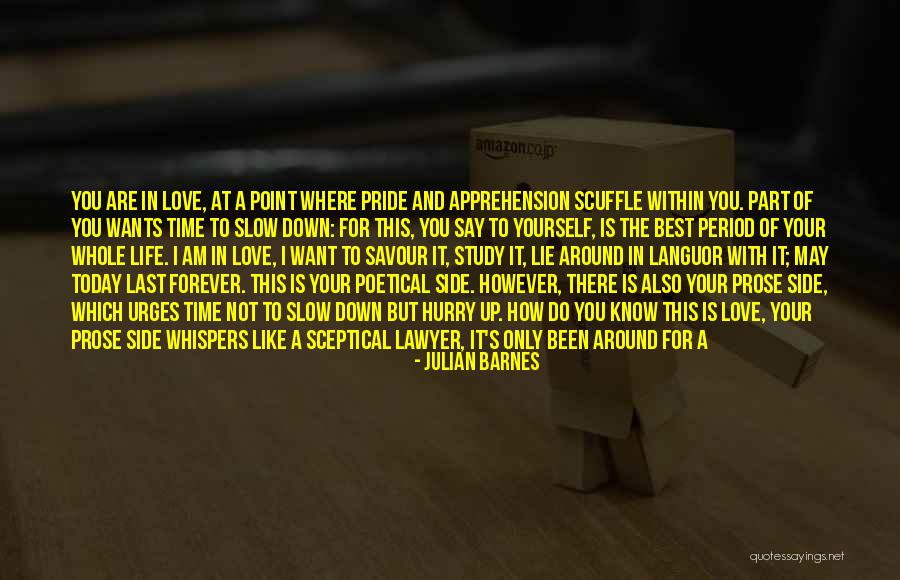 You are in love, at a point where pride and apprehension scuffle within you. Part of you wants time to slow down: for this, you say to yourself, is the best period of your whole life. I am in love, I want to savour it, study it, lie around in languor with it; may today last forever. This is your poetical side. However, there is also your prose side, which urges time not to slow down but hurry up. How do you know this is love, your prose side whispers like a sceptical lawyer, it's only been around for a few weeks, a few months. You won't know it's the real thing unless you (and she) still feel the same in, oh, a year or so at least; that's the only way to prove you aren't living a dragonfly mistake. Get through this bit, however much you enjoy it, as fast as possible; then you'll be able to find out whether or not you're really in love. — Julian Barnes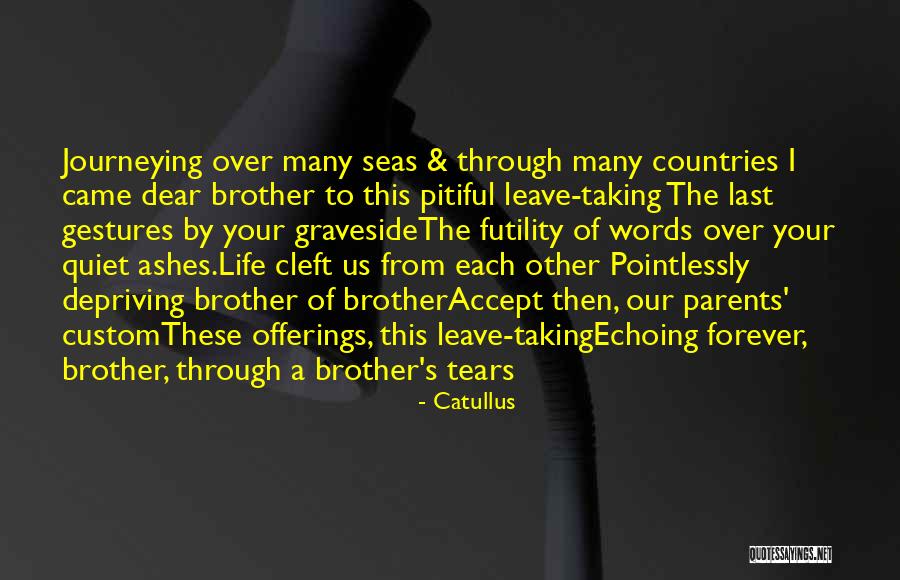 Journeying over many seas & through many countries
I came dear brother to this pitiful leave-taking
The last gestures by your graveside
The futility of words over your quiet ashes.
Life cleft us from each other
Pointlessly depriving brother of brother
Accept then, our parents' custom
These offerings, this leave-taking
Echoing forever, brother, through a brother's tears — Catullus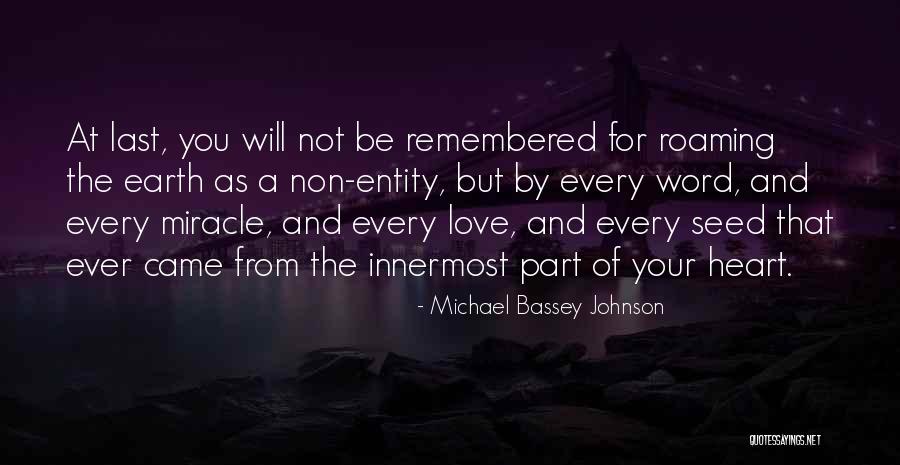 At last, you will not be remembered for roaming the earth as a non-entity, but by every word, and every miracle, and every love, and every seed that ever came from the innermost part of your heart. — Michael Bassey Johnson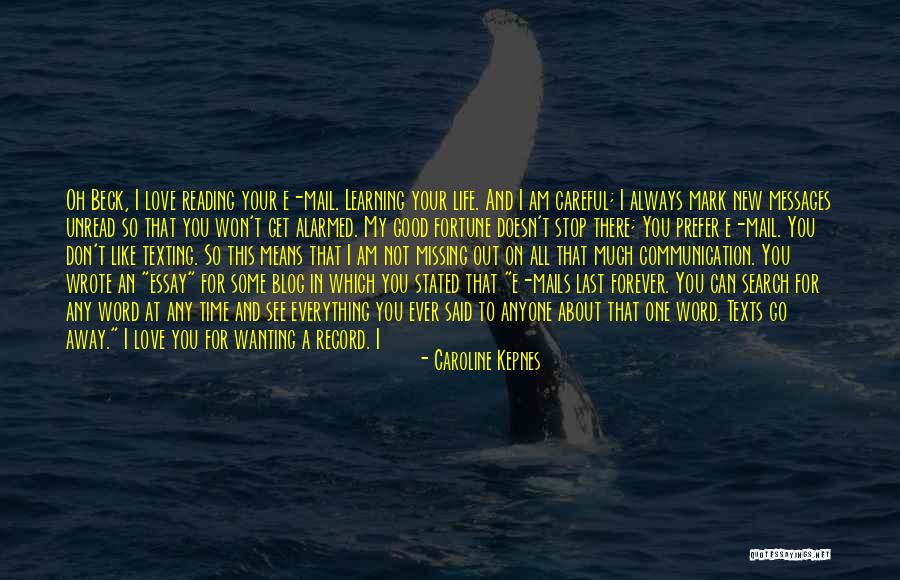 Oh Beck, I love reading your e-mail. Learning your life. And I am careful; I always mark new messages unread so that you won't get alarmed. My good fortune doesn't stop there; You prefer e-mail. You don't like texting. So this means that I am not missing out on all that much communication. You wrote an "essay" for some blog in which you stated that "e-mails last forever. You can search for any word at any time and see everything you ever said to anyone about that one word. Texts go away." I love you for wanting a record. I love your records for being so accessible and I'm so full of you, your calendar of caloric intake and hookups and menstrual moments, your self-portraits you don't publish, your recipes and exercises. You will know me soon too, I promise. — Caroline Kepnes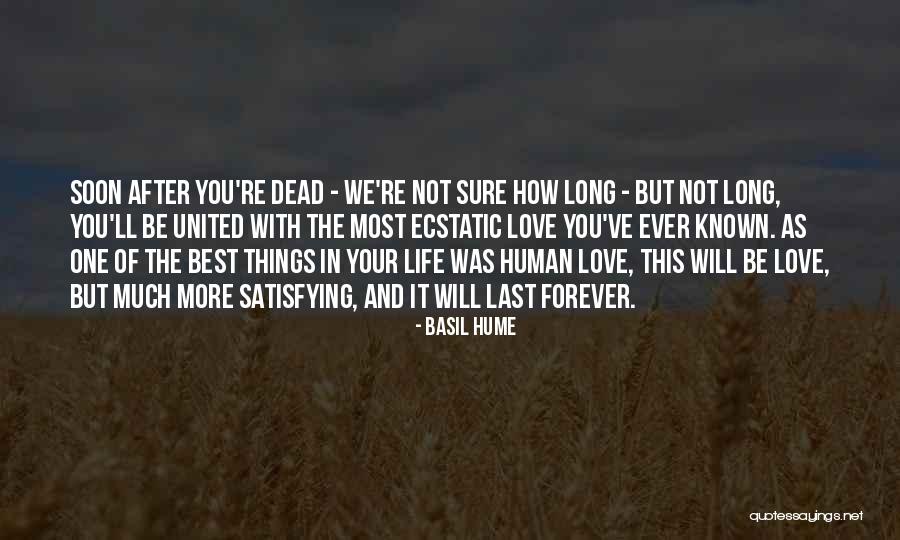 Soon after you're dead - we're not sure how long - but not long, you'll be united with the most ecstatic love you've ever known. As one of the best things in your life was human love, this will be love, but much more satisfying, and it will last forever. — Basil Hume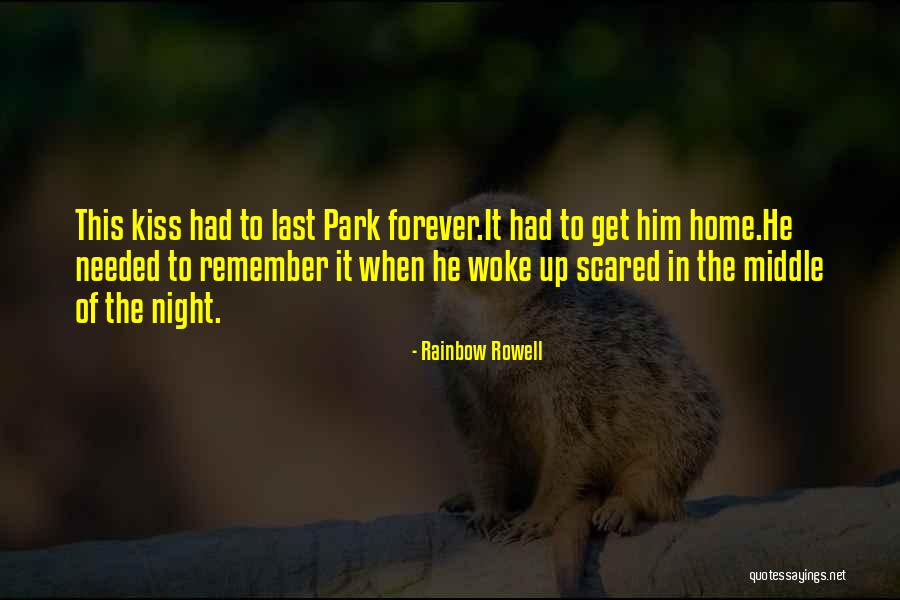 This kiss had to last Park forever.
It had to get him home.
He needed to remember it when he woke up scared in the middle of the night. — Rainbow Rowell