I Have Lived To Thank God Quotes & Sayings
Enjoy reading and share 12 famous quotes about I Have Lived To Thank God with everyone.
Top I Have Lived To Thank God Quotes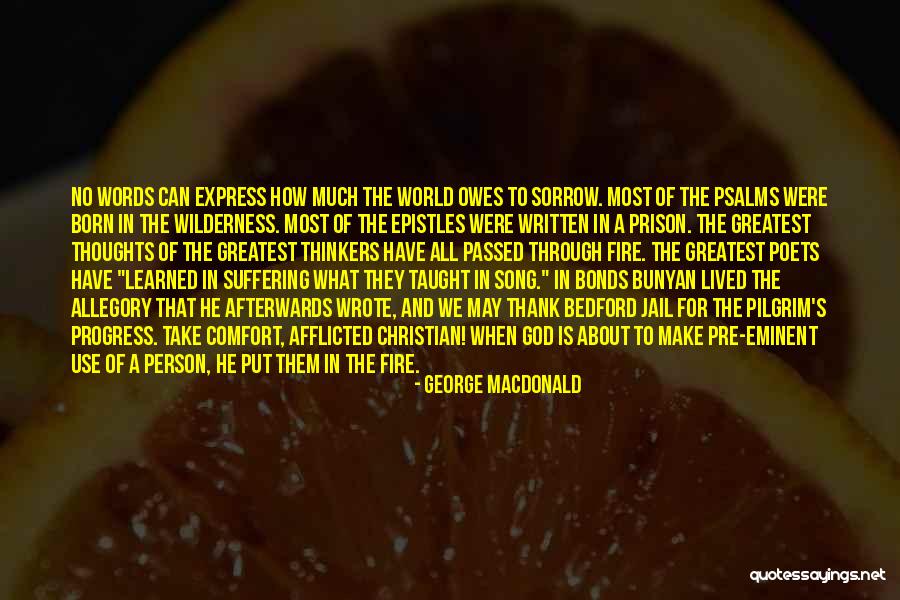 No words can express how much the world owes to sorrow. Most of the Psalms were born in the wilderness. Most of the Epistles were written in a prison. The greatest thoughts of the greatest thinkers have all passed through fire. The greatest poets have "learned in suffering what they taught in song." In bonds Bunyan lived the allegory that he afterwards wrote, and we may thank Bedford Jail for the Pilgrim's Progress. Take comfort, afflicted Christian! When God is about to make pre-eminent use of a person, He put them in the fire. — George MacDonald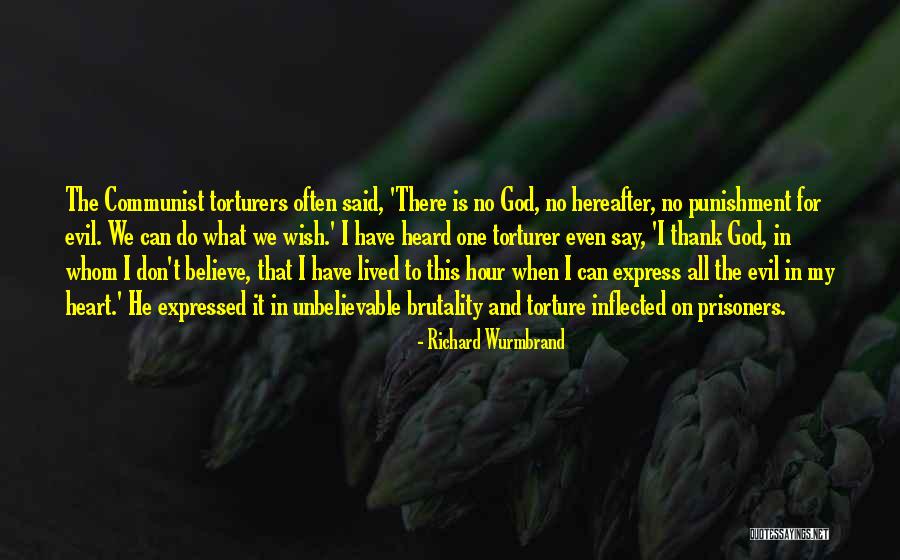 The Communist torturers often said, 'There is no God, no hereafter, no punishment for evil. We can do what we wish.' I have heard one torturer even say, 'I thank God, in whom I don't believe, that I have lived to this hour when I can express all the evil in my heart.' He expressed it in unbelievable brutality and torture inflected on prisoners. — Richard Wurmbrand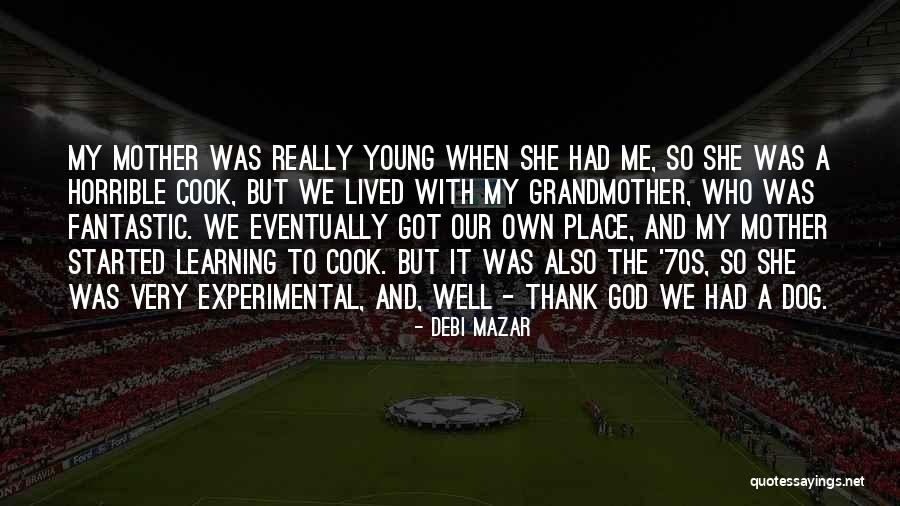 My mother was really young when she had me, so she was a horrible cook, but we lived with my grandmother, who was fantastic. We eventually got our own place, and my mother started learning to cook. But it was also the '70s, so she was very experimental, and, well - thank God we had a dog. — Debi Mazar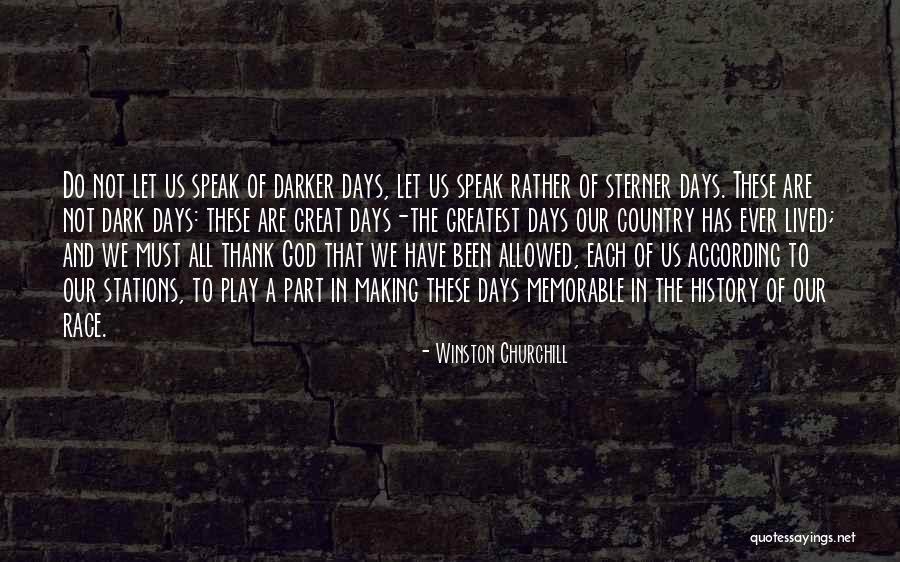 Do not let us speak of darker days, let us speak rather of sterner days. These are not dark days: these are great days-the greatest days our country has ever lived; and we must all thank God that we have been allowed, each of us according to our stations, to play a part in making these days memorable in the history of our race. — Winston Churchill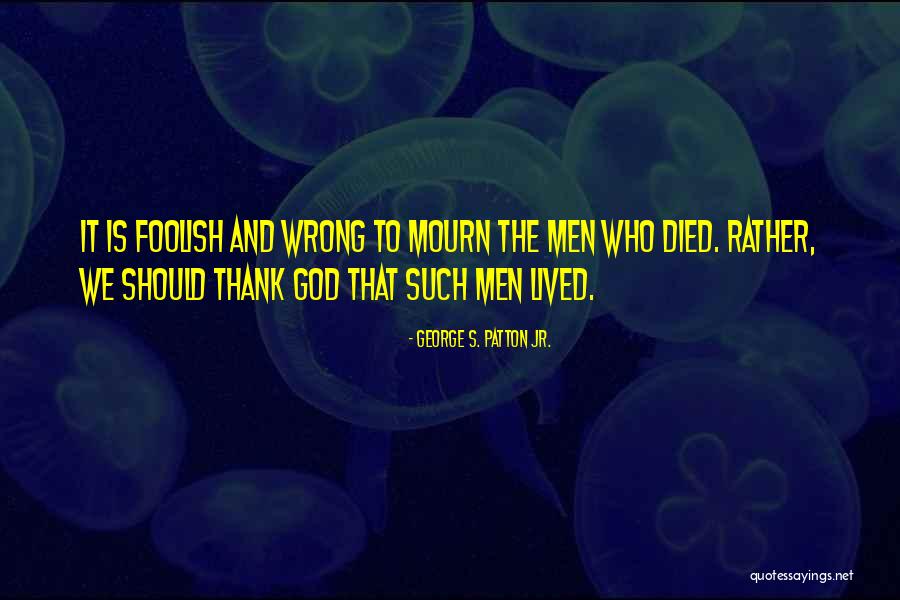 It is foolish and wrong to mourn the men who died. Rather, we should thank God that such men lived. — George S. Patton Jr.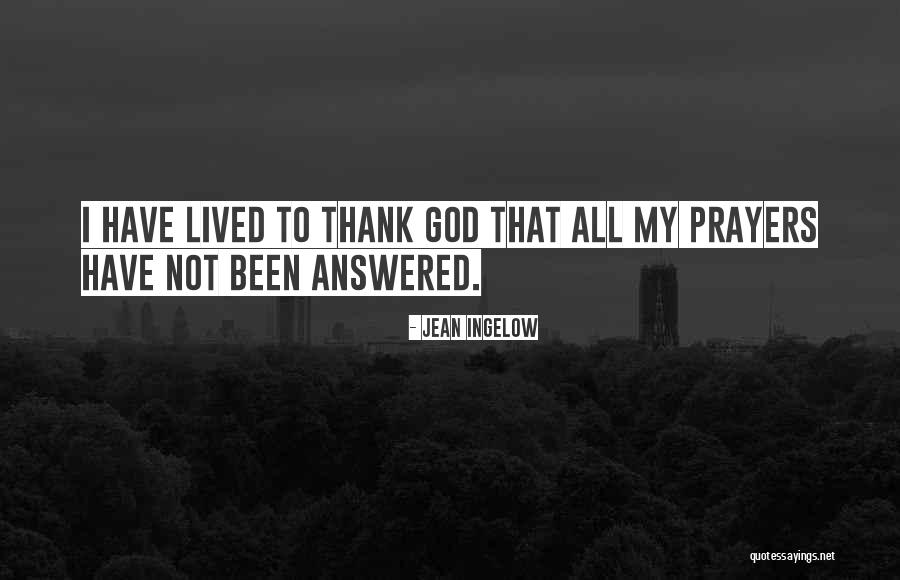 I have lived to thank God that all my prayers have not been answered. — Jean Ingelow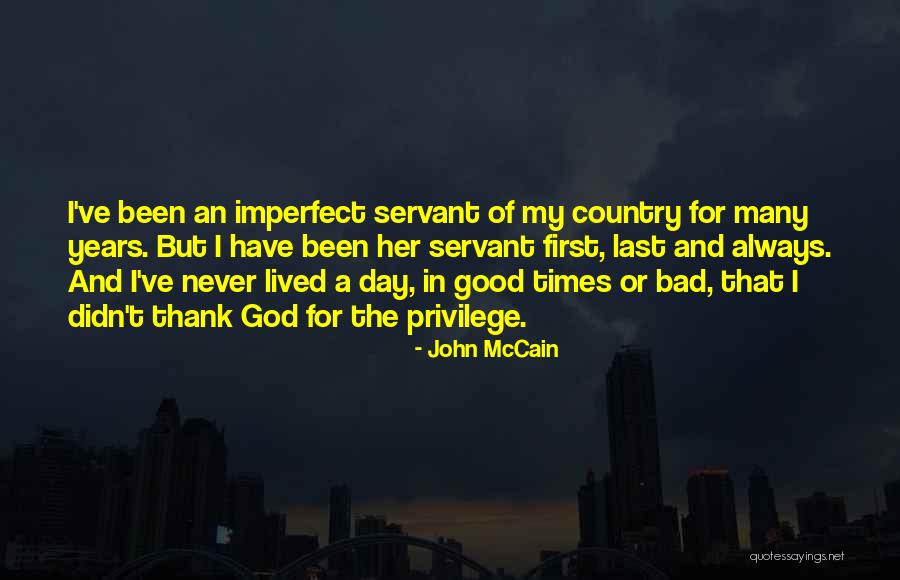 I've been an imperfect servant of my country for many years. But I have been her servant first, last and always. And I've never lived a day, in good times or bad, that I didn't thank God for the privilege. — John McCain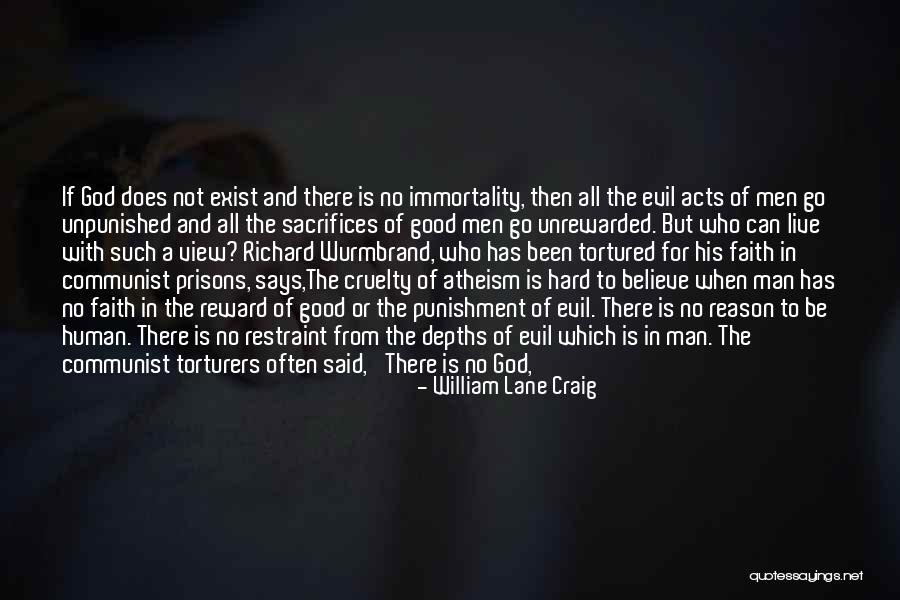 If God does not exist and there is no immortality, then all the evil acts of men go unpunished and all the sacrifices of good men go unrewarded. But who can live with such a view? Richard Wurmbrand, who has been tortured for his faith in communist prisons, says,
The cruelty of atheism is hard to believe when man has no faith in the reward of good or the punishment of evil. There is no reason to be human. There is no restraint from the depths of evil which is in man. The communist torturers often said, 'There is no God, no Hereafter, no punishment for evil. We can do what we wish.' I have heard one torturer even say, 'I thank God, in whom I don't believe, that I have lived to this hour when I can express all the evil in my heart.' He expressed it in unbelievable brutality and torture inflicted on prisoners. — William Lane Craig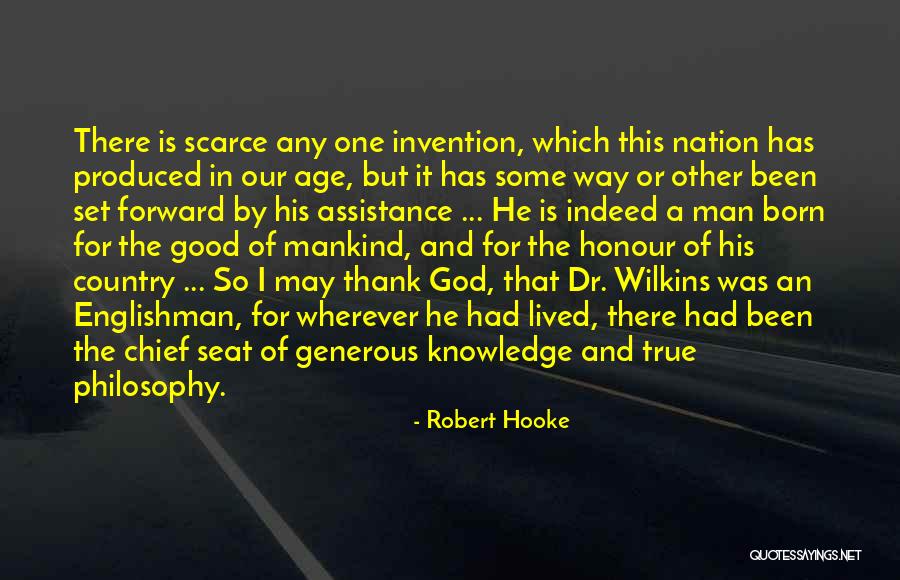 There is scarce any one invention, which this nation has produced in our age, but it has some way or other been set forward by his assistance ... He is indeed a man born for the good of mankind, and for the honour of his country ... So I may thank God, that Dr. Wilkins was an Englishman, for wherever he had lived, there had been the chief seat of generous knowledge and true philosophy. — Robert Hooke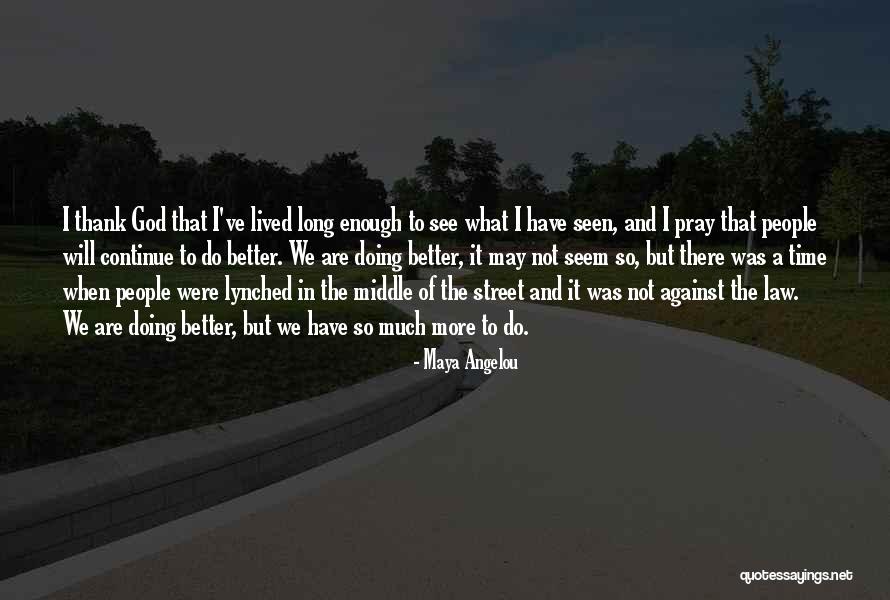 I thank God that I've lived long enough to see what I have seen, and I pray that people will continue to do better. We are doing better, it may not seem so, but there was a time when people were lynched in the middle of the street and it was not against the law. We are doing better, but we have so much more to do. — Maya Angelou
I love you, Levi."
"Thank God for it because I love you too."
Her laugh was back in his house again. Her scent on his sheets.
Her crap on his bathroom counter and her stuff in the drawers in his armoire.
She lived in him and he had no plans to ever let that change.
It didn't matter that she was younger than he was. All that mattered was that she loved him and he loved her. The rest they could work out as time passed. She'd keep him in line. Decorate their house and fill it with music and love. And one day with children.
They had time, he realized. Time to be in love and be engaged. Time for her art and his job, time for weddings and honeymoons and nesting. She was his, forever. As deeply as he was hers.
Made the groveling worth it.

~~Sway — Lauren Dane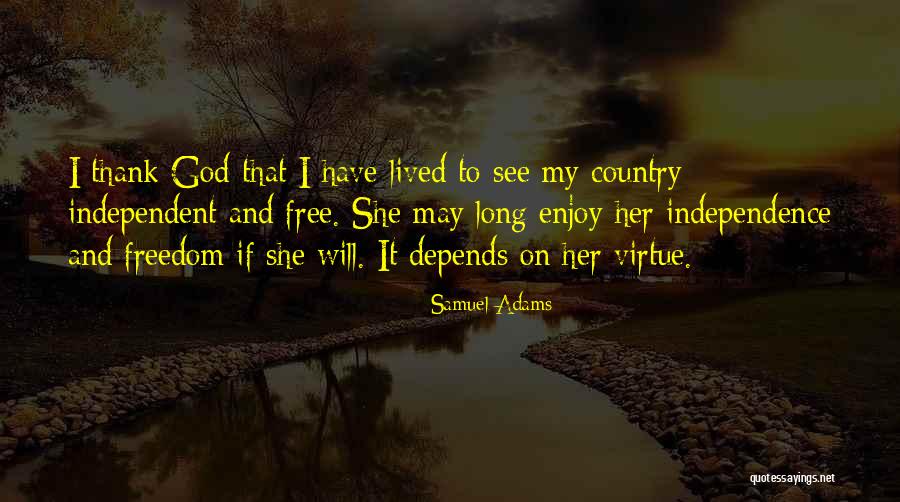 I thank God that I have lived to see my country independent and free. She may long enjoy her independence and freedom if she will. It depends on her virtue. — Samuel Adams