I Hate Being Married Quotes & Sayings
Enjoy reading and share 10 famous quotes about I Hate Being Married with everyone.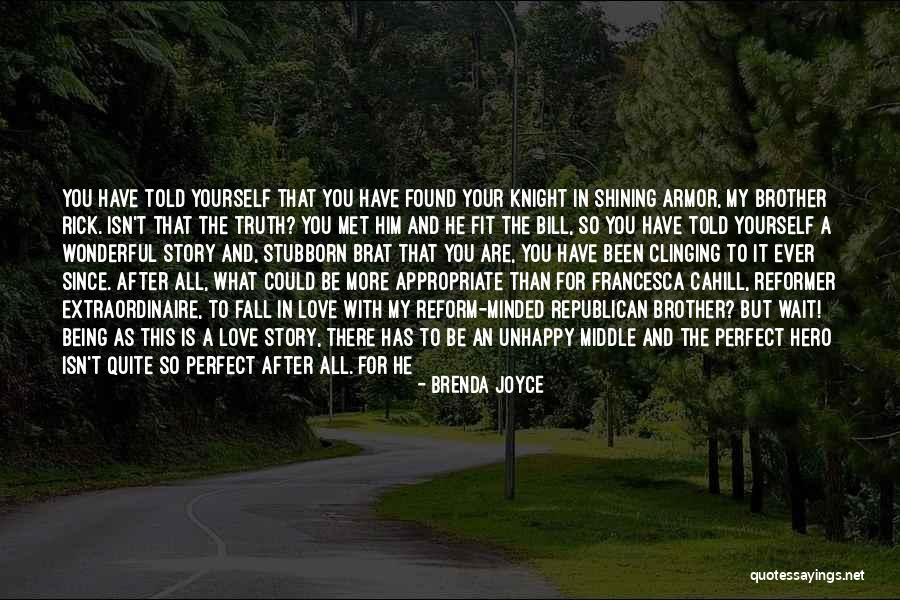 You have told yourself that you have found your knight in shining armor, my brother Rick. Isn't that the truth? You met him and he fit the bill, so you have told yourself a wonderful story and, stubborn brat that you are, you have been clinging to it ever since. After all, what could be more appropriate than for Francesca Cahill, reformer extraordinaire, to fall in love with my reform-minded Republican brother? But wait! Being as this is a love story, there has to be an unhappy middle and the perfect hero isn't quite so perfect after all. For he is married. Oh, wait! It isn't that bad, after all, for as it turns out he is a man of virtue, and he really loves you, while he despises his wife! And did I forget to mention that she is vile and evil? So the story can limp along, and true love might survive after all! Does this sound at all familiar, Francesca?"
"I almost hate you," she whispered. And she felt a tear sliding down her cheek. — Brenda Joyce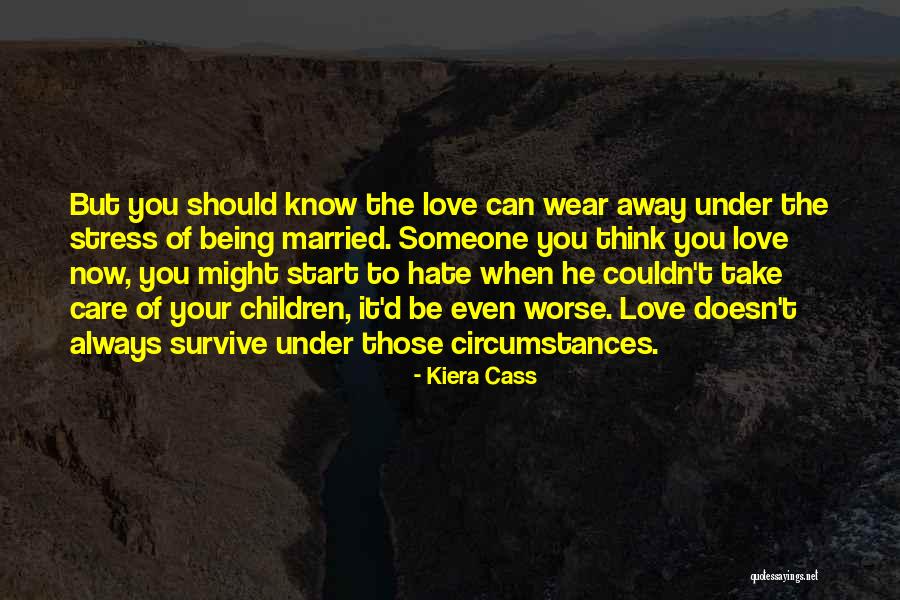 But you should know the love can wear away under the stress of being married. Someone you think you love now, you might start to hate when he couldn't take care of your children, it'd be even worse. Love doesn't always survive under those circumstances. — Kiera Cass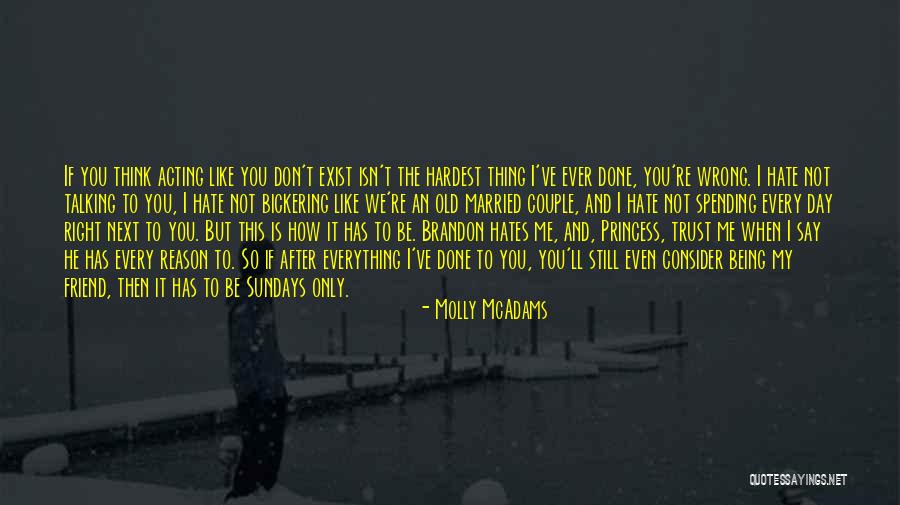 If you think acting like you don't exist isn't the hardest thing I've ever done, you're wrong. I hate not talking to you, I hate not bickering like we're an old married couple, and I hate not spending every day right next to you. But this is how it has to be. Brandon hates me, and, Princess, trust me when I say he has every reason to. So if after everything I've done to you, you'll still even consider being my friend, then it has to be Sundays only. — Molly McAdams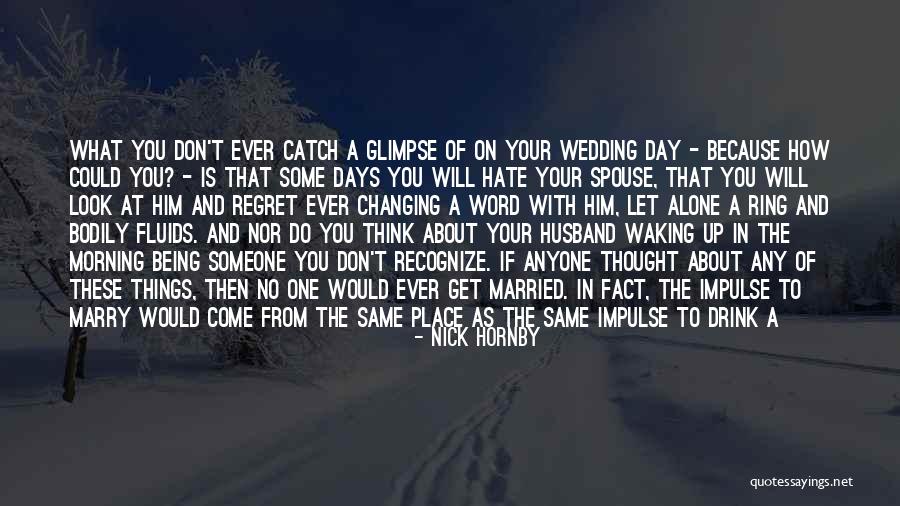 What you don't ever catch a glimpse of on your wedding day - because how could you? - is that some days you will hate your spouse, that you will look at him and regret ever changing a word with him, let alone a ring and bodily fluids. And nor do you think about your husband waking up in the morning being someone you don't recognize. If anyone thought about any of these things, then no one would ever get married. In fact, the impulse to marry would come from the same place as the same impulse to drink a bottle of bleach, and those are the kind of impulses we try to ignore rather than celebrate.
So we can't afford to think of these things because getting married - or finding a partner whom we will want to spend our lives with and have children by - is on our agenda. It's something we know we will do one day, and if you take that away from us then we are left with promotions and work and the possibility of a winning lottery ticket, and it's not enough. — Nick Hornby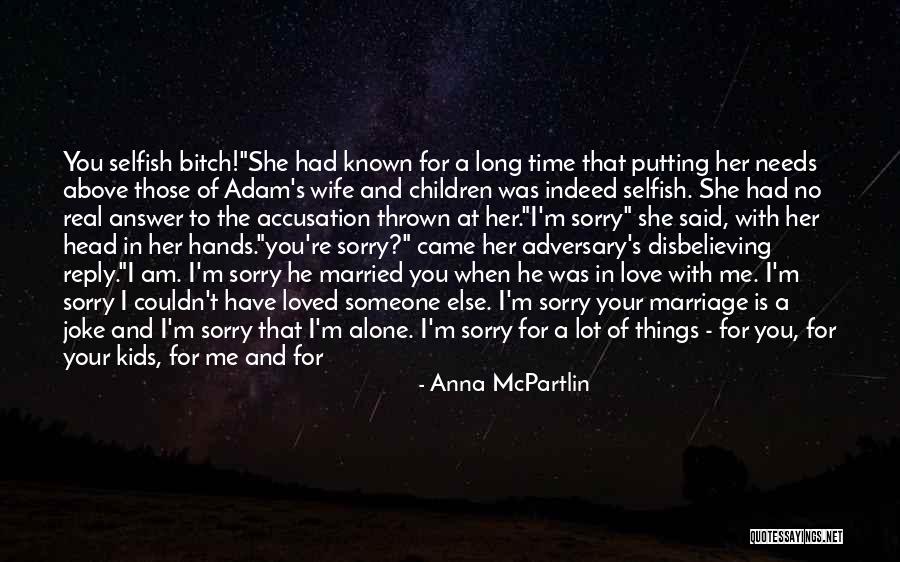 You selfish bitch!"
She had known for a long time that putting her needs above those of Adam's wife and children was indeed selfish. She had no real answer to the accusation thrown at her.
"I'm sorry" she said, with her head in her hands.
"you're sorry?" came her adversary's disbelieving reply.
"I am. I'm sorry he married you when he was in love with me. I'm sorry I couldn't have loved someone else. I'm sorry your marriage is a joke and I'm sorry that I'm alone. I'm sorry for a lot of things - for you, for your kids, for me and for him. I spend most of my time being sorry."
For a moment there was silence at the end of the line.
"all you had to do was stay away"
"if only I could have." tears escaped and raced down her cheeks.
"I hate you! — Anna McPartlin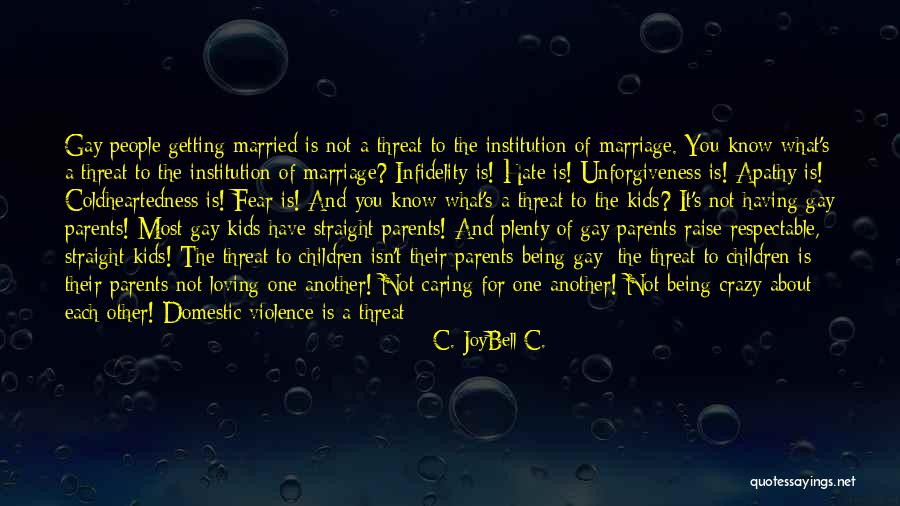 Gay people getting married is not a threat to the institution of marriage. You know what's a threat to the institution of marriage? Infidelity is! Hate is! Unforgiveness is! Apathy is! Coldheartedness is! Fear is! And you know what's a threat to the kids? It's not having gay parents! Most gay kids have straight parents! And plenty of gay parents raise respectable, straight kids! The threat to children isn't their parents being gay; the threat to children is their parents not loving one another! Not caring for one another! Not being crazy about each other! Domestic violence is a threat to children. Stupidity is a threat to children. A swimming pool in the backyard with no supervision is a threat to children! — C. JoyBell C.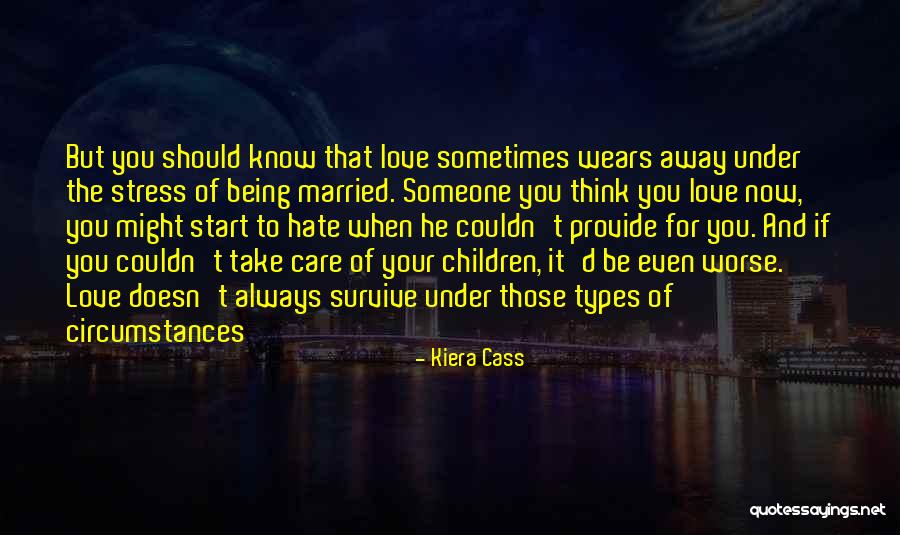 But you should know that love sometimes wears away under the stress of being married. Someone you think you love now, you might start to hate when he couldn't provide for you. And if you couldn't take care of your children, it'd be even worse. Love doesn't always survive under those types of circumstances — Kiera Cass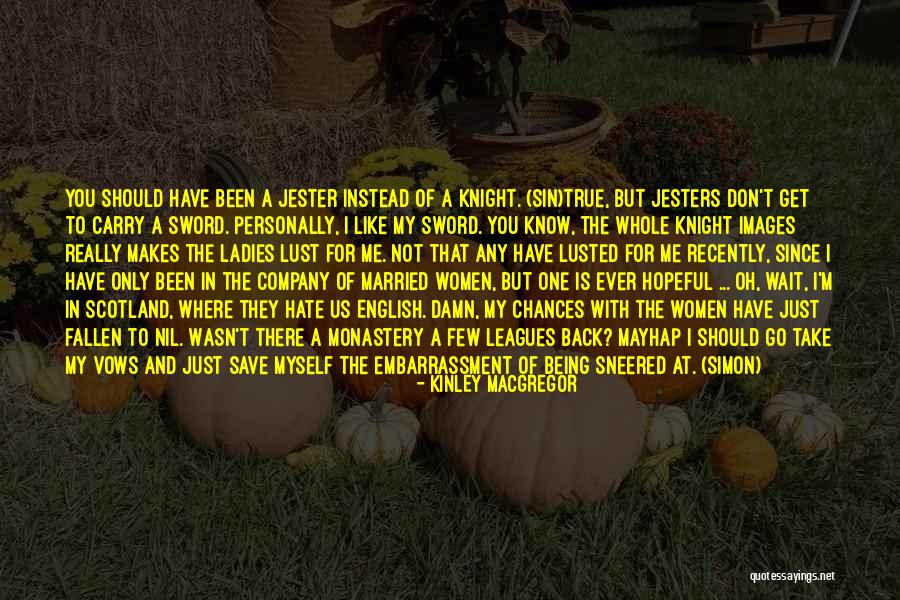 You should have been a jester instead of a knight. (Sin)
True, but jesters don't get to carry a sword. Personally, I like my sword. You know, the whole knight images really makes the ladies lust for me. Not that any have lusted for me recently, since I have only been in the company of married women, but one is ever hopeful ... Oh, wait, I'm in Scotland, where they hate us English. Damn, my chances with the women have just fallen to nil. Wasn't there a monastery a few leagues back? Mayhap I should go take my vows and just save myself the embarrassment of being sneered at. (Simon) — Kinley MacGregor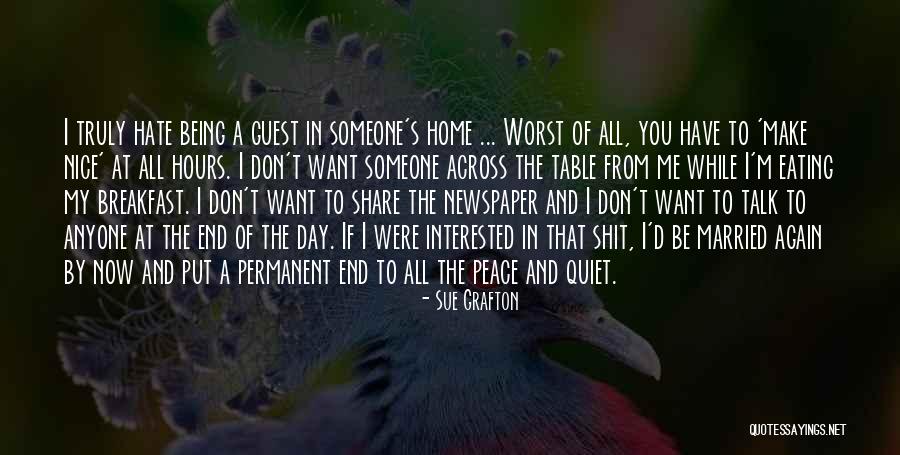 I truly hate being a guest in someone's home ... Worst of all, you have to 'make nice' at all hours. I don't want someone across the table from me while I'm eating my breakfast. I don't want to share the newspaper and I don't want to talk to anyone at the end of the day. If I were interested in that shit, I'd be married again by now and put a permanent end to all the peace and quiet. — Sue Grafton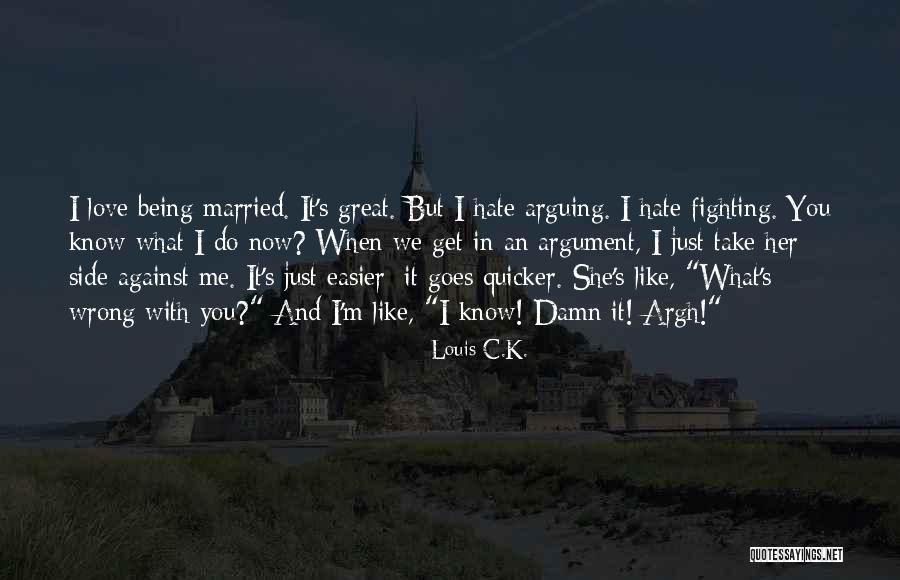 I love being married. It's great. But I hate arguing. I hate fighting. You know what I do now? When we get in an argument, I just take her side against me. It's just easier; it goes quicker. She's like, "What's wrong with you?" And I'm like, "I know! Damn it! Argh!" — Louis C.K.