Hues Of Life Quotes & Sayings
Enjoy reading and share 27 famous quotes about Hues Of Life with everyone.
Top Hues Of Life Quotes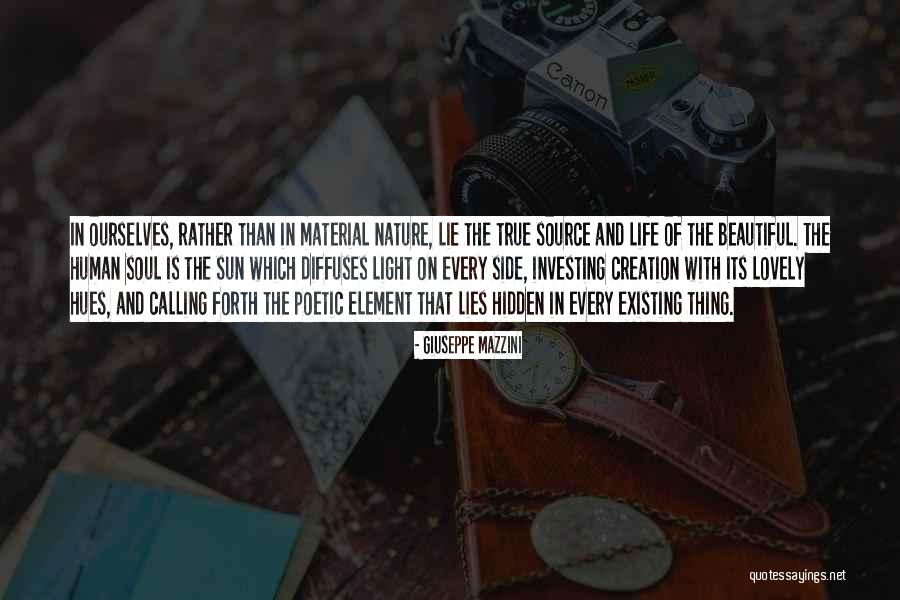 In ourselves, rather than in material nature, lie the true source and life of the beautiful. The human soul is the sun which diffuses light on every side, investing creation with its lovely hues, and calling forth the poetic element that lies hidden in every existing thing. — Giuseppe Mazzini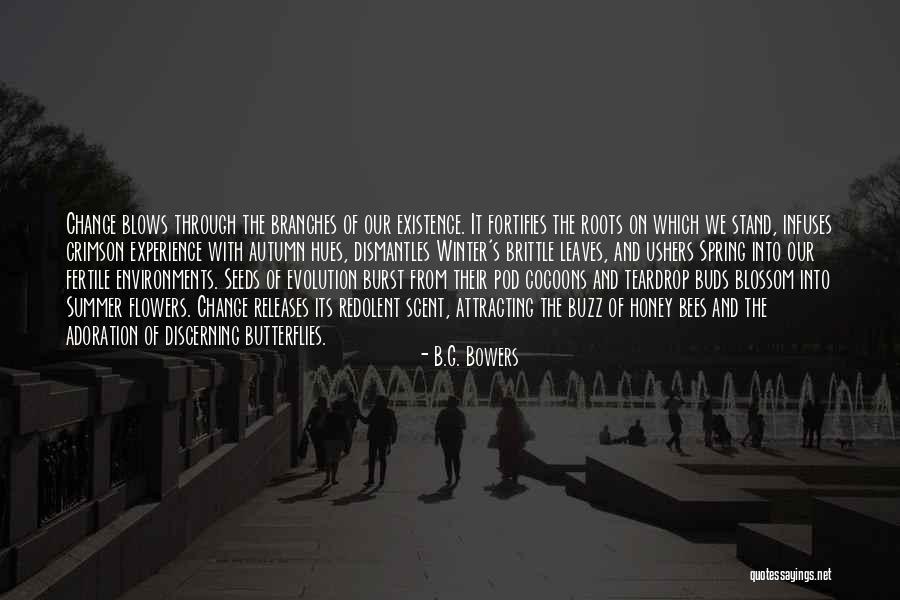 Change blows through the branches of our existence. It fortifies the roots on which we stand, infuses crimson experience with autumn hues, dismantles Winter's brittle leaves, and ushers Spring into our fertile environments. Seeds of evolution burst from their pod cocoons and teardrop buds blossom into Summer flowers. Change releases its redolent scent, attracting the buzz of honey bees and the adoration of discerning butterflies. — B.G. Bowers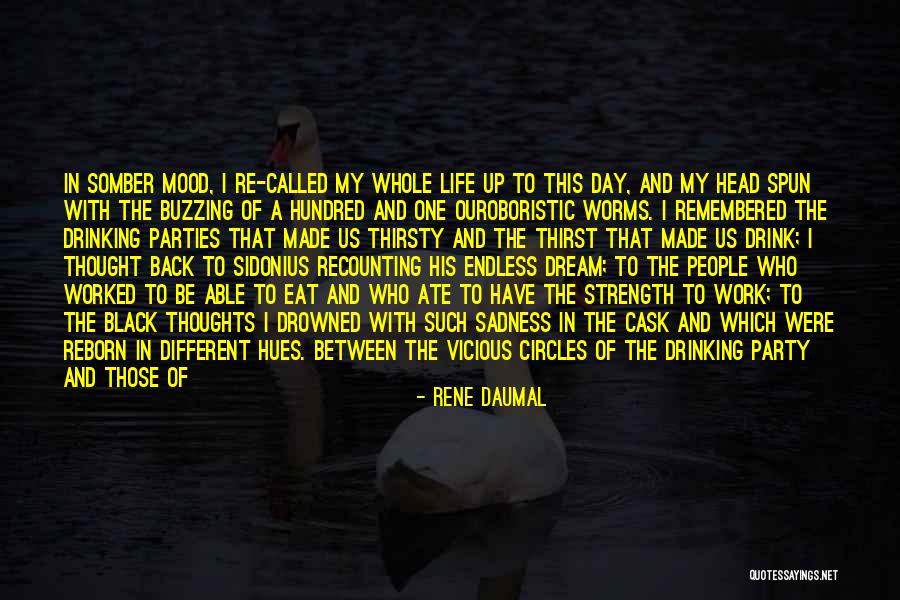 In somber mood, I re-called my whole life up to this day, and my head spun with the buzzing of a hundred and one ouroboristic worms. I remembered the drinking parties that made us thirsty and the thirst that made us drink; I thought back to Sidonius recounting his endless dream; to the people who worked to be able to eat and who ate to have the strength to work; to the black thoughts I drowned with such sadness in the cask and which were reborn in different hues. Between the vicious circles of the drinking party and those of the delusory paradises, I would never again be able to choose, I could no longer be part of their revolutions, I was from that moment no more than a wasteland. — Rene Daumal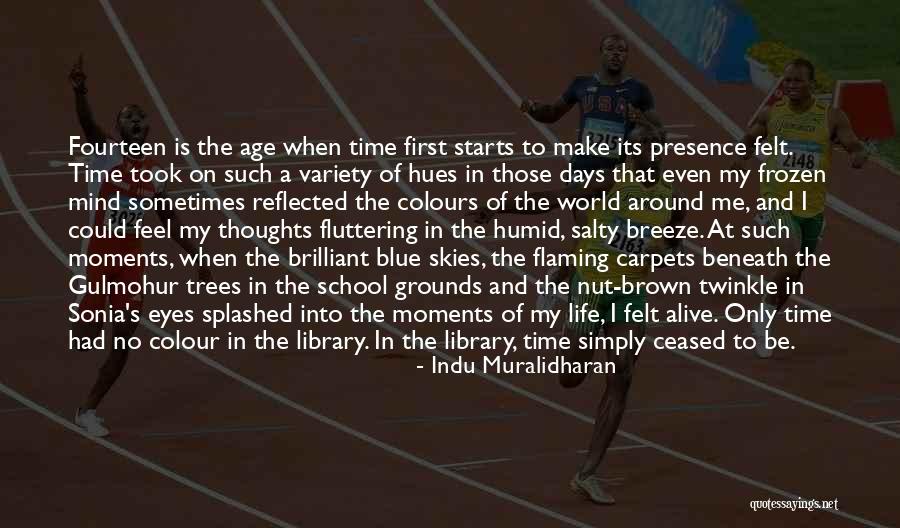 Fourteen is the age when time first starts to make its presence felt. Time took on such a variety of hues in those days that even my frozen mind sometimes reflected the colours of the world around me, and I could feel my thoughts fluttering in the humid, salty breeze. At such moments, when the brilliant blue skies, the flaming carpets beneath the Gulmohur trees in the school grounds and the nut-brown twinkle in Sonia's eyes splashed into the moments of my life, I felt alive. Only time had no colour in the library. In the library, time simply ceased to be. — Indu Muralidharan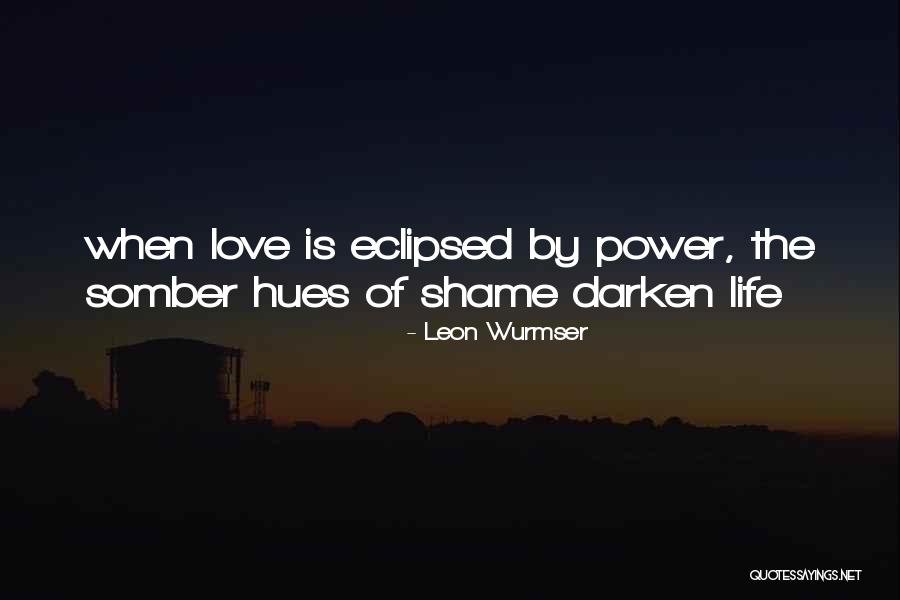 when love is eclipsed by power, the somber hues of shame darken life — Leon Wurmser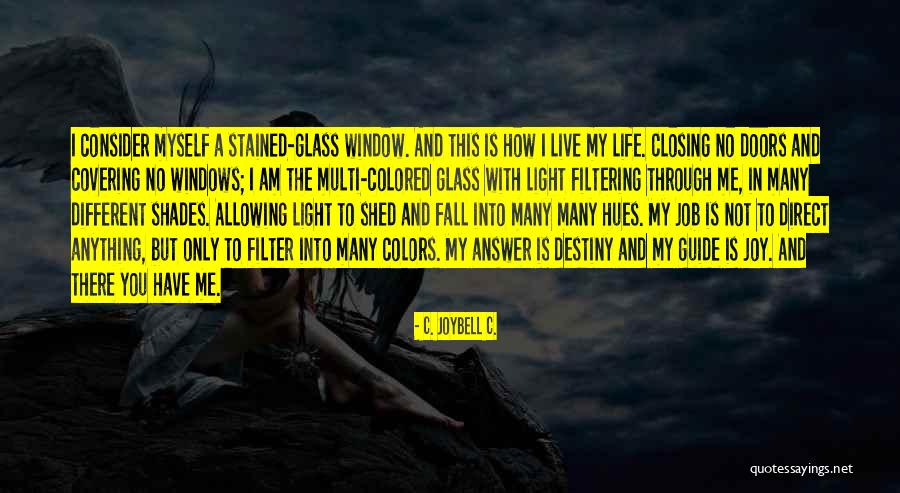 I consider myself a stained-glass window. And this is how I live my life. Closing no doors and covering no windows; I am the multi-colored glass with light filtering through me, in many different shades. Allowing light to shed and fall into many many hues. My job is not to direct anything, but only to filter into many colors. My answer is destiny and my guide is joy. And there you have me. — C. JoyBell C.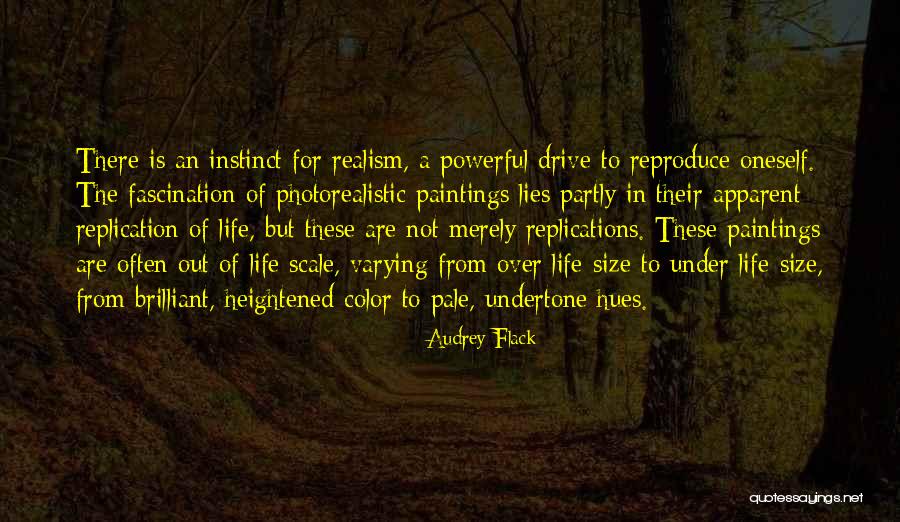 There is an instinct for realism, a powerful drive to reproduce oneself. The fascination of photorealistic paintings lies partly in their apparent replication of life, but these are not merely replications. These paintings are often out of life scale, varying from over life-size to under life-size, from brilliant, heightened color to pale, undertone hues. — Audrey Flack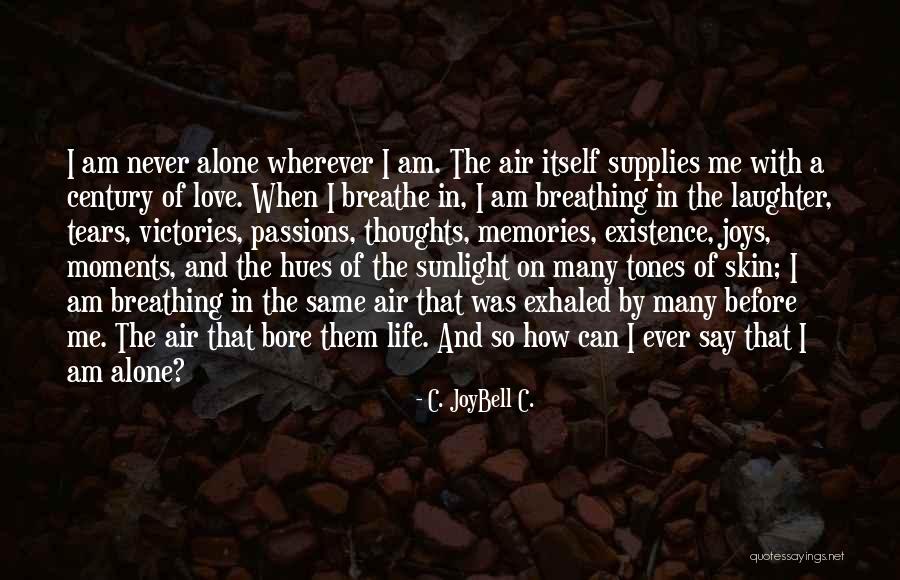 I am never alone wherever I am. The air itself supplies me with a century of love. When I breathe in, I am breathing in the laughter, tears, victories, passions, thoughts, memories, existence, joys, moments, and the hues of the sunlight on many tones of skin; I am breathing in the same air that was exhaled by many before me. The air that bore them life. And so how can I ever say that I am alone? — C. JoyBell C.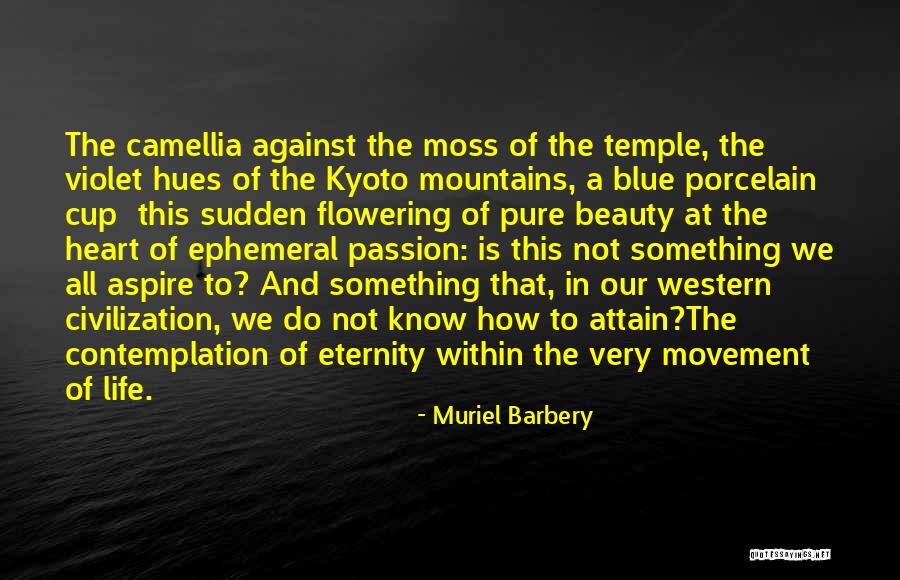 The camellia against the moss of the temple, the violet hues of the Kyoto mountains, a blue porcelain cup
this sudden flowering of pure beauty at the heart of ephemeral passion: is this not something we all aspire to? And something that, in our western civilization, we do not know how to attain?
The contemplation of eternity within the very movement of life. — Muriel Barbery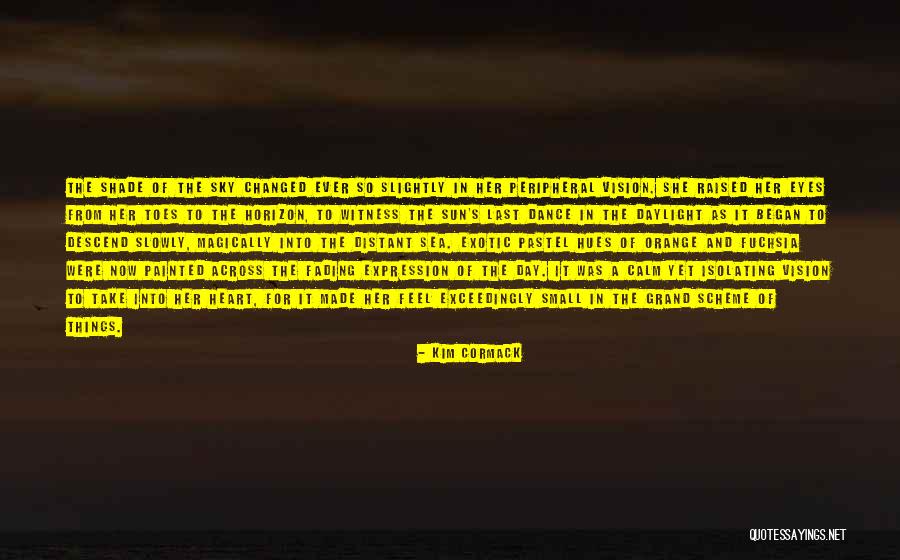 The shade of the sky changed ever so slightly in her peripheral vision. She raised her eyes from her toes to the horizon, to witness the sun's last dance in the daylight as it began to descend slowly, magically into the distant sea. Exotic pastel hues of orange and fuchsia were now painted across the fading expression of the day. It was a calm yet isolating vision to take into her heart, for it made her feel exceedingly small in the grand scheme of things. — Kim Cormack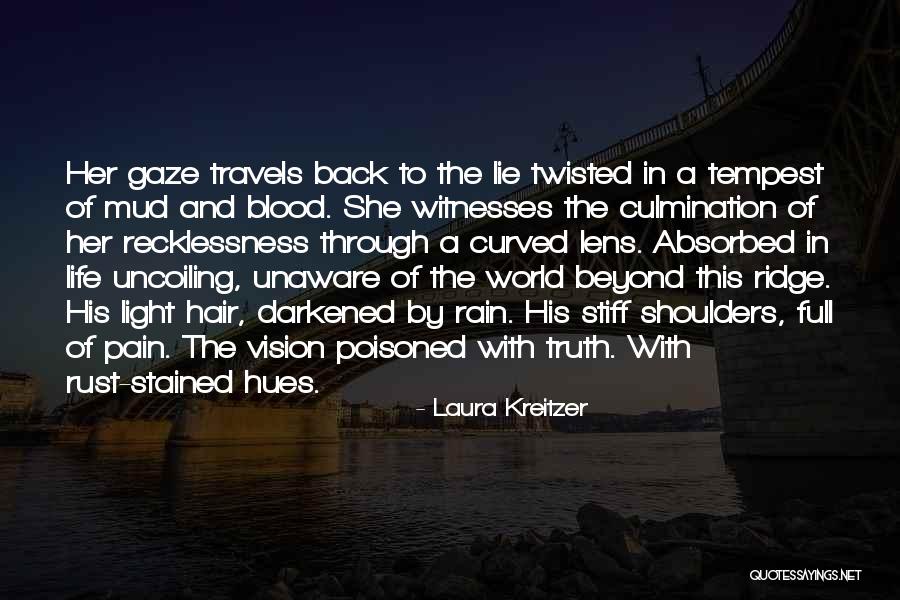 Her gaze travels back to the lie twisted in a tempest of mud and blood. She witnesses the culmination of her recklessness through a curved lens. Absorbed in life uncoiling, unaware of the world beyond this ridge. His light hair, darkened by rain. His stiff shoulders, full of pain. The vision poisoned with truth. With rust-stained hues. — Laura Kreitzer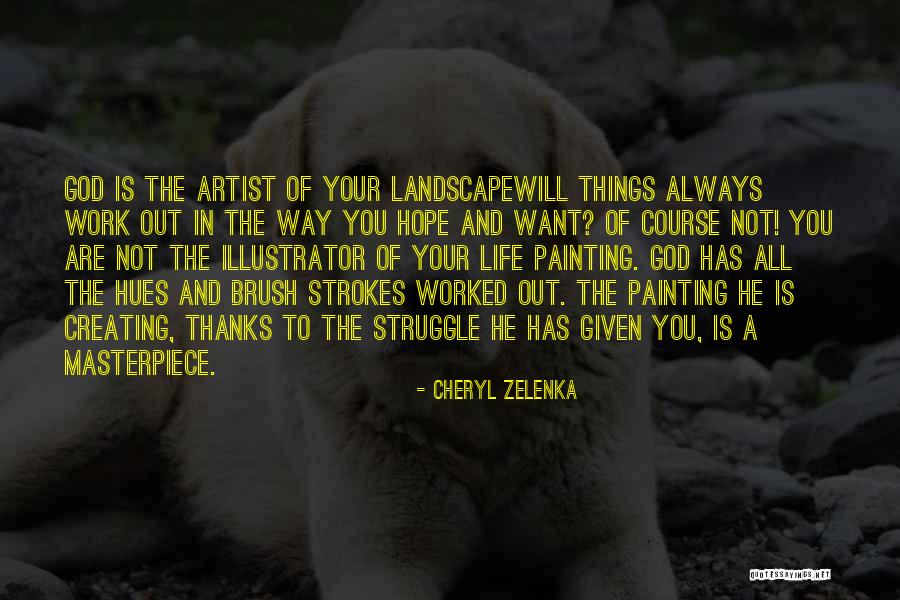 God Is The Artist Of Your Landscape

Will things always work out in the way you hope and want? Of course not! You are not the illustrator of your life painting. God has all the hues and brush strokes worked out. The painting He is creating, thanks to the struggle He has given you, is a masterpiece. — Cheryl Zelenka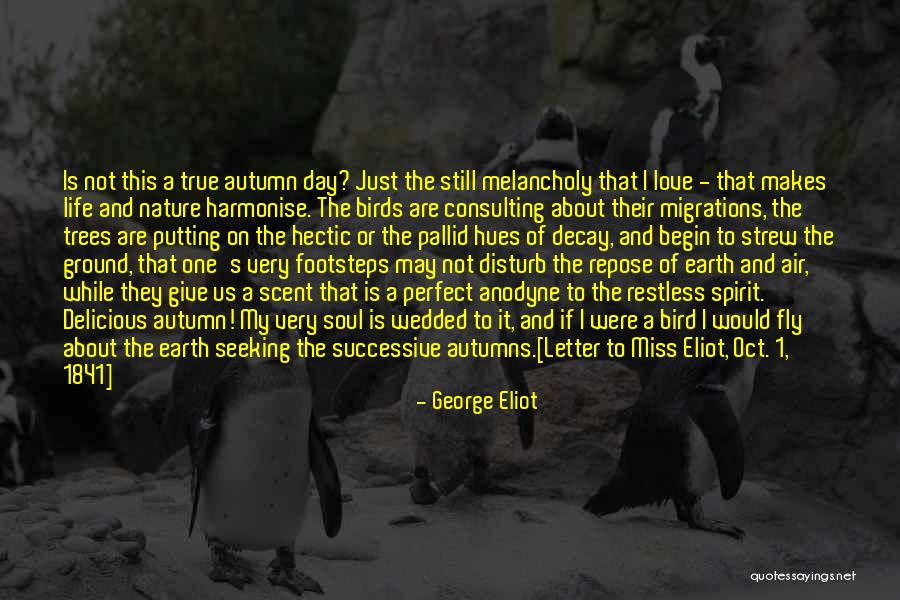 Is not this a true autumn day? Just the still melancholy that I love - that makes life and nature harmonise. The birds are consulting about their migrations, the trees are putting on the hectic or the pallid hues of decay, and begin to strew the ground, that one's very footsteps may not disturb the repose of earth and air, while they give us a scent that is a perfect anodyne to the restless spirit. Delicious autumn! My very soul is wedded to it, and if I were a bird I would fly about the earth seeking the successive autumns.
[Letter to Miss Eliot, Oct. 1, 1841] — George Eliot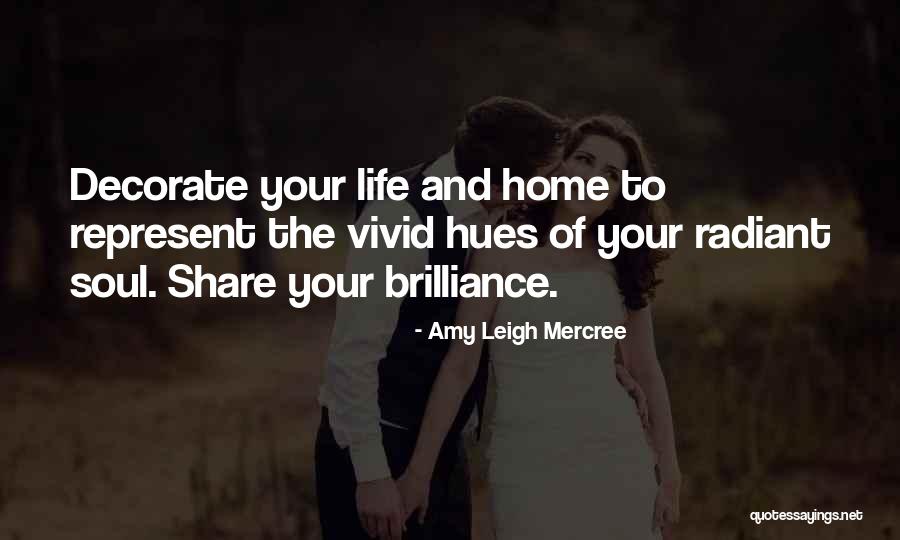 Decorate your life and home to represent the vivid hues of your radiant soul. Share your brilliance. — Amy Leigh Mercree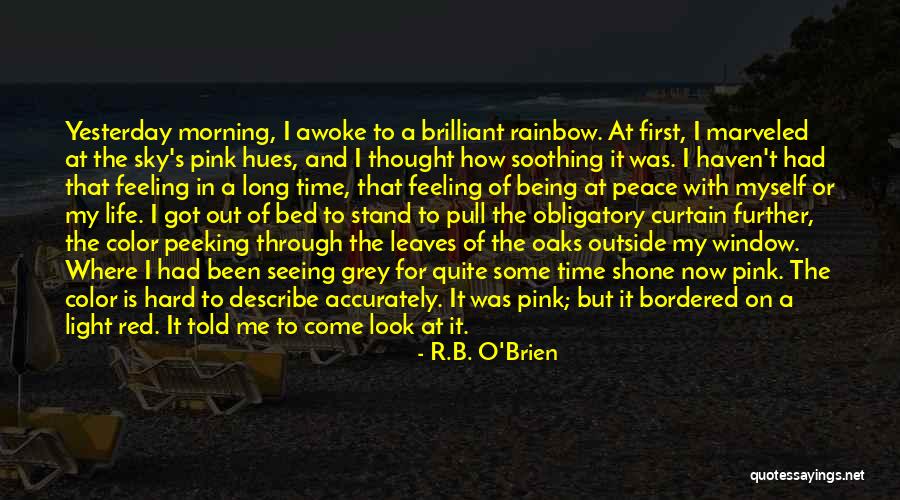 Yesterday morning, I awoke to a brilliant rainbow. At first, I marveled at the sky's pink hues, and I thought how soothing it was. I haven't had that feeling in a long time, that feeling of being at peace with myself or my life. I got out of bed to stand to pull the obligatory curtain further, the color peeking through the leaves of the oaks outside my window. Where I had been seeing grey for quite some time shone now pink. The color is hard to describe accurately. It was pink; but it bordered on a light red. It told me to come look at it. — R.B. O'Brien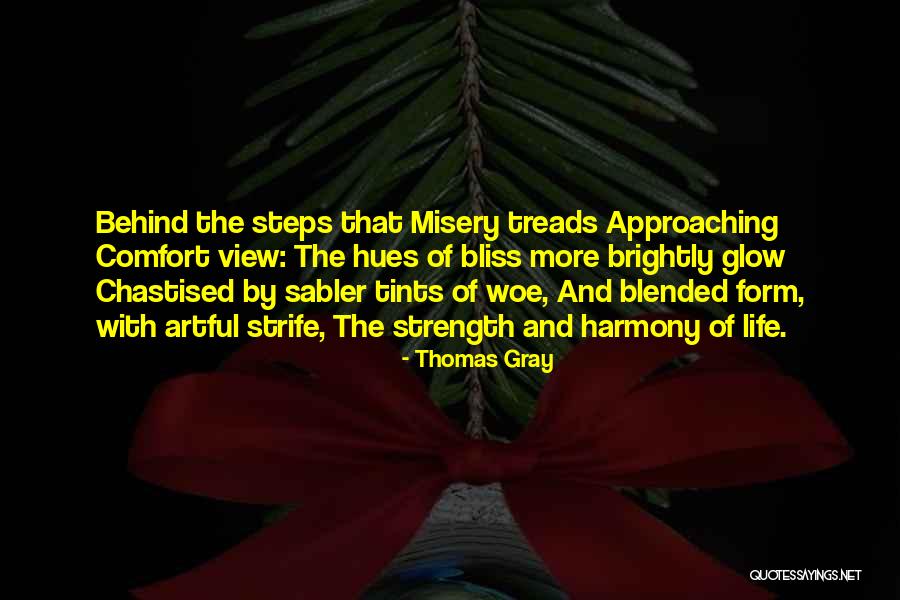 Behind the steps that Misery treads Approaching Comfort view: The hues of bliss more brightly glow Chastised by sabler tints of woe, And blended form, with artful strife, The strength and harmony of life. — Thomas Gray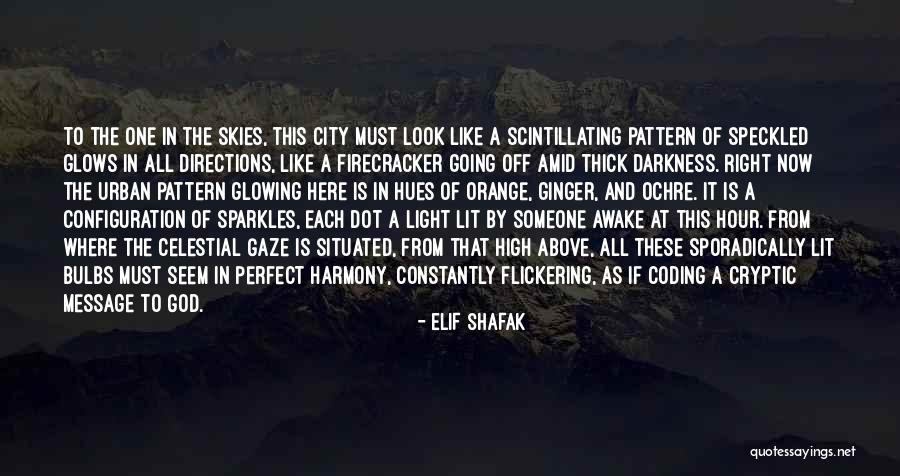 To the one in the skies, this city must look like a scintillating pattern of speckled glows in all directions, like a firecracker going off amid thick darkness. Right now the urban pattern glowing here is in hues of orange, ginger, and ochre. It is a configuration of sparkles, each dot a light lit by someone awake at this hour. From where the Celestial Gaze is situated, from that high above, all these sporadically lit bulbs must seem in perfect harmony, constantly flickering, as if coding a cryptic message to God. — Elif Shafak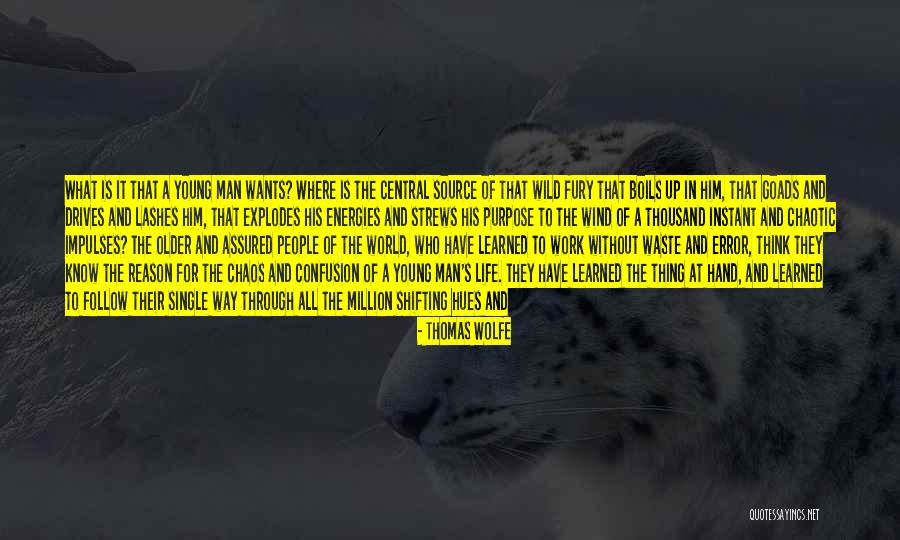 What is it that a young man wants? Where is the central source of that wild fury that boils up in him, that goads and drives and lashes him, that explodes his energies and strews his purpose to the wind of a thousand instant and chaotic impulses? The older and assured people of the world, who have learned to work without waste and error, think they know the reason for the chaos and confusion of a young man's life. They have learned the thing at hand, and learned to follow their single way through all the million shifting hues and tones and cadences of living, to thread neatly with unperturbed heart their single thread through that huge labyrinth of shifting forms and intersecting energies that make up life - and they say, therefore, that the reason for a young man's confusion, lack of purpose, and erratic living is because he has not found himself. — Thomas Wolfe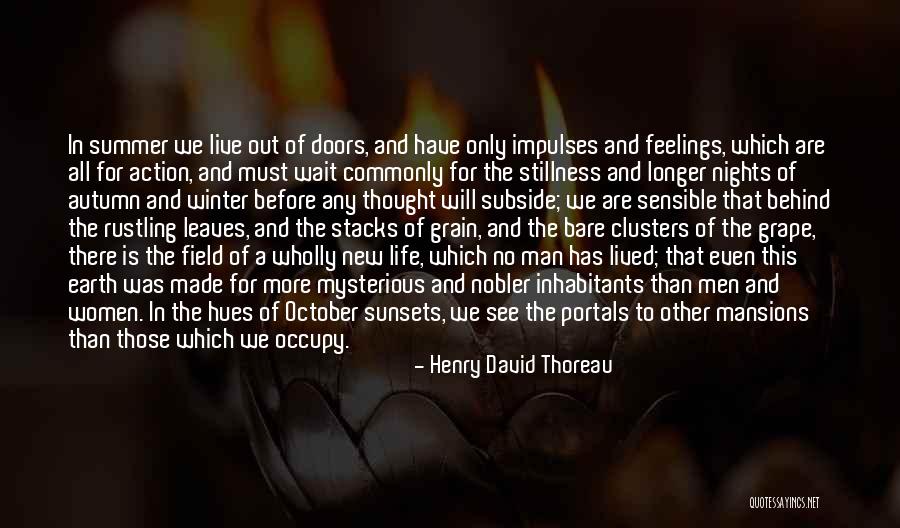 In summer we live out of doors, and have only impulses and feelings, which are all for action, and must wait commonly for the stillness and longer nights of autumn and winter before any thought will subside; we are sensible that behind the rustling leaves, and the stacks of grain, and the bare clusters of the grape, there is the field of a wholly new life, which no man has lived; that even this earth was made for more mysterious and nobler inhabitants than men and women. In the hues of October sunsets, we see the portals to other mansions than those which we occupy. — Henry David Thoreau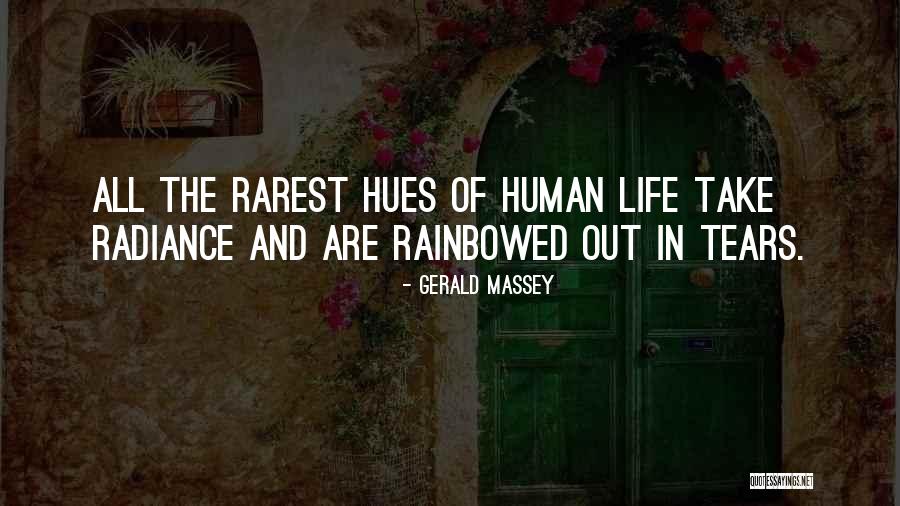 All the rarest hues of human life take radiance and are rainbowed out in tears. — Gerald Massey
Now the moon is high; and the great house, needing habitation more than ever, is like a body without life. Now it is even awful, stealing through it, to think of the live people who have slept in the solitary bedrooms, to say nothing of the dead. Now is the time for shadow, when every corner is a cavern and every downward step a pit, when the stained glass is reflected in pale and faded hues upon the floors, when anything and everything can be made of the heavy staircase beams excepting their own proper shapes, when the armour has dull lights upon it not easily to be distinguished from stealthy movement, and when barred helmets are frightfully suggestive of heads inside. But of all the shadows in Chesney Wold, the shadow in the long drawing-room upon my Lady's picture is the first to come, the last to be disturbed. At this hour and by this light it changes into threatening hands raised up and menacing the handsome face with every breath that stirs. — Charles Dickens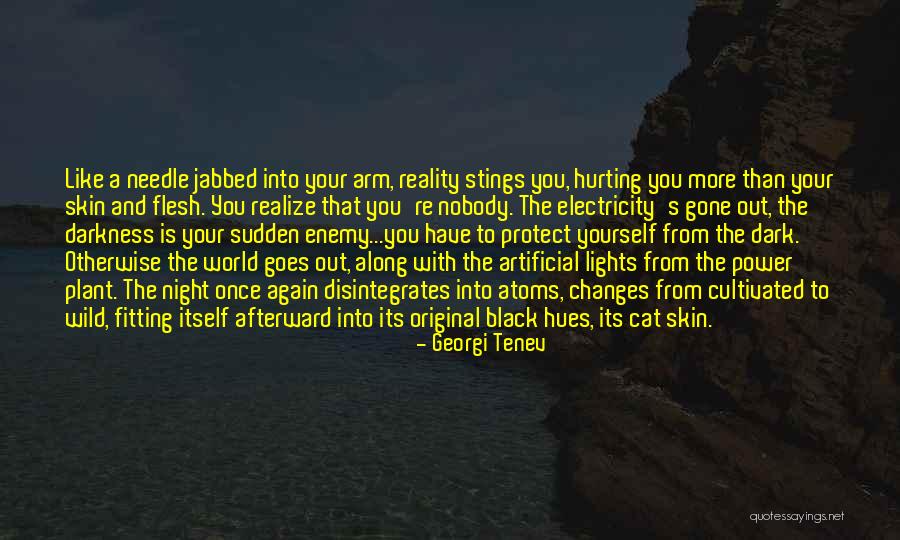 Like a needle jabbed into your arm, reality stings you, hurting you more than your skin and flesh. You realize that you're nobody. The electricity's gone out, the darkness is your sudden enemy...you have to protect yourself from the dark. Otherwise the world goes out, along with the artificial lights from the power plant. The night once again disintegrates into atoms, changes from cultivated to wild, fitting itself afterward into its original black hues, its cat skin. — Georgi Tenev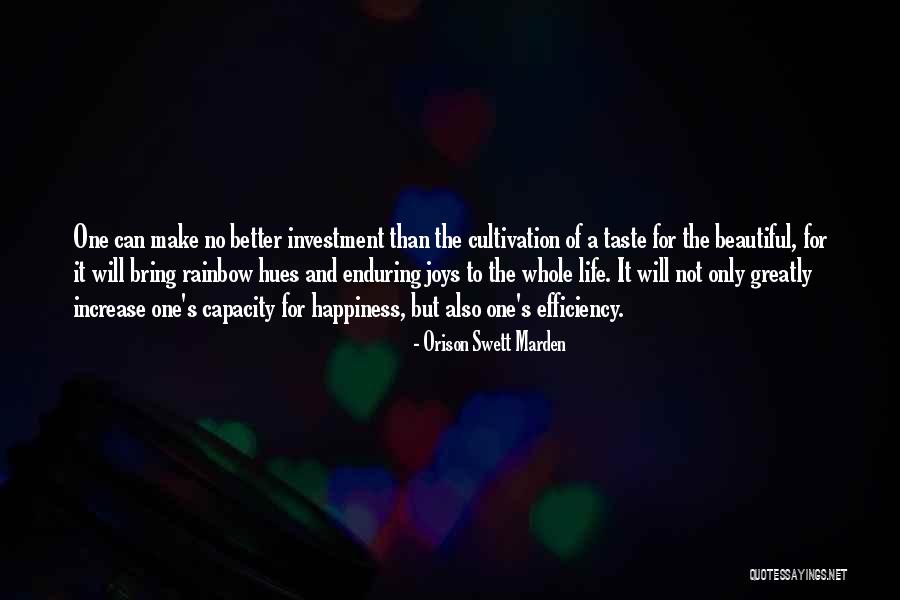 One can make no better investment than the cultivation of a taste for the beautiful, for it will bring rainbow hues and enduring joys to the whole life. It will not only greatly increase one's capacity for happiness, but also one's efficiency. — Orison Swett Marden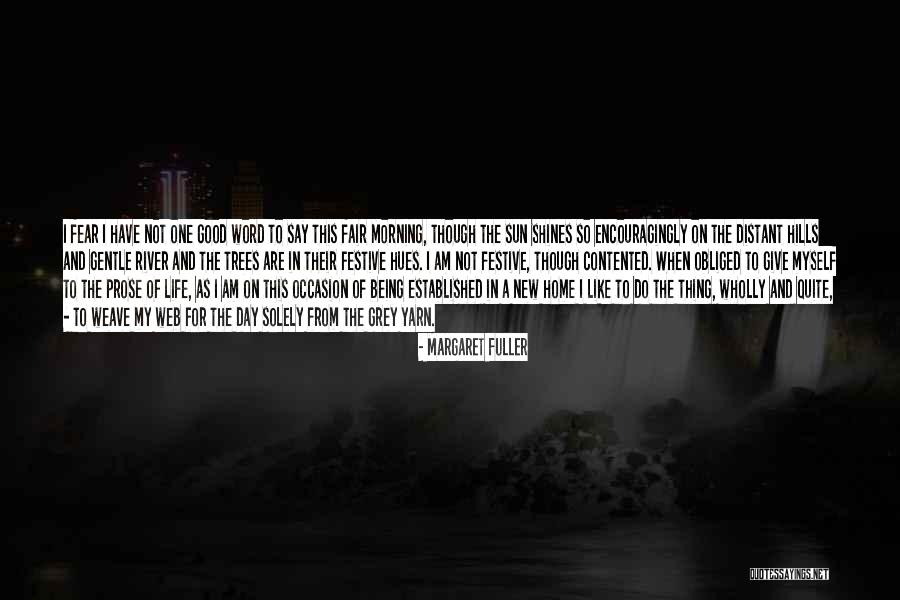 I fear I have not one good word to say this fair morning, though the sun shines so encouragingly on the distant hills and gentle river and the trees are in their festive hues. I am not festive, though contented. When obliged to give myself to the prose of life, as I am on this occasion of being established in a new home I like to do the thing, wholly and quite, - to weave my web for the day solely from the grey yarn. — Margaret Fuller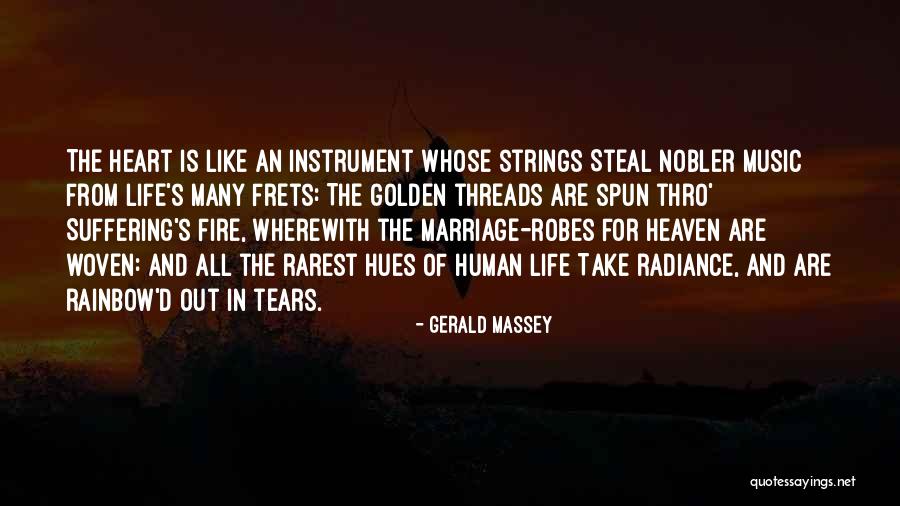 The heart is like an instrument whose strings Steal nobler music from Life's many frets: The golden threads are spun thro' Suffering's fire, Wherewith the marriage-robes for heaven are woven: And all the rarest hues of human life Take radiance, and are rainbow'd out in tears. — Gerald Massey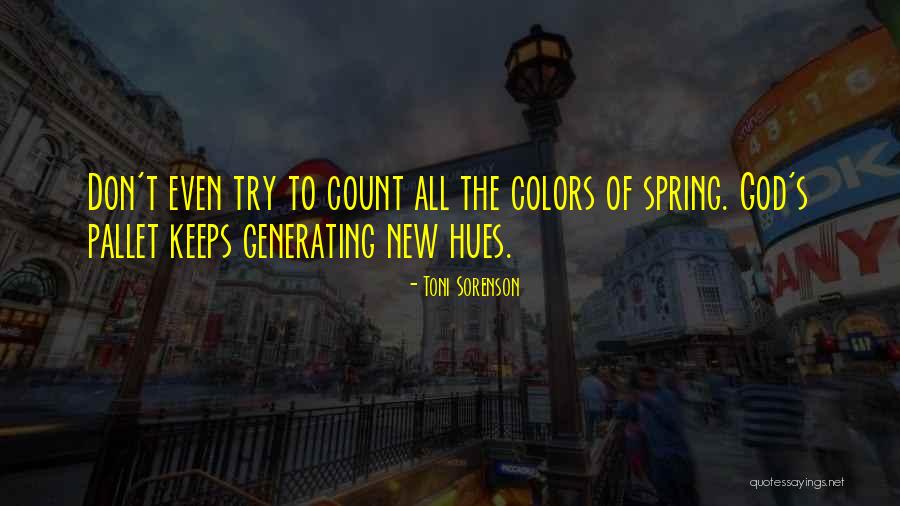 Don't even try to count all the colors of spring. God's pallet keeps generating new hues. — Toni Sorenson
And now I know that you're the one
I've waited my whole life for
You're budding leaves turning green in spring
You're the fresh breath of air that summer brings
You're the autumn sky painted in rainbow hues
You're the wintry ocean dancing in shimmering blues
You're the air I breahte
You're the water I drink
You're the fire inside me
The earth under my feet
You're the one — Kendall Grey