Quotes & Sayings About Having No Good Friends
Enjoy reading and share 54 famous quotes about Having No Good Friends with everyone.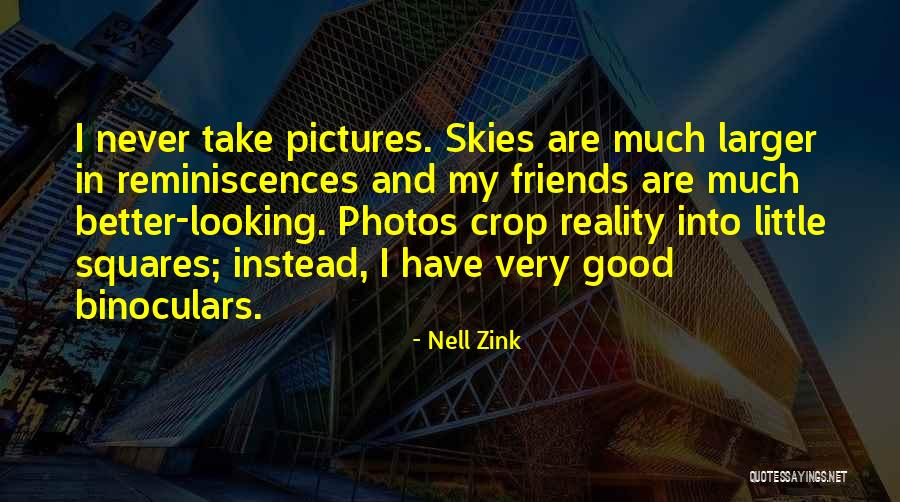 I never take pictures. Skies are much larger in reminiscences and my friends are much better-looking. Photos crop reality into little squares; instead, I have very good binoculars. — Nell Zink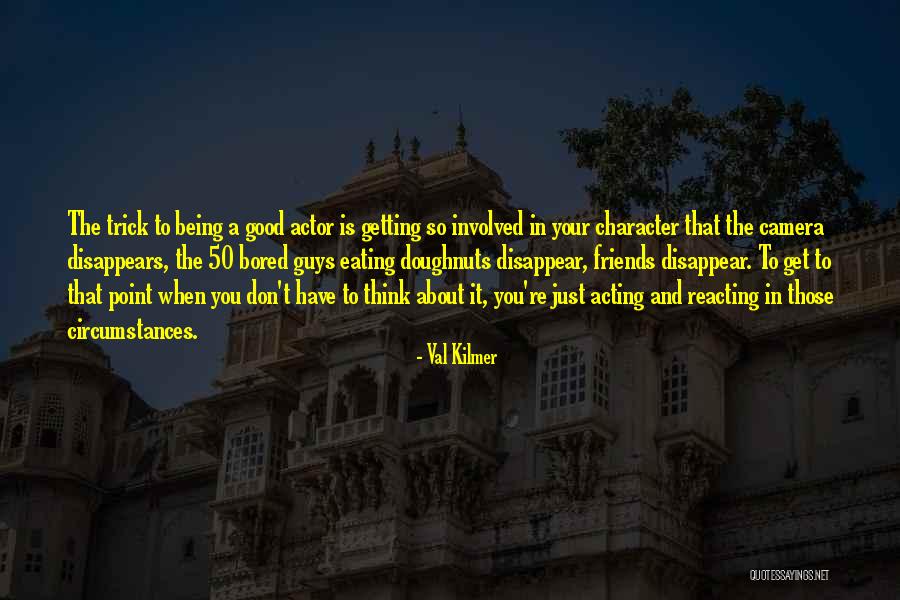 The trick to being a good actor is getting so involved in your character that the camera disappears, the 50 bored guys eating doughnuts disappear, friends disappear. To get to that point when you don't have to think about it, you're just acting and reacting in those circumstances. — Val Kilmer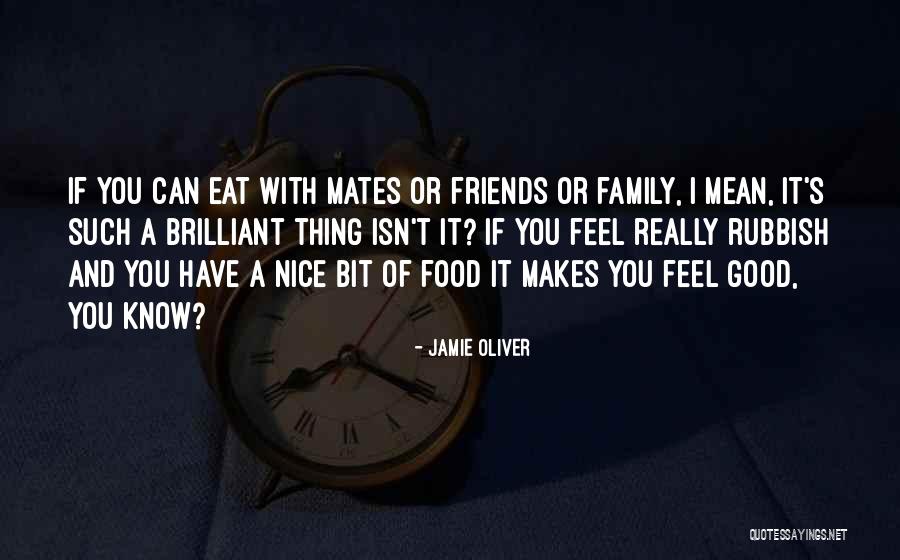 If you can eat with mates or friends or family, I mean, it's such a brilliant thing isn't it? If you feel really rubbish and you have a nice bit of food it makes you feel good, you know?
— Jamie Oliver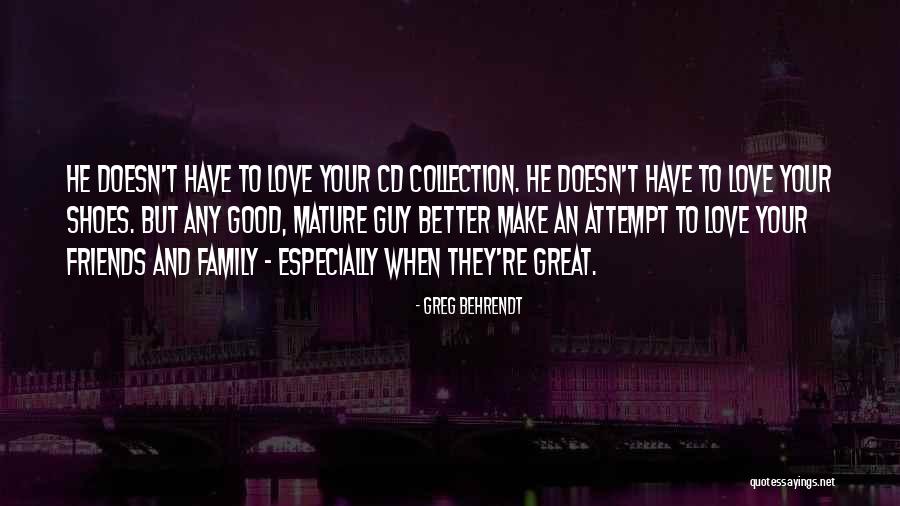 He doesn't have to love your CD collection. He doesn't have to love your shoes. But any good, mature guy better make an attempt to love your friends and family - especially when they're great. — Greg Behrendt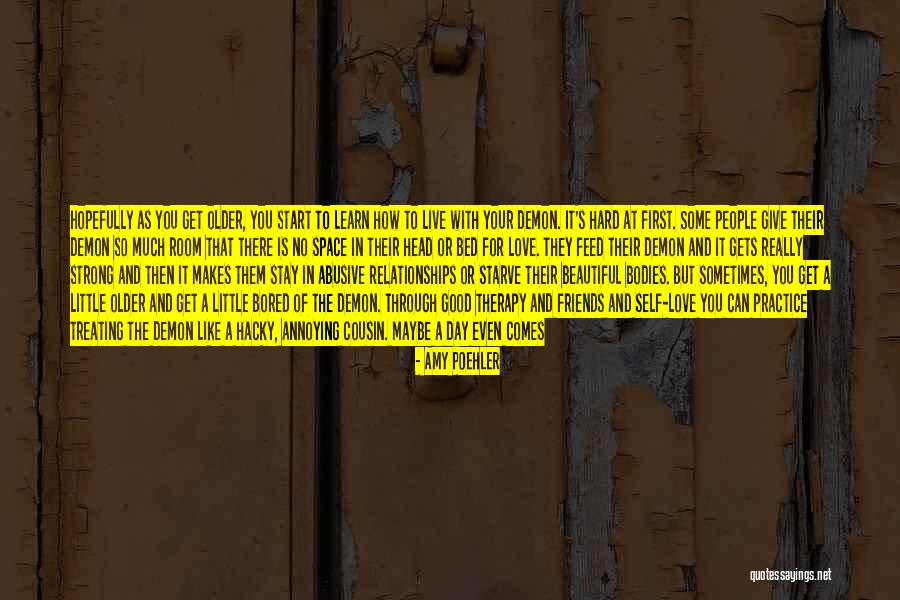 Hopefully as you get older, you start to learn how to live with your demon. It's hard at first. Some people give their demon so much room that there is no space in their head or bed for love. They feed their demon and it gets really strong and then it makes them stay in abusive relationships or starve their beautiful bodies. But sometimes, you get a little older and get a little bored of the demon. Through good therapy and friends and self-love you can practice treating the demon like a hacky, annoying cousin. Maybe a day even comes when you are getting dressed for a fancy event and it whispers, "You aren't pretty," and you go, "I know, I know, now let me find my earrings." Sometimes you say, "Demon, I promise you I will let you remind me of my ugliness, but right now I am having hot sex so I will check in later. — Amy Poehler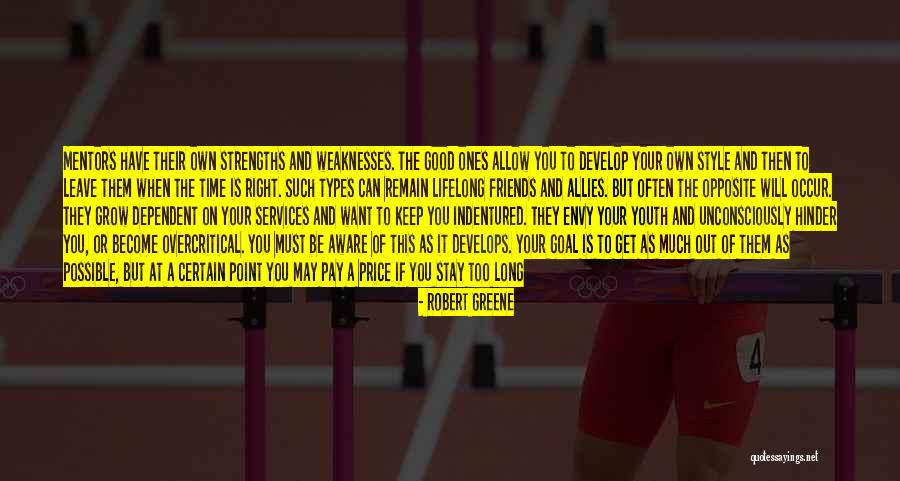 Mentors have their own strengths and weaknesses. The good ones allow you to develop your own style and then to leave them when the time is right. Such types can remain lifelong friends and allies. But often the opposite will occur. They grow dependent on your services and want to keep you indentured. They envy your youth and unconsciously hinder you, or become overcritical. You must be aware of this as it develops. Your goal is to get as much out of them as possible, but at a certain point you may pay a price if you stay too long and let them subvert your confidence. Your submitting to their authority is by no means unconditional, and in fact your goal all along is eventually to find your way to independence, having internalized and adapted their wisdom. — Robert Greene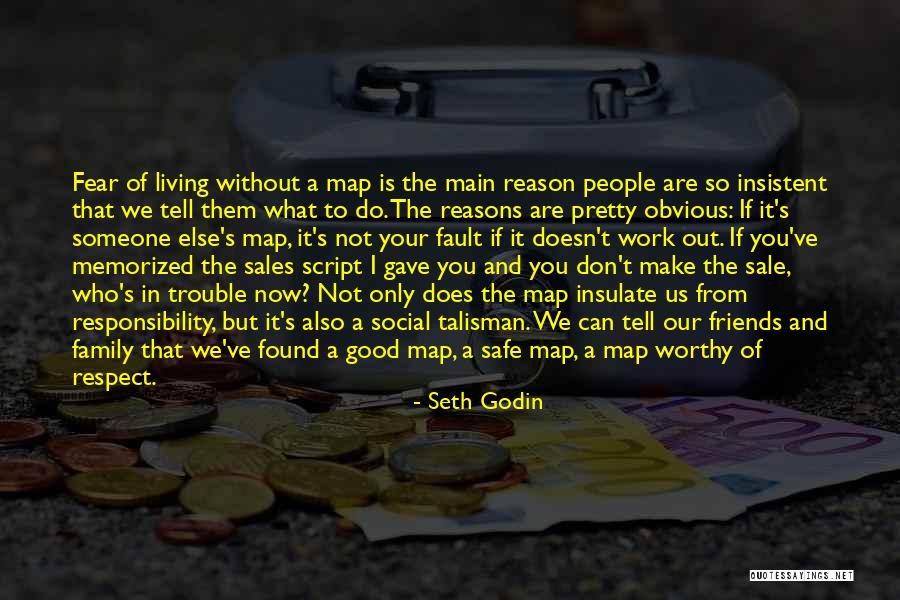 Fear of living without a map is the main reason people are so insistent that we tell them what to do. The reasons are pretty obvious: If it's someone else's map, it's not your fault if it doesn't work out. If you've memorized the sales script I gave you and you don't make the sale, who's in trouble now? Not only does the map insulate us from responsibility, but it's also a social talisman. We can tell our friends and family that we've found a good map, a safe map, a map worthy of respect. — Seth Godin
I'm not good at having friends. I mean, I can make myself useful to people. I can fit in. I get invited to parties and I can sit at any table I want in the cafeteria.
But actually trusting someone when they have nothing to gain from me just doesn't make sense.
All friendships are negotiations of power. — Holly Black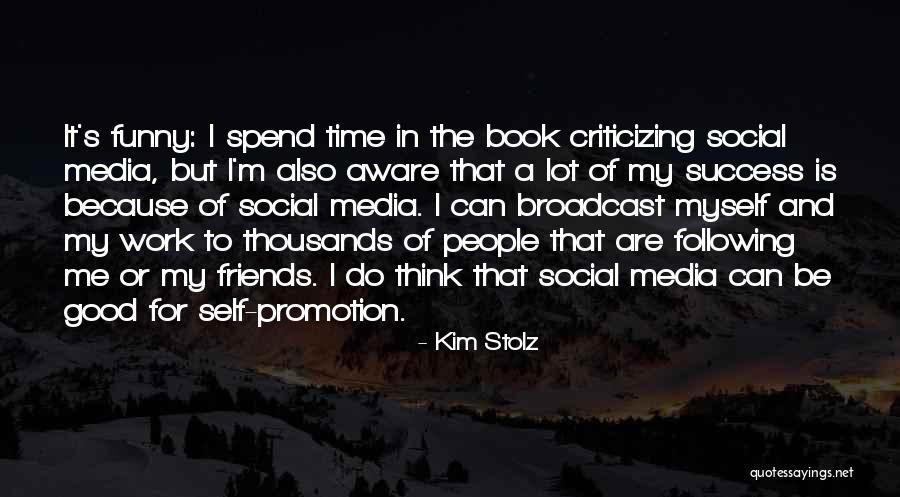 It's funny: I spend time in the book criticizing social media, but I'm also aware that a lot of my success is because of social media. I can broadcast myself and my work to thousands of people that are following me or my friends. I do think that social media can be good for self-promotion. — Kim Stolz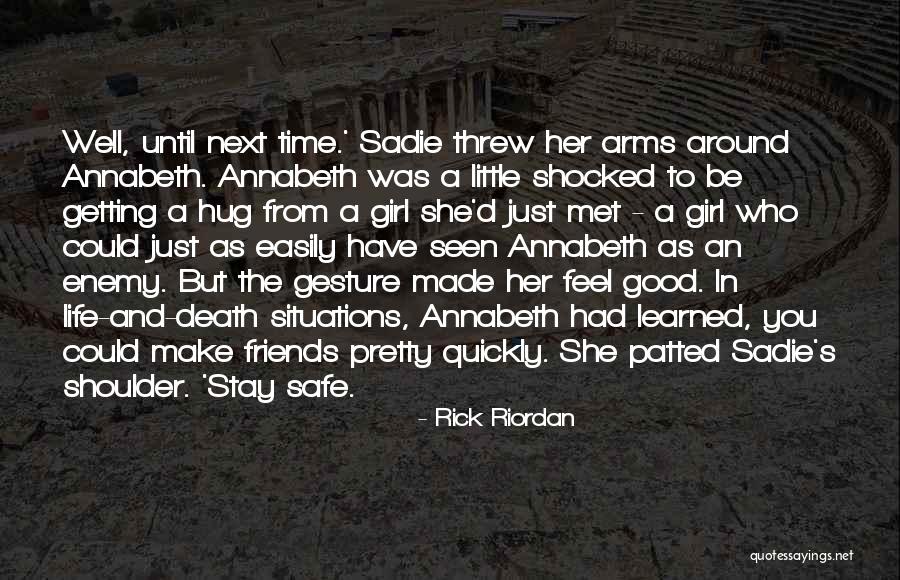 Well, until next time.' Sadie threw her arms around Annabeth. Annabeth was a little shocked to be getting a hug from a girl she'd just met - a girl who could just as easily have seen Annabeth as an enemy. But the gesture made her feel good. In life-and-death situations, Annabeth had learned, you could make friends pretty quickly. She patted Sadie's shoulder. 'Stay safe. — Rick Riordan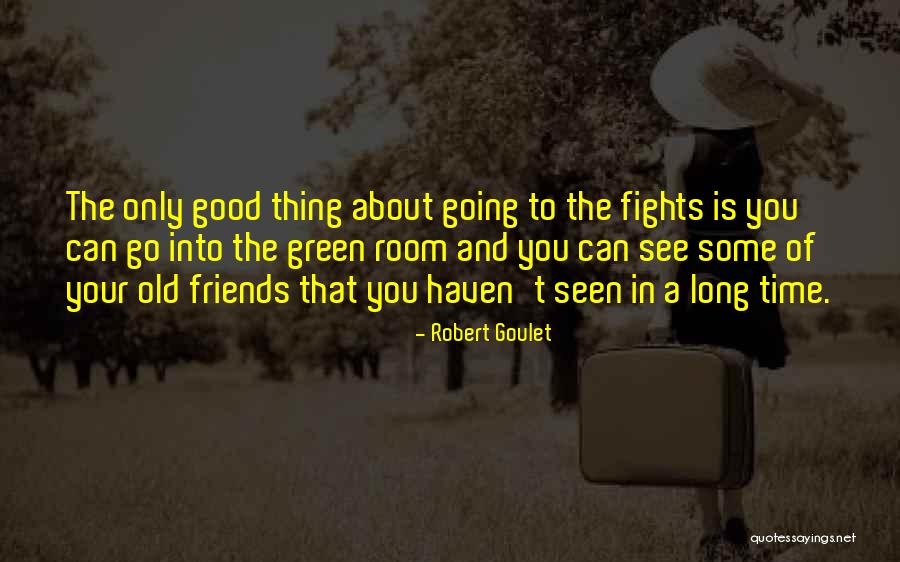 The only good thing about going to the fights is you can go into the green room and you can see some of your old friends that you haven't seen in a long time. — Robert Goulet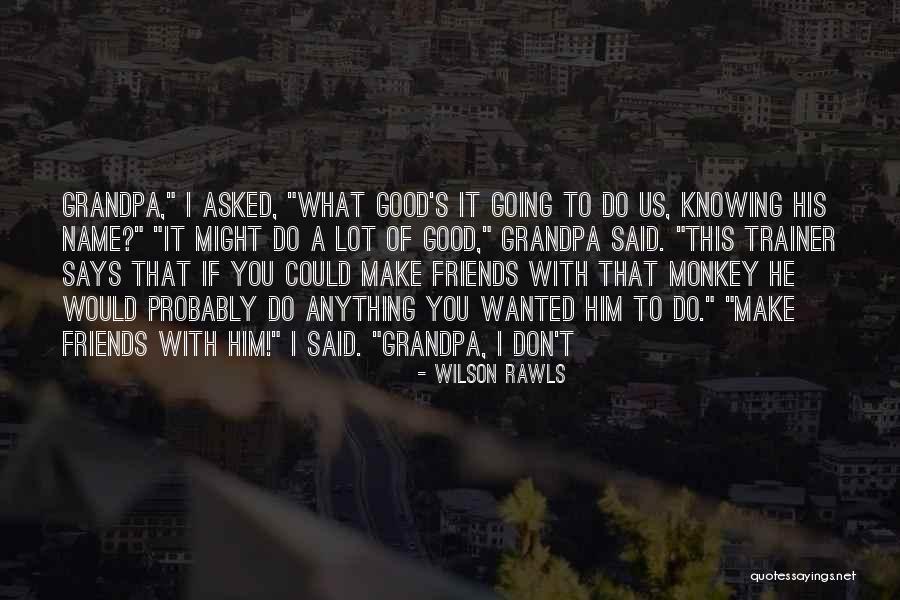 Grandpa," I asked, "what good's it going to do us, knowing his name?" "It might do a lot of good," Grandpa said. "This trainer says that if you could make friends with that monkey he would probably do anything you wanted him to do." "Make friends with him!" I said. "Grandpa, I don't — Wilson Rawls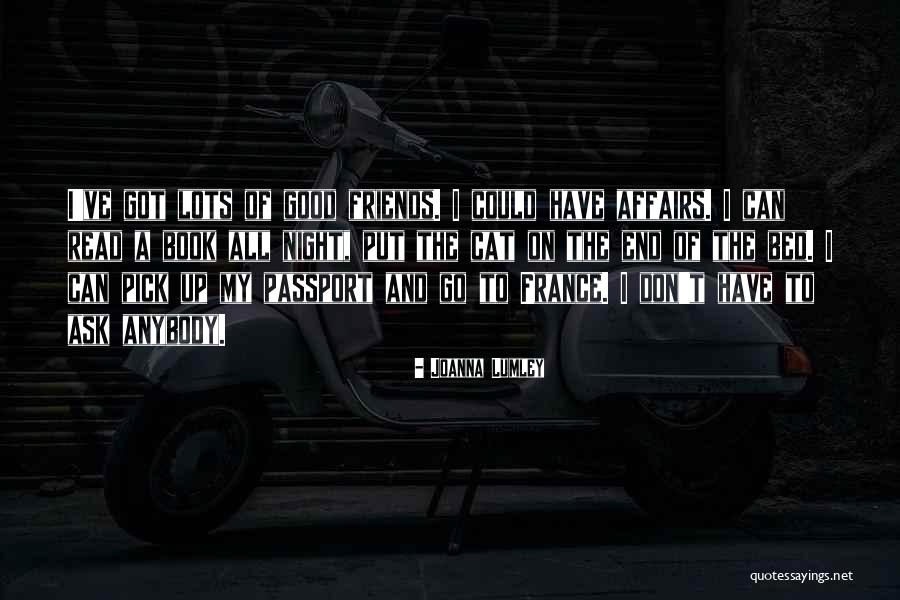 I've got lots of good friends. I could have affairs. I can read a book all night, put the cat on the end of the bed. I can pick up my passport and go to France. I don't have to ask anybody. — Joanna Lumley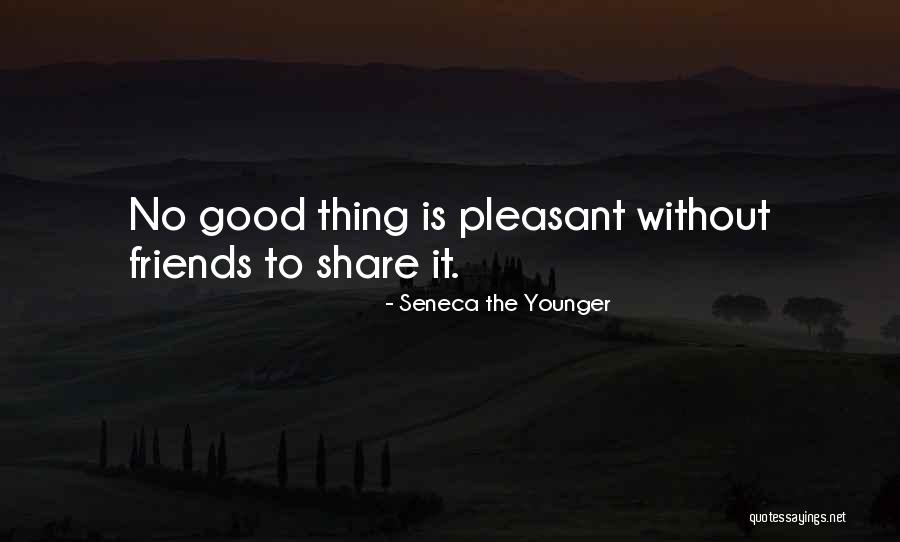 No good thing is pleasant without friends to share it. — Seneca The Younger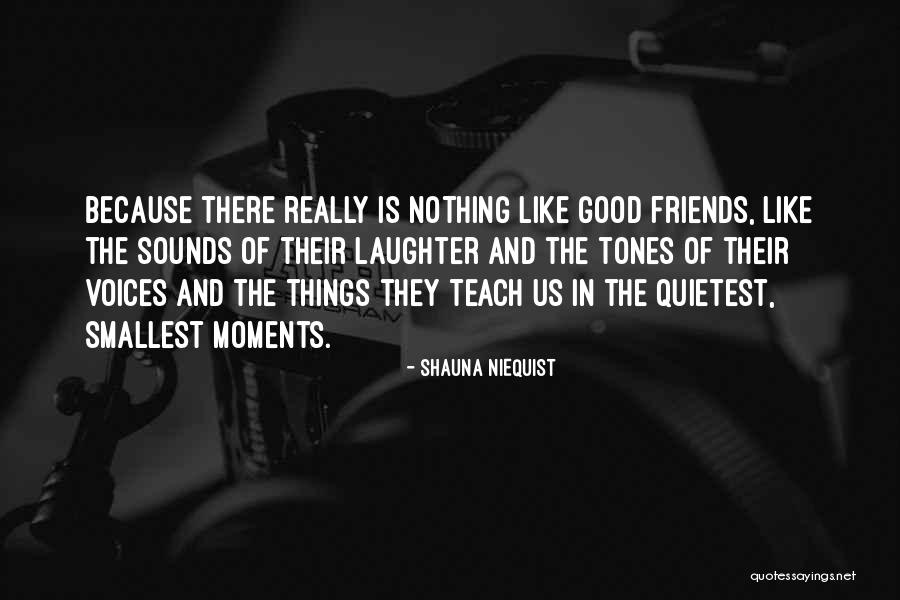 Because there really is nothing like good friends, like the sounds of their laughter and the tones of their voices and the things they teach us in the quietest, smallest moments. — Shauna Niequist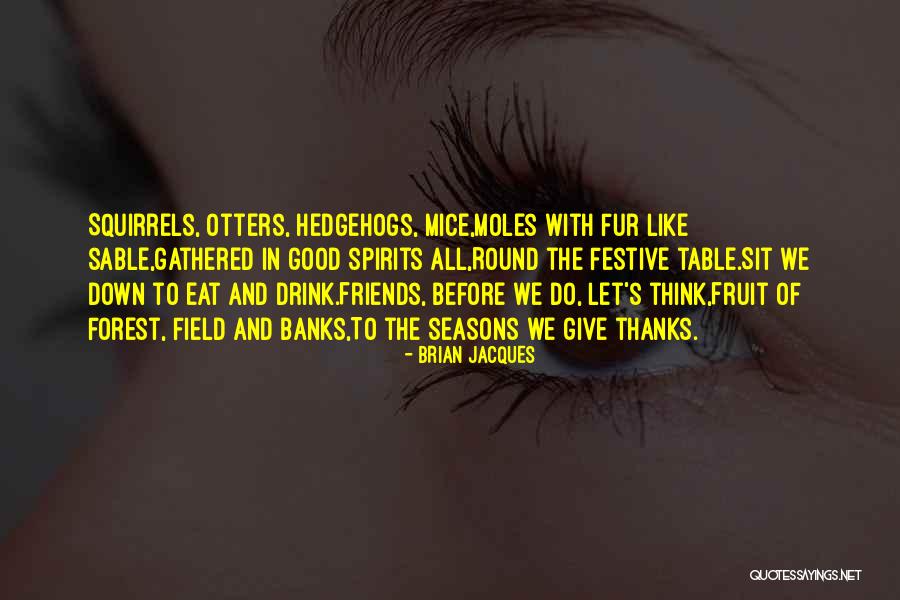 Squirrels, otters, hedgehogs, mice,
Moles with fur like sable,
Gathered in good spirits all,
Round the festive table.
Sit we down to eat and drink.
Friends, before we do, let's think,
Fruit of forest, field and banks,
To the seasons we give thanks. — Brian Jacques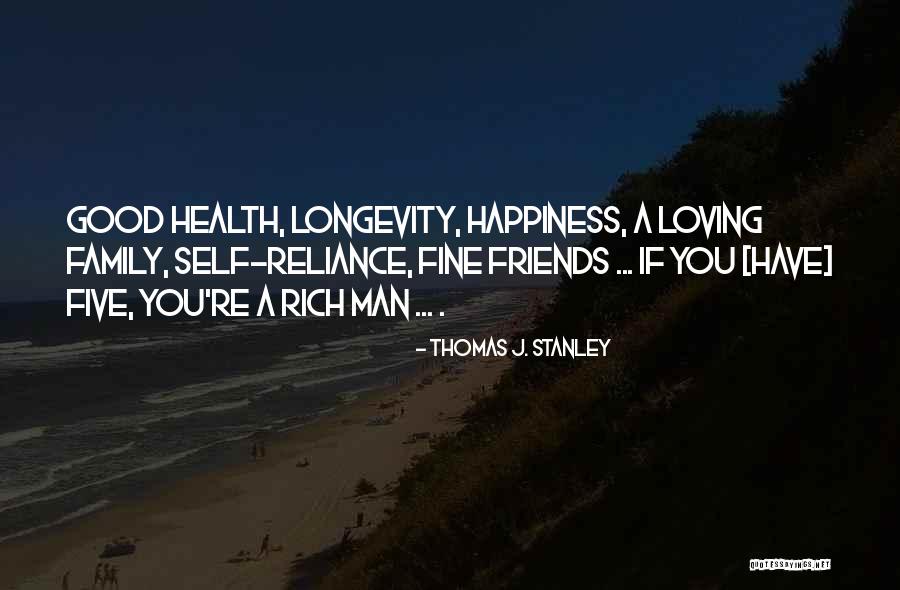 Good health, longevity, happiness, a loving family, self-reliance, fine friends ... if you [have] five, you're a rich man ... . — Thomas J. Stanley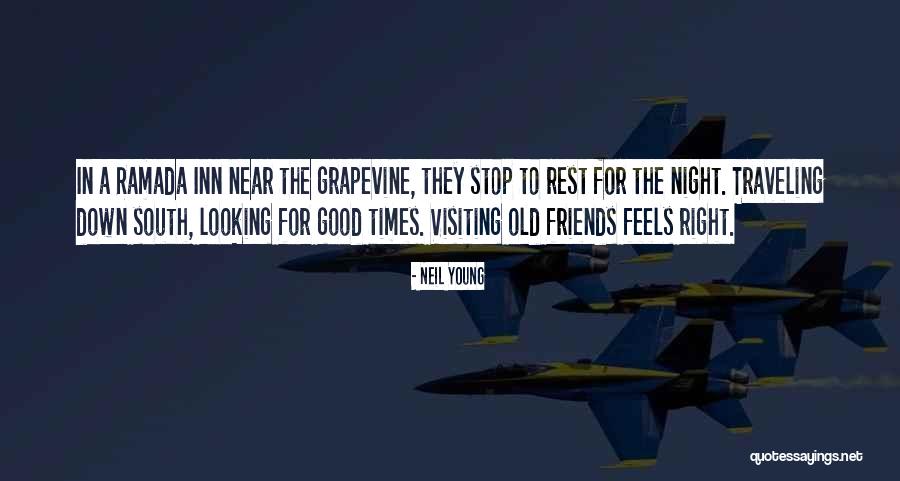 In a Ramada Inn near the grapevine, they stop to rest for the night. Traveling down south, looking for good times. Visiting old friends feels right. — Neil Young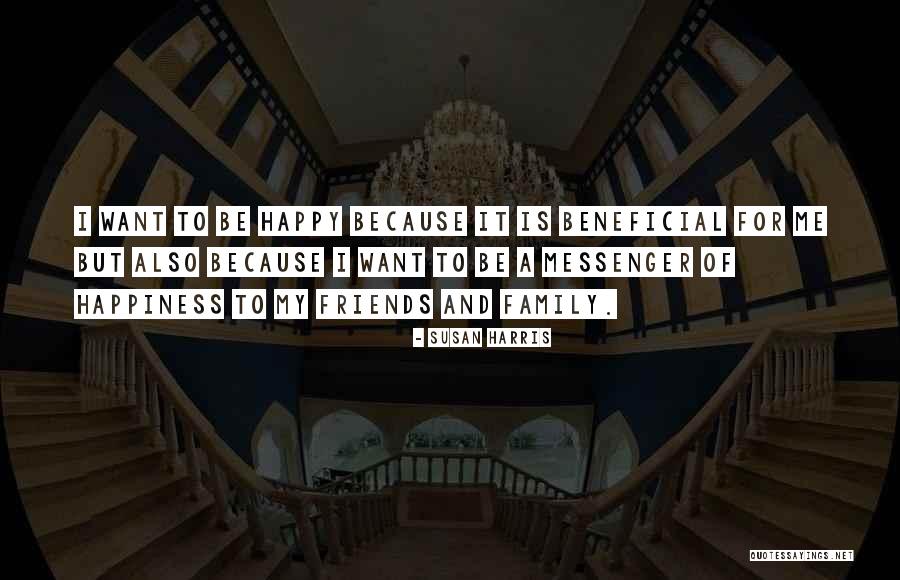 I want to be happy because it is beneficial for me but also because I want to be a messenger of happiness to my friends and family. — Susan Harris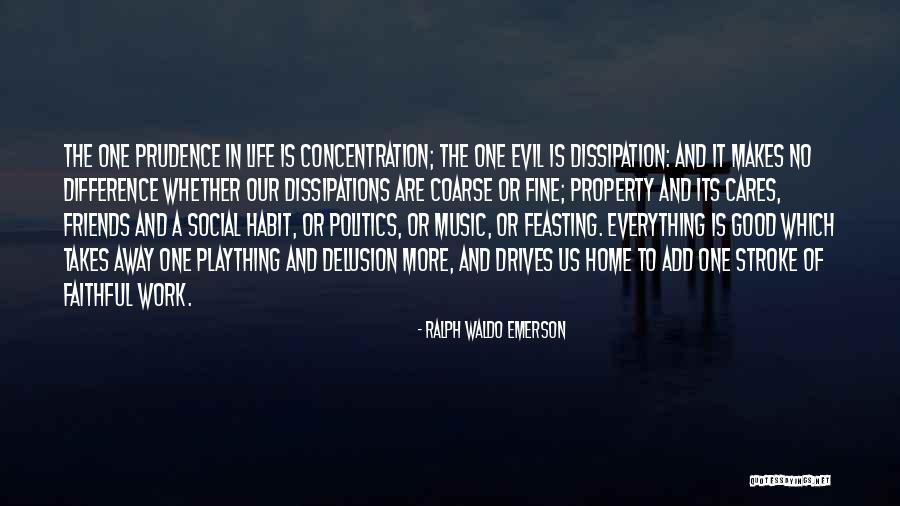 The one prudence in life is concentration; the one evil is dissipation: and it makes no difference whether our dissipations are coarse or fine; property and its cares, friends and a social habit, or politics, or music, or feasting. Everything is good which takes away one plaything and delusion more, and drives us home to add one stroke of faithful work. — Ralph Waldo Emerson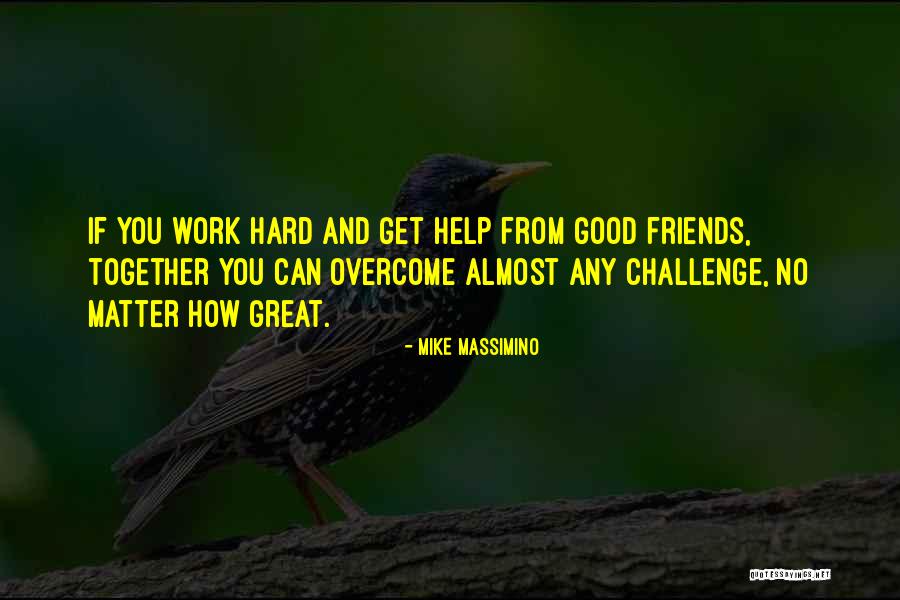 If you work hard and get help from good friends, together you can overcome almost any challenge, no matter how great. — Mike Massimino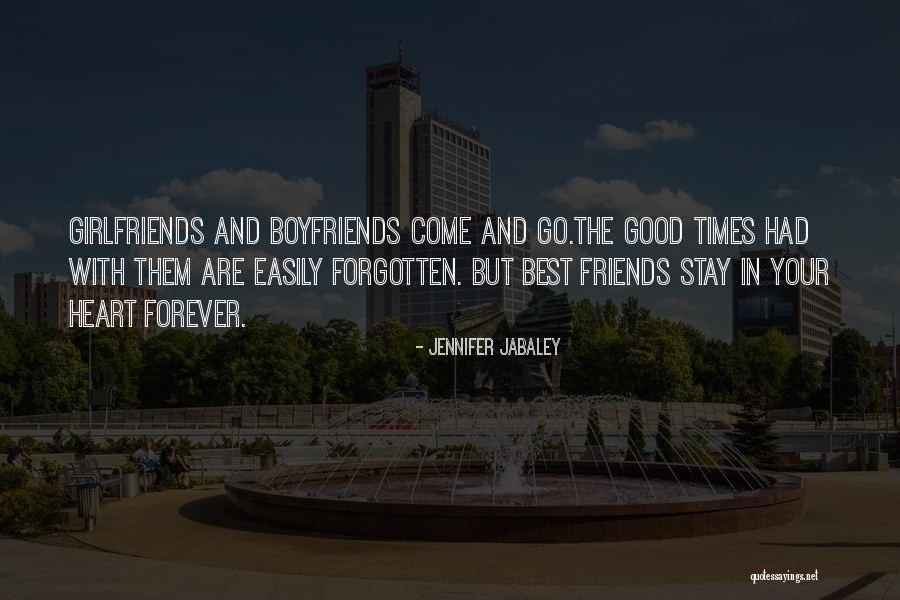 Girlfriends and boyfriends come and go.
The good times had with them are easily forgotten. But best friends stay in your heart forever. — Jennifer Jabaley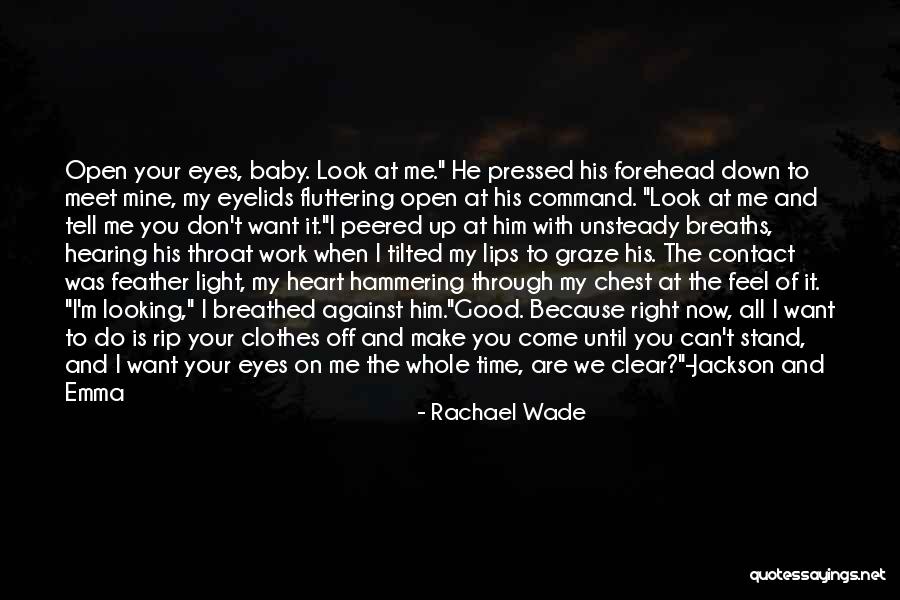 Open your eyes, baby. Look at me." He pressed his forehead down to meet mine, my eyelids fluttering open at his command. "Look at me and tell me you don't want it."
I peered up at him with unsteady breaths, hearing his throat work when I tilted my lips to graze his. The contact was feather light, my heart hammering through my chest at the feel of it. "I'm looking," I breathed against him.
"Good. Because right now, all I want to do is rip your clothes off and make you come until you can't stand, and I want your eyes on me the whole time, are we clear?"
-Jackson and Emma — Rachael Wade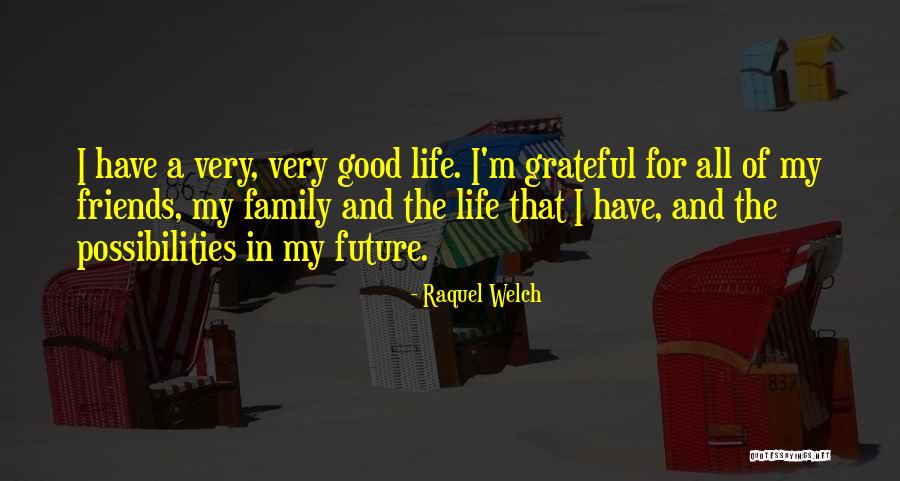 I have a very, very good life. I'm grateful for all of my friends, my family and the life that I have, and the possibilities in my future. — Raquel Welch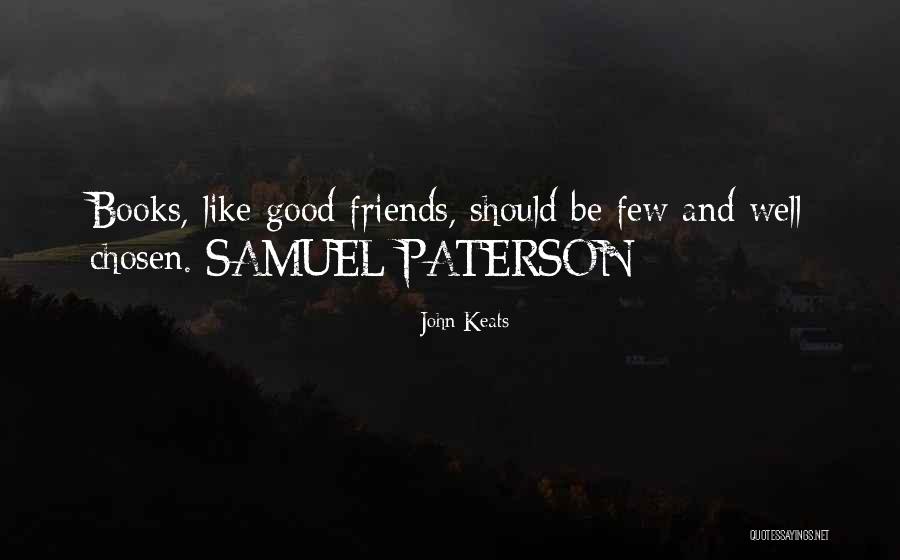 Books, like good friends, should be few and well chosen. SAMUEL PATERSON — John Keats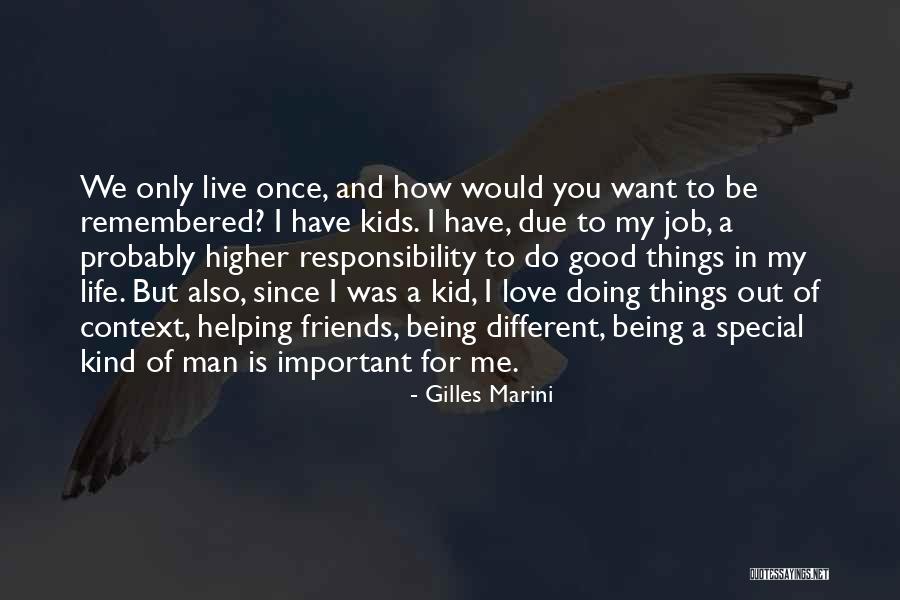 We only live once, and how would you want to be remembered? I have kids. I have, due to my job, a probably higher responsibility to do good things in my life. But also, since I was a kid, I love doing things out of context, helping friends, being different, being a special kind of man is important for me. — Gilles Marini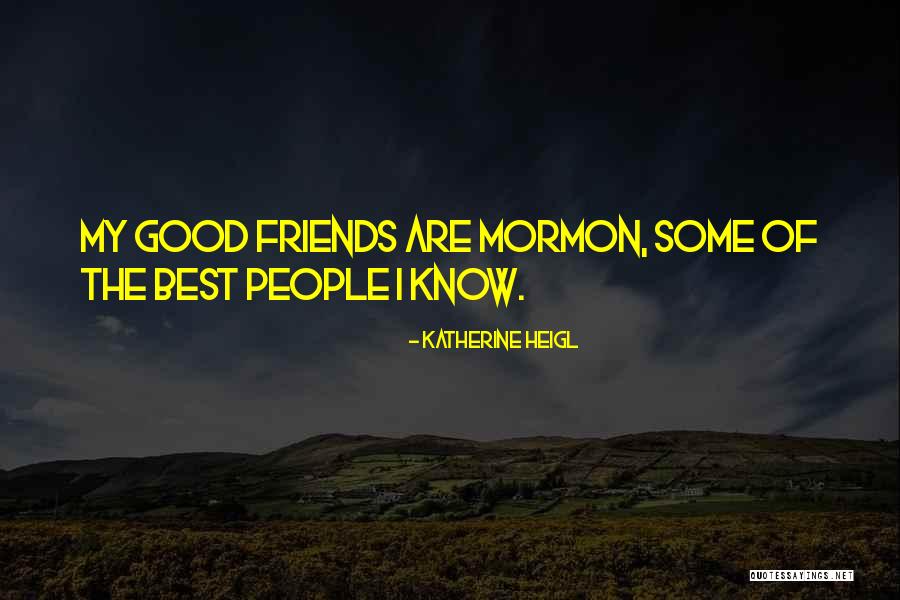 My good friends are Mormon, some of the best people I know. — Katherine Heigl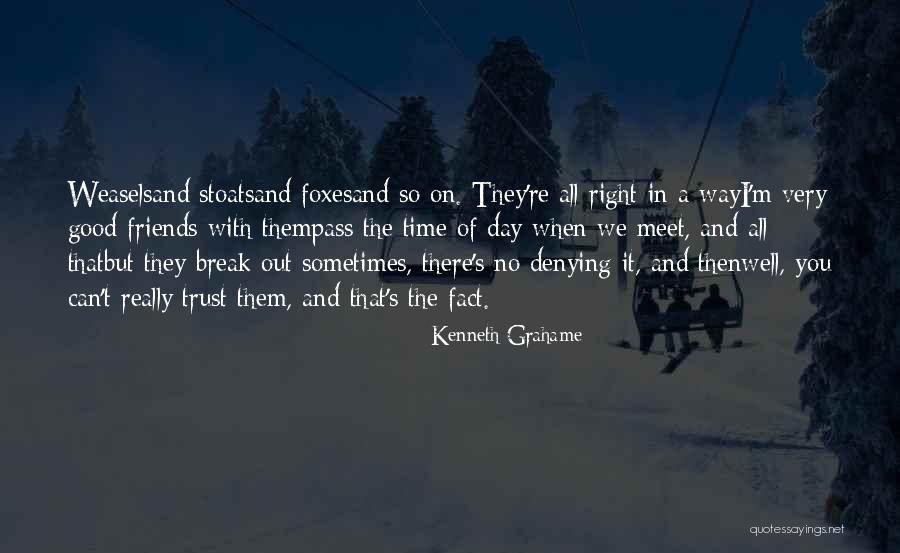 Weasels
and stoats
and foxes
and so on. They're all right in a way
I'm very good friends with them
pass the time of day when we meet, and all that
but they break out sometimes, there's no denying it, and then
well, you can't really trust them, and that's the fact. — Kenneth Grahame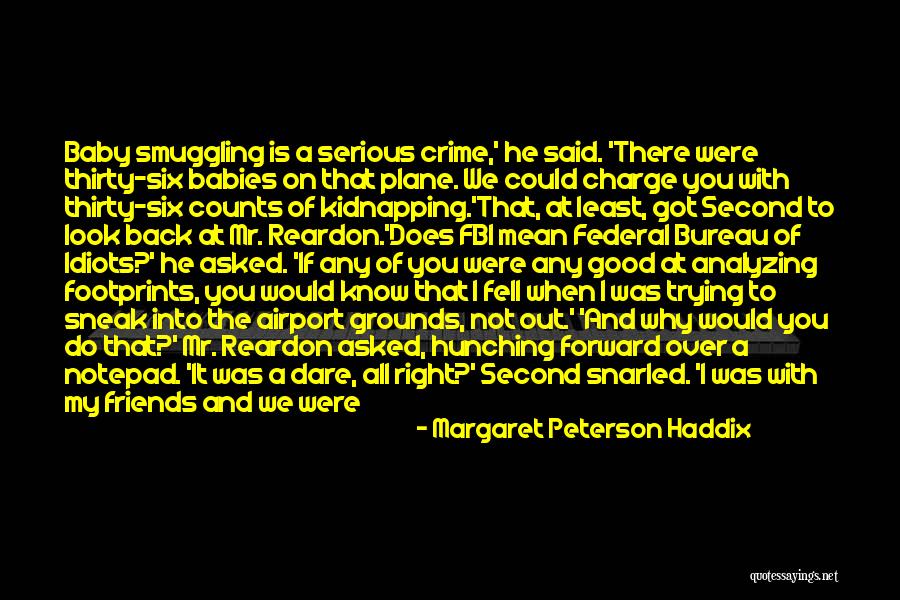 Baby smuggling is a serious crime,' he said. 'There were thirty-six babies on that plane. We could charge you with thirty-six counts of kidnapping.'
That, at least, got Second to look back at Mr. Reardon.
'Does FBI mean Federal Bureau of Idiots?' he asked. 'If any of you were any good at analyzing footprints, you would know that I fell when I was trying to sneak into the airport grounds, not out.'
'And why would you do that?' Mr. Reardon asked, hunching forward over a notepad.
'It was a dare, all right?' Second snarled. 'I was with my friends and we were talking about what it would be like to stand on a runway when a plane was landing and ... we decided to try it out.'
'That's a crime too,' Mr. Reardon said.
Second shrugged. 'It ain't thirty-six counts of kidnapping,' he said. — Margaret Peterson Haddix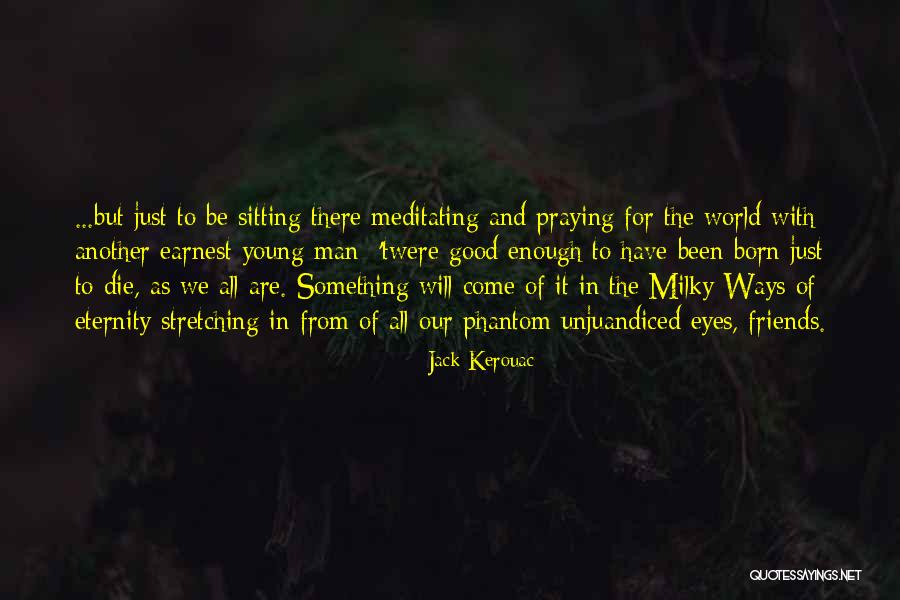 ...but just to be sitting there meditating and praying for the world with another earnest young man- 'twere good enough to have been born just to die, as we all are. Something will come of it in the Milky Ways of eternity stretching in from of all our phantom unjuandiced eyes, friends. — Jack Kerouac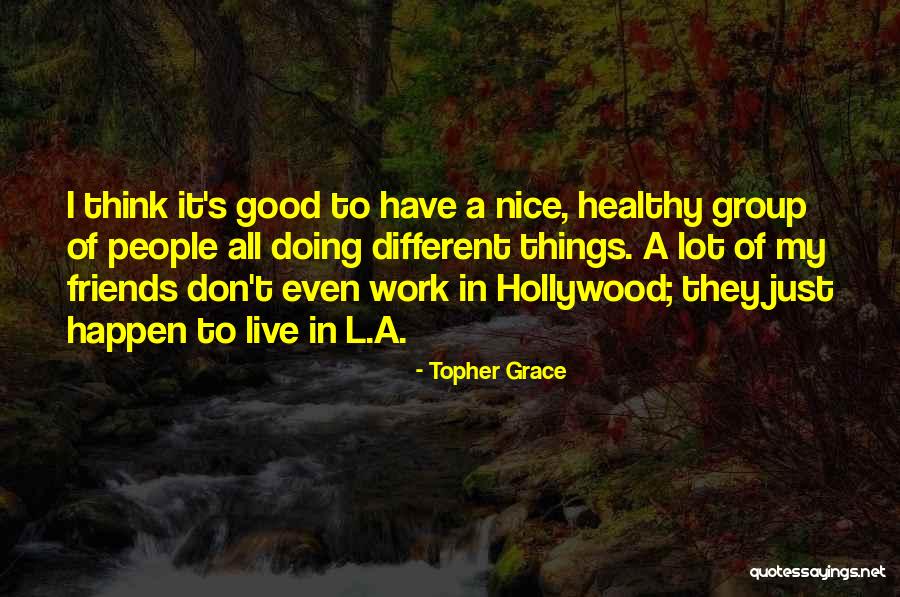 I think it's good to have a nice, healthy group of people all doing different things. A lot of my friends don't even work in Hollywood; they just happen to live in L.A. — Topher Grace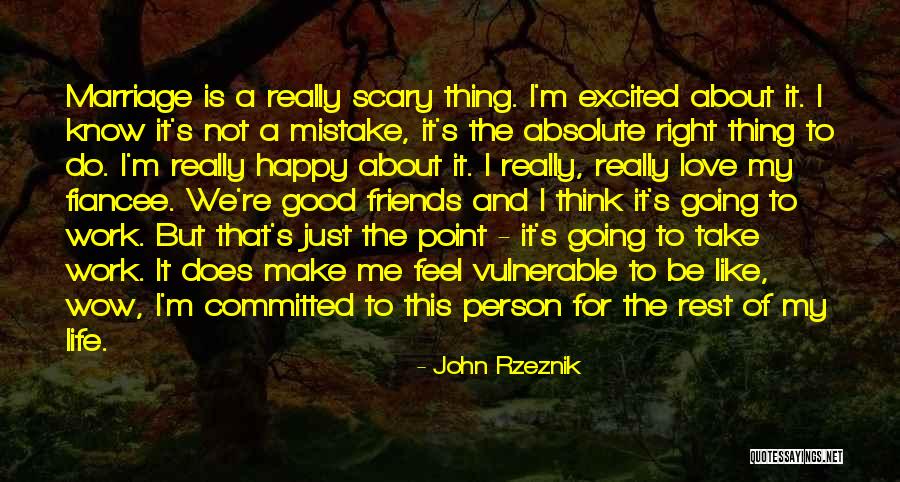 Marriage is a really scary thing. I'm excited about it. I know it's not a mistake, it's the absolute right thing to do. I'm really happy about it. I really, really love my fiancee. We're good friends and I think it's going to work. But that's just the point - it's going to take work. It does make me feel vulnerable to be like, wow, I'm committed to this person for the rest of my life. — John Rzeznik
Good friends are priceless. You get to know who they are when they stick by you in good and bad times! — Abigal Muchecheti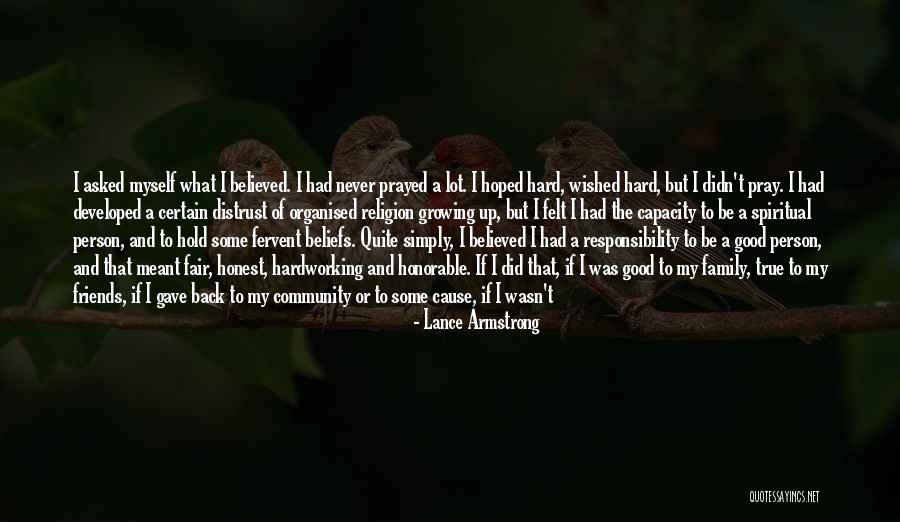 I asked myself what I believed. I had never prayed a lot. I hoped hard, wished hard, but I didn't pray. I had developed a certain distrust of organised religion growing up, but I felt I had the capacity to be a spiritual person, and to hold some fervent beliefs. Quite simply, I believed I had a responsibility to be a good person, and that meant fair, honest, hardworking and honorable. If I did that, if I was good to my family, true to my friends, if I gave back to my community or to some cause, if I wasn't a liar, a cheat, or a thief, then I believed that should be enough. At the end of the day, if there was indeed some Body or presence standing there to judge me, I hoped I would be judged on whether I had lived a true life, not on whether I believed in a certain book, or whether I'd been baptised. — Lance Armstrong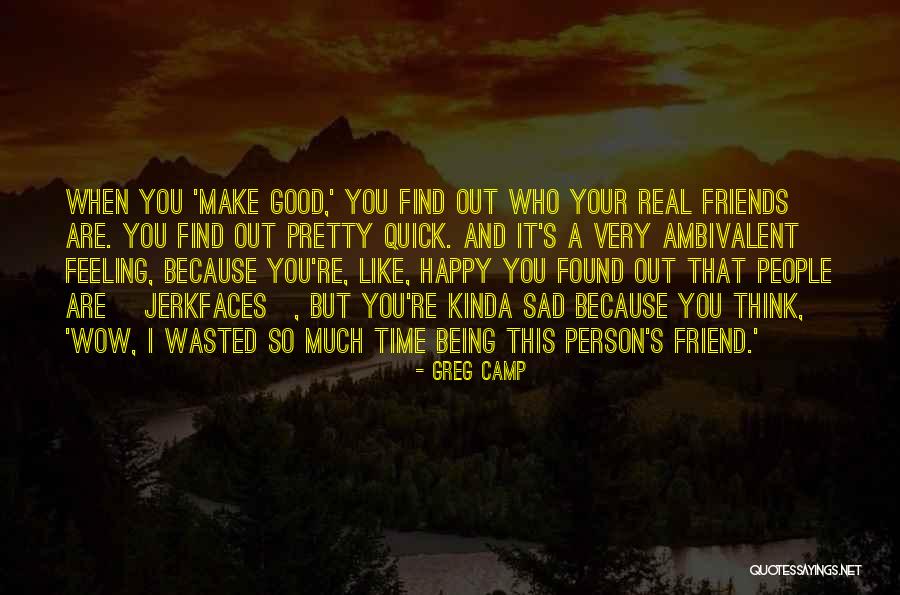 When you 'make good,' you find out who your real friends are. You find out pretty quick. And it's a very ambivalent feeling, because you're, like, happy you found out that people are [jerkfaces], but you're kinda sad because you think, 'Wow, I wasted so much time being this person's friend.' — Greg Camp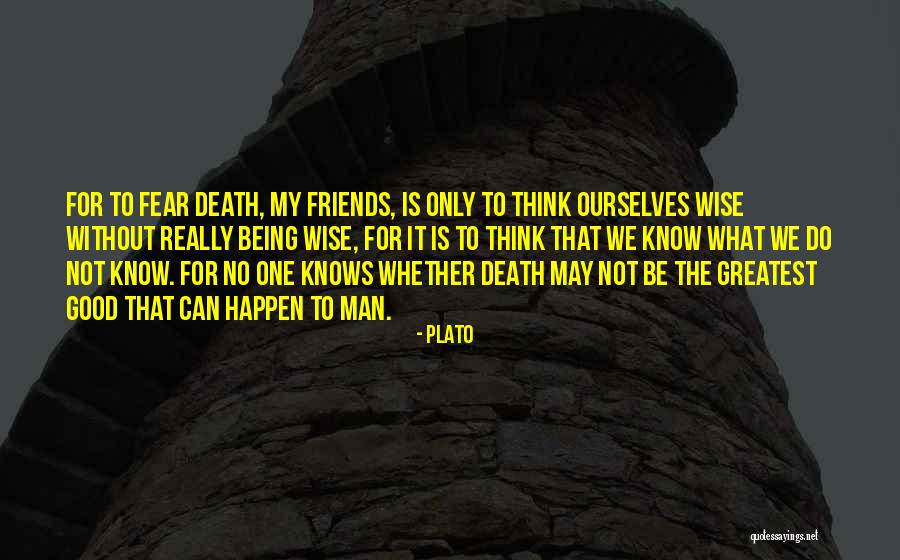 For to fear death, my friends, is only to think ourselves wise without really being wise, for it is to think that we know what we do not know. For no one knows whether death may not be the greatest good that can happen to man. — Plato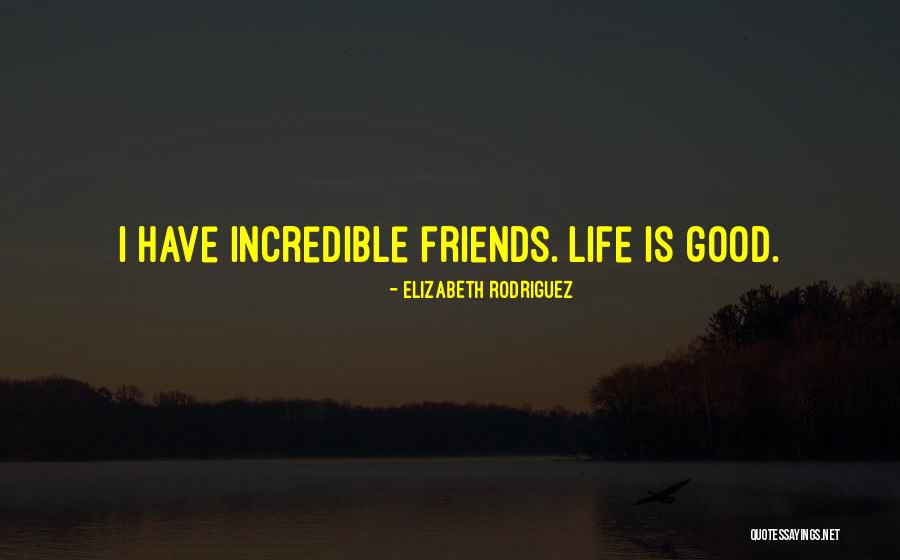 I have incredible friends. Life is good. — Elizabeth Rodriguez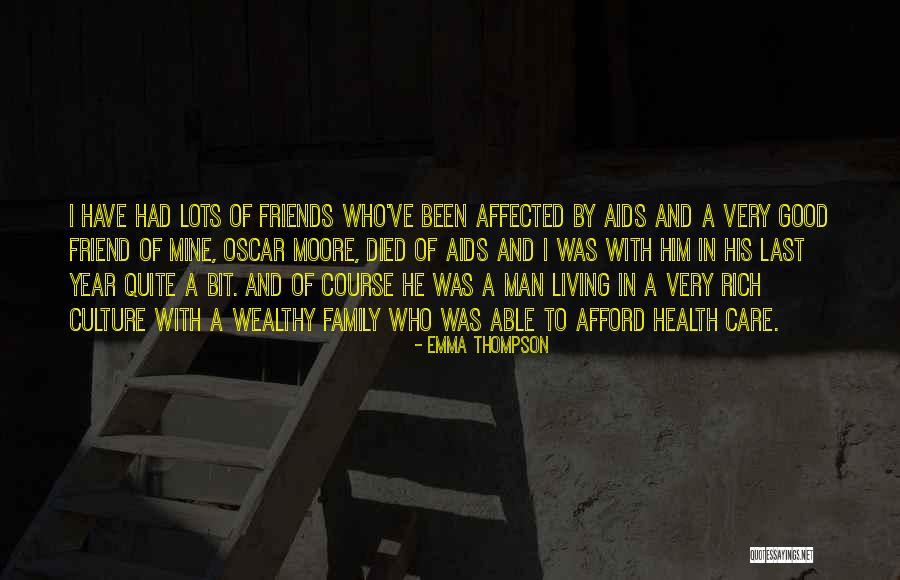 I have had lots of friends who've been affected by Aids and a very good friend of mine, Oscar Moore, died of Aids and I was with him in his last year quite a bit. And of course he was a man living in a very rich culture with a wealthy family who was able to afford health care. — Emma Thompson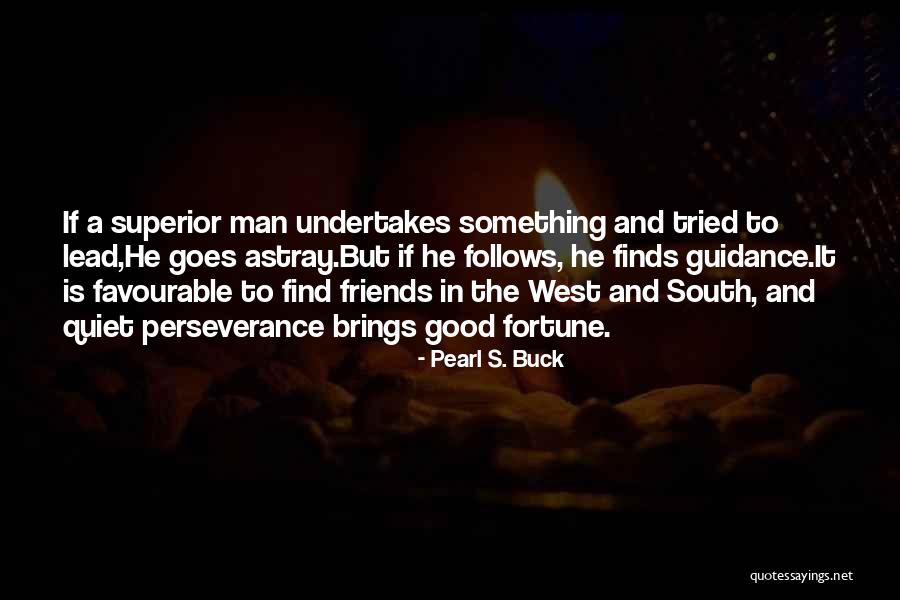 If a superior man undertakes something and tried to lead,
He goes astray.
But if he follows, he finds guidance.
It is favourable to find friends in the West and South,
and quiet perseverance brings good fortune. — Pearl S. Buck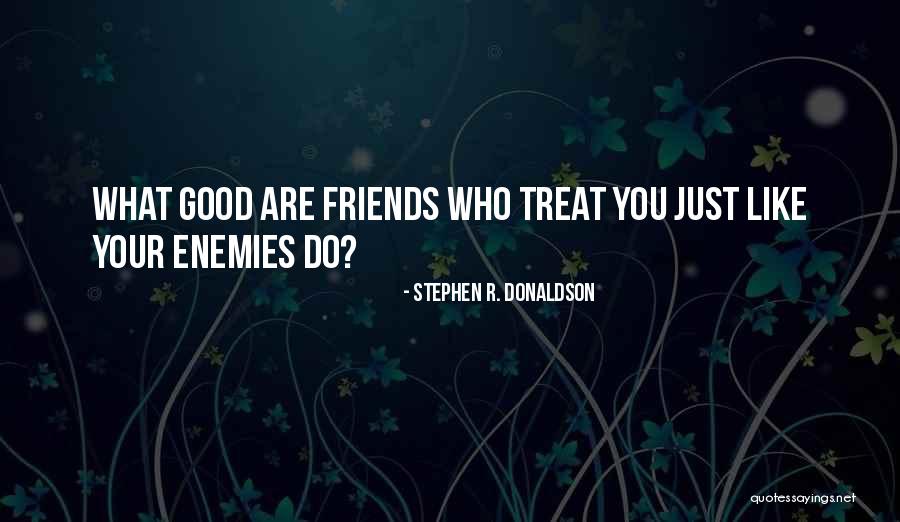 What good are friends who treat you just like your enemies do? — Stephen R. Donaldson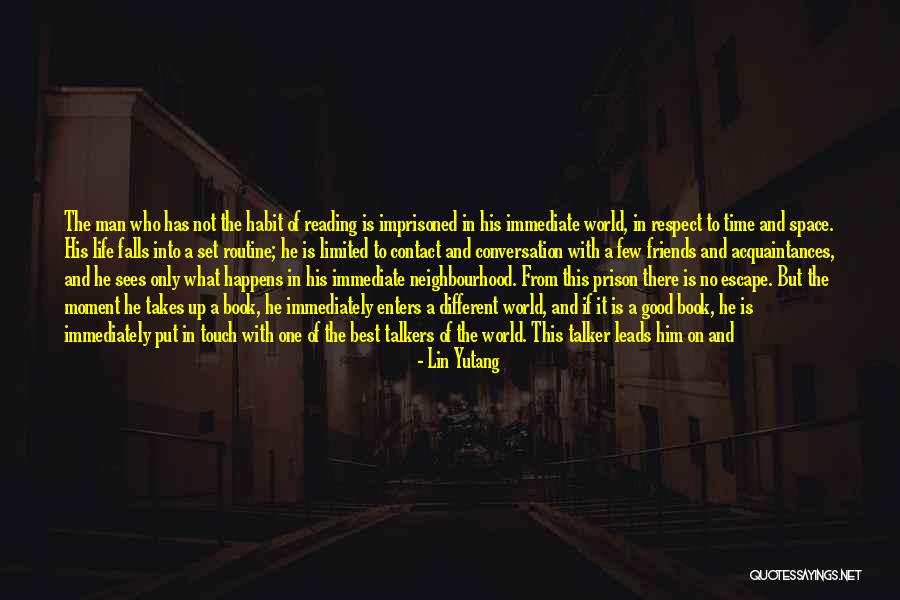 The man who has not the habit of reading is imprisoned in his immediate world, in respect to time and space. His life falls into a set routine; he is limited to contact and conversation with a few friends and acquaintances, and he sees only what happens in his immediate neighbourhood. From this prison there is no escape. But the moment he takes up a book, he immediately enters a different world, and if it is a good book, he is immediately put in touch with one of the best talkers of the world. This talker leads him on and carries him into a different country or a different age, or unburdens to him some of his personal regrets, or discusses with him some special line or aspect of life that the reader knows nothing about. An ancient author puts him in communion with a dead spirit of long ago, and as he reads along, he begins to imagine what the ancient author looked like and what type of person he was. — Lin Yutang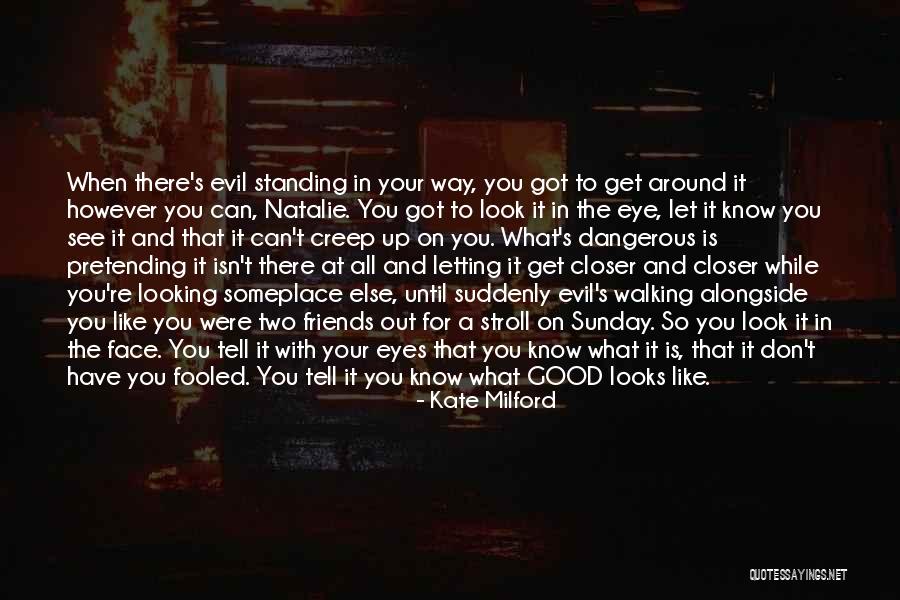 When there's evil standing in your way, you got to get around it however you can, Natalie. You got to look it in the eye, let it know you see it and that it can't creep up on you. What's dangerous is pretending it isn't there at all and letting it get closer and closer while you're looking someplace else, until suddenly evil's walking alongside you like you were two friends out for a stroll on Sunday. So you look it in the face. You tell it with your eyes that you know what it is, that it don't have you fooled. You tell it you know what GOOD looks like. — Kate Milford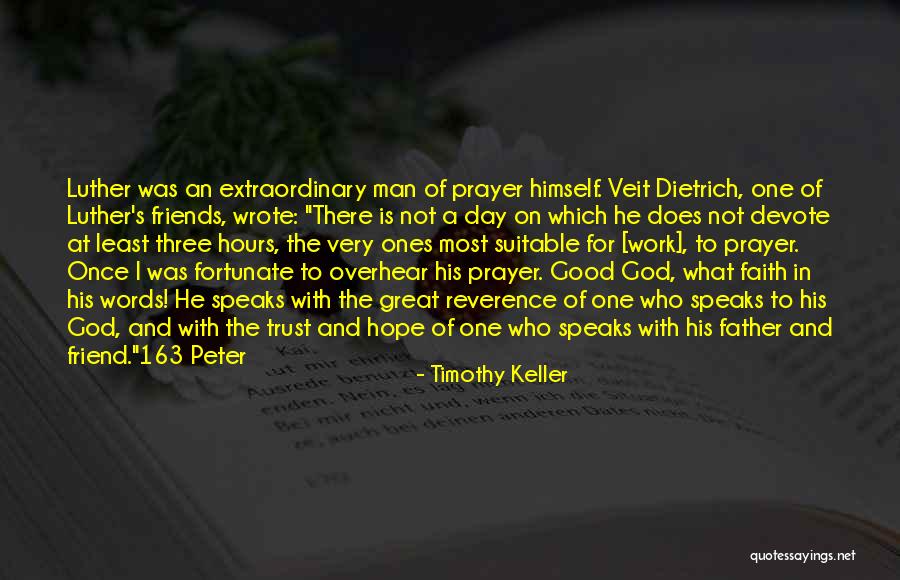 Luther was an extraordinary man of prayer himself. Veit Dietrich, one of Luther's friends, wrote: "There is not a day on which he does not devote at least three hours, the very ones most suitable for [work], to prayer. Once I was fortunate to overhear his prayer. Good God, what faith in his words! He speaks with the great reverence of one who speaks to his God, and with the trust and hope of one who speaks with his father and friend."163 Peter — Timothy Keller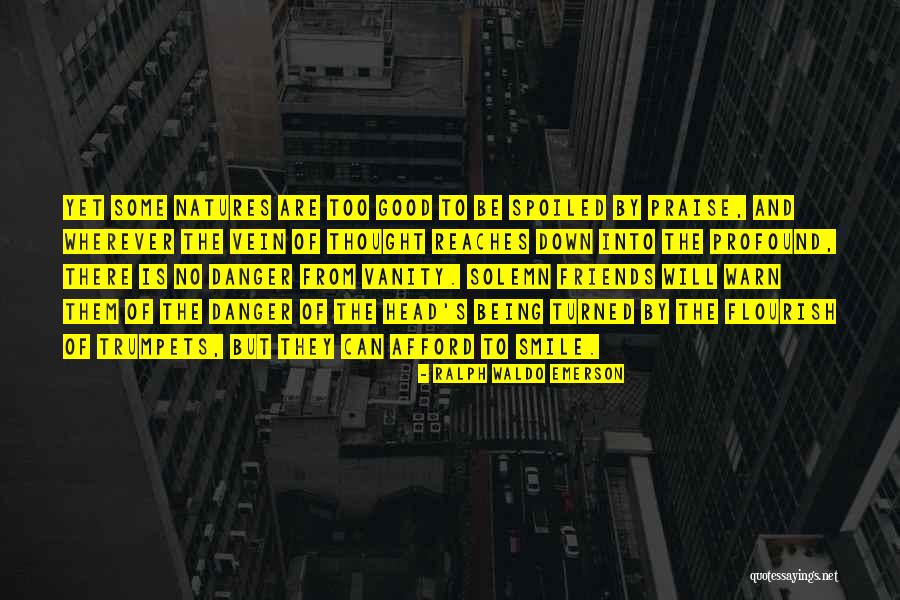 Yet some natures are too good to be spoiled by praise, and wherever the vein of thought reaches down into the profound, there is no danger from vanity. Solemn friends will warn them of the danger of the head's being turned by the flourish of trumpets, but they can afford to smile. — Ralph Waldo Emerson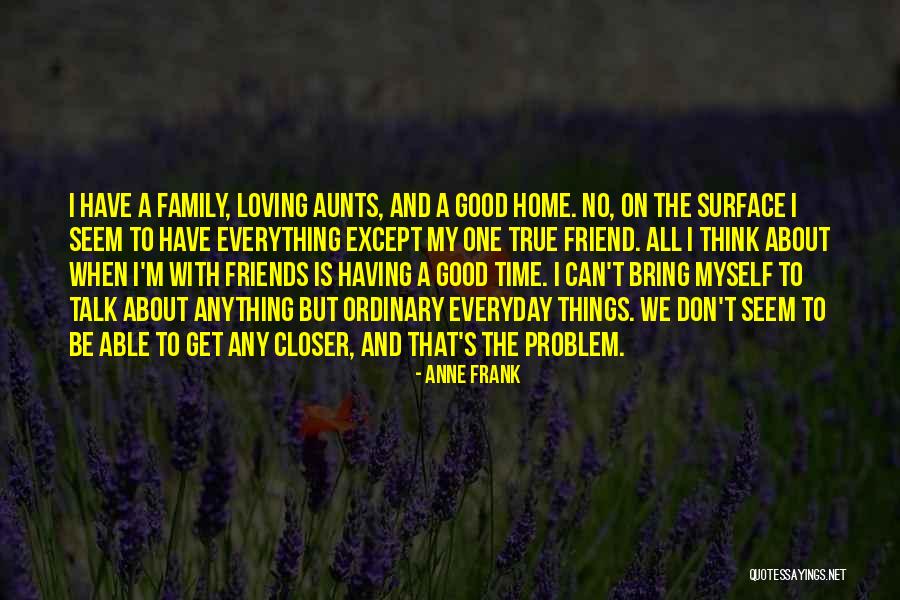 I have a family, loving aunts, and a good home. No, on the surface I seem to have everything except my one true friend. All I think about when I'm with friends is having a good time. I can't bring myself to talk about anything but ordinary everyday things. We don't seem to be able to get any closer, and that's the problem. — Anne Frank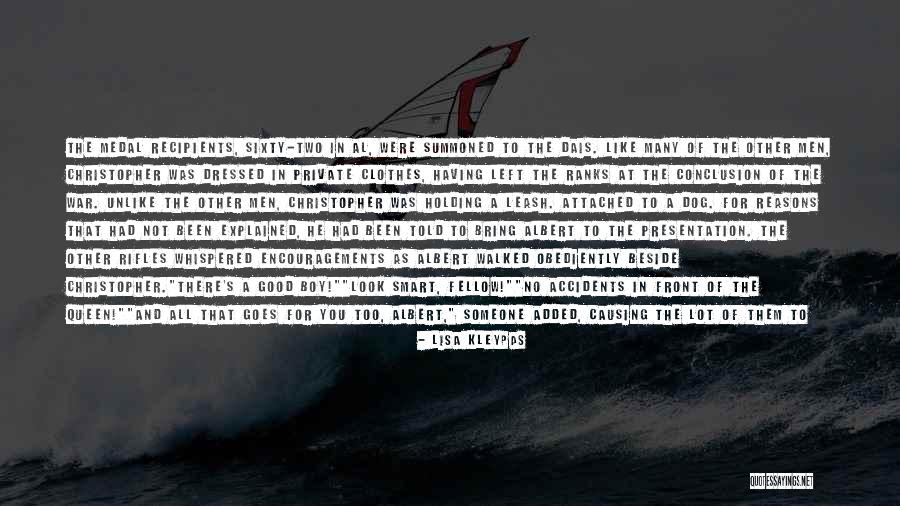 The medal recipients, sixty-two in al, were summoned to the dais. Like many of the other men, Christopher was dressed in private clothes, having left the ranks at the conclusion of the war. Unlike the other men, Christopher was holding a leash. Attached to a dog. For reasons that had not been explained, he had been told to bring Albert to the presentation. The other Rifles whispered encouragements as Albert walked obediently beside Christopher.
"There's a good boy!"
"Look smart, fellow!"
"No accidents in front of the queen!"
"And all that goes for you too, Albert," someone added, causing the lot of them to snicker.
Giving his friends a damning glance, which only amused them further, Christopher took Albert to meet the queen. — Lisa Kleypas
Everywhere means nowhere. When a person spends all his time in foreign travel, he ends by having many acquaintances, but no friends. And the same thing must hold true of men who seek intimate acquaintance with no single author, but visit them all in a hasty and hurried manner. 3. Food does no good and is not assimilated into the body if it leaves the stomach as soon as it is eaten; nothing hinders a cure so much as frequent change of medicine; no wound will heal when one salve is tried after another; a plant which is often moved can never grow strong. There is nothing so efficacious that it can be helpful while it is being shifted about. And in reading of many books is distraction. — Seneca.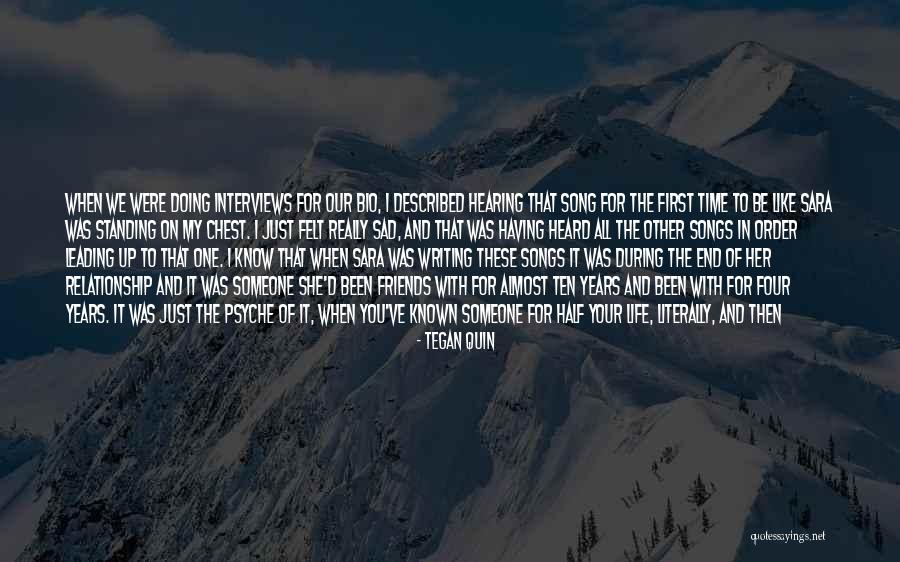 When we were doing interviews for our bio, I described hearing that song for the first time to be like Sara was standing on my chest. I just felt really sad, and that was having heard all the other songs in order leading up to that one. I know that when Sara was writing these songs it was during the end of her relationship and it was someone she'd been friends with for almost ten years and been with for four years. It was just the psyche of it, when you've known someone for half your life, literally, and then have to leave them, and not necessarily because you want to but just because it's the right thing to do, and it's just not healthy and you're not good anymore, there's no growth and you have to have growth. And when I hear that song, the idea of that all happening just makes me sick to my stomach a little bit. But it's in an enjoyable way. — Tegan Quin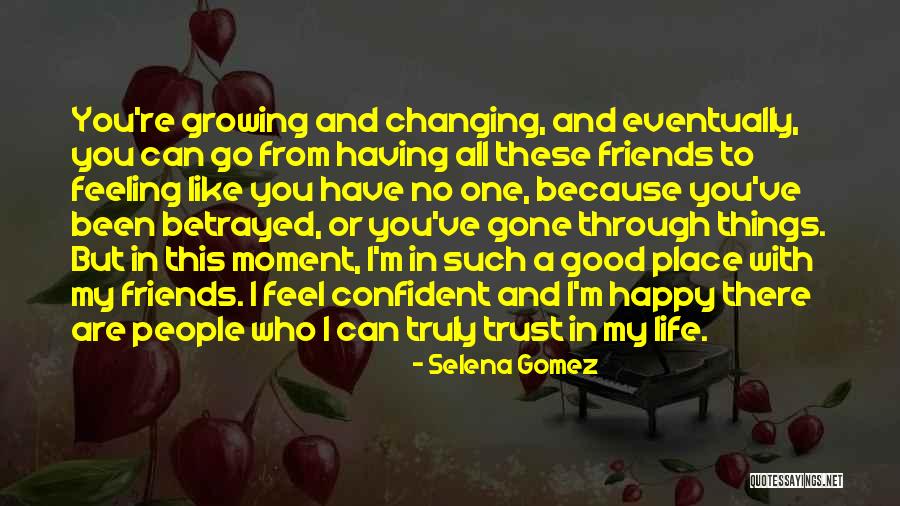 You're growing and changing, and eventually, you can go from having all these friends to feeling like you have no one, because you've been betrayed, or you've gone through things. But in this moment, I'm in such a good place with my friends. I feel confident and I'm happy there are people who I can truly trust in my life. — Selena Gomez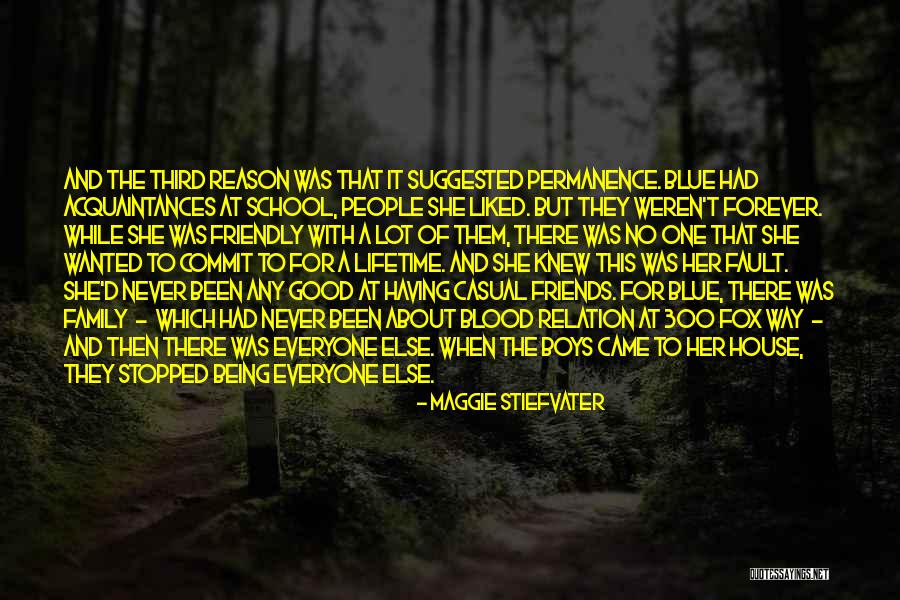 And the third reason was that it suggested permanence. Blue had acquaintances at school, people she liked. But they weren't forever. While she was friendly with a lot of them, there was no one that she wanted to commit to for a lifetime. And she knew this was her fault. She'd never been any good at having casual friends. For Blue, there was family - which had never been about blood relation at 300 Fox Way - and then there was everyone else. When the boys came to her house, they stopped being everyone else. — Maggie Stiefvater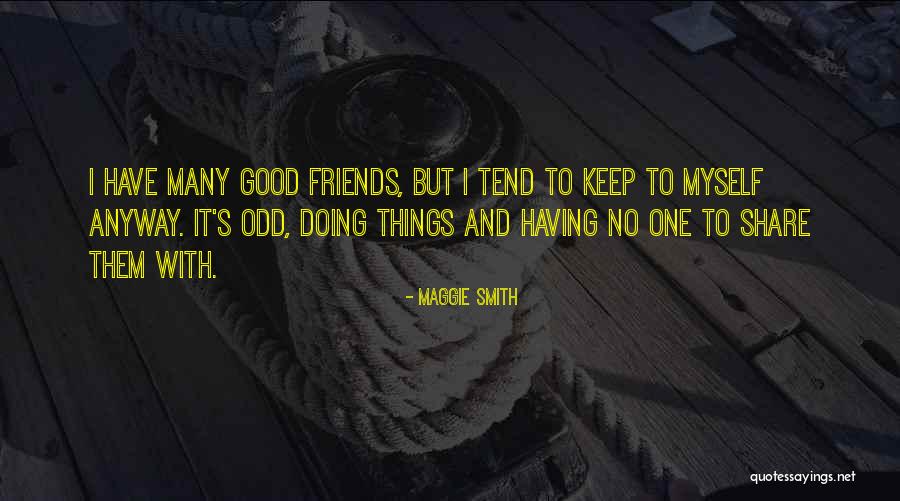 I have many good friends, but I tend to keep to myself anyway. It's odd, doing things and having no one to share them with. — Maggie Smith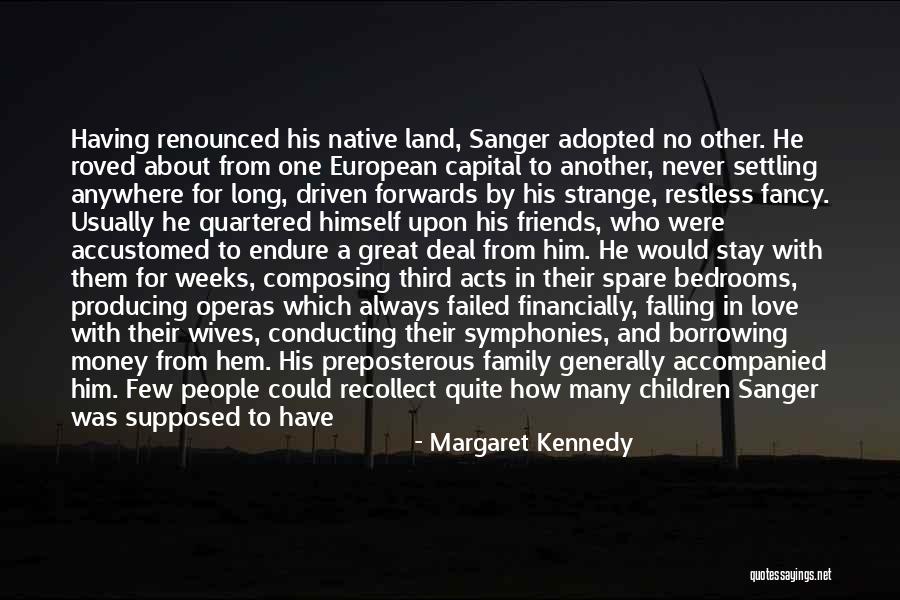 Having renounced his native land, Sanger adopted no other. He roved about from one European capital to another, never settling anywhere for long, driven forwards by his strange, restless fancy. Usually he quartered himself upon his friends, who were accustomed to endure a great deal from him. He would stay with them for weeks, composing third acts in their spare bedrooms, producing operas which always failed financially, falling in love with their wives, conducting their symphonies, and borrowing money from hem. His preposterous family generally accompanied him. Few people could recollect quite how many children Sanger was supposed to have got, but there always seemed to be a good many and they were most shockingly brought up. — Margaret Kennedy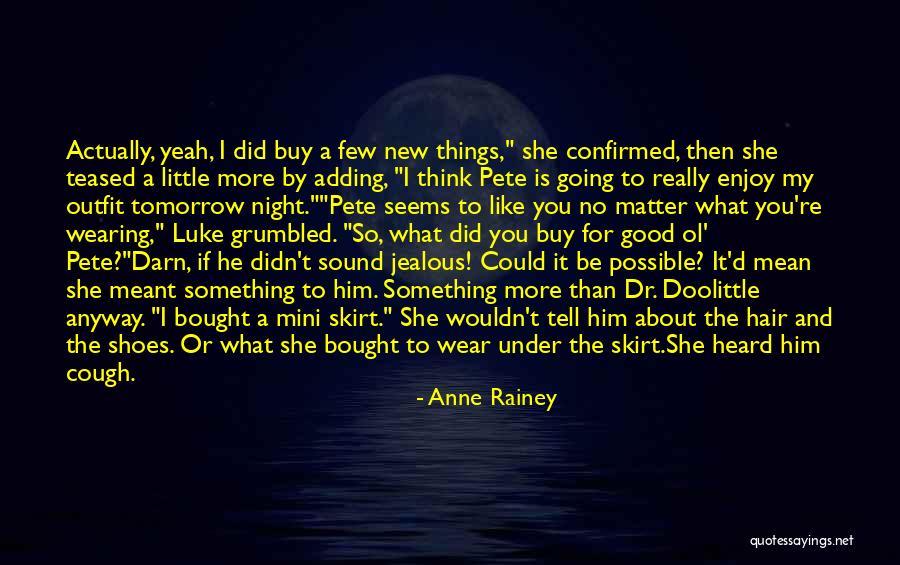 Actually, yeah, I did buy a few new things," she confirmed, then she teased a little more by adding, "I think Pete is going to really enjoy my outfit tomorrow night."
"Pete seems to like you no matter what you're wearing," Luke grumbled. "So, what did you buy for good ol' Pete?"
Darn, if he didn't sound jealous! Could it be possible? It'd mean she meant something to him. Something more than Dr. Doolittle anyway. "I bought a mini skirt." She wouldn't tell him about the hair and the shoes. Or what she bought to wear under the skirt.
She heard him cough. Hard. As if having a spasm. "Luke? Are you okay?"
A couple more very tense seconds of coughs, and then, "Did you say a skirt?"
She wanted to smack him. — Anne Rainey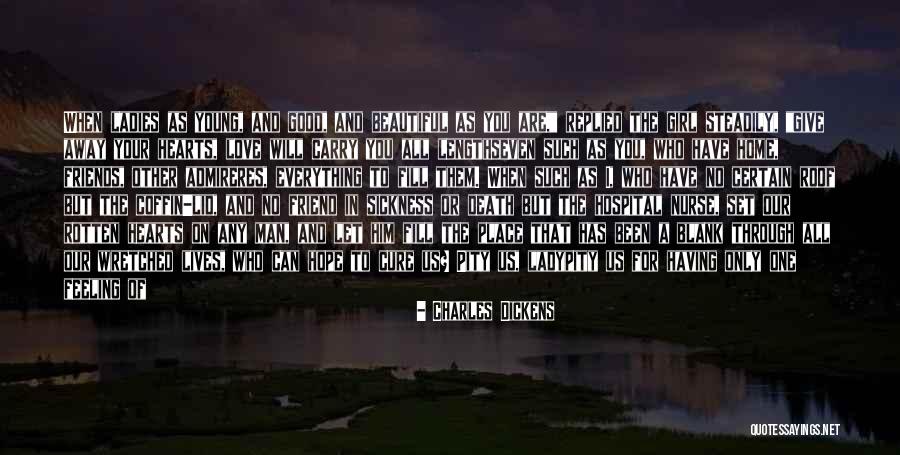 When ladies as young, and good, and beautiful as you are," replied the girl steadily, "give away your hearts, love will carry you all lengths
even such as you, who have home, friends, other admireres, everything to fill them. When such as I, who have no certain roof but the coffin-lid, and no friend in sickness or death but the hospital nurse, set our rotten hearts on any man, and let him fill the place that has been a blank through all our wretched lives, who can hope to cure us? Pity us, lady
pity us for having only one feeling of the woman left, and for having that turned, by a heavy judgment, from a comfort and a pride, into a new means of violence and suffering. — Charles Dickens