Quotes & Sayings About Good Finances
Enjoy reading and share 14 famous quotes about Good Finances with everyone.
Top Good Finances Quotes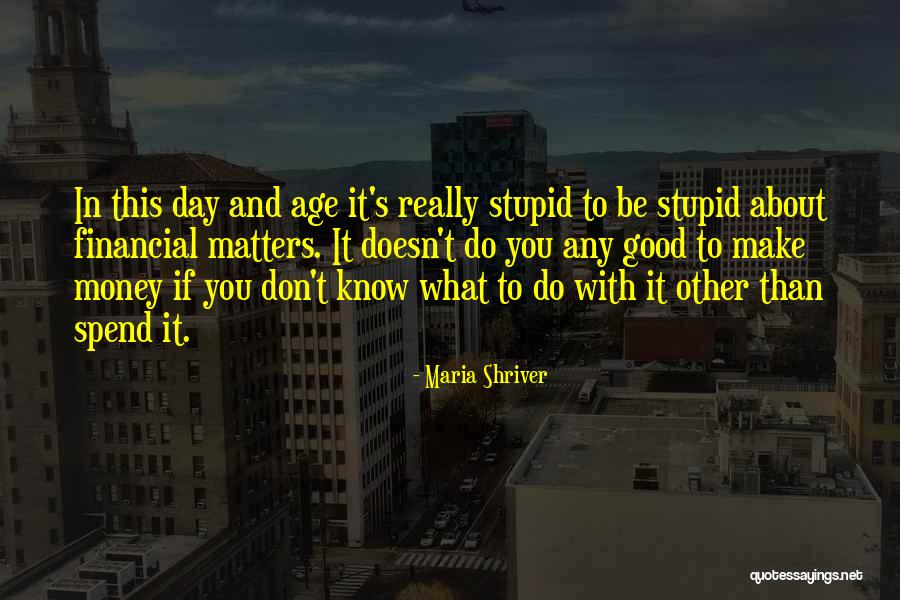 In this day and age it's really stupid to be stupid about financial matters. It doesn't do you any good to make money if you don't know what to do with it other than spend it. — Maria Shriver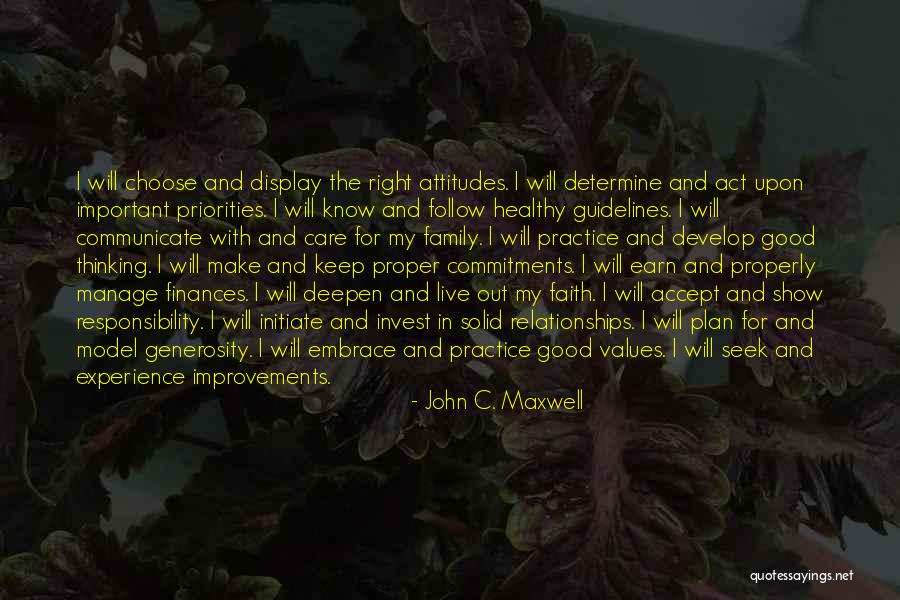 I will choose and display the right attitudes. I will determine and act upon important priorities. I will know and follow healthy guidelines. I will communicate with and care for my family. I will practice and develop good thinking. I will make and keep proper commitments. I will earn and properly manage finances. I will deepen and live out my faith. I will accept and show responsibility. I will initiate and invest in solid relationships. I will plan for and model generosity. I will embrace and practice good values. I will seek and experience improvements. — John C. Maxwell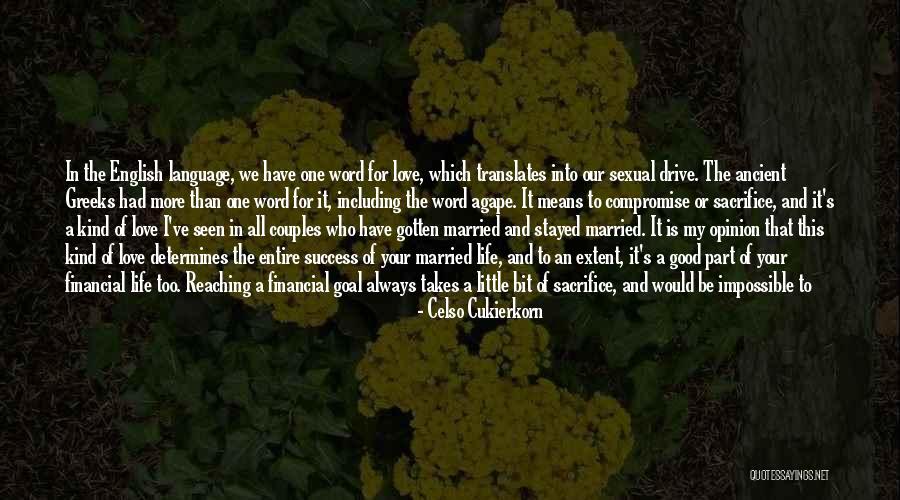 In the English language, we have one word for love, which translates into our sexual drive. The ancient Greeks had more than one word for it, including the word agape. It means to compromise or sacrifice, and it's a kind of love I've seen in all couples who have gotten married and stayed married. It is my opinion that this kind of love determines the entire success of your married life, and to an extent, it's a good part of your financial life too. Reaching a financial goal always takes a little bit of sacrifice, and would be impossible to do on your own. Once you and your spouse realize that mutual sacrifice is a healthy part of your marriage, you are well on your way to achieving harmony in planning for your finances together. — Celso Cukierkorn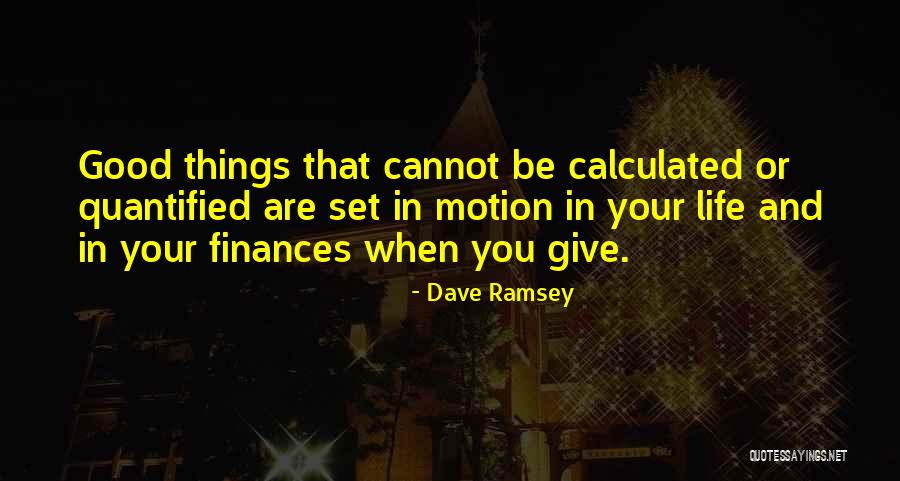 Good things that cannot be calculated or quantified are set in motion in your life and in your finances when you give. — Dave Ramsey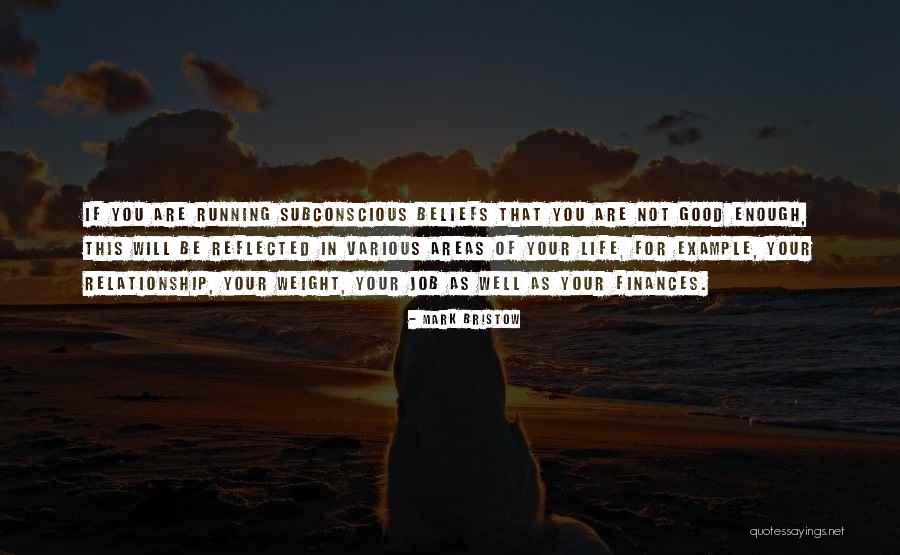 If you are running subconscious beliefs that you are not good enough, this will be reflected in various areas of your life, for example, your relationship, your weight, your job as well as your finances. — Mark Bristow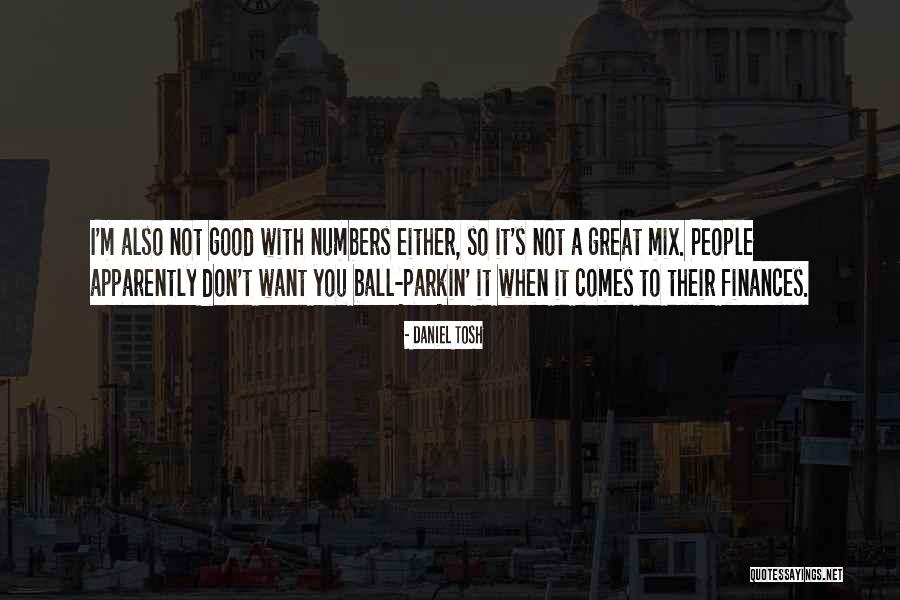 I'm also not good with numbers either, so it's not a great mix. People apparently don't want you ball-parkin' it when it comes to their finances. — Daniel Tosh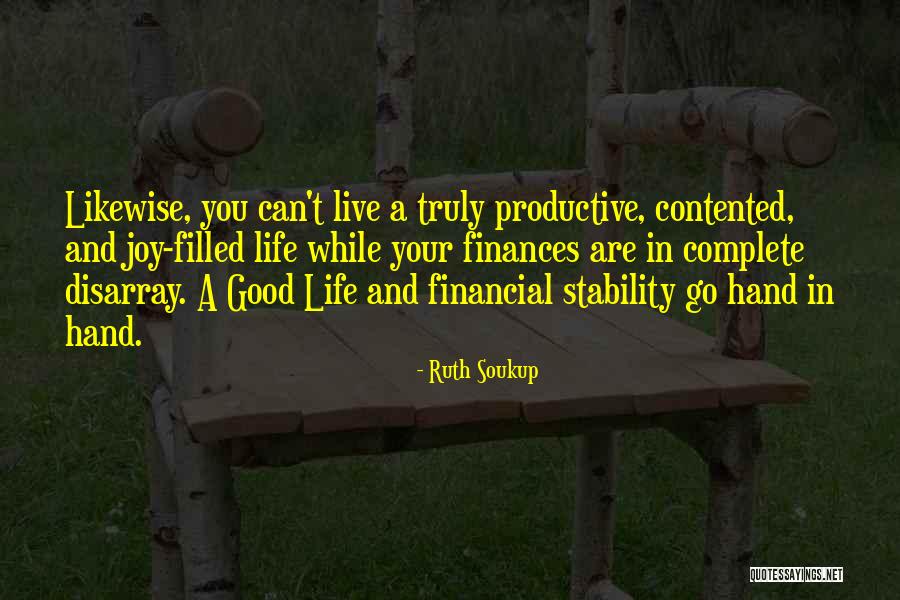 Likewise, you can't live a truly productive, contented, and joy-filled life while your finances are in complete disarray. A Good Life and financial stability go hand in hand. — Ruth Soukup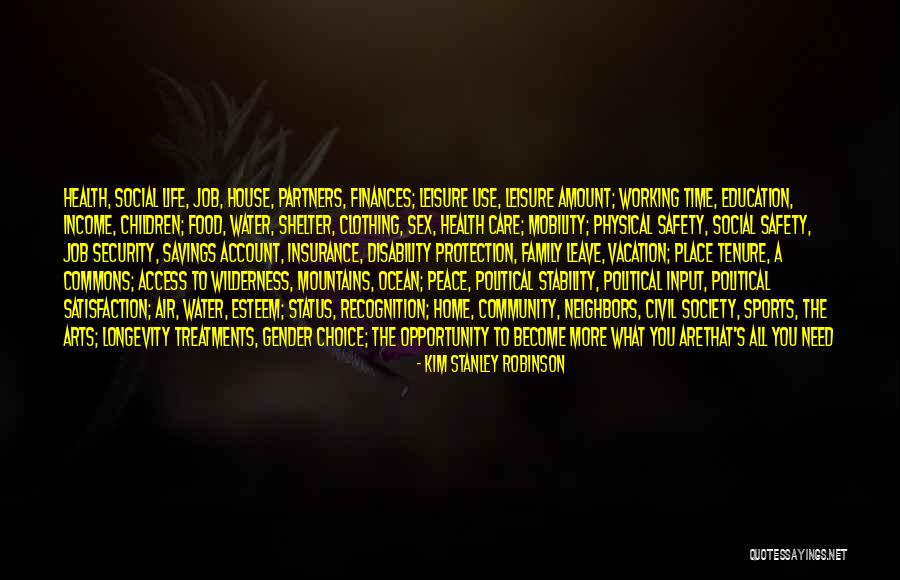 Health, social life, job, house, partners, finances; leisure use, leisure amount; working time, education, income, children; food, water, shelter, clothing, sex, health care; mobility; physical safety, social safety, job security, savings account, insurance, disability protection, family leave, vacation; place tenure, a commons; access to wilderness, mountains, ocean; peace, political stability, political input, political satisfaction; air, water, esteem; status, recognition; home, community, neighbors, civil society, sports, the arts; longevity treatments, gender choice; the opportunity to become more what you are
that's all you need — Kim Stanley Robinson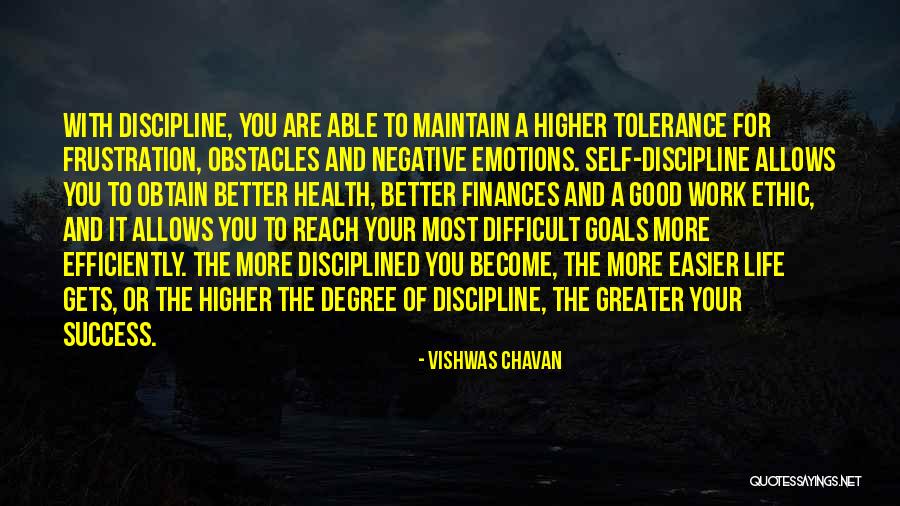 With discipline, you are able to maintain a higher tolerance for frustration, obstacles and negative emotions. Self-discipline allows you to obtain better health, better finances and a good work ethic, and it allows you to reach your most difficult goals more efficiently. The more disciplined you become, the more easier life gets, or the higher the degree of discipline, the greater your success. — Vishwas Chavan
'Feminist comedy,' practically an oxymoron, had a couple of good years after WWII. Chalk it up to the forced female autonomy that occurred during wartime, when Rosie the Riveter went to work in the factories, constructing the Allies' war machines while taking charge of the finances, the home, and the children. — Grace Slick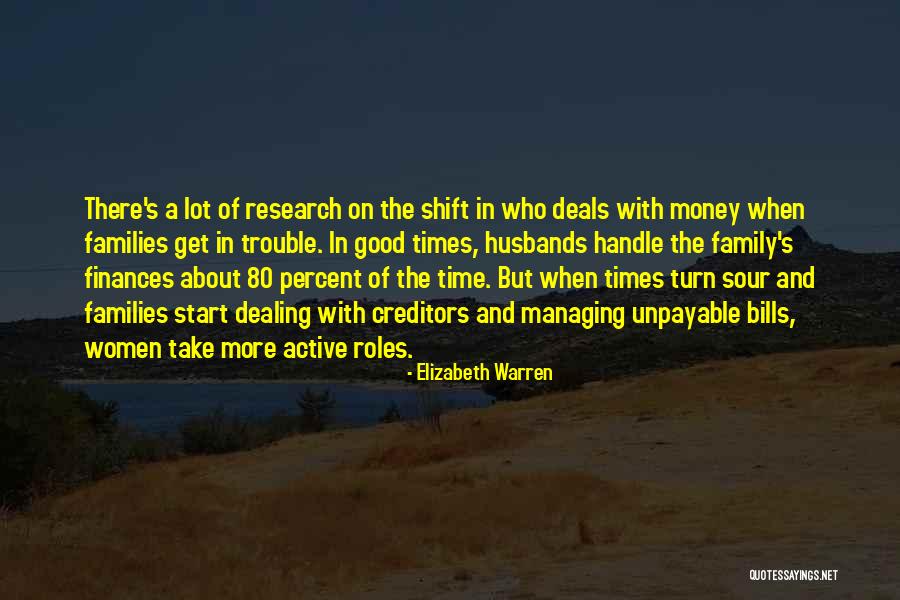 There's a lot of research on the shift in who deals with money when families get in trouble. In good times, husbands handle the family's finances about 80 percent of the time. But when times turn sour and families start dealing with creditors and managing unpayable bills, women take more active roles. — Elizabeth Warren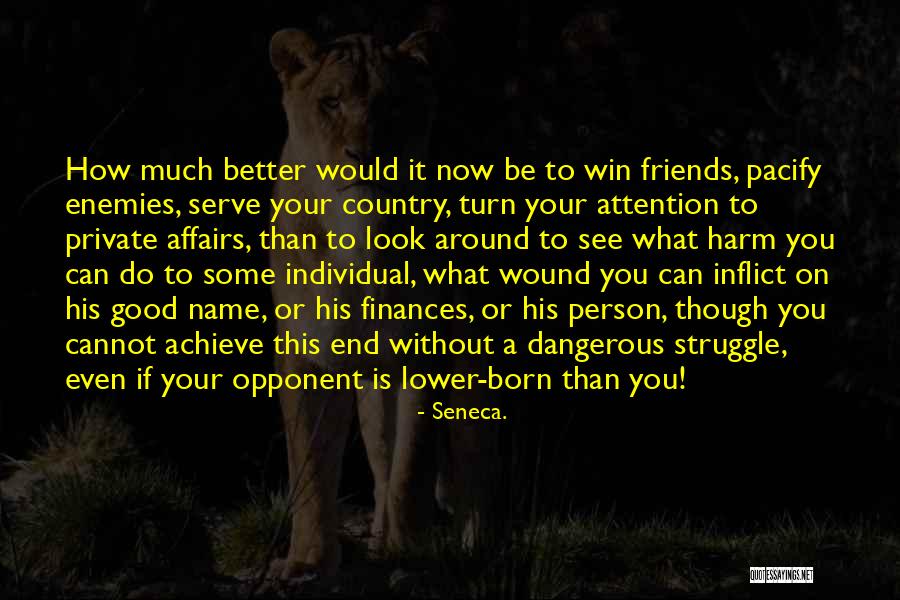 How much better would it now be to win friends, pacify enemies, serve your country, turn your attention to private affairs, than to look around to see what harm you can do to some individual, what wound you can inflict on his good name, or his finances, or his person, though you cannot achieve this end without a dangerous struggle, even if your opponent is lower-born than you! — Seneca.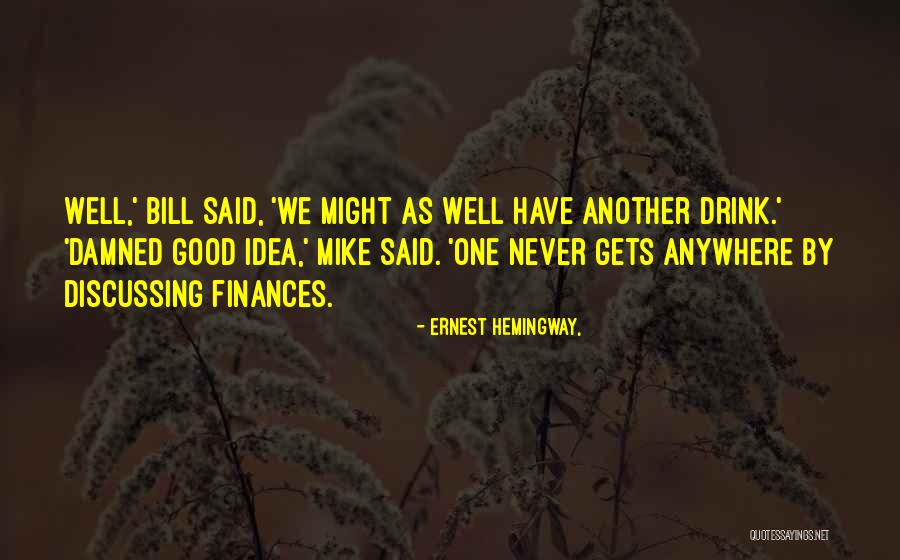 Well,' Bill said, 'we might as well have another drink.' 'Damned good idea,' Mike said. 'One never gets anywhere by discussing finances. — Ernest Hemingway,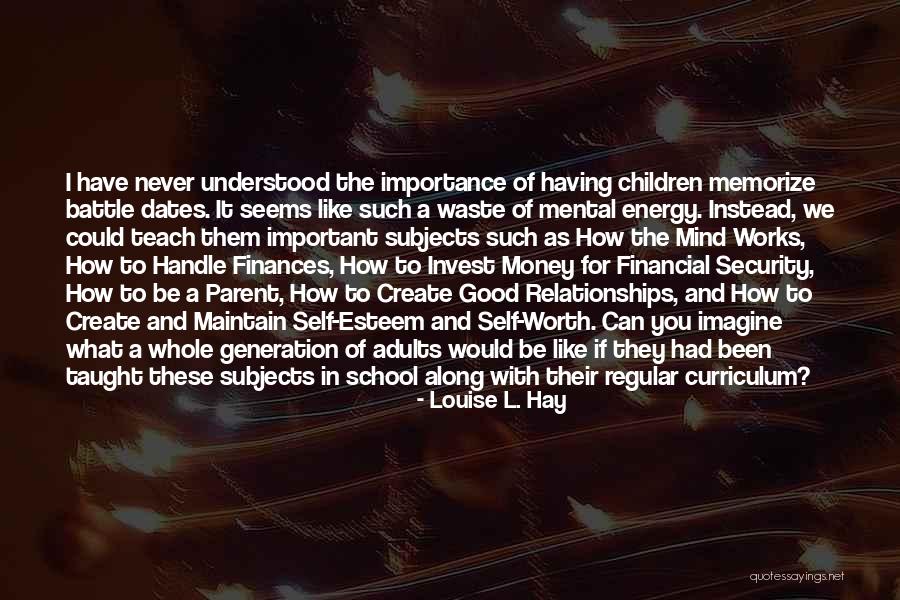 I have never understood the importance of having children memorize battle dates. It seems like such a waste of mental energy. Instead, we could teach them important subjects such as How the Mind Works, How to Handle Finances, How to Invest Money for Financial Security, How to be a Parent, How to Create Good Relationships, and How to Create and Maintain Self-Esteem and Self-Worth. Can you imagine what a whole generation of adults would be like if they had been taught these subjects in school along with their regular curriculum? — Louise L. Hay