Quotes & Sayings About God Sustaining
Enjoy reading and share 43 famous quotes about God Sustaining with everyone.
Top God Sustaining Quotes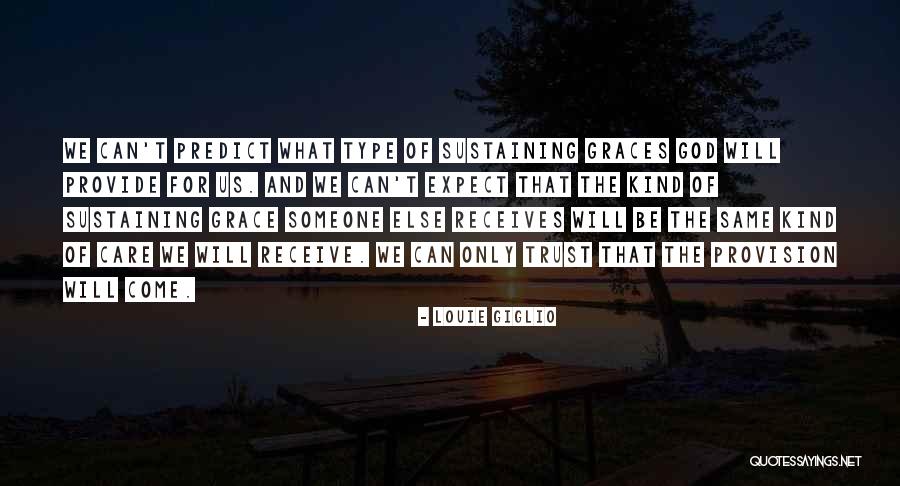 We can't predict what type of sustaining graces God will provide for us. And we can't expect that the kind of sustaining grace someone else receives will be the same kind of care we will receive. We can only trust that the provision will come. — Louie Giglio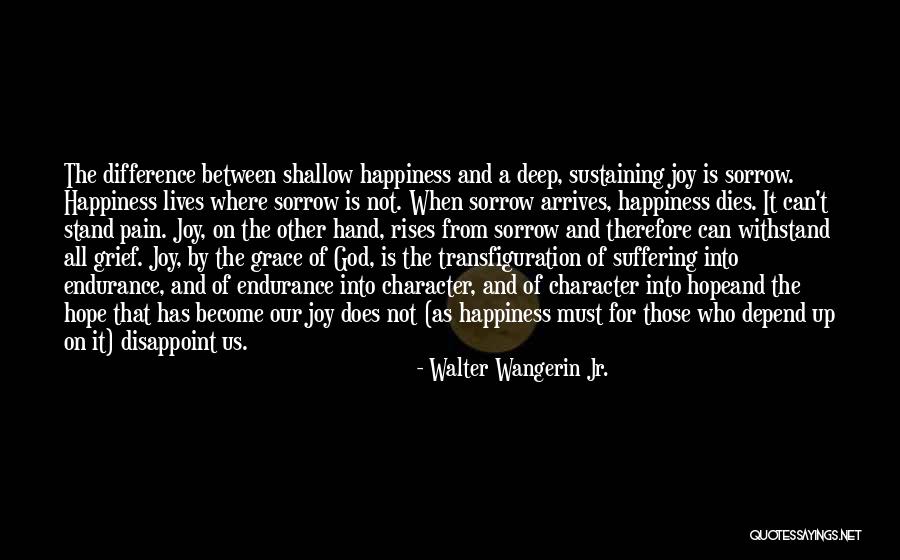 The difference between shallow happiness and a deep, sustaining joy is sorrow. Happiness lives where sorrow is not. When sorrow arrives, happiness dies. It can't stand pain. Joy, on the other hand, rises from sorrow and therefore can withstand all grief. Joy, by the grace of God, is the transfiguration of suffering into endurance, and of endurance into character, and of character into hope
and the hope that has become our joy does not (as happiness must for those who depend up on it) disappoint us. — Walter Wangerin Jr.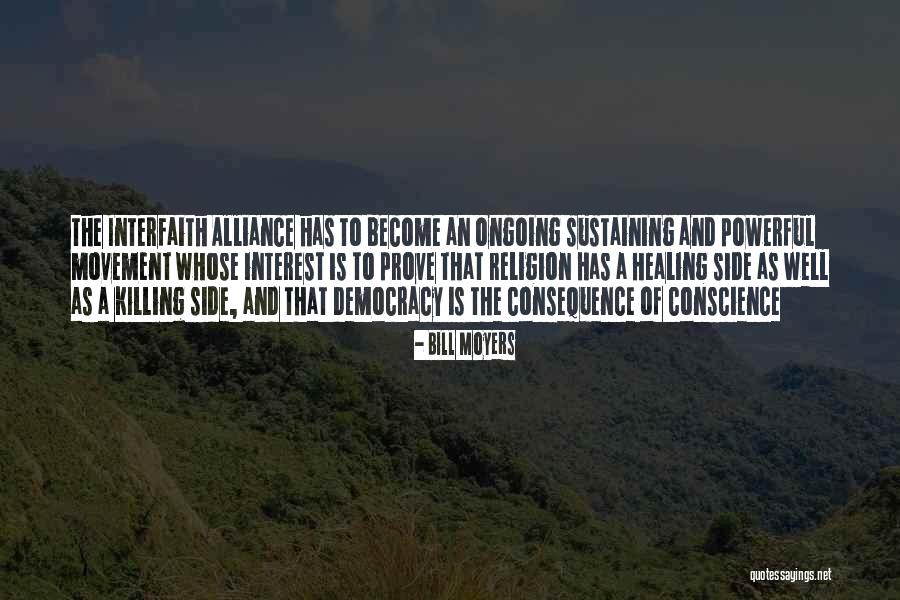 The Interfaith Alliance has to become an ongoing sustaining and powerful movement whose interest is to prove that religion has a healing side as well as a killing side, and that democracy is the consequence of conscience — Bill Moyers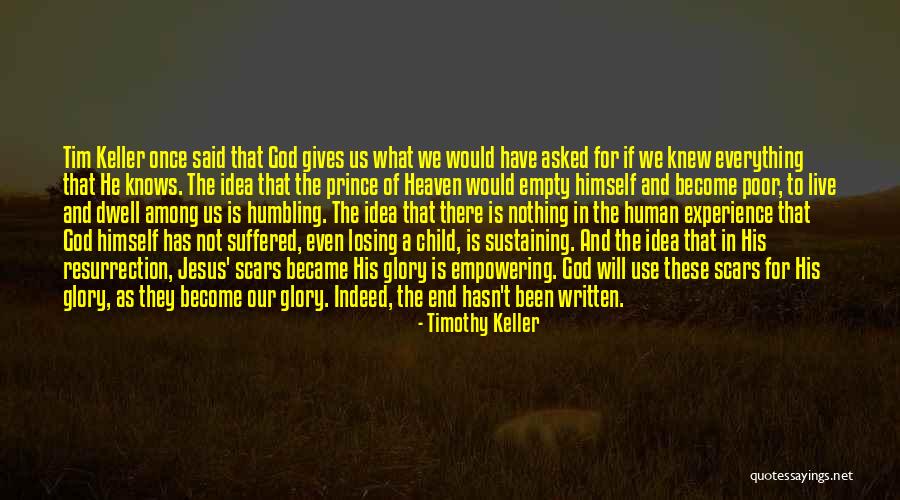 Tim Keller once said that God gives us what we would have asked for if we knew everything that He knows. The idea that the prince of Heaven would empty himself and become poor, to live and dwell among us is humbling. The idea that there is nothing in the human experience that God himself has not suffered, even losing a child, is sustaining. And the idea that in His resurrection, Jesus' scars became His glory is empowering. God will use these scars for His glory, as they become our glory. Indeed, the end hasn't been written. — Timothy Keller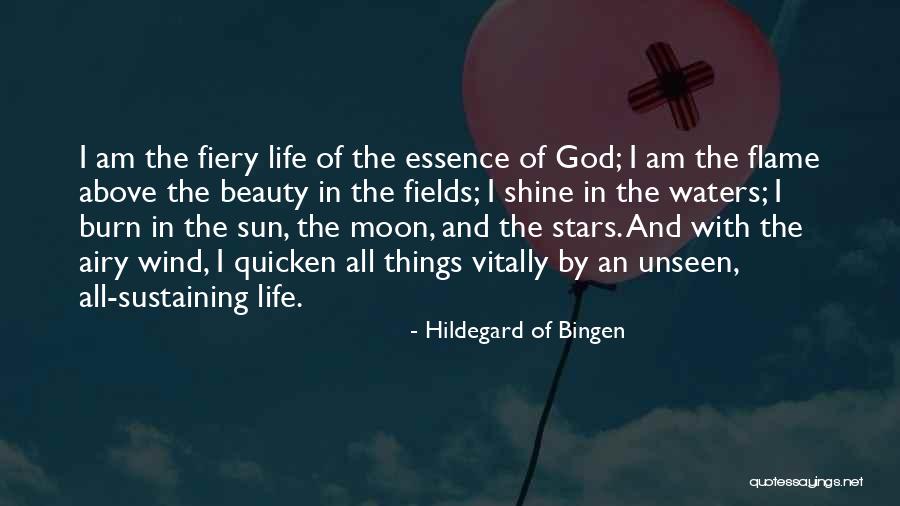 I am the fiery life of the essence of God; I am the flame above the beauty in the fields; I shine in the waters; I burn in the sun, the moon, and the stars. And with the airy wind, I quicken all things vitally by an unseen, all-sustaining life. — Hildegard Of Bingen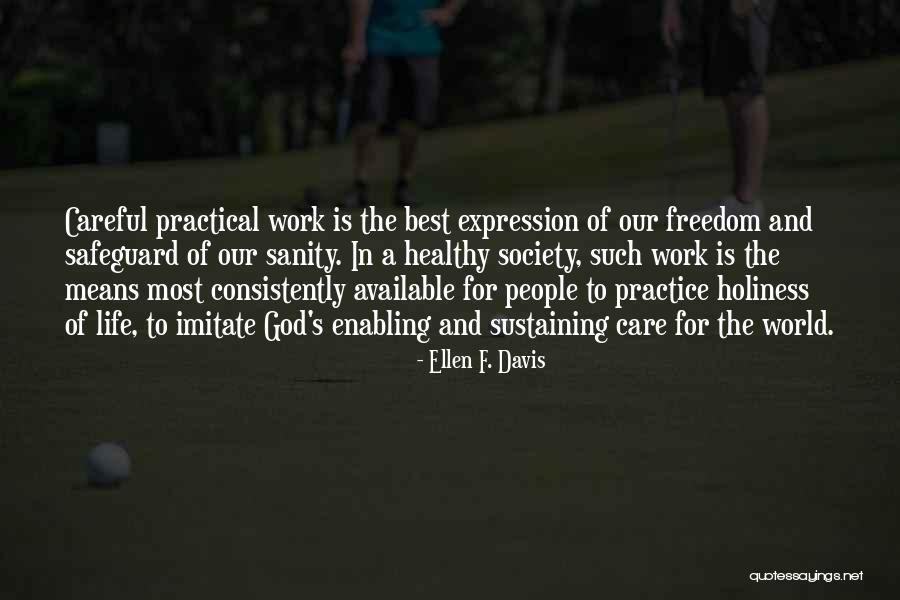 Careful practical work is the best expression of our freedom and safeguard of our sanity. In a healthy society, such work is the means most consistently available for people to practice holiness of life, to imitate God's enabling and sustaining care for the world. — Ellen F. Davis
Problems are providence in disguise. All things good and bad, problematic and praise worthy are providential-God conceived, sustaining and guiding. With the right perspective, patience, hard work and hindsight, we can push through, beyond our pain, to a place of realization... that our troubles are simply part of the hands of the Potter who molds the very essence of our human spirit. As long as we breathe, we will be shaped by our problems but it's our response that truly defines us. ~Jason Versey — Jason Versey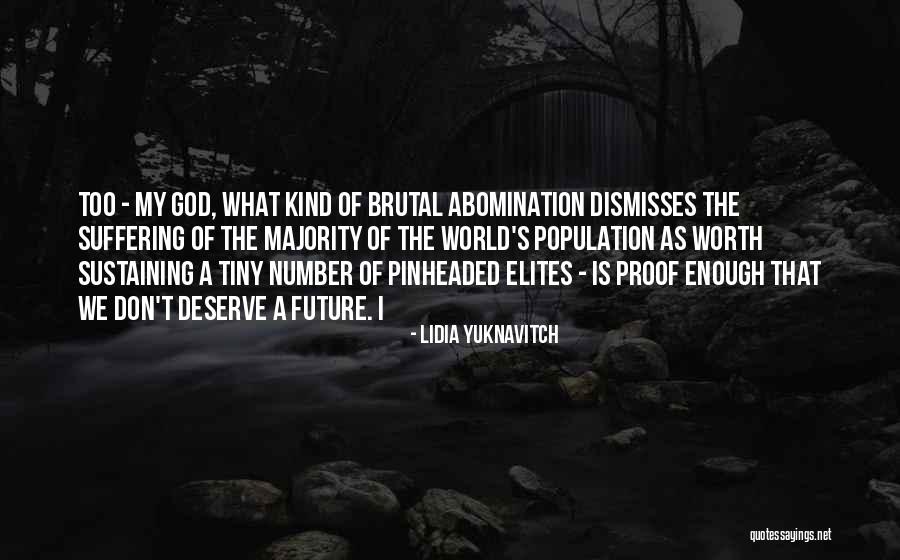 too - my god, what kind of brutal abomination dismisses the suffering of the majority of the world's population as worth sustaining a tiny number of pinheaded elites - is proof enough that we don't deserve a future. I — Lidia Yuknavitch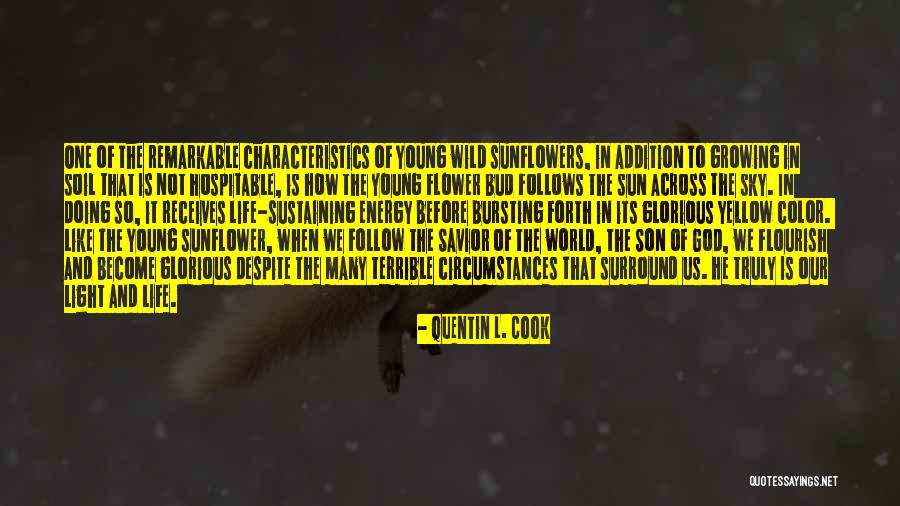 One of the remarkable characteristics of young wild sunflowers, in addition to growing in soil that is not hospitable, is how the young flower bud follows the sun across the sky. In doing so, it receives life-sustaining energy before bursting forth in its glorious yellow color.
Like the young sunflower, when we follow the Savior of the world, the Son of God, we flourish and become glorious despite the many terrible circumstances that surround us. He truly is our light and life. — Quentin L. Cook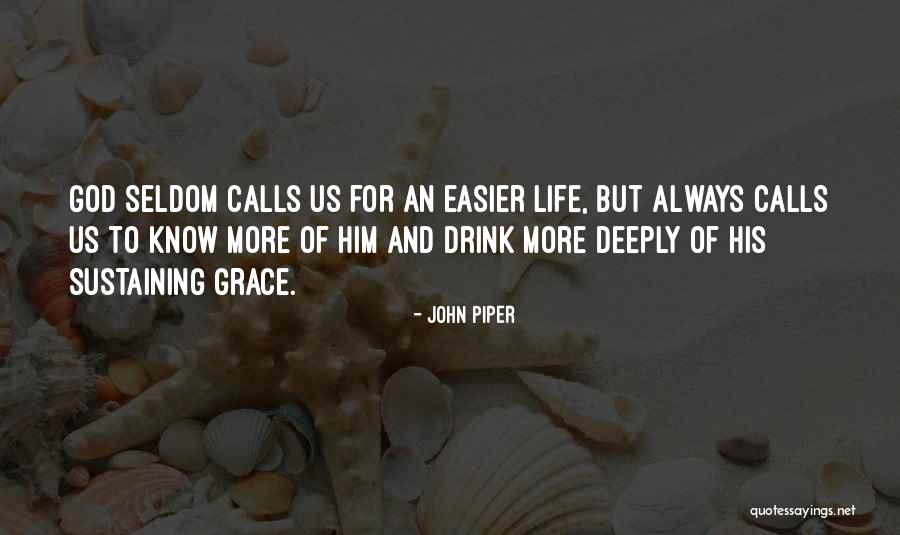 God seldom calls us for an easier life, but always calls us to know more of him and drink more deeply of His sustaining grace. — John Piper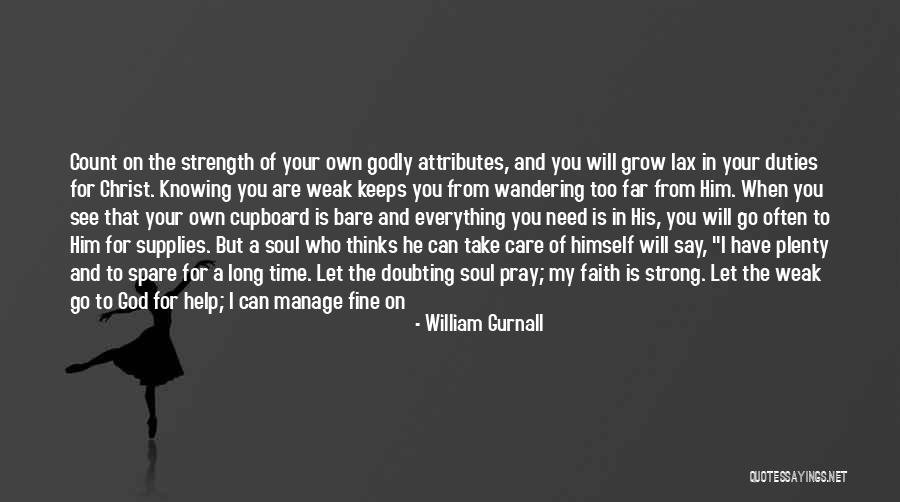 Count on the strength of your own godly attributes, and you will grow lax in your duties for Christ. Knowing you are weak keeps you from wandering too far from Him. When you see that your own cupboard is bare and everything you need is in His, you will go often to Him for supplies. But a soul who thinks he can take care of himself will say, "I have plenty and to spare for a long time. Let the doubting soul pray; my faith is strong. Let the weak go to God for help; I can manage fine on my own." What a sad state of affairs, to suppose that we no longer need the moment-by-moment sustaining grace of God.
Not only does overestimating the strength of our own goodness make us shun God's help, but it also makes us foolhardy and venturesome. You who boast about your spirituality are likely to put yourselves in all kinds of dangerous situations, then brag that you can handle them. — William Gurnall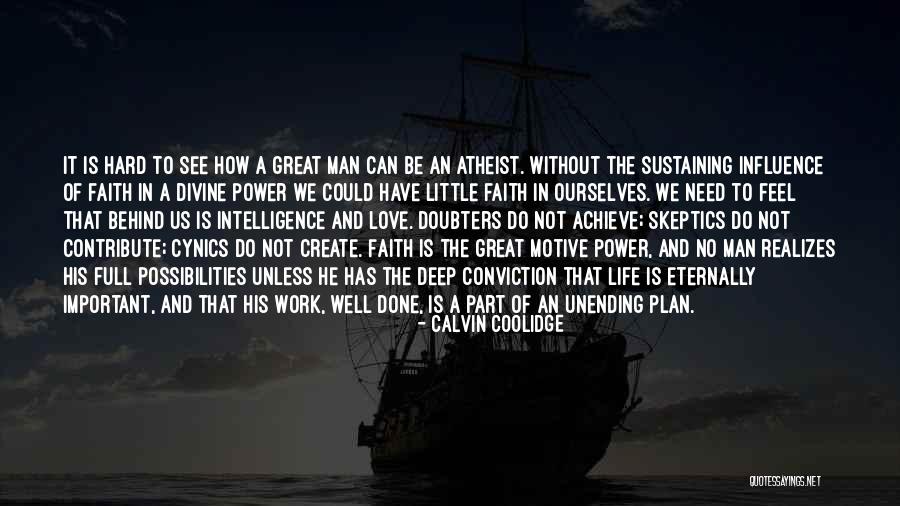 It is hard to see how a great man can be an atheist. Without the sustaining influence of faith in a divine power we could have little faith in ourselves. We need to feel that behind us is intelligence and love. Doubters do not achieve; skeptics do not contribute; cynics do not create. Faith is the great motive power, and no man realizes his full possibilities unless he has the deep conviction that life is eternally important, and that his work, well done, is a part of an unending plan. — Calvin Coolidge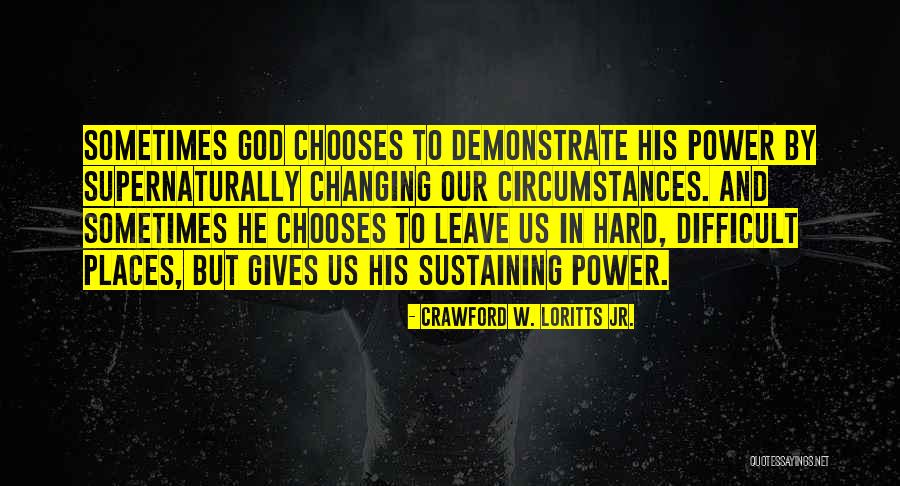 Sometimes God chooses to demonstrate his power by supernaturally changing our circumstances. And sometimes he chooses to leave us in hard, difficult places, but gives us his sustaining power. — Crawford W. Loritts Jr.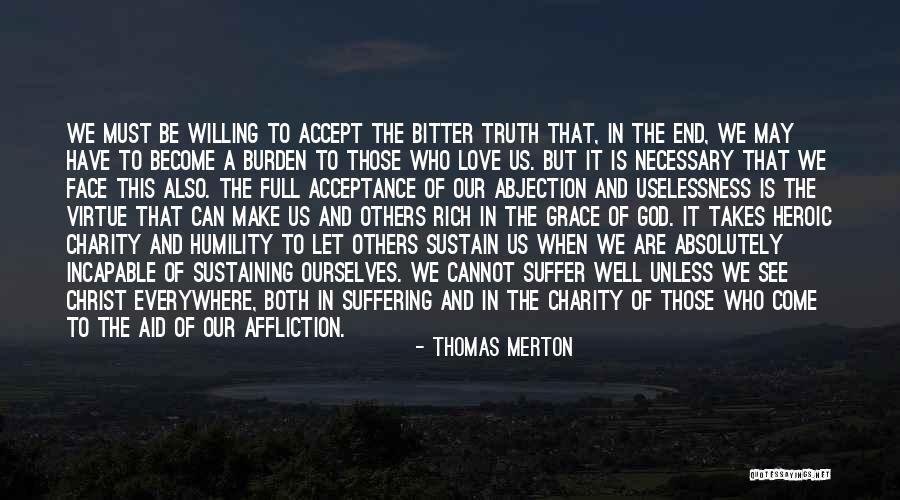 We must be willing to accept the bitter truth that, in the end, we may have to become a burden to those who love us. But it is necessary that we face this also. The full acceptance of our abjection and uselessness is the virtue that can make us and others rich in the grace of God. It takes heroic charity and humility to let others sustain us when we are absolutely incapable of sustaining ourselves. We cannot suffer well unless we see Christ everywhere, both in suffering and in the charity of those who come to the aid of our affliction. — Thomas Merton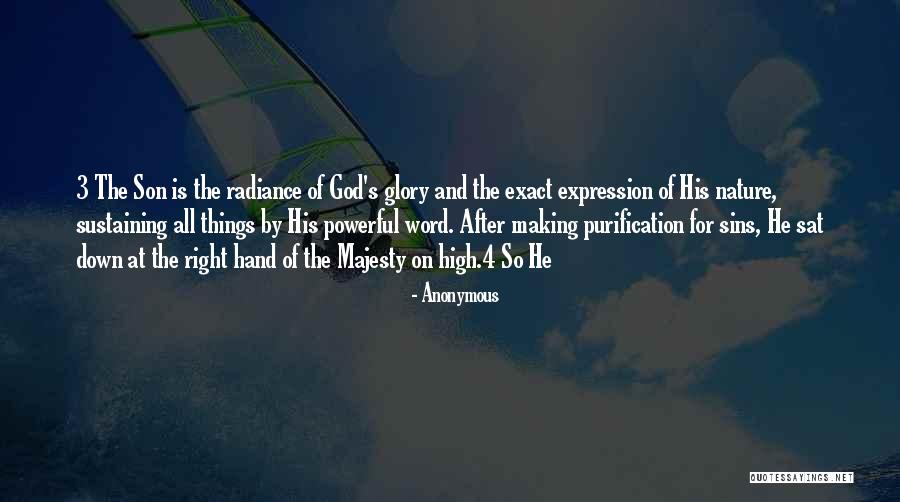 3 The Son is the radiance of God's glory and the exact expression of His nature, sustaining all things by His powerful word. After making purification for sins, He sat down at the right hand of the Majesty on high.4 So He — Anonymous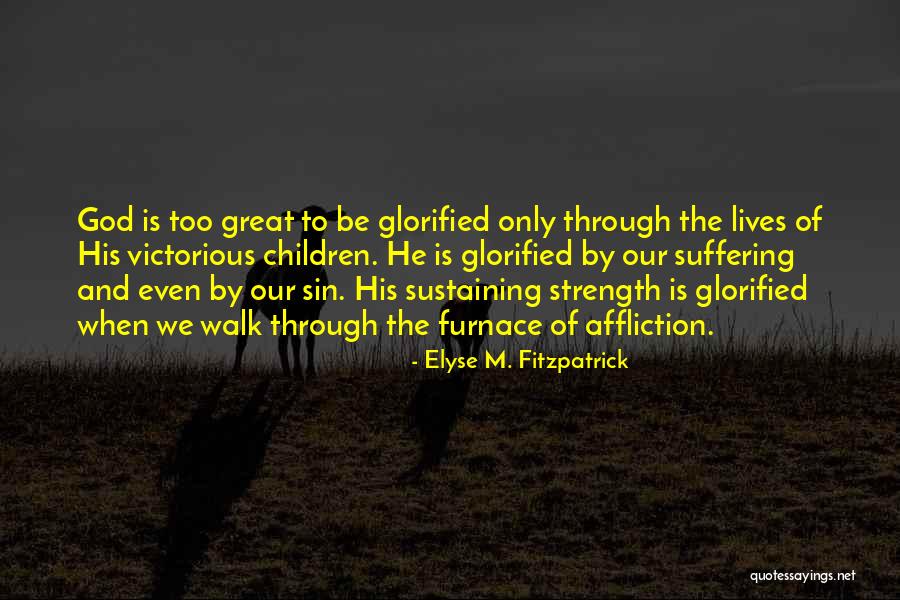 God is too great to be glorified only through the lives of His victorious children. He is glorified by our suffering and even by our sin. His sustaining strength is glorified when we walk through the furnace of affliction. — Elyse M. Fitzpatrick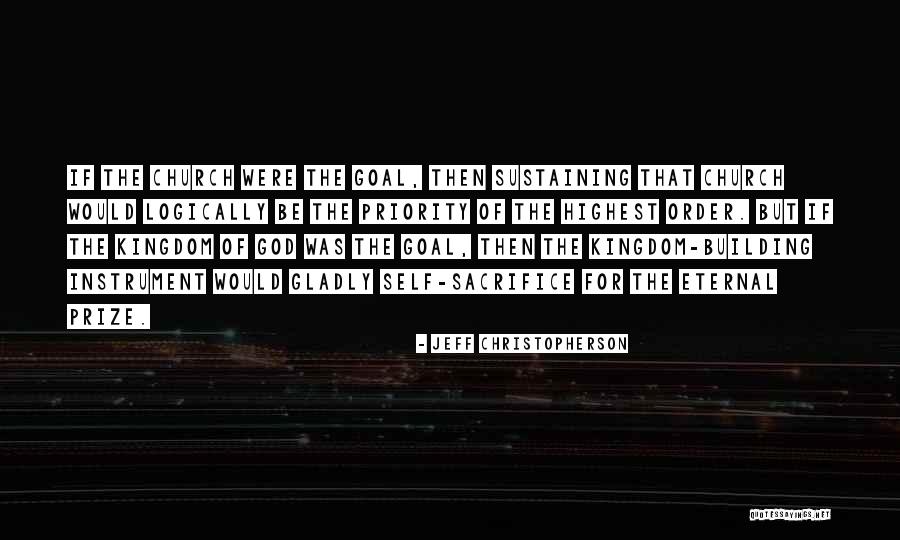 If the church were the goal, then sustaining that church would logically be the priority of the highest order. But if the Kingdom of God was the goal, then the Kingdom-building instrument would gladly self-sacrifice for the eternal prize. — Jeff Christopherson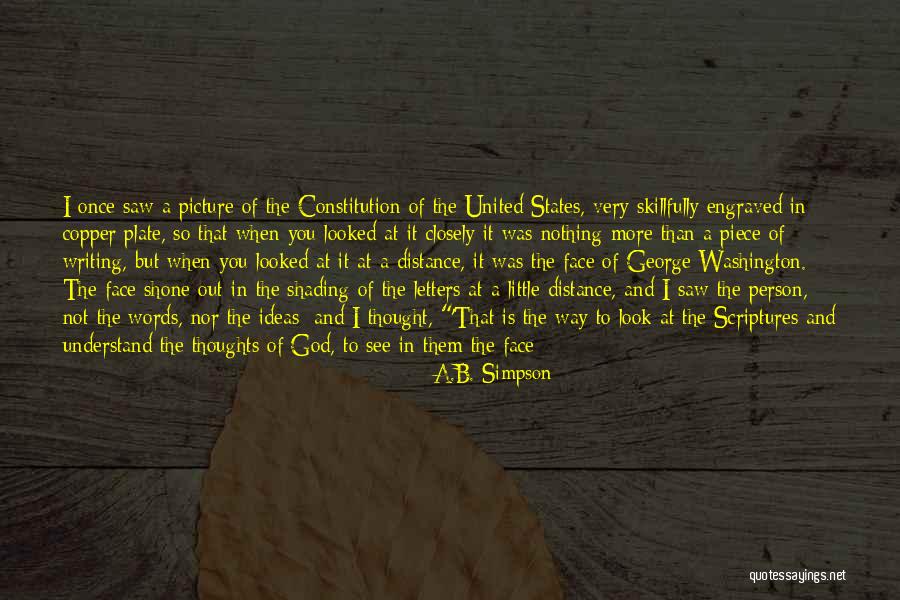 I once saw a picture of the Constitution of the United States, very skillfully engraved in copper plate, so that when you looked at it closely it was nothing more than a piece of writing, but when you looked at it at a distance, it was the face of George Washington. The face shone out in the shading of the letters at a little distance, and I saw the person, not the words, nor the ideas; and I thought, "'That is the way to look at the Scriptures and understand the thoughts of God, to see in them the face of love, shining through and through; not ideas, nor doctrines, but Jesus Himself as the Life and Source and sustaining Presence of all our life. — A.B. Simpson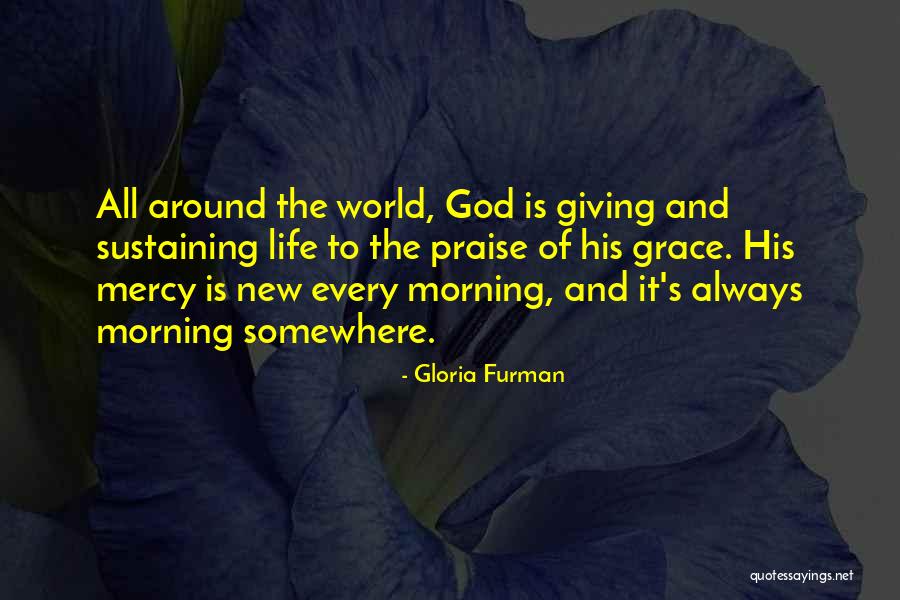 All around the world, God is giving and sustaining life to the praise of his grace. His mercy is new every morning, and it's always morning somewhere. — Gloria Furman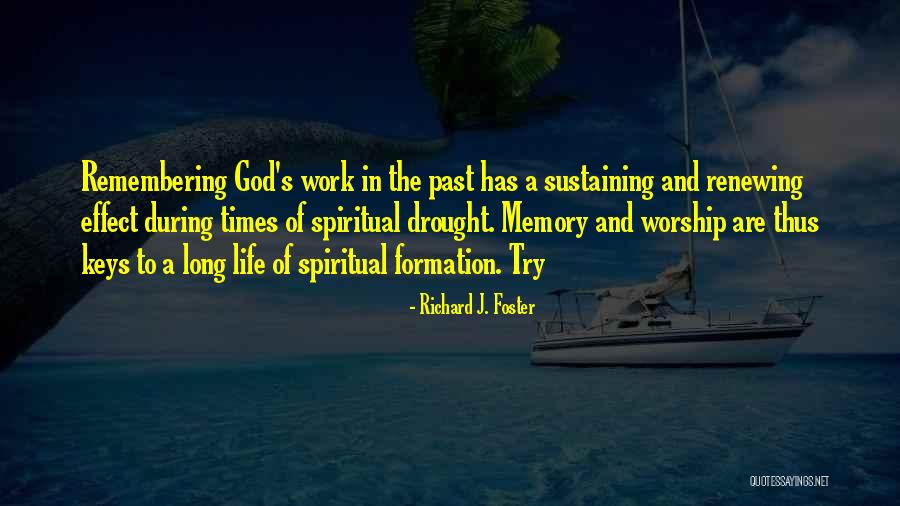 Remembering God's work in the past has a sustaining and renewing effect during times of spiritual drought. Memory and worship are thus keys to a long life of spiritual formation. Try — Richard J. Foster
Sustaining faith is what sets you through those dark nights of the soul when you don't know where to go or what to do, and it seems that you can't last another day ... but because of your faith in God, you do. — Joel Osteen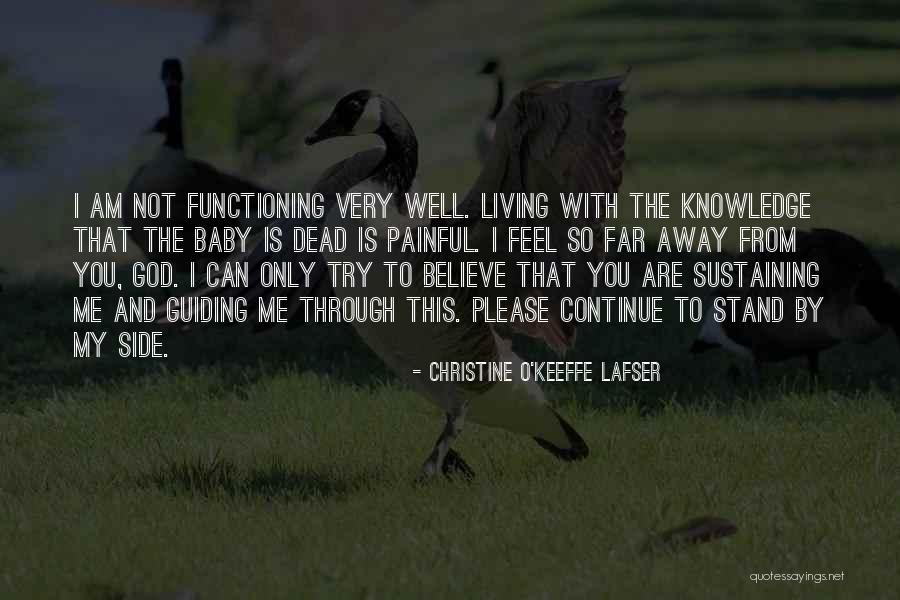 I am not functioning very well. Living with the knowledge that the baby is dead is painful. I feel so far away from you, God. I can only try to believe that you are sustaining me and guiding me through this. Please continue to stand by my side. — Christine O'Keeffe Lafser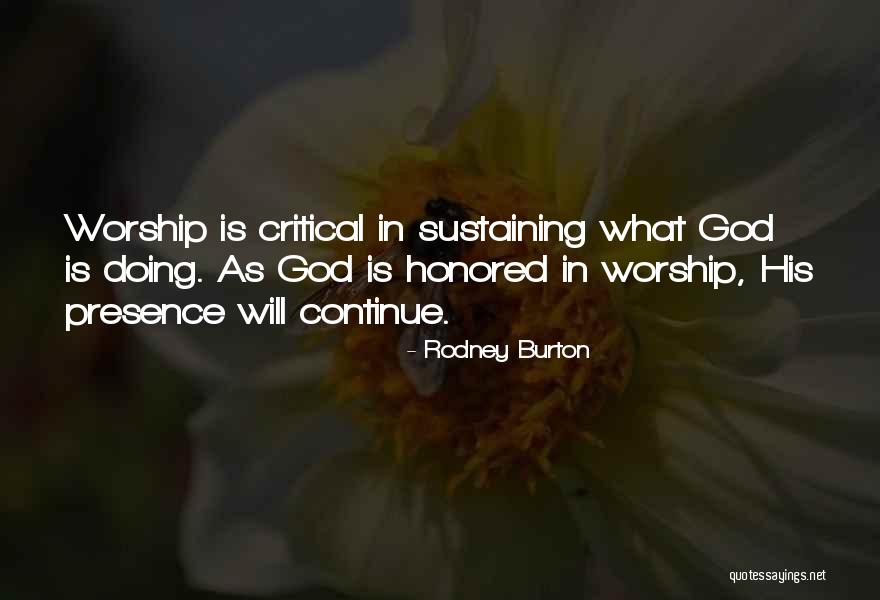 Worship is critical in sustaining what God is doing. As God is honored in worship, His presence will continue. — Rodney Burton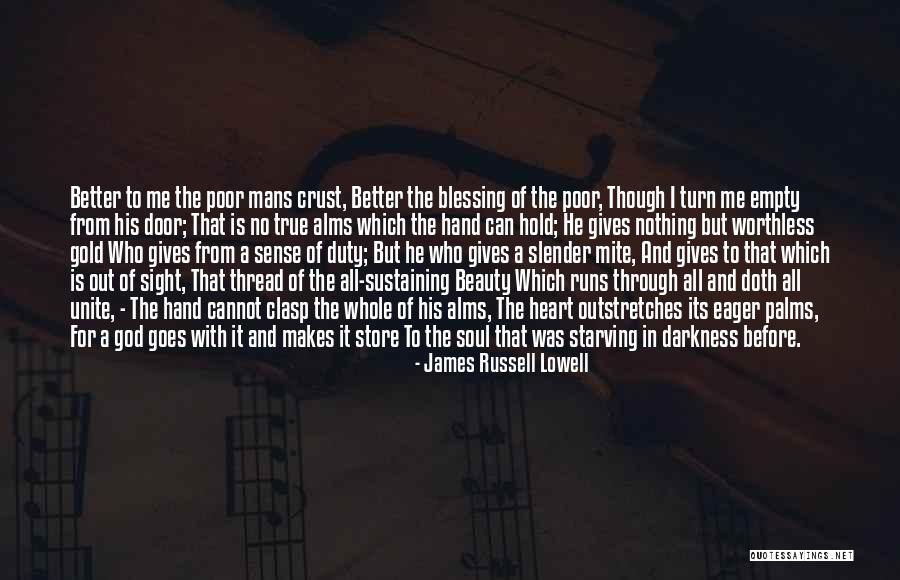 Better to me the poor mans crust,
Better the blessing of the poor,
Though I turn me empty from his door;
That is no true alms which the hand can hold;
He gives nothing but worthless gold
Who gives from a sense of duty;
But he who gives a slender mite,
And gives to that which is out of sight,
That thread of the all-sustaining Beauty
Which runs through all and doth all unite, -
The hand cannot clasp the whole of his alms,
The heart outstretches its eager palms,
For a god goes with it and makes it store
To the soul that was starving in darkness before. — James Russell Lowell
[H]ealing displays the works of God in John 9,
and sustaining grace displays the works of God in 2 Corinthians
12. What is common in the two cases is the supreme value
of the glory of God. The blindness is for the glory of God. The
thorn in the flesh is for the glory of God. The healing is for his
glory, and the non-healing is for his glory.
Suffering can only have ultimate meaning in relation to God. — John Piper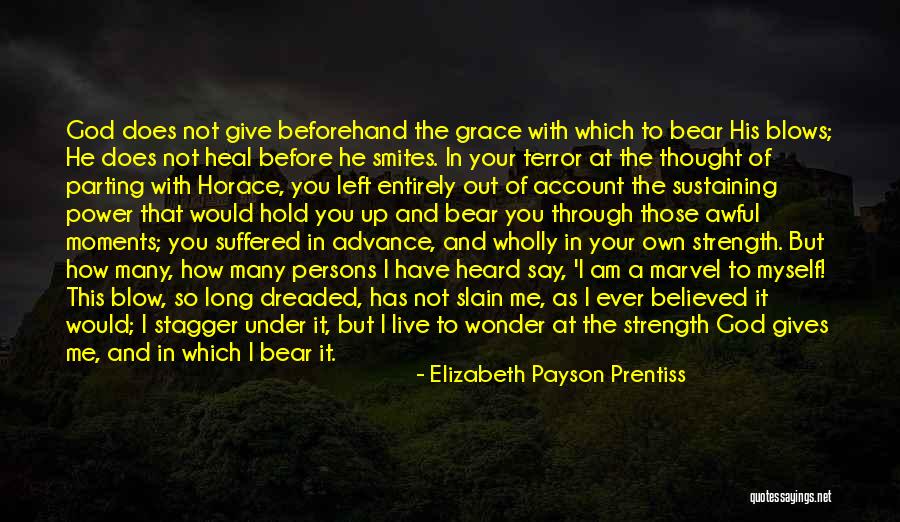 God does not give beforehand the grace with which to bear His blows; He does not heal before he smites. In your terror at the thought of parting with Horace, you left entirely out of account the sustaining power that would hold you up and bear you through those awful moments; you suffered in advance, and wholly in your own strength. But how many, how many persons I have heard say, 'I am a marvel to myself! This blow, so long dreaded, has not slain me, as I ever believed it would; I stagger under it, but I live to wonder at the strength God gives me, and in which I bear it. — Elizabeth Payson Prentiss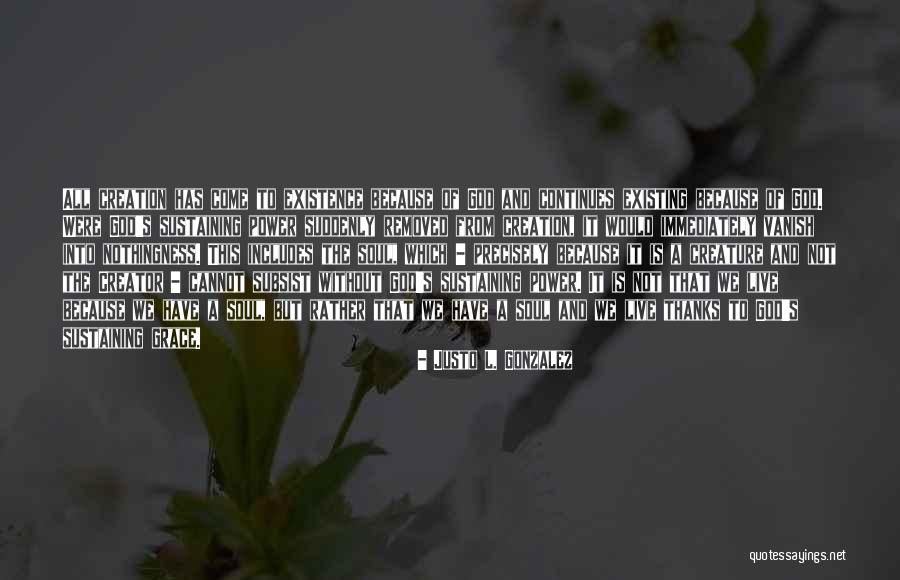 All creation has come to existence because of God and continues existing because of God. Were God's sustaining power suddenly removed from creation, it would immediately vanish into nothingness. This includes the soul, which - precisely because it is a creature and not the Creator - cannot subsist without God's sustaining power. It is not that we live because we have a soul, but rather that we have a soul and we live thanks to God's sustaining grace. — Justo L. Gonzalez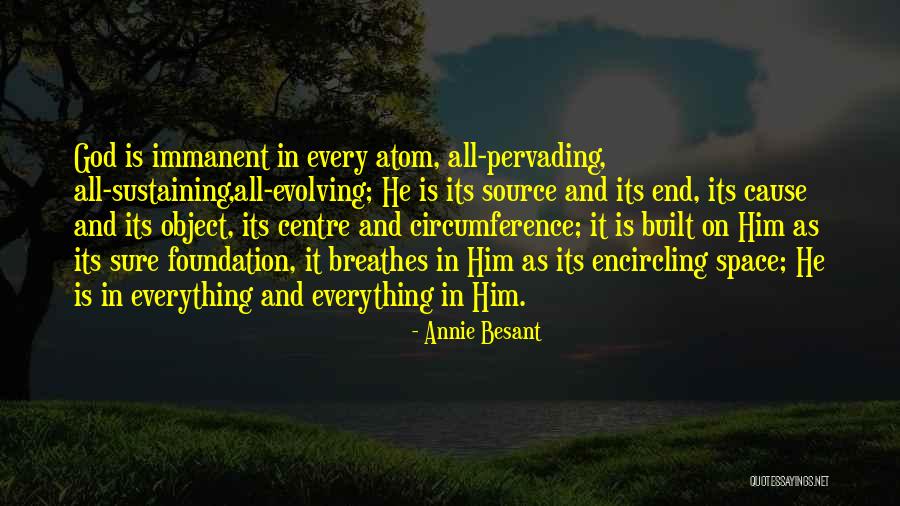 God is immanent in every atom, all-pervading, all-sustaining,all-evolving; He is its source and its end, its cause and its object, its centre and circumference; it is built on Him as its sure foundation, it breathes in Him as its encircling space; He is in everything and everything in Him. — Annie Besant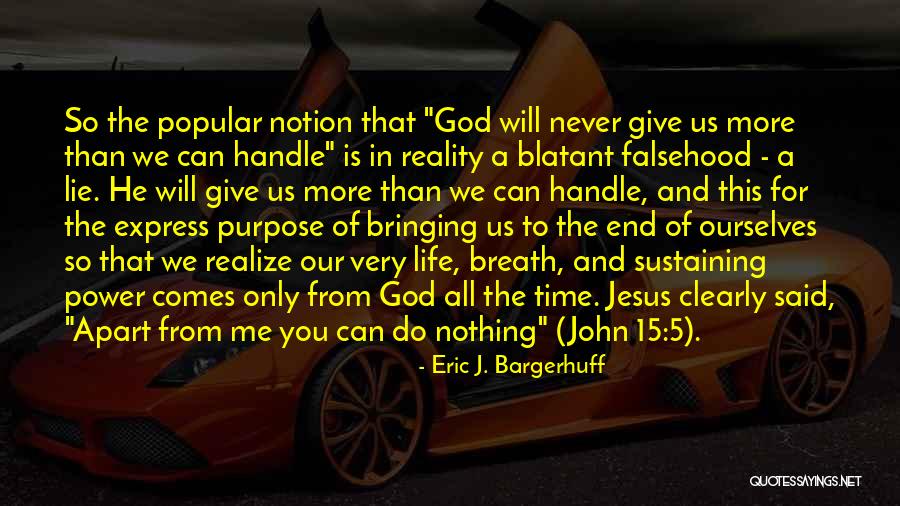 So the popular notion that "God will never give us more than we can handle" is in reality a blatant falsehood - a lie. He will give us more than we can handle, and this for the express purpose of bringing us to the end of ourselves so that we realize our very life, breath, and sustaining power comes only from God all the time. Jesus clearly said, "Apart from me you can do nothing" (John 15:5). — Eric J. Bargerhuff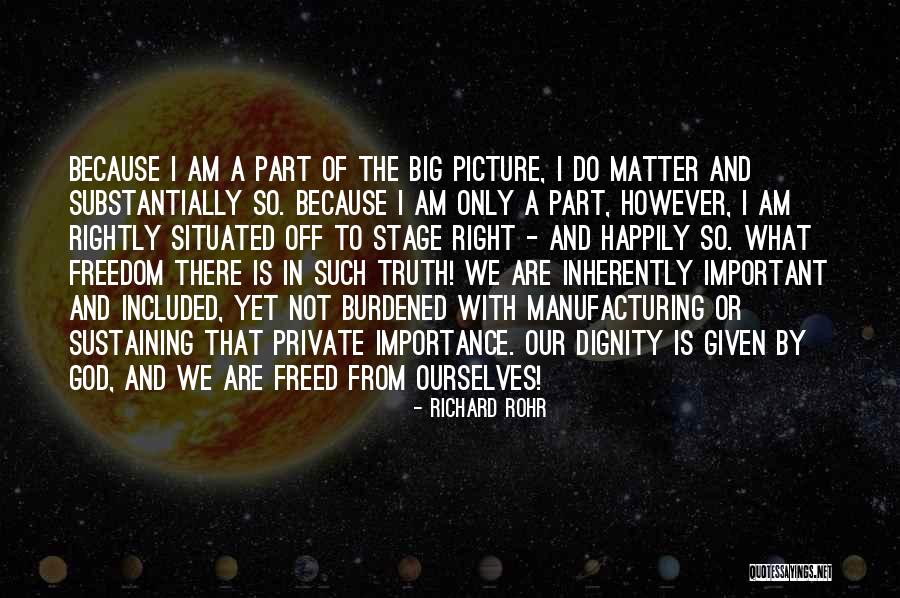 Because I am a part of the Big Picture, I do matter and substantially so. Because I am only a part, however, I am rightly situated off to stage right - and happily so. What freedom there is in such truth! We are inherently important and included, yet not burdened with manufacturing or sustaining that private importance. Our dignity is given by God, and we are freed from ourselves! — Richard Rohr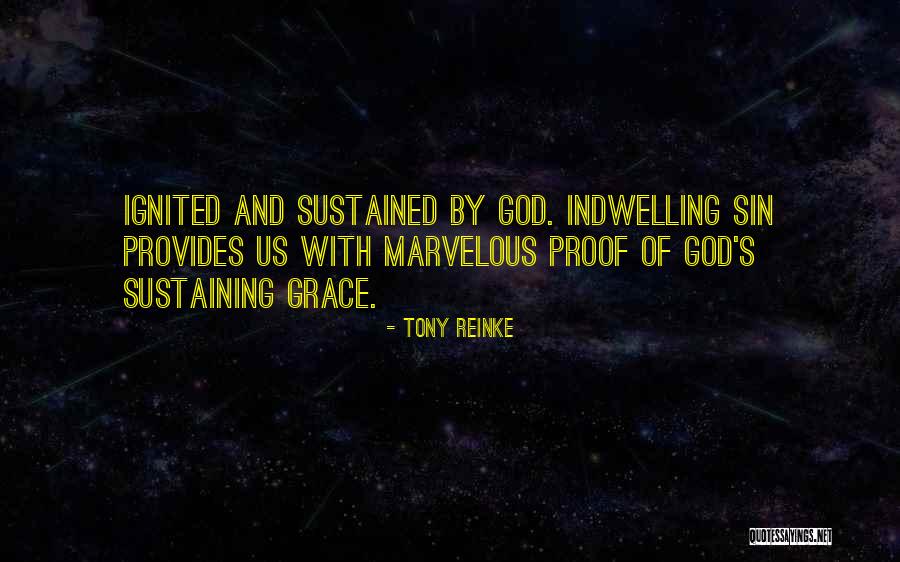 ignited and sustained by God. Indwelling sin provides us with marvelous proof of God's sustaining grace. — Tony Reinke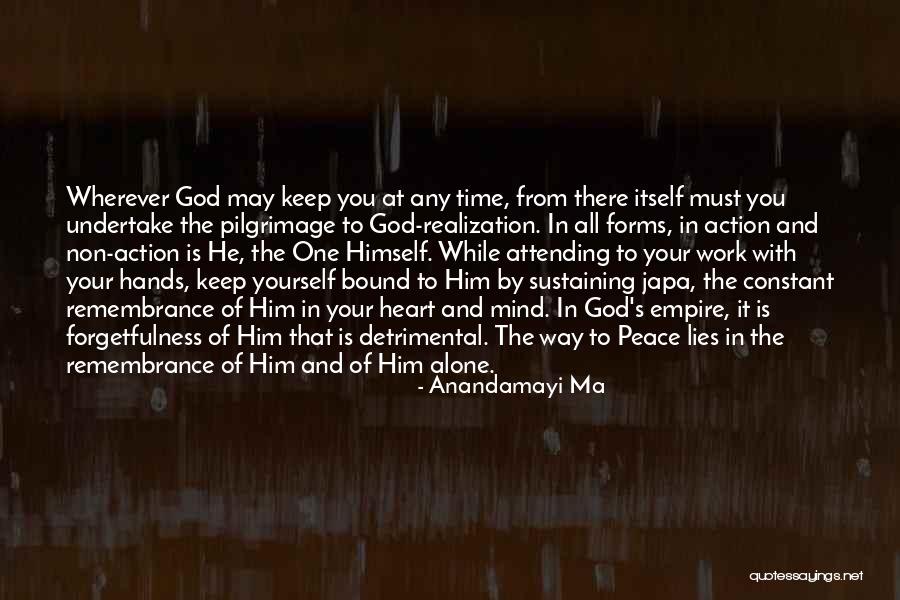 Wherever God may keep you at any time, from there itself must you undertake the pilgrimage to God-realization. In all forms, in action and non-action is He, the One Himself. While attending to your work with your hands, keep yourself bound to Him by sustaining japa, the constant remembrance of Him in your heart and mind. In God's empire, it is forgetfulness of Him that is detrimental. The way to Peace lies in the remembrance of Him and of Him alone. — Anandamayi Ma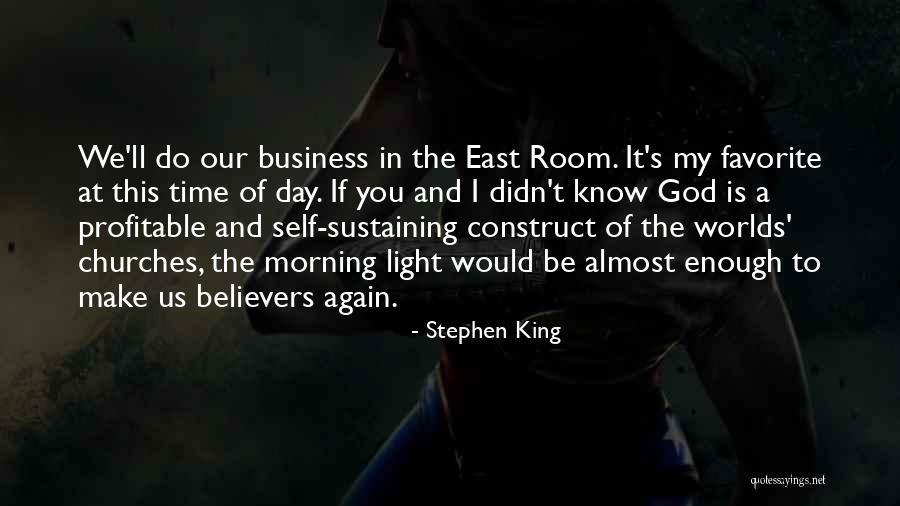 We'll do our business in the East Room. It's my favorite at this time of day. If you and I didn't know God is a profitable and self-sustaining construct of the worlds' churches, the morning light would be almost enough to make us believers again. — Stephen King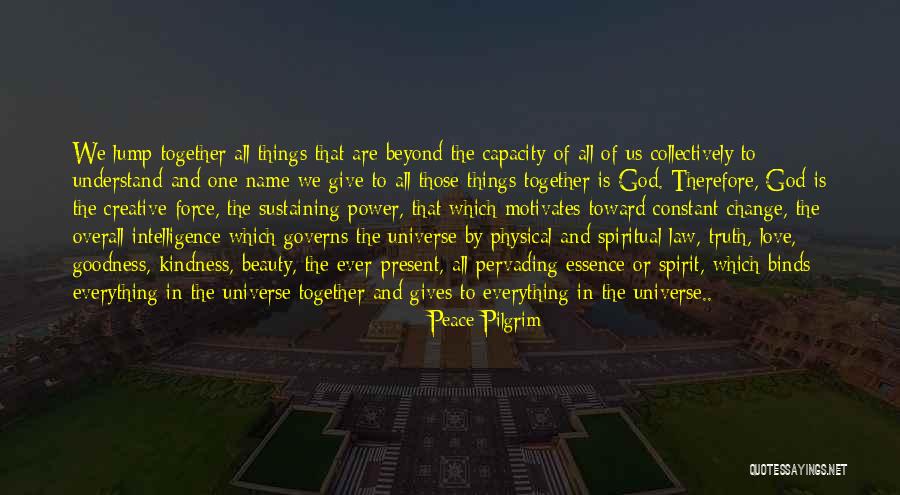 We lump together all things that are beyond the capacity of all of us collectively to understand-and one name we give to all those things together is God. Therefore, God is the creative force, the sustaining power, that which motivates toward constant change, the overall intelligence which governs the universe by physical and spiritual law, truth, love, goodness, kindness, beauty, the ever-present, all-pervading essence or spirit, which binds everything in the universe together and gives to everything in the universe.. — Peace Pilgrim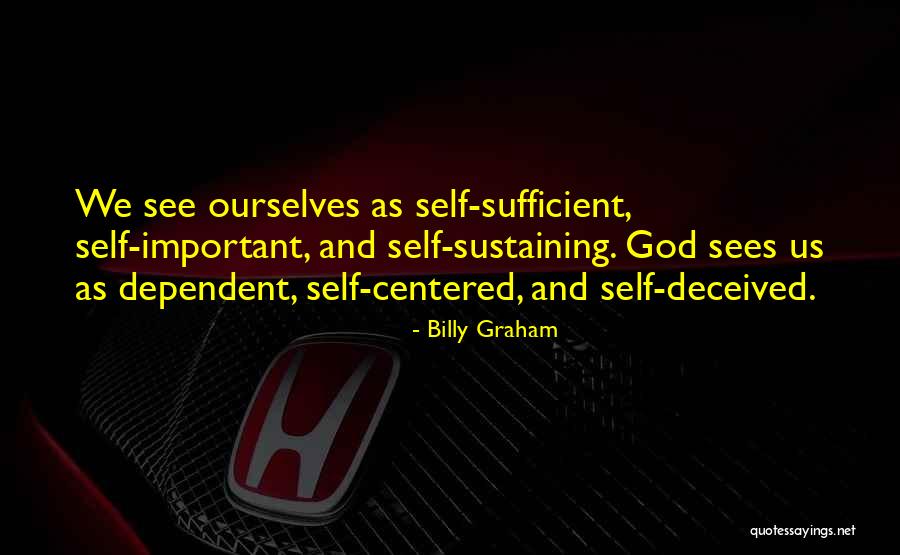 We see ourselves as self-sufficient, self-important, and self-sustaining. God sees us as dependent, self-centered, and self-deceived. — Billy Graham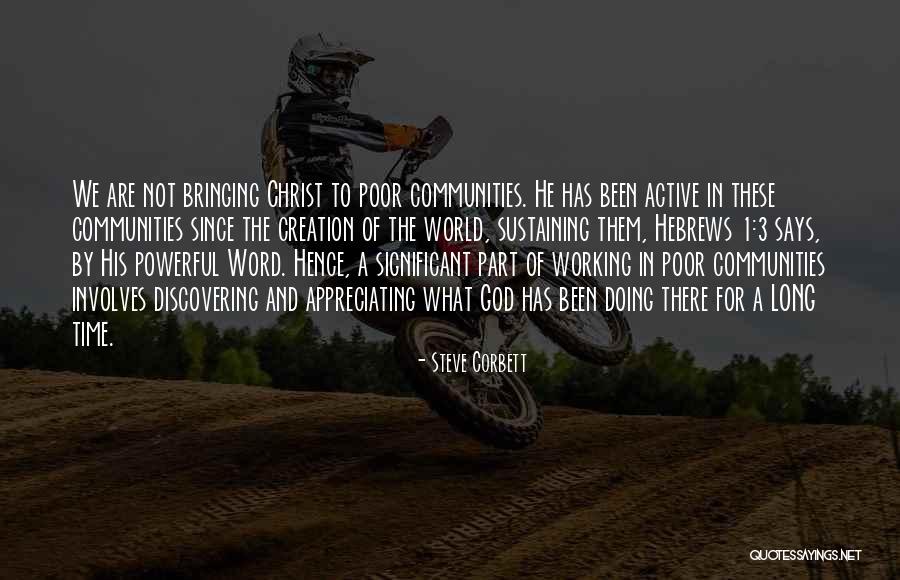 We are not bringing Christ to poor communities. He has been active in these communities since the creation of the world, sustaining them, Hebrews 1:3 says, by His powerful Word. Hence, a significant part of working in poor communities involves discovering and appreciating what God has been doing there for a LONG time. — Steve Corbett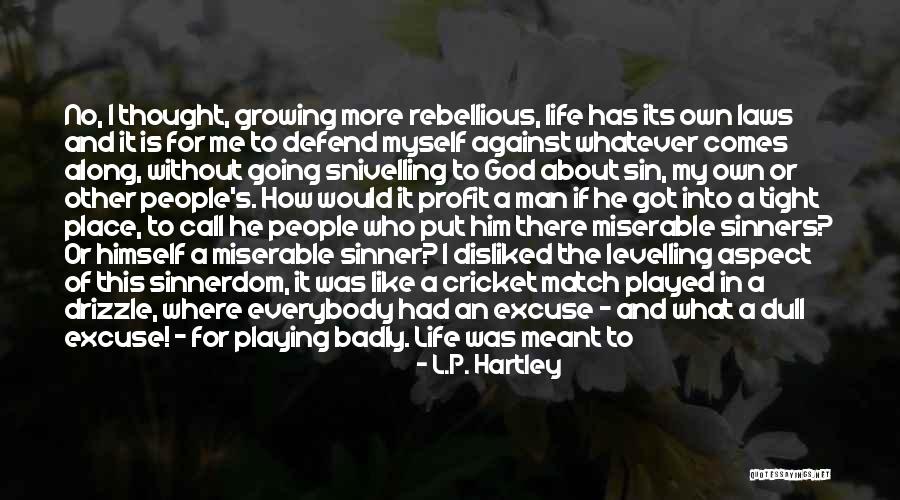 No, I thought, growing more rebellious, life has its own laws and it is for me to defend myself against whatever comes along, without going snivelling to God about sin, my own or other people's. How would it profit a man if he got into a tight place, to call he people who put him there miserable sinners? Or himself a miserable sinner? I disliked the levelling aspect of this sinnerdom, it was like a cricket match played in a drizzle, where everybody had an excuse - and what a dull excuse! - for playing badly. Life was meant to test a man, bring out his courage, initiative, resource; and I longed, I thought, to be tested: I didn't want to fall on my knees and call myself a miserable sinner.
But the idea of goodness did attract me, for I did not regard it as the opposite of sin. I saw it as something bright and positive and sustaining, like the sunshine, something to be adored, but from afar. — L.P. Hartley
It's all about the relationships; forming them and sustaining them, growing and building a back and forth that will be useful to both parties. Generally speaking, I'm not a fan of the practice so often seen today: a person decides that a particular God or Goddess is suitable for a one off ritual or occasion, calls them up, expects them to grant boons and favours and help out in whatever situation is being worked for, and then is never heard from again. If a complete stranger walked into your house and asked for a favour, however politely - would you be inclined to help? Possibly you would, and sometimes the Powers do too, if there is sufficient offering or perhaps bribery involved. They are not above being bought off. However, most people would be far more inclined to help out when a friend asks a favour, and this follows through with the Gods, in my experience. A give and take relationship is the most effective and respectful way I have found of working with them. — Lora O'Brien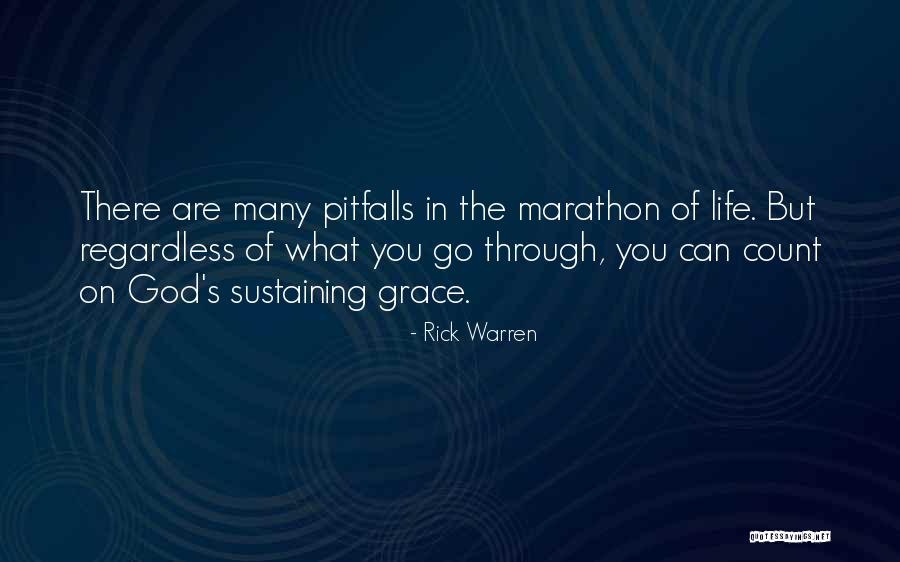 There are many pitfalls in the marathon of life. But regardless of what you go through, you can count on God's sustaining grace. — Rick Warren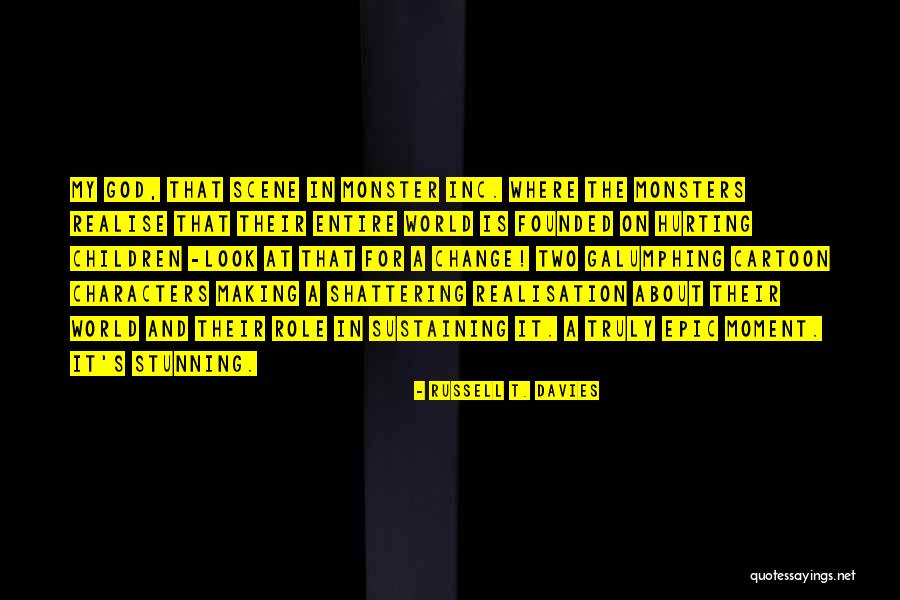 My God, that scene in Monster Inc. where the monsters realise that their entire world is founded on hurting children -look at that for a change! Two galumphing cartoon characters making a shattering realisation about their world and their role in sustaining it. A truly epic moment. It's stunning. — Russell T. Davies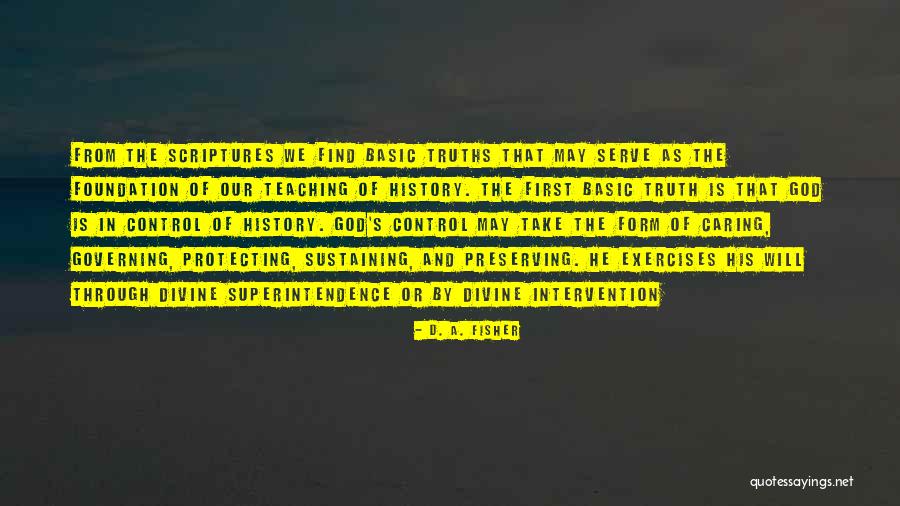 From the Scriptures we find basic truths that may serve as the foundation of our teaching of history. The first basic truth is that God is in control of history. God's control may take the form of caring, governing, protecting, sustaining, and preserving. He exercises His will through divine superintendence or by divine intervention — D. A. Fisher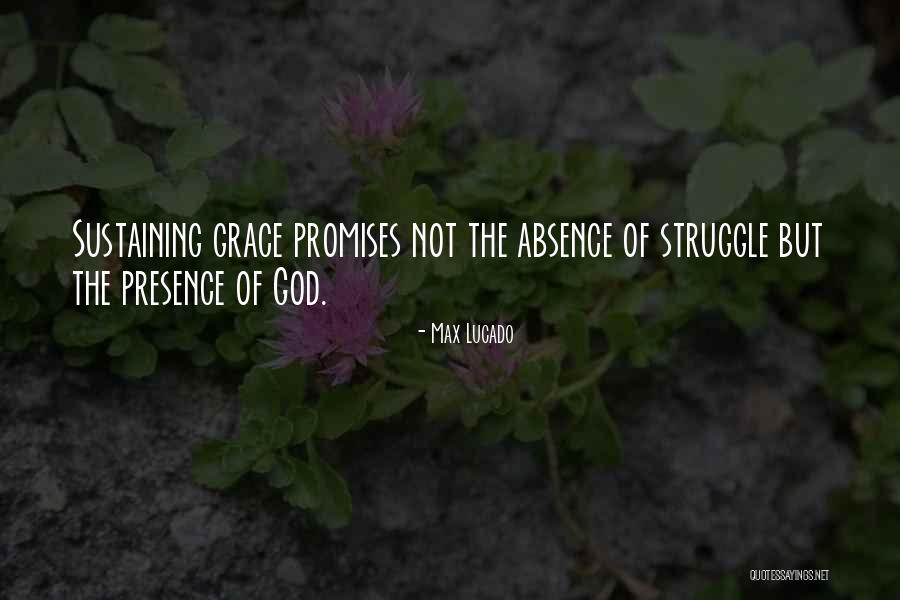 Sustaining grace promises not the absence of struggle but the presence of God. — Max Lucado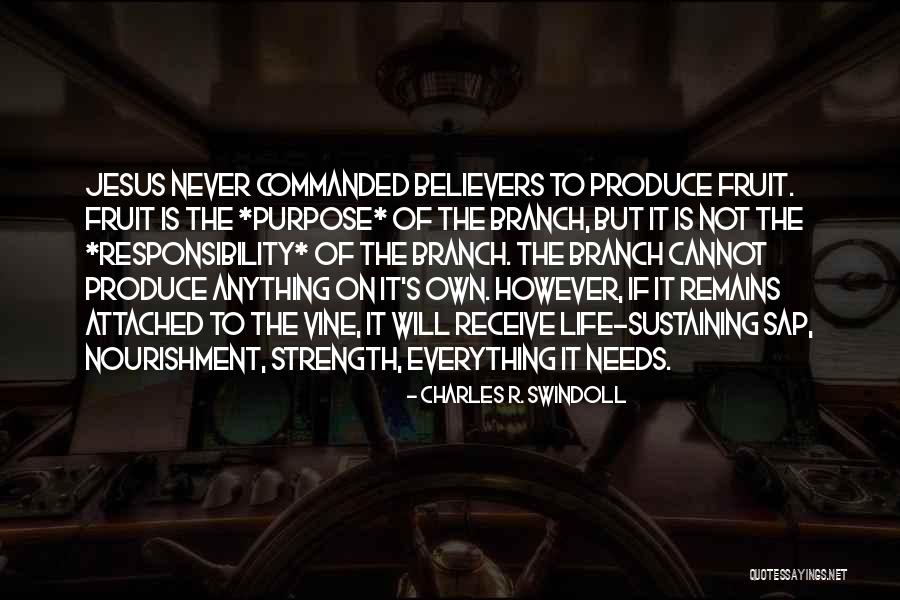 Jesus never commanded believers to produce fruit. Fruit is the *purpose* of the branch, but it is not the *responsibility* of the branch. The branch cannot produce anything on it's own. However, if it remains attached to the vine, it will receive life-sustaining sap, nourishment, strength, everything it needs. — Charles R. Swindoll