Giving Up On The Human Race Quotes & Sayings
Enjoy reading and share 19 famous quotes about Giving Up On The Human Race with everyone.
What's been great about the human race gives you a sense of how great you might get, how far you can reach. — Jerry Garcia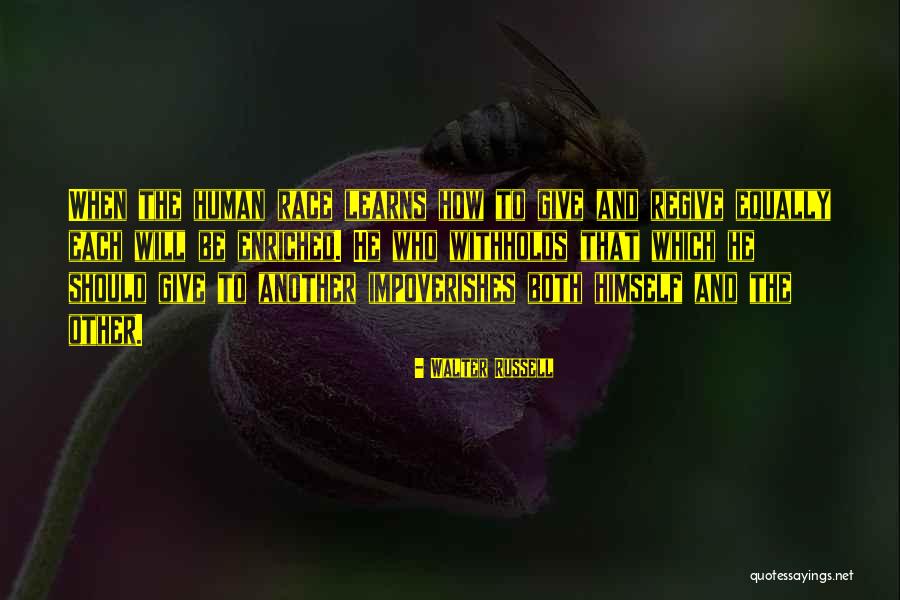 When the human race learns how to give and regive equally each will be enriched. He who withholds that which he should give to another impoverishes both himself and the other. — Walter Russell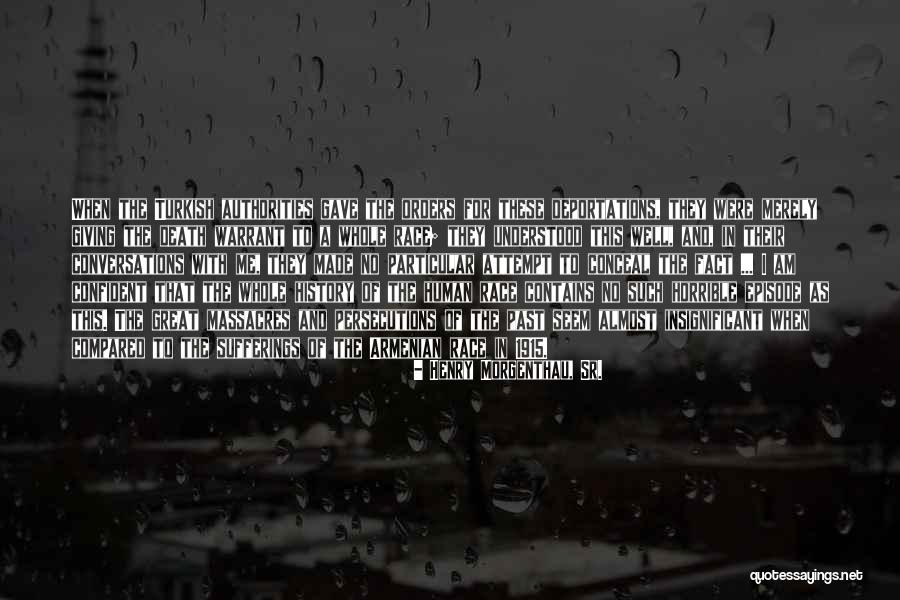 When the Turkish authorities gave the orders for these deportations, they were merely giving the death warrant to a whole race; they understood this well, and, in their conversations with me, they made no particular attempt to conceal the fact ... I am confident that the whole history of the human race contains no such horrible episode as this. The great massacres and persecutions of the past seem almost insignificant when compared to the sufferings of the Armenian race in 1915. — Henry Morgenthau, Sr.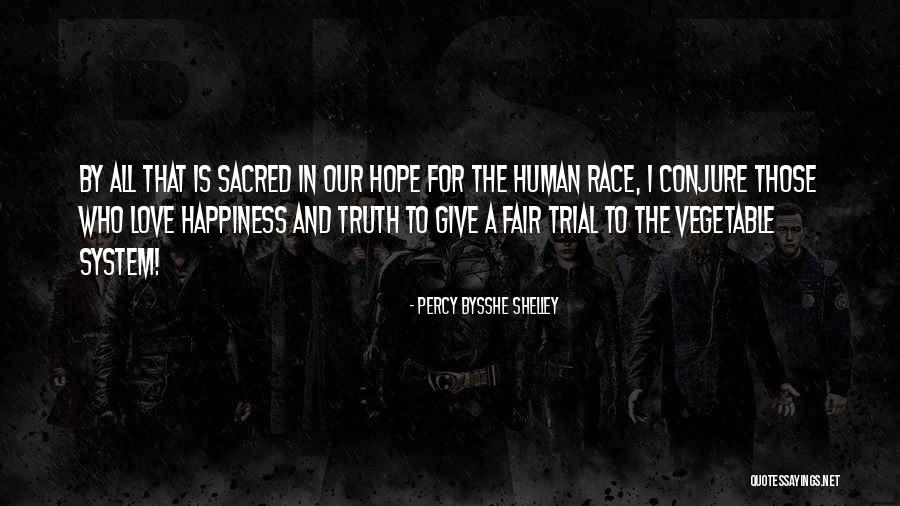 By all that is sacred in our hope for the human race, I conjure those who love happiness and truth to give a fair trial to the vegetable system! — Percy Bysshe Shelley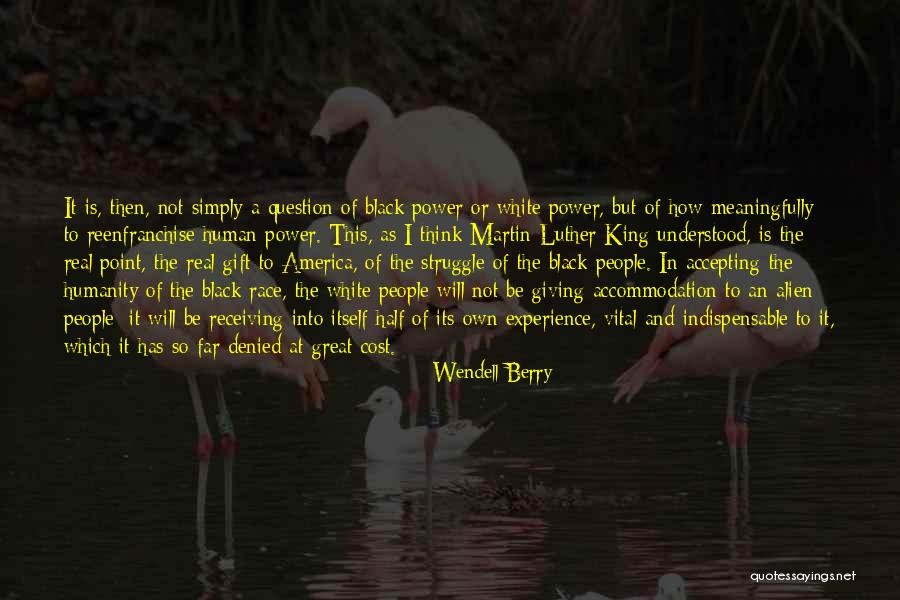 It is, then, not simply a question of black power or white power, but of how meaningfully to reenfranchise human power. This, as I think Martin Luther King understood, is the real point, the real gift to America, of the struggle of the black people. In accepting the humanity of the black race, the white people will not be giving accommodation to an alien people; it will be receiving into itself half of its own experience, vital and indispensable to it, which it has so far denied at great cost. — Wendell Berry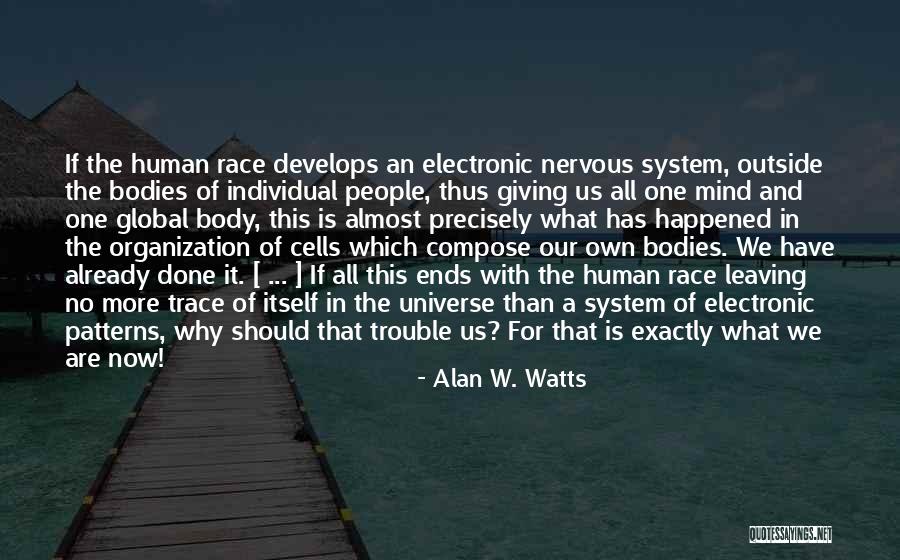 If the human race develops an electronic nervous system, outside the bodies of individual people, thus giving us all one mind and one global body, this is almost precisely what has happened in the organization of cells which compose our own bodies. We have already done it. [ ... ] If all this ends with the human race leaving no more trace of itself in the universe than a system of electronic patterns, why should that trouble us? For that is exactly what we are now! — Alan W. Watts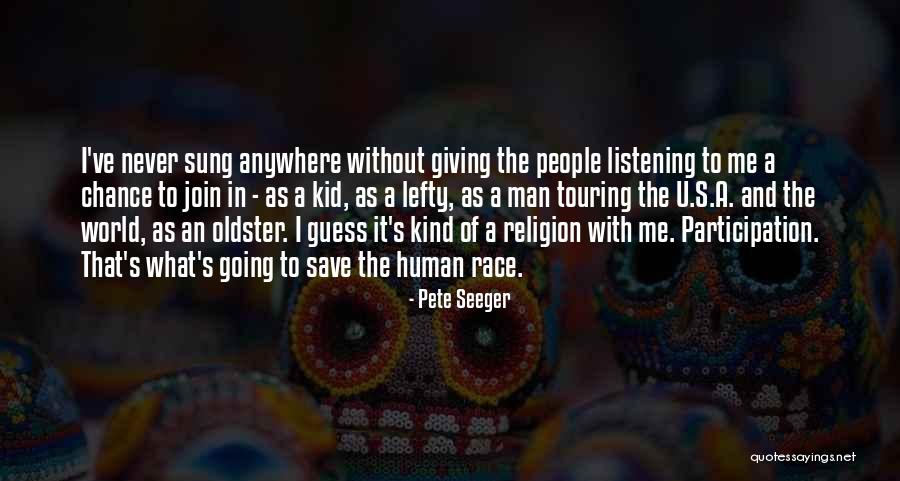 I've never sung anywhere without giving the people listening to me a chance to join in - as a kid, as a lefty, as a man touring the U.S.A. and the world, as an oldster. I guess it's kind of a religion with me. Participation. That's what's going to save the human race. — Pete Seeger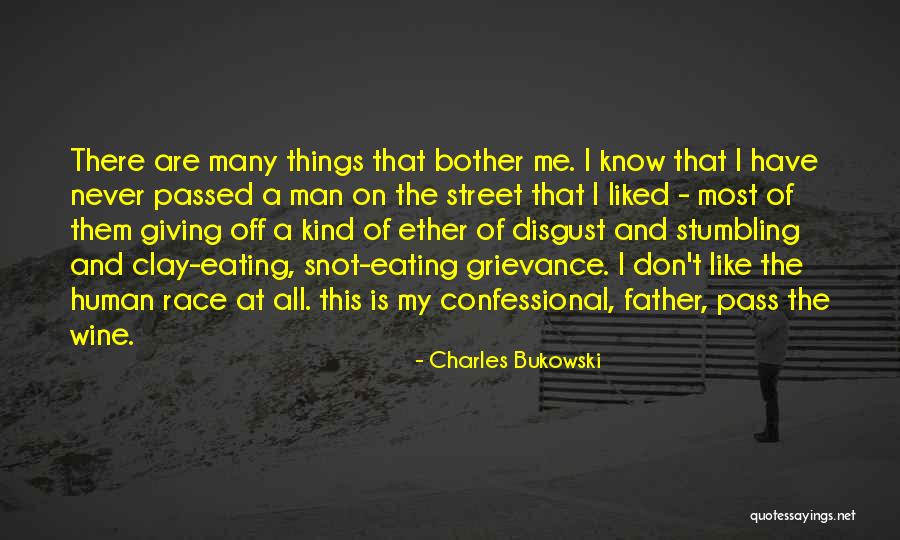 There are many things that bother me. I know that I have never passed a man on the street that I liked - most of them giving off a kind of ether of disgust and stumbling and clay-eating, snot-eating grievance. I don't like the human race at all. this is my confessional, father, pass the wine. — Charles Bukowski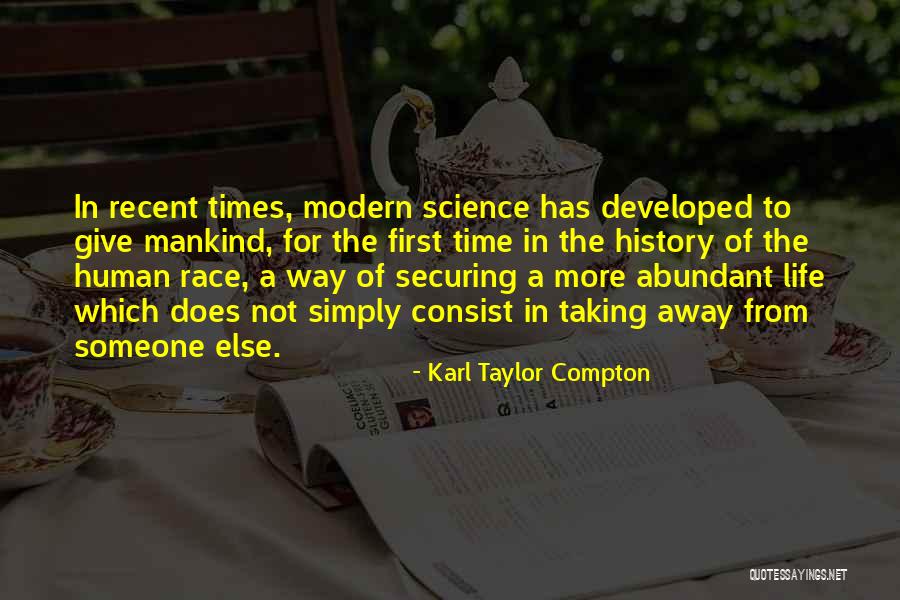 In recent times, modern science has developed to give mankind, for the first time in the history of the human race, a way of securing a more abundant life which does not simply consist in taking away from someone else. — Karl Taylor Compton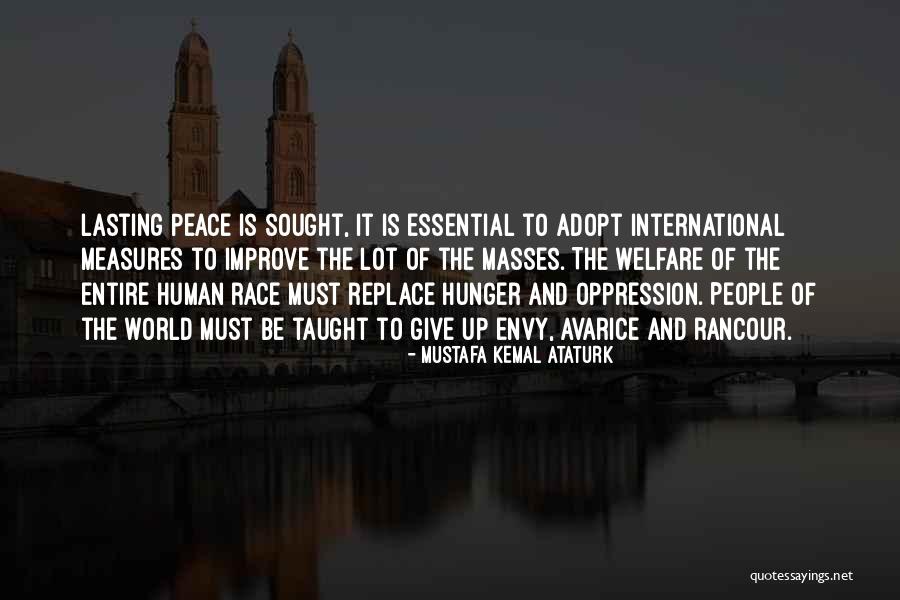 Lasting peace is sought, it is essential to adopt international measures to improve the lot of the masses. The welfare of the entire human race must replace hunger and oppression. People of the world must be taught to give up envy, avarice and rancour. — Mustafa Kemal Ataturk
One conversation centered on the ever accelerating progress of technology and changes in the mode of human life, which gives the appearance of approaching some essential singularity in the history of the race beyond which human affairs, as we know them, could not continue. — Stanislaw Ulam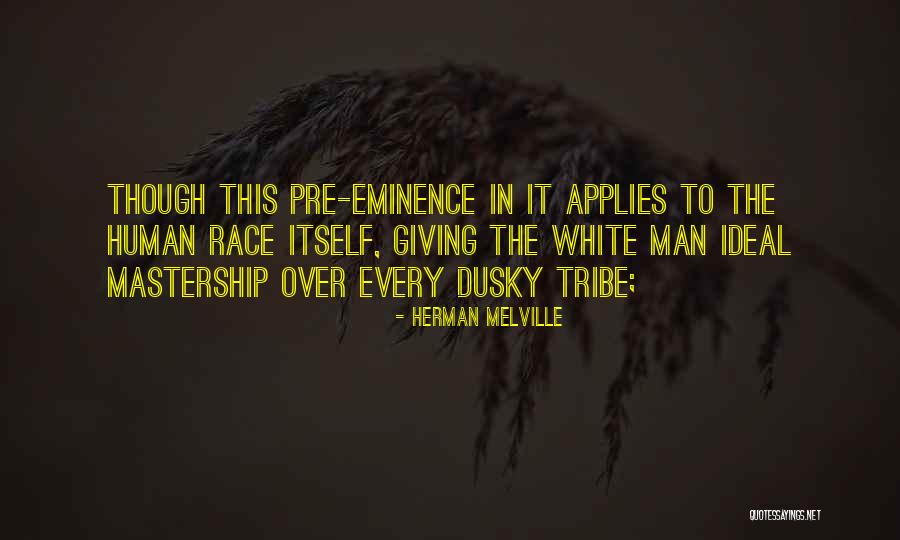 though this pre-eminence in it applies to the human race itself, giving the white man ideal mastership over every dusky tribe; — Herman Melville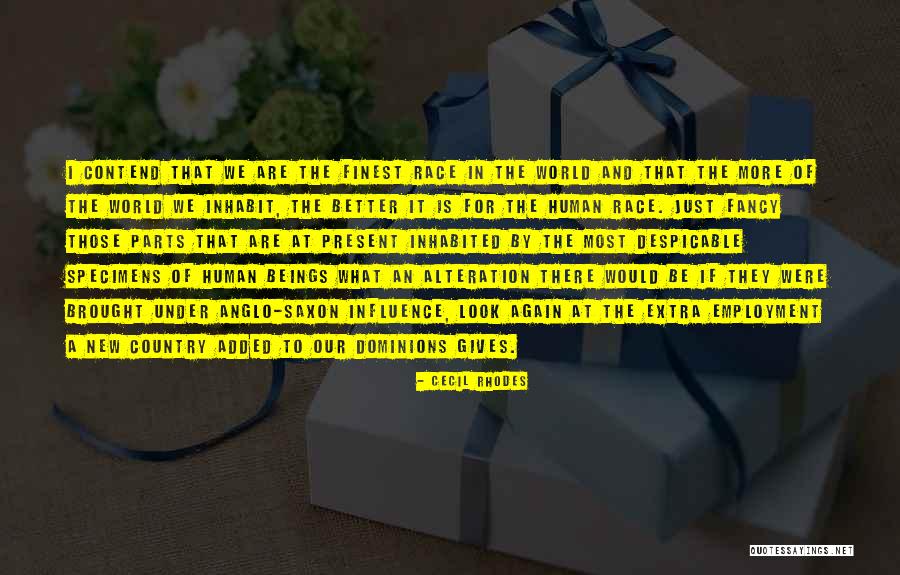 I contend that we are the finest race in the world and that the more of the world we inhabit, the better it is for the human race. Just fancy those parts that are at present inhabited by the most despicable specimens of human beings what an alteration there would be if they were brought under Anglo-Saxon influence, look again at the extra employment a new country added to our dominions gives. — Cecil Rhodes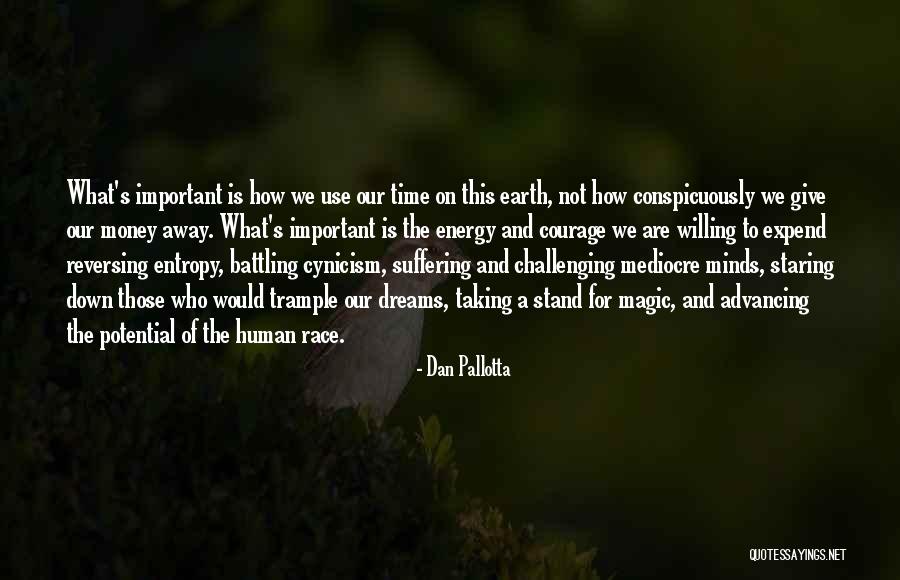 What's important is how we use our time on this earth, not how conspicuously we give our money away. What's important is the energy and courage we are willing to expend reversing entropy, battling cynicism, suffering and challenging mediocre minds, staring down those who would trample our dreams, taking a stand for magic, and advancing the potential of the human race. — Dan Pallotta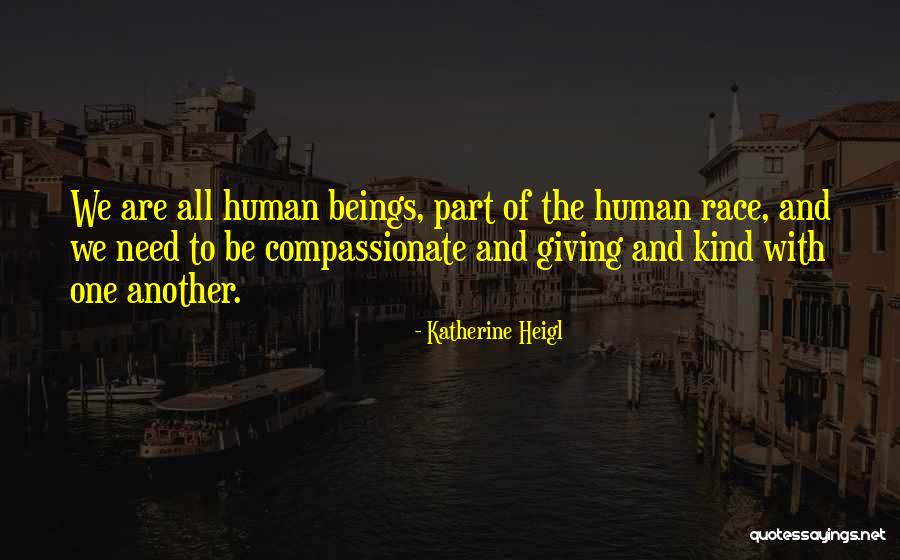 We are all human beings, part of the human race, and we need to be compassionate and giving and kind with one another. — Katherine Heigl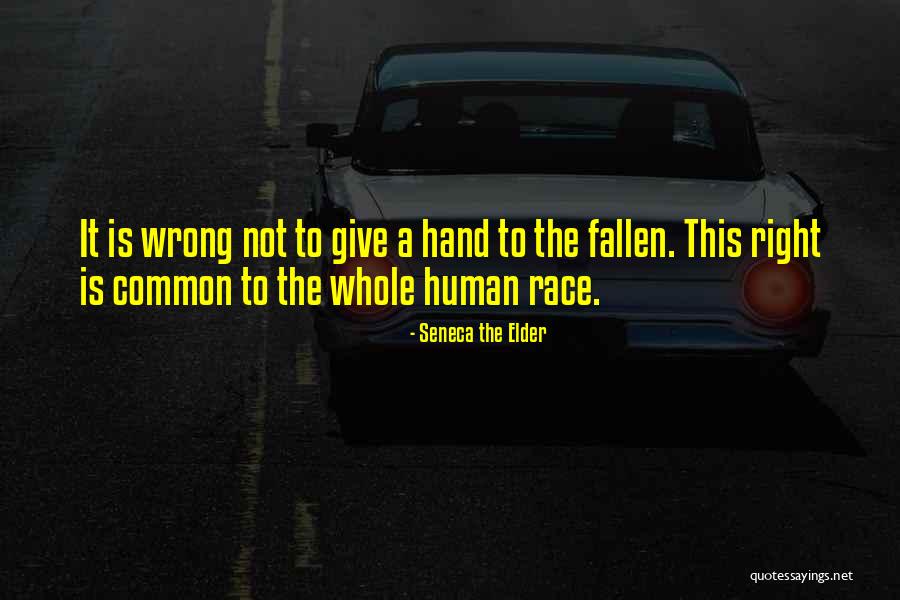 It is wrong not to give a hand to the fallen. This right is common to the whole human race. — Seneca The Elder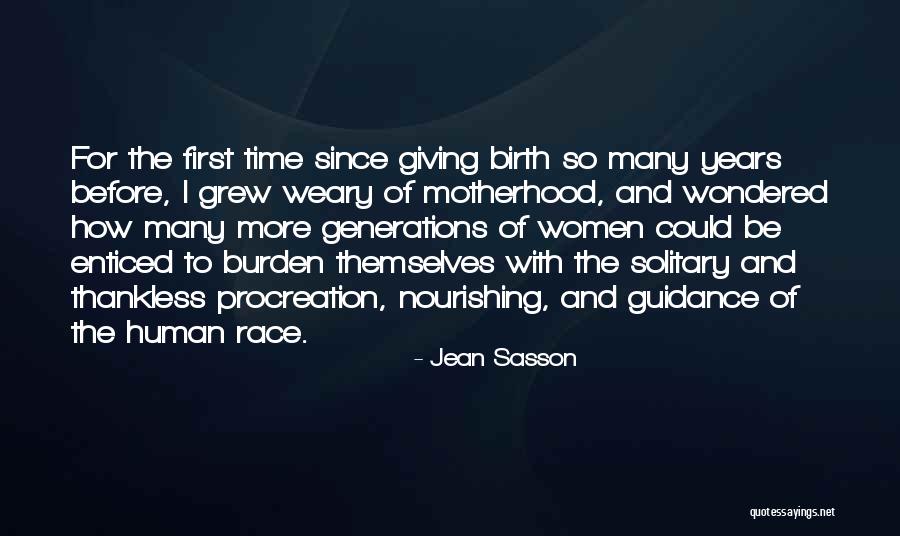 For the first time since giving birth so many years before, I grew weary of motherhood, and wondered how many more generations of women could be enticed to burden themselves with the solitary and thankless procreation, nourishing, and guidance of the human race. — Jean Sasson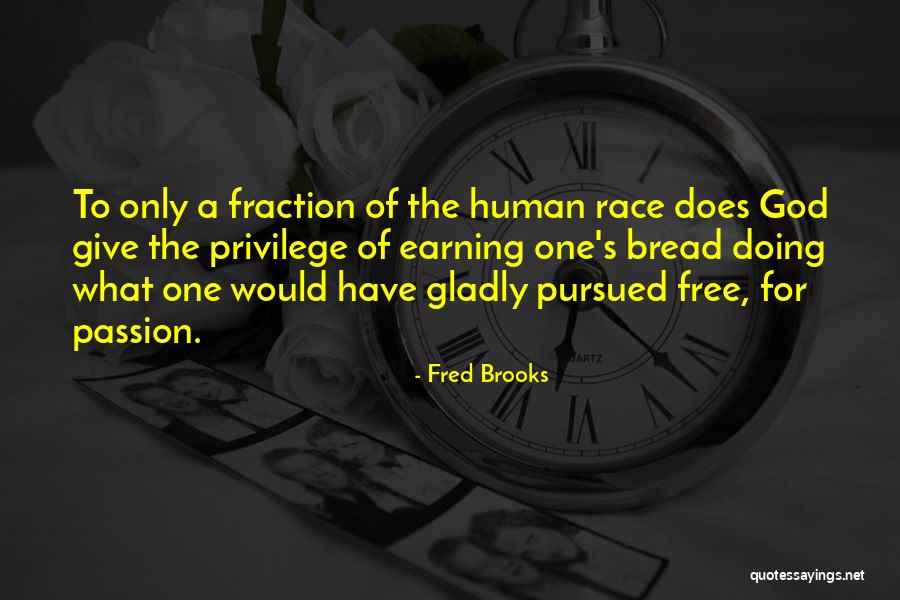 To only a fraction of the human race does God give the privilege of earning one's bread doing what one would have gladly pursued free, for passion. — Fred Brooks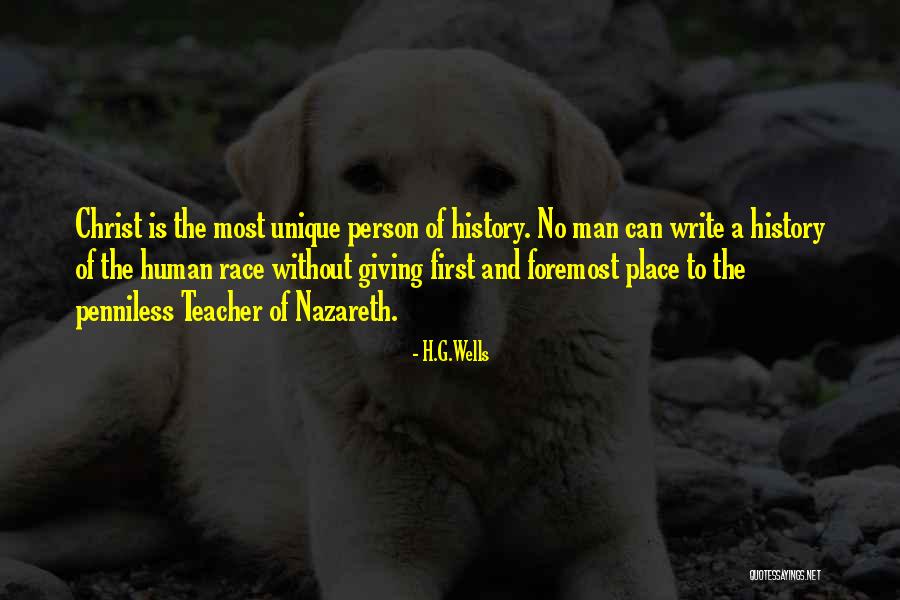 Christ is the most unique person of history. No man can write a history of the human race without giving first and foremost place to the penniless Teacher of Nazareth. — H.G.Wells