Car Freedom Quotes & Sayings
Enjoy reading and share 41 famous quotes about Car Freedom with everyone.
Top Car Freedom Quotes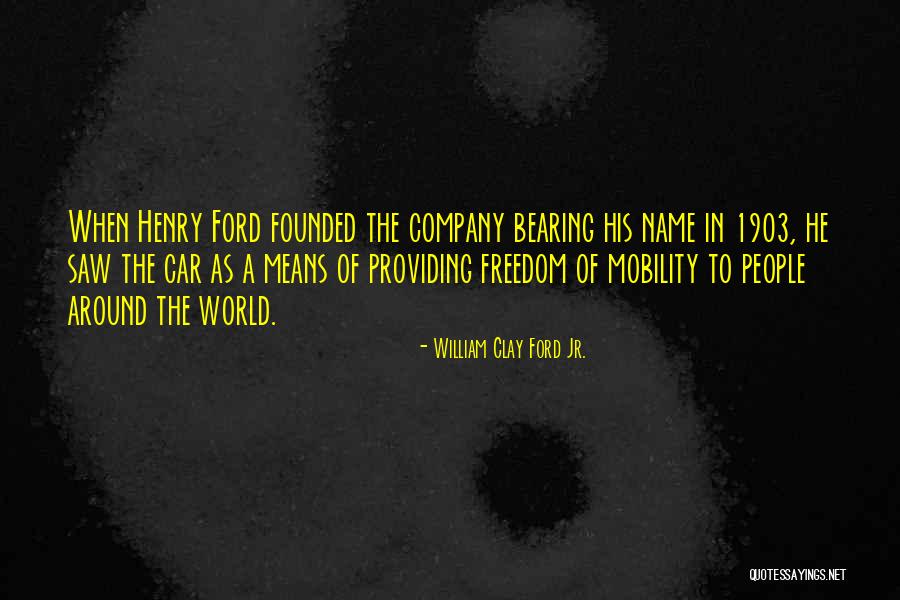 When Henry Ford founded the company bearing his name in 1903, he saw the car as a means of providing freedom of mobility to people around the world. — William Clay Ford Jr.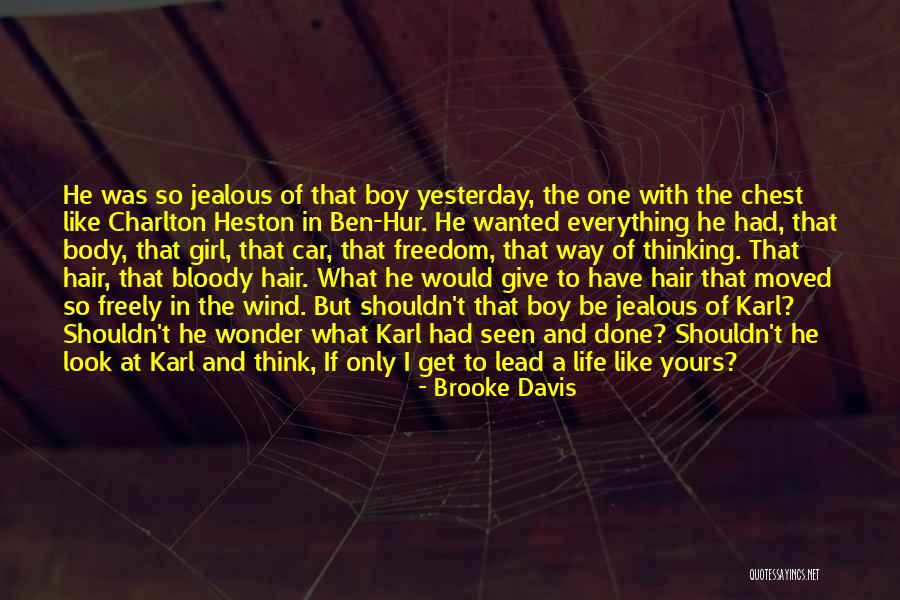 He was so jealous of that boy yesterday, the one with the chest like Charlton Heston in Ben-Hur. He wanted everything he had, that body, that girl, that car, that freedom, that way of thinking. That hair, that bloody hair. What he would give to have hair that moved so freely in the wind. But shouldn't that boy be jealous of Karl? Shouldn't he wonder what Karl had seen and done? Shouldn't he look at Karl and think, If only I get to lead a life like yours? — Brooke Davis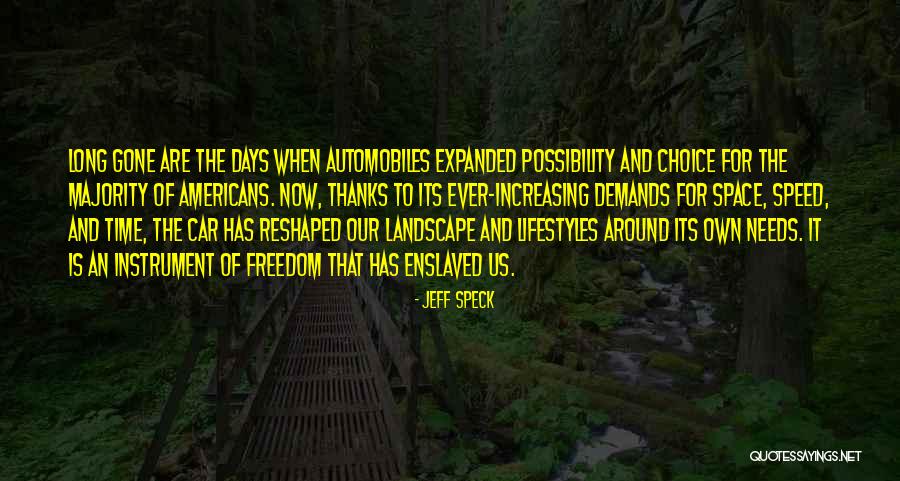 Long gone are the days when automobiles expanded possibility and choice for the majority of Americans. Now, thanks to its ever-increasing demands for space, speed, and time, the car has reshaped our landscape and lifestyles around its own needs. It is an instrument of freedom that has enslaved us. — Jeff Speck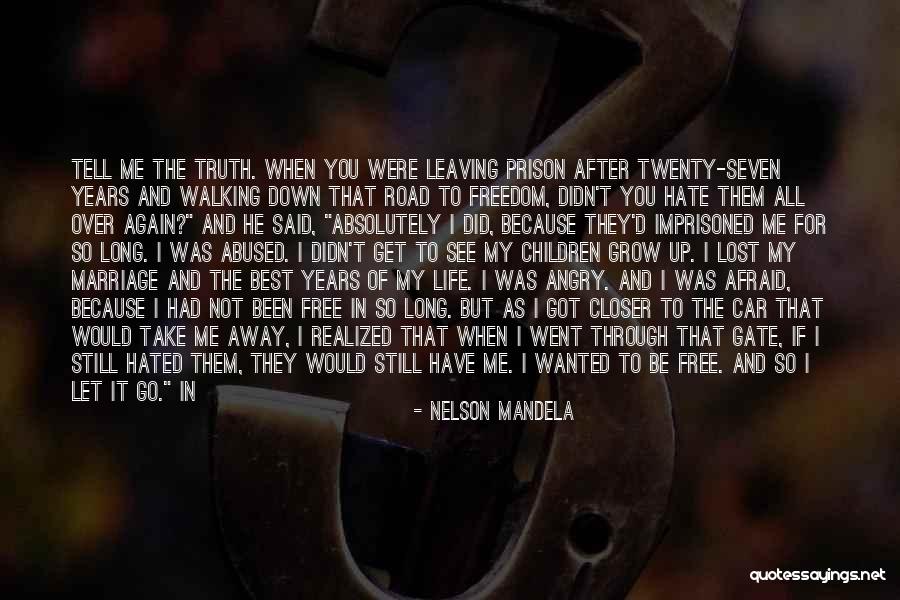 Tell me the truth. When you were leaving prison after twenty-seven years and walking down that road to freedom, didn't you hate them all over again?" And he said, "Absolutely I did, because they'd imprisoned me for so long. I was abused. I didn't get to see my children grow up. I lost my marriage and the best years of my life. I was angry. And I was afraid, because I had not been free in so long. But as I got closer to the car that would take me away, I realized that when I went through that gate, if I still hated them, they would still have me. I wanted to be free. And so I let it go." In — Nelson Mandela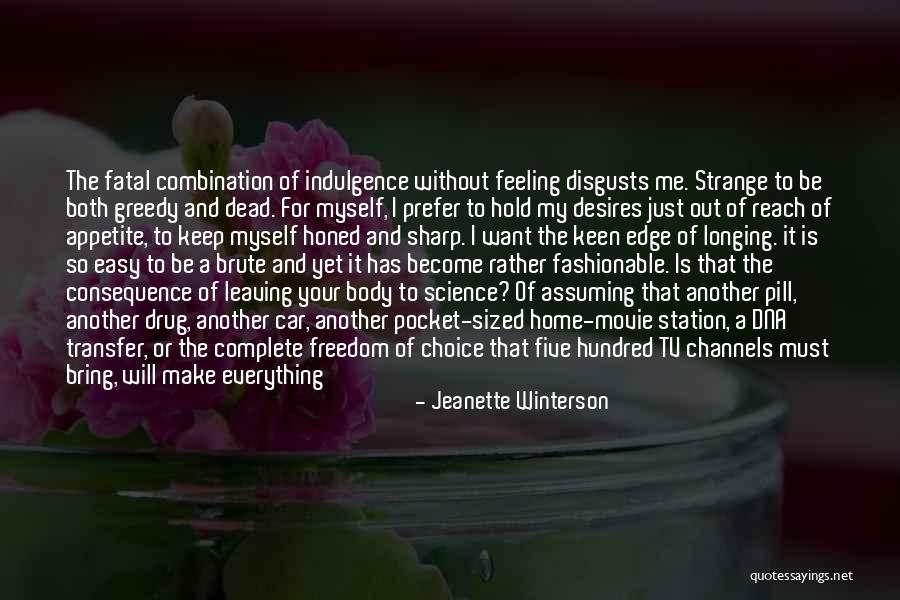 The fatal combination of indulgence without feeling disgusts me. Strange to be both greedy and dead. For myself, I prefer to hold my desires just out of reach of appetite, to keep myself honed and sharp. I want the keen edge of longing. it is so easy to be a brute and yet it has become rather fashionable. Is that the consequence of leaving your body to science? Of assuming that another pill, another drug, another car, another pocket-sized home-movie station, a DNA transfer, or the complete freedom of choice that five hundred TV channels must bring, will make everything all right? Will soothe the nagging pain in the heart that the latest laser scan refuses to diagnose? The doctor's surgery is full of men and women who do not know why they are unhappy. "Take this", says the Doctor, "you'll soon feel better." They do not feel better, because, little by little, they cease to feel at all. — Jeanette Winterson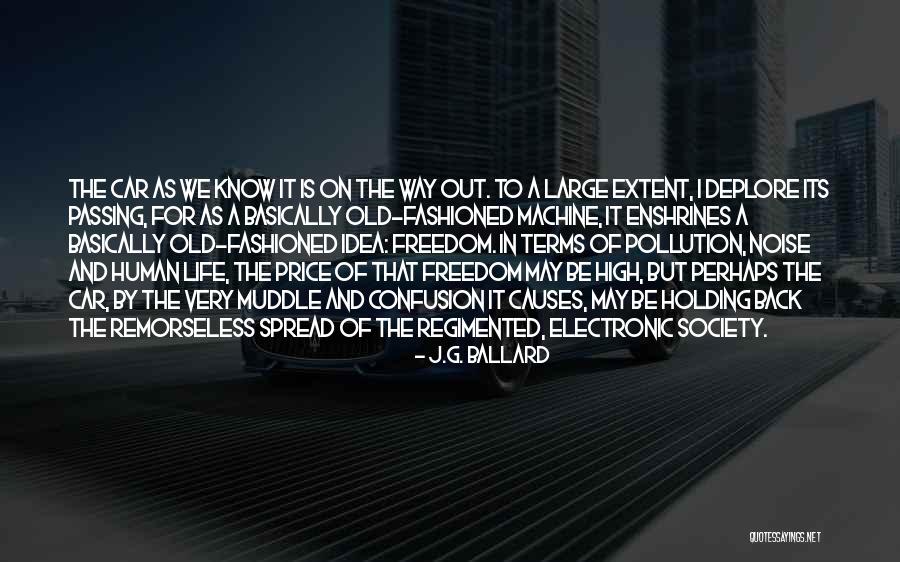 The car as we know it is on the way out. To a large extent, I deplore its passing, for as a basically old-fashioned machine, it enshrines a basically old-fashioned idea: freedom. In terms of pollution, noise and human life, the price of that freedom may be high, but perhaps the car, by the very muddle and confusion it causes, may be holding back the remorseless spread of the regimented, electronic society. — J.G. Ballard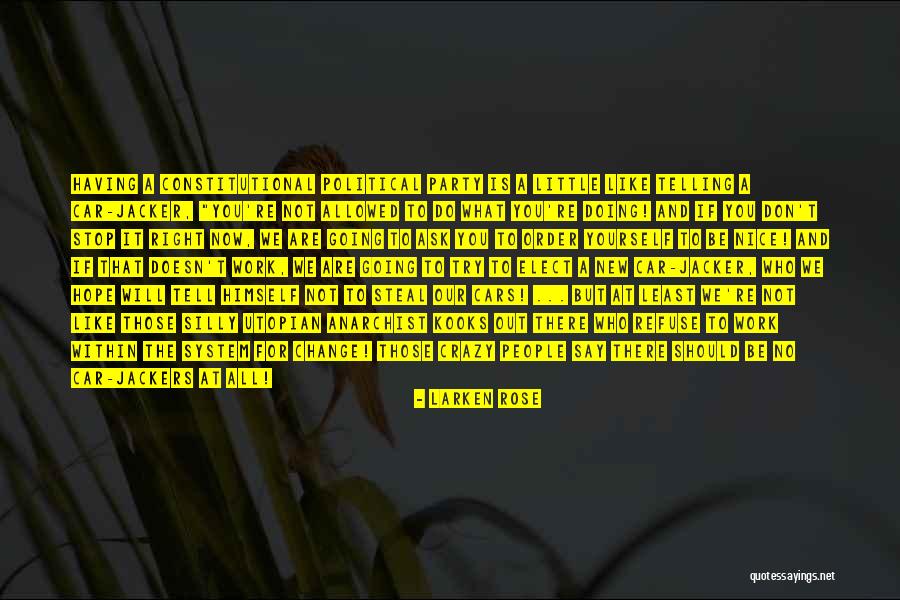 Having a Constitutional political party is a little like telling a car-jacker, "You're not allowed to do what you're doing! And if you don't stop it right now, we are going to ask you to order yourself to be nice! And if that doesn't work, we are going to try to elect a new car-jacker, who we hope will tell himself not to steal our cars! ... But at least we're not like those silly utopian anarchist kooks out there who refuse to work within the system for change! Those crazy people say there should be NO car-jackers at all! — Larken Rose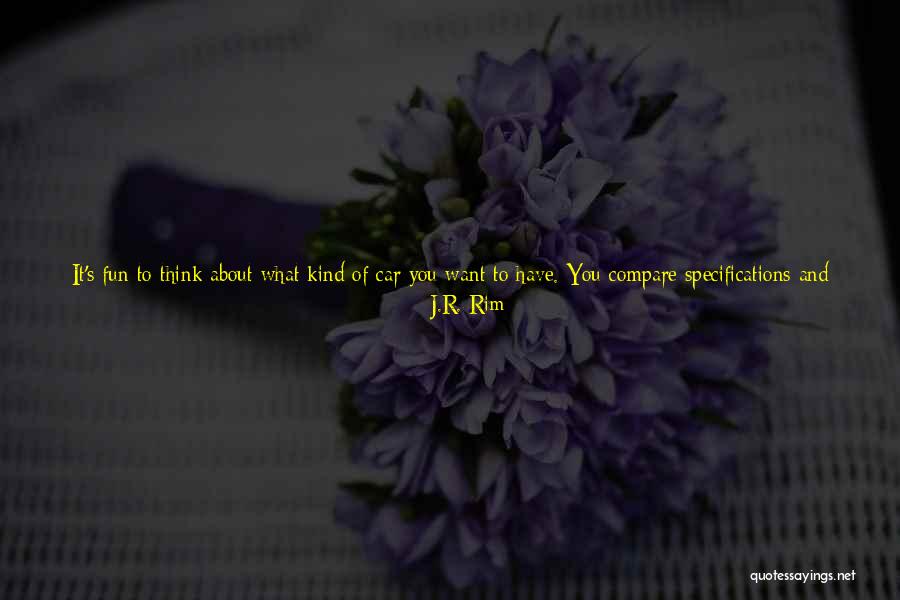 It's fun to think about what kind of car you want to have. You compare specifications and customize everything your way. More importantly than the type of vehicle you want to get, is where you want to go with it. Where will this car take you if you were to have it today. Perhaps it's already yours. Now where will you drive tomorrow, next month, next year, for the rest of your life? Make your journey memorable by looking ahead into the distance. The distance is where we find our ultimate destination. — J.R. Rim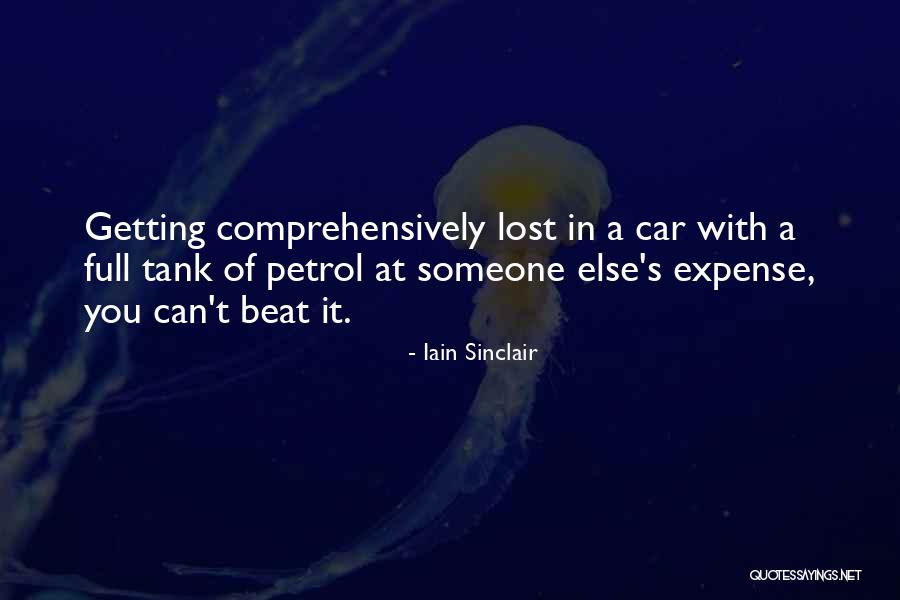 Getting comprehensively lost in a car with a full tank of petrol at someone else's expense, you can't beat it. — Iain Sinclair
If one wanted to find a modern symbol of personal freedom, the motor car is right there near the top of the list. But a car has come to mean much more than that. It has become a powerful statement about who you are and how much you earn. — Martin Jacques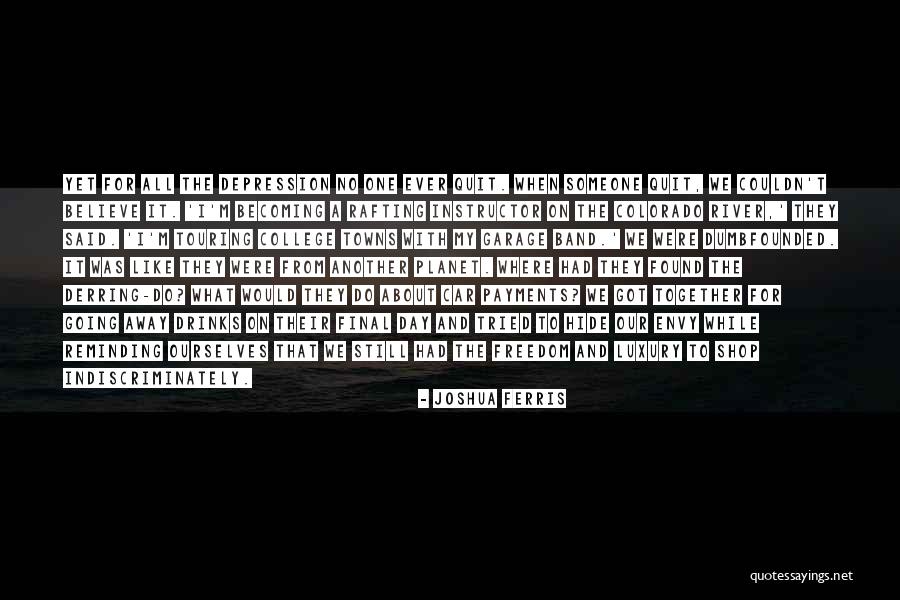 Yet for all the depression no one ever quit. When someone quit, we couldn't believe it. 'I'm becoming a rafting instructor on the Colorado River,' they said. 'I'm touring college towns with my garage band.' We were dumbfounded. It was like they were from another planet. Where had they found the derring-do? What would they do about car payments? We got together for going away drinks on their final day and tried to hide our envy while reminding ourselves that we still had the freedom and luxury to shop indiscriminately. — Joshua Ferris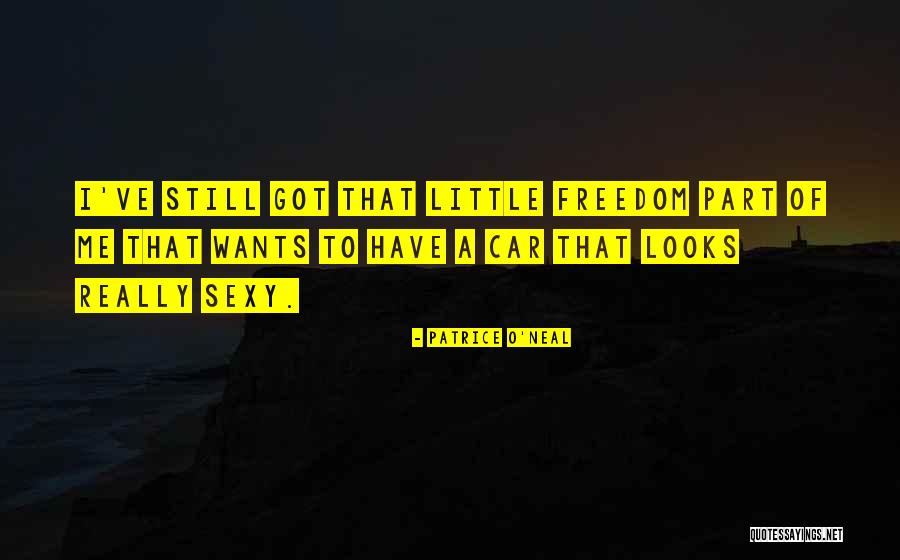 I've still got that little freedom part of me that wants to have a car that looks really sexy. — Patrice O'Neal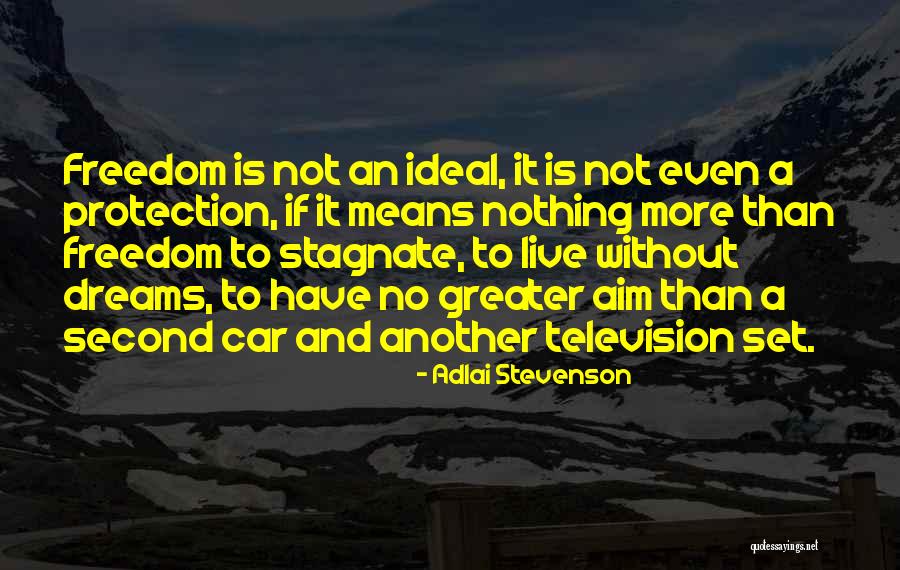 Freedom is not an ideal, it is not even a protection, if it means nothing more than freedom to stagnate, to live without dreams, to have no greater aim than a second car and another television set. — Adlai Stevenson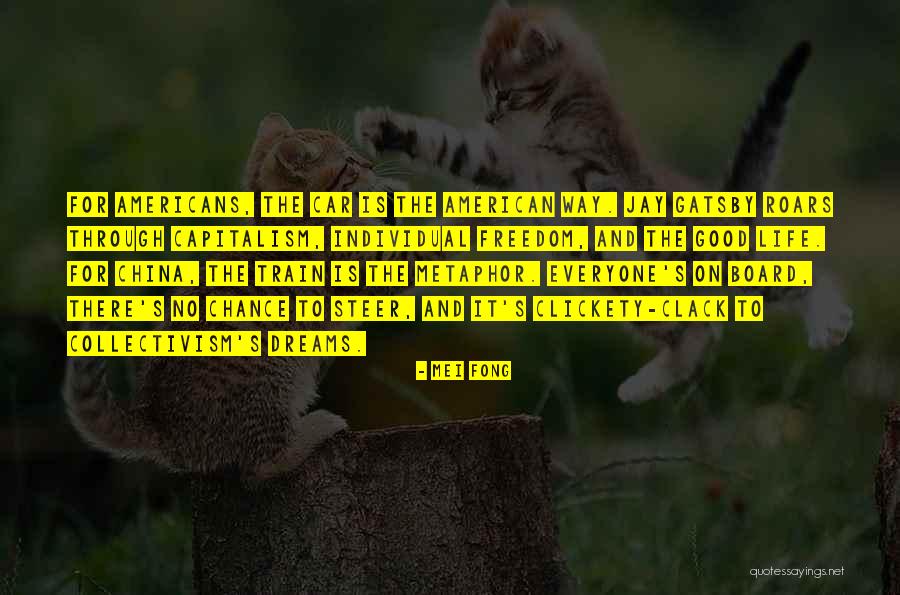 For Americans, the car is the American way. Jay Gatsby roars through capitalism, individual freedom, and the good life. For China, the train is the metaphor. Everyone's on board, there's no chance to steer, and it's clickety-clack to collectivism's dreams. — Mei Fong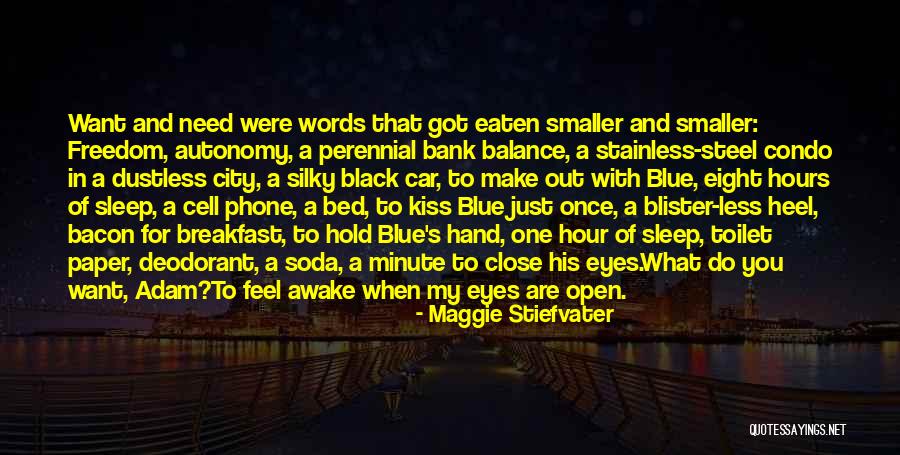 Want and need were words that got eaten smaller and smaller: Freedom, autonomy, a perennial bank balance, a stainless-steel condo in a dustless city, a silky black car, to make out with Blue, eight hours of sleep, a cell phone, a bed, to kiss Blue just once, a blister-less heel, bacon for breakfast, to hold Blue's hand, one hour of sleep, toilet paper, deodorant, a soda, a minute to close his eyes.
What do you want, Adam?
To feel awake when my eyes are open. — Maggie Stiefvater
Freedom is not a couch. It's not a television, or a car, or a house. It's not an item you can possess. You cannot put freedom on layaway; you cannot refinance freedom. Freedom is something you need to fight for, not once, but every single day. The nature of freedom is that it is fluid; like water in a leaking bucket, the tendency is for it to drain away. Left untended, the holes through which freedom escapes widen. When politicians restrict our rights in order to "protect us," freedom is lost. When the military refuses to disclose basic facts, freedom is lost. Worst of all, when fear becomes a part of our lives, we willingly surrender freedom for a promise of safety, as if freedom weren't the very basis of safety. — Marcus Sakey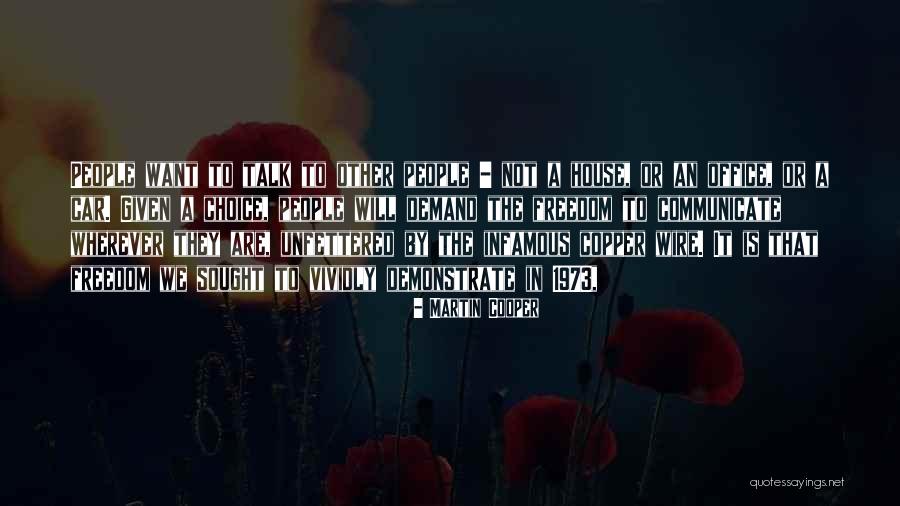 People want to talk to other people - not a house, or an office, or a car. Given a choice, people will demand the freedom to communicate wherever they are, unfettered by the infamous copper wire. It is that freedom we sought to vividly demonstrate in 1973, — Martin Cooper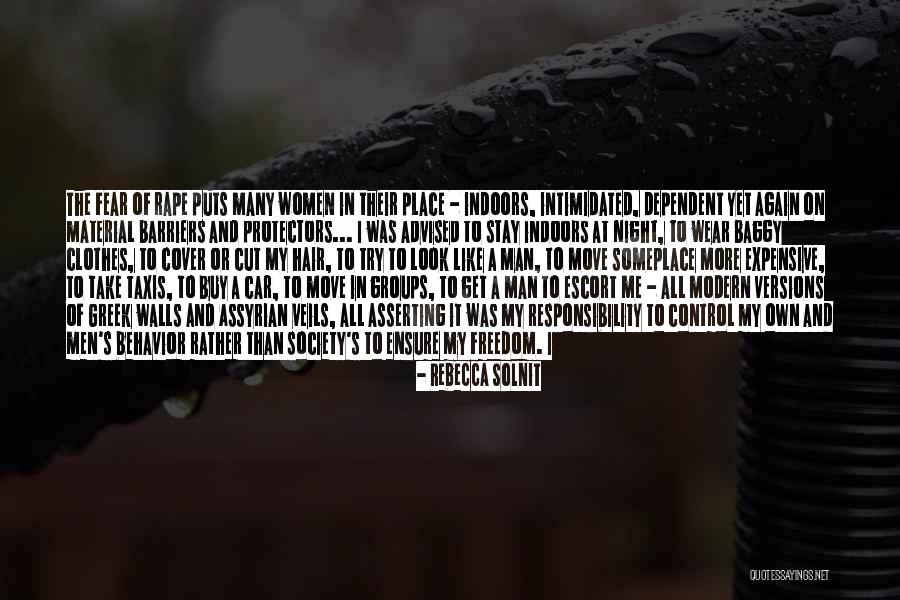 The fear of rape puts many women in their place - indoors, intimidated, dependent yet again on material barriers and protectors... I was advised to stay indoors at night, to wear baggy clothes, to cover or cut my hair, to try to look like a man, to move someplace more expensive, to take taxis, to buy a car, to move in groups, to get a man to escort me - all modern versions of Greek walls and Assyrian veils, all asserting it was my responsibility to control my own and men's behavior rather than society's to ensure my freedom. I realized that many women had been so successfully socialized to know their place that they had chosen more conservative, gregarious lives without realizing why. The very desire to walk alone had been extinguished in them - but it had not in me. — Rebecca Solnit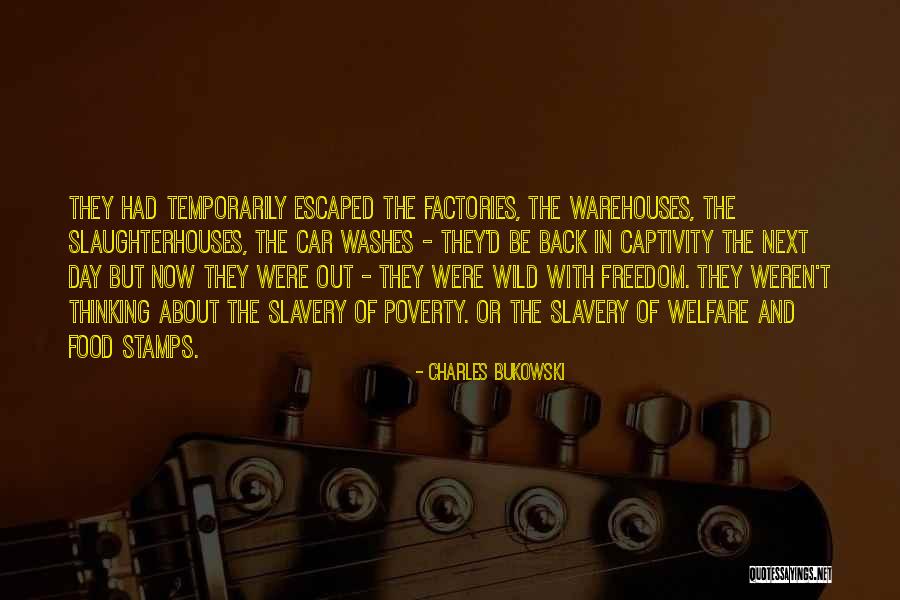 They had temporarily escaped the factories, the warehouses, the slaughterhouses, the car washes - they'd be back in captivity the next day but now they were out - they were wild with freedom. They weren't thinking about the slavery of poverty. Or the slavery of welfare and food stamps. — Charles Bukowski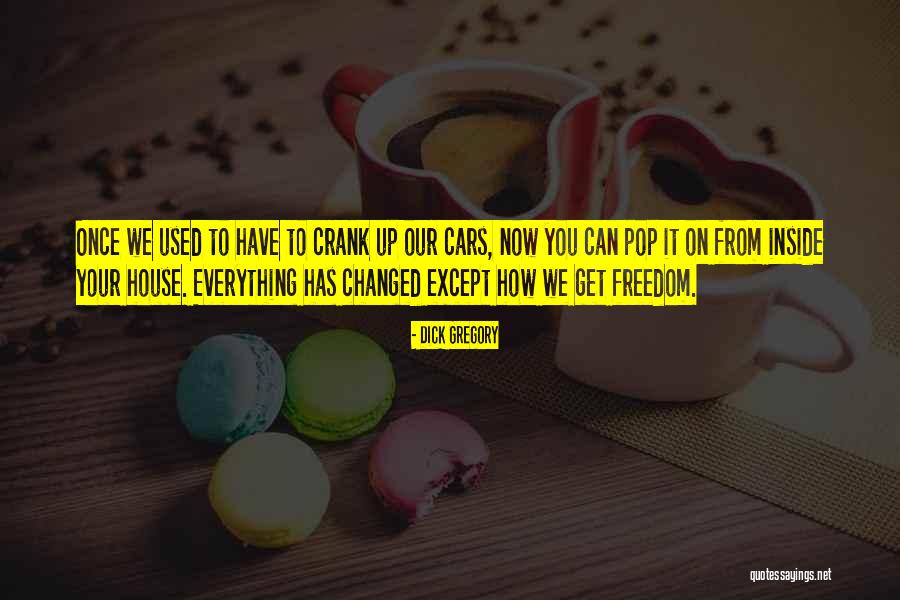 Once we used to have to crank up our cars, now you can pop it on from inside your house. Everything has changed except how we get freedom. — Dick Gregory
worked in New York my whole life - actually lived only about twenty blocks away - and had never even heard of this place, or the Freedom Tunnel, for that matter. This city never failed to surprise. Hamster got out of the car, his big eyes blinking through the tangled gray mop of his hair as he looked around. We listened to the cooing of pigeons nesting in the crevices of the raised roadbed above as we waited. — James Patterson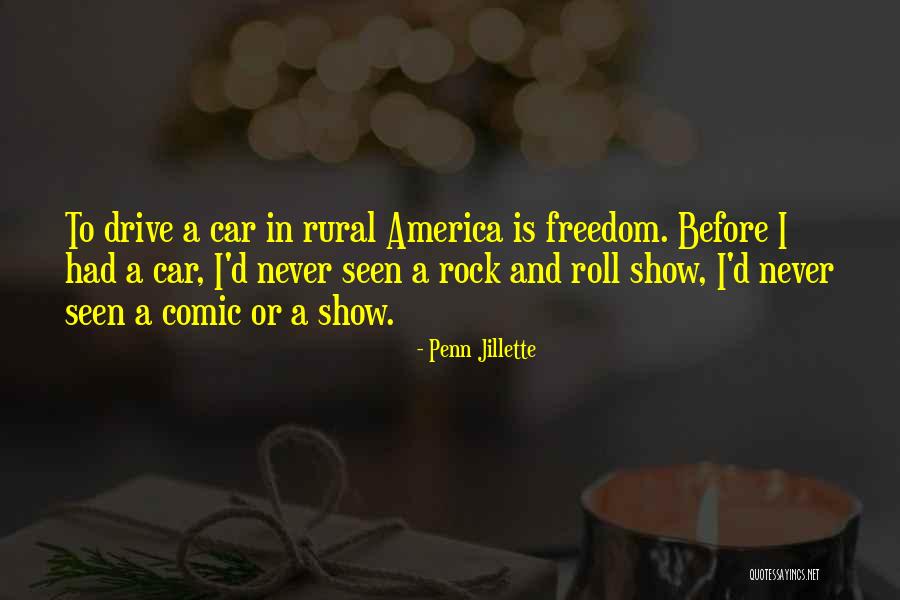 To drive a car in rural America is freedom. Before I had a car, I'd never seen a rock and roll show, I'd never seen a comic or a show. — Penn Jillette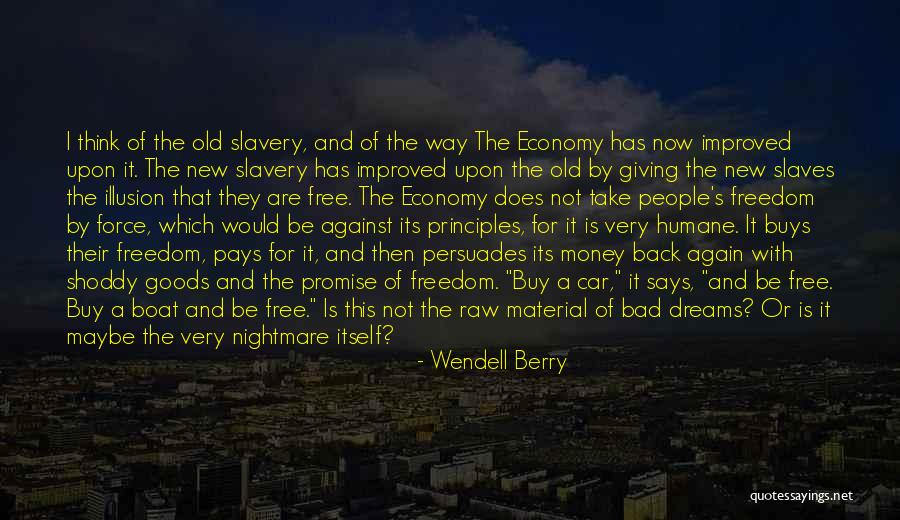 I think of the old slavery, and of the way The Economy has now improved upon it. The new slavery has improved upon the old by giving the new slaves the illusion that they are free. The Economy does not take people's freedom by force, which would be against its principles, for it is very humane. It buys their freedom, pays for it, and then persuades its money back again with shoddy goods and the promise of freedom. "Buy a car," it says, "and be free. Buy a boat and be free." Is this not the raw material of bad dreams? Or is it maybe the very nightmare itself? — Wendell Berry
I just want real creative freedom without worrying about, you know, car payments. — Sean Penn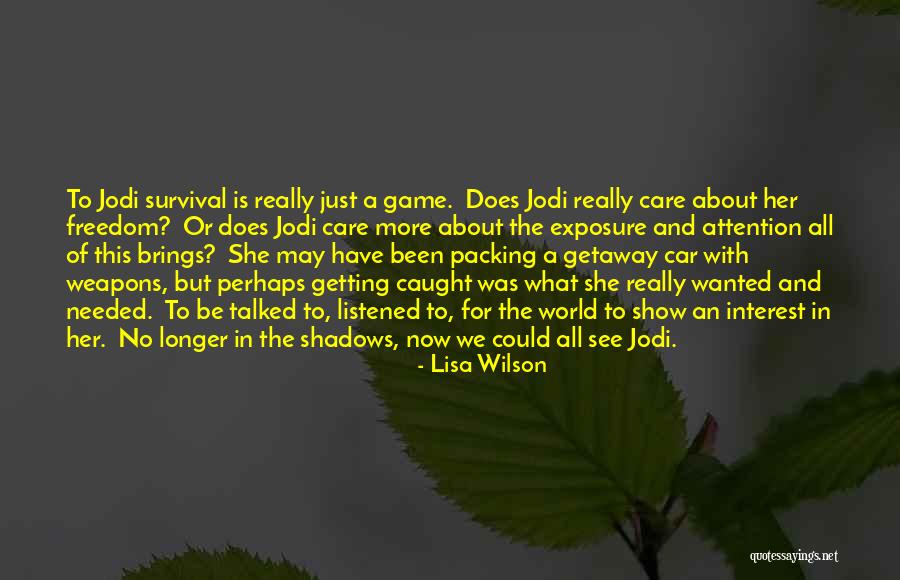 To Jodi survival is really just a game. Does Jodi really care about her freedom? Or does Jodi care more about the exposure and attention all of this brings? She may have been packing a getaway car with weapons, but perhaps getting caught was what she really wanted and needed. To be talked to, listened to, for the world to show an interest in her. No longer in the shadows, now we could all see Jodi. — Lisa Wilson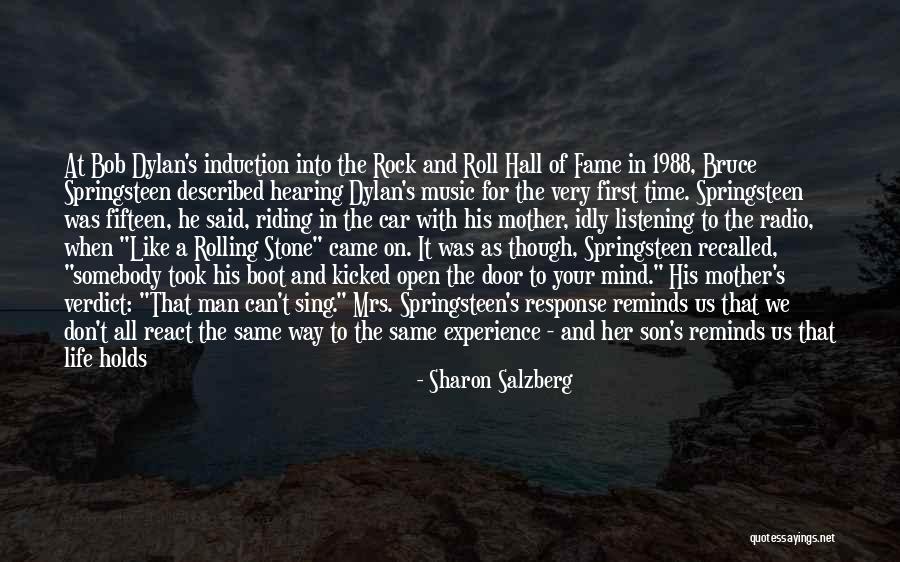 At Bob Dylan's induction into the Rock and Roll Hall of Fame in 1988, Bruce Springsteen described hearing Dylan's music for the very first time. Springsteen was fifteen, he said, riding in the car with his mother, idly listening to the radio, when "Like a Rolling Stone" came on. It was as though, Springsteen recalled, "somebody took his boot and kicked open the door to your mind." His mother's verdict: "That man can't sing." Mrs. Springsteen's response reminds us that we don't all react the same way to the same experience - and her son's reminds us that life holds moments when our perspective dramatically shifts, when our assumptions are deeply challenged, when we see new possibilities or sense for the first time that whatever has been holding us back from freedom or creativity or new ventures might actually be overcome. There — Sharon Salzberg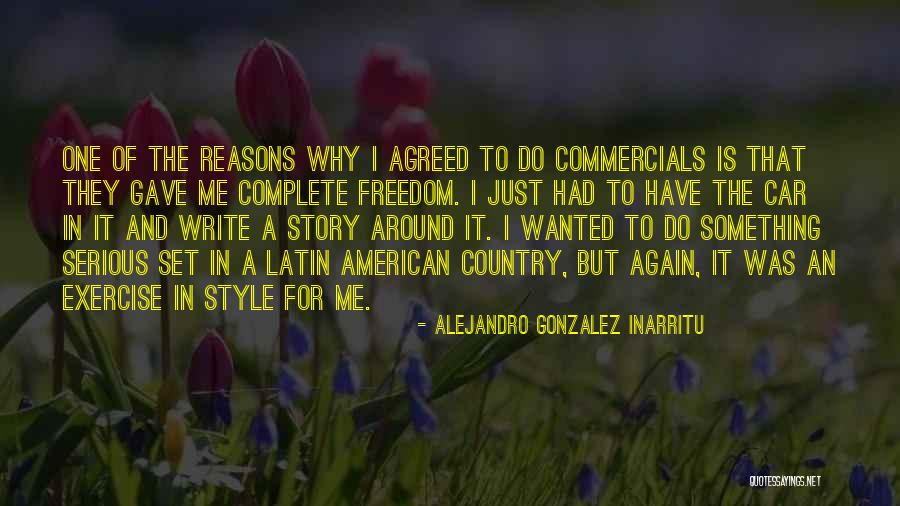 One of the reasons why I agreed to do commercials is that they gave me complete freedom. I just had to have the car in it and write a story around it. I wanted to do something serious set in a Latin American country, but again, it was an exercise in style for me. — Alejandro Gonzalez Inarritu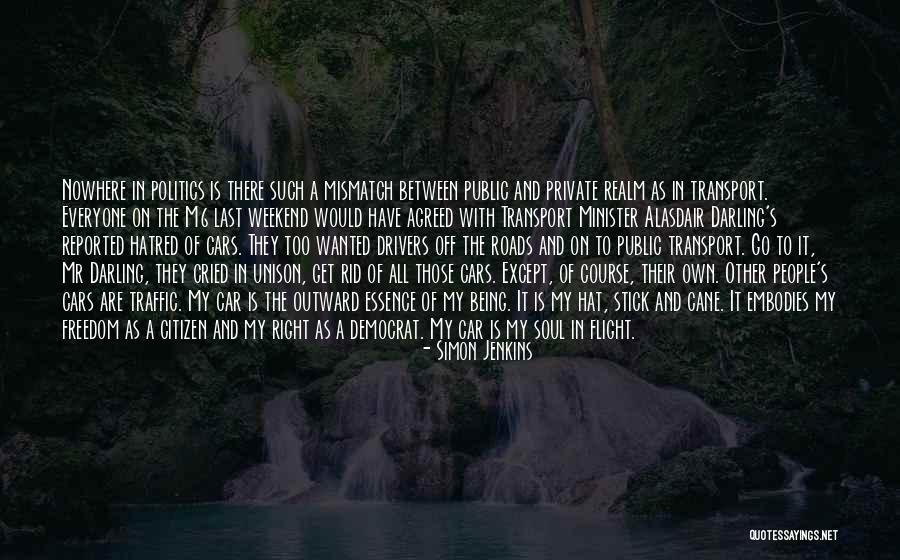 Nowhere in politics is there such a mismatch between public and private realm as in transport. Everyone on the M6 last weekend would have agreed with Transport Minister Alasdair Darling's reported hatred of cars. They too wanted drivers off the roads and on to public transport. Go to it, Mr Darling, they cried in unison, get rid of all those cars. Except, of course, their own. Other people's cars are traffic. My car is the outward essence of my being. It is my hat, stick and cane. It embodies my freedom as a citizen and my right as a democrat. My car is my soul in flight. — Simon Jenkins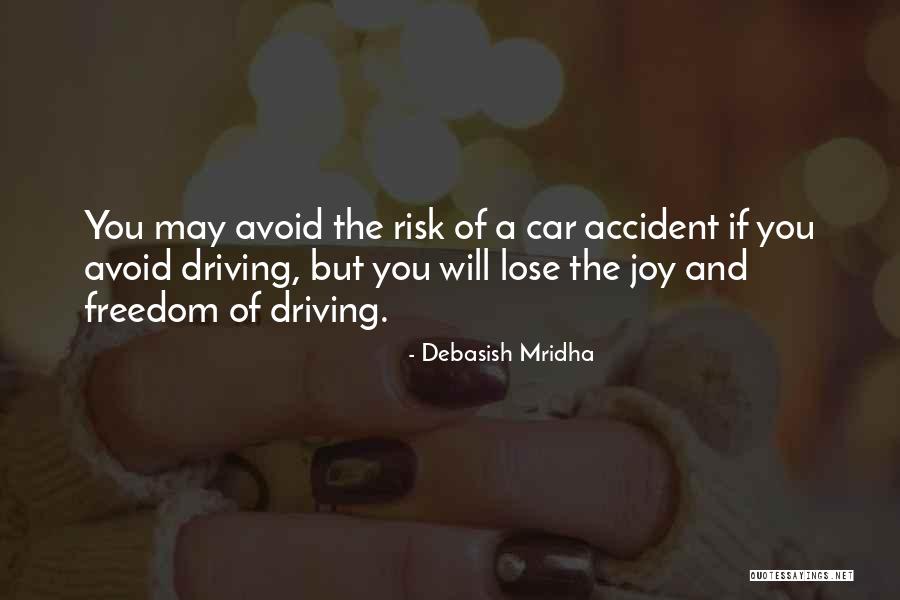 You may avoid the risk of a car accident if you avoid driving, but you will lose the joy and freedom of driving. — Debasish Mridha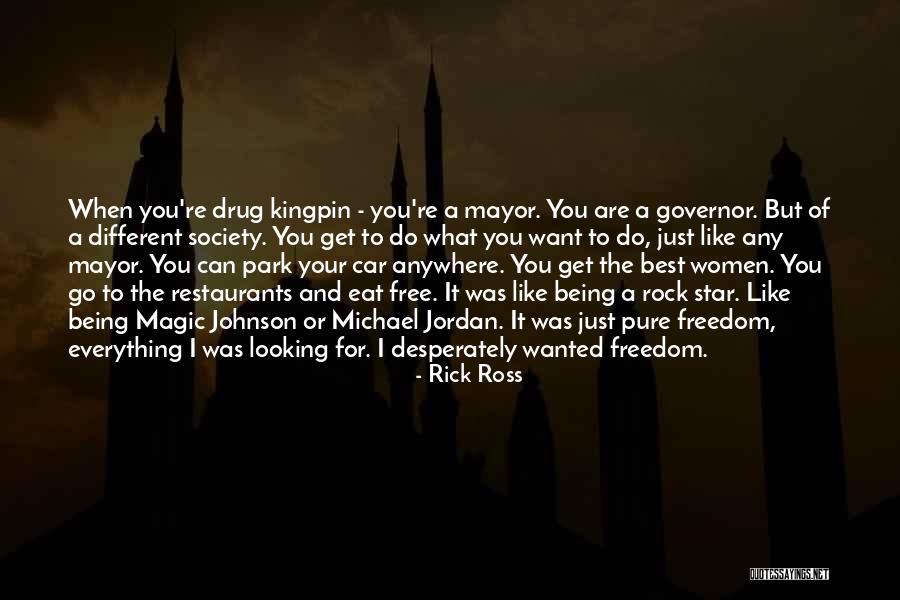 When you're drug kingpin - you're a mayor. You are a governor. But of a different society. You get to do what you want to do, just like any mayor. You can park your car anywhere. You get the best women. You go to the restaurants and eat free. It was like being a rock star. Like being Magic Johnson or Michael Jordan. It was just pure freedom, everything I was looking for. I desperately wanted freedom. — Rick Ross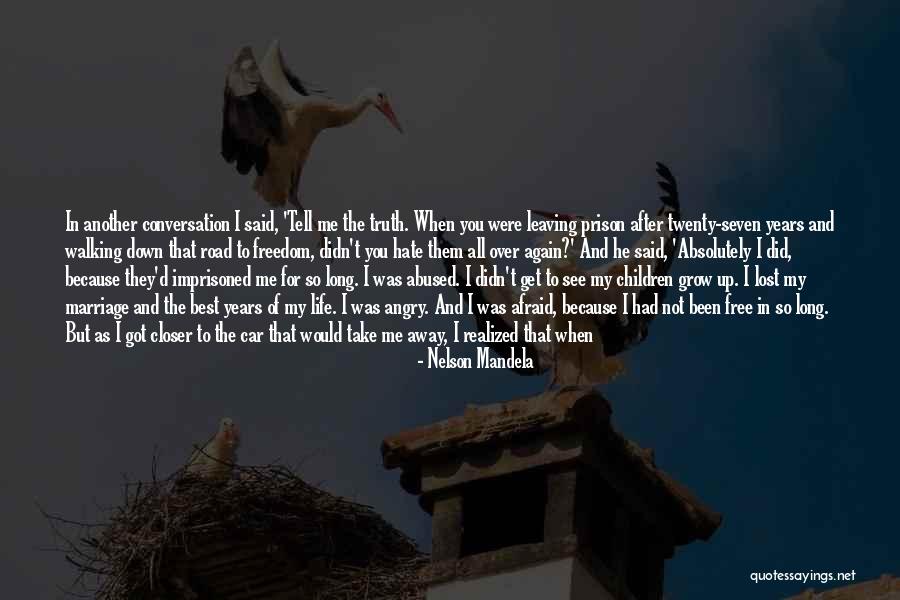 In another conversation I said, 'Tell me the truth. When you were leaving prison after twenty-seven years and walking down that road to freedom, didn't you hate them all over again?' And he said, 'Absolutely I did, because they'd imprisoned me for so long. I was abused. I didn't get to see my children grow up. I lost my marriage and the best years of my life. I was angry. And I was afraid, because I had not been free in so long. But as I got closer to the car that would take me away, I realized that when I went through that gate, if I still hated them, they would still have me. I wanted to be free. And so I let it go. — Nelson Mandela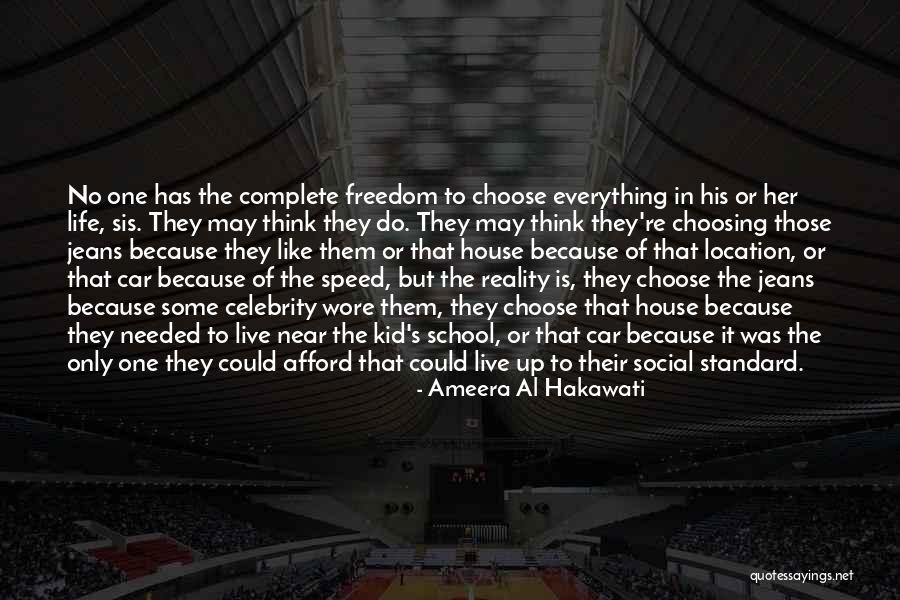 No one has the complete freedom to choose everything in his or her life, sis. They may think they do. They may think they're choosing those jeans because they like them or that house because of that location, or that car because of the speed, but the reality is, they choose the jeans because some celebrity wore them, they choose that house because they needed to live near the kid's school, or that car because it was the only one they could afford that could live up to their social standard. — Ameera Al Hakawati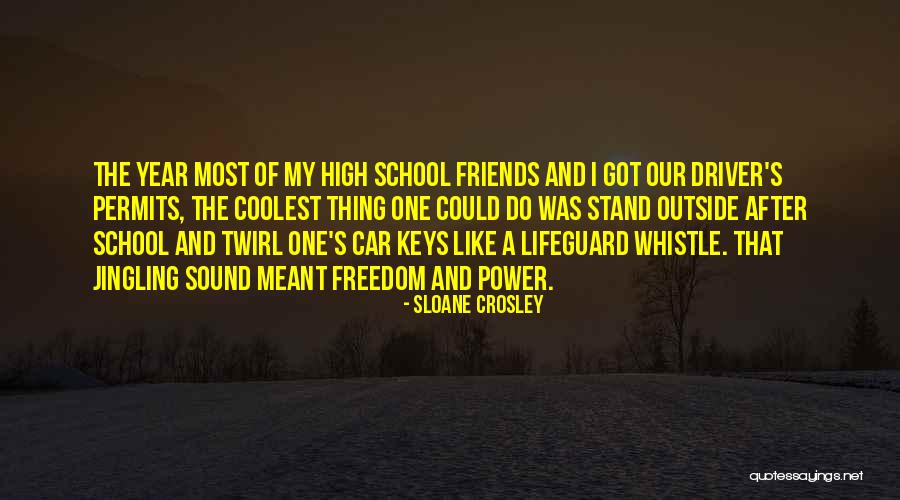 The year most of my high school friends and I got our driver's permits, the coolest thing one could do was stand outside after school and twirl one's car keys like a lifeguard whistle. That jingling sound meant freedom and power. — Sloane Crosley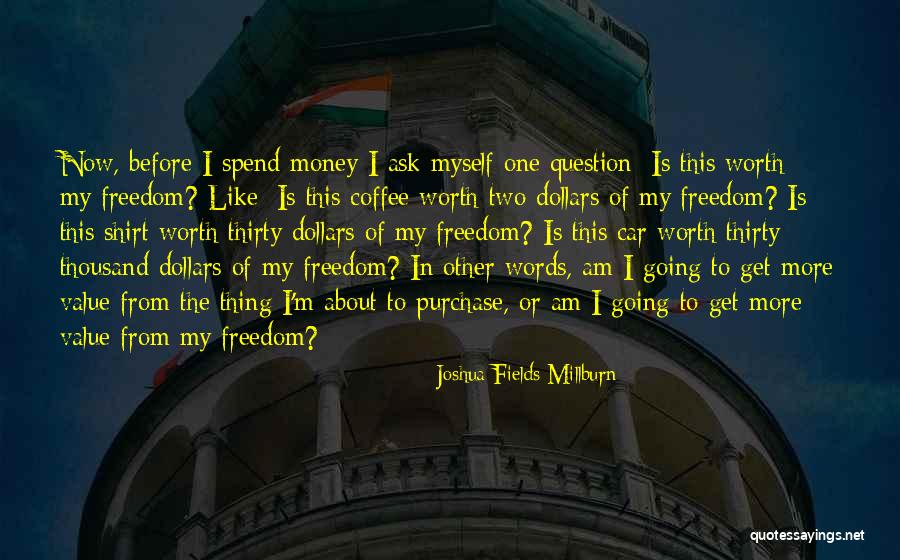 Now, before I spend money I ask myself one question: Is this worth my freedom? Like: Is this coffee worth two dollars of my freedom? Is this shirt worth thirty dollars of my freedom? Is this car worth thirty thousand dollars of my freedom? In other words, am I going to get more value from the thing I'm about to purchase, or am I going to get more value from my freedom? — Joshua Fields Millburn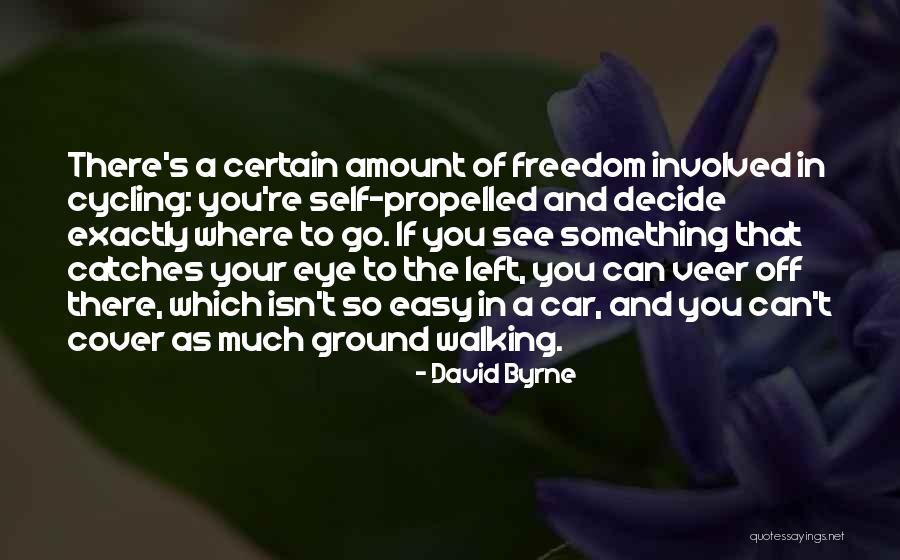 There's a certain amount of freedom involved in cycling: you're self-propelled and decide exactly where to go. If you see something that catches your eye to the left, you can veer off there, which isn't so easy in a car, and you can't cover as much ground walking. — David Byrne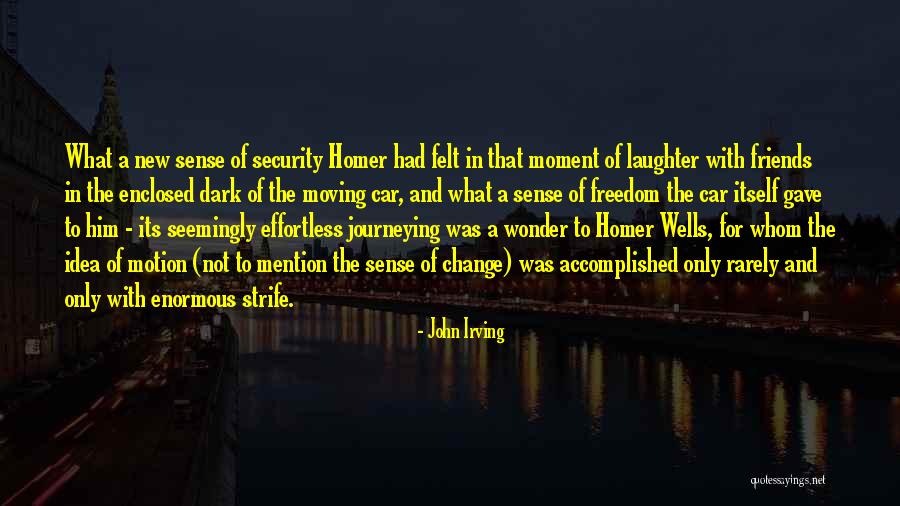 What a new sense of security Homer had felt in that moment of laughter with friends in the enclosed dark of the moving car, and what a sense of freedom the car itself gave to him - its seemingly effortless journeying was a wonder to Homer Wells, for whom the idea of motion (not to mention the sense of change) was accomplished only rarely and only with enormous strife. — John Irving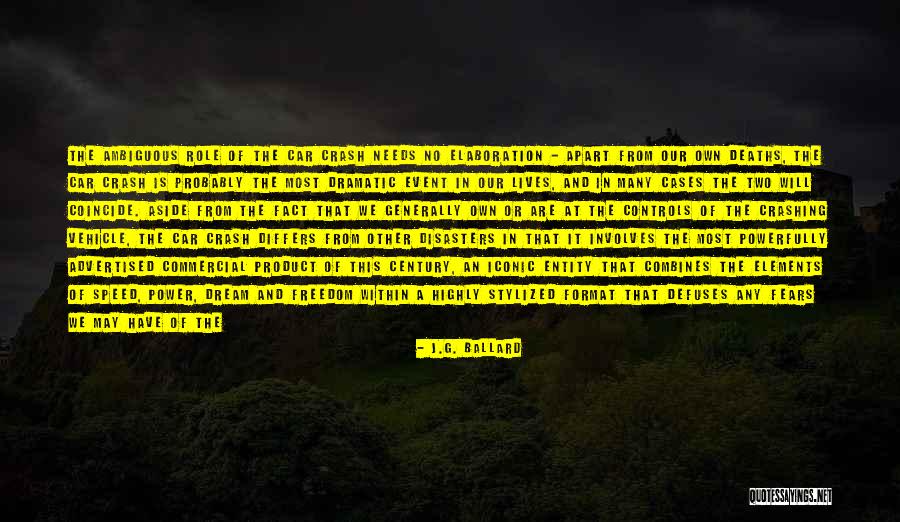 The ambiguous role of the car crash needs no elaboration - apart from our own deaths, the car crash is probably the most dramatic event in our lives, and in many cases the two will coincide. Aside from the fact that we generally own or are at the controls of the crashing vehicle, the car crash differs from other disasters in that it involves the most powerfully advertised commercial product of this century, an iconic entity that combines the elements of speed, power, dream and freedom within a highly stylized format that defuses any fears we may have of the inherent dangers of these violent and unstable machines. — J.G. Ballard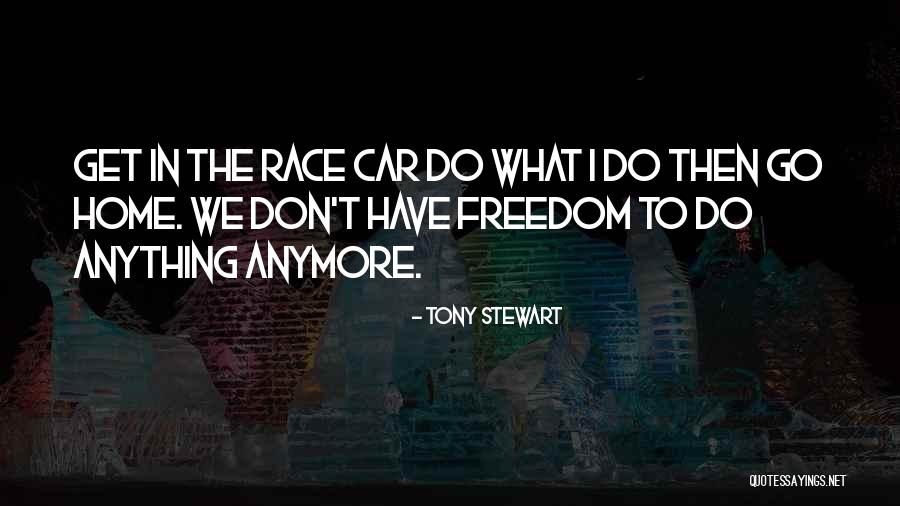 Get in the race car do what I do then go home. We don't have freedom to do anything anymore. — Tony Stewart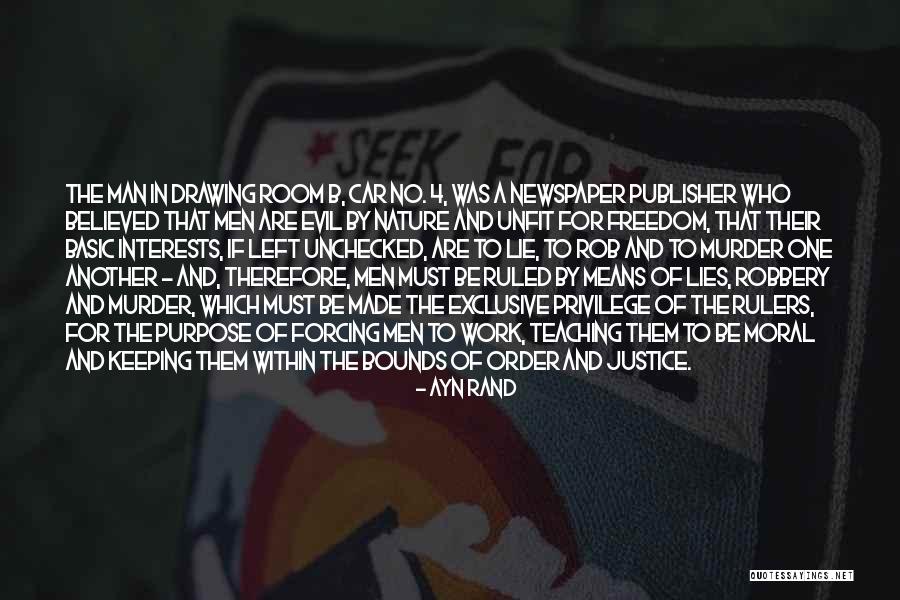 The man in Drawing Room B, Car No. 4, was a newspaper publisher who believed that men are evil by nature and unfit for freedom, that their basic interests, if left unchecked, are to lie, to rob and to murder one another - and, therefore, men must be ruled by means of lies, robbery and murder, which must be made the exclusive privilege of the rulers, for the purpose of forcing men to work, teaching them to be moral and keeping them within the bounds of order and justice. — Ayn Rand