Get Off The Bus Quotes & Sayings
Enjoy reading and share 35 famous quotes about Get Off The Bus with everyone.
Top Get Off The Bus Quotes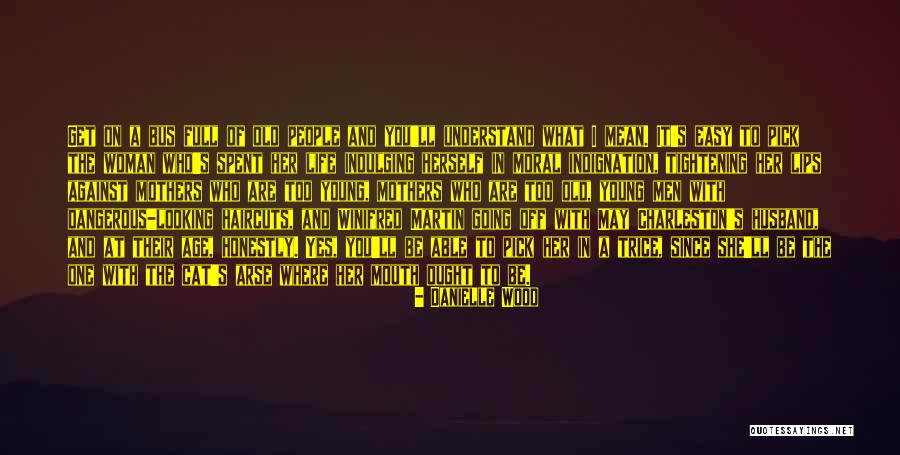 Get on a bus full of old people and you'll understand what I mean. It's easy to pick the woman who's spent her life indulging herself in moral indignation, tightening her lips against mothers who are too young, mothers who are too old, young men with dangerous-looking haircuts, and Winifred Martin going off with May Charleston's husband, and at their age, honestly. Yes, you'll be able to pick her in a trice, since she'll be the one with the cat's arse where her mouth ought to be. — Danielle Wood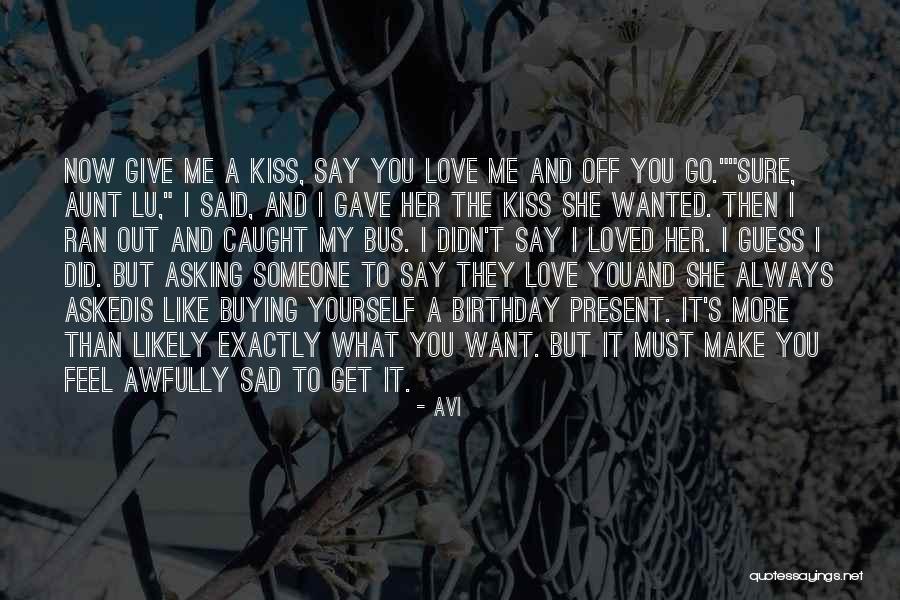 Now give me a kiss, say you love me and off you go."
"Sure, Aunt Lu," I said, and I gave her the kiss she wanted. Then I ran out and caught my bus. I didn't say I loved her. I guess I did. But asking someone to say they love you
and she always asked
is like buying yourself a birthday present. It's more than likely exactly what you want. But it must make you feel awfully sad to get it. — Avi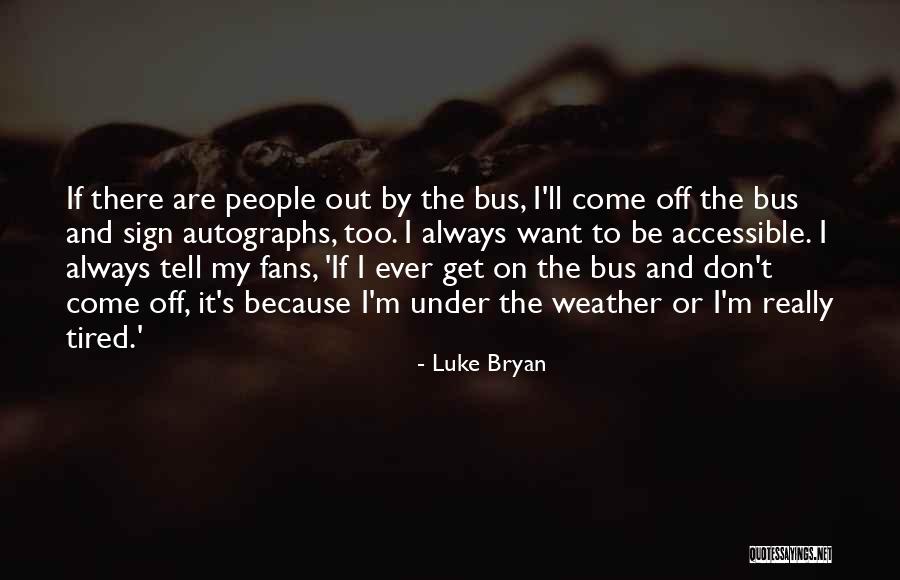 If there are people out by the bus, I'll come off the bus and sign autographs, too. I always want to be accessible. I always tell my fans, 'If I ever get on the bus and don't come off, it's because I'm under the weather or I'm really tired.' — Luke Bryan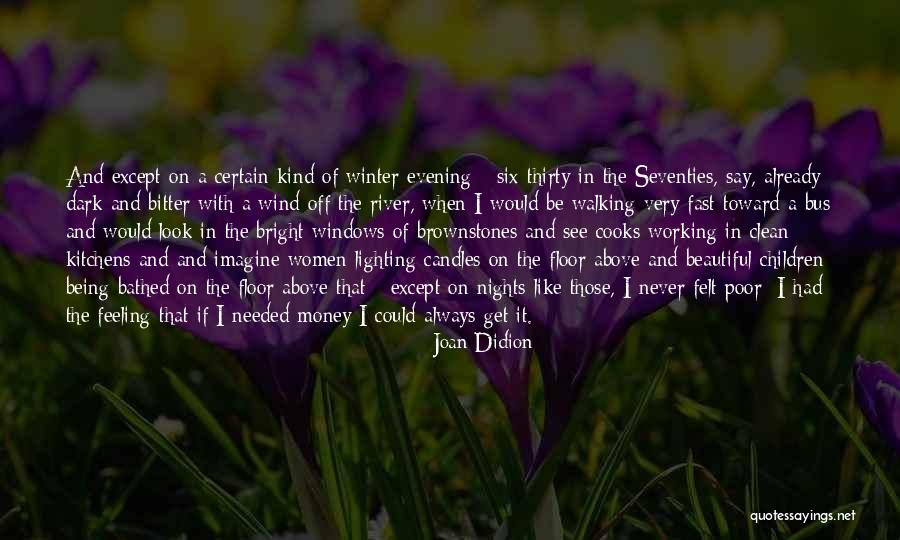 And except on a certain kind of winter evening - six-thirty in the Seventies, say, already dark and bitter with a wind off the river, when I would be walking very fast toward a bus and would look in the bright windows of brownstones and see cooks working in clean kitchens and and imagine women lighting candles on the floor above and beautiful children being bathed on the floor above that - except on nights like those, I never felt poor; I had the feeling that if I needed money I could always get it. — Joan Didion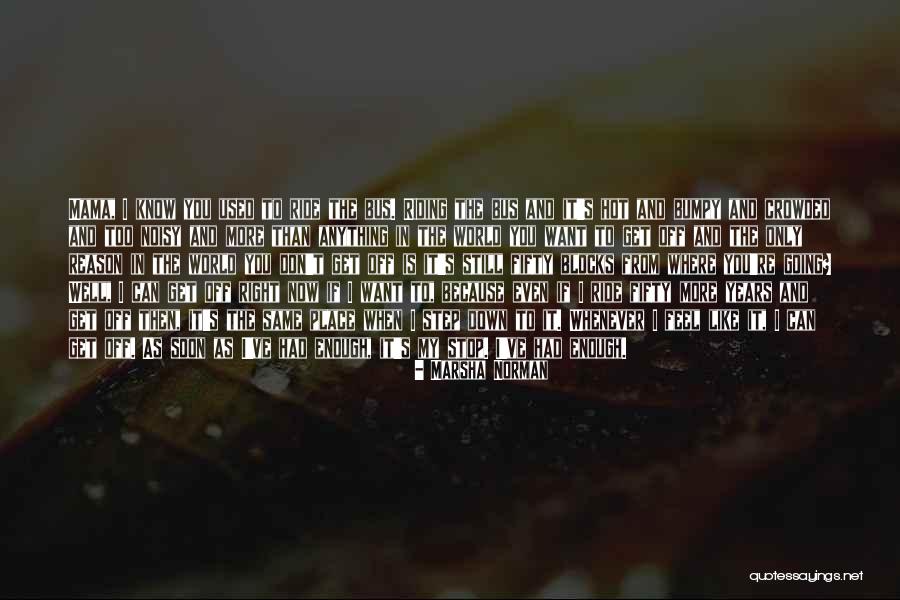 Mama, I know you used to ride the bus. Riding the bus and it's hot and bumpy and crowded and too noisy and more than anything in the world you want to get off and the only reason in the world you don't get off is it's still fifty blocks from where you're going? Well, I can get off right now if I want to, because even if I ride fifty more years and get off then, it's the same place when I step down to it. Whenever I feel like it, I can get off. As soon as I've had enough, it's my stop. I've had enough. — Marsha Norman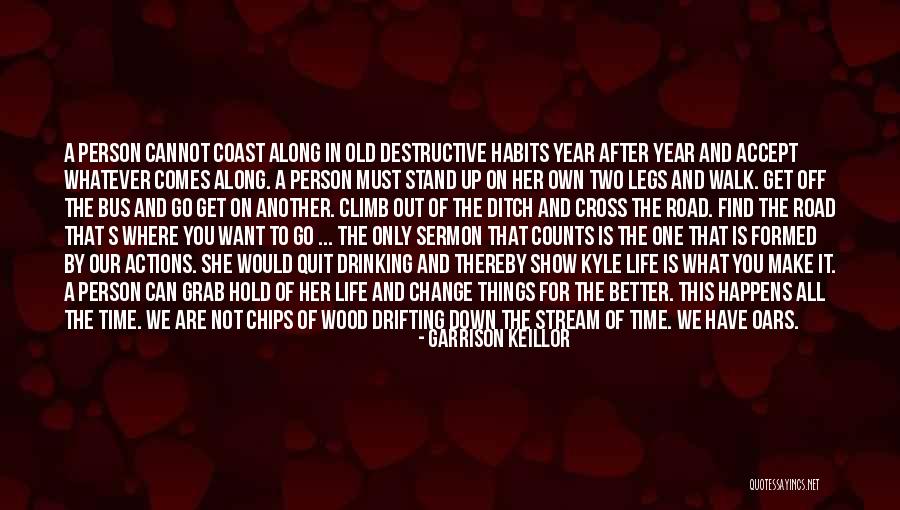 A person cannot coast along in old destructive habits year after year and accept whatever comes along. A person must stand up on her own two legs and walk. Get off the bus and go get on another. Climb out of the ditch and cross the road. Find the road that s where you want to go ... The only sermon that counts is the one that is formed by our actions. She would quit drinking and thereby show Kyle life is what you make it. A person can grab hold of her life and change things for the better. This happens all the time. We are not chips of wood drifting down the stream of time. We have oars. — Garrison Keillor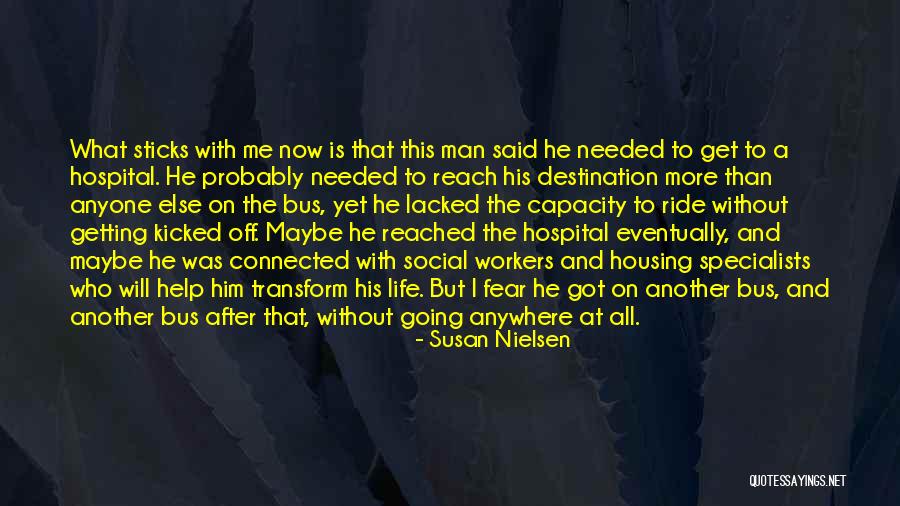 What sticks with me now is that this man said he needed to get to a hospital. He probably needed to reach his destination more than anyone else on the bus, yet he lacked the capacity to ride without getting kicked off. Maybe he reached the hospital eventually, and maybe he was connected with social workers and housing specialists who will help him transform his life. But I fear he got on another bus, and another bus after that, without going anywhere at all. — Susan Nielsen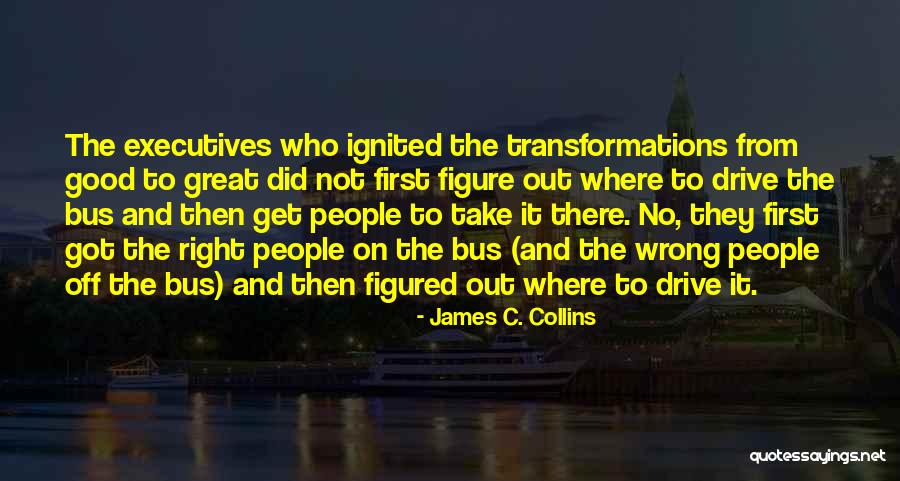 The executives who ignited the transformations from good to great did not first figure out where to drive the bus and then get people to take it there. No, they first got the right people on the bus (and the wrong people off the bus) and then figured out where to drive it. — James C. Collins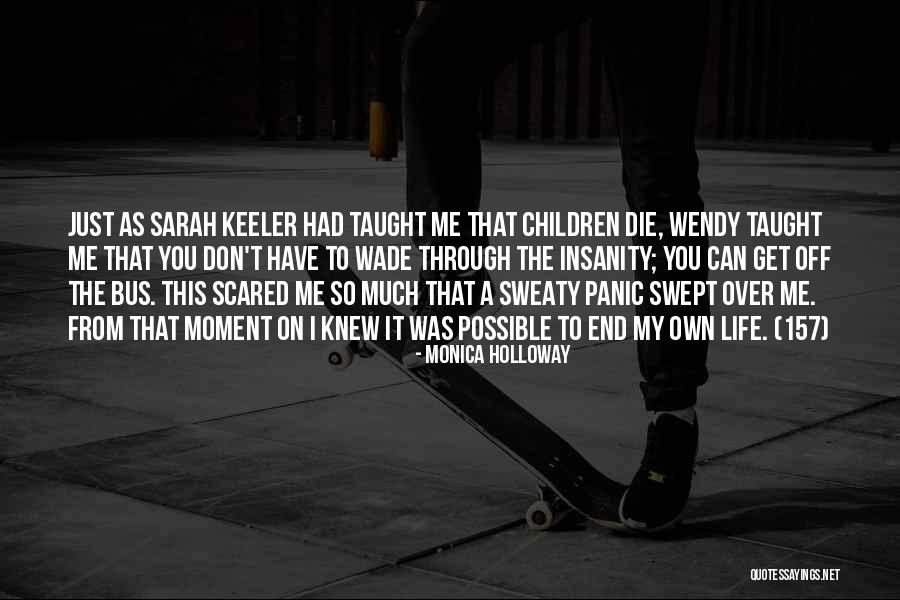 Just as Sarah Keeler had taught me that children die, Wendy taught me that you don't have to wade through the insanity; you can get off the bus. This scared me so much that a sweaty panic swept over me. From that moment on I knew it was possible to end my own life. (157) — Monica Holloway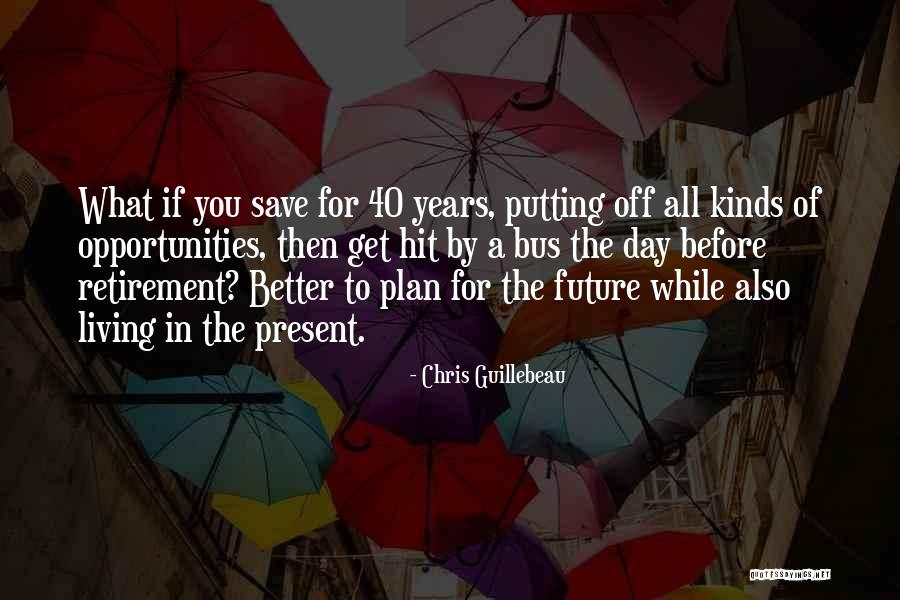 What if you save for 40 years, putting off all kinds of opportunities, then get hit by a bus the day before retirement? Better to plan for the future while also living in the present. — Chris Guillebeau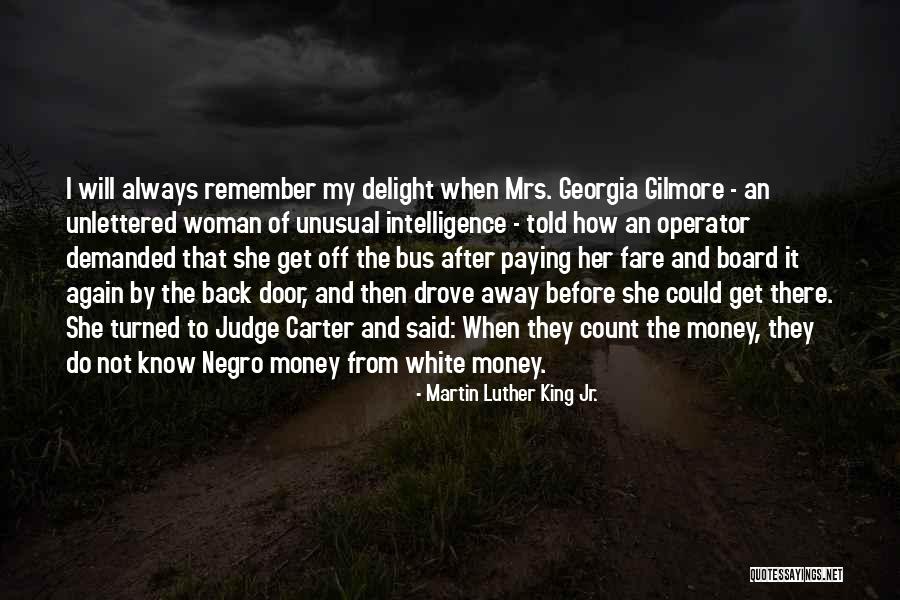 I will always remember my delight when Mrs. Georgia Gilmore - an unlettered woman of unusual intelligence - told how an operator demanded that she get off the bus after paying her fare and board it again by the back door, and then drove away before she could get there. She turned to Judge Carter and said: When they count the money, they do not know Negro money from white money. — Martin Luther King Jr.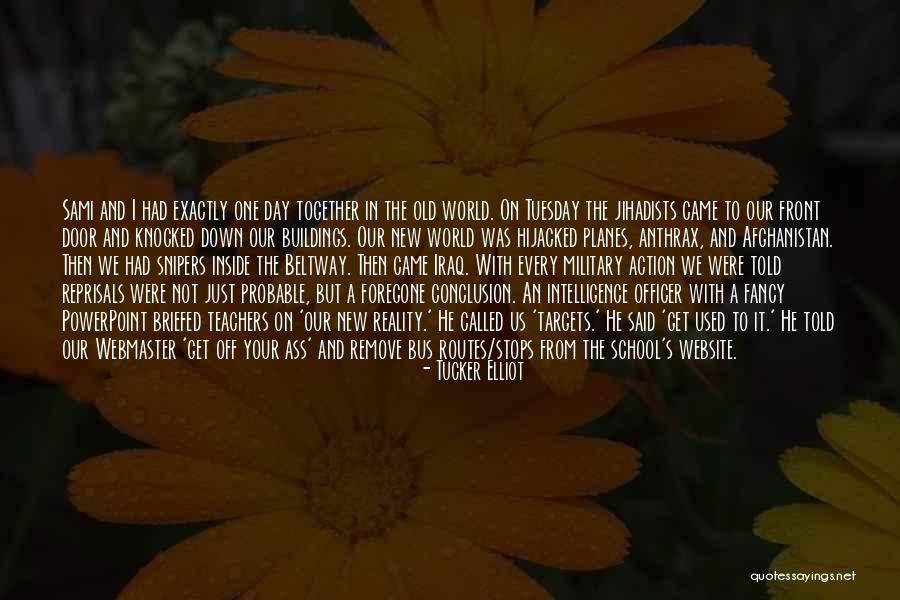 Sami and I had exactly one day together in the old world. On Tuesday the jihadists came to our front door and knocked down our buildings. Our new world was hijacked planes, anthrax, and Afghanistan. Then we had snipers inside the Beltway. Then came Iraq. With every military action we were told reprisals were not just probable, but a foregone conclusion. An intelligence officer with a fancy PowerPoint briefed teachers on 'our new reality.' He called us 'targets.' He said 'get used to it.' He told our Webmaster 'get off your ass' and remove bus routes/stops from the school's website. Johnny Jihad would find that information especially helpful if he decided to plow through our kids one morning as they stood half-asleep waiting for the school bus. — Tucker Elliot
Elsa decides they should begin by taking the bus, like normal knights on normal quests in more or less normal fairytales when there aren't any horses or cloud animals available. But when all the other people at the bus stop starts eyeing The Monster and the wurse and nervously shuffling as far away from them as it's possible to be without ending up at the next bus stop, she realises it's not going to be quite so straightforward.
On boarding the bus it becomes immediately clear that wurses are not at all partial to travelling on public transport. After it had snuffled about and stepped on people's toes and overturned bags with its tail and accidently dribbled a bit on a seat a little too close to The Monster for The Monster to feel entirely comfortable, Elsa decides to forget the whole thing, and then all three of them get off. Exactly one stop later — Fredrik Backman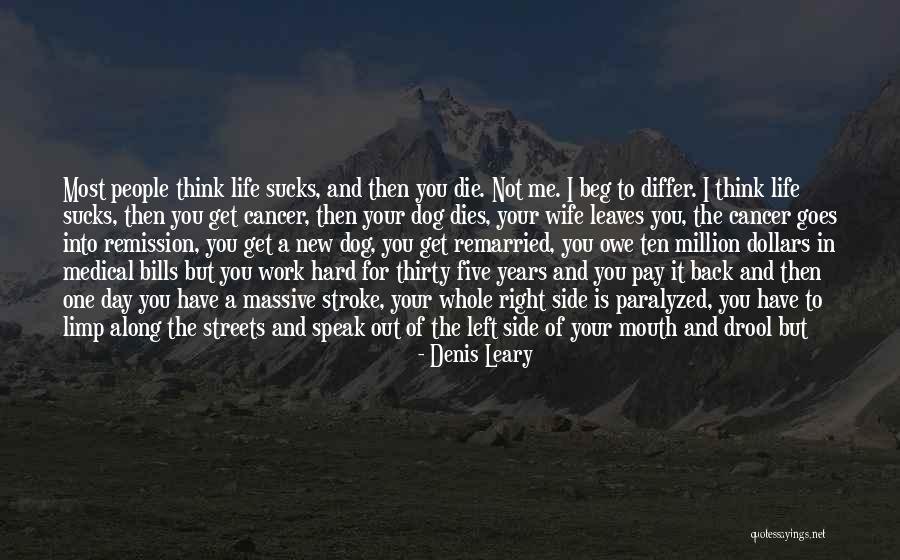 Most people think life sucks, and then you die. Not me. I beg to differ. I think life sucks, then you get cancer, then your dog dies, your wife leaves you, the cancer goes into remission, you get a new dog, you get remarried, you owe ten million dollars in medical bills but you work hard for thirty five years and you pay it back and then one day you have a massive stroke, your whole right side is paralyzed, you have to limp along the streets and speak out of the left side of your mouth and drool but you go into rehabilitation and regain the power to walk and the power to talk and then one day you step off a curb at Sixty-seventh Street, and BANG you get hit by a city bus and then you die. Maybe — Denis Leary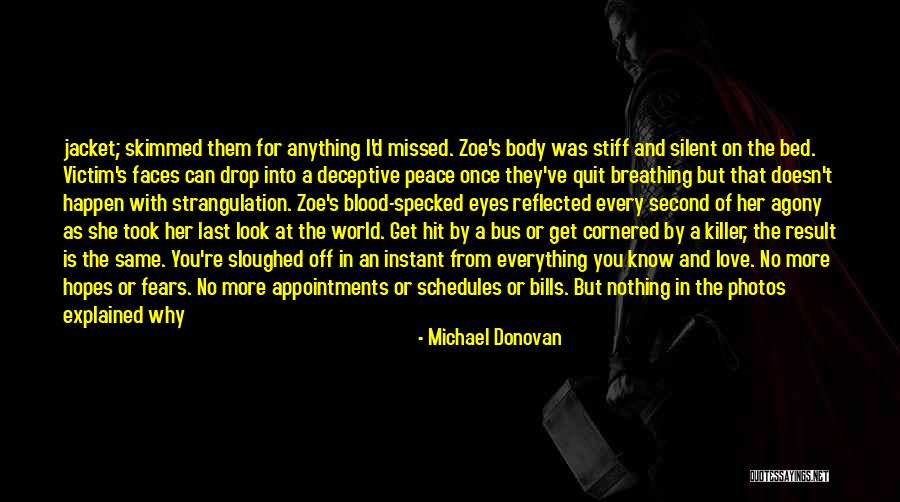 jacket; skimmed them for anything I'd missed. Zoe's body was stiff and silent on the bed. Victim's faces can drop into a deceptive peace once they've quit breathing but that doesn't happen with strangulation. Zoe's blood-specked eyes reflected every second of her agony as she took her last look at the world. Get hit by a bus or get cornered by a killer, the result is the same. You're sloughed off in an instant from everything you know and love. No more hopes or fears. No more appointments or schedules or bills. But nothing in the photos explained why — Michael Donovan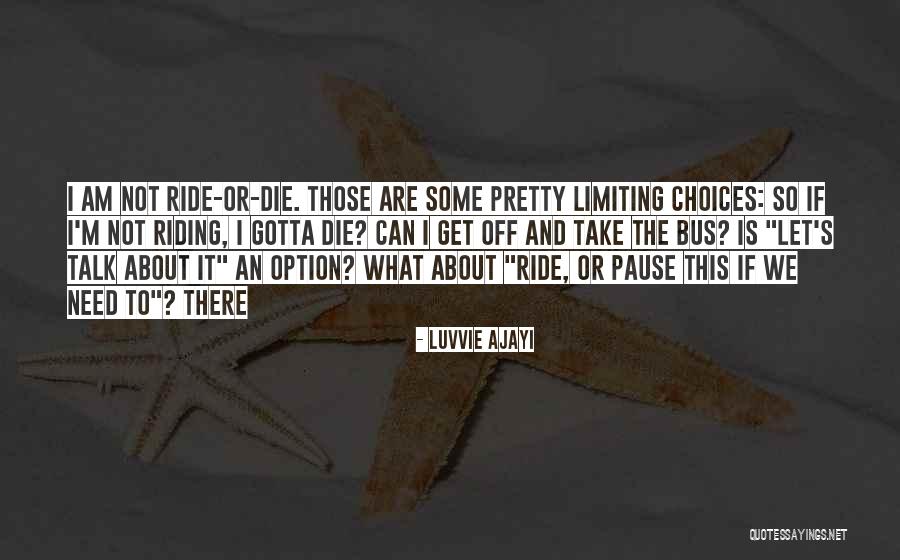 I am not ride-or-die. Those are some pretty limiting choices: So if I'm not riding, I gotta die? Can I get off and take the bus? Is "Let's talk about it" an option? What about "ride, or pause this if we need to"? There — Luvvie Ajayi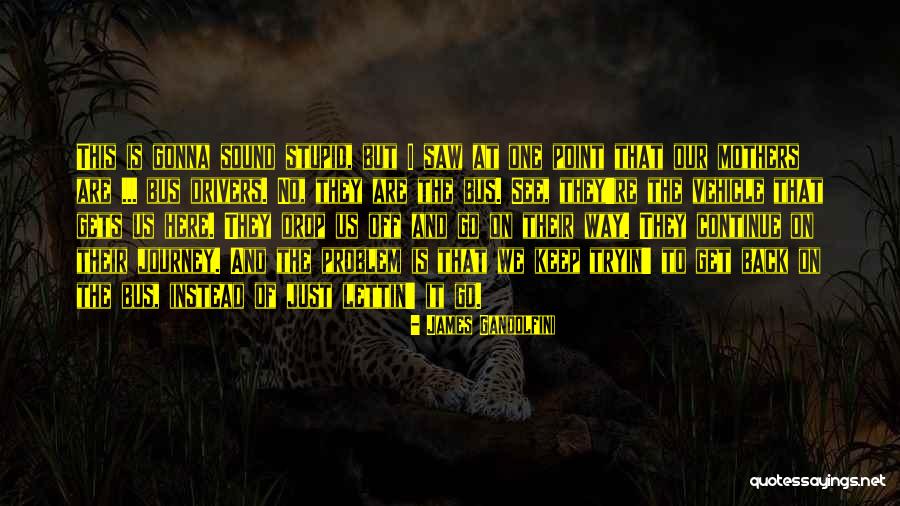 This is gonna sound stupid, but I saw at one point that our mothers are ... bus drivers. No, they are the bus. See, they're the vehicle that gets us here. They drop us off and go on their way. They continue on their journey. And the problem is that we keep tryin' to get back on the bus, instead of just lettin' it go. — James Gandolfini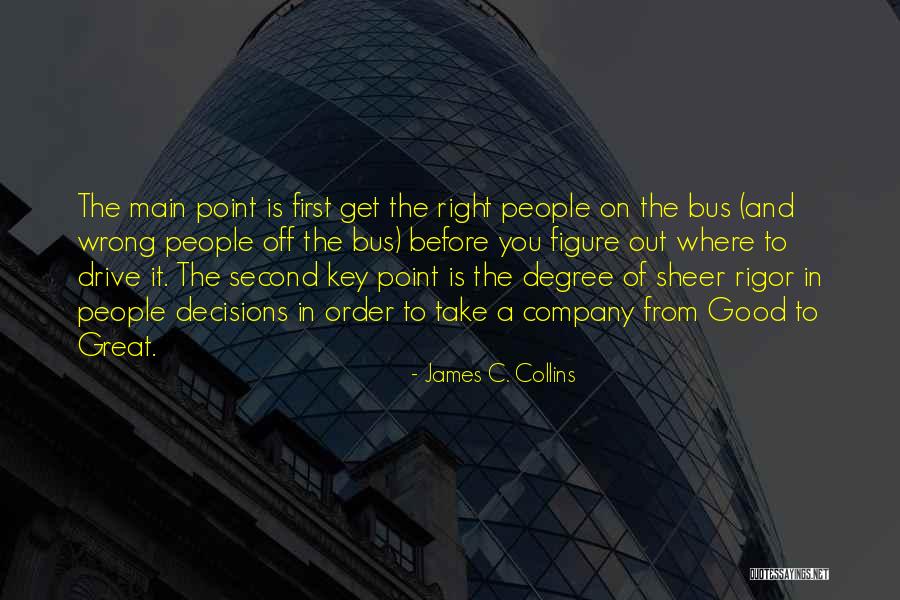 The main point is first get the right people on the bus (and wrong people off the bus) before you figure out where to drive it. The second key point is the degree of sheer rigor in people decisions in order to take a company from Good to Great. — James C. Collins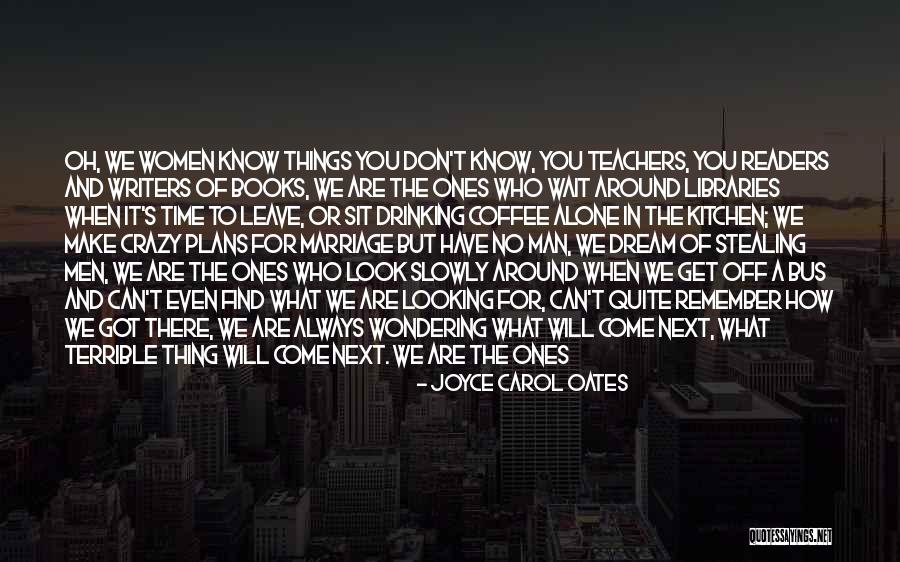 Oh, we women know things you don't know, you teachers, you readers and writers of books, we are the ones who wait around libraries when it's time to leave, or sit drinking coffee alone in the kitchen; we make crazy plans for marriage but have no man, we dream of stealing men, we are the ones who look slowly around when we get off a bus and can't even find what we are looking for, can't quite remember how we got there, we are always wondering what will come next, what terrible thing will come next. We are the ones who leaf through magazines with colored pictures and spend long heavy hours sunk in our bodies, thinking, remembering, dreaming, waiting for something to come to us and give a shape to so much pain. — Joyce Carol Oates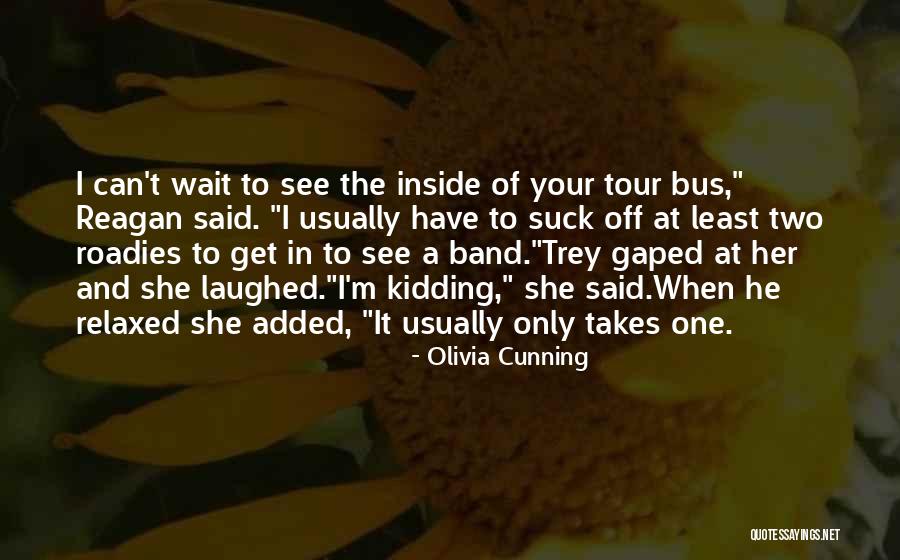 I can't wait to see the inside of your tour bus," Reagan said. "I usually have to suck off at least two roadies to get in to see a band."
Trey gaped at her and she laughed.
"I'm kidding," she said.
When he relaxed she added, "It usually only takes one. — Olivia Cunning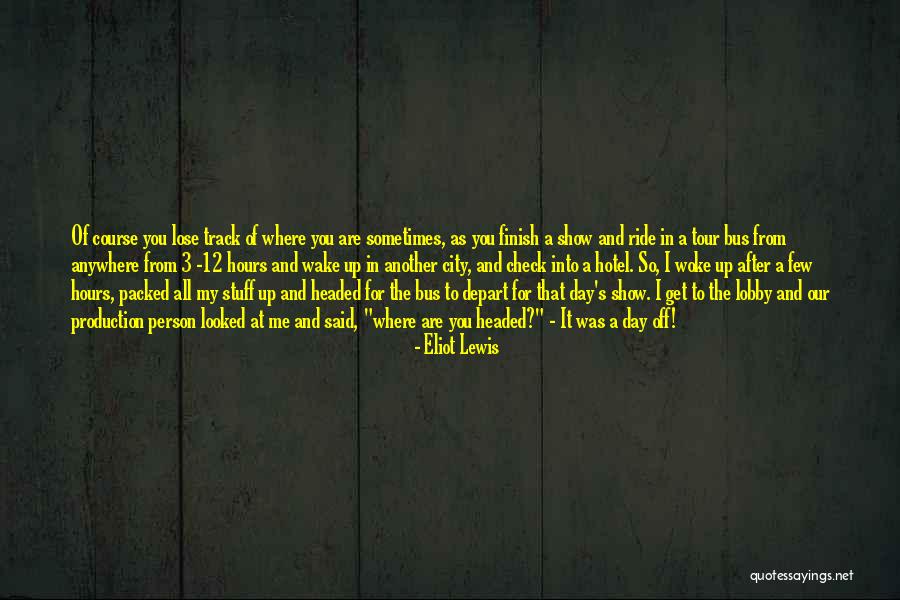 Of course you lose track of where you are sometimes, as you finish a show and ride in a tour bus from anywhere from 3 -12 hours and wake up in another city, and check into a hotel. So, I woke up after a few hours, packed all my stuff up and headed for the bus to depart for that day's show. I get to the lobby and our production person looked at me and said, "where are you headed?" - It was a day off! — Eliot Lewis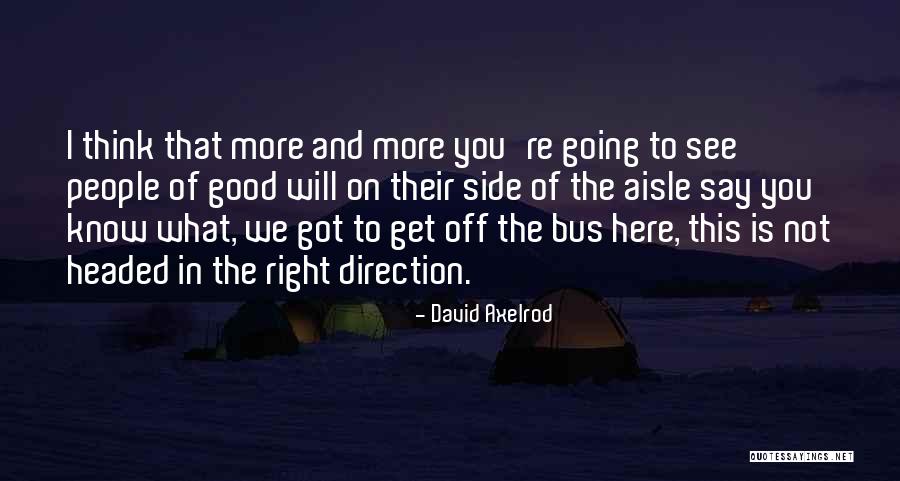 I think that more and more you're going to see people of good will on their side of the aisle say you know what, we got to get off the bus here, this is not headed in the right direction. — David Axelrod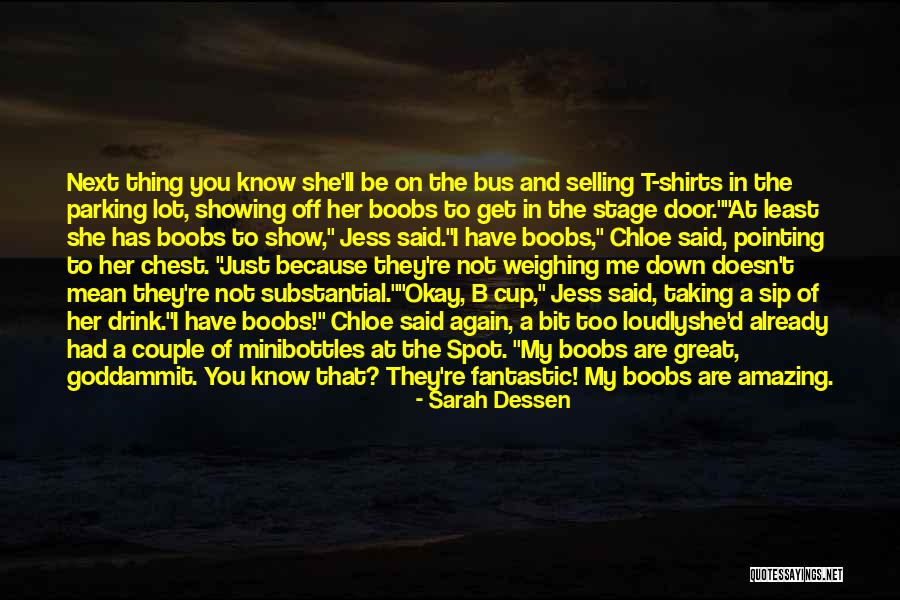 Next thing you know she'll be on the bus and selling T-shirts in the parking lot, showing off her boobs to get in the stage door."
"At least she has boobs to show," Jess said.
"I have boobs," Chloe said, pointing to her chest. "Just because they're not weighing me down doesn't mean they're not substantial."
"Okay, B cup," Jess said, taking a sip of her drink.
"I have boobs!" Chloe said again, a bit too loudly
she'd already had a couple of minibottles at the Spot. "My boobs are great, goddammit. You know that? They're fantastic! My boobs are amazing. — Sarah Dessen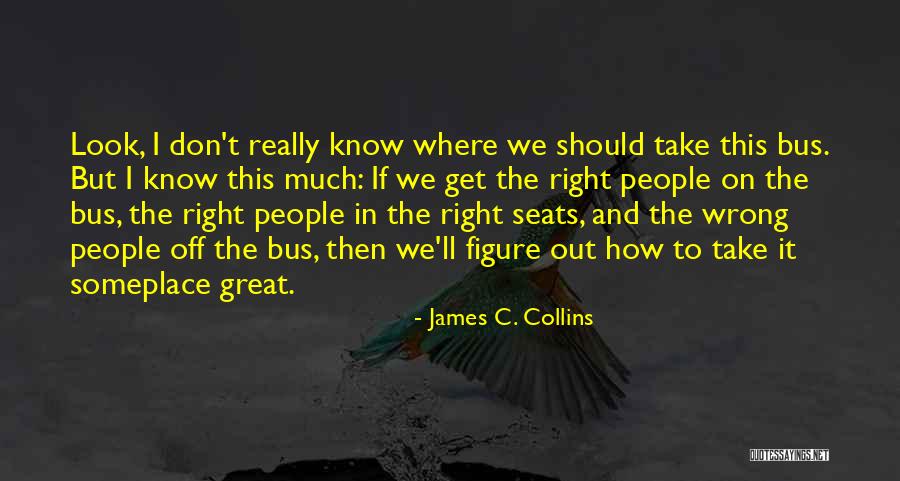 Look, I don't really know where we should take this bus. But I know this much: If we get the right people on the bus, the right people in the right seats, and the wrong people off the bus, then we'll figure out how to take it someplace great. — James C. Collins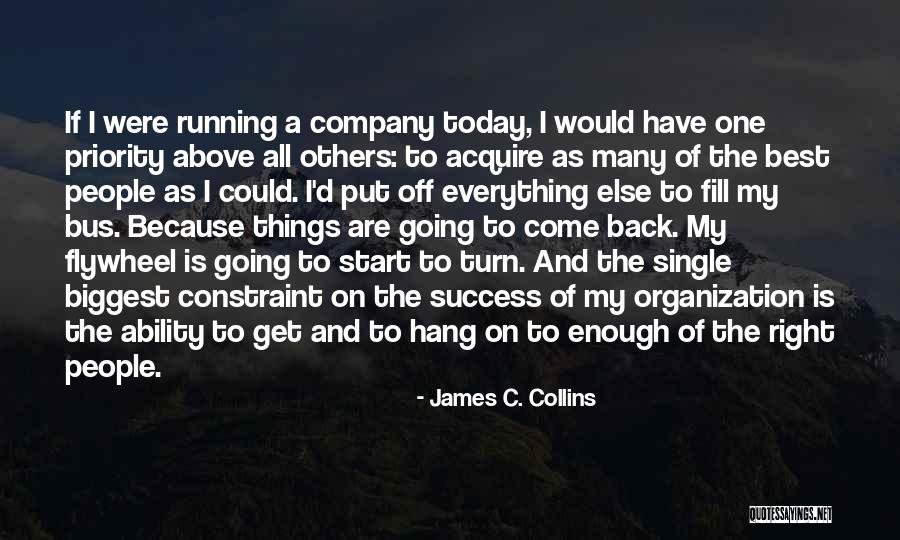 If I were running a company today, I would have one priority above all others: to acquire as many of the best people as I could. I'd put off everything else to fill my bus. Because things are going to come back. My flywheel is going to start to turn. And the single biggest constraint on the success of my organization is the ability to get and to hang on to enough of the right people. — James C. Collins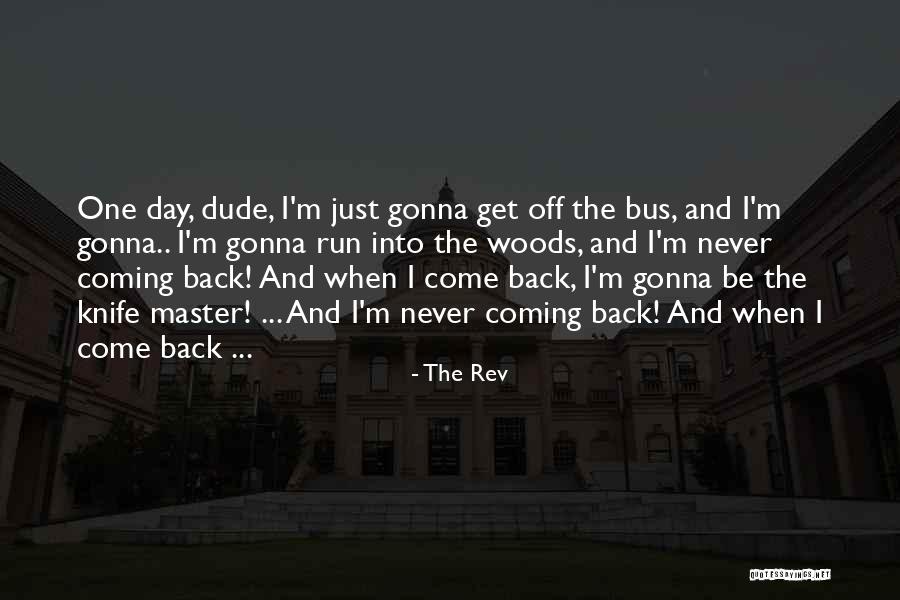 One day, dude, I'm just gonna get off the bus, and I'm gonna.. I'm gonna run into the woods, and I'm never coming back! And when I come back, I'm gonna be the knife master! ... And I'm never coming back! And when I come back ... — The Rev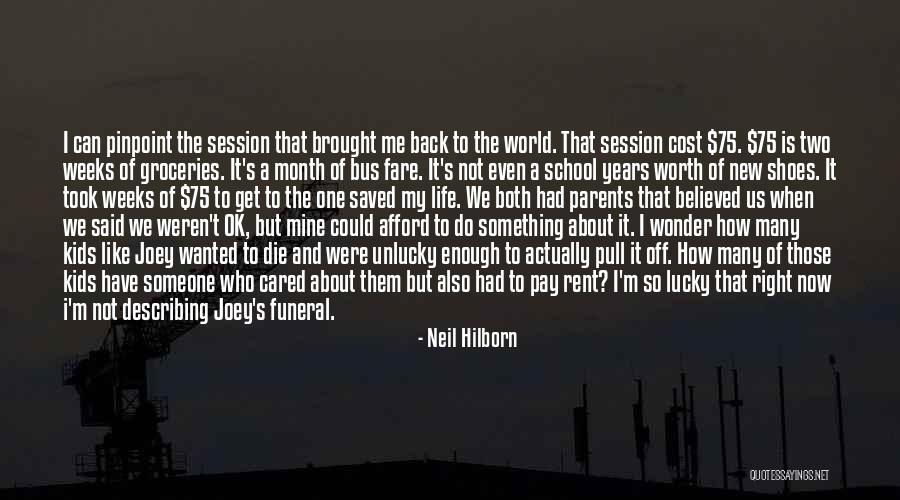 I can pinpoint the session that brought me back to the world. That session cost $75. $75 is two weeks of groceries. It's a month of bus fare. It's not even a school years worth of new shoes. It took weeks of $75 to get to the one saved my life. We both had parents that believed us when we said we weren't OK, but mine could afford to do something about it. I wonder how many kids like Joey wanted to die and were unlucky enough to actually pull it off. How many of those kids have someone who cared about them but also had to pay rent? I'm so lucky that right now i'm not describing Joey's funeral. — Neil Hilborn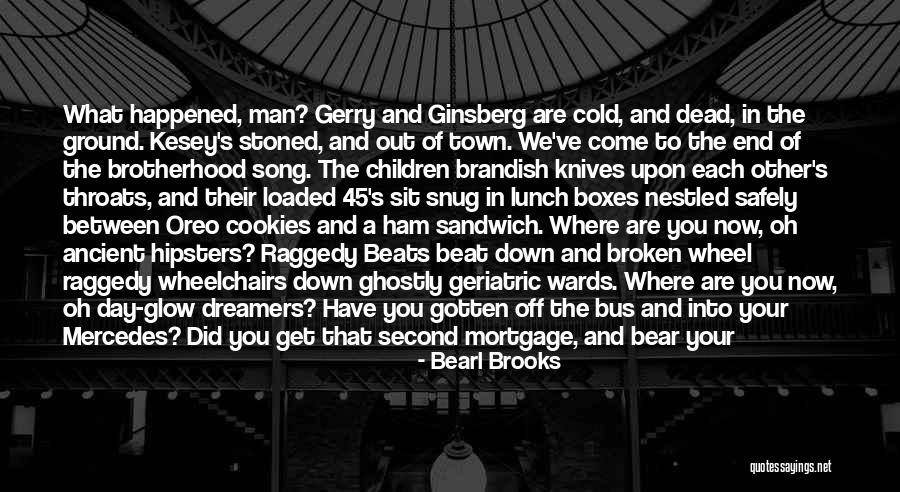 What happened, man? Gerry and Ginsberg are cold, and dead, in the ground. Kesey's stoned, and out of town. We've come to the end of the brotherhood song. The children brandish knives upon each other's throats, and their loaded 45's sit snug in lunch boxes nestled safely between Oreo cookies and a ham sandwich. Where are you now, oh ancient hipsters? Raggedy Beats beat down and broken wheel raggedy wheelchairs down ghostly geriatric wards. Where are you now, oh day-glow dreamers? Have you gotten off the bus and into your Mercedes? Did you get that second mortgage, and bear your fattened little babies? Where is that girl with flowers in her hair? Where is the man with revolution in his veins? We ask ourselves "where did we go wrong?" But there is no we. There is you, and then there is I. You do what you need to survive, And I do what I must to stay alive. We stand here Bleeding, slicing each other's wrists With the icy ridges of hardened jagged hearts, Cassandra's — Bearl Brooks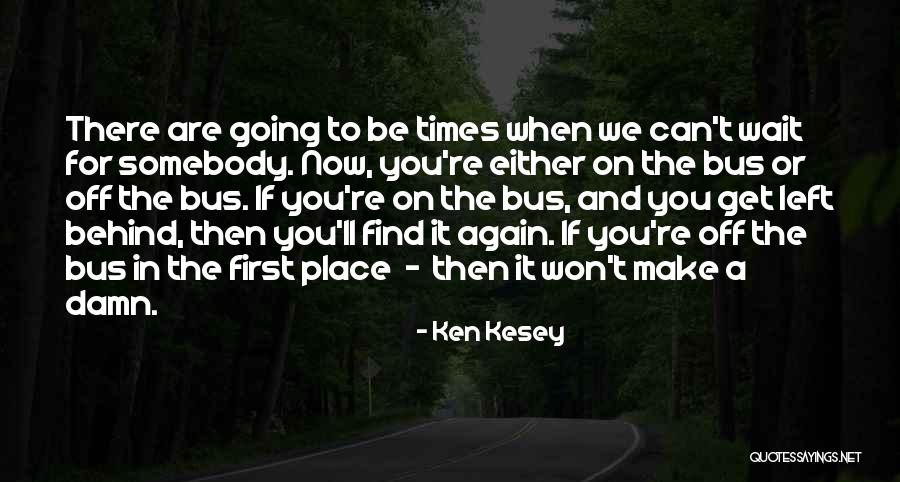 There are going to be times when we can't wait for somebody. Now, you're either on the bus or off the bus. If you're on the bus, and you get left behind, then you'll find it again. If you're off the bus in the first place - then it won't make a damn. — Ken Kesey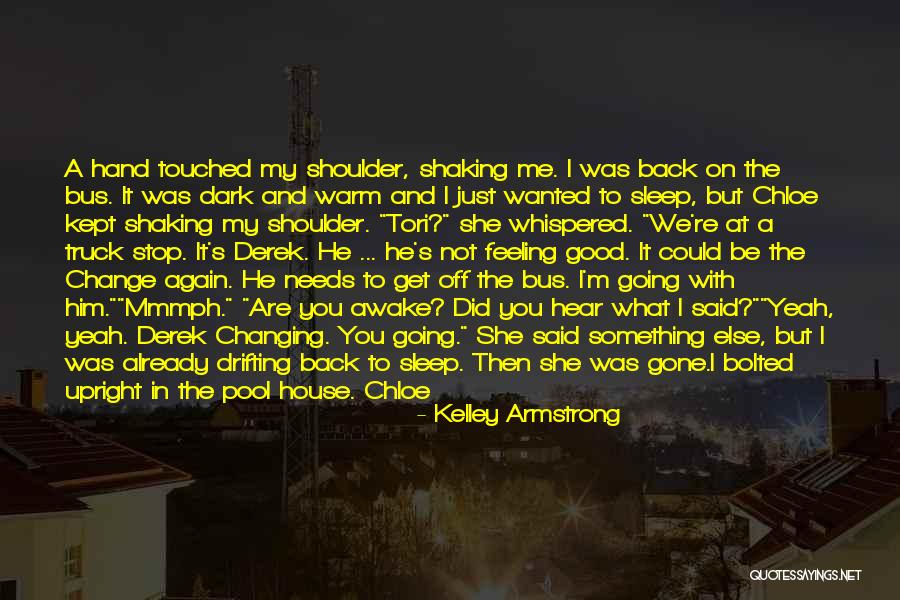 A hand touched my shoulder, shaking me. I was back on the bus. It was dark and warm and I just wanted to sleep, but Chloe kept shaking my shoulder.
"Tori?" she whispered. "We're at a truck stop. It's Derek. He ... he's not feeling good. It could be the Change again. He needs to get off the bus. I'm going with him."
"Mmmph."
"Are you awake? Did you hear what I said?"
"Yeah, yeah. Derek Changing. You going."
She said something else, but I was already drifting back to sleep. Then she was gone.
I bolted upright in the pool house. Chloe had told me they were getting off the bus. Damn it! I'd screwed up. — Kelley Armstrong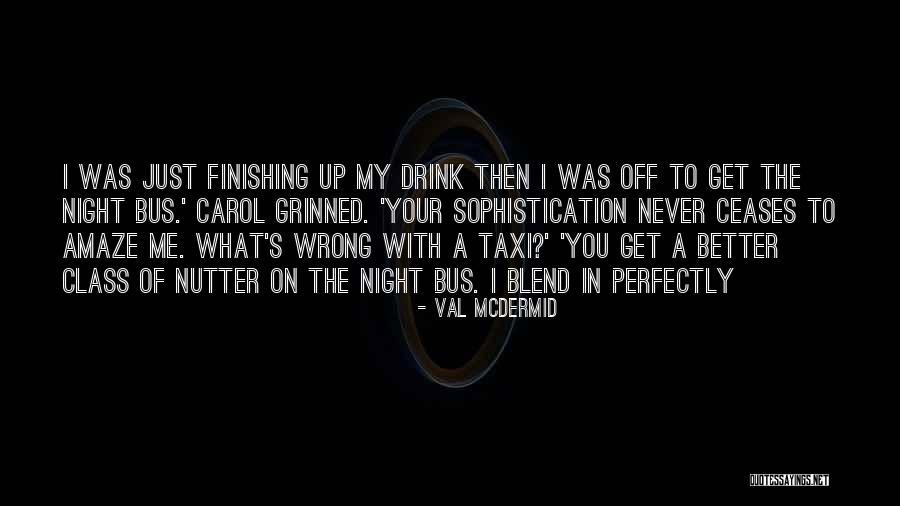 I was just finishing up my drink then I was off to get the night bus.' Carol grinned. 'Your sophistication never ceases to amaze me. What's wrong with a taxi?' 'You get a better class of nutter on the night bus. I blend in perfectly — Val McDermid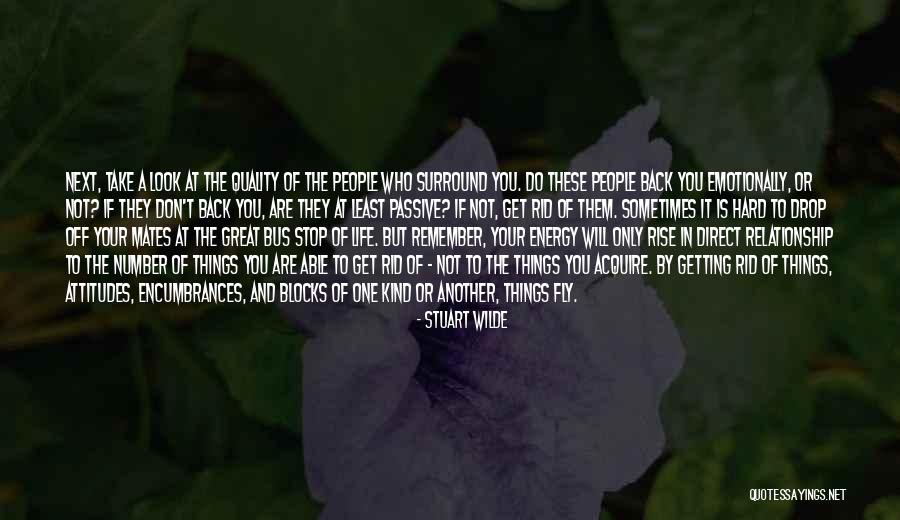 Next, take a look at the quality of the people who surround you. Do these people back you emotionally, or not? If they don't back you, are they at least passive? If not, get rid of them. Sometimes it is hard to drop off your mates at the great bus stop of life. But remember, your energy will only rise in direct relationship to the number of things you are able to get rid of - not to the things you acquire. By getting rid of things, attitudes, encumbrances, and blocks of one kind or another, things fly. — Stuart Wilde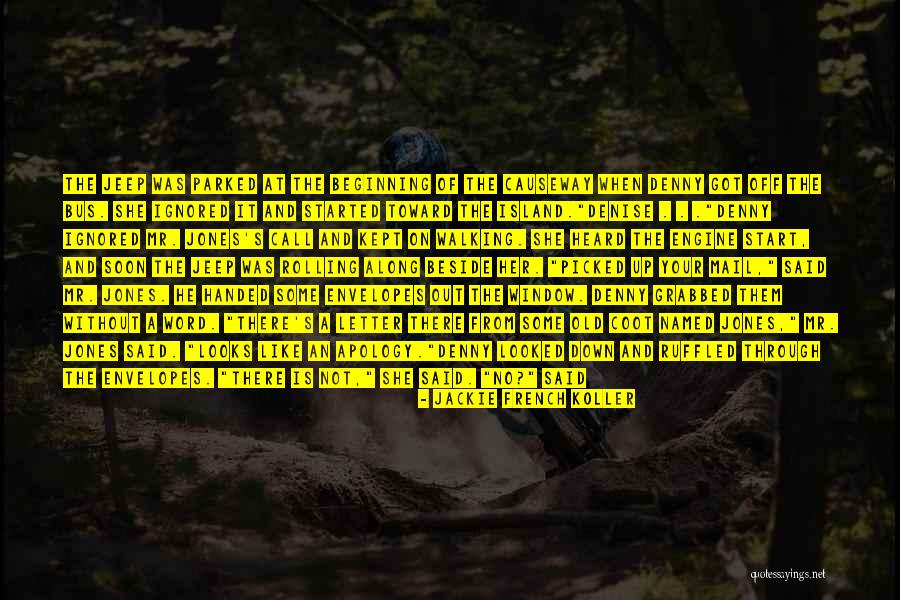 The Jeep was parked at the beginning of the causeway when Denny got off the bus. She ignored it and started toward the island.
"Denise . . ."
Denny ignored Mr. Jones's call and kept on walking.
She heard the engine start, and soon the Jeep was rolling along beside her.
"Picked up your mail," said Mr. Jones. He handed some envelopes out the window. Denny grabbed them without a word.
"There's a letter there from some old coot named Jones," Mr. Jones said. "Looks like an apology."
Denny looked down and ruffled through the envelopes. "There is not," she said.
"No?" said Mr. Jones sheepishly. "Well, there should be. Guess he didn't get around to writing it. He feels real bad though. I know that for a fact."
Denny stopped and put her hand on her hip and stared at Mr. Jones. — Jackie French Koller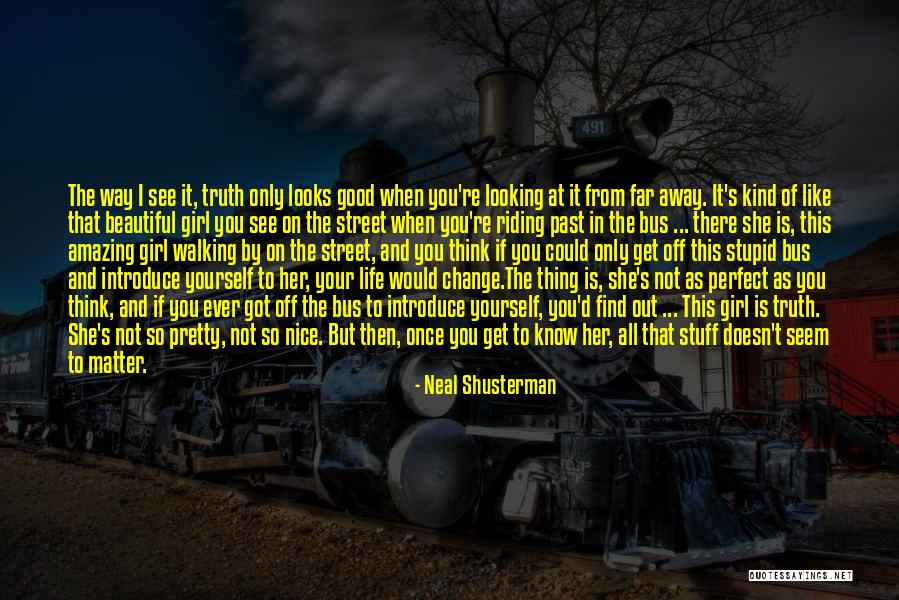 The way I see it, truth only looks good when you're looking at it from far away. It's kind of like that beautiful girl you see on the street when you're riding past in the bus ... there she is, this amazing girl walking by on the street, and you think if you could only get off this stupid bus and introduce yourself to her, your life would change.
The thing is, she's not as perfect as you think, and if you ever got off the bus to introduce yourself, you'd find out ... This girl is truth. She's not so pretty, not so nice. But then, once you get to know her, all that stuff doesn't seem to matter. — Neal Shusterman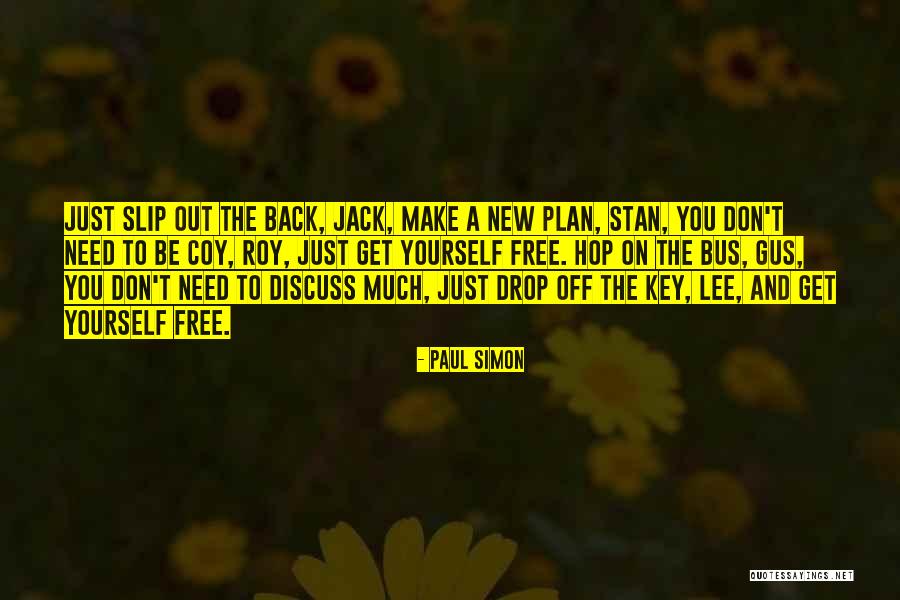 Just slip out the back, Jack, make a new plan, Stan, you don't need to be coy, Roy, just get yourself free. Hop on the bus, Gus, you don't need to discuss much, just drop off the key, Lee, and get yourself free. — Paul Simon