Funny Ex Girlfriend Quotes & Sayings
Enjoy reading and share 34 famous quotes about Funny Ex Girlfriend with everyone.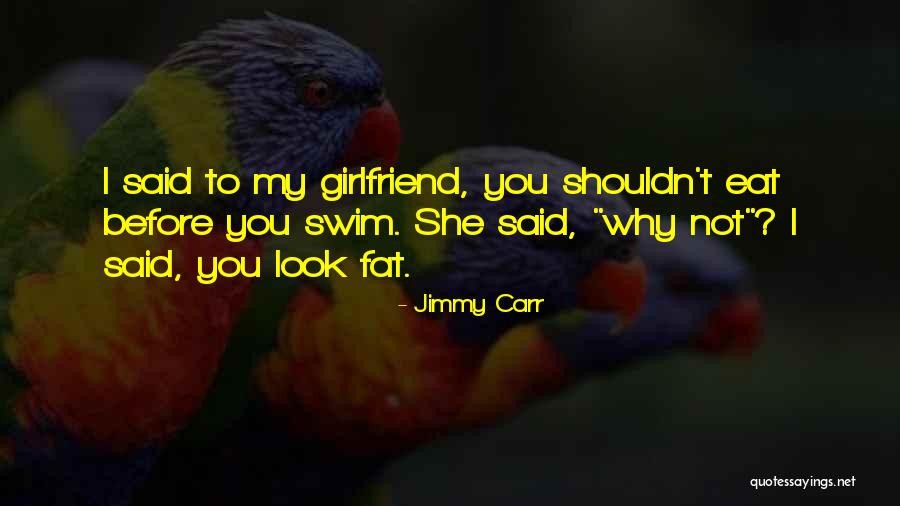 I said to my girlfriend, you shouldn't eat before you swim. She said, "why not"? I said, you look fat. — Jimmy Carr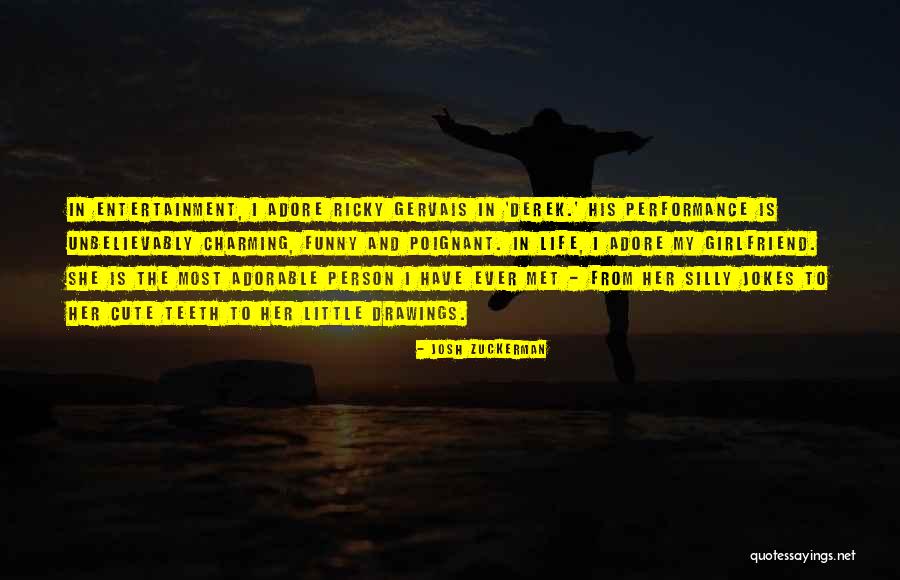 In entertainment, I adore Ricky Gervais in 'Derek.' His performance is unbelievably charming, funny and poignant. In life, I adore my girlfriend. She is the most adorable person I have ever met - from her silly jokes to her cute teeth to her little drawings. — Josh Zuckerman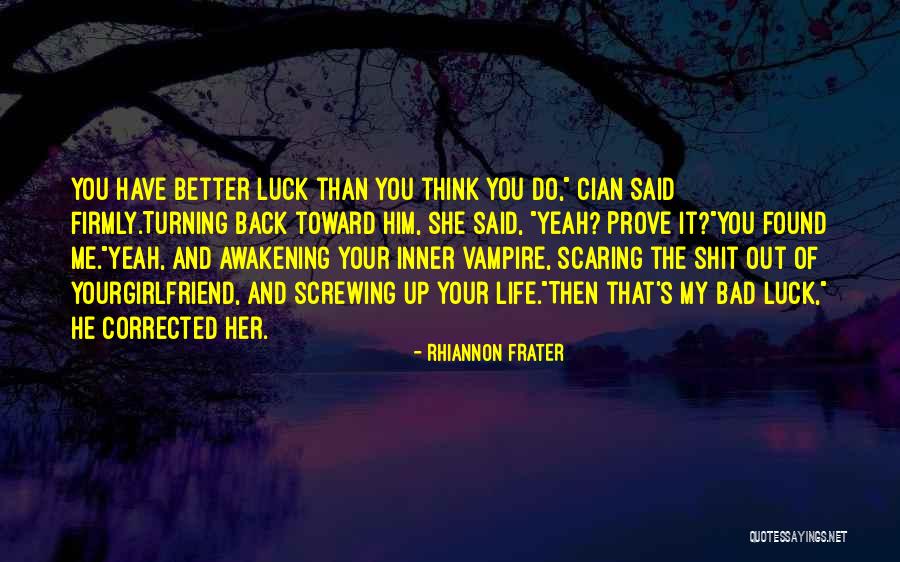 You have better luck than you think you do," Cian said firmly.
Turning back toward him, she said, "Yeah? Prove it?"
You found me."
Yeah, and awakening your inner vampire, scaring the shit out of your
girlfriend, and screwing up your life."
Then that's my bad luck," he corrected her. — Rhiannon Frater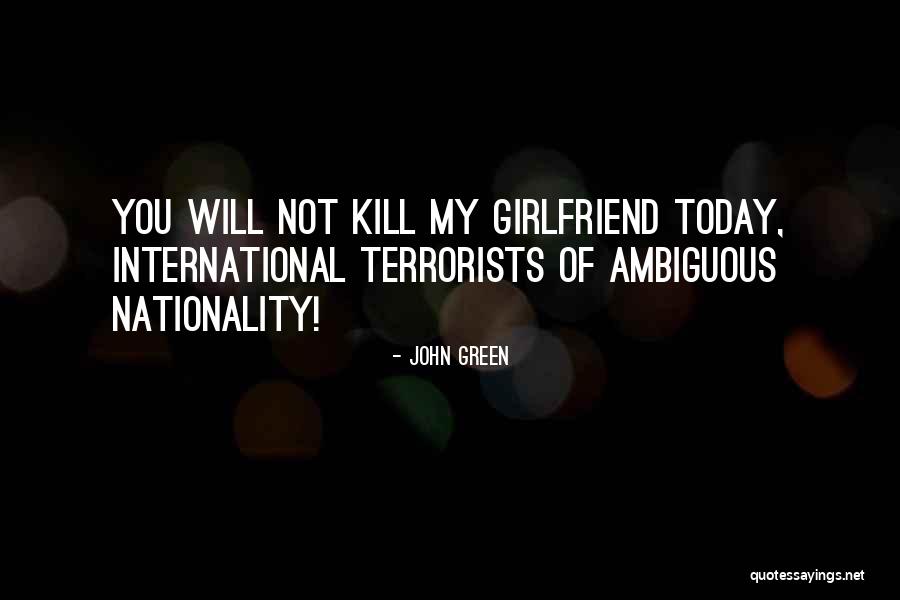 You will not kill my girlfriend today, International Terrorists of Ambiguous Nationality! — John Green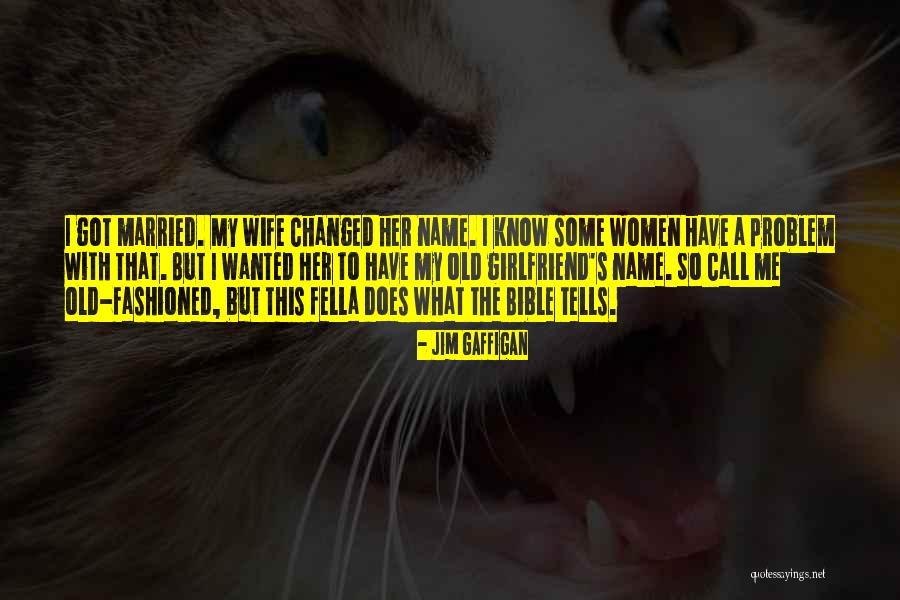 I got married. My wife changed her name. I know some women have a problem with that. But I wanted her to have my old girlfriend's name. So call me old-fashioned, but this fella does what the Bible tells. — Jim Gaffigan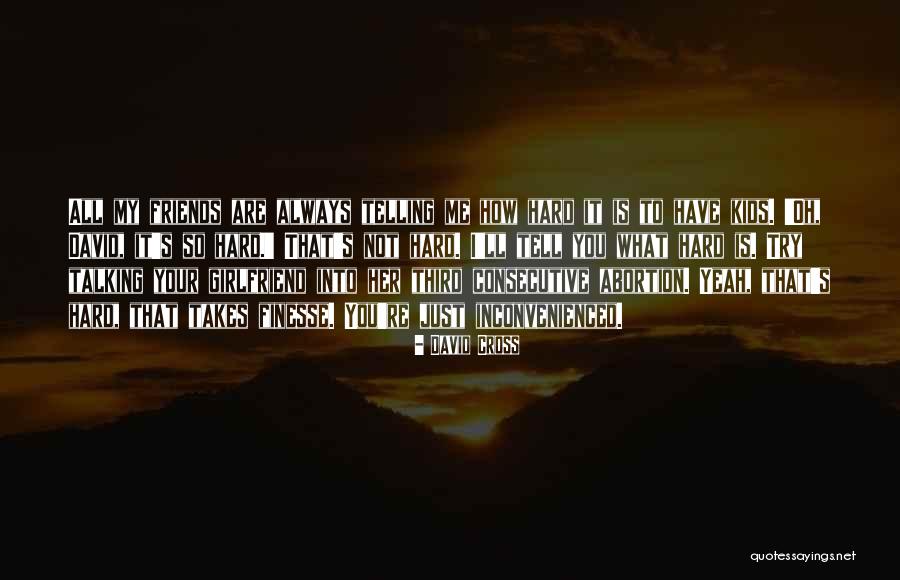 All my friends are always telling me how hard it is to have kids. 'Oh, David, it's so hard.' That's not hard. I'll tell you what hard is. Try talking your girlfriend into her third consecutive abortion. Yeah, that's hard, that takes finesse. You're just inconvenienced. — David Cross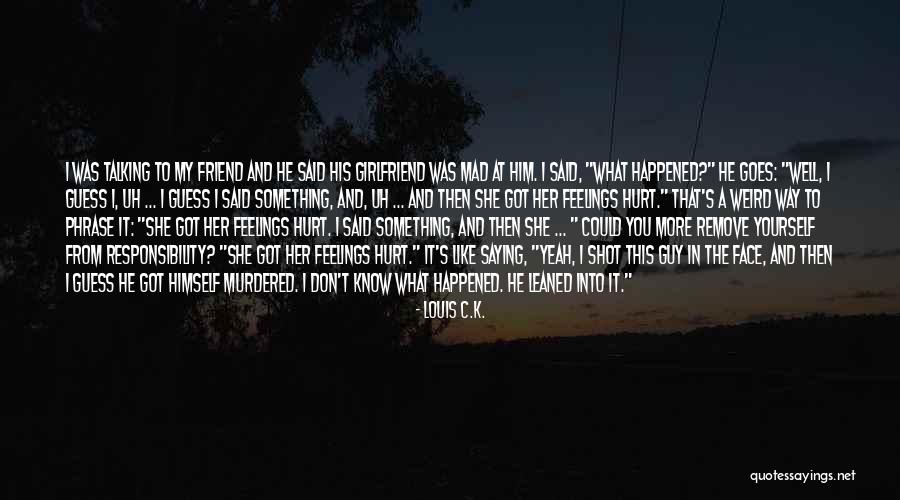 I was talking to my friend and he said his girlfriend was mad at him. I said, "What happened?" He goes: "Well, I guess I, uh ... I guess I said something, and, uh ... and then she got her feelings hurt." That's a weird way to phrase it: "She got her feelings hurt. I said something, and then she ... " Could you more remove yourself from responsibility? "She got her feelings hurt." It's like saying, "Yeah, I shot this guy in the face, and then I guess he got himself murdered. I don't know what happened. He leaned into it." — Louis C.K.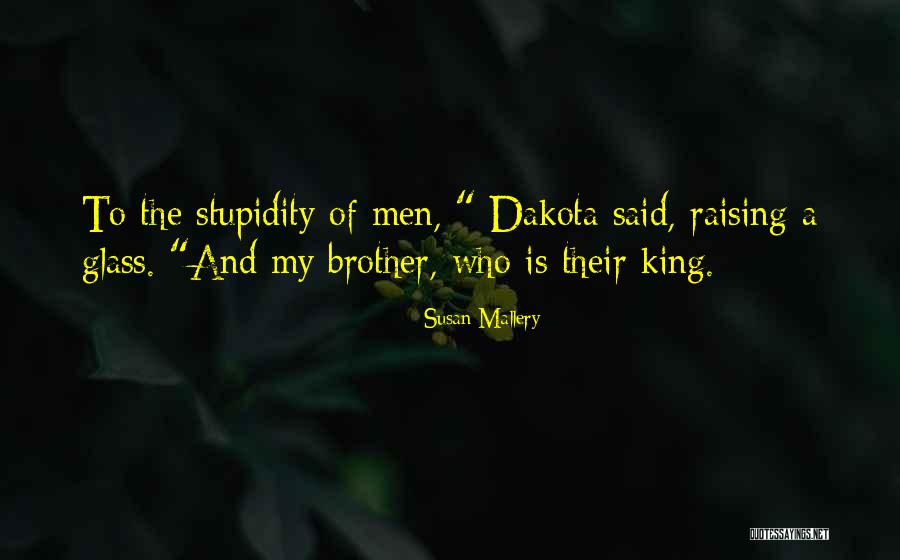 To the stupidity of men, " Dakota said, raising a glass. "And my brother, who is their king. — Susan Mallery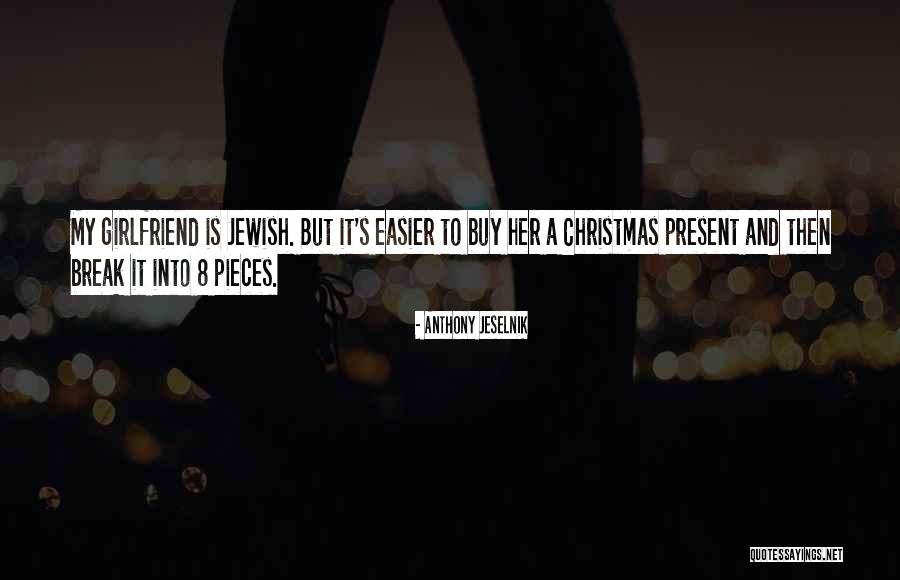 My girlfriend is Jewish. But it's easier to buy her a Christmas present and then break it into 8 pieces. — Anthony Jeselnik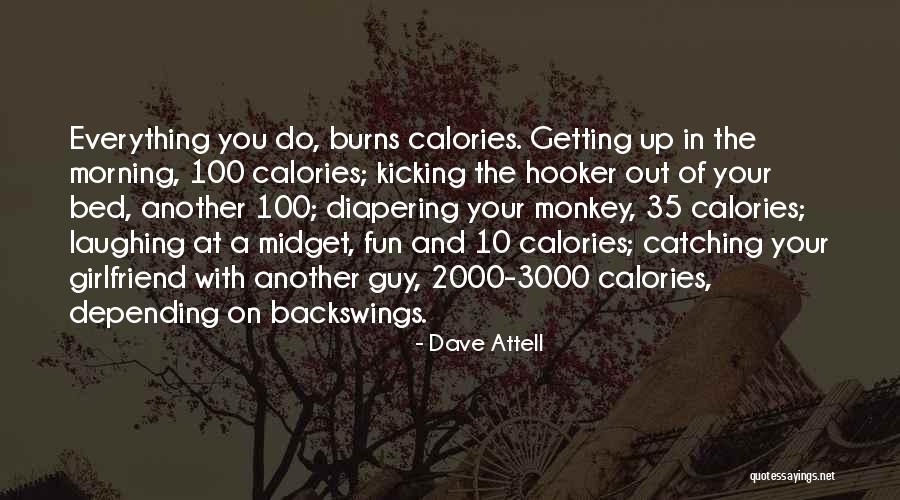 Everything you do, burns calories. Getting up in the morning, 100 calories; kicking the hooker out of your bed, another 100; diapering your monkey, 35 calories; laughing at a midget, fun and 10 calories; catching your girlfriend with another guy, 2000-3000 calories, depending on backswings. — Dave Attell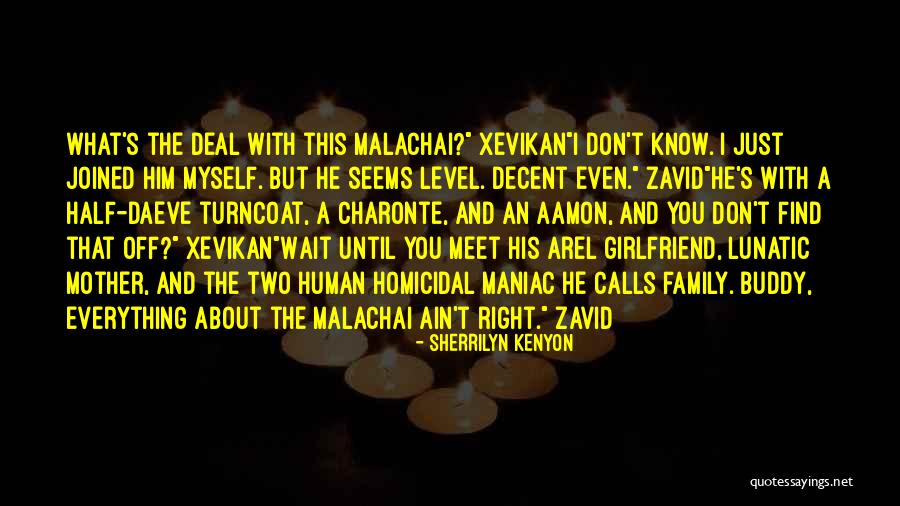 What's the deal with this Malachai?" Xevikan
"I don't know. I just joined him myself. But he seems level. Decent even." Zavid
"He's with a half-daeve turncoat, a Charonte, and an Aamon, and you don't find that off?" Xevikan
"Wait until you meet his Arel girlfriend, lunatic mother, and the two human homicidal maniac he calls family. Buddy, everything about the Malachai ain't right." Zavid — Sherrilyn Kenyon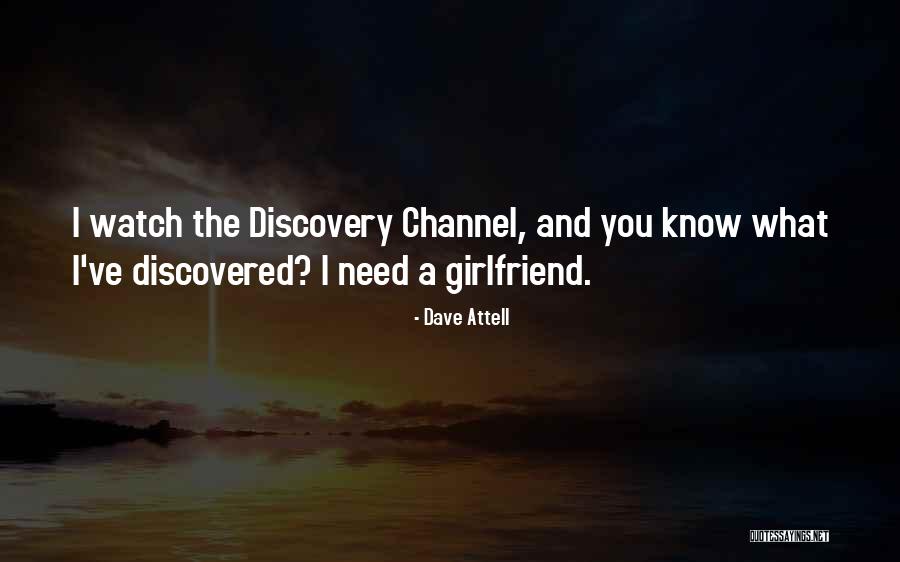 I watch the Discovery Channel, and you know what I've discovered? I need a girlfriend. — Dave Attell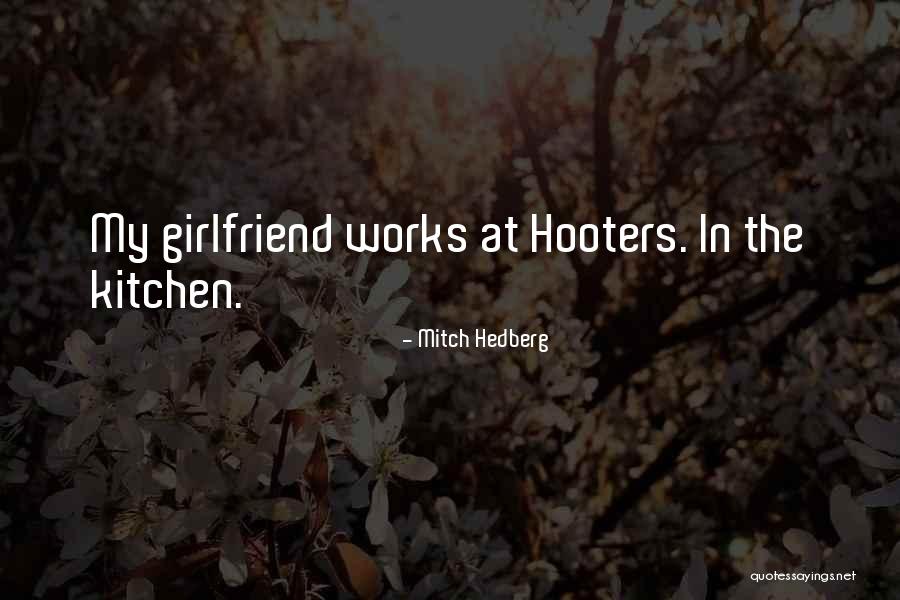 My girlfriend works at Hooters. In the kitchen. — Mitch Hedberg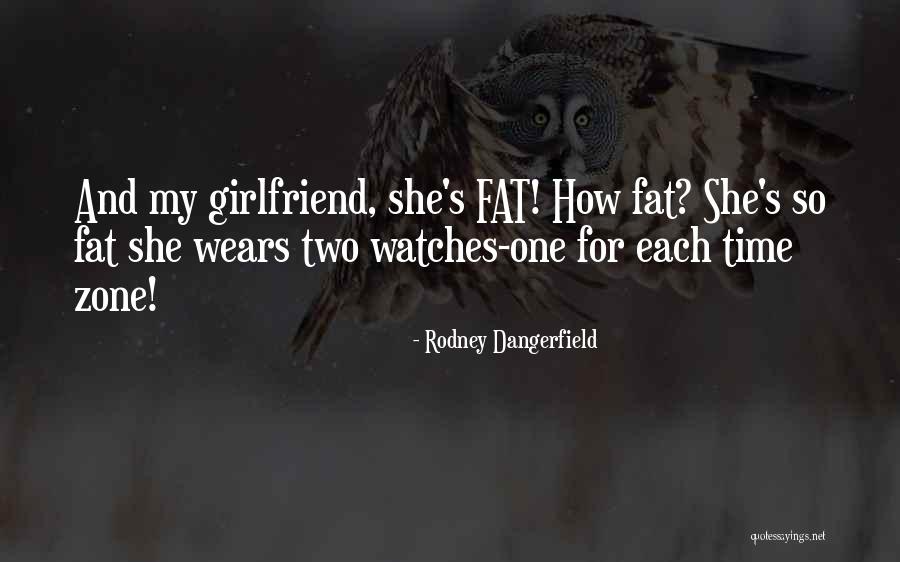 And my girlfriend, she's FAT! How fat? She's so fat she wears two watches-one for each time zone! — Rodney Dangerfield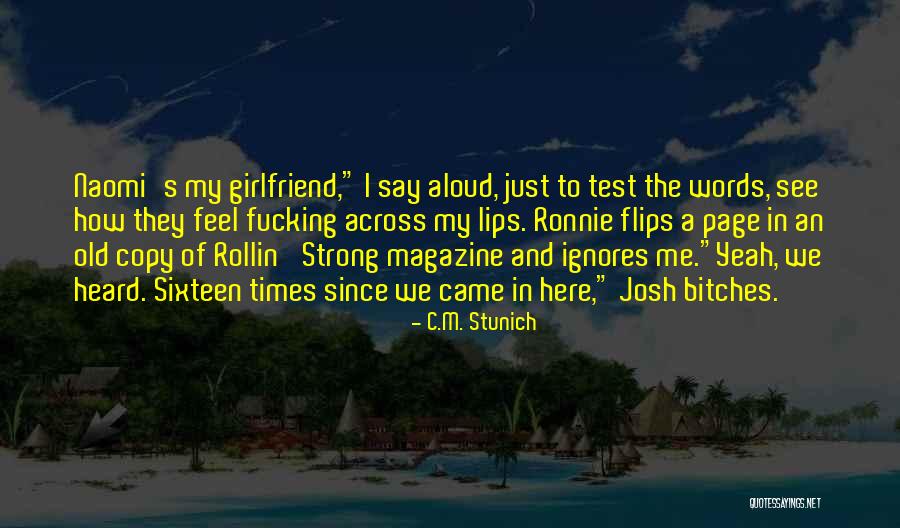 Naomi's my girlfriend," I say aloud, just to test the words, see how they feel fucking across my lips. Ronnie flips a page in an old copy of Rollin' Strong magazine and ignores me.
"Yeah, we heard. Sixteen times since we came in here," Josh bitches. — C.M. Stunich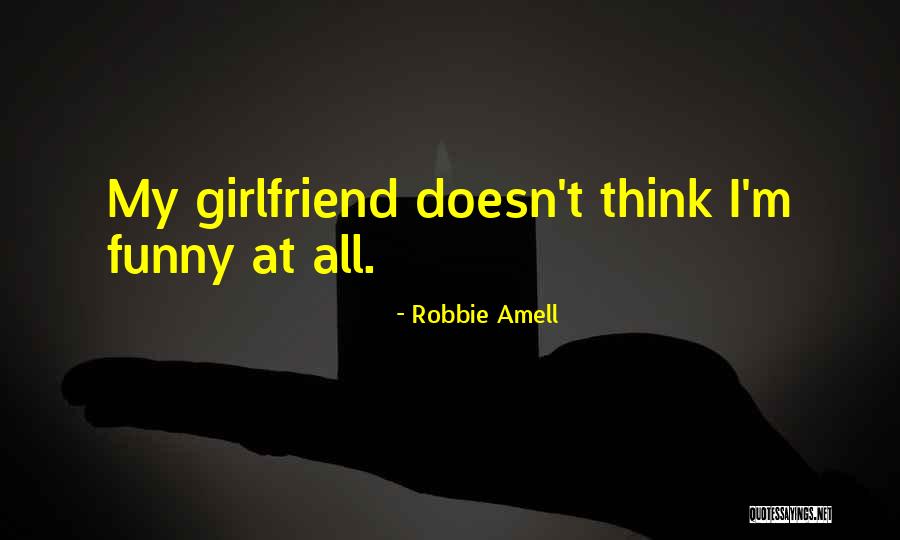 My girlfriend doesn't think I'm funny at all. — Robbie Amell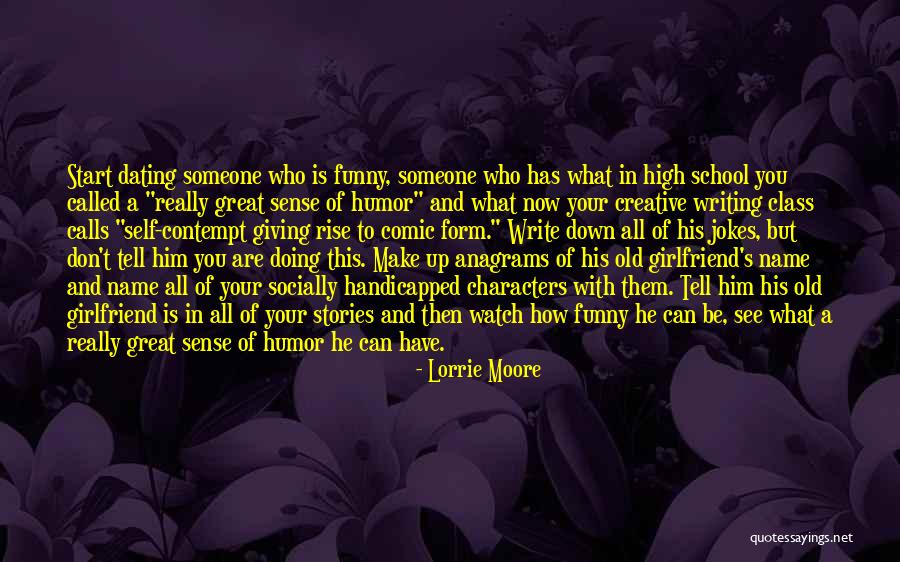 Start dating someone who is funny, someone who has what in high school you called a "really great sense of humor" and what now your creative writing class calls "self-contempt giving rise to comic form." Write down all of his jokes, but don't tell him you are doing this. Make up anagrams of his old girlfriend's name and name all of your socially handicapped characters with them. Tell him his old girlfriend is in all of your stories and then watch how funny he can be, see what a really great sense of humor he can have. — Lorrie Moore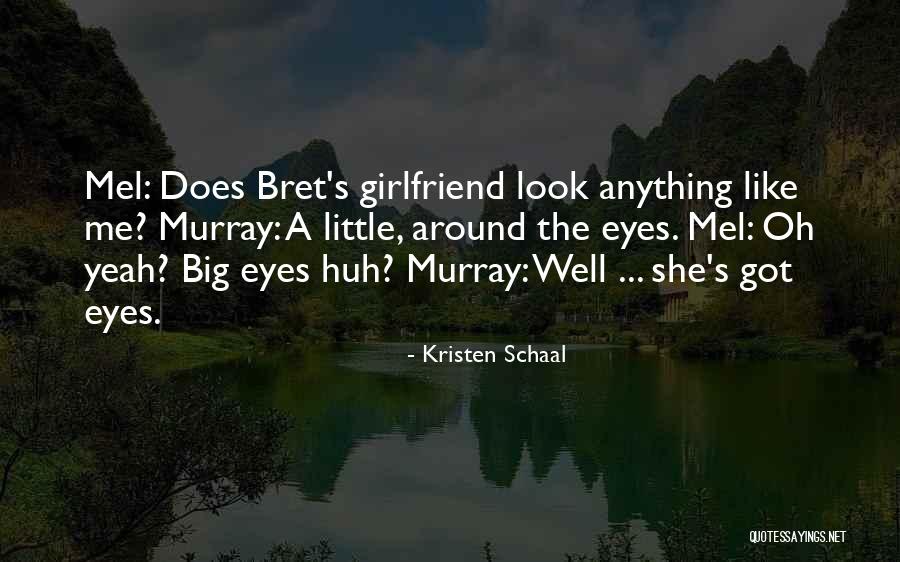 Mel: Does Bret's girlfriend look anything like me? Murray: A little, around the eyes. Mel: Oh yeah? Big eyes huh? Murray: Well ... she's got eyes. — Kristen Schaal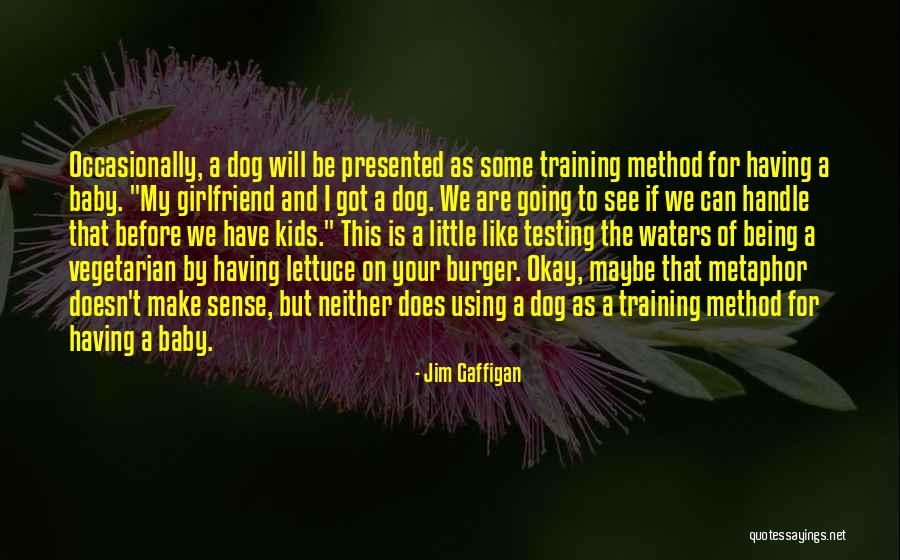 Occasionally, a dog will be presented as some training method for having a baby. "My girlfriend and I got a dog. We are going to see if we can handle that before we have kids." This is a little like testing the waters of being a vegetarian by having lettuce on your burger. Okay, maybe that metaphor doesn't make sense, but neither does using a dog as a training method for having a baby. — Jim Gaffigan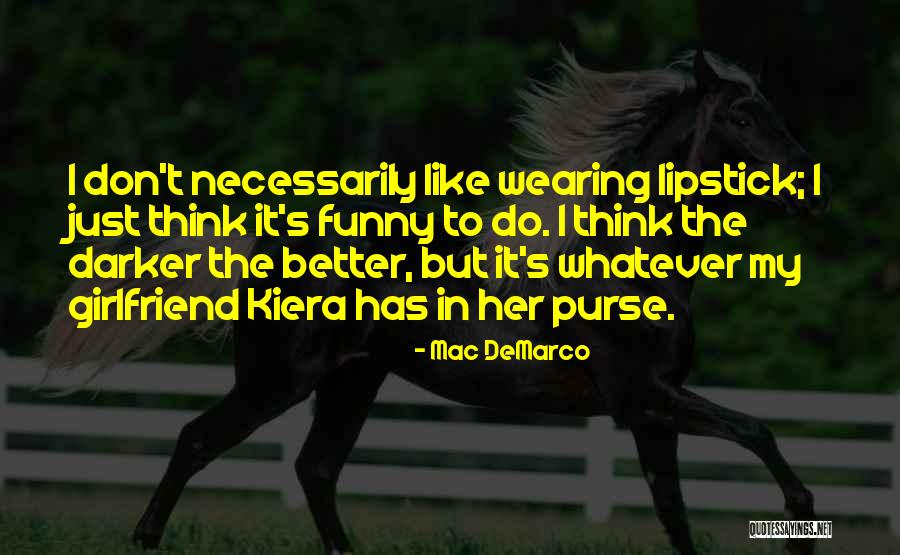 I don't necessarily like wearing lipstick; I just think it's funny to do. I think the darker the better, but it's whatever my girlfriend Kiera has in her purse. — Mac DeMarco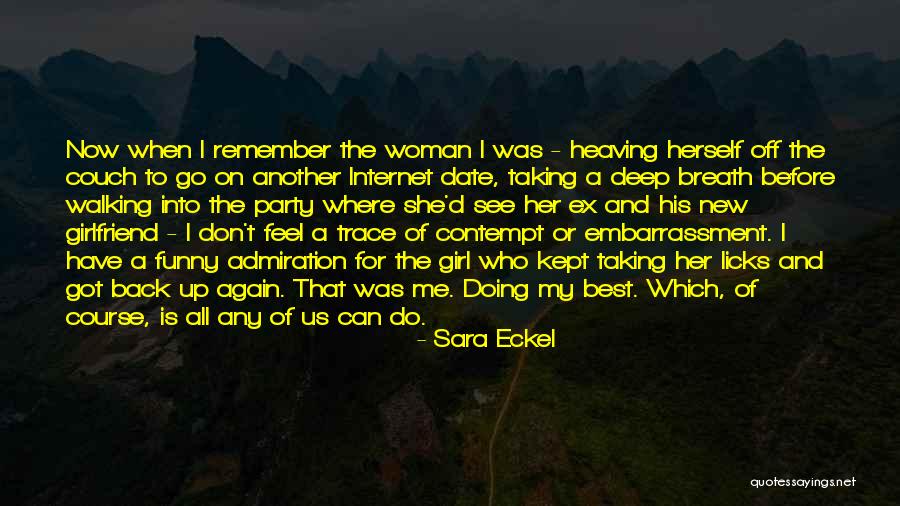 Now when I remember the woman I was - heaving herself off the couch to go on another Internet date, taking a deep breath before walking into the party where she'd see her ex and his new girlfriend - I don't feel a trace of contempt or embarrassment. I have a funny admiration for the girl who kept taking her licks and got back up again. That was me. Doing my best. Which, of course, is all any of us can do. — Sara Eckel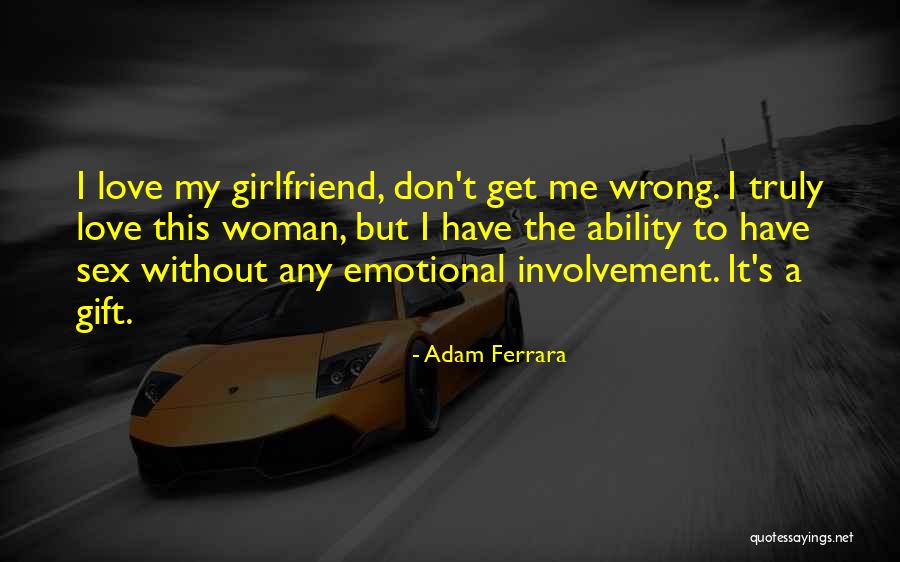 I love my girlfriend, don't get me wrong. I truly love this woman, but I have the ability to have sex without any emotional involvement. It's a gift. — Adam Ferrara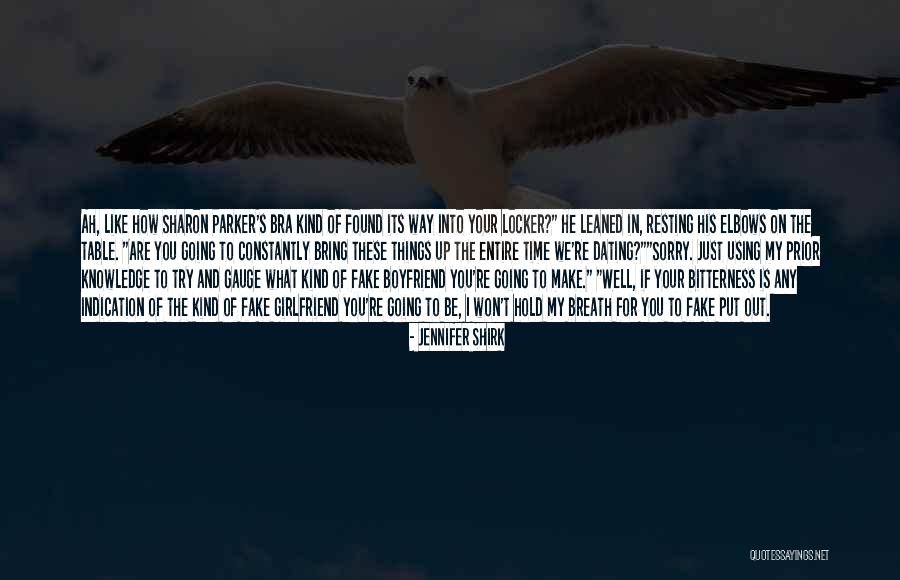 Ah, like how Sharon Parker's bra kind of found its way into your locker?"
He leaned in, resting his elbows on the table. "Are you going to constantly bring these things up the entire time we're dating?"
"Sorry. Just using my prior knowledge to try and gauge what kind of fake boyfriend you're going to make."
"Well, if your bitterness is any indication of the kind of fake girlfriend you're going to be, I won't hold my breath for you to fake put out. — Jennifer Shirk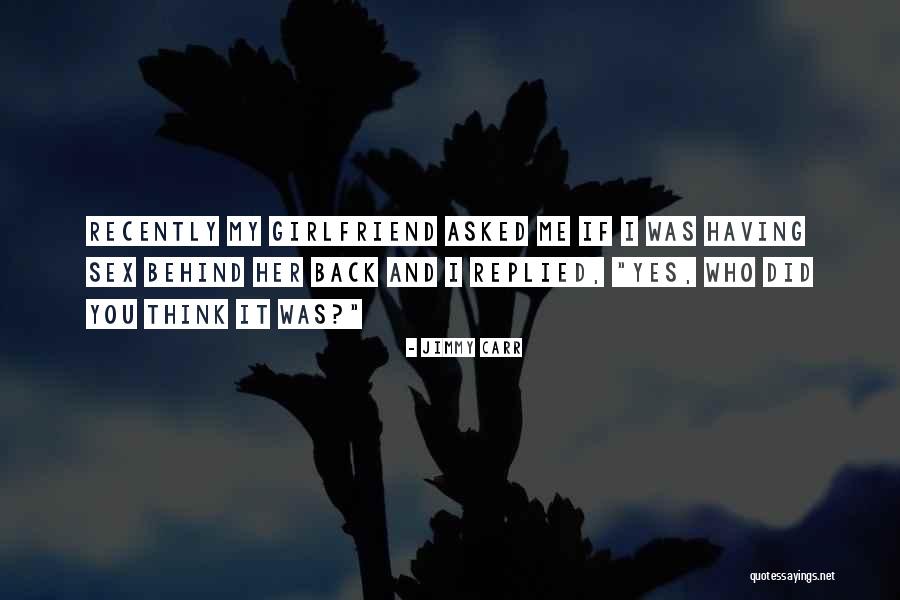 Recently my girlfriend asked me if I was having sex behind her back and I replied, "Yes, who did you think it was?" — Jimmy Carr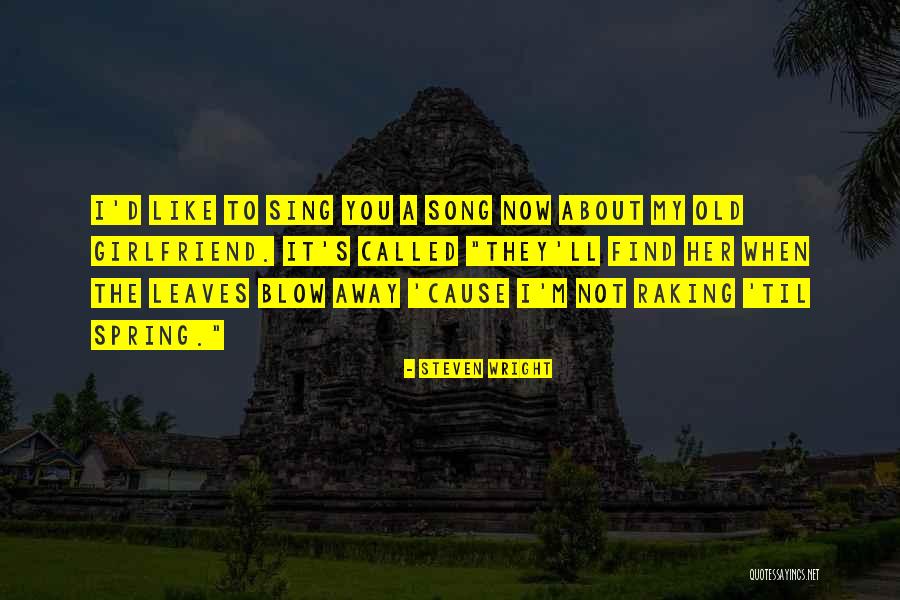 I'd like to sing you a song now about my old girlfriend. It's called "They'll Find Her When the Leaves Blow Away 'Cause I'm Not Raking 'Til Spring." — Steven Wright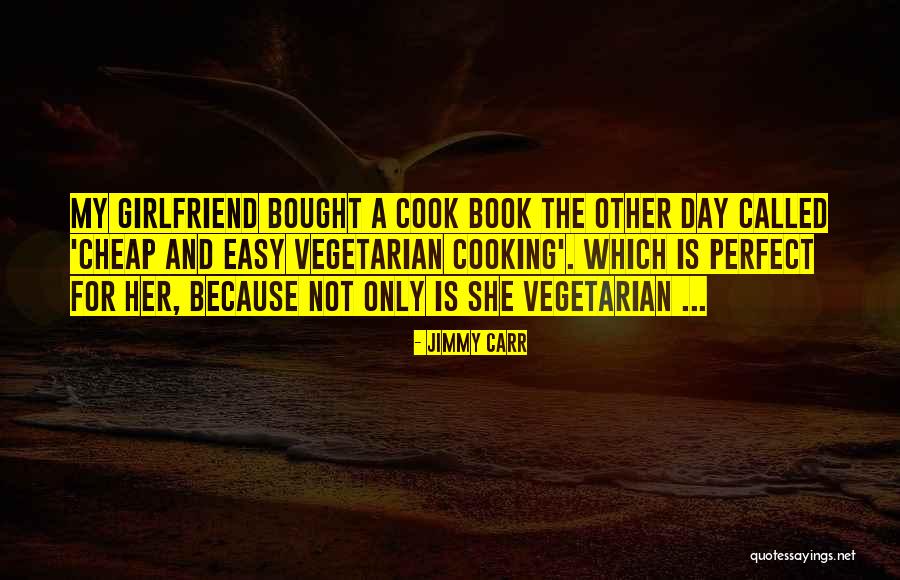 My girlfriend bought a cook book the other day called 'Cheap and easy vegetarian cooking'. Which is perfect for her, because not only is she vegetarian ... — Jimmy Carr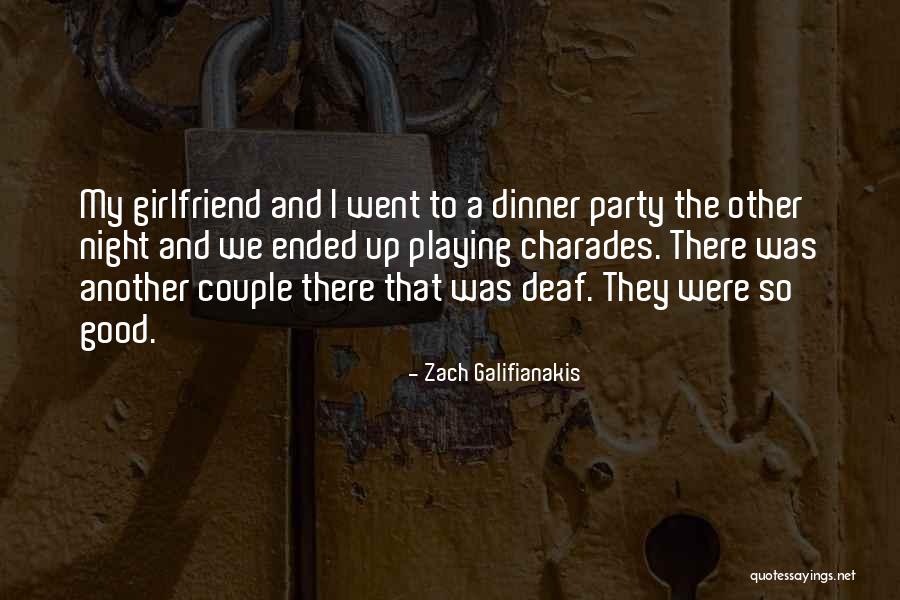 My girlfriend and I went to a dinner party the other night and we ended up playing charades. There was another couple there that was deaf. They were so good. — Zach Galifianakis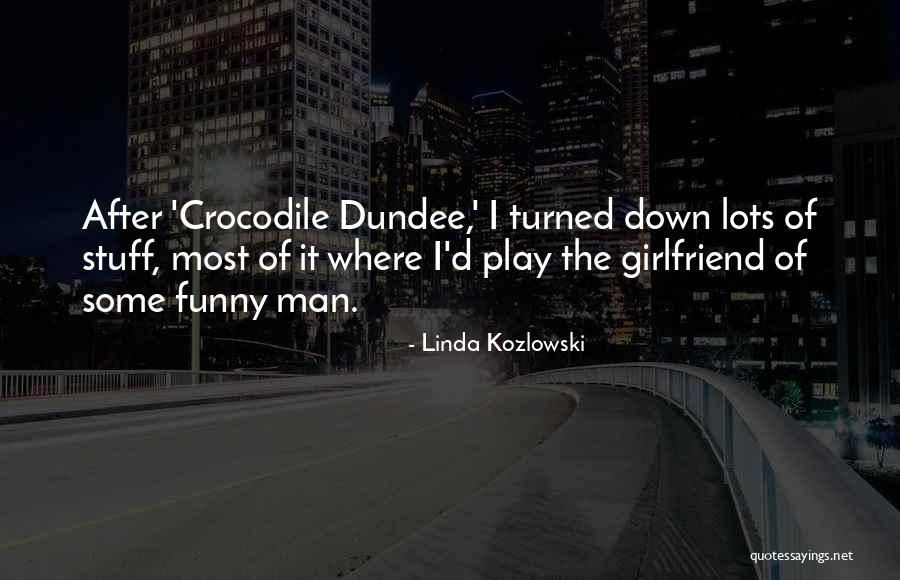 After 'Crocodile Dundee,' I turned down lots of stuff, most of it where I'd play the girlfriend of some funny man. — Linda Kozlowski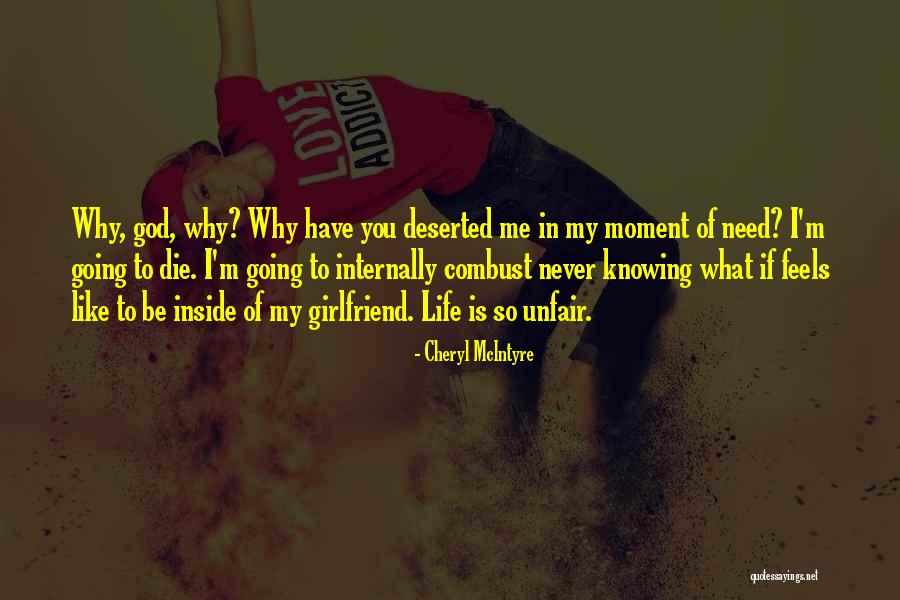 Why, god, why? Why have you deserted me in my moment of need? I'm going to die. I'm going to internally combust never knowing what if feels like to be inside of my girlfriend.
Life is so unfair. — Cheryl McIntyre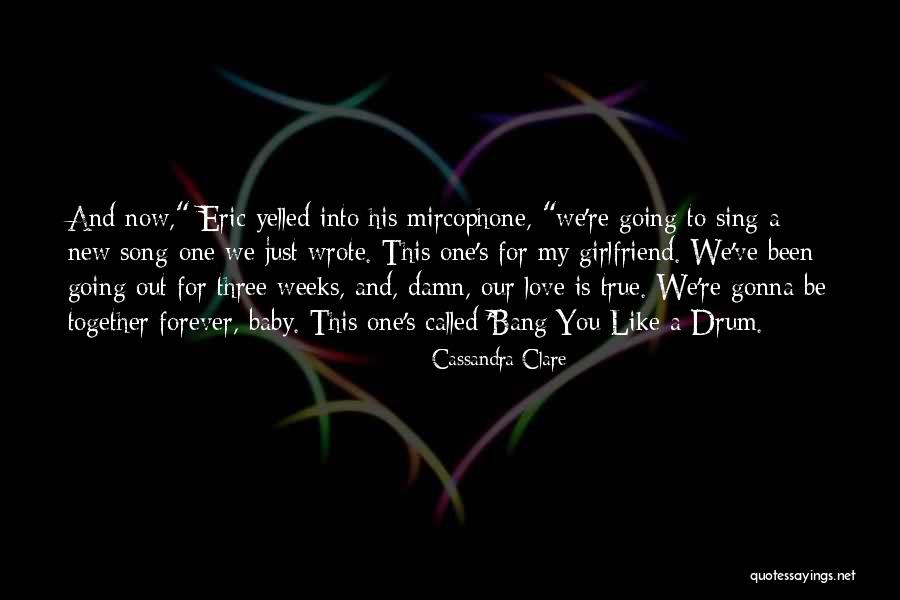 And now," Eric yelled into his mircophone, "we're going to sing a new song-one we just wrote. This one's for my girlfriend. We've been going out for three weeks, and, damn, our love is true. We're gonna be together forever, baby. This one's called 'Bang You Like a Drum. — Cassandra Clare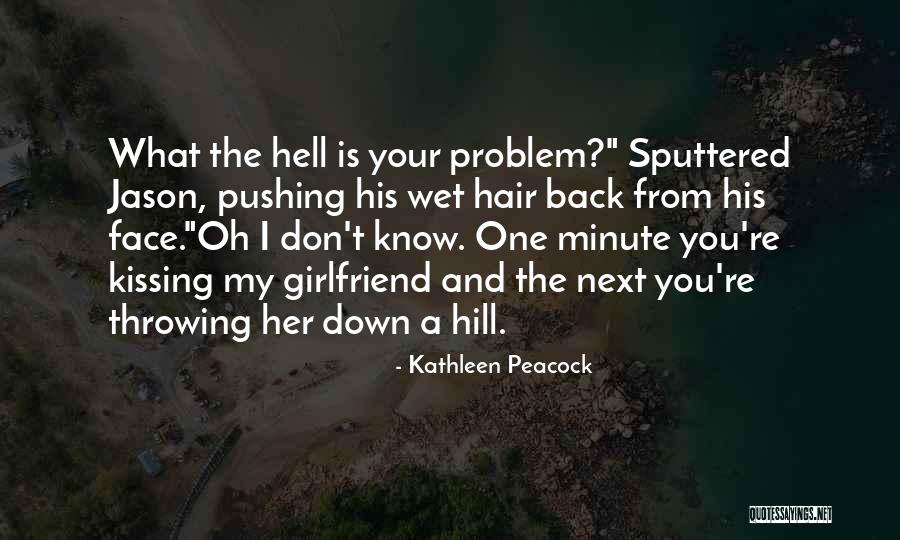 What the hell is your problem?" Sputtered Jason, pushing his wet hair back from his face.
"Oh I don't know. One minute you're kissing my girlfriend and the next you're throwing her down a hill. — Kathleen Peacock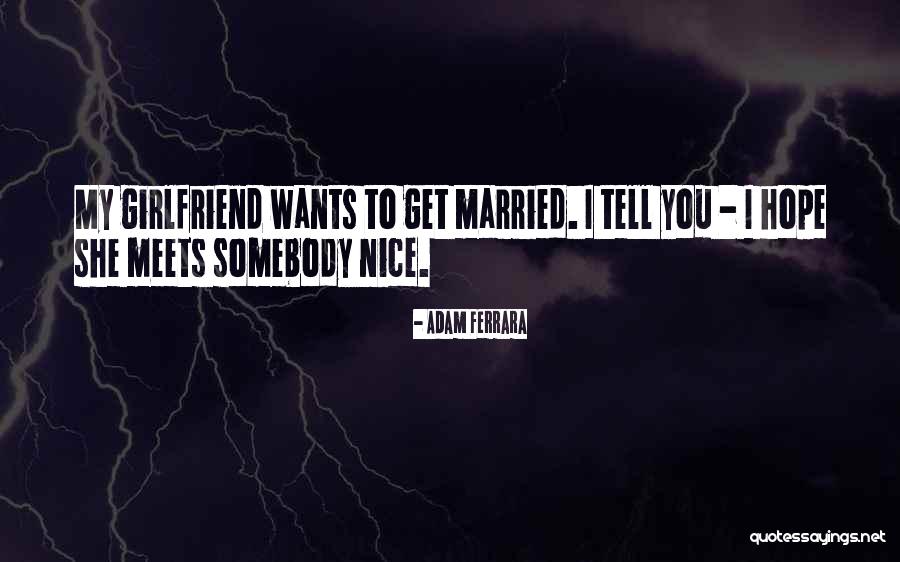 My girlfriend wants to get married. I tell you - I hope she meets somebody nice. — Adam Ferrara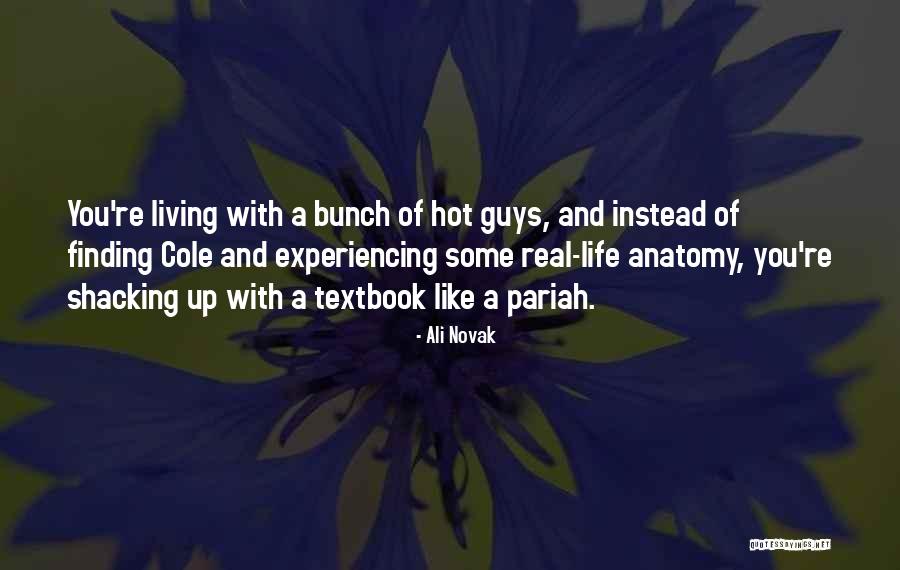 You're living with a bunch of hot guys, and instead of finding Cole and experiencing some real-life anatomy, you're shacking up with a textbook like a pariah. — Ali Novak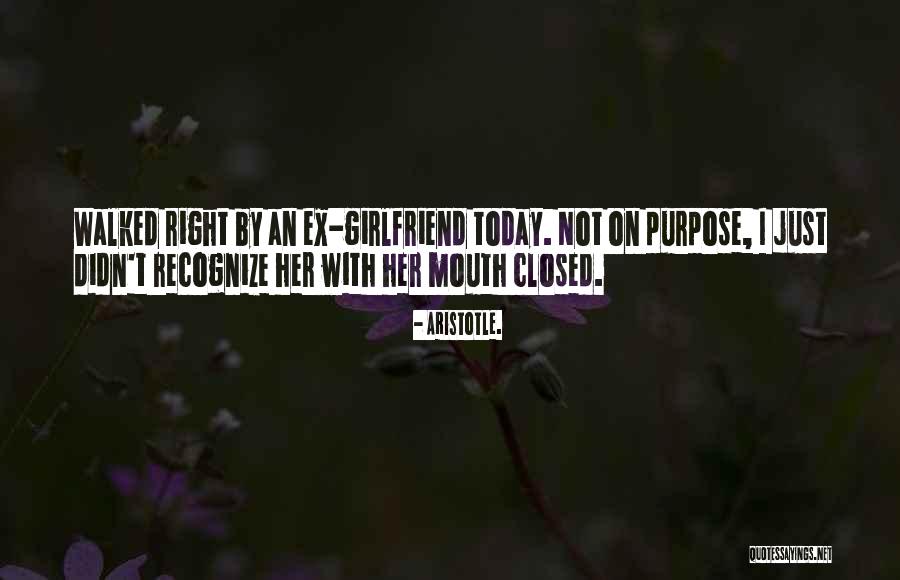 Walked right by an ex-girlfriend today. Not on purpose, I just didn't recognize her with her mouth closed. — Aristotle.