Quotes & Sayings About Finding The Right Person
Enjoy reading and share 45 famous quotes about Finding The Right Person with everyone.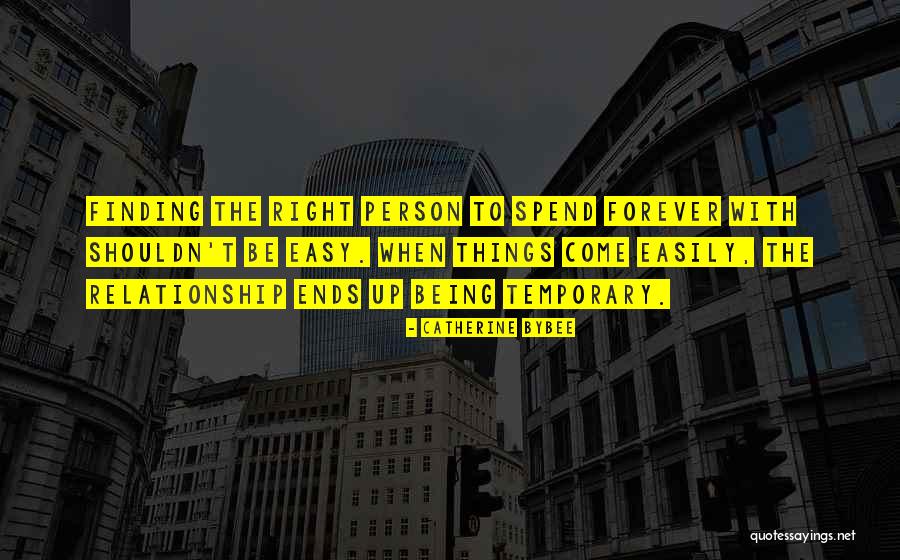 Finding the right person to spend forever with shouldn't be easy. When things come easily, the relationship ends up being temporary. — Catherine Bybee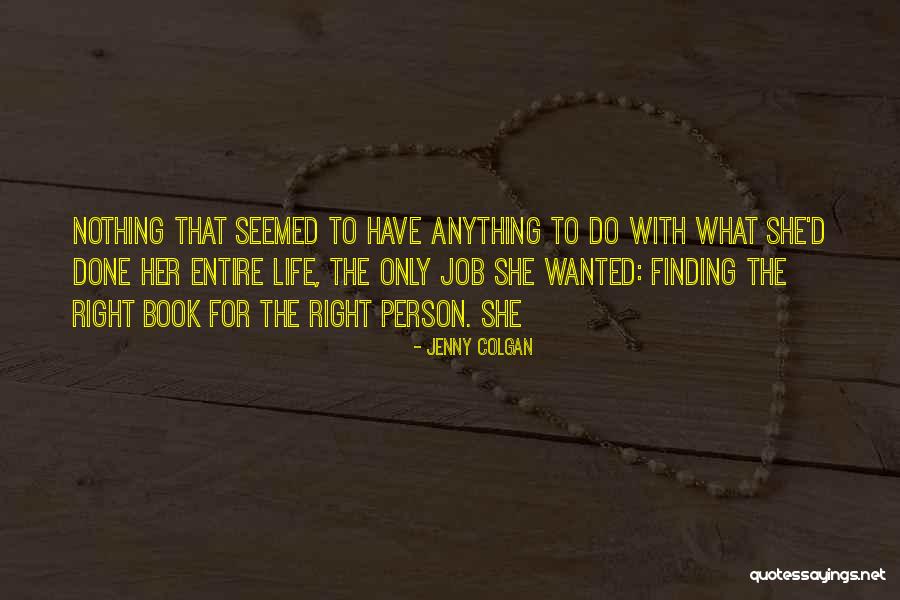 nothing that seemed to have anything to do with what she'd done her entire life, the only job she wanted: finding the right book for the right person. She — Jenny Colgan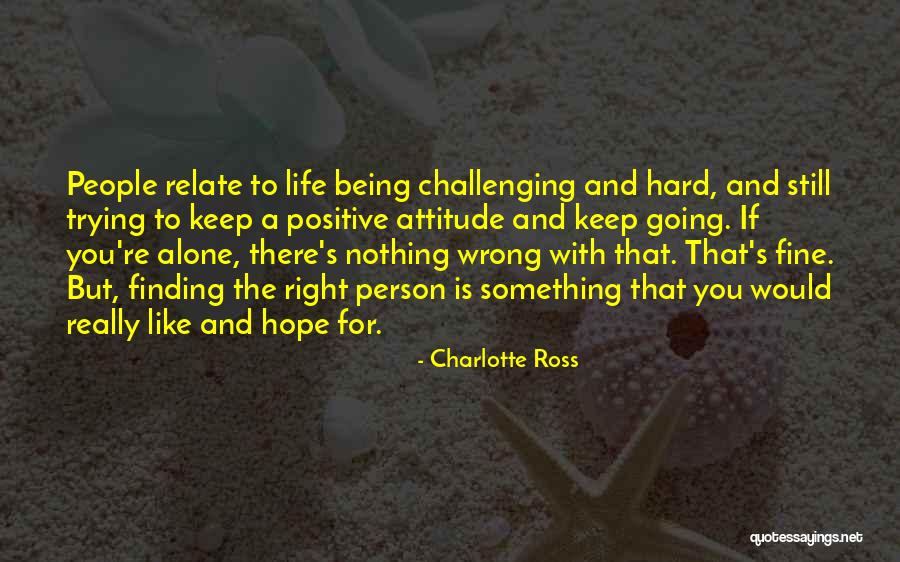 People relate to life being challenging and hard, and still trying to keep a positive attitude and keep going. If you're alone, there's nothing wrong with that. That's fine. But, finding the right person is something that you would really like and hope for. — Charlotte Ross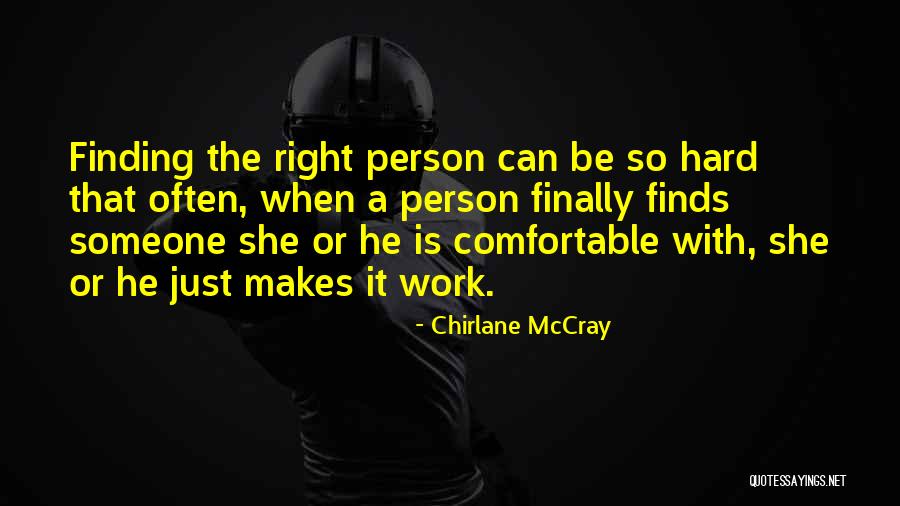 Finding the right person can be so hard that often, when a person finally finds someone she or he is comfortable with, she or he just makes it work. — Chirlane McCray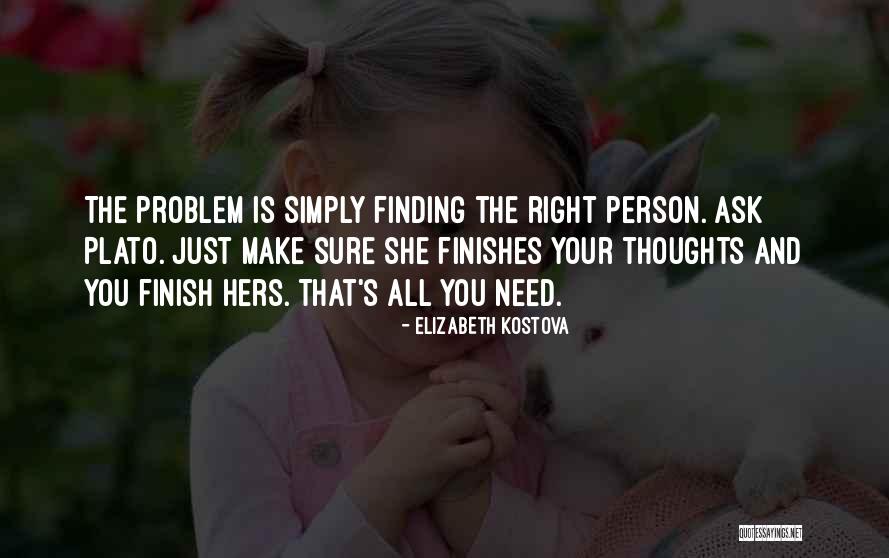 The problem is simply finding the right person. Ask Plato. Just make sure she finishes your thoughts and you finish hers. That's all you need. — Elizabeth Kostova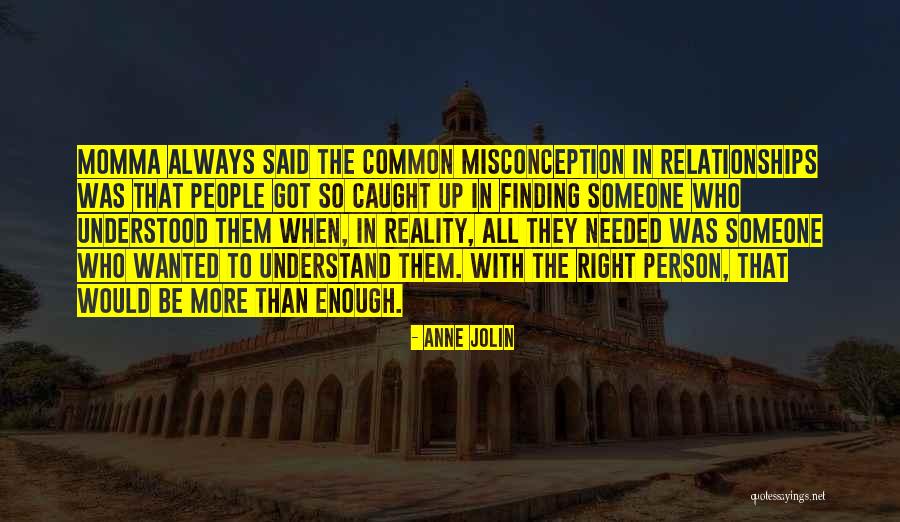 Momma always said the common misconception in relationships was that people got so caught up in finding someone who understood them when, in reality, all they needed was someone who wanted to understand them. With the right person, that would be more than enough. — Anne Jolin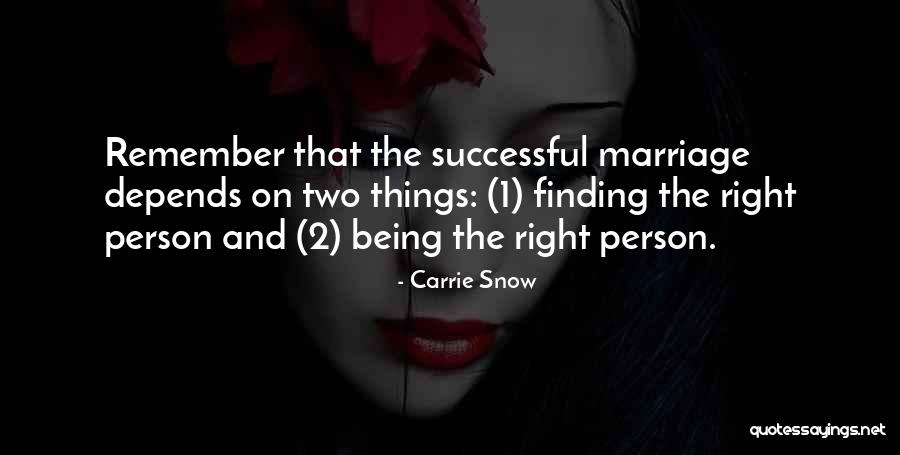 Remember that the successful marriage depends on two things: (1) finding the right person and (2) being the right person. — Carrie Snow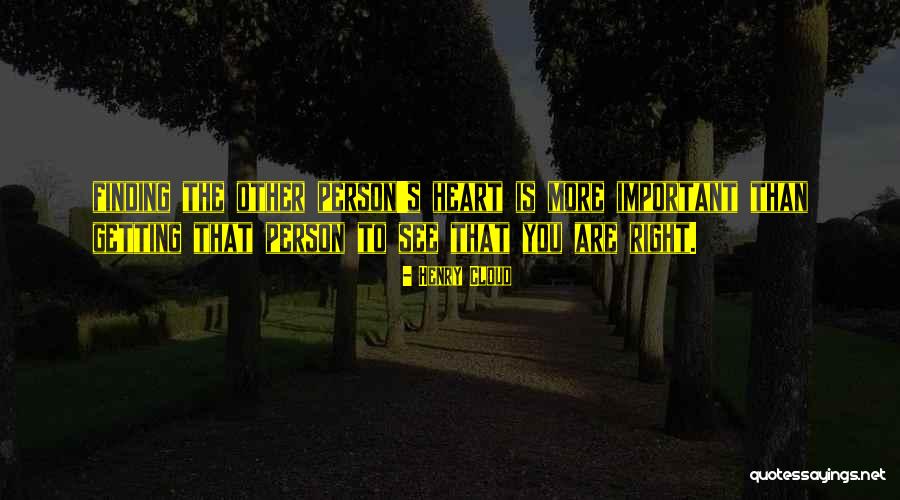 finding the other person's heart is more important than getting that person to see that you are right. — Henry Cloud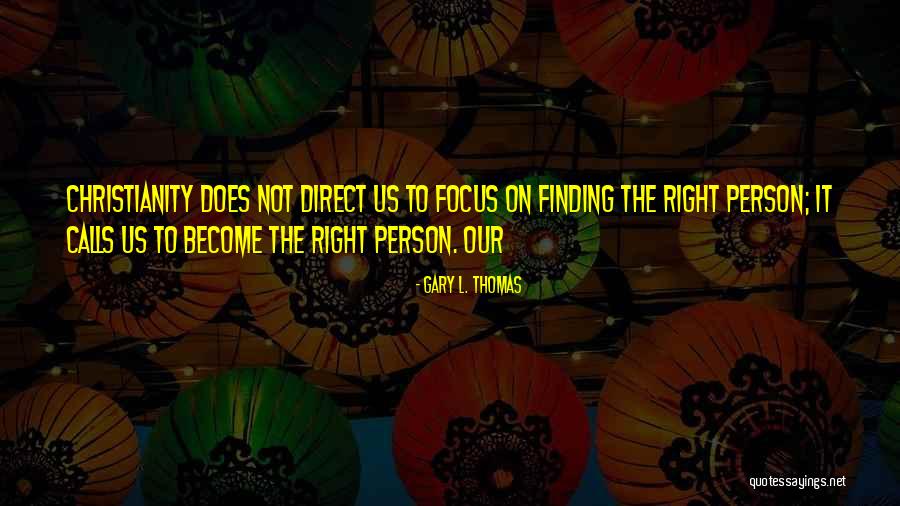 Christianity does not direct us to focus on finding the right person; it calls us to become the right person. Our — Gary L. Thomas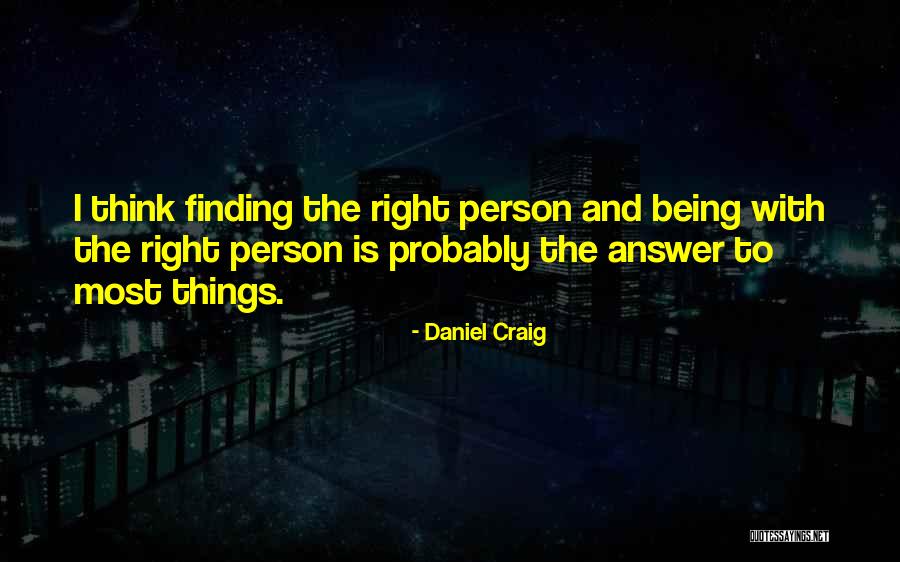 I think finding the right person and being with the right person is probably the answer to most things. — Daniel Craig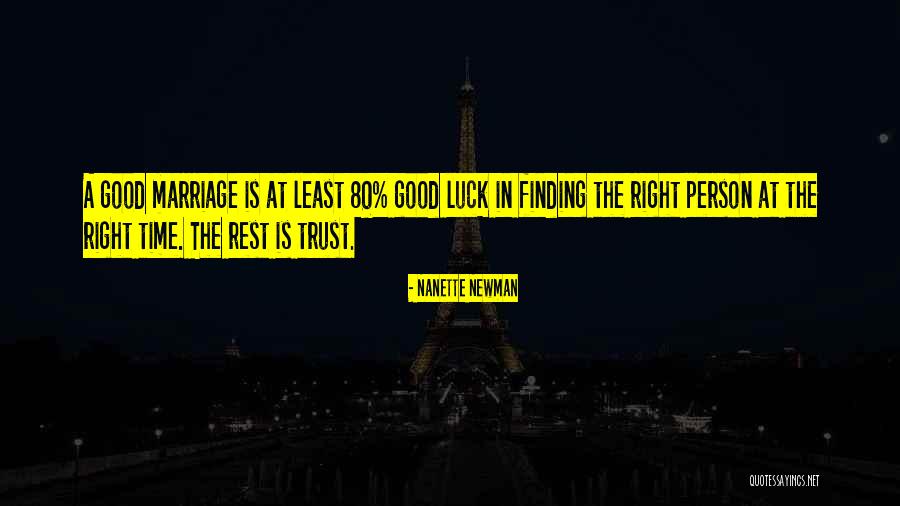 A good marriage is at least 80% good luck in finding the right person at the right time. The rest is trust. — Nanette Newman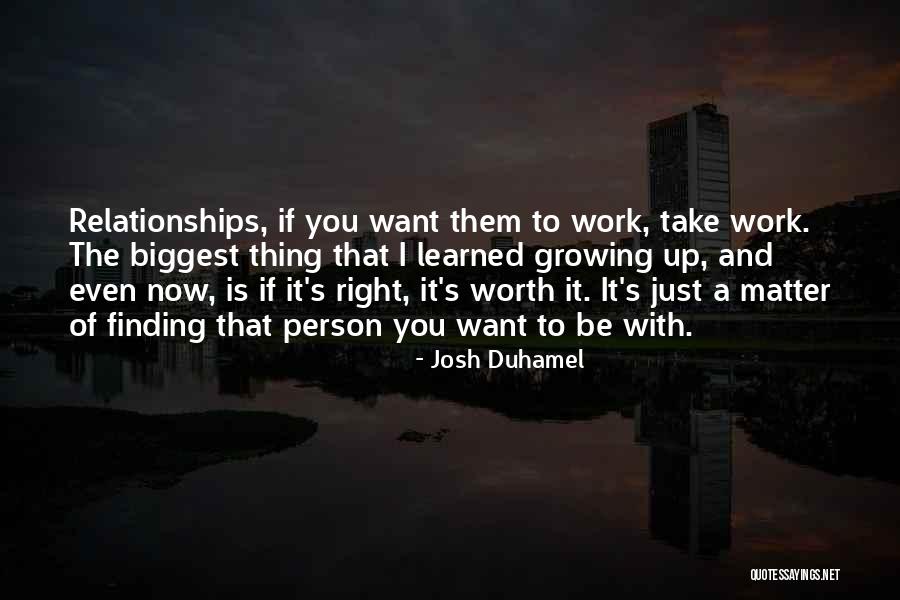 Relationships, if you want them to work, take work. The biggest thing that I learned growing up, and even now, is if it's right, it's worth it. It's just a matter of finding that person you want to be with. — Josh Duhamel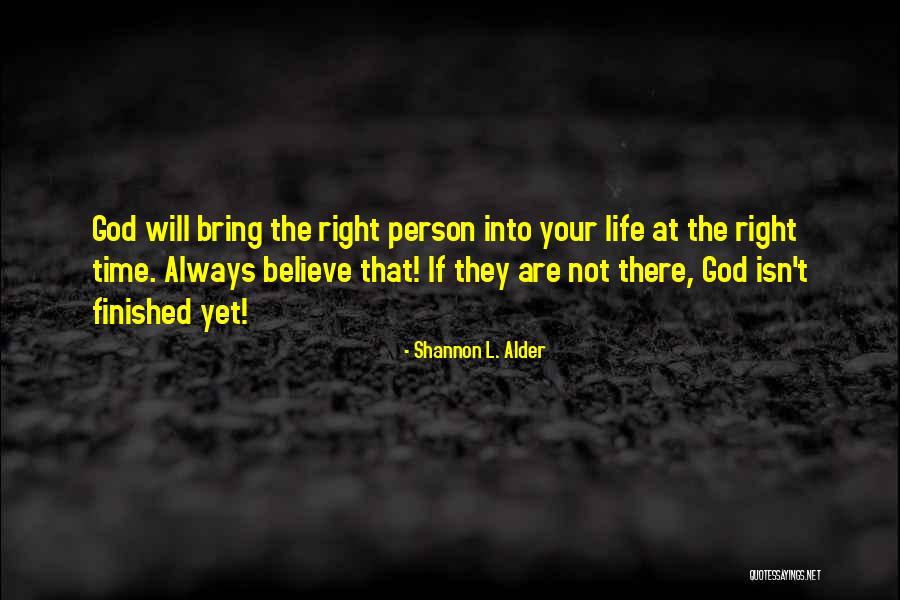 God will bring the right person into your life at the right time. Always believe that! If they are not there, God isn't finished yet! — Shannon L. Alder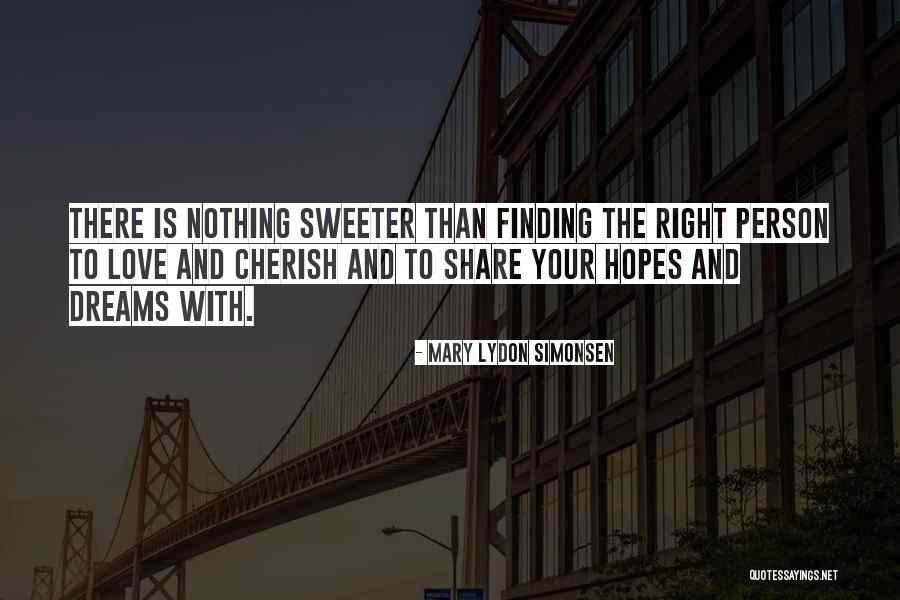 There is nothing sweeter than finding the right person to love and cherish and to share your hopes and dreams with. — Mary Lydon Simonsen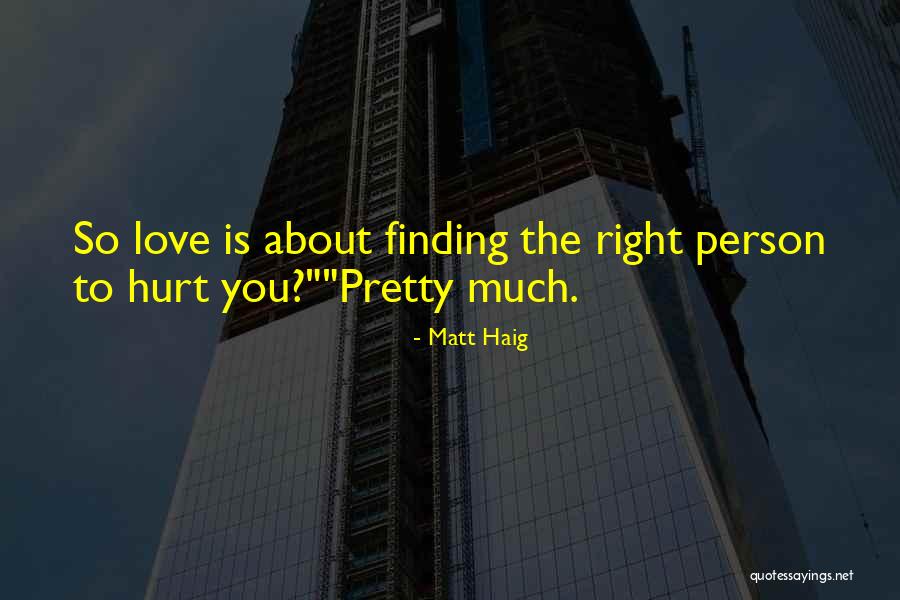 So love is about finding the right person to hurt you?"
"Pretty much. — Matt Haig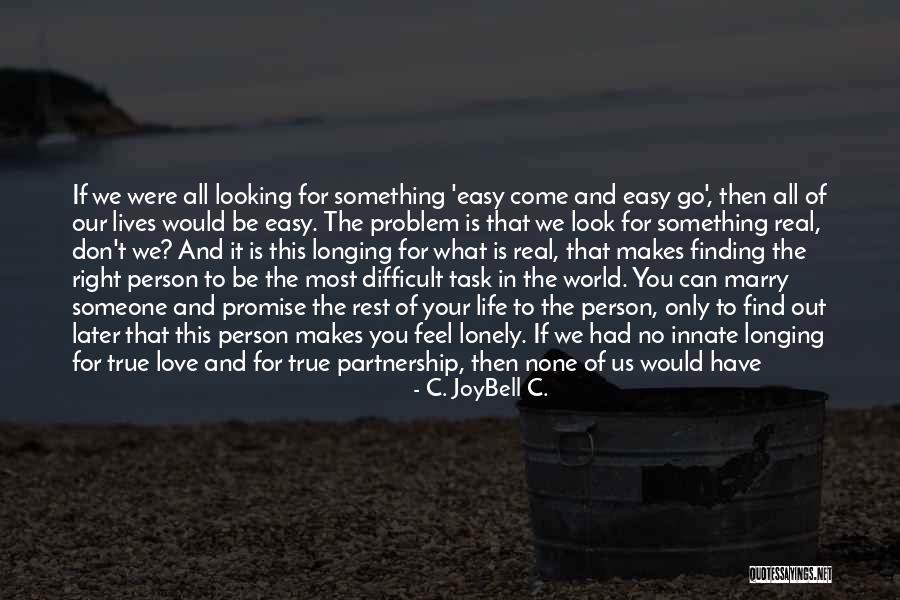 If we were all looking for something 'easy come and easy go', then all of our lives would be easy. The problem is that we look for something real, don't we? And it is this longing for what is real, that makes finding the right person to be the most difficult task in the world. You can marry someone and promise the rest of your life to the person, only to find out later that this person makes you feel lonely. If we had no innate longing for true love and for true partnership, then none of us would have any problems! Therefore, the most frightening question to ponder upon, is, 'what if true love does not exist; what if the real stuff isn't real at all?' In such a case, life would be meaningless. I suppose I would rather believe in love relentlessly, than live in this world meaninglessly. — C. JoyBell C.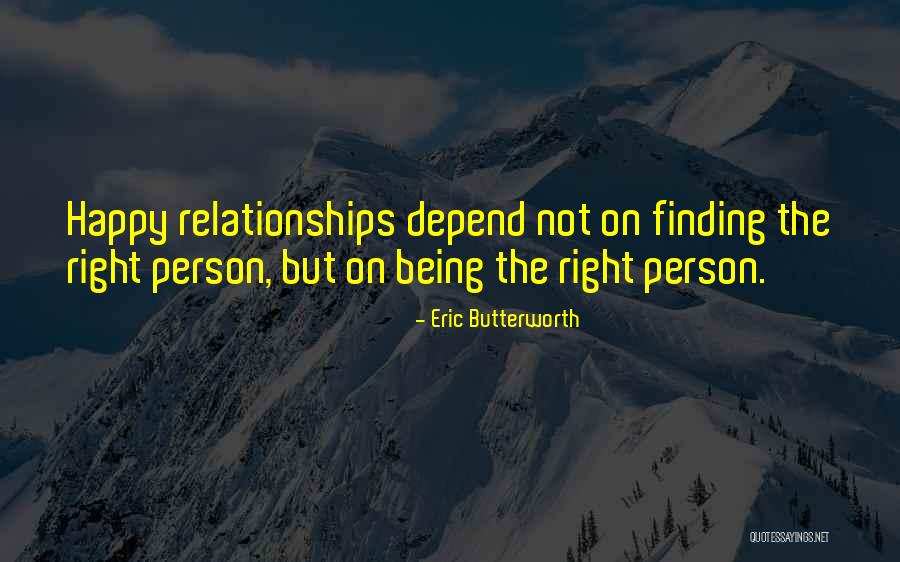 Happy relationships depend not on finding the right person, but on being the right person. — Eric Butterworth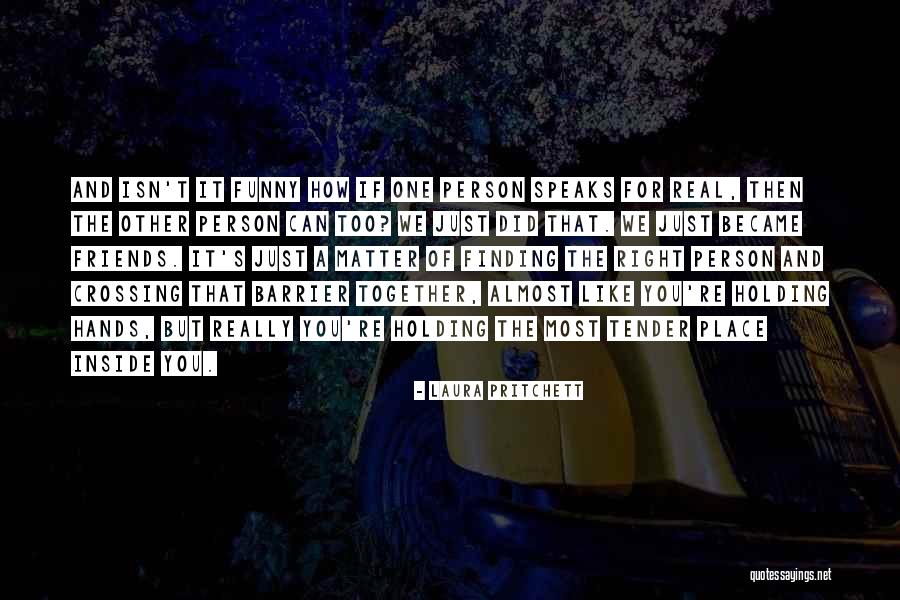 And isn't it funny how if one person speaks for real, then the other person can too? We just did that. We just became friends. It's just a matter of finding the right person and crossing that barrier together, almost like you're holding hands, but really you're holding the most tender place inside you. — Laura Pritchett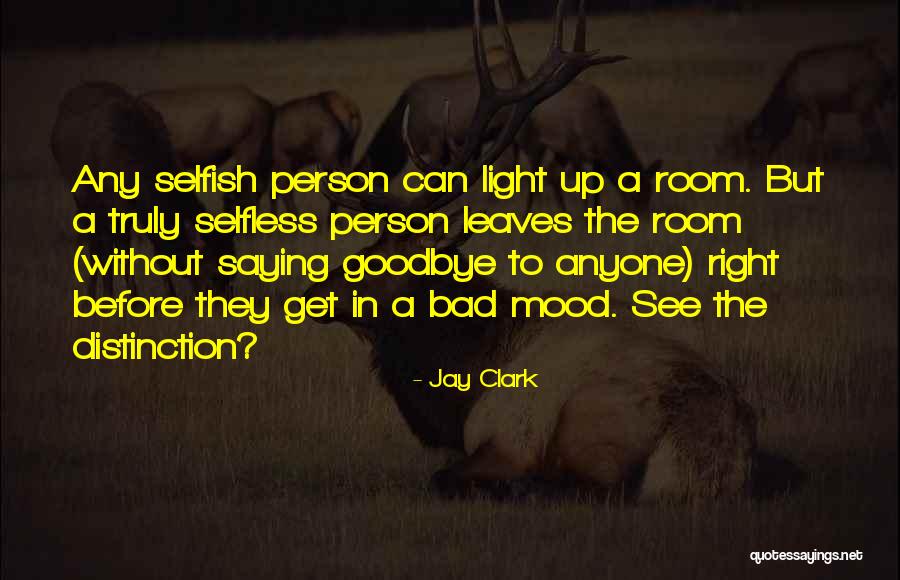 Any selfish person can light up a room. But a truly selfless person leaves the room (without saying goodbye to anyone) right before they get in a bad mood. See the distinction? — Jay Clark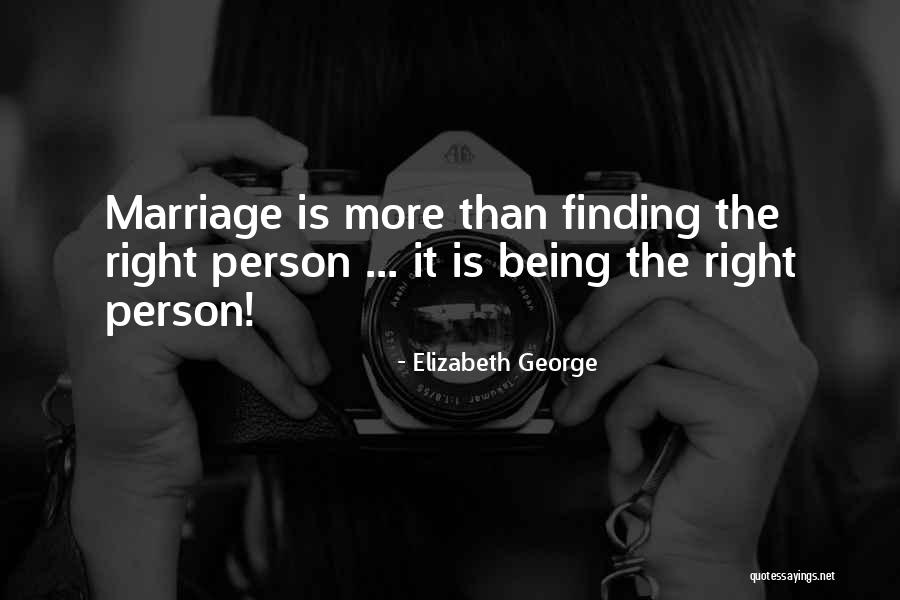 Marriage is more than finding the right person ... it is being the right person! — Elizabeth George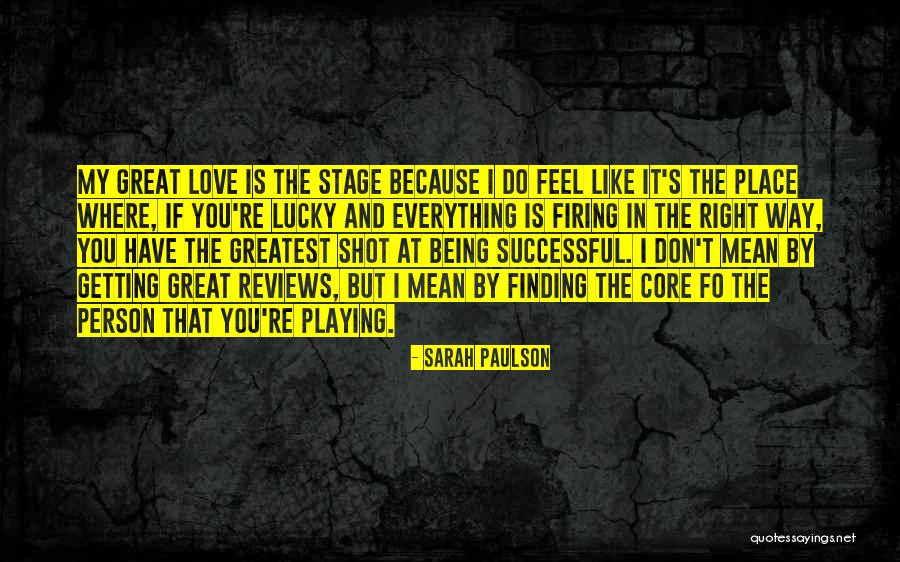 My great love is the stage because I do feel like it's the place where, if you're lucky and everything is firing in the right way, you have the greatest shot at being successful. I don't mean by getting great reviews, but I mean by finding the core fo the person that you're playing. — Sarah Paulson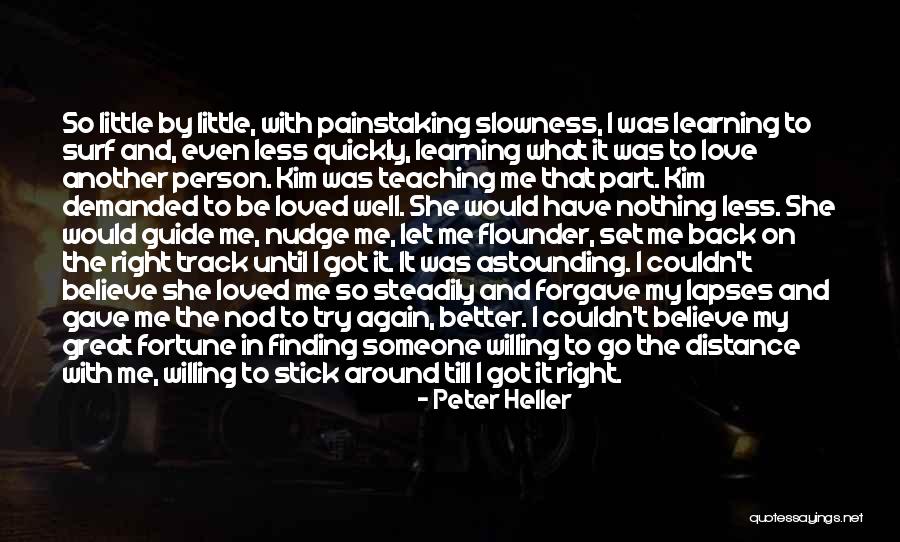 So little by little, with painstaking slowness, I was learning to surf and, even less quickly, learning what it was to love another person. Kim was teaching me that part. Kim demanded to be loved well. She would have nothing less. She would guide me, nudge me, let me flounder, set me back on the right track until I got it. It was astounding. I couldn't believe she loved me so steadily and forgave my lapses and gave me the nod to try again, better. I couldn't believe my great fortune in finding someone willing to go the distance with me, willing to stick around till I got it right. — Peter Heller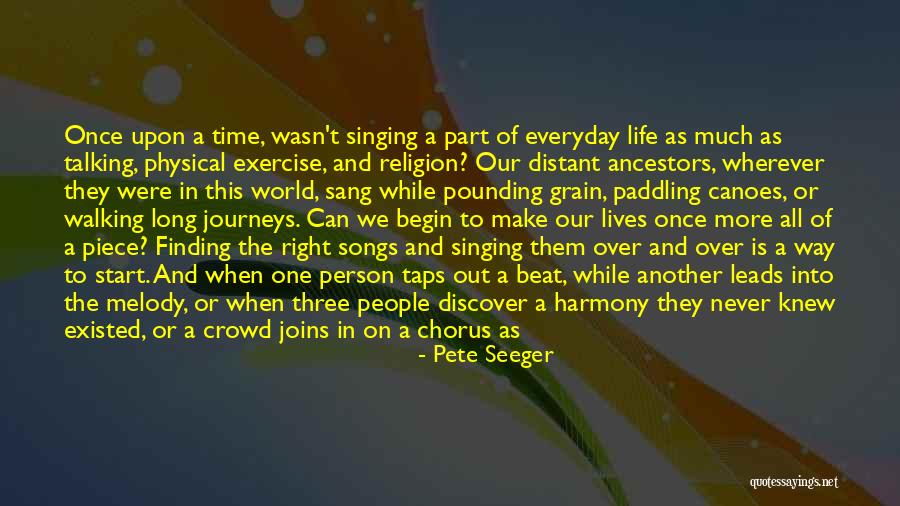 Once upon a time, wasn't singing a part of everyday life as much as talking, physical exercise, and religion? Our distant ancestors, wherever they were in this world, sang while pounding grain, paddling canoes, or walking long journeys. Can we begin to make our lives once more all of a piece? Finding the right songs and singing them over and over is a way to start. And when one person taps out a beat, while another leads into the melody, or when three people discover a harmony they never knew existed, or a crowd joins in on a chorus as though to raise the ceiling a few feet higher, then they also know there is hope for the world. — Pete Seeger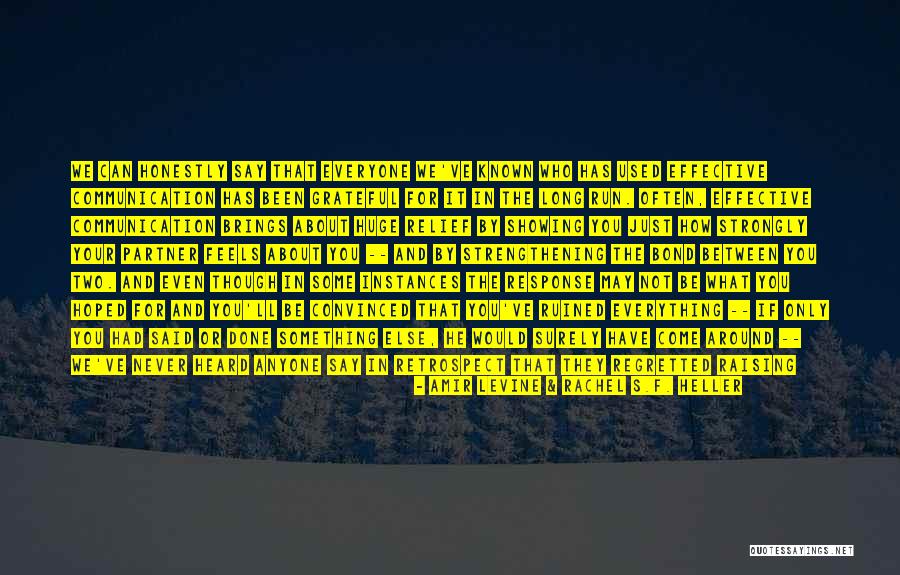 We can honestly say that everyone we've known who has used effective communication has been grateful for it in the long run. Often, effective communication brings about huge relief by showing you just how strongly your partner feels about you -- and by strengthening the bond between you two. And even though in some instances the response may not be what you hoped for and you'll be convinced that you've ruined everything -- if only you had said or done something else, he would surely have come around -- we've never heard anyone say in retrospect that they regretted raising an important issue in a dating or relationship setting. In fact, they overwhelmingly express gratitude that effective communication got them that one step closer to their long-term goal of either finding the right person or strengthening their existing bond. — Amir Levine & Rachel S.F. Heller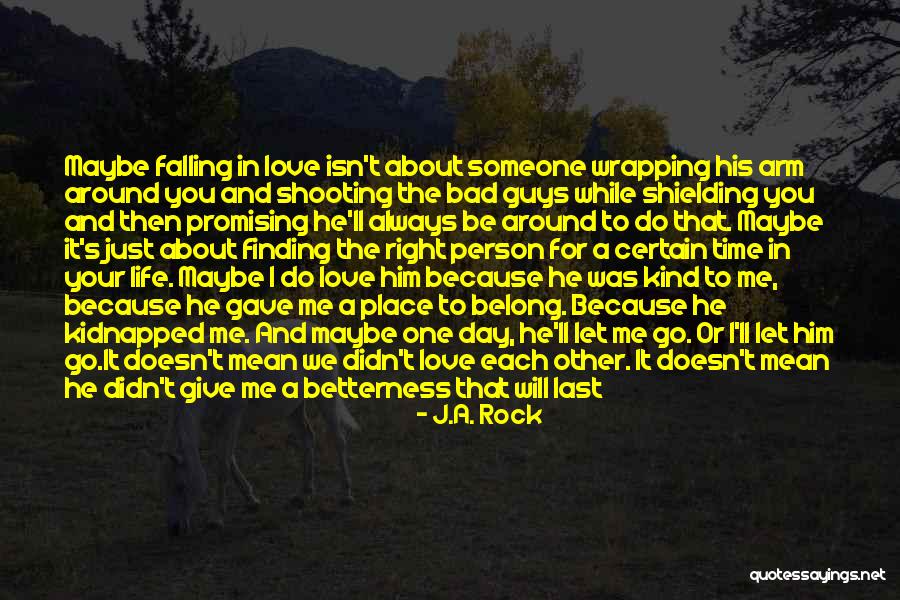 Maybe falling in love isn't about someone wrapping his arm around you and shooting the bad guys while shielding you and then promising he'll always be around to do that. Maybe it's just about finding the right person for a certain time in your life. Maybe I do love him because he was kind to me, because he gave me a place to belong. Because he kidnapped me. And maybe one day, he'll let me go. Or I'll let him go.
It doesn't mean we didn't love each other. It doesn't mean he didn't give me a betterness that will last my whole life. It just means things shift quietly.
I decide it's okay for me to be in love with him right now. I don't have to tell him about it. I just have to show him. — J.A. Rock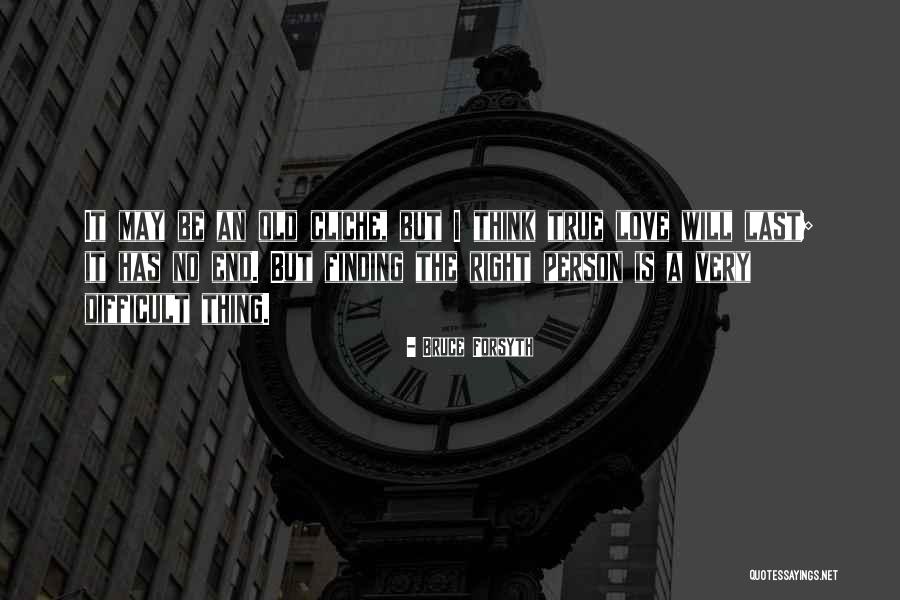 It may be an old cliche, but I think true love will last; it has no end. But finding the right person is a very difficult thing. — Bruce Forsyth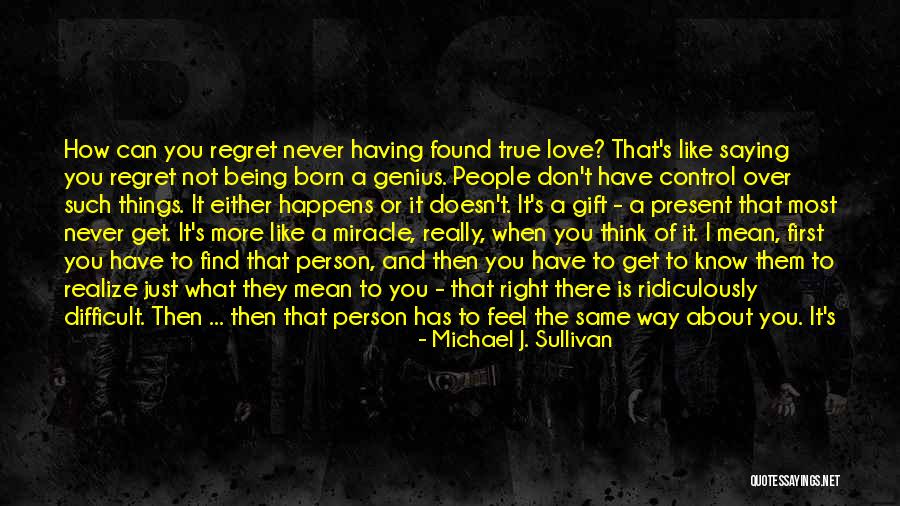 How can you regret never having found true love? That's like saying you regret not being born a genius. People don't have control over such things. It either happens or it doesn't. It's a gift - a present that most never get. It's more like a miracle, really, when you think of it. I mean, first you have to find that person, and then you have to get to know them to realize just what they mean to you - that right there is ridiculously difficult. Then ... then that person has to feel the same way about you. It's like searching for a specific snowflake, and even if you manage to find it, that's not good enough. You still have to find its matching pair. What are the odds? — Michael J. Sullivan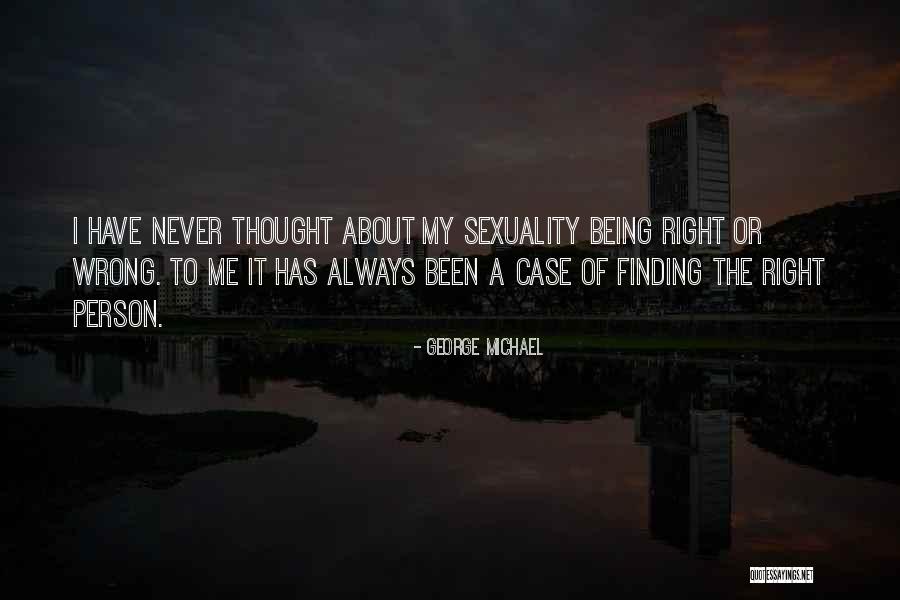 I have never thought about my sexuality being right or wrong. To me it has always been a case of finding the right person. — George Michael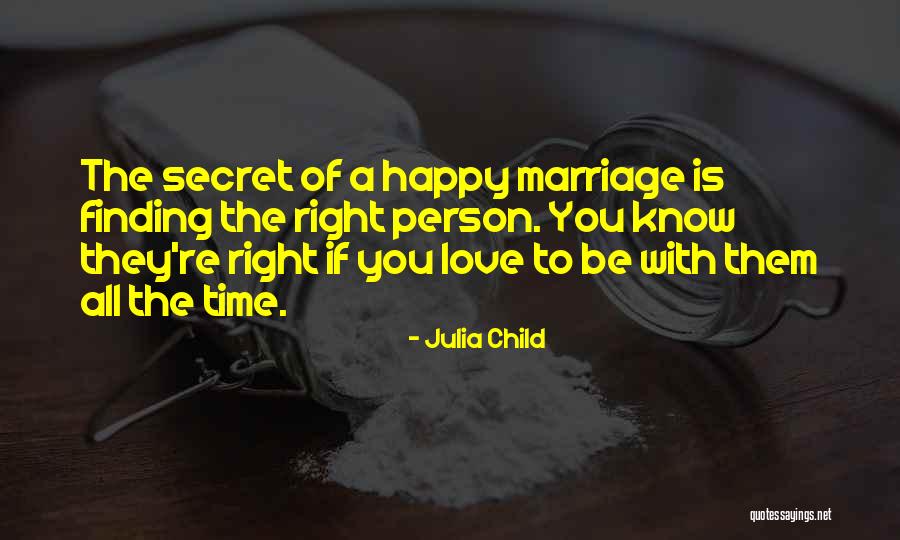 The secret of a happy marriage is finding the right person. You know they're right if you love to be with them all the time. — Julia Child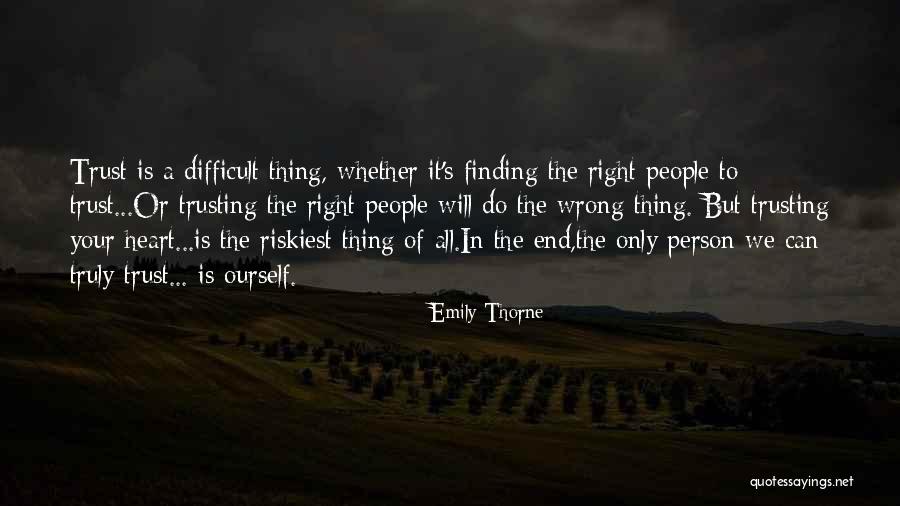 Trust is a difficult thing, whether it's finding the right people to trust...Or trusting the right people will do the wrong thing. But trusting your heart...is the riskiest thing of all.In the end,the only person we can truly trust... is ourself. — Emily Thorne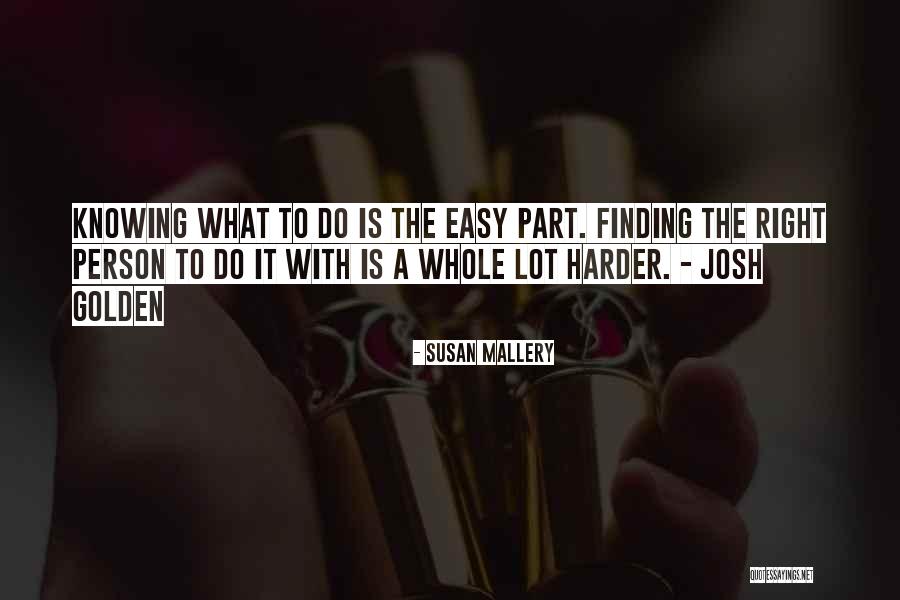 Knowing what to do is the easy part. Finding the right person to do it with is a whole lot harder. - Josh Golden — Susan Mallery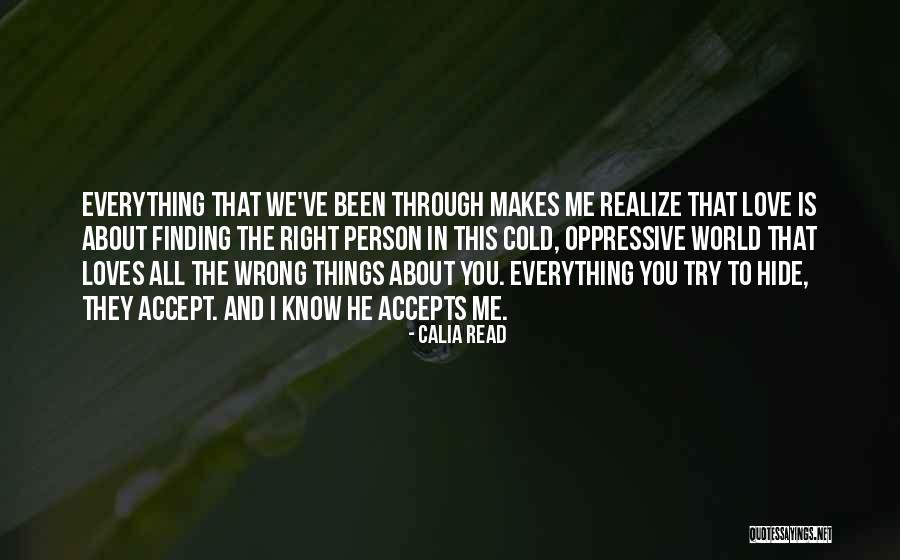 Everything that we've been through makes me realize that love is about finding the right person in this cold, oppressive world that loves all the wrong things about you. Everything you try to hide, they accept. And I know he accepts me. — Calia Read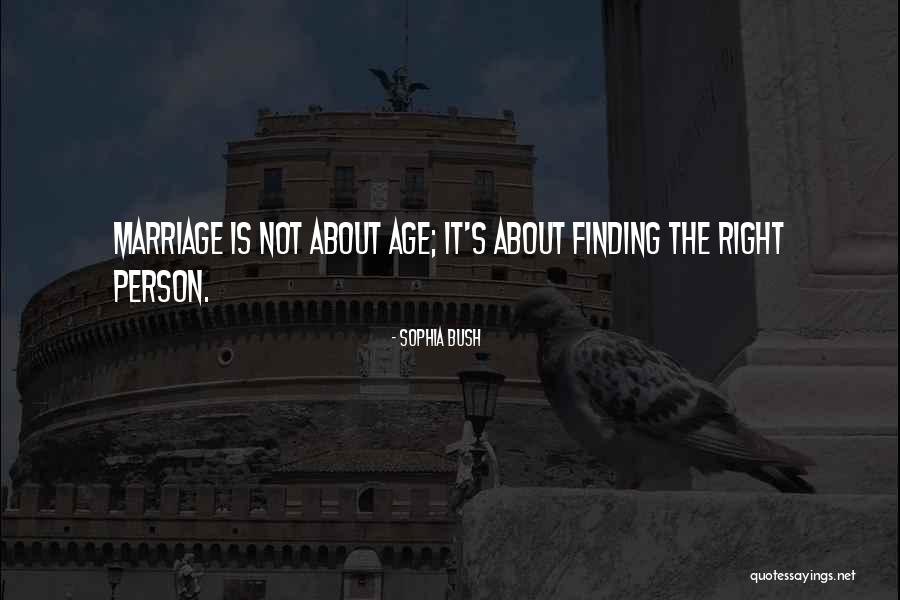 Marriage is not about age; it's about finding the right person. — Sophia Bush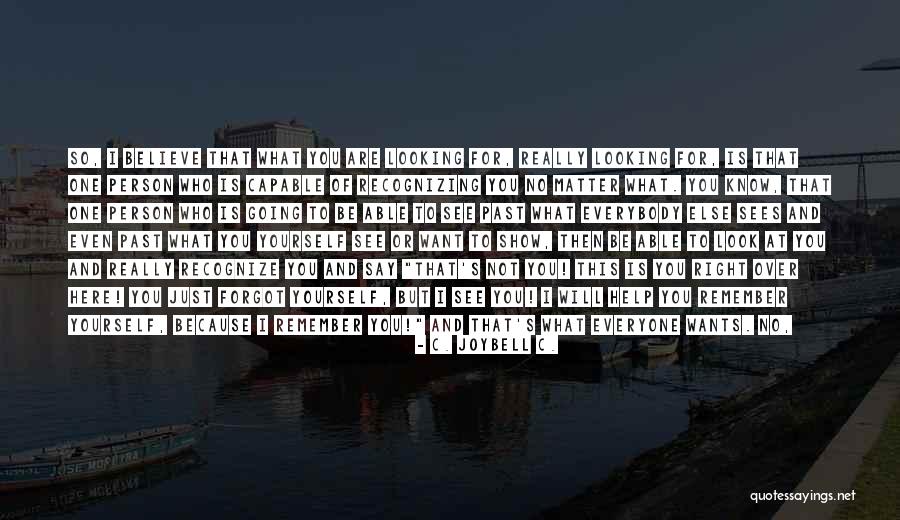 So, I believe that what you are looking for, really looking for, is that one person who is capable of recognizing you no matter what. You know, that one person who is going to be able to see past what everybody else sees and even past what you yourself see or want to show, then be able to look at you and really recognize you and say "That's not you! This is you right over here! You just forgot yourself, but I see you! I will help you remember yourself, because I remember you!" And that's what everyone wants. No, actually, I don't know if that's what everyone wants; but I know that's what I want! Because I can put up so many damn walls and faces just to see who really knows me, who really recognizes me, who really remembers me, even more than I recognize and remember myself! Because if I don't get that, then I don't get anything, because I don't want anything less than that. — C. JoyBell C.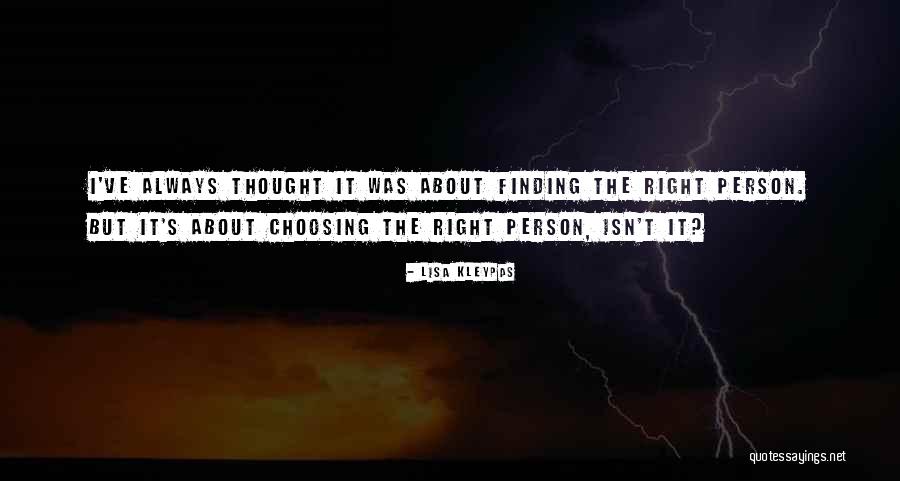 I've always thought it was about finding the right person. But it's about choosing the right person, isn't it? — Lisa Kleypas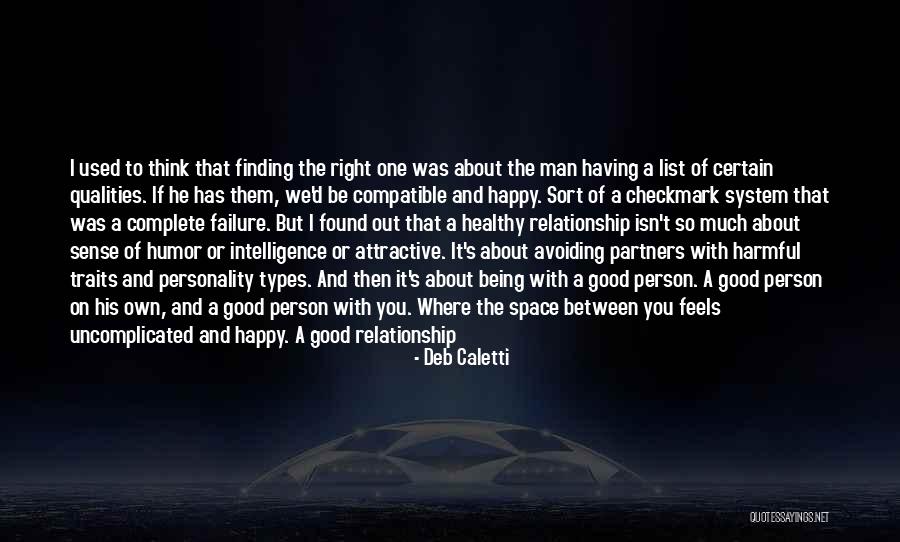 I used to think that finding the right one was about the man having a list of certain qualities. If he has them, we'd be compatible and happy. Sort of a checkmark system that was a complete failure. But I found out that a healthy relationship isn't so much about sense of humor or intelligence or attractive. It's about avoiding partners with harmful traits and personality types. And then it's about being with a good person. A good person on his own, and a good person with you. Where the space between you feels uncomplicated and happy. A good relationship is where things just work. They work because, whatever the list of qualities, whatever the reason, you happen to be really, really good together. — Deb Caletti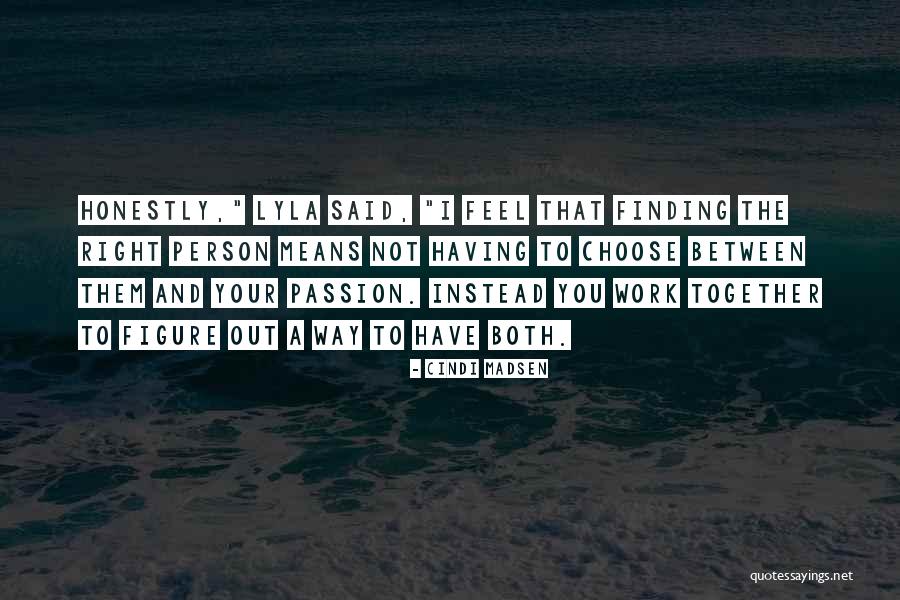 Honestly," Lyla said, "I feel that finding the right person means not having to choose between them and your passion. Instead you work together to figure out a way to have both. — Cindi Madsen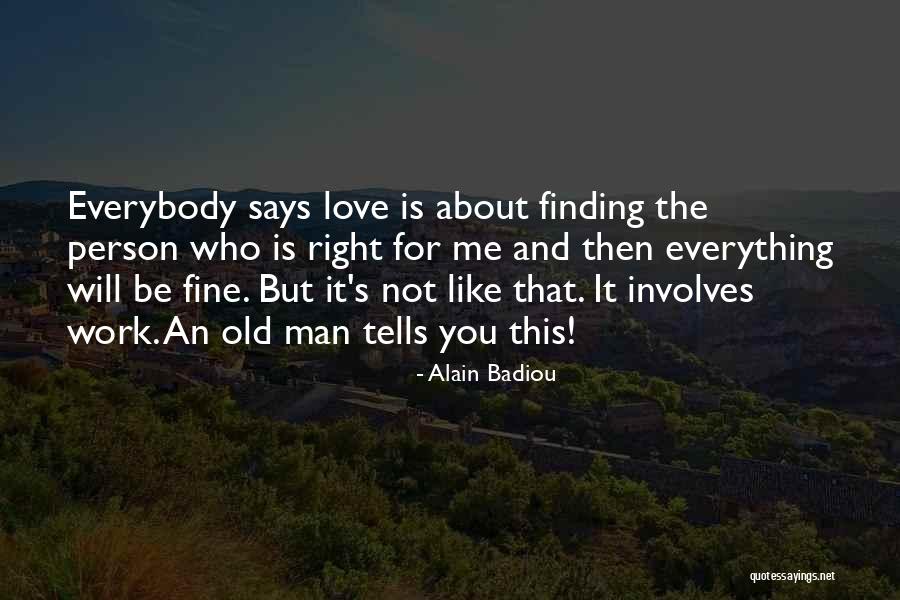 Everybody says love is about finding the person who is right for me and then everything will be fine. But it's not like that. It involves work. An old man tells you this! — Alain Badiou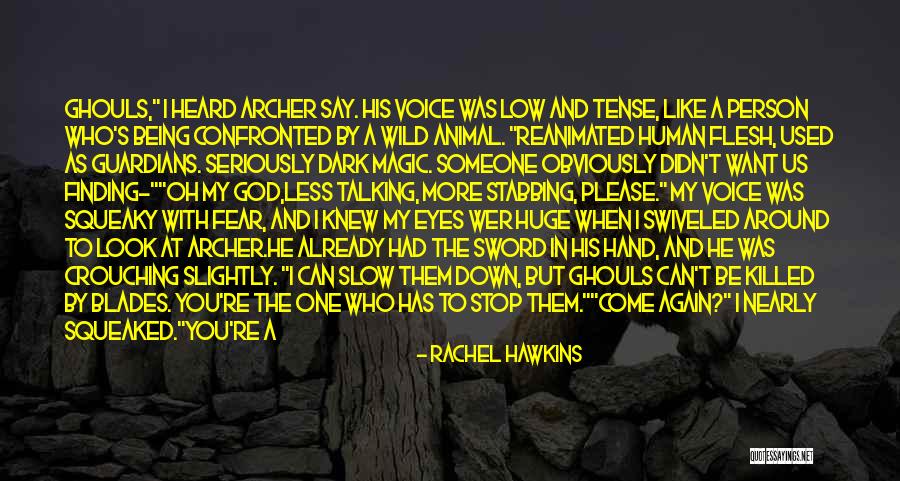 Ghouls," I heard Archer say. His voice was low and tense, like a person who's being confronted by a wild animal. "Reanimated human flesh, used as guardians. Seriously dark magic. Someone obviously didn't want us finding-"
"Oh my God,less talking, more stabbing, please." My voice was squeaky with fear, and I knew my eyes wer huge when I swiveled around to look at Archer.
He already had the sword in his hand, and he was crouching slightly. "I can slow them down, but ghouls can't be killed by blades. You're the one who has to stop them."
"Come again?" I nearly squeaked.
"You're a necromancer," he said. "They're dead."
Oh,right. One of the many "perks" of having a lot of dark magic at my disposal. But I'd never seen the point in boning up on my necromancer skills. When was I ever going to need to order around the dead? — Rachel Hawkins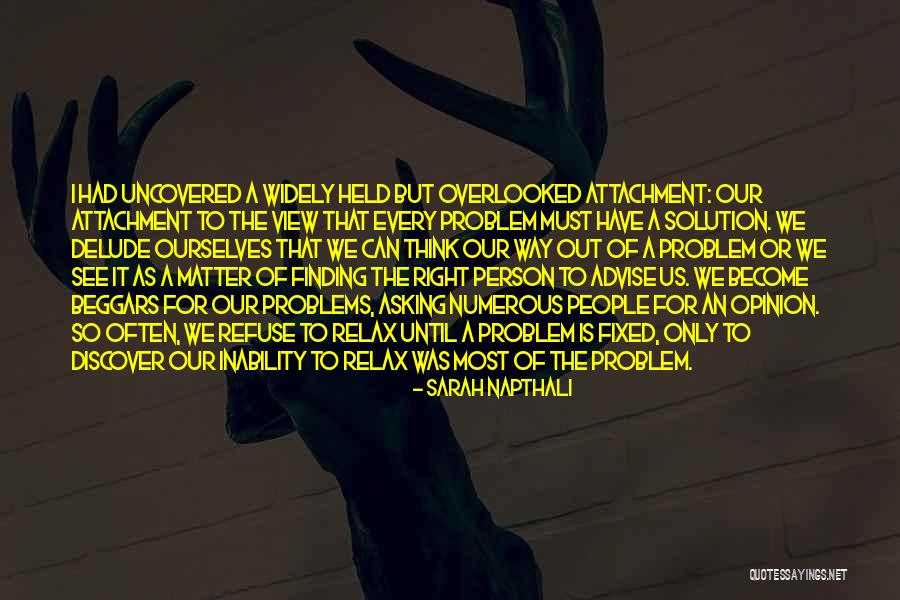 I had uncovered a widely held but overlooked attachment: our attachment to the view that every problem must have a solution. We delude ourselves that we can think our way out of a problem or we see it as a matter of finding the right person to advise us. We become beggars for our problems, asking numerous people for an opinion. So often, we refuse to relax until a problem is fixed, only to discover our inability to relax was most of the problem. — Sarah Napthali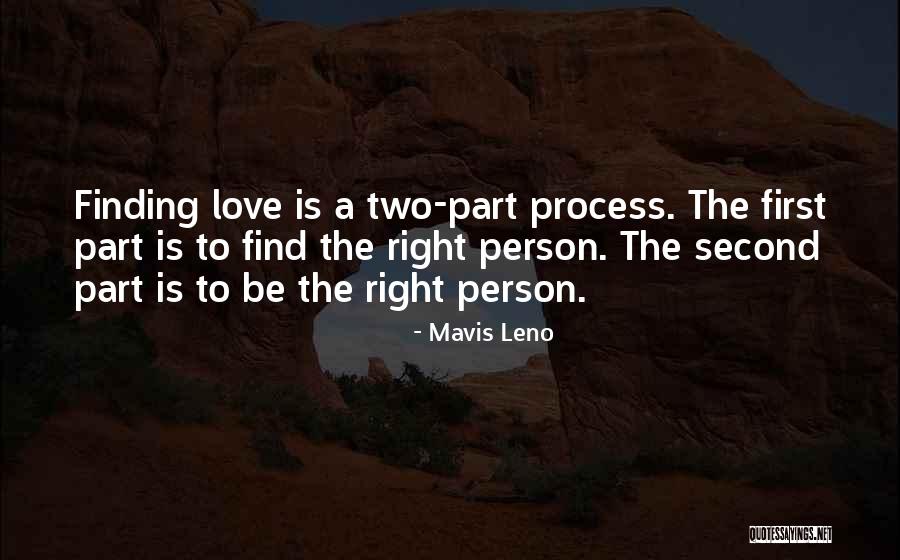 Finding love is a two-part process. The first part is to find the right person. The second part is to be the right person. — Mavis Leno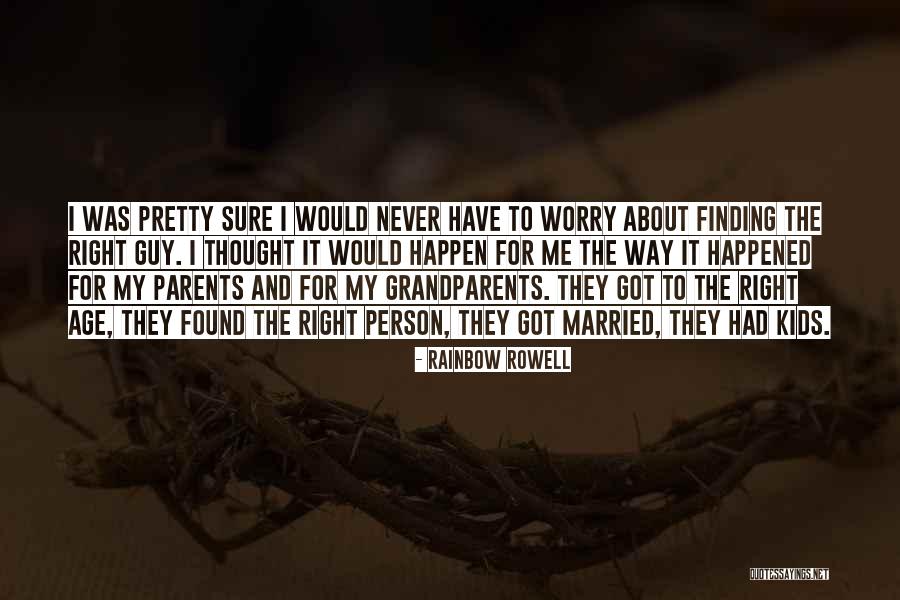 I was pretty sure I would never have to worry about finding the right guy. I thought it would happen for me the way it happened for my parents and for my grandparents. They got to the right age, they found the right person, they got married, they had kids. — Rainbow Rowell
You know, it's a different world now, but to skip ahead and really answer your question, only in the last five years did I find what I call holy maturity, finding the balance, finding the right person in my life so that I could live a normal life. — Burt Ward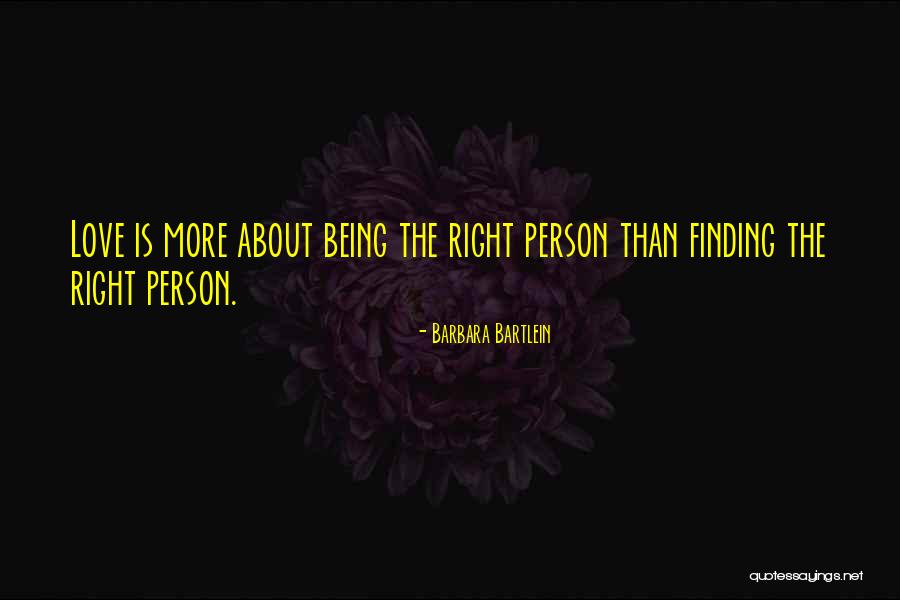 Love is more about being the right person than finding the right person. — Barbara Bartlein