Falling In Love With Someone Again Quotes & Sayings
Enjoy reading and share 46 famous quotes about Falling In Love With Someone Again with everyone.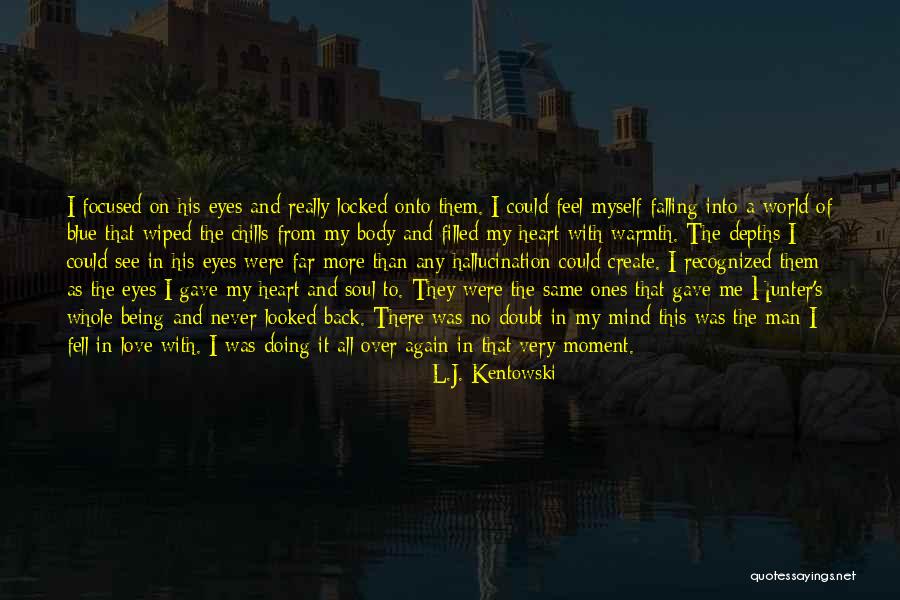 I focused on his eyes and really locked onto them. I could feel myself falling into a world of blue that wiped the chills from my body and filled my heart with warmth. The depths I could see in his eyes were far more than any hallucination could create. I recognized them as the eyes I gave my heart and soul to. They were the same ones that gave me Hunter's whole being and never looked back. There was no doubt in my mind this was the man I fell in love with. I was doing it all over again in that very moment. — L.J. Kentowski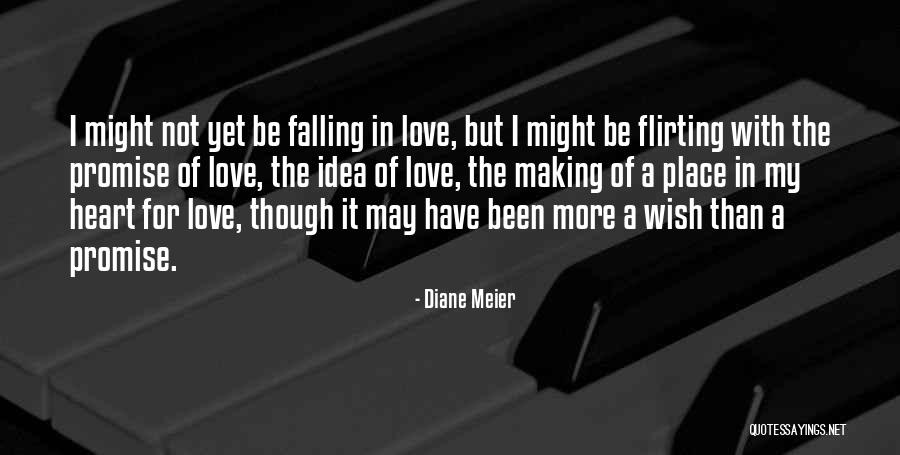 I might not yet be falling in love, but I might be flirting with the promise of love, the idea of love, the making of a place in my heart for love, though it may have been more a wish than a promise. — Diane Meier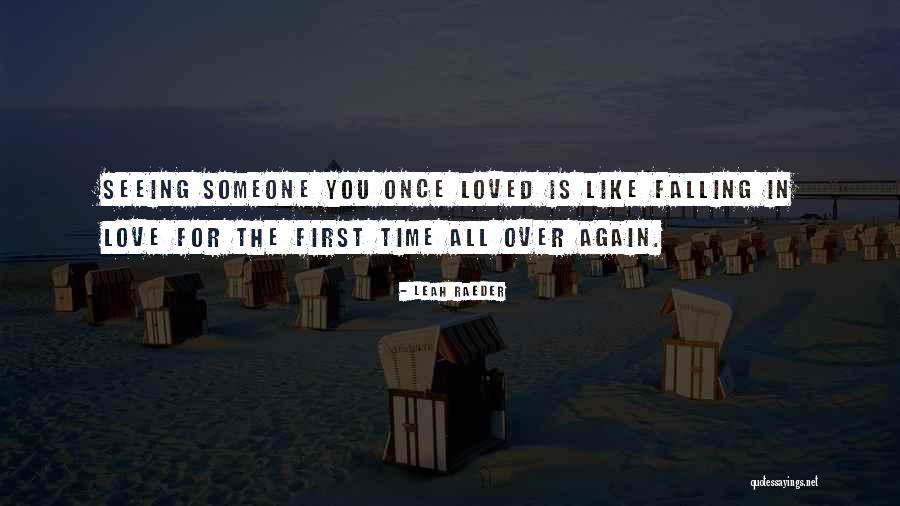 Seeing someone you once loved is like falling in love for the first time all over again. — Leah Raeder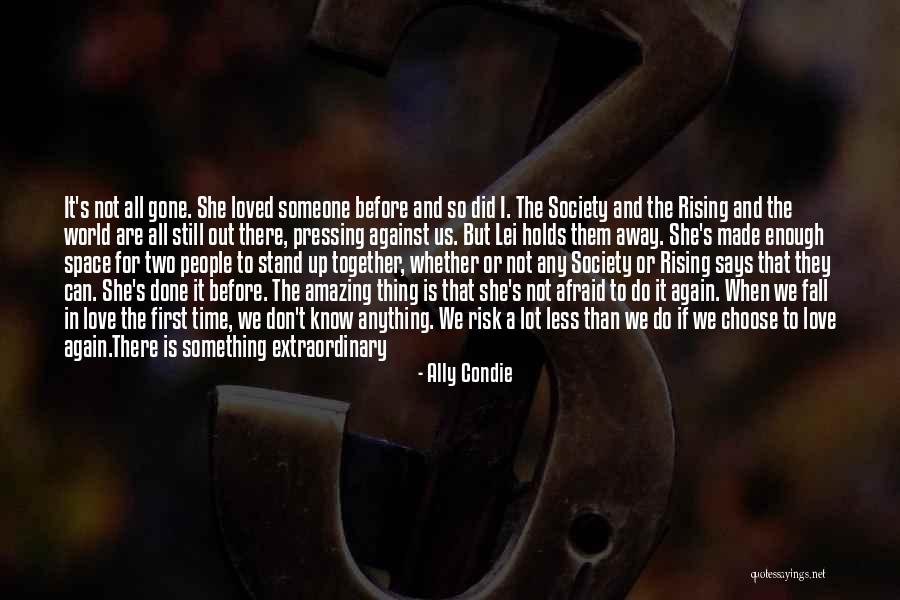 It's not all gone. She loved someone before and so did I. The Society and the Rising and the world are all still out there, pressing against us. But Lei holds them away. She's made enough space for two people to stand up together, whether or not any Society or Rising says that they can. She's done it before. The amazing thing is that she's not afraid to do it again. When we fall in love the first time, we don't know anything. We risk a lot less than we do if we choose to love again.
There is something extraordinary about the first time falling.
But if feels even better to find myself standing on solid ground, with someone holding on to me, pulling me back, and know that I'm doing the same for her. — Ally Condie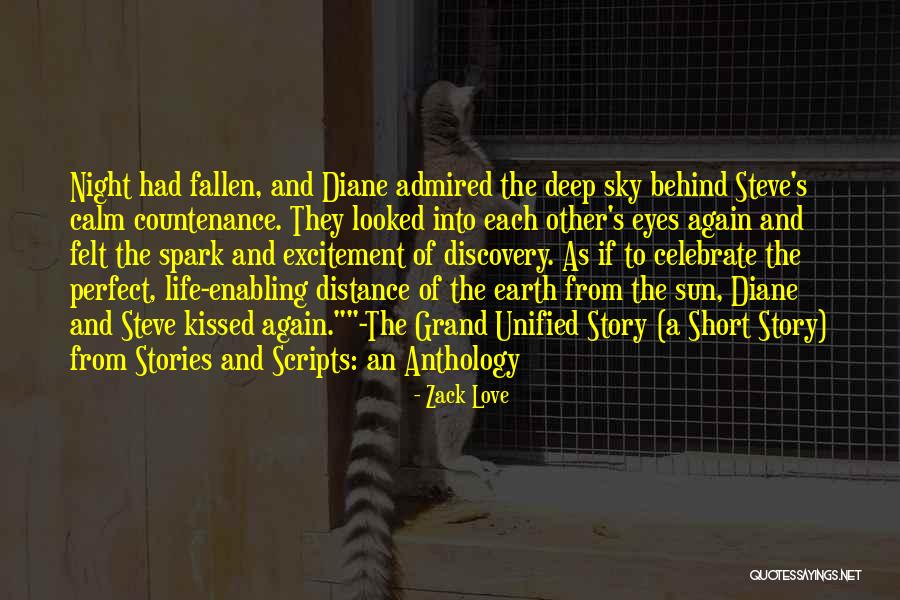 Night had fallen, and Diane admired the deep sky behind Steve's calm countenance. They looked into each other's eyes again and felt the spark and excitement of discovery. As if to celebrate the perfect, life-enabling distance of the earth from the sun, Diane and Steve kissed again."
"-The Grand Unified Story (a Short Story) from Stories and Scripts: an Anthology — Zack Love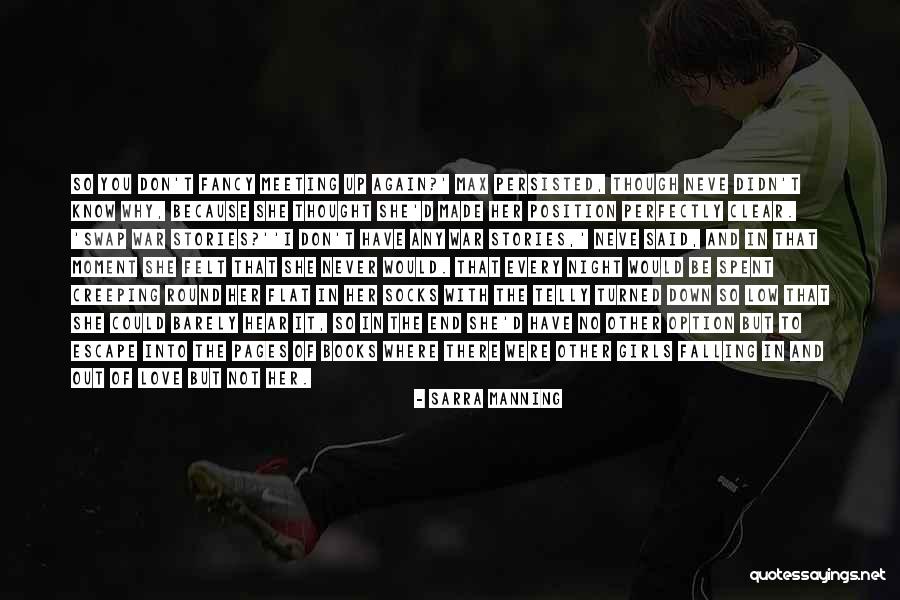 So you don't fancy meeting up again?' Max persisted, though Neve didn't know why, because she thought she'd made her position perfectly clear. 'Swap war stories?'
'I don't have any war stories,' Neve said, and in that moment she felt that she never would. That every night would be spent creeping round her flat in her socks with the telly turned down so low that she could barely hear it, so in the end she'd have no other option but to escape into the pages of books where there were other girls falling in and out of love but not her. Never her. She stared down at the scuffed toes of her faux Ugg boots in sudden and tired defeat.
'If you don't have any war stories, then at least you don't have any war wounds,' Max said, so quietly that Neve had to strain her ears to catch his words. 'Take my number. — Sarra Manning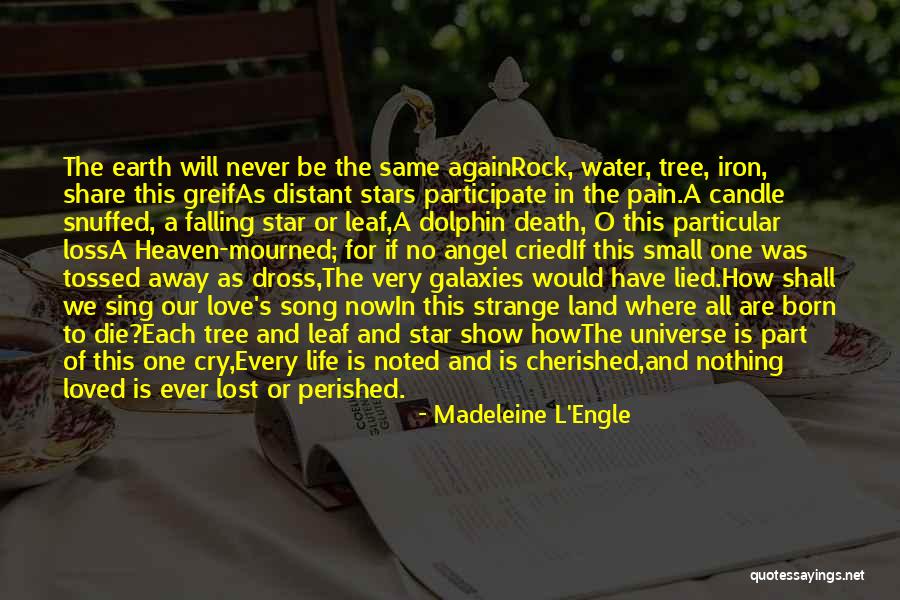 The earth will never be the same again
Rock, water, tree, iron, share this greif
As distant stars participate in the pain.
A candle snuffed, a falling star or leaf,
A dolphin death, O this particular loss
A Heaven-mourned; for if no angel cried
If this small one was tossed away as dross,
The very galaxies would have lied.
How shall we sing our love's song now
In this strange land where all are born to die?
Each tree and leaf and star show how
The universe is part of this one cry,
Every life is noted and is cherished,
and nothing loved is ever lost or perished. — Madeleine L'Engle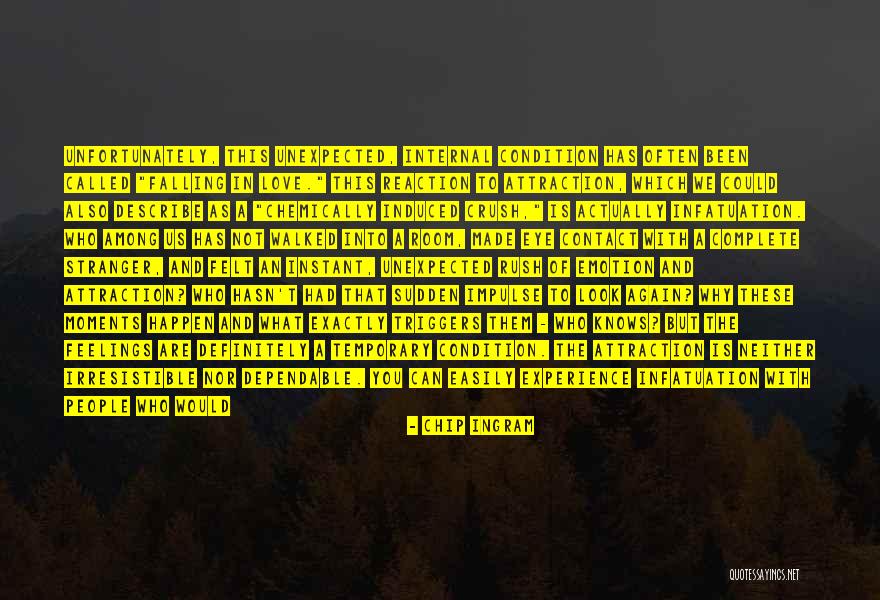 Unfortunately, this unexpected, internal condition has often been called "falling in love." This reaction to attraction, which we could also describe as a "chemically induced crush," is actually infatuation. Who among us has not walked into a room, made eye contact with a complete stranger, and felt an instant, unexpected rush of emotion and attraction? Who hasn't had that sudden impulse to look again? Why these moments happen and what exactly triggers them - who knows? But the feelings are definitely a temporary condition. The attraction is neither irresistible nor dependable. You can easily experience infatuation with people who would turn out to be relational nightmares. That's why it is so dangerous — Chip Ingram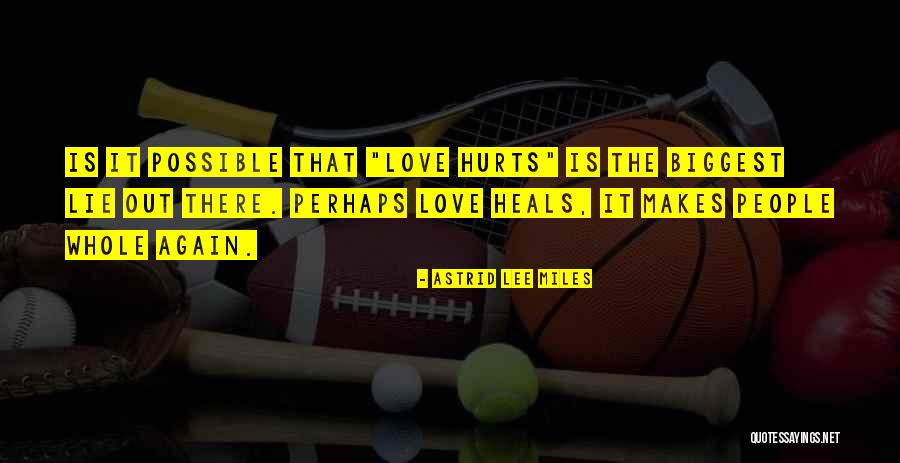 Is it possible that "love hurts" is the biggest lie out there. Perhaps love heals, it makes people whole again. — Astrid Lee Miles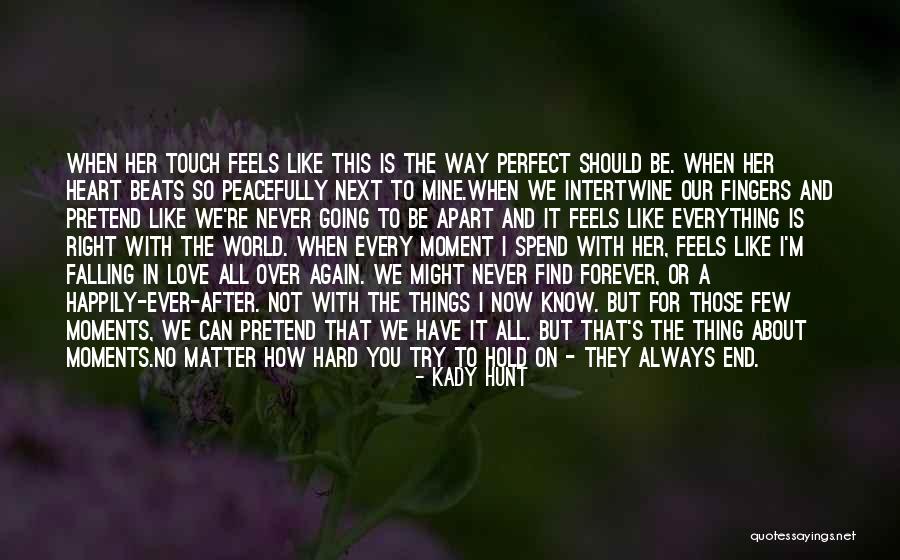 When her touch feels like this is the way perfect should be.
When her heart beats so peacefully next to mine.
When we intertwine our fingers and pretend like we're never going to be apart and it feels like everything is right with the world.
When every moment I spend with her, feels like I'm falling in love all over again.
We might never find forever, or a happily-ever-after. Not with the things I now know. But for those few moments, we can pretend that we have it all.
But that's the thing about moments.
No matter how hard you try to hold on -
They always end. — Kady Hunt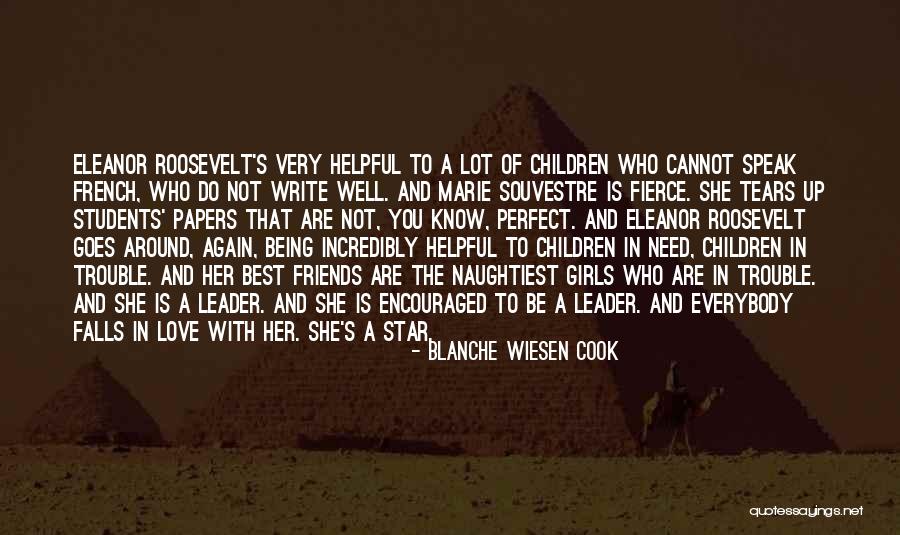 Eleanor Roosevelt's very helpful to a lot of children who cannot speak French, who do not write well. And Marie Souvestre is fierce. She tears up students' papers that are not, you know, perfect. And Eleanor Roosevelt goes around, again, being incredibly helpful to children in need, children in trouble. And her best friends are the naughtiest girls who are in trouble. And she is a leader. And she is encouraged to be a leader. And everybody falls in love with her. She's a star. — Blanche Wiesen Cook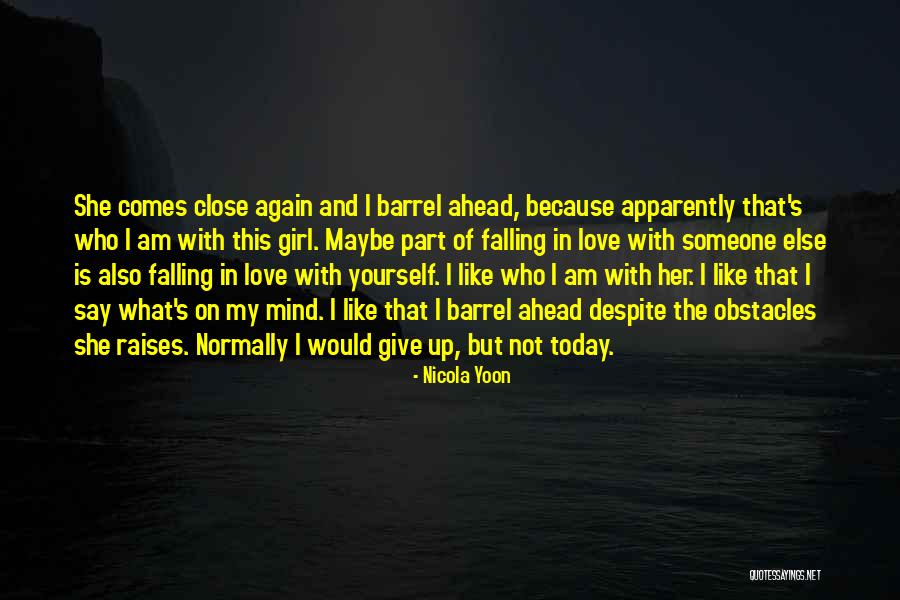 She comes close again and I barrel ahead, because apparently that's who I am with this girl. Maybe part of falling in love with someone else is also falling in love with yourself. I like who I am with her. I like that I say what's on my mind. I like that I barrel ahead despite the obstacles she raises. Normally I would give up, but not today. — Nicola Yoon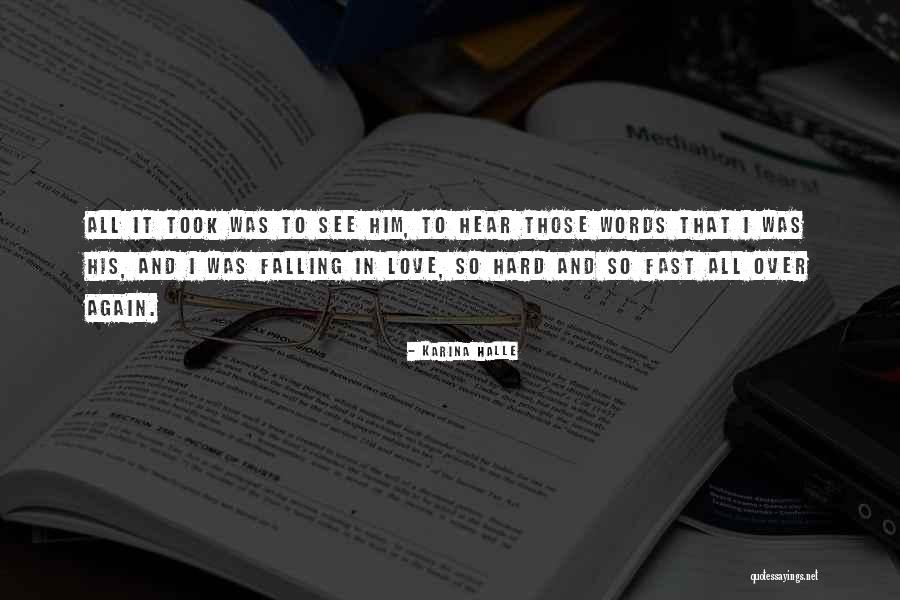 All it took was to see him, to hear those words that I was his, and I was falling in love, so hard and so fast all over again. — Karina Halle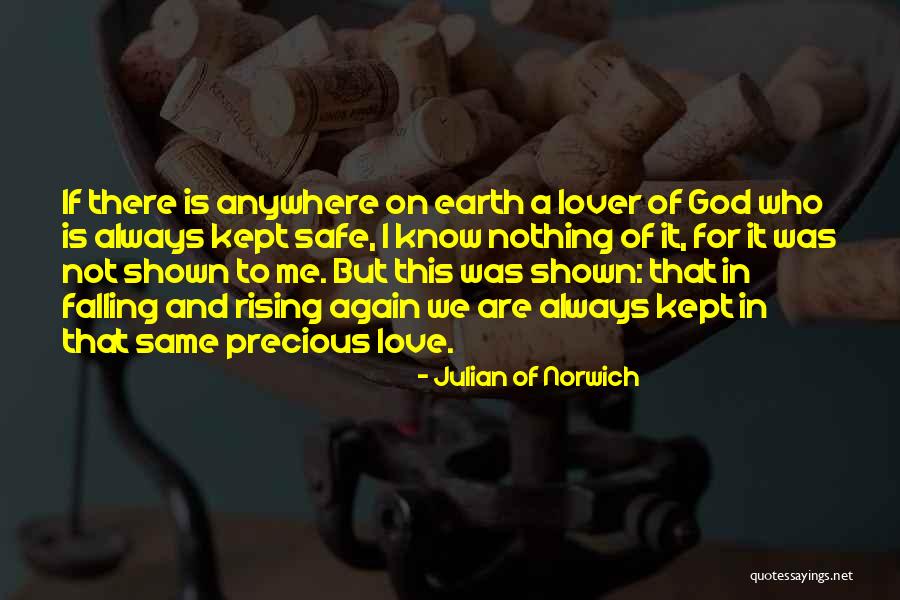 If there is anywhere on earth a lover of God who is always kept safe, I know nothing of it, for it was not shown to me. But this was shown: that in falling and rising again we are always kept in that same precious love. — Julian Of Norwich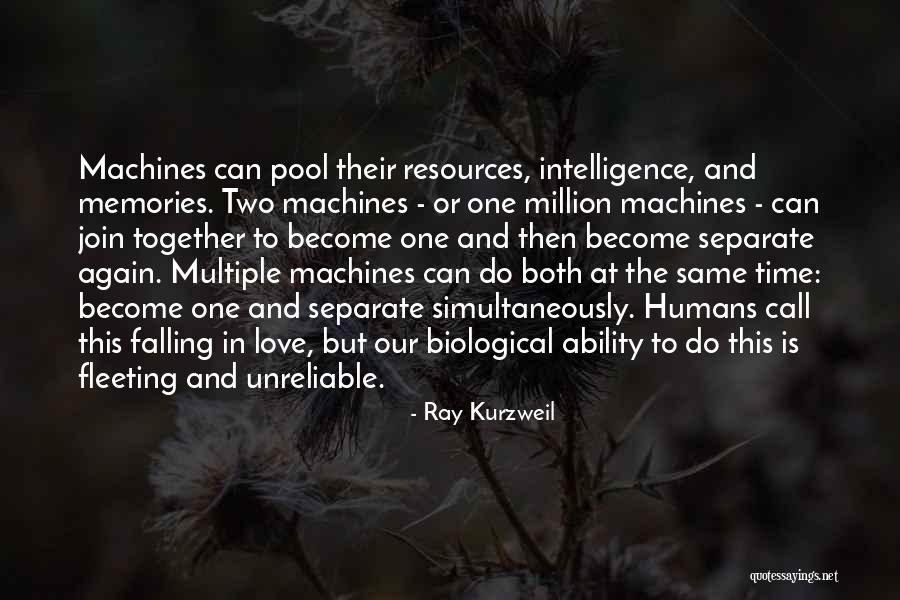 Machines can pool their resources, intelligence, and memories. Two machines - or one million machines - can join together to become one and then become separate again. Multiple machines can do both at the same time: become one and separate simultaneously. Humans call this falling in love, but our biological ability to do this is fleeting and unreliable. — Ray Kurzweil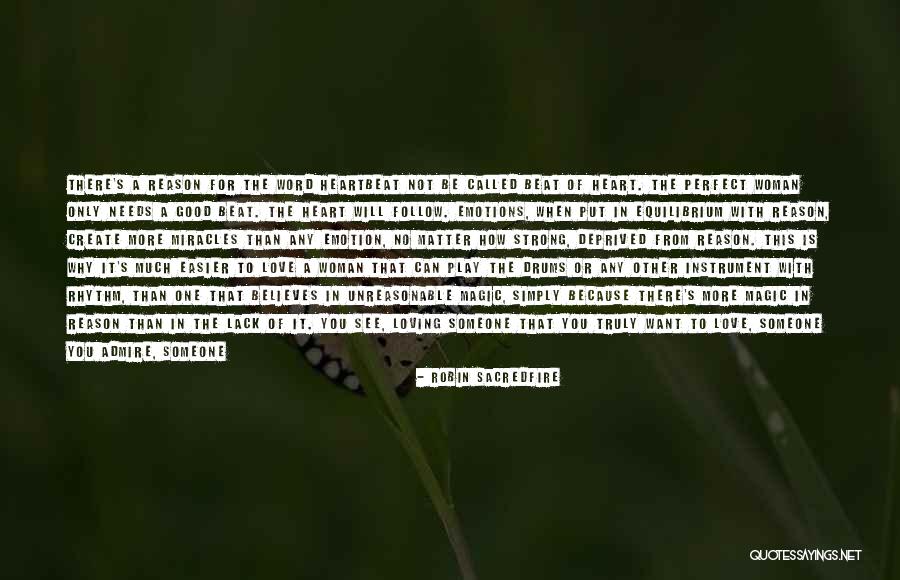 There's a reason for the word heartbeat not be called beat of heart. The perfect woman only needs a good beat. The heart will follow. Emotions, when put in equilibrium with reason, create more miracles than any emotion, no matter how strong, deprived from reason. This is why it's much easier to love a woman that can play the drums or any other instrument with rhythm, than one that believes in unreasonable magic, simply because there's more magic in reason than in the lack of it. You see, loving someone that you truly want to love, someone you admire, someone you want to spend your time with, helping, sharing and growing together, makes much more sense than expecting someone to love you for no reason than your will, needs and desires. And when humans understand this, they will understand love, find it easily and never lose it again. — Robin Sacredfire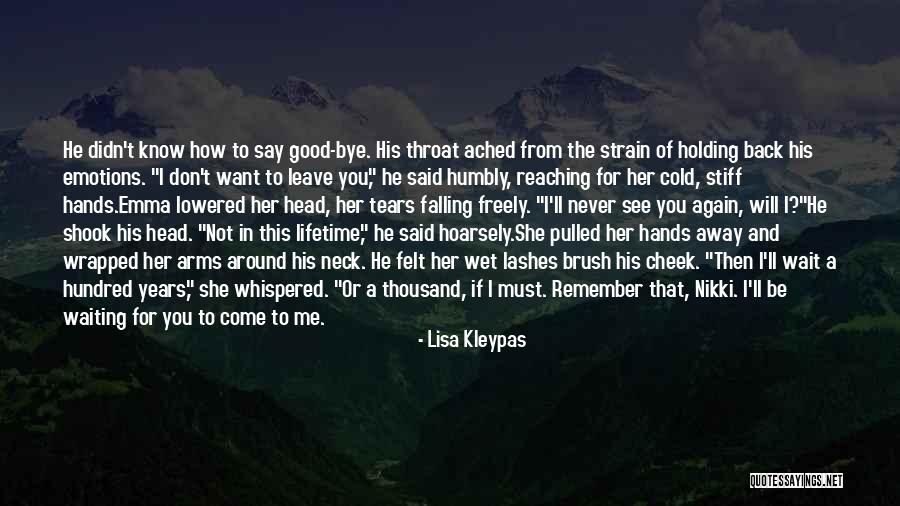 He didn't know how to say good-bye. His throat ached from the strain of holding back his emotions. "I don't want to leave you," he said humbly, reaching for her cold, stiff hands.
Emma lowered her head, her tears falling freely. "I'll never see you again, will I?"
He shook his head. "Not in this lifetime," he said hoarsely.
She pulled her hands away and wrapped her arms around his neck. He felt her wet lashes brush his cheek. "Then I'll wait a hundred years," she whispered. "Or a thousand, if I must. Remember that, Nikki. I'll be waiting for you to come to me. — Lisa Kleypas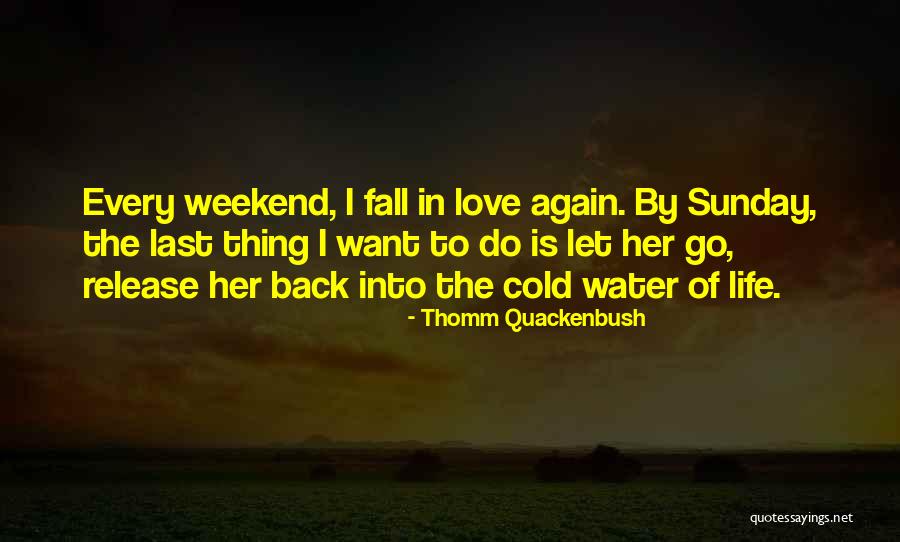 Every weekend, I fall in love again. By Sunday, the last thing I want to do is let her go, release her back into the cold water of life. — Thomm Quackenbush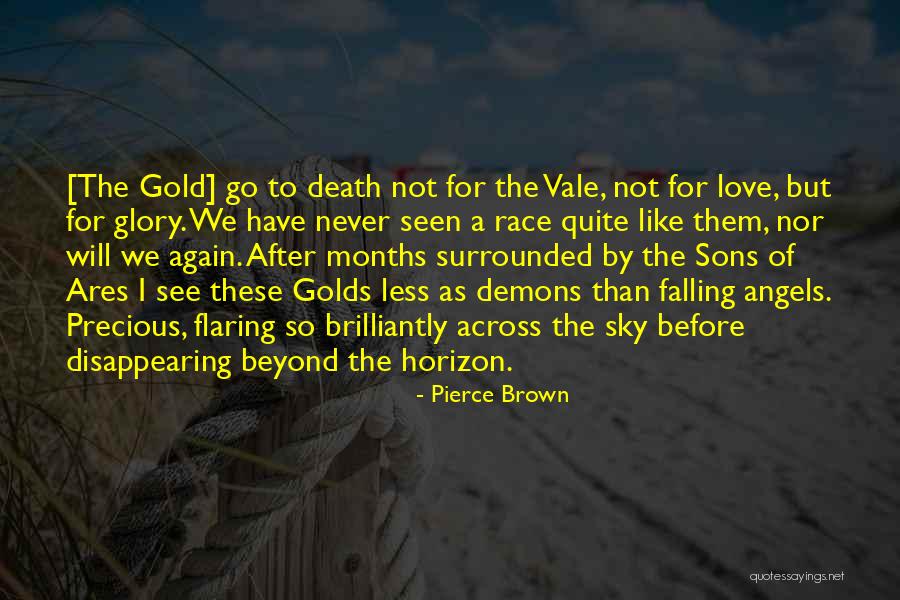 [The Gold] go to death not for the Vale, not for love, but for glory. We have never seen a race quite like them, nor will we again. After months surrounded by the Sons of Ares I see these Golds less as demons than falling angels. Precious, flaring so brilliantly across the sky before disappearing beyond the horizon. — Pierce Brown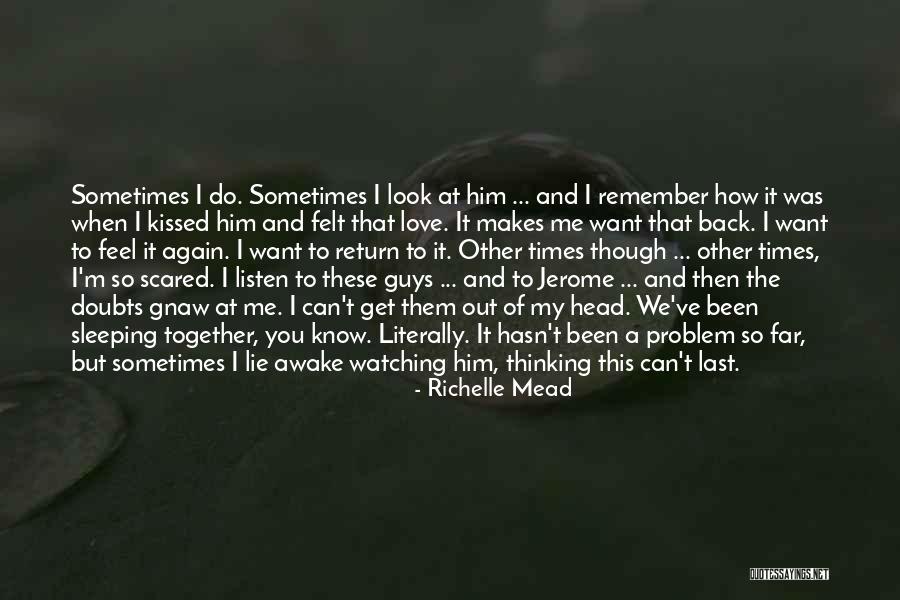 Sometimes I do. Sometimes I look at him ... and I remember how it was when I kissed him and felt that love. It makes me want that back. I want to feel it again. I want to return to it. Other times though ... other times, I'm so scared. I listen to these guys ... and to Jerome ... and then the doubts gnaw at me. I can't get them out of my head. We've been sleeping together, you know. Literally. It hasn't been a problem so far, but sometimes I lie awake watching him, thinking this can't last. The longer it does ... I feel like ... like I'm standing on a high wire, with Seth at one end and me at the other. We're trying to reach each other, but one misstep, one breeze, one side-glance, and I'll fall over the edge. And keep falling and falling."
Carter leaned toward me and brushed the hair away from the side of my face. "Don't look down then," he whispered. — Richelle Mead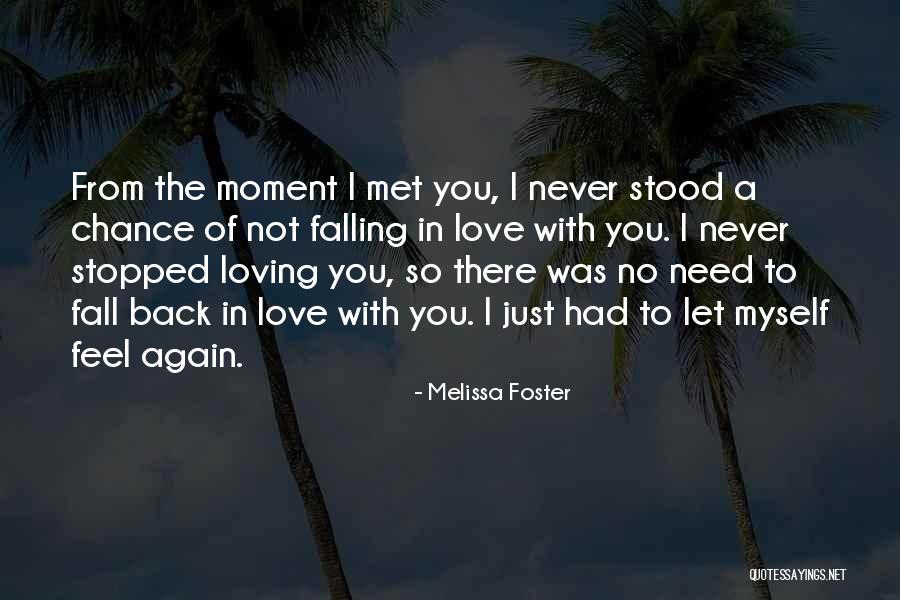 From the moment I met you, I never stood a chance of not falling in love with you. I never stopped loving you, so there was no need to fall back in love with you. I just had to let myself feel again. — Melissa Foster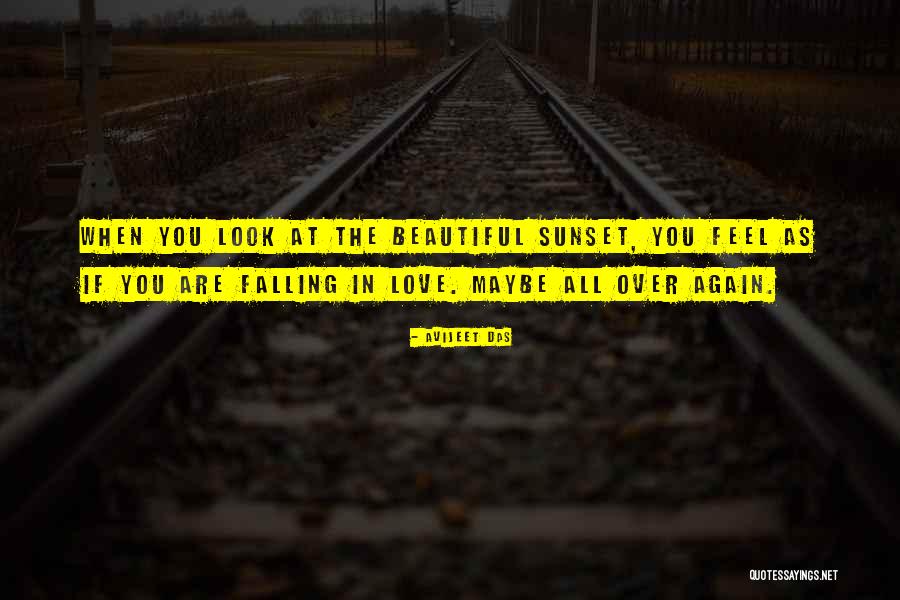 When you look at the beautiful sunset, you feel as if you are falling in love. Maybe all over again. — Avijeet Das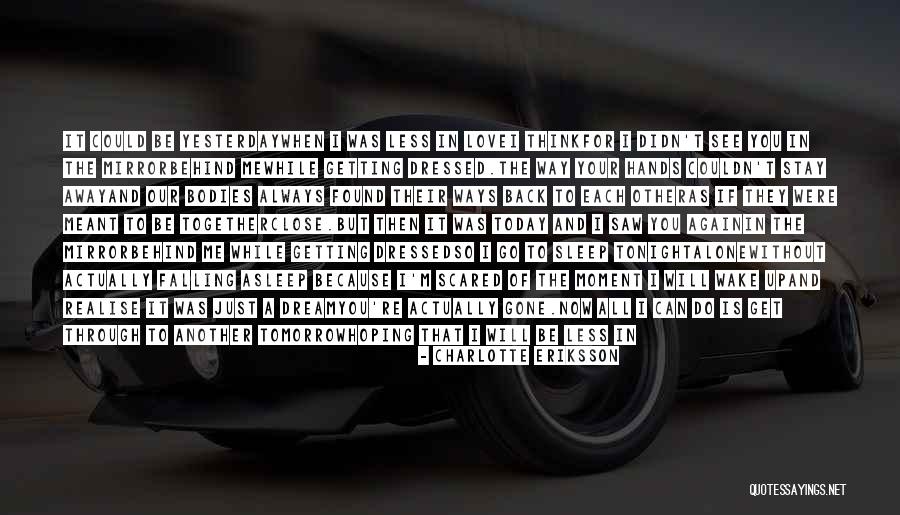 It could be yesterday
when I was less in love
I think
For I didn't see you in the mirror
behind me
while getting dressed.
The way your hands couldn't stay away
and our bodies always found their ways back to each other
as if they were meant to be together
Close.

But then it was today and I saw you
again
in the mirror
behind me while getting dressed

So I go to sleep tonight
alone
without actually falling asleep because I'm scared of the moment I will wake up
and realise it was just a dream
You're actually gone.

Now all I can do is get through to another tomorrow
hoping that I will be less in love
again
Like yesterday

But not today.
I was never really well with things at all. — Charlotte Eriksson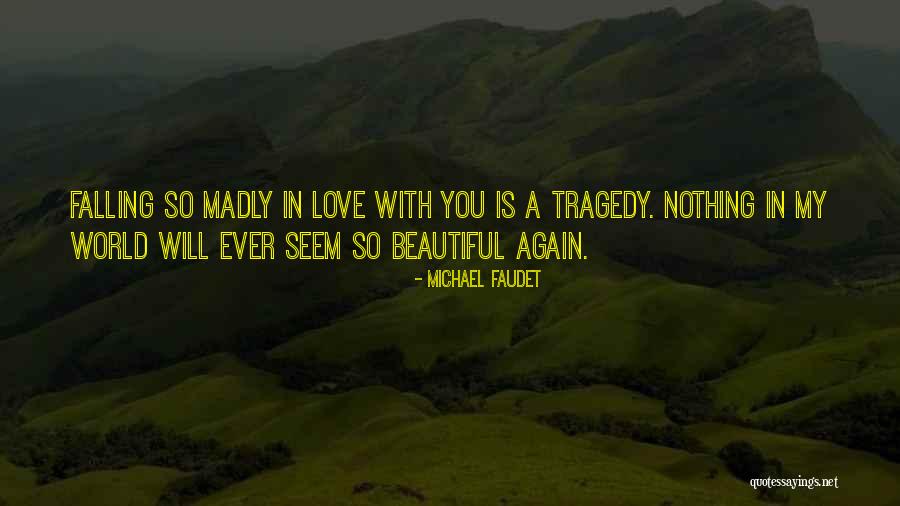 Falling so madly in love with you is a tragedy. Nothing in my world will ever seem so beautiful again. — Michael Faudet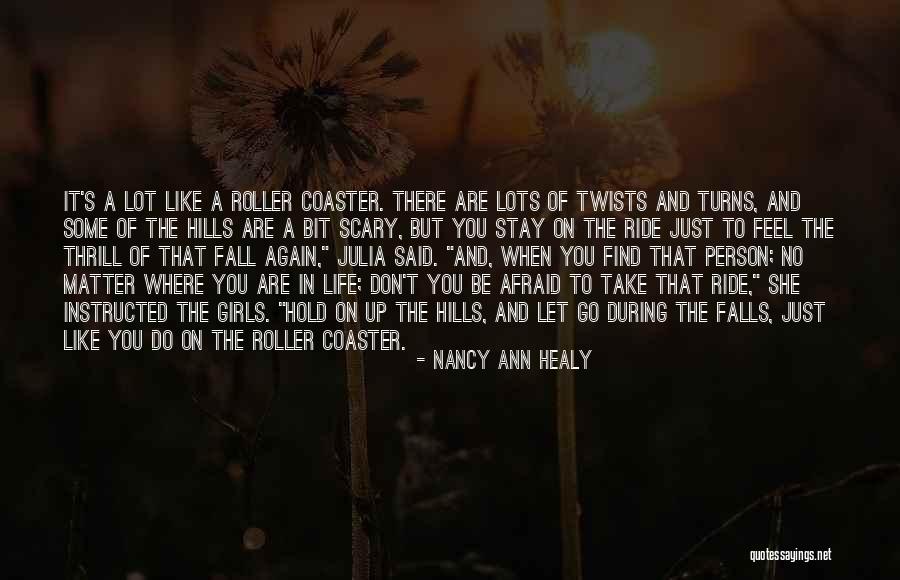 It's a lot like a roller coaster. There are lots of twists and turns, and some of the hills are a bit scary, but you stay on the ride just to feel the thrill of that fall again," Julia said. "And, when you find that person; no matter where you are in life; don't you be afraid to take that ride," she instructed the girls. "Hold on up the hills, and let go during the falls, just like you do on the roller coaster. — Nancy Ann Healy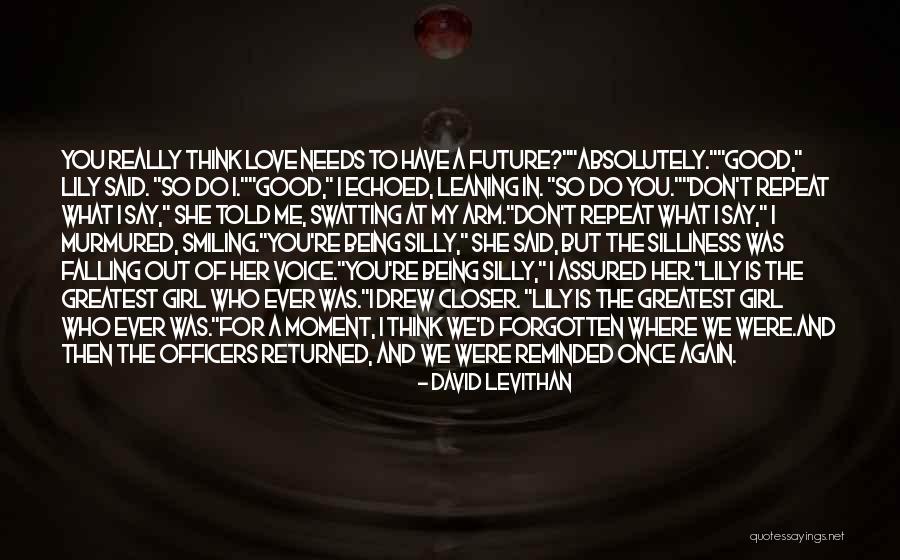 You really think love needs to have a future?"
"Absolutely."
"Good," Lily said. "So do I."
"Good," I echoed, leaning in. "So do you."
"Don't repeat what I say," she told me, swatting at my arm.
"Don't repeat what I say," I murmured, smiling.
"You're being silly," she said, but the silliness was falling out of her voice.
"You're being silly," I assured her.
"Lily is the greatest girl who ever was."
I drew closer. "Lily is the greatest girl who ever was."
For a moment, I think we'd forgotten where we were.
And then the officers returned, and we were reminded once again. — David Levithan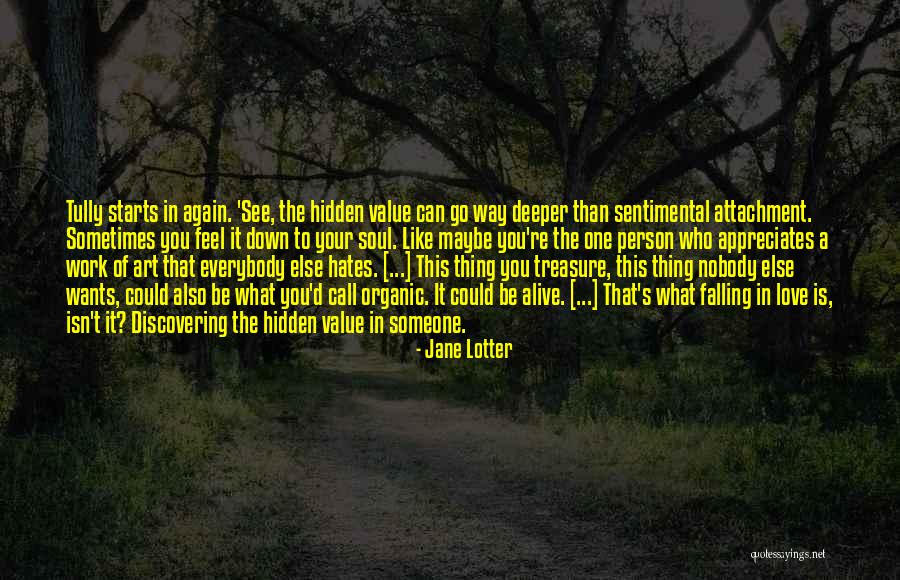 Tully starts in again. 'See, the hidden value can go way deeper than sentimental attachment. Sometimes you feel it down to your soul. Like maybe you're the one person who appreciates a work of art that everybody else hates. [...] This thing you treasure, this thing nobody else wants, could also be what you'd call organic. It could be alive. [...] That's what falling in love is, isn't it? Discovering the hidden value in someone. — Jane Lotter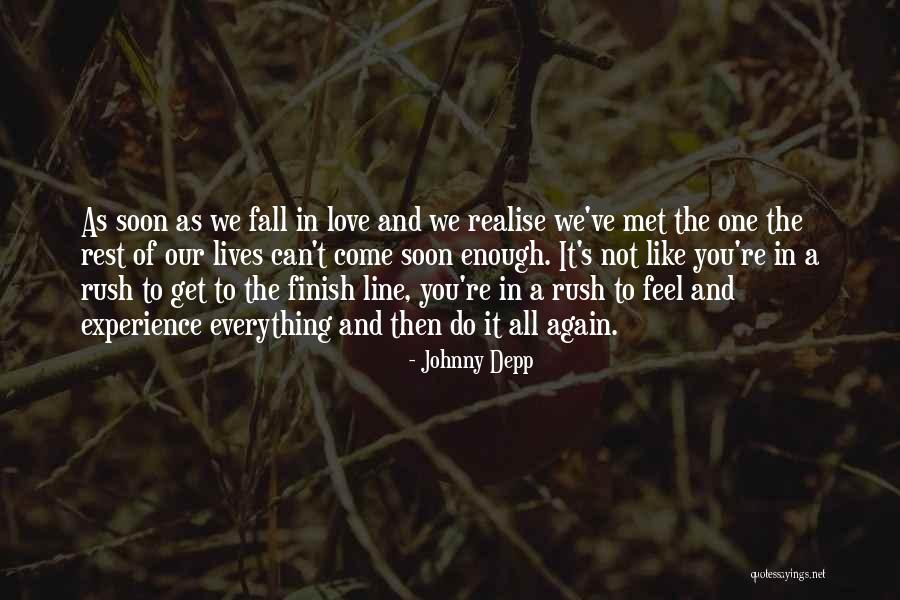 As soon as we fall in love and we realise we've met the one the rest of our lives can't come soon enough. It's not like you're in a rush to get to the finish line, you're in a rush to feel and experience everything and then do it all again. — Johnny Depp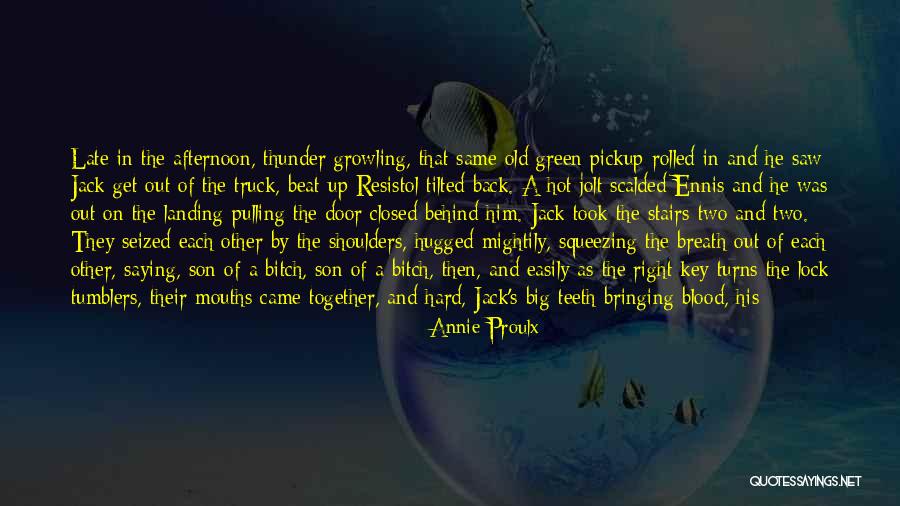 Late in the afternoon, thunder growling, that same old green pickup rolled in and he saw Jack get out of the truck, beat up Resistol tilted back. A hot jolt scalded Ennis and he was out on the landing pulling the door closed behind him. Jack took the stairs two and two. They seized each other by the shoulders, hugged mightily, squeezing the breath out of each other, saying, son of a bitch, son of a bitch, then, and easily as the right key turns the lock tumblers, their mouths came together, and hard, Jack's big teeth bringing blood, his hat falling to the floor, stubble rasping, wet saliva welling, and the door opening and Alma looking out for a few seconds at Ennis's straining shoulders and shutting the door again and still they clinched, pressing chest and groin and thigh and leg together, treading on each other's toes until they pulled apart to breathe and Ennis, not big on endearments, said what he said to his horses and his daughters, little darlin. — Annie Proulx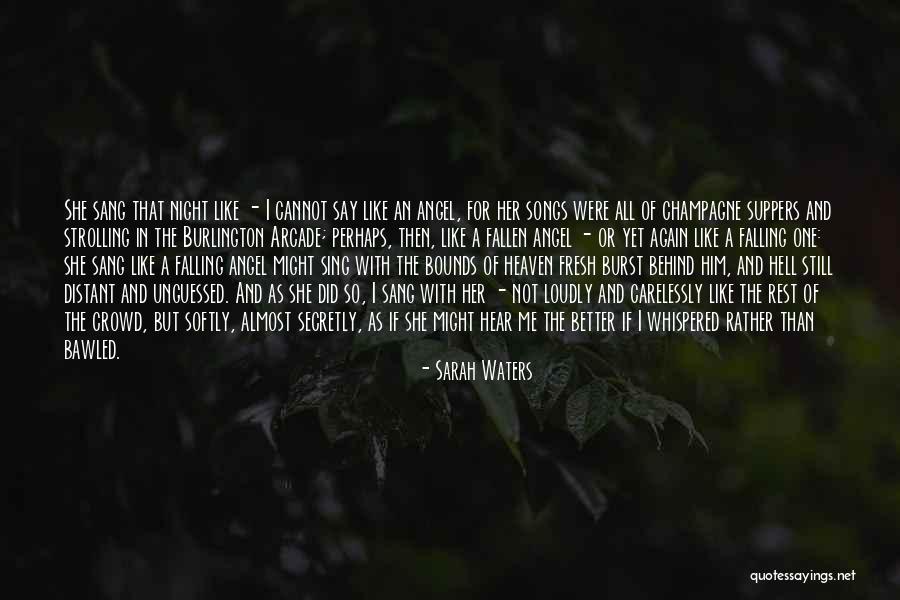 She sang that night like - I cannot say like an angel, for her songs were all of champagne suppers and strolling in the Burlington Arcade; perhaps, then, like a fallen angel - or yet again like a falling one: she sang like a falling angel might sing with the bounds of heaven fresh burst behind him, and hell still distant and unguessed. And as she did so, I sang with her - not loudly and carelessly like the rest of the crowd, but softly, almost secretly, as if she might hear me the better if I whispered rather than bawled. — Sarah Waters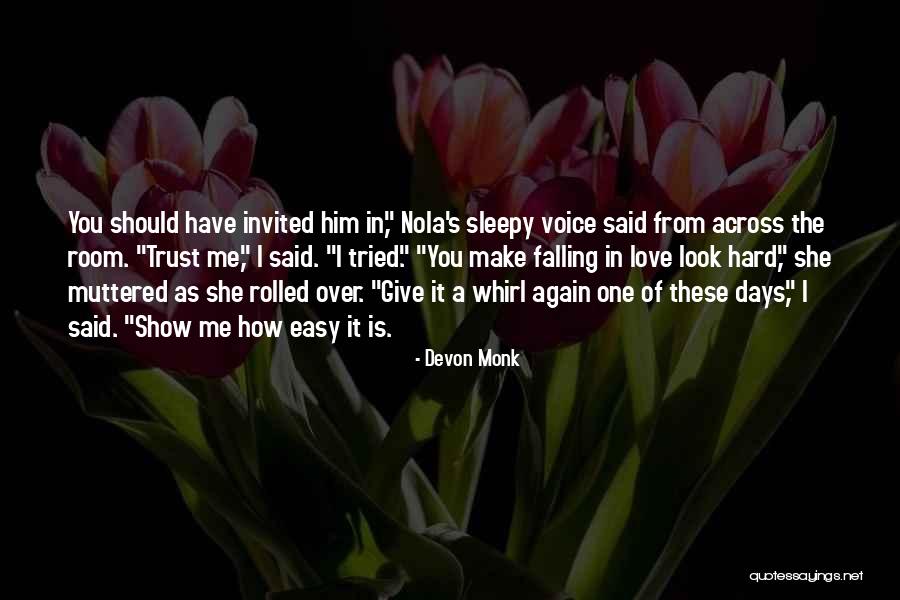 You should have invited him in," Nola's sleepy voice said from across the room. "Trust me," I said. "I tried." "You make falling in love look hard," she muttered as she rolled over. "Give it a whirl again one of these days," I said. "Show me how easy it is. — Devon Monk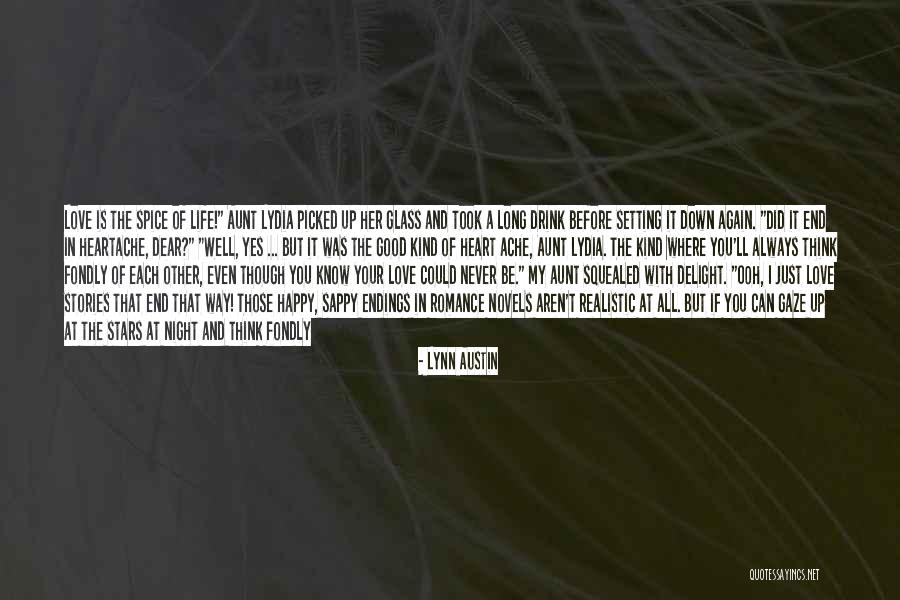 Love is the spice of life!" Aunt Lydia picked up her glass and took a long drink before setting it down again. "Did it end in heartache, dear?" "Well, yes ... but it was the good kind of heart ache, Aunt Lydia. The kind where you'll always think fondly of each other, even though you know your love could never be." My aunt squealed with delight. "Ooh, I just love stories that end that way! Those happy, sappy endings in romance novels aren't realistic at all. But if you can gaze up at the stars at night and think fondly of your lost love, then it's worth falling in love and losing him." "You're absolutely right. — Lynn Austin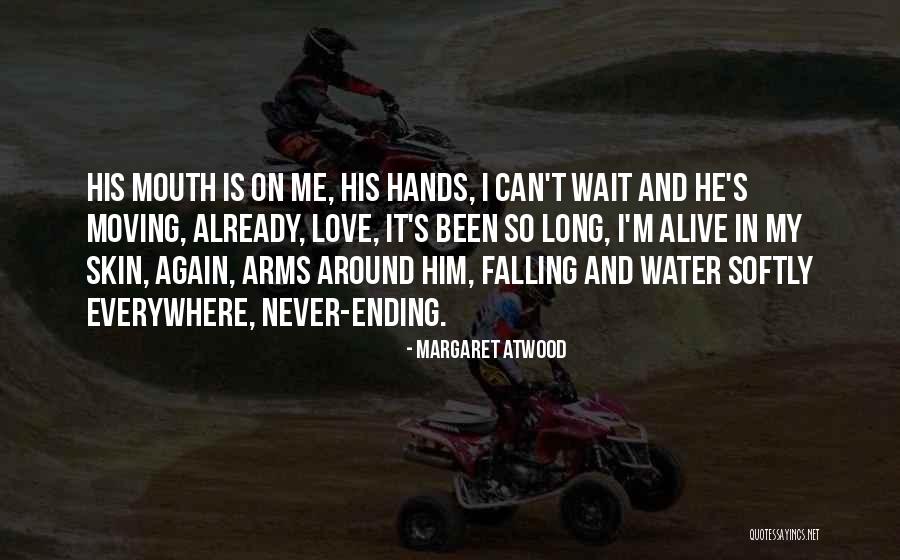 His mouth is on me, his hands, I can't wait and he's moving, already, love, it's been so long, I'm alive in my skin, again, arms around him, falling and water softly everywhere, never-ending. — Margaret Atwood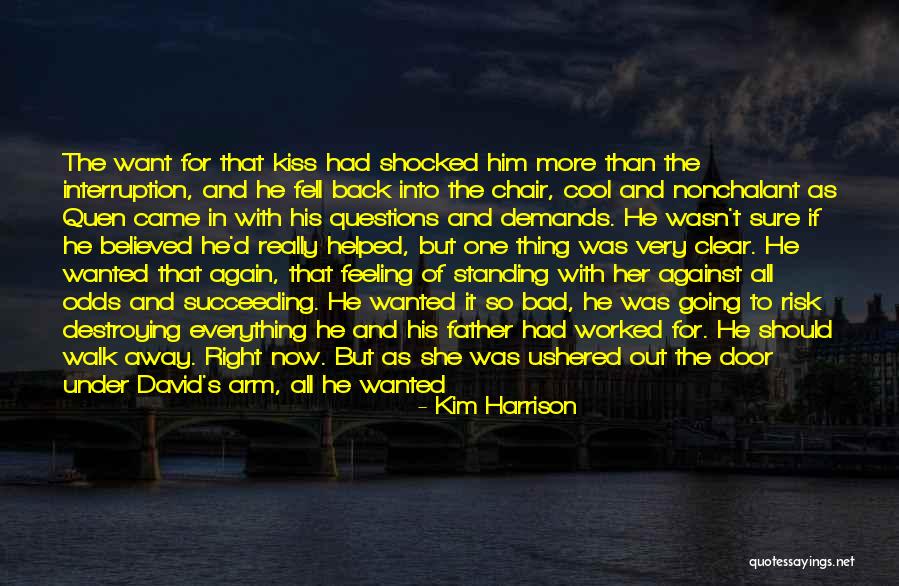 The want for that kiss had shocked him more than the interruption, and he fell back into the chair, cool and nonchalant as Quen came in with his questions and demands. He wasn't sure if he believed he'd really helped, but one thing was very clear. He wanted that again, that feeling of standing with her against all odds and succeeding. He wanted it so bad, he was going to risk destroying everything he and his father had worked for. He should walk away. Right now. But as she was ushered out the door under David's arm, all he wanted to do was follow her. What the hell was he doing, falling in love with a demon? — Kim Harrison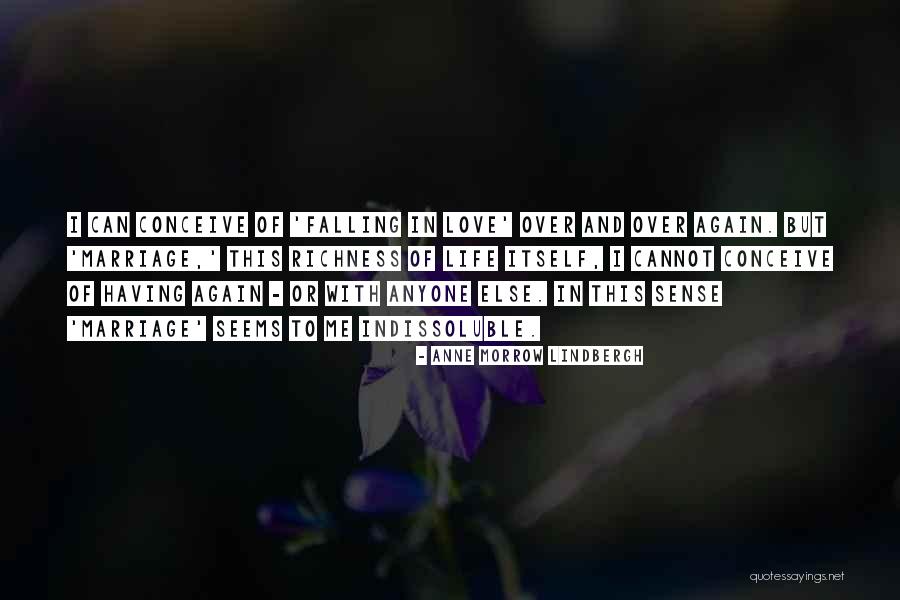 I can conceive of 'falling in love' over and over again. But 'marriage,' this richness of life itself, I cannot conceive of having again - or with anyone else. In this sense 'marriage' seems to me indissoluble. — Anne Morrow Lindbergh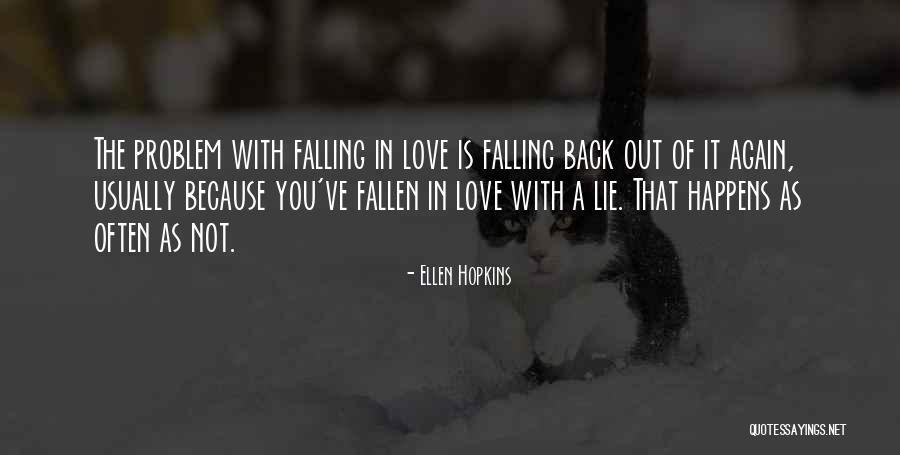 The problem with falling in love is falling back out of it again, usually because you've fallen in love with a lie. That happens as often as not. — Ellen Hopkins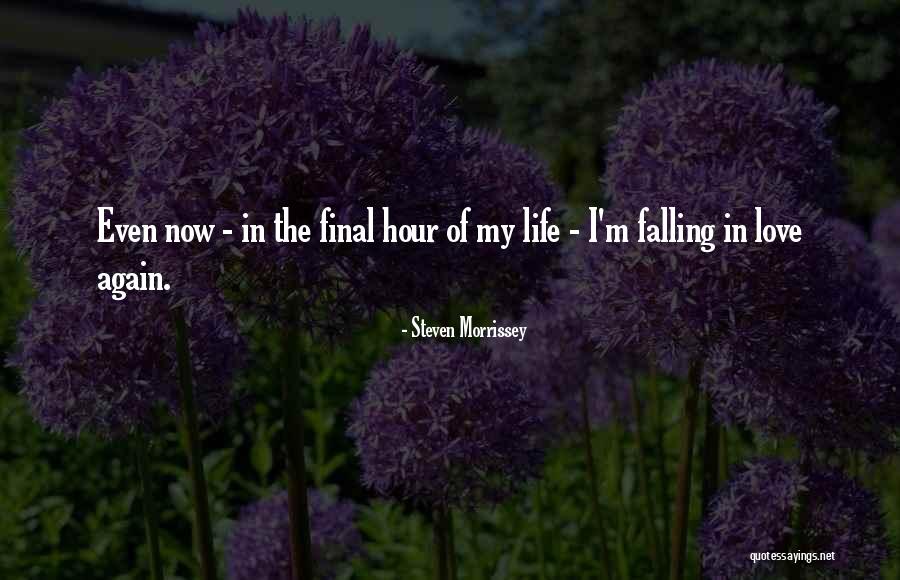 Even now - in the final hour of my life - I'm falling in love again. — Steven Morrissey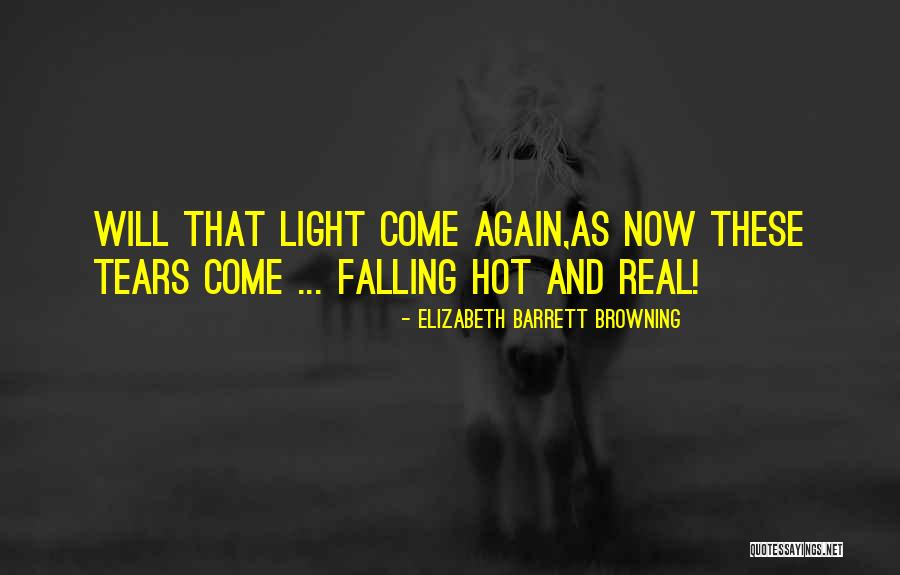 Will that light come again,
As now these tears come ... falling hot and real! — Elizabeth Barrett Browning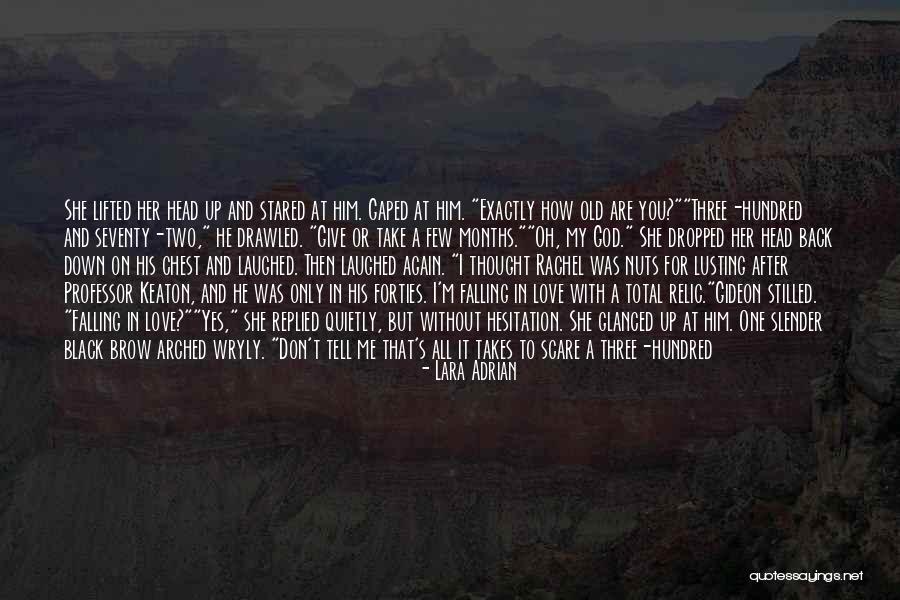 She lifted her head up and stared at him. Gaped at him. "Exactly how old are you?"
"Three-hundred and seventy-two," he drawled. "Give or take a few months."
"Oh, my God." She dropped her head back down on his chest and laughed. Then laughed again. "I thought Rachel was nuts for lusting after Professor Keaton, and he was only in his forties. I'm falling in love with a total relic."
Gideon stilled. "Falling in love?"
"Yes," she replied quietly, but without hesitation. She glanced up at him. One slender black brow arched wryly. "Don't tell me that's all it takes to scare a three-hundred and seventy-two-year-old vampire. — Lara Adrian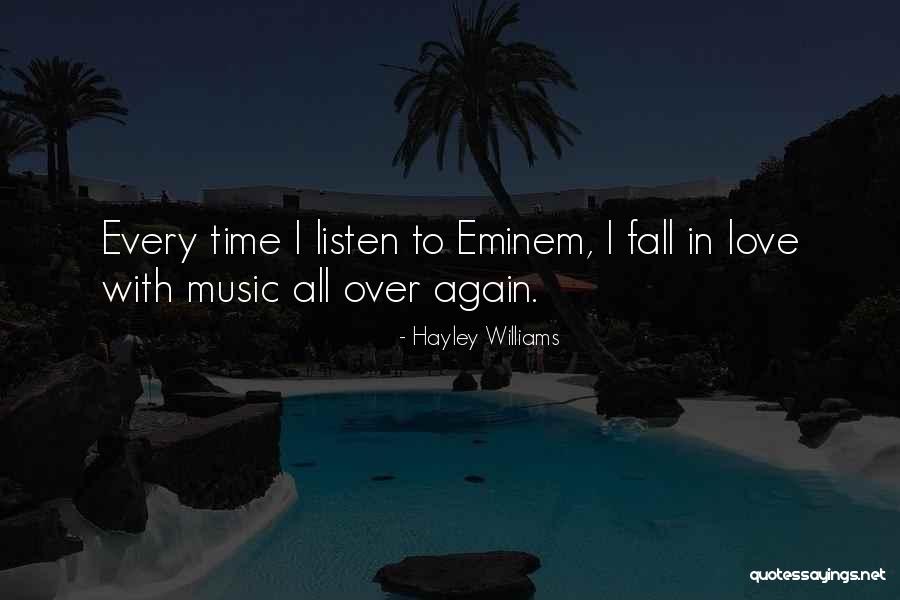 Every time I listen to Eminem, I fall in love with music all over again. — Hayley Williams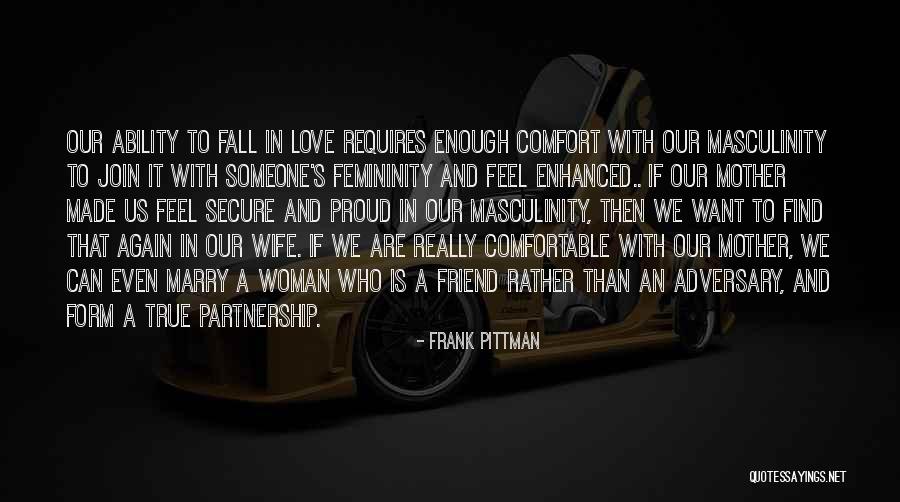 Our ability to fall in love requires enough comfort with our masculinity to join it with someone's femininity and feel enhanced.. If our mother made us feel secure and proud in our masculinity, then we want to find that again in our wife. If we are really comfortable with our mother, we can even marry a woman who is a friend rather than an adversary, and form a true partnership. — Frank Pittman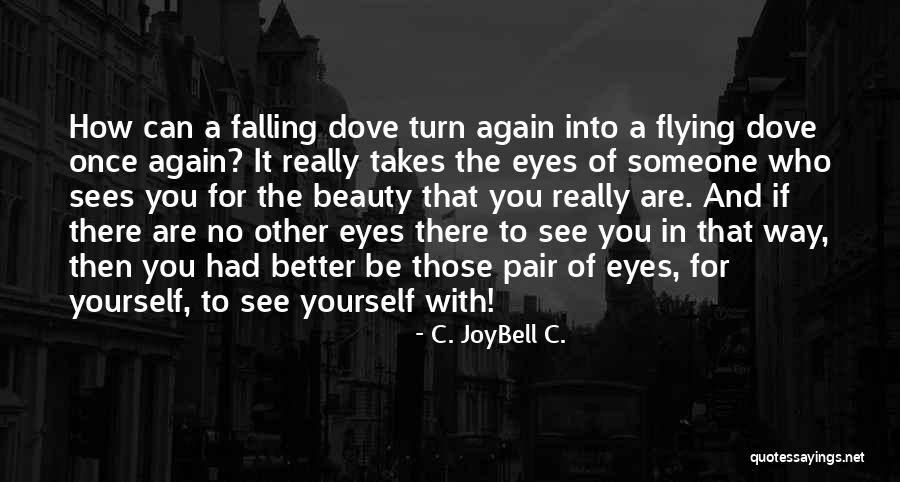 How can a falling dove turn again into a flying dove once again? It really takes the eyes of someone who sees you for the beauty that you really are. And if there are no other eyes there to see you in that way, then you had better be those pair of eyes, for yourself, to see yourself with! — C. JoyBell C.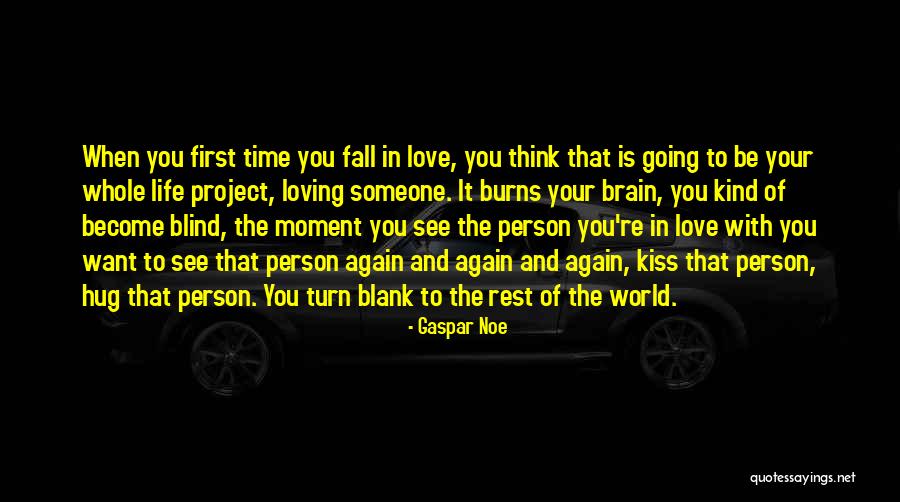 When you first time you fall in love, you think that is going to be your whole life project, loving someone. It burns your brain, you kind of become blind, the moment you see the person you're in love with you want to see that person again and again and again, kiss that person, hug that person. You turn blank to the rest of the world. — Gaspar Noe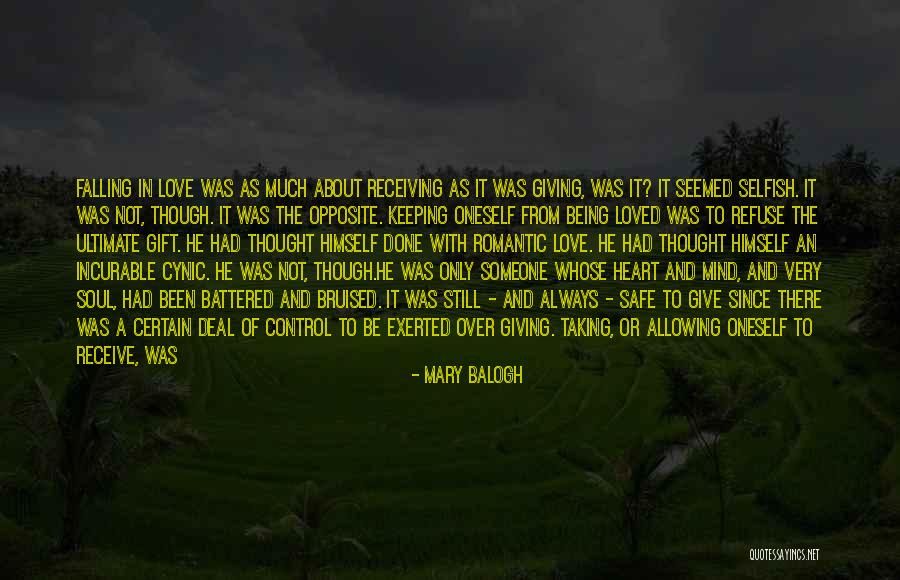 Falling in love was as much about receiving as it was giving, was it? It seemed selfish. It was not, though. It was the opposite. Keeping oneself from being loved was to refuse the ultimate gift.
He had thought himself done with romantic love. He had thought himself an incurable cynic.
He was not, though.
He was only someone whose heart and mind, and very soul, had been battered and bruised. It was still - and always - safe to give since there was a certain deal of control to be exerted over giving. Taking, or allowing oneself to receive, was an altogether more risky business.
For receiving meant opening up the heart again.
Perhaps to rejection.
Or disillusionment.
Or pain.
Or even heart break.
It was all terribly risky.
And all terribly necessary.
And of course, there was the whole issue of trust ... — Mary Balogh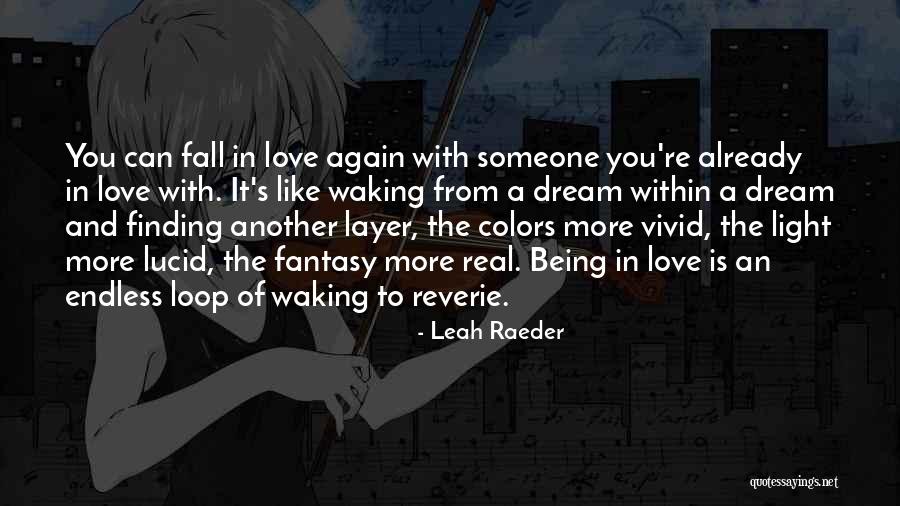 You can fall in love again with someone you're already in love with. It's like waking from a dream within a dream and finding another layer, the colors more vivid, the light more lucid, the fantasy more real. Being in love is an endless loop of waking to reverie. — Leah Raeder