Quotes & Sayings About Doing Stupid Things For Love
Enjoy reading and share 32 famous quotes about Doing Stupid Things For Love with everyone.
Top Doing Stupid Things For Love Quotes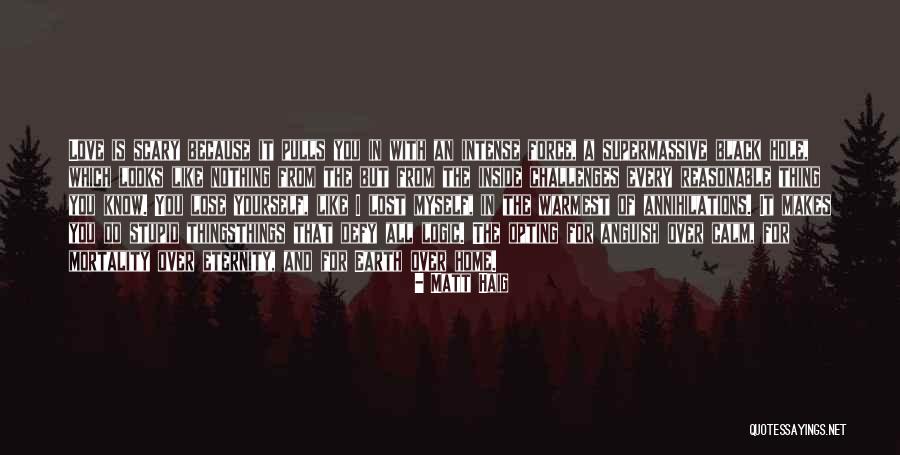 Love is scary because it pulls you in with an intense force, a supermassive black hole, which looks like nothing from the but from the inside challenges every reasonable thing you know. You lose yourself, like I lost myself, in the warmest of annihilations. It makes you do stupid things
things that defy all logic. The opting for anguish over calm, for mortality over eternity, and for Earth over home. — Matt Haig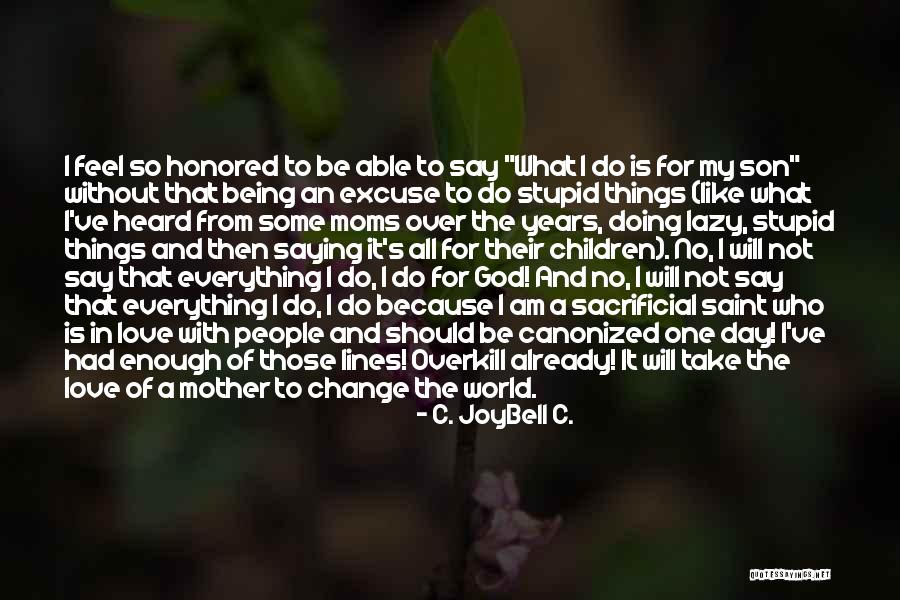 I feel so honored to be able to say "What I do is for my son" without that being an excuse to do stupid things (like what I've heard from some moms over the years, doing lazy, stupid things and then saying it's all for their children). No, I will not say that everything I do, I do for God! And no, I will not say that everything I do, I do because I am a sacrificial saint who is in love with people and should be canonized one day! I've had enough of those lines! Overkill already! It will take the love of a mother to change the world. — C. JoyBell C.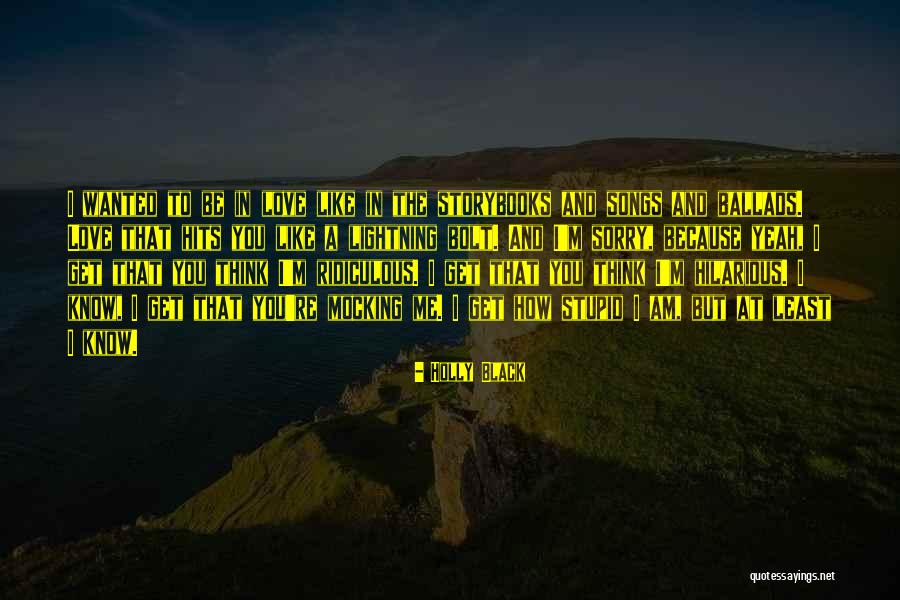 I wanted to be in love like in the storybooks and songs and ballads. Love that hits you like a lightning bolt. And I'm sorry, because yeah, I get that you think I'm ridiculous. I get that you think I'm hilarious. I know, I get that you're mocking me. I get how stupid I am, but at least I know. — Holly Black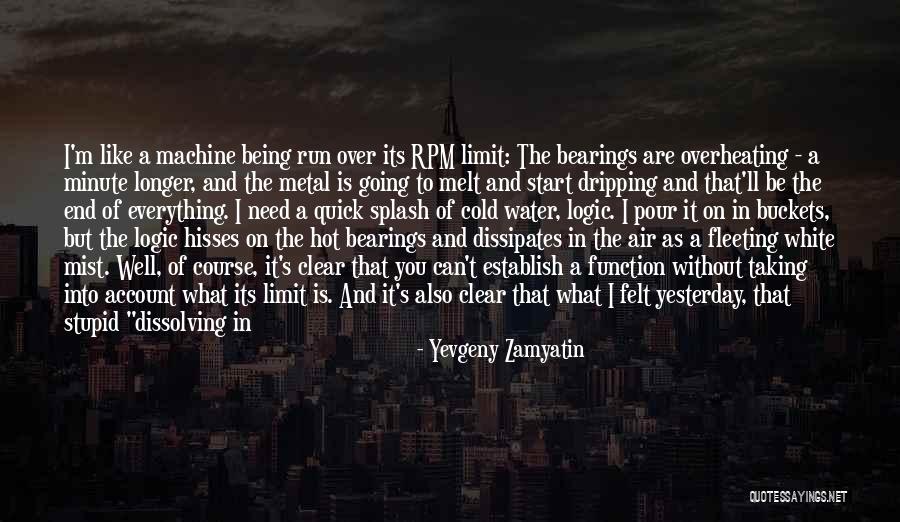 I'm like a machine being run over its RPM limit: The bearings are overheating - a minute longer, and the metal is going to melt and start dripping and that'll be the end of everything. I need a quick splash of cold water, logic. I pour it on in buckets, but the logic hisses on the hot bearings and dissipates in the air as a fleeting white mist.
Well, of course, it's clear that you can't establish a function without taking into account what its limit is. And it's also clear that what I felt yesterday, that stupid "dissolving in the universe," if you take it to its limit, is death. Because that's exactly what death is - the fullest possible dissolving of myself into the universe. Hence, if we let L stand for love and D for death, then L = f (D), i.e., love and death ... — Yevgeny Zamyatin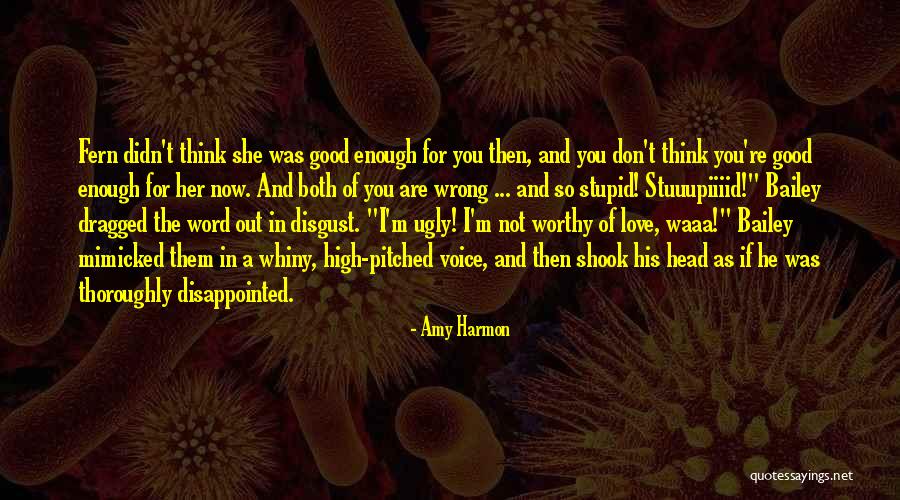 Fern didn't think she was good enough for you then, and you don't think you're good enough for her now. And both of you are wrong ... and so stupid! Stuuupiiiid!" Bailey dragged the word out in disgust. "I'm ugly! I'm not worthy of love, waaa!" Bailey mimicked them in a whiny, high-pitched voice, and then shook his head as if he was thoroughly disappointed. — Amy Harmon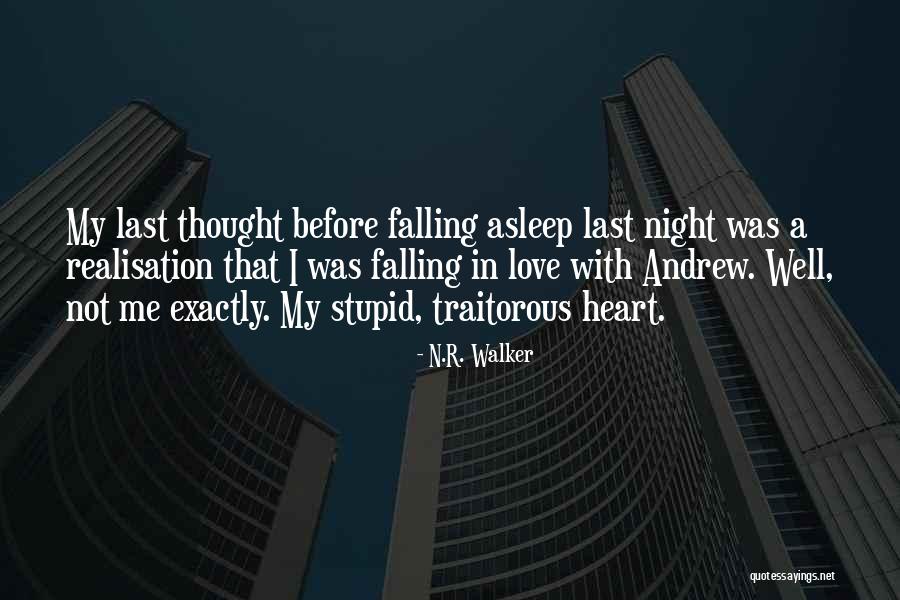 My last thought before falling asleep last night was a realisation that I was falling in love with Andrew.
Well, not me exactly. My stupid, traitorous heart. — N.R. Walker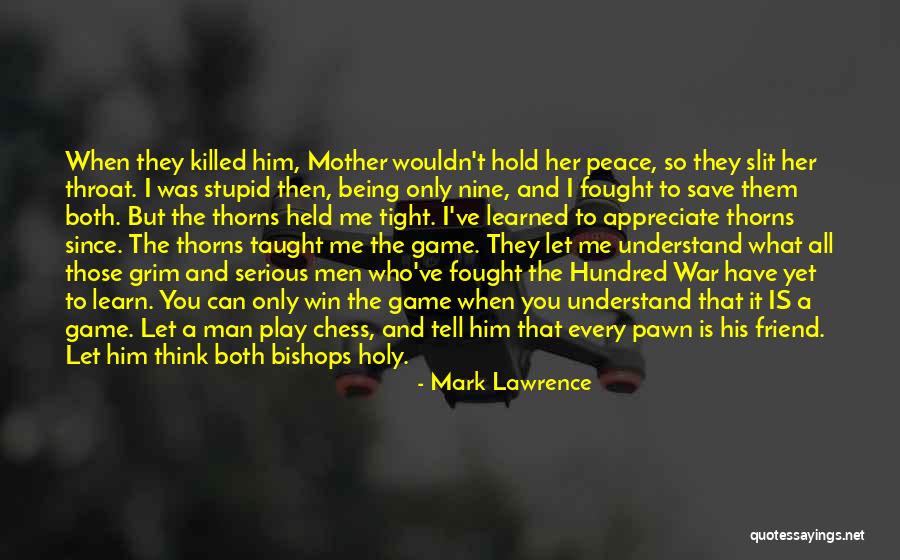 When they killed him, Mother wouldn't hold her peace, so they slit her throat. I was stupid then, being only nine, and I fought to save them both. But the thorns held me tight. I've learned to appreciate thorns since. The thorns taught me the game. They let me understand what all those grim and serious men who've fought the Hundred War have yet to learn. You can only win the game when you understand that it IS a game. Let a man play chess, and tell him that every pawn is his friend. Let him think both bishops holy. Let him remember happy days in the shadows of his castles. Let him love his queen. Watch him loose them all. — Mark Lawrence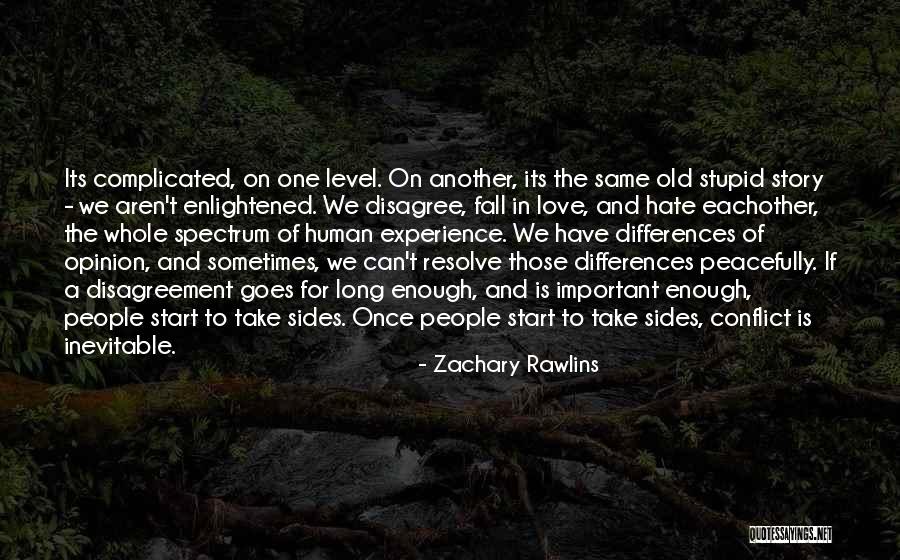 Its complicated, on one level. On another, its the same old stupid story - we aren't enlightened. We disagree, fall in love, and hate eachother, the whole spectrum of human experience. We have differences of opinion, and sometimes, we can't resolve those differences peacefully. If a disagreement goes for long enough, and is important enough, people start to take sides. Once people start to take sides, conflict is inevitable. — Zachary Rawlins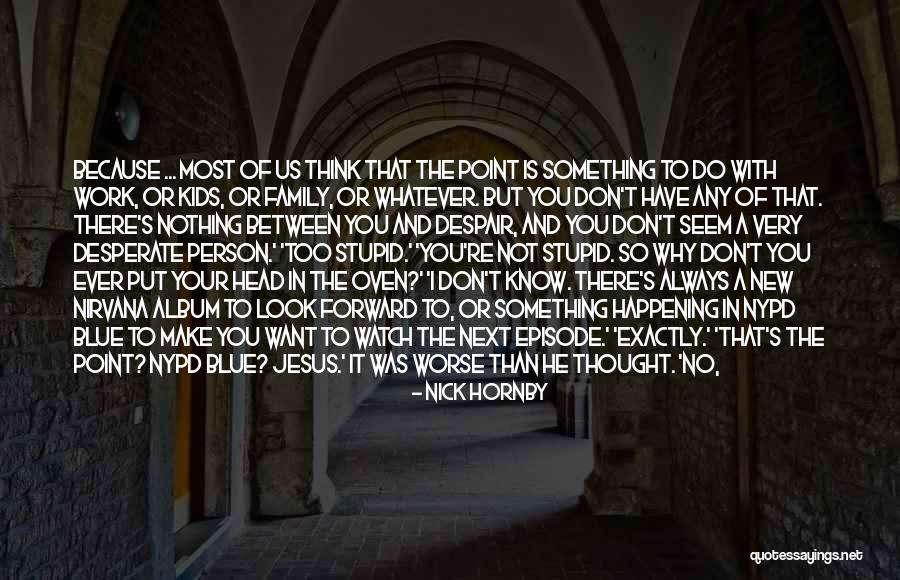 Because ... most of us think that the point is something to do with work, or kids, or family, or whatever. But you don't have any of that. There's nothing between you and despair, and you don't seem a very desperate person.'
'Too stupid.'
'You're not stupid. So why don't you ever put your head in the oven?'
'I don't know. There's always a new Nirvana album to look forward to, or something happening in NYPD Blue to make you want to watch the next episode.'
'Exactly.'
'That's the point? NYPD Blue? Jesus.' It was worse than he thought.
'No, no. The point is you keep going. You want to. So all the things that make you want to are the point. I don't know if you even realize it, but on the quiet you don't think life's too bad. You love things. Telly. Music. Food. — Nick Hornby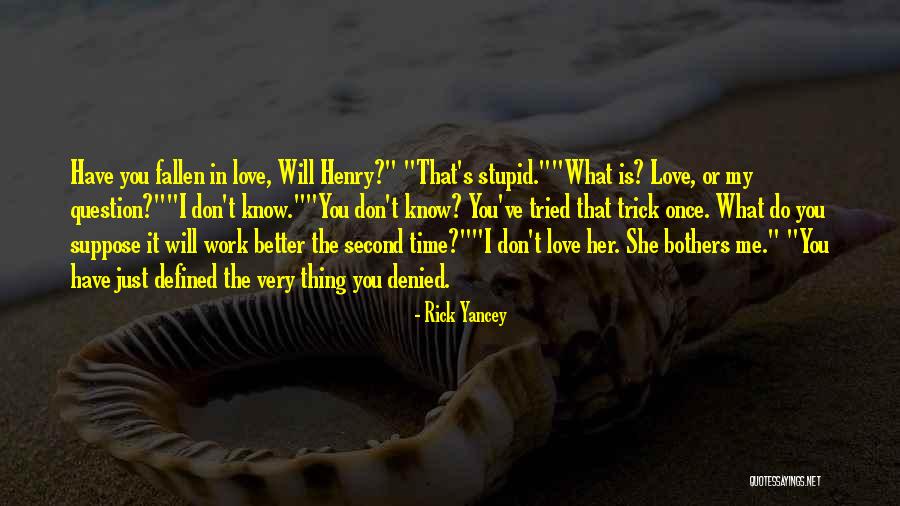 Have you fallen in love, Will Henry?"
"That's stupid."
"What is? Love, or my question?"
"I don't know."
"You don't know? You've tried that trick once. What do you suppose it will work better the second time?"
"I don't love her. She bothers me."
"You have just defined the very thing you denied. — Rick Yancey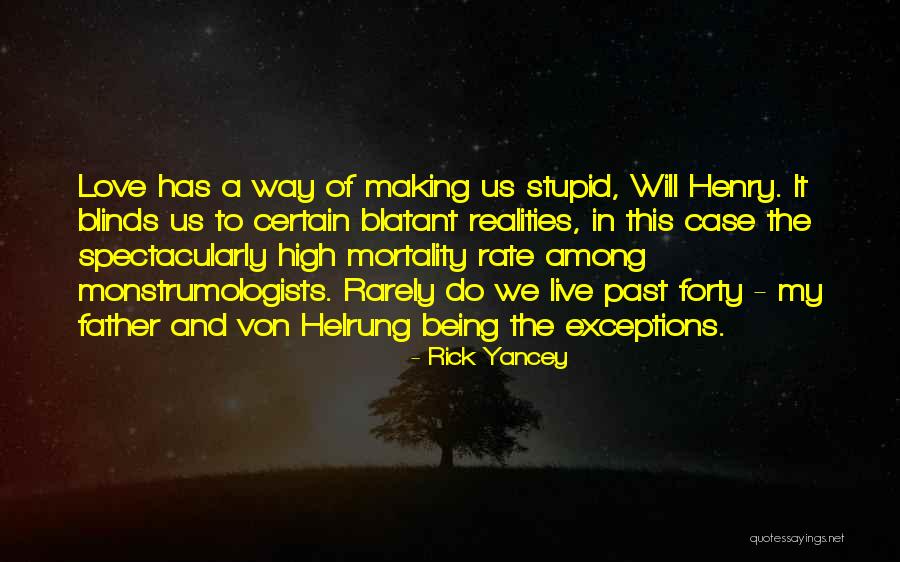 Love has a way of making us stupid, Will Henry. It blinds us to certain blatant realities, in this case the spectacularly high mortality rate among monstrumologists. Rarely do we live past forty - my father and von Helrung being the exceptions. — Rick Yancey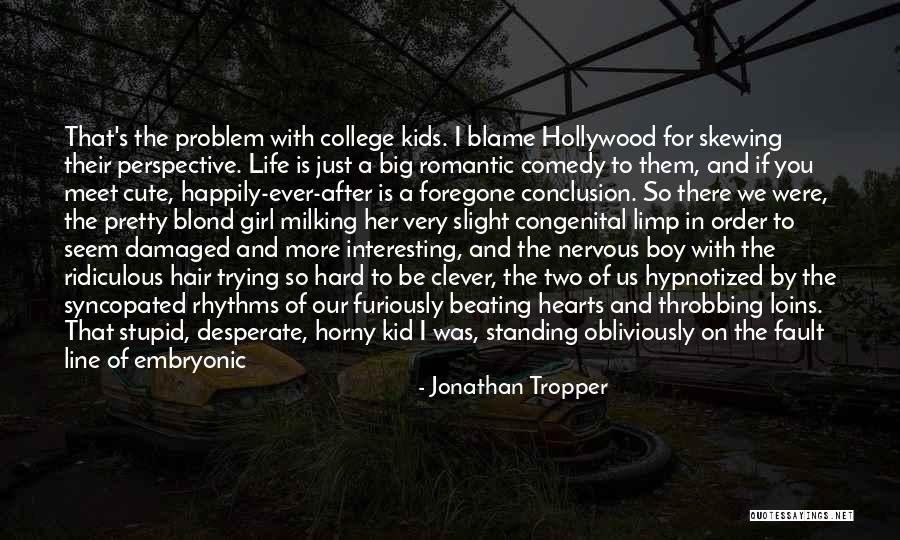 That's the problem with college kids. I blame Hollywood for skewing their perspective. Life is just a big romantic comedy to them, and if you meet cute, happily-ever-after is a foregone conclusion. So there we were, the pretty blond girl milking her very slight congenital limp in order to seem damaged and more interesting, and the nervous boy with the ridiculous hair trying so hard to be clever, the two of us hypnotized by the syncopated rhythms of our furiously beating hearts and throbbing loins. That stupid, desperate, horny kid I was, standing obliviously on the fault line of embryonic love, when really, what he should have been doing was running for his life. — Jonathan Tropper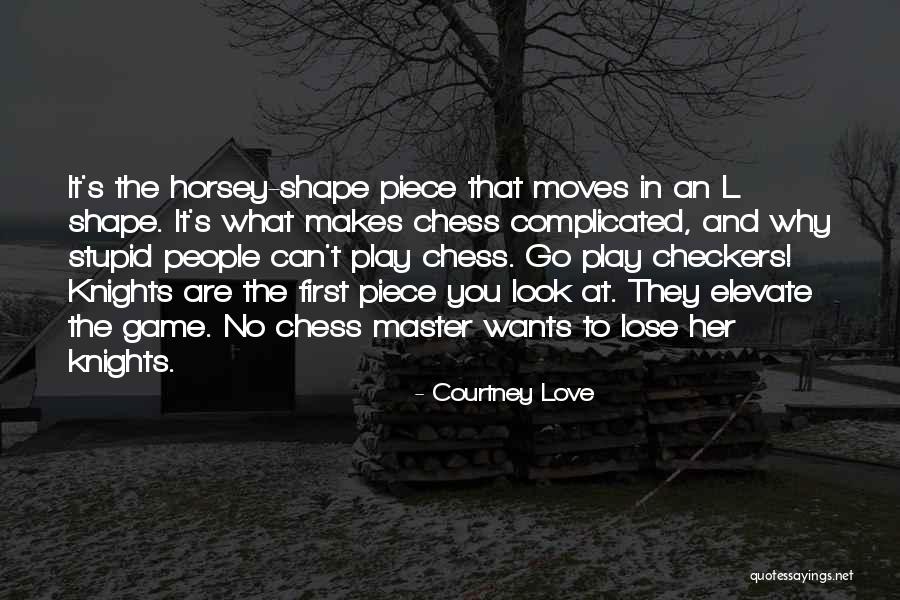 It's the horsey-shape piece that moves in an L shape. It's what makes chess complicated, and why stupid people can't play chess. Go play checkers! Knights are the first piece you look at. They elevate the game. No chess master wants to lose her knights. — Courtney Love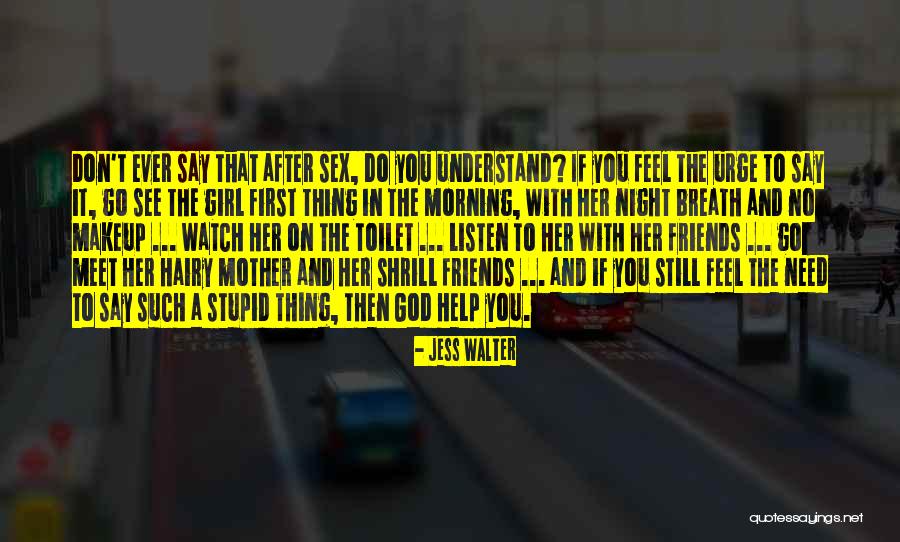 Don't ever say that after sex, do you understand? If you feel the urge to say it, go see the girl first thing in the morning, with her night breath and no makeup ... watch her on the toilet ... listen to her with her friends ... go meet her hairy mother and her shrill friends ... and if you still feel the need to say such a stupid thing, then God help you. — Jess Walter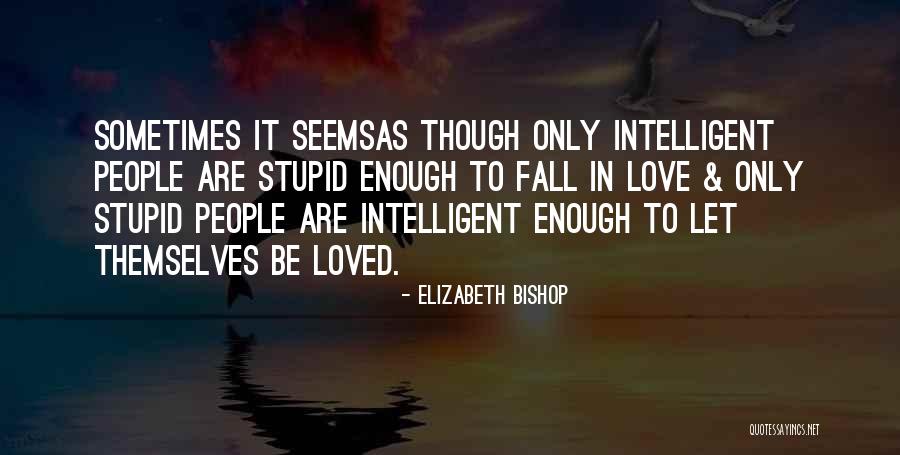 Sometimes it seemsas though only intelligent people are stupid enough to fall in love & only stupid people are intelligent enough to let themselves be loved. — Elizabeth Bishop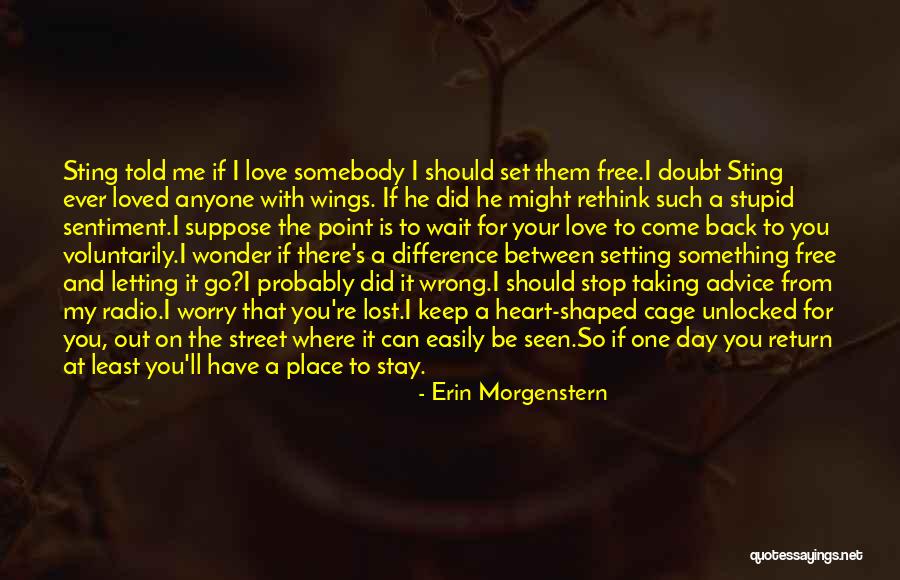 Sting told me if I love somebody I should set them free.
I doubt Sting ever loved anyone with wings. If he did he might rethink such a stupid sentiment.
I suppose the point is to wait for your love to come back to you voluntarily.
I wonder if there's a difference between setting something free and letting it go?
I probably did it wrong.
I should stop taking advice from my radio.
I worry that you're lost.
I keep a heart-shaped cage unlocked for you, out on the street where it can easily be seen.
So if one day you return at least you'll have a place to stay. — Erin Morgenstern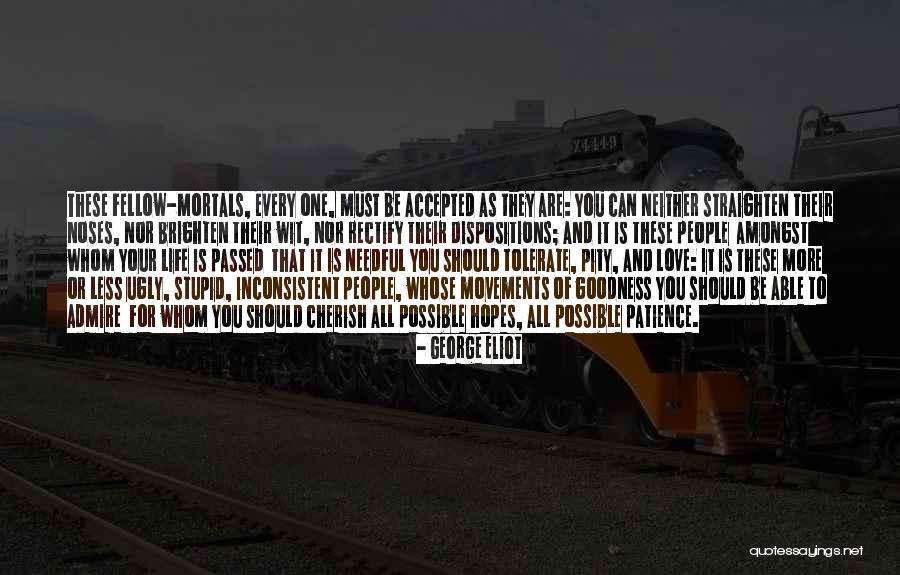 These fellow-mortals, every one, must be accepted as they are: you can neither straighten their noses, nor brighten their wit, nor rectify their dispositions; and it is these people
amongst whom your life is passed
that it is needful you should tolerate, pity, and love: it is these more or less ugly, stupid, inconsistent people, whose movements of goodness you should be able to admire
for whom you should cherish all possible hopes, all possible patience. — George Eliot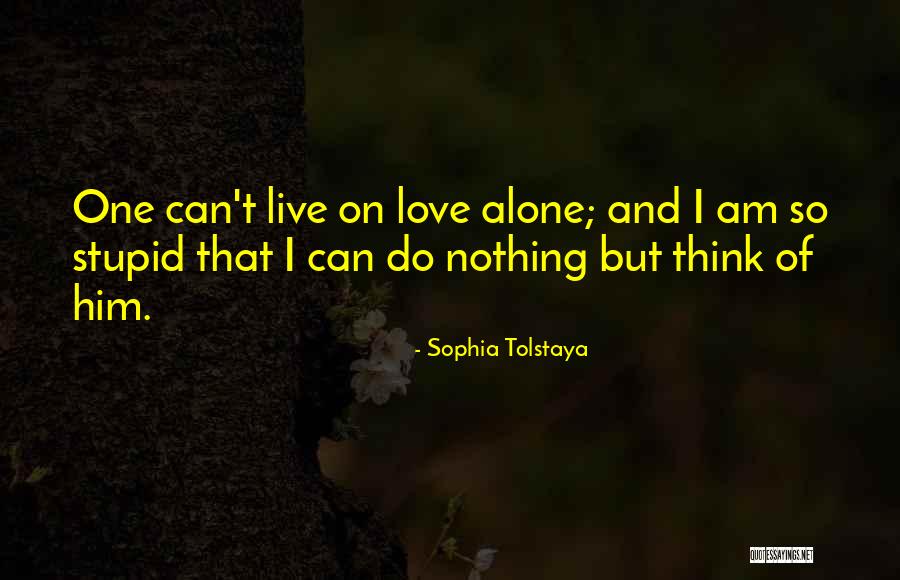 One can't live on love alone; and I am so stupid that I can do nothing but think of him. — Sophia Tolstaya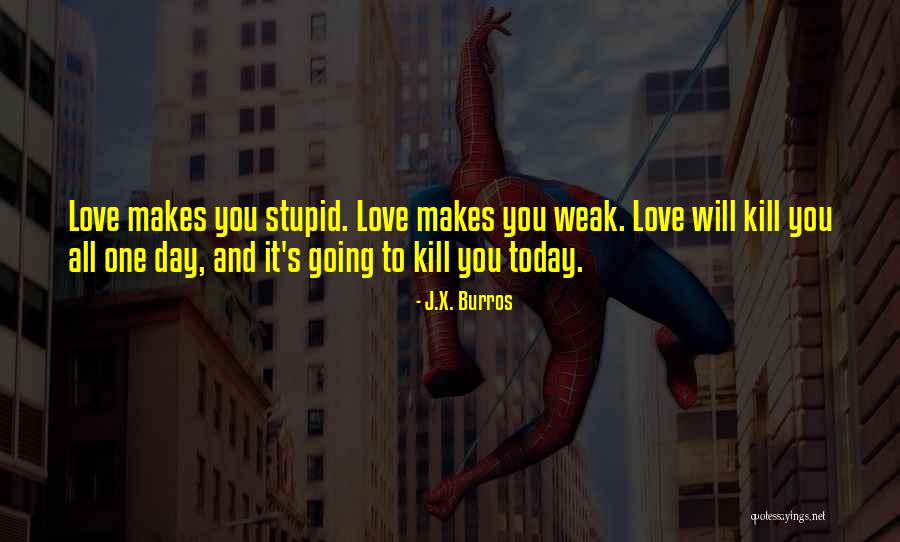 Love makes you stupid. Love makes you weak. Love will kill you all one day, and it's going to kill you today. — J.X. Burros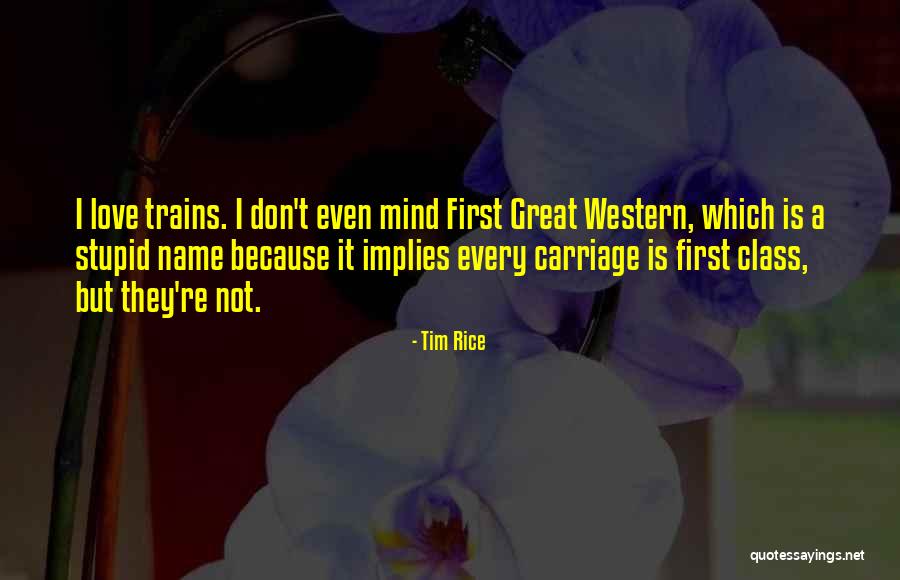 I love trains. I don't even mind First Great Western, which is a stupid name because it implies every carriage is first class, but they're not. — Tim Rice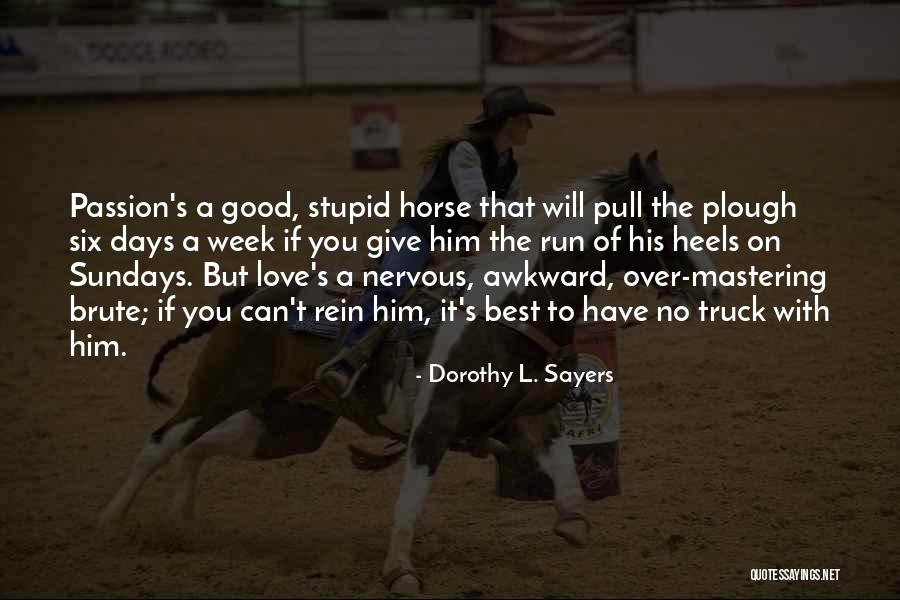 Passion's a good, stupid horse that will pull the plough six days a week if you give him the run of his heels on Sundays. But love's a nervous, awkward, over-mastering brute; if you can't rein him, it's best to have no truck with him. — Dorothy L. Sayers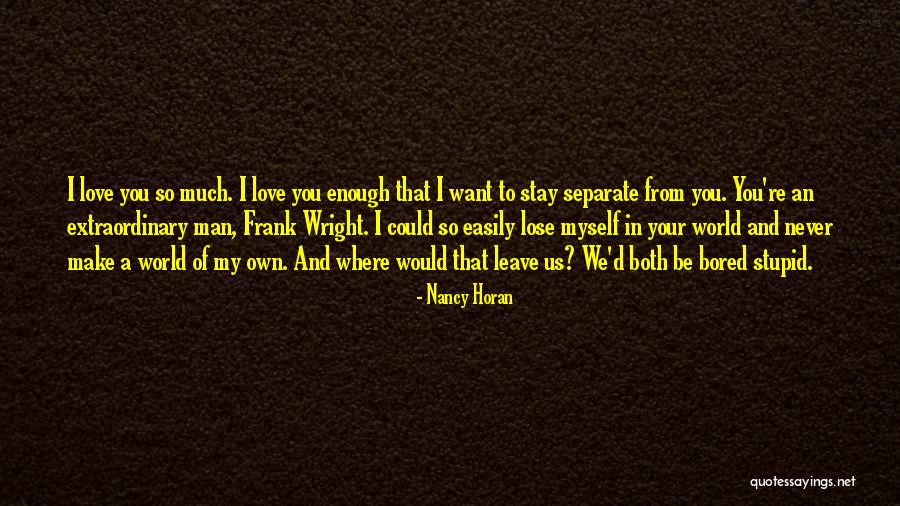 I love you so much. I love you enough that I want to stay separate from you. You're an extraordinary man, Frank Wright. I could so easily lose myself in your world and never make a world of my own. And where would that leave us? We'd both be bored stupid. — Nancy Horan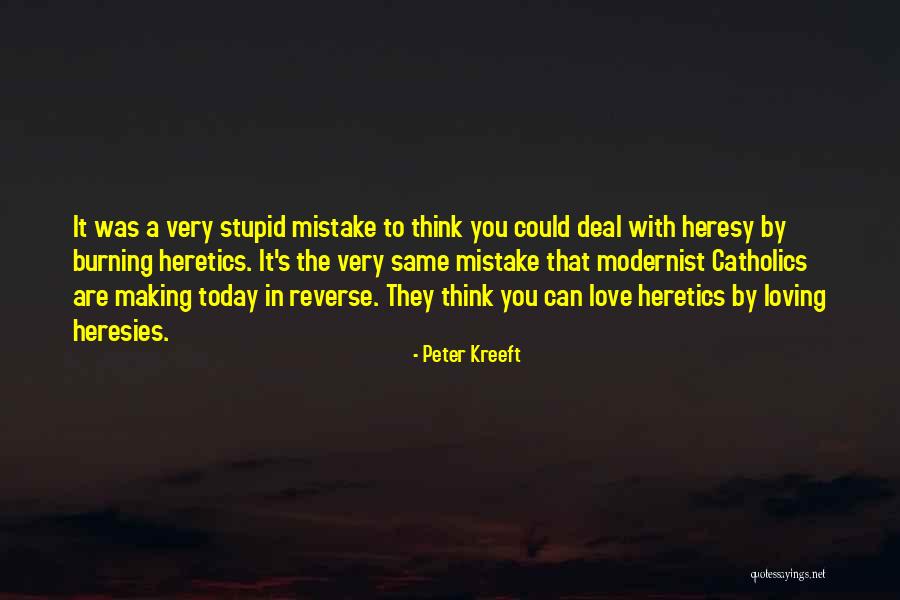 It was a very stupid mistake to think you could deal with heresy by burning heretics. It's the very same mistake that modernist Catholics are making today in reverse. They think you can love heretics by loving heresies. — Peter Kreeft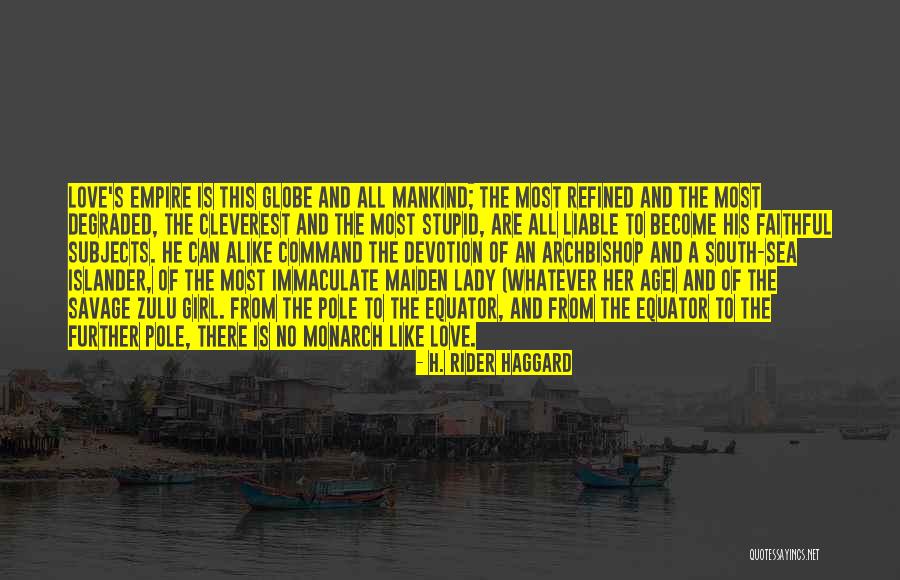 Love's empire is this globe and all mankind; the most refined and the most degraded, the cleverest and the most stupid, are all liable to become his faithful subjects. He can alike command the devotion of an archbishop and a South-Sea Islander, of the most immaculate maiden lady (whatever her age) and of the savage Zulu girl. From the pole to the equator, and from the equator to the further pole, there is no monarch like Love. — H. Rider Haggard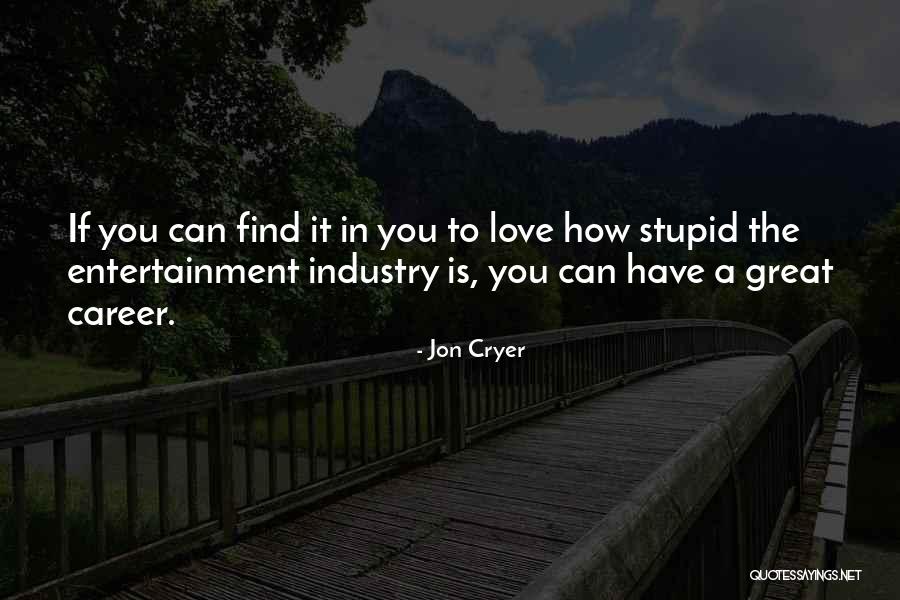 If you can find it in you to love how stupid the entertainment industry is, you can have a great career. — Jon Cryer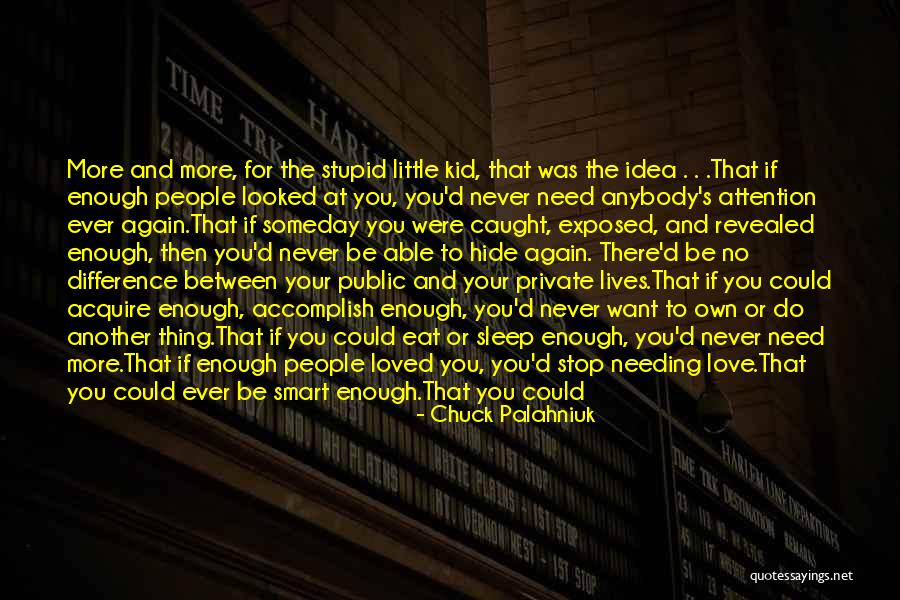 More and more, for the stupid little kid, that was the idea . . .
That if enough people looked at you, you'd never need anybody's attention ever again.
That if someday you were caught, exposed, and revealed enough, then you'd never be able to hide again. There'd be no difference between your public and your private lives.
That if you could acquire enough, accomplish enough, you'd never want to own or do another thing.
That if you could eat or sleep enough, you'd never need more.
That if enough people loved you, you'd stop needing love.
That you could ever be smart enough.
That you could someday get enough sex.
These all became the little boy's new goals. The illusions he'd have for the rest of his life. These were all the promises he saw in the fat man's smile — Chuck Palahniuk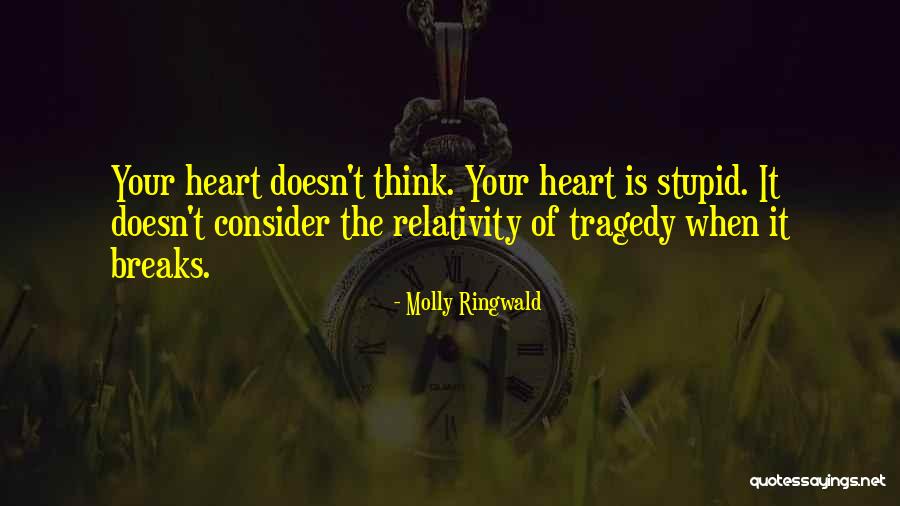 Your heart doesn't think. Your heart is stupid. It doesn't consider the relativity of tragedy when it breaks. — Molly Ringwald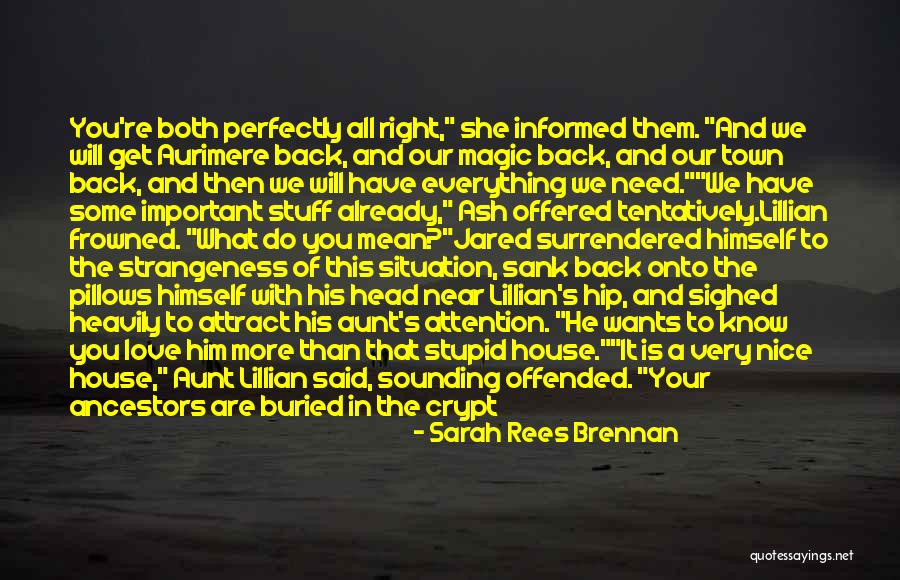 You're both perfectly all right," she informed them. "And we will get Aurimere back, and our magic back, and our town back, and then we will have everything we need."

"We have some important stuff already," Ash offered tentatively.

Lillian frowned. "What do you mean?"

Jared surrendered himself to the strangeness of this situation, sank back onto the pillows himself with his head near Lillian's hip, and sighed heavily to attract his aunt's attention. "He wants to know you love him more than that stupid house."

"It is a very nice house," Aunt Lillian said, sounding offended. "Your ancestors are buried in the crypt of that house."

"Sure. Okay. We'll get our lovely creepy house back. When they bury me in that crypt, I want 'Jared, very inbred, deeply uncomfortable about it' on my tombstone. — Sarah Rees Brennan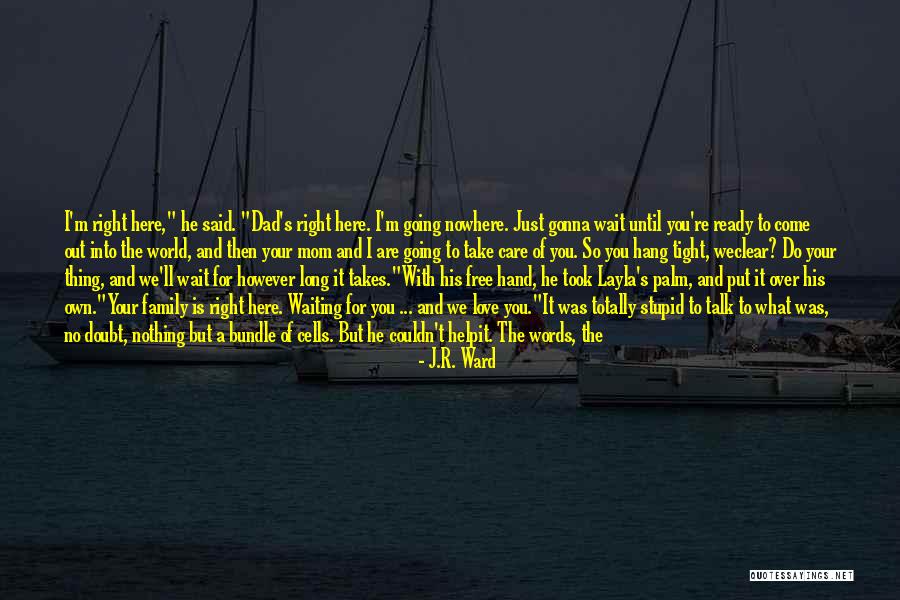 I'm right here," he said. "Dad's right here. I'm going nowhere. Just gonna wait until you're ready to come out into the world, and then your mom and I are going to take care of you. So you hang tight, we
clear? Do your thing, and we'll wait for however long it takes."
With his free hand, he took Layla's palm, and put it over his own.
"Your family is right here. Waiting for you ... and we love you."
It was totally stupid to talk to what was, no doubt, nothing but a bundle of cells. But he couldn't help
it. The words, the actions ... they were at once totally his, and yet coming from a place that was foreign to him.
Felt right, though.
Felt ... like what a father was supposed to do. — J.R. Ward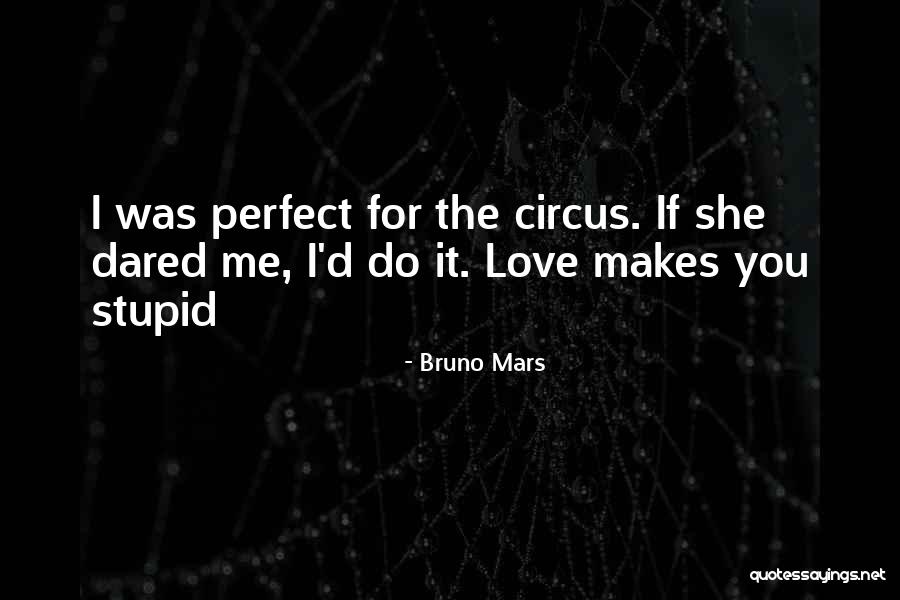 I was perfect for the circus. If she dared me, I'd do it. Love makes you stupid — Bruno Mars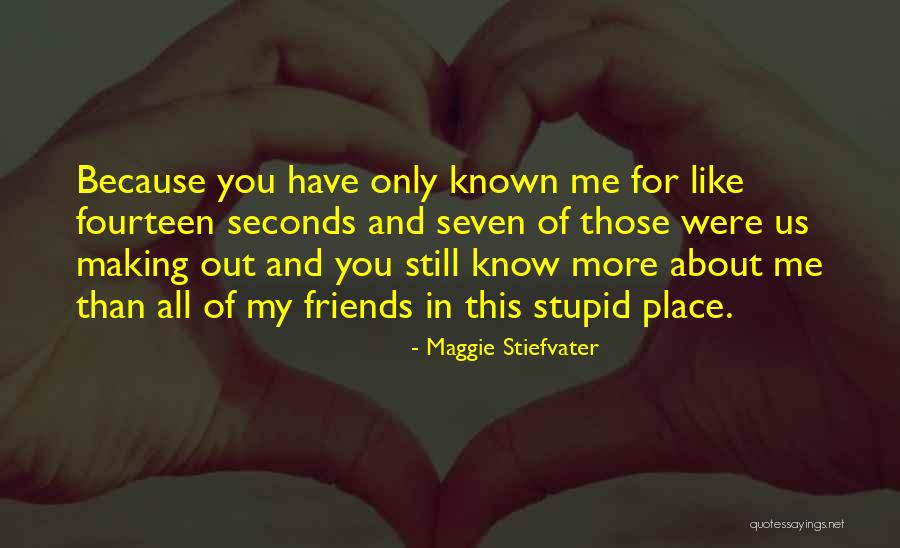 Because you have only known me for like fourteen seconds and seven of those were us making out and you still know more about me than all of my friends in this stupid place. — Maggie Stiefvater