Quotes & Sayings About Creativity And Leadership
Enjoy reading and share 52 famous quotes about Creativity And Leadership with everyone.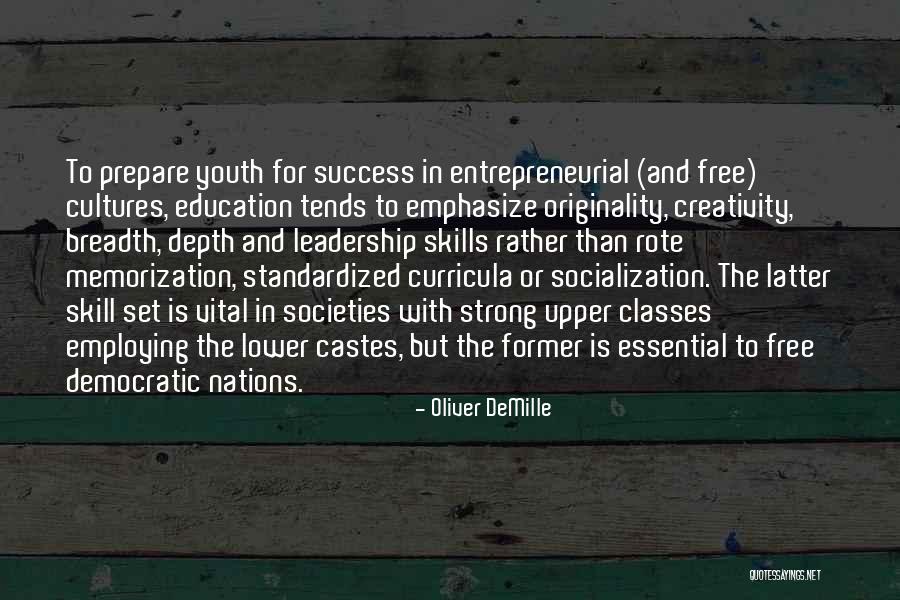 To prepare youth for success in entrepreneurial (and free) cultures, education tends to emphasize originality, creativity, breadth, depth and leadership skills rather than rote memorization, standardized curricula or socialization. The latter skill set is vital in societies with strong upper classes employing the lower castes, but the former is essential to free democratic nations. — Oliver DeMille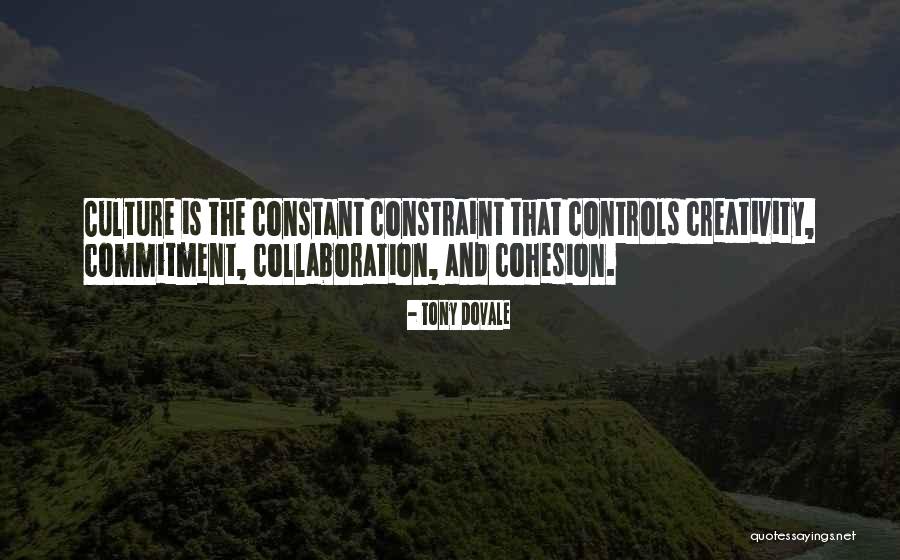 Culture is the constant constraint that controls creativity, commitment, collaboration, and cohesion. — Tony Dovale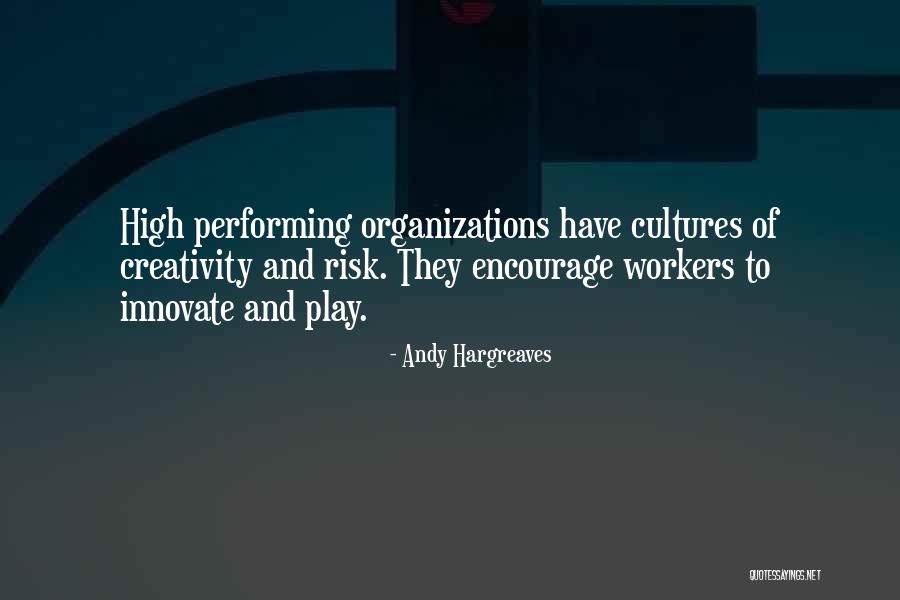 High performing organizations have cultures of creativity and risk. They encourage workers to innovate and play. — Andy Hargreaves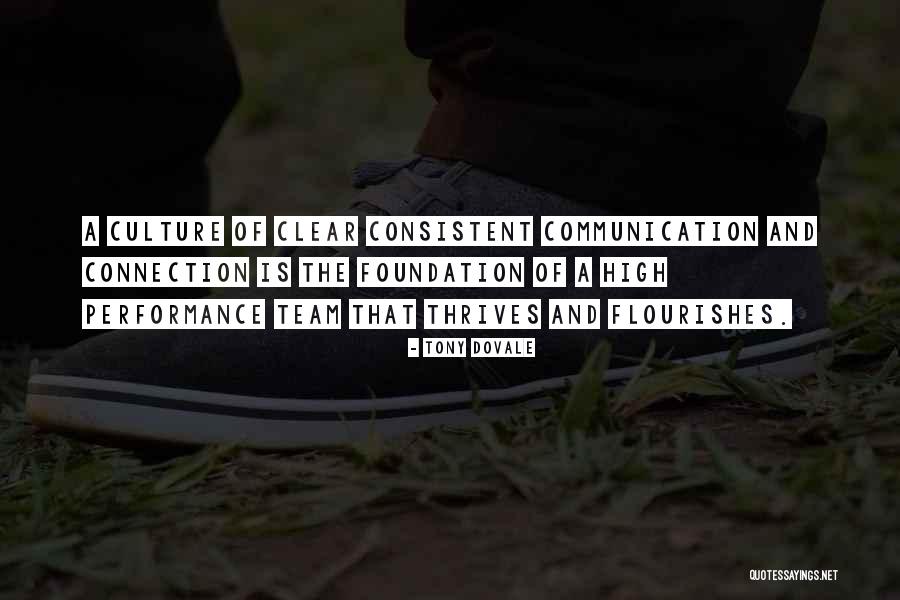 A Culture of clear consistent communication and connection is the foundation of a high performance team that thrives and flourishes. — Tony Dovale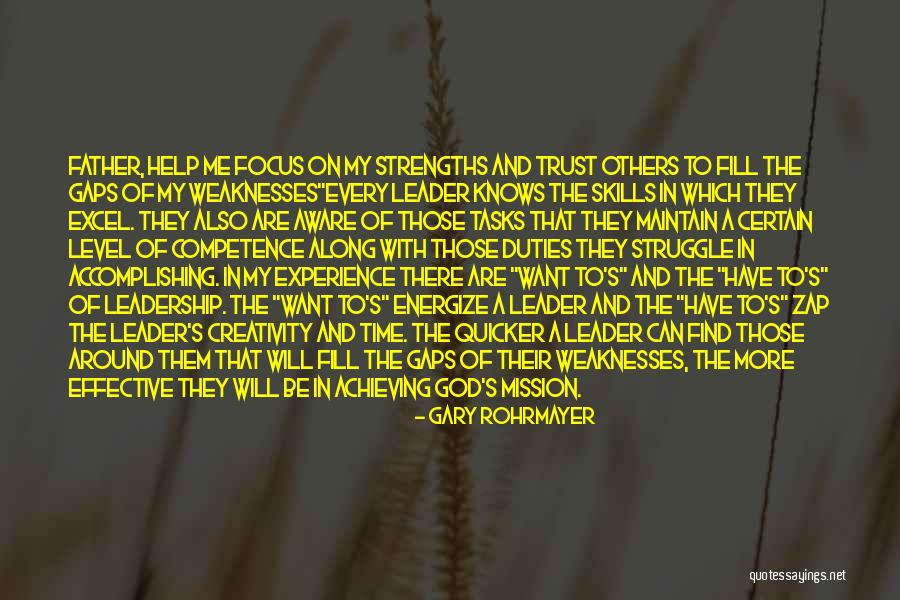 Father, help me focus on my strengths and trust others to fill the gaps of my weaknesses"

Every leader knows the skills in which they excel. They also are aware of those tasks that they maintain a certain level of competence along with those duties they struggle in accomplishing. In my experience there are "want to's" and the "have to's" of leadership. The "want to's" energize a leader and the "have to's" zap the leader's creativity and time. The quicker a leader can find those around them that will fill the gaps of their weaknesses, the more effective they will be in achieving God's mission. — Gary Rohrmayer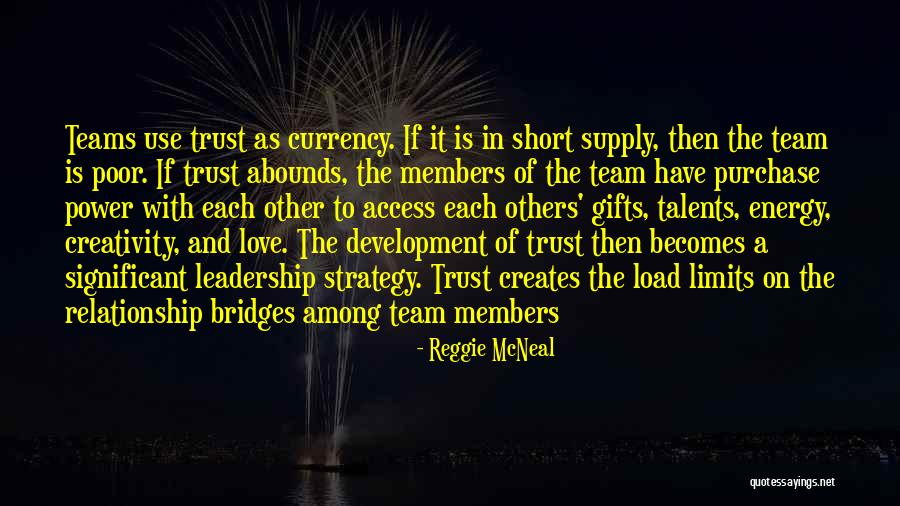 Teams use trust as currency. If it is in short supply, then the team is poor. If trust abounds, the members of the team have purchase power with each other to access each others' gifts, talents, energy, creativity, and love. The development of trust then becomes a significant leadership strategy. Trust creates the load limits on the relationship bridges among team members — Reggie McNeal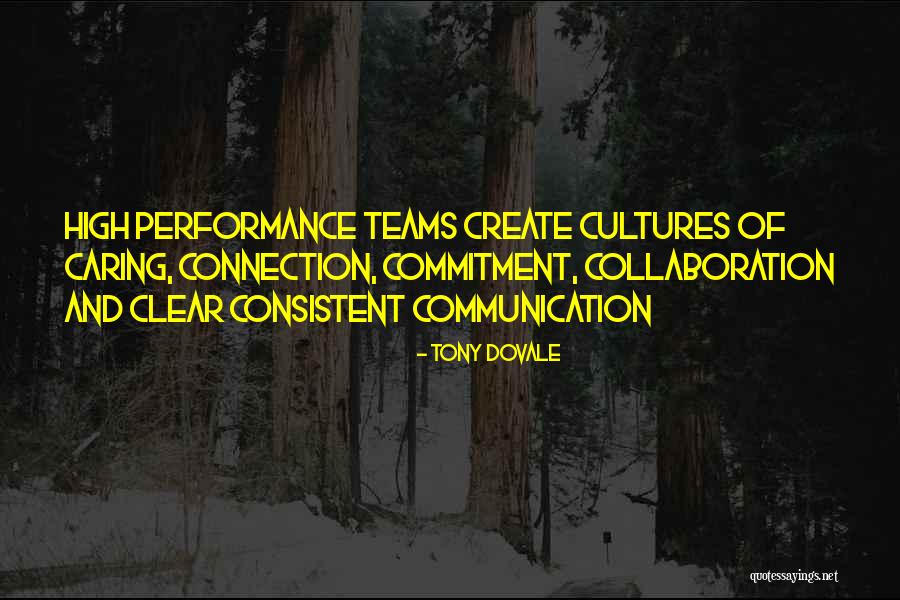 High Performance Teams create cultures of caring, connection, commitment, collaboration and clear consistent communication — Tony Dovale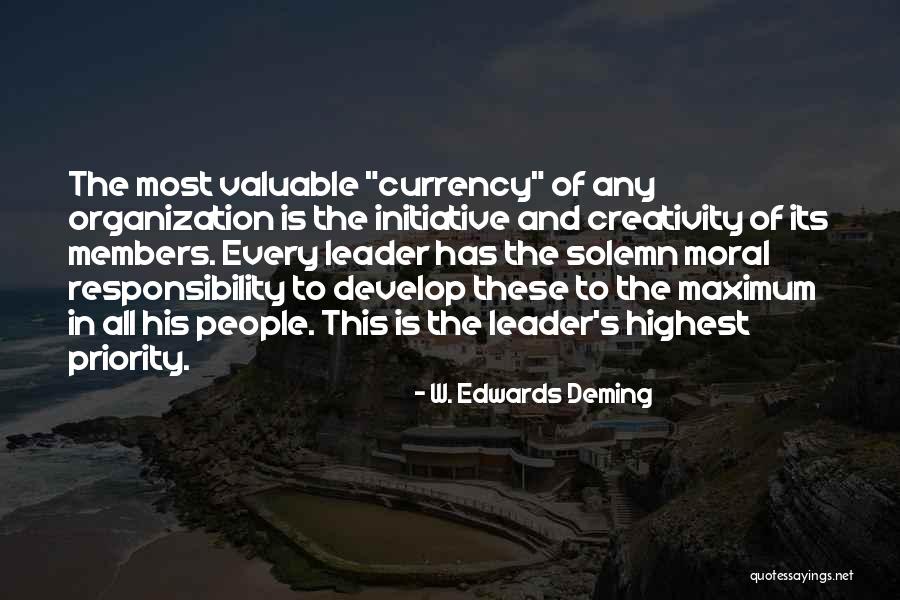 The most valuable "currency" of any organization is the initiative and creativity of its members. Every leader has the solemn moral responsibility to develop these to the maximum in all his people. This is the leader's highest priority. — W. Edwards Deming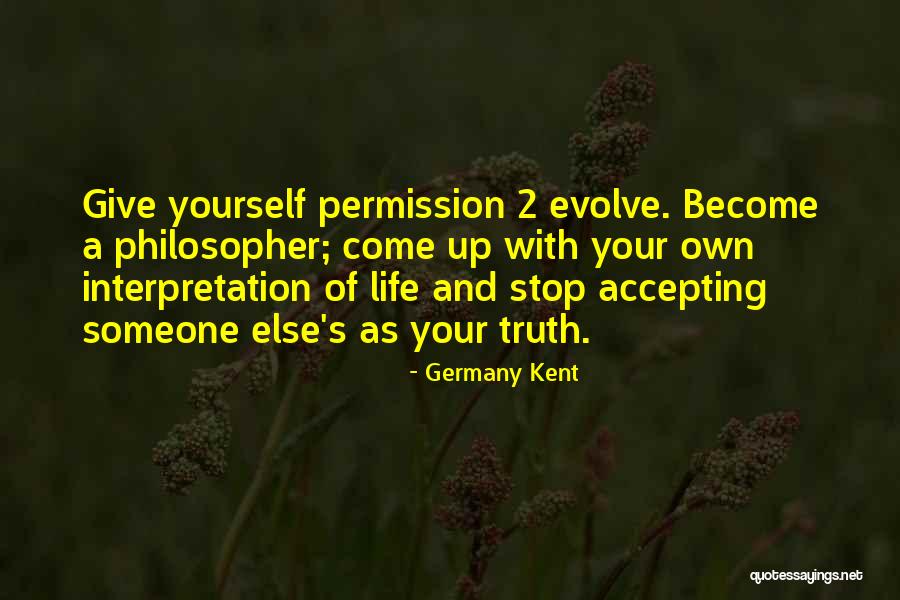 Give yourself permission 2 evolve. Become a philosopher; come up with your own interpretation of life and stop accepting someone else's as your truth. — Germany Kent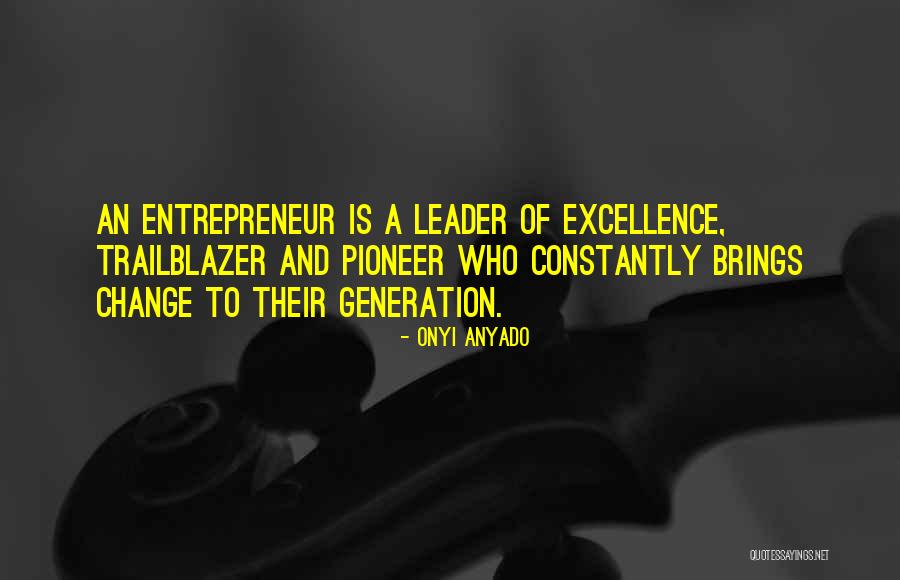 An entrepreneur is a leader of excellence, trailblazer and pioneer who constantly brings change to their generation. — Onyi Anyado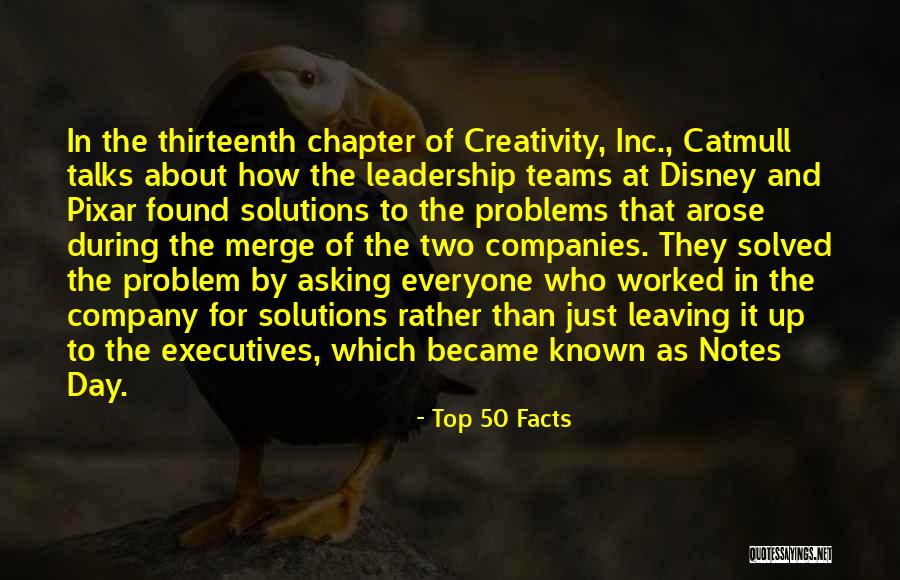 In the thirteenth chapter of Creativity, Inc., Catmull talks about how the leadership teams at Disney and Pixar found solutions to the problems that arose during the merge of the two companies. They solved the problem by asking everyone who worked in the company for solutions rather than just leaving it up to the executives, which became known as Notes Day. — Top 50 Facts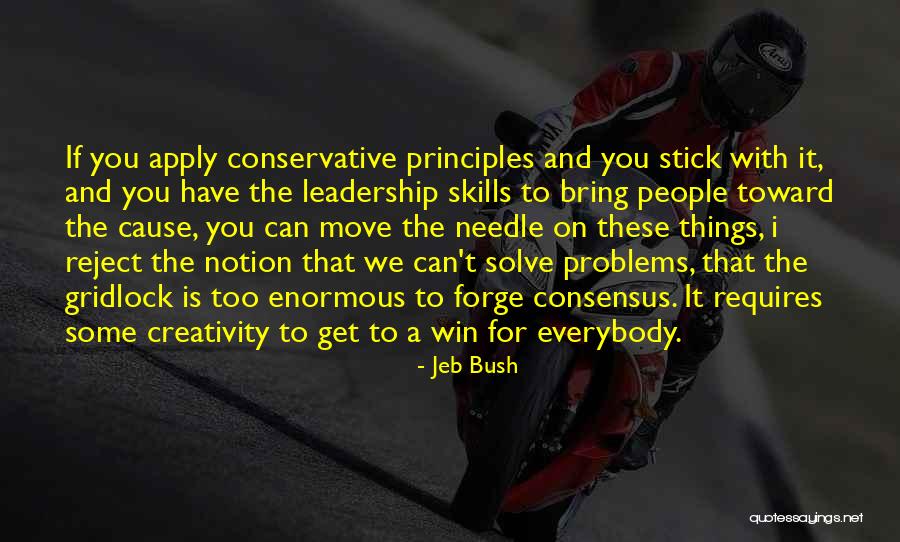 If you apply conservative principles and you stick with it, and you have the leadership skills to bring people toward the cause, you can move the needle on these things, i reject the notion that we can't solve problems, that the gridlock is too enormous to forge consensus. It requires some creativity to get to a win for everybody. — Jeb Bush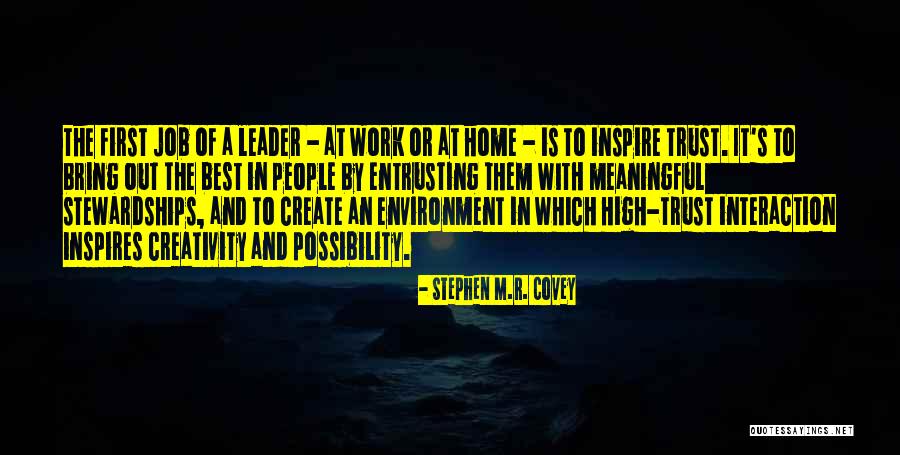 The first job of a leader - at work or at home - is to inspire trust. It's to bring out the best in people by entrusting them with meaningful stewardships, and to create an environment in which high-trust interaction inspires creativity and possibility. — Stephen M.R. Covey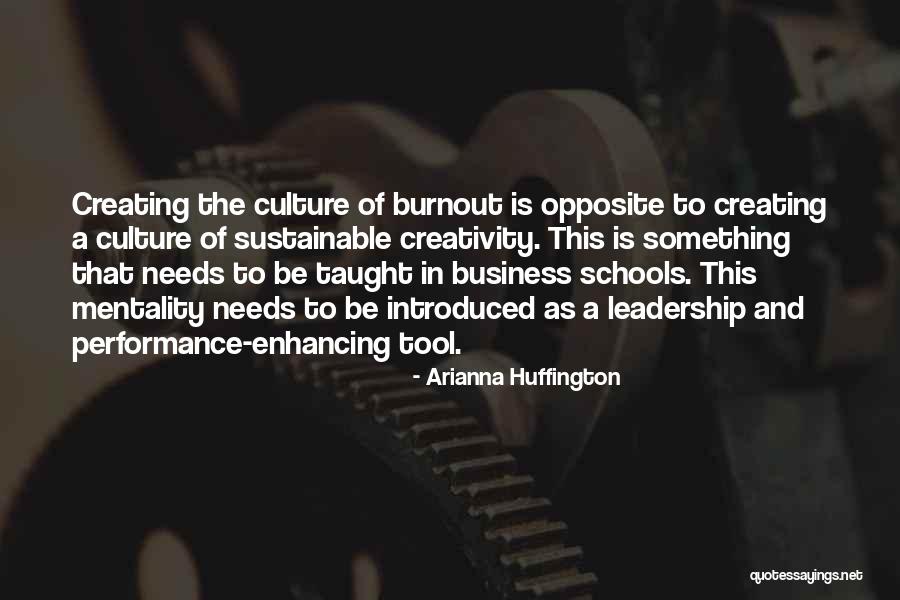 Creating the culture of burnout is opposite to creating a culture of sustainable creativity. This is something that needs to be taught in business schools. This mentality needs to be introduced as a leadership and performance-enhancing tool. — Arianna Huffington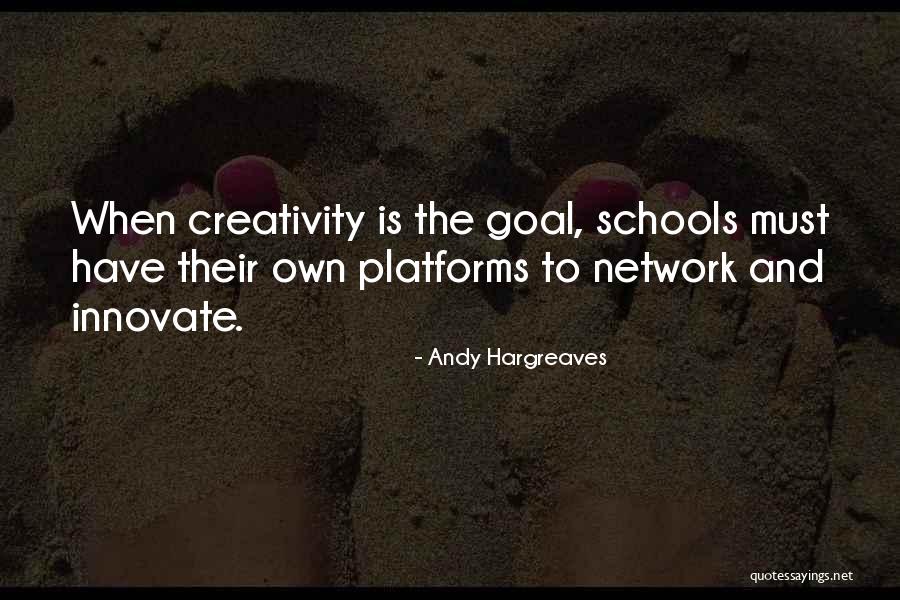 When creativity is the goal, schools must have their own platforms to network and innovate. — Andy Hargreaves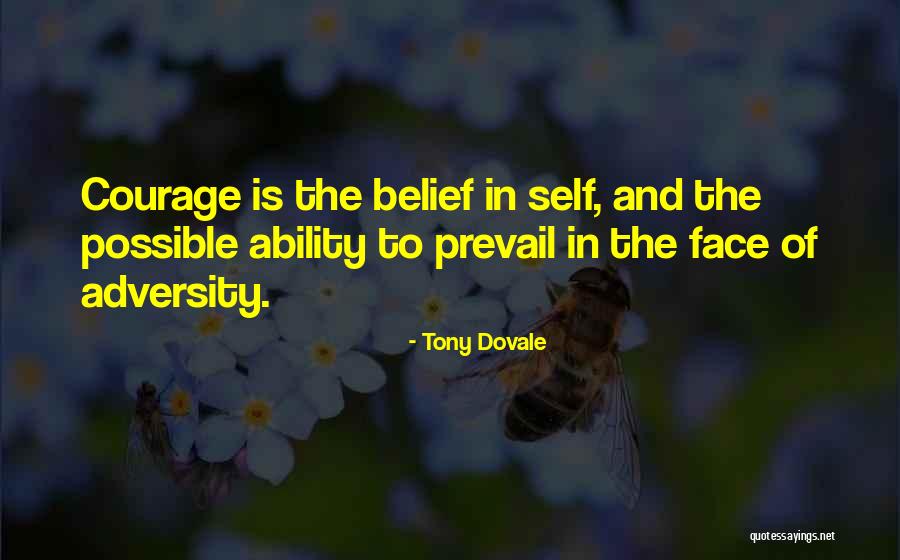 Courage is the belief in self, and the possible ability to prevail in the face of adversity. — Tony Dovale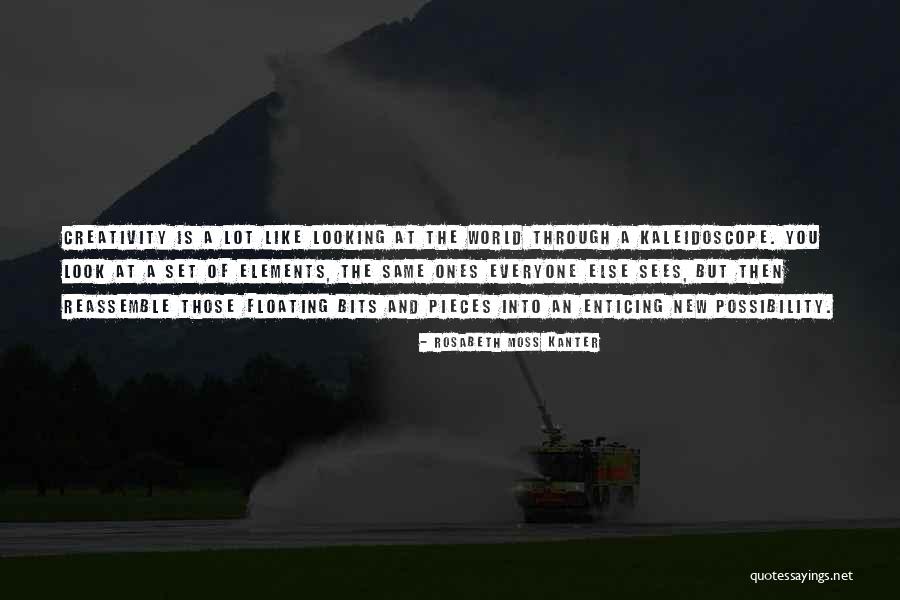 Creativity is a lot like looking at the world through a kaleidoscope. You look at a set of elements, the same ones everyone else sees, but then reassemble those floating bits and pieces into an enticing new possibility. — Rosabeth Moss Kanter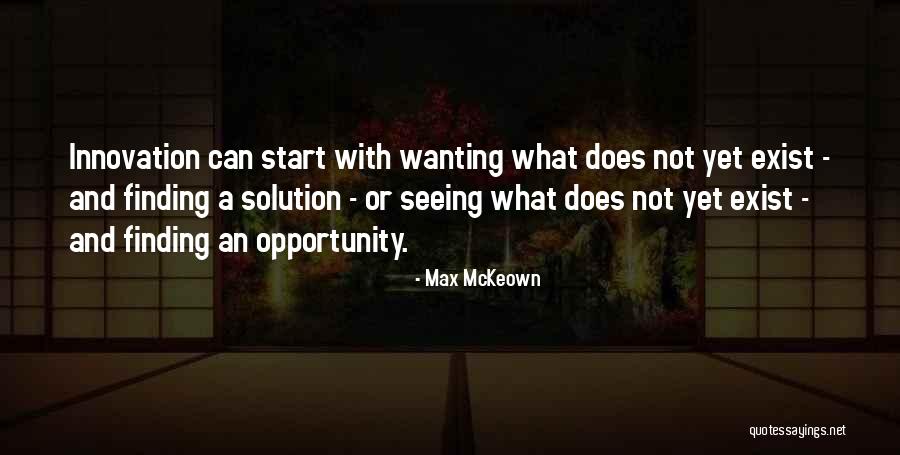 Innovation can start with wanting what does not yet exist - and finding a solution - or seeing what does not yet exist - and finding an opportunity. — Max McKeown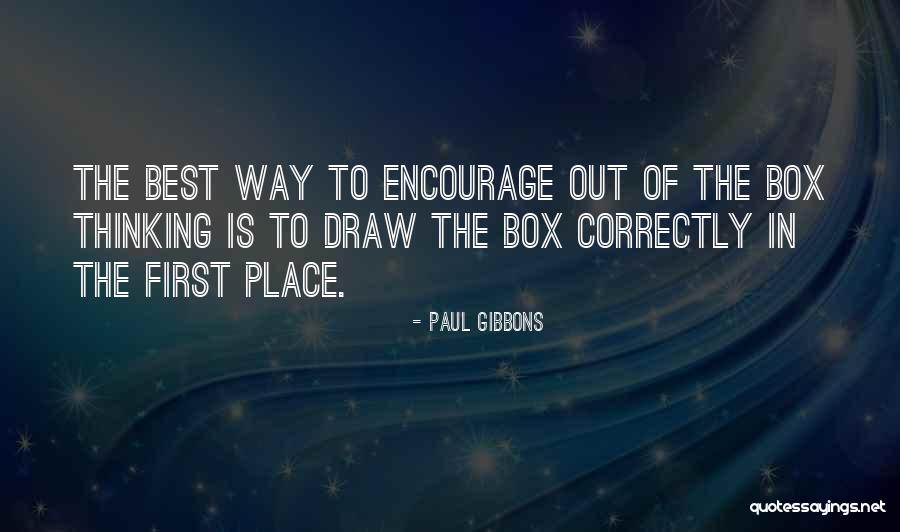 The best way to encourage out of the box thinking is to draw the box correctly in the first place. — Paul Gibbons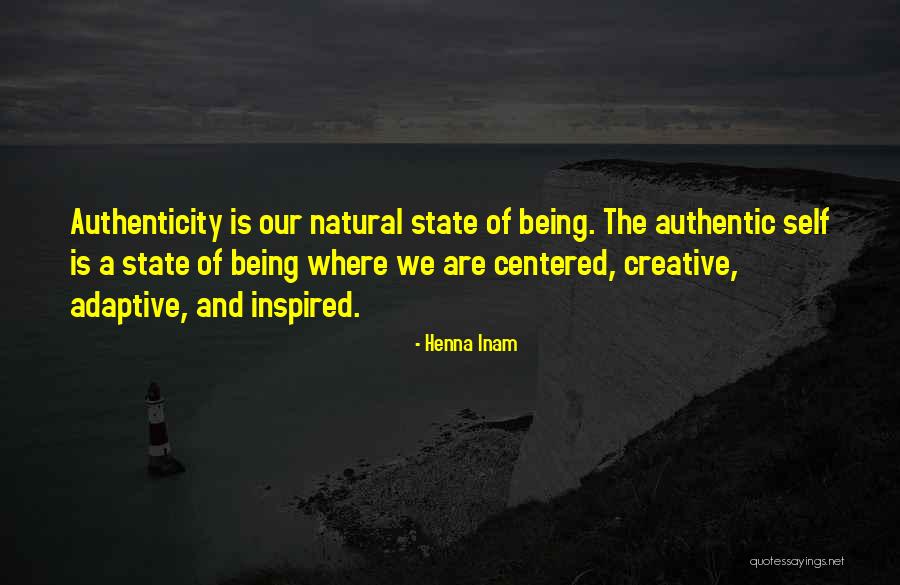 Authenticity is our natural state of being. The authentic self is a state of being where we are centered, creative, adaptive, and inspired. — Henna Inam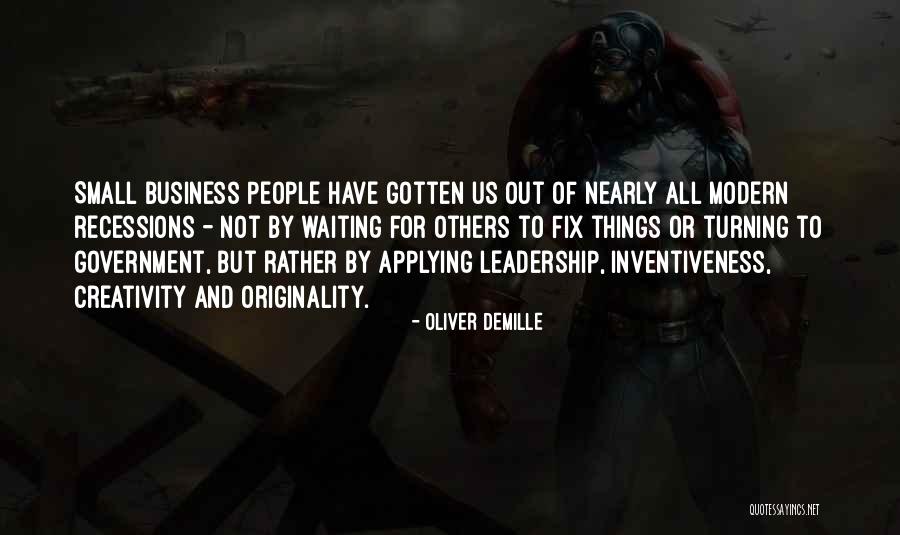 Small business people have gotten us out of nearly all modern recessions - not by waiting for others to fix things or turning to government, but rather by applying leadership, inventiveness, creativity and originality. — Oliver DeMille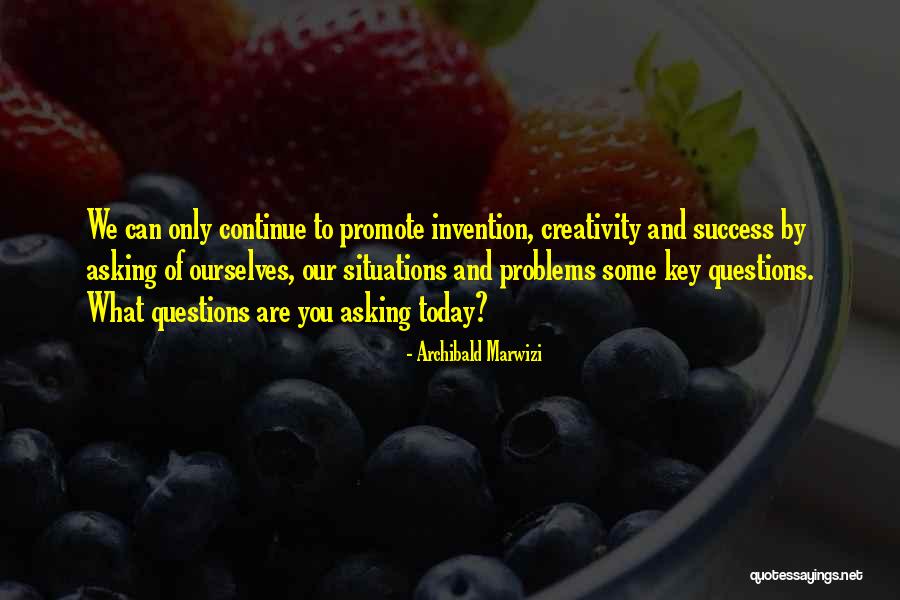 We can only continue to promote invention, creativity and success by asking of ourselves, our situations and problems some key questions. What questions are you asking today? — Archibald Marwizi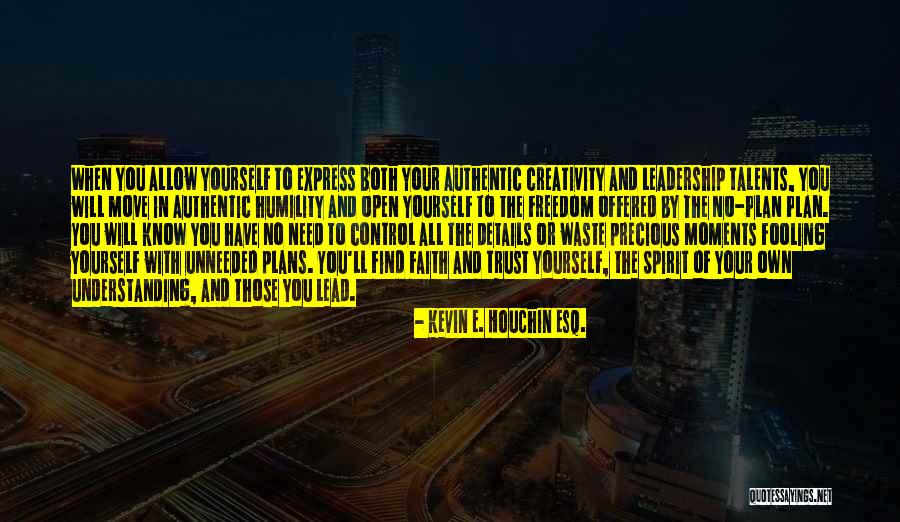 When you allow yourself to express both your authentic creativity and leadership talents, you will move in authentic humility and open yourself to the freedom offered by The No-Plan Plan. You will know you have no need to control all the details or waste precious moments fooling yourself with unneeded plans. You'll find faith and trust yourself, the Spirit of your own understanding, and those you lead. — Kevin E. Houchin Esq.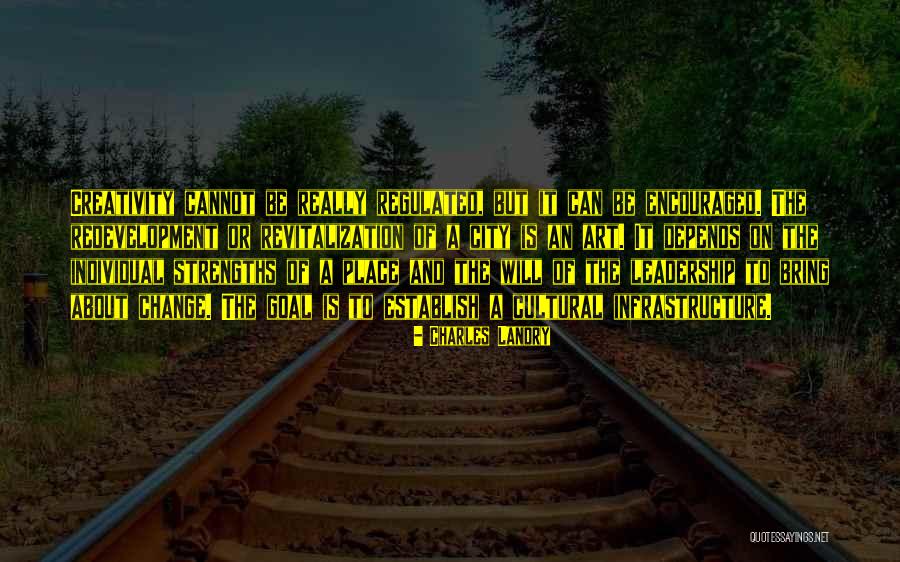 Creativity cannot be really regulated, but it can be encouraged. The redevelopment or revitalization of a city is an art. It depends on the individual strengths of a place and the will of the leadership to bring about change. The goal is to establish a cultural infrastructure. — Charles Landry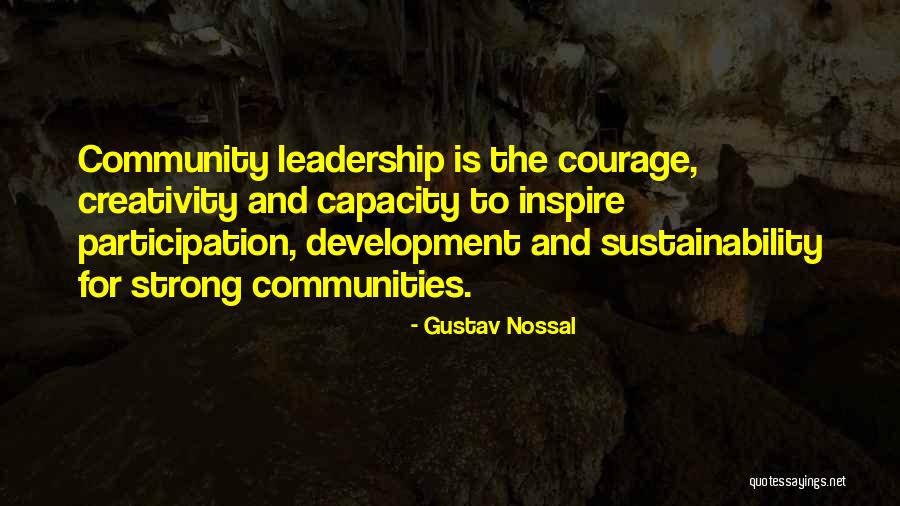 Community leadership is the courage, creativity and capacity to inspire participation, development and sustainability for strong communities. — Gustav Nossal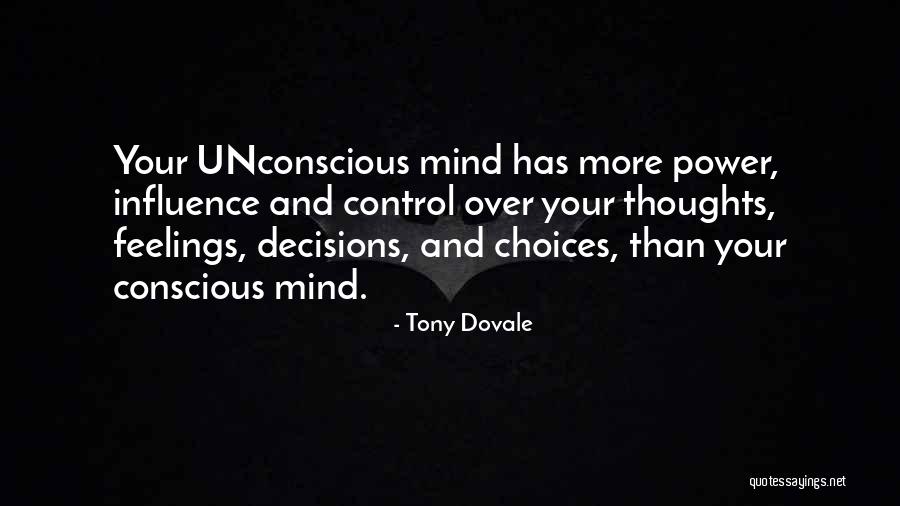 Your UNconscious mind has more power, influence and control over your thoughts, feelings, decisions, and choices, than your conscious mind. — Tony Dovale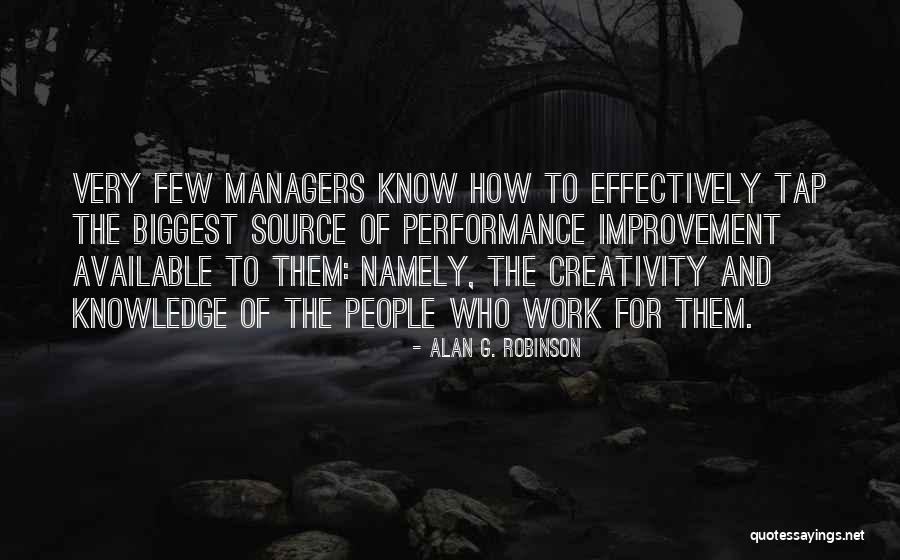 Very few managers know how to effectively tap the biggest source of performance improvement available to them: namely, the creativity and knowledge of the people who work for them. — Alan G. Robinson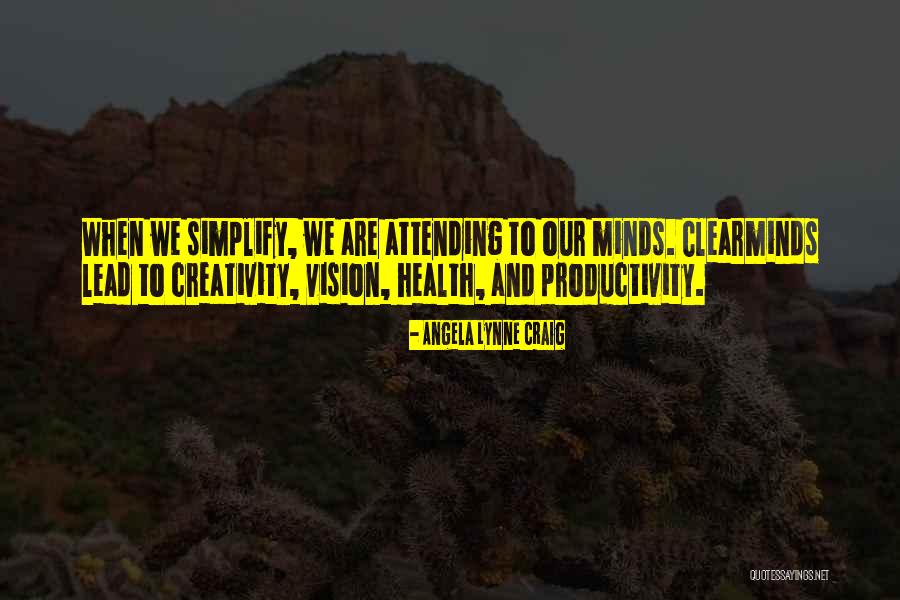 When we simplify, we are attending to our minds. Clear
minds lead to creativity, vision, health, and productivity. — Angela Lynne Craig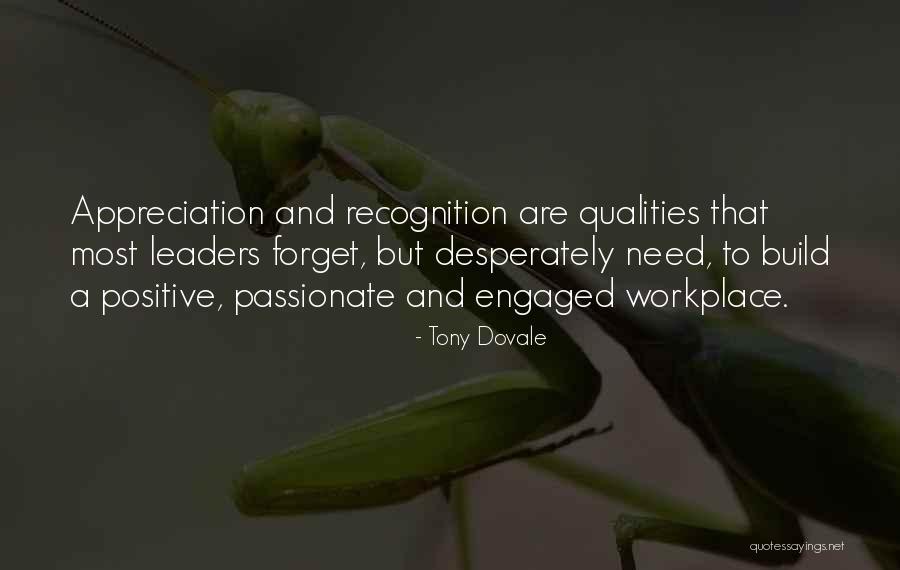 Appreciation and recognition are qualities that most leaders forget, but desperately need, to build a positive, passionate and engaged workplace. — Tony Dovale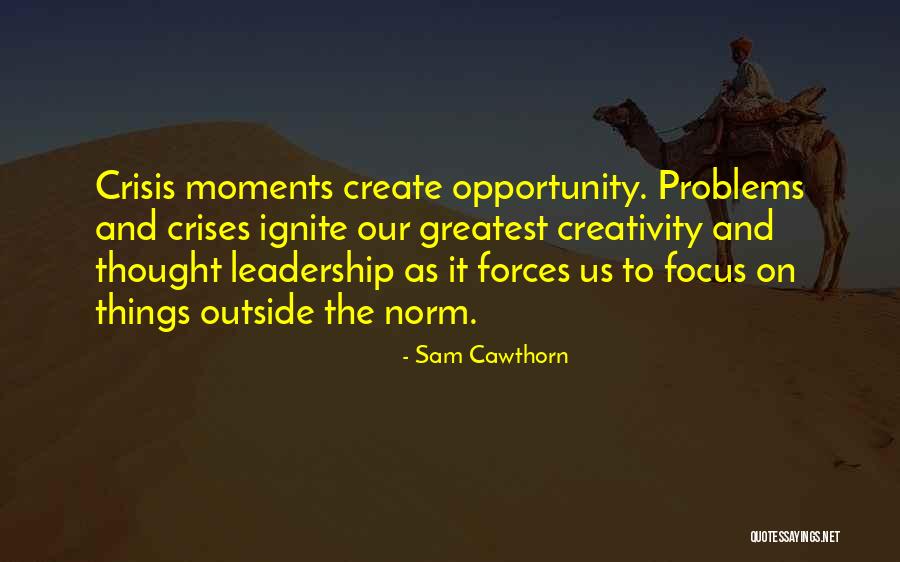 Crisis moments create opportunity. Problems and crises ignite our greatest creativity and thought leadership as it forces us to focus on things outside the norm. — Sam Cawthorn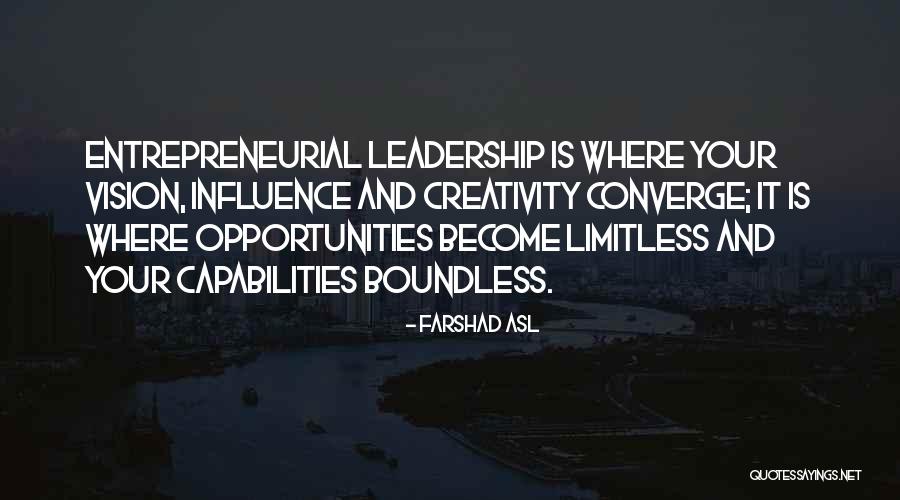 Entrepreneurial Leadership is where your vision, influence and creativity converge; it is where opportunities become limitless and your capabilities boundless. — Farshad Asl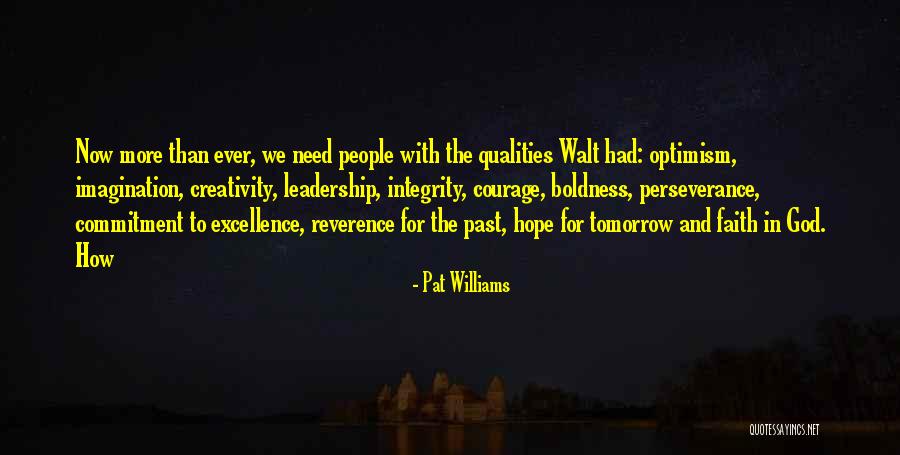 Now more than ever, we need people with the qualities Walt had: optimism, imagination, creativity, leadership, integrity, courage, boldness, perseverance, commitment to excellence, reverence for the past, hope for tomorrow and faith in God. How — Pat Williams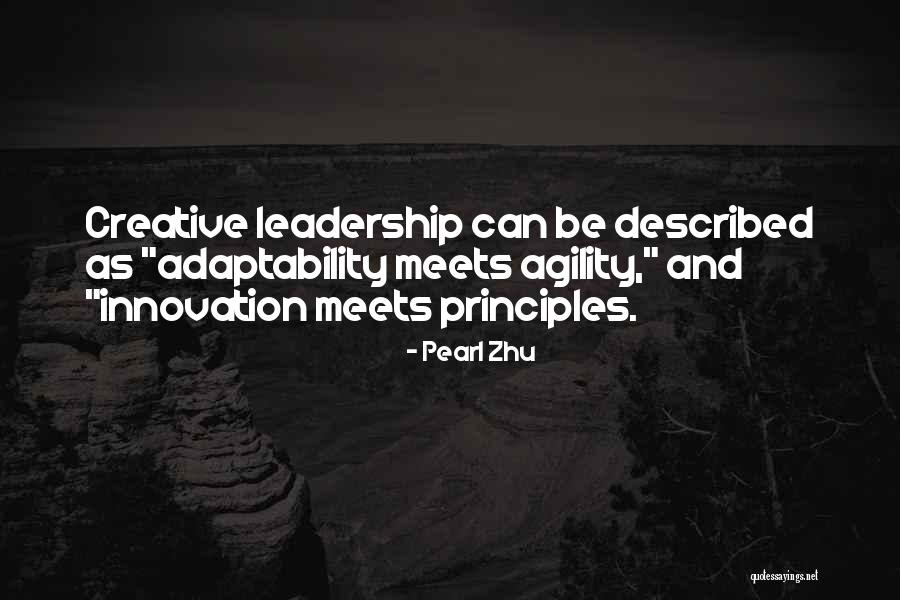 Creative leadership can be described as "adaptability meets agility," and "innovation meets principles. — Pearl Zhu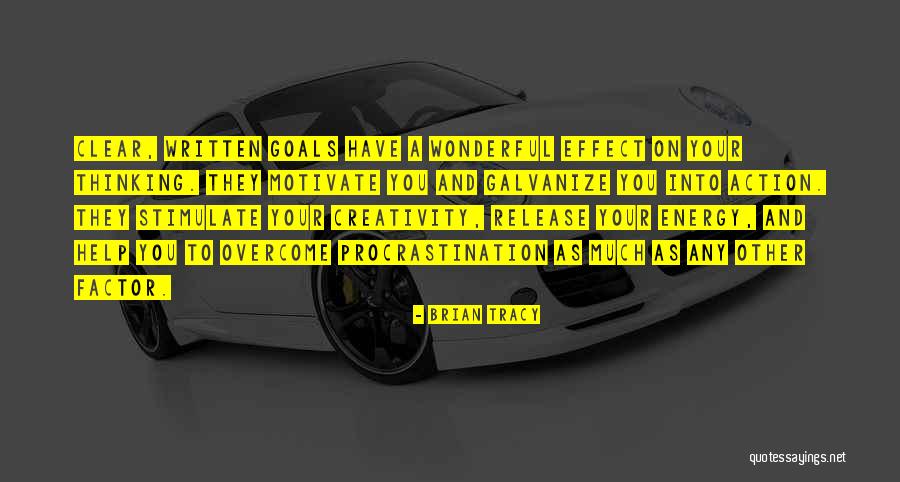 Clear, written goals have a wonderful effect on your thinking. They motivate you and galvanize you into action. They stimulate your creativity, release your energy, and help you to overcome procrastination as much as any other factor. — Brian Tracy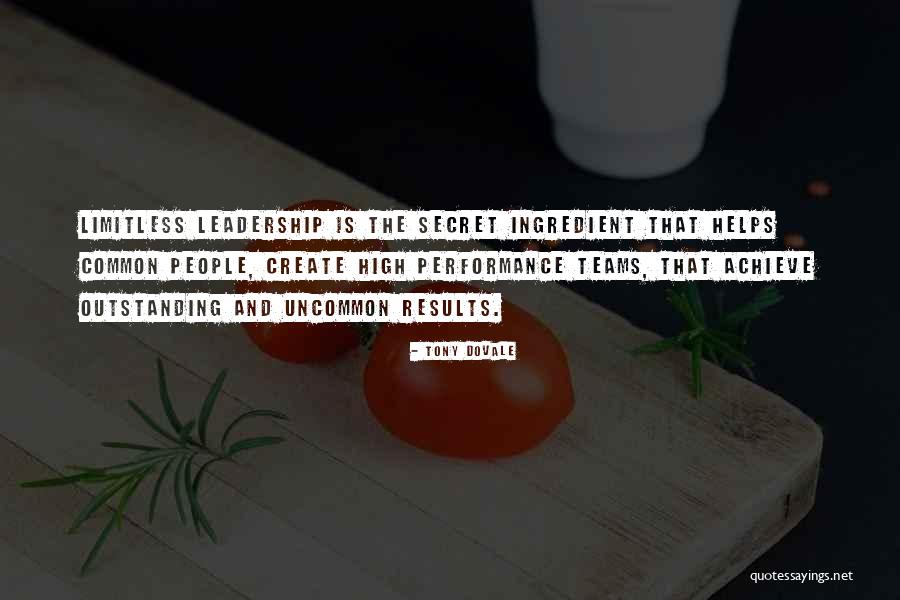 Limitless Leadership is the secret ingredient that helps common people, create high performance teams, that achieve outstanding and uncommon results. — Tony Dovale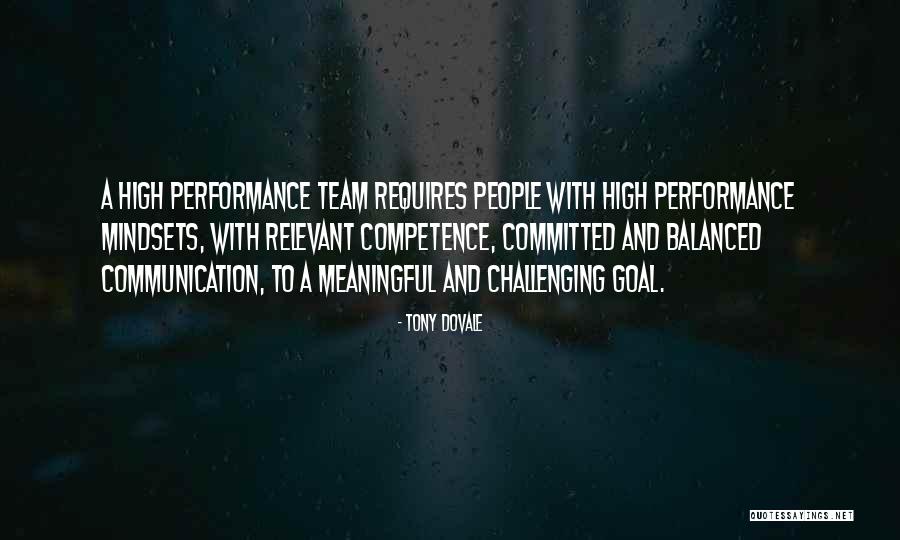 A High Performance team requires people with High Performance Mindsets, with relevant competence, committed and balanced communication, to a meaningful and challenging goal. — Tony Dovale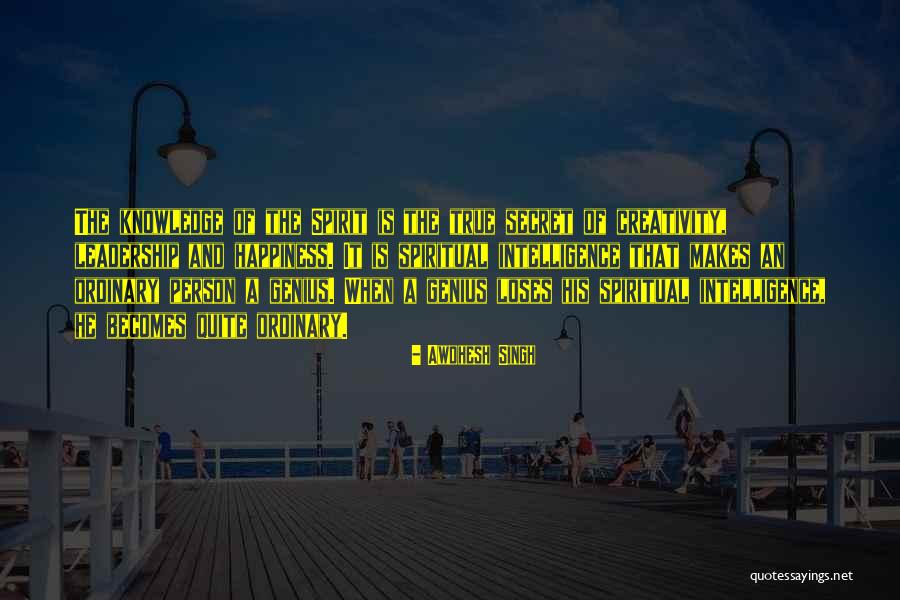 The knowledge of the Spirit is the true secret of creativity, leadership and happiness. It is spiritual intelligence that makes an ordinary person a genius. When a genius loses his spiritual intelligence, he becomes quite ordinary. — Awdhesh Singh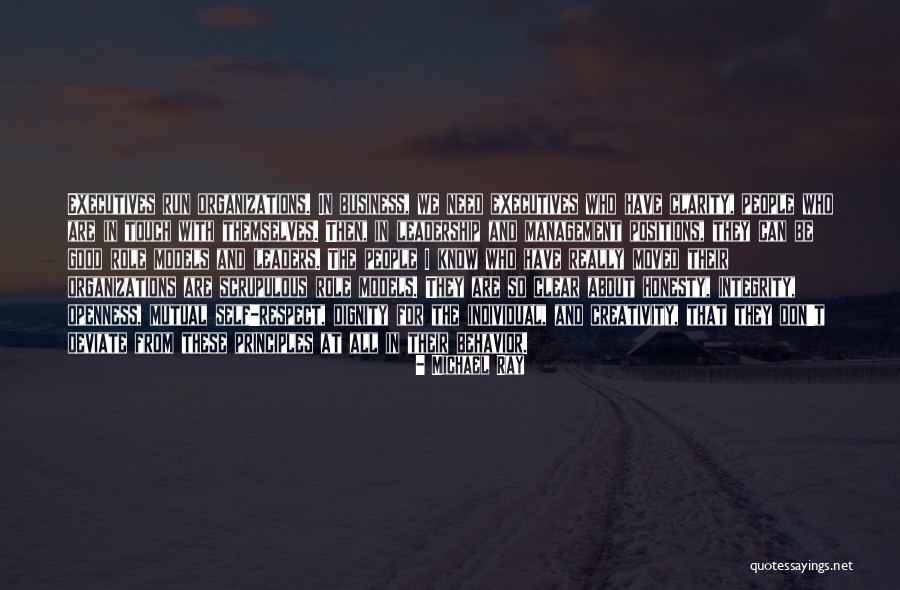 Executives run organizations. In business, we need executives who have clarity, people who are in touch with themselves. Then, in leadership and management positions, they can be good role models and leaders. The people I know who have really moved their organizations are scrupulous role models. They are so clear about honesty, integrity, openness, mutual self-respect, dignity for the individual, and creativity, that they don't deviate from these principles at all in their behavior. — Michael Ray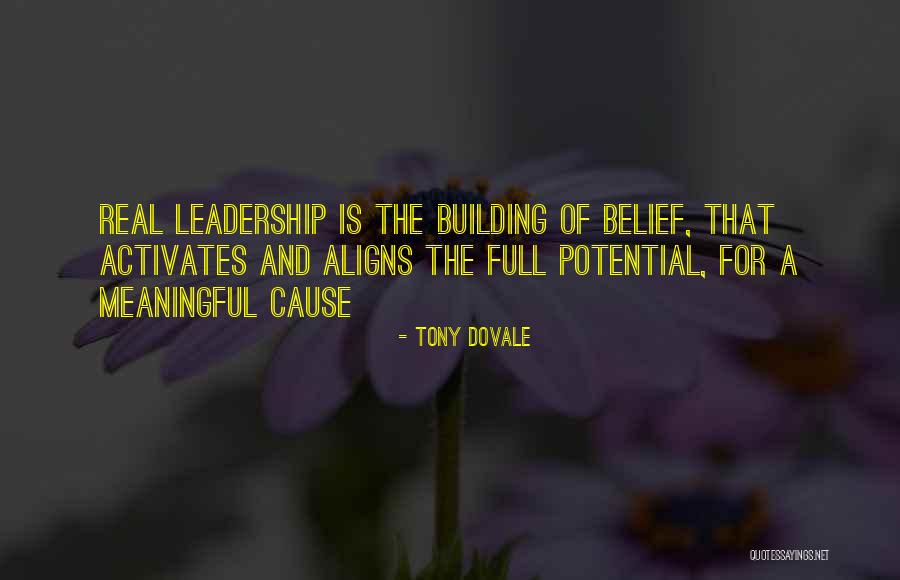 REAL Leadership is the building of belief, that activates and aligns the full potential, for a meaningful cause — Tony Dovale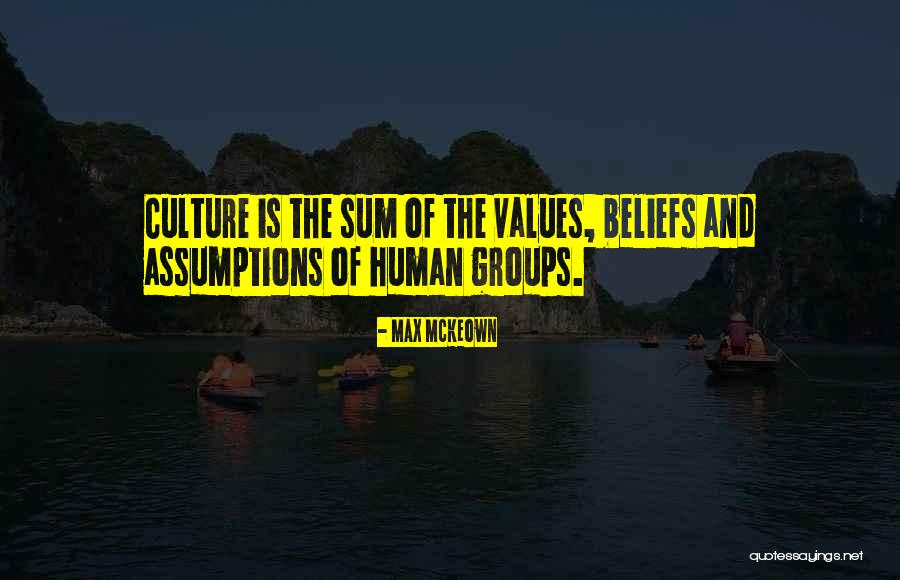 Culture is the sum of the values, beliefs and assumptions of human groups. — Max McKeown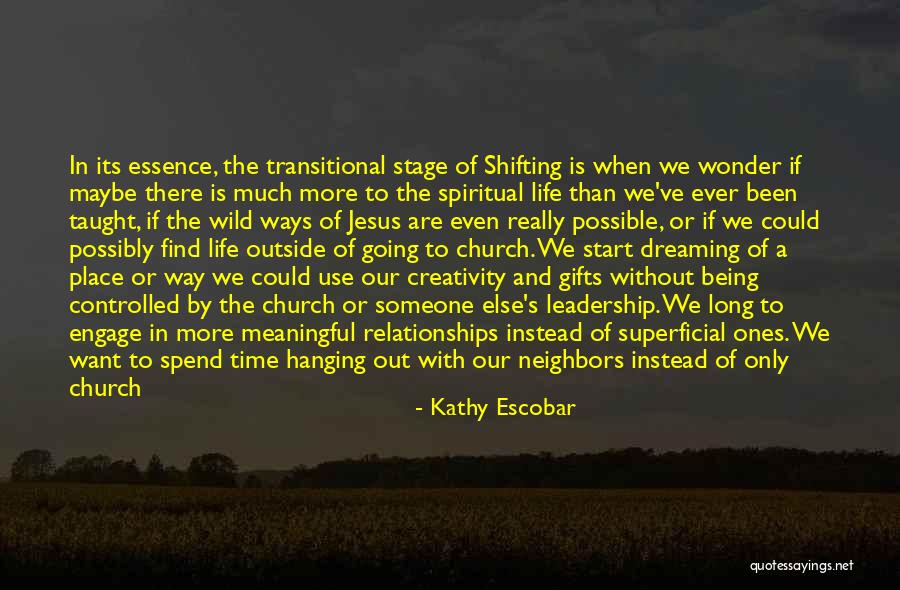 In its essence, the transitional stage of Shifting is when we wonder if maybe there is much more to the spiritual life than we've ever been taught, if the wild ways of Jesus are even really possible, or if we could possibly find life outside of going to church. We start dreaming of a place or way we could use our creativity and gifts without being controlled by the church or someone else's leadership. We long to engage in more meaningful relationships instead of superficial ones. We want to spend time hanging out with our neighbors instead of only church people (and without any kind of evangelism agenda). While desires look different for each of us, Shifting is about no longer feeling comfortable in our spiritual skin. — Kathy Escobar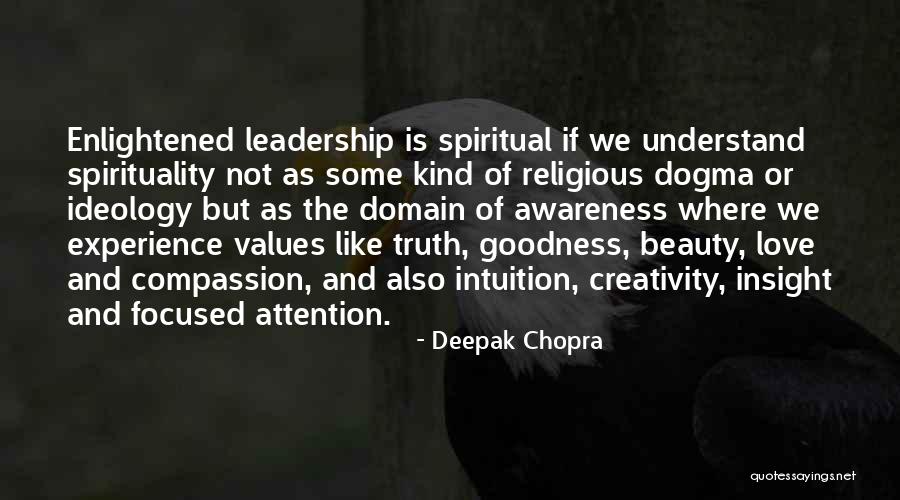 Enlightened leadership is spiritual if we understand spirituality not as some kind of religious dogma or ideology but as the domain of awareness where we experience values like truth, goodness, beauty, love and compassion, and also intuition, creativity, insight and focused attention. — Deepak Chopra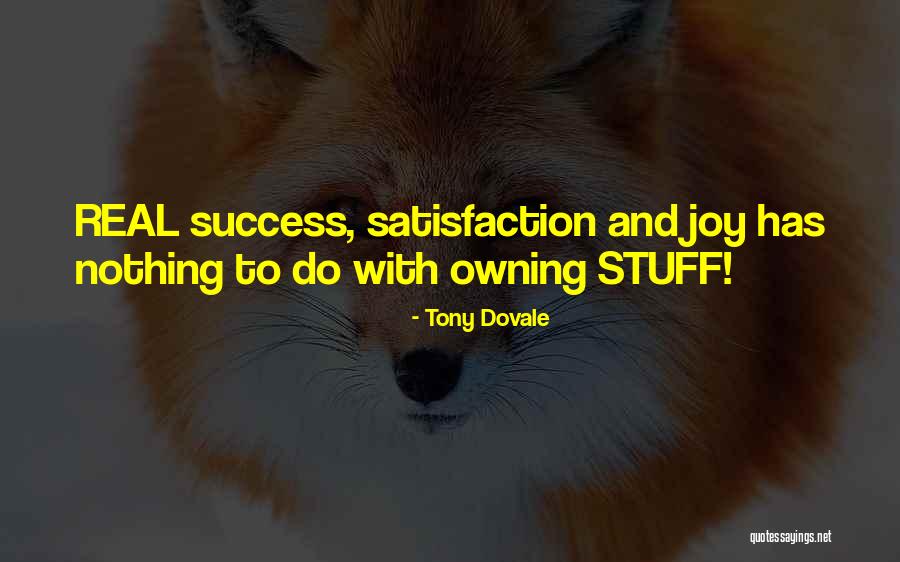 REAL success, satisfaction and joy has nothing to do with owning STUFF! — Tony Dovale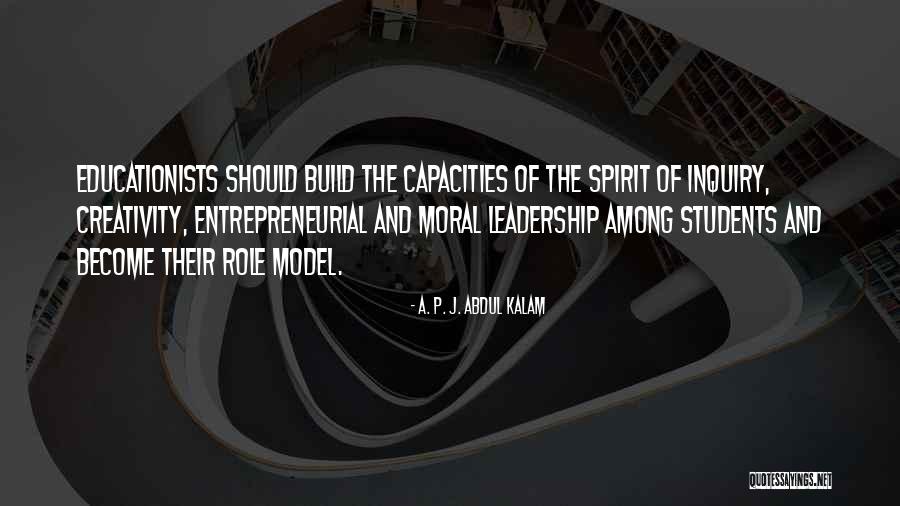 Educationists should build the capacities of the spirit of inquiry, creativity, entrepreneurial and moral leadership among students and become their role model. — A. P. J. Abdul Kalam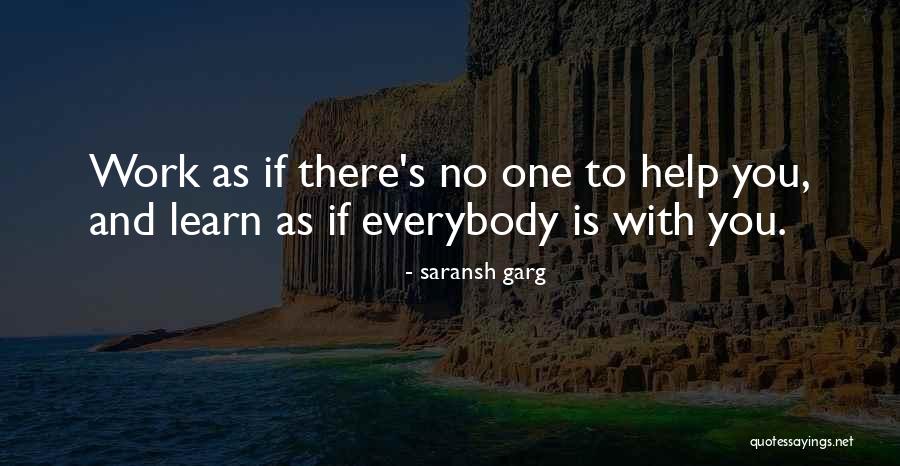 Work as if there's no one to help you, and learn as if everybody is with you. — Saransh Garg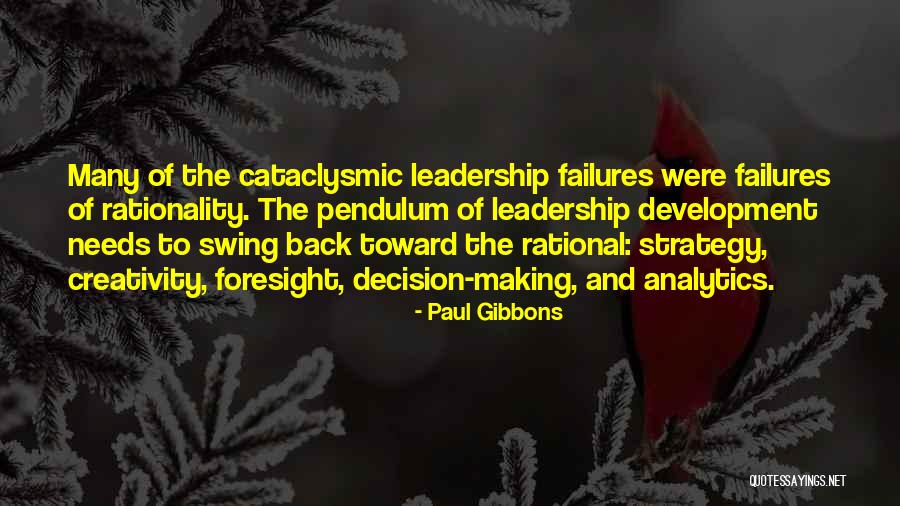 Many of the cataclysmic leadership failures were failures of rationality. The pendulum of leadership development needs to swing back toward the rational: strategy, creativity, foresight, decision-making, and analytics. — Paul Gibbons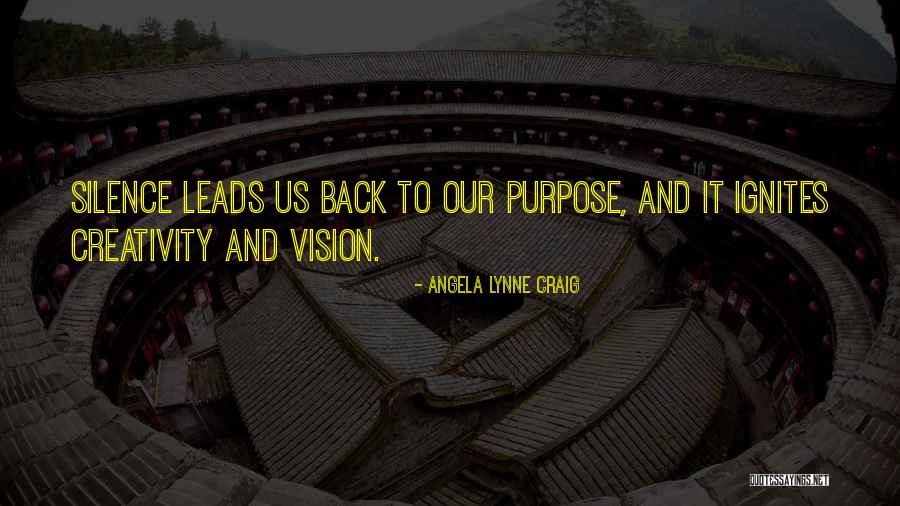 Silence leads us back to our purpose, and it ignites creativity and vision. — Angela Lynne Craig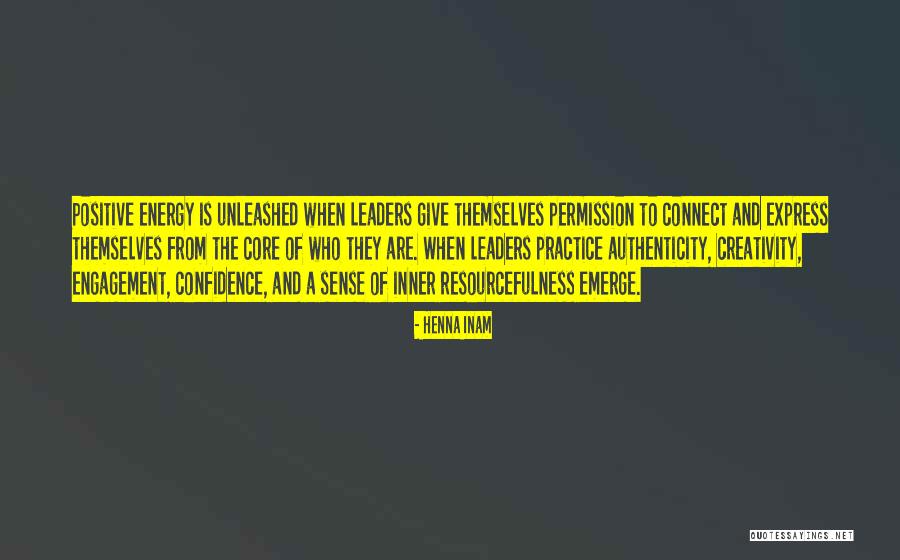 Positive energy is unleashed when leaders give themselves permission to connect and express themselves from the core of who they are. When leaders practice authenticity, creativity, engagement, confidence, and a sense of inner resourcefulness emerge. — Henna Inam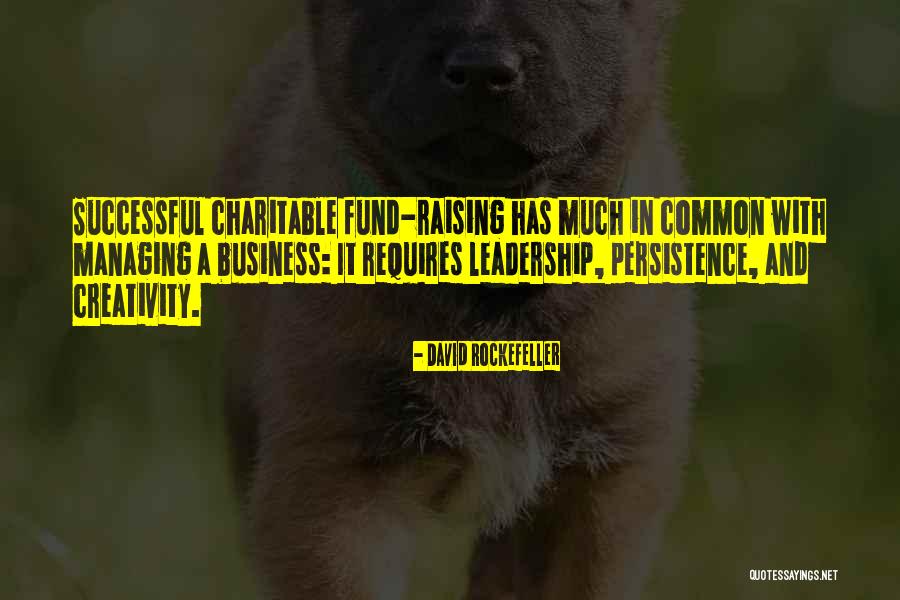 Successful charitable fund-raising has much in common with managing a business: It requires leadership, persistence, and creativity. — David Rockefeller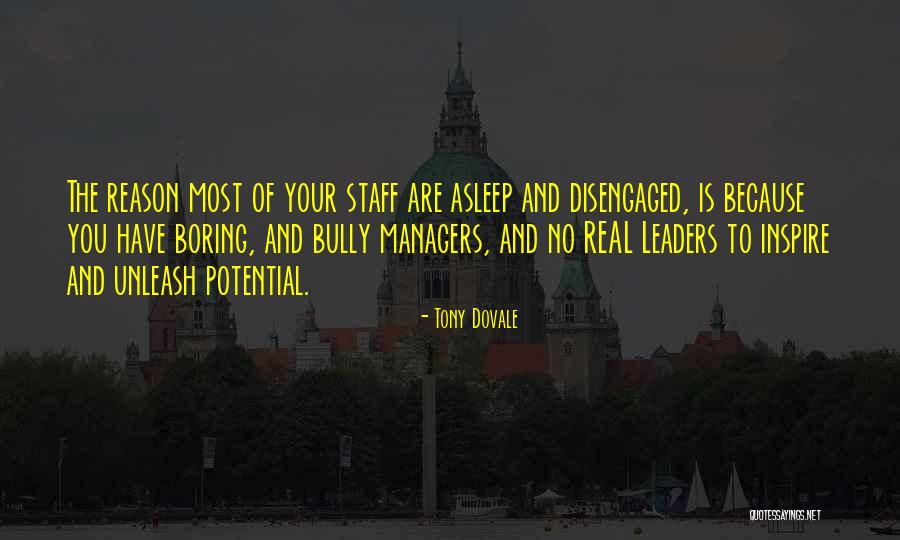 The reason most of your staff are asleep and disengaged, is because you have boring, and bully managers, and no REAL Leaders to inspire and unleash potential. — Tony Dovale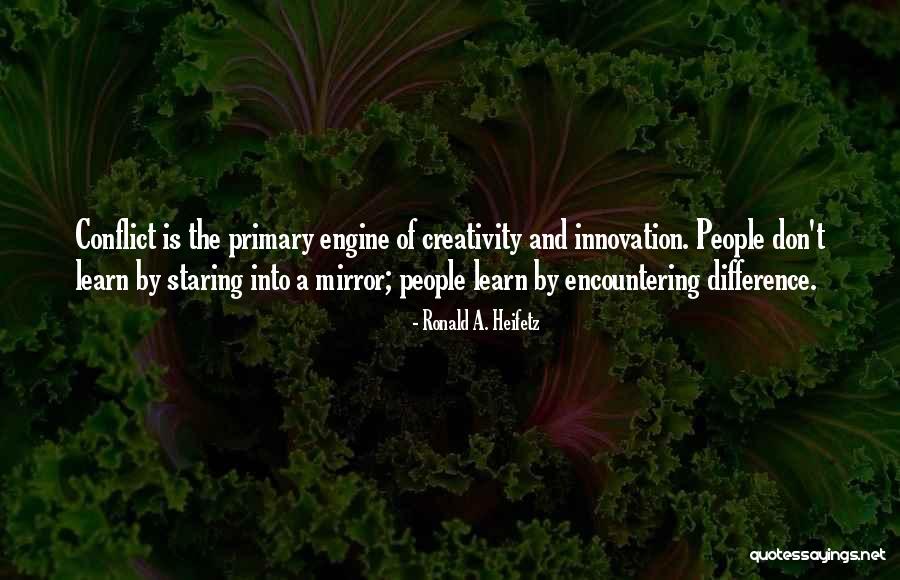 Conflict is the primary engine of creativity and innovation. People don't learn by staring into a mirror; people learn by encountering difference. — Ronald A. Heifetz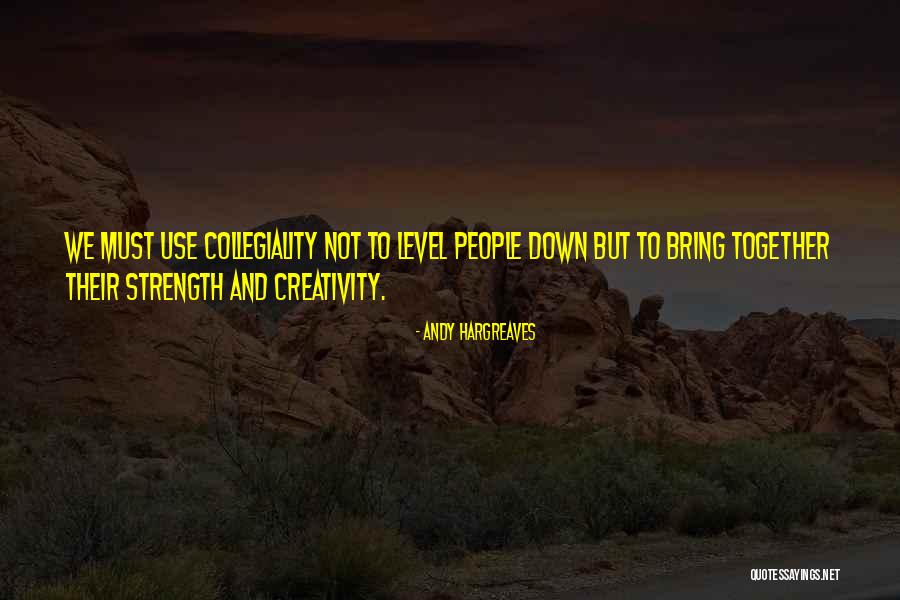 We must use collegiality not to level people down but to bring together their strength and creativity. — Andy Hargreaves