Quotes & Sayings About Climbing Higher
Enjoy reading and share 32 famous quotes about Climbing Higher with everyone.
Top Climbing Higher Quotes
I am still feeling my calf strain, so I have been unable to train this week. I will again have to sit out the weekend action, but the lads are climbing ever higher to safety. — David Ginola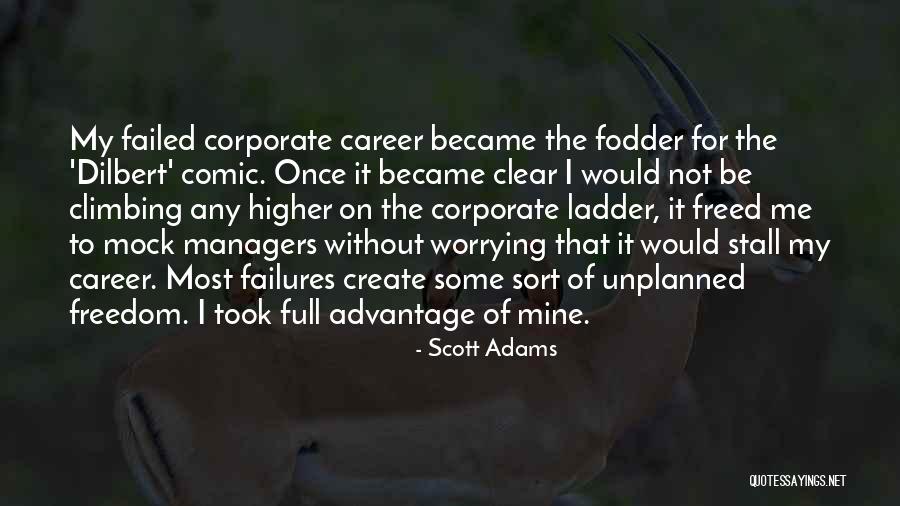 My failed corporate career became the fodder for the 'Dilbert' comic. Once it became clear I would not be climbing any higher on the corporate ladder, it freed me to mock managers without worrying that it would stall my career. Most failures create some sort of unplanned freedom. I took full advantage of mine. — Scott Adams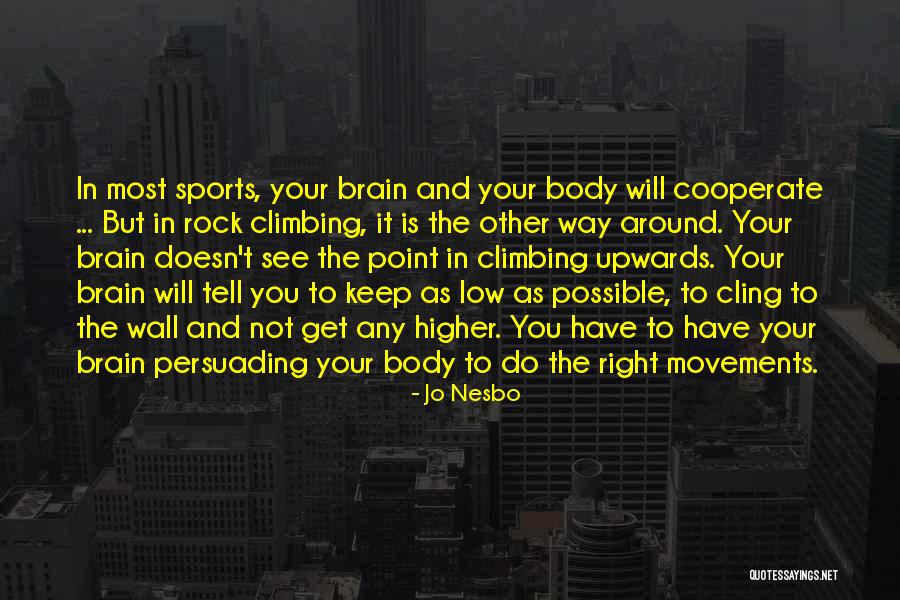 In most sports, your brain and your body will cooperate ... But in rock climbing, it is the other way around. Your brain doesn't see the point in climbing upwards. Your brain will tell you to keep as low as possible, to cling to the wall and not get any higher. You have to have your brain persuading your body to do the right movements. — Jo Nesbo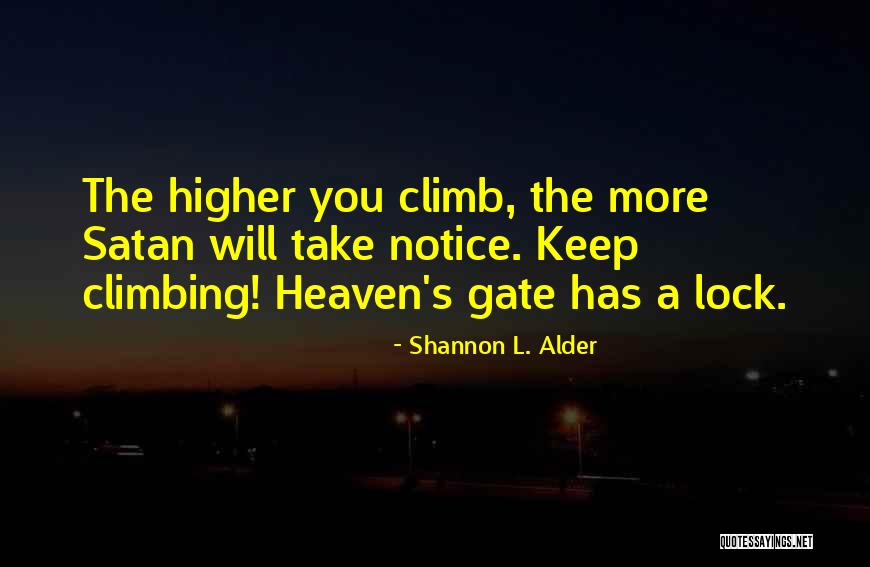 The higher you climb, the more Satan will take notice. Keep climbing! Heaven's gate has a lock. — Shannon L. Alder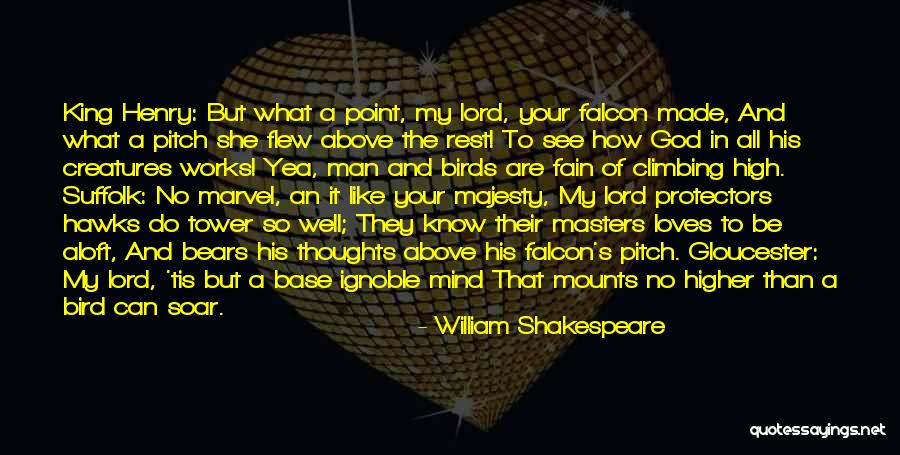 King Henry: But what a point, my lord, your falcon made, And what a pitch she flew above the rest! To see how God in all his creatures works! Yea, man and birds are fain of climbing high. Suffolk: No marvel, an it like your majesty, My lord protectors hawks do tower so well; They know their masters loves to be aloft, And bears his thoughts above his falcon's pitch. Gloucester: My lord, 'tis but a base ignoble mind That mounts no higher than a bird can soar. — William Shakespeare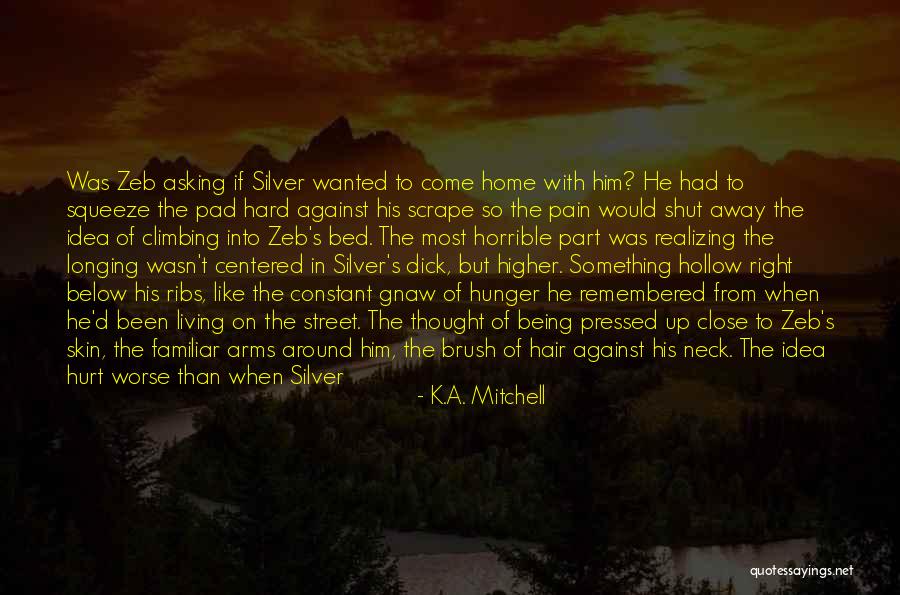 Was Zeb asking if Silver wanted to come home with him? He had to squeeze the pad hard against his scrape so the pain would shut away the idea of climbing into Zeb's bed. The most horrible part was realizing the longing wasn't centered in Silver's dick, but higher. Something hollow right below his ribs, like the constant gnaw of hunger he remembered from when he'd been living on the street. The thought of being pressed up close to Zeb's skin, the familiar arms around him, the brush of hair against his neck. The idea hurt worse than when Silver had smelled fried food back then. Because there was no way he was ever going to be able to feed this rumble of want. "Oh. Back to Quinn's. I'm still staying with them. — K.A. Mitchell
The right thoughts of the clever man are a ladder which takes you higher places. By climbing these ladders, one day you yourself become such a ladder itself! — Mehmet Murat Ildan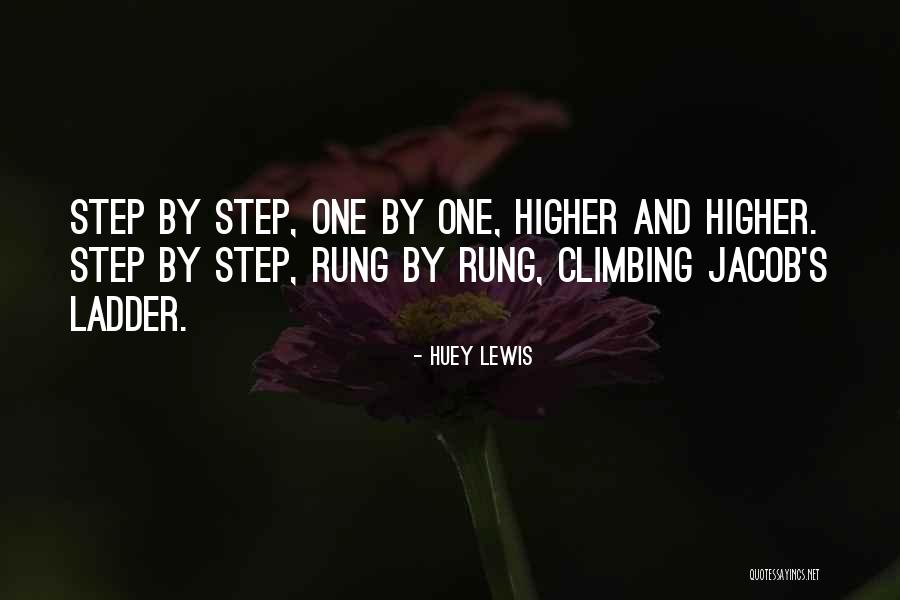 Step by step, one by one, higher and higher. Step by step, rung by rung, climbing Jacob's ladder. — Huey Lewis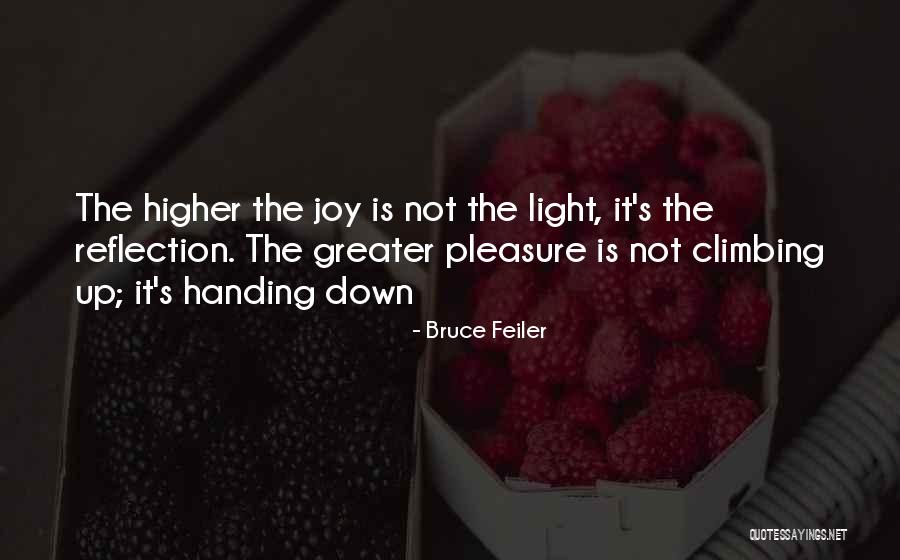 The higher the joy is not the light, it's the reflection. The greater pleasure is not climbing up; it's handing down — Bruce Feiler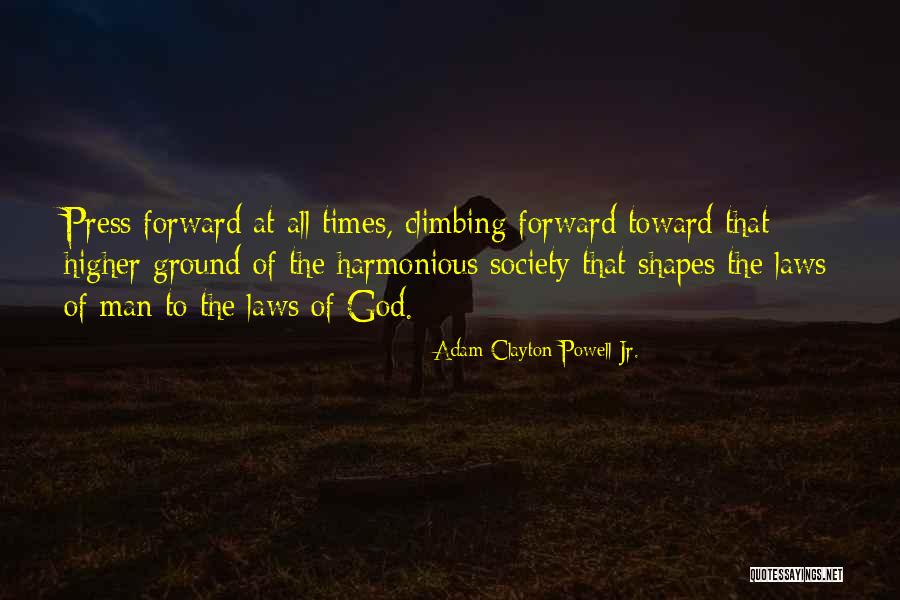 Press forward at all times, climbing forward toward that higher ground of the harmonious society that shapes the laws of man to the laws of God. — Adam Clayton Powell Jr.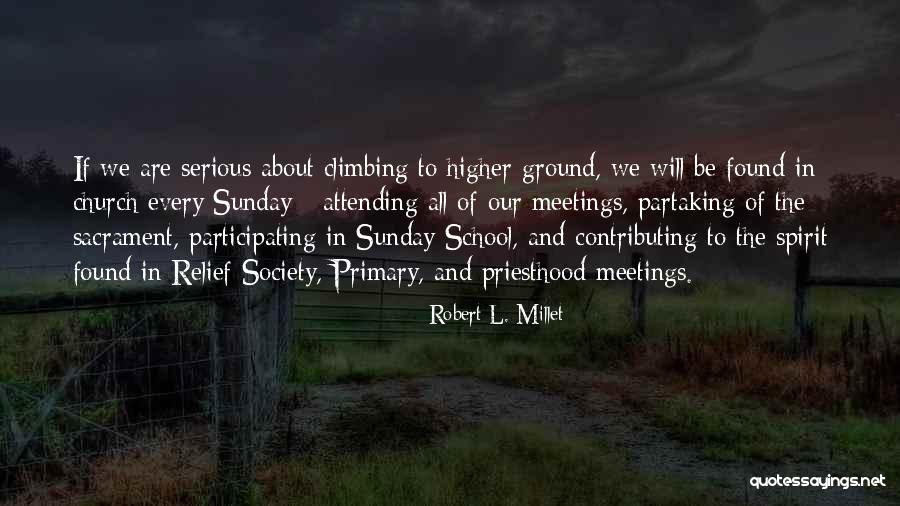 If we are serious about climbing to higher ground, we will be found in church every Sunday - attending all of our meetings, partaking of the sacrament, participating in Sunday School, and contributing to the spirit found in Relief Society, Primary, and priesthood meetings. — Robert L. Millet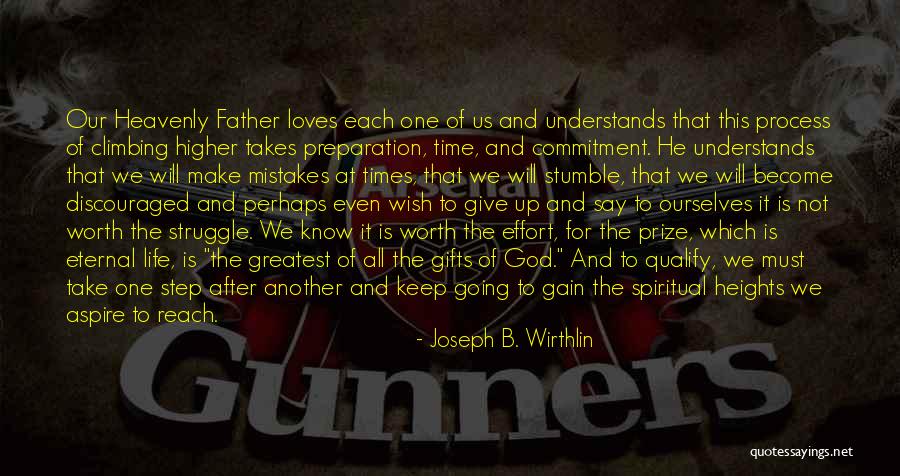 Our Heavenly Father loves each one of us and understands that this process of climbing higher takes preparation, time, and commitment. He understands that we will make mistakes at times, that we will stumble, that we will become discouraged and perhaps even wish to give up and say to ourselves it is not worth the struggle. We know it is worth the effort, for the prize, which is eternal life, is "the greatest of all the gifts of God." And to qualify, we must take one step after another and keep going to gain the spiritual heights we aspire to reach. — Joseph B. Wirthlin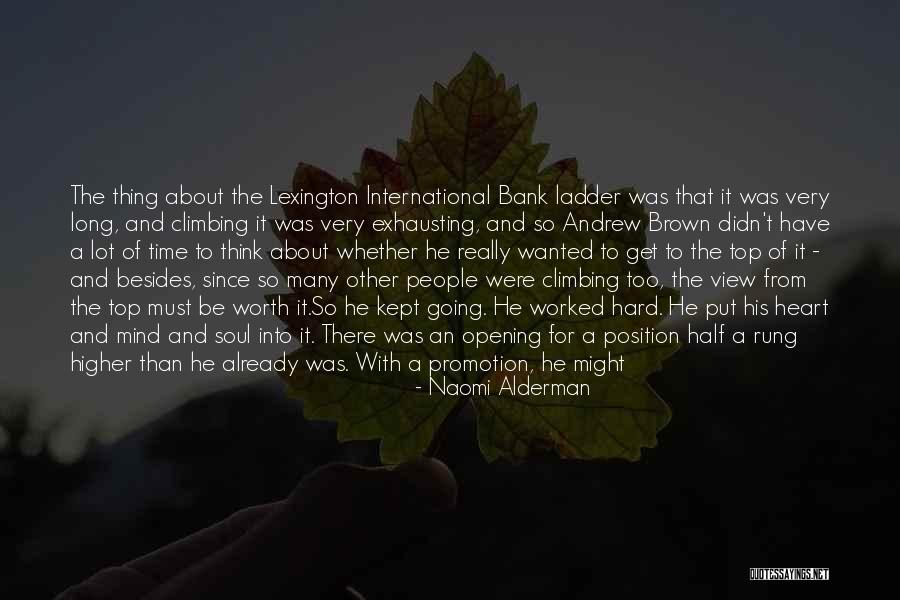 The thing about the Lexington International Bank ladder was that it was very long, and climbing it was very exhausting, and so Andrew Brown didn't have a lot of time to think about whether he really wanted to get to the top of it - and besides, since so many other people were climbing too, the view from the top must be worth it.
So he kept going. He worked hard. He put his heart and mind and soul into it. There was an opening for a position half a rung higher than he already was. With a promotion, he might get two hours a week of a secretary's time. He'd go to more important meetings, with more senior people, and have the opportunity to impress them, and if he did he might be promoted again and then ... well, of course eventually he'd be running the whole office. It's important to have a dream: otherwise you might notice where you really are. — Naomi Alderman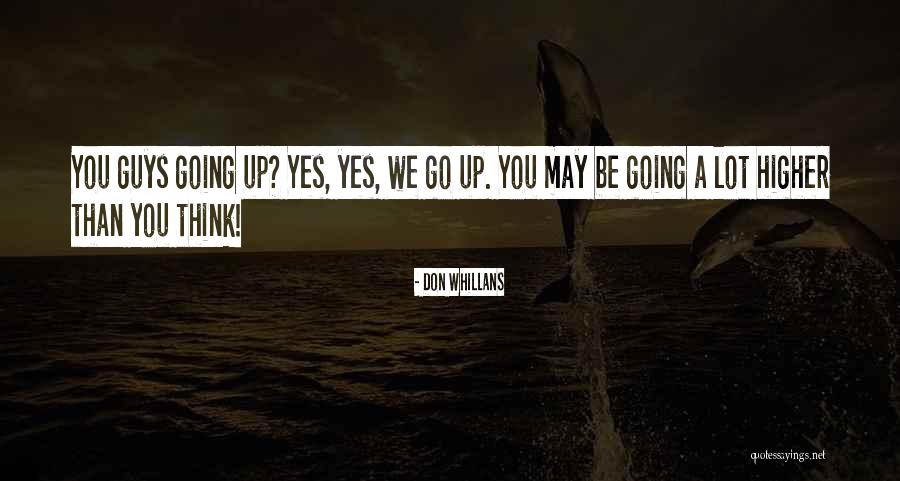 You guys going up? Yes, yes, we go up. You may be going a lot higher than you think! — Don Whillans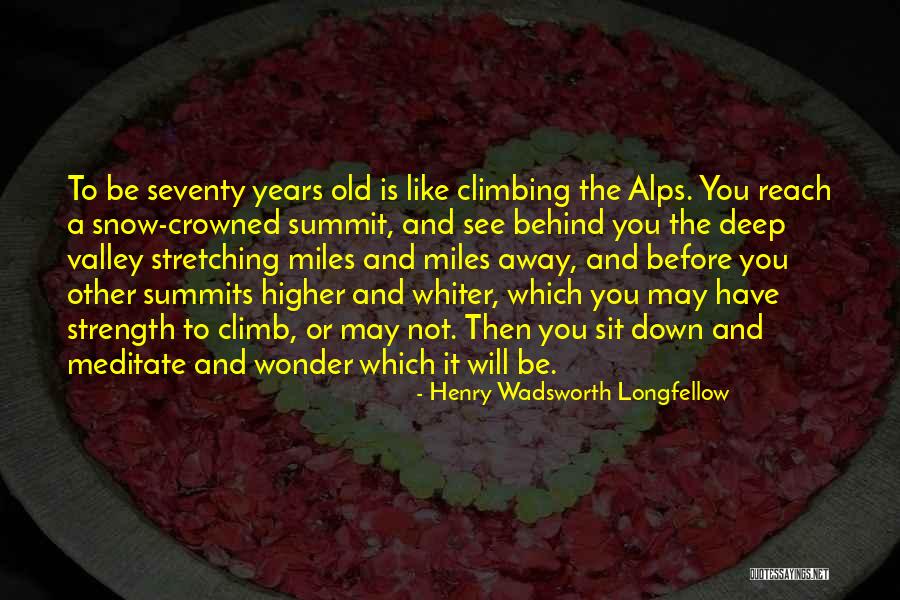 To be seventy years old is like climbing the Alps. You reach a snow-crowned summit, and see behind you the deep valley stretching miles and miles away, and before you other summits higher and whiter, which you may have strength to climb, or may not. Then you sit down and meditate and wonder which it will be. — Henry Wadsworth Longfellow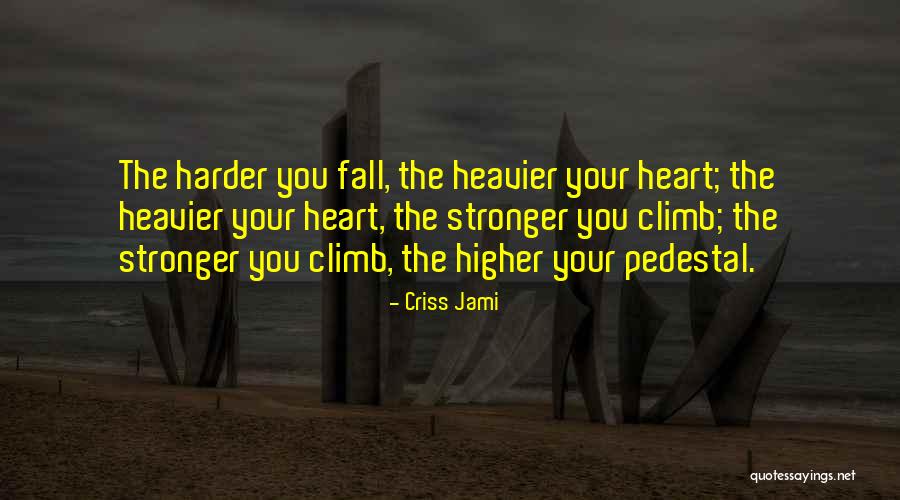 The harder you fall, the heavier your heart; the heavier your heart, the stronger you climb; the stronger you climb, the higher your pedestal. — Criss Jami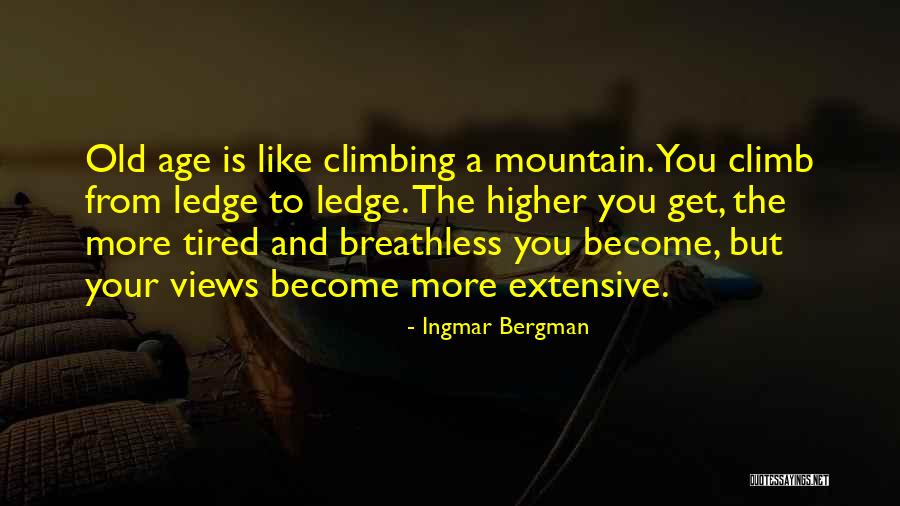 Old age is like climbing a mountain. You climb from ledge to ledge. The higher you get, the more tired and breathless you become, but your views become more extensive. — Ingmar Bergman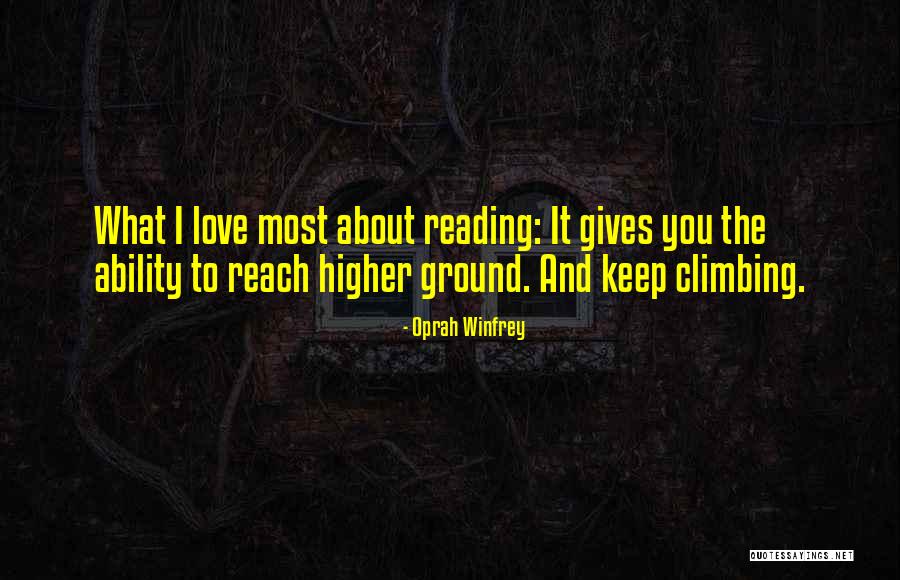 What I love most about reading: It gives you the ability to reach higher ground. And keep climbing. — Oprah Winfrey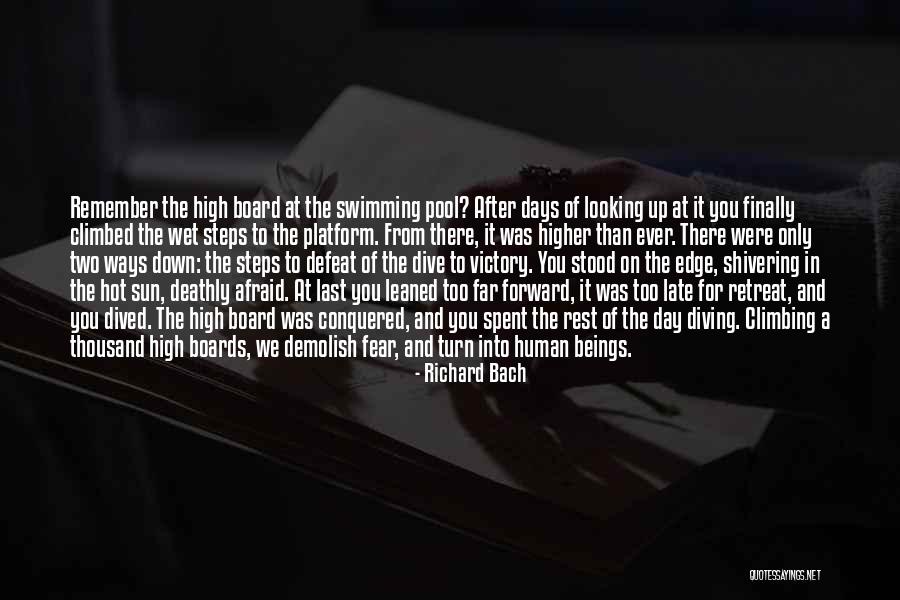 Remember the high board at the swimming pool? After days of looking up at it you finally climbed the wet steps to the platform. From there, it was higher than ever. There were only two ways down: the steps to defeat of the dive to victory. You stood on the edge, shivering in the hot sun, deathly afraid. At last you leaned too far forward, it was too late for retreat, and you dived. The high board was conquered, and you spent the rest of the day diving. Climbing a thousand high boards, we demolish fear, and turn into human beings. — Richard Bach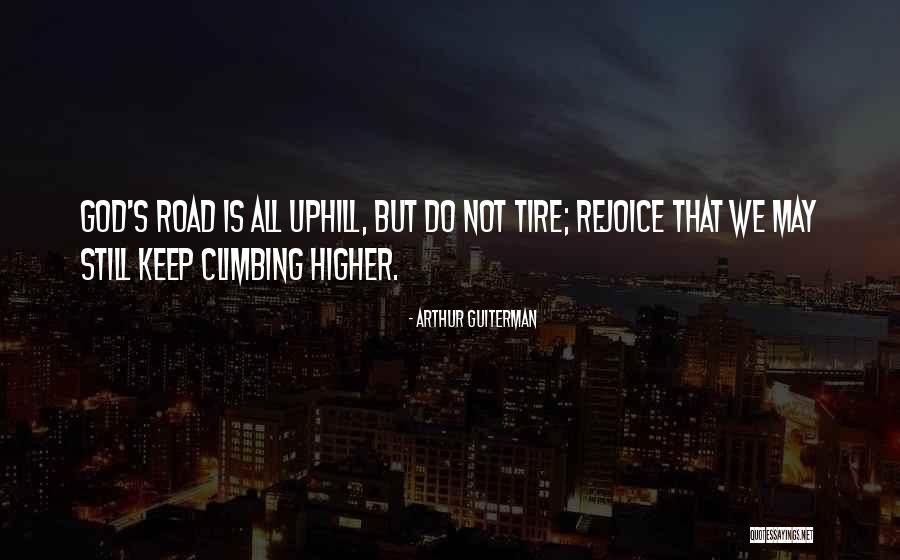 God's Road is all uphill, but do not tire; Rejoice that we may still keep climbing higher. — Arthur Guiterman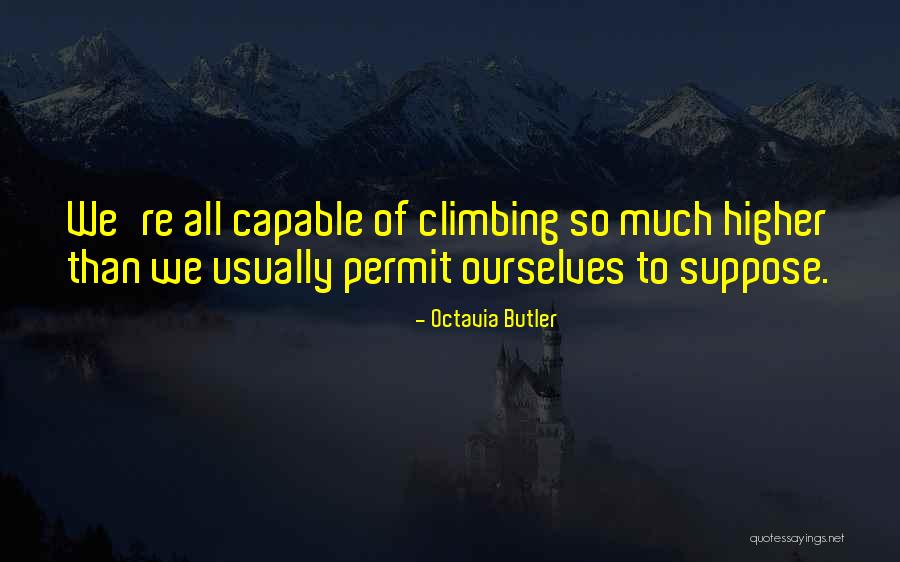 We're all capable of climbing so much higher than we usually permit ourselves to suppose. — Octavia Butler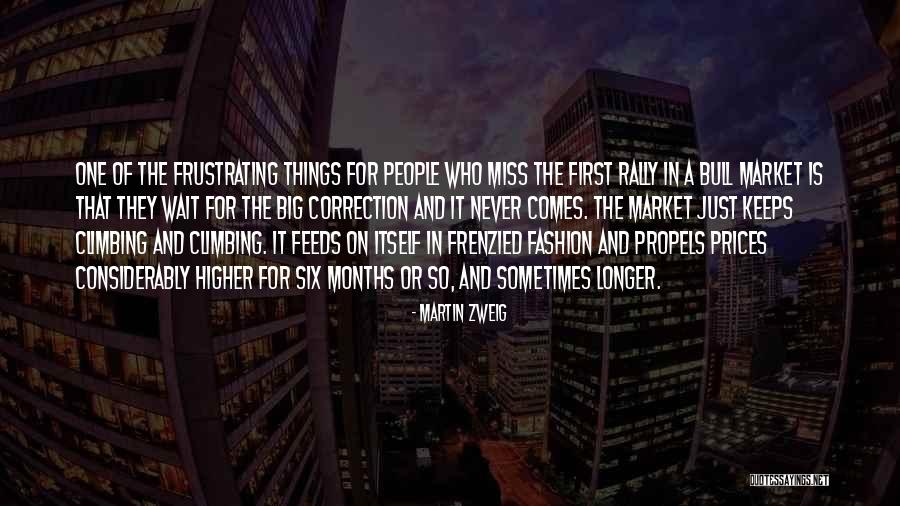 One of the frustrating things for people who miss the first rally in a bull market is that they wait for the big correction and it never comes. The market just keeps climbing and climbing. It feeds on itself in frenzied fashion and propels prices considerably higher for six months or so, and sometimes longer. — Martin Zweig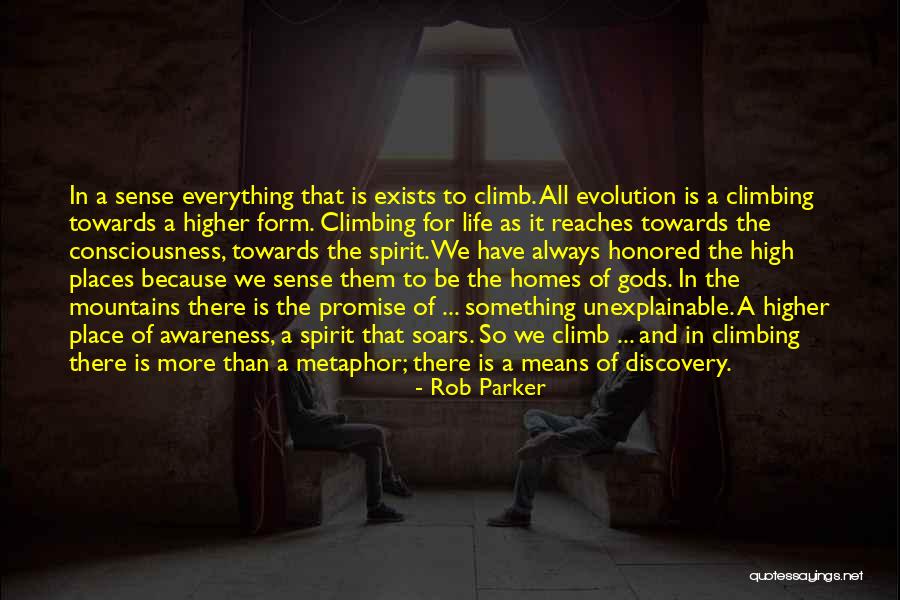 In a sense everything that is exists to climb. All evolution is a climbing towards a higher form. Climbing for life as it reaches towards the consciousness, towards the spirit. We have always honored the high places because we sense them to be the homes of gods. In the mountains there is the promise of ... something unexplainable. A higher place of awareness, a spirit that soars. So we climb ... and in climbing there is more than a metaphor; there is a means of discovery. — Rob Parker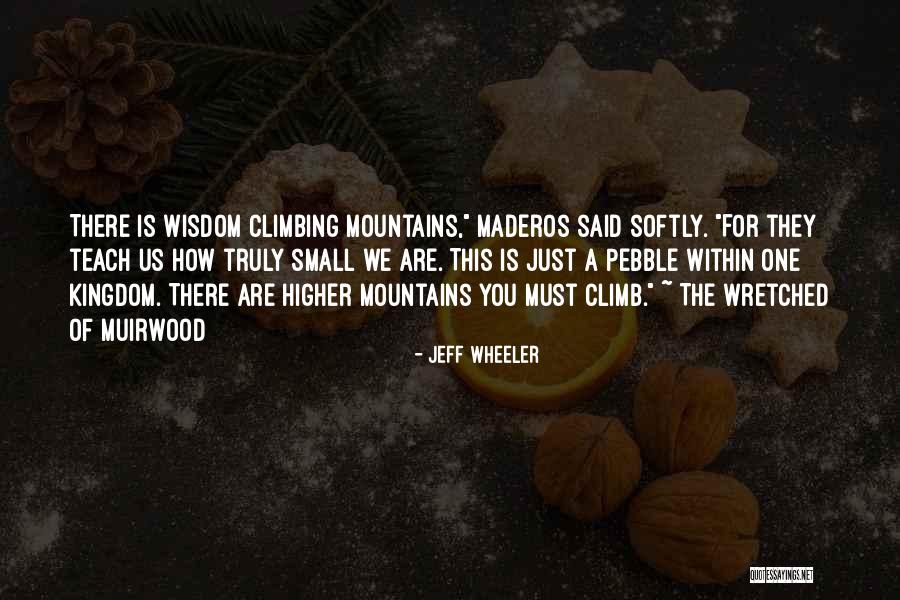 There is wisdom climbing mountains," Maderos said softly. "For they teach us how truly small we are. This is just a pebble within one kingdom. There are higher mountains you must climb." ~ The Wretched of Muirwood — Jeff Wheeler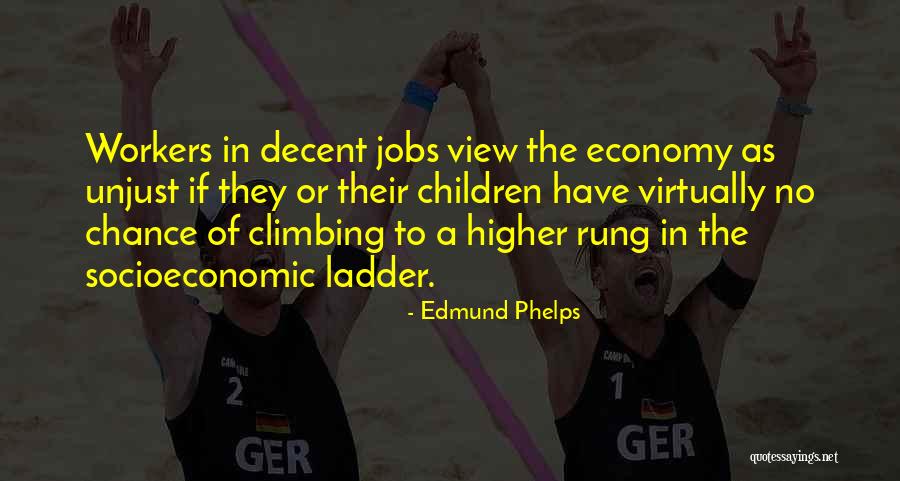 Workers in decent jobs view the economy as unjust if they or their children have virtually no chance of climbing to a higher rung in the socioeconomic ladder. — Edmund Phelps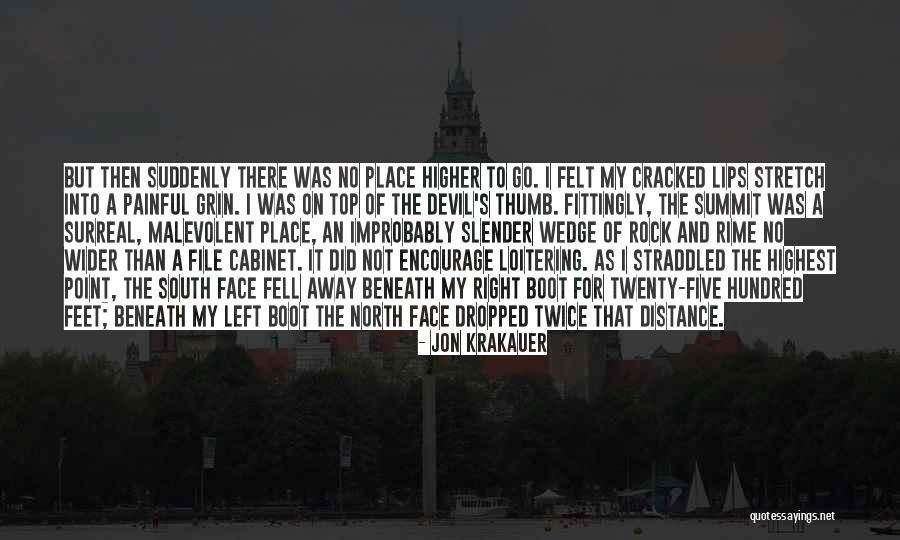 But then suddenly there was no place higher to go. I felt my cracked lips stretch into a painful grin. I was on top of the Devil's Thumb. Fittingly, the summit was a surreal, malevolent place, an improbably slender wedge of rock and rime no wider than a file cabinet. It did not encourage loitering. As I straddled the highest point, the south face fell away beneath my right boot for twenty-five hundred feet; beneath my left boot the north face dropped twice that distance. — Jon Krakauer
Growing older is like climbing a mountain: the higher you get, the more strength you need, but the further you see. — Ingmar Bergman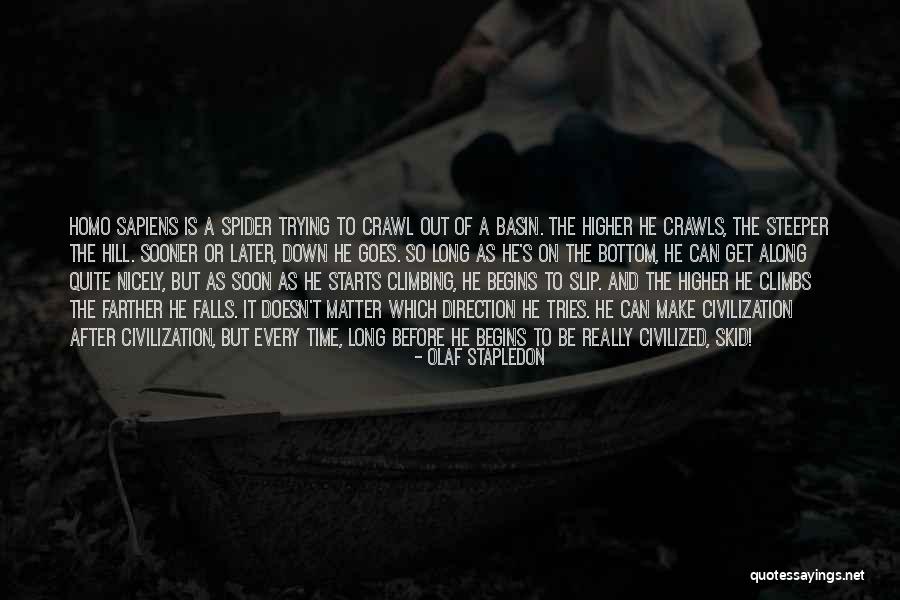 Homo sapiens is a spider trying to crawl out of a basin. The higher he crawls, the steeper the hill. Sooner or later, down he goes. So long as he's on the bottom, he can get along quite nicely, but as soon as he starts climbing, he begins to slip. And the higher he climbs the farther he falls. It doesn't matter which direction he tries. He can make civilization after civilization, but every time, long before he begins to be really civilized, skid! — Olaf Stapledon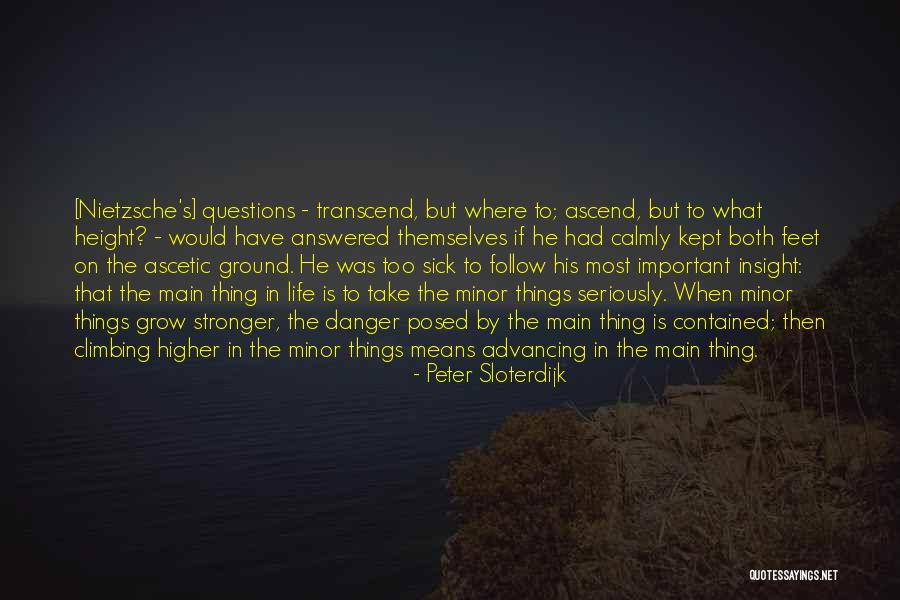 [Nietzsche's] questions - transcend, but where to; ascend, but to what height? - would have answered themselves if he had calmly kept both feet on the ascetic ground. He was too sick to follow his most important insight: that the main thing in life is to take the minor things seriously. When minor things grow stronger, the danger posed by the main thing is contained; then climbing higher in the minor things means advancing in the main thing. — Peter Sloterdijk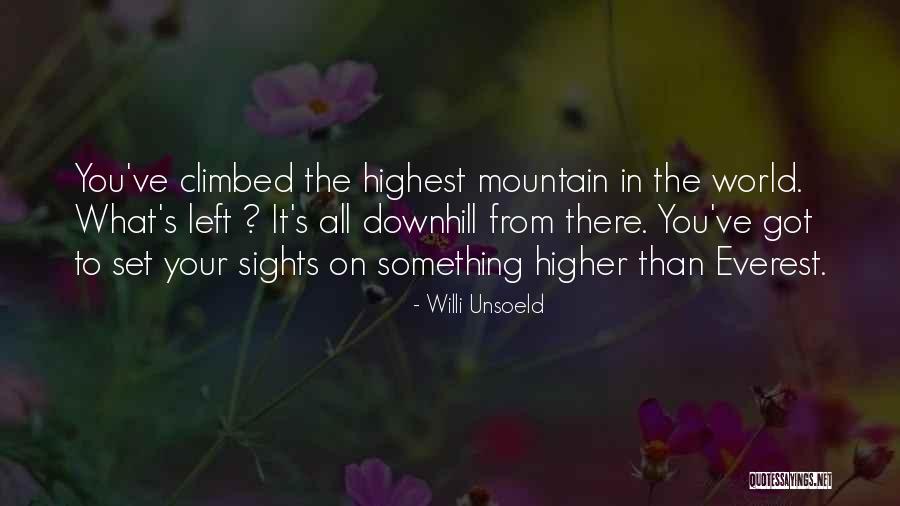 You've climbed the highest mountain in the world. What's left ? It's all downhill from there. You've got to set your sights on something higher than Everest. — Willi Unsoeld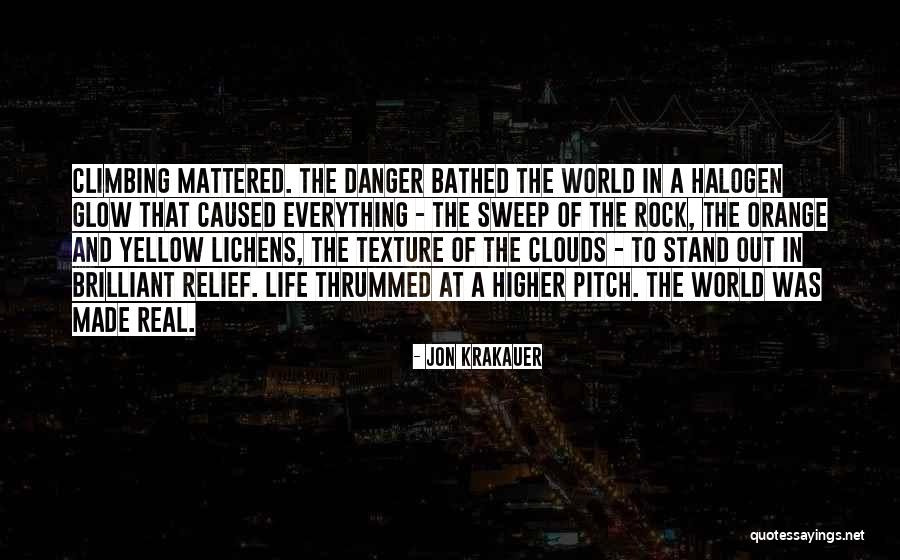 Climbing mattered. The danger bathed the world in a halogen glow that caused everything - the sweep of the rock, the orange and yellow lichens, the texture of the clouds - to stand out in brilliant relief. Life thrummed at a higher pitch. The world was made real. — Jon Krakauer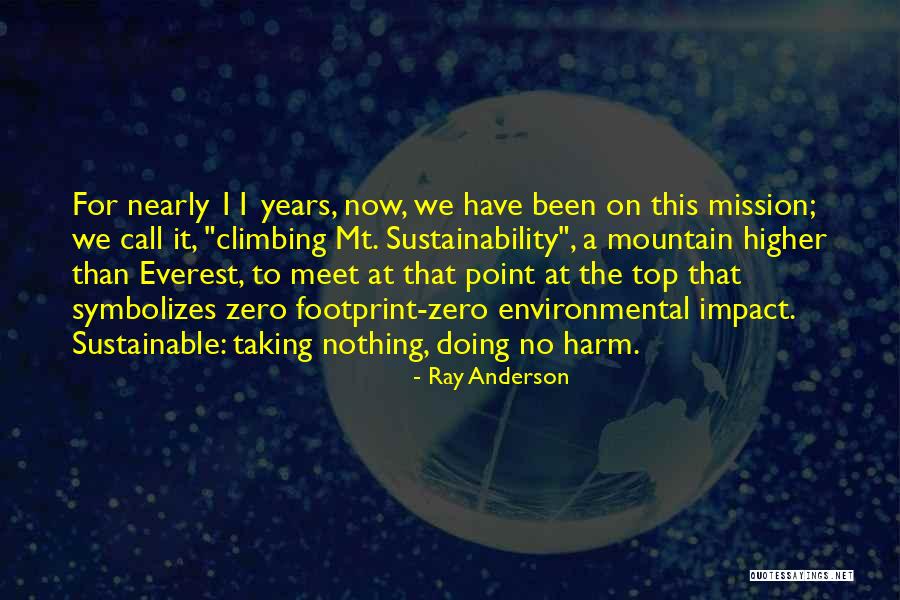 For nearly 11 years, now, we have been on this mission; we call it, "climbing Mt. Sustainability", a mountain higher than Everest, to meet at that point at the top that symbolizes zero footprint-zero environmental impact. Sustainable: taking nothing, doing no harm. — Ray Anderson