Together Were Strong Quotes & Sayings
Enjoy reading and share 53 famous quotes about Together Were Strong with everyone.
Top Together Were Strong Quotes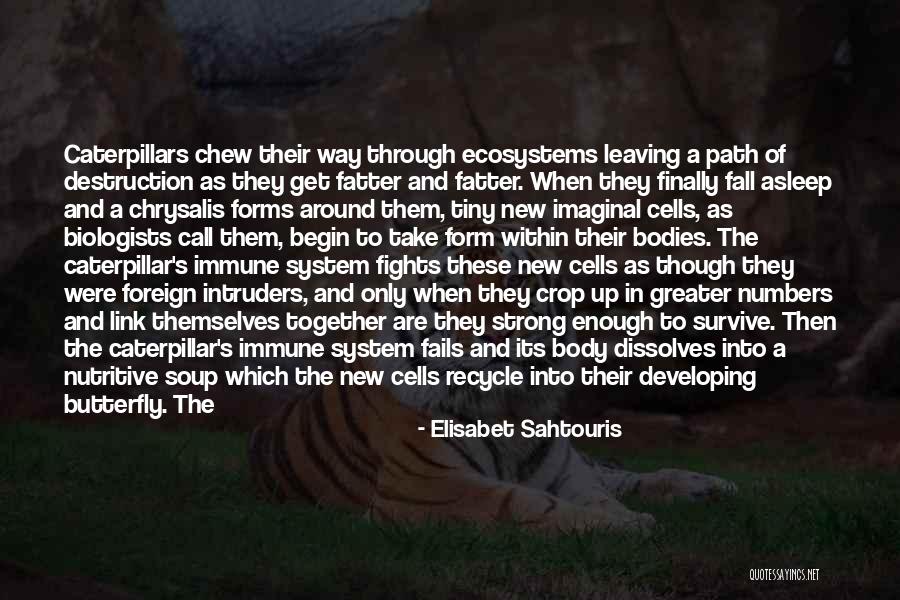 Caterpillars chew their way through ecosystems leaving a path of destruction as they get fatter and fatter. When they finally fall asleep and a chrysalis forms around them, tiny new imaginal cells, as biologists call them, begin to take form within their bodies. The caterpillar's immune system fights these new cells as though they were foreign intruders, and only when they crop up in greater numbers and link themselves together are they strong enough to survive. Then the caterpillar's immune system fails and its body dissolves into a nutritive soup which the new cells recycle into their developing butterfly.

The caterpillar is a necessary stage but becomes unsustainable once its job is done. There is no point in being angry with it and there is no need to worry about defeating it. The task is to focus on building the butterfly, the success of which depends on powerful positive and creative efforts in all aspects of society and alliances built among those engaged in them. — Elisabet Sahtouris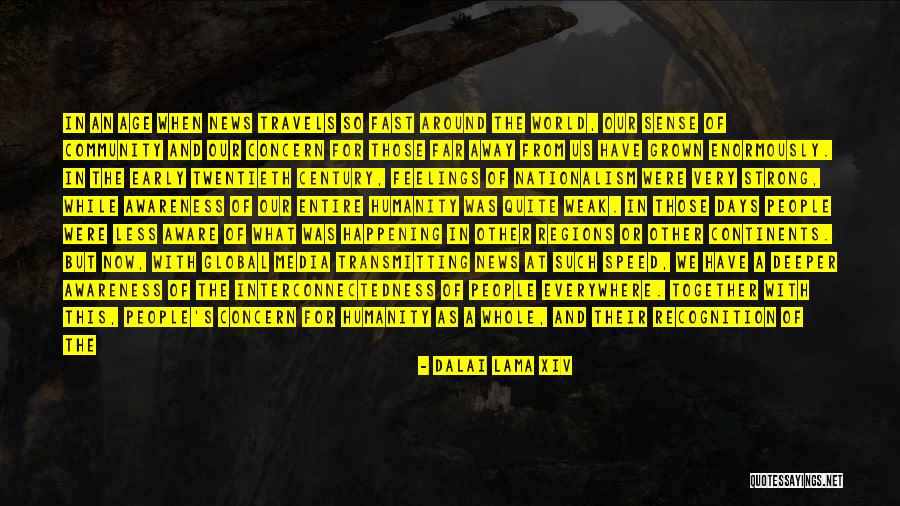 In an age when news travels so fast around the world, our sense of community and our concern for those far away from us have grown enormously. In the early twentieth century, feelings of nationalism were very strong, while awareness of our entire humanity was quite weak. In those days people were less aware of what was happening in other regions or other continents. But now, with global media transmitting news at such speed, we have a deeper awareness of the interconnectedness of people everywhere. Together with this, people's concern for humanity as a whole, and their recognition of the value of basic human rights, seem to be deepening as well. To me, this trend is a source of great optimism about the future. — Dalai Lama XIV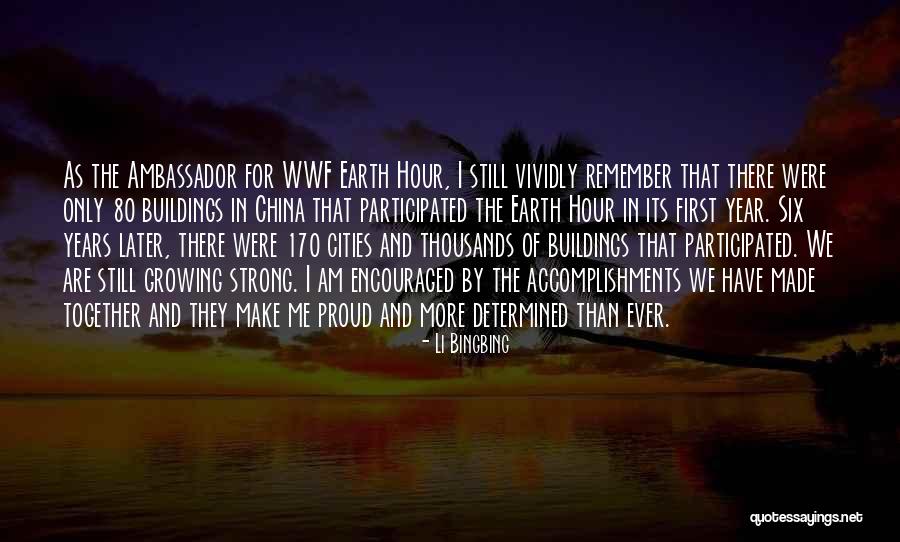 As the Ambassador for WWF Earth Hour, I still vividly remember that there were only 80 buildings in China that participated the Earth Hour in its first year. Six years later, there were 170 cities and thousands of buildings that participated. We are still growing strong. I am encouraged by the accomplishments we have made together and they make me proud and more determined than ever. — Li Bingbing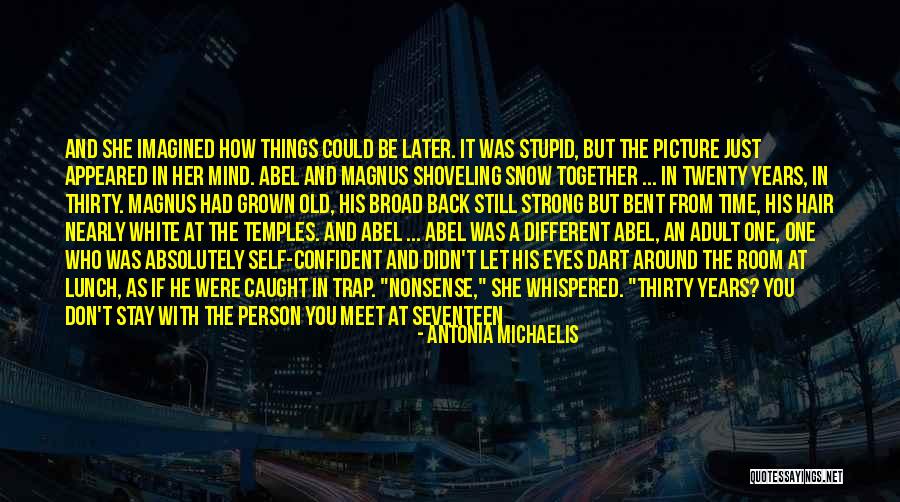 And she imagined how things could be later. It was stupid, but the picture just appeared in her mind. Abel and Magnus shoveling snow together ... in twenty years, in thirty. Magnus had grown old, his broad back still strong but bent from time, his hair nearly white at the temples. And Abel ... Abel was a different Abel, an adult one, one who was absolutely self-confident and didn't let his eyes dart around the room at lunch, as if he were caught in trap.
"Nonsense," she whispered. "Thirty years? You don't stay with the person you meet at seventeen ... what kind of fairy tale are you living in, Anna Leemann?"
And still the picture seemed right. — Antonia Michaelis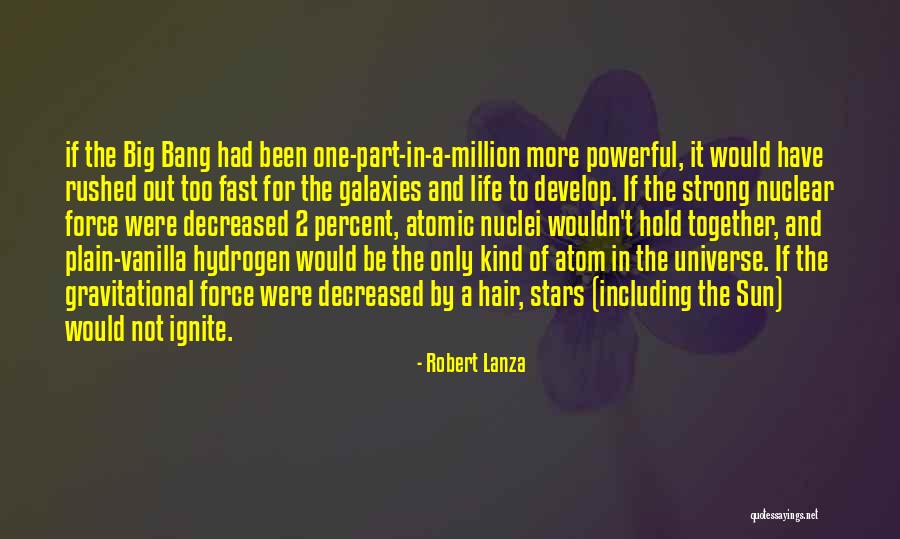 if the Big Bang had been one-part-in-a-million more powerful, it would have rushed out too fast for the galaxies and life to develop. If the strong nuclear force were decreased 2 percent, atomic nuclei wouldn't hold together, and plain-vanilla hydrogen would be the only kind of atom in the universe. If the gravitational force were decreased by a hair, stars (including the Sun) would not ignite. — Robert Lanza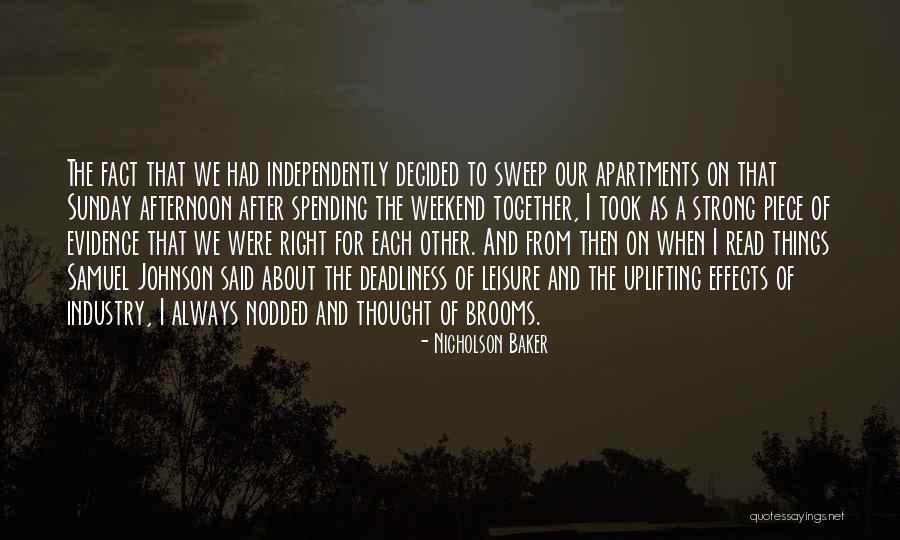 The fact that we had independently decided to sweep our apartments on that Sunday afternoon after spending the weekend together, I took as a strong piece of evidence that we were right for each other. And from then on when I read things Samuel Johnson said about the deadliness of leisure and the uplifting effects of industry, I always nodded and thought of brooms. — Nicholson Baker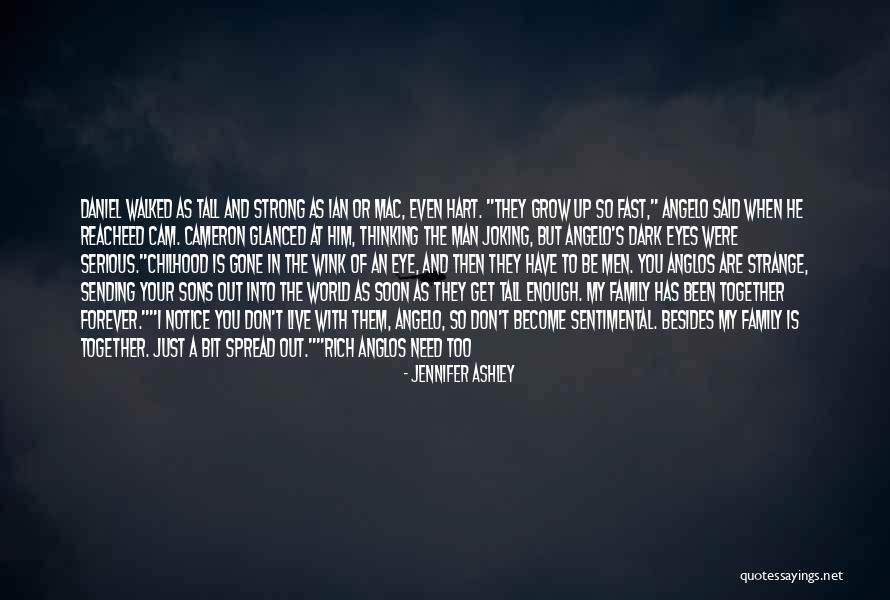 Daniel walked as tall and strong as Ian or Mac, even Hart. "They grow up so fast," Angelo said when he reacheed Cam.
Cameron glanced at him, thinking the man joking, but Angelo's dark eyes were serious.
"Chilhood is gone in the wink of an eye, and then they have to be men. You Anglos are strange, sending your sons out into the world as soon as they get tall enough. My family has been together forever."
"I notice you don't live with them, Angelo, so don't become sentimental. Besides my family is together. Just a bit spread out."
"Rich Anglos need too much space."
"That is true, but it keeps us from killing each other. — Jennifer Ashley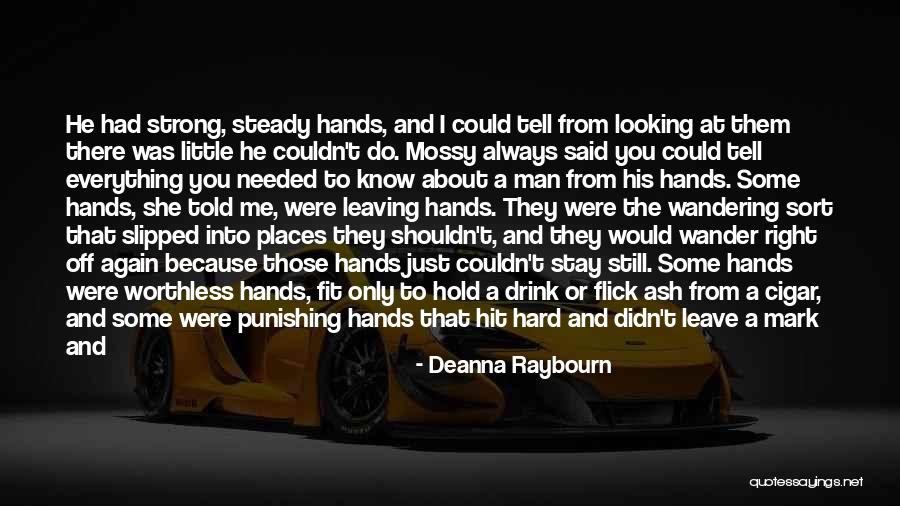 He had strong, steady hands, and I could tell from looking at them there was little he couldn't do. Mossy always said you could tell everything you needed to know about a man from his hands. Some hands, she told me, were leaving hands. They were the wandering sort that slipped into places they shouldn't, and they would wander right off again because those hands just couldn't stay still. Some hands were worthless hands, fit only to hold a drink or flick ash from a cigar, and some were punishing hands that hit hard and didn't leave a mark and those were the ones you never stayed to see twice.
But the best hands were knowing hands, Mossy told me with a slow smile. Knowing hands were capable; they could soothe a horse or woman. They could take things apart
including your heart
and put them back together better than before. Knowing hands were rare, but if you found them, they were worth holding, at least for a little while. — Deanna Raybourn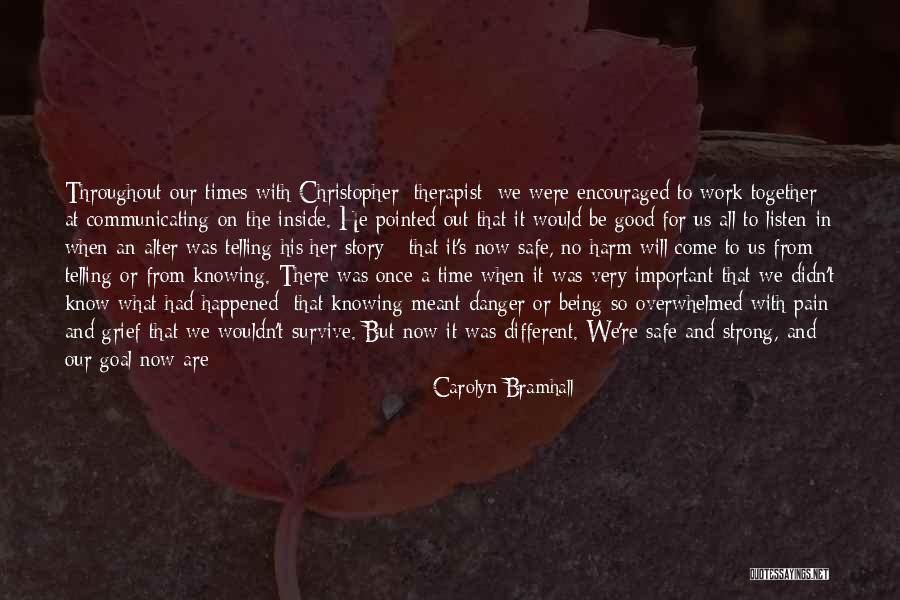 Throughout our times with Christopher [therapist] we were encouraged to work together at communicating on the inside. He pointed out that it would be good for us all to listen-in when an alter was telling his/her story - that it's now safe, no harm will come to us from telling or from knowing. There was once a time when it was very important that we didn't know what had happened; that knowing meant danger or being so overwhelmed with pain and grief that we wouldn't survive. But now it was different. We're safe and strong, and our goal now are to uncover the grisly truth of what's happened to us, so that it's no longer a powerful secret. We can look at it and face the past for what it is - old memories of old events. Today is now,and we can choose to live a different way and believe different things. We were once powerless and vulnerable, but now we were in a position to make choices. We had control over our life. — Carolyn Bramhall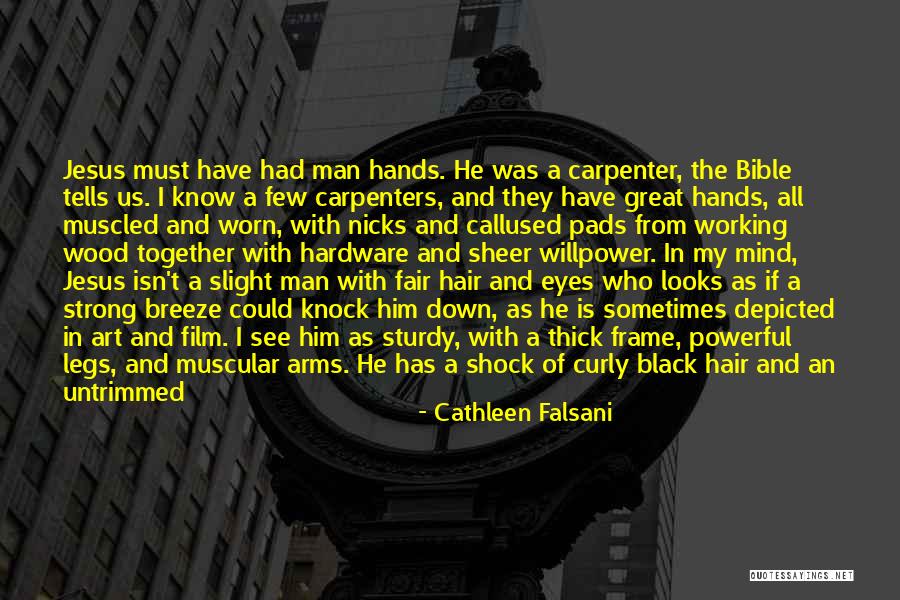 Jesus must have had man hands. He was a carpenter, the Bible tells us. I know a few carpenters, and they have great hands, all muscled and worn, with nicks and callused pads from working wood together with hardware and sheer willpower. In my mind, Jesus isn't a slight man with fair hair and eyes who looks as if a strong breeze could knock him down, as he is sometimes depicted in art and film. I see him as sturdy, with a thick frame, powerful legs, and muscular arms. He has a shock of curly black hair and an untrimmed beard, his face tanned and lined from working in the sun. And his hands - hands that pounded nails, sawed lumber, drew in the dirt, and held the children he beckoned to him. Hands that washed his disciples' feet, broke bread for them, and poured their wine. Hands that hauled a heavy cross through the streets of Jerusalem and were later nailed to it. Those were some man hands. — Cathleen Falsani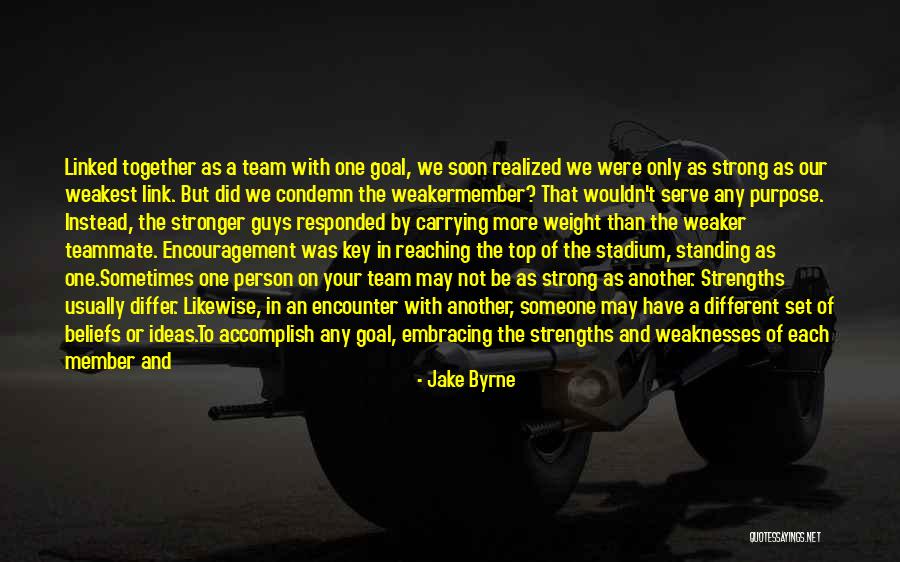 Linked together as a team with one goal, we soon realized we were only as strong as our weakest link. But did we condemn the weaker
member? That wouldn't serve any purpose. Instead, the stronger guys responded by carrying more weight than the weaker teammate. Encouragement was key in reaching the top of the stadium, standing as one.
Sometimes one person on your team may not be as strong as another. Strengths usually differ. Likewise, in an encounter with another, someone may have a different set of beliefs or ideas.To accomplish any goal, embracing the strengths and weaknesses of each member and compensating where necessary are the best ways to make it to the top. — Jake Byrne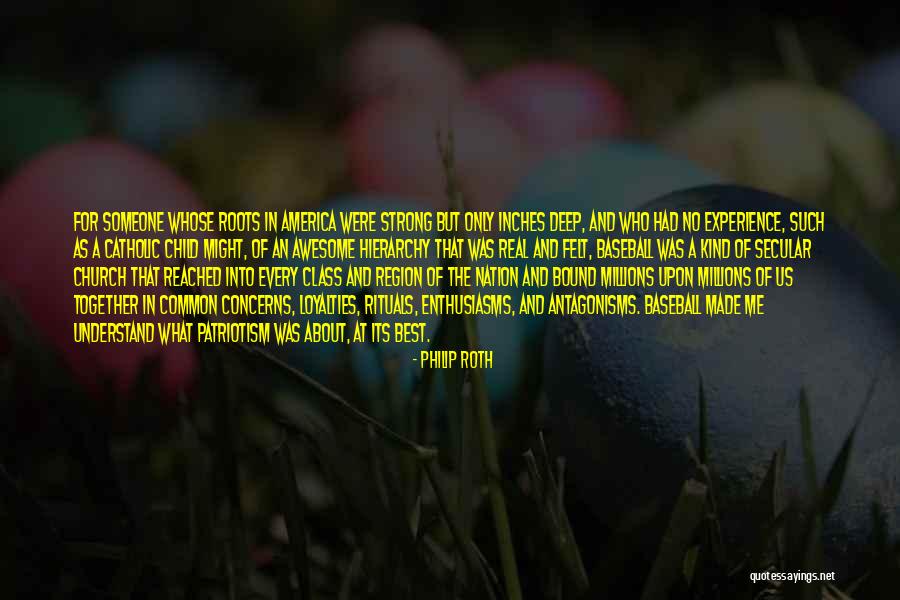 For someone whose roots in America were strong but only inches deep, and who had no experience, such as a Catholic child might, of an awesome hierarchy that was real and felt, baseball was a kind of secular church that reached into every class and region of the nation and bound millions upon millions of us together in common concerns, loyalties, rituals, enthusiasms, and antagonisms. Baseball made me understand what patriotism was about, at its best. — Philip Roth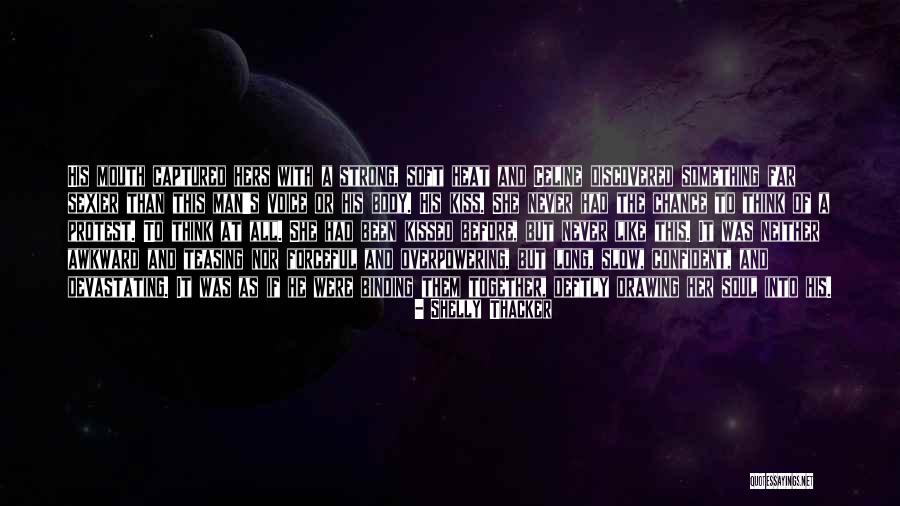 His mouth captured hers with a strong, soft heat and Celine discovered something far sexier than this man's voice or his body. His kiss. She never had the chance to think of a protest. To think at all. She had been kissed before, but never like this. It was neither awkward and teasing nor forceful and overpowering, but long, slow, confident, and devastating. It was as if he were binding them together, deftly drawing her soul into his. — Shelly Thacker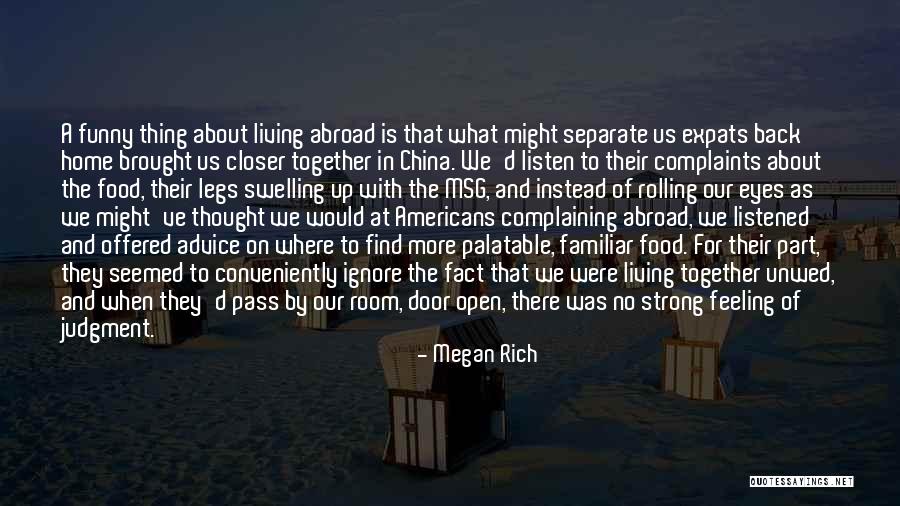 A funny thing about living abroad is that what might separate us expats back home brought us closer together in China. We'd listen to their complaints about the food, their legs swelling up with the MSG, and instead of rolling our eyes as we might've thought we would at Americans complaining abroad, we listened and offered advice on where to find more palatable, familiar food. For their part, they seemed to conveniently ignore the fact that we were living together unwed, and when they'd pass by our room, door open, there was no strong feeling of judgment. — Megan Rich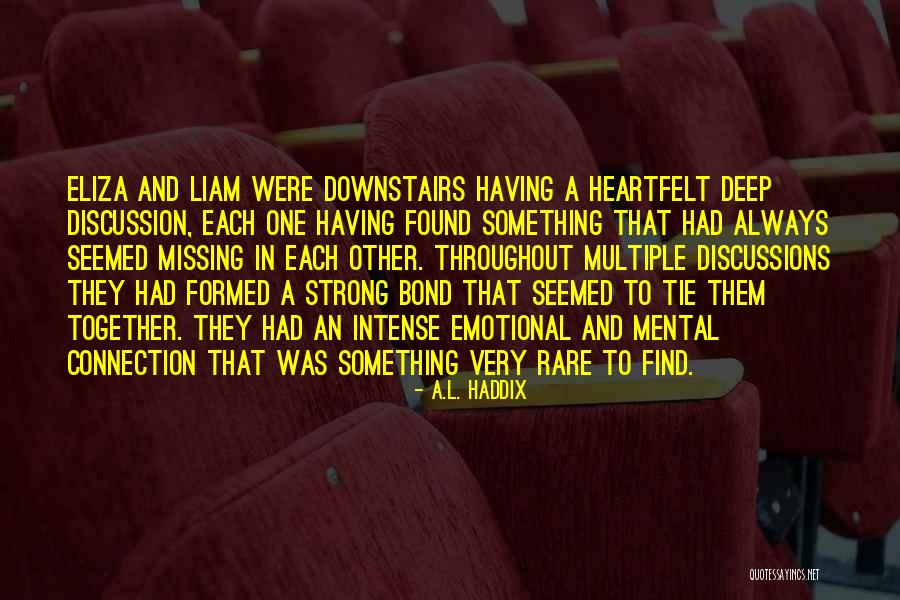 Eliza and Liam were downstairs having a heartfelt deep discussion, each one having found something that had always seemed missing in each other. Throughout multiple discussions they had formed a strong bond that seemed to tie them together. They had an intense emotional and mental connection that was something very rare to find. — A.L. Haddix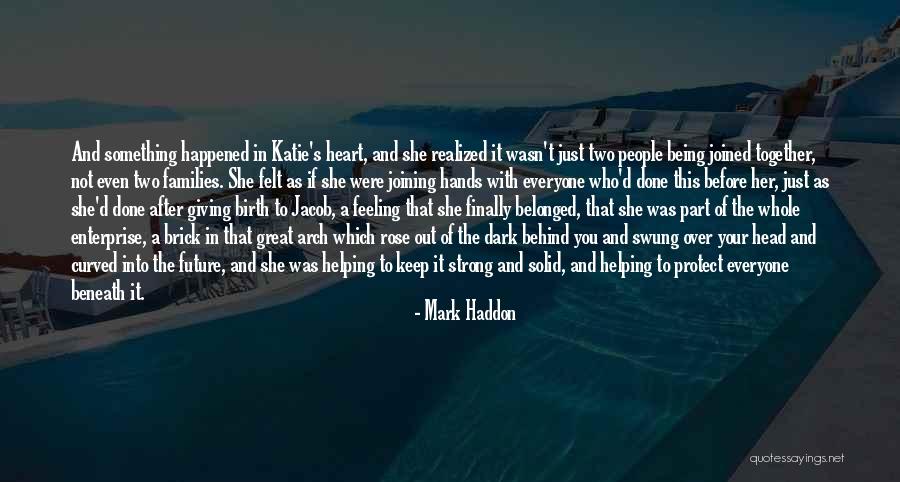 And something happened in Katie's heart, and she realized it wasn't just two people being joined together, not even two families. She felt as if she were joining hands with everyone who'd done this before her, just as she'd done after giving birth to Jacob, a feeling that she finally belonged, that she was part of the whole enterprise, a brick in that great arch which rose out of the dark behind you and swung over your head and curved into the future, and she was helping to keep it strong and solid, and helping to protect everyone beneath it. — Mark Haddon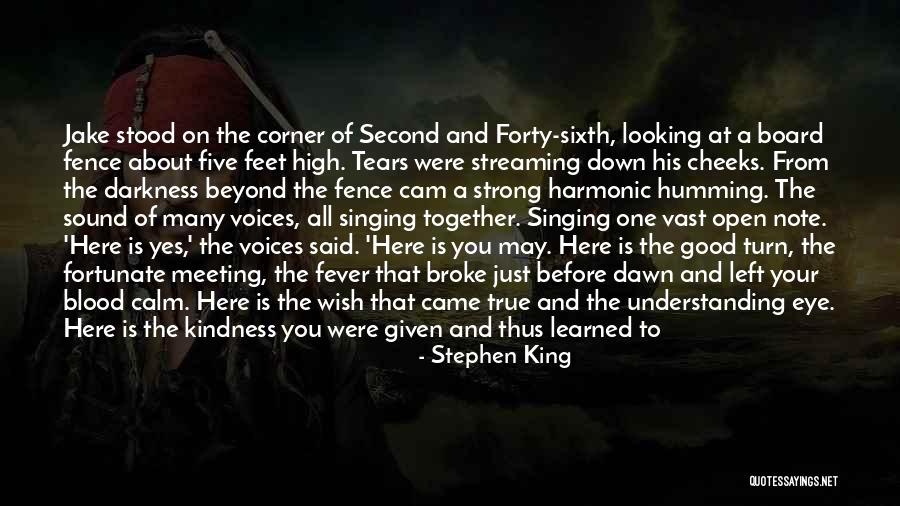 Jake stood on the corner of Second and Forty-sixth, looking at a board fence about five feet high. Tears were streaming down his cheeks. From the darkness beyond the fence cam a strong harmonic humming. The sound of many voices, all singing together. Singing one vast open note. 'Here is yes,' the voices said. 'Here is you may. Here is the good turn, the fortunate meeting, the fever that broke just before dawn and left your blood calm. Here is the wish that came true and the understanding eye. Here is the kindness you were given and thus learned to pass on. Here is the sanity and clarity you thought were lost. Here, everything is all right. — Stephen King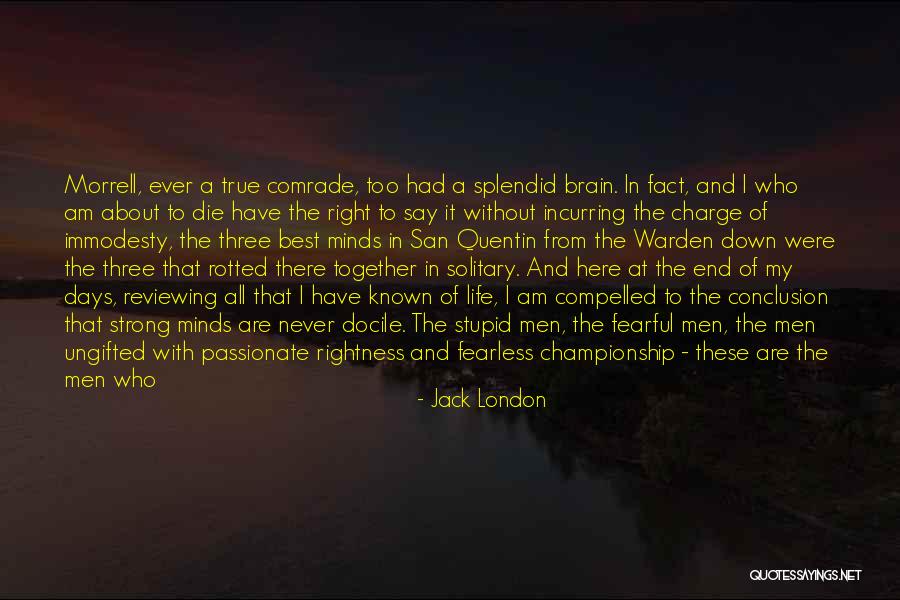 Morrell, ever a true comrade, too had a splendid brain. In fact, and I who am about to die have the right to say it without incurring the charge of immodesty, the three best minds in San Quentin from the Warden down were the three that rotted there together in solitary. And here at the end of my days, reviewing all that I have known of life, I am compelled to the conclusion that strong minds are never docile. The stupid men, the fearful men, the men ungifted with passionate rightness and fearless championship - these are the men who make model prisoners. I thank all gods that Jake Oppenheimer, Ed Morrell, and I were not model prisoners. — Jack London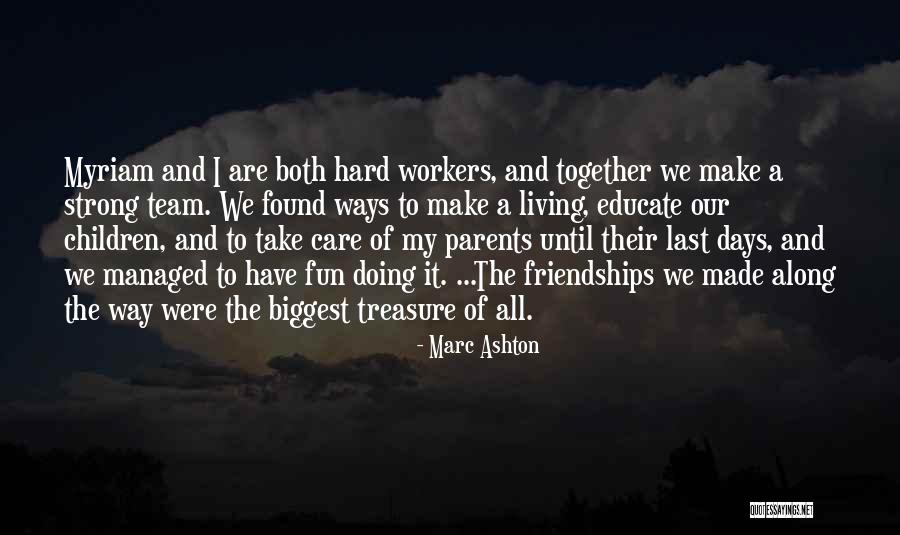 Myriam and I are both hard workers, and together we make a strong team. We found ways to make a living, educate our children, and to take care of my parents until their last days, and we managed to have fun doing it. ...The friendships we made along the way were the biggest treasure of all. — Marc Ashton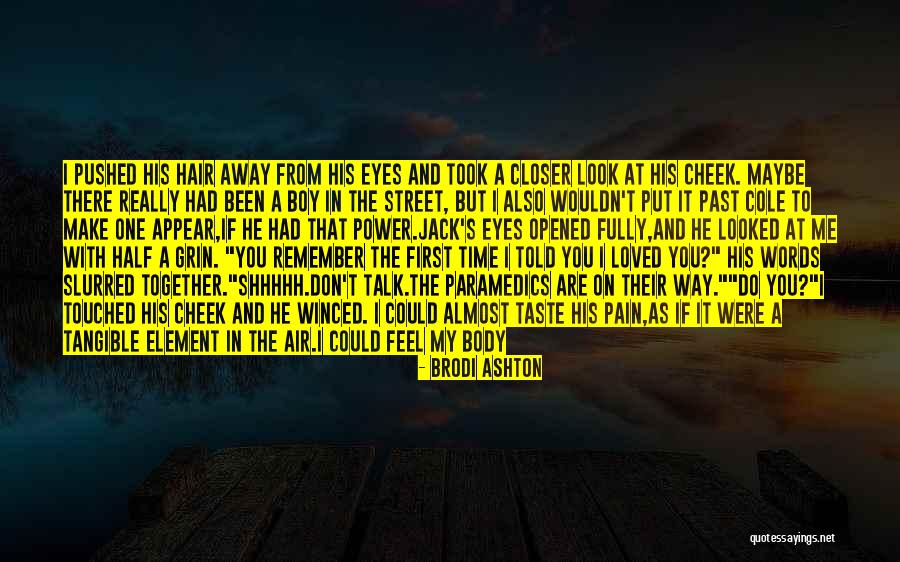 I pushed his hair away from his eyes and took a closer look at his cheek. Maybe there really had been a boy in the street, but I also wouldn't put it past Cole to make one appear,if he had that power.
Jack's eyes opened fully,and he looked at me with half a grin. "You remember the first time I told you I loved you?" His words slurred together.
"Shhhhh.Don't talk.The paramedics are on their way."
"Do you?"
I touched his cheek and he winced. I could almost taste his pain,as if it were a tangible element in the air.I could feel my body hungering for the hurt.It was the first time since I'd Returned that I craved someone else's energy.Even at my lowest point,those last moments in the Everneath,I'd never felt a need for it.Until now.Until I was faced with emotions this strong.
He tilted his head toward me,and I jerked back. The taste in the air became bitter and sweet,a mixture of pain and longing.
"Tell me you remember," he said. "Please. — Brodi Ashton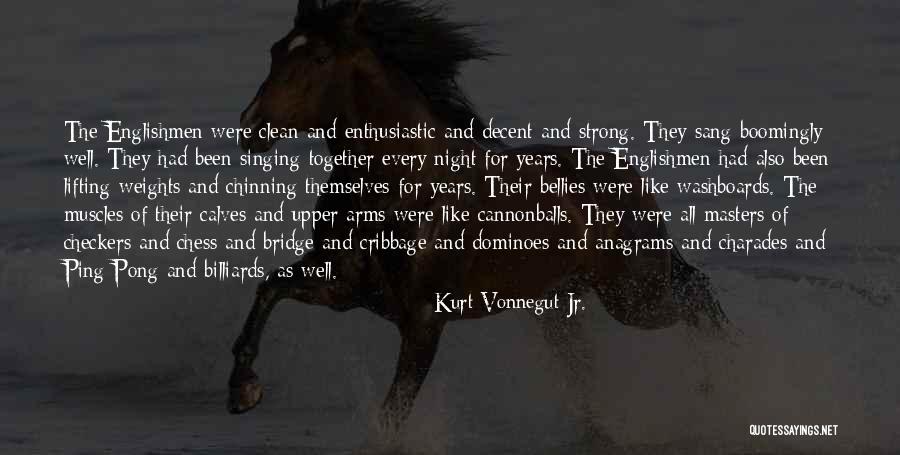 The Englishmen were clean and enthusiastic and decent and strong. They sang boomingly well. They had been singing together every night for years. The Englishmen had also been lifting weights and chinning themselves for years. Their bellies were like washboards. The muscles of their calves and upper arms were like cannonballs. They were all masters of checkers and chess and bridge and cribbage and dominoes and anagrams and charades and Ping-Pong and billiards, as well. — Kurt Vonnegut Jr.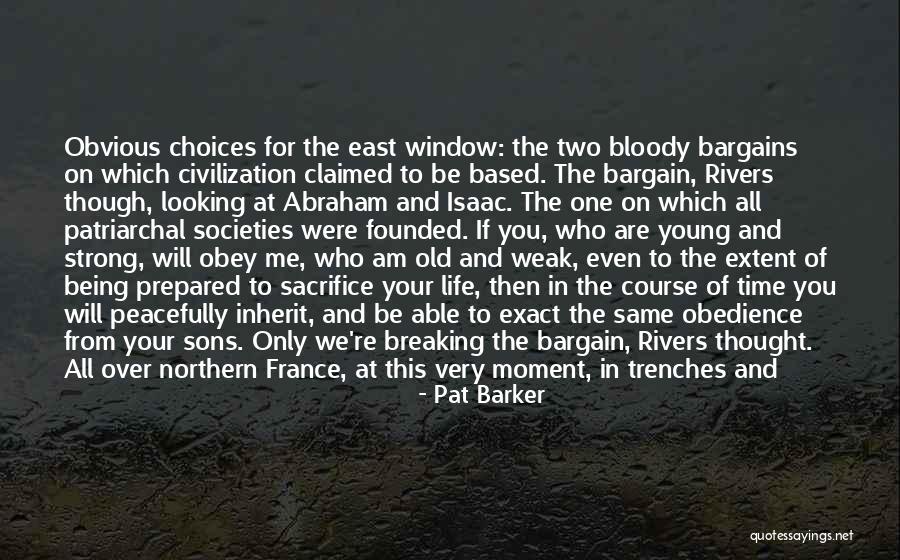 Obvious choices for the east window: the two bloody bargains on which civilization claimed to be based. The bargain, Rivers though, looking at Abraham and Isaac. The one on which all patriarchal societies were founded. If you, who are young and strong, will obey me, who am old and weak, even to the extent of being prepared to sacrifice your life, then in the course of time you will peacefully inherit, and be able to exact the same obedience from your sons. Only we're breaking the bargain, Rivers thought. All over northern France, at this very moment, in trenches and dugouts and flooded shell-holes, the inheritors were dying, not one by one, while old men, and women of all ages, gathered together and sang hymns. — Pat Barker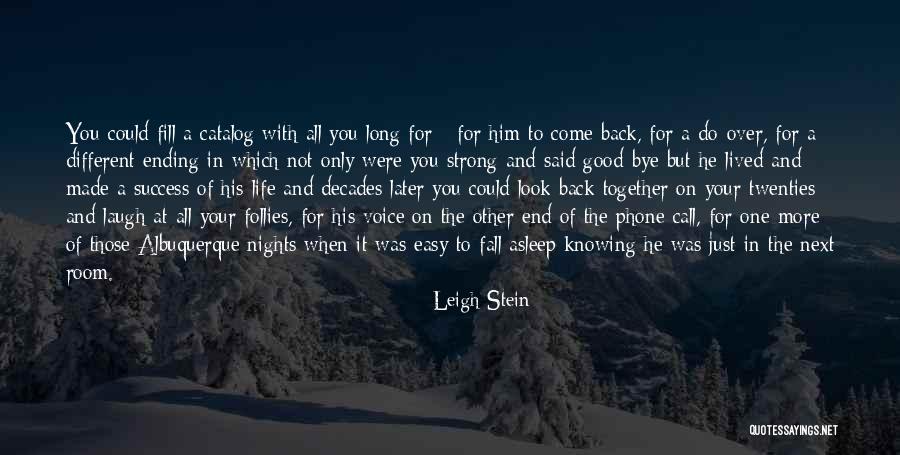 You could fill a catalog with all you long for - for him to come back, for a do-over, for a different ending in which not only were you strong and said good-bye but he lived and made a success of his life and decades later you could look back together on your twenties and laugh at all your follies, for his voice on the other end of the phone call, for one more of those Albuquerque nights when it was easy to fall asleep knowing he was just in the next room. — Leigh Stein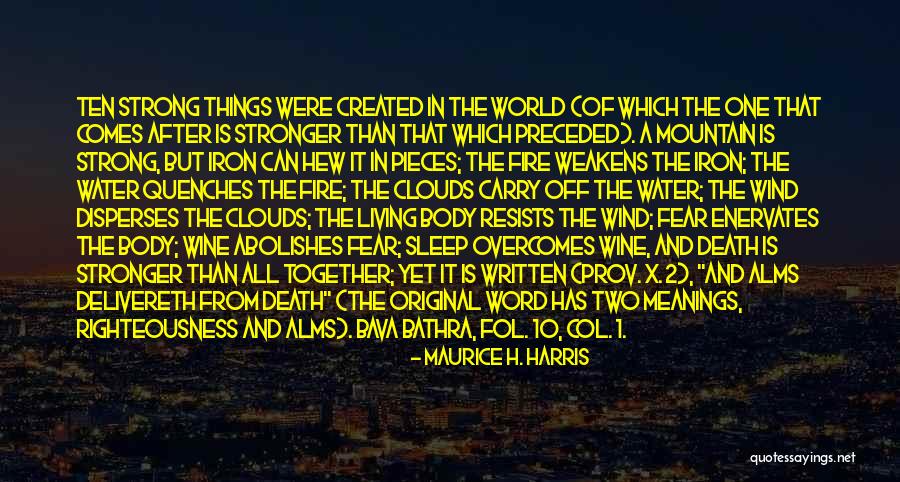 Ten strong things were created in the world (of which the one that comes after is stronger than that which preceded). A mountain is strong, but iron can hew it in pieces; the fire weakens the iron; the water quenches the fire; the clouds carry off the water; the wind disperses the clouds; the living body resists the wind; fear enervates the body; wine abolishes fear; sleep overcomes wine, and death is stronger than all together; yet it is written (Prov. x. 2), "And alms delivereth from death" (the original word has two meanings, righteousness and alms). Bava Bathra, fol. 10, col. 1. — Maurice H. Harris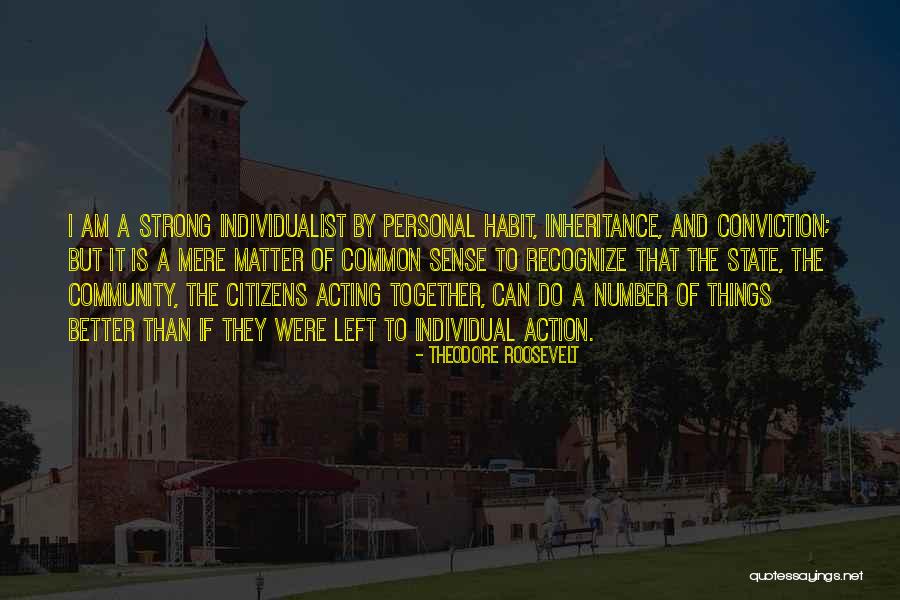 I am a strong individualist by personal habit, inheritance, and conviction; but it is a mere matter of common sense to recognize that the State, the community, the citizens acting together, can do a number of things better than if they were left to individual action. — Theodore Roosevelt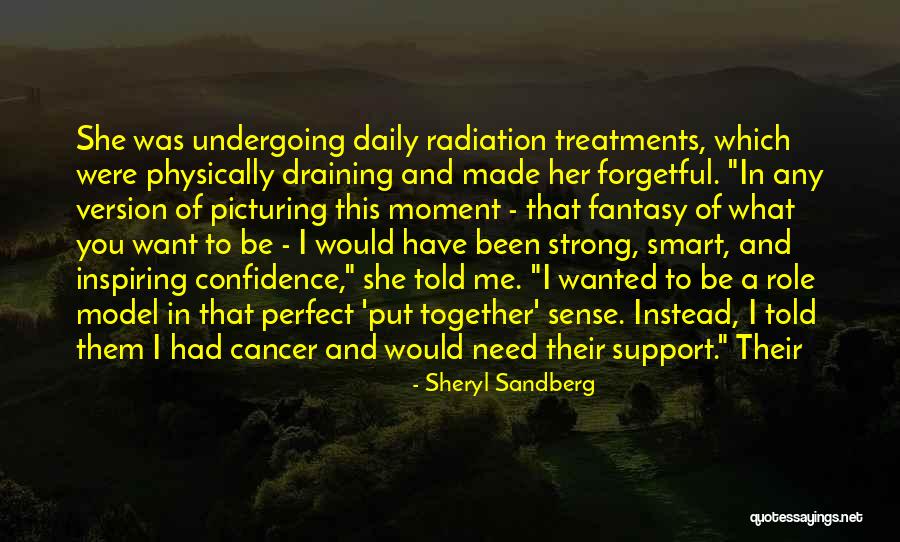 She was undergoing daily radiation treatments, which were physically draining and made her forgetful. "In any version of picturing this moment - that fantasy of what you want to be - I would have been strong, smart, and inspiring confidence," she told me. "I wanted to be a role model in that perfect 'put together' sense. Instead, I told them I had cancer and would need their support." Their — Sheryl Sandberg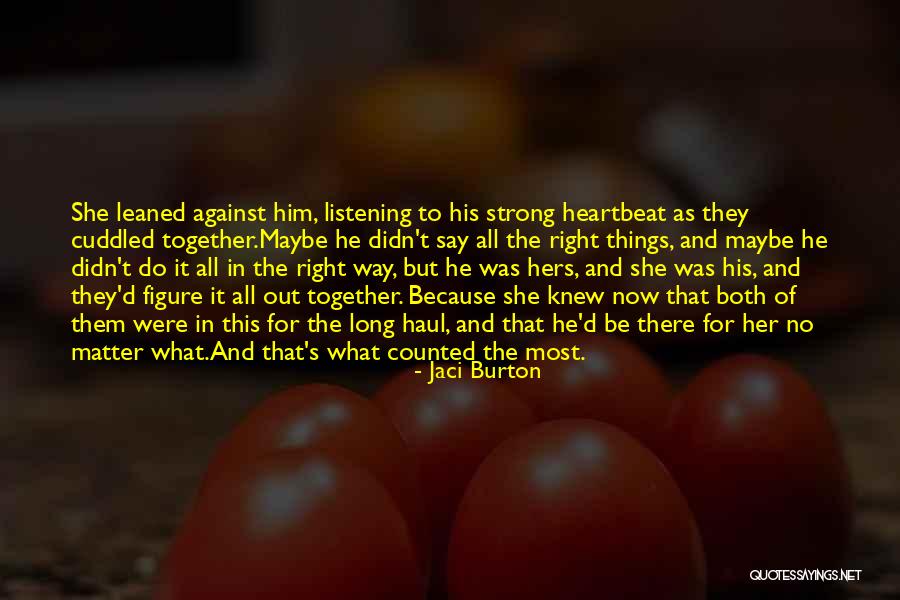 She leaned against him, listening to his strong heartbeat as they cuddled together.
Maybe he didn't say all the right things, and maybe he didn't do it all in the right way, but he was hers, and she was his, and they'd figure it all out together. Because she knew now that both of them were in this for the long haul, and that he'd be there for her no matter what.
And that's what counted the most. — Jaci Burton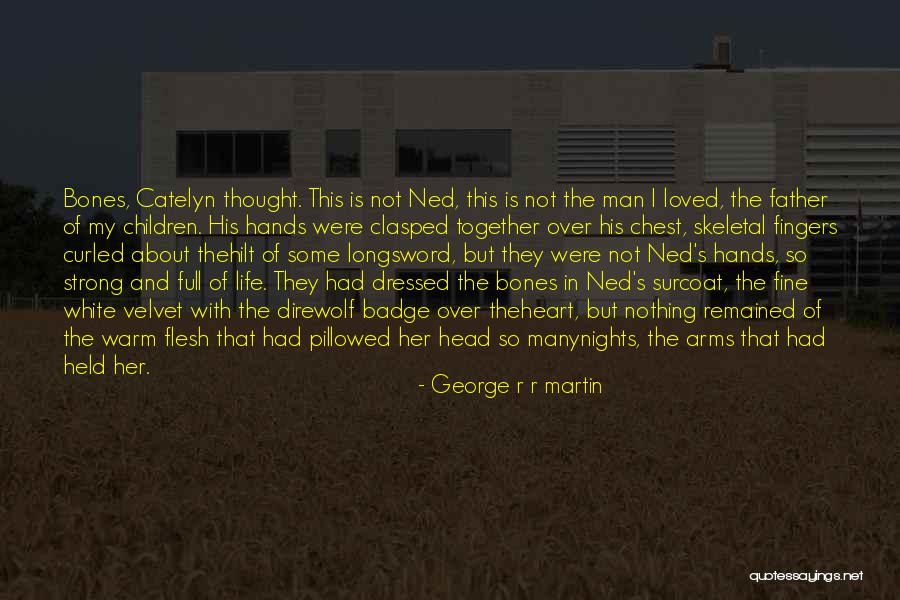 Bones, Catelyn thought. This is not Ned, this is not the man I loved, the father of my children. His hands were clasped together over his chest, skeletal fingers curled about the
hilt of some longsword, but they were not Ned's hands, so strong and full of life. They had dressed the bones in Ned's surcoat, the fine white velvet with the direwolf badge over the
heart, but nothing remained of the warm flesh that had pillowed her head so many
nights, the arms that had held her. — George R R Martin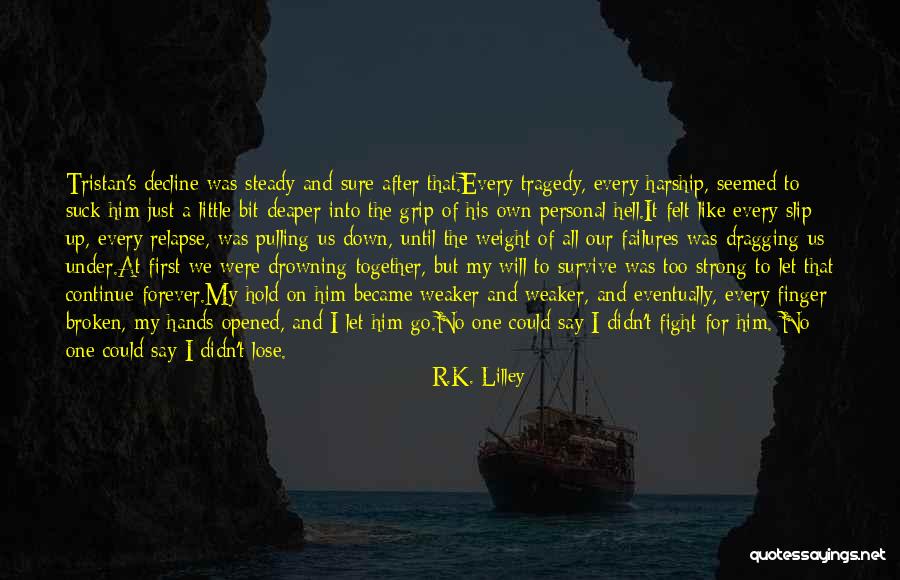 Tristan's decline was steady and sure after that.
Every tragedy, every harship, seemed to suck him just a little bit deaper into the grip of his own personal hell.
It felt like every slip up, every relapse, was pulling us down, until the weight of all our failures was dragging us under.
At first we were drowning together, but my will to survive was too strong to let that continue forever.
My hold on him became weaker and weaker, and eventually, every finger broken, my hands opened, and I let him go.
No one could say I didn't fight for him. No one could say I didn't lose. — R.K. Lilley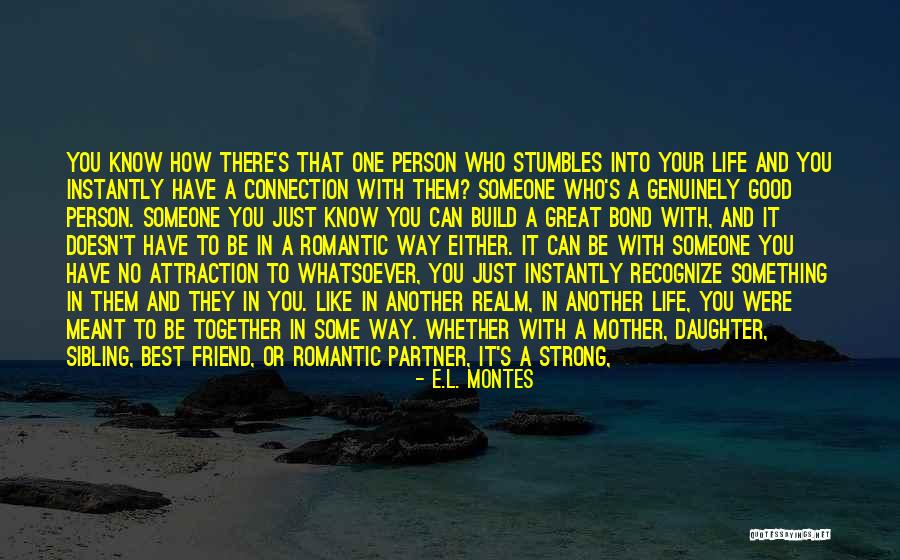 You know how there's that one person who stumbles into your life and you instantly have a connection with them? Someone who's a genuinely good person. Someone you just know you can build a great bond with, and it doesn't have to be in a romantic way either. It can be with someone you have no attraction to whatsoever, you just instantly recognize something in them and they in you. Like in another realm, in another life, you were meant to be together in some way. Whether with a mother, daughter, sibling, best friend, or romantic partner, it's a strong, unexplainable connection between two individuals — E.L. Montes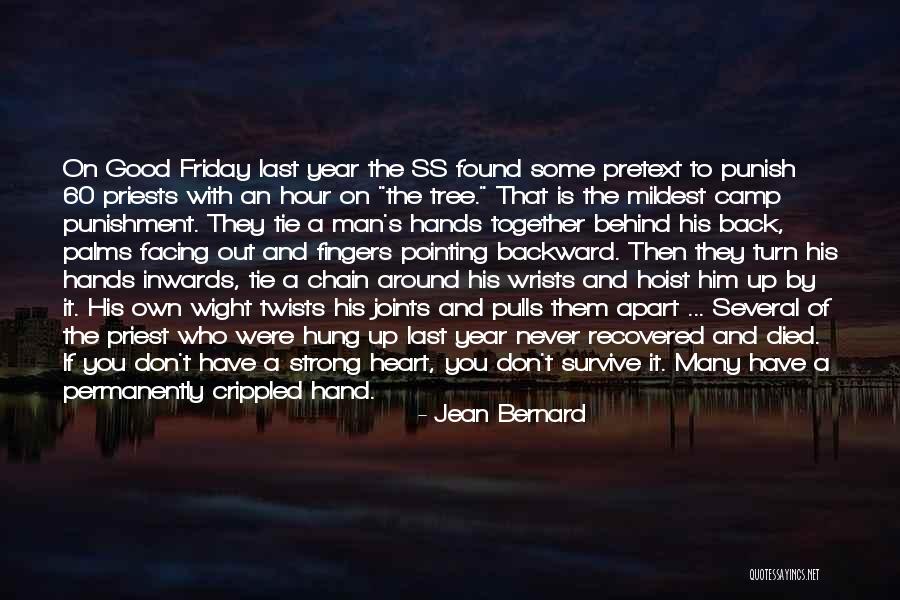 On Good Friday last year the SS found some pretext to punish 60 priests with an hour on "the tree." That is the mildest camp punishment. They tie a man's hands together behind his back, palms facing out and fingers pointing backward. Then they turn his hands inwards, tie a chain around his wrists and hoist him up by it. His own wight twists his joints and pulls them apart ... Several of the priest who were hung up last year never recovered and died. If you don't have a strong heart, you don't survive it. Many have a permanently crippled hand. — Jean Bernard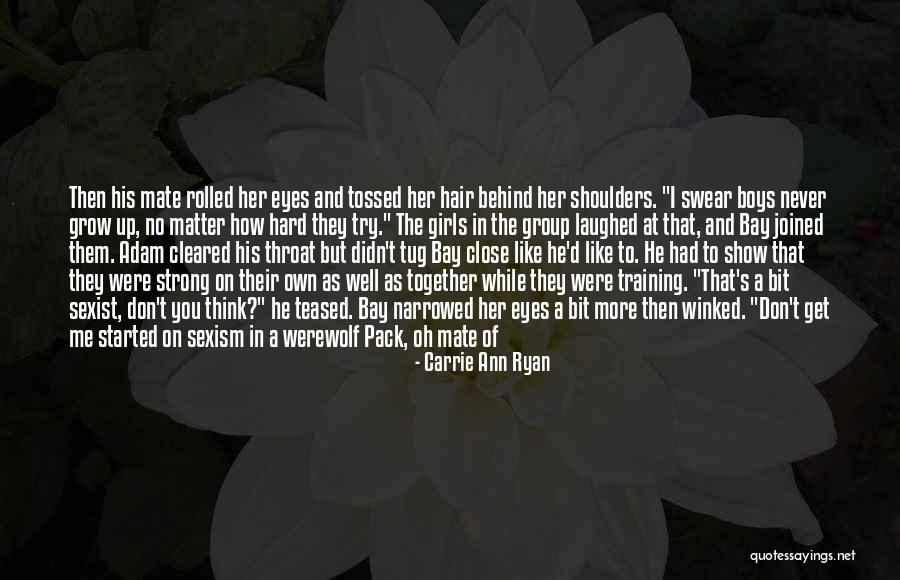 Then his mate rolled her eyes and tossed her hair behind her shoulders. "I swear boys never grow up, no matter how hard they try." The girls in the group laughed at that, and Bay joined them. Adam cleared his throat but didn't tug Bay close like he'd like to. He had to show that they were strong on their own as well as together while they were training. "That's a bit sexist, don't you think?" he teased. Bay narrowed her eyes a bit more then winked. "Don't get me started on sexism in a werewolf Pack, oh mate of mine. I'll let you off the hook because you happen to be holding the cutest baby in the world. — Carrie Ann Ryan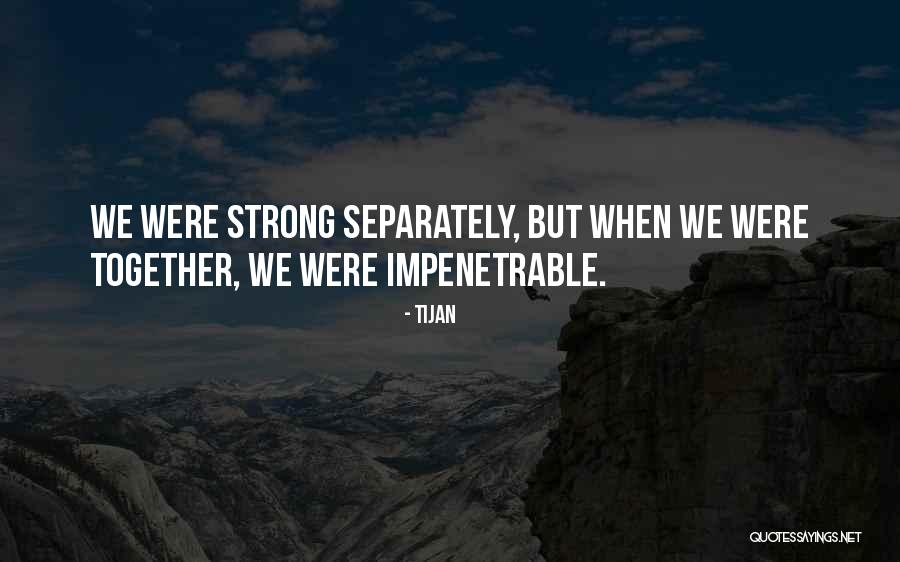 We were strong separately, but when we were together, we were impenetrable. — Tijan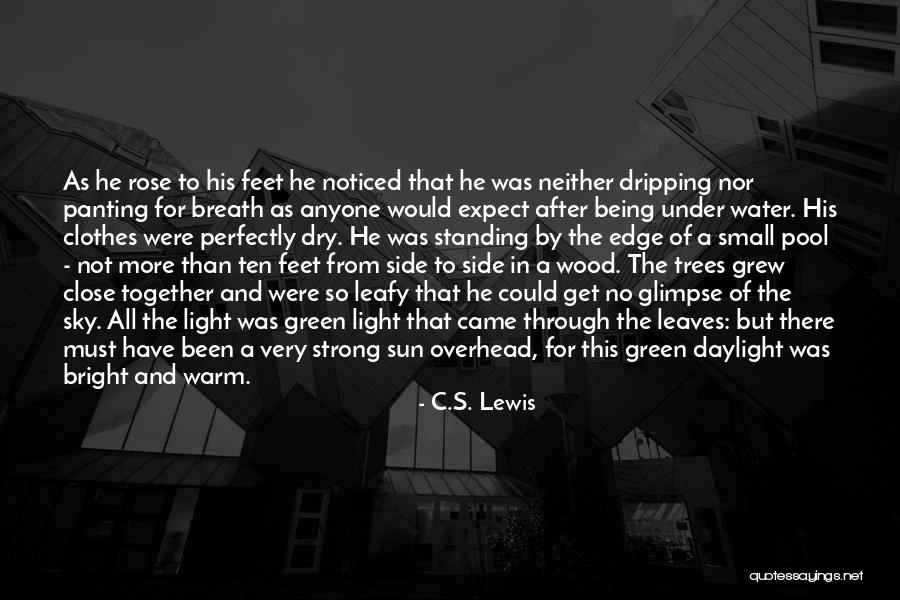 As he rose to his feet he noticed that he was neither dripping nor panting for breath as anyone would expect after being under water. His clothes were perfectly dry. He was standing by the edge of a small pool - not more than ten feet from side to side in a wood. The trees grew close together and were so leafy that he could get no glimpse of the sky. All the light was green light that came through the leaves: but there must have been a very strong sun overhead, for this green daylight was bright and warm. It was the quietest wood you could possibly imagine. There were no birds, no insects, no animals, and no wind. You could almost feel the trees growing. The pool he had just got out of was not the only pool. There were dozens of others - a pool every few yards as far as his eyes could reach. You could almost feel the trees drinking the water up with their roots. This wood was very much alive. — C.S. Lewis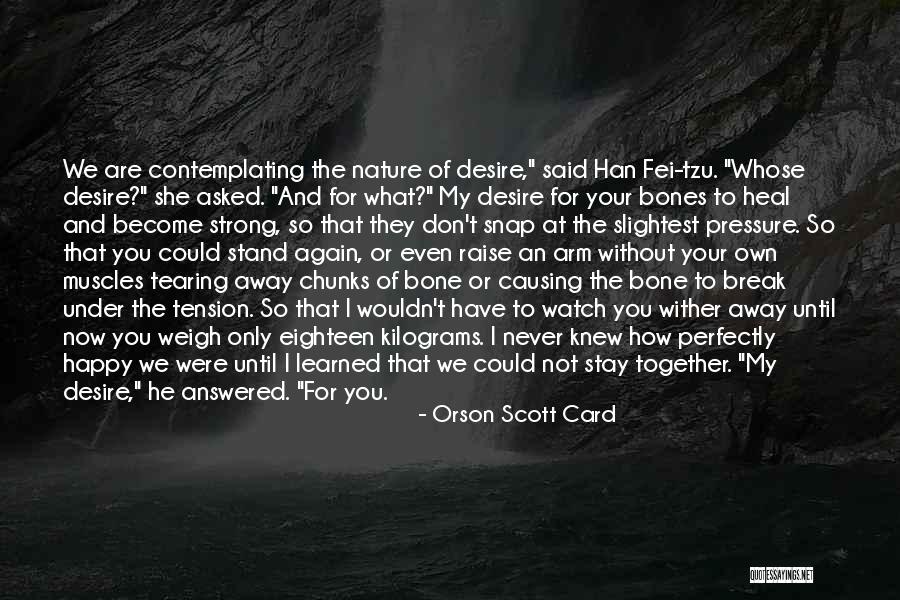 We are contemplating the nature of desire," said Han Fei-tzu. "Whose desire?" she asked. "And for what?" My desire for your bones to heal and become strong, so that they don't snap at the slightest pressure. So that you could stand again, or even raise an arm without your own muscles tearing away chunks of bone or causing the bone to break under the tension. So that I wouldn't have to watch you wither away until now you weigh only eighteen kilograms. I never knew how perfectly happy we were until I learned that we could not stay together. "My desire," he answered. "For you. — Orson Scott Card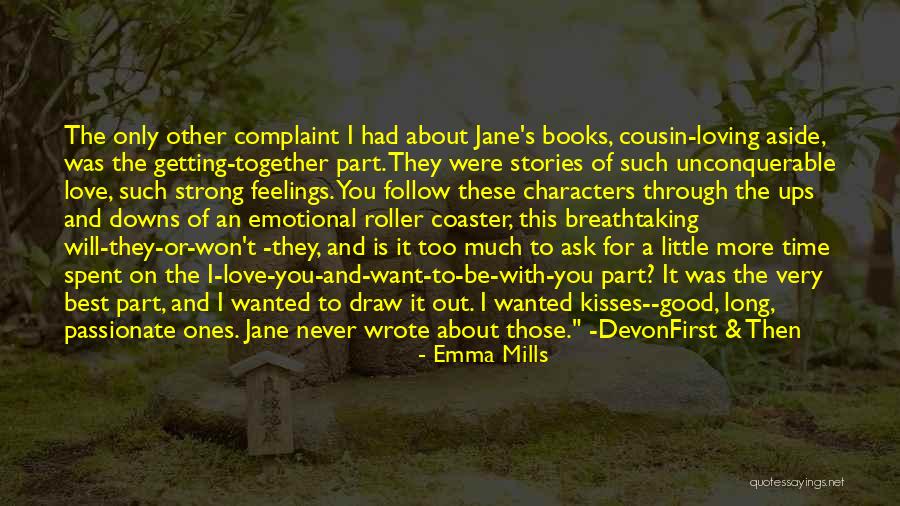 The only other complaint I had about Jane's books, cousin-loving aside, was the getting-together part. They were stories of such unconquerable love, such strong feelings. You follow these characters through the ups and downs of an emotional roller coaster, this breathtaking will-they-or-won't -they, and is it too much to ask for a little more time spent on the I-love-you-and-want-to-be-with-you part? It was the very best part, and I wanted to draw it out. I wanted kisses--good, long, passionate ones. Jane never wrote about those."
-Devon
First & Then — Emma Mills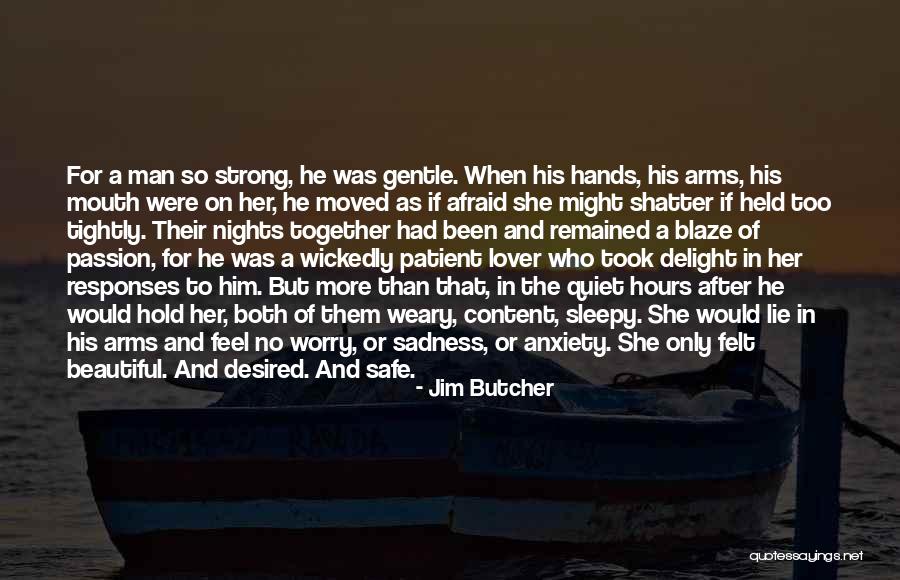 For a man so strong, he was gentle. When his hands, his arms, his mouth were on her, he moved as if afraid she might shatter if held too tightly. Their nights together had been and remained a blaze of passion, for he was a wickedly patient lover who took delight in her responses to him. But more than that, in the quiet hours after he would hold her, both of them weary, content, sleepy. She would lie in his arms and feel no worry, or sadness, or anxiety. She only felt beautiful. And desired. And safe. — Jim Butcher
The justice hearing thereof (whose name is Mr Francis Wingate), forthwith issued out his warrant to take me, and bring me before him, and in the meantime to keep a very strong watch about the house where the meeting should be kept, as if we that were to meet together in that place did intend to do some fearful business, to the destruction of the country; when alas! the constable, when he came in, found us only with our Bibles in our hands, ready to speak and hear the word of God; for we were just about to begin our exercise. Nay, we had begun in prayer for the blessing of God upon our opportunity, intending to have preached the word of the Lord unto them there present: but the constable coming in prevented us. — John Bunyan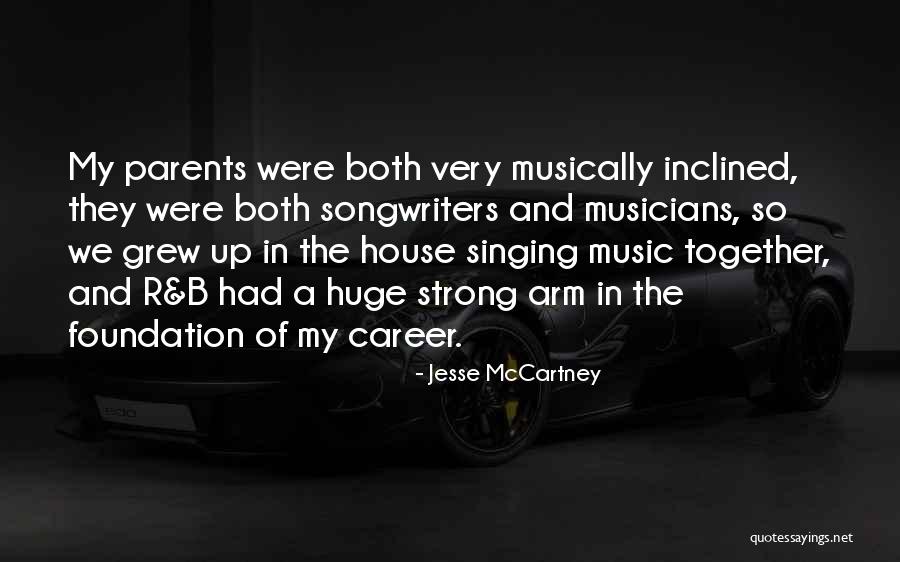 My parents were both very musically inclined, they were both songwriters and musicians, so we grew up in the house singing music together, and R&B had a huge strong arm in the foundation of my career. — Jesse McCartney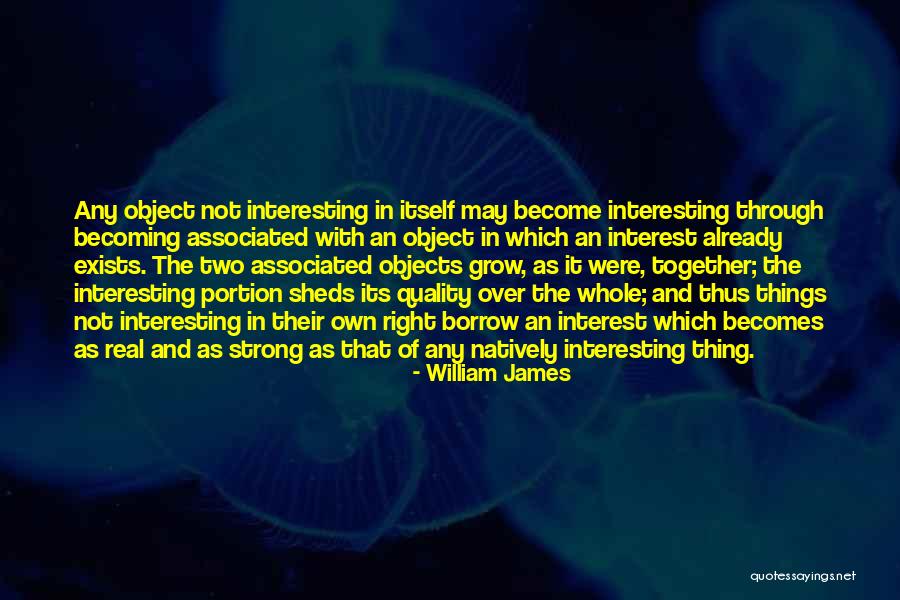 Any object not interesting in itself may become interesting through becoming associated with an object in which an interest already exists. The two associated objects grow, as it were, together; the interesting portion sheds its quality over the whole; and thus things not interesting in their own right borrow an interest which becomes as real and as strong as that of any natively interesting thing. — William James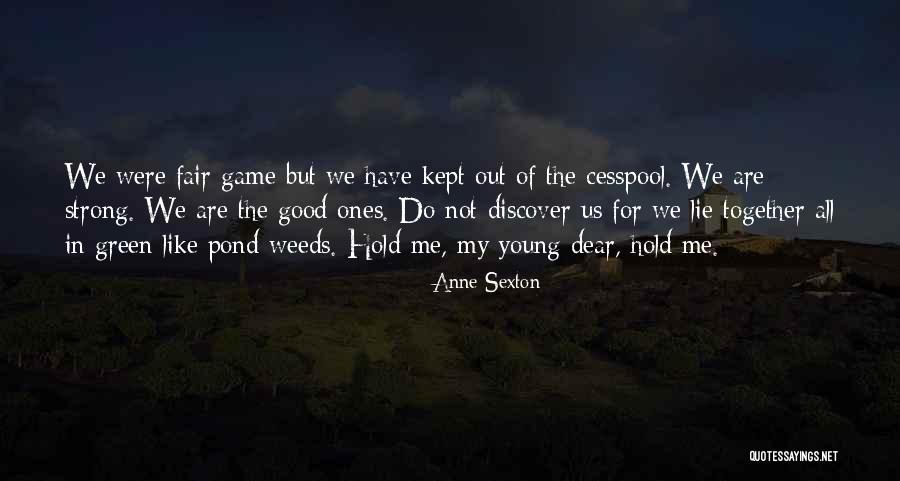 We were fair game
but we have kept out of the cesspool.
We are strong.
We are the good ones.
Do not discover us
for we lie together all in green
like pond weeds.
Hold me, my young dear, hold me. — Anne Sexton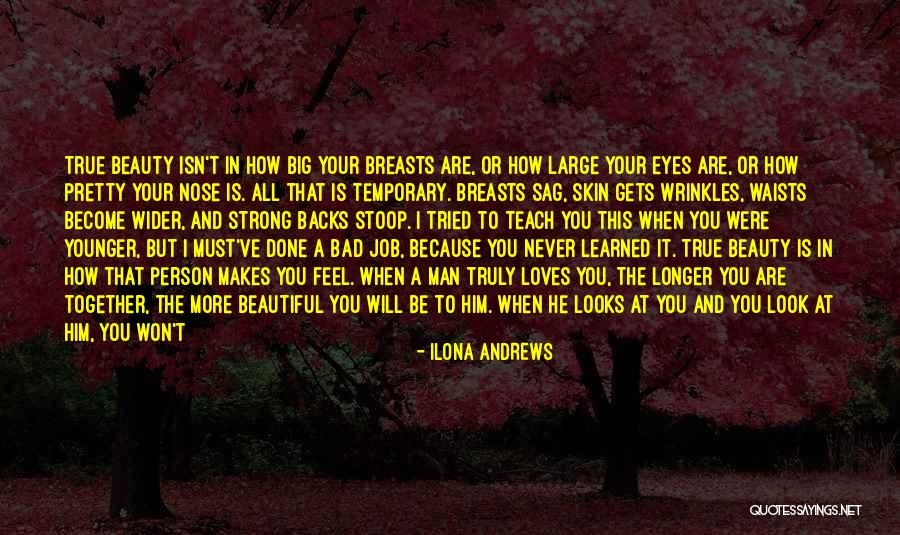 True beauty isn't in how big your breasts are, or how large your eyes are, or how pretty your nose is. All that is temporary. Breasts sag, skin gets wrinkles, waists become wider, and strong backs stoop. I tried to teach you this when you were younger, but I must've done a bad job, because you never learned it. True beauty is in how that person makes you feel. When a man truly loves you, the longer you are together, the more beautiful you will be to him. When he looks at you and you look at him, you won't just see the surface. You will see everything you shared, everything you've been through, and every happy moment you hope for. — Ilona Andrews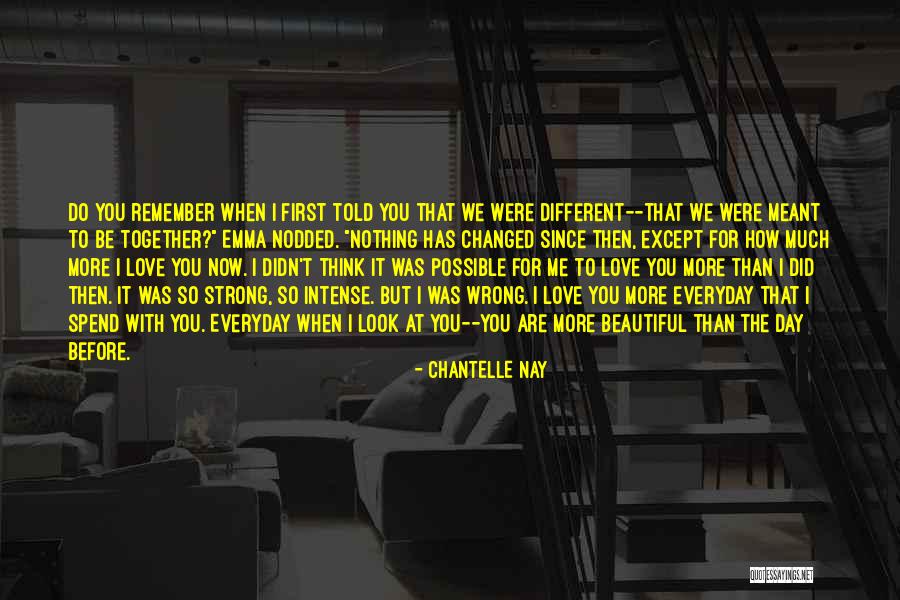 Do you remember when I first told you that we were different--that we were meant to be together?" Emma nodded. "Nothing has changed since then, except for how much more I love you now. I didn't think it was possible for me to love you more than I did then. It was so strong, so intense. But I was wrong. I love you more everyday that I spend with you. Everyday when I look at you--you are more beautiful than the day before. — Chantelle Nay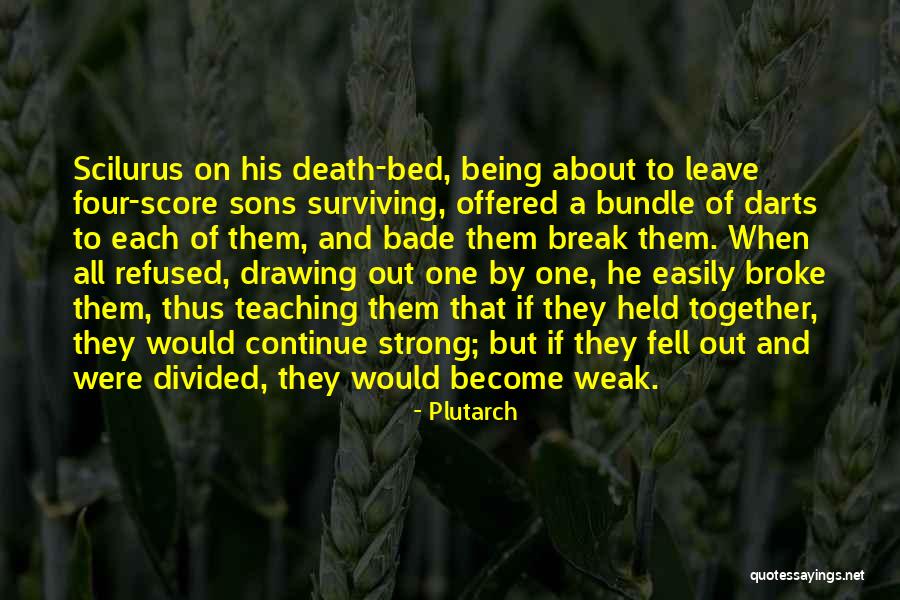 Scilurus on his death-bed, being about to leave four-score sons surviving, offered a bundle of darts to each of them, and bade them break them. When all refused, drawing out one by one, he easily broke them, thus teaching them that if they held together, they would continue strong; but if they fell out and were divided, they would become weak. — Plutarch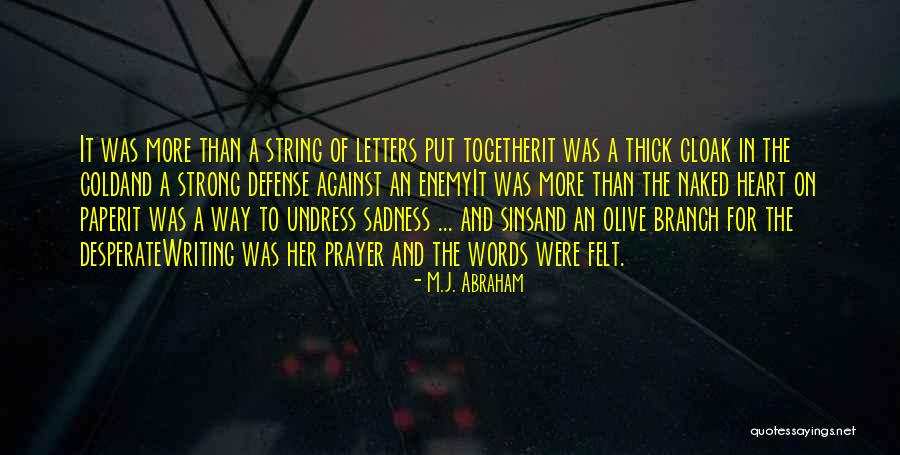 It was more than a string of letters put together
it was a thick cloak in the cold
and a strong defense against an enemy
It was more than the naked heart on paper
it was a way to undress sadness ... and sins
and an olive branch for the desperate
Writing was her prayer
and the words were felt. — M.J. Abraham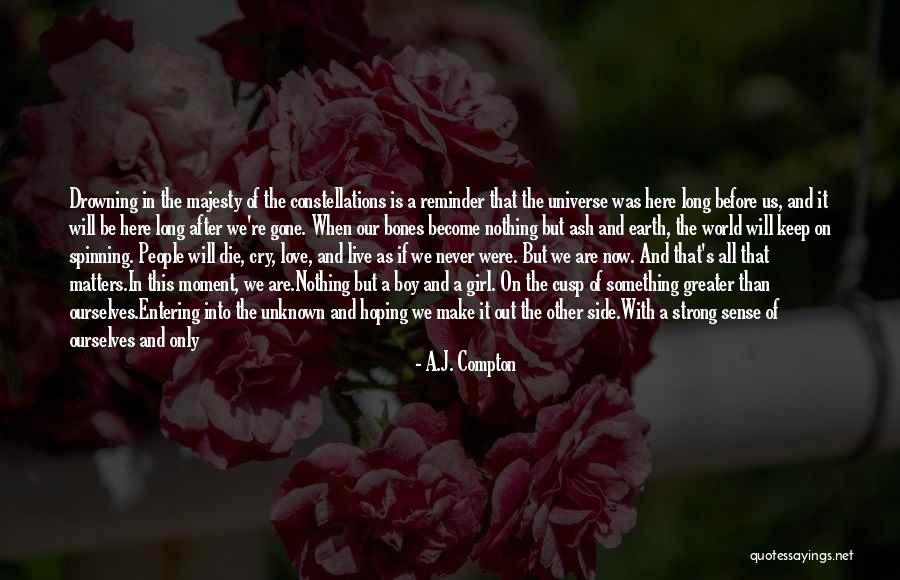 Drowning in the majesty of the constellations is a reminder that the universe was here long before us, and it will be here long after we're gone.

When our bones become nothing but ash and earth, the world will keep on spinning.

People will die, cry, love, and live as if we never were.

But we are now. And that's all that matters.

In this moment, we are.

Nothing but a boy and a girl.

On the cusp of something greater than ourselves.

Entering into the unknown and hoping we make it out the other side.

With a strong sense of ourselves and only a faint idea of who we want to be.

We are what we are.

And we. are. now.

Young, free, alive.

Here, together, loved. — A.J. Compton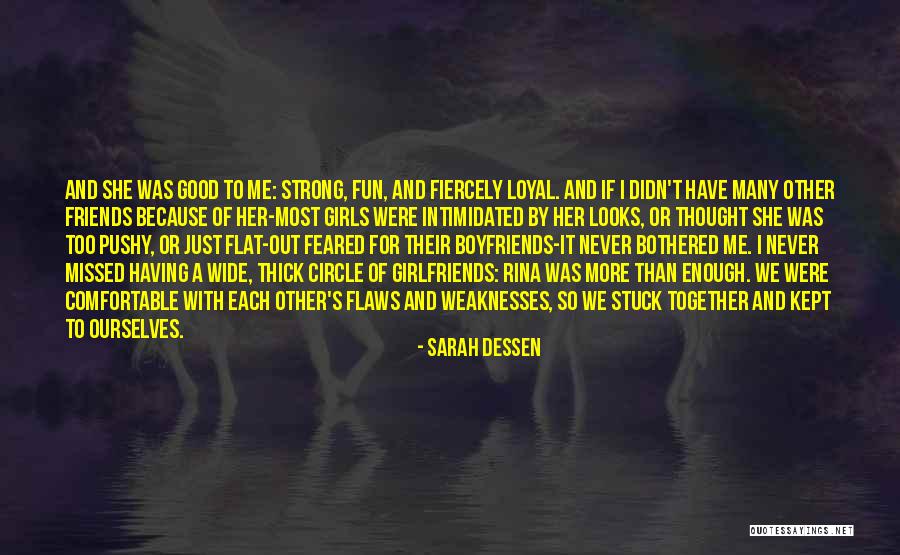 And she was good to me: strong, fun, and fiercely loyal. And if I didn't have many other friends because of her-most girls were intimidated by her looks, or thought she was too pushy, or just flat-out feared for their boyfriends-it never bothered me. I never missed having a wide, thick circle of girlfriends: Rina was more than enough. We were comfortable with each other's flaws and weaknesses, so we stuck together and kept to ourselves. — Sarah Dessen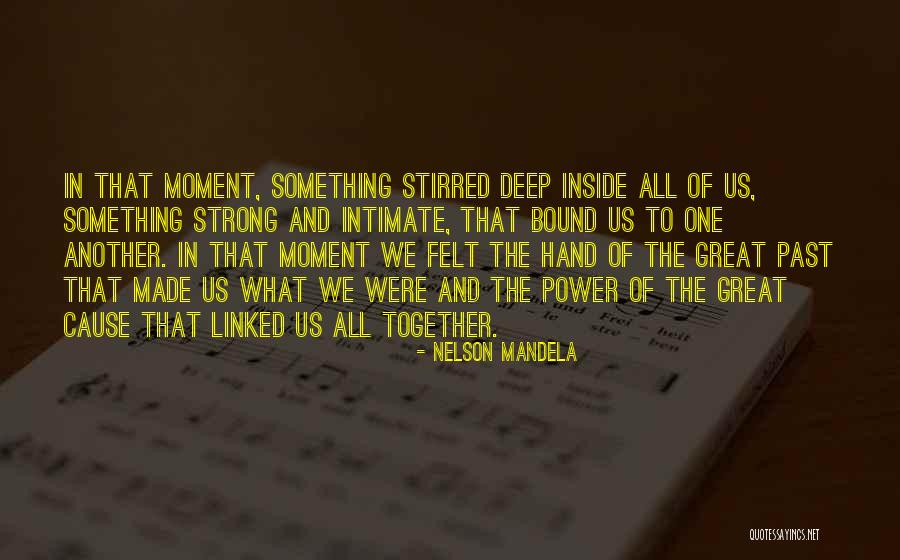 In that moment, something stirred deep inside all of us, something strong and intimate, that bound us to one another. In that moment we felt the hand of the great past that made us what we were and the power of the great cause that linked us all together. — Nelson Mandela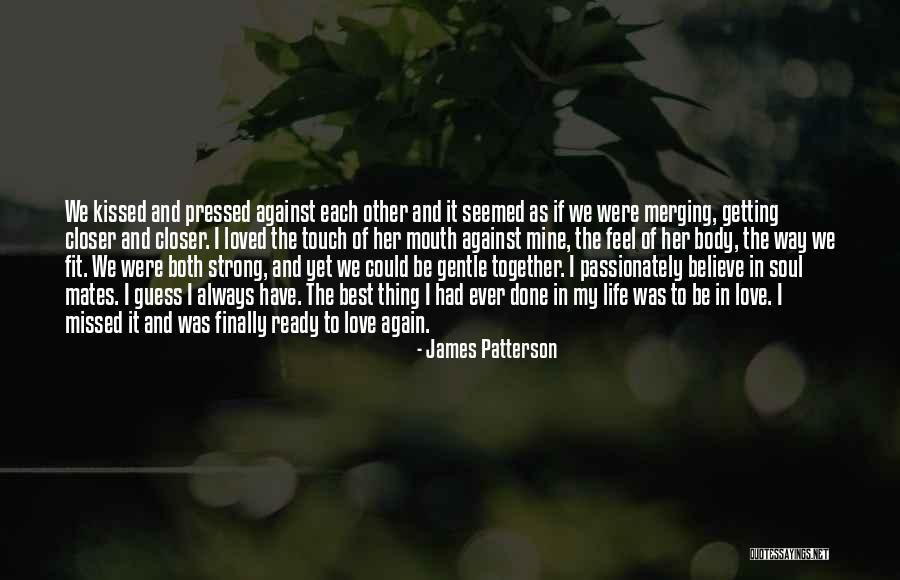 We kissed and pressed against each other and it seemed as if we were merging, getting closer and closer. I loved the touch of her mouth against mine, the feel of her body, the way we fit. We were both strong, and yet we could be gentle together. I passionately believe in soul mates. I guess I always have. The best thing I had ever done in my life was to be in love. I missed it and was finally ready to love again. — James Patterson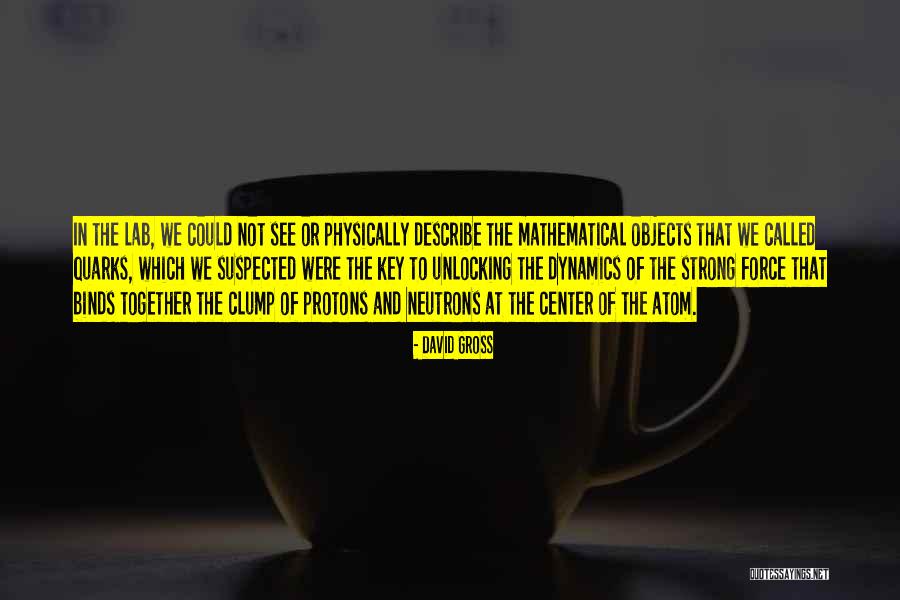 In the lab, we could not see or physically describe the mathematical objects that we called quarks, which we suspected were the key to unlocking the dynamics of the strong force that binds together the clump of protons and neutrons at the center of the atom. — David Gross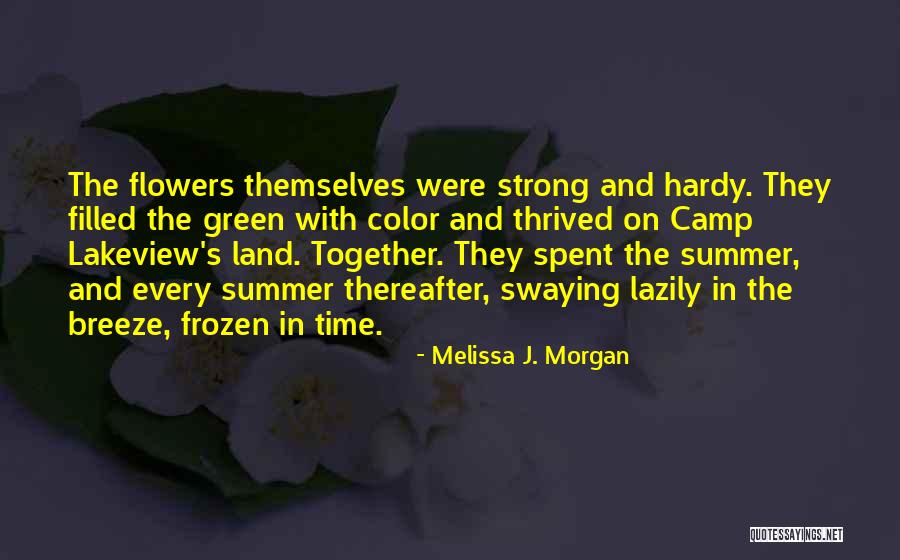 The flowers themselves were strong and hardy. They filled the green with color and thrived on Camp Lakeview's land. Together. They spent the summer, and every summer thereafter, swaying lazily in the breeze, frozen in time. — Melissa J. Morgan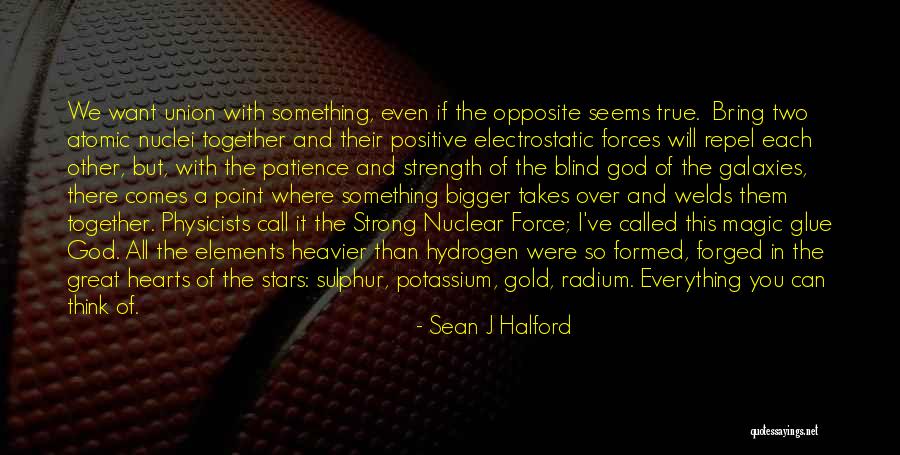 We want union with something, even if the opposite seems true. Bring two atomic nuclei together and their positive electrostatic forces will repel each other, but, with the patience and strength of the blind god of the galaxies, there comes a point where something bigger takes over and welds them together. Physicists call it the Strong Nuclear Force; I've called this magic glue God. All the elements heavier than hydrogen were so formed, forged in the great hearts of the stars: sulphur, potassium, gold, radium. Everything you can think of. — Sean J Halford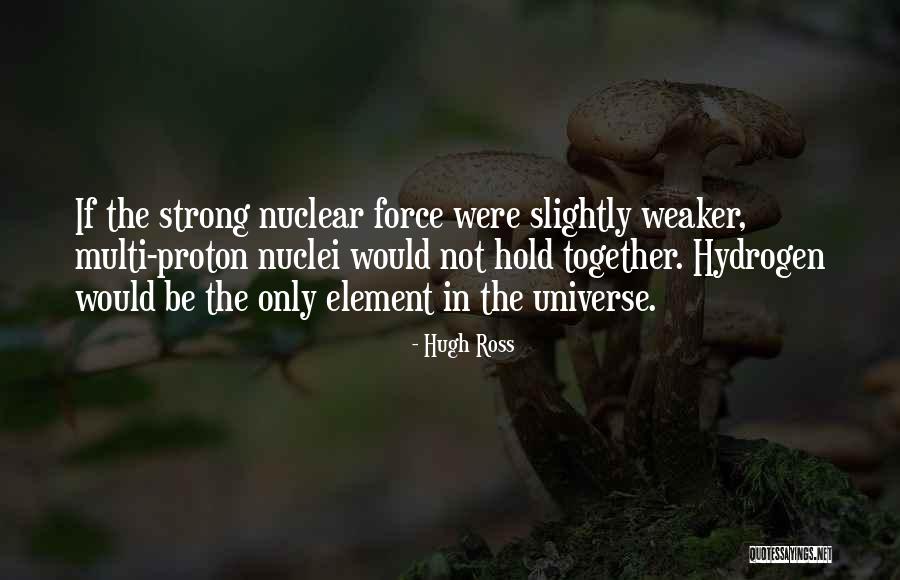 If the strong nuclear force were slightly weaker, multi-proton nuclei would not hold together. Hydrogen would be the only element in the universe. — Hugh Ross