Quotes & Sayings About Charades
Enjoy reading and share 33 famous quotes about Charades with everyone.
Top Charades Quotes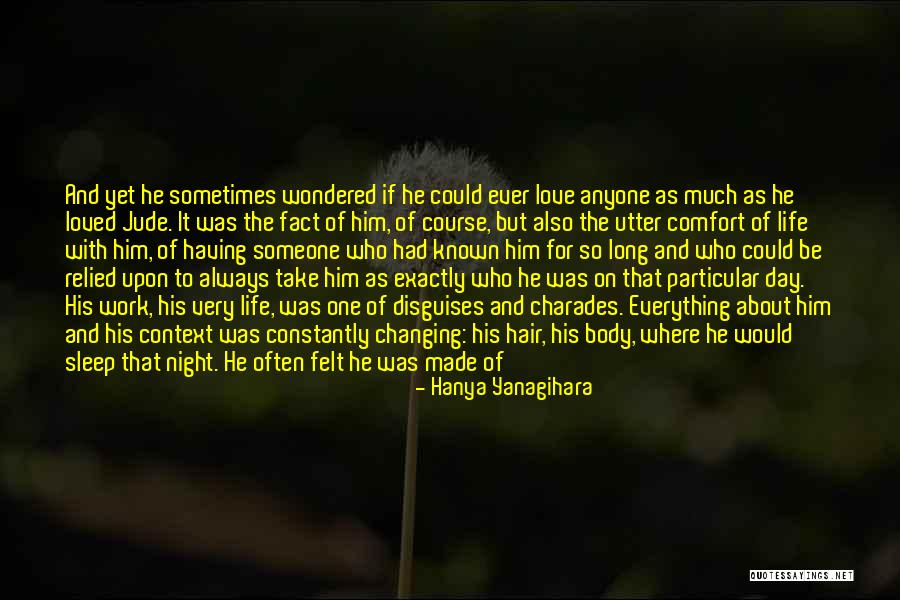 And yet he sometimes wondered if he could ever love anyone as much as he loved Jude. It was the fact of him, of course, but also the utter comfort of life with him, of having someone who had known him for so long and who could be relied upon to always take him as exactly who he was on that particular day. His work, his very life, was one of disguises and charades. Everything about him and his context was constantly changing: his hair, his body, where he would sleep that night. He often felt he was made of something liquid, something that was being continually poured from bright-colored bottle to bright-colored bottle, with a little being lost or left behind with each transfer. But his friendship with Jude made him feel that there was something real and immutable about who he was, that despite his life of guises, there was something elemental about him, something that Jude saw even when he could not, as if Jude's very witness of him made him real. — Hanya Yanagihara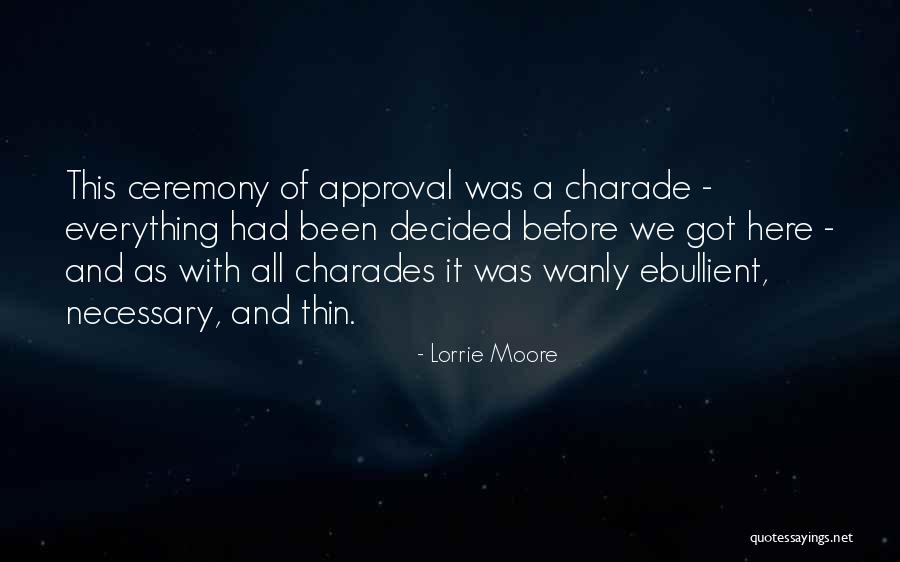 This ceremony of approval was a charade - everything had been decided before we got here - and as with all charades it was wanly ebullient, necessary, and thin. — Lorrie Moore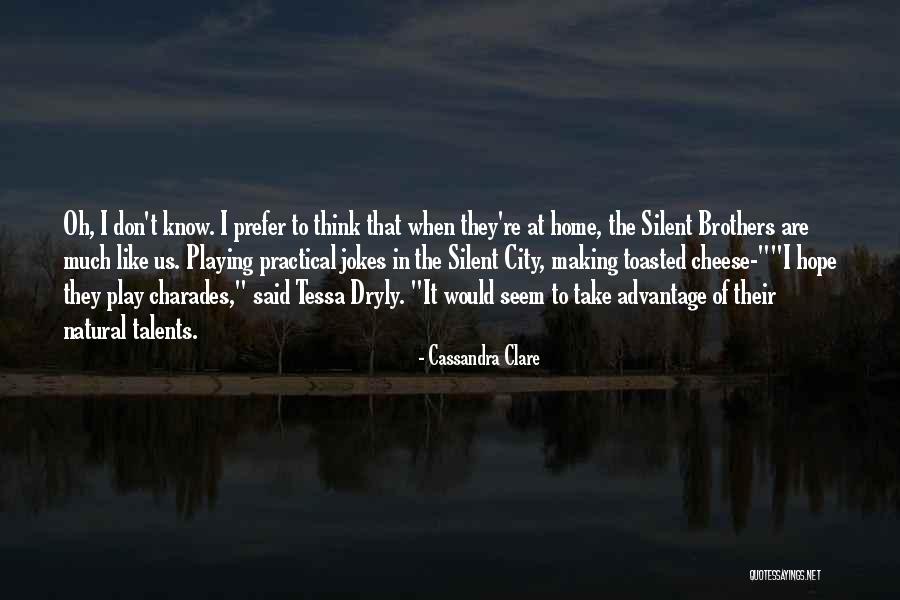 Oh, I don't know. I prefer to think that when they're at home, the Silent Brothers are much like us. Playing practical jokes in the Silent City, making toasted cheese-"
"I hope they play charades," said Tessa Dryly. "It would seem to take advantage of their natural talents. — Cassandra Clare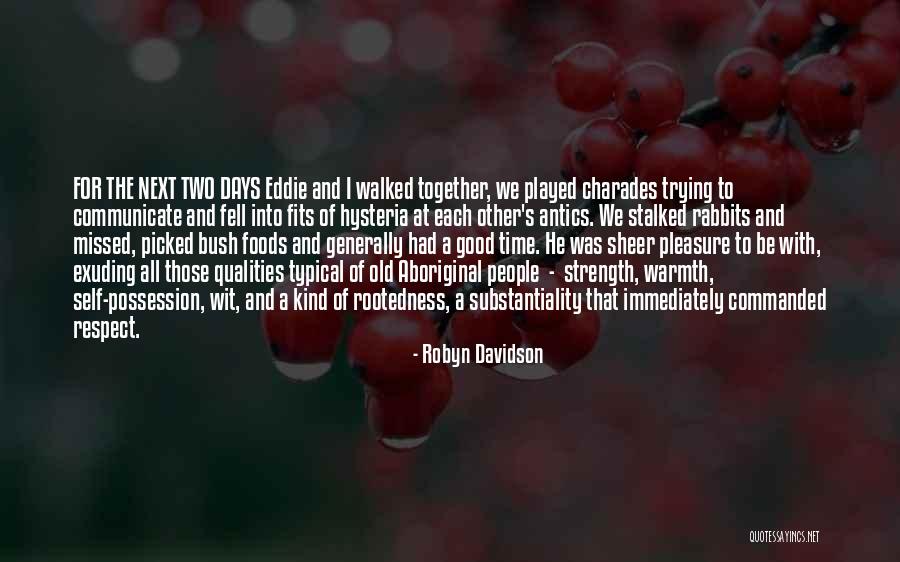 FOR THE NEXT TWO DAYS Eddie and I walked together, we played charades trying to communicate and fell into fits of hysteria at each other's antics. We stalked rabbits and missed, picked bush foods and generally had a good time. He was sheer pleasure to be with, exuding all those qualities typical of old Aboriginal people - strength, warmth, self-possession, wit, and a kind of rootedness, a substantiality that immediately commanded respect. — Robyn Davidson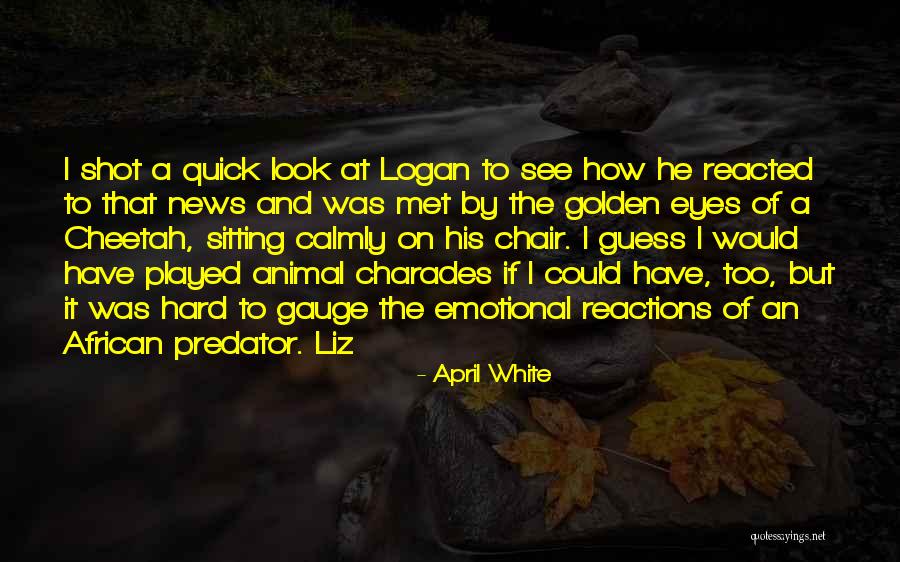 I shot a quick look at Logan to see how he reacted to that news and was met by the golden eyes of a Cheetah, sitting calmly on his chair. I guess I would have played animal charades if I could have, too, but it was hard to gauge the emotional reactions of an African predator. Liz — April White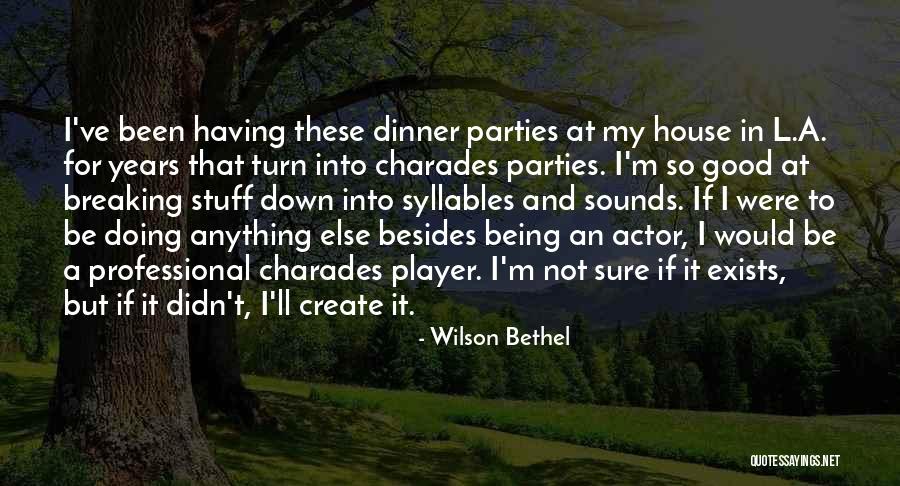 I've been having these dinner parties at my house in L.A. for years that turn into charades parties. I'm so good at breaking stuff down into syllables and sounds. If I were to be doing anything else besides being an actor, I would be a professional charades player. I'm not sure if it exists, but if it didn't, I'll create it. — Wilson Bethel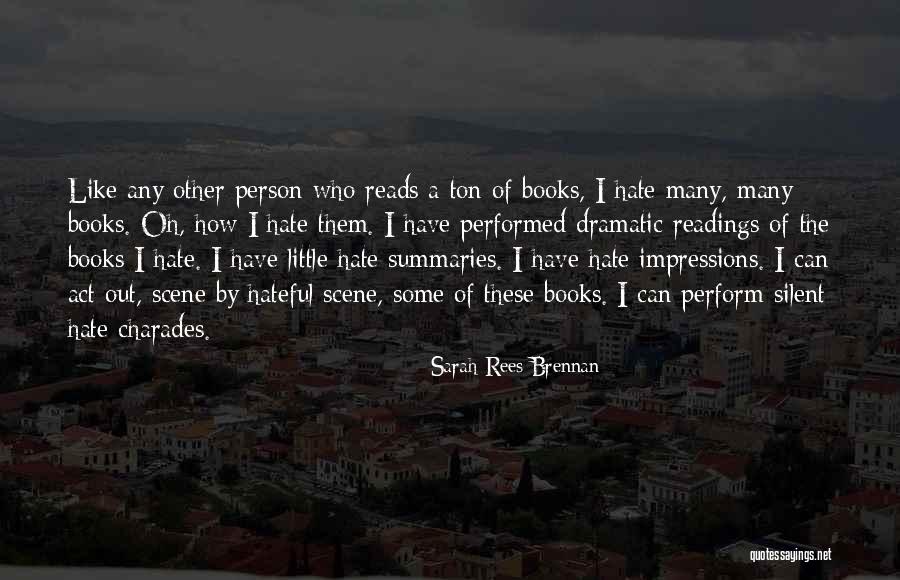 Like any other person who reads a ton of books, I hate many, many books. Oh, how I hate them. I have performed dramatic readings of the books I hate. I have little hate summaries. I have hate impressions. I can act out, scene by hateful scene, some of these books. I can perform silent hate charades. — Sarah Rees Brennan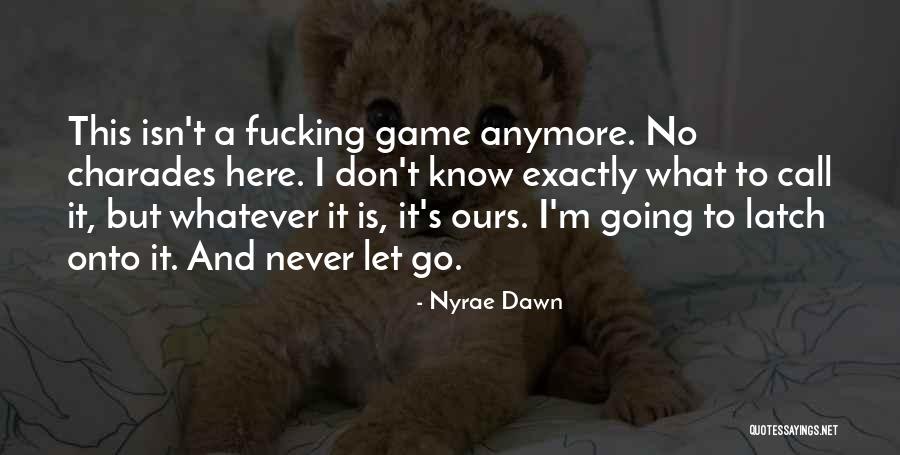 This isn't a fucking game anymore. No charades here. I don't know exactly what to call it, but whatever it is, it's ours. I'm going to latch onto it. And never let go. — Nyrae Dawn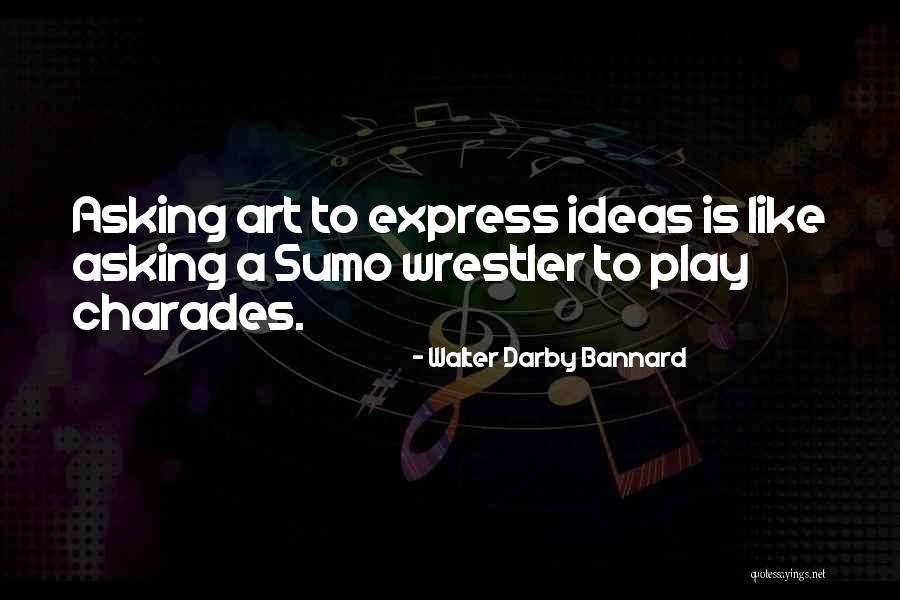 Asking art to express ideas is like asking a Sumo wrestler to play charades. — Walter Darby Bannard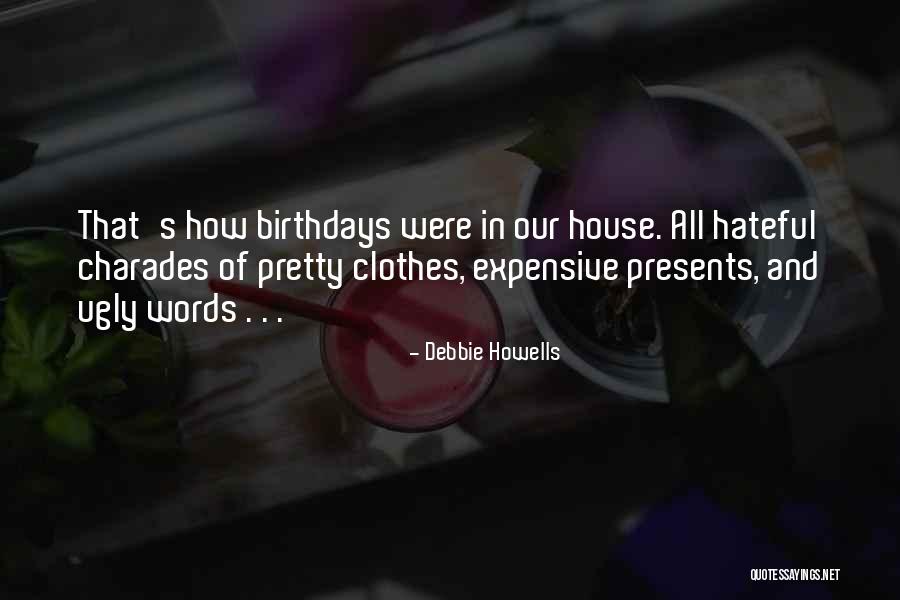 That's how birthdays were in our house. All hateful charades of pretty clothes, expensive presents, and ugly words . . . — Debbie Howells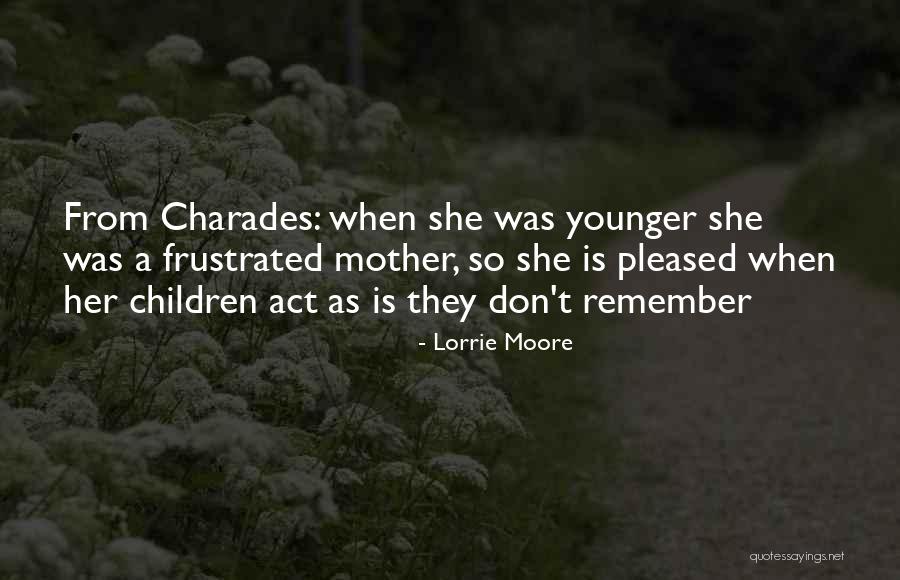 From Charades: when she was younger she was a frustrated mother, so she is pleased when her children act as is they don't remember — Lorrie Moore
For what Luc was in fact proposing was just a game, an enticing game, but, even so, one that could destroy my undoubtedly quite genuine feelings for Bertrand; and it could destroy something else within me, something ill-defined but fiercely felt, which, whether I liked it or not, was opposed to transience. Or, at the very least, to the intentionally transient nature of what Luc what was offering. And then, even if I was able to conceive of any passion or liaison as being short-lived, I couldn't accept in advance that it had to be that way. Like any individual for whom life is a series of charades, I could bear the charades only if they were written by me, and by me alone. — Francoise Sagan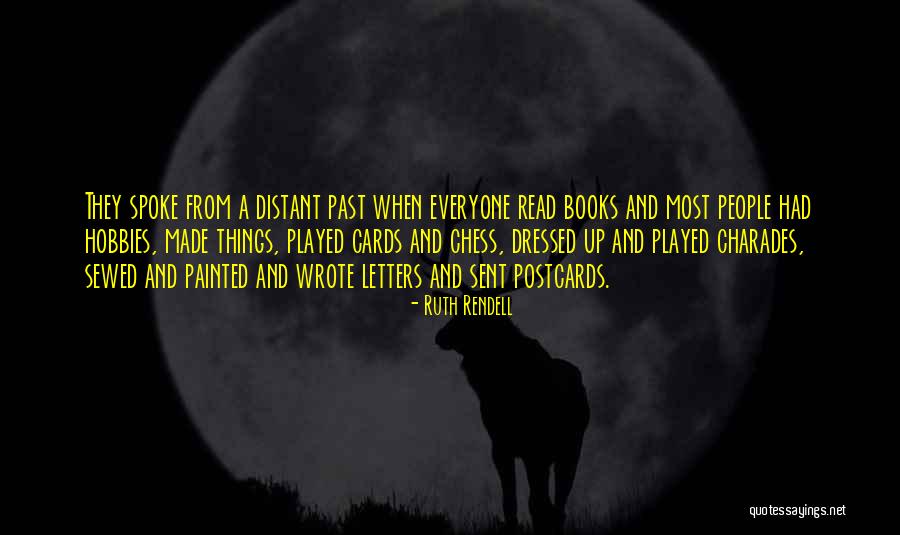 They spoke from a distant past when everyone read books and most people had hobbies, made things, played cards and chess, dressed up and played charades, sewed and painted and wrote letters and sent postcards. — Ruth Rendell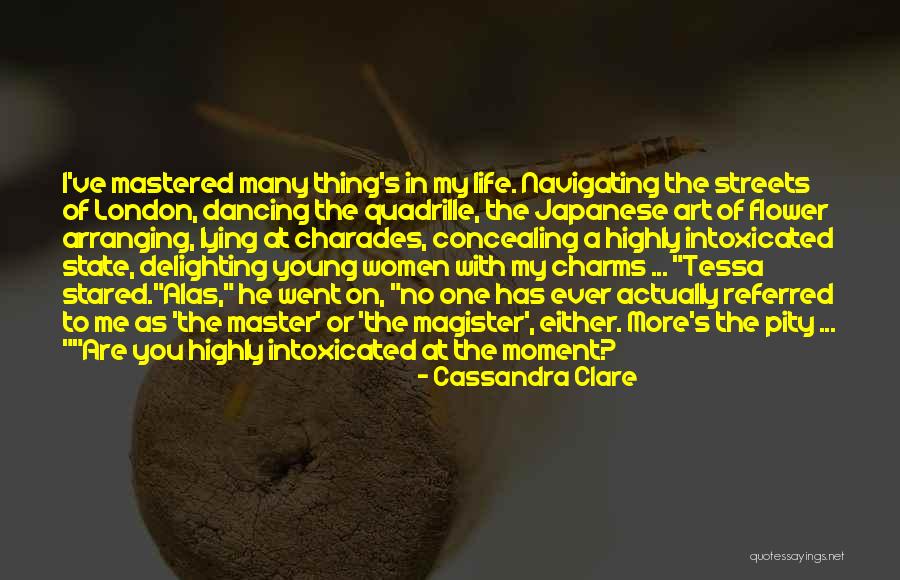 I've mastered many thing's in my life. Navigating the streets of London, dancing the quadrille, the Japanese art of flower arranging, lying at charades, concealing a highly intoxicated state, delighting young women with my charms ... "
Tessa stared.
"Alas," he went on, "no one has ever actually referred to me as 'the master' or 'the magister', either. More's the pity ... "
"Are you highly intoxicated at the moment? — Cassandra Clare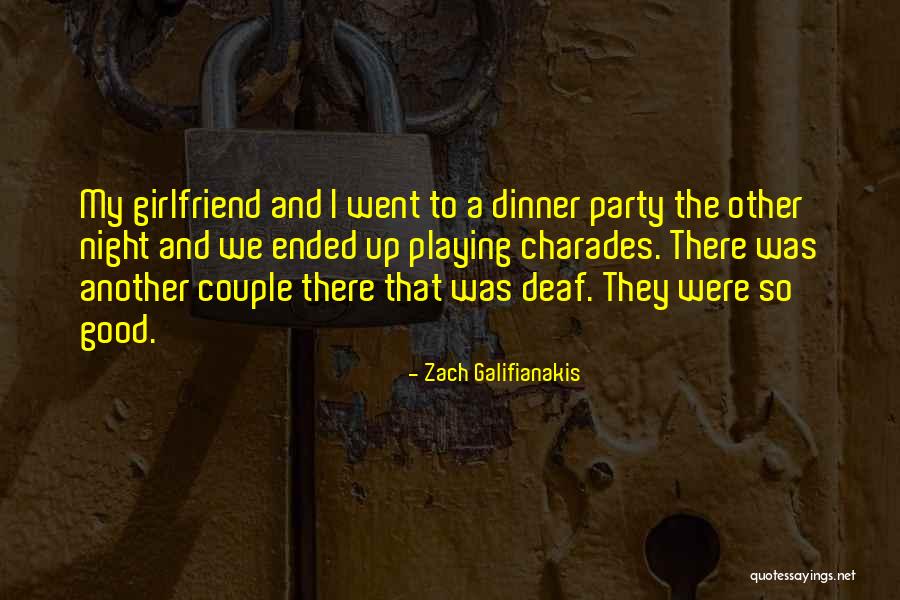 My girlfriend and I went to a dinner party the other night and we ended up playing charades. There was another couple there that was deaf. They were so good. — Zach Galifianakis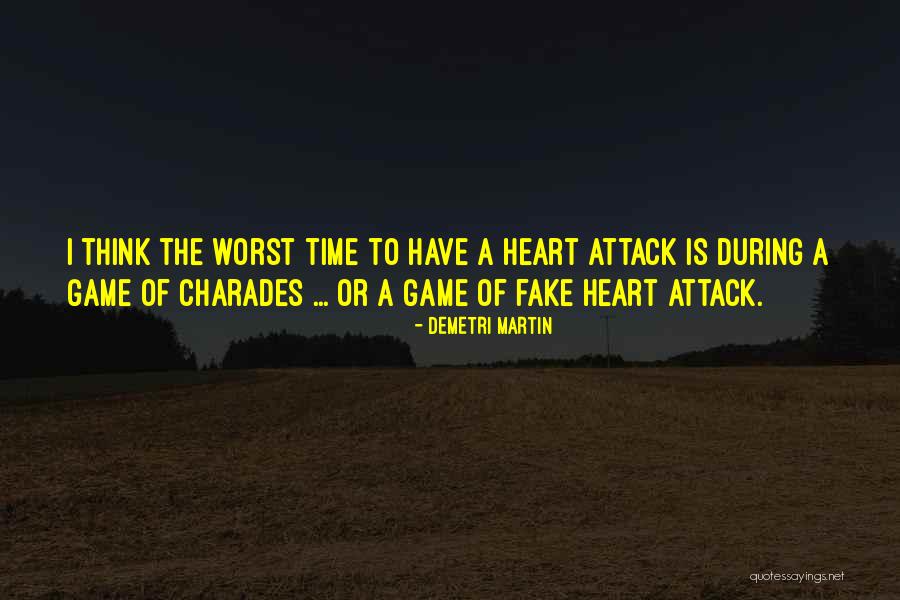 I think the worst time to have a heart attack is during a game of charades ... or a game of fake heart attack. — Demetri Martin
Beautiful lives women live - women do. In very breathing they draw meat and drink from some beautiful attenuation of unreality in which the shades and shapes of facts - of birth and bereavement, of suffering and bewilderment and despair - move with the substanceless decorum of lawn party charades, perfect in gesture and without significance or any ability to hurt. — William Faulkner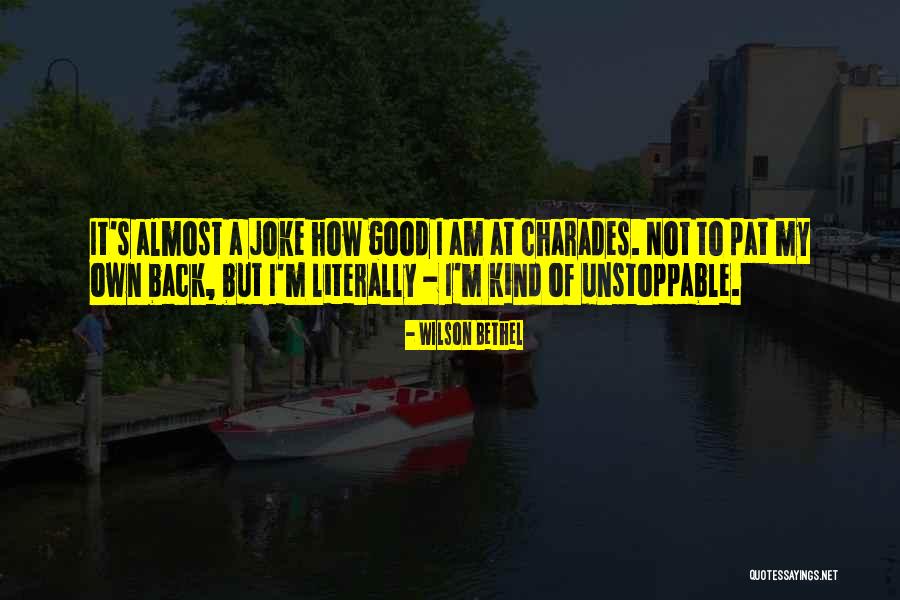 It's almost a joke how good I am at charades. Not to pat my own back, but I'm literally - I'm kind of unstoppable. — Wilson Bethel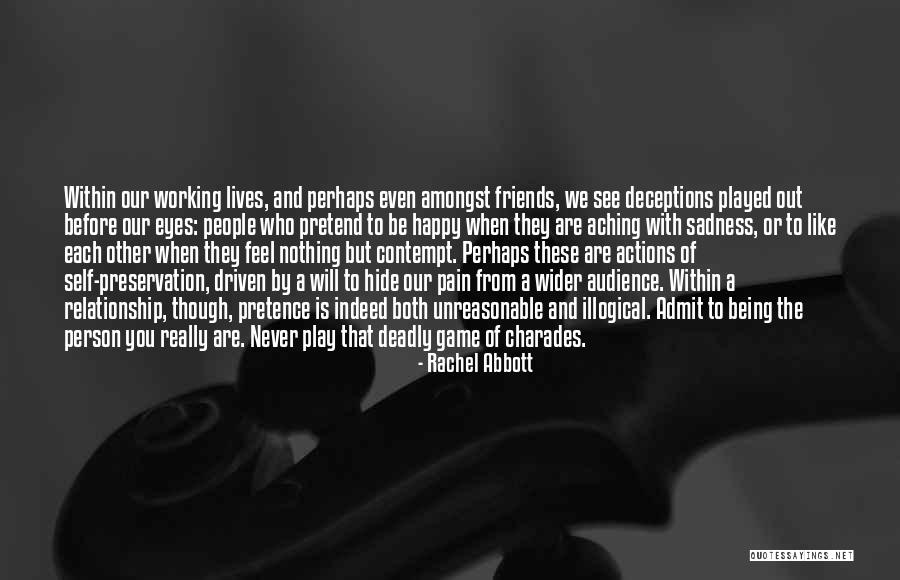 Within our working lives, and perhaps even amongst friends, we see deceptions played out before our eyes: people who pretend to be happy when they are aching with sadness, or to like each other when they feel nothing but contempt. Perhaps these are actions of self-preservation, driven by a will to hide our pain from a wider audience. Within a relationship, though, pretence is indeed both unreasonable and illogical. Admit to being the person you really are. Never play that deadly game of charades. — Rachel Abbott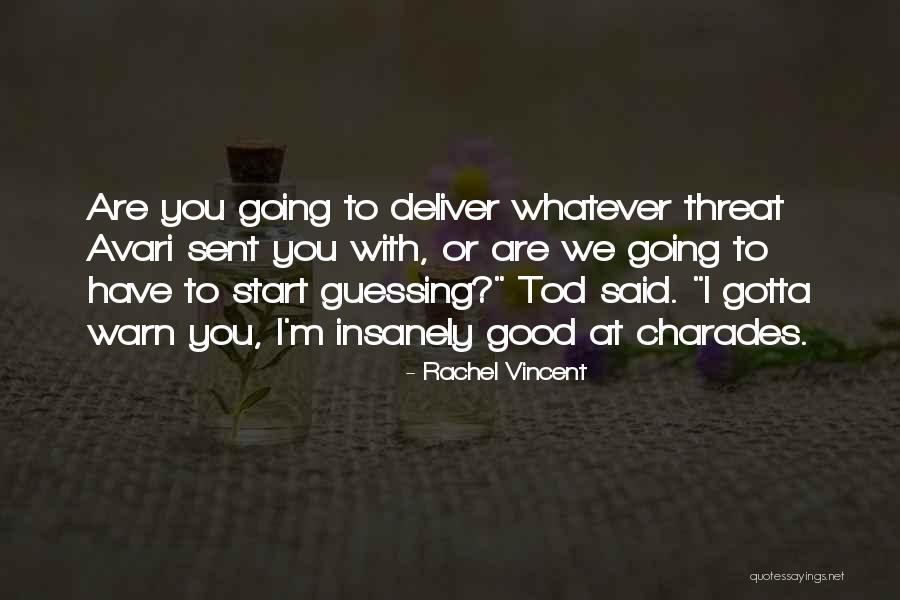 Are you going to deliver whatever threat Avari sent you with, or are we going to have to start guessing?" Tod said. "I gotta warn you, I'm insanely good at charades. — Rachel Vincent
I have mastered many things in my life. Navigating the streets of London, speaking French without an accent, dancing the quadrille, the Japanese art of flower arranging, lying at charades, concealing a highly intoxicated state, delighting young women with my charms ... "
Tessa stared.
"Alas," he went on, "no one has ever actually referred to me as 'the master,' or 'the magister,' either. More's the pity ... — Cassandra Clare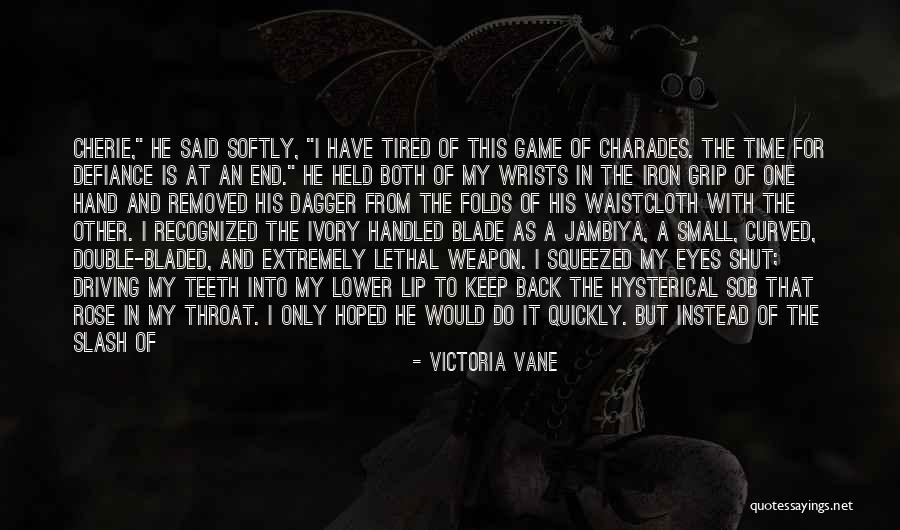 Cherie," he said softly, "I have tired of this game of charades. The time for defiance is at an end."
He held both of my wrists in the iron grip of one hand and removed his dagger from the folds of his waistcloth with the other. I recognized the ivory handled blade as a jambiya, a small, curved, double-bladed, and extremely lethal weapon.
I squeezed my eyes shut; driving my teeth into my lower lip to keep back the hysterical sob that rose in my throat. I only hoped he would do it quickly. But instead of the slash of his blade across my throat, I felt the sudden and steady pop of the buttons from my blouse. Bewildered, I opened my eyes into his. He lifted a brow over his mocking gaze.
"You thought I would kill you, cherie?" He chuckled. "No. I would not waste such beauty as yours - unless you forced my hand. You comprehend me? — Victoria Vane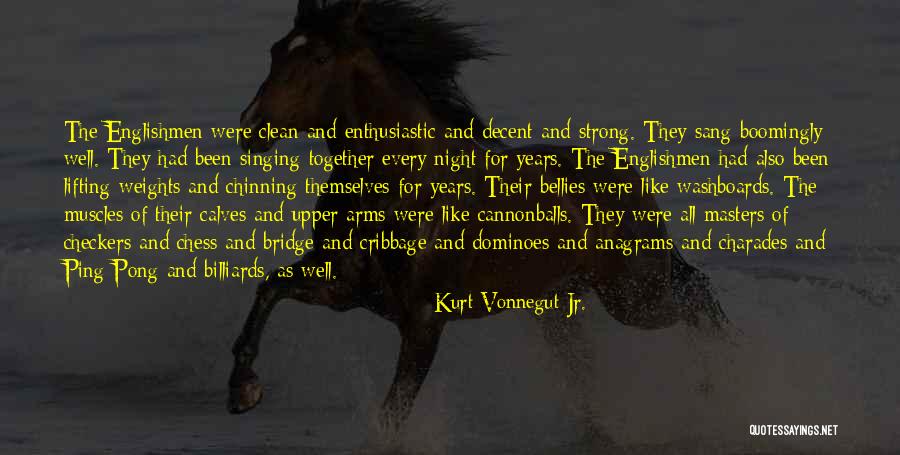 The Englishmen were clean and enthusiastic and decent and strong. They sang boomingly well. They had been singing together every night for years. The Englishmen had also been lifting weights and chinning themselves for years. Their bellies were like washboards. The muscles of their calves and upper arms were like cannonballs. They were all masters of checkers and chess and bridge and cribbage and dominoes and anagrams and charades and Ping-Pong and billiards, as well. — Kurt Vonnegut Jr.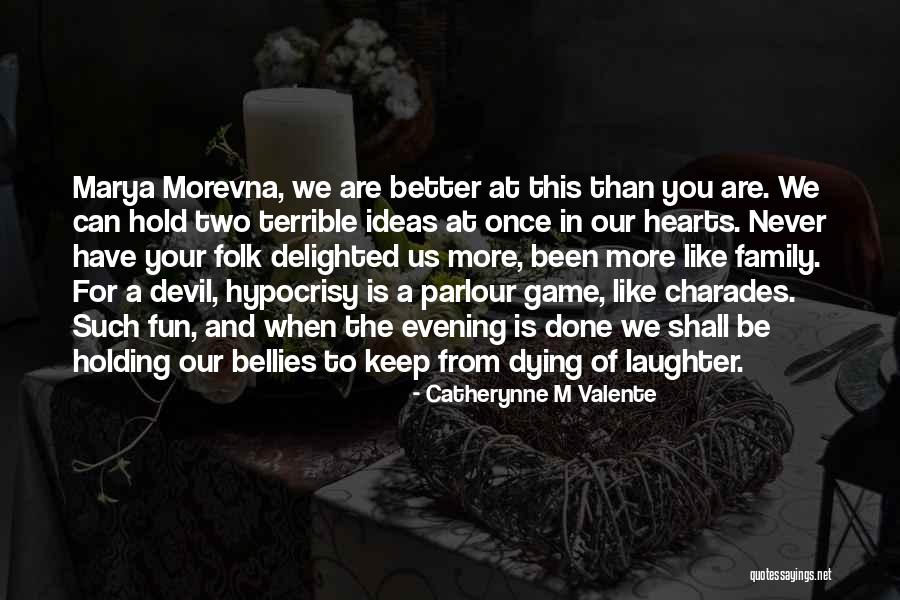 Marya Morevna, we are better at this than you are. We can hold two terrible ideas at once in our hearts. Never have your folk delighted us more, been more like family. For a devil, hypocrisy is a parlour game, like charades. Such fun, and when the evening is done we shall be holding our bellies to keep from dying of laughter. — Catherynne M Valente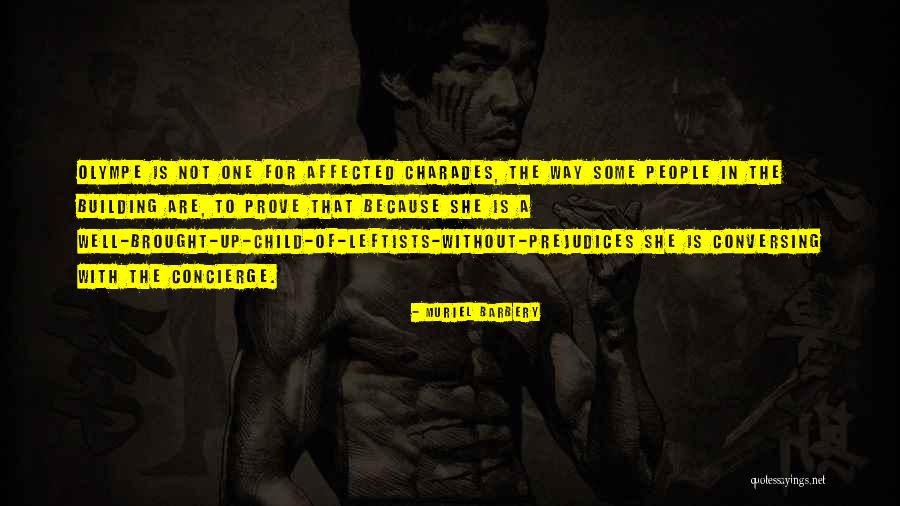 Olympe is not one for affected charades, the way some people in the building are, to prove that because she is a well-brought-up-child-of-leftists-without-prejudices she is conversing with the concierge. — Muriel Barbery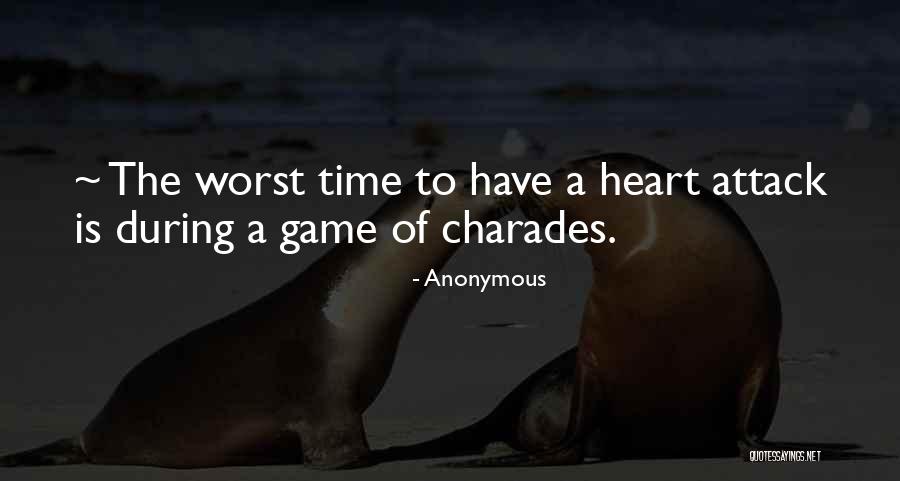 ~ The worst time to have a heart attack is during a game of charades. — Anonymous
I find myself having these conversations where I go ... You know, the guy, in that place. The guy in the place with the thing, you know. And it becomes this game of charades. And then finally, we realize that I mean the Pope. — Dave Barry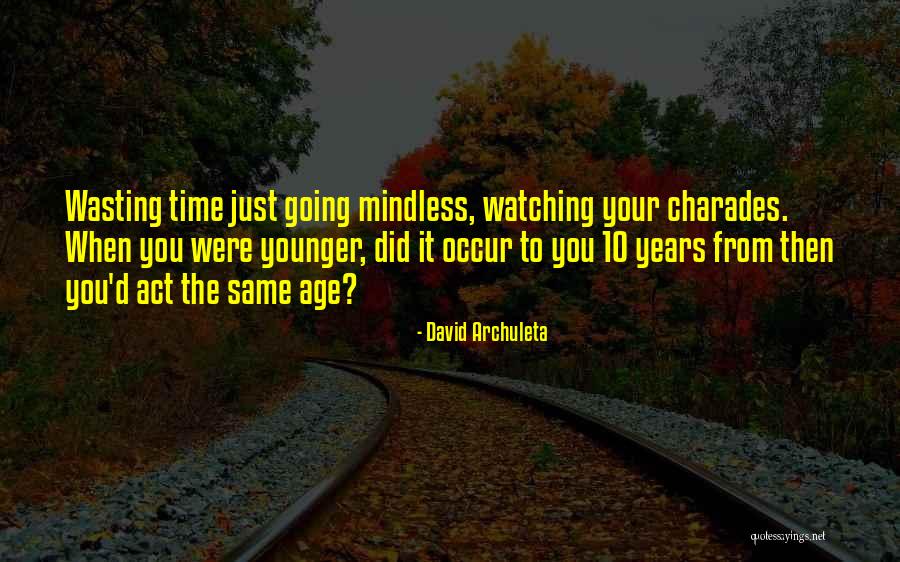 Wasting time just going mindless, watching your charades. When you were younger, did it occur to you 10 years from then you'd act the same age? — David Archuleta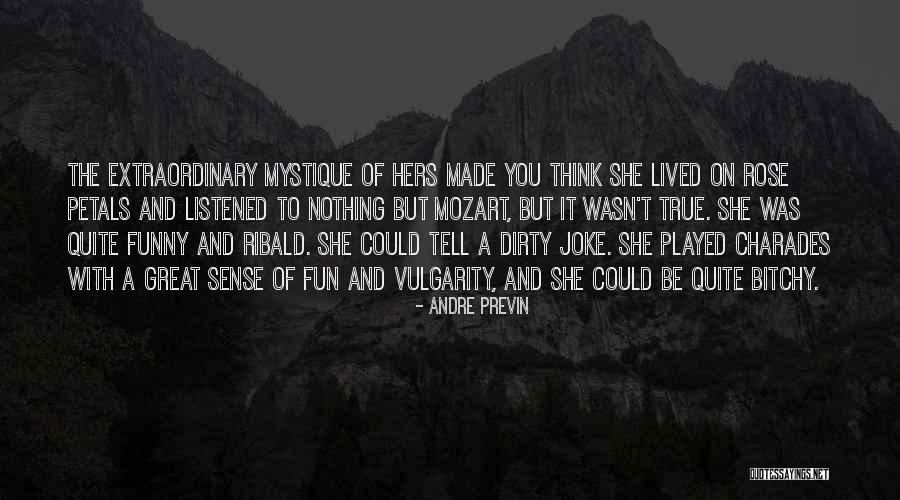 The extraordinary mystique of hers made you think she lived on rose petals and listened to nothing but Mozart, but it wasn't true. She was quite funny and ribald. She could tell a dirty joke. She played charades with a great sense of fun and vulgarity, and she could be quite bitchy. — Andre Previn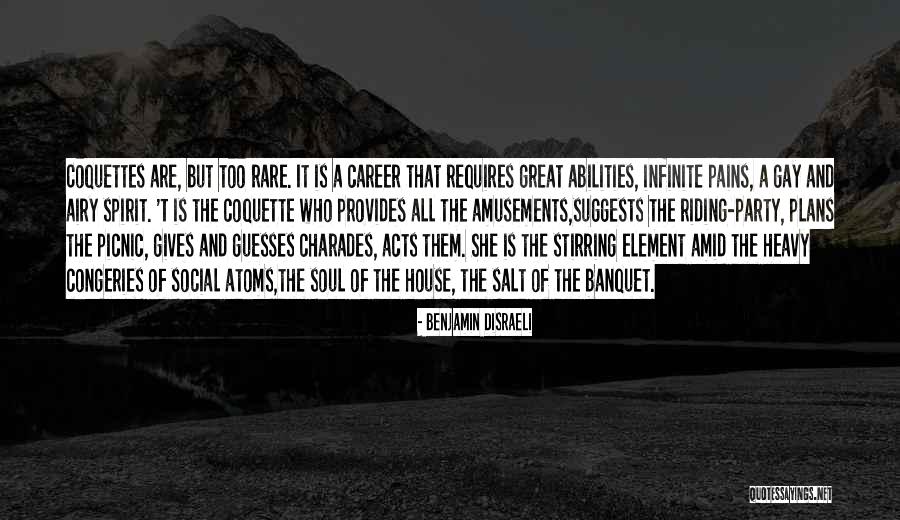 Coquettes are, but too rare. It is a career that requires great abilities, infinite pains, a gay and airy spirit. 'T is the coquette who provides all the amusements,
suggests the riding-party, plans the picnic, gives and guesses charades, acts them. She is the stirring element amid the heavy congeries of social atoms,
the soul of the house, the salt of the banquet. — Benjamin Disraeli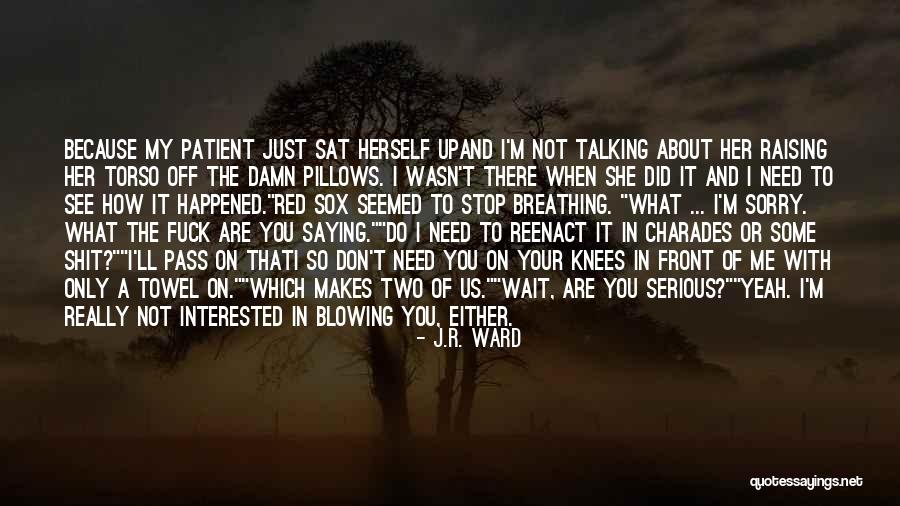 Because my patient just sat herself up
and I'm not talking about her raising her torso off the damn pillows. I wasn't there when she did it and I need to see how it happened."
Red Sox seemed to stop breathing. "What ... I'm sorry. What the fuck are you saying."
"Do I need to reenact it in charades or some shit?"
"I'll pass on that
I so don't need you on your knees in front of me with only a towel on."
"Which makes two of us."
"Wait, are you serious?"
"Yeah. I'm really not interested in blowing you, either. — J.R. Ward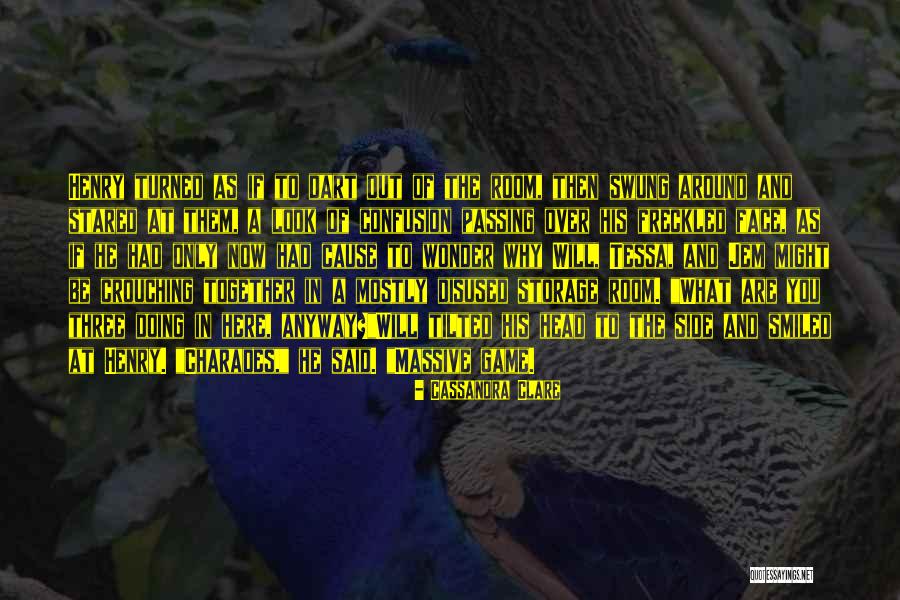 Henry turned as if to dart out of the room, then swung around and stared at them, a look of confusion passing over his freckled face, as if he had only now had cause to wonder why Will, Tessa, and Jem might be crouching together in a mostly disused storage room. "What are you three doing in here, anyway?"
Will tilted his head to the side and smiled at Henry. "Charades," he said. "Massive game. — Cassandra Clare