Quotes & Sayings About Change Yourself For The Better
Enjoy reading and share 45 famous quotes about Change Yourself For The Better with everyone.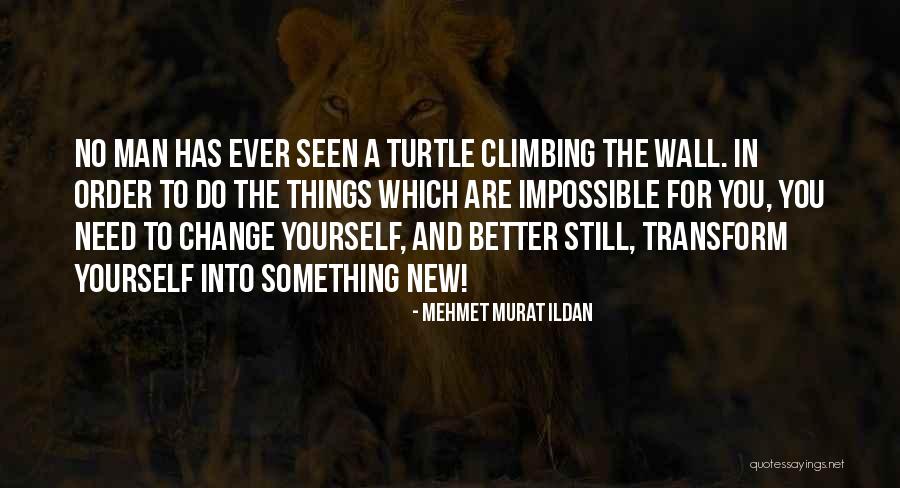 No man has ever seen a turtle climbing the wall. In order to do the things which are impossible for you, you need to change yourself, and better still, transform yourself into something new! — Mehmet Murat Ildan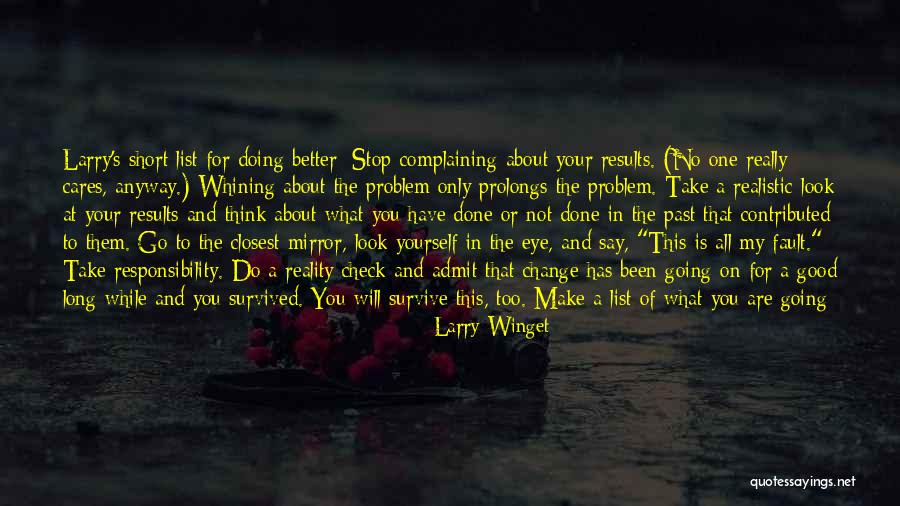 Larry's short list for doing better: Stop complaining about your results. (No one really cares, anyway.) Whining about the problem only prolongs the problem. Take a realistic look at your results and think about what you have done or not done in the past that contributed to them. Go to the closest mirror, look yourself in the eye, and say, "This is all my fault." Take responsibility. Do a reality check and admit that change has been going on for a good long while and you survived. You will survive this, too. Make a list of what you are going to do differently in the future to change your results. Doing better is the result of deciding to do better and then taking action on that decision. Get — Larry Winget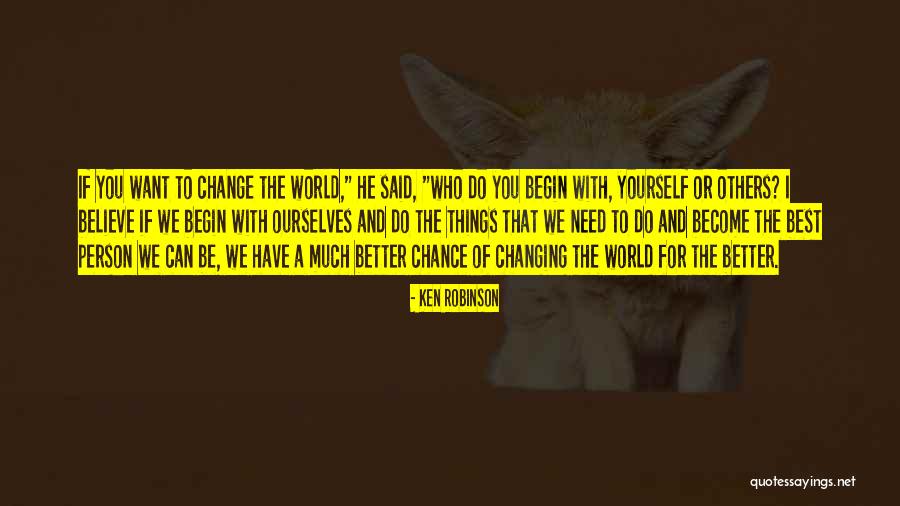 If you want to change the world," he said, "who do you begin with, yourself or others? I believe if we begin with ourselves and do the things that we need to do and become the best person we can be, we have a much better chance of changing the world for the better. — Ken Robinson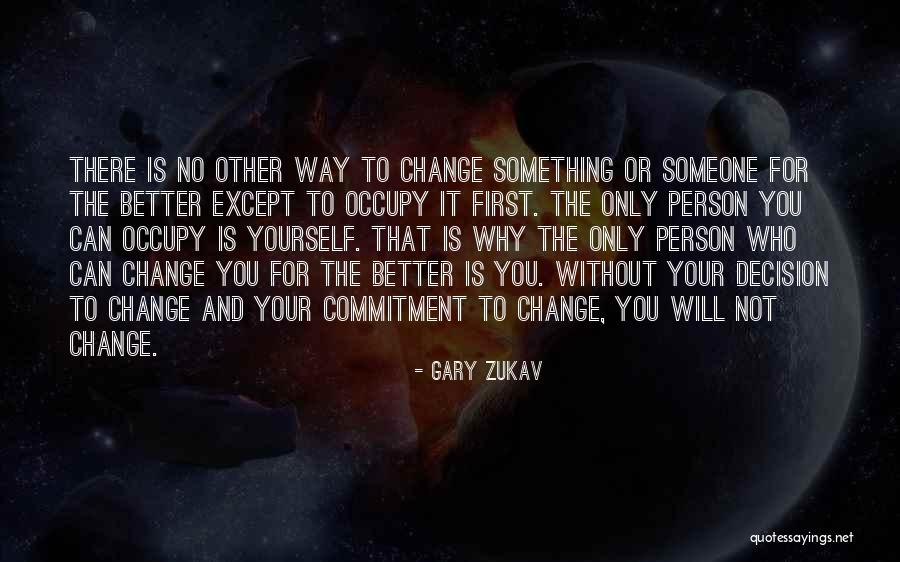 There is no other way to change something or someone for the better except to occupy it first. The only person you can occupy is yourself. That is why the only person who can change you for the better is you. Without your decision to change and your commitment to change, you will not change. — Gary Zukav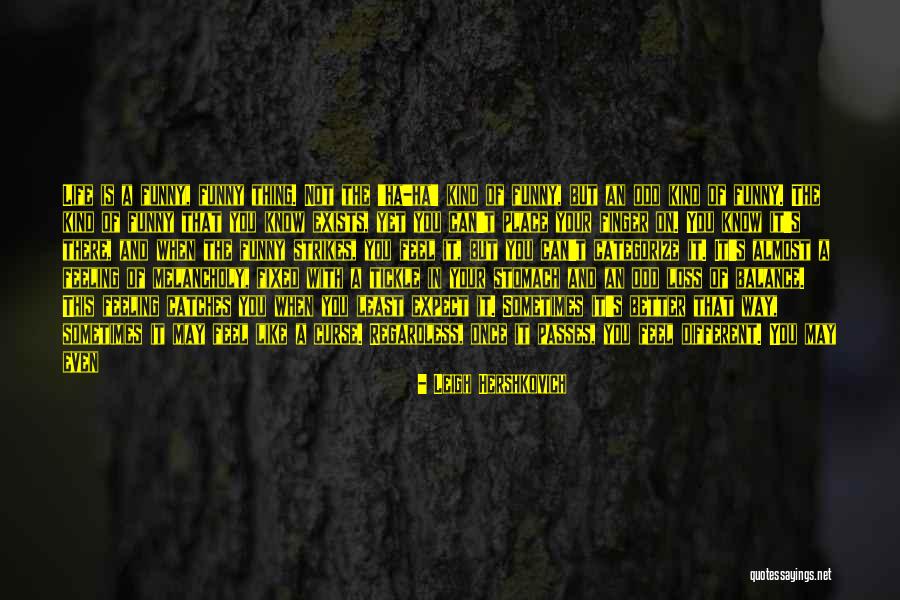 Life is a funny, funny thing. Not the 'ha-ha' kind of funny, but an odd kind of funny. The kind of funny that you know exists, yet you can't place your finger on. You know it's there, and when the funny strikes, you feel it, but you can't categorize it. It's almost a feeling of melancholy, fixed with a tickle in your stomach and an odd loss of balance. This feeling catches you when you least expect it. Sometimes it's better that way, sometimes it may feel like a curse. Regardless, once it passes, you feel different. You may even look different, though not to the naked eye. It may takes days or even months until you recognize the change within yourself, however apparent it may seem. One thing's for sure: Once this funny thing strikes, you will never be the same. — Leigh Hershkovich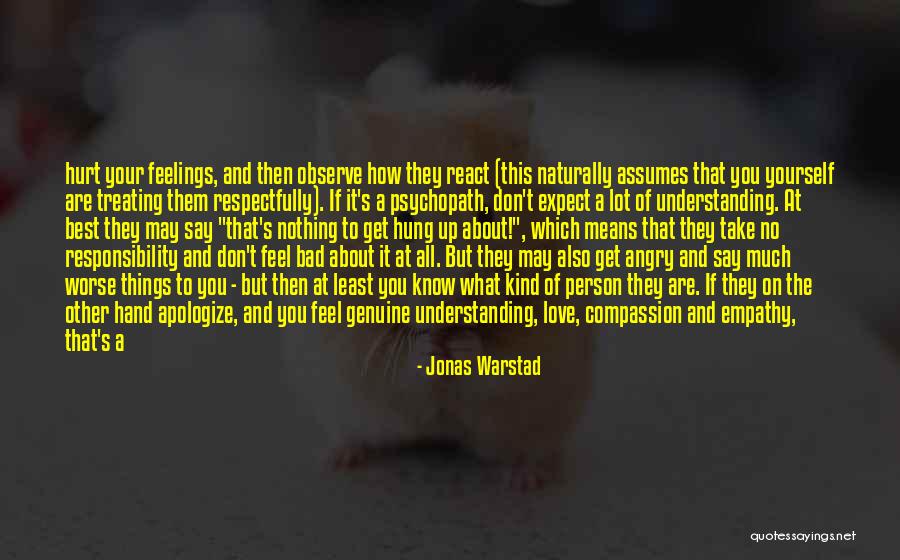 hurt your feelings, and then observe how they react (this naturally assumes that you yourself are treating them respectfully). If it's a psychopath, don't expect a lot of understanding. At best they may say "that's nothing to get hung up about!", which means that they take no responsibility and don't feel bad about it at all. But they may also get angry and say much worse things to you - but then at least you know what kind of person they are. If they on the other hand apologize, and you feel genuine understanding, love, compassion and empathy, that's a good sign! The most important thing however, is how they act from then on. Are they more considerate? Did they change for the better? Or was it no more than a false excuse to end your "nagging" for the moment? — Jonas Warstad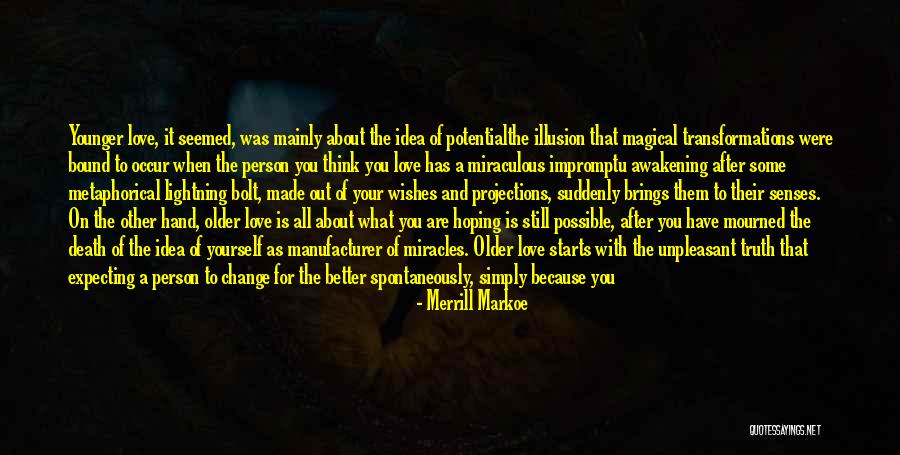 Younger love, it seemed, was mainly about the idea of potential
the illusion that magical transformations were bound to occur when the person you think you love has a miraculous impromptu awakening after some metaphorical lightning bolt, made out of your wishes and projections, suddenly brings them to their senses. On the other hand, older love is all about what you are hoping is still possible, after you have mourned the death of the idea of yourself as manufacturer of miracles. Older love starts with the unpleasant truth that expecting a person to change for the better spontaneously, simply because you wish it, makes as much sense as counting on the lottery for next month's rent. — Merrill Markoe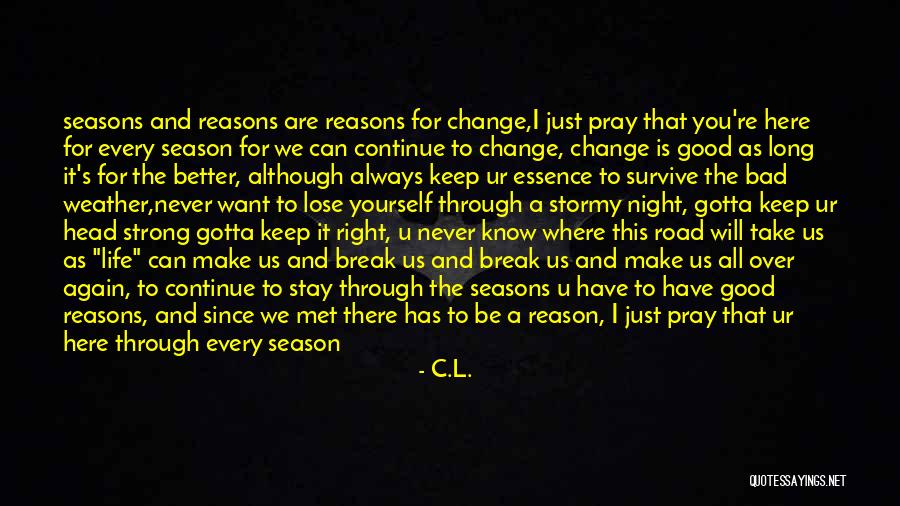 seasons and reasons are reasons for change,I just pray that you're here for every season for we can continue to change, change is good as long it's for the better, although always keep ur essence to survive the bad weather,never want to lose yourself through a stormy night, gotta keep ur head strong gotta keep it right, u never know where this road will take us as "life" can make us and break us and break us and make us all over again, to continue to stay through the seasons u have to have good reasons, and since we met there has to be a reason, I just pray that ur here through every season — C.L.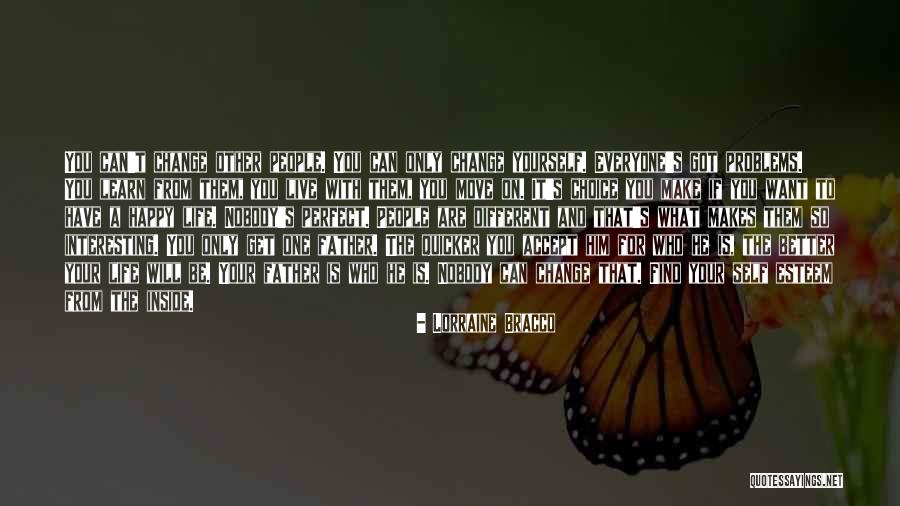 You can't change other people. You can only change yourself. Everyone's got problems. You learn from them, you live with them, you move on. It's choice you make if you want to have a happy life. Nobody's perfect. People are different and that's what makes them so interesting. You only get one father. The quicker you accept him for who he is, the better your life will be. Your father is who he is. Nobody can change that. Find your self esteem from the inside. — Lorraine Bracco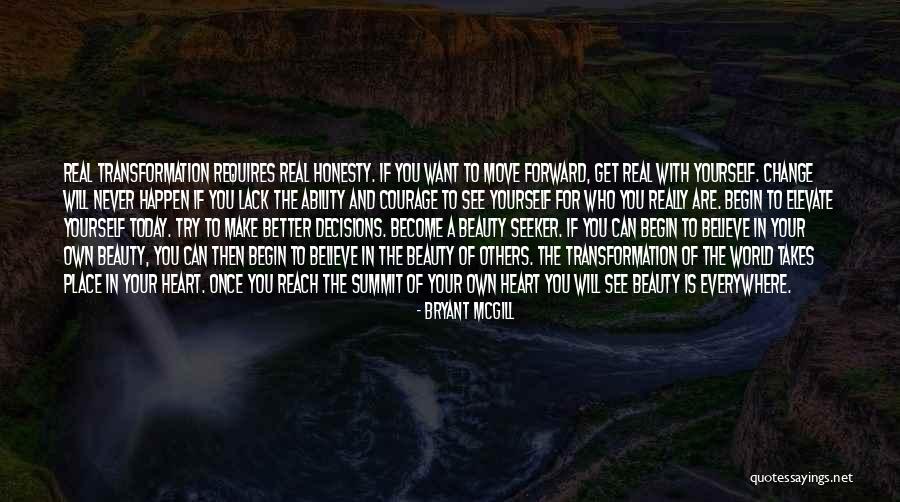 Real transformation requires real honesty. If you want to move forward, get real with yourself. Change will never happen if you lack the ability and courage to see yourself for who you really are. Begin to elevate yourself today. Try to make better decisions. Become a beauty seeker. If you can begin to believe in your own beauty, you can then begin to believe in the beauty of others. The transformation of the world takes place in your heart. Once you reach the summit of your own heart you will see beauty is everywhere. — Bryant McGill
Why do you want to shut out of your life any uneasiness, any misery, any depression, since after all you don't know what work these conditions are doing inside you? Why do you want to persecute yourself with the question of where all this is coming from and where it is going? Since you know, after all, that you are in the midst of transitions and you wished for nothing so much as to change. If there is anything unhealthy in your reactions, just bear in mind that sickness is the means by which an organism frees itself from what is alien; so one must simply help it to be sick, to have its whole sickness and to break out with it, since that is the way it gets better. — Rainer Maria Rilke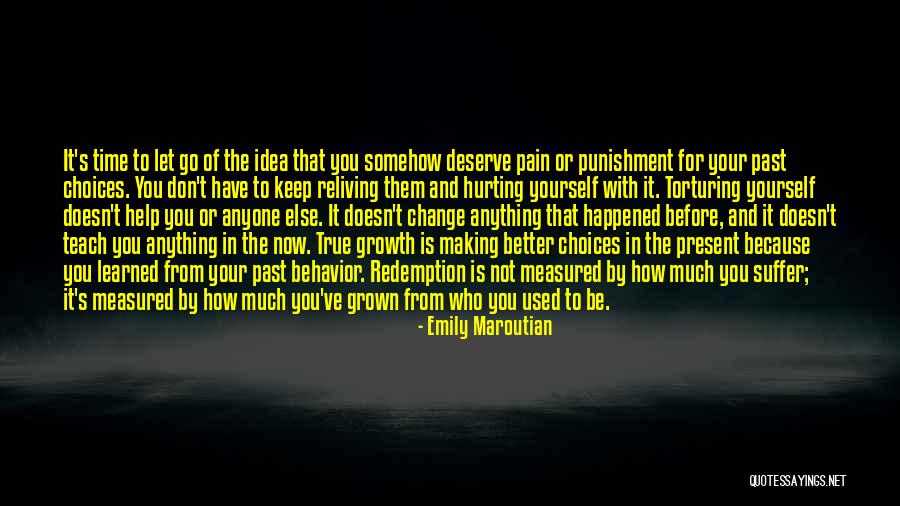 It's time to let go of the idea that you somehow deserve pain or punishment for your past choices. You don't have to keep reliving them and hurting yourself with it. Torturing yourself doesn't help you or anyone else. It doesn't change anything that happened before, and it doesn't teach you anything in the now. True growth is making better choices in the present because you learned from your past behavior. Redemption is not measured by how much you suffer; it's measured by how much you've grown from who you used to be. — Emily Maroutian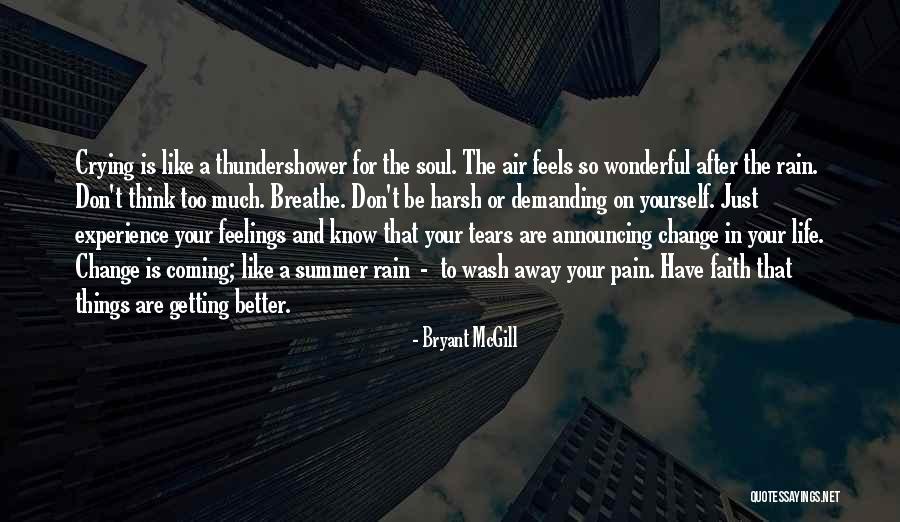 Crying is like a thundershower for the soul. The air feels so wonderful after the rain. Don't think too much. Breathe. Don't be harsh or demanding on yourself. Just experience your feelings and know that your tears are announcing change in your life. Change is coming; like a summer rain - to wash away your pain. Have faith that things are getting better. — Bryant McGill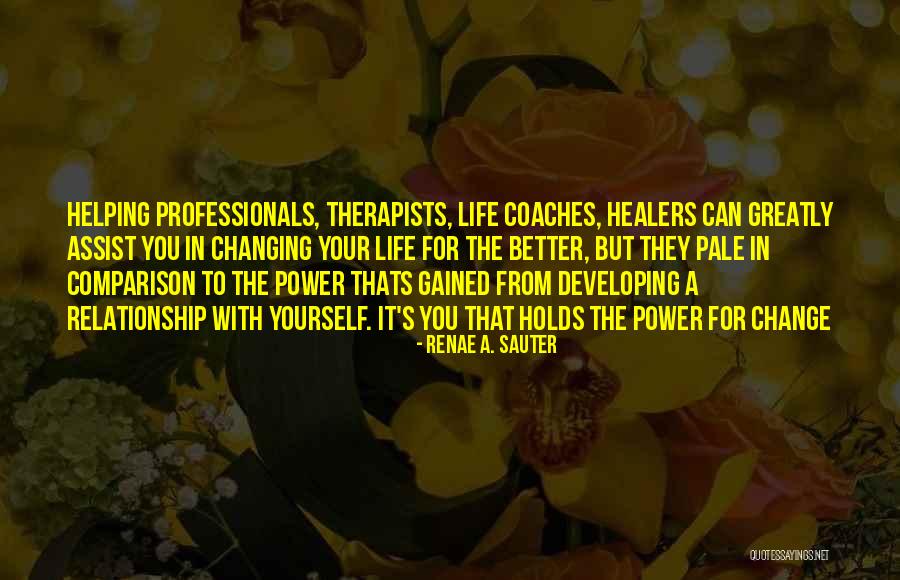 Helping professionals, therapists, life coaches, healers can greatly assist you in changing your life for the better, but they pale in comparison to the power thats gained from developing a relationship with yourself. It's you that holds the power for change — Renae A. Sauter
If you are a good communicator, be unique: put yourself in your own commercials and do something a little different. To the extent you can focus on what it is you want to change, what it is you know how to change, and what it is you think will make life better for other people, you're going to do better. — Roger Ailes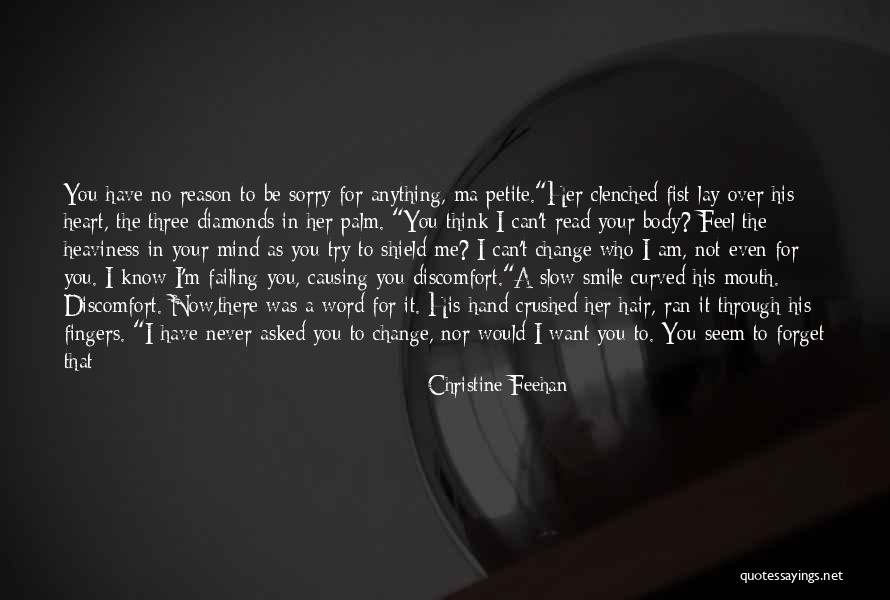 You have no reason to be sorry for anything, ma petite."
Her clenched fist lay over his heart, the three diamonds in her palm. "You think I can't read your body? Feel the heaviness in your mind as you try to shield me? I can't change who I am, not even for you. I know I'm failing you, causing you discomfort."
A slow smile curved his mouth. Discomfort. Now,there was a word for it. His hand crushed her hair, ran it through his fingers. "I have never asked you to change, nor would I want you to. You seem to forget that I know you better than anyone. I can handle you."
She turned her head so that he could see the silver stars flashing in her blue eyes, a smoldering warning. "You are so arrogant,Gregori, it makes me want to throw things.Do you hear yourself? Handle me? Ha! I try to say I'm sorry for failing you, and you act the lord of the manor. Being born centuries ago when women were chattel does not give you an excuse. — Christine Feehan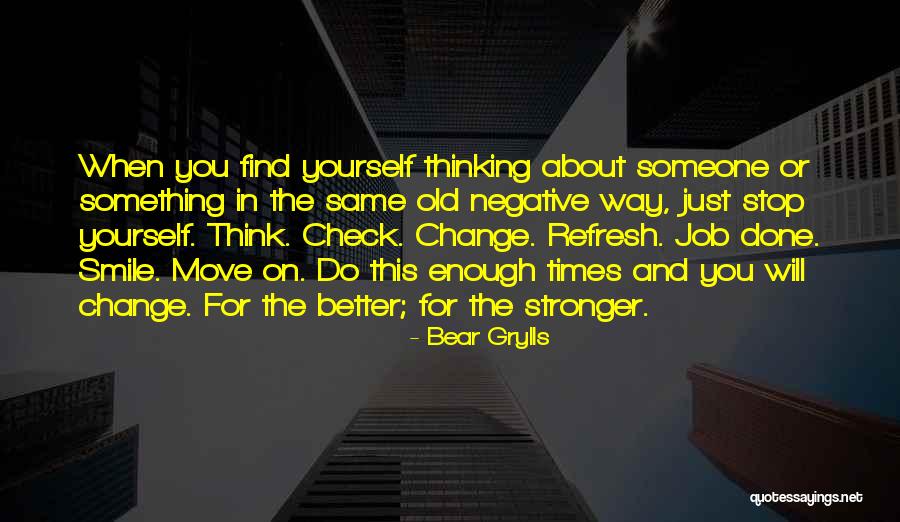 When you find yourself thinking about someone or something in the same old negative way, just stop yourself. Think. Check. Change. Refresh. Job done. Smile. Move on. Do this enough times and you will change. For the better; for the stronger. — Bear Grylls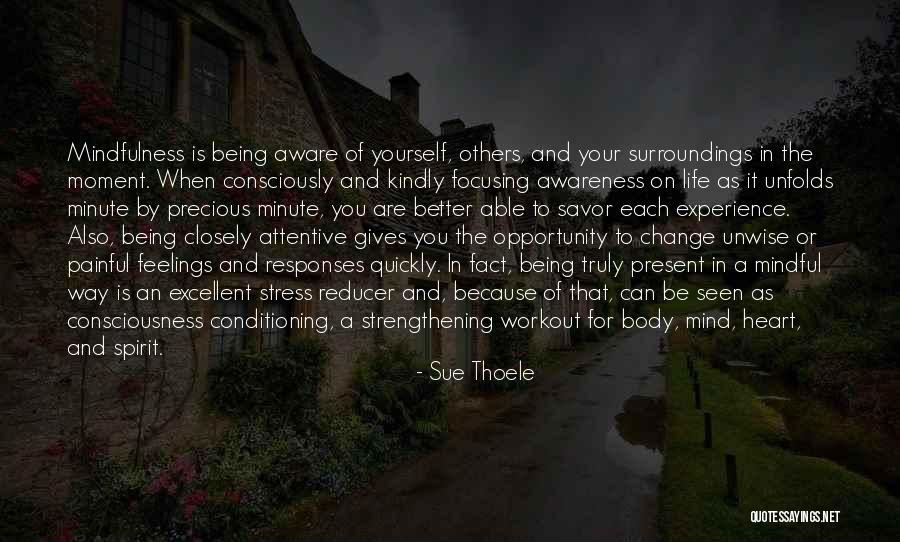 Mindfulness is being aware of yourself, others, and your surroundings in the moment. When consciously and kindly focusing awareness on life as it unfolds minute by precious minute, you are better able to savor each experience. Also, being closely attentive gives you the opportunity to change unwise or painful feelings and responses quickly. In fact, being truly present in a mindful way is an excellent stress reducer and, because of that, can be seen as consciousness conditioning, a strengthening workout for body, mind, heart, and spirit. — Sue Thoele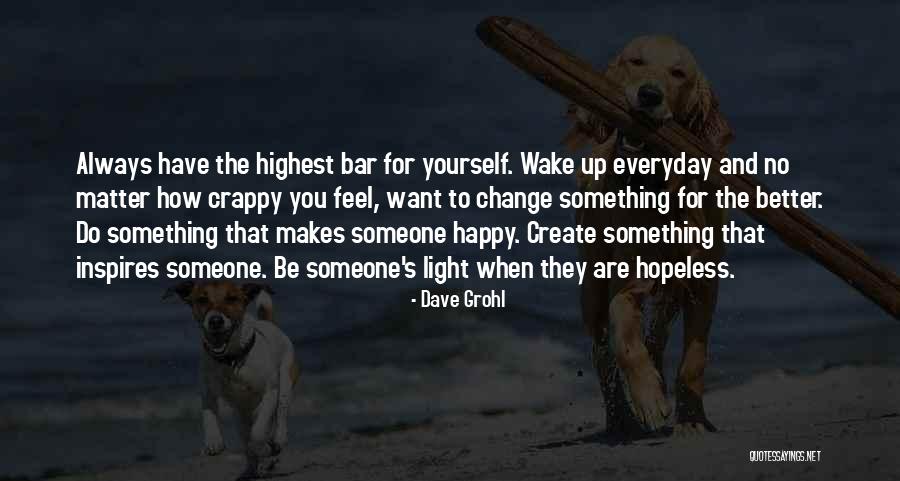 Always have the highest bar for yourself. Wake up everyday and no matter how crappy you feel, want to change something for the better. Do something that makes someone happy. Create something that inspires someone. Be someone's light when they are hopeless. — Dave Grohl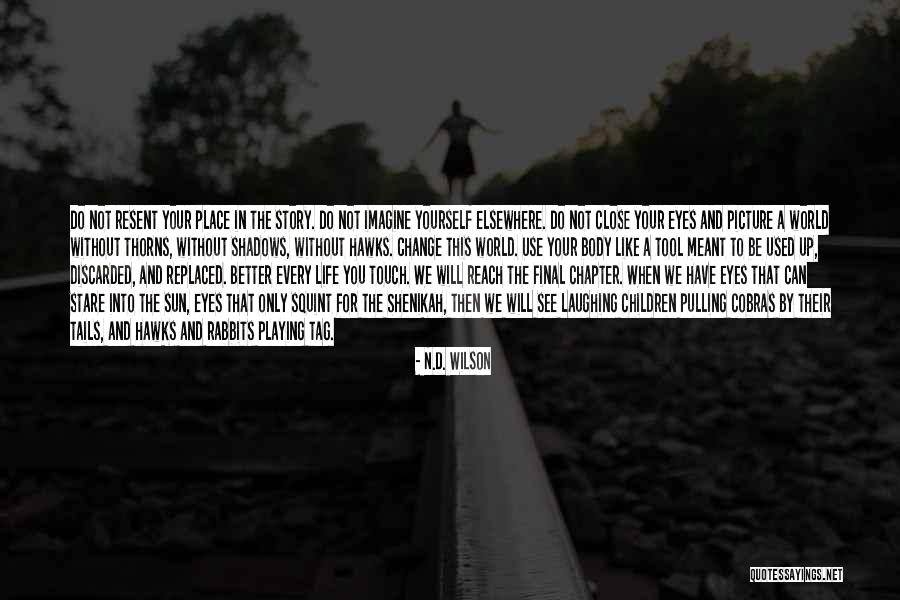 Do not resent your place in the story. Do not imagine yourself elsewhere. Do not close your eyes and picture a world without thorns, without shadows, without hawks. Change this world. Use your body like a tool meant to be used up, discarded, and replaced. Better every life you touch. We will reach the final chapter. When we have eyes that can stare into the sun, eyes that only squint for the Shenikah, then we will see laughing children pulling cobras by their tails, and hawks and rabbits playing tag. — N.D. Wilson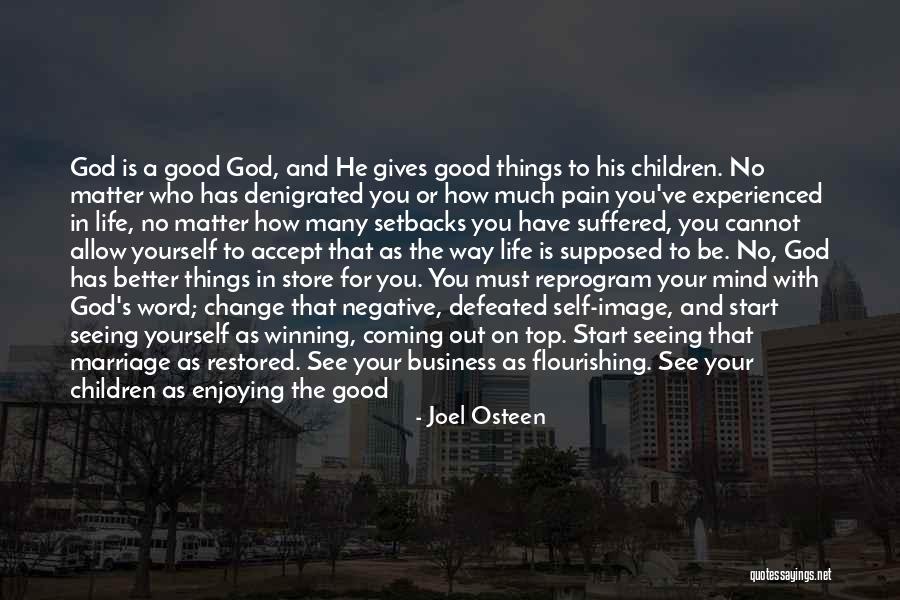 God is a good God, and He gives good things to his children. No matter who has denigrated you or how much pain you've experienced in life, no matter how many setbacks you have suffered, you cannot allow yourself to accept that as the way life is supposed to be. No, God has better things in store for you. You must reprogram your mind with God's word; change that negative, defeated self-image, and start seeing yourself as winning, coming out on top. Start seeing that marriage as restored. See your business as flourishing. See your children as enjoying the good things of God. You must see it through your eyes of faith, and then it will begin to happen. — Joel Osteen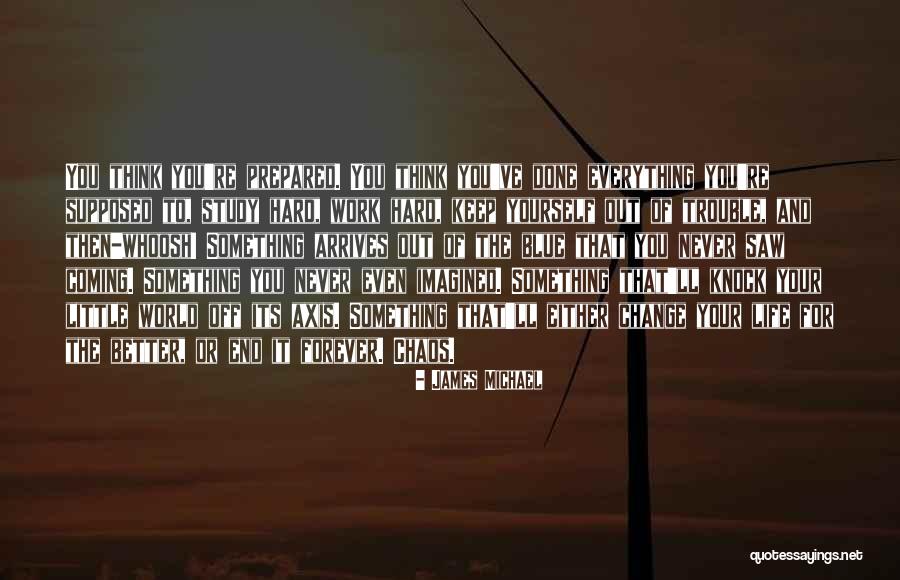 You think you're prepared. You think you've done everything you're supposed to, study hard, work hard, keep yourself out of trouble, and then-whoosh! Something arrives out of the blue that you never saw coming. Something you never even imagined. Something that'll knock your little world off its axis. Something that'll either change your life for the better, or end it forever. Chaos. — James Michael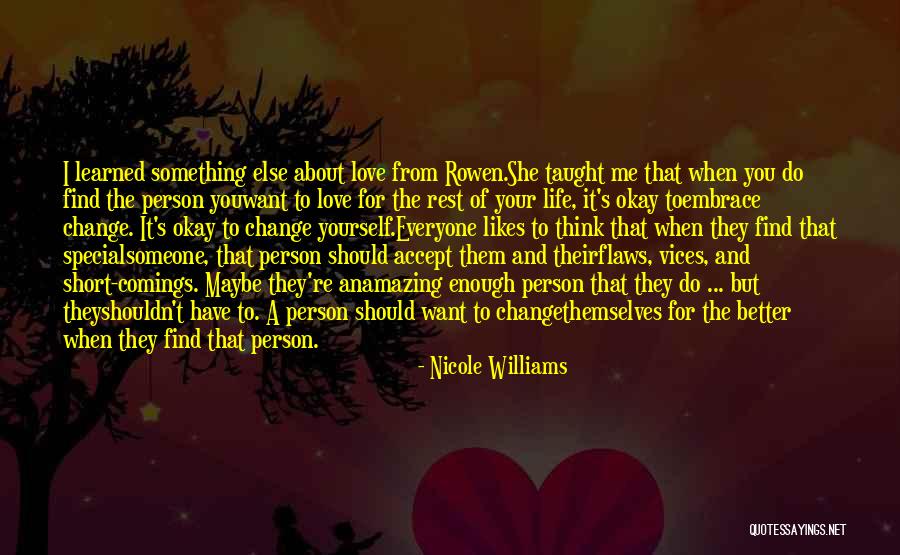 I learned something else about love from Rowen.
She taught me that when you do find the person you
want to love for the rest of your life, it's okay to
embrace change. It's okay to change yourself.
Everyone likes to think that when they find that special
someone, that person should accept them and their
flaws, vices, and short-comings. Maybe they're an
amazing enough person that they do ... but they
shouldn't have to. A person should want to change
themselves for the better when they find that person. — Nicole Williams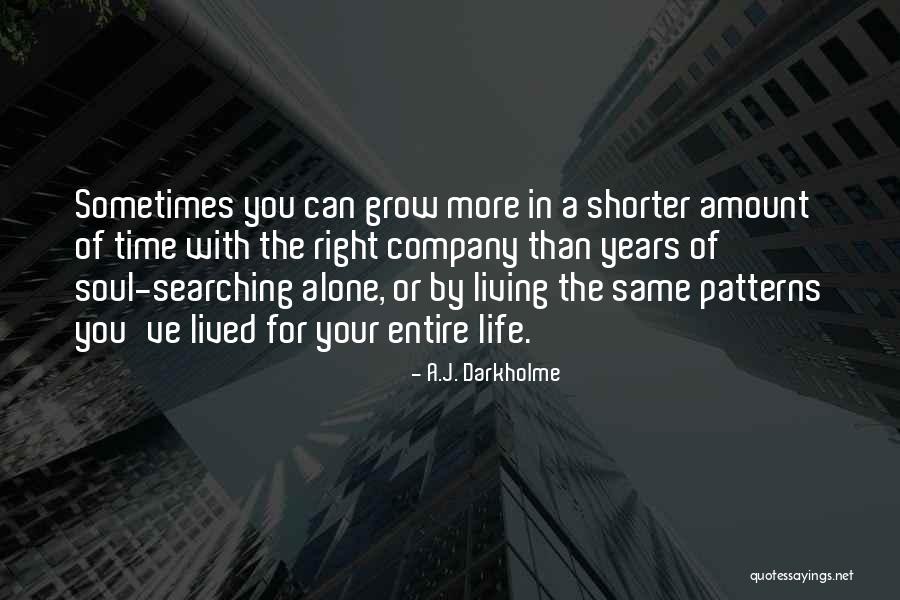 Sometimes you can grow more in a shorter amount of time with the right company than years of soul-searching alone, or by living the same patterns you've lived for your entire life. — A.J. Darkholme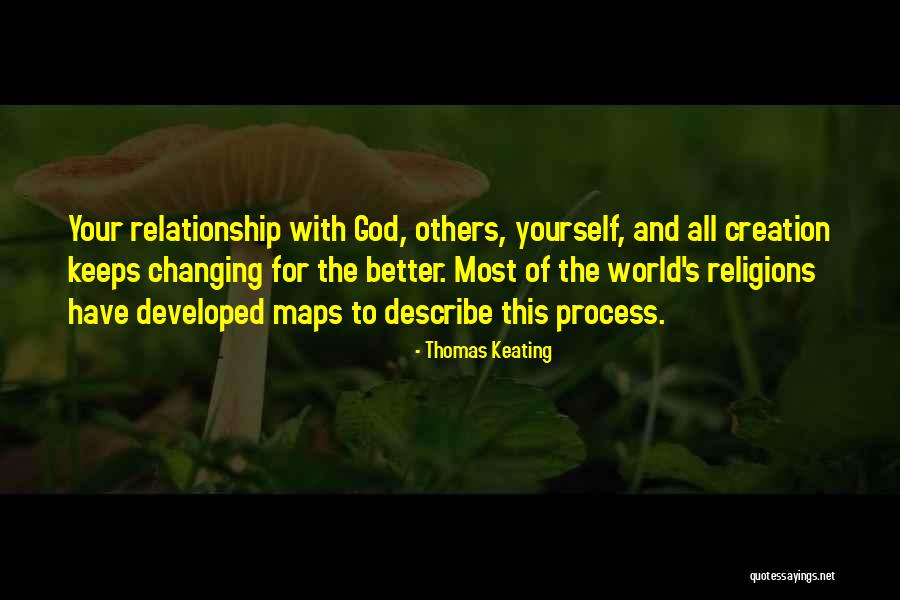 Your relationship with God, others, yourself, and all creation keeps changing for the better. Most of the world's religions have developed maps to describe this process. — Thomas Keating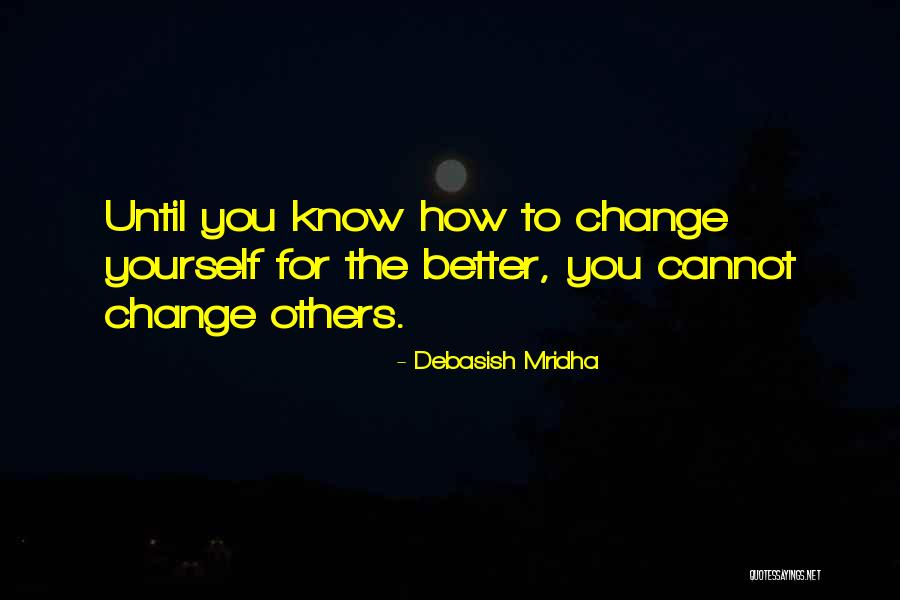 Until you know how to change yourself for the better, you cannot change others. — Debasish Mridha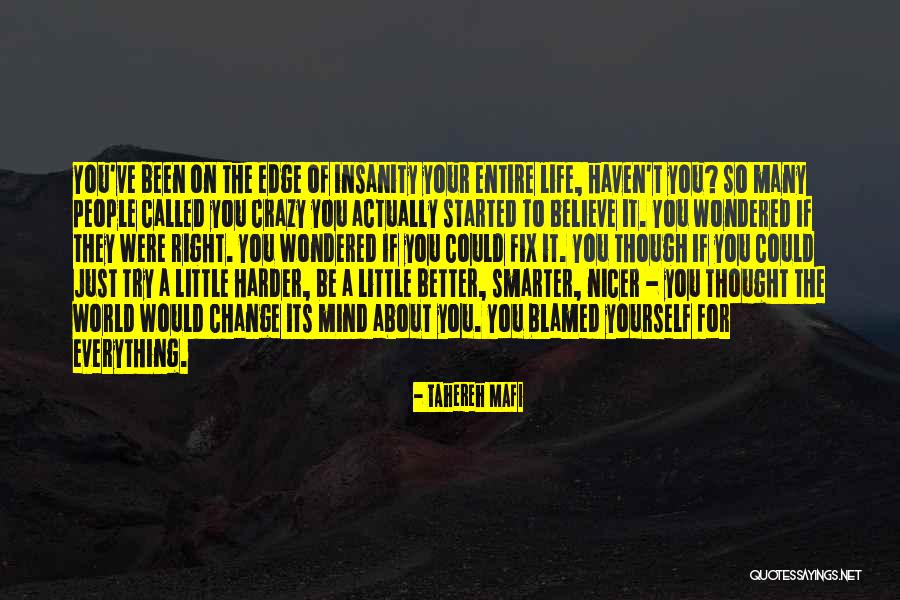 You've been on the edge of insanity your entire life, haven't you? So many people called you crazy you actually started to believe it. You wondered if they were right. You wondered if you could fix it. You though if you could just try a little harder, be a little better, smarter, nicer - you thought the world would change its mind about you. You blamed yourself for everything. — Tahereh Mafi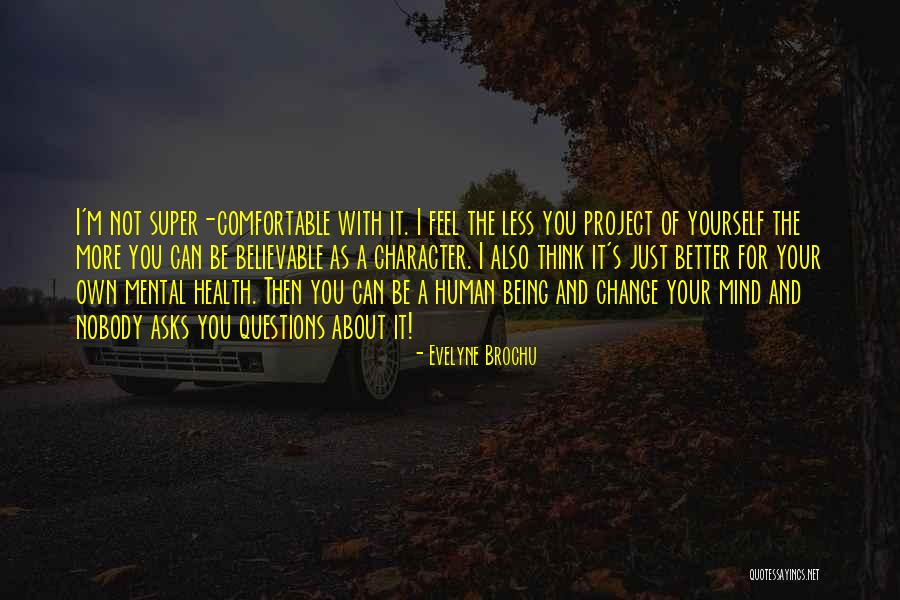 I'm not super-comfortable with it. I feel the less you project of yourself the more you can be believable as a character. I also think it's just better for your own mental health. Then you can be a human being and change your mind and nobody asks you questions about it! — Evelyne Brochu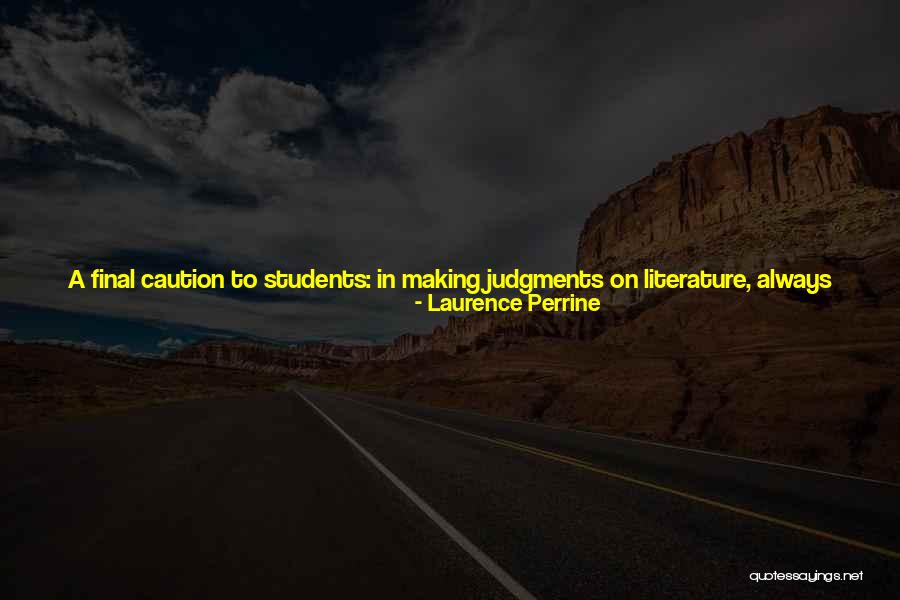 A final caution to students: in making judgments on literature, always be honest. Do not pretend to like what you really do not like. Do not be afraid to admit a liking for what you do like. A genuine enthusiasm for the second-rate is much better than false enthusiasm or no enthusiasm at all. Be neither hasty nor timorous in making your judgments. When you have attentively read a poem and thoroughly considered it, decide what you think. Do not hedge, equivocate, or try to find out others' opinions before forming your own. But having formed an opinion and expressed it, do not allow it to petrify. Compare your opinion then with the opinions of others; allow yourself to change it when convinced of its error: in this way you learn. Honestly, courage, and humility are the necessary moral foundations for all genuine literary judgment. — Laurence Perrine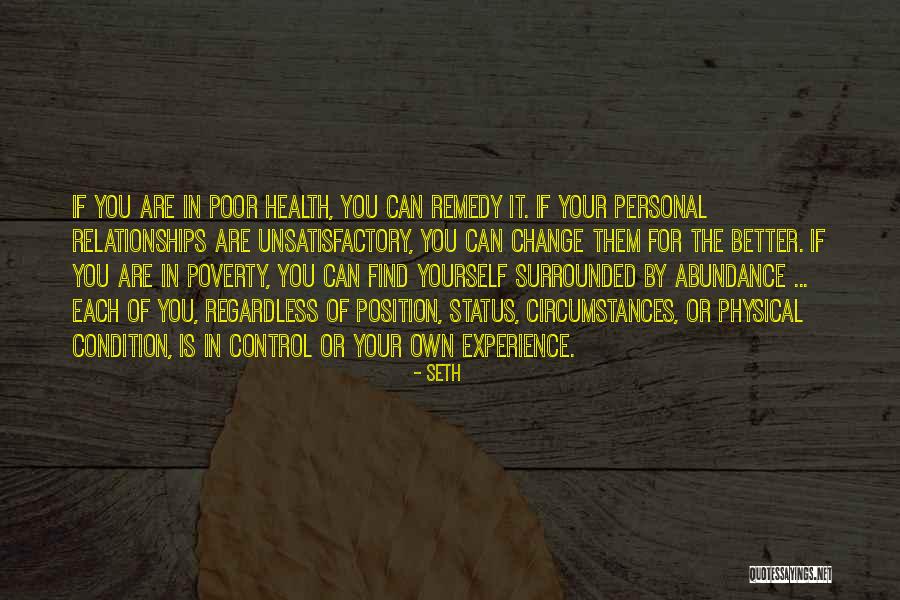 If you are in poor health, you can remedy it. If your personal relationships are unsatisfactory, you can change them for the better. If you are in poverty, you can find yourself surrounded by abundance ... Each of you, regardless of position, status, circumstances, or physical condition, is in control or your own experience. — Seth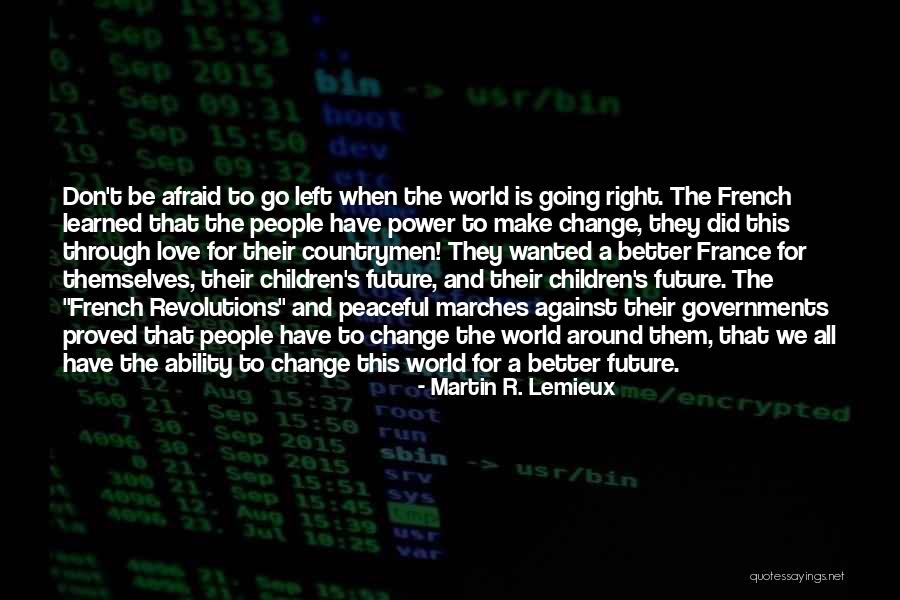 Don't be afraid to go left when the world is going right. The French learned that the people have power to make change, they did this through love for their countrymen! They wanted a better France for themselves, their children's future, and their children's future. The "French Revolutions" and peaceful marches against their governments proved that people have to change the world around them, that we all have the ability to change this world for a better future. — Martin R. Lemieux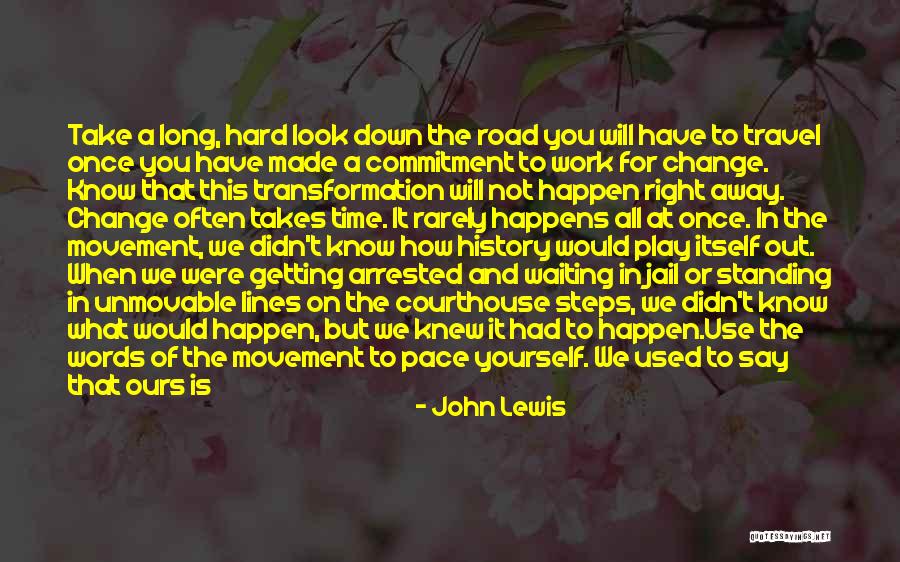 Take a long, hard look down the road you will have to travel once you have made a commitment to work for change. Know that this transformation will not happen right away. Change often takes time. It rarely happens all at once. In the movement, we didn't know how history would play itself out. When we were getting arrested and waiting in jail or standing in unmovable lines on the courthouse steps, we didn't know what would happen, but we knew it had to happen.

Use the words of the movement to pace yourself. We used to say that ours is not the struggle of one day, one week, or one year. Ours is not the struggle of one judicial appointment or presidential term. Ours is the struggle of a lifetime, or maybe even many lifetimes, and each one of us in every generation must do our part. And if we believe in the change we seek, then it is easy to commit to doing all we can, because the responsibility is ours alone to build a better society and a more peaceful world. — John Lewis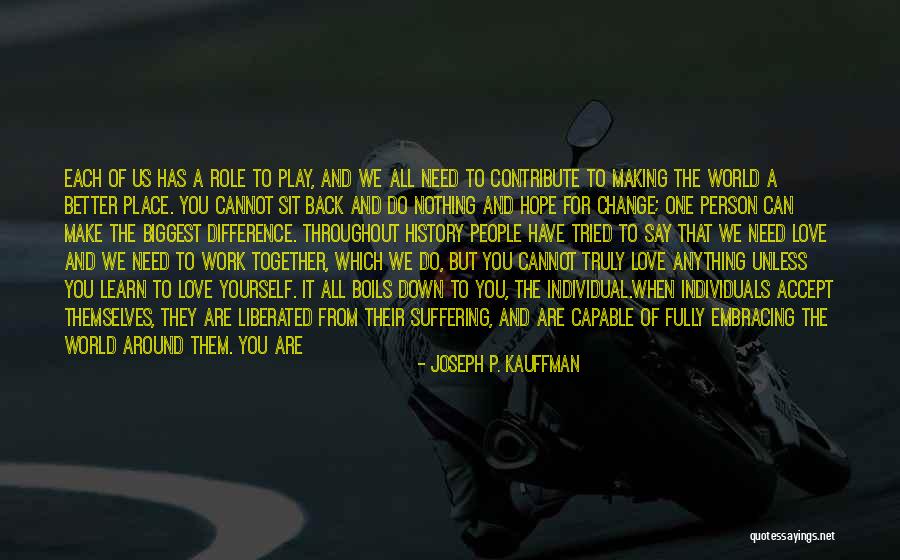 Each of us has a role to play, and we all need to contribute to making the world a better place. You cannot sit back and do nothing and hope for change; one person can make the biggest difference. Throughout history people have tried to say that we need love and we need to work together, which we do, but you cannot truly love anything unless you learn to love yourself. It all boils down to you, the individual.
When individuals accept themselves, they are liberated from their suffering, and are capable of fully embracing the world around them. You are the only one who can change your life. When the people recognize this, real change will come. Do not wait around for someone else to save the world. You are unique and you have knowledge from your own experience that no one else has. You have ideas and passions that nobody else can claim. You could be the one to help us out of the dreadful situation that we are in, but if you do not act on your ambition the world will never know. — Joseph P. Kauffman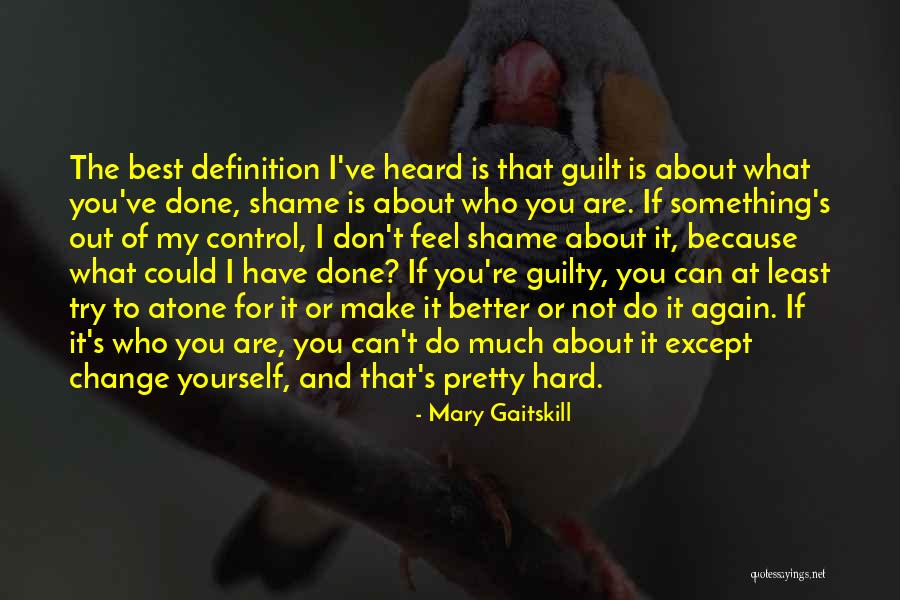 The best definition I've heard is that guilt is about what you've done, shame is about who you are. If something's out of my control, I don't feel shame about it, because what could I have done? If you're guilty, you can at least try to atone for it or make it better or not do it again. If it's who you are, you can't do much about it except change yourself, and that's pretty hard. — Mary Gaitskill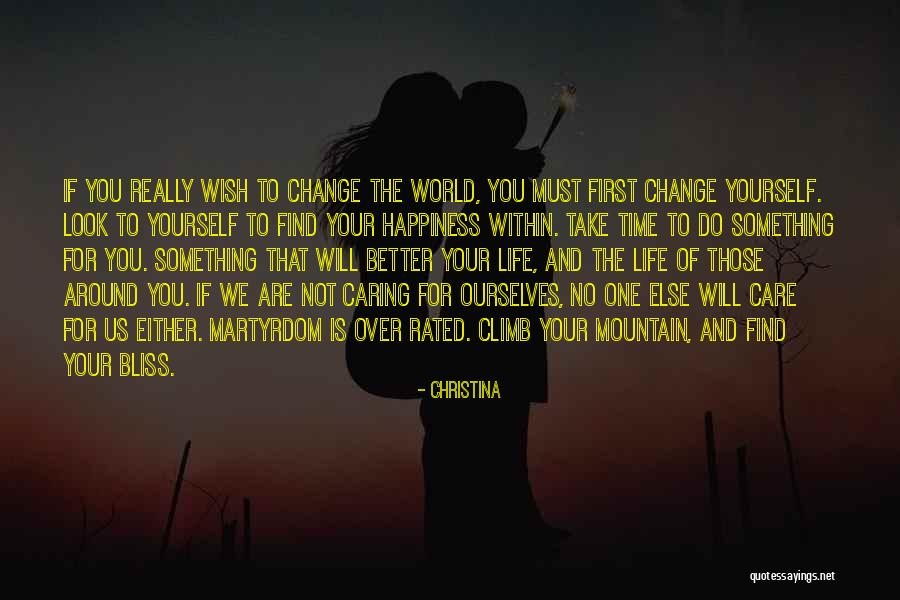 If you really wish to change the world, you must first change yourself. Look to yourself to find your happiness within. Take time to do something for you. Something that will better your life, and the life of those around you. If we are not caring for ourselves, no one else will care for us either. Martyrdom is over rated. Climb your mountain, and find your bliss. — Christina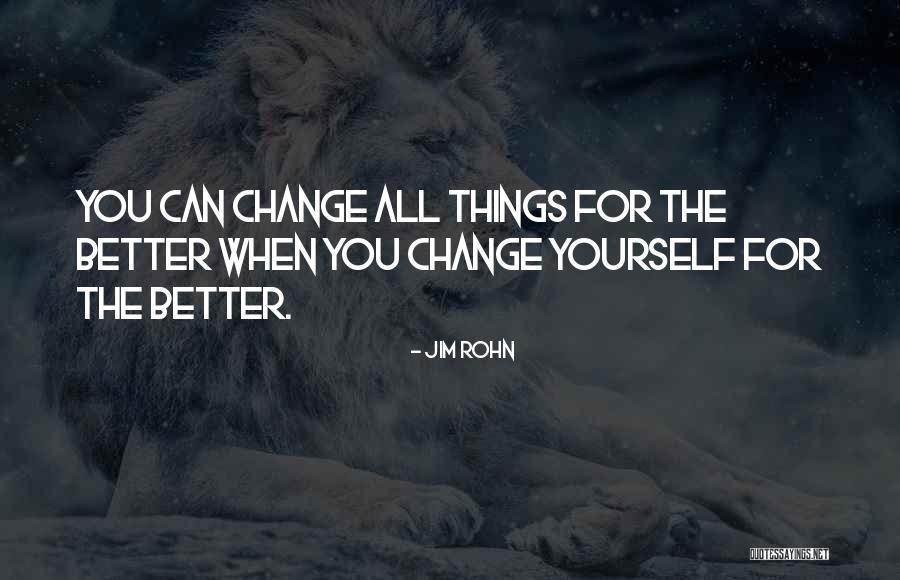 You can change all things for the better when you change yourself for the better. — Jim Rohn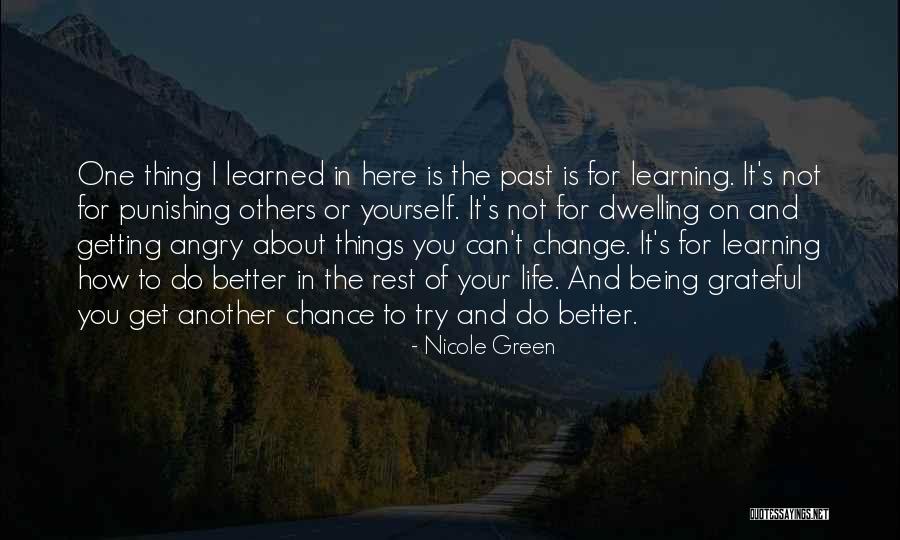 One thing I learned in here is the past is for learning. It's not for punishing others or yourself. It's not for dwelling on and getting angry about things you can't change. It's for learning how to do better in the rest of your life. And being grateful you get another chance to try and do better. — Nicole Green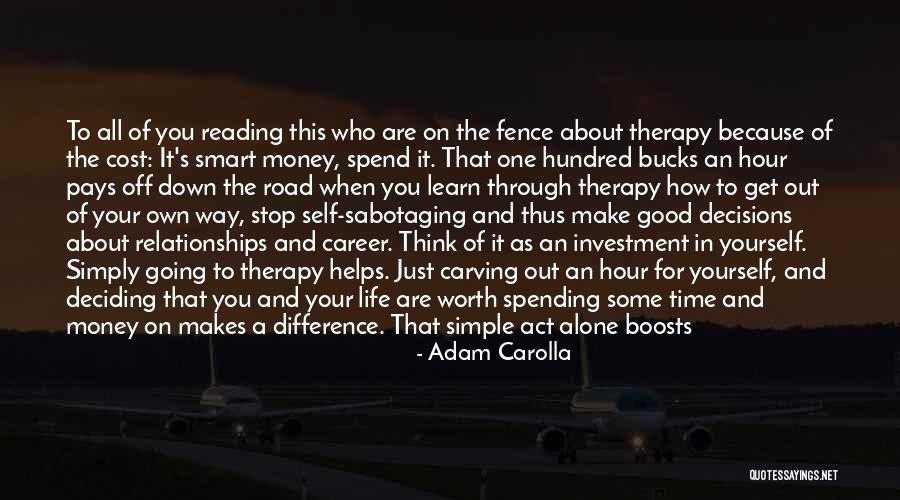 To all of you reading this who are on the fence about therapy because of the cost: It's smart money, spend it. That one hundred bucks an hour pays off down the road when you learn through therapy how to get out of your own way, stop self-sabotaging and thus make good decisions about relationships and career. Think of it as an investment in yourself. Simply going to therapy helps. Just carving out an hour for yourself, and deciding that you and your life are worth spending some time and money on makes a difference. That simple act alone boosts your self-esteem. Don't think of going to therapy as "I'm a broken pile of crap and need someone to fix me," think of it as "I'm going to change myself for the better instead of crying, masturbating and blaming my parents for the rest of my life. — Adam Carolla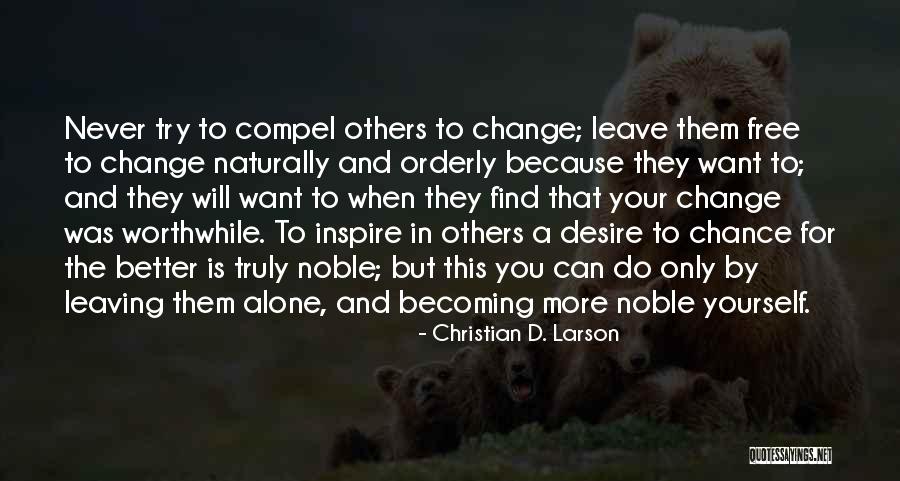 Never try to compel others to change; leave them free to change naturally and orderly because they want to; and they will want to when they find that your change was worthwhile. To inspire in others a desire to chance for the better is truly noble; but this you can do only by leaving them alone, and becoming more noble yourself. — Christian D. Larson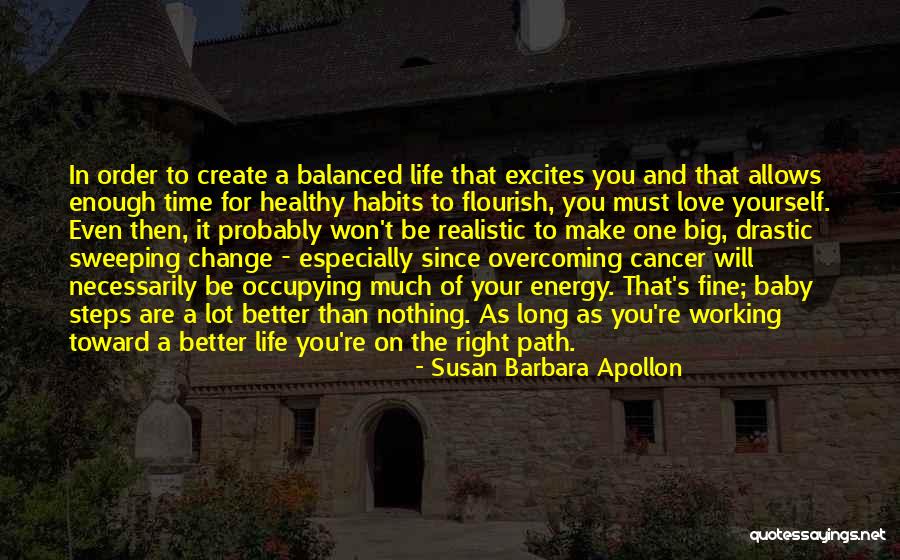 In order to create a balanced life that excites you and that allows enough time for healthy habits to flourish, you must love yourself. Even then, it probably won't be realistic to make one big, drastic sweeping change - especially since overcoming cancer will necessarily be occupying much of your energy. That's fine; baby steps are a lot better than nothing. As long as you're working toward a better life you're on the right path. — Susan Barbara Apollon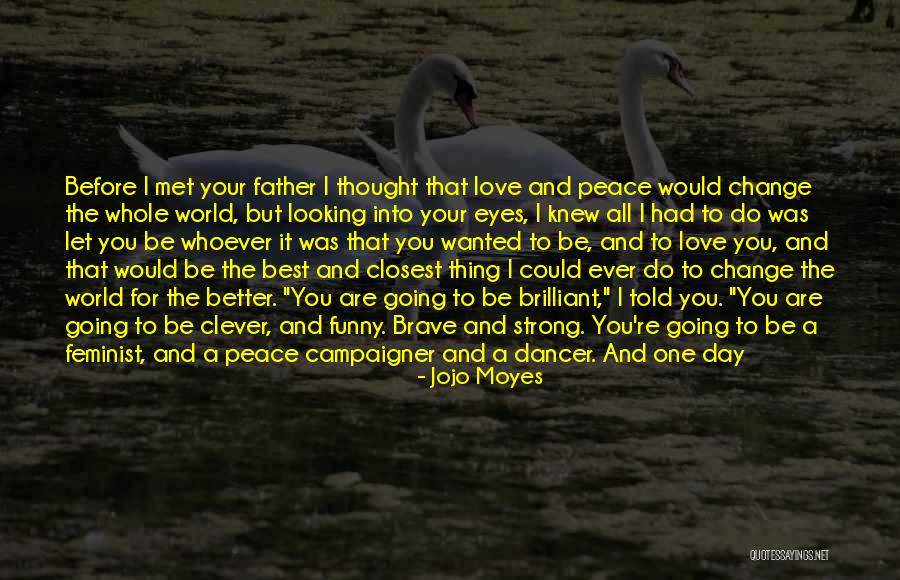 Before I met your father I thought that love and peace would change the whole world, but looking into your eyes, I knew all I had to do was let you be whoever it was that you wanted to be, and to love you, and that would be the best and closest thing I could ever do to change the world for the better.
"You are going to be brilliant," I told you. "You are going to be clever, and funny. Brave and strong. You're going to be a feminist, and a peace campaigner and a dancer. And one day you are going to be a mother yourself. You are going to fall in love and have adventures and do things I can't even imagine. You, little Claire Armstrong, you are going to be the most wonderful woman, and you are going to have the most amazing life: a life that no one will ever forget. — Jojo Moyes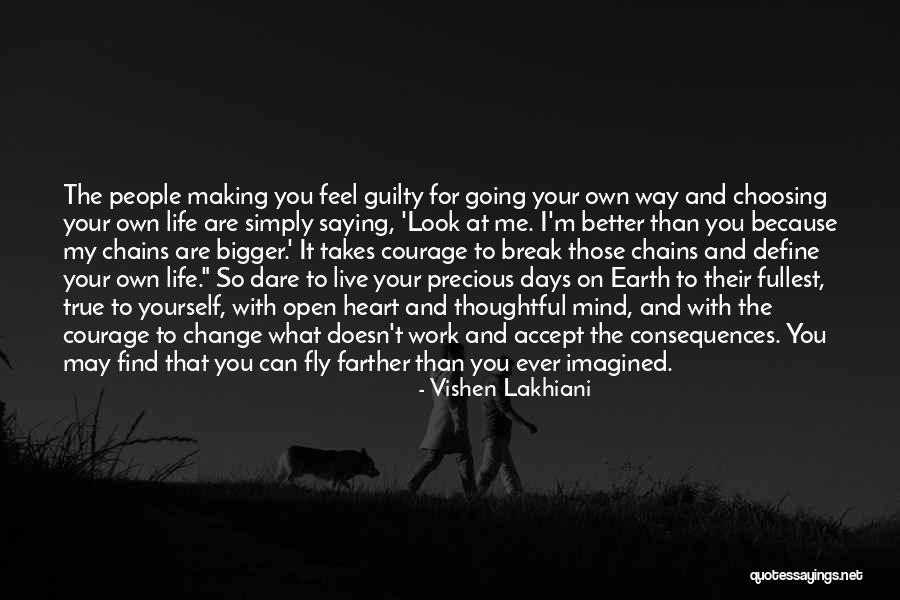 The people making you feel guilty for going your own way and choosing your own life are simply saying, 'Look at me. I'm better than you because my chains are bigger.' It takes courage to break those chains and define your own life." So dare to live your precious days on Earth to their fullest, true to yourself, with open heart and thoughtful mind, and with the courage to change what doesn't work and accept the consequences. You may find that you can fly farther than you ever imagined. — Vishen Lakhiani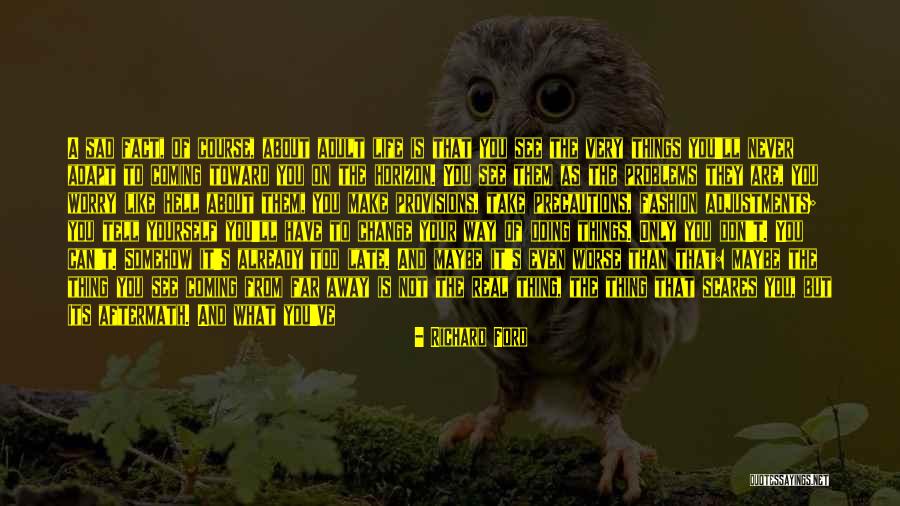 A sad fact, of course, about adult life is that you see the very things you'll never adapt to coming toward you on the horizon. You see them as the problems they are, you worry like hell about them, you make provisions, take precautions, fashion adjustments; you tell yourself you'll have to change your way of doing things. Only you don't. You can't. Somehow it's already too late. And maybe it's even worse than that: maybe the thing you see coming from far away is not the real thing, the thing that scares you, but its aftermath. And what you've feared will happen has already taken place. This is similar in spirit to the realization that all the great new advances of medical science will have no benefit for us at all, thought we cheer them on, hope a vaccine might be ready in time, think things could still get better. Only it's too late there too. And in that very way our life gets over before we know it. We miss it. And like the poet said: The ways we miss our lives are life. — Richard Ford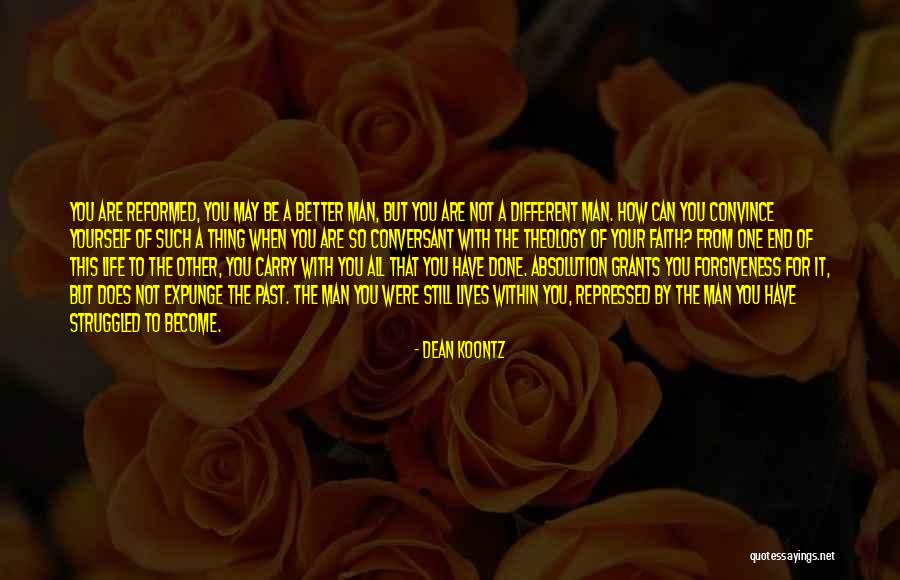 You are reformed, you may be a better man, but you are not a different man. How can you convince yourself of such a thing when you are so conversant with the theology of your faith? From one end of this life to the other, you carry with you all that you have done. Absolution grants you forgiveness for it, but does not expunge the past. The man you were still lives within you, repressed by the man you have struggled to become. — Dean Koontz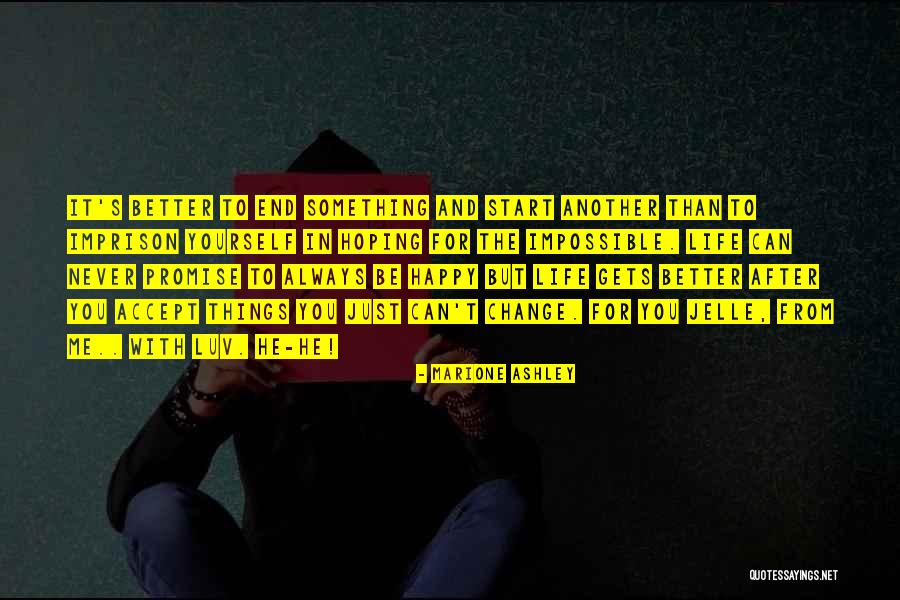 It's better to end something and start another than to imprison yourself in hoping for the impossible. Life can never promise to always be happy but life gets better after you accept things you just can't change. For you Jelle, from me.. with luv. He-he! — Marione Ashley