Cake And Marriage Quotes & Sayings
Enjoy reading and share 11 famous quotes about Cake And Marriage with everyone.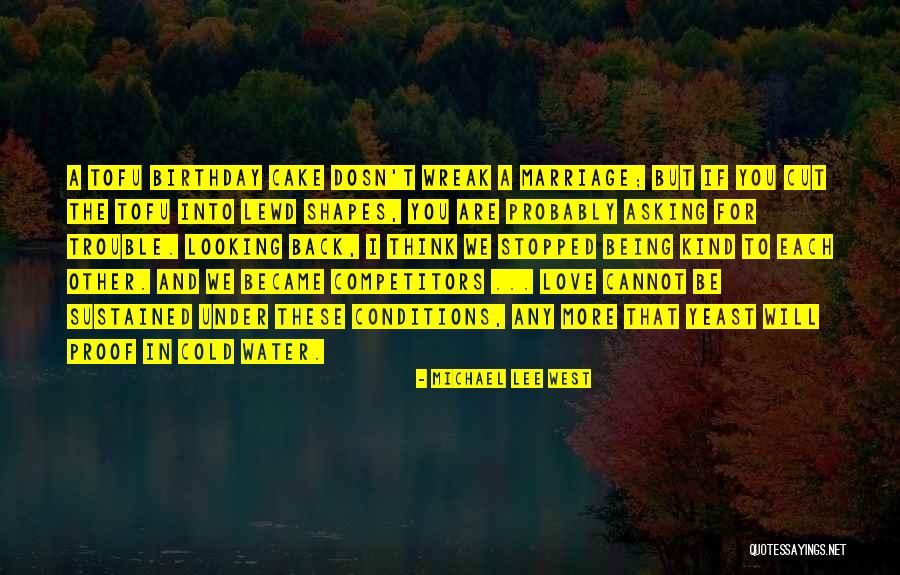 A tofu birthday cake dosn't wreak a marriage; but if you cut the tofu into lewd shapes, you are probably asking for trouble. Looking back, I think we stopped being kind to each other. And we became competitors ...
Love cannot be sustained under these conditions, any more that yeast will proof in cold water. — Michael Lee West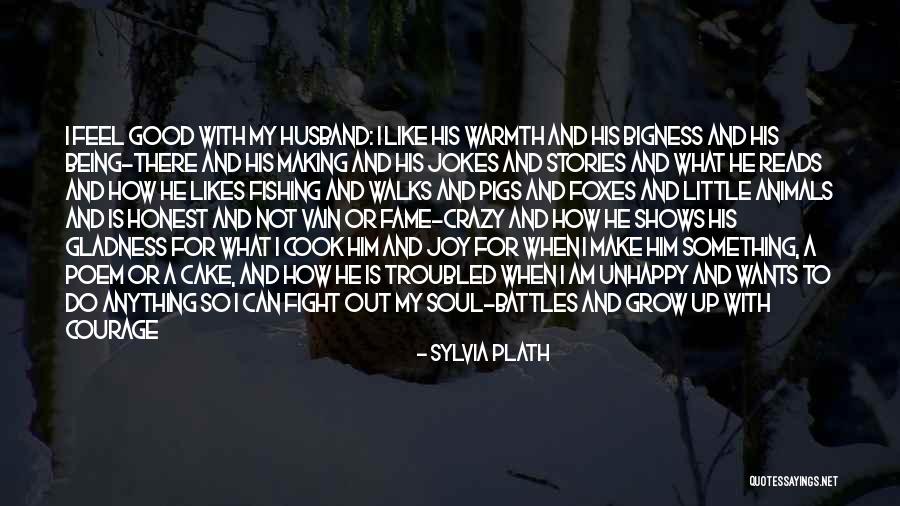 I feel good with my husband: I like his warmth and his bigness and his being-there and his making and his jokes and stories and what he reads and how he likes fishing and walks and pigs and foxes and little animals and is honest and not vain or fame-crazy and how he shows his gladness for what I cook him and joy for when I make him something, a poem or a cake, and how he is troubled when I am unhappy and wants to do anything so I can fight out my soul-battles and grow up with courage and a philosophical ease. I love his good smell and his body that fits with mine as if they were made in the same body-shop to do just that. What is only pieces, doled out here and there to this boy and that boy, that made me like pieces of them, is all jammed together in my husband. So I don't want to look around any more: I don't need to look around for anything. — Sylvia Plath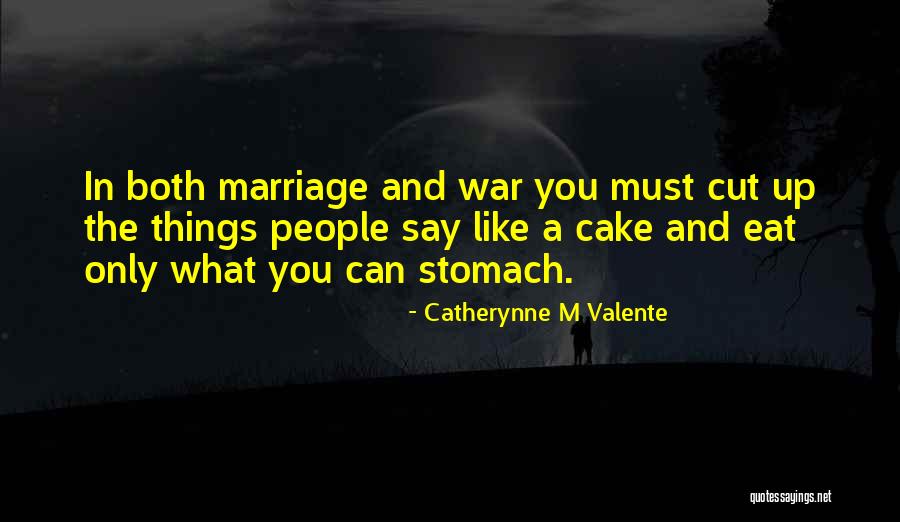 In both marriage and war you must cut up the things people say like a cake and eat only what you can stomach. — Catherynne M Valente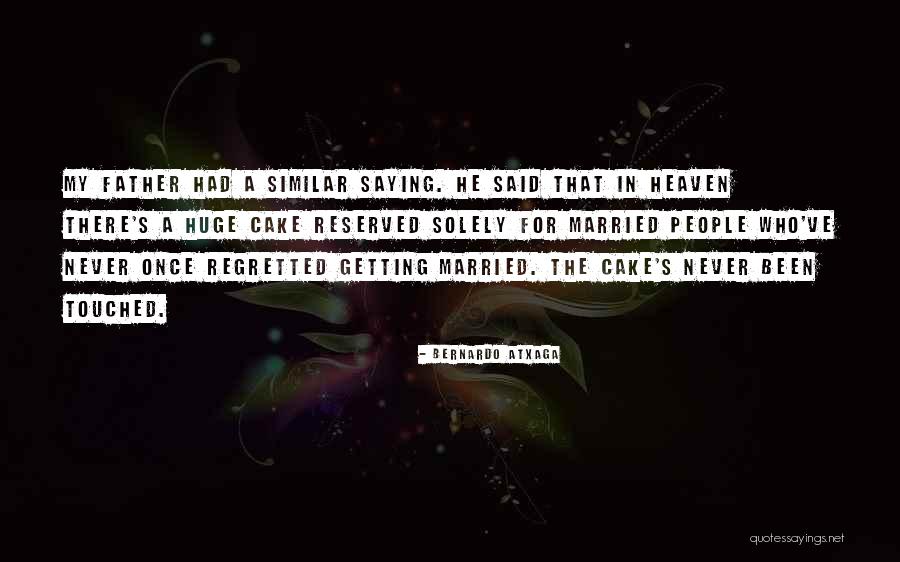 My father had a similar saying. He said that in heaven there's a huge cake reserved solely for married people who've never once regretted getting married. The cake's never been touched. — Bernardo Atxaga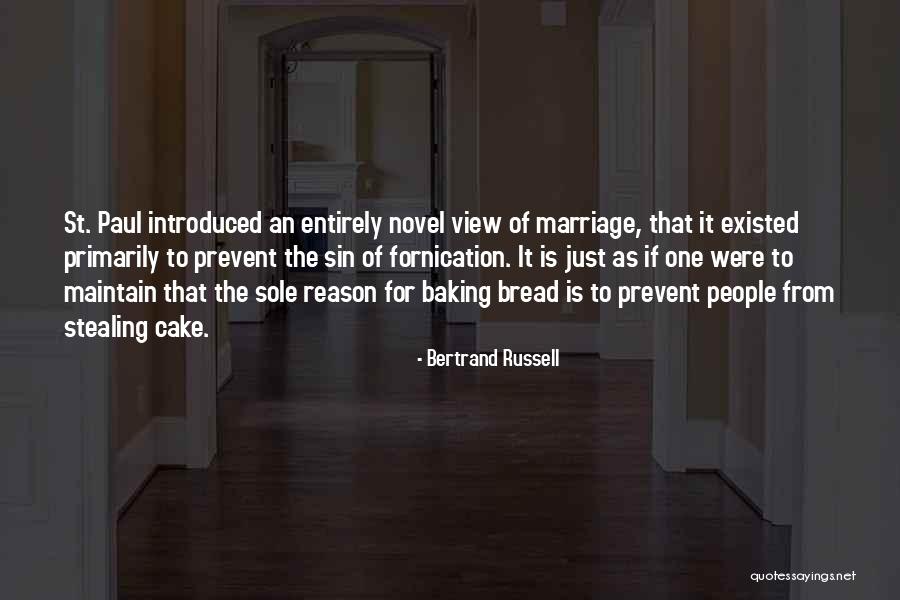 St. Paul introduced an entirely novel view of marriage, that it existed primarily to prevent the sin of fornication. It is just as if one were to maintain that the sole reason for baking bread is to prevent people from stealing cake. — Bertrand Russell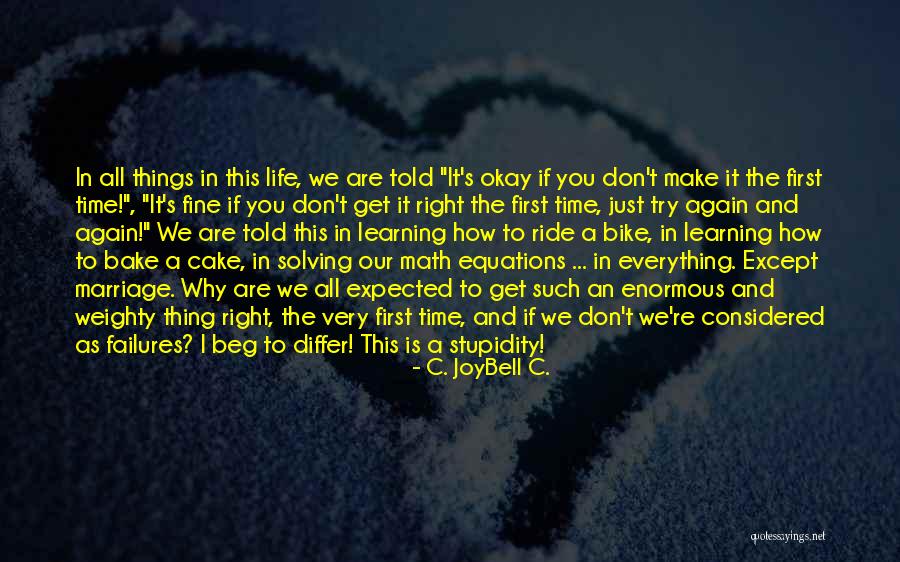 In all things in this life, we are told "It's okay if you don't make it the first time!", "It's fine if you don't get it right the first time, just try again and again!" We are told this in learning how to ride a bike, in learning how to bake a cake, in solving our math equations ... in everything. Except marriage. Why are we all expected to get such an enormous and weighty thing right, the very first time, and if we don't we're considered as failures? I beg to differ! This is a stupidity! — C. JoyBell C.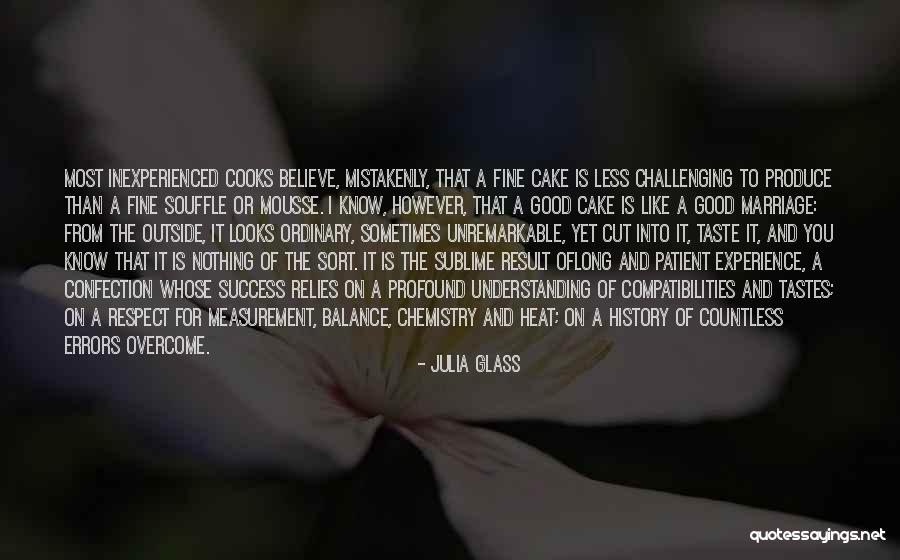 Most inexperienced cooks believe, mistakenly, that a fine cake is less challenging to produce than a fine souffle or mousse. I know, however, that a good cake is like a good marriage: from the outside, it looks ordinary, sometimes unremarkable, yet cut into it, taste it, and you know that it is nothing of the sort. It is the sublime result oflong and patient experience, a confection whose success relies on a profound understanding of compatibilities and tastes; on a respect for measurement, balance, chemistry and heat; on a history of countless errors overcome. — Julia Glass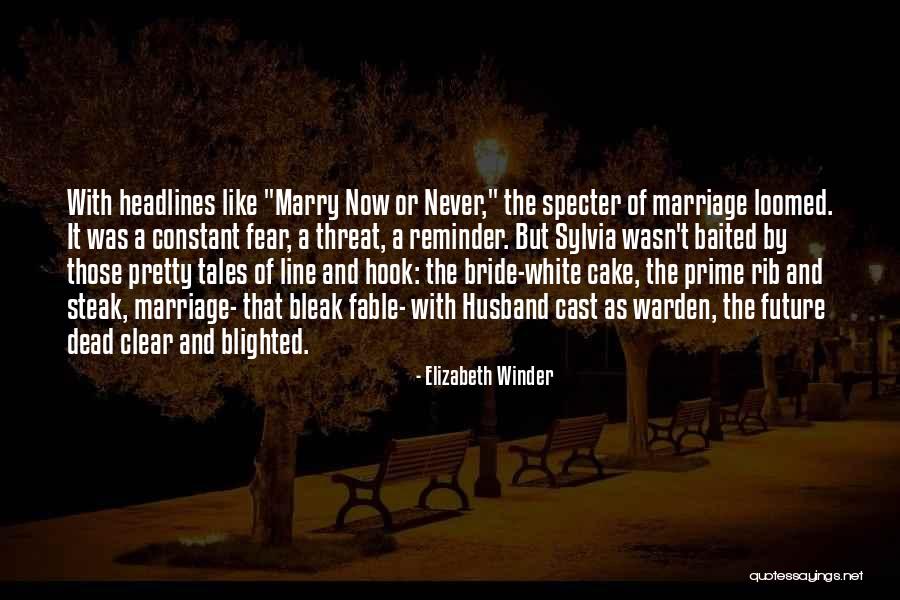 With headlines like "Marry Now or Never," the specter of marriage loomed. It was a constant fear, a threat, a reminder. But Sylvia wasn't baited by those pretty tales of line and hook: the bride-white cake, the prime rib and steak, marriage- that bleak fable- with Husband cast as warden, the future dead clear and blighted. — Elizabeth Winder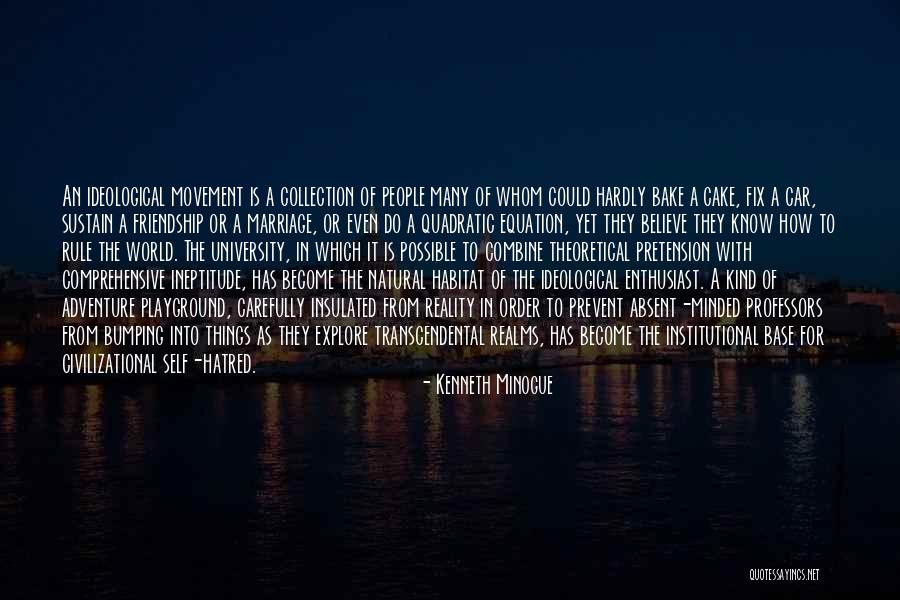 An ideological movement is a collection of people many of whom could hardly bake a cake, fix a car, sustain a friendship or a marriage, or even do a quadratic equation, yet they believe they know how to rule the world. The university, in which it is possible to combine theoretical pretension with comprehensive ineptitude, has become the natural habitat of the ideological enthusiast. A kind of adventure playground, carefully insulated from reality in order to prevent absent-minded professors from bumping into things as they explore transcendental realms, has become the institutional base for civilizational self-hatred. — Kenneth Minogue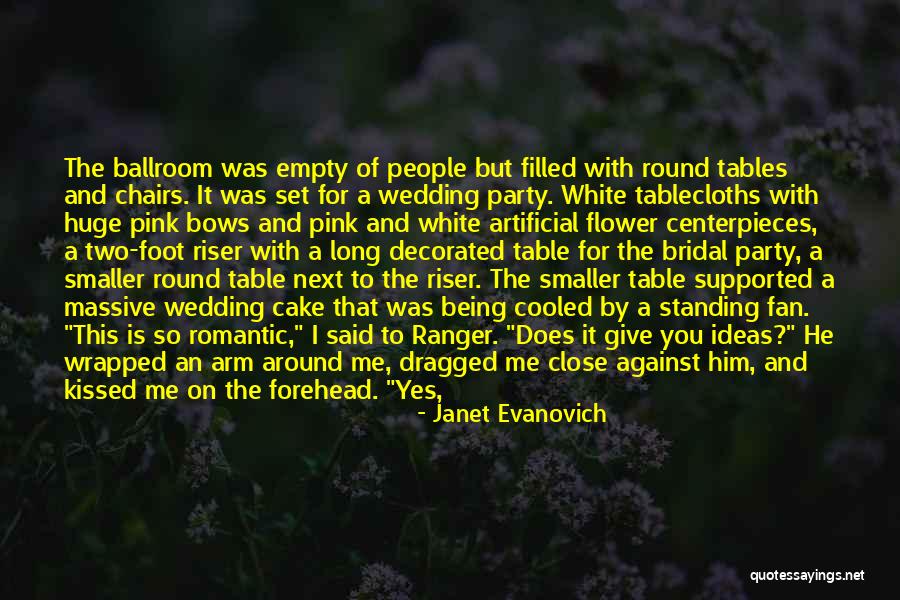 The ballroom was empty of people but filled with round tables and chairs. It was set for a wedding party. White tablecloths with huge pink bows and pink and white artificial flower centerpieces, a two-foot riser with a long decorated table for the bridal party, a smaller round table next to the riser. The smaller table supported a massive wedding cake that was being cooled by a standing fan. "This is so romantic," I said to Ranger. "Does it give you ideas?" He wrapped an arm around me, dragged me close against him, and kissed me on the forehead. "Yes, it gives me ideas, but not about marriage. Mostly about setting fire to this atrocity. — Janet Evanovich