Best Movie Scene Quotes & Sayings
Enjoy reading and share 38 famous quotes about Best Movie Scene with everyone.
Top Best Movie Scene Quotes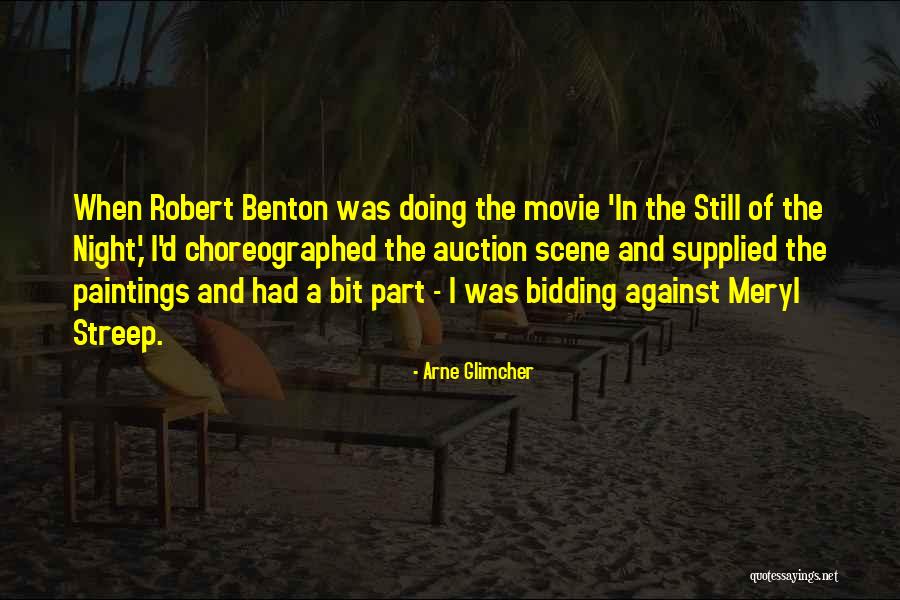 When Robert Benton was doing the movie 'In the Still of the Night,' I'd choreographed the auction scene and supplied the paintings and had a bit part - I was bidding against Meryl Streep. — Arne Glimcher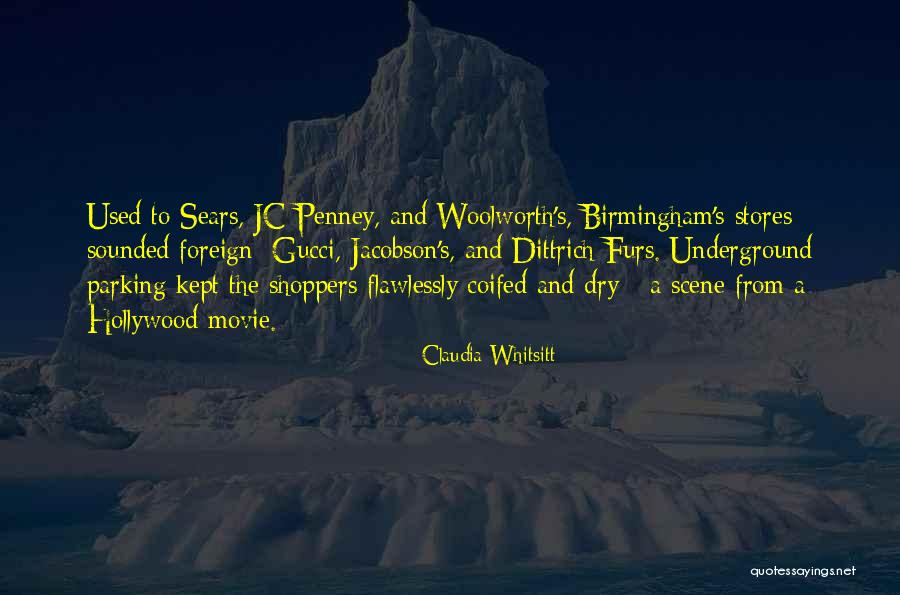 Used to Sears, JC Penney, and Woolworth's, Birmingham's stores sounded foreign: Gucci, Jacobson's, and Dittrich Furs. Underground parking kept the shoppers flawlessly coifed and dry - a scene from a Hollywood movie. — Claudia Whitsitt
If you watch a movie, it never happens that you see a character that is in every single scene. — Patrick Huard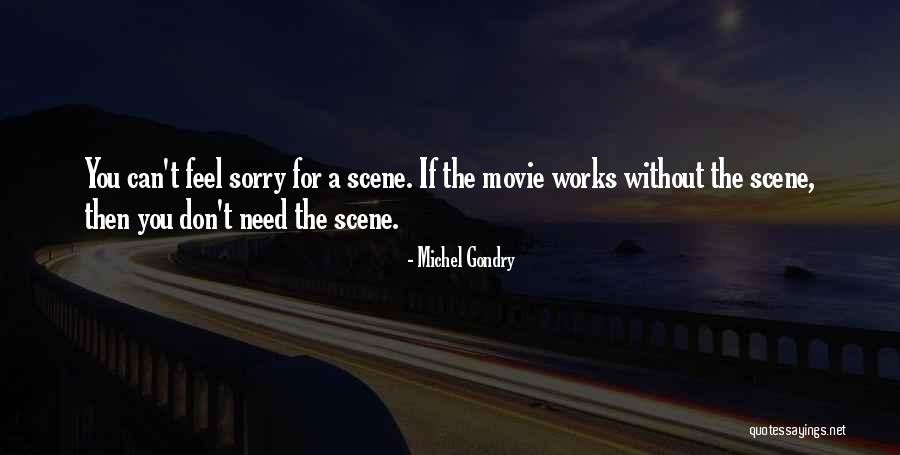 You can't feel sorry for a scene. If the movie works without the scene, then you don't need the scene. — Michel Gondry
Was being attacked by a flock of harpies that made the playground scene in The Birds look like a Disney movie. — Lisa Shearin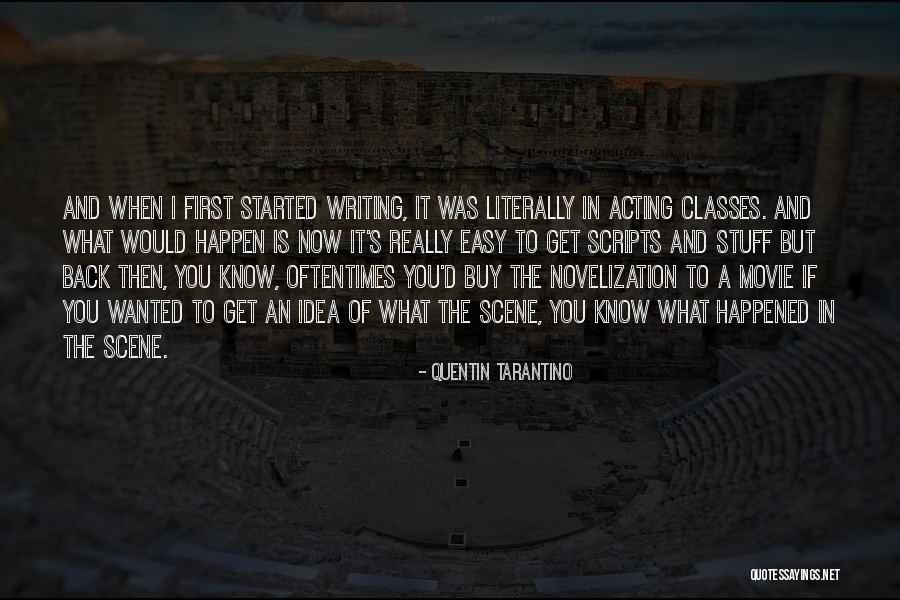 And when I first started writing, it was literally in acting classes. And what would happen is now it's really easy to get scripts and stuff but back then, you know, oftentimes you'd buy the novelization to a movie if you wanted to get an idea of what the scene, you know what happened in the scene. — Quentin Tarantino
Usually, like, on 'Mean Girls,' the task that Tina Fey and I set for ourselves was we wanted to maintain a comic intensity throughout the movie, where people just don't really get a break from laughing. And if they do, it's for a brief emotional scene, and then we're going to once again try to knock them on their heels again with comedy. — Mark Waters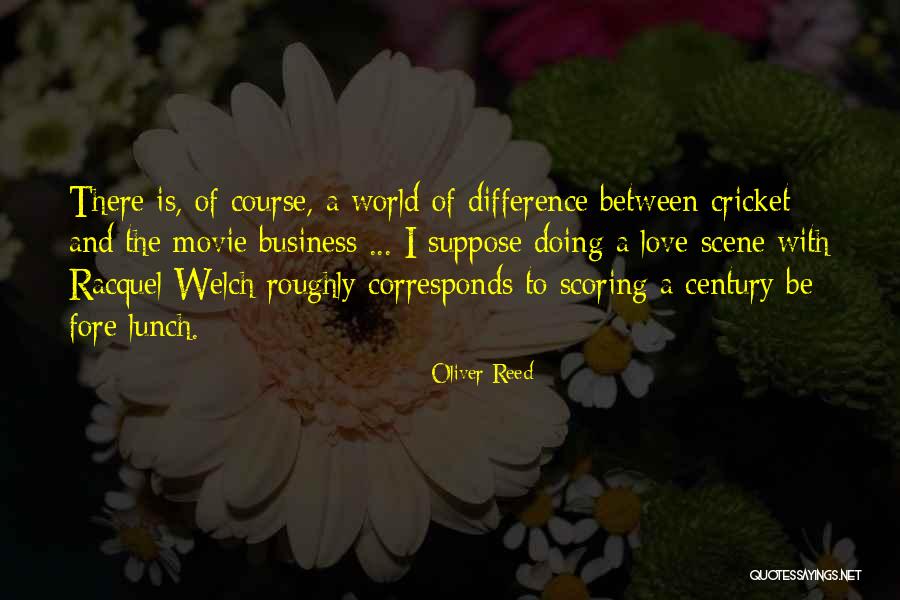 There is, of course, a world of difference between cricket and the movie business ... I suppose doing a love scene with Racquel Welch roughly corresponds to scoring a century be fore lunch. — Oliver Reed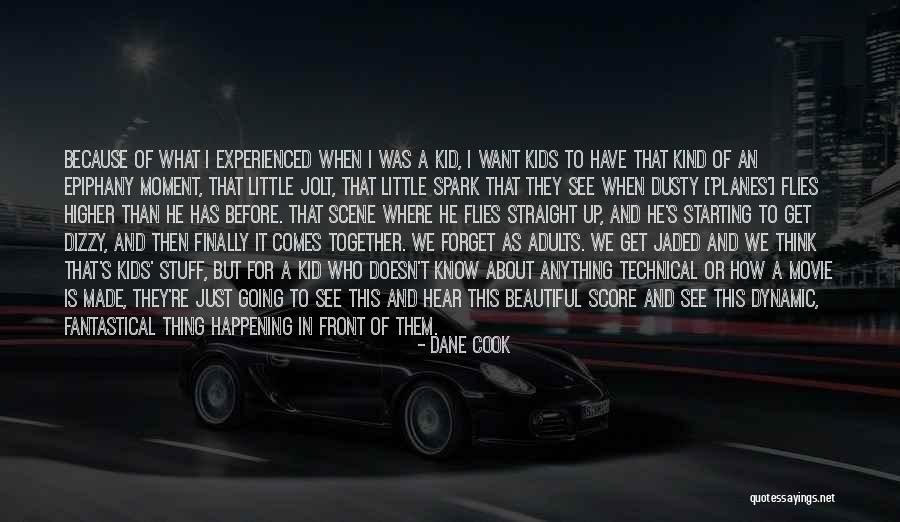 Because of what I experienced when I was a kid, I want kids to have that kind of an epiphany moment, that little jolt, that little spark that they see when Dusty ['Planes'] flies higher than he has before. That scene where he flies straight up, and he's starting to get dizzy, and then finally it comes together. We forget as adults. We get jaded and we think that's kids' stuff, but for a kid who doesn't know about anything technical or how a movie is made, they're just going to see this and hear this beautiful score and see this dynamic, fantastical thing happening in front of them. — Dane Cook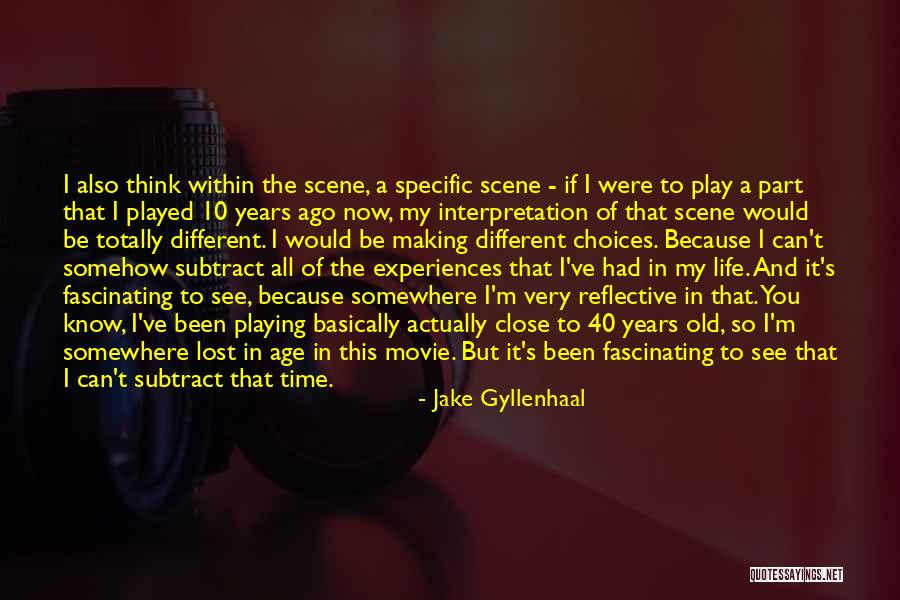 I also think within the scene, a specific scene - if I were to play a part that I played 10 years ago now, my interpretation of that scene would be totally different. I would be making different choices. Because I can't somehow subtract all of the experiences that I've had in my life. And it's fascinating to see, because somewhere I'm very reflective in that. You know, I've been playing basically actually close to 40 years old, so I'm somewhere lost in age in this movie. But it's been fascinating to see that I can't subtract that time. — Jake Gyllenhaal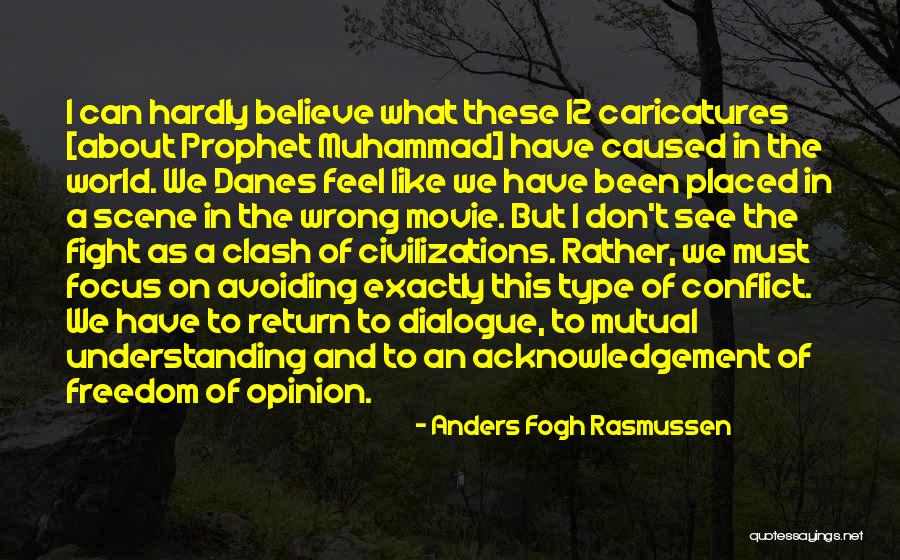 I can hardly believe what these 12 caricatures [about Prophet Muhammad] have caused in the world. We Danes feel like we have been placed in a scene in the wrong movie. But I don't see the fight as a clash of civilizations. Rather, we must focus on avoiding exactly this type of conflict. We have to return to dialogue, to mutual understanding and to an acknowledgement of freedom of opinion. — Anders Fogh Rasmussen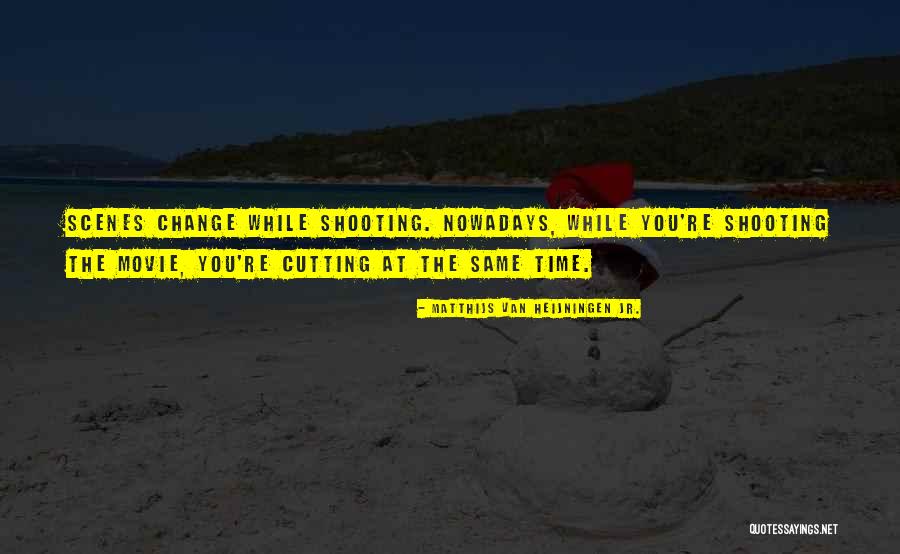 Scenes change while shooting. Nowadays, while you're shooting the movie, you're cutting at the same time. — Matthijs Van Heijningen Jr.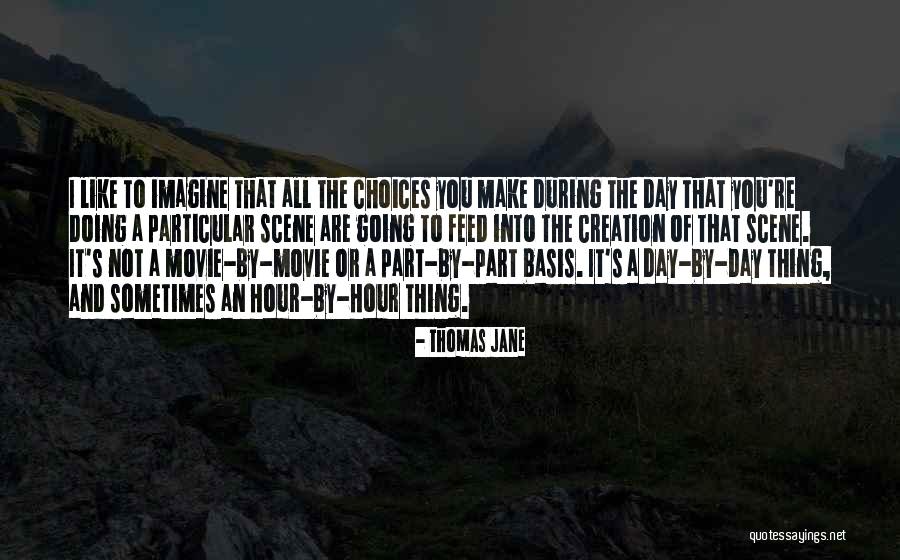 I like to imagine that all the choices you make during the day that you're doing a particular scene are going to feed into the creation of that scene. It's not a movie-by-movie or a part-by-part basis. It's a day-by-day thing, and sometimes an hour-by-hour thing. — Thomas Jane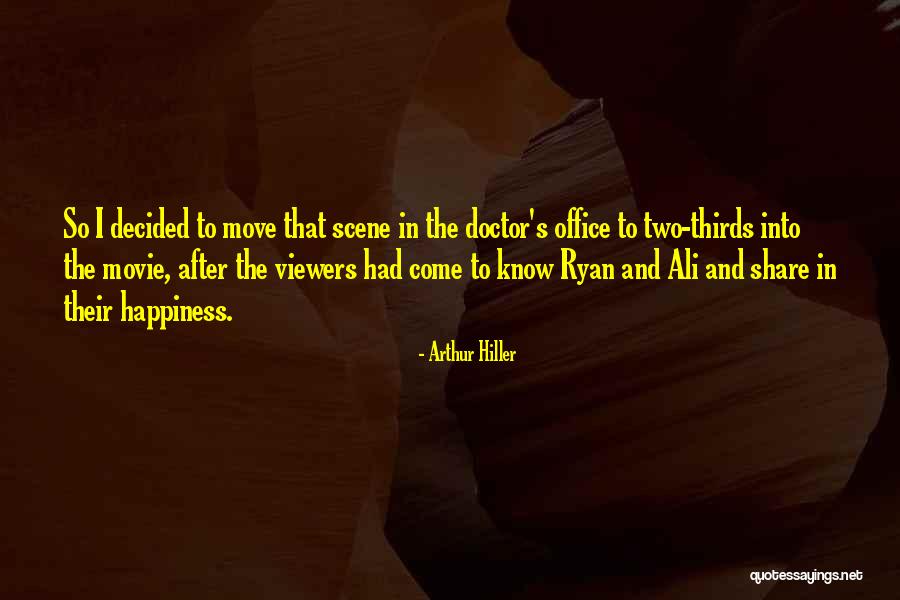 So I decided to move that scene in the doctor's office to two-thirds into the movie, after the viewers had come to know Ryan and Ali and share in their happiness. — Arthur Hiller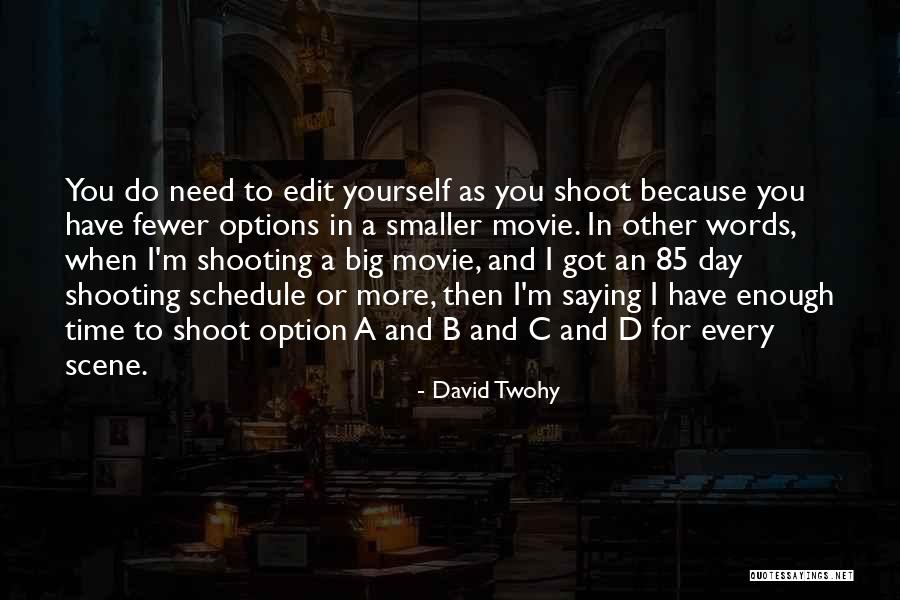 You do need to edit yourself as you shoot because you have fewer options in a smaller movie. In other words, when I'm shooting a big movie, and I got an 85 day shooting schedule or more, then I'm saying I have enough time to shoot option A and B and C and D for every scene. — David Twohy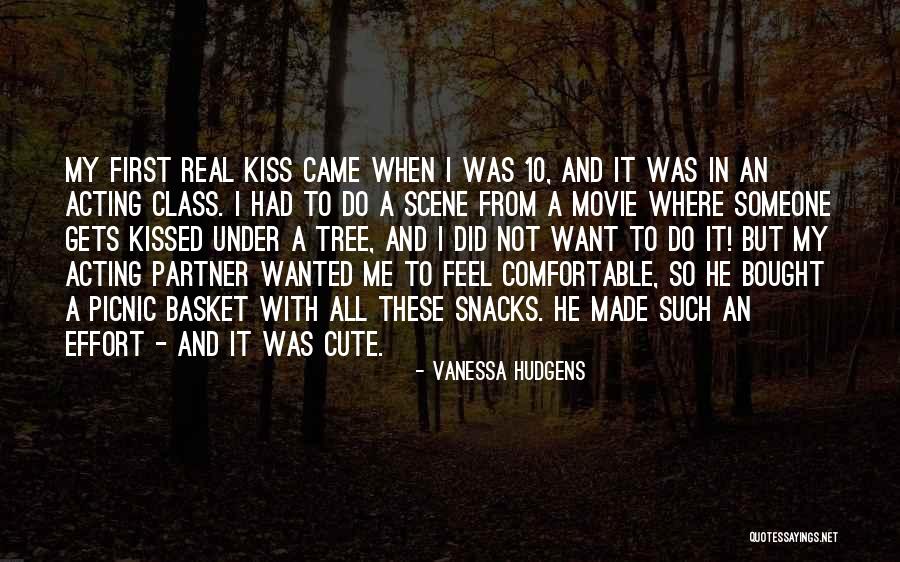 My first real kiss came when I was 10, and it was in an acting class. I had to do a scene from a movie where someone gets kissed under a tree, and I did not want to do it! But my acting partner wanted me to feel comfortable, so he bought a picnic basket with all these snacks. He made such an effort - and it was cute. — Vanessa Hudgens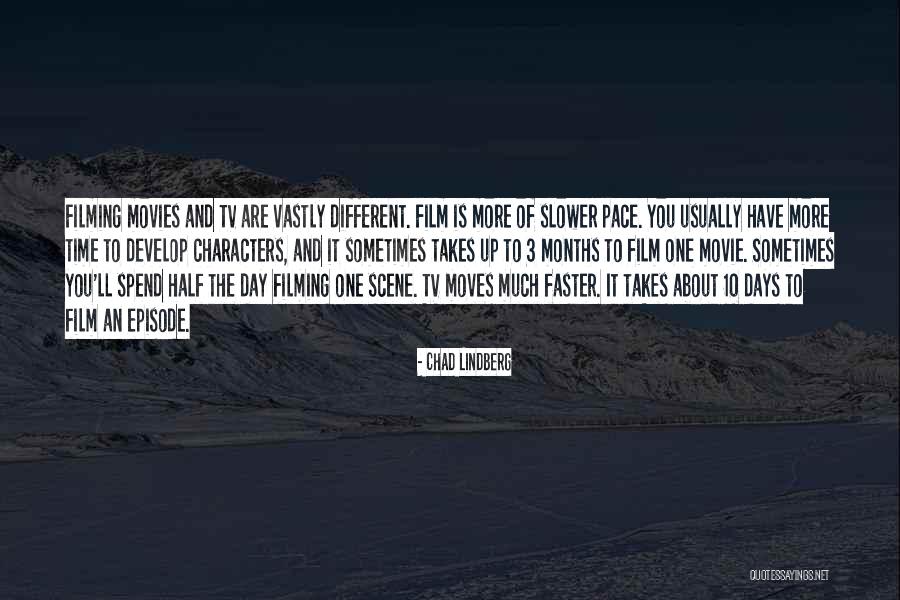 Filming movies and TV are vastly different. Film is more of slower pace. You usually have more time to develop characters, and it sometimes takes up to 3 months to film one movie. Sometimes you'll spend half the day filming one scene. TV moves much faster. It takes about 10 days to film an episode. — Chad Lindberg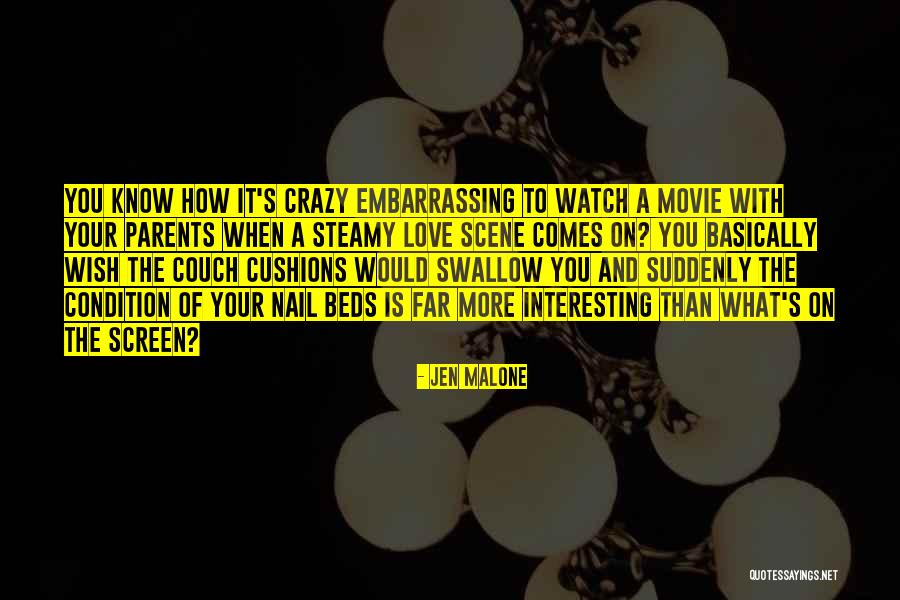 You know how it's crazy embarrassing to watch a movie with your parents when a steamy love scene comes on? You basically wish the couch cushions would swallow you and suddenly the condition of your nail beds is far more interesting than what's on the screen? — Jen Malone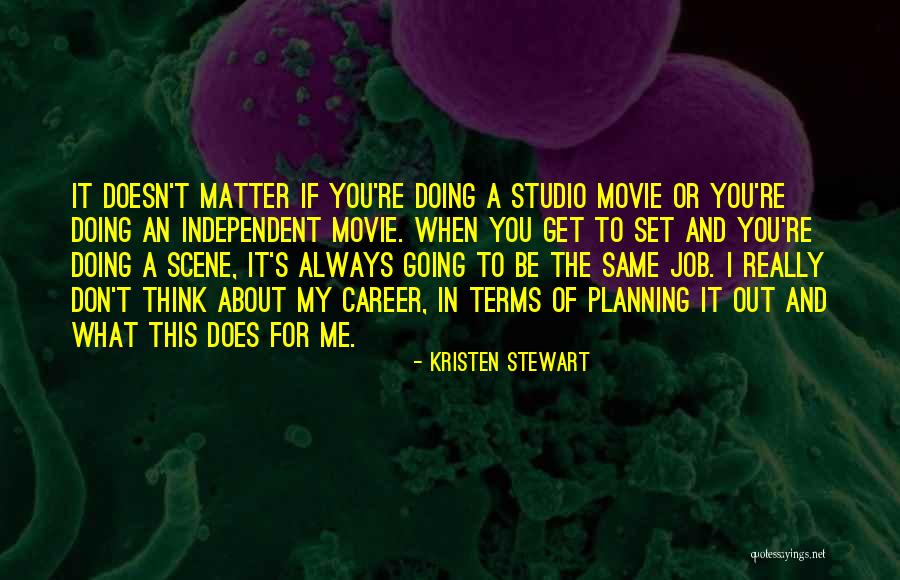 It doesn't matter if you're doing a studio movie or you're doing an independent movie. When you get to set and you're doing a scene, it's always going to be the same job. I really don't think about my career, in terms of planning it out and what this does for me. — Kristen Stewart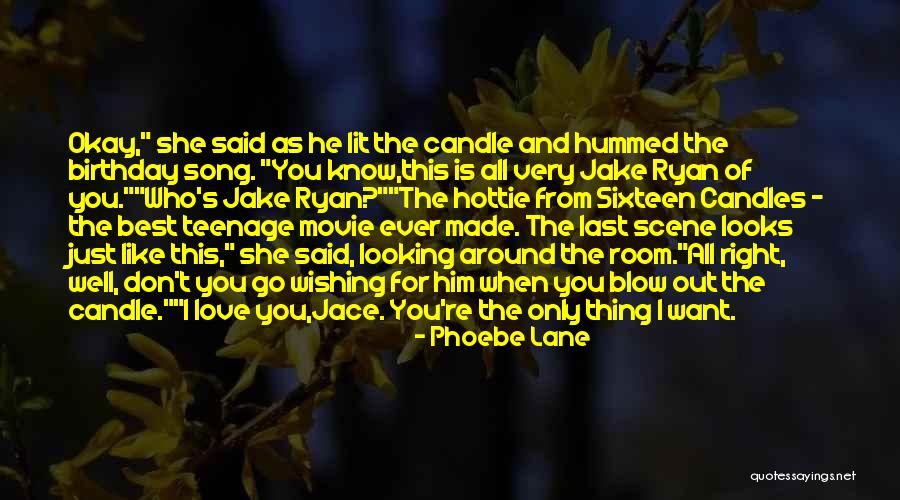 Okay," she said as he lit the candle and hummed the birthday song. "You know,this is all very Jake Ryan of you."
"Who's Jake Ryan?"
"The hottie from Sixteen Candles - the best teenage movie ever made. The last scene looks just like this," she said, looking around the room.
"All right, well, don't you go wishing for him when you blow out the candle."
"I love you,Jace. You're the only thing I want. — Phoebe Lane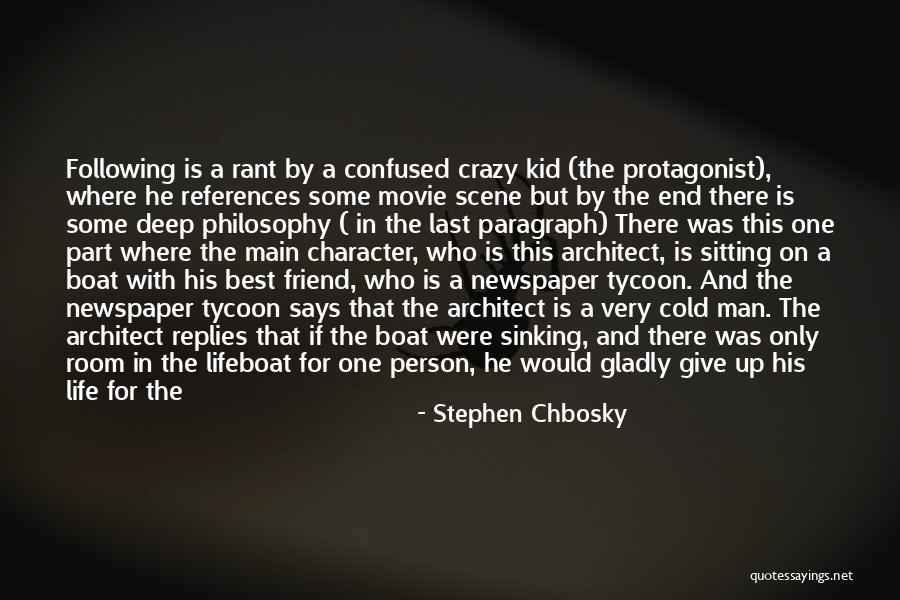 Following is a rant by a confused crazy kid (the protagonist), where he references some movie scene but by the end there is some deep philosophy ( in the last paragraph)
There was this one part where the main character, who is this architect, is sitting on a boat with his best friend, who is a newspaper tycoon. And the newspaper tycoon says that the architect is a very cold man. The architect replies that if the boat were sinking, and there was only room in the lifeboat for one person, he would gladly give up his life for the newspaper tycoon. And then he says something like this ...
"I would die for you. But I won't live for you."
Something like that. I think the idea is that every person has to live for his or her own life and then make the choice to share it with other people. Maybe that is what makes people "participate." I'm not really certain. — Stephen Chbosky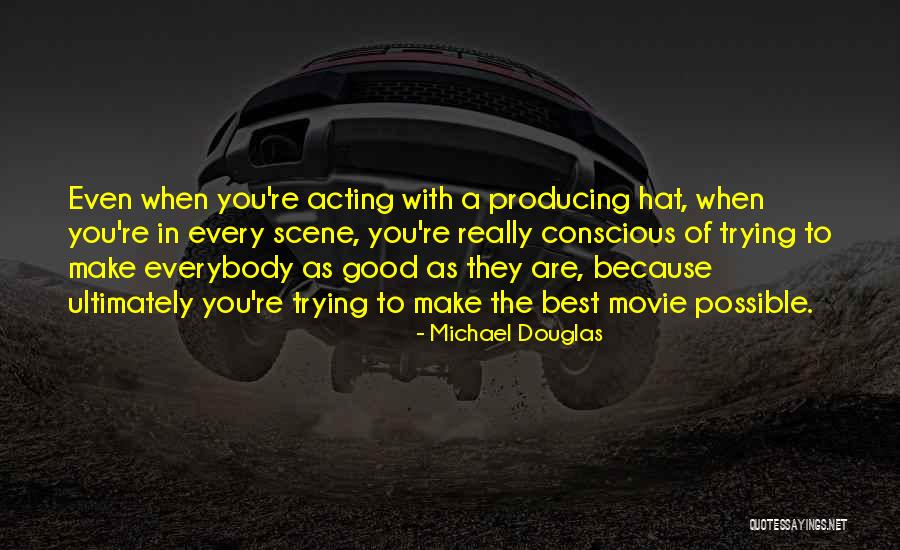 Even when you're acting with a producing hat, when you're in every scene, you're really conscious of trying to make everybody as good as they are, because ultimately you're trying to make the best movie possible. — Michael Douglas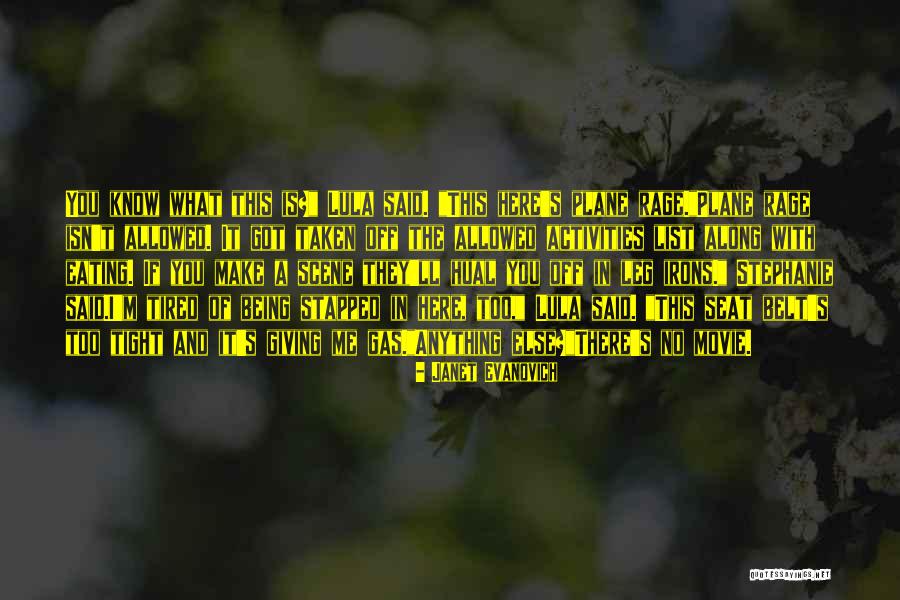 You know what this is?" Lula said. "This here's plane rage."
Plane rage isn't allowed. It got taken off the allowed activities list along with eating. If you make a scene they'll hual you off in leg irons." Stephanie said.
I'm tired of being stapped in here, too," Lula said. "This seat belt's too tight and it's giving me gas."
Anything else?"
There's no movie. — Janet Evanovich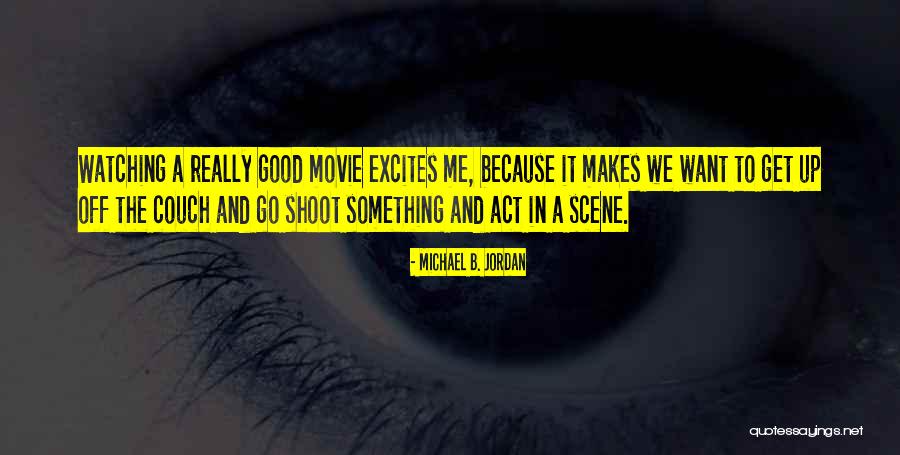 Watching a really good movie excites me, because it makes we want to get up off the couch and go shoot something and act in a scene. — Michael B. Jordan
As time passed there was no more buying food, no money, no supplies. On some days, we wouldn't even have a crumb to eat. There's a vivid scene in Nanni Loy's The Four Days of Naples, a movie made after the war about the uprising of the Neapolitans against the occupying Germans, in which one of the young characters sinks his teeth into a loaf of bread so voraciously, so desperately, I can still identify with him. In those four famous days in late September, when Naples rose up against the Germans - even before the Allies arrived, it was the climax of a terrible period of deprivation and marked the beginning of the end of the war in Italy. — Sophia Loren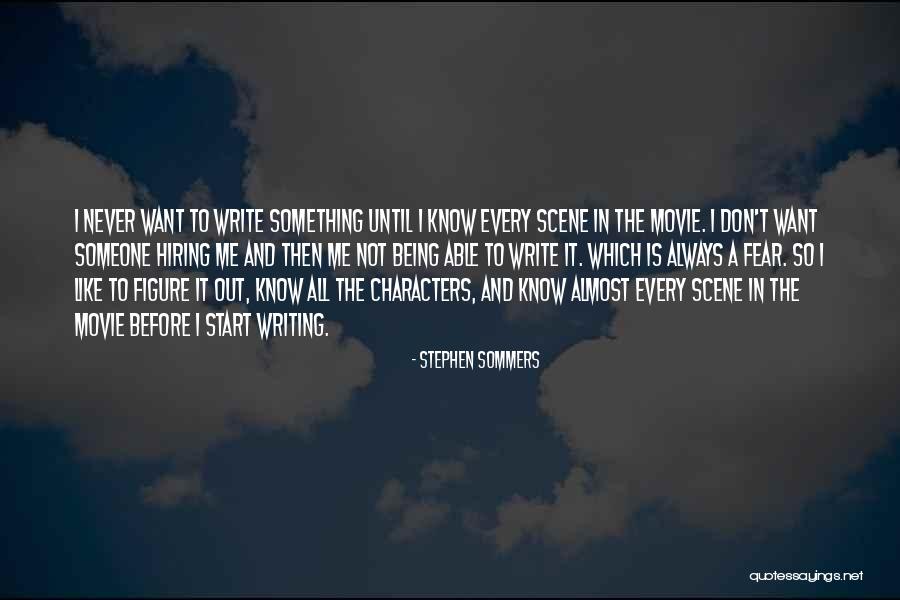 I never want to write something until I know every scene in the movie. I don't want someone hiring me and then me not being able to write it. Which is always a fear. So I like to figure it out, know all the characters, and know almost every scene in the movie before I start writing. — Stephen Sommers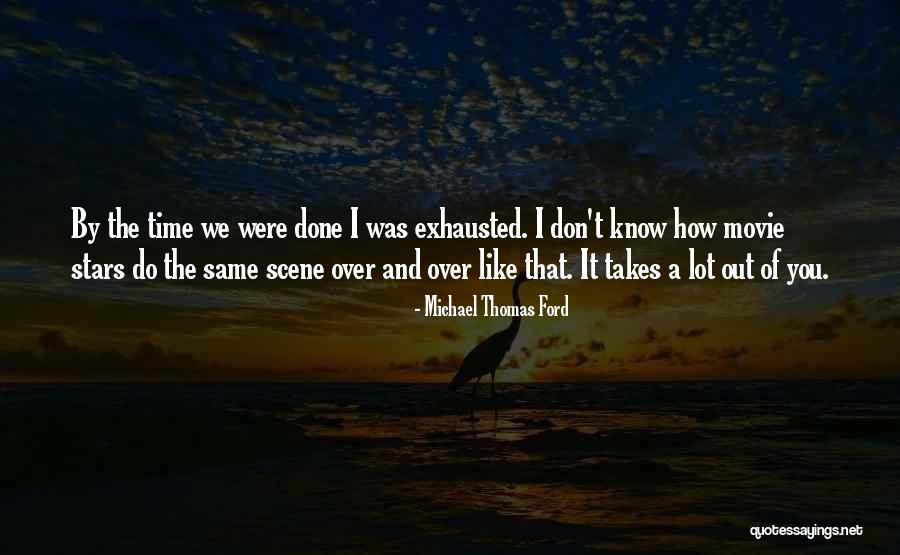 By the time we were done I was exhausted. I don't know how movie stars do the same scene over and over like that. It takes a lot out of you. — Michael Thomas Ford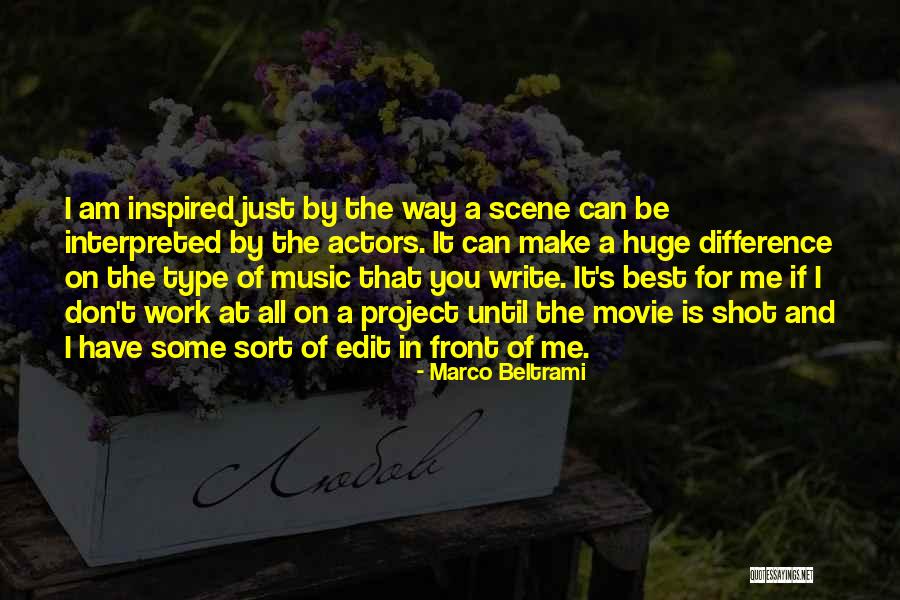 I am inspired just by the way a scene can be interpreted by the actors. It can make a huge difference on the type of music that you write. It's best for me if I don't work at all on a project until the movie is shot and I have some sort of edit in front of me. — Marco Beltrami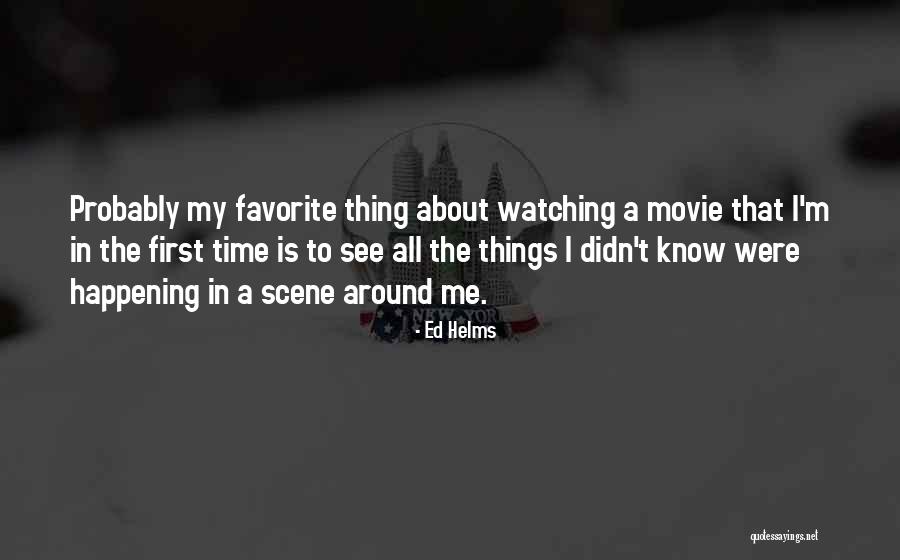 Probably my favorite thing about watching a movie that I'm in the first time is to see all the things I didn't know were happening in a scene around me. — Ed Helms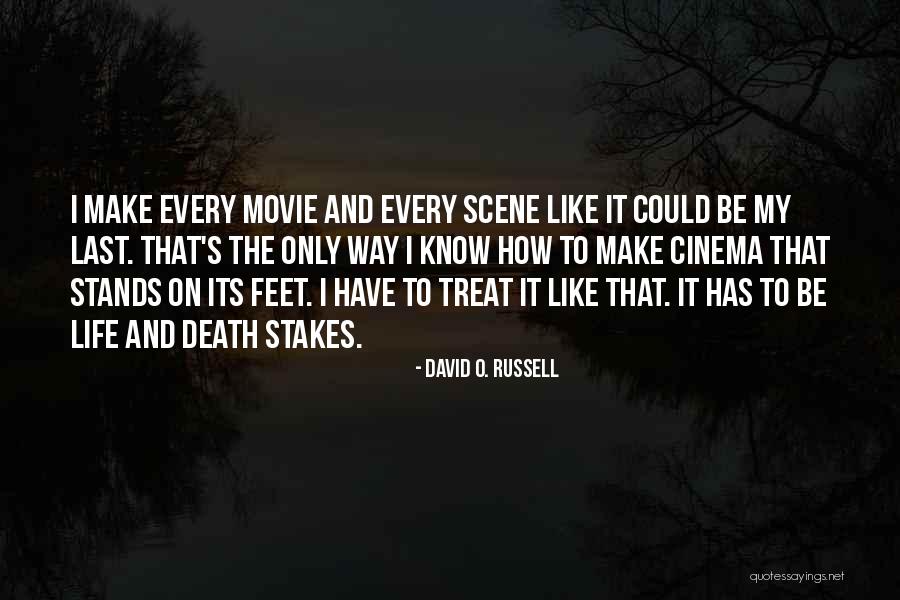 I make every movie and every scene like it could be my last. That's the only way I know how to make cinema that stands on its feet. I have to treat it like that. It has to be life and death stakes. — David O. Russell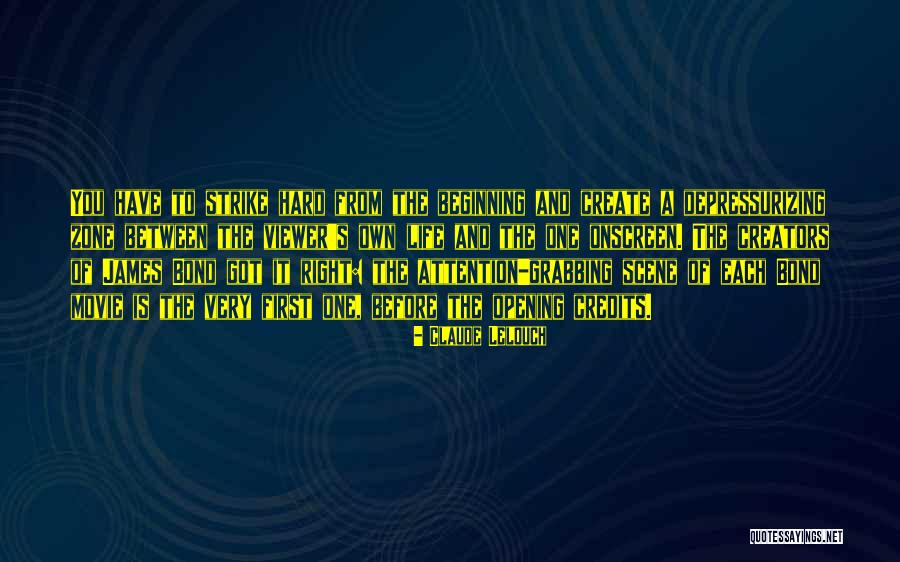 You have to strike hard from the beginning and create a depressurizing zone between the viewer's own life and the one onscreen. The creators of James Bond got it right: the attention-grabbing scene of each Bond movie is the very first one, before the opening credits. — Claude Lelouch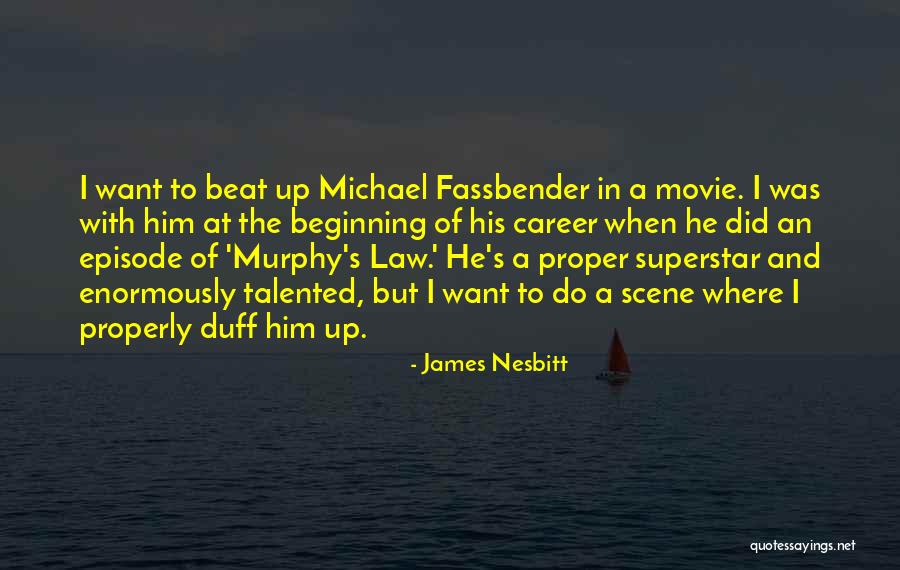 I want to beat up Michael Fassbender in a movie. I was with him at the beginning of his career when he did an episode of 'Murphy's Law.' He's a proper superstar and enormously talented, but I want to do a scene where I properly duff him up. — James Nesbitt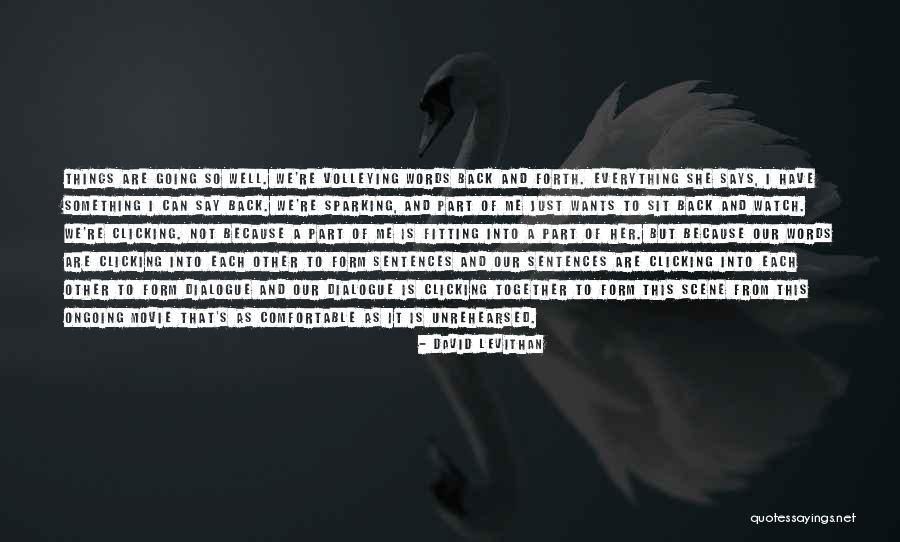 Things are going so well. We're volleying words back and forth. Everything she says, I have something I can say back. We're sparking, and part of me just wants to sit back and watch. We're clicking. Not because a part of me is fitting into a part of her. But because our words are clicking into each other to form sentences and our sentences are clicking into each other to form dialogue and our dialogue is clicking together to form this scene from this ongoing movie that's as comfortable as it is unrehearsed. — David Levithan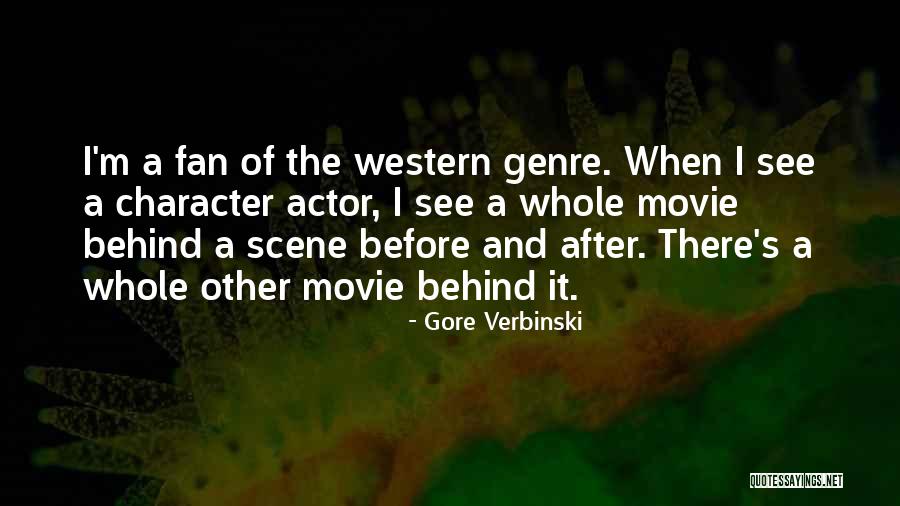 I'm a fan of the western genre. When I see a character actor, I see a whole movie behind a scene before and after. There's a whole other movie behind it. — Gore Verbinski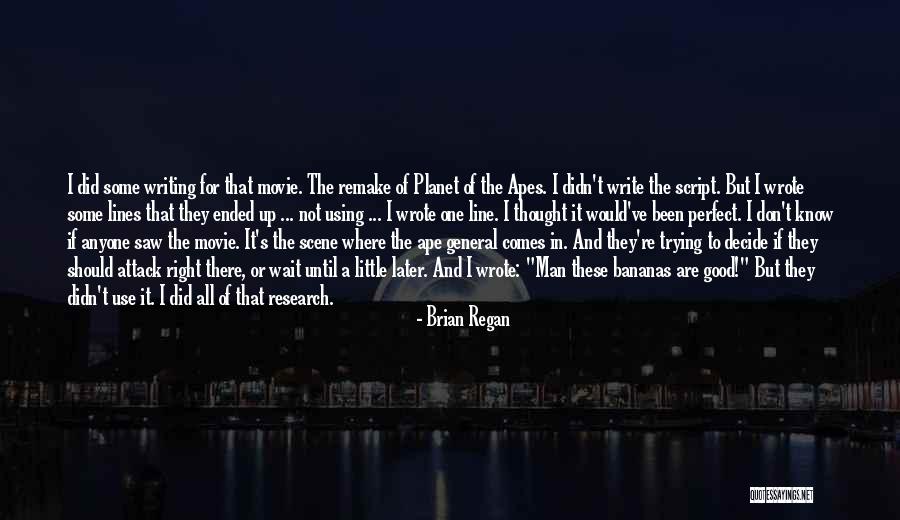 I did some writing for that movie. The remake of Planet of the Apes. I didn't write the script. But I wrote some lines that they ended up ... not using ... I wrote one line. I thought it would've been perfect. I don't know if anyone saw the movie. It's the scene where the ape general comes in. And they're trying to decide if they should attack right there, or wait until a little later. And I wrote: "Man these bananas are good!" But they didn't use it. I did all of that research. — Brian Regan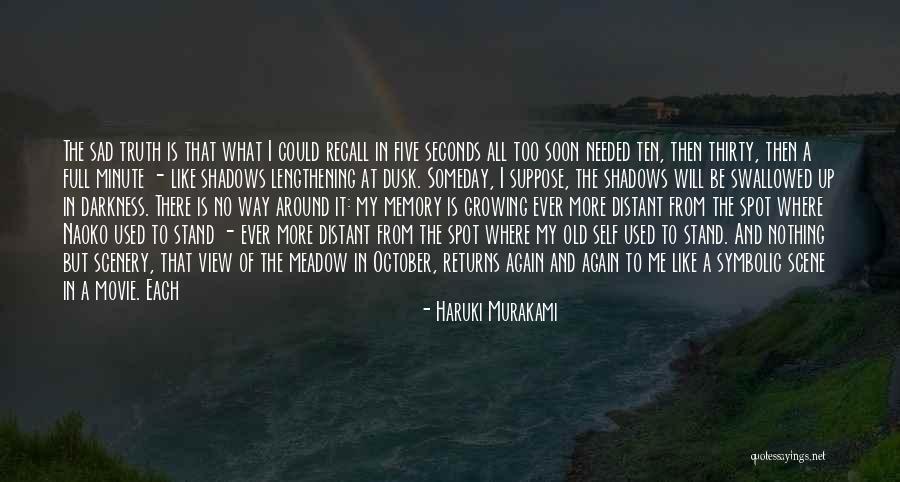 The sad truth is that what I could recall in five seconds all too soon needed ten, then thirty, then a full minute - like shadows lengthening at dusk. Someday, I suppose, the shadows will be swallowed up in darkness. There is no way around it: my memory is growing ever more distant from the spot where Naoko used to stand - ever more distant from the spot where my old self used to stand. And nothing but scenery, that view of the meadow in October, returns again and again to me like a symbolic scene in a movie. Each time it appears, it delivers a kick to some part of my mind. "Wake up," it says. "I'm still here. Wake up and think about it. Think about why I'm still here." The kicking never hurts me. There's no pain at all. Just a hollow sound that echoes with each kick. And even that is bound to fade one day. — Haruki Murakami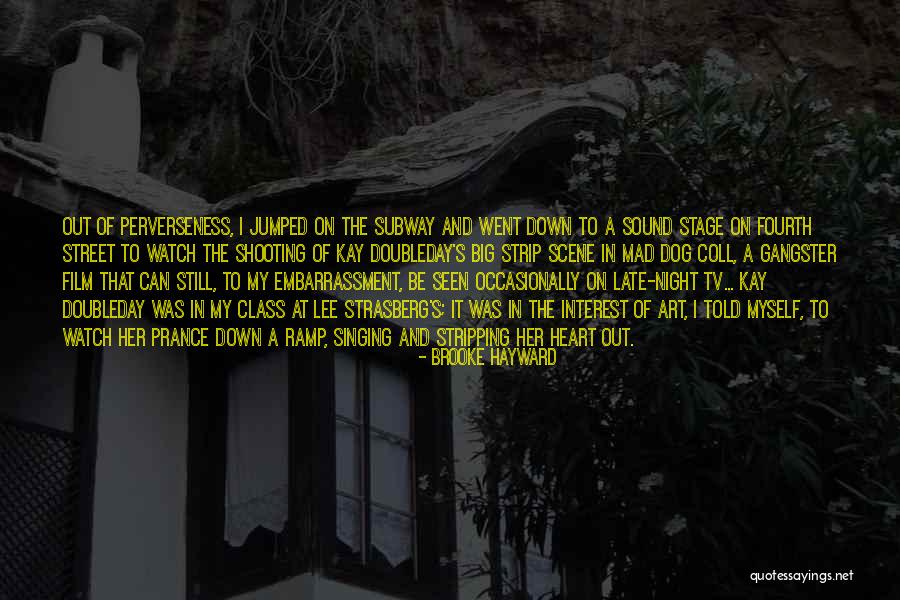 Out of perverseness, I jumped on the subway and went down to a sound stage on Fourth Street to watch the shooting of Kay Doubleday's big strip scene in Mad Dog Coll, a gangster film that can still, to my embarrassment, be seen occasionally on late-night TV... Kay Doubleday was in my class at Lee Strasberg's; it was in the interest of art, I told myself, to watch her prance down a ramp, singing and stripping her heart out. — Brooke Hayward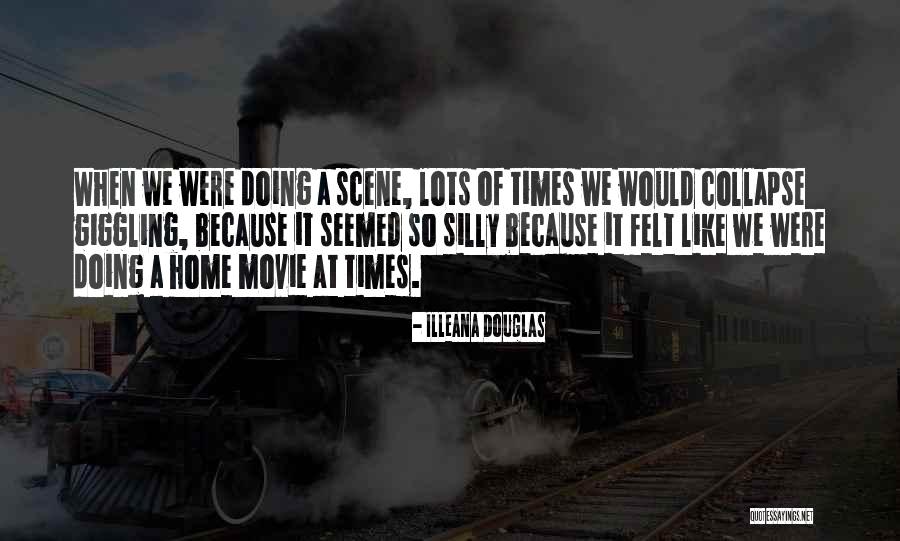 When we were doing a scene, lots of times we would collapse giggling, because it seemed so silly because it felt like we were doing a home movie at times. — Illeana Douglas