Cackle Quotes & Sayings
Enjoy reading and share 54 famous quotes about Cackle with everyone.
Top Cackle Quotes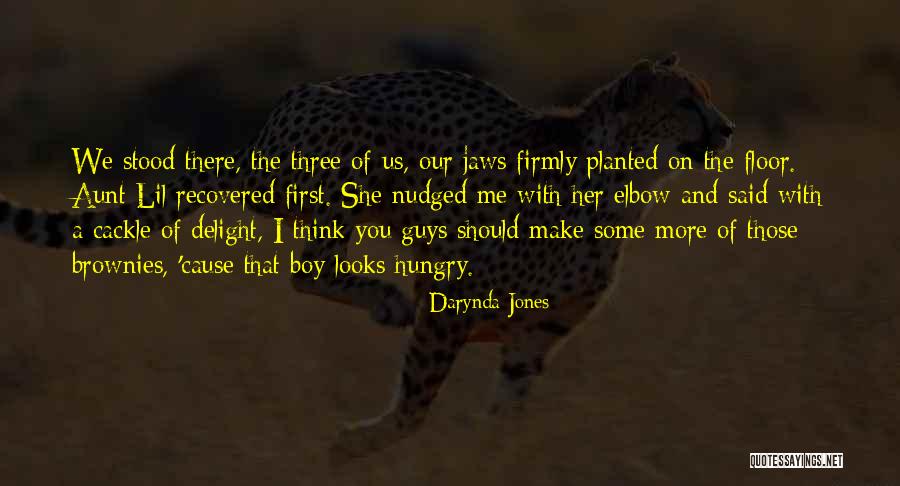 We stood there, the three of us, our jaws firmly planted on the floor. Aunt Lil recovered first. She nudged me with her elbow and said with a cackle of delight, I think you guys should make some more of those brownies, 'cause that boy looks hungry. — Darynda Jones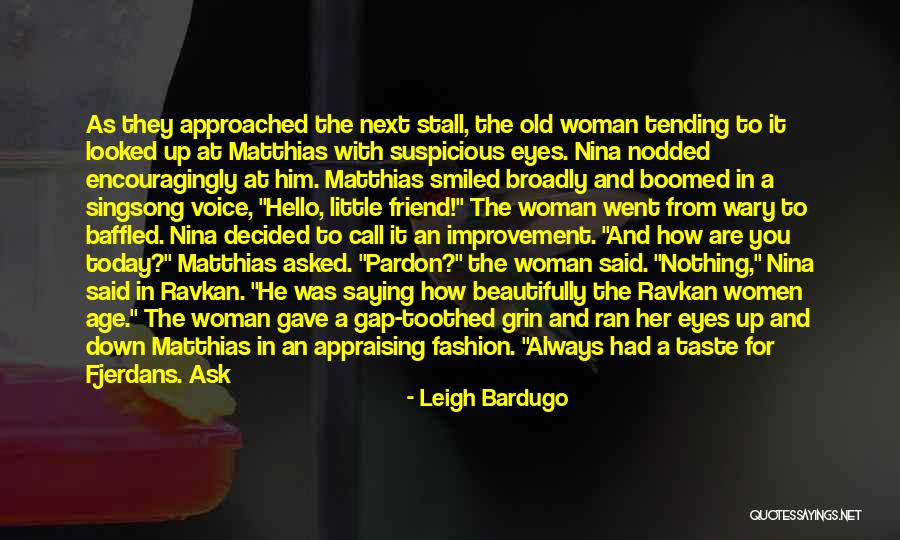 As they approached the next stall, the old woman tending to it looked up at Matthias with suspicious eyes. Nina nodded encouragingly at him.
Matthias smiled broadly and boomed in a singsong voice, "Hello, little friend!"
The woman went from wary to baffled. Nina decided to call it an improvement.
"And how are you today?" Matthias asked.
"Pardon?" the woman said.
"Nothing," Nina said in Ravkan. "He was saying how beautifully the Ravkan women age."
The woman gave a gap-toothed grin and ran her eyes up and down Matthias in an appraising fashion. "Always had a taste for Fjerdans. Ask him if he wants to play Princess and Barbarian," she said with a cackle. — Leigh Bardugo
What's your name?"
"A.A.Winters."
"What, that's your name?"
"Yes," I said impatiently, "that's my name."
"That's what people call you?"
"Like in bed, or whatever? They call you A.A.Winters?"
I met his eyes. "No, in bed they call me God."
He laughed again, the same uninhibited cackle. "Like it — Alexis Hall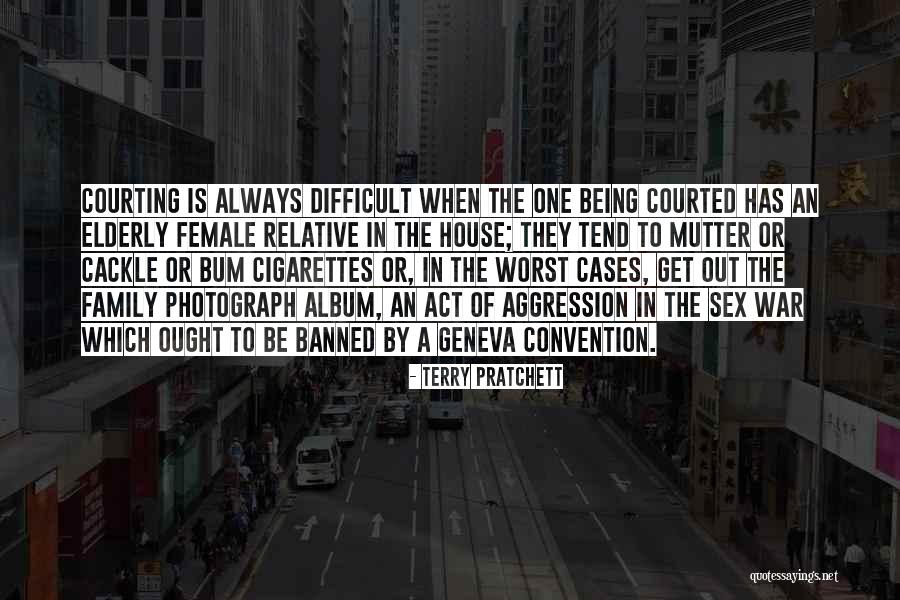 Courting is always difficult when the one being courted has an elderly female relative in the house; they tend to mutter or cackle or bum cigarettes or, in the worst cases, get out the family photograph album, an act of aggression in the sex war which ought to be banned by a Geneva Convention. — Terry Pratchett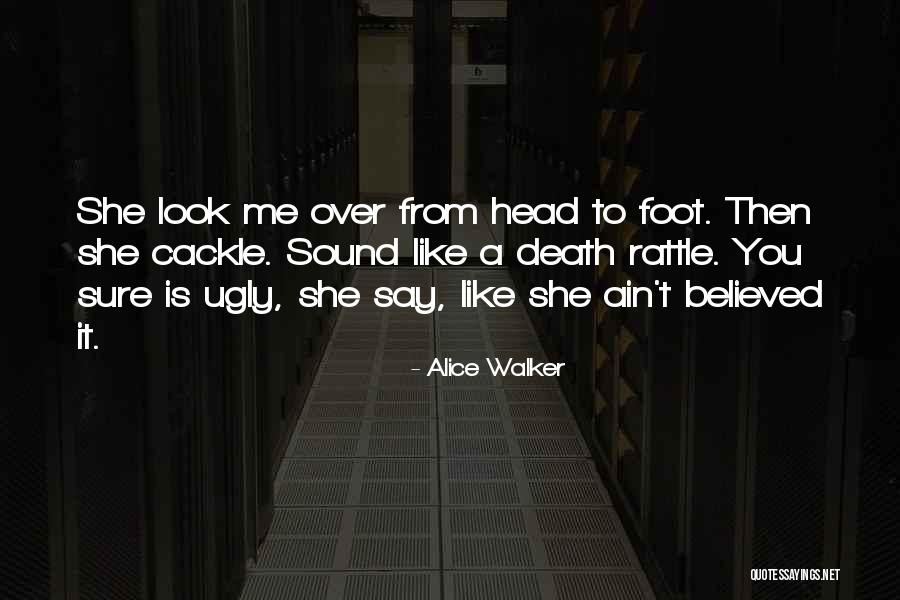 She look me over from head to foot. Then she cackle. Sound like a death rattle. You sure is ugly, she say, like she ain't believed it. — Alice Walker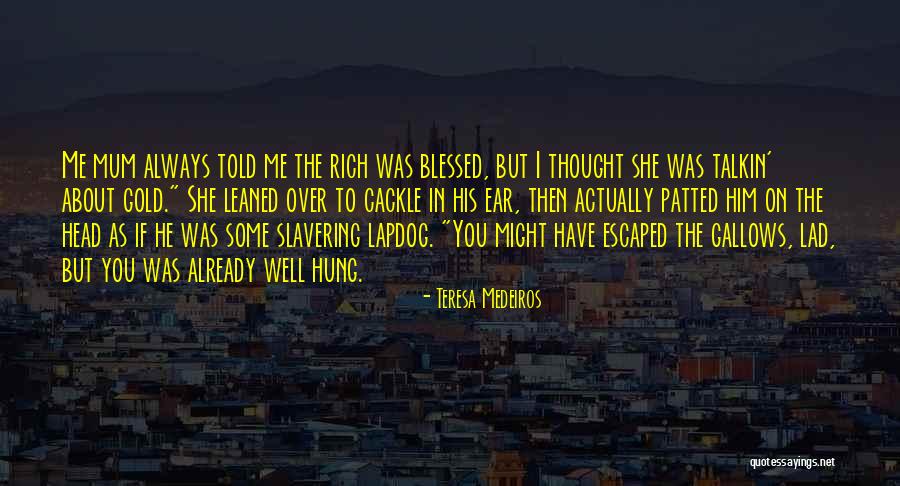 Me mum always told me the rich was blessed, but I thought she was talkin' about gold." She leaned over to cackle in his ear, then actually patted him on the head as if he was some slavering lapdog. "You might have escaped the gallows, lad, but you was already well hung. — Teresa Medeiros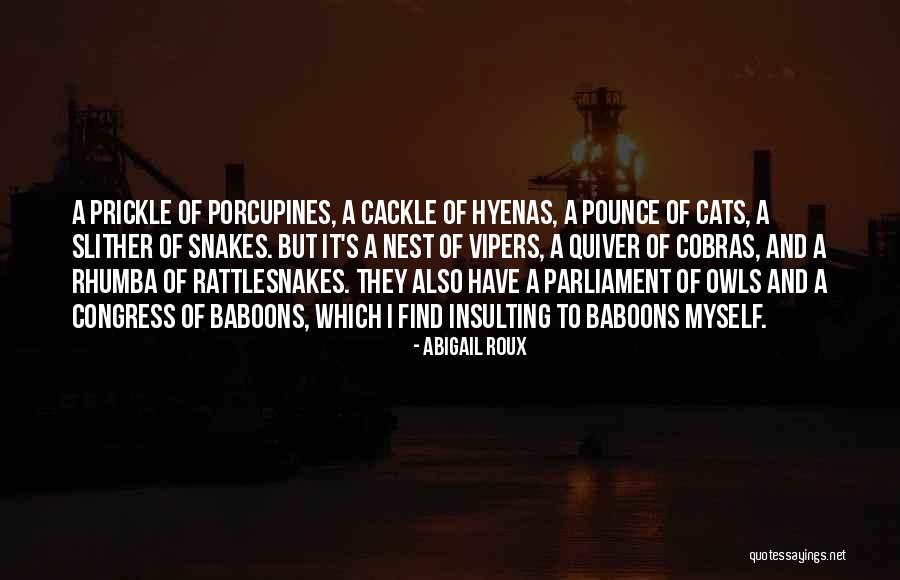 A prickle of porcupines, a cackle of hyenas, a pounce of cats, a slither of snakes. But it's a nest of vipers, a quiver of cobras, and a rhumba of rattlesnakes. They also have a parliament of owls and a congress of baboons, which I find insulting to baboons myself. — Abigail Roux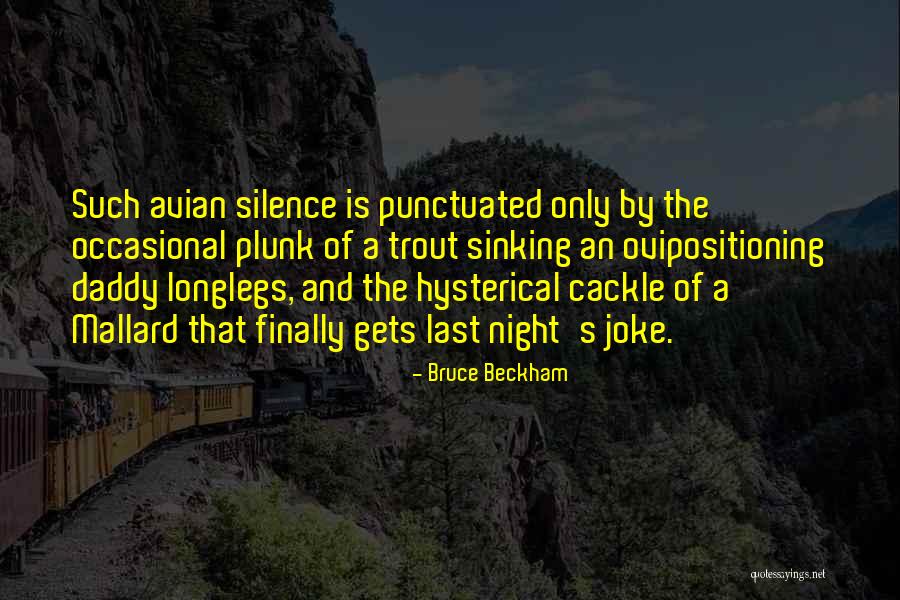 Such avian silence is punctuated only by the occasional plunk of a trout sinking an ovipositioning daddy longlegs, and the hysterical cackle of a Mallard that finally gets last night's joke. — Bruce Beckham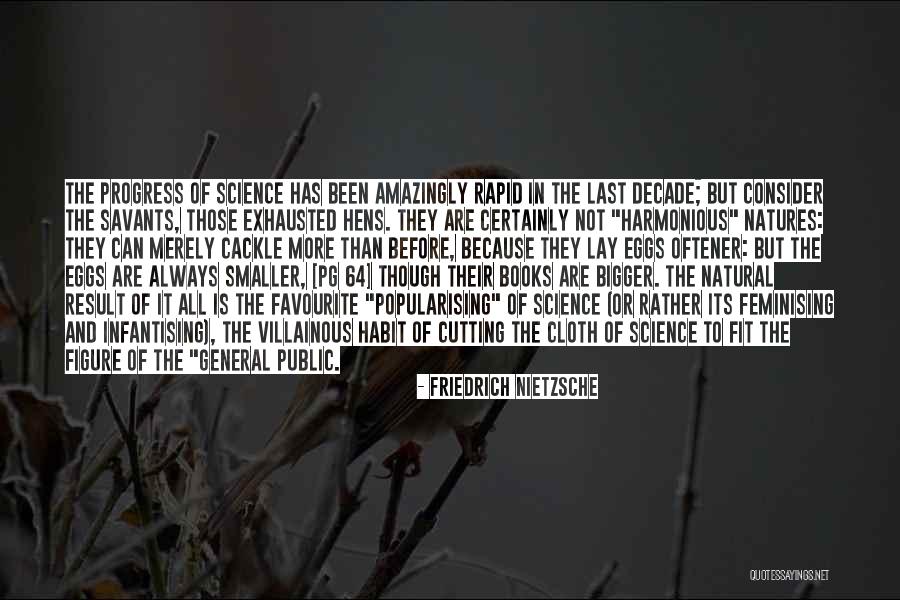 The progress of science has been amazingly rapid in the last decade; but consider the savants, those exhausted hens. They are certainly not "harmonious" natures: they can merely cackle more than before, because they lay eggs oftener: but the eggs are always smaller, [Pg 64] though their books are bigger. The natural result of it all is the favourite "popularising" of science (or rather its feminising and infantising), the villainous habit of cutting the cloth of science to fit the figure of the "general public. — Friedrich Nietzsche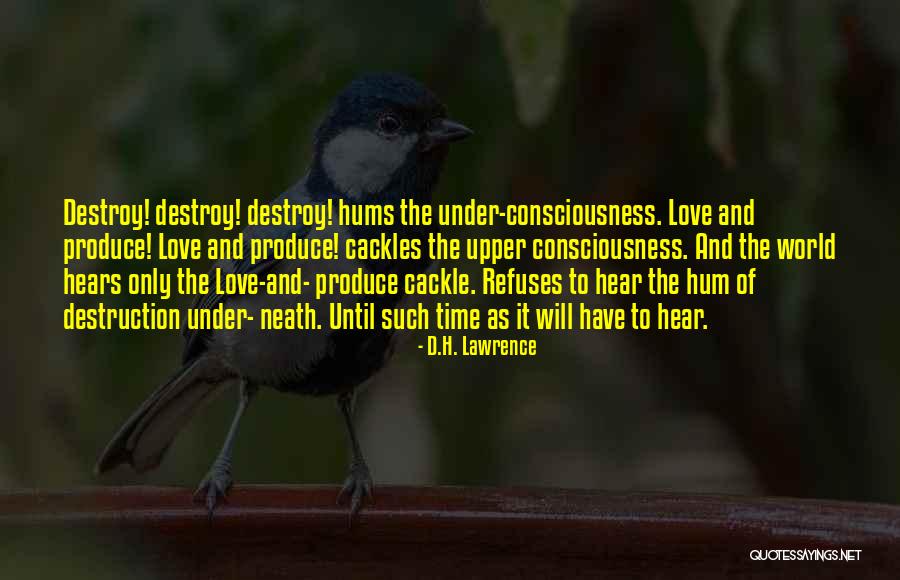 Destroy! destroy! destroy! hums the under-consciousness. Love and produce! Love and produce! cackles the upper consciousness. And the world hears only the Love-and- produce cackle. Refuses to hear the hum of destruction under- neath. Until such time as it will have to hear. — D.H. Lawrence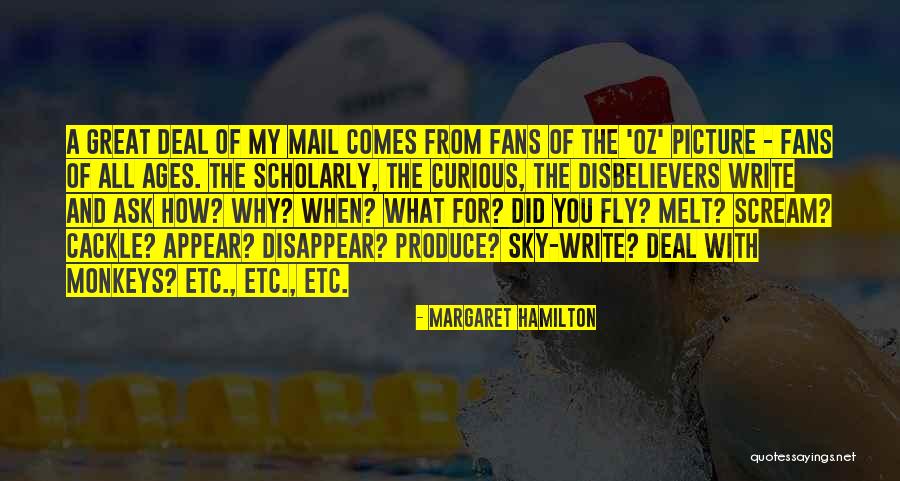 A great deal of my mail comes from fans of the 'Oz' picture - fans of all ages. The scholarly, the curious, the disbelievers write and ask how? why? when? what for? did you fly? melt? scream? cackle? appear? disappear? produce? sky-write? deal with monkeys? etc., etc., etc. — Margaret Hamilton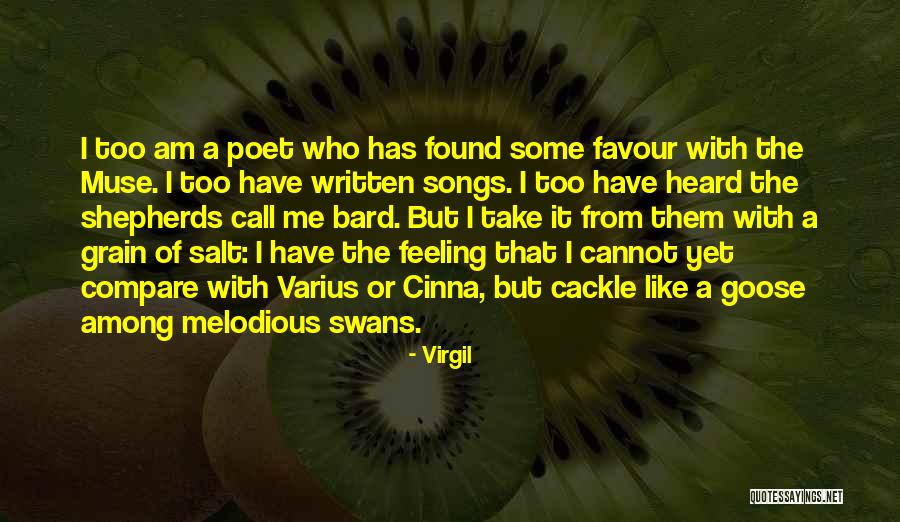 I too am a poet who has found some favour with the Muse. I too have written songs. I too have heard the shepherds call me bard. But I take it from them with a grain of salt: I have the feeling that I cannot yet compare with Varius or Cinna, but cackle like a goose among melodious swans. — Virgil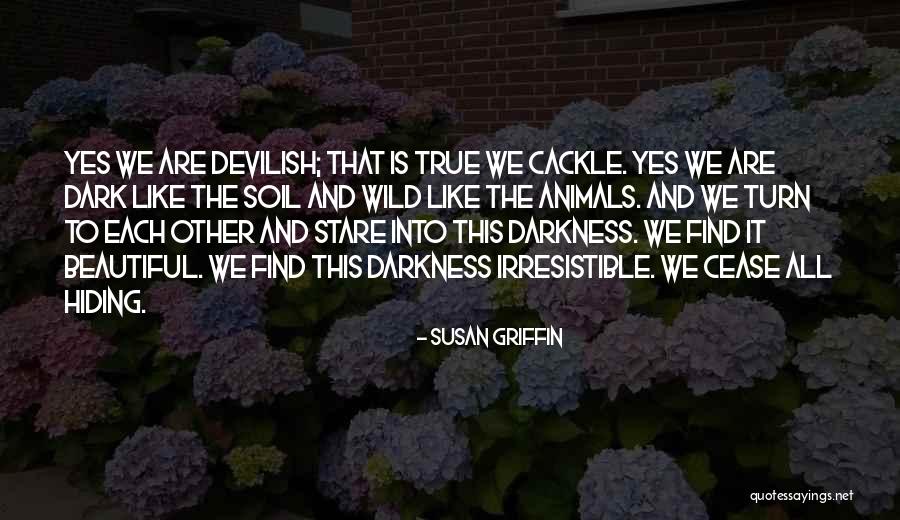 Yes we are devilish; that is true we cackle. Yes we are dark like the soil and wild like the animals. And we turn to each other and stare into this darkness. We find it beautiful. We find this darkness irresistible. We cease all hiding. — Susan Griffin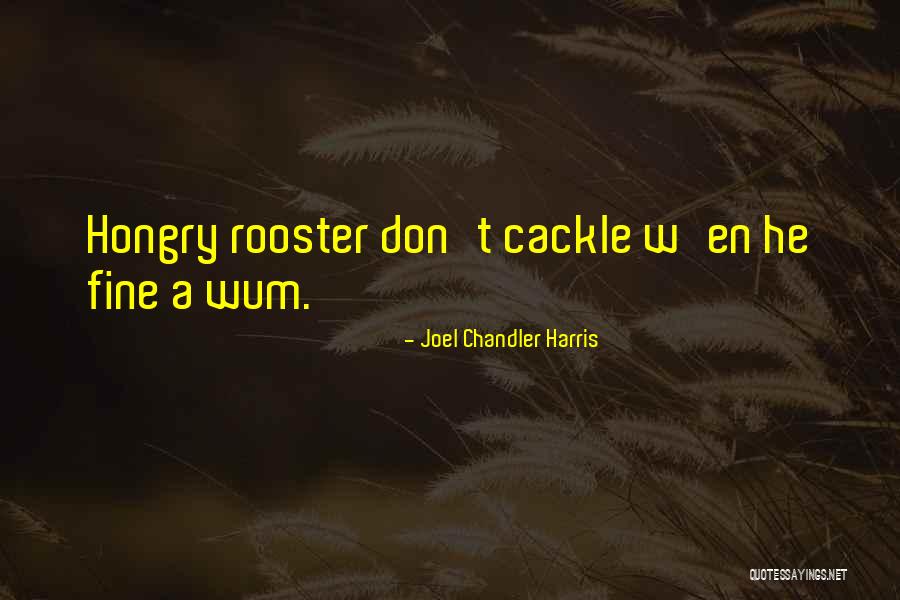 Hongry rooster don't cackle w'en he fine a wum. — Joel Chandler Harris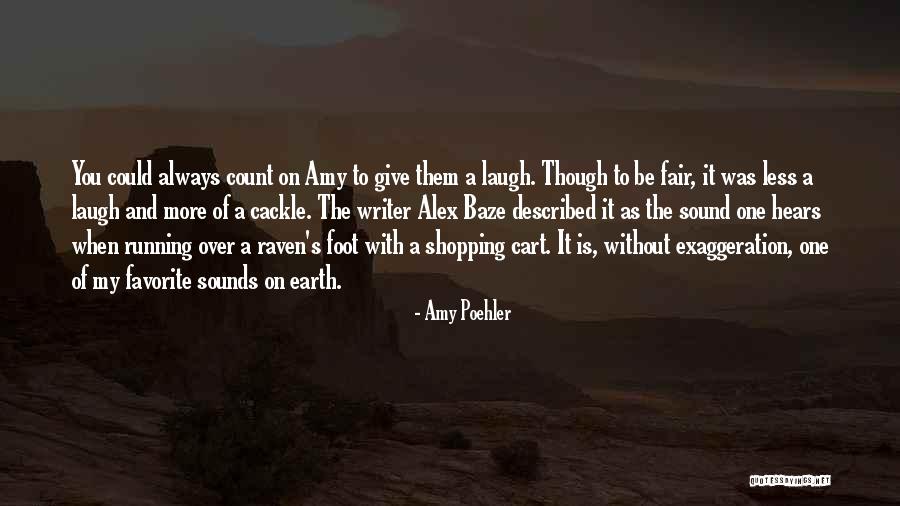 You could always count on Amy to give them a laugh. Though to be fair, it was less a laugh and more of a cackle. The writer Alex Baze described it as the sound one hears when running over a raven's foot with a shopping cart. It is, without exaggeration, one of my favorite sounds on earth. — Amy Poehler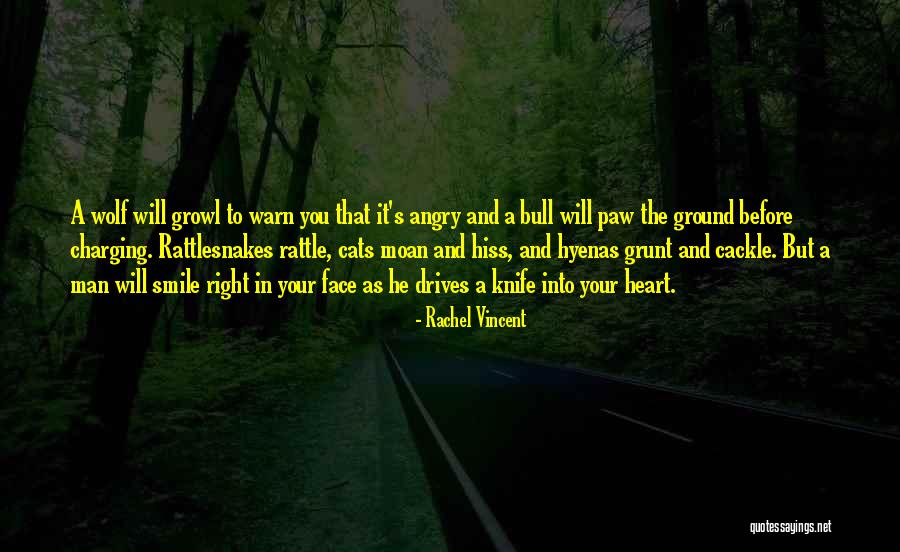 A wolf will growl to warn you that it's angry and a bull will paw the ground before charging. Rattlesnakes rattle, cats moan and hiss, and hyenas grunt and cackle. But a man will smile right in your face as he drives a knife into your heart. — Rachel Vincent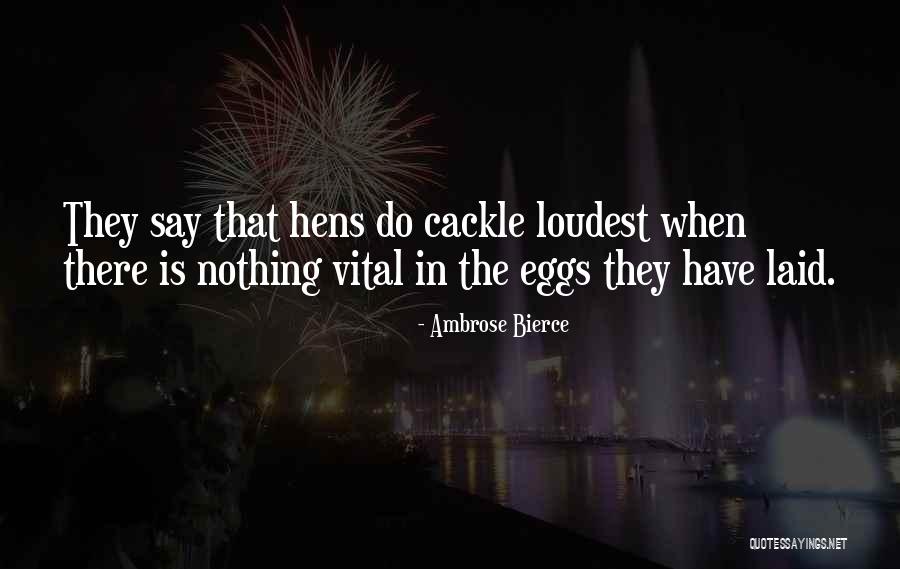 They say that hens do cackle loudest when there is nothing vital in the eggs they have laid. — Ambrose Bierce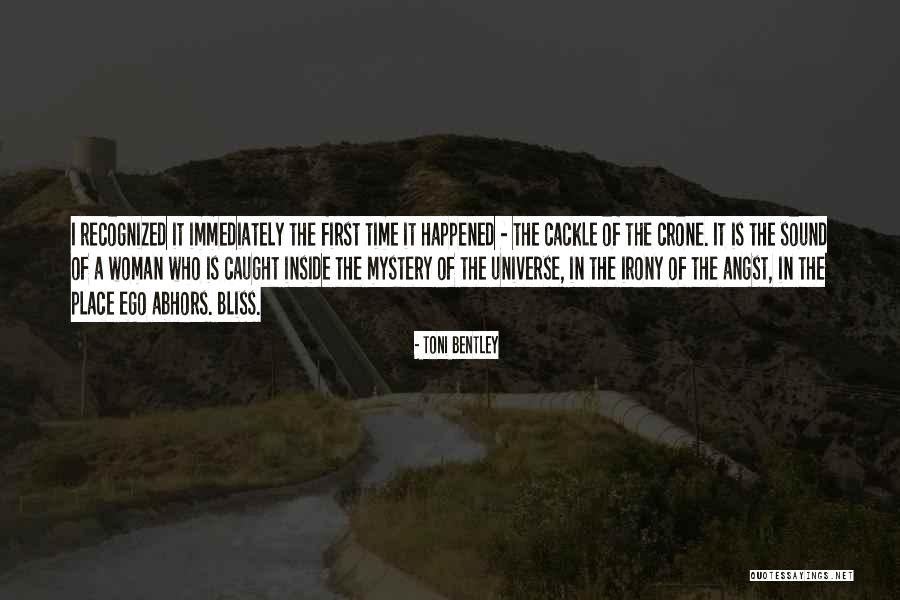 I recognized it immediately the first time it happened - the cackle of the crone. It is the sound of a woman who is caught inside the mystery of the universe, in the irony of the angst, in the place ego abhors. Bliss. — Toni Bentley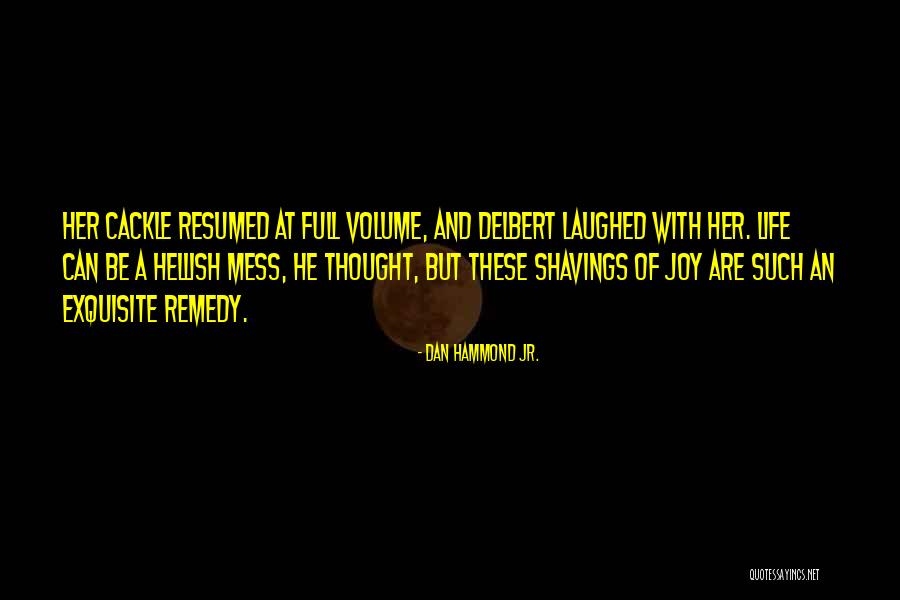 Her cackle resumed at full volume, and Delbert laughed with her. Life can be a hellish mess, he thought, but these shavings of joy are such an exquisite remedy. — Dan Hammond Jr.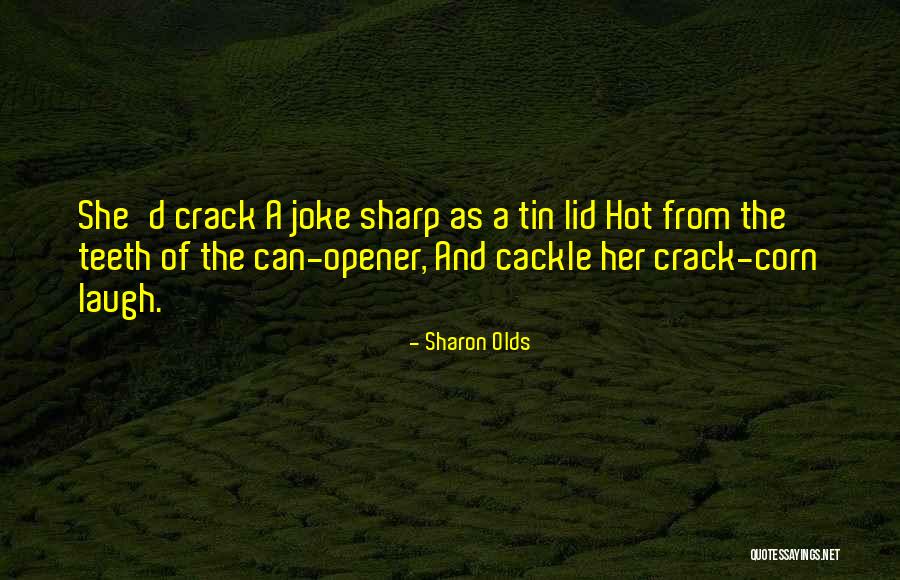 She'd crack A joke sharp as a tin lid Hot from the teeth of the can-opener, And cackle her crack-corn laugh. — Sharon Olds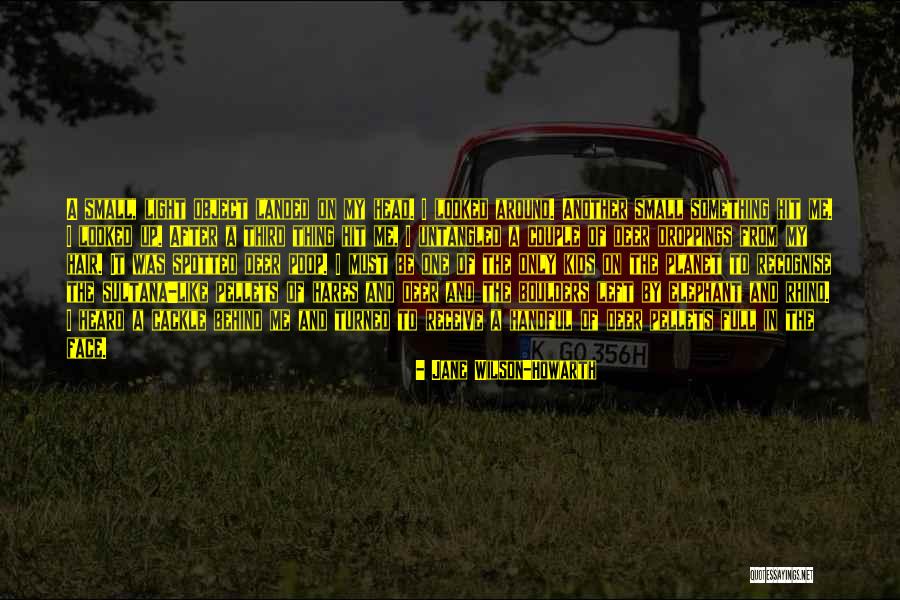 A small, light object landed on my head. I looked around. Another small something hit me. I looked up. After a third thing hit me, I untangled a couple of deer droppings from my hair. It was spotted deer poop. I must be one of the only kids on the planet to recognise the sultana-like pellets of hares and deer and the boulders left by elephant and rhino. I heard a cackle behind me and turned to receive a handful of deer pellets full in the face. — Jane Wilson-Howarth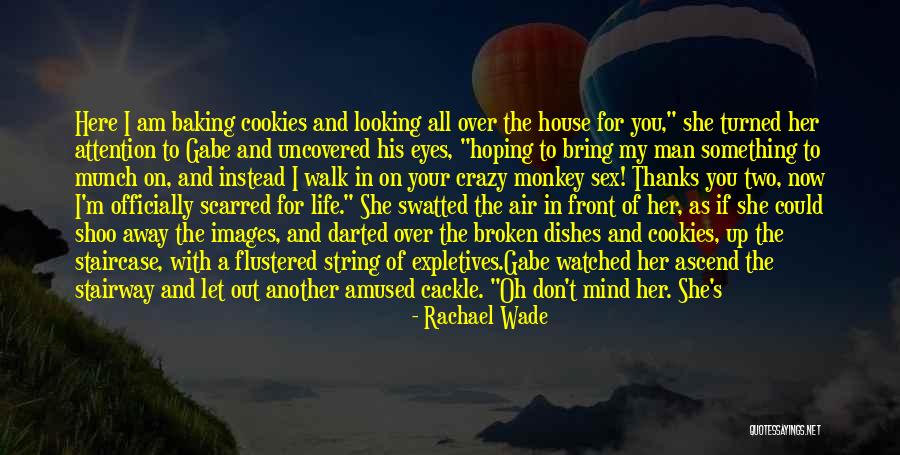 Here I am baking cookies and looking all over the house for you," she turned her attention to Gabe and uncovered his eyes, "hoping to bring my man something to munch on, and instead I walk in on your crazy monkey sex! Thanks you two, now I'm officially scarred for life." She swatted the air in front of her, as if she could shoo away the images, and darted over the broken dishes and cookies, up the staircase, with a flustered string of expletives.
Gabe watched her ascend the stairway and let out another amused cackle. "Oh don't mind her. She's acting like she just witnessed her parents in the act." Bending down, he snatched a cookie and gave us a thumbs-up. "You look hot, kids. Carry on. — Rachael Wade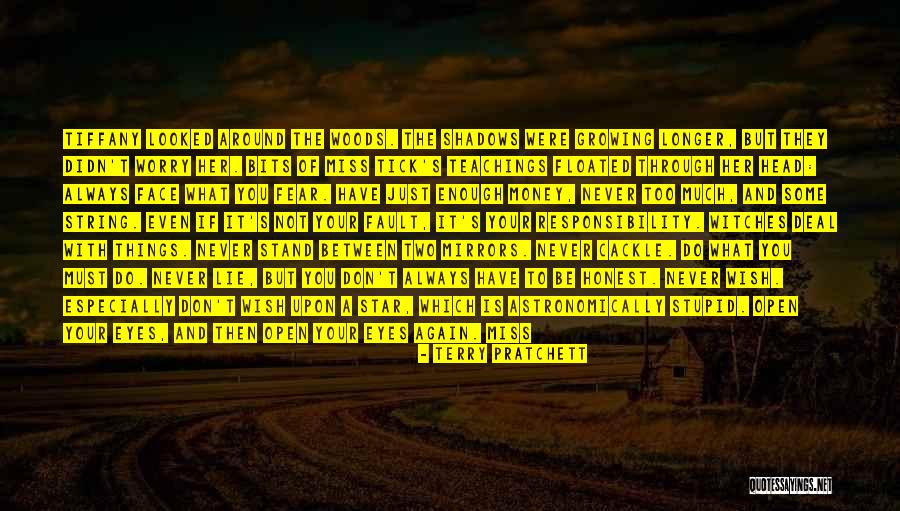 Tiffany looked around the woods. The shadows were growing longer, but they didn't worry her. Bits of Miss Tick's teachings floated through her head: Always face what you fear. Have just enough money, never too much, and some string. Even if it's not your fault, it's your responsibility. Witches deal with things. Never stand between two mirrors. Never cackle. Do what you must do. Never lie, but you don't always have to be honest. Never wish. Especially don't wish upon a star, which is astronomically stupid. Open your eyes, and then open your eyes again. Miss — Terry Pratchett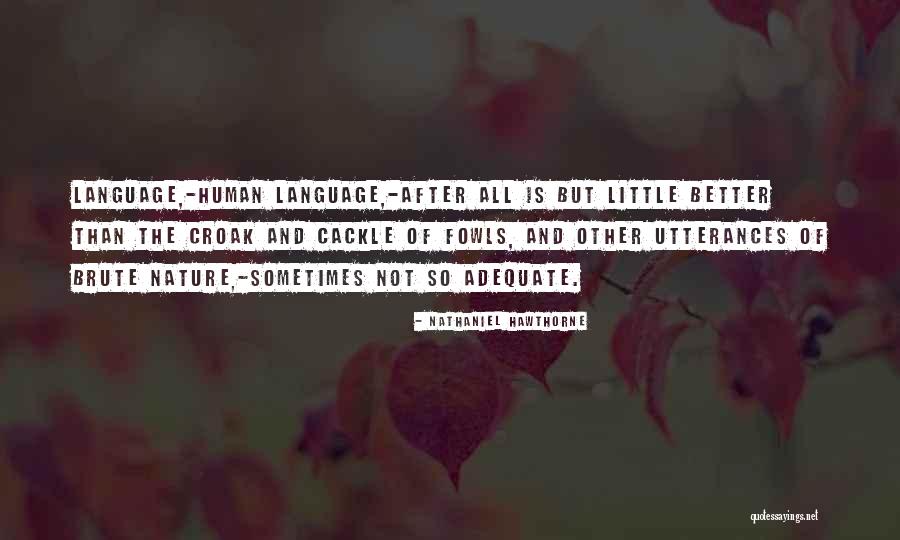 Language,-human language,-after all is but little better than the croak and cackle of fowls, and other utterances of brute nature,-sometimes not so adequate. — Nathaniel Hawthorne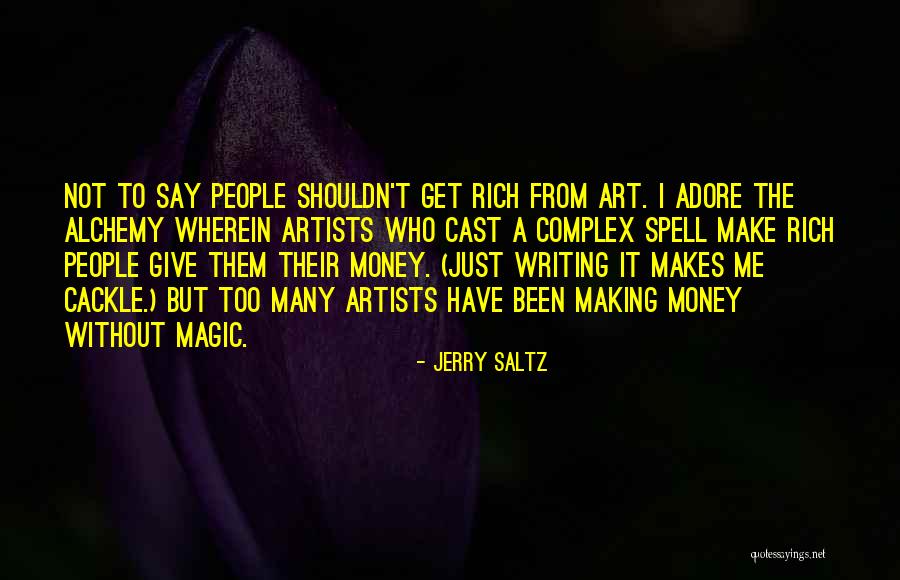 Not to say people shouldn't get rich from art. I adore the alchemy wherein artists who cast a complex spell make rich people give them their money. (Just writing it makes me cackle.) But too many artists have been making money without magic. — Jerry Saltz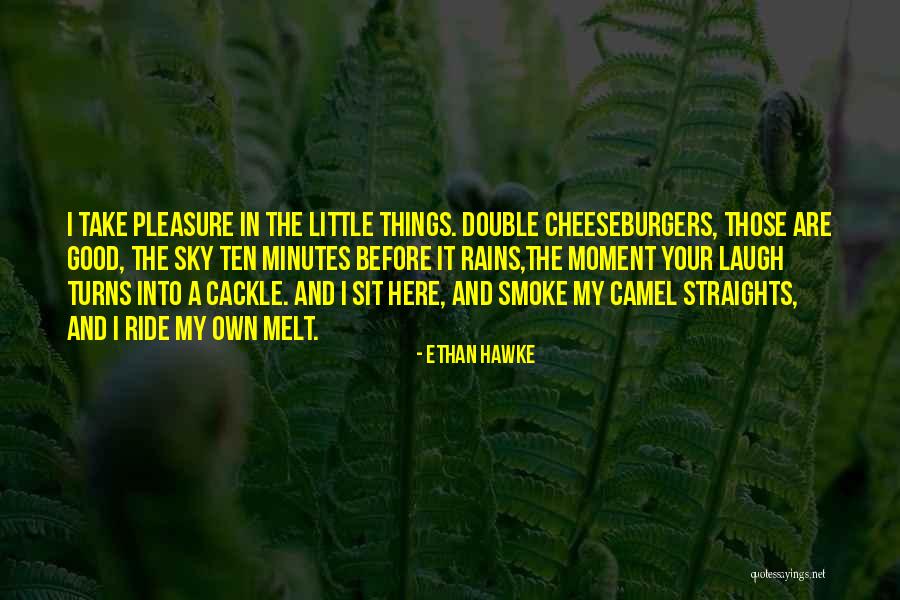 I take pleasure in the little things. Double cheeseburgers, those are good, the sky ten minutes before it rains,the moment your laugh turns into a cackle. And I sit here, and smoke my Camel straights, and I ride my own melt. — Ethan Hawke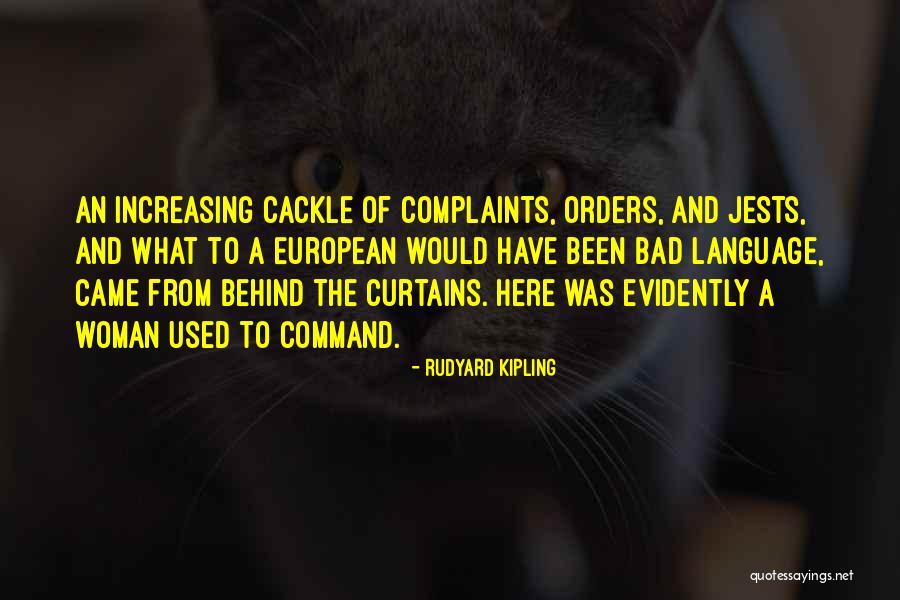 An increasing cackle of complaints, orders, and jests, and what to a European would have been bad language, came from behind the curtains. Here was evidently a woman used to command. — Rudyard Kipling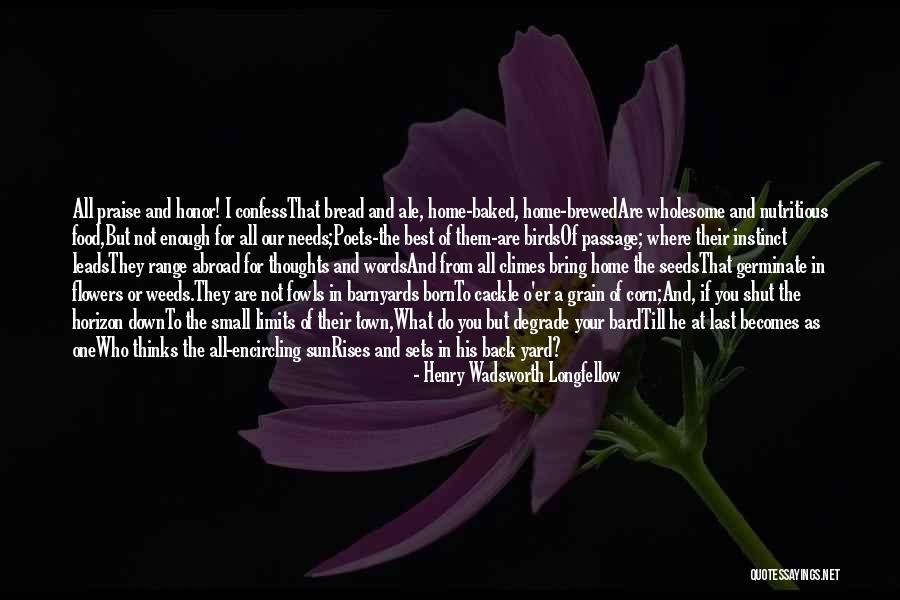 All praise and honor! I confess
That bread and ale, home-baked, home-brewed
Are wholesome and nutritious food,
But not enough for all our needs;
Poets-the best of them-are birds
Of passage; where their instinct leads
They range abroad for thoughts and words
And from all climes bring home the seeds
That germinate in flowers or weeds.
They are not fowls in barnyards born
To cackle o'er a grain of corn;
And, if you shut the horizon down
To the small limits of their town,
What do you but degrade your bard
Till he at last becomes as one
Who thinks the all-encircling sun
Rises and sets in his back yard? — Henry Wadsworth Longfellow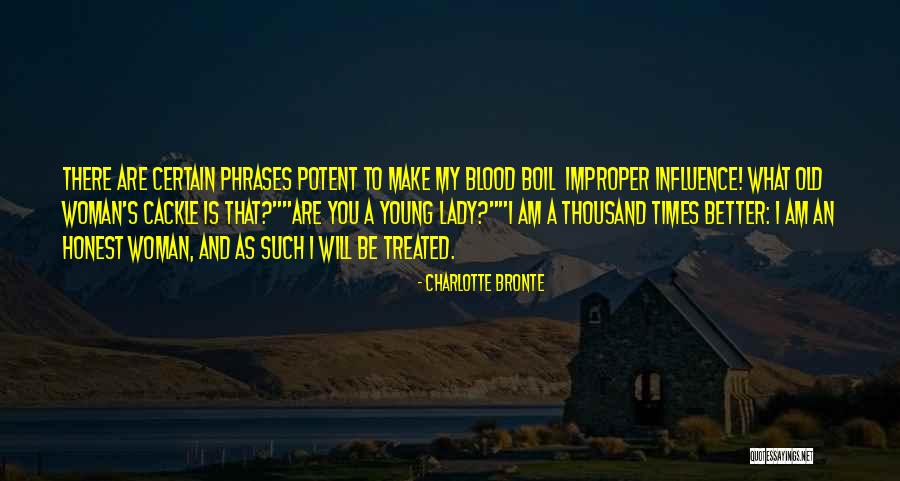 There are certain phrases potent to make my blood boil
improper influence! What old woman's cackle is that?"
"Are you a young lady?"
"I am a thousand times better: I am an honest woman, and as such I will be treated. — Charlotte Bronte
So I suggest you cut the cackle and come to the horses. — Agatha Christie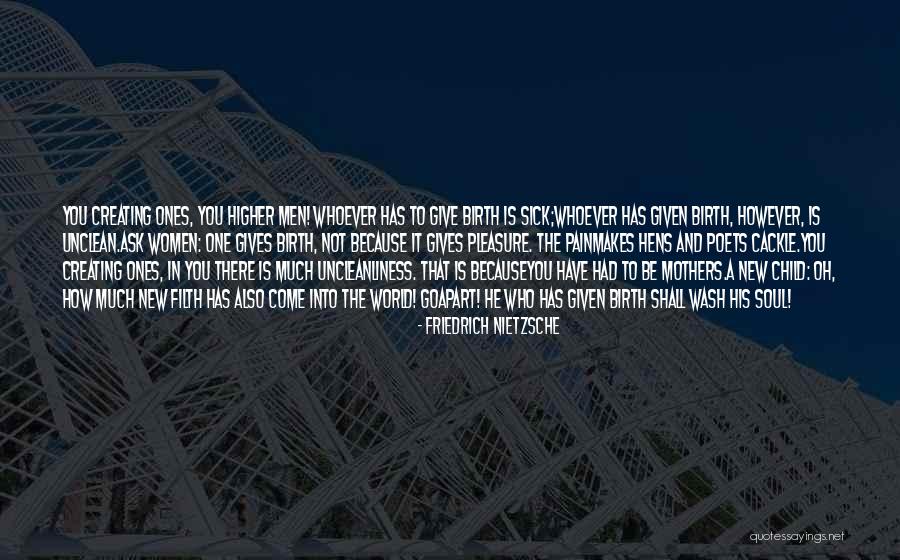 You creating ones, you higher men! Whoever has to give birth is sick;
whoever has given birth, however, is unclean.
Ask women: one gives birth, not because it gives pleasure. The pain
makes hens and poets cackle.
You creating ones, in you there is much uncleanliness. That is because
you have had to be mothers.
A new child: oh, how much new filth has also come into the world! Go
apart! He who has given birth shall wash his soul! — Friedrich Nietzsche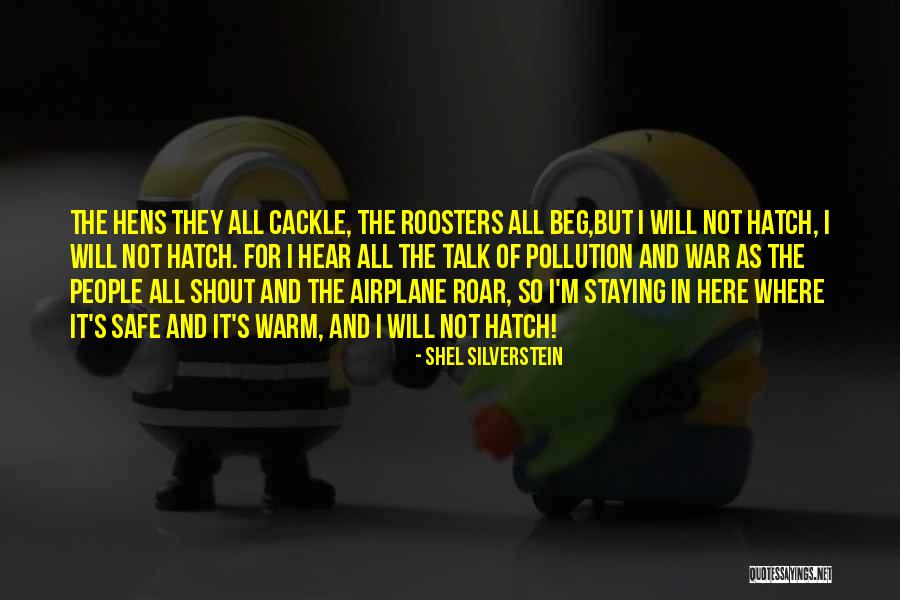 The hens they all cackle, the roosters all beg,
But I will not hatch, I will not hatch.
For I hear all the talk of pollution and war
As the people all shout and the airplane roar,
So I'm staying in here where it's safe and it's warm,
And I WILL NOT HATCH! — Shel Silverstein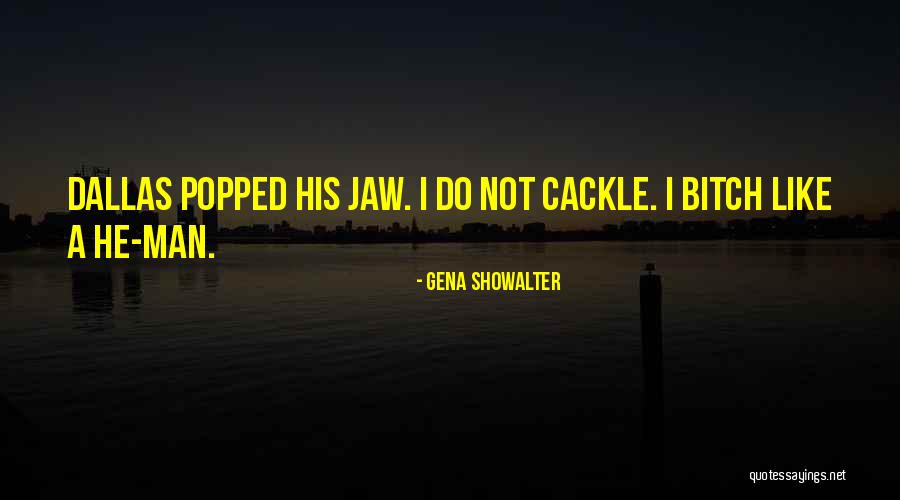 Dallas popped his jaw. I do not cackle. I bitch like a he-man. — Gena Showalter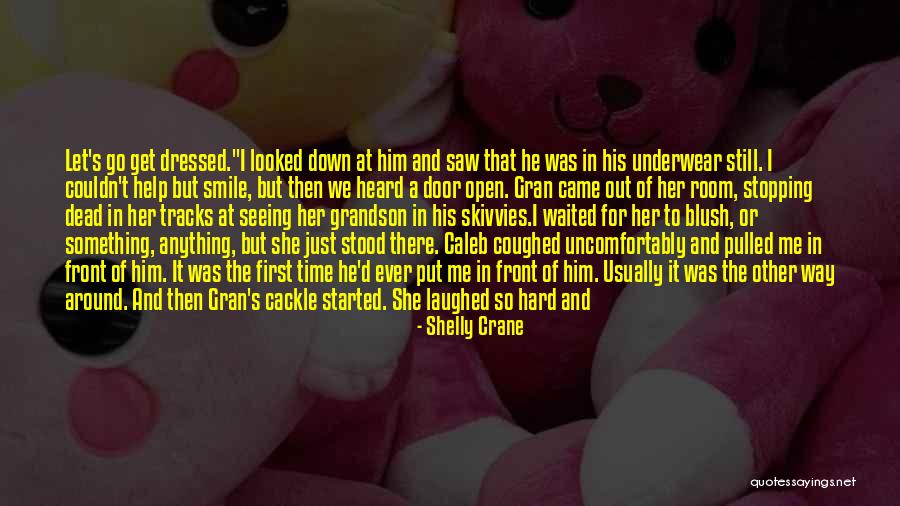 Let's go get dressed."
I looked down at him and saw that he was in his underwear still. I couldn't help but smile, but then we heard a door open. Gran came out of her room, stopping dead in her tracks at seeing her grandson in his skivvies.
I waited for her to blush, or something, anything, but she just stood there. Caleb coughed uncomfortably and pulled me in front of him. It was the first time he'd ever put me in front of him. Usually it was the other way around. And then Gran's cackle started. She laughed so hard and pointed, even doubling over as she did so.
"Gran, come on," Caleb complained to her and then bent his head to look at me when I started laughing too.
"I'm sorry," I said,"but its funny!" "Caleb," Gran laughed and gasped for breath, "just tell me you didn't walk all the way from your cell that way and I'll be fine. — Shelly Crane
I stumbled out from under the archway on to the sprawling green. The sun blinded me and I wanted to punch it in the face. And thinking that made me giggle. Then my giggle turned into a cackle. Soon, I was laughing so hard tears streamed down my face. My neck felt wet and I was out of breath and I dropped to the ground beneath a tree at the far corner of the campus, laughing madly and twisting in the grass, gripping my sides because they hurt, damn it, but it was just so funny. — Michelle Hodkin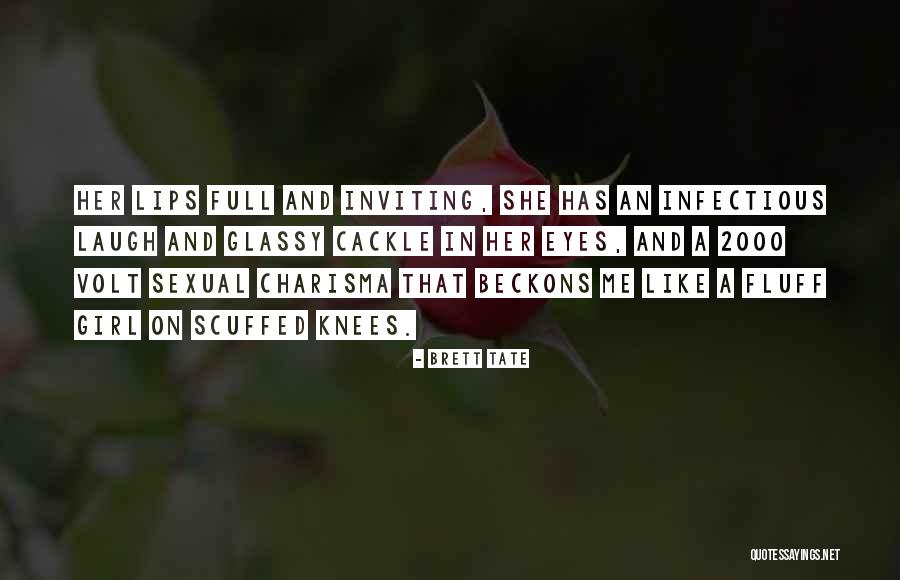 Her lips full and inviting, she has an infectious laugh and glassy cackle in her eyes, and a 2000 volt sexual charisma that beckons me like a fluff girl on scuffed knees. — Brett Tate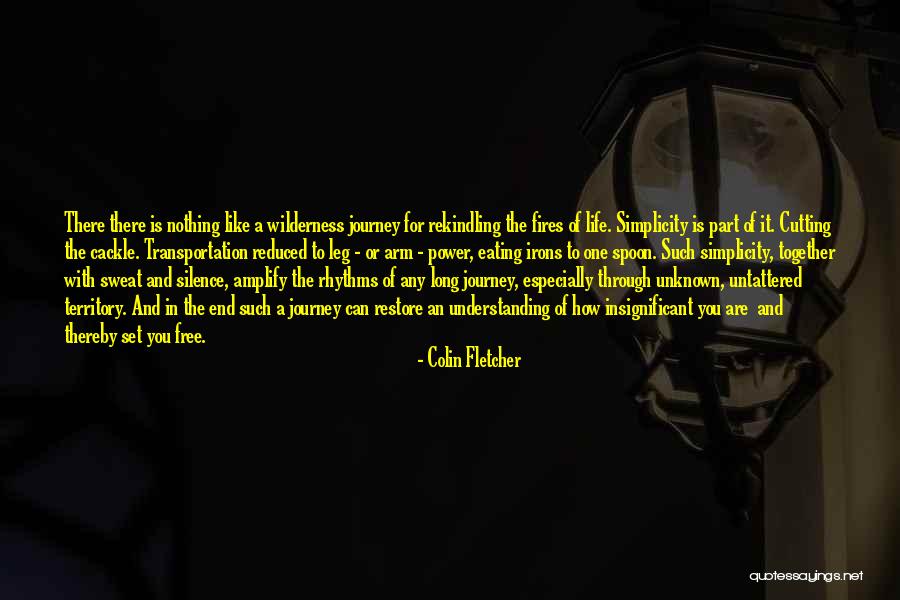 There there is nothing like a wilderness journey for rekindling the fires of life. Simplicity is part of it. Cutting the cackle. Transportation reduced to leg - or arm - power, eating irons to one spoon. Such simplicity, together with sweat and silence, amplify the rhythms of any long journey, especially through unknown, untattered territory. And in the end such a journey can restore an understanding of how insignificant you are
and thereby set you free. — Colin Fletcher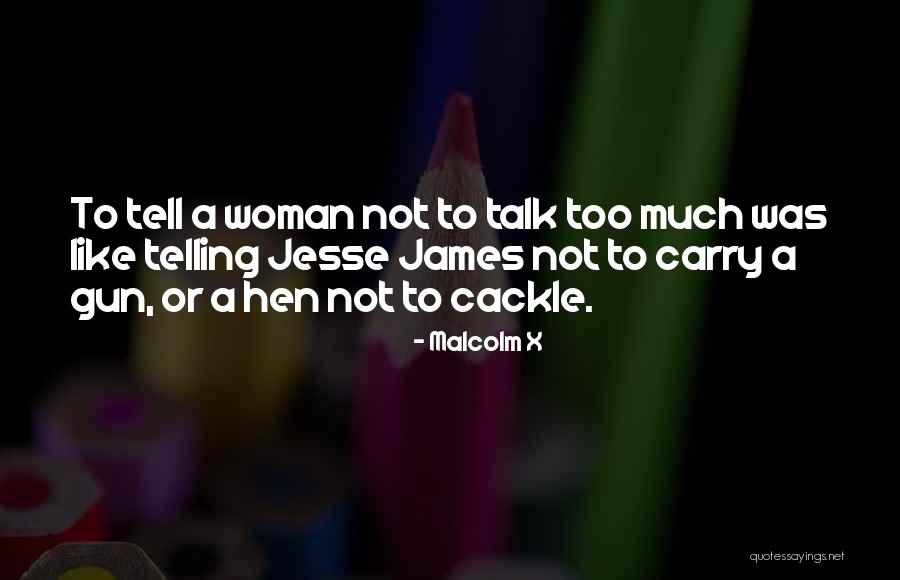 To tell a woman not to talk too much was like telling Jesse James not to carry a gun, or a hen not to cackle. — Malcolm X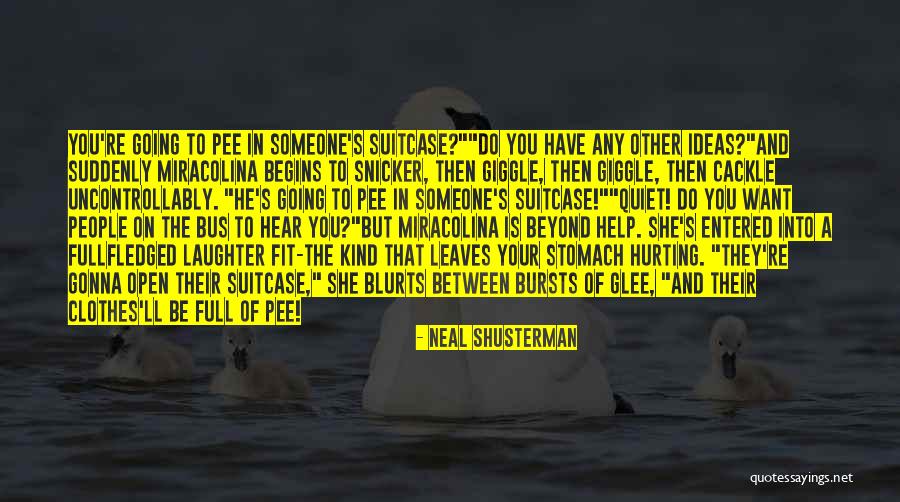 You're going to pee in someone's suitcase?"
"Do you have any other ideas?"
And suddenly Miracolina begins to snicker, then giggle, then giggle, then cackle uncontrollably. "He's going to pee in someone's suitcase!"
"Quiet! Do you want people on the bus to hear you?"
But Miracolina is beyond help. She's entered into a fullfledged laughter fit-the kind that leaves your stomach hurting. "They're gonna open their suitcase," she blurts between bursts of glee, "And their clothes'll be full of pee! — Neal Shusterman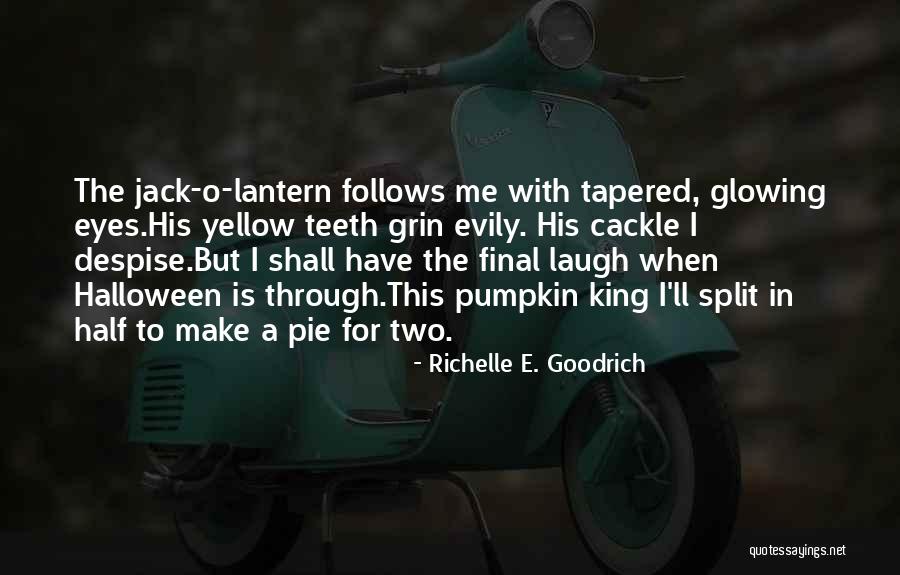 The jack-o-lantern follows me with tapered, glowing eyes.
His yellow teeth grin evily. His cackle I despise.
But I shall have the final laugh when Halloween is through.
This pumpkin king I'll split in half to make a pie for two. — Richelle E. Goodrich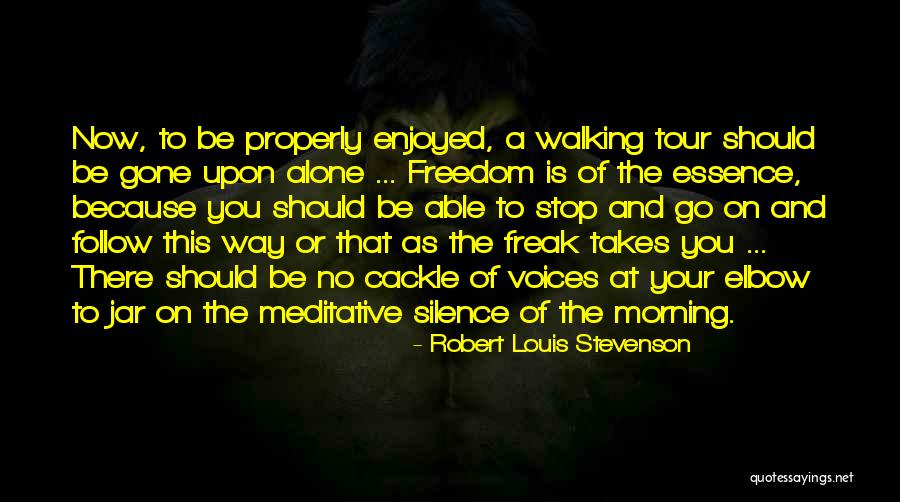 Now, to be properly enjoyed, a walking tour should be gone upon alone ... Freedom is of the essence, because you should be able to stop and go on and follow this way or that as the freak takes you ... There should be no cackle of voices at your elbow to jar on the meditative silence of the morning. — Robert Louis Stevenson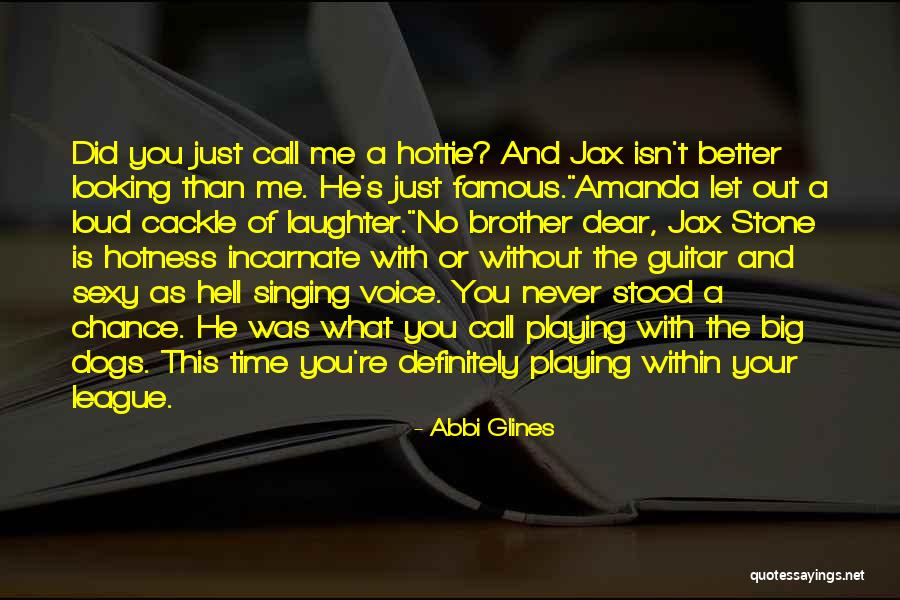 Did you just call me a hottie? And Jax isn't better looking than me. He's just famous."
Amanda let out a loud cackle of laughter.
"No brother dear, Jax Stone is hotness incarnate with or without the guitar and sexy as hell singing voice. You never stood a chance. He was what you call playing with the big dogs. This time you're definitely playing within your league. — Abbi Glines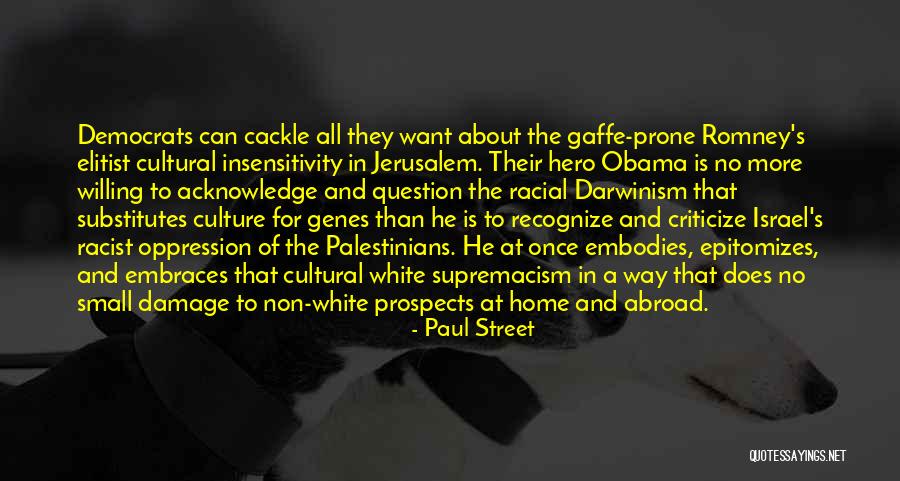 Democrats can cackle all they want about the gaffe-prone Romney's elitist cultural insensitivity in Jerusalem. Their hero Obama is no more willing to acknowledge and question the racial Darwinism that substitutes culture for genes than he is to recognize and criticize Israel's racist oppression of the Palestinians. He at once embodies, epitomizes, and embraces that cultural white supremacism in a way that does no small damage to non-white prospects at home and abroad. — Paul Street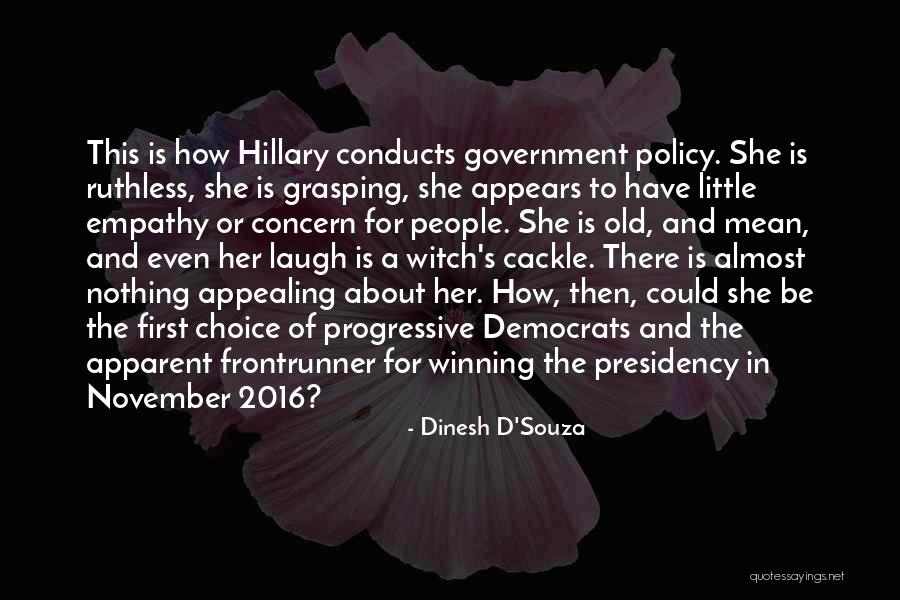 This is how Hillary conducts government policy. She is ruthless, she is grasping, she appears to have little empathy or concern for people. She is old, and mean, and even her laugh is a witch's cackle. There is almost nothing appealing about her. How, then, could she be the first choice of progressive Democrats and the apparent frontrunner for winning the presidency in November 2016? — Dinesh D'Souza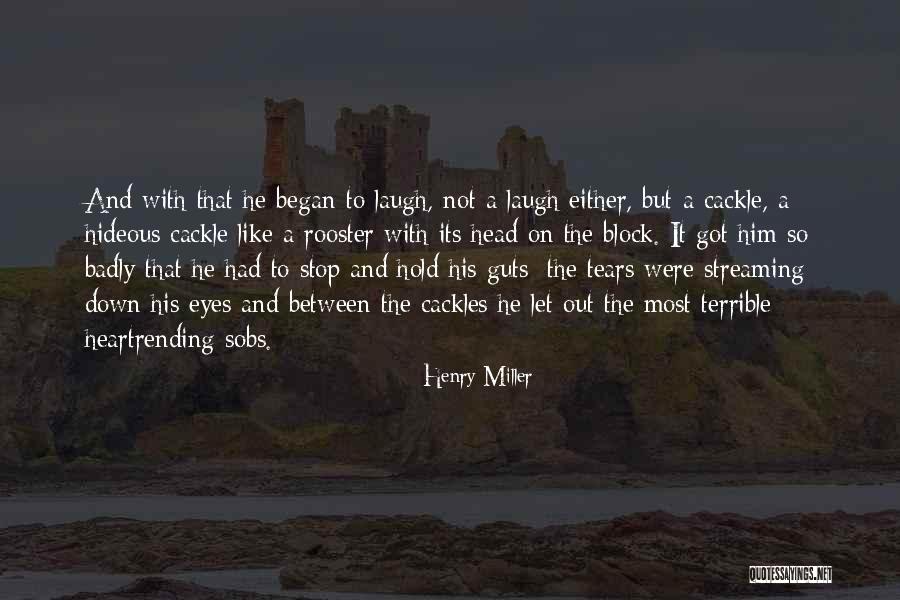 And with that he began to laugh, not a laugh either, but a cackle, a hideous cackle like a rooster with its head on the block. It got him so badly that he had to stop and hold his guts; the tears were streaming down his eyes and between the cackles he let out the most terrible heartrending sobs. — Henry Miller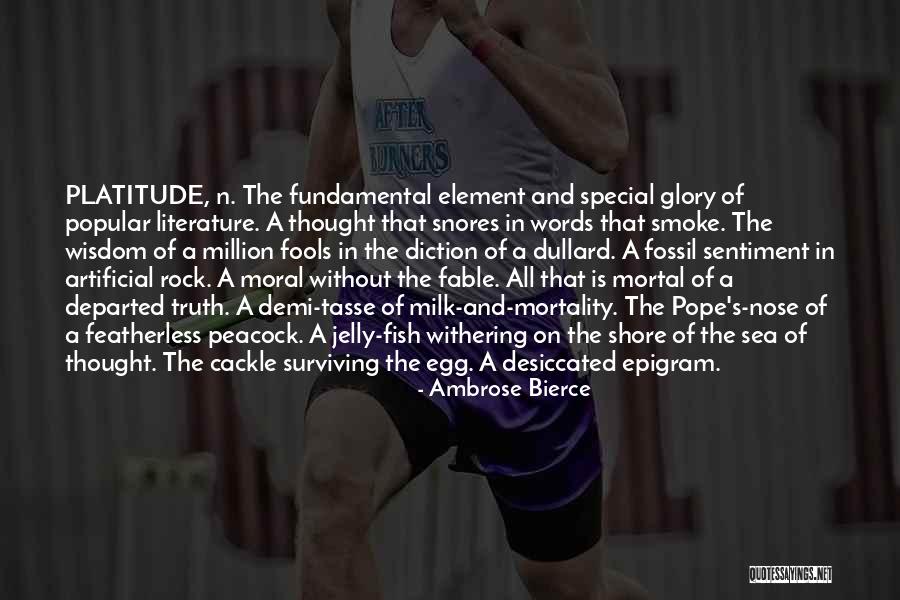 PLATITUDE, n. The fundamental element and special glory of popular literature. A thought that snores in words that smoke. The wisdom of a million fools in the diction of a dullard. A fossil sentiment in artificial rock. A moral without the fable. All that is mortal of a departed truth. A demi-tasse of milk-and-mortality. The Pope's-nose of a featherless peacock. A jelly-fish withering on the shore of the sea of thought. The cackle surviving the egg. A desiccated epigram. — Ambrose Bierce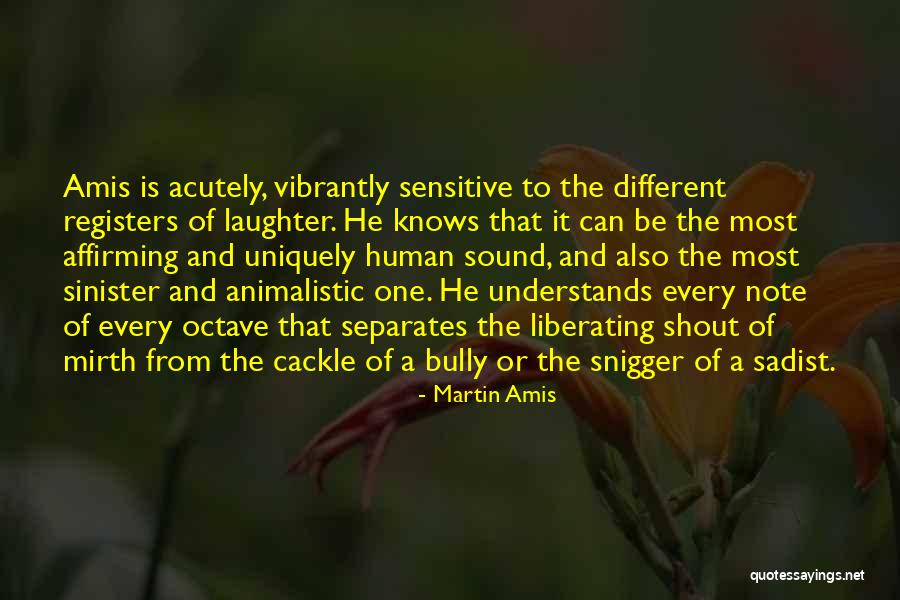 Amis is acutely, vibrantly sensitive to the different registers of laughter. He knows that it can be the most affirming and uniquely human sound, and also the most sinister and animalistic one. He understands every note of every octave that separates the liberating shout of mirth from the cackle of a bully or the snigger of a sadist. — Martin Amis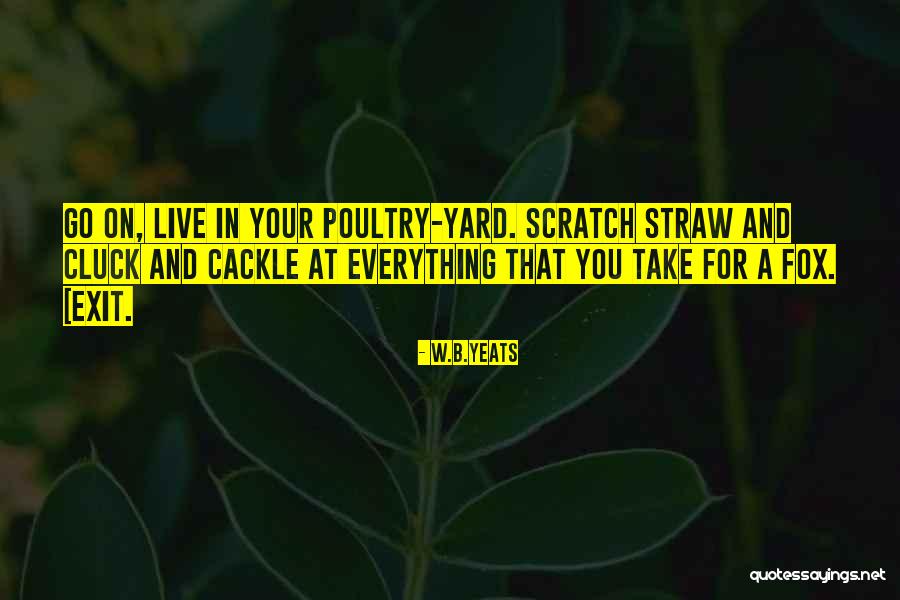 Go on, live in your poultry-yard. Scratch straw and cluck and cackle at everything that you take for a fox. [Exit. — W.B.Yeats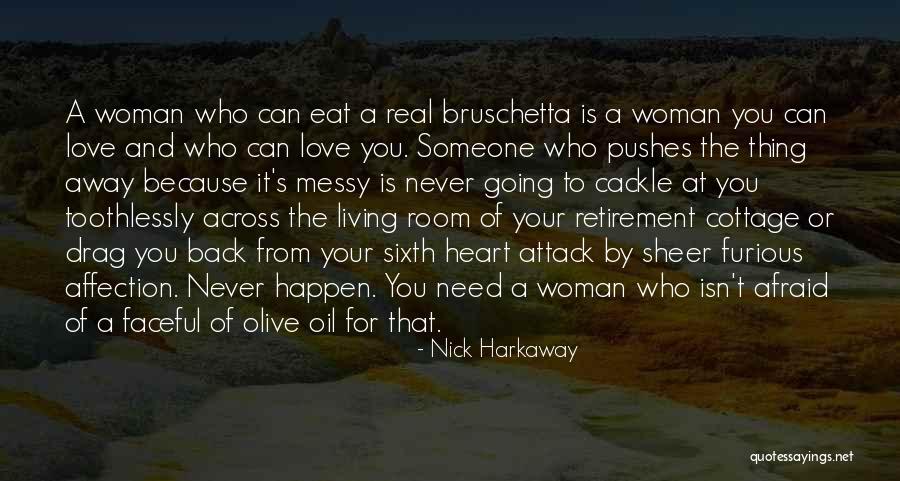 A woman who can eat a real bruschetta is a woman you can love and who can love you. Someone who pushes the thing away because it's messy is never going to cackle at you toothlessly across the living room of your retirement cottage or drag you back from your sixth heart attack by sheer furious affection. Never happen. You need a woman who isn't afraid of a faceful of olive oil for that. — Nick Harkaway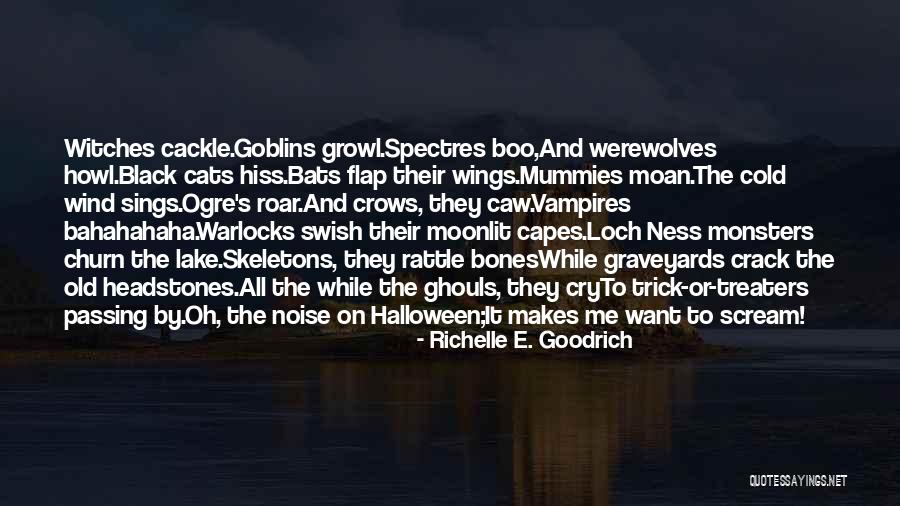 Witches cackle.
Goblins growl.
Spectres boo,
And werewolves howl.
Black cats hiss.
Bats flap their wings.
Mummies moan.
The cold wind sings.
Ogre's roar.
And crows, they caw.
Vampires bahahahaha.
Warlocks swish their moonlit capes.
Loch Ness monsters churn the lake.
Skeletons, they rattle bones
While graveyards crack the old headstones.
All the while the ghouls, they cry
To trick-or-treaters passing by.
Oh, the noise on Halloween;
It makes me want to scream! — Richelle E. Goodrich