Quotes & Sayings About Boardrooms
Enjoy reading and share 28 famous quotes about Boardrooms with everyone.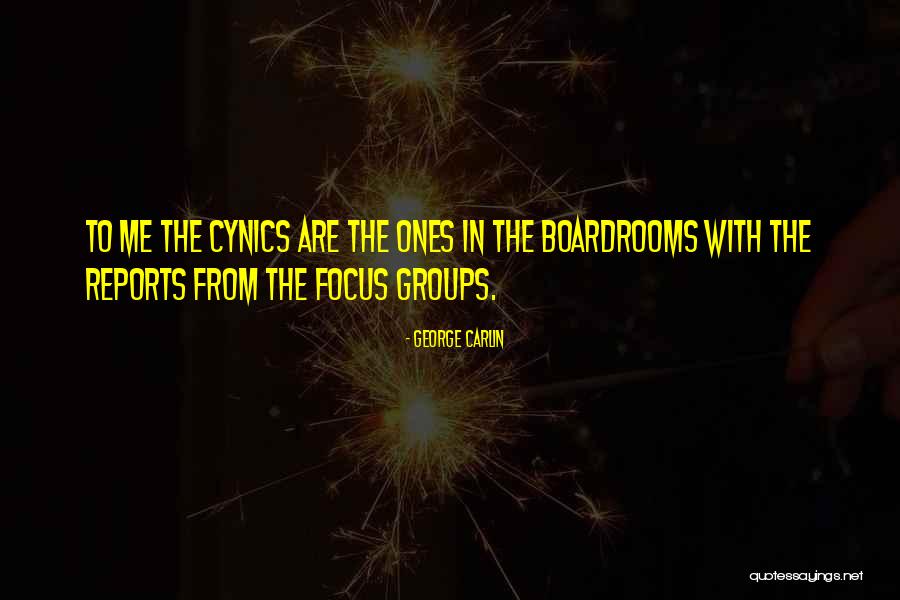 To me the cynics are the ones in the boardrooms with the reports from the focus groups. — George Carlin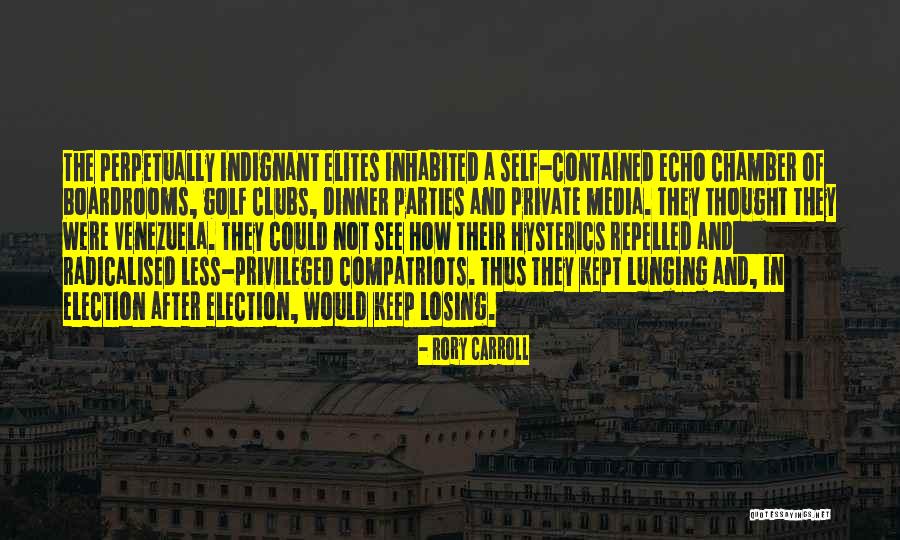 The perpetually indignant elites inhabited a self-contained echo chamber of boardrooms, golf clubs, dinner parties and private media. They thought they were Venezuela. They could not see how their hysterics repelled and radicalised less-privileged compatriots. Thus they kept lunging and, in election after election, would keep losing. — Rory Carroll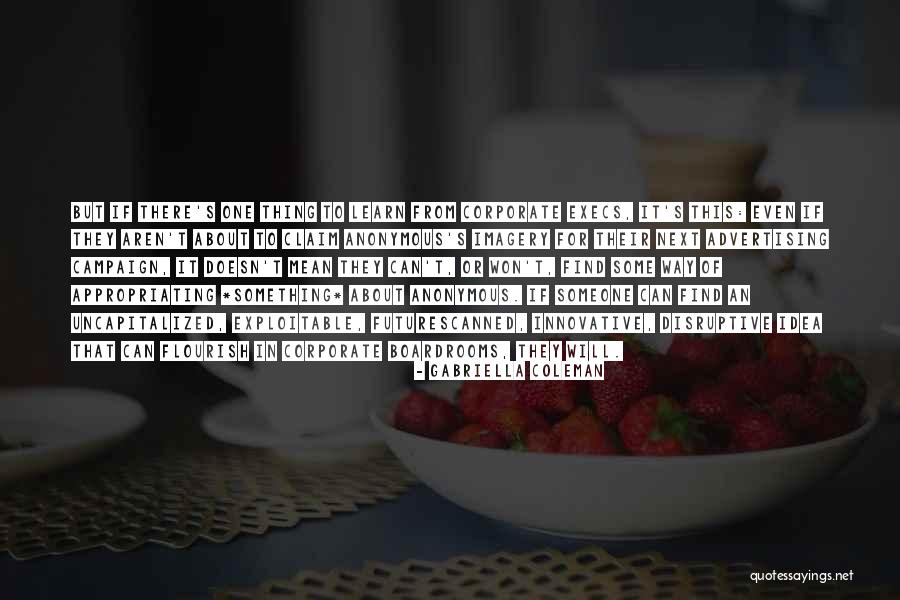 But if there's one thing to learn from corporate execs, it's this: even if they aren't about to claim Anonymous's imagery for their next advertising campaign, it doesn't mean they can't, or won't, find some way of appropriating *something* about Anonymous. If someone can find an uncapitalized, exploitable, futurescanned, innovative, disruptive idea that can flourish in corporate boardrooms, they will. — Gabriella Coleman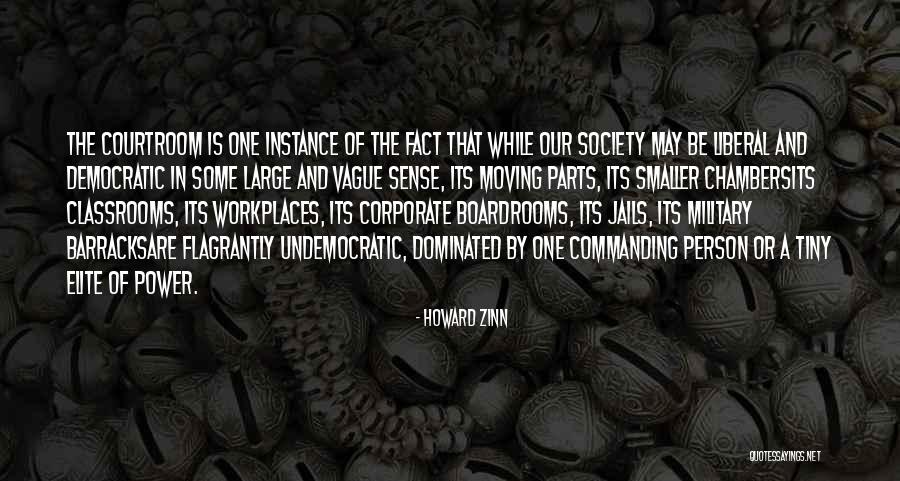 The courtroom is one instance of the fact that while our society may be liberal and democratic in some large and vague sense, its moving parts, its smaller chambers
its classrooms, its workplaces, its corporate boardrooms, its jails, its military barracks
are flagrantly undemocratic, dominated by one commanding person or a tiny elite of power. — Howard Zinn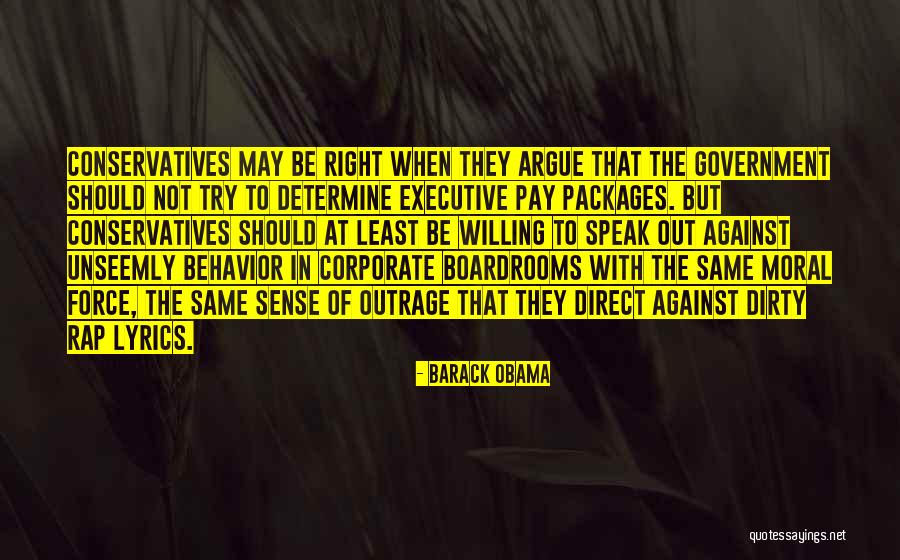 Conservatives may be right when they argue that the government should not try to determine executive pay packages. But conservatives should at least be willing to speak out against unseemly behavior in corporate boardrooms with the same moral force, the same sense of outrage that they direct against dirty rap lyrics. — Barack Obama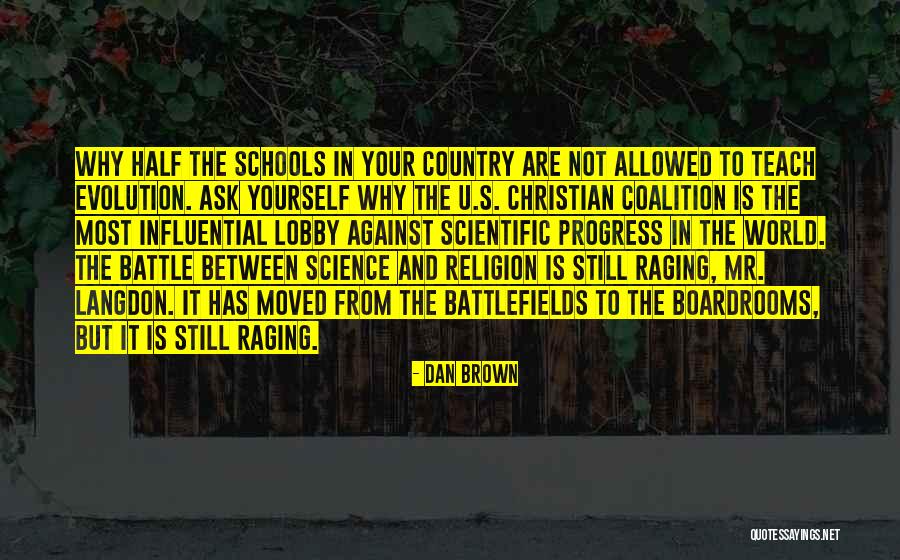 Why half the schools in your country are not allowed to teach evolution. Ask yourself why the U.S. Christian Coalition is the most influential lobby against scientific progress in the world. The battle between science and religion is still raging, Mr. Langdon. It has moved from the battlefields to the boardrooms, but it is still raging. — Dan Brown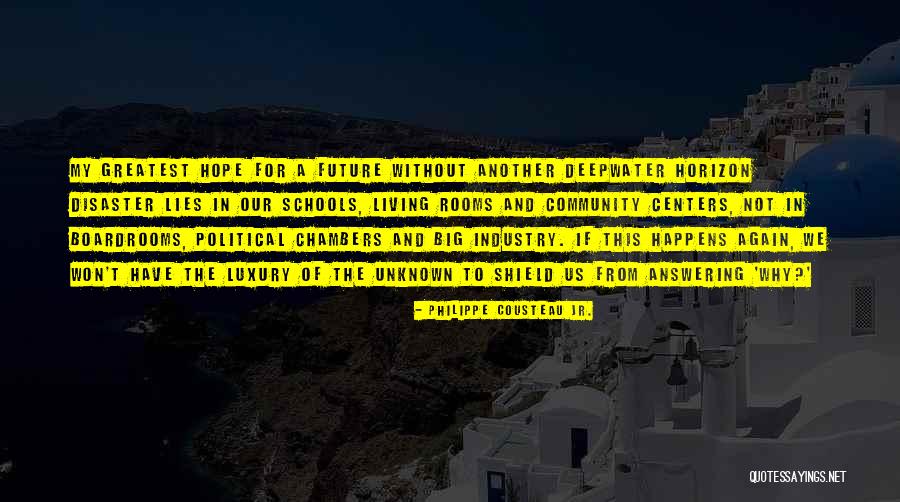 My greatest hope for a future without another Deepwater Horizon disaster lies in our schools, living rooms and community centers, not in boardrooms, political chambers and big industry. If this happens again, we won't have the luxury of the unknown to shield us from answering 'Why?' — Philippe Cousteau Jr.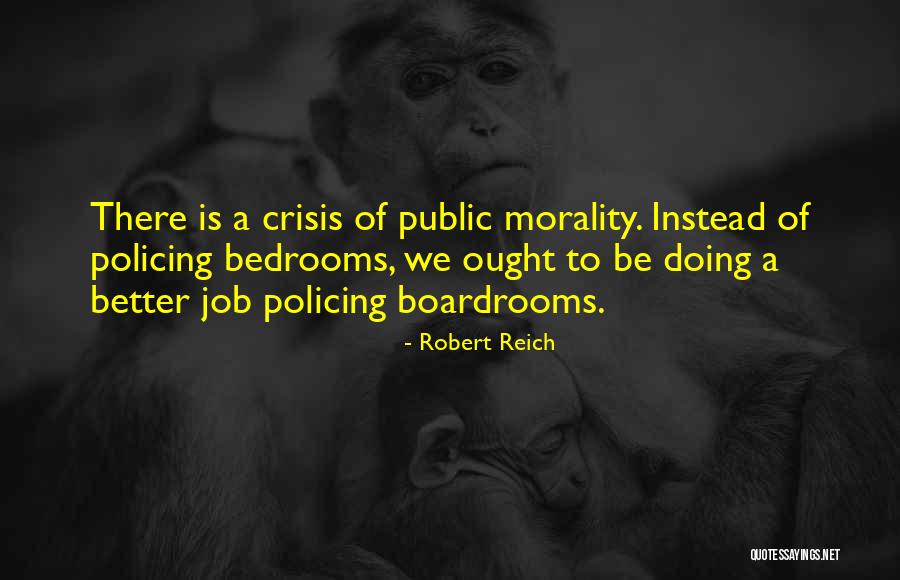 There is a crisis of public morality. Instead of policing bedrooms, we ought to be doing a better job policing boardrooms. — Robert Reich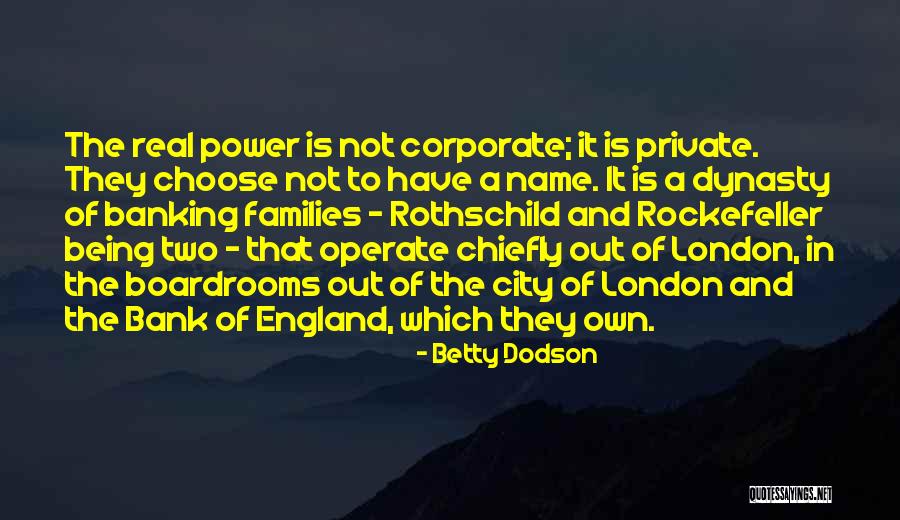 The real power is not corporate; it is private. They choose not to have a name. It is a dynasty of banking families - Rothschild and Rockefeller being two - that operate chiefly out of London, in the boardrooms out of the city of London and the Bank of England, which they own. — Betty Dodson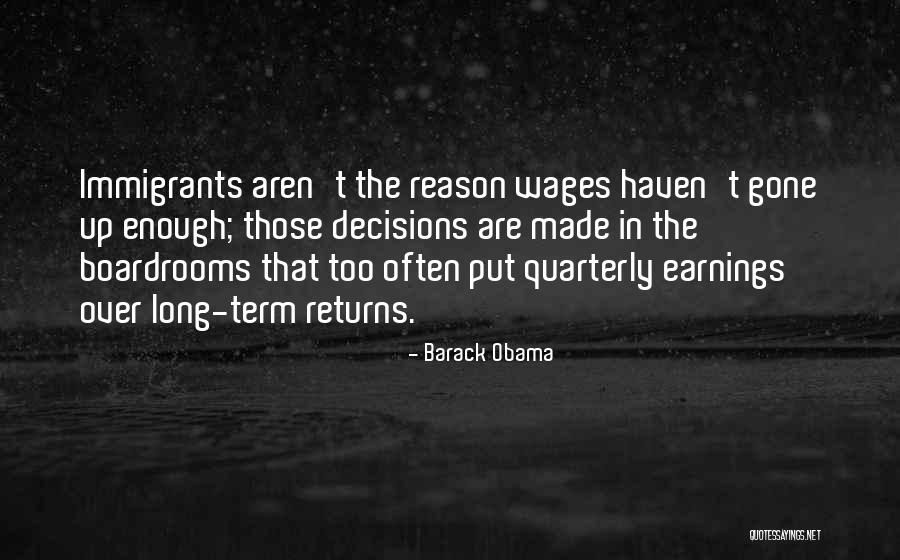 Immigrants aren't the reason wages haven't gone up enough; those decisions are made in the boardrooms that too often put quarterly earnings over long-term returns. — Barack Obama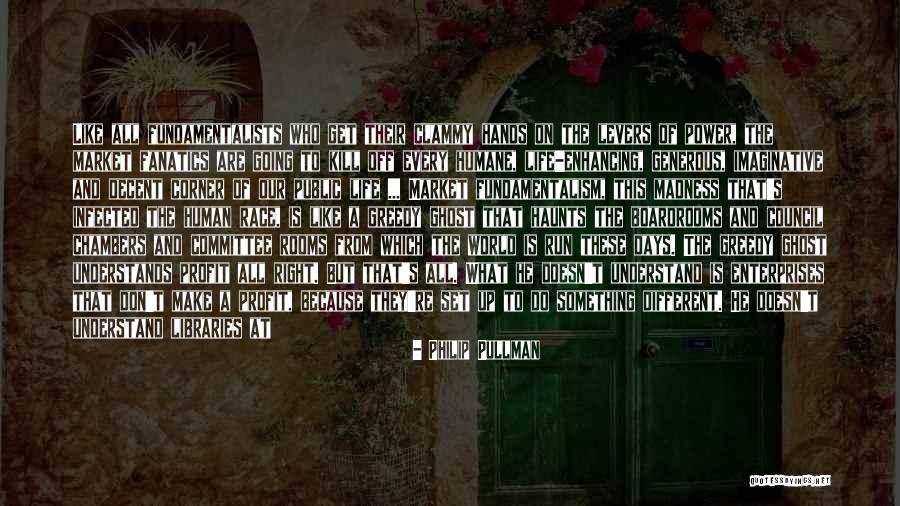 Like all fundamentalists who get their clammy hands on the levers of power, the market fanatics are going to kill off every humane, life-enhancing, generous, imaginative and decent corner of our public life ... Market fundamentalism, this madness that's infected the human race, is like a greedy ghost that haunts the boardrooms and council chambers and committee rooms from which the world is run these days. The greedy ghost understands profit all right. But that's all. What he doesn't understand is enterprises that don't make a profit, because they're set up to do something different. He doesn't understand libraries at all ... — Philip Pullman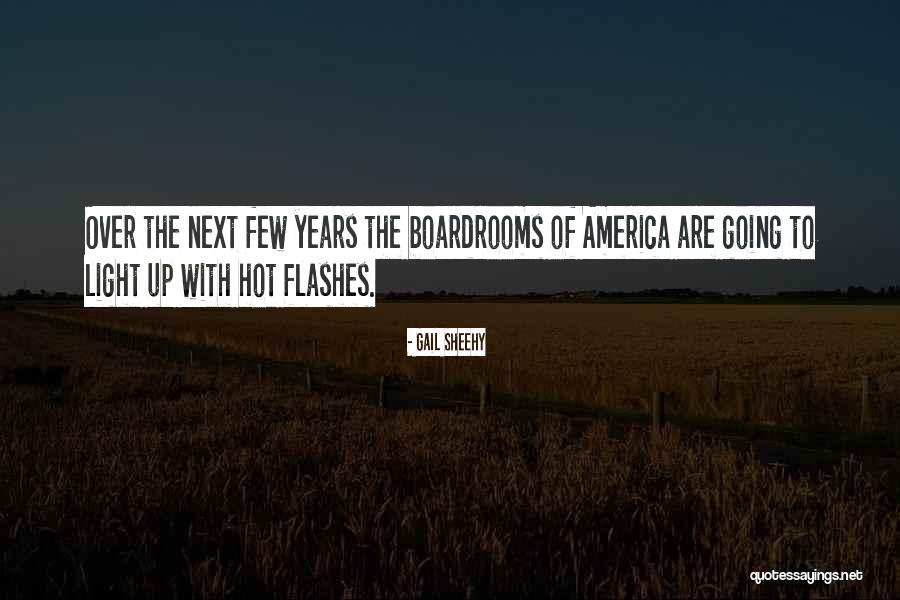 Over the next few years the boardrooms of America are going to light up with hot flashes. — Gail Sheehy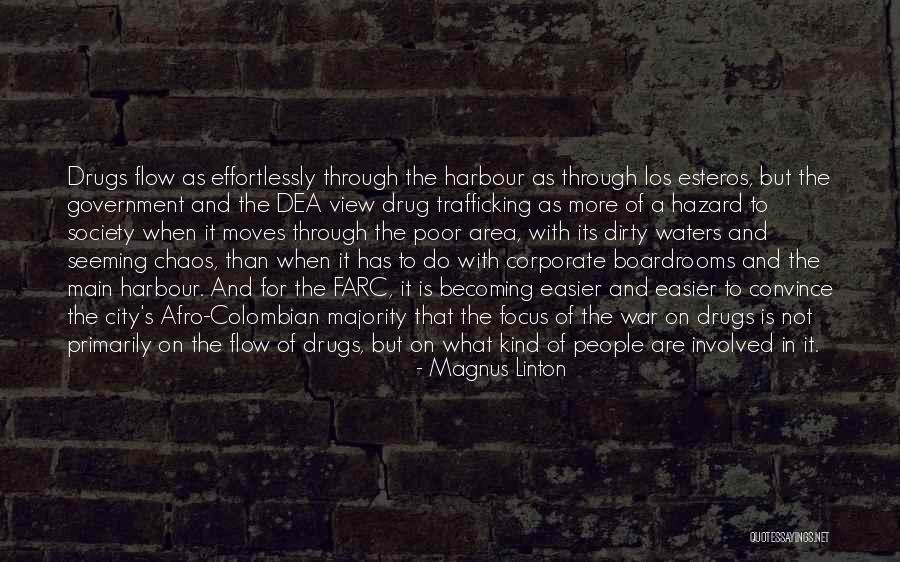 Drugs flow as effortlessly through the harbour as through los esteros, but the government and the DEA view drug trafficking as more of a hazard to society when it moves through the poor area, with its dirty waters and seeming chaos, than when it has to do with corporate boardrooms and the main harbour. And for the FARC, it is becoming easier and easier to convince the city's Afro-Colombian majority that the focus of the war on drugs is not primarily on the flow of drugs, but on what kind of people are involved in it. — Magnus Linton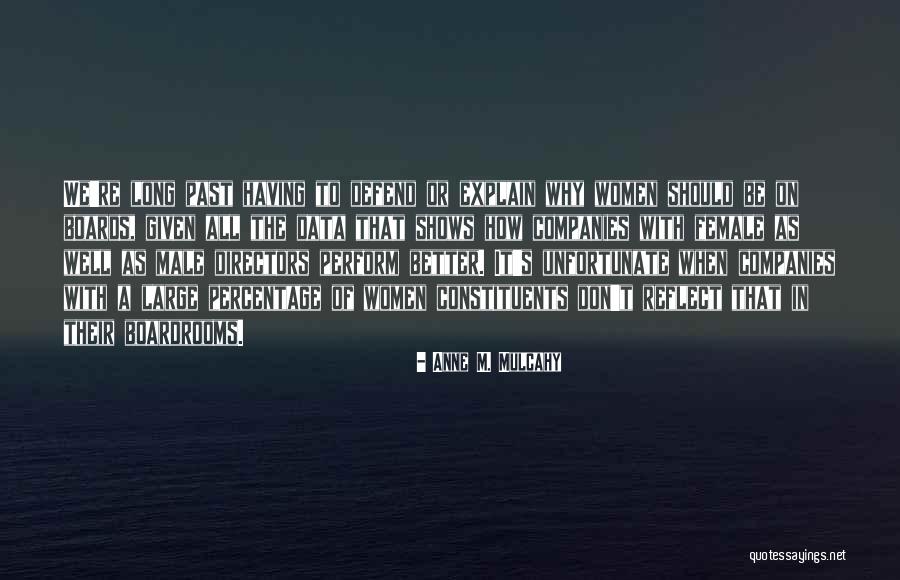 We're long past having to defend or explain why women should be on boards, given all the data that shows how companies with female as well as male directors perform better. It's unfortunate when companies with a large percentage of women constituents don't reflect that in their boardrooms. — Anne M. Mulcahy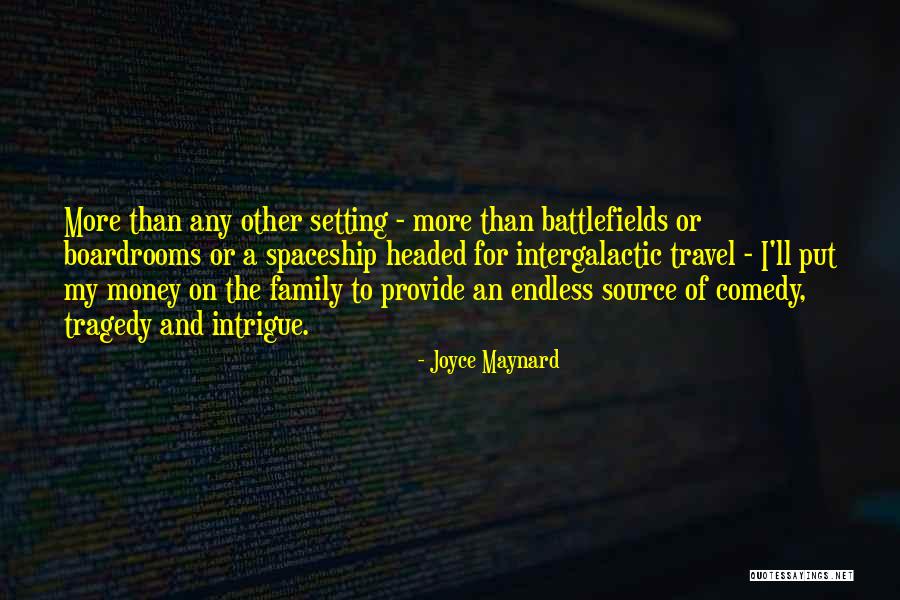 More than any other setting - more than battlefields or boardrooms or a spaceship headed for intergalactic travel - I'll put my money on the family to provide an endless source of comedy, tragedy and intrigue. — Joyce Maynard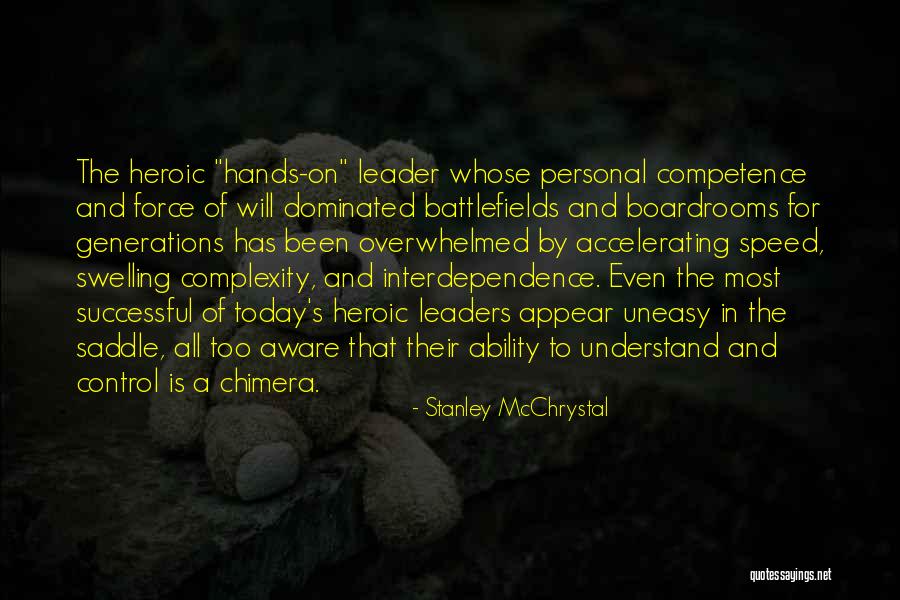 The heroic "hands-on" leader whose personal competence and force of will dominated battlefields and boardrooms for generations has been overwhelmed by accelerating speed, swelling complexity, and interdependence. Even the most successful of today's heroic leaders appear uneasy in the saddle, all too aware that their ability to understand and control is a chimera. — Stanley McChrystal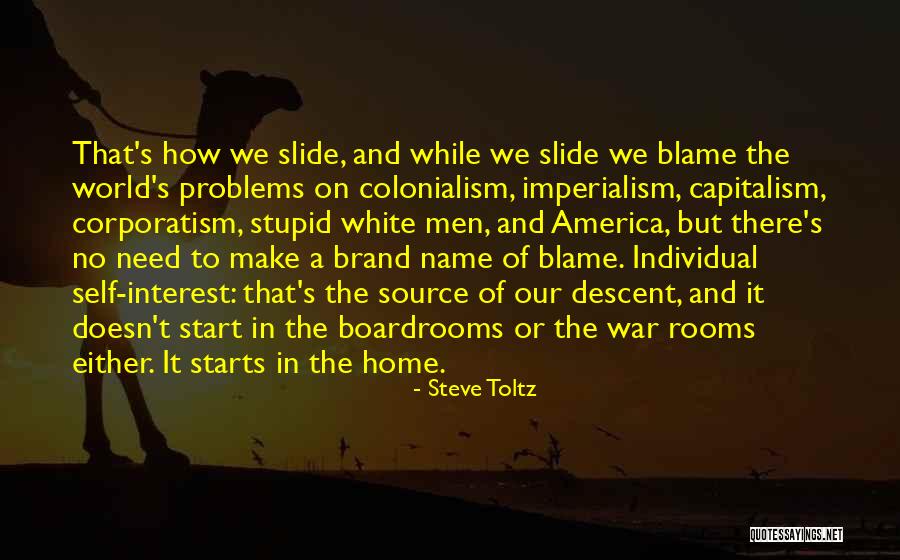 That's how we slide, and while we slide we blame the world's problems on colonialism, imperialism, capitalism, corporatism, stupid white men, and America, but there's no need to make a brand name of blame. Individual self-interest: that's the source of our descent, and it doesn't start in the boardrooms or the war rooms either. It starts in the home. — Steve Toltz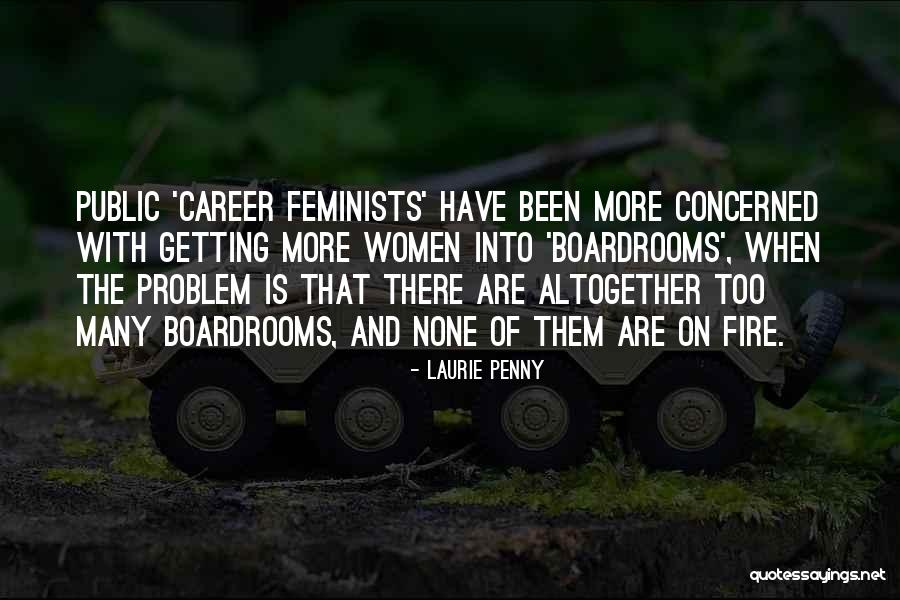 Public 'career feminists' have been more concerned with getting more women into 'boardrooms', when the problem is that there are altogether too many boardrooms, and none of them are on fire. — Laurie Penny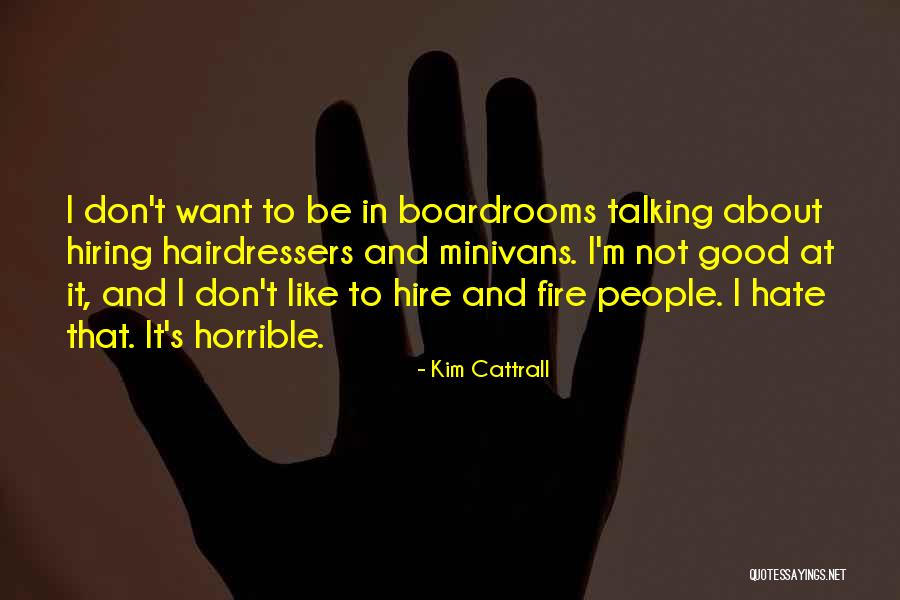 I don't want to be in boardrooms talking about hiring hairdressers and minivans. I'm not good at it, and I don't like to hire and fire people. I hate that. It's horrible. — Kim Cattrall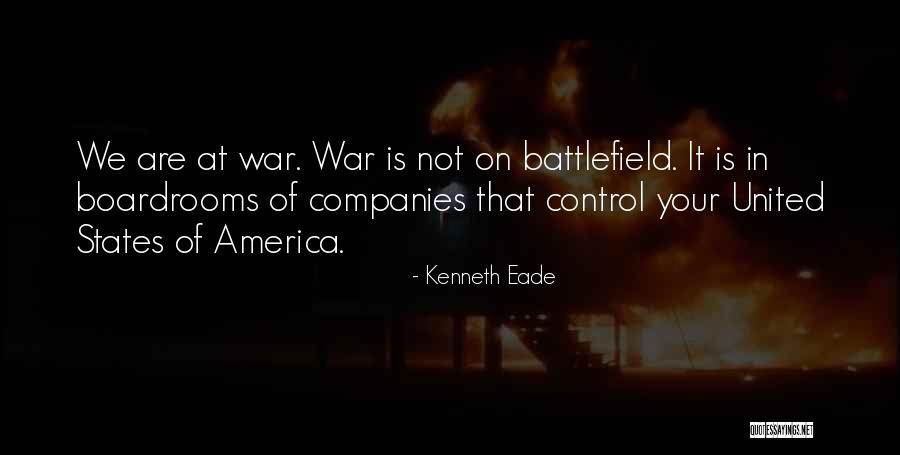 We are at war. War is not on battlefield. It is in boardrooms of companies that control your United States of America. — Kenneth Eade
When culture is created in boardrooms with a panel of six or seven strategists for the masses to follow, to me that is no different than an aristocracy. It's not created from the people in the middle of the streets, so to speak. It is created from a petri dish for the sake of making money, and it is undermining the longevity of the culture. — Chuck D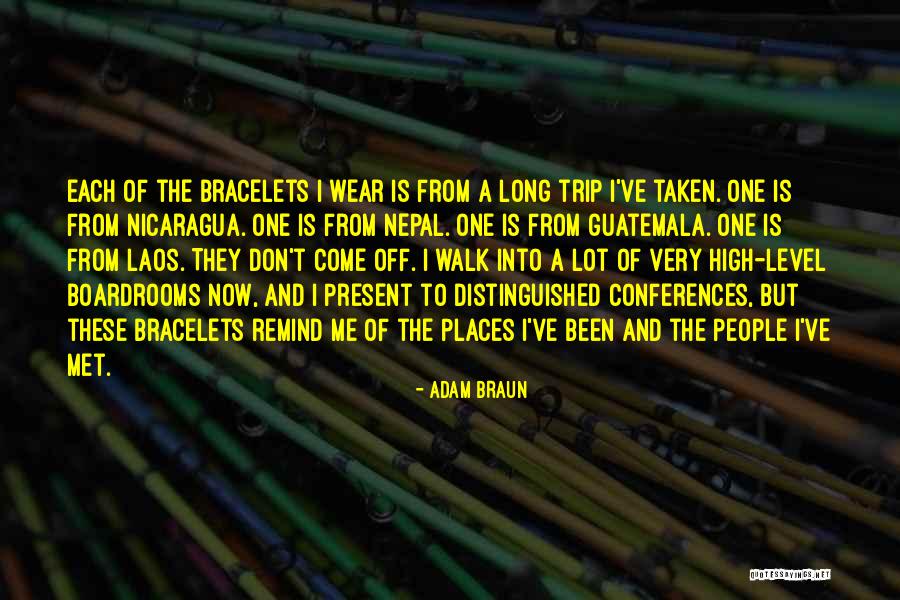 Each of the bracelets I wear is from a long trip I've taken. One is from Nicaragua. One is from Nepal. One is from Guatemala. One is from Laos. They don't come off. I walk into a lot of very high-level boardrooms now, and I present to distinguished conferences, but these bracelets remind me of the places I've been and the people I've met. — Adam Braun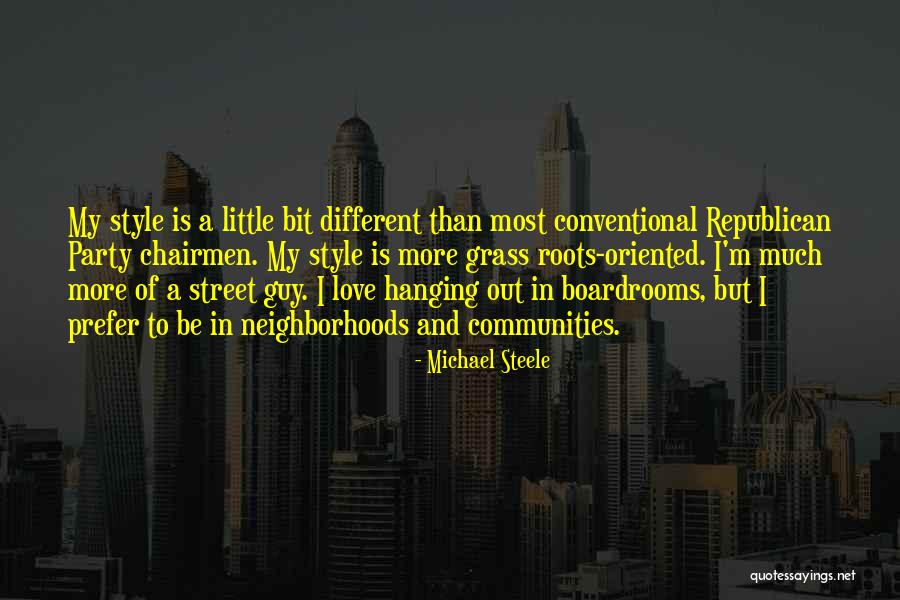 My style is a little bit different than most conventional Republican Party chairmen. My style is more grass roots-oriented. I'm much more of a street guy. I love hanging out in boardrooms, but I prefer to be in neighborhoods and communities. — Michael Steele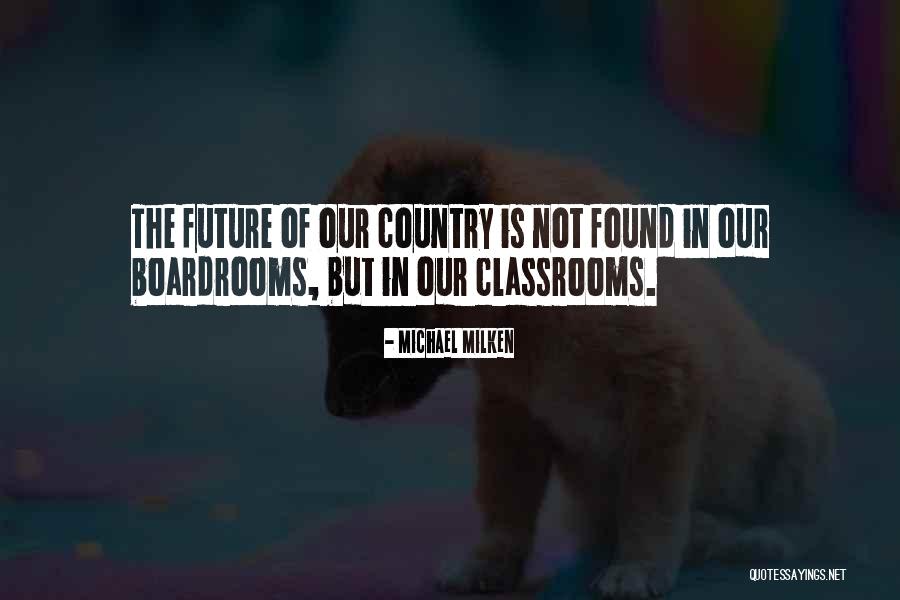 The future of our country is not found in our boardrooms, but in our classrooms. — Michael Milken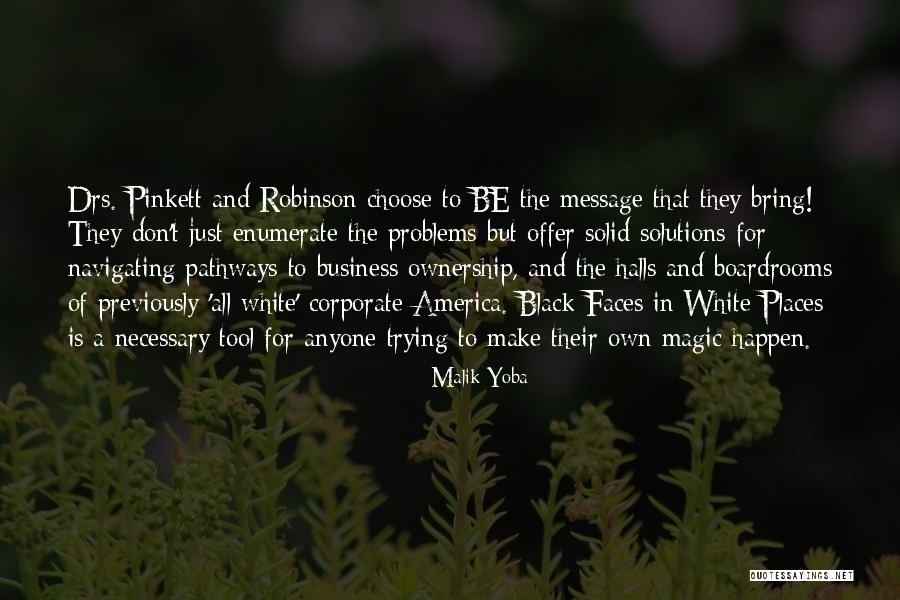 Drs. Pinkett and Robinson choose to BE the message that they bring! They don't just enumerate the problems but offer solid solutions for navigating pathways to business ownership, and the halls and boardrooms of previously 'all white' corporate America. Black Faces in White Places is a necessary tool for anyone trying to make their own magic happen. — Malik Yoba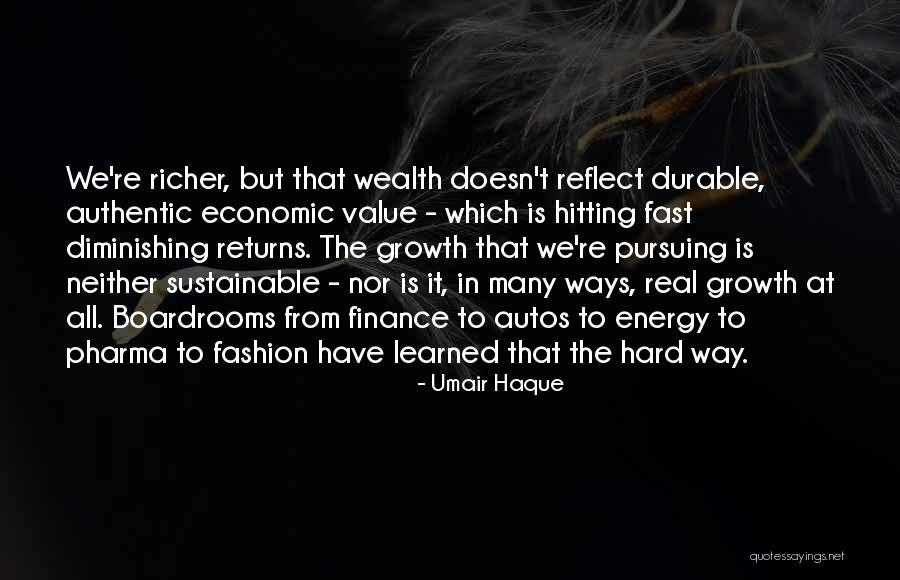 We're richer, but that wealth doesn't reflect durable, authentic economic value - which is hitting fast diminishing returns. The growth that we're pursuing is neither sustainable - nor is it, in many ways, real growth at all. Boardrooms from finance to autos to energy to pharma to fashion have learned that the hard way. — Umair Haque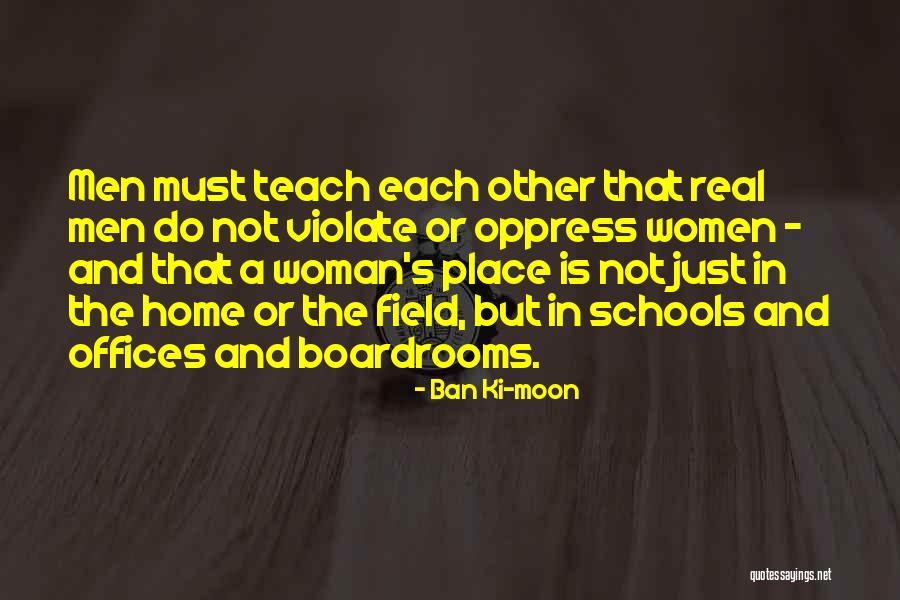 Men must teach each other that real men do not violate or oppress women - and that a woman's place is not just in the home or the field, but in schools and offices and boardrooms. — Ban Ki-moon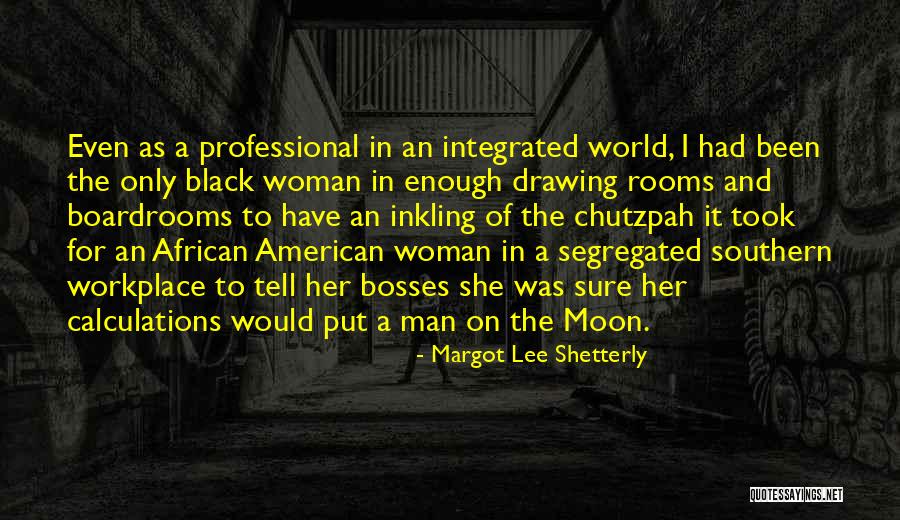 Even as a professional in an integrated world, I had been the only black woman in enough drawing rooms and boardrooms to have an inkling of the chutzpah it took for an African American woman in a segregated southern workplace to tell her bosses she was sure her calculations would put a man on the Moon. — Margot Lee Shetterly