Best Love Kiss Quotes & Sayings
Enjoy reading and share 60 famous quotes about Best Love Kiss with everyone.
Top Best Love Kiss Quotes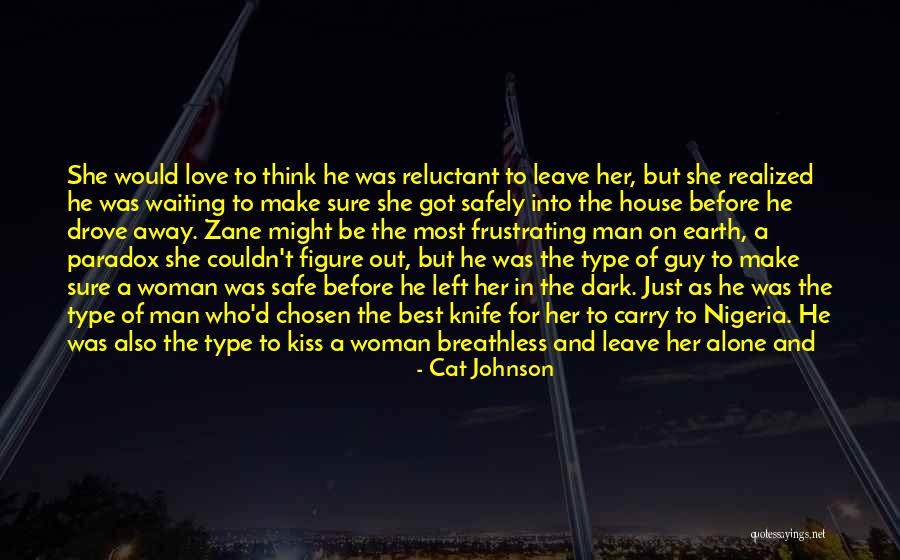 She would love to think he was reluctant to leave her, but she realized he was waiting to make sure she got safely into the house before he drove away. Zane might be the most frustrating man on earth, a paradox she couldn't figure out, but he was the type of guy to make sure a woman was safe before he left her in the dark. Just as he was the type of man who'd chosen the best knife for her to carry to Nigeria. He was also the type to kiss a woman breathless and leave her alone and confused. With a sigh, she turned and made her way to the front door, digging for her key as she went. One sleepless night pondering Zane and this odd day definitely wouldn't be enough to figure out the mystery of the man. But, it would be a start ... — Cat Johnson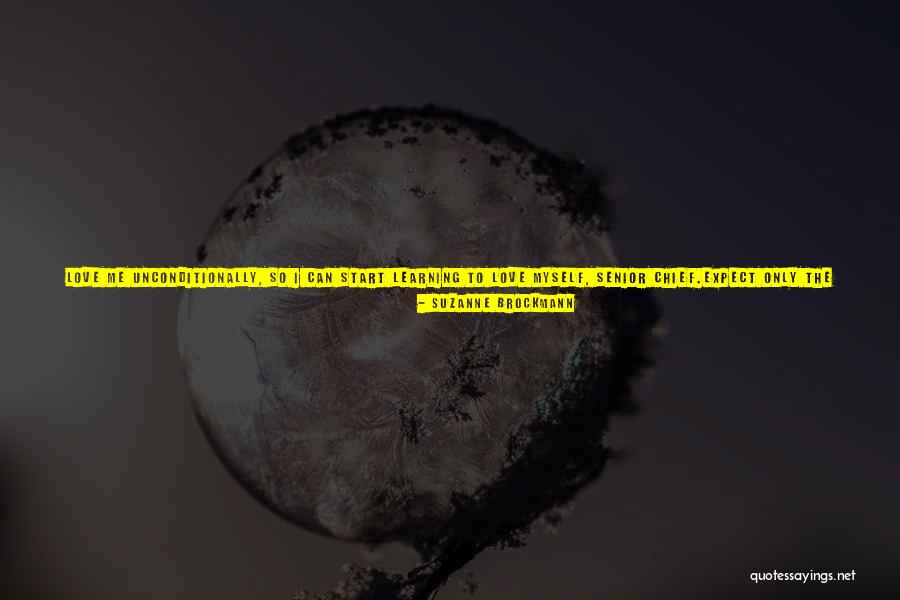 Love me unconditionally, so I can start learning to love myself, Senior Chief.
Expect only the best from me, and I'll give it to you, Senior Chief.
Give me shit when I slip and deserve shit because that's further proof that I matter to you, Senior Chief.
Be my hero, Senior chief, and never let me down.
In the past, it had been a burden at times
his role of the infallible hero, the mighty senior chief
but it had never been so heavy as it was right now.
Because he'd seen something else in Teri Howe's eyes, something different, something he'd never seen in all of the hopeful young faces that had come before.
Kiss me, Senior Chief. — Suzanne Brockmann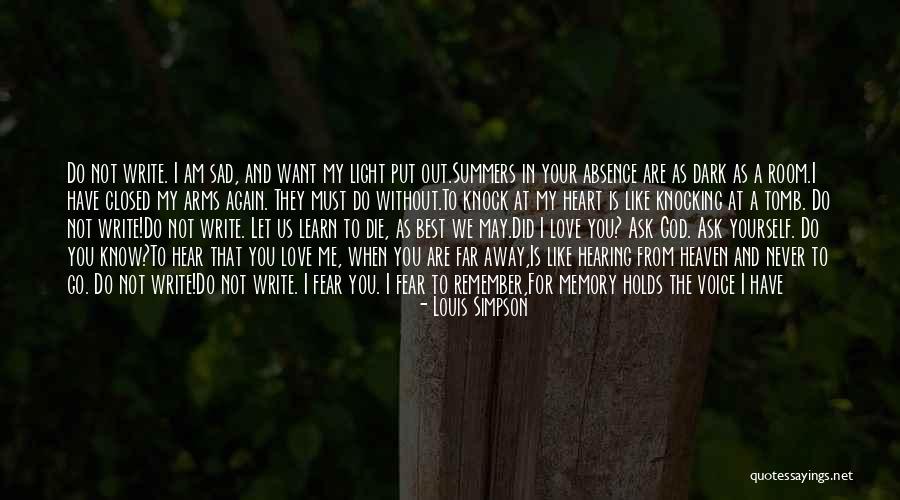 Do not write. I am sad, and want my light put out.
Summers in your absence are as dark as a room.
I have closed my arms again. They must do without.
To knock at my heart is like knocking at a tomb.
Do not write!
Do not write. Let us learn to die, as best we may.
Did I love you? Ask God. Ask yourself. Do you know?
To hear that you love me, when you are far away,
Is like hearing from heaven and never to go.
Do not write!
Do not write. I fear you. I fear to remember,
For memory holds the voice I have often heard.
To the one who cannot drink, do not show water,
The beloved one's picture in the handwritten word.
Do not write!
Do not write those gentle words that I dare not see,
It seems that your voice is spreading them on my heart,
Across your smile, on fire, they appear to me,
It seems that a kiss is printing them on my heart.
Do not write! — Louis Simpson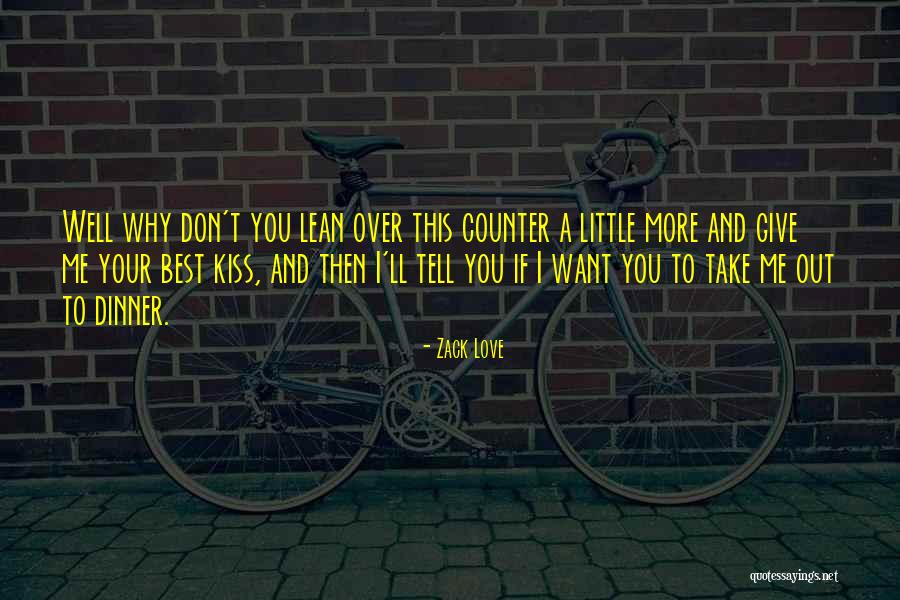 Well why don't you lean over this counter a little more and give me your best kiss, and then I'll tell you if I want you to take me out to dinner. — Zack Love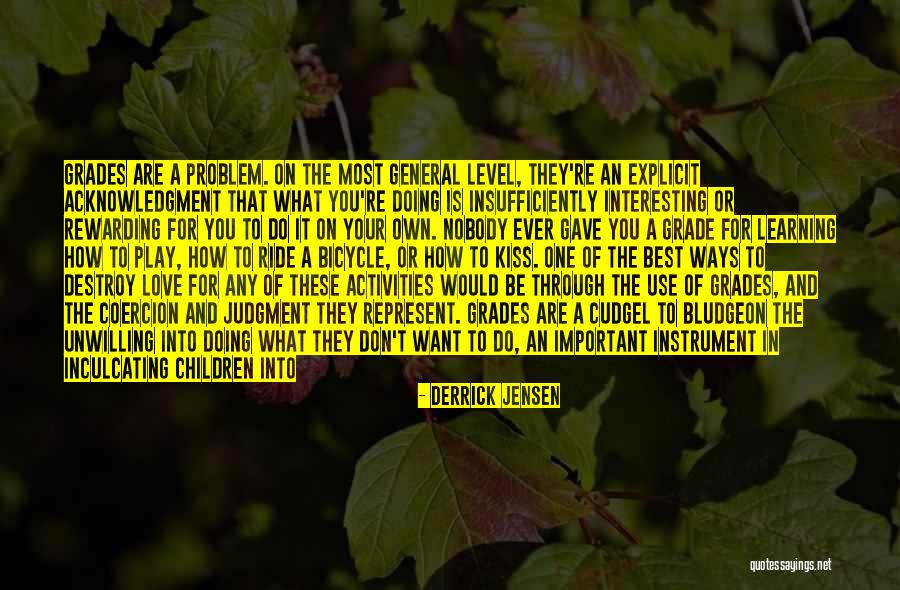 Grades are a problem. On the most general level, they're an explicit acknowledgment that what you're doing is insufficiently interesting or rewarding for you to do it on your own. Nobody ever gave you a grade for learning how to play, how to ride a bicycle, or how to kiss. One of the best ways to destroy love for any of these activities would be through the use of grades, and the coercion and judgment they represent. Grades are a cudgel to bludgeon the unwilling into doing what they don't want to do, an important instrument in inculcating children into a lifelong subservience to whatever authority happens to be thrust over them. — Derrick Jensen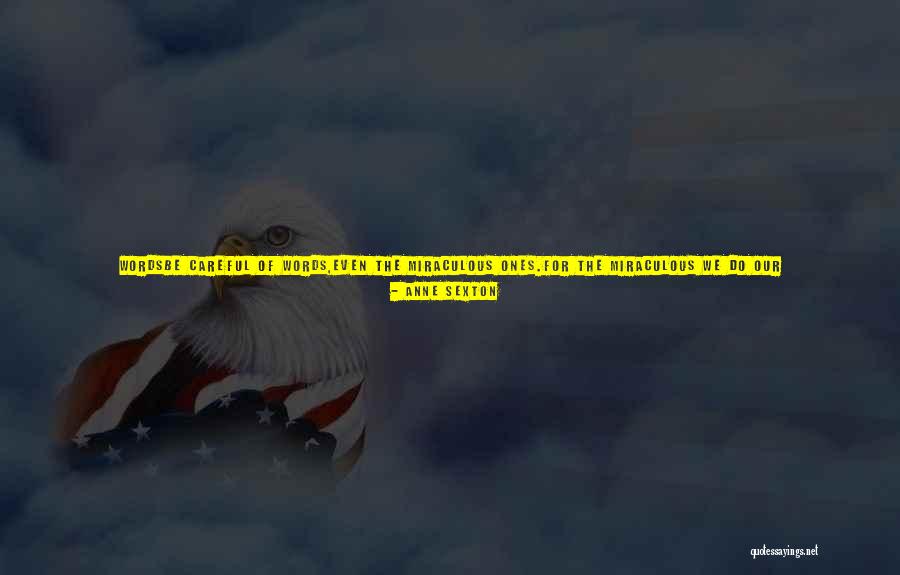 Words

Be careful of words,
even the miraculous ones.
For the miraculous we do our best,
sometimes they swarm like insects
and leave not a sting but a kiss.
They can be as good as fingers.
They can be as trusty as the rock
you stick your bottom on.
But they can be both daisies and bruises.
Yet I am in love with words.
They are doves falling out of the ceiling.
They are six holy oranges sitting in my lap.
They are the trees, the legs of summer,
and the sun, its passionate face.
Yet often they fail me.
I have so much I want to say,
so many stories, images, proverbs, etc.
But the words aren't good enough,
the wrong ones kiss me.
Sometimes I fly like an eagle
but with the wings of a wren.
But I try to take care
and be gentle to them.
Words and eggs must be handled with care.
Once broken they are impossible
things to repair. — Anne Sexton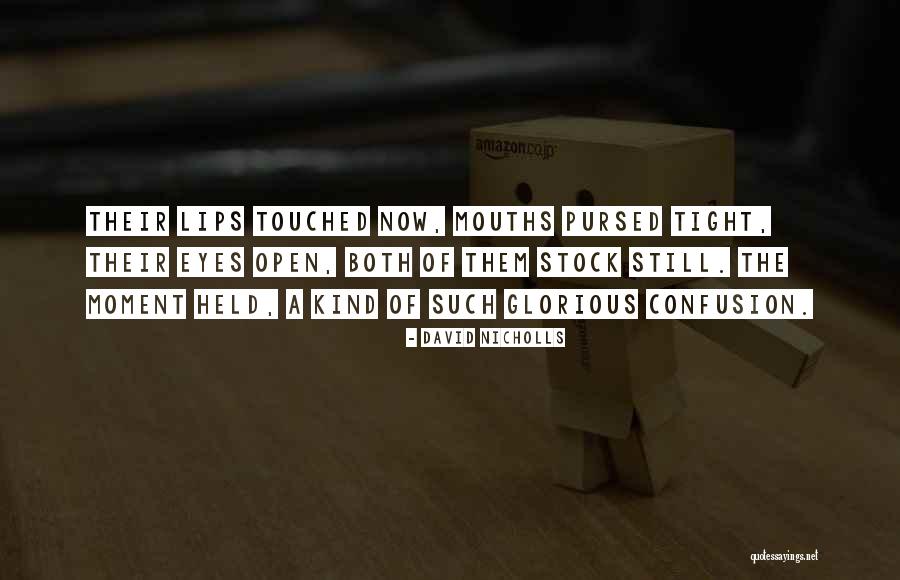 Their lips touched now, mouths pursed tight, their eyes open, both of them stock still. The moment held, a kind of such glorious confusion. — David Nicholls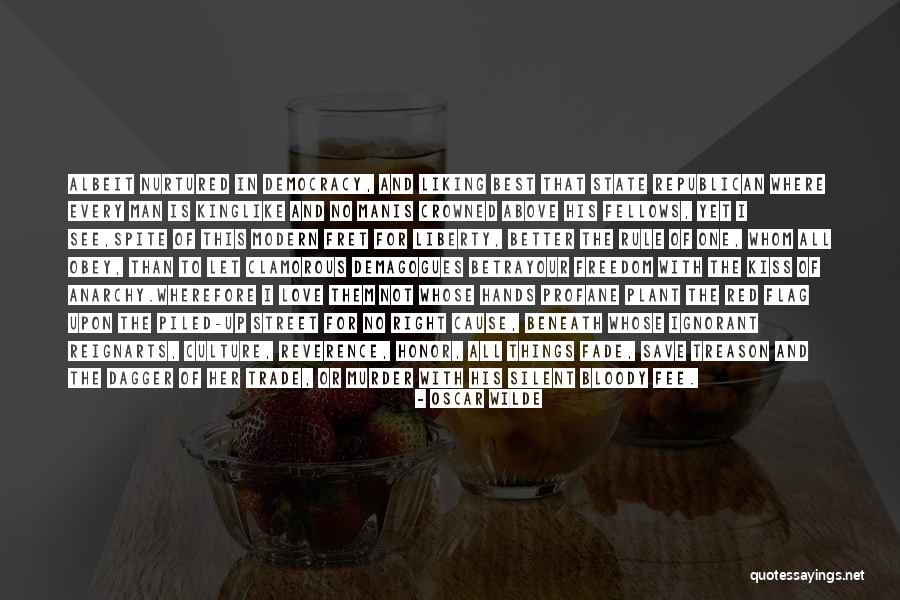 Albeit nurtured in democracy,
And liking best that state republican
Where every man is Kinglike and no man
Is crowned above his fellows, yet I see,
Spite of this modern fret for Liberty,
Better the rule of One, whom all obey,
Than to let clamorous demagogues betray
Our freedom with the kiss of anarchy.
Wherefore I love them not whose hands profane
Plant the red flag upon the piled-up street
For no right cause, beneath whose ignorant reign
Arts, Culture, Reverence, Honor, all things fade,
Save Treason and the dagger of her trade,
Or Murder with his silent bloody fee. — Oscar Wilde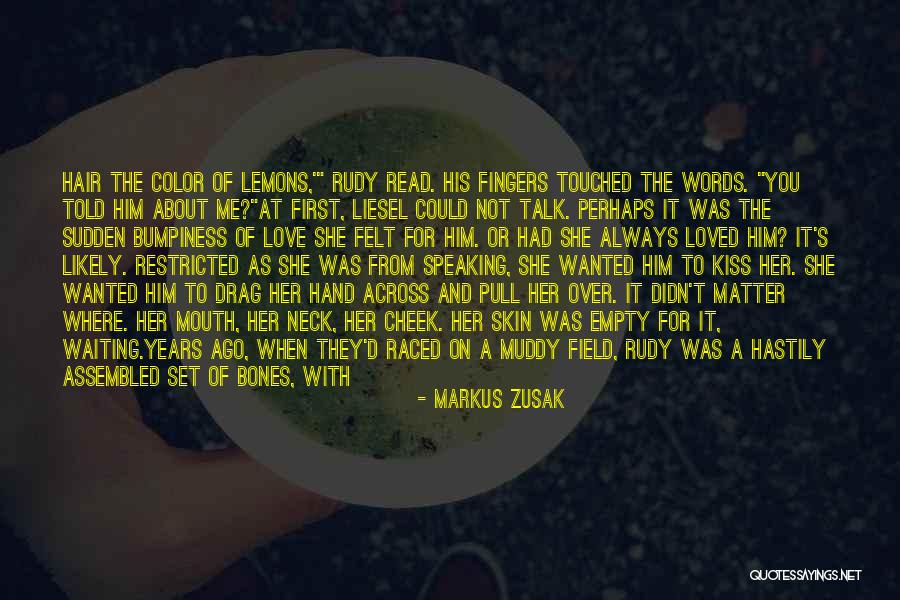 Hair the color of lemons,'" Rudy read. His fingers touched the words. "You told him about me?"
At first, Liesel could not talk. Perhaps it was the sudden bumpiness of love she felt for him. Or had she always loved him? It's likely. Restricted as she was from speaking, she wanted him to kiss her. She wanted him to drag her hand across and pull her over. It didn't matter where. Her mouth, her neck, her cheek. Her skin was empty for it, waiting.
Years ago, when they'd raced on a muddy field, Rudy was a hastily assembled set of bones, with a jagged, rocky smile. In the trees this afternoon, he was a giver of bread and teddy bears. He was a triple Hitler Youth athletics champion. He was her best friend. And he was a month from his death.
Of course I told him about you," Liesel said. — Markus Zusak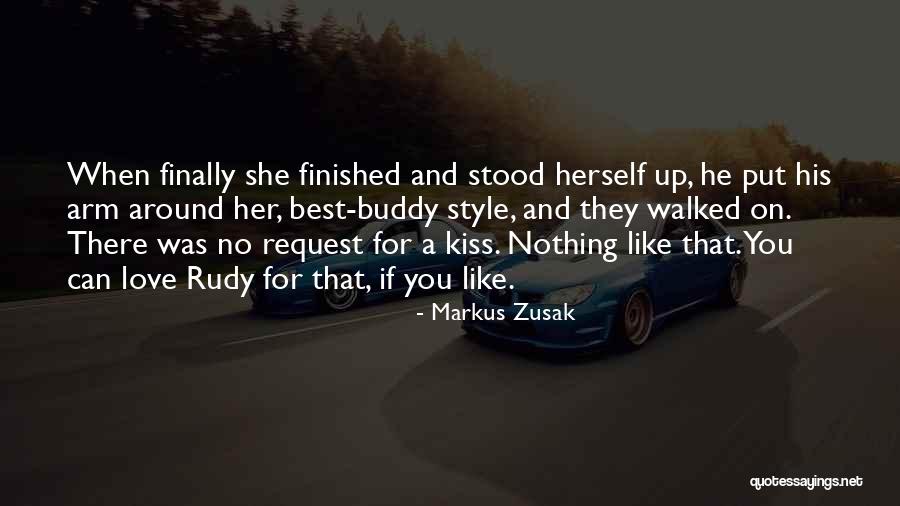 When finally she finished and stood herself up, he put his arm around her, best-buddy style, and they walked on. There was no request for a kiss. Nothing like that. You can love Rudy for that, if you like. — Markus Zusak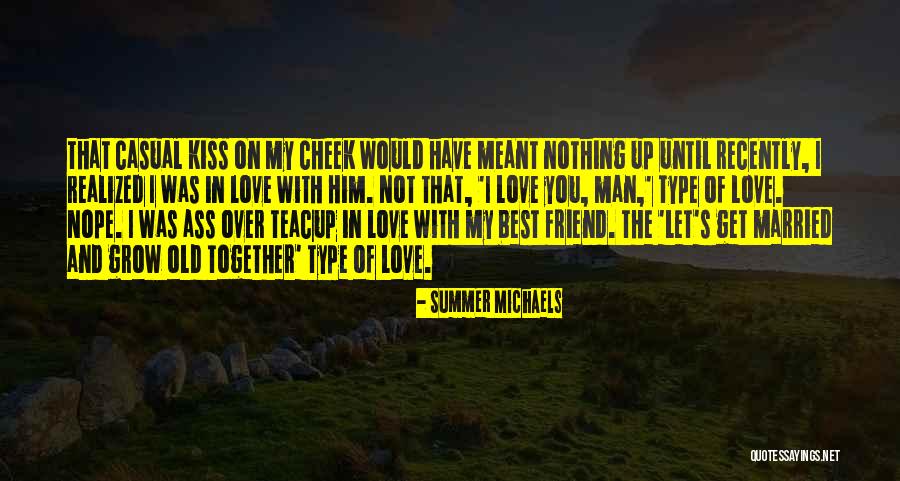 That casual kiss on my cheek would have meant nothing up until recently, I realized I was in love with him. Not that, 'I love you, man,' type of love. Nope. I was ass over teacup in love with my best friend. The 'let's get married and grow old together' type of love. — Summer Michaels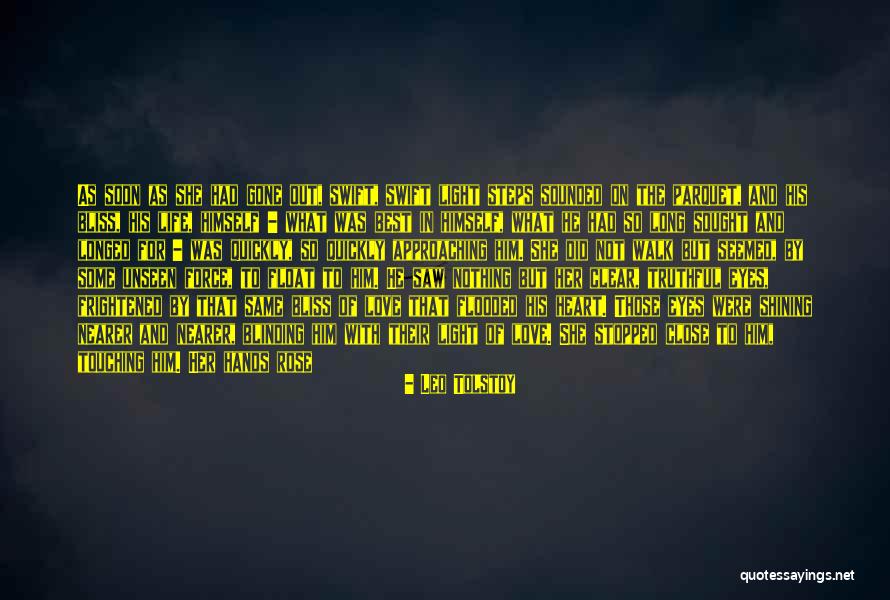 As soon as she had gone out, swift, swift light steps sounded on the parquet, and his bliss, his life, himself - what was best in himself, what he had so long sought and longed for - was quickly, so quickly approaching him. She did not walk but seemed, by some unseen force, to float to him. He saw nothing but her clear, truthful eyes, frightened by that same bliss of love that flooded his heart. Those eyes were shining nearer and nearer, blinding him with their light of love. She stopped close to him, touching him. Her hands rose and dropped on his shoulders.
She had done all she could - she had run up to him and given herself up entirely, shyly, blissfully. He put his arms around her and pressed his lips to her mouth that sought his kiss. — Leo Tolstoy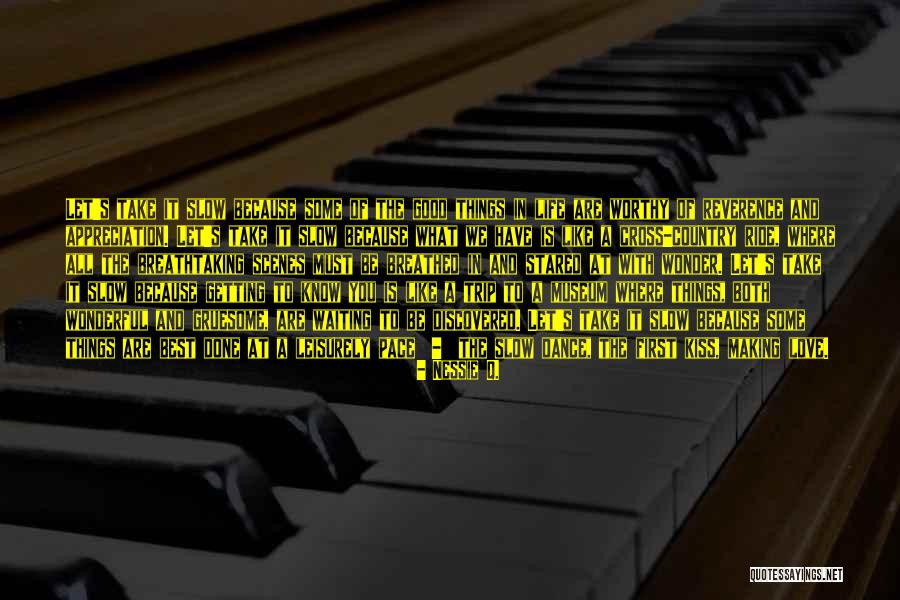 Let's take it slow because some of the good things in life are worthy of reverence and appreciation. Let's take it slow because what we have is like a cross-country ride, where all the breathtaking scenes must be breathed in and stared at with wonder. Let's take it slow because getting to know you is like a trip to a museum where things, both wonderful and gruesome, are waiting to be discovered. Let's take it slow because some things are best done at a leisurely pace - the slow dance, the first kiss, making love. — Nessie Q.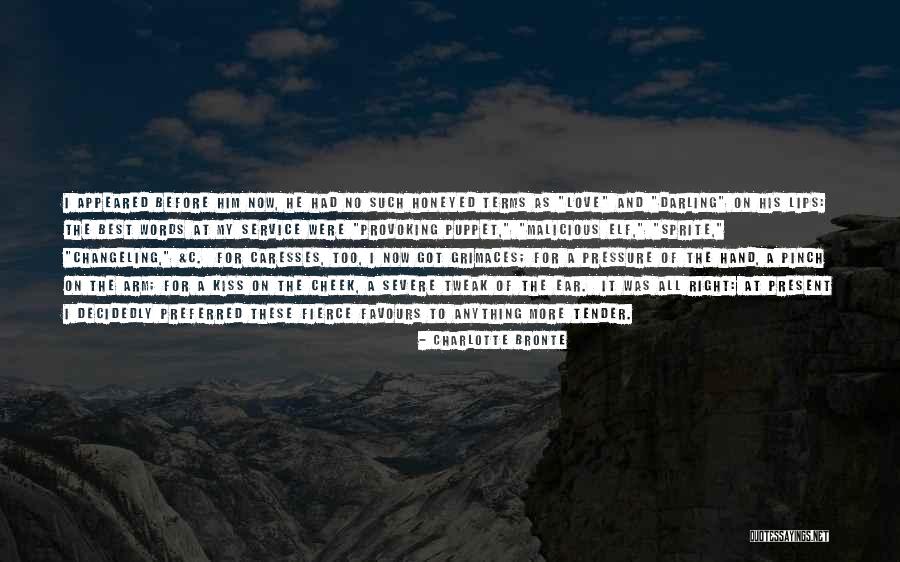 I appeared before him now, he had no such honeyed terms as "love" and "darling" on his lips: the best words at my service were "provoking puppet," "malicious elf," "sprite," "changeling," &c. For caresses, too, I now got grimaces; for a pressure of the hand, a pinch on the arm; for a kiss on the cheek, a severe tweak of the ear. It was all right: at present I decidedly preferred these fierce favours to anything more tender. — Charlotte Bronte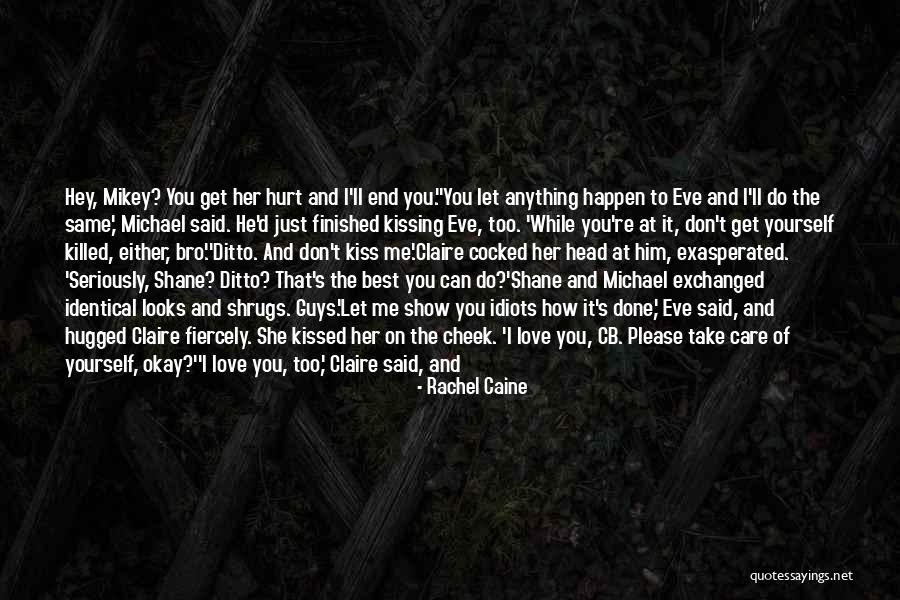 Hey, Mikey? You get her hurt and I'll end you.'
'You let anything happen to Eve and I'll do the same,' Michael said. He'd just finished kissing Eve, too. 'While you're at it, don't get yourself killed, either, bro.'
'Ditto. And don't kiss me.'
Claire cocked her head at him, exasperated. 'Seriously, Shane? Ditto? That's the best you can do?'
Shane and Michael exchanged identical looks and shrugs. Guys.
'Let me show you idiots how it's done,' Eve said, and hugged Claire fiercely. She kissed her on the cheek. 'I love you, CB. Please take care of yourself, okay?'
'I love you, too,' Claire said, and suddenly her throat felt tight and her eyes burned with tears. 'I really do.'
Shane and Michael watched them with identical expressions of blank bemusement, and finally Shane said, 'So basically, it's what I said. Ditto. — Rachel Caine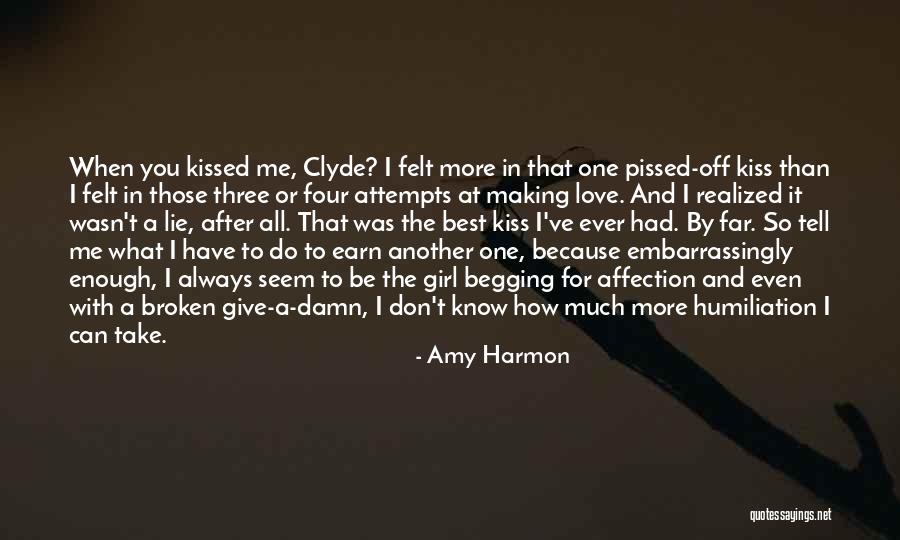 When you kissed me, Clyde? I felt more in that one pissed-off kiss than I felt in those three or four attempts at making love. And I realized it wasn't a lie, after all. That was the best kiss I've ever had. By far. So tell me what I have to do to earn another one, because embarrassingly enough, I always seem to be the girl begging for affection and even with a broken give-a-damn, I don't know how much more humiliation I can take. — Amy Harmon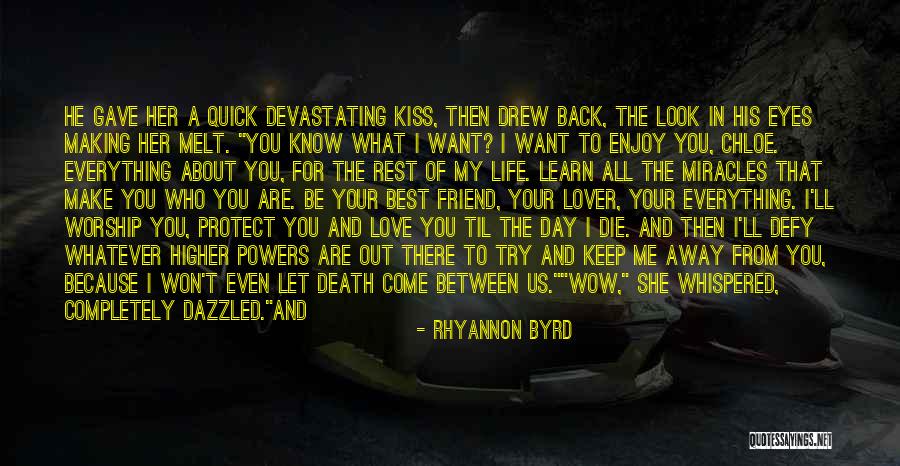 He gave her a quick devastating kiss, then drew back, the look in his eyes making her melt. "You know what I want? I want to enjoy you, Chloe. Everything about you, for the rest of my life. Learn all the miracles that make you who you are. Be your best friend, your lover, your everything. I'll worship you, protect you and love you til the day I die. And then I'll defy whatever higher powers are out there to try and keep me away from you, because I won't even let death come between us."
"Wow," she whispered, completely dazzled.
"And you're going to marry me."
"Her eyes went wide, "I am?"
"Oh, yeah," he breathed out. — Rhyannon Byrd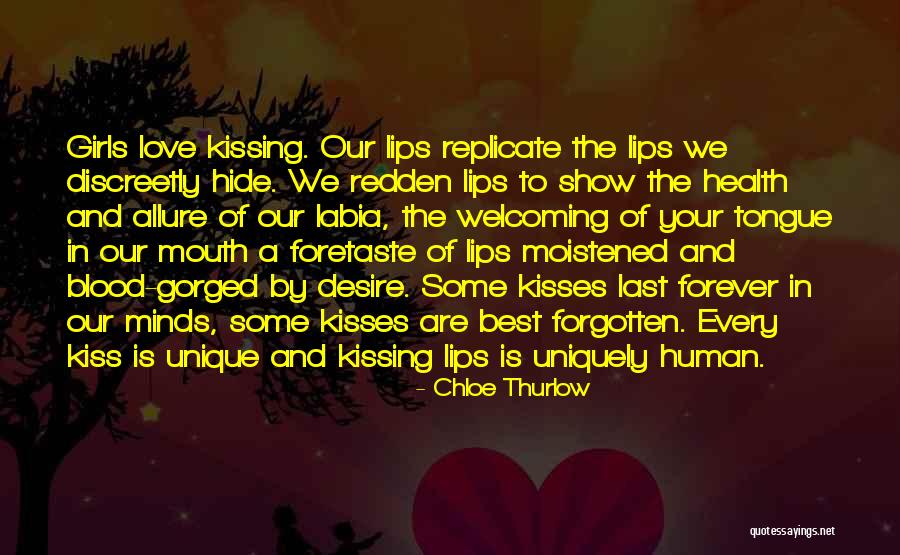 Girls love kissing. Our lips replicate the lips we discreetly hide. We redden lips to show the health and allure of our labia, the welcoming of your tongue in our mouth a foretaste of lips moistened and blood-gorged by desire. Some kisses last forever in our minds, some kisses are best forgotten. Every kiss is unique and kissing lips is uniquely human. — Chloe Thurlow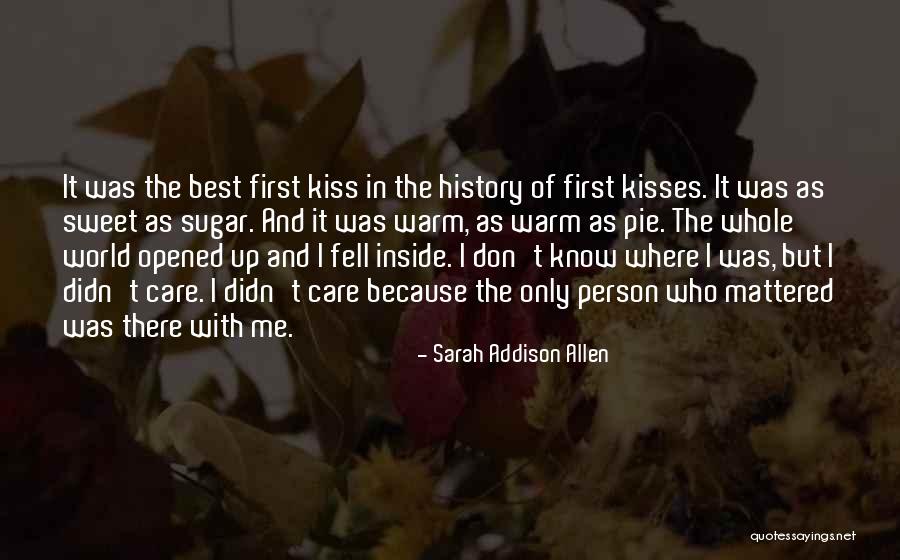 It was the best first kiss in the history of first kisses. It was as sweet as sugar. And it was warm, as warm as pie. The whole world opened up and I fell inside. I don't know where I was, but I didn't care. I didn't care because the only person who mattered was there with me. — Sarah Addison Allen
I'm more than a kiss on you worst day, I'm a kiss on your best." - Dr. Jeremy Nichols, Merger Complete — Heather M. Miles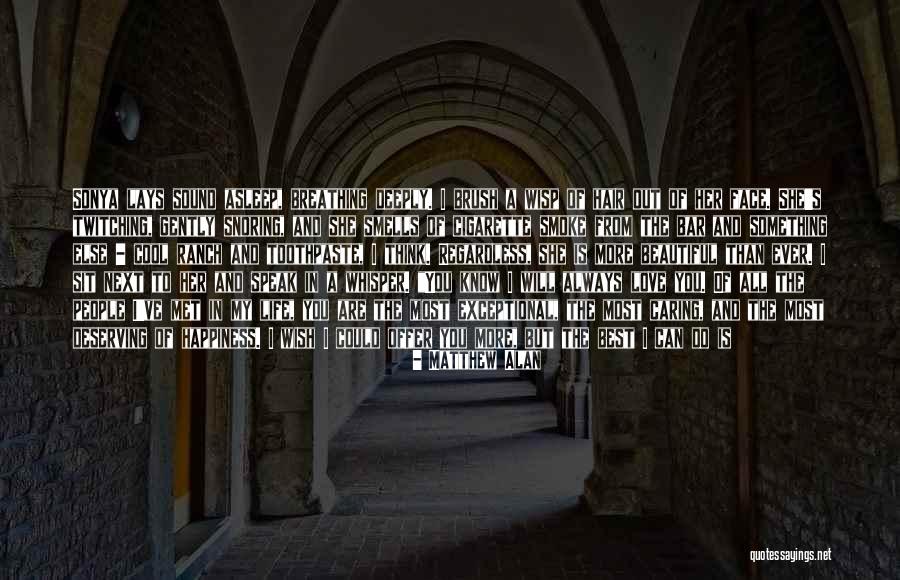 Sonya lays sound asleep, breathing deeply.
I brush a wisp of hair out of her face.
She's twitching, gently snoring, and she smells of cigarette smoke from the bar and something else - cool ranch and toothpaste, I think. Regardless, she is more beautiful than ever.
I sit next to her and speak in a whisper. "You know I will always love you. Of all the people I've met in my life, you are the most exceptional, the most caring, and the most deserving of happiness. I wish I could offer you more, but the best I can do is leave you alone. If you can just stay out of this place, stay away from this town and all the things that have happened here, I know you'll find what you're looking for."
I try to resist but I can't help myself. I gently kiss her on the lips before going to sleep in the other room. — Matthew Alan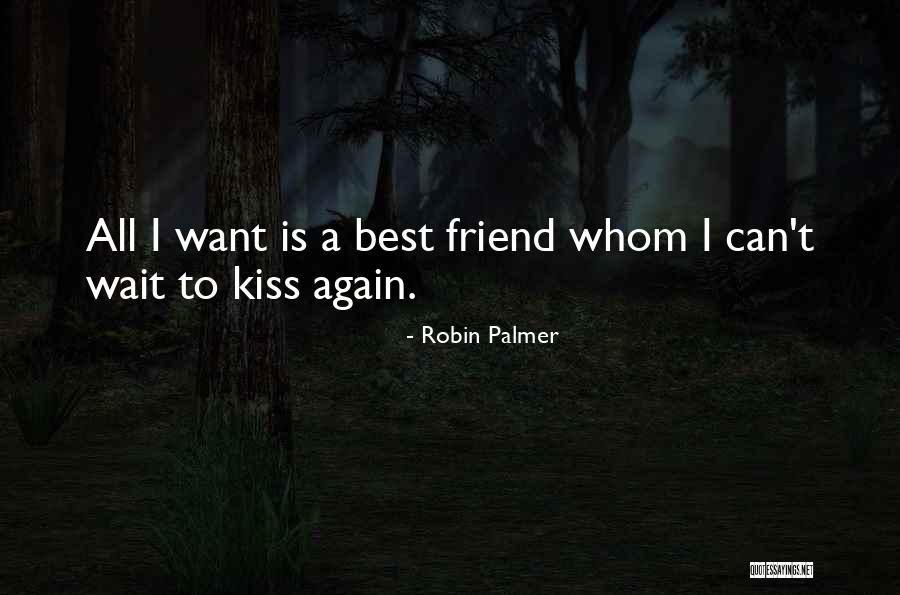 All I want is a best friend whom I can't wait to kiss again. — Robin Palmer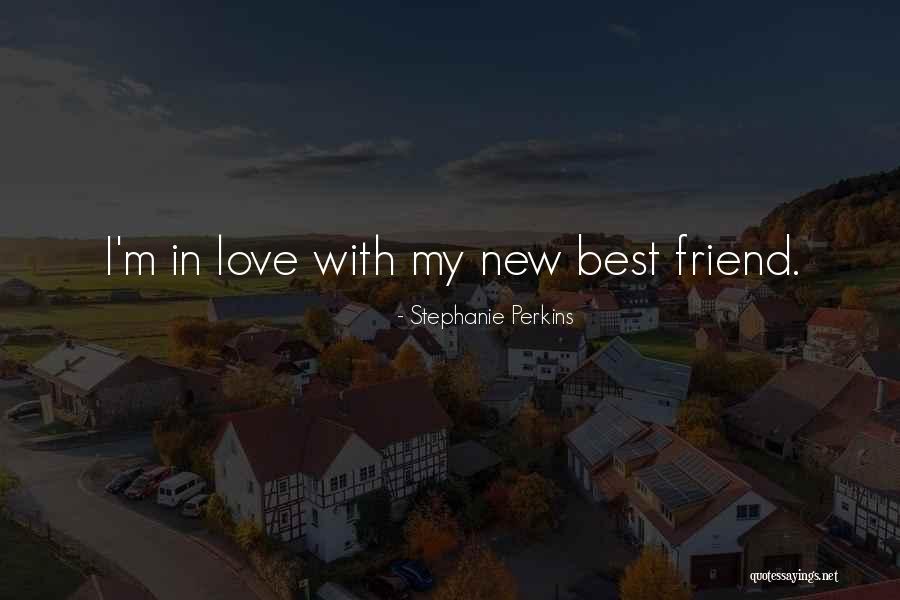 I'm in love with my new best friend. — Stephanie Perkins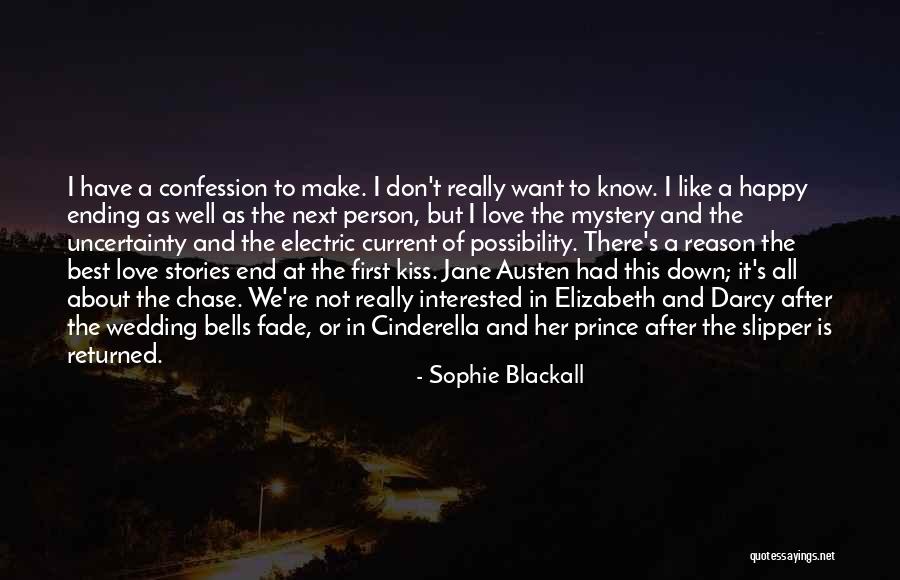 I have a confession to make. I don't really want to know. I like a happy ending as well as the next person, but I love the mystery and the uncertainty and the electric current of possibility. There's a reason the best love stories end at the first kiss. Jane Austen had this down; it's all about the chase. We're not really interested in Elizabeth and Darcy after the wedding bells fade, or in Cinderella and her prince after the slipper is returned. — Sophie Blackall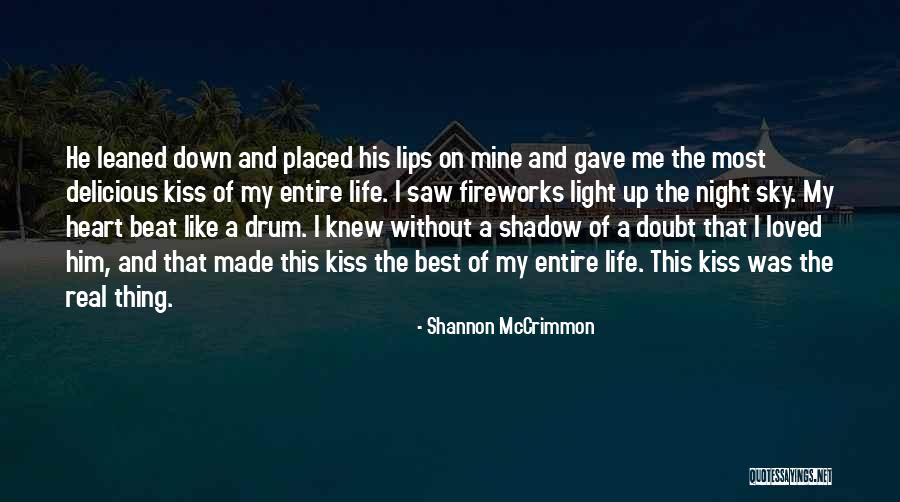 He leaned down and placed his lips on mine and gave me the most delicious kiss of my entire life. I saw fireworks light up the night sky. My heart beat like a drum. I knew without a shadow of a doubt that I loved him, and that made this kiss the best of my entire life. This kiss was the real thing. — Shannon McCrimmon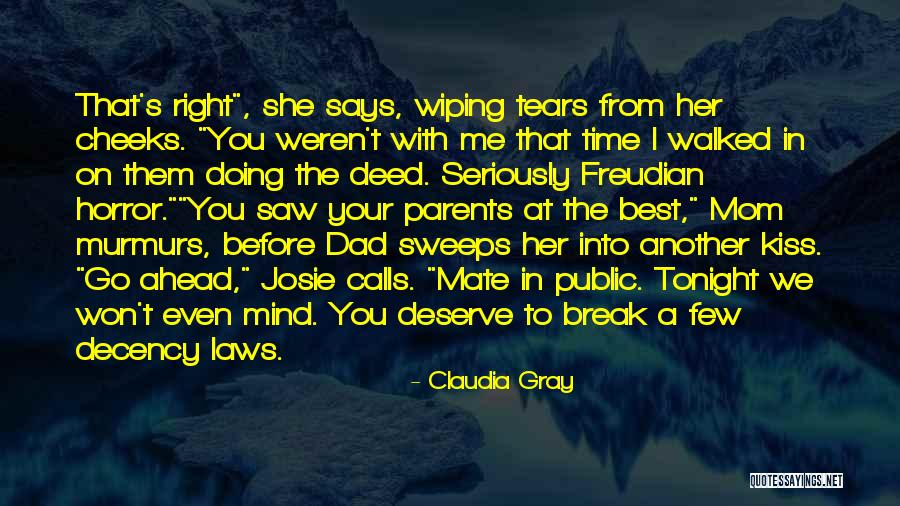 That's right", she says, wiping tears from her cheeks. "You weren't with me that time I walked in on them doing the deed. Seriously Freudian horror."
"You saw your parents at the best," Mom murmurs, before Dad sweeps her into another kiss.
"Go ahead," Josie calls. "Mate in public. Tonight we won't even mind. You deserve to break a few decency laws. — Claudia Gray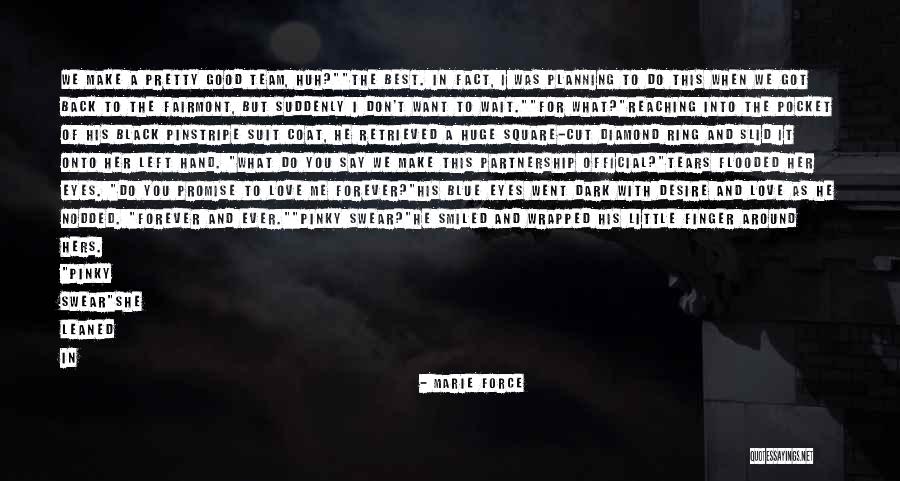 We make a pretty good team, huh?"
"The best. In fact, I was planning to do this when we got back to the Fairmont, but suddenly I don't want to wait."
"For what?"
Reaching into the pocket of his black pinstripe suit coat, he retrieved a huge square-cut diamond ring and slid it onto her left hand. "What do you say we make this partnership official?"
Tears flooded her eyes. "Do you promise to love me forever?"
His blue eyes went dark with desire and love as he nodded. "Forever and ever."
"Pinky swear?"
He smiled and wrapped his little finger around hers. "Pinky swear"
She leaned in to kiss him. "Then you've got yourself a deal. — Marie Force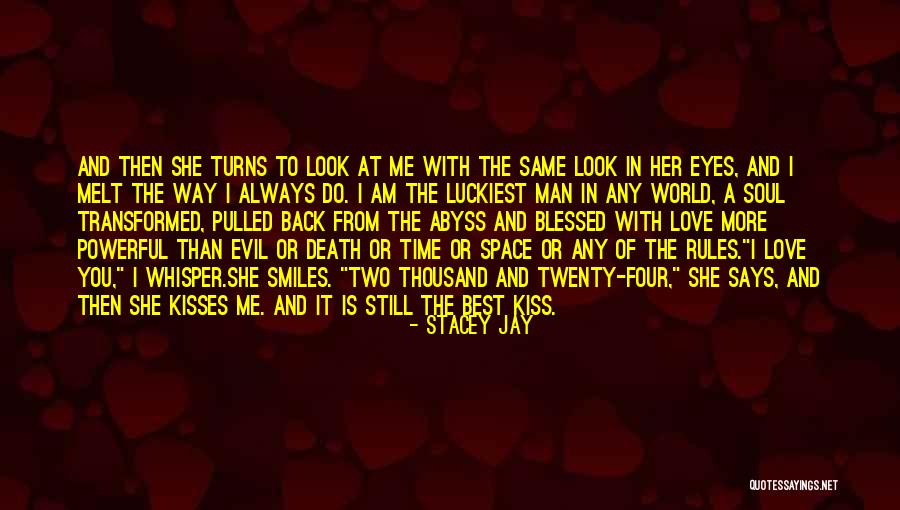 And then she turns to look at me with the same look in her eyes, and I melt the way I always do. I am the luckiest man in any world, a soul transformed, pulled back from the abyss and blessed with love more powerful than evil or death or time or space or any of the rules.
"I love you," I whisper.
She smiles. "Two thousand and twenty-four," she says, and then she kisses me. And it is still the best kiss. — Stacey Jay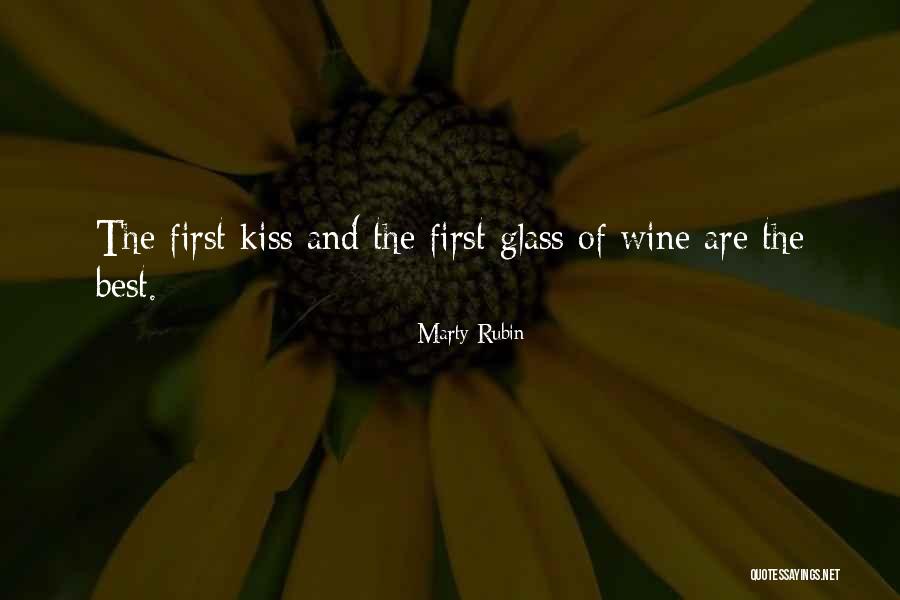 The first kiss and the first glass of wine are the best. — Marty Rubin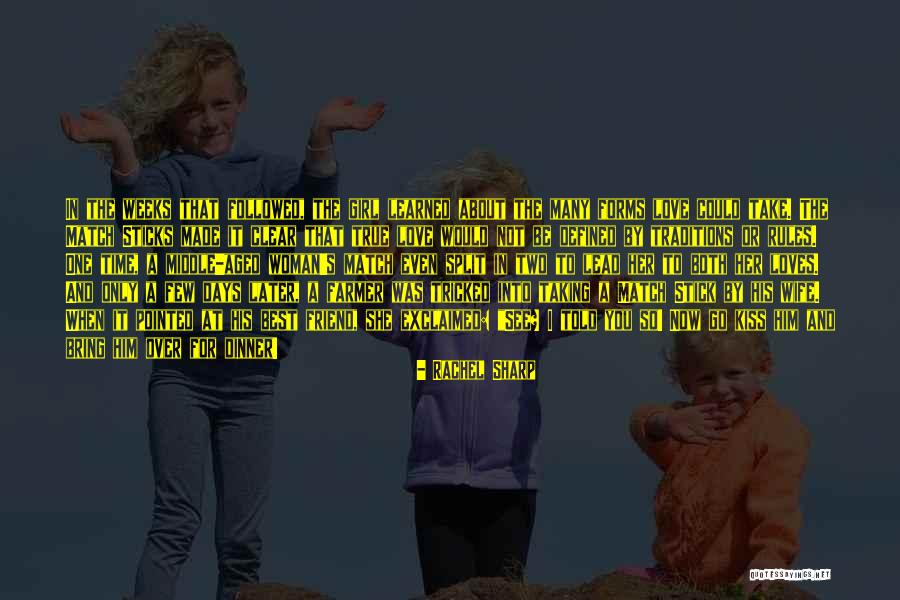 In the weeks that followed, the girl learned about the many forms love could take. The Match Sticks made it clear that true love would not be defined by traditions or rules. One time, a middle-aged woman's match even split in two to lead her to both her loves. And only a few days later, a farmer was tricked into taking a Match Stick by his wife. When it pointed at his best friend, she exclaimed: "See? I told you so! Now go kiss him and bring him over for dinner! — Rachel Sharp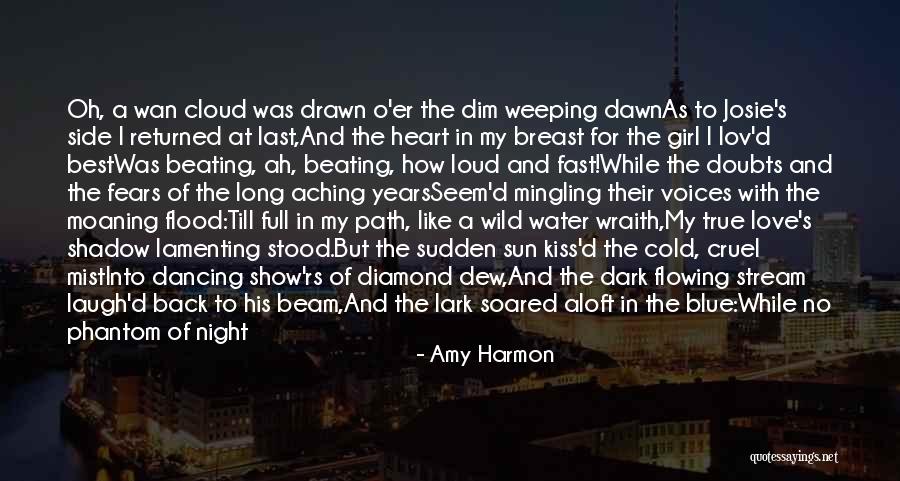 Oh, a wan cloud was drawn o'er the dim weeping dawn

As to Josie's side I returned at last,

And the heart in my breast for the girl I lov'd best

Was beating, ah, beating, how loud and fast!

While the doubts and the fears of the long aching years

Seem'd mingling their voices with the moaning flood:

Till full in my path, like a wild water wraith,

My true love's shadow lamenting stood.

But the sudden sun kiss'd the cold, cruel mist

Into dancing show'rs of diamond dew,

And the dark flowing stream laugh'd back to his beam,

And the lark soared aloft in the blue:

While no phantom of night but a form of delight

Ran with arms outspread to her darling boy,

And the girl I love best on my wild throbbing breast

Hid her thousand treasures with cry of joy. — Amy Harmon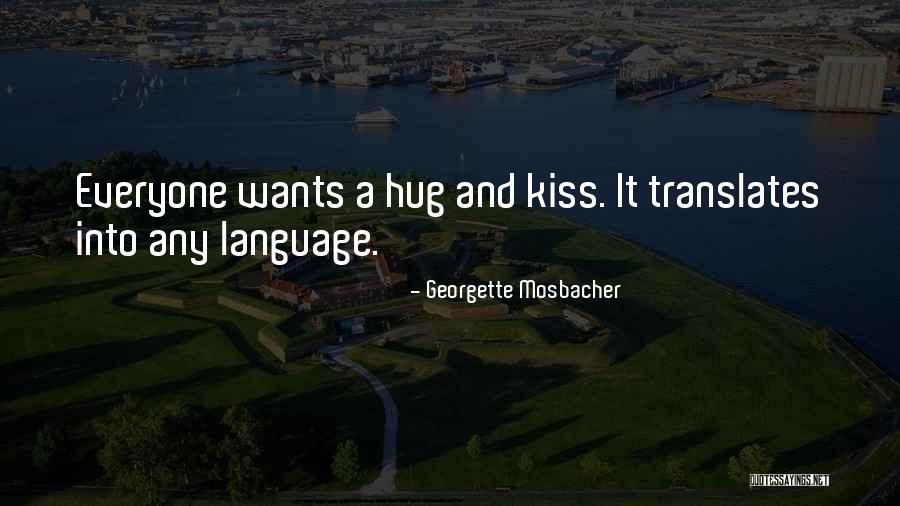 Everyone wants a hug and kiss. It translates into any language. — Georgette Mosbacher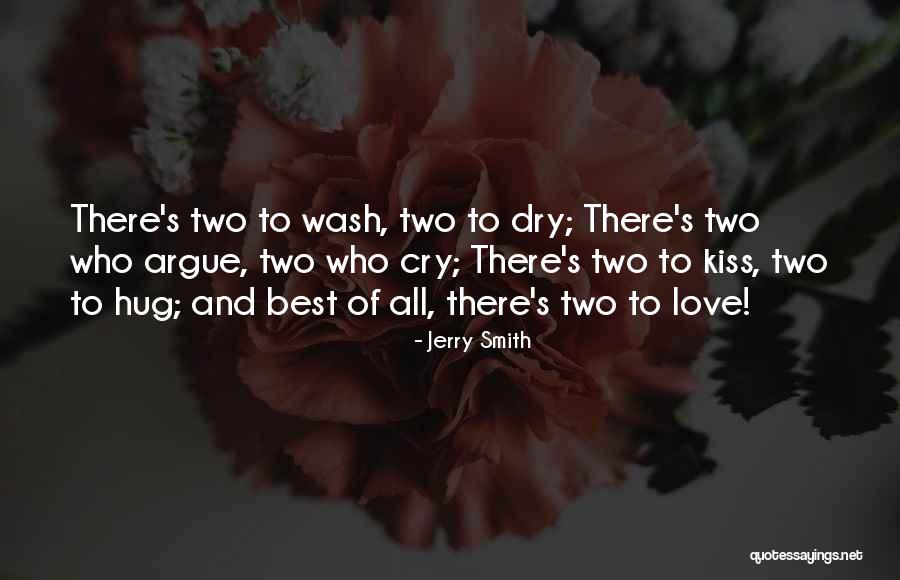 There's two to wash, two to dry; There's two who argue, two who cry; There's two to kiss, two to hug; and best of all, there's two to love! — Jerry Smith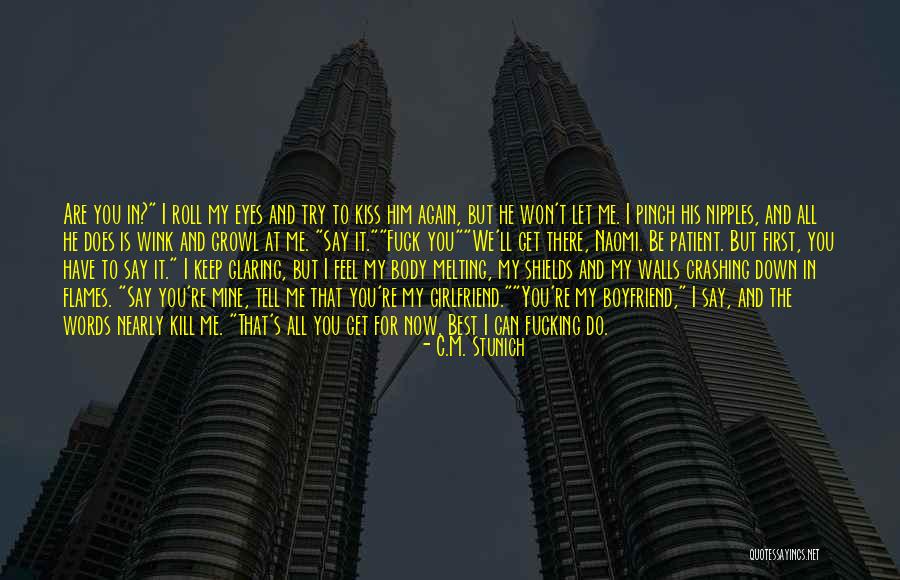 Are you in?" I roll my eyes and try to kiss him again, but he won't let me. I pinch his nipples, and all he does is wink and growl at me. "Say it."
"Fuck you"
"We'll get there, Naomi. Be patient. But first, you have to say it." I keep glaring, but I feel my body melting, my shields and my walls crashing down in flames. "Say you're mine, tell me that you're my girlfriend."
"You're my boyfriend," I say, and the words nearly kill me. "That's all you get for now. Best I can fucking do. — C.M. Stunich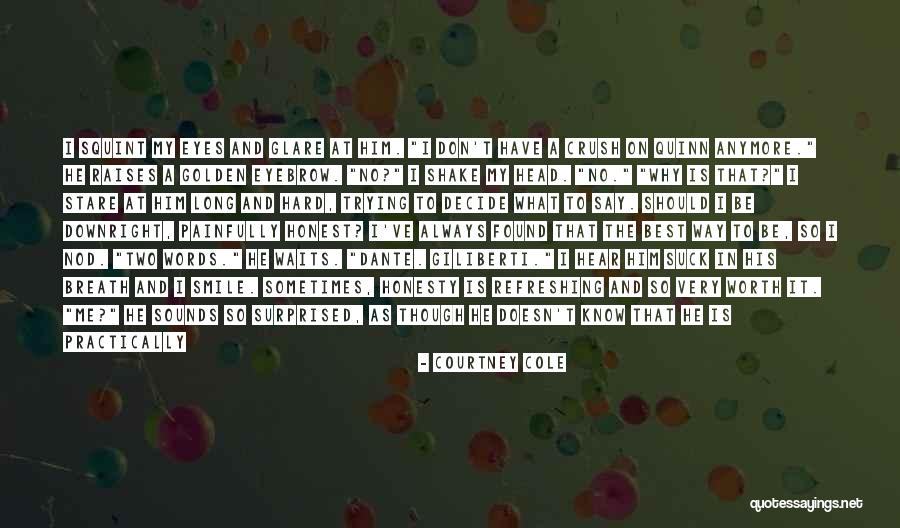 I squint my eyes and glare at him.
"I don't have a crush on Quinn anymore."
He raises a golden eyebrow.
"No?"
I shake my head. "No."
"Why is that?"
I stare at him long and hard, trying to decide what to say. Should I be downright, painfully honest? I've always found that the best way to be, so I nod.
"Two words."
He waits.
"Dante. Giliberti."
I hear him suck in his breath and I smile. Sometimes, honesty is refreshing and so very worth it.
"Me?" He sounds so surprised, as though he doesn't know that he is practically a living breathing Adonis. I nod.
"You."
He studies me again and I fight the need to fidget as I wait for his reaction.
After a minute of nerve-wracking silence, he finally answers.
"So, will you keep the bracelet?"
I nod.
"Can I kiss you again?"
I nod.
So he does. — Courtney Cole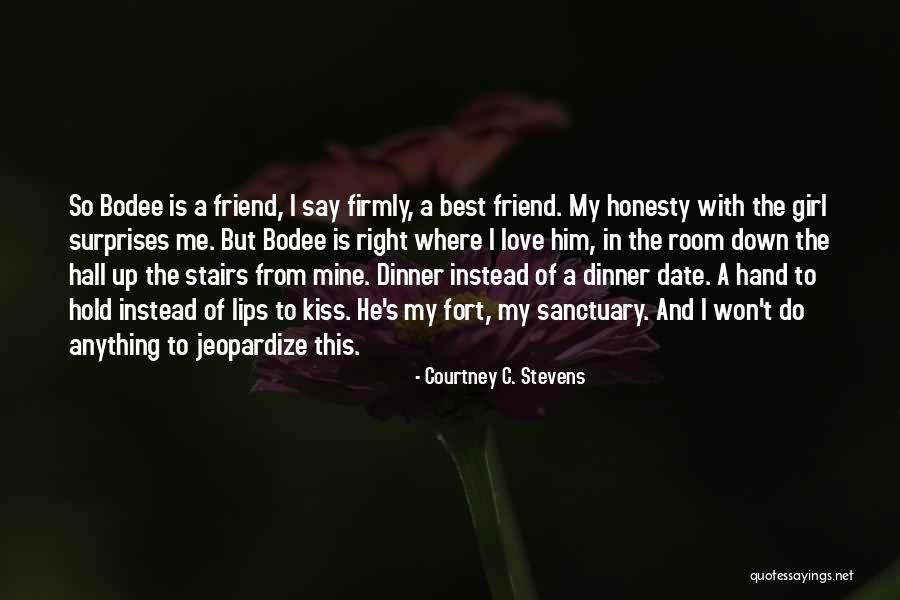 So Bodee is a friend, I say firmly, a best friend. My honesty with the girl surprises me. But Bodee is right where I love him, in the room down the hall up the stairs from mine. Dinner instead of a dinner date. A hand to hold instead of lips to kiss. He's my fort, my sanctuary. And I won't do anything to jeopardize this. — Courtney C. Stevens
Cities, in many ways, are the best repositories for a love affair. You are in a forest or a cornfield, you are walking by the seashore, footprint after footprint of trodden sand, and somehow the kiss or the spoken covenant gets lost in the vastness and indifference of nature. In a city there are places to remind us of what has been. — Edna O'Brien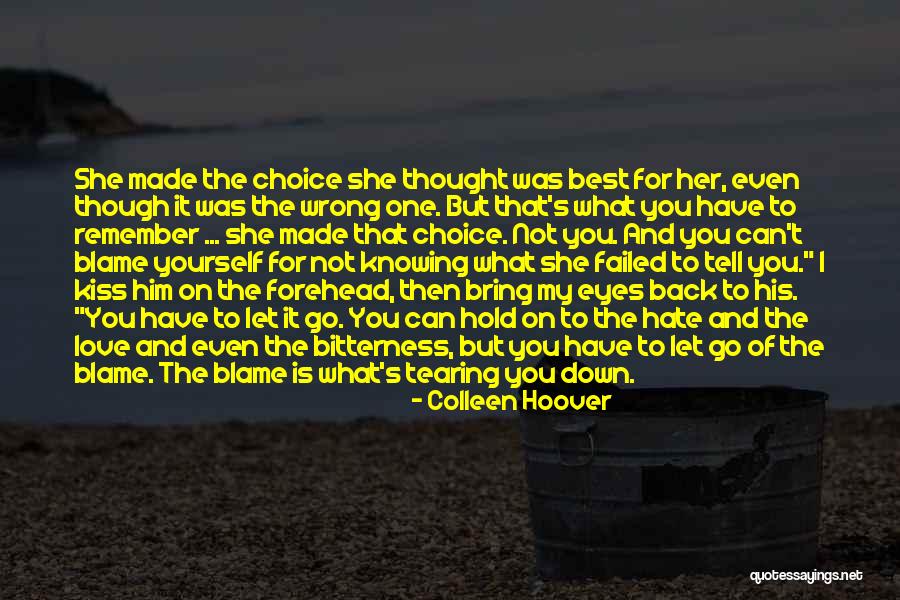 She made the choice she thought was best for her, even though it was the wrong one. But that's what you have to remember ... she made that choice. Not you. And you can't blame yourself for not knowing what she failed to tell you." I kiss him on the forehead, then bring my eyes back to his. "You have to let it go. You can hold on to the hate and the love and even the bitterness, but you have to let go of the blame. The blame is what's tearing you down. — Colleen Hoover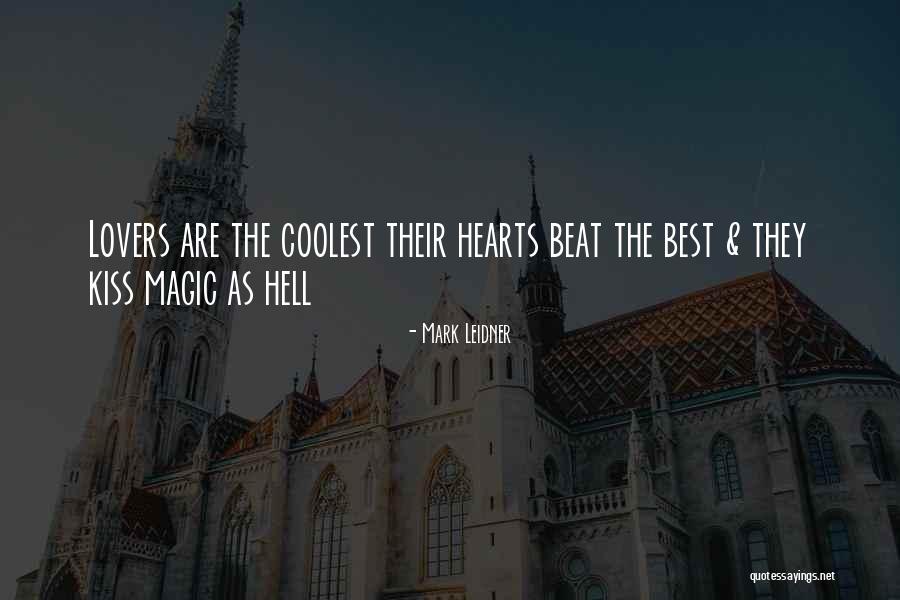 Lovers are the coolest their hearts beat the best & they kiss magic as hell — Mark Leidner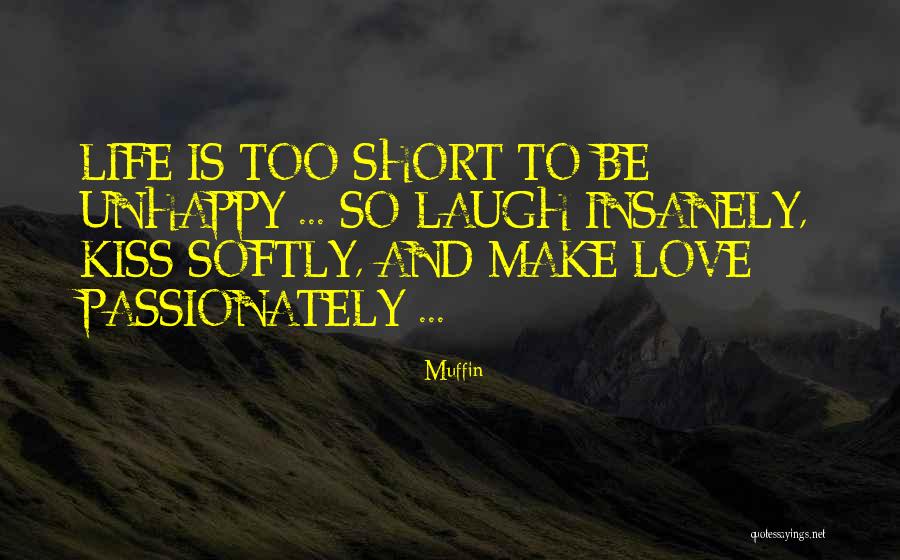 LIFE IS TOO SHORT TO BE UNHAPPY ... SO LAUGH INSANELY, KISS SOFTLY, AND MAKE LOVE PASSIONATELY ... — Muffin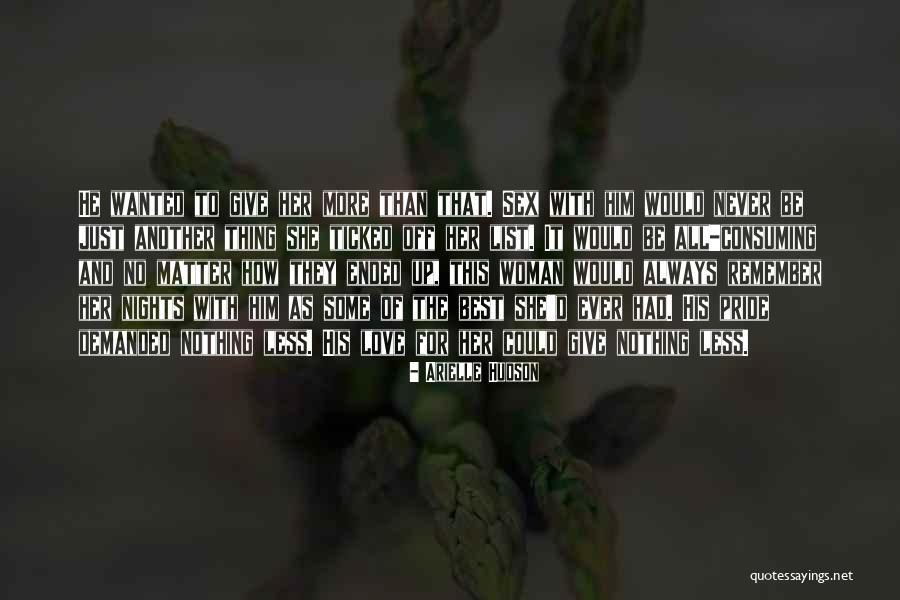 He wanted to give her more than that. Sex with him would never be just another thing she ticked off her list. It would be all-consuming and no matter how they ended up, this woman would always remember her nights with him as some of the best she'd ever had. His pride demanded nothing less. His love for her could give nothing less. — Arielle Hudson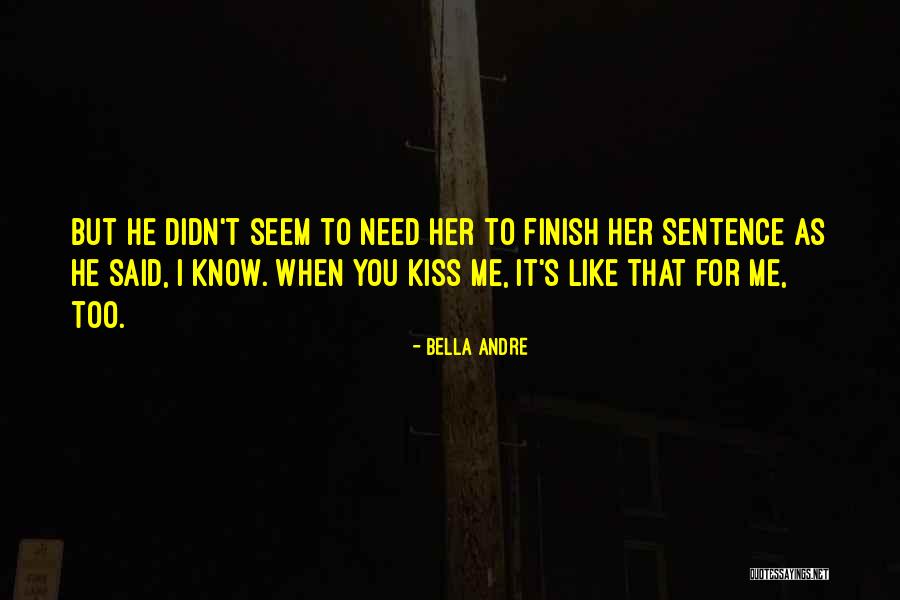 But he didn't seem to need her to finish her sentence as he said, I know. When you kiss me, it's like that for me, too. — Bella Andre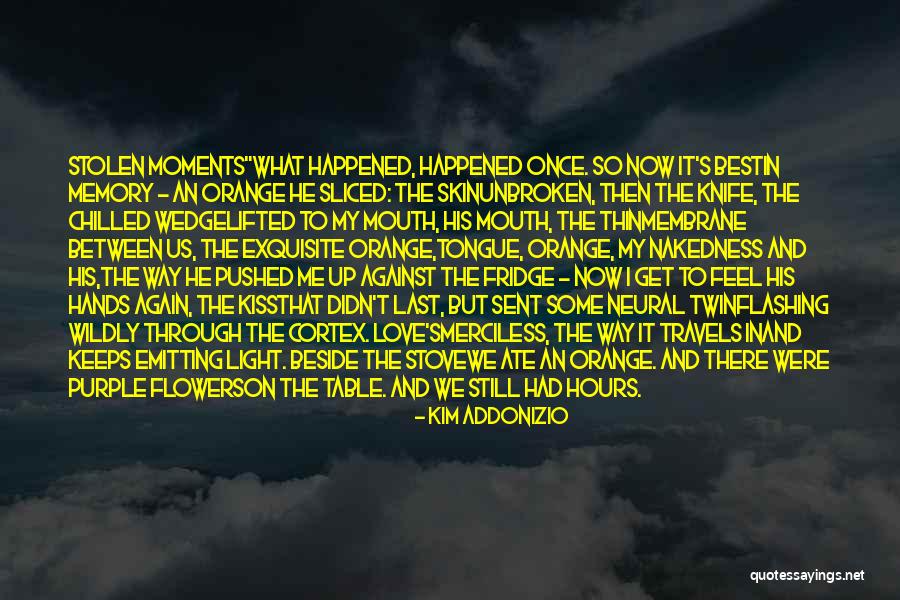 Stolen Moments"

What happened, happened once. So now it's best
in memory - an orange he sliced: the skin
unbroken, then the knife, the chilled wedge
lifted to my mouth, his mouth, the thin
membrane between us, the exquisite orange,
tongue, orange, my nakedness and his,
the way he pushed me up against the fridge -
Now I get to feel his hands again, the kiss
that didn't last, but sent some neural twin
flashing wildly through the cortex. Love's
merciless, the way it travels in
and keeps emitting light. Beside the stove
we ate an orange. And there were purple flowers
on the table. And we still had hours. — Kim Addonizio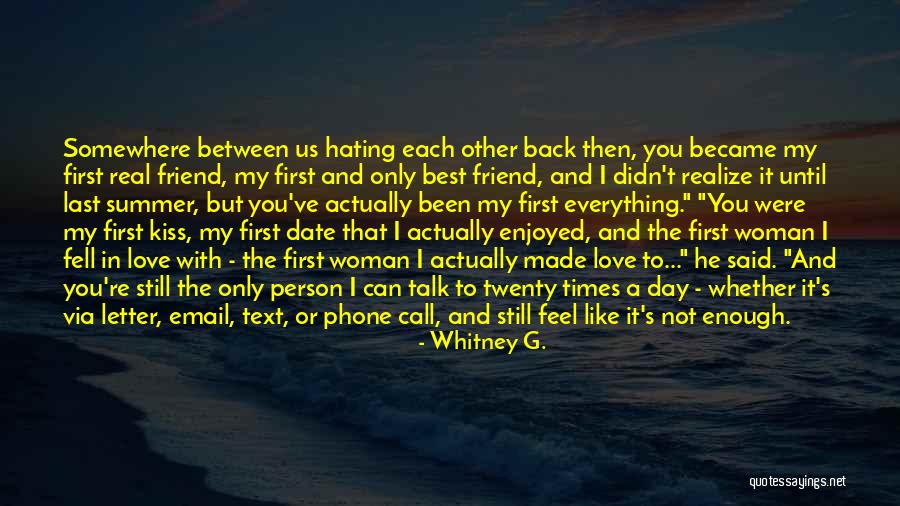 Somewhere between us hating each other back then, you became my first real friend, my first and only best friend, and I didn't realize it until last summer, but you've actually been my first everything." "You were my first kiss, my first date that I actually enjoyed, and the first woman I fell in love with - the first woman I actually made love to..." he said. "And you're still the only person I can talk to twenty times a day - whether it's via letter, email, text, or phone call, and still feel like it's not enough. — Whitney G.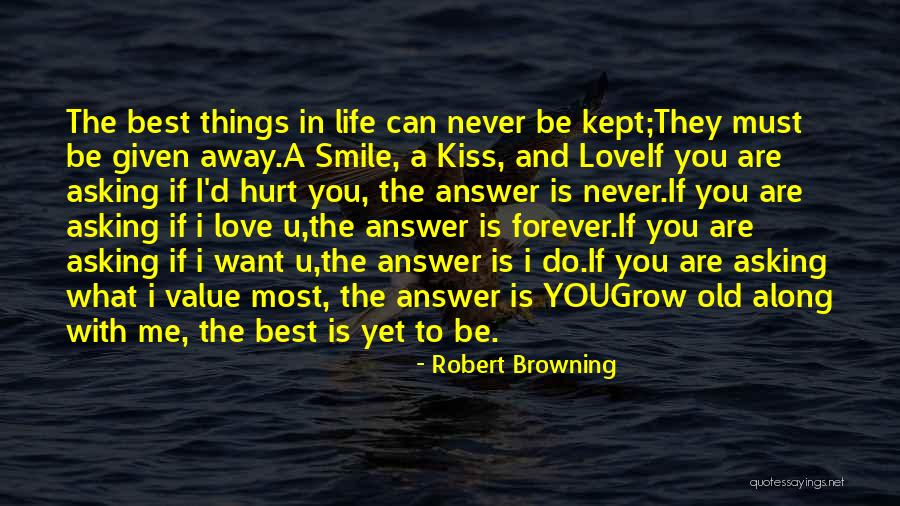 The best things in life can never be kept;
They must be given away.
A Smile, a Kiss, and Love
If you are asking if I'd hurt you, the answer is never.
If you are asking if i love u,the answer is forever.
If you are asking if i want u,the answer is i do.
If you are asking what i value most, the answer is YOU
Grow old along with me, the best is yet to be. — Robert Browning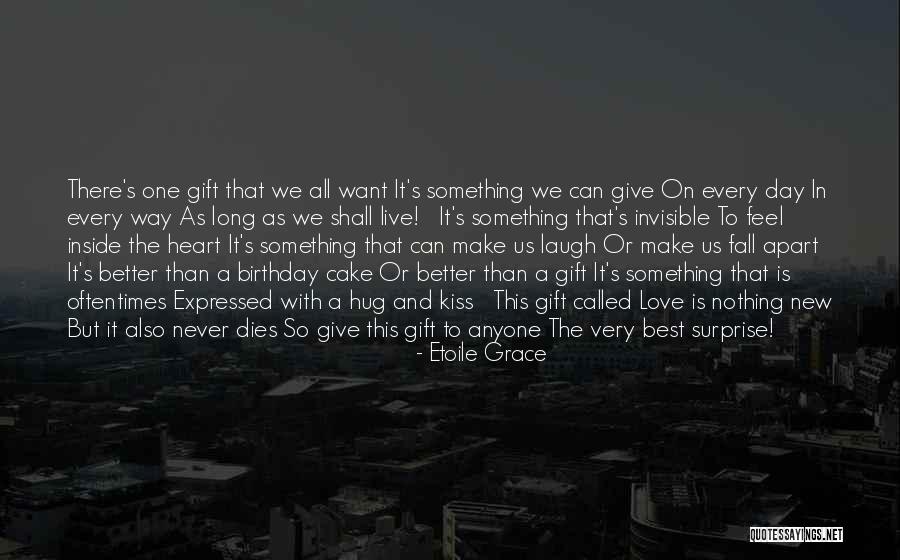 There's one gift that we all want It's something we can give On every day In every way As long as we shall live! It's something that's invisible To feel inside the heart It's something that can make us laugh Or make us fall apart It's better than a birthday cake Or better than a gift It's something that is oftentimes Expressed with a hug and kiss This gift called Love is nothing new But it also never dies So give this gift to anyone The very best surprise! — Etoile Grace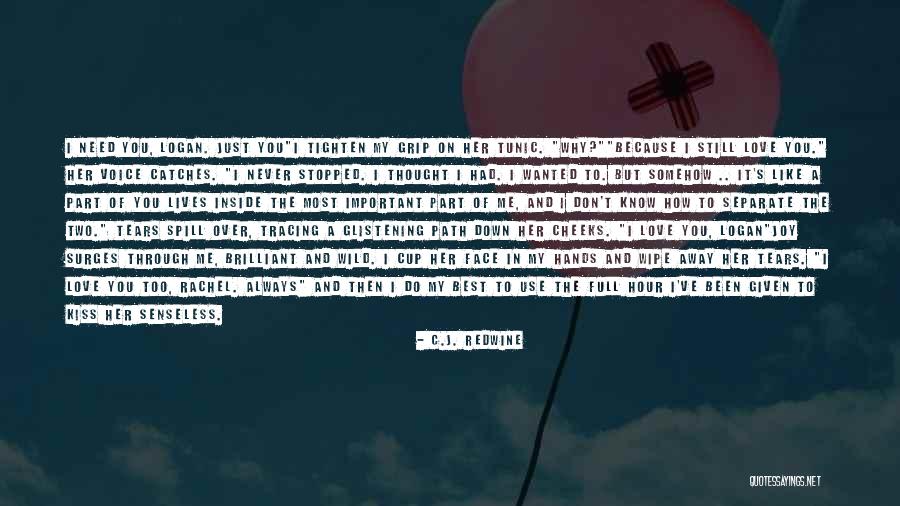 I need you, Logan. Just you"
I tighten my grip on her tunic. "Why?"
"Because I still love you." Her voice catches. "I never stopped. I thought I had. I wanted to. But somehow .. it's like a part of you lives inside the most important part of me, and I don't know how to separate the two." Tears spill over, tracing a glistening path down her cheeks. "I love you, Logan"
Joy surges through me, brilliant and wild. I cup her face in my hands and wipe away her tears. "I love you too, Rachel. Always" And then I do my best to use the full hour I've been given to kiss her senseless. — C.J. Redwine
Advisory: If your husband catches an ebolavirus, give him food and water and love and maybe prayers but keep your distance, wait patiently, hope for the best-- and, if he dies, don't clean out his bowels by hand. Better to step back, blow a kiss, and burn the hut. — David Quammen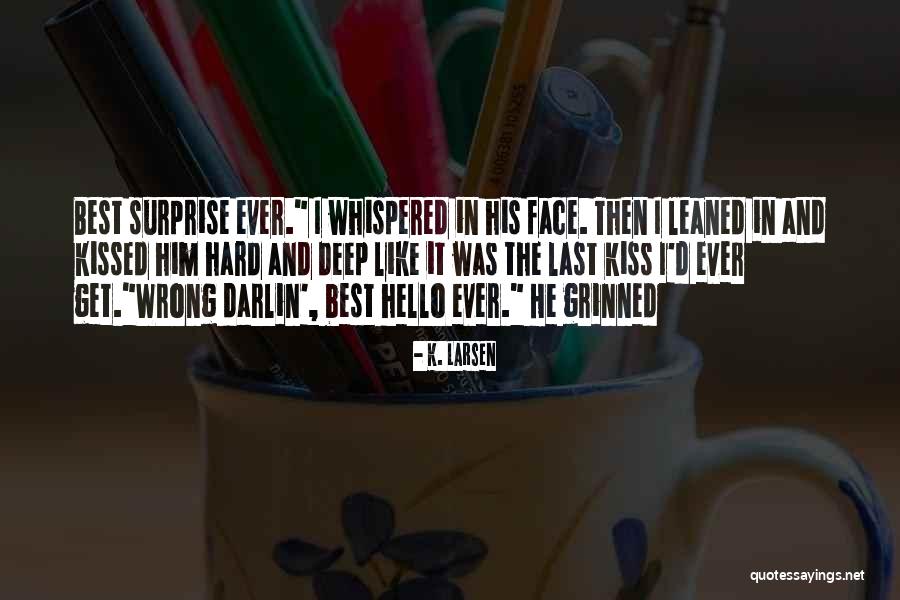 Best surprise ever." I whispered in his face. Then I leaned in and kissed him hard and deep like it was the last kiss I'd ever get.
"Wrong darlin', best hello ever." He grinned — K. Larsen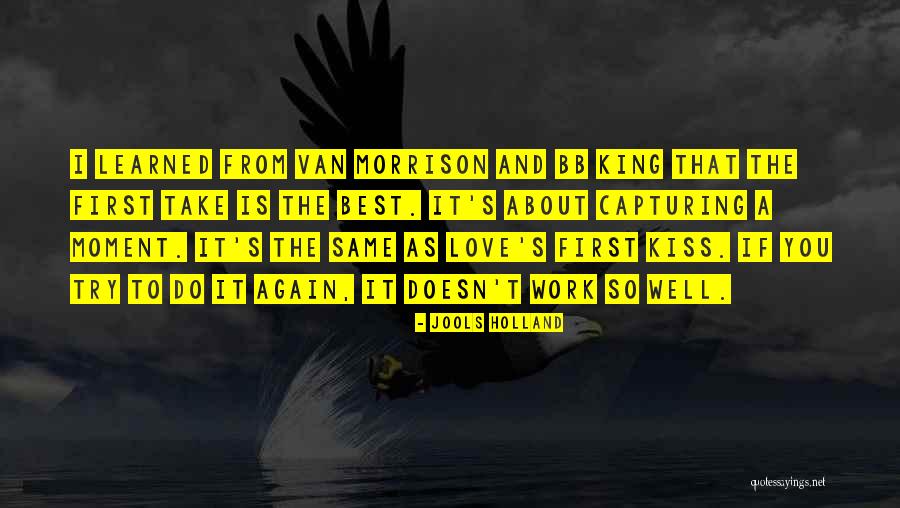 I learned from Van Morrison and BB King that the first take is the best. It's about capturing a moment. It's the same as love's first kiss. If you try to do it again, it doesn't work so well. — Jools Holland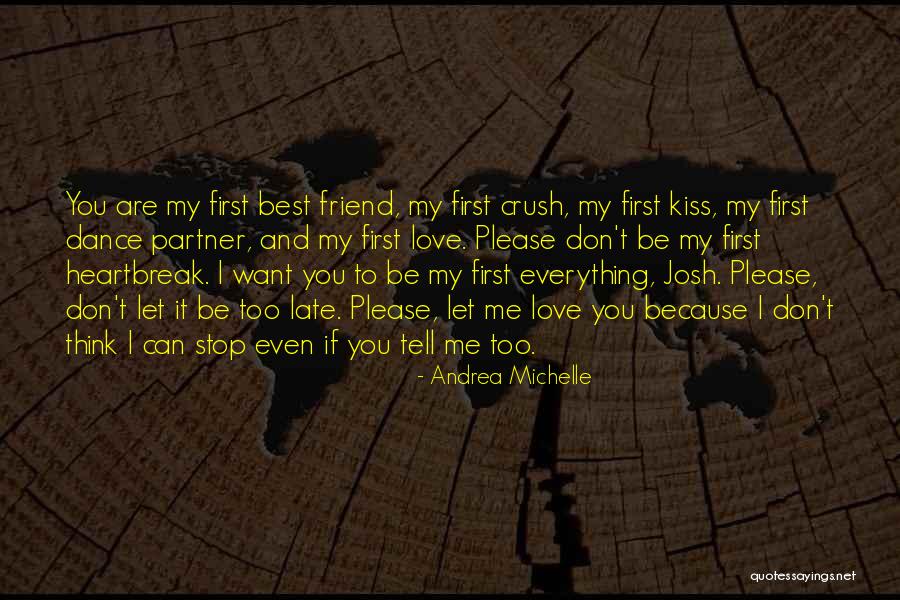 You are my first best friend, my first crush, my first kiss, my first dance partner, and my first love. Please don't be my first heartbreak. I want you to be my first everything, Josh. Please, don't let it be too late. Please, let me love you because I don't think I can stop even if you tell me too. — Andrea Michelle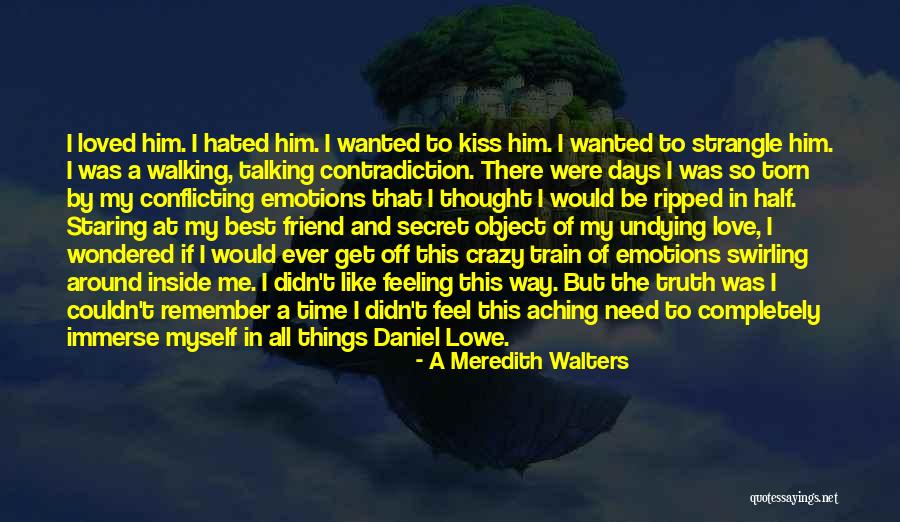 I loved him. I hated him. I wanted to kiss him. I wanted to strangle him. I was a walking, talking contradiction. There were days I was so torn by my conflicting emotions that I thought I would be ripped in half. Staring at my best friend and secret object of my undying love, I wondered if I would ever get off this crazy train of emotions swirling around inside me. I didn't like feeling this way. But the truth was I couldn't remember a time I didn't feel this aching need to completely immerse myself in all things Daniel Lowe. — A Meredith Walters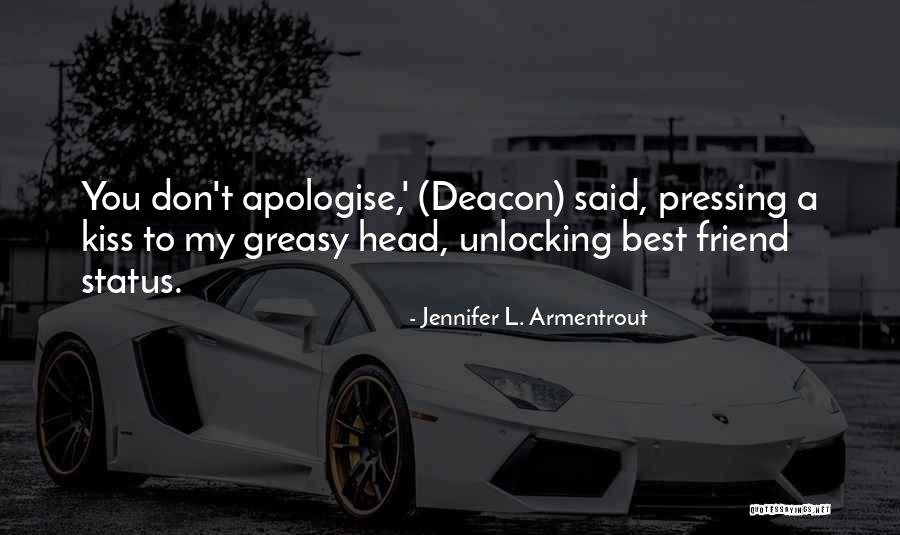 You don't apologise,' (Deacon) said, pressing a kiss to my greasy head, unlocking best friend status. — Jennifer L. Armentrout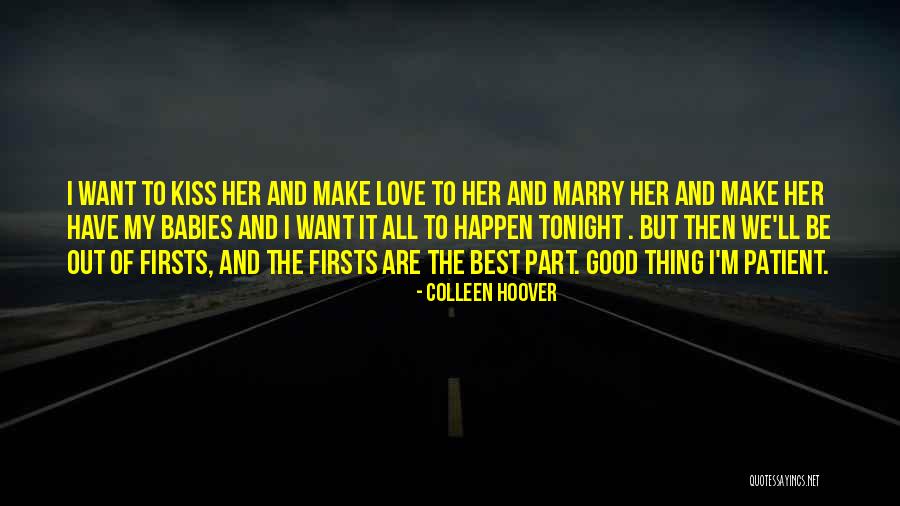 I want to kiss her and make love to her and marry her and make her have my babies and I want it all to happen tonight . But then we'll be out of firsts, and the firsts are the best part. Good thing I'm patient. — Colleen Hoover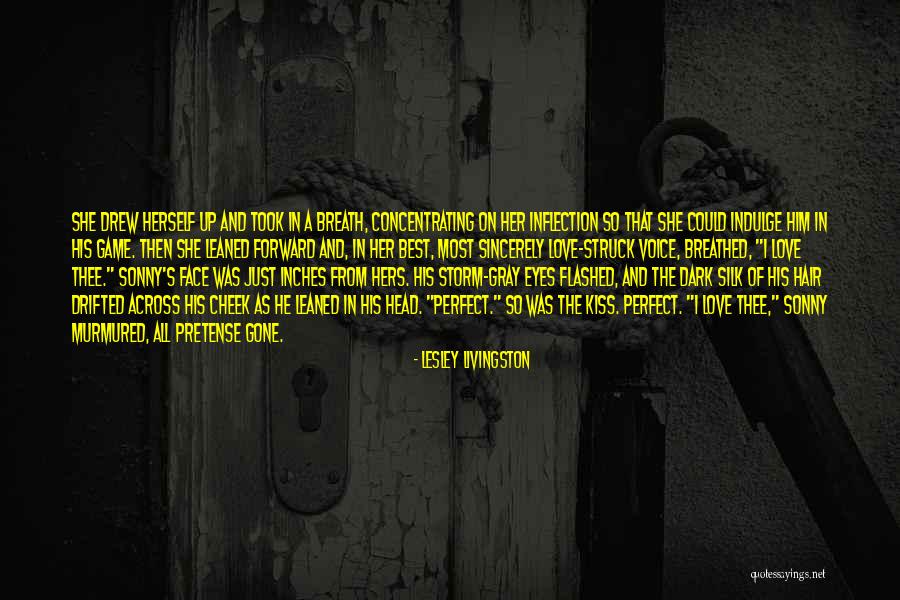 She drew herself up and took in a breath, concentrating on her inflection so that she could indulge him in his game. Then she leaned forward and, in her best, most sincerely love-struck voice, breathed, "I love thee."
Sonny's face was just inches from hers. His storm-gray eyes flashed, and the dark silk of his hair drifted across his cheek as he leaned in his head. "Perfect."
So was the kiss.
Perfect.
"I love thee," Sonny murmured, all pretense gone. — Lesley Livingston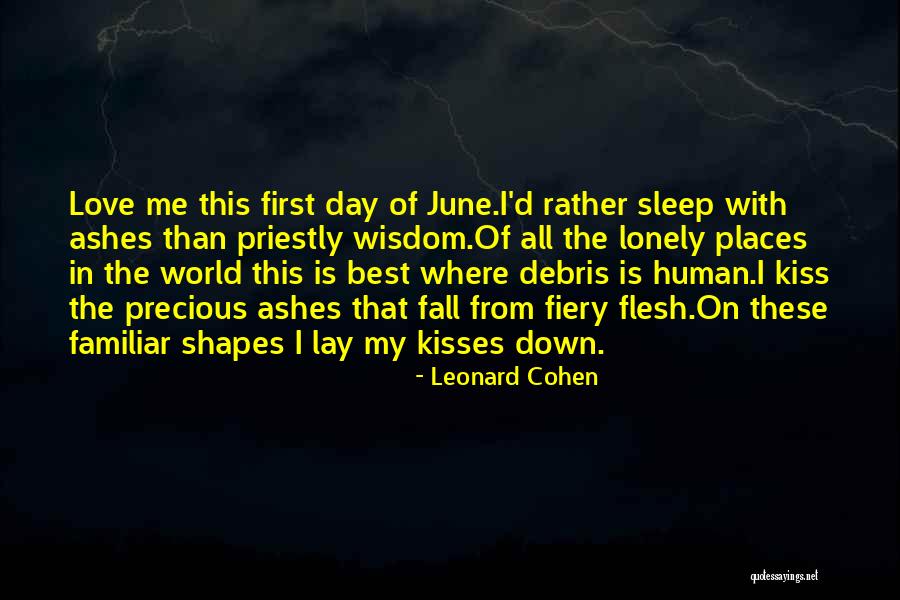 Love me this first day of June.
I'd rather sleep with ashes than priestly wisdom.
Of all the lonely places in the world this is best where debris is human.
I kiss the precious ashes that fall from fiery flesh.
On these familiar shapes I lay my kisses down. — Leonard Cohen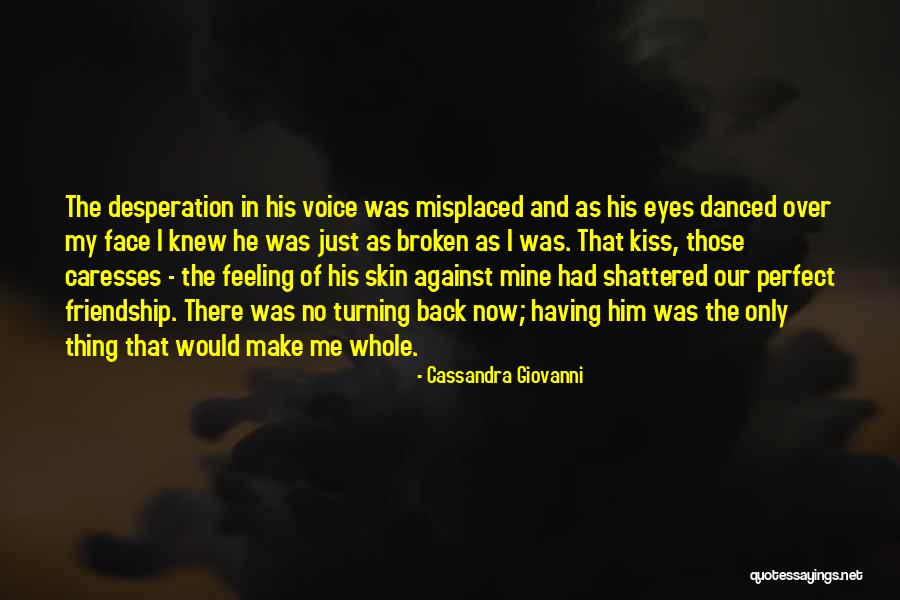 The desperation in his voice was misplaced and as his eyes danced over my face I knew he was just as broken as I was. That kiss, those caresses - the feeling of his skin against mine had shattered our perfect friendship. There was no turning back now; having him was the only thing that would make me whole. — Cassandra Giovanni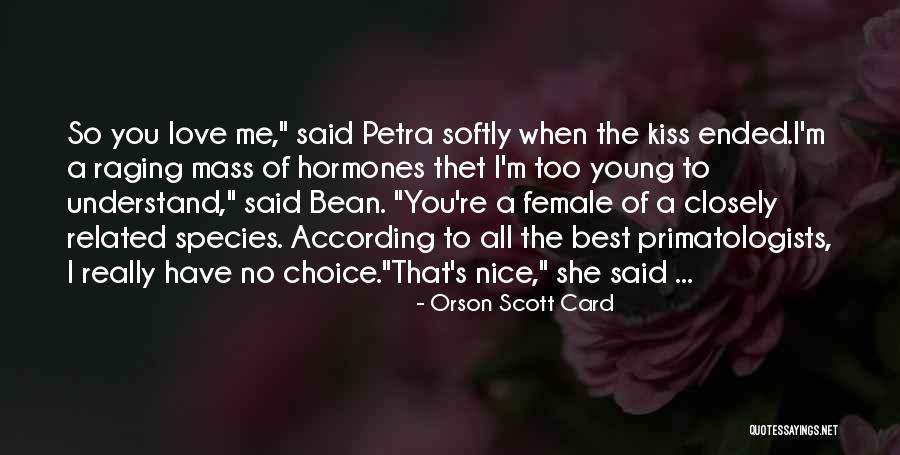 So you love me," said Petra softly when the kiss ended.
I'm a raging mass of hormones thet I'm too young to understand," said Bean. "You're a female of a closely related species. According to all the best primatologists, I really have no choice."
That's nice," she said ... — Orson Scott Card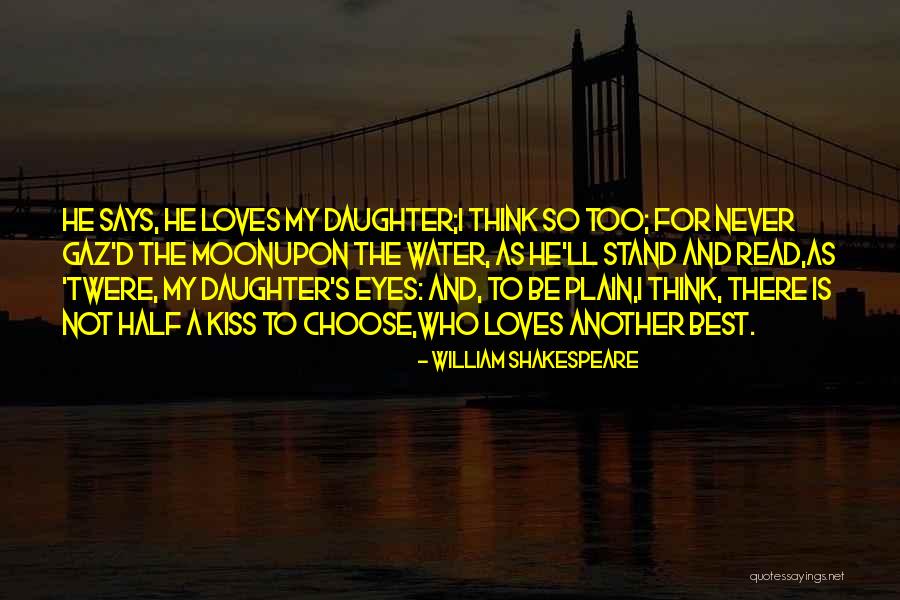 He says, he loves my daughter;
I think so too; for never gaz'd the moon
Upon the water, as he'll stand and read,
As 'twere, my daughter's eyes: and, to be plain,
I think, there is not half a kiss to choose,
Who loves another best. — William Shakespeare