Adam Eve Apple Quotes & Sayings
Enjoy reading and share 35 famous quotes about Adam Eve Apple with everyone.
Top Adam Eve Apple Quotes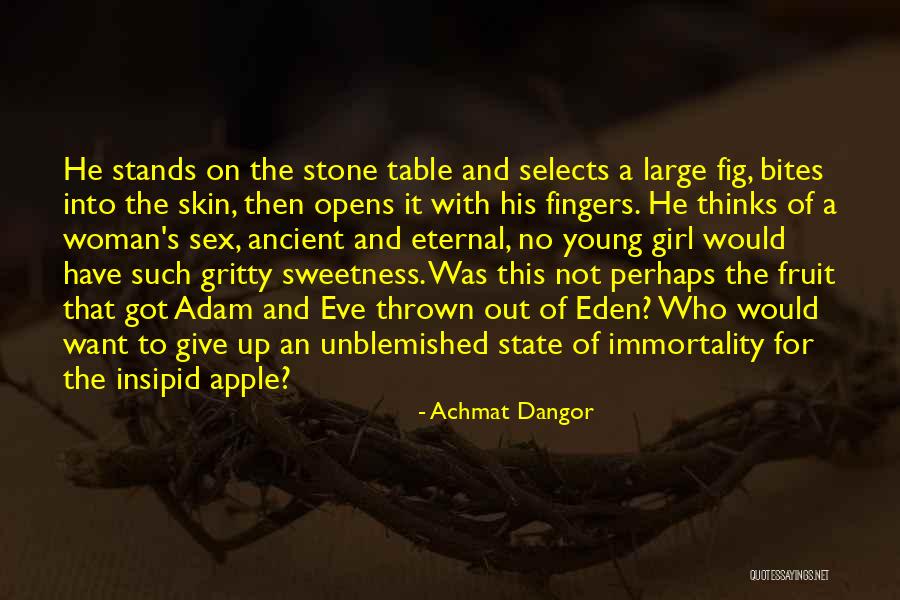 He stands on the stone table and selects a large fig, bites into the skin, then opens it with his fingers. He thinks of a woman's sex, ancient and eternal, no young girl would have such gritty sweetness. Was this not perhaps the fruit that got Adam and Eve thrown out of Eden? Who would want to give up an unblemished state of immortality for the insipid apple? — Achmat Dangor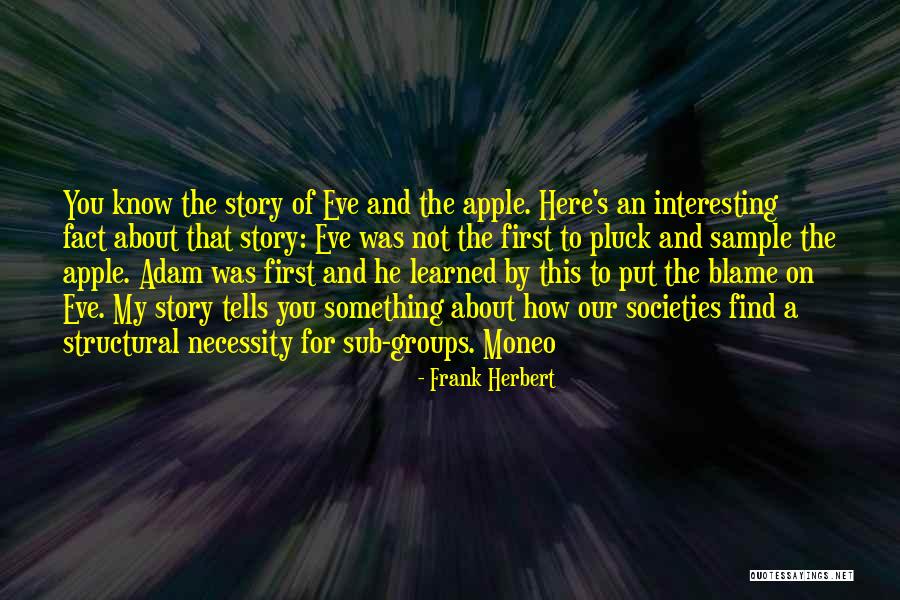 You know the story of Eve and the apple. Here's an interesting fact about that story: Eve was not the first to pluck and sample the apple. Adam was first and he learned by this to put the blame on Eve. My story tells you something about how our societies find a structural necessity for sub-groups. Moneo — Frank Herbert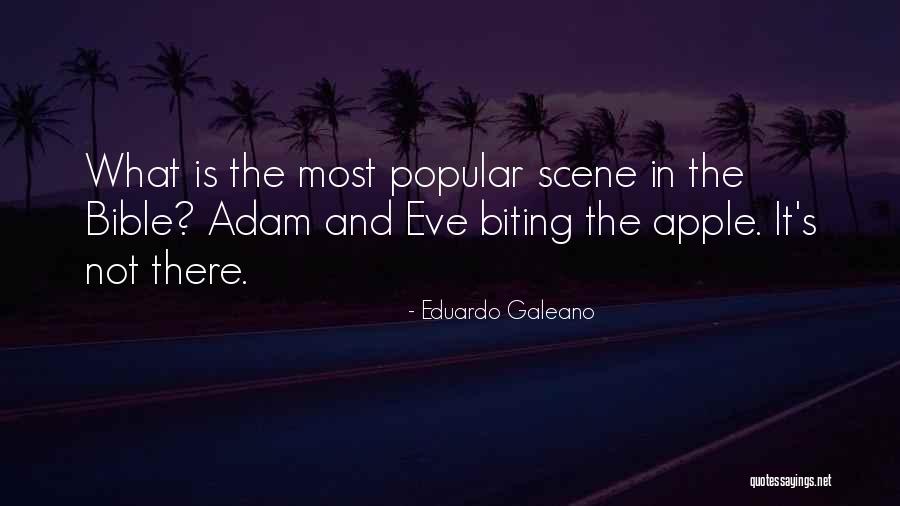 What is the most popular scene in the Bible? Adam and Eve biting the apple. It's not there. — Eduardo Galeano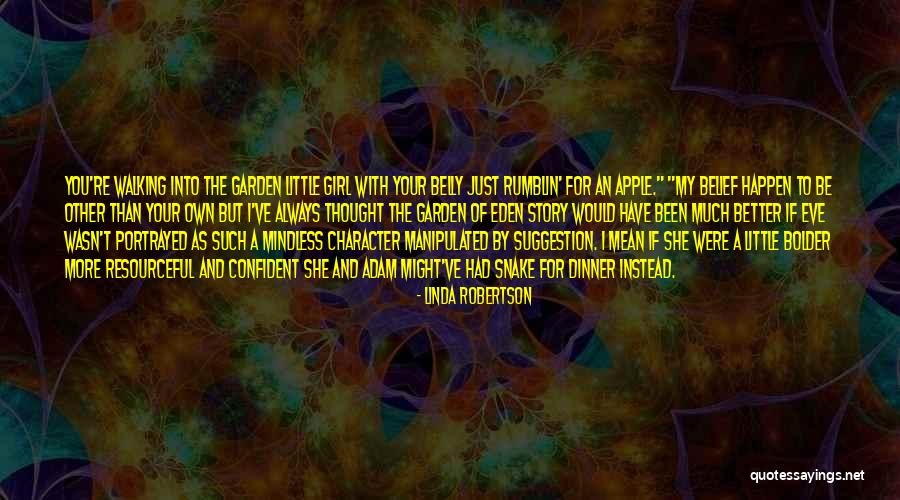 You're walking into the garden little girl with your belly just rumblin' for an apple."
"My belief happen to be other than your own but I've always thought the Garden of Eden story would have been much better if Eve wasn't portrayed as such a mindless character manipulated by suggestion. I mean if she were a little bolder more resourceful and confident she and Adam might've had snake for dinner instead. — Linda Robertson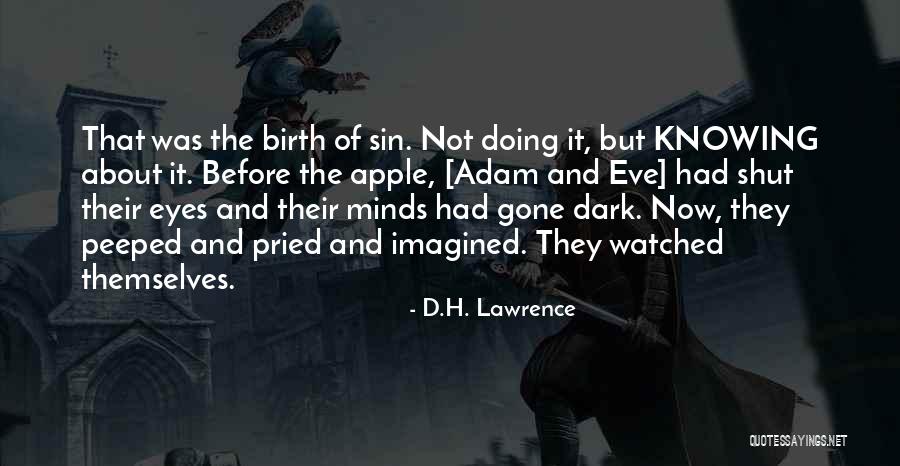 That was the birth of sin. Not doing it, but KNOWING about it. Before the apple, [Adam and Eve] had shut their eyes and their minds had gone dark. Now, they peeped and pried and imagined. They watched themselves. — D.H. Lawrence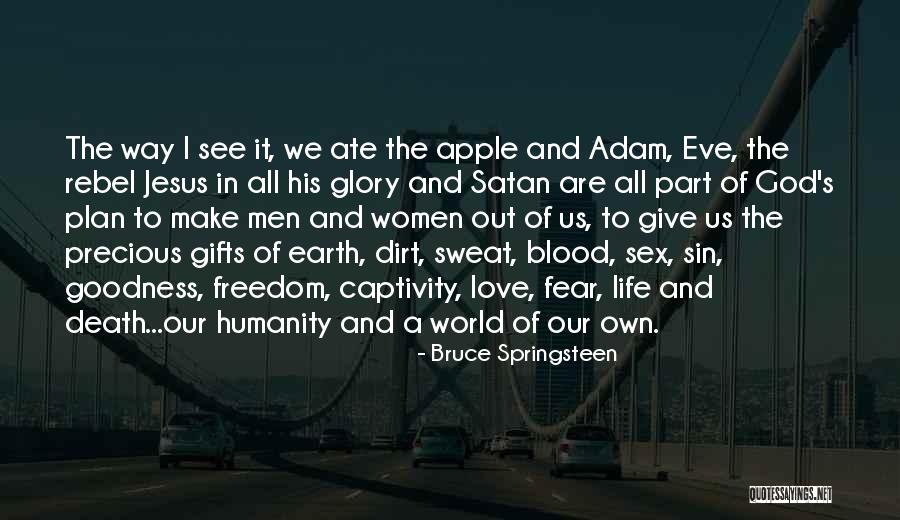 The way I see it, we ate the apple and Adam, Eve, the rebel Jesus in all his glory and Satan are all part of God's plan to make men and women out of us, to give us the precious gifts of earth, dirt, sweat, blood, sex, sin, goodness, freedom, captivity, love, fear, life and death...our humanity and a world of our own. — Bruce Springsteen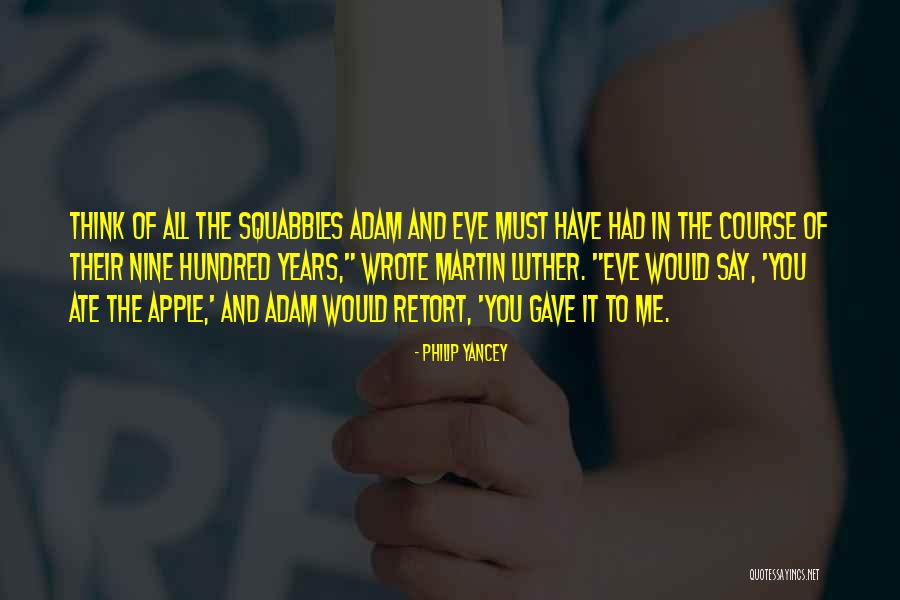 Think of all the squabbles Adam and Eve must have had in the course of their nine hundred years," wrote Martin Luther. "Eve would say, 'You ate the apple,' and Adam would retort, 'You gave it to me. — Philip Yancey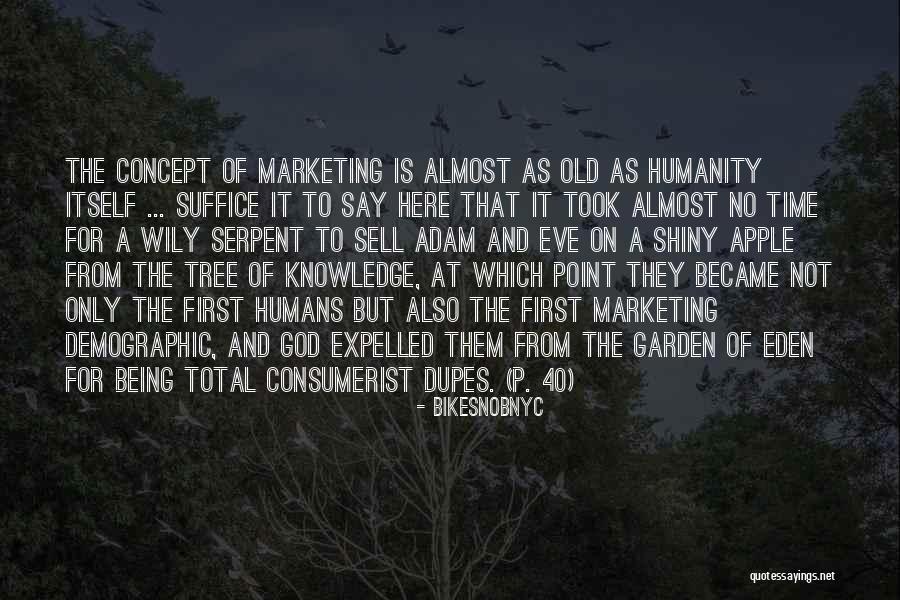 The concept of marketing is almost as old as humanity itself ... suffice it to say here that it took almost no time for a wily serpent to sell Adam and Eve on a shiny apple from the Tree of Knowledge, at which point they became not only the first humans but also the first marketing demographic, and God expelled them from the Garden of Eden for being total consumerist dupes. (p. 40) — BikeSnobNYC
Satan," he said, "couldn't undo anything God had done. She could at least try to make existence for His little toys less painful. She could see what He couldn't: To be alive was to be either bored or scared stiff. So she filled an apple with all sorts of ideas that might at least relieve the boredom, such as rules for games with cards and dice, and how to fuck, and recipes for beer and wine and whiskey, and pictures of different plants that were smokeable, and so on. And instructions on how to make music and sing and dance real crazy, real sexy. And how to spout blasphemy when they stubbed their toes.
"Satan had a serpent give Eve the apple. Eve took a bite and handed it to Adam. Hee took a bite, and then they fucked. — Kurt Vonnegut Jr.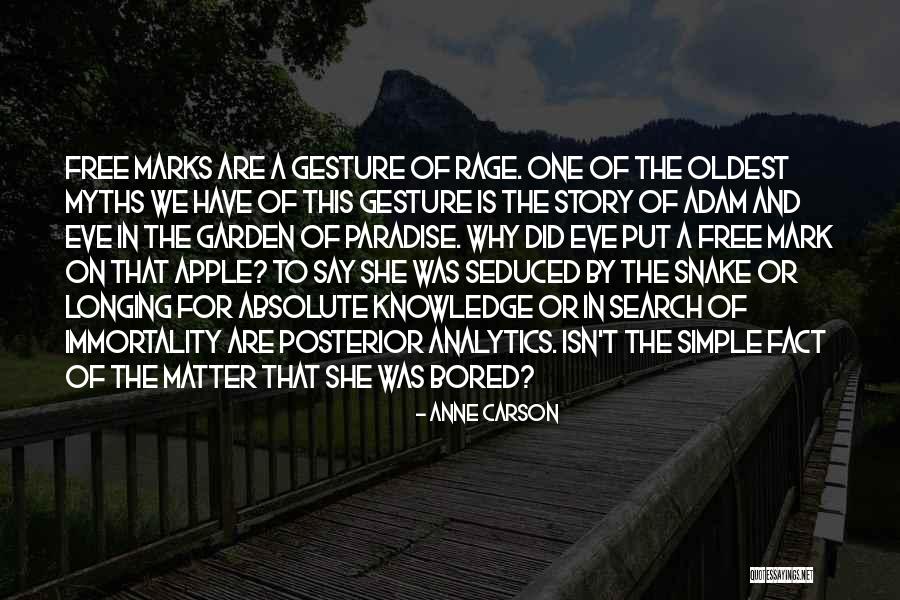 Free marks are a gesture of rage. One of the oldest myths we have of this gesture is the story of Adam and Eve in the garden of paradise. Why did Eve put a free mark on that apple? To say she was seduced by the snake or longing for absolute knowledge or in search of immortality are posterior analytics. Isn't the simple fact of the matter that she was bored? — Anne Carson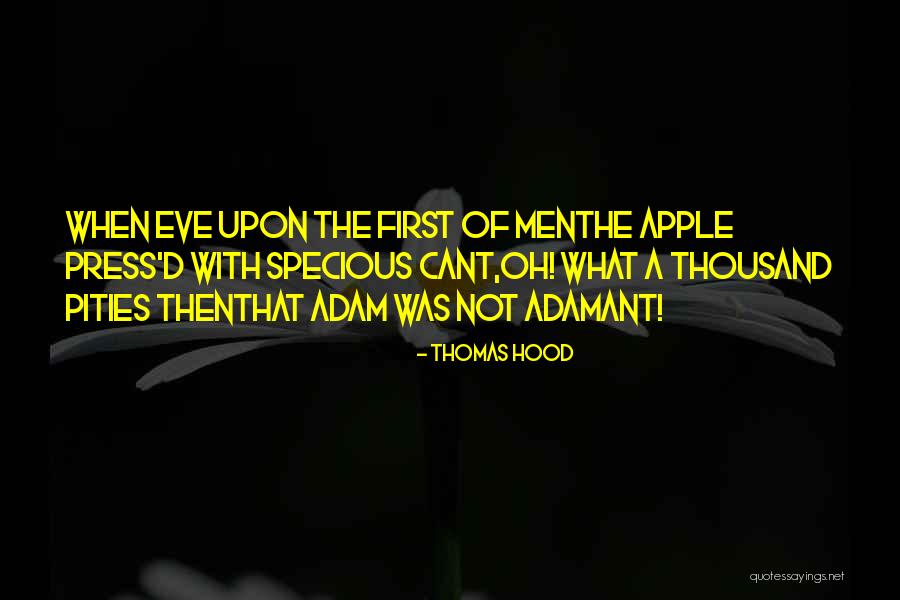 When Eve upon the first of Men
The apple press'd with specious cant,
Oh! what a thousand pities then
That Adam was not adamant! — Thomas Hood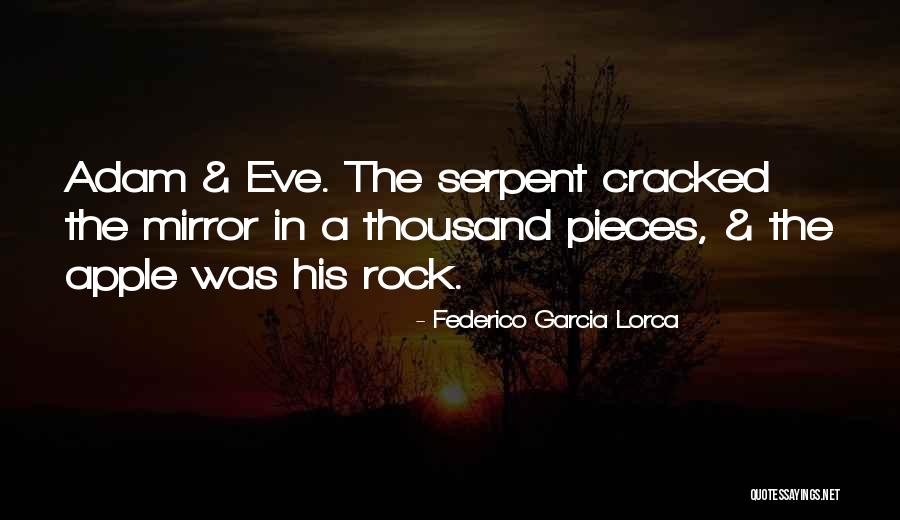 Adam & Eve. The serpent cracked the mirror in a thousand pieces, & the apple was his rock. — Federico Garcia Lorca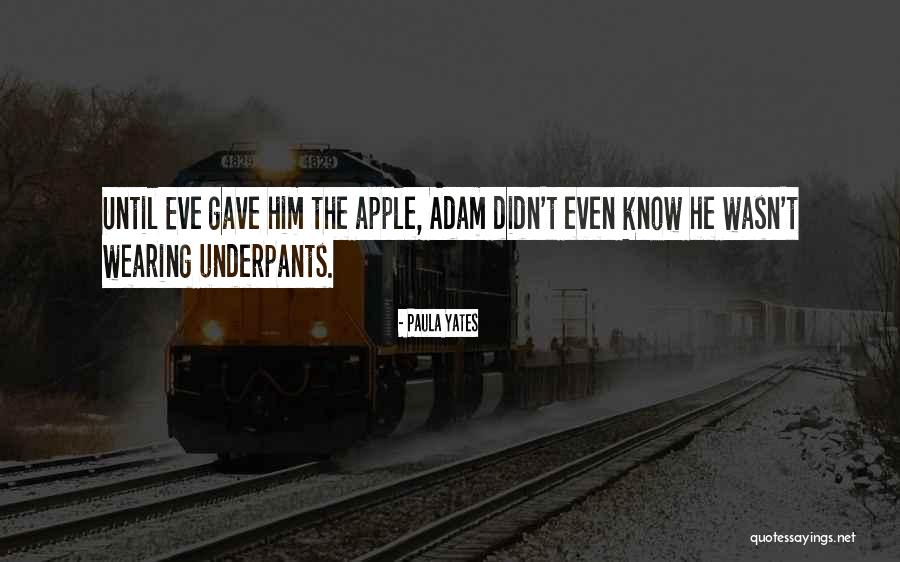 Until Eve gave him the apple, Adam didn't even know he wasn't wearing underpants. — Paula Yates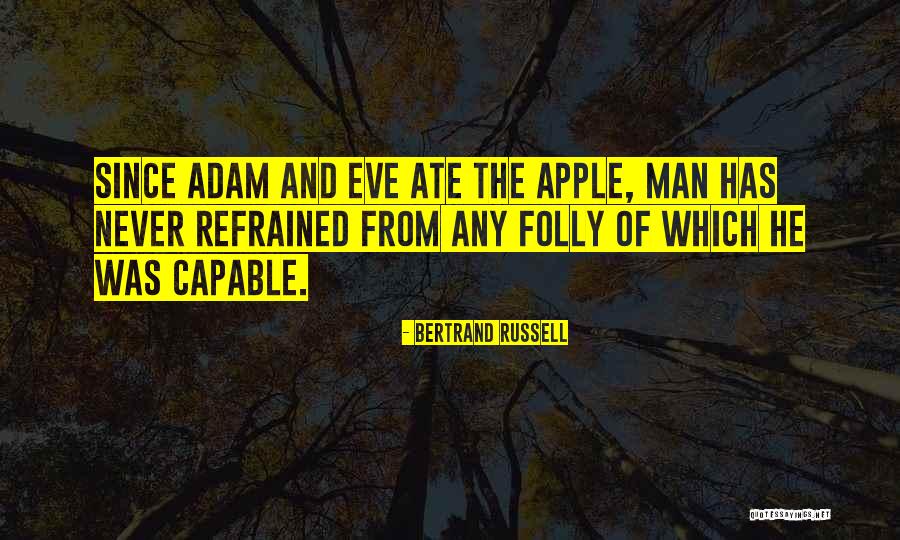 Since Adam and Eve ate the apple, man has never refrained from any folly of which he was capable. — Bertrand Russell
So where does the name Adam's apple come from? Most people say that it is from the notion that this bump was caused by the forbidden fruit getting stuck in the throat of Adam in the Garden of Eden. There is a problem with this theory because some Hebrew scholars believe that the forbidden fruit was the pomegranate. The Koran claims that the forbidden fruit was a banana. So take your pick
Adam's apple, Adam's pomegranate, Adam's banana. Eve clearly chewed before swallowing. — Mark Leyner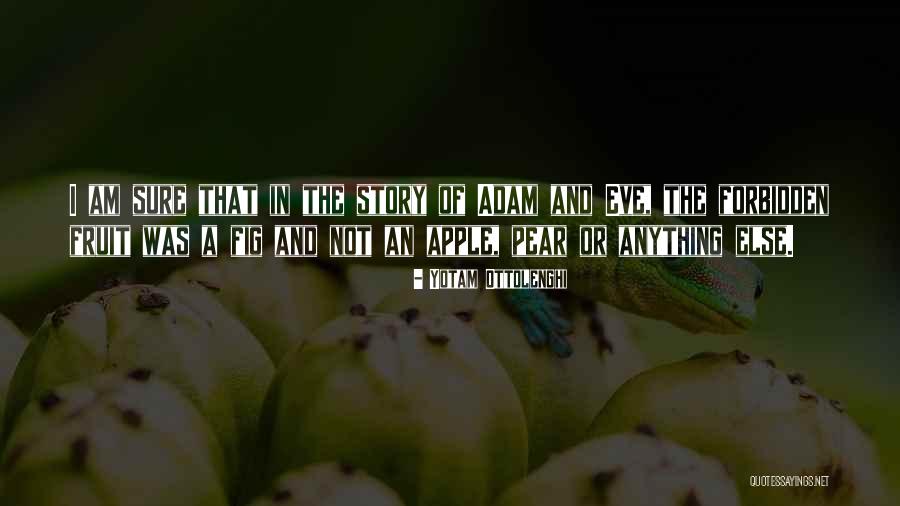 I am sure that in the story of Adam and Eve, the forbidden fruit was a fig and not an apple, pear or anything else. — Yotam Ottolenghi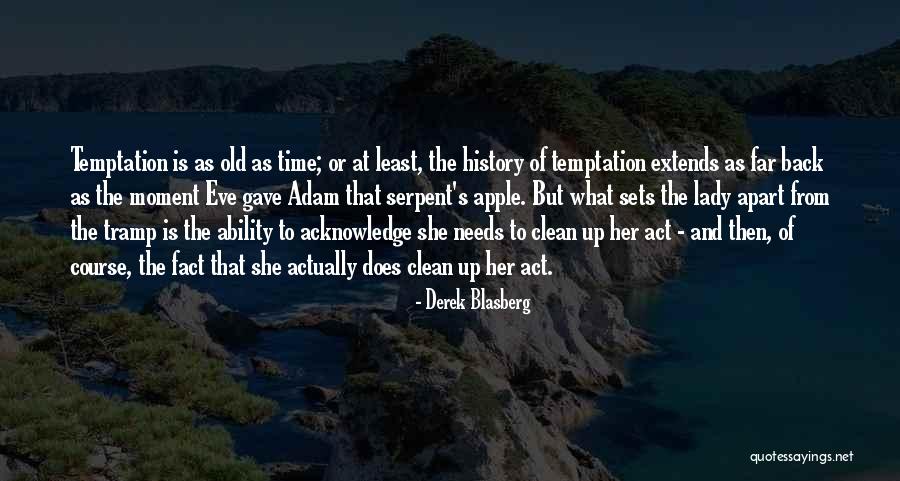 Temptation is as old as time; or at least, the history of temptation extends as far back as the moment Eve gave Adam that serpent's apple. But what sets the lady apart from the tramp is the ability to acknowledge she needs to clean up her act - and then, of course, the fact that she actually does clean up her act. — Derek Blasberg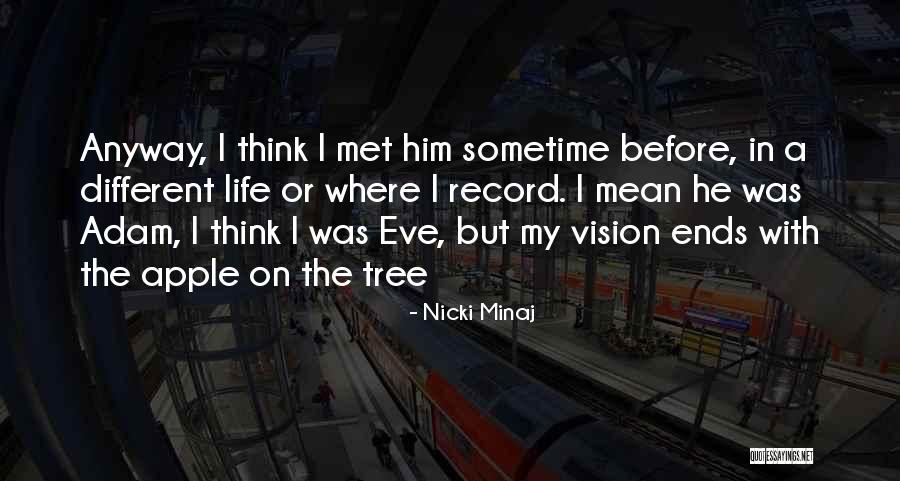 Anyway, I think I met him sometime before, in a different life or where I record. I mean he was Adam, I think I was Eve, but my vision ends with the apple on the tree — Nicki Minaj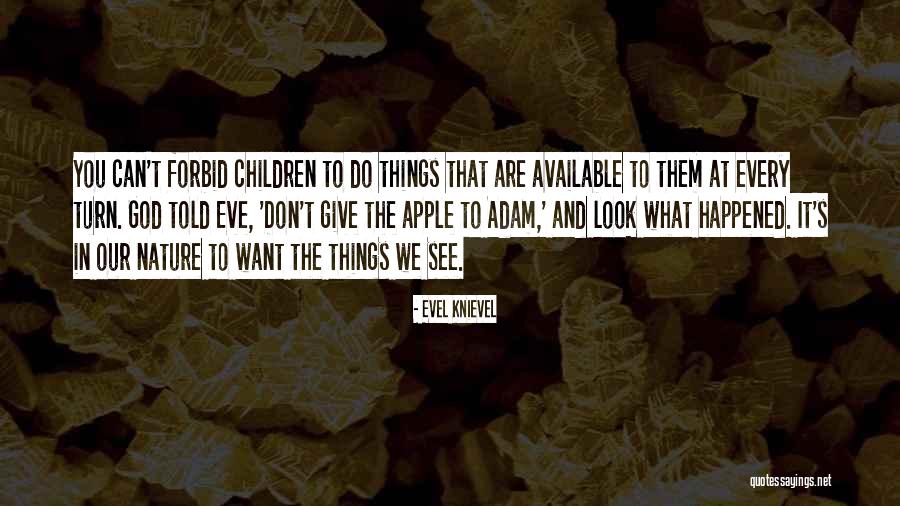 You can't forbid children to do things that are available to them at every turn. God told Eve, 'Don't give the apple to Adam,' and look what happened. It's in our nature to want the things we see. — Evel Knievel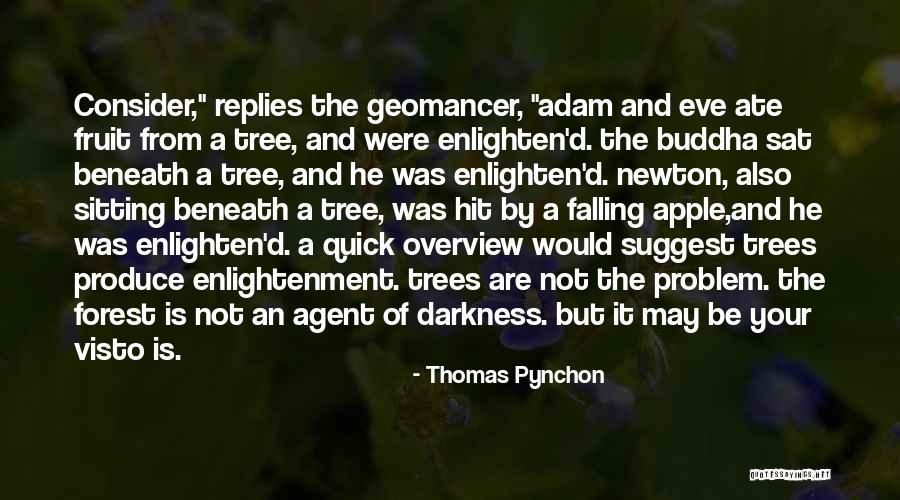 Consider," replies the geomancer, "
adam and eve ate fruit from a tree, and were enlighten'd. the buddha sat beneath a tree, and he was enlighten'd. newton, also sitting beneath a tree, was hit by a falling apple,
and he was enlighten'd. a quick overview would suggest trees produce enlightenment. trees are not the problem. the forest is not an agent of darkness. but it may be your visto is. — Thomas Pynchon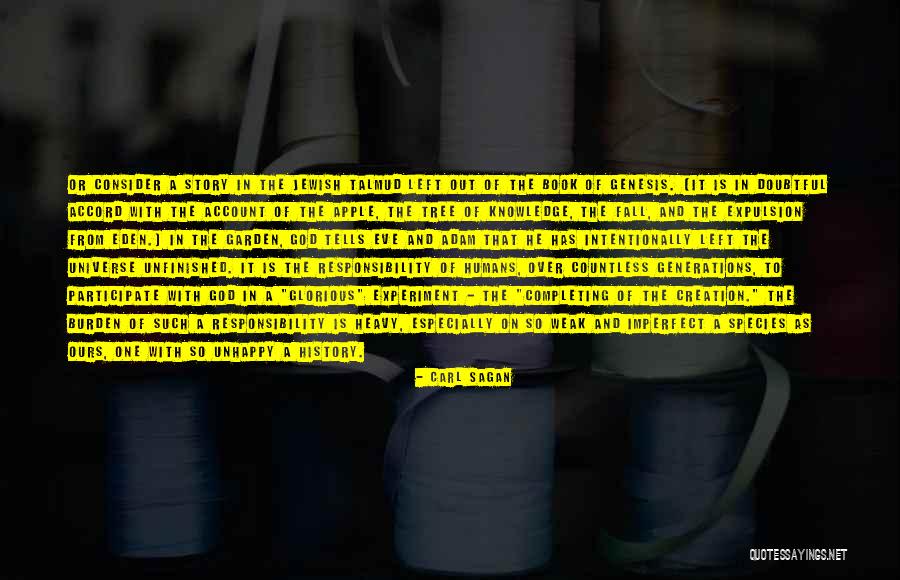 Or consider a story in the Jewish Talmud left out of the Book of Genesis. (It is in doubtful accord with the account of the apple, the Tree of Knowledge, the Fall, and the expulsion from Eden.) In The Garden, God tells Eve and Adam that He has intentionally left the Universe unfinished. It is the responsibility of humans, over countless generations, to participate with God in a "glorious" experiment - the "completing of the Creation."
The burden of such a responsibility is heavy, especially on so weak and imperfect a species as ours, one with so unhappy a history. Nothing remotely like "completion" can be attempted without vastly more knowledge than we have today. But, perhaps, if our very existence is at stake, we will find ourselves able to rise to this supreme challenge. — Carl Sagan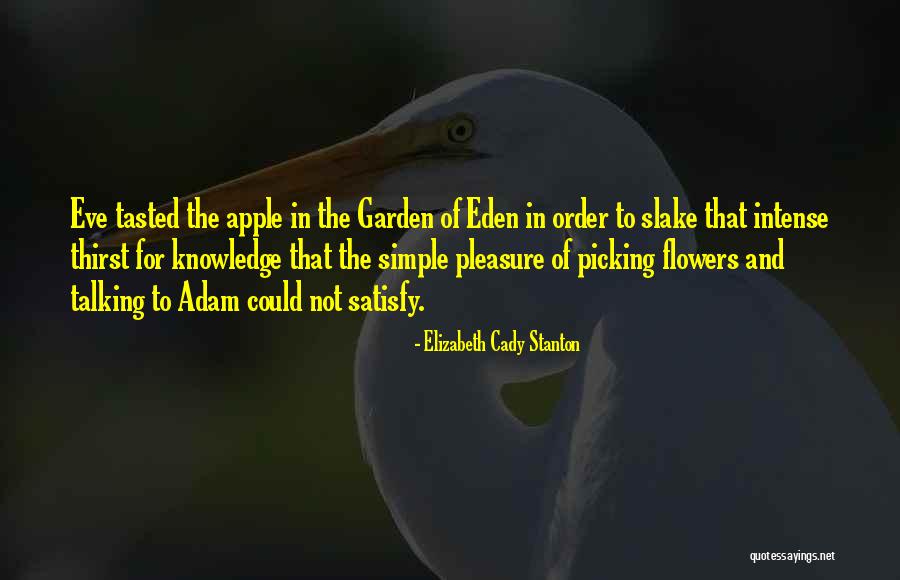 Eve tasted the apple in the Garden of Eden in order to slake that intense thirst for knowledge that the simple pleasure of picking flowers and talking to Adam could not satisfy. — Elizabeth Cady Stanton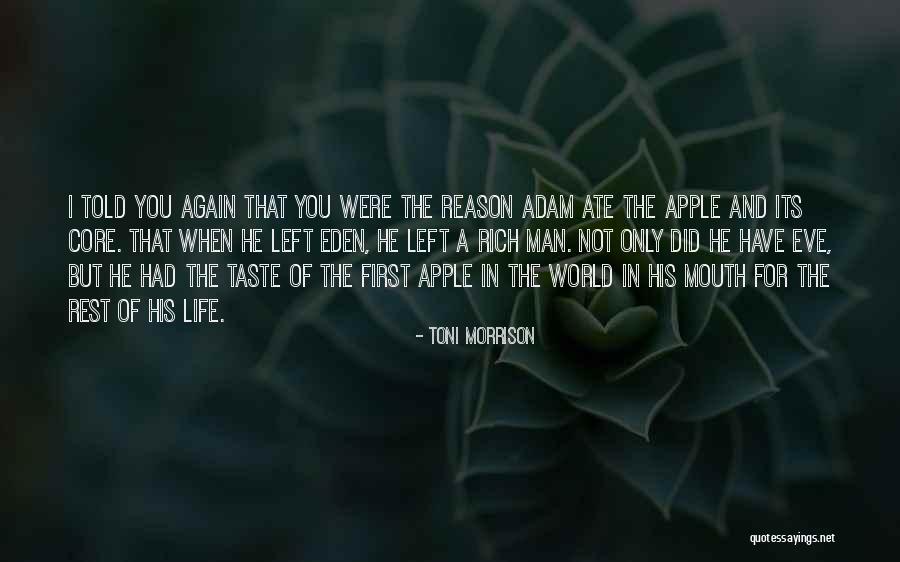 I told you again that you were the reason Adam ate the apple and its core. That when he left Eden, he left a rich man. Not only did he have Eve, but he had the taste of the first apple in the world in his mouth for the rest of his life. — Toni Morrison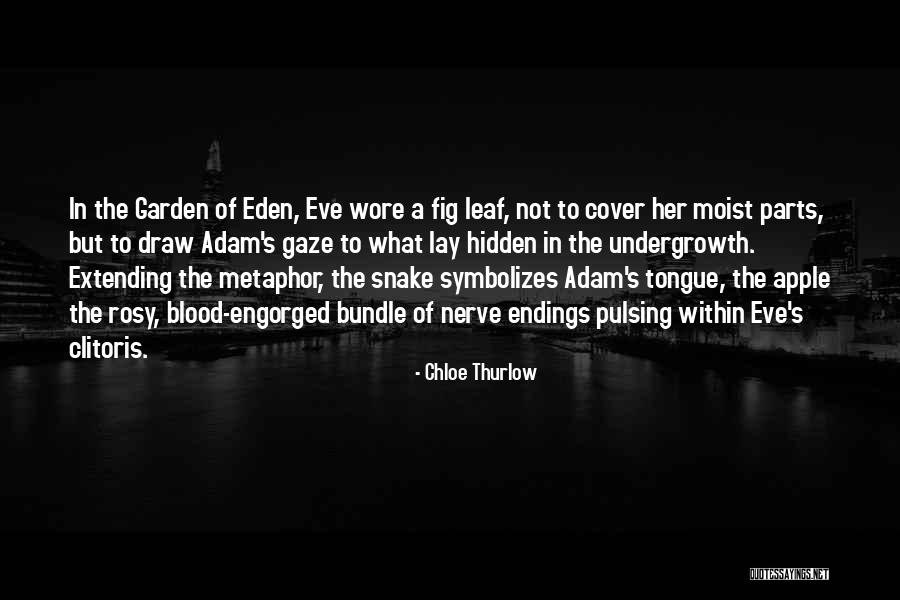 In the Garden of Eden, Eve wore a fig leaf, not to cover her moist parts, but to draw Adam's gaze to what lay hidden in the undergrowth. Extending the metaphor, the snake symbolizes Adam's tongue, the apple the rosy, blood-engorged bundle of nerve endings pulsing within Eve's clitoris. — Chloe Thurlow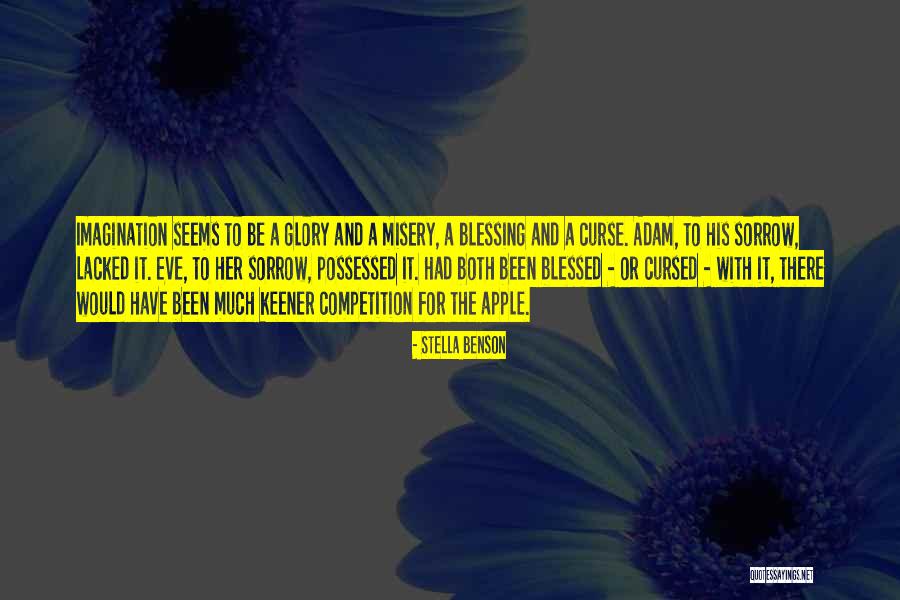 Imagination seems to be a glory and a misery, a blessing and a curse. Adam, to his sorrow, lacked it. Eve, to her sorrow, possessed it. Had both been blessed - or cursed - with it, there would have been much keener competition for the apple. — Stella Benson
Not Adam and Eve, after eating the apple, could have been more upset than I was. — L.P. Hartley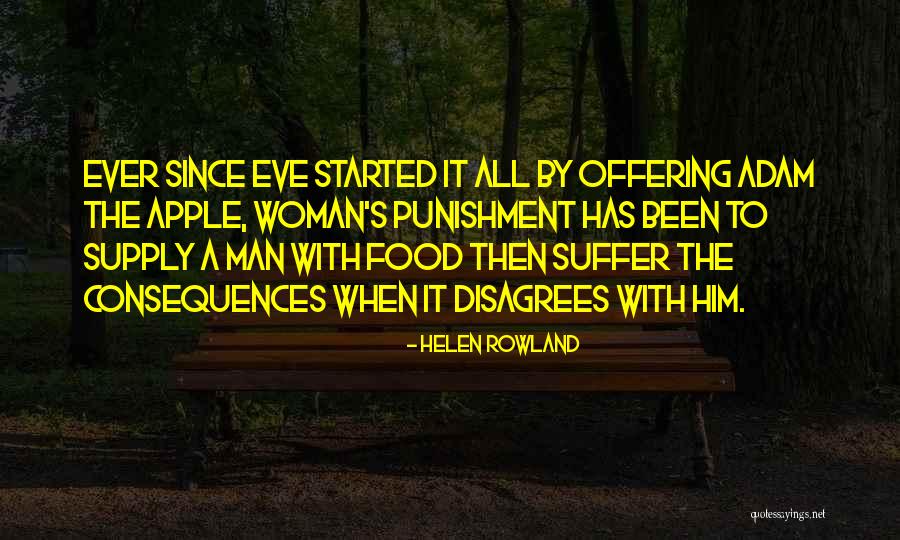 Ever since Eve started it all by offering Adam the apple, woman's punishment has been to supply a man with food then suffer the consequences when it disagrees with him. — Helen Rowland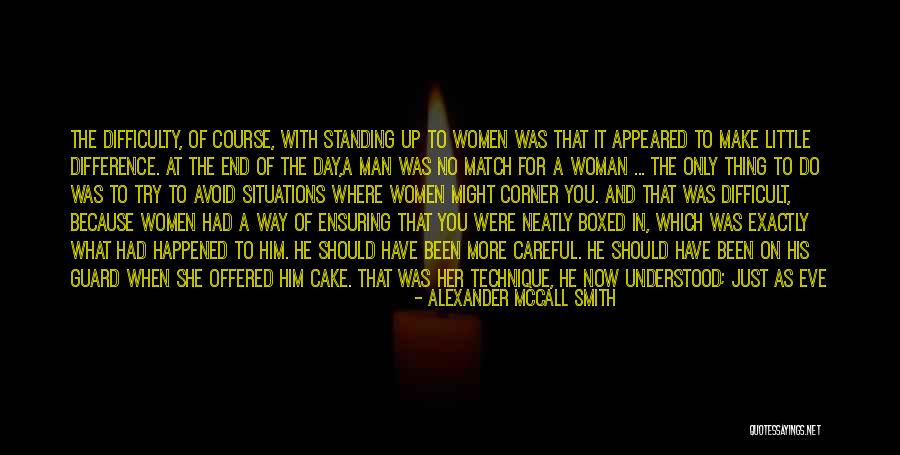 The difficulty, of course, with standing up to women was that it appeared to make little difference. At the end of the day,a man was no match for a woman ... The only thing to do was to try to avoid situations where women might corner you. And that was difficult, because women had a way of ensuring that you were neatly boxed in, which was exactly what had happened to him. He should have been more careful. He should have been on his guard when she offered him cake. That was her technique, he now understood; just as Eve had used an apple to trap Adam, so [she] had used fruit cake. Fruit cake, apples; it made no difference really. Oh foolish, weak men! — Alexander McCall Smith
I sometimes think Adam and Eve were Russians. They didn't have a roof over their head, nothing to wear, but they had one apple between them and they thought that was Paradise. — Ronald Reagan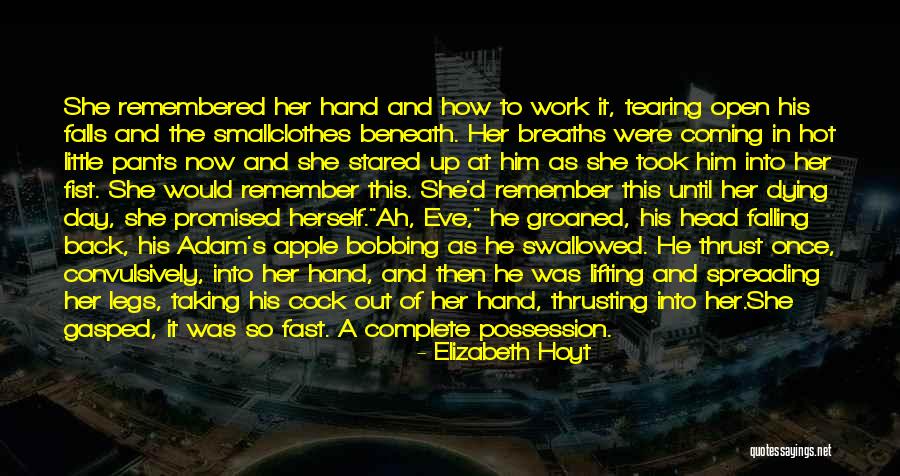 She remembered her hand and how to work it, tearing open his falls and the smallclothes beneath. Her breaths were coming in hot little pants now and she stared up at him as she took him into her fist. She would remember this. She'd remember this until her dying day, she promised herself.
"Ah, Eve," he groaned, his head falling back, his Adam's apple bobbing as he swallowed. He thrust once, convulsively, into her hand, and then he was lifting and spreading her legs, taking his cock out of her hand, thrusting into her.
She gasped, it was so fast. A complete possession. — Elizabeth Hoyt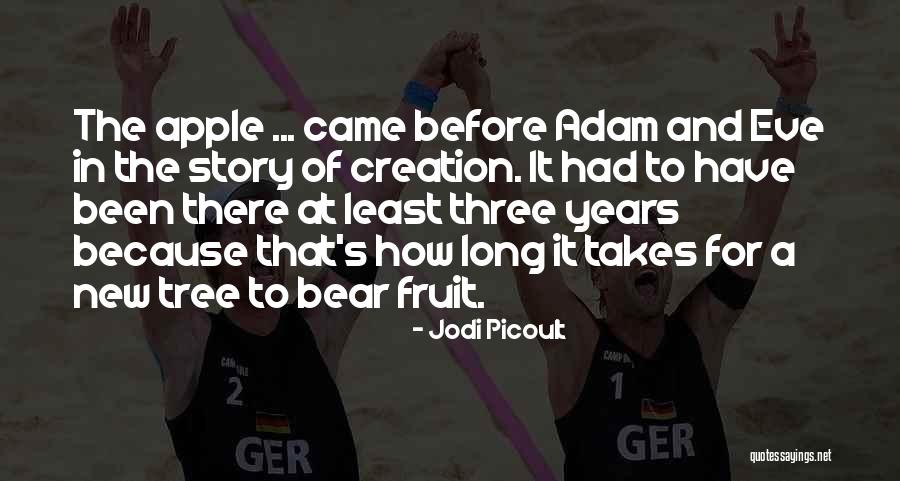 The apple ... came before Adam and Eve in the story of creation. It had to have been there at least three years because that's how long it takes for a new tree to bear fruit. — Jodi Picoult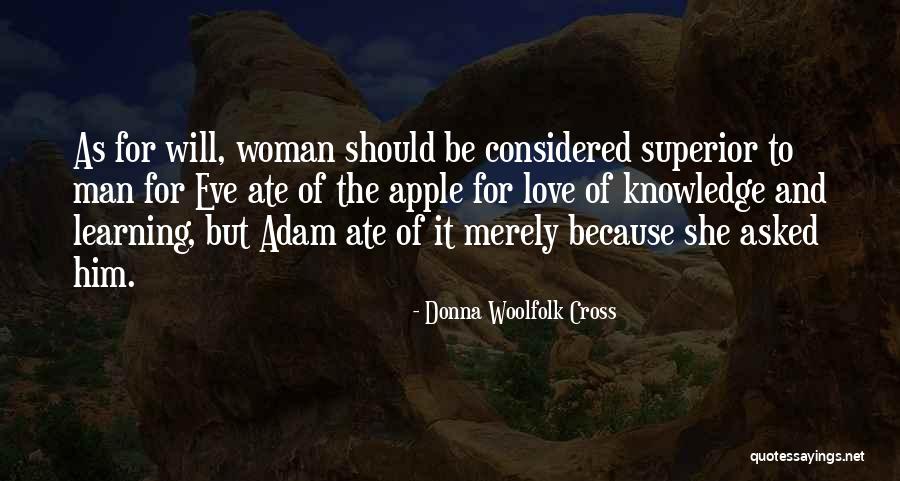 As for will, woman should be considered superior to man for Eve ate of the apple for love of knowledge and learning, but Adam ate of it merely because she asked him. — Donna Woolfolk Cross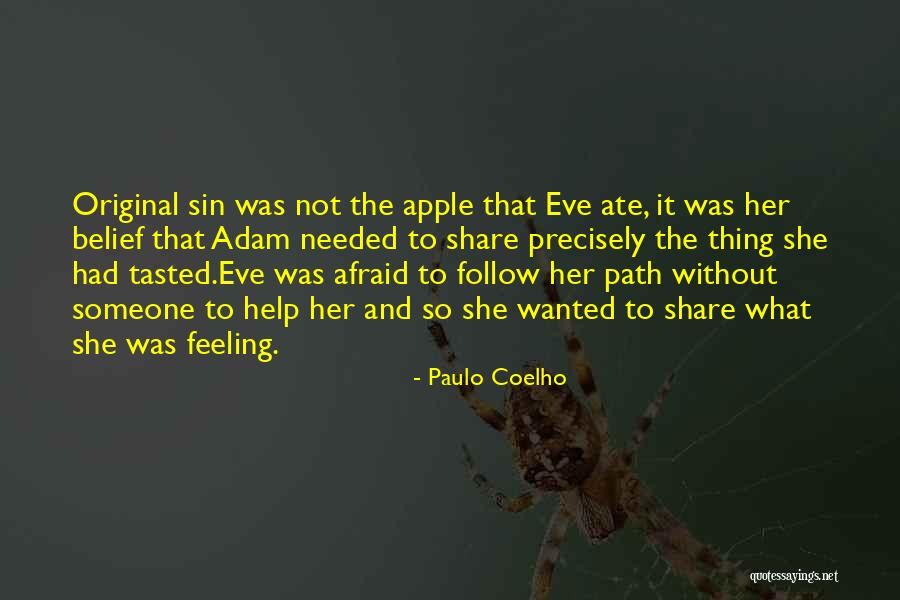 Original sin was not the apple that Eve ate, it was her belief that Adam needed to share precisely the thing she had tasted.Eve was afraid to follow her path without someone to help her and so she wanted to share what she was feeling. — Paulo Coelho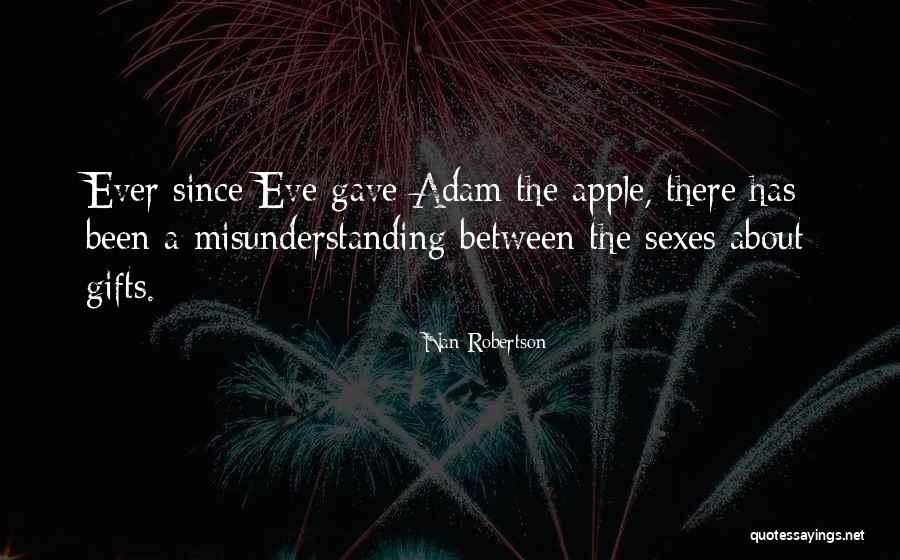 Ever since Eve gave Adam the apple, there has been a misunderstanding between the sexes about gifts. — Nan Robertson