You've Lost My Respect Quotes & Sayings
Enjoy reading and share 54 famous quotes about You've Lost My Respect with everyone.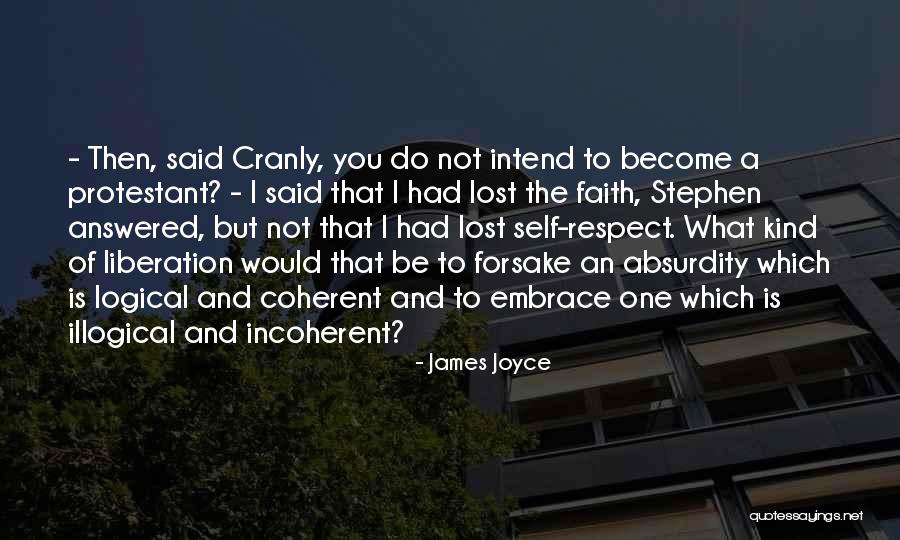 - Then, said Cranly, you do not intend to become a protestant?
- I said that I had lost the faith, Stephen answered, but not that I had lost self-respect. What kind of liberation would that be to forsake an absurdity which is logical and coherent and to embrace one which is illogical and incoherent? — James Joyce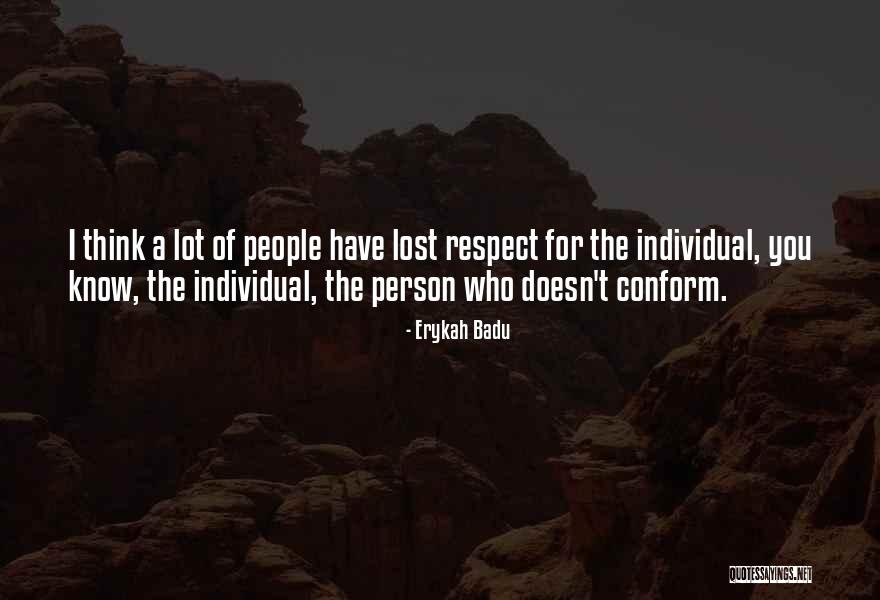 I think a lot of people have lost respect for the individual, you know, the individual, the person who doesn't conform. — Erykah Badu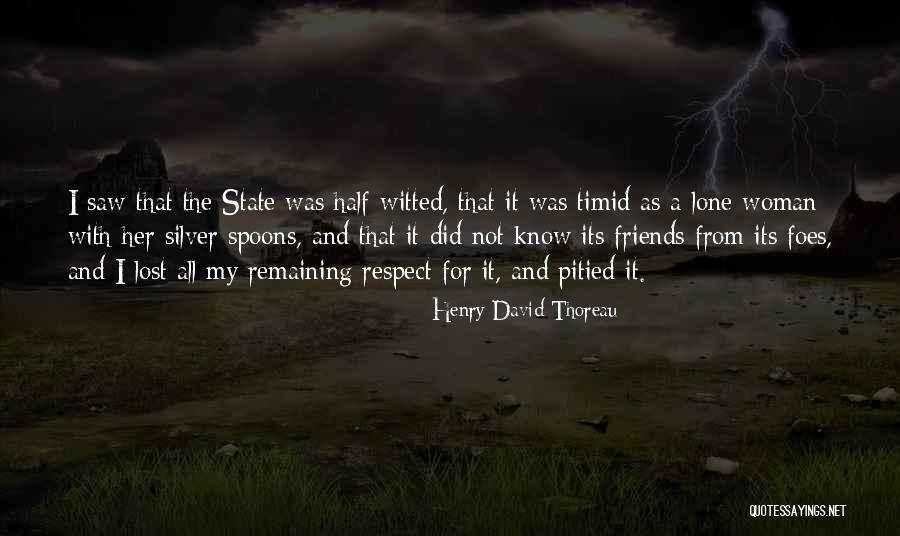 I saw that the State was half-witted, that it was timid as a lone woman with her silver spoons, and that it did not know its friends from its foes, and I lost all my remaining respect for it, and pitied it. — Henry David Thoreau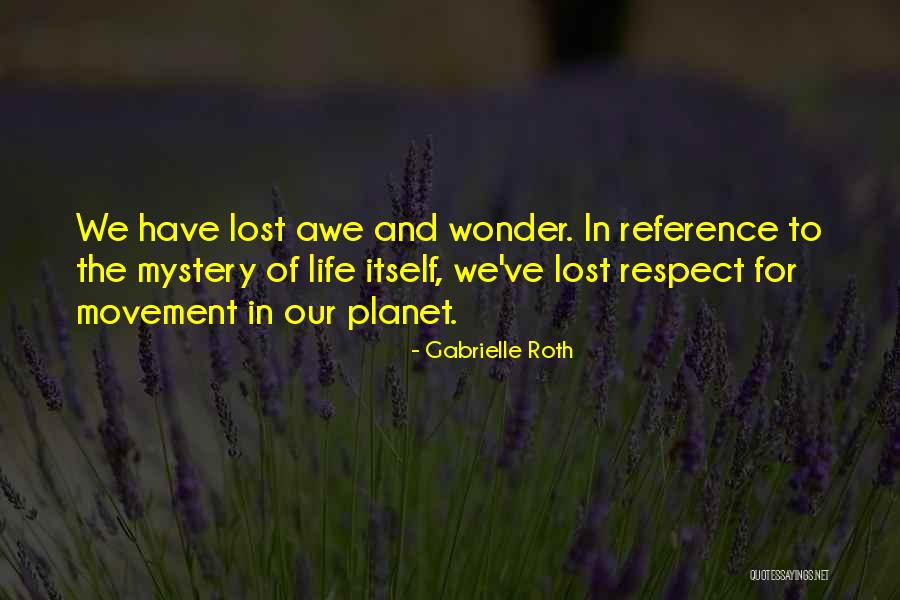 We have lost awe and wonder. In reference to the mystery of life itself, we've lost respect for movement in our planet. — Gabrielle Roth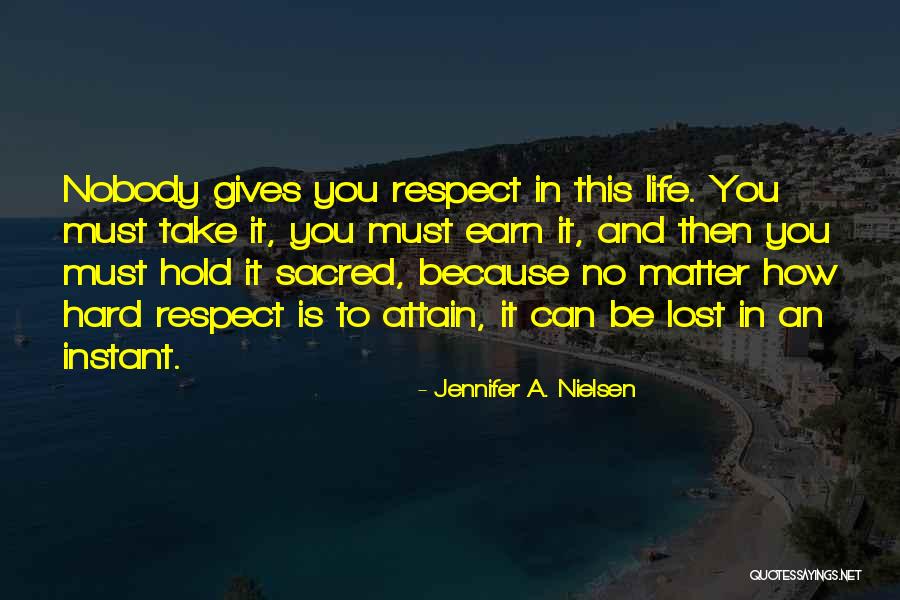 Nobody gives you respect in this life. You must take it, you must earn it, and then you must hold it sacred, because no matter how hard respect is to attain, it can be lost in an instant. — Jennifer A. Nielsen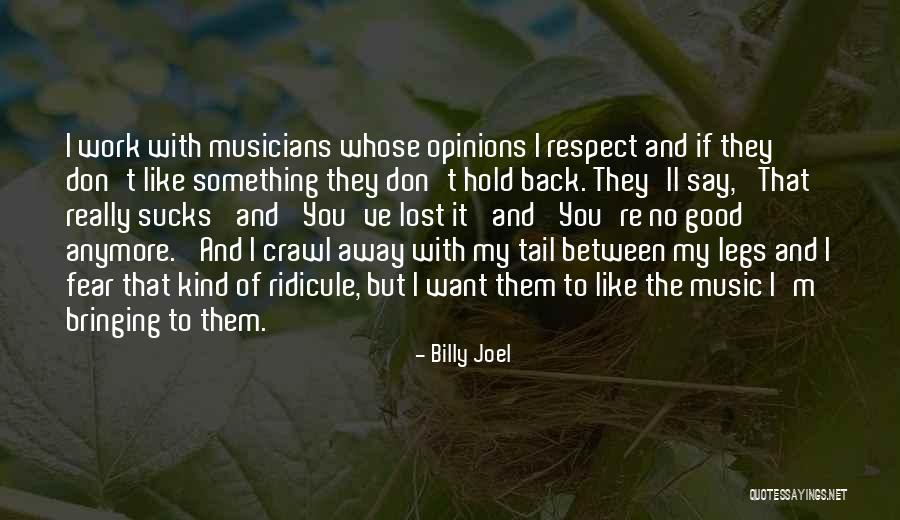 I work with musicians whose opinions I respect and if they don't like something they don't hold back. They'll say, 'That really sucks' and 'You've lost it' and 'You're no good anymore.' And I crawl away with my tail between my legs and I fear that kind of ridicule, but I want them to like the music I'm bringing to them. — Billy Joel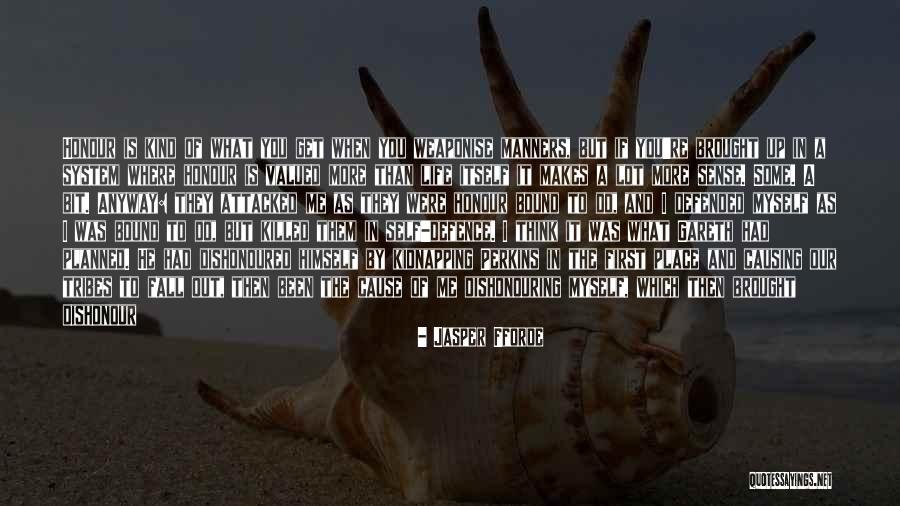 Honour is kind of what you get when you weaponise manners, but if you're brought up in a system where honour is valued more than life itself it makes a lot more sense. Some. A bit. Anyway: they attacked me as they were honour bound to do, and I defended myself as I was bound to do, but killed them in self-defence. I think it was what Gareth had planned. He had dishonoured himself by kidnapping Perkins in the first place and causing our tribes to fall out, then been the cause of me dishonouring myself, which then brought dishonour upon himself. By attacking me, he allowed me to restore my lost honour by killing him, and, odd as it might seem, his honour as well. He died with honour, and I thank and respect him for it. We didn't leave them to the slugs at all, and instead buried them with tribal honours, which is why we were kind of delayed. The ground was hard and we had to ride for miles to find a shovel. — Jasper Fforde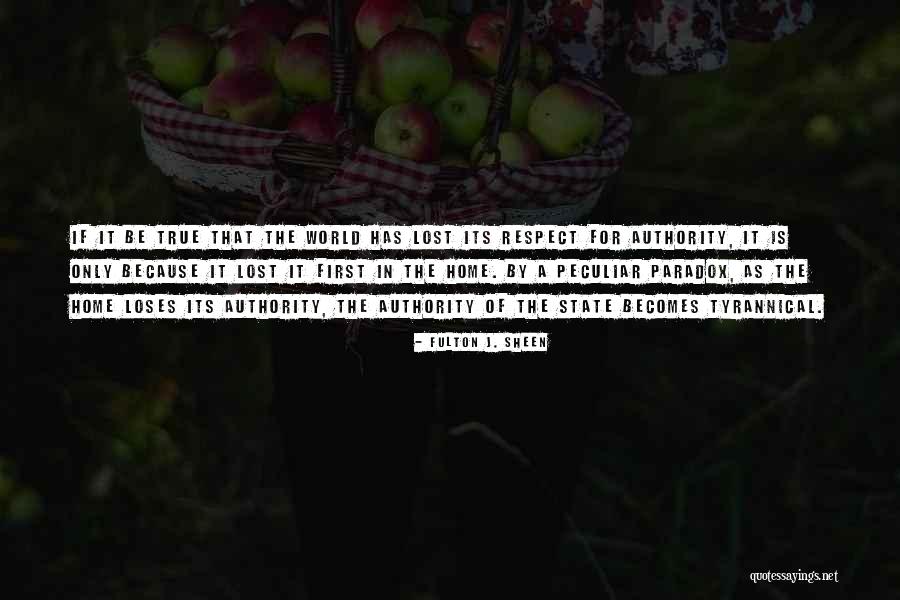 If it be true that the world has lost its respect for authority, it is only because it lost it first in the home. By a peculiar paradox, as the home loses its authority, the authority of the state becomes tyrannical. — Fulton J. Sheen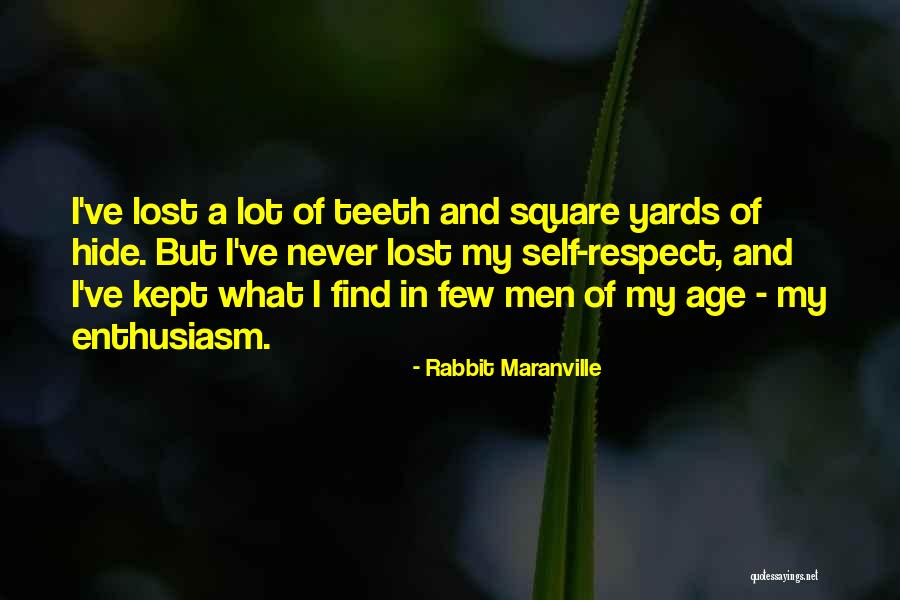 I've lost a lot of teeth and square yards of hide. But I've never lost my self-respect, and I've kept what I find in few men of my age - my enthusiasm. — Rabbit Maranville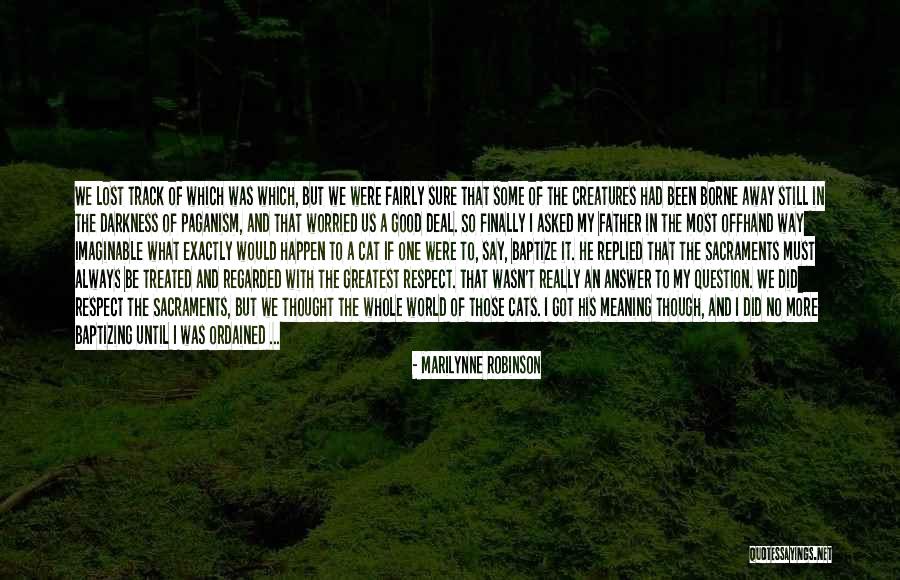 We lost track of which was which, but we were fairly sure that some of the creatures had been borne away still in the darkness of paganism, and that worried us a good deal. So finally I asked my father in the most offhand way imaginable what exactly would happen to a cat if one were to, say, baptize it. He replied that the Sacraments must always be treated and regarded with the greatest respect. That wasn't really an answer to my question. We did respect the Sacraments, but we thought the whole world of those cats. I got his meaning though, and I did no more baptizing until I was ordained ... — Marilynne Robinson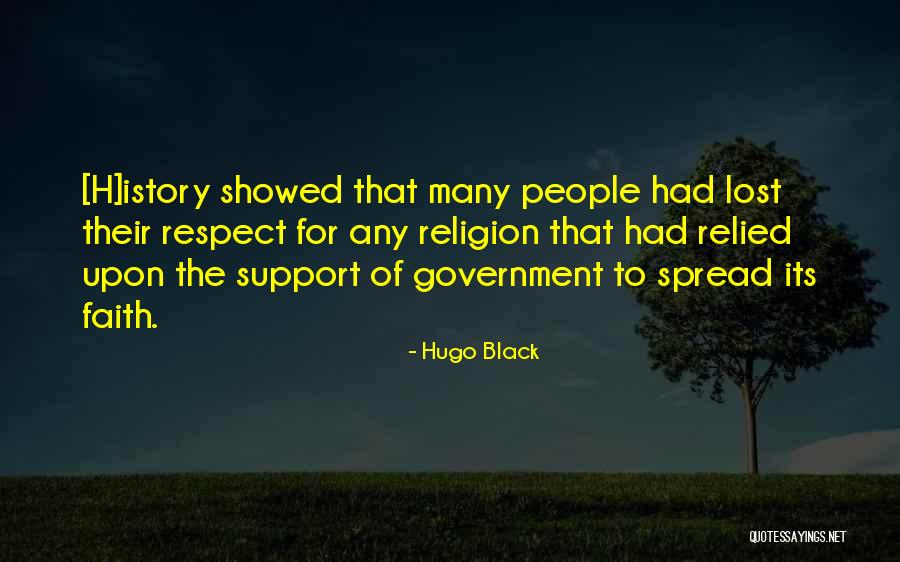 [H]istory showed that many people had lost their respect for any religion that had relied upon the support of government to spread its faith. — Hugo Black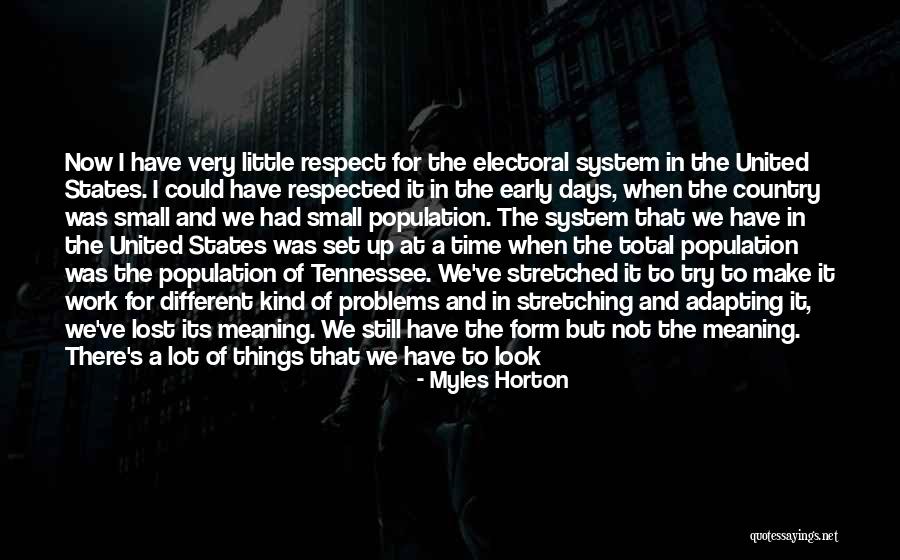 Now I have very little respect for the electoral system in the United States. I could have respected it in the early days, when the country was small and we had small population. The system that we have in the United States was set up at a time when the total population was the population of Tennessee. We've stretched it to try to make it work for different kind of problems and in stretching and adapting it, we've lost its meaning. We still have the form but not the meaning. There's a lot of things that we have to look at critically that might have been useful at one time that are no longer useful I think there's some good in everything. There's some bad in everything. But there's so little good in some things that you know for practical purposes they're useless. They're beyond salvation. There's so much good in some things, even though there's bad, that we build on that. — Myles Horton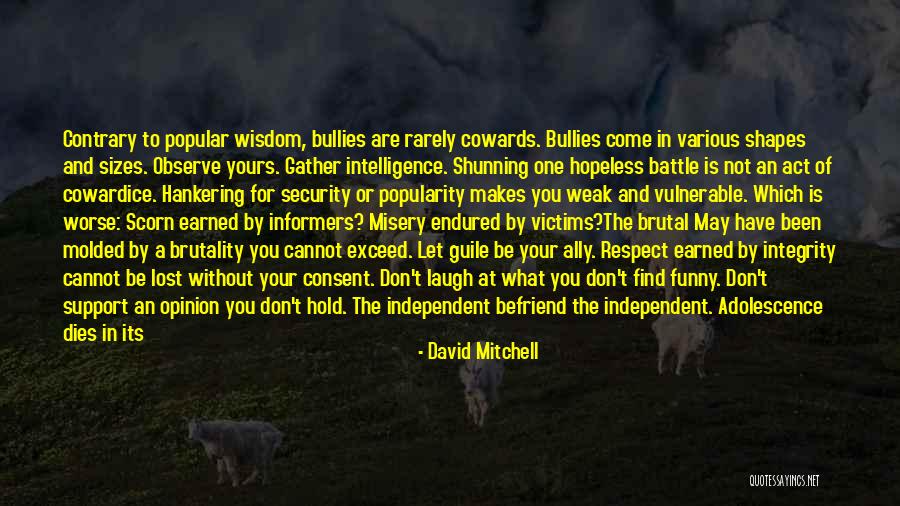 Contrary to popular wisdom, bullies are rarely cowards.
Bullies come in various shapes and sizes. Observe yours. Gather intelligence.
Shunning one hopeless battle is not an act of cowardice.
Hankering for security or popularity makes you weak and vulnerable.
Which is worse: Scorn earned by informers? Misery endured by victims?
The brutal May have been molded by a brutality you cannot exceed.
Let guile be your ally.
Respect earned by integrity cannot be lost without your consent.
Don't laugh at what you don't find funny.
Don't support an opinion you don't hold.
The independent befriend the independent.
Adolescence dies in its fourth year. You live to be eighty. — David Mitchell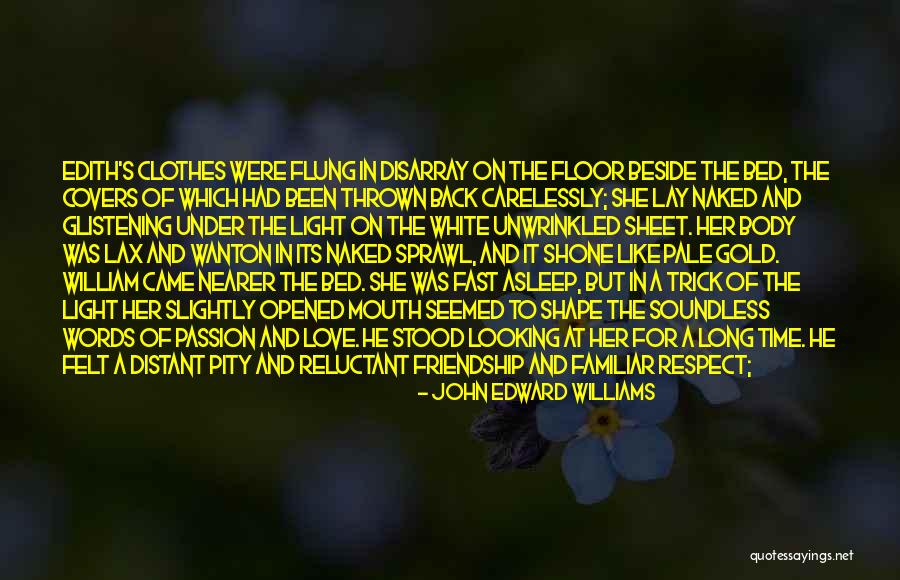 Edith's clothes were flung in disarray on the floor beside the bed, the covers of which had been thrown back carelessly; she lay naked and glistening under the light on the white unwrinkled sheet. Her body was lax and wanton in its naked sprawl, and it shone like pale gold. William came nearer the bed. She was fast asleep, but in a trick of the light her slightly opened mouth seemed to shape the soundless words of passion and love. He stood looking at her for a long time. He felt a distant pity and reluctant friendship and familiar respect; and he felt also a weary sadness, for he knew that he would never again be moved as he had once been moved by her presence. The sadness lessened, and he covered her gently, turned out the light, and got in bed beside her. — John Edward Williams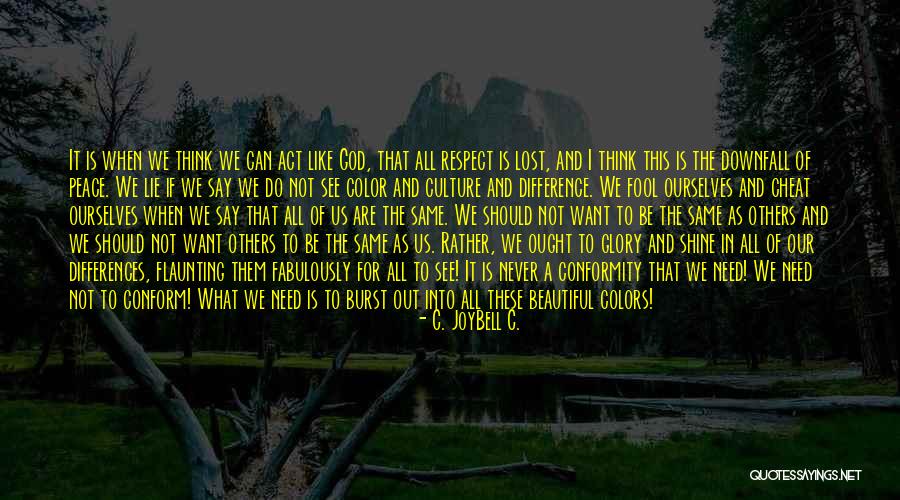 It is when we think we can act like God, that all respect is lost, and I think this is the downfall of peace. We lie if we say we do not see color and culture and difference. We fool ourselves and cheat ourselves when we say that all of us are the same. We should not want to be the same as others and we should not want others to be the same as us. Rather, we ought to glory and shine in all of our differences, flaunting them fabulously for all to see! It is never a conformity that we need! We need not to conform! What we need is to burst out into all these beautiful colors! — C. JoyBell C.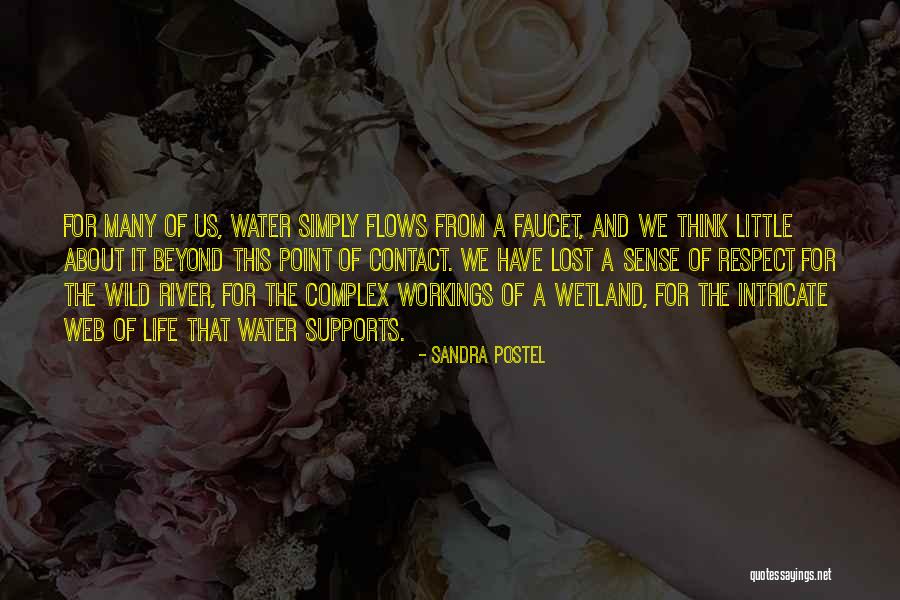 For many of us, water simply flows from a faucet, and we think little about it beyond this point of contact. We have lost a sense of respect for the wild river, for the complex workings of a wetland, for the intricate web of life that water supports. — Sandra Postel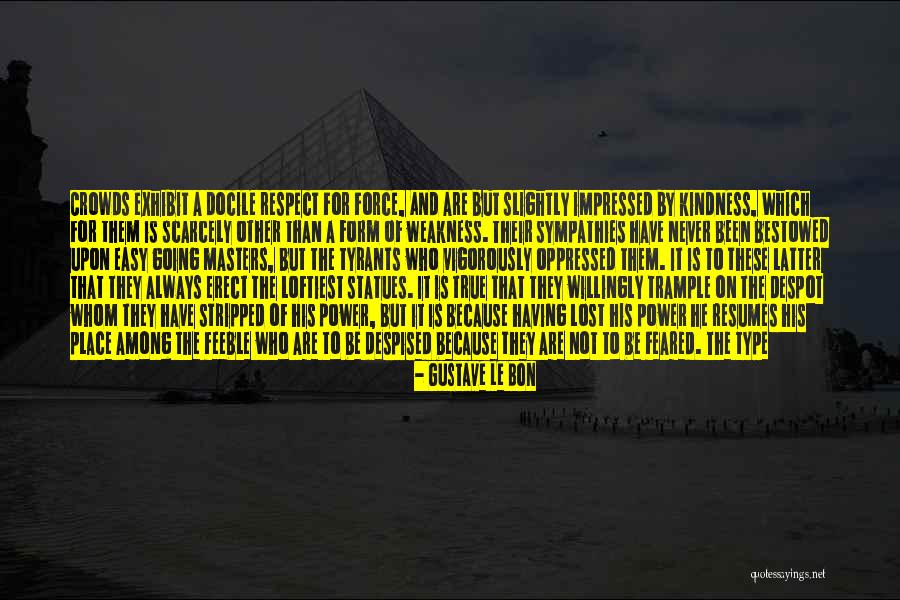 Crowds exhibit a docile respect for force, And are but slightly impressed by kindness, Which for them is scarcely other than a form of weakness. Their sympathies have never been bestowed upon easy going masters, but the tyrants who vigorously oppressed them. It is to these latter that they always erect the loftiest statues. It is true that they willingly trample on the despot whom they have stripped of his power, but it is because having lost his power he resumes his place among the feeble who are to be despised because they are not to be feared. The type of hero dear to a crowd will always have the semblance of a Caesar, His insignia attract them, His authority overawes them, and his sword instils them with fear. — Gustave Le Bon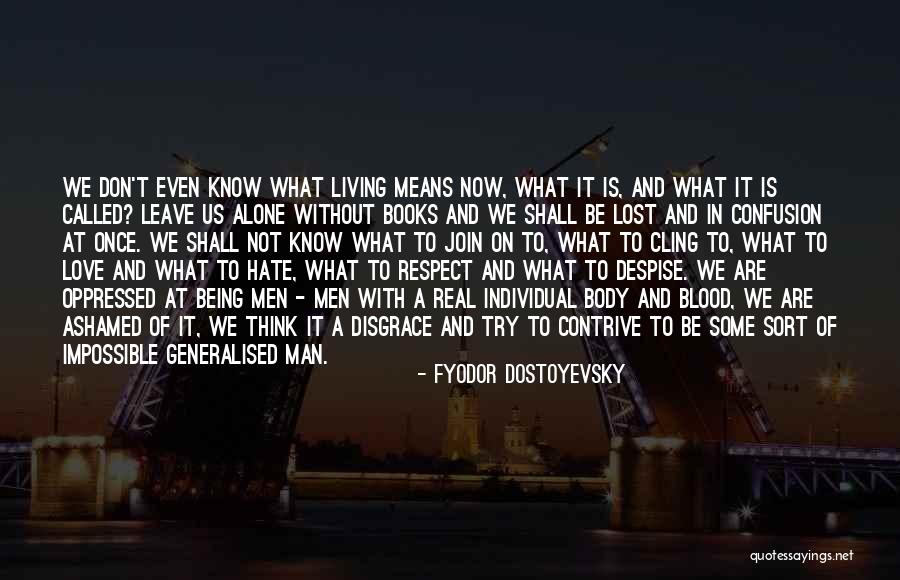 We don't even know what living means now, what it is, and what it is called? Leave us alone without books and we shall be lost and in confusion at once. We shall not know what to join on to, what to cling to, what to love and what to hate, what to respect and what to despise.
We are oppressed at being men - men with a real individual body and blood, we are ashamed of it, we think it a disgrace and try to contrive to be some sort of impossible generalised man. — Fyodor Dostoyevsky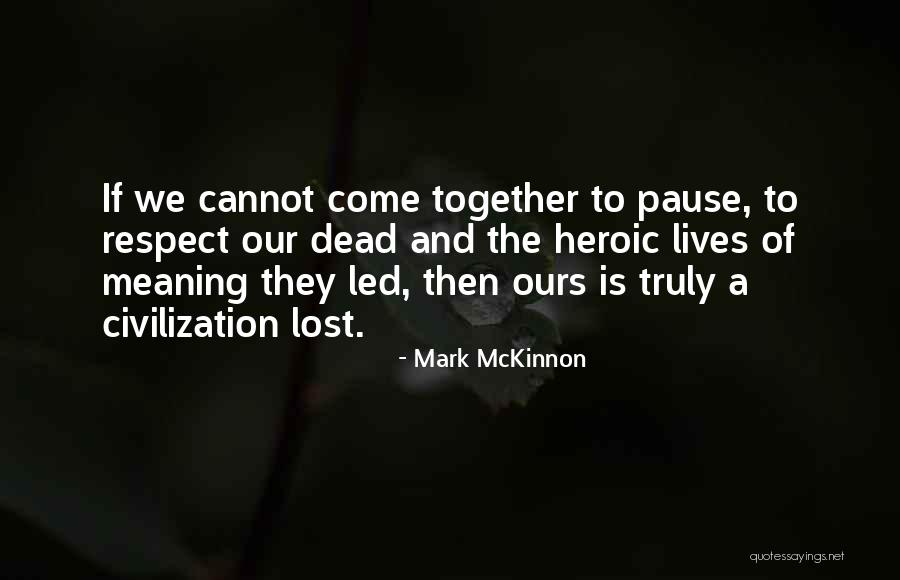 If we cannot come together to pause, to respect our dead and the heroic lives of meaning they led, then ours is truly a civilization lost. — Mark McKinnon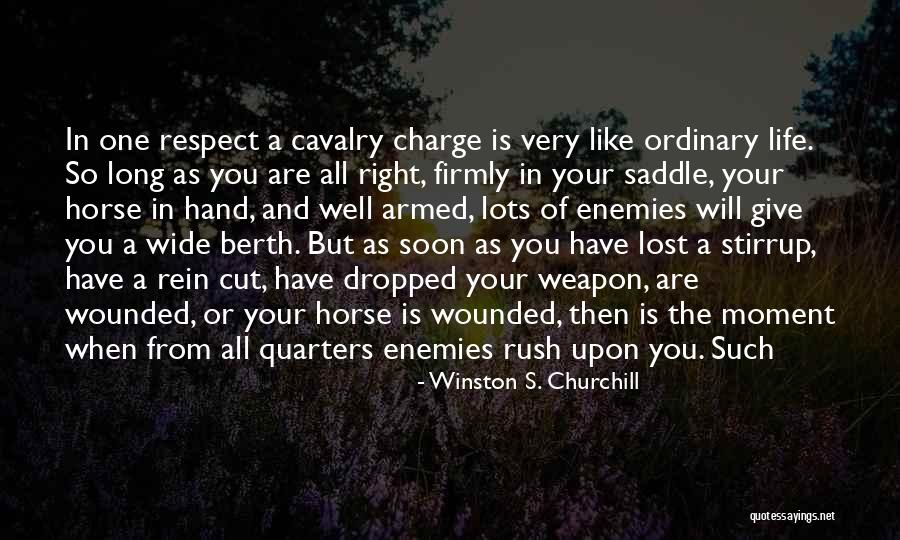 In one respect a cavalry charge is very like ordinary life. So long as you are all right, firmly in your saddle, your horse in hand, and well armed, lots of enemies will give you a wide berth. But as soon as you have lost a stirrup, have a rein cut, have dropped your weapon, are wounded, or your horse is wounded, then is the moment when from all quarters enemies rush upon you. Such — Winston S. Churchill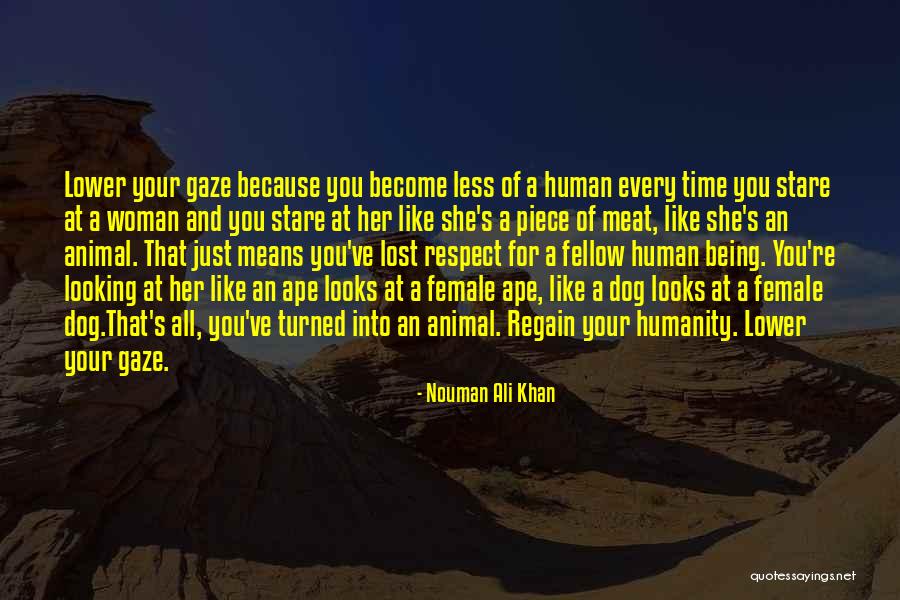 Lower your gaze because you become less of a human every time you stare at a woman and you stare at her like she's a piece of meat, like she's an animal. That just means you've lost respect for a fellow human being. You're looking at her like an ape looks at a female ape, like a dog looks at a female dog.That's all, you've turned into an animal. Regain your humanity. Lower your gaze. — Nouman Ali Khan
To many an upright poor person, it seems needless to invent a god who will wash the feet of beggars and exalt those who do not care to labor. What is this but a denial of thrift and a sickly obsession with the victim? The so-called common people are quite able to penetrate this ruse ("The good lord must indeed love the poor, since he made so many of them"). Many decent people are made uneasy by the constant injunction to give alms and to dwell among those who have lost their self-respect. They can also see the hook sticking out of the bait: abandon this useless life, leave your family, and follow the prophet who says that the world is soon to pass away. Such an injunction coupled with an implicit or explicit "or else" is repulsive to many conservatives who believe in self-reliance and personal integrity, and who distrust "charity," just as it was repulsive to the early socialists who did not think that poverty was an ideal or romantic or ennobled state. — Christopher Hitchens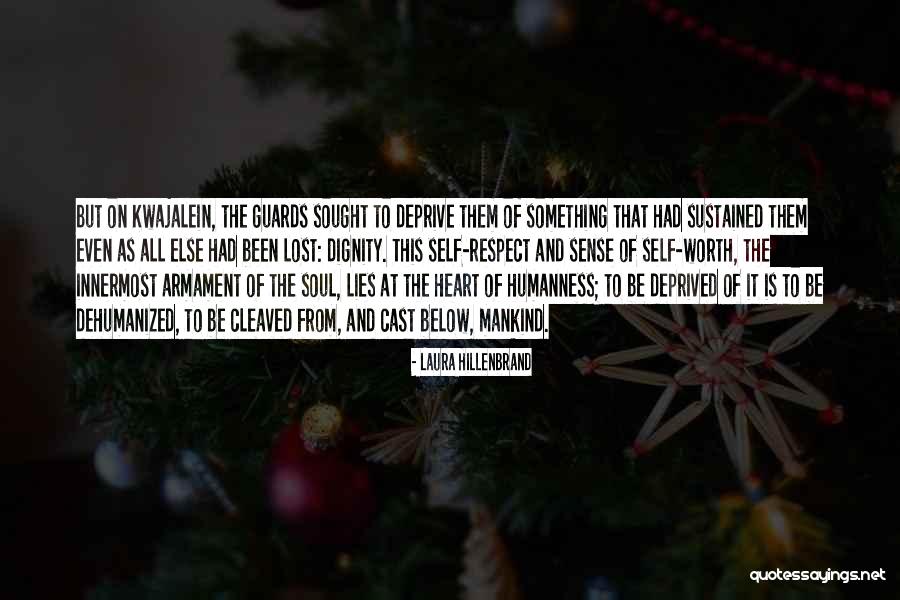 But on Kwajalein, the guards sought to deprive them of something that had sustained them even as all else had been lost: dignity. This self-respect and sense of self-worth, the innermost armament of the soul, lies at the heart of humanness; to be deprived of it is to be dehumanized, to be cleaved from, and cast below, mankind. — Laura Hillenbrand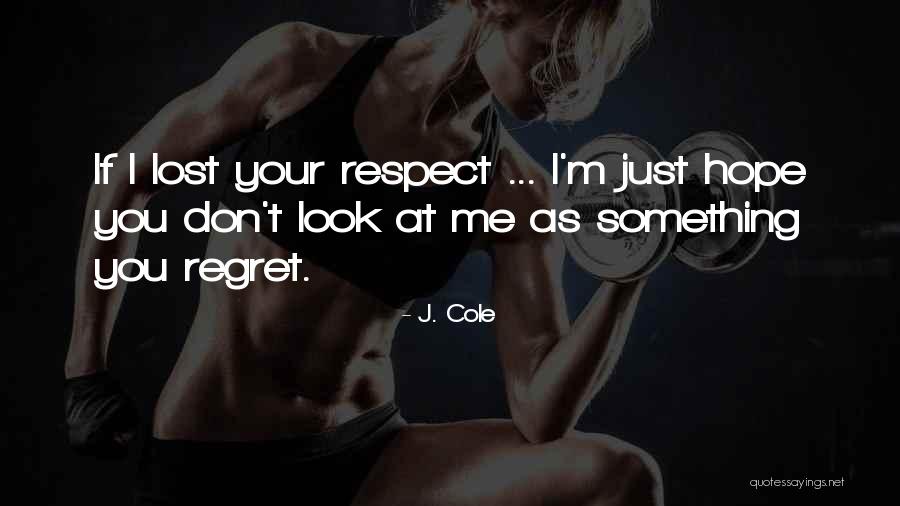 If I lost your respect ... I'm just hope you don't look at me as something you regret. — J. Cole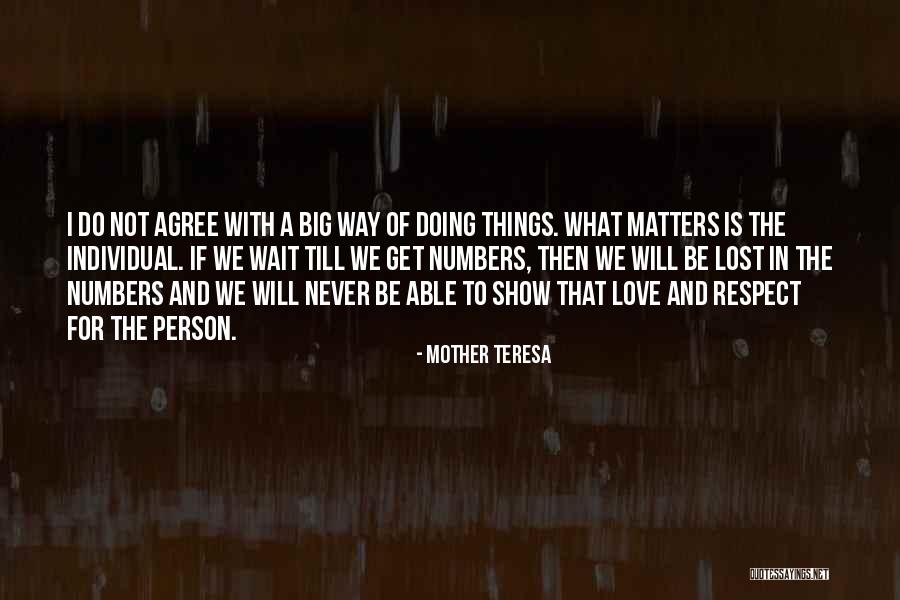 I do not agree with a big way of doing things. What matters is the individual. If we wait till we get numbers, then we will be lost in the numbers and we will never be able to show that love and respect for the person. — Mother Teresa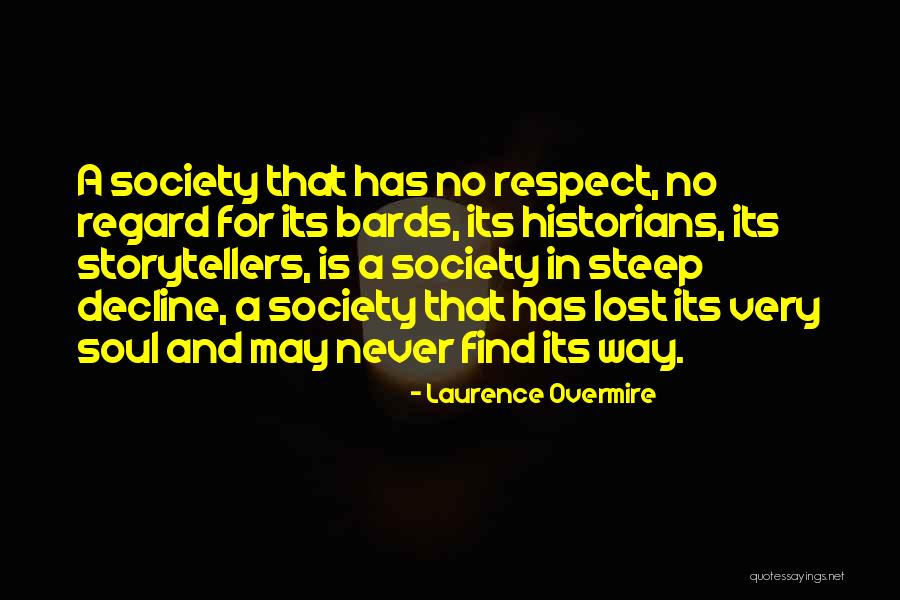 A society that has no respect, no regard for its bards, its historians, its storytellers, is a society in steep decline, a society that has lost its very soul and may never find its way. — Laurence Overmire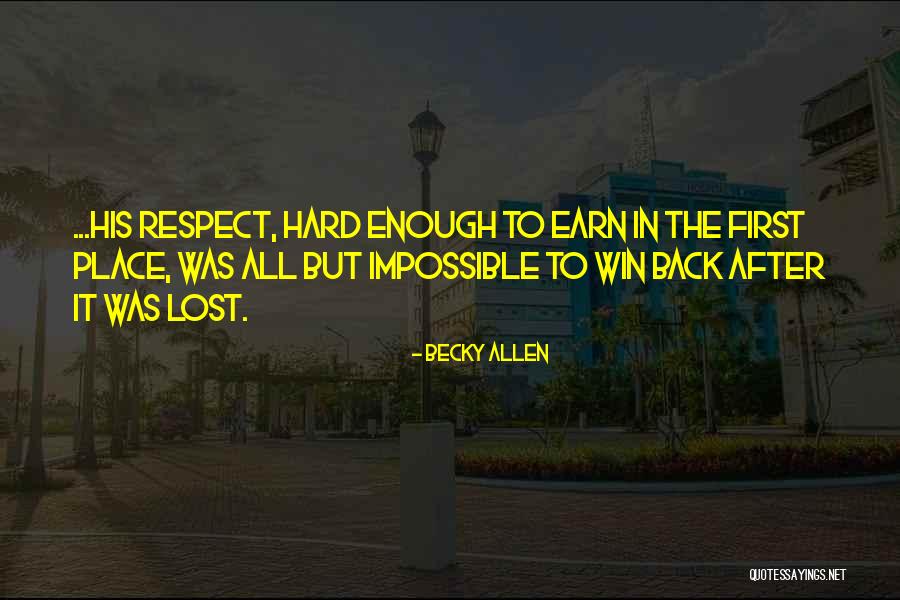 ...his respect, hard enough to earn in the first place, was all but impossible to win back after it was lost. — Becky Allen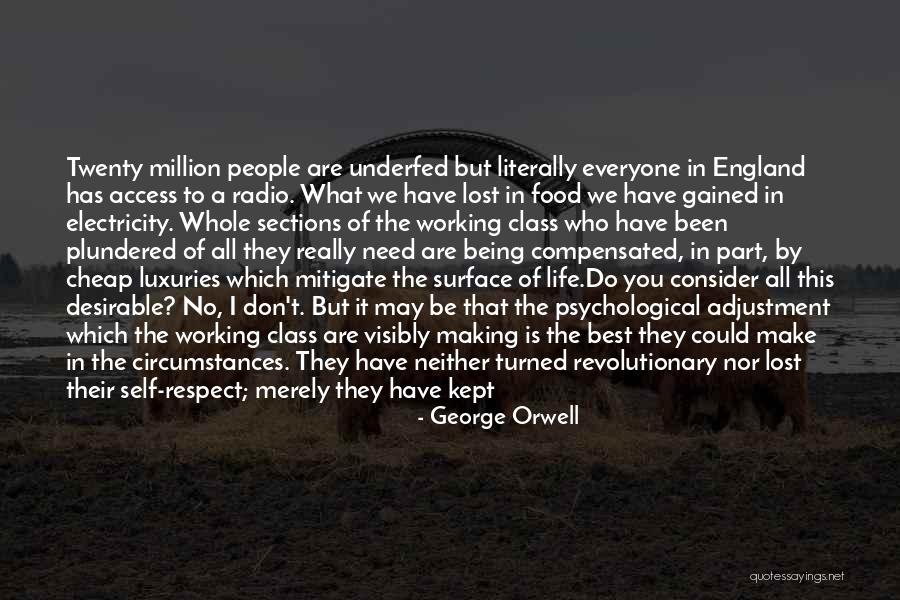 Twenty million people are underfed but literally everyone in England has access to a radio. What we have lost in food we have gained in electricity. Whole sections of the working class who have been plundered of all they really need are being compensated, in part, by cheap luxuries which mitigate the surface of life.

Do you consider all this desirable? No, I don't. But it may be that the psychological adjustment which the working class are visibly making is the best they could make in the circumstances. They have neither turned revolutionary nor lost their self-respect; merely they have kept their tempers and settled down to make the best of things on a fish-and-chip standard. The alternative would be God knows what continued agonies of despair; or it might be attempted insurrections which, in a strongly governed country like England, could only lead to futile massacres and a regime of savage repression. — George Orwell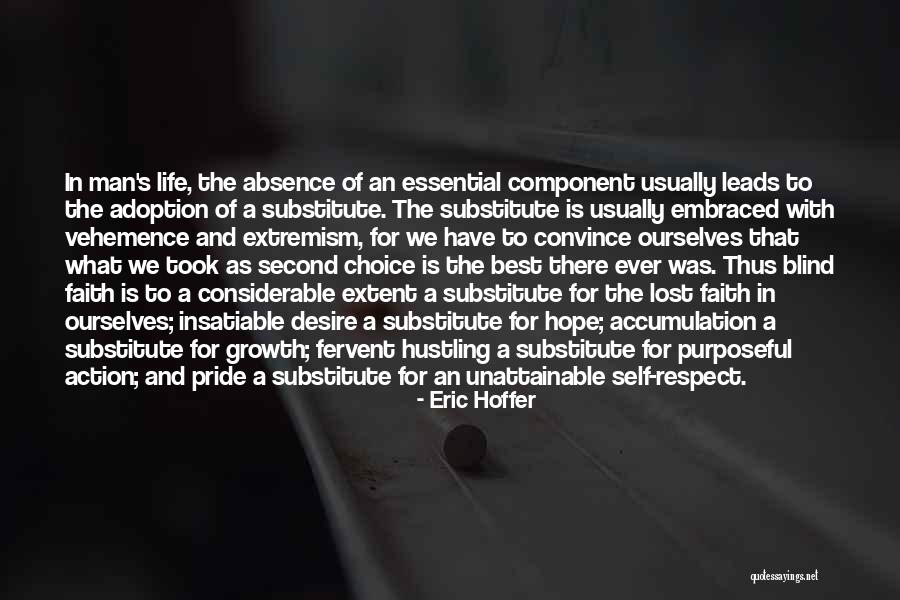 In man's life, the absence of an essential component usually leads to the adoption of a substitute. The substitute is usually embraced with vehemence and extremism, for we have to convince ourselves that what we took as second choice is the best there ever was. Thus blind faith is to a considerable extent a substitute for the lost faith in ourselves; insatiable desire a substitute for hope; accumulation a substitute for growth; fervent hustling a substitute for purposeful action; and pride a substitute for an unattainable self-respect. — Eric Hoffer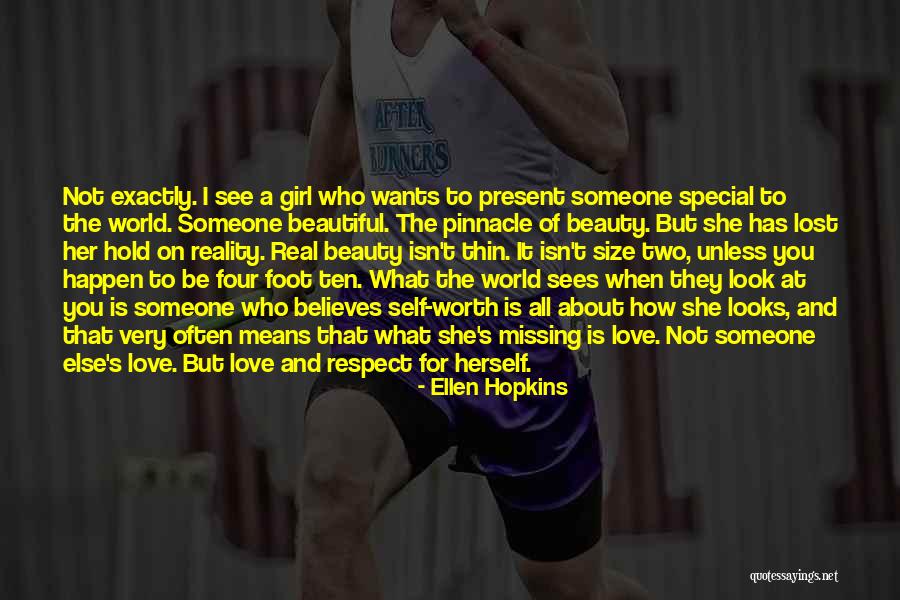 Not exactly. I see a girl who wants to present someone special to the world. Someone beautiful. The pinnacle of beauty. But she has lost her hold on reality. Real beauty isn't thin. It isn't size two, unless you happen to be four foot ten. What the world sees when they look at you is someone who believes self-worth is all about how she looks, and that very often means that what she's missing is love. Not someone else's love. But love and respect for herself. — Ellen Hopkins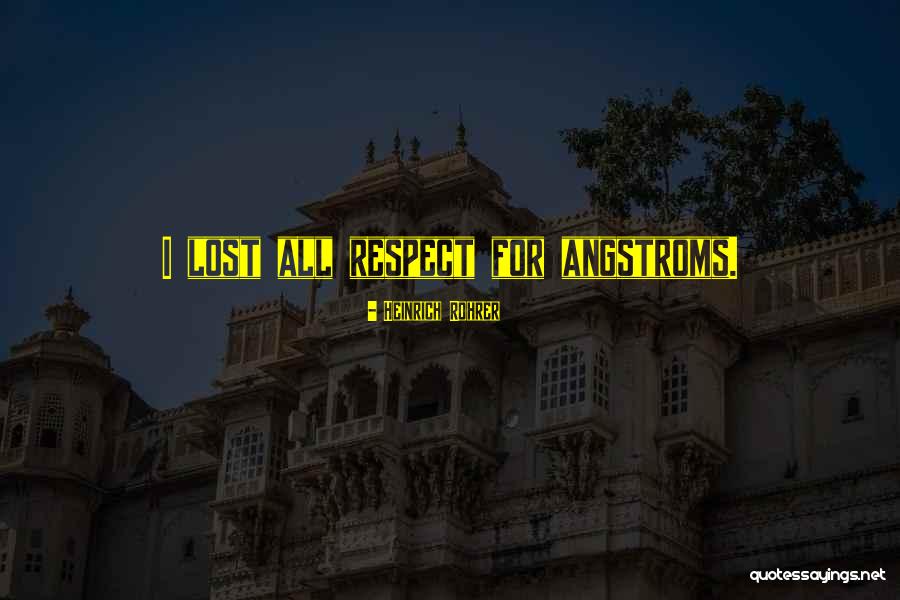 I lost all respect for angstroms. — Heinrich Rohrer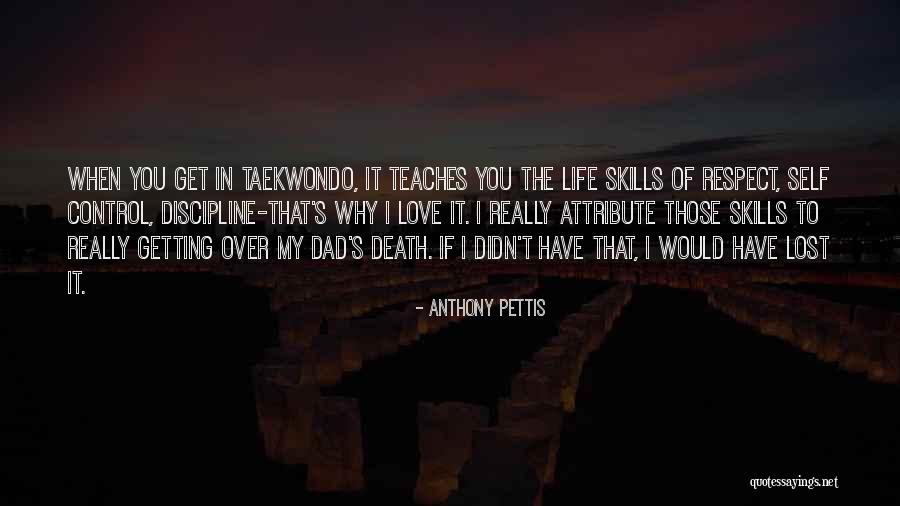 When you get in taekwondo, it teaches you the life skills of respect, self control, discipline-that's why I love it. I really attribute those skills to really getting over my dad's death. If I didn't have that, I would have lost it. — Anthony Pettis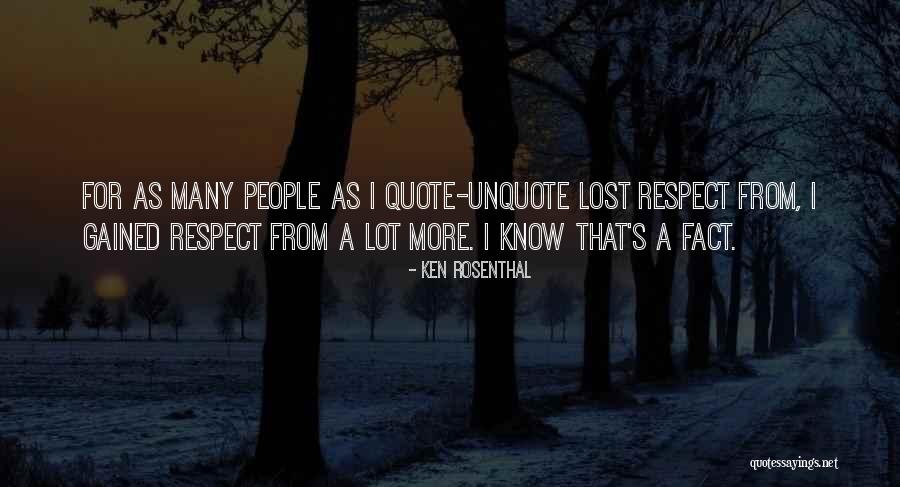 For as many people as I quote-unquote lost respect from, I gained respect from a lot more. I know that's a fact. — Ken Rosenthal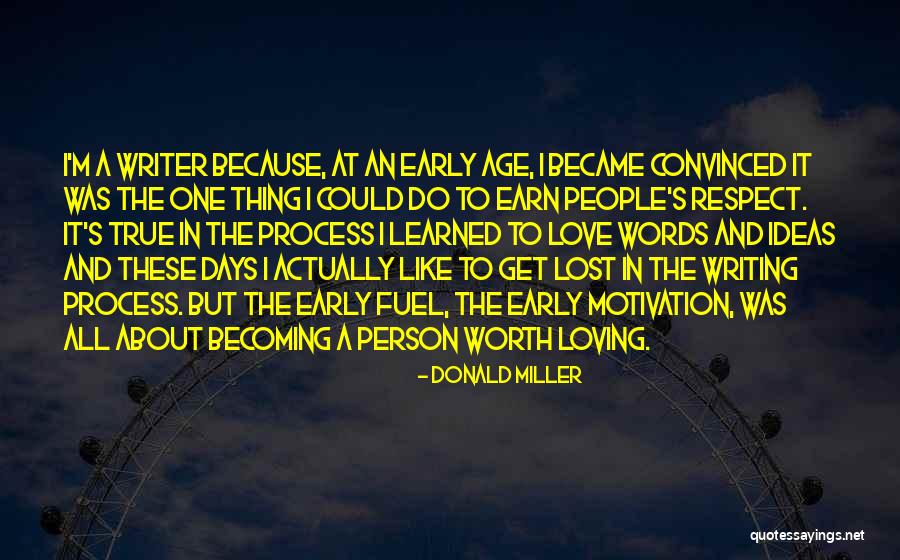 I'm a writer because, at an early age, I became convinced it was the one thing I could do to earn people's respect. It's true in the process I learned to love words and ideas and these days I actually like to get lost in the writing process. But the early fuel, the early motivation, was all about becoming a person worth loving. — Donald Miller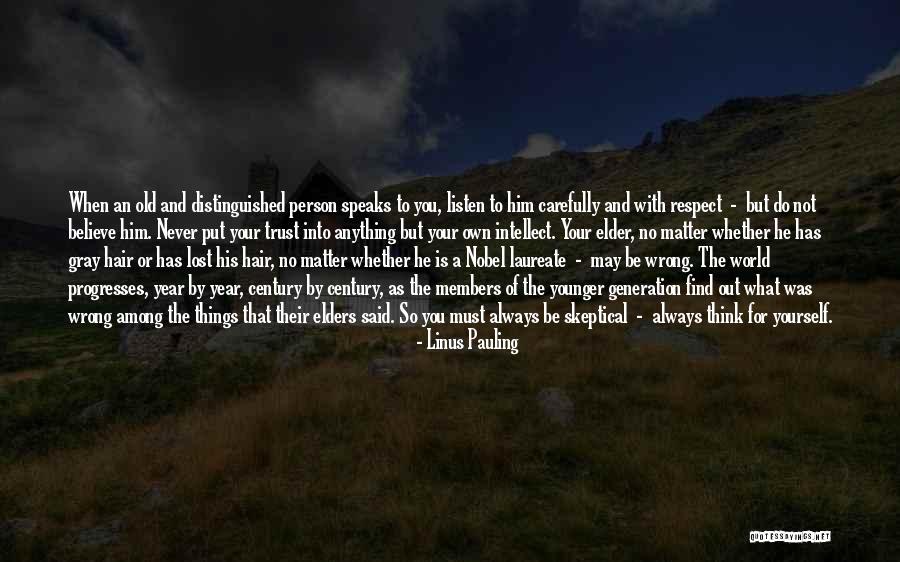 When an old and distinguished person speaks to you, listen to him carefully and with respect - but do not believe him. Never put your trust into anything but your own intellect. Your elder, no matter whether he has gray hair or has lost his hair, no matter whether he is a Nobel laureate - may be wrong. The world progresses, year by year, century by century, as the members of the younger generation find out what was wrong among the things that their elders said. So you must always be skeptical - always think for yourself. — Linus Pauling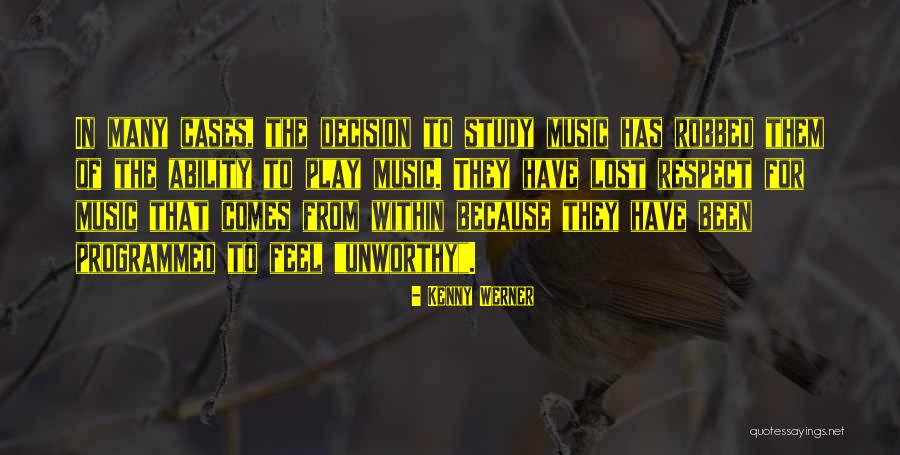 In many cases, the decision to study music has robbed them of the ability to play music. They have lost respect for music that comes from within because they have been programmed to feel "unworthy". — Kenny Werner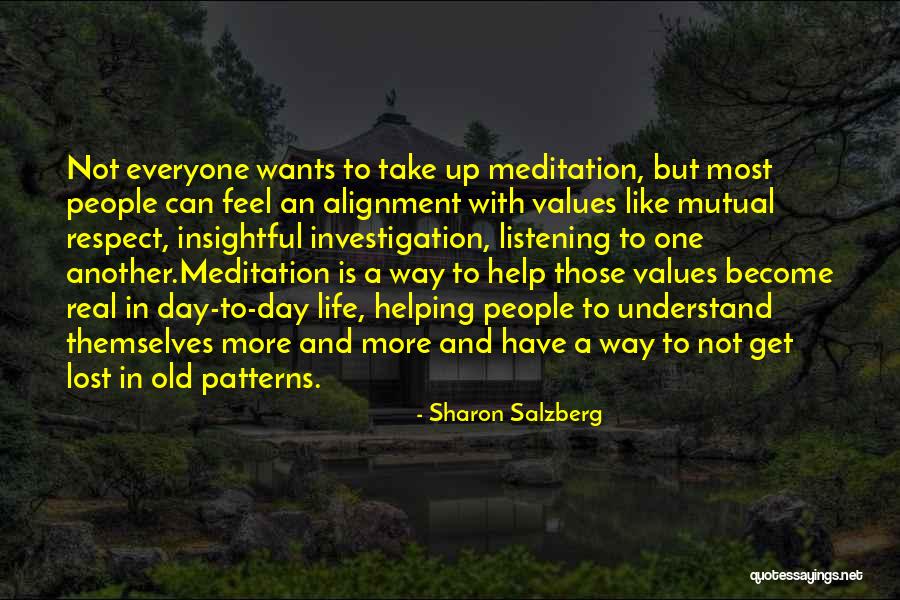 Not everyone wants to take up meditation, but most people can feel an alignment with values like mutual respect, insightful investigation, listening to one another.
Meditation is a way to help those values become real in day-to-day life, helping people to understand themselves more and more and have a way to not get lost in old patterns. — Sharon Salzberg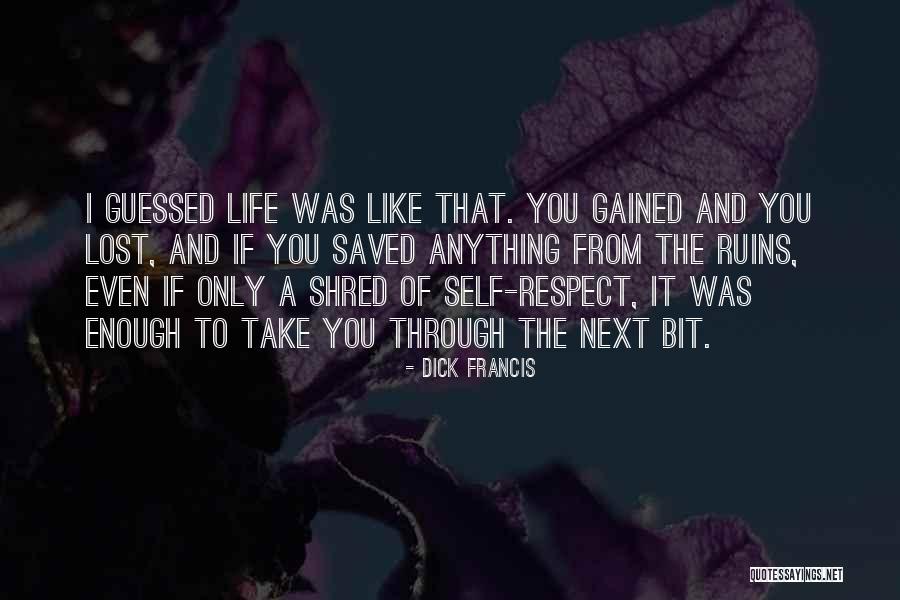 I guessed life was like that. You gained and you lost, and if you saved anything from the ruins, even if only a shred of self-respect, it was enough to take you through the next bit. — Dick Francis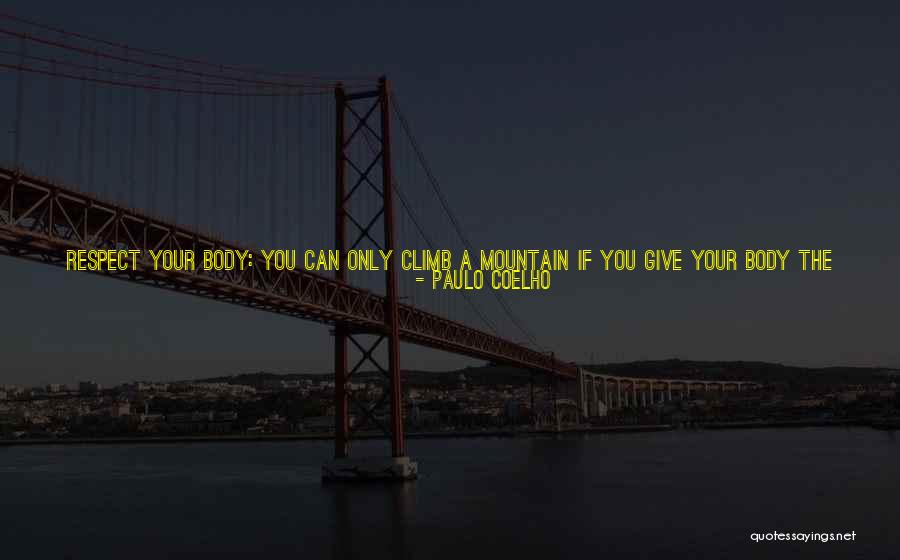 Respect your body: you can only climb a mountain if you give your body the attention it deserves. You have all the time that life grants you, as long as you walk without demanding what can't be granted. If you go too fast you will grow tired and give up half way there. If you go too slow, night will fall and you will be lost. Enjoy the scenery, take delight in the cool spring water and the fruit that nature generously offers you, but keep on walking. — Paulo Coelho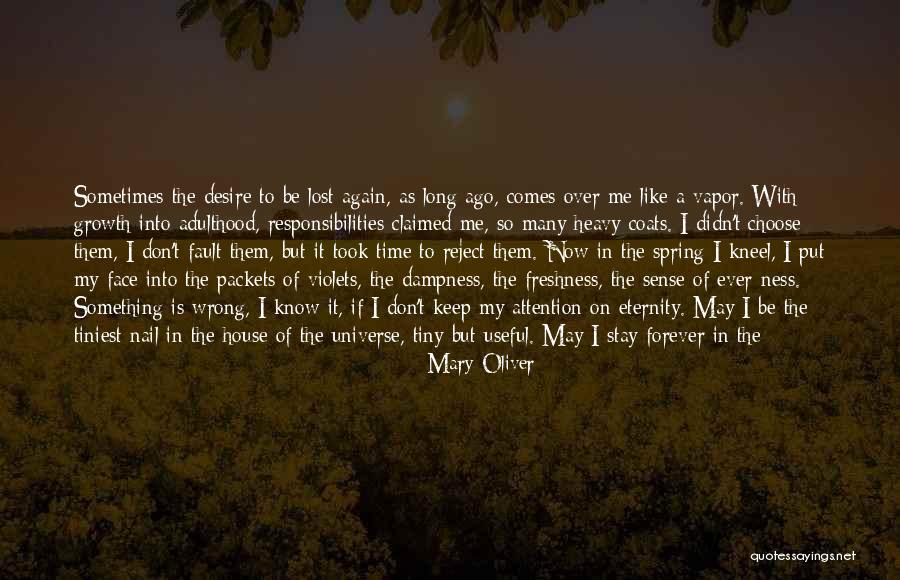 Sometimes the desire to be lost again, as long ago, comes over me like a vapor. With growth into adulthood, responsibilities claimed me, so many heavy coats. I didn't choose them, I don't fault them, but it took time to reject them. Now in the spring I kneel, I put my face into the packets of violets, the dampness, the freshness, the sense of ever-ness. Something is wrong, I know it, if I don't keep my attention on eternity. May I be the tiniest nail in the house of the universe, tiny but useful. May I stay forever in the stream. May I look down upon the windflower and the bull thistle and the coreopsis with the greatest respect. — Mary Oliver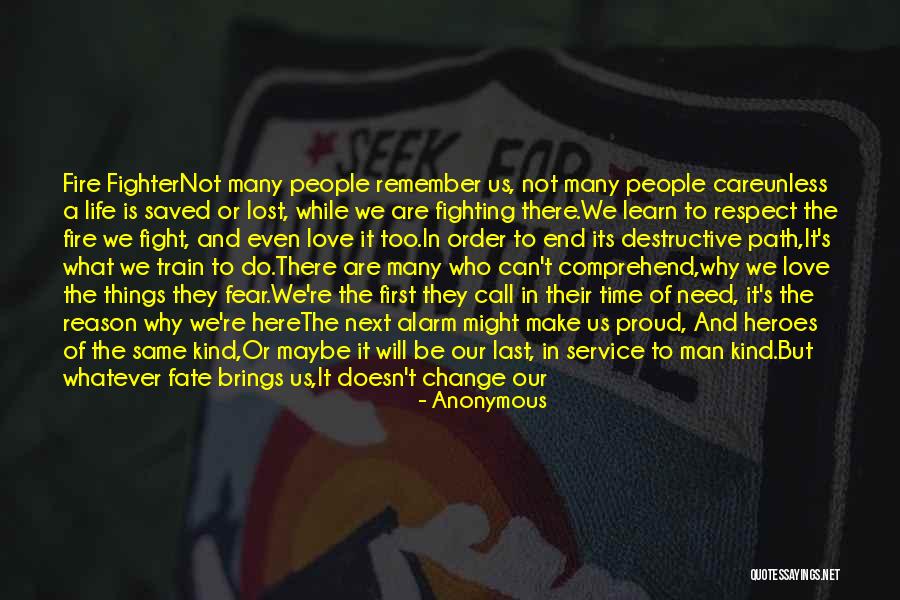 Fire Fighter
Not many people remember us, not many people care
unless a life is saved or lost, while we are fighting there.
We learn to respect the fire we fight, and even love it too.
In order to end its destructive path,
It's what we train to do.
There are many who can't comprehend,
why we love the things they fear.
We're the first they call in their time of need, it's the reason why we're here
The next alarm might make us proud,
And heroes of the same kind,
Or maybe it will be our last, in service to man kind.
But whatever fate brings us,
It doesn't change our hearts.
We're firefighters to the end. We'll always do our part. — Anonymous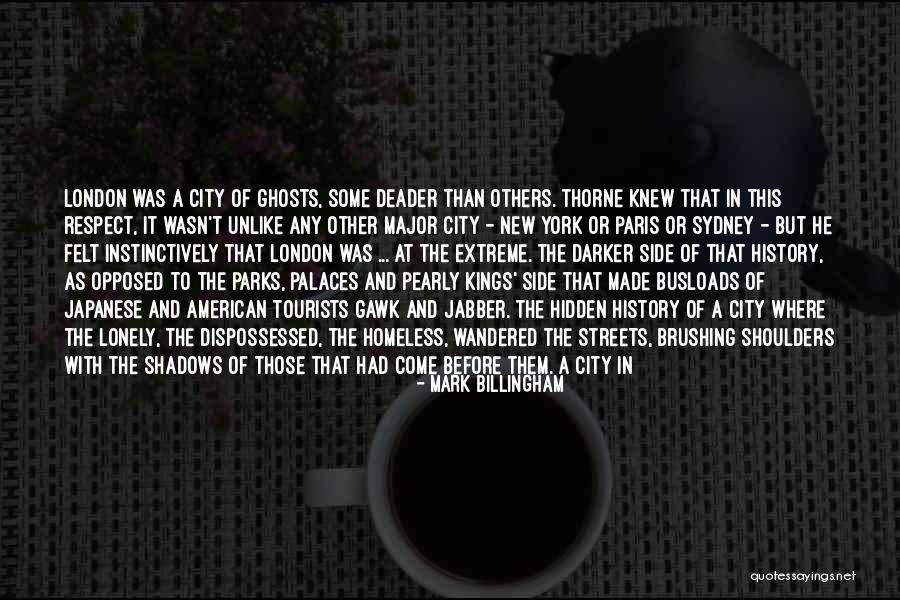 London was a city of ghosts, some deader than others.
Thorne knew that in this respect, it wasn't unlike any other major city - New York or Paris or Sydney - but he felt instinctively that London was ... at the extreme. The darker side of that history, as opposed to the parks, palaces and pearly kings' side that made busloads of Japanese and American tourists gawk and jabber. The hidden history of a city where the lonely, the dispossessed, the homeless, wandered the streets, brushing shoulders with the shadows of those that had come before them. A city in which the poor and the plague-ridden, those long-since hanged for stealing a loaf or murdered for a shilling, jostled for position with those seeking a meal, or a score, or a bed for the night.
A city where the dead could stay lost a long time — Mark Billingham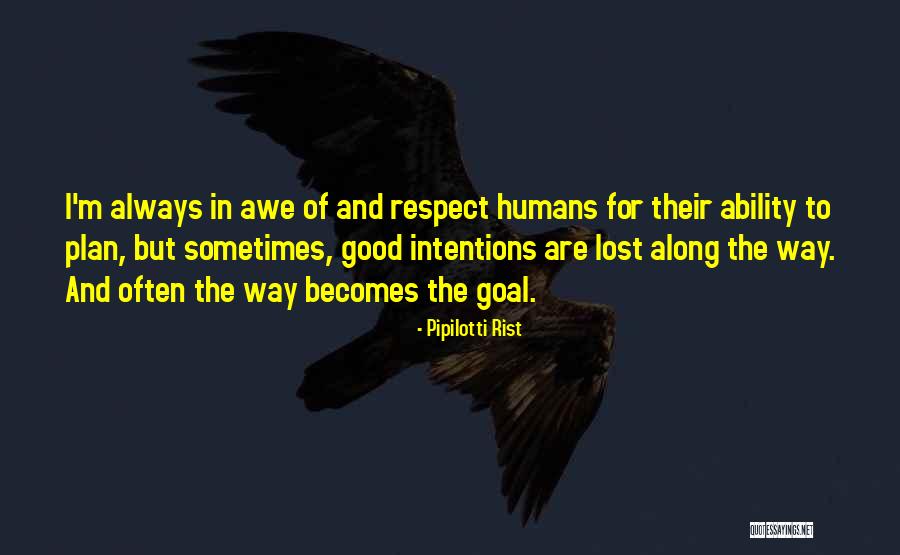 I'm always in awe of and respect humans for their ability to plan, but sometimes, good intentions are lost along the way. And often the way becomes the goal. — Pipilotti Rist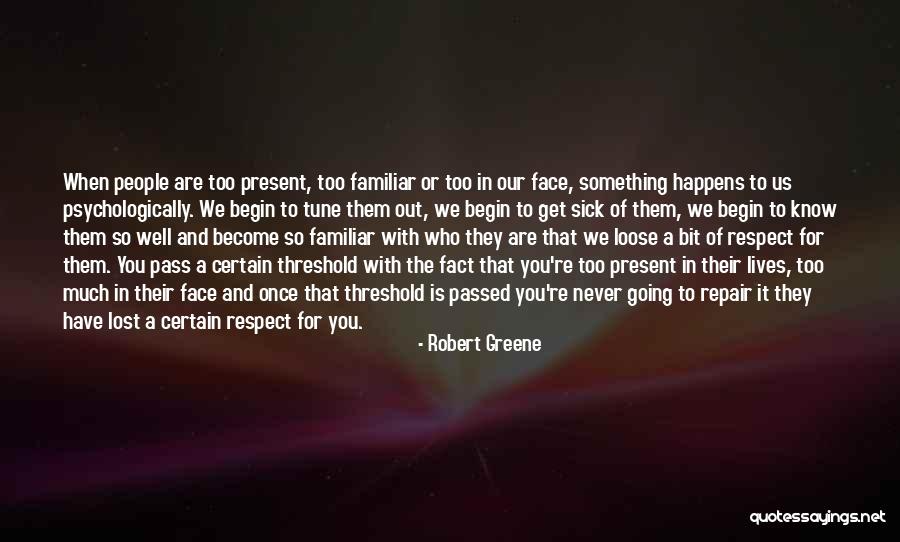 When people are too present, too familiar or too in our face, something happens to us psychologically. We begin to tune them out, we begin to get sick of them, we begin to know them so well and become so familiar with who they are that we loose a bit of respect for them. You pass a certain threshold with the fact that you're too present in their lives, too much in their face and once that threshold is passed you're never going to repair it they have lost a certain respect for you. — Robert Greene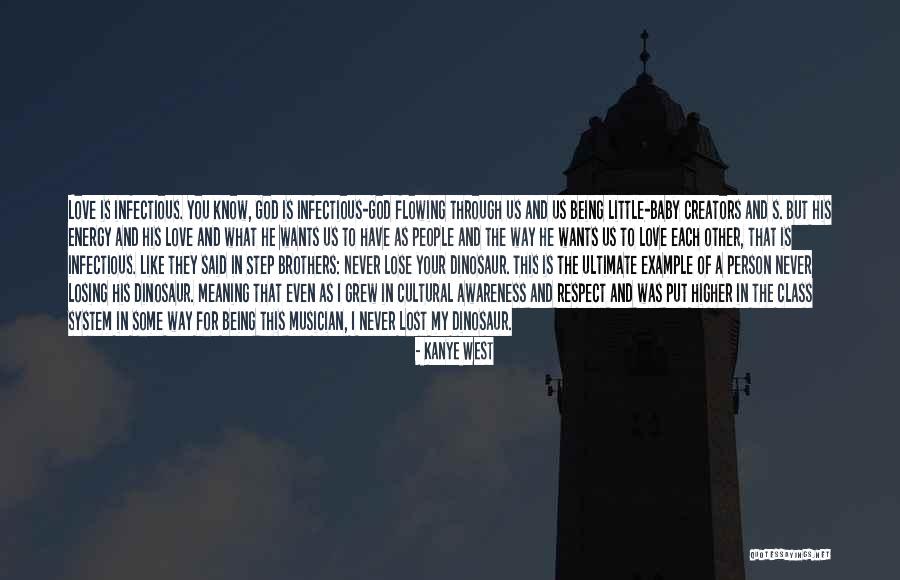 Love is infectious. You know, God is infectious-God flowing through us and us being little-baby creators and s
. But His energy and His love and what He wants us to have as people and the way He wants us to love each other, that is infectious. Like they said in Step Brothers: Never lose your dinosaur. This is the ultimate example of a person never losing his dinosaur. Meaning that even as I grew in cultural awareness and respect and was put higher in the class system in some way for being this musician, I never lost my dinosaur. — Kanye West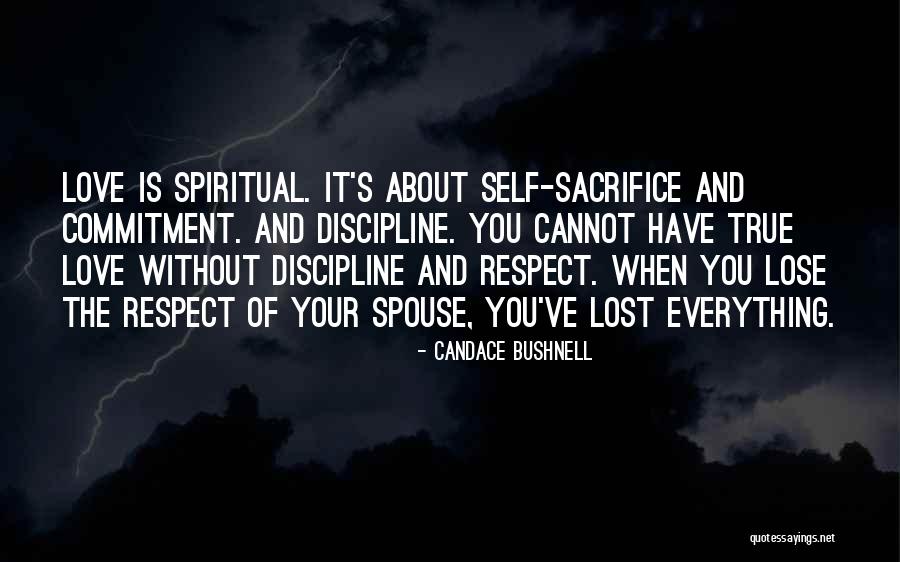 Love is spiritual. It's about self-sacrifice and commitment. And discipline. You cannot have true love without discipline and respect. When you lose the respect of your spouse, you've lost everything. — Candace Bushnell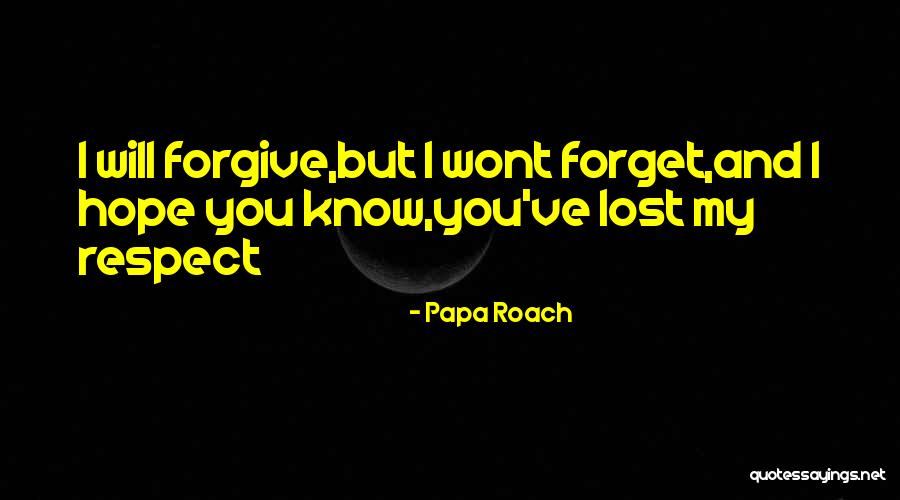 I will forgive,
but I wont forget,
and I hope you know,
you've lost my respect — Papa Roach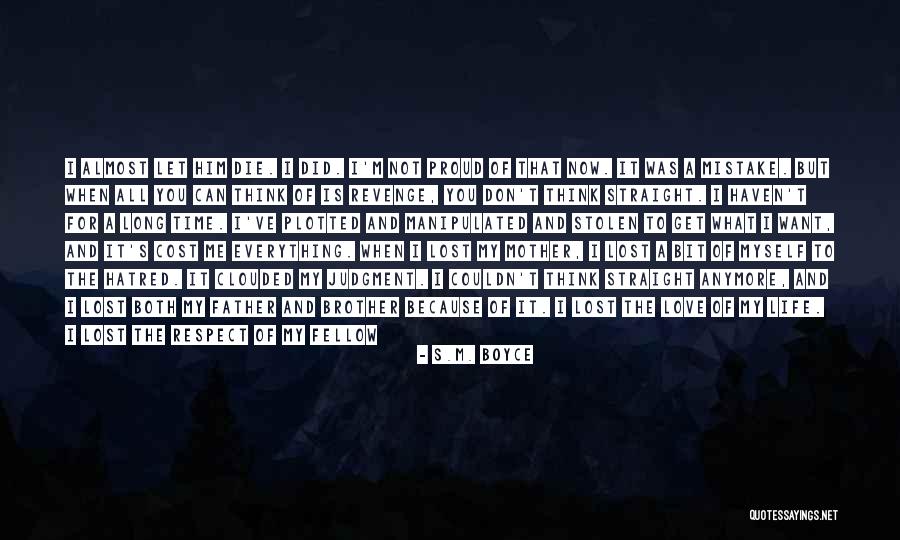 I almost let him die. I did. I'm not proud of that now. It was a mistake. But when all you can think of is revenge, you don't think straight. I haven't for a long time. I've plotted and manipulated and stolen to get what I want, and it's cost me everything. When I lost my mother, I lost a bit of myself to the hatred. It clouded my judgment. I couldn't think straight anymore, and I lost both my father and brother because of it. I lost the love of my life. I lost the respect of my fellow Bloods. I lost control over you. By using deception to get my revenge, I lost everything, Kara. I lost everything that ever used to matter to me. - Blood Gavin — S.M. Boyce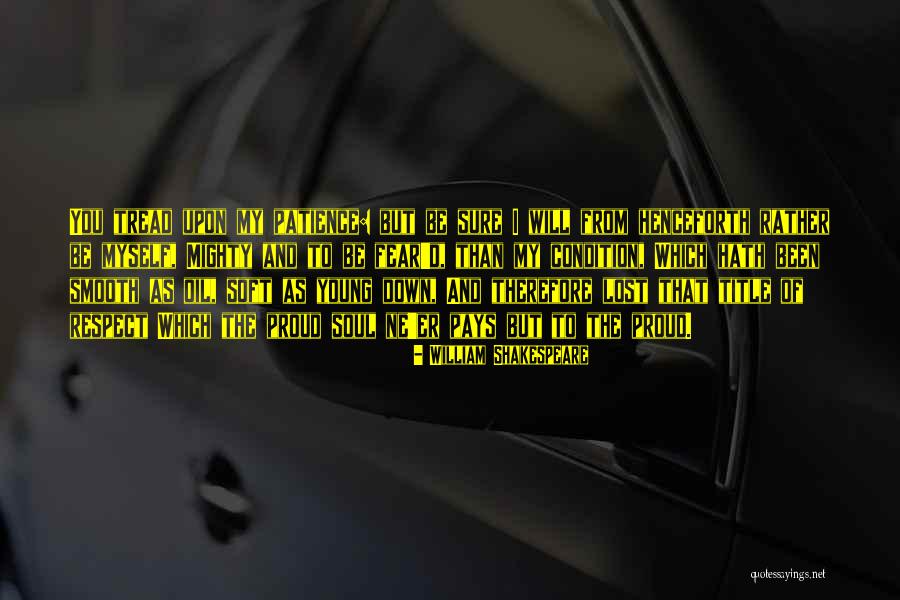 You tread upon my patience: but be sure I will from henceforth rather be myself, Mighty and to be fear'd, than my condition, Which hath been smooth as oil, soft as young down, And therefore lost that title of respect Which the proud soul ne'er pays but to the proud. — William Shakespeare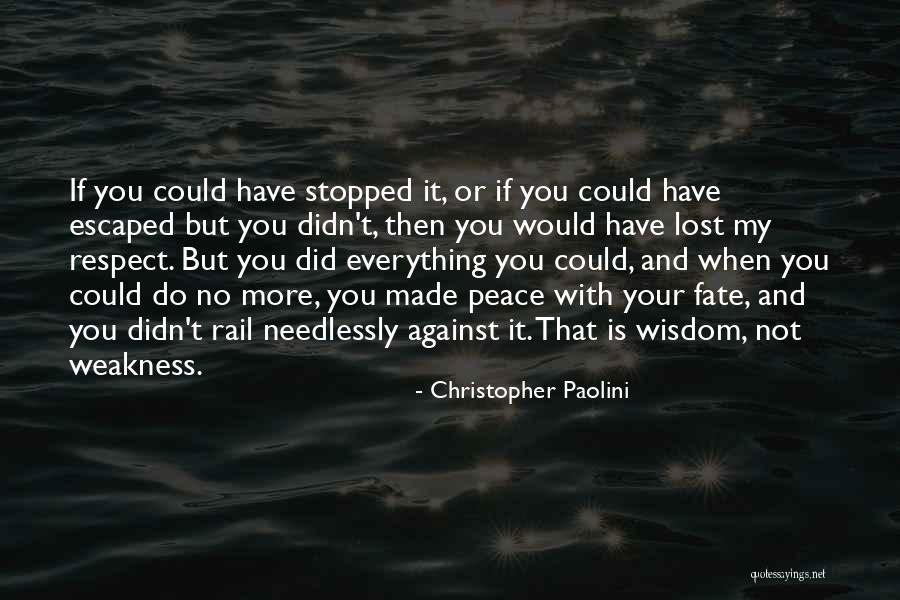 If you could have stopped it, or if you could have escaped but you didn't, then you would have lost my respect. But you did everything you could, and when you could do no more, you made peace with your fate, and you didn't rail needlessly against it. That is wisdom, not weakness. — Christopher Paolini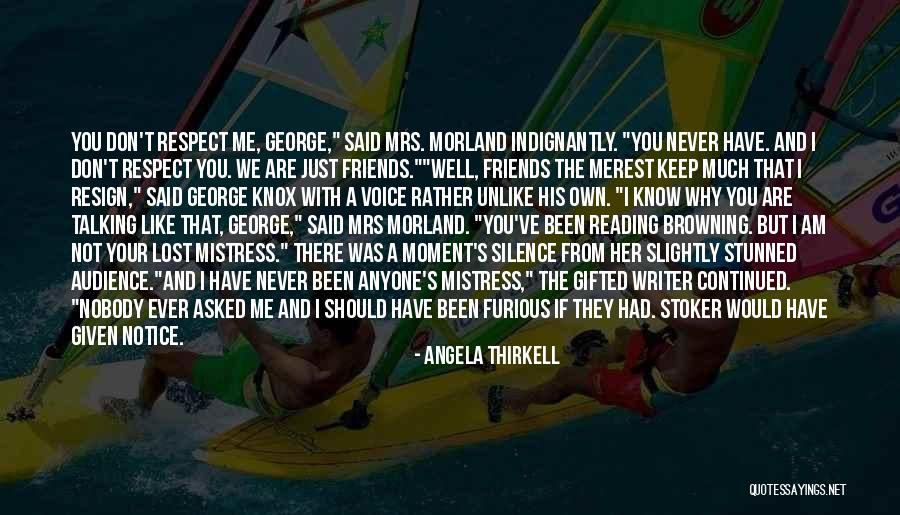 You don't respect me, George," said Mrs. Morland indignantly. "You never have. And I don't respect you. We are just friends."
"Well, friends the merest Keep much that I resign," said George Knox with a voice rather unlike his own.
"I know why you are talking like that, George," said Mrs Morland. "You've been reading Browning. But I am not your Lost Mistress."
There was a moment's silence from her slightly stunned audience.
"And I have never been anyone's mistress," the gifted writer continued. "Nobody ever asked me and I should have been furious if they had. Stoker would have given notice. And it would have been most awkward for my boys; especially the married ones. I mean, my boys wouldn't have taken much notice but my daughters-in-law, whom I am devoted to, would think it not a good thing. — Angela Thirkell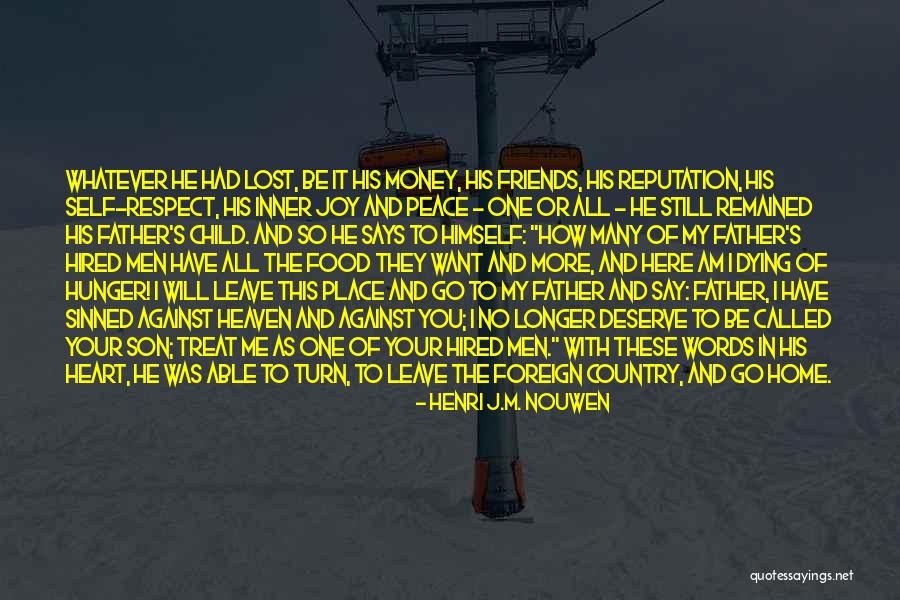 Whatever he had lost, be it his money, his friends, his reputation, his self-respect, his inner joy and peace - one or all - he still remained his father's child. And so he says to himself: "How many of my father's hired men have all the food they want and more, and here am I dying of hunger! I will leave this place and go to my father and say: Father, I have sinned against heaven and against you; I no longer deserve to be called your son; treat me as one of your hired men." With these words in his heart, he was able to turn, to leave the foreign country, and go home. — Henri J.M. Nouwen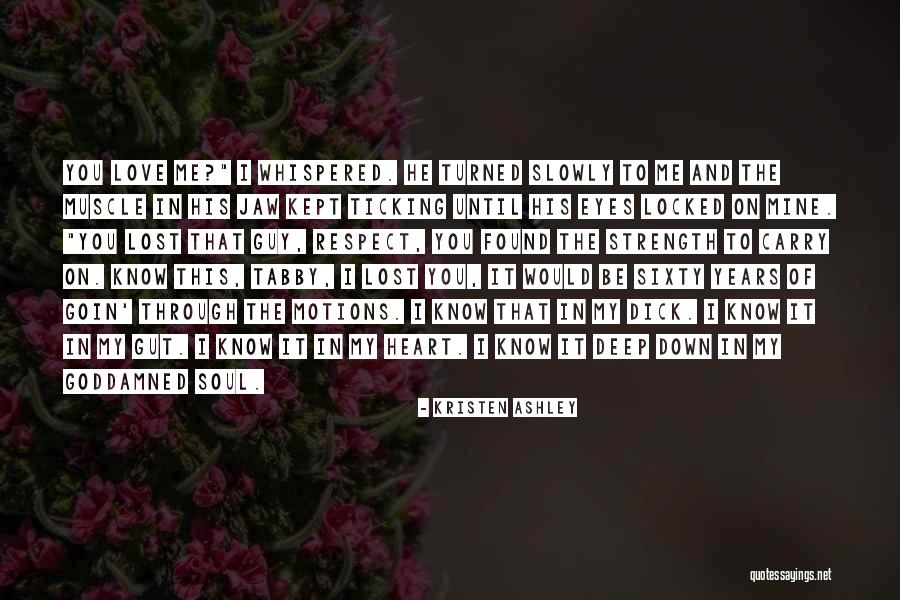 You love me?" I whispered. He turned slowly to me and the muscle in his jaw kept ticking until his eyes locked on mine. "You lost that guy, respect, you found the strength to carry on. Know this, Tabby, I lost you, it would be sixty years of goin' through the motions. I know that in my dick. I know it in my gut. I know it in my heart. I know it deep down in my goddamned soul. — Kristen Ashley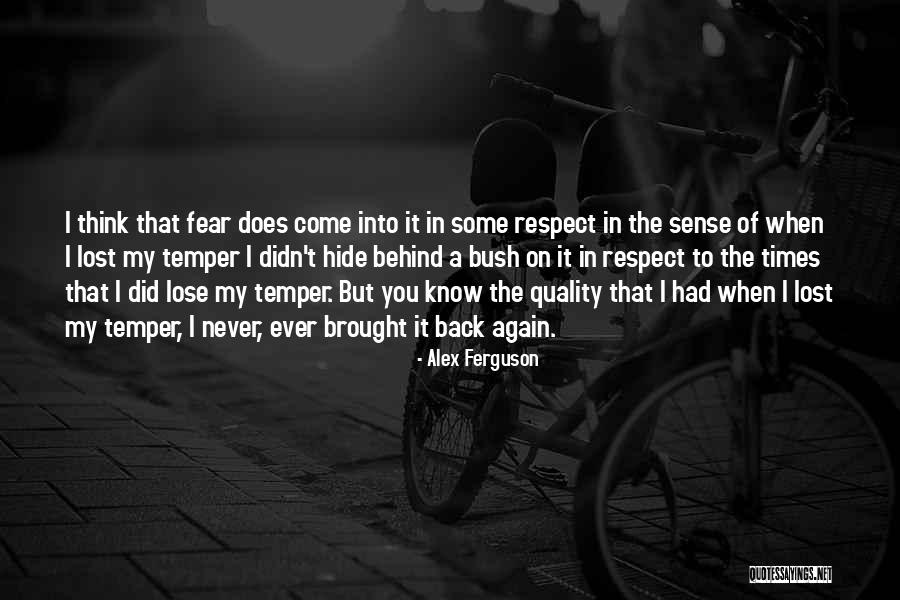 I think that fear does come into it in some respect in the sense of when I lost my temper I didn't hide behind a bush on it in respect to the times that I did lose my temper. But you know the quality that I had when I lost my temper, I never, ever brought it back again. — Alex Ferguson