You Hurt Me Best Friend Quotes & Sayings
Enjoy reading and share 44 famous quotes about You Hurt Me Best Friend with everyone.
Top You Hurt Me Best Friend Quotes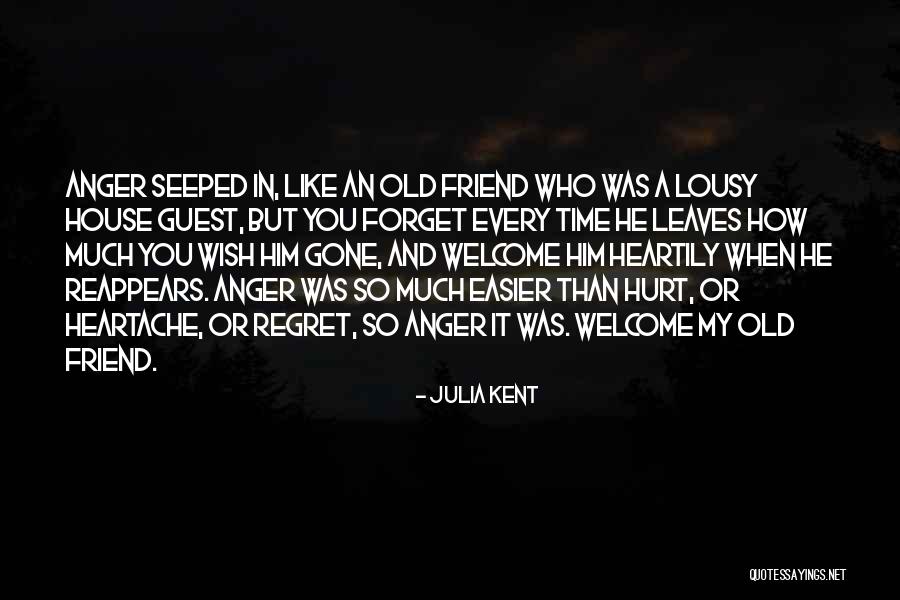 Anger seeped in, like an old friend who was a lousy house guest, but you forget every time he leaves how much you wish him gone, and welcome him heartily when he reappears. Anger was so much easier than hurt, or heartache, or regret, so anger it was. Welcome my old friend. — Julia Kent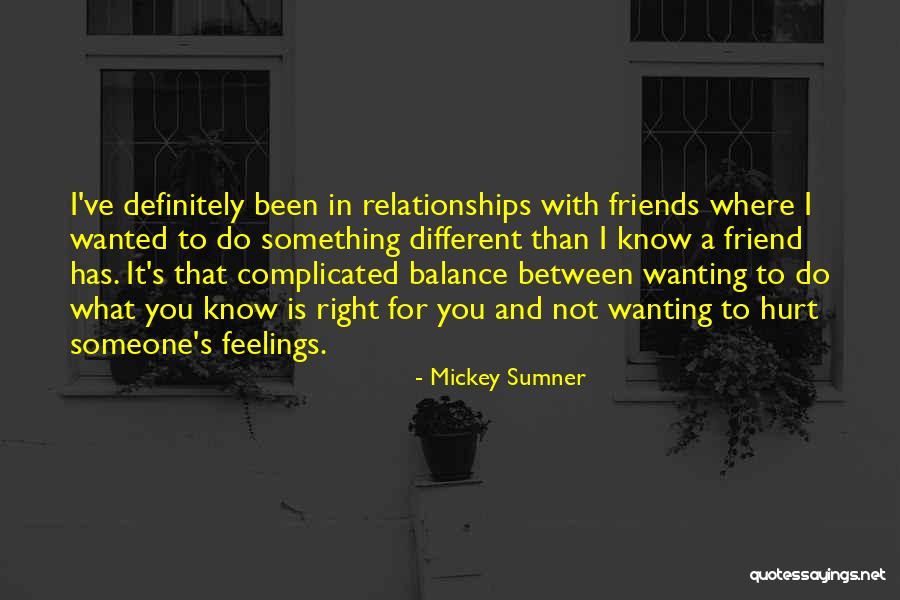 I've definitely been in relationships with friends where I wanted to do something different than I know a friend has. It's that complicated balance between wanting to do what you know is right for you and not wanting to hurt someone's feelings. — Mickey Sumner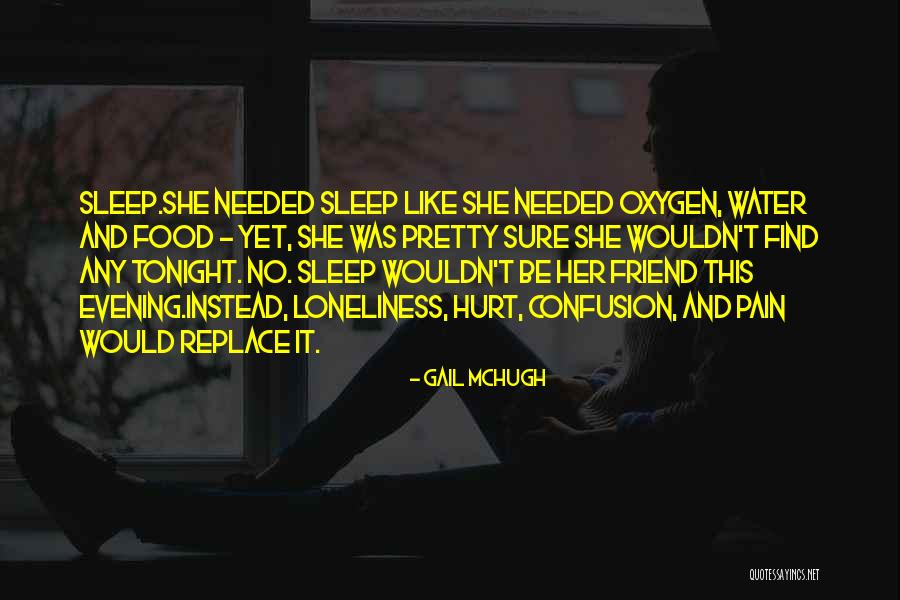 Sleep.
She needed sleep like she needed oxygen, water and food - yet, she was pretty sure she wouldn't find any tonight. No. Sleep wouldn't be her friend this evening.
Instead, loneliness, hurt, confusion, and pain would replace it. — Gail McHugh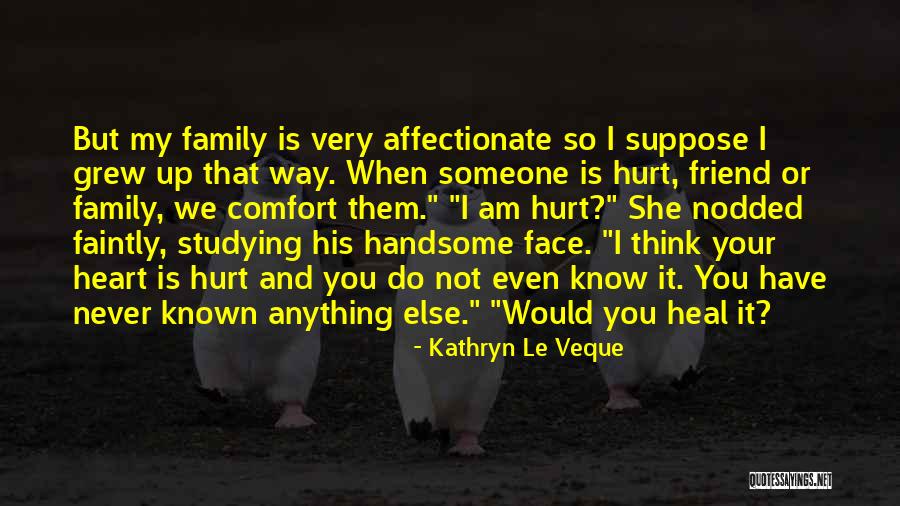 But my family is very affectionate so I suppose I grew up that way. When someone is hurt, friend or family, we comfort them." "I am hurt?" She nodded faintly, studying his handsome face. "I think your heart is hurt and you do not even know it. You have never known anything else." "Would you heal it? — Kathryn Le Veque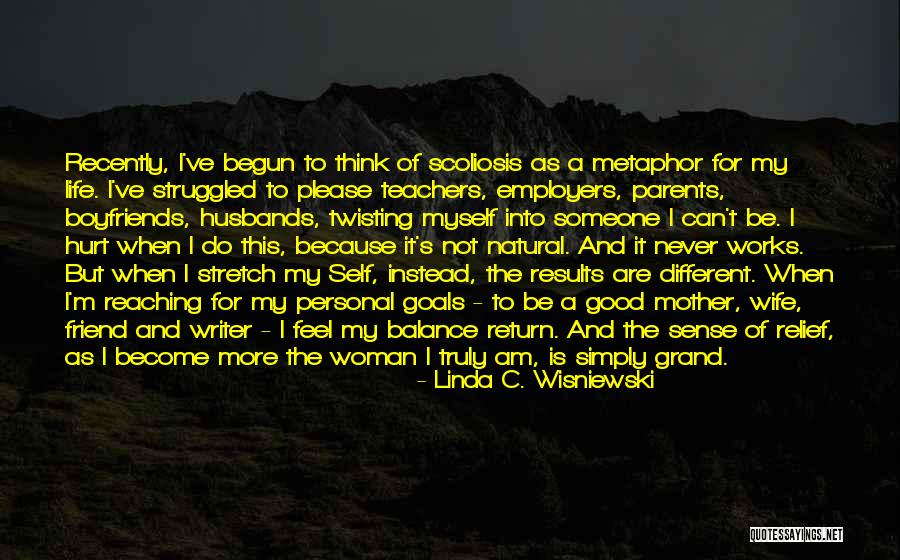 Recently, I've begun to think of scoliosis as a metaphor for my life. I've struggled to please teachers, employers, parents, boyfriends, husbands, twisting myself into someone I can't be. I hurt when I do this, because it's not natural. And it never works. But when I stretch my Self, instead, the results are different. When I'm reaching for my personal goals - to be a good mother, wife, friend and writer - I feel my balance return. And the sense of relief, as I become more the woman I truly am, is simply grand. — Linda C. Wisniewski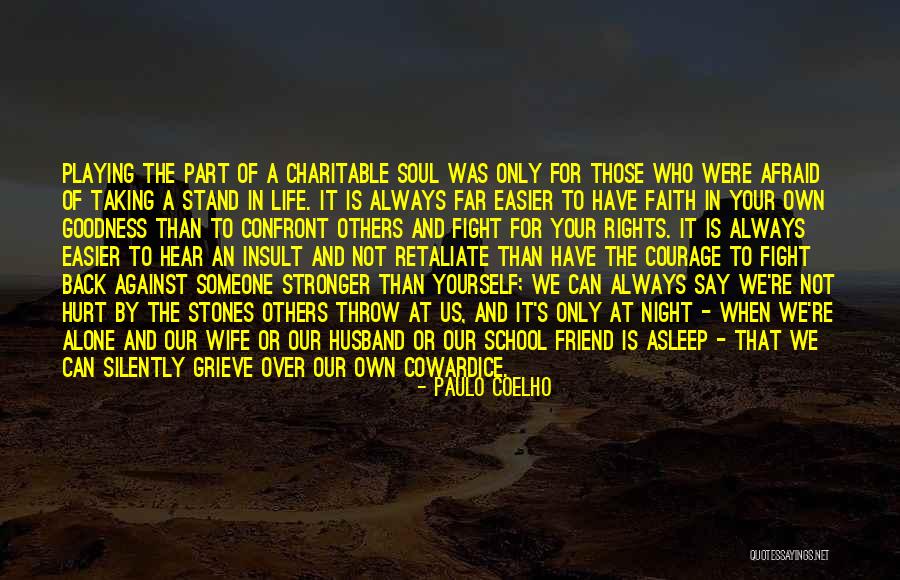 Playing the part of a charitable soul was only for those who were afraid of taking a stand in life. It is always far easier to have faith in your own goodness than to confront others and fight for your rights. It is always easier to hear an insult and not retaliate than have the courage to fight back against someone stronger than yourself; we can always say we're not hurt by the stones others throw at us, and it's only at night - when we're alone and our wife or our husband or our school friend is asleep - that we can silently grieve over our own cowardice. — Paulo Coelho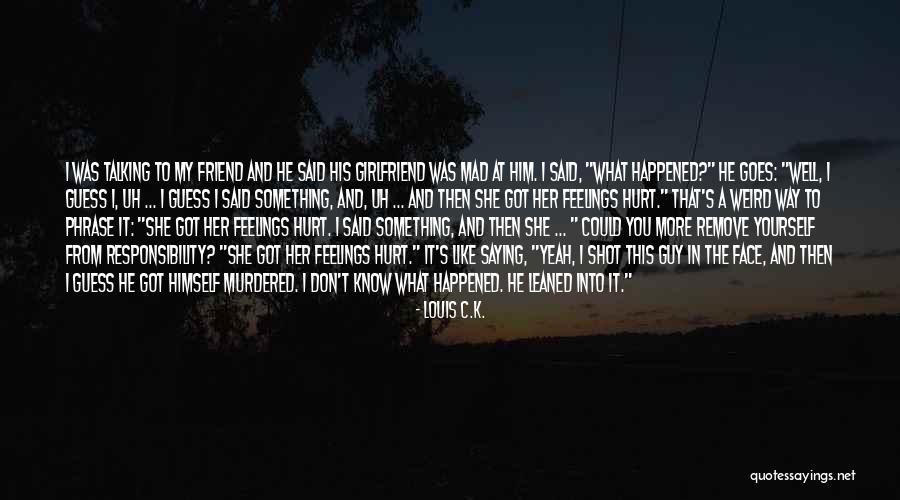 I was talking to my friend and he said his girlfriend was mad at him. I said, "What happened?" He goes: "Well, I guess I, uh ... I guess I said something, and, uh ... and then she got her feelings hurt." That's a weird way to phrase it: "She got her feelings hurt. I said something, and then she ... " Could you more remove yourself from responsibility? "She got her feelings hurt." It's like saying, "Yeah, I shot this guy in the face, and then I guess he got himself murdered. I don't know what happened. He leaned into it." — Louis C.K.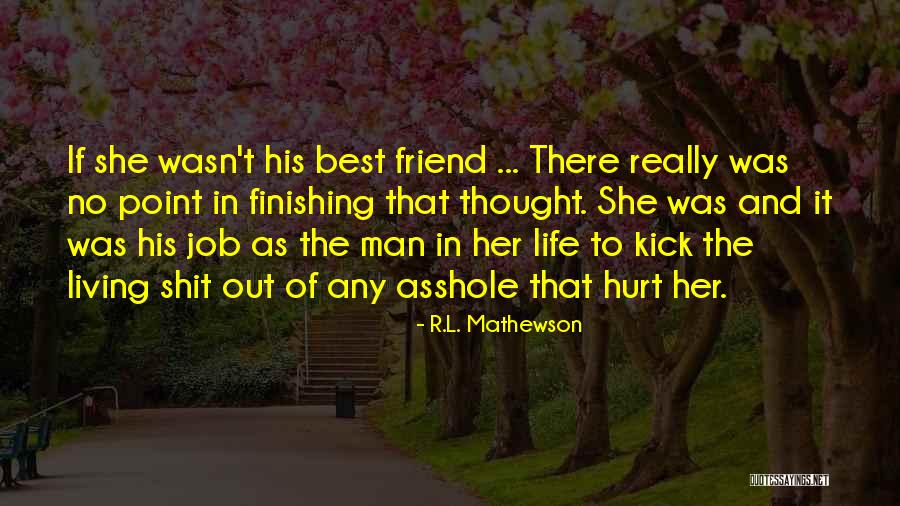 If she wasn't his best friend ...
There really was no point in finishing that thought. She was and it was his job as the man in her life to kick the living shit out of any asshole that hurt her. — R.L. Mathewson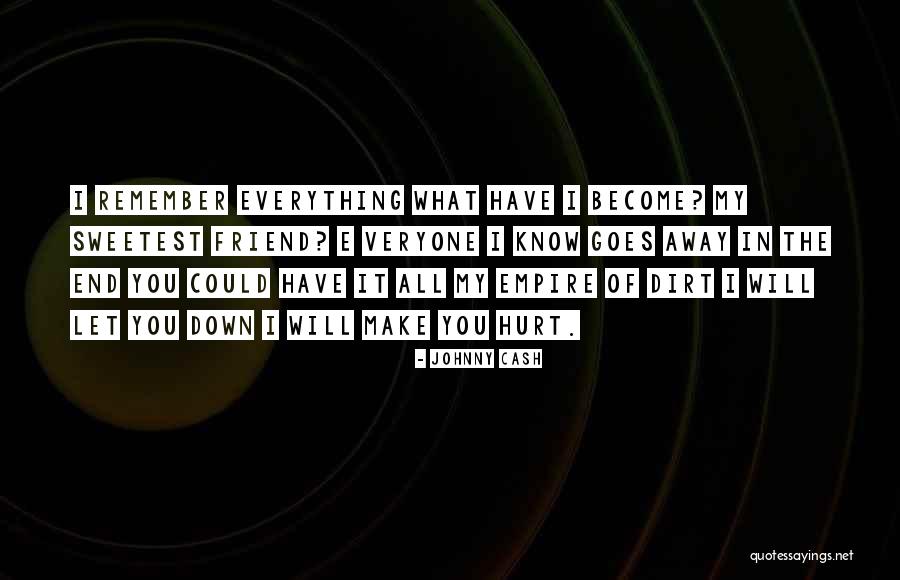 I remember everything What have I become? My sweetest friend? E veryone I know goes away in the end You could have it all My empire of dirt I will let you down I will make you hurt. — Johnny Cash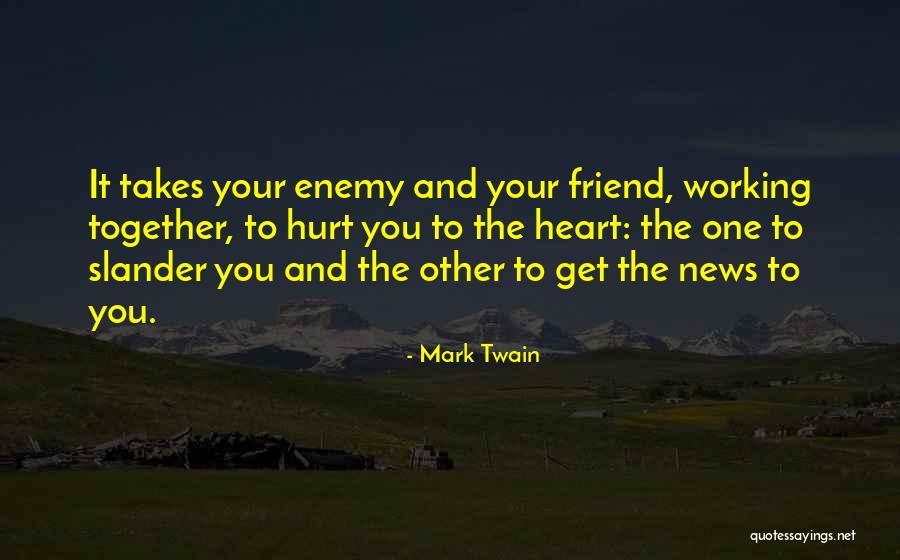 It takes your enemy and your friend, working together, to hurt you to the heart: the one to slander you and the other to get the news to you. — Mark Twain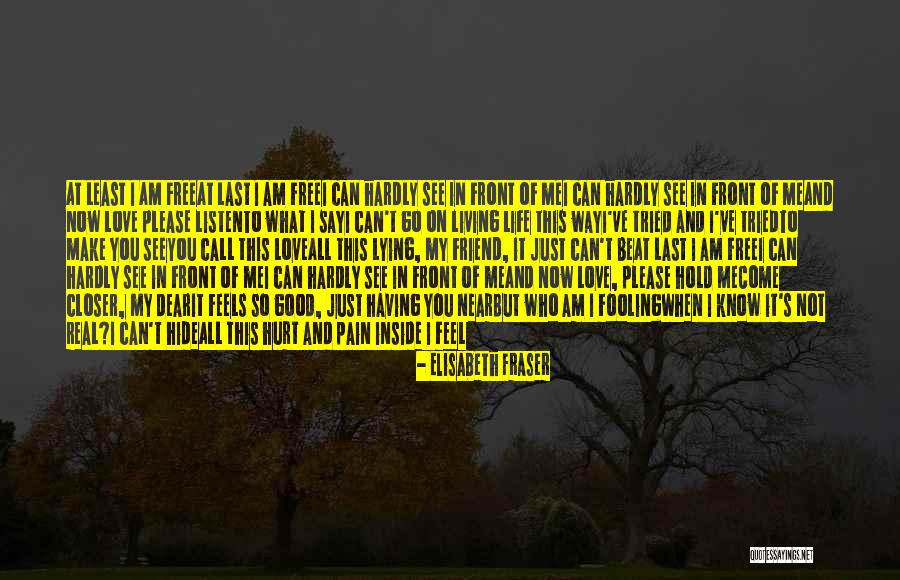 At Least I Am Free

At last I am free
I can hardly see in front of me
I can hardly see in front of me

And now love please listen
To what I say
I can't go on living life this way
I've tried and I've tried
To make you see
You call this love
All this lying, my friend, it just can't be

At last I am free
I can hardly see in front of me
I can hardly see in front of me

And now love, please hold me
Come closer, my dear
It feels so good, just having you near
But who am I fooling
When I know it's not real?
I can't hide
All this hurt and pain inside I feel — Elisabeth Fraser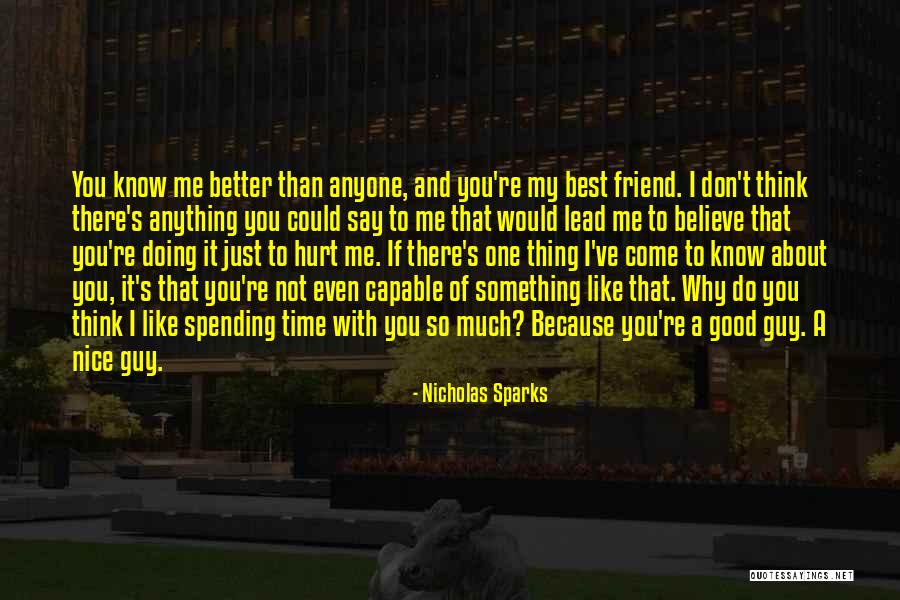 You know me better than anyone, and you're my best friend. I don't think there's anything you could say to me that would lead me to believe that you're doing it just to hurt me. If there's one thing I've come to know about you, it's that you're not even capable of something like that. Why do you think I like spending time with you so much? Because you're a good guy. A nice guy. — Nicholas Sparks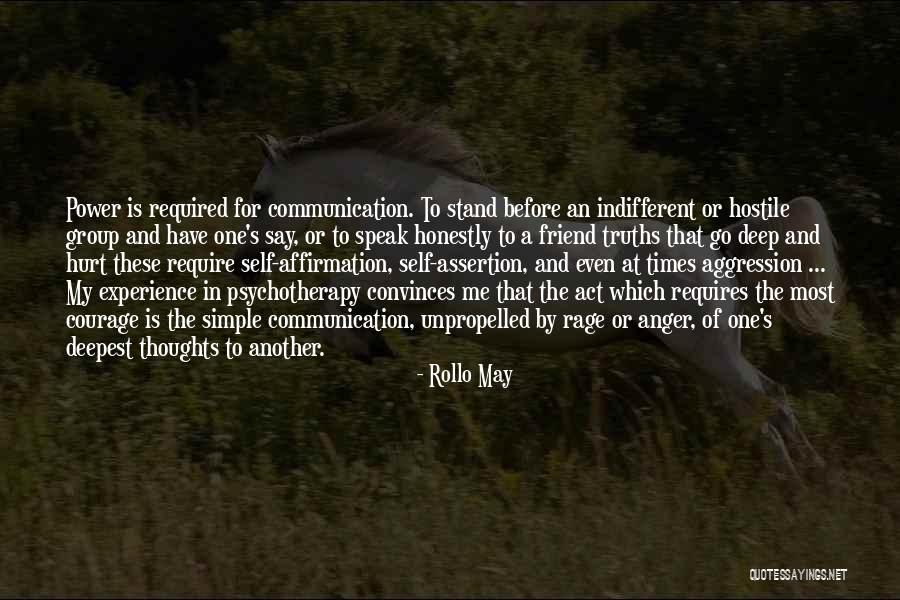 Power is required for communication. To stand before an indifferent or hostile group and have one's say, or to speak honestly to a friend truths that go deep and hurt these require self-affirmation, self-assertion, and even at times aggression ... My experience in psychotherapy convinces me that the act which requires the most courage is the simple communication, unpropelled by rage or anger, of one's deepest thoughts to another. — Rollo May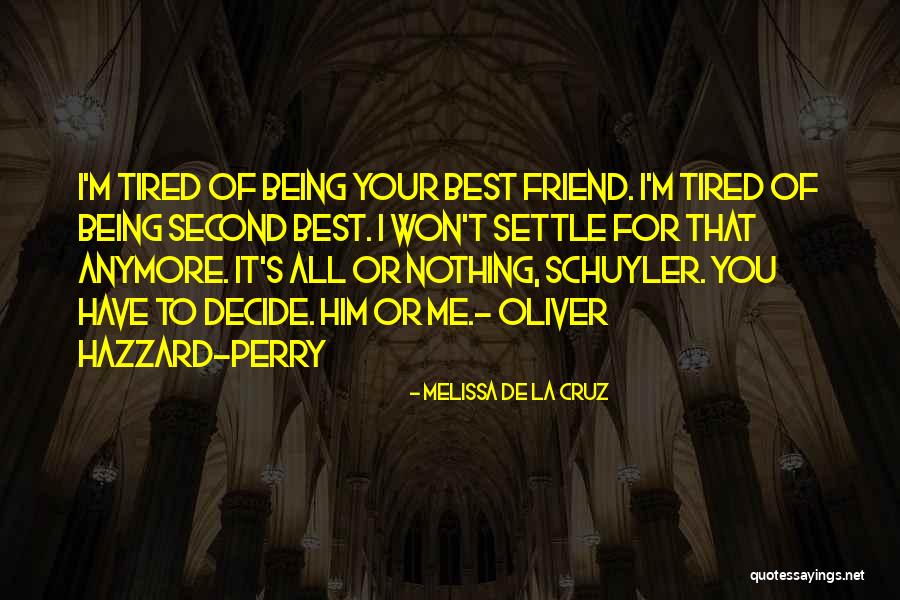 I'm tired of being your best friend. I'm tired of being second best. I won't settle for that anymore. It's all or nothing, Schuyler. You have to decide. Him or me.
- Oliver Hazzard-Perry — Melissa De La Cruz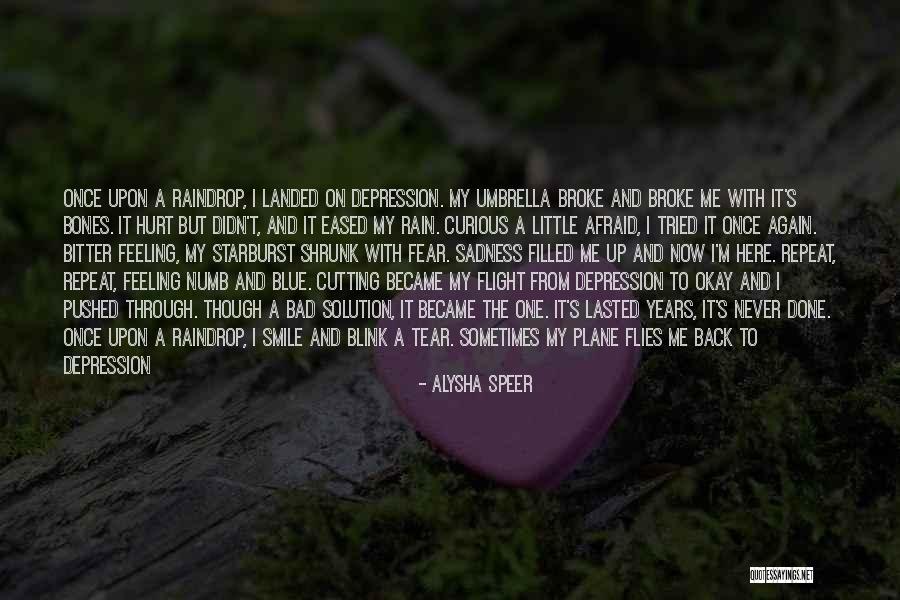 Once upon a raindrop, I landed on Depression. My umbrella broke and broke me with it's bones. It hurt but didn't, and it eased my rain. Curious a little afraid, I tried it once again. Bitter feeling, my starburst shrunk with fear. Sadness filled me up and now I'm here. Repeat, repeat, feeling numb and blue. Cutting became my flight from Depression to Okay and I pushed through. Though a bad solution, it became the one. It's lasted years, it's never done. Once upon a raindrop, I smile and blink a tear. Sometimes my plane flies me back to Depression and cutting then appears. I try and try to stop, but I always round the bend. I can stay on Okay for months, but then I reach an end. It's been a rough road, maybe it will end. It's been a rough road, I know cutting's not my friend. So my starburst searches for solutions, not sure which to choose. And once upon a raindrop, I might land in Happy's shoes. — Alysha Speer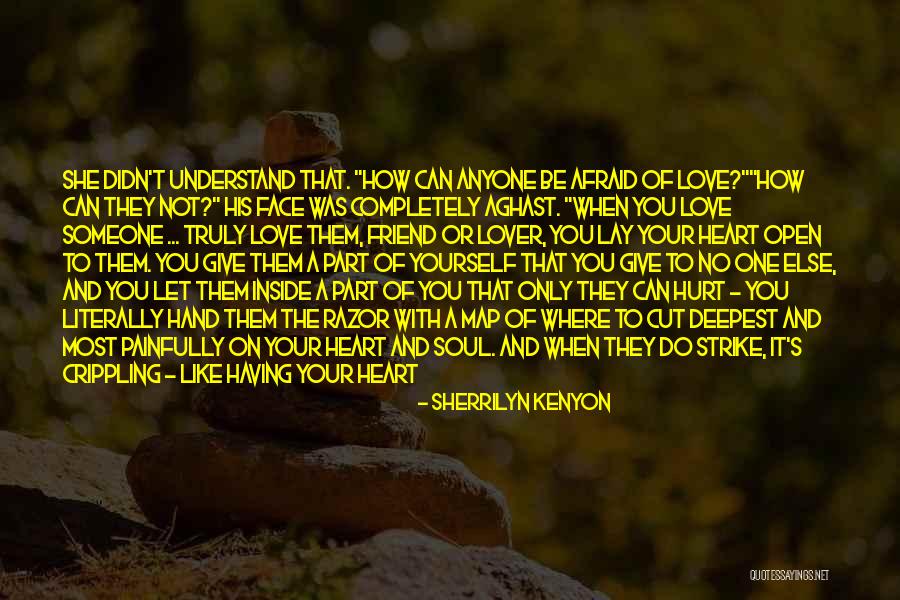 She didn't understand that. "How can anyone be afraid of love?"
"How can they not?" His face was completely aghast. "When you love someone ... truly love them, friend or lover, you lay your heart open to them. You give them a part of yourself that you give to no one else, and you let them inside a part of you that only they can hurt - you literally hand them the razor with a map of where to cut deepest and most painfully on your heart and soul. And when they do strike, it's crippling - like having your heart carved out. It leaves you naked and exposed, wondering what you did to make them want to hurt you so badly when all you did was love them. What is so wrong with you that no one can keep faith with you? That no one can love you? To have it happen once is bad enough ... but to have it repeated? Who in their right mind would not be terrified of that? — Sherrilyn Kenyon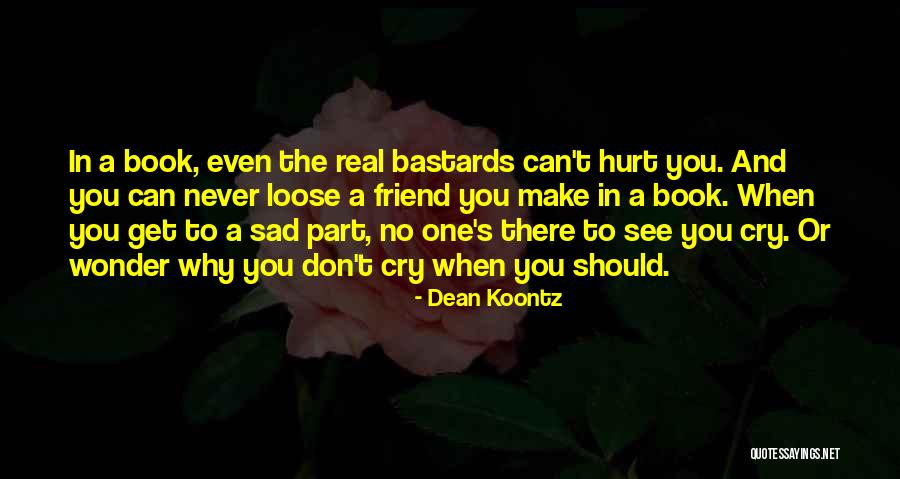 In a book, even the real bastards can't hurt you. And you can never loose a friend you make in a book. When you get to a sad part, no one's there to see you cry. Or wonder why you don't cry when you should. — Dean Koontz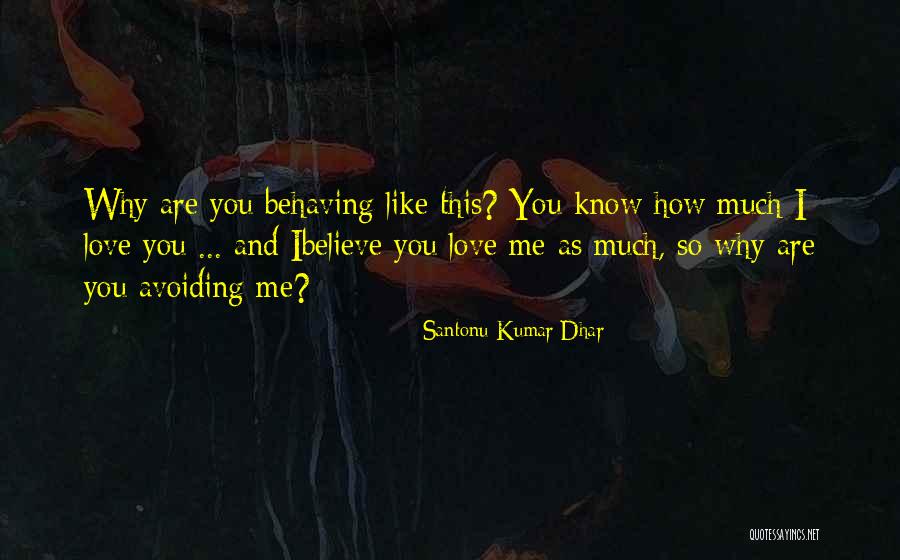 Why are you behaving like this? You know how much I love you ... and I
believe you love me as much, so why are you avoiding me? — Santonu Kumar Dhar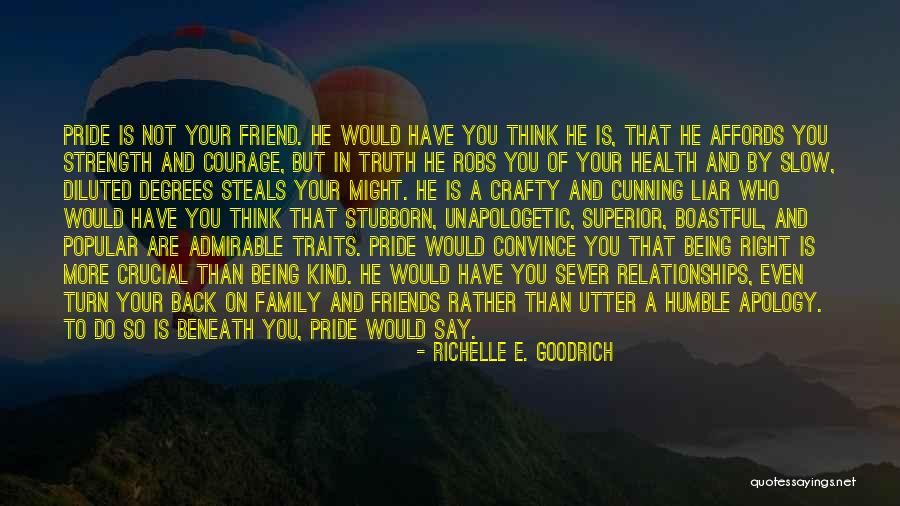 Pride is not your friend.
He would have you think he is, that he affords you strength and courage, but in truth he robs you of your health and by slow, diluted degrees steals your might. He is a crafty and cunning liar who would have you think that stubborn, unapologetic, superior, boastful, and popular are admirable traits. Pride would convince you that being right is more crucial than being kind. He would have you sever relationships, even turn your back on family and friends rather than utter a humble apology. To do so is beneath you, pride would say. He would have you fight like a raptor and gnash your teeth while jutting out an inflexible jaw to defend and protect him, regardless of who is hurt in the process. He would use and demean you in order to puff up and fortify himself. He would destroy your life and every meaningful association before casting you aside without a hint of remorse.
Again, Pride is not your friend. — Richelle E. Goodrich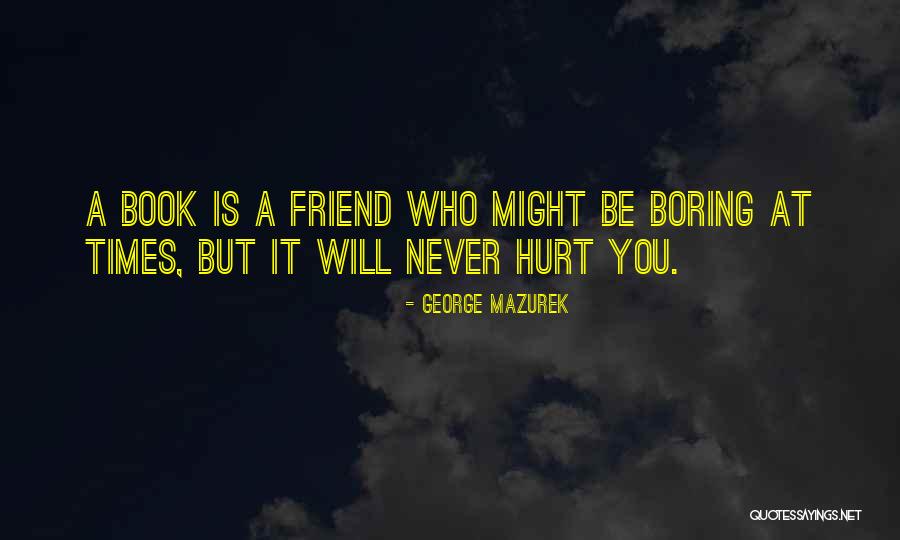 A book is a friend who might be boring at times, but it will never hurt you. — George Mazurek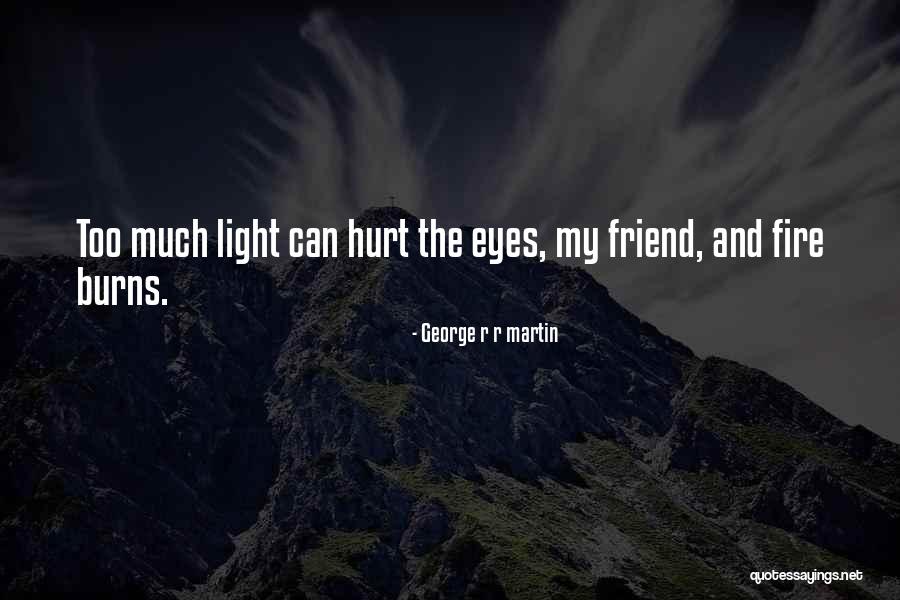 Too much light can hurt the eyes, my friend, and fire burns. — George R R Martin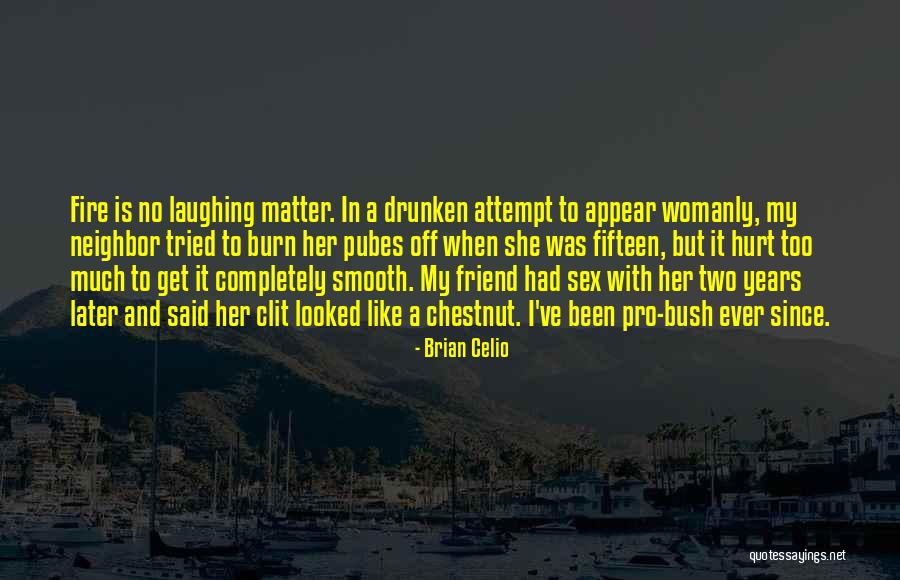 Fire is no laughing matter. In a drunken attempt to appear womanly, my neighbor tried to burn her pubes off when she was fifteen, but it hurt too much to get it completely smooth. My friend had sex with her two years later and said her clit looked like a chestnut. I've been pro-bush ever since. — Brian Celio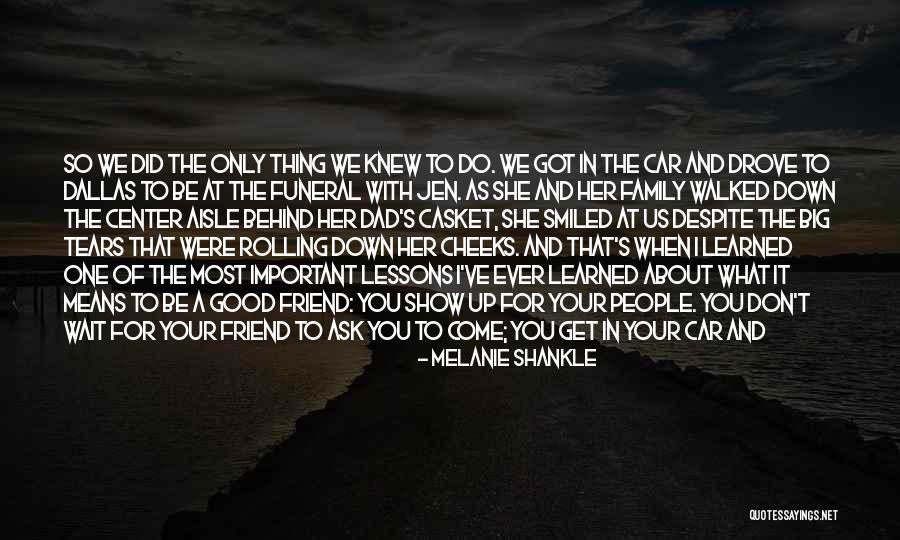 So we did the only thing we knew to do. We got in the car and drove to Dallas to be at the funeral with Jen. As she and her family walked down the center aisle behind her dad's casket, she smiled at us despite the big tears that were rolling down her cheeks. And that's when I learned one of the most important lessons I've ever learned about what it means to be a good friend: you show up for your people. You don't wait for your friend to ask you to come; you get in your car and go. You don't have to know the right words to say, you don't have to offer sage wisdom about loss and love; you just show up. You hold her hand and hug her neck and wipe her tears. You let her know that you hurt because she is in pain, and you'd do anything to take it from her if you could. You listen.... You show up for your friend, in the good times and the bad times. — Melanie Shankle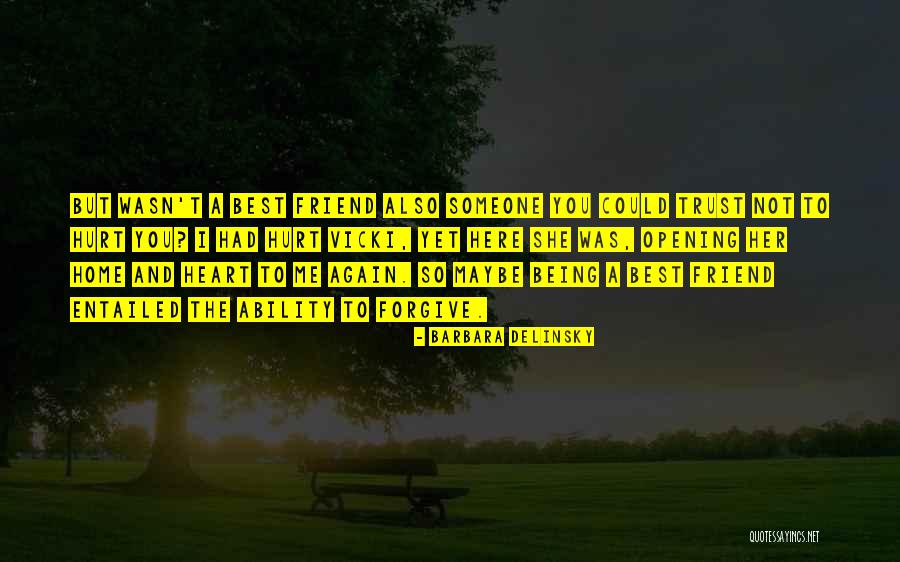 But wasn't a best friend also someone you could trust not to hurt you? I had hurt Vicki, yet here she was, opening her home and heart to me again. So maybe being a best friend entailed the ability to forgive. — Barbara Delinsky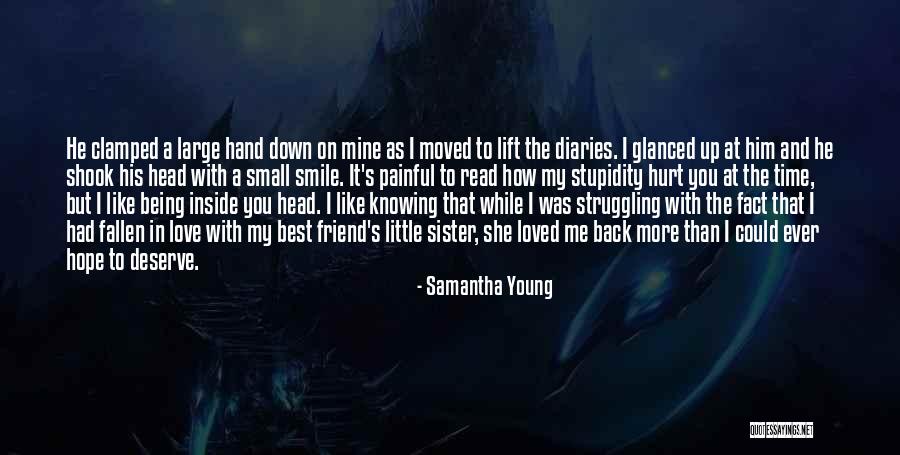 He clamped a large hand down on mine as I moved to lift the diaries. I glanced up at him and he shook his head with a small smile. It's painful to read how my stupidity hurt you at the time, but I like being inside you head. I like knowing that while I was struggling with the fact that I had fallen in love with my best friend's little sister, she loved me back more than I could ever hope to deserve. — Samantha Young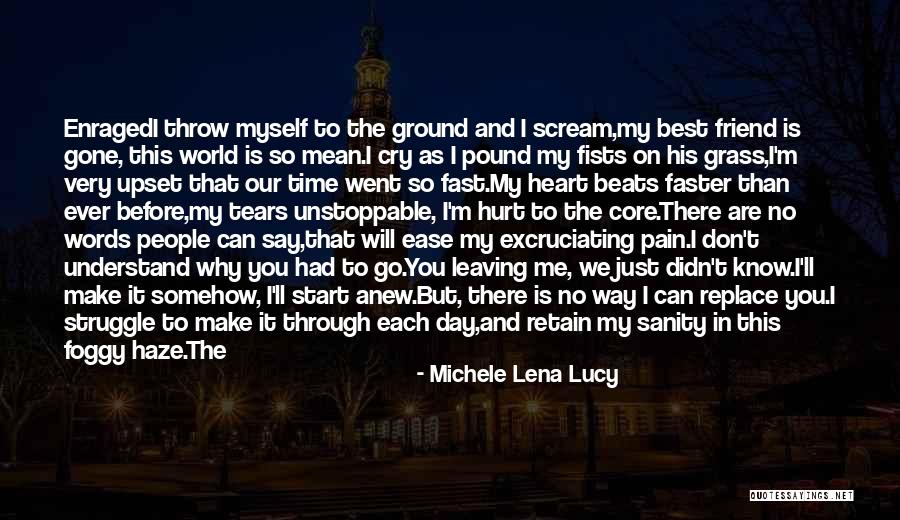 Enraged
I throw myself to the ground and I scream,
my best friend is gone, this world is so mean.
I cry as I pound my fists on his grass,
I'm very upset that our time went so fast.
My heart beats faster than ever before,
my tears unstoppable, I'm hurt to the core.
There are no words people can say,
that will ease my excruciating pain.
I don't understand why you had to go.
You leaving me, we just didn't know.
I'll make it somehow, I'll start anew.
But, there is no way I can replace you.
I struggle to make it through each day,
and retain my sanity in this foggy haze.
The sadness and pain that I display,
is because God decided to take you away. — Michele Lena Lucy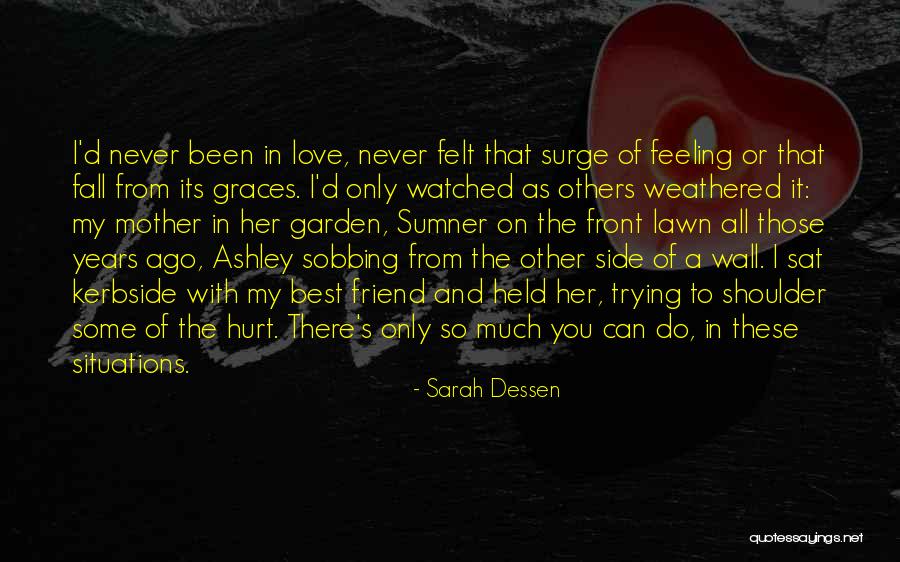 I'd never been in love, never felt that surge of feeling or that fall from its graces. I'd only watched as others weathered it: my mother in her garden, Sumner on the front lawn all those years ago, Ashley sobbing from the other side of a wall. I sat kerbside with my best friend and held her, trying to shoulder some of the hurt. There's only so much you can do, in these situations. — Sarah Dessen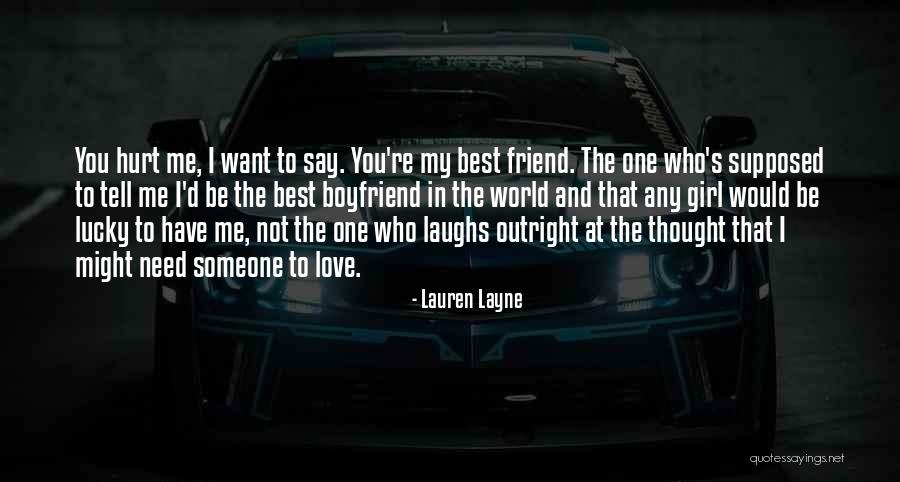 You hurt me, I want to say. You're my best friend. The one who's supposed to tell me I'd be the best boyfriend in the world and that any girl would be lucky to have me, not the one who laughs outright at the thought that I might need someone to love. — Lauren Layne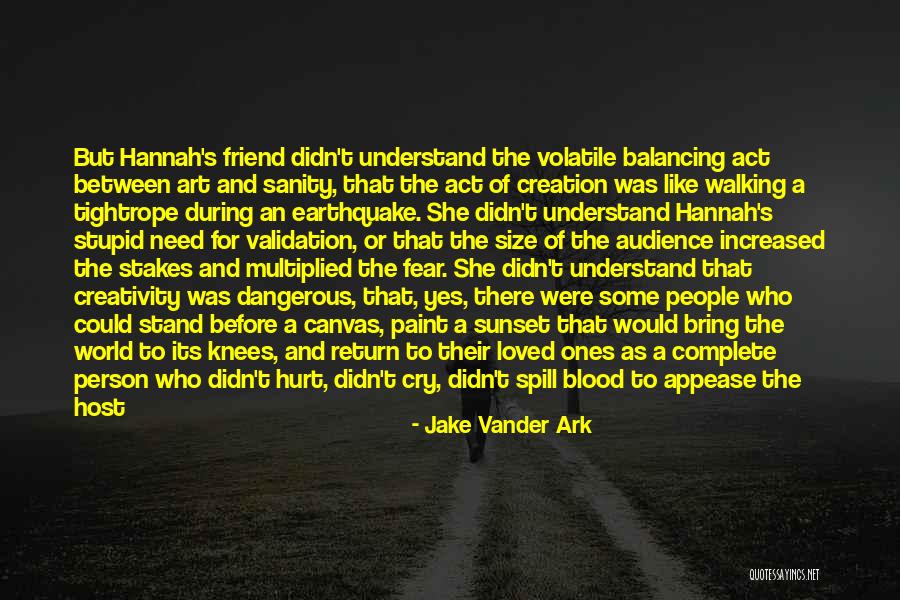 But Hannah's friend didn't understand the volatile balancing act between art and sanity, that the act of creation was like walking a tightrope during an earthquake. She didn't understand Hannah's stupid need for validation, or that the size of the audience increased the stakes and multiplied the fear. She didn't understand that creativity was dangerous, that, yes, there were some people who could stand before a canvas, paint a sunset that would bring the world to its knees, and return to their loved ones as a complete person who didn't hurt, didn't cry, didn't spill blood to appease the host of fickle muses. But Hannah did. Hannah's best ideas - sometimes her only ideas - were buried beneath the skin. — Jake Vander Ark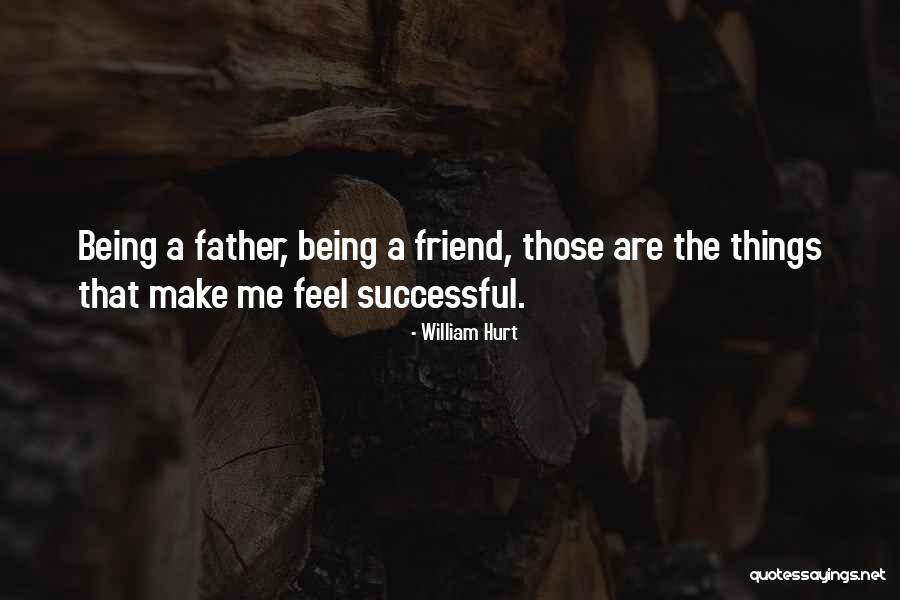 Being a father, being a friend, those are the things that make me feel successful. — William Hurt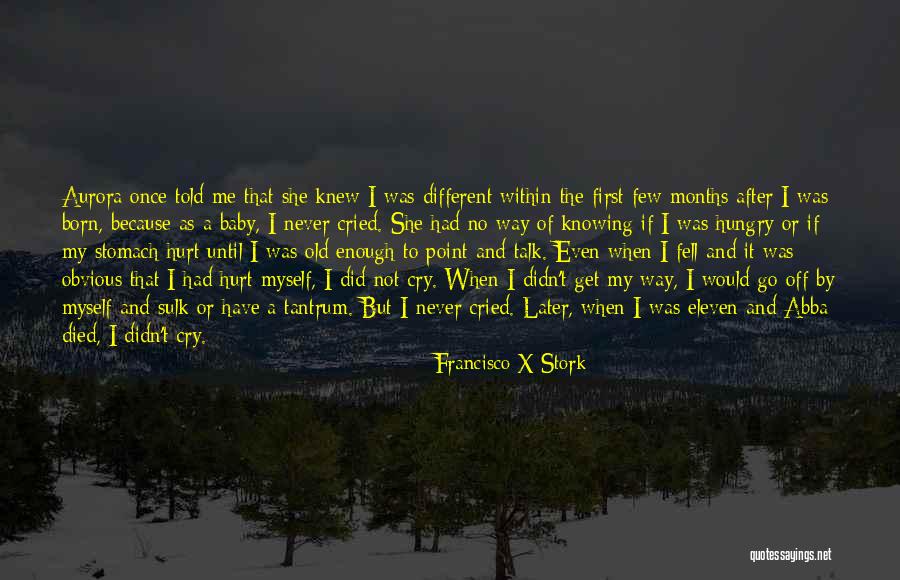 Aurora once told me that she knew I was different within the first few months after I was born, because as a baby, I never cried. She had no way of knowing if I was hungry or if my stomach hurt until I was old enough to point and talk. Even when I fell and it was obvious that I had hurt myself, I did not cry. When I didn't get my way, I would go off by myself and sulk or have a tantrum. But I never cried. Later, when I was eleven and Abba died, I didn't cry. When Joseph, my best friend at St. Elizabeth's, died, I didn't cry. Maybe I don't feel what others feel. I have no way of knowing. But I do feel. It's just that what I feel does not elicit tears. What I feel when others cry is more like a dry, empty aloneness, like I'm the only person left in the world.
So it is very strange to feel my eyes well with tears as I read Jasmine's list. — Francisco X Stork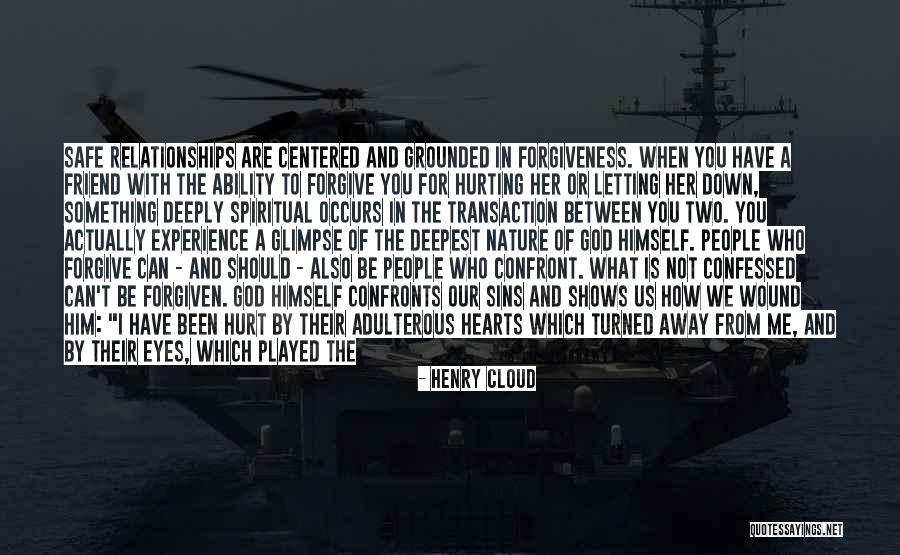 Safe relationships are centered and grounded in forgiveness. When you have a friend with the ability to forgive you for hurting her or letting her down, something deeply spiritual occurs in the transaction between you two. You actually experience a glimpse of the deepest nature of God himself. People who forgive can - and should - also be people who confront. What is not confessed can't be forgiven. God himself confronts our sins and shows us how we wound him: "I have been hurt by their adulterous hearts which turned away from me, and by their eyes, which played the harlot after their idols" (Ezek. 6:9 NASB). When we are made aware of how we hurt a loved one, then we can be reconciled. Therefore, you shouldn't discount someone who "has something against you," labeling him as unsafe. He might actually be attempting to come closer in love, in the way that the Bible tells us we are to do. — Henry Cloud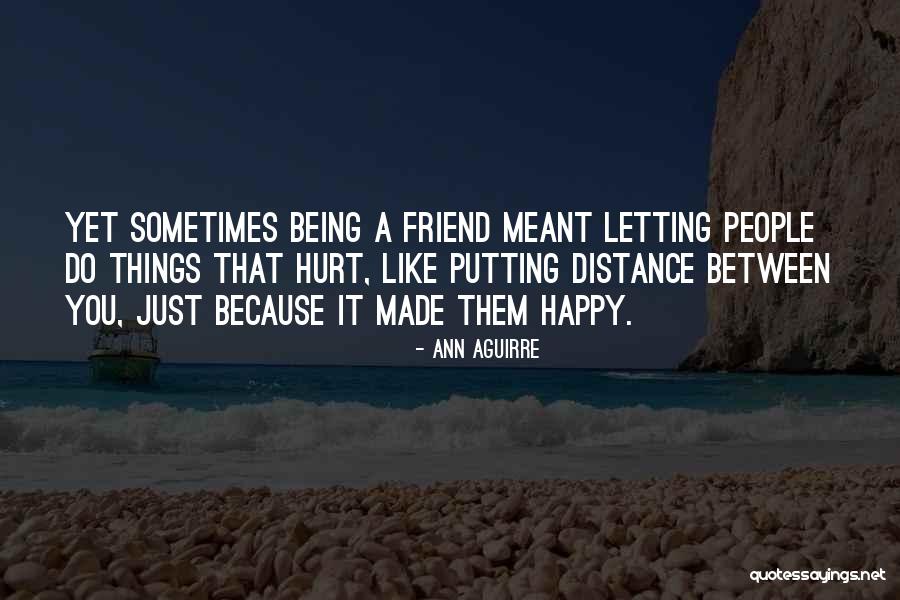 Yet sometimes being a friend meant letting people do things that hurt, like putting distance between you, just because it made them happy. — Ann Aguirre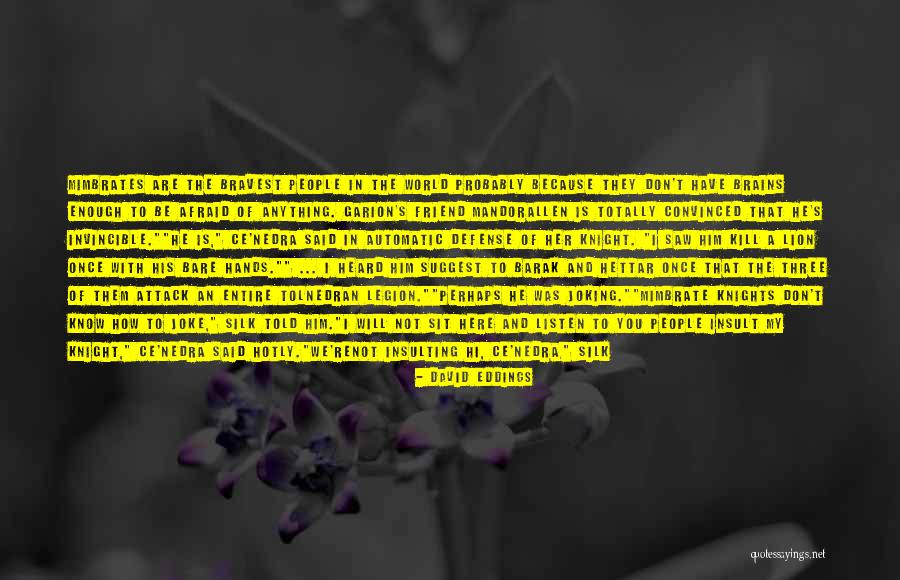 Mimbrates are the bravest people in the world
probably because they don't have brains enough to be afraid of anything. Garion's friend Mandorallen is totally convinced that he's invincible."
"He is," Ce'Nedra said in automatic defense of her knight. "I saw him kill a lion once with his bare hands."
" ... I heard him suggest to Barak and Hettar once that the three of them attack an entire Tolnedran legion."
"Perhaps he was joking."
"Mimbrate knights don't know how to joke," Silk told him.
"I will not sit here and listen to you people insult my knight," Ce'Nedra said hotly.
"We'renot insulting hi, Ce'Nedra," Silk told her. "We're describing him. He's so noble he makes my hair hurt."
"Nobility is an alien concept to a Drasnian, I suppose," she noted.
"Not alien, Ce'Nedra. Incomprehensible. — David Eddings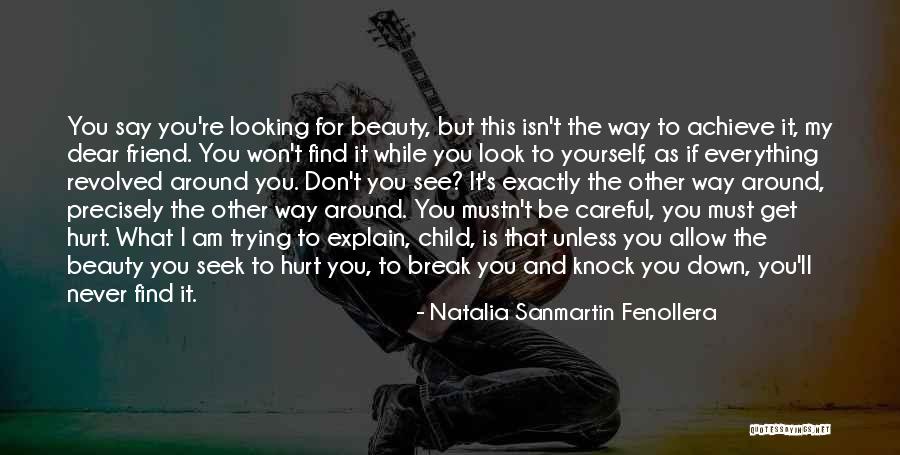 You say you're looking for beauty, but this isn't the way to achieve it, my dear friend. You won't find it while you look to yourself, as if everything revolved around you. Don't you see? It's exactly the other way around, precisely the other way around. You mustn't be careful, you must get hurt. What I am trying to explain, child, is that unless you allow the beauty you seek to hurt you, to break you and knock you down, you'll never find it. — Natalia Sanmartin Fenollera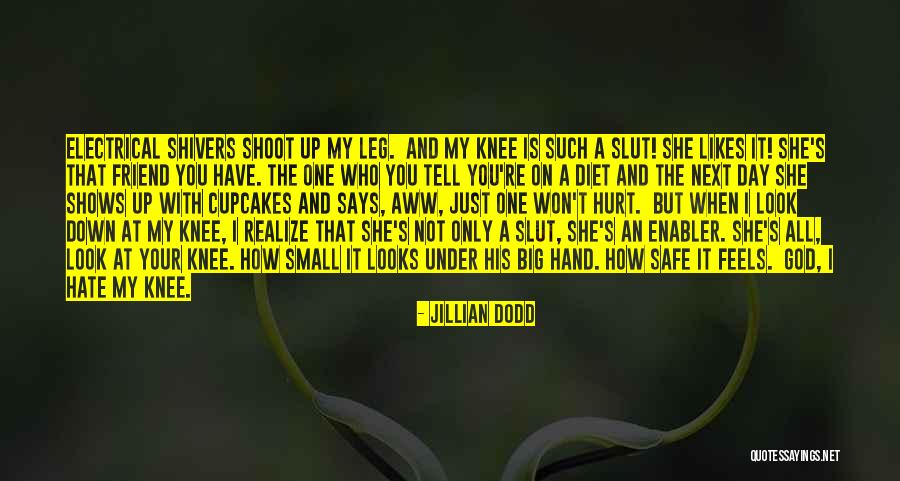 Electrical shivers shoot up my leg. And my knee is such a slut! She likes it! She's that friend you have. The one who you tell you're on a diet and the next day she shows up with cupcakes and says, Aww, just one won't hurt. But when I look down at my knee, I realize that she's not only a slut, she's an enabler. She's all, Look at your knee. How small it looks under his big hand. How safe it feels. God, I hate my knee. — Jillian Dodd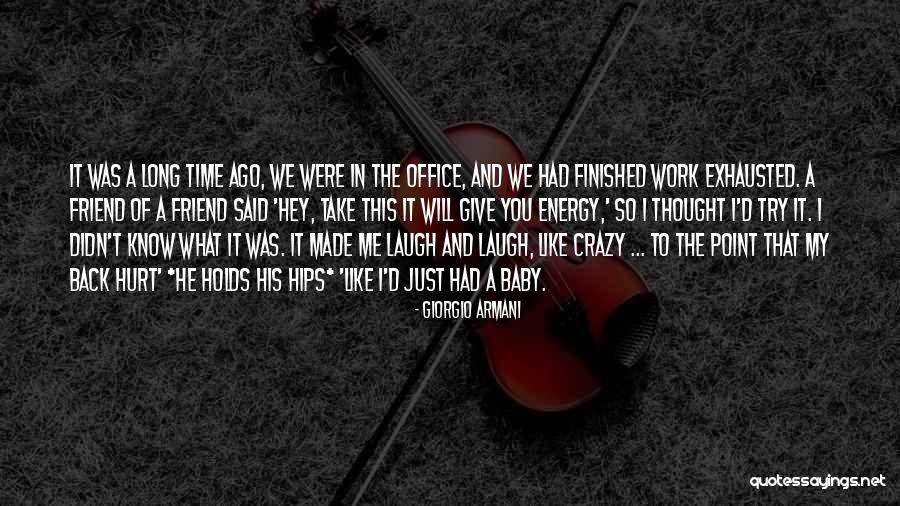 It was a long time ago, we were in the office, and we had finished work exhausted. A friend of a friend said 'Hey, take this it will give you energy,' so I thought I'd try it. I didn't know what it was. It made me laugh and laugh, like crazy ... to the point that my back hurt' *he holds his hips* 'like I'd just had a baby. — Giorgio Armani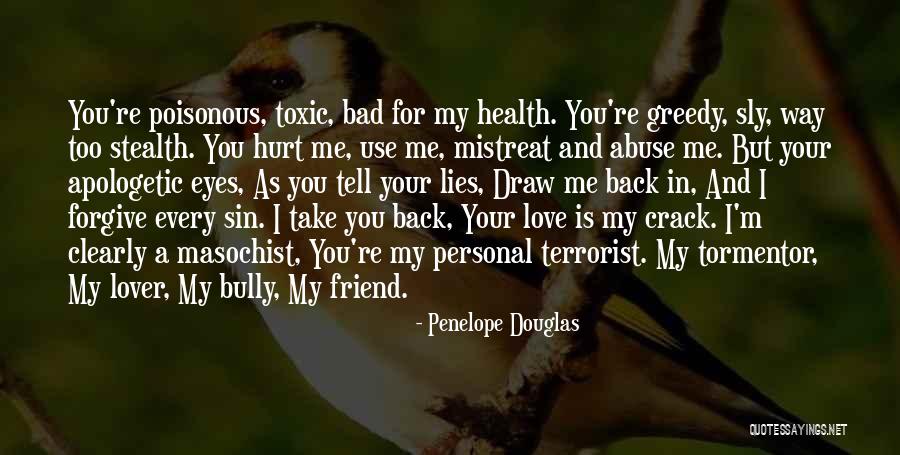 You're poisonous, toxic, bad for my health. You're greedy, sly, way too stealth. You hurt me, use me, mistreat and abuse me. But your apologetic eyes, As you tell your lies, Draw me back in, And I forgive every sin. I take you back, Your love is my crack. I'm clearly a masochist, You're my personal terrorist. My tormentor, My lover, My bully, My friend. — Penelope Douglas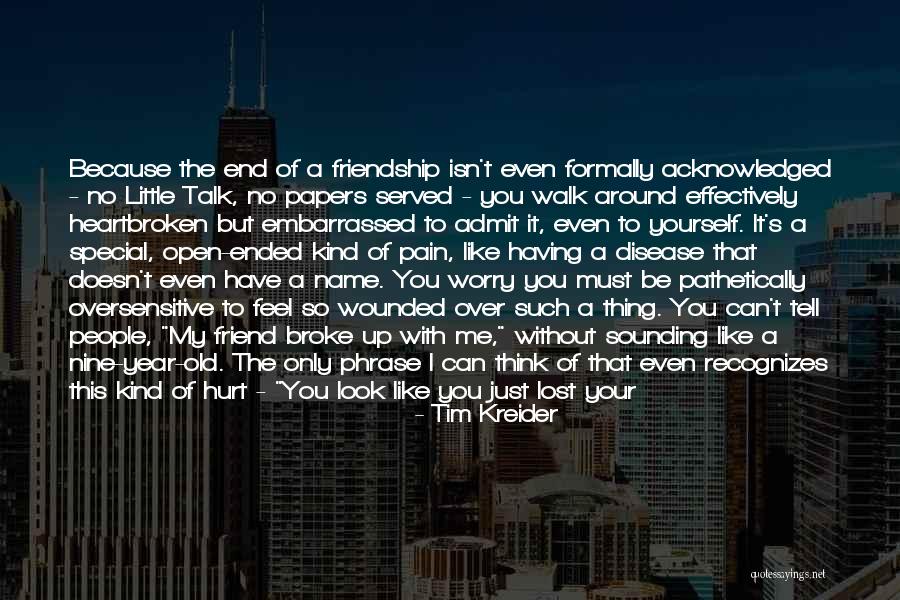 Because the end of a friendship isn't even formally acknowledged - no Little Talk, no papers served - you walk around effectively heartbroken but embarrassed to admit it, even to yourself. It's a special, open-ended kind of pain, like having a disease that doesn't even have a name. You worry you must be pathetically oversensitive to feel so wounded over such a thing. You can't tell people, "My friend broke up with me," without sounding like a nine-year-old. The only phrase I can think of that even recognizes this kind of hurt - "You look like you just lost your best friend" - is only ever spoken by adults to children. You can give yourself the same ineffectual lecture your parents used to give you as a kid: anyone who'd treat you this way isn't a very good friend and doesn't deserve your friendship anyway. But the nine-year-old in you knows that the reason they've ditched you is that you suck. — Tim Kreider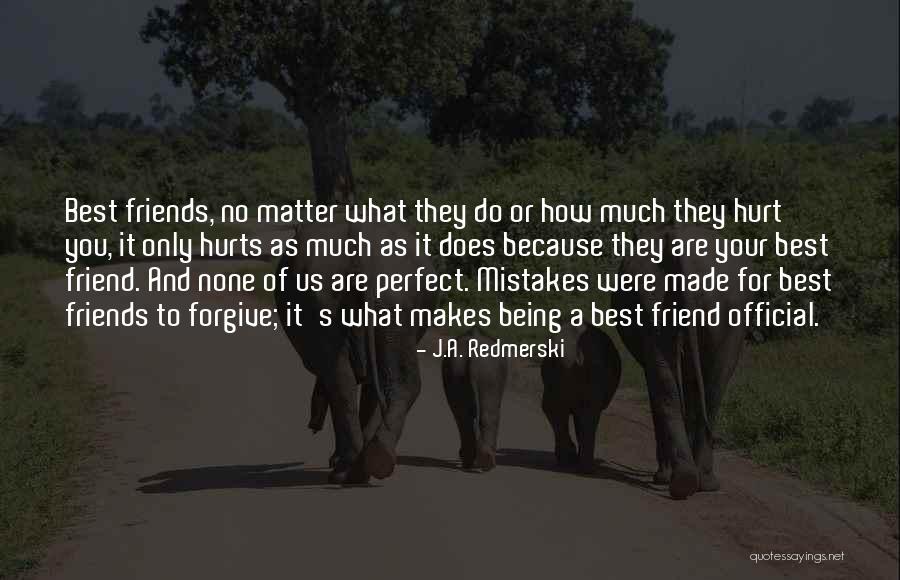 Best friends, no matter what they do or how much they hurt you, it only hurts as much as it does because they are your best friend. And none of us are perfect. Mistakes were made for best friends to forgive; it's what makes being a best friend official. — J.A. Redmerski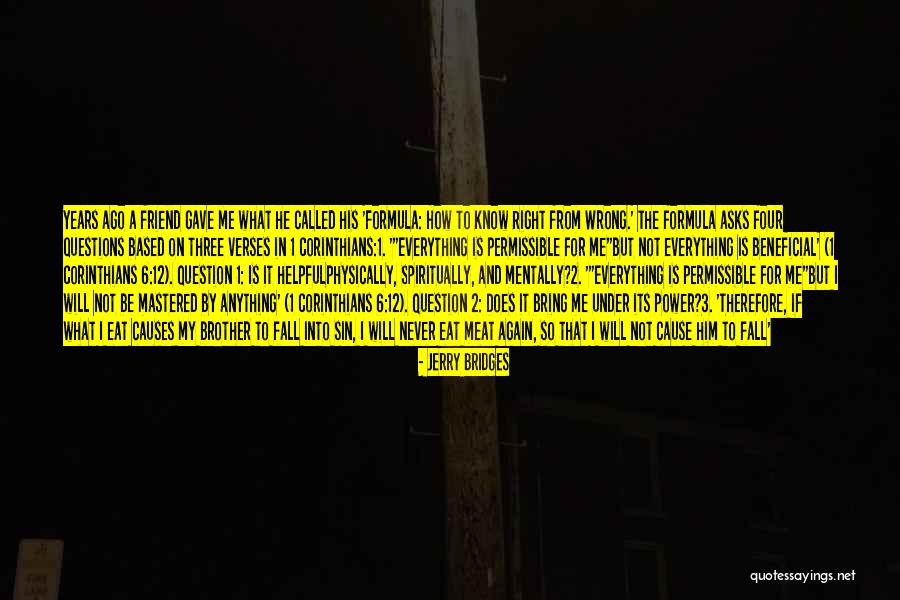 Years ago a friend gave me what he called his 'Formula: How to Know Right from Wrong.' The formula asks four questions based on three verses in 1 Corinthians:
1. '"Everything is permissible for me"
but not everything is beneficial' (1 Corinthians 6:12).
Question 1: Is it helpful
physically, spiritually, and mentally?
2. '"Everything is permissible for me"
but I will not be mastered by anything' (1 Corinthians 6:12). Question 2: Does it bring me under its power?
3. 'Therefore, if what I eat causes my brother to fall into sin, I will never eat meat again, so that I will not cause him to fall' (1 Corinthians 8:13).
Question 3: Does it hurt others?
4. 'So whether you eat or drink or whatever you do, do it all for the glory of God' (1 Corinthians 10:31).
Question 4: Does it glorify God? — Jerry Bridges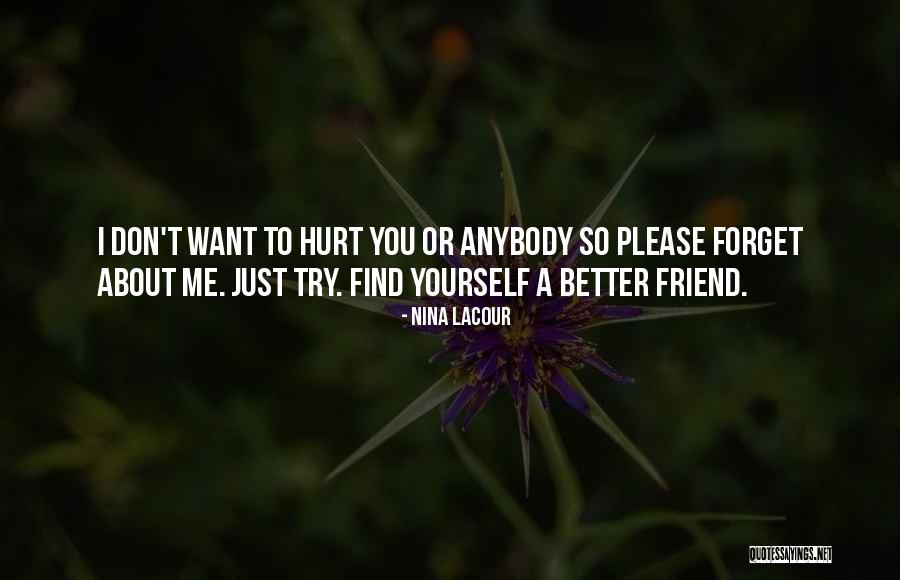 I don't want to hurt you or anybody so please forget about me. Just try. Find yourself a better friend. — Nina LaCour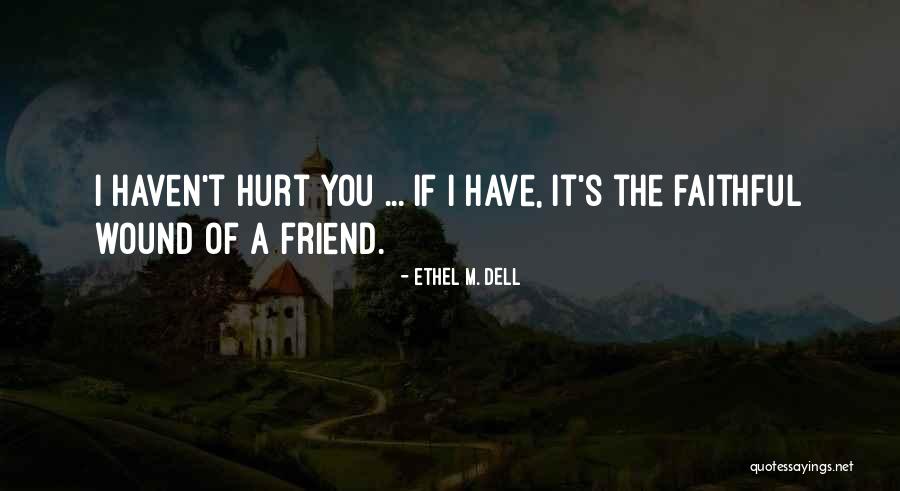 I haven't hurt you ... if I have, it's the faithful wound of a friend. — Ethel M. Dell