Wish I Could Understand Quotes & Sayings
Enjoy reading and share 55 famous quotes about Wish I Could Understand with everyone.
Top Wish I Could Understand Quotes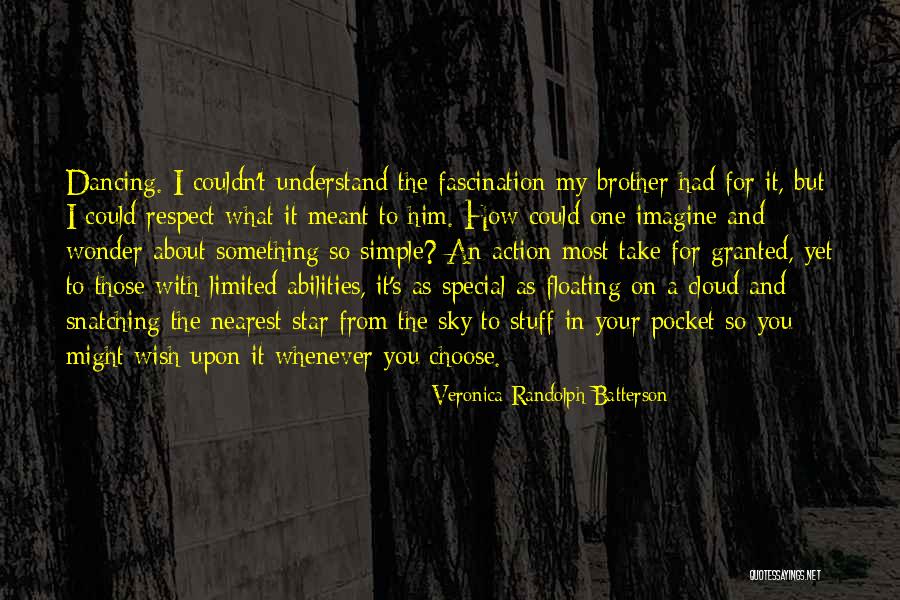 Dancing. I couldn't understand the fascination my brother had for it, but I could respect what it meant to him. How could one imagine and wonder about something so simple? An action most take for granted, yet to those with limited abilities, it's as special as floating on a cloud and snatching the nearest star from the sky to stuff in your pocket so you might wish upon it whenever you choose. — Veronica Randolph Batterson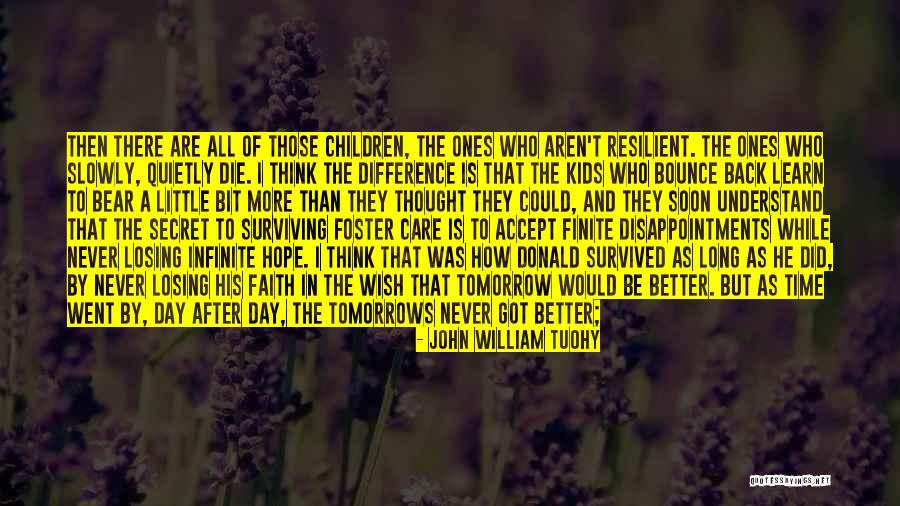 Then there are all of those children, the ones who aren't resilient. The ones who slowly, quietly die. I think the difference is that the kids who bounce back learn to bear a little bit more than they thought they could, and they soon understand that the secret to surviving foster care is to accept finite disappointments while never losing infinite hope. I think that was how Donald survived as long as he did, by never losing his faith in the wish that tomorrow would be better. But as time went by, day after day, the tomorrows never got better; they got worse, and he simply gave up. In the way he saw the world, pain was inevitable, but no one ever explained to him that suffering was optional. — John William Tuohy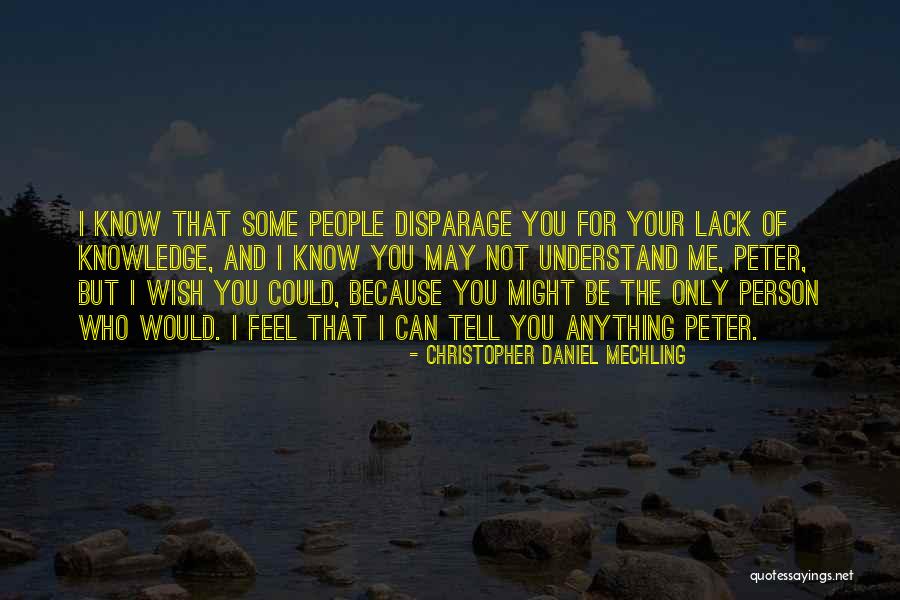 I know that some people disparage you for your lack of knowledge, and I know you may not understand me, Peter, but I wish you could, because you might be the only person who would. I feel that I can tell you anything Peter. — Christopher Daniel Mechling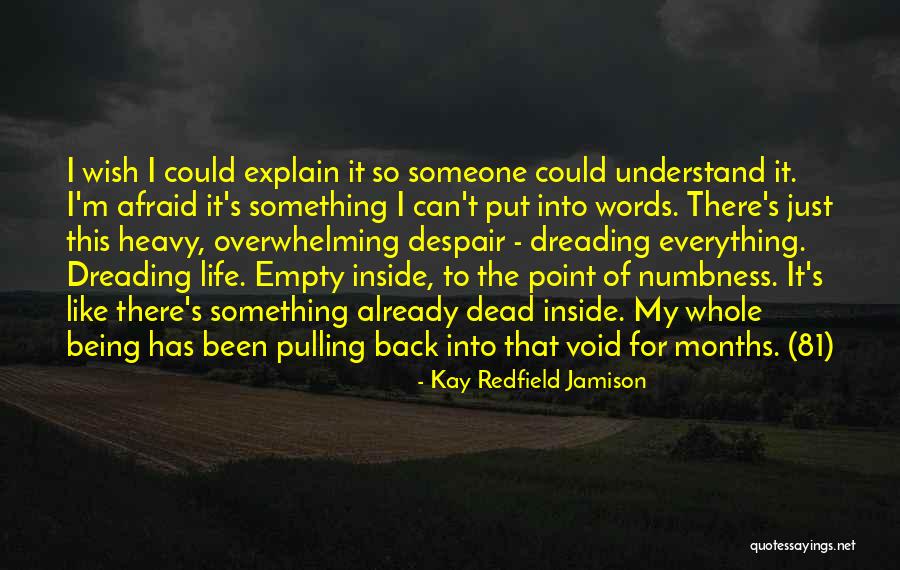 I wish I could explain it so someone could understand it. I'm afraid it's something I can't put into words. There's just this heavy, overwhelming despair - dreading everything. Dreading life. Empty inside, to the point of numbness. It's like there's something already dead inside. My whole being has been pulling back into that void for months. (81) — Kay Redfield Jamison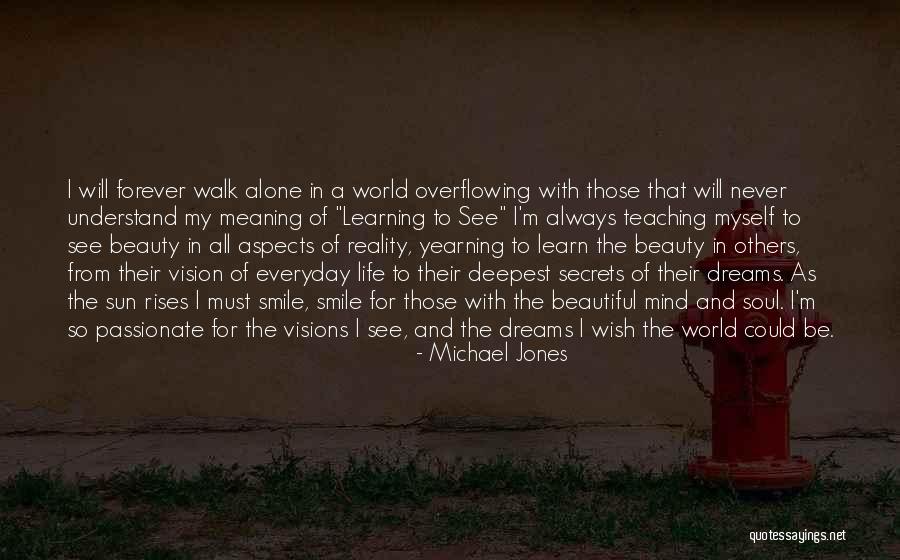 I will forever walk alone in a world overflowing with those that will never understand my meaning of "Learning to See" I'm always teaching myself to see beauty in all aspects of reality, yearning to learn the beauty in others, from their vision of everyday life to their deepest secrets of their dreams. As the sun rises I must smile, smile for those with the beautiful mind and soul. I'm so passionate for the visions I see, and the dreams I wish the world could be. — Michael Jones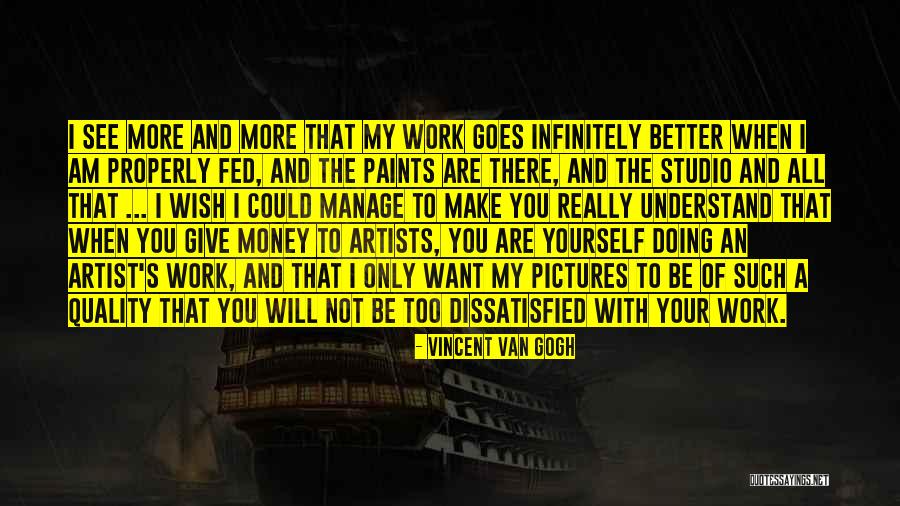 I see more and more that my work goes infinitely better when I am properly fed, and the paints are there, and the studio and all that ... I wish I could manage to make you really understand that when you give money to artists, you are yourself doing an artist's work, and that I only want my pictures to be of such a quality that you will not be too dissatisfied with your work. — Vincent Van Gogh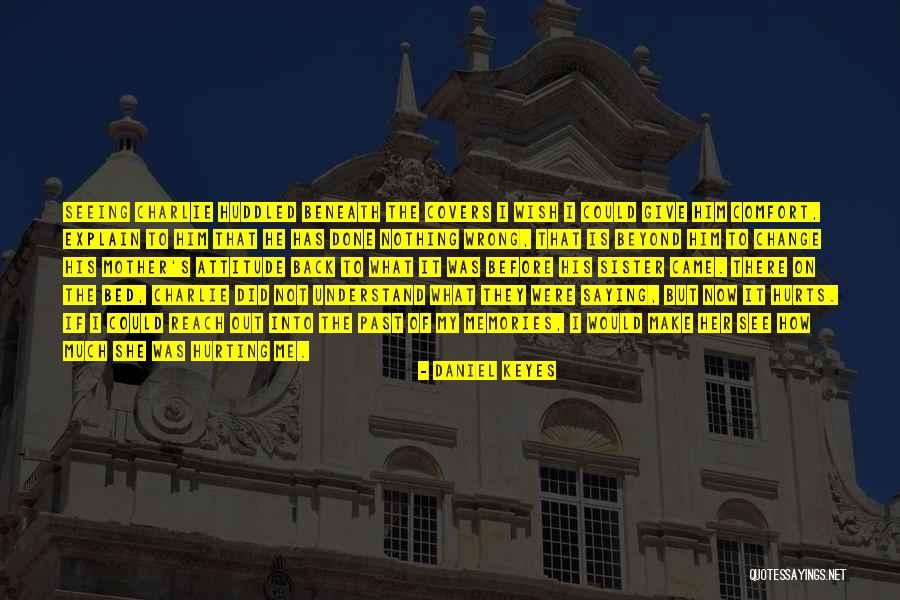 Seeing Charlie huddled beneath the covers I wish I could give him comfort, explain to him that he has done nothing wrong, that is beyond him to change his mother's attitude back to what it was before his sister came. There on the bed, Charlie did not understand what they were saying, but now it hurts. If I could reach out into the past of my memories, I would make her see how much she was hurting me. — Daniel Keyes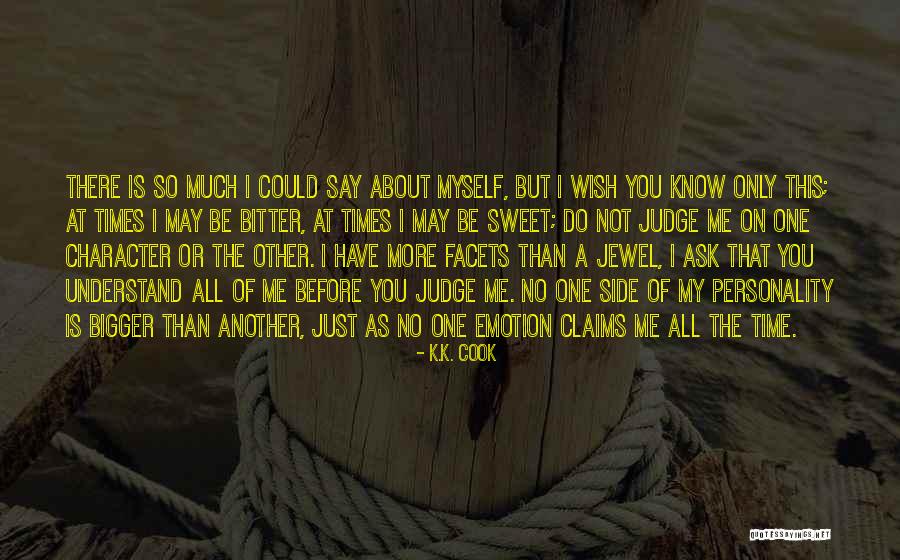 There is so much I could say about myself, but I wish you know only this; at times I may be bitter, at times I may be sweet; do not judge me on one character or the other. I have more facets than a jewel, I ask that you understand all of me before you judge me. No one side of my personality is bigger than another, just as no one emotion claims me all the time. — K.K. Cook
What I really wish is that religious leaders could truly understand what the Bible is and stop trying to use it for hatred. I wish they could just stop hiding behind the Bible and live up to the fact that what they really stand for when they are bashing gays is small-minded bigotry. — Judith E. Snow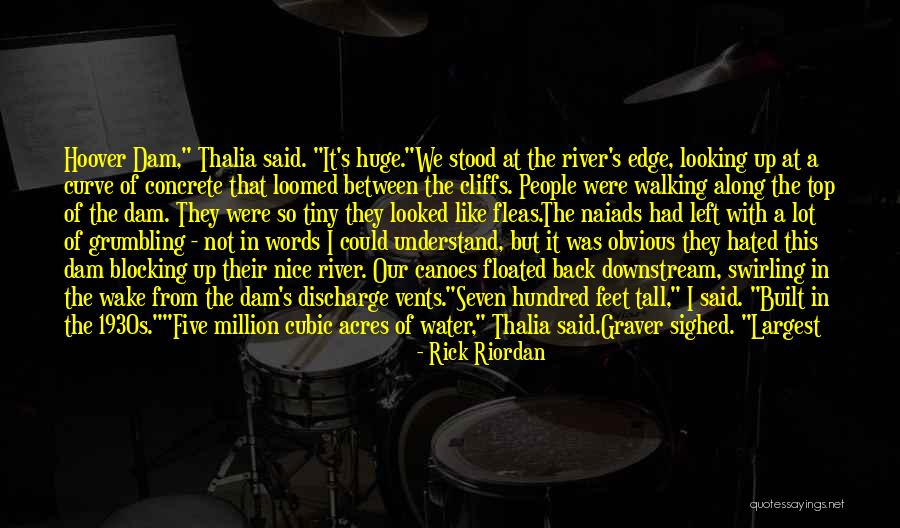 Hoover Dam," Thalia said. "It's huge."
We stood at the river's edge, looking up at a curve of concrete that loomed between the cliffs. People were walking along the top of the dam. They were so tiny they looked like fleas.
The naiads had left with a lot of grumbling - not in words I could understand, but it was obvious they hated this dam blocking up their nice river. Our canoes floated back downstream, swirling in the wake from the dam's discharge vents.
"Seven hundred feet tall," I said. "Built in the 1930s."
"Five million cubic acres of water," Thalia said.
Graver sighed. "Largest construction project in the United States."
Zoe stared at us. "How do you know all that?"
"Annabeth," I said. "She liked architecture."
"She was nuts about monuments," Thalia said.
"Spouted facts all the time." Grover sniffled. "So annoying."
"I wish she were here," I said. — Rick Riordan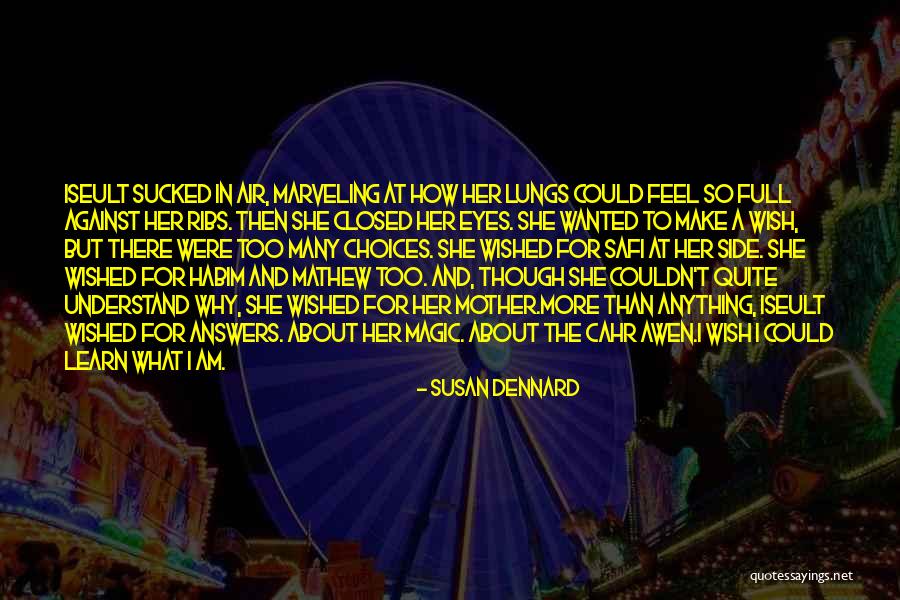 Iseult sucked in air, marveling at how her lungs could feel so full against her ribs. Then she closed her eyes. She wanted to make a wish, but there were too many choices. She wished for Safi at her side. She wished for Habim and Mathew too. And, though she couldn't quite understand why, she wished for her mother.
More than anything, Iseult wished for answers. About her magic. About the Cahr Awen.
I wish I could learn what I am. — Susan Dennard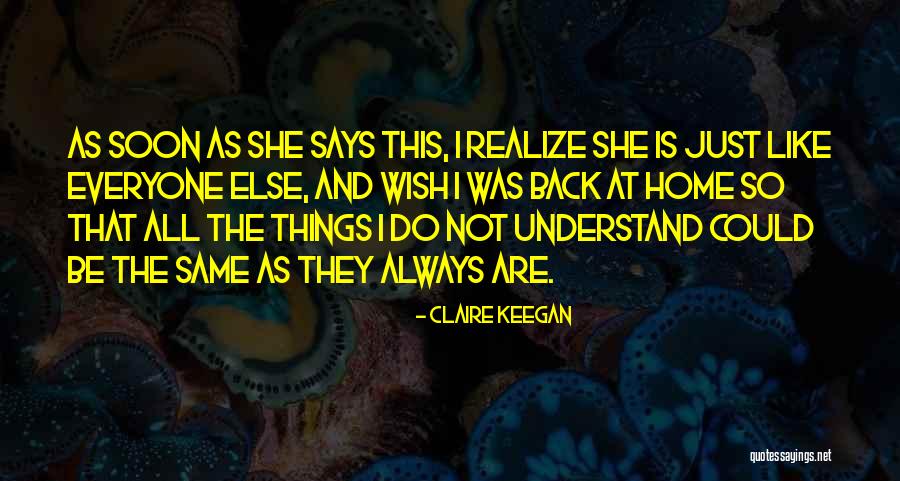 As soon as she says this, I realize she is just like everyone else, and wish I was back at home so that all the things I do not understand could be the same as they always are. — Claire Keegan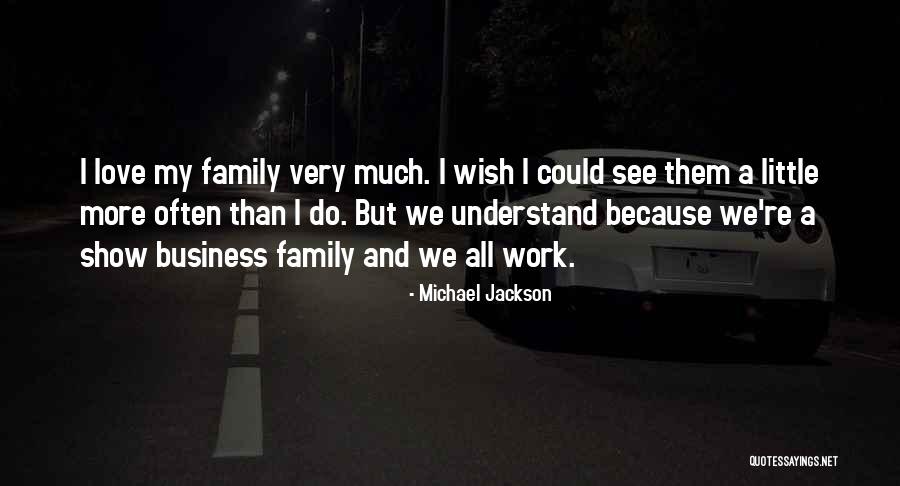 I love my family very much. I wish I could see them a little more often than I do. But we understand because we're a show business family and we all work. — Michael Jackson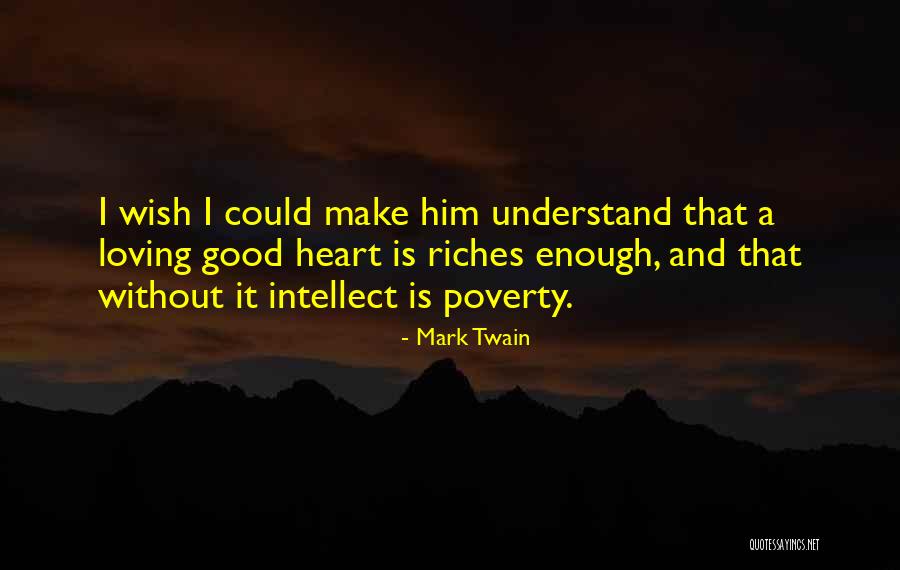 I wish I could make him understand that a loving good heart is riches enough, and that without it intellect is poverty. — Mark Twain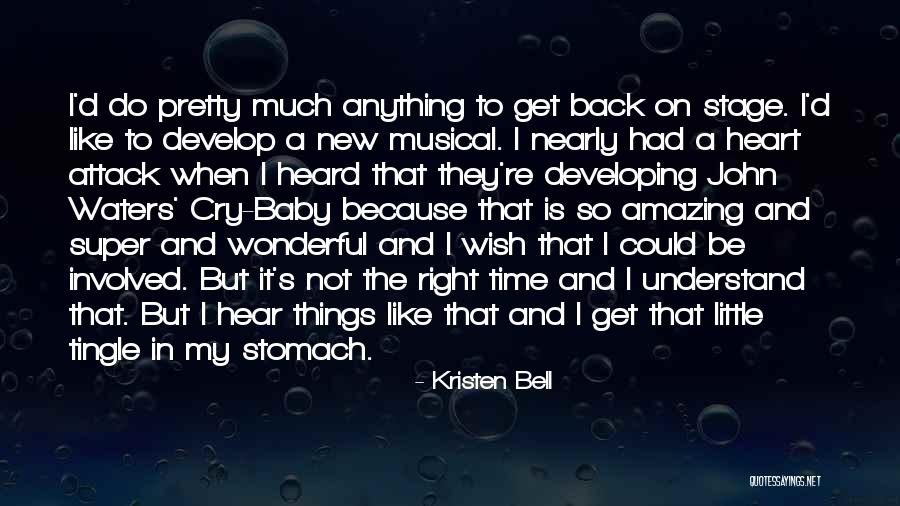 I'd do pretty much anything to get back on stage. I'd like to develop a new musical. I nearly had a heart attack when I heard that they're developing John Waters' Cry-Baby because that is so amazing and super and wonderful and I wish that I could be involved. But it's not the right time and I understand that. But I hear things like that and I get that little tingle in my stomach. — Kristen Bell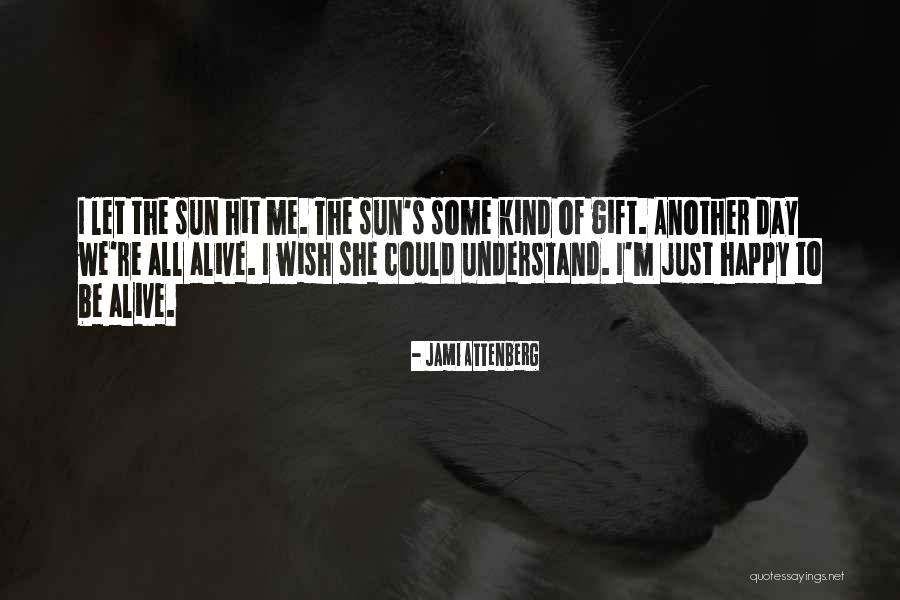 I let the sun hit me. The sun's some kind of gift. Another day we're all alive. I wish she could understand. I'm just happy to be alive. — Jami Attenberg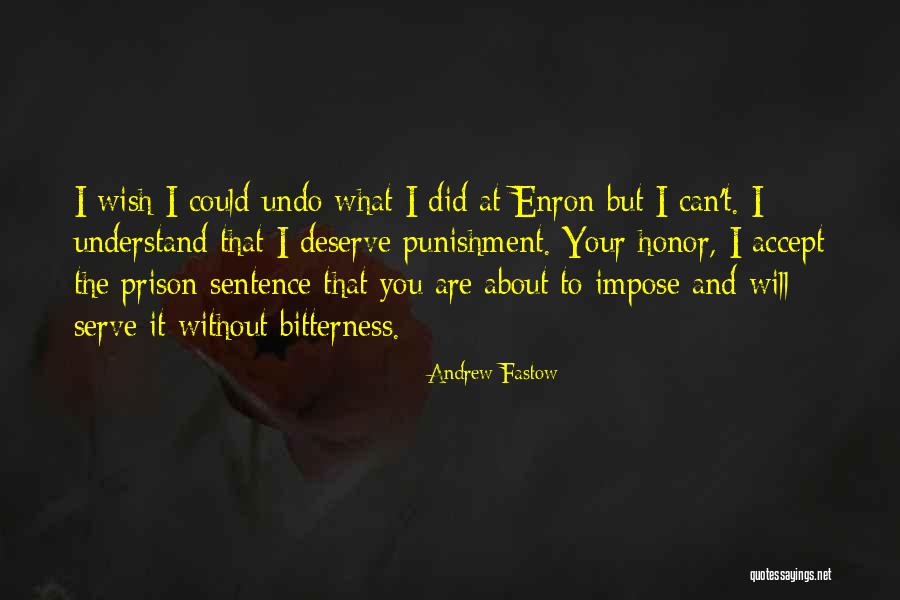 I wish I could undo what I did at Enron but I can't. I understand that I deserve punishment. Your honor, I accept the prison sentence that you are about to impose and will serve it without bitterness. — Andrew Fastow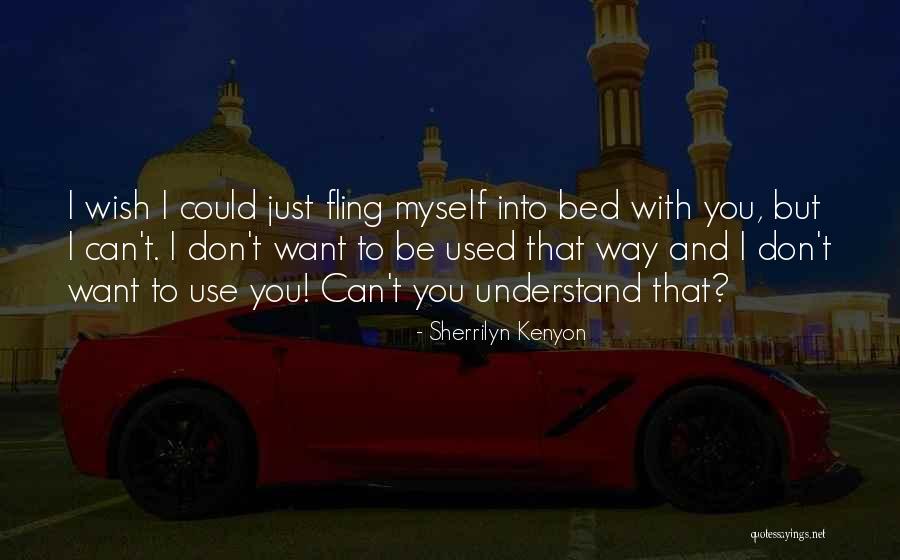 I wish I could just fling myself into bed with you, but I can't. I don't want to be used that way and I don't want to use you! Can't you understand that? — Sherrilyn Kenyon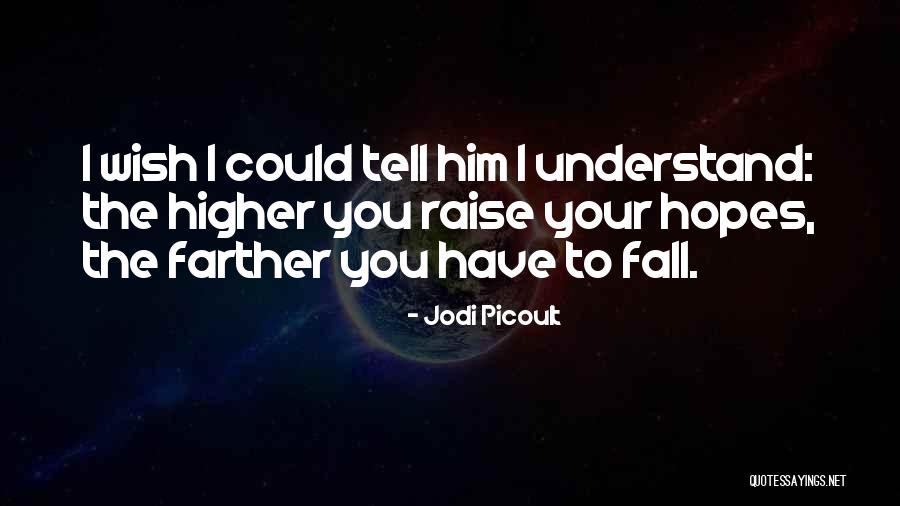 I wish I could tell him I understand: the higher you raise your hopes, the farther you have to fall. — Jodi Picoult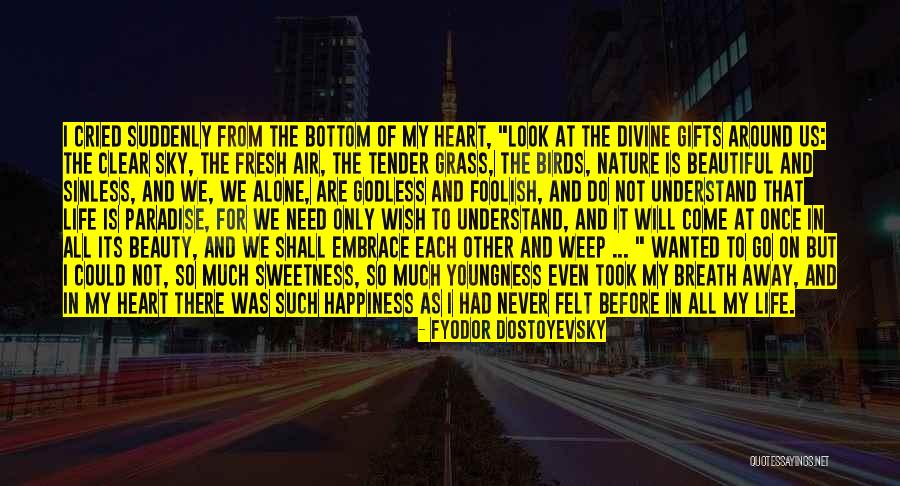 I cried suddenly from the bottom of my heart, "look at the divine gifts around us: the clear sky, the fresh air, the tender grass, the birds, nature is beautiful and sinless, and we, we alone, are godless and foolish, and do not understand that life is paradise, for we need only wish to understand, and it will come at once in all its beauty, and we shall embrace each other and weep ... " wanted to go on but I could not, so much sweetness, so much youngness even took my breath away, and in my heart there was such happiness as I had never felt before in all my life. — Fyodor Dostoyevsky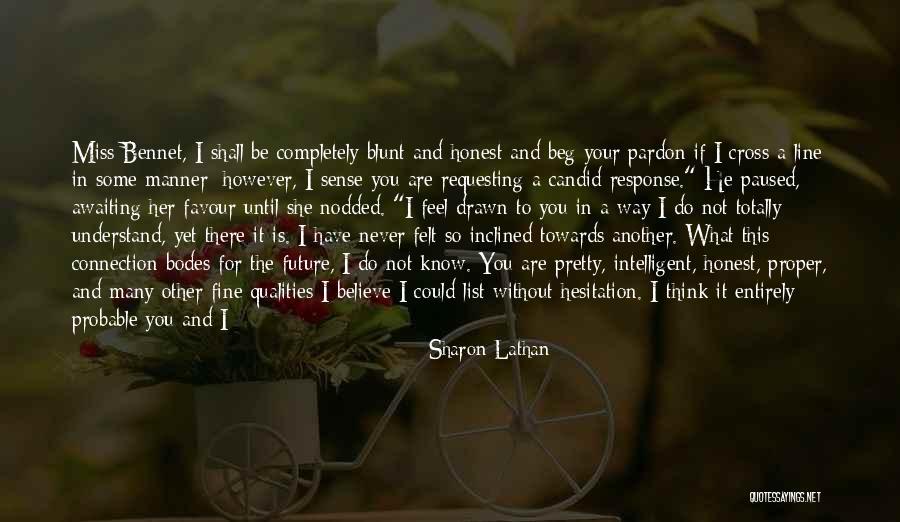 Miss Bennet, I shall be completely blunt and honest and beg your pardon if I cross a line in some manner; however, I sense you are requesting a candid response." He paused, awaiting her favour until she nodded. "I feel drawn to you in a way I do not totally understand, yet there it is. I have never felt so inclined towards another. What this connection bodes for the future, I do not know. You are pretty, intelligent, honest, proper, and many other fine qualities I believe I could list without hesitation. I think it entirely probable you and I would be perfect for each other. It is my intention to discover if this is possible. I do not wish to trifle with your emotions, nor do I wish to have my own sensibilities manipulated; therefore, if you cannot imagine even the remotest chance of returning affection, tell me now and I shall abide by your pleasure. On the other hand, if you sense, even vaguely, a returned interest in me, then let us proceed with willing minds and hearts. — Sharon Lathan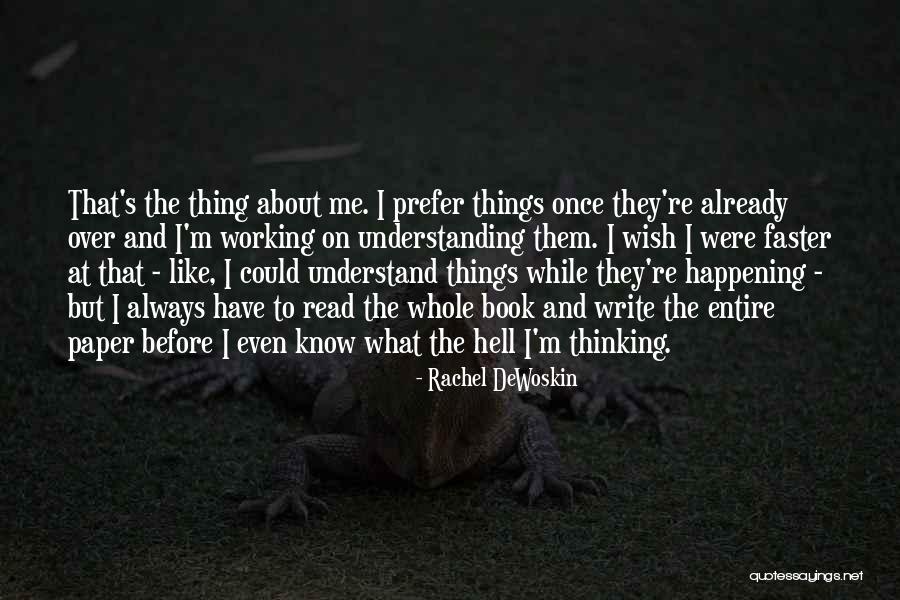 That's the thing about me. I prefer things once they're already over and I'm working on understanding them. I wish I were faster at that - like, I could understand things while they're happening - but I always have to read the whole book and write the entire paper before I even know what the hell I'm thinking. — Rachel DeWoskin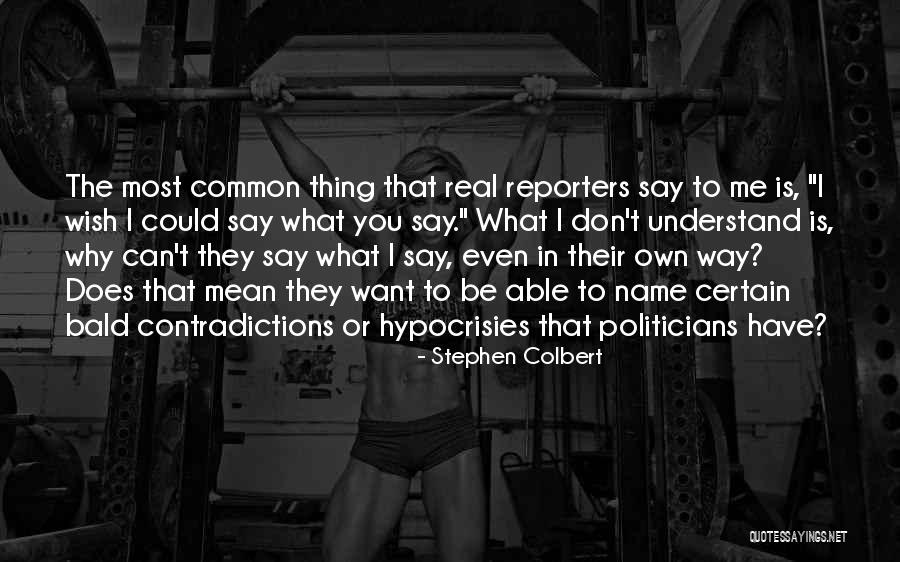 The most common thing that real reporters say to me is, "I wish I could say what you say." What I don't understand is, why can't they say what I say, even in their own way? Does that mean they want to be able to name certain bald contradictions or hypocrisies that politicians have? — Stephen Colbert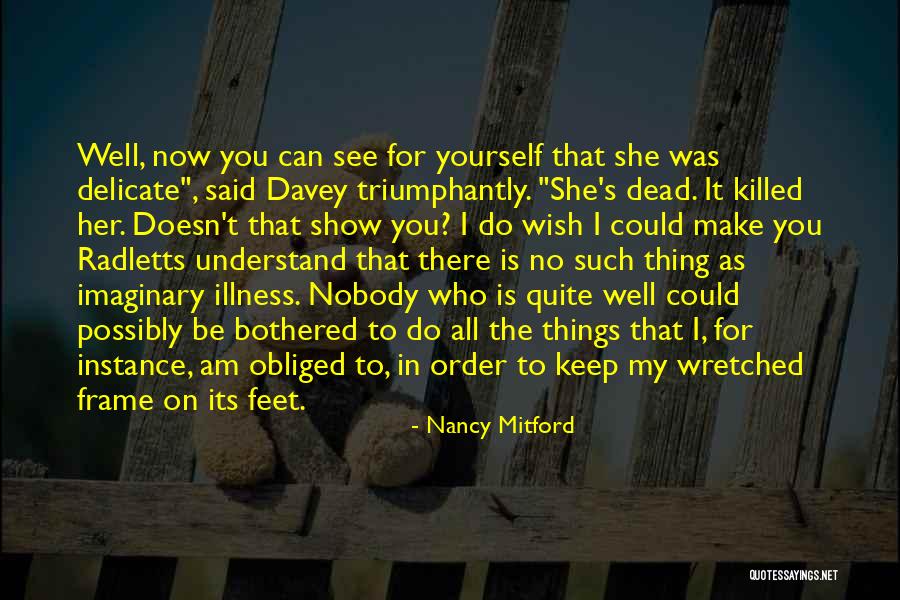 Well, now you can see for yourself that she was delicate", said Davey triumphantly. "She's dead. It killed her. Doesn't that show you? I do wish I could make you Radletts understand that there is no such thing as imaginary illness. Nobody who is quite well could possibly be bothered to do all the things that I, for instance, am obliged to, in order to keep my wretched frame on its feet. — Nancy Mitford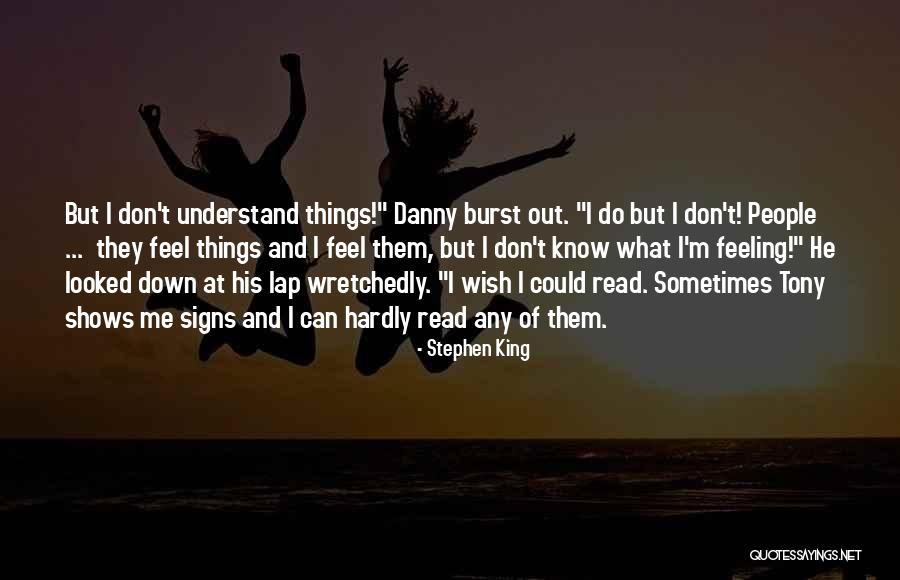 But I don't understand things!" Danny burst out. "I do but I don't! People ... they feel things and I feel them, but I don't know what I'm feeling!" He looked down at his lap wretchedly. "I wish I could read. Sometimes Tony shows me signs and I can hardly read any of them. — Stephen King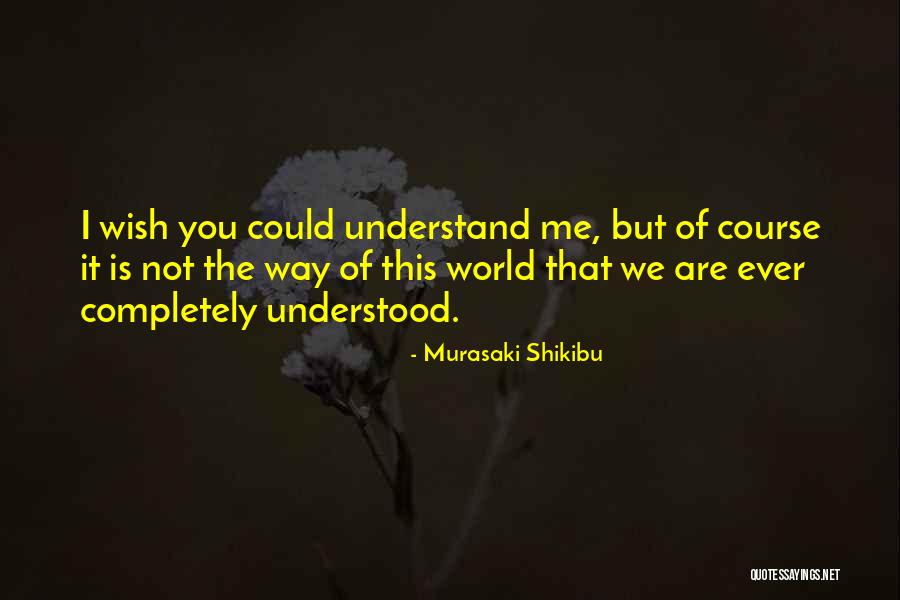 I wish you could understand me, but of course it is not the way of this world that we are ever completely understood. — Murasaki Shikibu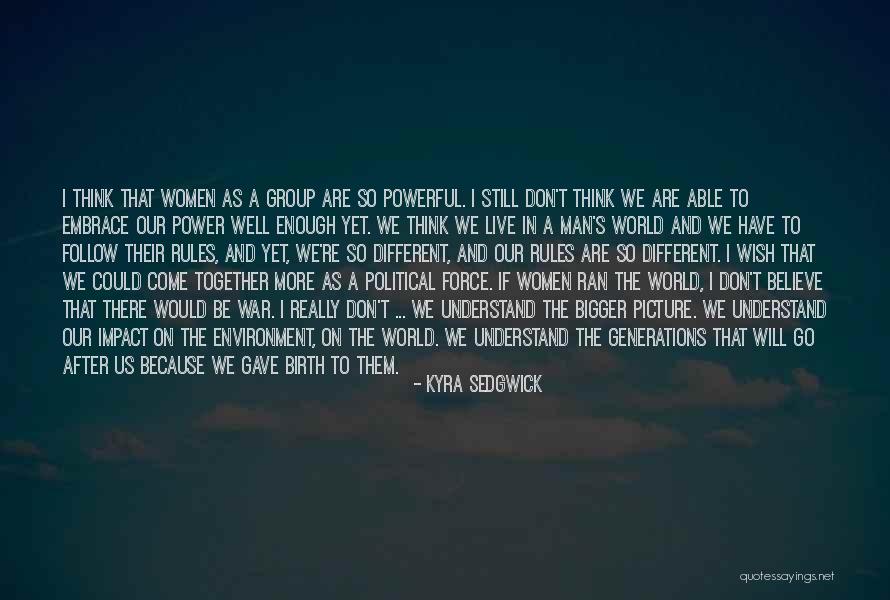 I think that women as a group are so powerful. I still don't think we are able to embrace our power well enough yet. We think we live in a man's world and we have to follow their rules, and yet, we're so different, and our rules are so different. I wish that we could come together more as a political force. If women ran the world, I don't believe that there would be war. I really don't ... We understand the bigger picture. We understand our impact on the environment, on the world. We understand the generations that will go after us because we gave birth to them. — Kyra Sedgwick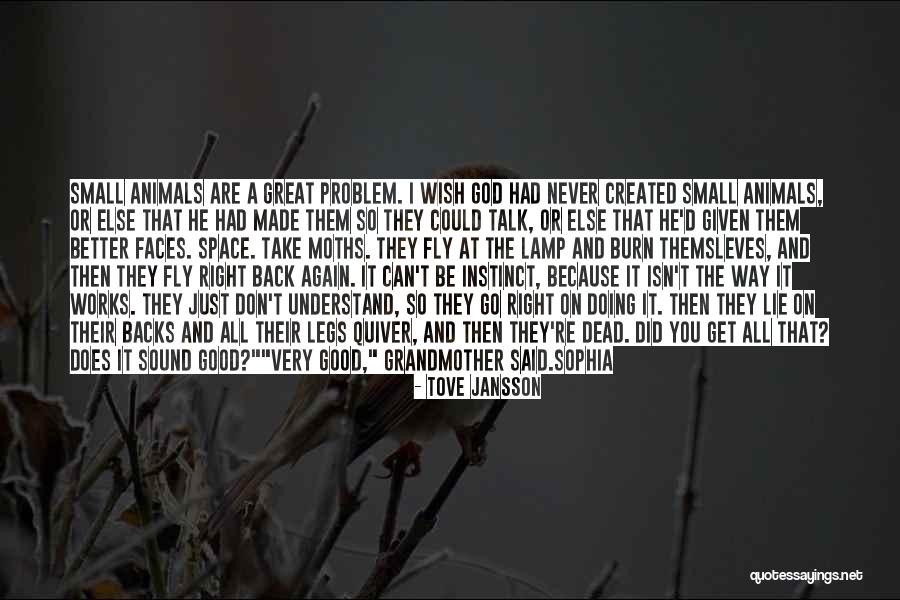 Small animals are a great problem. I wish God had never created small animals, or else that He had made them so they could talk, or else that He'd given them better faces. Space. Take moths. They fly at the lamp and burn themsleves, and then they fly right back again. It can't be instinct, because it isn't the way it works. They just don't understand, so they go right on doing it. Then they lie on their backs and all their legs quiver, and then they're dead. Did you get all that? Does it sound good?"
"Very good," Grandmother said.
Sophia stood up and shouted, "Say this: say I hate everything that dies slow! Say I hate everything that won't let you help! Did you write that? — Tove Jansson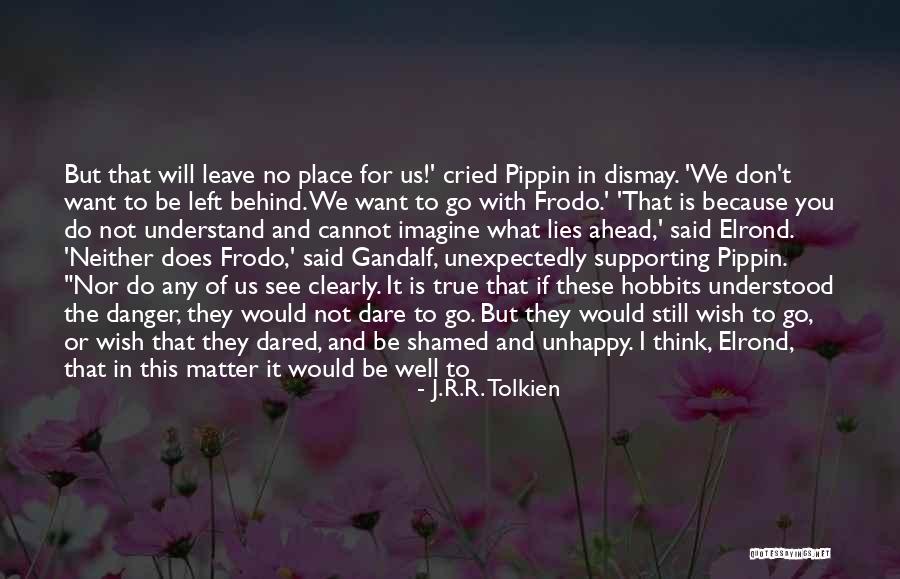 But that will leave no place for us!' cried Pippin in dismay. 'We don't want to be left behind. We want to go with Frodo.' 'That is because you do not understand and cannot imagine what lies ahead,' said Elrond. 'Neither does Frodo,' said Gandalf, unexpectedly supporting Pippin. "Nor do any of us see clearly. It is true that if these hobbits understood the danger, they would not dare to go. But they would still wish to go, or wish that they dared, and be shamed and unhappy. I think, Elrond, that in this matter it would be well to trust rather to their friendship than to great wisdom. Even if you chose for us an elf-lord, such as Glorfindel, he could not storm the Dark Tower, nor open the road to the Fire by the power that is in him. — J.R.R. Tolkien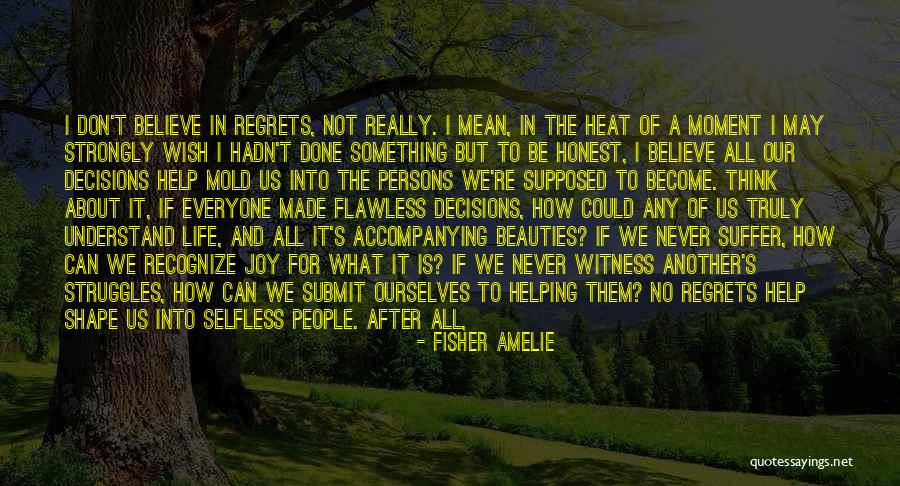 I don't believe in regrets, not really. I mean, in the heat of a moment I may strongly wish I hadn't done something but to be honest, I believe all our decisions help mold us into the persons we're supposed to become. Think about it, if everyone made flawless decisions, how could any of us truly understand life, and all it's accompanying beauties? If we never suffer, how can we recognize joy for what it is? If we never witness another's struggles, how can we submit ourselves to helping them? No regrets help shape us into selfless people. After all, the only regrets people really speak of are surrounded by a hesitation to love or allow love. — Fisher Amelie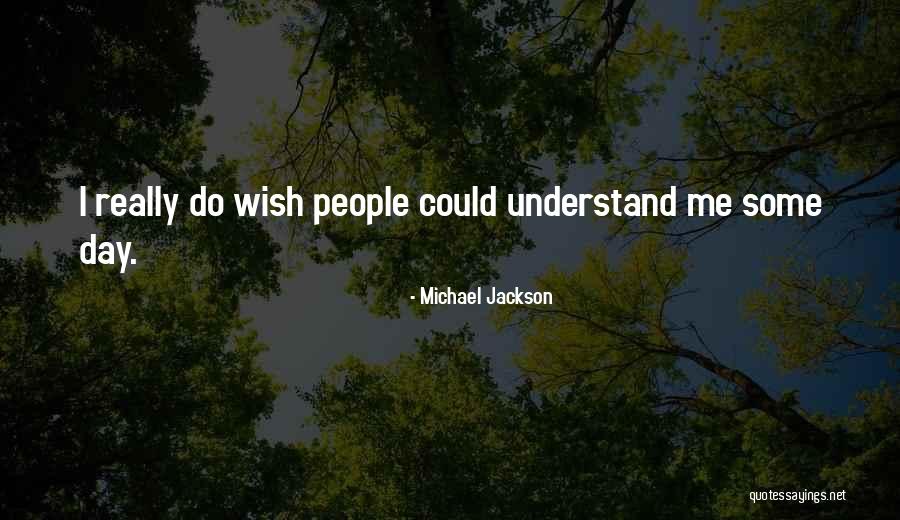 I really do wish people could understand me some day. — Michael Jackson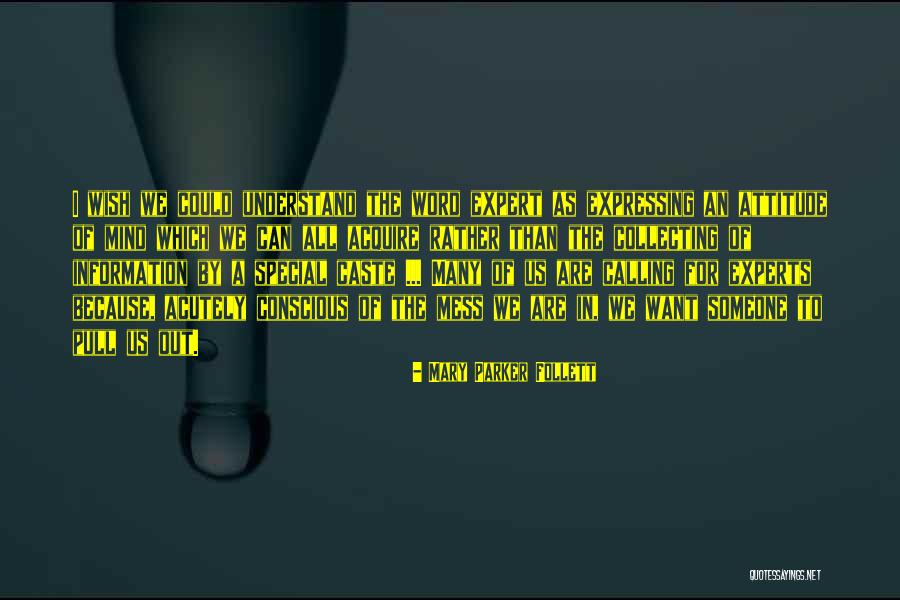 I wish we could understand the word expert as expressing an attitude of mind which we can all acquire rather than the collecting of information by a special caste ... Many of us are calling for experts because, acutely conscious of the mess we are in, we want someone to pull us out. — Mary Parker Follett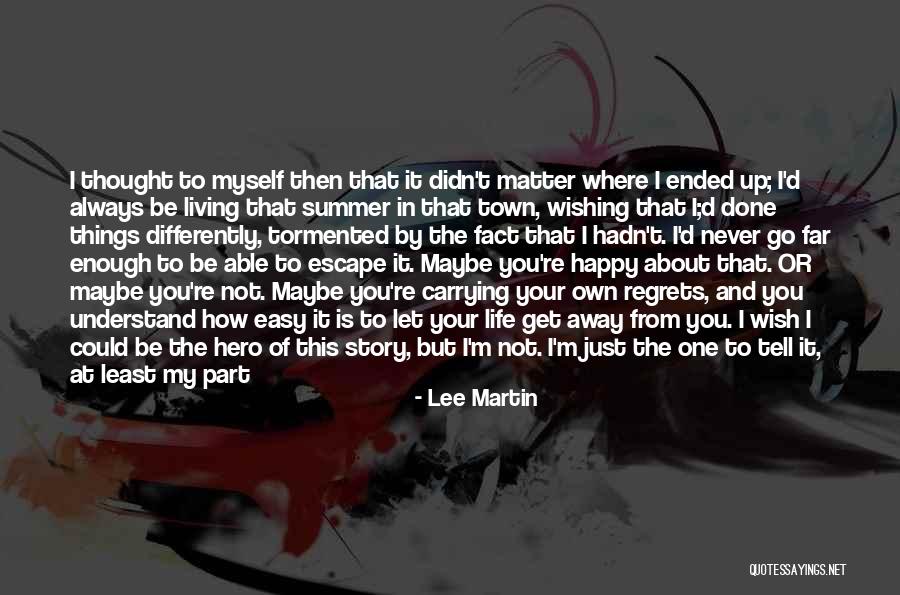 I thought to myself then that it didn't matter where I ended up; I'd always be living that summer in that town, wishing that I;d done things differently, tormented by the fact that I hadn't. I'd never go far enough to be able to escape it. Maybe you're happy about that. OR maybe you're not. Maybe you're carrying your own regrets, and you understand how easy it is to let your life get away from you. I wish I could be the hero of this story, but I'm not. I'm just the one to tell it, at least my part in it- the story of Katie Mackey and the people who failed her. It's an old one, this tale of selfish desires and the lament that follows, as ancient as the story of Adam and Eve turned away forever from paradise. — Lee Martin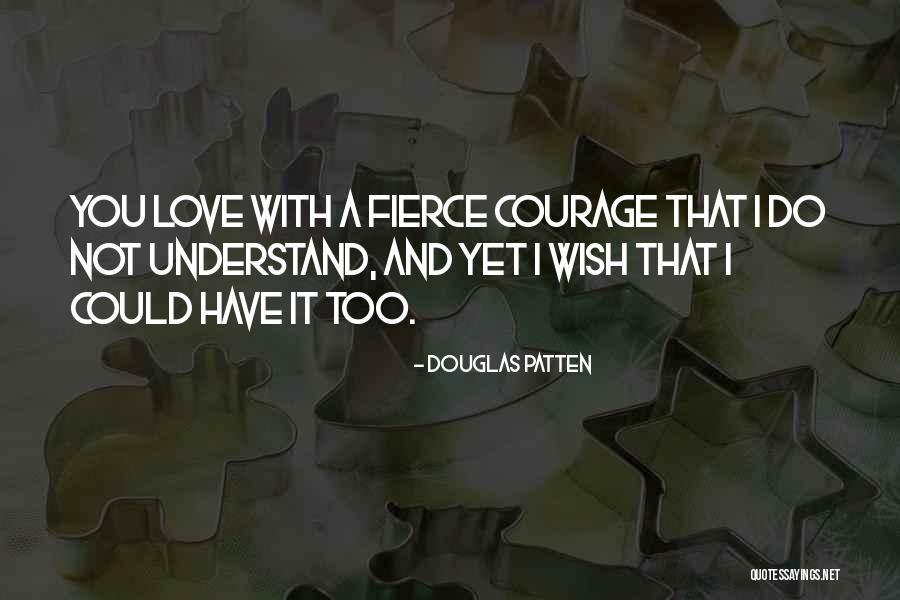 You love with a fierce courage that I do not understand, and yet I wish that I could have it too. — Douglas Patten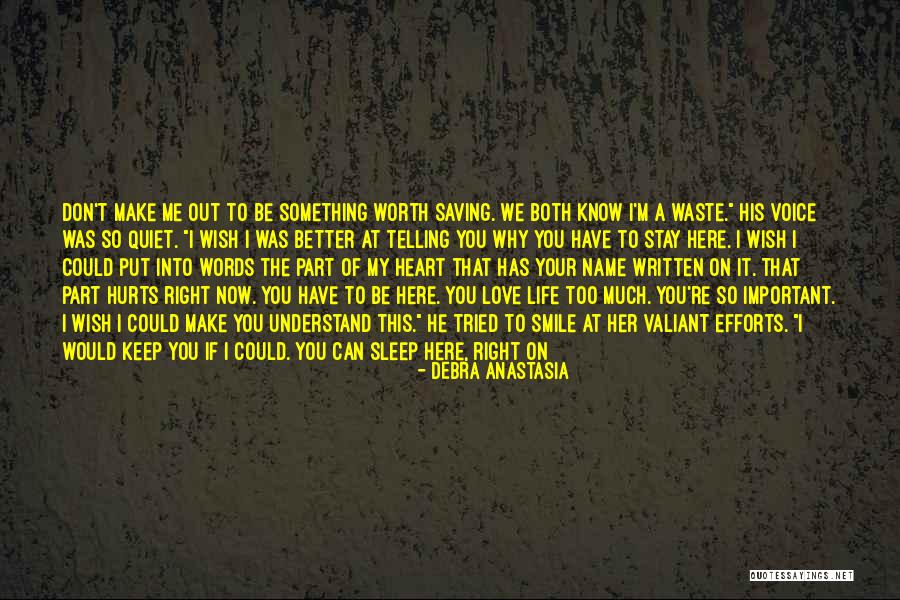 Don't make me out to be something worth saving. We both know I'm a waste." His voice was so quiet. "I wish I was better at telling you why you have to stay here. I wish I could put into words the part of my heart that has your name written on it. That part hurts right now. You have to be here. You love life too much. You're so important. I wish I could make you understand this." He tried to smile at her valiant efforts. "I would keep you if I could. You can sleep here, right on this couch. Beckett, I will let you hold this baby when it comes." She touched her stomach. "Does that tell you how much you mean to me? It's the only thing I can come up with." He shrugged. "Mouse would be disappointed. He'd feel like he didn't do his job if you died ... Eve loves you. Wherever she is - in this strip club - is that what you've been wishing for?" Beckett shook his head. "No, right? She loves you. You can't kill someone she loves. You just can't. — Debra Anastasia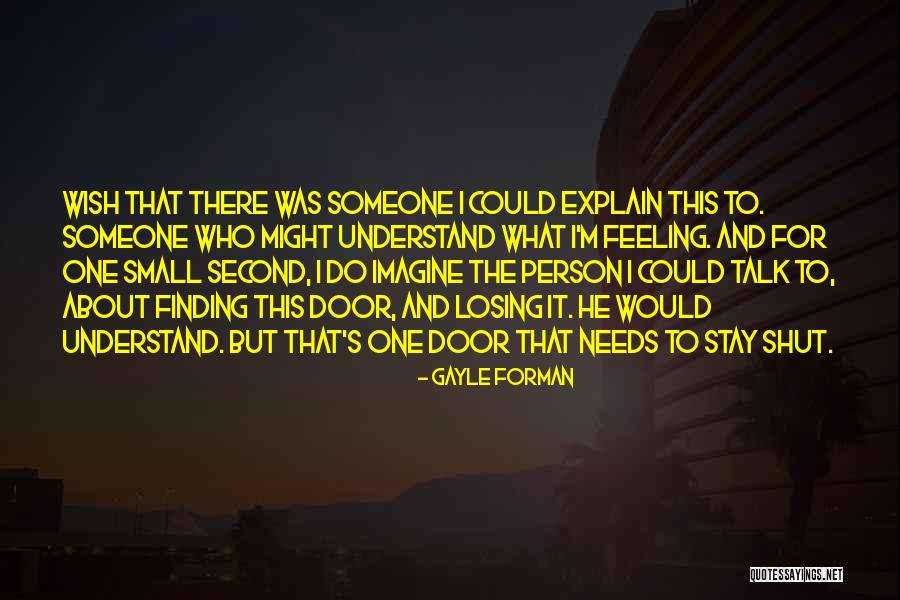 Wish that there was someone I could explain this to. Someone who might understand what I'm feeling. And for one small second, I do imagine the person I could talk to, about finding this door, and losing it. He would understand. But that's one door that needs to stay shut. — Gayle Forman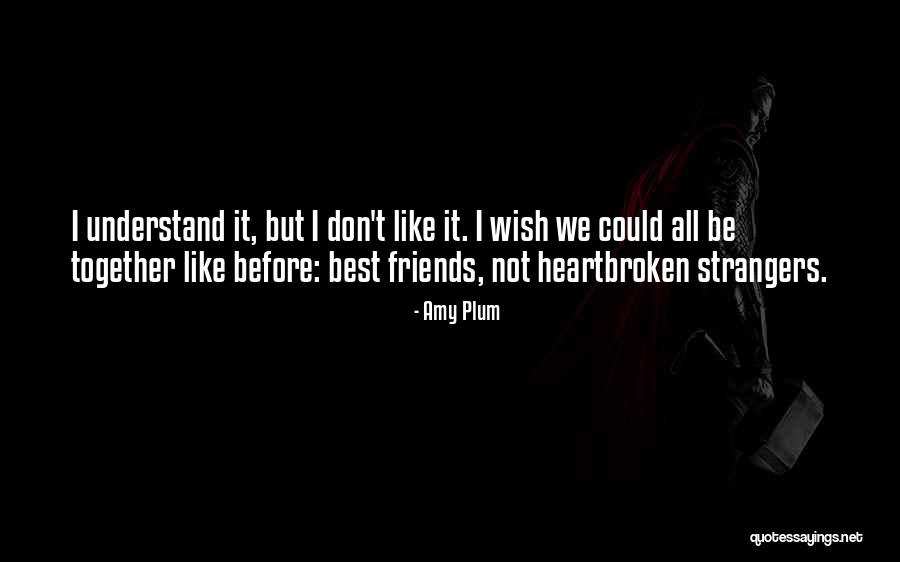 I understand it, but I don't like it. I wish we could all be together like before: best friends, not heartbroken strangers. — Amy Plum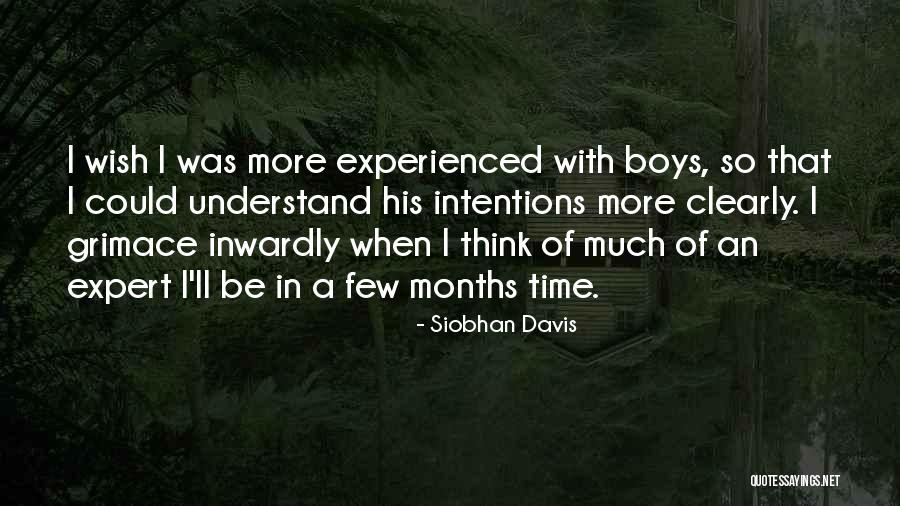 I wish I was more experienced with boys, so that I could understand his intentions more clearly. I grimace inwardly when I think of much of an expert I'll be in a few months time. — Siobhan Davis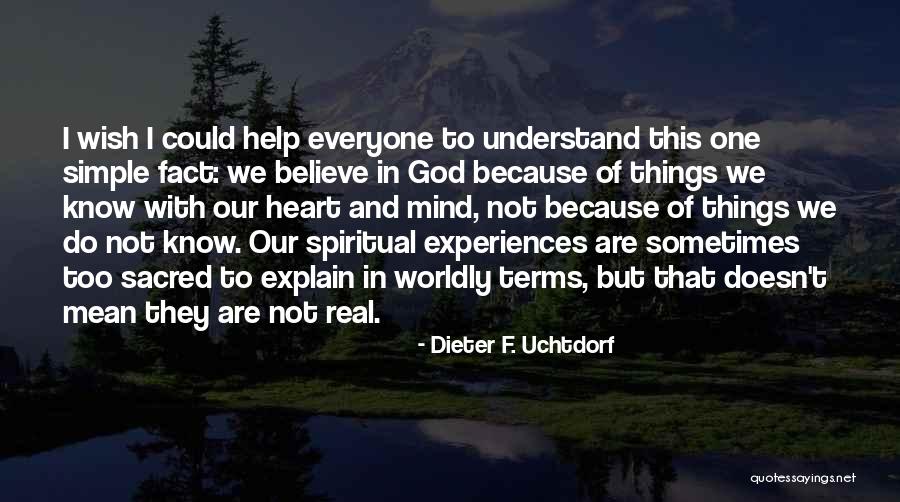 I wish I could help everyone to understand this one simple fact: we believe in God because of things we know with our heart and mind, not because of things we do not know. Our spiritual experiences are sometimes too sacred to explain in worldly terms, but that doesn't mean they are not real. — Dieter F. Uchtdorf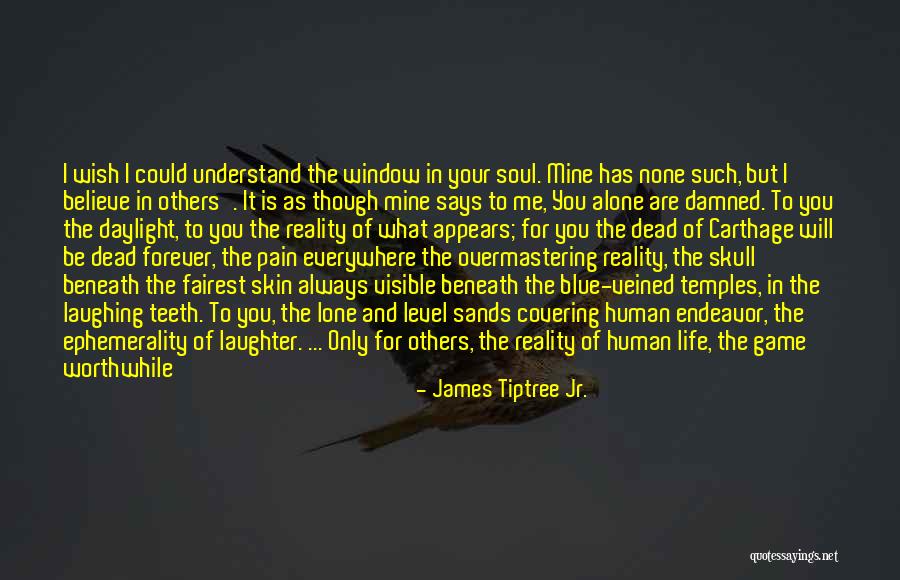 I wish I could understand the window in your soul. Mine has none such, but I believe in others'. It is as though mine says to me, You alone are damned. To you the daylight, to you the reality of what appears; for you the dead of Carthage will be dead forever, the pain everywhere the overmastering reality, the skull beneath the fairest skin always visible beneath the blue-veined temples, in the laughing teeth. To you, the lone and level sands covering human endeavor, the ephemerality of laughter. ... Only for others, the reality of human life, the game worthwhile as it is being played. Only for others, any kind of hope. Only for others, the window in the closed room.--or closed galaxy, it makes no difference. — James Tiptree Jr.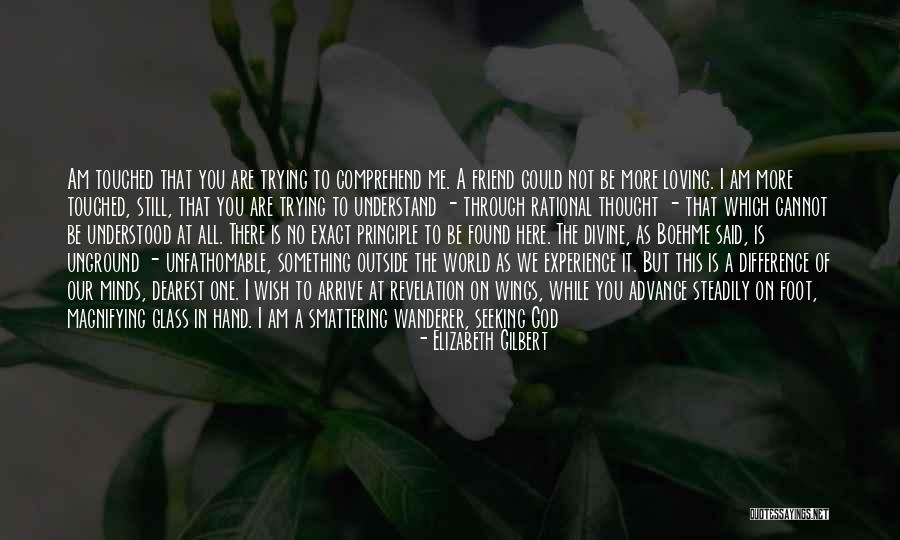 Am touched that you are trying to comprehend me. A friend could not be more loving. I am more touched, still, that you are trying to understand - through rational thought - that which cannot be understood at all. There is no exact principle to be found here. The divine, as Boehme said, is unground - unfathomable, something outside the world as we experience it. But this is a difference of our minds, dearest one. I wish to arrive at revelation on wings, while you advance steadily on foot, magnifying glass in hand. I am a smattering wanderer, seeking God within the outer contours, searching for a new way of knowing. You stand upon the ground, and consider the evidence inch by inch. Your way is more rational and more methodical, but I cannot change my way." "I do have a dreadful love for understanding," Alma admitted. "Indeed you do love it, though it is not dreadful, — Elizabeth Gilbert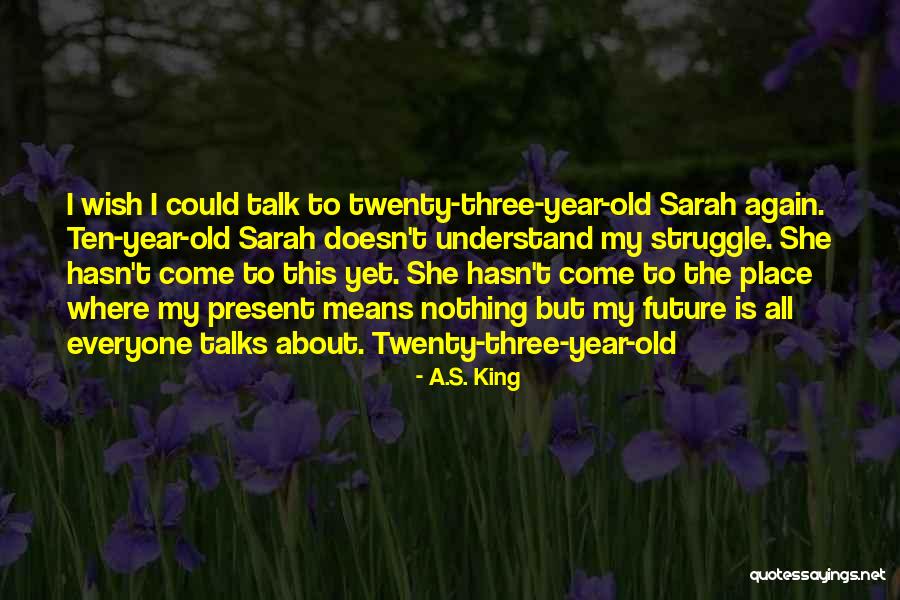 I wish I could talk to twenty-three-year-old Sarah again. Ten-year-old Sarah doesn't understand my struggle. She hasn't come to this yet. She hasn't come to the place where my present means nothing but my future is all everyone talks about. Twenty-three-year-old — A.S. King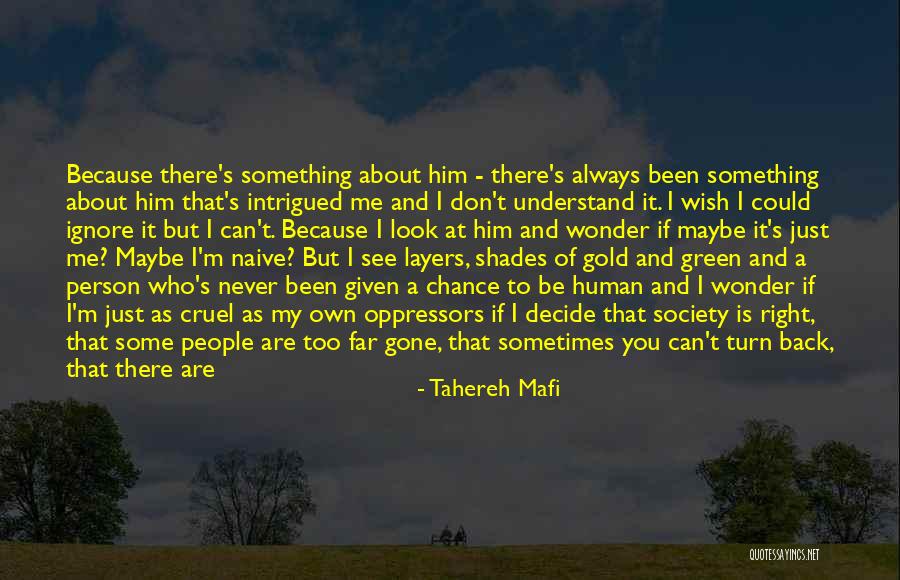 Because there's something about him - there's always been something about him that's intrigued me and I don't understand it. I wish I could ignore it but I can't. Because I look at him and wonder if maybe it's just me? Maybe I'm naive?
But I see layers, shades of gold and green and a person who's never been given a chance to be human and I wonder if I'm just as cruel as my own oppressors if I decide that society is right, that some people are too far gone, that sometimes you can't turn back, that there are people in this world who don't deserve a second chance and I can't I can't I can't
I can't help but disagree. — Tahereh Mafi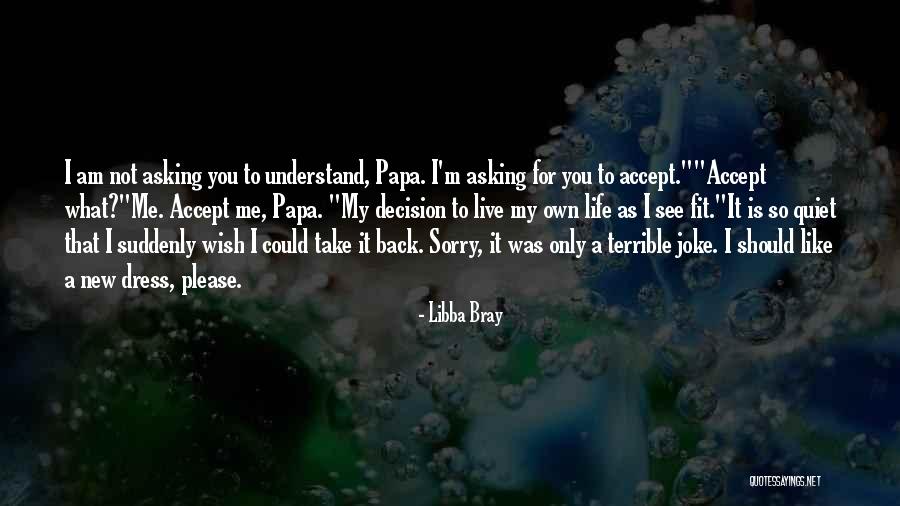 I am not asking you to understand, Papa. I'm asking for you to accept."
"Accept what?"
Me. Accept me, Papa. "My decision to live my own life as I see fit."
It is so quiet that I suddenly wish I could take it back. Sorry, it was only a terrible joke. I should like a new dress, please. — Libba Bray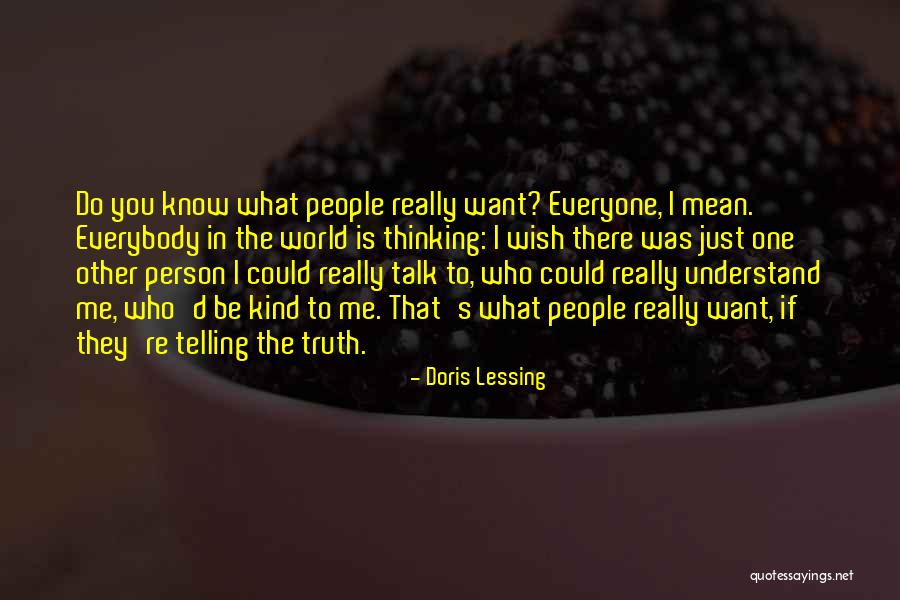 Do you know what people really want? Everyone, I mean. Everybody in the world is thinking: I wish there was just one other person I could really talk to, who could really understand me, who'd be kind to me. That's what people really want, if they're telling the truth. — Doris Lessing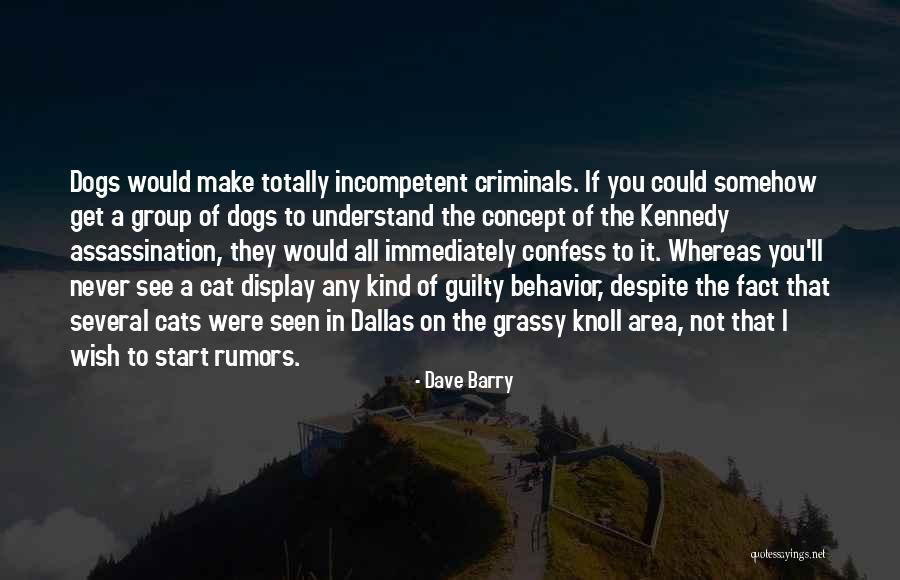 Dogs would make totally incompetent criminals. If you could somehow get a group of dogs to understand the concept of the Kennedy assassination, they would all immediately confess to it. Whereas you'll never see a cat display any kind of guilty behavior, despite the fact that several cats were seen in Dallas on the grassy knoll area, not that I wish to start rumors. — Dave Barry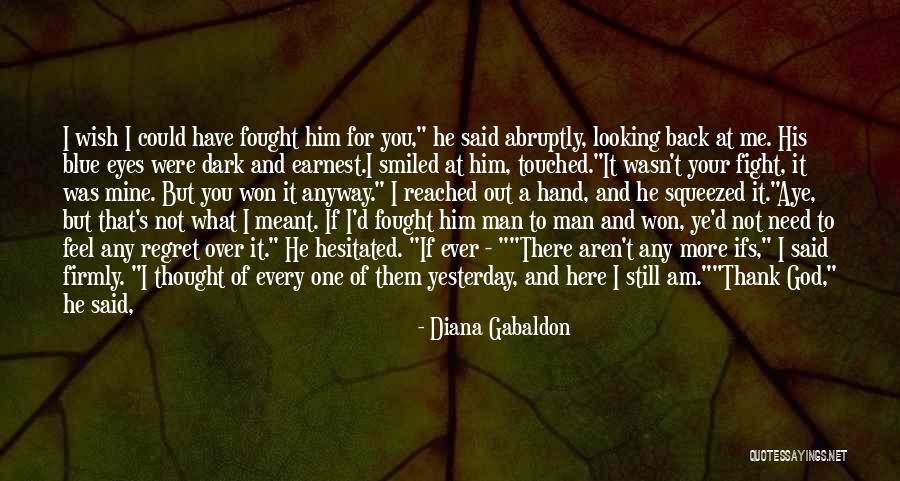 I wish I could have fought him for you," he said abruptly, looking back at me. His blue eyes were dark and earnest.
I smiled at him, touched.
"It wasn't your fight, it was mine. But you won it anyway." I reached out a hand, and he squeezed it.
"Aye, but that's not what I meant. If I'd fought him man to man and won, ye'd not need to feel any regret over it." He hesitated. "If ever - "
"There aren't any more ifs," I said firmly. "I thought of every one of them yesterday, and here I still am."
"Thank God," he said, smiling, "and God help you." Then he added, "Though I'll never understand why."
I put my arms around his waist and held on as the horse slithered down the last steep slope.
"Because," I said, "I bloody well can't do without you, Jamie Fraser, and that's all about it. — Diana Gabaldon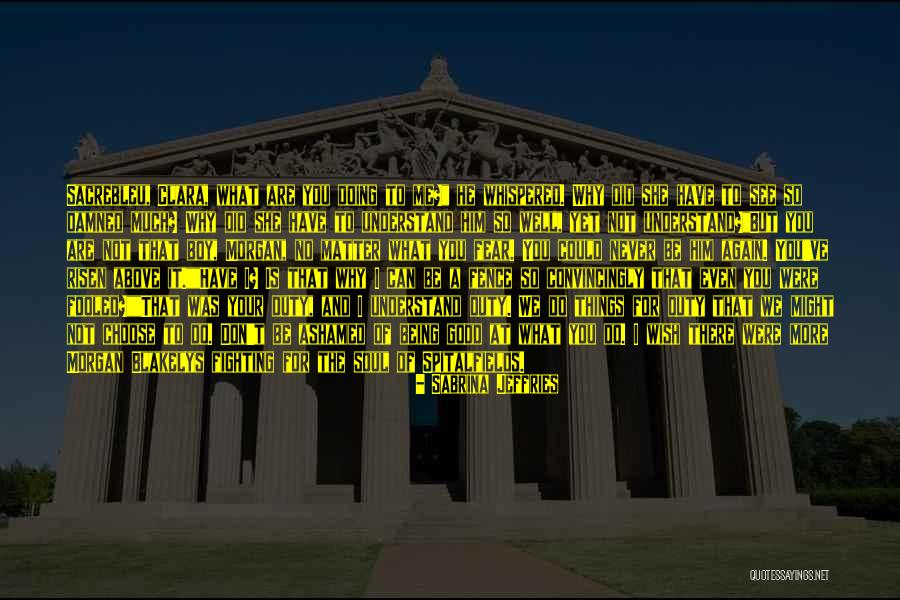 Sacrebleu, Clara, what are you doing to me?" he whispered. Why did she have to see so damned much? Why did she have to understand him so well, yet not understand?
"But you are not that boy, Morgan, no matter what you fear. You could never be him again. You've risen above it."
"Have I? Is that why I can be a fence so convincingly that even you were fooled?"
"That was your duty, and I understand duty. We do things for duty that we might not choose to do. Don't be ashamed of being good at what you do. I wish there were more Morgan Blakelys fighting for the soul of Spitalfields. — Sabrina Jeffries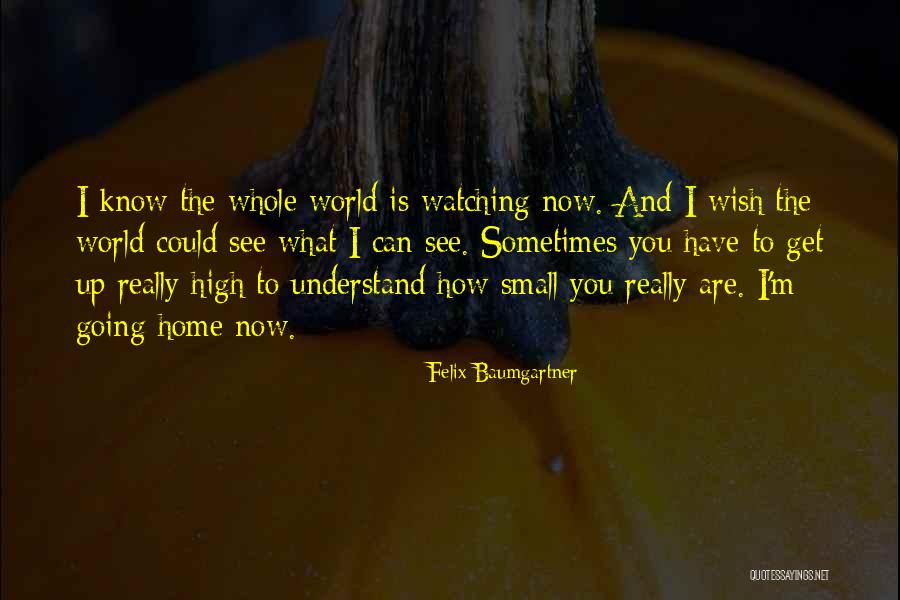 I know the whole world is watching now. And I wish the world could see what I can see. Sometimes you have to get up really high to understand how small you really are. I'm going home now. — Felix Baumgartner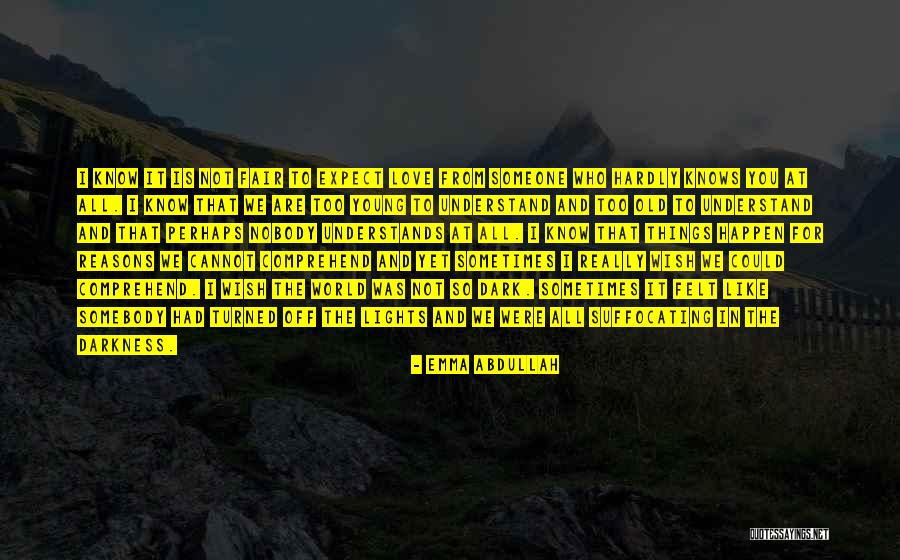 I know it is not fair to expect love from someone who hardly knows you at all. I know that we are too young to understand and too old to understand and that perhaps nobody understands at all. I know that things happen for reasons we cannot comprehend and yet sometimes I really wish we could comprehend. I wish the world was not so dark. Sometimes it felt like somebody had turned off the lights and we were all suffocating in the darkness. — Emma Abdullah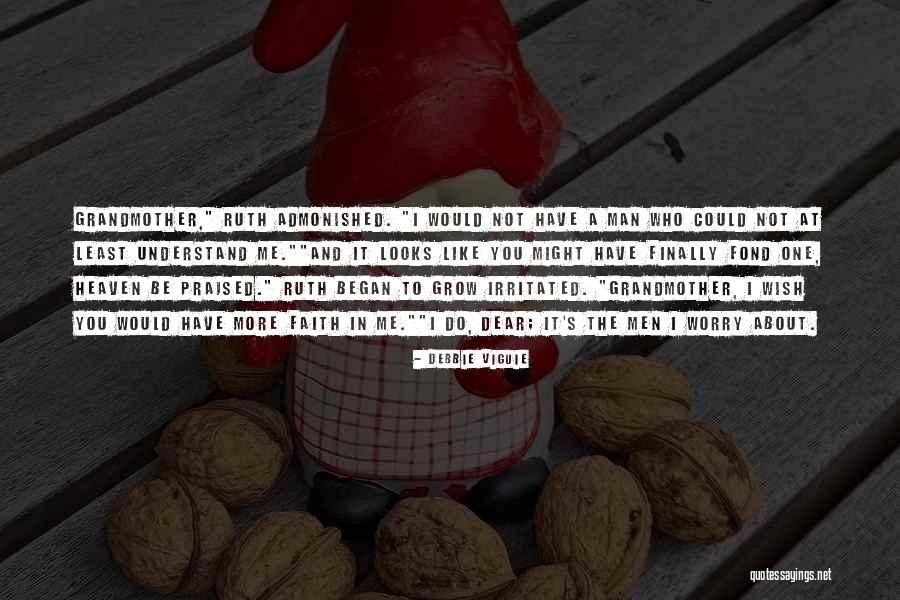 Grandmother," Ruth admonished. "I would not have a man who could not at least understand me."
"And it looks like you might have finally fond one, heaven be praised."
Ruth began to grow irritated. "Grandmother, I wish you would have more faith in me."
"I do, dear; it's the men I worry about. — Debbie Viguie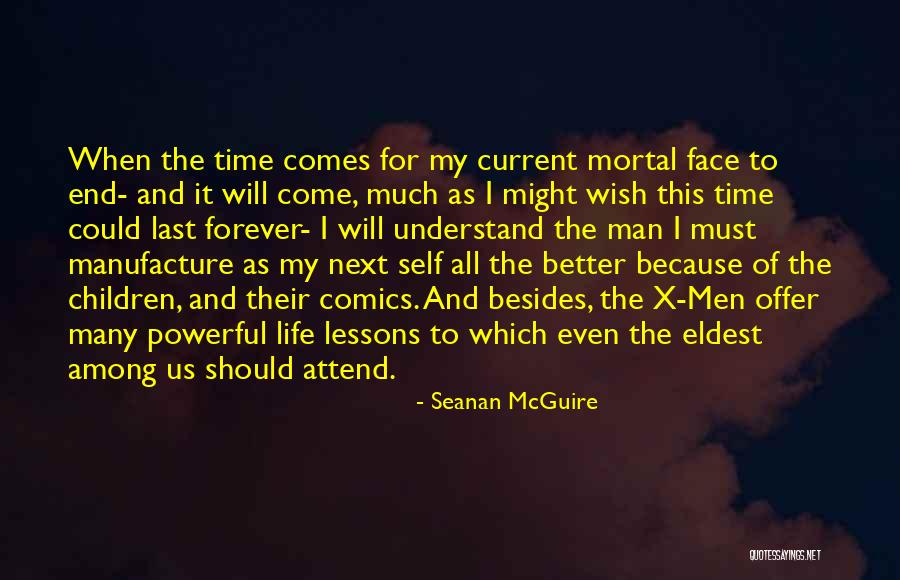 When the time comes for my current mortal face to end- and it will come, much as I might wish this time could last forever- I will understand the man I must manufacture as my next self all the better because of the children, and their comics. And besides, the X-Men offer many powerful life lessons to which even the eldest among us should attend. — Seanan McGuire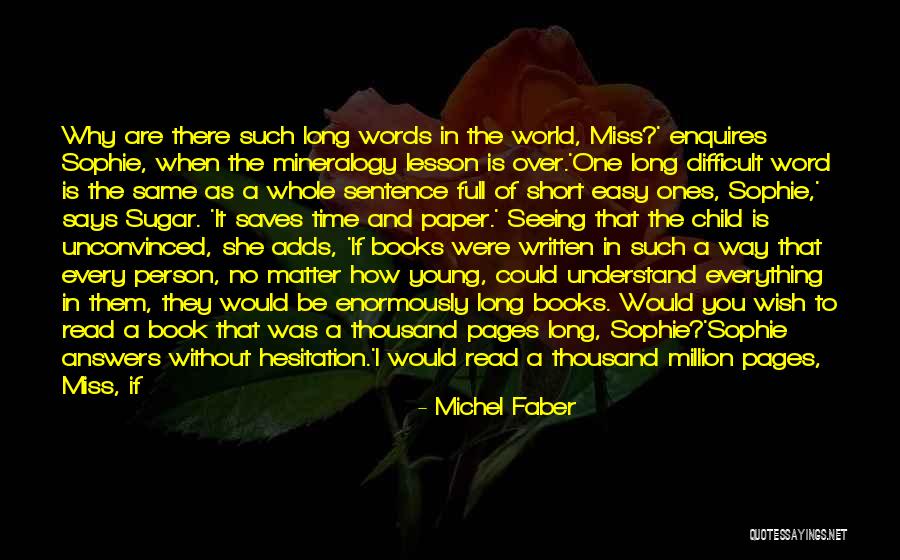 Why are there such long words in the world, Miss?' enquires Sophie, when the mineralogy lesson is over.
'One long difficult word is the same as a whole sentence full of short easy ones, Sophie,' says Sugar. 'It saves time and paper.' Seeing that the child is unconvinced, she adds, 'If books were written in such a way that every person, no matter how young, could understand everything in them, they would be enormously long books. Would you wish to read a book that was a thousand pages long, Sophie?'
Sophie answers without hesitation.
'I would read a thousand million pages, Miss, if all the words were words I could understand. — Michel Faber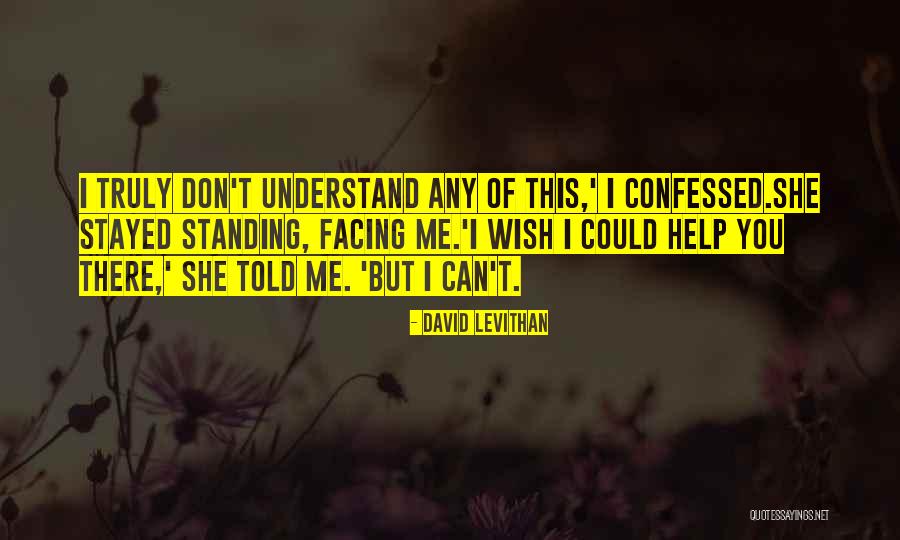 I truly don't understand any of this,' I confessed.
She stayed standing, facing me.
'I wish I could help you there,' she told me. 'But I can't. — David Levithan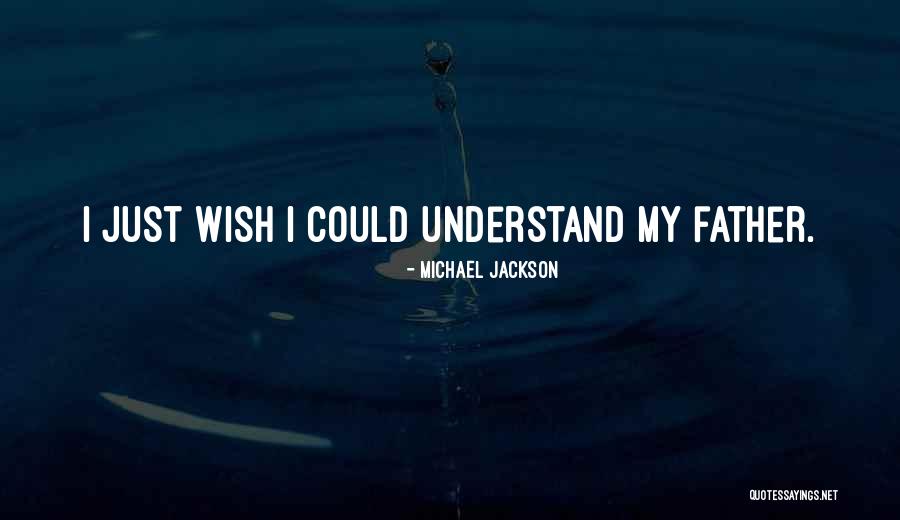 I just wish I could understand my father. — Michael Jackson