When Your Heart Is Heavy Quotes & Sayings
Enjoy reading and share 50 famous quotes about When Your Heart Is Heavy with everyone.
Top When Your Heart Is Heavy Quotes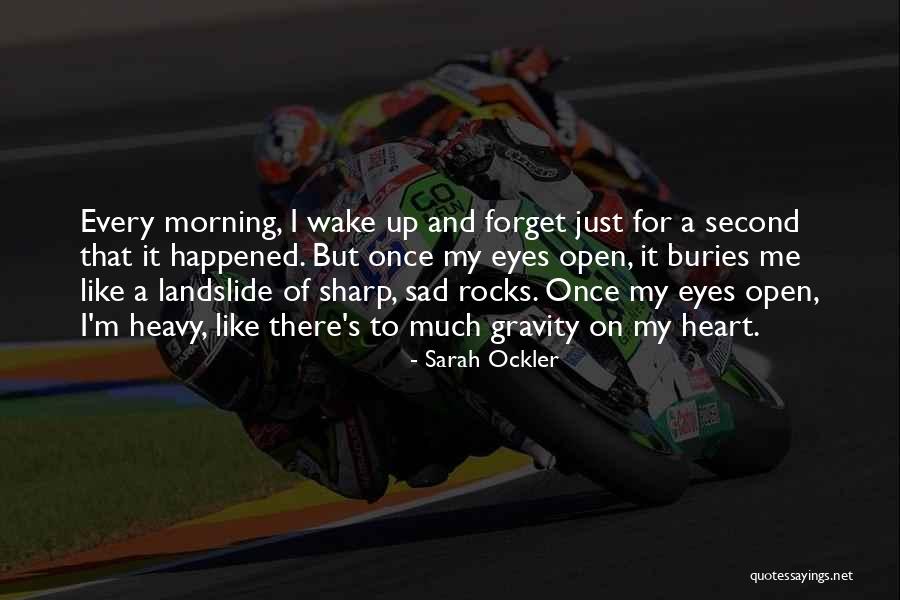 Every morning, I wake up and forget just for a second that it happened. But once my eyes open, it buries me like a landslide of sharp, sad rocks. Once my eyes open, I'm heavy, like there's to much gravity on my heart. — Sarah Ockler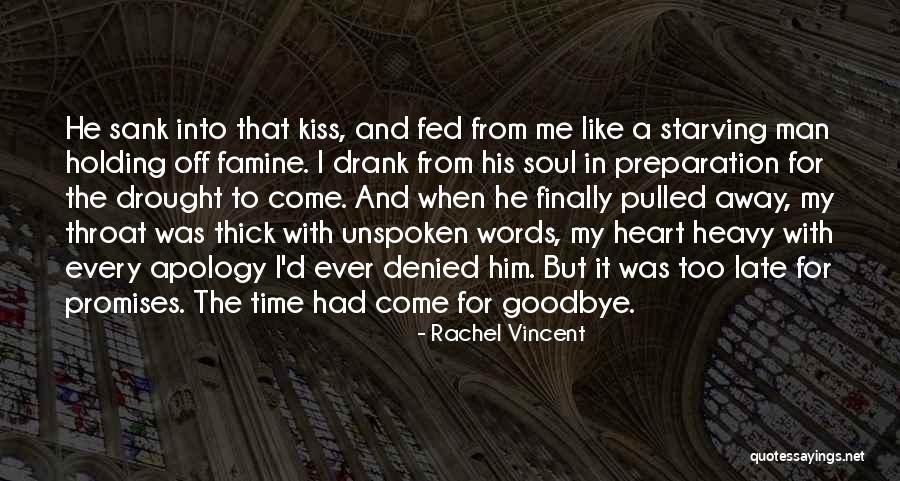 He sank into that kiss, and fed from me like a starving man holding off famine. I drank from his soul in preparation for the drought to come. And when he finally pulled away, my throat was thick with unspoken words, my heart heavy with every apology I'd ever denied him. But it was too late for promises. The time had come for goodbye. — Rachel Vincent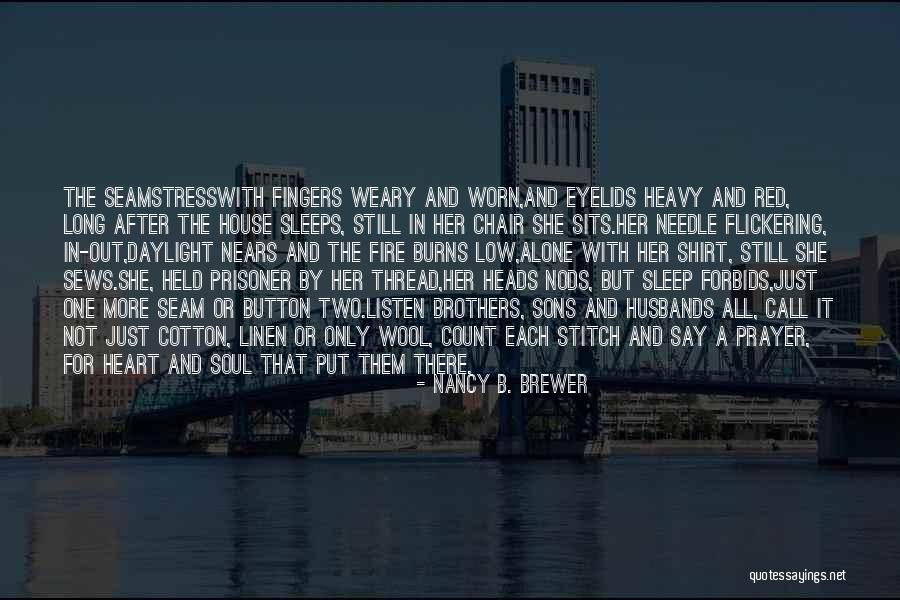 The seamstress
With fingers weary and worn,
And eyelids heavy and red,
Long after the house sleeps,
Still in her chair she sits.
Her needle flickering, in-out,
Daylight nears and the fire burns low,
Alone with her shirt, still she sews.
She, held prisoner by her thread,
Her heads nods, but sleep forbids,
Just one more seam or button two.
Listen brothers, sons and husbands all,
Call it not just cotton, linen or only wool,
Count each stitch and say a prayer,
For heart and soul that put them there. — Nancy B. Brewer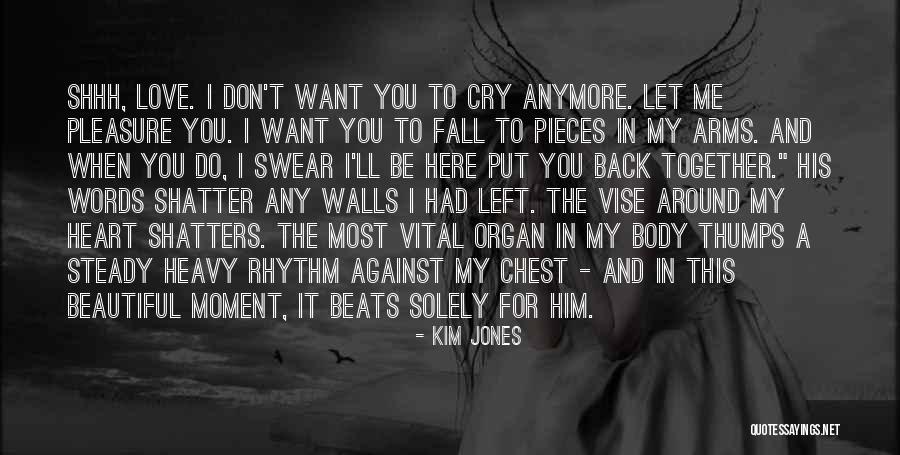 Shhh, Love. I don't want you to cry anymore. Let me pleasure you. I want you to fall to pieces in my arms. And when you do, I swear I'll be here put you back together." His words shatter any walls I had left. The vise around my heart shatters. The most vital organ in my body thumps a steady heavy rhythm against my chest - and in this beautiful moment, it beats solely for him. — Kim Jones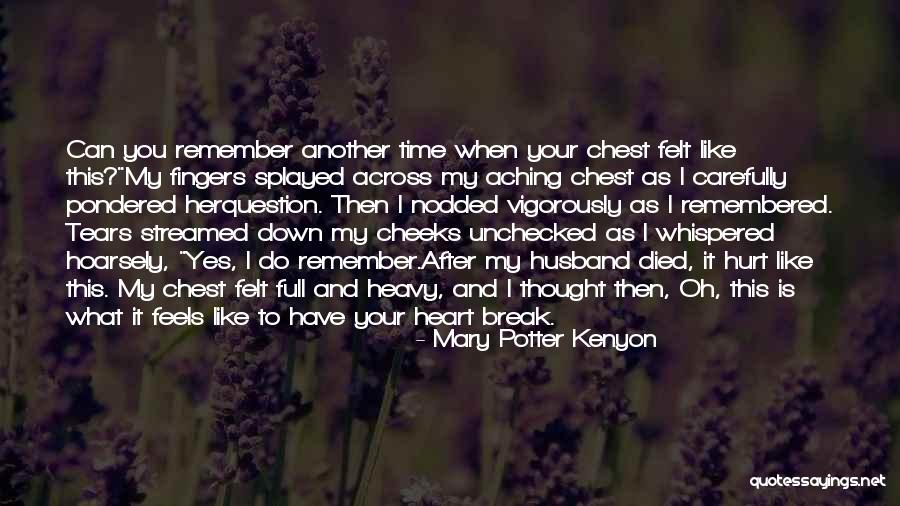 Can you remember another time when your chest felt like this?"
My fingers splayed across my aching chest as I carefully pondered her
question. Then I nodded vigorously as I remembered. Tears streamed down my cheeks unchecked as I whispered hoarsely, "Yes, I do remember.After my husband died, it hurt like this. My chest felt full and heavy, and I thought then, Oh, this is what it feels like to have your heart break. — Mary Potter Kenyon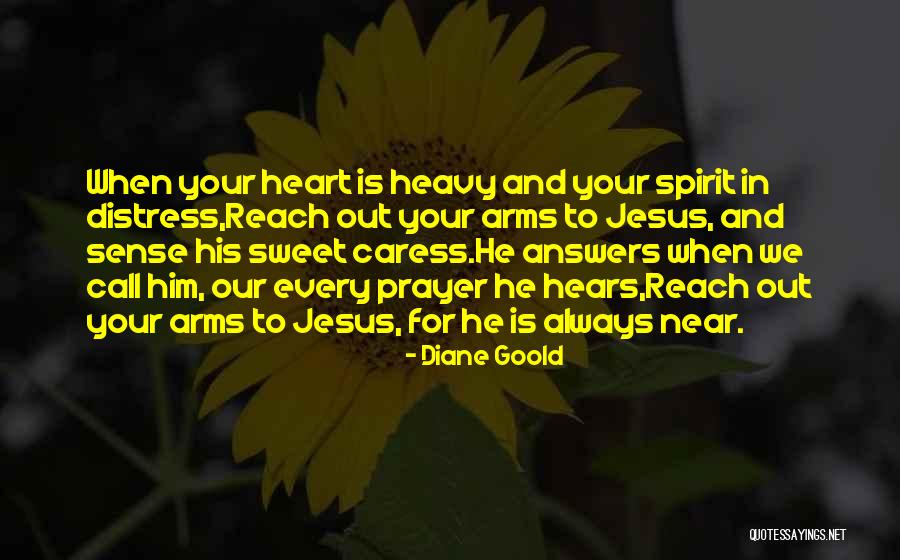 When your heart is heavy and your spirit in distress,
Reach out your arms to Jesus, and sense his sweet caress.
He answers when we call him, our every prayer he hears,
Reach out your arms to Jesus, for he is always near. — Diane Goold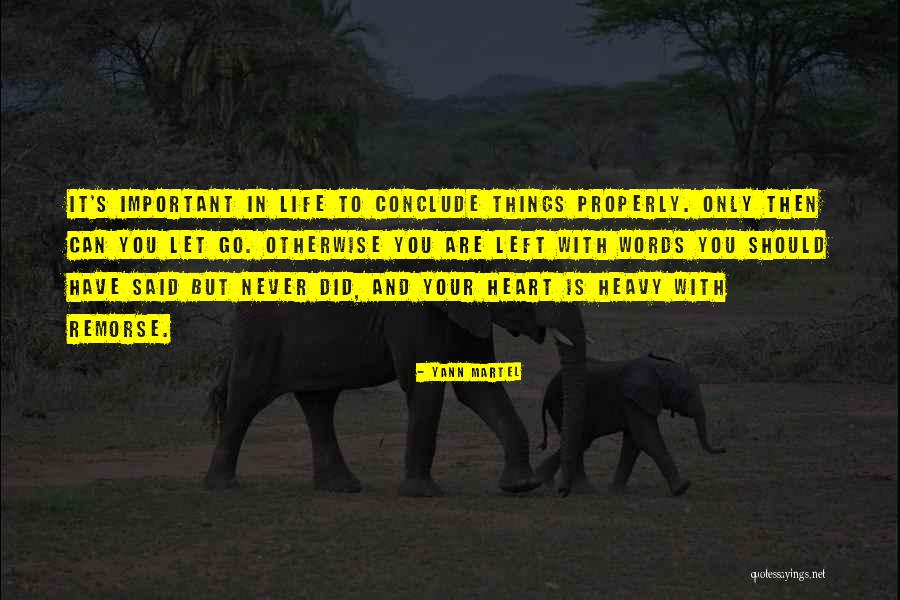 It's important in life to conclude things properly. Only then can you let go. Otherwise you are left with words you should have said but never did, and your heart is heavy with remorse. — Yann Martel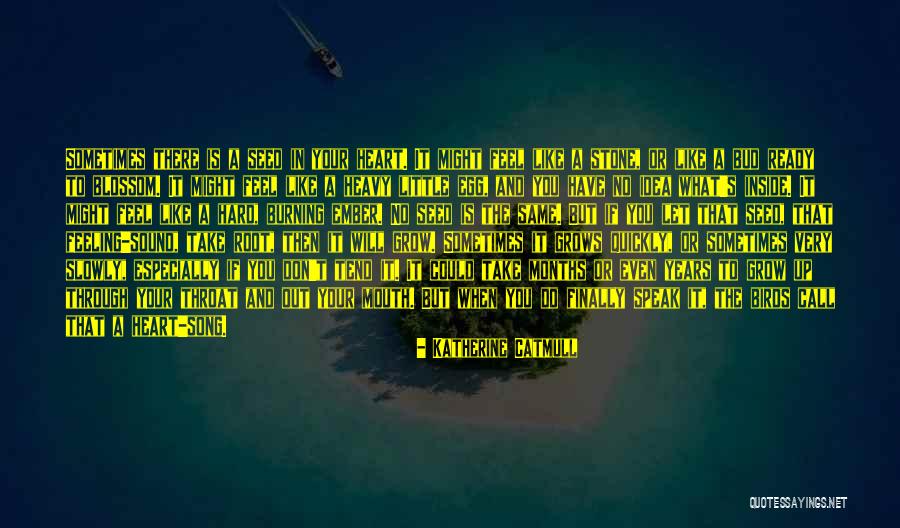 Sometimes there is a seed in your heart. It might feel like a stone, or like a bud ready to blossom. It might feel like a heavy little egg, and you have no idea what's inside. It might feel like a hard, burning ember. No seed is the same. But if you let that seed, that feeling-sound, take root, then it will grow. Sometimes it grows quickly, or sometimes very slowly, especially if you don't tend it. It could take months or even years to grow up through your throat and out your mouth. But when you do finally speak it, the birds call that a heart-song. — Katherine Catmull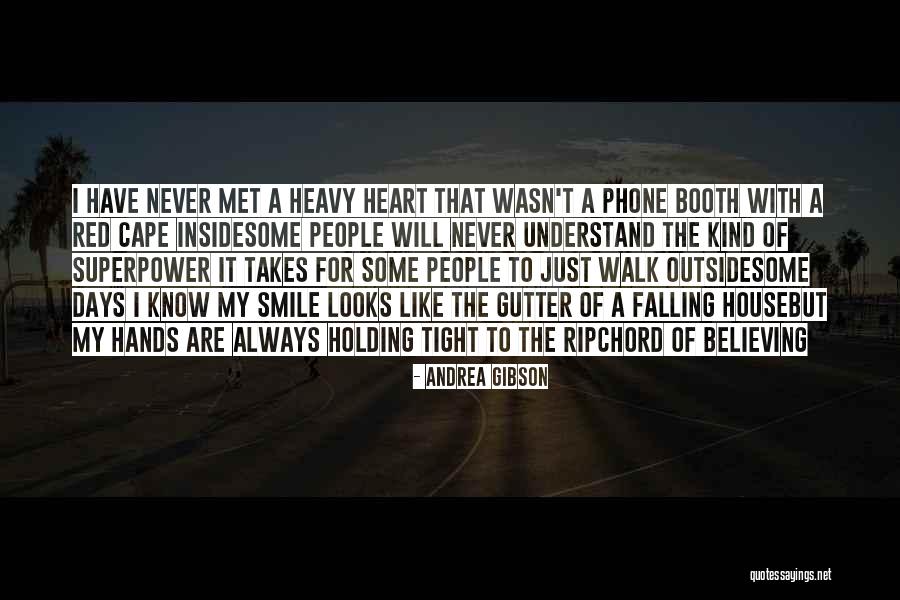 I have never met a heavy heart that wasn't a phone booth with a red cape inside
Some people will never understand the kind of superpower it takes for some people to just walk outside
Some days I know my smile looks like the gutter of a falling house
But my hands are always holding tight to the ripchord of believing — Andrea Gibson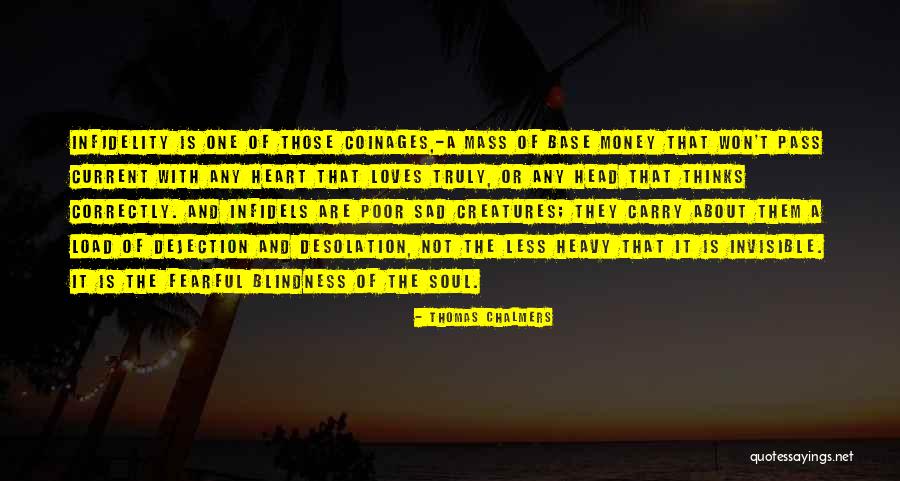 Infidelity is one of those coinages,-a mass of base money that won't pass current with any heart that loves truly, or any head that thinks correctly. And infidels are poor sad creatures; they carry about them a load of dejection and desolation, not the less heavy that it is invisible. It is the fearful blindness of the soul. — Thomas Chalmers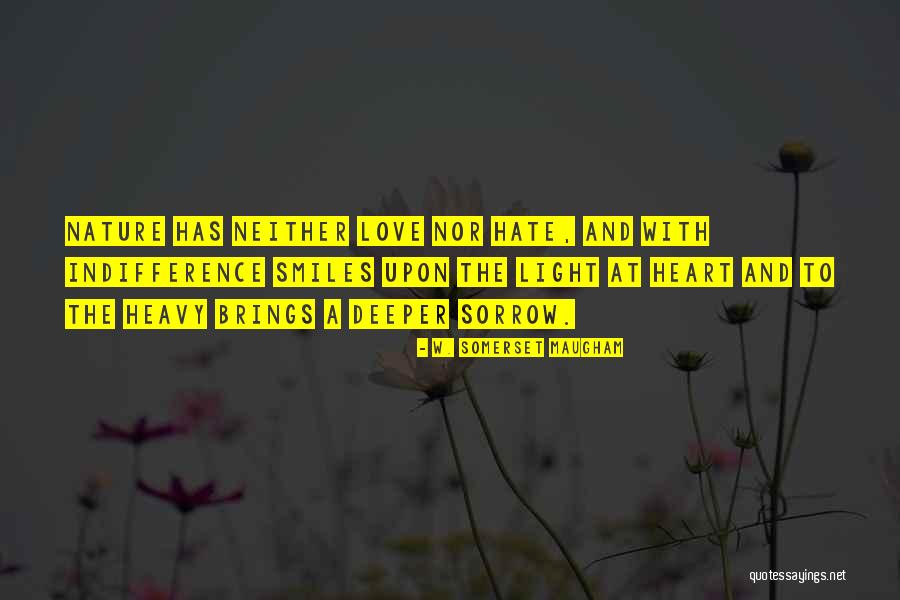 Nature has neither love nor hate, and with indifference smiles upon the light at heart and to the heavy brings a deeper sorrow. — W. Somerset Maugham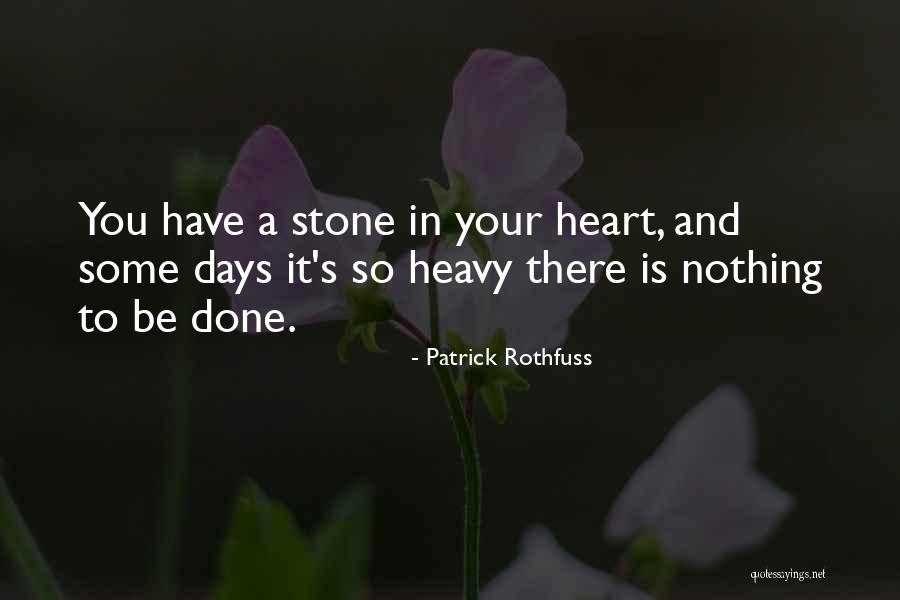 You have a stone in your heart, and some days it's so heavy there is nothing to be done. — Patrick Rothfuss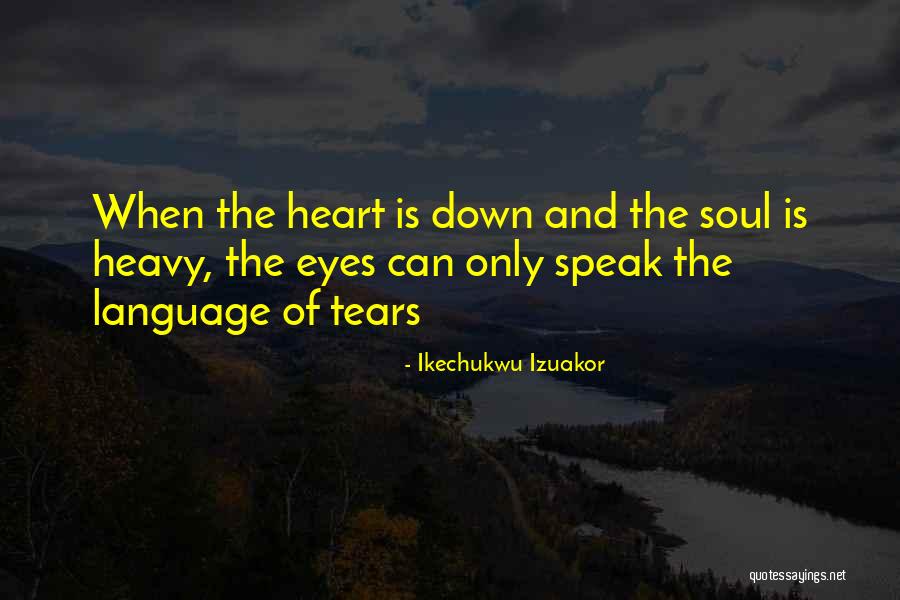 When the heart is down and the soul is heavy, the eyes can only speak the language of tears — Ikechukwu Izuakor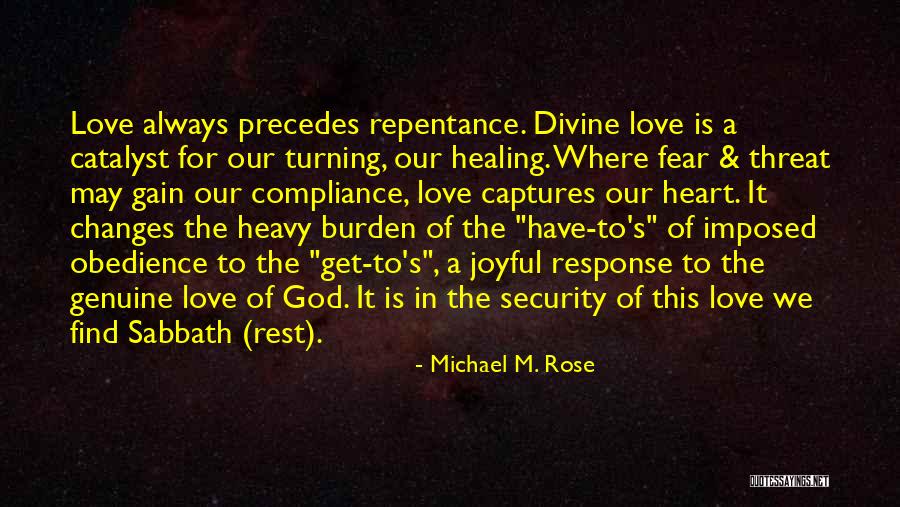 Love always precedes repentance. Divine love is a catalyst for our turning, our healing. Where fear & threat may gain our compliance, love captures our heart. It changes the heavy burden of the "have-to's" of imposed obedience to the "get-to's", a joyful response to the genuine love of God. It is in the security of this love we find Sabbath (rest). — Michael M. Rose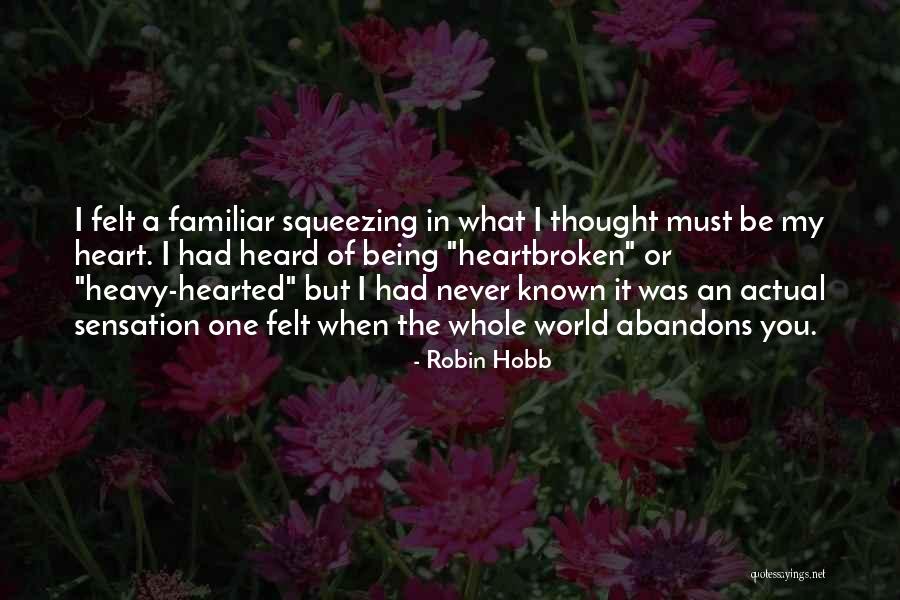 I felt a familiar squeezing in what I thought must be my heart. I had heard of being "heartbroken" or "heavy-hearted" but I had never known it was an actual sensation one felt when the whole world abandons you. — Robin Hobb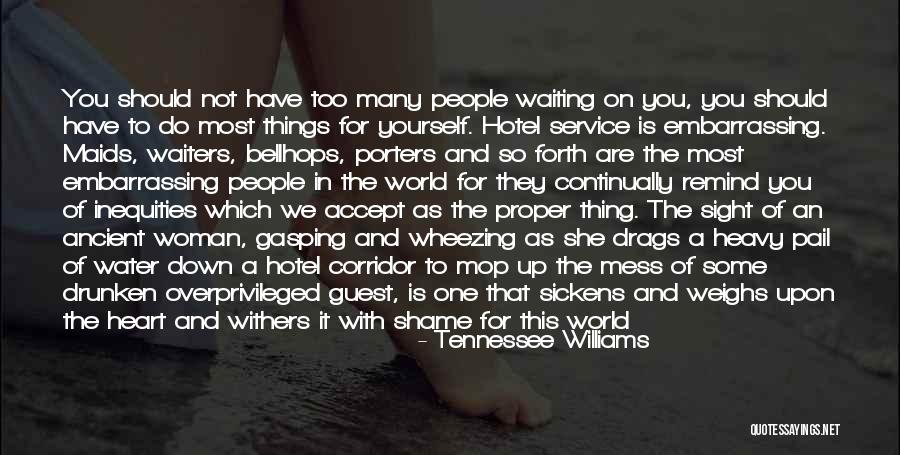 You should not have too many people waiting on you, you should have to do most things for yourself. Hotel service is embarrassing. Maids, waiters, bellhops, porters and so forth are the most embarrassing people in the world for they continually remind you of inequities which we accept as the proper thing. The sight of an ancient woman, gasping and wheezing as she drags a heavy pail of water down a hotel corridor to mop up the mess of some drunken overprivileged guest, is one that sickens and weighs upon the heart and withers it with shame for this world in which it is not only tolerated but regarded as proof positive that the wheels of Democracy are functioning as they should without interference from above or below. Nobody should have to clean up anybody else's mess in this world. It is terribly bad for both parties, but probably worse for the one receiving the service. — Tennessee Williams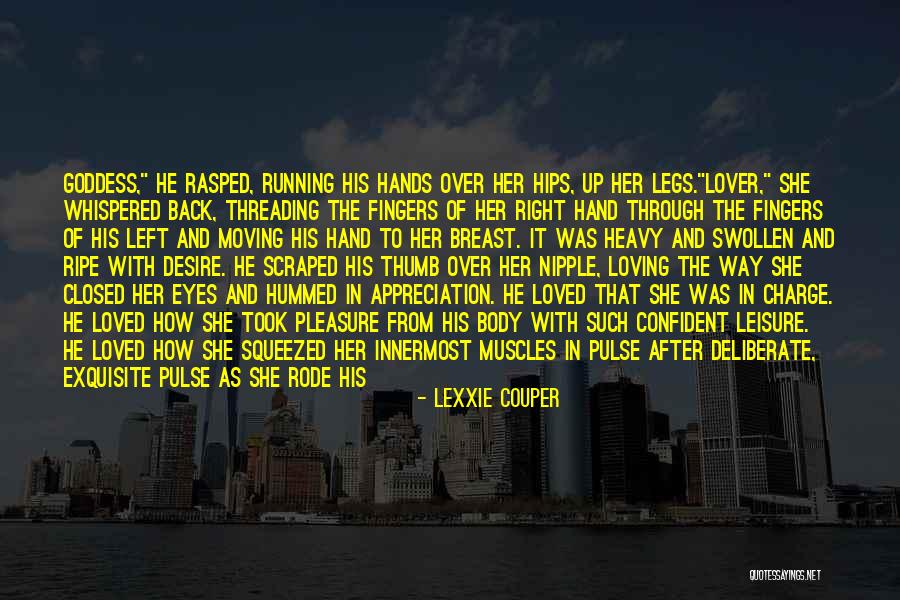 Goddess," he rasped, running his hands over her hips, up her legs.
"Lover," she whispered back, threading the fingers of her right hand through the fingers of his left and moving his hand to her breast. It was heavy and swollen and ripe with desire. He scraped his thumb over her nipple, loving the way she closed her eyes and hummed in appreciation. He loved that she was in charge. He loved how she took pleasure from his body with such confident leisure. He loved how she squeezed her innermost muscles in pulse after deliberate, exquisite pulse as she rode his length. He loved how he was just that to her, her lover, not Nick Blackthorne rock star, but just the man she gave her body, her heart, her soul to. He loved her. Everything about her. — Lexxie Couper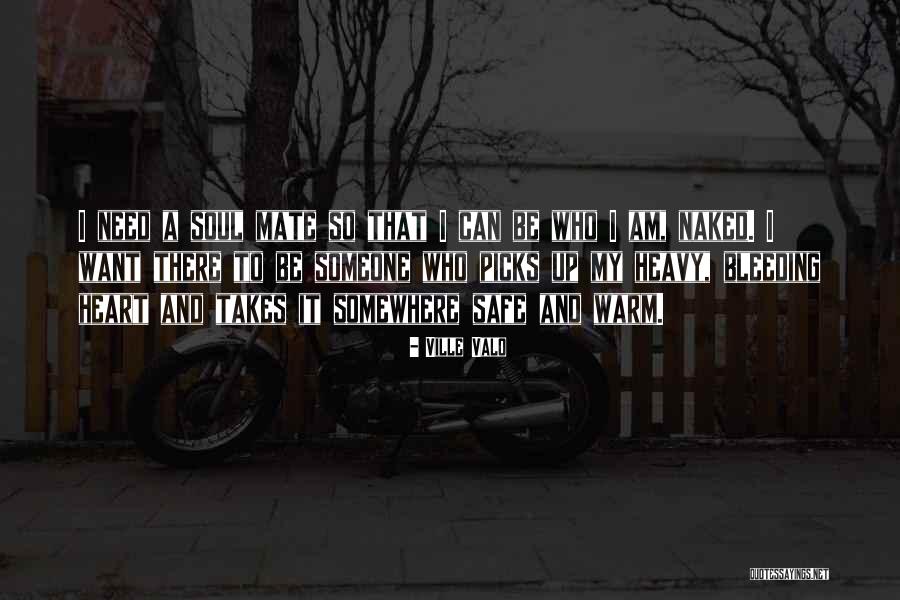 I need a soul mate so that I can be who I am, naked. I want there to be someone who picks up my heavy, bleeding heart and takes it somewhere safe and warm. — Ville Valo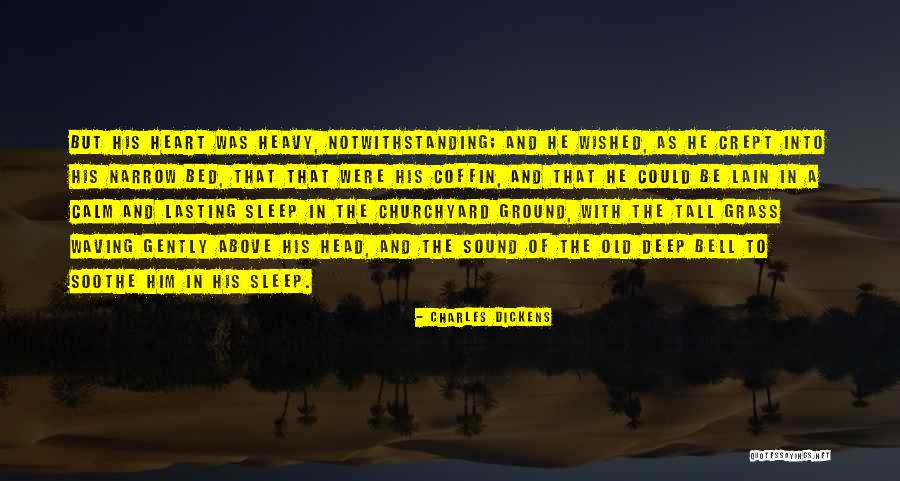 But his heart was heavy, notwithstanding; and he wished, as he crept into his narrow bed, that that were his coffin, and that he could be lain in a calm and lasting sleep in the churchyard ground, with the tall grass waving gently above his head, and the sound of the old deep bell to soothe him in his sleep. — Charles Dickens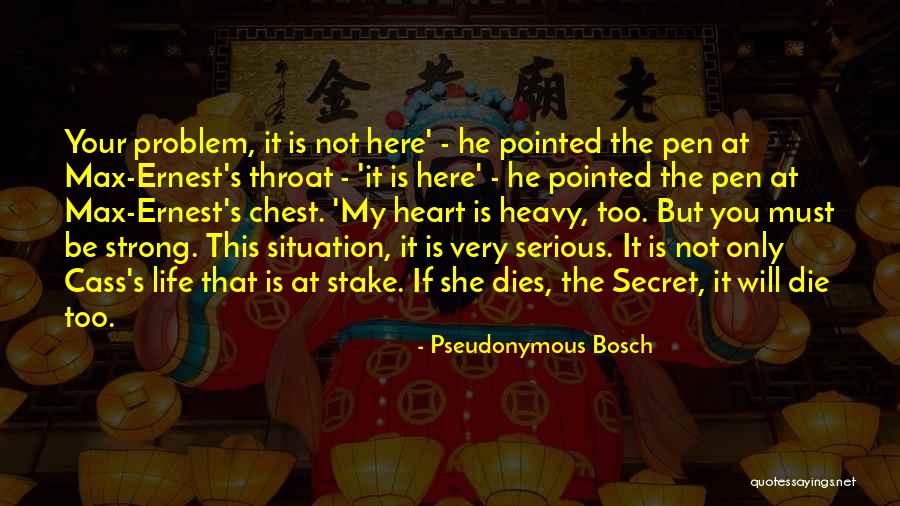 Your problem, it is not here' - he pointed the pen at Max-Ernest's throat - 'it is here' - he pointed the pen at Max-Ernest's chest. 'My heart is heavy, too. But you must be strong. This situation, it is very serious. It is not only Cass's life that is at stake. If she dies, the Secret, it will die too. — Pseudonymous Bosch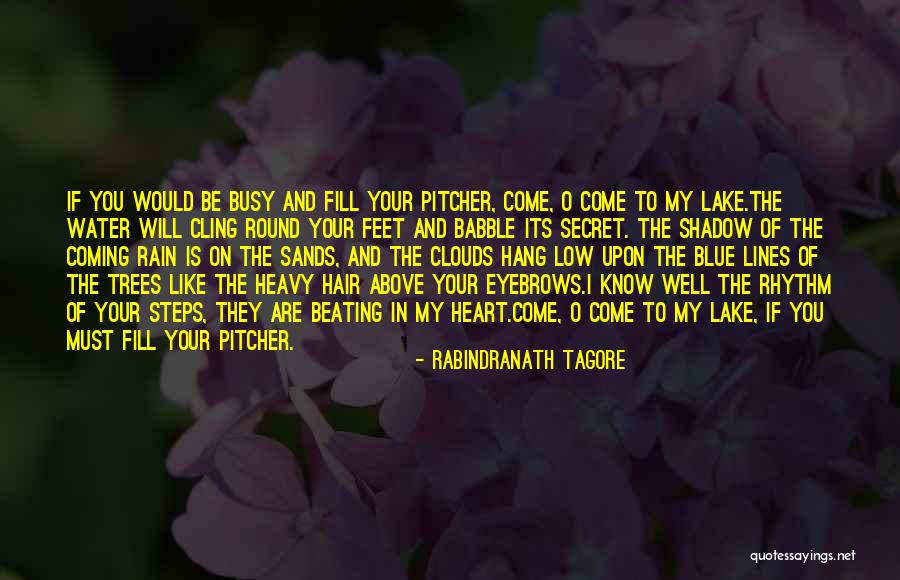 If you would be busy and fill your pitcher, come, O come to my lake.
The water will cling round your feet and babble its secret. The shadow of the coming rain is on the sands, and the clouds hang low upon the blue lines of the trees like the heavy hair above your eyebrows.
I know well the rhythm of your steps, they are beating in my heart.
Come, O come to my lake, if you must fill your pitcher. — Rabindranath Tagore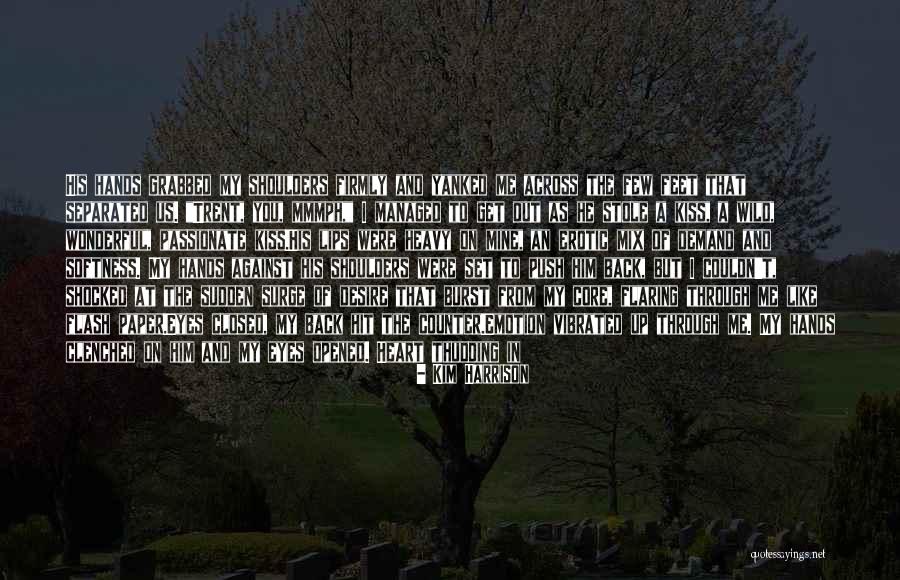 His hands grabbed my shoulders firmly and yanked me across the few feet that separated us. "Trent, you, mmmph," I managed to get out as he stole a kiss, a wild, wonderful, passionate kiss.
His lips were heavy on mine, an erotic mix of demand and softness. My hands against his shoulders were set to push him back, but I couldn't, shocked at the sudden surge of desire that burst from my core, flaring through me like flash paper.
Eyes closed, my back hit the counter.
Emotion vibrated up through me. My hands clenched on him and my eyes opened. Heart thudding in my chest, I shoved him back and away. Oh God, it was a fabulous kiss. I could hardly think. — Kim Harrison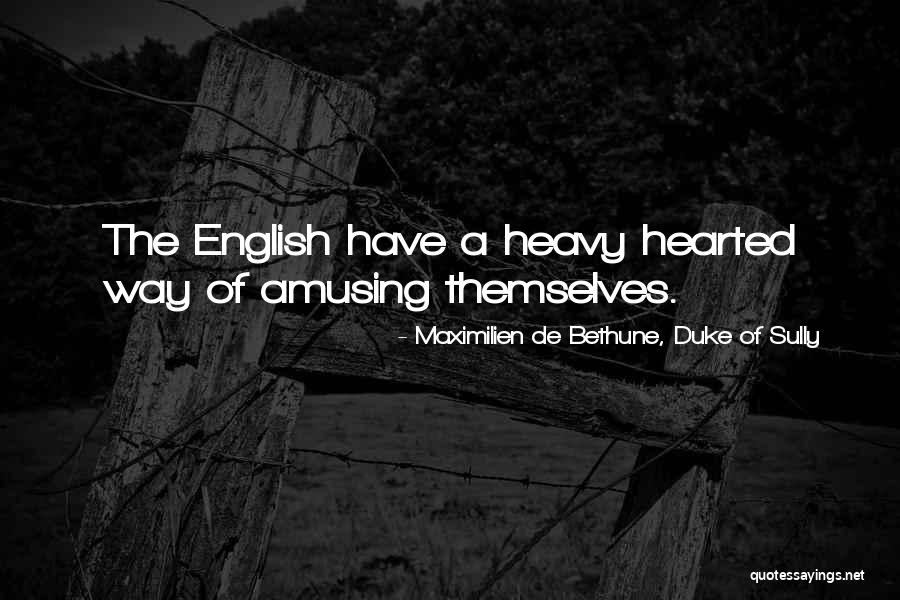 The English have a heavy hearted way of amusing themselves. — Maximilien De Bethune, Duke Of Sully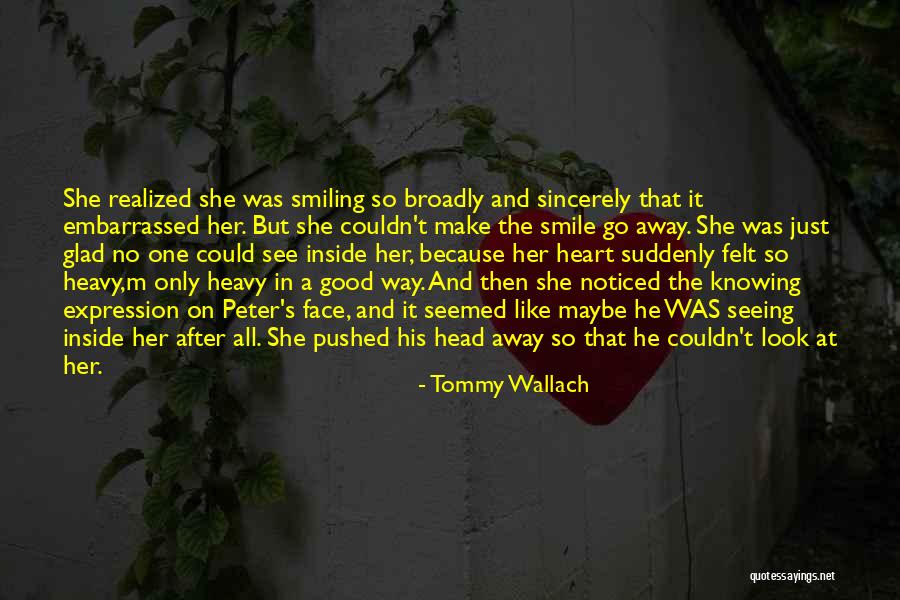 She realized she was smiling so broadly and sincerely that it embarrassed her. But she couldn't make the smile go away. She was just glad no one could see inside her, because her heart suddenly felt so heavy,m only heavy in a good way. And then she noticed the knowing expression on Peter's face, and it seemed like maybe he WAS seeing inside her after all. She pushed his head away so that he couldn't look at her. — Tommy Wallach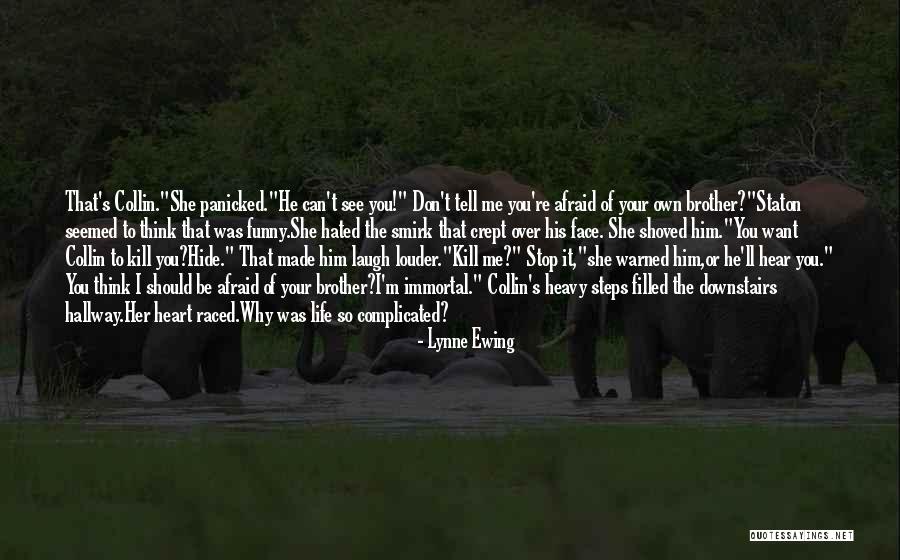 That's Collin."She panicked."He can't see you!" Don't tell me you're afraid of your own brother?"Staton seemed to think that was funny.She hated the smirk that crept over his face. She shoved him."You want Collin to kill you?Hide." That made him laugh louder."Kill me?" Stop it,"she warned him,or he'll hear you." You think I should be afraid of your brother?I'm immortal." Collin's heavy steps filled the downstairs hallway.Her heart raced.Why was life so complicated? — Lynne Ewing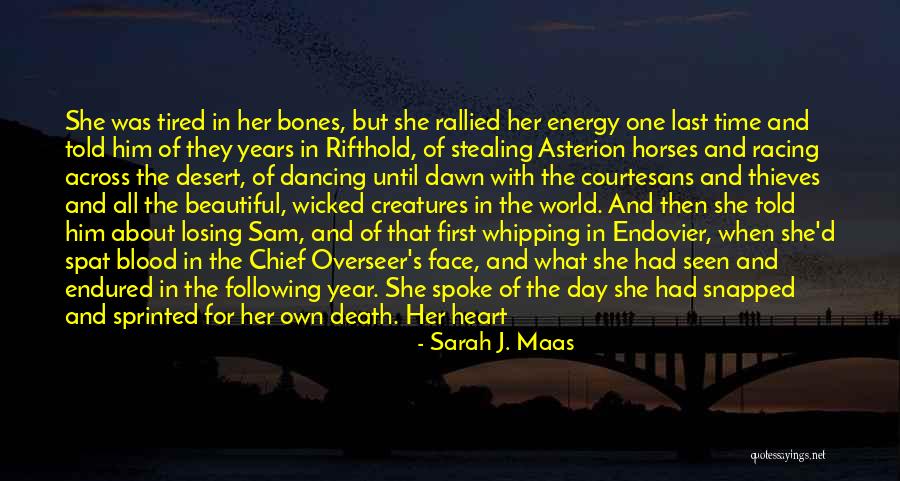 She was tired in her bones, but she rallied her energy one last time and told him of they years in Rifthold, of stealing Asterion horses and racing across the desert, of dancing until dawn with the courtesans and thieves and all the beautiful, wicked creatures in the world. And then she told him about losing Sam, and of that first whipping in Endovier, when she'd spat blood in the Chief Overseer's face, and what she had seen and endured in the following year. She spoke of the day she had snapped and sprinted for her own death. Her heart grew heavy when at last she got to the evening when the Captain of the Royal Guard prowled into her life, and a tyrant's son had offered her a shot at freedom. She told him what she could about the competition and how she'd won it, until her words slurred and her eyelids drooped. — Sarah J. Maas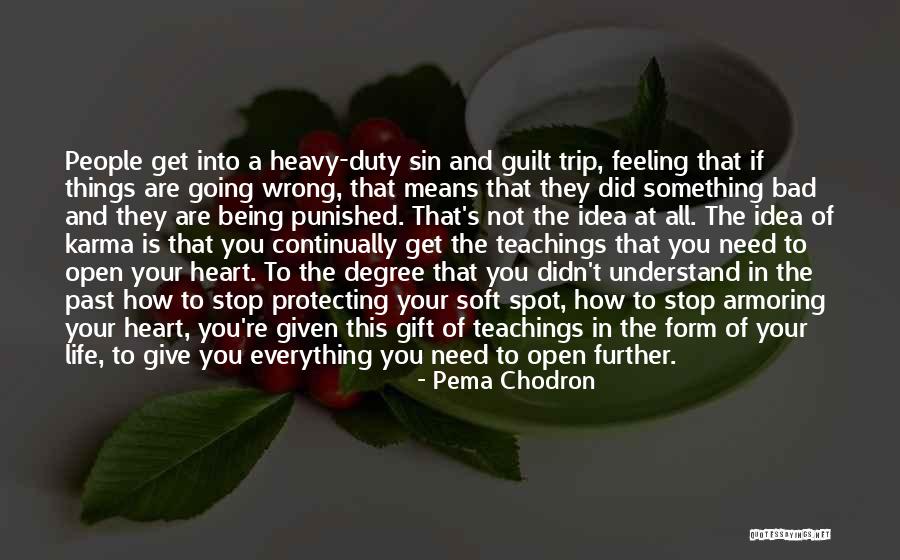 People get into a heavy-duty sin and guilt trip, feeling that if things are going wrong, that means that they did something bad and they are being punished. That's not the idea at all. The idea of karma is that you continually get the teachings that you need to open your heart. To the degree that you didn't understand in the past how to stop protecting your soft spot, how to stop armoring your heart, you're given this gift of teachings in the form of your life, to give you everything you need to open further. — Pema Chodron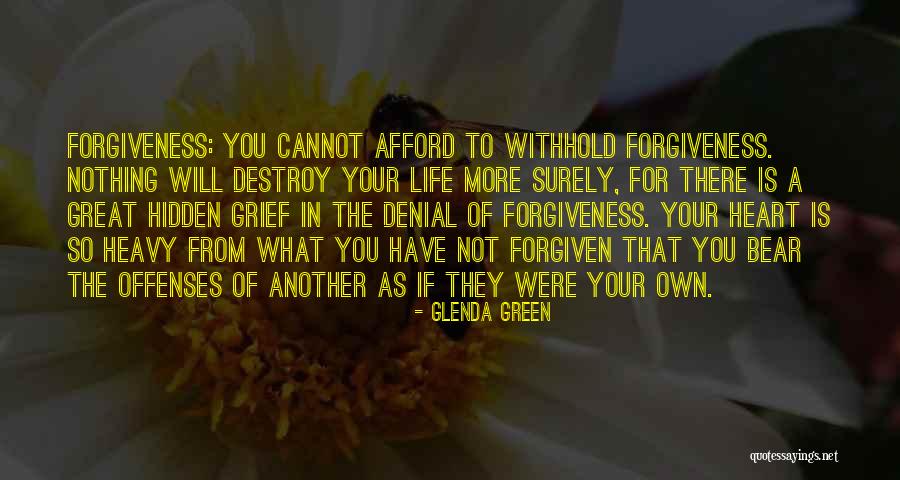 Forgiveness: You cannot afford to withhold forgiveness. Nothing will destroy your life more surely, for there is a great hidden grief in the denial of forgiveness. Your heart is so heavy from what you have not forgiven that you bear the offenses of another as if they were your own. — Glenda Green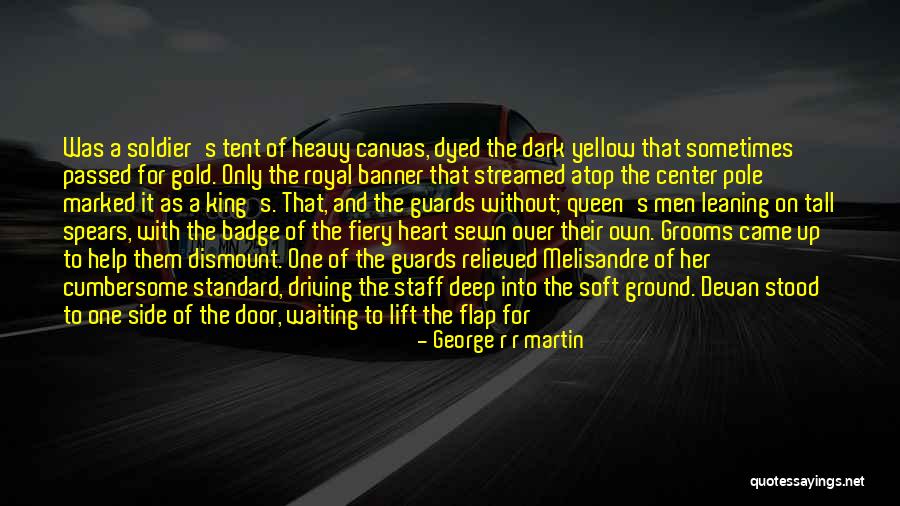 Was a soldier's tent of heavy canvas, dyed the dark yellow that sometimes passed for gold. Only the royal banner that streamed atop the center pole marked it as a king's. That, and the guards without; queen's men leaning on tall spears, with the badge of the fiery heart sewn over their own. Grooms came up to help them dismount. One of the guards relieved Melisandre of her cumbersome standard, driving the staff deep into the soft ground. Devan stood to one side of the door, waiting to lift the flap for — George R R Martin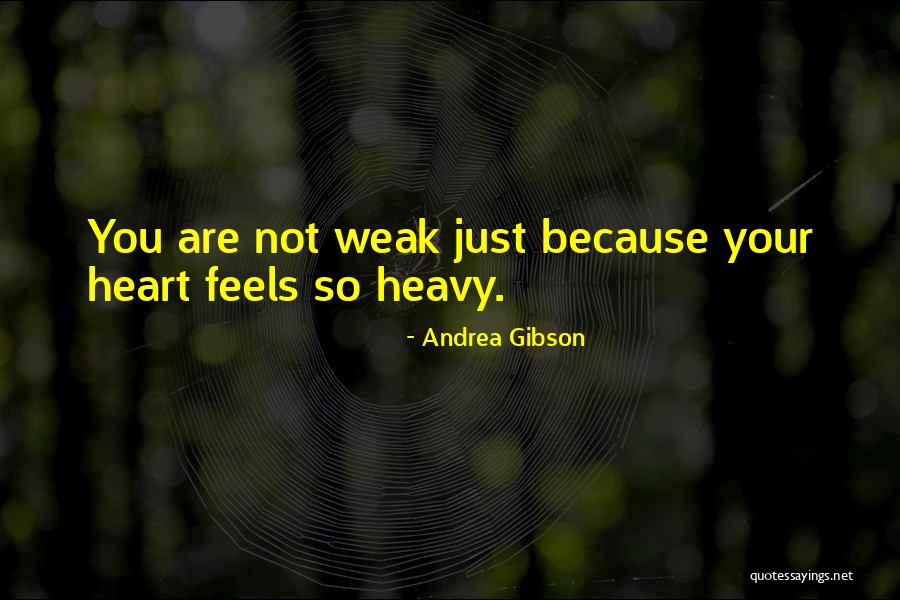 You are not weak just because your heart feels so heavy. — Andrea Gibson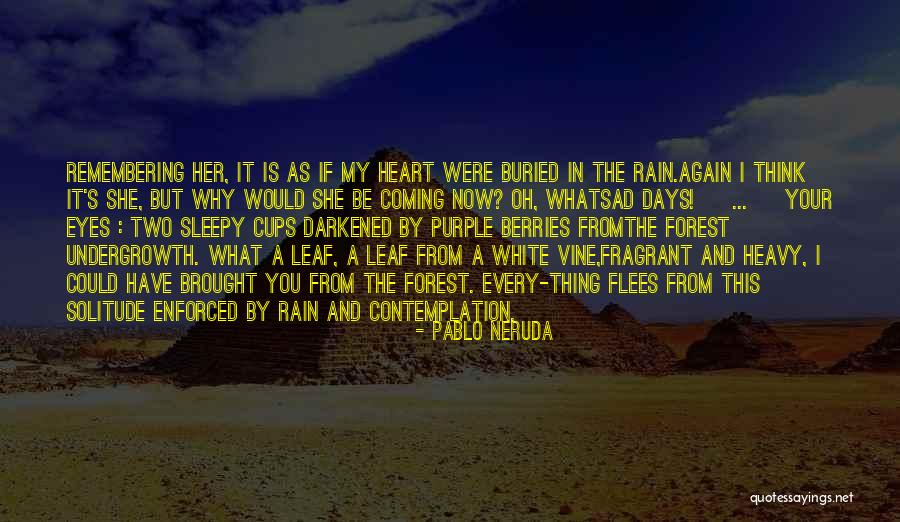 Remembering her, it is as if my heart were buried in the rain.
Again I think it's she, but why would she be coming now? Oh, what
sad days!
[ ... ] Your eyes : two sleepy cups darkened by purple berries from
the forest undergrowth. What a leaf, a leaf from a white vine,
fragrant and heavy, I could have brought you from the forest. Every-
thing flees from this solitude enforced by rain and contemplation. — Pablo Neruda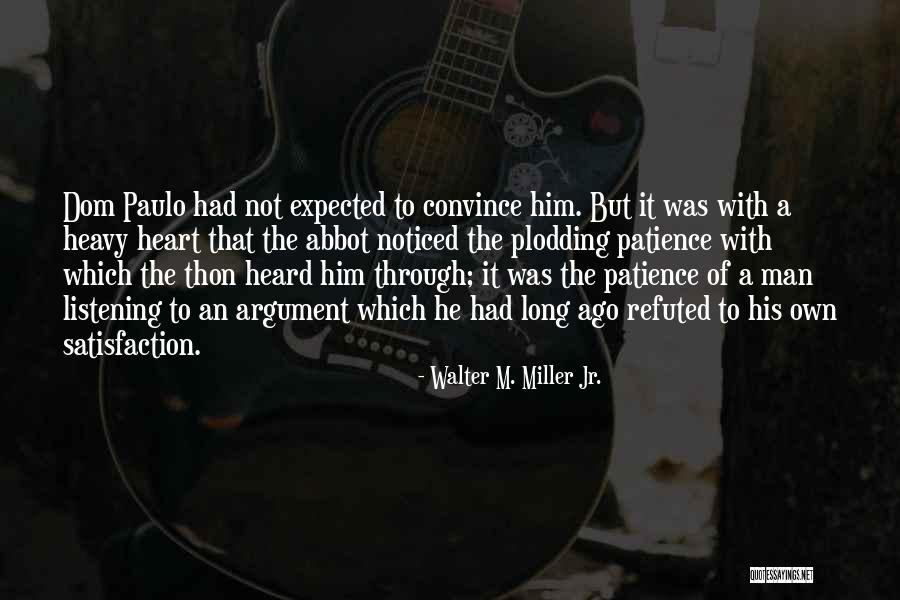 Dom Paulo had not expected to convince him. But it was with a heavy heart that the abbot noticed the plodding patience with which the thon heard him through; it was the patience of a man listening to an argument which he had long ago refuted to his own satisfaction. — Walter M. Miller Jr.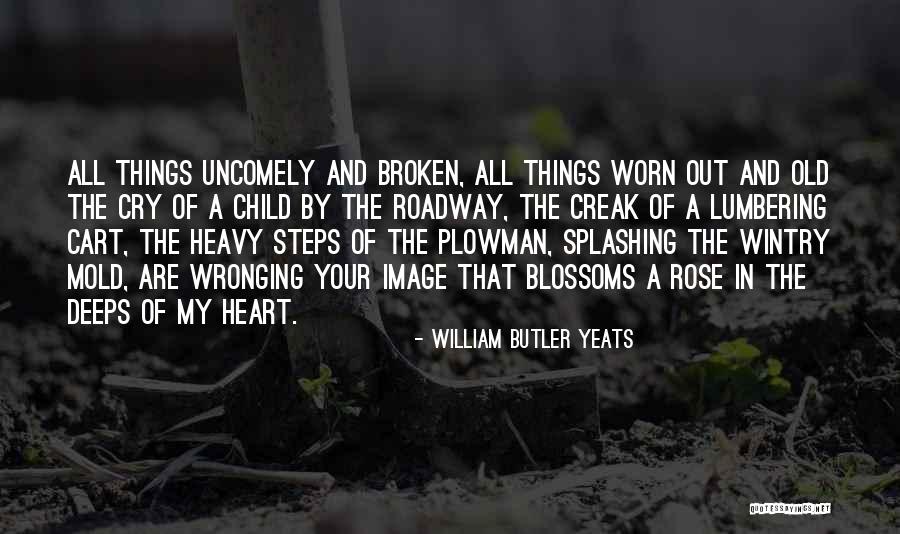 All things uncomely and broken, all things worn out and old The cry of a child by the roadway, the creak of a lumbering cart, The heavy steps of the plowman, splashing the wintry mold, Are wronging your image that blossoms a rose in the deeps of my heart. — William Butler Yeats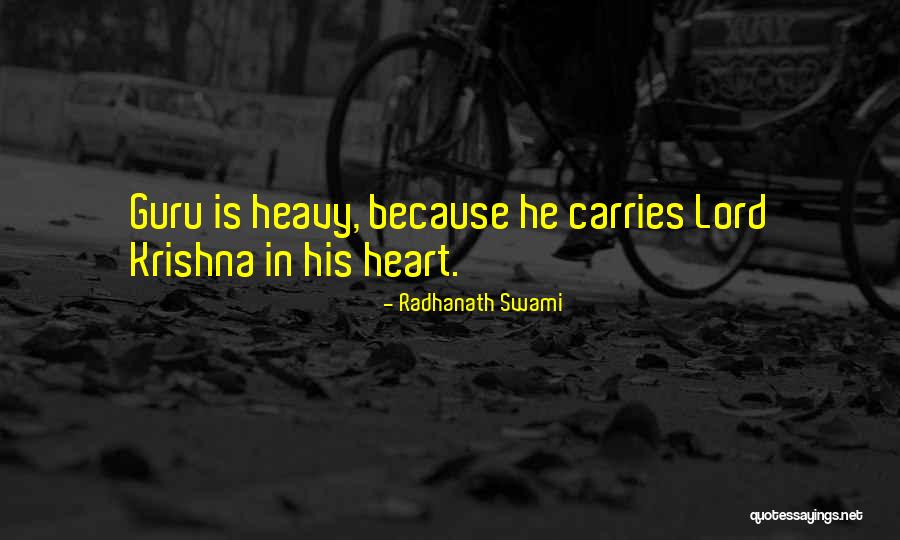 Guru is heavy, because he carries Lord Krishna in his heart. — Radhanath Swami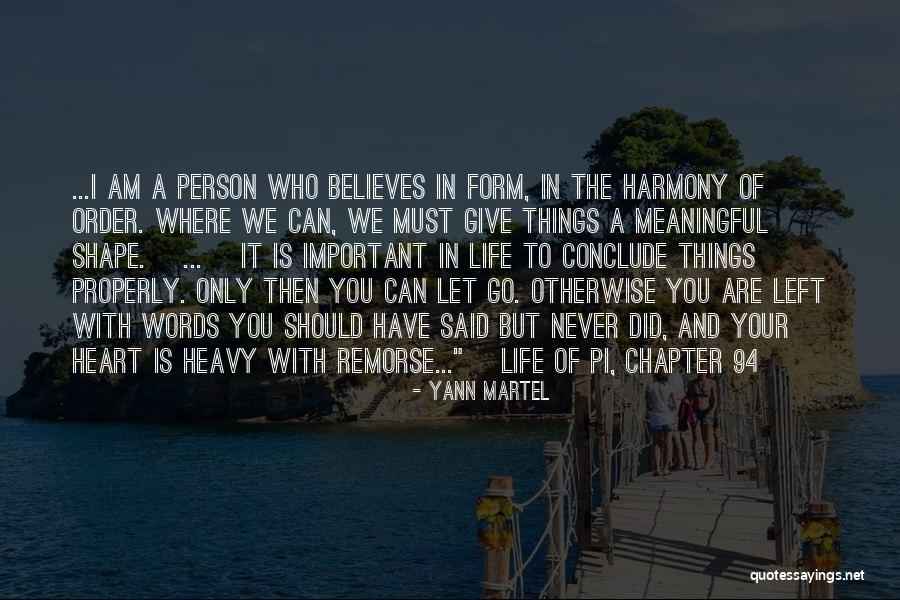 ...I am a person who believes in form, in the harmony of order. Where we can, we must give things a meaningful shape. [...] It is important in life to conclude things properly. Only then you can let go. Otherwise you are left with words you should have said but never did, and your heart is heavy with remorse..."
~Life of Pi, chapter 94 — Yann Martel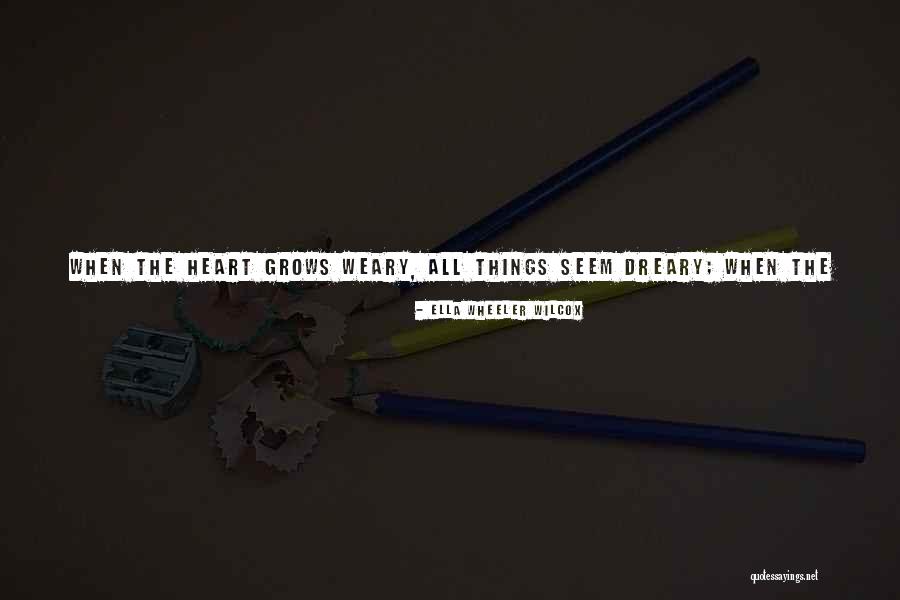 When the heart grows weary, all things seem dreary; When the burden grows heavy, the way seems long. Thank God for sending kind death as an ending, Like a grand Amen to a minor song. — Ella Wheeler Wilcox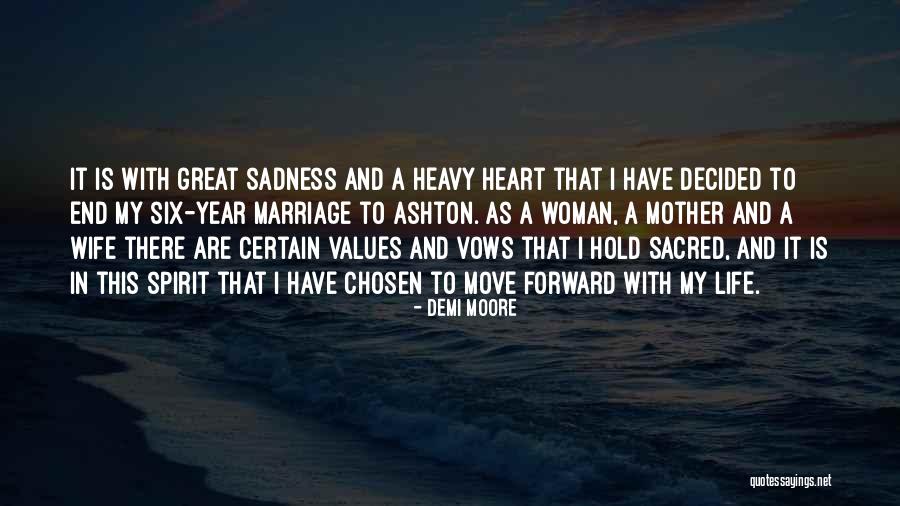 It is with great sadness and a heavy heart that I have decided to end my six-year marriage to Ashton. As a woman, a mother and a wife there are certain values and vows that I hold sacred, and it is in this spirit that I have chosen to move forward with my life. — Demi Moore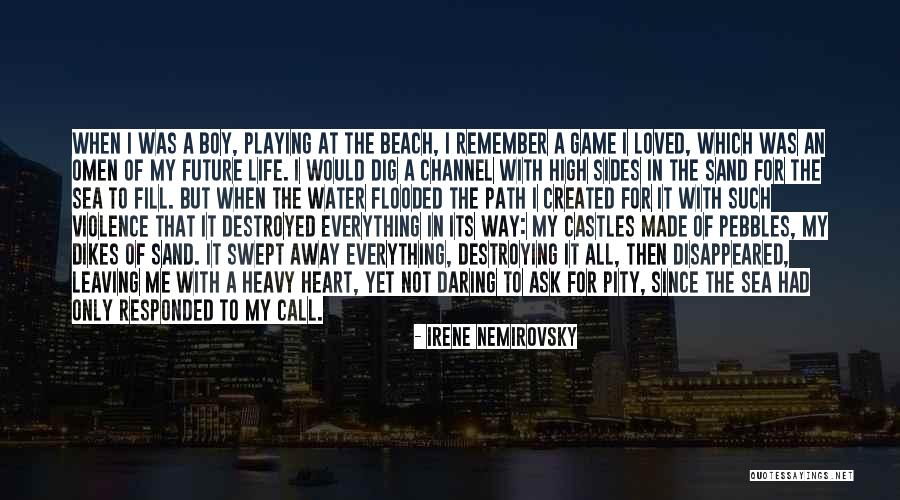 When I was a boy, playing at the beach, I remember a game I loved, which was an omen of my future life. I would dig a channel with high sides in the sand for the sea to fill. But when the water flooded the path I created for it with such violence that it destroyed everything in its way: my castles made of pebbles, my dikes of sand. It swept away everything, destroying it all, then disappeared, leaving me with a heavy heart, yet not daring to ask for pity, since the sea had only responded to my call. It's the same with love. You call out for it, you plan its course. The wave crashes into your heart, but it's so different from how you imagined it, so bitter and icy. — Irene Nemirovsky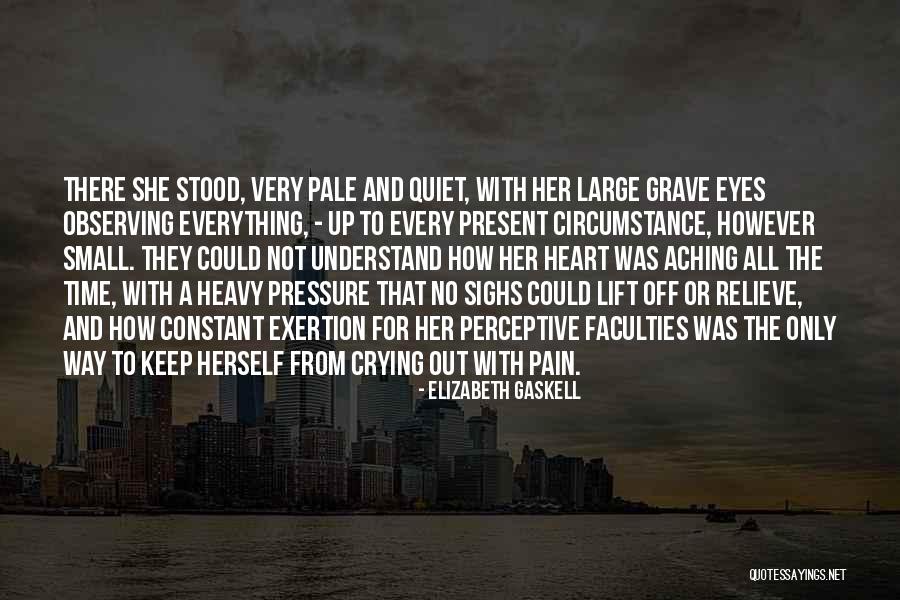 There she stood, very pale and quiet, with her large grave eyes observing everything, - up to every present circumstance, however small. They could not understand how her heart was aching all the time, with a heavy pressure that no sighs could lift off or relieve, and how constant exertion for her perceptive faculties was the only way to keep herself from crying out with pain. — Elizabeth Gaskell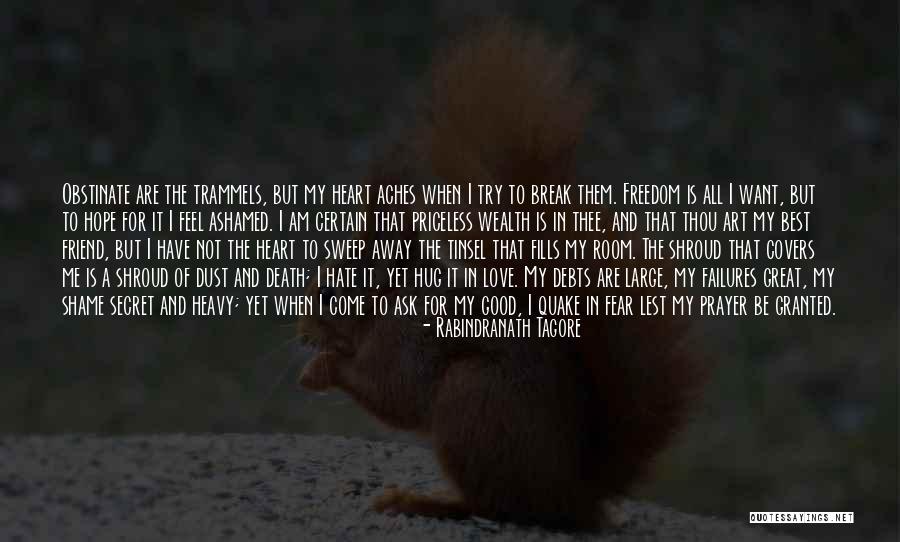 Obstinate are the trammels, but my heart aches when I try to break them. Freedom is all I want, but to hope for it I feel ashamed. I am certain that priceless wealth is in thee, and that thou art my best friend, but I have not the heart to sweep away the tinsel that fills my room.
The shroud that covers me is a shroud of dust and death; I hate it, yet hug it in love. My debts are large, my failures great, my shame secret and heavy; yet when I come to ask for my good, I quake in fear lest my prayer be granted. — Rabindranath Tagore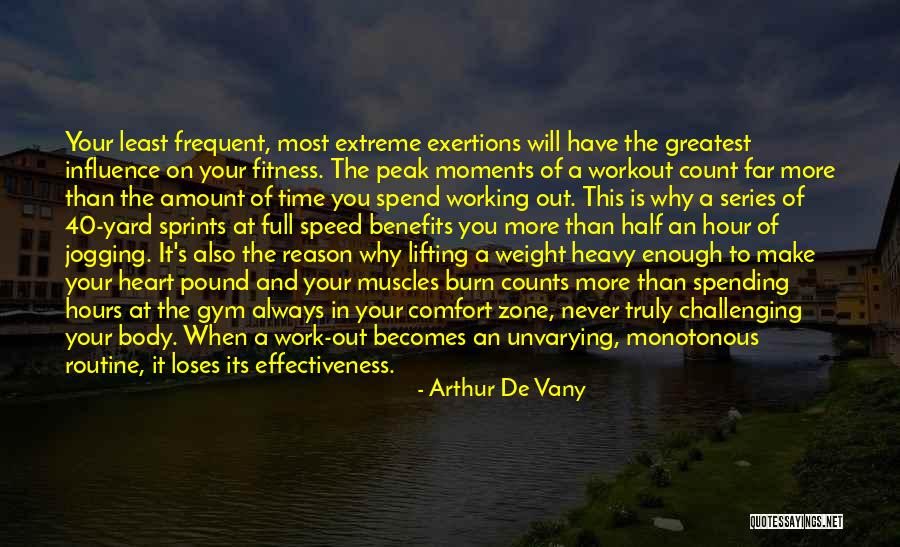 Your least frequent, most extreme exertions will have the greatest influence on your fitness. The peak moments of a workout count far more than the amount of time you spend working out. This is why a series of 40-yard sprints at full speed benefits you more than half an hour of jogging. It's also the reason why lifting a weight heavy enough to make your heart pound and your muscles burn counts more than spending hours at the gym always in your comfort zone, never truly challenging your body. When a work-out becomes an unvarying, monotonous routine, it loses its effectiveness. — Arthur De Vany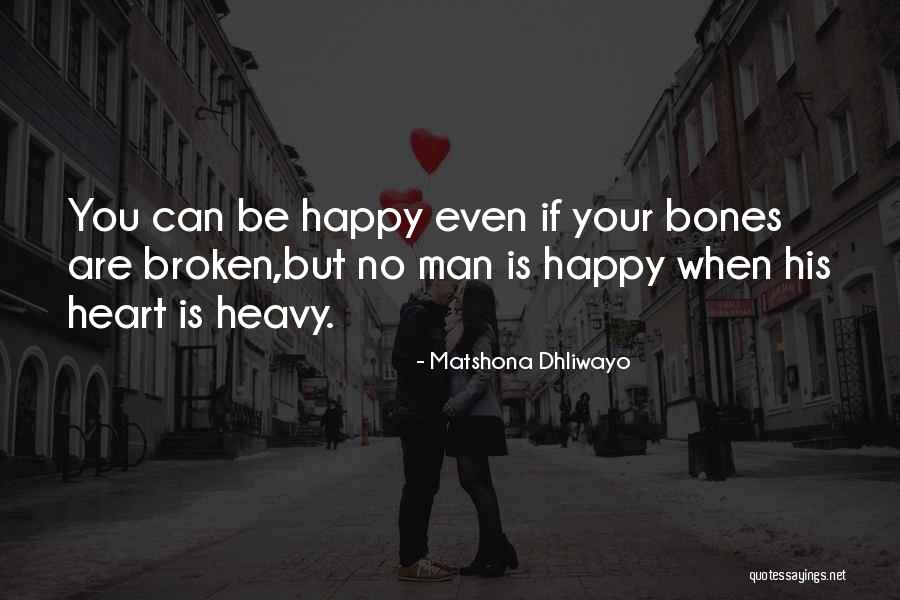 You can be happy even if your bones are broken,
but no man is happy when his heart is heavy. — Matshona Dhliwayo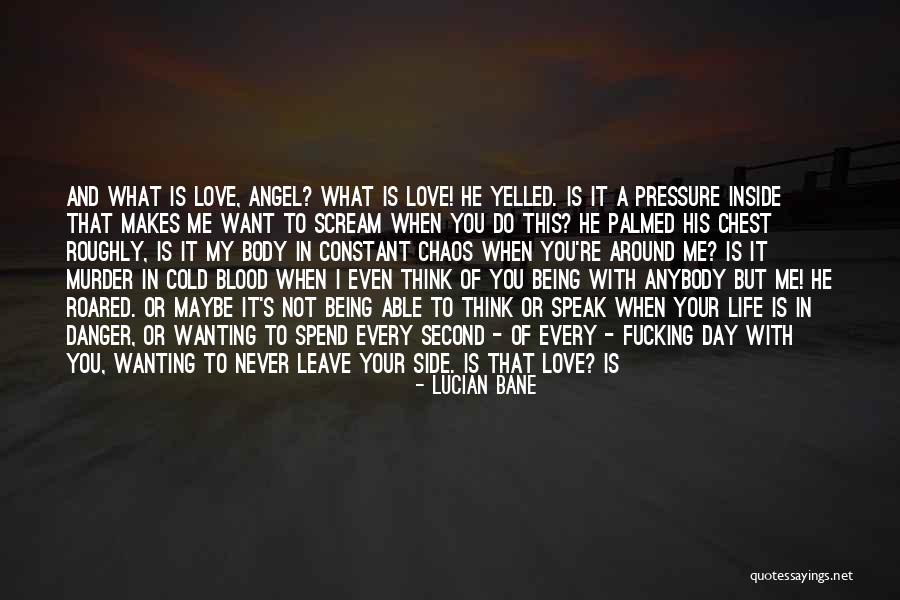 And what is love, Angel? What is love! he yelled. Is it a pressure inside that makes me want to scream when you do this? he palmed his chest roughly, Is it my body in constant chaos when you're around me? Is it murder in cold blood when I even think of you being with anybody but me! he roared. Or maybe it's not being able to think or speak when your life is in danger, or wanting to spend every second - of every - fucking day with you, wanting to never leave your side. Is that love? Is it, Isadore? He drew closer and hit his fist repeatedly against his chest. Is it pain so hard and heavy that I can't fucking breathe unless I smell you, touch you, taste you? His body heaved as his bright green gaze seared her heart. Because if it is, Angel...he held his lips together and shook his head slowly, then I am....slain with an eternal and violent love for you. — Lucian Bane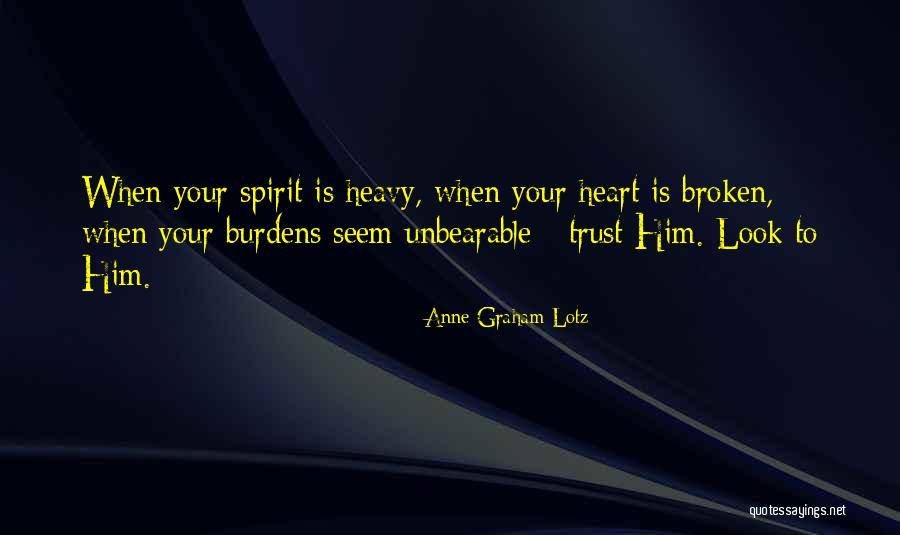 When your spirit is heavy, when your heart is broken, when your burdens seem unbearable - trust Him. Look to Him. — Anne Graham Lotz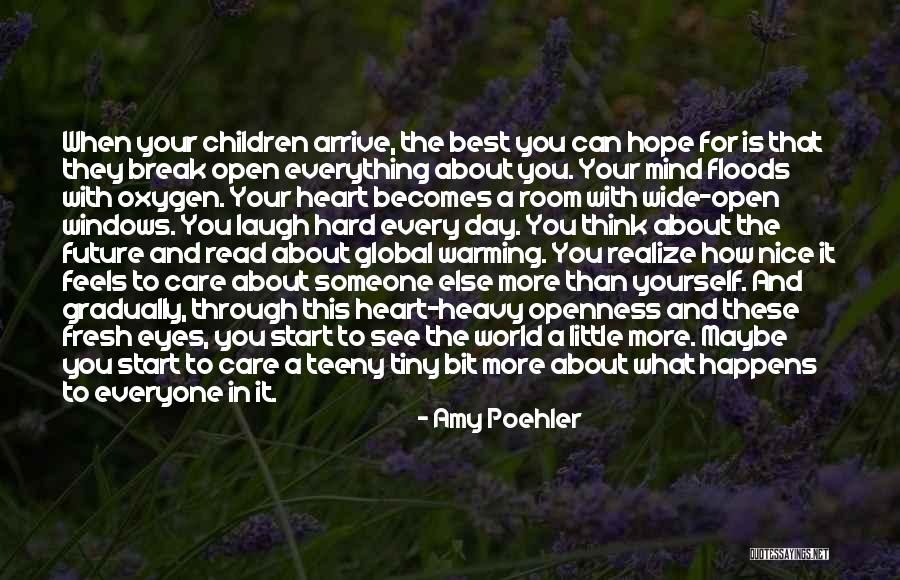 When your children arrive, the best you can hope for is that they break open everything about you. Your mind floods with oxygen. Your heart becomes a room with wide-open windows. You laugh hard every day. You think about the future and read about global warming. You realize how nice it feels to care about someone else more than yourself. And gradually, through this heart-heavy openness and these fresh eyes, you start to see the world a little more. Maybe you start to care a teeny tiny bit more about what happens to everyone in it. — Amy Poehler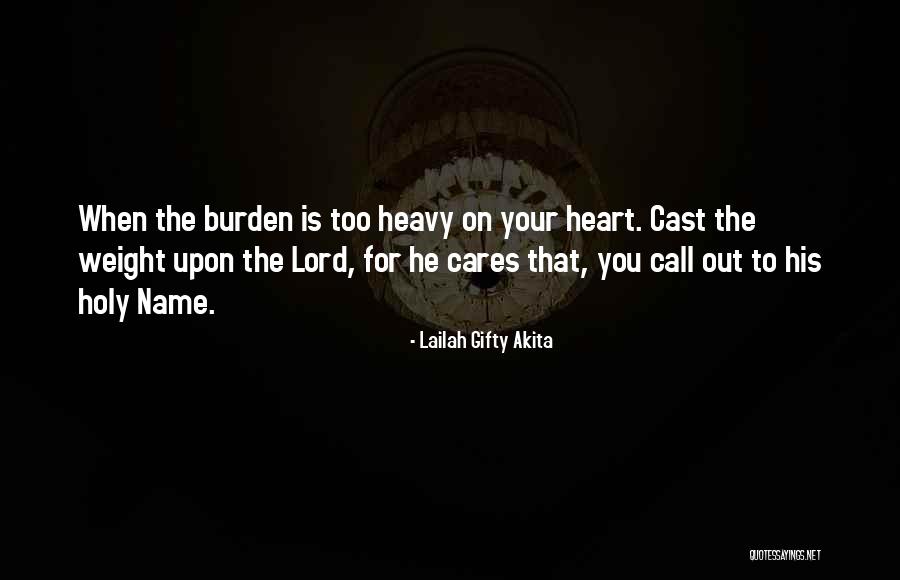 When the burden is too heavy on your heart. Cast the weight upon the Lord, for he cares that, you call out to his holy Name. — Lailah Gifty Akita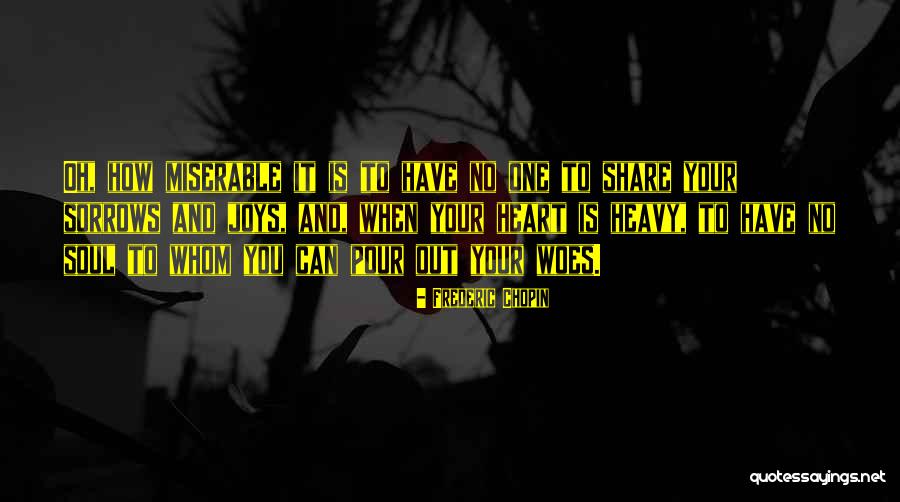 Oh, how miserable it is to have no one to share your sorrows and joys, and, when your heart is heavy, to have no soul to whom you can pour out your woes. — Frederic Chopin