When We Fight Love Quotes & Sayings
Enjoy reading and share 56 famous quotes about When We Fight Love with everyone.
Top When We Fight Love Quotes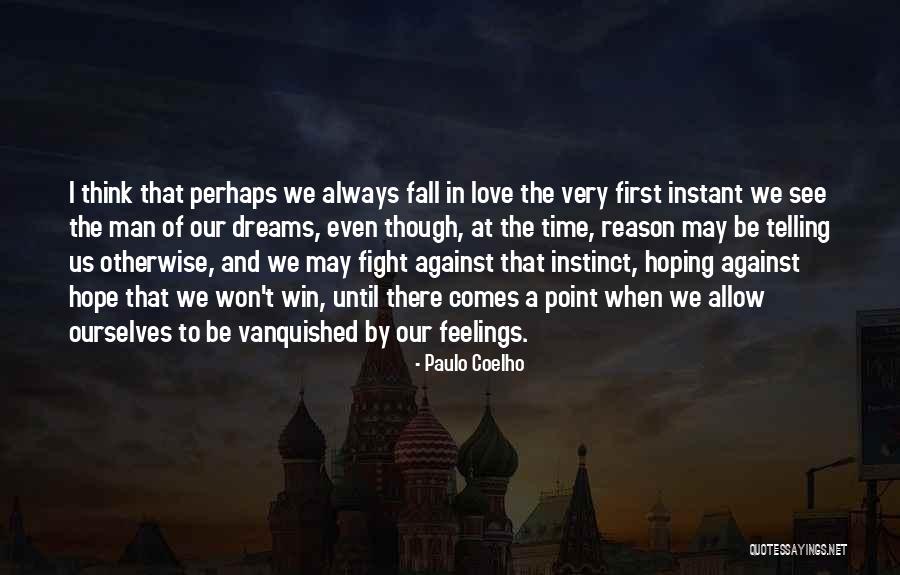 I think that perhaps we always fall in love the very first instant we see the man of our dreams, even though, at the time, reason may be telling us otherwise, and we may fight against that instinct, hoping against hope that we won't win, until there comes a point when we allow ourselves to be vanquished by our feelings. — Paulo Coelho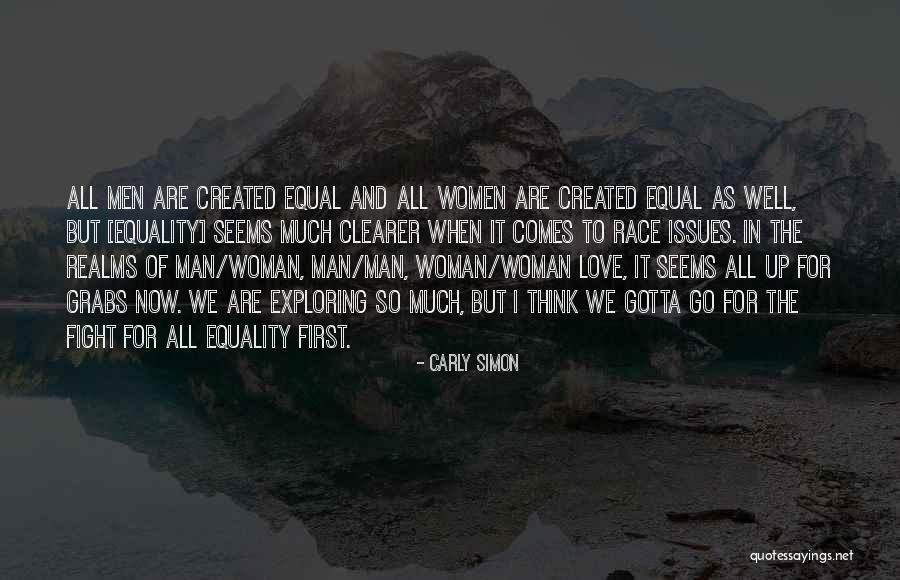 All men are created equal and all women are created equal as well, but [equality] seems much clearer when it comes to race issues. In the realms of man/woman, man/man, woman/woman love, it seems all up for grabs now. We are exploring so much, but I think we gotta go for the fight for all equality first. — Carly Simon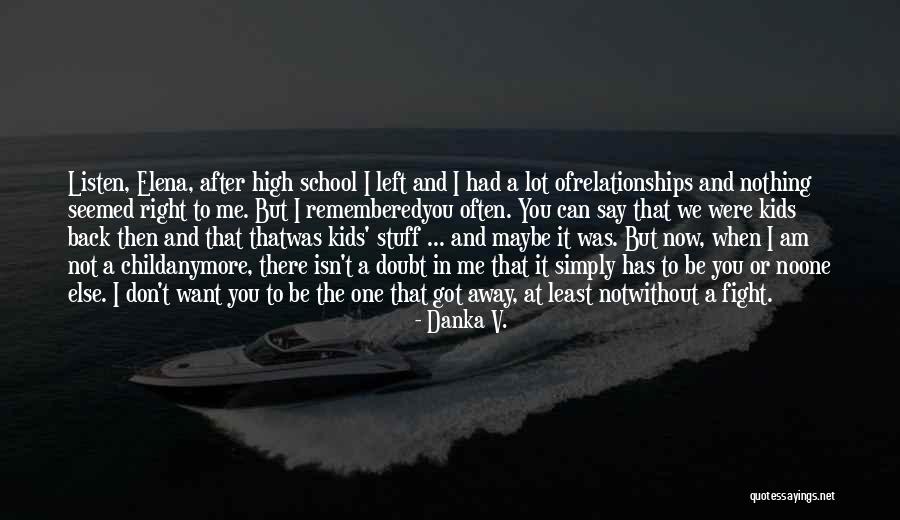 Listen, Elena, after high school I left and I had a lot of
relationships and nothing seemed right to me. But I remembered
you often. You can say that we were kids back then and that that
was kids' stuff ... and maybe it was. But now, when I am not a child
anymore, there isn't a doubt in me that it simply has to be you or no
one else. I don't want you to be the one that got away, at least not
without a fight. — Danka V.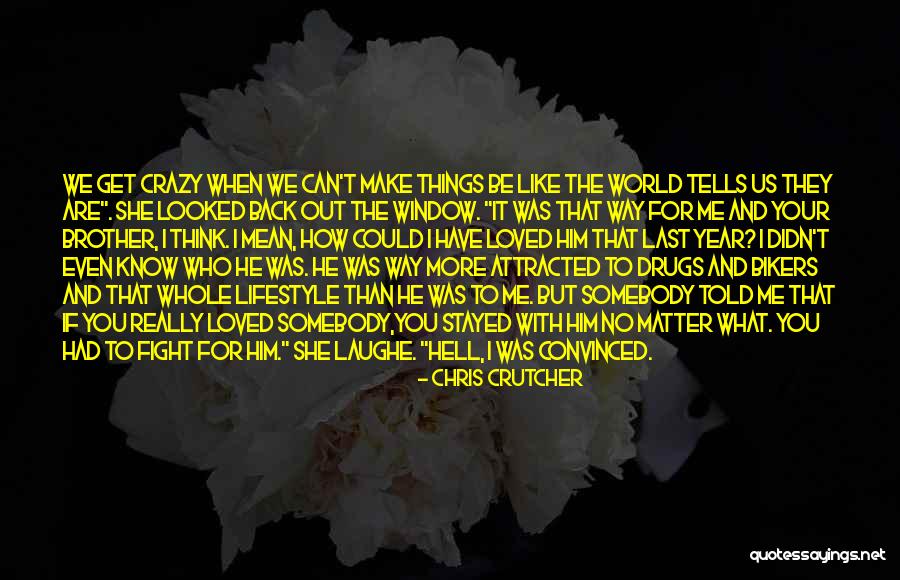 We get crazy when we can't make things be like the world tells us they are". She looked back out the window. "It was that way for me and your brother, I think. I mean, how could I have loved him that last year? I didn't even know who he was. He was way more attracted to drugs and bikers and that whole lifestyle than he was to me. But somebody told me that if you really loved somebody,you stayed with him no matter what. You had to fight for him." She laughe. "Hell, I was convinced. — Chris Crutcher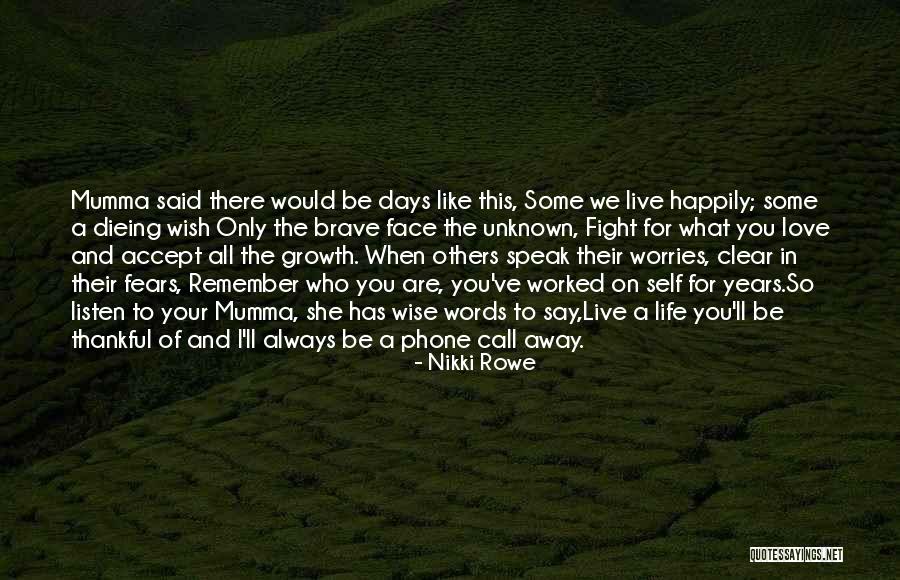 Mumma said there would be days like this,
Some we live happily; some a dieing wish
Only the brave face the unknown,
Fight for what you love and accept all the growth.
When others speak their worries, clear in their fears,
Remember who you are, you've worked on self for years.
So listen to your Mumma, she has wise words to say,
Live a life you'll be thankful of and I'll always be a phone call away. — Nikki Rowe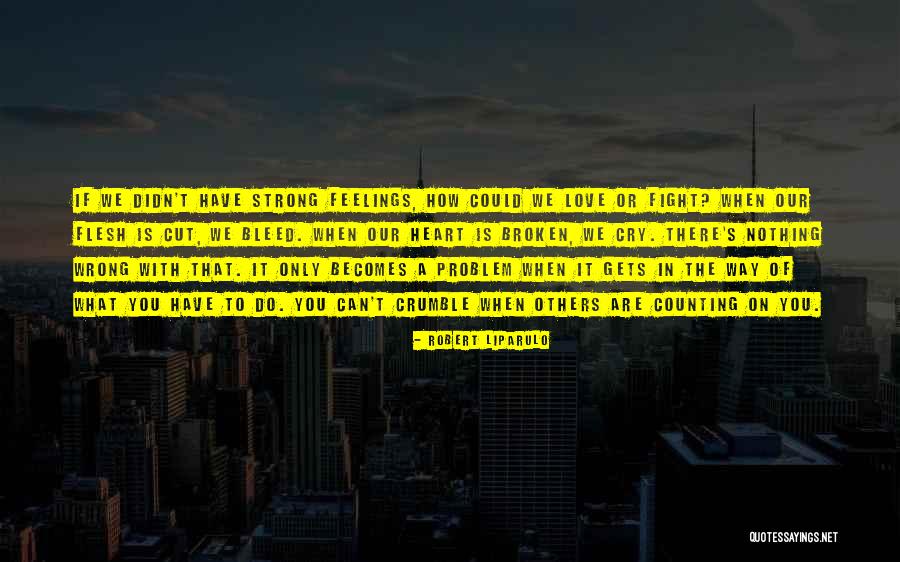 If we didn't have strong feelings, how could we love or fight? When our flesh is cut, we bleed. When our heart is broken, we cry. There's nothing wrong with that. It only becomes a problem when it gets in the way of what you have to do. You can't crumble when others are counting on you. — Robert Liparulo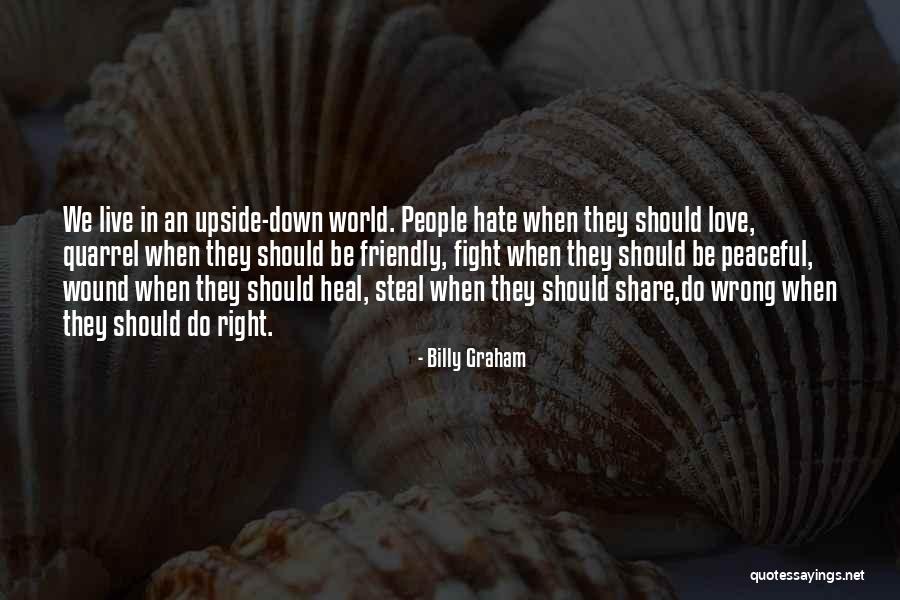 We live in an upside-down world. People hate when they should love, quarrel when they should be friendly, fight when they should be peaceful, wound when they should heal, steal when they should share,
do wrong when they should do right. — Billy Graham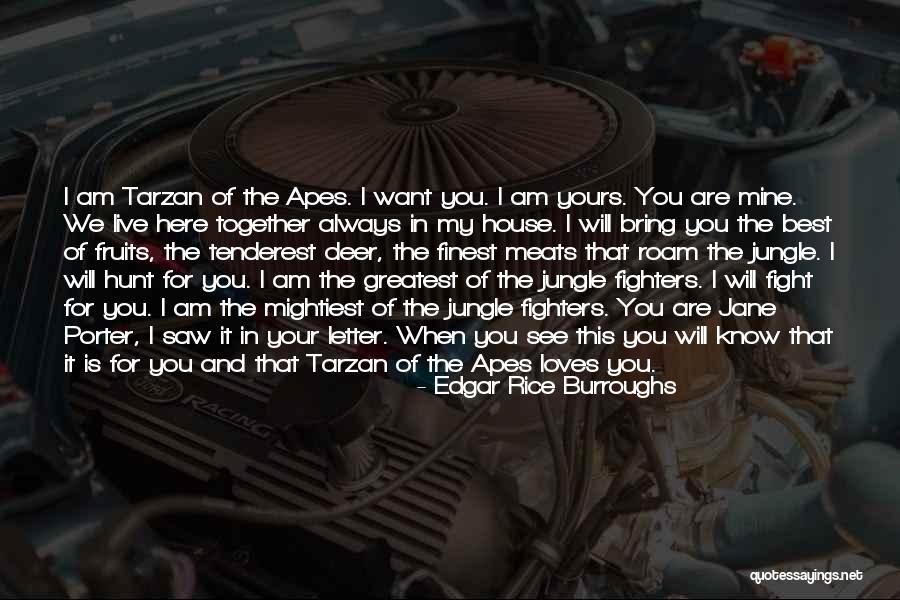 I am Tarzan of the Apes. I want you. I am yours. You are mine. We live here together always in my house. I will bring you the best of fruits, the tenderest deer, the finest meats that roam the jungle. I will hunt for you. I am the greatest of the jungle fighters. I will fight for you. I am the mightiest of the jungle fighters. You are Jane Porter, I saw it in your letter. When you see this you will know that it is for you and that Tarzan of the Apes loves you. — Edgar Rice Burroughs
Obviously I love writing with Katy [Pery], I feel like we're the same person when we write together. Even though we fight a lot, we fight over every line and we pull each other's hair and we cat-fight all the time, it's always worth it in the end. — Bonnie McKee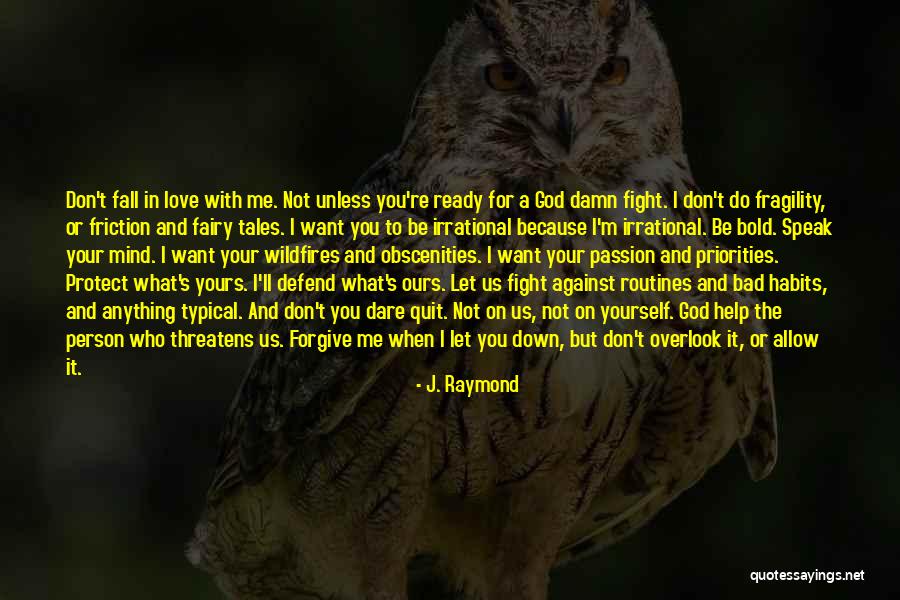 Don't fall in love with me. Not unless you're ready for a God damn fight. I don't do fragility, or friction and fairy tales. I want you to be irrational because I'm irrational. Be bold. Speak your mind. I want your wildfires and obscenities. I want your passion and priorities. Protect what's yours. I'll defend what's ours. Let us fight against routines and bad habits, and anything typical. And don't you dare quit. Not on us, not on yourself. God help the person who threatens us. Forgive me when I let you down, but don't overlook it, or allow it. We're all insecure about something. Show me yours. We're all terrified sometimes. Turn to me. People come in and out of my life so often and easily that I just look for a love that stays. I don't mind your blemishes or scars, I have a few of my own. Don't be another flash in the pan. Falling for me will be easy. Staying with me will be impossible. But you deserve a love that most people don't believe in anymore. — J. Raymond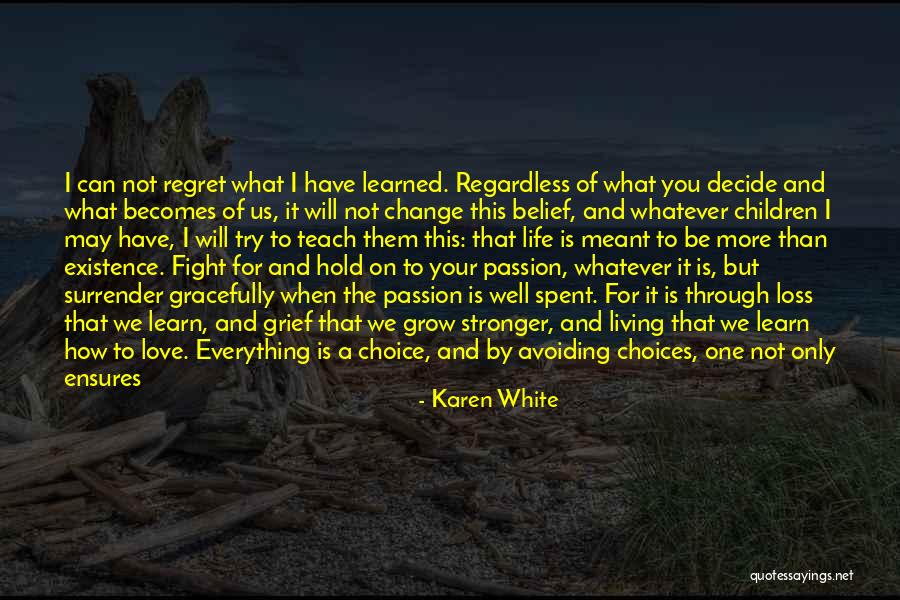 I can not regret what I have learned. Regardless of what you decide and what becomes of us, it will not change this belief, and whatever children I may have, I will try to teach them this: that life is meant to be more than existence. Fight for and hold on to your passion, whatever it is, but surrender gracefully when the passion is well spent. For it is through loss that we learn, and grief that we grow stronger, and living that we learn how to love. Everything is a choice, and by avoiding choices, one not only ensures that a wrong decision won't be made, but also steals a soul's chance to live, to learn, and to love. — Karen White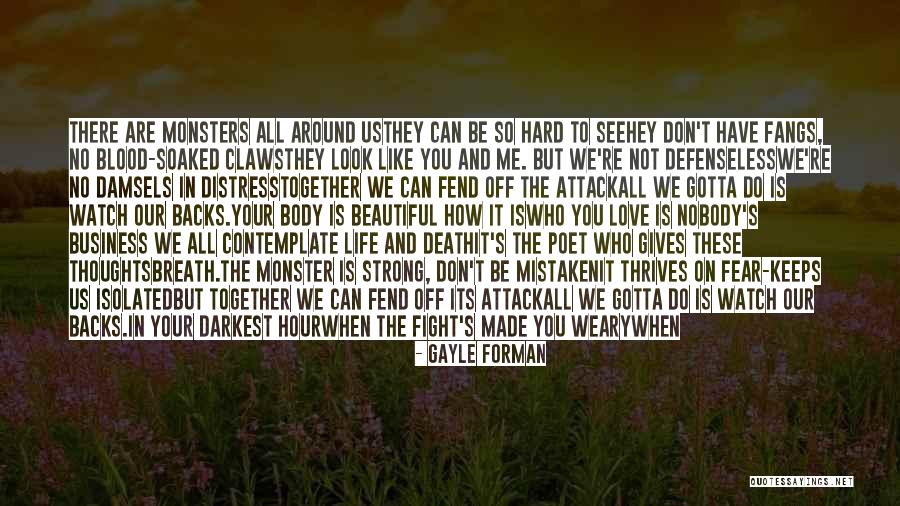 There are monsters all around us
They can be so hard to see
hey don't have fangs, no blood-soaked claws
They look like you and me.

But we're not defenseless
We're no damsels in distress
Together we can fend off the attack
All we gotta do is watch our backs.

Your body is beautiful how it is
Who you love is nobody's business
We all contemplate life and death
It's the poet who gives these thoughts
breath.

The monster is strong, don't be mistaken
It thrives on fear-keeps us isolated
But together we can fend off its attack
All we gotta do is watch our backs.

In your darkest hour
When the fight's made you weary
When you think you've lost your power
When you can't see clearly
When you're ready to surrender
Give in to the black
look over your shoulder
I've got your back. — Gayle Forman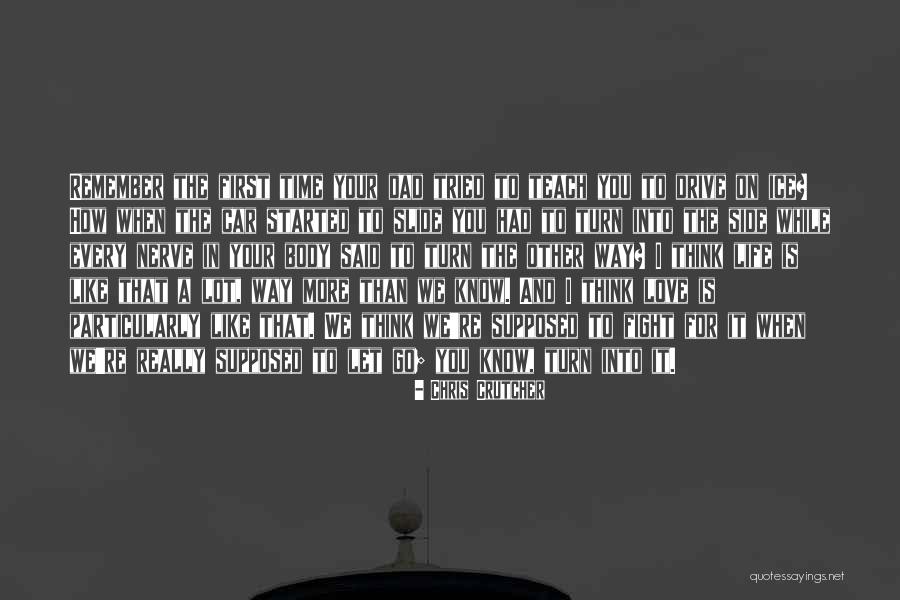 Remember the first time your dad tried to teach you to drive on ice? How when the car started to slide you had to turn into the side while every nerve in your body said to turn the other way? I think life is like that a lot, way more than we know. And I think love is particularly like that. We think we're supposed to fight for it when we're really supposed to let go; you know, turn into it. — Chris Crutcher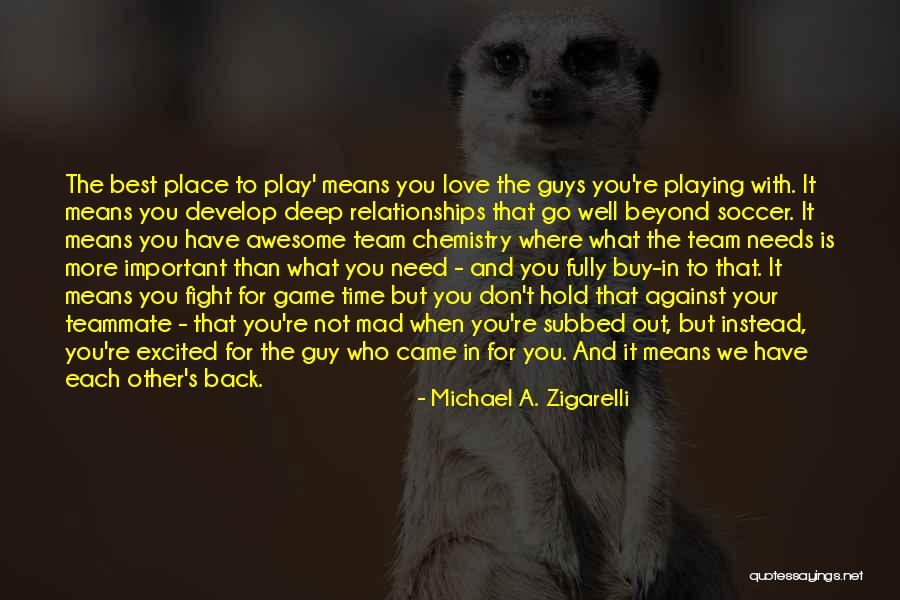 The best place to play' means you love the guys you're playing with. It means you develop deep relationships that go well beyond soccer. It means you have awesome team chemistry where what the team needs is more important than what you need - and you fully buy-in to that. It means you fight for game time but you don't hold that against your teammate - that you're not mad when you're subbed out, but instead, you're excited for the guy who came in for you. And it means we have each other's back. — Michael A. Zigarelli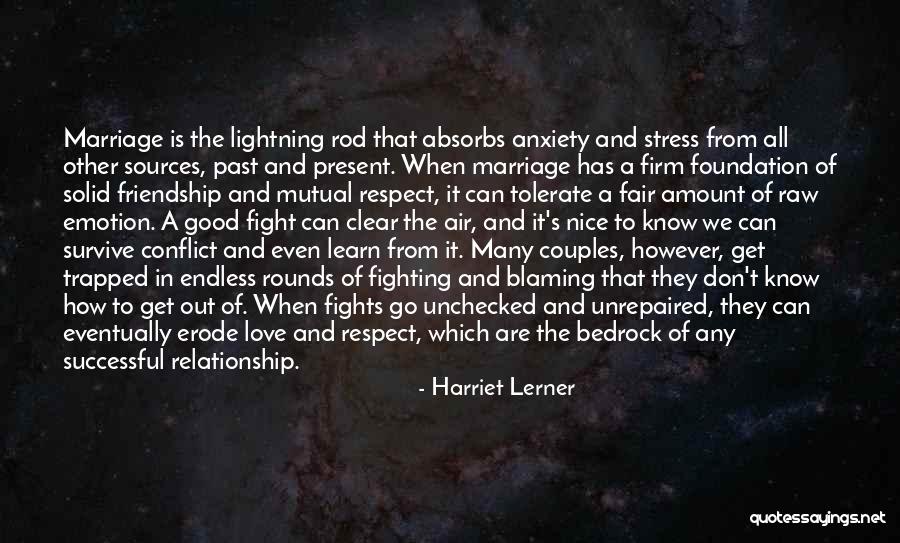 Marriage is the lightning rod that absorbs anxiety and stress from all other sources, past and present. When marriage has a firm foundation of solid friendship and mutual respect, it can tolerate a fair amount of raw emotion. A good fight can clear the air, and it's nice to know we can survive conflict and even learn from it. Many couples, however, get trapped in endless rounds of fighting and blaming that they don't know how to get out of. When fights go unchecked and unrepaired, they can eventually erode love and respect, which are the bedrock of any successful relationship. — Harriet Lerner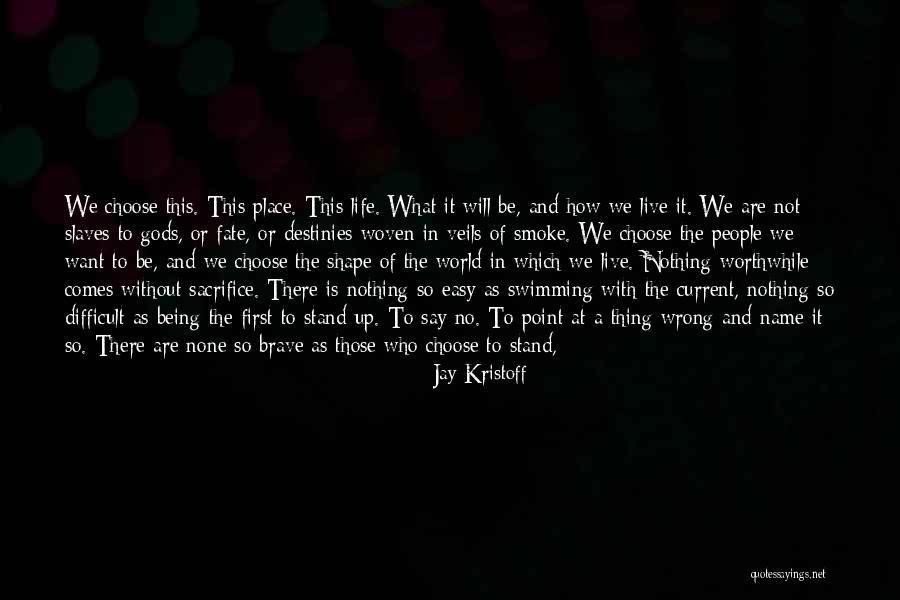 We choose this. This place. This life. What it will be, and how we live it. We are not slaves to gods, or fate, or destinies woven in veils of smoke. We choose the people we want to be, and we choose the shape of the world in which we live. Nothing worthwhile comes without sacrifice. There is nothing so easy as swimming with the current, nothing so difficult as being the first to stand up. To say no. To point at a thing wrong and name it so. There are none so brave as those who choose to stand, when all others are content to kneel. None so worthy of the title 'hero' as those who fight when there are none to see it. Who choose a life bereft of accolade or fanfare, a life of struggle for the idea that we are all the same. Every one of us. And every one of us has the right to be happy. To know peace. To know love. — Jay Kristoff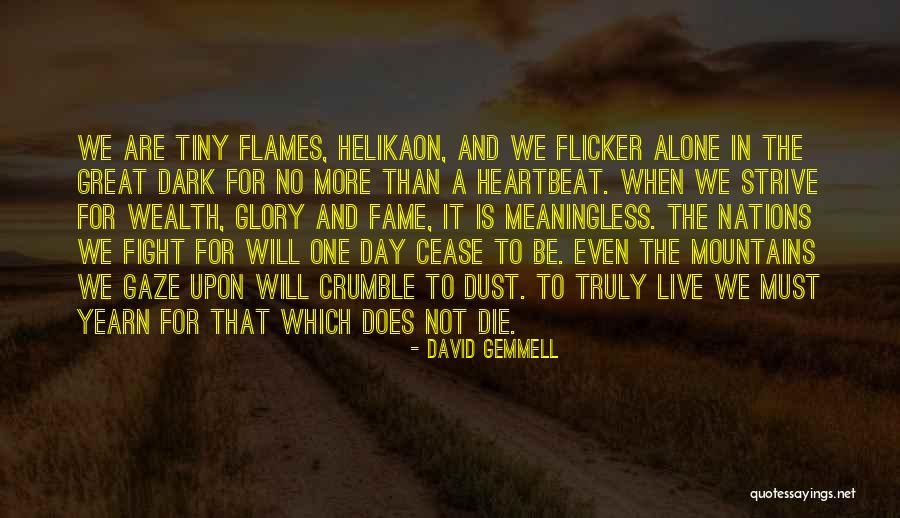 We are tiny flames, Helikaon, and we flicker alone in the great dark for no more than a heartbeat. When we strive for wealth, glory and fame, it is meaningless. The nations we fight for will one day cease to be. Even the mountains we gaze upon will crumble to dust. To truly live we must yearn for that which does not die. — David Gemmell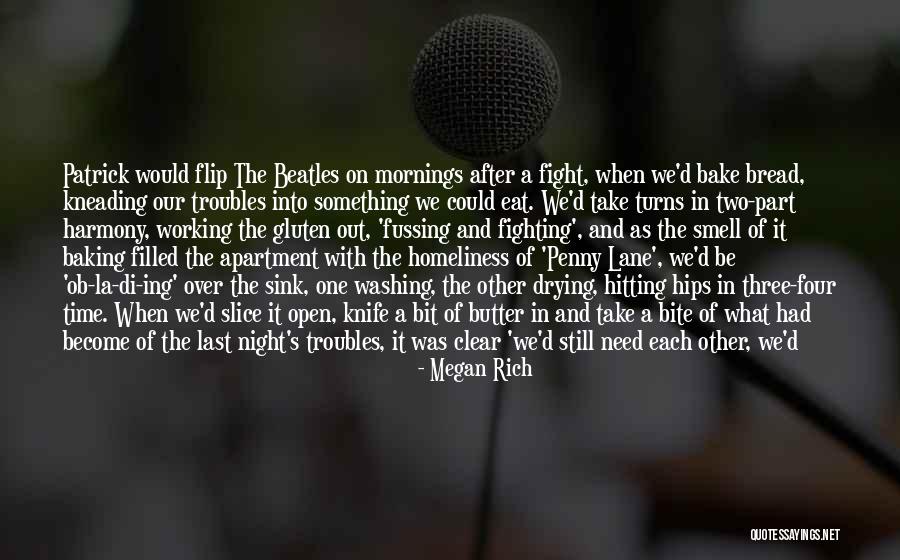 Patrick would flip The Beatles on mornings after a fight, when we'd bake bread, kneading our troubles into something we could eat. We'd take turns in two-part harmony, working the gluten out, 'fussing and fighting', and as the smell of it baking filled the apartment with the homeliness of 'Penny Lane', we'd be 'ob-la-di-ing' over the sink, one washing, the other drying, hitting hips in three-four time. When we'd slice it open, knife a bit of butter in and take a bite of what had become of the last night's troubles, it was clear 'we'd still need each other, we'd still feed each other, when we're sixty-four'. — Megan Rich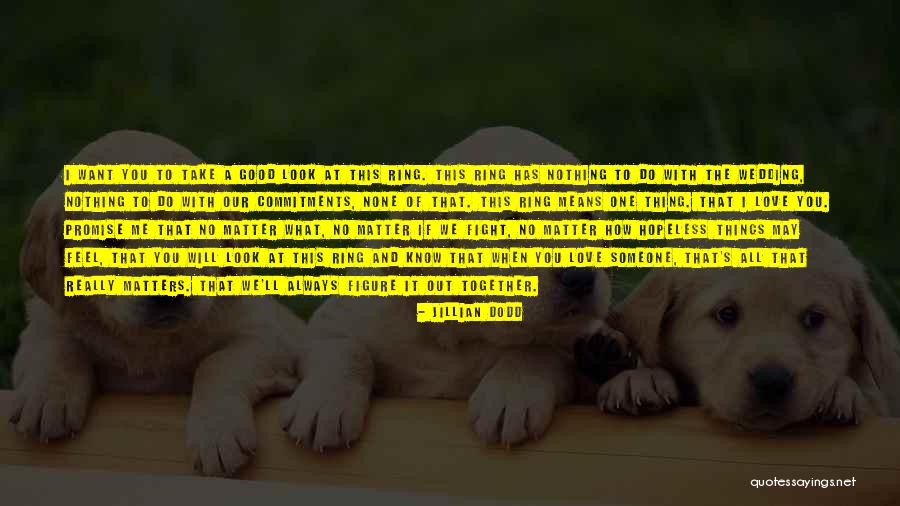 I want you to take a good look at this ring. This ring has nothing to do with the wedding, nothing to do with our commitments, none of that. This ring means one thing. That I love you. Promise me that no matter what, no matter if we fight, no matter how hopeless things may feel, that you will look at this ring and know that when you love someone, that's all that really matters. That we'll always figure it out together. — Jillian Dodd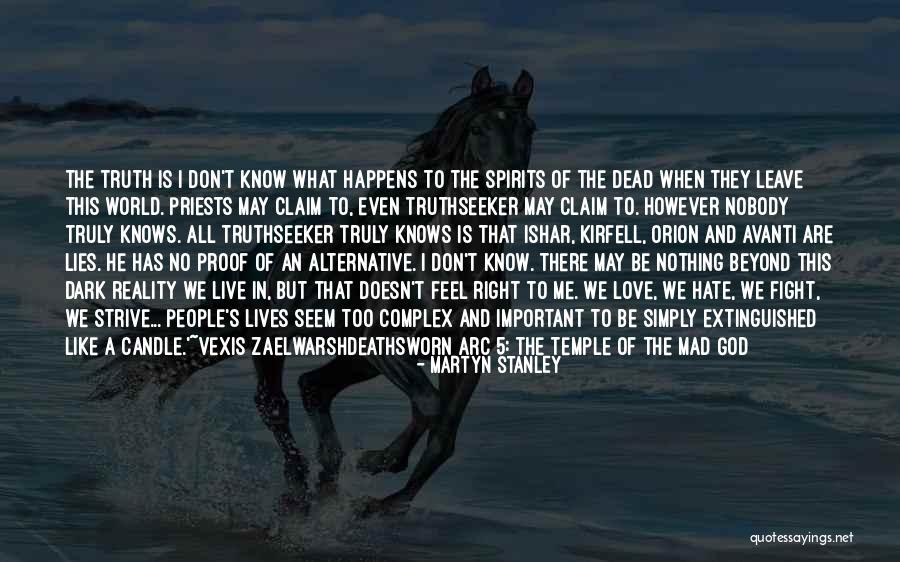 The truth is I don't know what happens to the spirits of the dead when they leave this world. Priests may claim to, even Truthseeker may claim to. However nobody truly knows. All Truthseeker truly knows is that Ishar, Kirfell, Orion and Avanti are lies. He has no proof of an alternative. I don't know. There may be nothing beyond this dark reality we live in, but that doesn't feel right to me. We love, we hate, we fight, we strive... People's lives seem too complex and important to be simply extinguished like a candle.'

~Vexis Zaelwarsh
Deathsworn Arc 5: The Temple of the Mad God — Martyn Stanley
You are a fine and talented woman, whose potential is yet to be realized given the love and support and luck we all need. Where you lost the will to fight for what is yours, where you gave away control of your life, is the mystery you are now unraveling. When you get it all back, hold on to it. — Isabel Vincent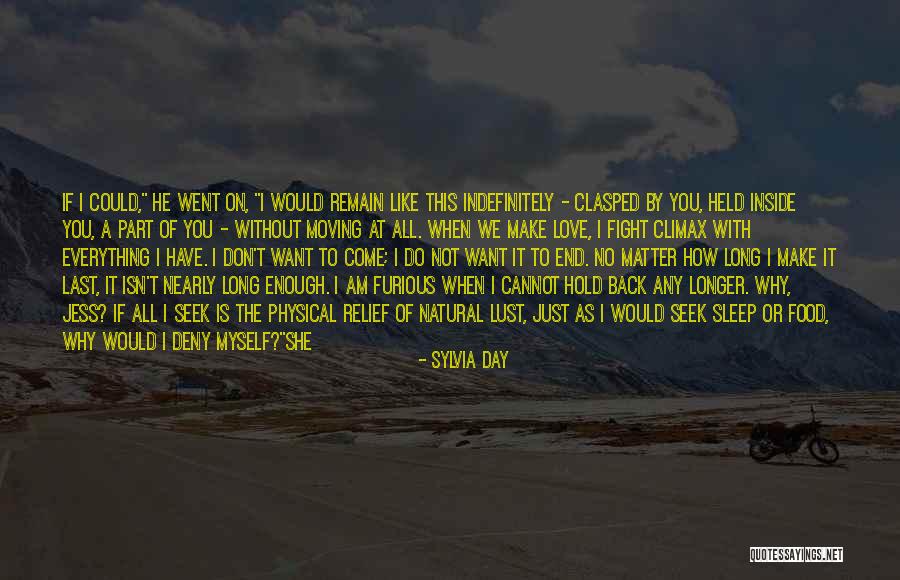 If I could," he went on, "I would remain like this indefinitely - clasped by you, held inside you, a part of you - without moving at all. When we make love, I fight climax with everything I have. I don't want to come; I do not want it to end. No matter how long I make it last, it isn't nearly long enough. I am furious when I cannot hold back any longer. Why, Jess? If all I seek is the physical relief of natural lust, just as I would seek sleep or food, why would I deny myself?"
She turned her head and caught his mouth with hers, kissing him desperately.
"Tell me you understand," he demanded, his lips moving beneath hers. "Tell me you feel it, too."
"I feel you," she breathed, as intoxicated by his ardency as she was by the finest claret. "You have become everything to me. — Sylvia Day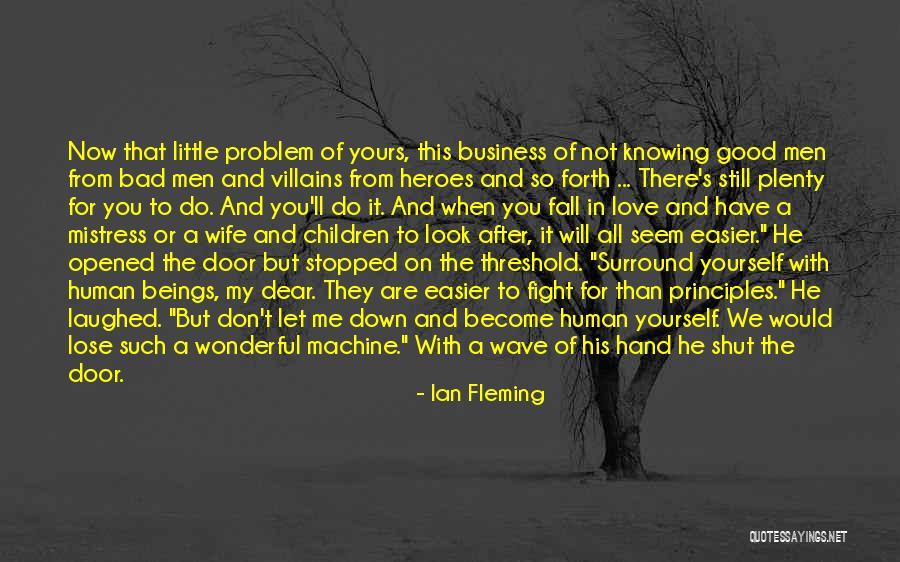 Now that little problem of yours, this business of not knowing good men from bad men and villains from heroes and so forth ... There's still plenty for you to do. And you'll do it. And when you fall in love and have a mistress or a wife and children to look after, it will all seem easier." He opened the door but stopped on the threshold. "Surround yourself with human beings, my dear. They are easier to fight for than principles." He laughed. "But don't let me down and become human yourself. We would lose such a wonderful machine." With a wave of his hand he shut the door. — Ian Fleming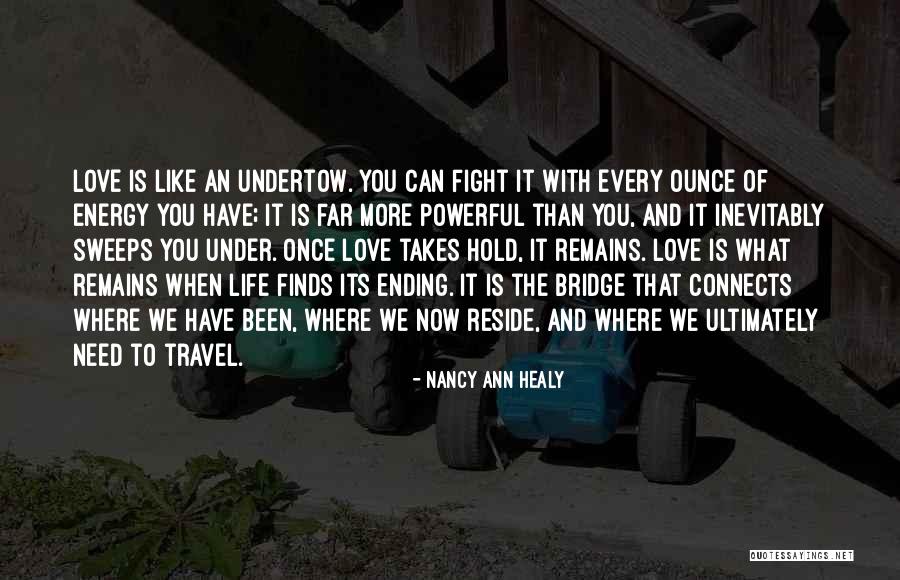 Love is like an undertow. You can fight it with every ounce of energy you have; it is far more powerful than you, and it inevitably sweeps you under. Once love takes hold, it remains. Love is what remains when life finds its ending. It is the bridge that connects where we have been, where we now reside, and where we ultimately need to travel. — Nancy Ann Healy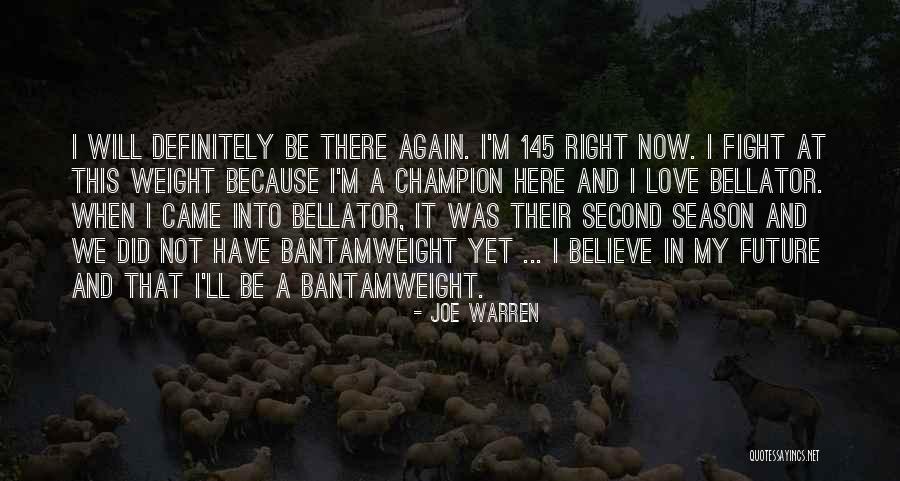 I will definitely be there again. I'm 145 right now. I fight at this weight because I'm a champion here and I love Bellator. When I came into Bellator, it was their second season and we did not have bantamweight yet ... I believe in my future and that I'll be a bantamweight. — Joe Warren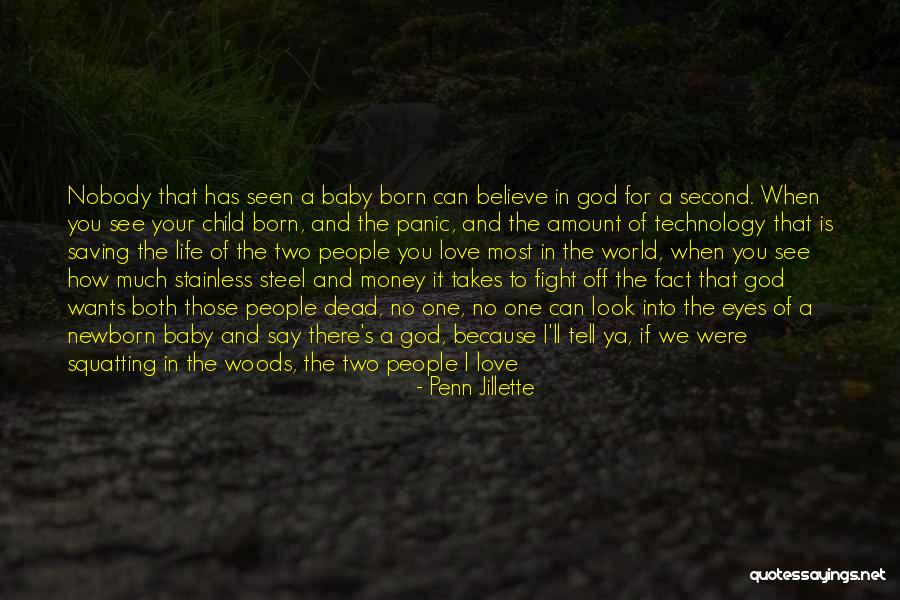 Nobody that has seen a baby born can believe in god for a second. When you see your child born, and the panic, and the amount of technology that is saving the life of the two people you love most in the world, when you see how much stainless steel and money it takes to fight off the fact that god wants both those people dead, no one, no one can look into the eyes of a newborn baby and say there's a god, because I'll tell ya, if we were squatting in the woods, the two people I love most would be dead. There's just no way around that. If I were in charge, no way. We need technology to fight against nature; nature so wants us dead. Nature is trying to kill us. — Penn Jillette
We're only passers-by, and all you can do is love what you have in your life. A person has to fight the meanness that sometimes comes with you when you're born, sometimes grows if you aren't in lucky surroundings. It's our challenge to fend it off, leave it behind us choking and gasping for breath in the mud. It's our task to seek out something with truth for us, no matter if there is a hundred-mile obstacle course in the way, or a ramshackle old farmhouse that binds and binds. — Jane Hamilton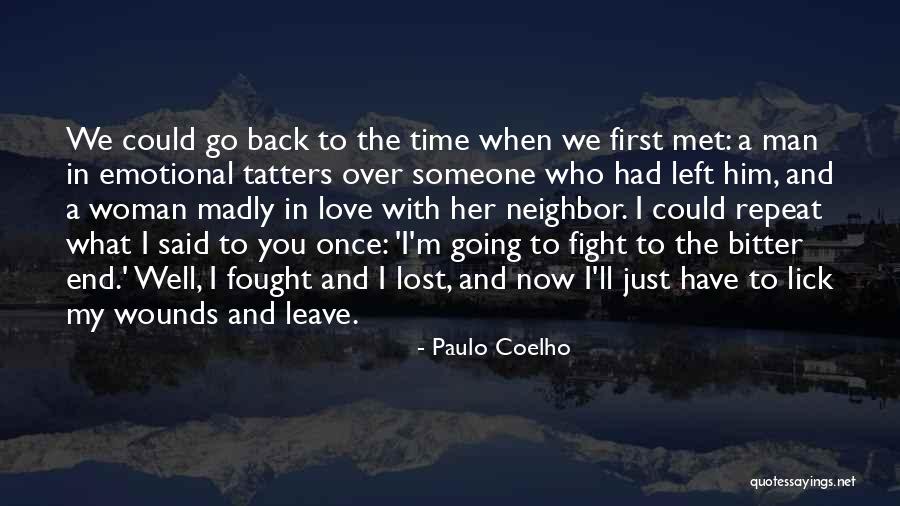 We could go back to the time when we first met: a man in emotional tatters over someone who had left him, and a woman madly in love with her neighbor. I could repeat what I said to you once: 'I'm going to fight to the bitter end.' Well, I fought and I lost, and now I'll just have to lick my wounds and leave. — Paulo Coelho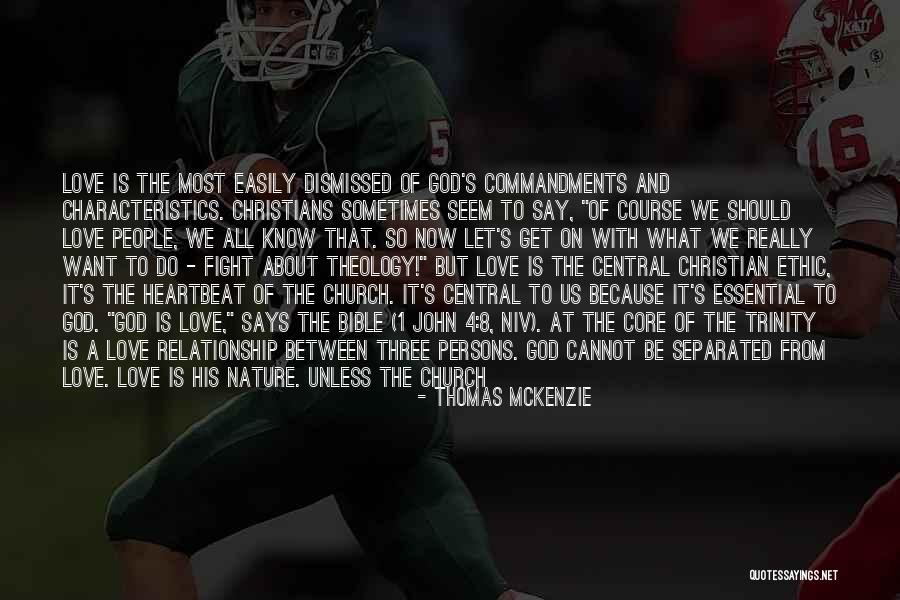 Love is the most easily dismissed of God's commandments and characteristics. Christians sometimes seem to say, "Of course we should love people, we all know that. So now let's get on with what we really want to do - fight about theology!" But love is the central Christian ethic, it's the heartbeat of the church. It's central to us because it's essential to God. "God is love," says the Bible (1 John 4:8, NIV). At the core of the Trinity is a love relationship between three Persons. God cannot be separated from love. Love is his nature. Unless the church is actively living out the reality of love, there is little reason to debate theology. And unless the church has a healthy theology we won't recognize true love when we see it. — Thomas McKenzie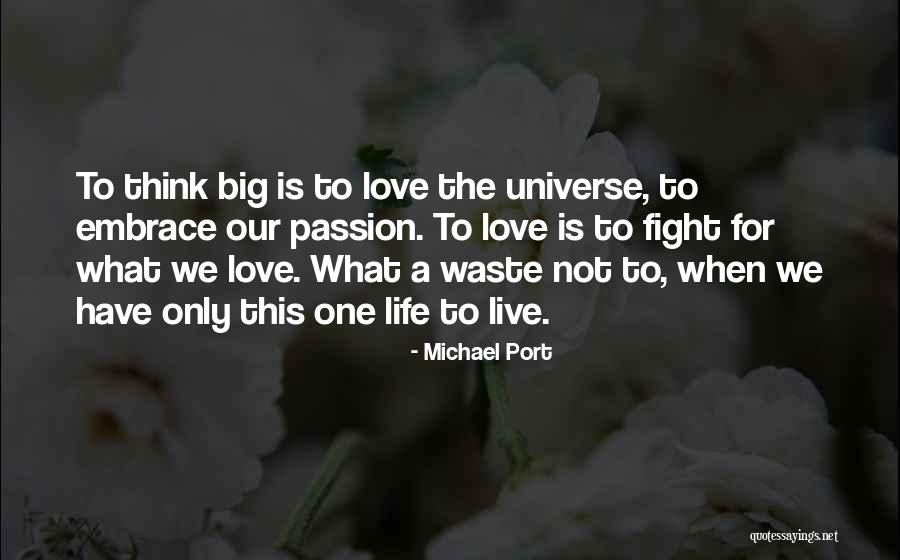 To think big is to love the universe, to embrace our passion. To love is to fight for what we love. What a waste not to, when we have only this one life to live. — Michael Port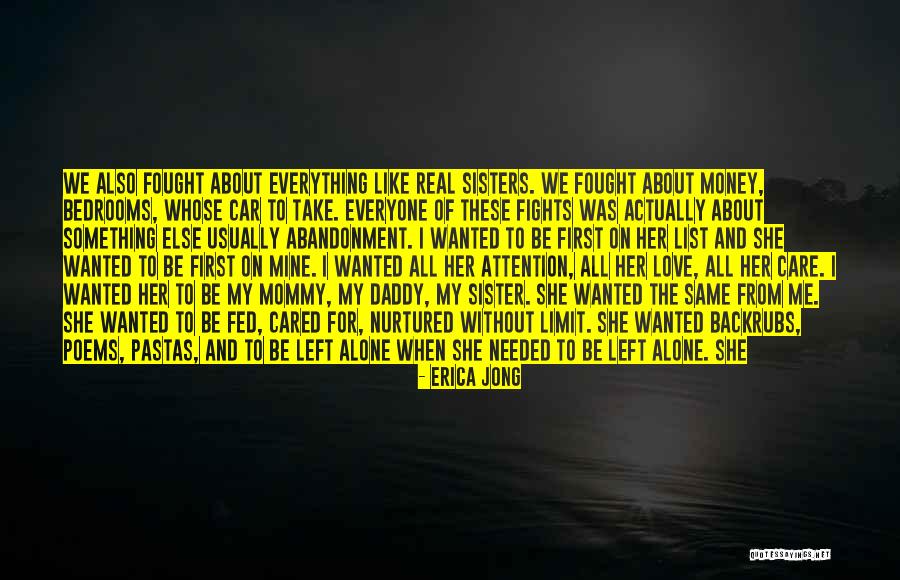 We also fought about everything
like real sisters. We fought about money, bedrooms, whose car to take. Everyone of these fights was actually about something else
usually abandonment. I wanted to be first on her list and she wanted to be first on mine. I wanted all her attention, all her love, all her care. I wanted her to be my mommy, my daddy, my sister. She wanted the same from me. She wanted to be fed, cared for, nurtured without limit. She wanted backrubs, poems, pastas, and to be left alone when she needed to be left alone. She wanted to come before my writing, my child, my man. And I wanted no less from her.
She was sick at first, so I took care of her. Then I was jealous of the attention and she took care of me. We had gone down into the primal cave of our friendship. we had felt loved enough to rage and fight, to show the inside of our naked throats and our bared fags, and the friendship took another leap toward intimacy. Without rage, intimacy can't be. — Erica Jong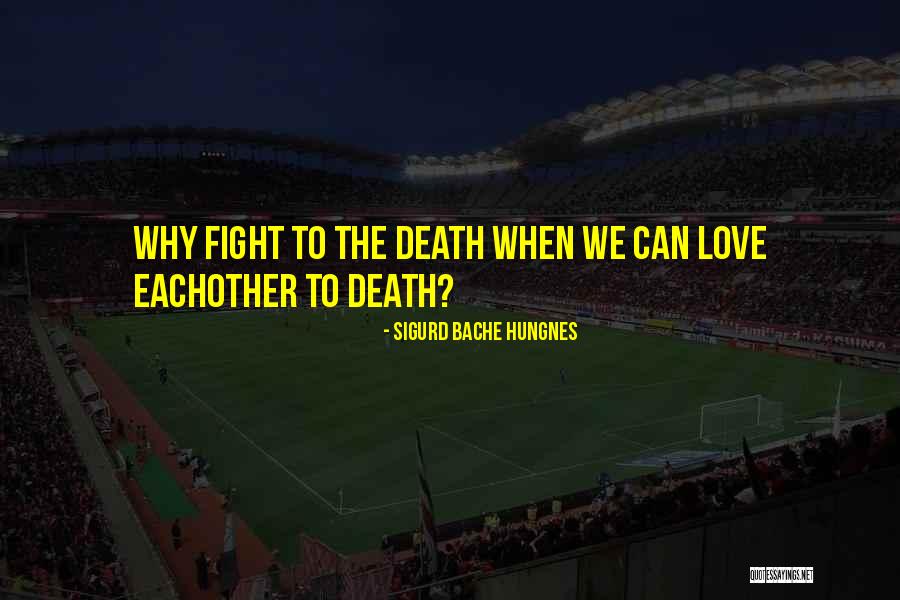 Why fight to the death when we can love eachother to death? — Sigurd Bache Hungnes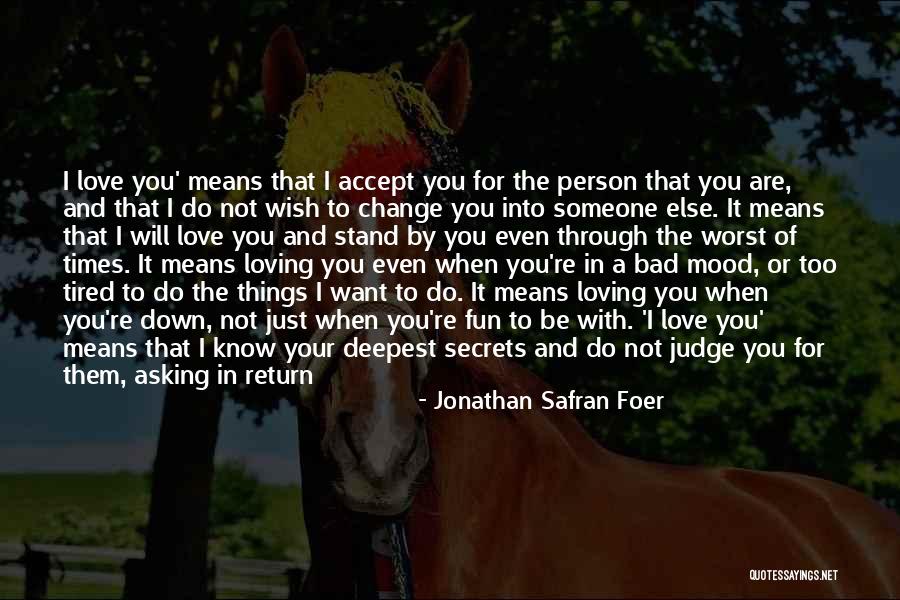 I love you' means that I accept you for the person that you are, and that I do not wish to change you into someone else. It means that I will love you and stand by you even through the worst of times. It means loving you even when you're in a bad mood, or too tired to do the things I want to do. It means loving you when you're down, not just when you're fun to be with. 'I love you' means that I know your deepest secrets and do not judge you for them, asking in return that you do not judge me for mine. It means that I care enough to fight for what we have and that I love you enough not to let go. It means thinking of you, dreaming of you, wanting and needing you constantly, and hoping you feel the same way for me — Jonathan Safran Foer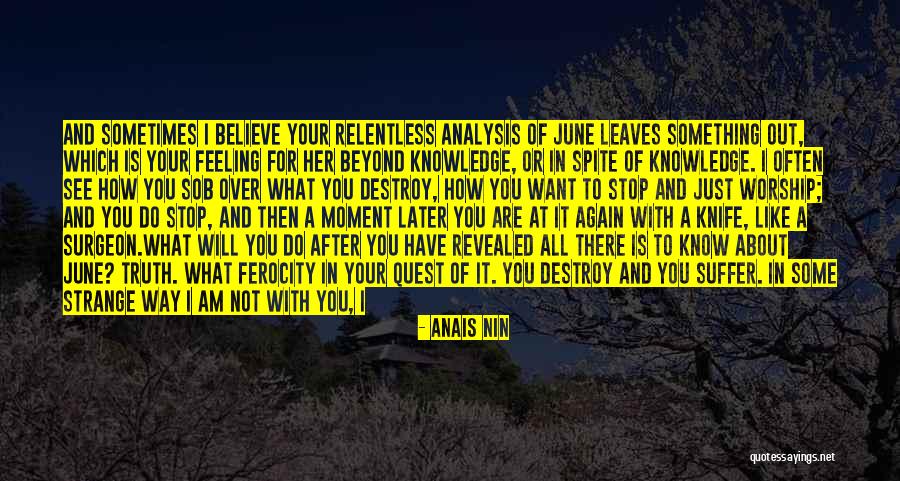 And sometimes I believe your relentless analysis of June leaves something out, which is your feeling for her beyond knowledge, or in spite of knowledge. I often see how you sob over what you destroy, how you want to stop and just worship; and you do stop, and then a moment later you are at it again with a knife, like a surgeon.
What will you do after you have revealed all there is to know about June? Truth. What ferocity in your quest of it. You destroy and you suffer. In some strange way I am not with you, I am against you. We are destined to hold two truths. I love you and I fight you. And you, the same. We will be stronger for it, each of us, stronger with our love and our hate. When you caricature and nail down and tear apart, I hate you. I want to answer you, not with weak or stupid poetry but with a wonder as strong as your reality. I want to fight your surgical knife with all the occult and magical forces of the world. — Anais Nin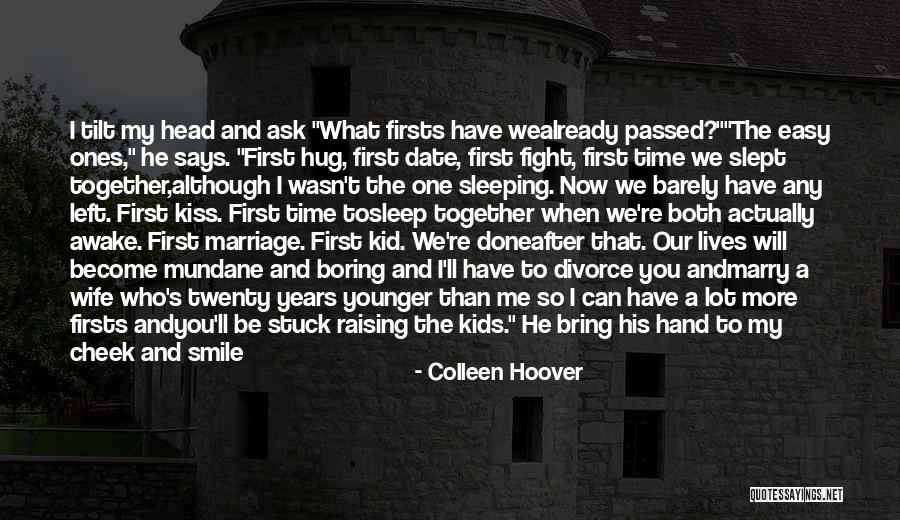 I tilt my head and ask "What firsts have we
already passed?"
"The easy ones," he says. "First hug, first date, first fight, first time we slept together,
although I wasn't the one sleeping. Now we barely have any left. First kiss. First time to
sleep together when we're both actually awake. First marriage. First kid. We're done
after that. Our lives will become mundane and boring and I'll have to divorce you and
marry a wife who's twenty years younger than me so I can have a lot more firsts and
you'll be stuck raising the kids." He bring his hand to my cheek and smile at me. "So you
see, babe? I'm only doing this for your benefit. The longer I wait to kiss you, the longer
it'll be before I'm forced to leave you high and dry. — Colleen Hoover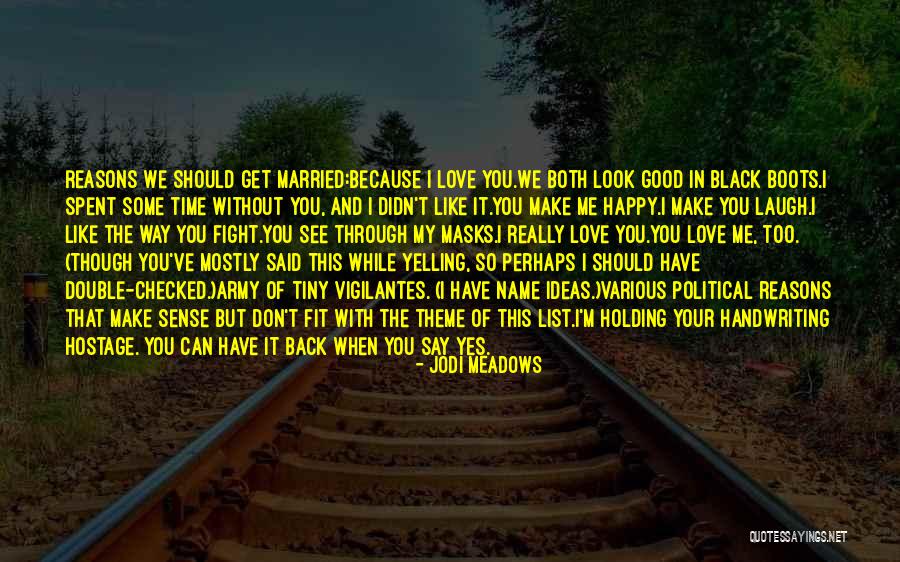 Reasons we should get married:
Because I love you.
We both look good in black boots.
I spent some time without you, and I didn't like it.
You make me happy.
I make you laugh.
I like the way you fight.
You see through my masks.
I really love you.
You love me, too. (Though you've mostly said this while yelling, so perhaps I should have double-checked.)
Army of tiny vigilantes. (I have name ideas.)
Various political reasons that make sense but don't fit with the theme of this list.
I'm holding your handwriting hostage. You can have it back when you say yes. — Jodi Meadows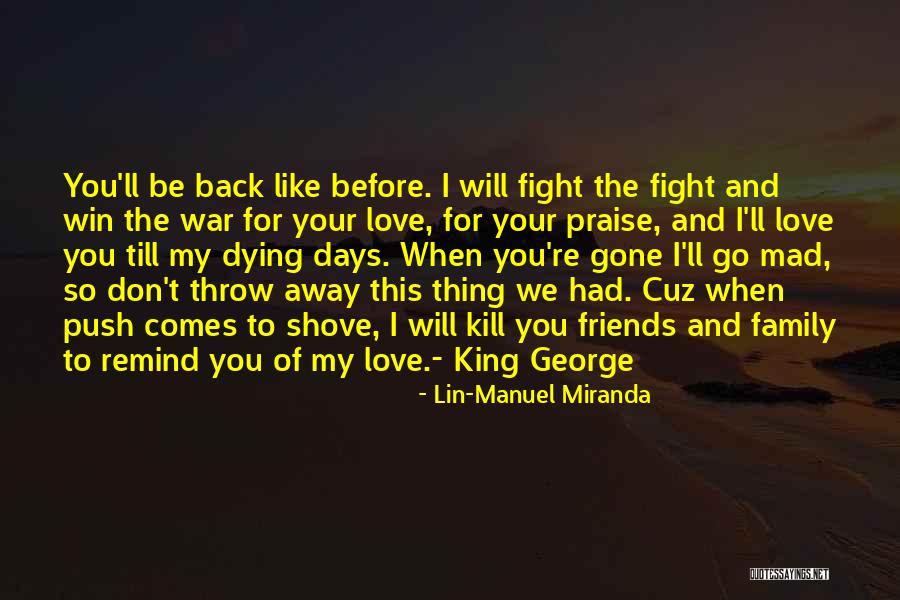 You'll be back like before. I will fight the fight and win the war for your love, for your praise, and I'll love you till my dying days. When you're gone I'll go mad, so don't throw away this thing we had. Cuz when push comes to shove, I will kill you friends and family to remind you of my love.
- King George — Lin-Manuel Miranda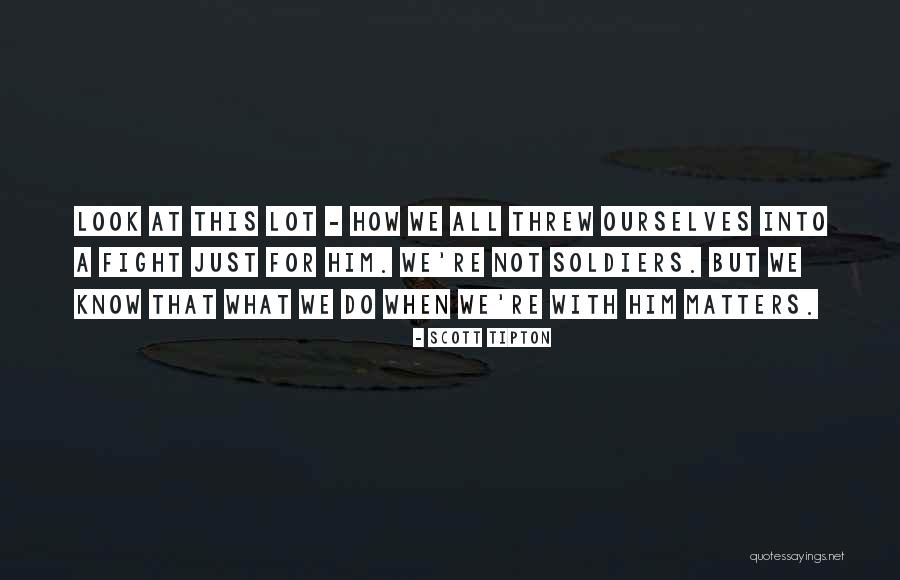 Look at this lot - how we all threw ourselves into a fight just for him. We're not soldiers. But we know that what we do when we're with him matters. — Scott Tipton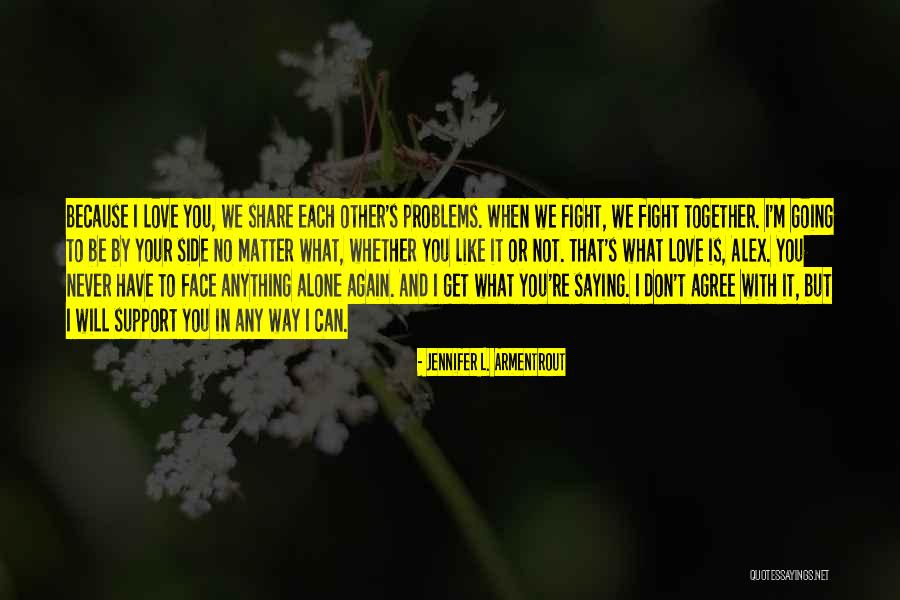 Because I love you, we share each other's problems. When we fight, we fight together. I'm going to be by your side no matter what, whether you like it or not. That's what love is, Alex. You never have to face anything alone again. And I get what you're saying. I don't agree with it, but I will support you in any way I can. — Jennifer L. Armentrout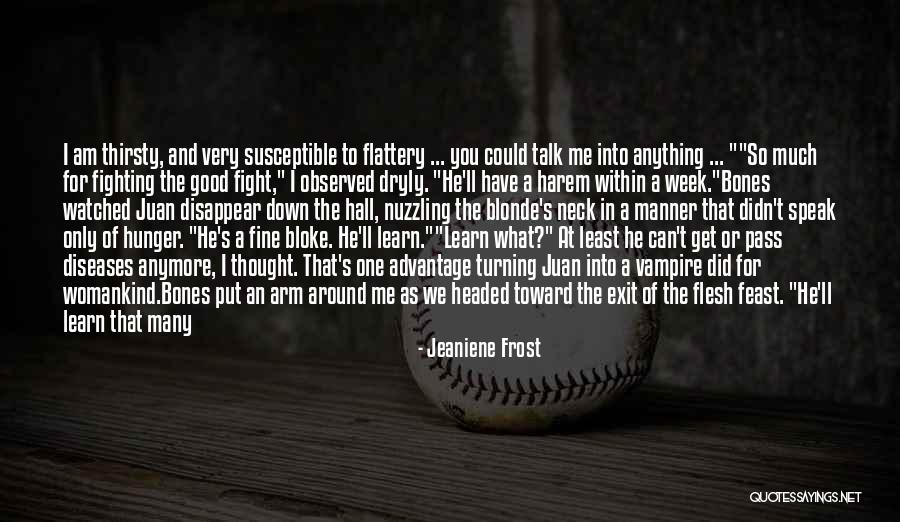 I am thirsty, and very susceptible to flattery ... you could talk me into anything ... "
"So much for fighting the good fight," I observed dryly. "He'll have a harem within a week."
Bones watched Juan disappear down the hall, nuzzling the blonde's neck in a manner that didn't speak only of hunger. "He's a fine bloke. He'll learn."
"Learn what?" At least he can't get or pass diseases anymore, I thought. That's one advantage turning Juan into a vampire did for womankind.
Bones put an arm around me as we headed toward the exit of the flesh feast. "He'll learn that many women can satisfy for a short period of time, but when he falls in love, only one will sustain him forever."
I cast him a sideways glance "Are you trying to seduce me?"
His lips curled with promise. "Absolutely. — Jeaniene Frost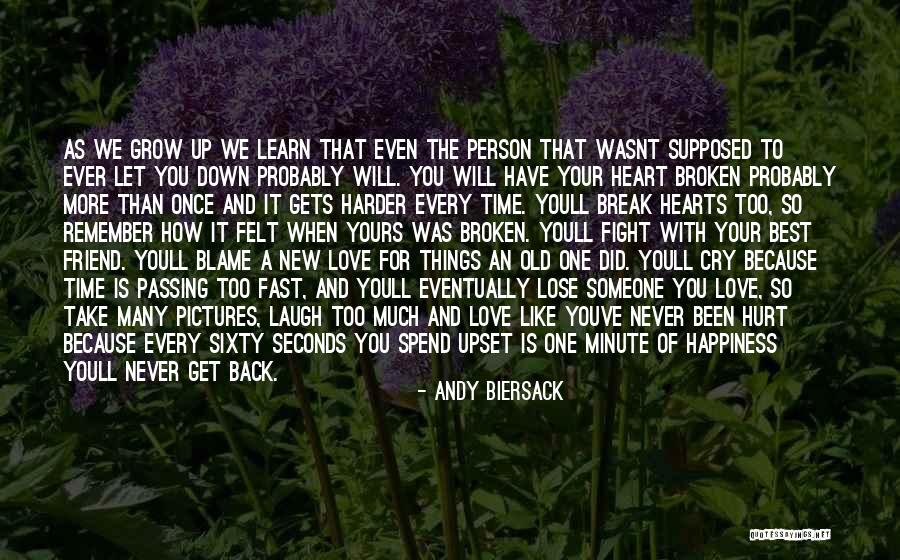 As we grow up we learn that even the person that wasnt supposed to ever let you down probably will. You will have your heart broken probably more than once and it gets harder every time. Youll break hearts too, so remember how it felt when yours was broken. Youll fight with your best friend. Youll blame a new love for things an old one did. Youll cry because time is passing too fast, and youll eventually lose someone you love, so take many pictures, laugh too much and love like youve never been hurt because every sixty seconds you spend upset is one minute of happiness youll never get back. — Andy Biersack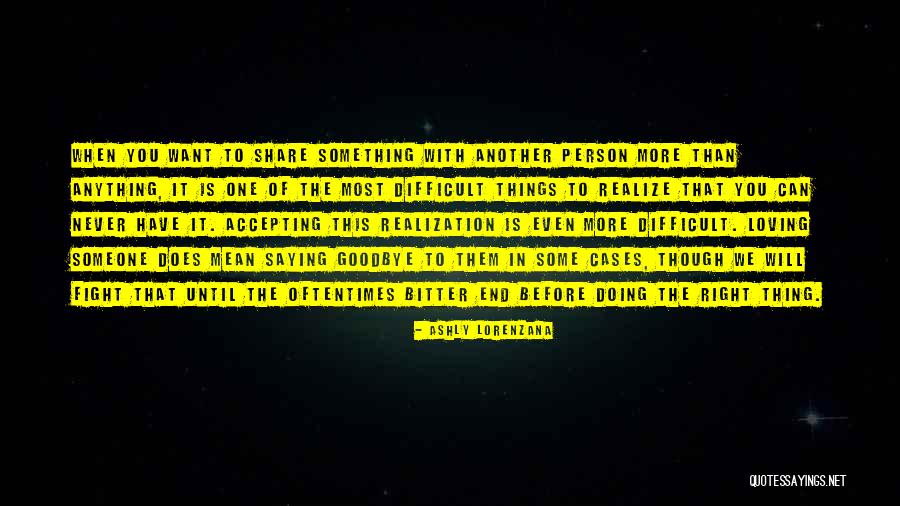 When you want to share something with another person more than anything, it is one of the most difficult things to realize that you can never have it. Accepting this realization is even more difficult. Loving someone does mean saying goodbye to them in some cases, though we will fight that until the oftentimes bitter end before doing the right thing. — Ashly Lorenzana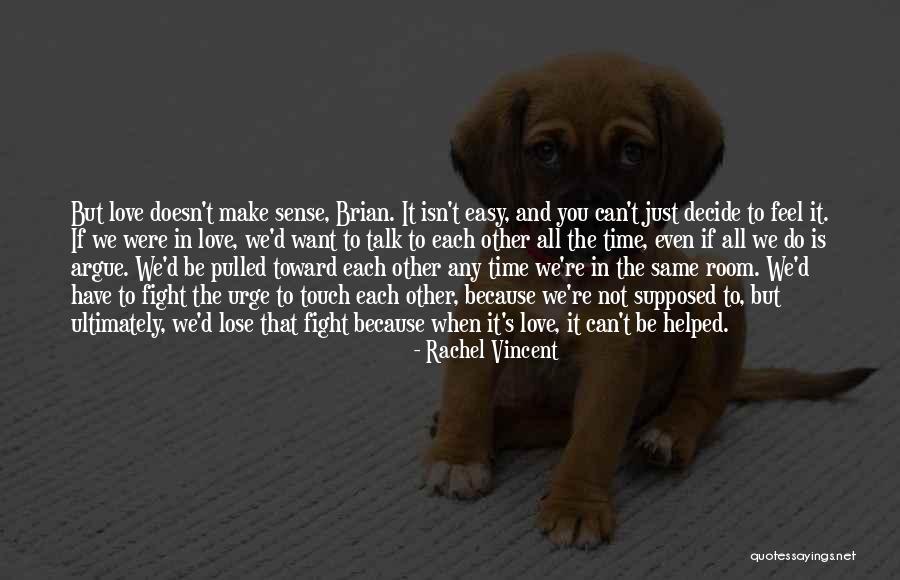 But love doesn't make sense, Brian. It isn't easy, and you can't just decide to feel it. If we were in love, we'd want to talk to each other all the time, even if all we do is argue. We'd be pulled toward each other any time we're in the same room. We'd have to fight the urge to touch each other, because we're not supposed to, but ultimately, we'd lose that fight because when it's love, it can't be helped. — Rachel Vincent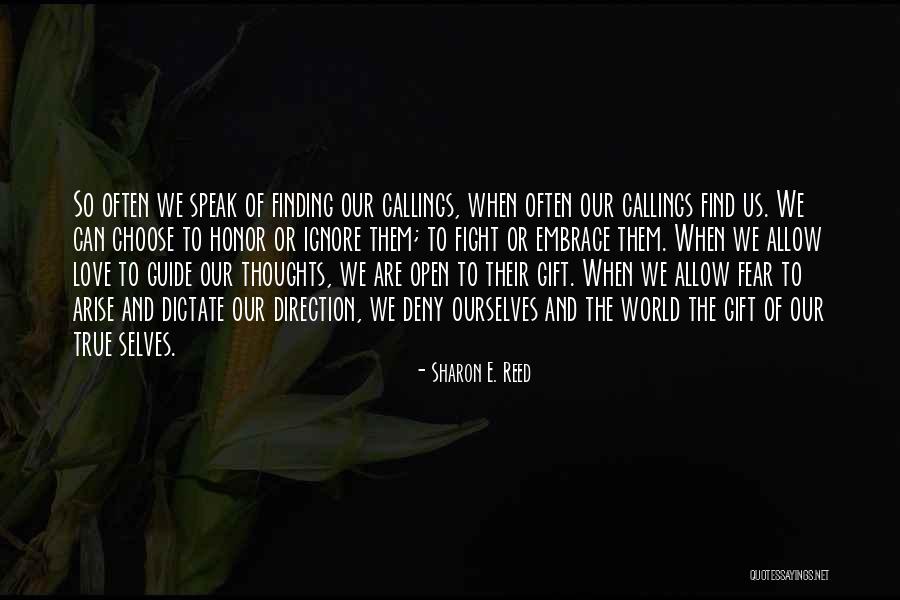 So often we speak of finding our callings, when often our callings find us. We can choose to honor or ignore them; to fight or embrace them. When we allow love to guide our thoughts, we are open to their gift. When we allow fear to arise and dictate our direction, we deny ourselves and the world the gift of our true selves. — Sharon E. Reed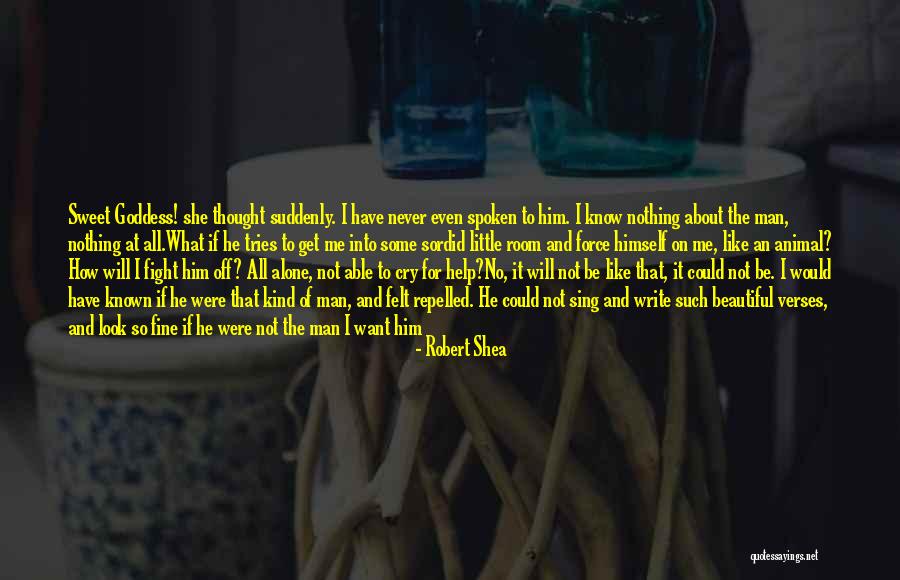 Sweet Goddess! she thought suddenly. I have never even spoken to him. I know nothing about the man, nothing at all.
What if he tries to get me into some sordid little room and force himself on me, like an animal? How will I fight him off? All alone, not able to cry for help?
No, it will not be like that, it could not be. I would have known if he were that kind of man, and felt repelled. He could not sing and write such beautiful verses, and look so fine if he were not the man I want him to be. Yes, when we meet, it will be as it is in his songs. He will obey, do exactly what I tell him and no more. Oh, I have hoped so long for this. Goddess of Love, let it be beautiful. — Robert Shea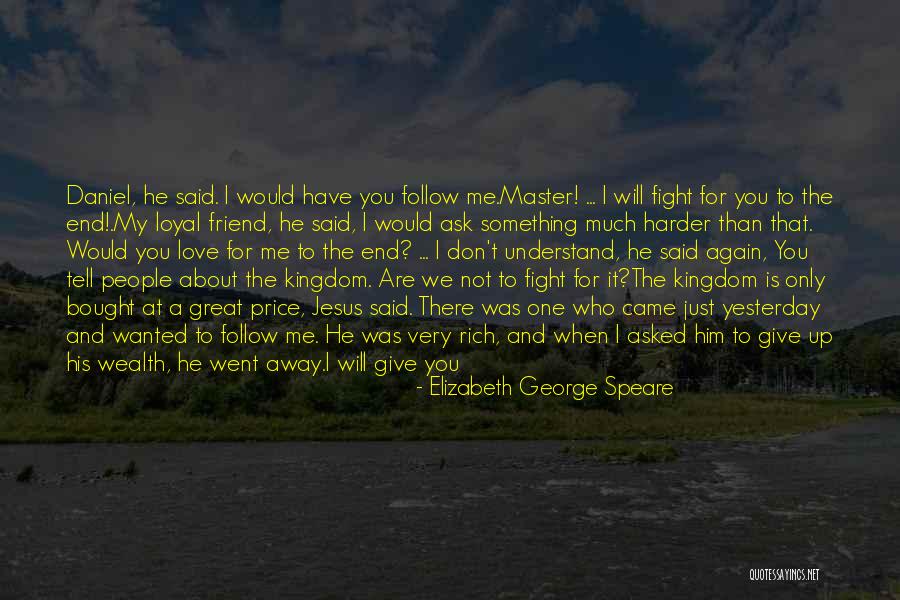 Daniel, he said. I would have you follow me.
Master! ... I will fight for you to the end!.
My loyal friend, he said, I would ask something much harder than that. Would you love for me to the end?
... I don't understand, he said again, You tell people about the kingdom. Are we not to fight for it?
The kingdom is only bought at a great price, Jesus said. There was one who came just yesterday and wanted to follow me. He was very rich, and when I asked him to give up his wealth, he went away.
I will give you everything I have!
... Riches are not keeping you from the kingdom, he said. You must give up your hate. — Elizabeth George Speare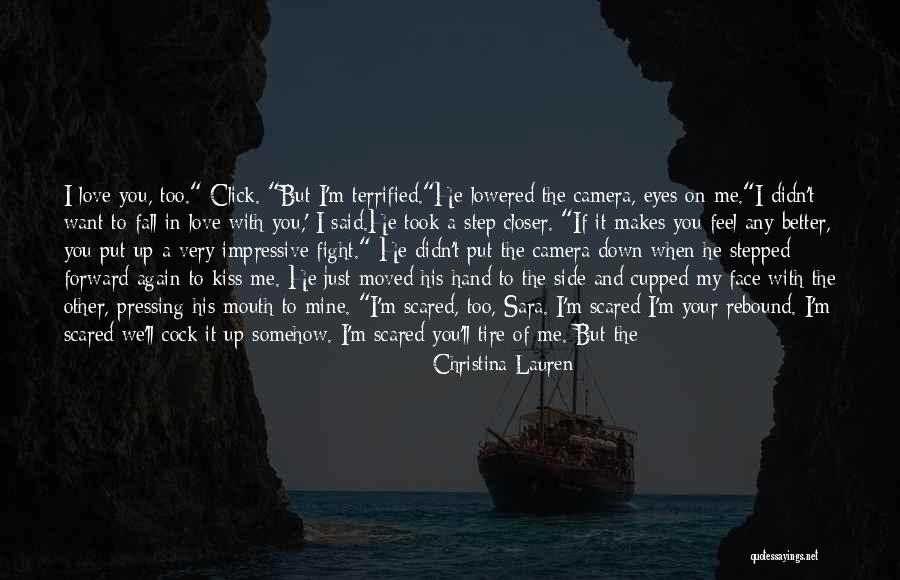 I love you, too." Click. "But I'm terrified."
He lowered the camera, eyes on me.
"I didn't want to fall in love with you,' I said.
He took a step closer. "If it makes you feel any better, you put up a very impressive fight." He didn't put the camera down when he stepped forward again to kiss me. He just moved his hand to the side and cupped my face with the other, pressing his mouth to mine. "I'm scared, too, Sara. I'm scared I'm your rebound. I'm scared we'll cock it up somehow. I'm scared you'll tire of me. But the thing is," he said, smiling, "I don't want anyone else. You've rather ruined me for other women. — Christina Lauren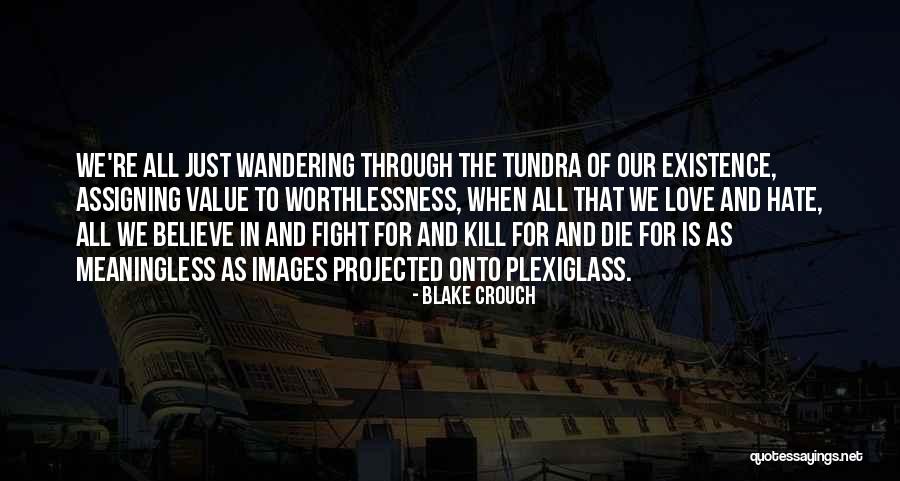 We're all just wandering through the tundra of our existence, assigning value to worthlessness, when all that we love and hate, all we believe in and fight for and kill for and die for is as meaningless as images projected onto Plexiglass. — Blake Crouch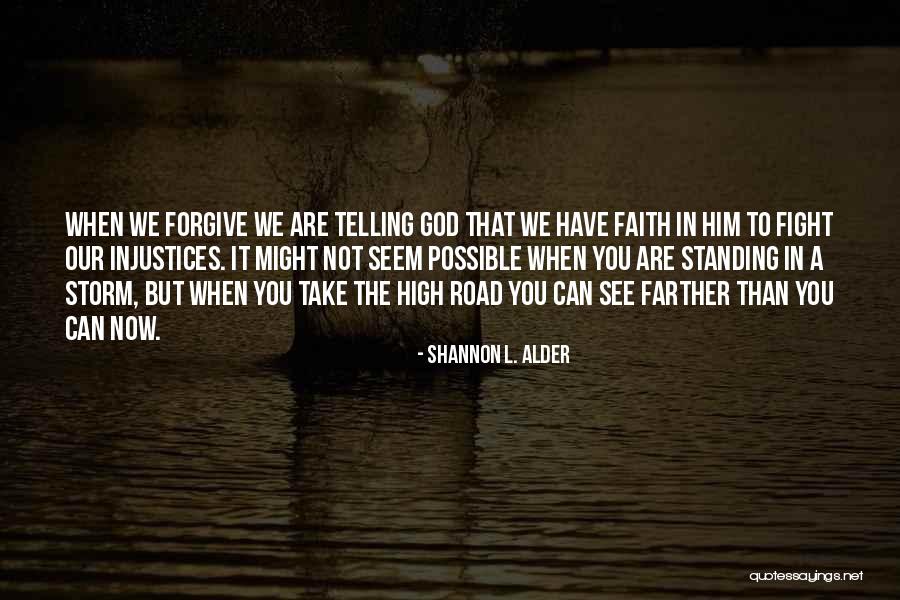 When we forgive we are telling God that we have faith in him to fight our injustices. It might not seem possible when you are standing in a storm, but when you take the high road you can see farther than you can now. — Shannon L. Alder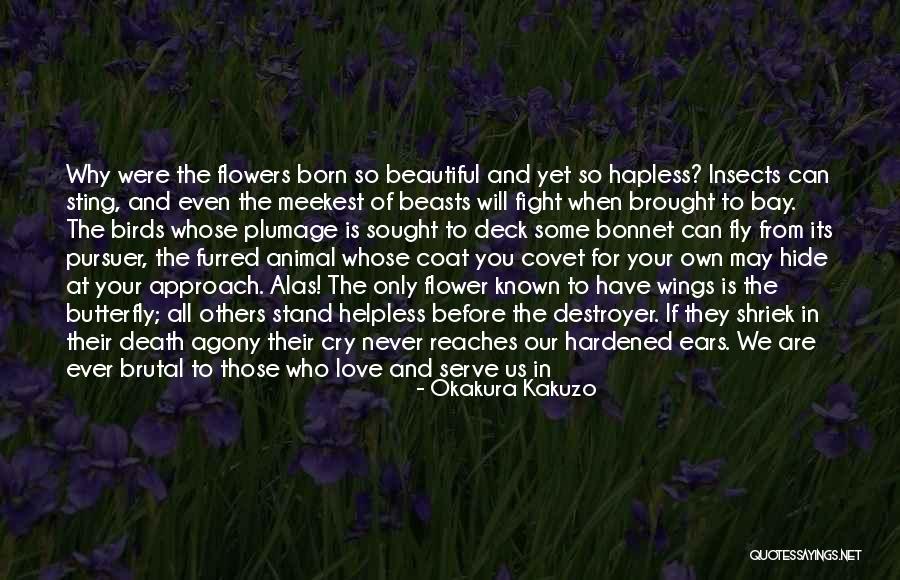 Why were the flowers born so beautiful and yet so hapless? Insects can sting, and even the meekest of beasts will fight when brought to bay. The birds whose plumage is sought to deck some bonnet can fly from its pursuer, the furred animal whose coat you covet for your own may hide at your approach. Alas! The only flower known to have wings is the butterfly; all others stand helpless before the destroyer. If they shriek in their death agony their cry never reaches our hardened ears. We are ever brutal to those who love and serve us in silence, but the time may come when, for our cruelty, we shall be deserted by these best friends of ours. Have you not noticed that the wild flowers are becoming scarcer every year? It may be that their wise men have told them to depart till man becomes more human. Perhaps they have migrated to heaven. Much may be said in favor of him who — Okakura Kakuzo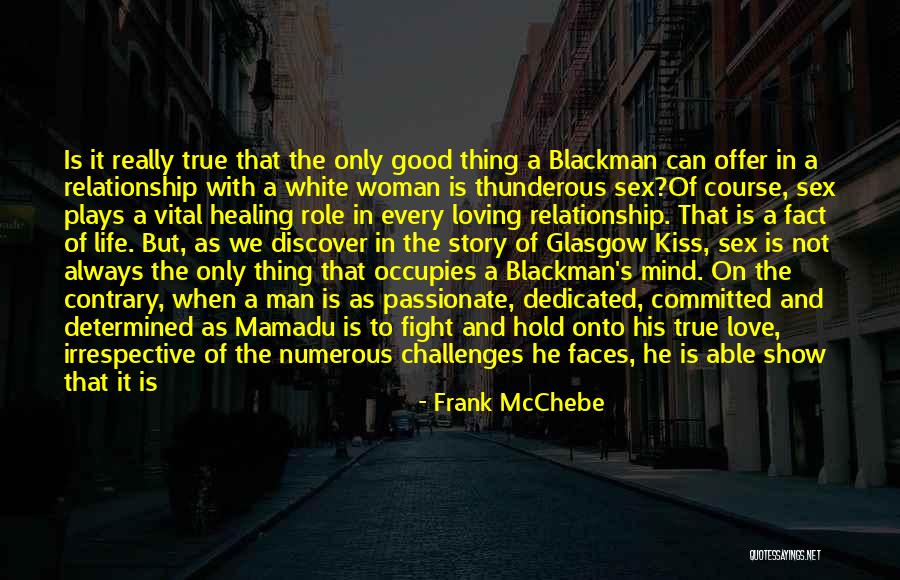 Is it really true that the only good thing a Blackman can offer in a relationship with a white woman is thunderous sex?
Of course, sex plays a vital healing role in every loving relationship. That is a fact of life. But, as we discover in the story of Glasgow Kiss, sex is not always the only thing that occupies a Blackman's mind. On the contrary, when a man is as passionate, dedicated, committed and determined as Mamadu is to fight and hold onto his true love, irrespective of the numerous challenges he faces, he is able show that it is far more important to pay attention to his heartbeat than the growing erection in his trousers! — Frank McChebe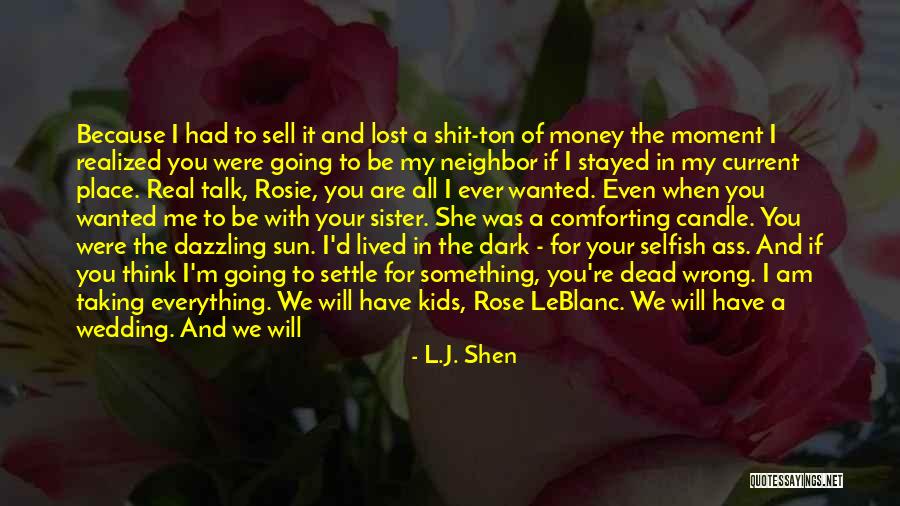 Because I had to sell it and lost a shit-ton of money the moment I realized you were going to be my neighbor if I stayed in my current place. Real talk, Rosie, you are all I ever wanted. Even when you wanted me to be with your sister. She was a comforting candle. You were the dazzling sun. I'd lived in the dark - for your selfish ass. And if you think I'm going to settle for something, you're dead wrong. I am taking everything. We will have kids, Rose LeBlanc. We will have a wedding. And we will have joy and vacations and days where we just fuck and days where we just fight and days where we just live. Because this is life, Baby LeBlanc, and I love the fuck out of you, so I'm going to give you the best one there is. Got it? — L.J. Shen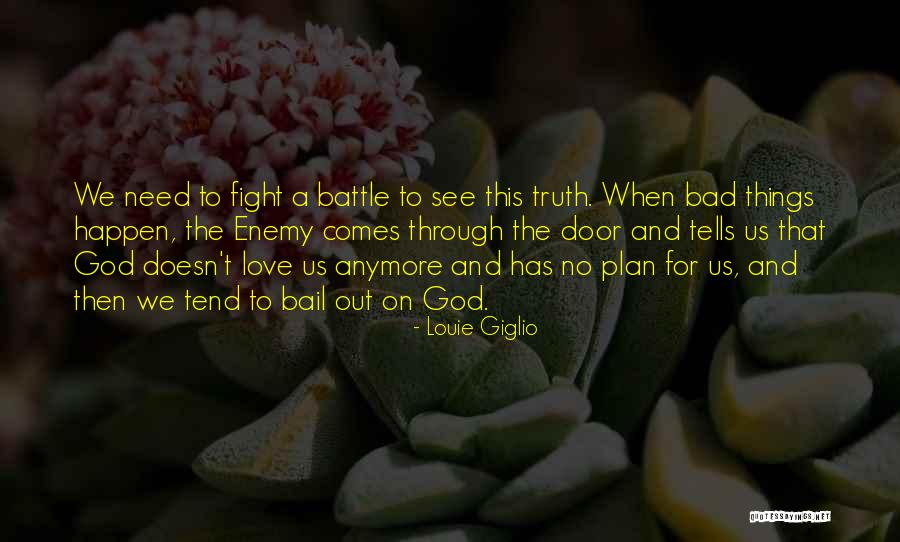 We need to fight a battle to see this truth. When bad things happen, the Enemy comes through the door and tells us that God doesn't love us anymore and has no plan for us, and then we tend to bail out on God. — Louie Giglio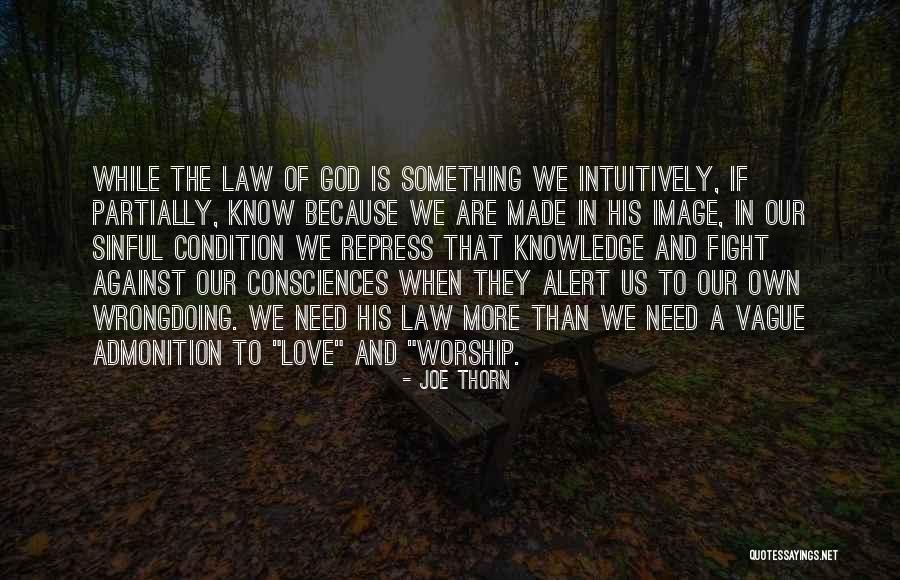 While the law of God is something we intuitively, if partially, know because we are made in his image, in our sinful condition we repress that knowledge and fight against our consciences when they alert us to our own wrongdoing. We need his law more than we need a vague admonition to "love" and "worship. — Joe Thorn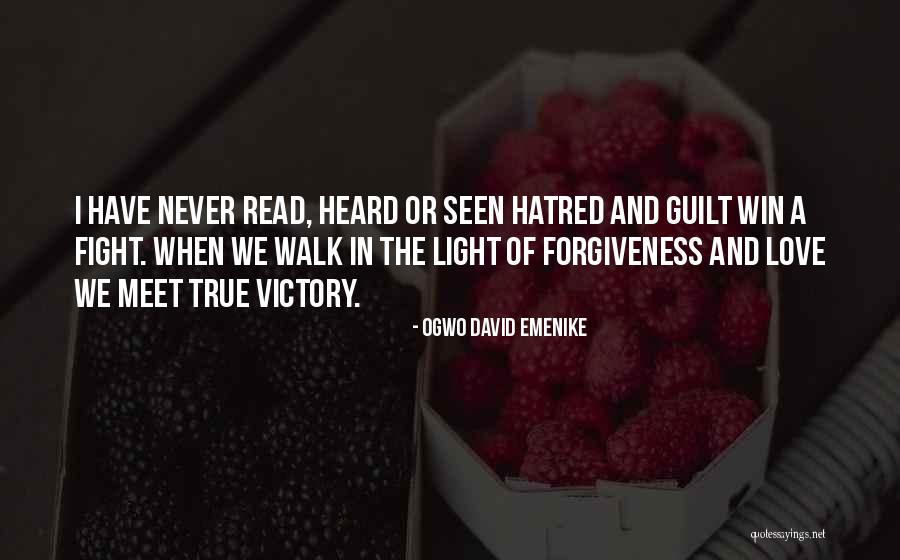 I have never read, heard or seen hatred and guilt win a fight. When we walk in the light of forgiveness and love we meet true victory. — Ogwo David Emenike