We Spend Half Our Lives Quotes & Sayings
Enjoy reading and share 27 famous quotes about We Spend Half Our Lives with everyone.
Top We Spend Half Our Lives Quotes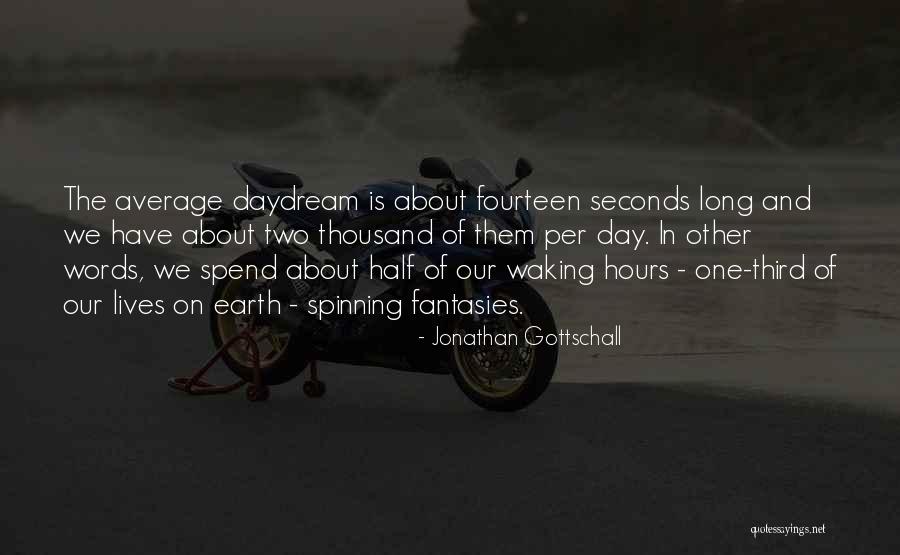 The average daydream is about fourteen seconds long and we have about two thousand of them per day. In other words, we spend about half of our waking hours - one-third of our lives on earth - spinning fantasies. — Jonathan Gottschall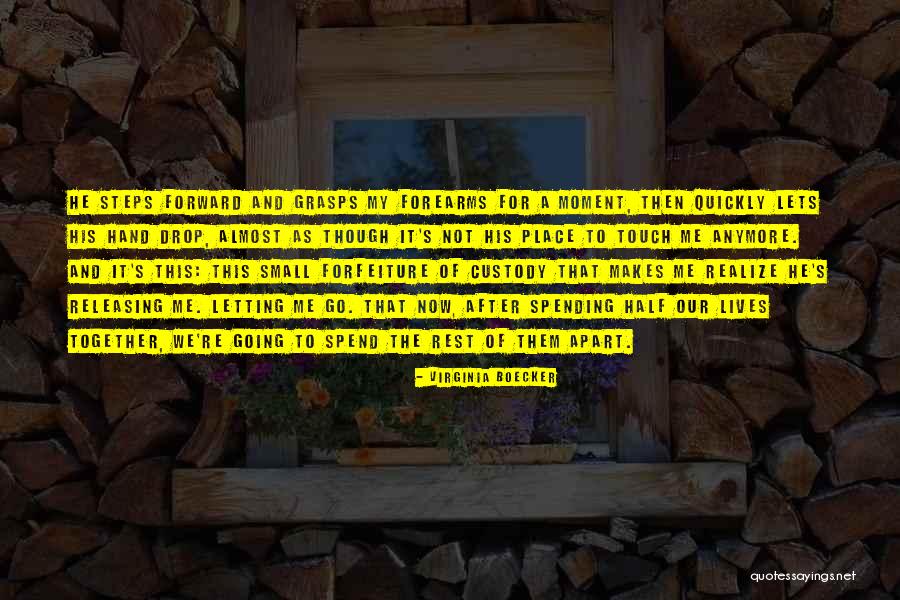 He steps forward and grasps my forearms for a moment, then quickly lets his hand drop, almost as though it's not his place to touch me anymore. And it's this: this small forfeiture of custody that makes me realize he's releasing me. Letting me go. That now, after spending half our lives together, we're going to spend the rest of them apart. — Virginia Boecker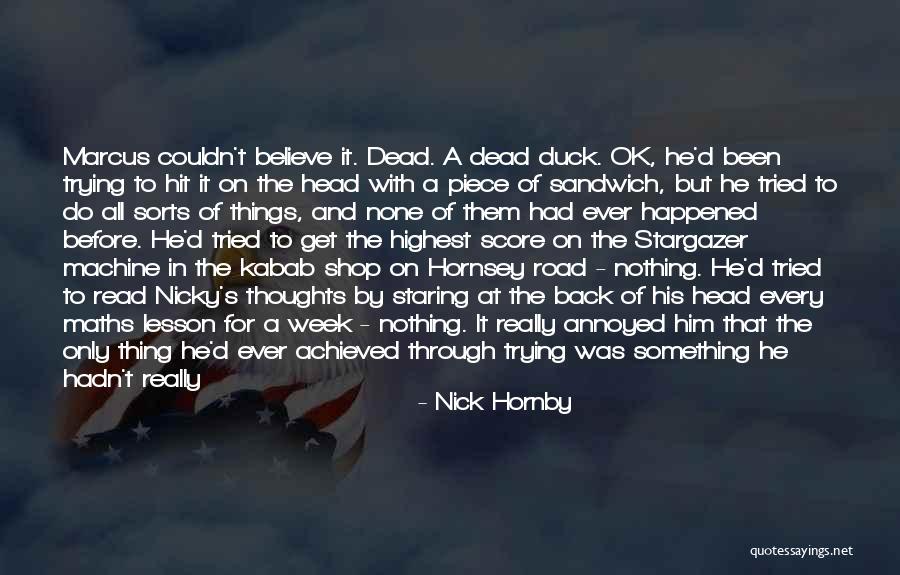 Marcus couldn't believe it. Dead. A dead duck. OK, he'd been trying to hit it on the head with a piece of sandwich, but he tried to do all sorts of things, and none of them had ever happened before. He'd tried to get the highest score on the Stargazer machine in the kabab shop on Hornsey road - nothing. He'd tried to read Nicky's thoughts by staring at the back of his head every maths lesson for a week - nothing. It really annoyed him that the only thing he'd ever achieved through trying was something he hadn't really wanted to do that much in the first place. And anyway, since when did hitting a bird with a sandwich ever kill it? People spend half their lives throwing things at the ducks in Regent's Park. How come he managed to pick a duck that pathetic? — Nick Hornby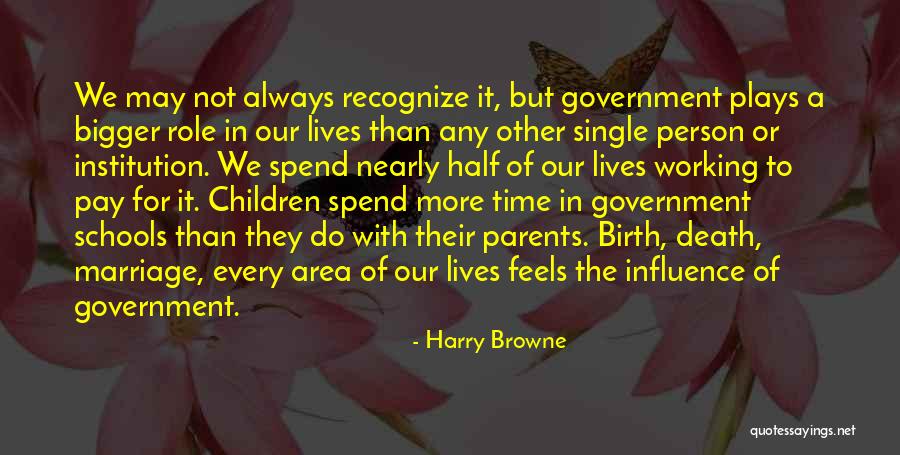 We may not always recognize it, but government plays a bigger role in our lives than any other single person or institution. We spend nearly half of our lives working to pay for it. Children spend more time in government schools than they do with their parents. Birth, death, marriage, every area of our lives feels the influence of government. — Harry Browne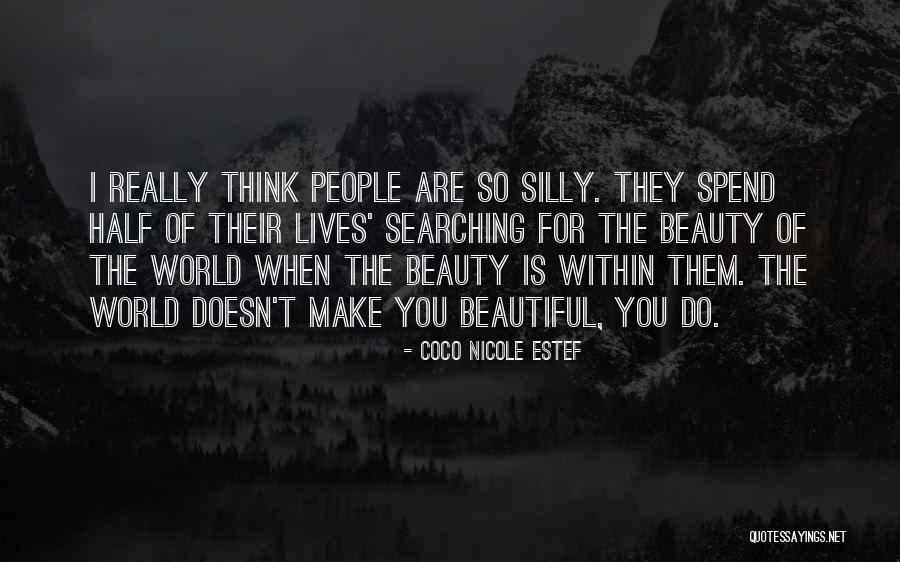 I really think people are so silly. They spend half of their lives' searching for the beauty of the world when the beauty is within them. The world doesn't make you beautiful, you do. — Coco Nicole Estef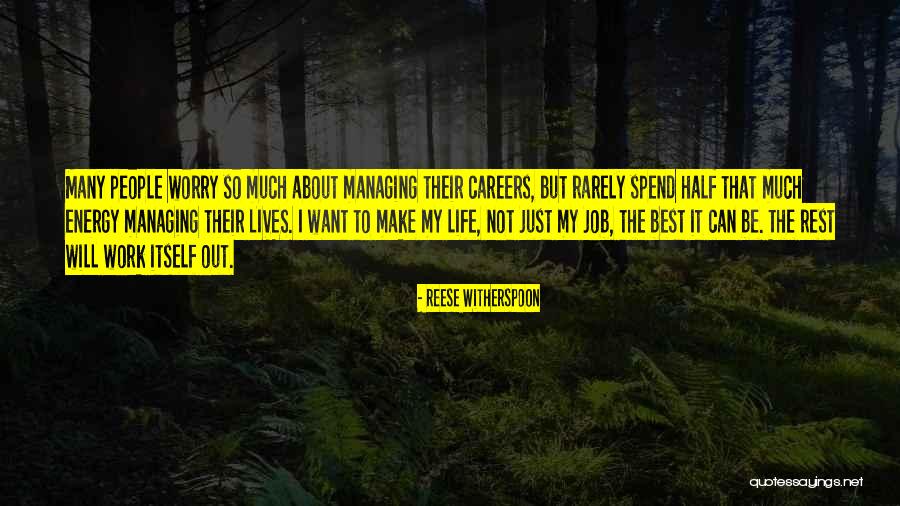 Many people worry so much about managing their careers, but rarely spend half that much energy managing their LIVES. I want to make my life, not just my job, the best it can be. The rest will work itself out. — Reese Witherspoon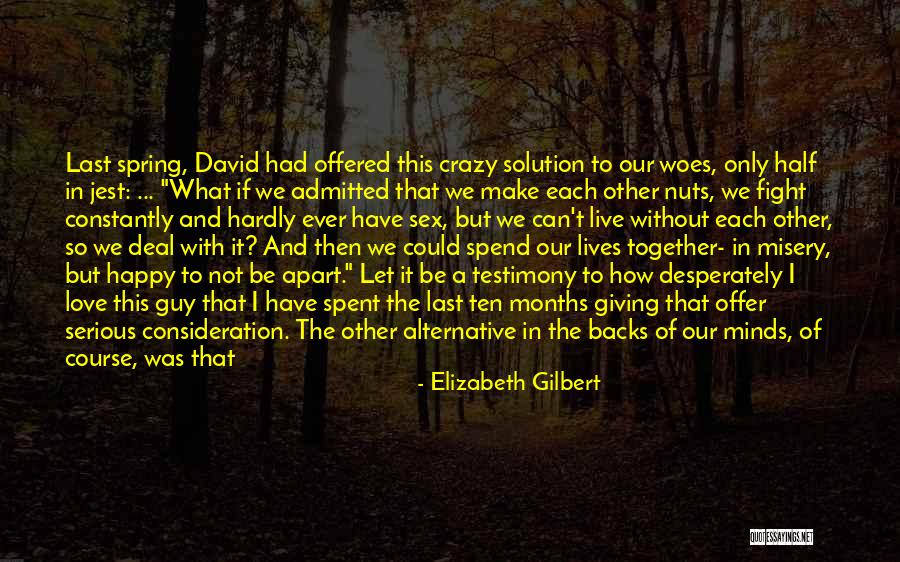 Last spring, David had offered this crazy solution to our woes, only half in jest: ... "What if we admitted that we make each other nuts, we fight constantly and hardly ever have sex, but we can't live without each other, so we deal with it? And then we could spend our lives together- in misery, but happy to not be apart." Let it be a testimony to how desperately I love this guy that I have spent the last ten months giving that offer serious consideration. The other alternative in the backs of our minds, of course, was that one of us might change. He might become more open and affectionate, not withholding himself from anyone who loves him on the fear that she will eat his soul. Or I might learn how to ... stop trying to eat his soul. — Elizabeth Gilbert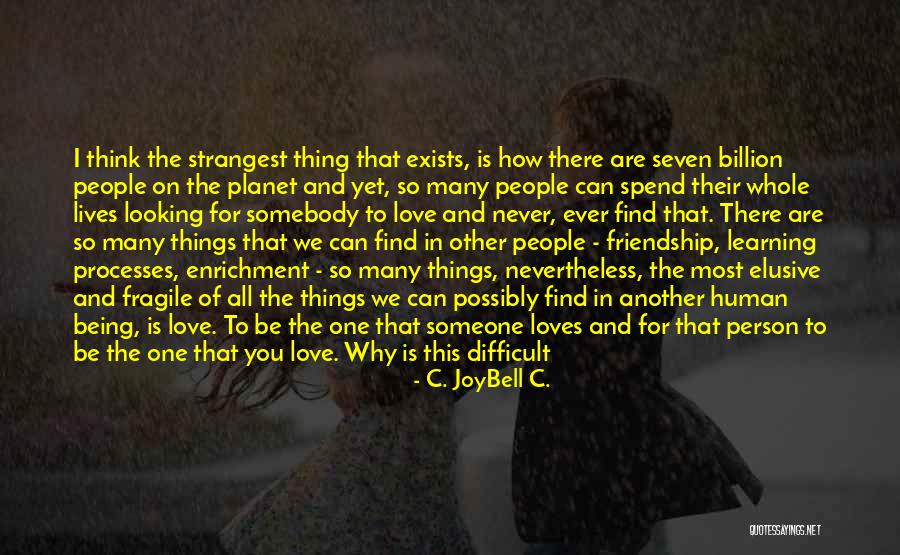 I think the strangest thing that exists, is how there are seven billion people on the planet and yet, so many people can spend their whole lives looking for somebody to love and never, ever find that. There are so many things that we can find in other people - friendship, learning processes, enrichment - so many things, nevertheless, the most elusive and fragile of all the things we can possibly find in another human being, is love. To be the one that someone loves and for that person to be the one that you love. Why is this difficult to find? My answer is that, because out of the seven billion, there really is only one. You don't find something and make it work; you find the one and when you do, you work until it works. The problem is finding the one. Many, many people are born and die never finding that. — C. JoyBell C.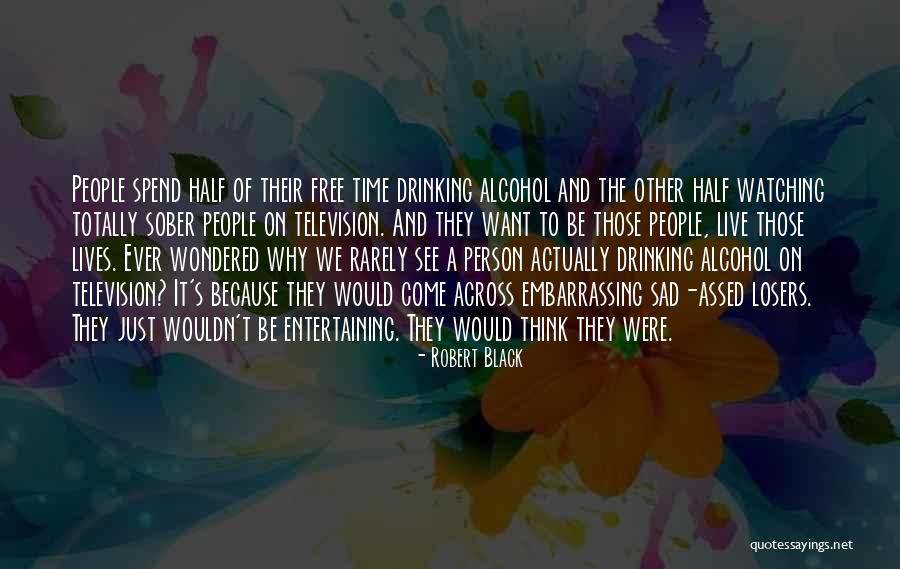 People spend half of their free time drinking alcohol and the other half watching totally sober people on television. And they want to be those people, live those lives. Ever wondered why we rarely see a person actually drinking alcohol on television? It's because they would come across embarrassing sad-assed losers. They just wouldn't be entertaining. They would think they were. — Robert Black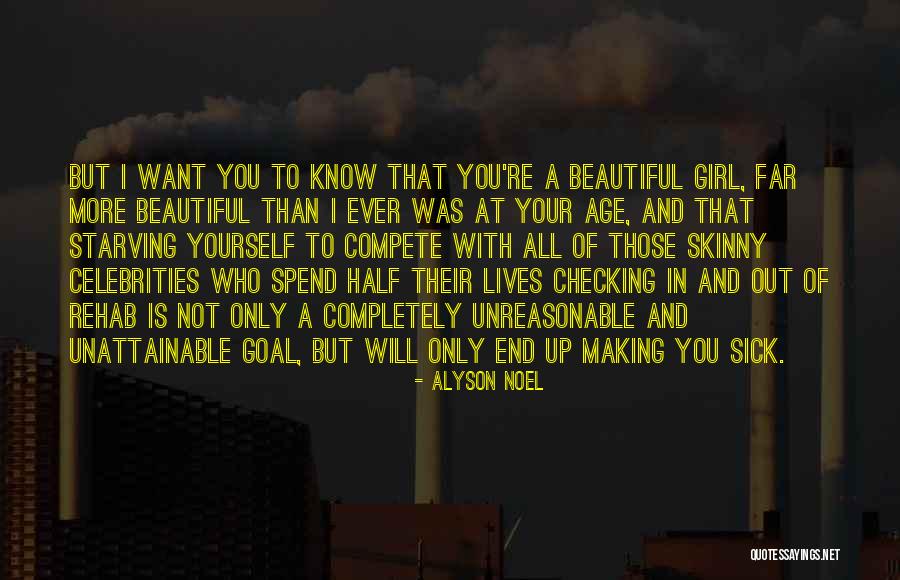 But I want you to know that you're a beautiful girl, far more beautiful than I ever was at your age, and that starving yourself to compete with all of those skinny celebrities who spend half their lives checking in and out of rehab is not only a completely unreasonable and unattainable goal, but will only end up making you sick. — Alyson Noel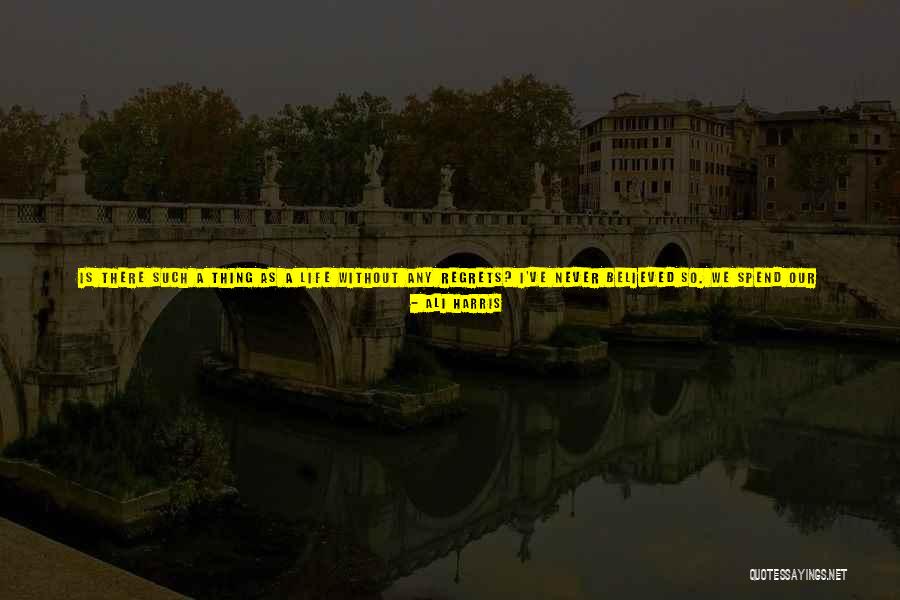 Is there such a thing as a life without any regrets? I've never believed so. We spend our lives aiming for happiness and fulfilment in work, in love and with our friends and family, and yet often our energy is spent lamenting bad boyfriends, wrong career turns, fallouts with friends and opportunities missed. Or is that just me? I admit I'm naturally a glass-half-empty kind of girl, but I know regrets are a burden to happiness and I'm trying to let go of them because I've learned that it's all about choice. You can choose to turn regrets into lessons that change your future. Believe me when I say I'm really trying to do this. But the truth is, I'm failing. Because all I can think right now is: maybe I deserve it. Maybe this is my penance. — Ali Harris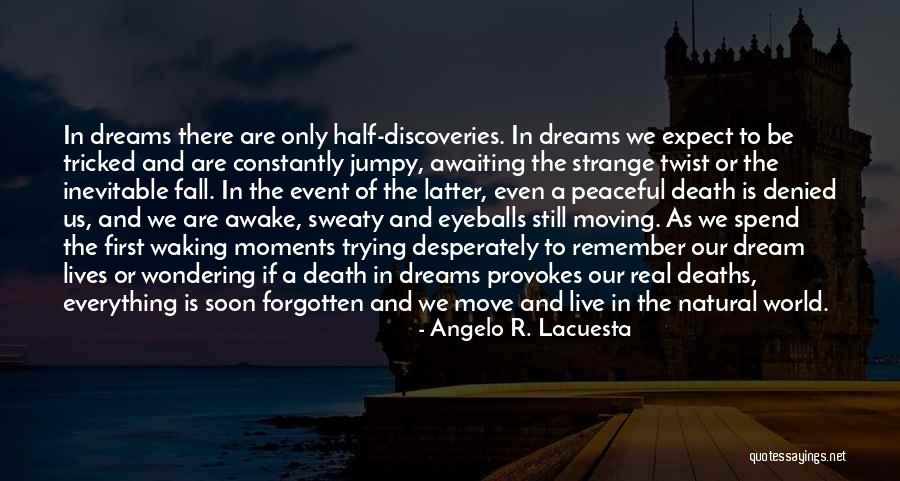 In dreams there are only half-discoveries. In dreams we expect to be tricked and are constantly jumpy, awaiting the strange twist or the inevitable fall. In the event of the latter, even a peaceful death is denied us, and we are awake, sweaty and eyeballs still moving. As we spend the first waking moments trying desperately to remember our dream lives or wondering if a death in dreams provokes our real deaths, everything is soon forgotten and we move and live in the natural world. — Angelo R. Lacuesta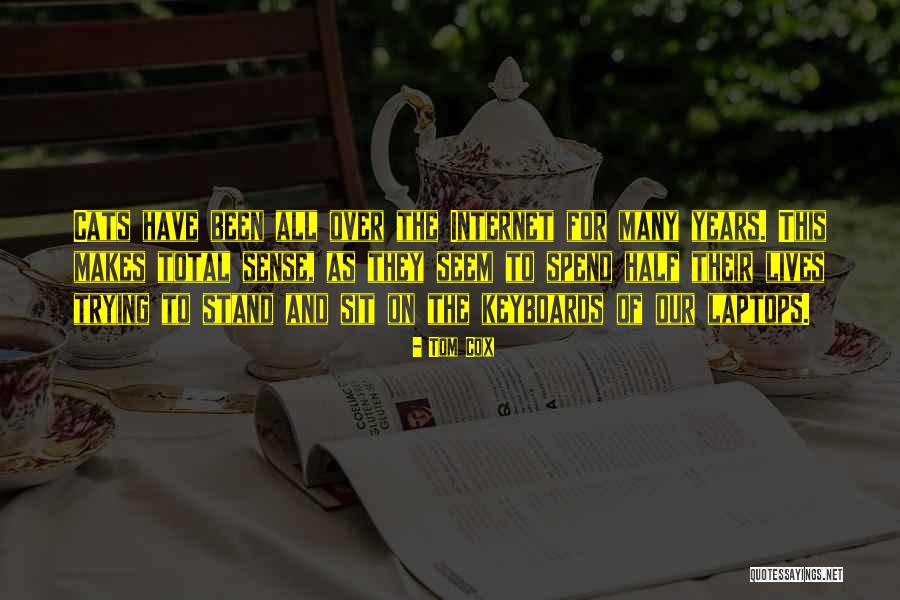 Cats have been all over the Internet for many years. This makes total sense, as they seem to spend half their lives trying to stand and sit on the keyboards of our laptops. — Tom Cox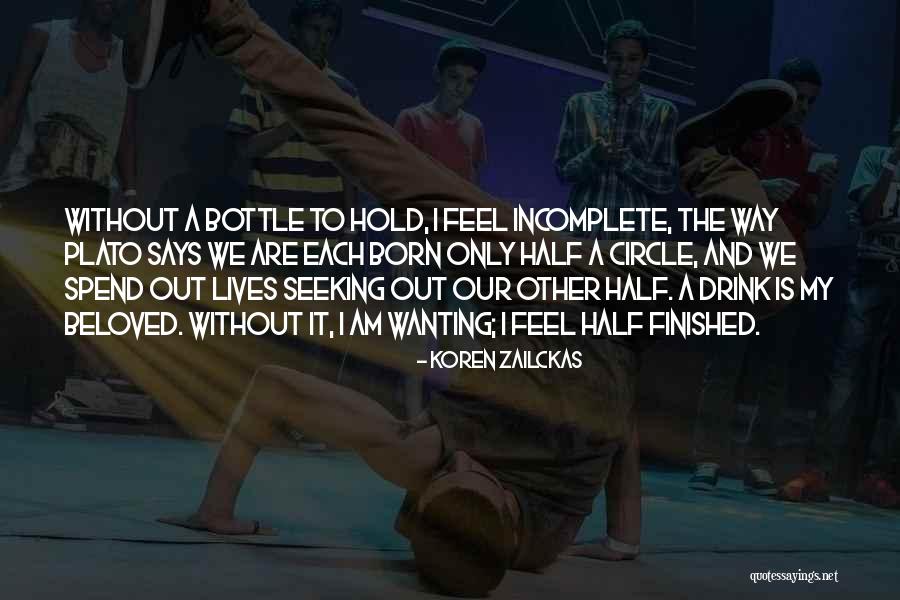 Without a bottle to hold, I feel incomplete, the way Plato says we are each born only half a circle, and we spend out lives seeking out our other half. A drink is my beloved. Without it, I am wanting; I feel half finished. — Koren Zailckas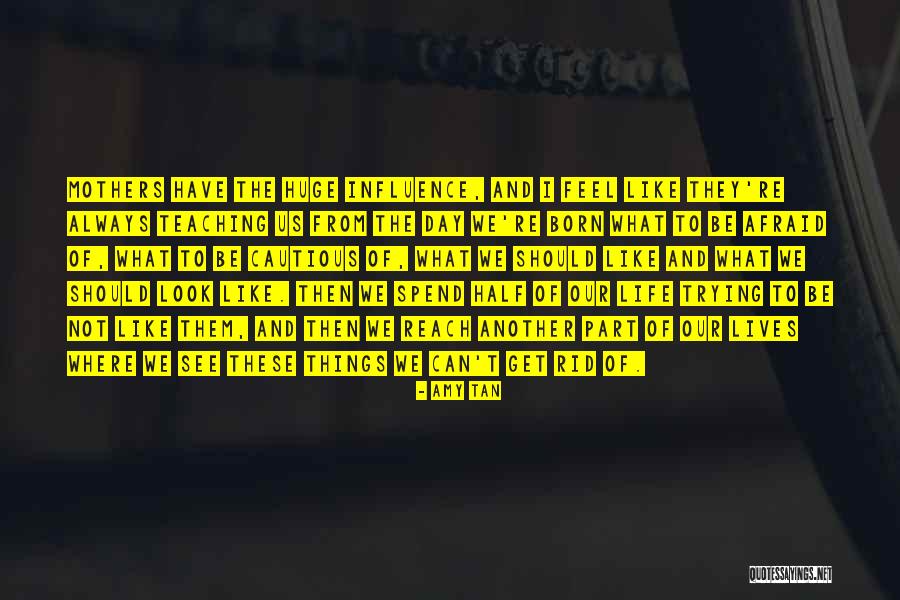 Mothers have the huge influence, and I feel like they're always teaching us from the day we're born what to be afraid of, what to be cautious of, what we should like and what we should look like. Then we spend half of our life trying to be not like them, and then we reach another part of our lives where we see these things we can't get rid of. — Amy Tan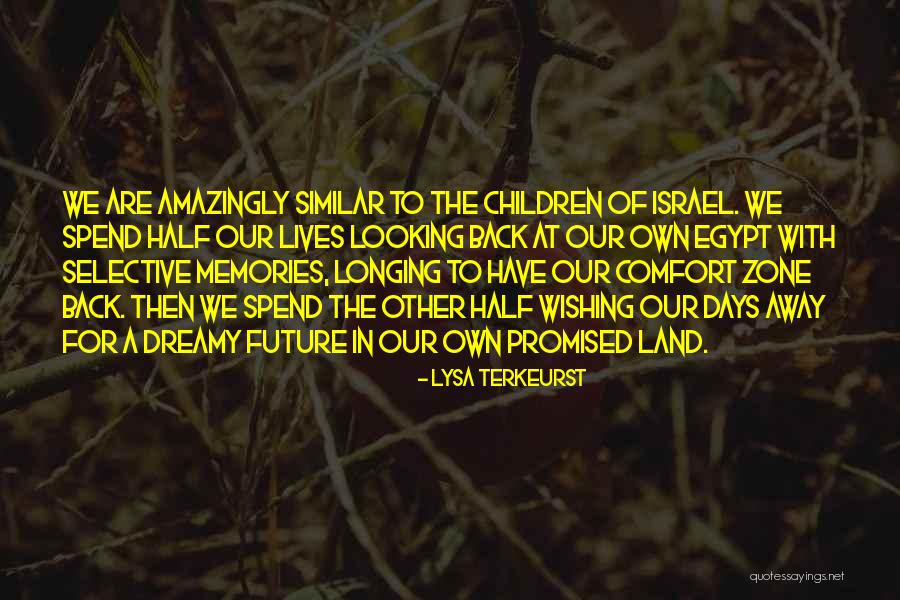 We are amazingly similar to the children of Israel. We spend half our lives looking back at our own Egypt with selective memories, longing to have our comfort zone back. Then we spend the other half wishing our days away for a dreamy future in our own promised land. — Lysa TerKeurst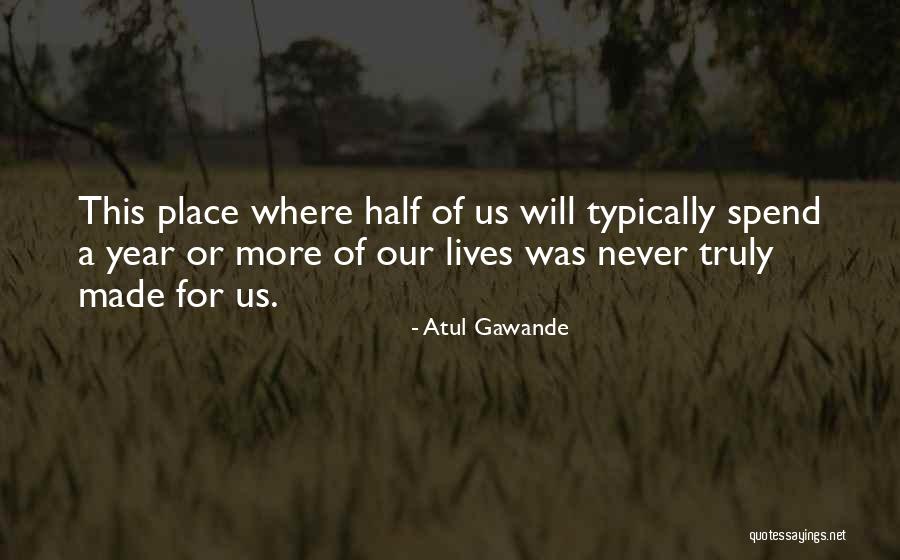 This place where half of us will typically spend a year or more of our lives was never truly made for us. — Atul Gawande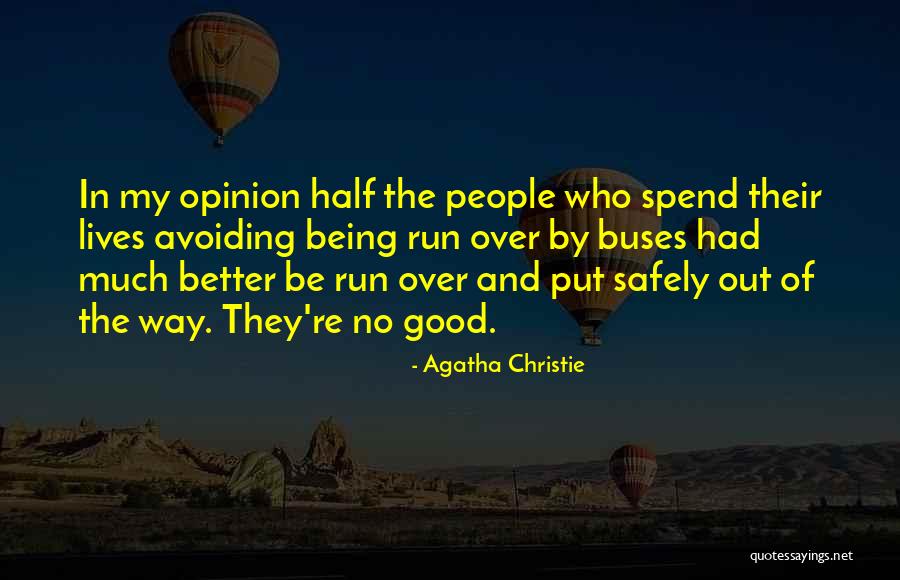 In my opinion half the people who spend their lives avoiding being run over by buses had much better be run over and put safely out of the way. They're no good. — Agatha Christie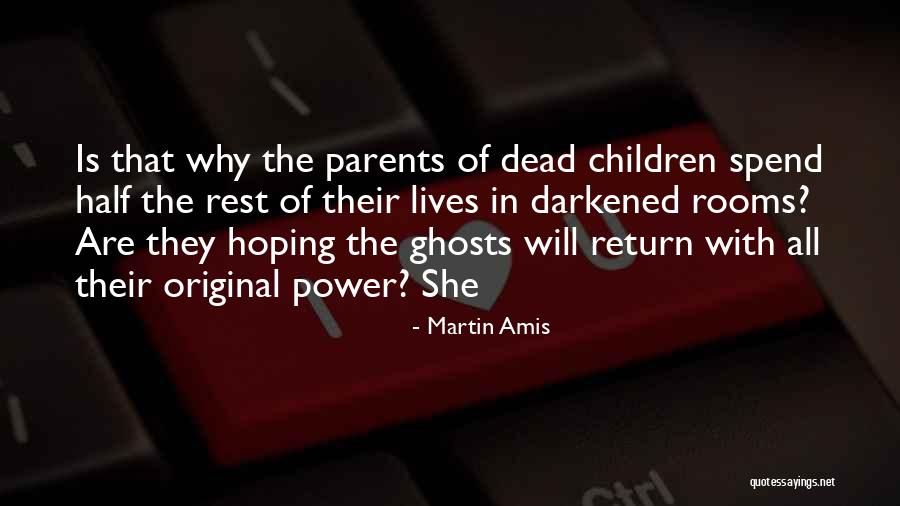 Is that why the parents of dead children spend half the rest of their lives in darkened rooms? Are they hoping the ghosts will return with all their original power? She — Martin Amis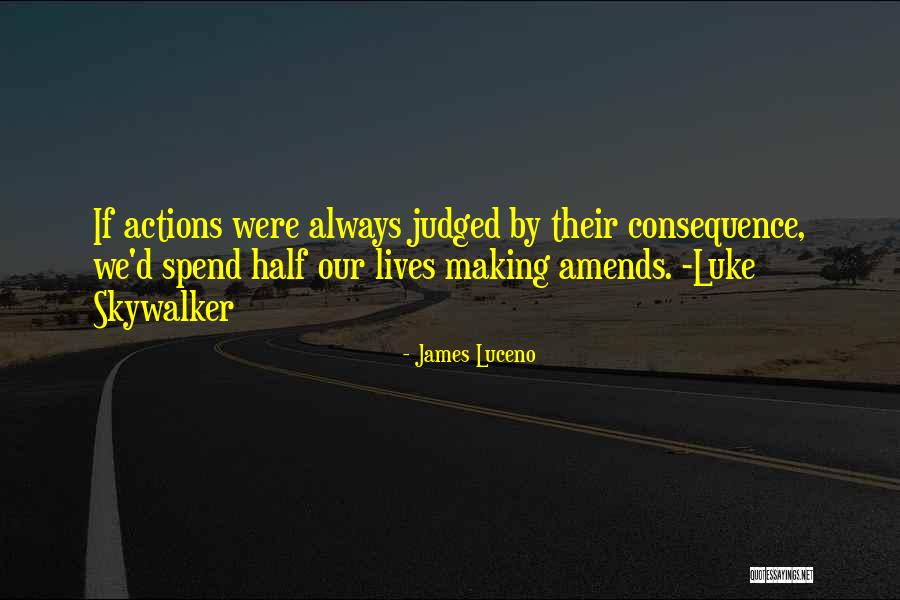 If actions were always judged by their consequence, we'd spend half our lives making amends.
-Luke Skywalker — James Luceno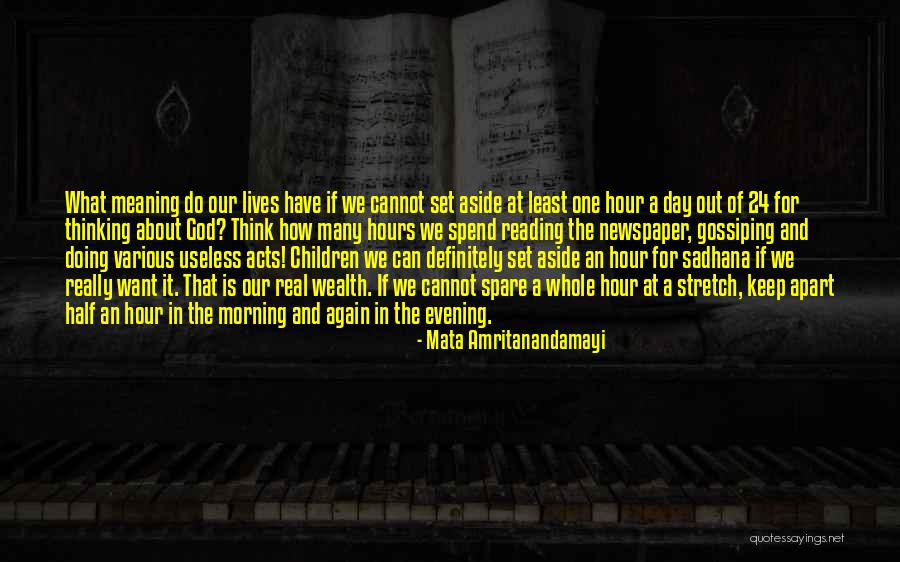 What meaning do our lives have if we cannot set aside at least one hour a day out of 24 for thinking about God? Think how many hours we spend reading the newspaper, gossiping and doing various useless acts! Children we can definitely set aside an hour for sadhana if we really want it. That is our real wealth. If we cannot spare a whole hour at a stretch, keep apart half an hour in the morning and again in the evening. — Mata Amritanandamayi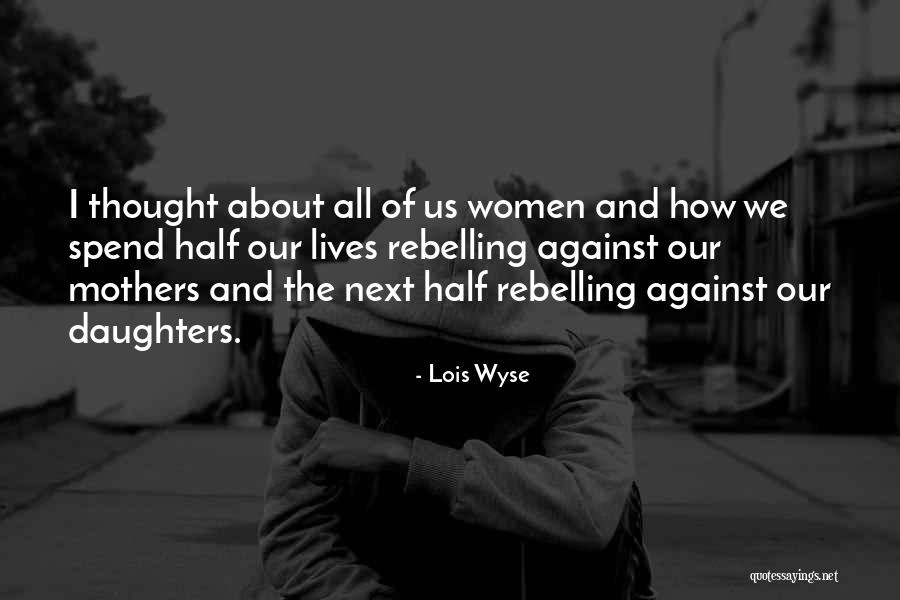 I thought about all of us women and how we spend half our lives rebelling against our mothers and the next half rebelling against our daughters. — Lois Wyse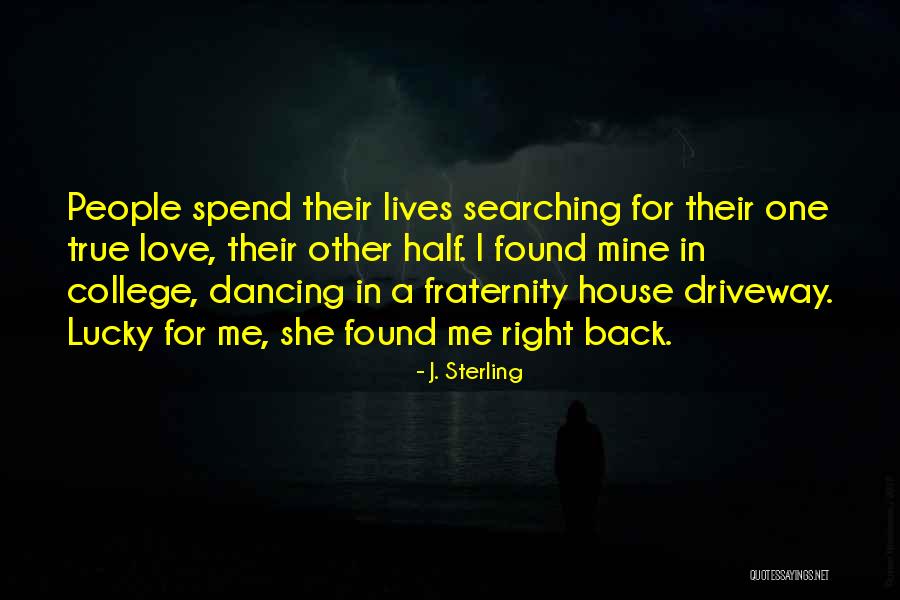 People spend their lives searching for their one true love, their other half. I found mine in college, dancing in a fraternity house driveway. Lucky for me, she found me right back. — J. Sterling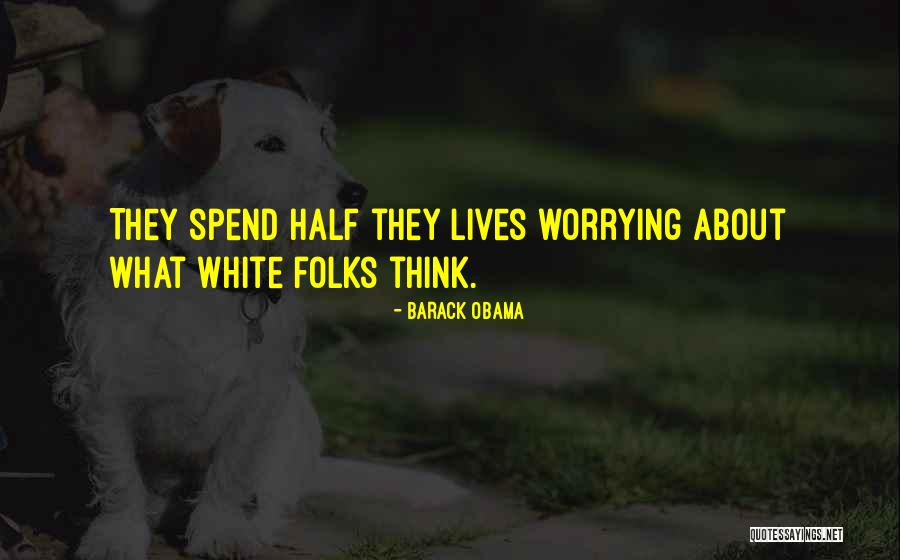 They spend half they lives worrying about what white folks think. — Barack Obama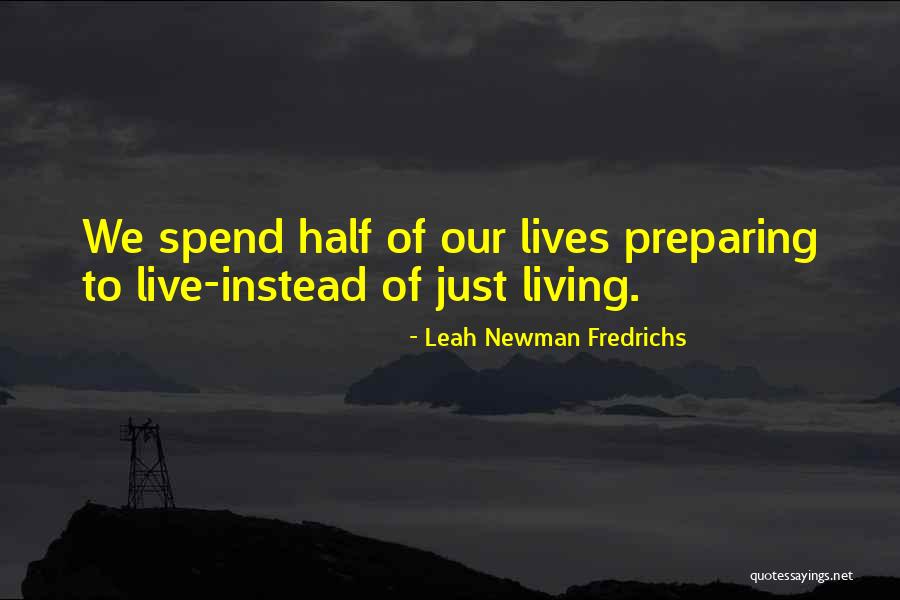 We spend half of our lives preparing to live-instead of just living. — Leah Newman Fredrichs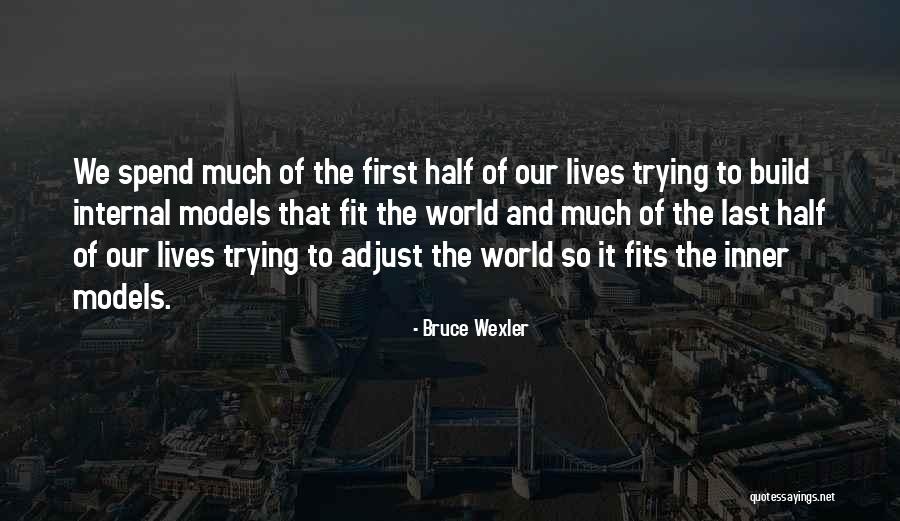 We spend much of the first half of our lives trying to build internal models that fit the world and much of the last half of our lives trying to adjust the world so it fits the inner models. — Bruce Wexler