War Is Necessary For Peace Quotes & Sayings
Enjoy reading and share 31 famous quotes about War Is Necessary For Peace with everyone.
Top War Is Necessary For Peace Quotes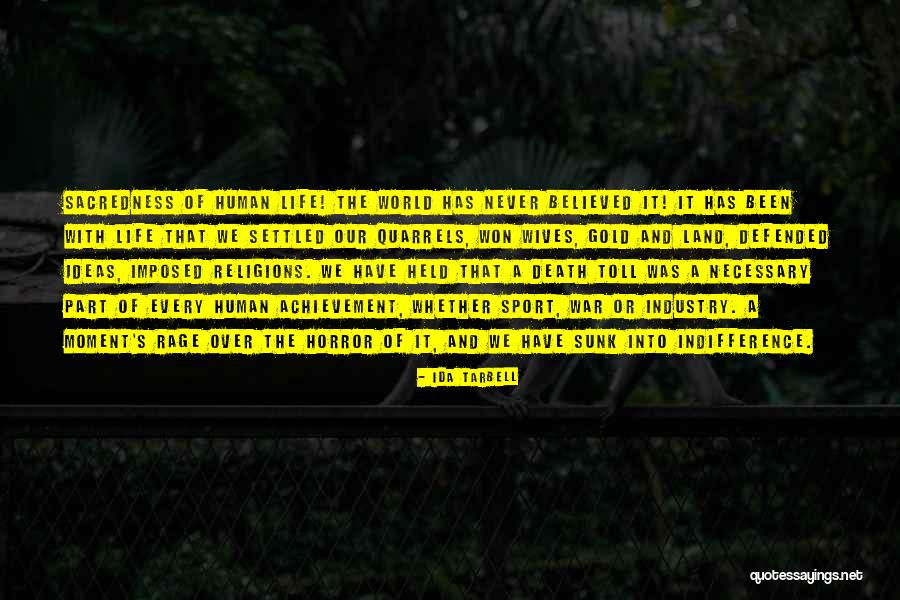 Sacredness of human life! The world has never believed it! It has been with life that we settled our quarrels, won wives, gold and land, defended ideas, imposed religions. We have held that a death toll was a necessary part of every human achievement, whether sport, war or industry. A moment's rage over the horror of it, and we have sunk into indifference. — Ida Tarbell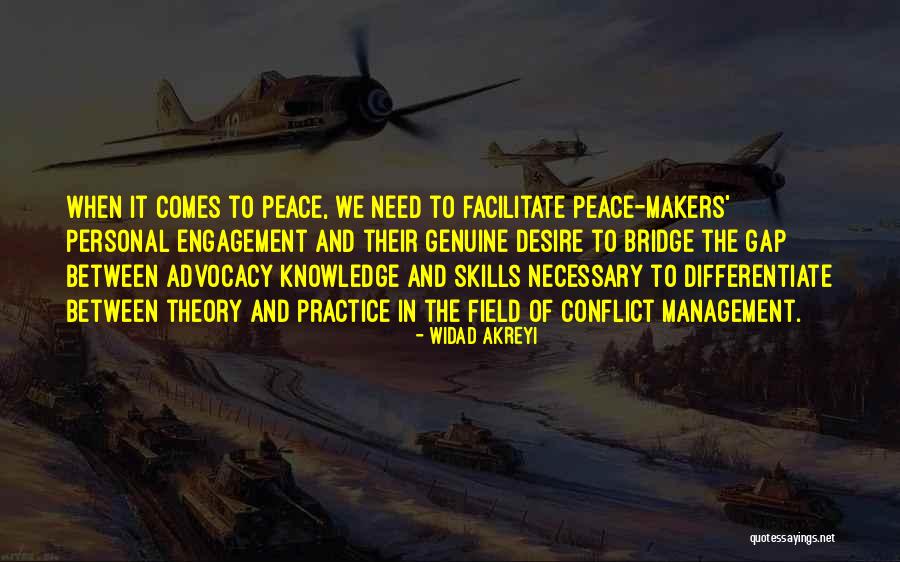 When it comes to peace, we need to facilitate peace-makers' personal engagement and their genuine desire to bridge the gap between advocacy knowledge and skills necessary to differentiate between theory and practice in the field of conflict management. — Widad Akreyi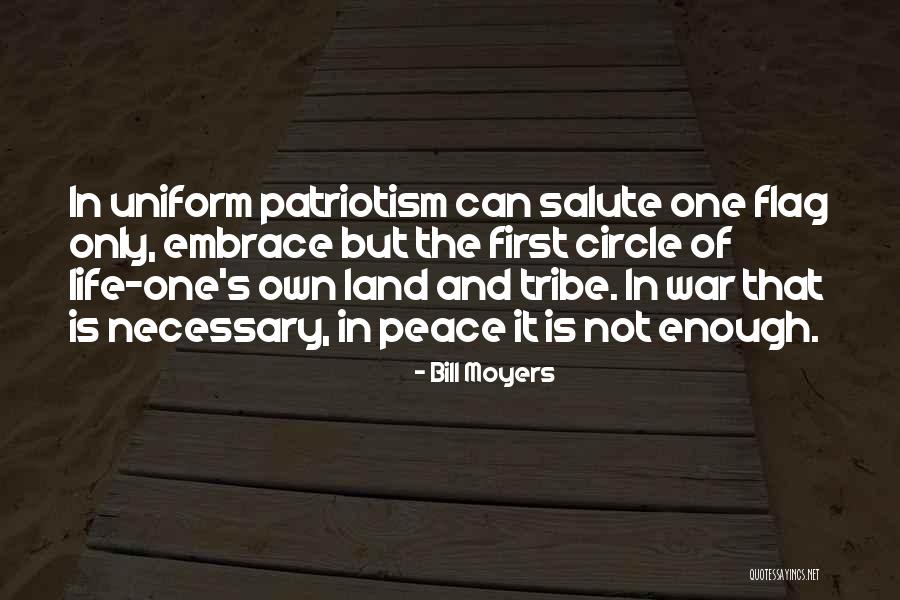 In uniform patriotism can salute one flag only, embrace but the first circle of life-one's own land and tribe. In war that is necessary, in peace it is not enough. — Bill Moyers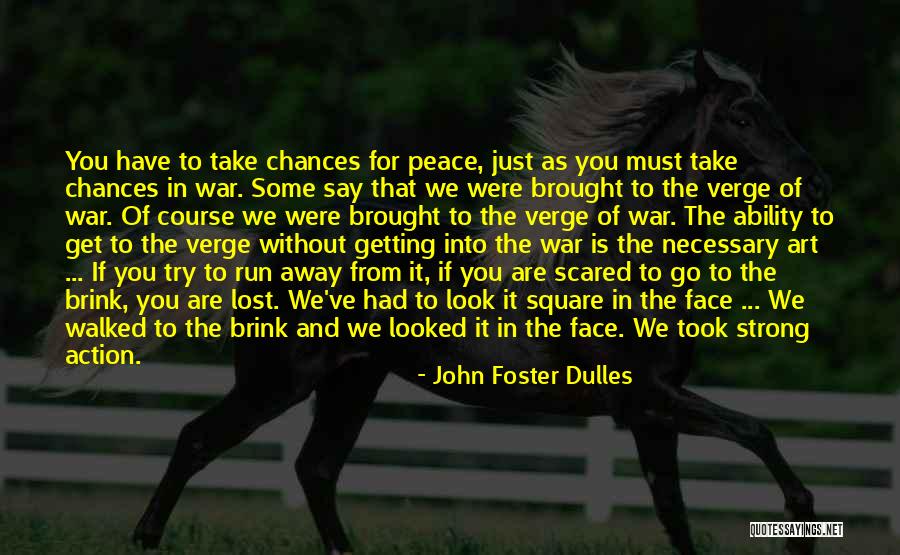 You have to take chances for peace, just as you must take chances in war. Some say that we were brought to the verge of war. Of course we were brought to the verge of war. The ability to get to the verge without getting into the war is the necessary art ... If you try to run away from it, if you are scared to go to the brink, you are lost. We've had to look it square in the face ... We walked to the brink and we looked it in the face. We took strong action. — John Foster Dulles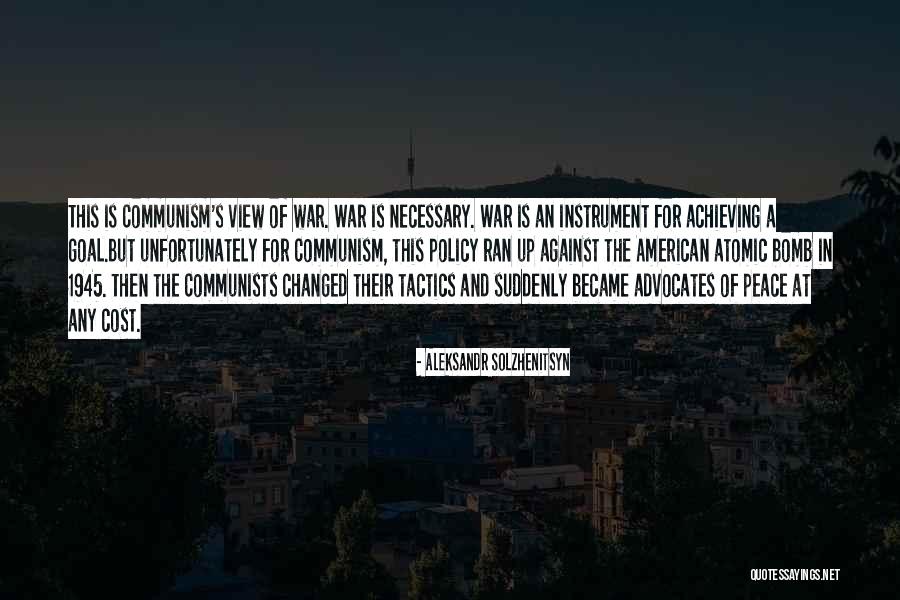 This is Communism's view of war. War is necessary. War is an instrument for achieving a goal.

But unfortunately for Communism, this policy ran up against the American atomic bomb in 1945. Then the Communists changed their tactics and suddenly became advocates of peace at any cost. — Aleksandr Solzhenitsyn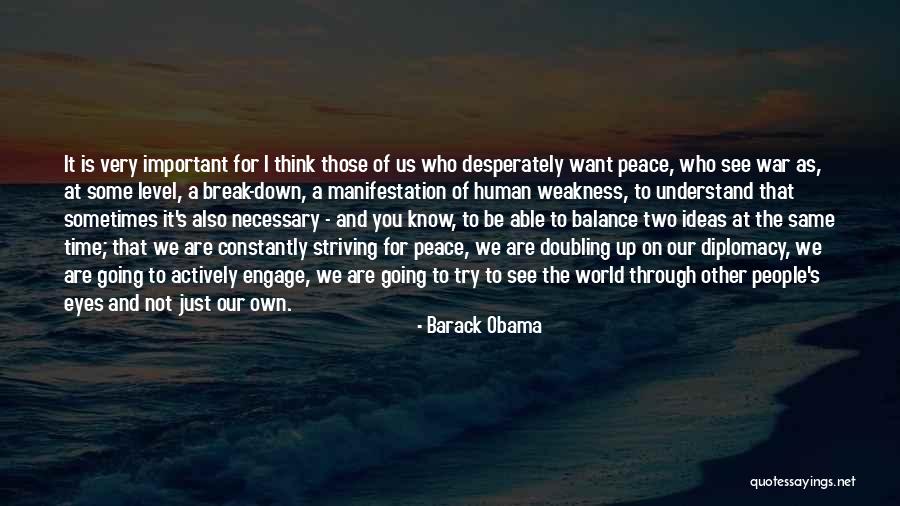 It is very important for I think those of us who desperately want peace, who see war as, at some level, a break-down, a manifestation of human weakness, to understand that sometimes it's also necessary - and you know, to be able to balance two ideas at the same time; that we are constantly striving for peace, we are doubling up on our diplomacy, we are going to actively engage, we are going to try to see the world through other people's eyes and not just our own. — Barack Obama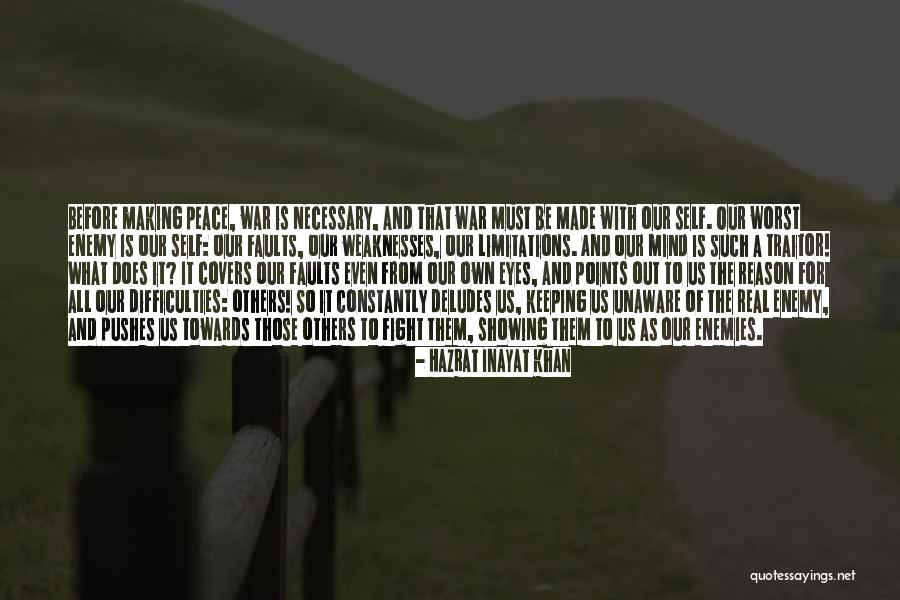 Before making peace, war is necessary, and that war must be made with our self. Our worst enemy is our self: our faults, our weaknesses, our limitations. And our mind is such a traitor! What does it? It covers our faults even from our own eyes, and points out to us the reason for all our difficulties: others! So it constantly deludes us, keeping us unaware of the real enemy, and pushes us towards those others to fight them, showing them to us as our enemies. — Hazrat Inayat Khan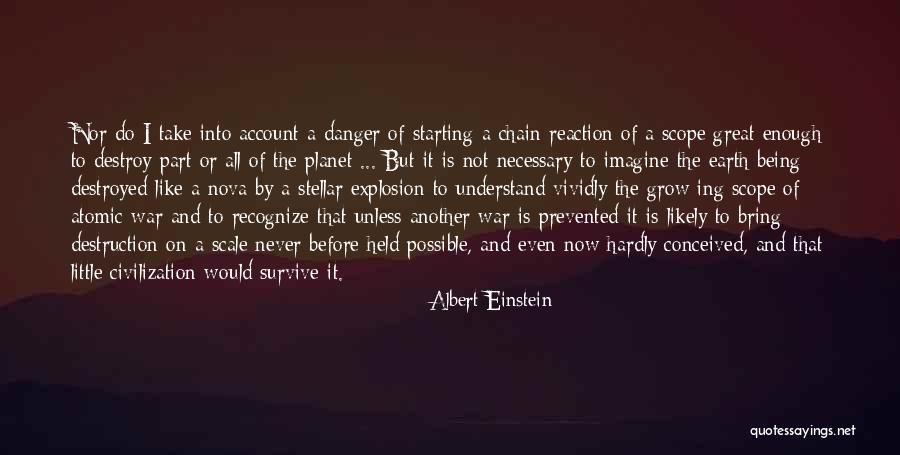 Nor do I take into account a danger of starting a chain reaction of a scope great enough to
destroy part or all of the planet ... But it is not necessary to imagine the earth being destroyed like a nova by a stellar explosion to understand vividly the grow ing scope of atomic war and to recognize that unless another war is prevented it is likely to bring destruction on a scale never before held possible, and even now hardly conceived, and that little civilization would survive it. — Albert Einstein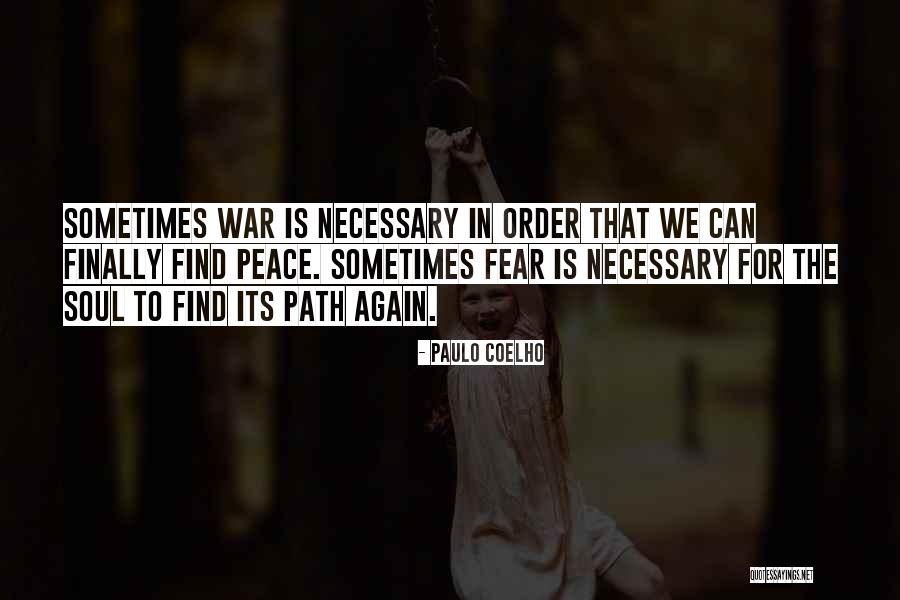 Sometimes war is necessary in order that we can finally find peace. Sometimes fear is necessary for the soul to find its path again. — Paulo Coelho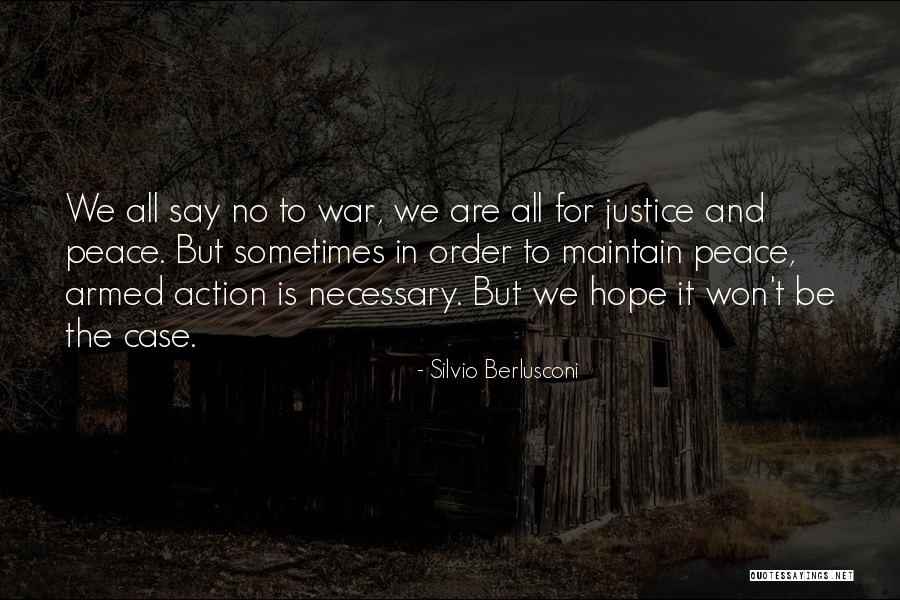 We all say no to war, we are all for justice and peace. But sometimes in order to maintain peace, armed action is necessary. But we hope it won't be the case. — Silvio Berlusconi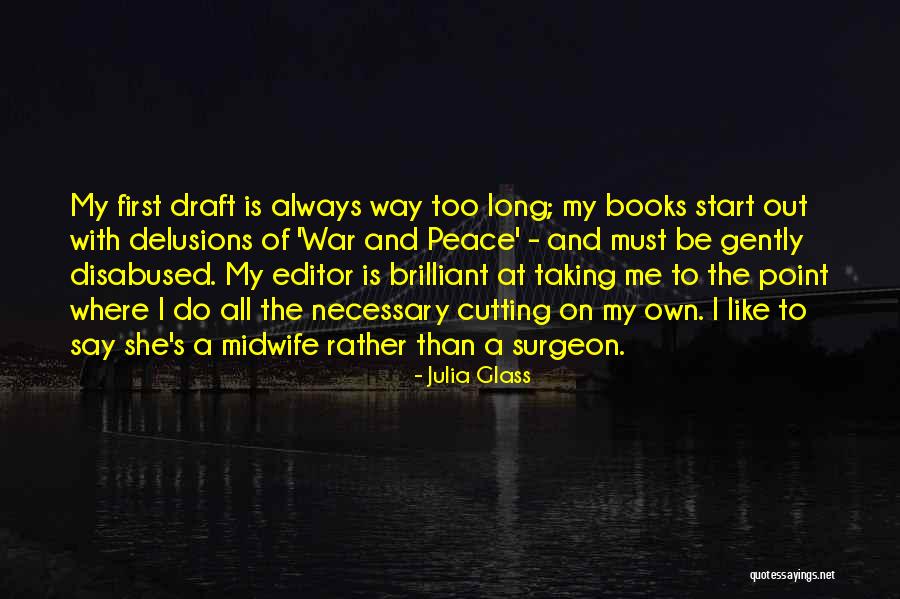 My first draft is always way too long; my books start out with delusions of 'War and Peace' - and must be gently disabused. My editor is brilliant at taking me to the point where I do all the necessary cutting on my own. I like to say she's a midwife rather than a surgeon. — Julia Glass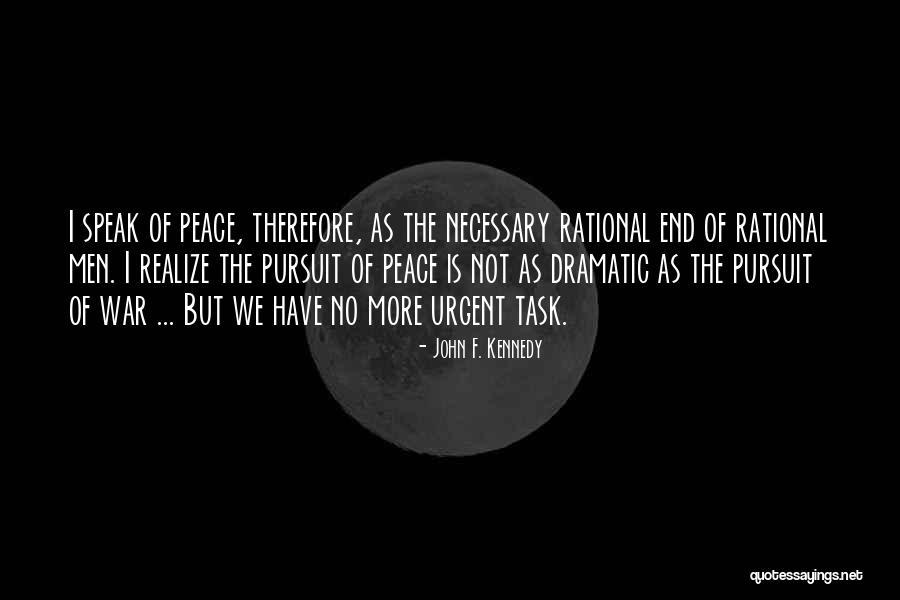 I speak of peace, therefore, as the necessary rational end of rational men. I realize the pursuit of peace is not as dramatic as the pursuit of war ... But we have no more urgent task. — John F. Kennedy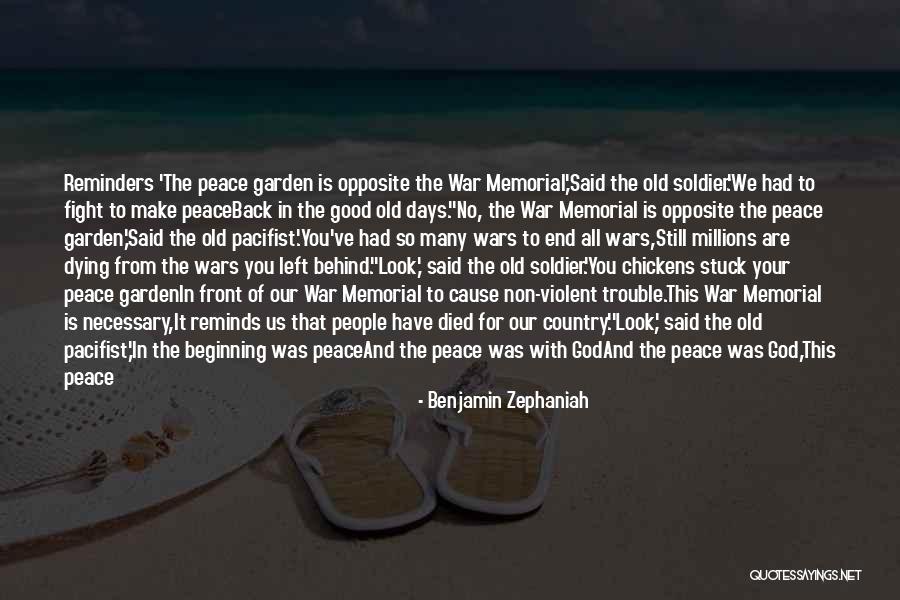 Reminders

'The peace garden is opposite the War Memorial,'
Said the old soldier.

'We had to fight to make peace
Back in the good old days.'

'No, the War Memorial is opposite the peace garden,'
Said the old pacifist.

'You've had so many wars to end all wars,
Still millions are dying from the wars you left behind.'

'Look,' said the old soldier.
'You chickens stuck your peace garden
In front of our War Memorial to cause non-violent trouble.
This War Memorial is necessary,
It reminds us that people have died for our country.'

'Look,' said the old pacifist,
'In the beginning was peace
And the peace was with God
And the peace was God,
This peace garden is unnecessary but
It reminds us that people want to live for our country. — Benjamin Zephaniah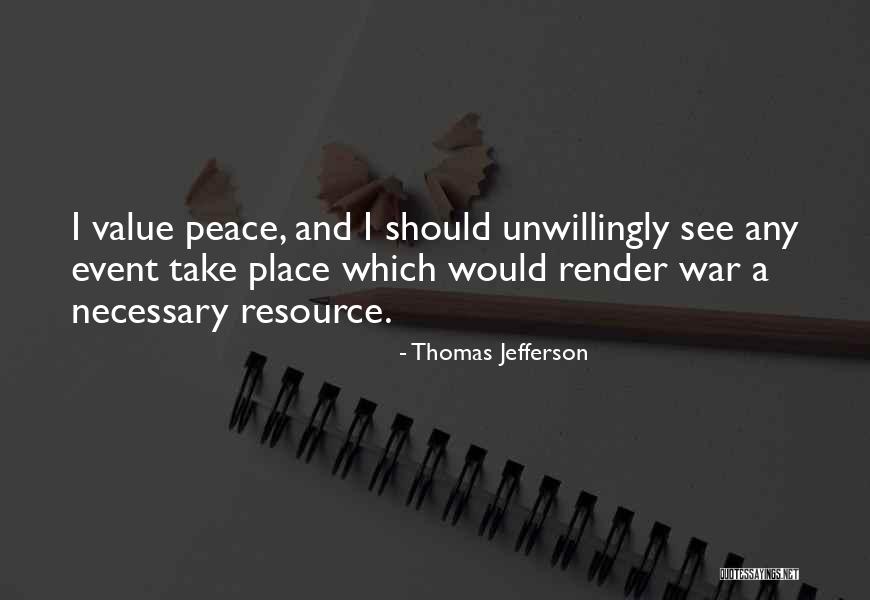 I value peace, and I should unwillingly see any event take place which would render war a necessary resource. — Thomas Jefferson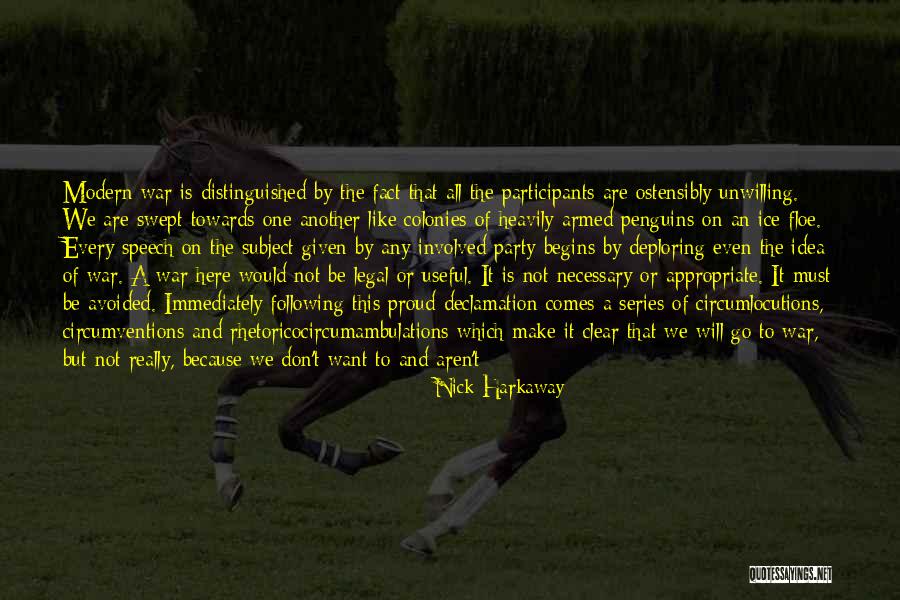 Modern war is distinguished by the fact that all the participants are ostensibly unwilling. We are swept towards one another like colonies of heavily armed penguins on an ice floe. Every speech on the subject given by any involved party begins by deploring even the idea of war. A war here would not be legal or useful. It is not necessary or appropriate. It must be avoided. Immediately following this proud declamation comes a series of circumlocutions, circumventions and rhetoricocircumambulations which make it clear that we will go to war, but not really, because we don't want to and aren't allowed to, so what we're doing is in fact some kind of hyper-violent peace in which people will die. We are going to un-war. — Nick Harkaway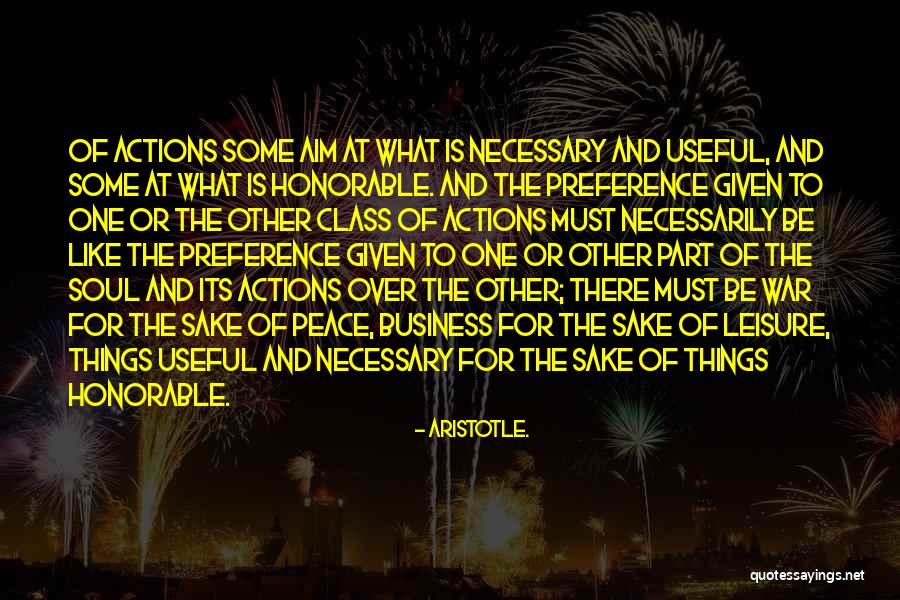 Of actions some aim at what is necessary and useful, and some at what is honorable. And the preference given to one or the other class of actions must necessarily be like the preference given to one or other part of the soul and its actions over the other; there must be war for the sake of peace, business for the sake of leisure, things useful and necessary for the sake of things honorable. — Aristotle.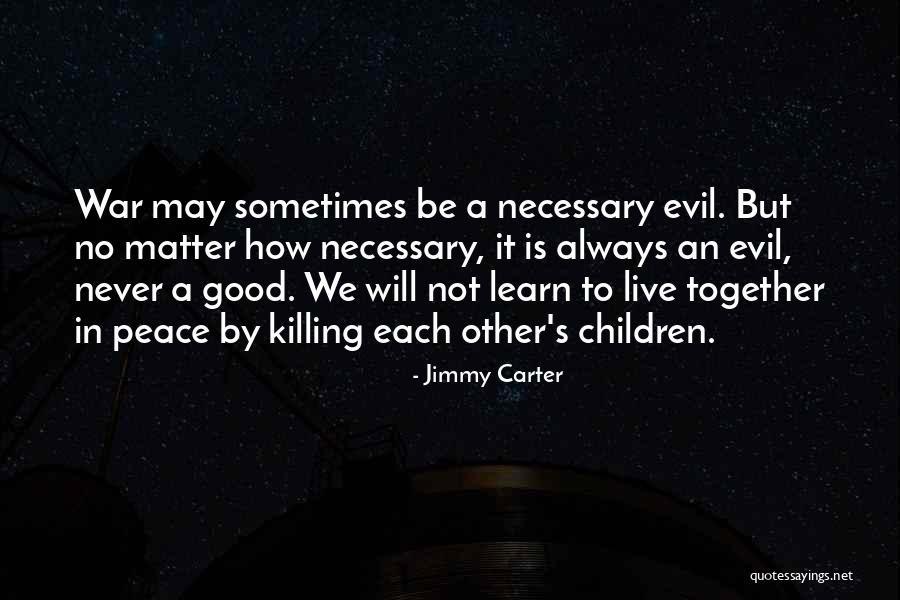 War may sometimes be a necessary evil. But no matter how necessary, it is always an evil, never a good. We will not learn to live together in peace by killing each other's children. — Jimmy Carter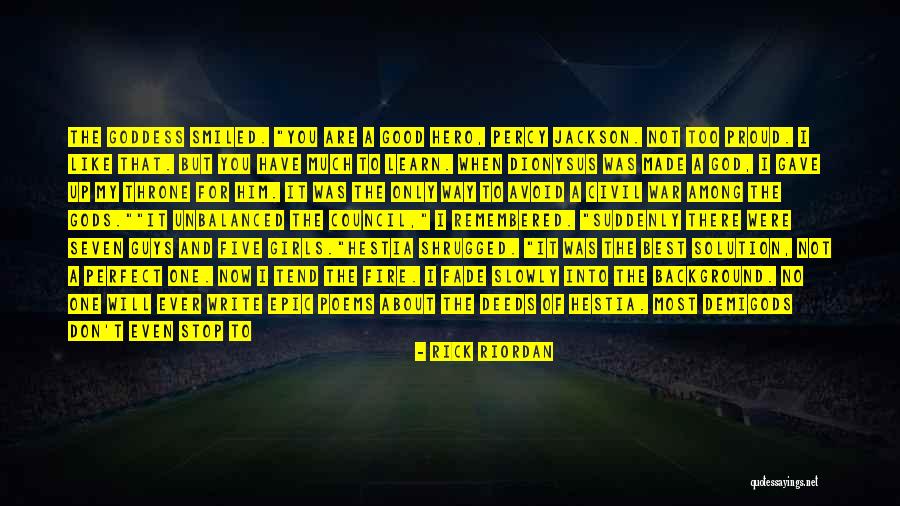 The goddess smiled. "You are a good hero, Percy Jackson. Not too proud. I like that. But you have much to learn. When Dionysus was made a god, I gave up my throne for him. It was the only way to avoid a civil war among the gods."
"It unbalanced the Council," I remembered. "Suddenly there were seven guys and five girls."
Hestia shrugged. "It was the best solution, not a perfect one. Now I tend the fire. I fade slowly into the background. No one will ever write epic poems about the deeds of Hestia. Most demigods don't even stop to talk to me. But that is no matter. I keep the peace. I yield when necessary. Can you do this? — Rick Riordan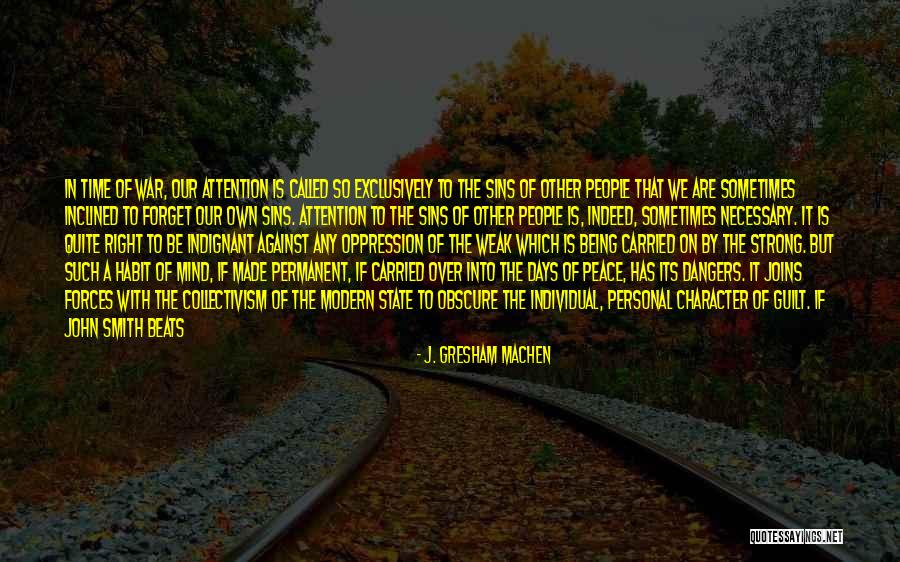 In time of war, our attention is called so exclusively to the sins of other people that we are sometimes inclined to forget our own sins. Attention to the sins of other people is, indeed, sometimes necessary. It is quite right to be indignant against any oppression of the weak which is being carried on by the strong. But such a habit of mind, if made permanent, if carried over into the days of peace, has its dangers. It joins forces with the collectivism of the modern state to obscure the individual, personal character of guilt. If John Smith beats his wife nowadays, no one is so old-fashioned as to blame John Smith for it. On the contrary, it is said, John Smith is evidently the victim of some more of that Bolshevistic propaganda; Congress ought to be called in extra session in order to take up the case of John Smith in an alien and sedition law. — J. Gresham Machen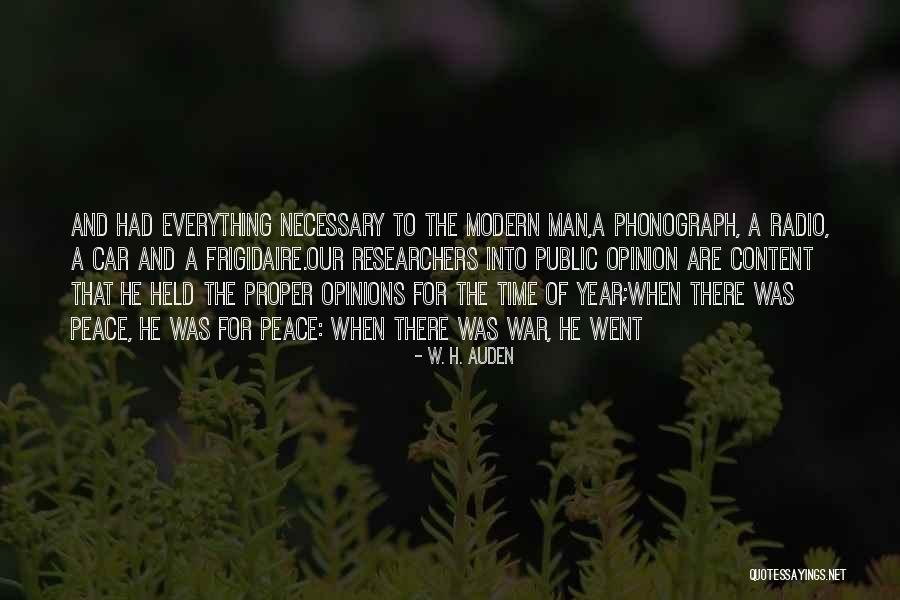 And had everything necessary to the Modern Man,
A phonograph, a radio, a car and a frigidaire.
Our researchers into Public Opinion are content
That he held the proper opinions for the time of year;
When there was peace, he was for peace: when there was war, he went — W. H. Auden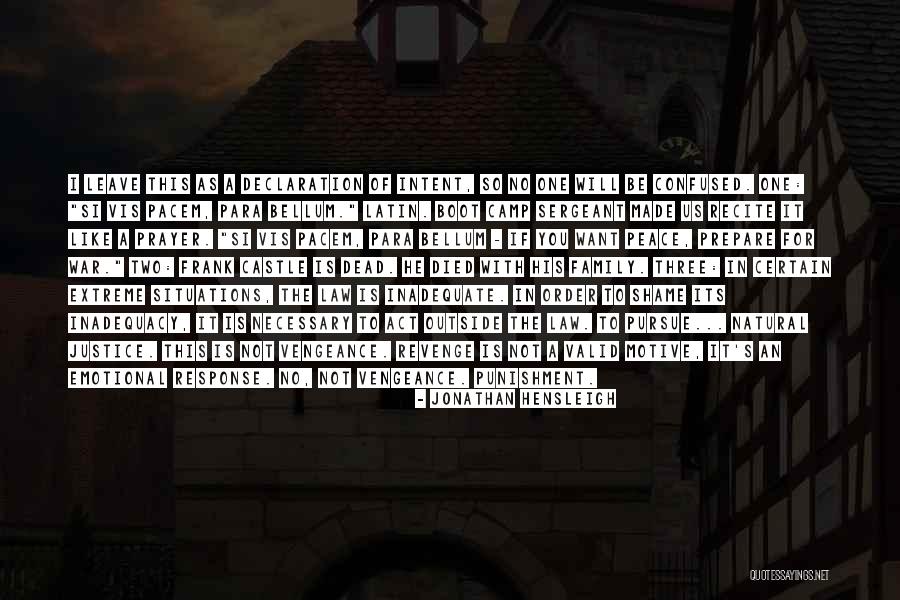 I leave this as a declaration of intent, so no one will be confused. One: "Si vis pacem, para bellum." Latin. Boot Camp Sergeant made us recite it like a prayer. "Si vis pacem, para bellum - If you want peace, prepare for war." Two: Frank Castle is dead. He died with his family. Three: in certain extreme situations, the law is inadequate. In order to shame its inadequacy, it is necessary to act outside the law. To pursue... natural justice. This is not vengeance. Revenge is not a valid motive, it's an emotional response. No, not vengeance. Punishment. — Jonathan Hensleigh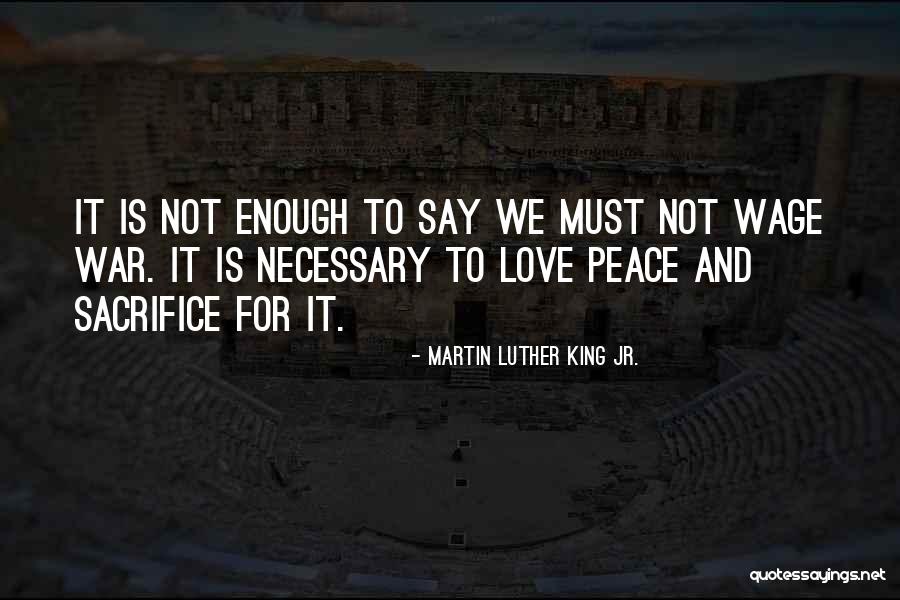 It is not enough to say we must not wage war. It is necessary to love peace and sacrifice for it. — Martin Luther King Jr.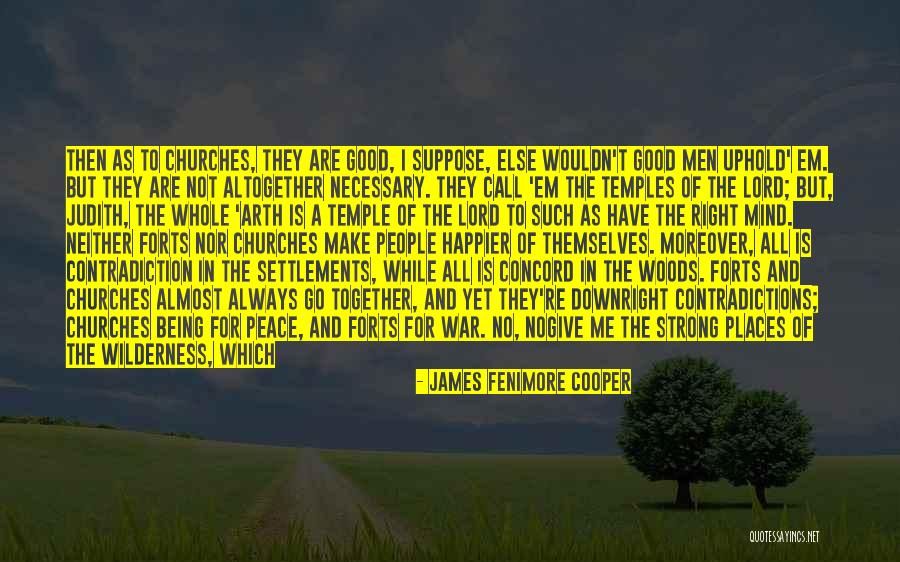 Then as to churches, they are good, I suppose, else wouldn't good men uphold' em. But they are not altogether necessary. They call 'em the temples of the Lord; but, Judith, the whole 'arth is a temple of the Lord to such as have the right mind. Neither forts nor churches make people happier of themselves. Moreover, all is contradiction in the settlements, while all is concord in the woods. Forts and churches almost always go together, and yet they're downright contradictions; churches being for peace, and forts for war. No, no
give me the strong places of the wilderness, which is the trees, and the churches, too, which are arbors raised by the hand of nature. — James Fenimore Cooper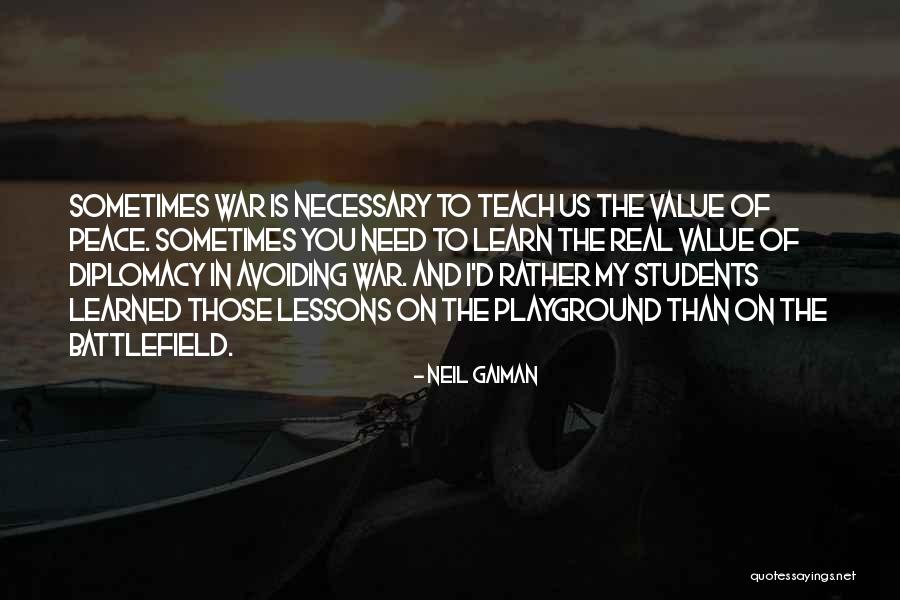 Sometimes war is necessary to teach us the value of peace. Sometimes you need to learn the real value of diplomacy in avoiding war. And I'd rather my students learned those lessons on the playground than on the battlefield. — Neil Gaiman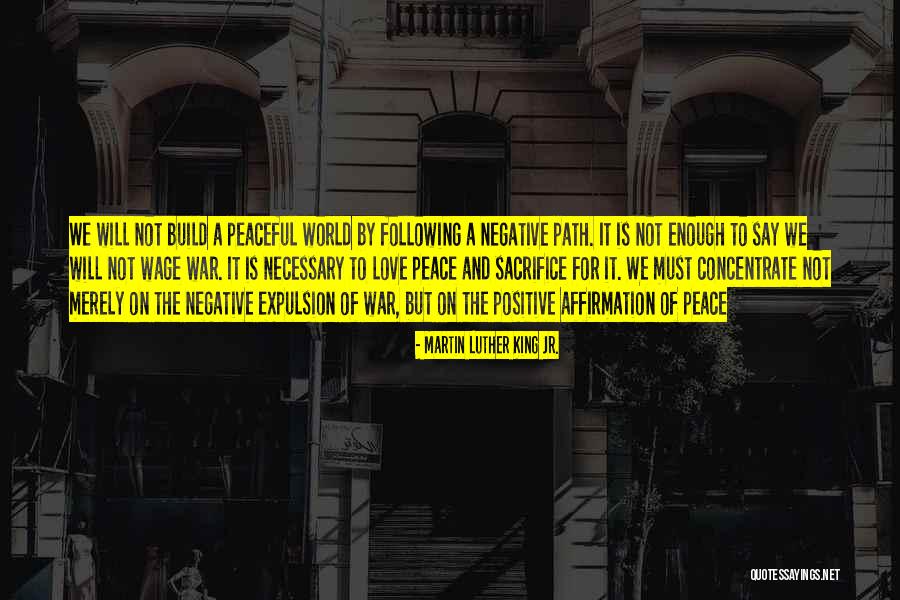 We will not build a peaceful world by following a negative path. It is not enough to say we will not wage war. It is necessary to love peace and sacrifice for it. We must concentrate not merely on the negative expulsion of war, but on the positive affirmation of peace — Martin Luther King Jr.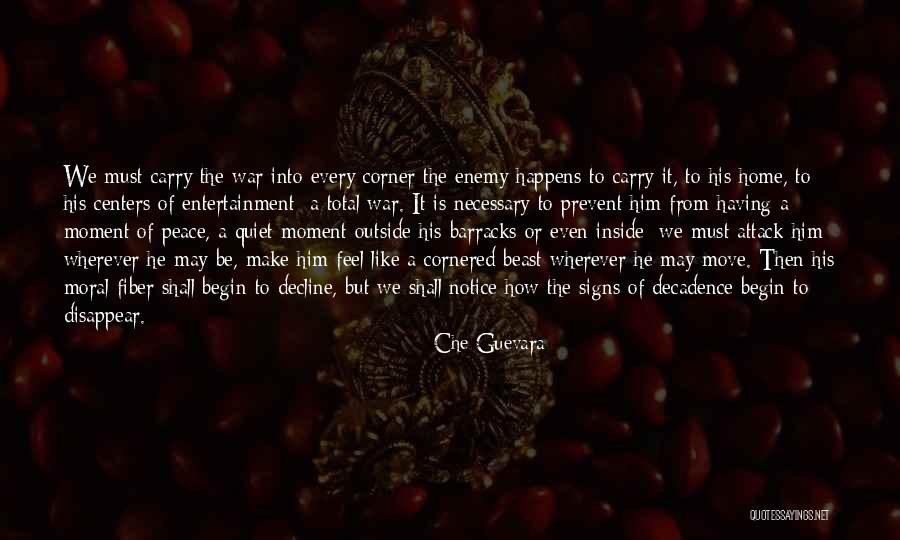 We must carry the war into every corner the enemy happens to carry it, to his home, to his centers of entertainment: a total war. It is necessary to prevent him from having a moment of peace, a quiet moment outside his barracks or even inside; we must attack him wherever he may be, make him feel like a cornered beast wherever he may move. Then his moral fiber shall begin to decline, but we shall notice how the signs of decadence begin to disappear. — Che Guevara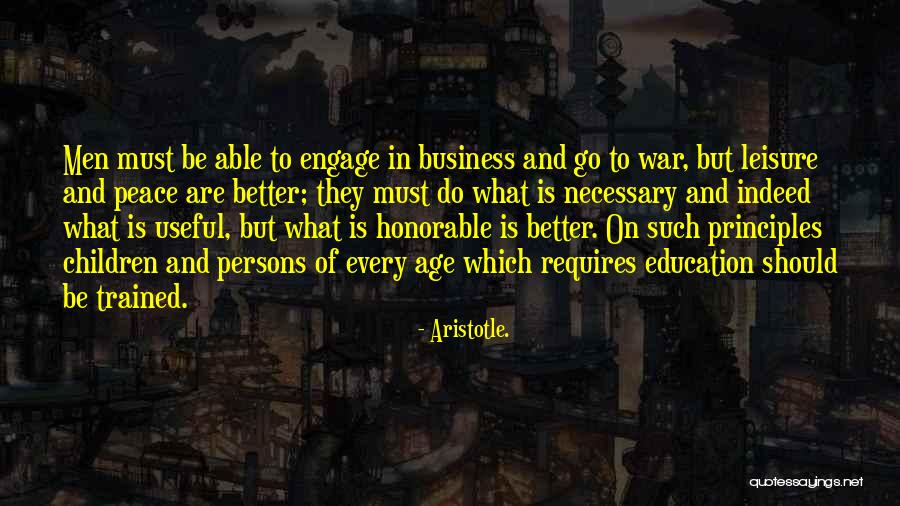 Men must be able to engage in business and go to war, but leisure and peace are better; they must do what is necessary and indeed what is useful, but what is honorable is better. On such principles children and persons of every age which requires education should be trained. — Aristotle.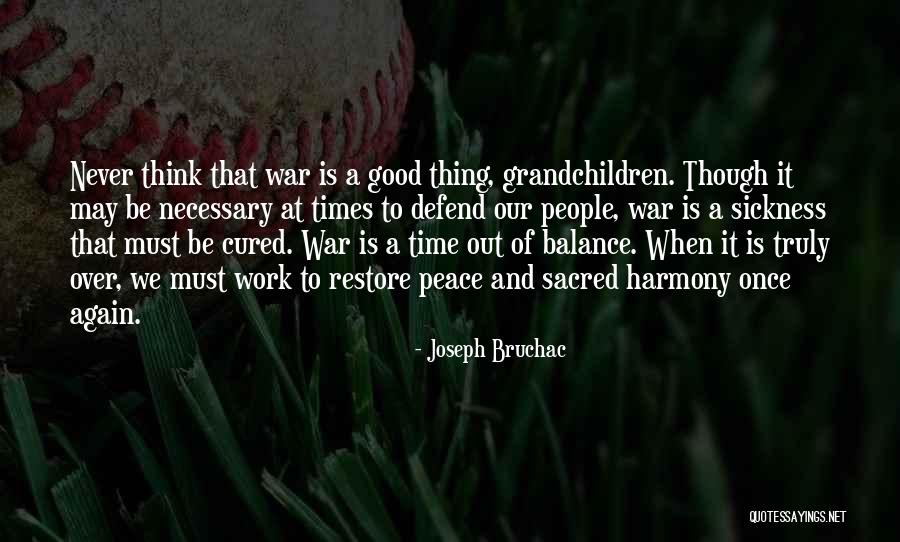 Never think that war is a good thing, grandchildren. Though it may be necessary at times to defend our people, war is a sickness that must be cured. War is a time out of balance. When it is truly over, we must work to restore peace and sacred harmony once again. — Joseph Bruchac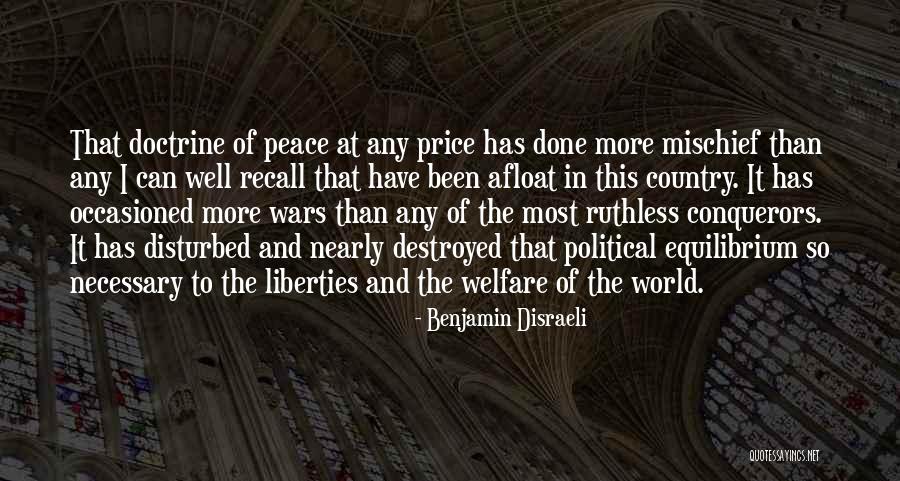 That doctrine of peace at any price has done more mischief than any I can well recall that have been afloat in this country. It has occasioned more wars than any of the most ruthless conquerors. It has disturbed and nearly destroyed that political equilibrium so necessary to the liberties and the welfare of the world. — Benjamin Disraeli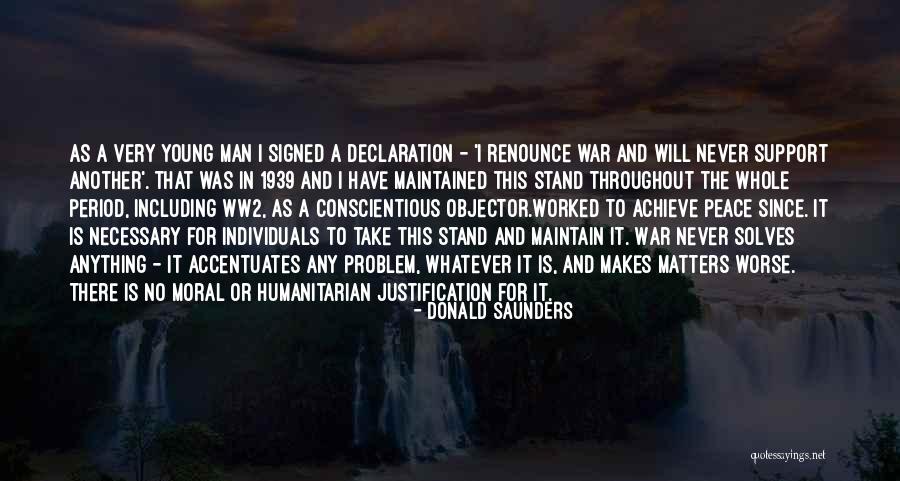 As a very young man I signed a declaration - 'I renounce war and will never support another'. That was in 1939 and I have maintained this stand throughout the whole period, including WW2, as a Conscientious Objector.Worked to achieve Peace since. It is necessary for individuals to take this stand and maintain it. War never solves anything - it accentuates any problem, whatever it is, and makes matters worse. There is no moral or humanitarian justification for it. — Donald Saunders