Happiness Is Found Within Yourself Quotes & Sayings
Enjoy reading and share 38 famous quotes about Happiness Is Found Within Yourself with everyone.
Top Happiness Is Found Within Yourself Quotes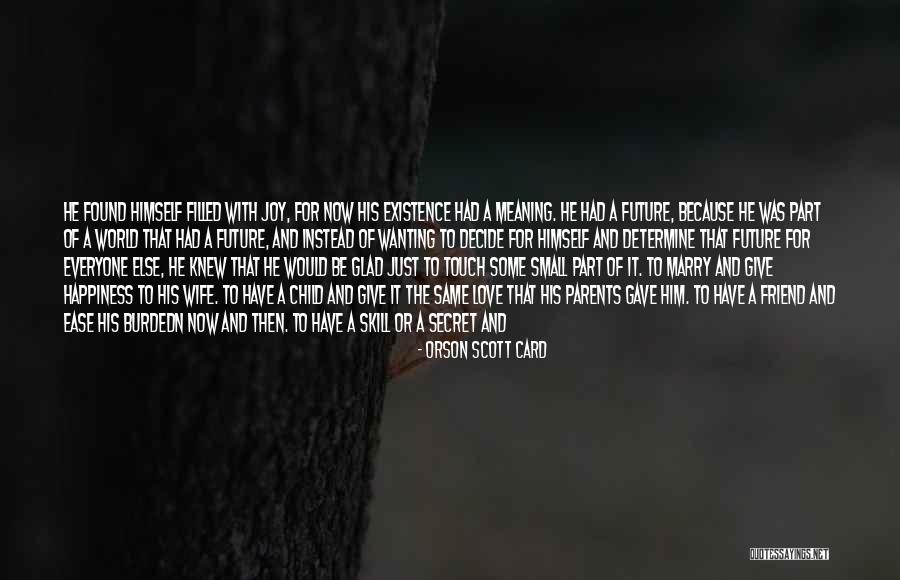 He found himself filled with joy, for now his existence had a meaning. He had a future, because he was part of a world that had a future, and instead of wanting to decide for himself and determine that future for everyone else, he knew that he would be glad just to touch some small part of it. To marry and give happiness to his wife. To have a child and give it the same love that his parents gave him. To have a friend and ease his burdedn now and then. To have a skill or a secret and teach it to a student whose life might be changed a little by what he learned. Why had he dreamed of leading armies, whichwould accomplish nothing, when he could do these miraculous small things and change the world? — Orson Scott Card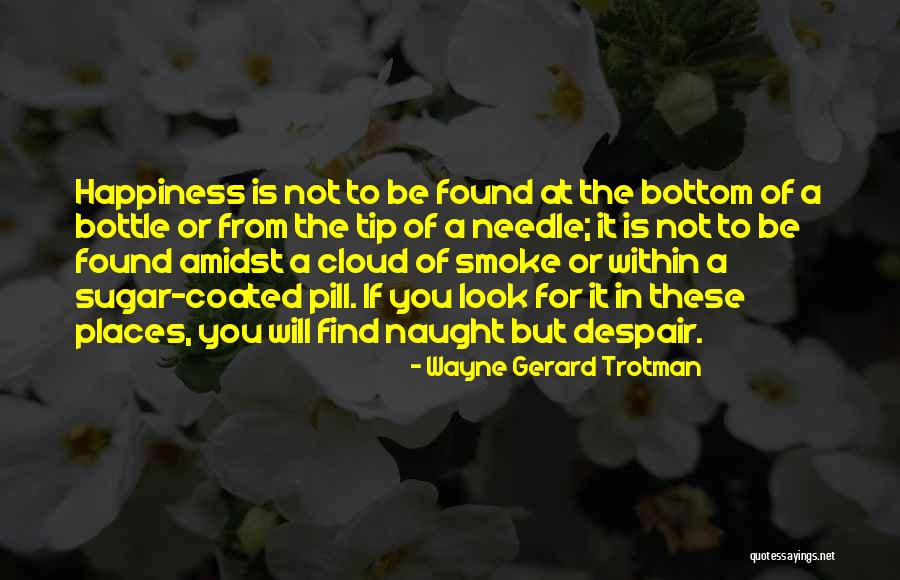 Happiness is not to be found at the bottom of a bottle or from the tip of a needle; it is not to be found amidst a cloud of smoke or within a sugar-coated pill. If you look for it in these places, you will find naught but despair. — Wayne Gerard Trotman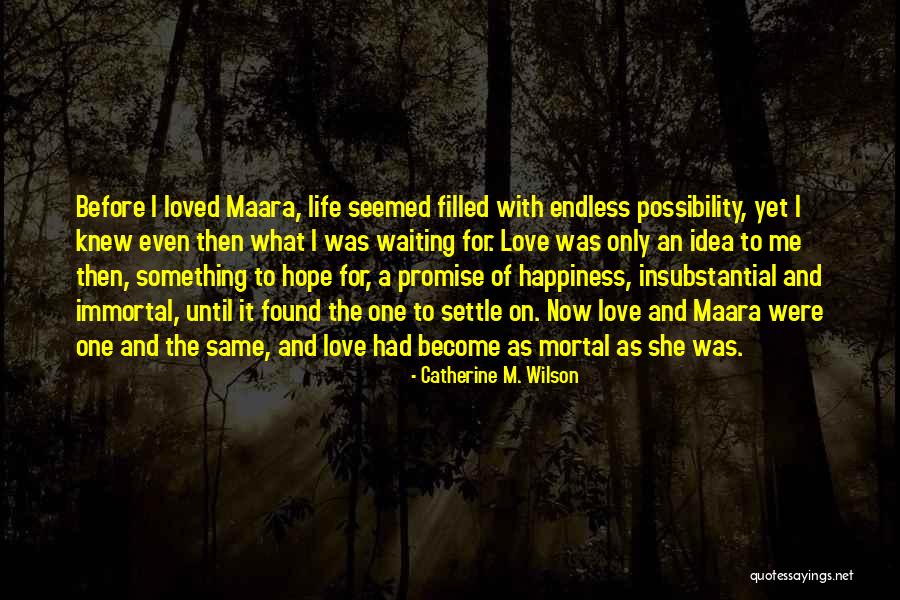 Before I loved Maara, life seemed filled with endless possibility, yet I knew even then what I was waiting for. Love was only an idea to me then, something to hope for, a promise of happiness, insubstantial and immortal, until it found the one to settle on. Now love and Maara were one and the same, and love had become as mortal as she was. — Catherine M. Wilson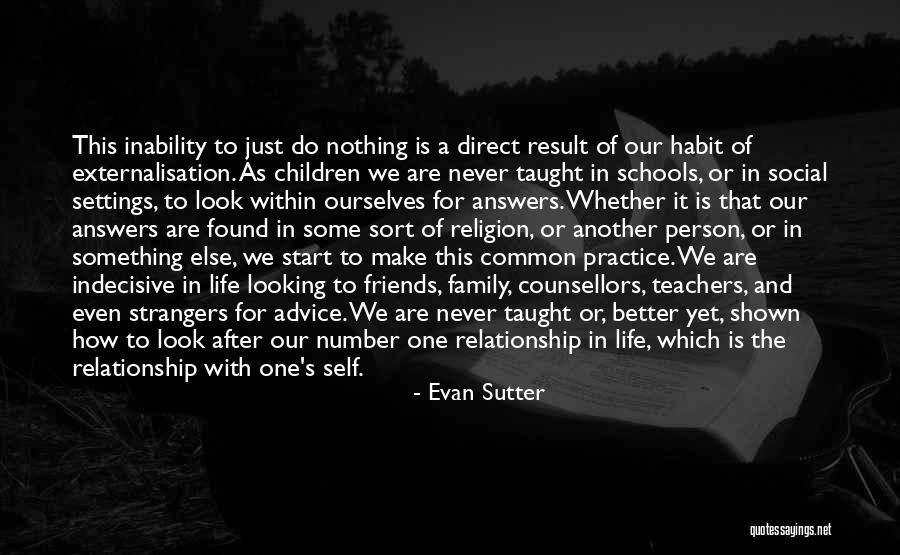 This inability to just do nothing is a direct result of our habit of externalisation. As children we are never taught in schools, or in social settings, to look within ourselves for answers. Whether it is that our answers are found in some sort of religion, or another person, or in something else, we start to make this common practice. We are indecisive in life looking to friends, family, counsellors, teachers, and even strangers for advice. We are never taught or, better yet, shown how to look after our number one relationship in life, which is the relationship with one's self. — Evan Sutter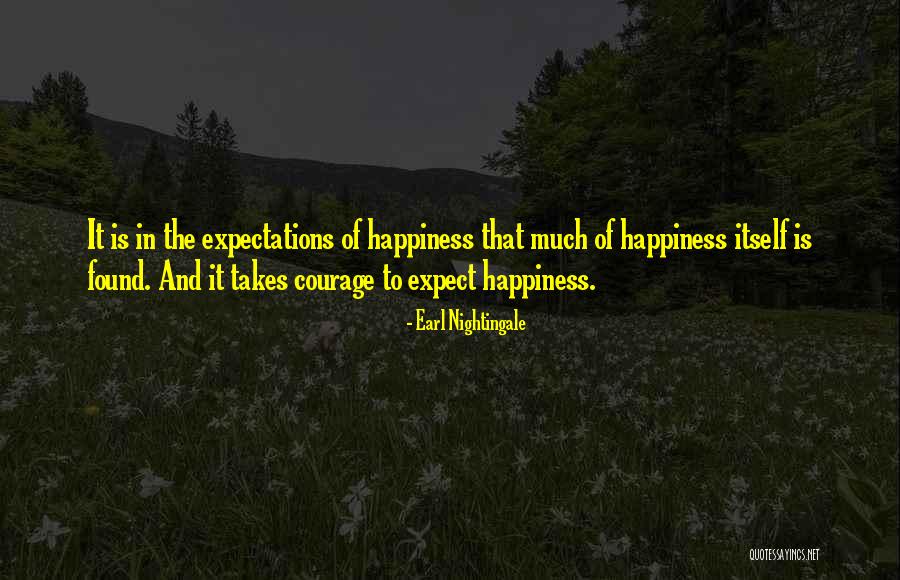 It is in the expectations of happiness that much of happiness itself is found. And it takes courage to expect happiness. — Earl Nightingale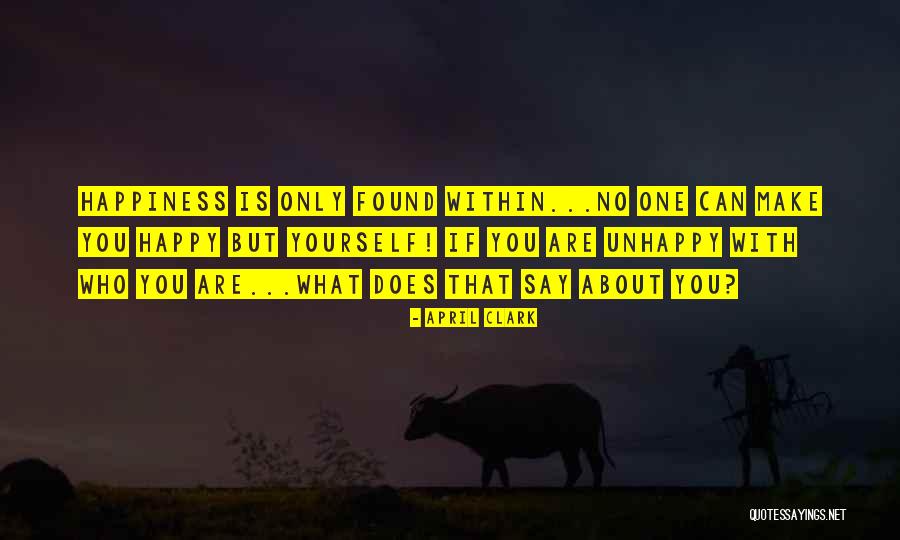 Happiness is only found within...No one can make you happy but yourself! If you are unhappy with who you are...What does that say about you? — April Clark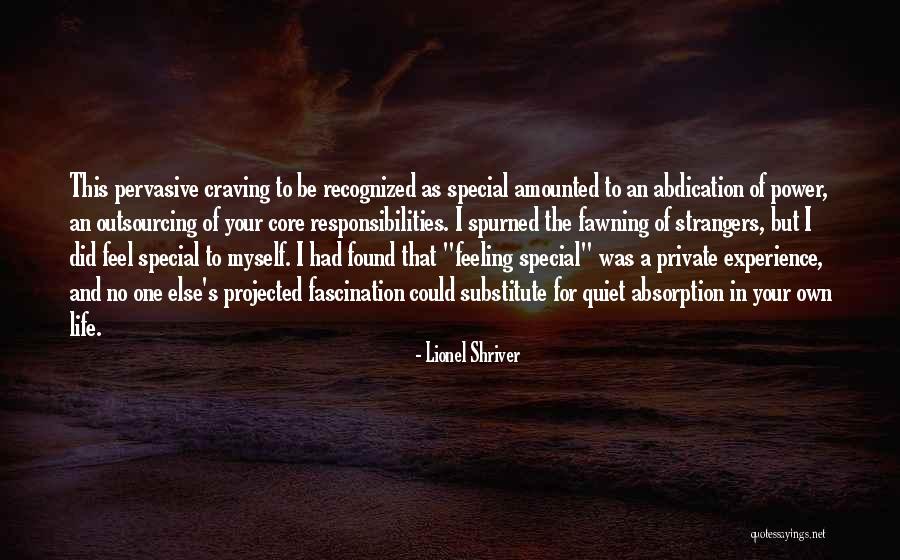 This pervasive craving to be recognized as special amounted to an abdication of power, an outsourcing of your core responsibilities. I spurned the fawning of strangers, but I did feel special to myself. I had found that "feeling special" was a private experience, and no one else's projected fascination could substitute for quiet absorption in your own life. — Lionel Shriver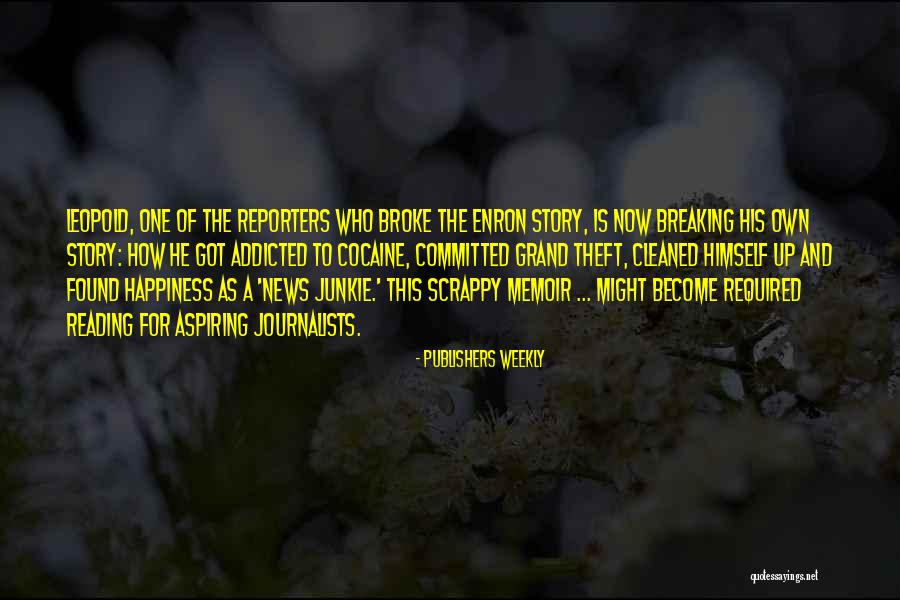 Leopold, one of the reporters who broke the Enron story, is now breaking his own story: how he got addicted to cocaine, committed grand theft, cleaned himself up and found happiness as a 'news junkie.' This scrappy memoir ... might become required reading for aspiring journalists. — Publishers Weekly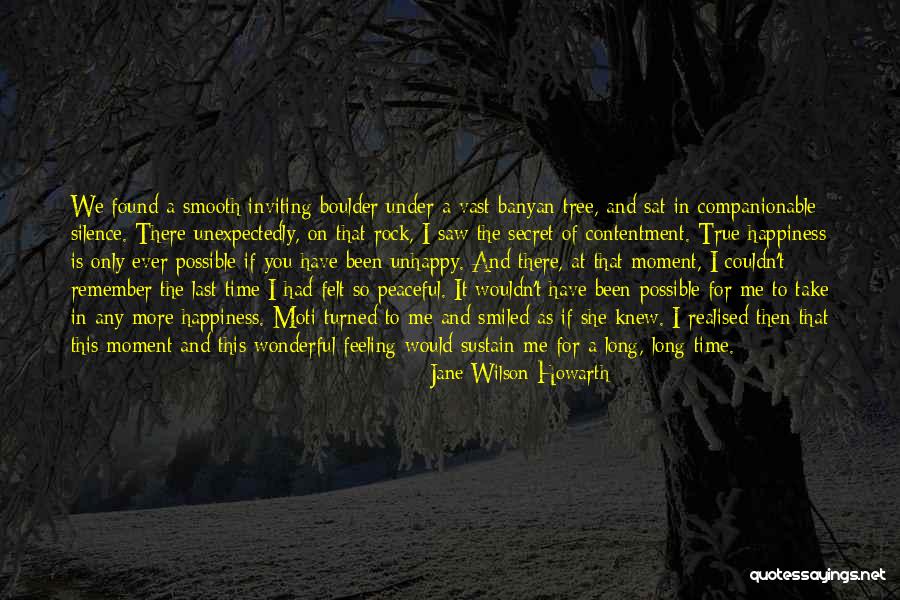 We found a smooth inviting boulder under a vast banyan tree, and sat in companionable silence. There unexpectedly, on that rock, I saw the secret of contentment. True happiness is only ever possible if you have been unhappy. And there, at that moment, I couldn't remember the last time I had felt so peaceful. It wouldn't have been possible for me to take in any more happiness.
Moti turned to me and smiled as if she knew. I realised then that this moment and this wonderful feeling would sustain me for a long, long time. — Jane Wilson-Howarth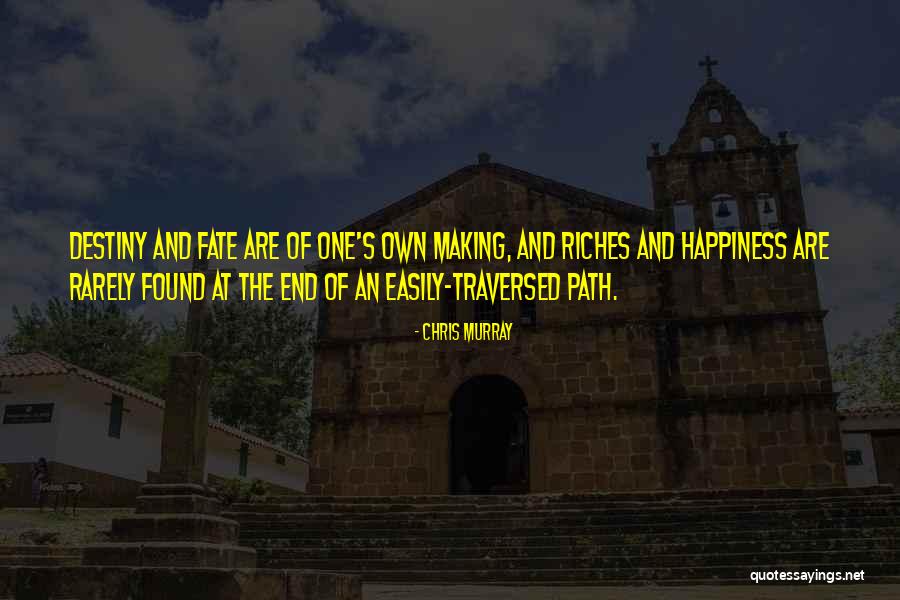 Destiny and fate are of one's own making, and riches and happiness are rarely found at the end of an easily-traversed path. — Chris Murray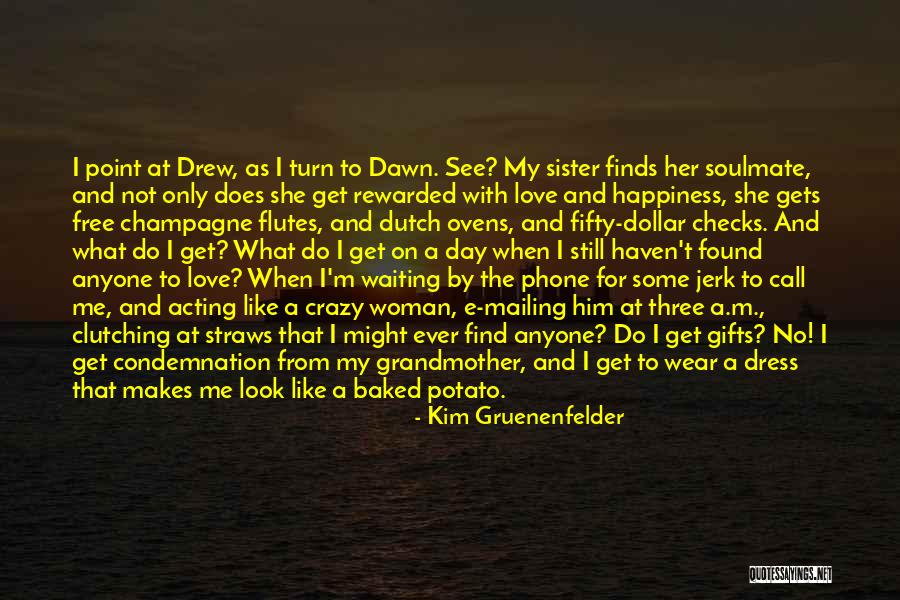 I point at Drew, as I turn to Dawn. See? My sister finds her soulmate, and not only does she get rewarded with love and happiness, she gets free champagne flutes, and dutch ovens, and fifty-dollar checks. And what do I get? What do I get on a day when I still haven't found anyone to love? When I'm waiting by the phone for some jerk to call me, and acting like a crazy woman, e-mailing him at three a.m., clutching at straws that I might ever find anyone? Do I get gifts? No! I get condemnation from my grandmother, and I get to wear a dress that makes me look like a baked potato. — Kim Gruenenfelder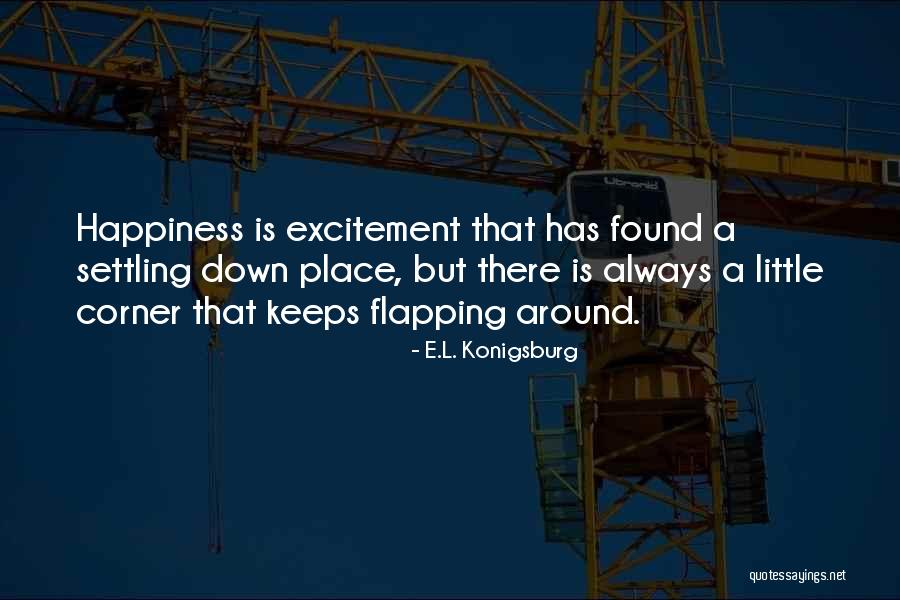 Happiness is excitement that has found a settling down place, but there is always a little corner that keeps flapping around. — E.L. Konigsburg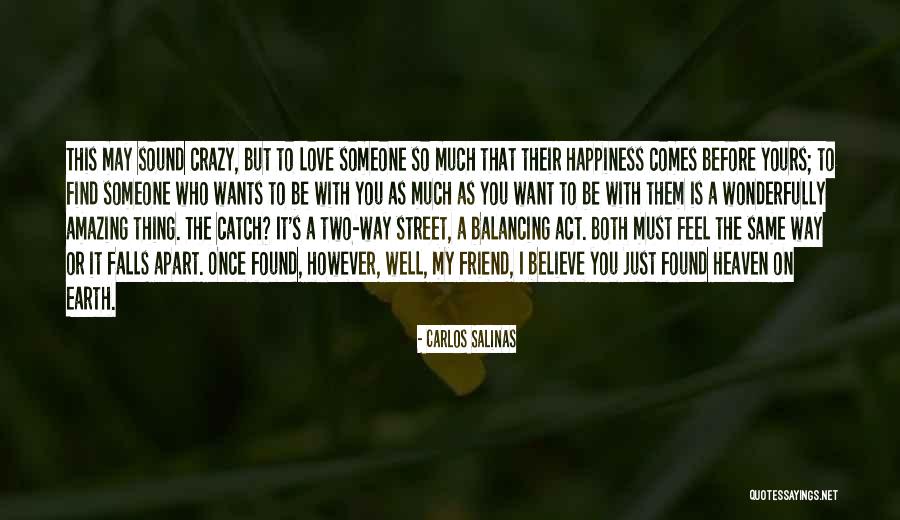 This may sound crazy, but to love someone so much that their happiness comes before yours; to find someone who wants to be with you as much as you want to be with them is a wonderfully amazing thing. The catch? It's a two-way street, a balancing act. Both must feel the same way or it falls apart. Once found, however, well, my friend, I believe you just found Heaven on Earth. — Carlos Salinas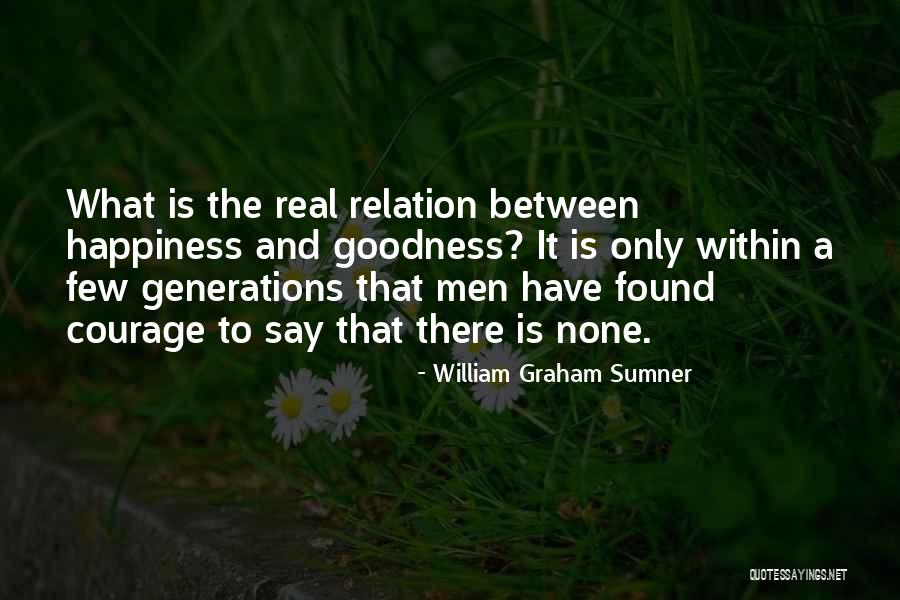 What is the real relation between happiness and goodness? It is only within a few generations that men have found courage to say that there is none. — William Graham Sumner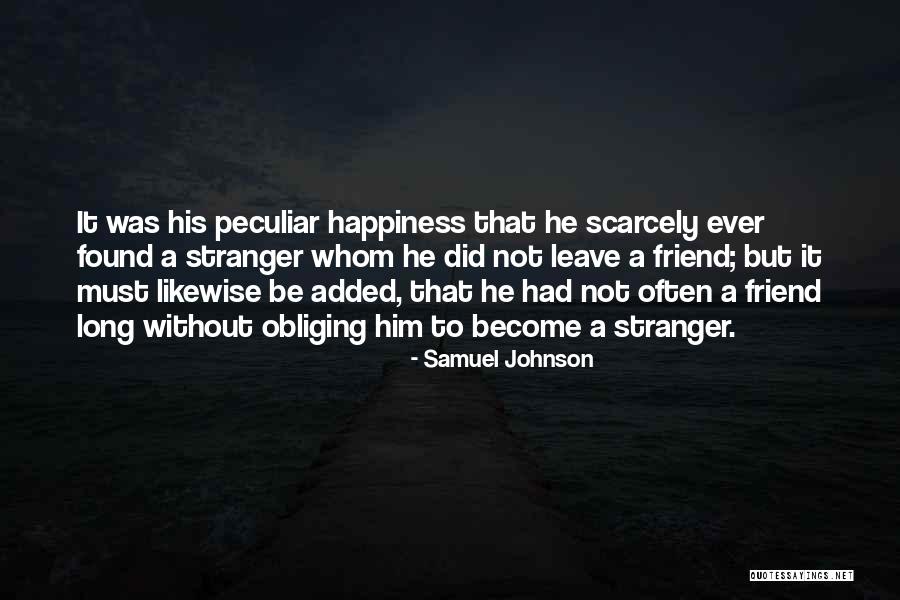 It was his peculiar happiness that he scarcely ever found a stranger whom he did not leave a friend; but it must likewise be added, that he had not often a friend long without obliging him to become a stranger. — Samuel Johnson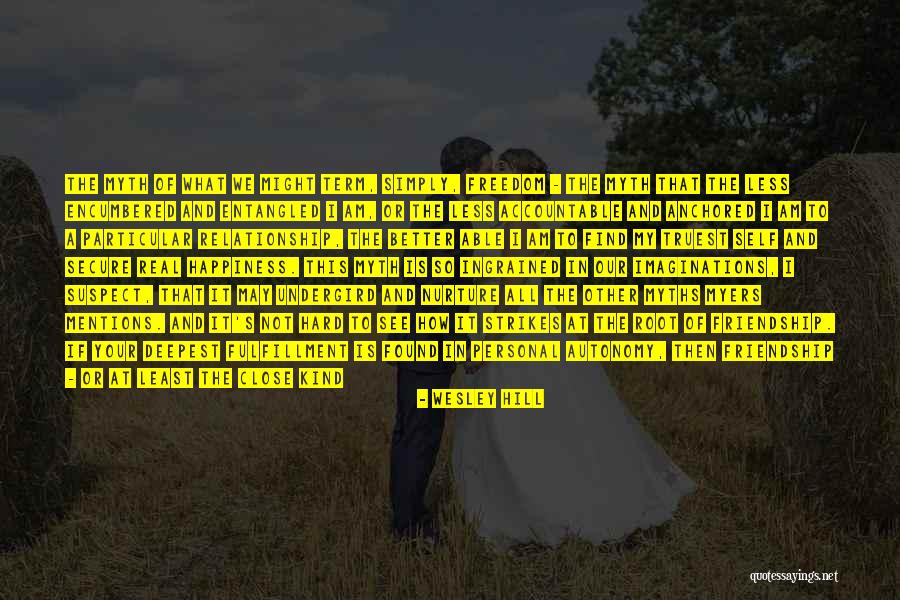 The myth of what we might term, simply, freedom - the myth that the less encumbered and entangled I am, or the less accountable and anchored I am to a particular relationship, the better able I am to find my truest self and secure real happiness. This myth is so ingrained in our imaginations, I suspect, that it may undergird and nurture all the other myths Myers mentions. And it's not hard to see how it strikes at the root of friendship. If your deepest fulfillment is found in personal autonomy, then friendship - or at least the close kind I want to recommend in these pages - is more of a liability than an asset. — Wesley Hill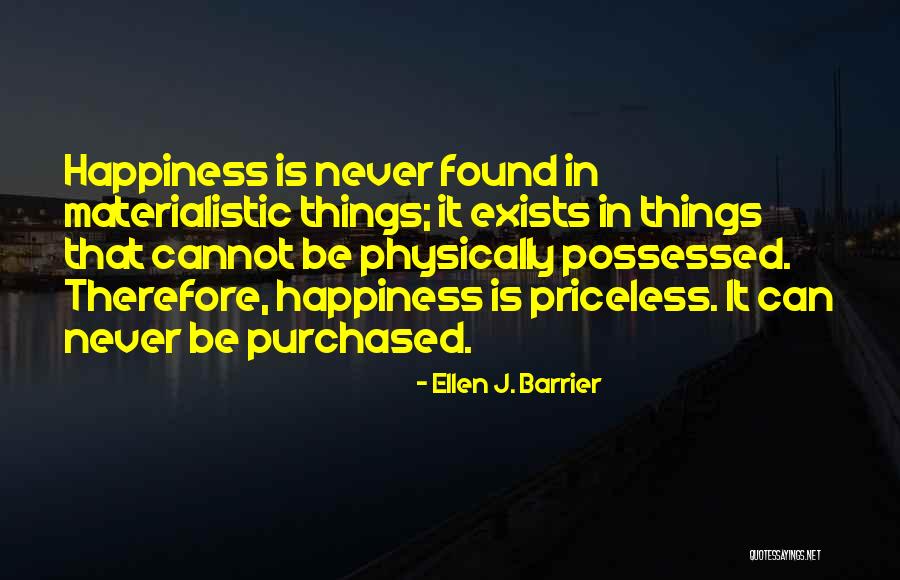 Happiness is never found in materialistic things; it exists in things that cannot be physically possessed. Therefore, happiness is priceless. It can never be purchased. — Ellen J. Barrier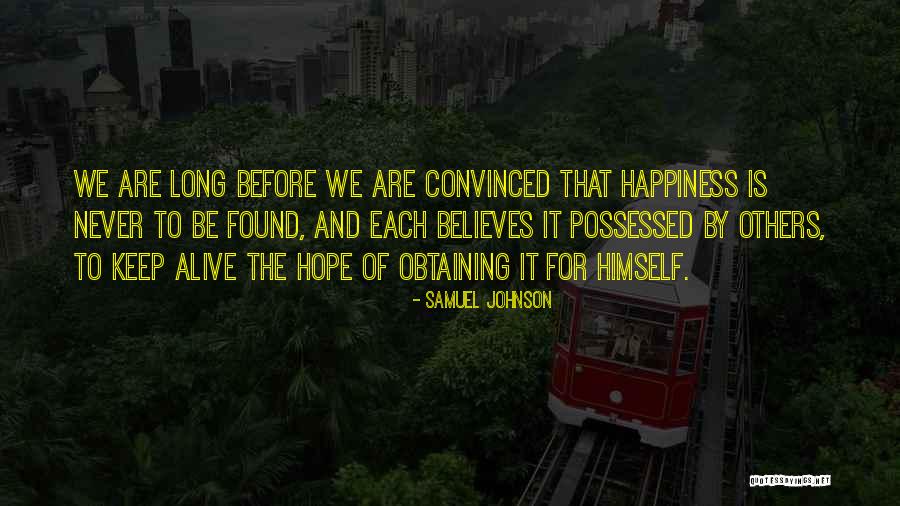 We are long before we are convinced that happiness is never to be found, and each believes it possessed by others, to keep alive the hope of obtaining it for himself. — Samuel Johnson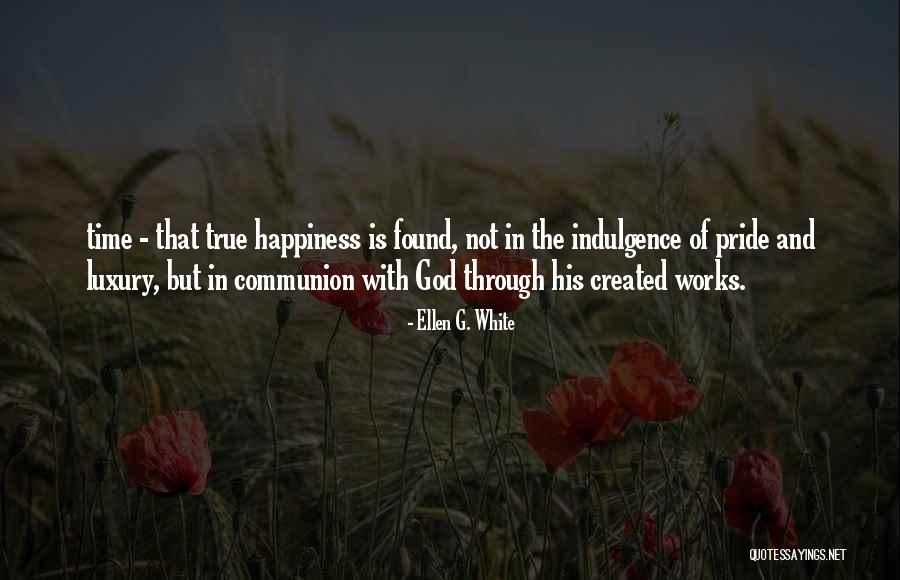 time - that true happiness is found, not in the indulgence of pride and luxury, but in communion with God through his created works. — Ellen G. White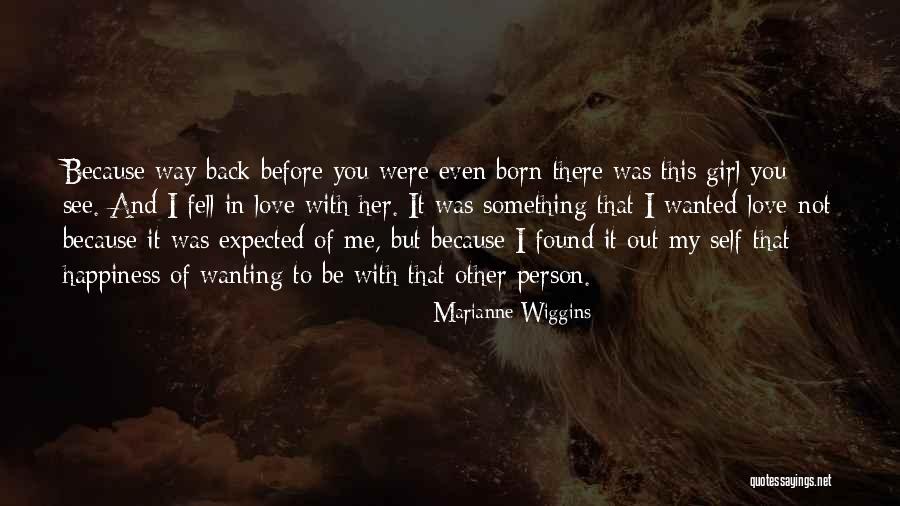 Because way back before you were even born there was this girl you see. And I fell in love with her. It was something that I wanted-love-not because it was expected of me, but because I found it out my self-that happiness of wanting to be with that other person. — Marianne Wiggins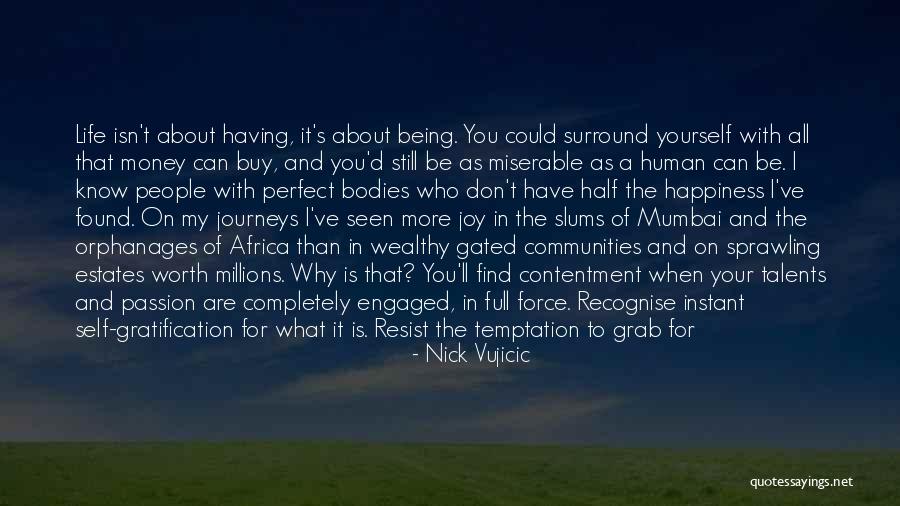 Life isn't about having, it's about being. You could surround yourself with all that money can buy, and you'd still be as miserable as a human can be. I know people with perfect bodies who don't have half the happiness I've found. On my journeys I've seen more joy in the slums of Mumbai and the orphanages of Africa than in wealthy gated communities and on sprawling estates worth millions. Why is that? You'll find contentment when your talents and passion are completely engaged, in full force. Recognise instant self-gratification for what it is. Resist the temptation to grab for material objects like the perfect house, the coolest clothes or the hottest car. The if I just had X, I would be happy syndrome is a mass delusion. When you look for happiness in mere objects, they are never enough. Look around. Look within. — Nick Vujicic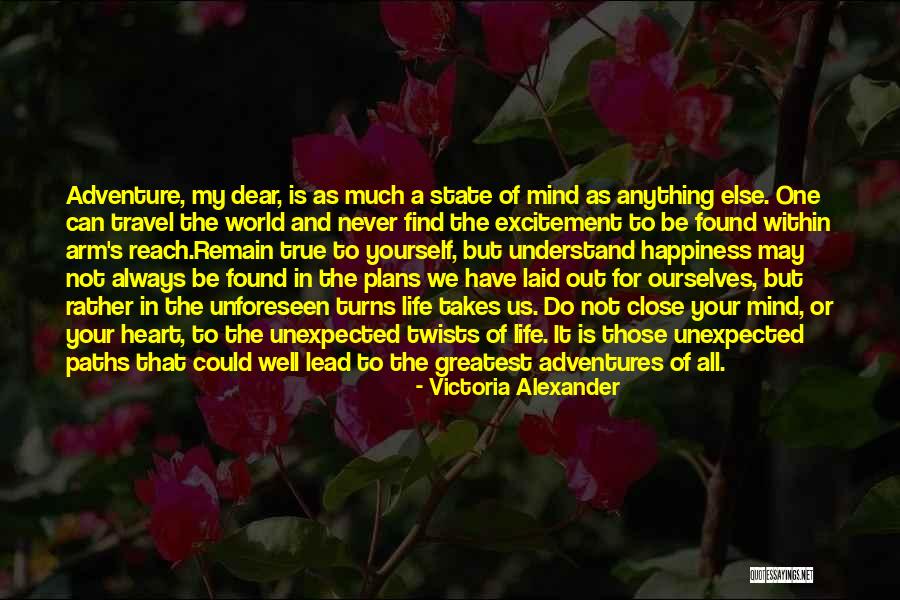 Adventure, my dear, is as much a state of mind as anything else. One can travel the world and never find the excitement to be found within arm's reach.
Remain true to yourself, but understand happiness may not always be found in the plans we have laid out for ourselves, but rather in the unforeseen turns life takes us. Do not close your mind, or your heart, to the unexpected twists of life. It is those unexpected paths that could well lead to the greatest adventures of all. — Victoria Alexander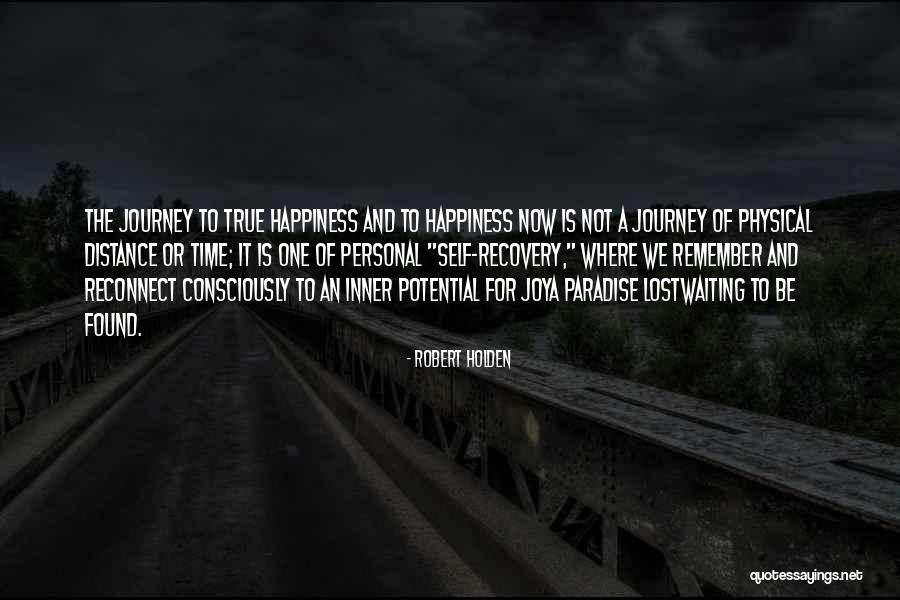 The journey to true happiness and to happiness now is not a journey of physical distance or time; it is one of personal "self-recovery," where we remember and reconnect consciously to an inner potential for joy
a paradise lost
waiting to be found. — Robert Holden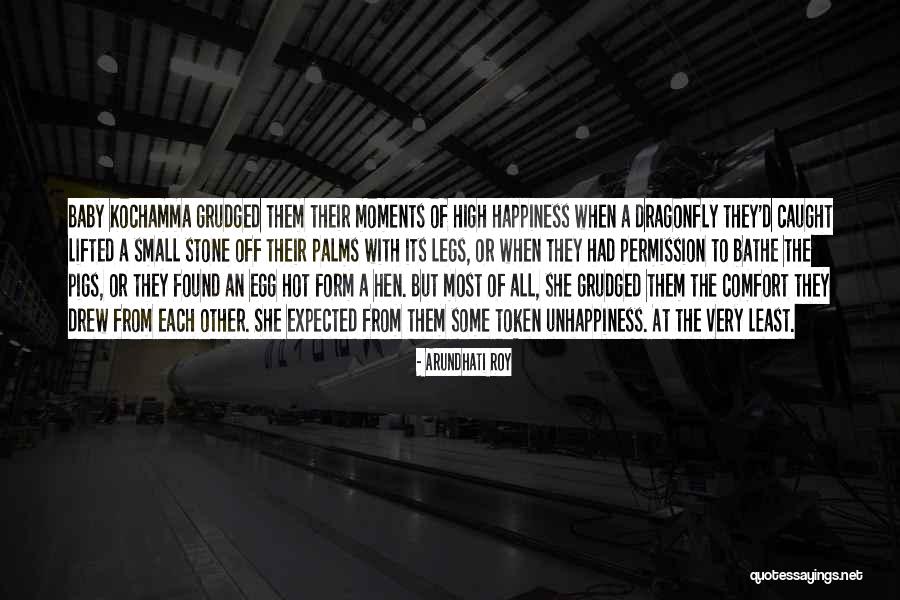 Baby Kochamma grudged them their moments of high happiness when a dragonfly they'd caught lifted a small stone off their palms with its legs, or when they had permission to bathe the pigs, or they found an egg hot form a hen. But most of all, she grudged them the comfort they drew from each other. She expected from them some token unhappiness. At the very least. — Arundhati Roy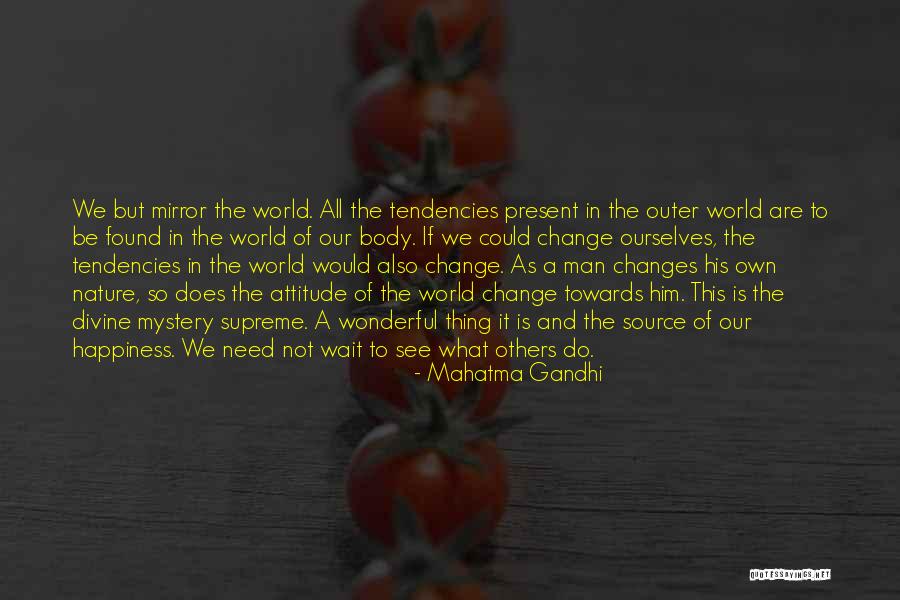 We but mirror the world. All the tendencies present in the outer world are to be found in the world of our body. If we could change ourselves, the tendencies in the world would also change. As a man changes his own nature, so does the attitude of the world change towards him. This is the divine mystery supreme. A wonderful thing it is and the source of our happiness. We need not wait to see what others do. — Mahatma Gandhi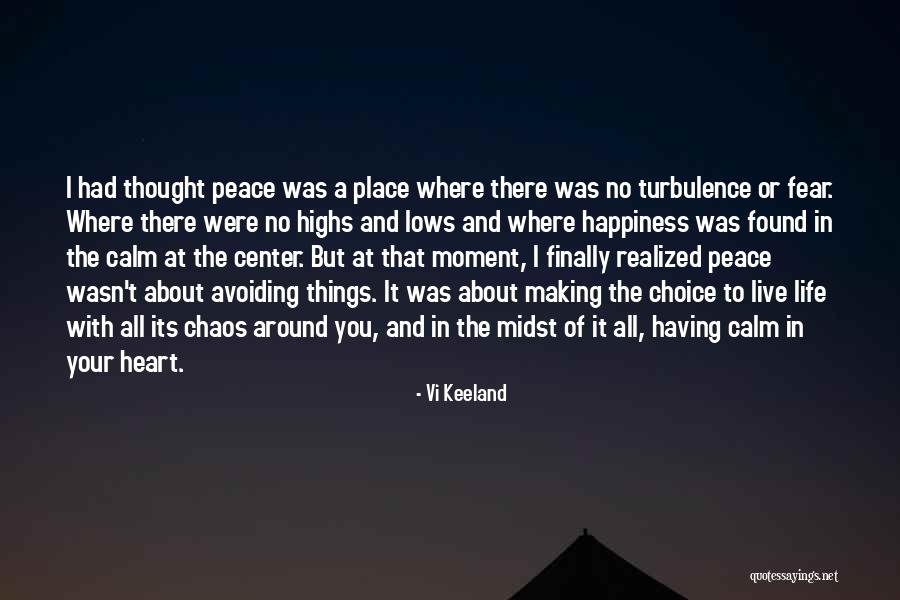 I had thought peace was a place where there was no turbulence or fear. Where there were no highs and lows and where happiness was found in the calm at the center. But at that moment, I finally realized peace wasn't about avoiding things. It was about making the choice to live life with all its chaos around you, and in the midst of it all, having calm in your heart. — Vi Keeland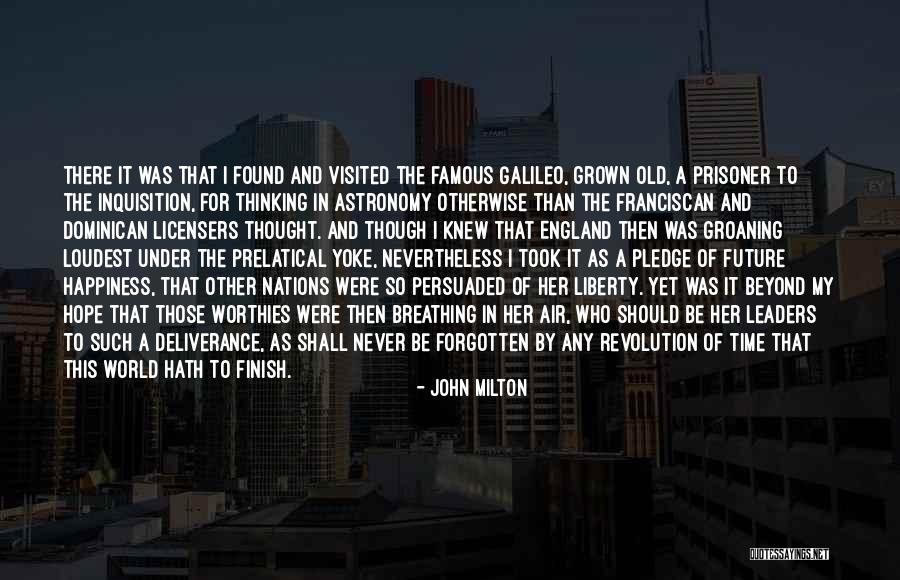 There it was that I found and visited the famous Galileo, grown old, a prisoner to the Inquisition, for thinking in astronomy otherwise than the Franciscan and Dominican licensers thought. And though I knew that England then was groaning loudest under the prelatical yoke, nevertheless I took it as a pledge of future happiness, that other nations were so persuaded of her liberty. Yet was it beyond my hope that those worthies were then breathing in her air, who should be her leaders to such a deliverance, as shall never be forgotten by any revolution of time that this world hath to finish. — John Milton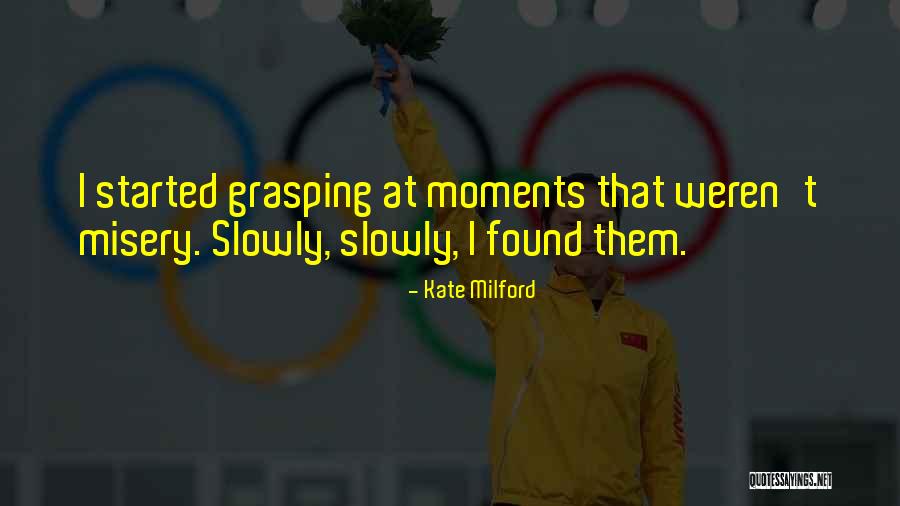 I started grasping at moments that weren't misery. Slowly, slowly, I found them. — Kate Milford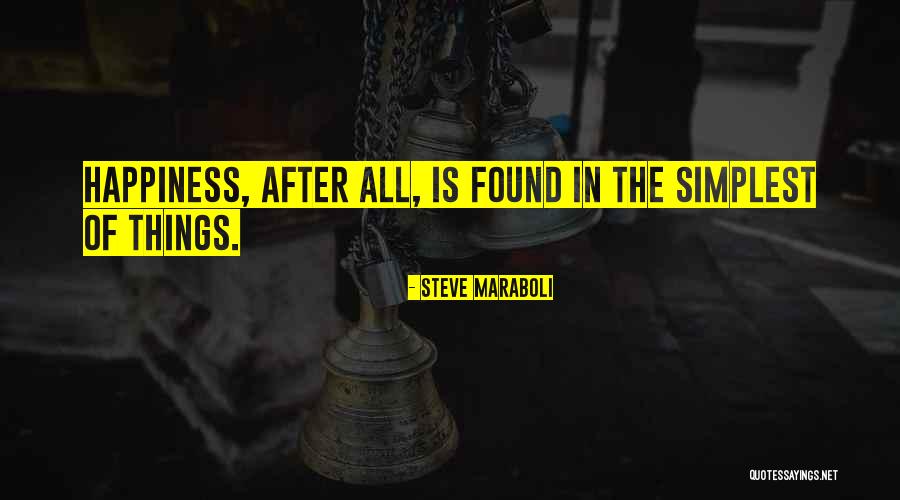 Happiness, after all, is found in the simplest of things. — Steve Maraboli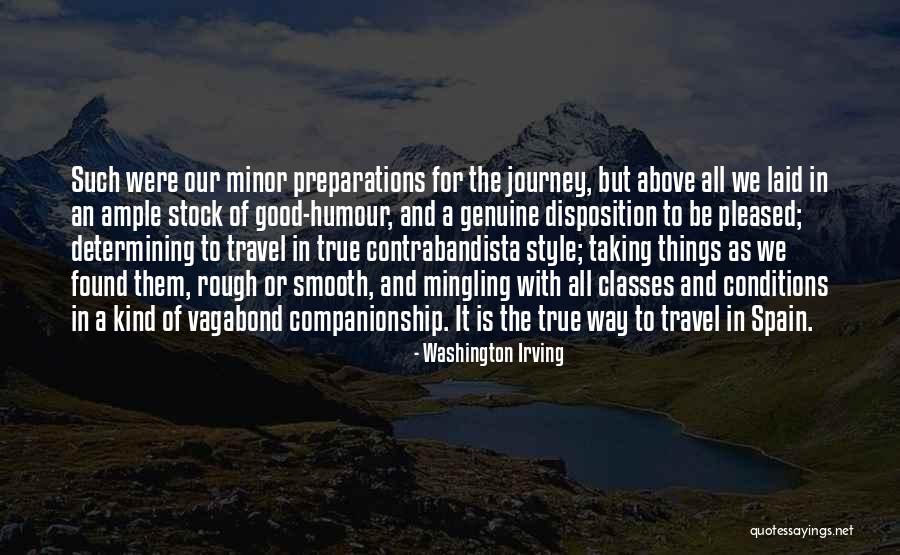 Such were our minor preparations for the journey, but above all we laid in an ample stock of good-humour, and a genuine disposition to be pleased; determining to travel in true contrabandista style; taking things as we found them, rough or smooth, and mingling with all classes and conditions in a kind of vagabond companionship. It is the true way to travel in Spain. — Washington Irving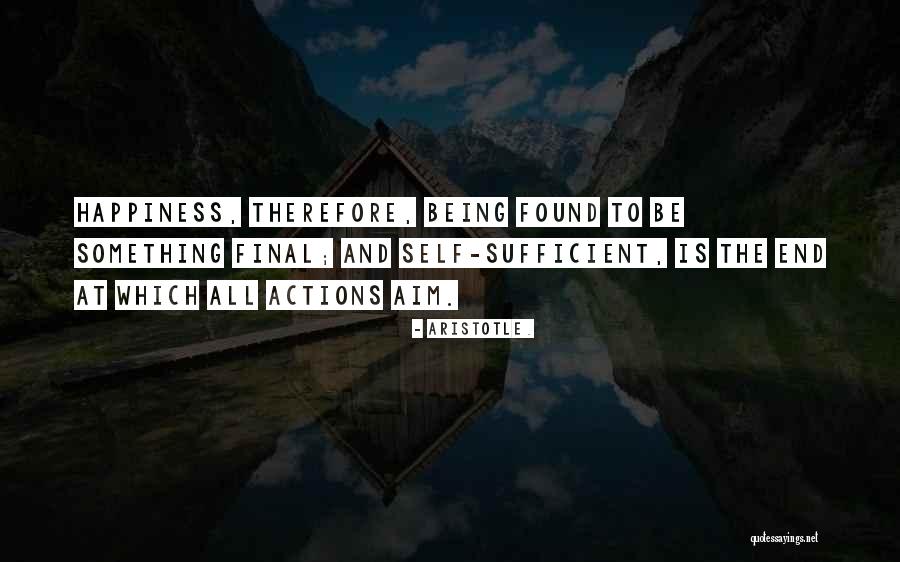 Happiness, therefore, being found to be something final; and self-sufficient, is the end at which all actions aim. — Aristotle.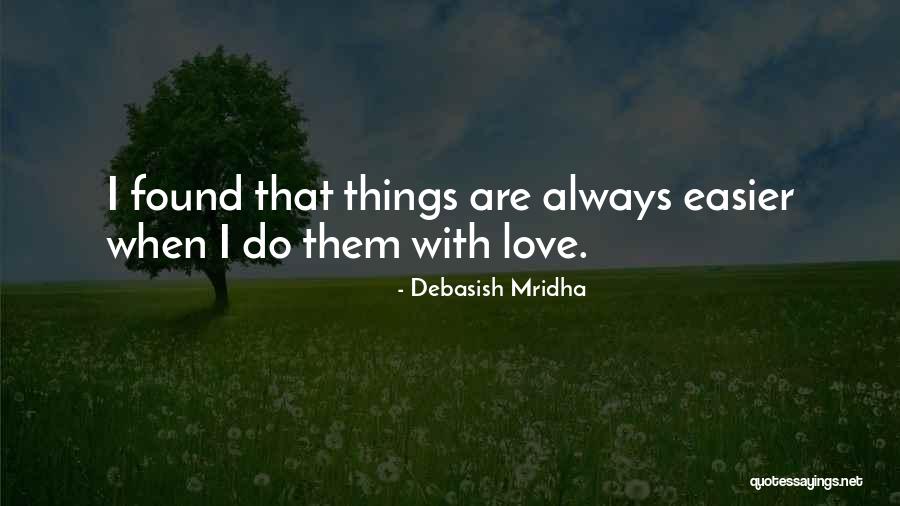 I found that things are always easier when I do them with love. — Debasish Mridha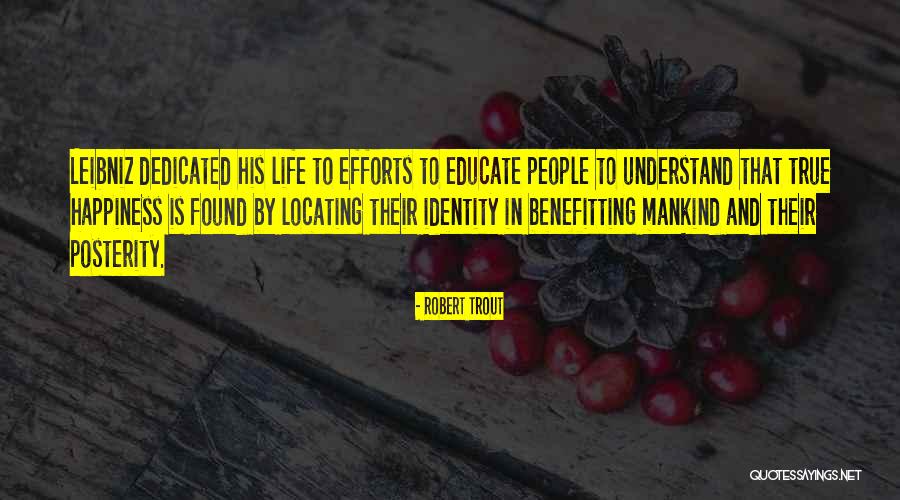 Leibniz dedicated his life to efforts to educate people to understand that true happiness is found by locating their identity in benefitting mankind and their posterity. — Robert Trout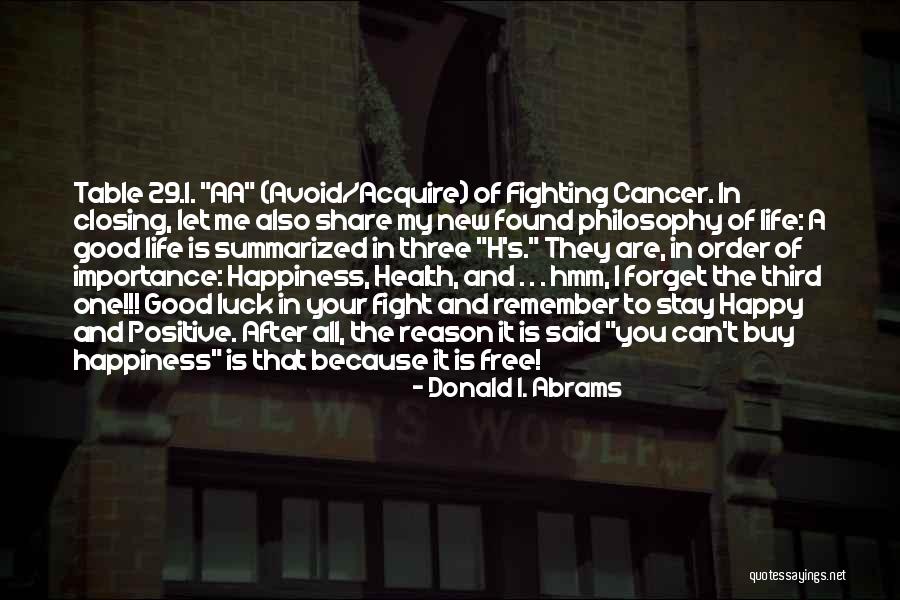 Table 29.1. "AA" (Avoid/Acquire) of Fighting Cancer. In closing, let me also share my new found philosophy of life: A good life is summarized in three "H's." They are, in order of importance: Happiness, Health, and . . . hmm, I forget the third one!!! Good luck in your fight and remember to stay Happy and Positive. After all, the reason it is said "you can't buy happiness" is that because it is free! — Donald I. Abrams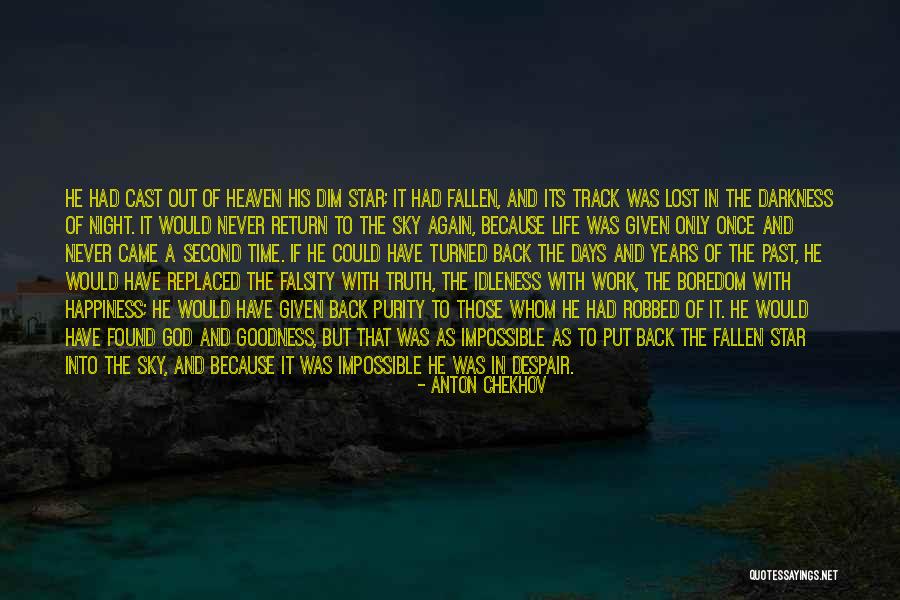 He had cast out of heaven his dim star; it had fallen, and its track was lost in the darkness of night. It would never return to the sky again, because life was given only once and never came a second time. If he could have turned back the days and years of the past, he would have replaced the falsity with truth, the idleness with work, the boredom with happiness; he would have given back purity to those whom he had robbed of it. He would have found God and goodness, but that was as impossible as to put back the fallen star into the sky, and because it was impossible he was in despair. — Anton Chekhov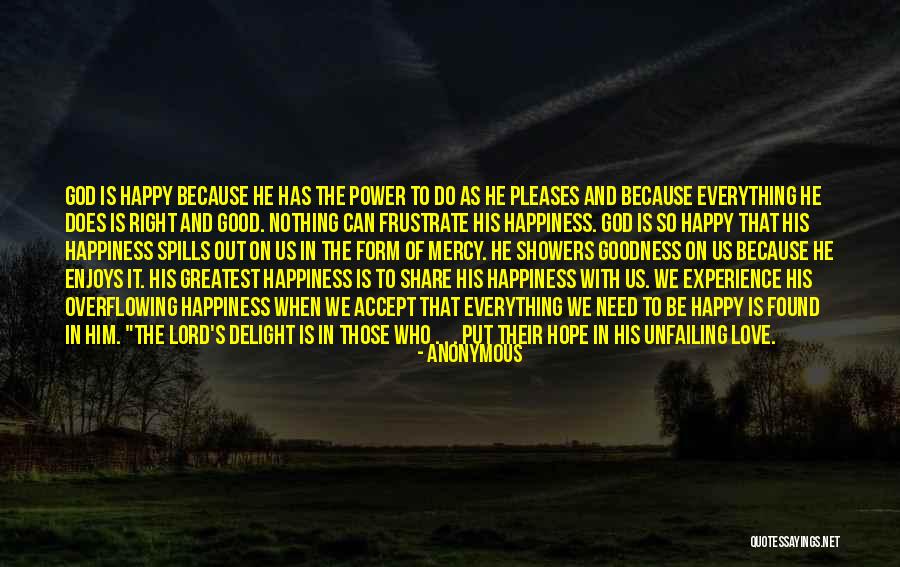 God is happy because he has the power to do as he pleases and because everything he does is right and good. Nothing can frustrate his happiness. God is so happy that his happiness spills out on us in the form of mercy. He showers goodness on us because he enjoys it. His greatest happiness is to share his happiness with us. We experience his overflowing happiness when we accept that everything we need to be happy is found in him. "The LORD's delight is in those who . . . put their hope in his unfailing love. — Anonymous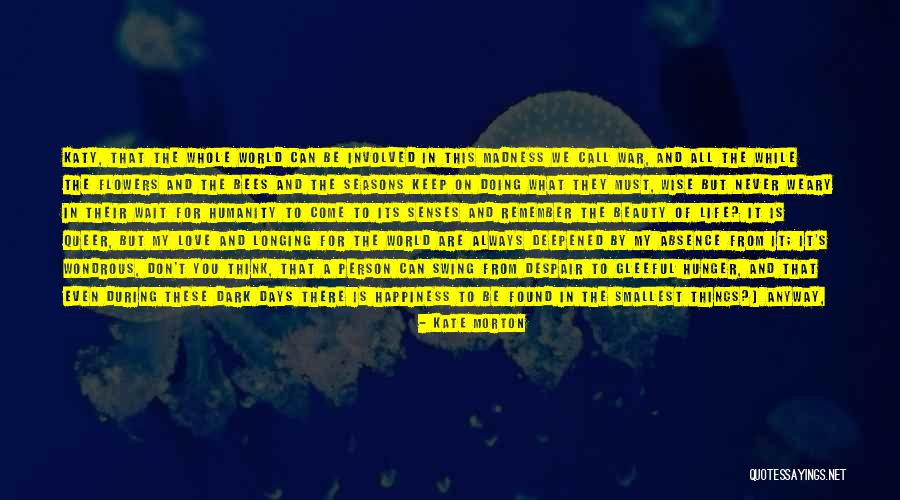 Katy, that the whole world can be involved in this madness we call war, and all the while the flowers and the bees and the seasons keep on doing what they must, wise but never weary in their wait for humanity to come to its senses and remember the beauty of life? It is queer, but my love and longing for the world are always deepened by my absence from it; it's wondrous, don't you think, that a person can swing from despair to gleeful hunger, and that even during these dark days there is happiness to be found in the smallest things?) Anyway, — Kate Morton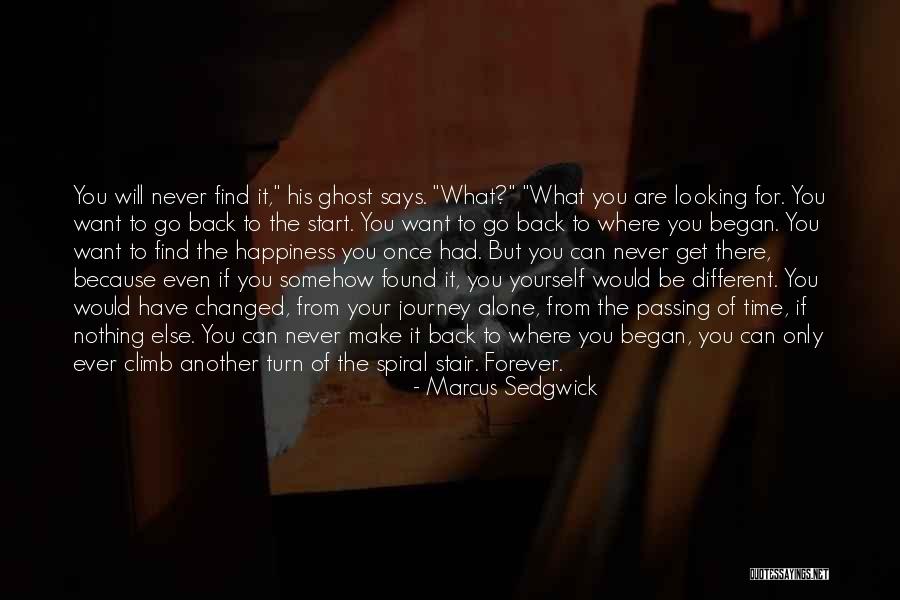 You will never find it," his ghost says. "What?" "What you are looking for. You want to go back to the start. You want to go back to where you began. You want to find the happiness you once had. But you can never get there, because even if you somehow found it, you yourself would be different. You would have changed, from your journey alone, from the passing of time, if nothing else. You can never make it back to where you began, you can only ever climb another turn of the spiral stair. Forever. — Marcus Sedgwick