Wake Up And Shine Quotes & Sayings
Enjoy reading and share 19 famous quotes about Wake Up And Shine with everyone.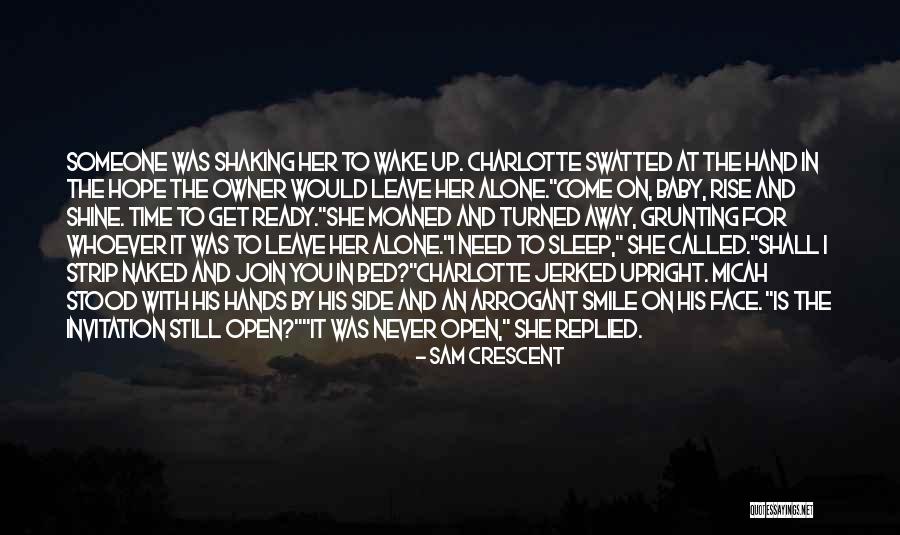 Someone was shaking her to wake up. Charlotte swatted at the hand in the hope the owner would leave her alone.
"Come on, baby, rise and shine. Time to get ready."
She moaned and turned away, grunting for whoever it was to leave her alone.
"I need to sleep," she called.
"Shall I strip naked and join you in bed?"
Charlotte jerked upright. Micah stood with his hands by his side and an arrogant smile on his face. "Is the invitation still open?"
"It was never open," she replied. — Sam Crescent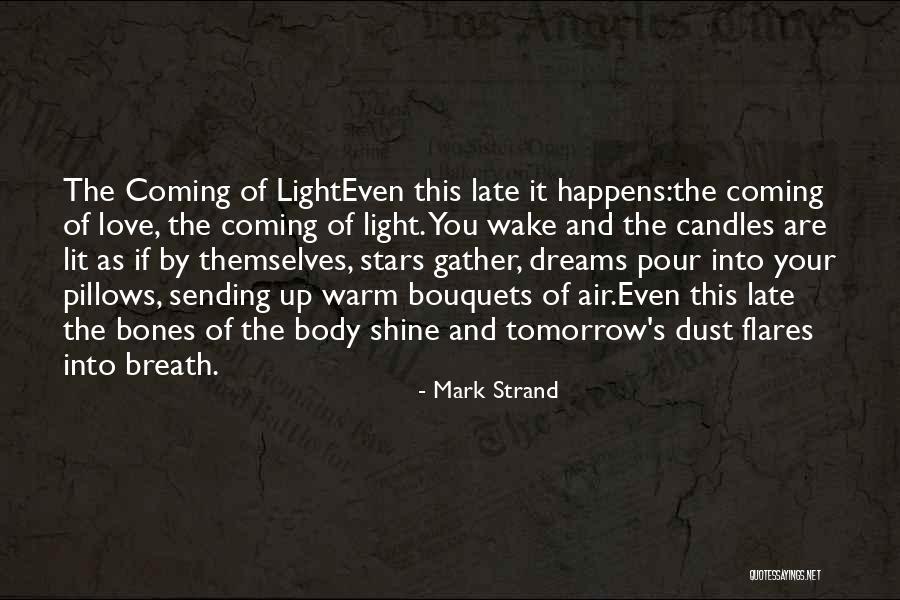 The Coming of Light
Even this late it happens:
the coming of love, the coming of light.
You wake and the candles are lit as if by themselves,
stars gather, dreams pour into your pillows,
sending up warm bouquets of air.
Even this late the bones of the body shine
and tomorrow's dust flares into breath. — Mark Strand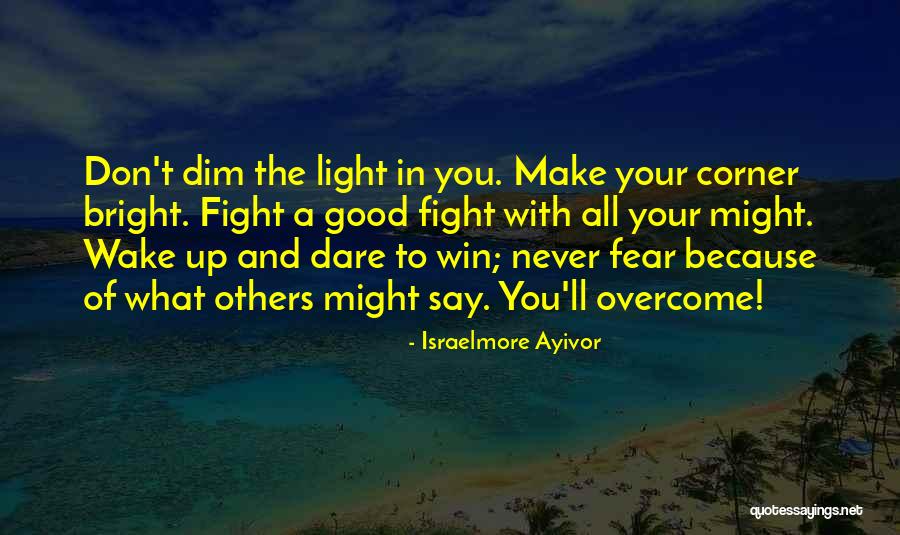 Don't dim the light in you. Make your corner bright. Fight a good fight with all your might. Wake up and dare to win; never fear because of what others might say. You'll overcome! — Israelmore Ayivor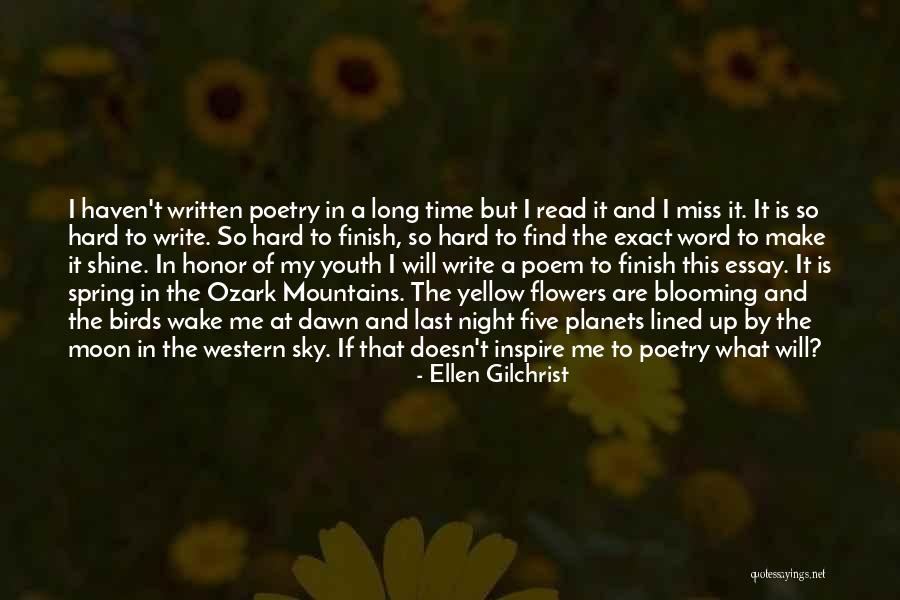 I haven't written poetry in a long time but I read it and I miss it. It is so hard to write. So hard to finish, so hard to find the exact word to make it shine. In honor of my youth I will write a poem to finish this essay. It is spring in the Ozark Mountains. The yellow flowers are blooming and the birds wake me at dawn and last night five planets lined up by the moon in the western sky. If that doesn't inspire me to poetry what will? — Ellen Gilchrist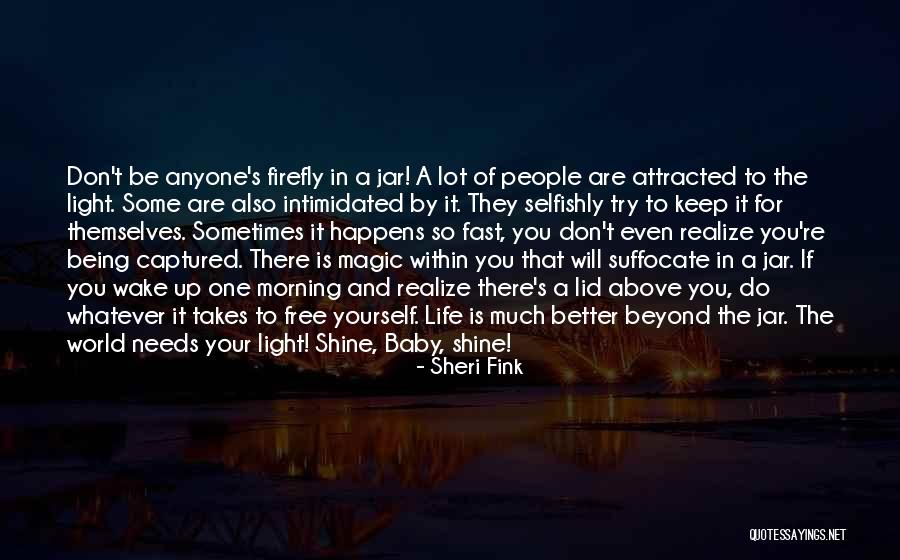 Don't be anyone's firefly in a jar! A lot of people are attracted to the light. Some are also intimidated by it. They selfishly try to keep it for themselves. Sometimes it happens so fast, you don't even realize you're being captured. There is magic within you that will suffocate in a jar. If you wake up one morning and realize there's a lid above you, do whatever it takes to free yourself. Life is much better beyond the jar. The world needs your light! Shine, Baby, shine! — Sheri Fink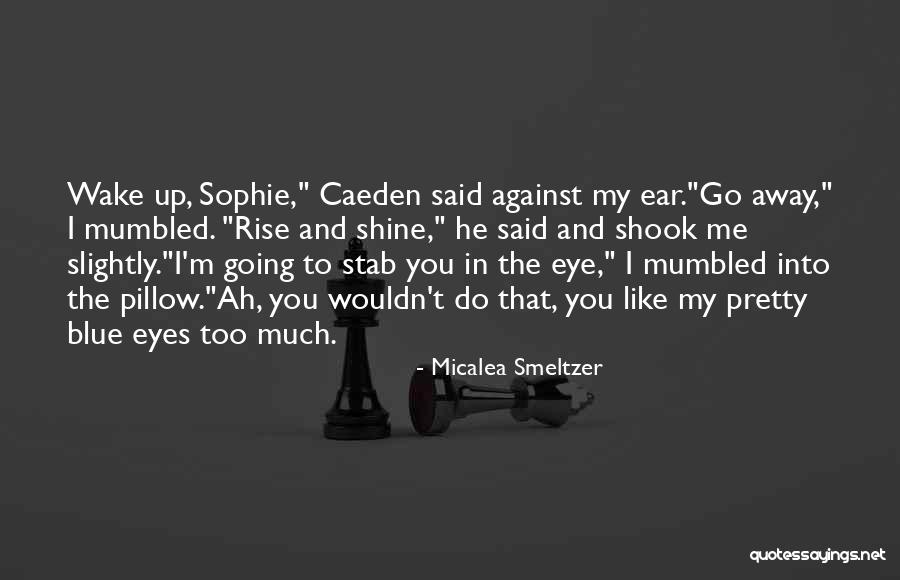 Wake up, Sophie," Caeden said against my ear.
"Go away," I mumbled.
"Rise and shine," he said and shook me slightly.
"I'm going to stab you in the eye," I mumbled into the pillow.
"Ah, you wouldn't do that, you like my pretty blue eyes too much. — Micalea Smeltzer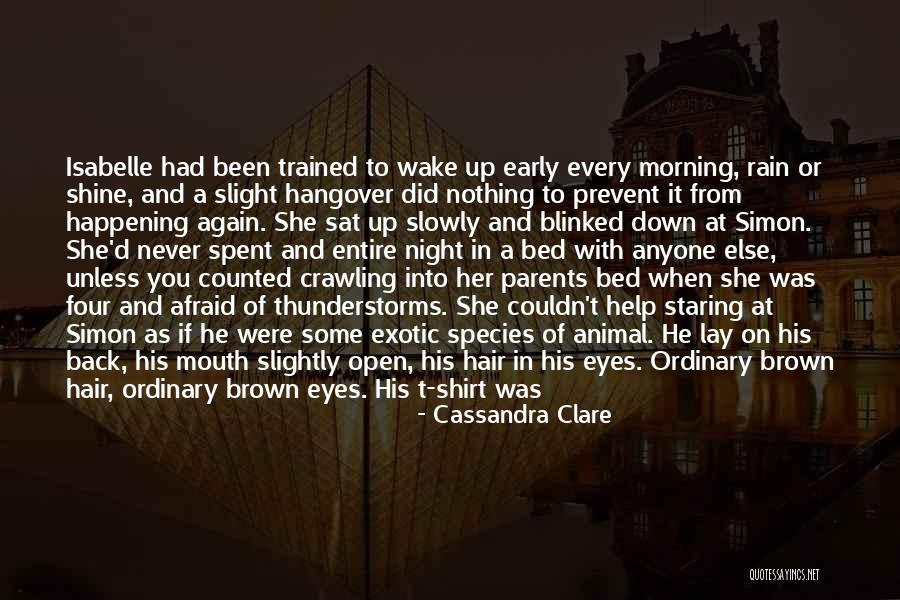 Isabelle had been trained to wake up early every morning, rain or shine, and a slight hangover did nothing to prevent it from happening again. She sat up slowly and blinked down at Simon. She'd never spent and entire night in a bed with anyone else, unless you counted crawling into her parents bed when she was four and afraid of thunderstorms. She couldn't help staring at Simon as if he were some exotic species of animal. He lay on his back, his mouth slightly open, his hair in his eyes. Ordinary brown hair, ordinary brown eyes. His t-shirt was pulled up slightly. He wasn't muscular like a shadowhunter. He had a smooth flat stomach but no six-pack, and there was still a hint of softness to his face. What was it about him that fascinated her? He was plenty cute, but she had dated gorgeous faerie knights, sexy shadowhunters ...
"Isabelle," Simon said without opening his eyes. "Quit staring at me. — Cassandra Clare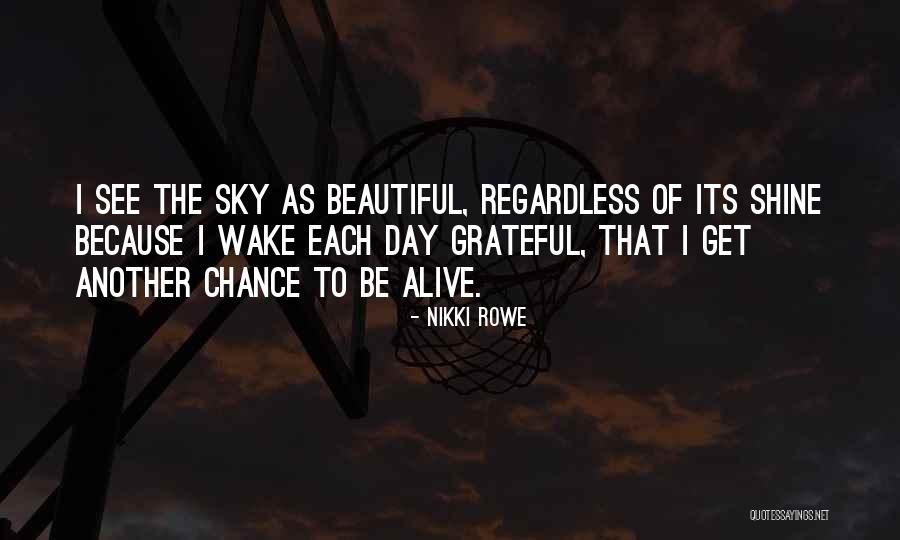 I see the sky as beautiful,
Regardless of its shine
Because I wake each day grateful,
That I get another chance to be alive. — Nikki Rowe
Percy wakes me (fourteen)

Percy wakes me and I am not ready.
He has slept all night under the covers.
Now he's eager for action: a walk, then breakfast.
So I hasten up. He is sitting on the kitchen counter
Where he is not supposed to be.
How wonderful you are, I say. How clever, if you
Needed me,
To wake me.
He thought he would a lecture and deeply
His eyes begin to shine.
He tumbles onto the couch for more compliments.
He squirms and squeals: he has done something
That he needed
And now he hears that it is okay.
I scratch his ears. I turn him over
And touch him everywhere. He is
Wild with the okayness of it. Then we walk, then
He has breakfast, and he is happy.
This is a poem about Percy.
This is a poem about more than Percy.
Think about it. — Mary Oliver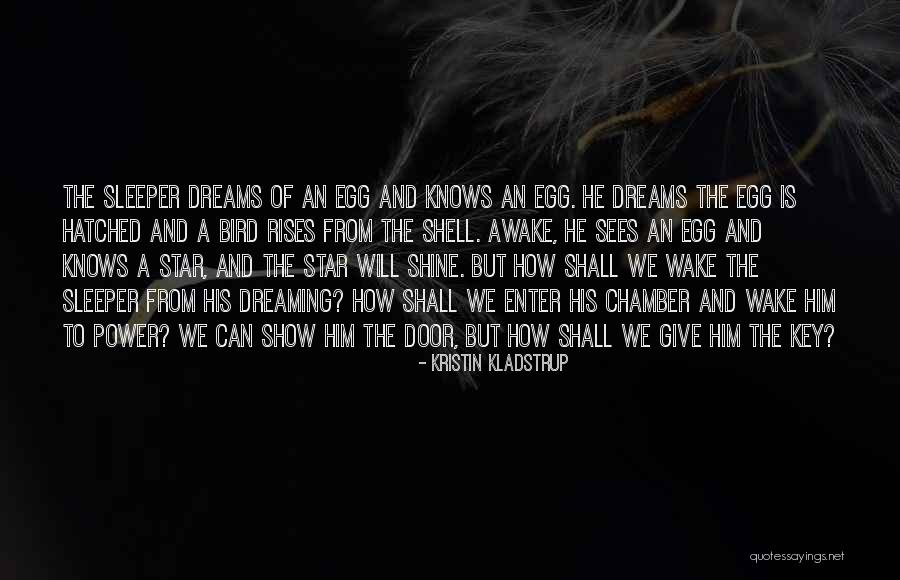 The sleeper dreams of an egg and knows an egg. He dreams the egg is hatched and a bird rises from the shell. Awake, he sees an egg and knows a star, and the star will shine. But how shall we wake the sleeper from his dreaming? How shall we enter his chamber and wake him to power? We can show him the door, but how shall we give him the key? — Kristin Kladstrup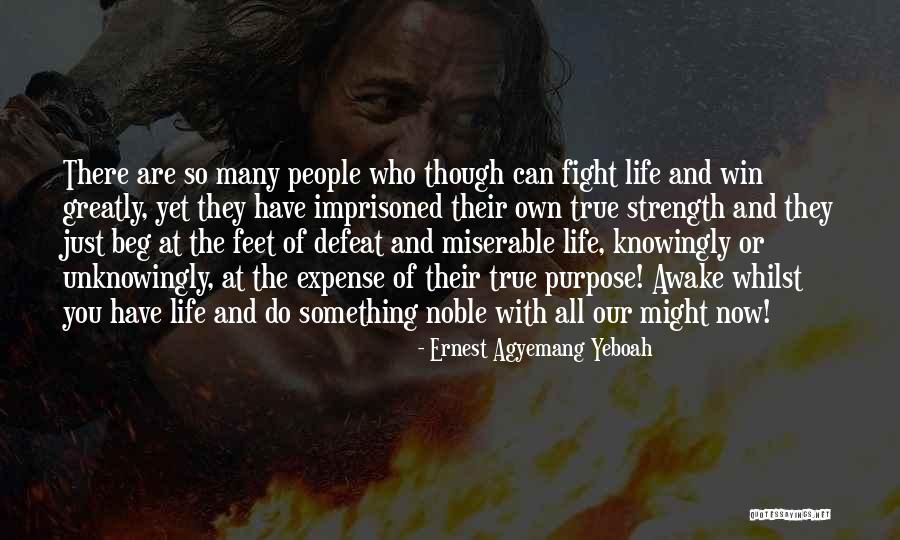 There are so many people who though can fight life and win greatly, yet they have imprisoned their own true strength and they just beg at the feet of defeat and miserable life, knowingly or unknowingly, at the expense of their true purpose! Awake whilst you have life and do something noble with all our might now! — Ernest Agyemang Yeboah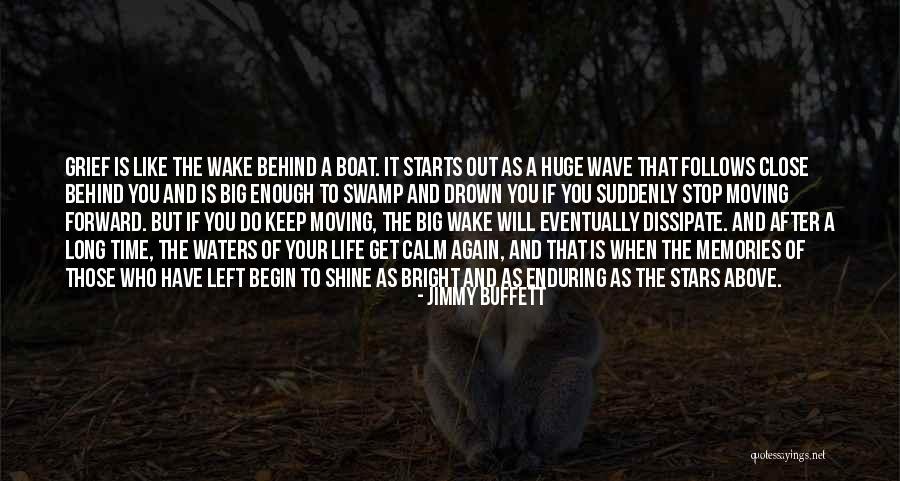 Grief is like the wake behind a boat. It starts out as a huge wave that follows close behind you and is big enough to swamp and drown you if you suddenly stop moving forward. But if you do keep moving, the big wake will eventually dissipate. And after a long time, the waters of your life get calm again, and that is when the memories of those who have left begin to shine as bright and as enduring as the stars above. — Jimmy Buffett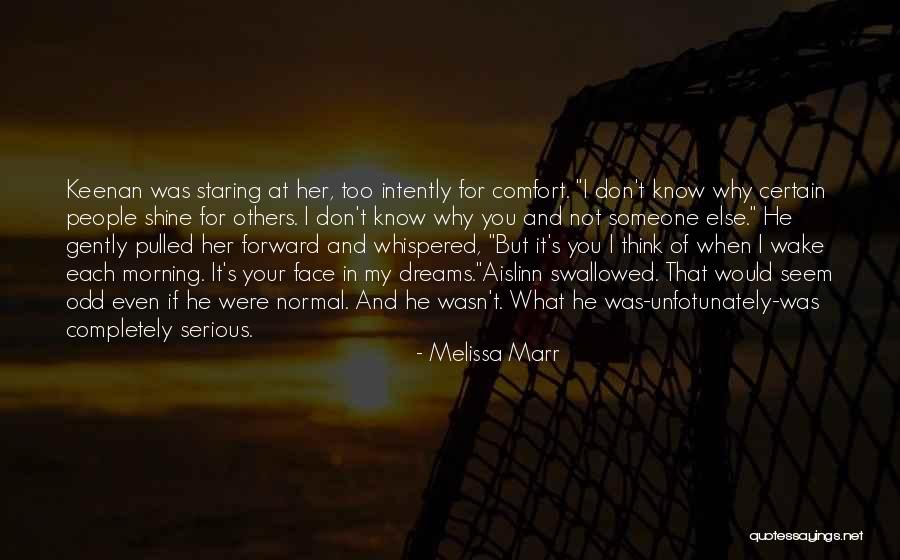 Keenan was staring at her, too intently for comfort. "I don't know why certain people shine for others. I don't know why you and not someone else." He gently pulled her forward and whispered, "But it's you I think of when I wake each morning. It's your face in my dreams."
Aislinn swallowed. That would seem odd even if he were normal. And he wasn't. What he was-unfotunately-was completely serious. — Melissa Marr
Wake up today and shake up the world ... It's a New Year that welcomes you to shine and make your dreams come true.-RVM — R.v.m.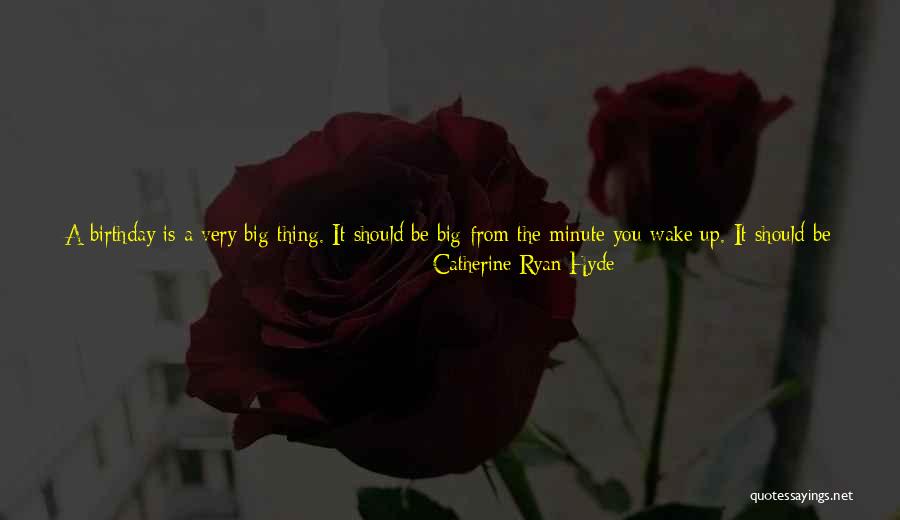 A birthday is a very big thing. It should be big from the minute you wake up. It should be such a big thing - all day long - that you fall down into sleep that night all worn out from so much bigness. You get a present with paper on it, you can open that in just a minute. And then, depending on what's inside, a birthday can sort of lose its shine. And then what do you got? No birthday. No big thing. So what I wanted for my sweet little boy was a birthday that would be big and last all day long.
Nobody should be able to mess with that, or make it not safe. — Catherine Ryan Hyde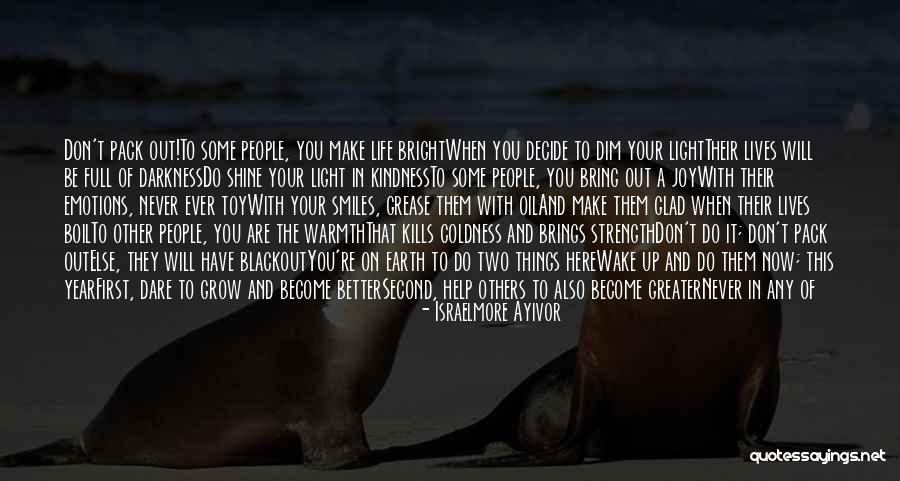 Don't pack out!

To some people, you make life bright
When you decide to dim your light
Their lives will be full of darkness
Do shine your light in kindness

To some people, you bring out a joy
With their emotions, never ever toy
With your smiles, grease them with oil
And make them glad when their lives boil

To other people, you are the warmth
That kills coldness and brings strength
Don't do it; don't pack out
Else, they will have blackout

You're on earth to do two things here
Wake up and do them now; this year
First, dare to grow and become better
Second, help others to also become greater

Never in any of the four seasons
Should you neglect your gifts for any reasons
The world needs you to make it a better place
Don't pack out; run your race. — Israelmore Ayivor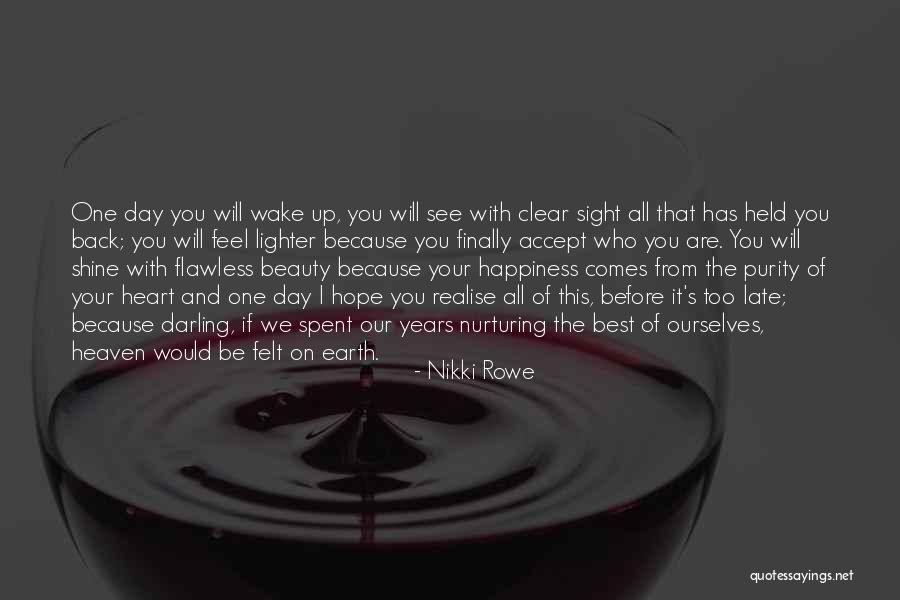 One day you will wake up, you will see with clear sight all that has held you back; you will feel lighter because you finally accept who you are. You will shine with flawless beauty because your happiness comes from the purity of your heart and one day I hope you realise all of this, before it's too late; because darling, if we spent our years nurturing the best of ourselves, heaven would be felt on earth. — Nikki Rowe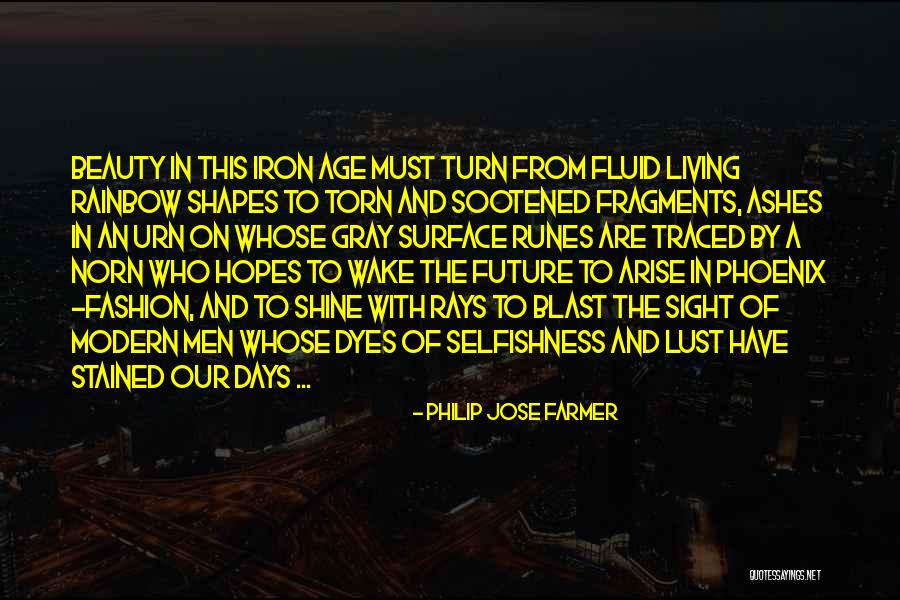 Beauty in this Iron Age must turn From fluid living rainbow shapes to torn And sootened fragments, ashes in an urn On whose gray surface runes are traced by a Norn Who hopes to wake the Future to arise In Phoenix -fashion, and to shine with rays To blast the sight of modern men whose dyes Of selfishness and lust have stained our days ... — Philip Jose Farmer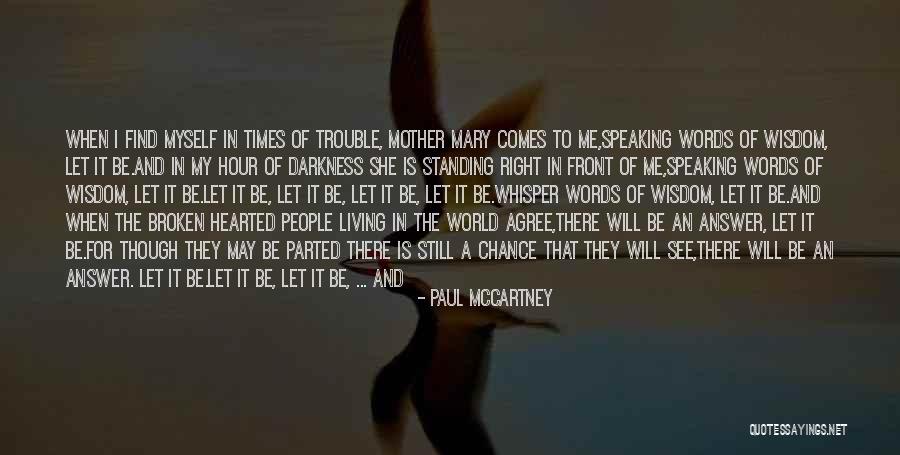 When I find myself in times of trouble, mother Mary comes to me,
speaking words of wisdom, let it be.
And in my hour of darkness she is standing right in front of me,
speaking words of wisdom, let it be.
Let it be, let it be, let it be, let it be.
Whisper words of wisdom, let it be.
And when the broken hearted people living in the world agree,
there will be an answer, let it be.
For though they may be parted there is still a chance that they will see,
there will be an answer. let it be.
Let it be, let it be, ...
And when the night is cloudy, there is still a light, that shines on me,
shine until tomorrow, let it be.
I wake up to the sound of music, mother Mary comes to me,
speaking words of wisdom, let it be.
Let it be, let it be, ... — Paul McCartney