Vietnam War Military Quotes & Sayings
Enjoy reading and share 47 famous quotes about Vietnam War Military with everyone.
Top Vietnam War Military Quotes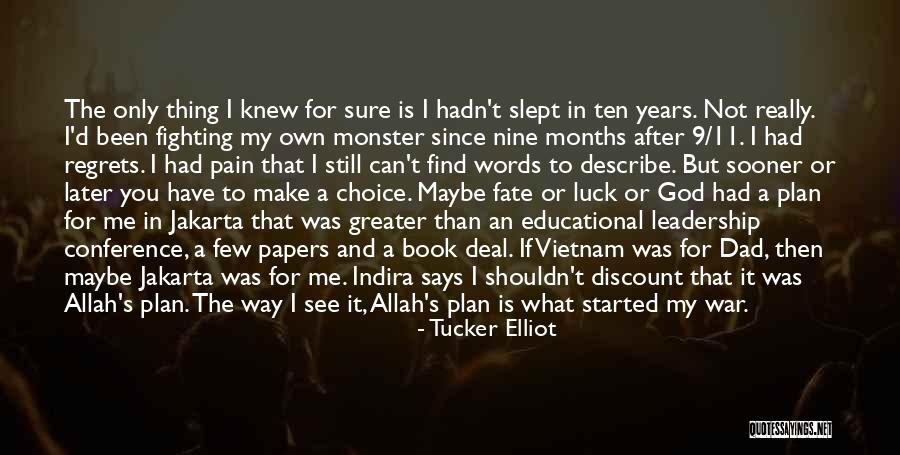 The only thing I knew for sure is I hadn't slept in ten years. Not really. I'd been fighting my own monster since nine months after 9/11. I had regrets. I had pain that I still can't find words to describe. But sooner or later you have to make a choice. Maybe fate or luck or God had a plan for me in Jakarta that was greater than an educational leadership conference, a few papers and a book deal. If Vietnam was for Dad, then maybe Jakarta was for me. Indira says I shouldn't discount that it was Allah's plan. The way I see it, Allah's plan is what started my war. — Tucker Elliot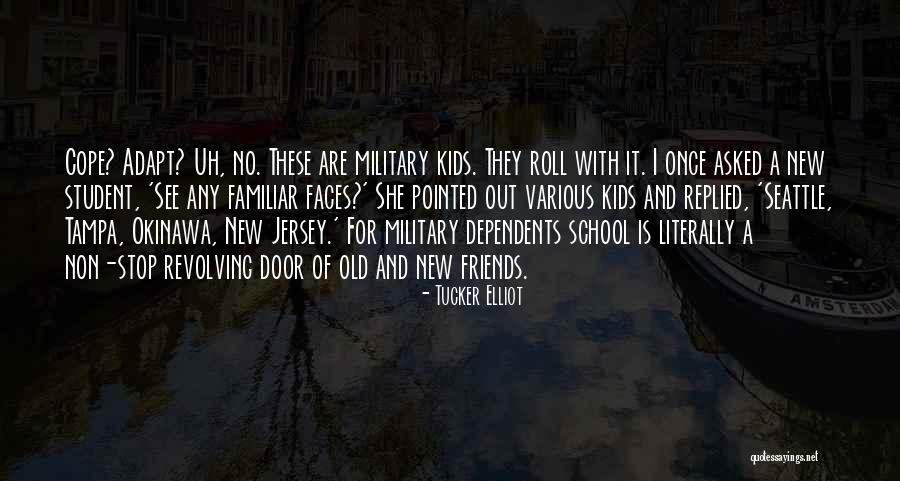 Cope? Adapt? Uh, no. These are military kids. They roll with it. I once asked a new student, 'See any familiar faces?' She pointed out various kids and replied, 'Seattle, Tampa, Okinawa, New Jersey.' For military dependents school is literally a non-stop revolving door of old and new friends. — Tucker Elliot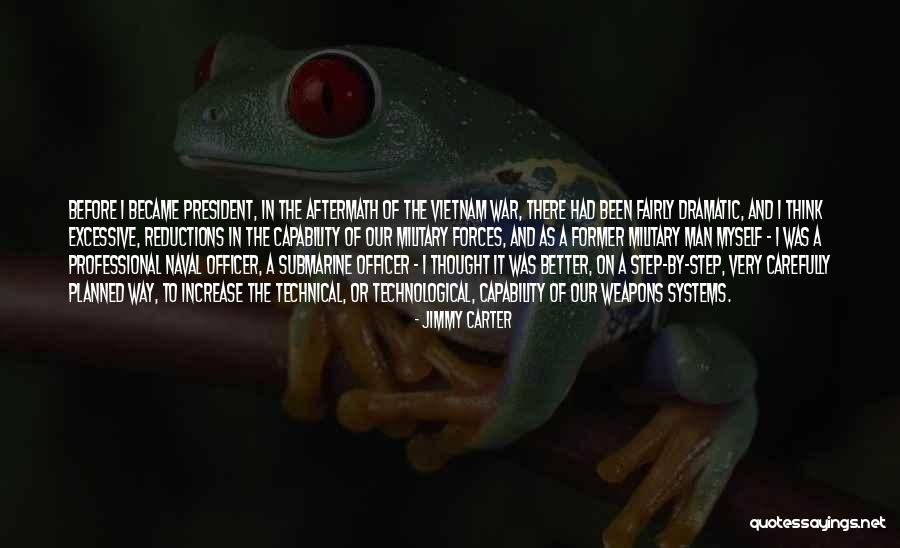 Before I became President, in the aftermath of the Vietnam War, there had been fairly dramatic, and I think excessive, reductions in the capability of our military forces, and as a former military man myself - I was a professional naval officer, a submarine officer - I thought it was better, on a step-by-step, very carefully planned way, to increase the technical, or technological, capability of our weapons systems. — Jimmy Carter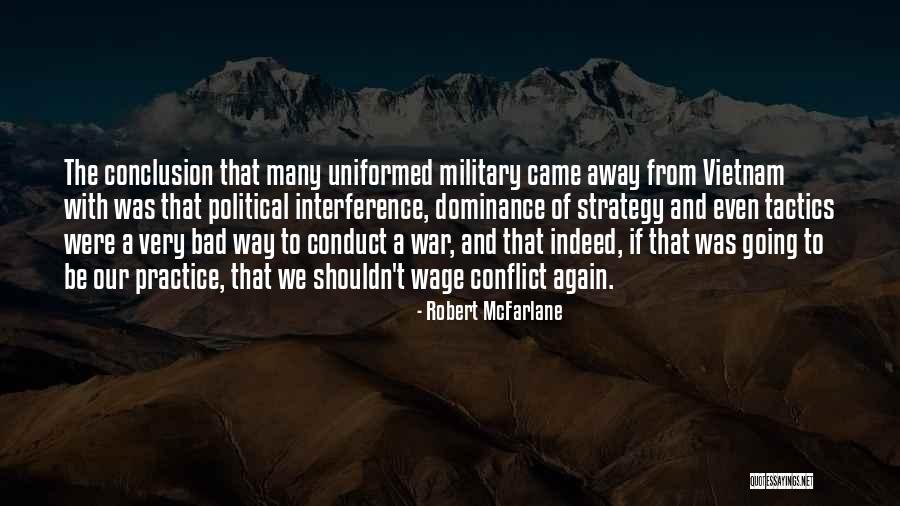 The conclusion that many uniformed military came away from Vietnam with was that political interference, dominance of strategy and even tactics were a very bad way to conduct a war, and that indeed, if that was going to be our practice, that we shouldn't wage conflict again. — Robert McFarlane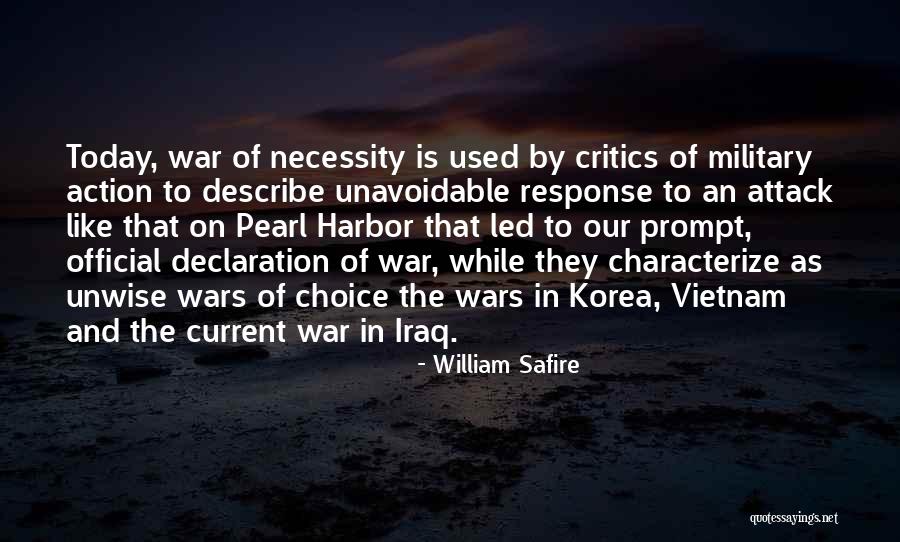 Today, war of necessity is used by critics of military action to describe unavoidable response to an attack like that on Pearl Harbor that led to our prompt, official declaration of war, while they characterize as unwise wars of choice the wars in Korea, Vietnam and the current war in Iraq. — William Safire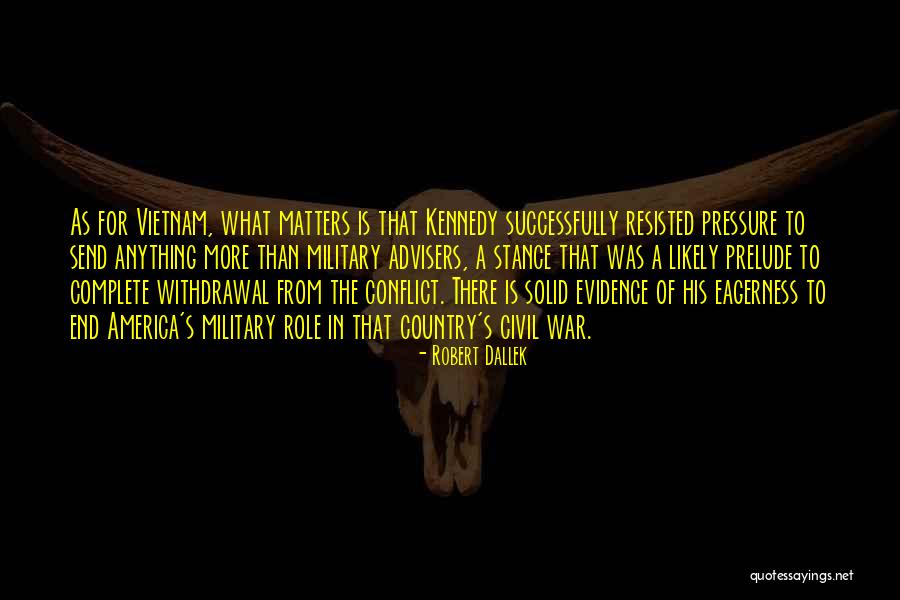 As for Vietnam, what matters is that Kennedy successfully resisted pressure to send anything more than military advisers, a stance that was a likely prelude to complete withdrawal from the conflict. There is solid evidence of his eagerness to end America's military role in that country's civil war. — Robert Dallek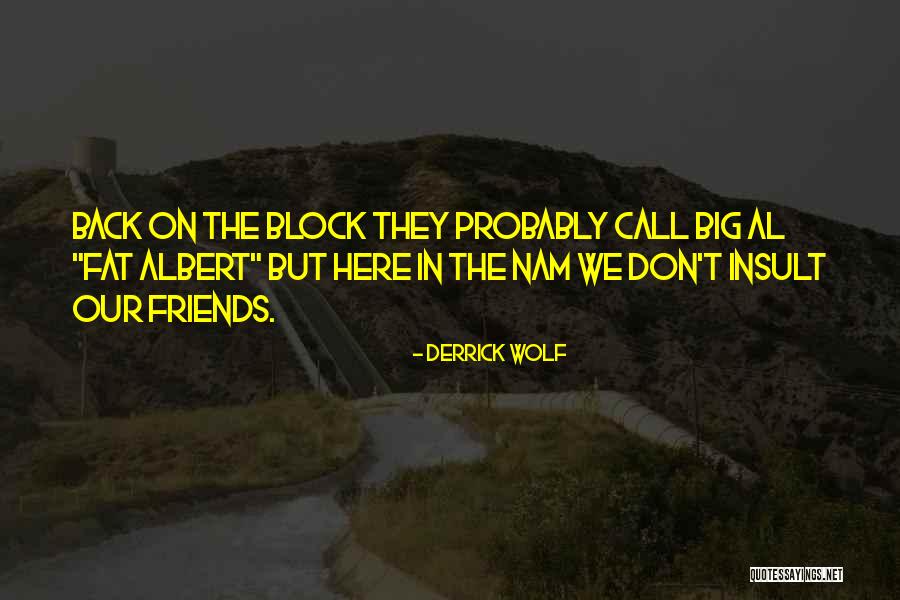 Back on the block they probably call Big Al "Fat Albert" but here in the Nam we don't insult our friends. — Derrick Wolf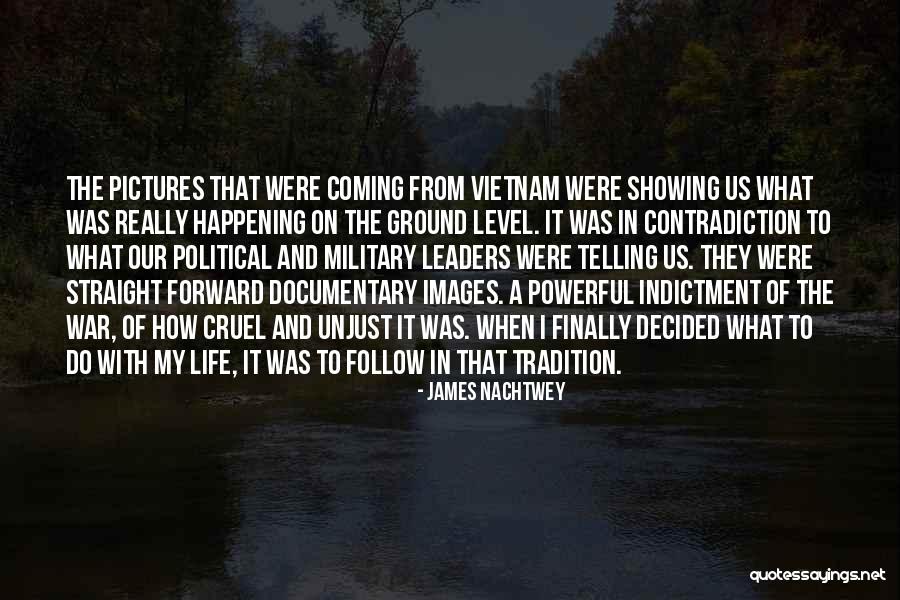 The pictures that were coming from Vietnam were showing us what was really happening on the ground level. It was in contradiction to what our political and military leaders were telling us. They were straight forward documentary images. A powerful indictment of the war, of how cruel and unjust it was. When I finally decided what to do with my life, it was to follow in that tradition. — James Nachtwey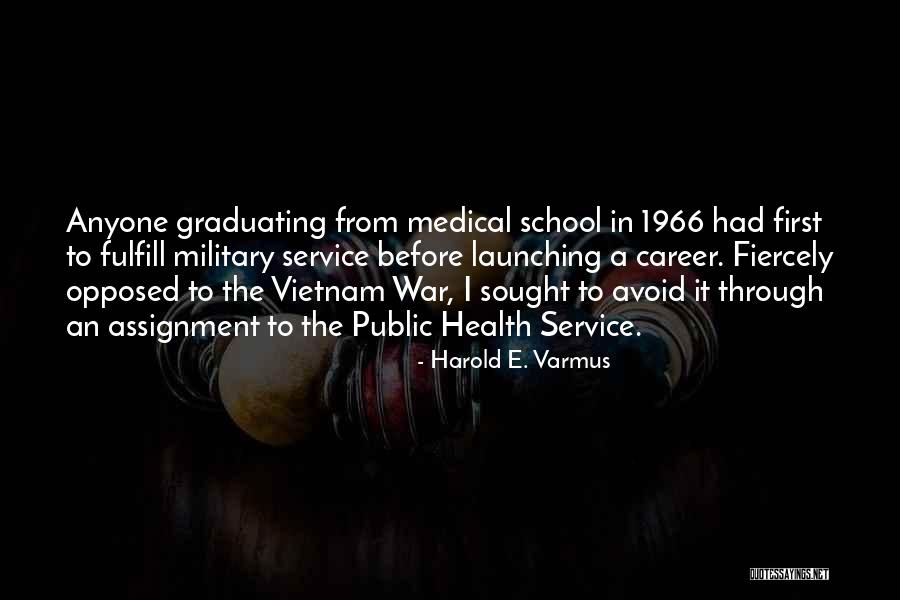 Anyone graduating from medical school in 1966 had first to fulfill military service before launching a career. Fiercely opposed to the Vietnam War, I sought to avoid it through an assignment to the Public Health Service. — Harold E. Varmus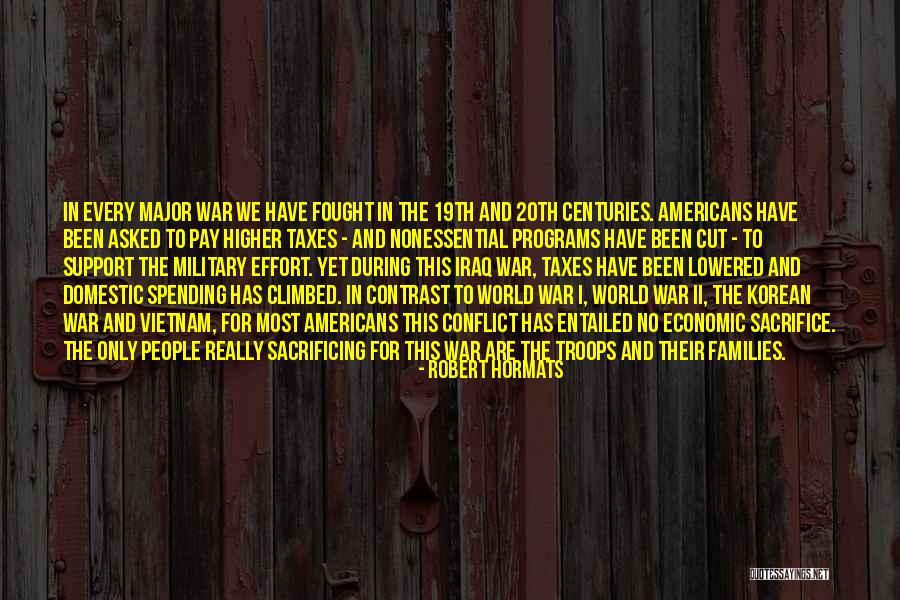 In every major war we have fought in the 19th and 20th centuries. Americans have been asked to pay higher taxes - and nonessential programs have been cut - to support the military effort. Yet during this Iraq war, taxes have been lowered and domestic spending has climbed. In contrast to World War I, World War II, the Korean War and Vietnam, for most Americans this conflict has entailed no economic sacrifice. The only people really sacrificing for this war are the troops and their families. — Robert Hormats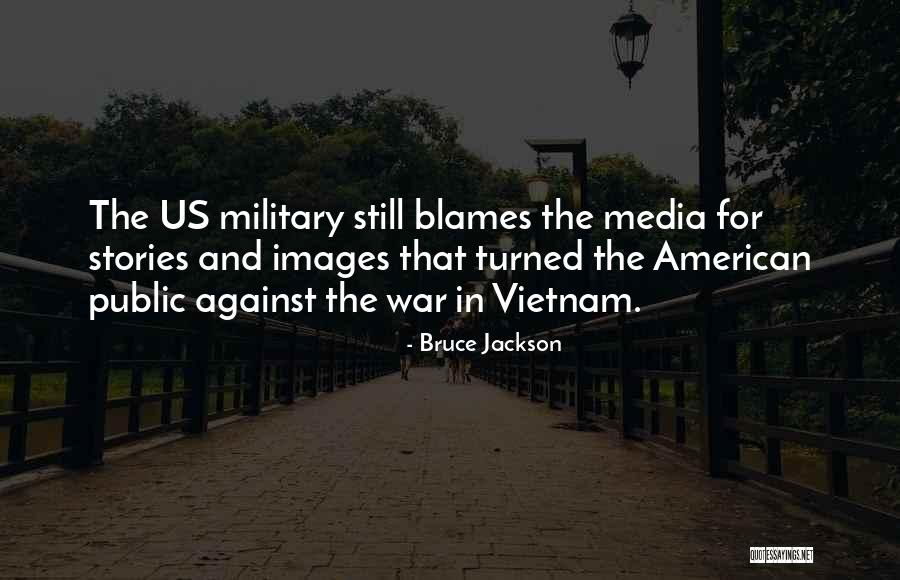 The US military still blames the media for stories and images that turned the American public against the war in Vietnam. — Bruce Jackson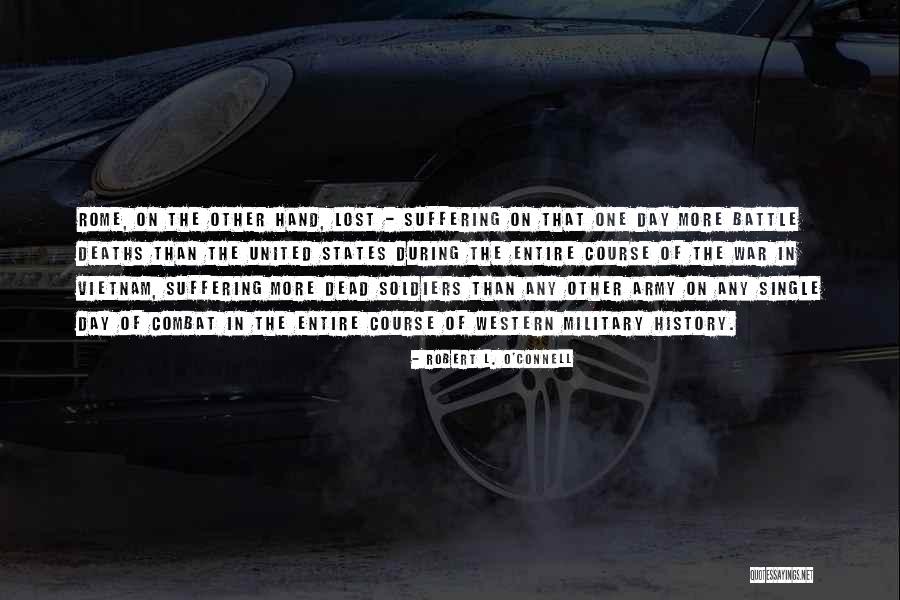 Rome, on the other hand, lost - suffering on that one day more battle deaths than the United States during the entire course of the war in Vietnam, suffering more dead soldiers than any other army on any single day of combat in the entire course of Western military history. — Robert L. O'Connell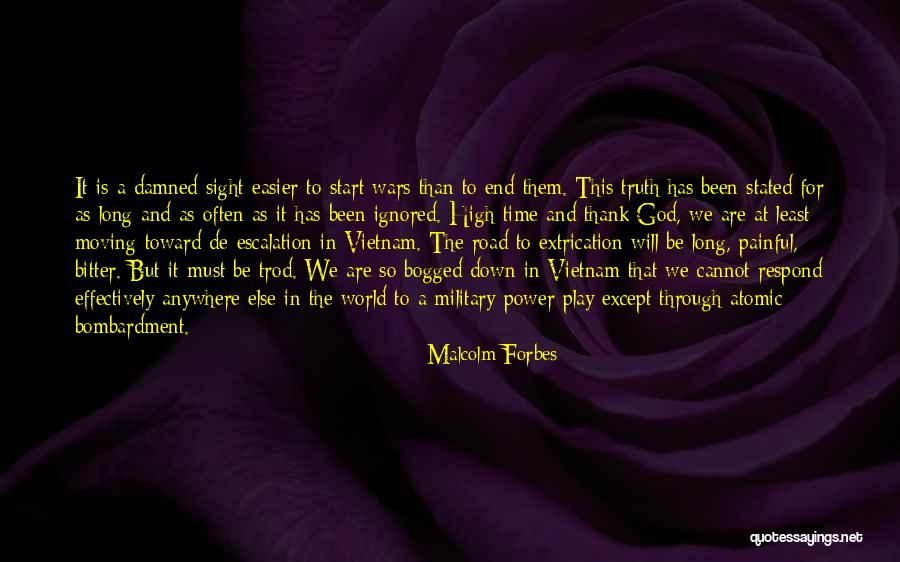 It is a damned sight easier to start wars than to end them. This truth has been stated for as long and as often as it has been ignored. High time and thank God, we are at least moving toward de-escalation in Vietnam. The road to extrication will be long, painful, bitter. But it must be trod. We are so bogged down in Vietnam that we cannot respond effectively anywhere else in the world to a military power play except through atomic bombardment. — Malcolm Forbes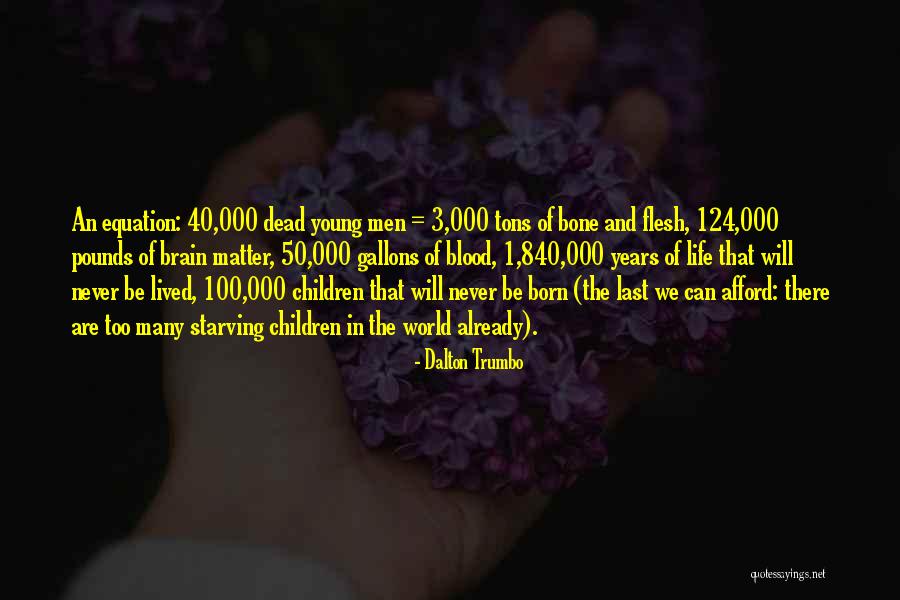 An equation: 40,000 dead young men = 3,000 tons of bone and flesh, 124,000 pounds of brain matter, 50,000 gallons of blood, 1,840,000 years of life that will never be lived, 100,000 children that will never be born (the last we can afford: there are too many starving children in the world already). — Dalton Trumbo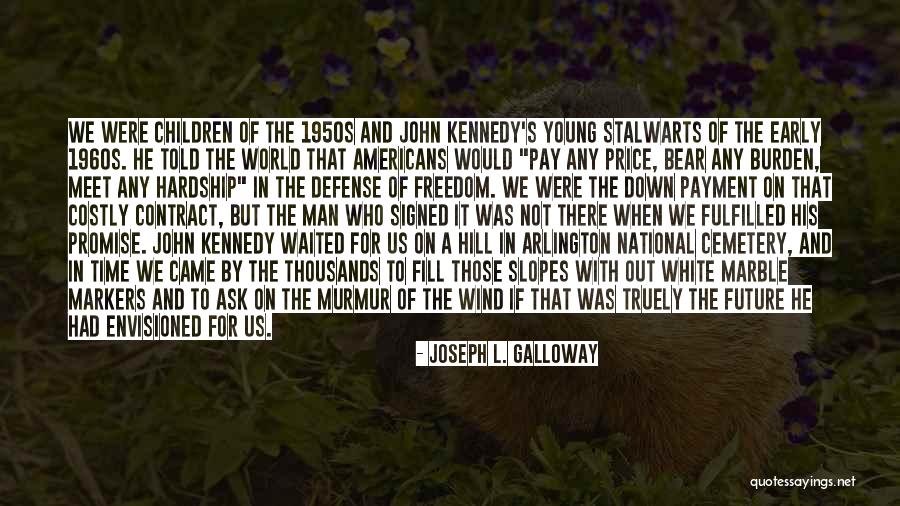 We were children of the 1950s and John Kennedy's young stalwarts of the early 1960s. He told the world that Americans would "pay any price, bear any burden, meet any hardship" in the defense of freedom. We were the down payment on that costly contract, but the man who signed it was not there when we fulfilled his promise. John Kennedy waited for us on a hill in Arlington National Cemetery, and in time we came by the thousands to fill those slopes with out white marble markers and to ask on the murmur of the wind if that was truely the future he had envisioned for us. — Joseph L. Galloway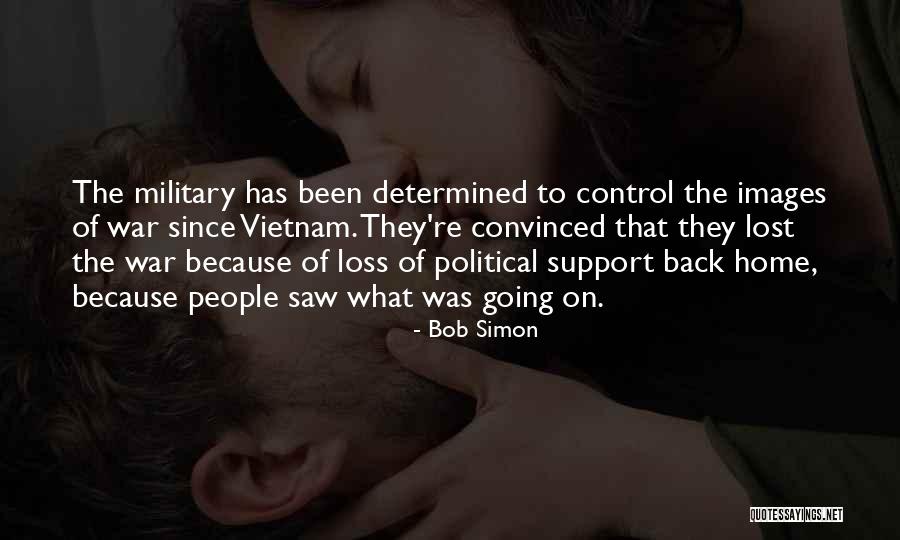 The military has been determined to control the images of war since Vietnam. They're convinced that they lost the war because of loss of political support back home, because people saw what was going on. — Bob Simon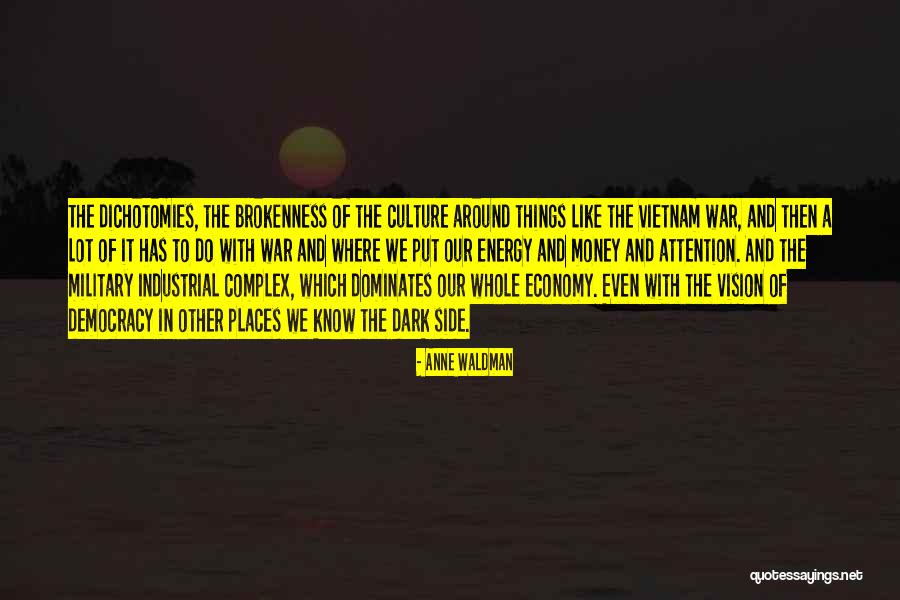 The dichotomies, the brokenness of the culture around things like the Vietnam war, and then a lot of it has to do with war and where we put our energy and money and attention. And the military industrial complex, which dominates our whole economy. Even with the vision of democracy in other places we know the dark side. — Anne Waldman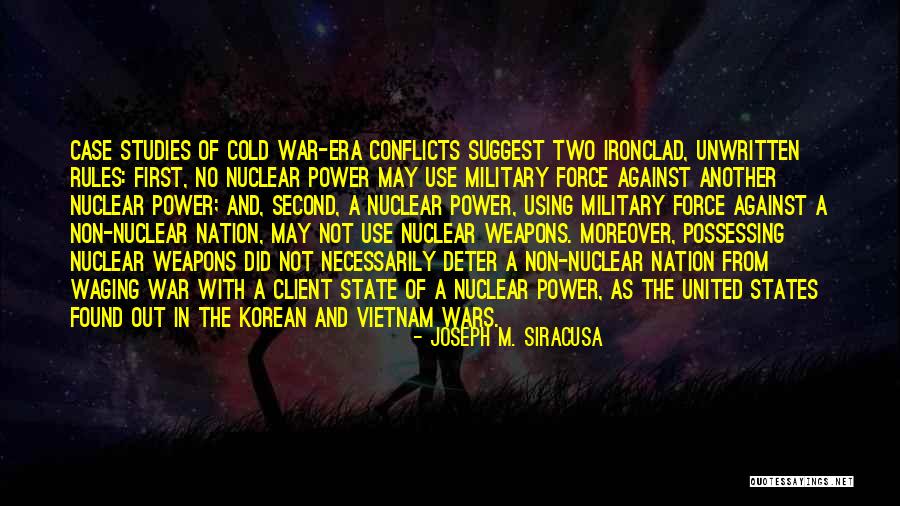 Case studies of Cold War-era conflicts suggest two ironclad, unwritten rules: first, no nuclear power may use military force against another nuclear power; and, second, a nuclear power, using military force against a non-nuclear nation, may not use nuclear weapons. Moreover, possessing nuclear weapons did not necessarily deter a non-nuclear nation from waging war with a client state of a nuclear power, as the United States found out in the Korean and Vietnam Wars. — Joseph M. Siracusa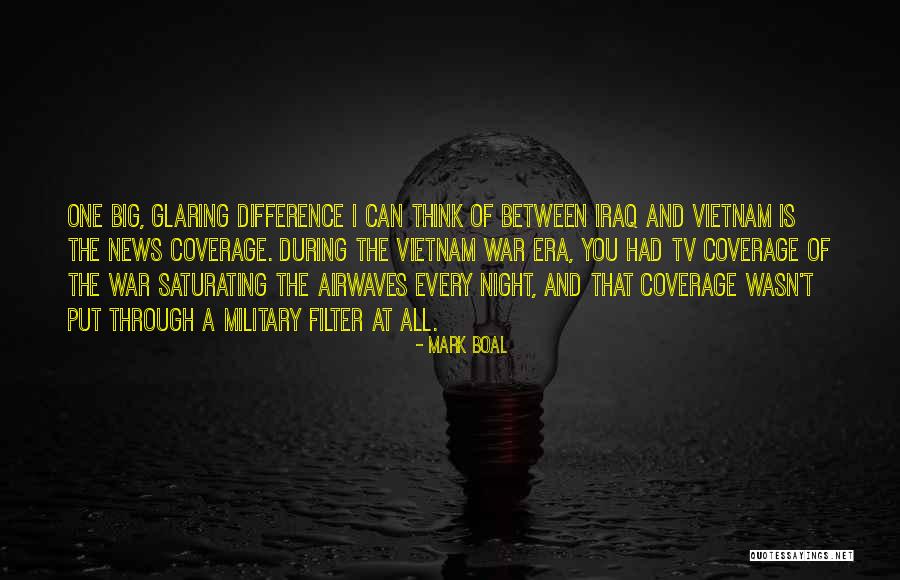 One big, glaring difference I can think of between Iraq and Vietnam is the news coverage. During the Vietnam War era, you had TV coverage of the war saturating the airwaves every night, and that coverage wasn't put through a military filter at all. — Mark Boal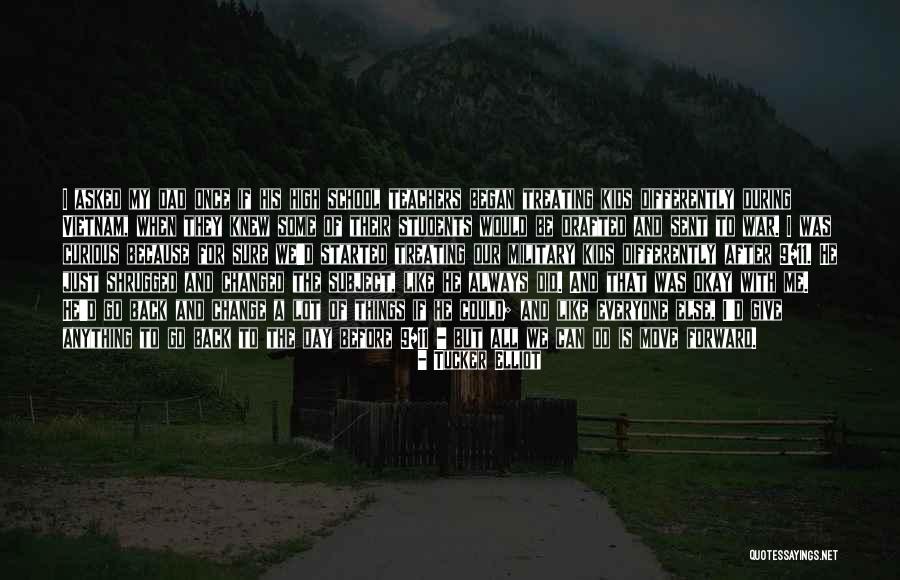 I asked my dad once if his high school teachers began treating kids differently during Vietnam, when they knew some of their students would be drafted and sent to war. I was curious because for sure we'd started treating our military kids differently after 9/11. He just shrugged and changed the subject, like he always did. And that was okay with me. He'd go back and change a lot of things if he could; and like everyone else, I'd give anything to go back to the day before 9/11 - but all we can do is move forward. — Tucker Elliot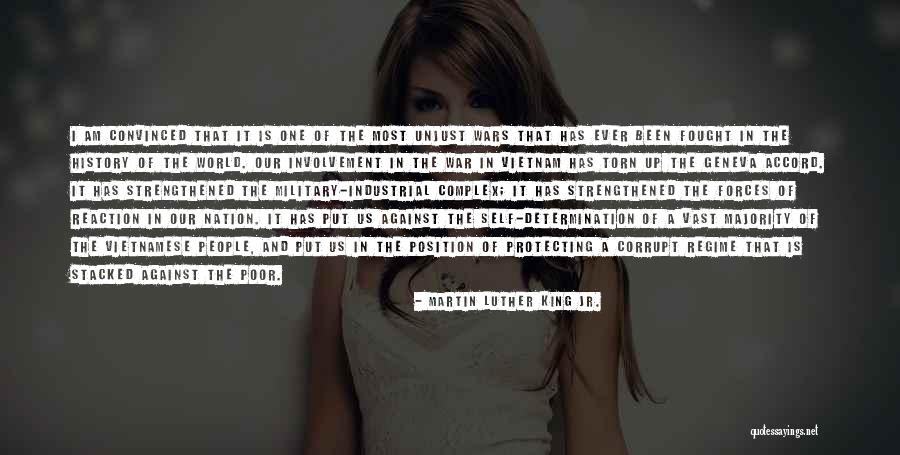 I am convinced that it is one of the most unjust wars that has ever been fought in the history of the world. Our involvement in the war in Vietnam has torn up the Geneva Accord. It has strengthened the military-industrial complex; it has strengthened the forces of reaction in our nation. It has put us against the self-determination of a vast majority of the Vietnamese people, and put us in the position of protecting a corrupt regime that is stacked against the poor. — Martin Luther King Jr.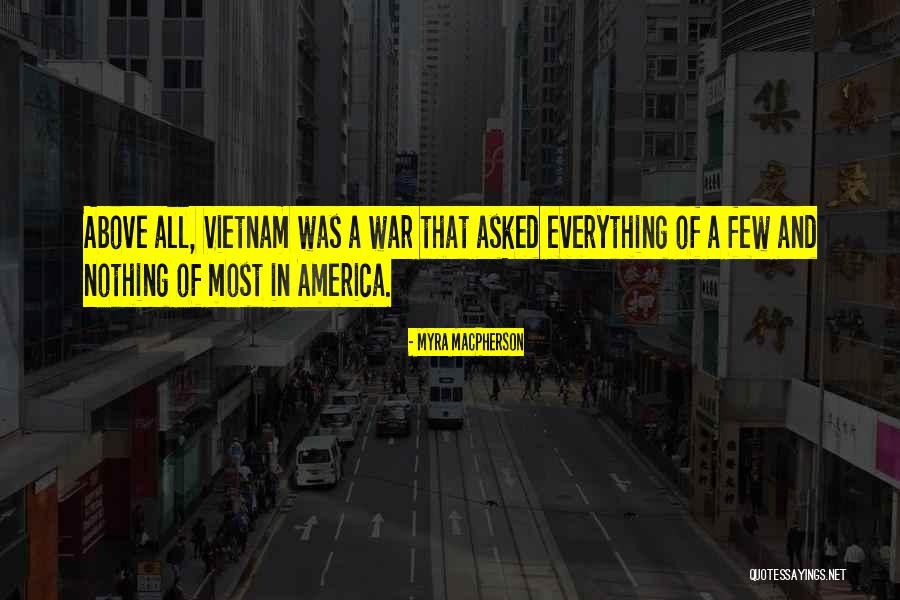 Above all, Vietnam was a war that asked everything of a few and nothing of most in America. — Myra MacPherson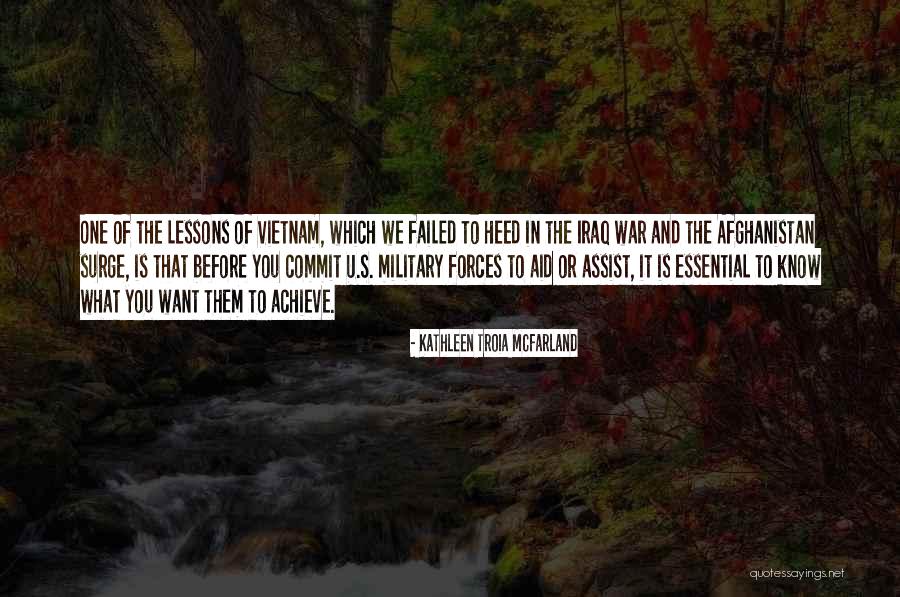 One of the lessons of Vietnam, which we failed to heed in the Iraq war and the Afghanistan surge, is that before you commit U.S. military forces to aid or assist, it is essential to know what you want them to achieve. — Kathleen Troia McFarland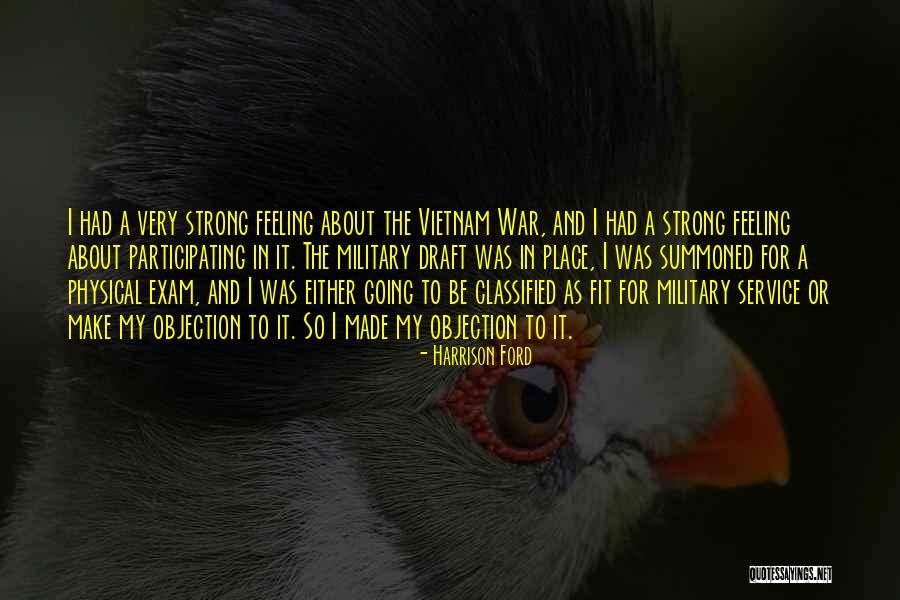 I had a very strong feeling about the Vietnam War, and I had a strong feeling about participating in it. The military draft was in place, I was summoned for a physical exam, and I was either going to be classified as fit for military service or make my objection to it. So I made my objection to it. — Harrison Ford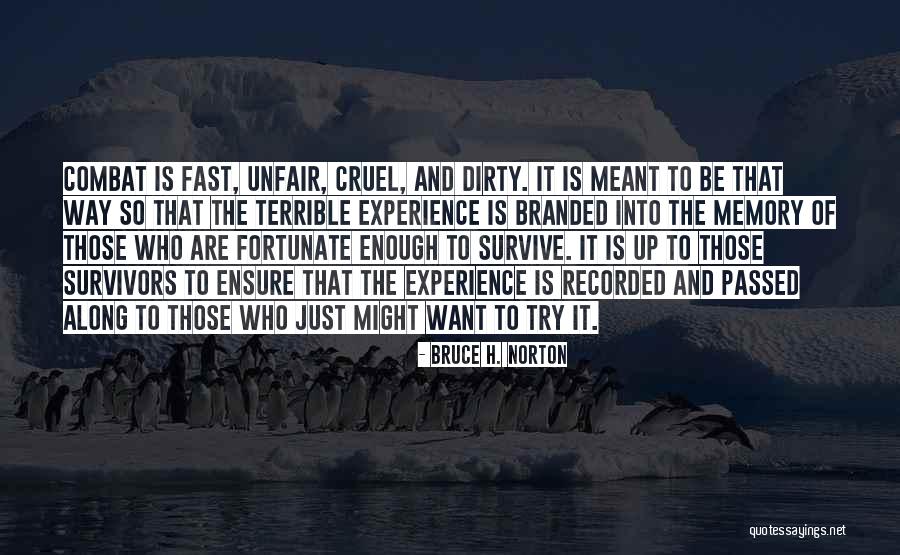 Combat is fast, unfair, cruel, and dirty. It is meant to be that way so that the terrible experience is branded into the memory of those who are fortunate enough to survive. It is up to those survivors to ensure that the experience is recorded and passed along to those who just might want to try it. — Bruce H. Norton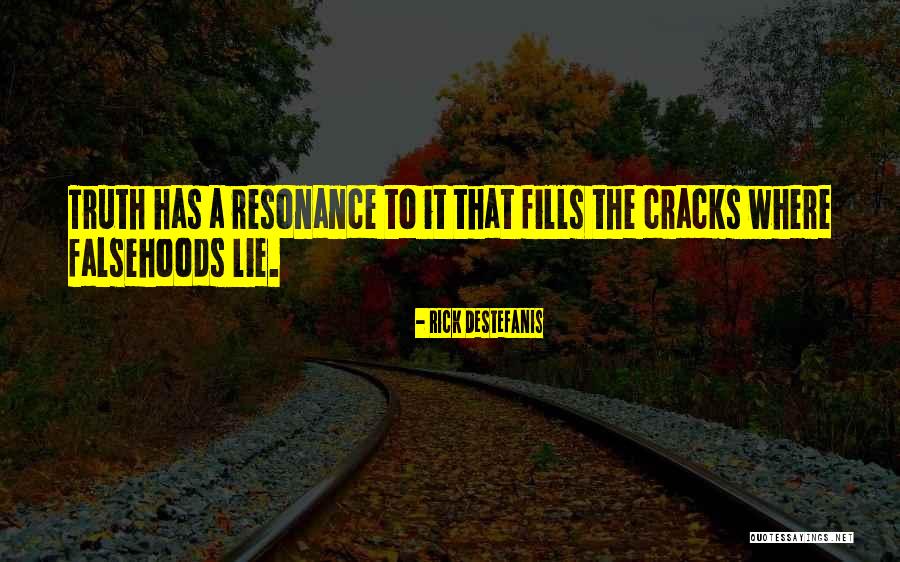 Truth has a resonance to it that fills the cracks where falsehoods lie. — Rick DeStefanis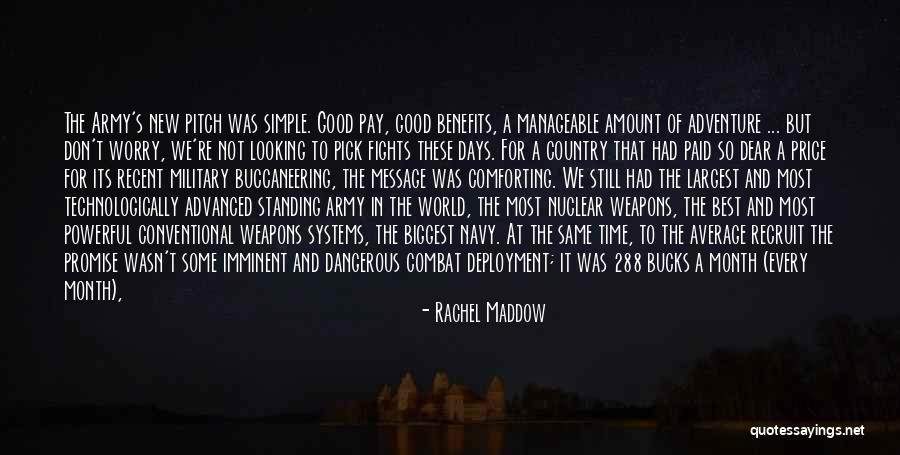 The Army's new pitch was simple. Good pay, good benefits, a manageable amount of adventure ... but don't worry, we're not looking to pick fights these days. For a country that had paid so dear a price for its recent military buccaneering, the message was comforting. We still had the largest and most technologically advanced standing army in the world, the most nuclear weapons, the best and most powerful conventional weapons systems, the biggest navy. At the same time, to the average recruit the promise wasn't some imminent and dangerous combat deployment; it was 288 bucks a month (every month), training, travel, and experience. Selling the post-Vietnam military as a career choice meant selling the idea of peacetime service. It meant selling the idea of peacetime. Barf. — Rachel Maddow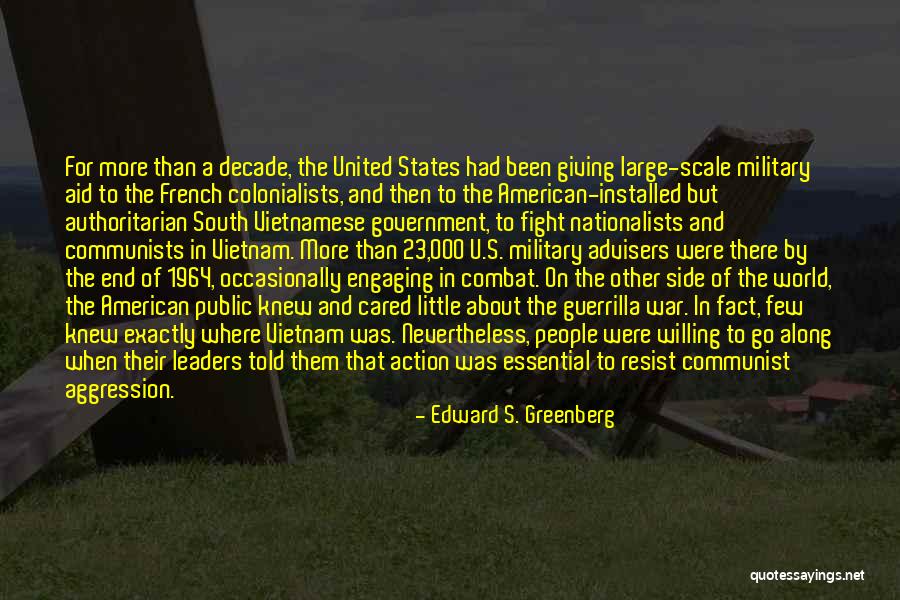 For more than a decade, the United States had been giving large-scale military aid to the French colonialists, and then to the American-installed but authoritarian South Vietnamese government, to fight nationalists and communists in Vietnam. More than 23,000 U.S. military advisers were there by the end of 1964, occasionally engaging in combat. On the other side of the world, the American public knew and cared little about the guerrilla war. In fact, few knew exactly where Vietnam was. Nevertheless, people were willing to go along when their leaders told them that action was essential to resist communist aggression. — Edward S. Greenberg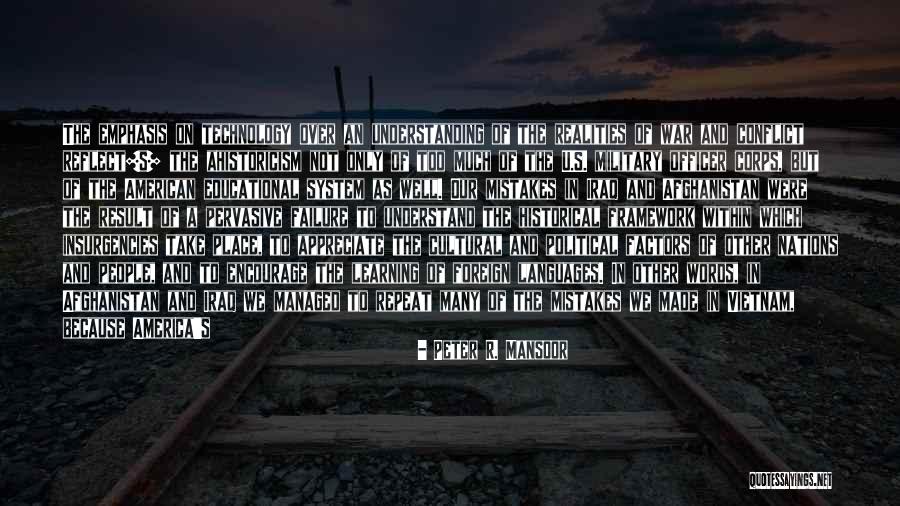 The emphasis on technology over an understanding of the realities of war and conflict reflect[s] the ahistoricism not only of too much of the U.S. military officer corps, but of the American educational system as well. Our mistakes in Iraq and Afghanistan were the result of a pervasive failure to understand the historical framework within which insurgencies take place, to appreciate the cultural and political factors of other nations and people, and to encourage the learning of foreign languages. In other words, in Afghanistan and Iraq we managed to repeat many of the mistakes we made in Vietnam, because America's political and military leaders managed to forget nearly every lesson of that conflict. — Peter R. Mansoor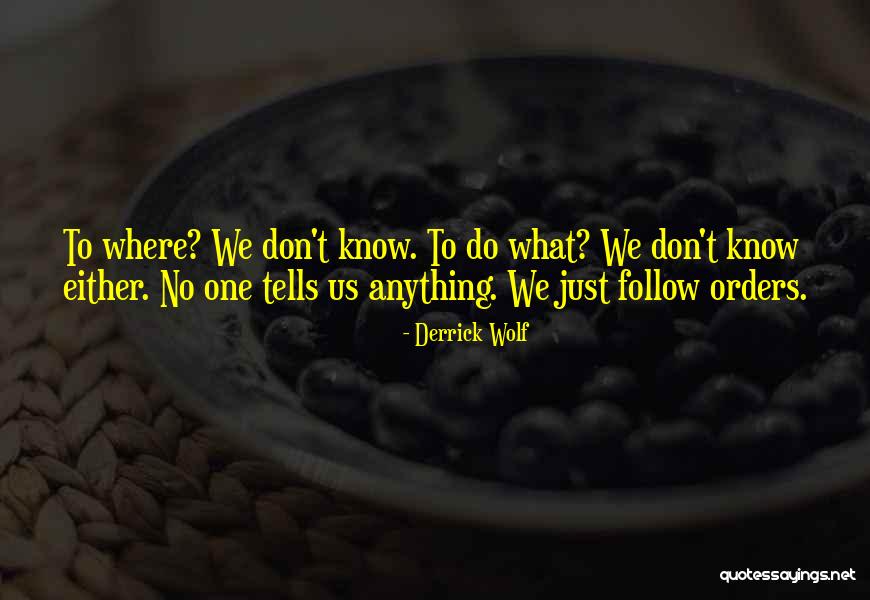 To where? We don't know. To do what? We don't know either. No one tells us anything. We just follow orders. — Derrick Wolf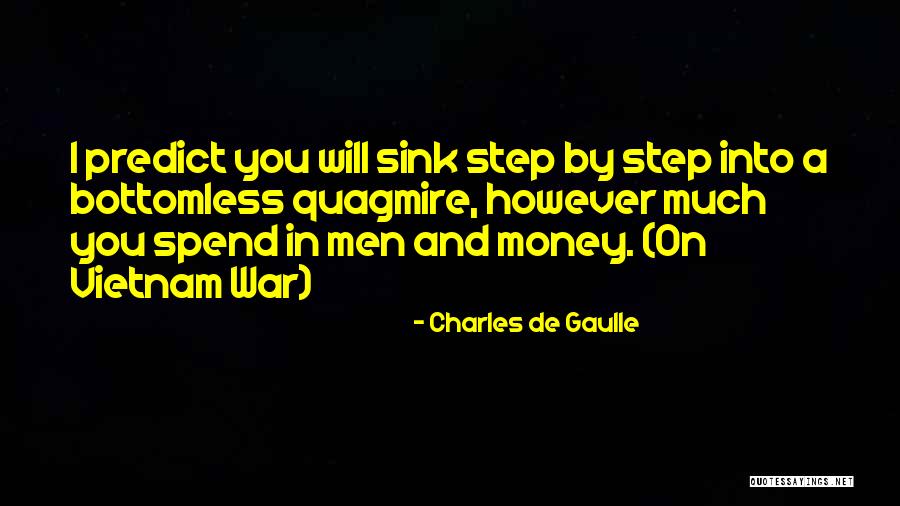 I predict you will sink step by step into a bottomless quagmire, however much you spend in men and money. (On Vietnam War) — Charles De Gaulle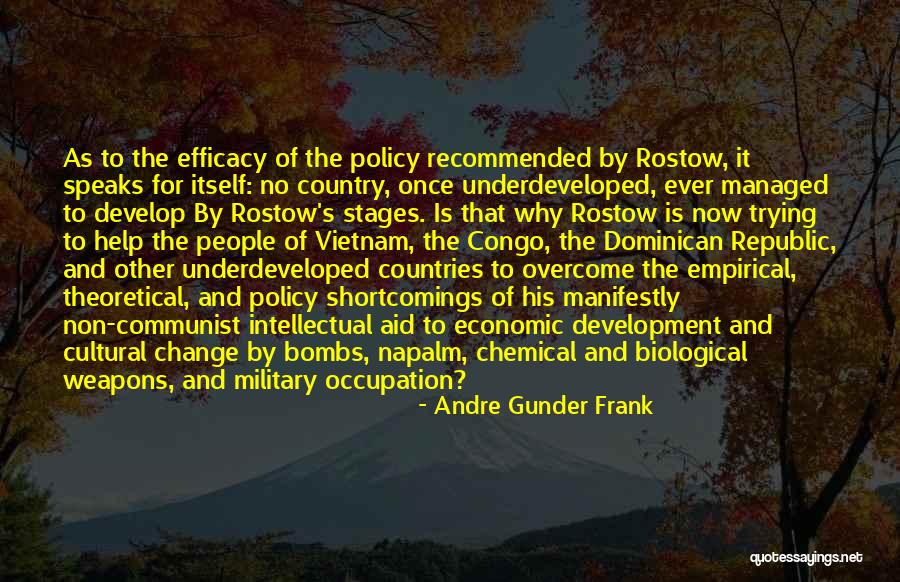 As to the efficacy of the policy recommended by Rostow, it speaks for itself: no country, once underdeveloped, ever managed to develop By Rostow's stages. Is that why Rostow is now trying to help the people of Vietnam, the Congo, the Dominican Republic, and other underdeveloped countries to overcome the empirical, theoretical, and policy shortcomings of his manifestly non-communist intellectual aid to economic development and cultural change by bombs, napalm, chemical and biological weapons, and military occupation? — Andre Gunder Frank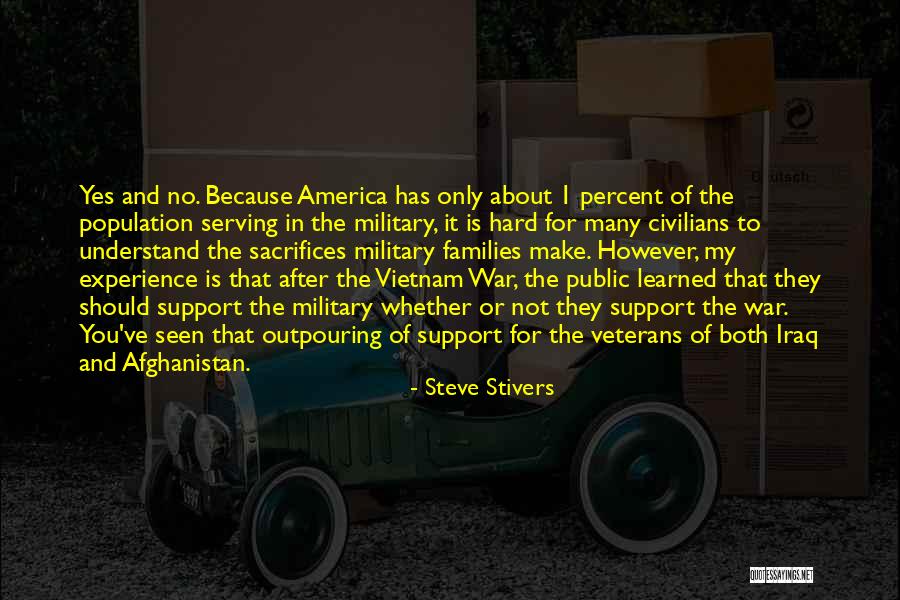 Yes and no. Because America has only about 1 percent of the population serving in the military, it is hard for many civilians to understand the sacrifices military families make. However, my experience is that after the Vietnam War, the public learned that they should support the military whether or not they support the war. You've seen that outpouring of support for the veterans of both Iraq and Afghanistan. — Steve Stivers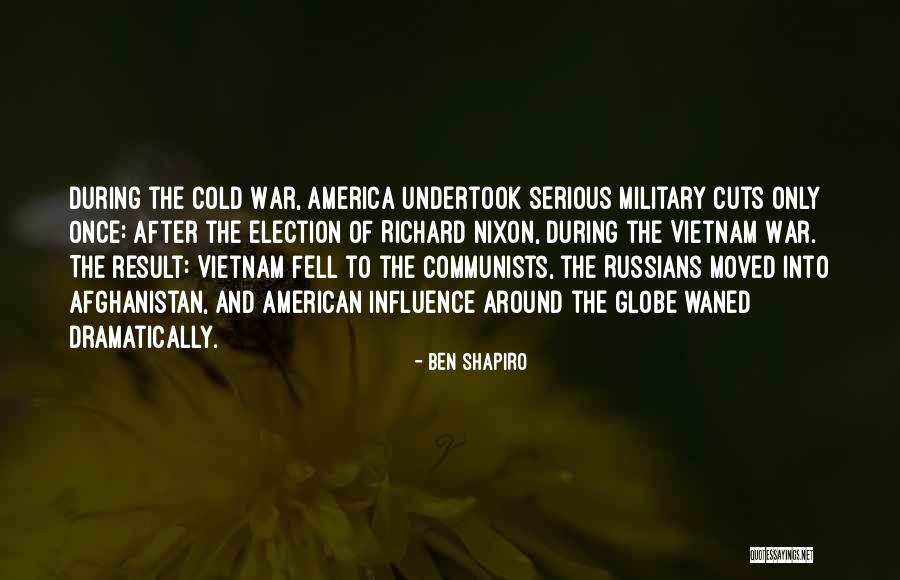 During the Cold War, America undertook serious military cuts only once: after the election of Richard Nixon, during the Vietnam War. The result: Vietnam fell to the Communists, the Russians moved into Afghanistan, and American influence around the globe waned dramatically. — Ben Shapiro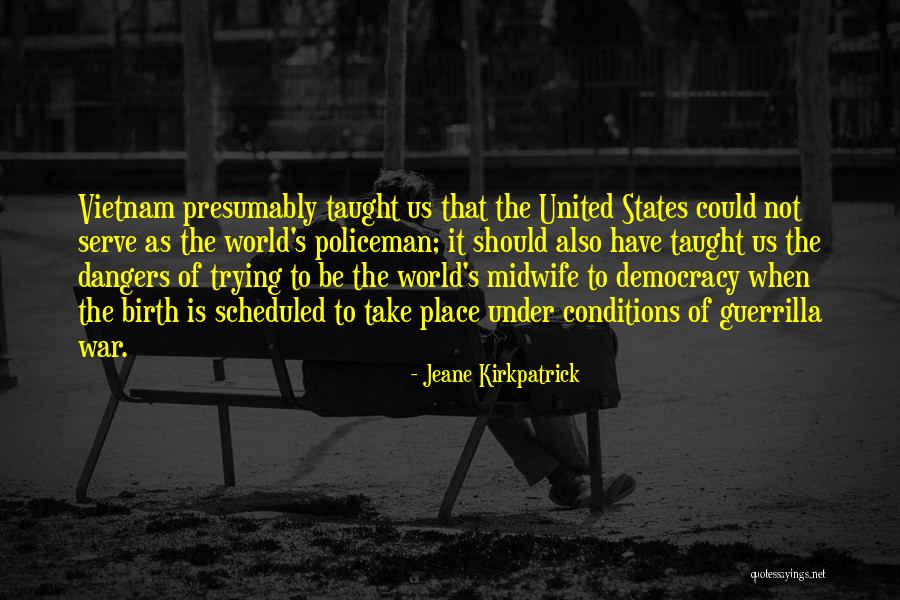 Vietnam presumably taught us that the United States could not serve as the world's policeman; it should also have taught us the dangers of trying to be the world's midwife to democracy when the birth is scheduled to take place under conditions of guerrilla war. — Jeane Kirkpatrick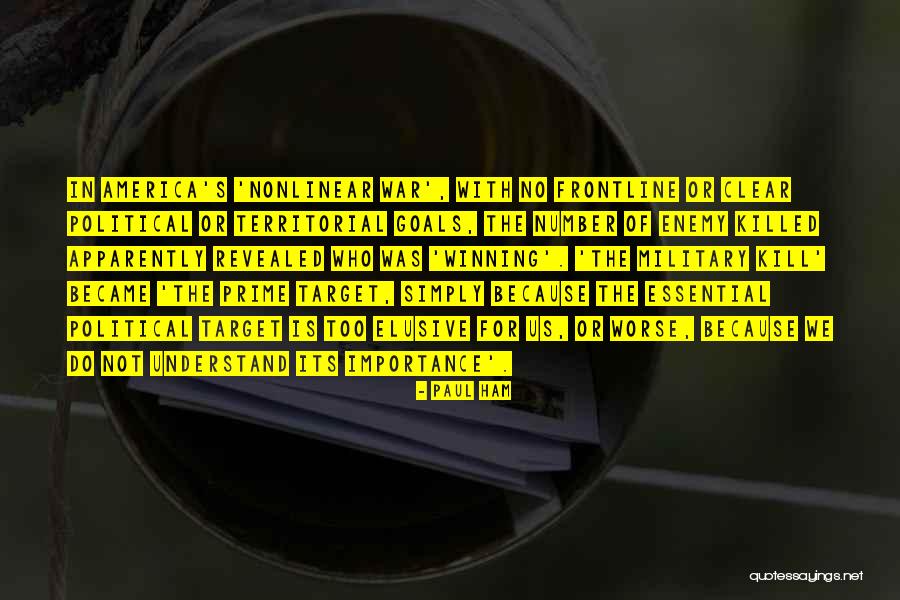 In America's 'nonlinear war', with no frontline or clear political or territorial goals, the number of enemy killed apparently revealed who was 'winning'. 'The military kill' became 'the prime target, simply because the essential political target is too elusive for us, or worse, because we do not understand its importance'. — Paul Ham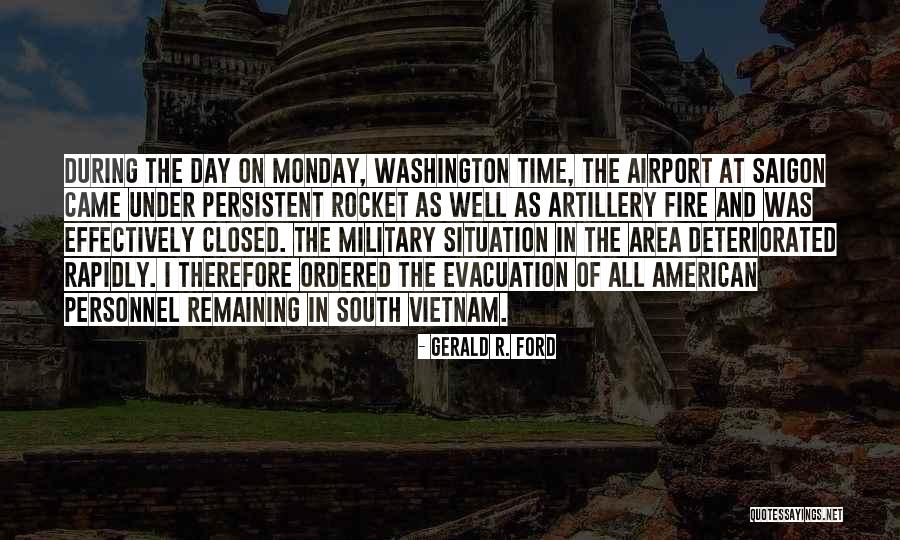 During the day on Monday, Washington time, the airport at Saigon came under persistent rocket as well as artillery fire and was effectively closed. The military situation in the area deteriorated rapidly. I therefore ordered the evacuation of all American personnel remaining in South Vietnam. — Gerald R. Ford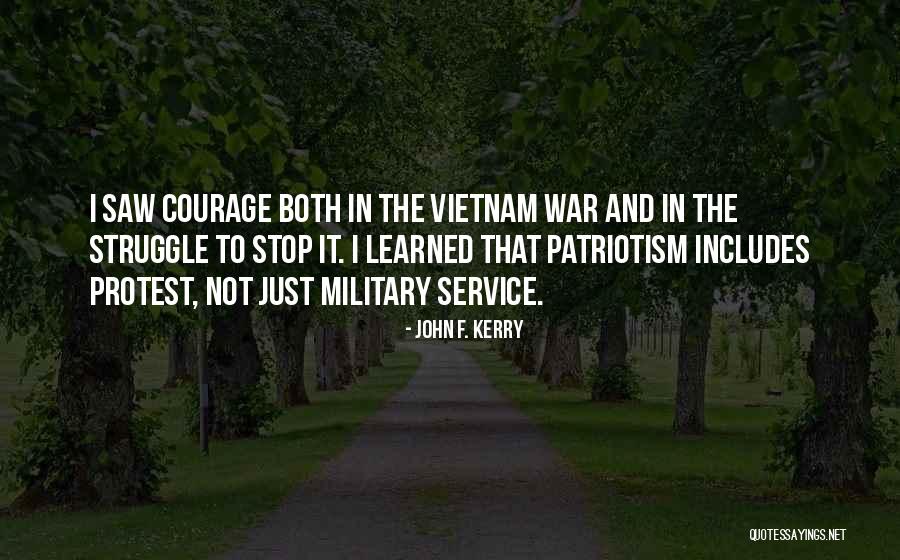 I saw courage both in the Vietnam War and in the struggle to stop it. I learned that patriotism includes protest, not just military service. — John F. Kerry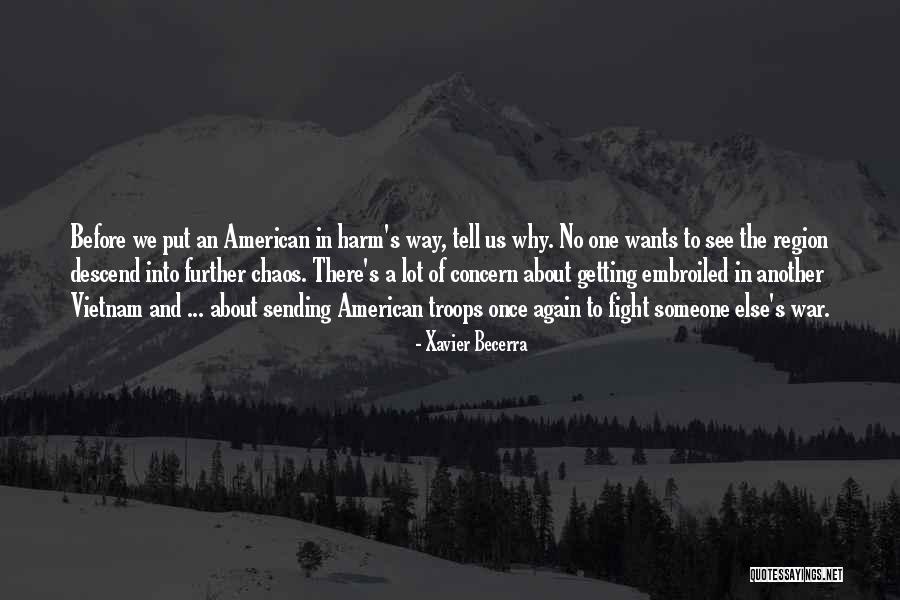 Before we put an American in harm's way, tell us why. No one wants to see the region descend into further chaos. There's a lot of concern about getting embroiled in another Vietnam and ... about sending American troops once again to fight someone else's war. — Xavier Becerra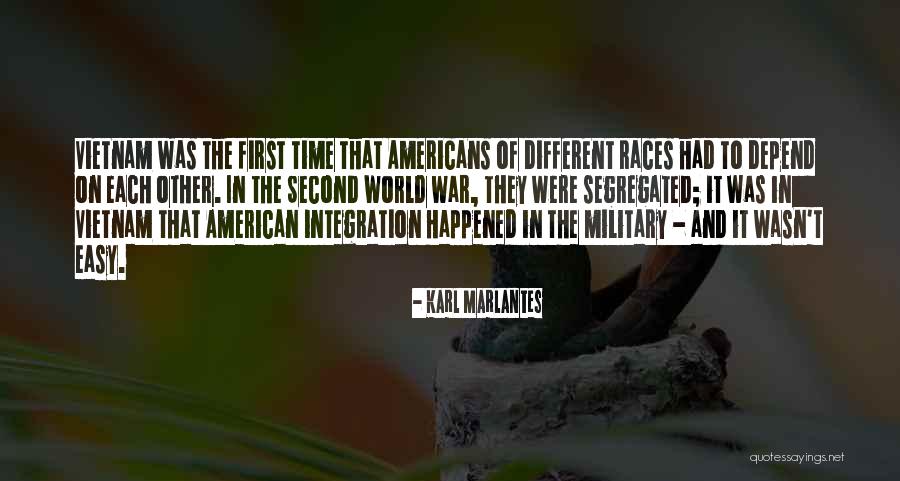 Vietnam was the first time that Americans of different races had to depend on each other. In the Second World War, they were segregated; it was in Vietnam that American integration happened in the military - and it wasn't easy. — Karl Marlantes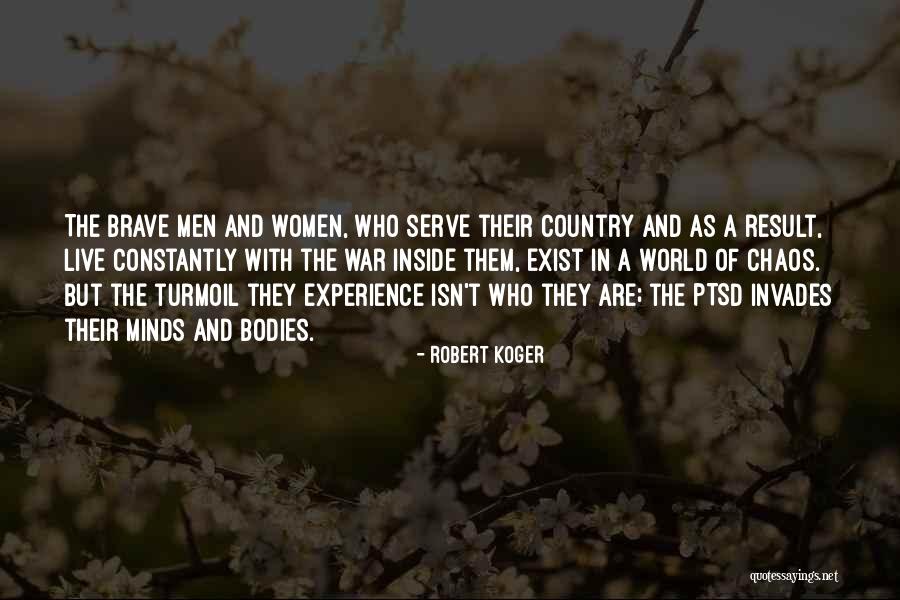 The brave men and women, who serve their country and as a result, live constantly with the war inside them, exist in a world of chaos. But the turmoil they experience isn't who they are; the PTSD invades their minds and bodies. — Robert Koger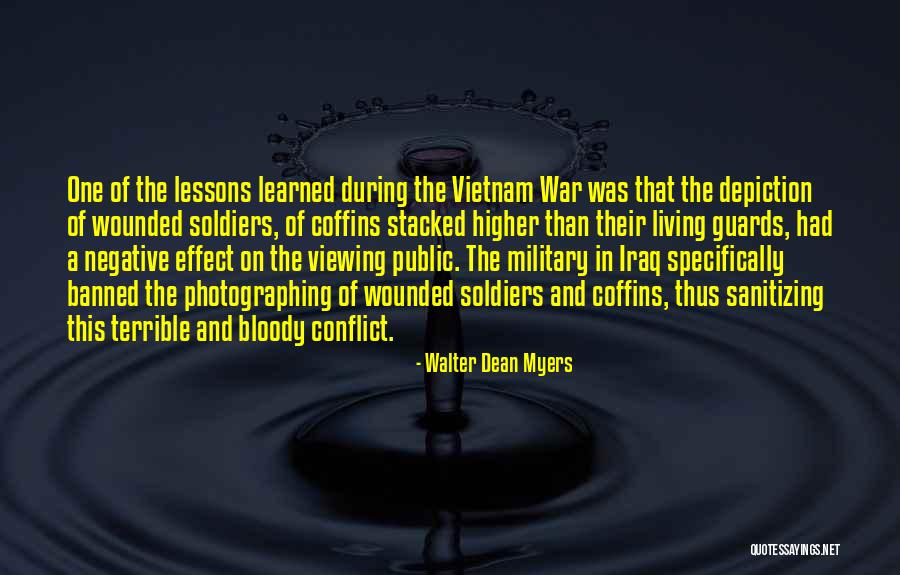 One of the lessons learned during the Vietnam War was that the depiction of wounded soldiers, of coffins stacked higher than their living guards, had a negative effect on the viewing public. The military in Iraq specifically banned the photographing of wounded soldiers and coffins, thus sanitizing this terrible and bloody conflict. — Walter Dean Myers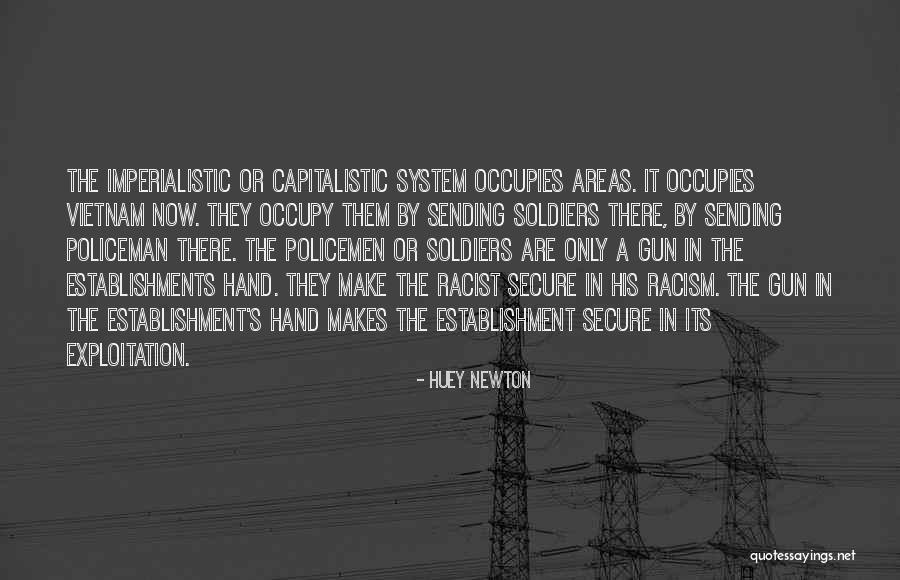 The imperialistic or capitalistic system occupies areas. It occupies Vietnam now. They occupy them by sending soldiers there, by sending policeman there. The policemen or soldiers are only a gun in the establishments hand. They make the racist secure in his racism. The gun in the establishment's hand makes the establishment secure in its exploitation. — Huey Newton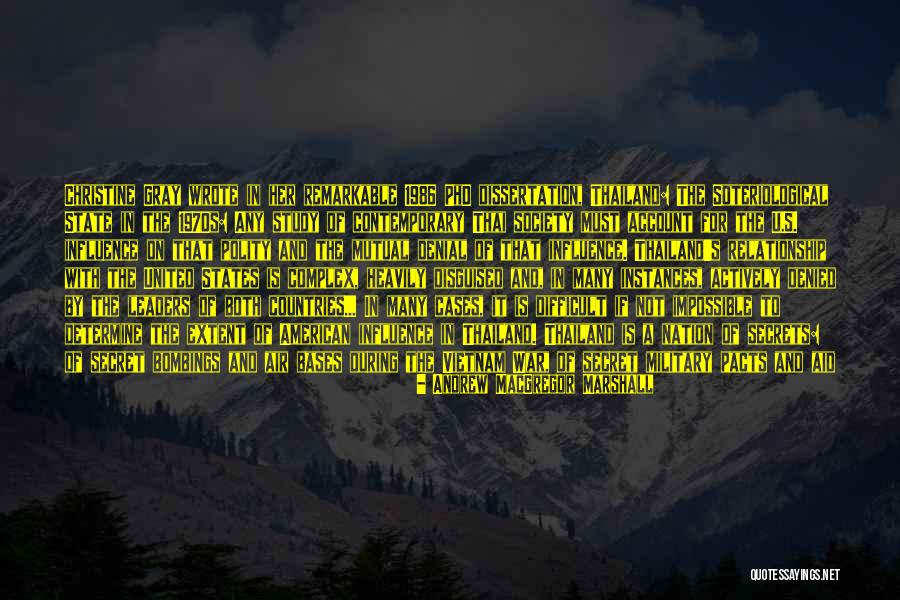 Christine Gray wrote in her remarkable 1986 PhD dissertation, Thailand: The Soteriological State in the 1970s: Any study of contemporary Thai society must account for the U.S. influence on that polity and the mutual denial of that influence. Thailand's relationship with the United States is complex, heavily disguised and, in many instances, actively denied by the leaders of both countries... In many cases, it is difficult if not impossible to determine the extent of American influence in Thailand. Thailand is a nation of secrets: of secret bombings and air bases during the Vietnam War, of secret military pacts and aid agreements, of secret business transactions and secret ownership of businesses and joint venture corporations. This is precisely the point; the American presence has taken on powerful cosmological, religious and even mythic overtones. The American influence on the Thai economy and polity has become a symbol of uncertainty, of men's inability to know the truth. — Andrew MacGregor Marshall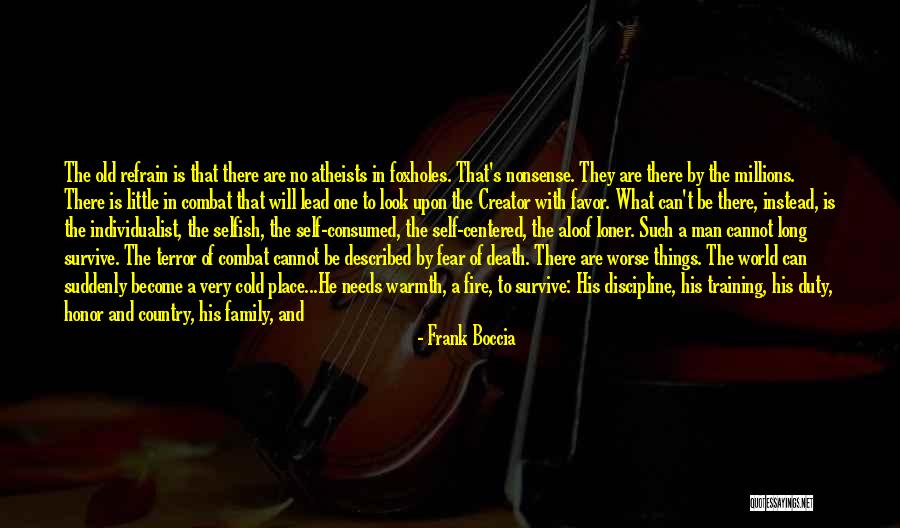 The old refrain is that there are no atheists in foxholes. That's nonsense. They are there by the millions. There is little in combat that will lead one to look upon the Creator with favor. What can't be there, instead, is the individualist, the selfish, the self-consumed, the self-centered, the aloof loner. Such a man cannot long survive. The terror of combat cannot be described by fear of death. There are worse things. The world can suddenly become a very cold place...He needs warmth, a fire, to survive: His discipline, his training, his duty, honor and country, his family, and ultimately the very oak of his manhood are thrown into the blaze, but they are not enough to save him. At the end, he needs the warmth of his comrades. Otherwise, all he will have with which to face the cold dark will be his own spent soul. — Frank Boccia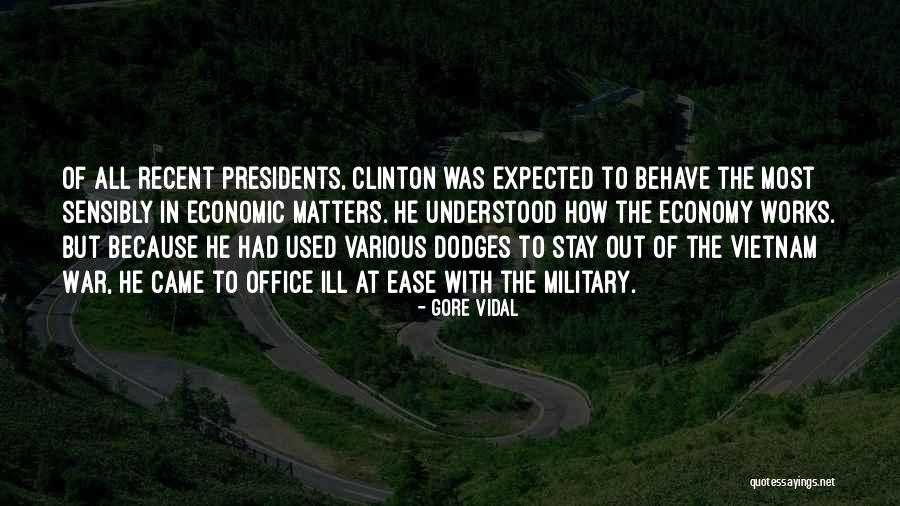 Of all recent presidents, Clinton was expected to behave the most sensibly in economic matters. He understood how the economy works. But because he had used various dodges to stay out of the Vietnam War, he came to office ill at ease with the military. — Gore Vidal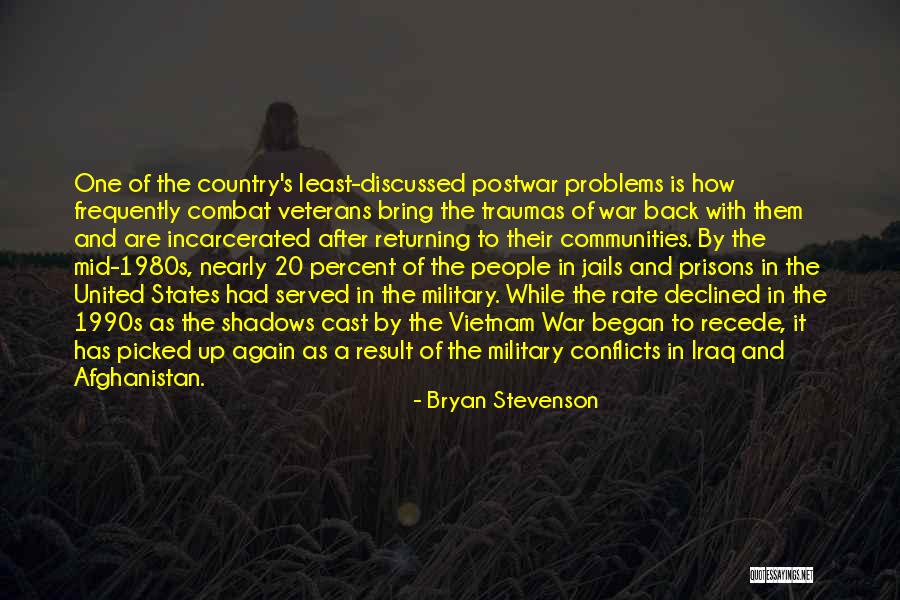 One of the country's least-discussed postwar problems is how frequently combat veterans bring the traumas of war back with them and are incarcerated after returning to their communities. By the mid-1980s, nearly 20 percent of the people in jails and prisons in the United States had served in the military. While the rate declined in the 1990s as the shadows cast by the Vietnam War began to recede, it has picked up again as a result of the military conflicts in Iraq and Afghanistan. — Bryan Stevenson