Quotes & Sayings About Unexpected Friends
Enjoy reading and share 29 famous quotes about Unexpected Friends with everyone.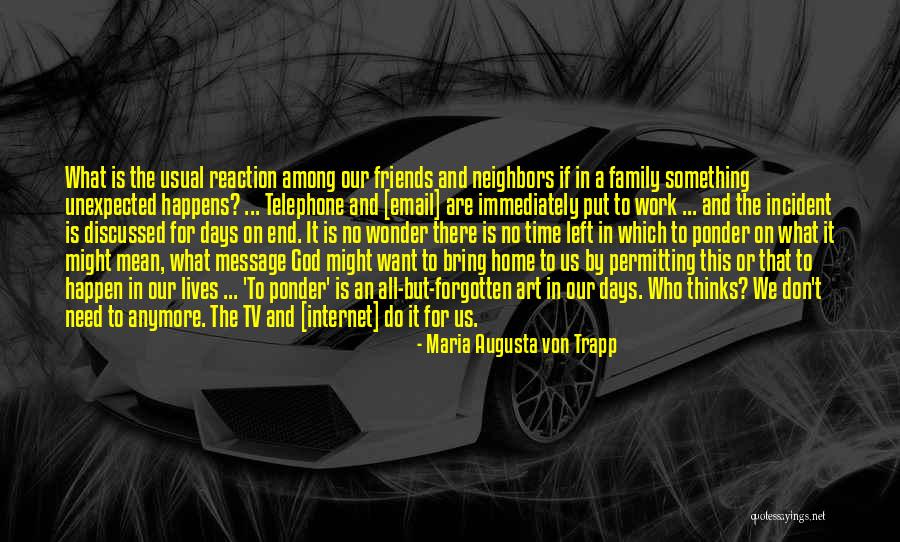 What is the usual reaction among our friends and neighbors if in a family something unexpected happens? ... Telephone and [email] are immediately put to work ... and the incident is discussed for days on end. It is no wonder there is no time left in which to ponder on what it might mean, what message God might want to bring home to us by permitting this or that to happen in our lives ... 'To ponder' is an all-but-forgotten art in our days. Who thinks? We don't need to anymore. The TV and [internet] do it for us. — Maria Augusta Von Trapp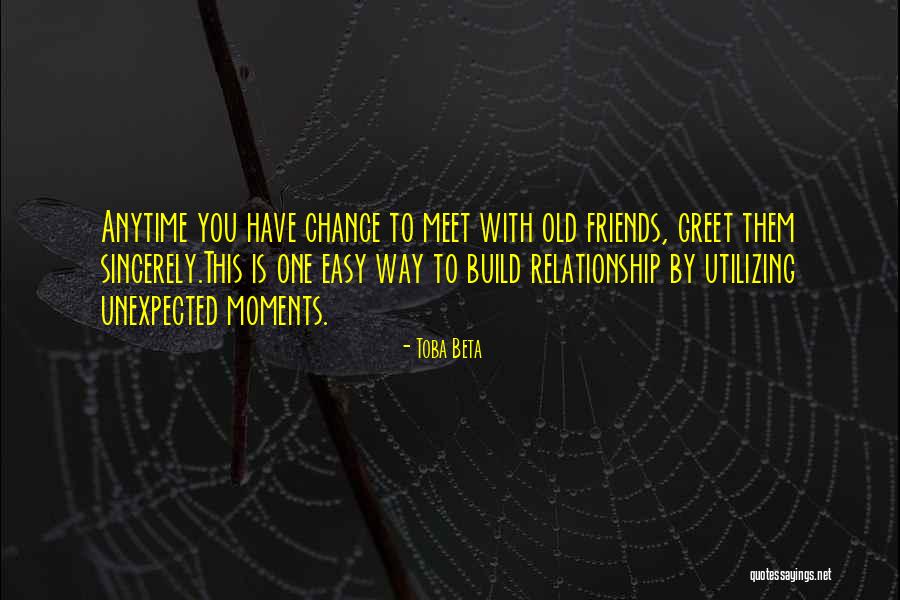 Anytime you have chance to meet with old friends, greet them sincerely.
This is one easy way to build relationship by utilizing unexpected moments. — Toba Beta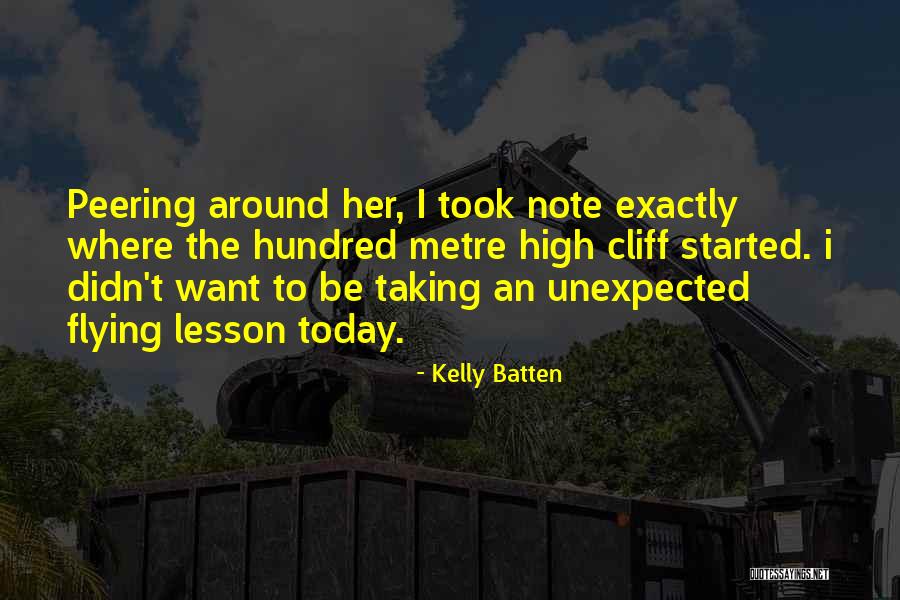 Peering around her, I took note exactly where the hundred metre high cliff started. i didn't want to be taking an unexpected flying lesson today. — Kelly Batten
How delightful! Dunford had just come into an unexpected inheritance. She rather hoped it was something good. One of her friends had just unwillingly inherited thirty-seven cats. — Julia Quinn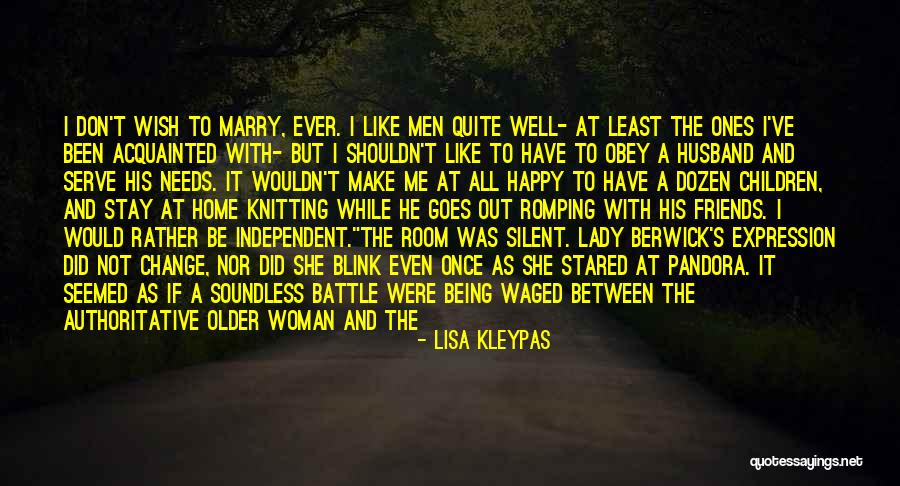 I don't wish to marry, ever. I like men quite well- at least the ones I've been acquainted with- but I shouldn't like to have to obey a husband and serve his needs. It wouldn't make me at all happy to have a dozen children, and stay at home knitting while he goes out romping with his friends. I would rather be independent."
The room was silent. Lady Berwick's expression did not change, nor did she blink even once as she stared at Pandora. It seemed as if a soundless battle were being waged between the authoritative older woman and the rebellious girl.
Finally Lady Berwick said, "You must have read Tolstoy."
Pandora blinked, clearly caught off guard by the unexpected comment. "I have," she admitted, looking mystified. "How did you know?"
"No young woman wants to marry after reading Tolstoy. That is why I never allowed either of my daughters to read Russian novels. — Lisa Kleypas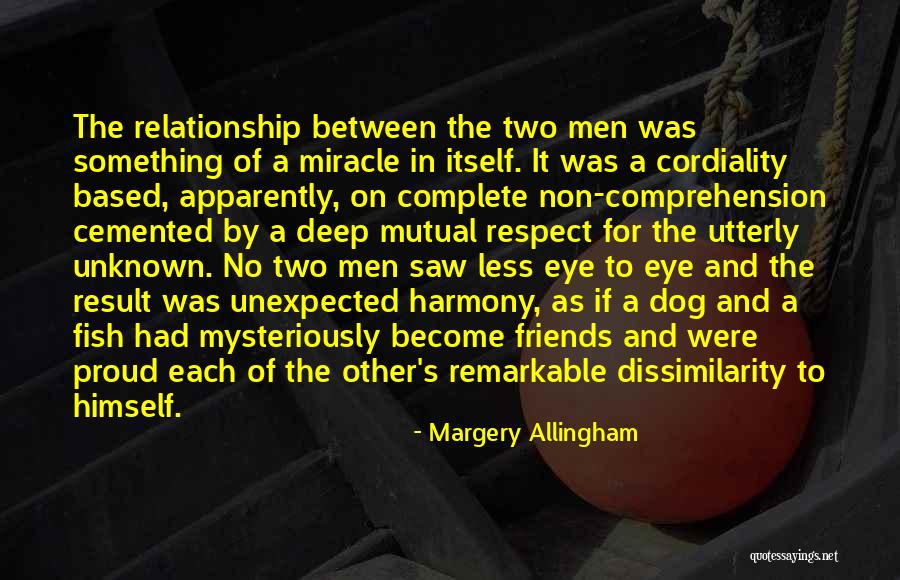 The relationship between the two men was something of a miracle in itself. It was a cordiality based, apparently, on complete non-comprehension cemented by a deep mutual respect for the utterly unknown. No two men saw less eye to eye and the result was unexpected harmony, as if a dog and a fish had mysteriously become friends and were proud each of the other's remarkable dissimilarity to himself. — Margery Allingham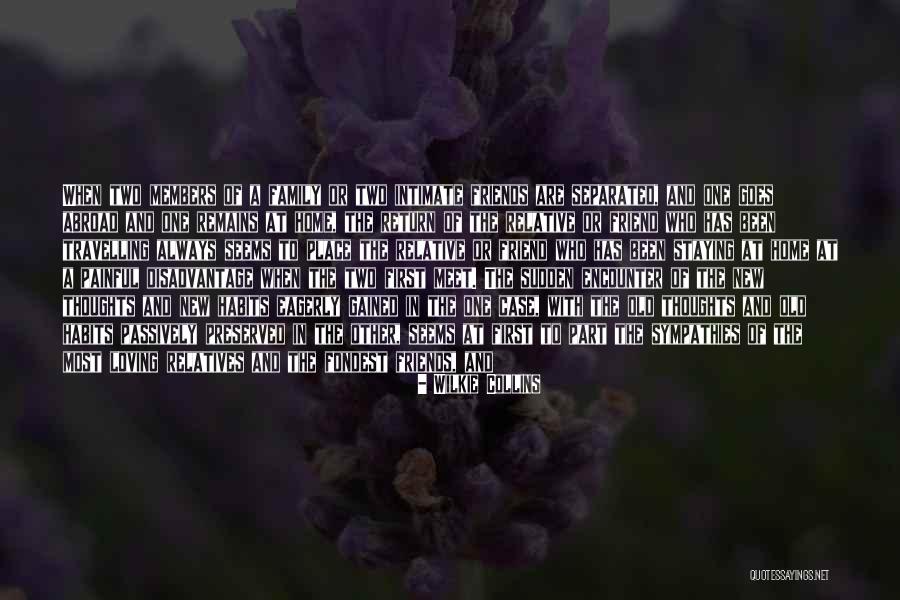 When two members of a family or two intimate friends are separated, and one goes abroad and one remains at home, the return of the relative or friend who has been travelling always seems to place the relative or friend who has been staying at home at a painful disadvantage when the two first meet. The sudden encounter of the new thoughts and new habits eagerly gained in the one case, with the old thoughts and old habits passively preserved in the other, seems at first to part the sympathies of the most loving relatives and the fondest friends, and to set a sudden strangeness, unexpected by both and uncontrollable by both, between them on either side. — Wilkie Collins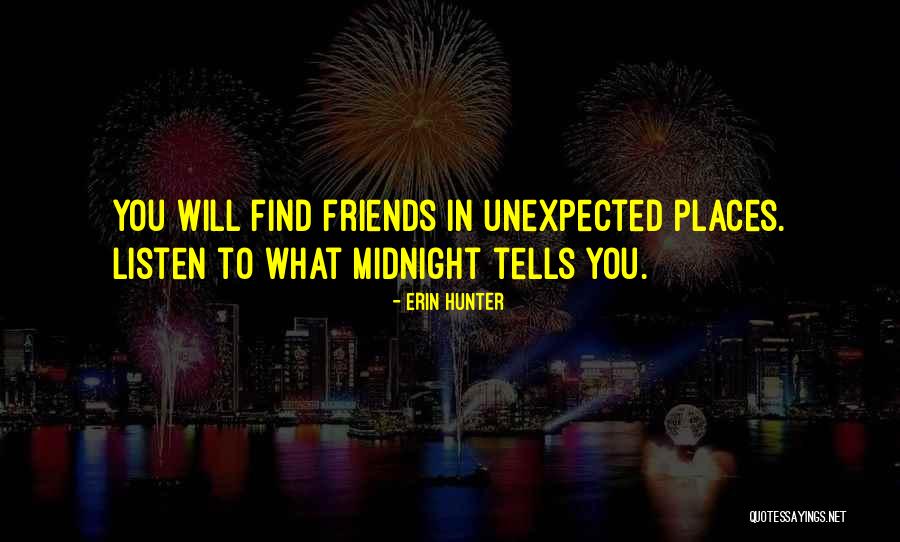 You will find friends in unexpected places. Listen to what midnight tells you. — Erin Hunter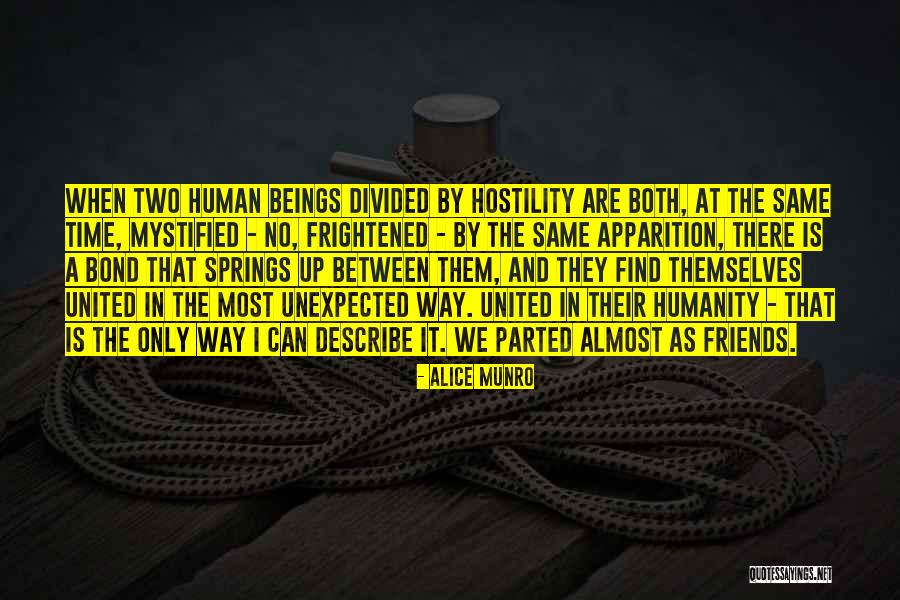 When two human beings divided by hostility are both, at the same time, mystified - no, frightened - by the same apparition, there is a bond that springs up between them, and they find themselves united in the most unexpected way. United in their humanity - that is the only way I can describe it. We parted almost as friends. — Alice Munro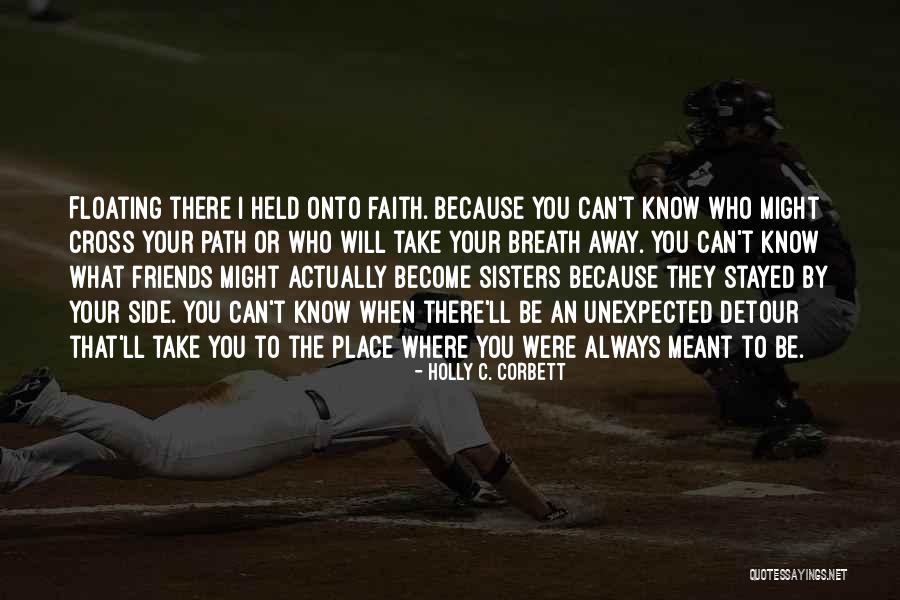 Floating there I held onto faith. Because you can't know who might cross your path or who will take your breath away. You can't know what friends might actually become sisters because they stayed by your side. You can't know when there'll be an unexpected detour that'll take you to the place where you were always meant to be. — Holly C. Corbett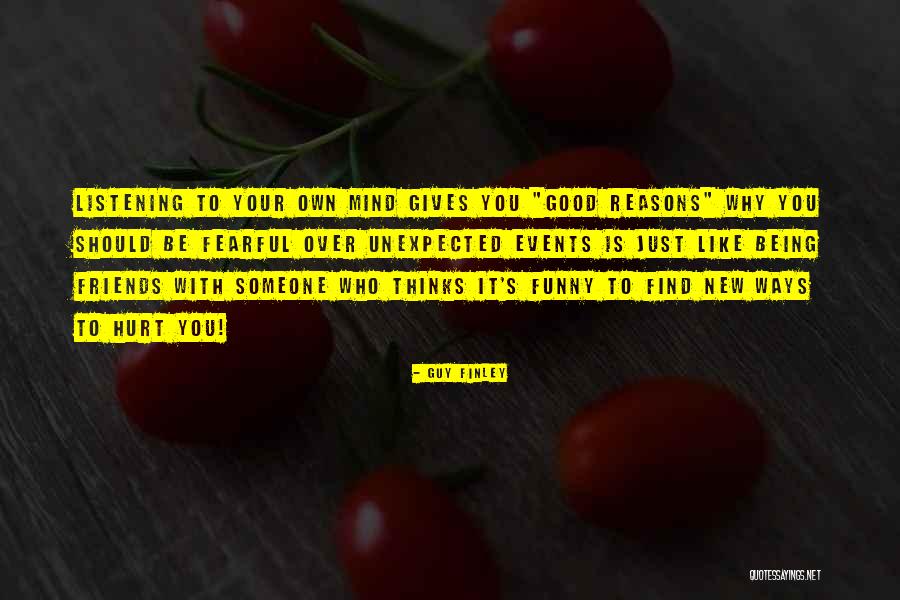 Listening to your own mind gives you "good reasons" why you should be fearful over unexpected events is just like being friends with someone who thinks it's funny to find new ways to hurt you! — Guy Finley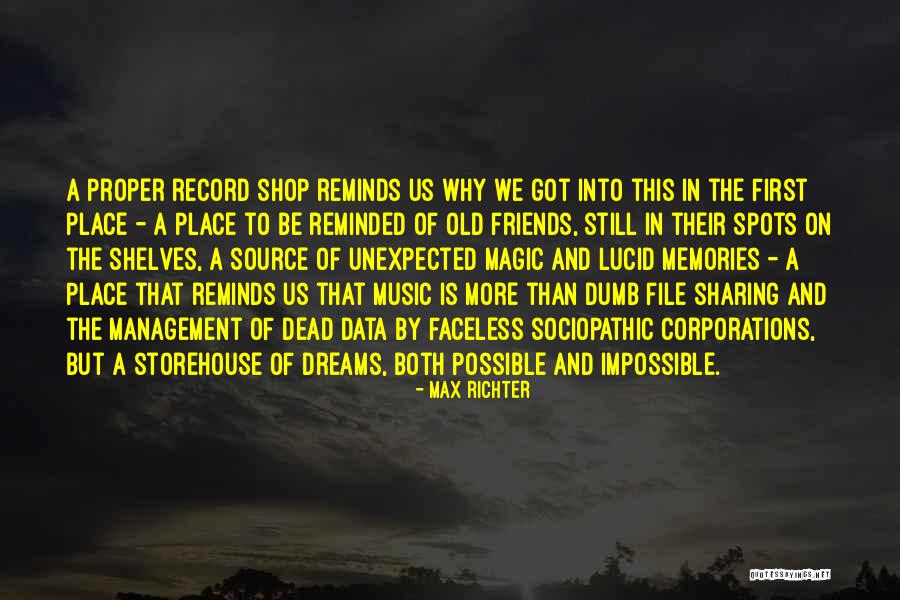 A proper record shop reminds us why we got into this in the first place - a place to be reminded of old friends, still in their spots on the shelves, a source of unexpected magic and lucid memories - a place that reminds us that music is more than dumb file sharing and the management of dead data by faceless sociopathic corporations, but a storehouse of dreams, both possible and impossible. — Max Richter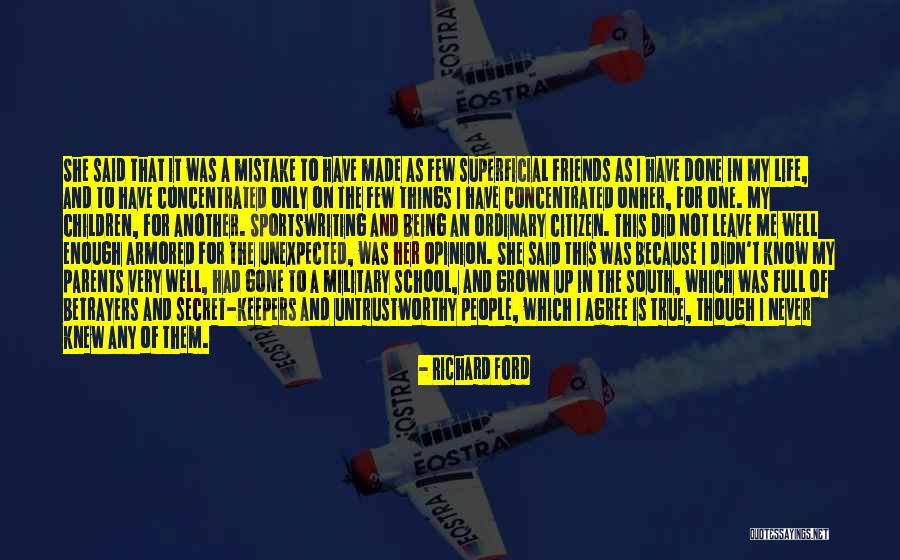 She said that it was a mistake to have made as few superficial friends as I have done in my life, and to have concentrated only on the few things I have concentrated on
her, for one. My children, for another. Sportswriting and being an ordinary citizen. This did not leave me well enough armored for the unexpected, was her opinion. She said this was because I didn't know my parents very well, had gone to a military school, and grown up in the south, which was full of betrayers and secret-keepers and untrustworthy people, which I agree is true, though I never knew any of them. — Richard Ford
Love of God and people will pave roads where there once were none. — Shannon L. Alder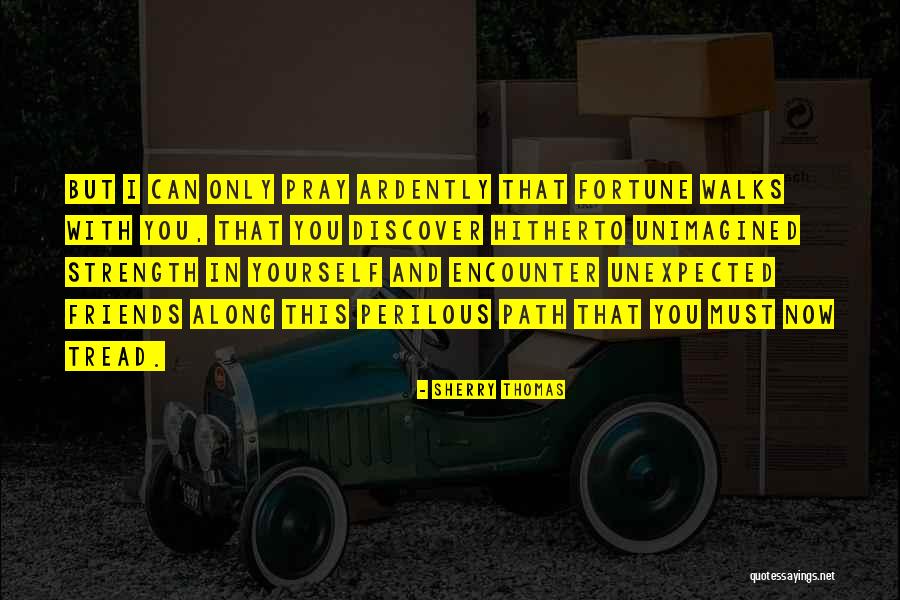 But I can only pray ardently that Fortune walks with you, that you discover hitherto unimagined strength in yourself and encounter unexpected friends along this perilous path that you must now tread. — Sherry Thomas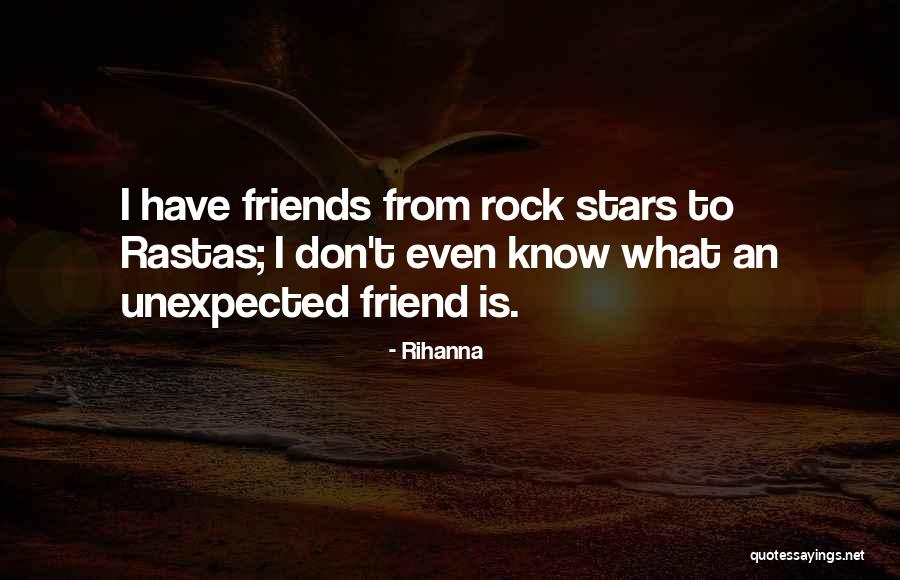 I have friends from rock stars to Rastas; I don't even know what an unexpected friend is. — Rihanna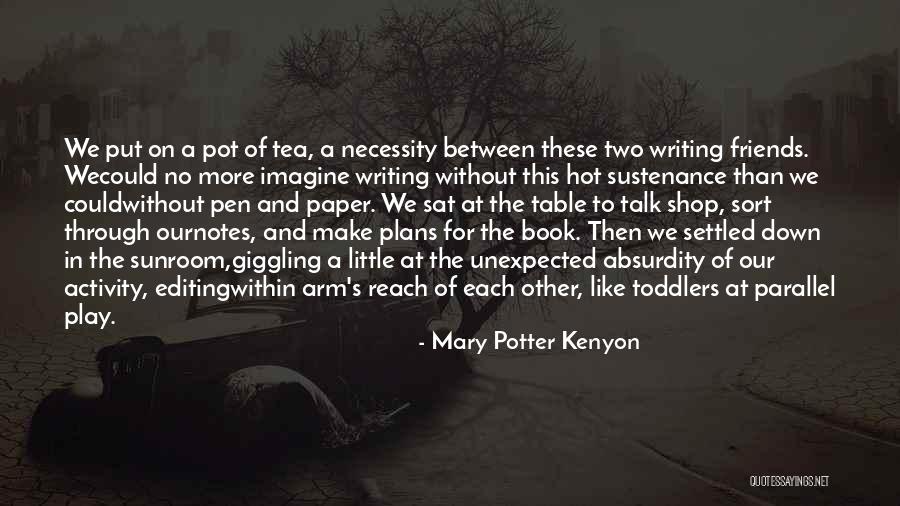 We put on a pot of tea, a necessity between these two writing friends. We
could no more imagine writing without this hot sustenance than we could
without pen and paper. We sat at the table to talk shop, sort through our
notes, and make plans for the book. Then we settled down in the sunroom,
giggling a little at the unexpected absurdity of our activity, editing
within arm's reach of each other, like toddlers at parallel play. — Mary Potter Kenyon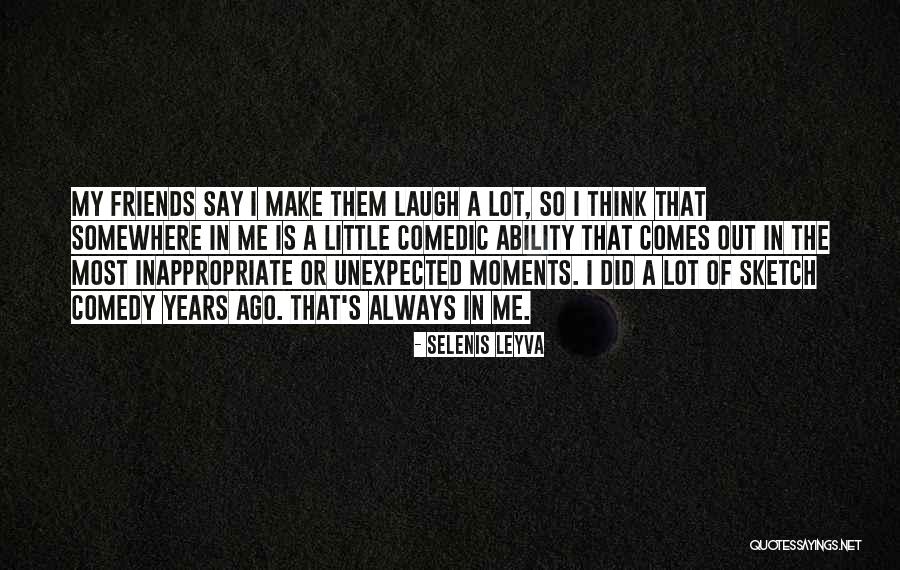 My friends say I make them laugh a lot, so I think that somewhere in me is a little comedic ability that comes out in the most inappropriate or unexpected moments. I did a lot of sketch comedy years ago. That's always in me. — Selenis Leyva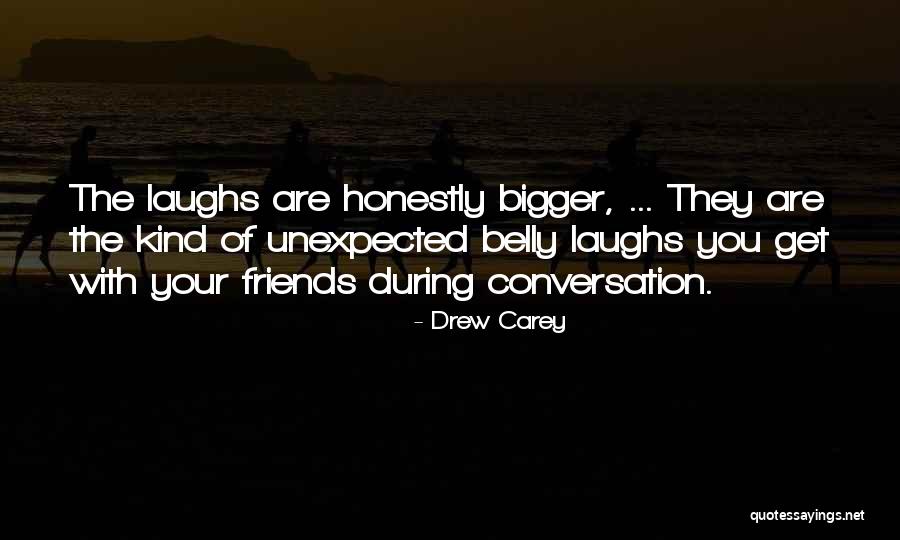 The laughs are honestly bigger, ... They are the kind of unexpected belly laughs you get with your friends during conversation. — Drew Carey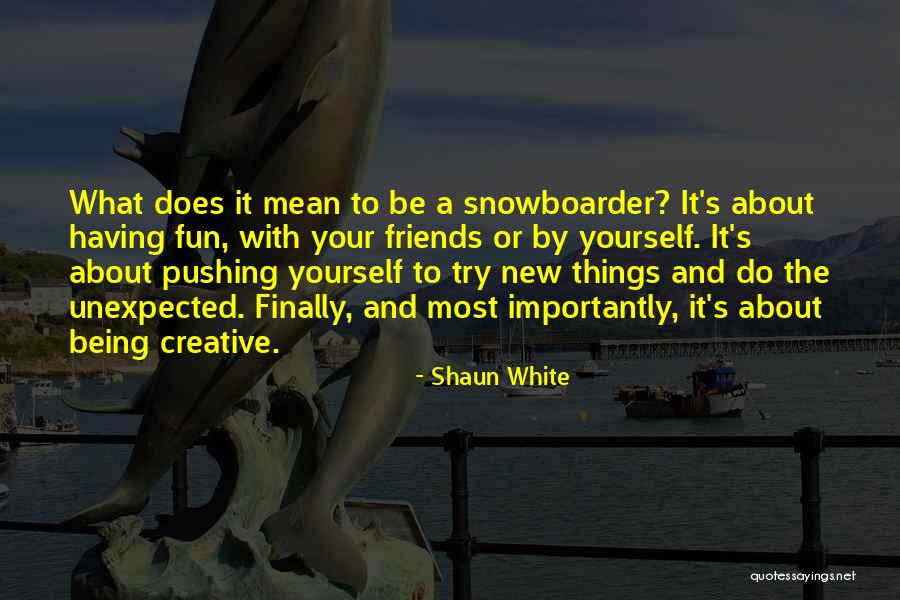 What does it mean to be a snowboarder? It's about having fun, with your friends or by yourself. It's about pushing yourself to try new things and do the unexpected. Finally, and most importantly, it's about being creative. — Shaun White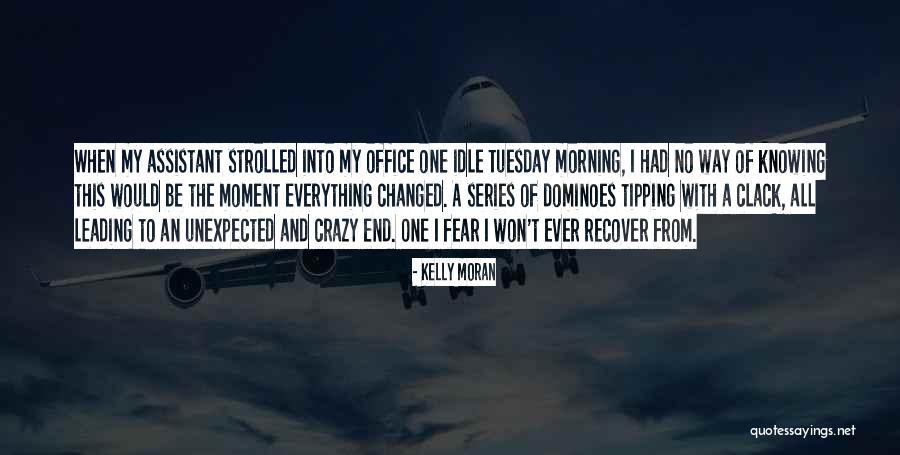 When my assistant strolled into my office one idle Tuesday morning, I had no way of knowing this would be the moment everything changed. A series of dominoes tipping with a clack, all leading to an unexpected and crazy end. One I fear I won't ever recover from. — Kelly Moran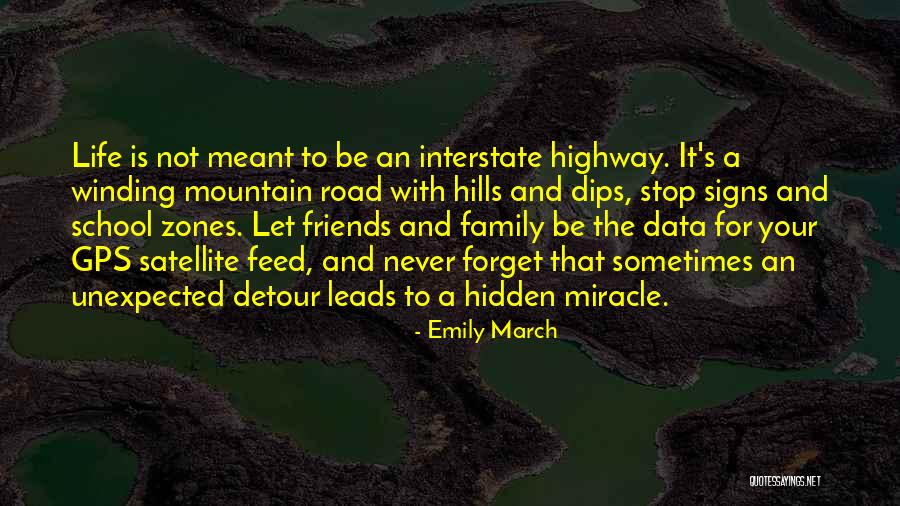 Life is not meant to be an interstate highway. It's a winding mountain road with hills and dips, stop signs and school zones. Let friends and family be the data for your GPS satellite feed, and never forget that sometimes an unexpected detour leads to a hidden miracle. — Emily March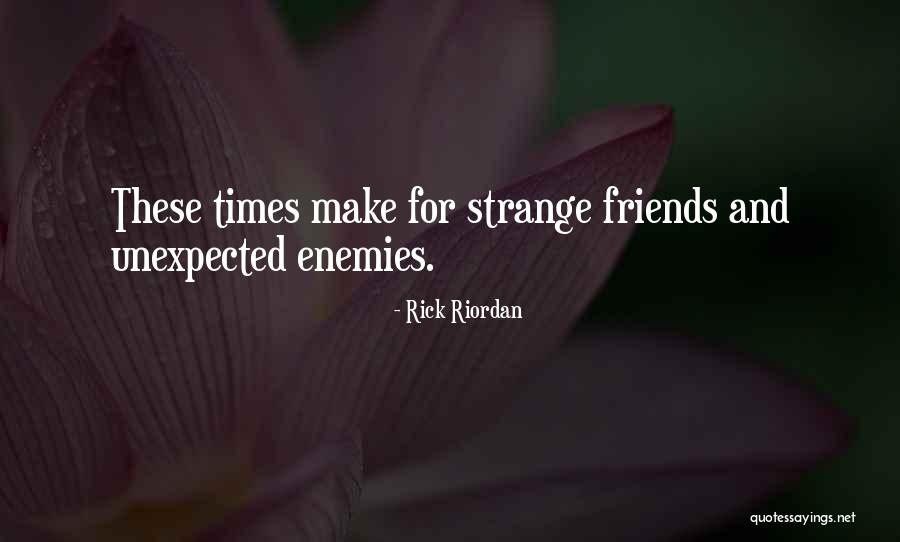 These times make for strange friends and unexpected enemies. — Rick Riordan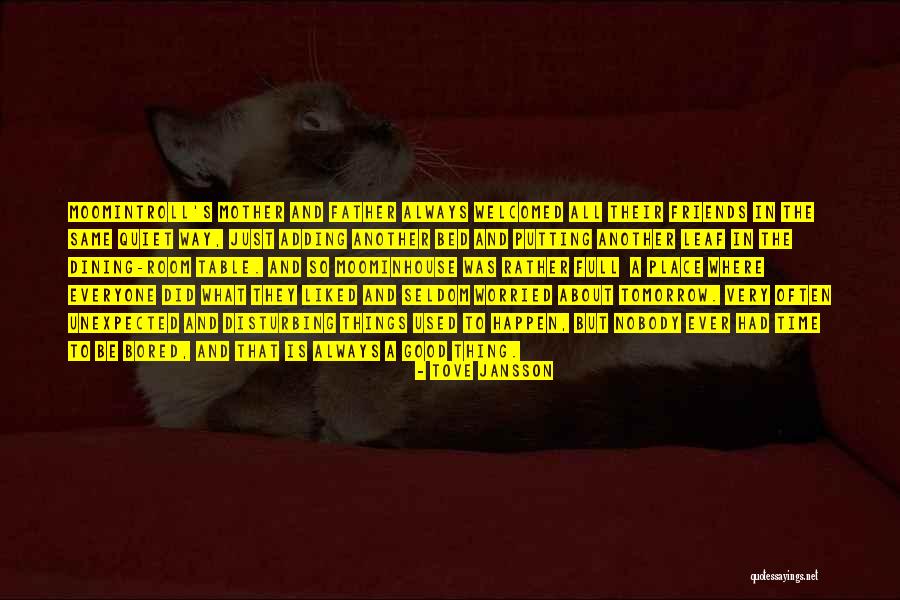 Moomintroll's mother and father always welcomed all their friends in the same quiet way, just adding another bed and putting another leaf in the dining-room table. And so Moominhouse was rather full
a place where everyone did what they liked and seldom worried about tomorrow. Very often unexpected and disturbing things used to happen, but nobody ever had time to be bored, and that is always a good thing. — Tove Jansson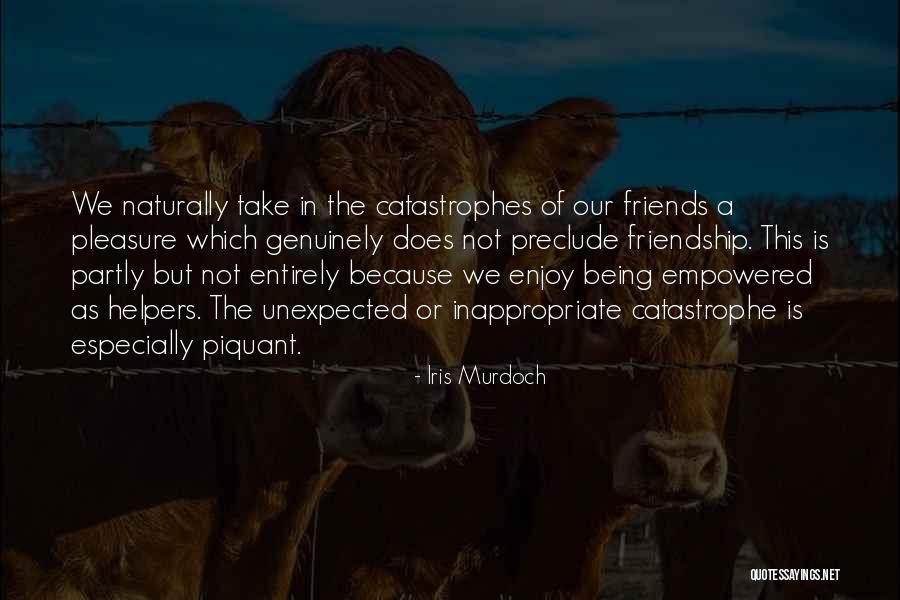 We naturally take in the catastrophes of our friends a pleasure which genuinely does not preclude friendship. This is partly but not entirely because we enjoy being empowered as helpers. The unexpected or inappropriate catastrophe is especially piquant. — Iris Murdoch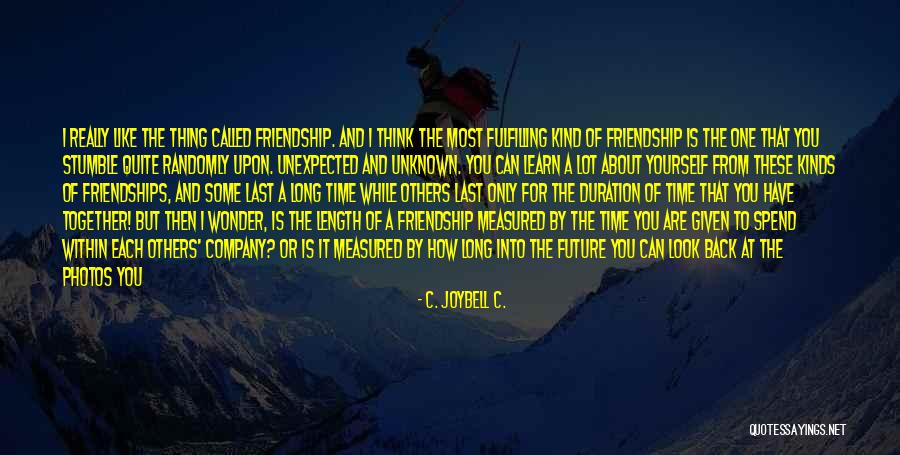 I really like the thing called friendship. And I think the most fulfilling kind of friendship is the one that you stumble quite randomly upon. Unexpected and unknown. You can learn a lot about yourself from these kinds of friendships, and some last a long time while others last only for the duration of time that you have together! But then I wonder, is the length of a friendship measured by the time you are given to spend within each others' company? Or is it measured by how long into the future you can look back at the photos you took, look back and replay the adventures and the laughter in your head; still feeling like it was one of the "bestest" times of your life? Because if it's the latter, I have a thousand friends! — C. JoyBell C.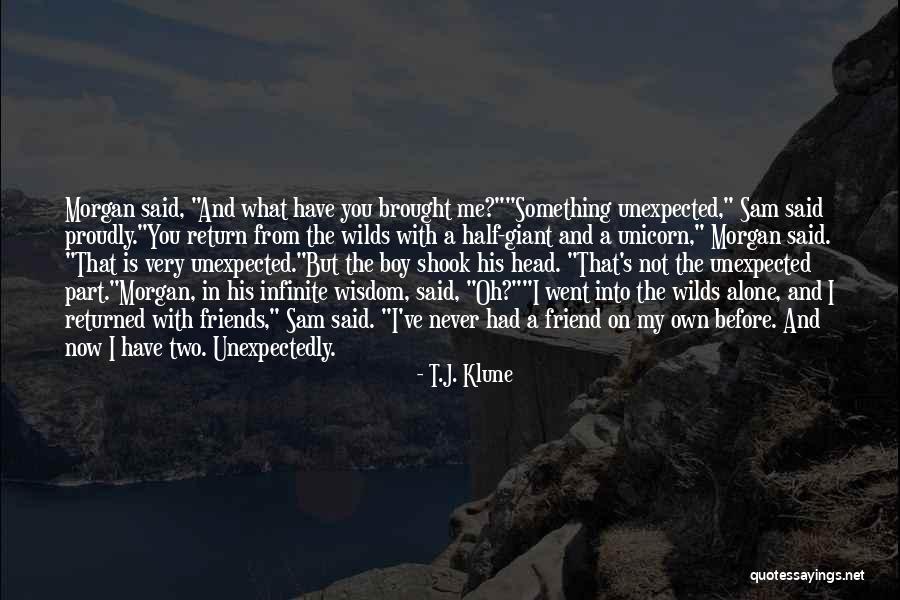 Morgan said, "And what have you brought me?"
"Something unexpected," Sam said proudly.
"You return from the wilds with a half-giant and a unicorn," Morgan said. "That is very unexpected."
But the boy shook his head. "That's not the unexpected part."
Morgan, in his infinite wisdom, said, "Oh?"
"I went into the wilds alone, and I returned with friends," Sam said. "I've never had a friend on my own before. And now I have two. Unexpectedly. — T.J. Klune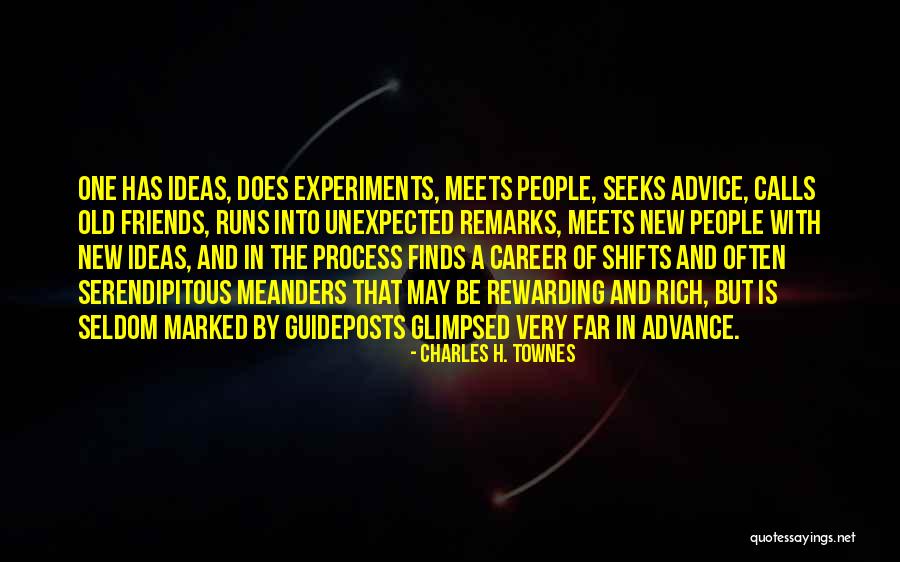 One has ideas, does experiments, meets people, seeks advice, calls old friends, runs into unexpected remarks, meets new people with new ideas, and in the process finds a career of shifts and often serendipitous meanders that may be rewarding and rich, but is seldom marked by guideposts glimpsed very far in advance. — Charles H. Townes