Quotes & Sayings About Understanding And Misunderstanding
Enjoy reading and share 47 famous quotes about Understanding And Misunderstanding with everyone.
Top Understanding And Misunderstanding Quotes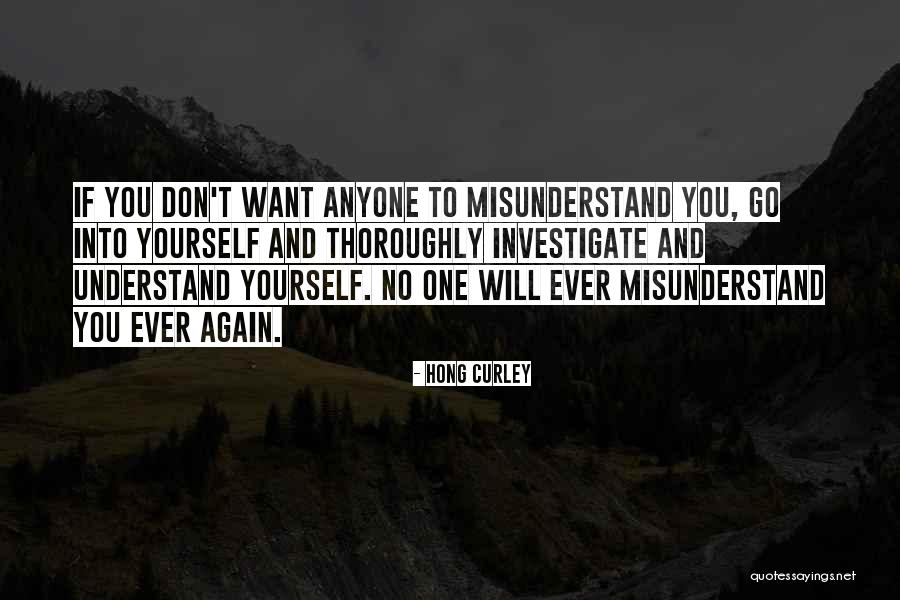 If you don't want anyone to misunderstand you, go into yourself and thoroughly investigate and understand yourself. No one will ever misunderstand you ever again. — Hong Curley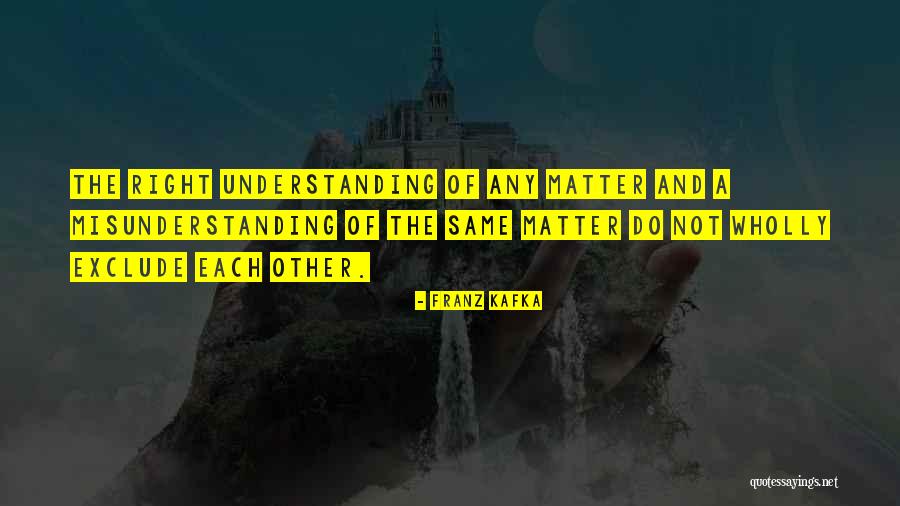 The right understanding of any matter and a misunderstanding of the same matter do not wholly exclude each other. — Franz Kafka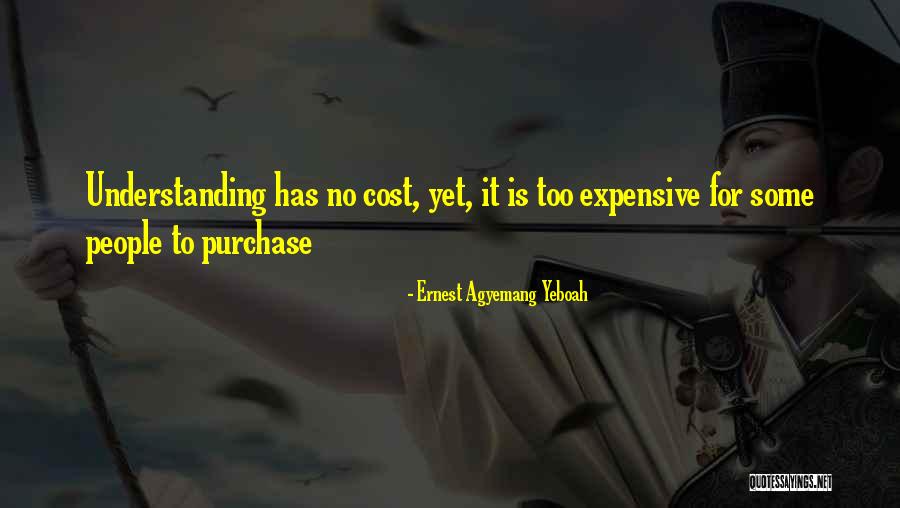 Understanding has no cost, yet, it is too expensive for some people to purchase — Ernest Agyemang Yeboah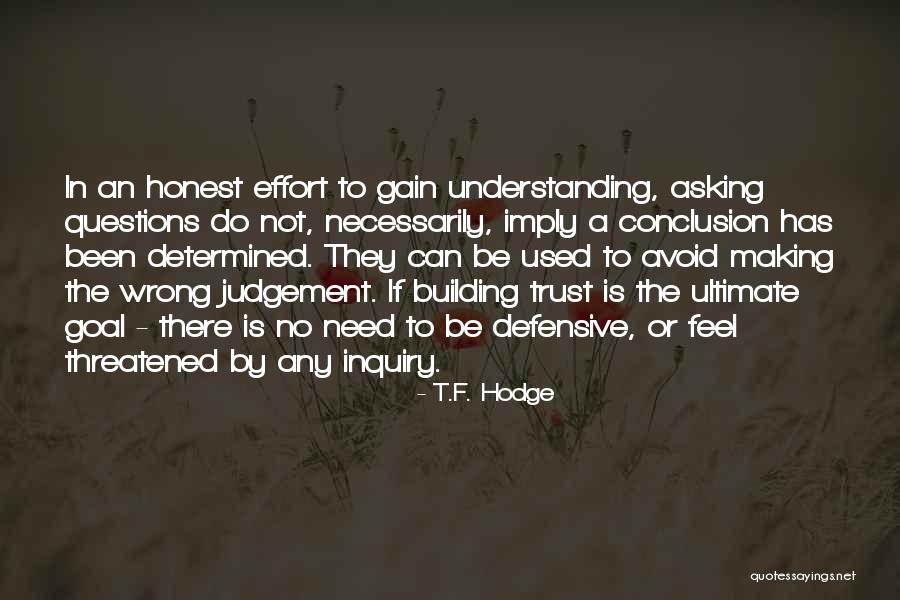 In an honest effort to gain understanding, asking questions do not, necessarily, imply a conclusion has been determined. They can be used to avoid making the wrong judgement. If building trust is the ultimate goal - there is no need to be defensive, or feel threatened by any inquiry. — T.F. Hodge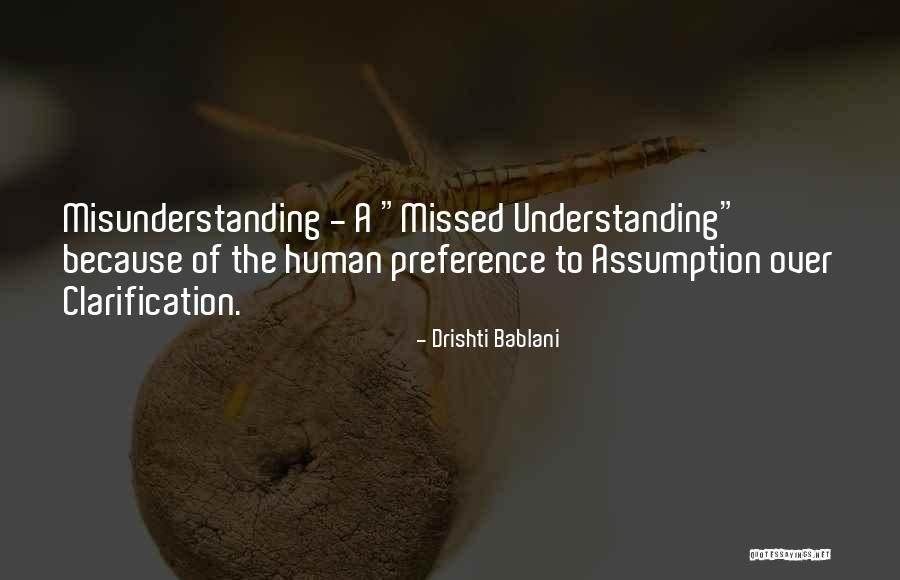 Misunderstanding - A "Missed Understanding" because of the human preference to Assumption over Clarification. — Drishti Bablani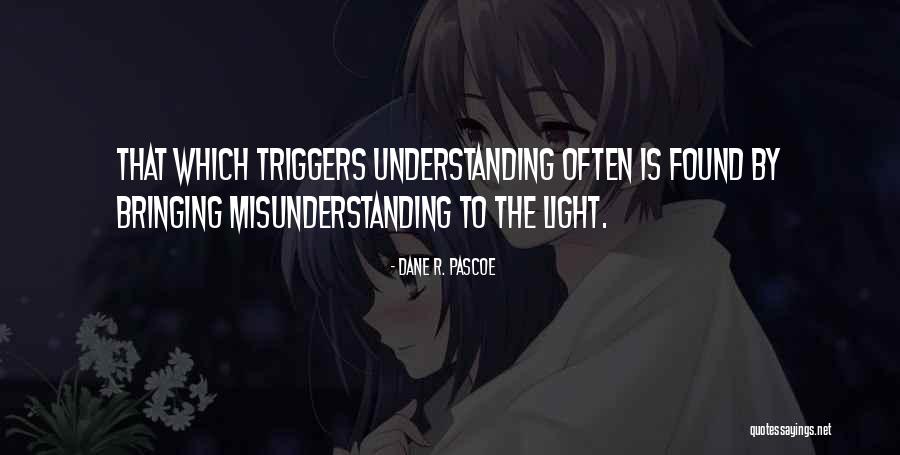 That which triggers understanding often is found by bringing misunderstanding to the light. — Dane R. Pascoe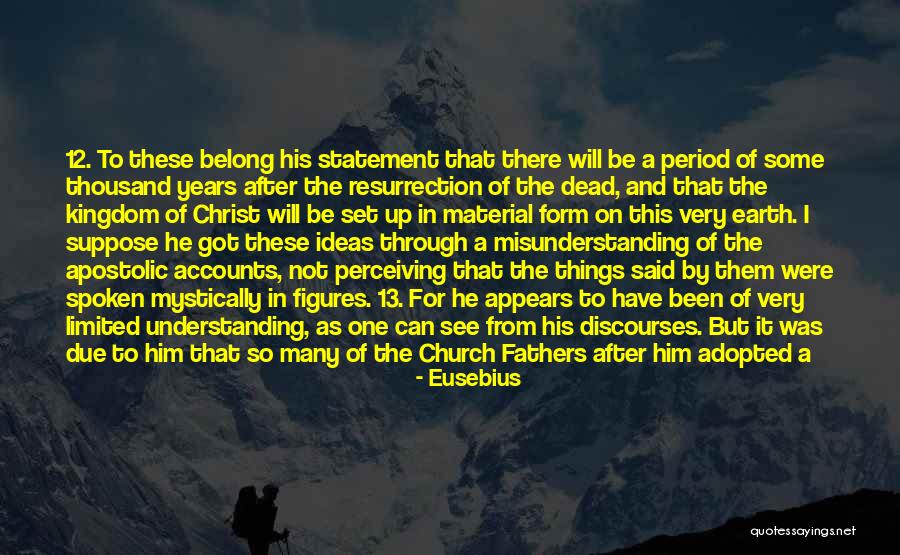 12. To these belong his statement that there will be a period of some thousand years after the resurrection of the dead, and that the kingdom of Christ will be set up in material form on this very earth. I suppose he got these ideas through a misunderstanding of the apostolic accounts, not perceiving that the things said by them were spoken mystically in figures. 13. For he appears to have been of very limited understanding, as one can see from his discourses. But it was due to him that so many of the Church Fathers after him adopted a like opinion, urging in their own support the antiquity of the man; as for instance Irenaeus and any one else that may have proclaimed similar views. — Eusebius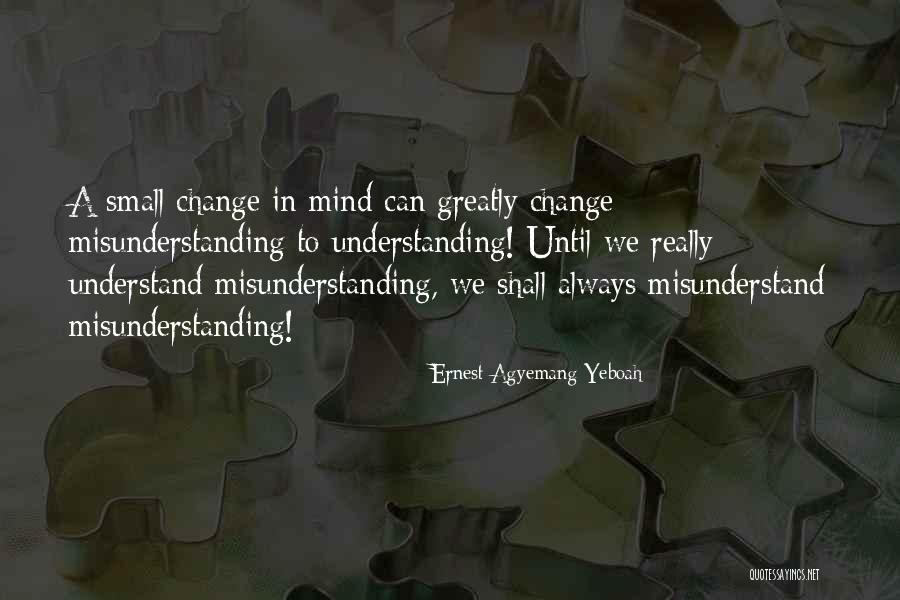 A small change in mind can greatly change misunderstanding to understanding! Until we really understand misunderstanding, we shall always misunderstand misunderstanding! — Ernest Agyemang Yeboah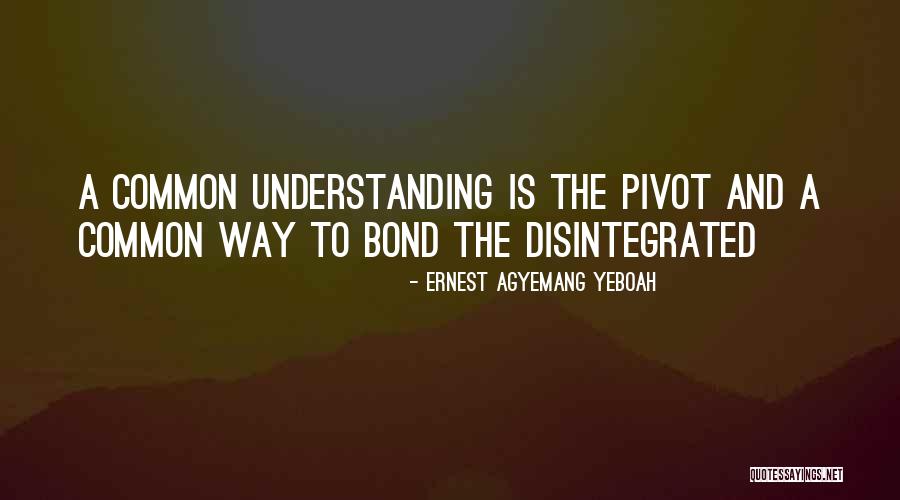 A common understanding is the pivot and a common way to bond the disintegrated — Ernest Agyemang Yeboah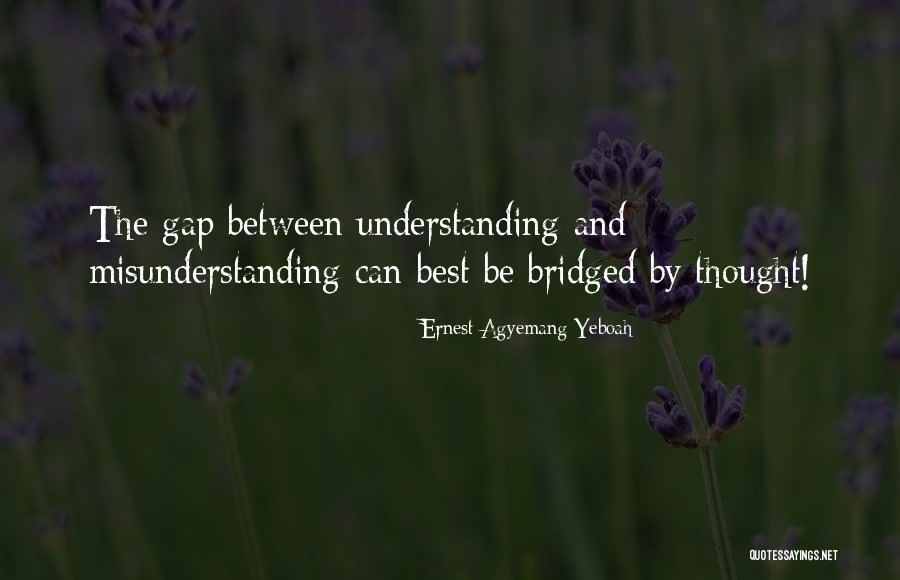 The gap between understanding and misunderstanding can best be bridged by thought! — Ernest Agyemang Yeboah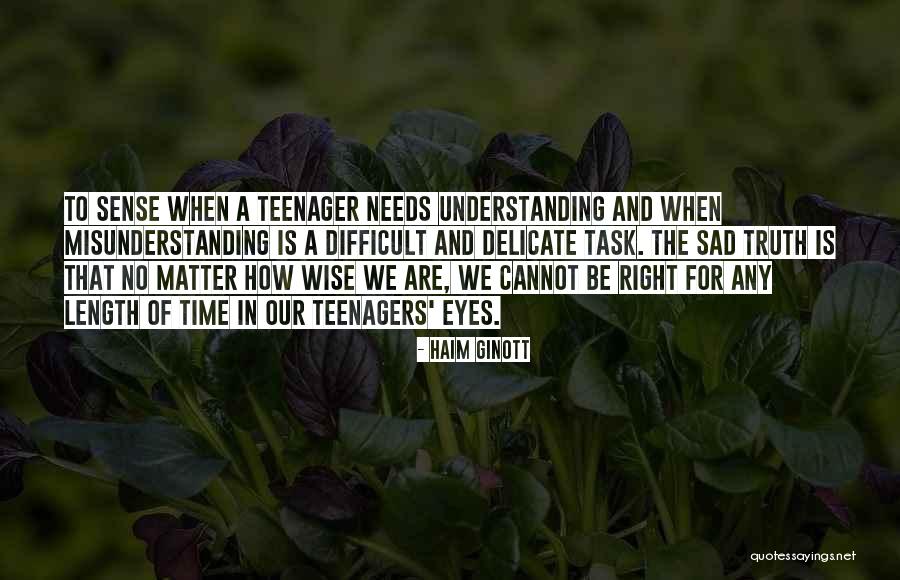 To sense when a teenager needs understanding and when misunderstanding is a difficult and delicate task. The sad truth is that no matter how wise we are, we cannot be right for any length of time in our teenagers' eyes. — Haim Ginott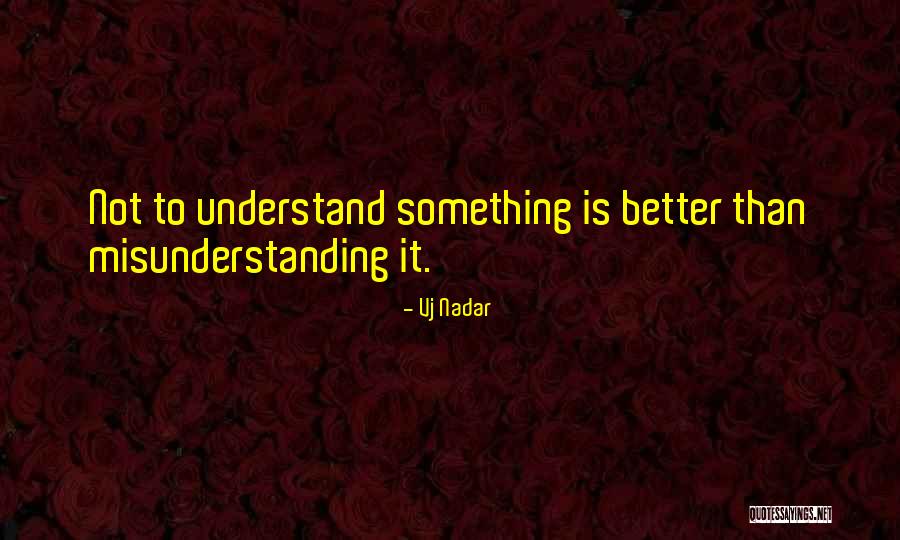 Not to understand something is better than misunderstanding it. — Vj Nadar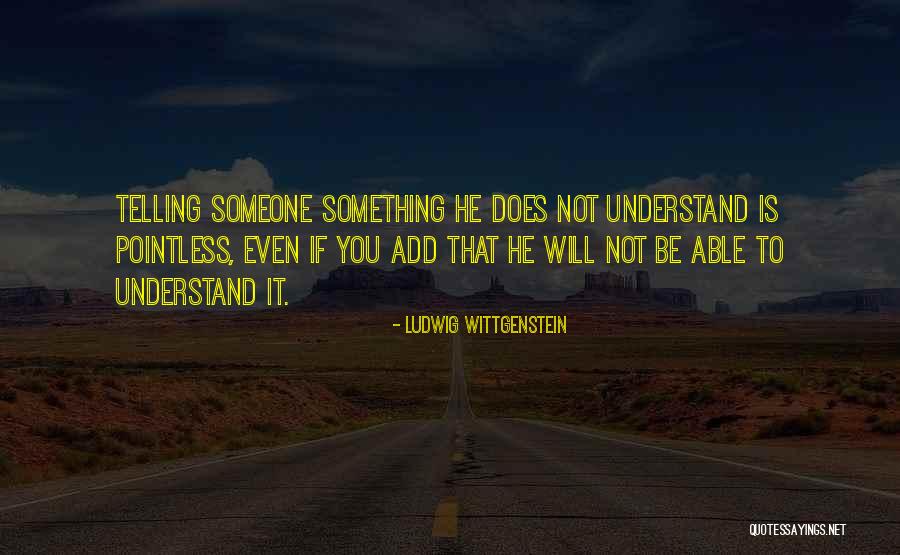 Telling someone something he does not understand is pointless, even if you add that he will not be able to understand it. — Ludwig Wittgenstein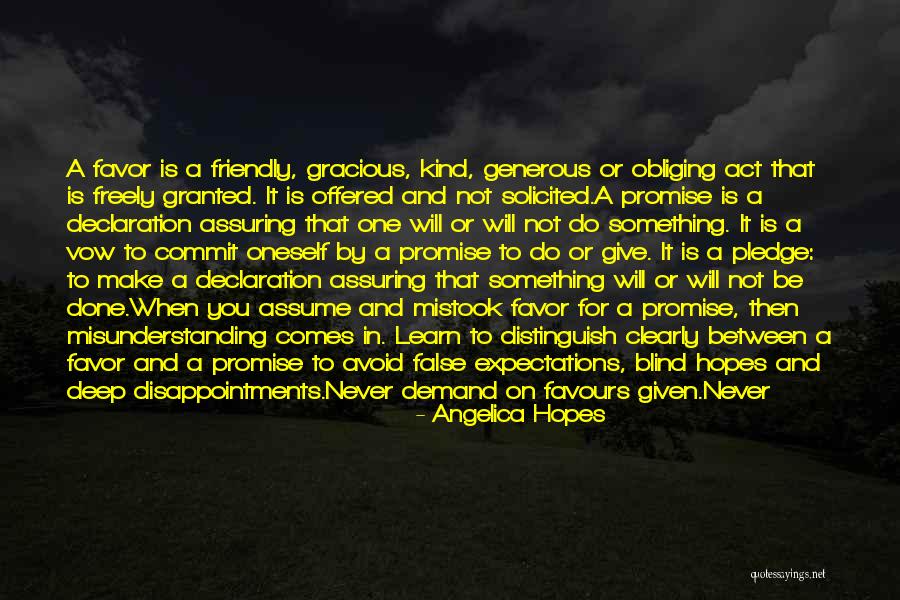 A favor is a friendly, gracious, kind, generous or obliging act that is freely granted. It is offered and not solicited.
A promise is a declaration assuring that one will or will not do something. It is a vow to commit oneself by a promise to do or give. It is a pledge: to make a declaration assuring that something will or will not be done.
When you assume and mistook favor for a promise, then misunderstanding comes in.
Learn to distinguish clearly between a favor and a promise to avoid false expectations, blind hopes and deep disappointments.
Never demand on favours given.
Never impose on mistaken promises.
Never put under pressure the people who have given you favor.
Have a humble and grateful heart for both favors and promises fulfilled. — Angelica Hopes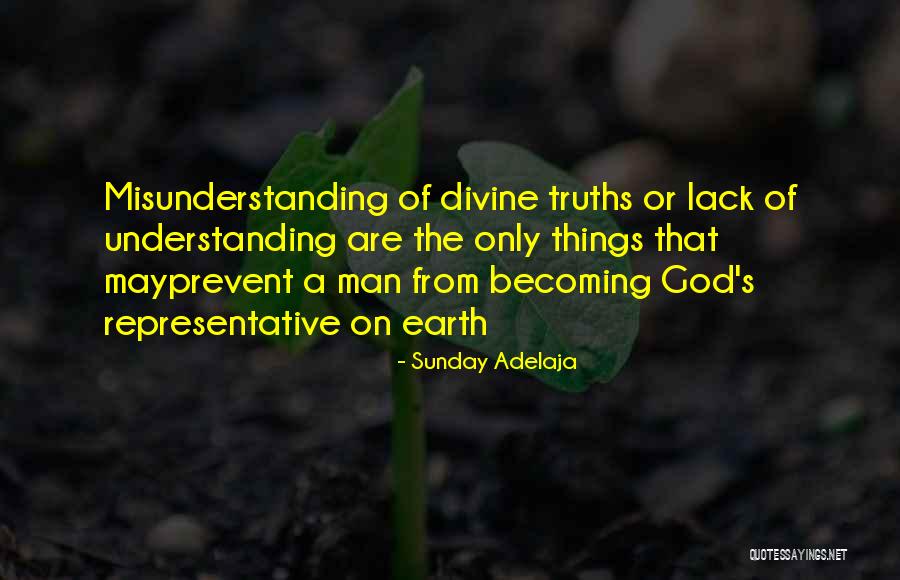 Misunderstanding of divine truths or lack of understanding are the only things that may
prevent a man from becoming God's representative on earth — Sunday Adelaja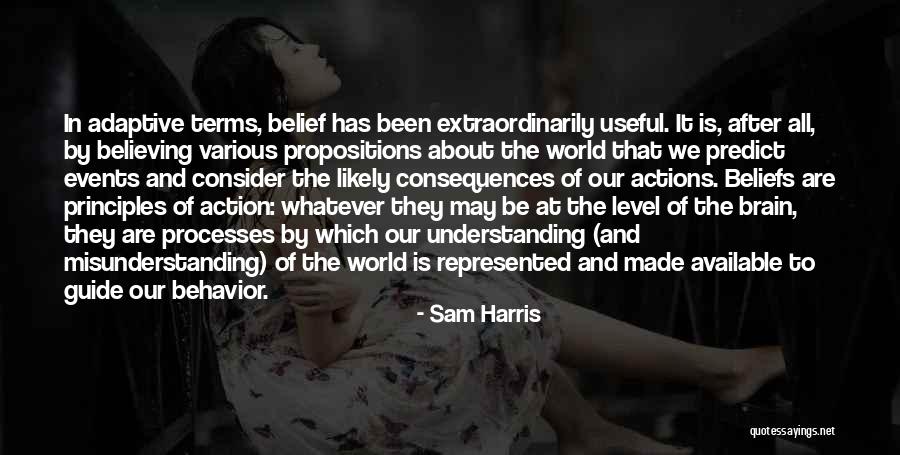 In adaptive terms, belief has been extraordinarily useful. It is, after all, by believing various propositions about the world that we predict events and consider the likely consequences of our actions. Beliefs are principles of action: whatever they may be at the level of the brain, they are processes by which our understanding (and misunderstanding) of the world is represented and made available to guide our behavior. — Sam Harris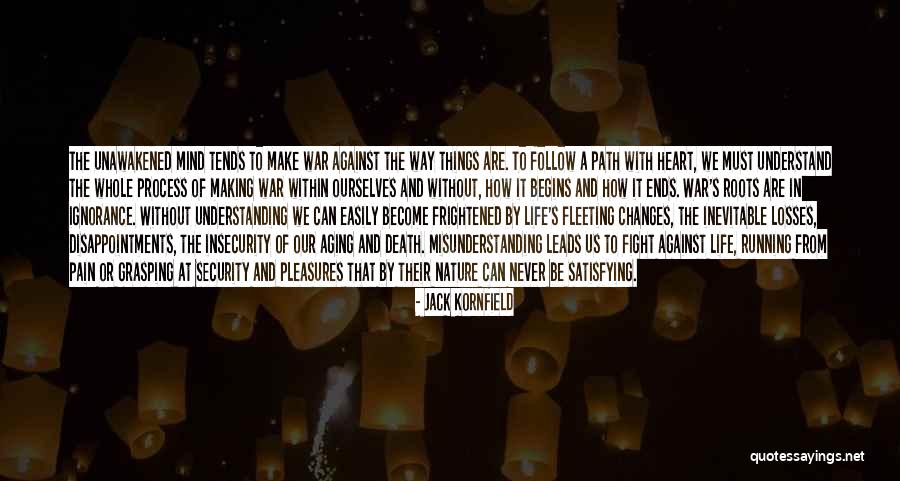 The unawakened mind tends to make war against the way things are. To follow a path with heart, we must understand the whole process of making war within ourselves and without, how it begins and how it ends. War's roots are in ignorance. Without understanding we can easily become frightened by life's fleeting changes, the inevitable losses, disappointments, the insecurity of our aging and death. Misunderstanding leads us to fight against life, running from pain or grasping at security and pleasures that by their nature can never be satisfying. — Jack Kornfield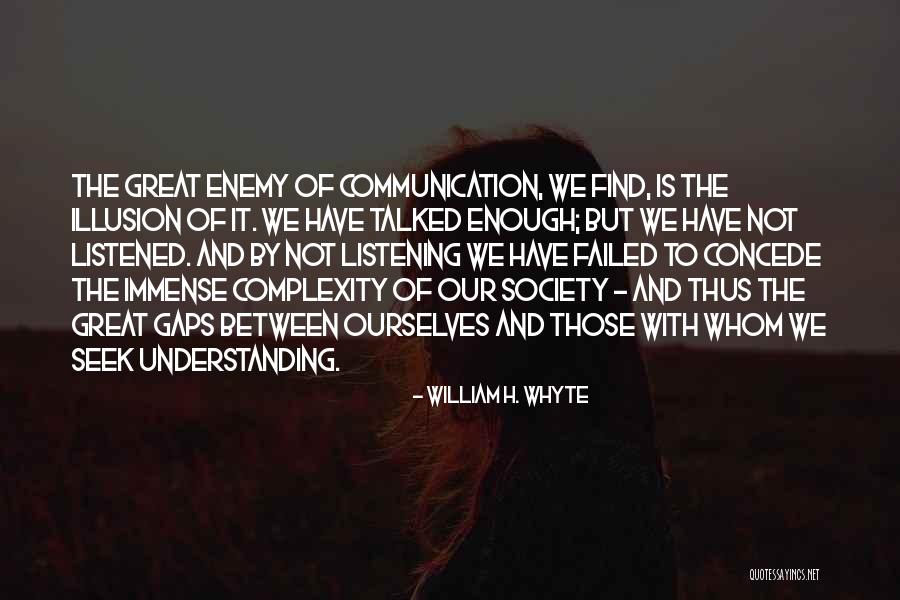 The great enemy of communication, we find, is the illusion of it. We have talked enough; but we have not listened. And by not listening we have failed to concede the immense complexity of our society - and thus the great gaps between ourselves and those with whom we seek understanding. — William H. Whyte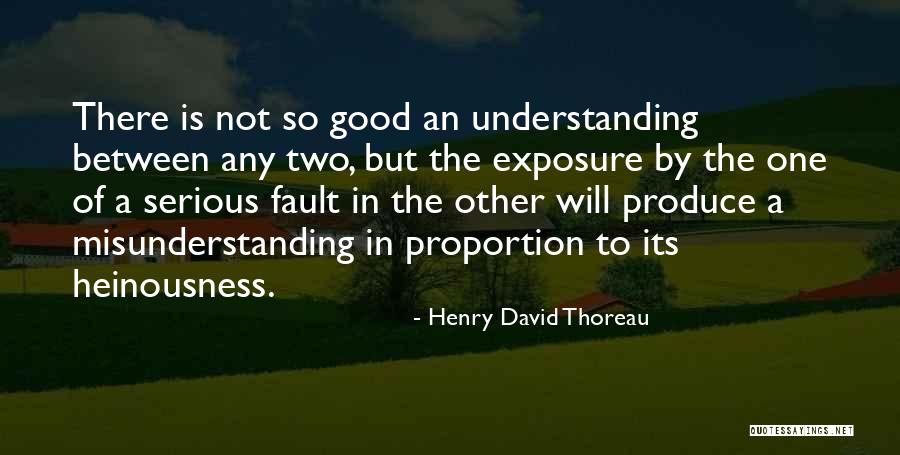 There is not so good an understanding between any two, but the exposure by the one of a serious fault in the other will produce a misunderstanding in proportion to its heinousness. — Henry David Thoreau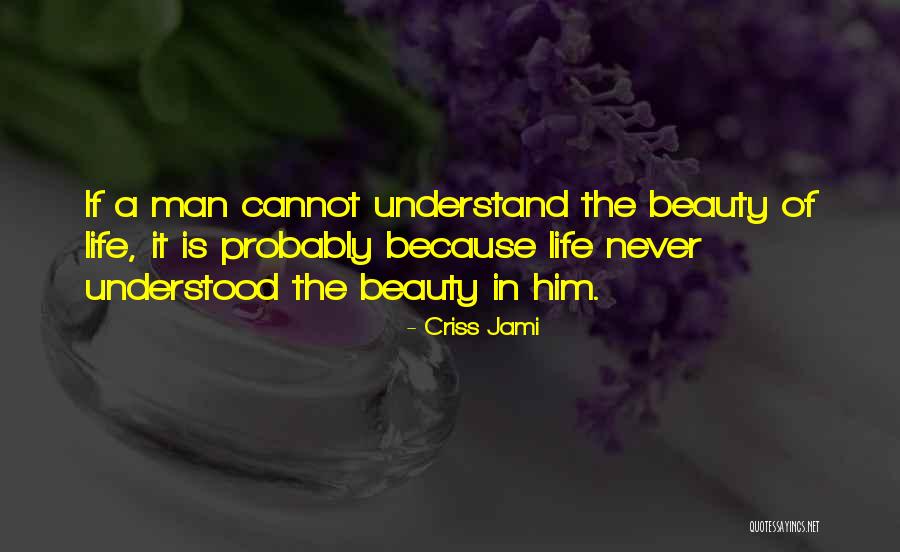 If a man cannot understand the beauty of life, it is probably because life never understood the beauty in him. — Criss Jami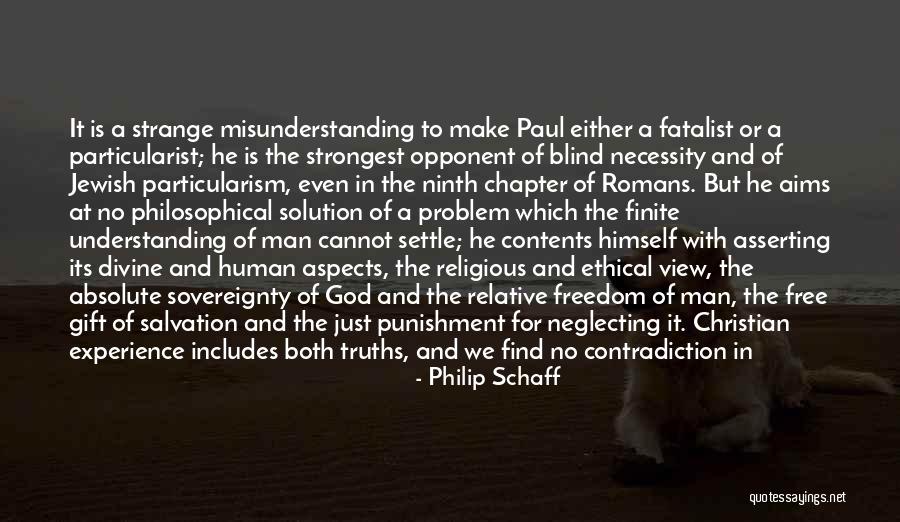 It is a strange misunderstanding to make Paul either a fatalist or a particularist; he is the strongest opponent of blind necessity and of Jewish particularism, even in the ninth chapter of Romans. But he aims at no philosophical solution of a problem which the finite understanding of man cannot settle; he contents himself with asserting its divine and human aspects, the religious and ethical view, the absolute sovereignty of God and the relative freedom of man, the free gift of salvation and the just punishment for neglecting it. Christian experience includes both truths, and we find no contradiction in praying as if all depended on God, and in working as if all depended on man. This is Pauline theology and practice. — Philip Schaff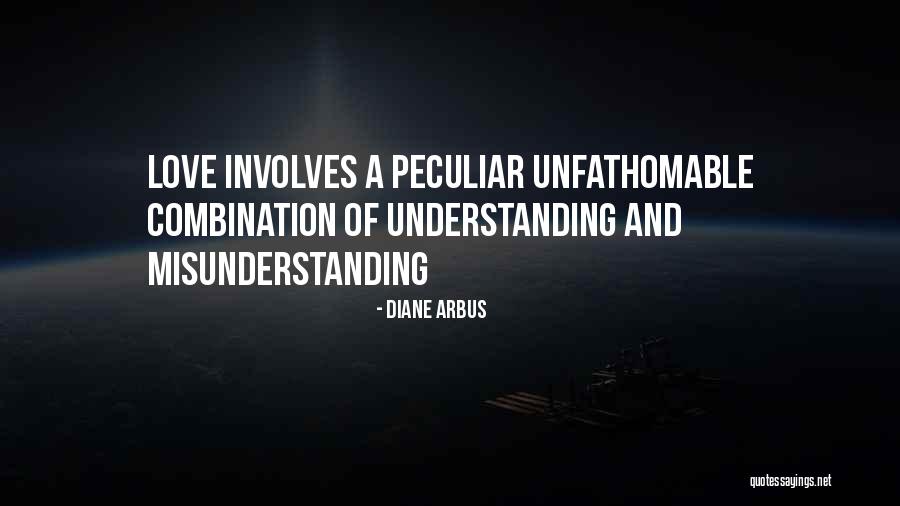 Love involves a peculiar unfathomable combination of understanding and misunderstanding — Diane Arbus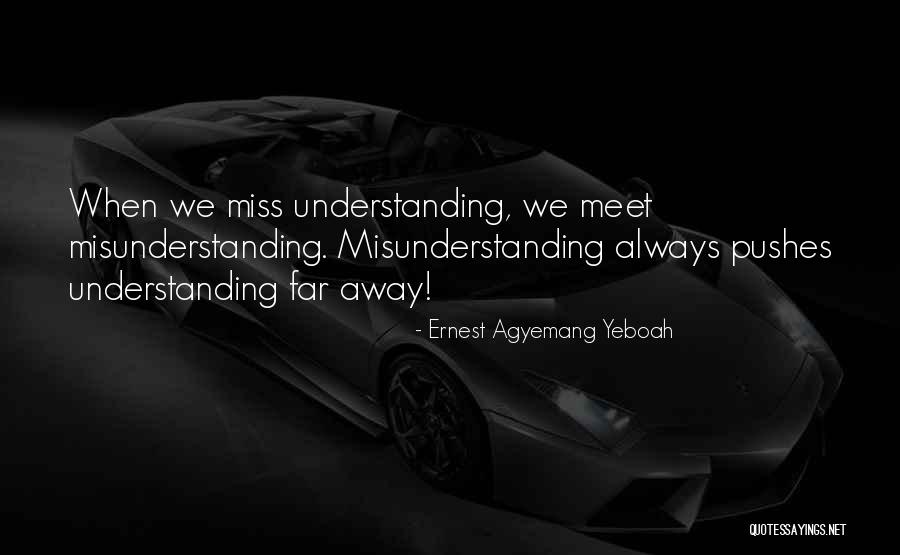 When we miss understanding, we meet misunderstanding. Misunderstanding always pushes understanding far away! — Ernest Agyemang Yeboah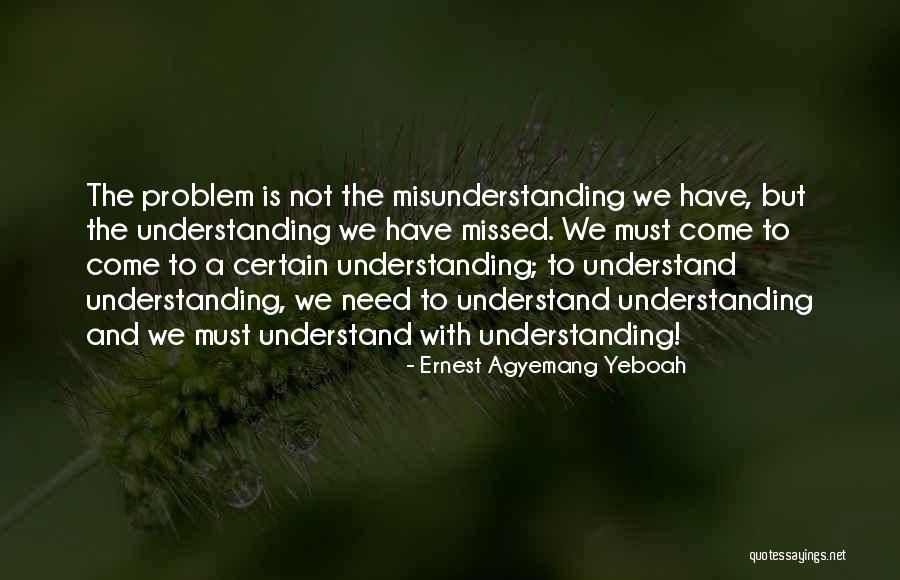 The problem is not the misunderstanding we have, but the understanding we have missed. We must come to come to a certain understanding; to understand understanding, we need to understand understanding and we must understand with understanding! — Ernest Agyemang Yeboah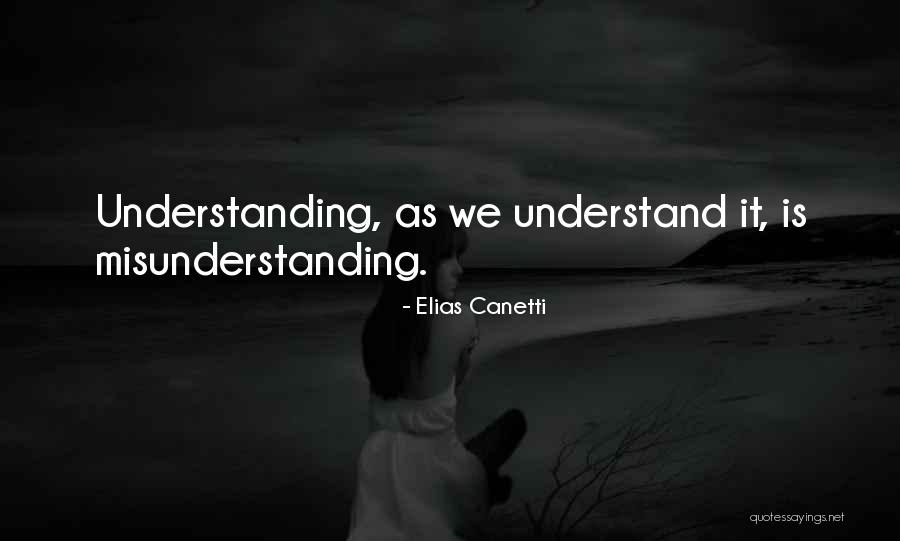 Understanding, as we understand it, is misunderstanding. — Elias Canetti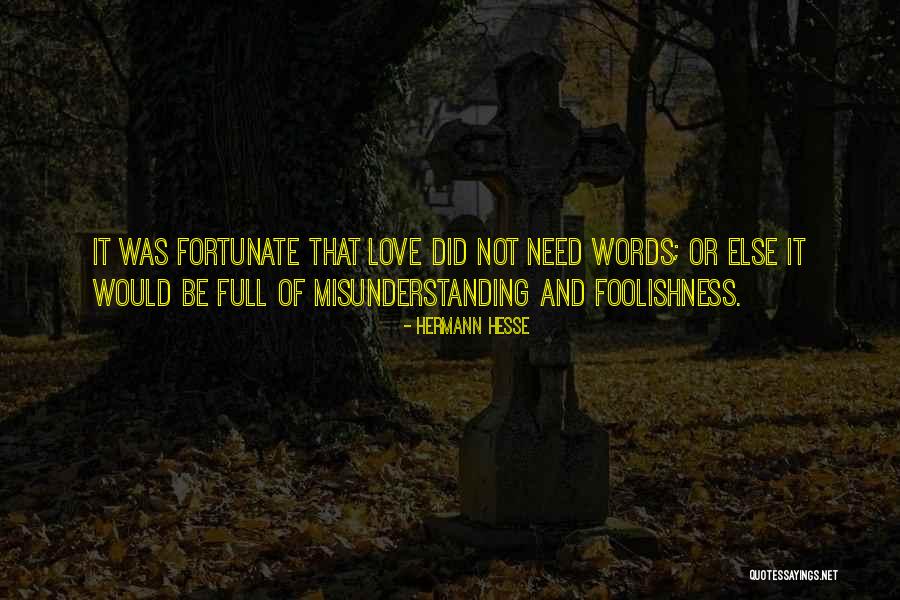 It was fortunate that love did not need words; or else it would be full of misunderstanding and foolishness. — Hermann Hesse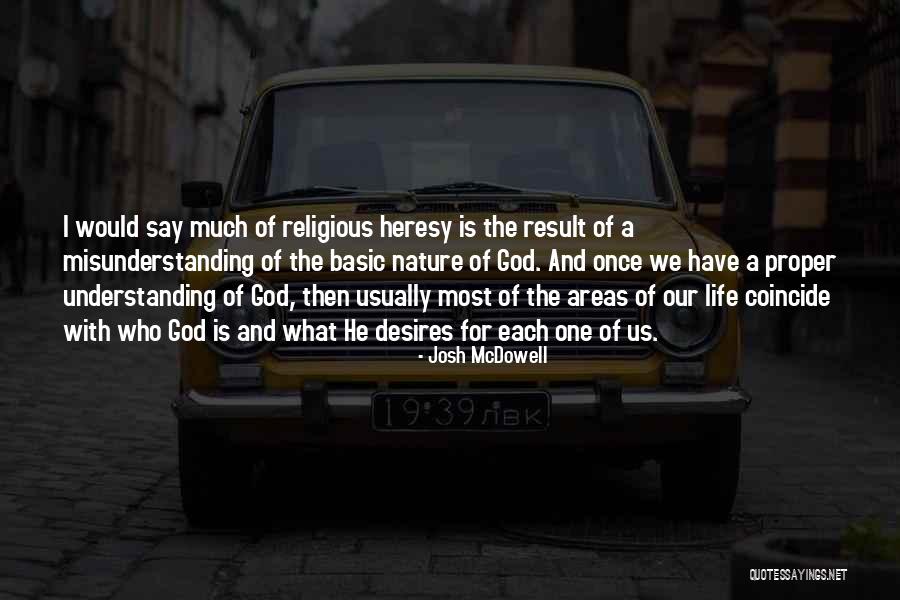 I would say much of religious heresy is the result of a misunderstanding of the basic nature of God. And once we have a proper understanding of God, then usually most of the areas of our life coincide with who God is and what He desires for each one of us. — Josh McDowell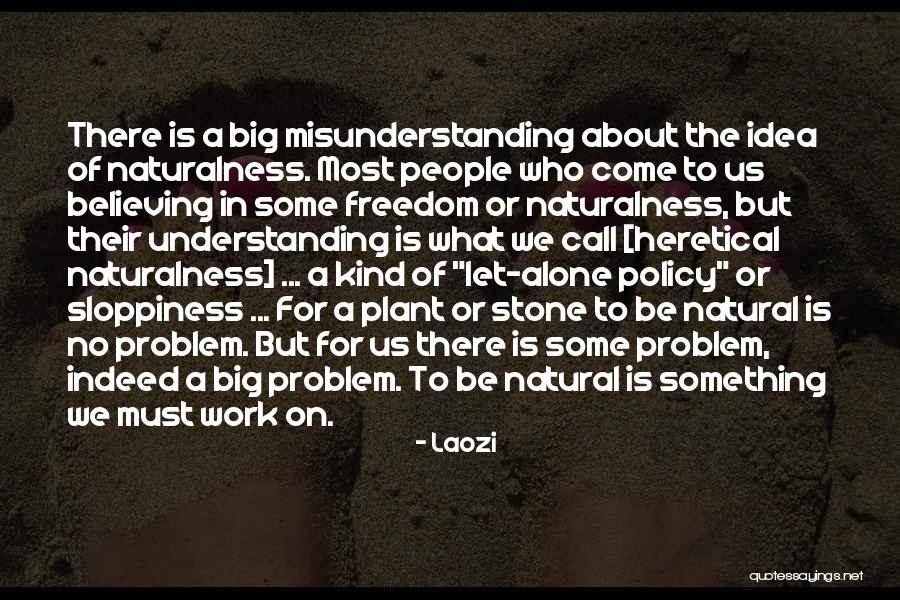 There is a big misunderstanding about the idea of naturalness. Most people who come to us believing in some freedom or naturalness, but their understanding is what we call [heretical naturalness] ... a kind of "let-alone policy" or sloppiness ... For a plant or stone to be natural is no problem. But for us there is some problem, indeed a big problem. To be natural is something we must work on. — Laozi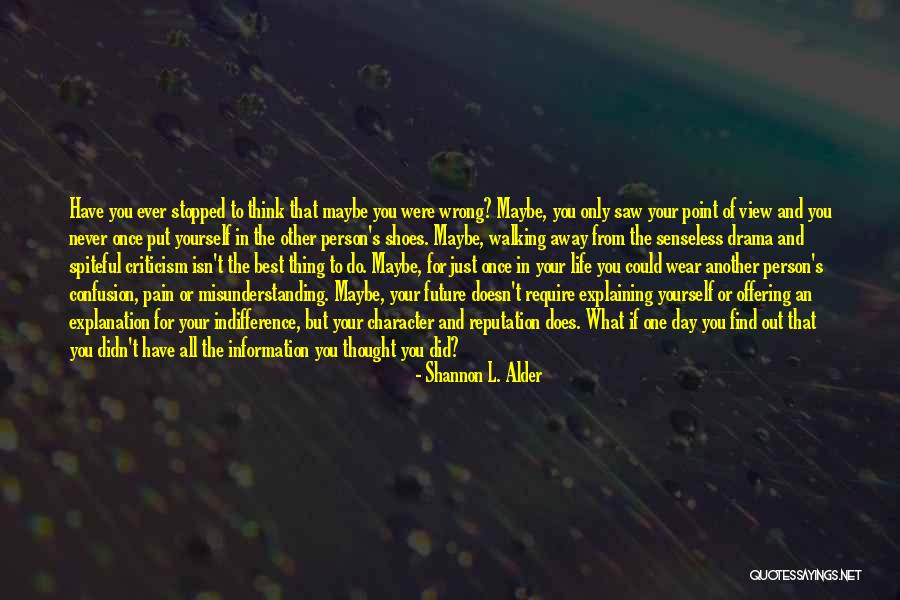 Have you ever stopped to think that maybe you were wrong? Maybe, you only saw your point of view and you never once put yourself in the other person's shoes. Maybe, walking away from the senseless drama and spiteful criticism isn't the best thing to do. Maybe, for just once in your life you could wear another person's confusion, pain or misunderstanding. Maybe, your future doesn't require explaining yourself or offering an explanation for your indifference, but your character and reputation does. What if one day you find out that you didn't have all the information you thought you did? What if you find out that your presence was needed for healing? What if you only knew half of it and the other half was just your fear and anger translating everything you experienced? What if you were wrong? What if the same thing happened to you? — Shannon L. Alder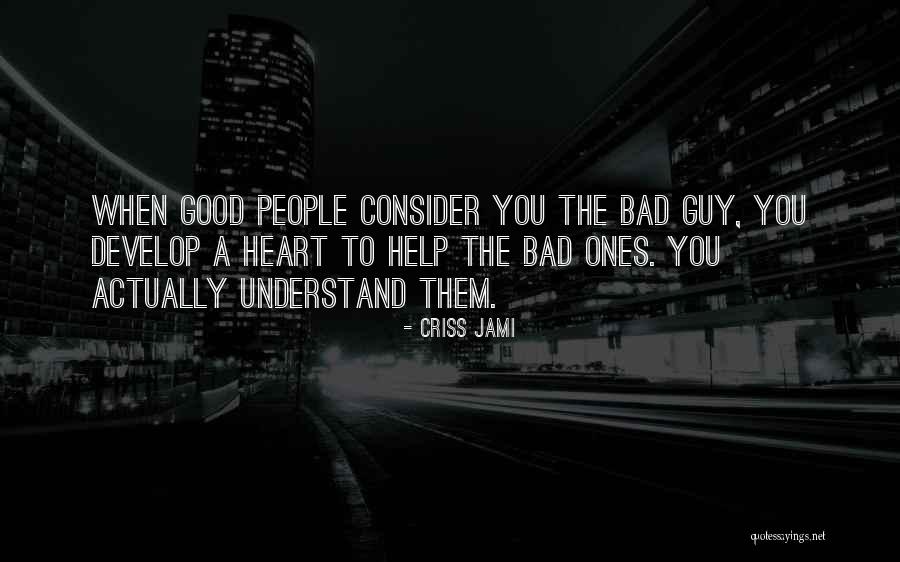 When good people consider you the bad guy, you develop a heart to help the bad ones. You actually understand them. — Criss Jami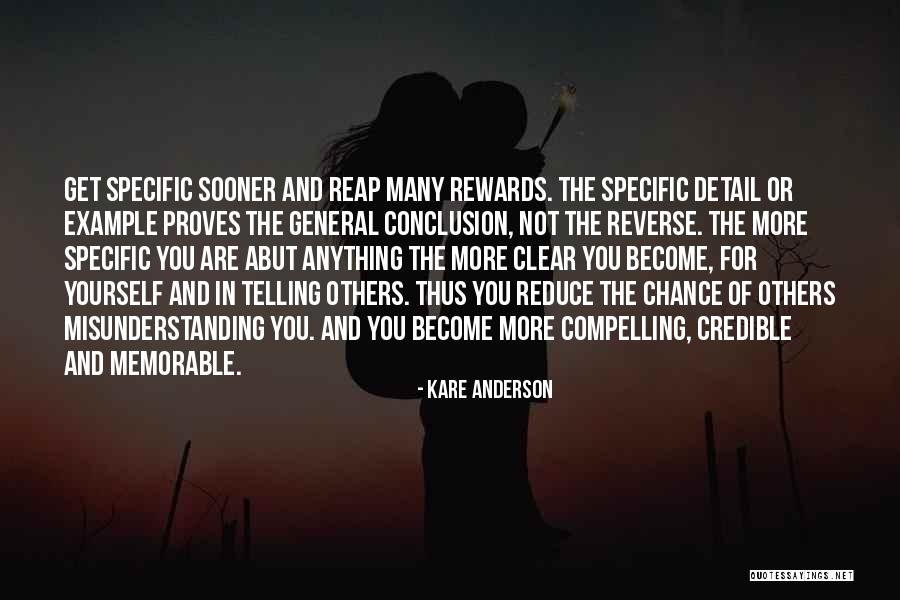 Get specific sooner and reap many rewards. The specific detail or example proves the general conclusion, not the reverse. The more specific you are abut anything the more clear you become, for yourself and in telling others. Thus you reduce the chance of others misunderstanding you. And you become more compelling, credible and memorable. — Kare Anderson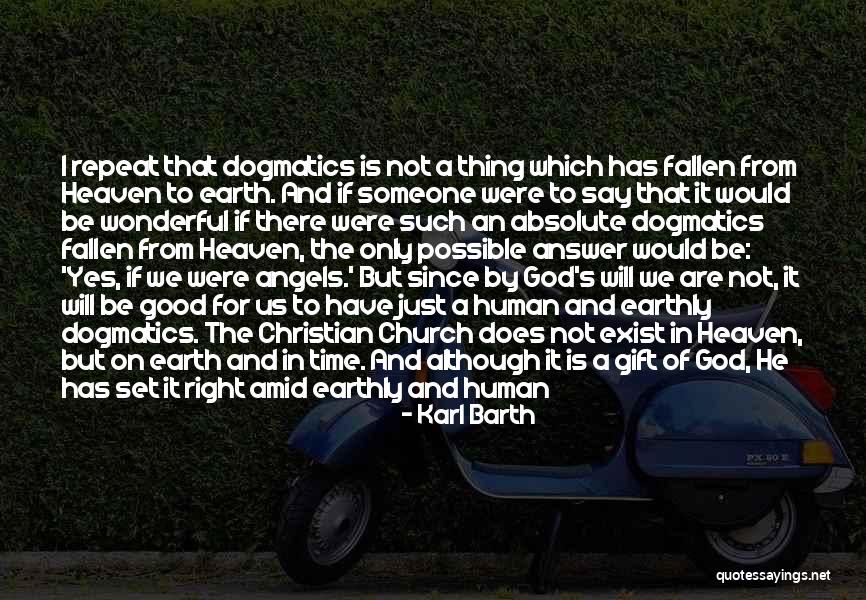 I repeat that dogmatics is not a thing which has fallen from Heaven to earth. And if someone were to say that it would be wonderful if there were such an absolute dogmatics fallen from Heaven, the only possible answer would be: 'Yes, if we were angels.' But since by God's will we are not, it will be good for us to have just a human and earthly dogmatics. The Christian Church does not exist in Heaven, but on earth and in time. And although it is a gift of God, He has set it right amid earthly and human circumstances, and to that fact corresponds absolutely everything that happens in the Church. The Christian Church lives on earth and it lives in history, with the lofty good entrusted to it by God. In the possession and administration of this lofty good it passes on its way through history, in strength and in weakness, in faithfulness and in unfaithfulness, in obedience and in disobedience, in understanding and in misunderstanding of what is said to it. — Karl Barth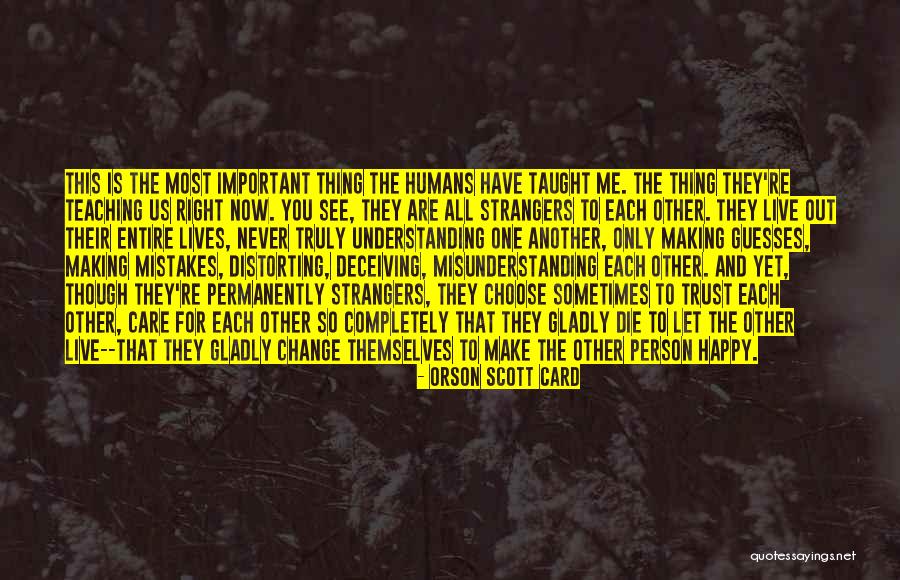 This is the most important thing the humans have taught me. The thing they're teaching us right now. You see, they are all strangers to each other. They live out their entire lives, never truly understanding one another, only making guesses, making mistakes, distorting, deceiving, misunderstanding each other. And yet, though they're permanently strangers, they choose sometimes to trust each other, care for each other so completely that they gladly die to let the other live--that they gladly change themselves to make the other person happy. — Orson Scott Card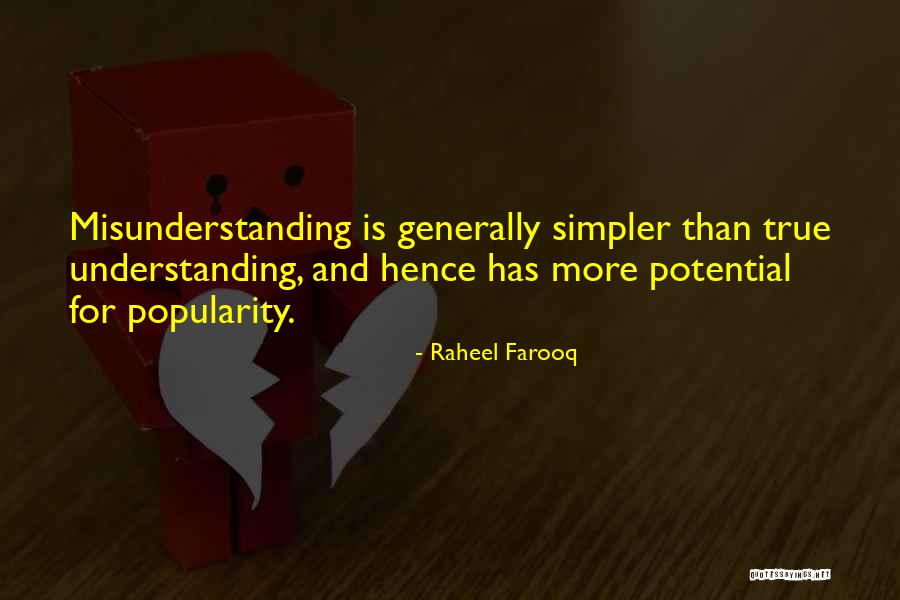 Misunderstanding is generally simpler than true understanding, and hence has more potential for popularity. — Raheel Farooq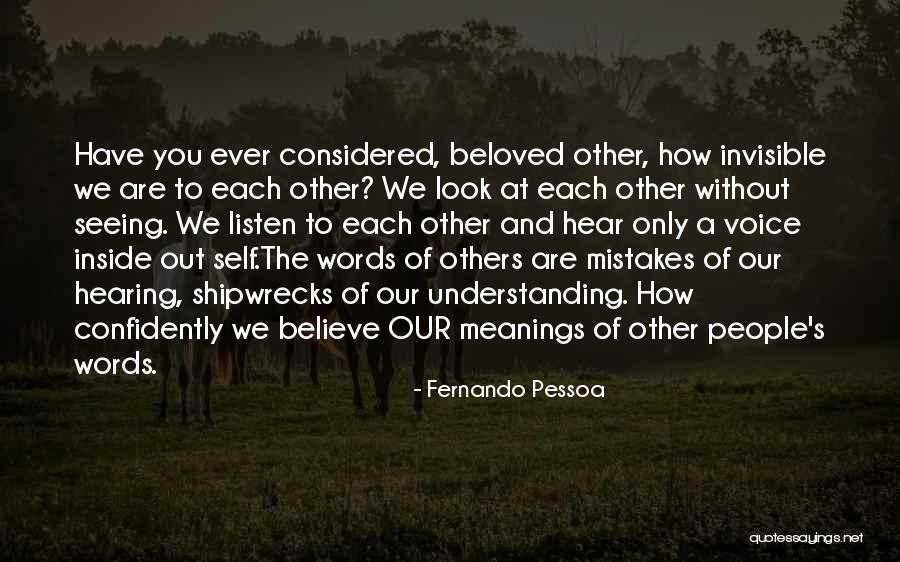 Have you ever considered, beloved other, how invisible we are to each other? We look at each other without seeing. We listen to each other and hear only a voice inside out self.
The words of others are mistakes of our hearing, shipwrecks of our understanding. How confidently we believe OUR meanings of other people's words. — Fernando Pessoa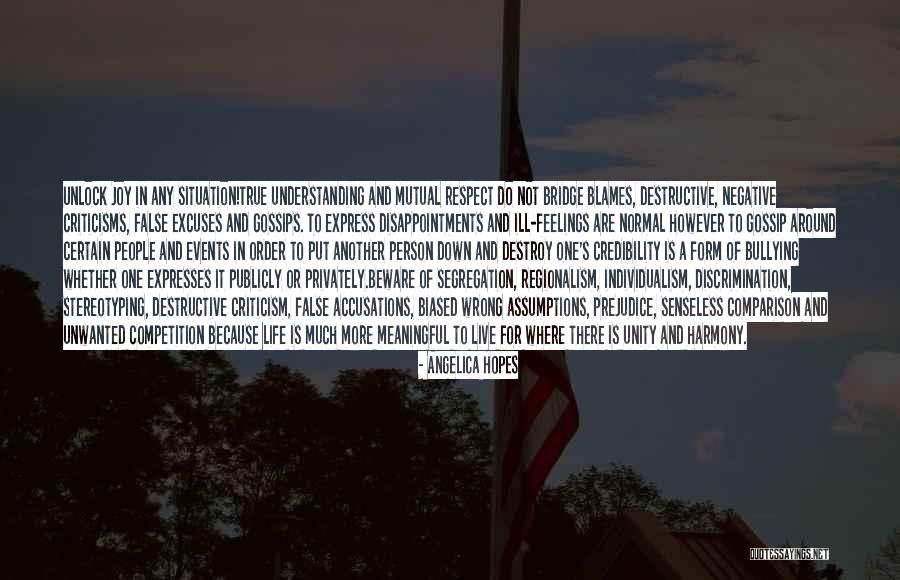 Unlock joy in any situation!
True understanding and mutual respect do not bridge blames, destructive, negative criticisms, false excuses and gossips. To express disappointments and ill-feelings are normal however to gossip around certain people and events in order to put another person down and destroy one's credibility is a form of bullying whether one expresses it publicly or privately.
Beware of segregation, regionalism, individualism, discrimination, stereotyping, destructive criticism, false accusations, biased wrong assumptions, prejudice, senseless comparison and unwanted competition because life is much more meaningful to live for where there is unity and harmony. — Angelica Hopes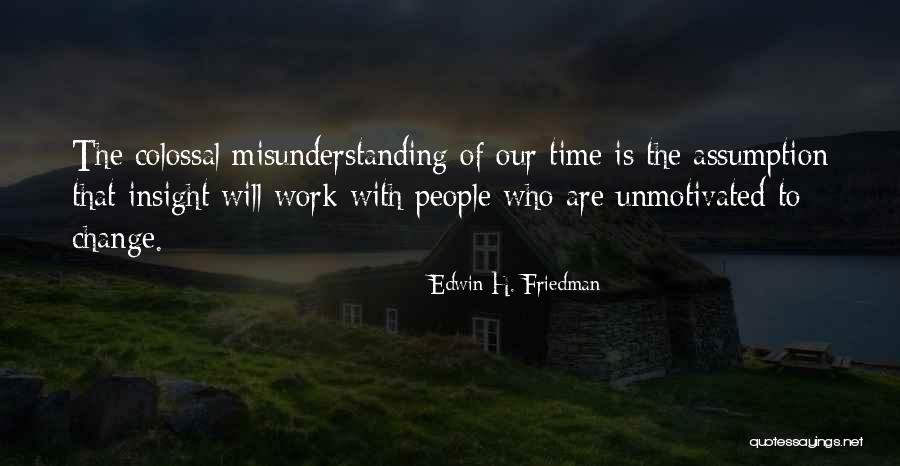 The colossal misunderstanding of our time is the assumption that insight will work with people who are unmotivated to change. — Edwin H. Friedman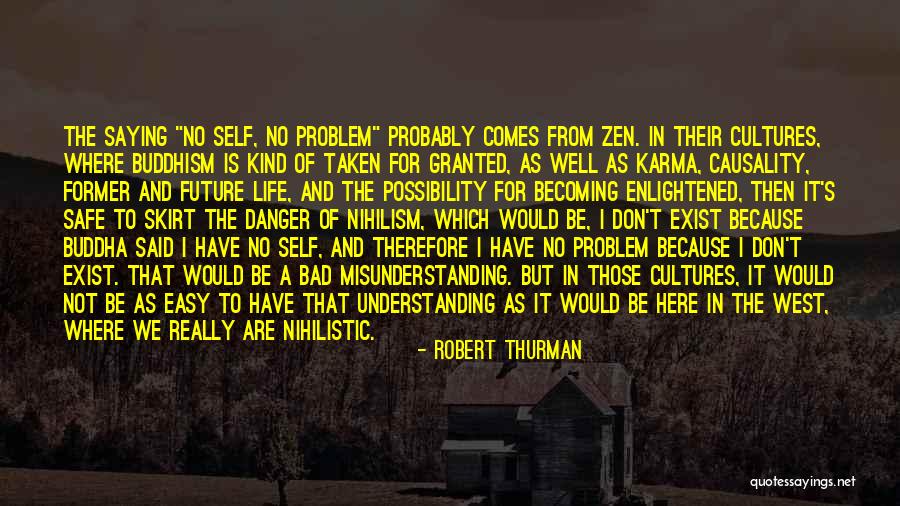 The saying "no self, no problem" probably comes from Zen. In their cultures, where Buddhism is kind of taken for granted, as well as karma, causality, former and future life, and the possibility for becoming enlightened, then it's safe to skirt the danger of nihilism, which would be, I don't exist because Buddha said I have no self, and therefore I have no problem because I don't exist. That would be a bad misunderstanding. But in those cultures, it would not be as easy to have that understanding as it would be here in the west, where we really are nihilistic. — Robert Thurman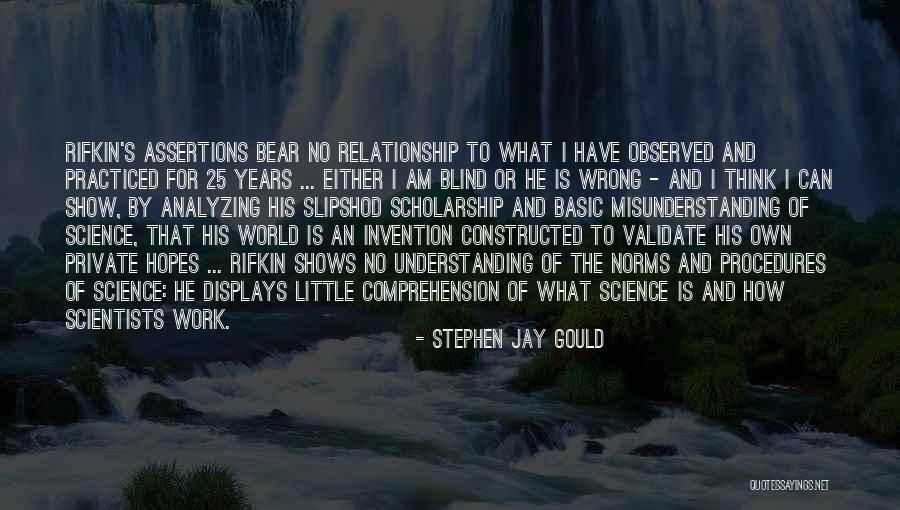 Rifkin's assertions bear no relationship to what I have observed and practiced for 25 years ... Either I am blind or he is wrong - and I think I can show, by analyzing his slipshod scholarship and basic misunderstanding of science, that his world is an invention constructed to validate his own private hopes ... Rifkin shows no understanding of the norms and procedures of science: he displays little comprehension of what science is and how scientists work. — Stephen Jay Gould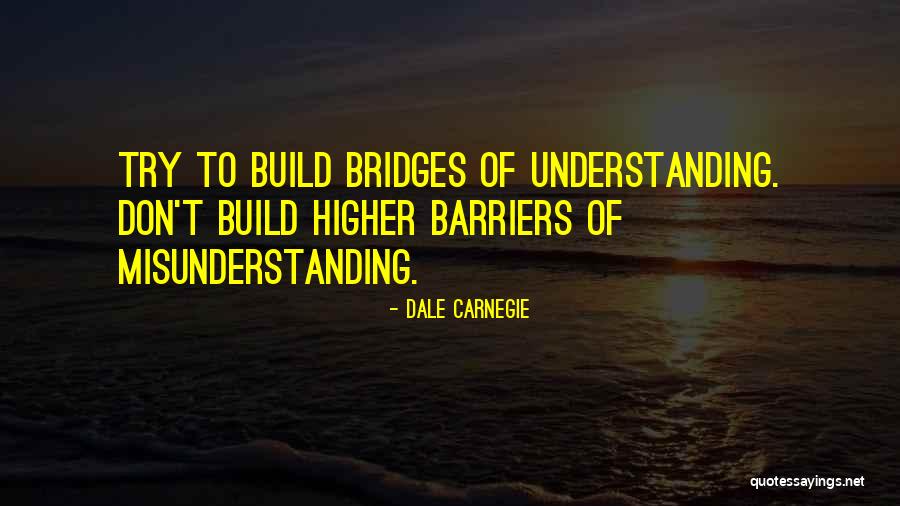 Try to build bridges of understanding. Don't build higher barriers of misunderstanding. — Dale Carnegie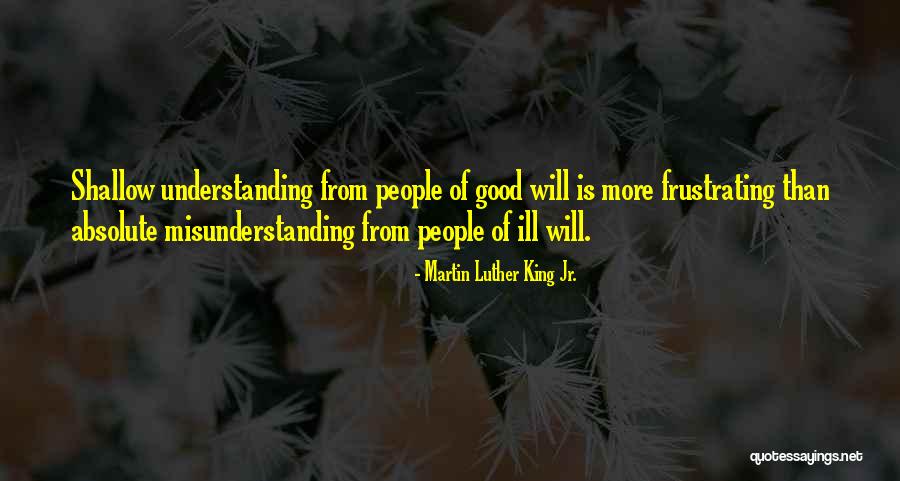 Shallow understanding from people of good will is more frustrating than absolute misunderstanding from people of ill will. — Martin Luther King Jr.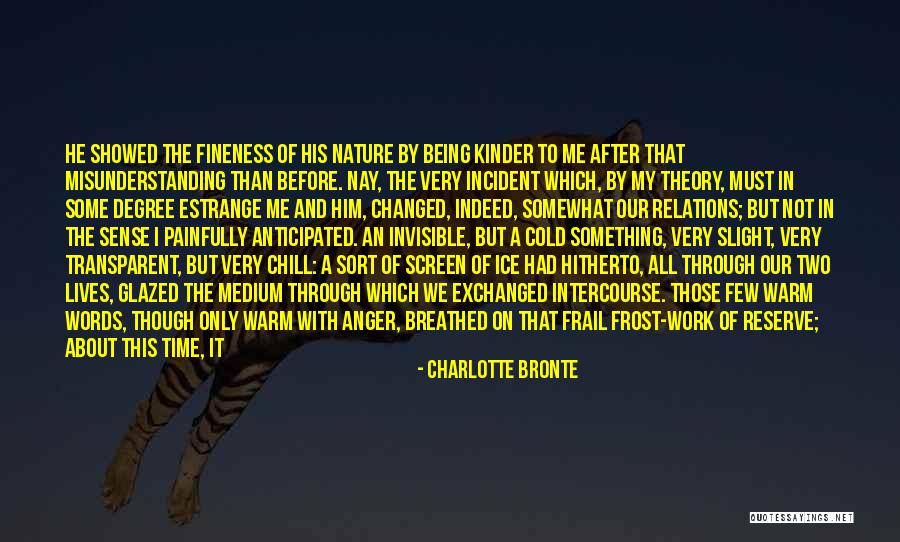 He showed the fineness of his nature by being kinder to me after that misunderstanding than before. Nay, the very incident which, by my theory, must in some degree estrange me and him, changed, indeed, somewhat our relations; but not in the sense I painfully anticipated. An invisible, but a cold something, very slight, very transparent, but very chill: a sort of screen of ice had hitherto, all through our two lives, glazed the medium through which we exchanged intercourse. Those few warm words, though only warm with anger, breathed on that frail frost-work of reserve; about this time, it gave note of dissolution. I think from that day, so long as we continued friends, he never in discourse stood on topics of ceremony with me. — Charlotte Bronte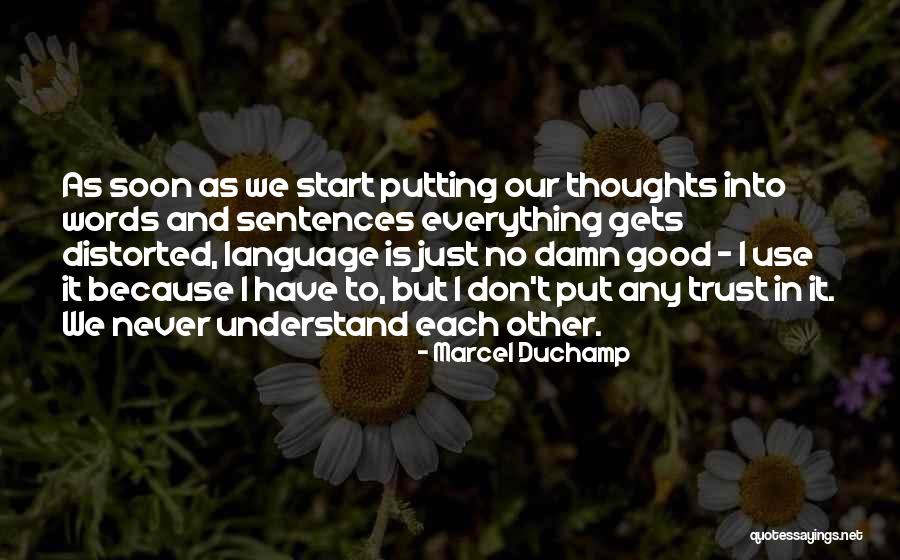 As soon as we start putting our thoughts into words and sentences everything gets distorted, language is just no damn good - I use it because I have to, but I don't put any trust in it. We never understand each other. — Marcel Duchamp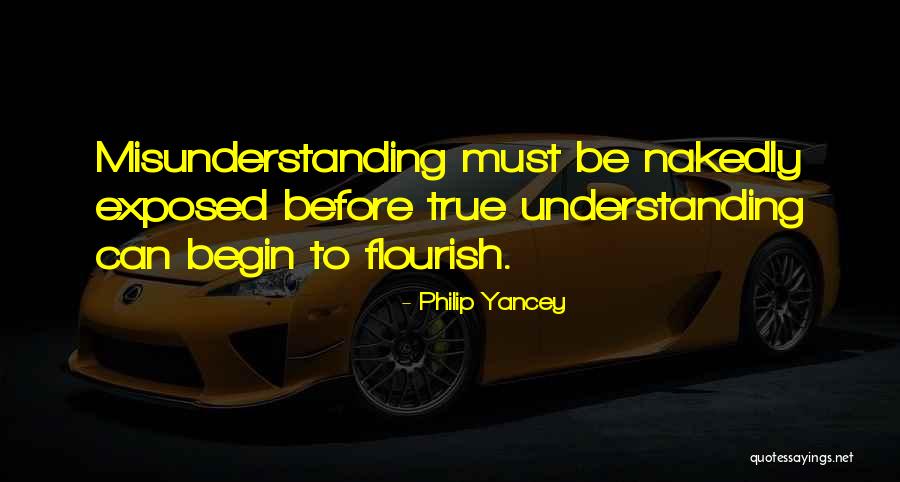 Misunderstanding must be nakedly exposed before true understanding can begin to flourish. — Philip Yancey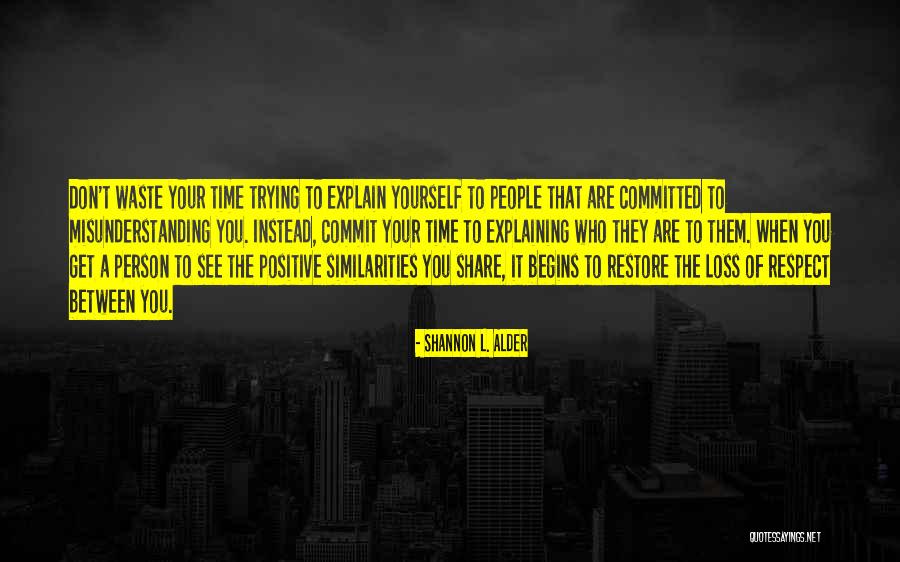 Don't waste your time trying to explain yourself to people that are committed to misunderstanding you. Instead, commit your time to explaining who they are to them. When you get a person to see the positive similarities you share, it begins to restore the loss of respect between you. — Shannon L. Alder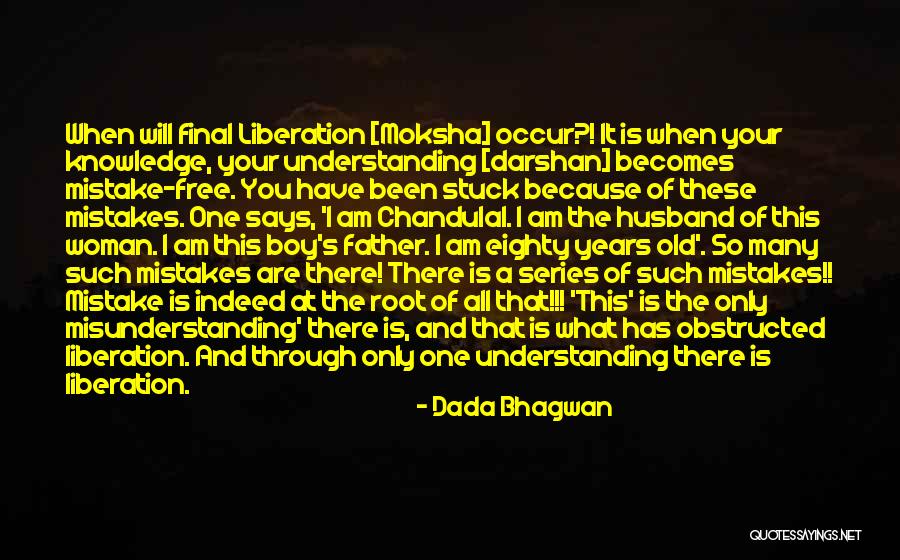 When will final Liberation [Moksha] occur?! It is when your knowledge, your understanding [darshan] becomes mistake-free. You have been stuck because of these mistakes. One says, 'I am Chandulal. I am the husband of this woman. I am this boy's father. I am eighty years old'. So many such mistakes are there! There is a series of such mistakes!! Mistake is indeed at the root of all that!!! 'This' is the only misunderstanding' there is, and that is what has obstructed liberation. And through only one understanding there is liberation. — Dada Bhagwan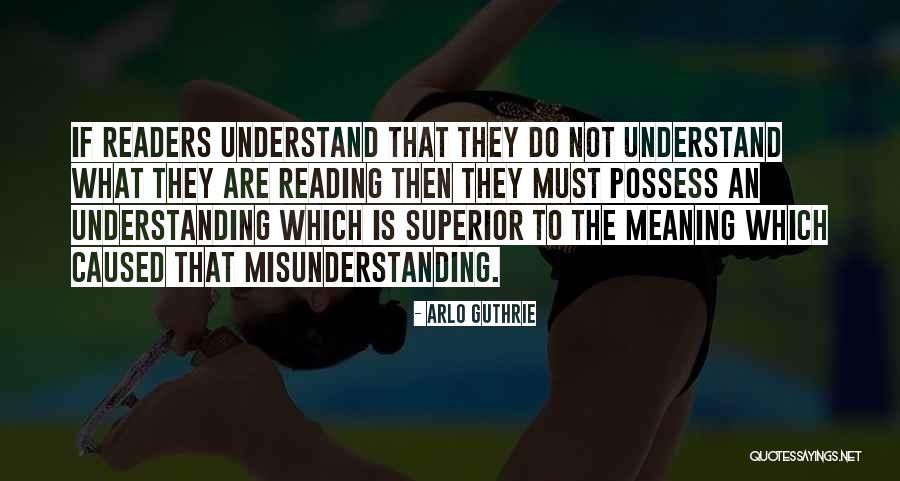 If readers understand that they do not understand what they are reading then they must possess an understanding which is superior to the meaning which caused that misunderstanding. — Arlo Guthrie