True Love Takes Time Quotes & Sayings
Enjoy reading and share 21 famous quotes about True Love Takes Time with everyone.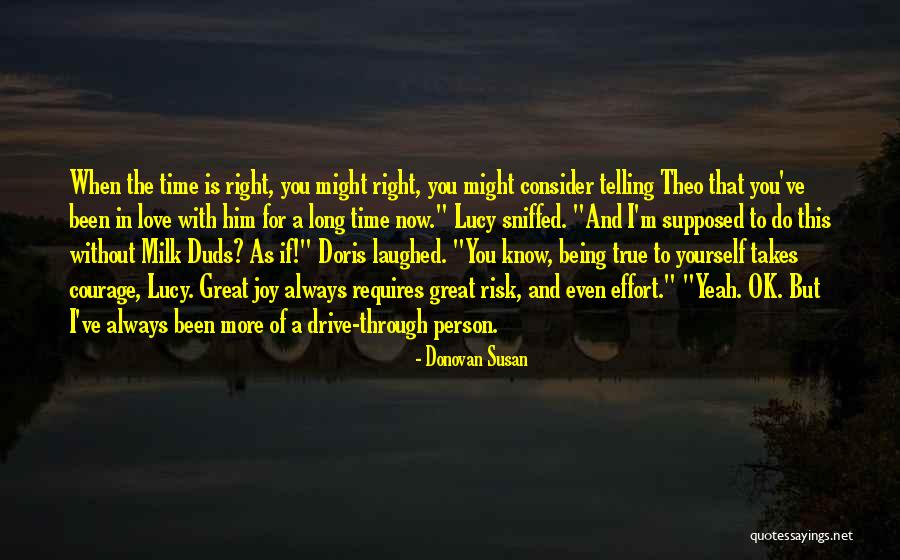 When the time is right, you might right, you might consider telling Theo that you've been in love with him for a long time now."
Lucy sniffed. "And I'm supposed to do this without Milk Duds? As if!"
Doris laughed. "You know, being true to yourself takes courage, Lucy. Great joy always requires great risk, and even effort."
"Yeah. OK. But I've always been more of a drive-through person. — Donovan Susan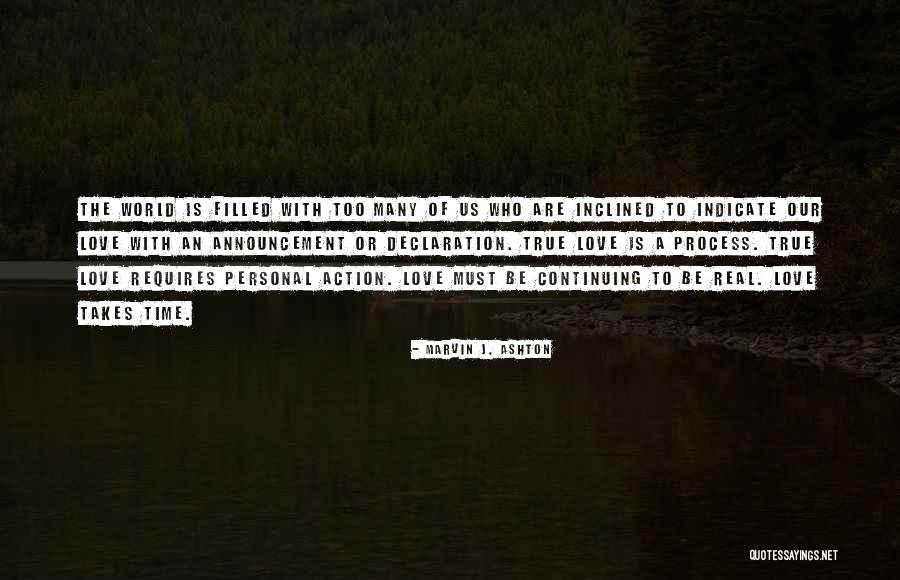 The world is filled with too many of us who are inclined to indicate our love with an announcement or declaration. True love is a process. True love requires personal action. Love must be continuing to be real. Love takes time. — Marvin J. Ashton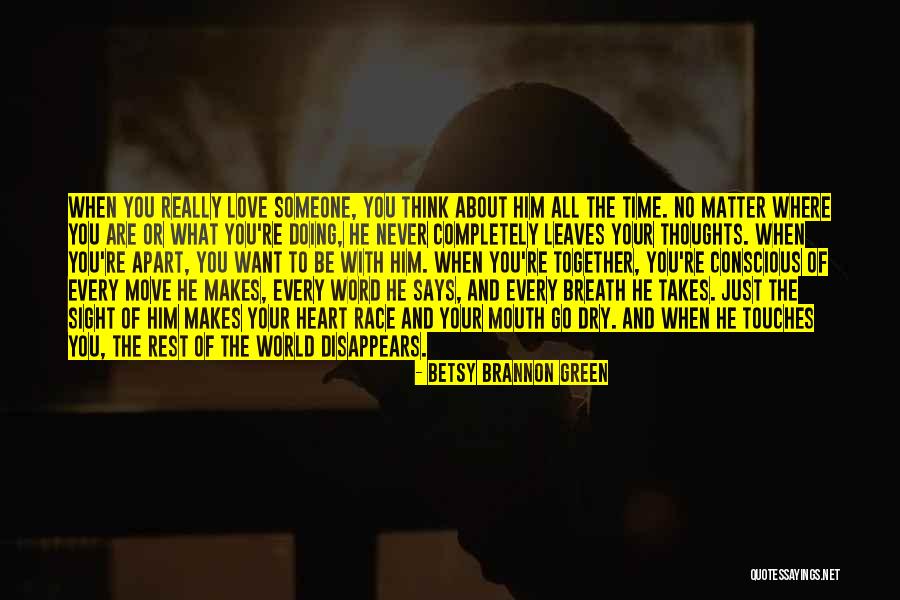 When you really love someone, you think about him all the time. No matter where you are or what you're doing, he never completely leaves your thoughts. When you're apart, you want to be with him. When you're together, you're conscious of every move he makes, every word he says, and every breath he takes. Just the sight of him makes your heart race and your mouth go dry. And when he touches you, the rest of the world disappears. — Betsy Brannon Green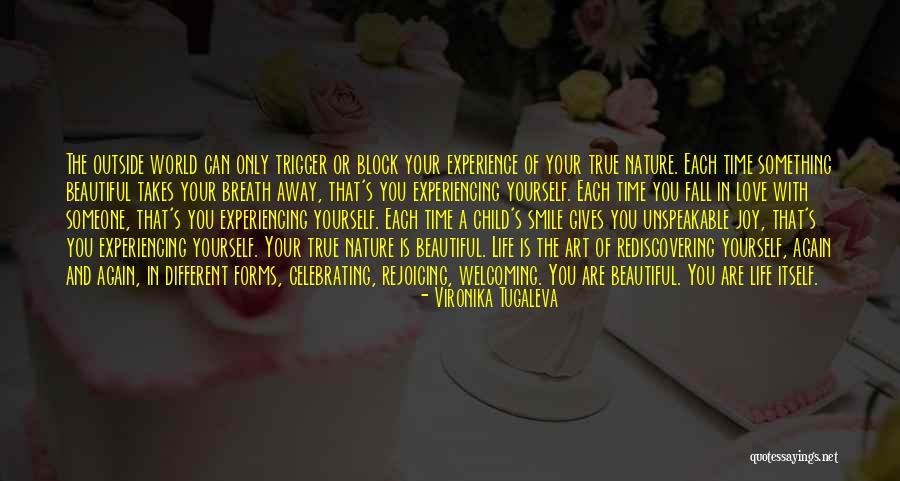 The outside world can only trigger or block your experience of your true nature. Each time something beautiful takes your breath away, that's you experiencing yourself. Each time you fall in love with someone, that's you experiencing yourself. Each time a child's smile gives you unspeakable joy, that's you experiencing yourself. Your true nature is beautiful. Life is the art of rediscovering yourself, again and again, in different forms, celebrating, rejoicing, welcoming. You are beautiful. You are life itself. — Vironika Tugaleva
Empathy seems to have been replaced with judgement in today's world. NO ONE has arrived. I repeat, NO ONE has arrived. We all experience joy, happiness, sadness, anger, disappointment, fear, etc ... Some of the most successful people have said things in interviews that give you a peek into their vulnerable areas. The differences are found in how we manage our own issues so if you are beating yourself up, comparing yourself or on the other end of the spectrum looking down on others ... please stop! We are all searching for significance in one way or another ... some have found it within while it takes others a little more time searching the outside. Be true to yourself and allow others to do the same. Remember, no one has it all together all the time. NO ONE HAS ARRIVED ... WE ARE ALL BE-COMING. HUMANS BE-ING. So let folks BE. — Sanjo Jendayi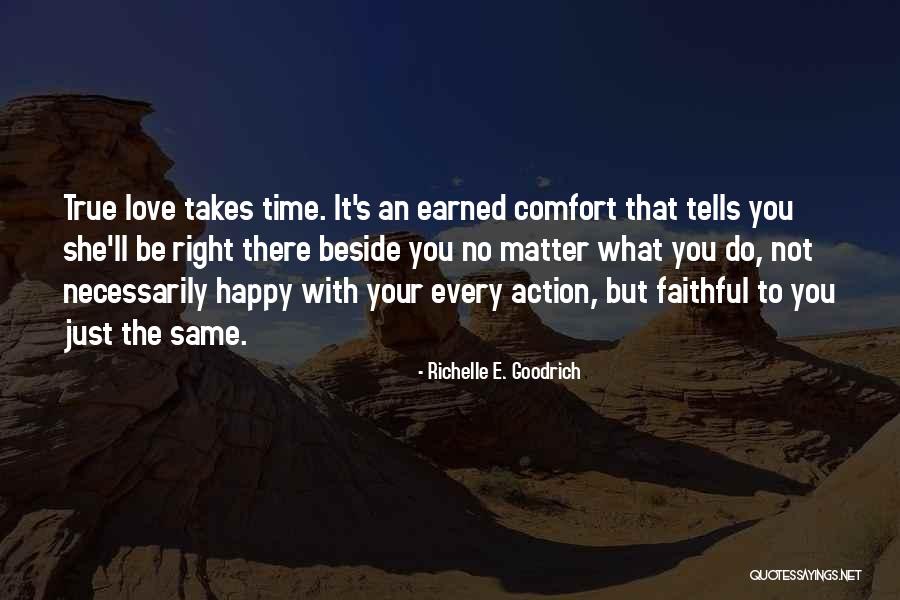 True love takes time. It's an earned comfort that tells you she'll be right there beside you no matter what you do, not necessarily happy with your every action, but faithful to you just the same. — Richelle E. Goodrich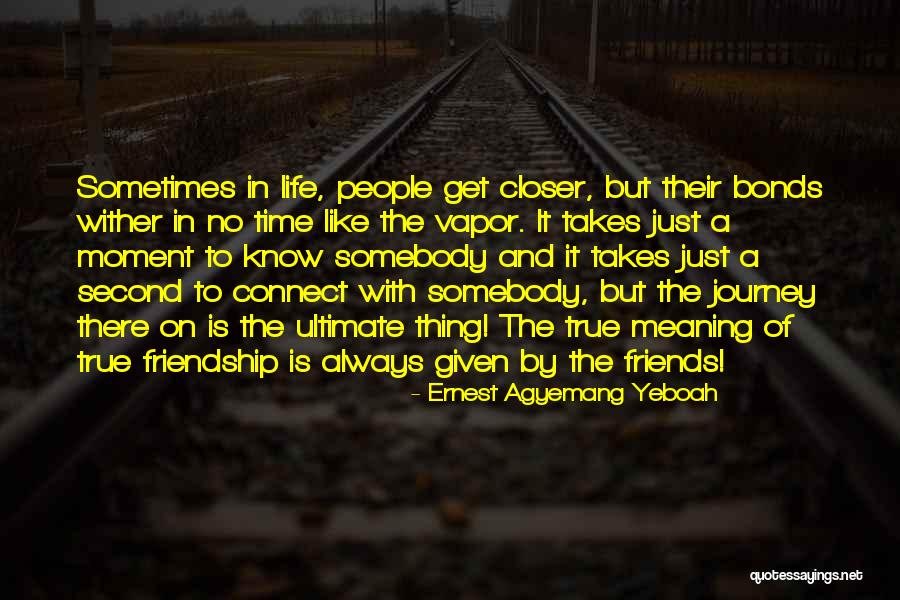 Sometimes in life, people get closer, but their bonds wither in no time like the vapor. It takes just a moment to know somebody and it takes just a second to connect with somebody, but the journey there on is the ultimate thing! The true meaning of true friendship is always given by the friends! — Ernest Agyemang Yeboah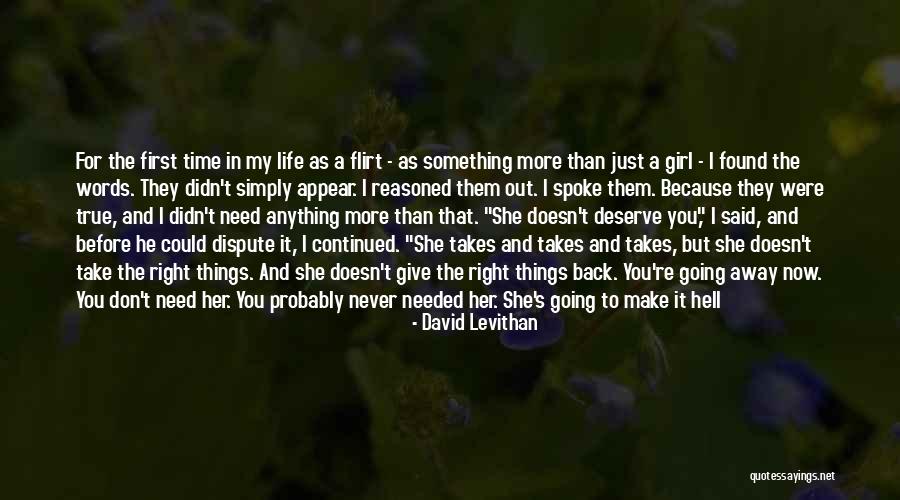 For the first time in my life as a flirt - as something more than just a girl - I found the words. They didn't simply appear. I reasoned them out. I spoke them. Because they were true, and I didn't need anything more than that. "She doesn't deserve you," I said, and before he could dispute it, I continued. "She takes and takes and takes, but she doesn't take the right things. And she doesn't give the right things back. You're going away now. You don't need her. You probably never needed her. She's going to make it hell for you, but it's over. You know that. Free yourself."
He looked at me like I was some kind of oracle. In the best of all worlds, it would've been a look of love, an understanding that I was the one, I was it. But it wasn't that. Instead it was something almost as sweet - that mix of recognition and appreciation. That gift of worth. — David Levithan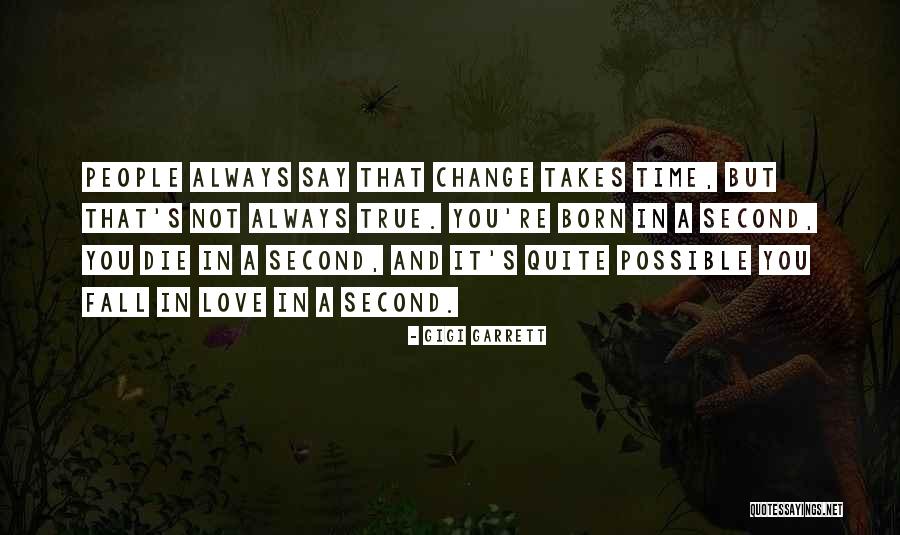 People always say that change takes time, but that's not always true. You're born in a second, you die in a second, and it's quite possible you fall in love in a second. — Gigi Garrett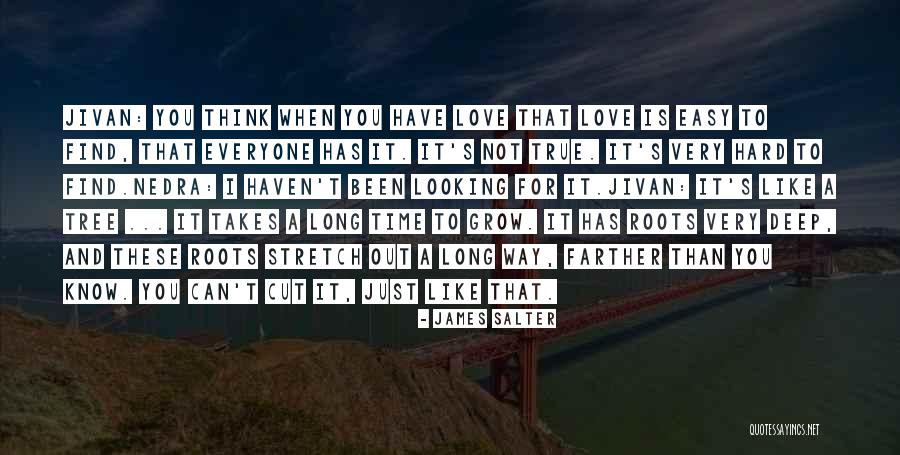 Jivan: You think when you have love that love is easy to find, that everyone has it. It's not true. It's very hard to find.
Nedra: I haven't been looking for it.
Jivan: It's like a tree ... It takes a long time to grow. It has roots very deep, and these roots stretch out a long way, farther than you know. You can't cut it, just like that. — James Salter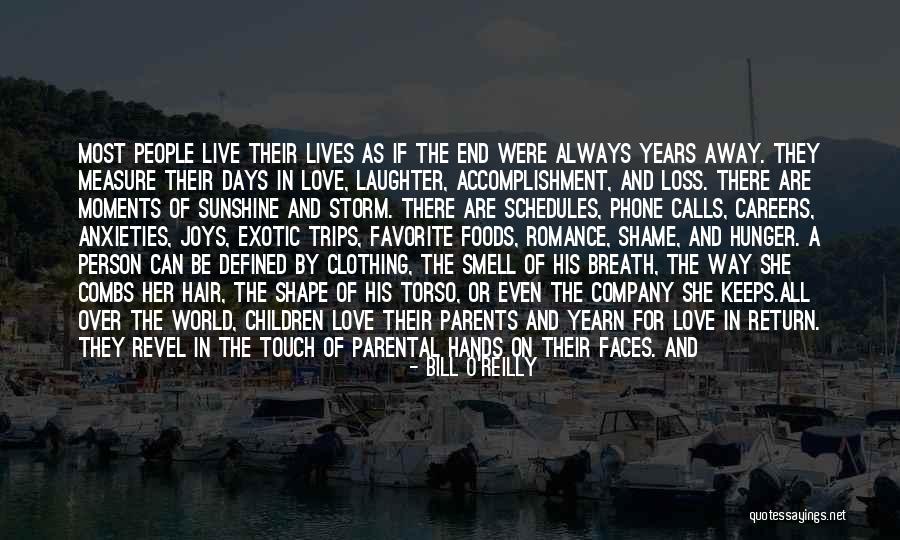 Most people live their lives as if the end were always years away. They measure their days in love, laughter, accomplishment, and loss. There are moments of sunshine and storm. There are schedules, phone calls, careers, anxieties, joys, exotic trips, favorite foods, romance, shame, and hunger. A person can be defined by clothing, the smell of his breath, the way she combs her hair, the shape of his torso, or even the company she keeps.
All over the world, children love their parents and yearn for love in return. They revel in the touch of parental hands on their faces. And even on the worst of days, each person has dreams about the future-dreams that sometimes come true.
Such is life.
Yet life can end in less time than it takes to draw one breath. — Bill O'Reilly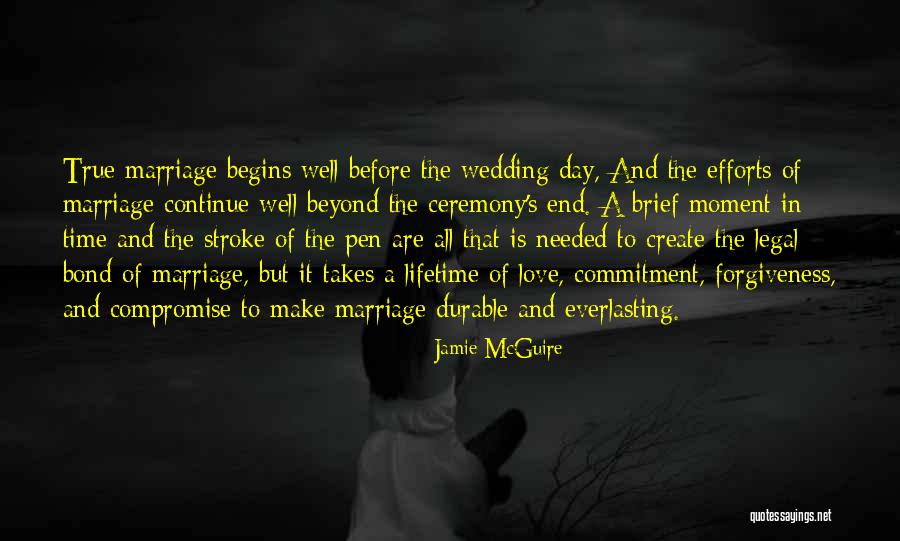 True marriage begins well before the wedding day, And the efforts of marriage continue well beyond the ceremony's end. A brief moment in time and the stroke of the pen are all that is needed to create the legal bond of marriage, but it takes a lifetime of love, commitment, forgiveness, and compromise to make marriage durable and everlasting. — Jamie McGuire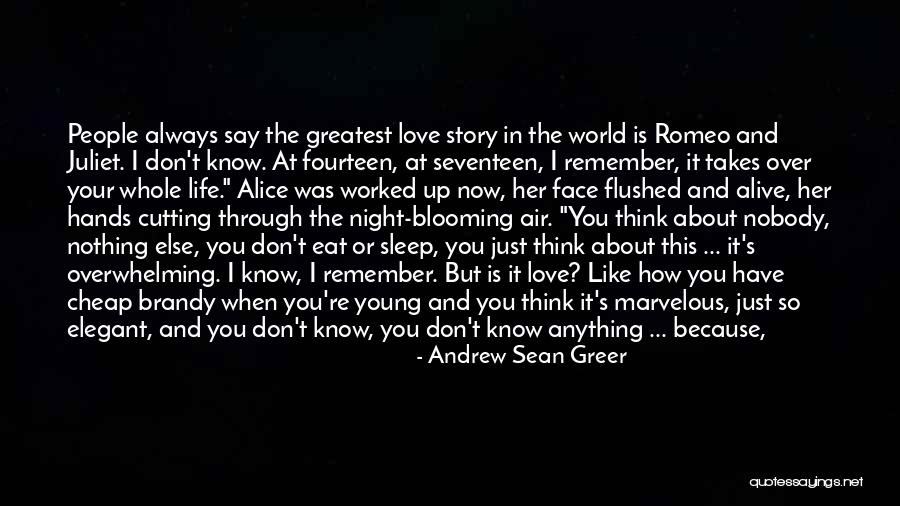 People always say the greatest love story in the world is Romeo and Juliet. I don't know. At fourteen, at seventeen, I remember, it takes over your whole life." Alice was worked up now, her face flushed and alive, her hands cutting through the night-blooming air. "You think about nobody, nothing else, you don't eat or sleep, you just think about this ... it's overwhelming. I know, I remember. But is it love? Like how you have cheap brandy when you're young and you think it's marvelous, just so elegant, and you don't know, you don't know anything ... because, you've never tasted anything better. You're fourteen."
It was no time for lying. "I think it's love"
You do?"
I think maybe it's the only true love."
She was about to say something, and stopped herself. I'd surprised her, I suppose. "How sad if you're right," she said, closing her eyes for a moment. "Because we never end up with them. How sad and stupid if that's how it works. — Andrew Sean Greer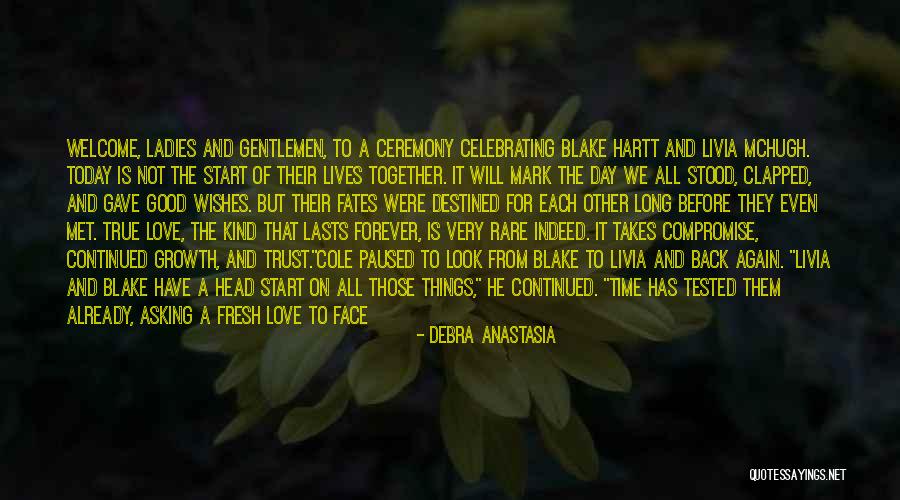 Welcome, ladies and gentlemen, to a ceremony celebrating Blake Hartt and Livia McHugh. Today is not the start of their lives together. It will mark the day we all stood, clapped, and gave good wishes. But their fates were destined for each other long before they even met. True love, the kind that lasts forever, is very rare indeed. It takes compromise, continued growth, and trust."
Cole paused to look from Blake to Livia and back again. "Livia and Blake have a head start on all those things," he continued. "Time has tested them already, asking a fresh love to face terrifying and life-changing tasks. These two had to find and hold onto their love, even when it felt like all was lost. — Debra Anastasia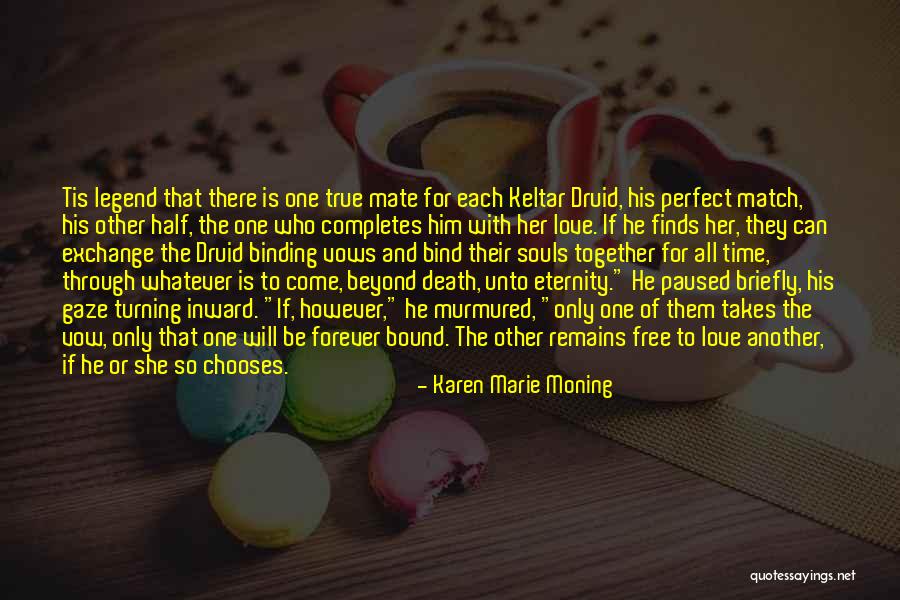 Tis legend that there is one true mate for each Keltar Druid, his perfect match, his other half, the one who completes him with her love. If he finds her, they can exchange the Druid binding vows and bind their souls together for all time, through whatever is to come, beyond death, unto eternity." He paused briefly, his gaze turning inward. "If, however," he murmured, "only one of them takes the vow, only that one will be forever bound. The other remains free to love another, if he or she so chooses. — Karen Marie Moning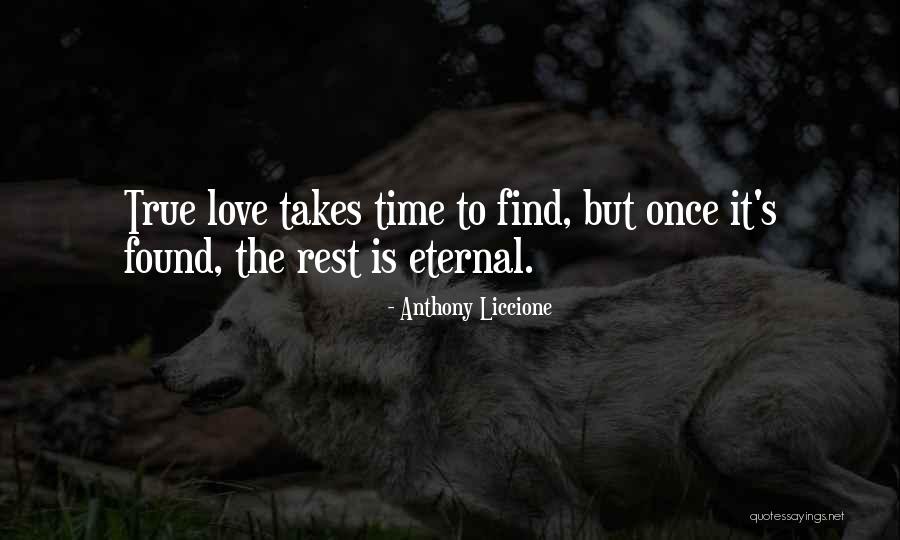 True love takes time to find, but once it's found, the rest is eternal. — Anthony Liccione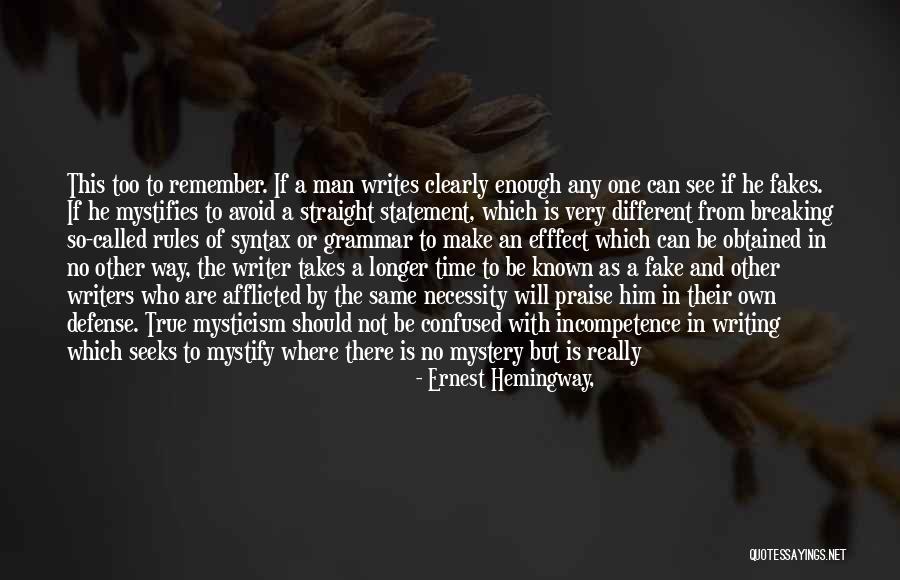 This too to remember. If a man writes clearly enough any one can see if he fakes. If he mystifies to avoid a straight statement, which is very different from breaking so-called rules of syntax or grammar to make an efffect which can be obtained in no other way, the writer takes a longer time to be known as a fake and other writers who are afflicted by the same necessity will praise him in their own defense. True mysticism should not be confused with incompetence in writing which seeks to mystify where there is no mystery but is really only the necessity to fake to cover lack of knowledge or the inability to state clearly. Mysticism implies a mystery and there are many mysteries; but incompetence is not one of them; nor is overwritten journalism made literature by the injection of a false epic qulaity. Remember this too: all bad writers are in love with the epic. — Ernest Hemingway,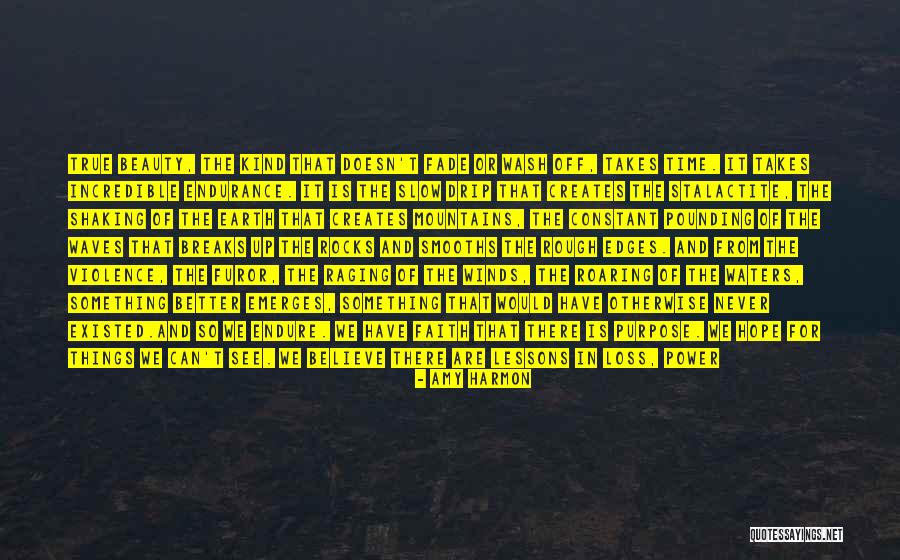 True beauty, the kind that doesn't fade or wash off, takes time. It takes incredible endurance. It is the slow drip that creates the stalactite, the shaking of the Earth that creates mountains, the constant pounding of the waves that breaks up the rocks and smooths the rough edges. And from the violence, the furor, the raging of the winds, the roaring of the waters, something better emerges, something that would have otherwise never existed.
And so we endure. We have faith that there is purpose. We hope for things we can't see. We believe there are lessons in loss, power in love, and that we have within us the potential for a beauty so magnificent, our bodies can't contain it. — Amy Harmon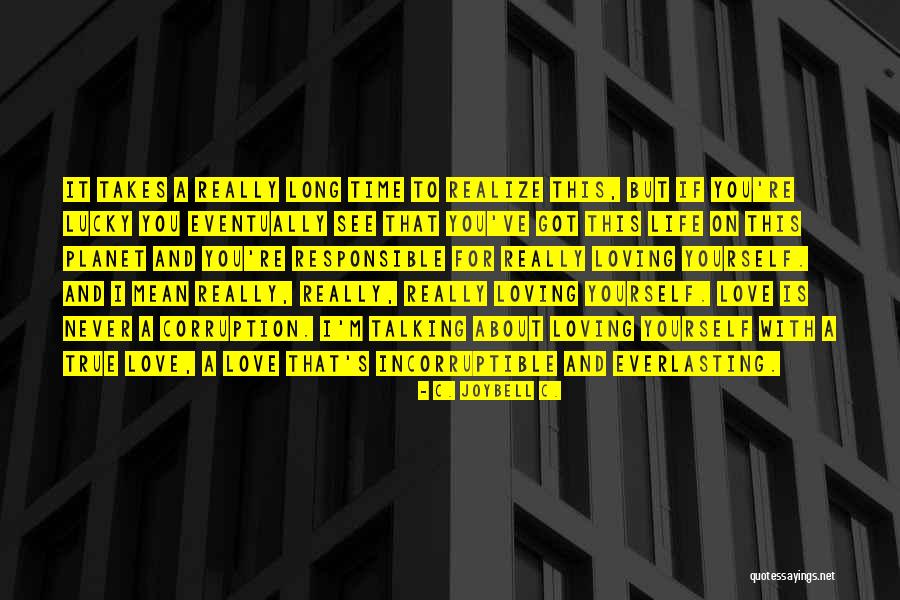 It takes a really long time to realize this, but if you're lucky you eventually see that you've got this life on this planet and you're responsible for really loving yourself. And I mean really, really, really loving yourself. Love is never a corruption. I'm talking about loving yourself with a true love, a love that's incorruptible and everlasting. — C. JoyBell C.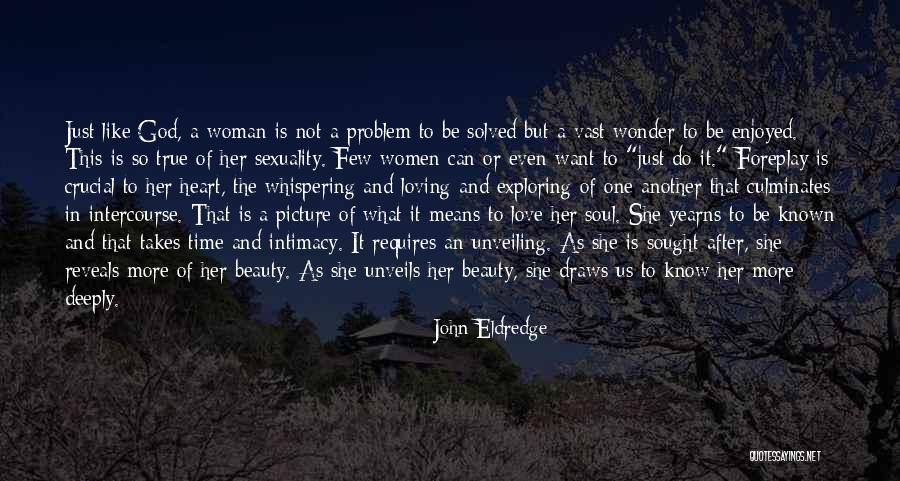 Just like God, a woman is not a problem to be solved but a vast wonder to be enjoyed. This is so true of her sexuality. Few women can or even want to "just do it." Foreplay is crucial to her heart, the whispering and loving and exploring of one another that culminates in intercourse. That is a picture of what it means to love her soul. She yearns to be known and that takes time and intimacy. It requires an unveiling. As she is sought after, she reveals more of her beauty. As she unveils her beauty, she draws us to know her more deeply. — John Eldredge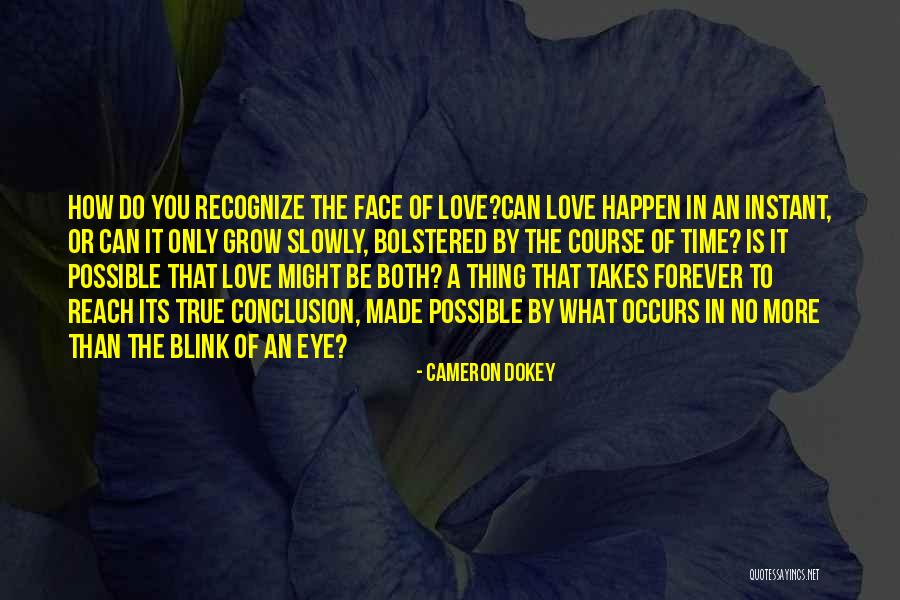 How do you recognize the face of love?
Can love happen in an instant, or can it only grow slowly, bolstered by the course of time? Is it possible that love might be both? A thing that takes forever to reach its true conclusion, made possible by what occurs in no more than the blink of an eye? — Cameron Dokey