True Friends Talk Quotes & Sayings
Enjoy reading and share 18 famous quotes about True Friends Talk with everyone.
Top True Friends Talk Quotes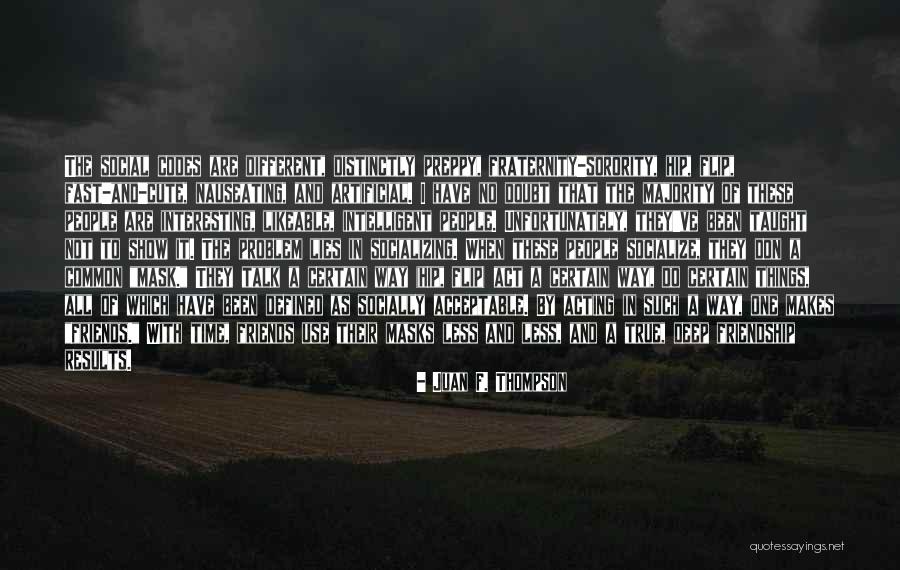 The social codes are different, distinctly preppy, fraternity-sorority, hip, flip, fast-and-cute, nauseating, and artificial. I have no doubt that the majority of these people are interesting, likeable, intelligent people. Unfortunately, they've been taught not to show it. The problem lies in socializing. When these people socialize, they don a common "mask." They talk a certain way (hip, flip) act a certain way, do certain things, all of which have been defined as socially acceptable. By acting in such a way, one makes "friends." With time, friends use their masks less and less, and a true, deep friendship results. — Juan F. Thompson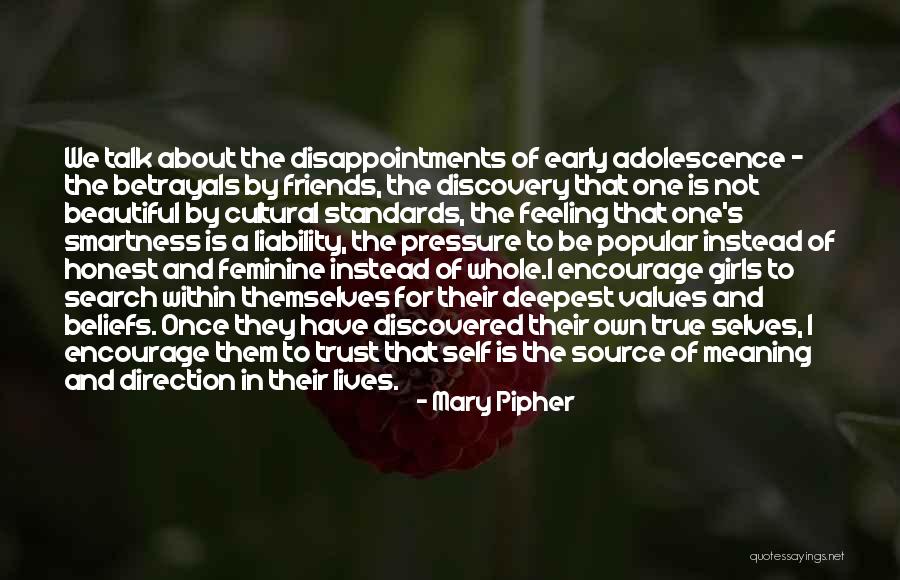 We talk about the disappointments of early adolescence - the betrayals by friends, the discovery that one is not beautiful by cultural standards, the feeling that one's smartness is a liability, the pressure to be popular instead of honest and feminine instead of whole.
I encourage girls to search within themselves for their deepest values and beliefs. Once they have discovered their own true selves, I encourage them to trust that self is the source of meaning and direction in their lives. — Mary Pipher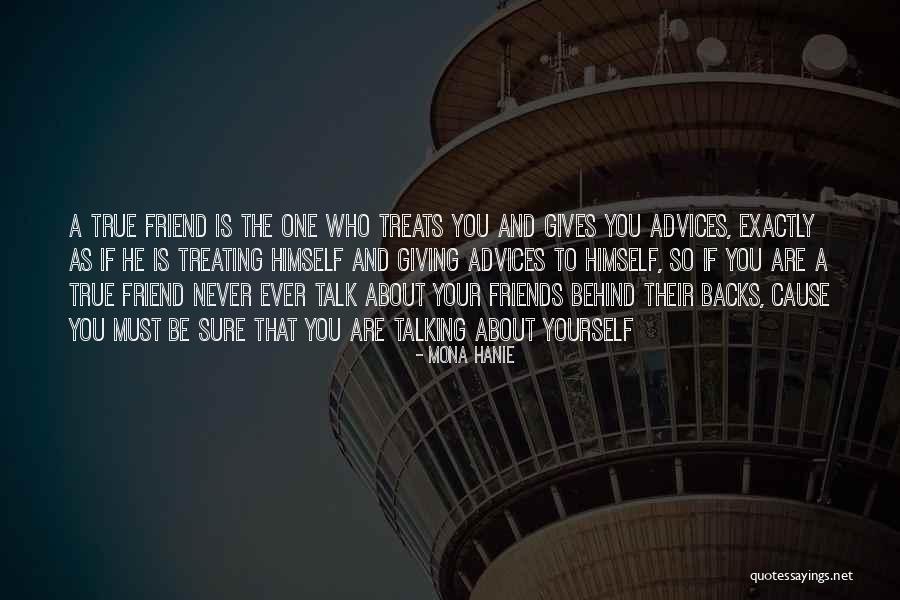 A true friend is the one who treats you and gives you advices, exactly as if he is treating himself and giving advices to himself, so if you are a true friend never ever talk about your friends behind their backs, cause you must be sure that you are talking about yourself — Mona Hanie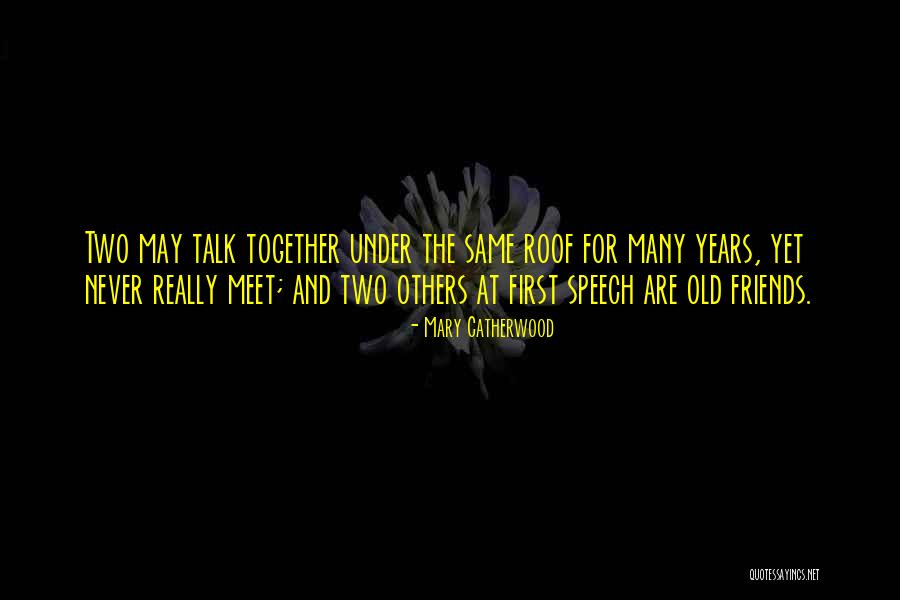 Two may talk together under the same roof for many years, yet never really meet; and two others at first speech are old friends. — Mary Catherwood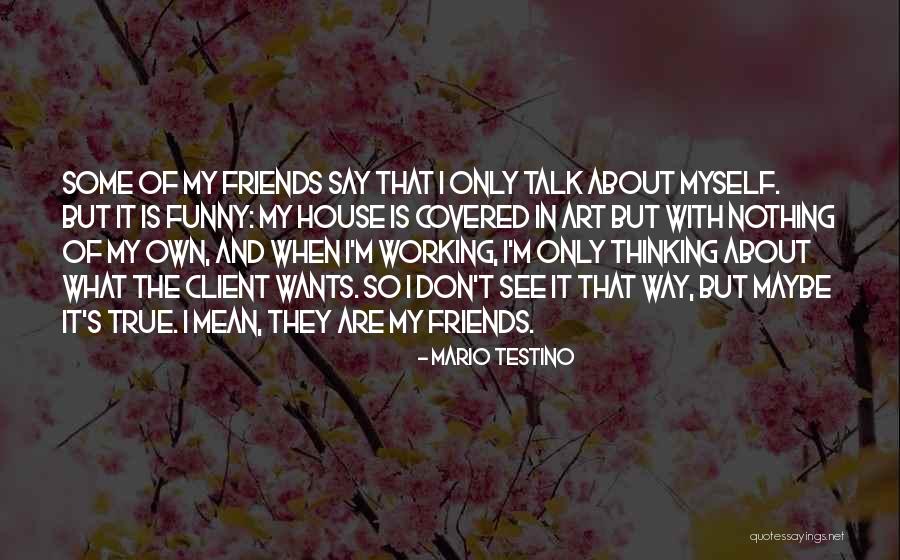 Some of my friends say that I only talk about myself. But it is funny: my house is covered in art but with nothing of my own, and when I'm working, I'm only thinking about what the client wants. So I don't see it that way, but maybe it's true. I mean, they are my friends. — Mario Testino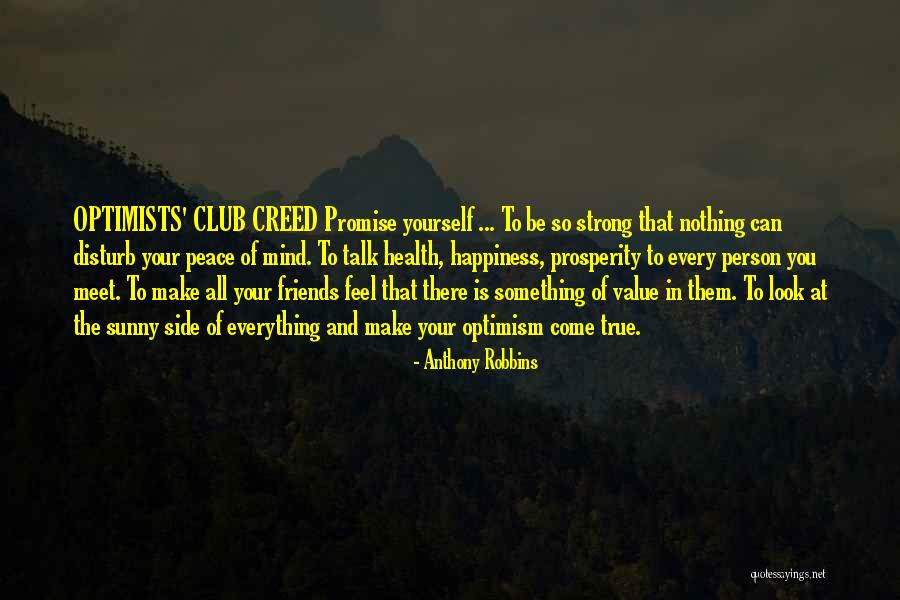 OPTIMISTS' CLUB CREED Promise yourself ... To be so strong that nothing can disturb your peace of mind. To talk health, happiness, prosperity to every person you meet. To make all your friends feel that there is something of value in them. To look at the sunny side of everything and make your optimism come true. — Anthony Robbins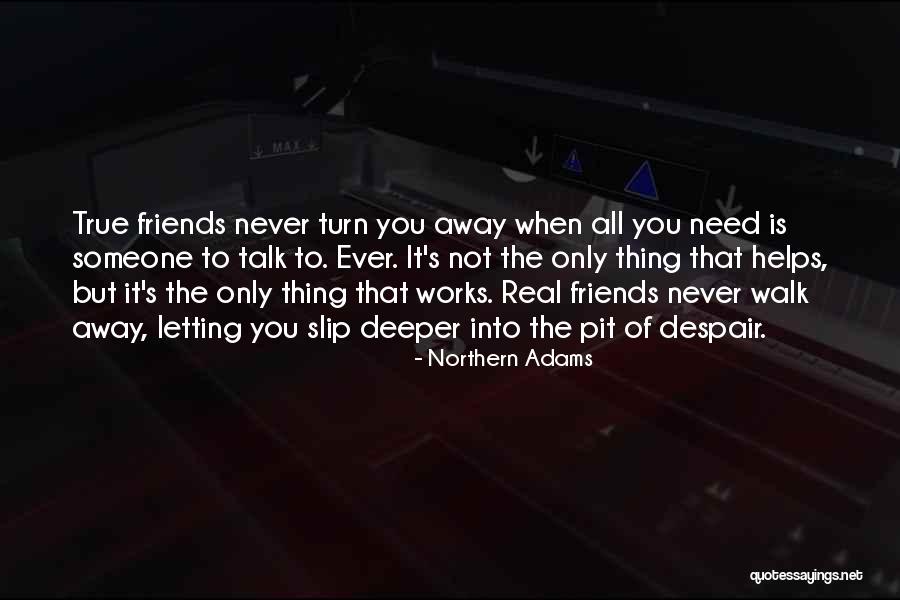 True friends never turn you away when all you need is someone to talk to. Ever. It's not the only thing that helps, but it's the only thing that works. Real friends never walk away, letting you slip deeper into the pit of despair. — Northern Adams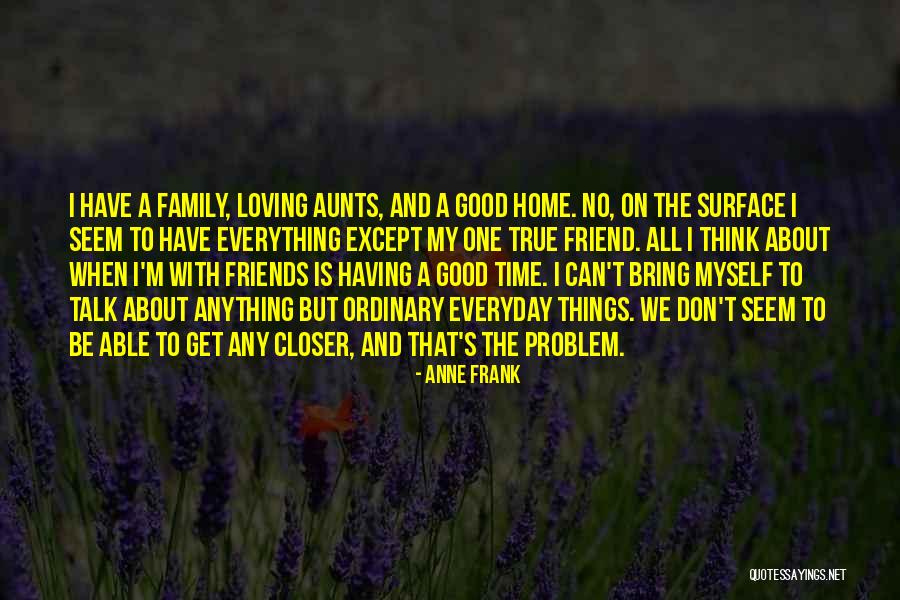 I have a family, loving aunts, and a good home. No, on the surface I seem to have everything except my one true friend. All I think about when I'm with friends is having a good time. I can't bring myself to talk about anything but ordinary everyday things. We don't seem to be able to get any closer, and that's the problem. — Anne Frank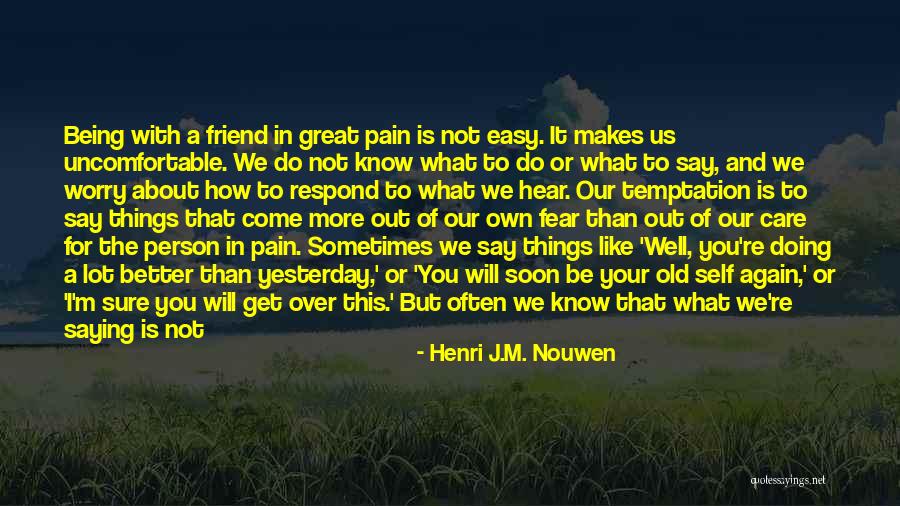 Being with a friend in great pain is not easy. It makes us uncomfortable. We do not know what to do or what to say, and we worry about how to respond to what we hear. Our temptation is to say things that come more out of our own fear than out of our care for the person in pain. Sometimes we say things like 'Well, you're doing a lot better than yesterday,' or 'You will soon be your old self again,' or 'I'm sure you will get over this.' But often we know that what we're saying is not true, and our friends know it too.
We do not have to play games with each other. We can simply say: 'I am your friend, I am happy to be with you.' We can say that in words or with touch or with loving silence. Sometimes it is good to say: 'You don't have to talk. Just close your eyes. I am here with you, thinking of you, praying for you, loving you. — Henri J.M. Nouwen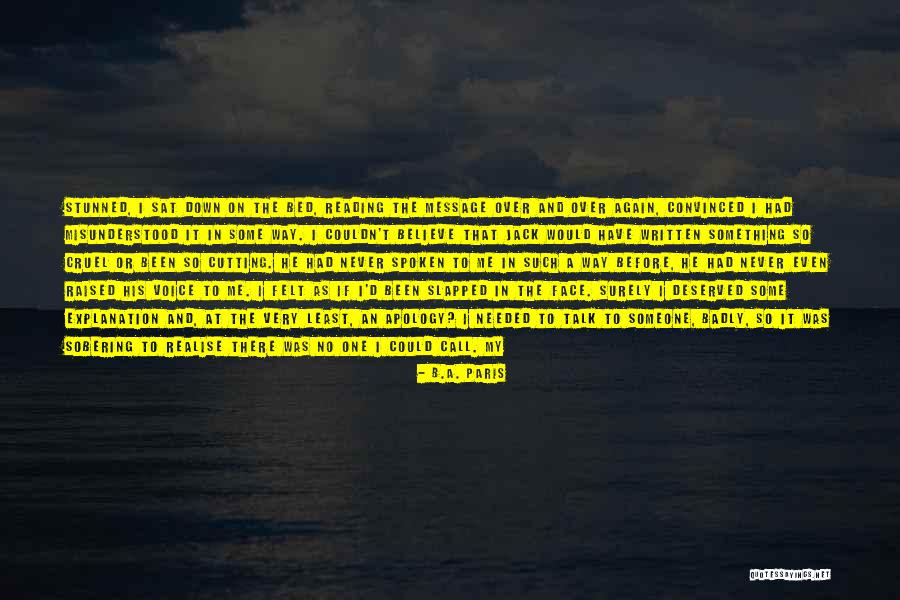 Stunned, I sat down on the bed, reading the message over and over again, convinced I had misunderstood it in some way. I couldn't believe that Jack would have written something so cruel or been so cutting. He had never spoken to me in such a way before, he had never even raised his voice to me. I felt as if I'd been slapped in the face. Surely I deserved some explanation and, at the very least, an apology? I needed to talk to someone, badly, so it was sobering to realise there was no one I could call. My parents and I didn't have the sort of relationship that would allow me to sob down the phone that he had left me by myself and for some reason I felt too ashamed to tell any of my friends. Where had the perfect gentleman I'd thought him to be gone? Had it all been a facade, had he covered his true self with a cloak of geniality and good humour to impress me? — B.A. Paris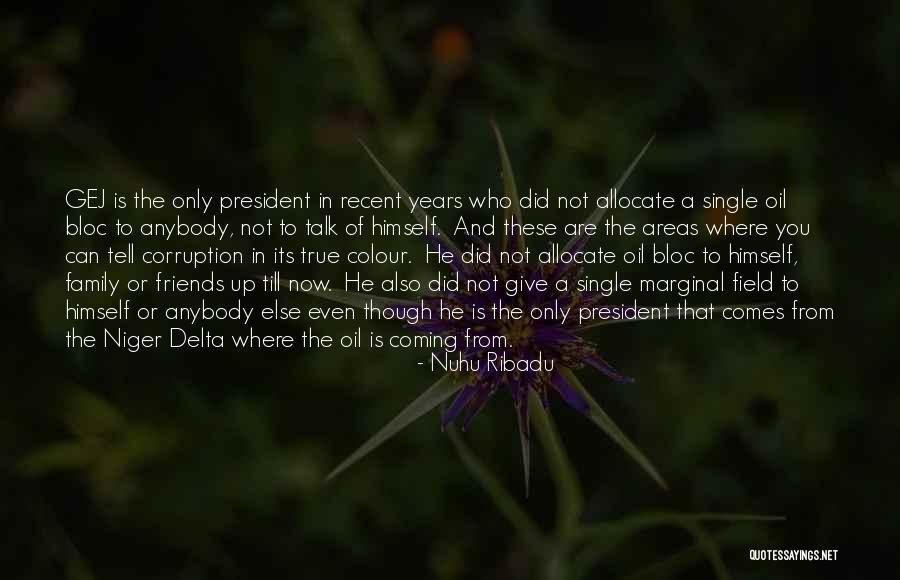 GEJ is the only president in recent years who did not allocate a single oil bloc to anybody, not to talk of himself.
And these are the areas where you can tell corruption in its true colour.
He did not allocate oil bloc to himself, family or friends up till now.
He also did not give a single marginal field to himself or anybody else even though he is the only president that comes from the Niger Delta where the oil is coming from. — Nuhu Ribadu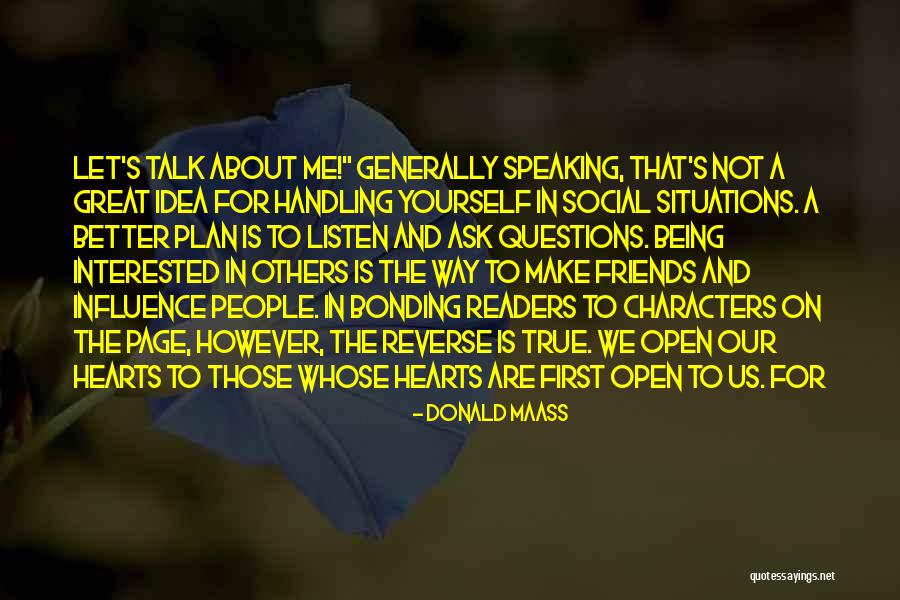 Let's talk about me!" Generally speaking, that's not a great idea for handling yourself in social situations. A better plan is to listen and ask questions. Being interested in others is the way to make friends and influence people. In bonding readers to characters on the page, however, the reverse is true. We open our hearts to those whose hearts are first open to us. For — Donald Maass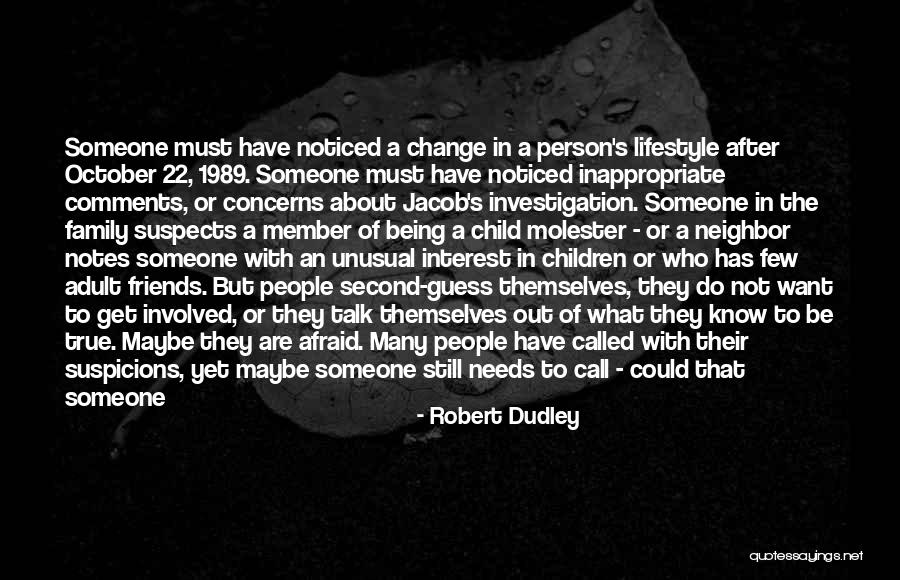 Someone must have noticed a change in a person's lifestyle after October 22, 1989. Someone must have noticed inappropriate comments, or concerns about Jacob's investigation. Someone in the family suspects a member of being a child molester - or a neighbor notes someone with an unusual interest in children or who has few adult friends. But people second-guess themselves, they do not want to get involved, or they talk themselves out of what they know to be true. Maybe they are afraid. Many people have called with their suspicions, yet maybe someone still needs to call - could that someone be you? Please call the proper authorities. I still beg you to call if you have information about who took Jacob. It has been so long - please help. Call 251-4240 or 1-800-325-HOPE. You can remain anonymous. — Robert Dudley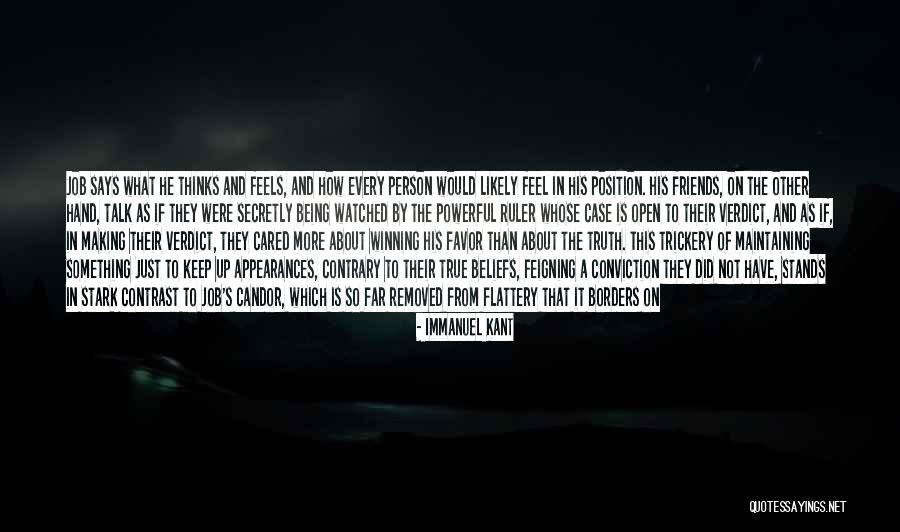 Job says what he thinks and feels, and how every person would likely feel in his position. His friends, on the other hand, talk as if they were secretly being watched by the powerful Ruler whose case is open to their verdict, and as if, in making their verdict, they cared more about winning His favor than about the truth. This trickery of maintaining something just to keep up appearances, contrary to their true beliefs, feigning a conviction they did not have, stands in stark contrast to Job's candor, which is so far removed from flattery that it borders on audacity, but nevertheless casts him in a very favorable light. — Immanuel Kant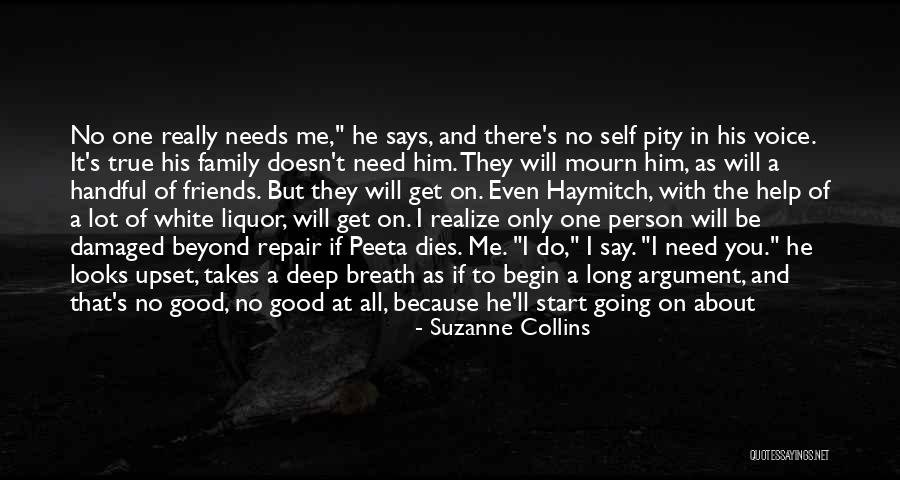 No one really needs me," he says, and there's no self pity in his voice. It's true his family doesn't need him. They will mourn him, as will a handful of friends. But they will get on. Even Haymitch, with the help of a lot of white liquor, will get on. I realize only one person will be damaged beyond repair if Peeta dies. Me.
"I do," I say. "I need you." he looks upset, takes a deep breath as if to begin a long argument, and that's no good, no good at all, because he'll start going on about Prim and my mother and everything and I'll just get confused. So before he can talk, i stop his lips with a kiss. — Suzanne Collins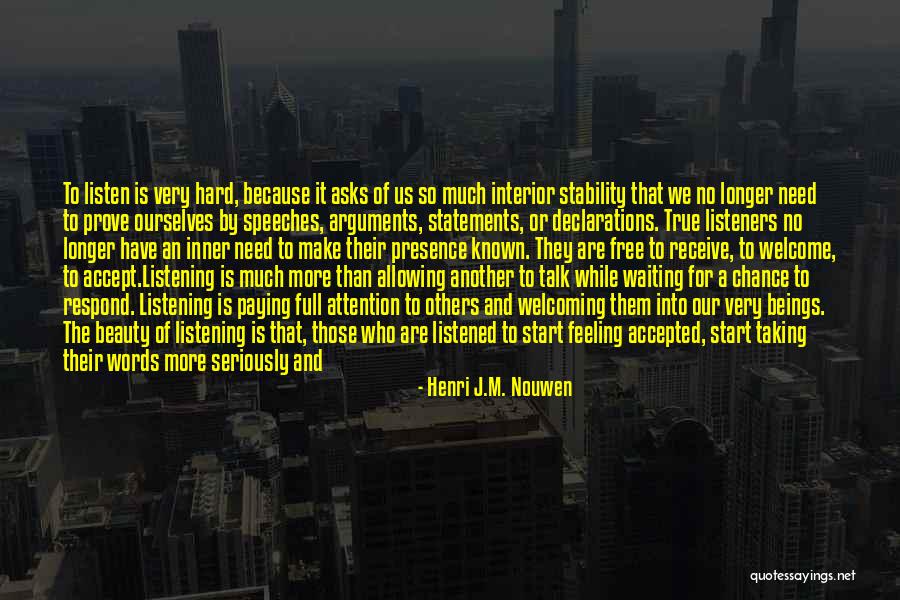 To listen is very hard, because it asks of us so much interior stability that we no longer need to prove ourselves by speeches, arguments, statements, or declarations. True listeners no longer have an inner need to make their presence known. They are free to receive, to welcome, to accept.
Listening is much more than allowing another to talk while waiting for a chance to respond. Listening is paying full attention to others and welcoming them into our very beings. The beauty of listening is that, those who are listened to start feeling accepted, start taking their words more seriously and discovering their own true selves. Listening is a form of spiritual hospitality by which you invite strangers to become friends, to get to know their inner selves more fully, and even to dare to be silent with you. — Henri J.M. Nouwen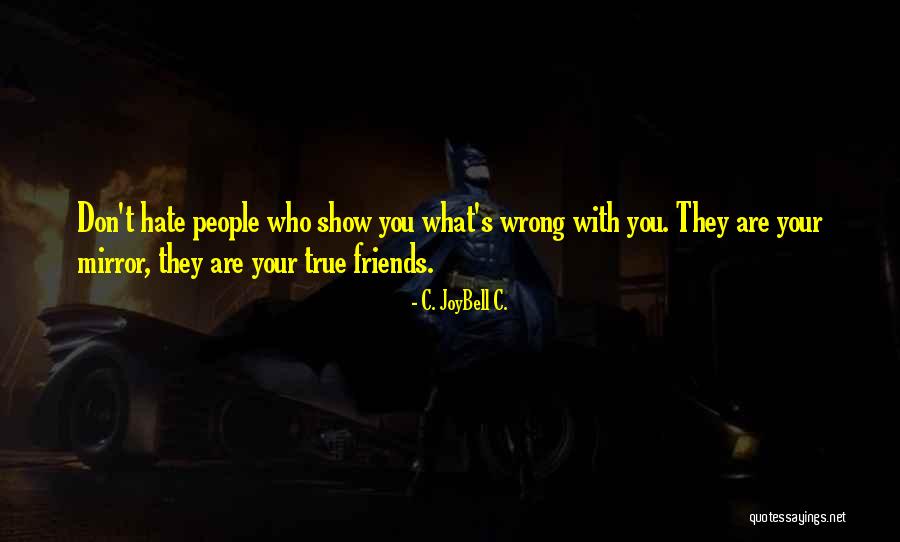 Don't hate people who show you what's wrong with you. They are your mirror, they are your true friends. — C. JoyBell C.