Quotes & Sayings About Buoyancy
Enjoy reading and share 60 famous quotes about Buoyancy with everyone.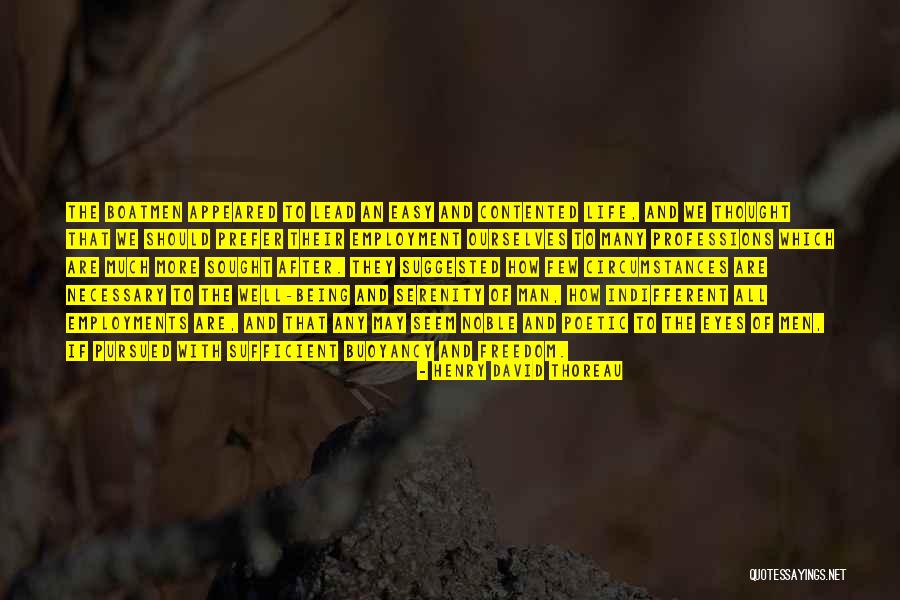 The boatmen appeared to lead an easy and contented life, and we thought that we should prefer their employment ourselves to many professions which are much more sought after. They suggested how few circumstances are necessary to the well-being and serenity of man, how indifferent all employments are, and that any may seem noble and poetic to the eyes of men, if pursued with sufficient buoyancy and freedom. — Henry David Thoreau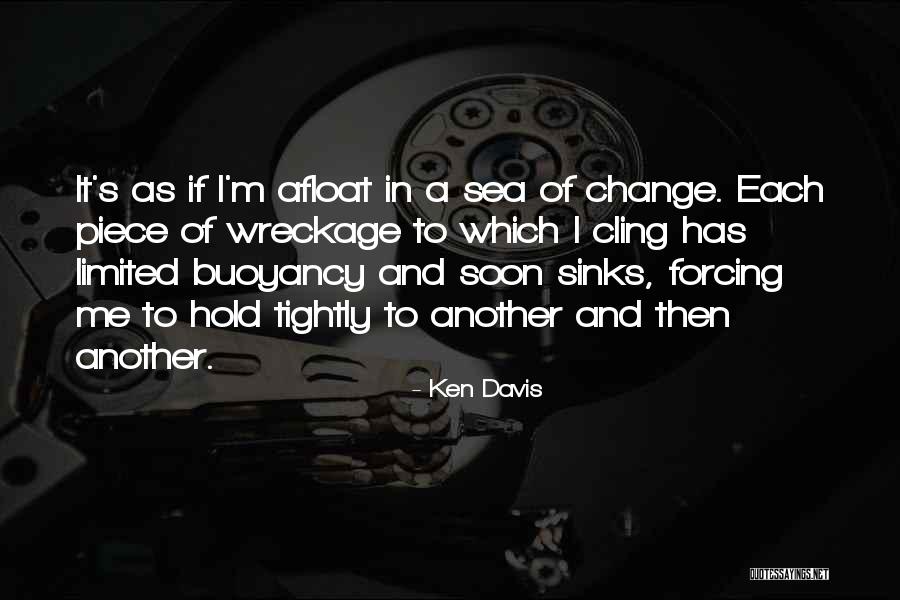 It's as if I'm afloat in a sea of change. Each piece of wreckage to which I cling has limited buoyancy and soon sinks, forcing me to hold tightly to another and then another. — Ken Davis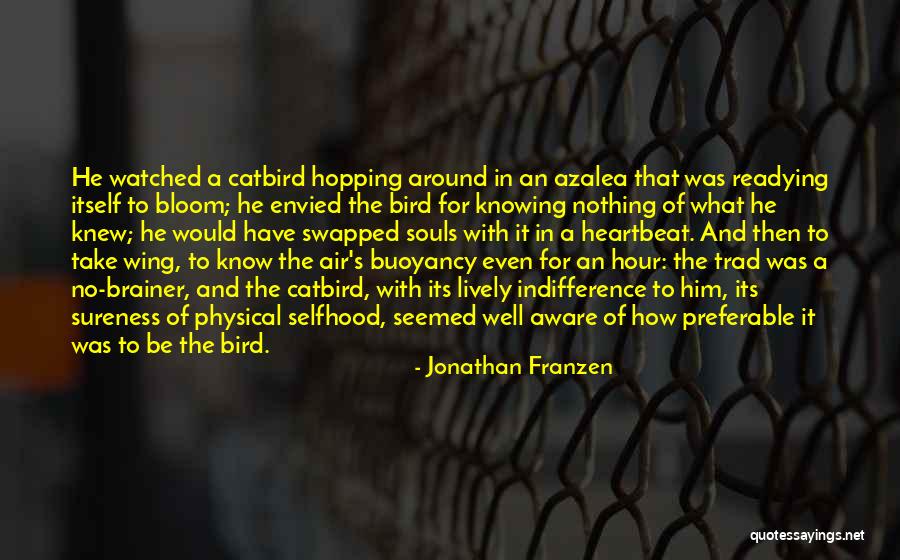 He watched a catbird hopping around in an azalea that was readying itself to bloom; he envied the bird for knowing nothing of what he knew; he would have swapped souls with it in a heartbeat. And then to take wing, to know the air's buoyancy even for an hour: the trad was a no-brainer, and the catbird, with its lively indifference to him, its sureness of physical selfhood, seemed well aware of how preferable it was to be the bird. — Jonathan Franzen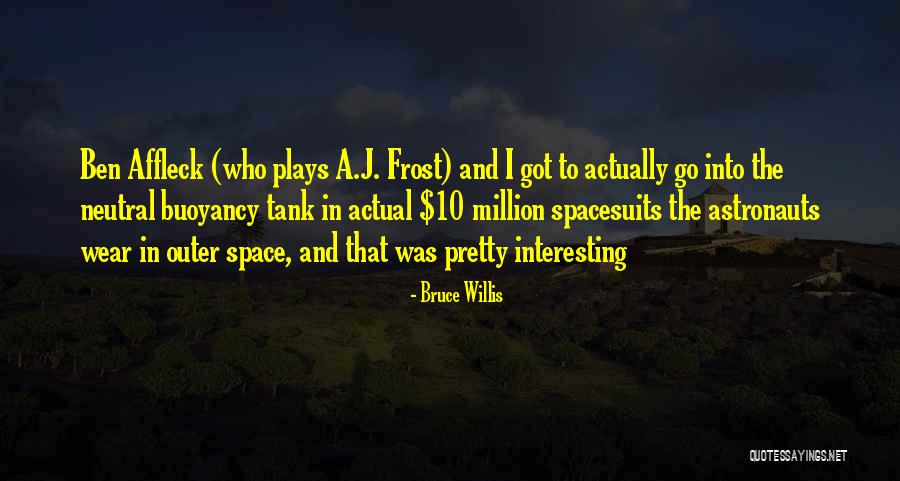 Ben Affleck (who plays A.J. Frost) and I got to actually go into the neutral buoyancy tank in actual $10 million spacesuits the astronauts wear in outer space, and that was pretty interesting — Bruce Willis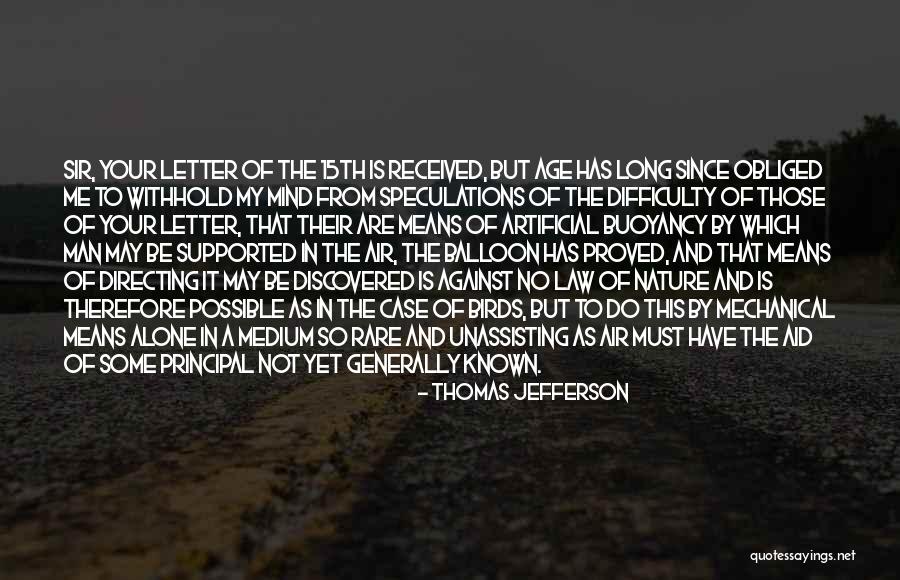 Sir, Your letter of the 15th is received, but Age has long since obliged me to withhold my mind from Speculations of the difficulty of those of your letter, that their are means of artificial buoyancy by which man may be supported in the Air, the Balloon has proved, and that means of directing it may be discovered is against no law of Nature and is therefore possible as in the case of Birds, but to do this by mechanical means alone in a medium so rare and unassisting as air must have the aid of some principal not yet generally known. — Thomas Jefferson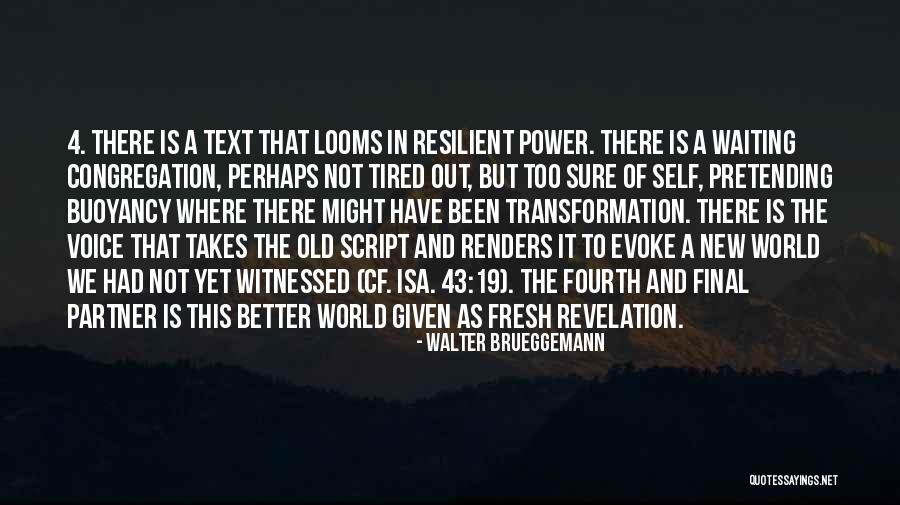 4. There is a text that looms in resilient power. There is a waiting congregation, perhaps not tired out, but too sure of self, pretending buoyancy where there might have been transformation. There is the voice that takes the old script and renders it to evoke a new world we had not yet witnessed (cf. Isa. 43:19). The fourth and final partner is this better world given as fresh revelation. — Walter Brueggemann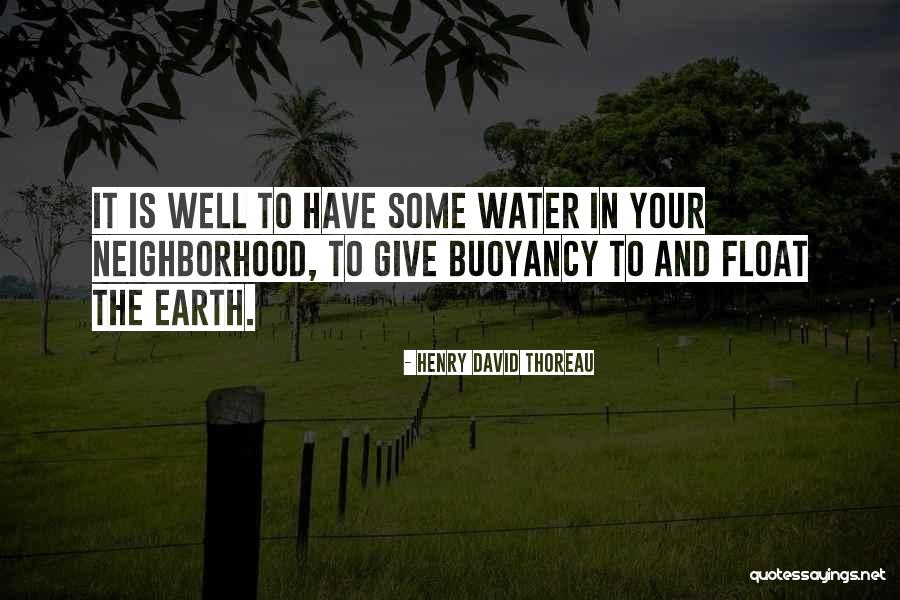 It is well to have some water in your neighborhood, to give buoyancy to and float the earth. — Henry David Thoreau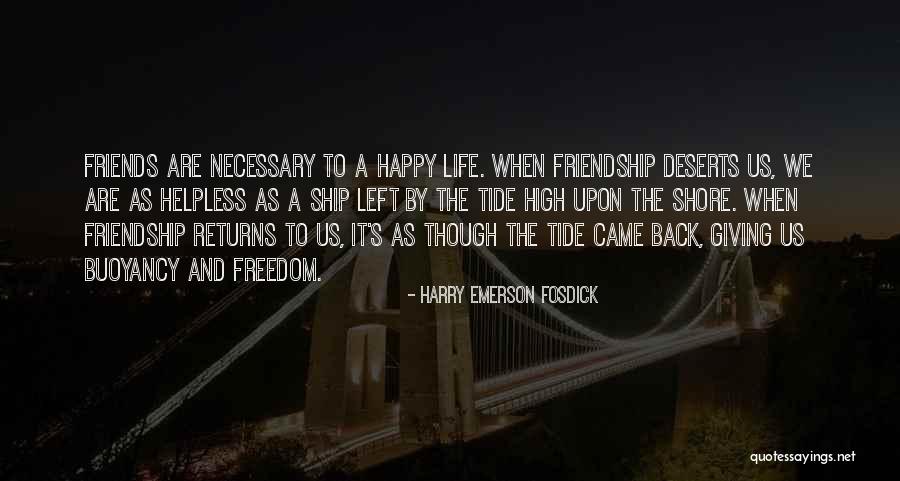 Friends are necessary to a happy life. When friendship deserts us, we are as helpless as a ship left by the tide high upon the shore. When friendship returns to us, it's as though the tide came back, giving us buoyancy and freedom. — Harry Emerson Fosdick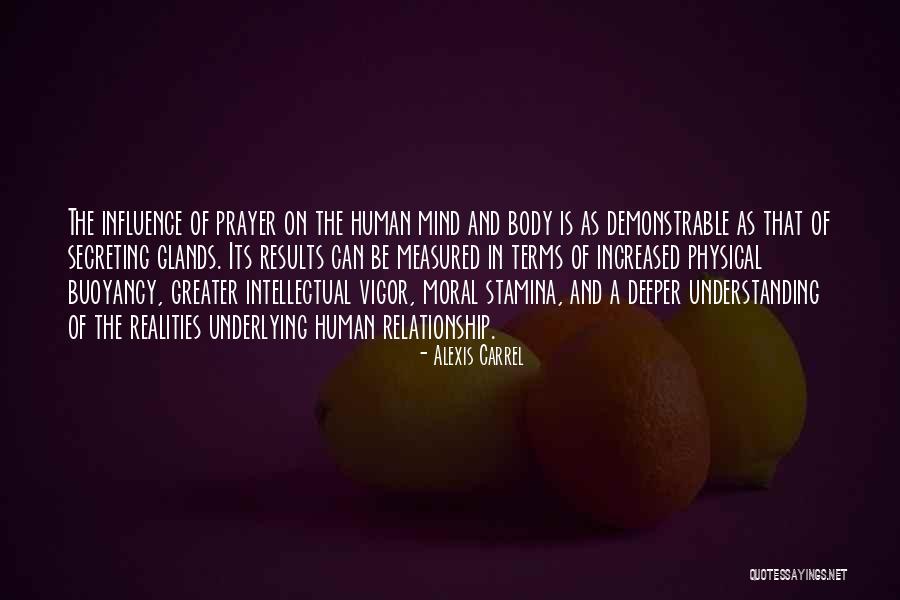 The influence of prayer on the human mind and body is as demonstrable as that of secreting glands. Its results can be measured in terms of increased physical buoyancy, greater intellectual vigor, moral stamina, and a deeper understanding of the realities underlying human relationship. — Alexis Carrel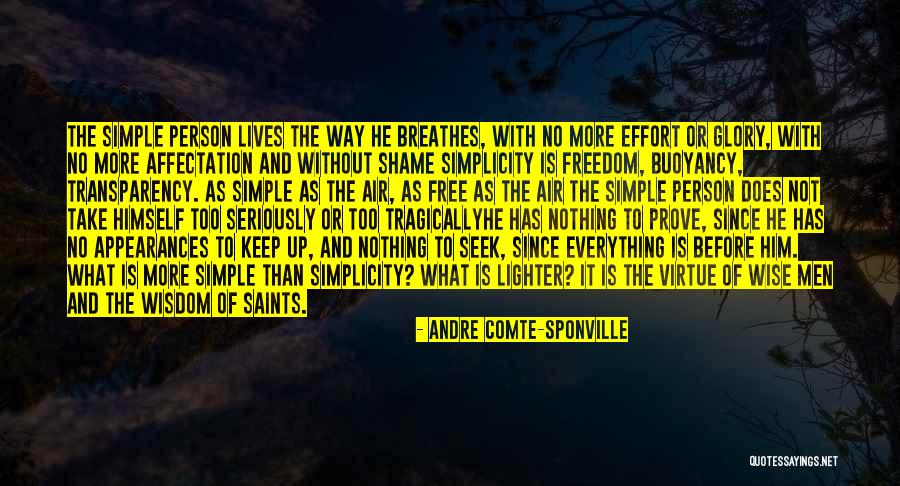 The simple person lives the way he breathes, with no more effort or glory, with no more affectation and without shame Simplicity is freedom, buoyancy, transparency. As simple as the air, as free as the air The simple person does not take himself too seriously or too tragicallyHe has nothing to prove, since he has no appearances to keep up, and nothing to seek, since everything is before him. What is more simple than simplicity? What is lighter? It is the virtue of wise men and the wisdom of saints. — Andre Comte-Sponville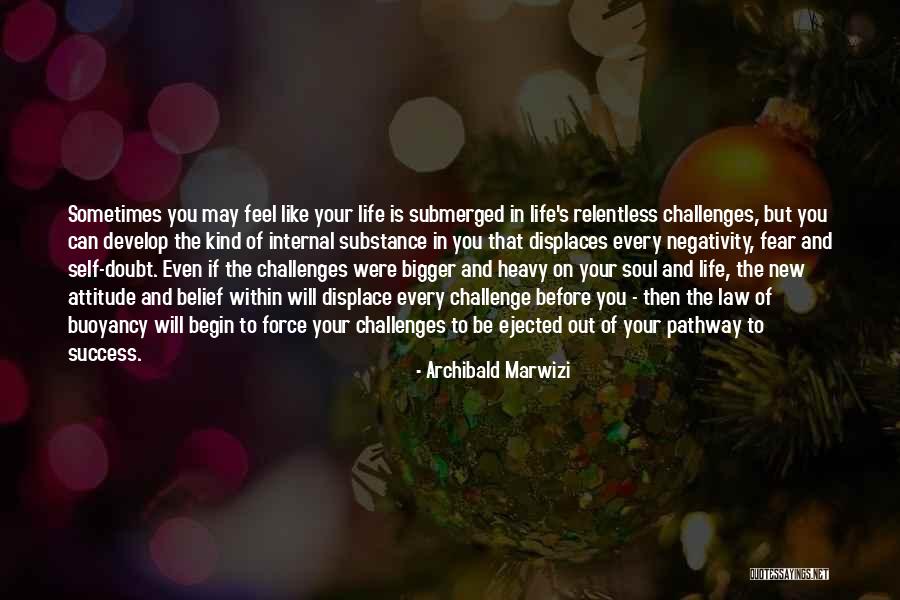 Sometimes you may feel like your life is submerged in life's relentless challenges, but you can develop the kind of internal substance in you that displaces every negativity, fear and self-doubt. Even if the challenges were bigger and heavy on your soul and life, the new attitude and belief within will displace every challenge before you - then the law of buoyancy will begin to force your challenges to be ejected out of your pathway to success. — Archibald Marwizi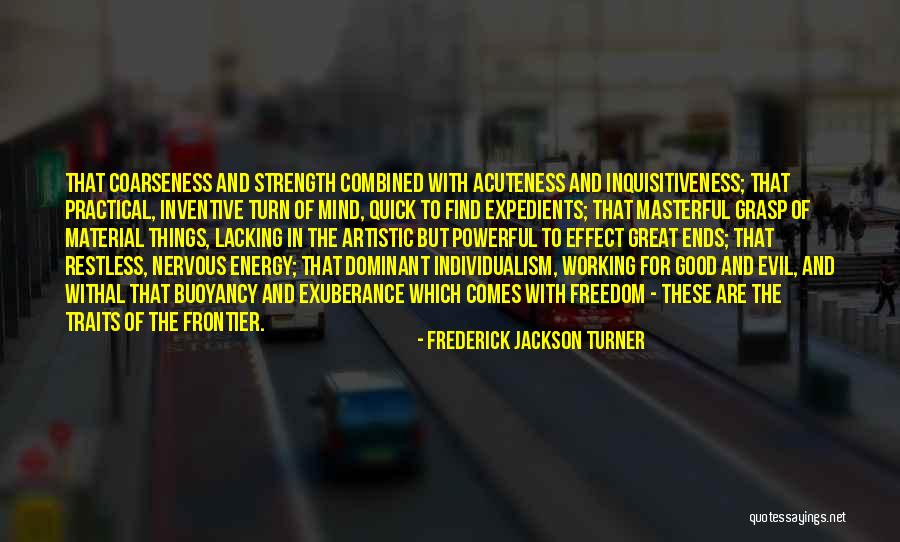 That coarseness and strength combined with acuteness and inquisitiveness; that practical, inventive turn of mind, quick to find expedients; that masterful grasp of material things, lacking in the artistic but powerful to effect great ends; that restless, nervous energy; that dominant individualism, working for good and evil, and withal that buoyancy and exuberance which comes with freedom - these are the traits of the frontier. — Frederick Jackson Turner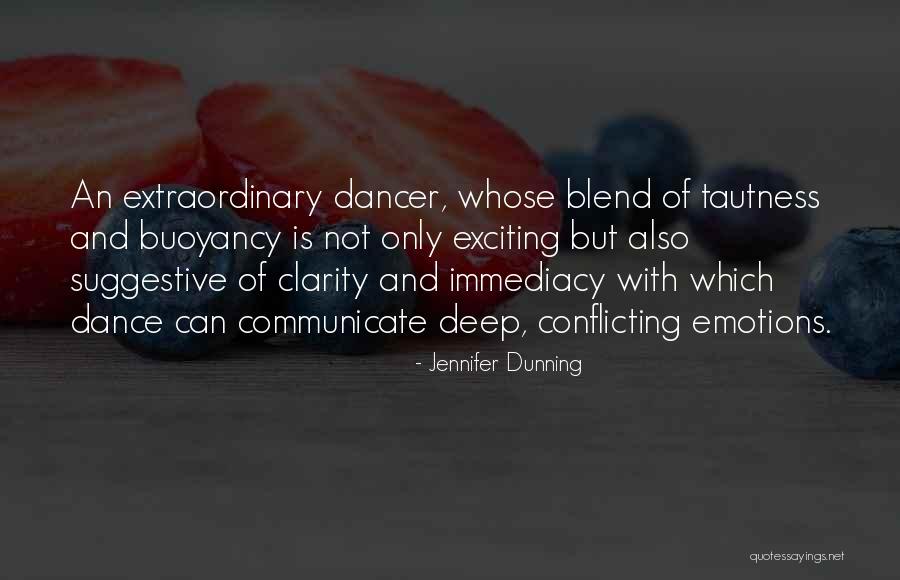 An extraordinary dancer, whose blend of tautness and buoyancy is not only exciting but also suggestive of clarity and immediacy with which dance can communicate deep, conflicting emotions. — Jennifer Dunning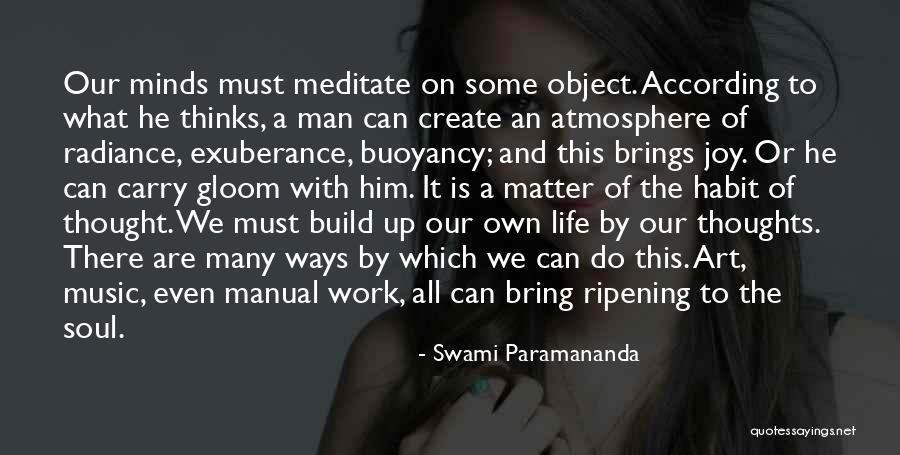 Our minds must meditate on some object. According to what he thinks, a man can create an atmosphere of radiance, exuberance, buoyancy; and this brings joy. Or he can carry gloom with him. It is a matter of the habit of thought. We must build up our own life by our thoughts. There are many ways by which we can do this. Art, music, even manual work, all can bring ripening to the soul. — Swami Paramananda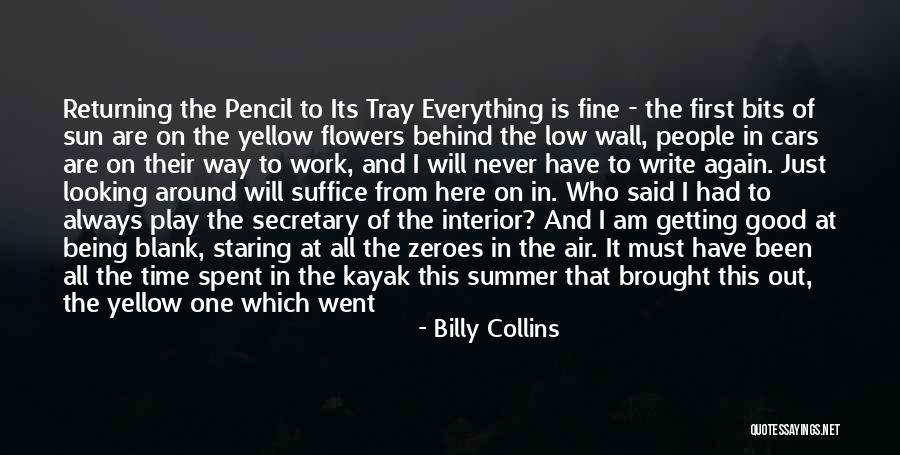 Returning the Pencil to Its Tray Everything is fine - the first bits of sun are on the yellow flowers behind the low wall, people in cars are on their way to work, and I will never have to write again. Just looking around will suffice from here on in. Who said I had to always play the secretary of the interior? And I am getting good at being blank, staring at all the zeroes in the air. It must have been all the time spent in the kayak this summer that brought this out, the yellow one which went nicely with the pale blue life jacket - the sudden, tippy buoyancy of the launch, then the exertion, striking into the wind against the short waves, but the best was drifting back, the paddle resting athwart the craft, and me mindless in the middle of time. Not even that dark cormorant perched on the No Wake sign, his narrow head raised as if he were looking over something, not even that inquisitive little fellow could bring me to write another word. — Billy Collins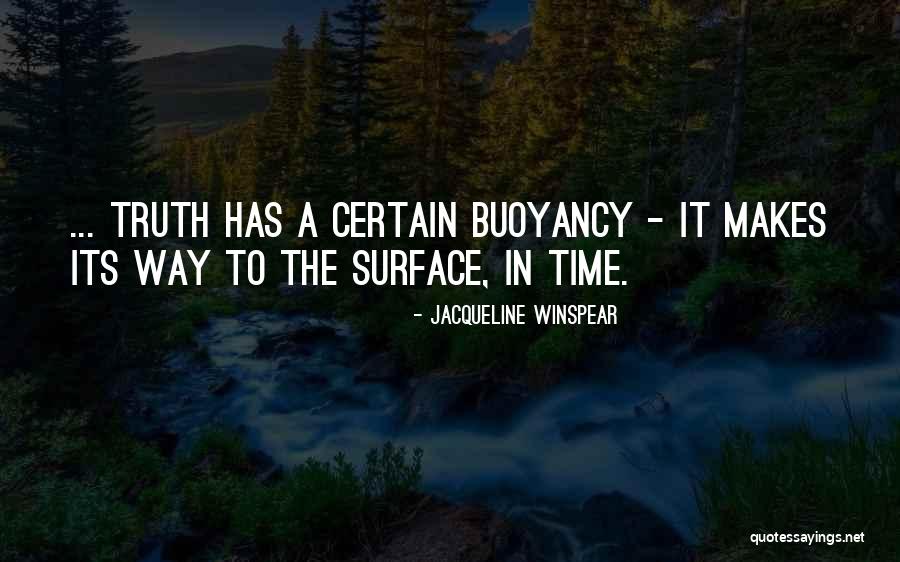 ... truth has a certain buoyancy - it makes its way to the surface, in time. — Jacqueline Winspear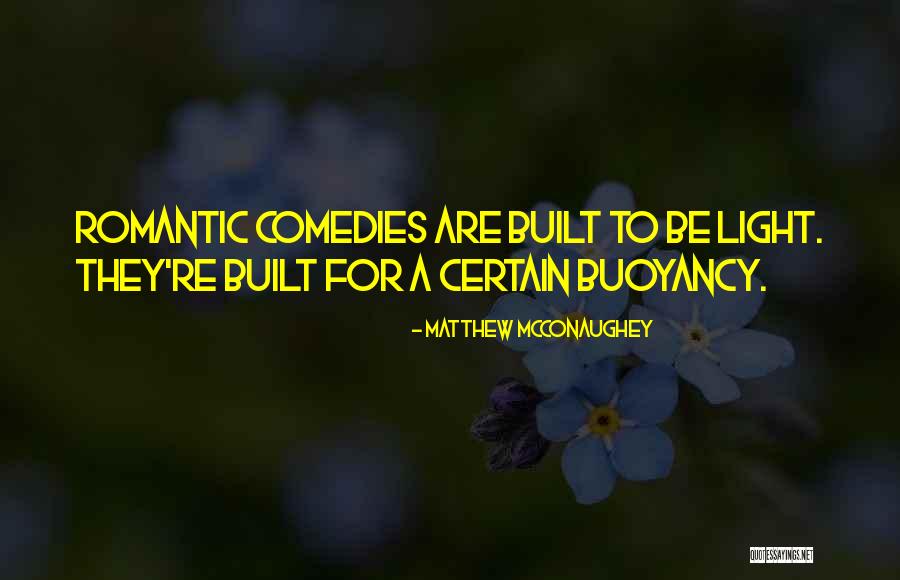 Romantic comedies are built to be light. They're built for a certain buoyancy. — Matthew McConaughey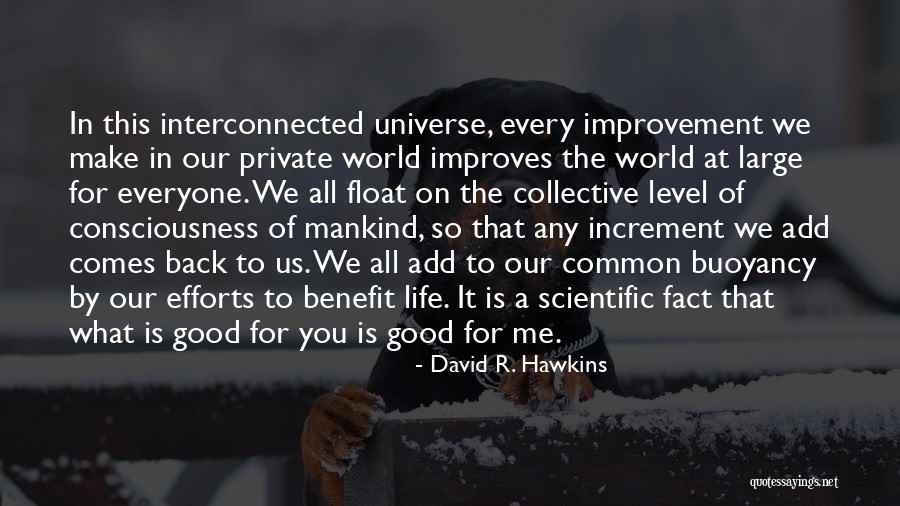 In this interconnected universe, every improvement we make in our private world improves the world at large for everyone. We all float on the collective level of consciousness of mankind, so that any increment we add comes back to us. We all add to our common buoyancy by our efforts to benefit life. It is a scientific fact that what is good for you is good for me. — David R. Hawkins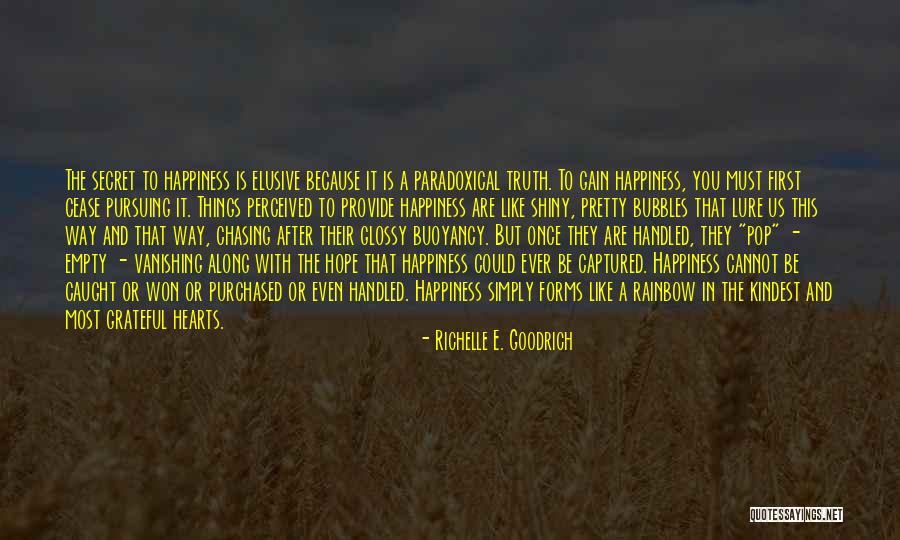 The secret to happiness is elusive because it is a paradoxical truth. To gain happiness, you must first cease pursuing it. Things perceived to provide happiness are like shiny, pretty bubbles that lure us this way and that way, chasing after their glossy buoyancy. But once they are handled, they "pop" - empty - vanishing along with the hope that happiness could ever be captured. Happiness cannot be caught or won or purchased or even handled. Happiness simply forms like a rainbow in the kindest and most grateful hearts. — Richelle E. Goodrich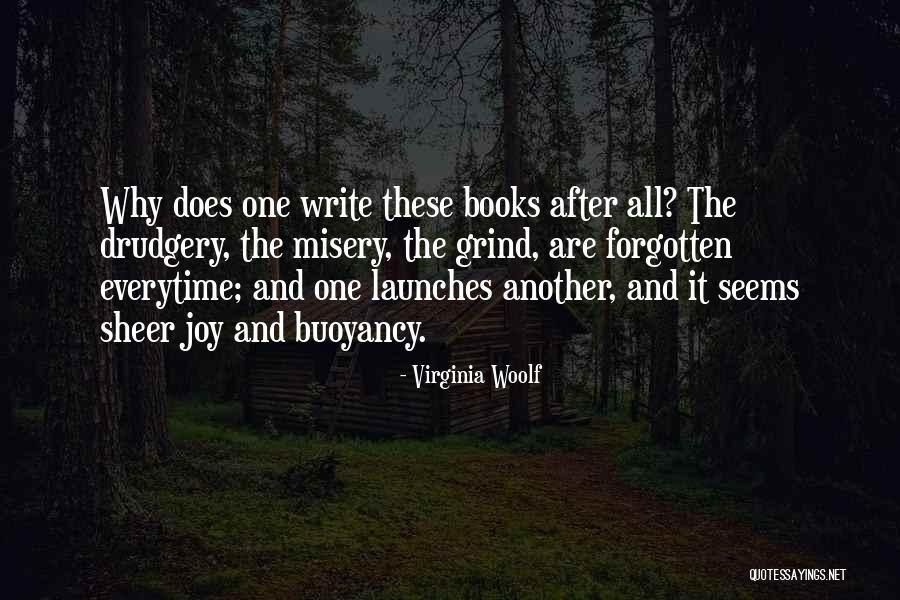 Why does one write these books after all? The drudgery, the misery, the grind, are forgotten everytime; and one launches another, and it seems sheer joy and buoyancy. — Virginia Woolf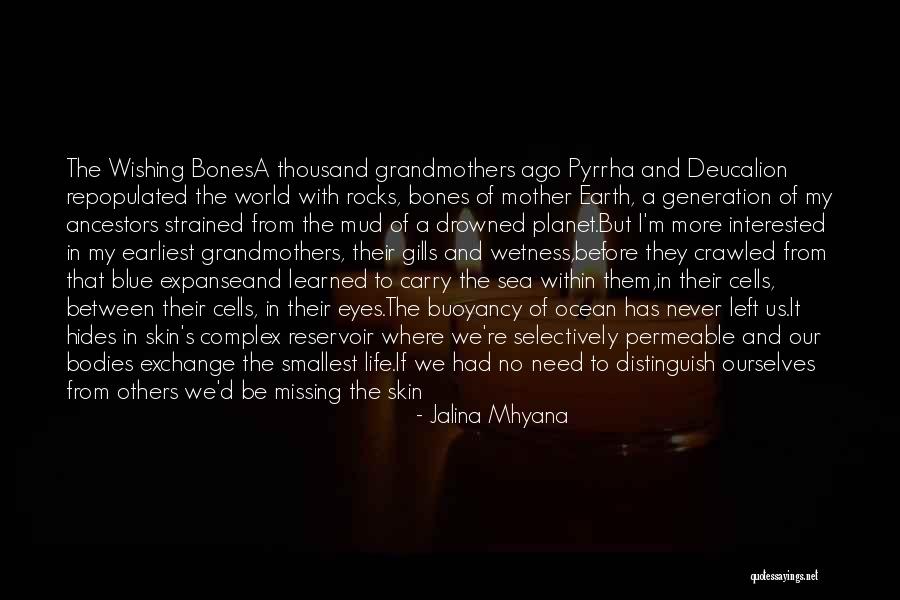 The Wishing Bones

A thousand grandmothers ago
Pyrrha and Deucalion repopulated
the world with rocks, bones of mother Earth,
a generation of my ancestors strained
from the mud of a drowned planet.

But I'm more interested in my earliest
grandmothers, their gills and wetness,
before they crawled from that blue expanse
and learned to carry the sea within them,
in their cells, between their cells, in their eyes.

The buoyancy of ocean has never left us.
It hides in skin's complex reservoir
where we're selectively permeable
and our bodies exchange the smallest life.

If we had no need to distinguish ourselves
from others we'd be missing the skin
that defines lovers and enemies
and opens itself to both. — Jalina Mhyana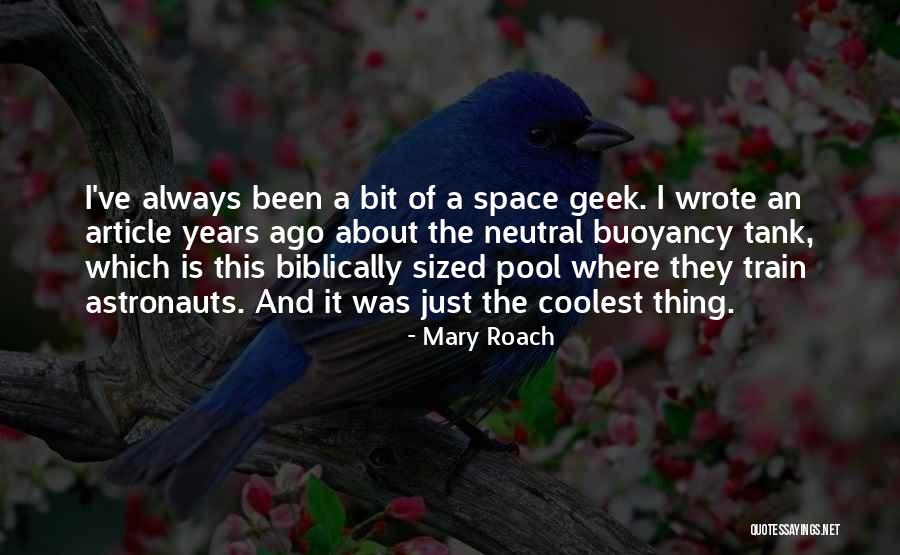 I've always been a bit of a space geek. I wrote an article years ago about the neutral buoyancy tank, which is this biblically sized pool where they train astronauts. And it was just the coolest thing. — Mary Roach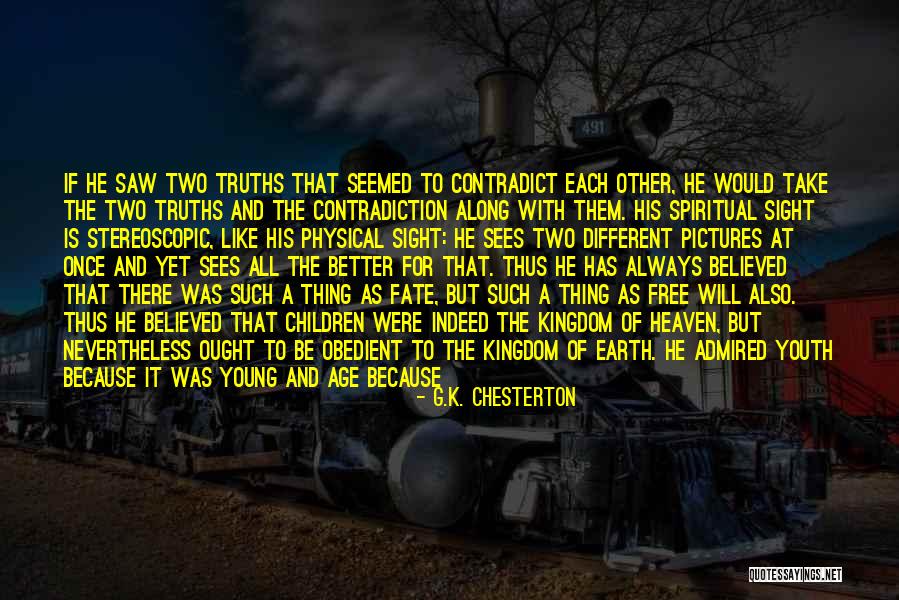 If he saw two truths that seemed to contradict each other, he would take the two truths and the contradiction along with them. His spiritual sight is stereoscopic, like his physical sight: he sees two different pictures at once and yet sees all the better for that. Thus he has always believed that there was such a thing as fate, but such a thing as free will also. Thus he believed that children were indeed the kingdom of heaven, but nevertheless ought to be obedient to the kingdom of earth. He admired youth because it was young and age because it was not. It is exactly this balance of apparent contradictions that has been the whole buoyancy of the healthy man. — G.K. Chesterton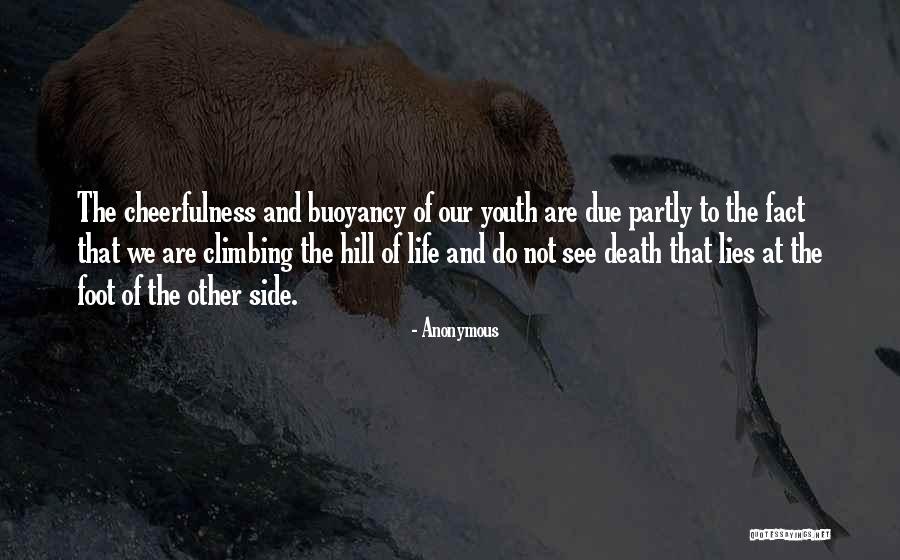 The cheerfulness and buoyancy of our youth are due partly to the fact that we are climbing the hill of life and do not see death that lies at the foot of the other side. — Anonymous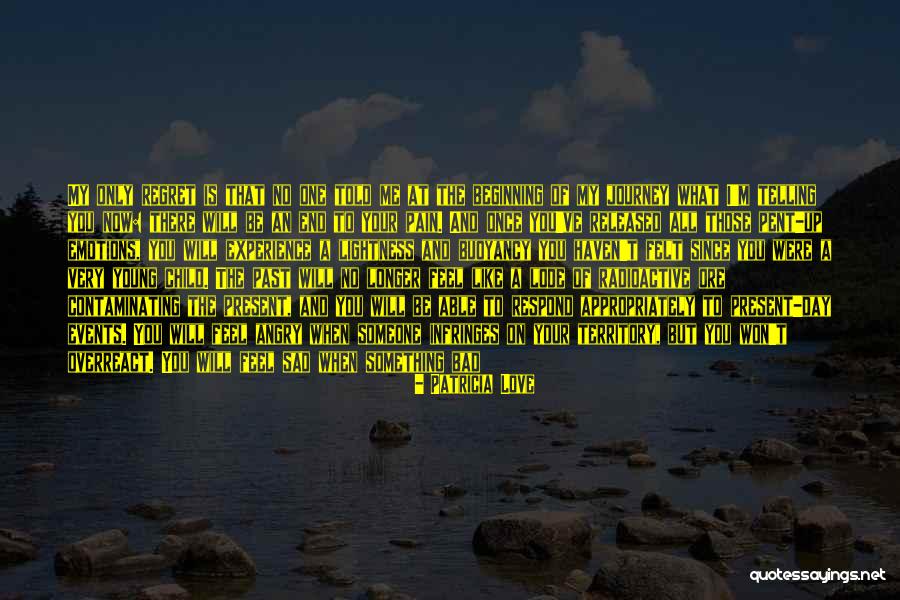 My only regret is that no one told me at the beginning of my journey what I'm telling you now: there will be an end to your pain. And once you've released all those pent-up emotions, you will experience a lightness and buoyancy you haven't felt since you were a very young child. The past will no longer feel like a lode of radioactive ore contaminating the present, and you will be able to respond appropriately to present-day events. You will feel angry when someone infringes on your territory, but you won't overreact. You will feel sad when something bad happens to you, but you won't sink into despair. You will feel joy when you have a good day, and your happiness won't be clouded with guilt. You, too, will have succeeded in making history, history. — Patricia Love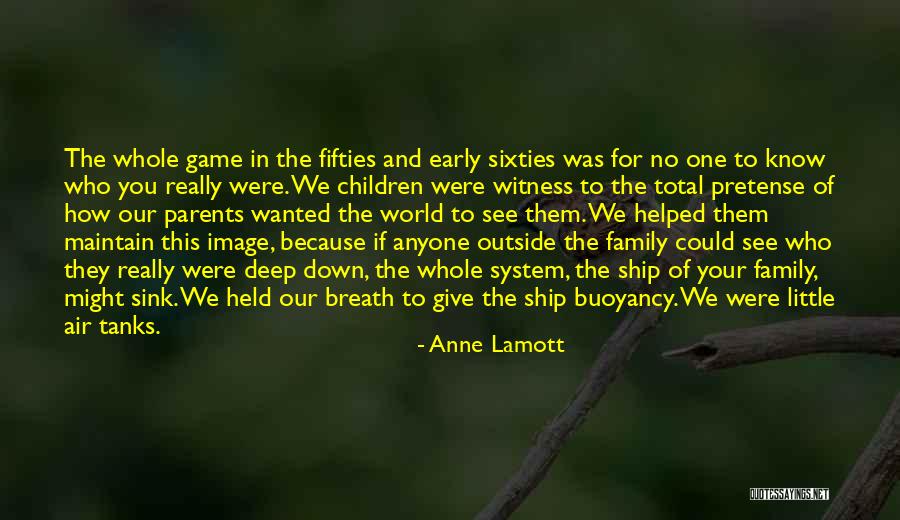 The whole game in the fifties and early sixties was for no one to know who you really were. We children were witness to the total pretense of how our parents wanted the world to see them. We helped them maintain this image, because if anyone outside the family could see who they really were deep down, the whole system, the ship of your family, might sink. We held our breath to give the ship buoyancy. We were little air tanks. — Anne Lamott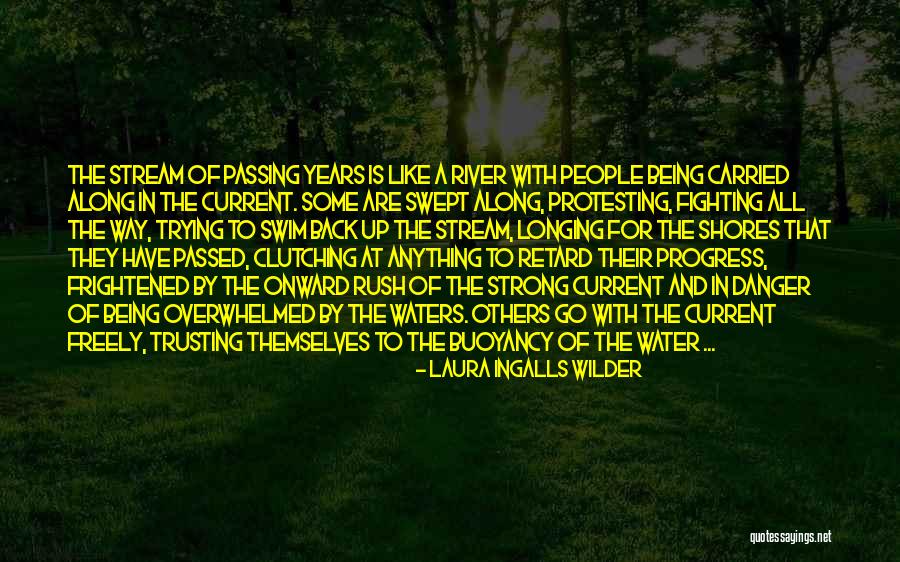 The stream of passing years is like a river with people being carried along in the current. Some are swept along, protesting, fighting all the way, trying to swim back up the stream, longing for the shores that they have passed, clutching at anything to retard their progress, frightened by the onward rush of the strong current and in danger of being overwhelmed by the waters. Others go with the current freely, trusting themselves to the buoyancy of the water ... — Laura Ingalls Wilder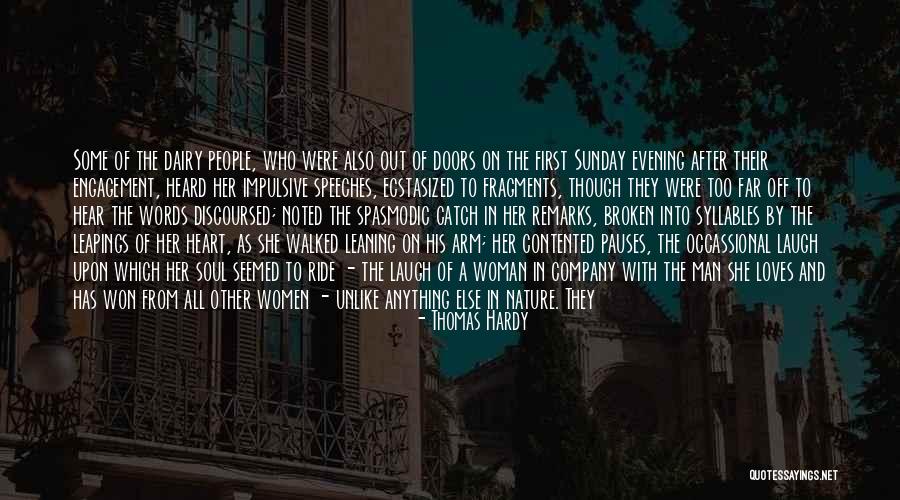 Some of the dairy people, who were also out of doors on the first Sunday evening after their engagement, heard her impulsive speeches, ecstasized to fragments, though they were too far off to hear the words discoursed; noted the spasmodic catch in her remarks, broken into syllables by the leapings of her heart, as she walked leaning on his arm; her contented pauses, the occassional laugh upon which her soul seemed to ride - the laugh of a woman in company with the man she loves and has won from all other women - unlike anything else in nature. They marked the buoyancy of her tread, like the skim of a bird which has not yet alighted. — Thomas Hardy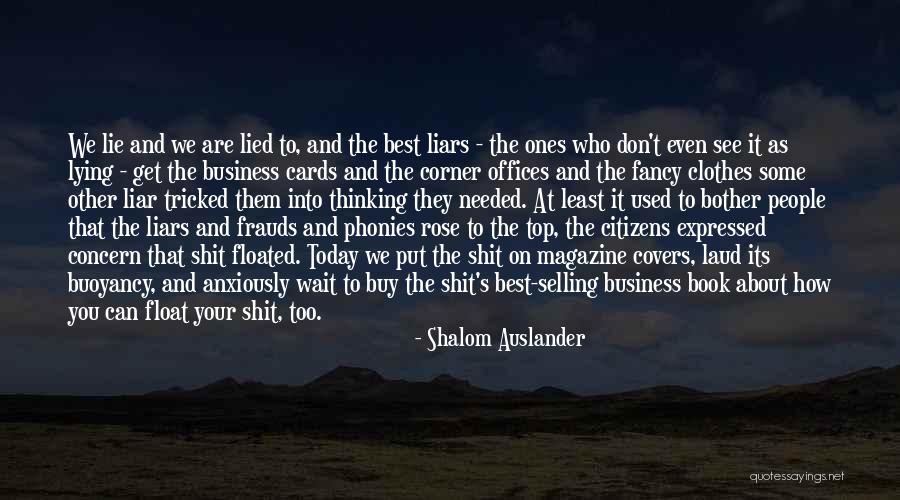 We lie and we are lied to, and the best liars - the ones who don't even see it as lying - get the business cards and the corner offices and the fancy clothes some other liar tricked them into thinking they needed. At least it used to bother people that the liars and
frauds and phonies rose to the top, the citizens expressed concern that shit floated. Today we put the shit on magazine covers, laud its buoyancy, and anxiously wait to buy the shit's best-selling business book about how you can float your shit, too. — Shalom Auslander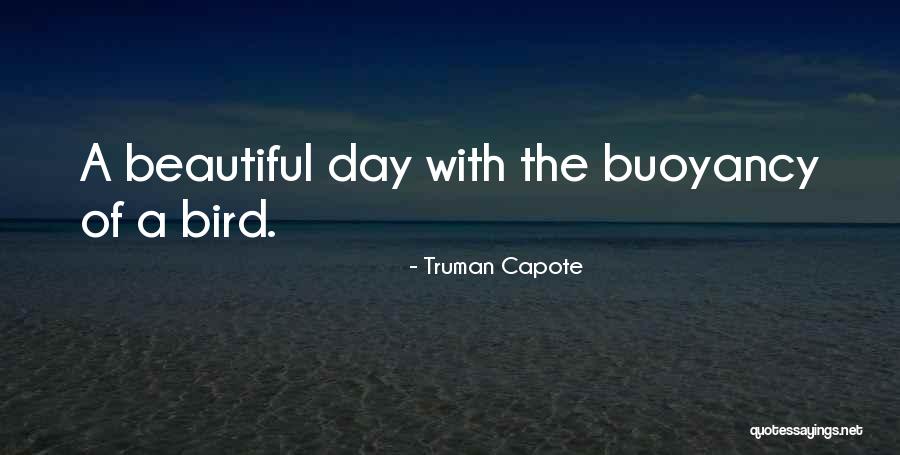 A beautiful day with the buoyancy of a bird. — Truman Capote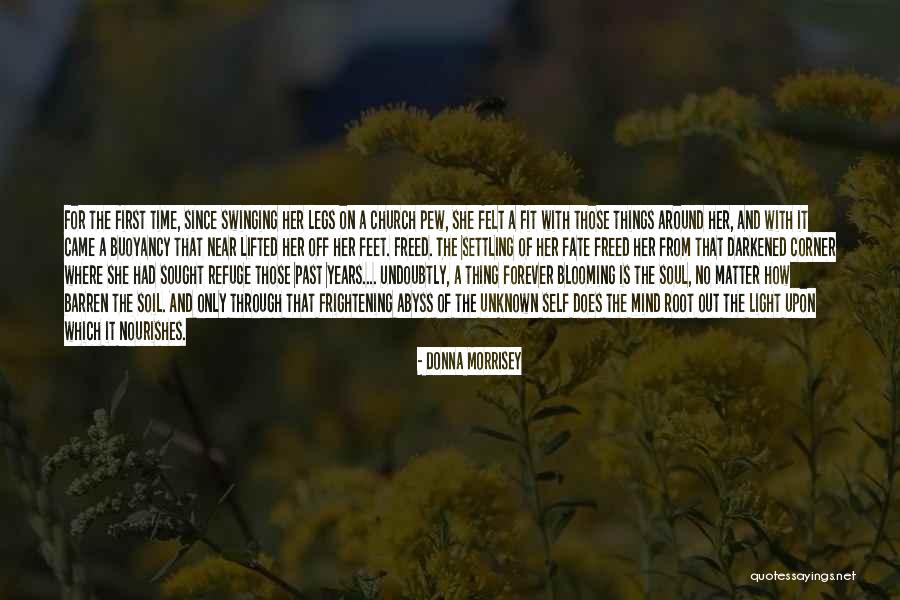 For the first time, since swinging her legs on a church pew, she felt a fit with those things around her, and with it came a buoyancy that near lifted her off her feet. Freed. The settling of her fate freed her from that darkened corner where she had sought refuge those past years.... Undoubtly, a thing forever blooming is the soul, no matter how barren the soil. And only through that frightening abyss of the unknown self does the mind root out the light upon which it nourishes. — Donna Morrisey
A new buoyancy took over, the buoyancy of arrival. It brings with it a renewed sense of being that blossoms just before the end of a journey. No matter how long or tiring the journey, the bothersome bits are shelved and forgotten in those final minutes. Impending arrival shifts the traveller's mindset into hopeful optimism that a new and unexplored phase is about to begin. — Monisha Rajesh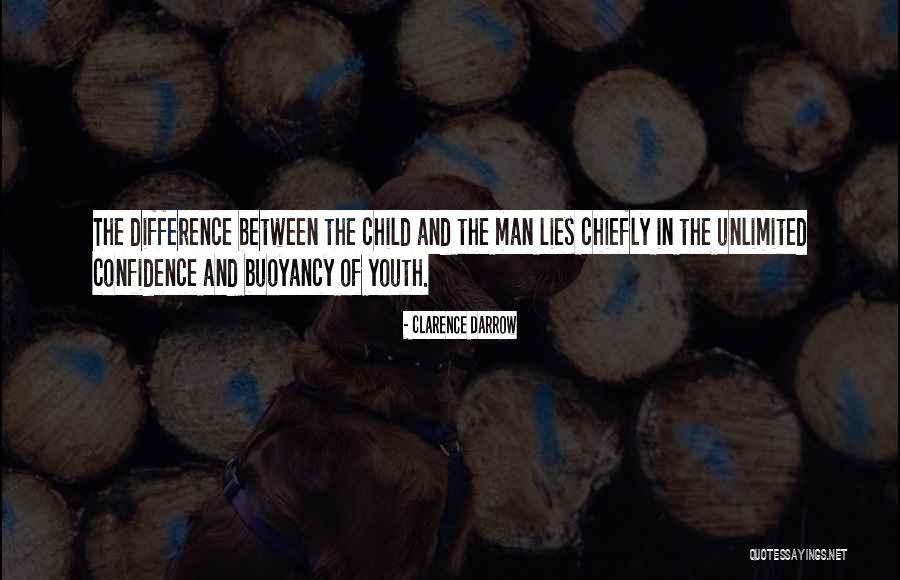 The difference between the child and the man lies chiefly in the unlimited confidence and buoyancy of youth. — Clarence Darrow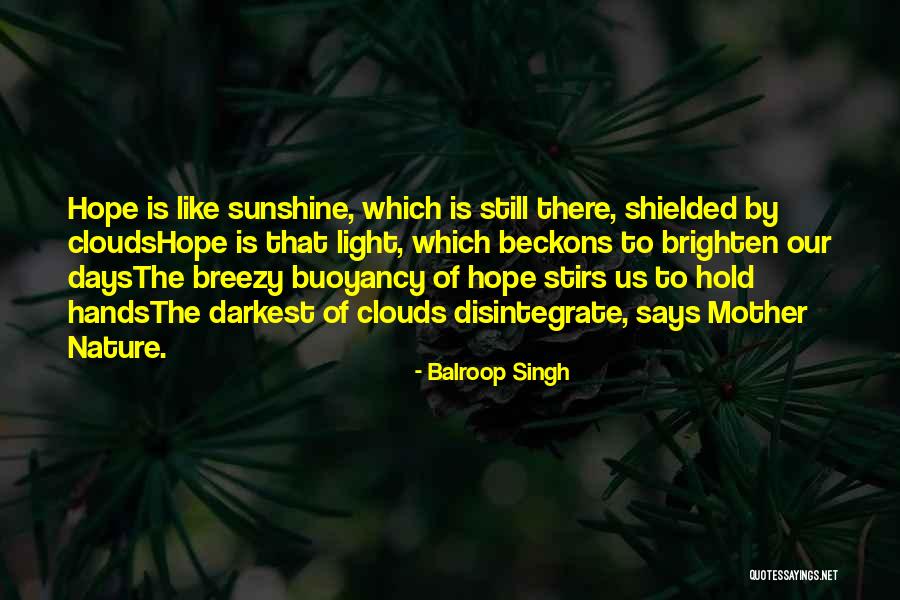 Hope is like sunshine, which is still there, shielded by clouds
Hope is that light, which beckons to brighten our days
The breezy buoyancy of hope stirs us to hold hands
The darkest of clouds disintegrate, says Mother Nature. — Balroop Singh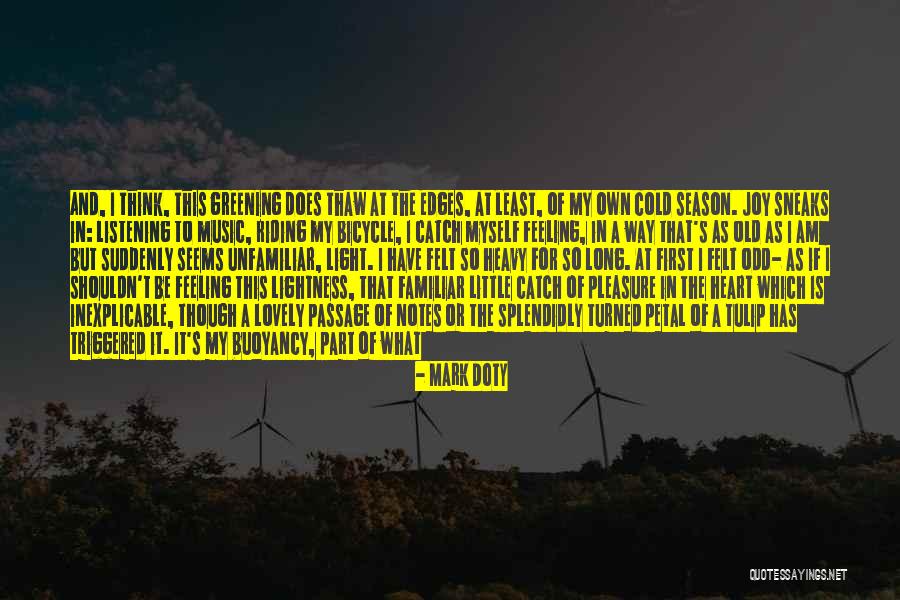 And, I think, this greening does thaw at the edges, at least, of my own cold season. Joy sneaks in: listening to music, riding my bicycle, I catch myself feeling, in a way that's as old as I am but suddenly seems unfamiliar, light. I have felt so heavy for so long. At first I felt odd- as if I shouldn't be feeling this lightness, that familiar little catch of pleasure in the heart which is inexplicable, though a lovely passage of notes or the splendidly turned petal of a tulip has triggered it. It's my buoyancy, part of what keeps me alive: happy, suddenly with the concomitant experience of a sonata and the motion of the shadows of leaves. I have the desire to be filled with sunlight, to soak my skin in as much of it as I can drink up, after the long interior darkness of this past season, the indoor vigil, in this harshest and darkest of winters, outside and in. — Mark Doty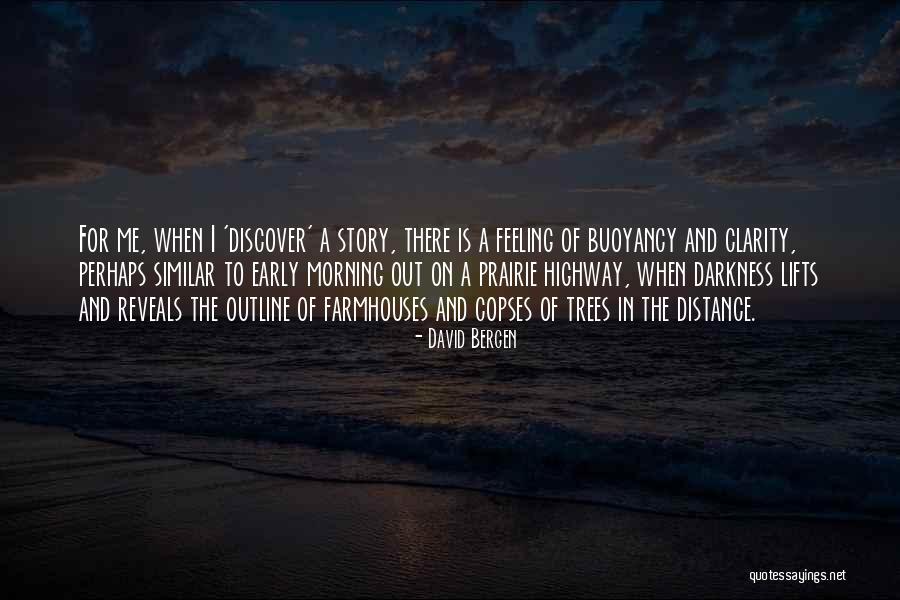 For me, when I 'discover' a story, there is a feeling of buoyancy and clarity, perhaps similar to early morning out on a prairie highway, when darkness lifts and reveals the outline of farmhouses and copses of trees in the distance. — David Bergen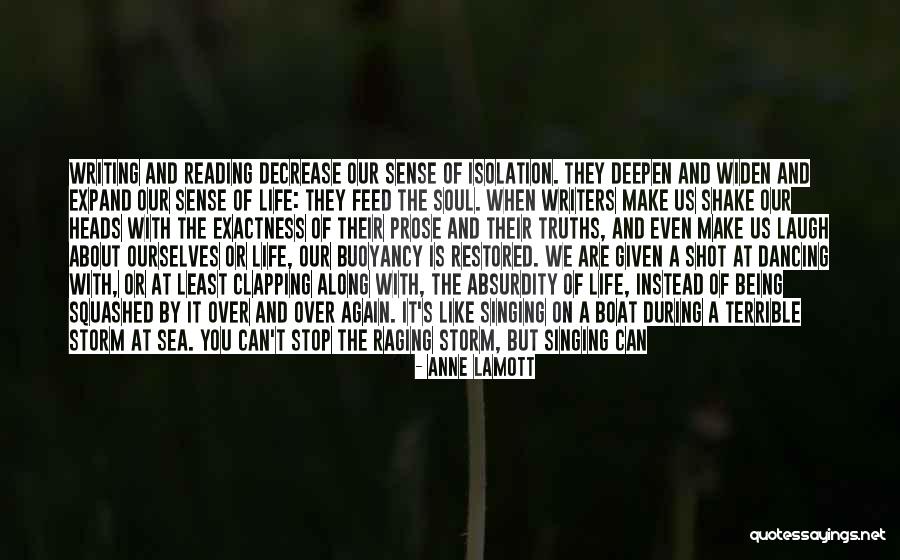 Writing and reading decrease our sense of isolation. They deepen and widen and expand our sense of life: they feed the soul. When writers make us shake our heads with the exactness of their prose and their truths, and even make us laugh about ourselves or life, our buoyancy is restored. We are given a shot at dancing with, or at least clapping along with, the absurdity of life, instead of being squashed by it over and over again. It's like singing on a boat during a terrible storm at sea. You can't stop the raging storm, but singing can change the hearts and spirits of the people who are together on that ship. — Anne Lamott
Domestic pain can be searing, and it is usually what does us in. It's almost indigestible: death, divorce, old age, drugs; brain-damaged children, violence, senility, unfaithfulness. Good luck with figuring it out. It unfolds, and you experience it, and it is so horrible and endless that you could almost give up a dozen times. But grace can be the experience of a second wind, when even though what you want is clarity and resolution, what you get is stamina and poignancy and the strength to hang on. Through the most ordinary things, books, for instance, or a postcard, or eyes or hands, life is transformed. Hands that for decades reached out to hurt us, to drag us down, to control us, or to wave us away in dismissal now reach for us differently. They become instruments of tenderness, buoyancy, exploration, hope. — Anne Lamott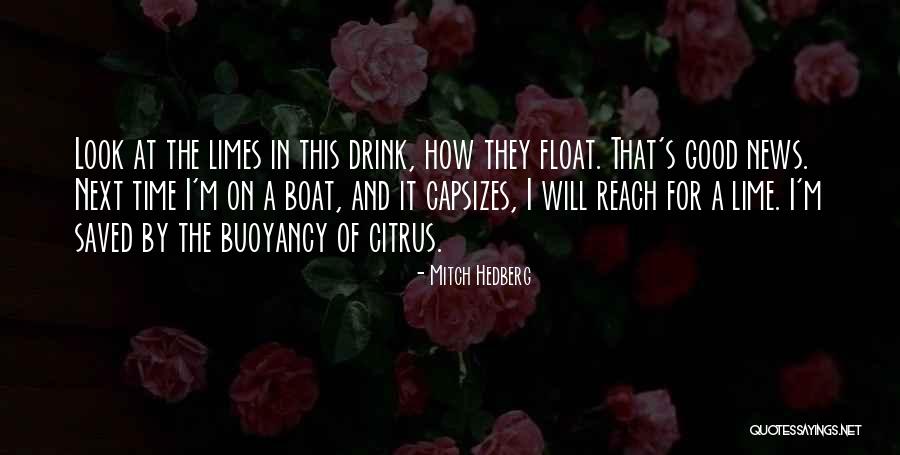 Look at the limes in this drink, how they float. That's good news. Next time I'm on a boat, and it capsizes, I will reach for a lime. I'm saved by the buoyancy of citrus. — Mitch Hedberg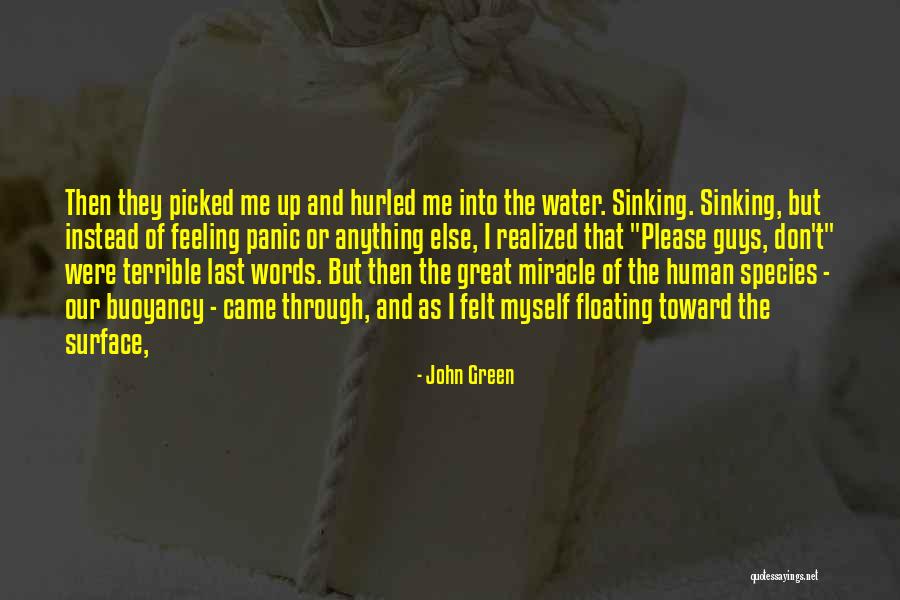 Then they picked me up and hurled me into the water. Sinking. Sinking, but instead of feeling panic or anything else, I realized that "Please guys, don't" were terrible last words. But then the great miracle of the human species - our buoyancy - came through, and as I felt myself floating toward the surface, — John Green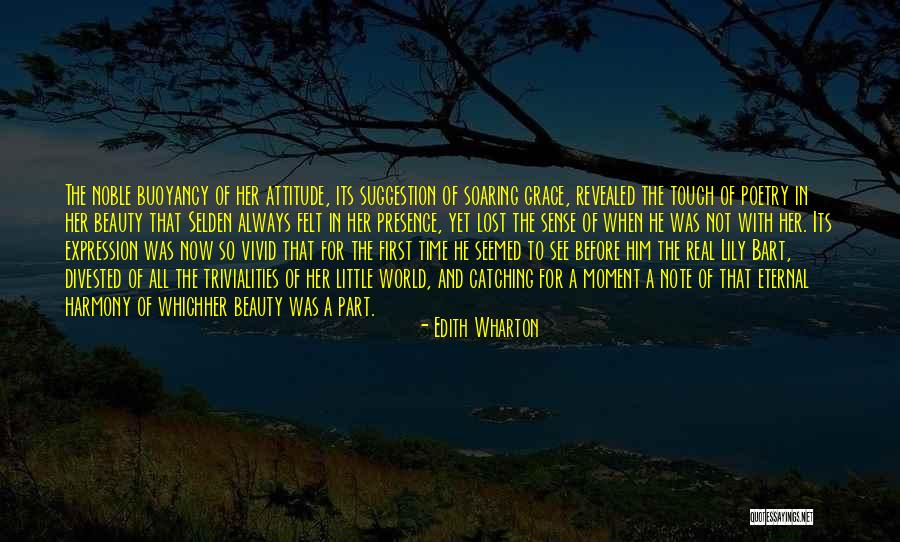 The noble buoyancy of her attitude, its suggestion of soaring grace, revealed the touch of poetry in her beauty that Selden always felt in her presence, yet lost the sense of when he was not with her. Its expression was now so vivid that for the first time he seemed to see before him the real Lily Bart, divested of all the trivialities of her little world, and catching for a moment a note of that eternal harmony of which
her beauty was a part. — Edith Wharton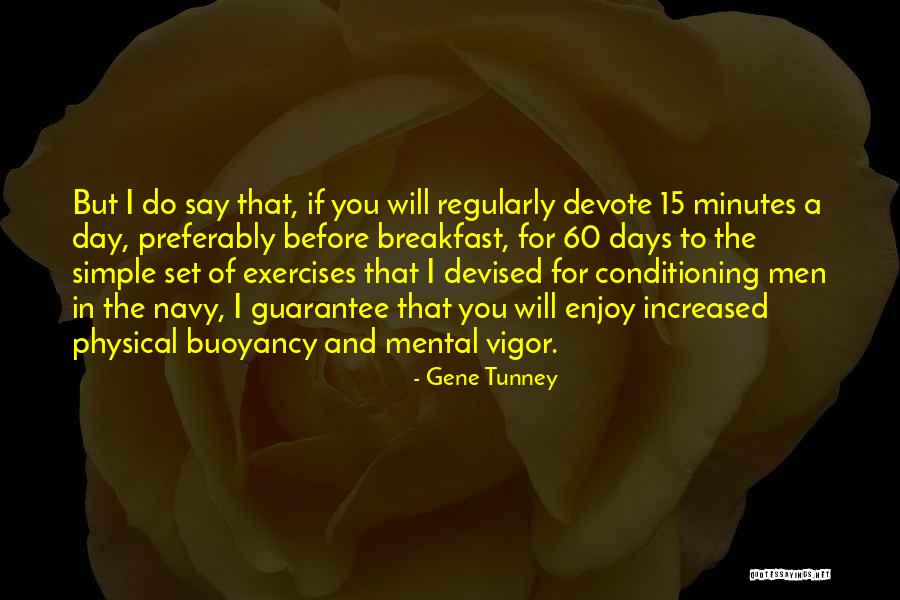 But I do say that, if you will regularly devote 15 minutes a day, preferably before breakfast, for 60 days to the simple set of exercises that I devised for conditioning men in the navy, I guarantee that you will enjoy increased physical buoyancy and mental vigor. — Gene Tunney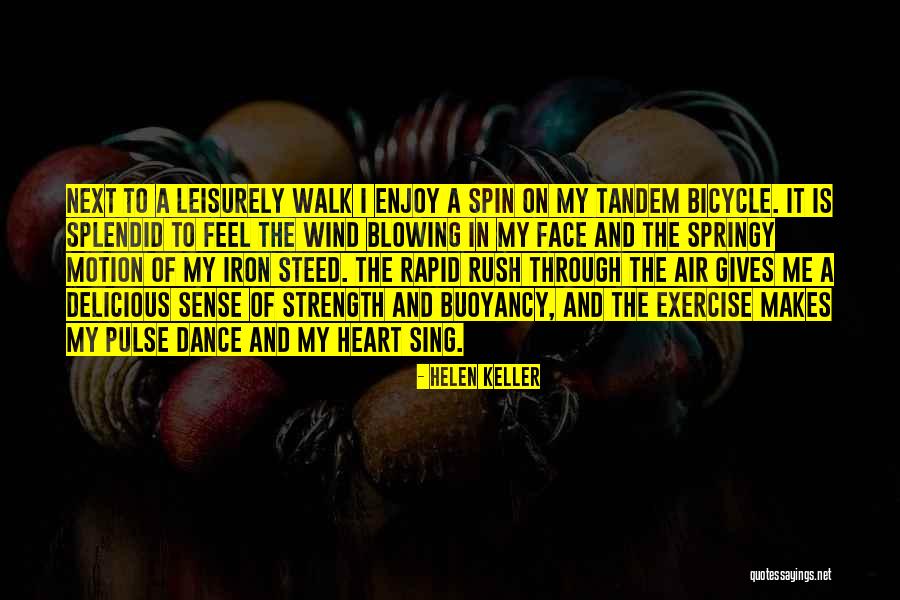 Next to a leisurely walk I enjoy a spin on my tandem bicycle. It is splendid to feel the wind blowing in my face and the springy motion of my iron steed. The rapid rush through the air gives me a delicious sense of strength and buoyancy, and the exercise makes my pulse dance and my heart sing. — Helen Keller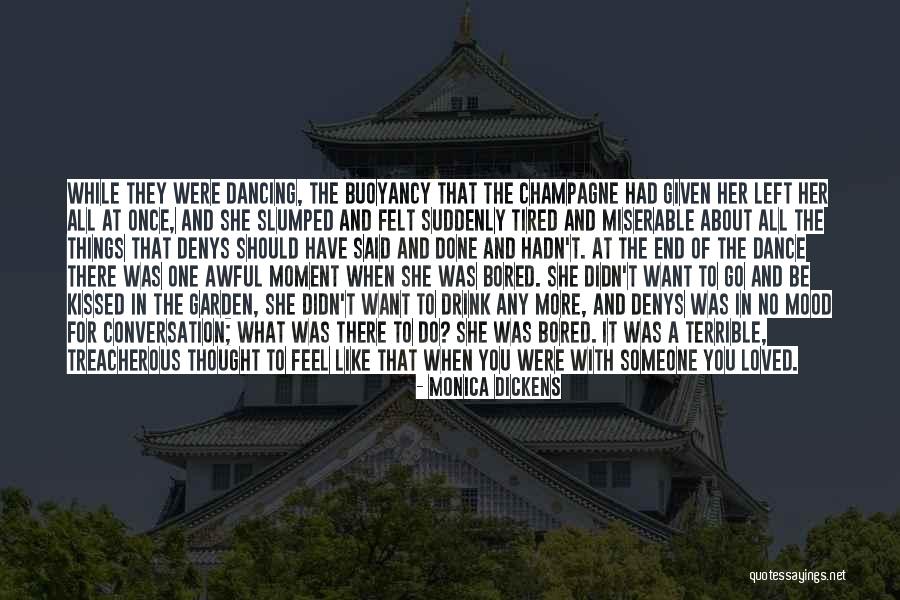 While they were dancing, the buoyancy that the champagne had given her left her all at once, and she slumped and felt suddenly tired and miserable about all the things that Denys should have said and done and hadn't. At the end of the dance there was one awful moment when she was bored. She didn't want to go and be kissed in the garden, she didn't want to drink any more, and Denys was in no mood for conversation; what was there to do? She was bored. It was a terrible, treacherous thought to feel like that when you were with someone you loved. — Monica Dickens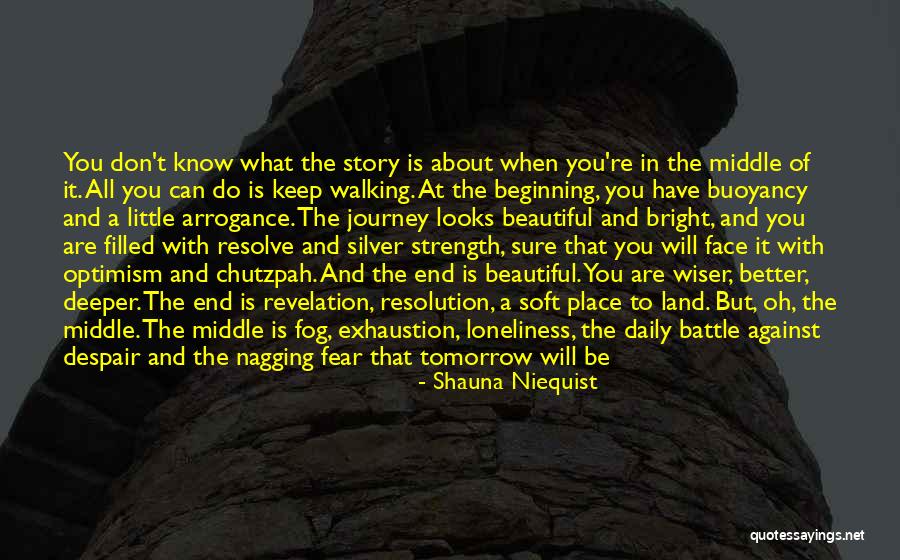 You don't know what the story is about when you're in the middle of it. All you can do is keep walking. At the beginning, you have buoyancy and a little arrogance. The journey looks beautiful and bright, and you are filled with resolve and silver strength, sure that you will face it with optimism and chutzpah. And the end is beautiful. You are wiser, better, deeper. The end is revelation, resolution, a soft place to land. But, oh, the middle. The middle is fog, exhaustion, loneliness, the daily battle against despair and the nagging fear that tomorrow will be just like today, only you'll be wearier and less able to defend yourself against it. All you can ask for, in the middle, are sweet moments of reprieve in the company of people you love. For a few hours, you'll feel protected by the goodness of friendship and life around the table, and that's the best thing I can imagine. — Shauna Niequist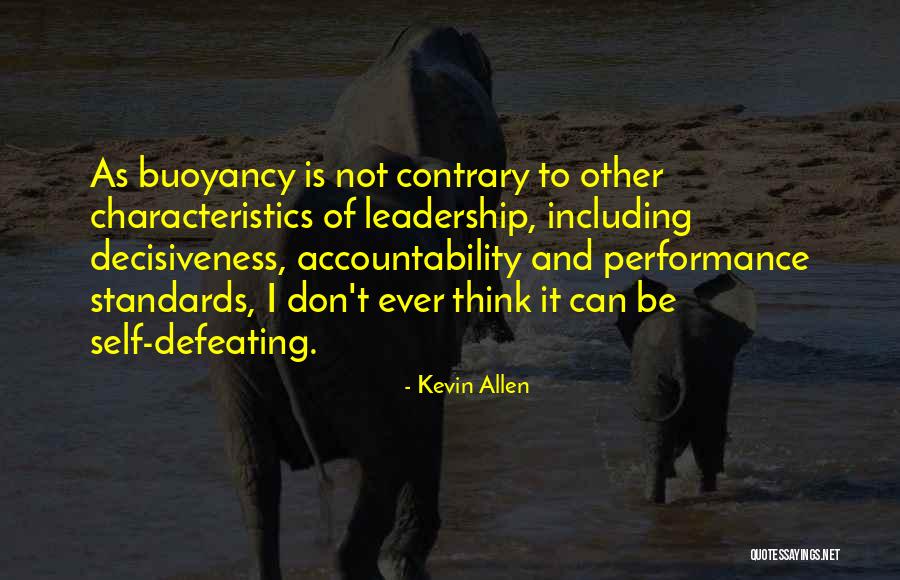 As buoyancy is not contrary to other characteristics of leadership, including decisiveness, accountability and performance standards, I don't ever think it can be self-defeating. — Kevin Allen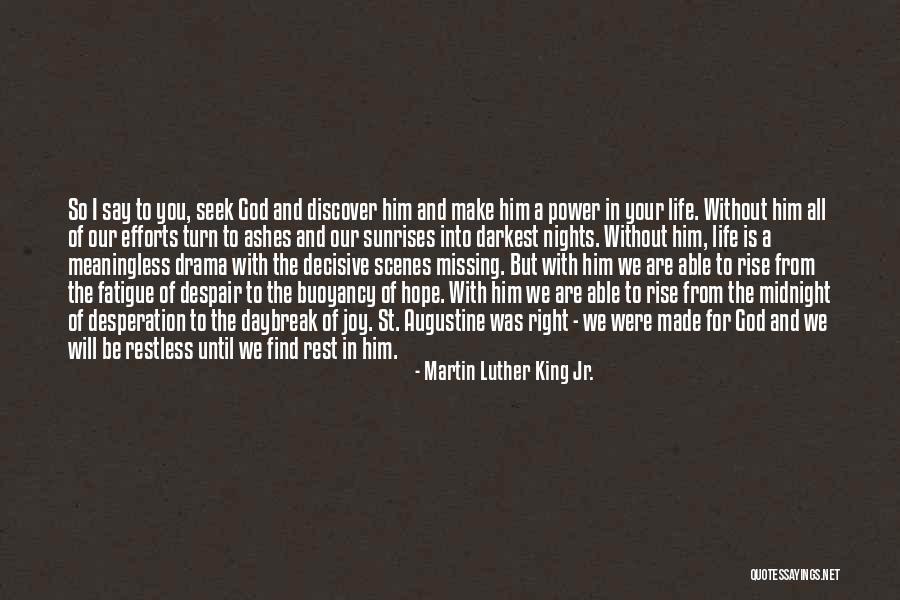 So I say to you, seek God and discover him and make him a power in your life. Without him all of our efforts turn to ashes and our sunrises into darkest nights. Without him, life is a meaningless drama with the decisive scenes missing. But with him we are able to rise from the fatigue of despair to the buoyancy of hope. With him we are able to rise from the midnight of desperation to the daybreak of joy. St. Augustine was right - we were made for God and we will be restless until we find rest in him. — Martin Luther King Jr.
I experimented with all possible maneuvers-loops, somersaults and barrel rolls. I stood upside down on one finger and burst out laughing, a shrill, distorted laugh. Nothing I did altered the automatic rhythm of the air. Delivered from gravity and buoyancy, I flew around in space. — Jacques-Yves Cousteau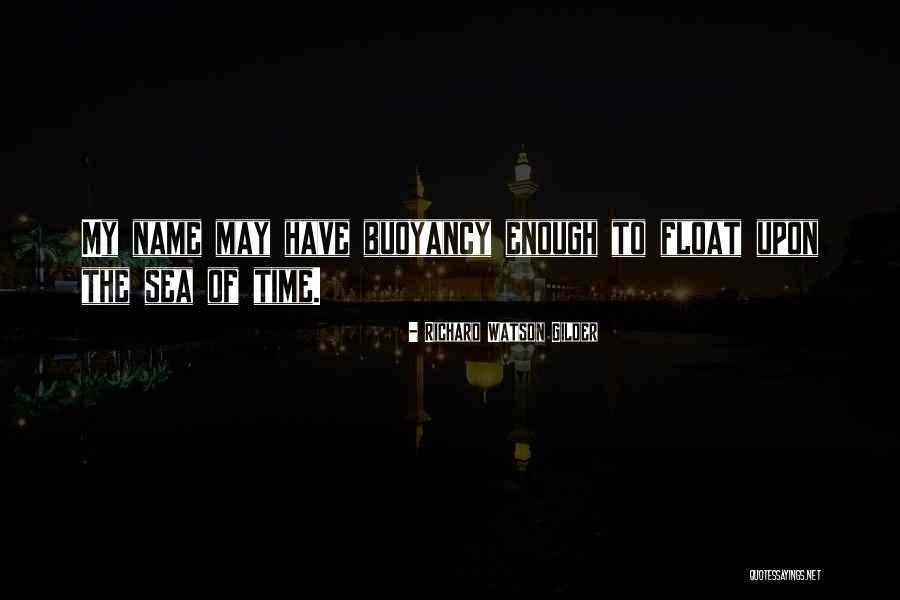 My name may have buoyancy enough to float upon the sea of time. — Richard Watson Gilder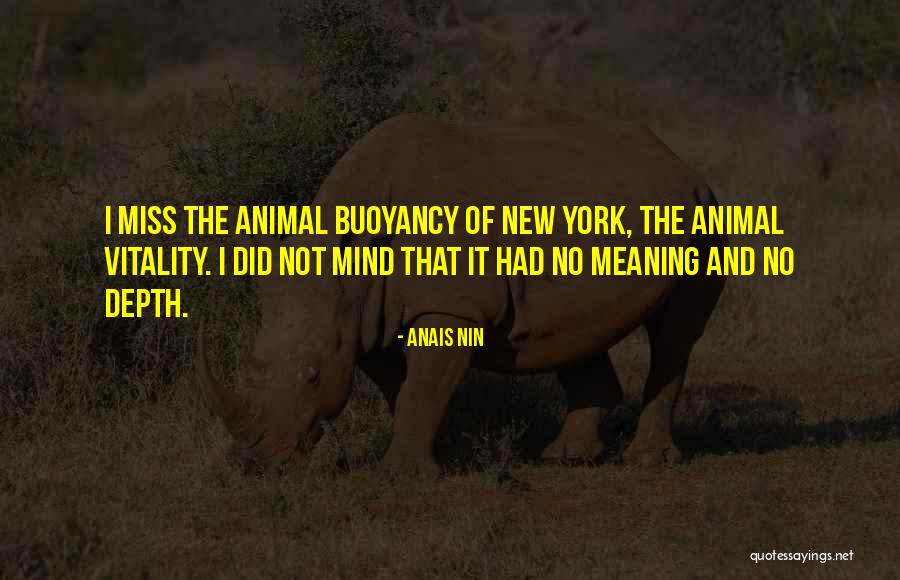 I miss the animal buoyancy of New York, the animal vitality. I did not mind that it had no meaning and no depth. — Anais Nin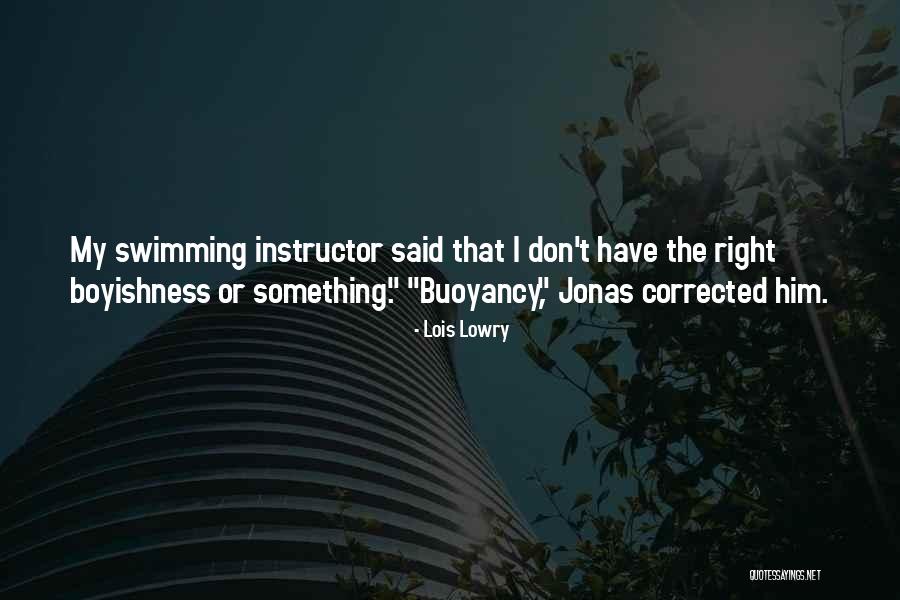 My swimming instructor said that I don't have the right boyishness or something." "Buoyancy," Jonas corrected him. — Lois Lowry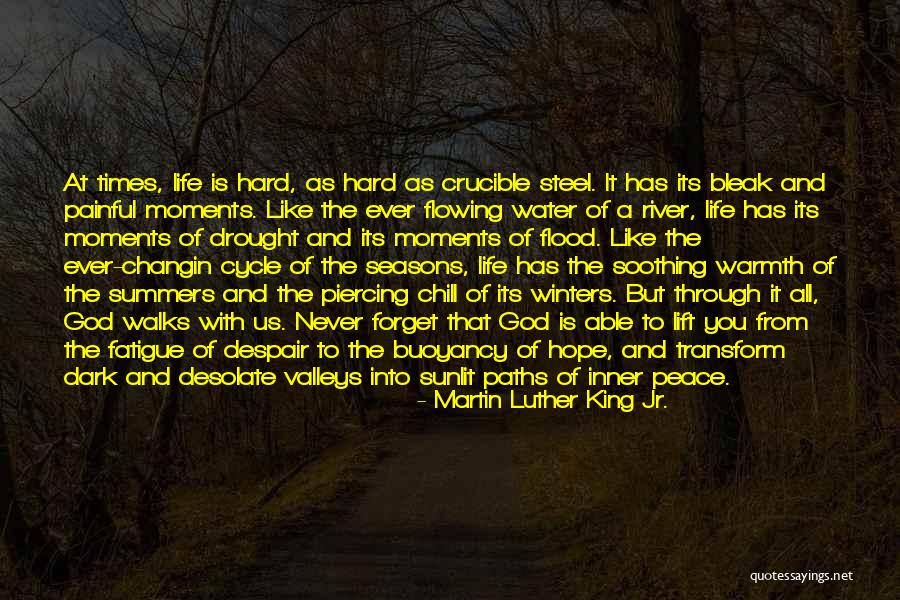 At times, life is hard, as hard as crucible steel. It has its bleak and painful moments. Like the ever flowing water of a river, life has its moments of drought and its moments of flood. Like the ever-changin cycle of the seasons, life has the soothing warmth of the summers and the piercing chill of its winters. But through it all, God walks with us. Never forget that God is able to lift you from the fatigue of despair to the buoyancy of hope, and transform dark and desolate valleys into sunlit paths of inner peace. — Martin Luther King Jr.
It has as much to do with the energy released by linguistic fission and fusion, with the buoyancy generated by cadence and tone and rhyme and stanza, as it has to do with the poem's
concerns or the poet's truthfulness. — Seamus Heaney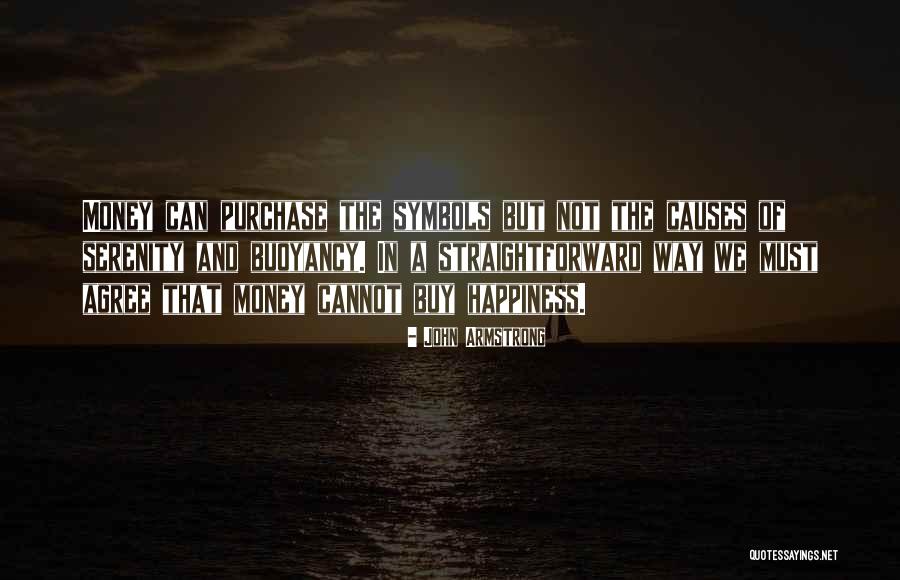 Money can purchase the symbols but not the causes of serenity and buoyancy. In a straightforward way we must agree that money cannot buy happiness. — John Armstrong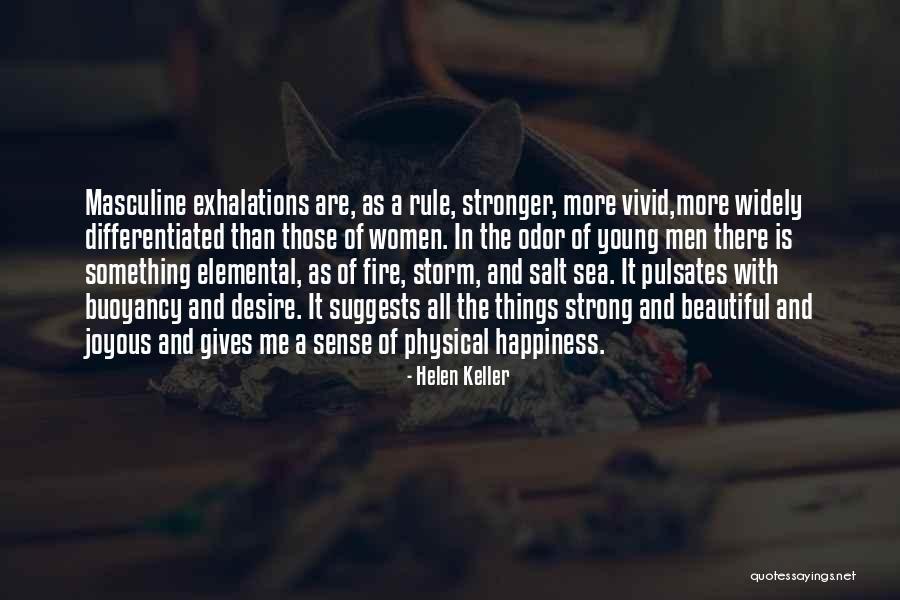 Masculine exhalations are, as a rule, stronger, more vivid,more widely differentiated than those of women. In the odor of young men there is something elemental, as of fire, storm, and salt sea. It pulsates with buoyancy and desire. It suggests all the things strong and beautiful and joyous and gives me a sense of physical happiness. — Helen Keller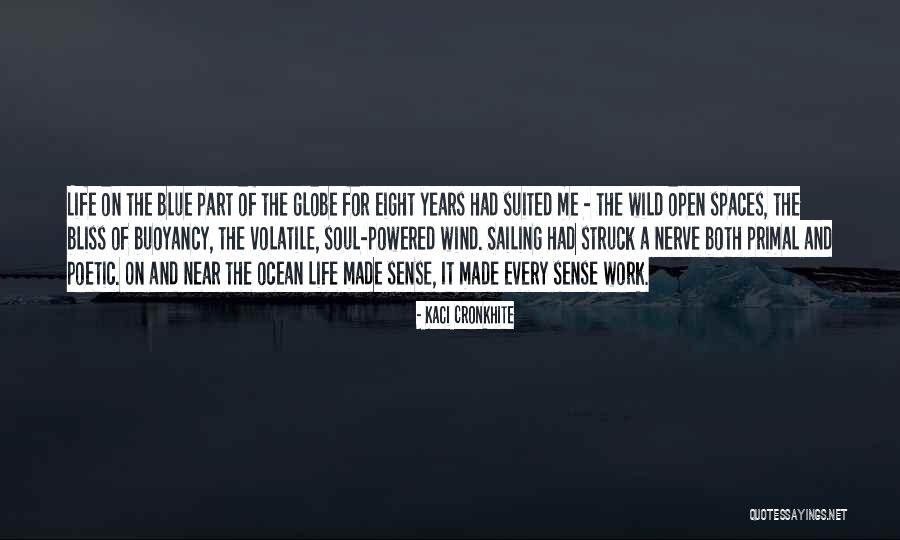 Life on the blue part of the globe for eight years had suited me - the wild open spaces, the bliss of buoyancy, the volatile, soul-powered wind. Sailing had struck a nerve both primal and poetic. On and near the ocean life made sense, It made every sense work. — Kaci Cronkhite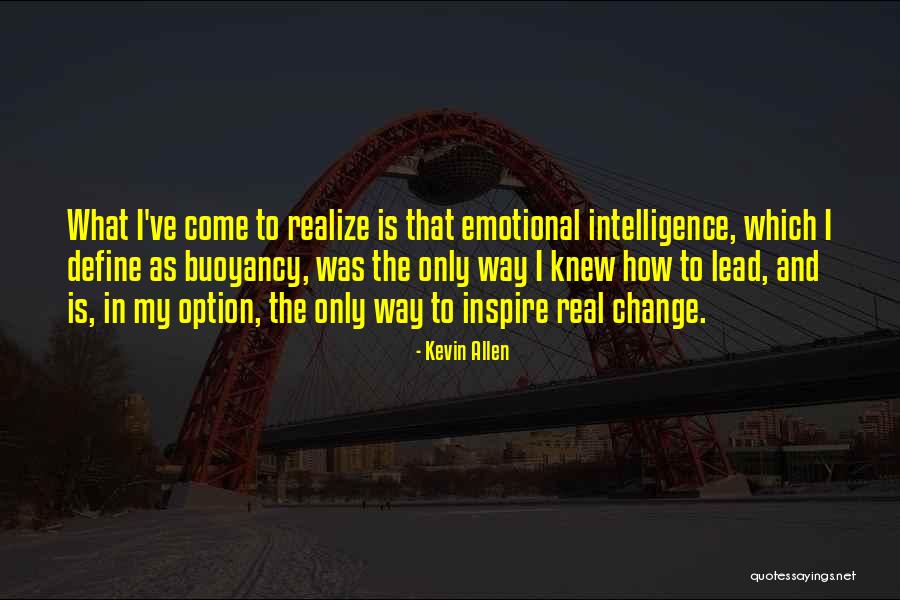 What I've come to realize is that emotional intelligence, which I define as buoyancy, was the only way I knew how to lead, and is, in my option, the only way to inspire real change. — Kevin Allen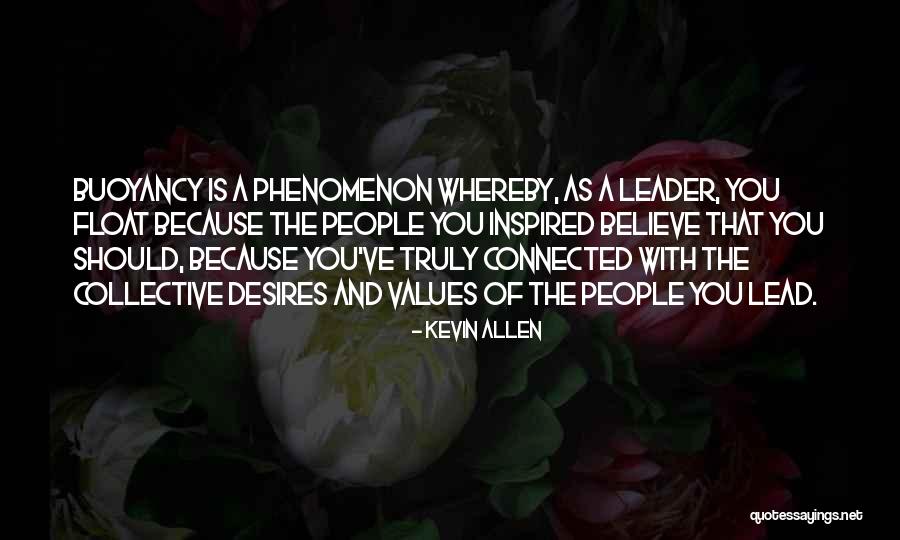 Buoyancy is a phenomenon whereby, as a leader, you float because the people you inspired believe that you should, because you've truly connected with the collective desires and values of the people you lead. — Kevin Allen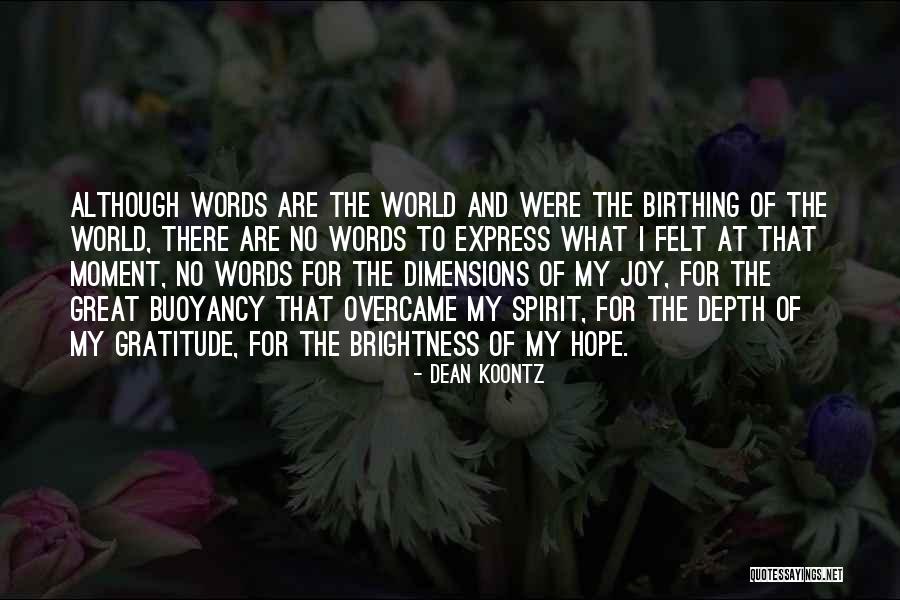 Although words are the world and were the birthing of the world, there are no words to express what I felt at that moment, no words for the dimensions of my joy, for the great buoyancy that overcame my spirit, for the depth of my gratitude, for the brightness of my hope. — Dean Koontz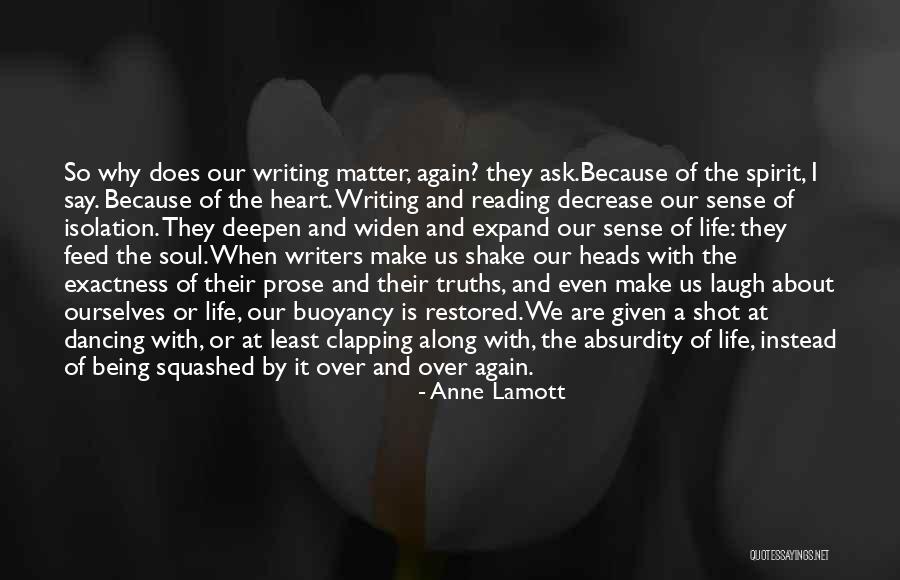 So why does our writing matter, again? they ask.
Because of the spirit, I say. Because of the heart. Writing and reading decrease our sense of isolation. They deepen and widen and expand our sense of life: they feed the soul. When writers make us shake our heads with the exactness of their prose and their truths, and even make us laugh about ourselves or life, our buoyancy is restored. We are given a shot at dancing with, or at least clapping along with, the absurdity of life, instead of being squashed by it over and over again. — Anne Lamott