Travel Wandering Quotes & Sayings
Enjoy reading and share 32 famous quotes about Travel Wandering with everyone.
Top Travel Wandering Quotes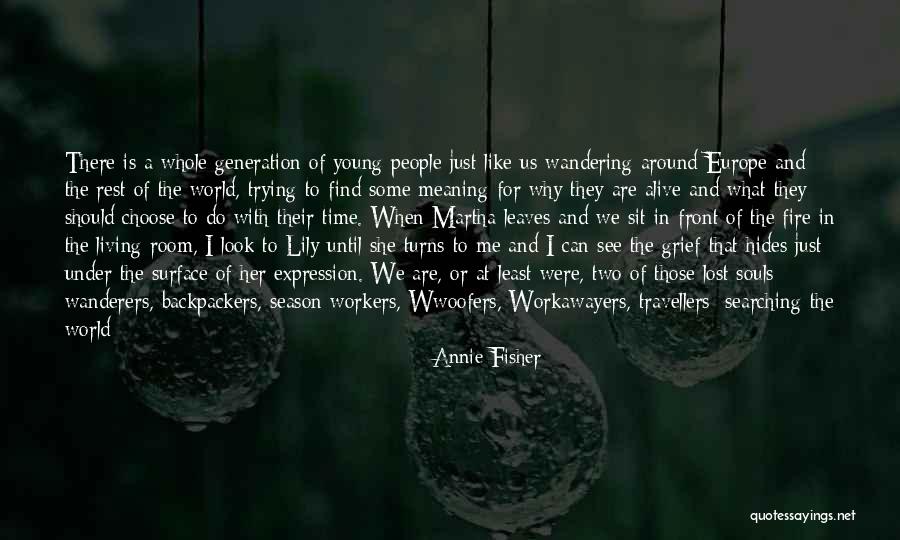 There is a whole generation of young people just like us wandering around Europe and the rest of the world, trying to find some meaning for why they are alive and what they should choose to do with their time. When Martha leaves and we sit in front of the fire in the living room, I look to Lily until she turns to me and I can see the grief that hides just under the surface of her expression. We are, or at least were, two of those lost souls: wanderers, backpackers, season workers, Wwoofers, Workawayers, travellers: searching the world for something or someplace to hold on to. And we have come home not because we have retired from trying to find answers and are ready to settle into adulthood, but because my death has come upon us fast and unexpected. I am not the first person of this generation of travellers- or any person who lives in this godless, superficial society- to die. But I think that it feels to Lily and to me, my mother too perhaps, that I may very well be. — Annie Fisher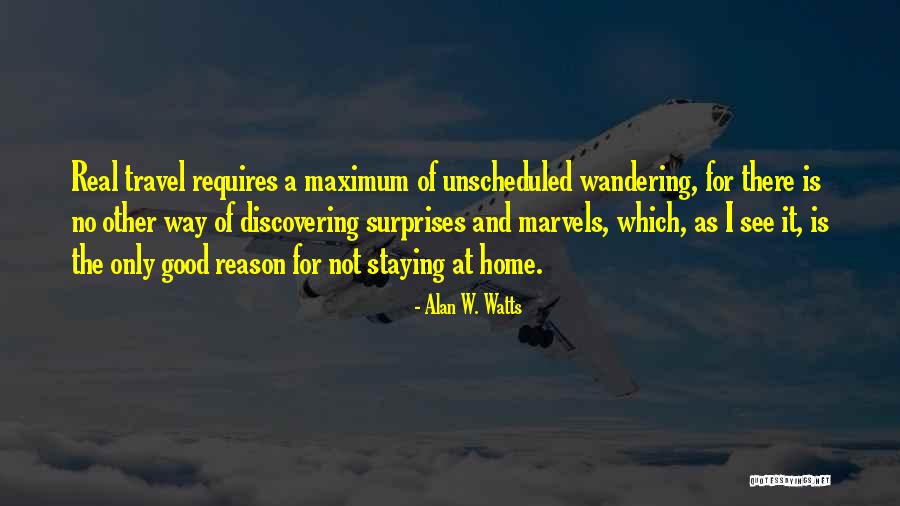 Real travel requires a maximum of unscheduled wandering, for there is no other way of discovering surprises and marvels, which, as I see it, is the only good reason for not staying at home. — Alan W. Watts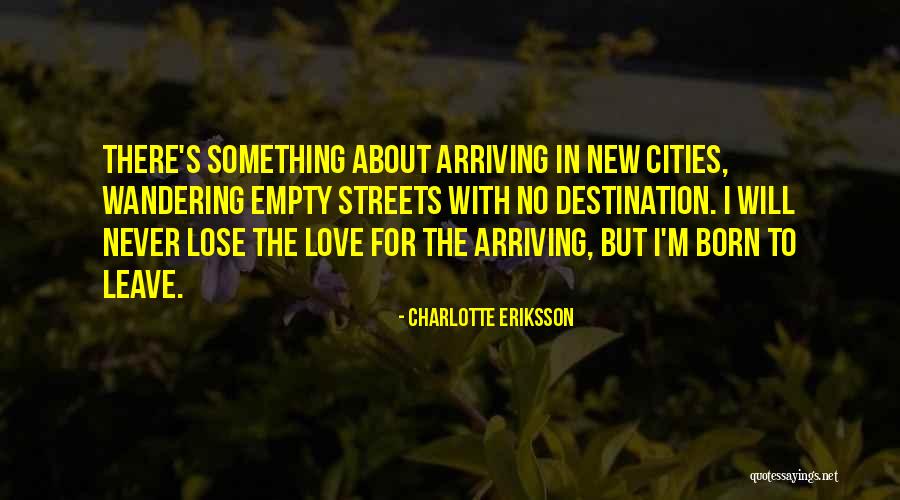 There's something about arriving in new cities, wandering empty streets with no destination. I will never lose the love for the arriving, but I'm born to leave. — Charlotte Eriksson
I love how the landscape gives the impression of vast space and intimacy at the same time: the thin brown line of a path wandering up an immense green mountainside, a plush hanging valley tucked between two steep hillsides, a village of three houses surrounded by dark forest, paddy fields flowing around an outcrop of rock, a white temple gleaming on a shadowy ridge. The human habitations nestle into the landscape; nothing is cut or cleared beyond what is requires. Nothing is bigger than necessary. Every sign of human settlement repeat the mantra of contentment: This is just enough. — Jamie Zeppa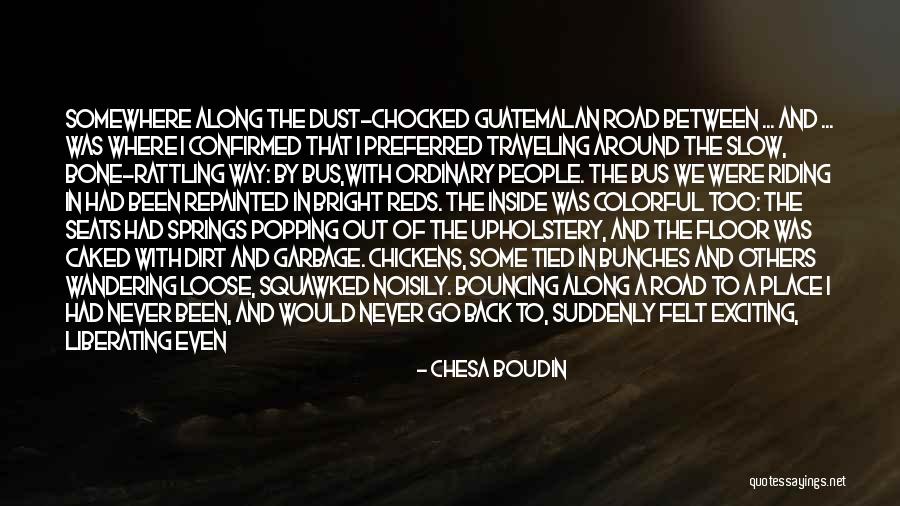 Somewhere along the dust-chocked Guatemalan road between ... and ... was where I confirmed that I preferred traveling around the slow, bone-rattling way: by bus,with ordinary people. The bus we were riding in had been repainted in bright reds. The inside was colorful too: the seats had springs popping out of the upholstery, and the floor was caked with dirt and garbage. Chickens, some tied in bunches and others wandering loose, squawked noisily. Bouncing along a road to a place I had never been, and would never go back to, suddenly felt exciting, liberating even — Chesa Boudin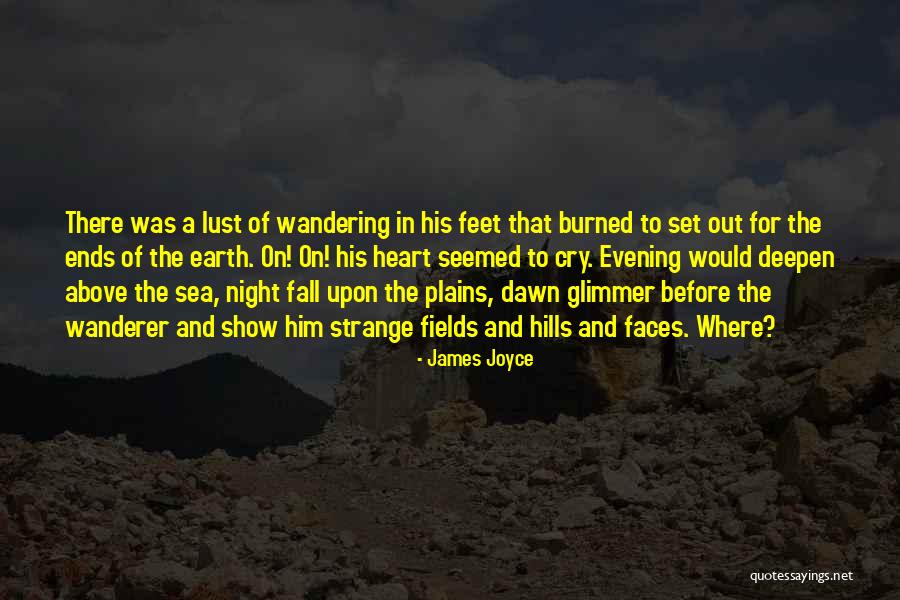 There was a lust of wandering in his feet that burned to set out for the ends of the earth. On! On! his heart seemed to cry. Evening would deepen above the sea, night fall upon the plains, dawn glimmer before the wanderer and show him strange fields and hills and faces. Where? — James Joyce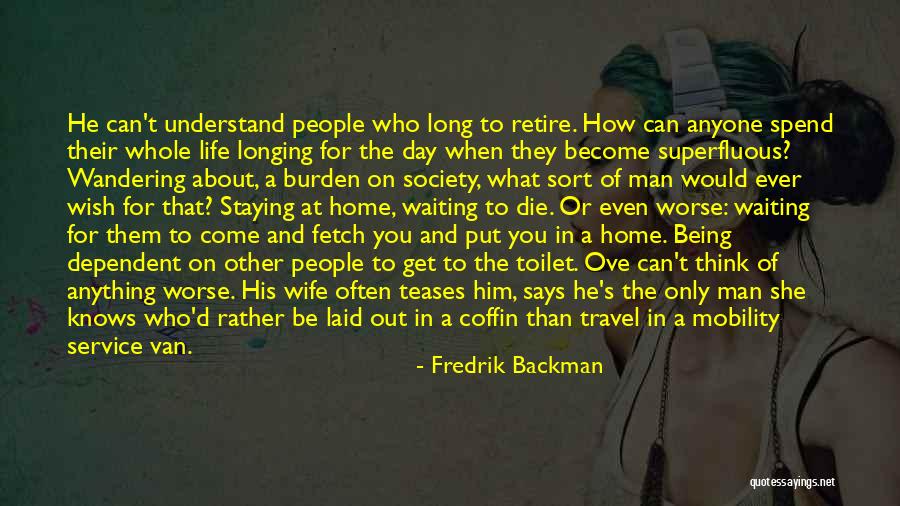 He can't understand people who long to retire. How can anyone spend their whole life longing for the day when they become superfluous? Wandering about, a burden on society, what sort of man would ever wish for that? Staying at home, waiting to die. Or even worse: waiting for them to come and fetch you and put you in a home. Being dependent on other people to get to the toilet. Ove can't think of anything worse. His wife often teases him, says he's the only man she knows who'd rather be laid out in a coffin than travel in a mobility service van. — Fredrik Backman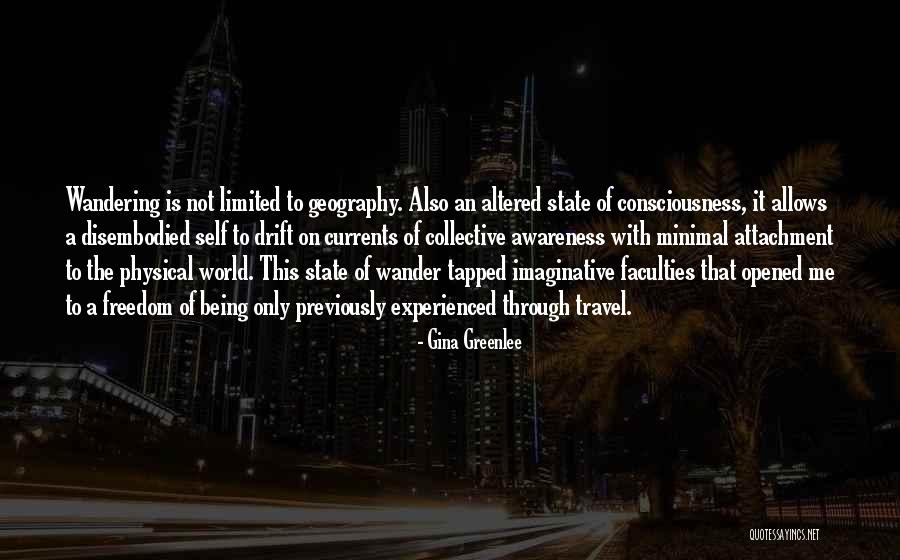 Wandering is not limited to geography. Also an altered state of consciousness, it allows a disembodied self to drift on currents of collective awareness with minimal attachment to the physical world. This state of wander tapped imaginative faculties that opened me to a freedom of being only previously experienced through travel. — Gina Greenlee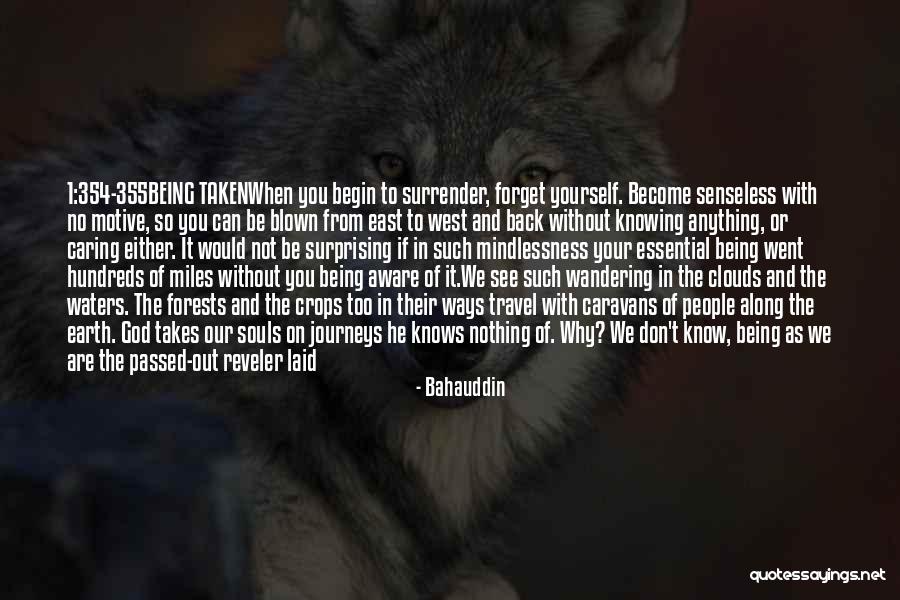 1:354-355
BEING TAKEN

When you begin to surrender, forget yourself. Become senseless with no motive, so you can be blown from east to west and back without knowing anything, or caring either. It would not be surprising if in such mindlessness your essential being went hundreds of miles without you being aware of it.

We see such wandering in the clouds and the waters. The forests and the crops too in their ways travel with caravans of people along the earth. God takes our souls on journeys he knows nothing of. Why? We don't know, being as we are the passed-out reveler laid in a wagon and driven elsewhere. What we love, what we want, is this being held in the presence, this being taken. That is the satisfaction, not learning why or how or where we are, or when we'll arrive somewhere else. — Bahauddin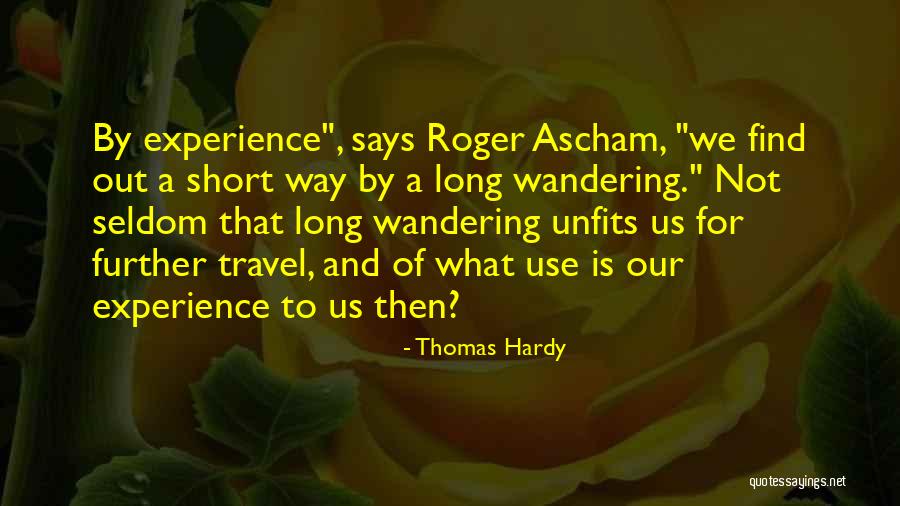 By experience", says Roger Ascham, "we find out a short way by a long wandering." Not seldom that long wandering unfits us for further travel, and of what use is our experience to us then? — Thomas Hardy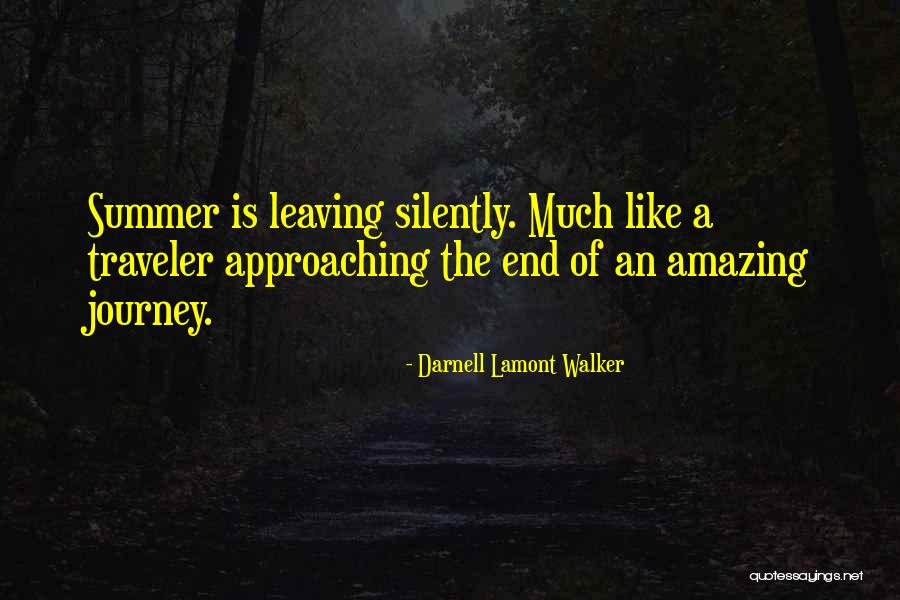 Summer is leaving silently. Much like a traveler approaching the end of an amazing journey. — Darnell Lamont Walker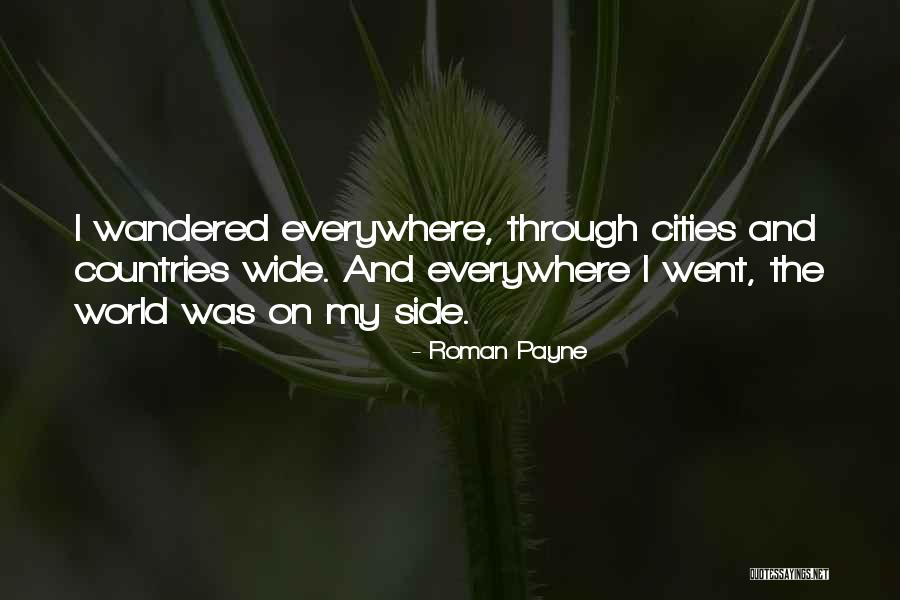 I wandered everywhere, through cities and countries wide. And everywhere I went, the world was on my side. — Roman Payne
There can be many reasons to travel, but wandering into the world for no particular reason is a sublime madness, which in all its whimsy and pointlessness may depict the story of life - and indeed could be a useful model to keep in mind, seeing as so much of life's ambition comes unstuck or leads to nothing much at all. — Michael Leunig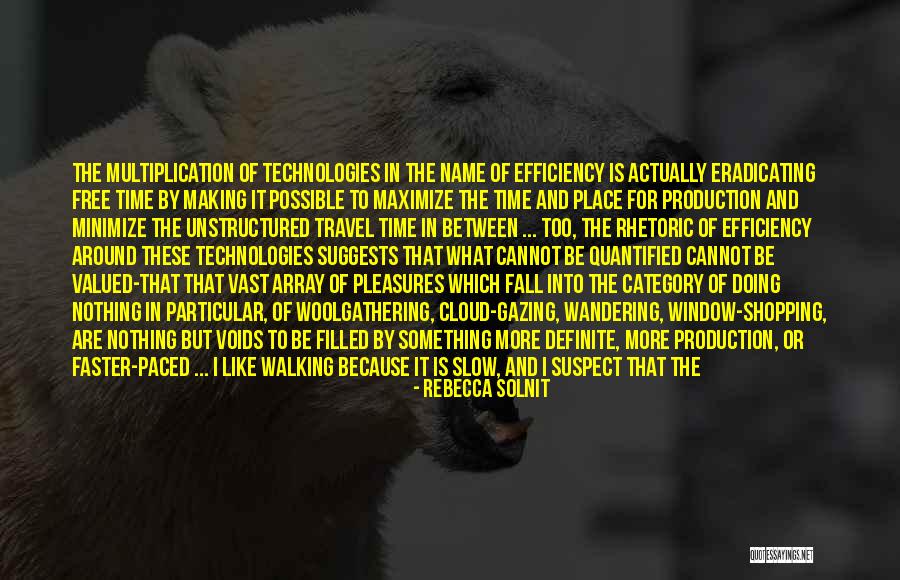 The multiplication of technologies in the name of efficiency is actually eradicating free time by making it possible to maximize the time and place for production and minimize the unstructured travel time in between ... Too, the rhetoric of efficiency around these technologies suggests that what cannot be quantified cannot be valued-that that vast array of pleasures which fall into the category of doing nothing in particular, of woolgathering, cloud-gazing, wandering, window-shopping, are nothing but voids to be filled by something more definite, more production, or faster-paced ... I like walking because it is slow, and I suspect that the mind, like the feet, works at about three miles an hour. If this is so, then modern life is moving faster than the speed of thought or thoughtfulness. — Rebecca Solnit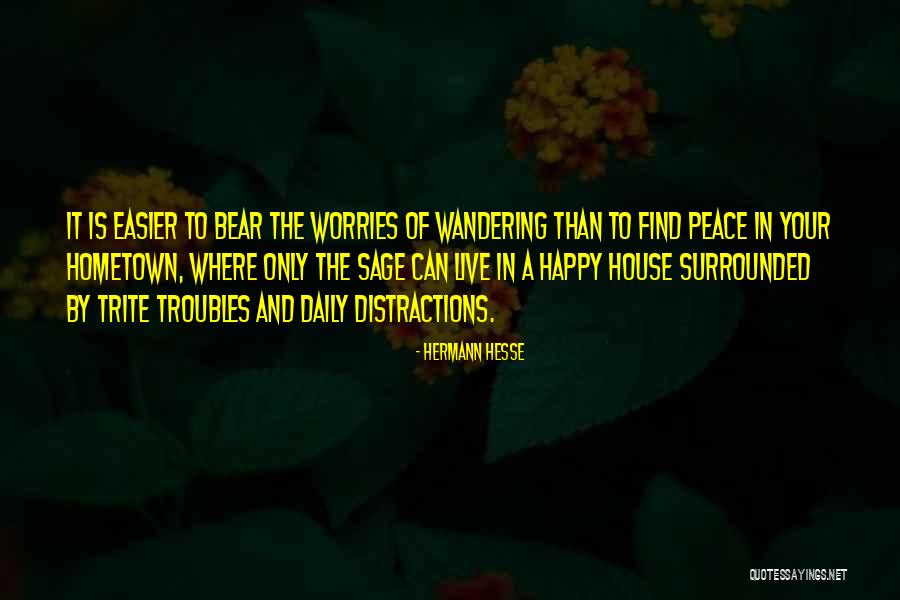 It is easier to bear the worries of wandering than to find peace in your hometown, where only the sage can live in a happy house surrounded by trite troubles and daily distractions. — Hermann Hesse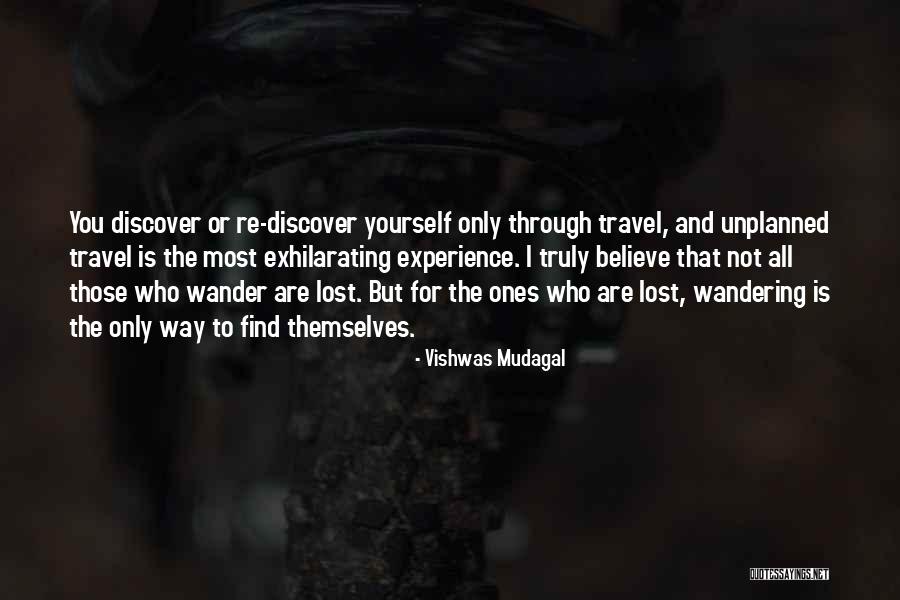 You discover or re-discover yourself only through travel, and unplanned travel is the most exhilarating experience. I truly believe that not all those who wander are lost. But for the ones who are lost, wandering is the only way to find themselves. — Vishwas Mudagal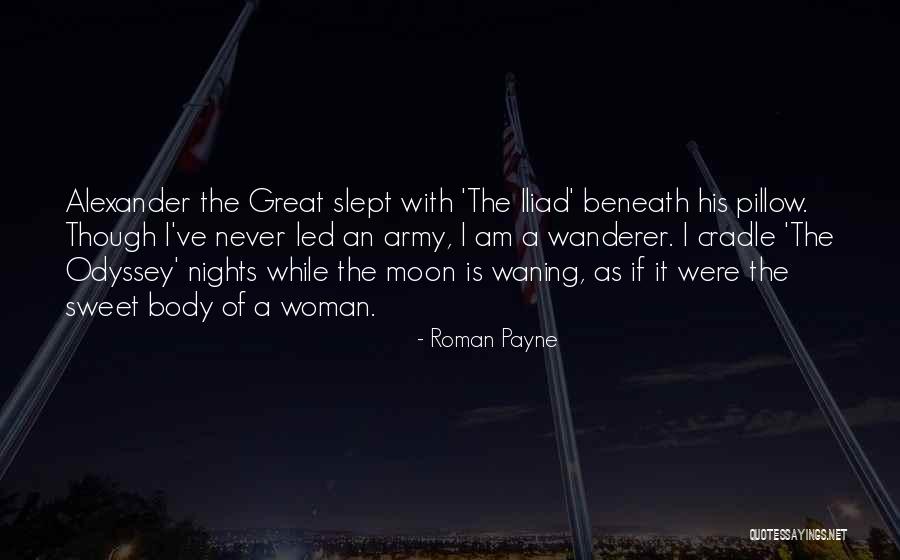 Alexander the Great slept with
'The Iliad' beneath his pillow.
Though I've never led an army,
I am a wanderer. I cradle
'The Odyssey' nights while the
moon is waning, as if it were
the sweet body of a woman. — Roman Payne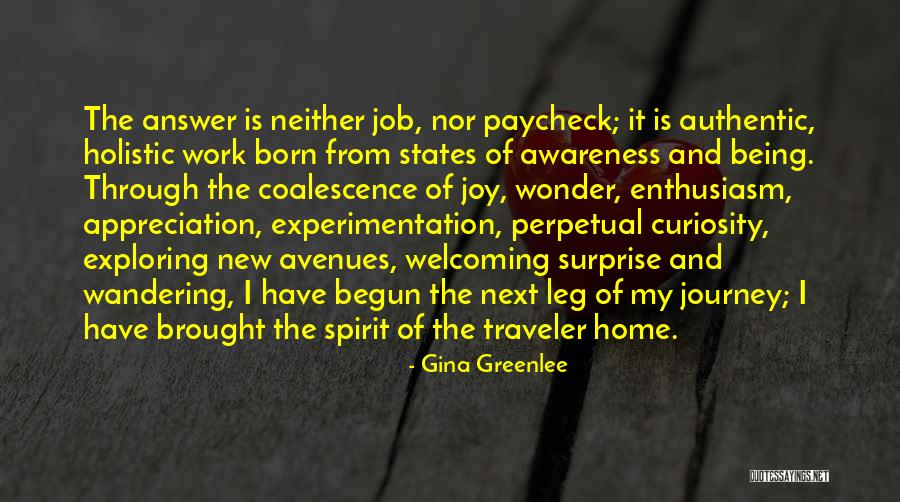 The answer is neither job, nor paycheck; it is authentic, holistic work born from states of awareness and being. Through the coalescence of joy, wonder, enthusiasm, appreciation, experimentation, perpetual curiosity, exploring new avenues, welcoming surprise and wandering, I have begun the next leg of my journey; I have brought the spirit of the traveler home. — Gina Greenlee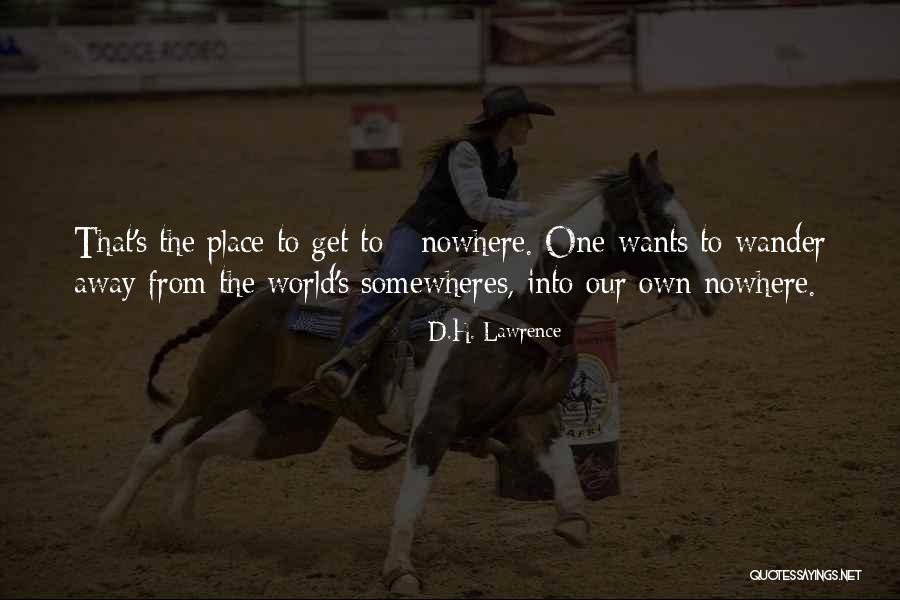 That's the place to get to - nowhere. One wants to wander away from the world's somewheres, into our own nowhere. — D.H. Lawrence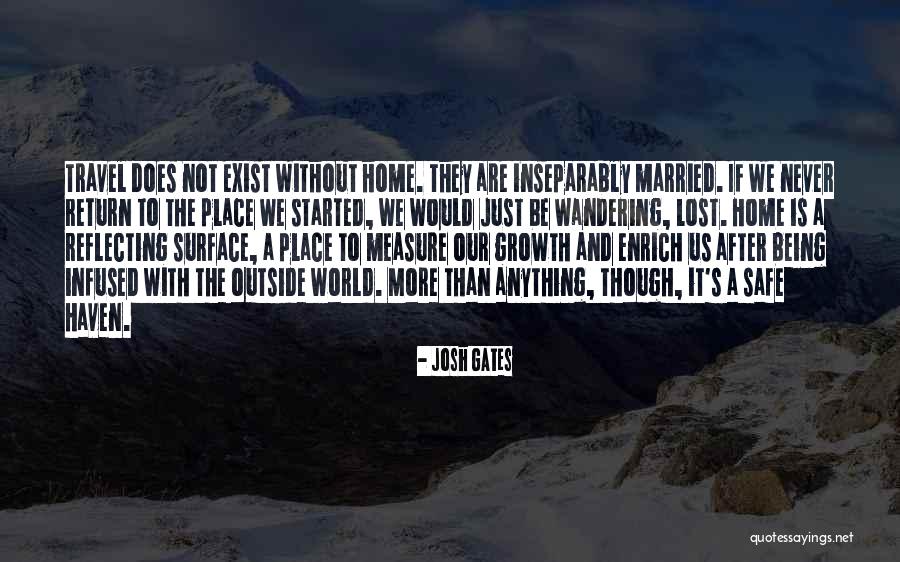 Travel does not exist without home. They are inseparably married. If we never return to the place we started, we would just be wandering, lost. Home is a reflecting surface, a place to measure our growth and enrich us after being infused with the outside world. More than anything, though, it's a safe haven. — Josh Gates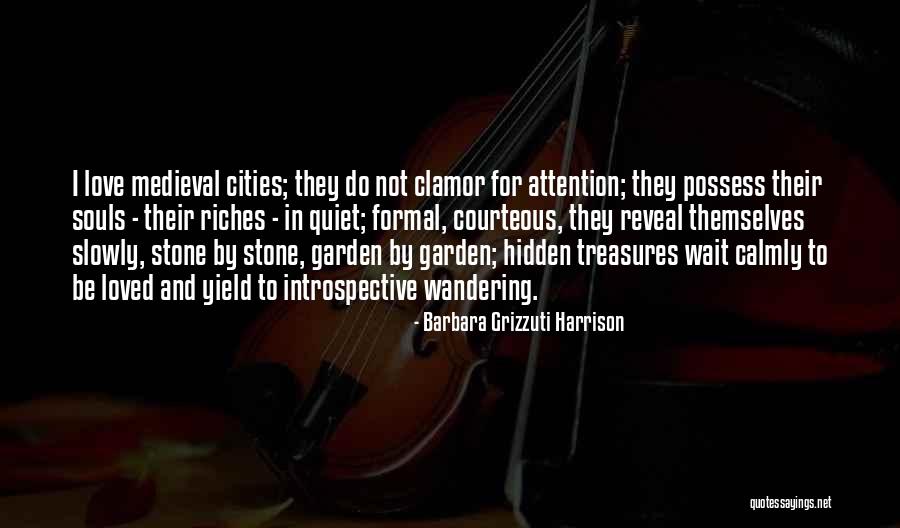 I love medieval cities; they do not clamor for attention; they possess their souls - their riches - in quiet; formal, courteous, they reveal themselves slowly, stone by stone, garden by garden; hidden treasures wait calmly to be loved and yield to introspective wandering. — Barbara Grizzuti Harrison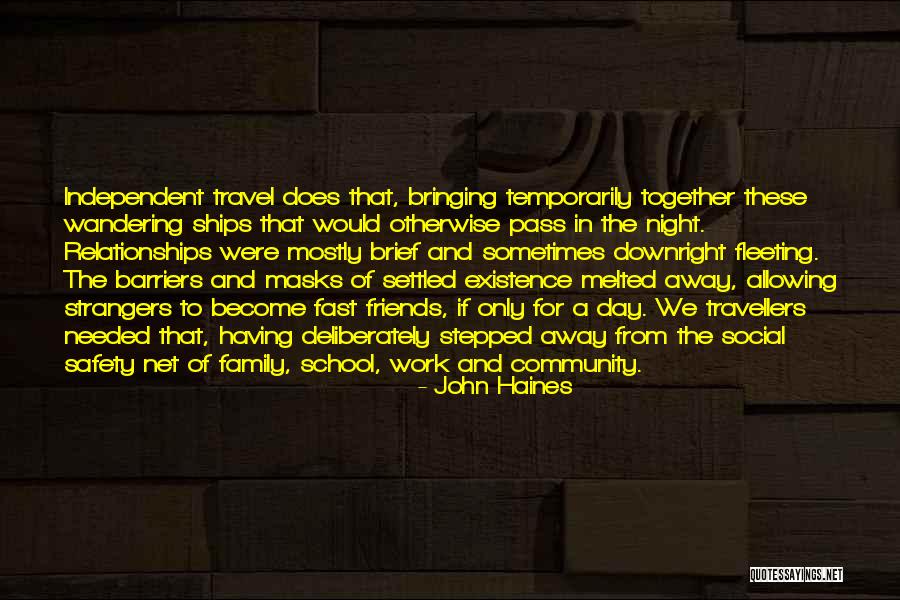 Independent travel does that, bringing temporarily together these wandering ships that would otherwise pass in the night. Relationships were mostly brief and sometimes downright fleeting. The barriers and masks of settled existence melted away, allowing strangers to become fast friends, if only for a day. We travellers needed that, having deliberately stepped away from the social safety net of family, school, work and community. — John Haines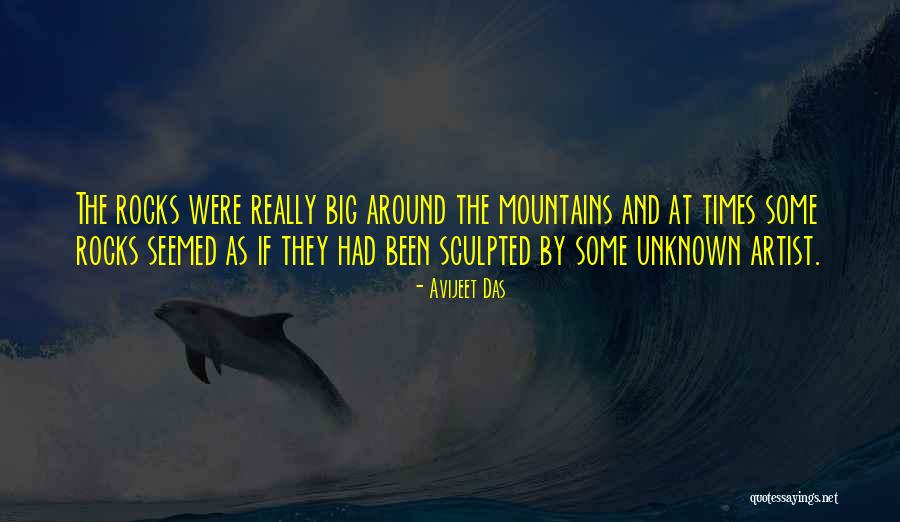 The rocks were really big around the mountains and at times some rocks seemed as if they had been sculpted by some unknown artist. — Avijeet Das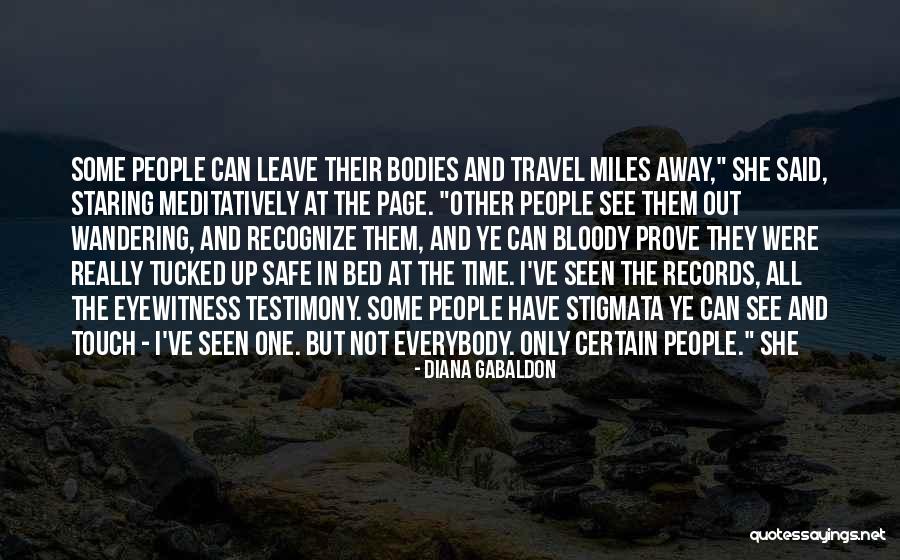 Some people can leave their bodies and travel miles away," she said, staring meditatively at the page. "Other people see them out wandering, and recognize them, and ye can bloody prove they were really tucked up safe in bed at the time. I've seen the records, all the eyewitness testimony. Some people have stigmata ye can see and touch - I've seen one. But not everybody. Only certain people." She — Diana Gabaldon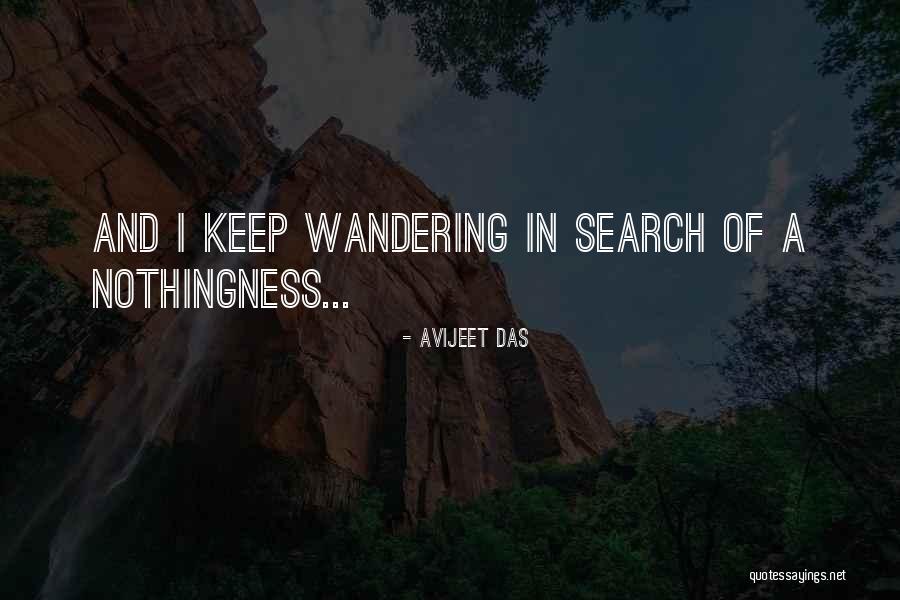 And I keep wandering in search of a nothingness... — Avijeet Das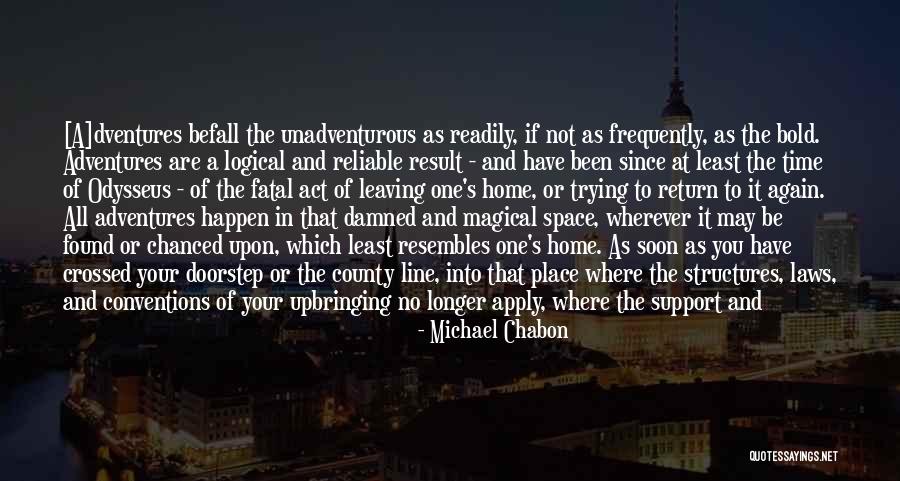 [A]dventures befall the unadventurous as readily, if not as frequently, as the bold. Adventures are a logical and reliable result - and have been since at least the time of Odysseus - of the fatal act of leaving one's home, or trying to return to it again. All adventures happen in that damned and magical space, wherever it may be found or chanced upon, which least resembles one's home. As soon as you have crossed your doorstep or the county line, into that place where the structures, laws, and conventions of your upbringing no longer apply, where the support and approval (but also the disapproval and repression) of your family and neighbors are not to be had: then you have entered into adventure, a place of sorrow, marvels, and regret. — Michael Chabon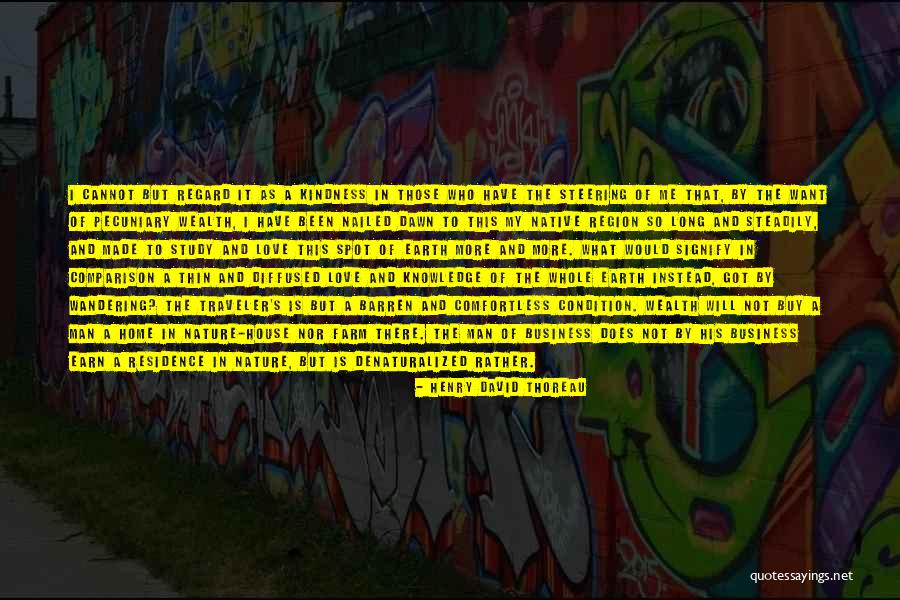 I cannot but regard it as a kindness in those who have the steering of me that, by the want of pecuniary wealth, I have been nailed dawn to this my native region so long and steadily, and made to study and love this spot of earth more and more. What would signify in comparison a thin and diffused love and knowledge of the whole earth instead, got by wandering? The traveler's is but a barren and comfortless condition. Wealth will not buy a man a home in nature-house nor farm there. The man of business does not by his business earn a residence in nature, but is denaturalized rather. — Henry David Thoreau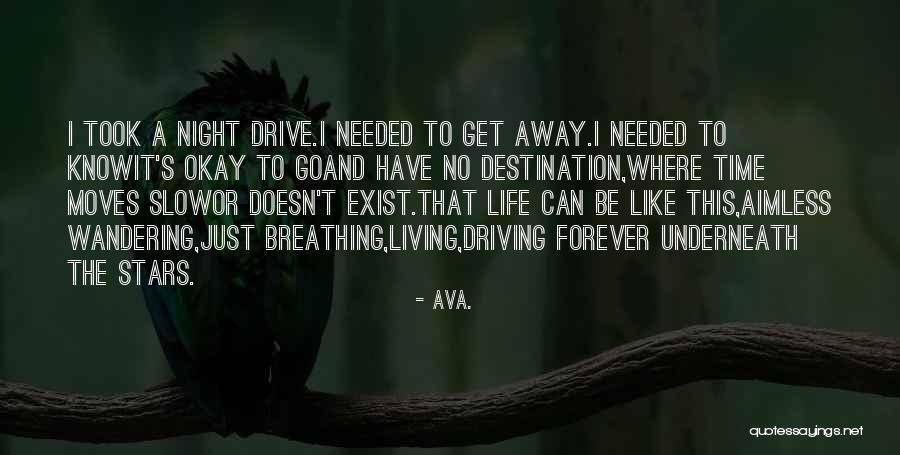 i took a night drive.
i needed to get away.
i needed to know
it's okay to go
and have no destination,
where time moves slow
or doesn't exist.
that life can be like this,
aimless wandering,
just breathing,
living,
driving forever underneath the stars. — AVA.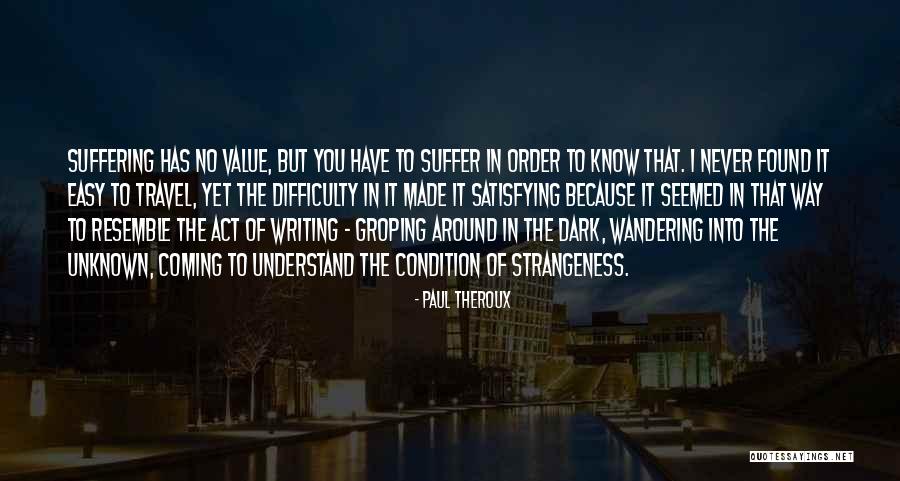 Suffering has no value, but you have to suffer in order to know that. I never found it easy to travel, yet the difficulty in it made it satisfying because it seemed in that way to resemble the act of writing - groping around in the dark, wandering into the unknown, coming to understand the condition of strangeness. — Paul Theroux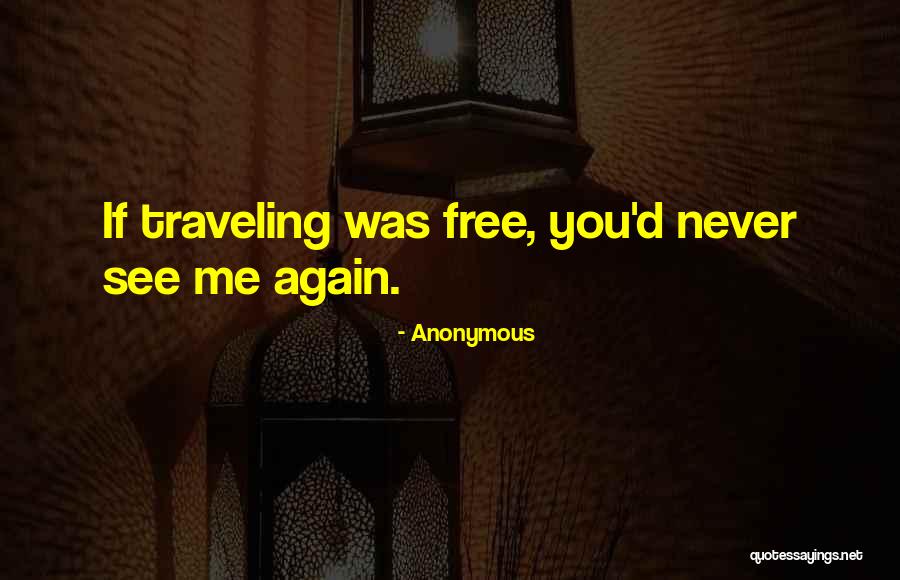 If traveling was free, you'd never see me again. — Anonymous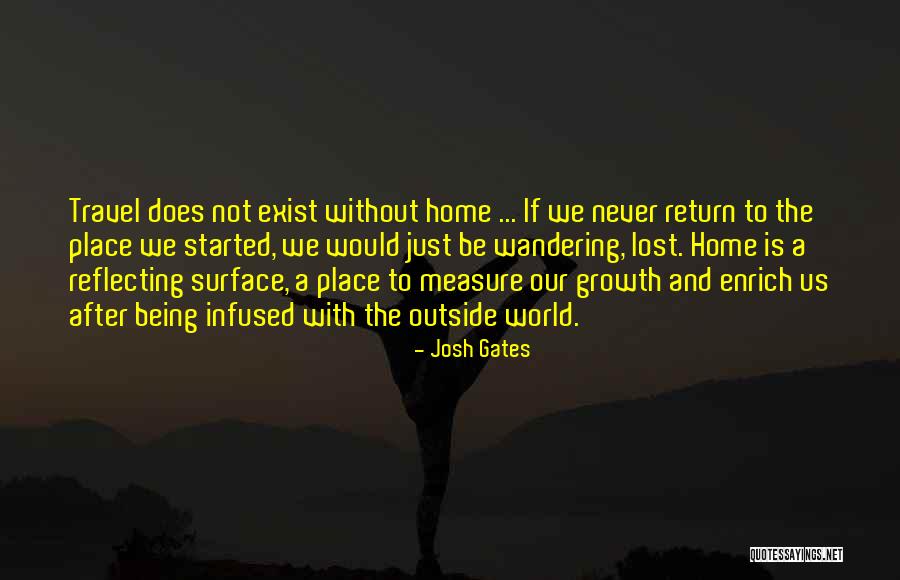 Travel does not exist without home ... If we never return to the place we started, we would just be wandering, lost. Home is a reflecting surface, a place to measure our growth and enrich us after being infused with the outside world. — Josh Gates