Times Of Difficulty Quotes & Sayings
Enjoy reading and share 61 famous quotes about Times Of Difficulty with everyone.
Top Times Of Difficulty Quotes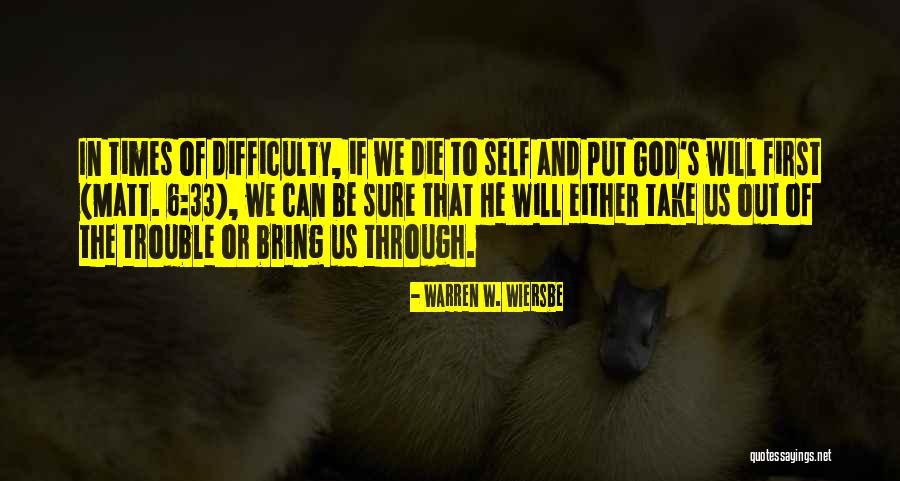 In times of difficulty, if we die to self and put God's will first (Matt. 6:33), we can be sure that He will either take us out of the trouble or bring us through. — Warren W. Wiersbe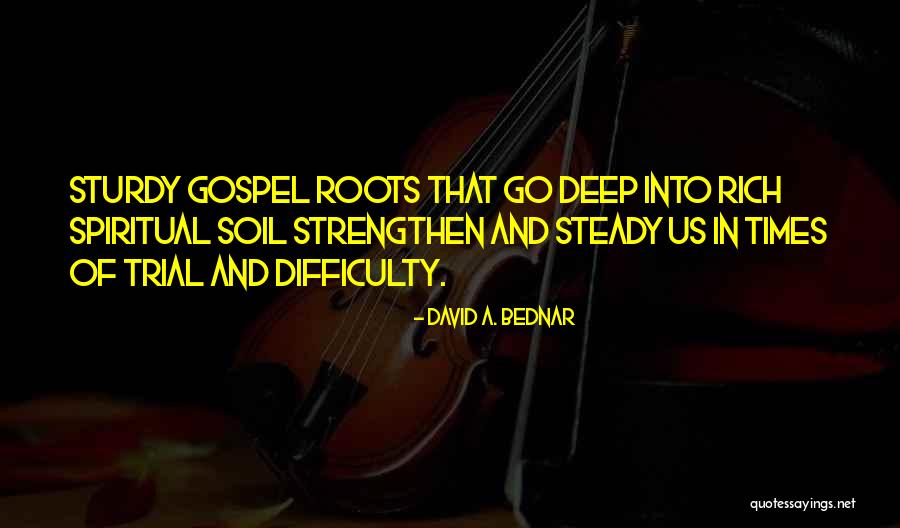 Sturdy gospel roots that go deep into rich spiritual soil strengthen and steady us in times of trial and difficulty. — David A. Bednar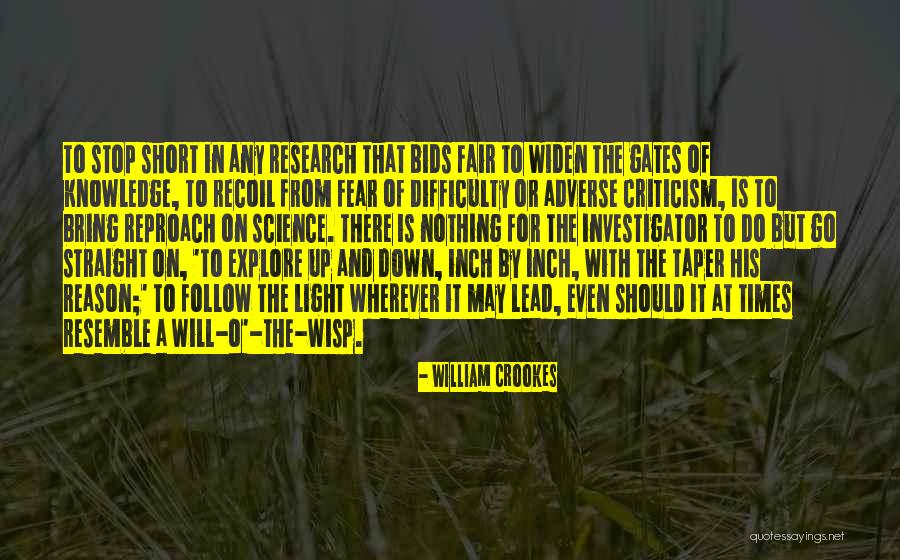 To stop short in any research that bids fair to widen the gates of knowledge, to recoil from fear of difficulty or adverse criticism, is to bring reproach on science. There is nothing for the investigator to do but go straight on, 'to explore up and down, inch by inch, with the taper his reason;' to follow the light wherever it may lead, even should it at times resemble a will-o'-the-wisp. — William Crookes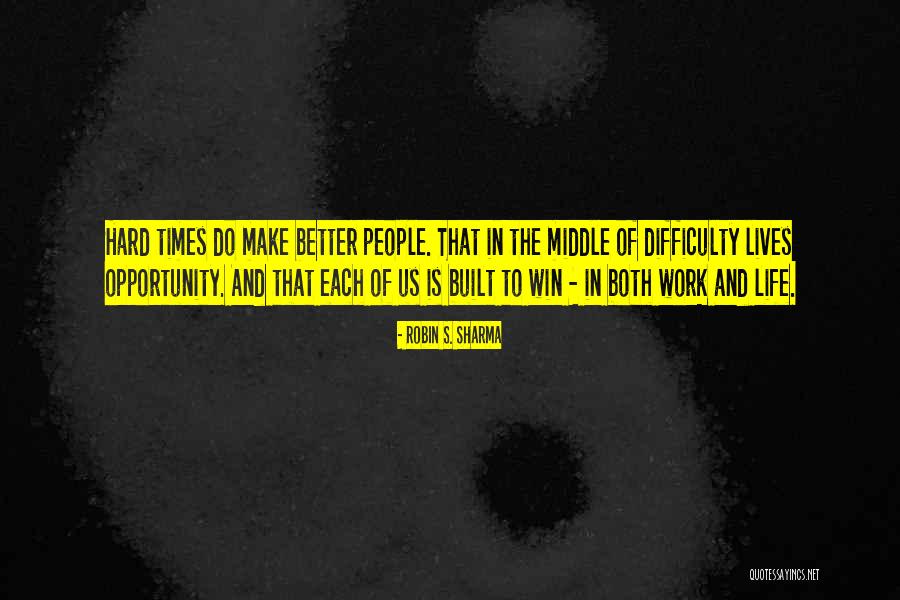 Hard times do make better people. That in the middle of difficulty lives opportunity. And that each of us is built to win - in both work and life. — Robin S. Sharma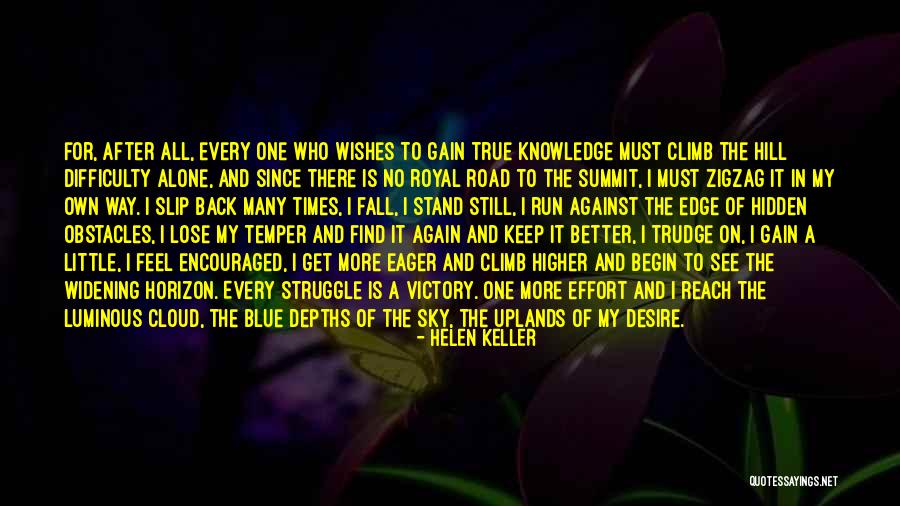 For, after all, every one who wishes to gain true knowledge must climb the Hill Difficulty alone, and since there is no royal road to the summit, I must zigzag it in my own way. I slip back many times, I fall, I stand still, I run against the edge of hidden obstacles, I lose my temper and find it again and keep it better, I trudge on, I gain a little, I feel encouraged, I get more eager and climb higher and begin to see the widening horizon. Every struggle is a victory. One more effort and I reach the luminous cloud, the blue depths of the sky, the uplands of my desire. — Helen Keller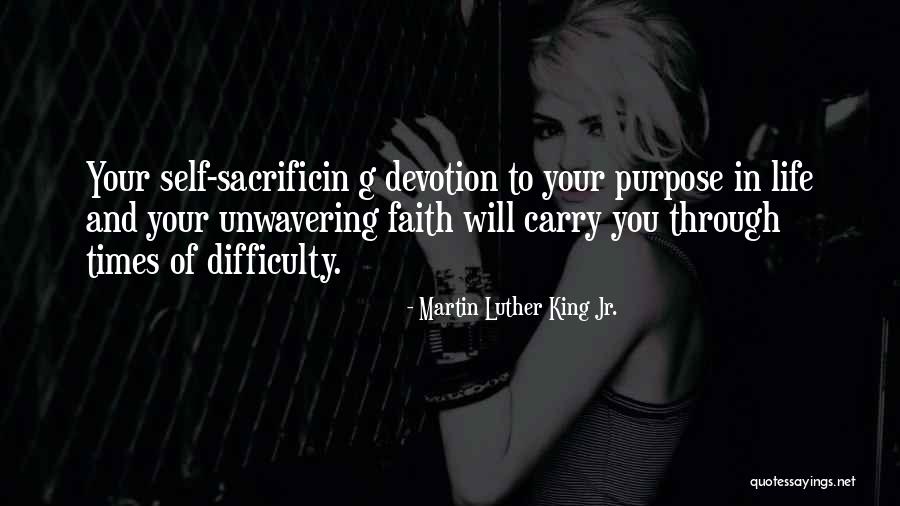 Your self-sacrificin g devotion to your purpose in life and your unwavering faith will carry you through times of difficulty. — Martin Luther King Jr.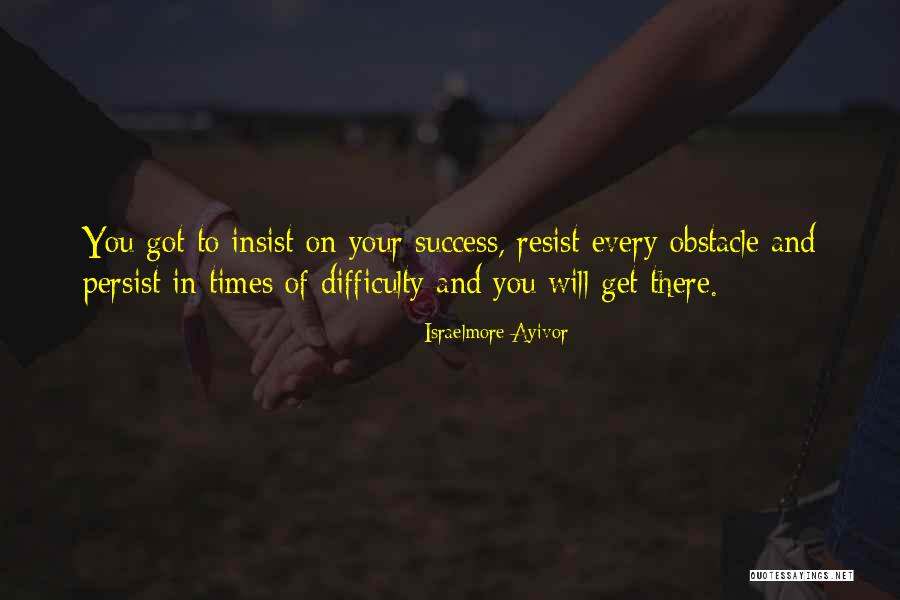 You got to insist on your success, resist every obstacle and persist in times of difficulty and you will get there. — Israelmore Ayivor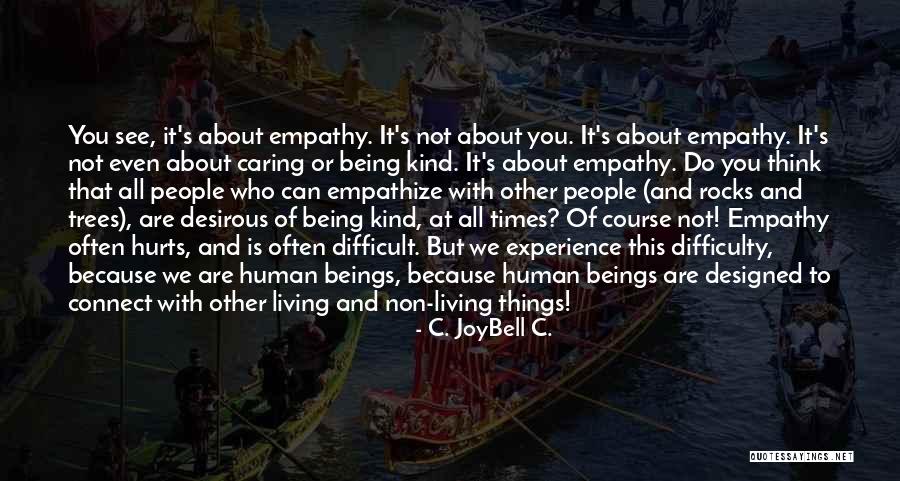 You see, it's about empathy. It's not about you. It's about empathy. It's not even about caring or being kind. It's about empathy. Do you think that all people who can empathize with other people (and rocks and trees), are desirous of being kind, at all times? Of course not! Empathy often hurts, and is often difficult. But we experience this difficulty, because we are human beings, because human beings are designed to connect with other living and non-living things! — C. JoyBell C.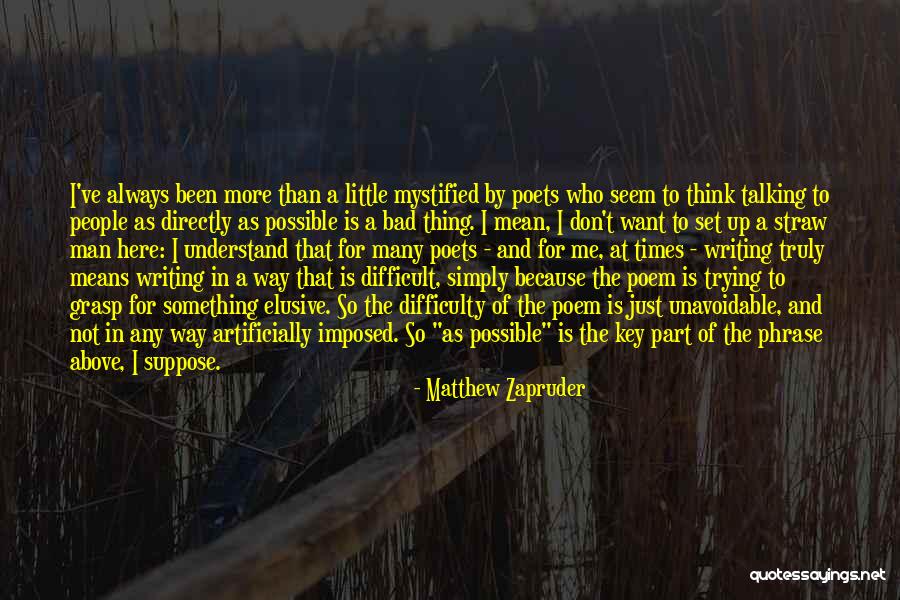 I've always been more than a little mystified by poets who seem to think talking to people as directly as possible is a bad thing. I mean, I don't want to set up a straw man here: I understand that for many poets - and for me, at times - writing truly means writing in a way that is difficult, simply because the poem is trying to grasp for something elusive. So the difficulty of the poem is just unavoidable, and not in any way artificially imposed. So "as possible" is the key part of the phrase above, I suppose. — Matthew Zapruder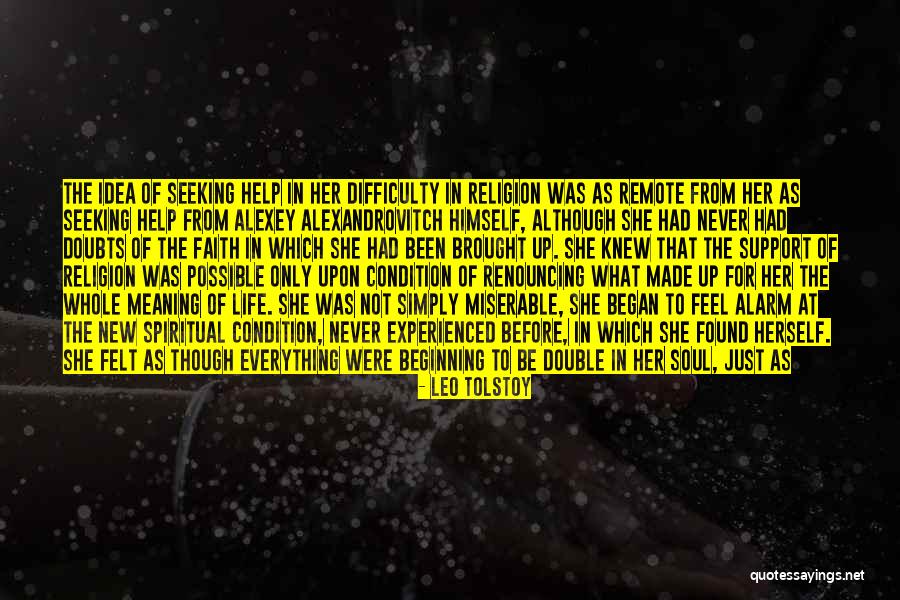 The idea of seeking help in her difficulty in religion was as remote from her as seeking help from Alexey Alexandrovitch himself, although she had never had doubts of the faith in which she had been brought up. She knew that the support of religion was possible only upon condition of renouncing what made up for her the whole meaning of life. She was not simply miserable, she began to feel alarm at the new spiritual condition, never experienced before, in which she found herself. She felt as though everything were beginning to be double in her soul, just as objects sometimes appear double to over-tired eyes. She hardly knew that times what it was she feared, and what she hoped for. Whether she feared or desired what had happened, or what was going to happen and exactly what she longed for, she could not have said. — Leo Tolstoy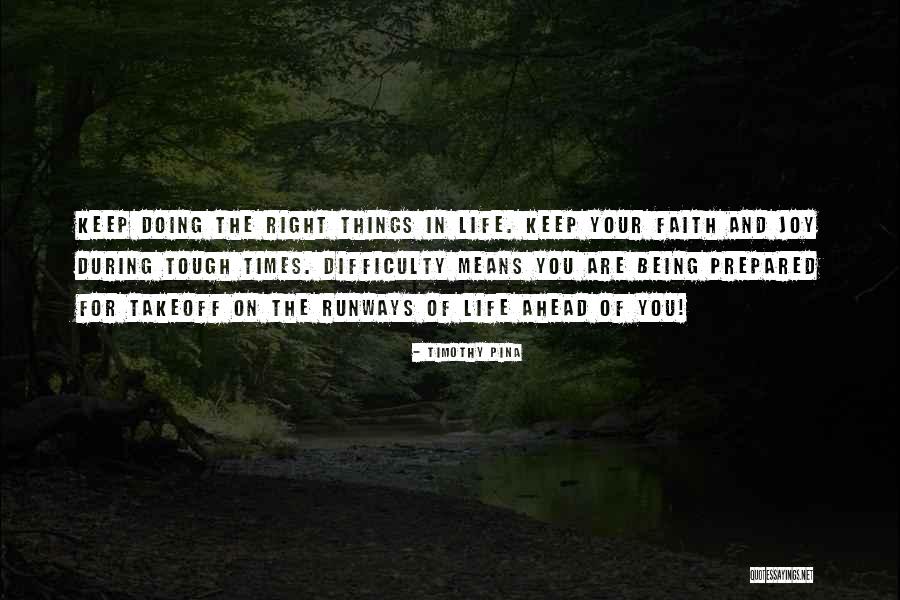 Keep doing the right things in life. Keep your faith and joy during tough times. Difficulty means you are being prepared for takeoff on the runways of life ahead of you! — Timothy Pina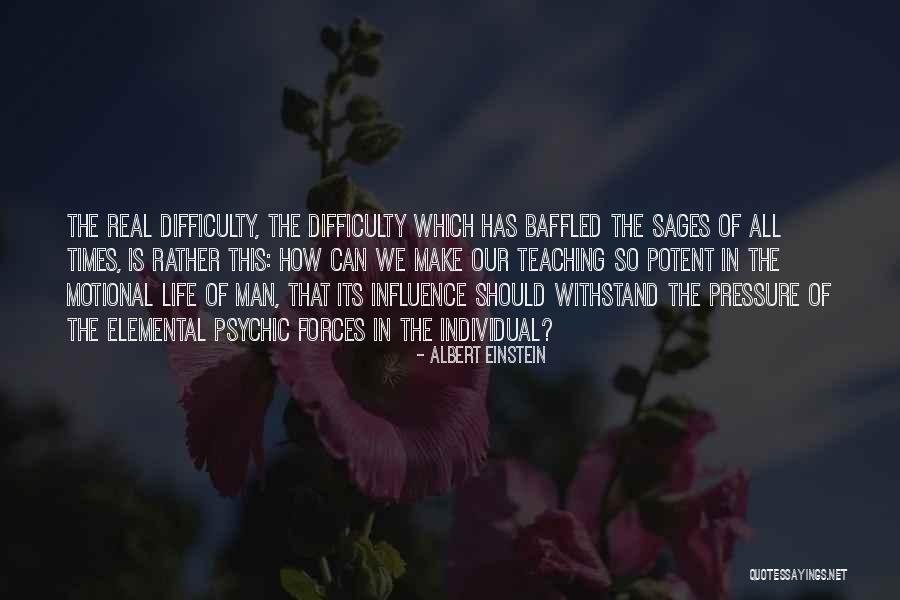 The real difficulty, the difficulty which has baffled the sages of all times, is rather this: how can we make our teaching so potent in the motional life of man, that its influence should withstand the pressure of the elemental psychic forces in the individual? — Albert Einstein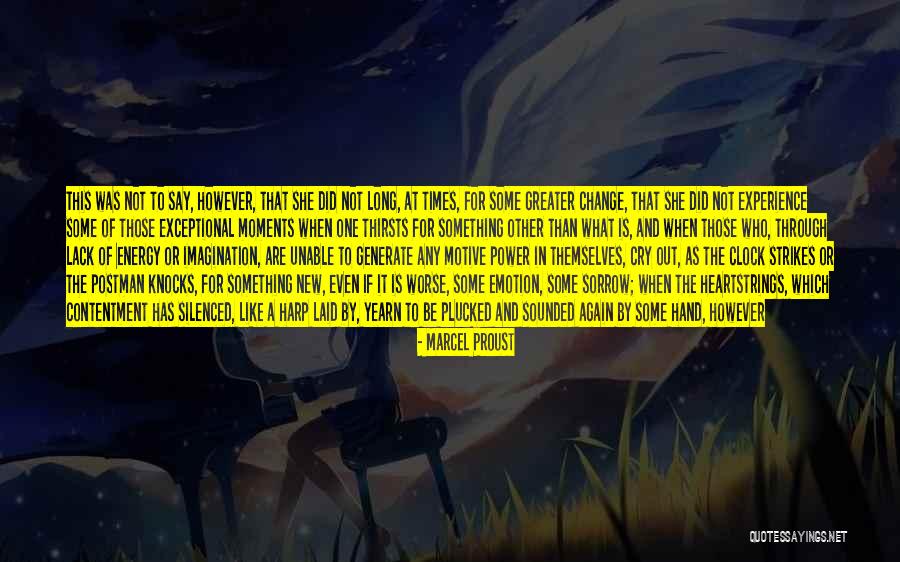 This was not to say, however, that she did not long, at times, for some greater change, that she did not experience some of those exceptional moments when one thirsts for something other than what is, and when those who, through lack of energy or imagination, are unable to generate any motive power in themselves, cry out, as the clock strikes or the postman knocks, for something new, even if it is worse, some emotion, some sorrow; when the heartstrings, which contentment has silenced, like a harp laid by, yearn to be plucked and sounded again by some hand, however rough, even if it should break them; when the will, which has with such difficulty won the right to indulge without let or hindrance in its own desires and woes, would gladly fling the reins into the hands of imperious circumstance, however cruel. — Marcel Proust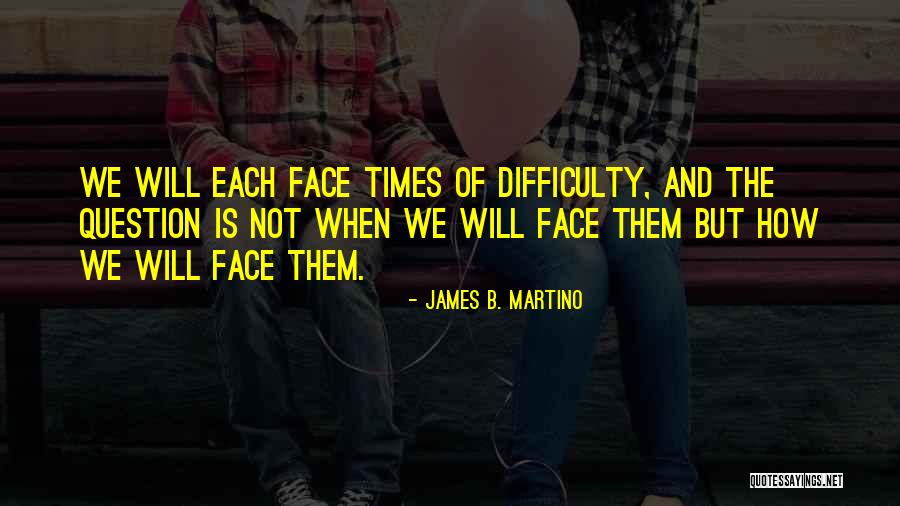 We will each face times of difficulty, and the question is not when we will face them but how we will face them. — James B. Martino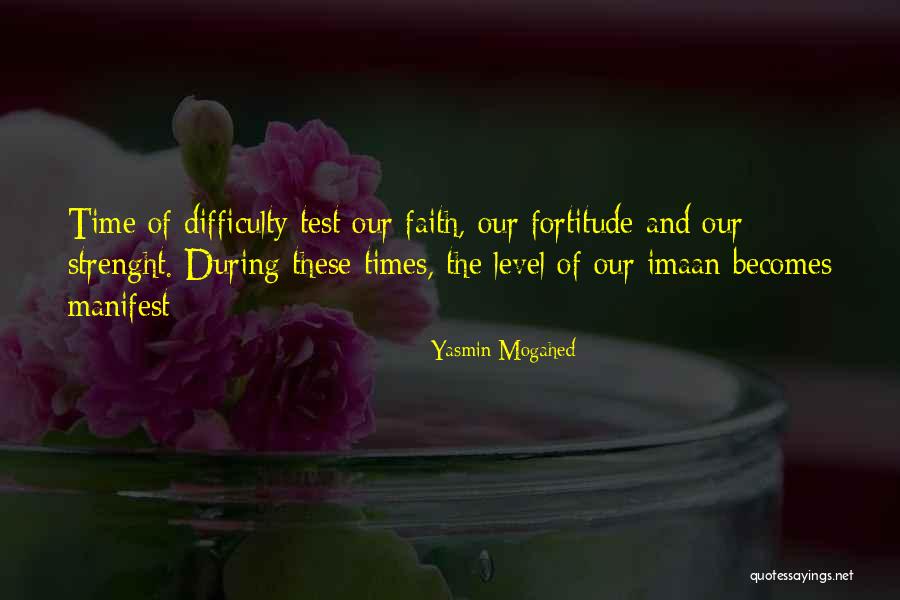 Time of difficulty test our faith, our fortitude and our strenght. During these times, the level of our imaan becomes manifest — Yasmin Mogahed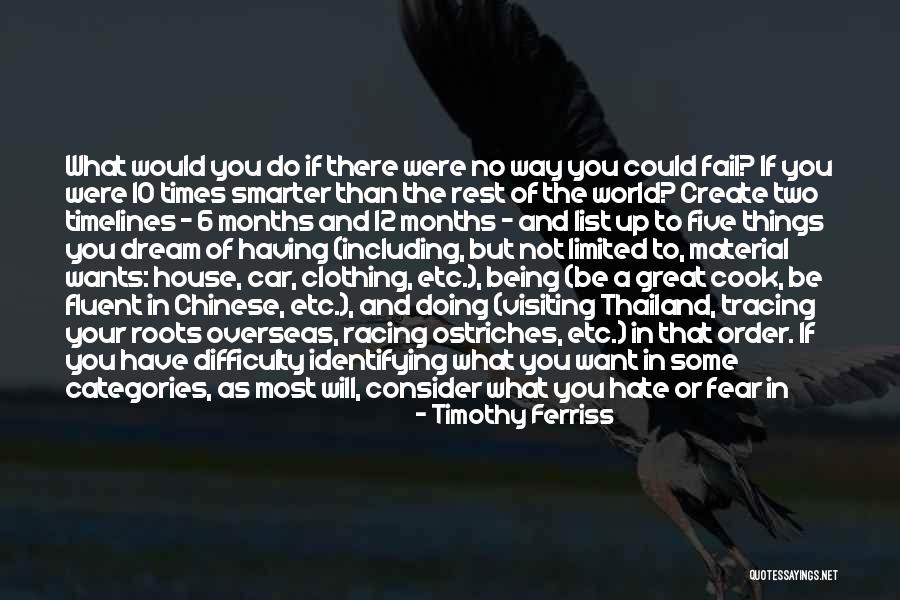 What would you do if there were no way you could fail? If you were 10 times smarter than the rest of the world? Create two timelines - 6 months and 12 months - and list up to five things you dream of having (including, but not limited to, material wants: house, car, clothing, etc.), being (be a great cook, be fluent in Chinese, etc.), and doing (visiting Thailand, tracing your roots overseas, racing ostriches, etc.) in that order. If you have difficulty identifying what you want in some categories, as most will, consider what you hate or fear in each and write down the opposite. Do not limit yourself, and do not concern yourself with how these things will be accomplished. For now, it's unimportant. This is an exercise in reversing repression. Be sure not to judge or fool yourself. If you really want a Ferrari, don't put down solving world hunger out of guilt. — Timothy Ferriss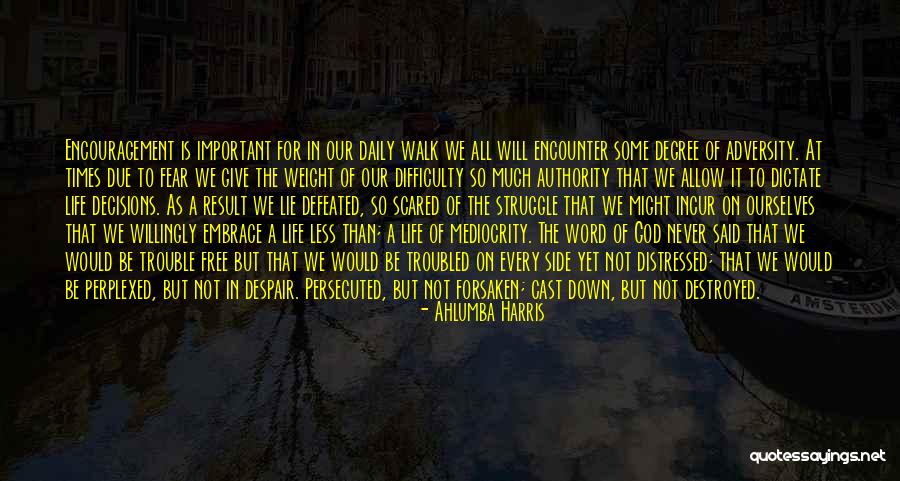 Encouragement is important for in our daily walk we all will encounter some degree of adversity. At times due to fear we give the weight of our difficulty so much authority that we allow it to dictate life decisions. As a result we lie defeated, so scared of the struggle that we might incur on ourselves that we willingly embrace a life less than; a life of mediocrity. The word of God never said that we would be trouble free but that we would be troubled on every side yet not distressed; that we would be perplexed, but not in despair. Persecuted, but not forsaken; cast down, but not destroyed. — Ahlumba Harris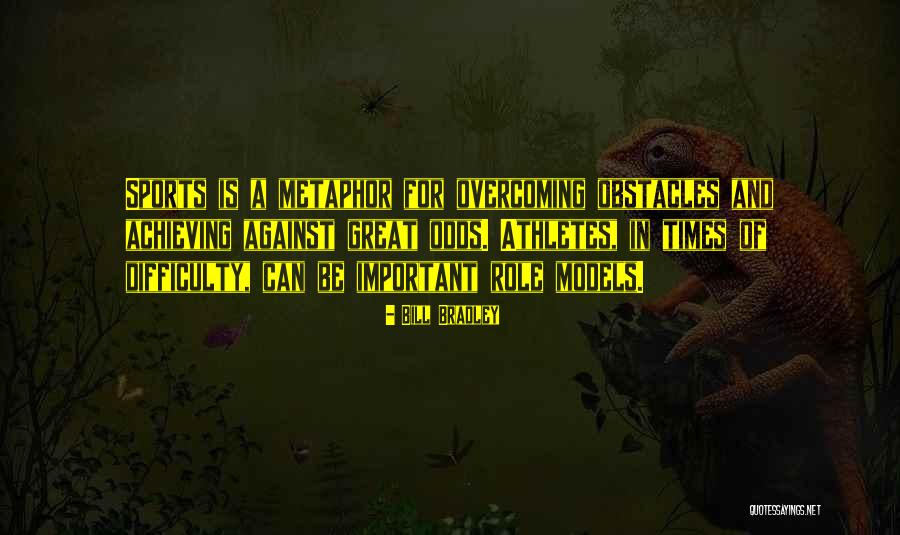 Sports is a metaphor for overcoming obstacles and achieving against great odds. Athletes, in times of difficulty, can be important role models. — Bill Bradley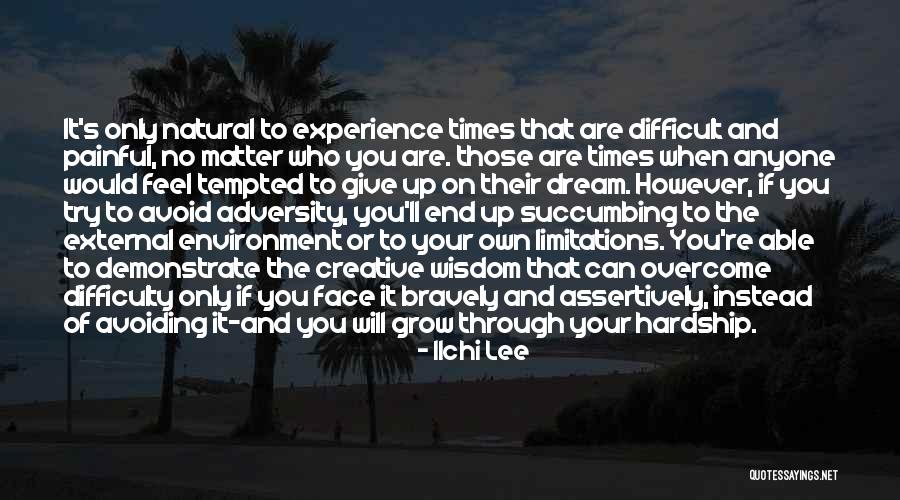 It's only natural to experience times that are difficult and painful, no matter who you are. those are times when anyone would feel tempted to give up on their dream. However, if you try to avoid adversity, you'll end up succumbing to the external environment or to your own limitations. You're able to demonstrate the creative wisdom that can overcome difficulty only if you face it bravely and assertively, instead of avoiding it-and you will grow through your hardship. — Ilchi Lee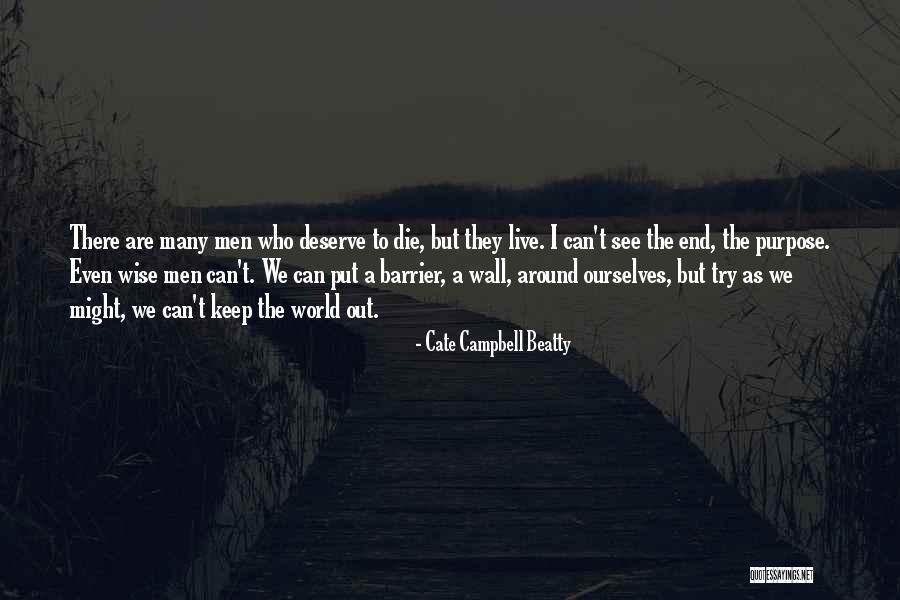 There are many men who deserve to die, but they live. I can't see the end, the purpose. Even wise men can't. We can put a barrier, a wall, around ourselves, but try as we might, we can't keep the world out. — Cate Campbell Beatty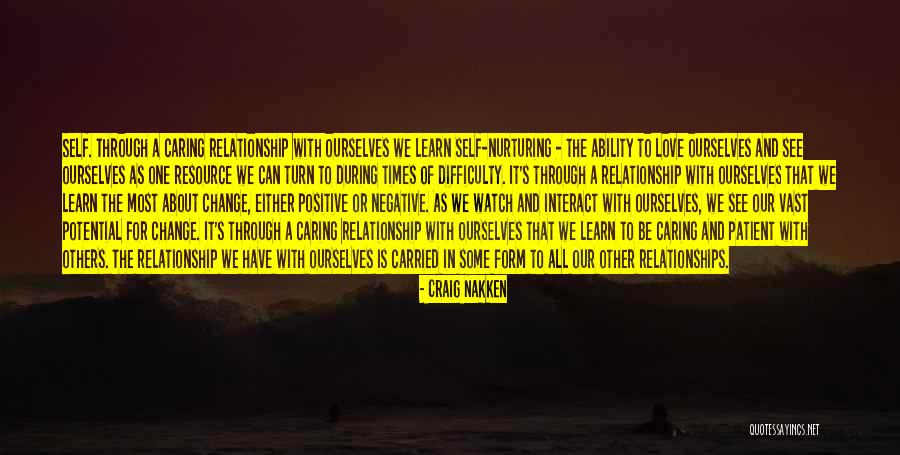 Self. Through a caring relationship with ourselves we learn self-nurturing - the ability to love ourselves and see ourselves as one resource we can turn to during times of difficulty. It's through a relationship with ourselves that we learn the most about change, either positive or negative. As we watch and interact with ourselves, we see our vast potential for change. It's through a caring relationship with ourselves that we learn to be caring and patient with others. The relationship we have with ourselves is carried in some form to all our other relationships. — Craig Nakken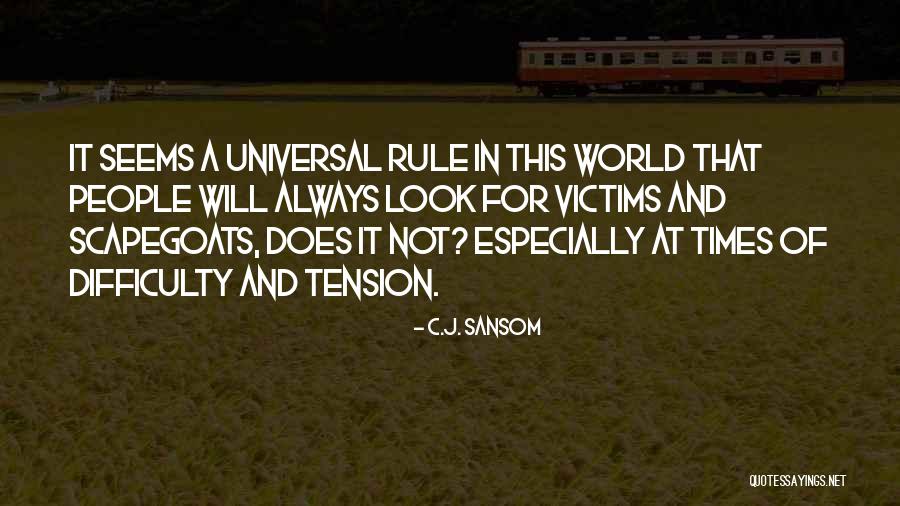 It seems a universal rule in this world that people will always look for victims and scapegoats, does it not? Especially at times of difficulty and tension. — C.J. Sansom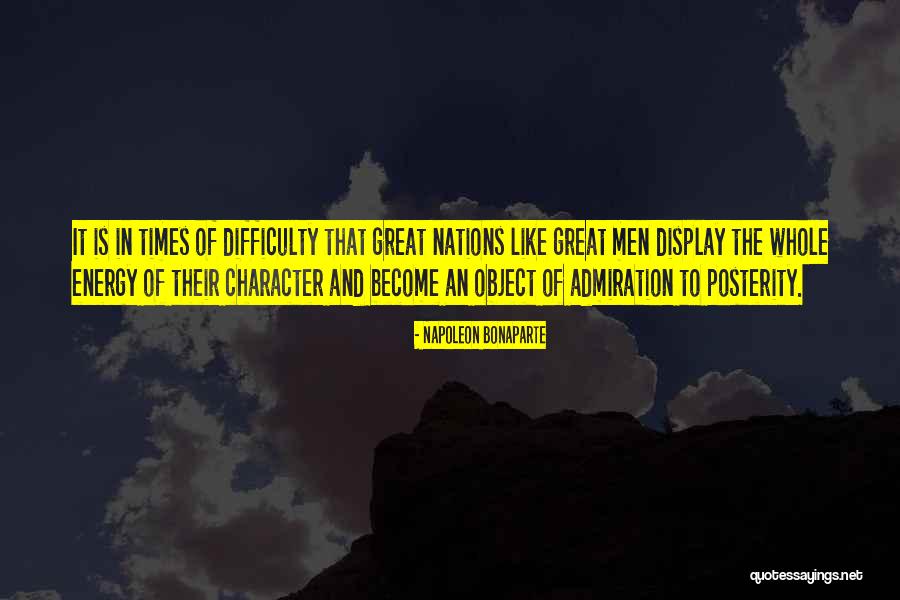 It is in times of difficulty that great nations like great men display the whole energy of their character and become an object of admiration to posterity. — Napoleon Bonaparte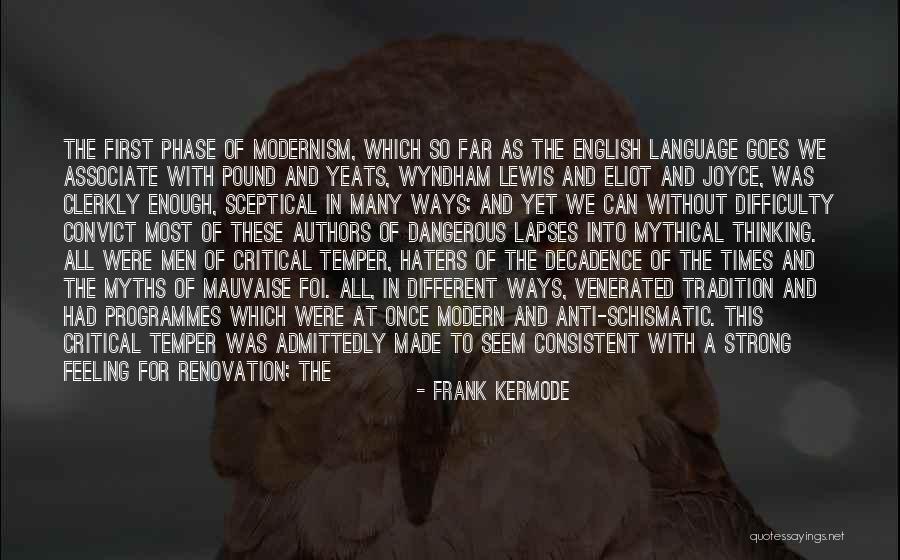 The first phase of modernism, which so far as the English language goes we associate with Pound and Yeats, Wyndham Lewis and Eliot and Joyce, was clerkly enough, sceptical in many ways; and yet we can without difficulty convict most of these authors of dangerous lapses into mythical thinking. All were men of critical temper, haters of the decadence of the times and the myths of mauvaise foi. All, in different ways, venerated tradition and had programmes which were at once modern and anti-schismatic. This critical temper was admittedly made to seem consistent with a strong feeling for renovation; the mood was eschatological, but scepticism and a refined traditionalism held in check what threatened to be a bad case of literary primitivism. It was elsewhere that the myths ran riot. — Frank Kermode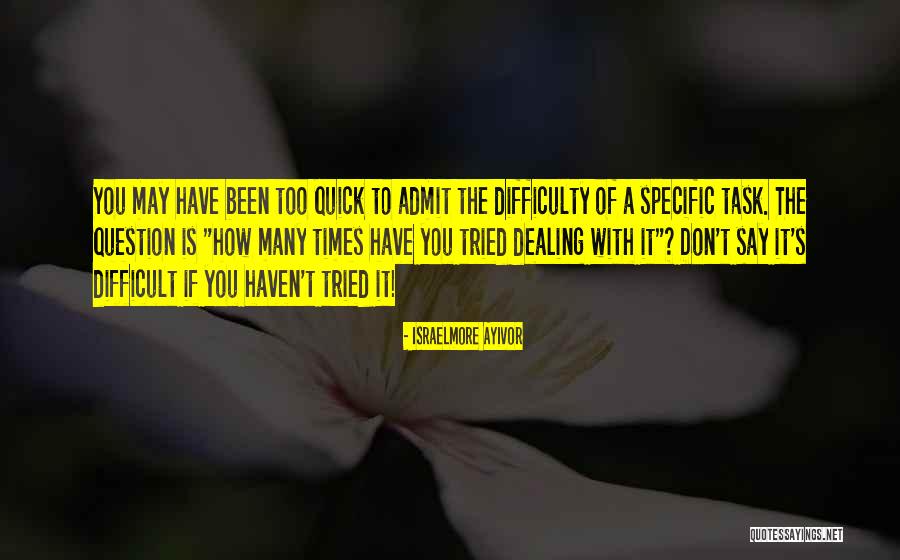 You may have been too quick to admit the difficulty of a specific task. The question is "how many times have you tried dealing with it"? Don't say it's difficult if you haven't tried it! — Israelmore Ayivor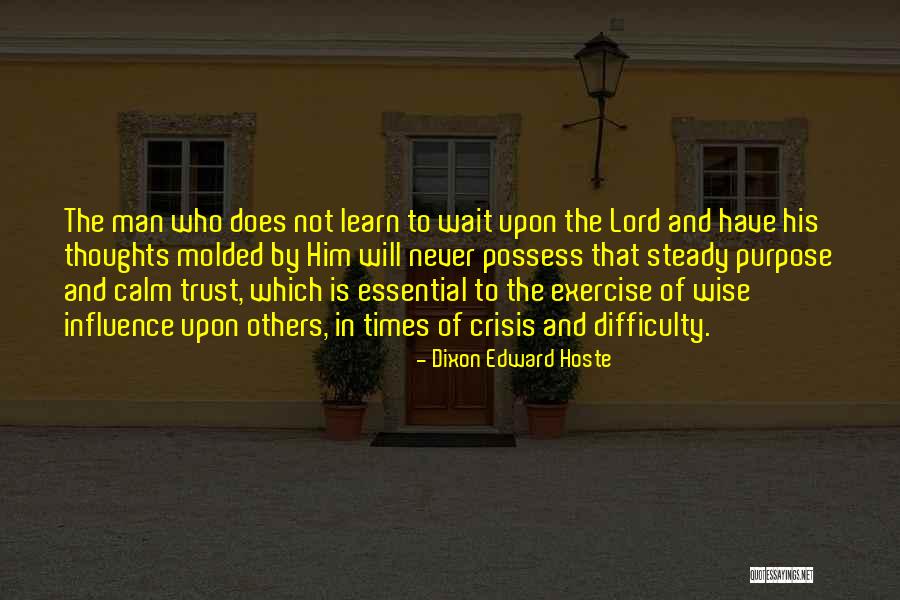 The man who does not learn to wait upon the Lord and have his thoughts molded by Him will never possess that steady purpose and calm trust, which is essential to the exercise of wise influence upon others, in times of crisis and difficulty. — Dixon Edward Hoste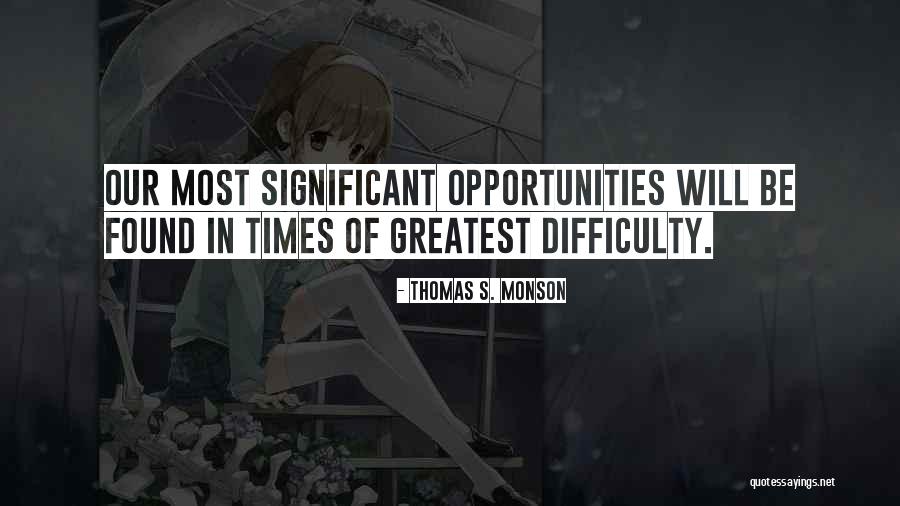 Our most significant opportunities will be found in times of greatest difficulty. — Thomas S. Monson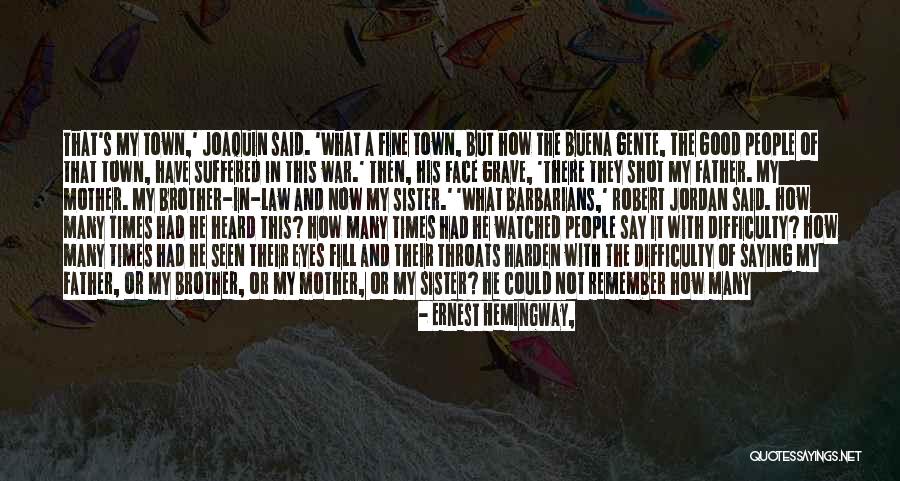 That's my town,' Joaquin said. 'What a fine town, but how the buena gente, the good people of that town, have suffered in this war.' Then, his face grave, 'There they shot my father. My mother. My brother-in-law and now my sister.' 'What barbarians,' Robert Jordan said. How many times had he heard this? How many times had he watched people say it with difficulty? How many times had he seen their eyes fill and their throats harden with the difficulty of saying my father, or my brother, or my mother, or my sister? He could not remember how many times he heard them mention their dead in this way. Nearly always they spoke as this boy did now; suddenly and apropos of the mention of the town and always you said, 'What barbarians. — Ernest Hemingway,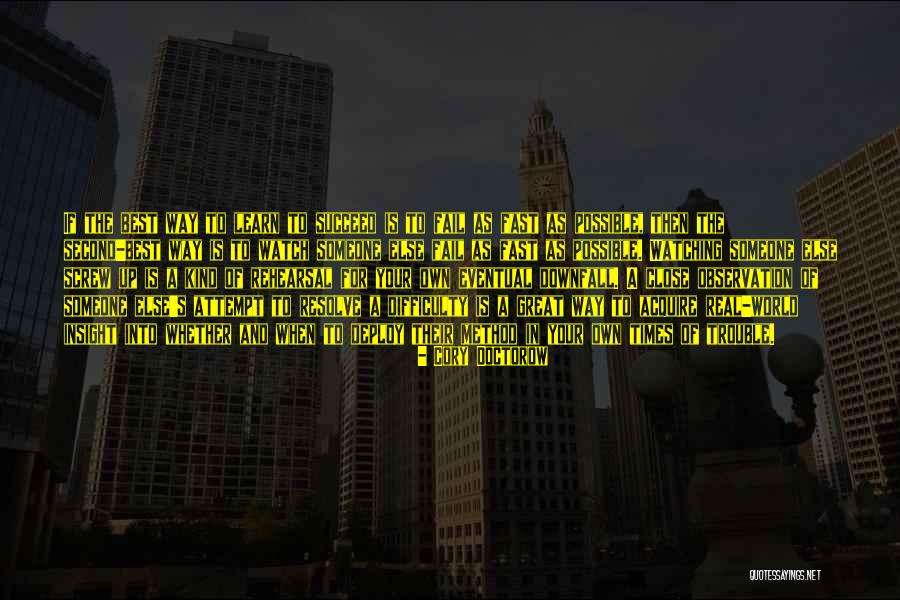 If the best way to learn to succeed is to fail as fast as possible, then the second-best way is to watch someone else fail as fast as possible. Watching someone else screw up is a kind of rehearsal for your own eventual downfall. A close observation of someone else's attempt to resolve a difficulty is a great way to acquire real-world insight into whether and when to deploy their method in your own times of trouble. — Cory Doctorow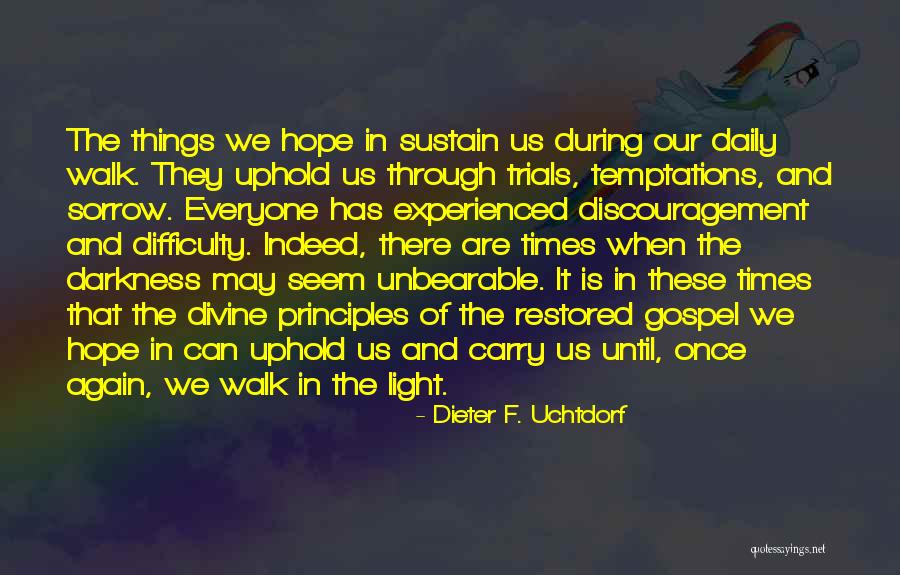 The things we hope in sustain us during our daily walk. They uphold us through trials, temptations, and sorrow. Everyone has experienced discouragement and difficulty. Indeed, there are times when the darkness may seem unbearable. It is in these times that the divine principles of the restored gospel we hope in can uphold us and carry us until, once again, we walk in the light. — Dieter F. Uchtdorf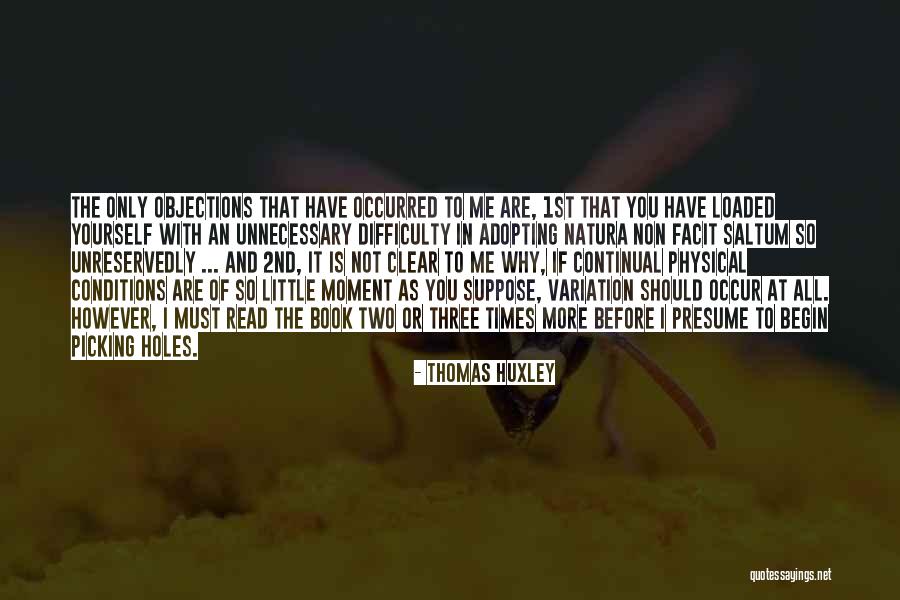 The only objections that have occurred to me are, 1st that you have loaded yourself with an unnecessary difficulty in adopting Natura non facit saltum so unreservedly ... And 2nd, it is not clear to me why, if continual physical conditions are of so little moment as you suppose, variation should occur at all. However, I must read the book two or three times more before I presume to begin picking holes. — Thomas Huxley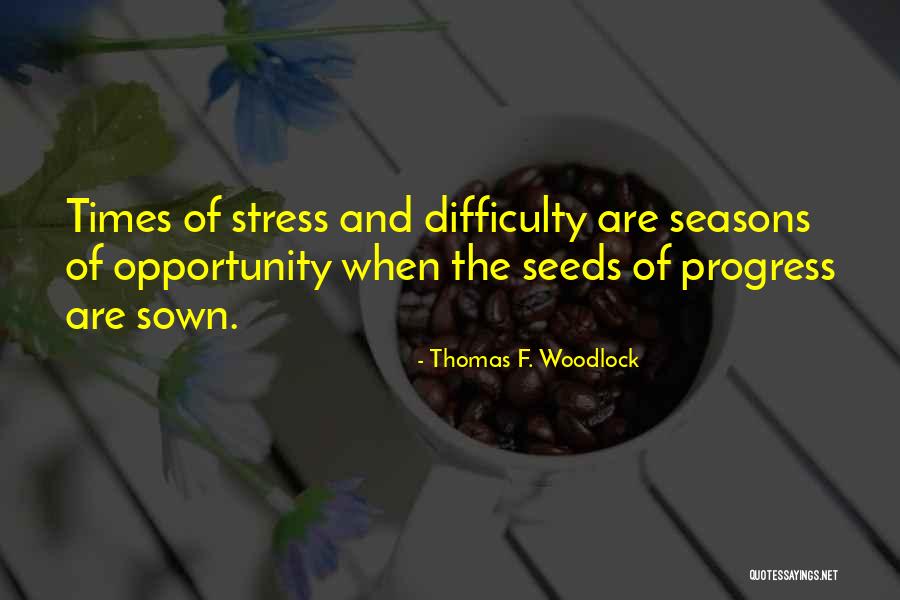 Times of stress and difficulty are seasons of opportunity when the seeds of progress are sown. — Thomas F. Woodlock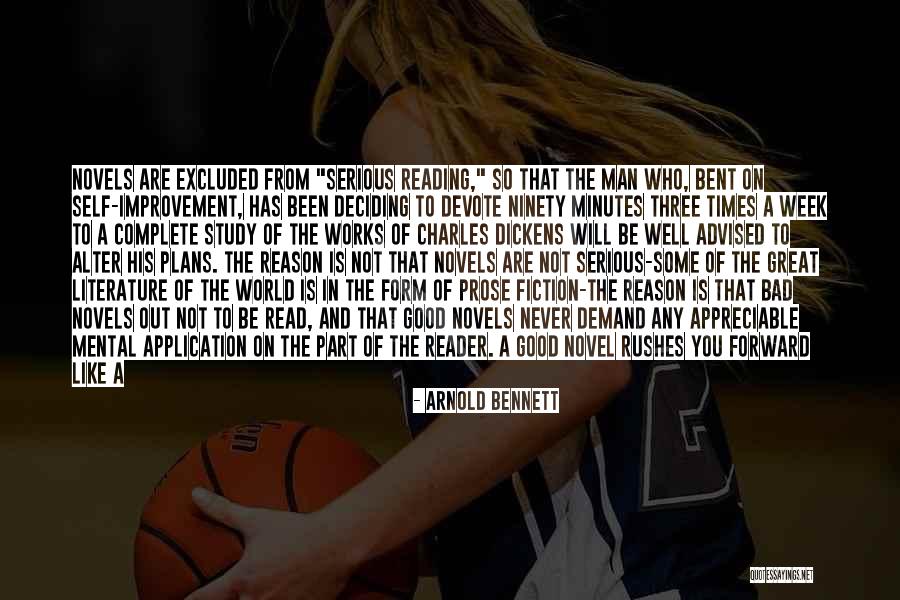 Novels are excluded from "serious reading," so that the man who, bent on self-improvement, has been deciding to devote ninety minutes three times a week to a complete study of the works of Charles Dickens will be well advised to alter his plans. The reason is not that novels are not serious-some of the great literature of the world is in the form of prose fiction-the reason is that bad novels out not to be read, and that good novels never demand any appreciable mental application on the part of the reader. A good novel rushes you forward like a skiff down a stream, and you arrive at the end, perhaps breathless, but unexhausted. The best novels involve the least strain. Now in the cultivation of the mind one of the most important factors is precisely the feeling of strain, of difficulty, of a task which one part of you is anxious to achieve and another part of you is anxious to shirk; and that feeling cannot be got in facing a novel. — Arnold Bennett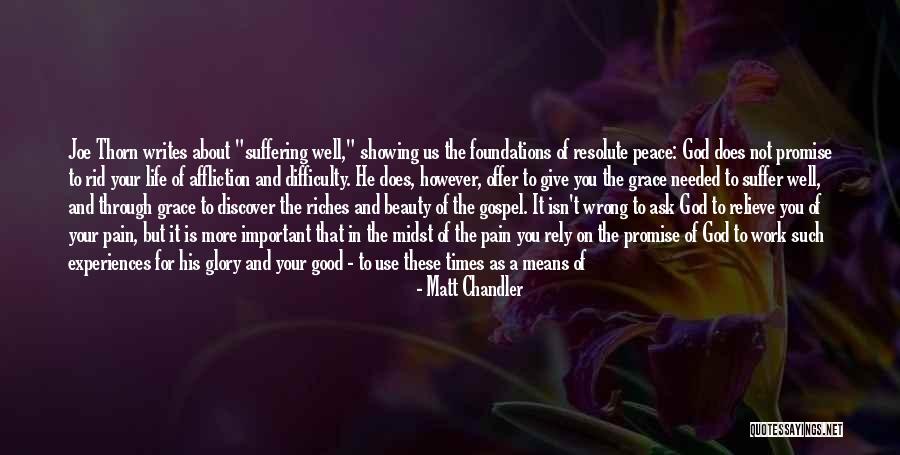 Joe Thorn writes about "suffering well," showing us the foundations of resolute peace: God does not promise to rid your life of affliction and difficulty. He does, however, offer to give you the grace needed to suffer well, and through grace to discover the riches and beauty of the gospel. It isn't wrong to ask God to relieve you of your pain, but it is more important that in the midst of the pain you rely on the promise of God to work such experiences for his glory and your good - to use these times as a means of perfecting your faith, strengthening your spirit, and transforming your life in such a way that you are becoming more like Jesus.1 — Matt Chandler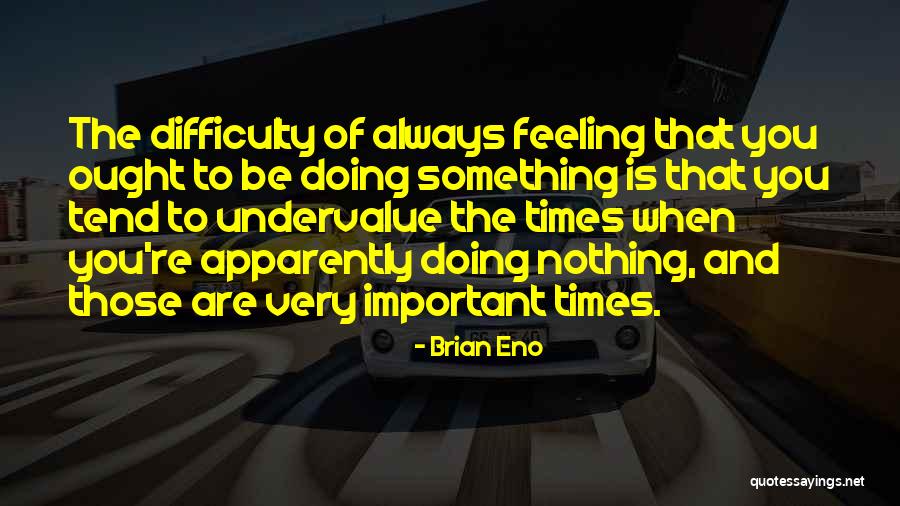 The difficulty of always feeling that you ought to be doing something is that you tend to undervalue the times when you're apparently doing nothing, and those are very important times. — Brian Eno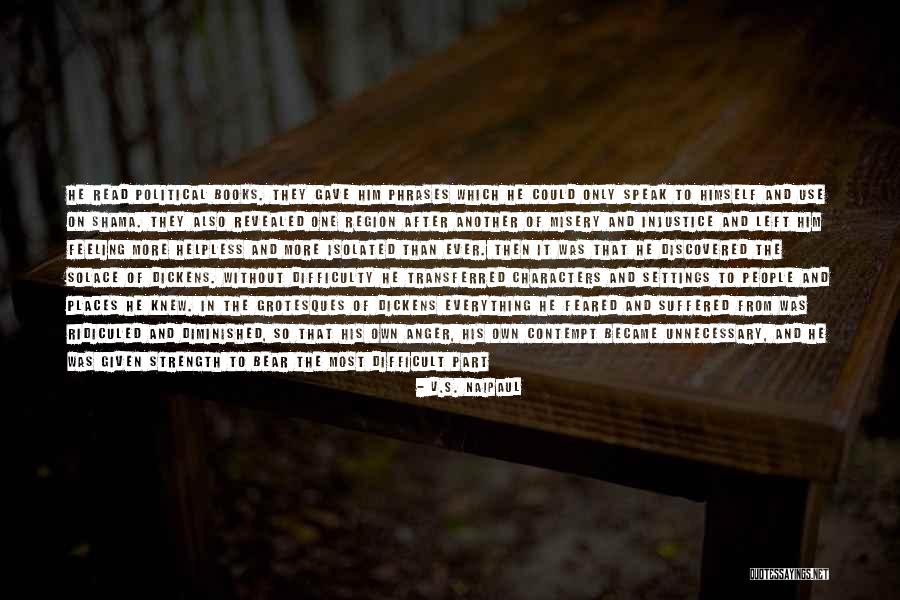 He read political books. They gave him phrases which he could only speak to himself and use on Shama. They also revealed one region after another of misery and injustice and left him feeling more helpless and more isolated than ever. Then it was that he discovered the solace of Dickens. Without difficulty he transferred characters and settings to people and places he knew. In the grotesques of Dickens everything he feared and suffered from was ridiculed and diminished, so that his own anger, his own contempt became unnecessary, and he was given strength to bear the most difficult part of his day: dressing in the morning, that daily affirmation of faith in oneself, which at times for him was almost like an act of sacrifice. — V.S. Naipaul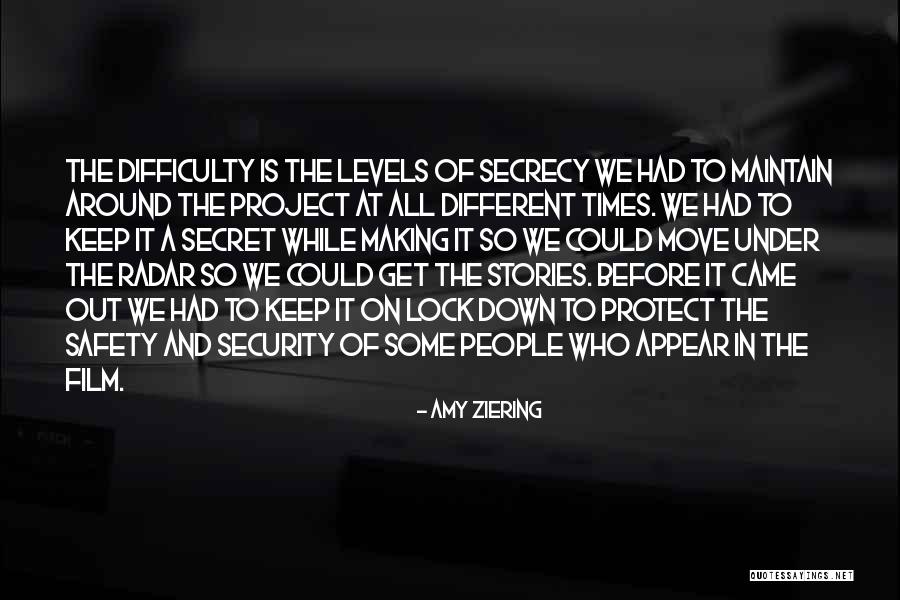 The difficulty is the levels of secrecy we had to maintain around the project at all different times. We had to keep it a secret while making it so we could move under the radar so we could get the stories. Before it came out we had to keep it on lock down to protect the safety and security of some people who appear in the film. — Amy Ziering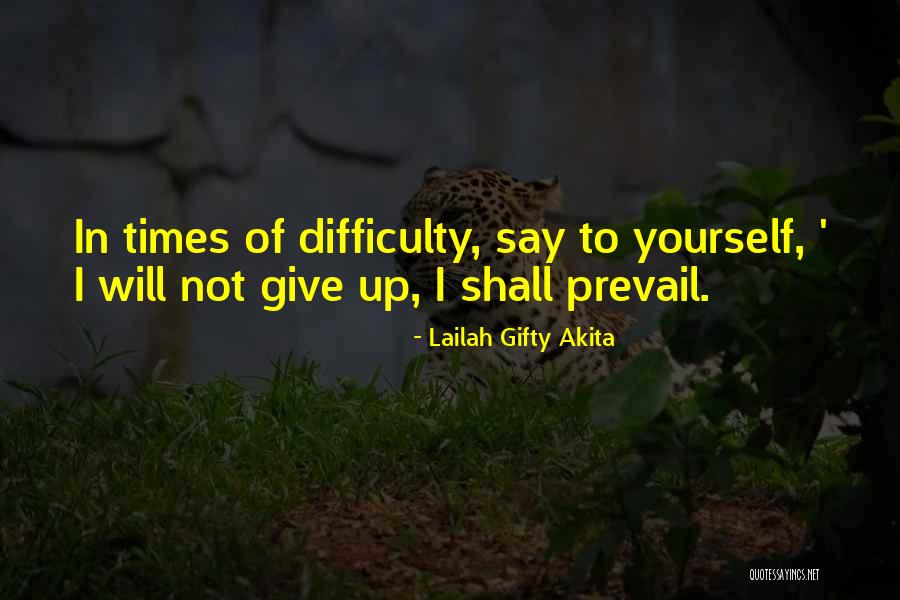 In times of difficulty, say to yourself, ' I will not give up, I shall prevail. — Lailah Gifty Akita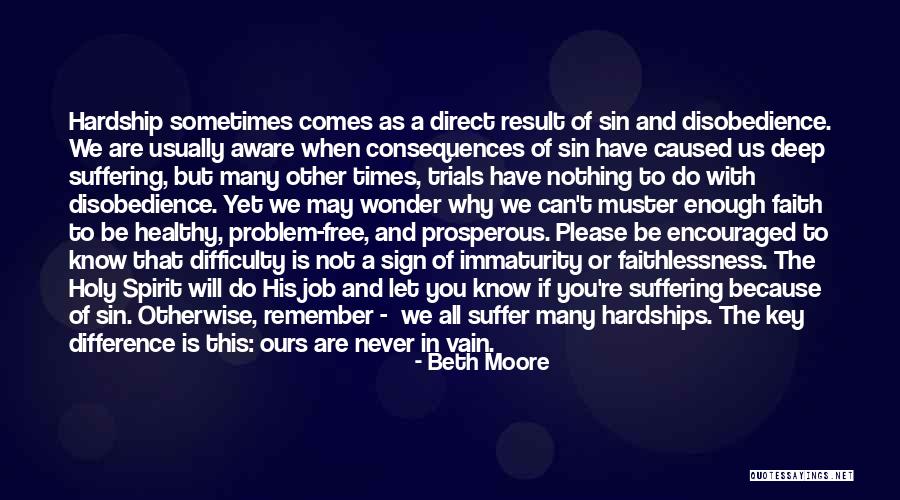 Hardship sometimes comes as a direct result of sin and disobedience. We are usually aware when consequences of sin have caused us deep suffering, but many other times, trials have nothing to do with disobedience. Yet we may wonder why we can't muster enough faith to be healthy, problem-free, and prosperous. Please be encouraged to know that difficulty is not a sign of immaturity or faithlessness. The Holy Spirit will do His job and let you know if you're suffering because of sin. Otherwise, remember - we all suffer many hardships. The key difference is this: ours are never in vain. — Beth Moore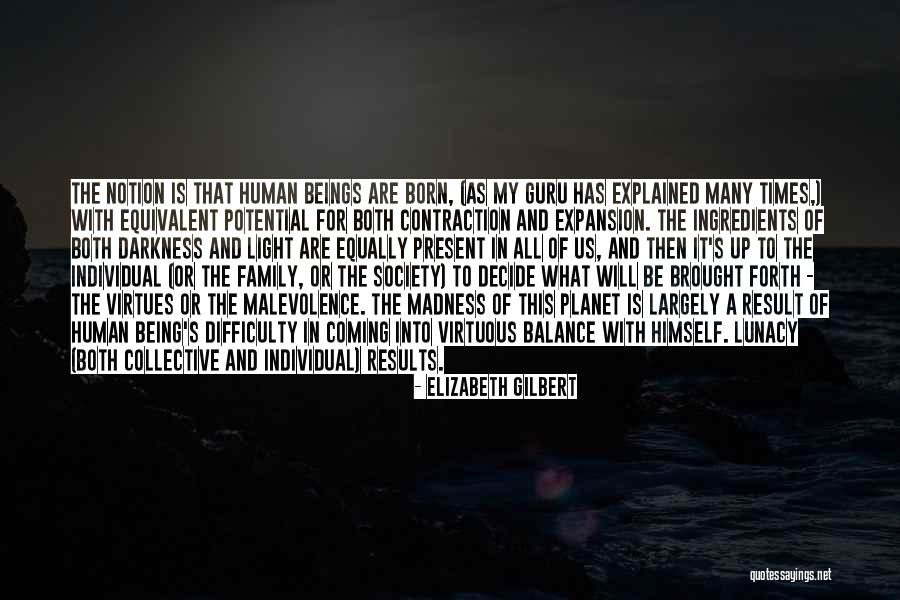 The notion is that human beings are born, (as my Guru has explained many times,) with equivalent potential for both contraction and expansion. The ingredients of both darkness and light are equally present in all of us, and then it's up to the individual (or the family, or the society) to decide what will be brought forth - the virtues or the malevolence. The madness of this planet is largely a result of human being's difficulty in coming into virtuous balance with himself. Lunacy (both collective and individual) results. — Elizabeth Gilbert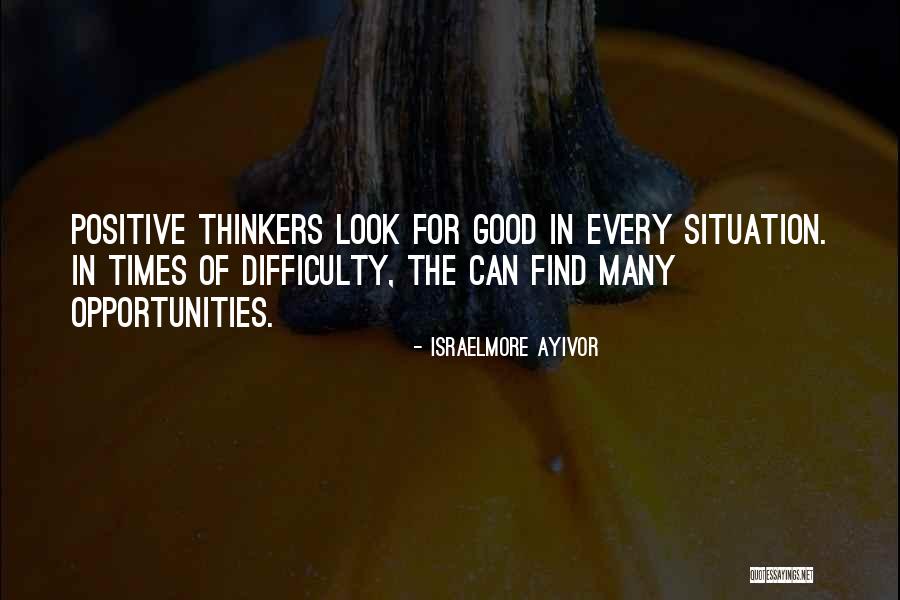 Positive thinkers look for good in every situation. In times of difficulty, the can find many opportunities. — Israelmore Ayivor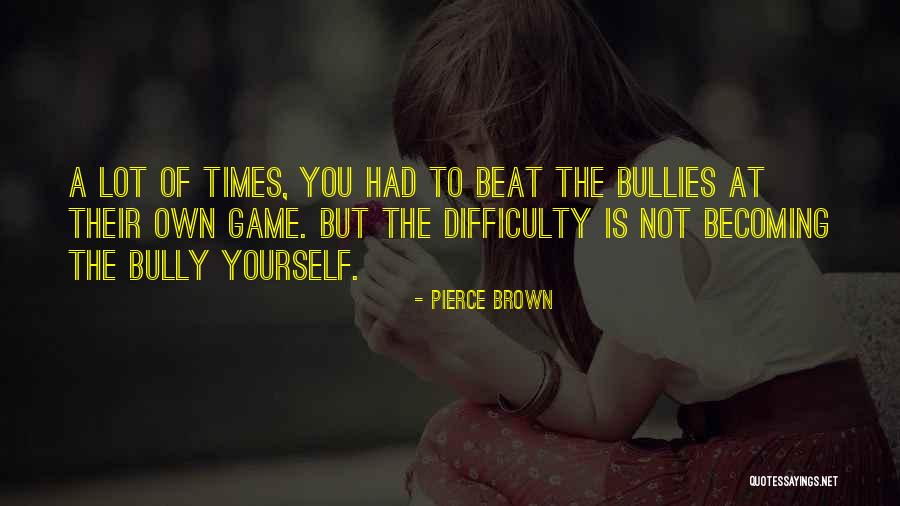 A lot of times, you had to beat the bullies at their own game. But the difficulty is not becoming the bully yourself. — Pierce Brown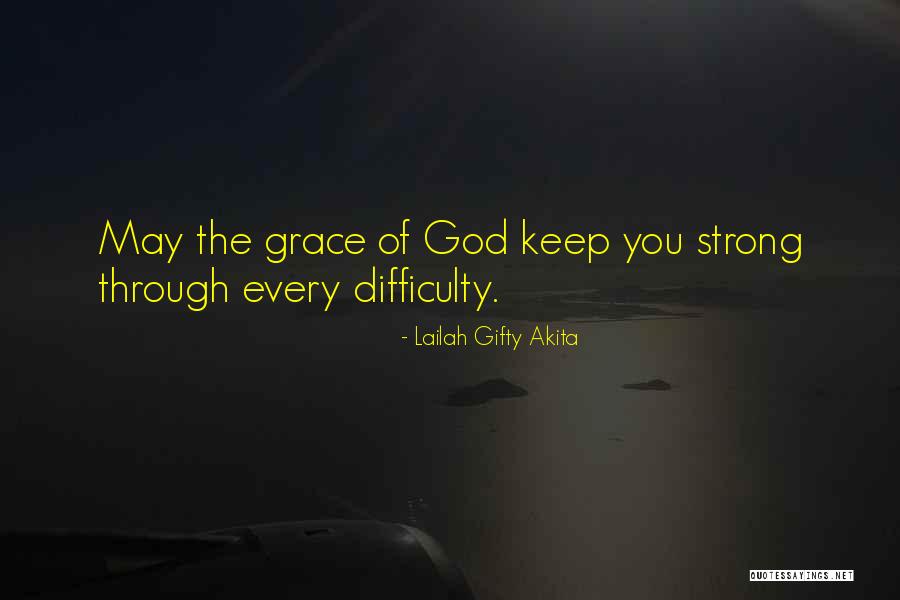 May the grace of God keep you strong through every difficulty. — Lailah Gifty Akita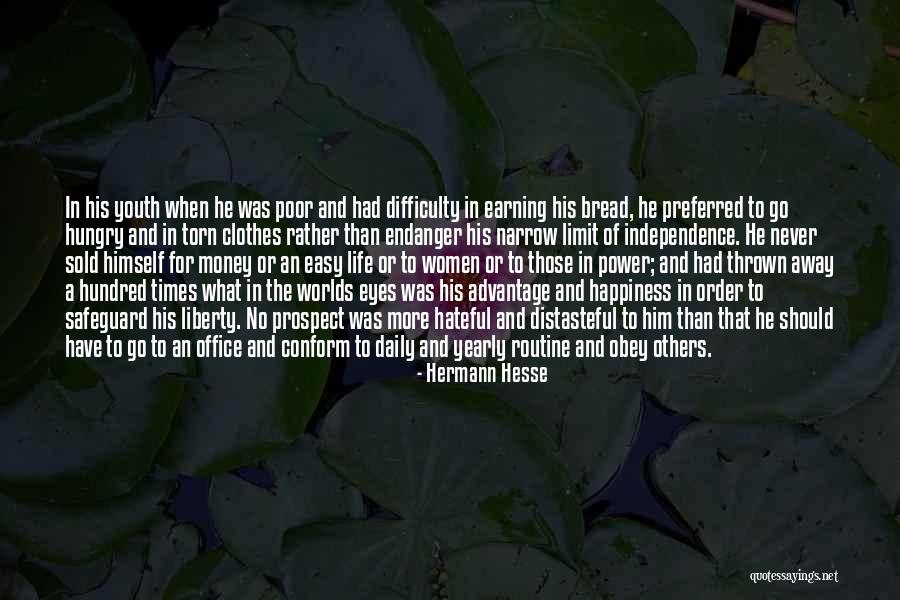 In his youth when he was poor and had difficulty in earning his bread, he preferred to go hungry and in torn clothes rather than endanger his narrow limit of independence. He never sold himself for money or an easy life or to women or to those in power; and had thrown away a hundred times what in the worlds eyes was his advantage and happiness in order to safeguard his liberty. No prospect was more hateful and distasteful to him than that he should have to go to an office and conform to daily and yearly routine and obey others. — Hermann Hesse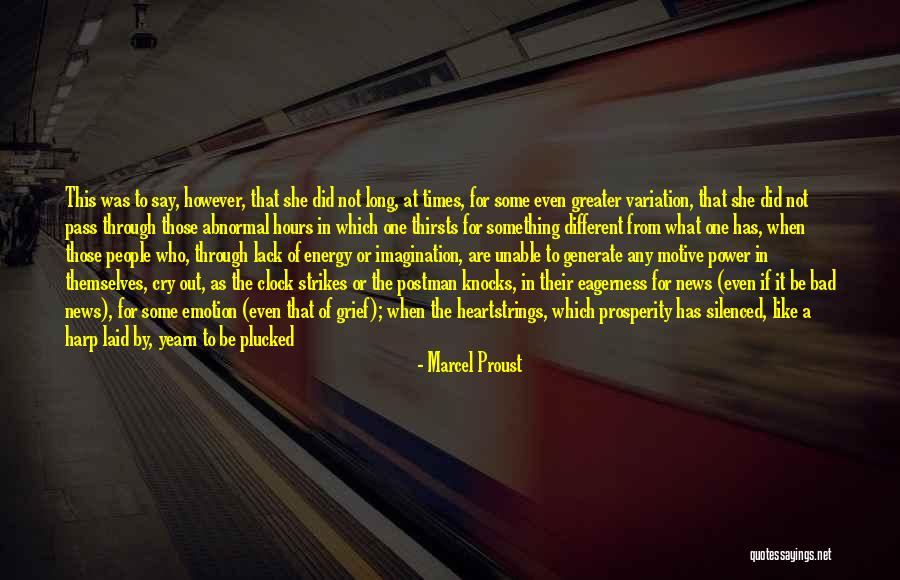 This was to say, however, that she did not long, at times, for some even greater variation, that she did not pass through those abnormal hours in which one thirsts for something different from what one has, when those people who, through lack of energy or imagination, are unable to generate any motive power in themselves, cry out, as the clock strikes or the postman knocks, in their eagerness for news (even if it be bad news), for some emotion (even that of grief); when the heartstrings, which prosperity has silenced, like a harp laid by, yearn to be plucked and sounded again by some hand, even a brutal hand, even if it shall break them; when the will, which has with such difficulty brought itself to subdue to its impulse, to renounce its right to abandon itself to its own uncontrolled desires, and consequent sufferings, would fain cast its guiding reins into the hands of circumstances, coercive and, it may be, cruel. — Marcel Proust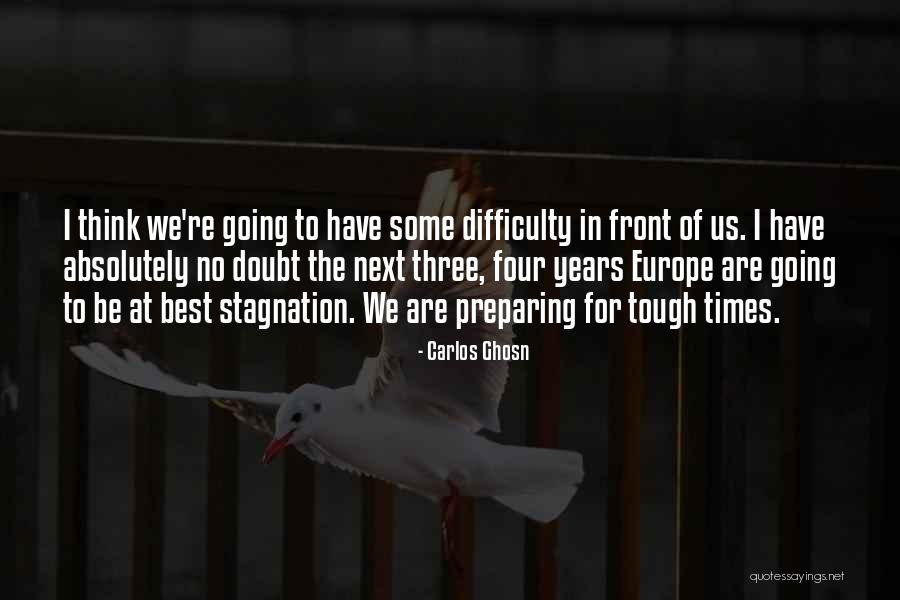 I think we're going to have some difficulty in front of us. I have absolutely no doubt the next three, four years Europe are going to be at best stagnation. We are preparing for tough times. — Carlos Ghosn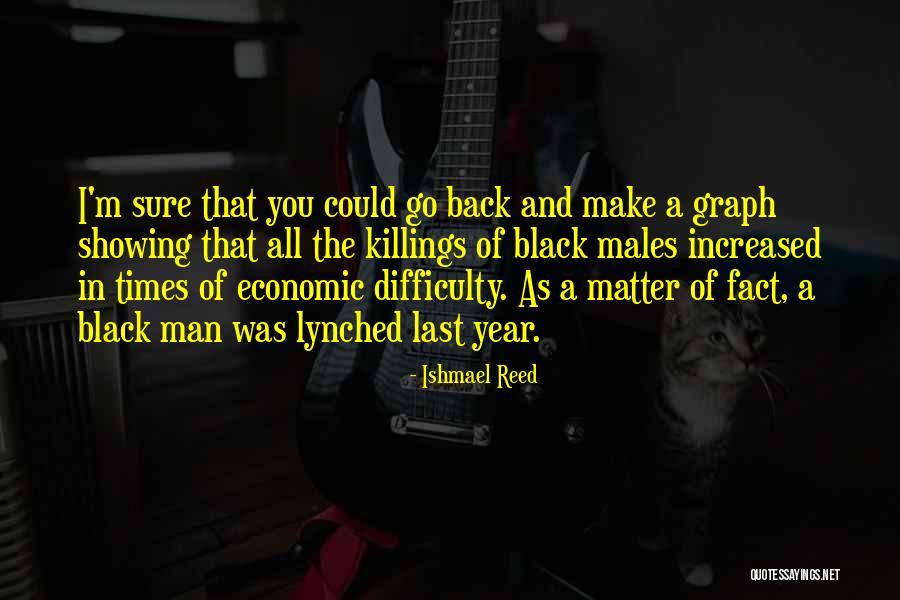 I'm sure that you could go back and make a graph showing that all the killings of black males increased in times of economic difficulty. As a matter of fact, a black man was lynched last year. — Ishmael Reed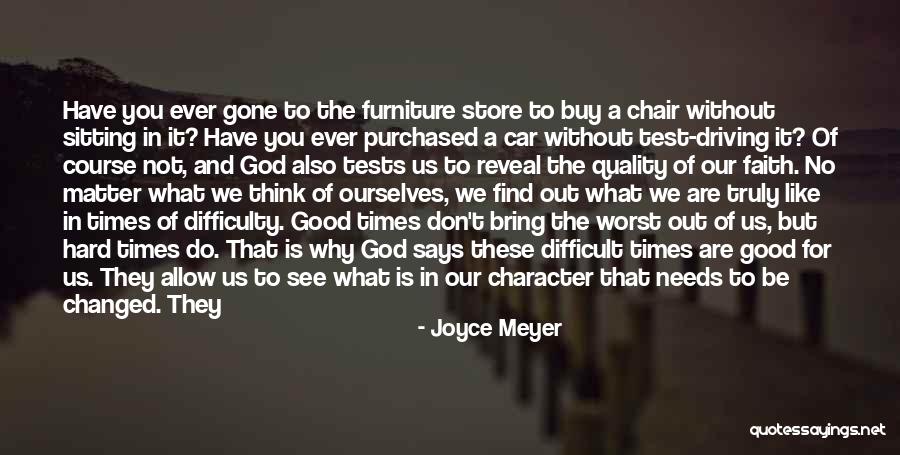 Have you ever gone to the furniture store to buy a chair without sitting in it? Have you ever purchased a car without test-driving it? Of course not, and God also tests us to reveal the quality of our faith. No matter what we think of ourselves, we find out what we are truly like in times of difficulty. Good times don't bring the worst out of us, but hard times do. That is why God says these difficult times are good for us. They allow us to see what is in our character that needs to be changed. They also give us opportunity to use our faith, and faith only grows through our using it. As we choose to learn to trust God instead of getting upset about something, we experience His faithfulness, which, in turn, increases our faith for the next time we need it. The more we use our muscles, the more they grow - and our faith is the same way. — Joyce Meyer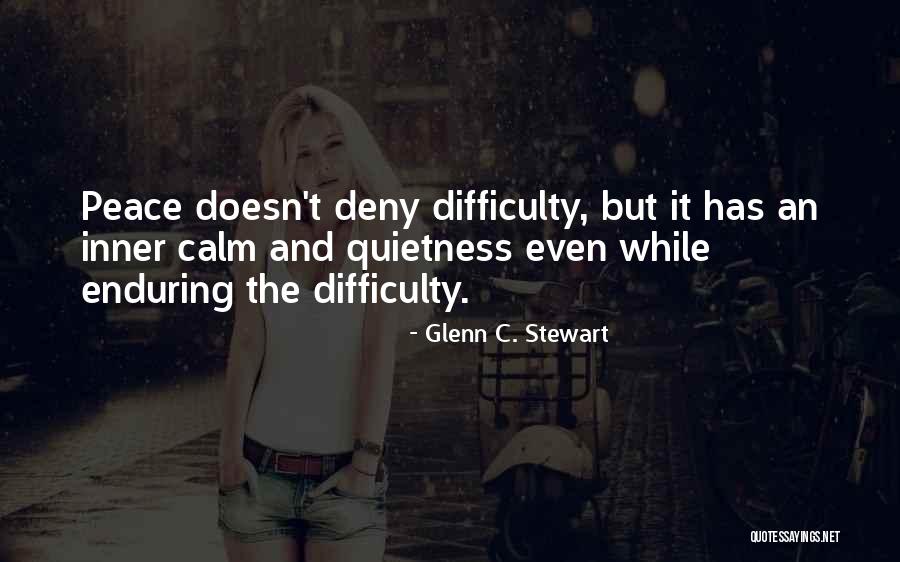 Peace doesn't deny difficulty, but it has an inner calm and quietness even while enduring the difficulty. — Glenn C. Stewart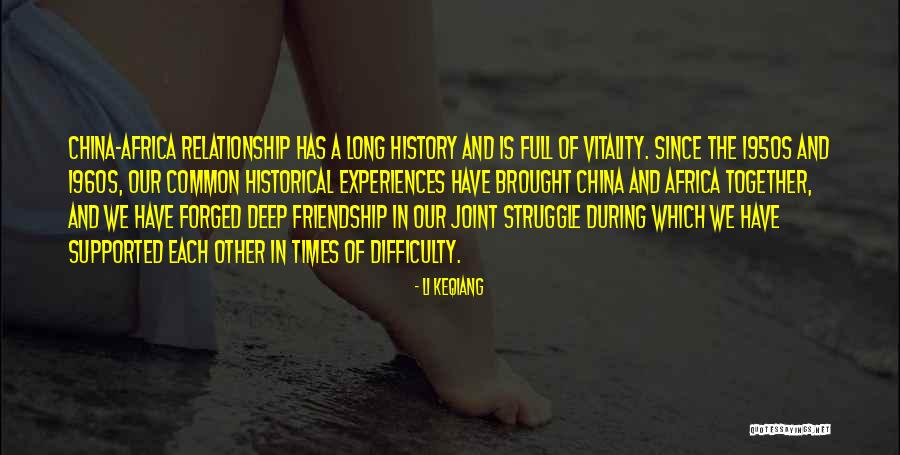 China-Africa relationship has a long history and is full of vitality. Since the 1950s and 1960s, our common historical experiences have brought China and Africa together, and we have forged deep friendship in our joint struggle during which we have supported each other in times of difficulty. — Li Keqiang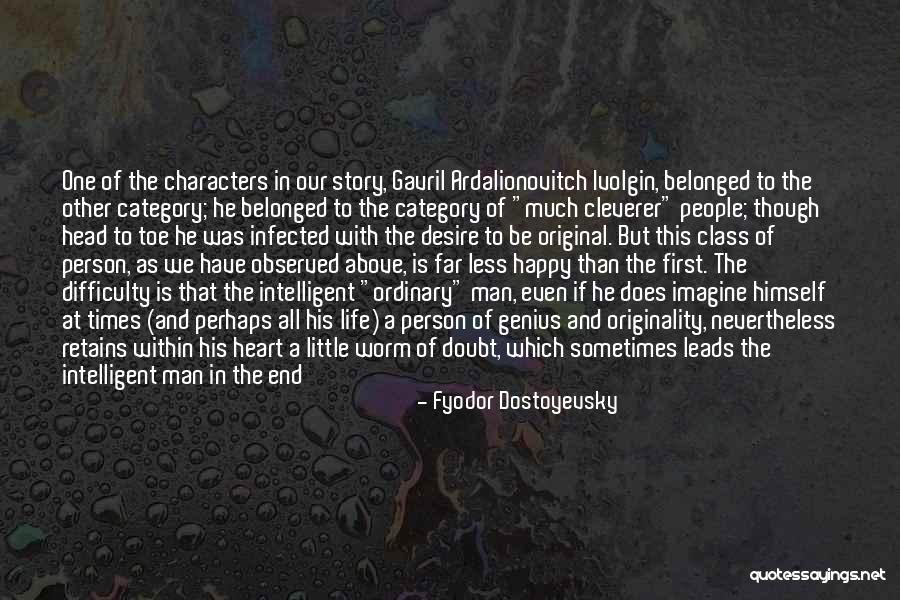 One of the characters in our story, Gavril Ardalionovitch Ivolgin, belonged to the other category; he belonged to the category of "much cleverer" people; though head to toe he was infected with the desire to be original. But this class of person, as we have observed above, is far less happy than the first. The difficulty is that the intelligent "ordinary" man, even if he does imagine himself at times (and perhaps all his life) a person of genius and originality, nevertheless retains within his heart a little worm of doubt, which sometimes leads the intelligent man in the end to absolute despair. If he does yield in this belief, he is still completely poisoned with inward-driven vanity. — Fyodor Dostoyevsky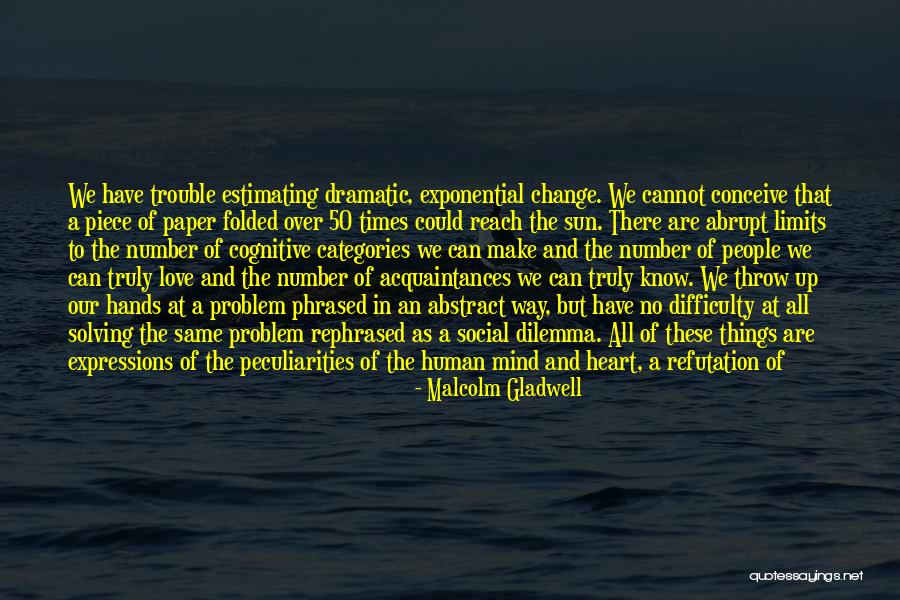 We have trouble estimating dramatic, exponential change. We cannot conceive that a piece of paper folded over 50 times could reach the sun. There are abrupt limits to the number of cognitive categories we can make and the number of people we can truly love and the number of acquaintances we can truly know. We throw up our hands at a problem phrased in an abstract way, but have no difficulty at all solving the same problem rephrased as a social dilemma. All of these things are expressions of the peculiarities of the human mind and heart, a refutation of the notion that the way we function and communicate and process information is straightforward and transparent. It is not. It is messy and opaque. — Malcolm Gladwell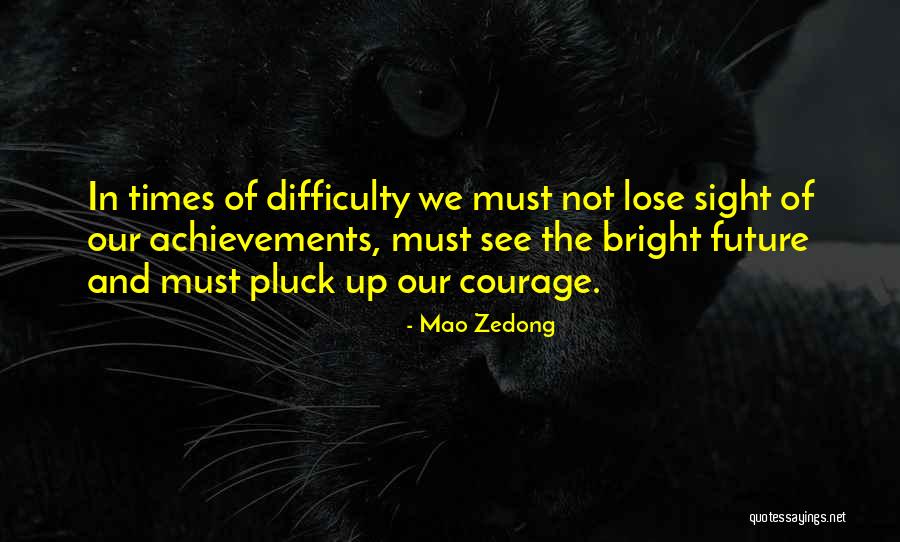 In times of difficulty we must not lose sight of our achievements, must see the bright future and must pluck up our courage. — Mao Zedong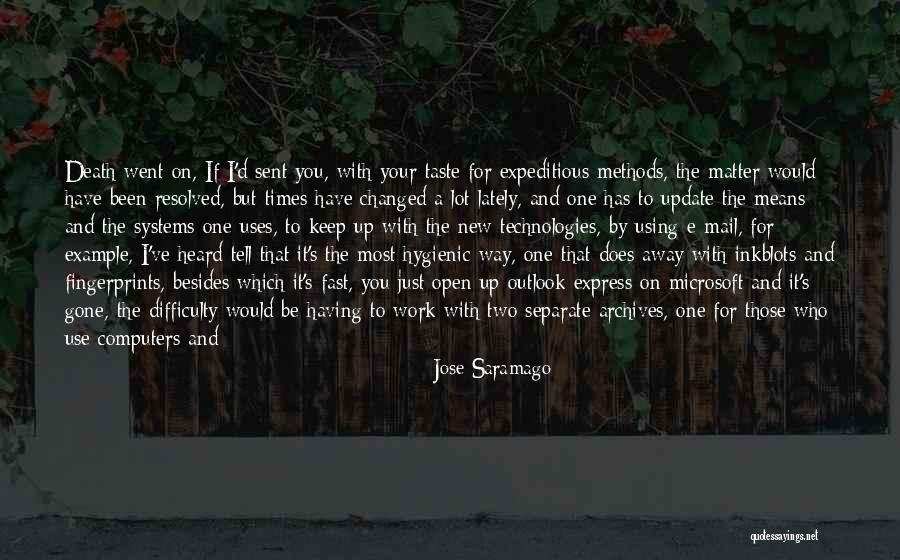 Death went on, If I'd sent you, with your taste for expeditious methods, the matter would have been resolved, but times have changed a lot lately, and one has to update the means and the systems one uses, to keep up with the new technologies, by using e-mail, for example, I've heard tell that it's the most hygienic way, one that does away with inkblots and fingerprints, besides which it's fast, you just open up outlook express on microsoft and it's gone, the difficulty would be having to work with two separate archives, one for those who use computers and another for those who don't, anyway, we've got plenty of time to think about it, they're always coming out with new models and new designs, with new improved technologies, perhaps I'll try it some day, but until then, I'll continue to write with pen, paper and ink, it has the charm of tradition, and tradition counts for a lot when it comes to dying. — Jose Saramago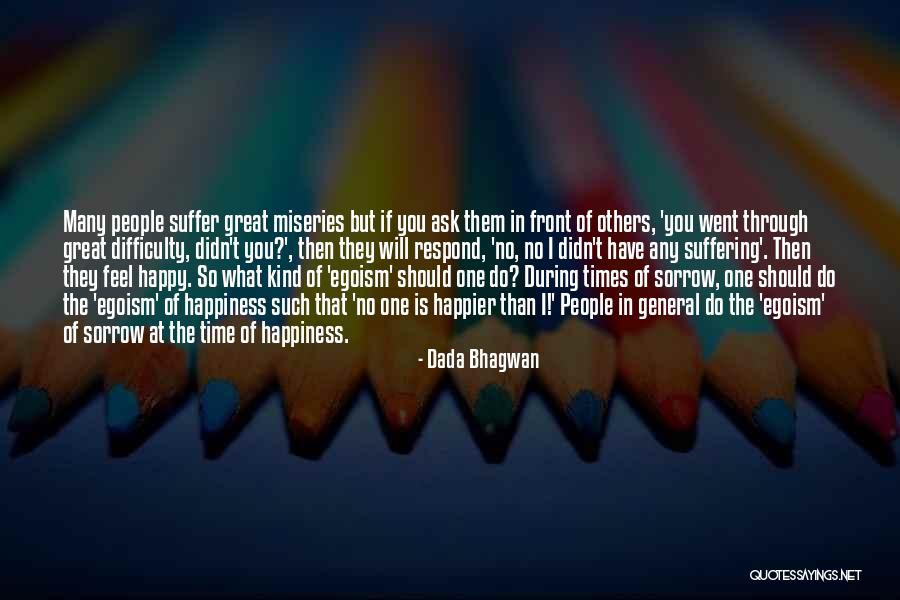 Many people suffer great miseries but if you ask them in front of others, 'you went through great difficulty, didn't you?', then they will respond, 'no, no I didn't have any suffering'. Then they feel happy. So what kind of 'egoism' should one do? During times of sorrow, one should do the 'egoism' of happiness such that 'no one is happier than I!' People in general do the 'egoism' of sorrow at the time of happiness. — Dada Bhagwan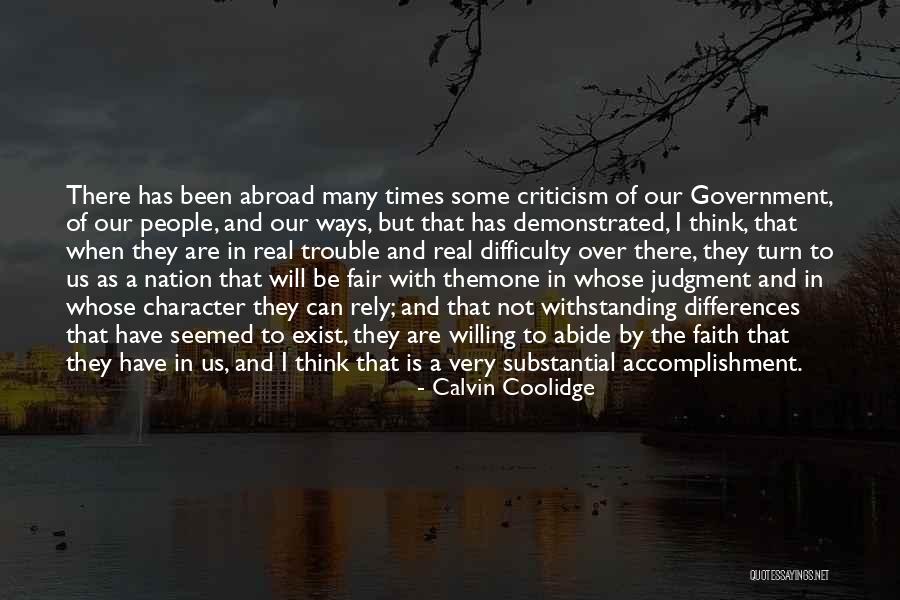 There has been abroad many times some criticism of our Government, of our people, and our ways, but that has demonstrated, I think, that when they are in real trouble and real difficulty over there, they turn to us as a nation that will be fair with them
one in whose judgment and in whose character they can rely; and that not withstanding differences that have seemed to exist, they are willing to abide by the faith that they have in us, and I think that is a very substantial accomplishment. — Calvin Coolidge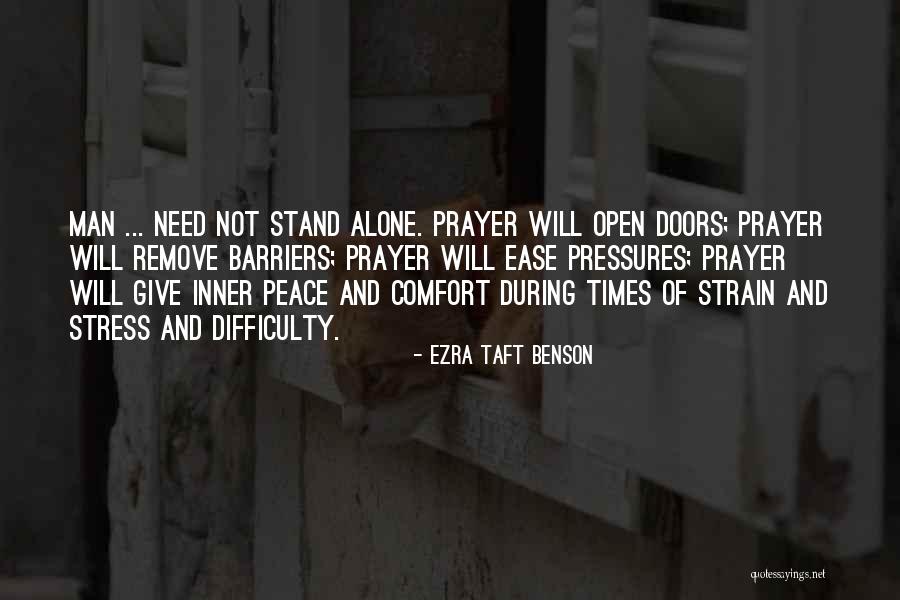 Man ... need not stand alone. Prayer will open doors; prayer will remove barriers; prayer will ease pressures; prayer will give inner peace and comfort during times of strain and stress and difficulty. — Ezra Taft Benson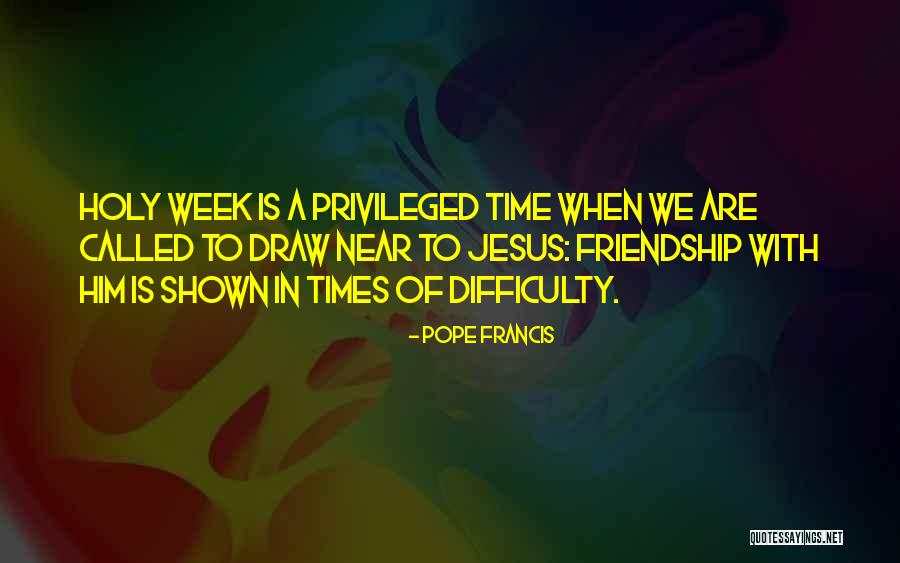 Holy Week is a privileged time when we are called to draw near to Jesus: friendship with him is shown in times of difficulty. — Pope Francis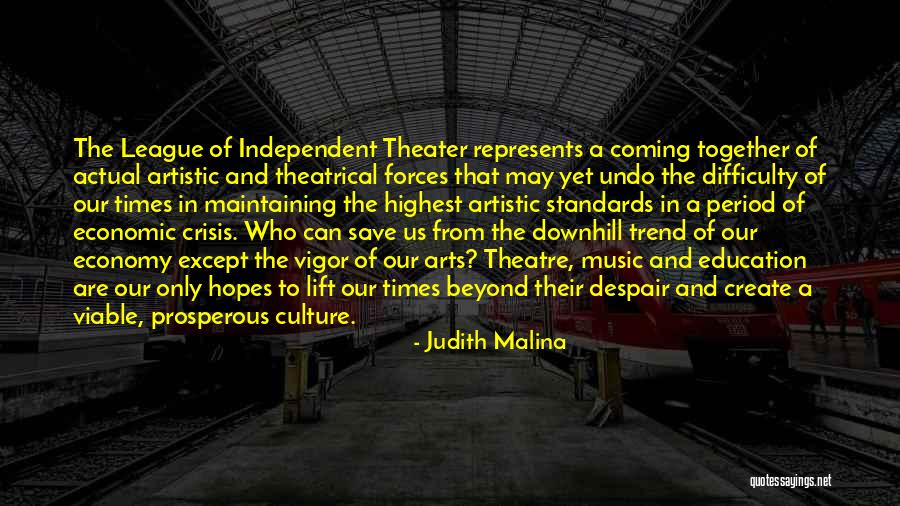 The League of Independent Theater represents a coming together of actual artistic and theatrical forces that may yet undo the difficulty of our times in maintaining the highest artistic standards in a period of economic crisis. Who can save us from the downhill trend of our economy except the vigor of our arts? Theatre, music and education are our only hopes to lift our times beyond their despair and create a viable, prosperous culture. — Judith Malina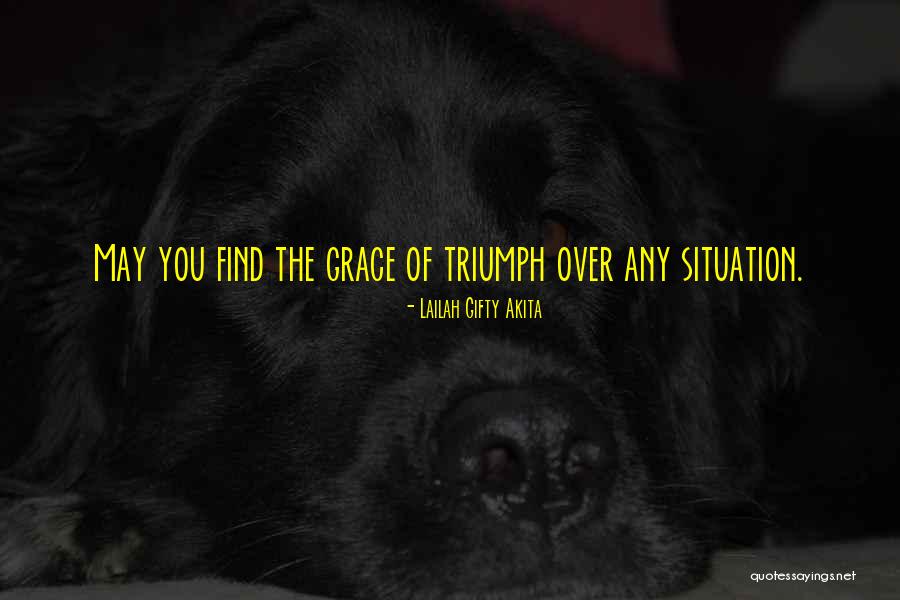 May you find the grace of triumph over any situation. — Lailah Gifty Akita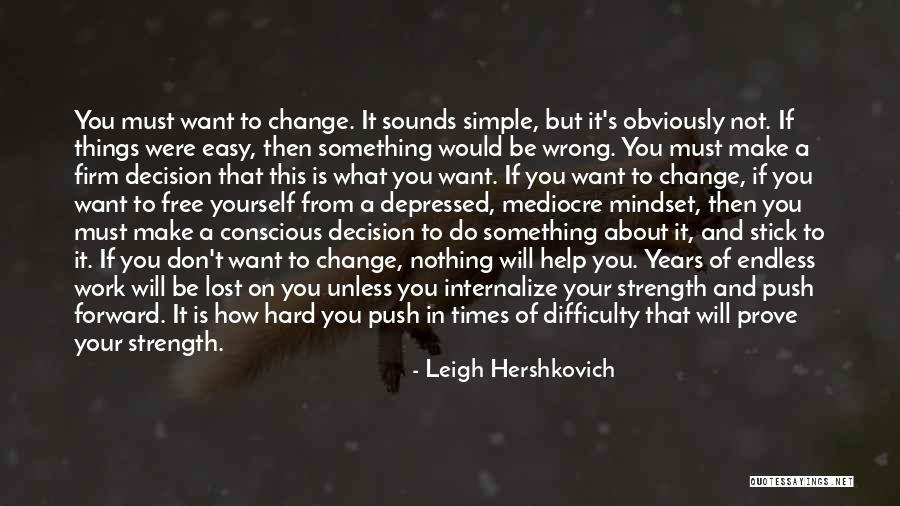 You must want to change. It sounds simple, but it's obviously not. If things were easy, then something would be wrong. You must make a firm decision that this is what you want. If you want to change, if you want to free yourself from a depressed, mediocre mindset, then you must make a conscious decision to do something about it, and stick to it. If you don't want to change, nothing will help you. Years of endless work will be lost on you unless you internalize your strength and push forward. It is how hard you push in times of difficulty that will prove your strength. — Leigh Hershkovich