Quotes & Sayings About Those Less Fortunate
Enjoy reading and share 57 famous quotes about Those Less Fortunate with everyone.
Top Those Less Fortunate Quotes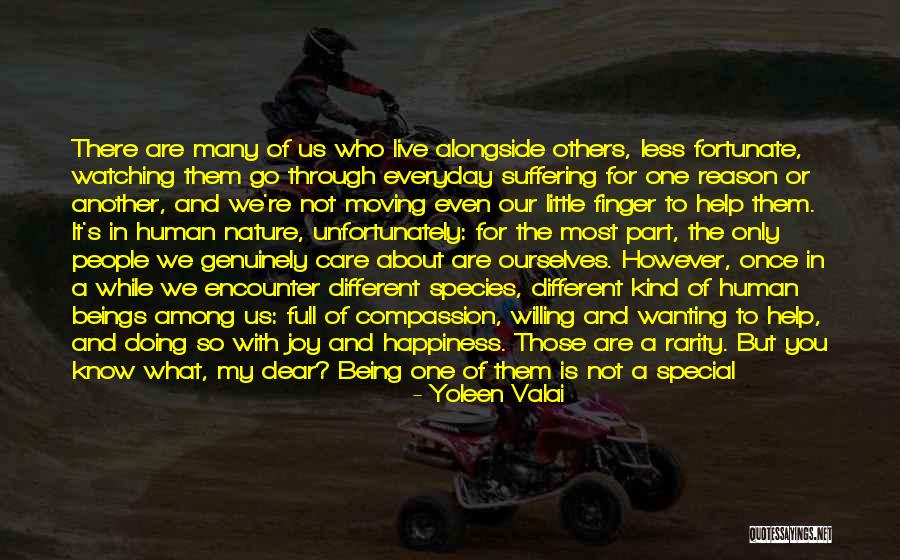 There are many of us who live alongside others, less fortunate, watching them go through everyday suffering for one reason or another, and we're not moving even our little finger to help them. It's in human nature, unfortunately: for the most part, the only people we genuinely care about are ourselves. However, once in a while we encounter different species, different kind of human beings among us: full of compassion, willing and wanting to help, and doing so with joy and happiness. Those are a rarity. But you know what, my dear? Being one of them is not a special calling- it's a choice. So what will you choose, huh? — Yoleen Valai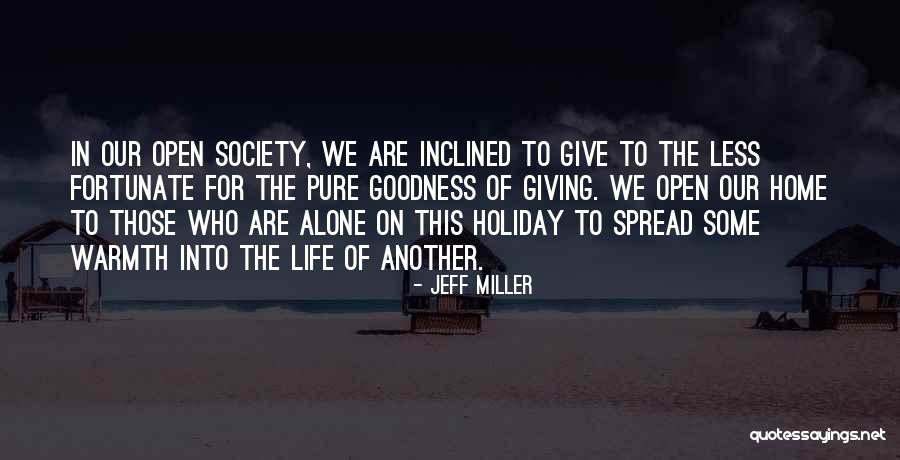 In our open society, we are inclined to give to the less fortunate for the pure goodness of giving. We open our home to those who are alone on this holiday to spread some warmth into the life of another. — Jeff Miller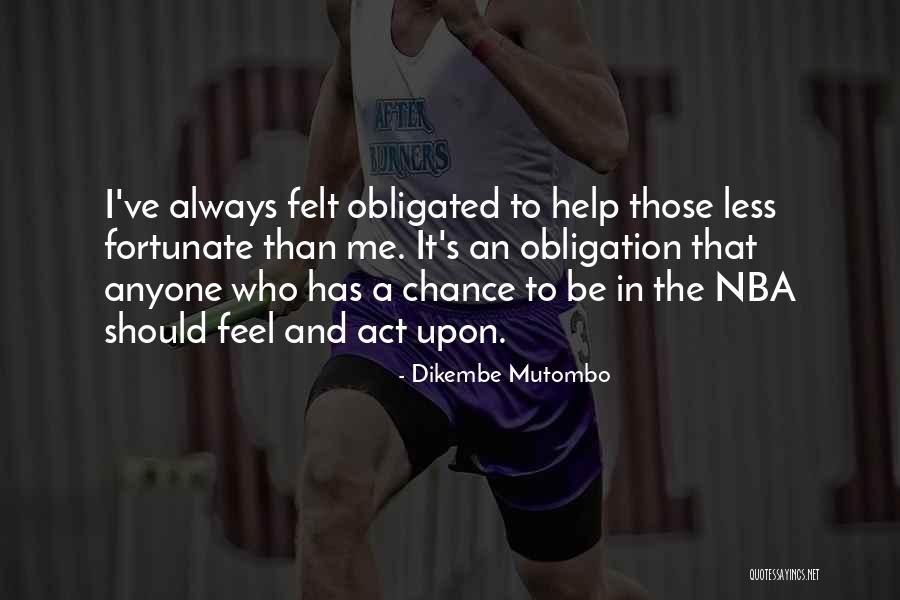 I've always felt obligated to help those less fortunate than me. It's an obligation that anyone who has a chance to be in the NBA should feel and act upon. — Dikembe Mutombo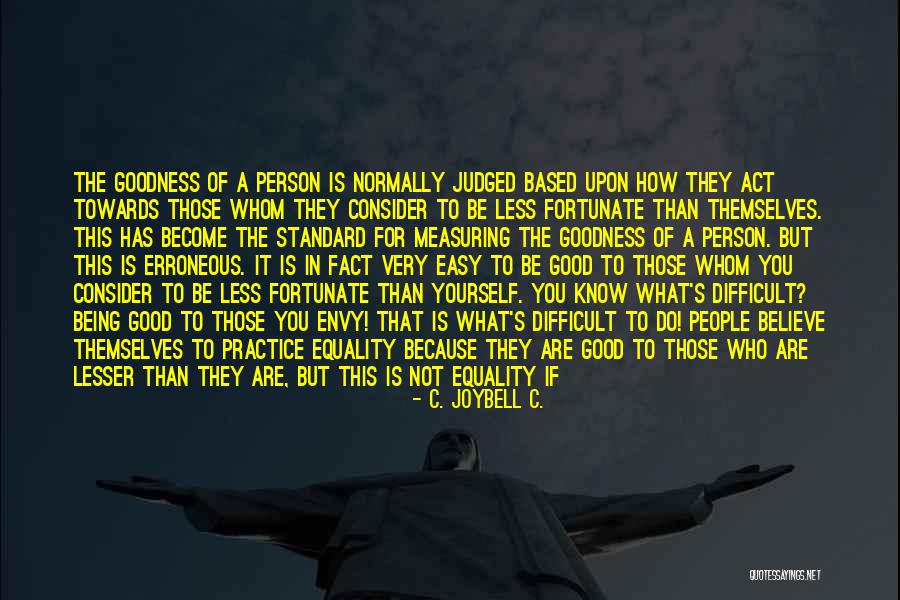 The goodness of a person is normally judged based upon how they act towards those whom they consider to be less fortunate than themselves. This has become the standard for measuring the goodness of a person. But this is erroneous. It is in fact very easy to be good to those whom you consider to be less fortunate than yourself. You know what's difficult? Being good to those you envy! That is what's difficult to do! People believe themselves to practice equality because they are good to those who are lesser than they are, but this is not equality if they do not show the same amount of goodness to the people who happen to be more than they are. I always look at how a person treats those who are more than they are, and that is how I determine the goodness in a person. Because the other option is just too easy. The other option comes with all benefit and no loss. — C. JoyBell C.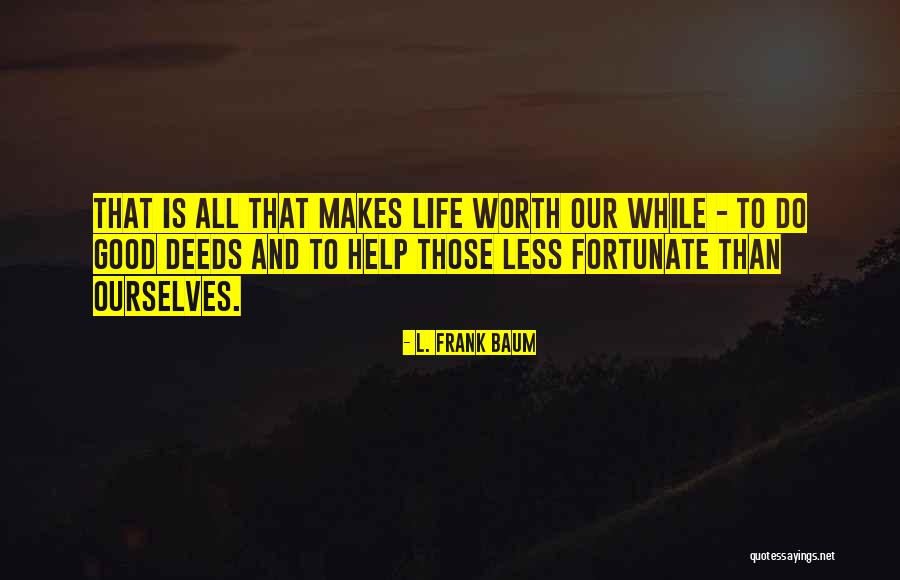 That is all that makes life worth our while - to do good deeds and to help those less fortunate than ourselves. — L. Frank Baum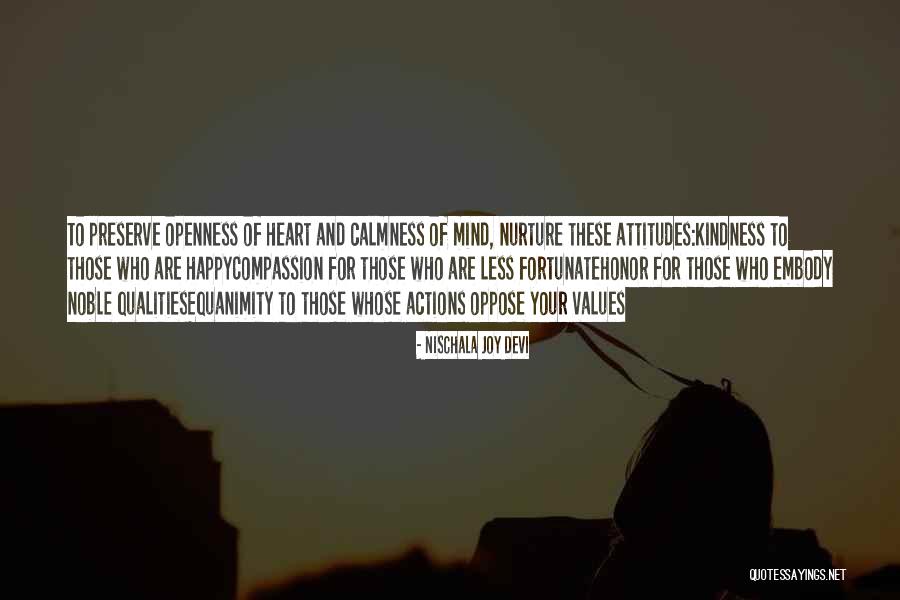 To preserve openness of heart and calmness of mind, nurture these attitudes:

Kindness to those who are happy
Compassion for those who are less fortunate
Honor for those who embody noble qualities
Equanimity to those whose actions oppose your values — Nischala Joy Devi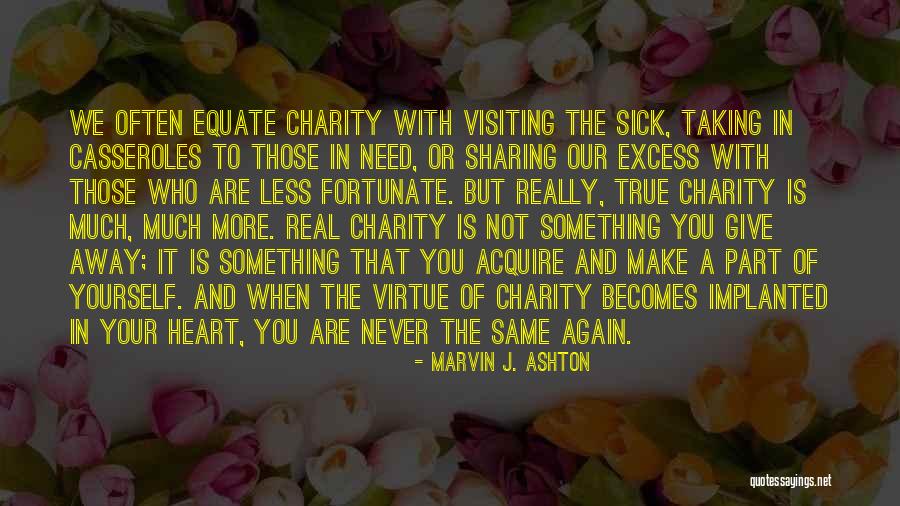 We often equate charity with visiting the sick, taking in casseroles to those in need, or sharing our excess with those who are less fortunate. But really, true charity is much, much more. Real charity is not something you give away; it is something that you acquire and make a part of yourself. And when the virtue of charity becomes implanted in your heart, you are never the same again. — Marvin J. Ashton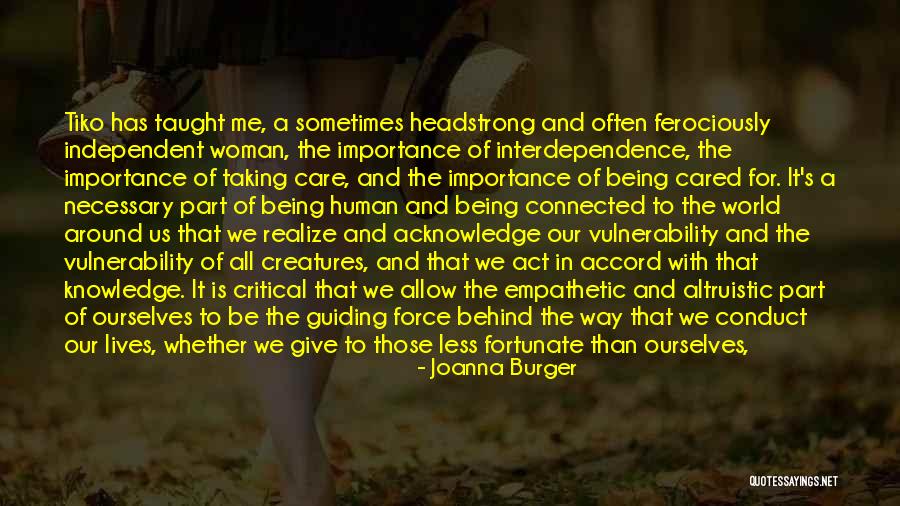 Tiko has taught me, a sometimes headstrong and often ferociously independent woman, the importance of interdependence, the importance of taking care, and the importance of being cared for. It's a necessary part of being human and being connected to the world around us that we realize and acknowledge our vulnerability and the vulnerability of all creatures, and that we act in accord with that knowledge. It is critical that we allow the empathetic and altruistic part of ourselves to be the guiding force behind the way that we conduct our lives, whether we give to those less fortunate than ourselves, take care of the magnificent creatures that share our world, work tirelessly to preserve native habitat or separate each strand of an unruly mass of hair so gently that we do not wake our loved one as she sleeps. — Joanna Burger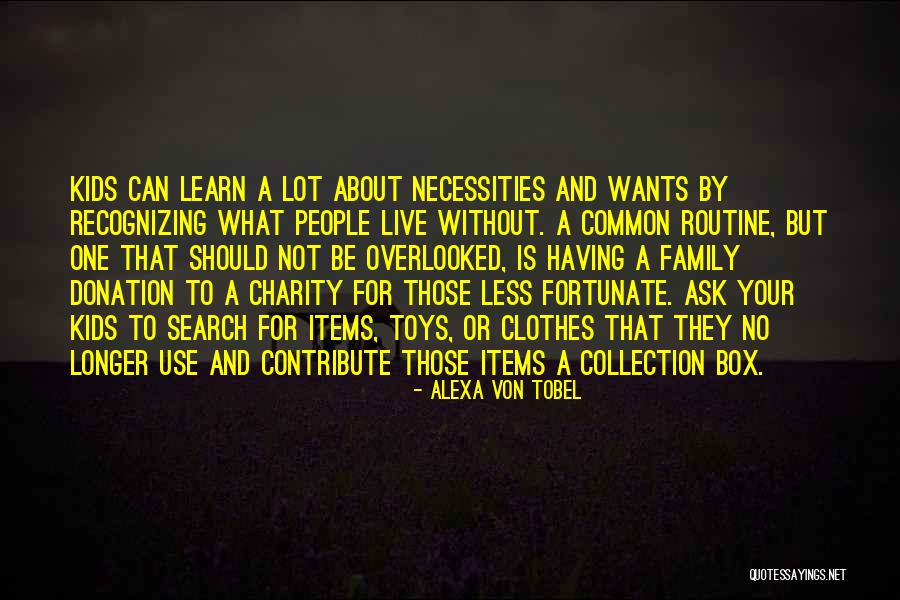 Kids can learn a lot about necessities and wants by recognizing what people live without. A common routine, but one that should not be overlooked, is having a family donation to a charity for those less fortunate. Ask your kids to search for items, toys, or clothes that they no longer use and contribute those items a collection box. — Alexa Von Tobel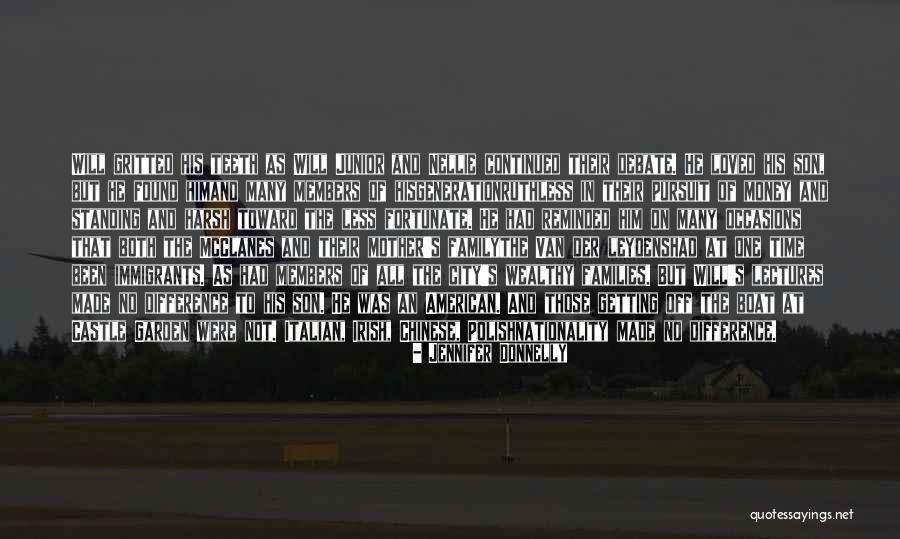 Will gritted his teeth as Will Junior and Nellie continued their debate. He loved his son, but he found him
and many members of hisgeneration
ruthless in their pursuit of money and standing and harsh toward the less fortunate. He had reminded him on many occasions that both the McClanes and their mother's family
the Van der leydens
had at one time been immigrants. As had members of all the city's wealthy families. But Will's lectures made no difference to his son. He was an American. And those getting off the boat at Castle Garden were not. Italian, Irish, Chinese, Polish
nationality made no difference. They were lazy, stupid, and dirty. Their numbers spelled ruin for the country. p. 264 — Jennifer Donnelly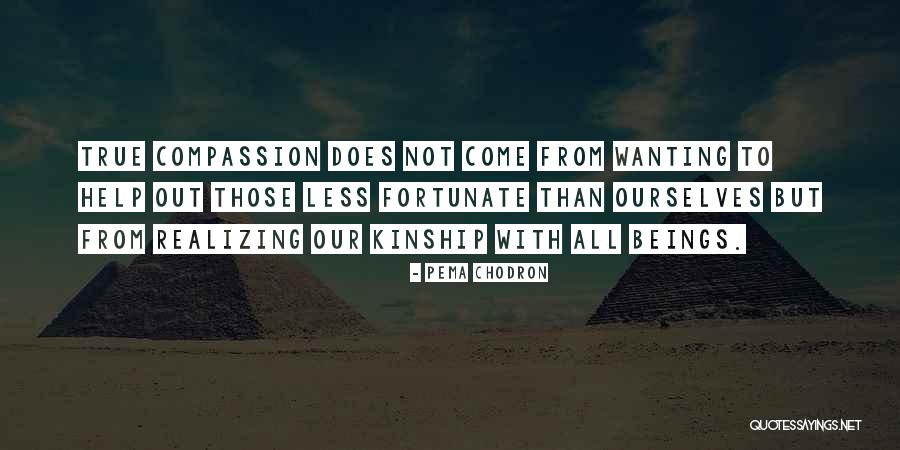 True compassion does not come from wanting to help out those less fortunate than ourselves but from realizing our kinship with all beings. — Pema Chodron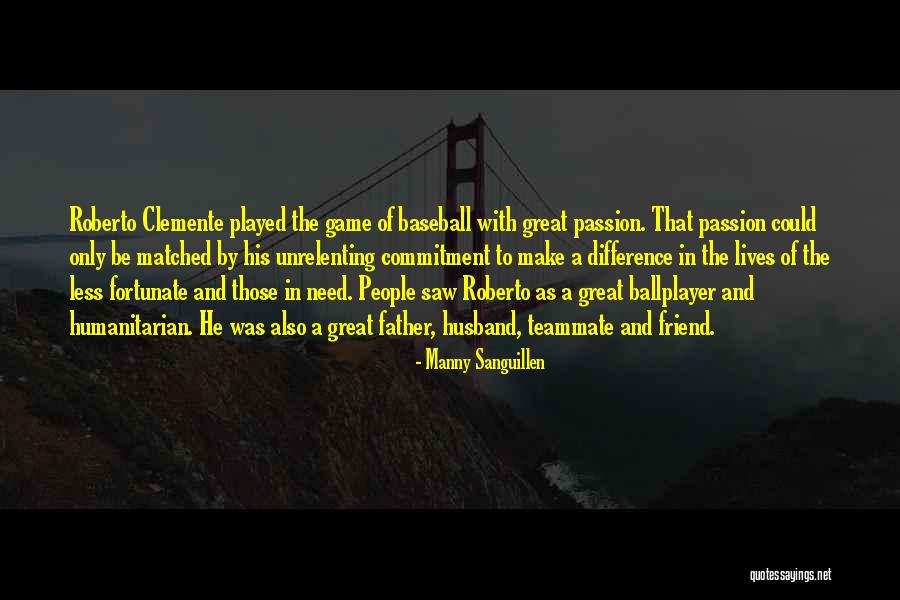 Roberto Clemente played the game of baseball with great passion. That passion could only be matched by his unrelenting commitment to make a difference in the lives of the less fortunate and those in need. People saw Roberto as a great ballplayer and humanitarian. He was also a great father, husband, teammate and friend. — Manny Sanguillen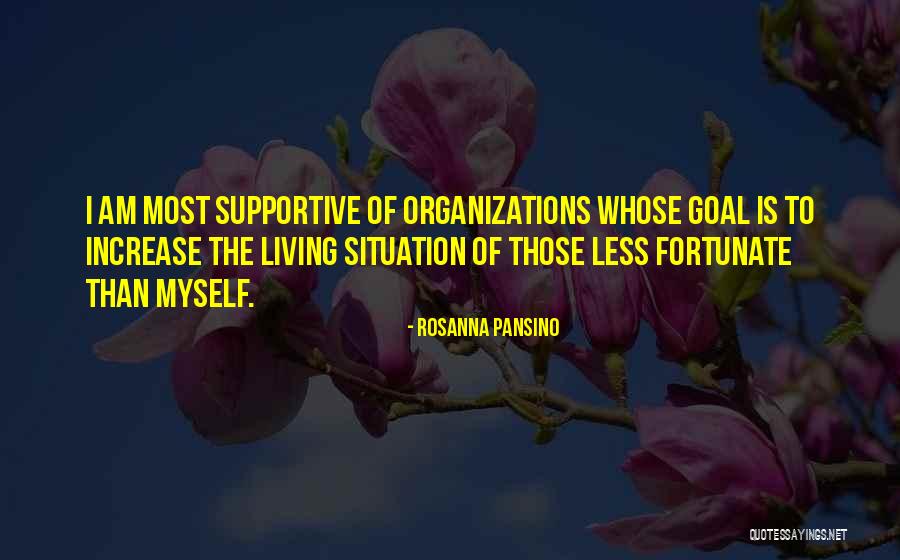 I am most supportive of organizations whose goal is to increase the living situation of those less fortunate than myself. — Rosanna Pansino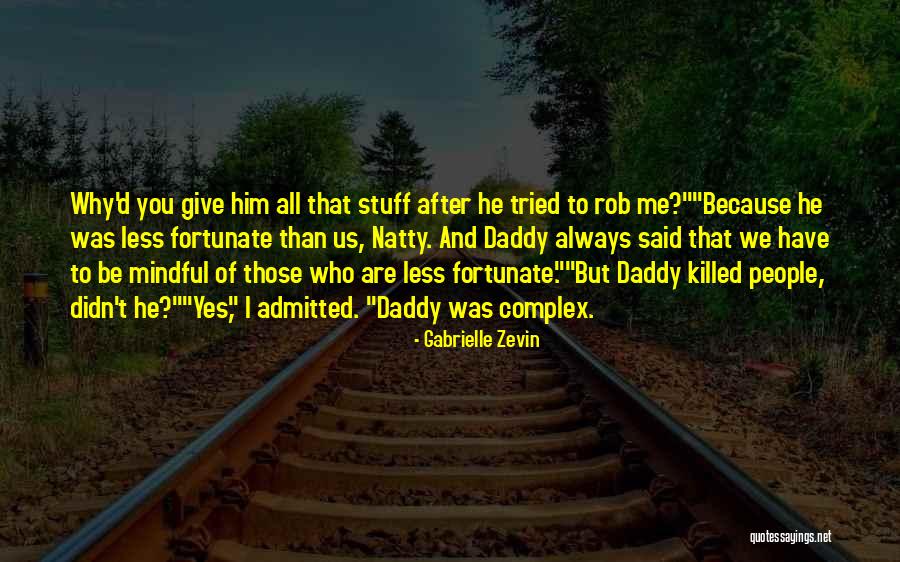 Why'd you give him all that stuff after he tried to rob me?"
"Because he was less fortunate than us, Natty. And Daddy always said that we have to be mindful of those who are less fortunate."
"But Daddy killed people, didn't he?"
"Yes," I admitted. "Daddy was complex. — Gabrielle Zevin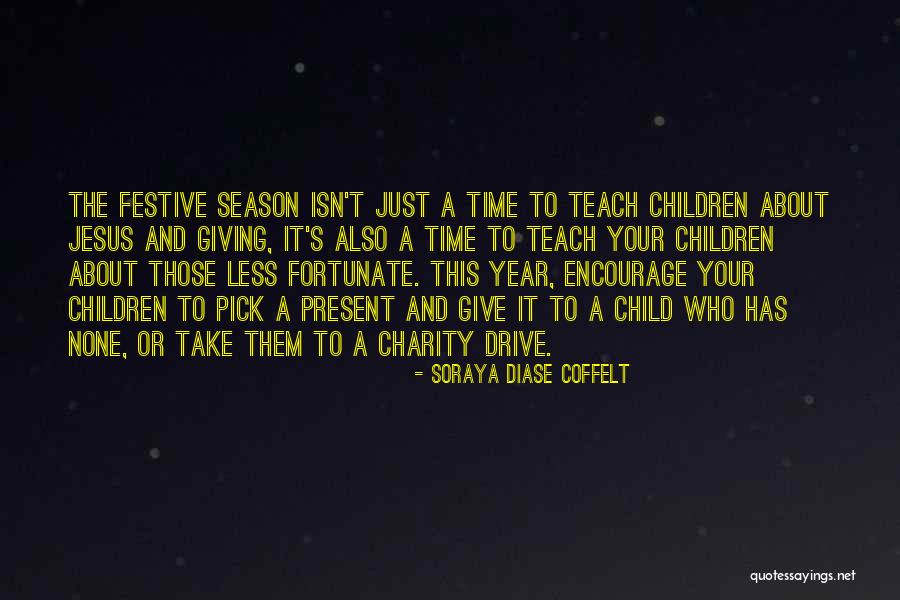 The festive season isn't just a time to teach children about Jesus and giving, it's also a time to teach your children about those less fortunate. This year, encourage your children to pick a present and give it to a child who has none, or take them to a charity drive. — Soraya Diase Coffelt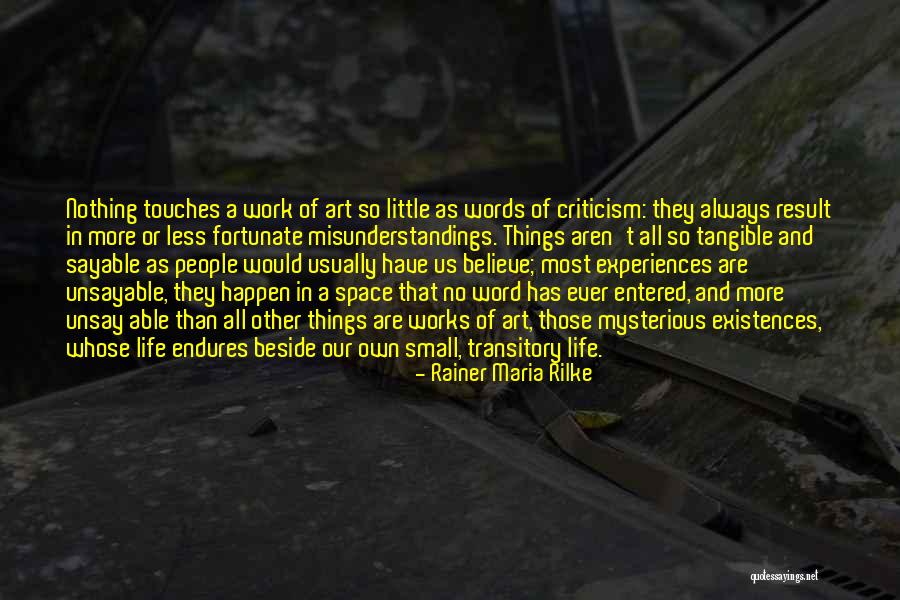 Nothing touches a work of art so little as words of criticism: they always result in more or less fortunate misunderstandings. Things aren't all so tangible and sayable as people would usually have us believe; most experiences are unsayable, they happen in a space that no word has ever entered, and more unsay able than all other things are works of art, those mysterious existences, whose life endures beside our own small, transitory life. — Rainer Maria Rilke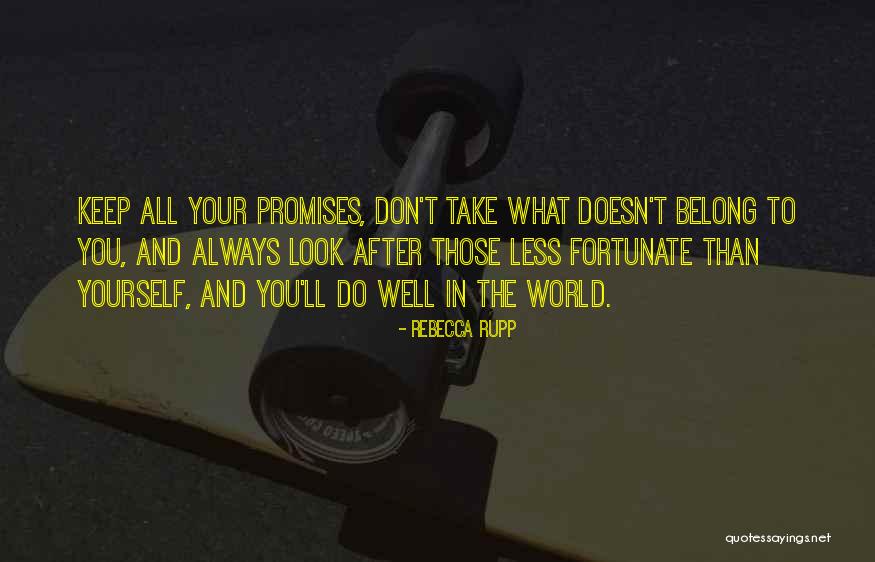 Keep all your promises, don't take what doesn't belong to you, and always look after those less fortunate than yourself, and you'll do well in the world. — Rebecca Rupp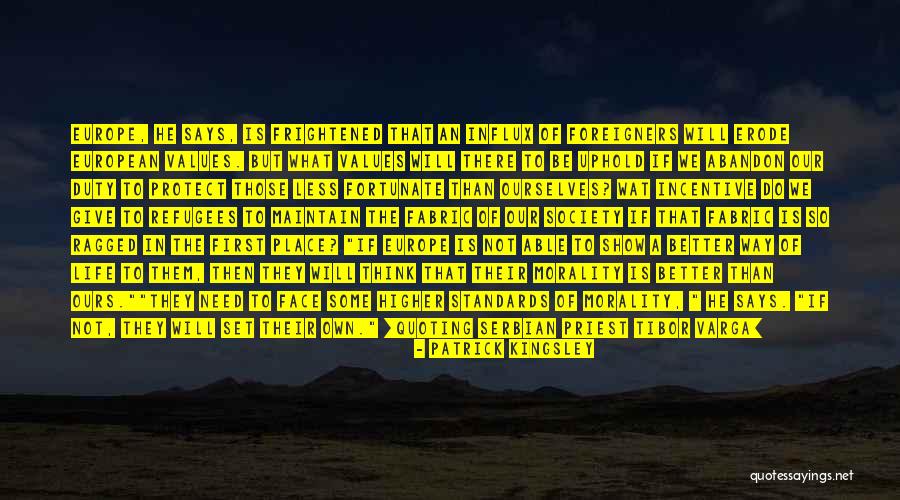 Europe, he says, is frightened that an influx of foreigners will erode European values. But what values will there to be uphold if we abandon our duty to protect those less fortunate than ourselves? Wat incentive do we give to refugees to maintain the fabric of our society if that fabric is so ragged in the first place? "If Europe is not able to show a better way of life to them, then they will think that their morality is better than ours."

"They need to face some higher standards of morality, " he says. "If not, they will set their own."

[Quoting Serbian priest Tibor Varga] — Patrick Kingsley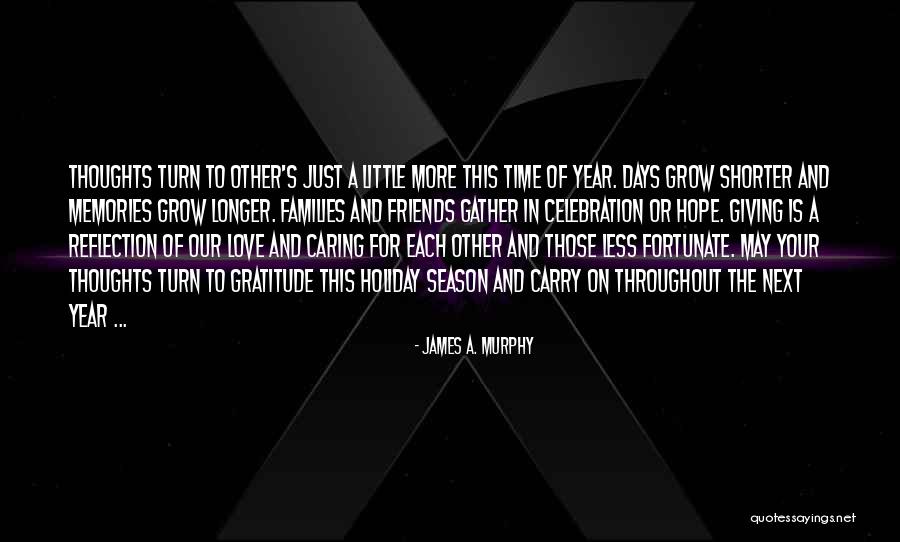 Thoughts turn to other's just a little more this time of year. Days grow shorter and memories grow longer. Families and friends gather in celebration or hope. Giving is a reflection of our love and caring for each other and those less fortunate. May your thoughts turn to gratitude this holiday season and carry on throughout the next year ... — James A. Murphy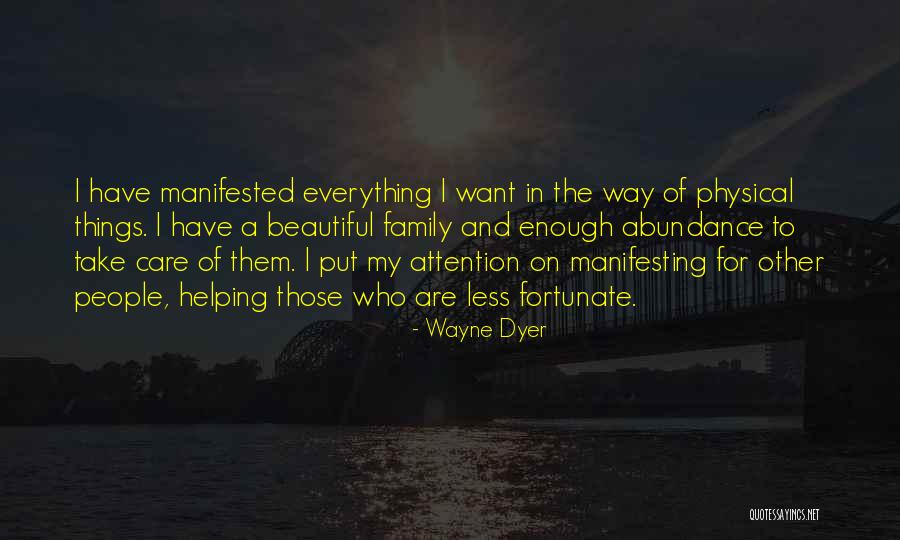 I have manifested everything I want in the way of physical things. I have a beautiful family and enough abundance to take care of them. I put my attention on manifesting for other people, helping those who are less fortunate. — Wayne Dyer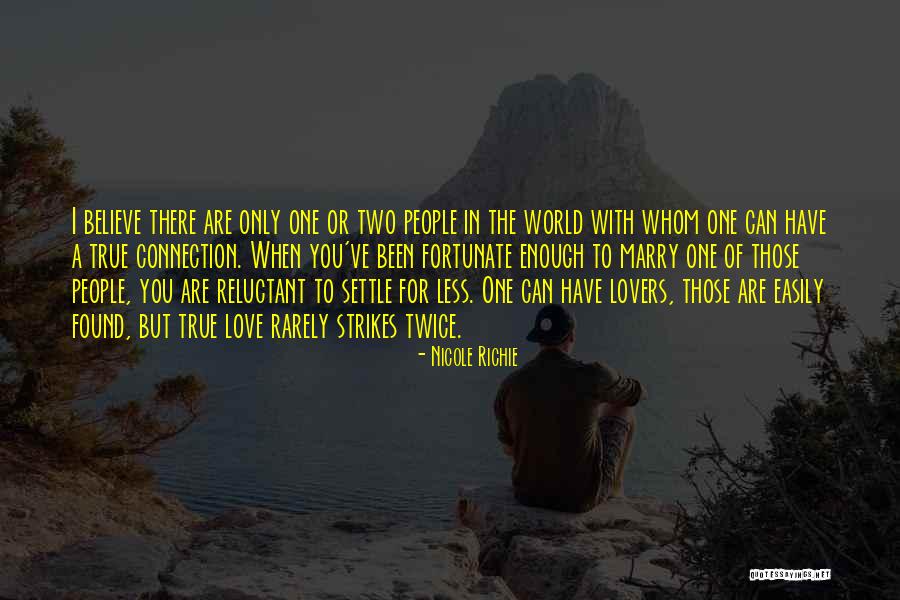 I believe there are only one or two people in the world with whom one can have a true connection. When you've been fortunate enough to marry one of those people, you are reluctant to settle for less. One can have lovers, those are easily found, but true love rarely strikes twice. — Nicole Richie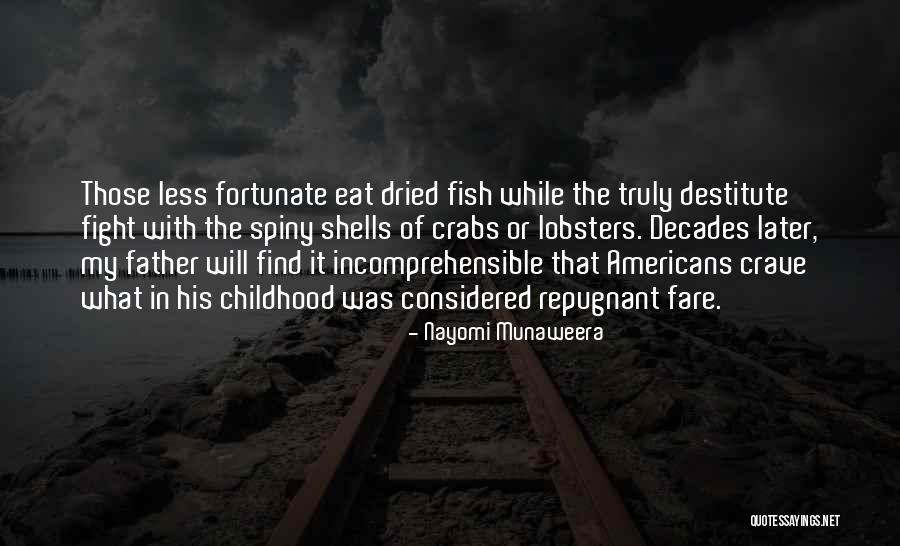 Those less fortunate eat dried fish while the truly destitute fight with the spiny shells of crabs or lobsters. Decades later, my father will find it incomprehensible that Americans crave what in his childhood was considered repugnant fare. — Nayomi Munaweera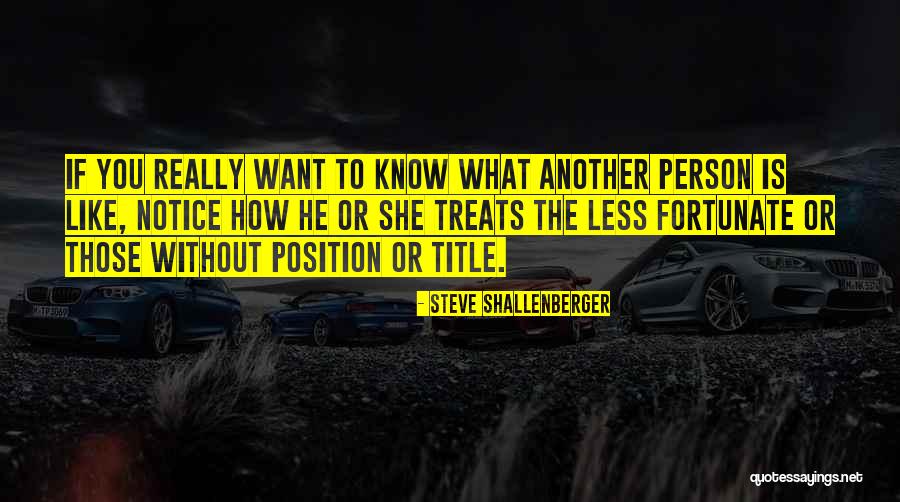 If you REALLY want to know what another person is like, notice how he or she treats the less fortunate or those without position or title. — Steve Shallenberger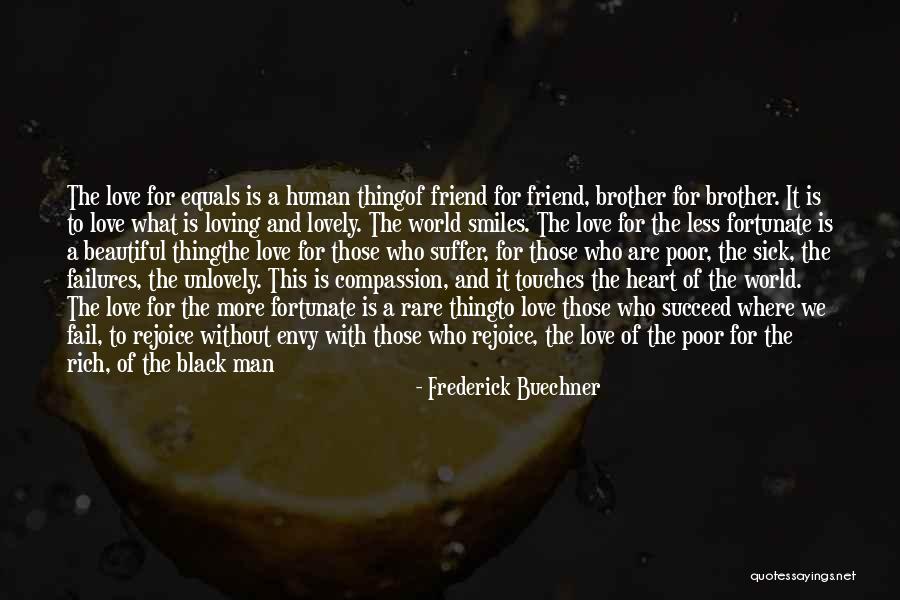 The love for equals is a human thing
of friend for friend, brother for brother. It is to love what is loving and lovely. The world smiles. The love for the less fortunate is a beautiful thing
the love for those who suffer, for those who are poor, the sick, the failures, the unlovely. This is compassion, and it touches the heart of the world. The love for the more fortunate is a rare thing
to love those who succeed where we fail, to rejoice without envy with those who rejoice, the love of the poor for the rich, of the black man for the white man. The world is always bewildered by its saints. And then there is the love for the enemy
love for the one who does not love you but mocks, threatens, and inflicts pain. The tortured's love for the torturer. This is God's love. It conquers the world. — Frederick Buechner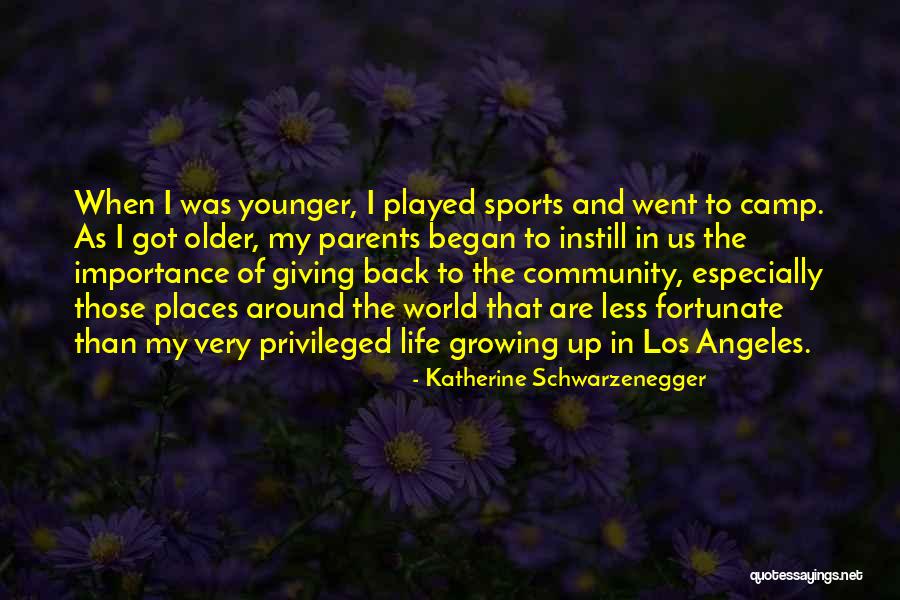 When I was younger, I played sports and went to camp. As I got older, my parents began to instill in us the importance of giving back to the community, especially those places around the world that are less fortunate than my very privileged life growing up in Los Angeles. — Katherine Schwarzenegger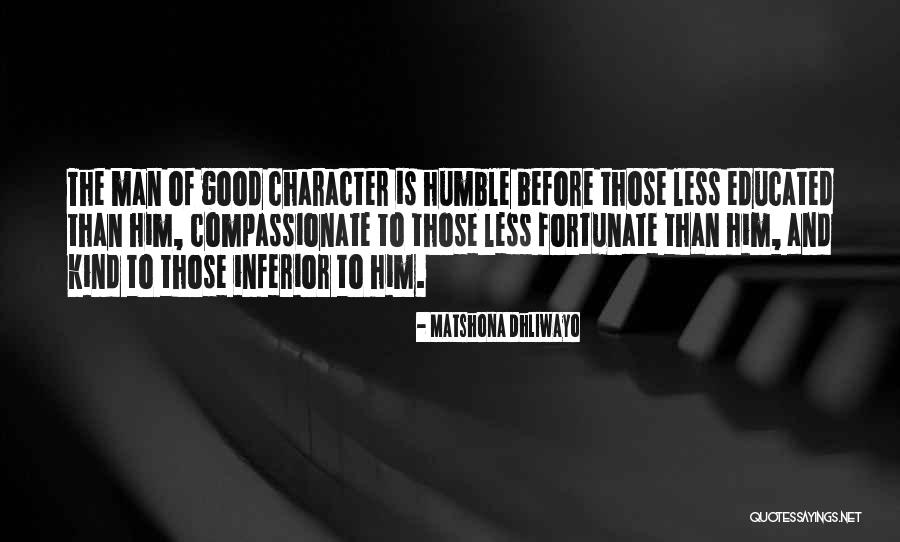 The man of good character is humble before those less educated than him, compassionate to those less fortunate than him, and kind to those inferior to him. — Matshona Dhliwayo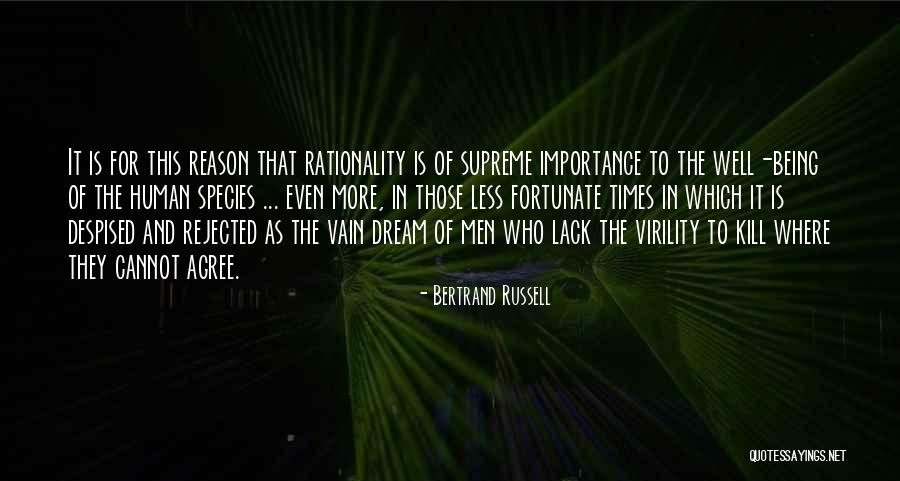 It is for this reason that rationality is of supreme importance to the well-being of the human species ... even more, in those less fortunate times in which it is despised and rejected as the vain dream of men who lack the virility to kill where they cannot agree. — Bertrand Russell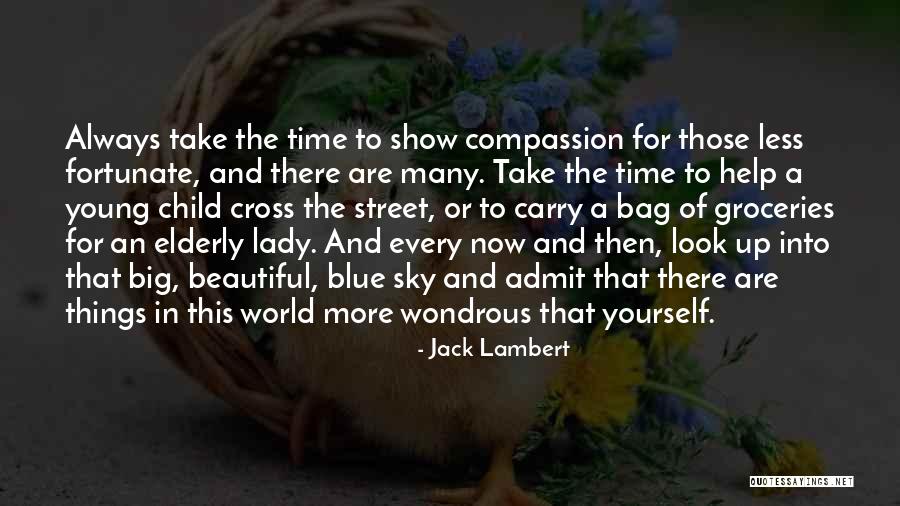 Always take the time to show compassion for those less fortunate, and there are many. Take the time to help a young child cross the street, or to carry a bag of groceries for an elderly lady. And every now and then, look up into that big, beautiful, blue sky and admit that there are things in this world more wondrous that yourself. — Jack Lambert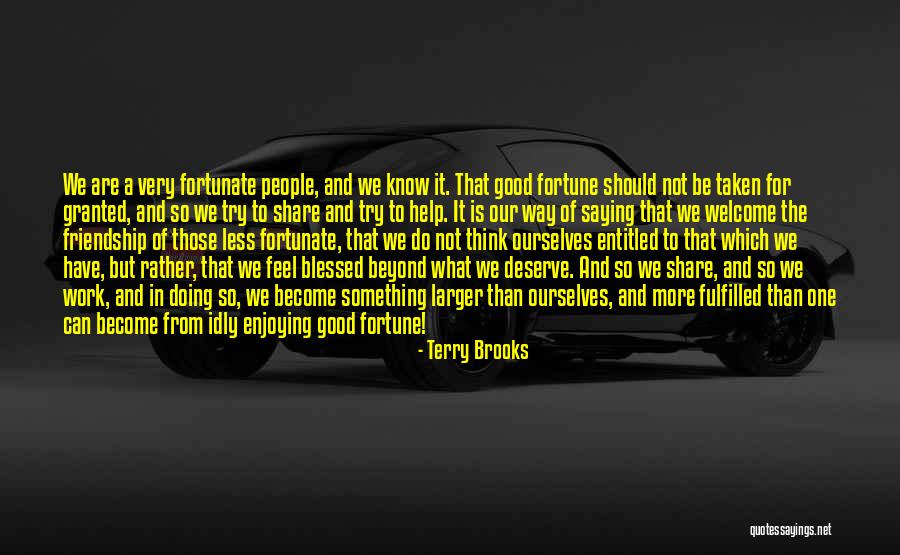 We are a very fortunate people, and we know it. That good fortune should not be taken for granted, and so we try to share and try to help. It is our way of saying that we welcome the friendship of those less fortunate, that we do not think ourselves entitled to that which we have, but rather, that we feel blessed beyond what we deserve. And so we share, and so we work, and in doing so, we become something larger than ourselves, and more fulfilled than one can become from idly enjoying good fortune! — Terry Brooks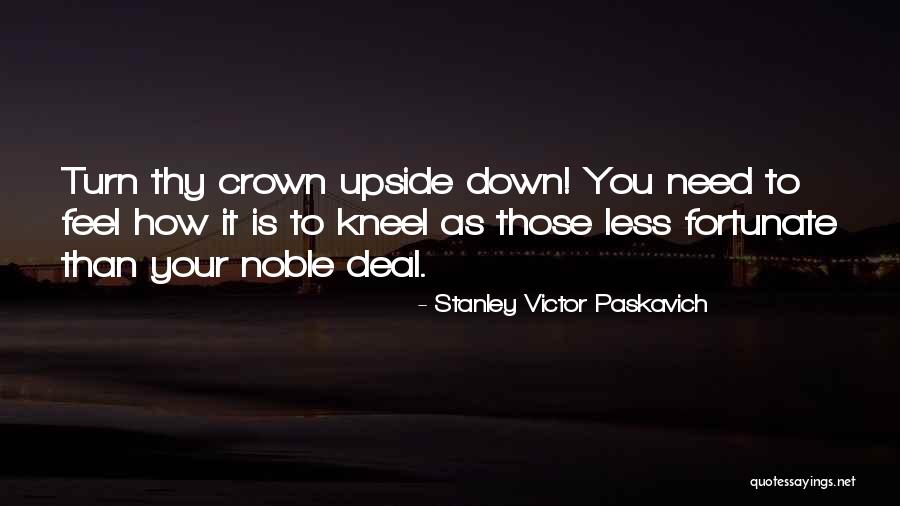 Turn thy crown upside down! You need to feel how it is to kneel as those less fortunate than your noble deal. — Stanley Victor Paskavich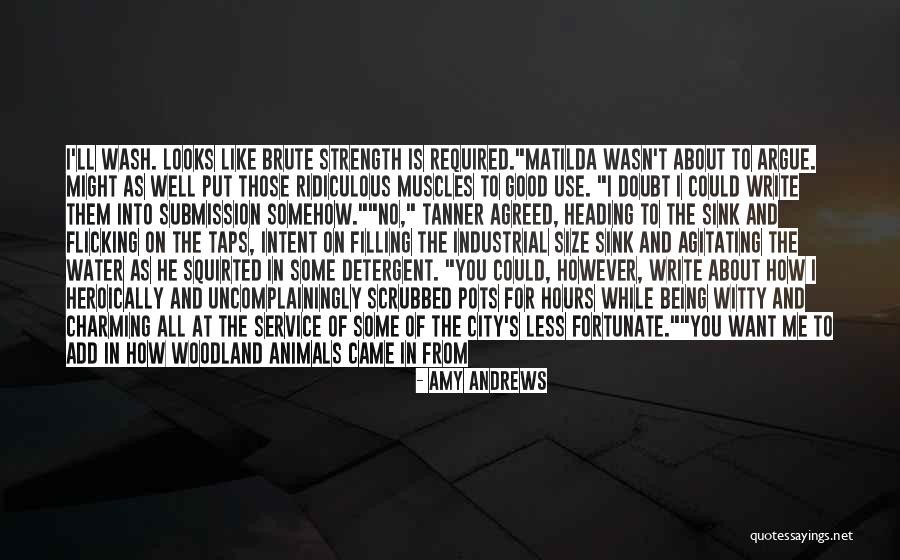 I'll wash. Looks like brute strength is required."

Matilda wasn't about to argue. Might as well put those ridiculous muscles to good use. "I doubt I could write them into submission somehow."

"No," Tanner agreed, heading to the sink and flicking on the taps, intent on filling the industrial size sink and agitating the water as he squirted in some detergent. "You could, however, write about how I heroically and uncomplainingly scrubbed pots for hours while being witty and charming all at the service of some of the city's less fortunate."

"You want me to add in how woodland animals came in from the alley to befriend you? — Amy Andrews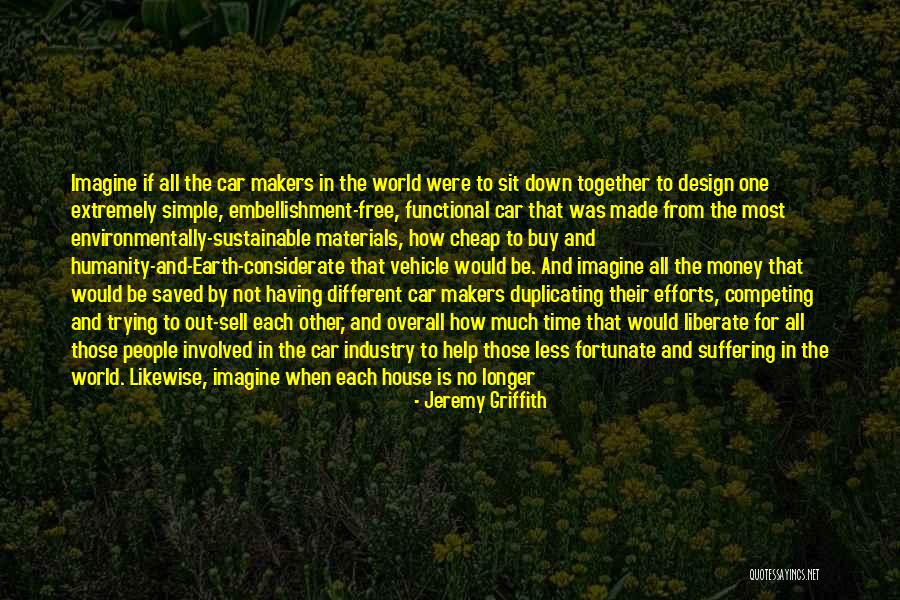 Imagine if all the car makers in the world were to sit down together to design one extremely simple, embellishment-free, functional car that was made from the most environmentally-sustainable materials, how cheap to buy and humanity-and-Earth-considerate that vehicle would be. And imagine all the money that would be saved by not having different car makers duplicating their efforts, competing and trying to out-sell each other, and overall how much time that would liberate for all those people involved in the car industry to help those less fortunate and suffering in the world. Likewise, imagine when each house is no longer designed to make an individualised, ego-reinforcing, status-symbol statement for its owners and all houses are constructed in a functionally satisfactory, simple way, how much energy, labour, time and expense will be freed up to care for the wellbeing of the less fortunate and the planet. — Jeremy Griffith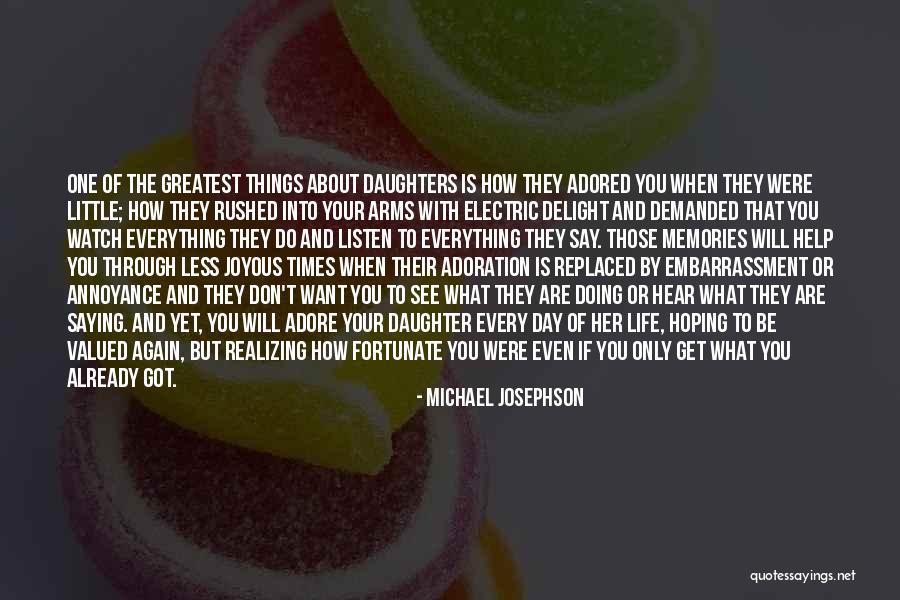 One of the greatest things about daughters is how they adored you when they were little; how they rushed into your arms with electric delight and demanded that you watch everything they do and listen to everything they say. Those memories will help you through less joyous times when their adoration is replaced by embarrassment or annoyance and they don't want you to see what they are doing or hear what they are saying. And yet, you will adore your daughter every day of her life, hoping to be valued again, but realizing how fortunate you were even if you only get what you already got. — Michael Josephson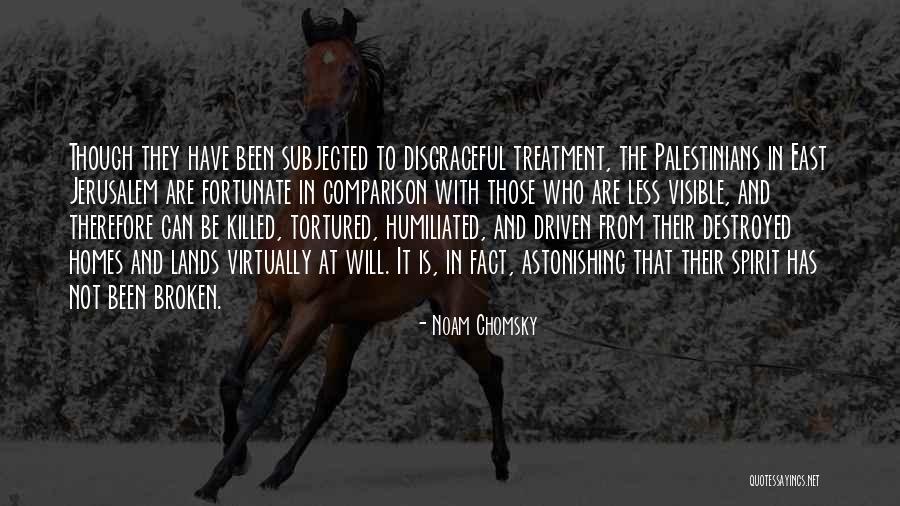 Though they have been subjected to disgraceful treatment, the Palestinians in East Jerusalem are fortunate in comparison with those who are less visible, and therefore can be killed, tortured, humiliated, and driven from their destroyed homes and lands virtually at will. It is, in fact, astonishing that their spirit has not been broken. — Noam Chomsky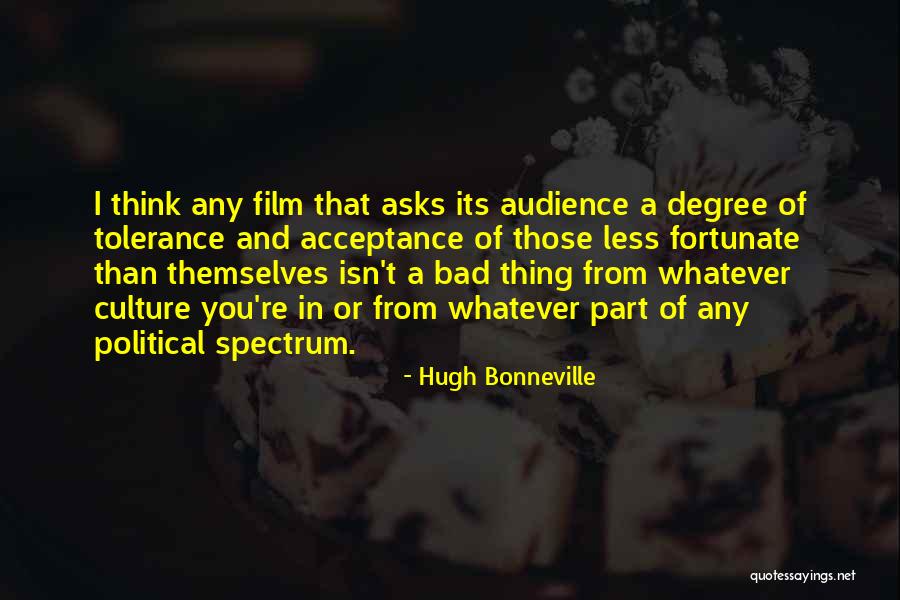 I think any film that asks its audience a degree of tolerance and acceptance of those less fortunate than themselves isn't a bad thing from whatever culture you're in or from whatever part of any political spectrum. — Hugh Bonneville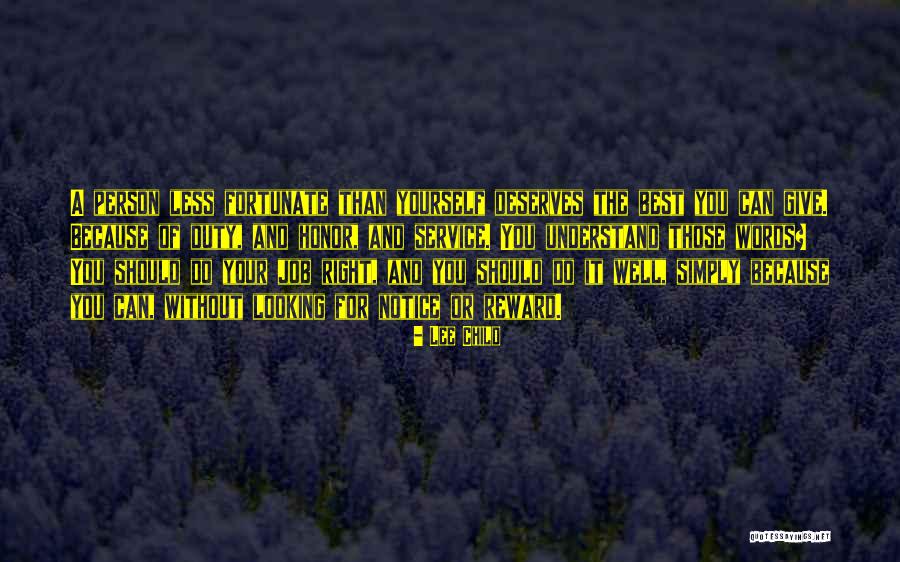 A person less fortunate than yourself deserves the best you can give. Because of duty, and honor, and service. You understand those words? You should do your job right, and you should do it well, simply because you can, without looking for notice or reward. — Lee Child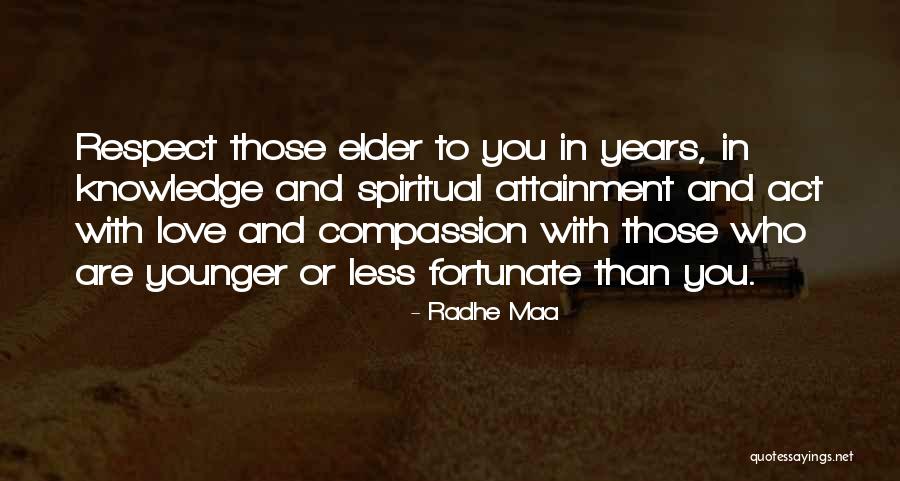 Respect those elder to you in years, in knowledge and spiritual attainment and act with love and compassion with those who are younger or less fortunate than you. — Radhe Maa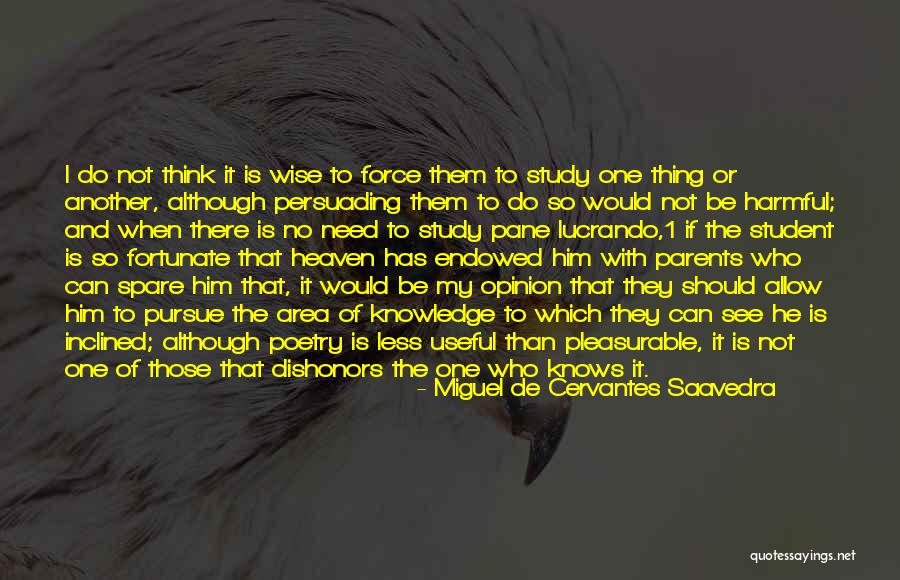 I do not think it is wise to force them to study one thing or another, although persuading them to do so would not be harmful; and when there is no need to study pane lucrando,1 if the student is so fortunate that heaven has endowed him with parents who can spare him that, it would be my opinion that they should allow him to pursue the area of knowledge to which they can see he is inclined; although poetry is less useful than pleasurable, it is not one of those that dishonors the one who knows it. — Miguel De Cervantes Saavedra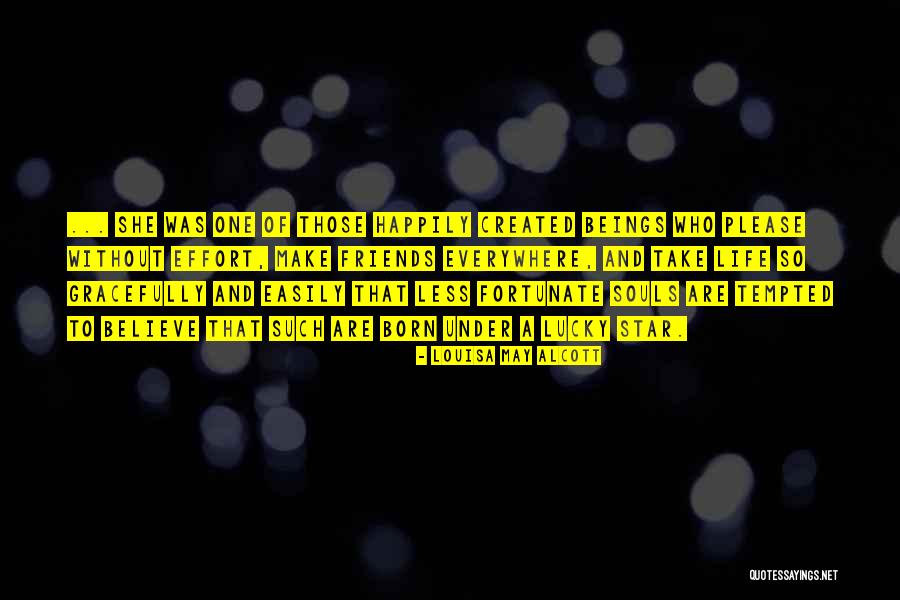 ... she was one of those happily created beings who please without effort, make friends everywhere, and take life so gracefully and easily that less fortunate souls are tempted to believe that such are born under a lucky star. — Louisa May Alcott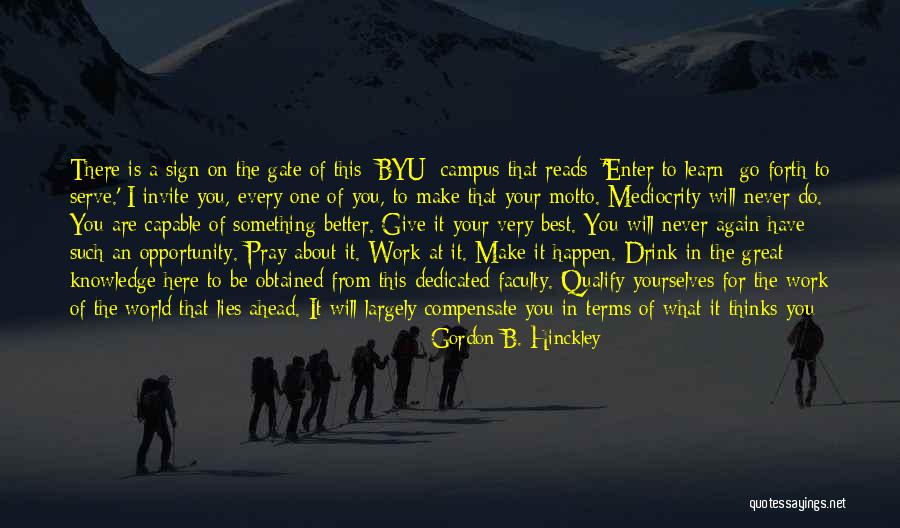 There is a sign on the gate of this [BYU] campus that reads: 'Enter to learn; go forth to serve.' I invite you, every one of you, to make that your motto. Mediocrity will never do. You are capable of something better. Give it your very best. You will never again have such an opportunity. Pray about it. Work at it. Make it happen. Drink in the great knowledge here to be obtained from this dedicated faculty. Qualify yourselves for the work of the world that lies ahead. It will largely compensate you in terms of what it thinks you are worth. Walk the high road of charity, respect, and love for others and particularly those who are less fortunate. — Gordon B. Hinckley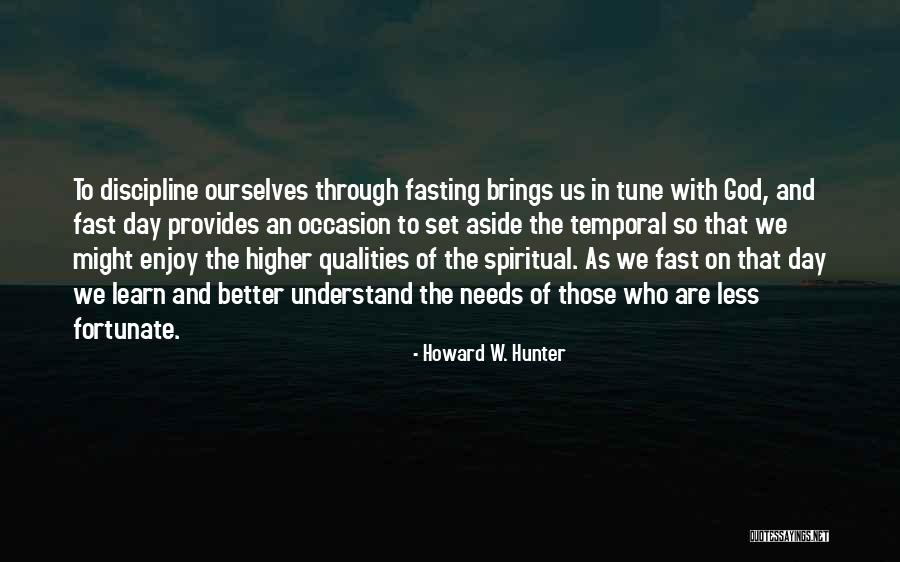 To discipline ourselves through fasting brings us in tune with God, and fast day provides an occasion to set aside the temporal so that we might enjoy the higher qualities of the spiritual. As we fast on that day we learn and better understand the needs of those who are less fortunate. — Howard W. Hunter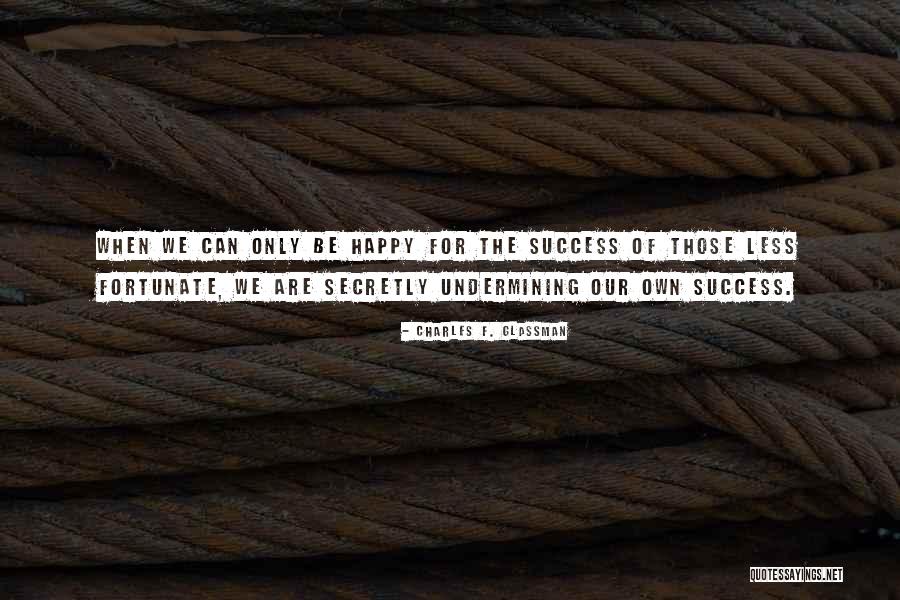 When we can only be happy for the success of those less fortunate, we are secretly undermining our own success. — Charles F. Glassman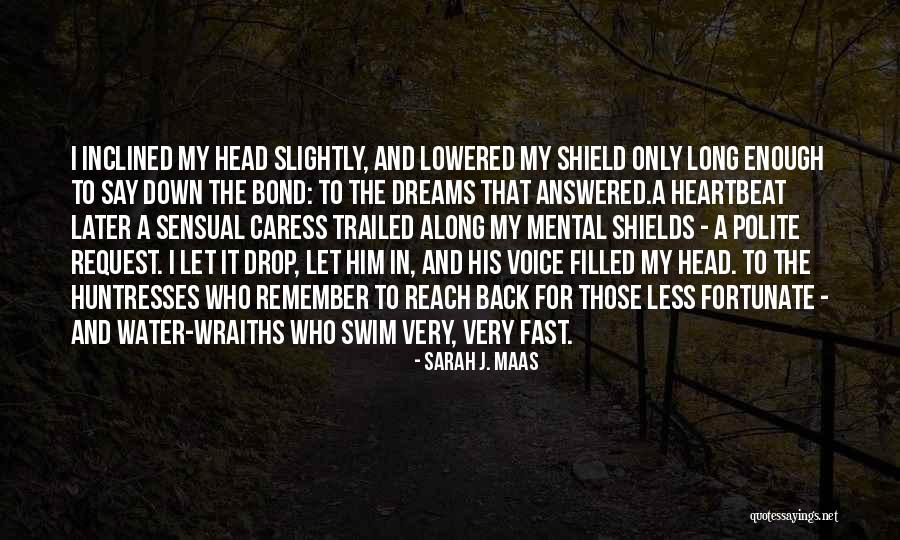 I inclined my head slightly, and lowered my shield only long enough to say down the bond: To the dreams that answered.
A heartbeat later a sensual caress trailed along my mental shields - a polite request. I let it drop, let him in, and his voice filled my head. To the huntresses who remember to reach back for those less fortunate - and water-wraiths who swim very, very fast. — Sarah J. Maas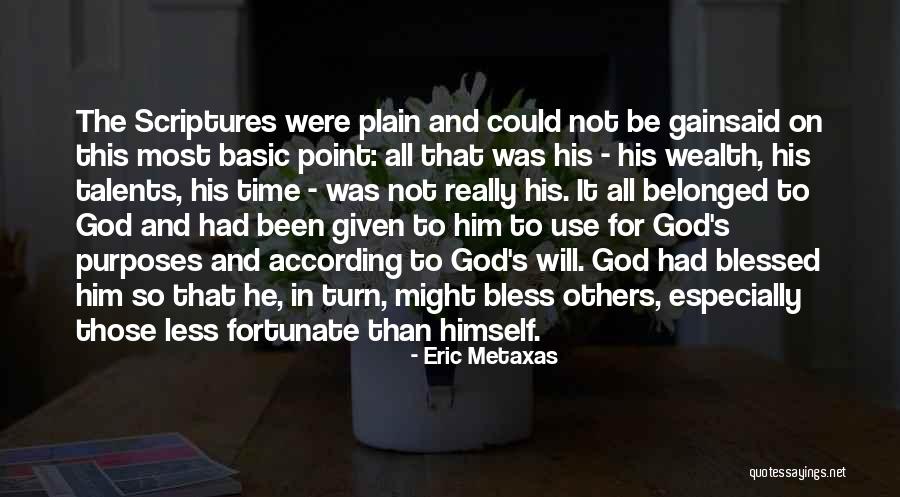 The Scriptures were plain and could not be gainsaid on this most basic point: all that was his - his wealth, his talents, his time - was not really his. It all belonged to God and had been given to him to use for God's purposes and according to God's will. God had blessed him so that he, in turn, might bless others, especially those less fortunate than himself. — Eric Metaxas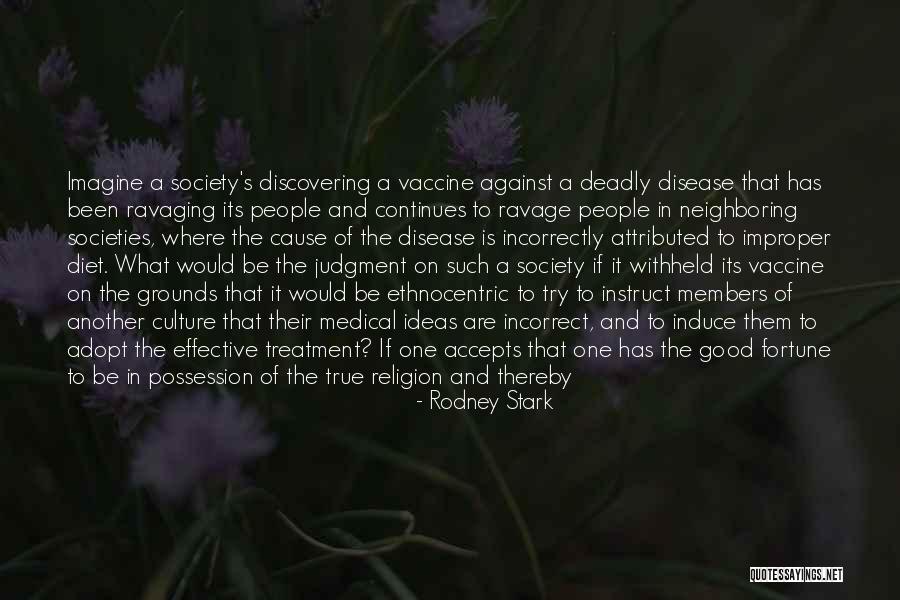 Imagine a society's discovering a vaccine against a deadly disease that has been ravaging its people and continues to ravage people in neighboring societies, where the cause of the disease is incorrectly attributed to improper diet. What would be the judgment on such a society if it withheld its vaccine on the grounds that it would be ethnocentric to try to instruct members of another culture that their medical ideas are incorrect, and to induce them to adopt the effective treatment? If one accepts that one has the good fortune to be in possession of the true religion and thereby has access to the most valuable possible rewards, is one not similarly obligated to spread this blessing to those less fortunate? — Rodney Stark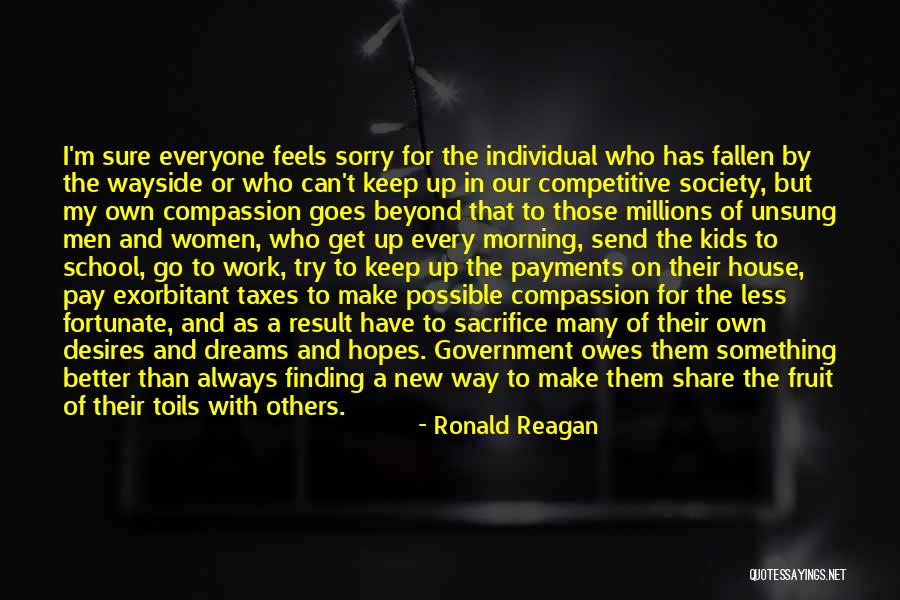 I'm sure everyone feels sorry for the individual who has fallen by the wayside or who can't keep up in our competitive society, but my own compassion goes beyond that to those millions of unsung men and women, who get up every morning, send the kids to school, go to work, try to keep up the payments on their house, pay exorbitant taxes to make possible compassion for the less fortunate, and as a result have to sacrifice many of their own desires and dreams and hopes. Government owes them something better than always finding a new way to make them share the fruit of their toils with others. — Ronald Reagan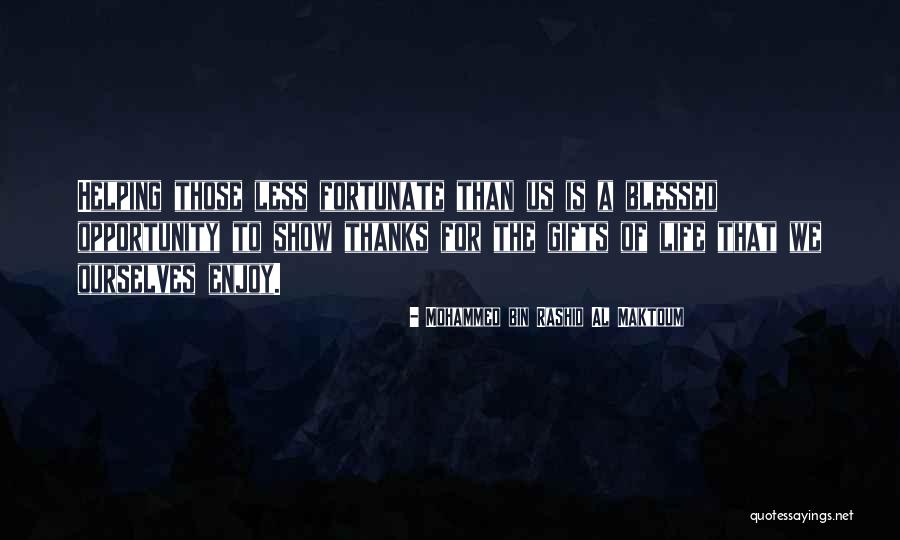 Helping those less fortunate than us is a blessed opportunity to show thanks for the gifts of life that we ourselves enjoy. — Mohammed Bin Rashid Al Maktoum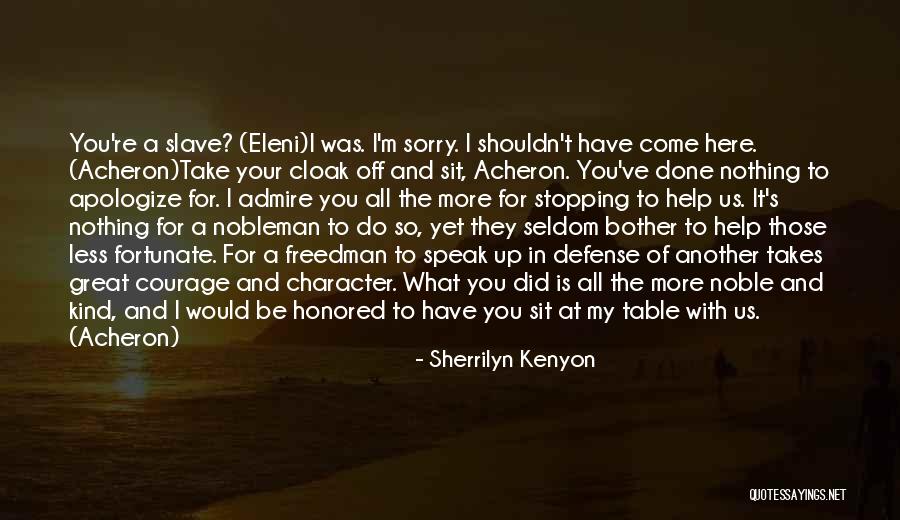 You're a slave? (Eleni)
I was. I'm sorry. I shouldn't have come here. (Acheron)
Take your cloak off and sit, Acheron. You've done nothing to apologize for. I admire you all the more for stopping to help us. It's nothing for a nobleman to do so, yet they seldom bother to help those less fortunate. For a freedman to speak up in defense of another takes great courage and character. What you did is all the more noble and kind, and I would be honored to have you sit at my table with us. (Acheron) — Sherrilyn Kenyon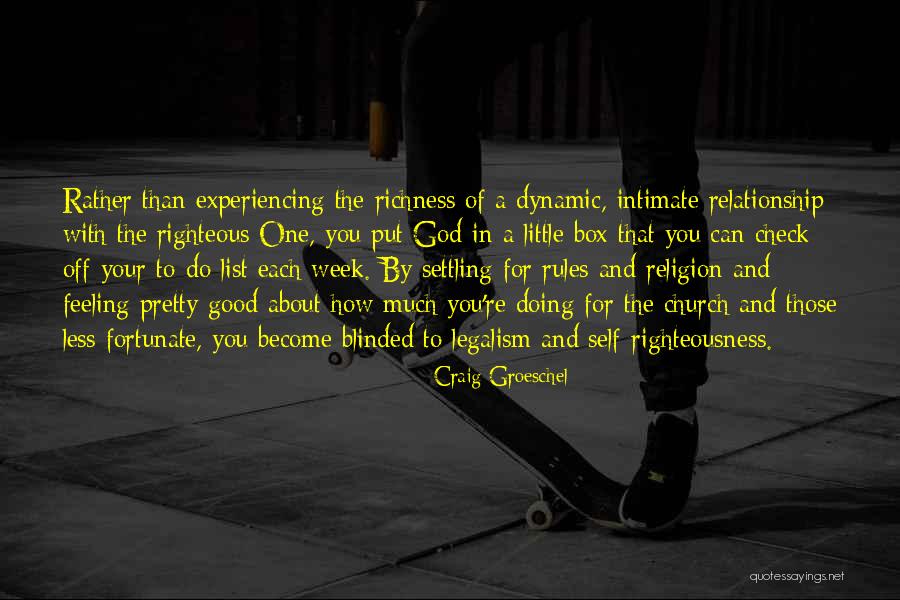 Rather than experiencing the richness of a dynamic, intimate relationship with the righteous One, you put God in a little box that you can check off your to-do list each week. By settling for rules and religion and feeling pretty good about how much you're doing for the church and those less fortunate, you become blinded to legalism and self-righteousness. — Craig Groeschel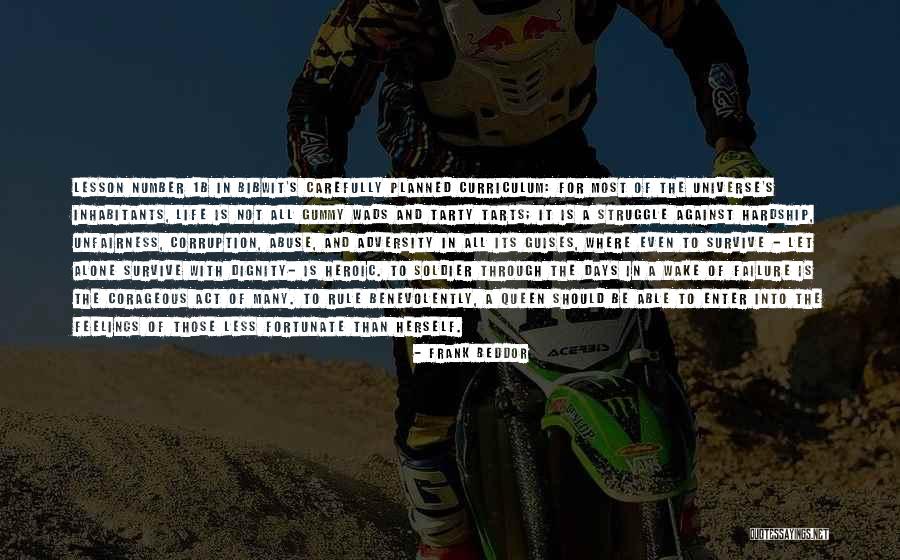 Lesson number 1b in Bibwit's carefully planned curriculum: For most of the universe's inhabitants, life is not all gummy wads and tarty tarts; it is a struggle against hardship, unfairness, corruption, abuse, and adversity in all its guises, where even to survive - let alone survive with dignity- is heroic. To soldier through the days in a wake of failure is the corageous act of many. To rule benevolently, a queen should be able to enter into the feelings of those less fortunate than herself. — Frank Beddor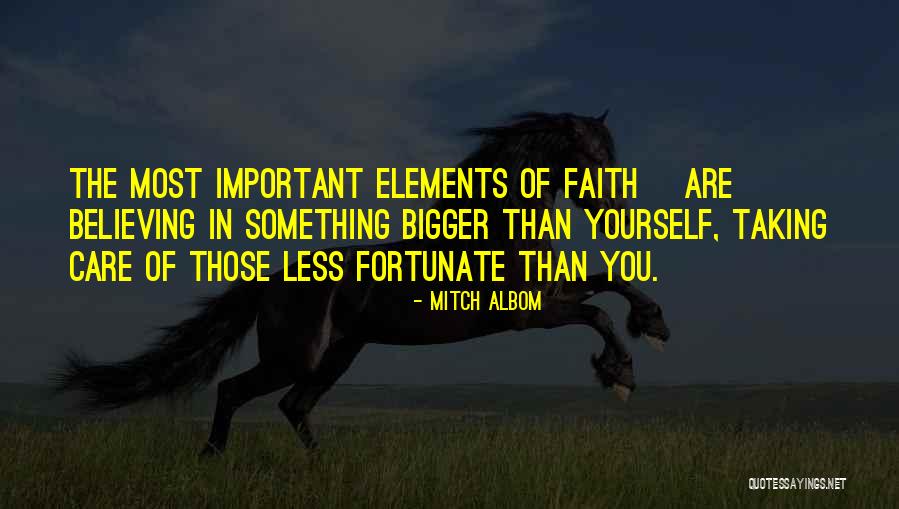 The most important elements of faith [are] believing in something bigger than yourself, taking care of those less fortunate than you. — Mitch Albom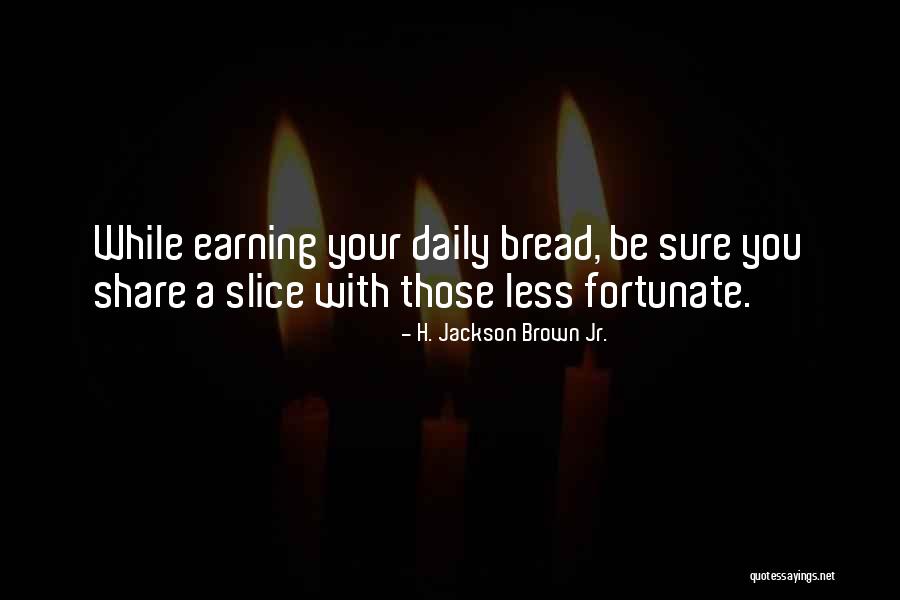 While earning your daily bread, be sure you share a slice with those less fortunate. — H. Jackson Brown Jr.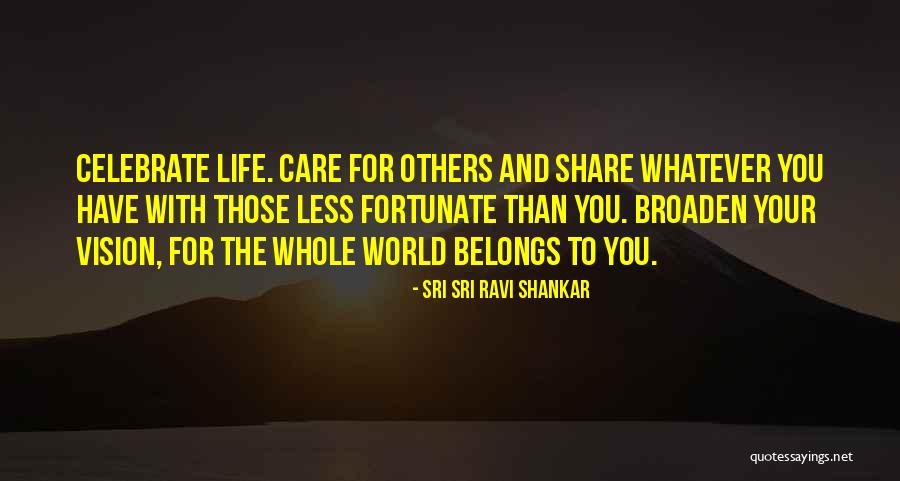 Celebrate Life. Care for others and share whatever you have with those less fortunate than you. Broaden your vision, for the whole world belongs to you. — Sri Sri Ravi Shankar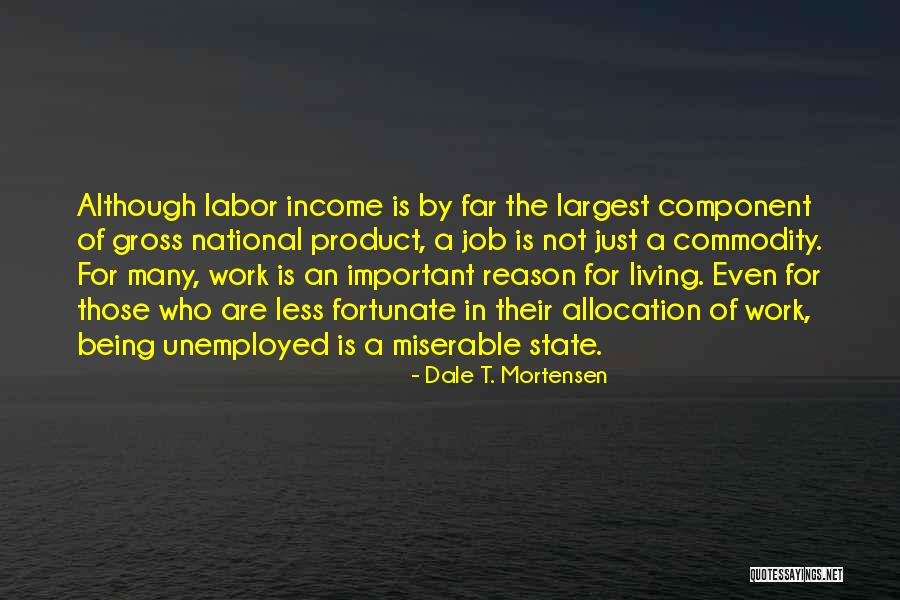 Although labor income is by far the largest component of gross national product, a job is not just a commodity. For many, work is an important reason for living. Even for those who are less fortunate in their allocation of work, being unemployed is a miserable state. — Dale T. Mortensen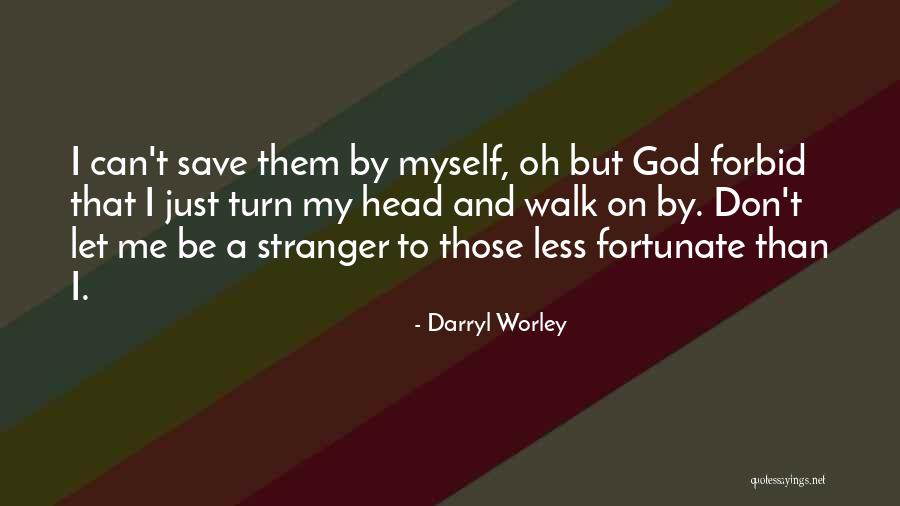 I can't save them by myself, oh but God forbid that I just turn my head and walk on by. Don't let me be a stranger to those less fortunate than I. — Darryl Worley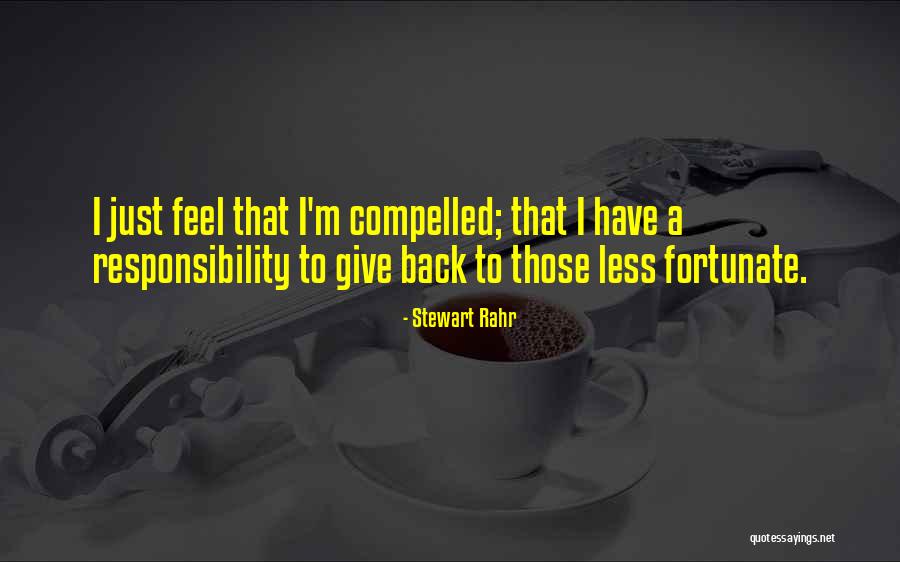 I just feel that I'm compelled; that I have a responsibility to give back to those less fortunate. — Stewart Rahr