There Is Only One Mother Quotes & Sayings
Enjoy reading and share 57 famous quotes about There Is Only One Mother with everyone.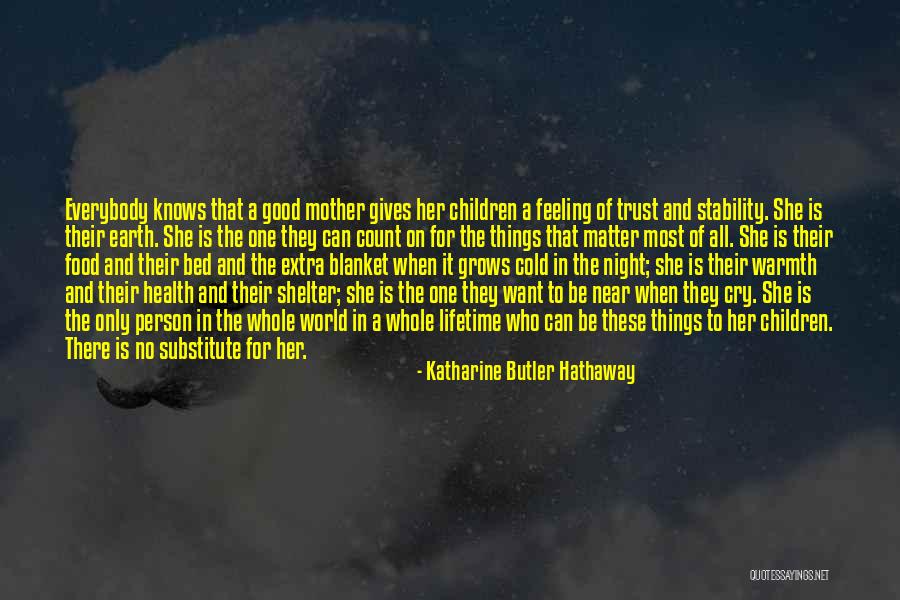 Everybody knows that a good mother gives her children a feeling of trust and stability. She is their earth. She is the one they can count on for the things that matter most of all. She is their food and their bed and the extra blanket when it grows cold in the night; she is their warmth and their health and their shelter; she is the one they want to be near when they cry. She is the only person in the whole world in a whole lifetime who can be these things to her children. There is no substitute for her. — Katharine Butler Hathaway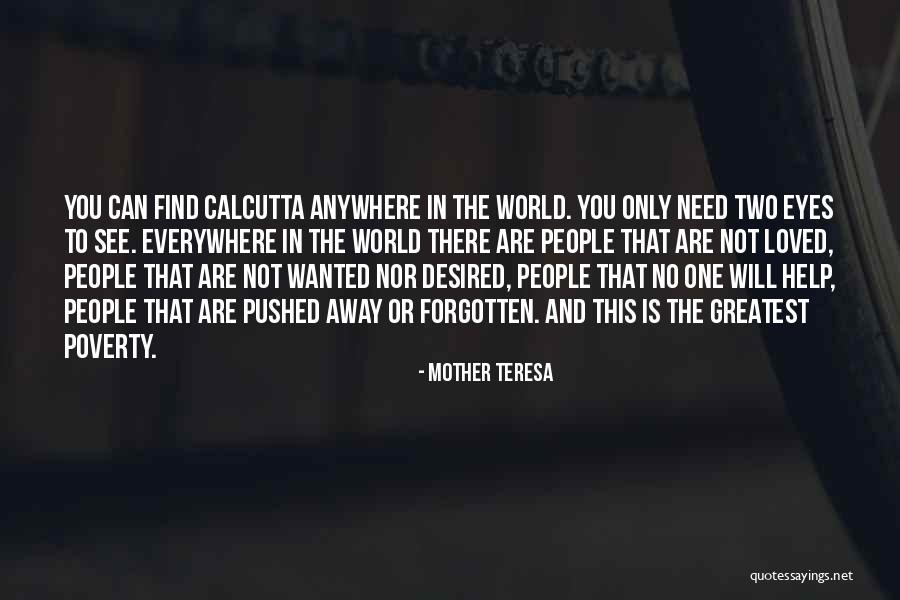 You can find Calcutta anywhere in the world. You only need two eyes to see. Everywhere in the world there are people that are not loved, people that are not wanted nor desired, people that no one will help, people that are pushed away or forgotten. And this is the greatest poverty. — Mother Teresa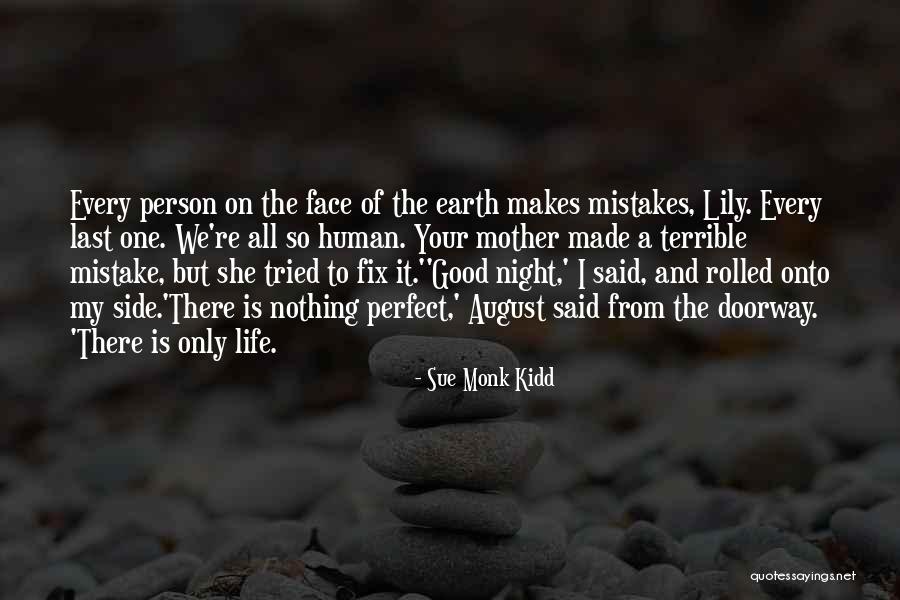 Every person on the face of the earth makes mistakes, Lily. Every last one. We're all so human. Your mother made a terrible mistake, but she tried to fix it.'
'Good night,' I said, and rolled onto my side.
'There is nothing perfect,' August said from the doorway. 'There is only life. — Sue Monk Kidd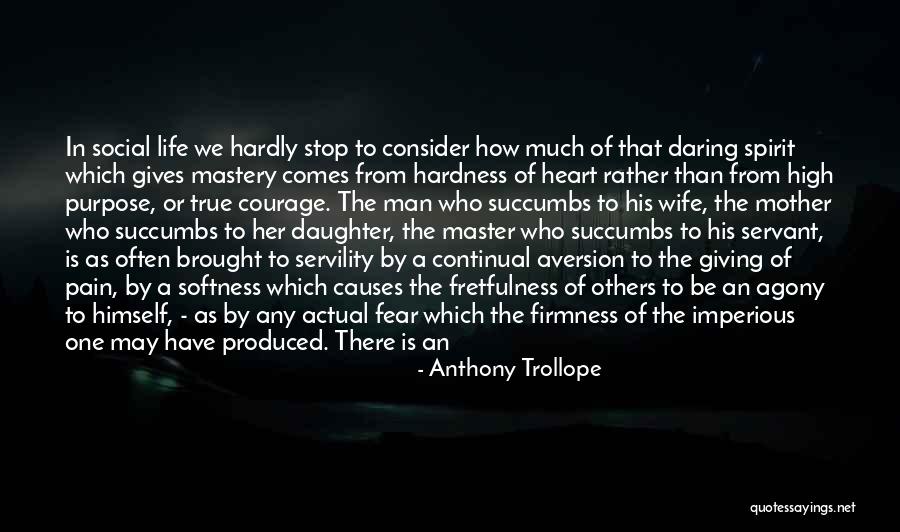 In social life we hardly stop to consider how much of that daring spirit which gives mastery comes from hardness of heart rather than from high purpose, or true courage. The man who succumbs to his wife, the mother who succumbs to her daughter, the master who succumbs to his servant, is as often brought to servility by a continual aversion to the giving of pain, by a softness which causes the fretfulness of others to be an agony to himself, - as by any actual fear which the firmness of the imperious one may have produced. There is an inner softness, a thinness of the mind's skin, an incapability of seeing or even thinking of the troubles of others with equanimity, which produces a feeling akin to fear; but which is compatible not only with courage, but with absolute firmness of purpose, when the demand for firmness arises so strongly as to assert itself. — Anthony Trollope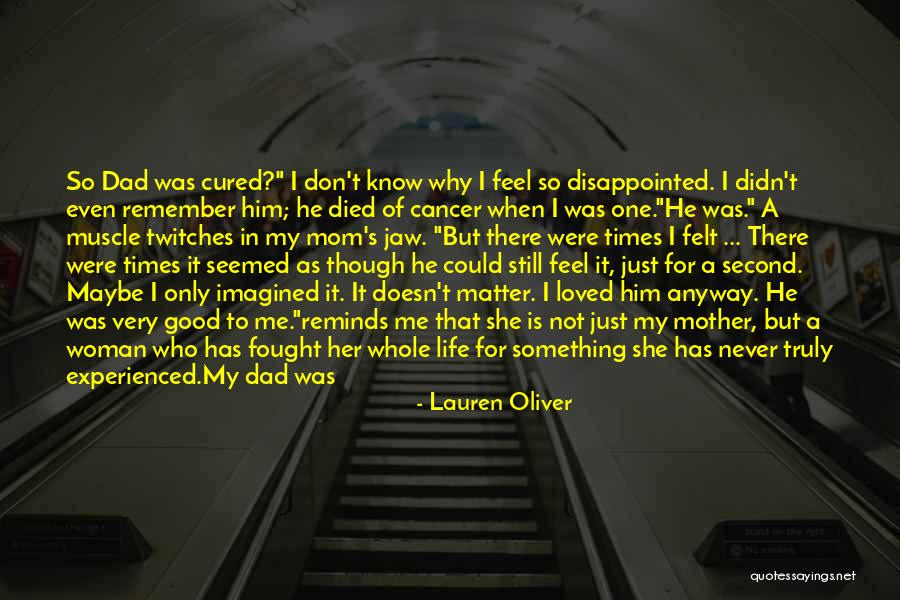 So Dad was cured?" I don't know why I feel so disappointed. I didn't even remember him; he died of cancer when I was one.
"He was." A muscle twitches in my mom's jaw. "But there were times I felt ... There were times it seemed as though he could still feel it, just for a second. Maybe I only imagined it. It doesn't matter. I loved him anyway. He was very good to me."
reminds me that she is not just my mother, but a woman who has fought her whole life for something she has never truly experienced.
My dad was cured. And you can't love, not fully, unless you are loved in return.
It makes me ache for her, a feeling I hate and am somehow ashamed of. — Lauren Oliver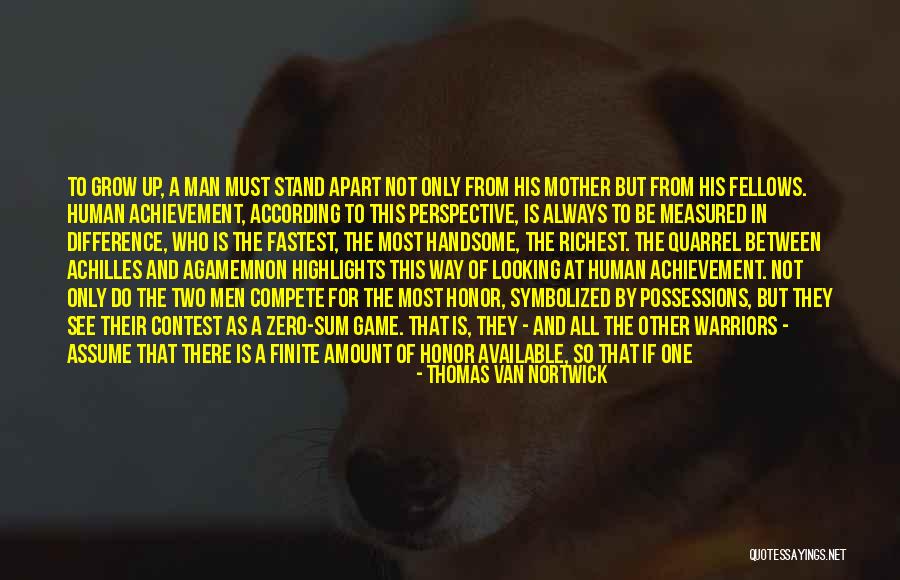 To grow up, a man must stand apart not only from his mother but from his fellows. Human achievement, according to this perspective, is always to be measured in difference, who is the fastest, the most handsome, the richest. The quarrel between Achilles and Agamemnon highlights this way of looking at human achievement. Not only do the two men compete for the most honor, symbolized by possessions, but they see their contest as a zero-sum game. That is, they - and all the other warriors - assume that there is a finite amount of honor available, so that if one man gets more, then someone else gets less.

Achilles, with his semidivine nature and abundant physical gifts, would seem to be an example of a man fully equipped for success in this system. And yet, Achilles does not prosper in the world of the poem. As he pursues honor and status among his fellows, he becomes more and more isolated, the price of distinction in a competitive society. — Thomas Van Nortwick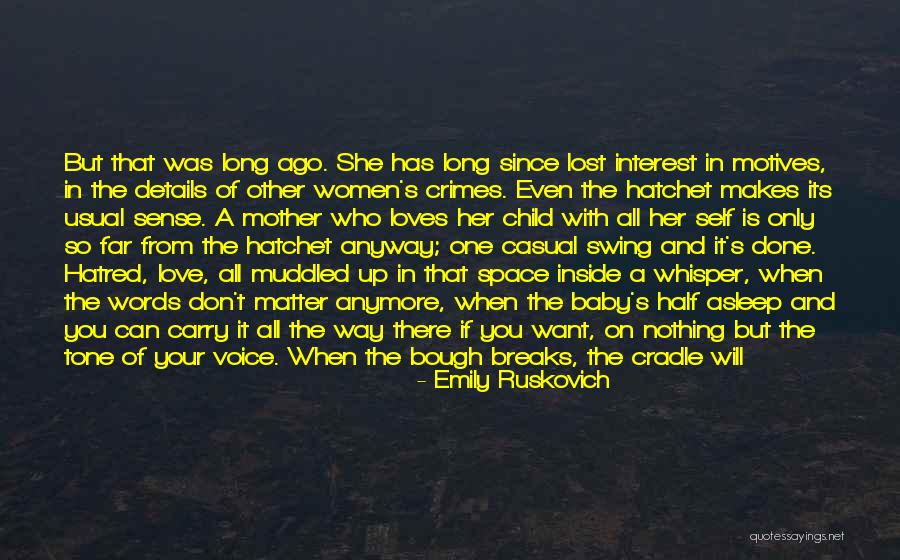 But that was long ago. She has long since lost interest in motives, in the details of other women's crimes. Even the hatchet makes its usual sense. A mother who loves her child with all her self is only so far from the hatchet anyway; one casual swing and it's done. Hatred, love, all muddled up in that space inside a whisper, when the words don't matter anymore, when the baby's half asleep and you can carry it all the way there if you want, on nothing but the tone of your voice. When the bough breaks, the cradle will fall. Sing it as softly as you like - the words clench their own teeth. The child still falls. — Emily Ruskovich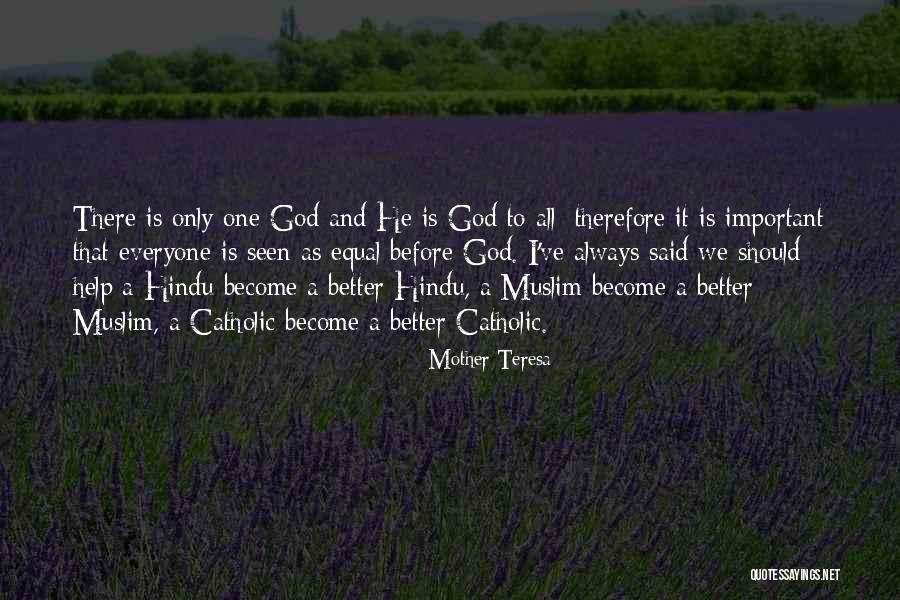 There is only one God and He is God to all; therefore it is important that everyone is seen as equal before God. I've always said we should help a Hindu become a better Hindu, a Muslim become a better Muslim, a Catholic become a better Catholic. — Mother Teresa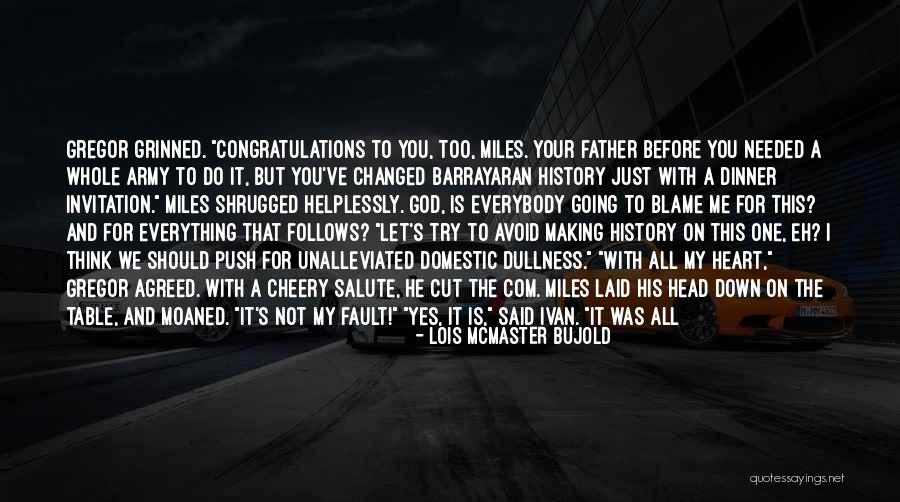 Gregor grinned. "Congratulations to you, too, Miles. Your father before you needed a whole army to do it, but you've changed Barrayaran history just with a dinner invitation." Miles shrugged helplessly. God, is everybody going to blame me for this? And for everything that follows? "Let's try to avoid making history on this one, eh? I think we should push for unalleviated domestic dullness." "With all my heart," Gregor agreed. With a cheery salute, he cut the com. Miles laid his head down on the table, and moaned. "It's not my fault!" "Yes, it is," said Ivan. "It was all your idea. I was there when you came up with it." "No, it wasn't. It was yours. You're the one who dragooned me into attending the damned state dinner in the first place." "I only invited you. You invited Galeni. And anyway, my mother dragooned me." "Oh. So it's all her fault. Good. I can live with that." Ivan — Lois McMaster Bujold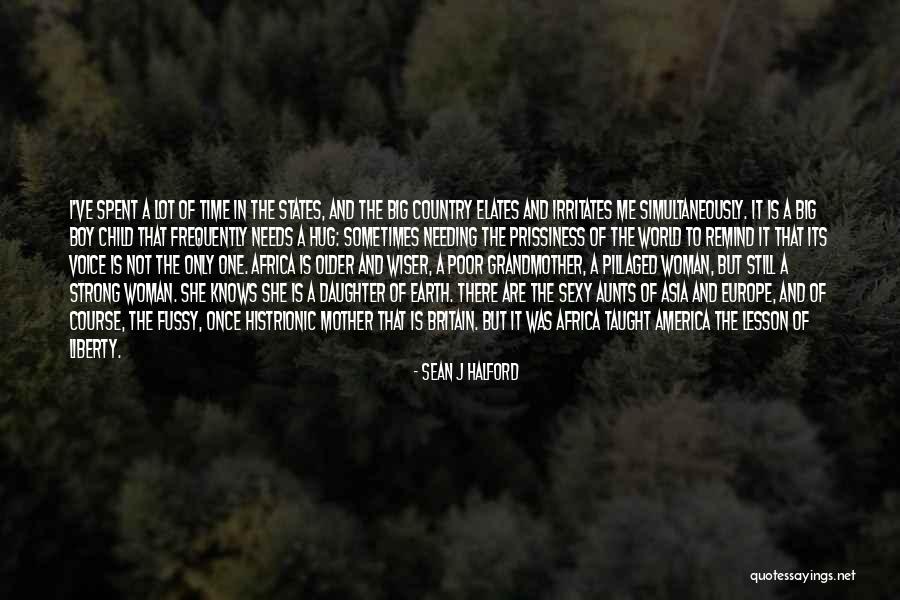 I've spent a lot of time in the States, and the Big Country elates and irritates me simultaneously. It is a big boy child that frequently needs a hug: sometimes needing the prissiness of the world to remind it that its voice is not the only one. Africa is older and wiser, a poor grandmother, a pillaged woman, but still a strong woman. She knows she is a daughter of Earth. There are the sexy aunts of Asia and Europe, and of course, the fussy, once histrionic mother that is Britain. But it was Africa taught America the lesson of liberty. — Sean J Halford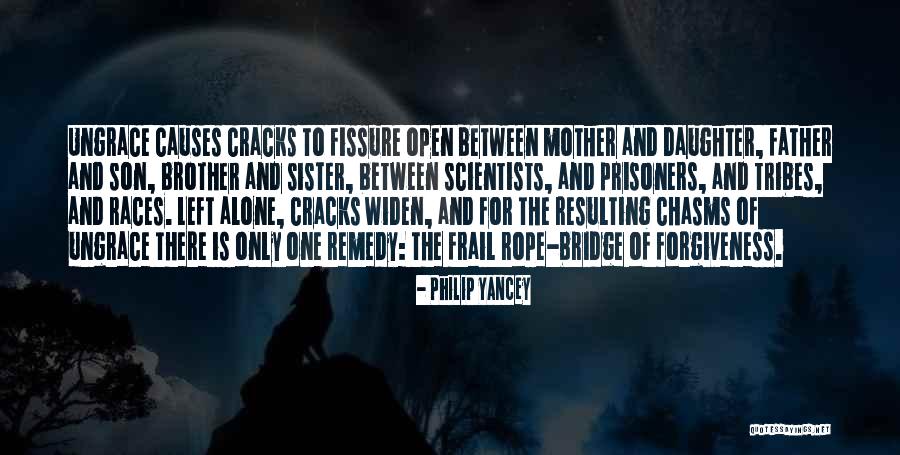 Ungrace causes cracks to fissure open between mother and daughter, father and son, brother and sister, between scientists, and prisoners, and tribes, and races. Left alone, cracks widen, and for the resulting chasms of ungrace there is only one remedy: the frail rope-bridge of forgiveness. — Philip Yancey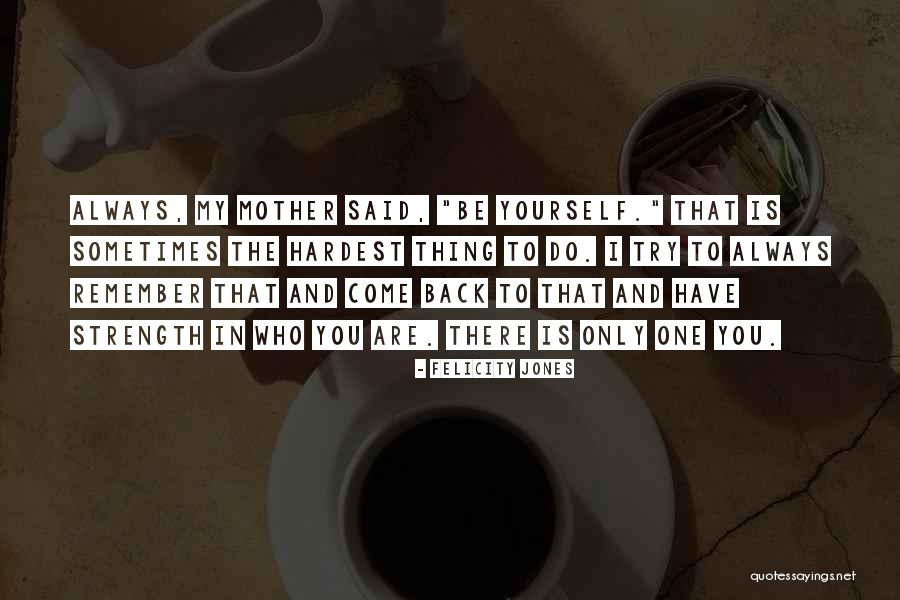 Always, my mother said, "Be yourself." That is sometimes the hardest thing to do. I try to always remember that and come back to that and have strength in who you are. There is only one you. — Felicity Jones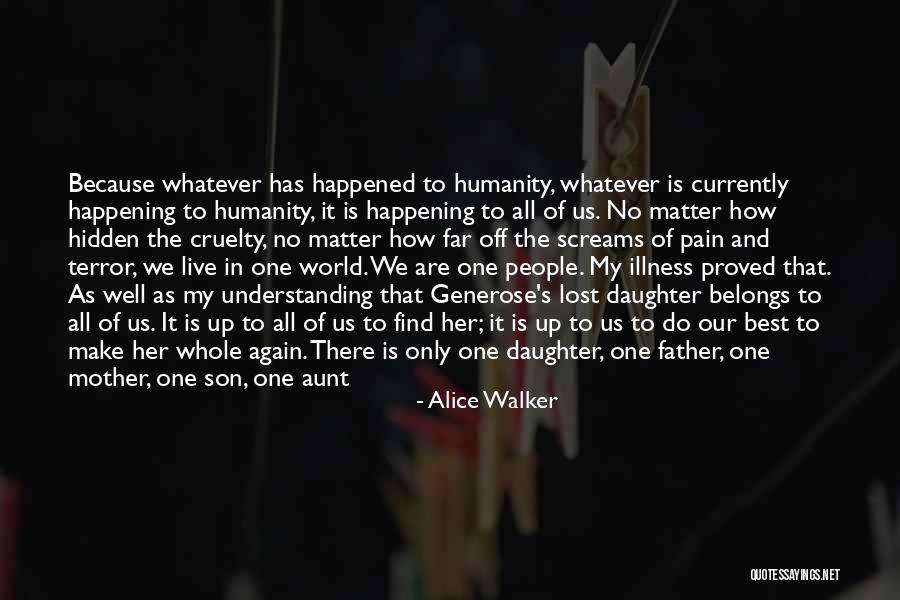 Because whatever has happened to humanity, whatever is currently happening to humanity, it is happening to all of us. No matter how hidden the cruelty, no matter how far off the screams of pain and terror, we live in one world. We are one people. My illness proved that. As well as my understanding that Generose's lost daughter belongs to all of us. It is up to all of us to find her; it is up to us to do our best to make her whole again. There is only one daughter, one father, one mother, one son, one aunt or uncle, one dog, one cat, donkey, monkey, or goat in the universe, after all: the one right in front of you. — Alice Walker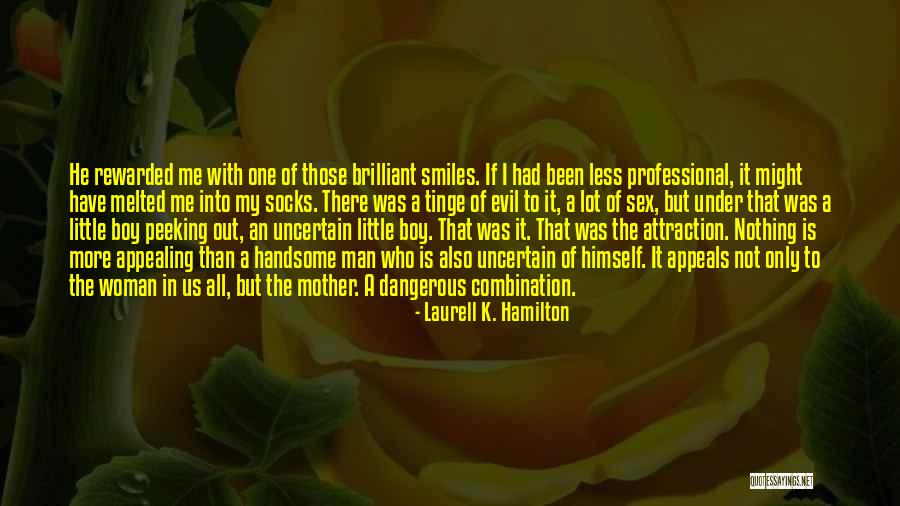 He rewarded me with one of those brilliant smiles. If I had been less professional, it might have melted me into my socks. There was a tinge of evil to it, a lot of sex, but under that was a little boy peeking out, an uncertain little boy. That was it. That was the attraction. Nothing is more appealing than a handsome man who is also uncertain of himself. It appeals not only to the woman in us all, but the mother. A dangerous combination. — Laurell K. Hamilton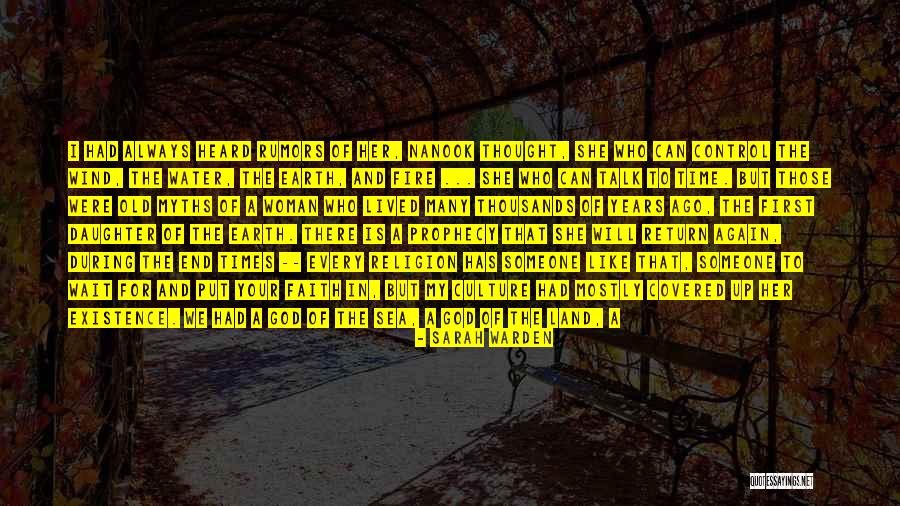 I had always heard rumors of her, Nanook thought, she who can control the wind, the water, the earth, and fire ... she who can talk to time. But those were old myths of a woman who lived many thousands of years ago, the first daughter of the Earth. There is a prophecy that she will return again, during the end times -- every religion has someone like that, someone to wait for and put your faith in, but my culture had mostly covered up her existence. We had a god of the sea, a god of the land, a god of the air, a god of fire, but no one who could control all of the elements. We spoke, only in whispers, of the ancient bloodline -- the descendents of the Great Mother. Too many superstitious minds, too many men concerned only with their own power and position, had heard these whispers in the past and taken gruesome steps to erase the descendents. The lineage was said to be broken, the blood of the Great Mother spilled for the last time. — Sarah Warden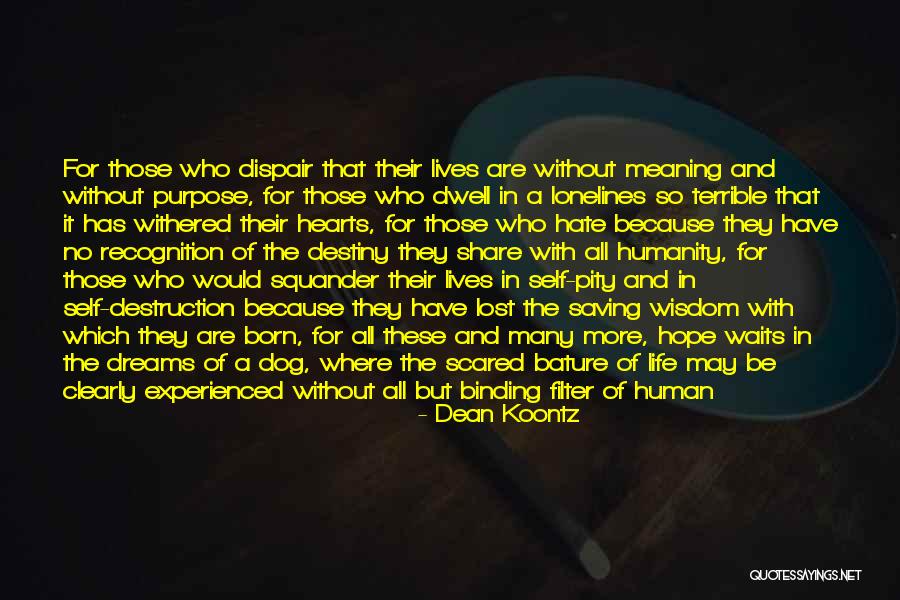 For those who dispair that their lives are without meaning and without purpose, for those who dwell in a lonelines so terrible that it has withered their hearts, for those who hate because they have no recognition of the destiny they share with all humanity, for those who would squander their lives in self-pity and in self-destruction because they have lost the saving wisdom with which they are born, for all these and many more, hope waits in the dreams of a dog, where the scared bature of life may be clearly experienced without all but binding filter of human need, desire, greed, envy and endless fear. And here, in dream woods and fields, along with the shores of dream seas, with the profound awareness of the playful presence abiding in all things, Curtis is able to prove what she thus far only dared to hope is true: that although her mother never loved her, there is one who always has. — Dean Koontz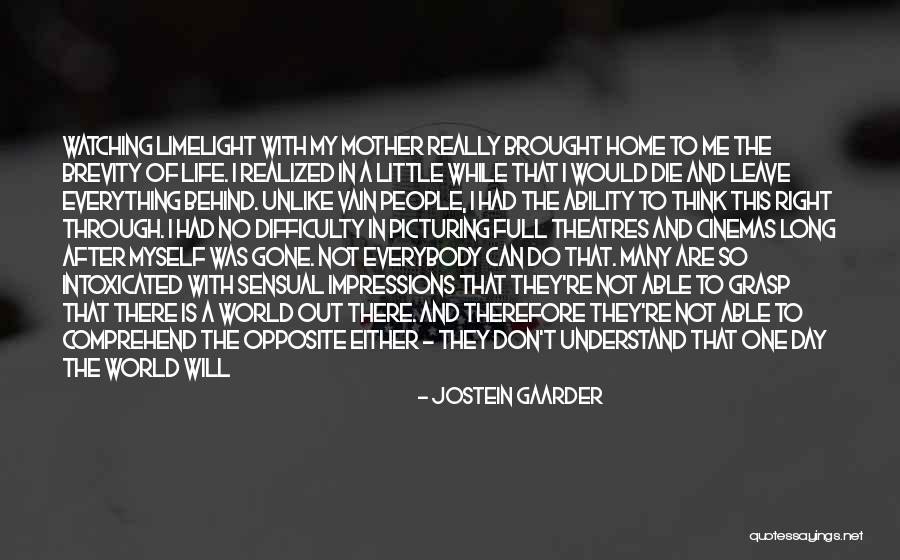 Watching Limelight with my mother really brought home to me the brevity of life. I realized in a little while that I would die and leave everything behind. Unlike vain people, I had the ability to think this right through. I had no difficulty in picturing full theatres and cinemas long after myself was gone. Not everybody can do that. Many are so intoxicated with sensual impressions that they're not able to grasp that there is a world out there. And therefore they're not able to comprehend the opposite either - they don't understand that one day the world will end. We, however, are only a few missing heartbeats away from being divorced from humanity forever. — Jostein Gaarder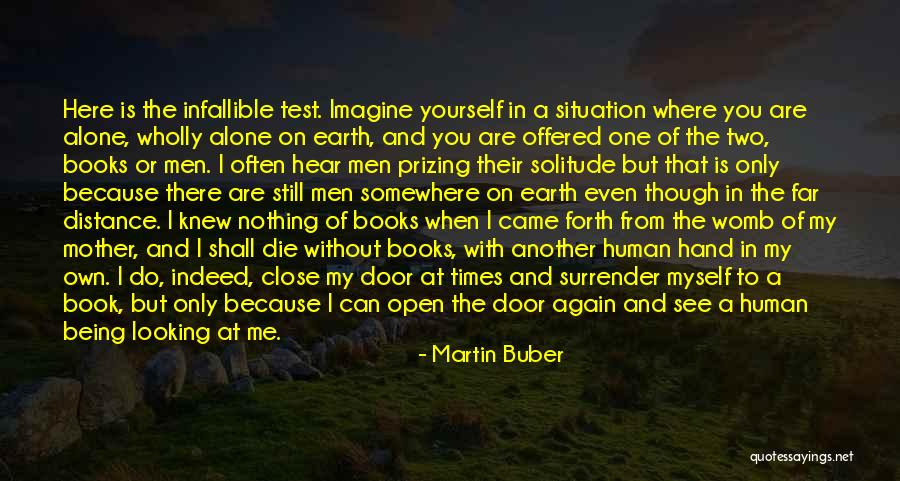 Here is the infallible test. Imagine yourself in a situation where you are alone, wholly alone on earth, and you are offered one of the two, books or men. I often hear men prizing their solitude but that is only because there are still men somewhere on earth even though in the far distance. I knew nothing of books when I came forth from the womb of my mother, and I shall die without books, with another human hand in my own. I do, indeed, close my door at times and surrender myself to a book, but only because I can open the door again and see a human being looking at me. — Martin Buber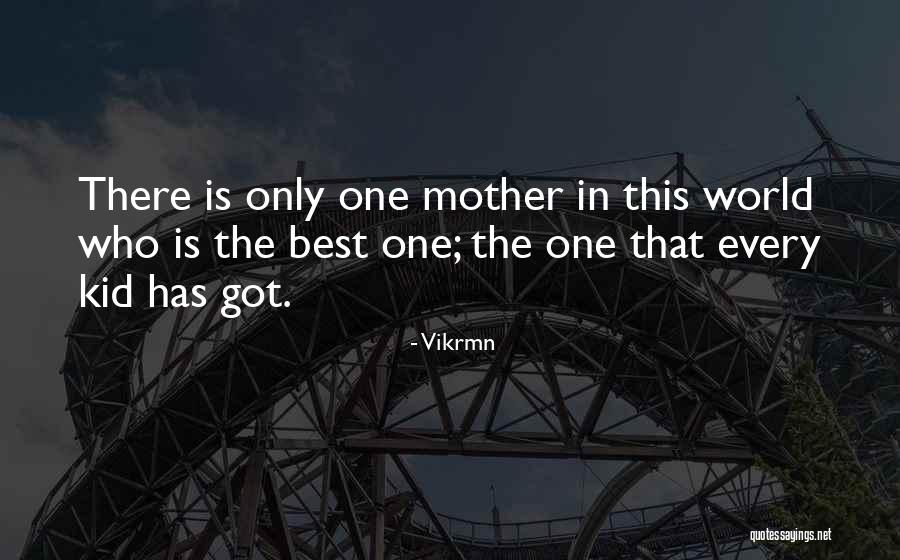 There is only one mother in this world who is the best one; the one that every kid has got. — Vikrmn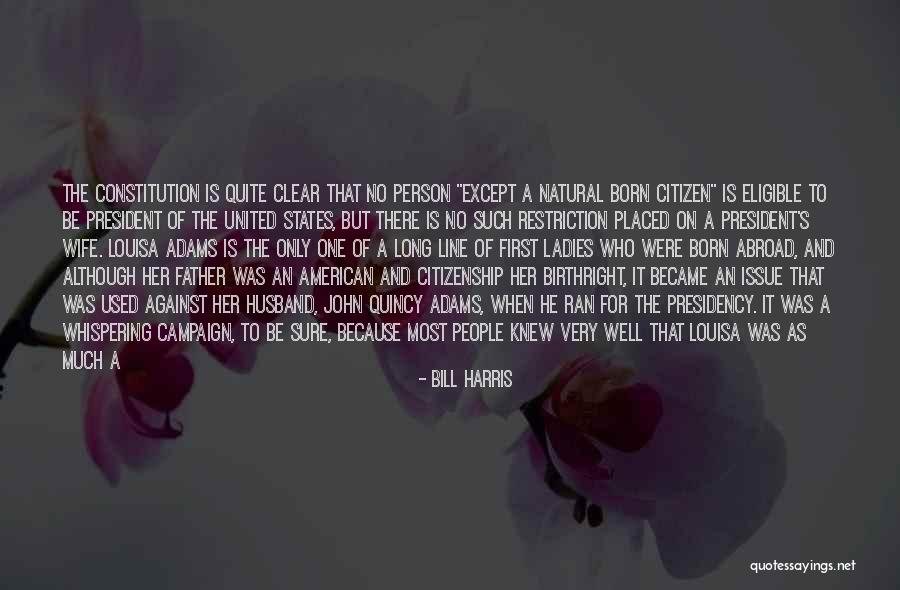 The Constitution is quite clear that no person "except a natural born citizen" is eligible to be president of the United States, but there is no such restriction placed on a president's wife. Louisa Adams is the only one of a long line of First Ladies who were born abroad, and although her father was an American and citizenship her birthright, it became an issue that was used against her husband, John Quincy Adams, when he ran for the presidency. It was a whispering campaign, to be sure, because most people knew very well that Louisa was as much a citizen as they were. A large number of people didn't understand that children born to Americans abroad inherited their parents' rights, and in Louisa's case, even some of those who did know this weren't so sure that the rule applied to her because her mother was a British subject. — Bill Harris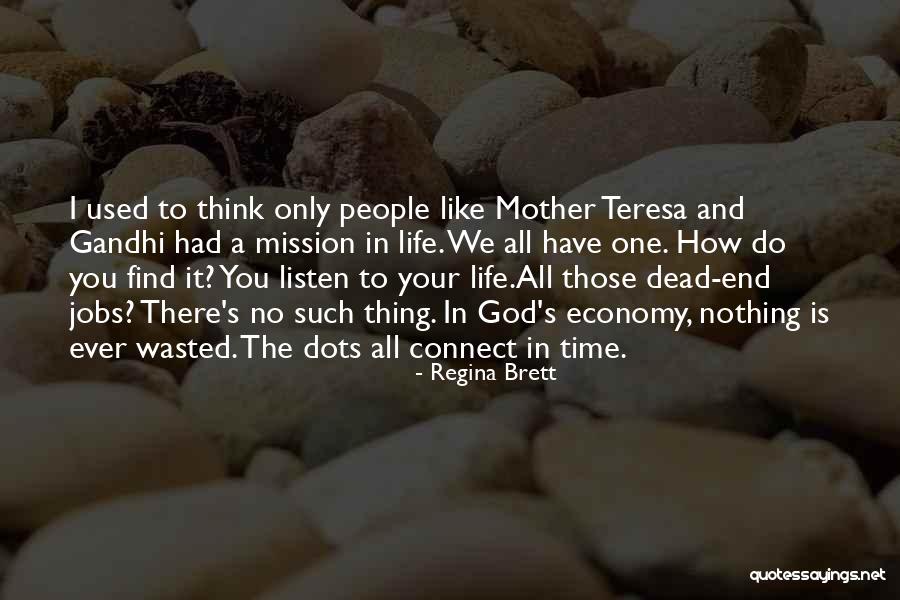 I used to think only people like Mother Teresa and Gandhi had a mission in life. We all have one. How do you find it? You listen to your life.

All those dead-end jobs? There's no such thing. In God's economy, nothing is ever wasted. The dots all connect in time. — Regina Brett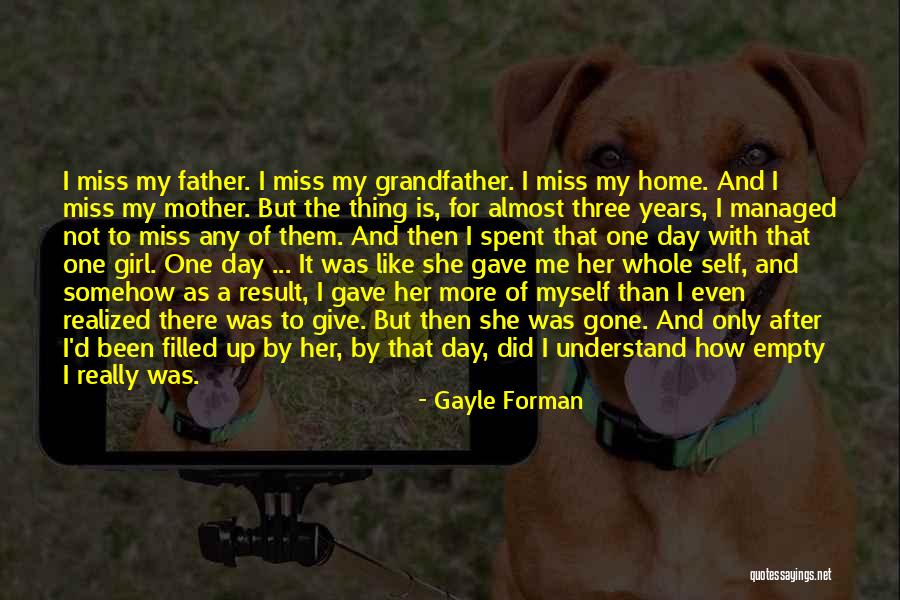 I miss my father. I miss my grandfather. I miss my home. And I miss my mother. But the thing is, for almost three years, I managed not to miss any of them. And then I spent that one day with that one girl. One day ... It was like she gave me her whole self, and somehow as a result, I gave her more of myself than I even realized there was to give. But then she was gone. And only after I'd been filled up by her, by that day, did I understand how empty I really was. — Gayle Forman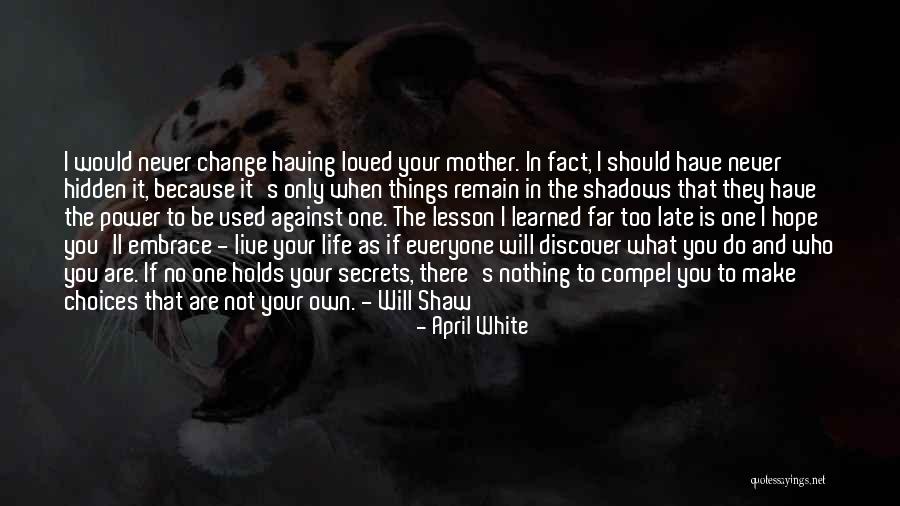 I would never change having loved your mother. In fact, I should have never hidden it, because it's only when things remain in the shadows that they have the power to be used against one. The lesson I learned far too late is one I hope you'll embrace - live your life as if everyone will discover what you do and who you are. If no one holds your secrets, there's nothing to compel you to make choices that are not your own. - Will Shaw — April White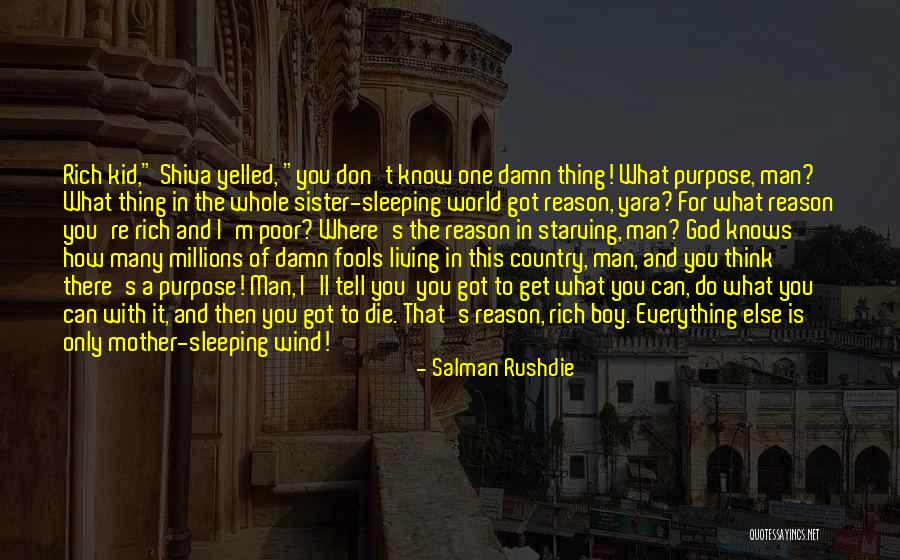 Rich kid," Shiva yelled, "you don't know one damn thing! What purpose, man? What thing in the whole sister-sleeping world got reason, yara? For what reason you're rich and I'm poor? Where's the reason in starving, man? God knows how many millions of damn fools living in this country, man, and you think there's a purpose! Man, I'll tell you
you got to get what you can, do what you can with it, and then you got to die. That's reason, rich boy. Everything else is only mother-sleeping wind! — Salman Rushdie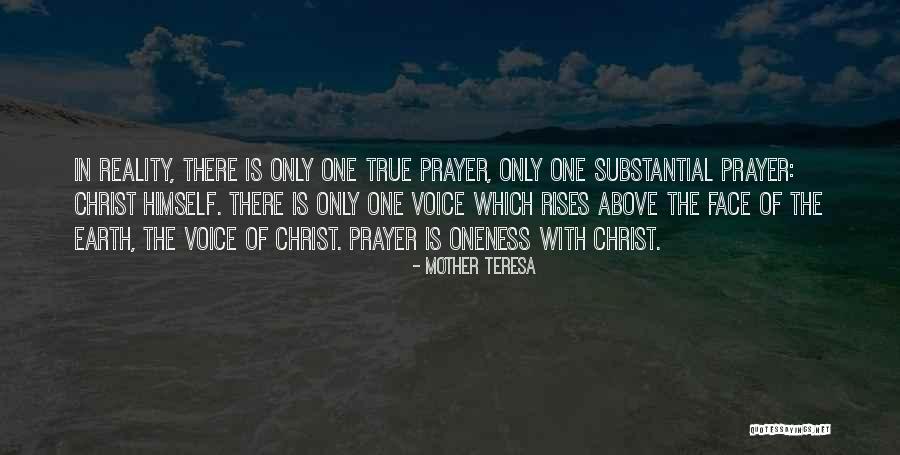 In reality, there is only one true prayer, only one substantial prayer: Christ himself. There is only one voice which rises above the face of the earth, the voice of Christ. Prayer is oneness with Christ. — Mother Teresa
The Something"

Here come my night thoughts
On crutches,
Returning from studying the heavens.
What they thought about
Stayed the same,
Stayed immense and incomprehensible.

My mother and father smile at each other
Knowingly above the mantel.
The cat sleeps on, the dog
Growls in his sleep.
The stove is cold and so is the bed.

Now there are only these crutches
To contend with.
Go ahead and laugh, while I raise one
With difficulty,
Swaying on the front porch,
While pointing at something
In the gray distance.

You see nothing, eh?
Neither do I, Mr. Milkman.
I better hit you once or twice over the head
With this fine old prop,
So you don't go off muttering

I saw something! — Charles Simic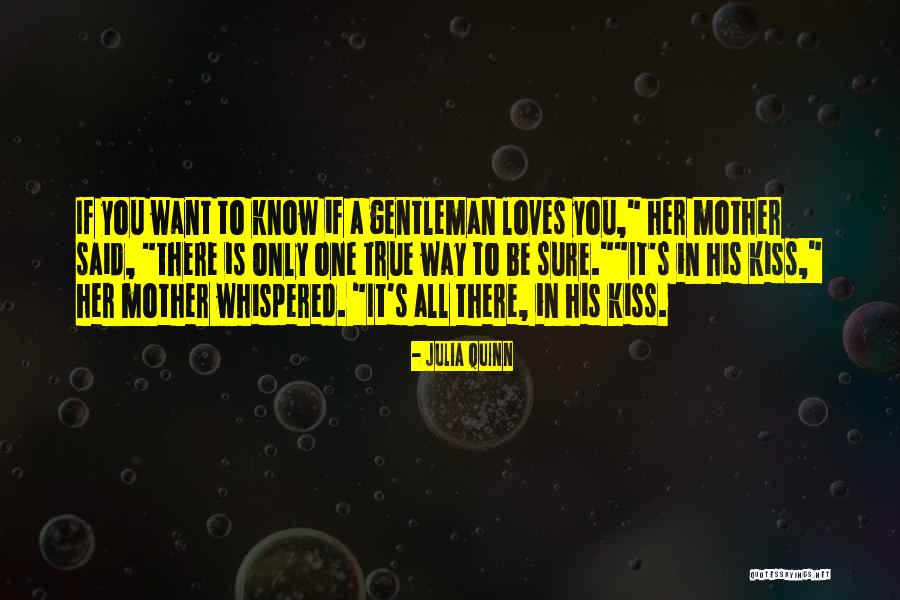 If you want to know if a gentleman loves you," her mother said, "there is only one true way to be sure."
"It's in his kiss," her mother whispered. "It's all there, in his kiss. — Julia Quinn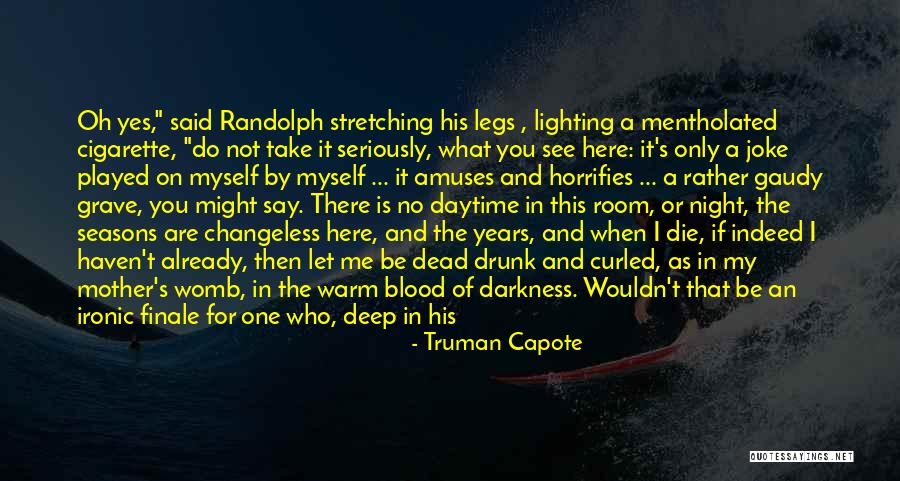 Oh yes," said Randolph stretching his legs , lighting a mentholated cigarette, "do not take it seriously, what you see here: it's only a joke played on myself by myself ... it amuses and horrifies ... a rather gaudy grave, you might say. There is no daytime in this room, or night, the seasons are changeless here, and the years, and when I die, if indeed I haven't already, then let me be dead drunk and curled, as in my mother's womb, in the warm blood of darkness. Wouldn't that be an ironic finale for one who, deep in his goddamned soul, sought sweetly the clean-limbed life? bread and water, a simple roof to share with some beloved, nothing more. — Truman Capote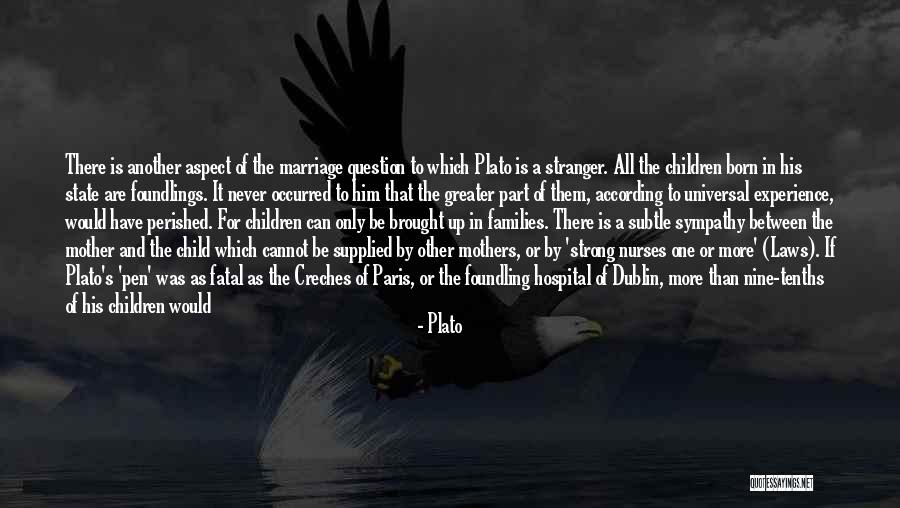 There is another aspect of the marriage question to which Plato is a stranger. All the children born in his state are foundlings. It never occurred to him that the greater part of them, according to universal experience, would have perished. For children can only be brought up in families. There is a subtle sympathy between the mother and the child which cannot be supplied by other mothers, or by 'strong nurses one or more' (Laws). If Plato's 'pen' was as fatal as the Creches of Paris, or the foundling hospital of Dublin, more than nine-tenths of his children would have perished. There would have been no need to expose or put out of the way the weaklier children, for they would have died of themselves. — Plato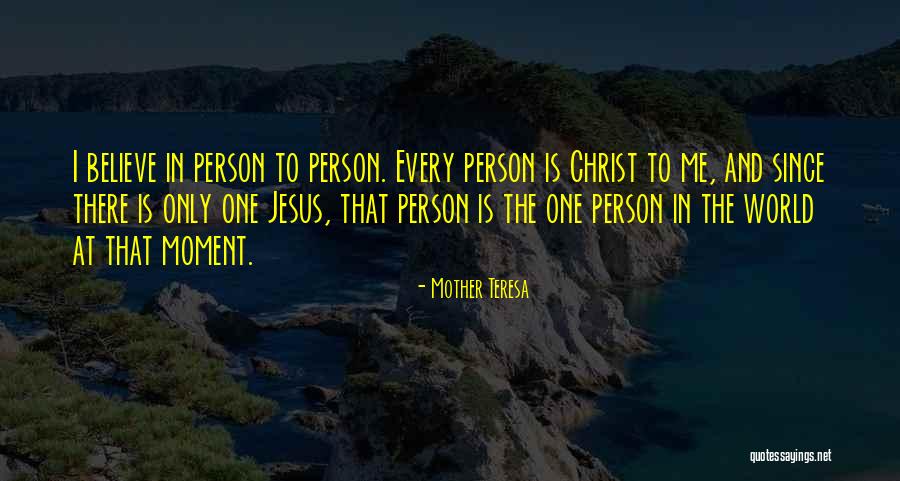 I believe in person to person. Every person is Christ to me, and since there is only one Jesus, that person is the one person in the world at that moment. — Mother Teresa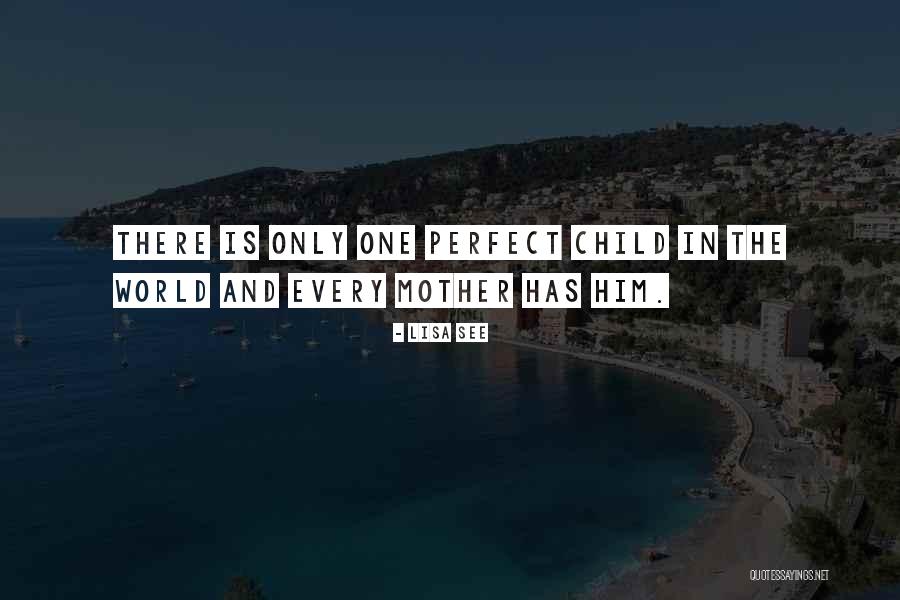 There is only one perfect child in the world and every mother has him. — Lisa See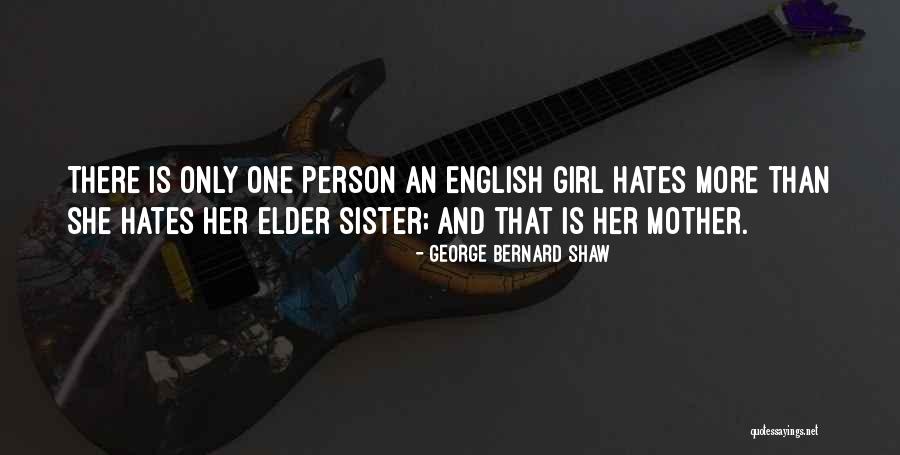 There is only one person an English girl hates more than she hates her elder sister; and that is her mother. — George Bernard Shaw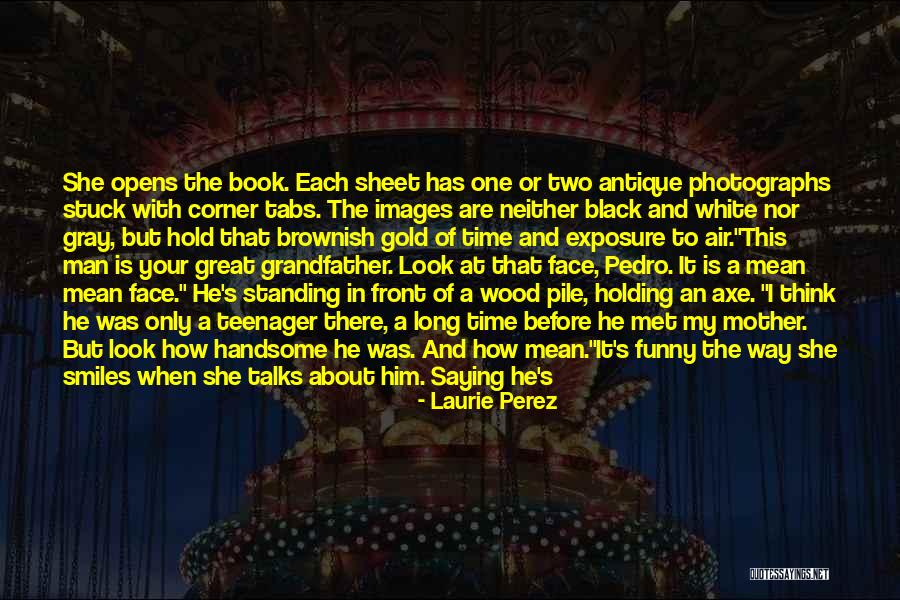 She opens the book. Each sheet has one or two antique photographs stuck with corner tabs. The images are neither black and white nor gray, but hold that brownish gold of time and exposure to air.

"This man is your great grandfather. Look at that face, Pedro. It is a mean mean face." He's standing in front of a wood pile, holding an axe. "I think he was only a teenager there, a long time before he met my mother. But look how handsome he was. And how mean."

It's funny the way she smiles when she talks about him. Saying he's mean has a perverse joy for her, as if she can stick her tongue out at him and his hands are tied so he can't slap her for doing it. She's right, though. There's no lingering smile, no potential for mirth in the burlap of his skin. I notice snow on the ground at his feet, but he's wearing a thin, unbuttoned shirt, showing no sign of cold. — Laurie Perez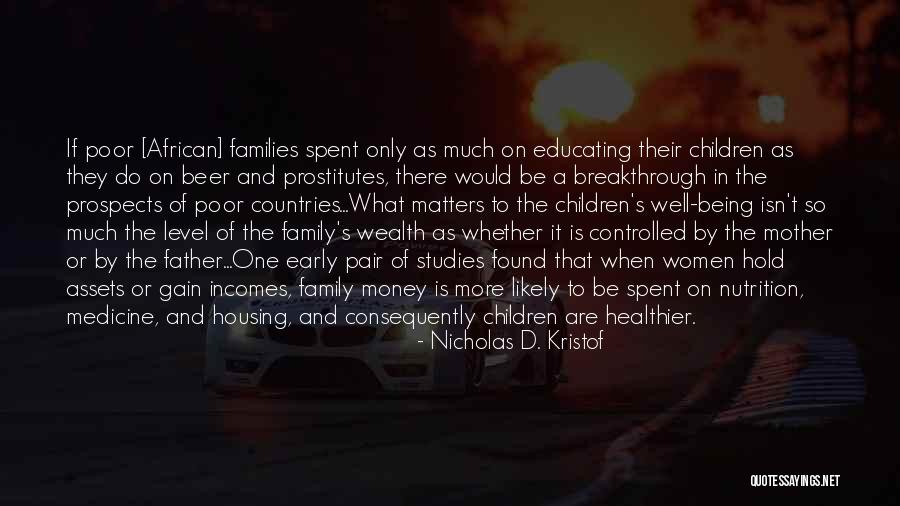 If poor [African] families spent only as much on educating their children as they do on beer and prostitutes, there would be a breakthrough in the prospects of poor countries...What matters to the children's well-being isn't so much the level of the family's wealth as whether it is controlled by the mother or by the father...One early pair of studies found that when women hold assets or gain incomes, family money is more likely to be spent on nutrition, medicine, and housing, and consequently children are healthier. — Nicholas D. Kristof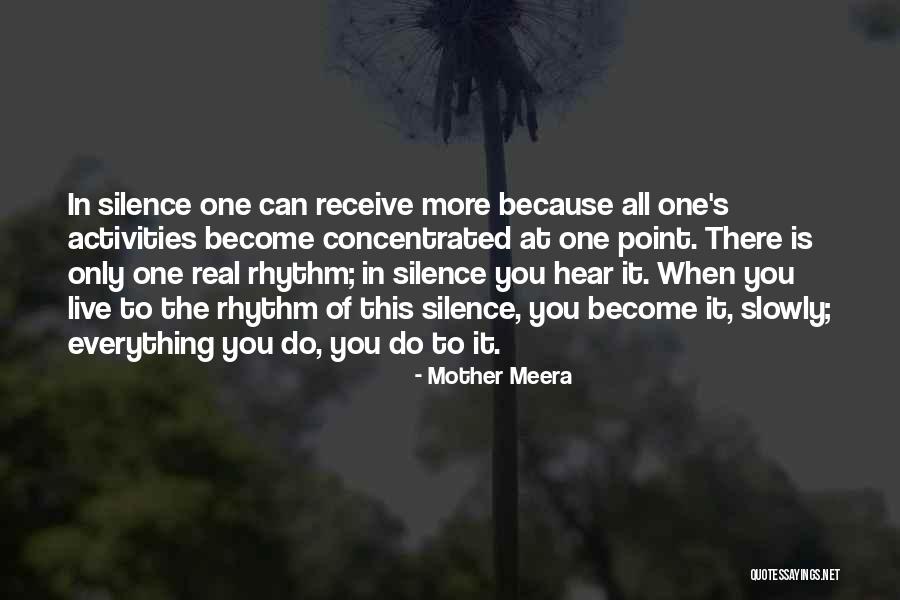 In silence one can receive more because all one's activities become concentrated at one point. There is only one real rhythm; in silence you hear it. When you live to the rhythm of this silence, you become it, slowly; everything you do, you do to it. — Mother Meera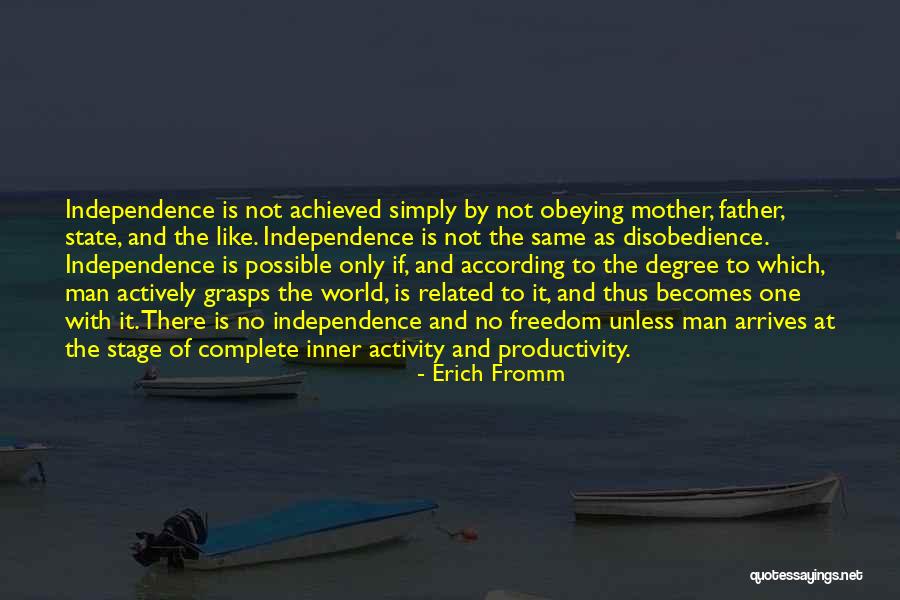 Independence is not achieved simply by not obeying mother, father, state, and the like. Independence is not the same as disobedience. Independence is possible only if, and according to the degree to which, man actively grasps the world, is related to it, and thus becomes one with it. There is no independence and no freedom unless man arrives at the stage of complete inner activity and productivity. — Erich Fromm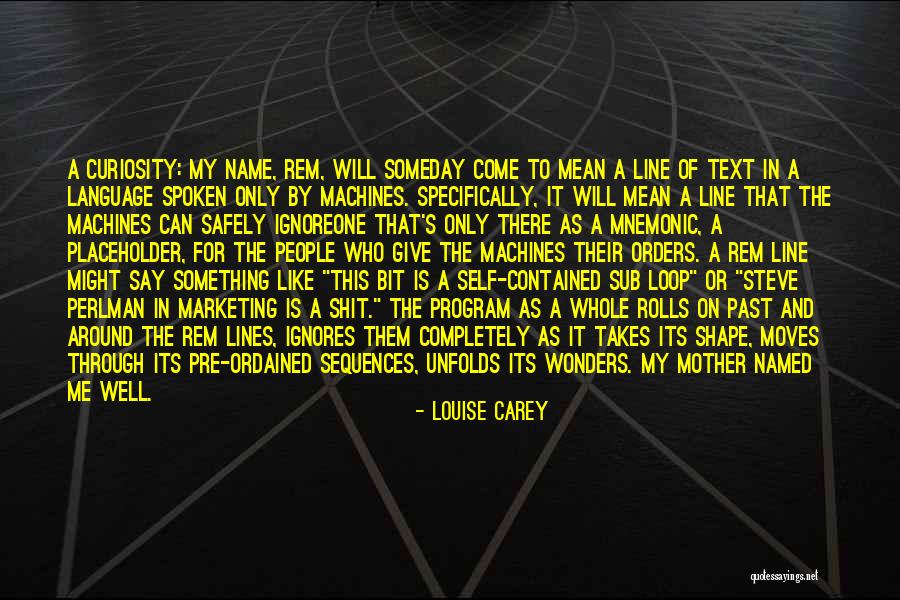 A curiosity: my name, Rem, will someday come to mean a line of text in a language spoken only by machines. Specifically, it will mean a line that the machines can safely ignore
one that's only there as a mnemonic, a placeholder, for the people who give the machines their orders. A REM line might say something like "this bit is a self-contained sub loop" or "Steve Perlman in Marketing is a shit." The program as a whole rolls on past and around the REM lines, ignores them completely as it takes its shape, moves through its pre-ordained sequences, unfolds its wonders. My mother named me well. — Louise Carey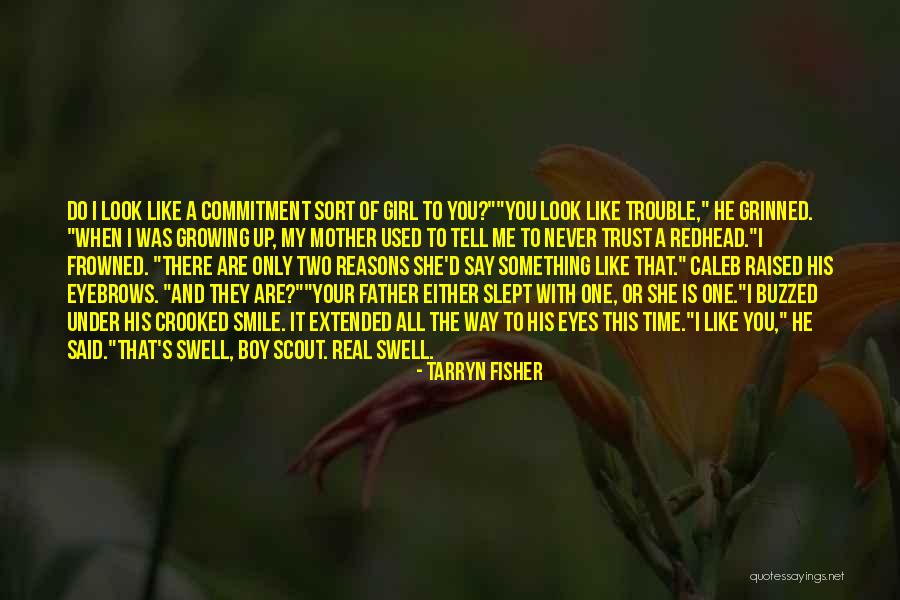 Do I look like a commitment sort of girl to you?"
"You look like trouble," he grinned. "When I was growing up, my mother used to tell me to never trust a redhead."
I frowned. "There are only two reasons she'd say something like that." Caleb raised his eyebrows. "And they are?"
"Your father either slept with one, or she is one."
I buzzed under his crooked smile. It extended all the way to his eyes this time.
"I like you," he said.
"That's swell, Boy Scout. Real swell. — Tarryn Fisher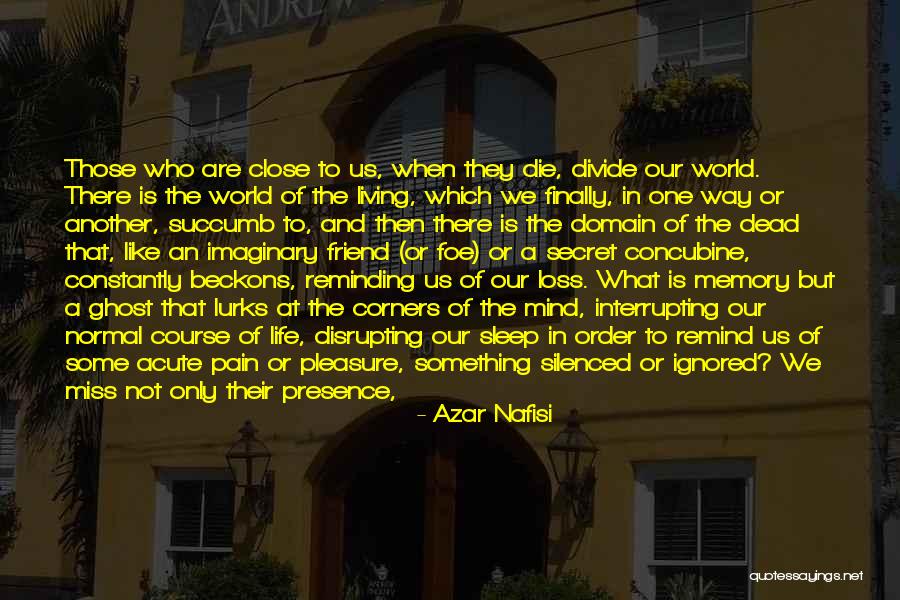 Those who are close to us, when they die, divide our world. There is the world of the living, which we finally, in one way or another, succumb to, and then there is the domain of the dead that, like an imaginary friend (or foe) or a secret concubine, constantly beckons, reminding us of our loss. What is memory but a ghost that lurks at the corners of the mind, interrupting our normal course of life, disrupting our sleep in order to remind us of some acute pain or pleasure, something silenced or ignored? We miss not only their presence, or how they felt about us, but ultimately how they allowed us to feel about ourselves or them. (prologue) — Azar Nafisi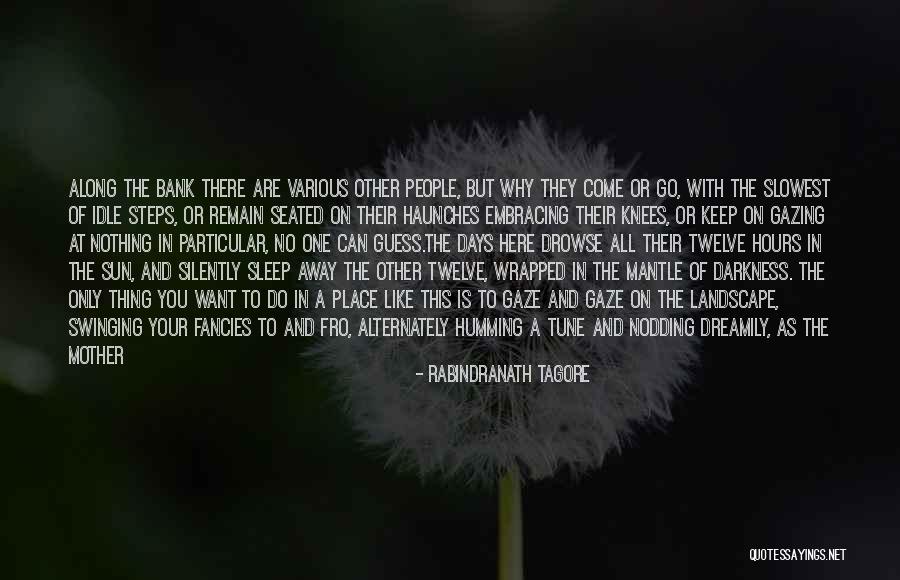 Along the bank there are various other people, but why they come or go, with the slowest of idle steps, or remain seated on their haunches embracing their knees, or keep on gazing at nothing in particular, no one can guess.

The days here drowse all their twelve hours in the sun, and silently sleep away the other twelve, wrapped in the mantle of darkness. The only thing you want to do in a place like this is to gaze and gaze on the landscape, swinging your fancies to and fro, alternately humming a tune and nodding dreamily, as the mother on a winter's noonday, her back to the sun, rocks and croons her baby to sleep. — Rabindranath Tagore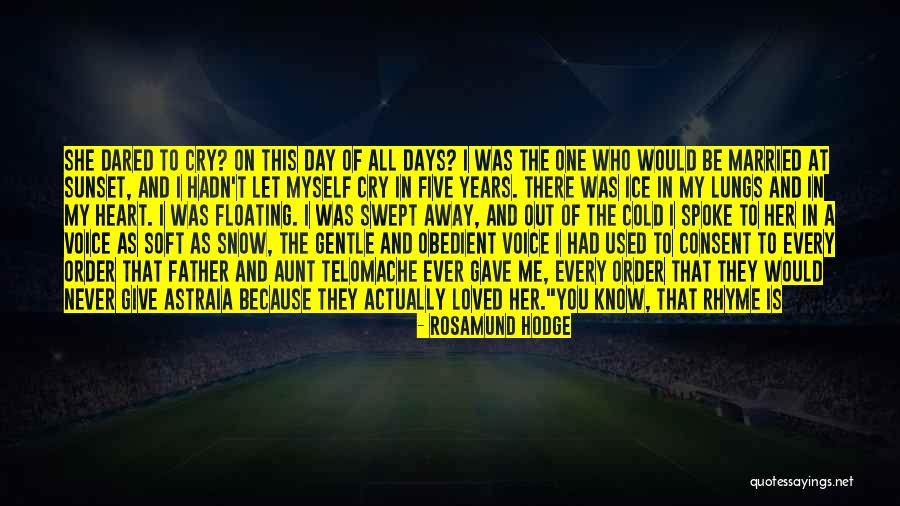 She dared to cry? On this day of all days? I was the one who would be married at sunset, and I hadn't let myself cry in five years.
There was ice in my lungs and in my heart. I was floating. I was swept away, and out of the cold I spoke to her in a voice as soft as snow, the gentle and obedient voice I had used to consent to every order that Father and Aunt Telomache ever gave me, every order that they would never give Astraia because they actually loved her.
"You know, that Rhyme is a lie that Aunt Telomache only told you because you weren't strong enough to bear the truth."
I had thought the words so often, they felt like nothing in my mouth, like no more than a breath of air, and as easily as breathing I went on.
"The truth is, Mother died because of you, and now I have to die for your sake, too. And neither one of us will ever forgive you."
Then I shoved her aside and strode out of the room. — Rosamund Hodge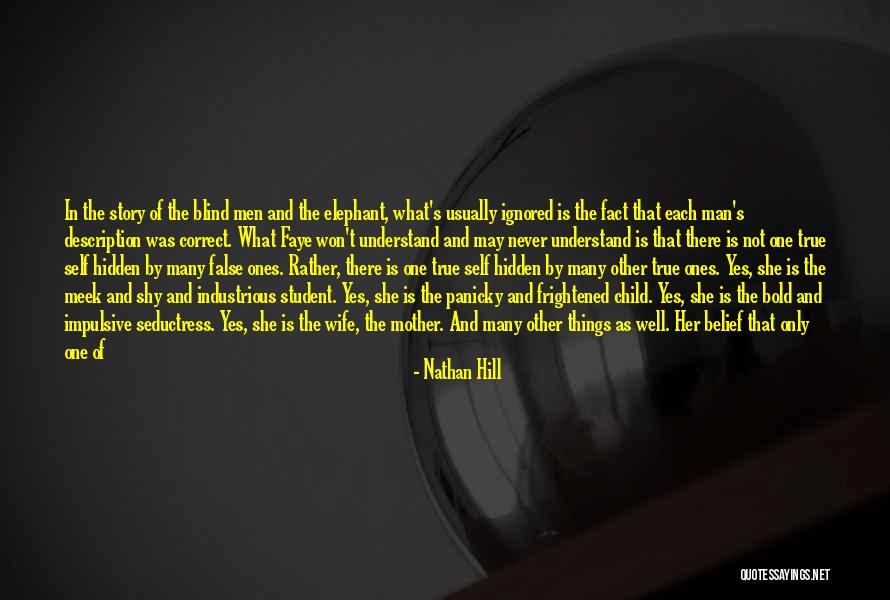 In the story of the blind men and the elephant, what's usually ignored is the fact that each man's description was correct. What Faye won't understand and may never understand is that there is not one true self hidden by many false ones. Rather, there is one true self hidden by many other true ones. Yes, she is the meek and shy and industrious student. Yes, she is the panicky and frightened child. Yes, she is the bold and impulsive seductress. Yes, she is the wife, the mother. And many other things as well. Her belief that only one of these is true obscures the larger truth, which was ultimately the problem with the blind men and the elephant. It wasn't that they were blind - it's that they stopped too quickly, and so never knew there was a larger truth to grasp. — Nathan Hill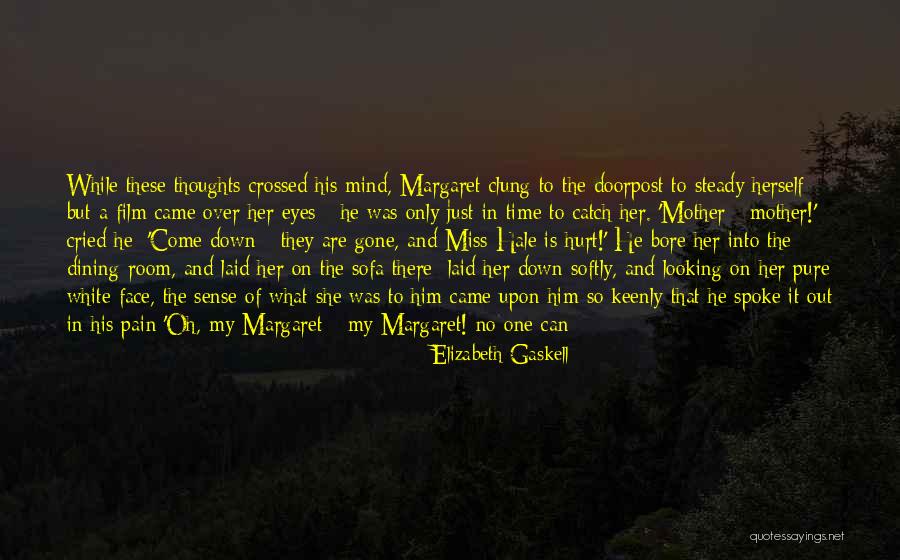 While these thoughts crossed his mind, Margaret clung to the doorpost to steady herself: but a film came over her eyes - he was only just in time to catch her. 'Mother - mother!' cried he; 'Come down - they are gone, and Miss Hale is hurt!' He bore her into the dining-room, and laid her on the sofa there; laid her down softly, and looking on her pure white face, the sense of what she was to him came upon him so keenly that he spoke it out in his pain:
'Oh, my Margaret - my Margaret! no one can tell what you are to me! Dead - cold as you lie there, you are the only woman I ever loved! Oh, Margaret - Margaret!' Inarticulately as he spoke, kneeling by her, and rather moaning than saying the words, he started up, ashamed of himself, as his mother came in. She saw nothing, but her son a little paler, a little sterner than usual. — Elizabeth Gaskell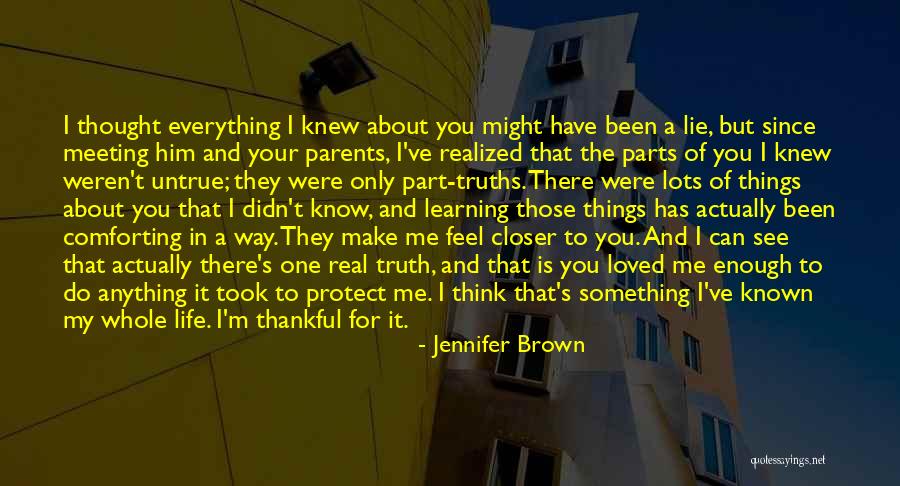 I thought everything I knew about you might have been a lie, but since meeting him and your parents, I've realized that the parts of you I knew weren't untrue; they were only part-truths. There were lots of things about you that I didn't know, and learning those things has actually been comforting in a way. They make me feel closer to you. And I can see that actually there's one real truth, and that is you loved me enough to do anything it took to protect me. I think that's something I've known my whole life. I'm thankful for it. — Jennifer Brown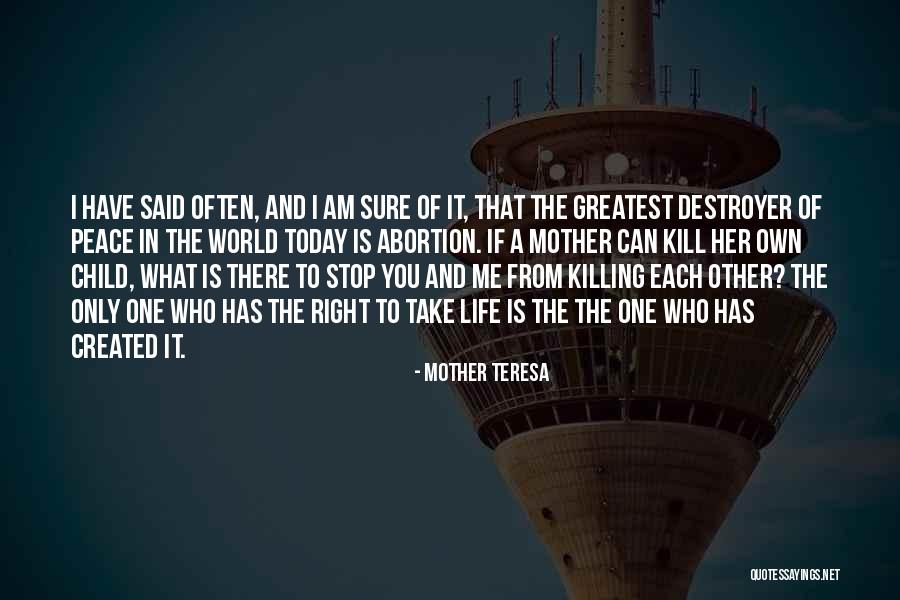 I have said often, and I am sure of it, that the greatest destroyer of peace in the world today is abortion. If a mother can kill her own child, what is there to stop you and me from killing each other? The only one who has the right to take life is the The One who has created it. — Mother Teresa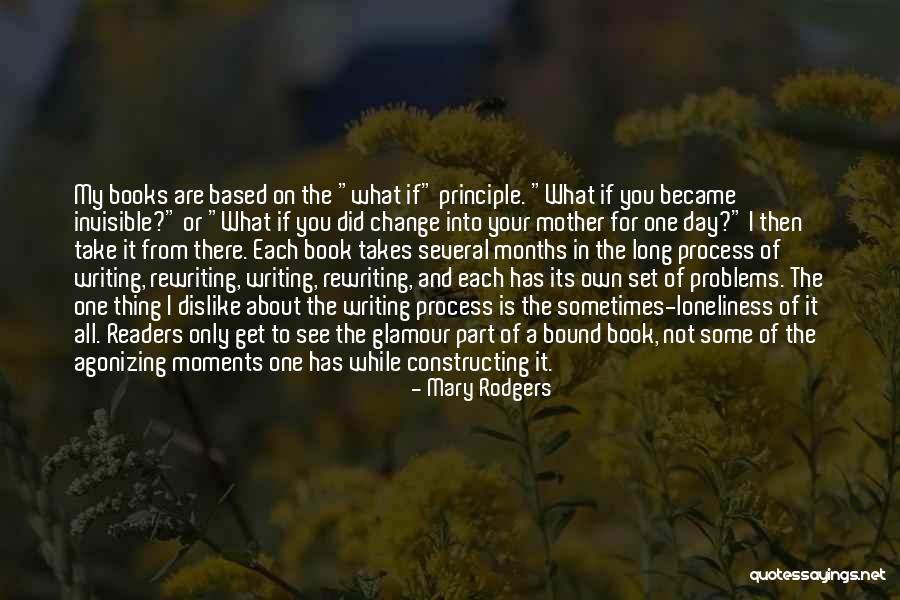 My books are based on the "what if" principle. "What if you became invisible?" or "What if you did change into your mother for one day?" I then take it from there. Each book takes several months in the long process of writing, rewriting, writing, rewriting, and each has its own set of problems. The one thing I dislike about the writing process is the sometimes-loneliness of it all. Readers only get to see the glamour part of a bound book, not some of the agonizing moments one has while constructing it. — Mary Rodgers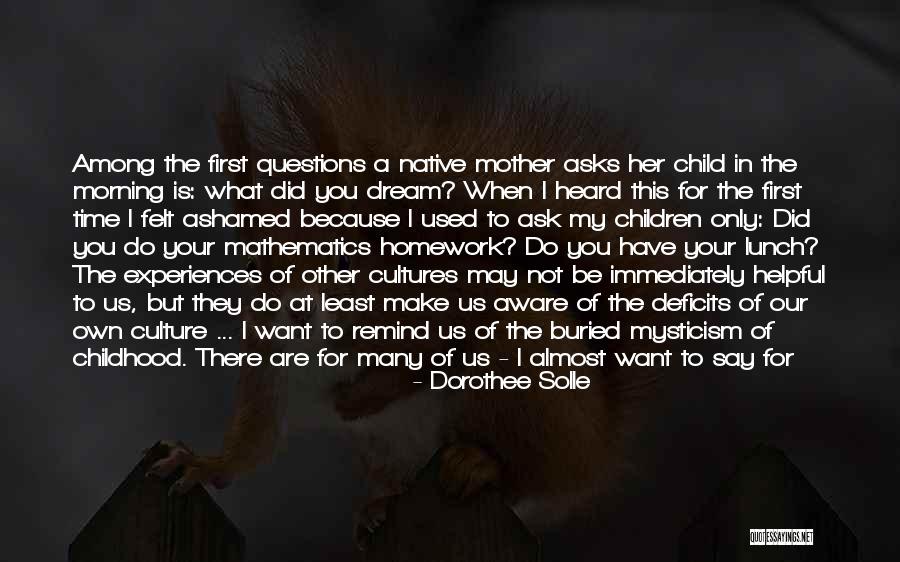 Among the first questions a native mother asks her child in the morning is: what did you dream? When I heard this for the first time I felt ashamed because I used to ask my children only: Did you do your mathematics homework? Do you have your lunch? The experiences of other cultures may not be immediately helpful to us, but they do at least make us aware of the deficits of our own culture ... I want to remind us of the buried mysticism of childhood. There are for many of us - I almost want to say for every one of us - moments of heightened experience in childhood in which we are grasped by a remarkable, seemingly unshakable certainty. Mystics of the various ages have called upon this buried experience. — Dorothee Solle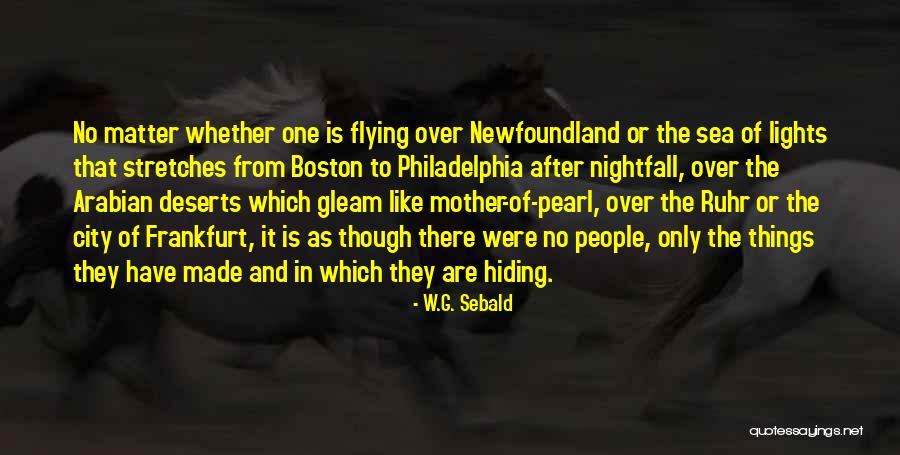 No matter whether one is flying over Newfoundland or the sea of lights that stretches from Boston to Philadelphia after nightfall, over the Arabian deserts which gleam like mother-of-pearl, over the Ruhr or the city of Frankfurt, it is as though there were no people, only the things they have made and in which they are hiding. — W.G. Sebald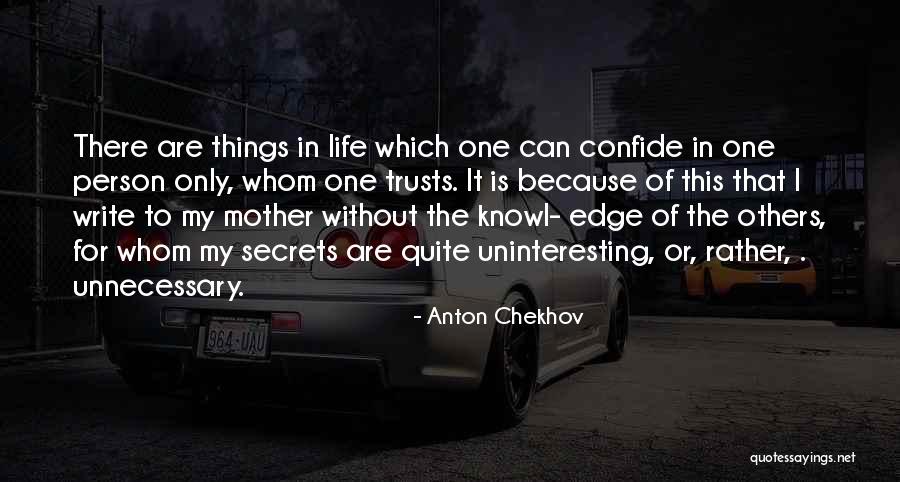 There are things in life which one can confide
in one person only, whom one trusts. It is because
of this that I write to my mother without the knowl-
edge of the others, for whom my secrets are quite
uninteresting, or, rather, . unnecessary. — Anton Chekhov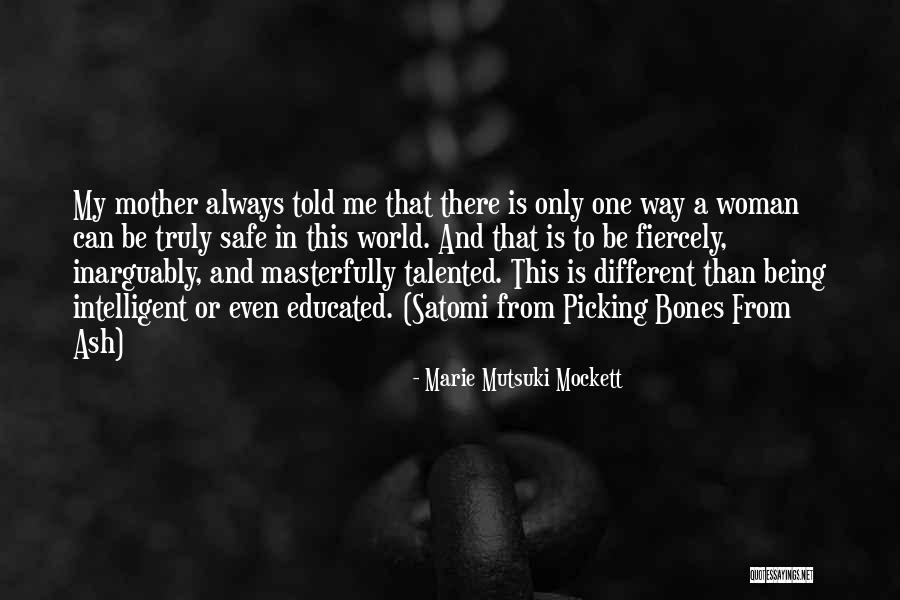 My mother always told me that there is only one way a woman can be truly safe in this world. And that is to be fiercely, inarguably, and masterfully talented. This is different than being intelligent or even educated. (Satomi from Picking Bones From Ash) — Marie Mutsuki Mockett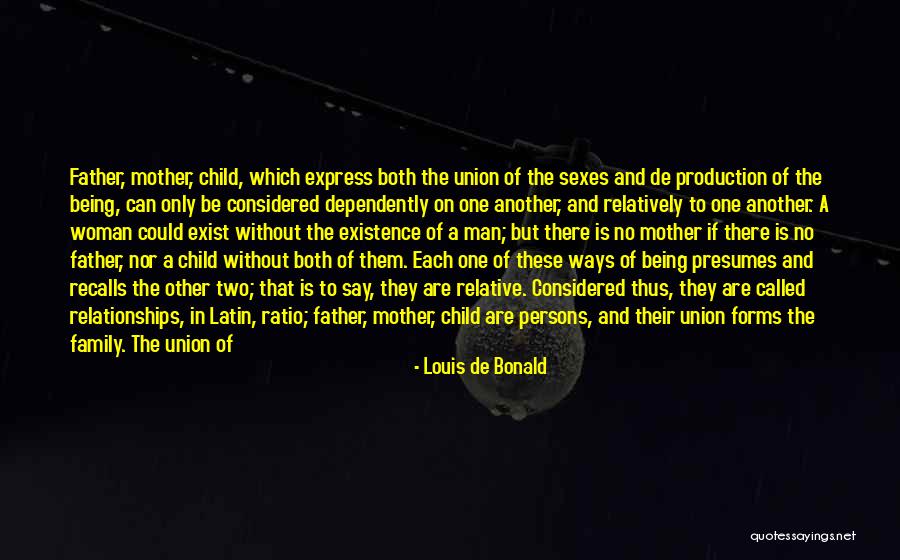 Father, mother, child, which express both the union of the sexes and de production of the being, can only be considered dependently on one another, and relatively to one another. A woman could exist without the existence of a man; but there is no mother if there is no father, nor a child without both of them. Each one of these ways of being presumes and recalls the other two; that is to say, they are relative. Considered thus, they are called relationships, in Latin, ratio; father, mother, child are persons, and their union forms the family. The union of the sexes, which is the foundation of all these relationships, is called marriage. — Louis De Bonald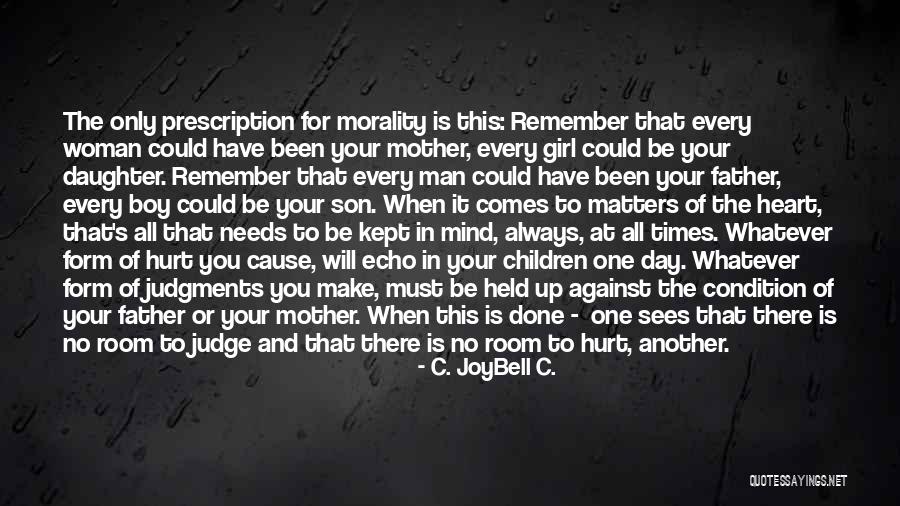 The only prescription for morality is this: Remember that every woman could have been your mother, every girl could be your daughter. Remember that every man could have been your father, every boy could be your son. When it comes to matters of the heart, that's all that needs to be kept in mind, always, at all times. Whatever form of hurt you cause, will echo in your children one day. Whatever form of judgments you make, must be held up against the condition of your father or your mother. When this is done - one sees that there is no room to judge and that there is no room to hurt, another. — C. JoyBell C.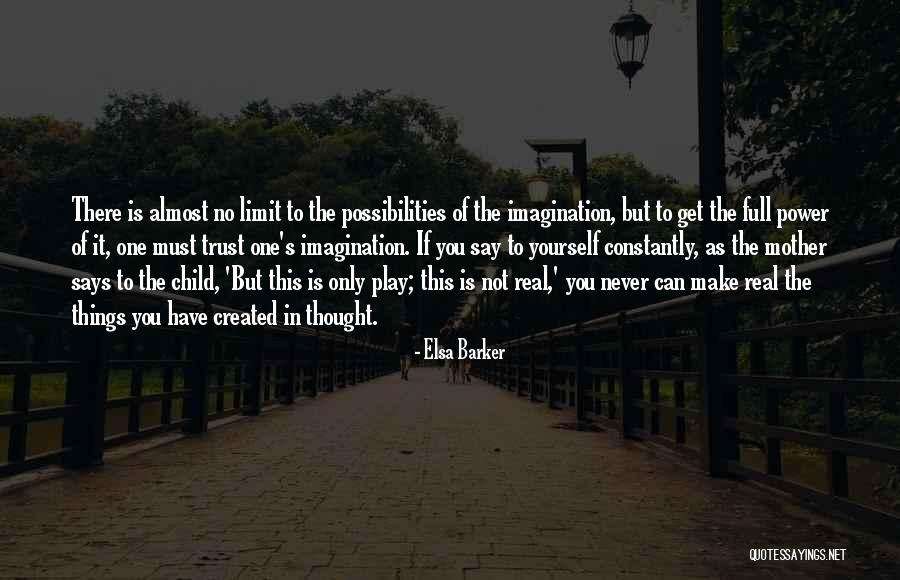 There is almost no limit to the possibilities of the imagination, but to get the full power of it, one must trust one's imagination. If you say to yourself constantly, as the mother says to the child, 'But this is only play; this is not real,' you never can make real the things you have created in thought. — Elsa Barker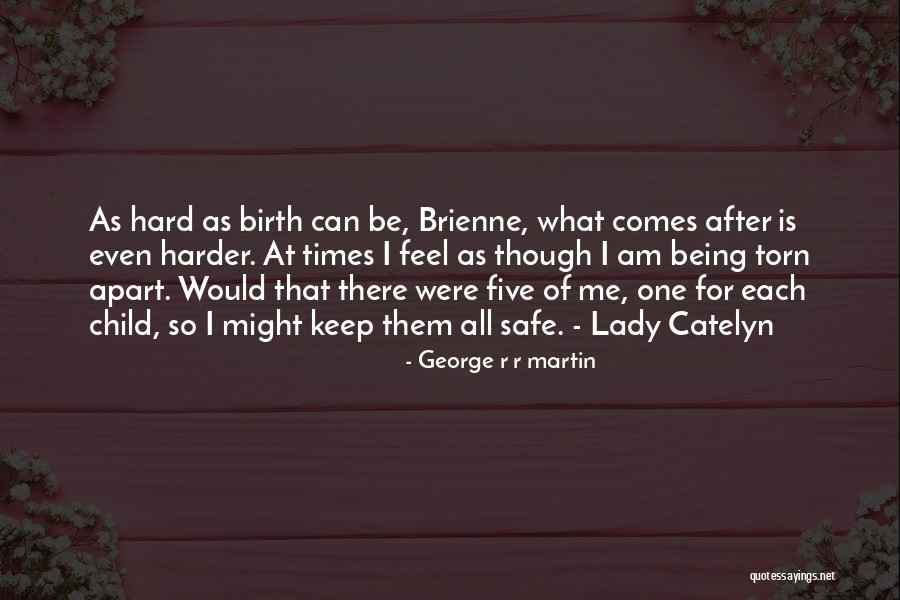 As hard as birth can be, Brienne, what comes after is even harder. At times I feel as though I am being torn apart. Would that there were five of me, one for each child, so I might keep them all safe. - Lady Catelyn — George R R Martin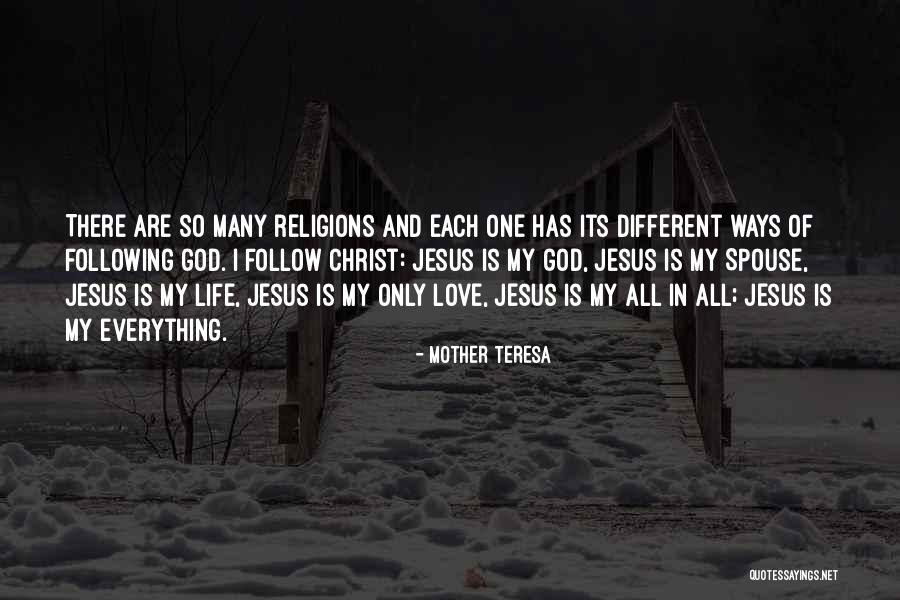 There are so many religions and each one has its different ways of following God. I follow Christ:
Jesus is my God,
Jesus is my Spouse,
Jesus is my Life,
Jesus is my only Love,
Jesus is my All in All;
Jesus is my Everything. — Mother Teresa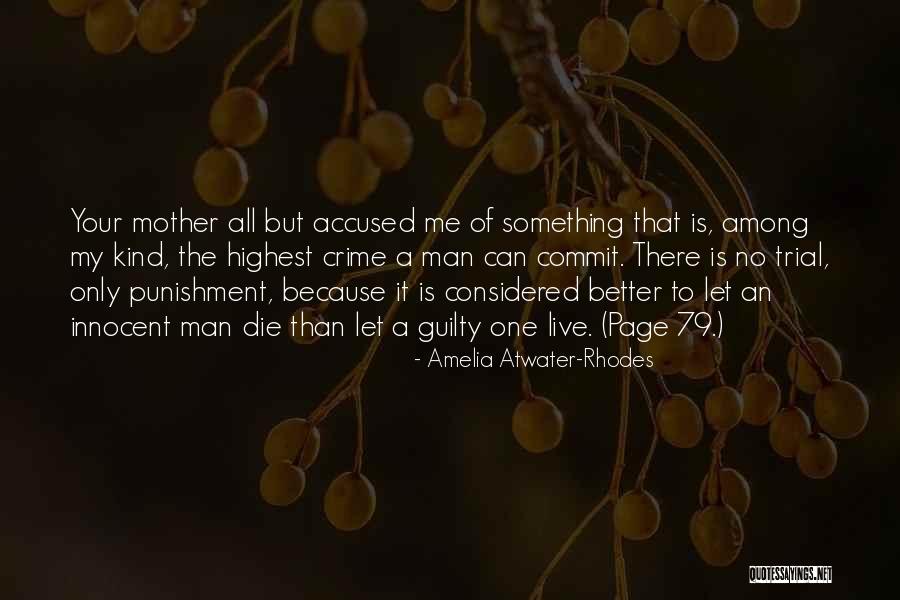 Your mother all but accused me of something that is, among my kind, the highest crime a man can commit. There is no trial, only punishment, because it is considered better to let an innocent man die than let a guilty one live. (Page 79.) — Amelia Atwater-Rhodes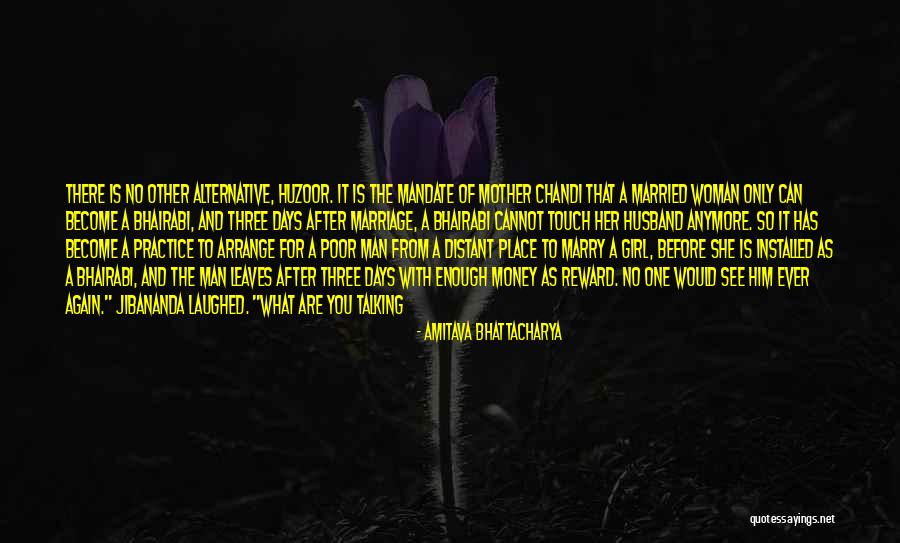 There is no other alternative, Huzoor. It is the mandate of Mother Chandi that a married woman only can become a Bhairabi, and three days after marriage, a Bhairabi cannot touch her husband anymore. So it has become a practice to arrange for a poor man from a distant place to marry a girl, before she is installed as a Bhairabi, and the man leaves after three days with enough money as reward. No one would see him ever again." Jibananda laughed. "What are you talking — Amitava Bhattacharya